Hi there,
It has been quite a while since my last TR and I made plenty of trips since then, so I thought it's time to start catching up. The first one I'd like to write about is a vacation I took to my home country Surinam in March 2010. The reason why this is the first? It was an eventful flight (well, the AMS-PBM sector was) and there are not that many reports on the AMS-PBM route. There is one excellent one featuring PY though, check it out.
Surinam Airways AMS-PBM In Business
(by
LatinAviation
Jan 30 2009 in Trip Reports)?threadid=142017&searchid=142347&s=paramaribo#ID142347
I'll also add some pics of Surinam for good measure.
I wasn't planning for this trip actually, as I had recently been to Singapore and Malaysia and already had a trip to Rome planned later that month. I also went to Surinam a year earlier and I usually don't go every year (I am now, lol, going again in November). But... KL suddenly came with their promo awards, fling to certain destinations for half the Flying Blue points. So I couldn't resist that offer to go back to visit family and friends. And staying in the house I grew up in is also always nice nostalgia.
Another bonus was that KL had recently changed the equipment from the 744 full pax to the MD11 (the year before I had flown the 744 to PBM) and this would be my first trip on the MD11. As there are not many pax MD11's flying around, this is an opportunity not to miss. On the (minor) downside, KL also changed the departure time to 9am (used to be noon), so this meant getting up early. On the plus side though, this meant that we had the full evening to enjoy in PBM.
I was flying Y on the way to PBM and for the return flight I had booked economy comfort.
Date: 28 February 2010
Flight: KL713
Aircraft: MD11
Reg: PH-KCH (delivered 31 August 1995)
Seat: 26J
Boarding time: 07:15
Scheduled departure time: 08:45
Scheduled arrival time: 13:10
Loadfactor: just about completely full, 99% in both Y and WBC
Due to the early boarding time, I only made a short visit to the Crown Lounge for a quick breakfast. By the time I got to the gate, pre-boarding (security checks and such) had already started. Finally boarding really started and we pushed back about 45 minutes late, despite the early boarding time.
PH-KCH standing ready at the gate:
Wing view before pushback. Another reason to visit the tropics, we just had the longest winter I can remember: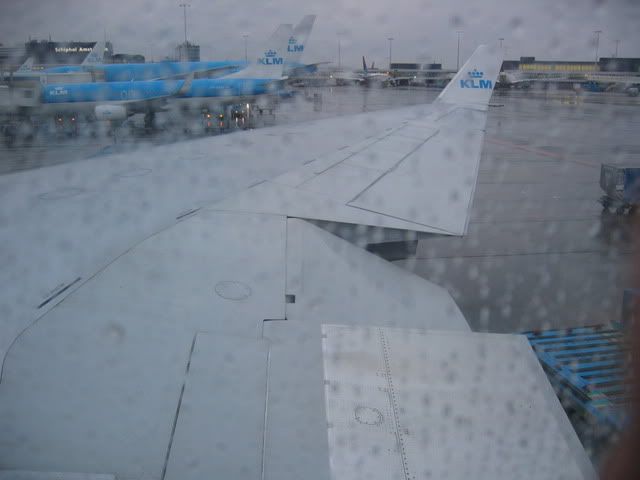 Winglet view inflight:
Cabin view, KL had already refitted the MD11 fleet with AVOD: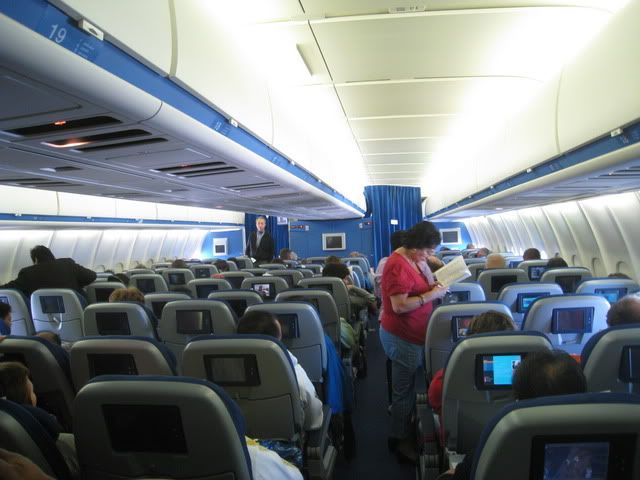 Unfortunately, the airshow wasn't working properly. All we could see was our current position, but not the flight path, altitude, etc:
Wing view inflight. Nothing but Atlantic Ocean for 90% of the flight:
So why was this flight eventful? After about 2 hours I saw a lot of people and cabin crew near seat 25A. As I was sitting in 26J I had a good view of what was happening. They were helping a man sitting there who was having cardiac problems. After about 15 minutes they left again and everything seemed fine. Another 2 hours later (about halfway through the flight) the panic was much bigger. They even brought out "the paddles" but didn't use them anymore as it was too late. Unfortunately the man passed away. The crew put him in a bodybag and put blankets over him and layed him down on the seats 25ABC. The pilot came on the PA requesting pax to be respectful and not walk by the seat if possible and told us we would keep flying to PBM. The cabin crew were visibly very upset, but still handled the situation quite well IMHO. The man was flying with his brother and they gave him a seat upfront. Some pax were also quite upset at all this of course, but everybody remained relatively calm.
Reaching the Surinamese coastline: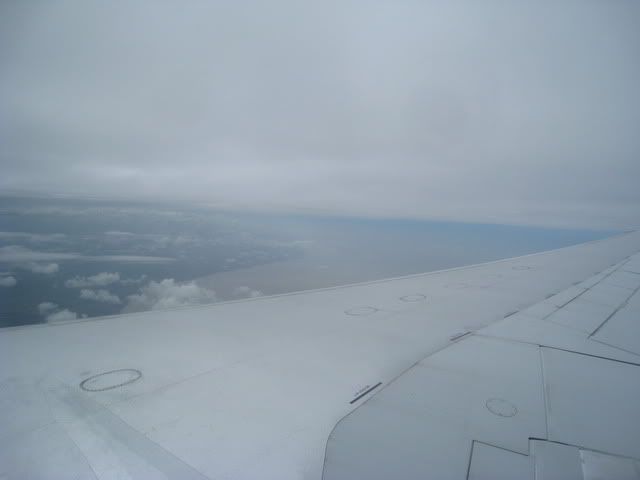 Overflying the capital city of Paramaribo on approach to PBM. The river is called the Suriname river (yes inventive I know). The big bridge across the river is actually relatively new, finished in 2000:
[img]http://i1215.photobucket.com/albums/cc505/Kappel/Surinam%20March%202010/SurinameMaart2010016.jpg/[img]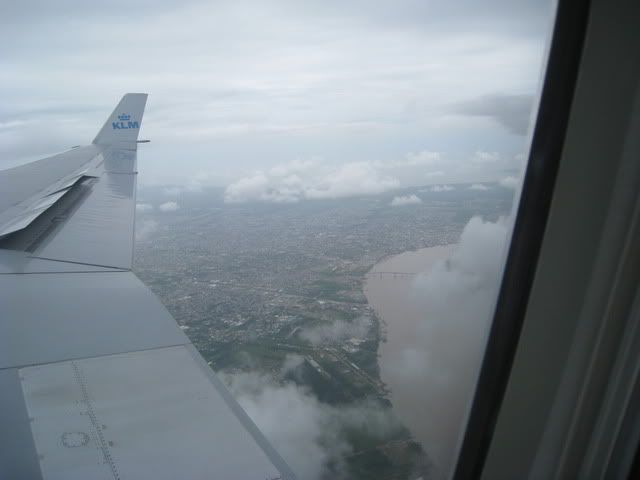 Final approach was a bit of an adventure. The plane made a couple of very steep turns and was quite bumpy. A few pax got really scared at this time. After landing, I asked the pilot about the reason for the steep turns and he said they had to avoid some rain showers.
After landing. As you can see the thrust reverser of the #2 engine is still open. It turned out the engine failed upon landing and the plane had to stay in PBM for 2 days for repairs: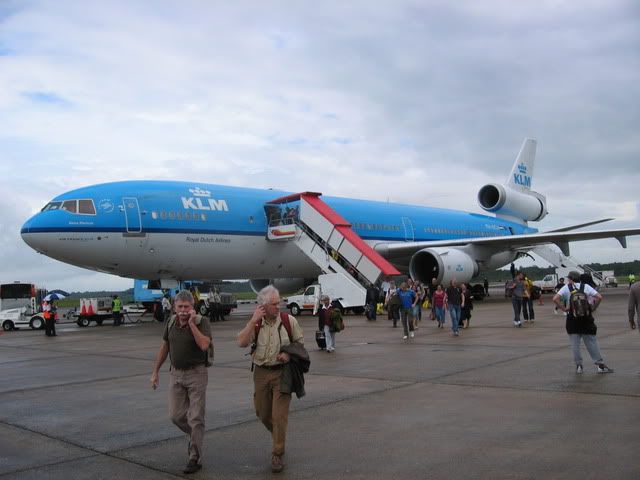 View from the street in front of our house in Paramaribo, still early in the morning: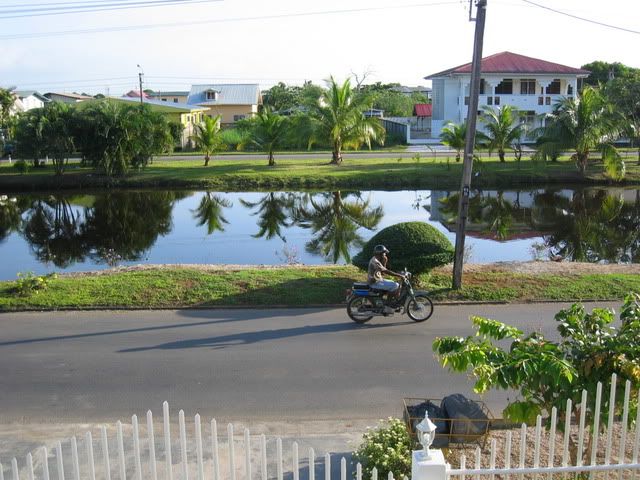 An old plantation (Frederiksdorp) beautifully restored: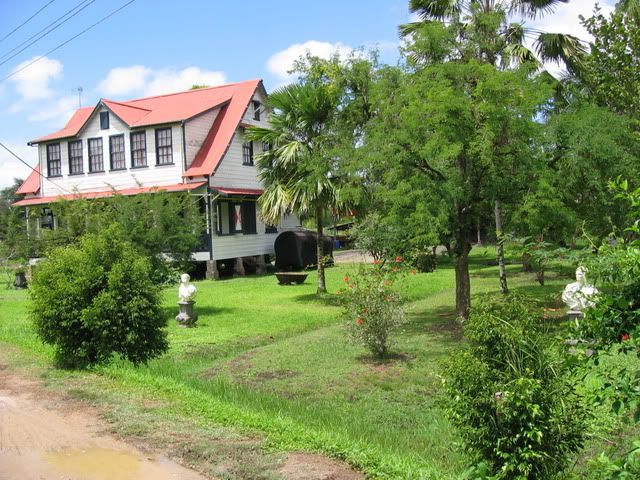 In the tropics, when it rains it pours!!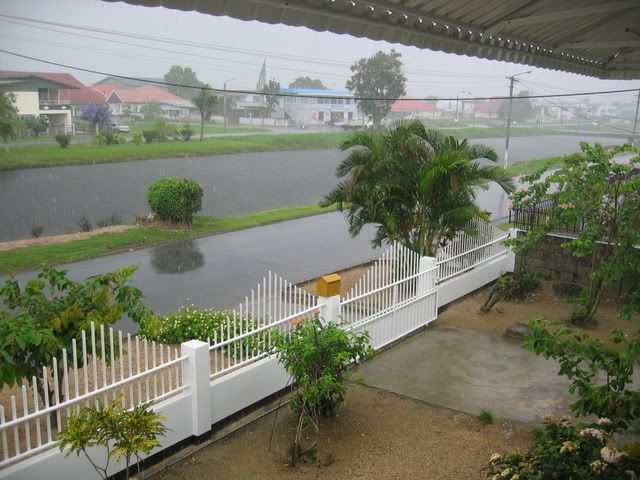 Overbridge, lovely resort upstream of the Surinam river: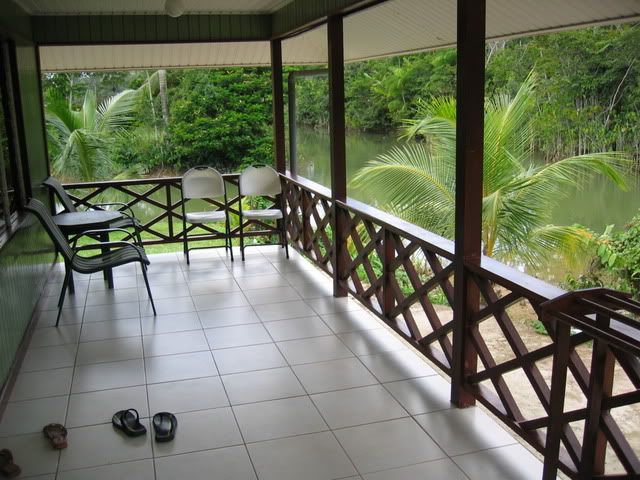 Relaxing in the river at Overbridge: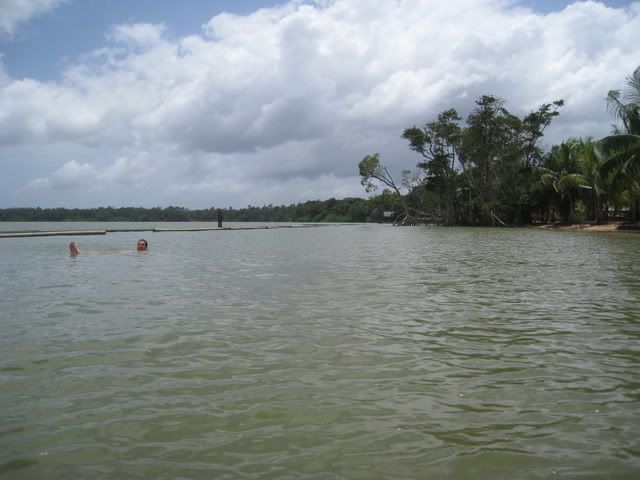 Fort Zeelandia, the site of the December murders (in 1982). The fort was built in the 17th century: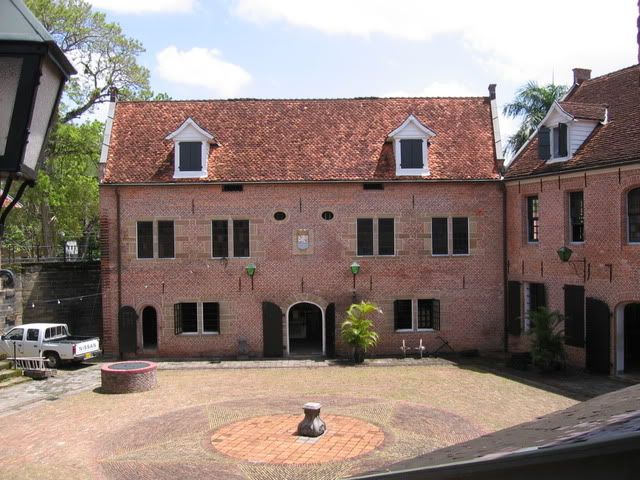 Gun powder storage, in Fort New Amsterdam. The storage was built in 1778:
Javanese Sunday market. You can find all kinds of fruit, veggies and sweets here. As well as lovely ladies
:
Unfortunately the time to leave came too soon again.
Date: 14 March 2010
Flight: KL714
Aircraft: MD11
Reg: PH-KCC (delivered 24 June 1994)
Seat: 9J
Boarding time: 07:15
Scheduled departure time: 18:15
Scheduled arrival time: 07:15
Loadfactor: just about completely full, 99% in both Y and WBC
The departure hall of PBM. Basic, but has all the necessities, shops and the like: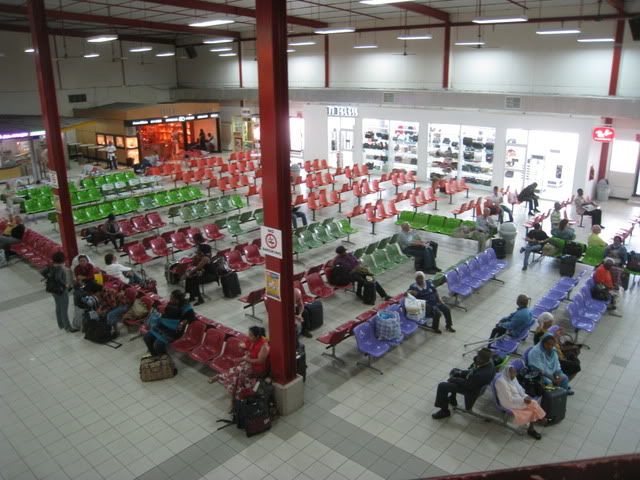 Business class lounge at PBM. Again, pretty basic, but the food is great!
PY a343. I love how you get to walk on the tarmac at PBM:
PH-KCC waiting to bring us back: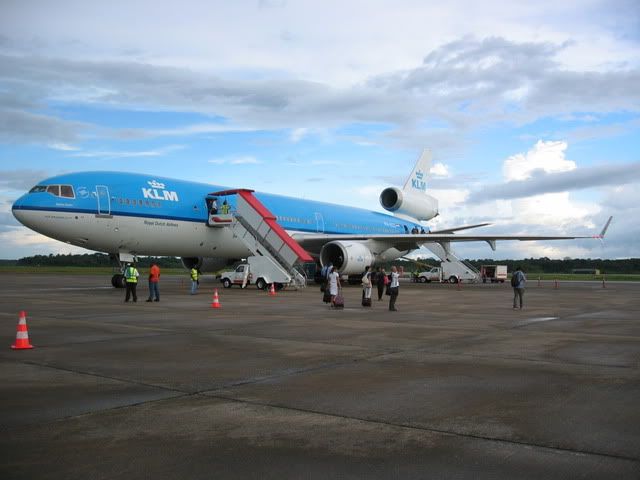 Up close to PH-KCC's engine: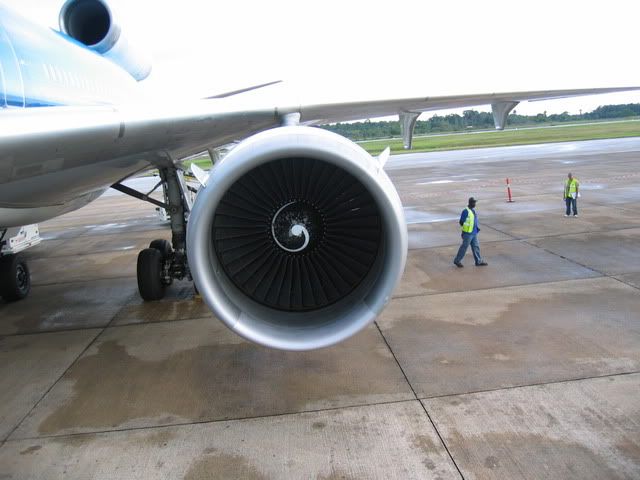 Just after departure, flying over Suriname's green jungle: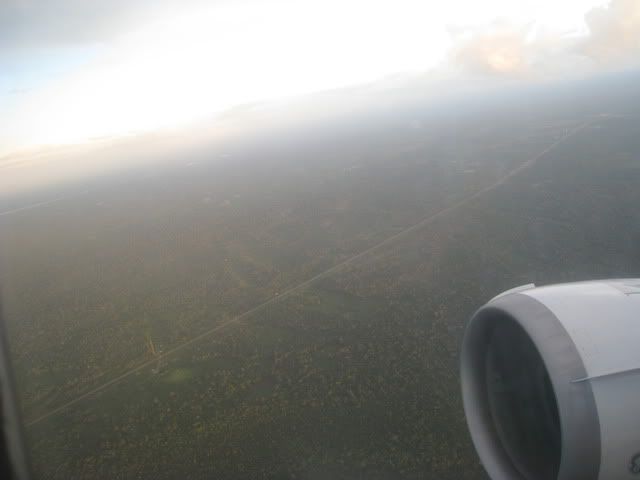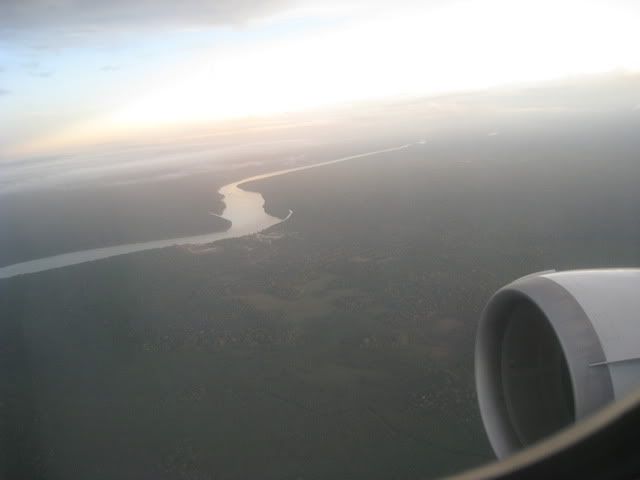 Passing the coastline:
Arriving in AMS, gloomy as usual: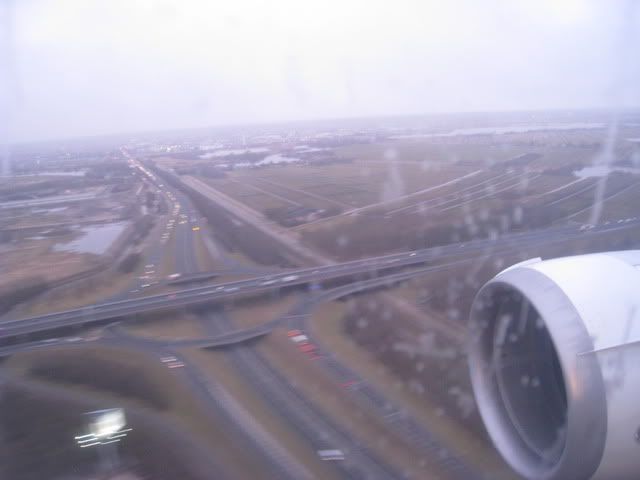 PH-KCC sitting at the gate at AMS after arrival from PBM: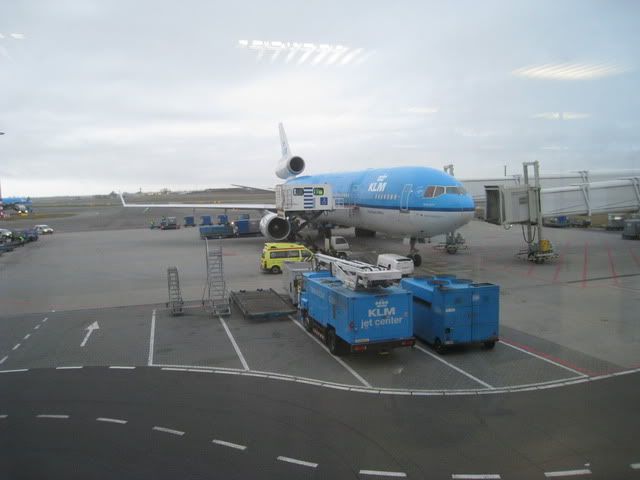 As I mentioned, for the flight back I booked economy comfort. IMHO the extra money is definitely not worth it. It's just economy with a few inches extra legroom. But since the seats are the same, I experienced the same comfort level as in regular Y. I fly KL quite frequently and have always been happy with them. Economy comfort didn't add anything for me. One thing I was disappointed with was that the portions of the meals have become smaller. Anyway, next time I'm flying regular Y all the way. I can imagine that tall people would appreciate the extra legroom though...
Anyway, thanks for reading and comments are of course welcome!!