Trip Report: KBL-FRA-LCY
KBL-FRA – Safi Airways
Departure: Scheduled: 0900; Actual: Approx. 1045
After some time in Kabul for my work, it was time to return home to the UK. Due to other commitments, they booked me on Safi Airways from KBL to FRA, connecting to BA for my FRA-LCY flight, as this would get me home several days earlier than using military aircraft.
Me – ready to head out!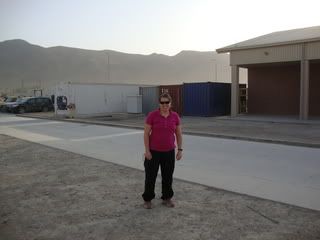 Kabul International Airport – from the airside:
Old Terminal: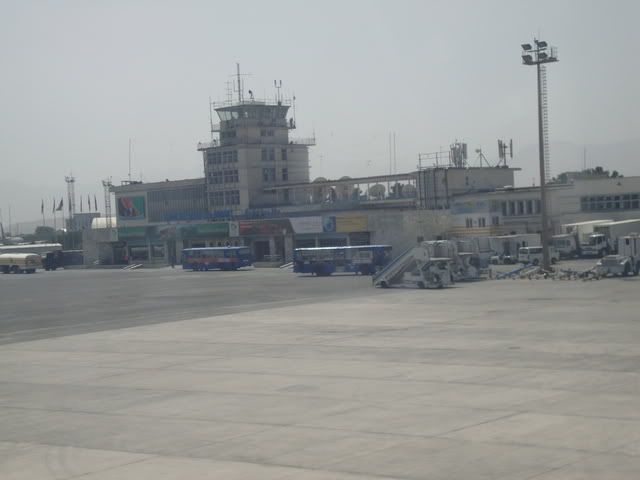 New Terminal: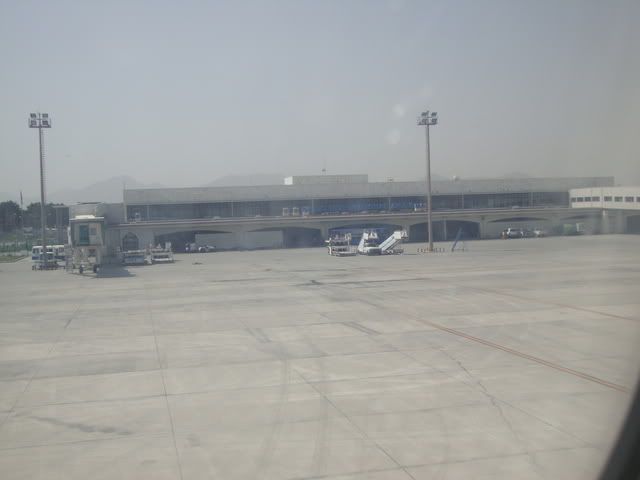 Many tails!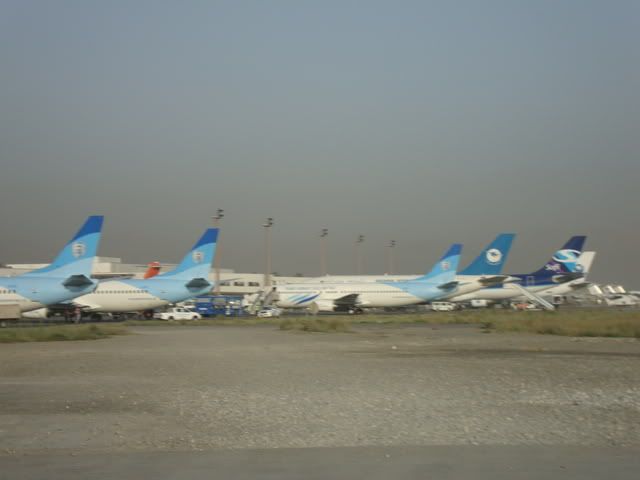 Check in:
While the Safi website does offer online bookings, all check in is done at the airport. I arrived at the KBL civilian terminal about 2.5 hours before my flight. Safi uses the new terminal for its flights. As I approached the terminal, I was directed towards a queue for women in order to enter the building. Queuing in Afghanistan is chaotic at best with people from all over the world (Russia, the USA, Germany, and Afghanistan in my case) trying to get into the door. It took about 30 minutes to get to the door, where the guard let me in and directed me to a private room where an Afghan women patted me down. From here, I proceeded to x-ray all of my bags and headed to the queue for Safi's flight to FRA.
Although there were only 4-5 people in the queue in front of me, it took about 20 minutes to get to the counter. The agent was friendly and promptly checked me in and accepted my baggage. He stated I was in premium economy – no complaints about that! I was assigned 18D (aisle seat) and given a hand written/stamped boarding card. They tagged my checked baggage, writing my seat number on the tags and directed me to departures.
Departures Hall:
I went upstairs to the departures hall. There was a bit of a queue for passport control, but nothing too terrible. From here, it was on to security, which was similar to that elsewhere in the world – liquid size, remove shoes, computers outside of bags, etc.
After clearing security, I headed to the departures hall. It was pretty busy with Ariana flights headed to FRA and Moscow, as well as a Safi flight to Dubai and our flight to FRA. The shop took USD, so I bought a bottle of water. There was also a Duty Free shop. I apologize for no pics – out of respect for Afghan culture, I deemed it inappropriate to take pics that might include people and not make someone happy.
Safi A340: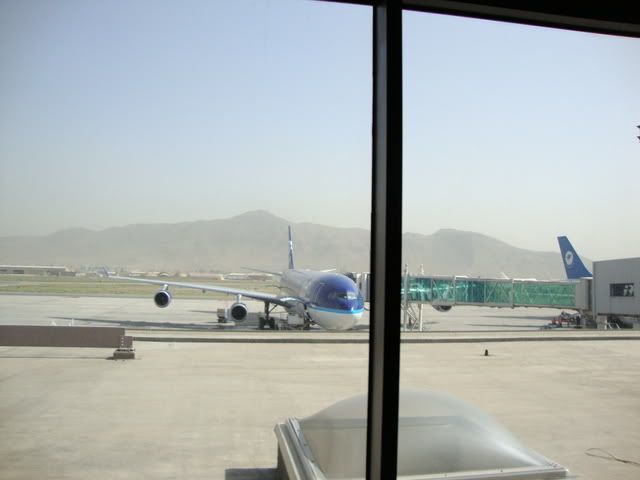 Boarding:
We boarded our flight at about 0845 or so. When the call came, it was somewhat chaotic as people piled toward the door and then the jetway. The staff at the boarding door were polite, checking boarding cards and directing passengers accordingly.
After we boarded, it seemed like we'd be on our way quickly. However, the pilot came over the intercom and blamed something with the ground crew for our ultimate departure delay of nearly 2 hours.
Seating:
The Safi A340 is a 3-class configuration: Business, Premium Economy, and Economy. Business class appeared pretty empty, premium economy was about ½ full and economy was probably about 85-90% full. The premium economy seats are a 2-3-2 configuration with a nice recline; they were comfortable.
Assigned to 18D, my seat was the first row in premium economy. Legroom: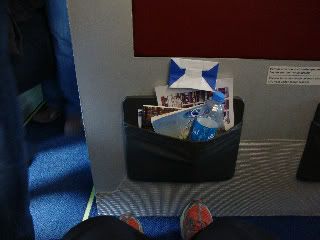 Once boarding was complete, I asked if I could move to the window seat – 20A. Legroom: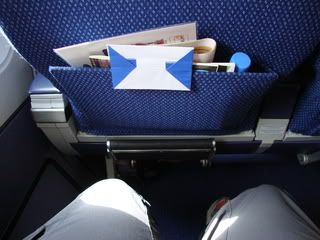 After we boarded, there was some chaos between premium economy and economy, as some pax wanted to sit near their friends at the front of the economy section. Ultimately, it worked out and they sat in the last row of premium economy.
In Flight:
Safi Airways Magazine:
Dari: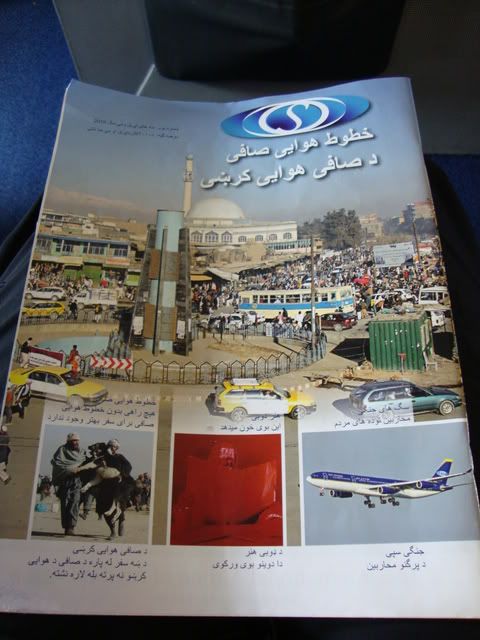 English:
IFE – while there were screens in the seat headrests, there were no movies or other entertainment on the flight.
Comfort Items: Pillows with a satin-like cover were provided in each seat and the staff handed out blankets. The blankets had not been wrapped and came out of the overhead bin. They looked fine, but I'd brought my own, as a colleague advised the flight would be cold. This rang true and I was grateful for my Brookstone travel blanket!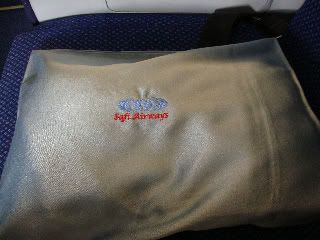 Food:
Lunch: The options were chicken or beef; I selected the beef. The meal was pretty good and included rice, bread, nuts, fruit, and some sort of salad. Beverages included a selection of Coca-Cola products, juice, water, tea, and coffee.
Pre-Arrival Snack: This comprised of a small sandwich and a relatively tiny muffin. Not super filling, but it wasn't bad.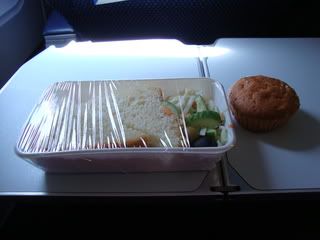 Okay, enough about the flight…some pics taken during my transit to the airport and taxing for take off!
In transit to the terminal:
Skyway Air:
Safi 767:
Taxing aircraft: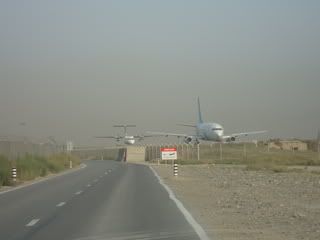 Pamir 737 awaiting take off:
Kam Air – MD88??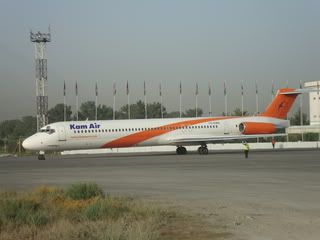 Kam Air 767:
Emirates SkyCargo – 747: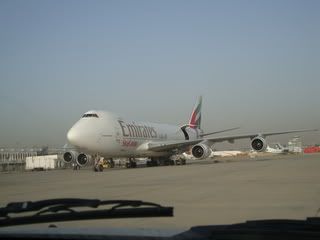 Safi A320 – off to Dubai:
Taxi: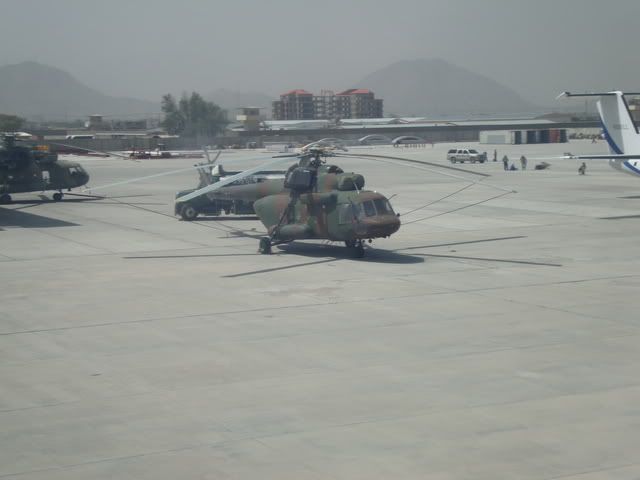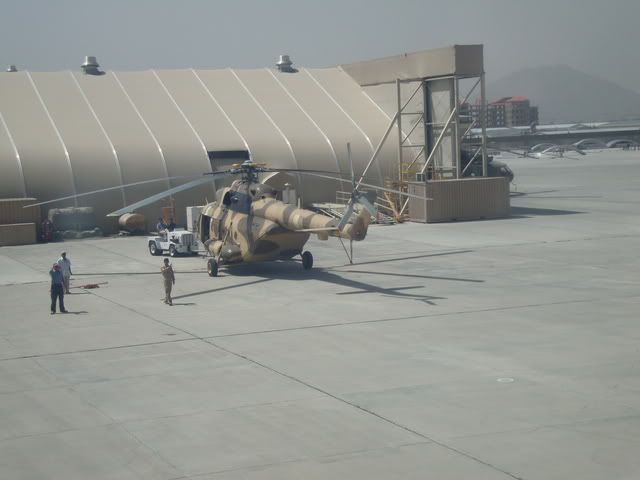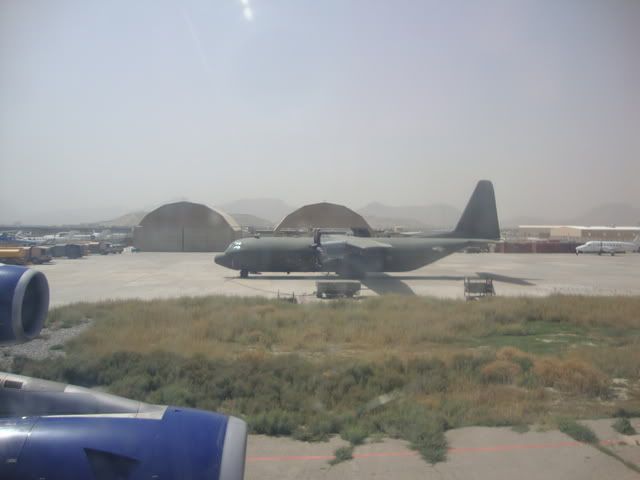 Above Kabul City: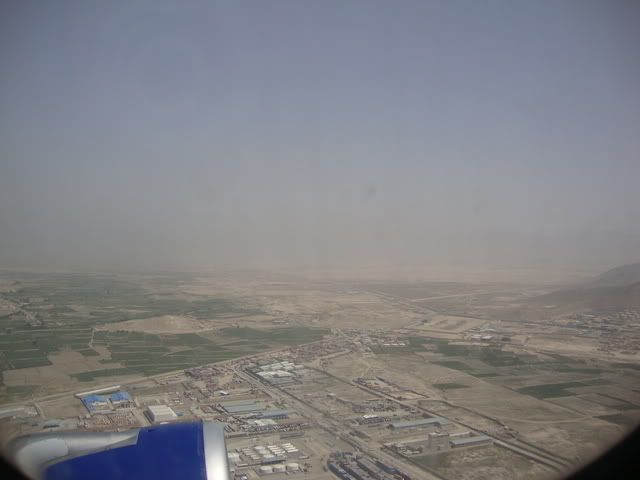 Arrival in Frankfurt was fairly smooth. After a relatively short taxi, we arrived at the gate. One alarming thing on taxi was, as we paused waiting to pull up to the gate, many people in economy got up out of their seats and pulled their bags out of the overhead, despite requests from the staff to remain seated. This was a first for me!
Once we pulled up to the gate, we deboarded and headed toward German immigration. The queue was a mess, but I was near the front and did not have to deal with much of the chaos behind me. Upon clearing passport control, I headed to baggage claim. It was very busy and largely a mob scene…blech. Once I got my bags, I headed out into the terminal to check in for my BA flight to LCY.
Thoughts on Safi: Safi was a relatively painless way for me to quickly get back to the UK before this week's departure to Stuttgart. While some aspects of KBL were hectic, I enjoyed the extra days I had in my flat before coming back to Germany for the next few weeks. Safi's staff were polite and the service was efficient. The lack of IFE was a bit annoying, but I had a book, iPod, and computer with me to combat any boredom.
BA: FRA-LCY
Check in for my BA flight was fairly painless. The agent told me I had to pay for my 2nd bag, which was fine…the odd part was his asking me 3 times. I was okay with this and willingly handed over my credit card to get all of my stuff home!
After check in, I headed to passport control, which was again very easy. FRA was not the least bit busy and I wandered around for a bit, getting a nice Starbucks beverage before heading to my gate. Security was conducted at the gate and, in true German fashion, extremely efficient and prompt!
Once they called for the flight to board, we got on a bus that took us to the plane…it was a very full E170. At this point, I was past the point of photos…sorry. The flight was uneventful and it took just under 90 minutes to get to LCY. This was my first landing and LCY and it was QUICK! We pulled in, deboarded and headed towards Border Control. There was a bit of a queue, but it worked out this was for the EU/UK folks and I proceeded to the very empty non-EU queue, clearing within seconds.
The LCY baggage hall was a mess with people everywhere. My first bag arrived quickly, but I waited for a while on the 2nd…I went to the baggage desk to inquire and the agent and I realized someone had been kind enough to take my other bag off of the conveyor for me…as it's bright pink, it's hard to miss and they'd taken it off immediately when it came into the baggage hall.
Well, that's it for this TR – I hope you all found it to be something of interest and a bit different if nothing else.
Thanks for reading!
:D robin