hello all
This trip report is on an airline I am slowly gaining more and more miles with. Being stationed in
southern Japan has afforded me many opportunities to see the beauty that Japan has to offer. I've been
here a little over a year, and so far LOVE IT! However, when it comes to emergencies or short notice
travel, it can be rather bothersome finding something affordable. This trip happened September 2-9. I
returned to Chicago to surprise a great friend/university roommate of mine for his wedding on the 4th.
Frantically looking for something at, or under 2000USD round-trip from FUK-NRT-ORD, I found it
on ANA! Now, I have flown ANA numerous times domestically and internationally in the last year, and
like their service (not to mention I also have many miles on UA). Most recently was in June for the same routing.
Leaving the apartment:
4 days prior to the departure, the day I got the "OK" for my leave, I went on the ANA website and
found tickets for 1,686USD. The routing was FUK-NRT-IAD-ORD-NRT/HND-FUK. Ok, with only a week visit,
that extra connection in IAD, and the middle seat the way there, was NOT something I was happy about,
nor the transfer from NRT-HND, but, for short notice and price. I said, "Deal with it!"
Then, the worst. I go on the ANA website a day or so later to check if I could get out of the middle
seat. "YOUR RESERVATION HAS BEEN CANCELED". WHAT!? Ok, I spent 5 years in the airline business, and
never have I heard of this. So, I called up ANA and found out that when I tried to change seats the
night before, they were doing some server work and it must have messed with my reservation. So, since I was not the only one affected by this, they gladly re-instated my ticket and did something unbelievable for me. They put me on a DIRECT NRT-ORD flight, and put me on a NRT-FUK flight on the return segment.... THEN, put me in premium economy for the same price. I was stunned, talk about great service! I still am dumbfounded on how this happened.
Since I live 2 hours from Fukuoka (FUK), and my NRT flight left @ 0755, I had to overnight in FUK. I love FUK, and the ANA CROWN PLAZA hotel. Since Japan is excellent at their on-time performance with trains, I rushed as hard as I could to catch the usual hourly express to Hakata. Except, with 3 bags it was a little harder. I literally got on the track as the train was pulling away. Oh well, one hour later I was on my way, and had the whole car to myself which is rare.
Pulling into Hakata station, I did the 10 minute walk to the ANA hotel, where what turned out to be crew members for my flight the following AM were checking in beside me. Showing up to a very busy FUK airport at 0630 for my 0755 flight to NRT, I went to the premium economy lane where the lady said, "oh Mr. Rabin, please follow me." I think, great. WTH did I do? They brought me to the front of the very short security line and then to the business class counter. I almost said,
"OK, seriously, I get the jester, I am very thankful for it. please. not necessary". Not to mention I am tired of schlepping my checked bag and suit/garment bag and roll aboard.NO, Turns out the NRT-ORD flight was oversold in premium economy and I was upgraded to BUSINESS!
Relaxing in the ANA lounge @ FUK Airport.
AWESOME! Totally didn't see this coming. So, that explained the counter change.
I was issued my same seat to NRT, which didn't bother me. It's such just over 1.6 hours and is very scenic if you sit on the left side.. I had the entire 8th row to myself which was a nice touch. I wanted to see if I could get access to the ANA lounge @ FUK with my ticket, and yup, it worked! So, I spent about 40 minutes in there and then went to my gate, 6
Still waiting to get a flight on this bird!!
The flight up had us pass KIX and Mt. Fuji with a nice approach to landing on 16L @ NRT. Once parked at the stand, we had the typical air stairs and bus to the terminal. I guess no one was in a hurry, or, had 52 minutes to get from the plane to the connection, but I said, "SCREW THIS" and found a hole to pass other paxs, and cut in front of 7 rows of passengers to clear immigration/security that much faster.
Deplaning via air stairs
Getting to gate 52, the same as when I flew this exact flight in June, I noticed they had already started boarding and made my way on board a few moments later only to stop for one last C.C Lemon!Knowing I had a J class seat, I was hoping I may just have the new seats, as this looked like a relatively new 773ER. No such luck. Minutes later the flight attendant came by to introduce herself and as I was waiting for her to ask what I'd like to drink, she instead asked if I wanted to read something. Oh well. I can get my drink on shortly anyhow.
Seat 14K
nice scenery to look at while waiting for push back.
Push back and departure were a few minutes behind schedule, but we managed to get in about 10 minutes early so it didn't matter.
Scheduled flying time was 10h40m. Looking periodically at the flight map, we were pushing 600mph. Fine by me. With 7days 2hours to my time in Chicago, any extra time was appreciated. I had put my camera in the overhead for lunch service as it was a bit bumpy and I didn't want anything to fall on it. But, lunch was pretty good. I had the Japanese meal with some noodles, fish and beef with peanut butter sauce for the main course. I skipped desert as I am not a sweets or ice cream eater.
Business class "mini-bar"
Looking threw the AVOD, I noticed I had watched all the movies, on the play list, or didn't want to watch them. That was a bit upsetting that much of the same movies were still available from just over a month and a half ago prior. So, I watched some movies on my netbook I had.
Since there was no formal breakfast service time, but, eat at your leisure, I ordered udon noodles with champagne for a mid flight snack. Delicious!
Then, I asked for a rum and coke to enjoy after, except, I got RAMEN and coke. So, I stuck with Champagne and went thru more than I had wanted to some 8 hours later.
(Some seat images. The lady next to me took a stretch break which afforded me this chance!)
I only slept for about 3 hours as the lady next to me kept snoring VERY loudly, and being 6 feet tall, I was a bit too tall for the angled lie flat bed. Waking up somewhere near Seattle, I gave up on trying to sleep and enjoyed a few more movies, and the rest of the champagne.
The rest of the flight went uneventful.
no more champagne!!
Landing in ORD would take place on 14R and parked @ M11 a few minutes later. From our IN time to
receiving my bag was 9 minutes. (This beat a previous record on AA when I worked for them having
arrived from LHR during the afternoon rush of 10 minutes). 5 minutes later I was outside customs and
headed home with my parents.
The wedding went well, and my friend, Brandon, was VERY surprised. The reception was very fun, too, to
say the least.
A few days later, I went flying with the flight school I did my Private with, American Flyers @ DuPage
airport (DPA). I absolutely love this school, and the people who work there. I knew I wouldn't be
doing any formal training, but rather just to bring my parents up for a quick lake shore fly-by for an hour or so.
Returning flight:
NH011 ORD-NRT
NH2143 NRT-FUK
ORD-NRT-FUK.
Checking in for my NRT flight at ORD took moments as most passengers on this flight seem to be connecting paxs.
FINE BY ME.
I had about an hour or so to kill, so I went thru the military security line, after spending some time
at the USO. I checked to see if I could get upgraded, but after they said, "sure thing." they then said, "wait, you're 6,000miles short for an upgrade. sorry!" Oh well, premium economy would be fine.
Or would it?
Prior to push and start, I noticed this AA772 was tugged to the runway, and a few minutes later, departed.
leaving ORD on 32L full length gave us a GREAT view of ORD and the skyline that I never tire of.
12H20M would be flying time.
you can actually change your seat positions without knowing it due to the location of the buttons.
definitely a great touch for those of us who bring laptops!
The seat is more comfortable than a regular Y seat, but it certainly needs more recline. The meal is the same. If you are going to buy a full fare Y seat, get premium economy. but, if you're gonna spend that kind of money, just buy business for a few hundred more.
I ended up having 18HK to myself which was VERY nice as I tend to get up many times to stretch. For some reason the moron sitting next to me had the nerve to ask me this question.
"Can I ask you a question?"
-Sure, what can I do for ya?
"Well, I hear you speaking some Japanese with the flight attendants, and since we're going to Vietnam,
I'd like to know why you're speaking it."
-Well, I live in Japan, and we're flying to Tokyo. I might as well practice.
"wait. my wife and I are going to Vietnam, not Tokyo. Wait, what?"
-Tokyo is in japan, we're going to Japan ( I said very confused)
"What about our flight to Hanoi?"
-You'll connect in Nartia
"What about Tokyo?"
"It's the same place, Tokyo narita. Like New York's Kennedy INTL"
this unbelievable conversation went on for 30 minutes!! I can understand the Tokyo to Narita thing, but seriously. TOKYO IS IN JAPAN!!!! They later asked me if I knew if they'd feed us on the flight.
DUDE WE JUST ATE AN HOUR AGO!!!! YES, WE'RE GONNA BE FED AGAIN!!!
I got off that plane faster than anyone else. I never saw them again. Bummer...
I spent the rest of the flight not going crazy from the "other" paxs, to drink some awesome CHU-HAI's and practice some Japanese on the gorgeous FA working my zone. I tried to tell her if she ever comes
to Fukuoka to call me, but I said, "Don't ever call me Fukuoka". I definitely never got her number after that embarrassment. So much for wanting an FA girlfriend to go non-rev while living here.
I spent about 4 hours in Narita plane spotting and exploring NRT. Wow I love this airport.
You'd think we're @ ATL with all the DL tails! How many flights/day does DL now have?
something rare! (to me)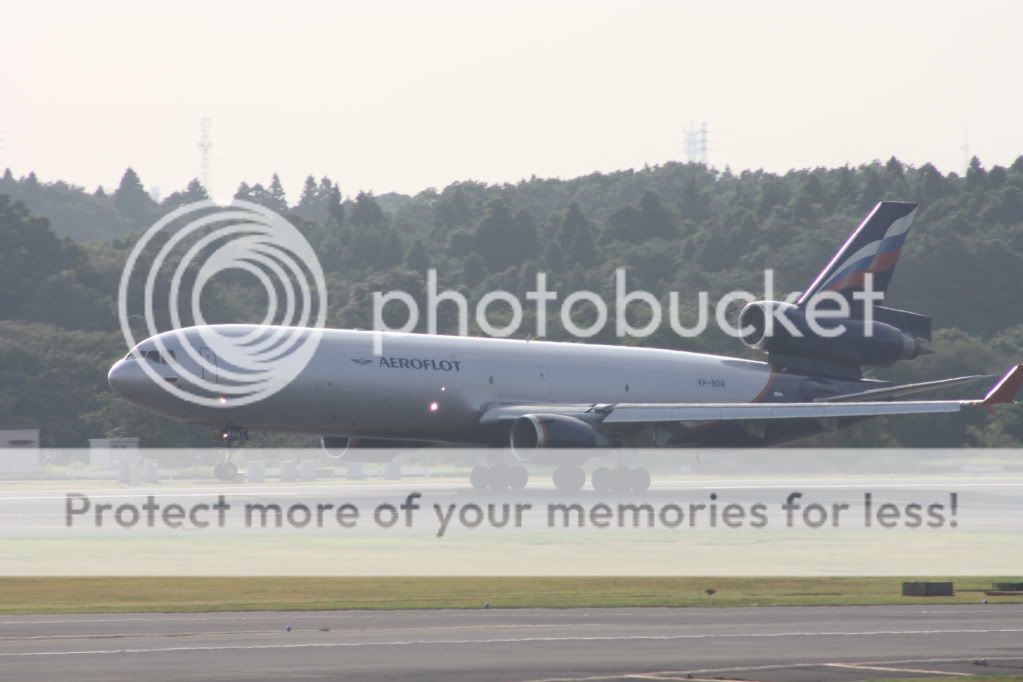 The flight to FUK was full, as usual, and on-time. I caught the 2032 train to Sasebo(2hours) and asleep almost immediately once I got into my apartment.
I will continue to FLY ANA/Star alliance as I like the service I continue to get on them. This recent experience was defintely appreciated. getting free upgrades is great! This trip, and a quick day trip to Osaka next week for lunch with some friends will make me a BRONZE level member on ANA. I go to South Korea in about 3 weeks for the weekend, and then to Hong Kong in November for some site seeing with co-workers. hopefully, I'll have another tier on ANA then.
To Summarize, the service on ANA was great. But, I felt the J class service was lacking. No amenity
kits, very slow to respond FA's. the PE class was a nice touch, but certainly not worth the price compared to a little more for J. I'd fly PE over Y anyday though. The FUK-NRT shuttles are quick, so there isn't much to really expect. comfortable seats, good service, air stairs for quick plane spotting
Thank you all for reading. I hope you enjoyed it as much I as did traveling it.