Feedback always appreciated.
I > Background:
As some of you know, I had to check-up on my Nigerian project in June – and able to combine with some other personal trips. As part of these adventures, I got to fly Air Burkina on BKO-OUA. After a fun 3 days in Ouagadougou (love how it sounds), it was time to head to Benin. What better way between the 2 cities than fly newly formed ASky.
This report is going to be many of "firsts" on A.Net. It will be the first report on ASky, the Ethiopian Airlines founded project, the first on the routing from OUA-COO, and the first featuring the country of Benin … and most excitingly for me, another 5th freedom route.
II > Pre-Flight:
a) Before Airport:
ASKY Airlines is a passenger airline with its head office in Lomé, the capital city of Togo. The airline was founded in 2008 by Ethiopian Airlines, which hold a 25 per cent stake. First revenue flight took place on January 15, 2010, and the airline has quietly grown to add new multi-stop flights to complement that of the "mother ship". Additionally, it has also taken some flights that were previously flown by ET.
A Sky has a basic website at
www.flyasky.com.
It is an interesting site that outlines the ambitious plans of the airline to transform sleepy Lomé into the West African Addis Ababa. However, it does not have any functionality – and one cannot do their booking on the site. Not to worry. Mother still provides meaning that all KP flights are dual listed as ET flights and you can easily book them on Ethiopian's website. ET's site at
www.ethiopianairlines.com
is well-designed which is neatly laid out and easy to use. It choked several times to use my foreign credit card and I ended up just receiving a PNR. Not truly shocking – here you have someone entering a Liechtenstein passport with a Venezuelan issued credit card flying from Burkina Faso to Benin on a Ethiopian sponsored Togolese airline buying their ticket in Nigeria. Anyways, a quick call to the U.S. call center solved everything, and my ticket was soon issued. I liked the fact that I can view my reservation and chose/modify my seat online. Not bad.
b) At Airport:
I have had my share of crazy airports around the world. Nothing quite prepares you for OUA. It is not really an airport – it is more a work in progress that is passing off as an airport. Of all the West African 'gateways' I have used, it is probably the least pleasant. So after being dropped, I followed signs under a make-shift holding place. Since the Air France flight was checking in, I was not allowed to go in – and, here the lines started forming with people yelling, screaming, pushing, shoving, and general mayhem. It was like being in a fish market. There is a huge contingent of American military people who were returning home via CDG and they were losing it in the chaos. It was interesting to watch their reaction due to the inability to speak French. Of course, like everything in Africa, rules were being bent to let family members and "others in". Anyways, after being let in, you go through this make-shift pathway to the departure "lounge". Now, calling it a "lounge" is a significant stretch of anyone's imagination – it is more a room – slightly bigger than my bedroom – and my bedroom is not big. Here, I get to push and shove at the check-in line to meet the agent. No special lines for JCL passengers. The agent herself was wonderful and I was soon able to get my boarding pass, and my window seat. It was interesting to watch the ET staff supervising them.
Immigration and security then become the nightmare – you basically go from the "lounge" to an open area covered by cardboard – it was not fun trying to cart my roll-on through dirt. Literally, dirt. Since the open area is detached, there was the regular soil complete with rocks and stuff. The entire process took 45 minutes and at the end of it, I was rewarded by arriving at the boarding "lounge". The boarding "lounge" is something completely out of a movie – think "Blood Diamonds" with Leo C and gang. It is one room where well dressed Africans jostled for space with European (mostly French) government officials, aid workers, and other expats who would be middle class in their own home … but had an air of "owning" this place. And in the middle of that, throw in some random Chinese, an Indian trader, a lost Canadian (seriously, what is up with the flag being on everyone's backpack), and a few South African military men who were now "private security". It was classic – in a very Bond'esque meet 2010 geo-politik way. So, like any person in my situation, I sat down and made friends with the South Africans who told me stories that I pray was exaggerated and as a result of all the alcohol we were consuming. All in all, a great experience – making me forget (overlook?) the lack of an airport lounge. Now, SN Brussels provides "coupons" to use at the bar. I was disappointed A Sky did not do the same.
30 minutes prior to departure time, we were called to board. Of course, there was a near riot – but this time caused by the station manager of Air France who questioned the audacity of the A Sky agent to call boarding when the precious AF boarding was still going on. It was actually all quite amusing to watch – especially the French security men who screen each passenger before final boarding. Thankfully, our A Sky station manager didn't give a hoot about the AF one and told him off. Haha. Having consumed over 4 "whiskey" on the rocks in 30 minutes, I was in jovial spirits and started laughing – the security agent (you go through security again prior to boarding) asked me in French what was up – and I shared a joke about how funny the whole thing was. A veteran "elder" he rolled his eyes and said, "kids". Classic.
Anyways, we boarded the bus for an entire 15 second journey to our parked A Sky aircraft with "Mother ship" ET's 757 watching us in the background. Welcomed on board by a nice purser, who offered to hang my jacket, and brought me some water.
J load was 60%, and Y load was 90%.
Airport - External:
(Ouagadougou "Airport")
*
*
(Waiting to get in)
*
(And this is what you wait to get in to)
*
Check-in:
Airport - Internal:
(FIDS)
NONE
(Post Security @ OUA)
*
*
(The SA "soldiers")
*
(I could not find out what was free…)
Scenes of the tarmac:
*
("Mother Ship")
Lounge
NONE
Boarding:
(Gate area – ILBST very much in action)
III> In-Flight:
a) Service Schedule + Impressions:
Prior to take-off, a drink service of water and distribution of newspapers. After take-off, dinner and café. Interestingly (and contrasting to Air Burkina), no hot towels on the flight.
b) Aircraft + Seats:
A Sky's flight was operated by one of the pair of 737-700s handed to them by ET. Anyways, while the yellow/brown symbolizing the African continent looked good on the outsiee, I was not a big fan of the way the seats and décor looked inside. Sure, it was different …after all, I can't think of another airline with brown seats. The cabin was immaculately maintained, and I was rather impressed by the seats. They are domestic U.S. leather seats in 2/2 layout – more plush and a slightly larger seat pitch. All in all, more than sufficient for a flight that was less than 500 mile in length. Recline was also rather impressive – not as deep as the 9W 737's that fly to BKK, but better than "arch nemesis" Air Burkina's M87.
The bathroom was extremely well maintained throughout the flight. Again, kudos to the crew.
Aircraft:
(73G @ OUA)
Views from Aircraft:
NONE
General Seat Views + Seat Legroom
(Seat)
(Front of seat)
NONE
(Seat controls)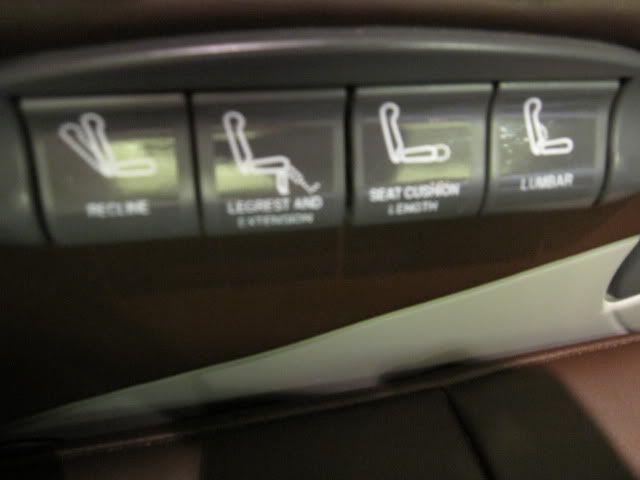 (Legroom: decent)
(Blanket)
NONE
Seat Recline + Angle View:
*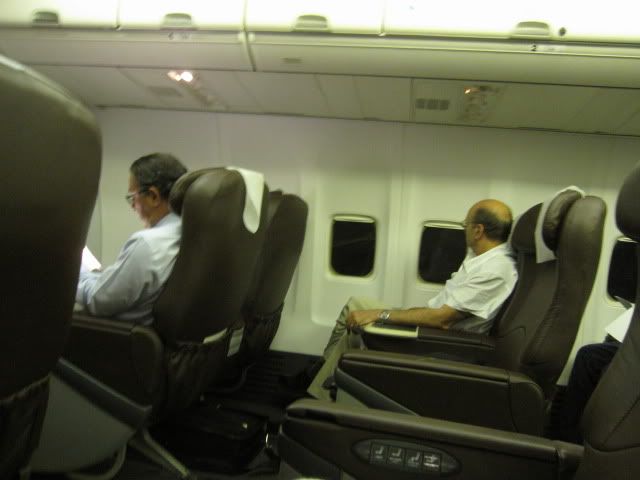 Cabin:
*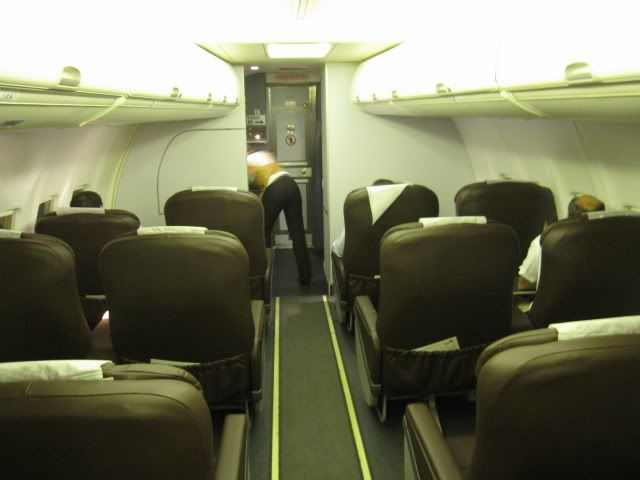 (Bathroom Amenities)
c) Meal + Beverage:
The excellent experience on Air Burkina was very much on my mind, and I was curious how this major "rival" shaped up. First thing one notice is that again, soon after take-off, the crew springs into action. Drink service commences with generous amounts of alcohol – and then a choice of meals – chicken, fish, or vegetarian. This was better than Air Burkina which had an excellent meal – but no choice. The male purser takes the order, and then the female FA comes to set my table. Unsurprisingly, given the 1,25 flight time, the entire meal comes together. Again, surprisingly, I am impressed! The absolute quantity and quality of the food is amazing. Take a look at the picture yourself. There was a very nice fresh salad with succulent shrimps; disappointing bread vs. Air Burkina, but a very nice African rice with seafood curry and yam(?) on the side(excellent!); small, but nice fresh fruit; and a great cup of café! While all perfectly adequate, presentation was definitely poorer than on Air Burkina where you got nice branded Air Burkina linen and cutlery. Anyways, I was again super impressed – pretty amazing stuff on a flight less than 500 mile long with relatively full load!
(Menu)
NONE
(Dinner on a flight less than 500 miles)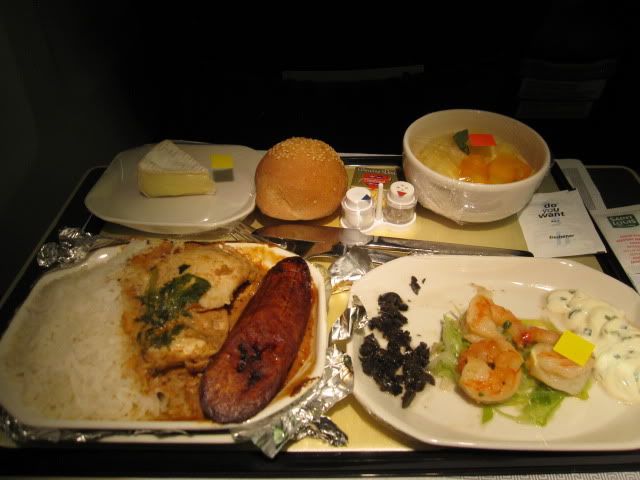 *
(Found the sugar packets interesting – a little piece of Latin America)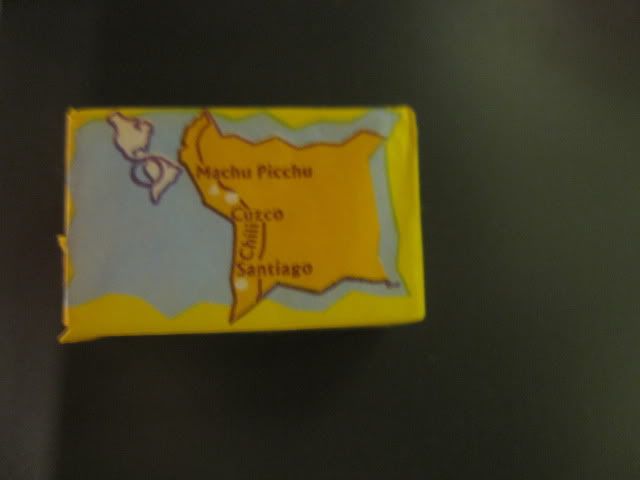 d) Inflight Entertainment:
A Sky has no IFE in the flight – no inflight magazines, nothing. While this was not a problem on such a short flight, it might be more troublesome on a longer stage length. I don't understand this – these are brand new 737's – why are they so poorly equipped? Also, why can't they just use the ET in-flight magazine for now? All very disappointing.
NONE
("In-flight magazines", Boarding Passes, etc.)
e) Crew:
A Sky crew are locally recruited and were not from the "mother ship". They were a lot more relaxed than their Air Burkina counterparts, and the purser showed a level of maturity that seems to be lacking in some of these African carriers. What I mean by this is that they can go beyond what the "service delivery protocol" states and be more engaging with the passengers. This gave me the impression that they were less aloof than their Air Burkina brethren and displayed their natural warmth. Of course, in "technical merit", they were outstanding – from the pro-active help provided during boarding, to responding to the call button, to the amazing ability to deliver a full dinner on a short flight.
Again, an extremely efficient crew who deserve tremendous appreciation for their hard-work. This is a multi-stop flight and they must do this over and over.
IV> Post-Flight:
Arrival at COO was smooth and we walked from the parking stand to the terminal. After OUA, COO felt like the most modern and amazing airport in the world – actually, the arrivals area is not too shabby. I had no checked bags, and soon made it outside where my Novotel driver was ready to take me to my cookie-cutter hotel.
(COO Arrivals)
*
(Outside COO Airport)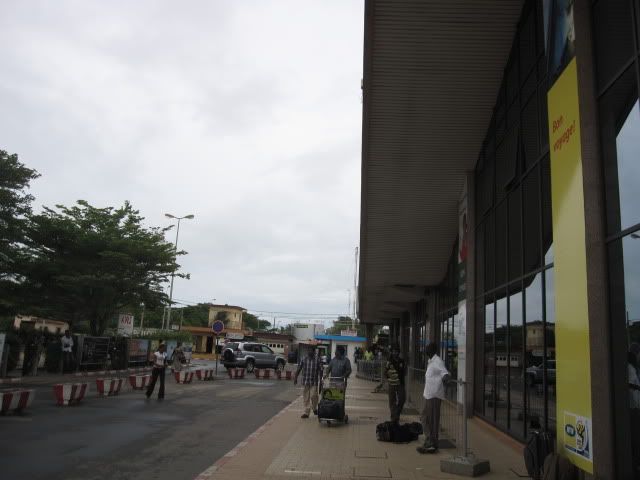 V> Impressions + Scores:
Yet again, I was impressed by the overall level of service on an African carrier. The short flight gave little opportunity for A Sky to "prove" themselves, and I think they did quite all right. The crew and the food stick out as particularly positive elements – though, the lack of IFE is inexcusable especially given the presence of the "mother ship". Where A Sky has tremendous potential to improve is in ground handling for its premium passengers. I recognize the physical limitations of OUA – but this is an experienced African airline which should be on top of its game in its natural "home". The lack of separate experience and the ability to not provide a drink voucher, etc. at OUA is poor. Finally, branding could be improved to distinguish themselves better. If Air Burkina can do the small branding touch-points with so much finesse, I'm sure well funded ASky can as well.
A Sky is an airline I would fly if I had choice. I would even be willing to pay a price premium for them. Thumps up for them.
Based on reader feedback, from now onwards, average will be benchmarked for premium and economy offerings separately.
VI> Other Trip Reports:
PREMIUM:
8.66:
Brussels Airlines (93): FIH-BRU: 01/2010
8.64:
Turkish Airlines (59): JFK-IST: 11/2008
8.63:
Jet Airways (88): JFK-BRU: 10/2009
8.61:
Air Canada (49): YYZ-SCL: 06/2008
8.54:
Turkish Airlines (77): GRU-DKR-IST: 04/2009
8.36:
Kingfisher (98): BOM-HKG: 01/2010
8.30:
Jet Airways (74): KWI-BOM: 04/2009
8.23:
United Airlines (72): SFO-SYD: 03/2009
8.11:
Aeroflot (33): MOW-DEL: 09/2007
8.05:
Air India (80): CCU-JFK: 06/2009
8.04:
Korean Air (40): NRT-ICN: 10/2007
8.02:
Delta Airlines (24): JFK-CDG: 08/2007
7.66:
Sri Lankan (104): DEL-CMB: 07/2010
7.64:
Royal Jordanian (91): AMM-YUL: 12/2009
7.61:
China Southern (103): LOS-DXB: 04/2010
7.57:
Pakistan Airlines (102): ORD-BCN: 06/2010
7.46:
LAN (55): YYZ-JFK: 09/2008
7.82:
Singapore Airlines (06): EWR-SIN: 09/2006
7.25:
Iran Air (88): BOM-IKA: 12/2009
7.23:
Virgin Atlantic (81): BOS-LHR: 07/2009
7.14:
Swiss (52): SCL-GRU: 06/2008
7.11:
Aer Lingus (105): MAD-IAD: 05/2010
7.11:
Austrian (79): VIE-JFK: 06/2009
7.07:
Privatair (84): BOM-FRA: 08/2009
7.02:
Qatar (68): DOH-JFK: 01/2009
6.96:
Etihad (61): JFK-AUH: 12/2008
6.93:
Delta Airlines (18): SEA-JFK: 11/2006
6.84:
ConViasa (65): CCS-DAM: 01/2009
6.82:
Air Burkina (106): BKO-OUA: 06/2010
6.81:
Air Canada (17): ICN-YYZ: 10/2006
6.70:
KLM (32): EBB-AMS: 08/2007
6.52:
Emirates (99): LHR-DXB: 02/2010
6.39:
South African (97): EZE-JNB: 01/2010
6.36:
Privatair (60): MUC-BOS: 12/2008
6.29:
TAM Brasil (96): POA-EZE: 02/2010
6.25:
Korean Air (45): NAN-ICN: 10/2007
6.21:
Iberia (87): BOS-MAD: 10/2009
6.11: A Sky (107): OUA-COO: 06/2010
6.11:
TAP Portugal (53): GRU-OPO: 06/2008
6.00:
Gulf Air (75): BOM-BAH: 04/2009
5.88:
African Express (89): DXB-NBO: 11/2009
5.75:
Singapore Airlines (16): CCU-SIN: 10/2006
5.64:
SATA Azores (101): BOS-PDL: 04/2010
5.64:
NorthWest (46): ICN-NRT-SEA: 10/2007
5.54:
Ethiopian Airlines (95): ADD-BOM: 01/2010
5.46:
Icelandair (83): KEF-BOS: 08/2009
5.39:
LOT (54): WAW-JFK: 06/2008
5.21:
Egypt Air (73): CAI-IST: 02/2009
5.07:
TACA (66): JFK-SAP: 01/2009
4.42:
Air France: CDG-JNB (25): 08/2007
ECONOMY: Long + Medium:
9.26:
Air India (48): JFK-DEL: 02/2008
7.38:
Avianca (01): BOG-LIM: 07/2006
7.07:
Sri Lankan (62): KWI-CMB: 12/2008
7.00:
LAN (94): IPC-SCL: 01/2010
6.41:
Avianca (78): JFK-BOG: 05/2009
6.41:
American Airlines (58): LHR-BOS: 11/2008
6.39:
Condor (85): SEZ-FRA: 09/2009
6.26:
Jet Blue (21): CUN-JFK: 02/2007
6.06:
Air Canada (04): YYZ-YVR: 09/2006
5.89:
USA 3000 (19): PUJ-BDL: 01/2007
5.85:
Spanair (69): MAD-LPA: 02/2009
5.79:
Air New Zealand (42): RAR-NAN: 10/2007
5.52:
Aerolineas (86): USH-AEP: 10/2009
5.46:
TAP Air Portugal (23): OSL-LIS: 05/2007
5.19:
Air Europa (70): LPA-MAD: 02/2009
5.16:
Iberia (71): MAD-BOS: 02/2009
5.11:
Air China (82): FRA-PEK: 08/2009
ECONOMY: Short
8.56:
Paramount Airways (38): BLR-MAA: 09/2007
8.56:
Kingfisher (64): HYD-CCU: 12/2008
8.24:
Kingfisher (14): IXA-GAU: 10/2006
7.87:
Indian (34): BOM-MAA: 09/2007
7.72:
Alliance Air (13): CCU-IXA: 10/2006
7.57:
Indian Airlines (10): DEL-CCU: 09/2006
7.23:
West Jet (03): YYC-YVR: 09/2006
7.15:
JetLite (37): BOM-GOI: 09/2007
6.98:
Air Koryo (100): PEK-FNJ: 04/2010
6.70:
Spice Jet (09): CCU-DEL: 09/2006
6.63:
Air Fiji (44): NAN-SUV: 10/2007
6.63:
Jazeera (67): DAM-KWI: 01/2009
6.58:
Air Tran (02): EWR-MDW: 08/2006
6.48:
Air India Express (63): CMB-MAA: 12/2008
6.44:
CO Micronesia (39): ROR-YAP: 10/2007
6.41:
Pacific Sun (43): NAN-SUV: 10/2007
6.37:
Skybus (47): SWF-CMH: 02/2008
6.33:
Kenya Airways (29): NBO-BJM: 08/2007
6.33:
Sky Europe (56): LTN-BTS: 10/2008
6.31:
Indigo (15): GAU-CCU: 10/2006
6.31:
easyJet (57): BUD-LTN: 11/2008
6.22:
Air Link Swazi (28): MTS-JNB: 08/2007
6.22:
Air India (36): HYD-BOM: 09/2007
6.13:
Adam Air (07): SIN-CGK: 09/2006
6.13:
Air Rarotonga (41): RAR-AIT: 10/2007
6.00:
Transairways (27): INH-MPM: 08/2007
5.95:
Air Canada (05): ALB-YYZ: 09/2006
5.85:
SAS Norge (22): OSL-AES: 05/2007
5.81:
LAM Mozambique (26): JNB-MPM: 08/2007
5.69:
Air Deccan (12): IXZ-CCU: 10/2006
5.67:
Rwanda Air Exp (30): KGL-NBO: 08/2007
5.37:
Felix Airways (92): SCT-SAH: 12/2009
5.11:
Aero Republica (76): BOG-CCS: 04/2009
5.07:
Go Air (35): MAA-HYD: 09/2007
5.00:
Sky Airline (51): IQQ-SCL: 06/2008
4.96:
Valuair (08): CGK-SIN: 09/2006
4.78:
Air Comet Chile (50): SCL-IQQ: 06/2008
4.74:
Fly 540 (31): MYD-LAU: 08/2007
4.33:
Viva Aerobus (20): ELP-MTY: 02/2007
4.11:
Air Sahara (11): CCU-BOM: 09/2006
(Note on Codes: Y – Economy, J – Business, F – First :: I/D – International/Domestic :: SR/MR/LR – Short/Medium/Long Haul)
(Note on Date: Dates are modified to be +/- 3 days from actual flight date to not reveal actual flight pattern)
VII> Other Pictures:
(This is Ouagadougou!)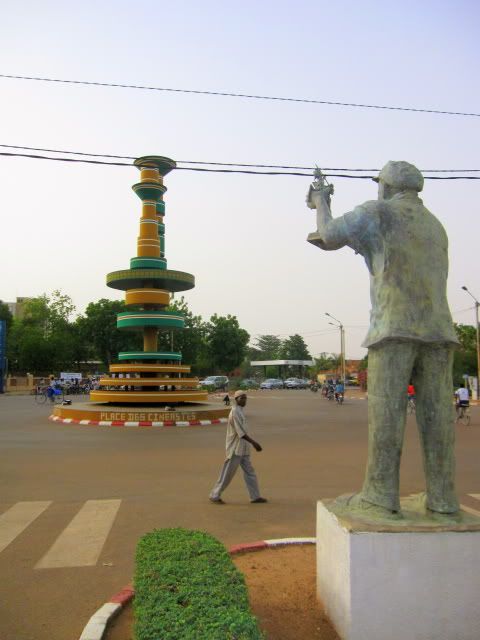 *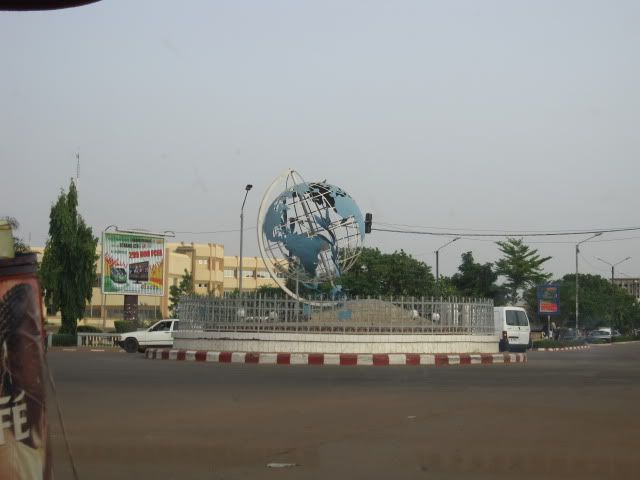 *
(Cotonou – stock)