PRE-FLIGHT-
This is my first flight with AirAsia, and most importantly, my first LCC-flight. I had always wanted to fly on a LCC ever since my mum flies on LCC carriers frequently. (Jetstar, Tiger Airways) To be honest, I wasn't looking forward to this trip to CGK, as it meant that I will have to 'endure' the flight with no free flow of drinks. When I am travelling, I will always need to drink adequate water on board since my lips get dried very easily especially when onboard the plane. However, this AirAsia flight was certainly my most memorable flight since it defy-expectation.
This is also my very first trip report, and I hope that you will enjoy reading it.
FLIGHT DETAILS-
Airline: Indonesia AirAsia
Flight: QZ 7783 (PK-AXD)
Equip: Airbus A320-200 (c/n3701, first flight 06/11/2008)
Flight route: SIN (Singapore Changi Airport) – CGK (Soekarno-Hatta)
Cabin: Economy
Seat: 7B (Window seat)
Departure: 1020
Arrival at CGK: 1055
-----
Check-In at Singapore Changi
I like Singapore Changi is that it's big and modern and the airport is constantly upgrading itself. For my flight, I will be departing from Terminal 1, Changi's first terminal. The terminal itself has a lot of memories for me as from young up to recently, most of my flights had departed from terminal 1. Although the interior looks somewhat old when compared to terminal 2 and 3, however, its still my favourite terminal.
As I didn't expect, AirAsia and Jet star flights all depart at terminal 1, unlike Tiger airways who use the budget terminal. Checking in at the counter was relatively easy, and I received my ticket in no more than 5 mins.
After the immigration process (which is hassle-free), I decided to wonder around terminal one especially since we were early. (I had 1 and a half hour to spend) But sadly, most of the terminal 1 was closed for major renovation. (My guess is that they are adding glass windows?)
Anyway, I decided to get some photos on the outgoing and incoming aircrafts. (I apologise for the limited photos.)
----
(An Air Seychelles Boeing 767-200ER parked at the terminal along with some private jets)
(A Silk Air Airbus taking off )
(An Air India Airbus jet followed after the Silk Air takeoff)
(Two Singapore Airlines planes meeting each other, the Boeing 747-400 to take off while the other, Airbus A330-300 to be parked)
-----
BOARDING-
Boarding was relatively easy for this first flight to Jakarta. I was expecting this flight to be 100% load factor, but instead, it was about say 30% full? Anyway, it means that I can recline my seat without any worries.
While the flight attendance checked my boarding pass, I thought that I should take a look at our plane. No plane! So while we waited for the plane to arrive (about 20mins after our original departure), and the crew opened the gate and seemed to be a full pax.
After the passengers left, new crew took over and maintenance crew came over to check the landing gear.
(Uhh Houston, we have a problem)
After about another 15 mins or so, the crew seemed to resolve the issue and our bags were placed on a conveyor belt.
(That red luggage will be my luggage for my Jakarta trip)
And soon after that, we were ready to board. Since the load for today is less, the flight attendance called all of us to get ready our boarding pass to enter the aircraft.
(Ready to board, the boarding gate slowly make its way to the aircraft doors)
When I first went into the aircraft, I could see smoke in the air-conditioning duct. My attempts to take a good shot was short lived as passengers behind me were complaining.
But I did manage to get a photo of the cool black leather seats. Thankfully, there wasn't anyone behind or in front of me. Furthermore, I managed to move around the aircraft easily and I enjoyed this trip.
(Air Asia's red hot and 'iconic' seats, very comfortable indeed, though I must agree that LCC carriers are very stingy when it comes to legroom, I could barely move around at my seats. However, their seats were much, much better than UA's B747 economy seats)
The plane was relatively new at that time and the interior was well-maintained. Besides that, it looked like any legacy carriers with the exception of IFE system.
(The interior view. Note that the overhead bins have advertisement on AirAsia flights. Another Ryan Air advertisement tactics...)
I managed to get some photos at the tarmac. (Again, I apologise for the limited photos I have.)
Scenes at the tarmac-
(China Airlines' A330)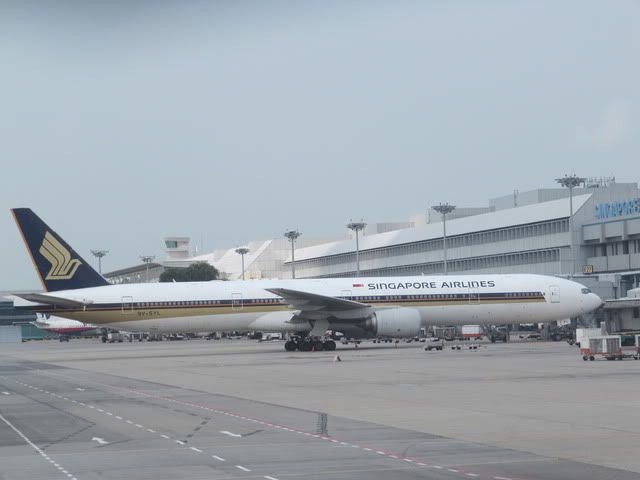 (Singapore Airlines' B777-300ER, truly an amazing aircraft with that GE powered engines!)
(Air Mauritius A340-300X, note the construction crane behind, major renovation on Terminal 1)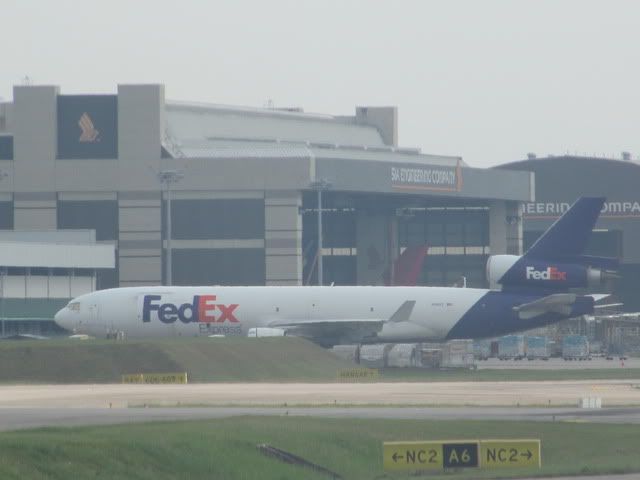 (A Fedex MD-11F parked in SIN. Is it being converted or just parked at SIN?)
We took off in less than 15 mins and quickly reach our flight altitude. However, I must say that the ascend was rather steep and I wasn't feeling good as my ears start to hurt a lot.
Our estimated flight time was 1 hour. But, the captain announced that due to excellent weather in CGK and SIN, we will land shortly in about 45 minutes after take off. (Excellent news after the delay!)
During the 'snacks-attack' beverage service, I asked the flight attendance politely whether I could take a photograph with the captain and the first officer after the plane has landed. She told me that she would get to me shortly after she finished the 'snack-attack' service. However, she had forgotten my request.
When the captain announced our descend, she made a quick walk through to check that our seatbelts are fasten. I asked her again if she could ask the captain if I could take a photograph with the captain. She went back to the back gallery and this time, the chief purser came and told me that he would ask the captain after the plane has landed.
Once the plane landed at CGK airport, we quickly taxi our way to our gate. The chief purser asked all of us to remain seated until "the plane has come to a complete stop." If that phrase was going to be acknowledge anyway. Passengers started to get up of their seats and grabbing their belongings and exited the aircraft. I was the last to get up of my seats. When I approached the chief purser, he instantly snapped and remembered my request. He went into the cockpit and came out to tell me that I could enter the cockpit. (I was very elated since I had never enter an airplane's cockpit.) I started to chat with the captain and took a quick photograph with them with the help of our friendly chief purser, who didn't hesitate when I asked.
(In flight over Indonesia with excellent weather)
(One of my unforgettable photos in my life. This really motivates me to become a pilot, one day..)
--
IN CONCLUSION
Indonesia AirAsia gives me an impression that the crews are not just a heartless crew who wants to get this job over with and gives you a grumpy stares. I have personally experienced crews who think that a teenager like me to be a joke. For example, when I flew with Qatar Airways in 2007, the crew thought that my friends and I were nuisance to them, which I happened to overheard that conversation when I was at the back gallery. Furthermore, I could say that Indonesia AirAsia not only maintain their seats and interior better than UA, but I have fallen in love with LCC carriers.
My next flying trip will be with-
Air Asia (SIN-KLCC) 22-24 Nov
Cathay Pacific (SIN-HKG) transit (HKG-PEK) 25-06 Dec
Thanks for spending your time reading this article and I hope that you felt the same experience as I do.