Welcome to PART IV of this report, continue with PART III, I am heading to PEK for my Iran Air's flight.
In the beginning, I do not have much expectation of this sector because it is just help me to catch another flight, but after booking, I knew that I will on OZ's new Business seats in this sector, I was excited!
Business Class Check-in area for all Asiana Flights
PIDS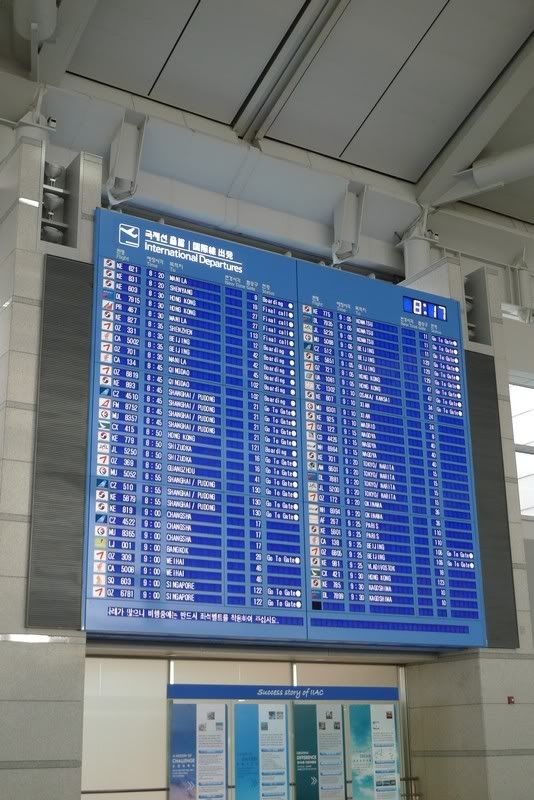 There were many people travelling that day, so I passed immigration and security after 25 minutes
After that, take a look of the lounge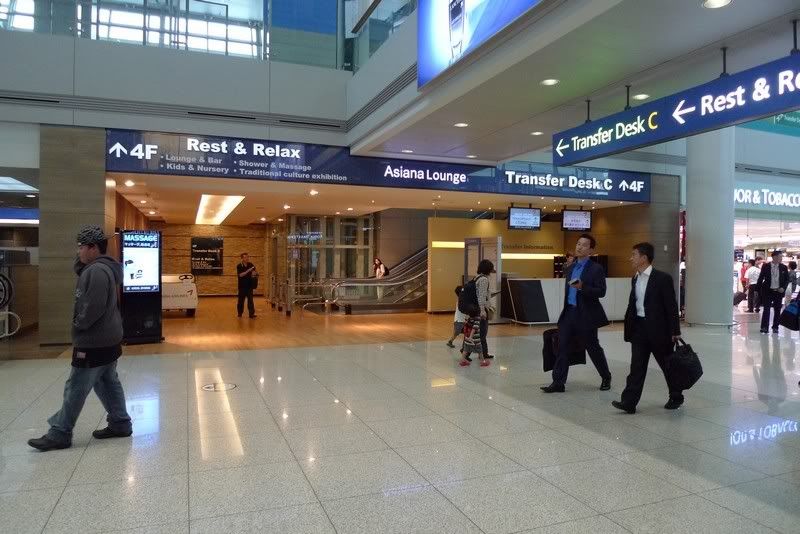 The lounge was big, but the furniture was not very clean as i can see some dirty around me
Food offering was not enough, the only hot food was instant noodles!
1 September 2010
Seoul/Incheon (ICN) – Beijing (PEK)
Airline: Asiana Airlines
Flight: OZ 333
Aircraft: 777-200ER
Registration: HL7756
Seat: 6K (Business)
Gate: 43
Gate area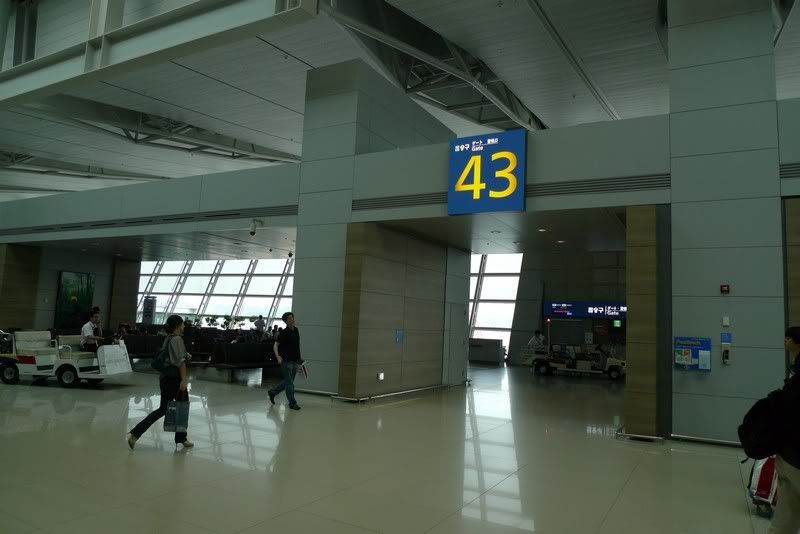 Boarding Pass
Gate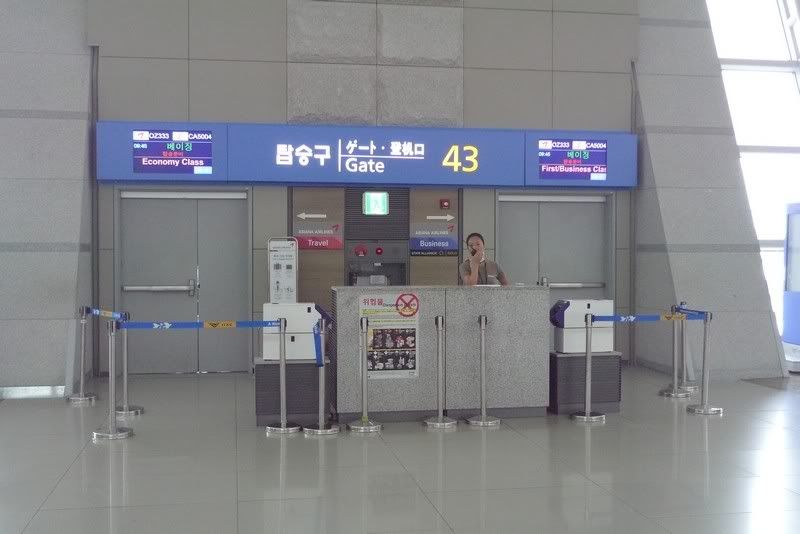 HL7756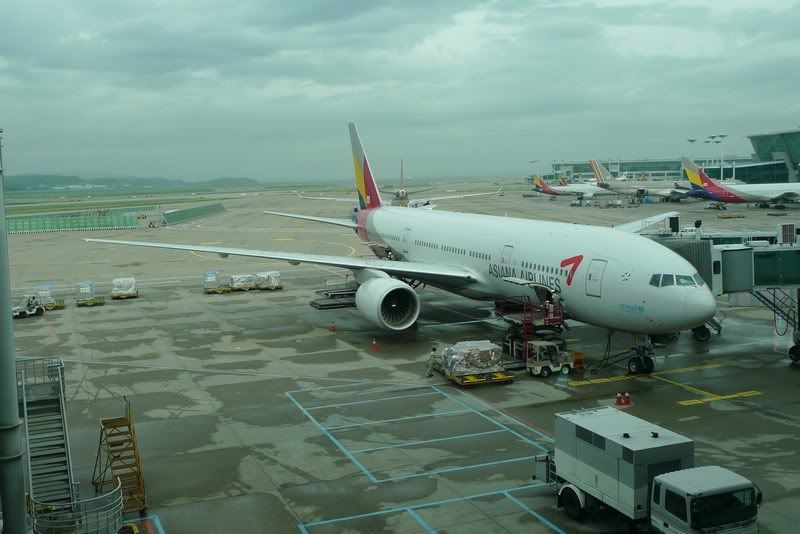 Boarding
Cabin from the front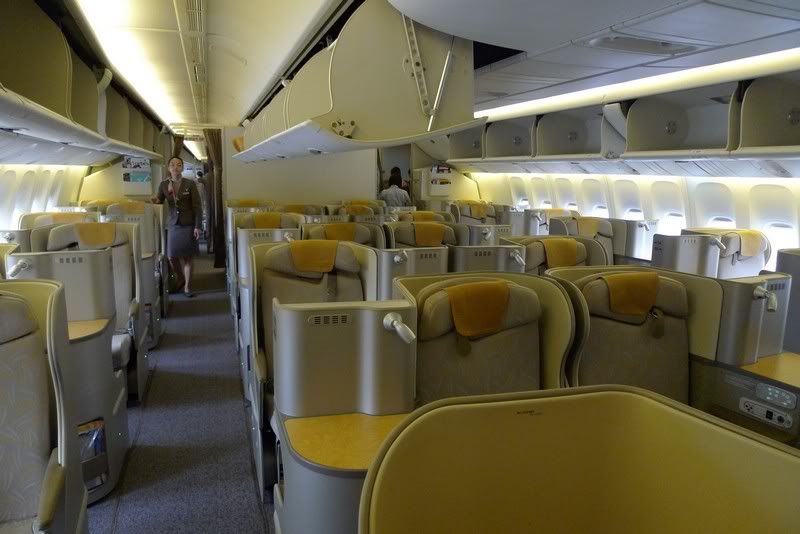 Seat 6K, missing 1 window
The seat was good, and the width is even more than the old config! Love it!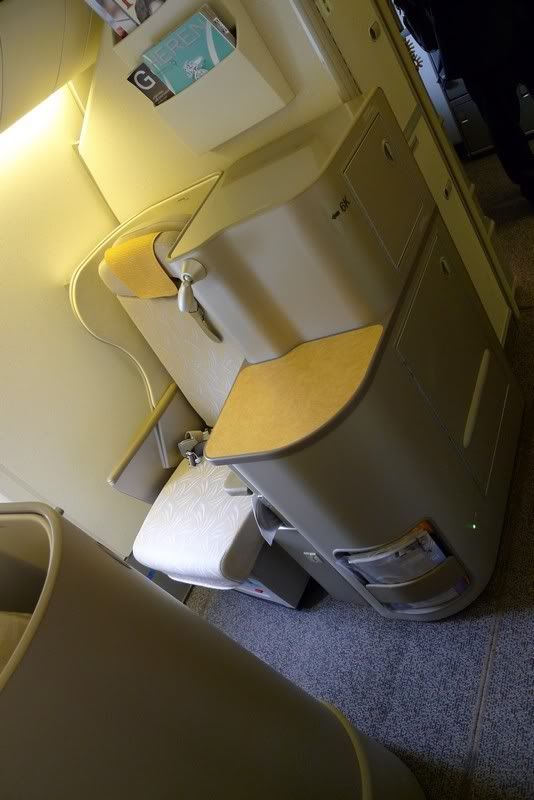 Seating pitch
Cabin view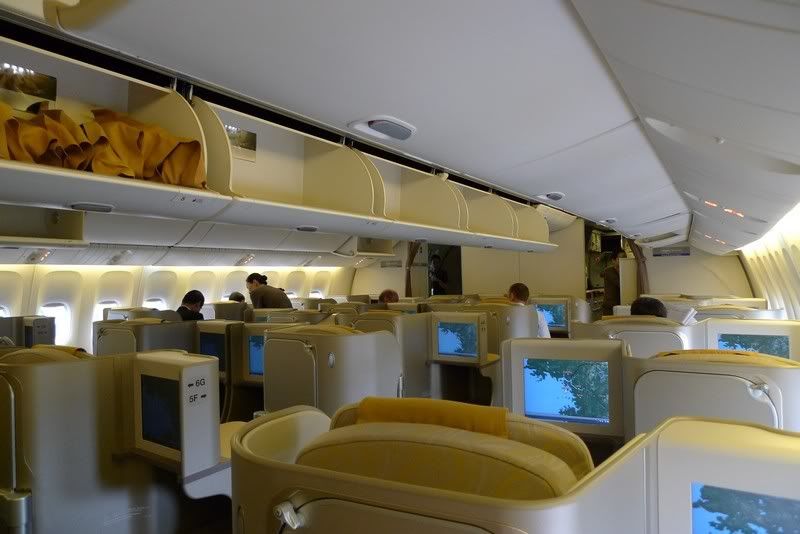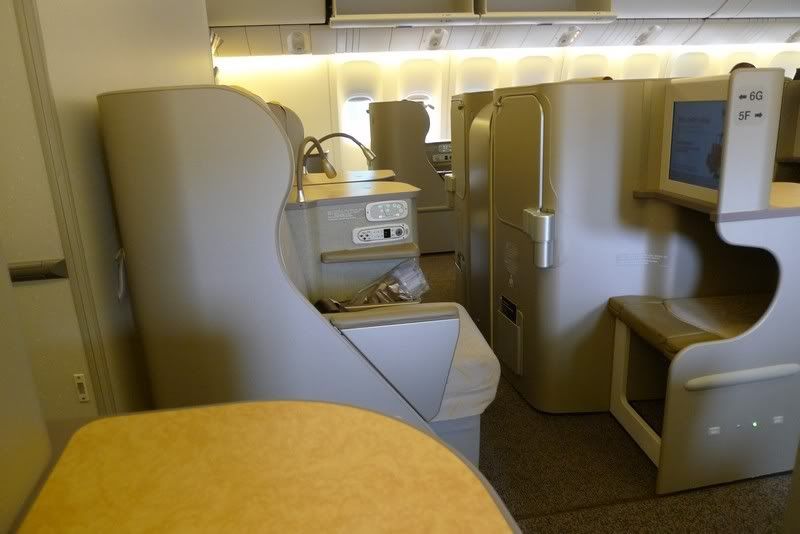 Table, firm, large enough!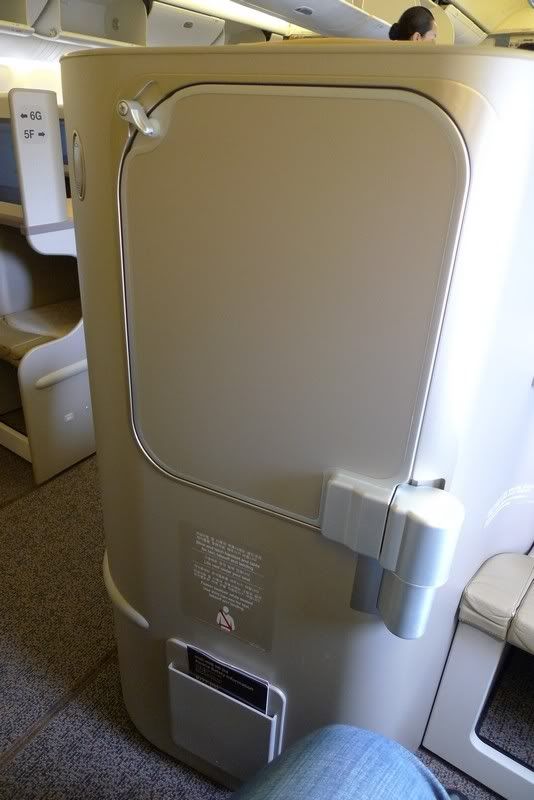 But the table hinge keep knocking my knee...
Only 1 hour 30 mins to Beijing
Oh.....
Seat control and AVOD control
Fully-flat, I am only 5' 9", but my head and toes touched both ends, but still better than CX's Business Class seat, at least I can find somewhere to put my arms.
Safety Information Card
Asiana this side
After take-off, meal time
Beef in Korean style, not as good as NRT - ICN's leg
Toilet in front of Door L1, there is no toilet at the rear in the business class.
Seems the area at my seat 6K was a toilet. This layout use more areas to fit 24 seats while the old layout can fit 28 seats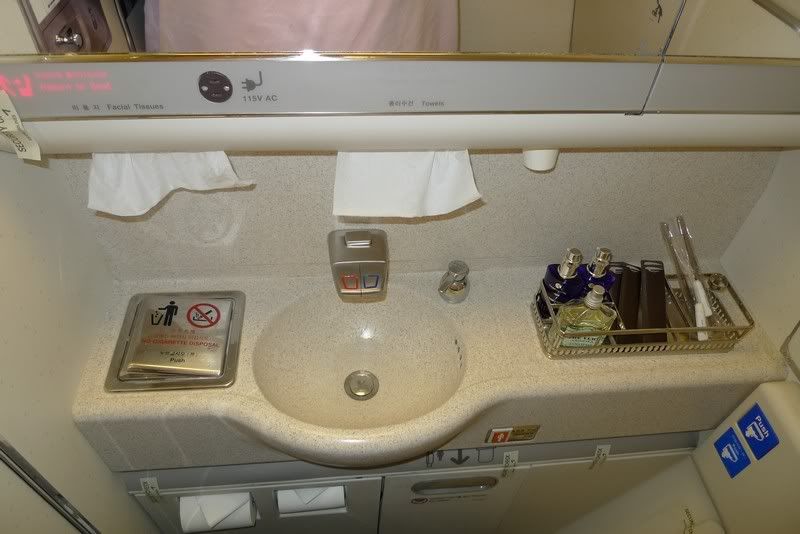 Arrived Beijing Capital Airport Terminal 3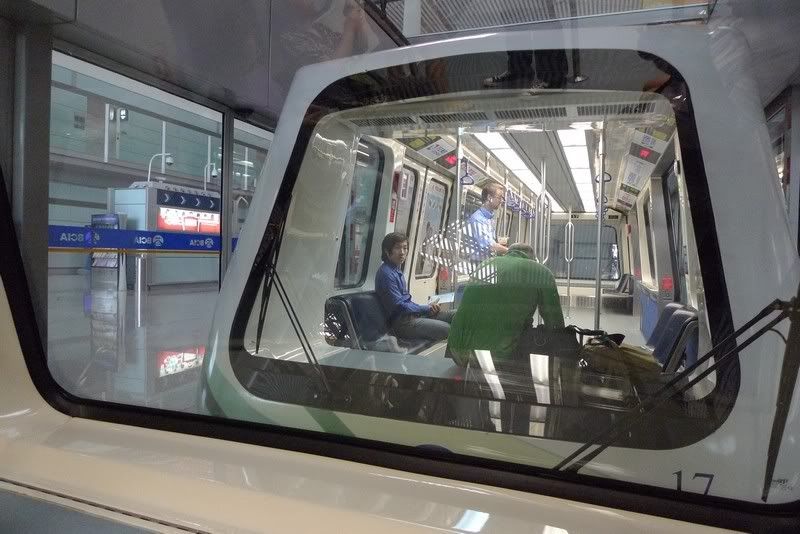 Stayed a night at Hilton Hotel PEK, a new hotel opened for about 1 month only
Large room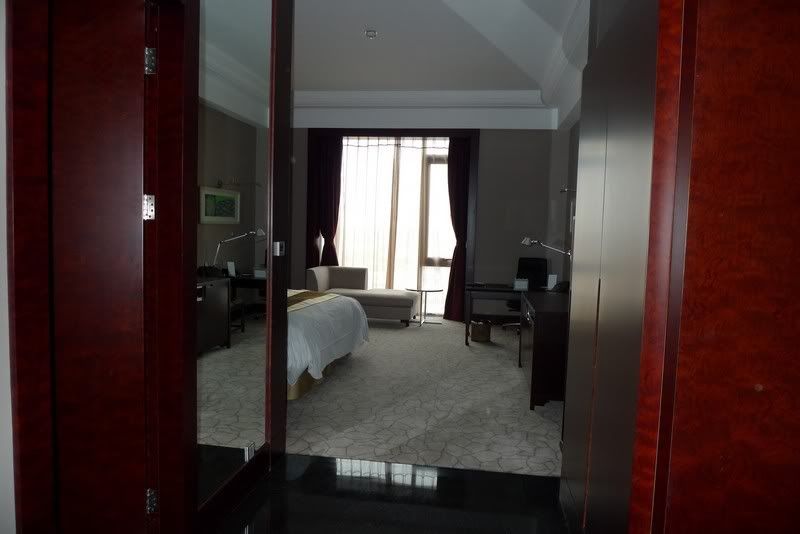 The bed was good, however the room was too dark at night
View from the room
While thinking the SuperJumbo has been landed at 15:08 (according to the airport's website) on another runway, she appeared at 15:33 with my room service!
This is the end of PART IV, Part V is coming soon!
My past TR:
Three 5-Star Airlines In 8 Days (102pics) (June 2008)
First Touch Of China Southern MD82 (31 Pics) (August 2008)
China Airlines HKG - TPE (47 Pics) (August 2008)
HKG-BKK With China Airlines In C (61 Pics) (November 2010)
HKG-BKK F On Emirates' 777-300ER (67 Pics) (May 2009)
HKG-TPE Turnaround On TG's A340-600 (33 Pics) (June 2009)
HKG,MFM,TPE,SIN,BKK In CX C And BR Y (201 Pics) (August 2009)
SQ Y HKG-SIN In 2009 w/MH And 1st A380(128 Pics) (Year 2009)
Ooop! I did it again Part 1 EVA Air MD-90 (May 2010)(50 Pics)
Ooop! I did it again Part 2 CX HKG-SIN run (May 2010)(116 Pics)
Photo Report: My Trip For BG's DC-10-30 (June 2010)(63 Pics)
First Time To Japan Part I: AI HKG-KIX In F (August 2010)
First Time To Japan Part II: JL KIX-HND In J (August 2010)
First Time To Japan Part III: OZ NRT-ICN In C (August 2010)