Hello, and welcome to my first trip report posting on A.NET. After uploading around Five previous reports to other smaller forums i decided the time was right to start here with the "big hitters".
Having been a long time lurker to this website i have been fascinated by the trip report section and used to spend my Friday afternoons catching up with all your adventures. I guess it makes my love of Mileage Runs and flight joyrides a little more mentally acceptable. Yes, there are some other guys out there doing this too, thank god its not just me going loopy!!!!!!
Before i begin with my report i would just like to give kudos to FlyingFinn76 and airpearl. I have found your TRs to be particularly enjoyable over the months so thanks for taking the time to share them with us.
The Trip Planning Stage
After spending almost Two months without setting foot on an airplane the withdrawal symptoms were starting to show. As luck would have it around Two days after the "shakes" set in the Mrs informed me that due to work commitments she would be away from home for Five days. "Oh dear" i mumbled, "what am i to do while your gone"? knowing full well what i was to do. A quick check with the boss at work the next day confirmed that the dates she would be away on tied in nicely with the possibility of having some time off work. All i had to do now was figure out some routings.
I have always found the construction of a flying trip quite exciting, a blank canvas on which to put your own marks. After some thinking, i made the decision to try and fill in some of the gaps on my U.K domestic map on flightmemory. I had pretty much neglected to fly any domestic routes other than (based out of MAN) down to LHR or up to EDI with a one off trip to ABZ for a friends wedding. I guess with Britain being quite a small island the temptation is to take the train or just drive everywhere.
As i started to delve into various options it became clear that booking a series of one-way tickets was going to be the best option. FlyBe seemed to offer options out of some of the smaller, more obscure airports but as you would expect only One maybe Two rotations per day making things a bit tricky. I wimped out and stuck to the more popular routes which also helped keep the costs to a respectable(ish) level.
So after a couple of evenings trying to "join the dots" i arrived at this.
21st September
Manchester - Edinburgh FlyBe - Dash8-D
Edinburgh - Belfast City FlyBe - Dash8-D
Belfast City - Manchester FlyBe - Dash8-D
(Night stop at Bewleys hotel Manchester Airport)
22nd September
Manchester - Inverness FlyBe - Dash8-D
Inverness - London(Gatwick) FlyBe - E195 (first time on this type)
London(Gatwick) - Manchester British Airways - Boeing 737-436
That was that, or so i thought?
I decided to extend the trip by One day, moving out of the U.K and taking a run down to Zurich.
(Night stop at the Manchester Airport Primier-Inn)
23rd September
Manchester - Zurich EasyJet - A319
Zurich - Manchester SWISS - A320 (business class award tkt.)
Time To Hit The Sky's
Tuesday 21st September.
So to the morning of departure. After a few foul days of weather it was nice to wake up to a clear sky, albeit still quite dark at 05.30.
I had packed my bag the night before so i had time to wake up for an hour or so before ringing a taxi to take me to the local train station. Just to add, i received a text message from EasyJet just before i was about to leave, informing me of possible disruption to my flight on Thursday to ZRH. This is due to French ATC strike action. Something to keep an eye on. My hope is that since its an early flight i may escape a severe "accumulated" delay. We will see? A brief 10 minute wait at the station and i was on my way to Manchester and being treated to a lovely sunrise as we went along.
Security was a breeze, which was a nice surprise as i had visions of chaos as the early morning commute got underway.
I have used T3 a good few times now but never really pay it much attention. Well this morning, as im flying with no airline status i cant access a lounge so am sat out with the great unwashed. The departure area looks as though some construction work is underway and boy does it need it. Its not overcrowded, just a real mishmash of all sorts of ideas.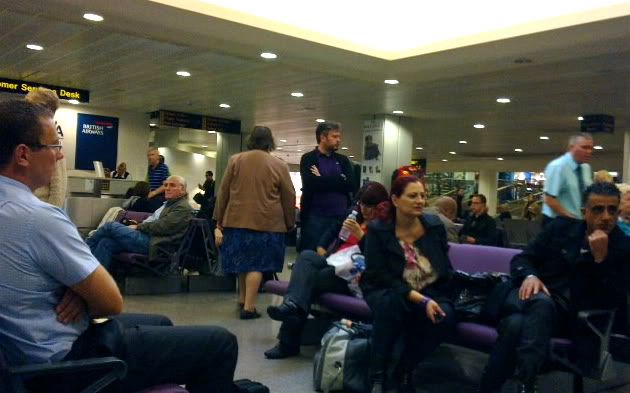 Old school FIDS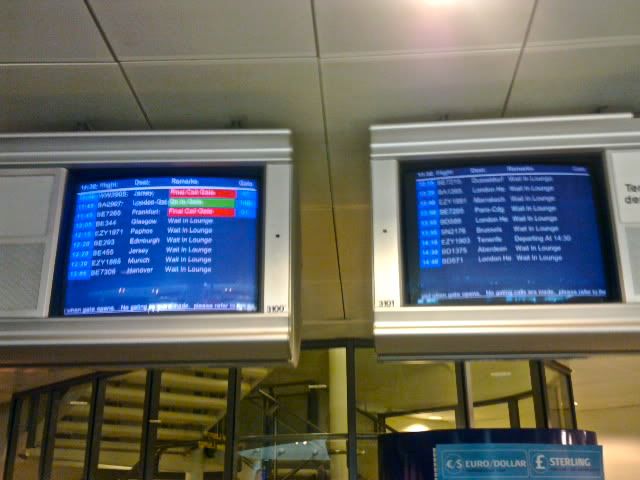 I will have to come back again next year to see if things change for the better when the work is completed. I can imagine the folks in the BA Terraces lounge looking down and laughing at us.
I had got to the airport quite early for this 12:20 departure so i had to kick about for a couple of hours. Just as i was starting to get a bit bored my flight was called from gate 147 so i headed on down there for a change of scenery.
Overhearing a conversation between the dispatcher and the gate attendant i learned of a very light load, just 13 passengers!!!! Not sure if this is down to the time of day or a sign of the times? Im sure i can judge it better after my next couple of flights today.
MAN-EDI
FlyBe DASH 8-400
G-ECOK
Seat 14A
We were invited to board about 5 minutes before our scheduled departure time and managed to push back more or less on time. It had been a while since i had flown on a DASH and had forgotten how small the overhead bins are. With there being a light load i just pushed my bag under the seat next to me. Ok for now, but might turn into a problem if the flights get busier later on?
During the cabin announcements we were informed that the EMIRATES A380 was visible parked up at T2 on our Left. Well not for me because the engine and port side landing gear were all that was filling my window.......So if you like a view, avoid rows 10 thru 16.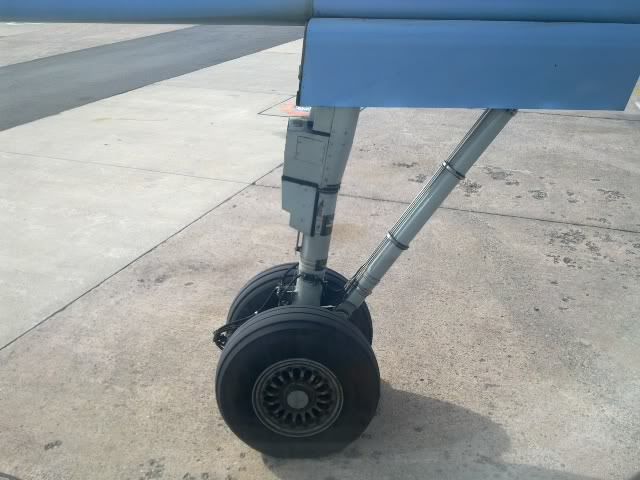 Takeoff was from 23R, followed by a right turn up over the Lake District towards Carlisle then, a direct routing over the Scottish Boarders into EDI.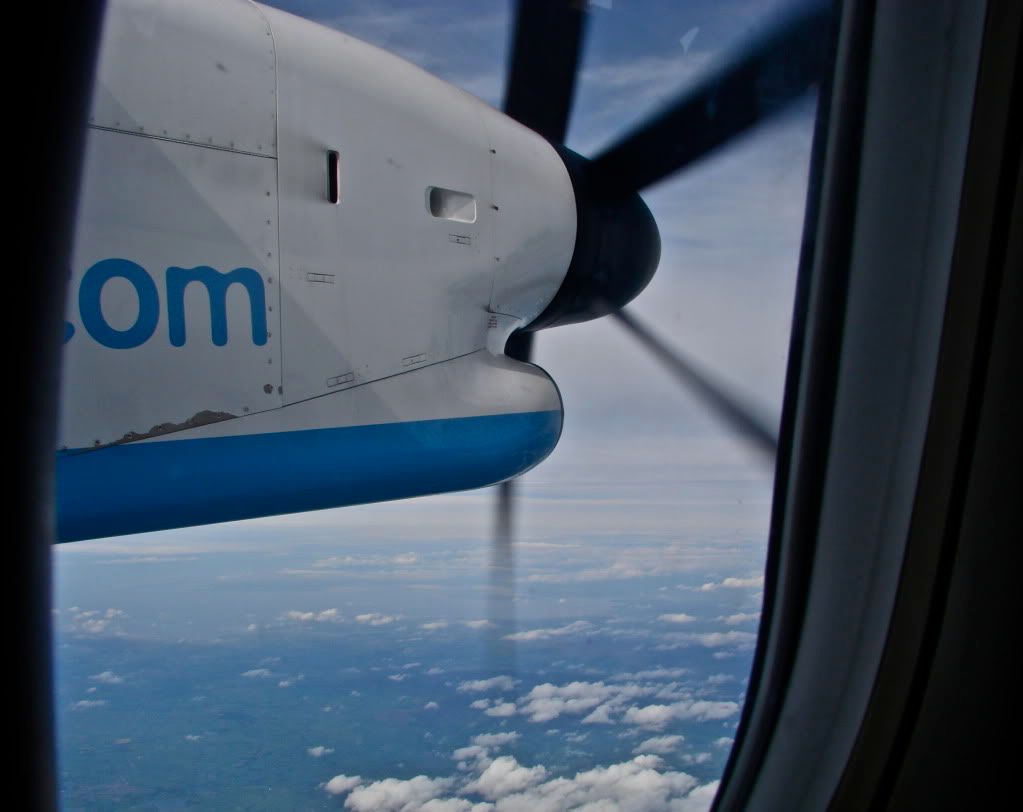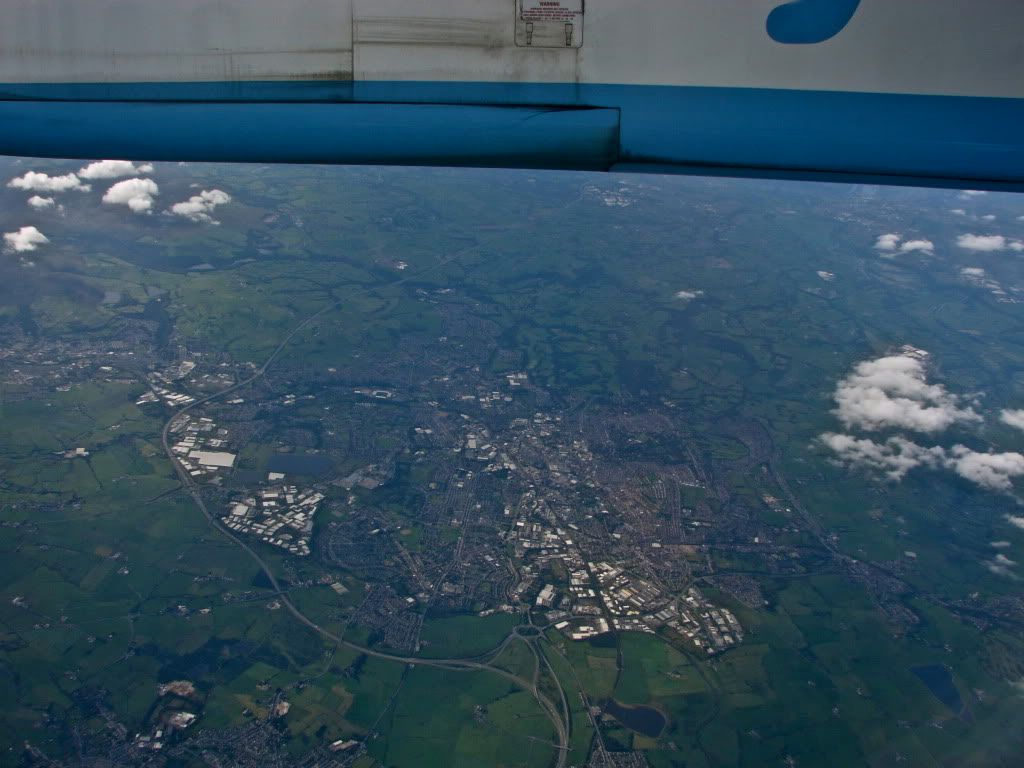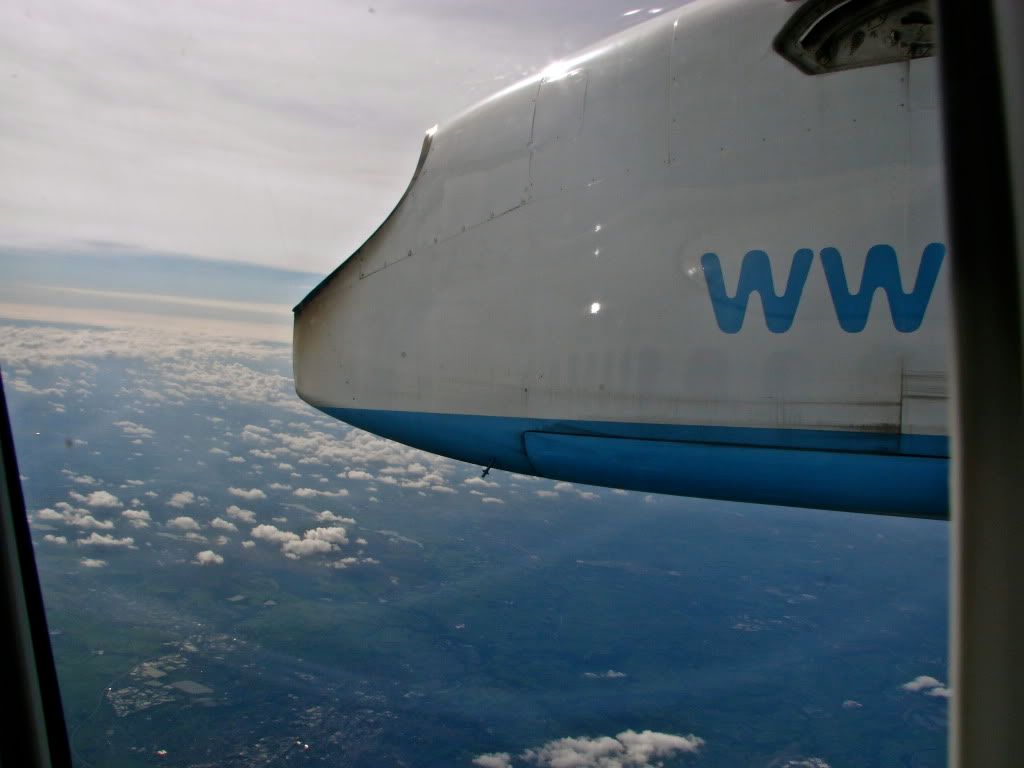 Cabin shot.
The all important legroom shot....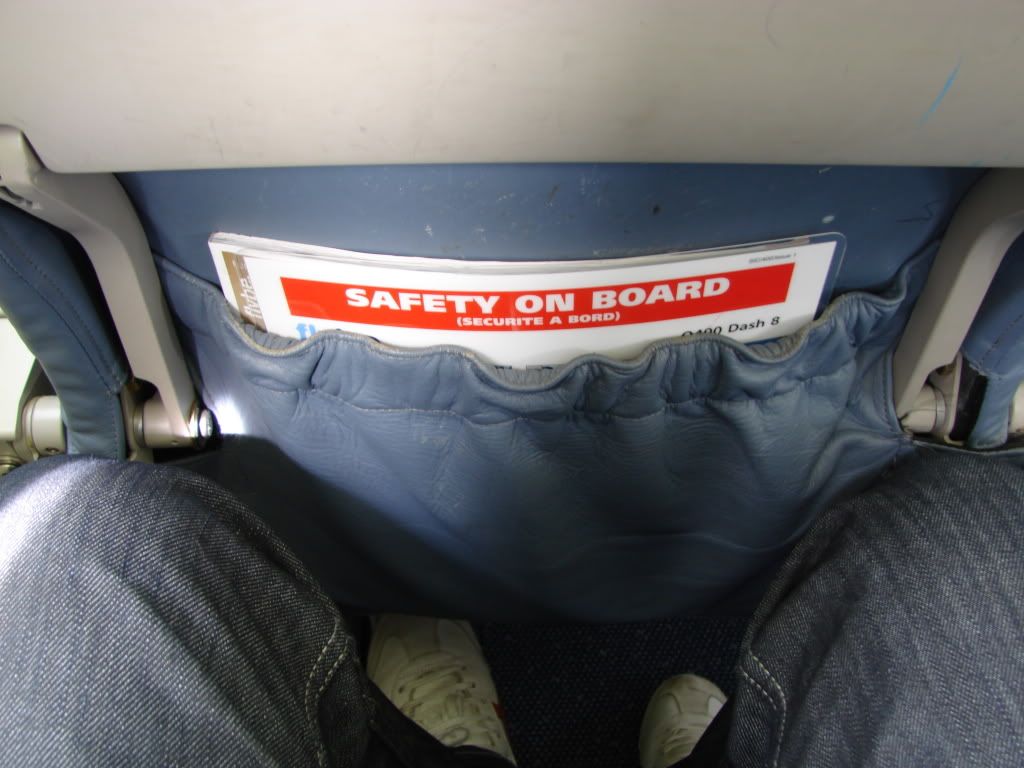 We arrived about 10 minutes early after 41 minutes of flying time.
Oscar Kilo parked up after the short flight.
A couple of years ago i was quite a regular visitor to EDI when the Mrs lived up here. It was quite a nice wee airport back then, so i was interested to see how the Departure terminal had changed after the works BAA were starting 15 or so months ago had been completed. Well its still nice, but you can see the BAA virus spreading fast. Shopping Mall attached to an airport is the only way they know.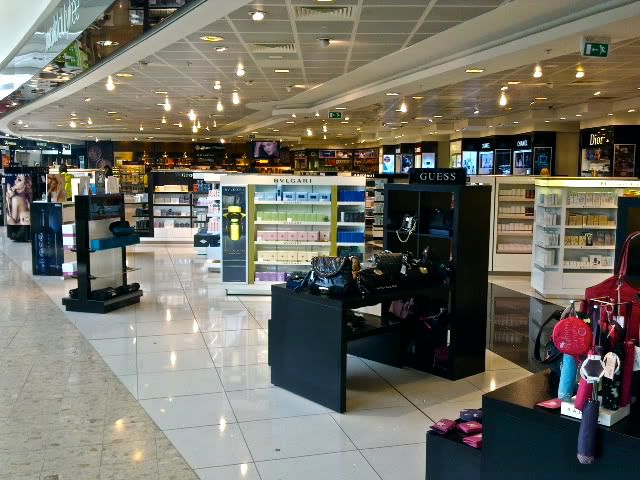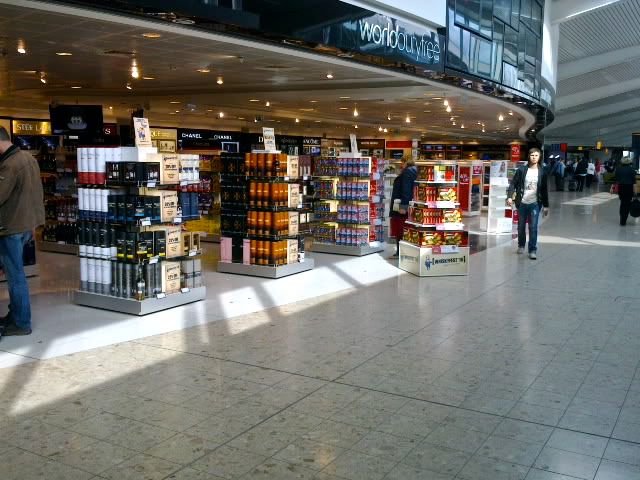 Again, to pass the layover, i just got a quick snack and a drink and watched the world go by. This RYANAIR 737-800 was operating a flight to Marrakech from the gate next to where i was sitting. Didn't know they flew there. PAX loads looked very healthy too.
EDI-BHD
FlyBE DASH 8-400
G-ECOK
Seat 11D/moved to 9D
Boarding was called through gate 12B which is at the start of a long "finger" frequented by FlyBe. This is also a bus gate which i didn't know existed at EDI. I noticed Oscar Kilo had never moved since i arrived on it this morning but I was quite surprised when the bus pulled alongside it for my short hop to BHD. Ah well...that has never happened to me in the same day before. From the amount of people on the coach i could see we were going to be more than 13 this time, but still, a low load of around 30 passengers. How do these guys make any money? I cant see them offsetting low passenger numbers with good cargo hauls.
Once onboard i was joined by a woman in her 50s even though there were a lot of empty rows around us!! Once the doors were shut i took the initiative and shifted my butt a couple rows forward.
Same runway in use as this morning, Departing to the South West, down the West coast for a while before turning Right across the Irish Sea to Belfast.
I was seated 5 rows forward from my previous leg and one thing that stood out was the BIG increase in vibration and noise from the Dowty prop. A really low pitched drone. No big shakes for a 30 minute flight but boy, that would get annoying after a couple of hours.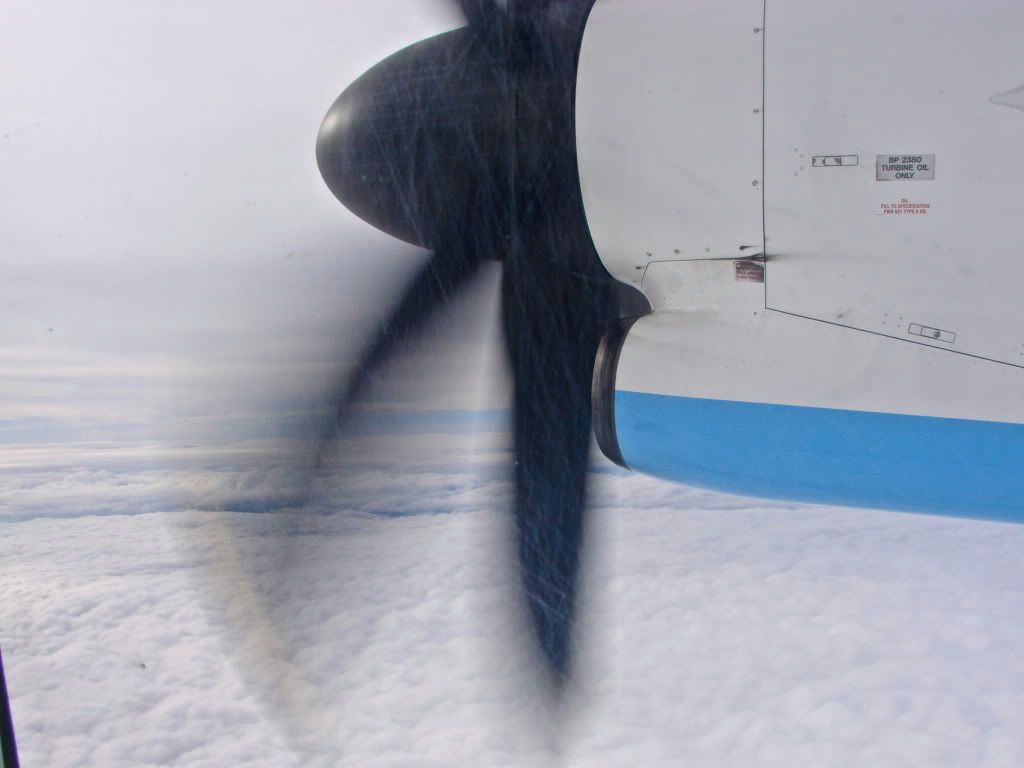 Cabin view. Looking rather empty again.
Captain came on PA system informing us of a cruise at FL160 and very similar weather conditions in Belfast to those we just left behind us. Landing was to the West 20 minutes ahead of schedule.
Upon entering BHD i was faced with the prospect of having to re-clear security. I had assumed i would just step out into a transfer area at a domestic gate but this wasn't the case. No hassle, plenty of time to spare. Anyway, i wanted to go to a FlyBe ticket desk and ask about getting my next leg changed from an aisle seat to a window. At time of checkin, you can pay £6 to select a seat of your choosing. No thanks, not going to go with that. The lady on the desk got me fixed up with a window seat in about 30 seconds for free.
You know when your in Ireland when the first thing you see after security is a packed bar. Mmm beer, now theres a thought.
Well i decided to pass and got a Sausage and Egg sandwich and a Dr Pepper from WHSmith. The beer can wait until my hotel stop for the night.
One of the terminal seating areas.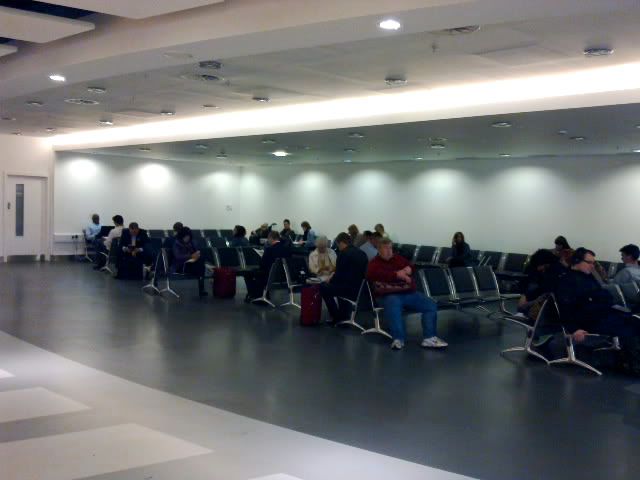 BHD-MAN
FlyBe DASH 8-400
G-JECF
Seat 17A
Hooorayyy!!!!! Well this is a turn up for the books. A flight with more than a few people on it. Still not full but, i guess around 85%. I was starting to wonder where everyone had gone?
Charlie Fox waiting for its next mission in the setting sun.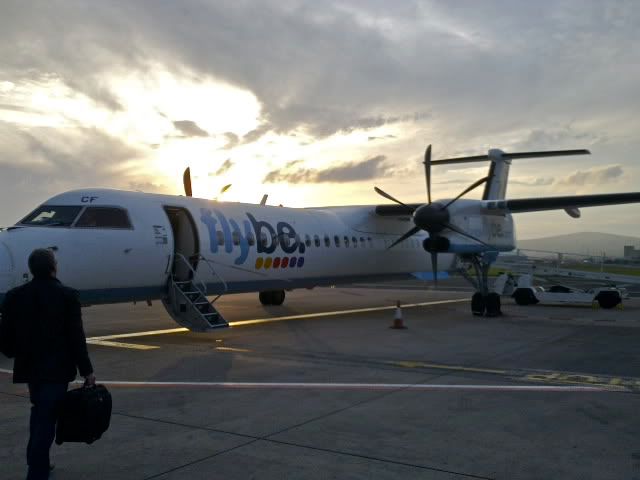 I managed to get myself second in line for boarding as i wanted time to figure out what i was going to do with this bloody roll-aboard. As this was just expected to be a 40ish minute run i elected to stuff it under the seat in front and use it as some kind of low cost airline footrest.
During the day i had noticed a tendency for the airline to fill the rear of the plane, and leave the front relatively empty(where loads permit). This was the case again, with the handful of empty seats being towards the front. Im guessing this has to do with trim?(I later found this to be the case when it was mentioned by cabin crew).
Flight Deck informed us of an on time departure, decent weather en-route and a flight time of 40 minutes with a cruise altitude of FL190. Takeoff was in the same direction, after backtracking down half of the runway, with a routing taking us over the southern tip of the Isle Of Man.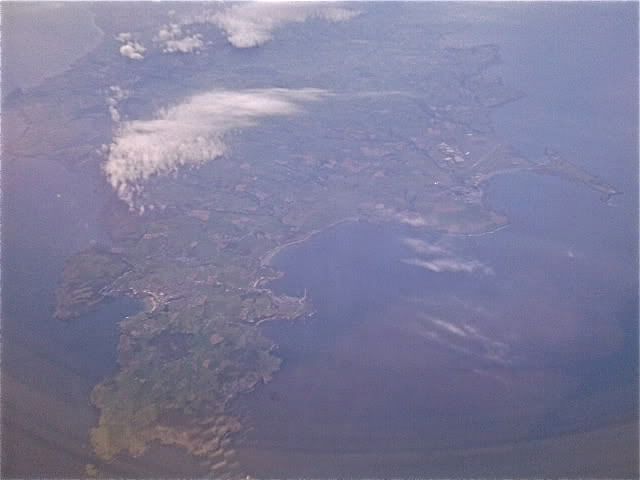 Landing was on 23R at MAN where i left some 7 hours earlier in the day.
Once on the ground, i hotfooted it from T3 back to the train station to pick up a shuttle bus(yes, a bus from a train station!!) to the Bewleys Hotel with the thought of a few beers bouncing round my head. I had seen ok reviews of this place so decided to give it a shot. I picked up a room for £70 so its in the average price bracket for this area.
Well thats is where i am as i write the first part of this report. Sat in the (rather noisy) bar with a pint of Heineken on the go.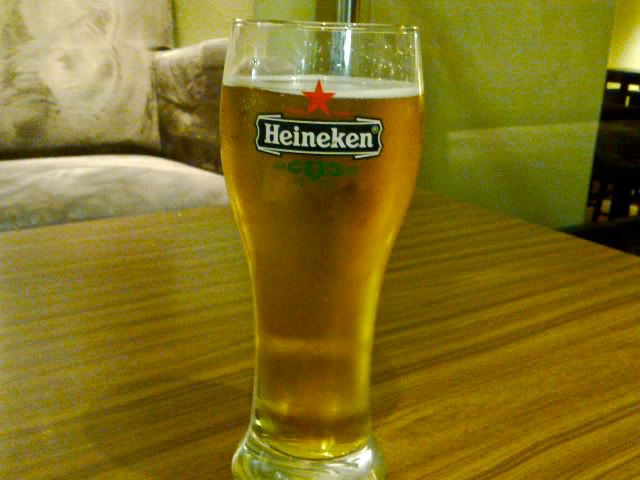 The room seems not bad and this place has free WI-FI. Its not a bad place for convenience, but i prefer the Radisson BLU, my wallet prefers this "joint" though.
A familiar start to proceedings tomorrow then with another DASH 8, followed by my first leg on an E-195 followed then by my first flight with BA since 1998 when i flew home from Toronto. See you in the morning folks.
Wednesday 22nd September.
After getting back to my room at about 23:00 i watched a bit of t.v and crashed out in a reasonably comfortable bed.
I woke up feeling a bit groggy at 05:30 and jumped in the bath while i came round a bit. I felt much better after that. The shuttle bus was booked for 7am so i kicked about in the room and ironed my totally crushed shirt while i waited for the clock to roll around. After checking out of my room and jumping on the bus it was time to negotiate T3 again.
MAN-INV
FlyBe DASH 8-400
G-ECOV
Seat 17D
Not much to say about this flight really other than a load of around 45% and an on time operation. As we headed North the weather took a turn for the worse and we were greeted in Inverness to light rain.
Well what a cute little airport this is. Im not used to passing through these smaller airports so its nice to see one for a change. I simply walked about 20 paces into the terminal and checked in for my next leg down to LGW, snagging another window seat in the process. I was interested to see how busy my next flight was going to be and judging by this EasyJet flight departing to Luton it should be showing a decent load?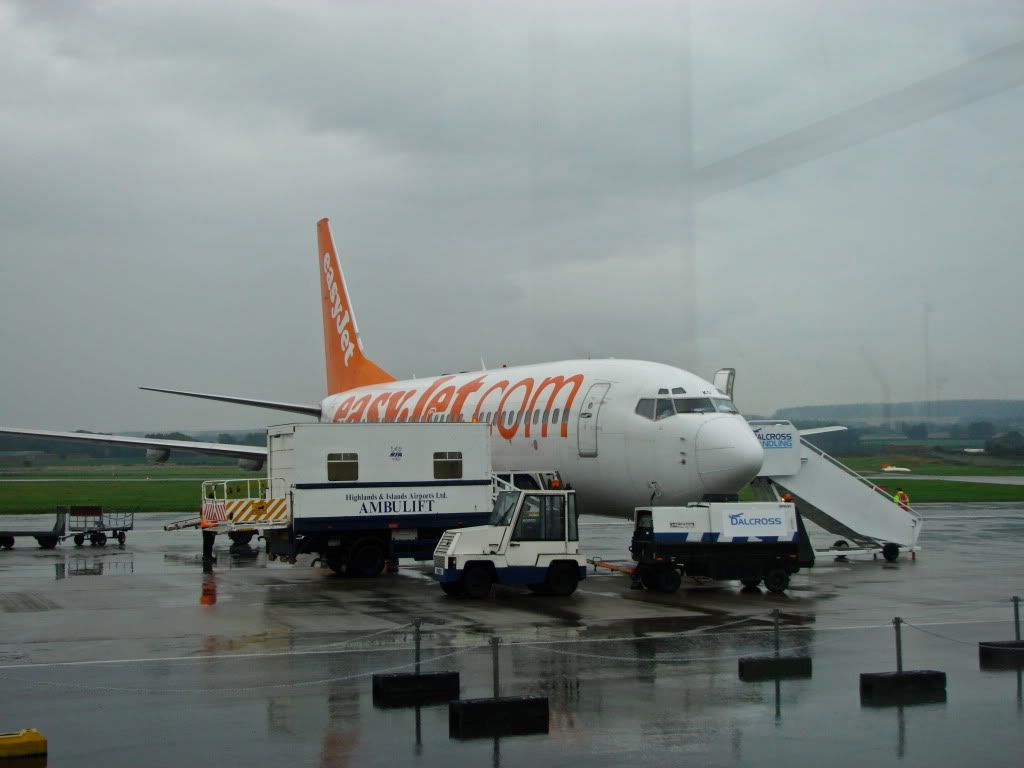 Got myself a bottle of Scotland's finest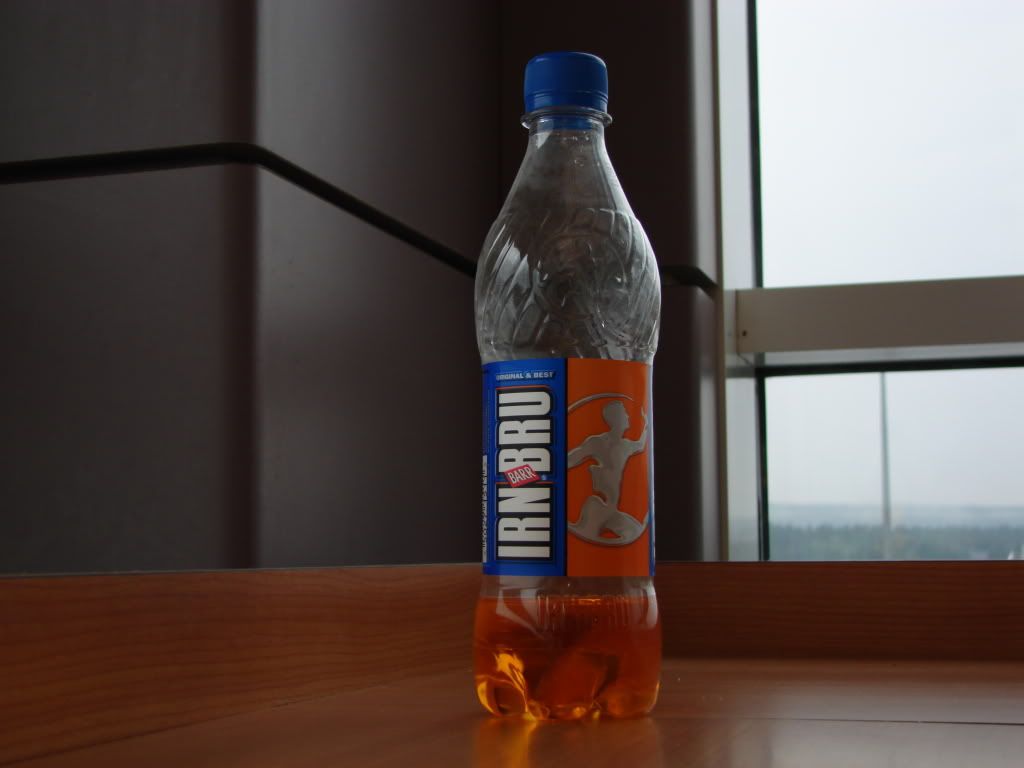 I decided to have a walk around and take some pictures, braving the rain for a quick shot of the entrance.
Inside the terminal.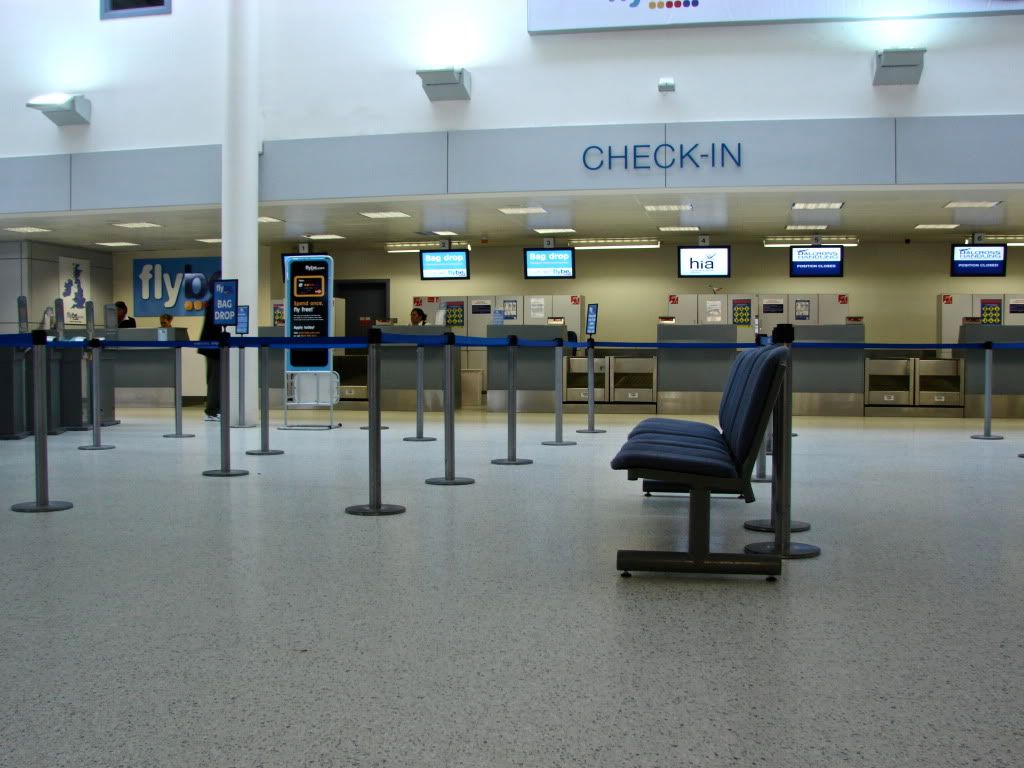 COOOOOL!!!!
I loved this little place. So easy going and all the staff were super friendly.
I made my way into departures through a very effortless security process, even these guys were cool and quite chatty. My ride had pulled up without me noticing, but i had chance to get a photo before boarding was called.
INV-LGW
FlyBE E-195
G-FBEK
Seat 20A
First time on a 195 then. I had flown on a LOT 175 doing the WAW-MAN route a couple of years ago so it was going to be similar to that, but its always good to log a sub-type. As i said i had 20A, so boarding via the rear set of stairs in the pi****ng rain!!! The cabin was quite new looking and the seating was set up to offer a half decent pitch. It was nice to be back on a PROPER plane.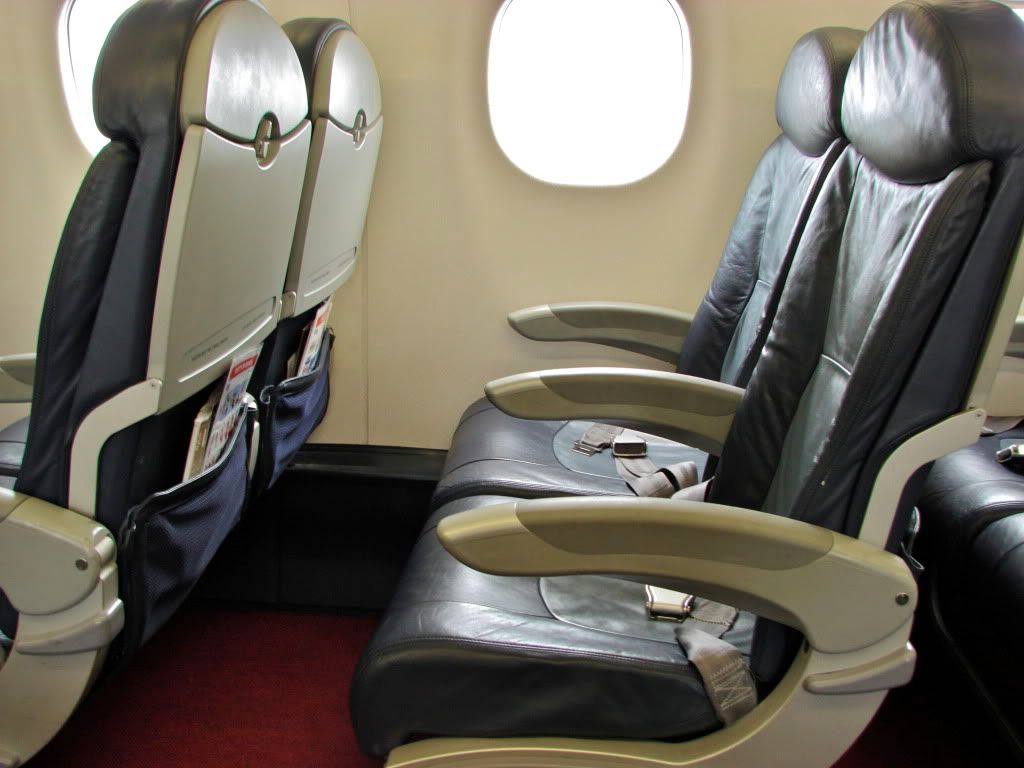 All passengers were onboard and we were ready to push about 15 minuets early but ATC had other ideas. Of course, flying into the London area we could only be accommodated as planed so no dice there. Looking around the cabin, im guessing load around 35%, so over these last 5 flights its not been looking too good. Low loads don't always mean low yield, so i hope for FlyBe sake they charged some of the late bookers the earth for a seat.
Waiting for departure clearance.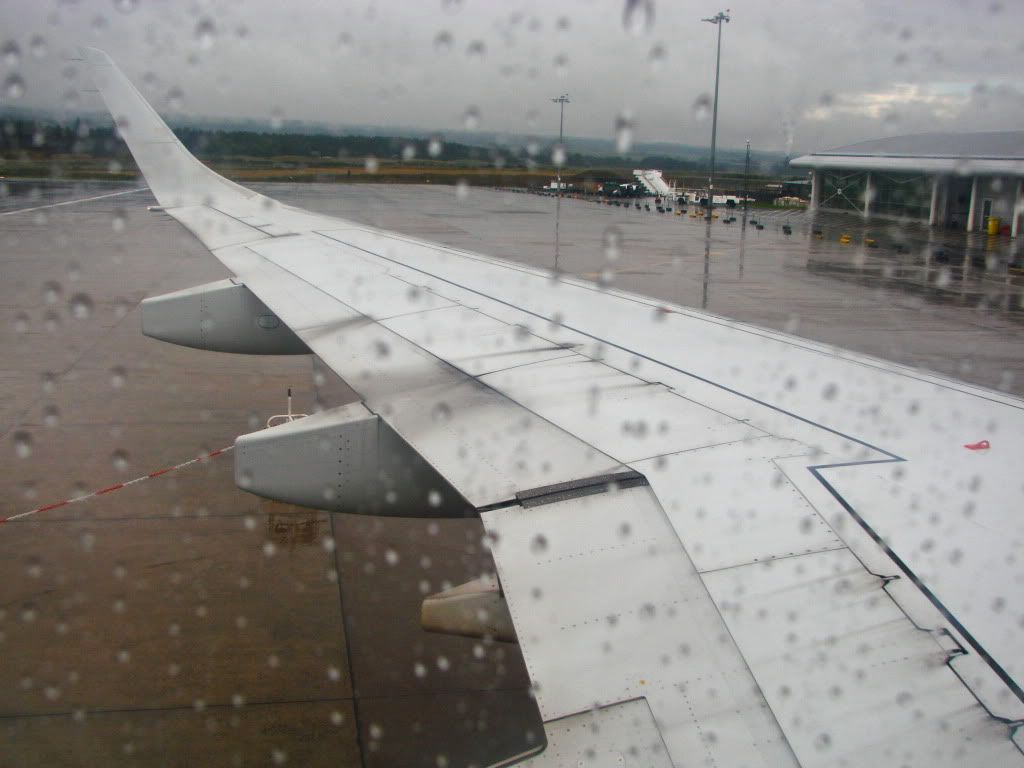 We took off from runway 23 after backtracking.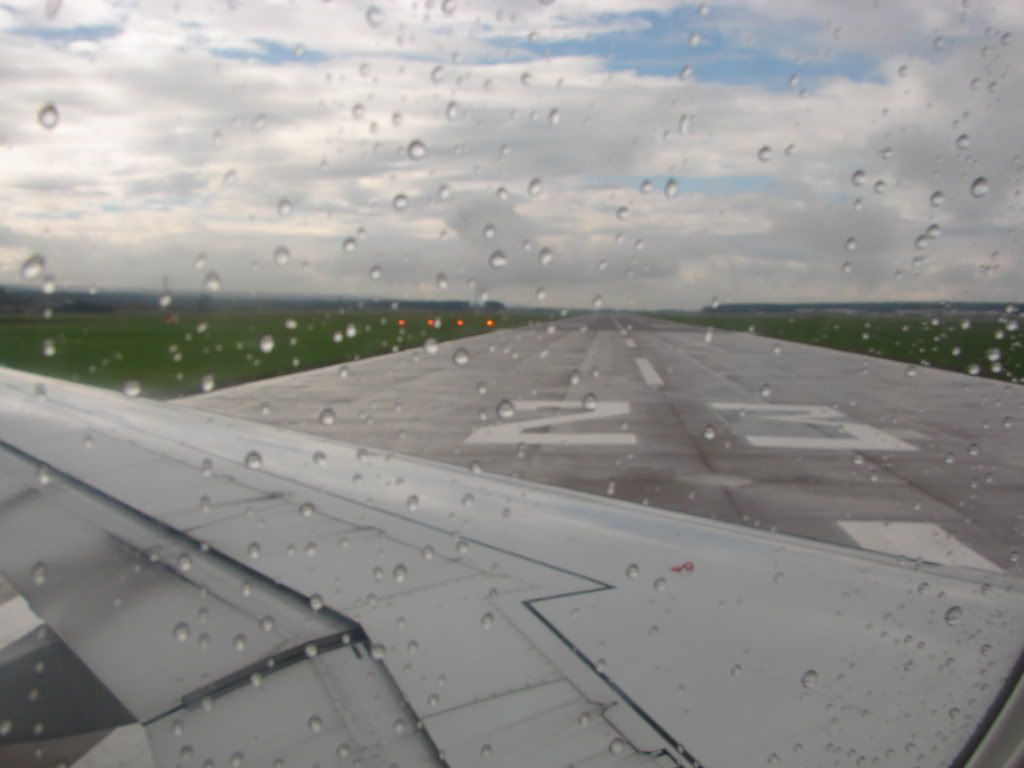 Now that there was no engine in the way, i decided to get some more inflight pictures for this report.
Lifting off.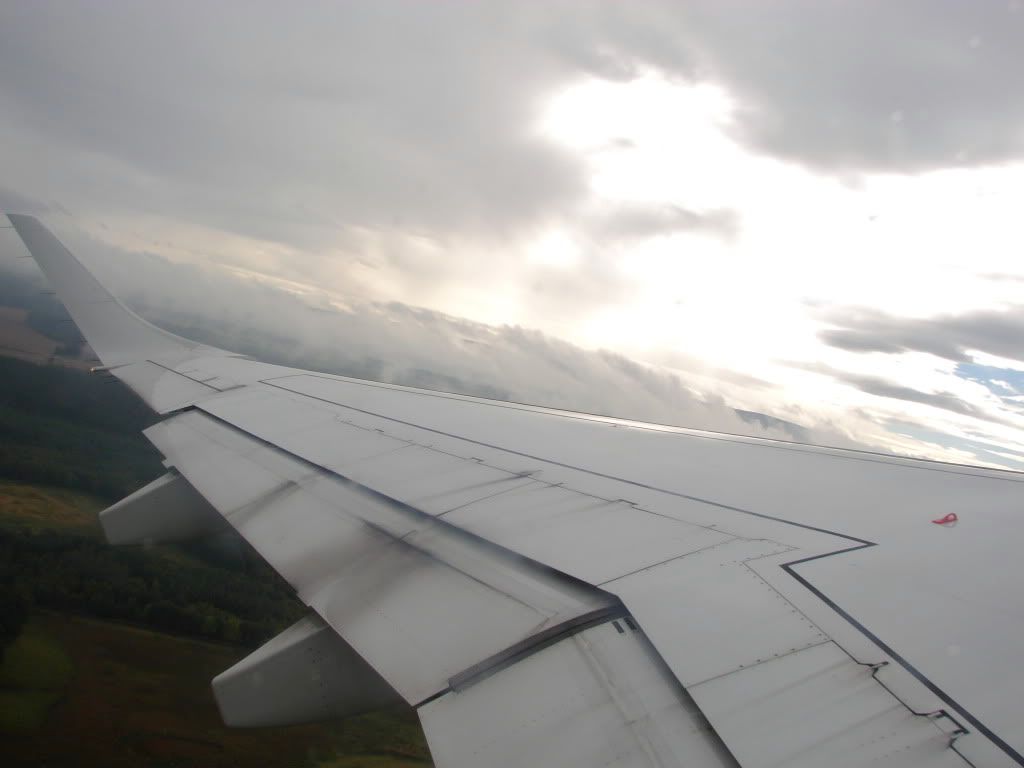 Climbing out of the soup.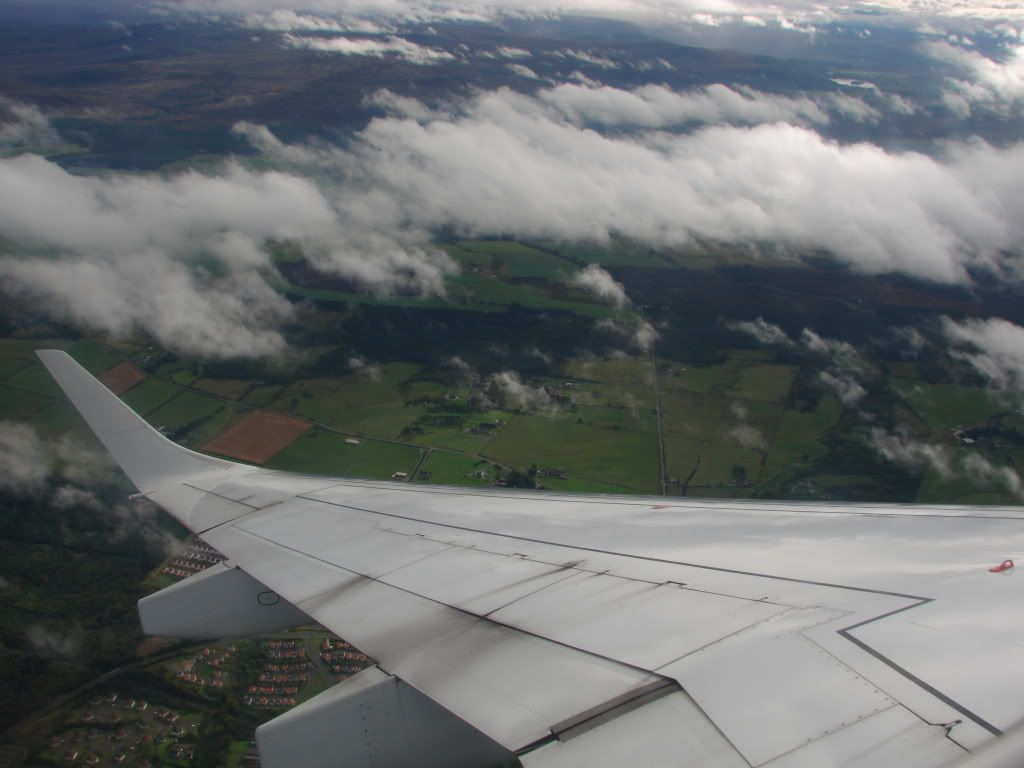 Word from the guys up front was a cruise at FL410. I had assumed we were quite high as i could make out some fading contrails below us.
After a while we started a very long, slow decent down to London Gatwick.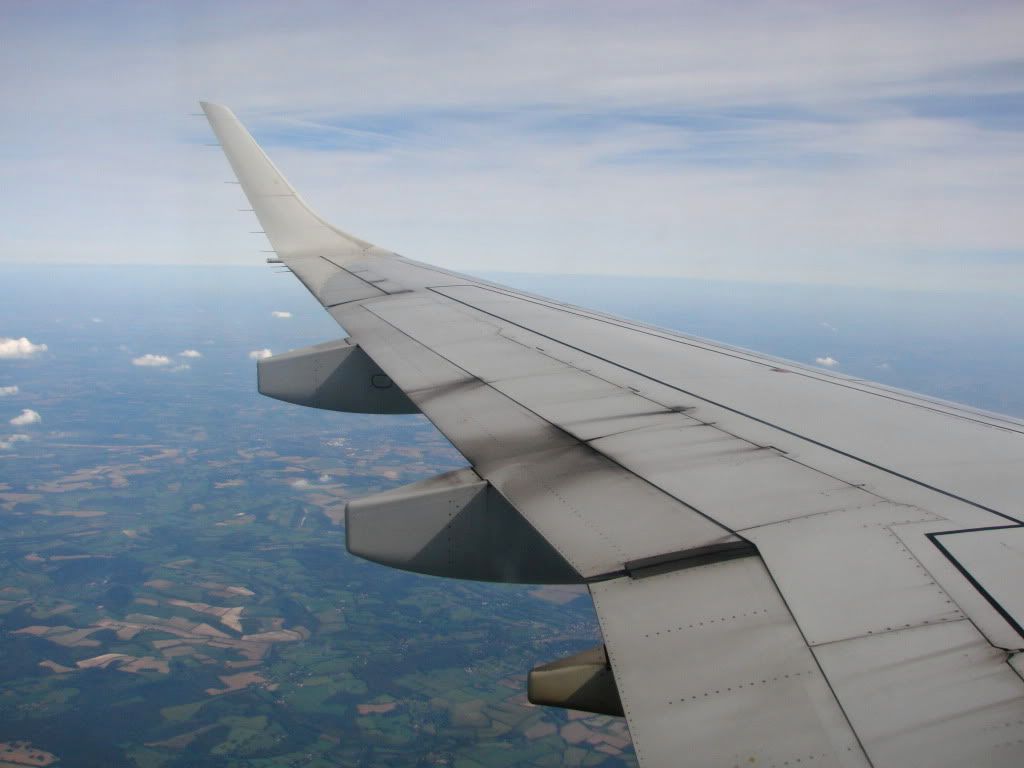 Flying downwind with LGW visible off the Port side.
Turning Left to establish on the LOC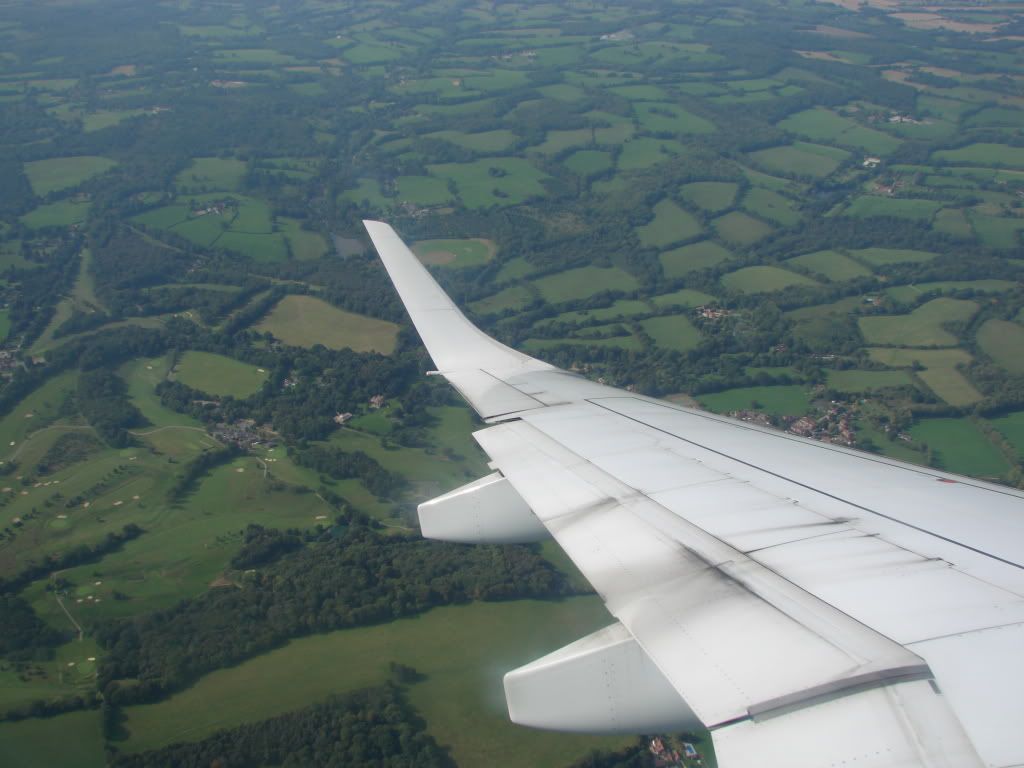 We were also promised us of much better conditions down South and they were not kidding. It was lovely and warm when we landed.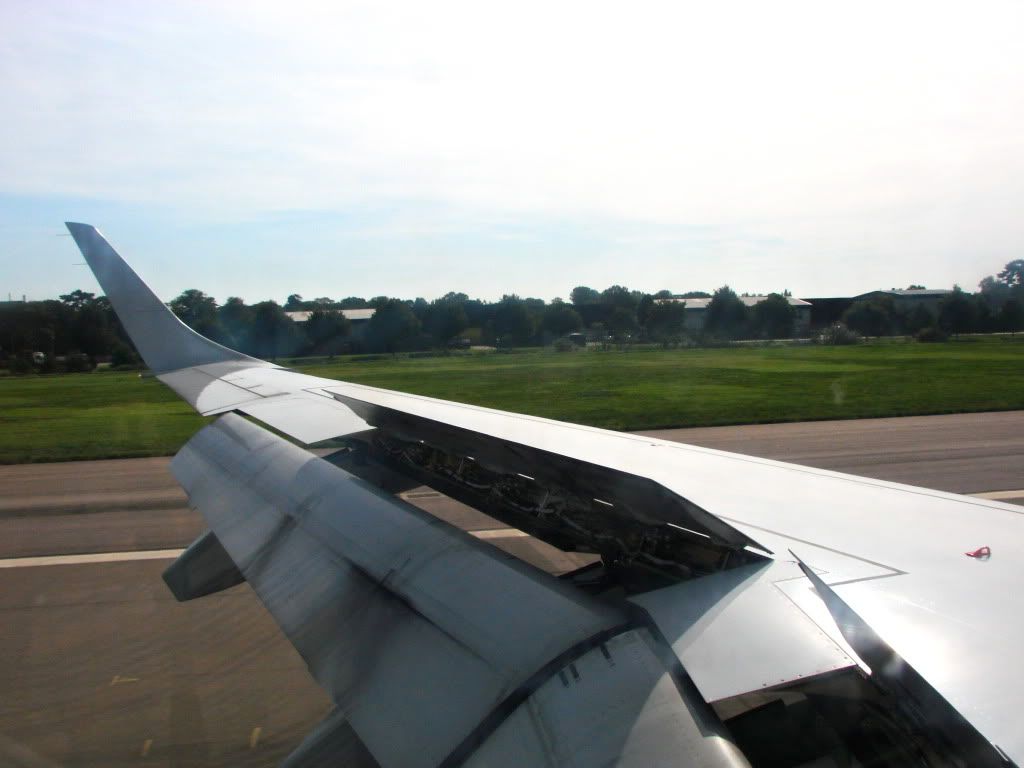 So im writing on the go again as i have a 3.5 hour layover in LGW. Arrived at the South terminal and caught the train to the North terminal. This is my First time using LGW so didn't know what to expect? Well now im here its, in a word, crap. Looking forward to getting out of here to be honest which is VERY unlike me when im in an airport.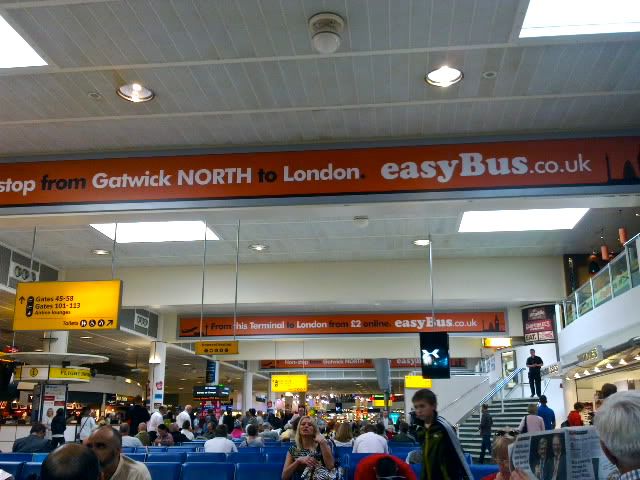 When the time came to board i made my way to 55J and was in for a very nice surprise. It turns out that due to the ATC strike that was just starting in French airspace, my ride back to MAN had been switched from a 737-400 to a 777-200..... SWEET. We were warned of possible seat changes due to the change in layout, but it turned out to be ok for me. I had a bulkhead in the first row of economy.
LGW-MAN
British Airways
G-YMMR
Seat 16A
Upon entering the aircraft i offered a £10 bribe to the girl at the door for a seat in Club World. They were not having any of it. I took my seat 16A and was joined by a guy who was about as excited as me with the change of aircraft. Turns out he was working at LGW and was in charge of noise abatement procedures there. I think once we figured out how much either of us loved planes we let rip with full on geeknes.
Climb out.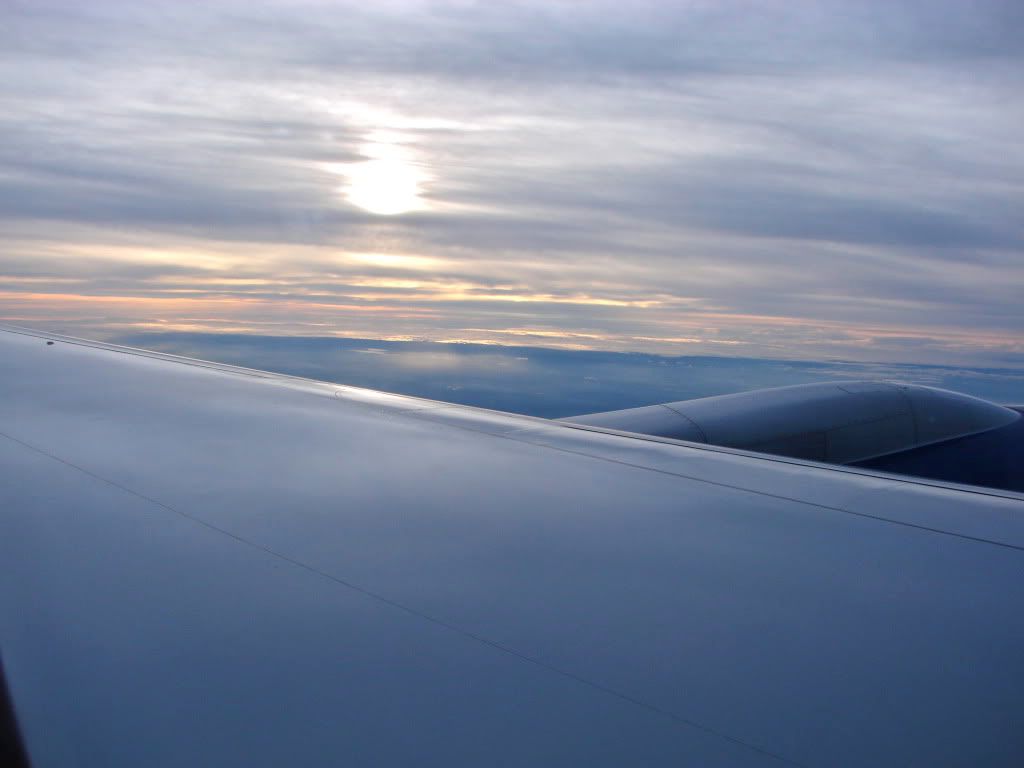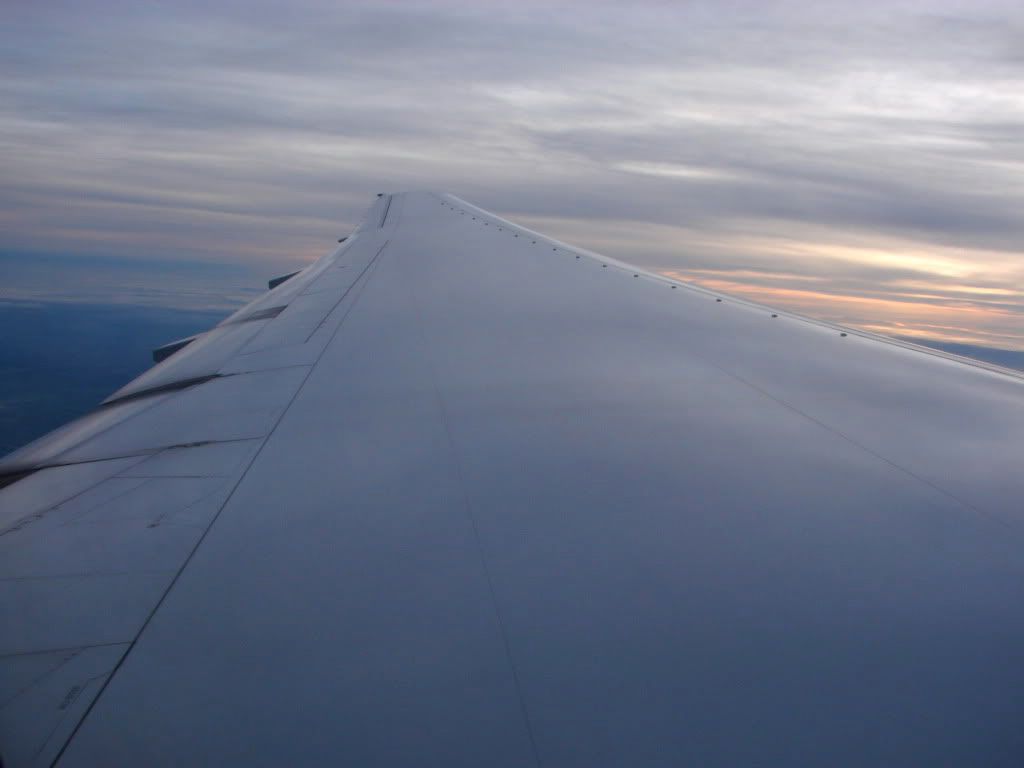 A complimentary drink was handed out soon after departure so i took a larger.
Flight time was expected to be 40 minutes which turned out to be bang on.
Landing back in MAN on 23R we were met with rain which must have moved South during the day. Normal Manchester weather i guess?
We parked up passing next to an EK 777-300 and that was that for another day.
I had a room at the PremierInn booked for tonight which involved taking a shuttle to a small hotel complex. All i wanted now was a shower. I had never used a PremierInn before and was quite surprised how nice it was. Having said that, i hate paying for WI-FI in hotels, and at £10 for 24hrs i wasn't happy. The speed was real slow too.
I went for a beer in the bar after checking in and getting that shower, then went to bed as i had an early start in the morning. I was either going to Zurich at some point in the morning or going home. We will see?
Thursday 23rd September
I woke up this morning and i think this was starting to catch up with me a bit? Good news is my flight was showing as operating, so it looks like Zurich is on.
I made my way through T3 security for the last time and into departures where my flight was now showing a 2hr delay. What can you do? I was probably going to be in an airport all day anyway so i guess it didn't matter which one it was.
I had brought a classic dvd with me, Kingpin, so i watched that to help pass the time. All i needed now was to make sure i got a window seat on the plane.
I went for a walk around the terminal and came across the crew operating the Zurich flight so enquired about the delay. Turns out that this delay had nothing to do with ATC. Instead, it was due to our intended aircraft going tech, resulting in a 2hr delay while a replacement aircraft was flown up from Bristol. I found out that were would leaving from gate 58 so made my way there ahead of the rush.
MAN-ZRH
EasyJet
G-EZNC
Seat 22A
Seated in prime position to be the first of the "regular boarders" i waited for the plane to show up. 86 passengers today according to the girl on the gate. November Charlie pulled on stand and with the plane being empty we were invited to board almost straight away. I made straight for the rear air stairs and settled into what remained an empty row.
First time flying EasyJet. Well the legroom is ok for the duration of the flight and the cabin wont give me a headache unlike RyanAir psychedelic color scheme, so im quite happy just to sit here and look out the window for the rest of the flight.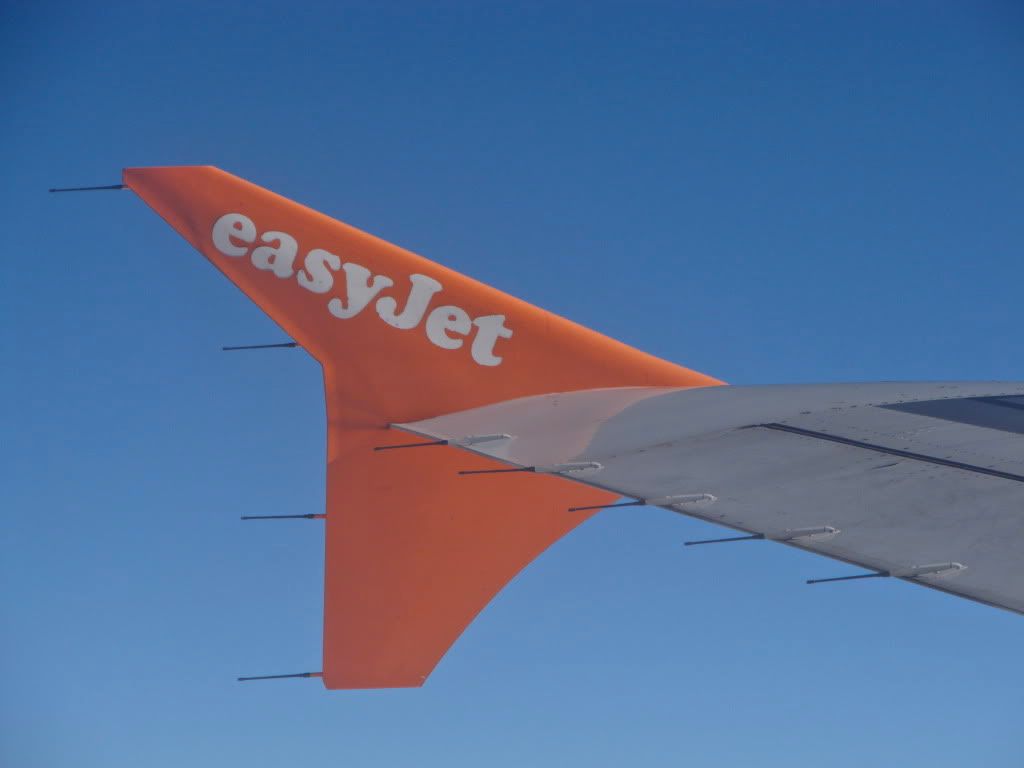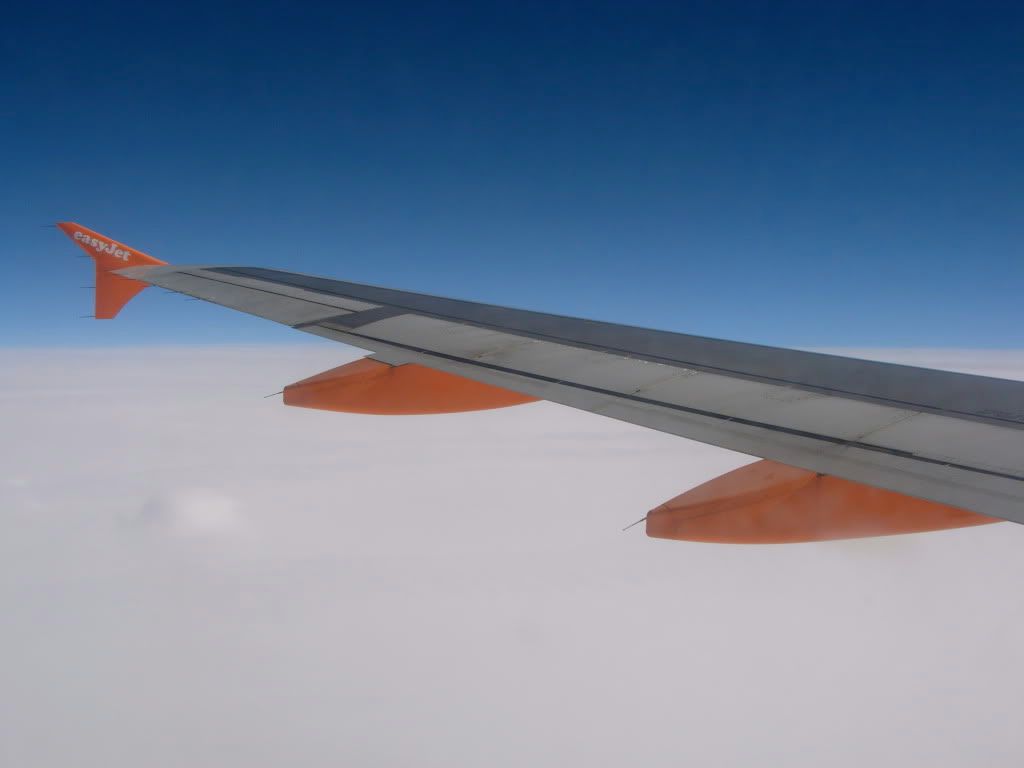 Word from the flight deck was of quite poor weather in Zurich and possible delays due to some quite thick fog around the airport area. Expected flight time of 1:35, approach delays permitting.
After feeling a bit crap this morning i was back on top form by now and ready to enjoy another day of flying and airports.
During the approach its was clear that the fog had lifted as we were flying down here so arrival was only slightly behind schedule.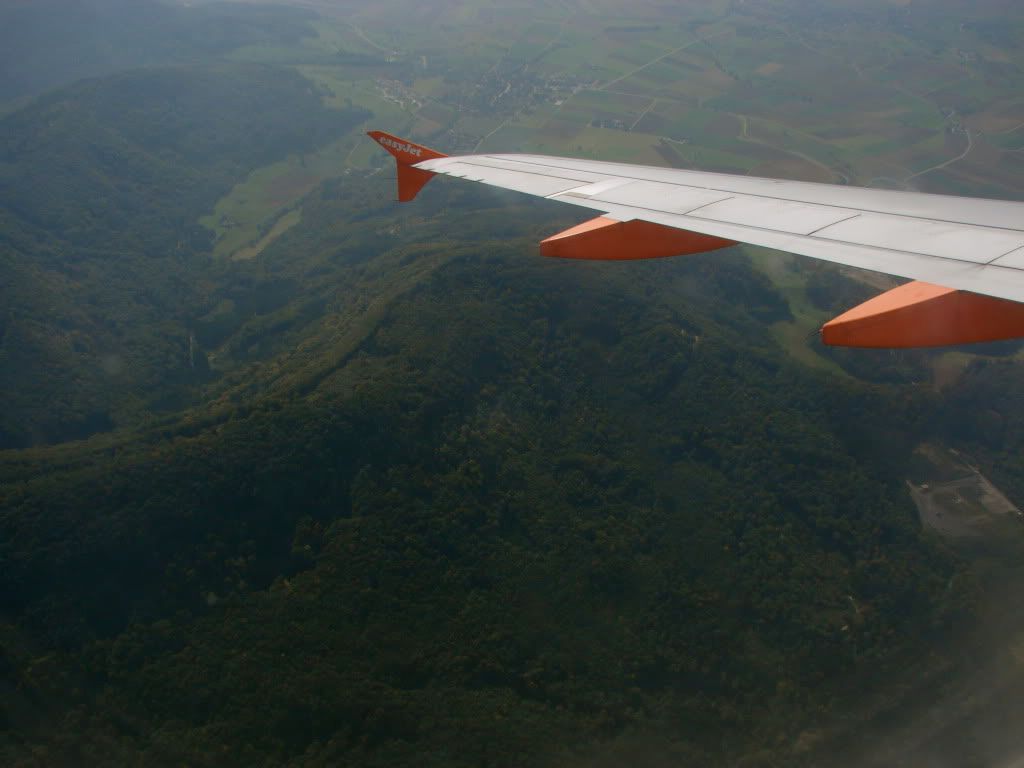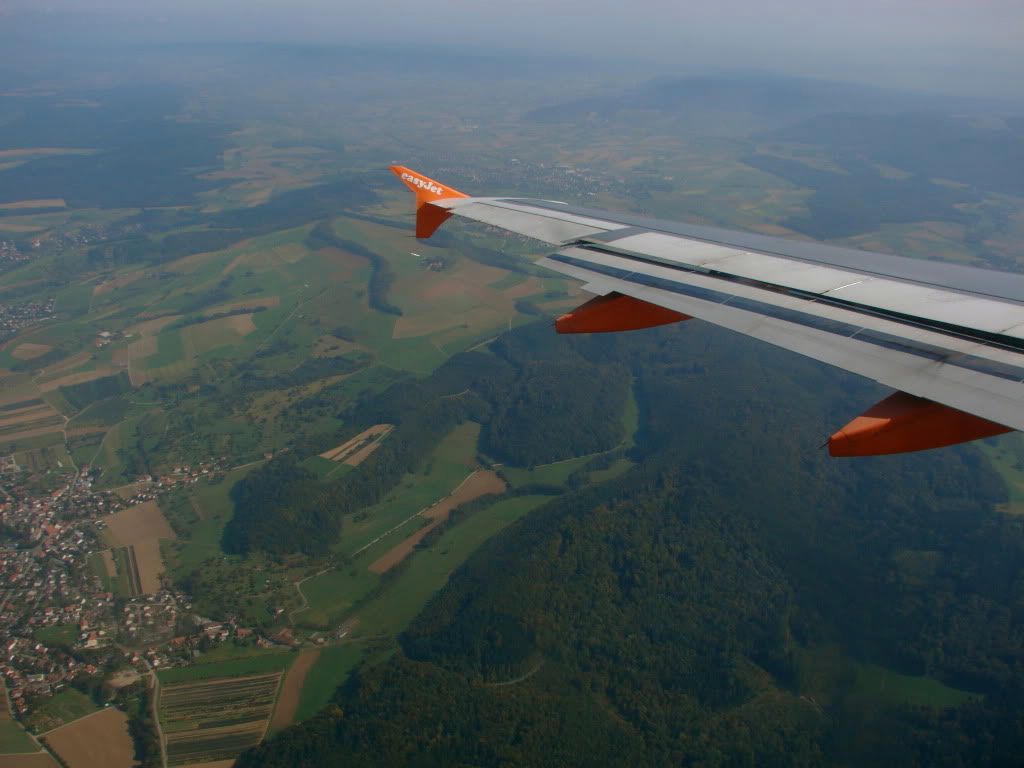 We parked up at in the E gates and i missed a chance to get a picture of the Singapore A380. I should pay more attention.
I had considered taking the Train into Zurich and still had time to do so even after the delay, but i decided i would just hang out in the airport.
Departure board showing a lot of activity. All AF flights into CDG were canx.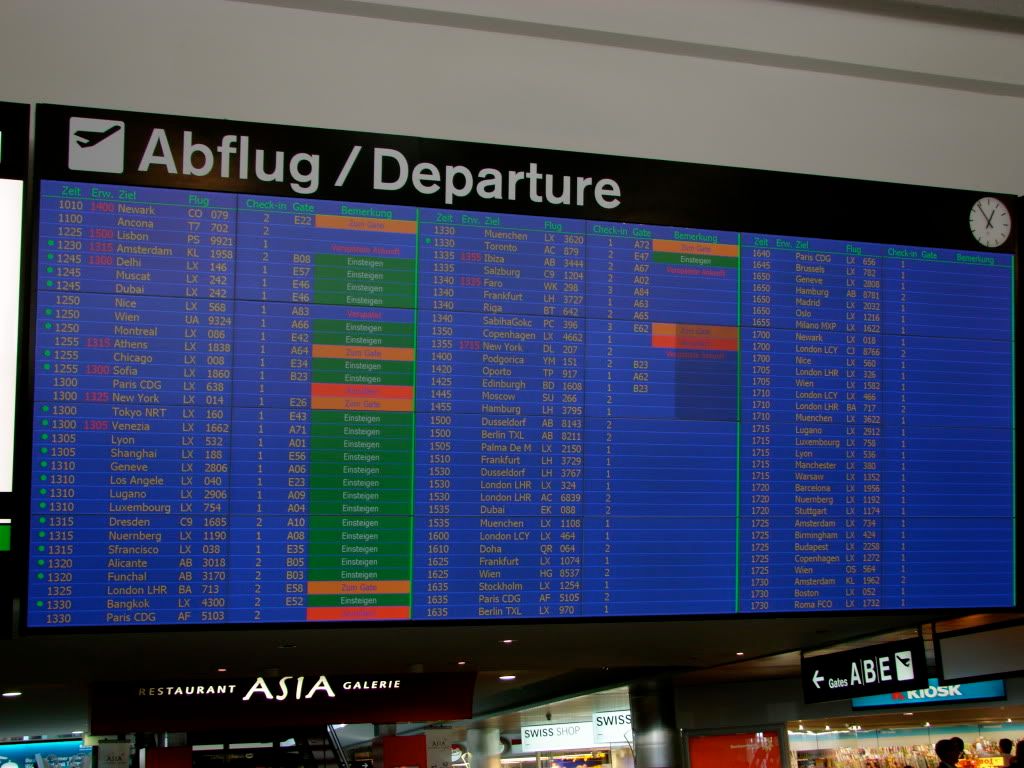 SWISS business class check in zone.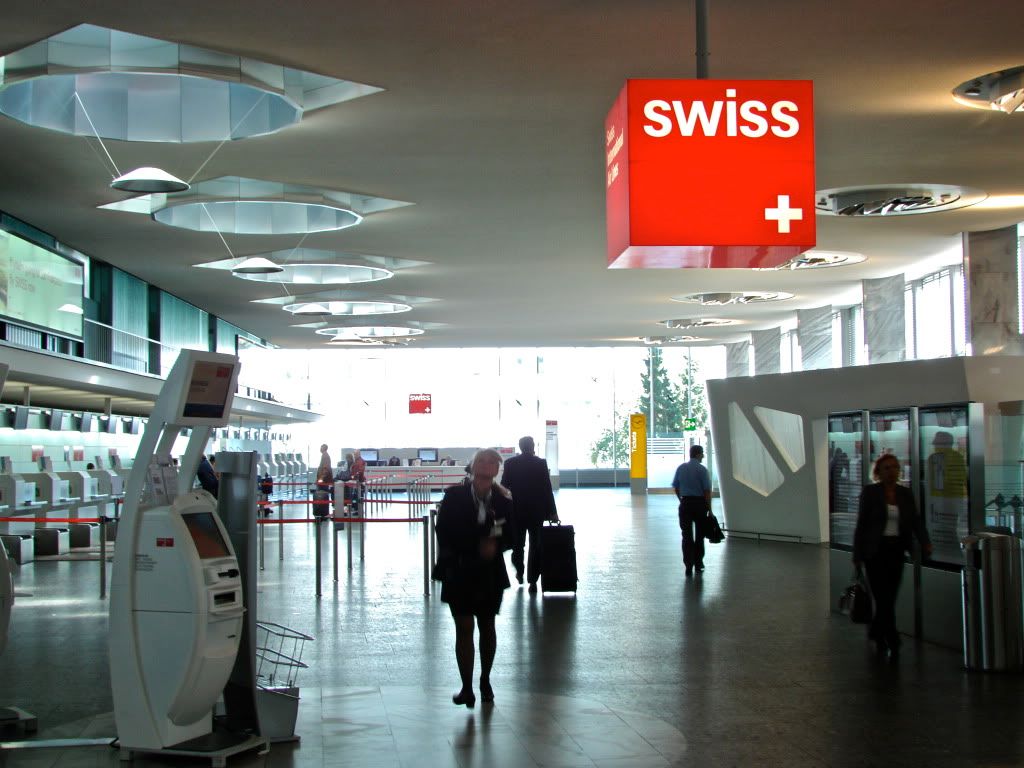 I have been a member of the bmi Diamond Club for a few years now and found it to be a very generous program. Now it looks as though Lufthansa will take control of the club, and in doing so awards will become much more expensive. Therefore im on a burn down of my remaining balance. I used miles to fly home from Zurich with SWISS in business class.
Waiting out the layover in the business class lounge.
ZRH-MAN
SWISS
HB-IJP
SEAT 3F
So the last flight of the trip. I think i was good to do another Eight, alas, the only place i was going after this was home. The business cabin was almost full, but the seat behind me remained unoccupied so i could recline without intruding into anyones space. Here in Europe we have to make do with an economy seating arrangement in business class, only the middle seat of the Three remains empty allowing a slightly better feeling of space.
Unfortunately, my camera batteries had given up so no pictures from this last leg.
We were served a rather tasty beef dish accompanied by a salad course and a bread roll. Drinks rounds were frequent and i managed to "squeeze" in a glass of Cabernet Sauvignon followed by Three glasses of Champagne.
We were treated to some amazing views of clouds as we descended into MAN. Typical now the camera was out of action.
Landing was on 5R followed by a taxi through the rain to T1.
With no luggage to collect and already in possession of my return train ticket i was on a train home no more than 15 minutes after landing, arriving at my front door around an hour later.
So there we have it. Another enjoyable trip(as always).
FlyBe did what they are supposed to do. Everything ran to time, and i flew in relative comfort on there aircraft(just need to get the buzzing of those dash-8 props out of my head).
BA were as i remember them. To be fair they could have quite easily cancelled or merged the shuttle flight that evening, so a big thumbs up to them for sending us up on the somewhat overkill 777.
EasyJet much like FlyBe were ok. Yea, there was the delay, but thats the nature of the beast i guess. Friendly crew and quite new aircraft, i will no doubt use them again in the future.
SWISS. Well they are fast becoming my favorite airline. In my opinion there Intra-European service is the best on offer in this part of the world. Add to that the ease of connecting in ZRH and an excellent long haul product, there onto a winner with me. I was a Singapore Airlines fanboy for quite a while, and perhaps still am to some extent, but after comparing their long haul F and J products i feel SWISS have won me over.
Thanks for reading, feel free to comment.
Lee.