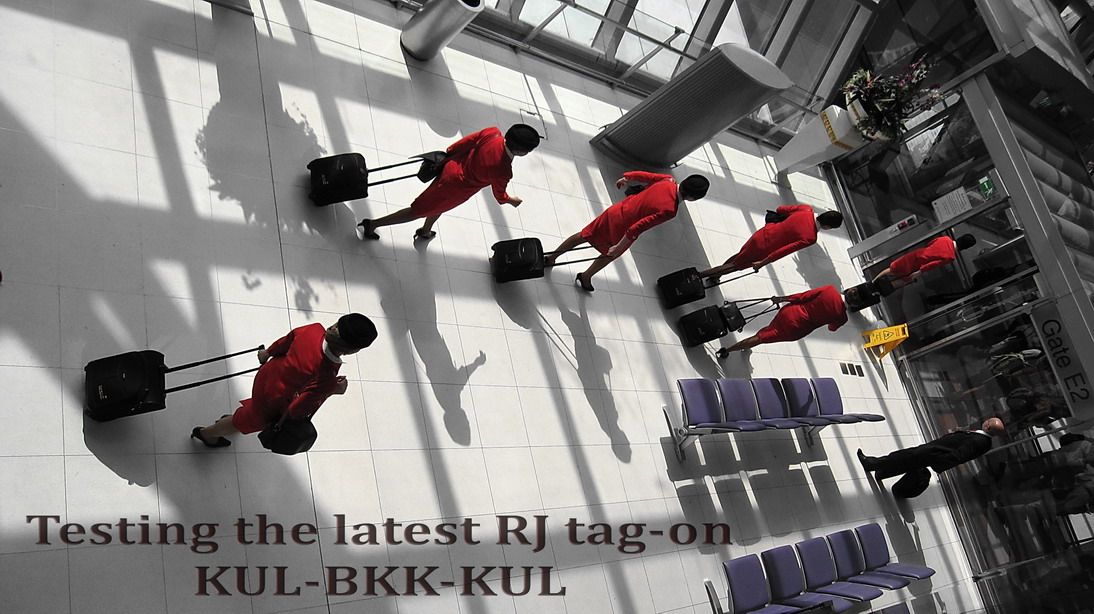 .
Why choose a direct flight when a circuitous one involving a fifth-freedom carrier exists? Or so implies Robert Frost in a poem he wrote circa 1916. I am off to Chiang Mai in northern Thailand for a couple of days, and a convenient option from Kuala Lumpur exists in the form of a daily nonstop AirAsia A320 service. But it's also a flight that I know well - perhaps too well: damn those LCCs which are both a blessing and a curse - and that gets me itching for different, more exotic possibilities. Royal Jordanian's newest tag-on to and from Bangkok seems to fit the bill perfectly.
After a seven year hiatus, the flag carrier of the Hashemite Kingdom of Jordan resumed flights to Kuala Lumpur in June, operating a three-times weekly service from Amman via Bangkok. Initially the airline wasn't selling tickets for the BKK-KUL tag-on, but within a month the fifth-freedom hurdle had somehow been overcome, and a delicious new intra-regional option is born.
It gets better. RJ operates the service using a pair of its latest A330-200s - the planes aren't brand new (they were first delivered to now defunct Air Comet) but they're fresh enough to be considered new, and are fitted with the airline's latest hard products. Add to this the schedules which fit mine, a return fare at about $310 that is reasonable for business or Crown class, and the option becomes quite irresistable. The only inconvenience - a compulsory night stop in Bangkok en route - I can live with.
Two excellent recent reports on these planes preceed this one on A.net: an
economy class report
by Ronerone (Roni) and one on
Crown class
by Carfield. While Roni's trip shows quite respectable offerings in Y class, Carfield's subsequent report on a disappointing J class leaves me a little concerned on what to expect in Crown. As I'd already bought my ticket at that stage, all I can do is lower my expectations - and hope Carfield's experience is a one-off.
.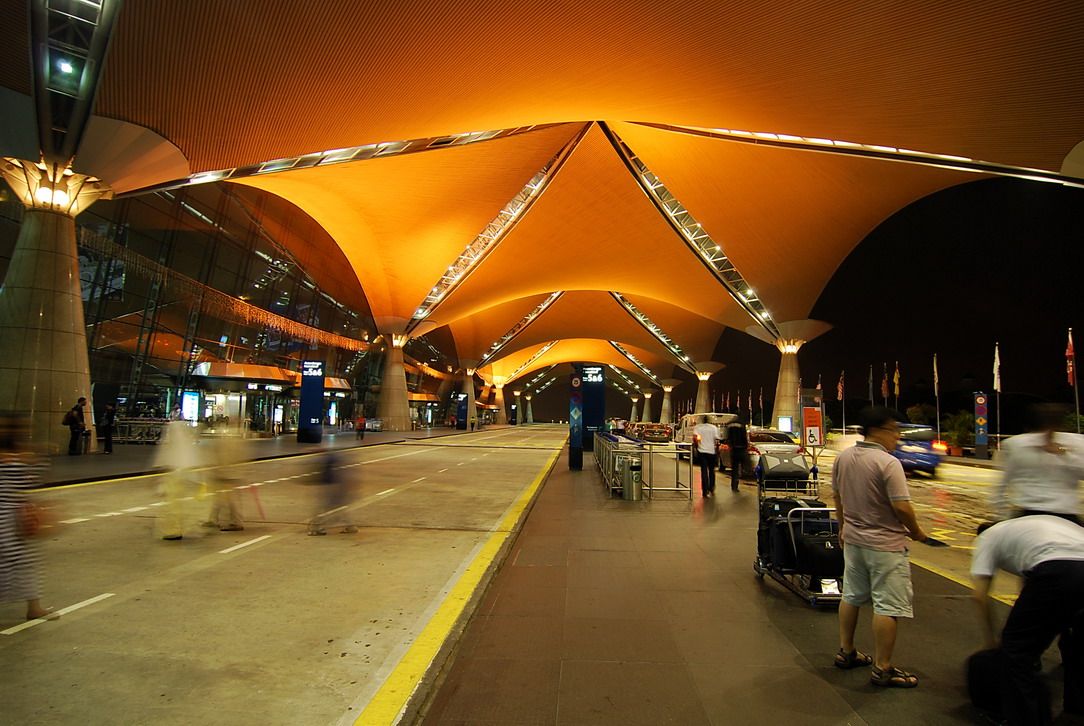 .
northbound - kuala lumpur to bangkok
It's wet at the end of a busy work-week, and public transportation infuriates. It's Friday the 13th, after all. Kuala Lumpur may be home but I can't possibly love a city that leaves me with no option of getting to the airport just because it's raining at rush hour. My preferred choice - by express rail - is almost impossible from my office in the city center when taxis refuse to even bring me to the train station. Mention the airport, however, and every cabbie volunteers. So that's how I eventually get here - 80 minutes in a Proton taxi and already a bit worse for wear.
.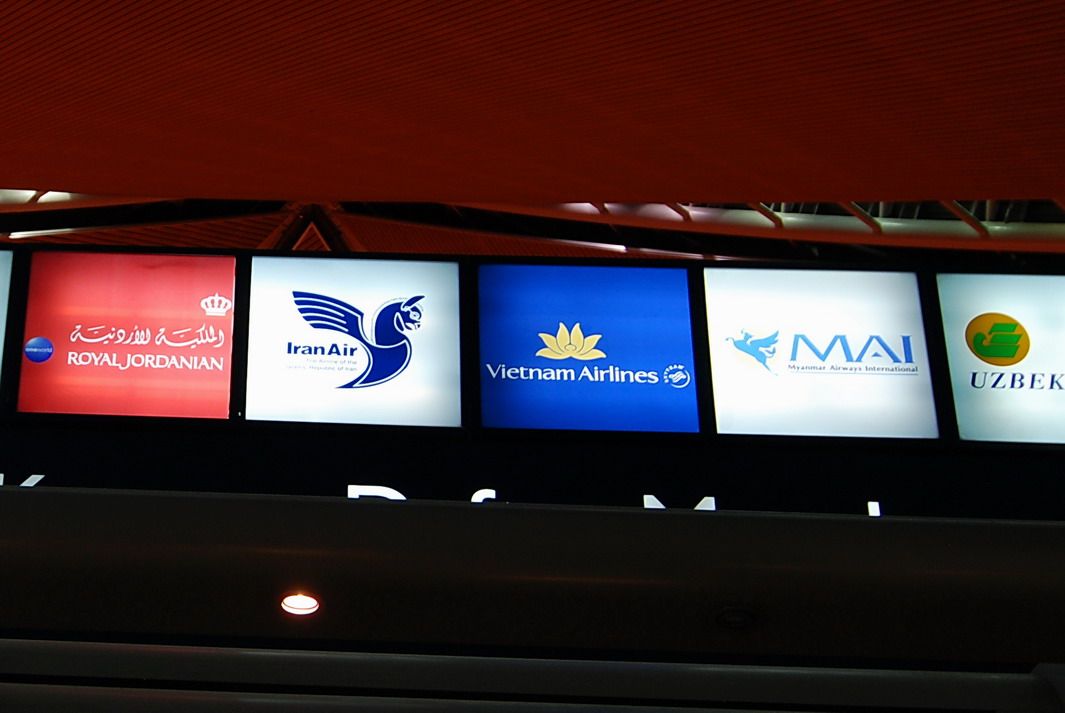 .
Check-in desks for the airport's newest customer are easy to find. There's already a permanent RJ logo at the top of the allocated check-in island and near the six check-in desks, an attractive banner that's a clever sell of the country too. Makes me wish I was headed that far!
.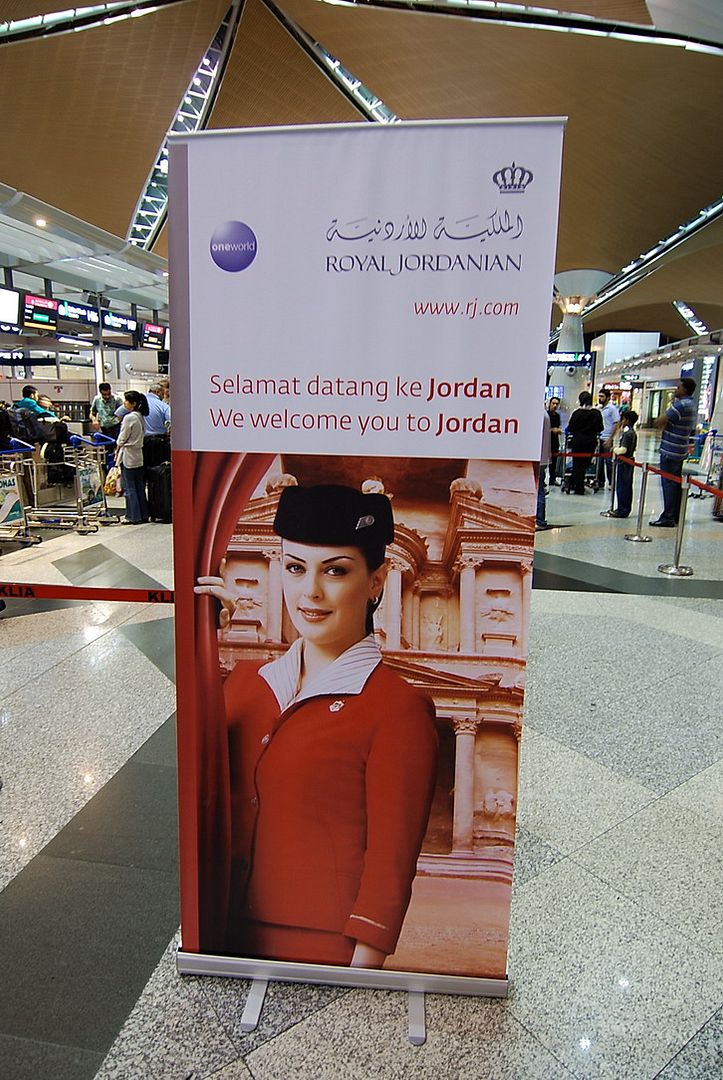 .
Check-in for Royal Jordanian is handled by Malaysia Airlines. There's a short single queue for the economy class desks and some minor trouble with a couple of passengers and their baggage, so that probably explains why the Crown Class check-in isn't manned when I get there.
.
.
I'm not particularly bothered as it gives me an opportunity to get a few shots in but I get spotted doing so: "May I help you? Travelling Royal Jordanian?" an MH agent in his trademark turquiose suddenly jumps into the frame just as I'm trying to show you there's no one here.
.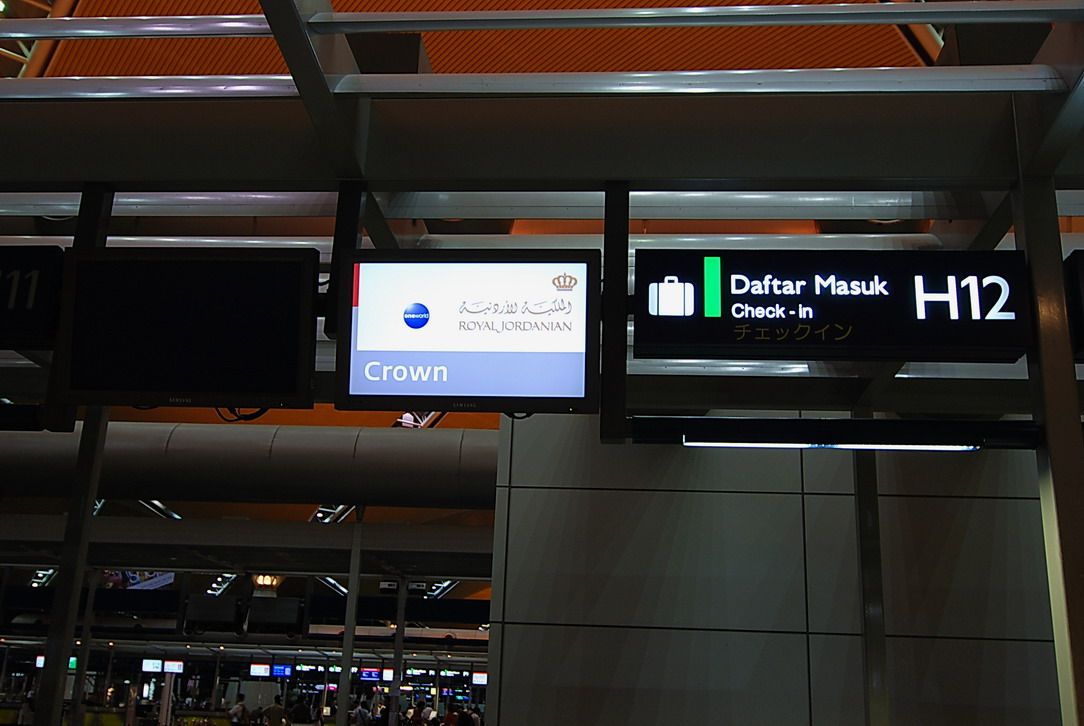 .
Online check-in via RJ's website was no hassle at all last night - the MH agent reconfirms I'd selected window seat 3K, and promptly issues my boarding pass. The decision to choose this seat follows an earlier email exchange with Roni on where RJ's sky marshall might be seated (likely 4H or K) and the advantages of being outside his immediate field of vision, especially if you're taking pictures. That's one major consideration for a trip reporter on RJ. Thanks Roni!
There are four passengers in Business class tonight, the agent says in response to my question about loads, adding that "the flight's not full upto Bangkok", which also seems to imply it fills up on the second leg. The handle of my checked bag is wrapped with a number of exotic new tags and I'm sent on my way with an invite to the MH Golden Lounge at the satellite building. I ask if I can use the newer and much nicer MH regional lounge instead but a brisk and firm "No" suggests this point isn't negotiable. I'm quite surprised RJ isn't using the new Cathay Pacific/oneworld lounge - I'd been hoping to have my first look in tonight, but seems like that's not to be.
.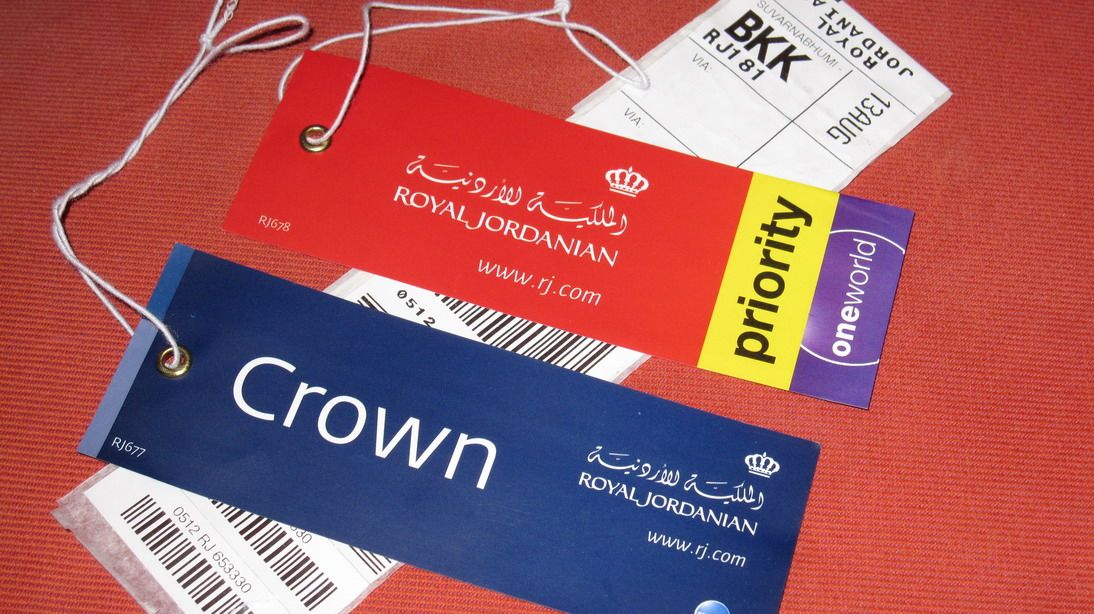 .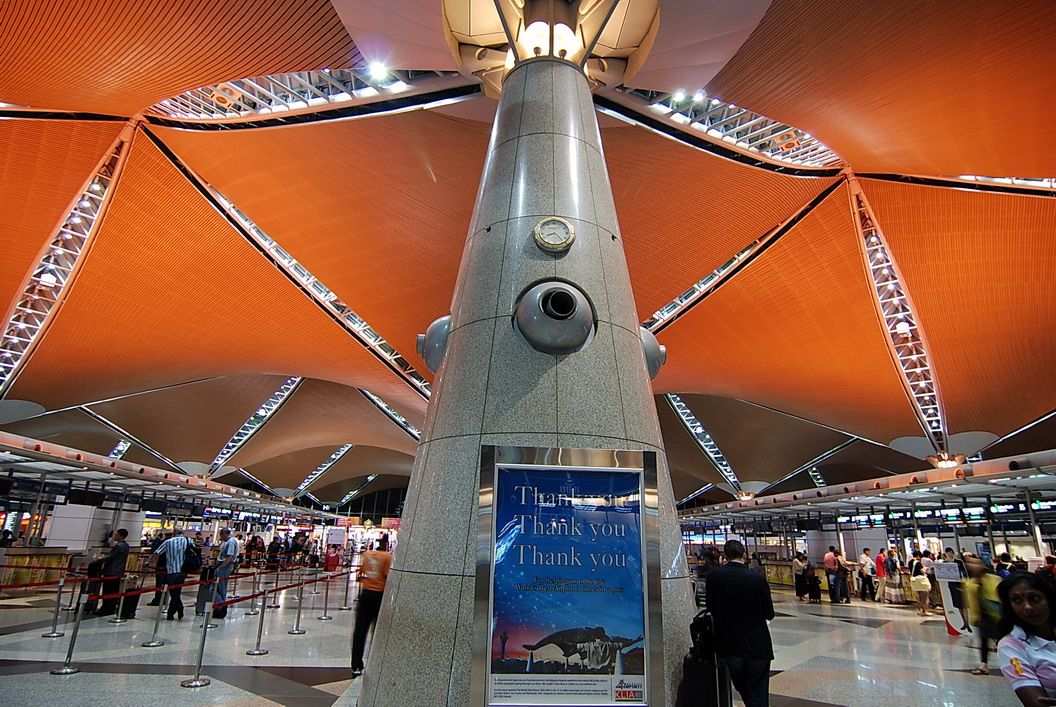 .
KLIA's shiny check-in areas are quiet tonight, despite this being the time when MH schedules its bank of late evening departures: theoretically this should be one of the "peak" hours - so imagine what "off-peak" might look like. Slowing travel during the Ramadhan month, coupled with the mass migration of local O&D traffic to AirAsia (that operate from the less lavish LCC Terminal across the tarmac) are taking their toll, I'd guess. The FIDS are showing the usual mix of mostly MH Australasian, European and north Asia departures and a whole bunch of gate changes that appear to be a KLIA specialty. The 22:10 RJ departure is actually scheduled a tad late for passengers on the short hop to Bangkok, so I'd imagine most on today's flight might be headed for Jordan and beyond, rather than Thailand.
.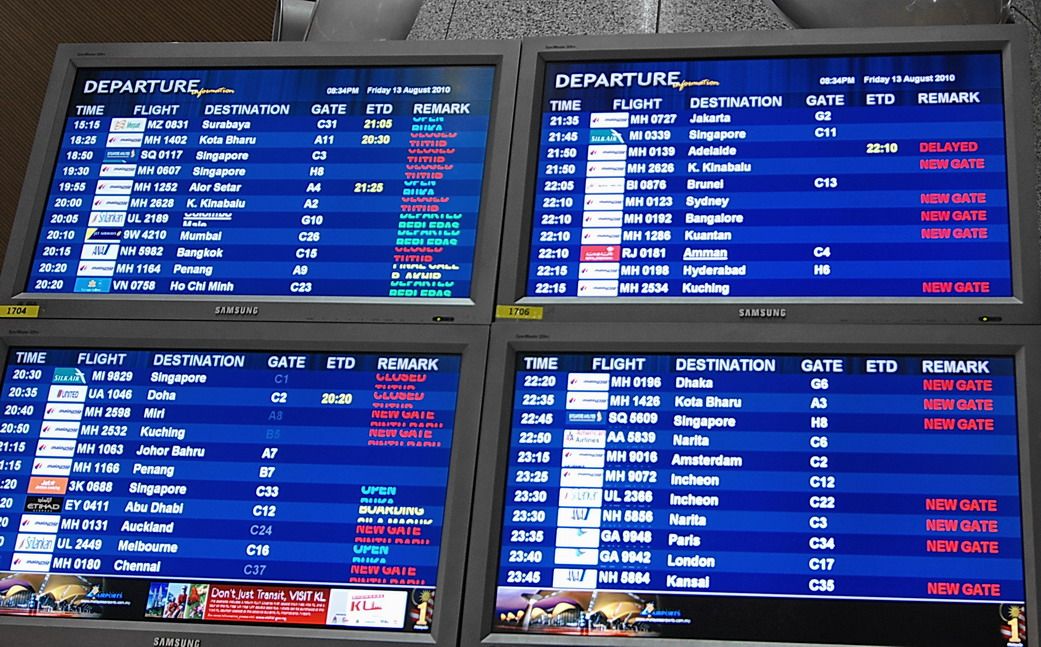 .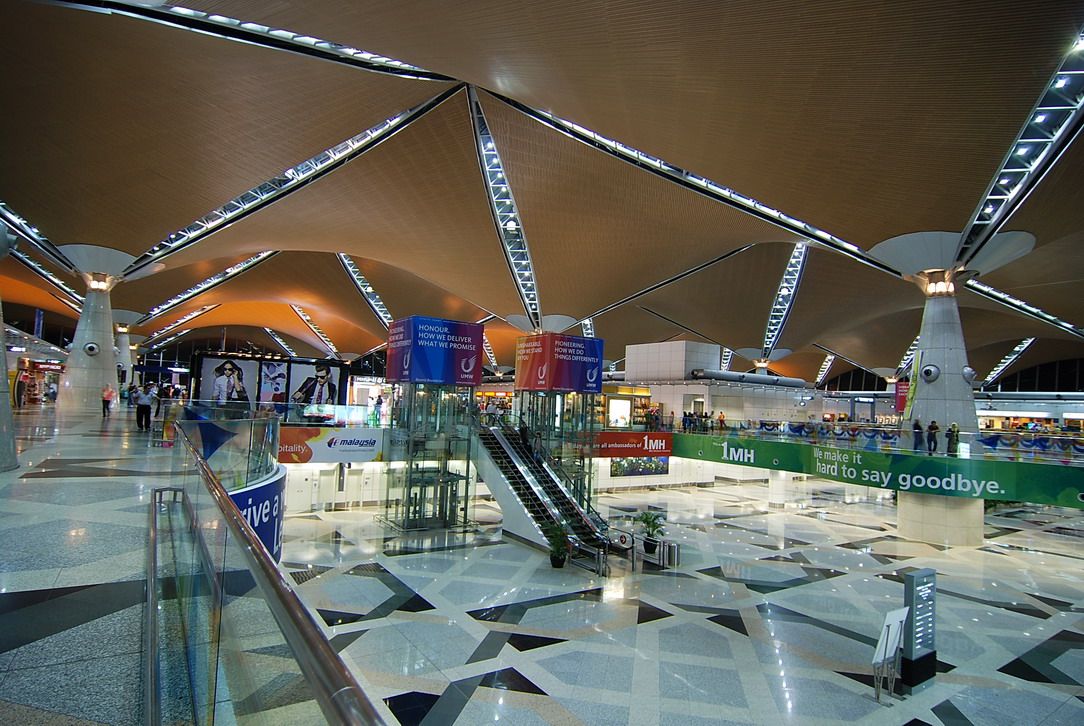 .
Peak or non-peak? I really can't tell with KLIA. Immigration and security checks - looking equally quiet tonight - are down one level from here. And then, a driver-less people mover known as an Aerotrain (below) brings me to the Satellite building, from where most of MH longhaul flights as well as all foreign carriers like RJ depart. Incidentally - and a forewarning if you're headed for KUL soon - the Aerotrain (which is the only link between main airport building and the remote satellite) will stop operations completely for four months starting Nov 1 for "maintenance". A fleet of public buses will be brought in to replace the aerotrain in the interim. We're surely in for lots of fun then.
.
.
For a short while, I drop by MH's Business Class Golden Lounge at the Satellite that's starting to show its age - tired furniture, scratched tables and the general conditions that come with 12 years of wear and tear. It's seriously in need of refurbishment and quite a ways off from 5-star as it stands. I take no pics of the lounge - the dim lighting and crowds don't make it conducive. Every so often there are boarding calls: I record MH flights leaving for Auckland, then Melbourne, then Chennai and Jakarta; MH139 to Adelaide is delayed, while Abu Dhabi-bound Etihad is calling its last passengers. About 40 minutes before scheduled departure, my RJ flight is called for boarding.
.
.
A332 JY-AIE that's just shy of 2 years old (but almost brand new with RJ) is waiting for me when I get to gate C4, a short distance away from the Golden Lounge. The holding area is empty - it seems most of the economy class passengers have already boarded and I am invited to "go straight on board" by the MH staff manning the gate. There's nothing much to see out on the wet tarmac and I snap an unsatisfactory photo of my plane, just for the record. Next to us is a Narita-bound B763ER belonging to fellow oneworld partner JL. On the other side, a KL B772ER is just coming in from CGK (another long-standing 5th freedom route) en route for AMS later. This mix is as exotic as it gets at KLIA.
.
.
Royal Jordanian Airlines
Kuala Lumpur – Bangkok in Crown Class
Flight RJ 181 Airbus A330-200 JY-AIE
Dept: 2205 Arrv: 2337 (17 minutes late)
How to describe the boarding experience? Let's be charitable and call it unique. The welcome at door 2L by a senior crew member is amicable, but what follows is not exactly the best first impression of RJ. I'm not usually particular about being directed to my seat - and really hate to be petty - but when there are half a dozen cabin crew congregated in the galley and nobody notices there's a boarding passenger because they're deep in animated conversation, it does make you wonder if anyone's taking this 'service' thing very seriously at all. Squeezing past the crew with an "excuse me" to get to my seat on the other aisle, I almost feel like I'm gate-crashing someone's private party.
.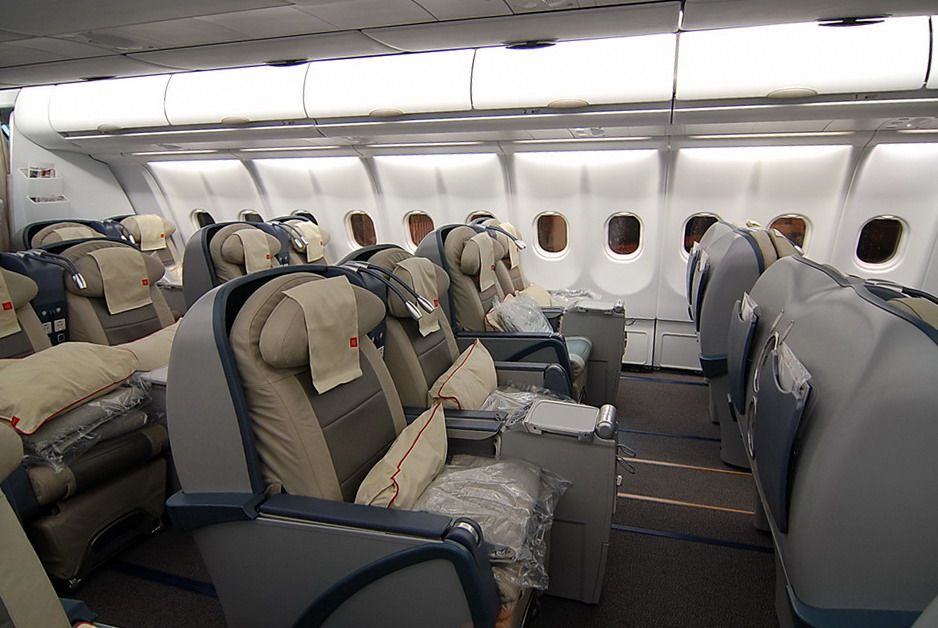 .
Turning left, I find a smart-looking and well appointed cabin with four rows of beige and cream seats in a 2-2-2 configuration. It's quite attractive and immediately likable. Only problem is when I get to my alloted seat, there's a Jordanian couple, their young son, and the usual paraphernalia associated with traveling with a small child already comfortably installed at and around 3 H&K. As is usual in these situations, boarding passes are produced to determine if one of us has misread his seat number - and it does seem they have.
Such slips happen at every flight departure, so I'm surprised at how the crew - who've now noticed my presence and the slight commotion at row 3 - react to this situation. A stewardess leaves her galley party to check my boarding pass and immediately asks the family to "move". Knowing for a fact that we are the only four passengers in this empty 24-seat cabin, that command - although by-the-book correct - sounds quite absurb to me. The couple start picking up their things when I do what any one of us would have done in this situation, and that's to suggest that
if the flight isn't full, perhaps I can move to an empty seat instead?
The stewardess suddenly looks lost - like this scenario wasn't provided for in a service manual - and doesn't respond. Instead, she turns her head back to a supervisor at door 2L who nods his head: "yes, you can," she says finally.
.
.
I move to 2K, a row ahead. The amenities at my seat - a duvet-like blanket and large pillow - look comfy enough for the long flight to Amman. The seats are of the angled-flat variety with the standard legroom you'll find on some longer intra-Asia regionals, and more than adequate on a short-haul like mine. A stewardess comes round with a tray of different juices. Trying to make small talk, I point to some orangey substance: what juice is this? I ask. There's no response: I am starting to wonder if I'm talking gibberish today. Is this orange juice? I try again; or is it mango? Again, no response. My stewardess only shrugs: it appears she doesn't know. Or maybe doesn't much care either. Ah, whatever, eh? I say half in jest, mostly to break the awkward silence. "Yes, whatever," she says in response, smiling. In that case, I'll have a glass of whatever then, I say.
The rest of the pre-departure service is thankfully not anywhere as bizarre. A copy of the Jordan Times is offered - one of the benefits of fifth freedoms is the chance to see the world from a different perspective - followed by headphones, and a recycled menu.
.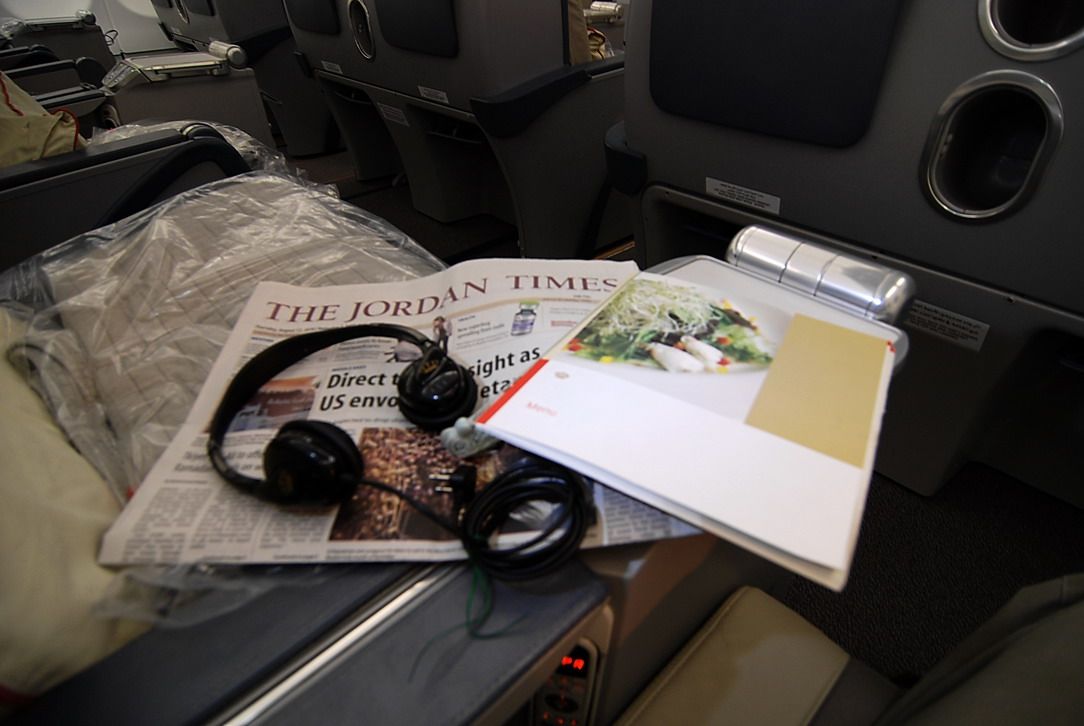 .
There are no more joiners in Crown class, and welcome announcements in Arabic, English and Thai follow a pushback five minutes ahead of schedule. It's 1 hour and 50 minutes to Bangkok and we'll be flying at 56,000 feet - or perhaps, I just misheard. The sky marshall is seated together with another airline staff in the middle of the back row tonight, which means a commanding view of the entire cabin and the end of picture-taking for me, unfortunately. The active runway tonight is 14R that flanks a flood-lit construction site that will eventually become KLIA2, the airport's new high-brow, low-cost terminal come 2012. We are airborne by 22:16.
.
.
Thunderstorms in the vicinity ensure it's a bumpy ride out of KLIA. The seat belt sign stays on for a little while, and so I explore the contents of my seat pocket that contains
Royal Wings
, RJ's bi-monthly inflight magazine, the AVOD IFE guide that offers some movies I hadn't yet seen (though the selection of 24 films is small by today's standards), a safety information card, and duty-free catalog. The menu is a lavish, multi-page affair and a teaser in
Royal Wings
even says I can expect "a choice of four main courses... Arabic ice cream to follow... the finest a la carte dining" in Crown class, lifting my hopes for a scrumptious meal ahead.
.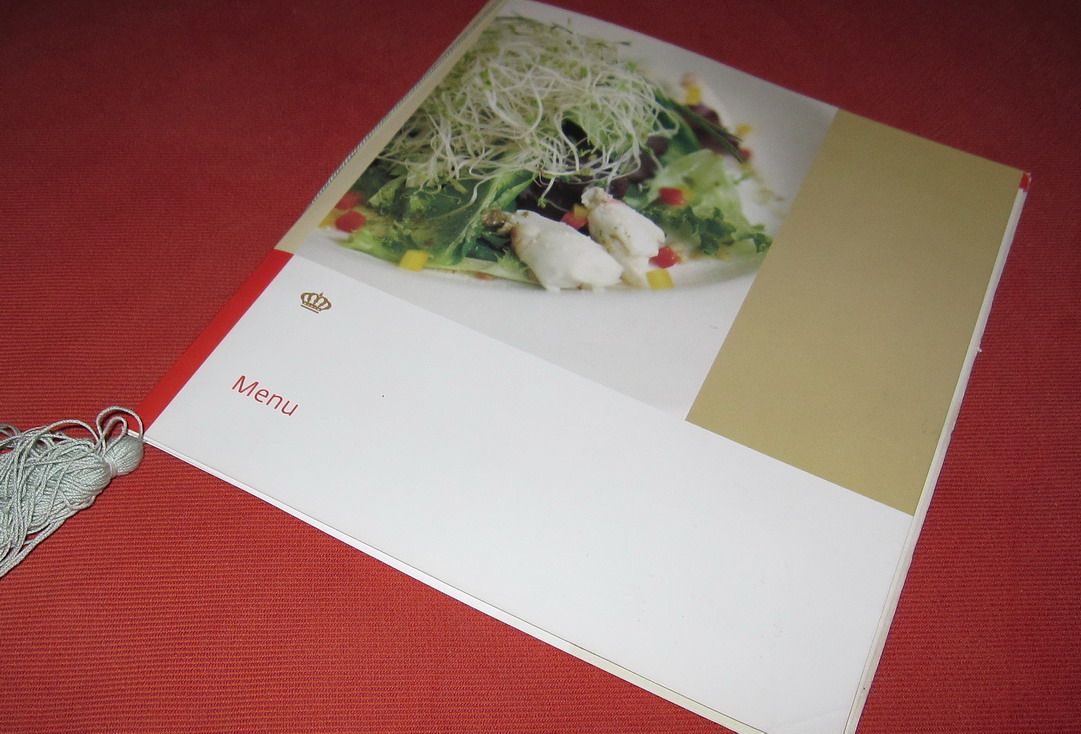 .
Or maybe not. For the reality is somewhat different. I have only myself to blame for being too presumptuous in thinking a nice dinner will be served on board at this late hour, and so I'm left both disappointed and hungry as well.
.
.
To be fair, the on-board service does improve from the less-than-satisfactory start. Hot towels are offered when the seat belt signs come off and then my tray table is dressed in white linen for the highlight of the flight: the cold snack service - Yummy.
I am so famished I devour all the food on this single tray, even if the sandwiches are too dry and not really the best. The air is much calmer at cruising altitude, but you will notice my pic is blurry from shaky hands. I'm blaming under-nourishment for this one.
.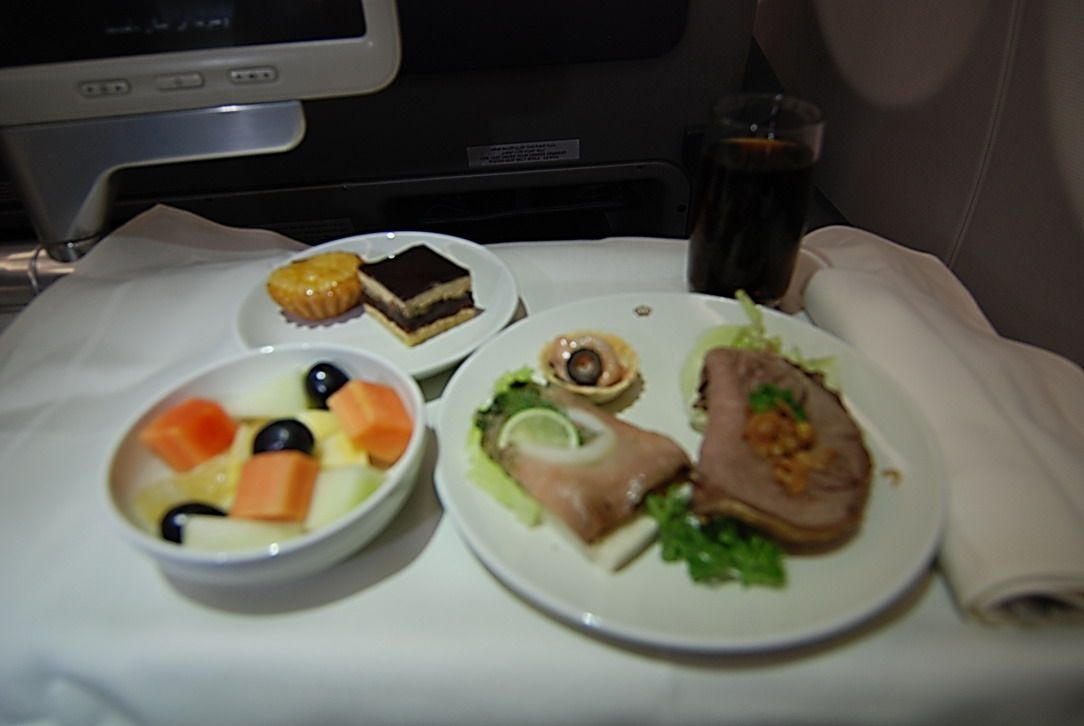 .
The rest of the flight is pretty uneventful. I power up the IFE to watch
Date Night
- mindless, predictable but mildly funny stuff that keeps me entertained right up to an abrupt end when a stewardess asks "finished your film?" and then yanks my headset from the socket without waiting for a reply. We make a bumpy descent into Suvarnabhumi and land on 01L under heavy rain and flashes of lightning. Bangkok is at its busiest in the 1-2 hours just before midnight and our arrival at the gate is delayed another 15 minutes awaiting a late pushback by another plane from our allocated stand.
All things considered, this hasn't been one of my best flights. The catering and particularly service were disappointing let-downs. I had definitely expected more of Royal Jordanian. But did I succumb to unreasonable expectations? Had I been too finicky? Or perhaps hunger had clouded my judgement? That's for you to tell me.
Any airline can have an off-day and perhaps, this is one of RJ's. It deserves a second chance - and I'm glad I get to test RJ again on the return. I fly on to Chiang Mai from here, but will keep the RJ flow intact in this report; so the BKK-KUL flight follows immediately below. The domestic Thailand sectors, if you're interested, are covered after that.
.
southbound - bangkok to kuala lumpur
.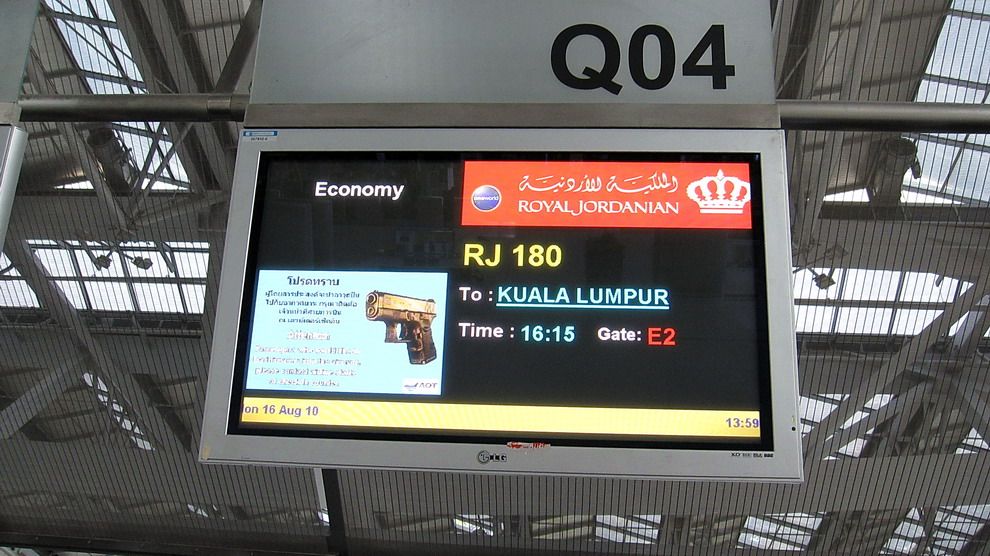 .
Good afternoon. It's a few days later and the sun is shining. I'm again back at Suvarnabhumi after some enjoyable days in Chiang Mai, but leaving Thailand after visits like these always make me feel a little melancholic. Still, the prospects of flying again lifts my spirits when I spot the check-in desks for the Royal Jordanian service to Kuala Lumpur.
All four check-in counters are manned by TG staff and free of passengers at about 2 pm for a 4.15 departure. I approach the nearest one, which happens to be an economy class desk, and present my CX Marco Polo Gold card (the status long since expired) just for the heck of it. "The number is already in," confirms the TG agent, but she's far too polite to say something like: "you are no longer Gold Sir, but I'm sure you already know that... we see sad sods like you all the time!"
When I ask about loads on this flight, her answer "not so full" is an understatement. There are a total of 8 pax in business, and 17 in economy. Seventy? I thought I misheard. "No, seven-
teen
," the agent confirms. Looks like four check-in desks to handle this departure is way too extravagant.
.
.
Variety is the spice at Bangkok's Suvarnabhumi. The airlines and destinations on the FIDS confirm this airport as offering one of the most diverse spotting opportunties in the Asia Pacific region. The importance of BKK as a major Star Alliance hub is also apparent from the number of codeshares on regional TG flights: the 16:00 departure for KUL, for instance, carries codes for SK, LH, OS, NH and MH, in addition to operating carrier TG.
.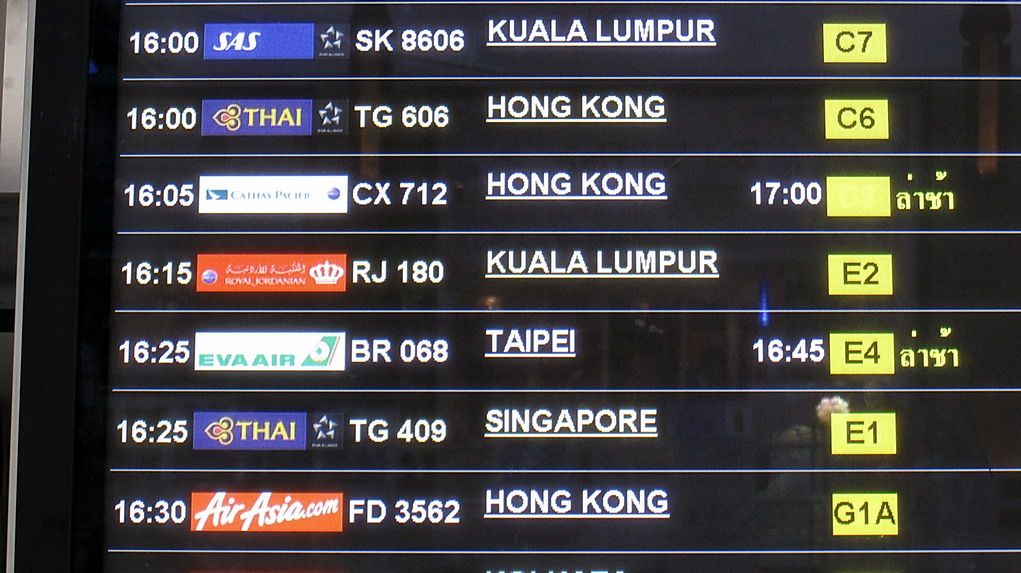 .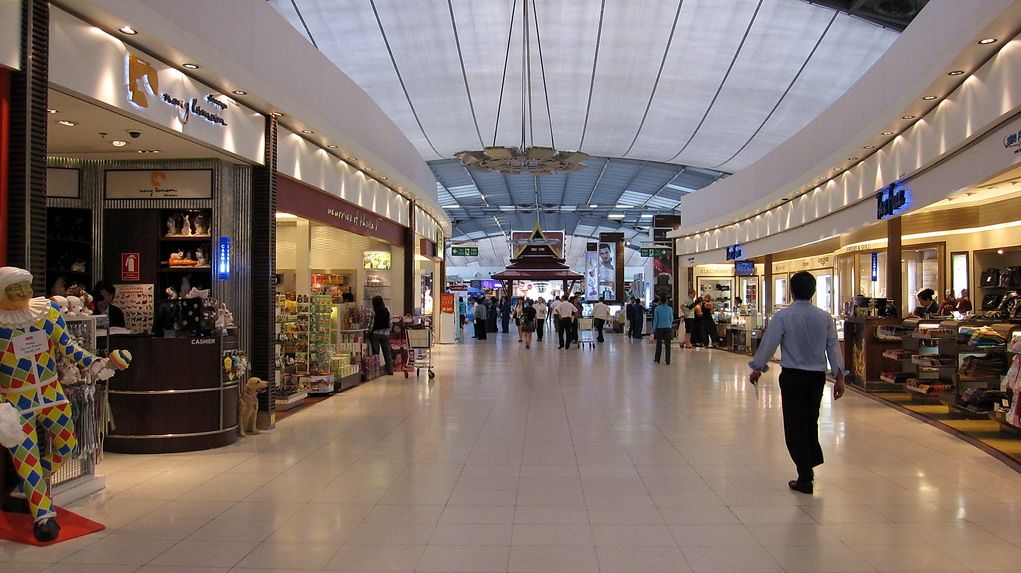 .
A breeze through immigration and security - thanks to the Fast Track service that's offered by RJ to its premium passengers - and I'm in a mall that stretches for a kilometre offering limitless shopping and eating, but with no plane in sight.
If shopping isn't your thing, there are some diversions. Choose the right balcony to look over and you'll get a bird eye's view of the security screening process for transit passengers en route to their connecting flight. I think this level of "transparency" of passengers going through scanners and body-checks is wierd - but then, not very much at Suvarnabhumi makes sense to me.
.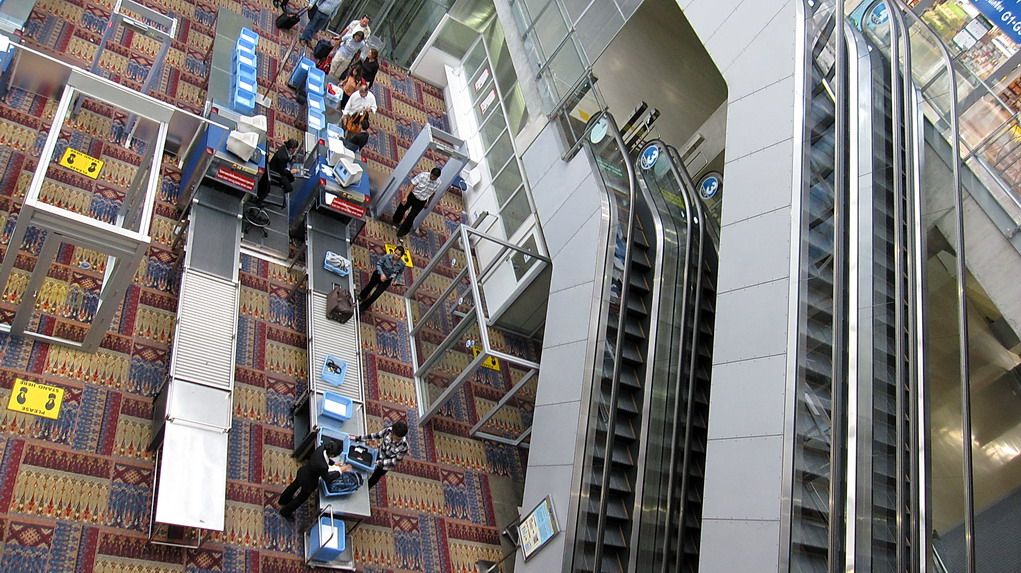 .
Whichever gate you may be headed for at this airport, you are bound to reach one of these areas with the glassy ceilings eventually. This is a major intersection of the various international concourses - in this case Concourse D meets E, F and G. Airline lounges are mostly located one level down from here.
.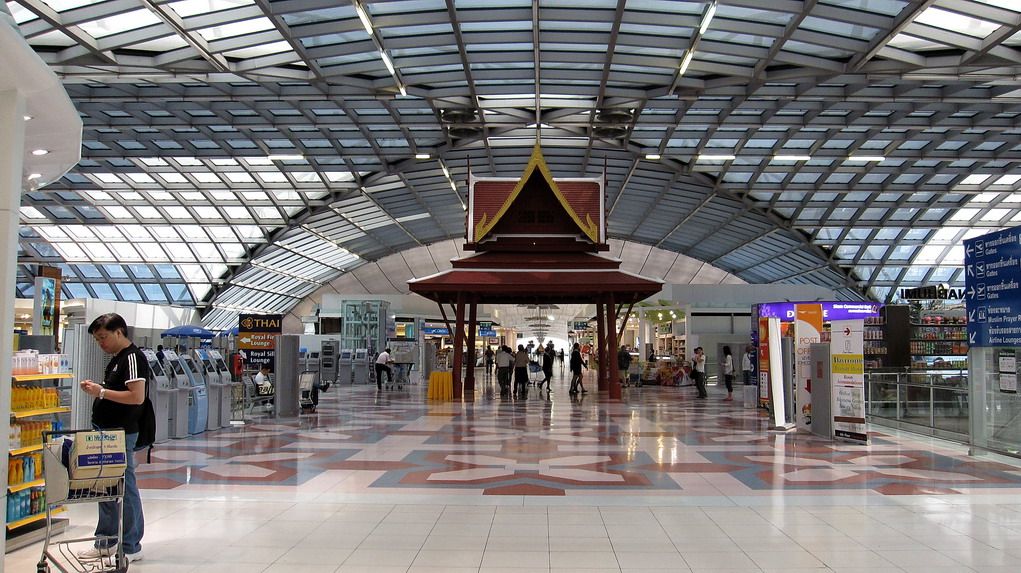 .
Like at KLIA, Royal Jordanian is not quite integrated with fellow oneworld members here. Considering that CX, JL and QF/BA run a total of five lounge facilities at BKK, it's strange that it's a Star Alliance lounge that I am invited to use.
.
.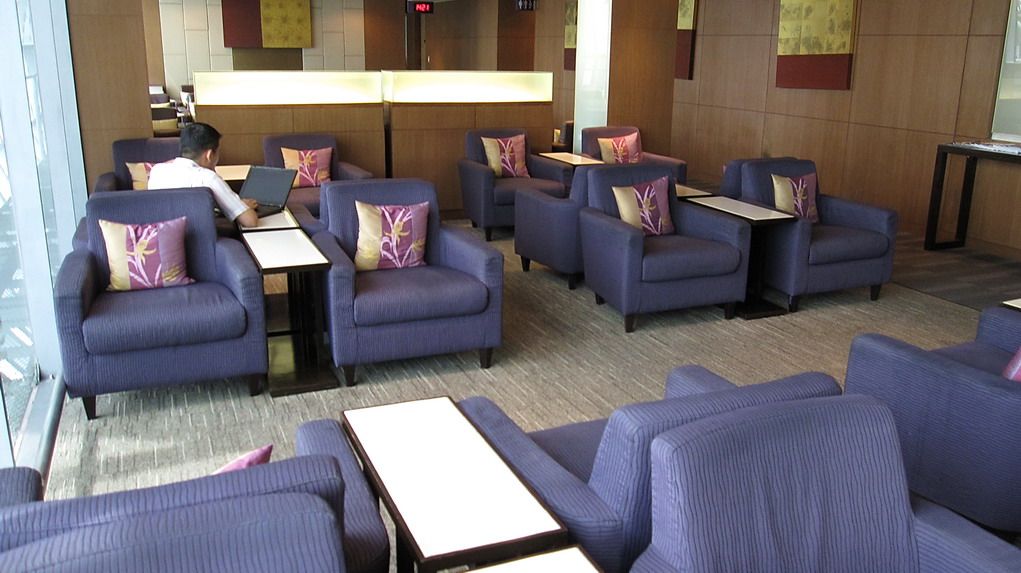 .
This is the interior of the Thai Airways lounge I choose to visit at Concourse E. The national carrier probably holds some sort of record for the largest number of premium lounges at a single terminal - seven or eight, I believe, scattered across four concourses. Each of the business class lounges looks identical and have similar facilities; varying only in size. Service is fine, but catering is consistently unremarkable - there's no excuse for it in Thailand really.
.
.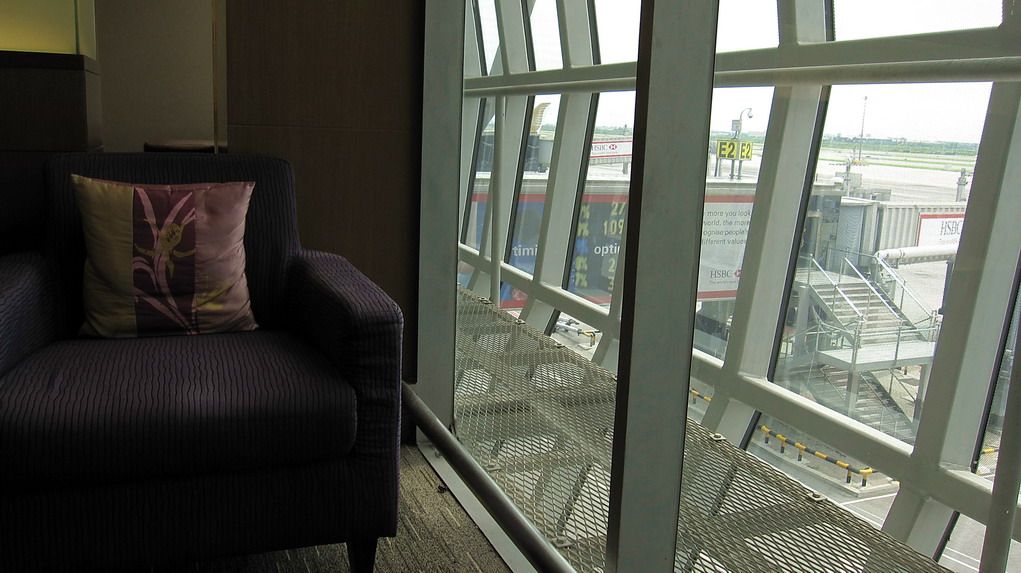 .
I select a window seat that has a view of my departure gate E2. But as you can clearly see, the "view" is far from satisfactory, with plenty of obstructions preventing any decent attempt at a photo. Suvarnabhumi is frustrating like that but it's better than nothing, I suppose. I spot, through the anti-glare, the incoming from Amman arriving on time, and figure it's about time to move on.
.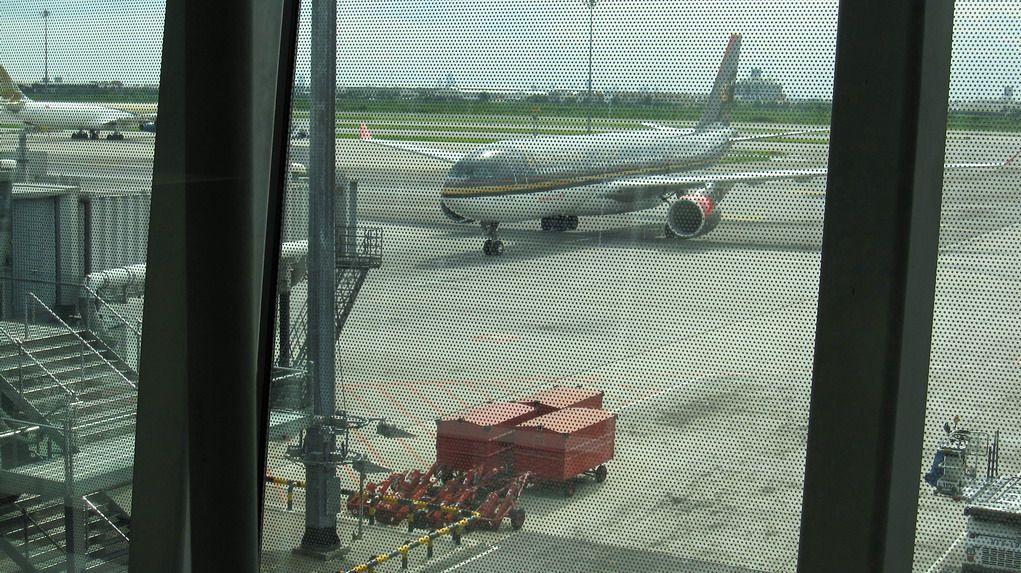 .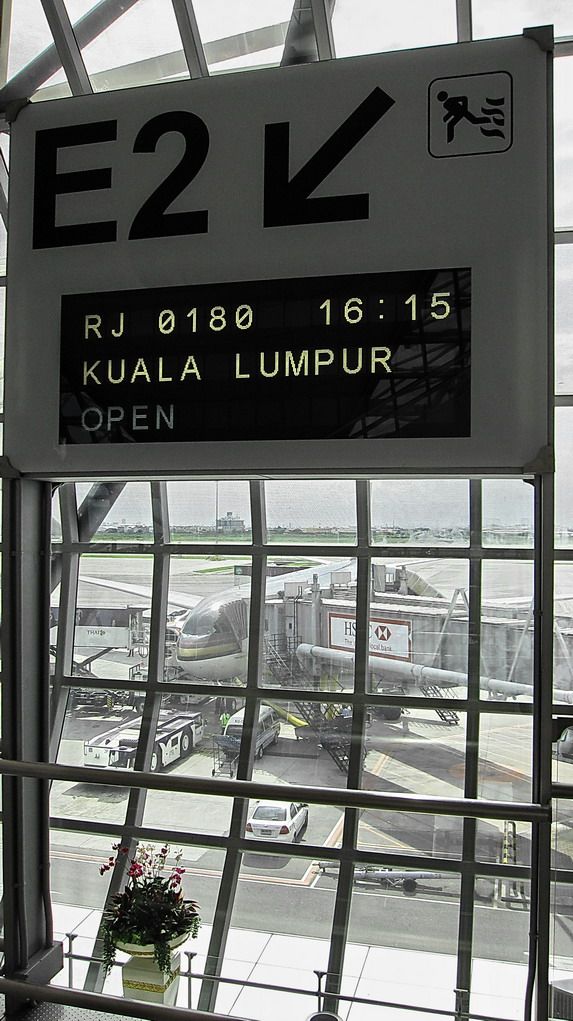 .
It doesn't take a minute to get to the close-by gate - the holding lounge is located down a ramp from the here. The A332 had just arrived, and there are not many other passengers. But the RJ crew - stewardesses looking very smart in cheery red - are already here, waiting anxiously to start work. There's a crew change at BKK and this set will be doing the daytrip to KUL, and returning to BKK with the plane tonight. Even before all the Amman passengers have disembarked, the fresh crew are already starting to board.
.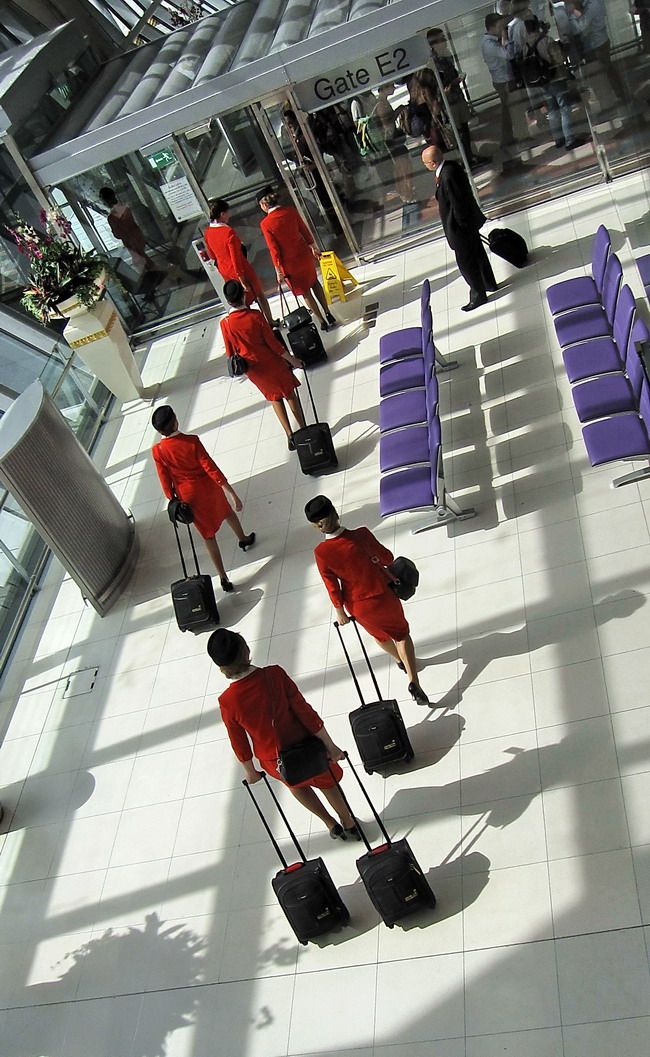 .
.
Outside, the A332 is being serviced for the short-hop to KUL - it's refueled, the cabin gets cleaned, waste emptied, food and drinks get catered, bags get unloaded and loaded, all within the one hour or so it stays on the ground here. This may be pretty routine stuff at airports like BKK but it's no less amazing when you think about the effort that goes into it. The gate area (they've finally decided to add cushions to the seats after 4 years) remains quite empty: with a load factor of 9% this afternoon, I wouldn't have expected anything else.
.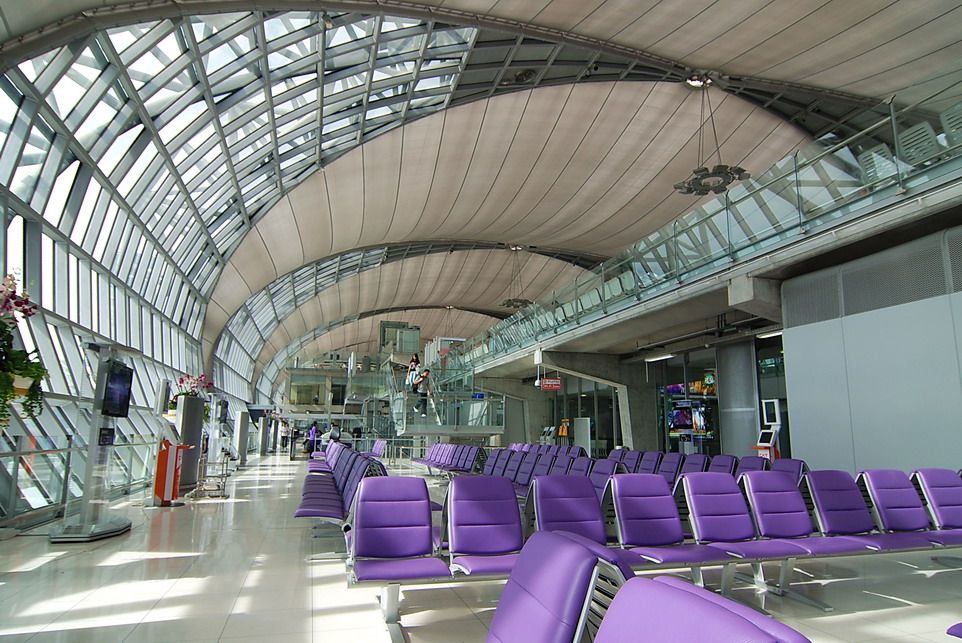 .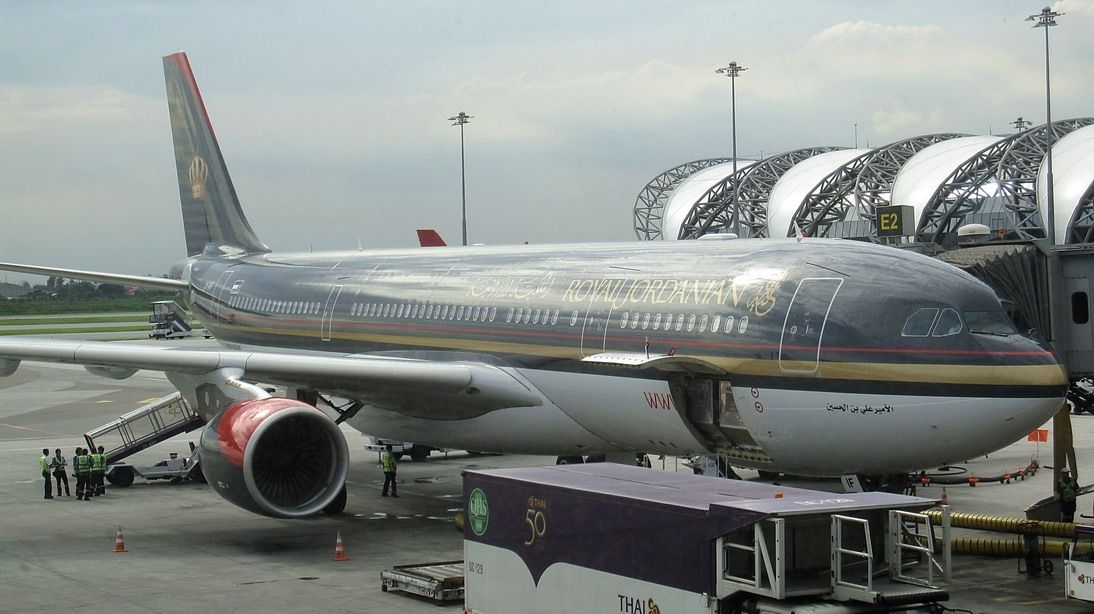 .
There's no doubt that Royal Jordanian has one of the world's most unique liveries - not many airlines choose an almost-black, dark grey upper fuselage matched by a contrasting light underbelly. That together with hints of red on the engines, fins and winglets make this a very classy color-scheme I like quite a lot. (Come to think of it, even the previous RJ liveries were never conformist, and were equally special.) The only issue I have with it is how it never comes out quite right in my amateur pics!
I'm glad I get to try
HRH Prince Ali bin Al-Hussein
, fifth in line to the Jordanian throne, according to wikipedia - or otherwise known as JY-AIF - that nicely rounds off the entire RJ A332 fleet.
The arrival of a fellow oneworld partner's B744 as BA009 from LHR (it will leave for SYD after a very generous 3-hour transit), also coincides with the boarding call for my flight.
.
.
Royal Jordanian Airlines
Bangkok – Kuala Lumpur in Crown Class
Flight RJ 180 Airbus A330-200 JY-AIF
Dept: 1624 Arrv: 1925 (on time)
Boarding. Two aerobridges are in use and it seems I'm alone in making my way down to the business class entrance via door 1L. But what happens next is strange. I've encountered situations before when there are no crew members at the door, but it's the first time I walk past a crew member - seated on a jump seat at the door - who doesn't bother to look up, much less stand up. Perhaps he thinks I am part of the ground crew but the blase attitude does feel awfully odd.
Please don't get up,
I am almost tempted to say, but I fear the irony may be lost. A stewardess working in the galley notices me, makes some form of eye contact as if she's about to check my boarding pass, but then turns away. What is happening? For the second time out of two, I am made to feel like an unwelcome guest in someone else's party.
I don't like to dwell into stuff like this because it makes me sound kinda petty (and I'm really not so devastated) - but a welcome greeting when boarding is so basic and universally taken for granted that its absence here is glaringly noticable. I find my window seat and settle in as the only passenger joining Crown Class from BKK, while the crew remain - how can I say this in a nice way - totally unobtrusive. There are seven others in J who are all thru customers from Amman and already comfortably settled, having not disembarked during the transit.
.
.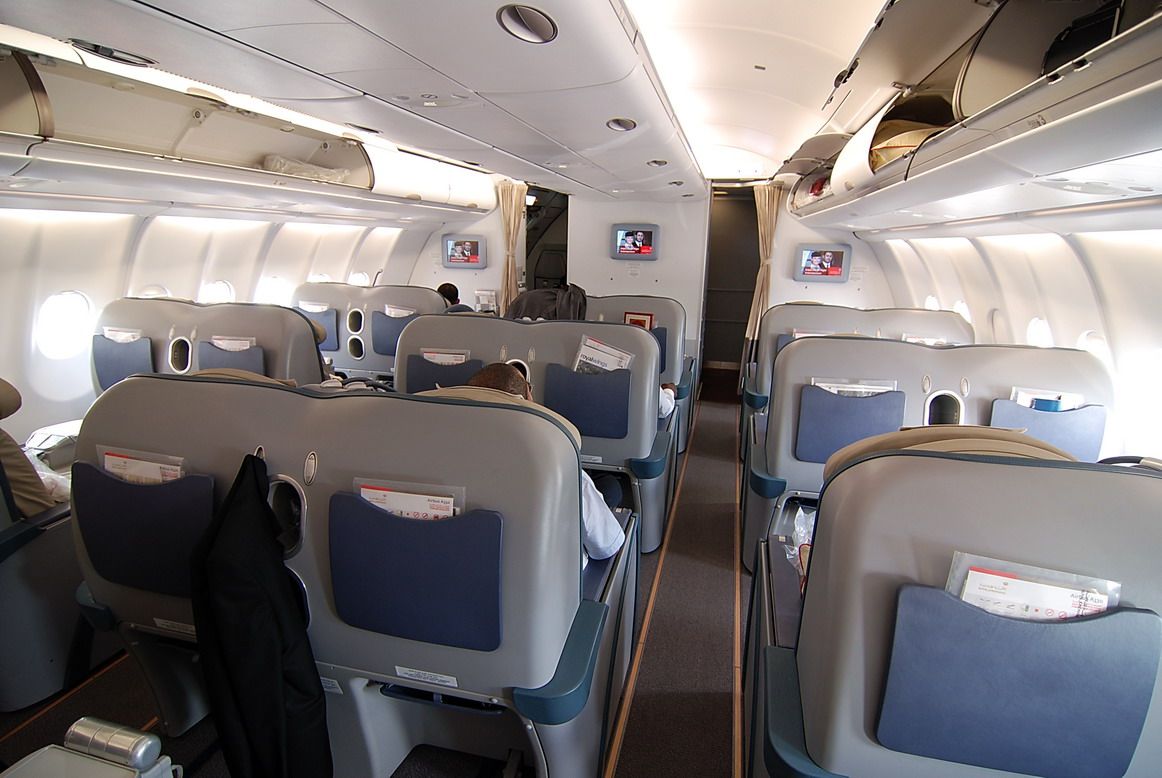 .
There's a fresh blanket and pillow at my seat, and the area around it is clean with no evidence of its former occupants: BKK ground handling does well with short turnarounds. I don't identify any of fellow passengers as the sky marshall and so feel comfortable enough to take a cabin shot while we're on the ground. As you can see, it's not a bad looking cabin at all. Pitch at 62 inches is pretty standard for J, but is weaker than the 83 inches (and full-flat seats) you'll find on RJ's longhaul A342s.
.
.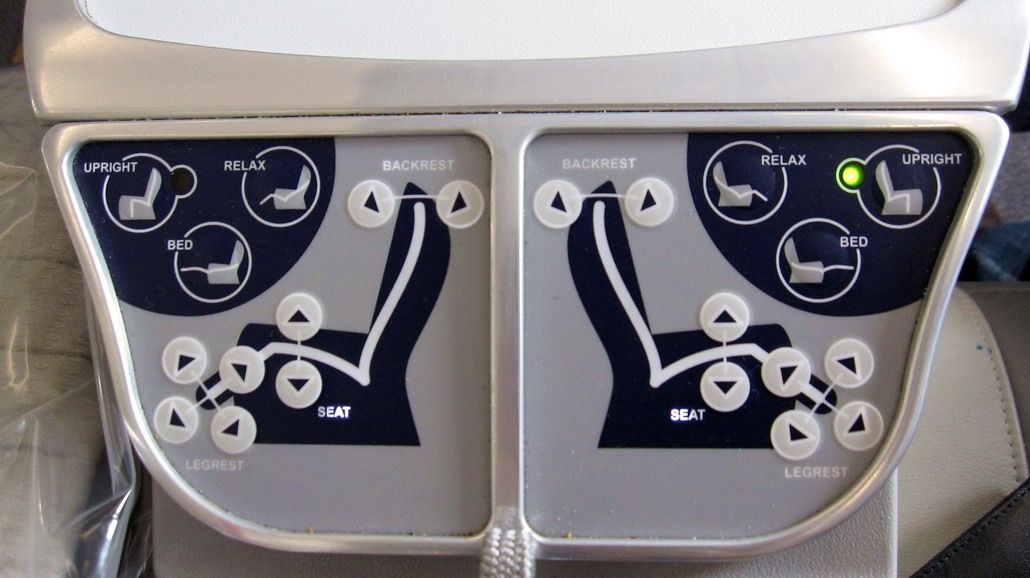 .
The view from my window is of a BR B77W next door that's en route from LHR to TPE - it's among the multitude of airlines that fully utilize their rights out of Thailand. This airport is probably the closest thing to a fifth-freedom heaven on earth: you can spend a fortnight just flying in and out of BKK on a dozen carriers without ever visiting their home bases! Gate E4 is also EK's usual A380 gate - the aerobridge you see is used for boarding the upper deck (now incidentally, also on the world's only fifth-freedom A380 sector).
.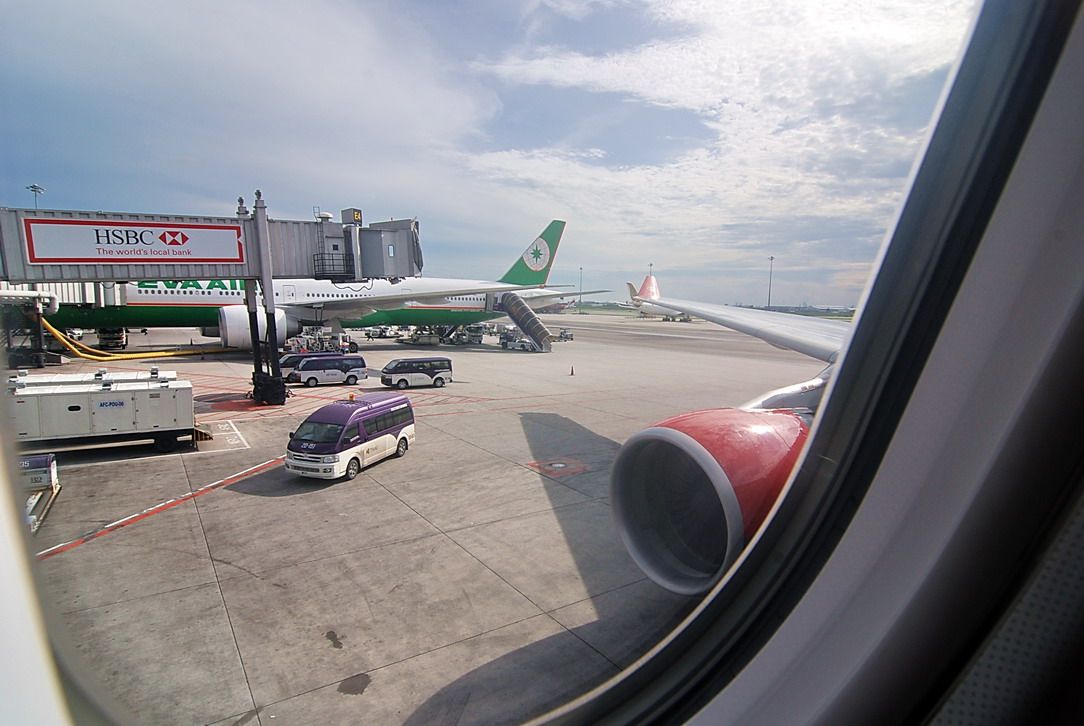 .
I hesitate to come back to the topic of on-board service because it makes me look like a fusspot. For some reason, the crew look unhappy and it's showing in their work. Except for one stewardess who's a shining beacon in a sea of dour faces, everyone serving in J doesn't look like he or she wants to be there. There's no offer of pre-departure drinks or newspapers, but I do get a set of headphones, while the stewardess handing out menus looks super pissed with the world and manages to avoid making eye contact with everyone (so I don't take it personally when she just slips the menu down the back of my seat - after tapping my shoulder with it - because she can't be bothered to walk further forward.) I don't think this is regular RJ service, but so far, today's team certainly isn't doing any favors to the image of their airline.
.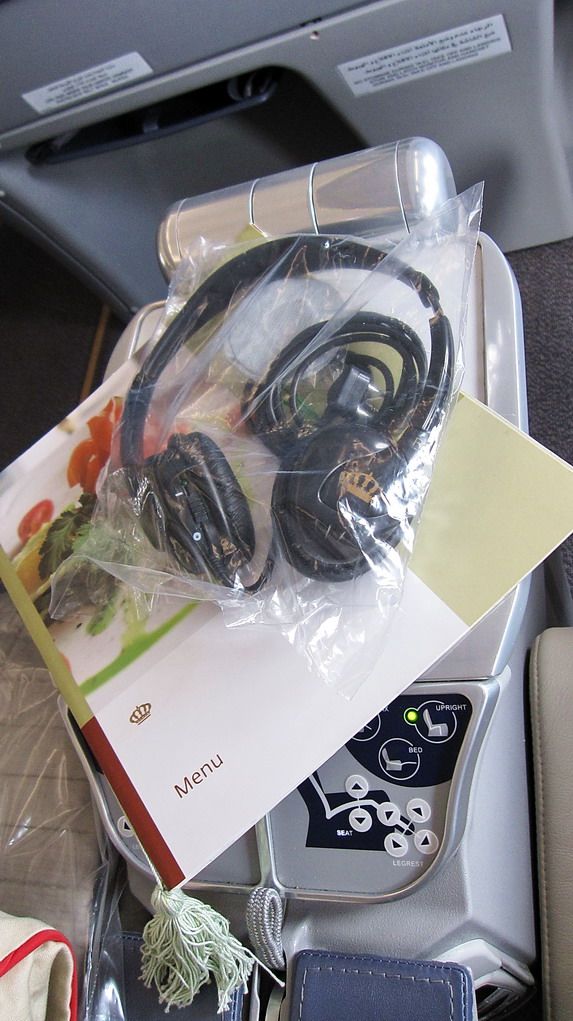 .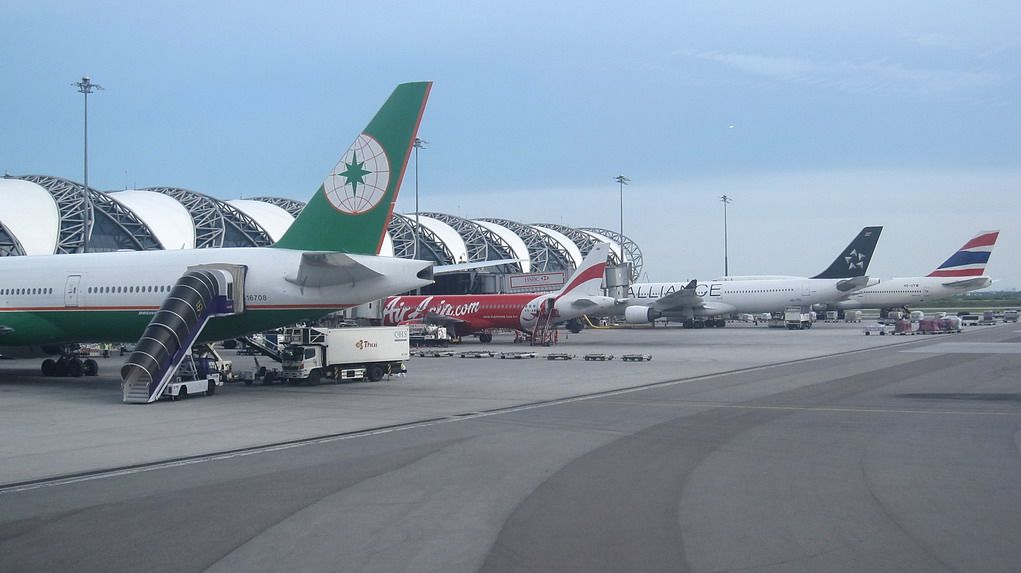 .
With boarding completed, we pushback a few minutes behind schedule to a charming welcome by Captain Kelly wishing us a "lovely journey" on RJ. Cabin announcements are made in three languages, with the English text reading "Welcome aboard Royal Jordanian oneworld alliance" probably missing a few words in between. Together with ours, the planes parked at and around Concourse E show the sheer diversity of traffic at BKK.
.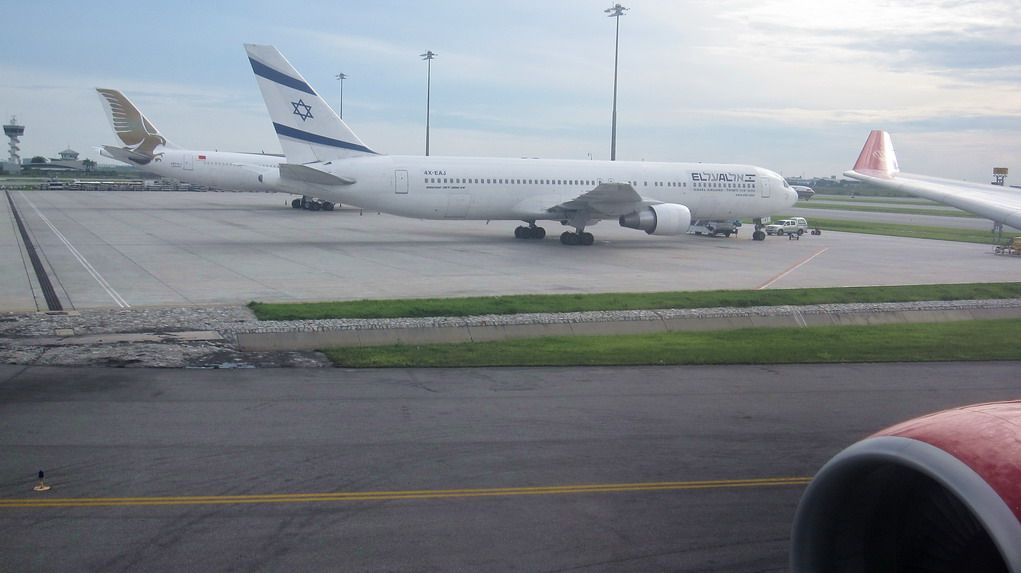 .
We taxi to active 19L where there isn't a queue for departure. The 4000m runway runs parallel with Suvarnabhumi's Concourses A and C, which are predominantly TG occupied.
.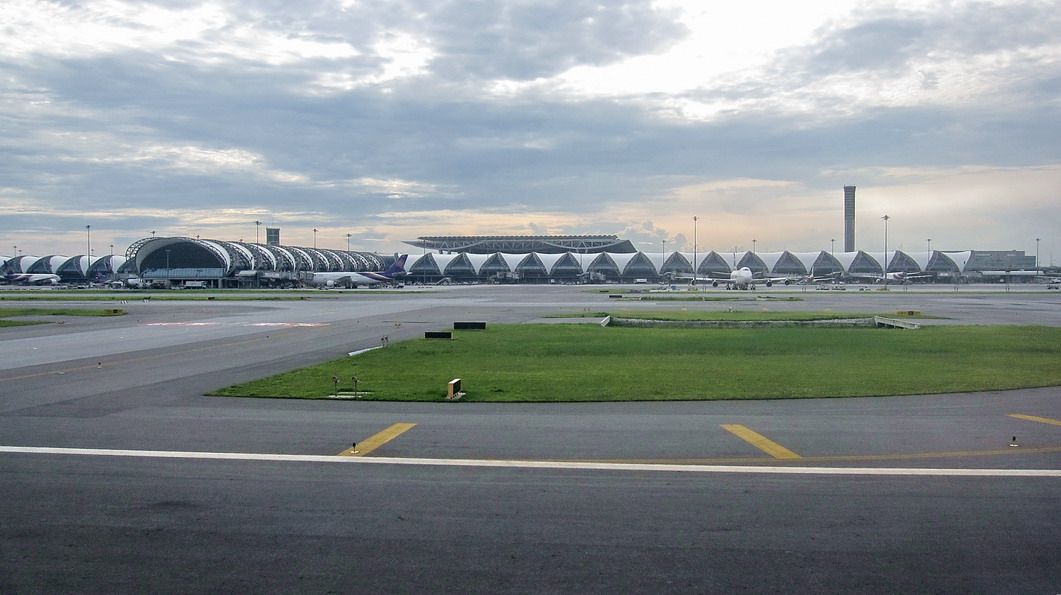 .
Being quite light, it's a quick take-off run and on rotation, I get a view of the land earmarked for the building of a new terminal at Suvarnabhumi. Despite the airport having only been open 4 years, it will already have reached its maximum capacity of 45 million passengers this year. A plan to build a 28-gate satellite passenger terminal at this location (and linked by an underground automated people mover) will boost capacity to 60 million - by 2015 apparently, but I suspect that's more of a wish list than a target.
.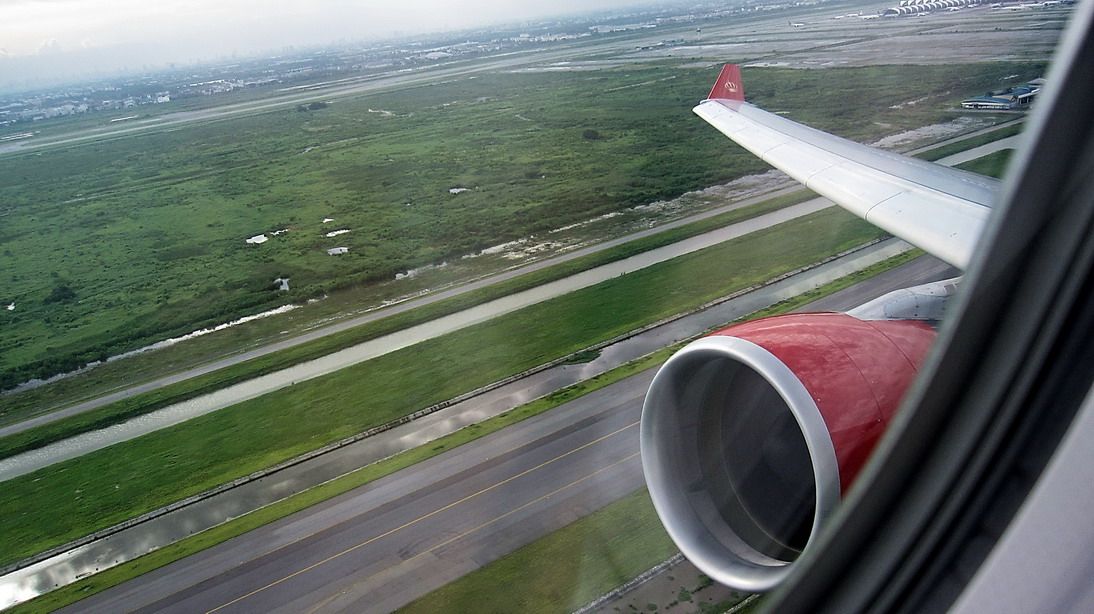 .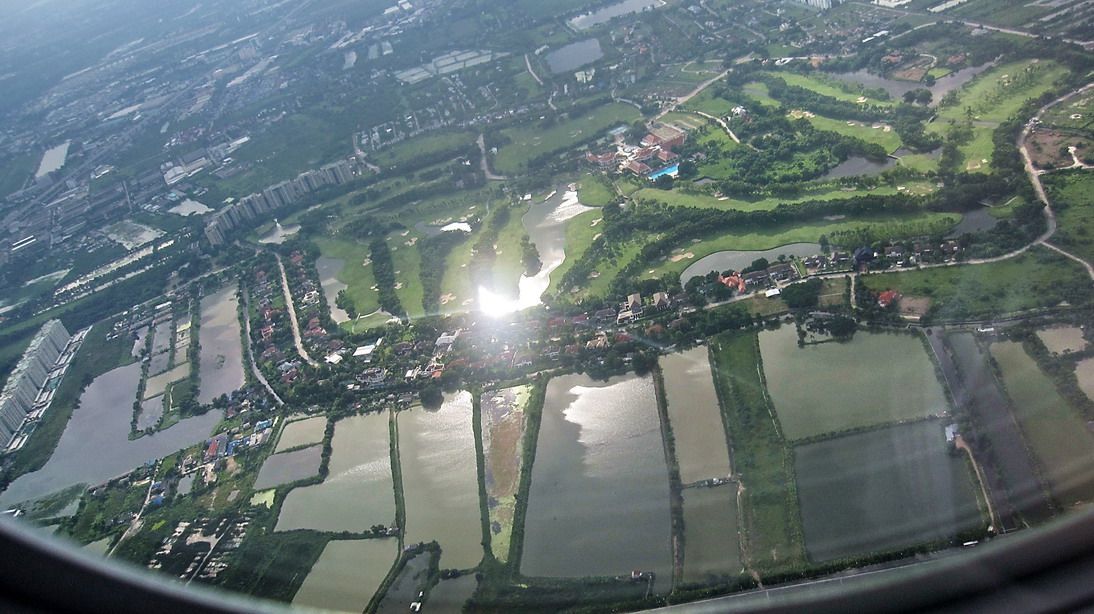 .
We climb steadily away to the south. It's pretty much straight ahead with no turns required when headed for KUL from 19L. Below us, the flat lands close to where the Chao Phraya meets the sea is especially waterlogged during the current rainy season. A couple of minutes later and we're over the Bay of Bangkok - heading towards the Gulf of Thailand.
.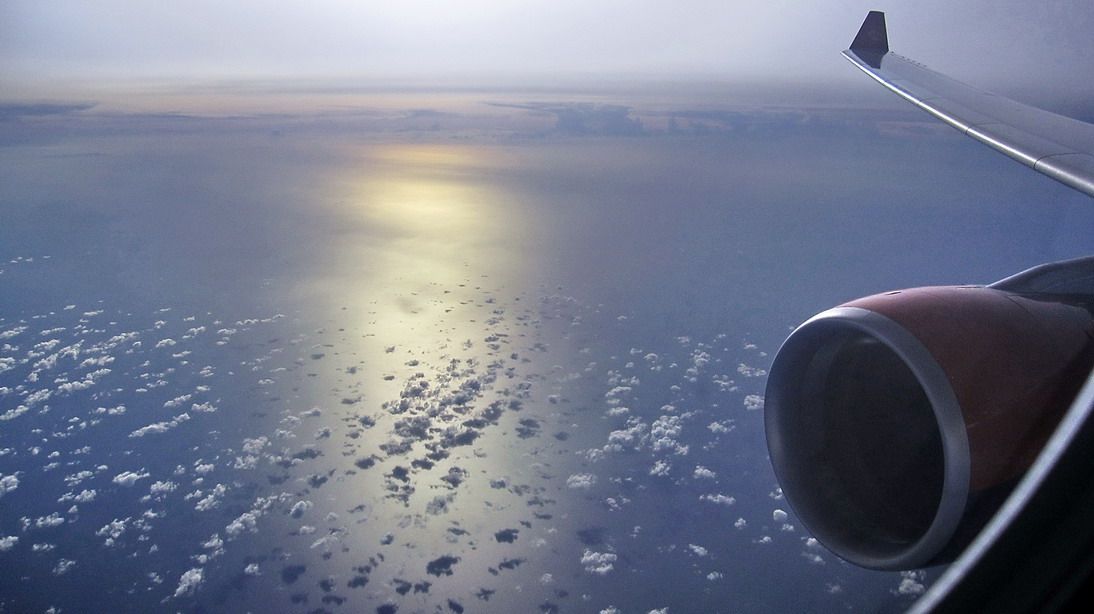 .
The seat belt signs come off and drinks are served to those passengers who aren't fasting in this Ramadhan month. It's nice that the crew do make it a point to ask each passenger, rather than just assume. Eaters vs non-eaters are about equally split among the eight in J today. Those fasting will have missed a very respectable offering on this daytime sector with a choice of 4 entrees - so different from what I had on the KUL-BKK flight!
.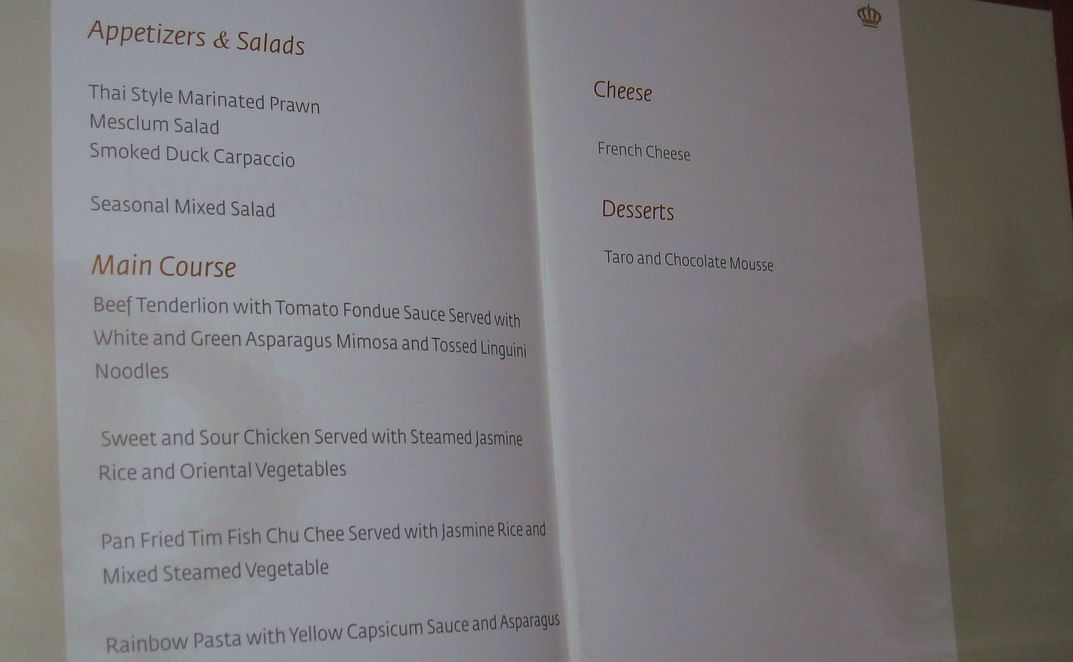 .
.
An attractive tray containing starter, salad, pudding and breads is delivered first. The starter is especially delicious, a testament to the quality of flight catering out of BKK. It's the friendly stewardess serving me too, so I'm doubly happy.
.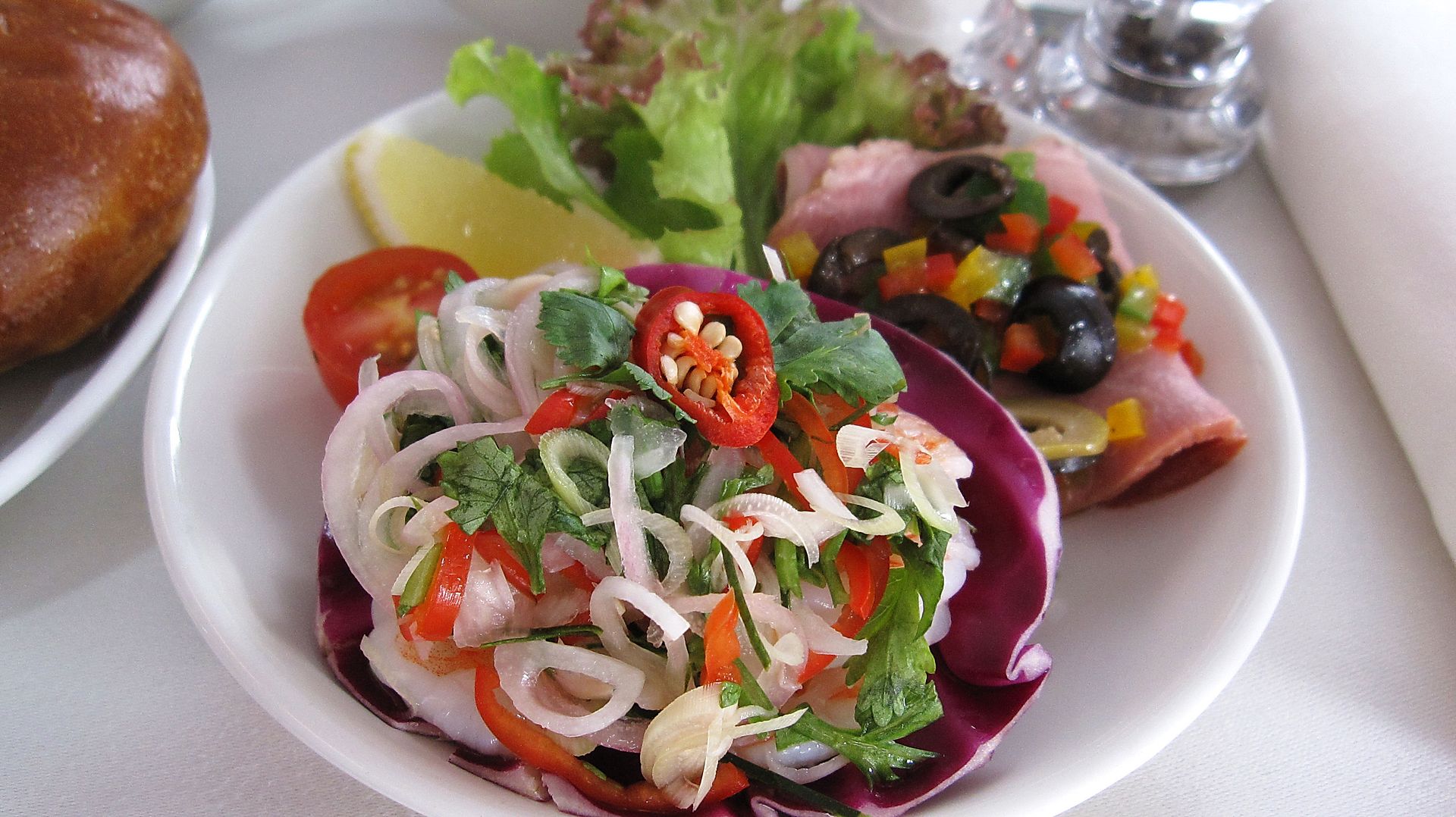 .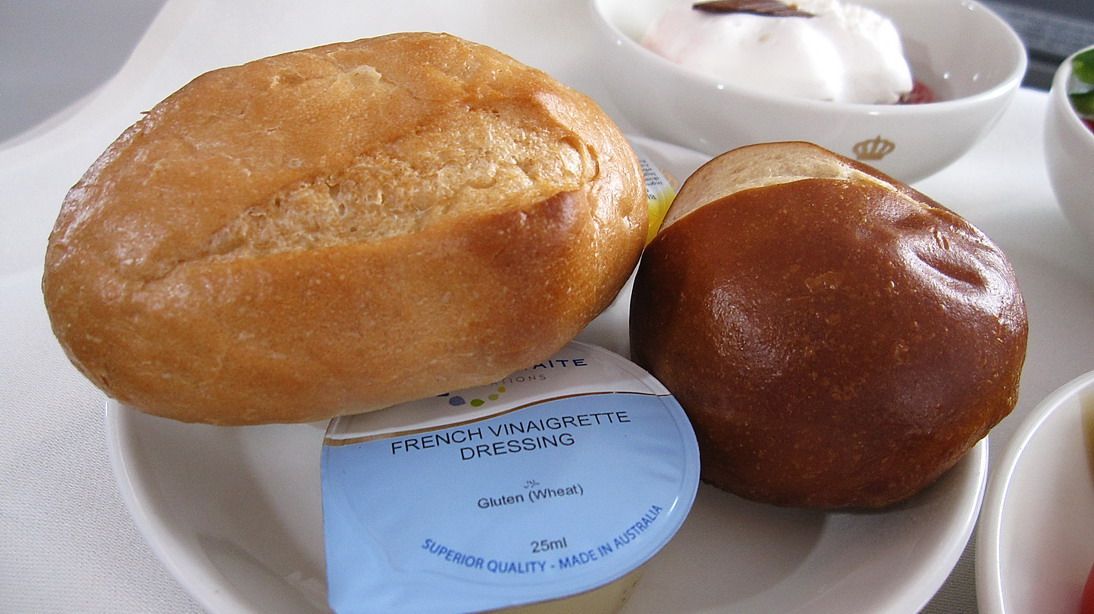 .
It's amazing how a tasty meal and friendly service can turn things around. My spirits are lifted a little already. My only minor complaint is the meal feels a little rushed with crew a bit too eager to speed you on to the next course.
.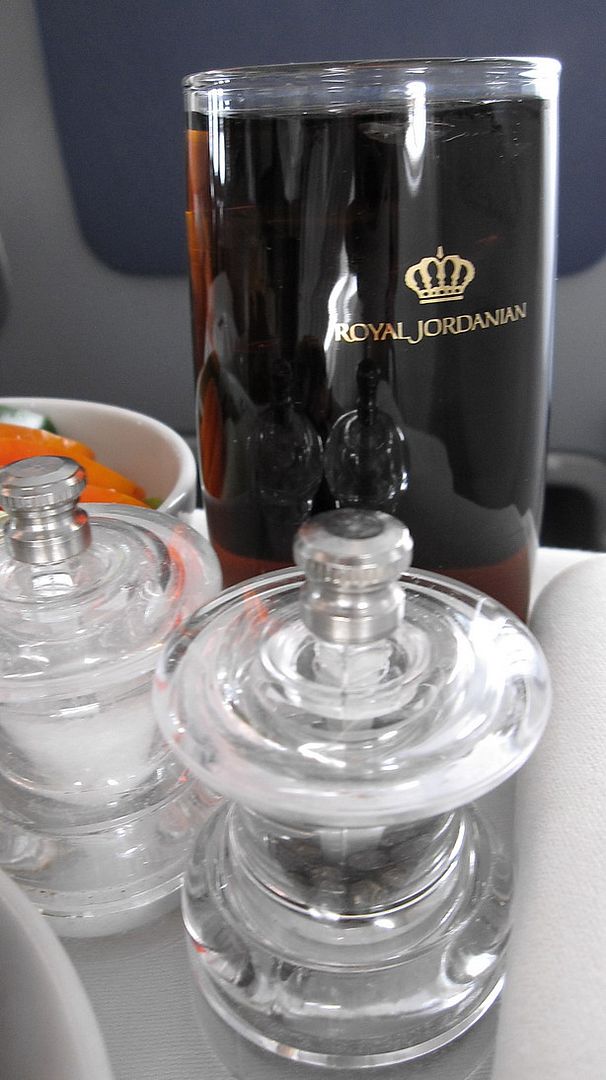 .
My main course is the pan fried fish prepared and spiced in the same 'chu-chee' style as the prawns I was served on TG's 50th anniversary flight back in May. Whereas I didn't quite enjoy the prawns for being overdone on TG, this offering is heavenly. Just superb. RJ catering on this southbound sector seems even better than on a comparable TG flight in J. I've no idea about MH though.
.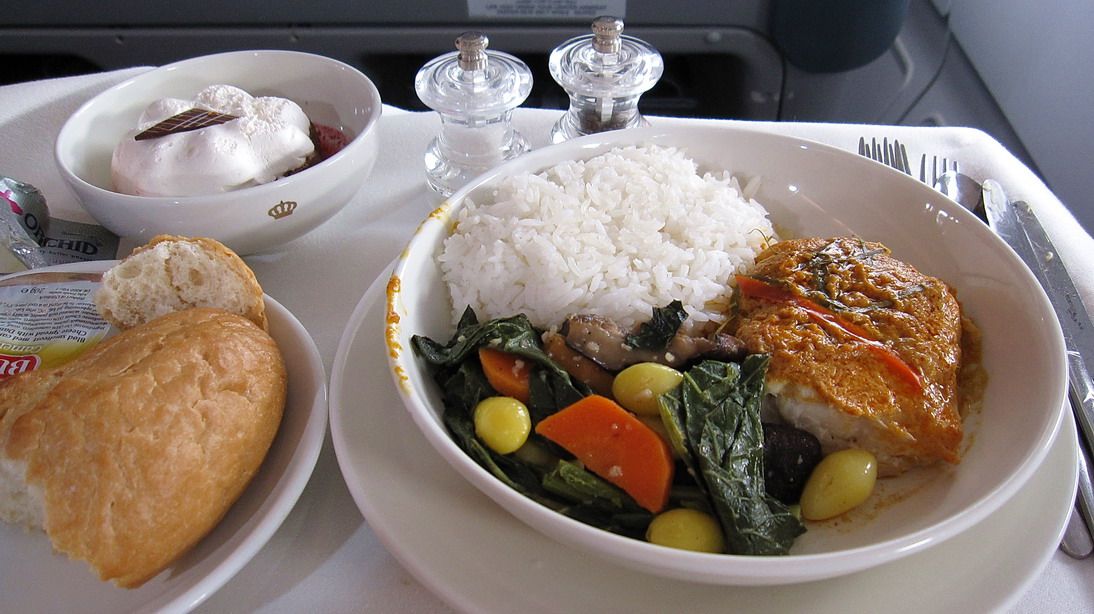 .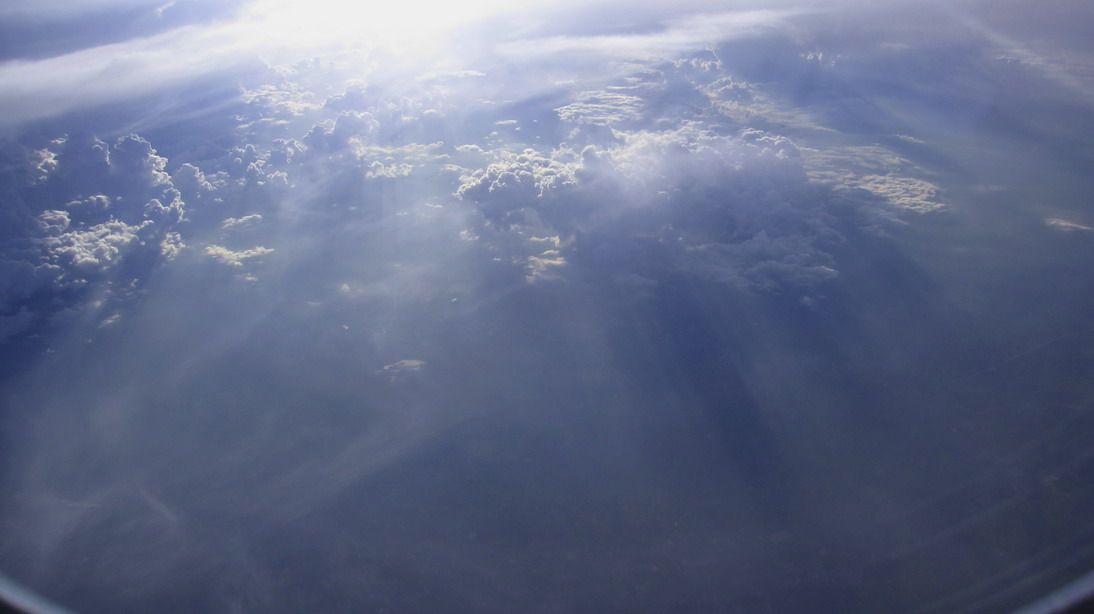 .
A decent coffee completes the meal and complements my accidental movie selection
The Ghost Writer
which is a surprisingly engaging thriller that's set in such a moody backdrop it could have been filmed in monochrome.
.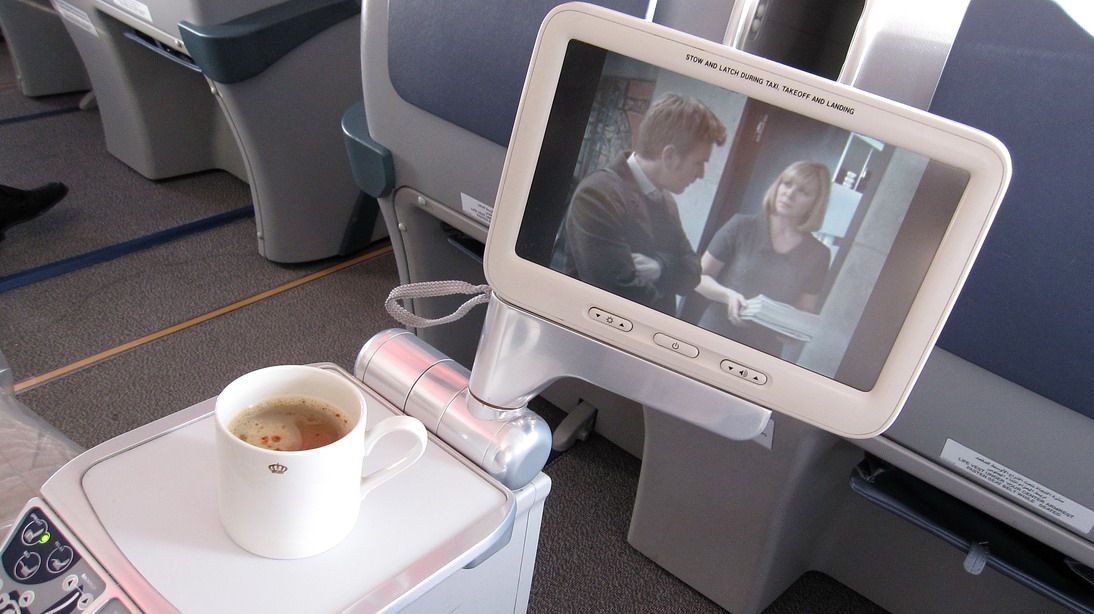 .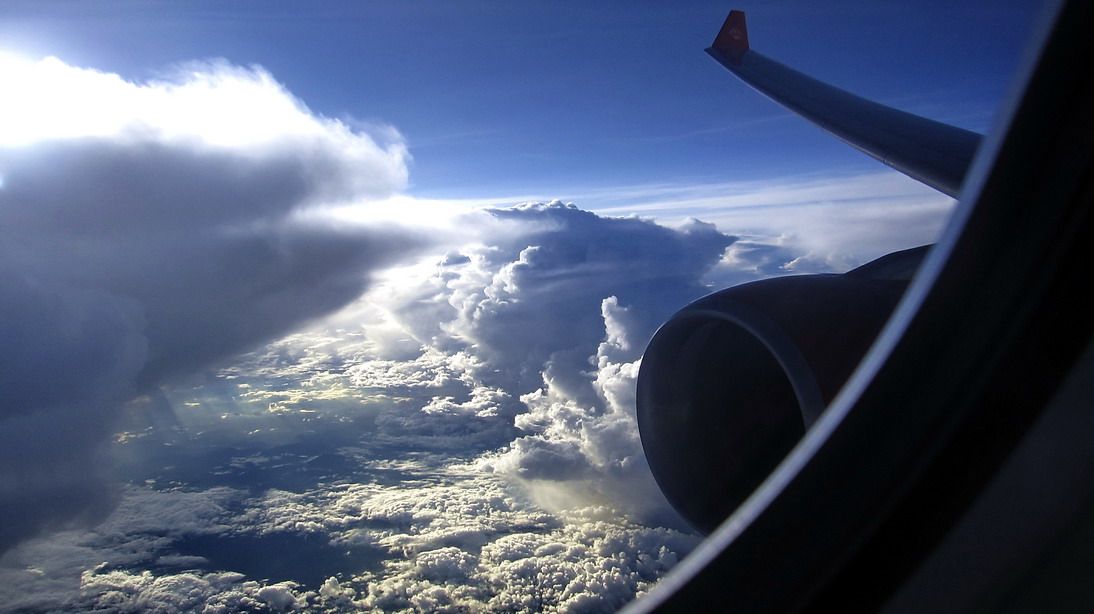 .
The clouds start to thicken as we close in on Peninsular Malaysia. The thunderstorms which sent me off a couple of days ago are still around to welcome me back, it seems. As we start our descent into KLIA, it's quite evident that it'll be a bumpy ride down. The friendly stewardess comes round to collect menus. When I ask if I can keep it as a souvenir, she considers it for a moment and then says in a whisper: "I didn't see it. You can't show anybody," and walks quietly away. Oh, what a tangled web we weave...
.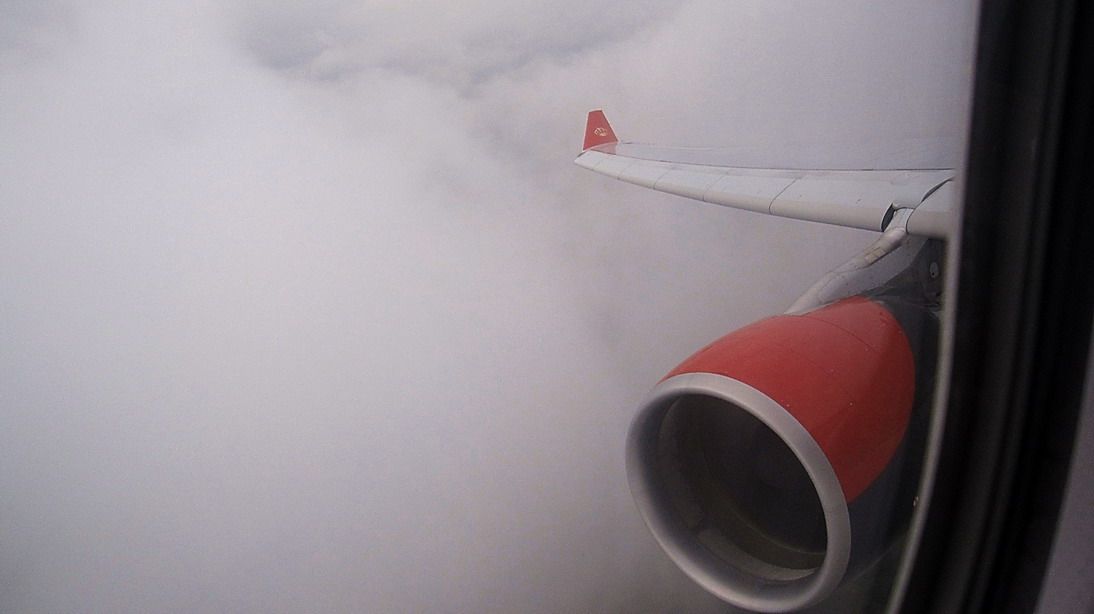 .
As we trundle down towards KUL and the low cloud and heavy rain keep the outside as dark as night, the mood lighting comes on for the first time. "On behalf of Royal Jordanian oneworld alliance, we would like to thank you..." goes the annoucement in English on landing. We arrive on time and park at the same gate C4, next to a JL B763ER.
.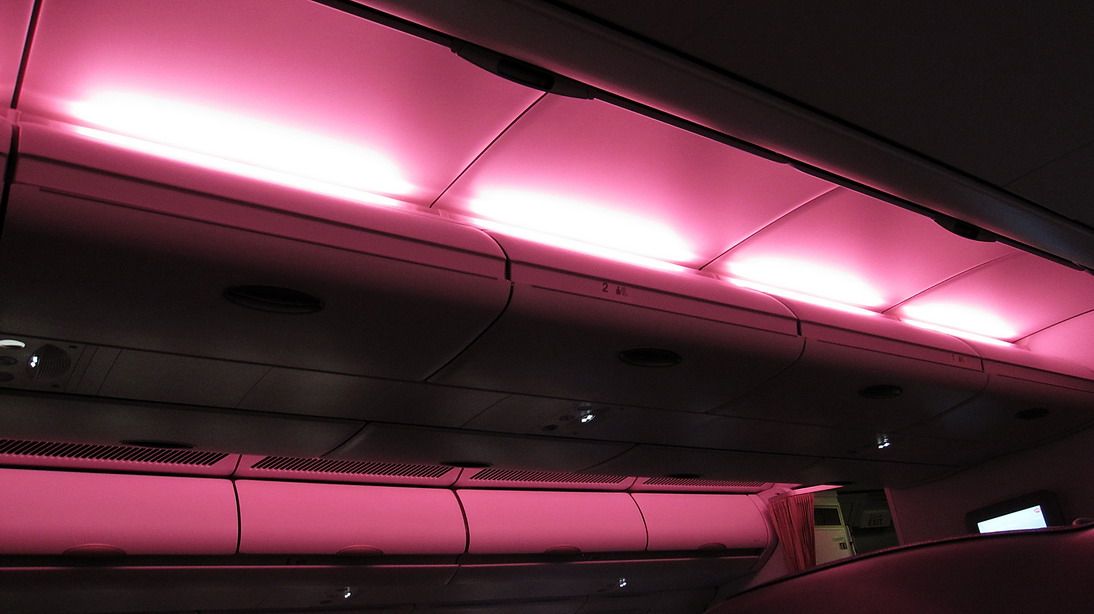 .
last words
.
Two roads diverged in a wood, and I—
I took the one less traveled by,
And that has made all the difference.
Robert Frost (1874–1963) - The Road Not Taken
One thing I realize writing this trip report is that it gets tricky when things don't go swimmingly. Perception plays a big part. It's all too easy to be critical of a situation when it isn't what one is used to - unusual situations bring out long-held prejudices and weigh it down with emotional baggage. And I hope this hadn't happened here.
Royal Jordanian isn't a bad carrier. But I'd be lying if I said I wasn't disappointed. Had these been tests, RJ might have failed them to some degree. Inflight service was an obvious weakness, especially in business class where one might have expected less inexperience, and more courtesy and consistency. These flights go to show how the attitude of a crew - and the performance on the day really - can make or break it. They indicate the importance of detail - sometimes the smallest ones - that make all the difference between great, and not so good.
Thanks for reading this report. A short account of the Chiang Mai portion of the journey follows below. Will I fly RJ again? Probably - especially if it continues to offer great bargains in its J and Y classes on the tag-on. It may however need to raise its game a lot more for me to consider it on a longer-haul though.
Cheers
airpearl
.
Maps generated by the
Great Circle Mapper
- copyright ©
Karl L. Swartz
.