Guernsey, Ash Cloud Alarm & Mostly Empty 777-300ERs:
MUC-MAN-GCI-MAN-MUC on SIA, Flybe and Aurigny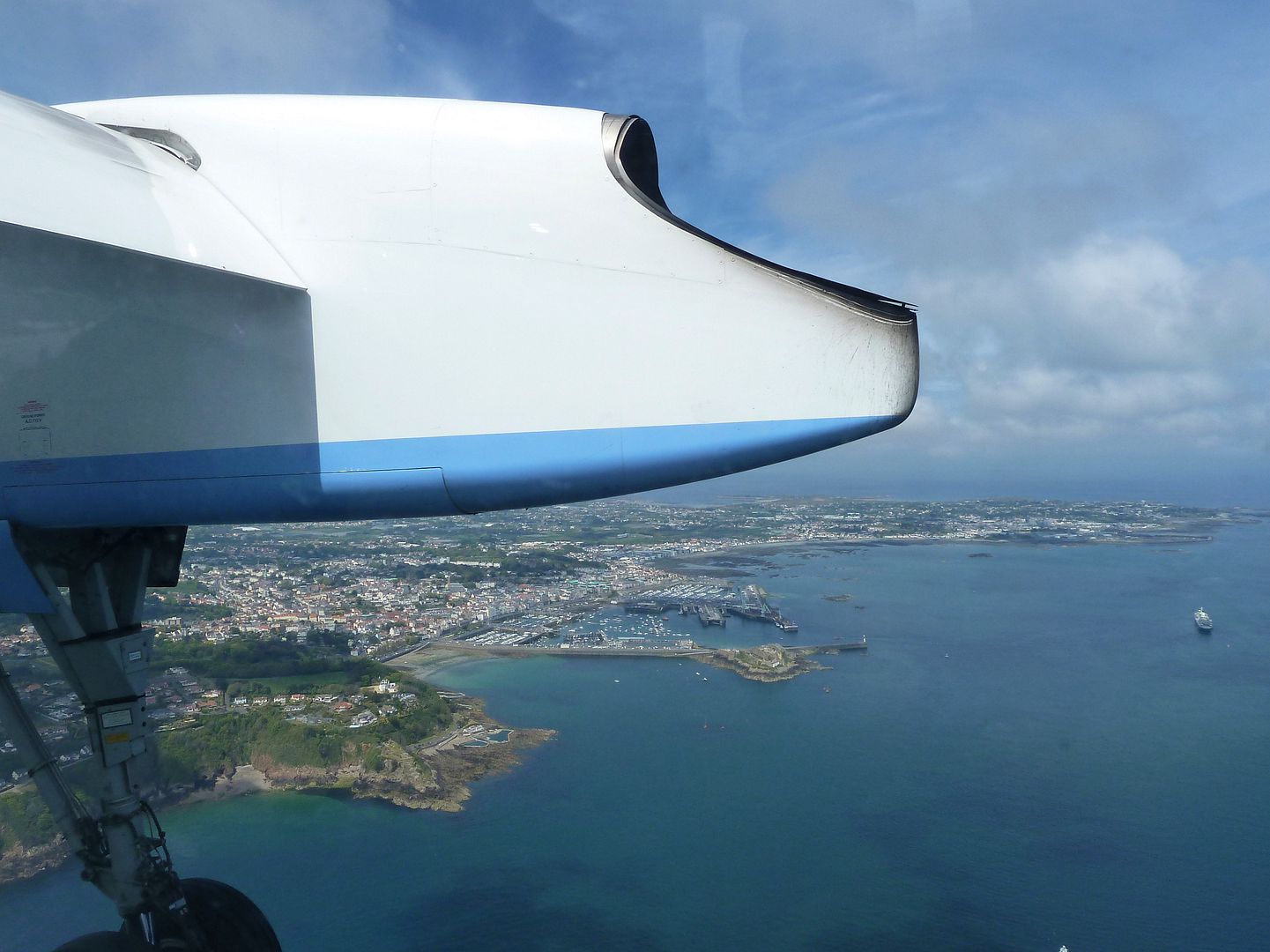 Background
In December 2009 Singapore Airlines announced the start-up of new Singapore-Munich-Manchester services from March 2010. What I liked most about the news was the fact that SIA would also have 5th freedom rights between Munich and Manchester. In early February SIA offered attractive round-trip fares between MUC and MAN, so I started planning a weekend trip. Trying SQ's 777-300ER on a European route would be great, but not enough. I wanted to get at least one new carrier or one new type, so I started searching for interesting flights suited for a combination. I ruled out booking a one-way flight on SIA because those weren't much cheaper than a round trip. So I decided to fly out on a Saturday and to come back on the next day. Then I tried to find interesting flights to and from MAN to squeeze in between. I checked countless destinations and finally decided to go to Guernsey - not because it's said to be a nice island, but because I would get two new carriers: Flybe and Aurigny Air Services offered reasonable fares and well-timed flights.

The prospects of flying SIA and getting a short impression of Guernsey also helped me to persuade my girlfriend to come with me.
Then I booked all flights on the airlines' websites which was easy and flawless. Finally, I added a reservation at the Crowne Plaza Manchester Airport which had some special offers.
Saturday, 15 May 2010
Munich (MUC) - Manchester (MAN)
Singapore Airlines SQ328
06:35-08:00 (06:31-07:41)
Flying time: 01:42 (hrs)
Economy Class, Seat 56H

Boeing 777-312ER
9V-SWB (s/n 592)
Delivered in 11/2006
1st flight on 9V-SWB
4th 777-300ER flight
26th 777 flight
We had already reserved our seats at the time of booking, so there was no need to hurry in the early morning on departure day. The whole SIA check-in area was deserted when we arrived there one hour prior to departure. Two minutes later a friendly LH agent handed out the boarding passes.
The security checkpoints weren't crowded either, but then we got stuck in a queue at passport control on the way to the H gates (non-Schengen zone). There were about ten counters, but only one (!) was staffed by the Bundespolizei (federal police). Several people were waiting in front of us and the queue was quickly getting longer due to the arrival of numerous transit passengers. Well, we weren't late, but the progress was dead slow and after more than 15 minutes in line I was getting a bit nervous. Other passengers with a tight connection probably felt much worse. There seemed to be a problem with a female passenger and I really had to wonder about the absence of a second officer. Finally, the problem had been solved and we could pass a few minutes later. I really hope the poor staffing was just an exception, otherwise it would be a shame for a hyper-modern airport like MUC.
After a five-minute walk we arrived at the gate where about 70 people were waiting, it seemed most of them had already been on the flight from Singapore. Parked outside was
9V-SWB
, the second of 19 777-300ERs in the fleet, delivered in November 2006: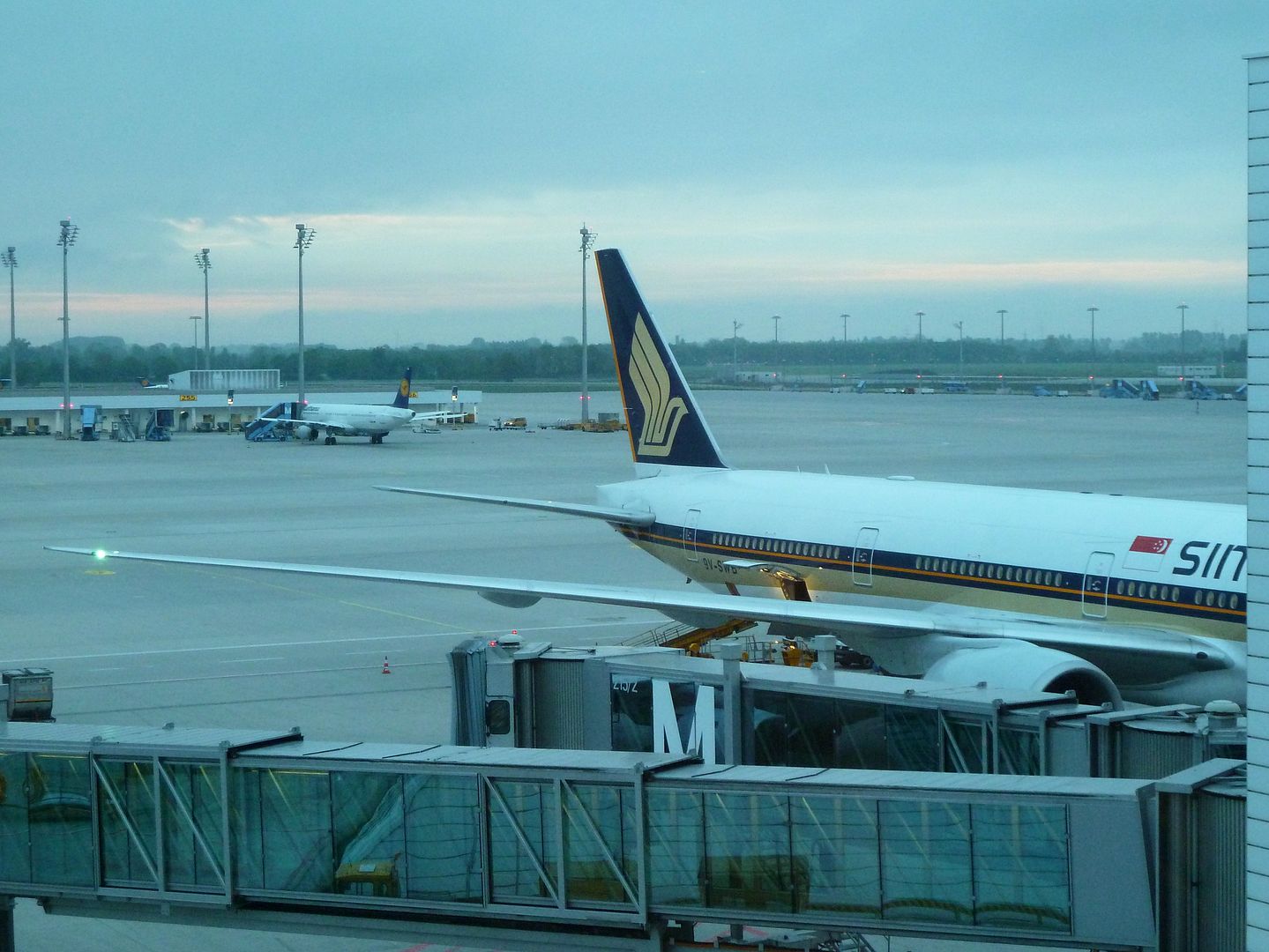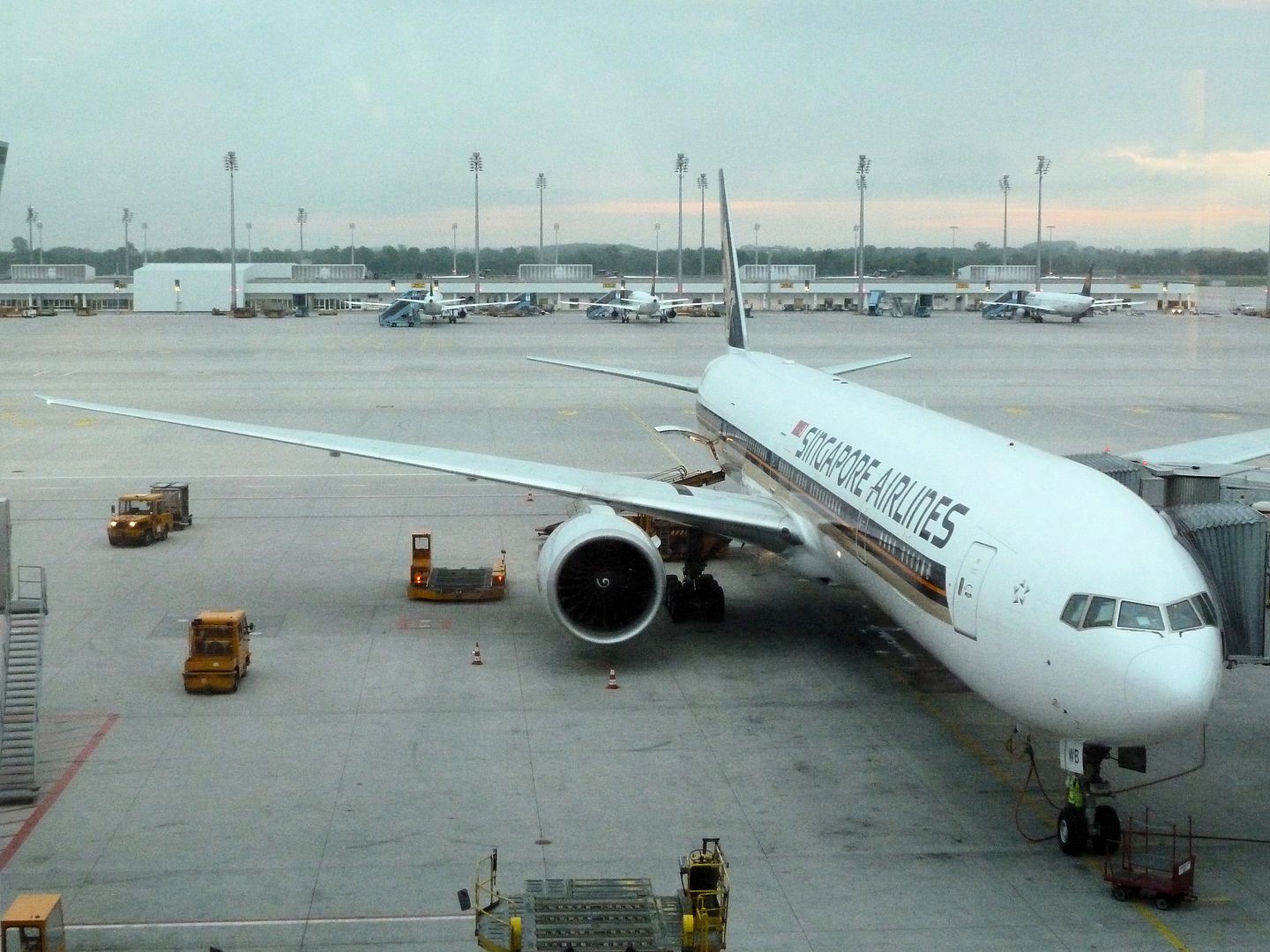 Boarding commenced a bit late, but the whole process didn't take long anyway. Smiling Singapore Girls and Boys welcomed us on the long way to the stretched plane's last row. Singapore Airlines chose different seat colors for the revamped Economy Class, with beige and brown ones being installed in the last 77W section. The 19-inch wide seats are exactly the same ones as on the A380 - a bit hard, but still comfortable:
Seat features: 10.6-inch widescreen LCD, seatback-mounted handset, 110V AC power port and USB port, footrest, cupholder and coat hook: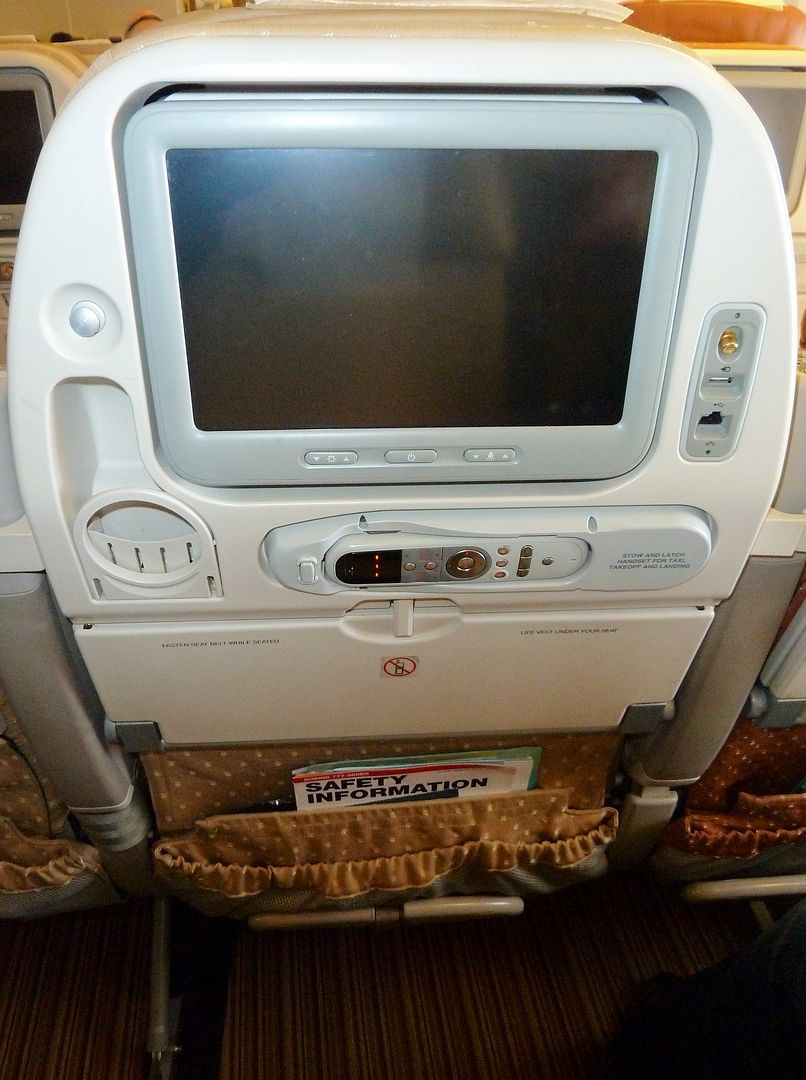 The 32-inch seat pitch is absolutely sufficient for long-haul flights: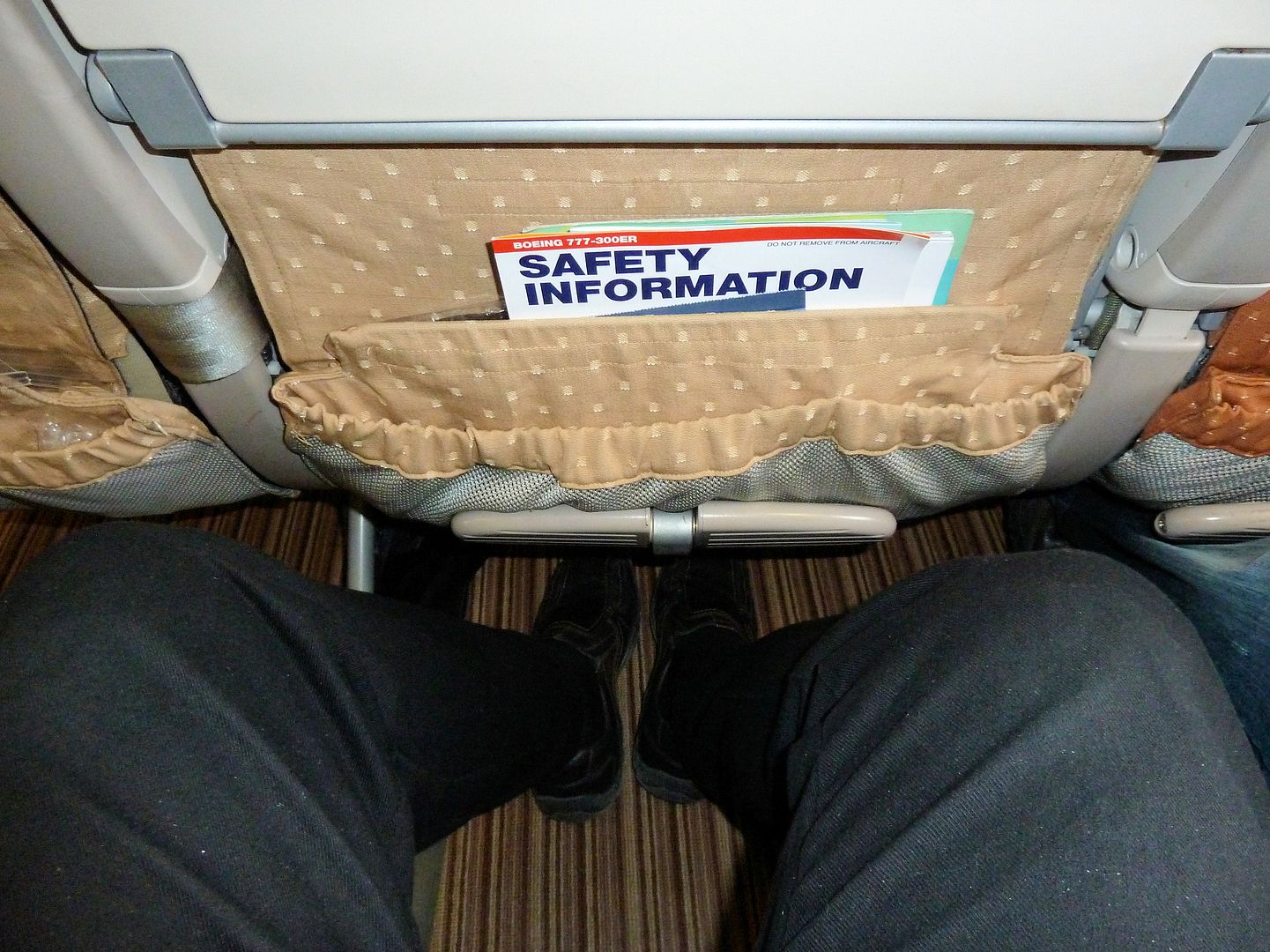 While the cabin was in good shape in general, I noticed numerous permanent smudges on the beige seats and beige parts of the carpet. I'm not sure whether it was a smart decision to choose that beige color.
Parked next to us were mostly small jets with cabin widths comparable to our bird's engine diameter…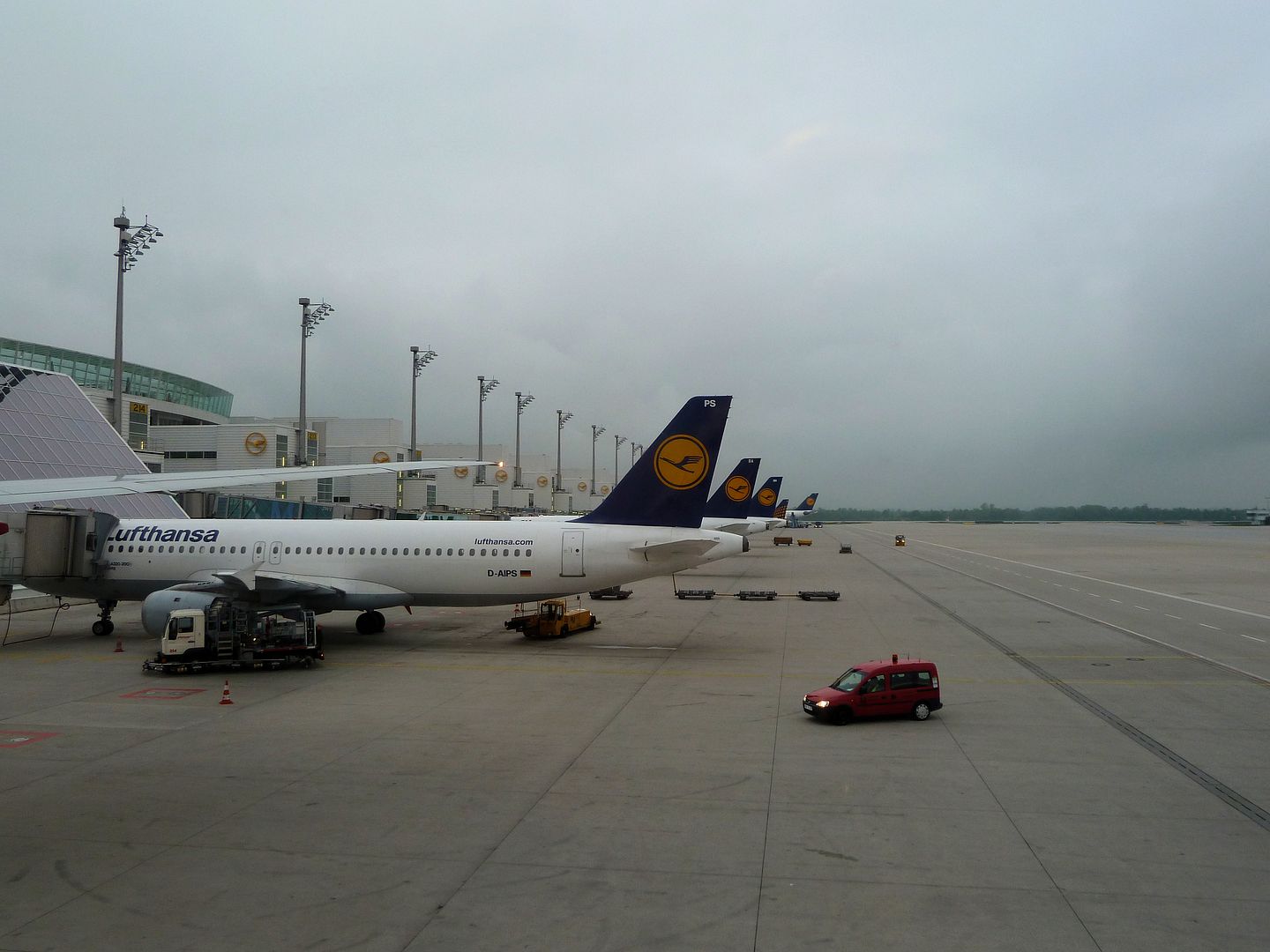 Boarding was completed quickly, the load factor in Economy Class was approximately 30 percent.
We were pushed back a few minutes ahead of schedule and I enjoyed listening to the amazing GE90 start-up sound. 15 minutes later we rolled onto runway 26R and I was hoping for a powerful sprint...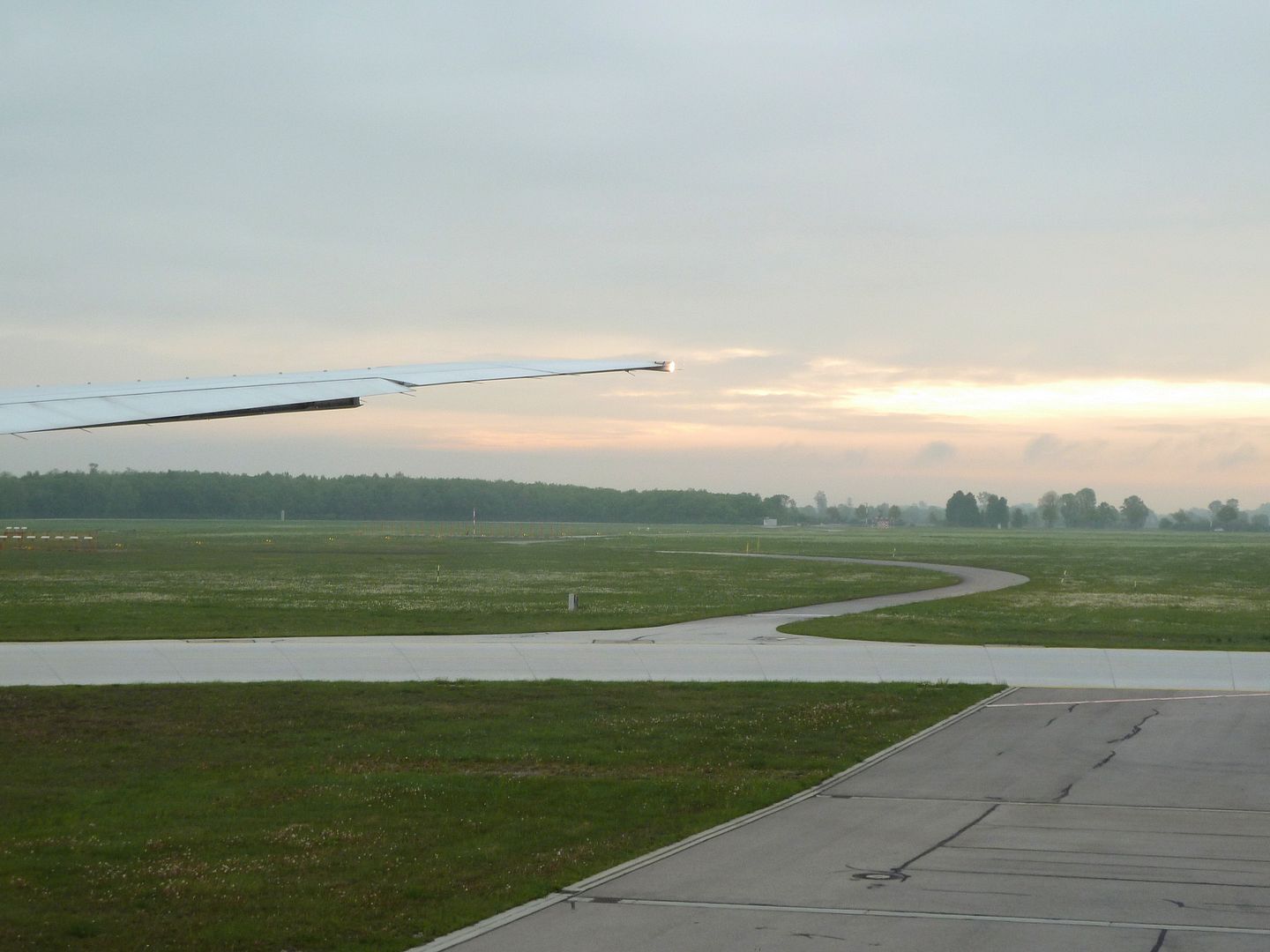 ...but the crew seemed to be in a contest with the Delta pilots on my last year's LAX-ATL 77L flight: Who can accelerate the plane most unspectacularly? Well, I don't know who's the winner.
Despite the derated takeoff we climbed out relatively quickly into the gray skies:
Only a few minutes later we had more than enough sunlight: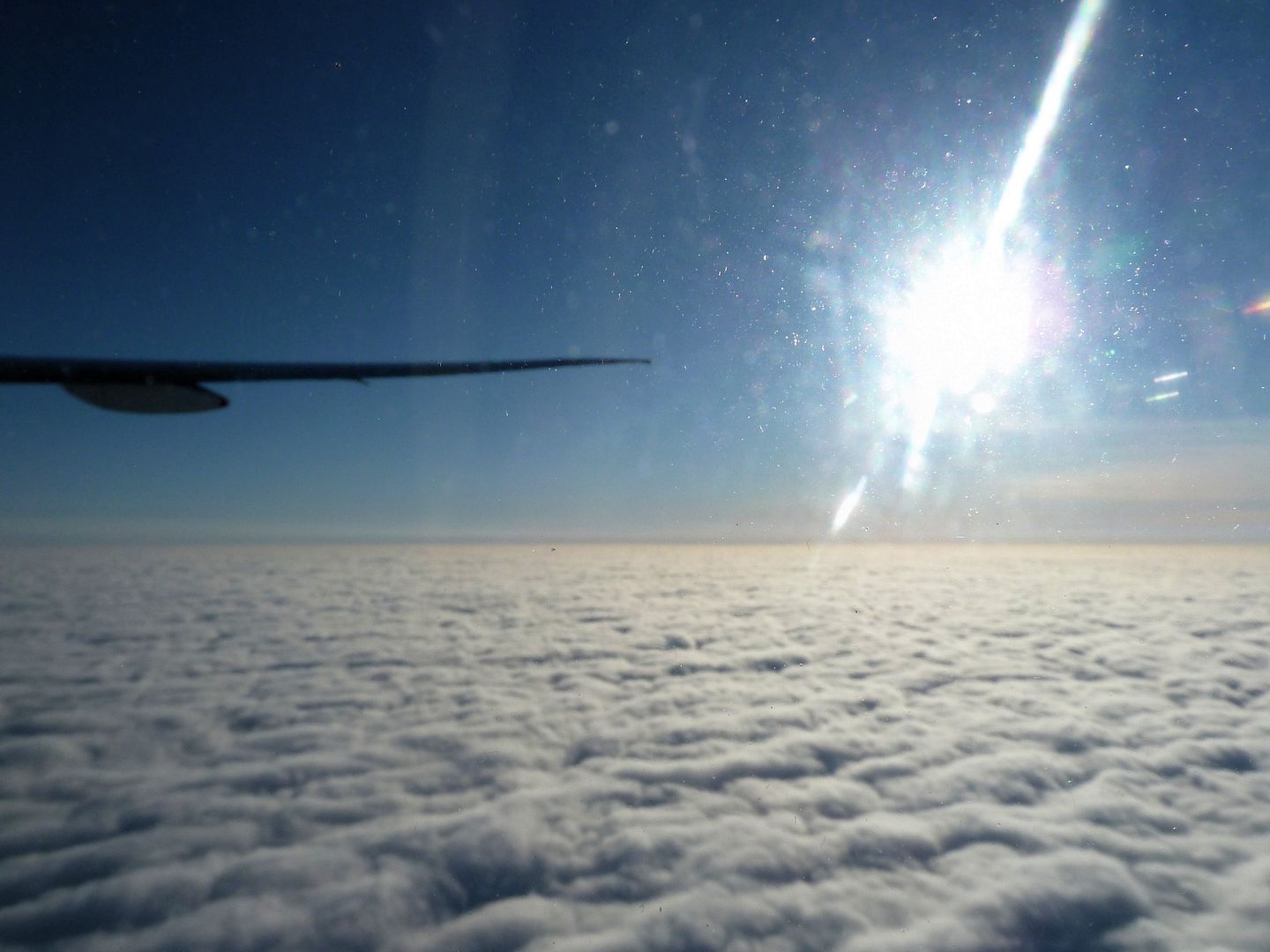 Unfortunately, just like on SQ's A380 some months ago, it was almost impossible to take decent pictures of the mirroring in-seat LCD screens.
KrisWorld
main menu: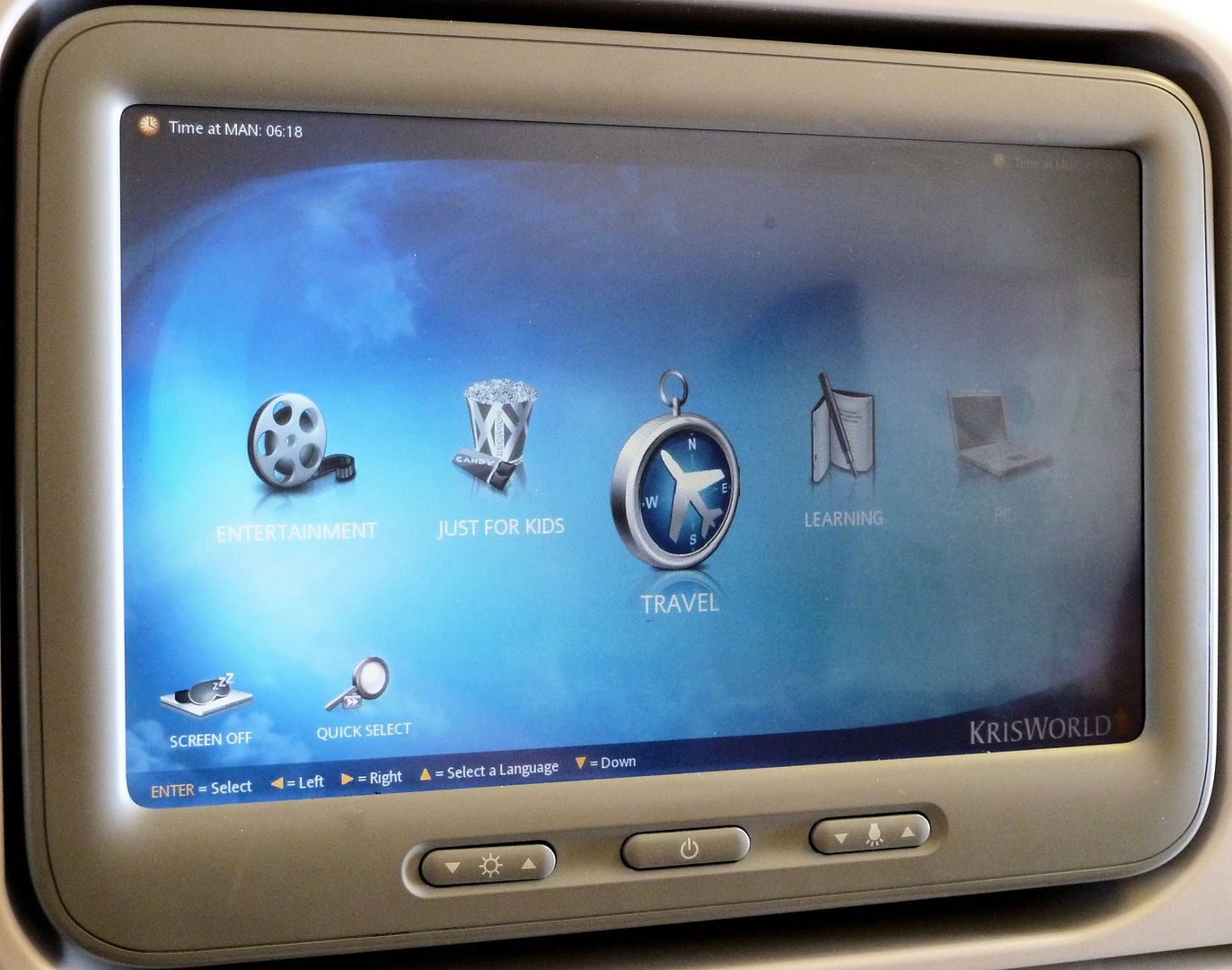 The latest
KrisWorld
version (audio/video on-demand) offers a choice of 120 movies, more than 170 TV programs, 740 audio CDs, 22 audio programs and more than 80 games - more than enough to keep you entertained for a long time. IFE magazine: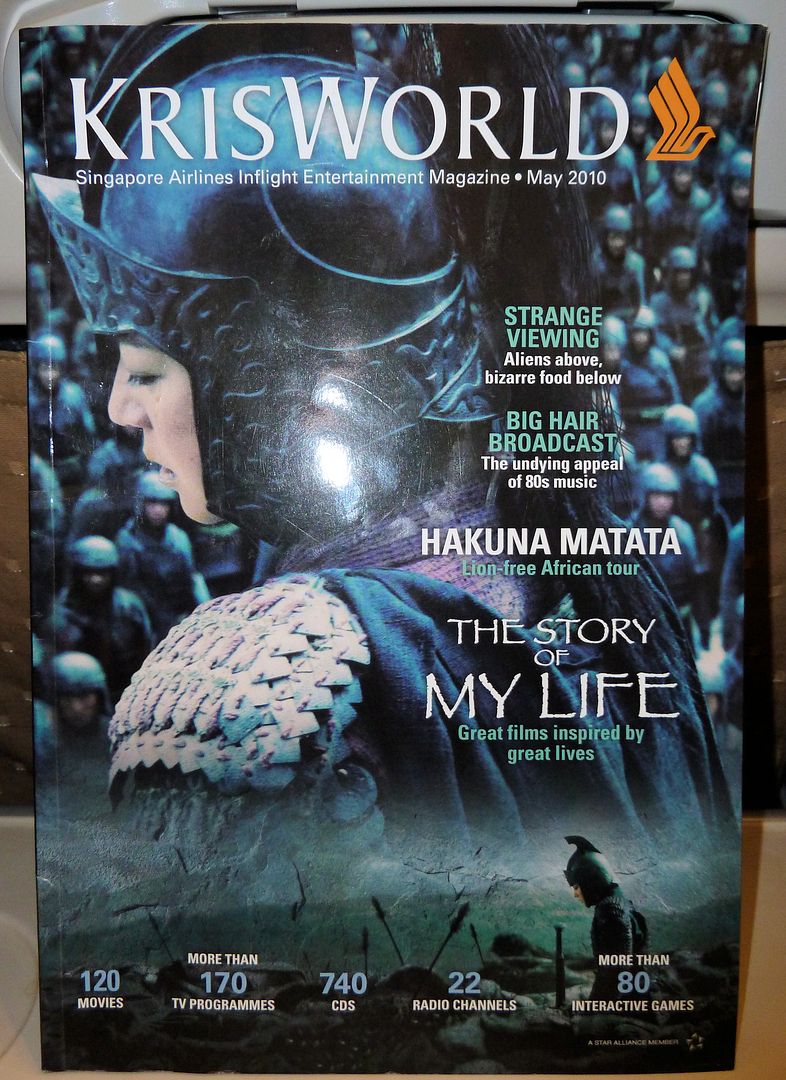 I only watched the airshow on that short flight
(picture taken after breakfast)
: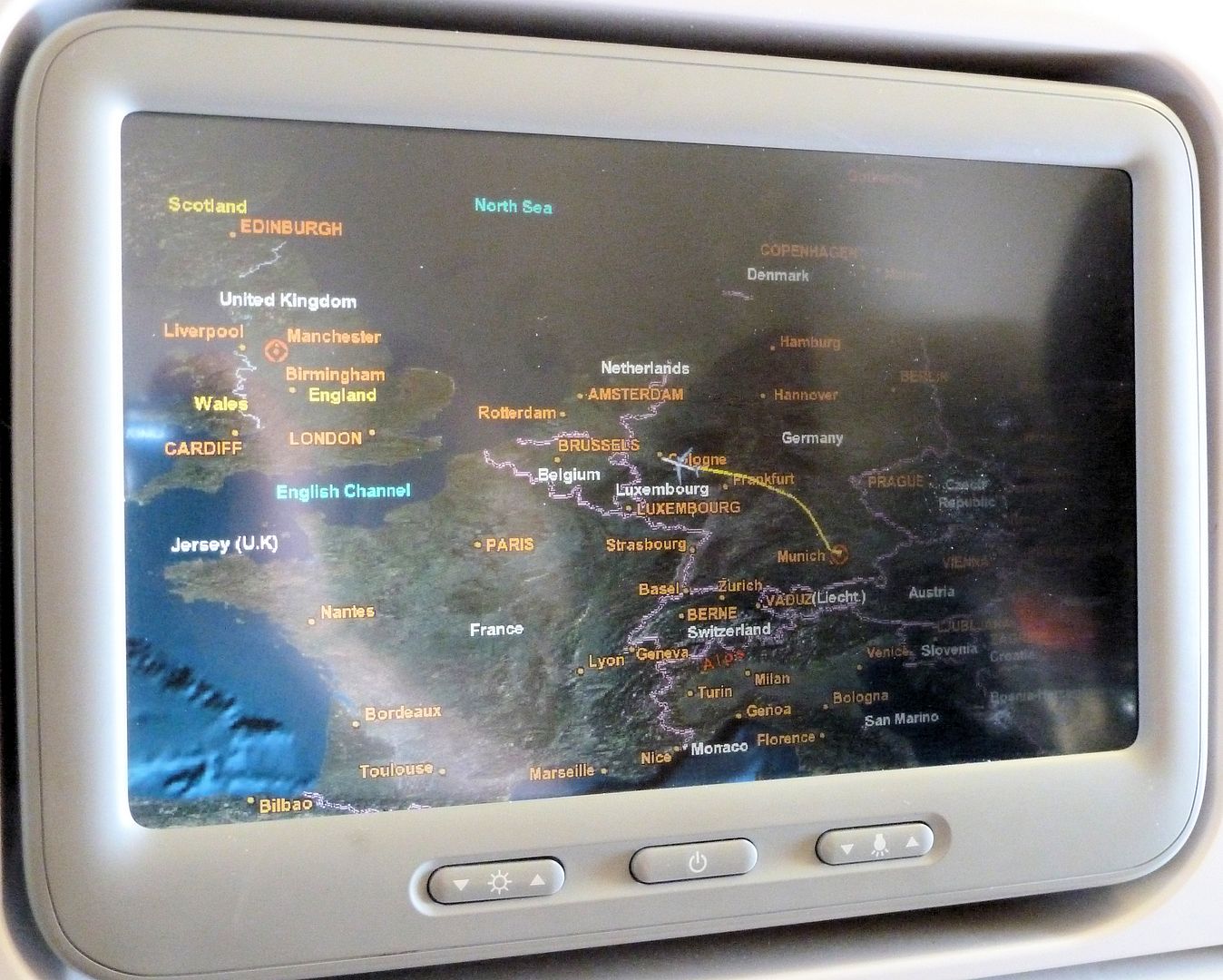 The flight attendants soon started serving breakfast, so it was time to check the pretty menu card:
What more can you ask for on a 1.5 hour flight?
We ordered the sandwich which tasted very good - just like the fruits and the tea: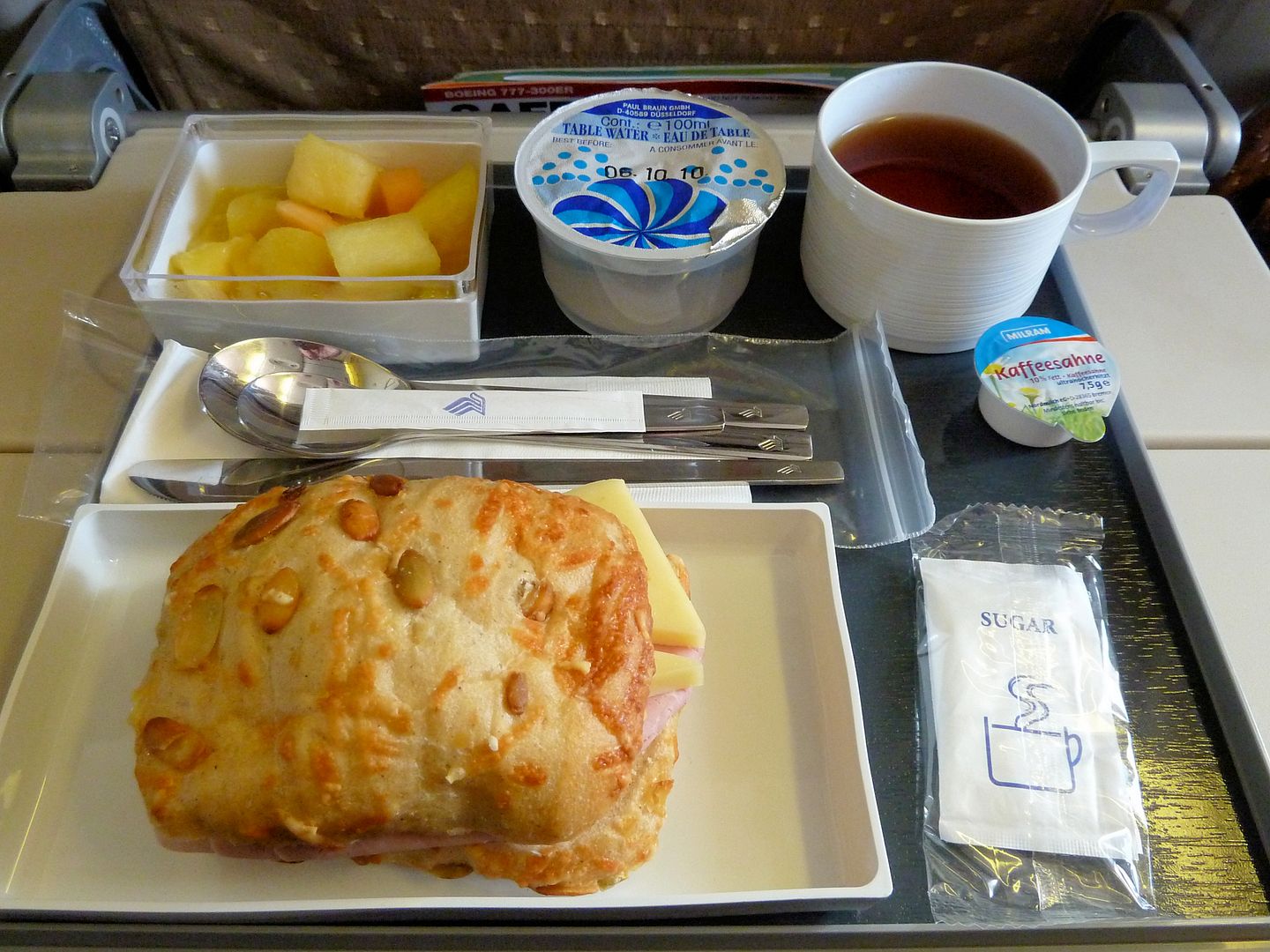 The obligatory cabin shot: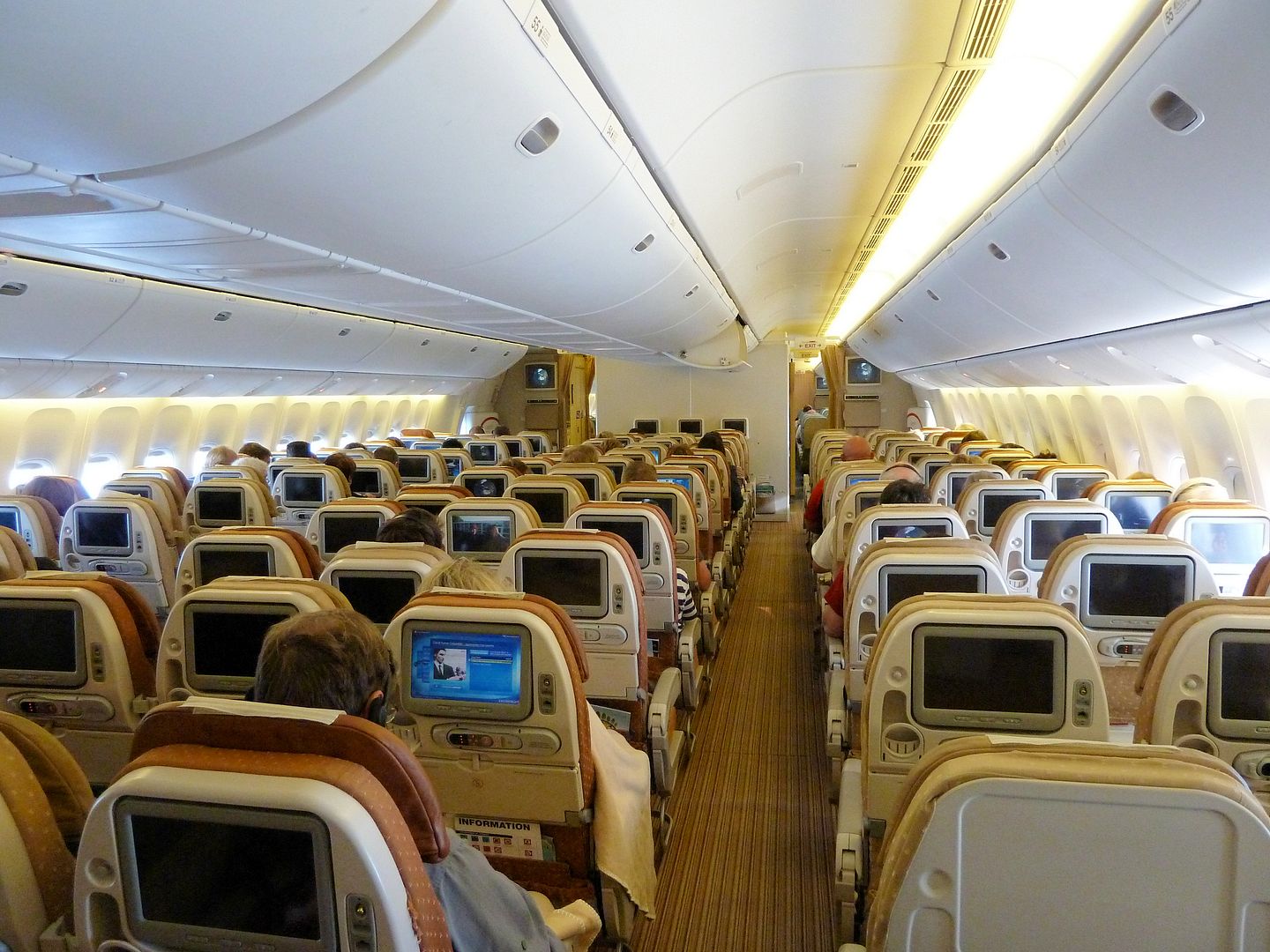 Sunny weather near Manchester - can this be true?
Well, some moments later we started diving into a thick layer of clouds...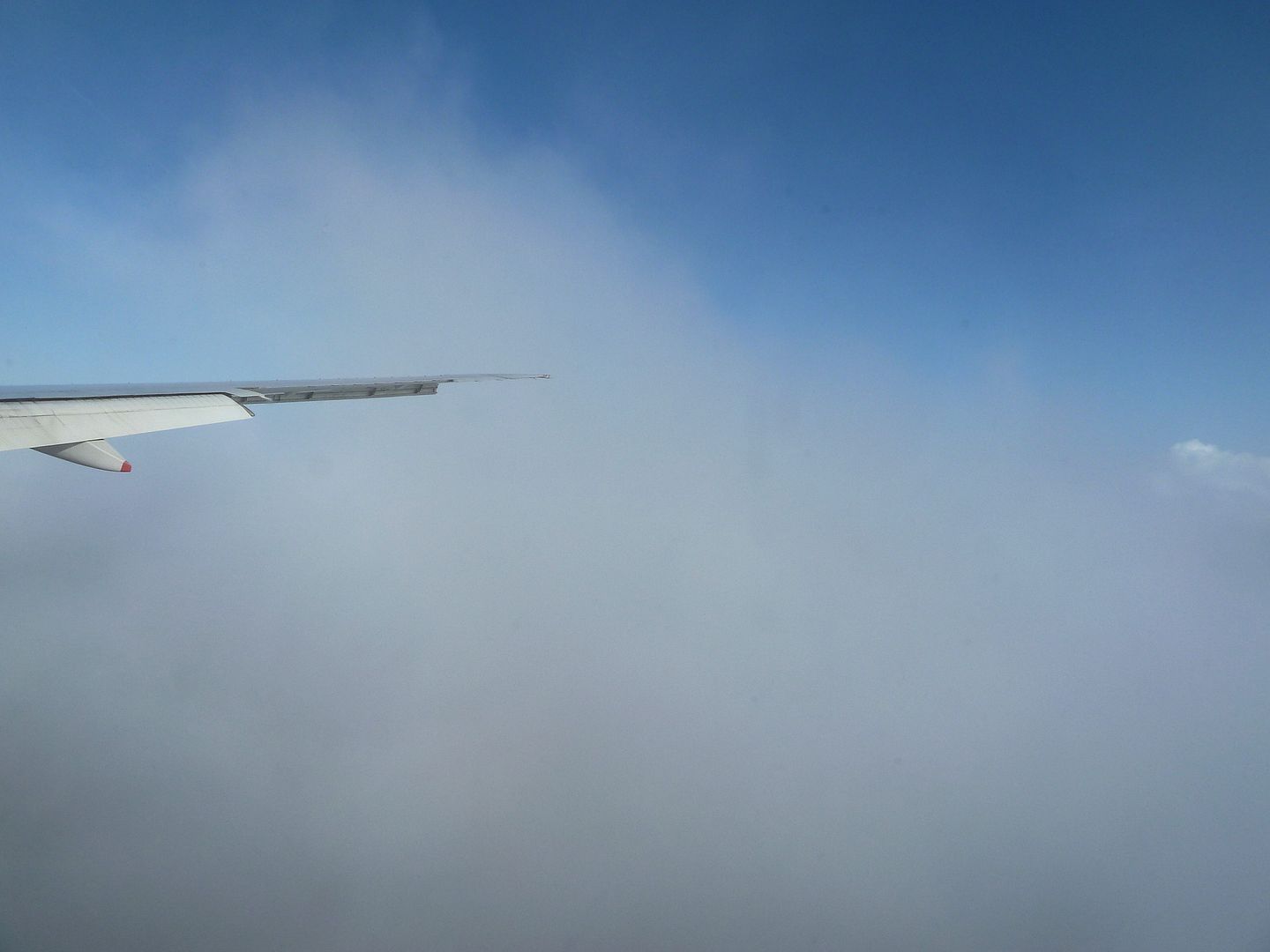 ...and the weather on the ground turned out to be terrible: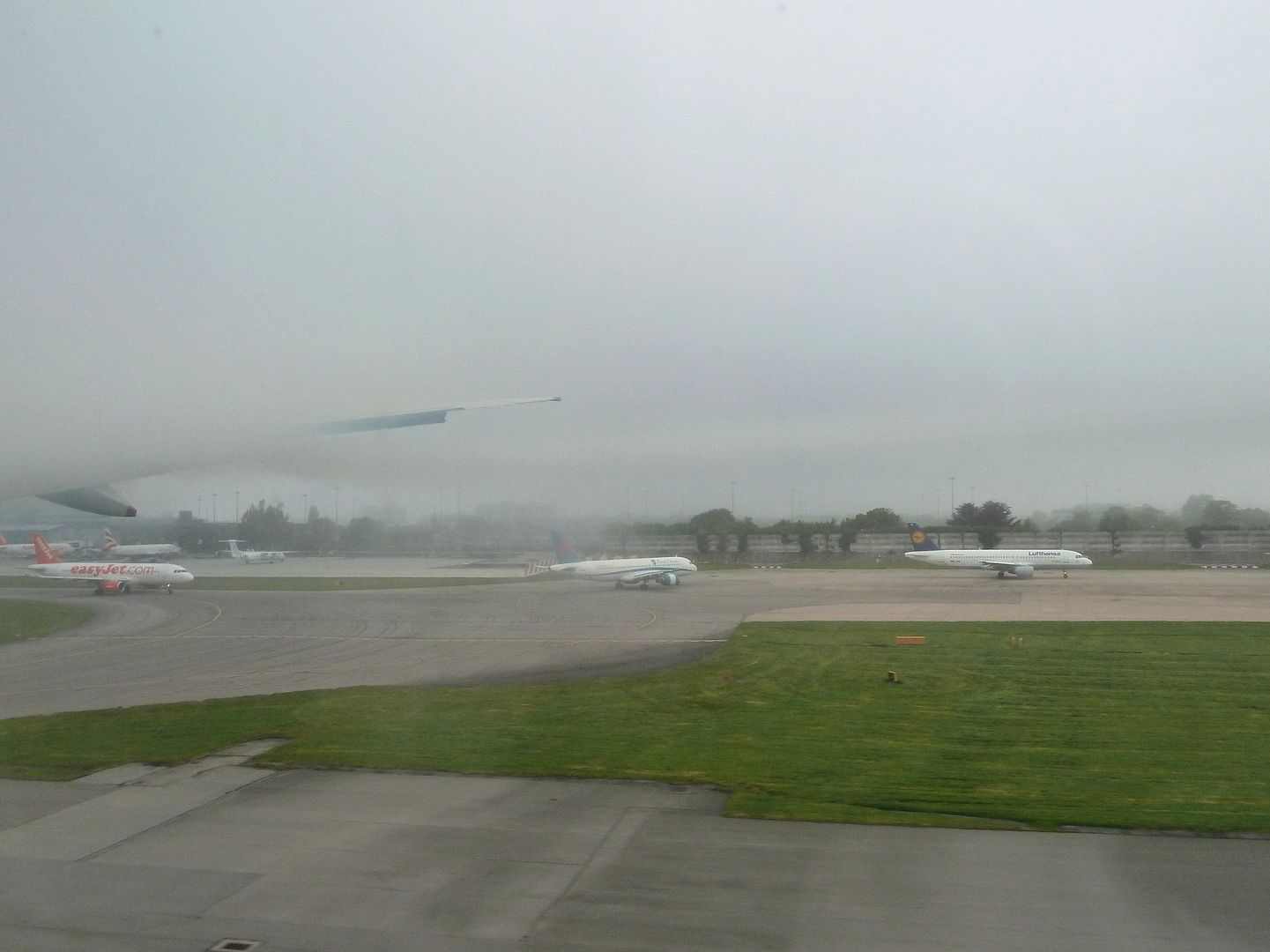 We touched down after a flying time of 1 hour and 42 minutes and taxied to Terminal 2.
Parked close to our plane was Turkuaz Airlines A321 TC-TCF: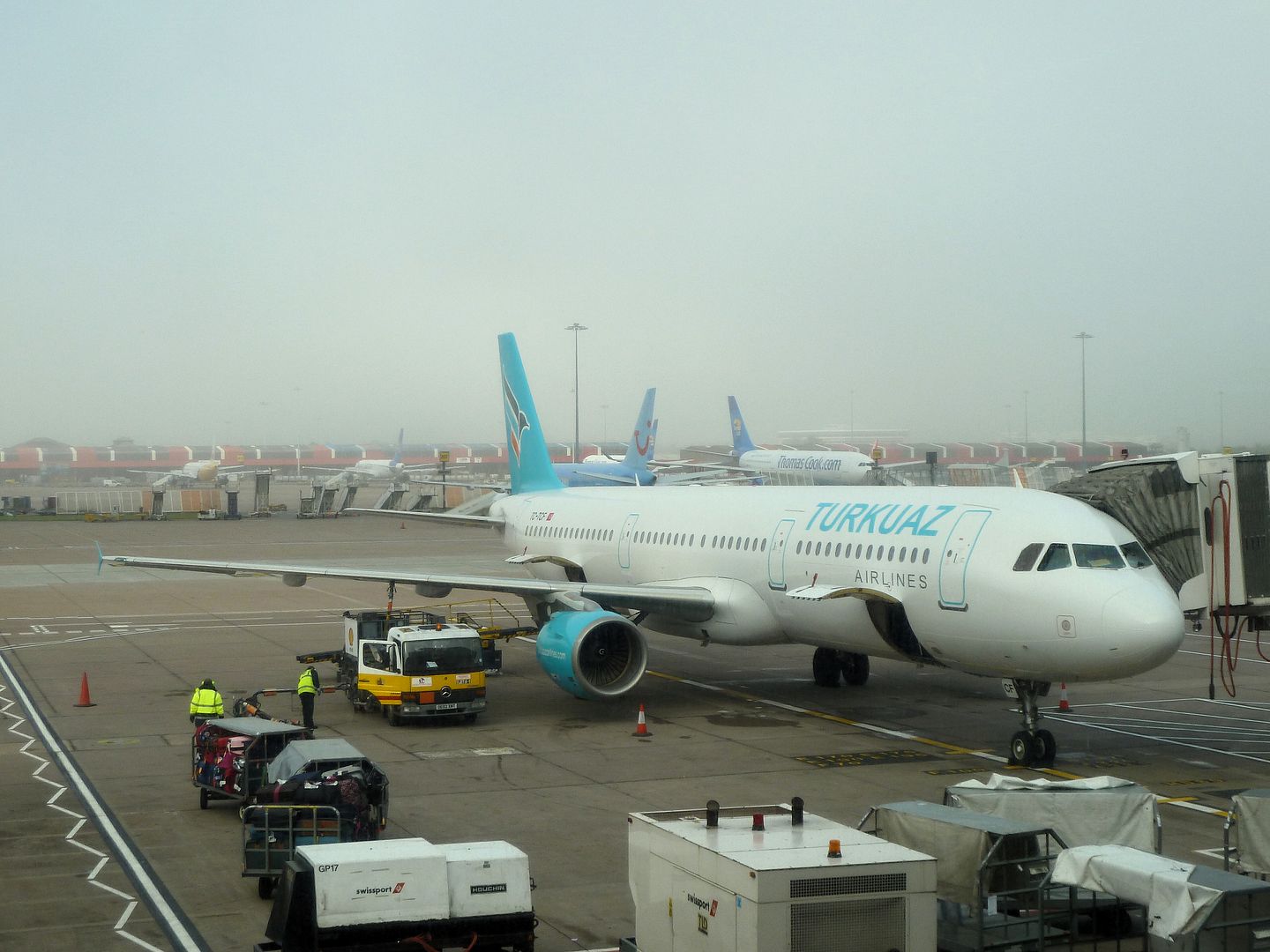 Manchester Spotting
We had more than three hours left, so we headed to the top level of the Terminal 1 parking structure for spotting. The weather was getting better and I was able to collect numerous new registrations.
9V-SWB
leaving again as SQ327:
What a beast: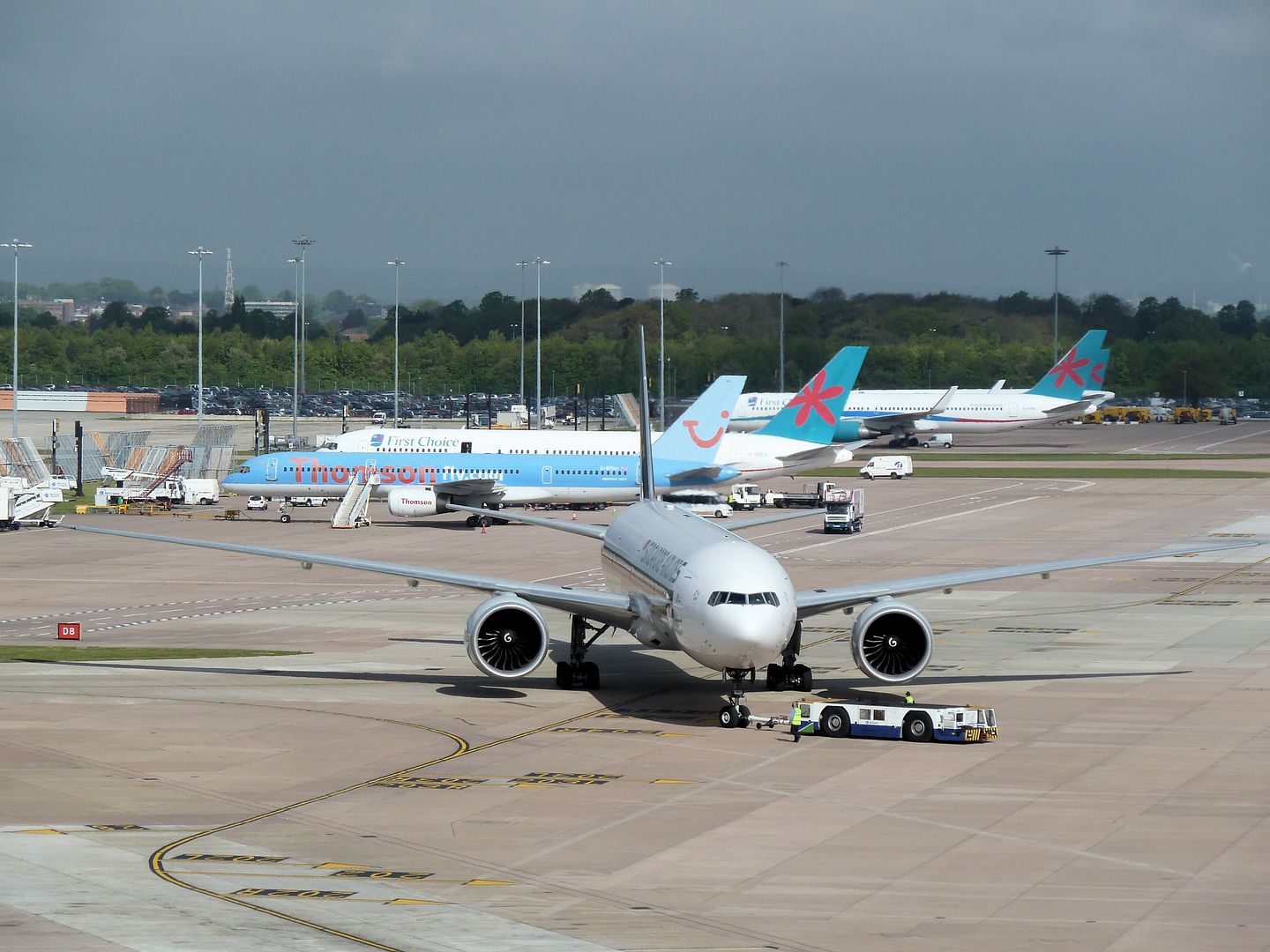 Saturday, 15 May 2010
Manchester (MAN) - Guernsey (GCI)
Flybe BE557
11:10-12:30 (12:12-13:29)
Flying time: 00:52 (hrs)
Economy Class, Seat 19C

Bombardier DHC-8Q-402
G-ECOC (MSN 4197)
Delivered in 03/2008
1st flight on G-ECOC
3rd DHC-8-400 flight
8th DHC-8 flight
94th airline
Since we had already checked in at home we could go straight to the gate area about an hour prior to departure. Our departure time had been changed from 11:10 to 11:15 which was a non-issue. However, a few minutes later it said 12:15 on the flight information display. Now this was really disappointing because we would have much less time to explore Guernsey Town alias St. Peter Port.
20 minutes later, shortly after 11:00, I rather incidentally checked the flight display again and I couldn't believe my eyes: Our departure time had been changed again - from 12:15 to 11:25! And it said:
"Go to gate"
Only then I heard an announcement about the change. However, after arriving at the gate, we had to wait another 10 minutes until boarding commenced. Meanwhile a gate agent had announced that "operational reasons" had led to the delay.
Anyway, after an additional waiting period in the bus we were brought to 2008 built
G-ECOC
, one of 55 active DHC-8-400s in the fleet:
Data sheet:
The blue leather seats were fine for the short hop: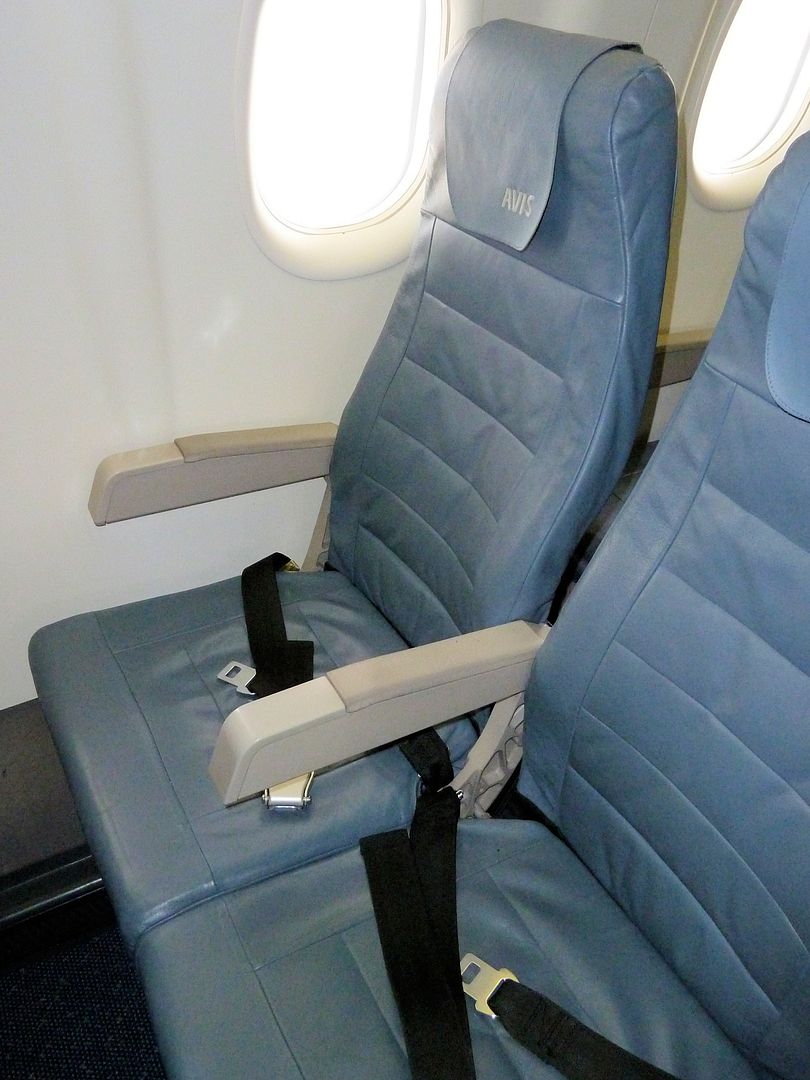 Flybe MasterCard? No thanks, I prefer my LH Miles & More MasterCard.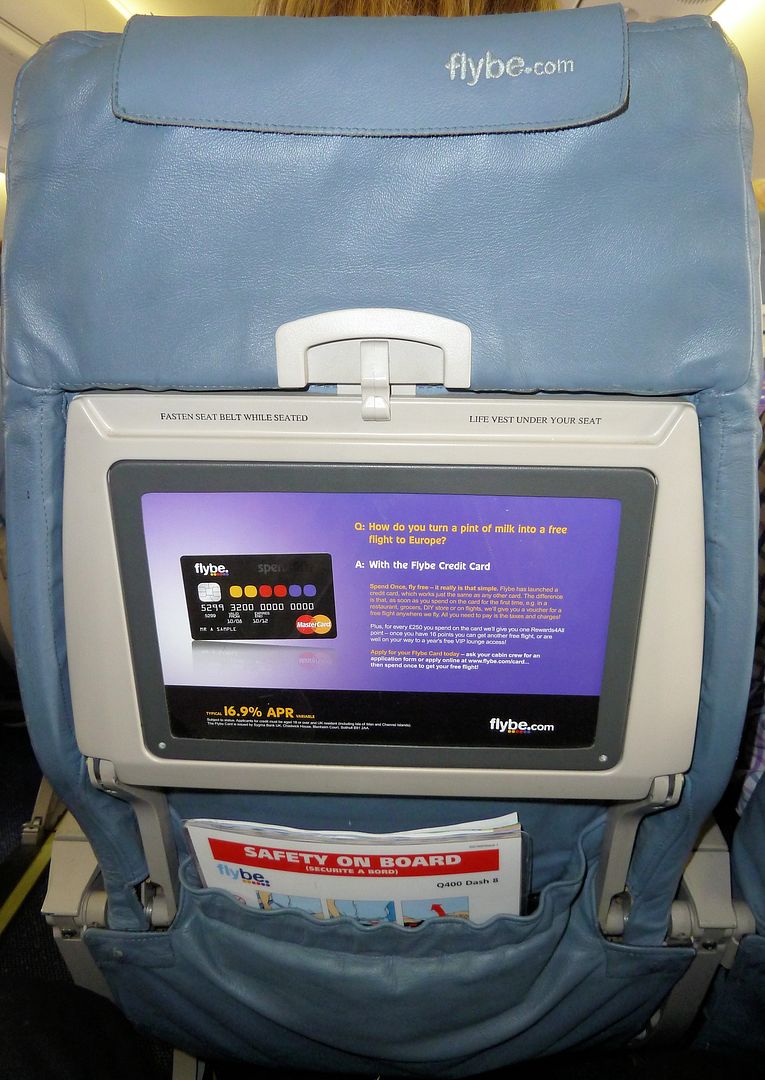 Legroom wasn't bad either: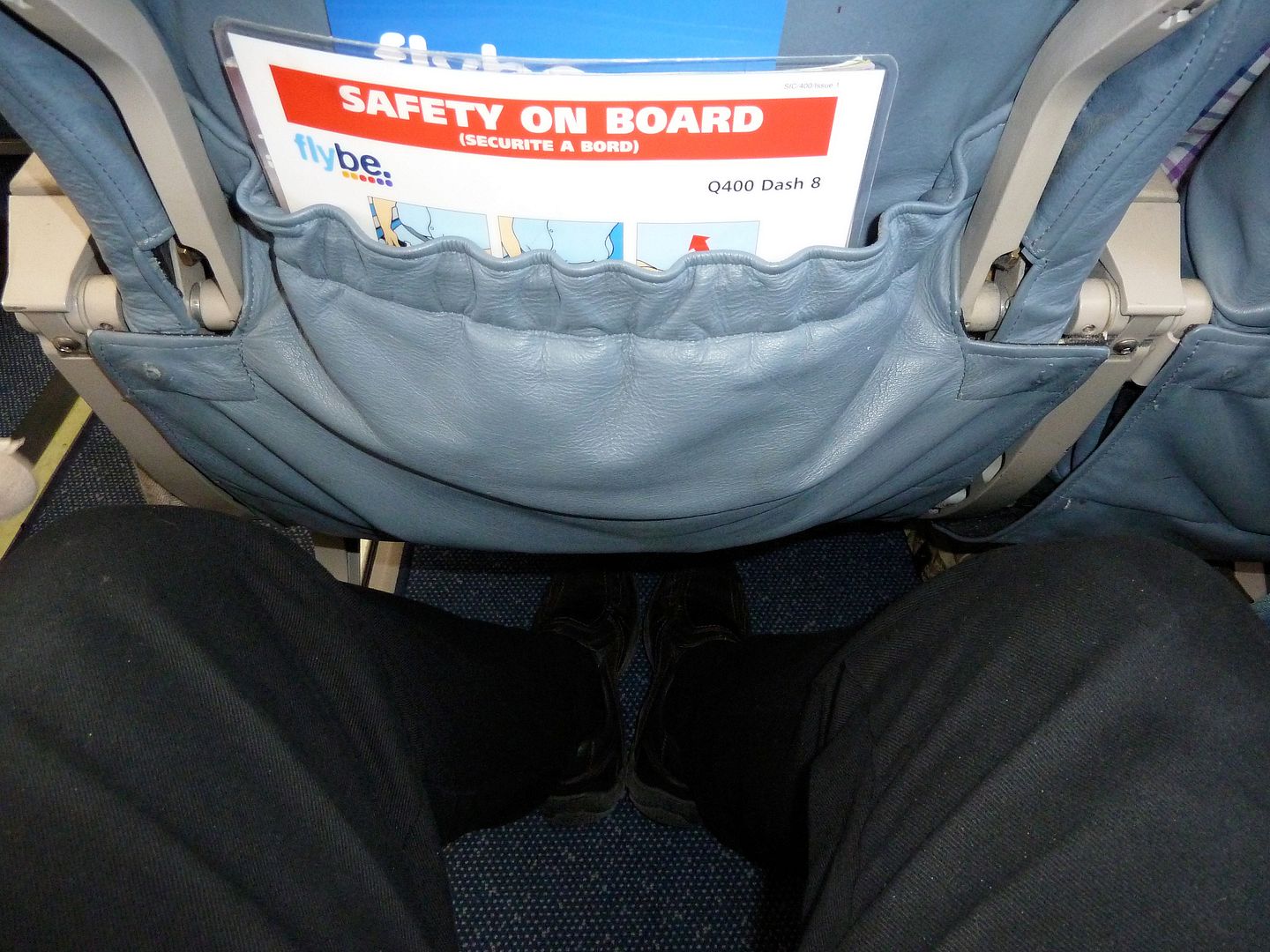 Parked next to us was Embraer 195 G-FBEM: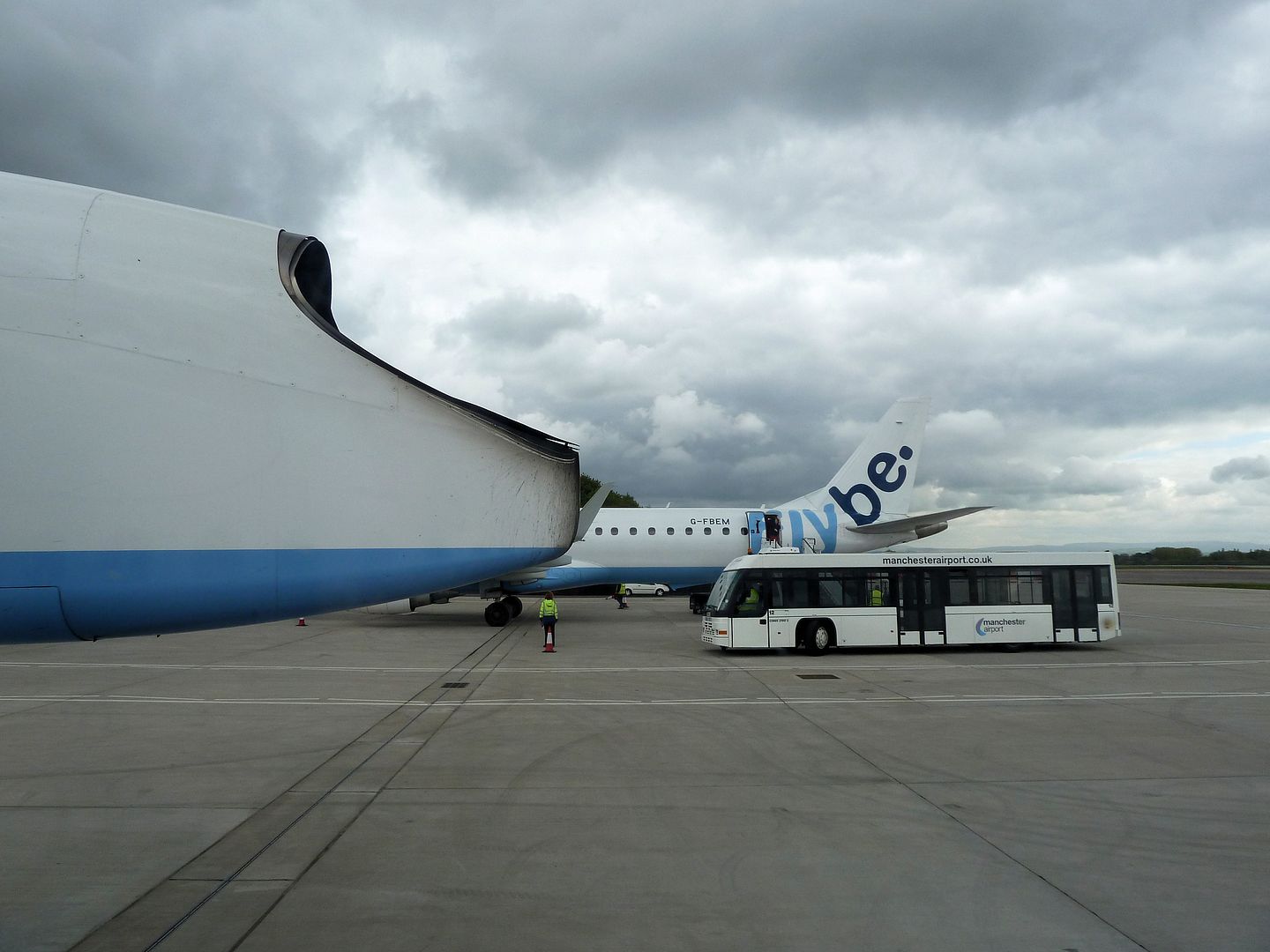 After all passengers had taken their seats (load factor 60-70 percent), the captain apologized for the delay and informed us that we still had to wait for the fuel truck to arrive.
"It should be here in five minutes"
, he said. Well, it finally arrived after ten minutes and it took a while to refuel. Exactly 2058 liters had been ordered for the flight to Guernsey.
We left the gate one hour behind schedule and finally lifted off some minutes later:
We were a bit hungry at lunchtime and had a look at the buy-on-board menu: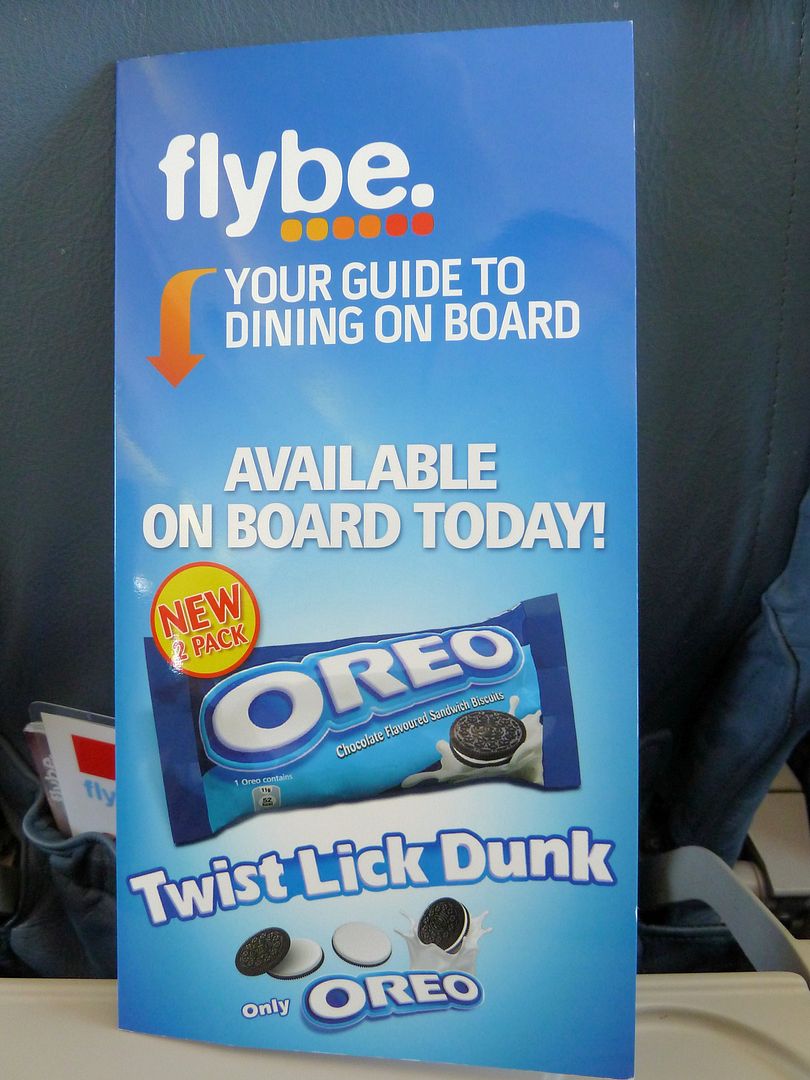 Numerous sandwiches were available and we decided to try a chicken salad sandwich (with lemon and thyme) and a cheddar cheese croissant with ("sun-ripened") tomato relish from the
"James Martin Collection"
for 3.95 GBP each:
The chicken sandwich tasted great, it was totally different from the usual LCC-style stuff. The croissant wasn't bad either, but it didn't taste as fresh as the sandwich. Anyway, we wouldn't hesitate to buy these snacks again. The flight attendants were really friendly, but they seemingly messed up the payment process: my credit card receipt showed a January 2004 flight date and the transaction has never appeared on my credit card bill...
Cabin shot: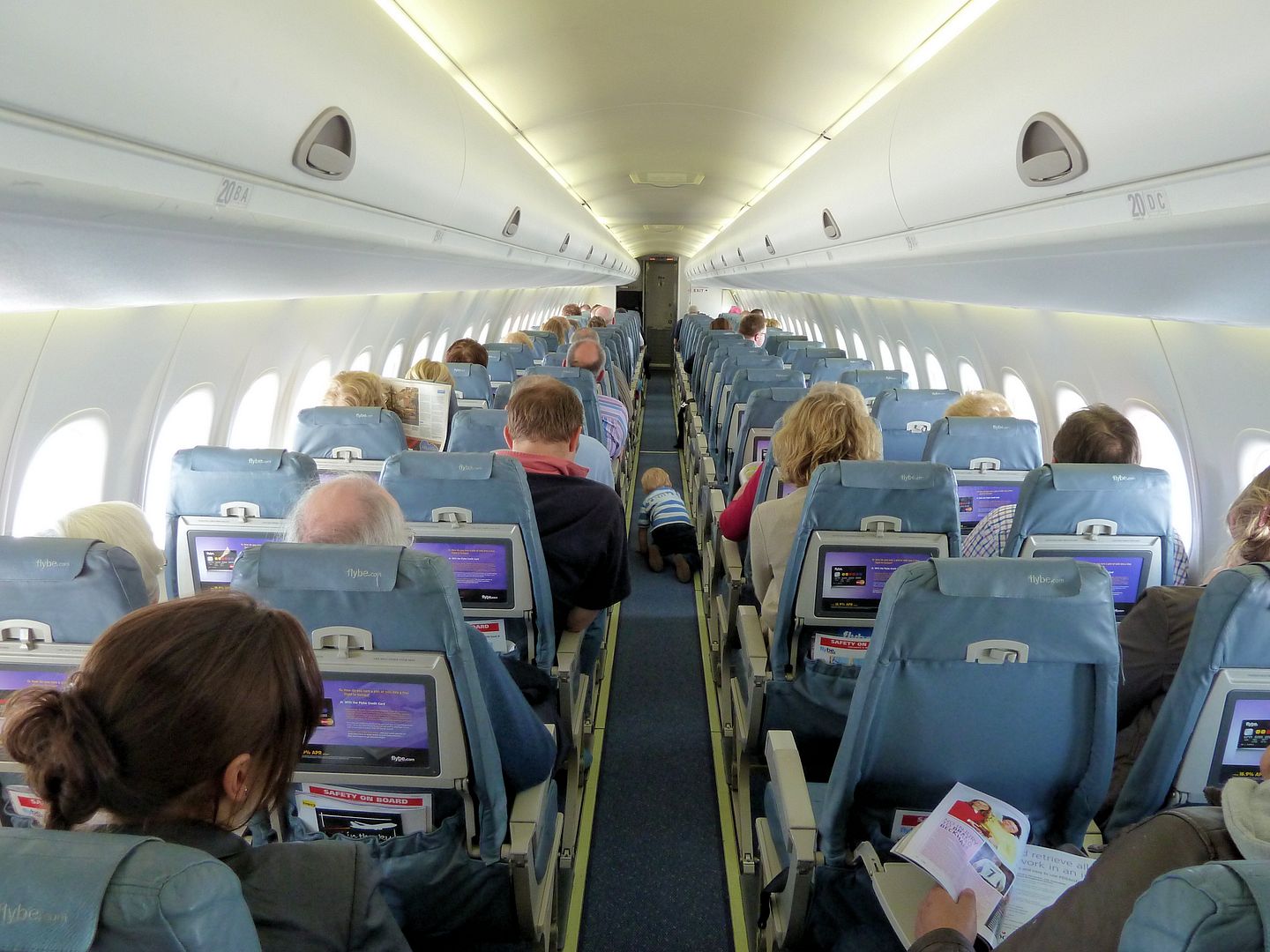 Some small islands on final approach: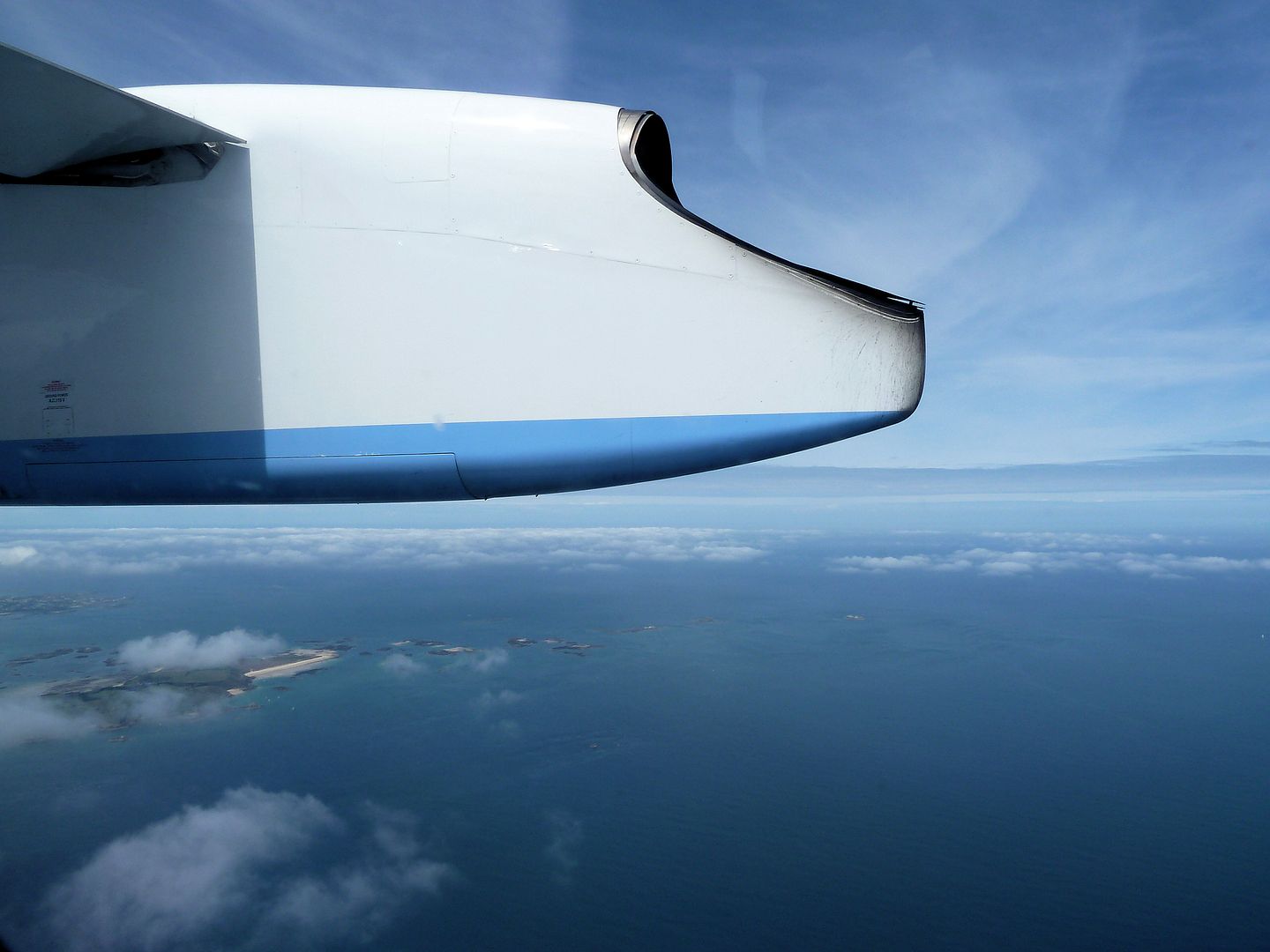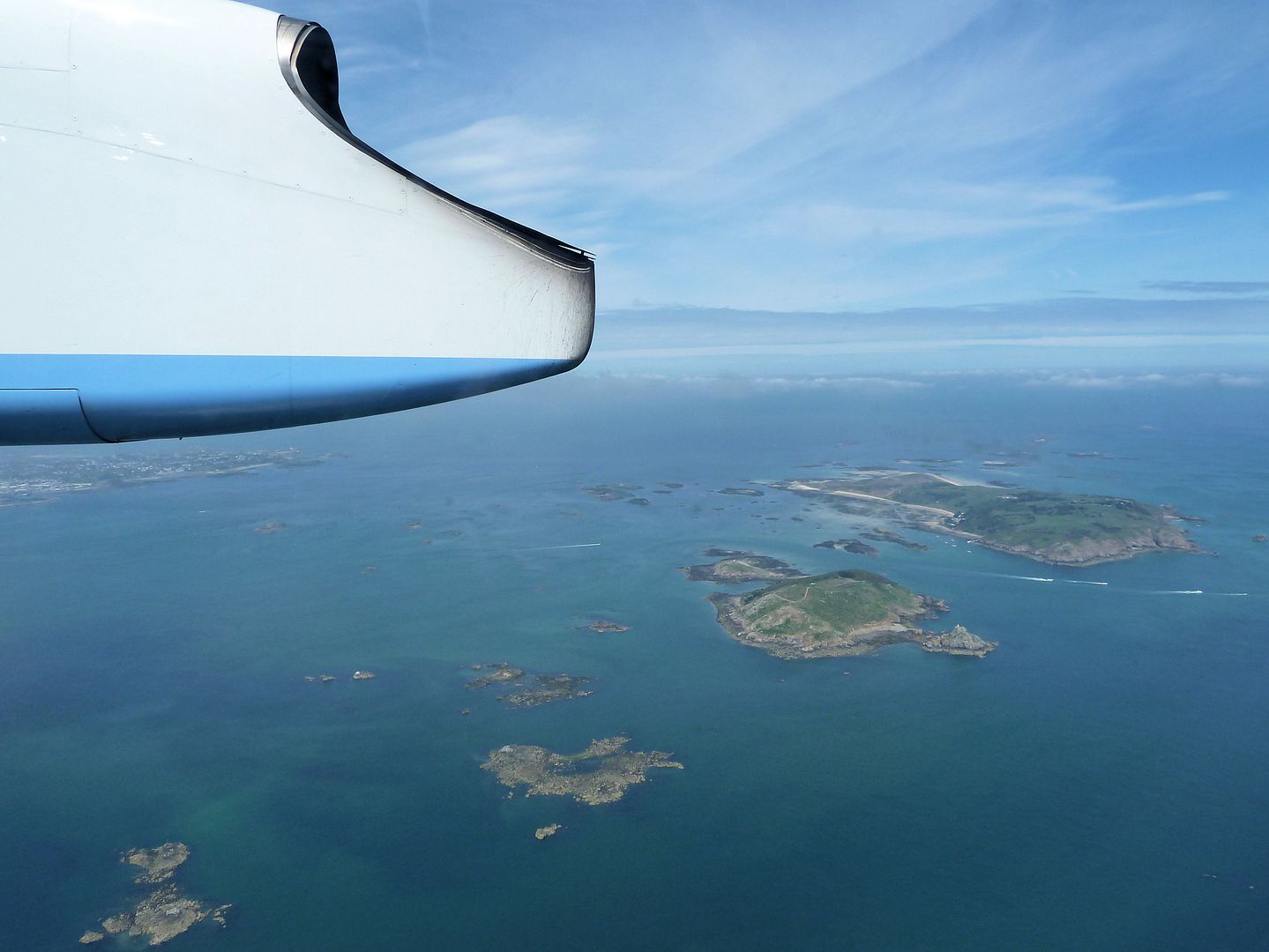 Nice views of St. Peter Port: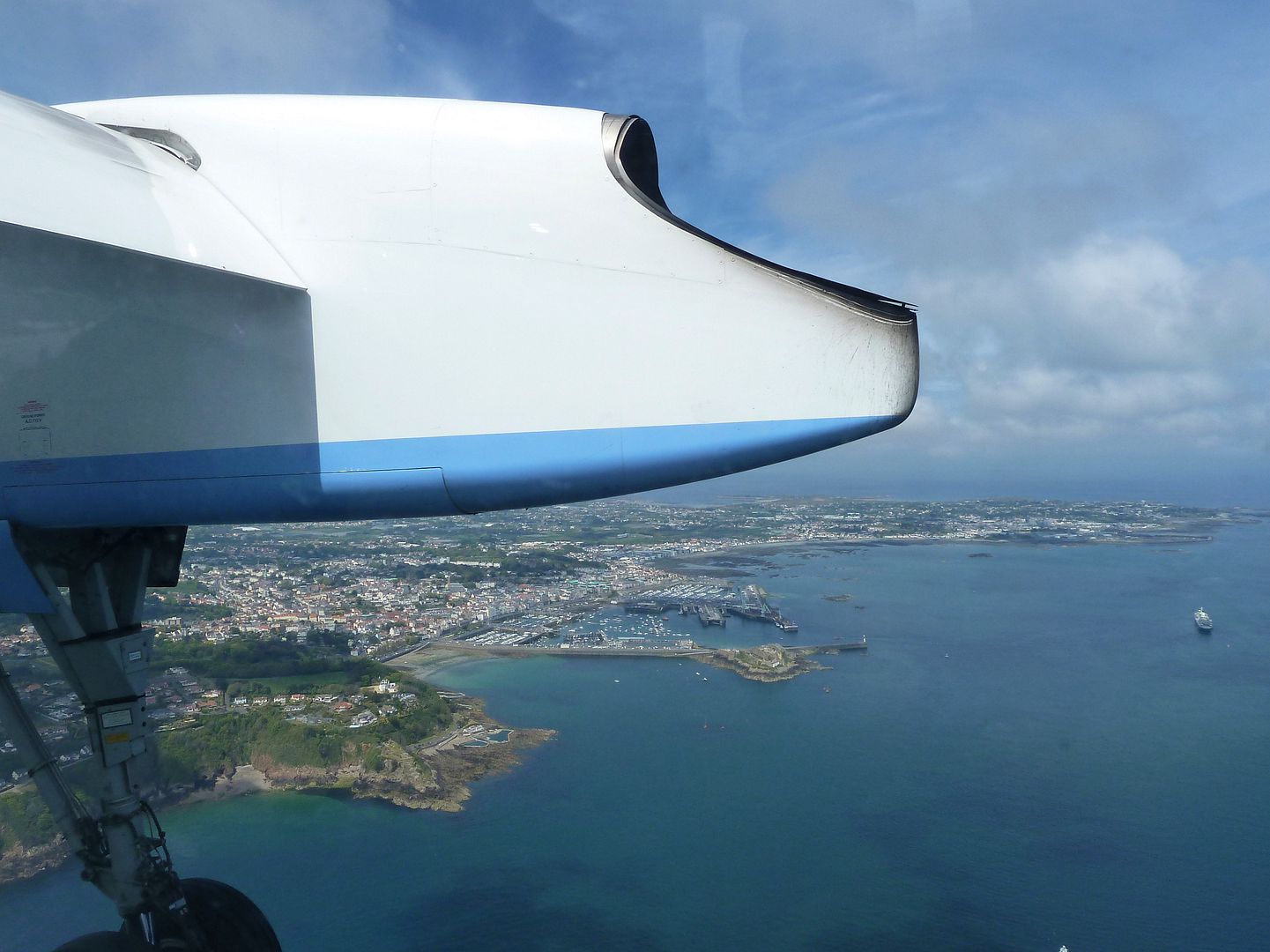 We touched down after a flying time of 52 minutes...and had to wait for a while on the taxiway because our stand was still occupied. Is this Frankfurt?
Blue Islands Jetstream 31:
After finally arriving almost one hour late, we bought some Guernsey Pounds and walked outside to catch the next bus to St. Peter Port.
Very modern terminal building:
Aurigny Air Services ATR 72 climbing out: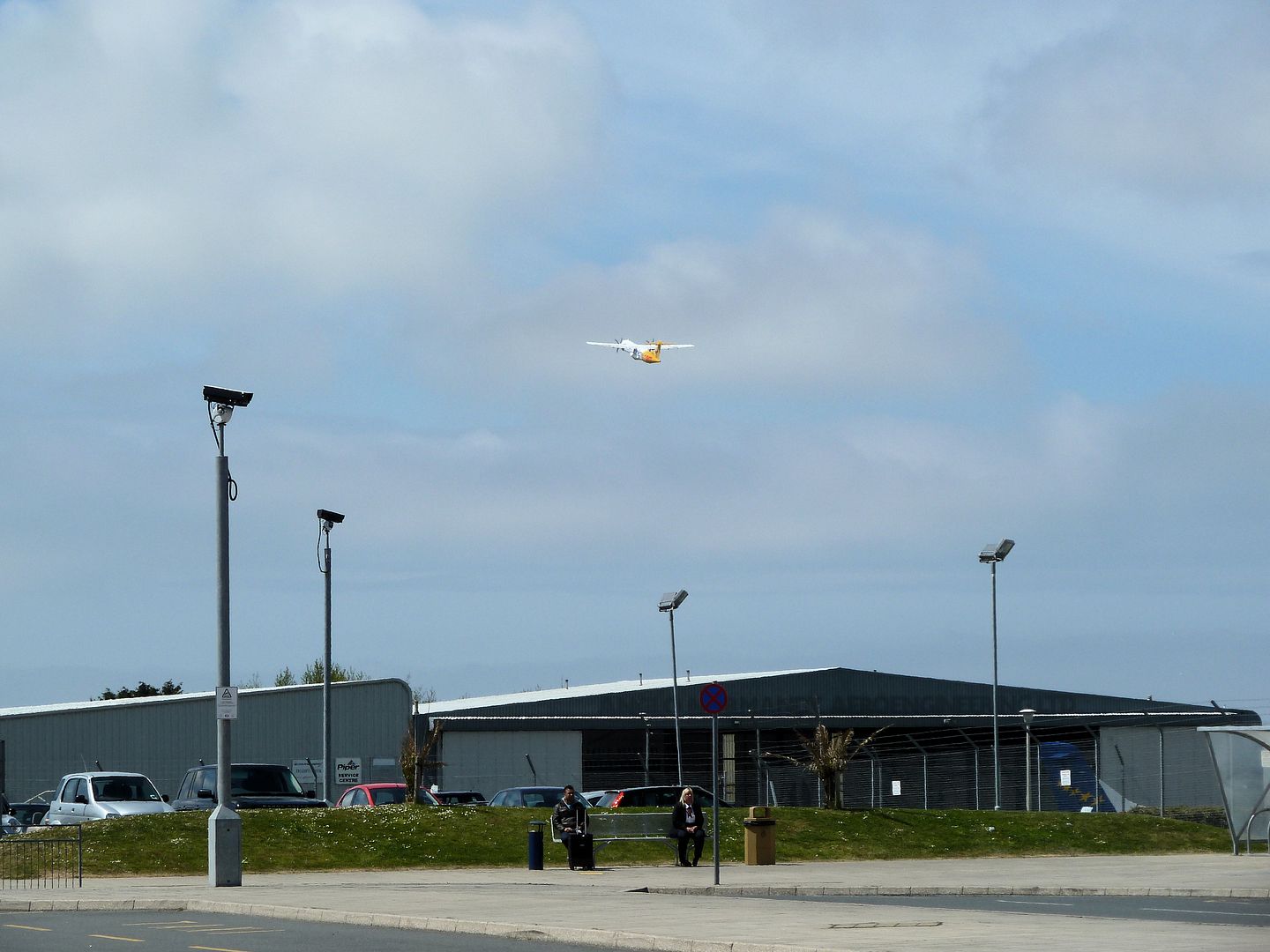 St. Peter Port
Half an hour later we arrived at St. Peter Port which is a really nice town. The weather was great and we enjoyed walking along the piers: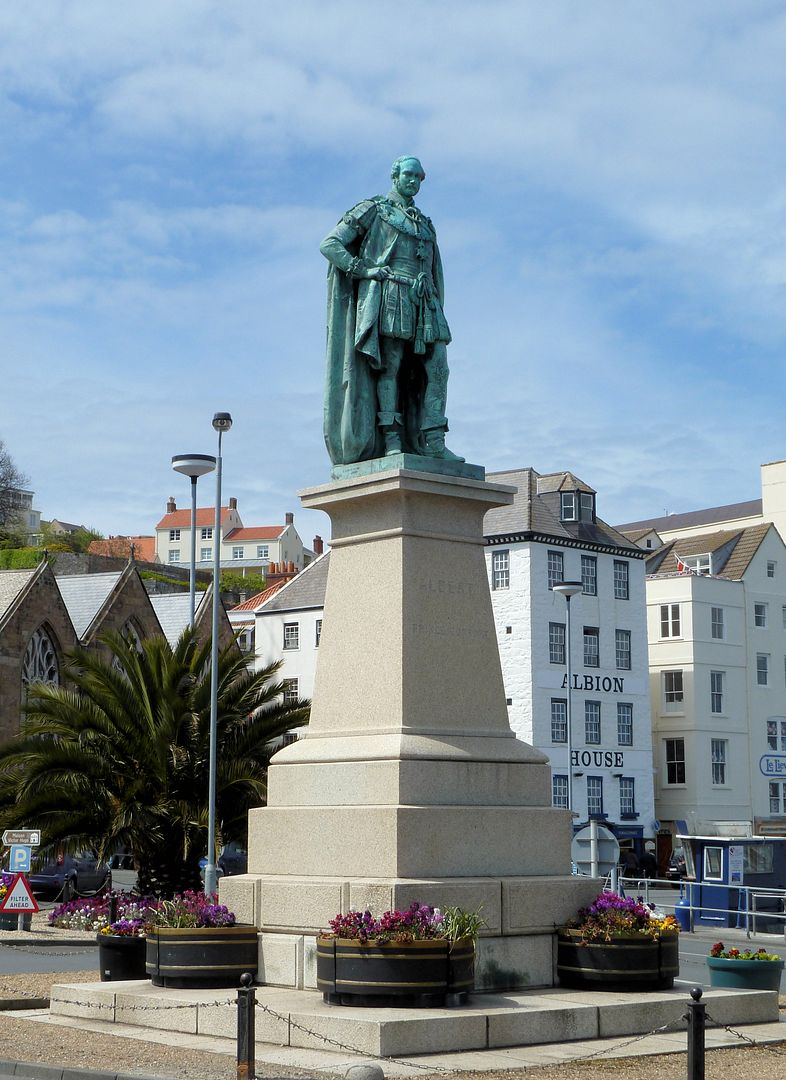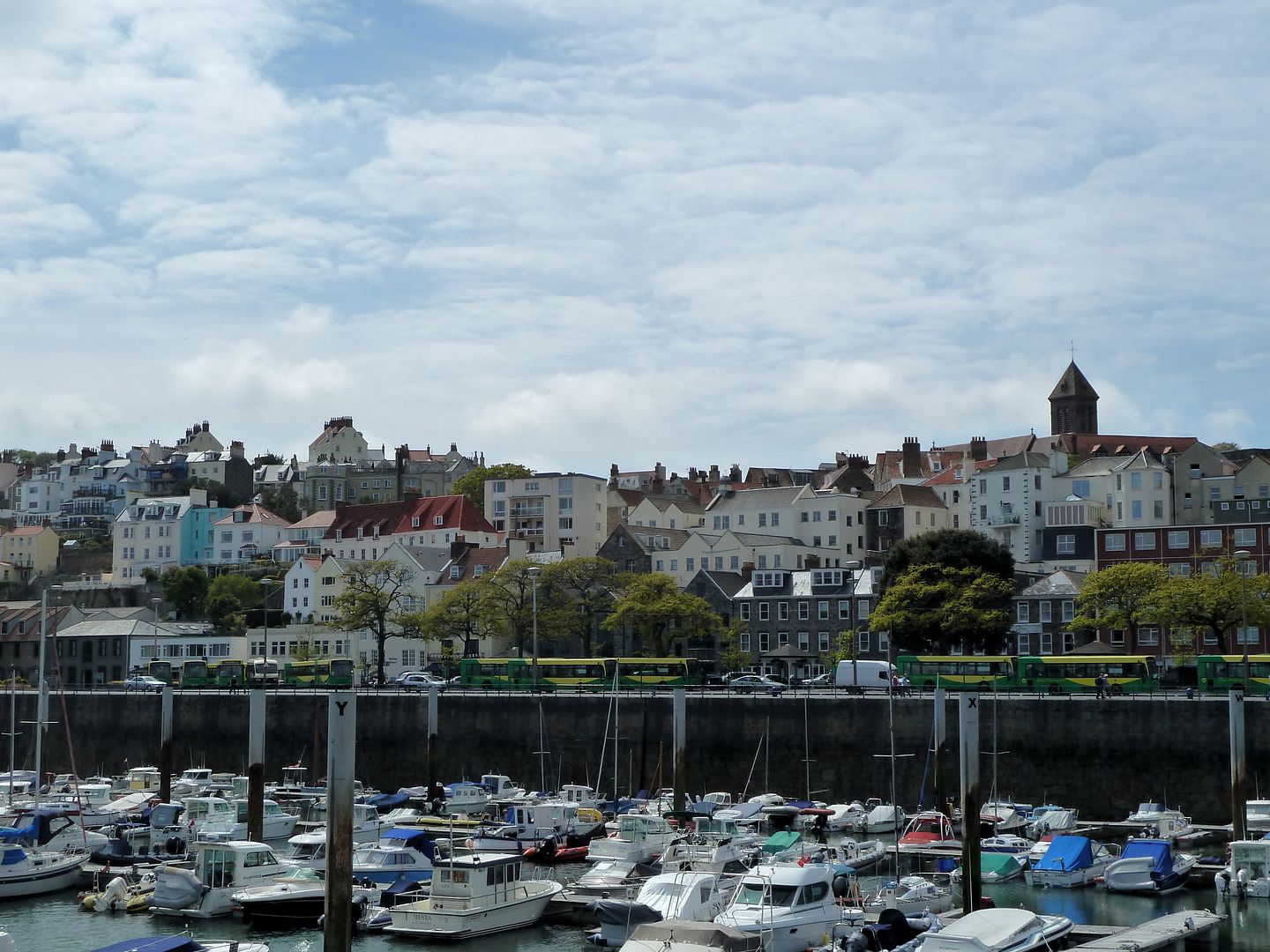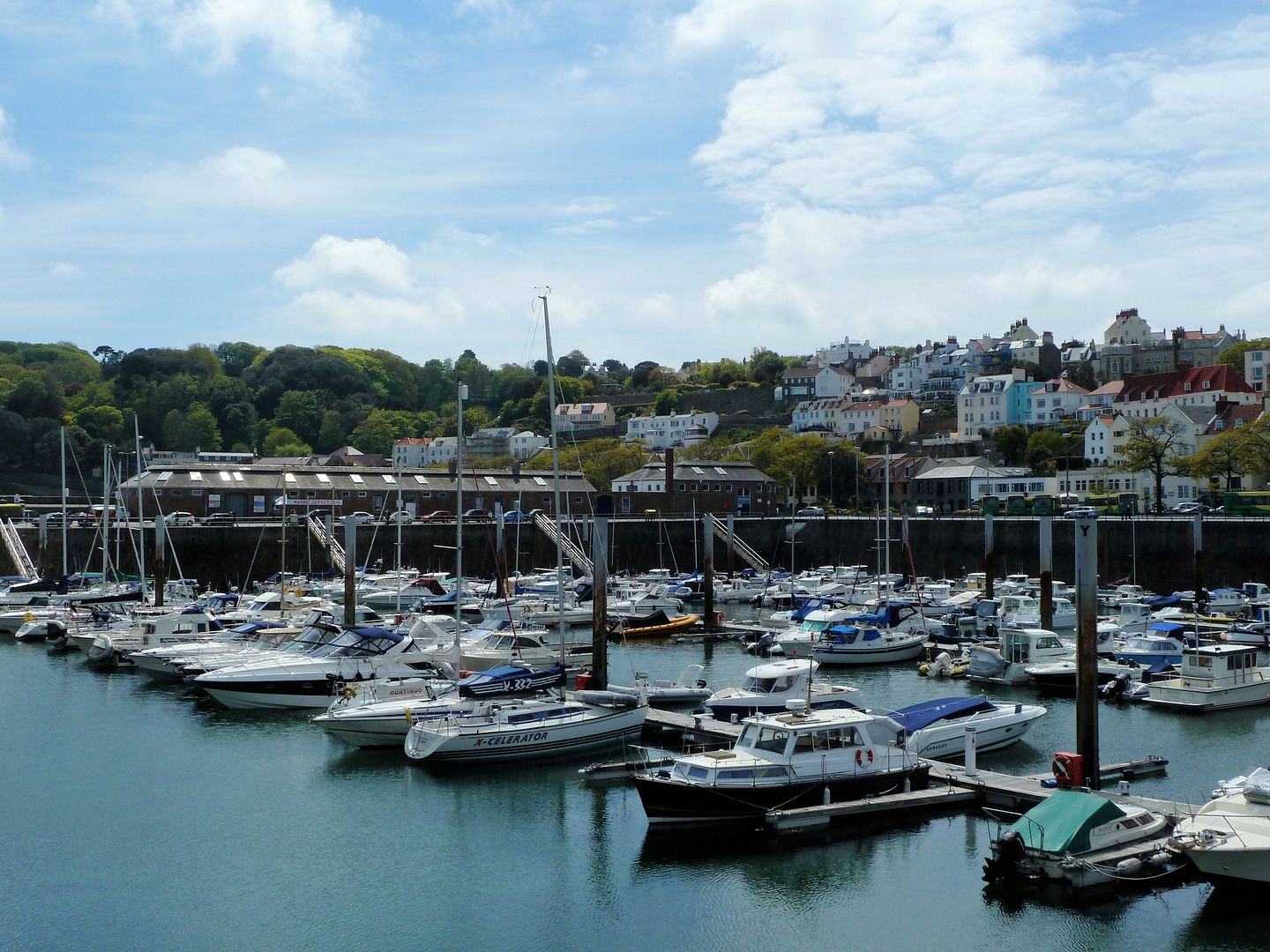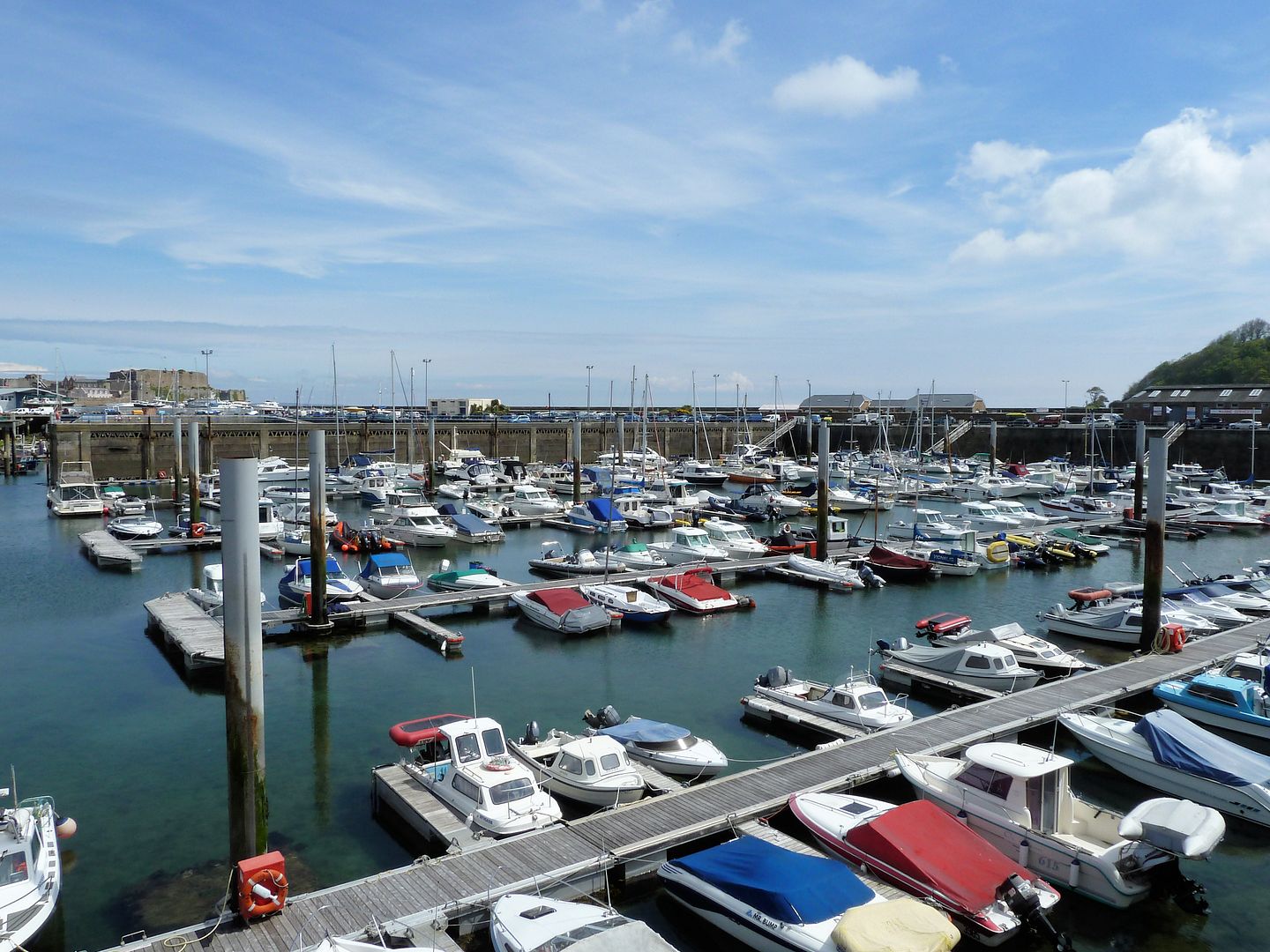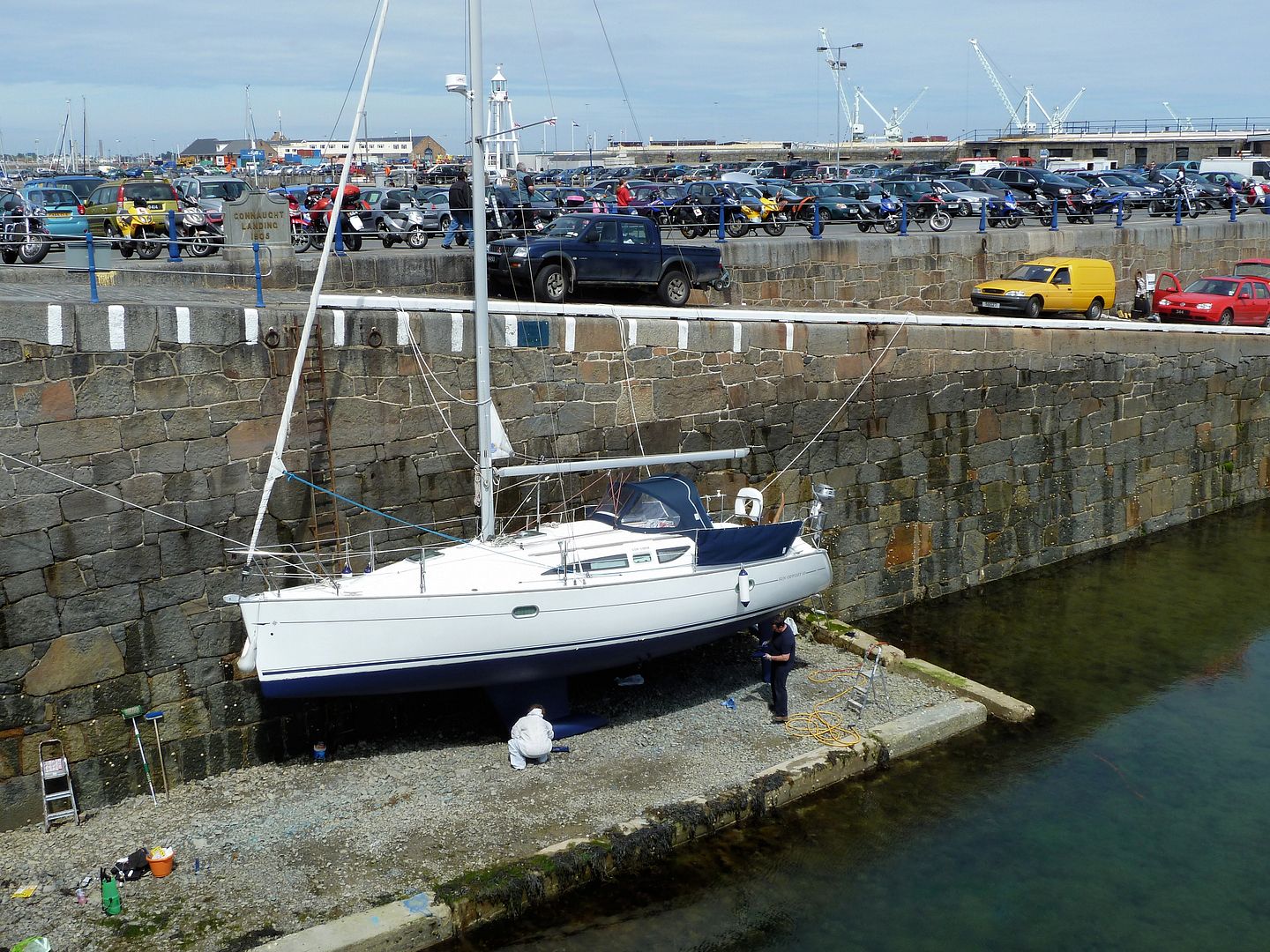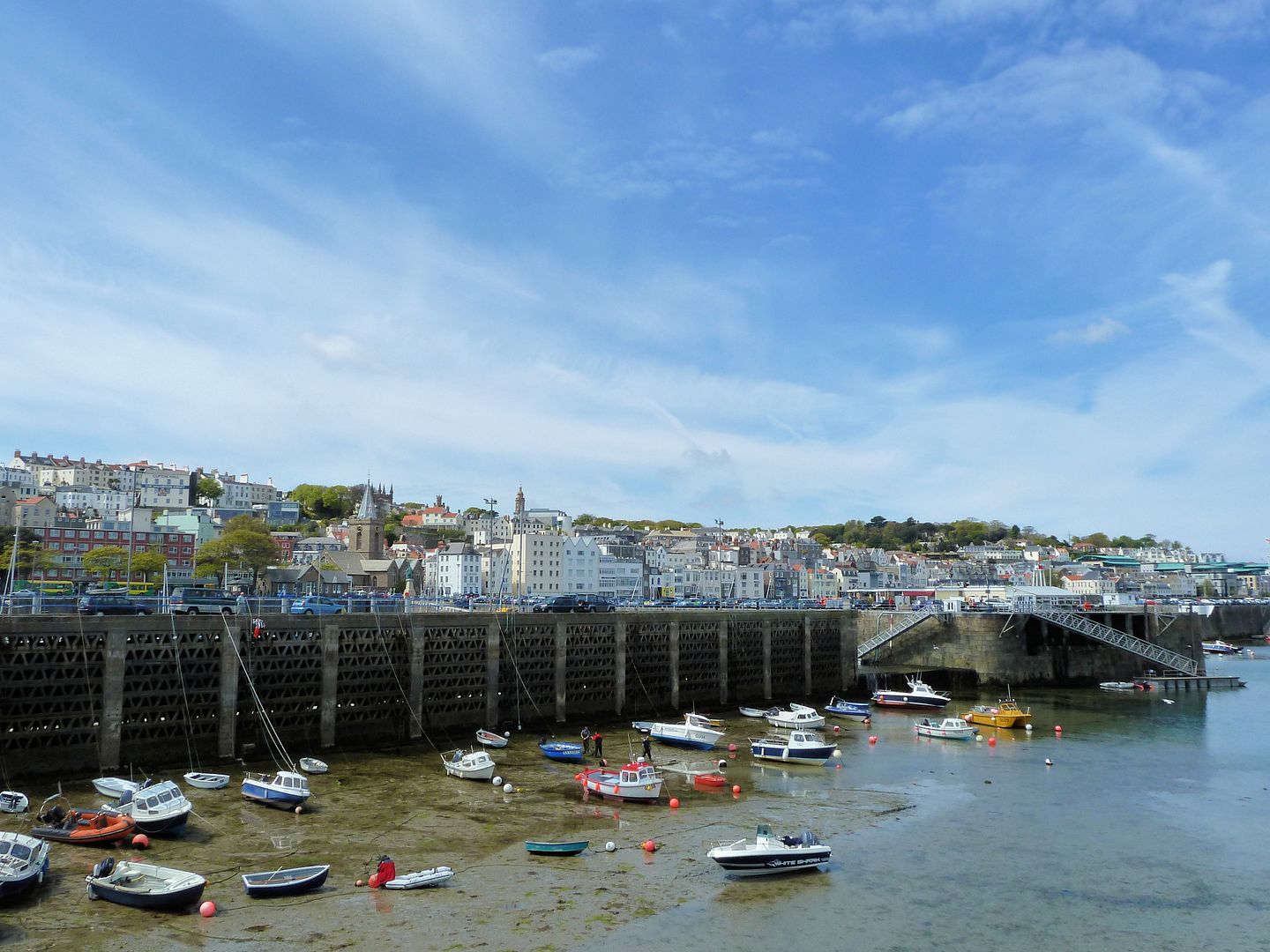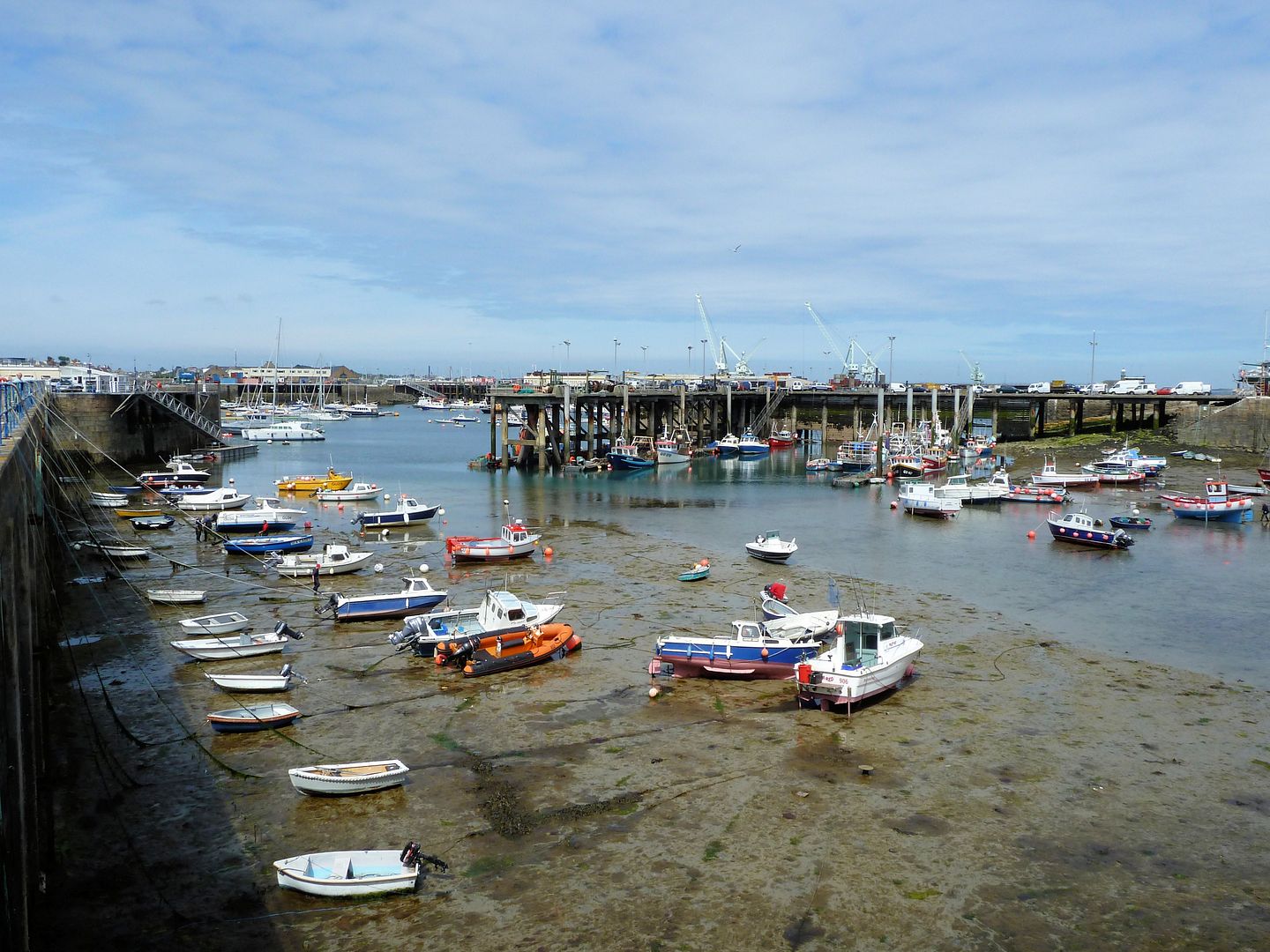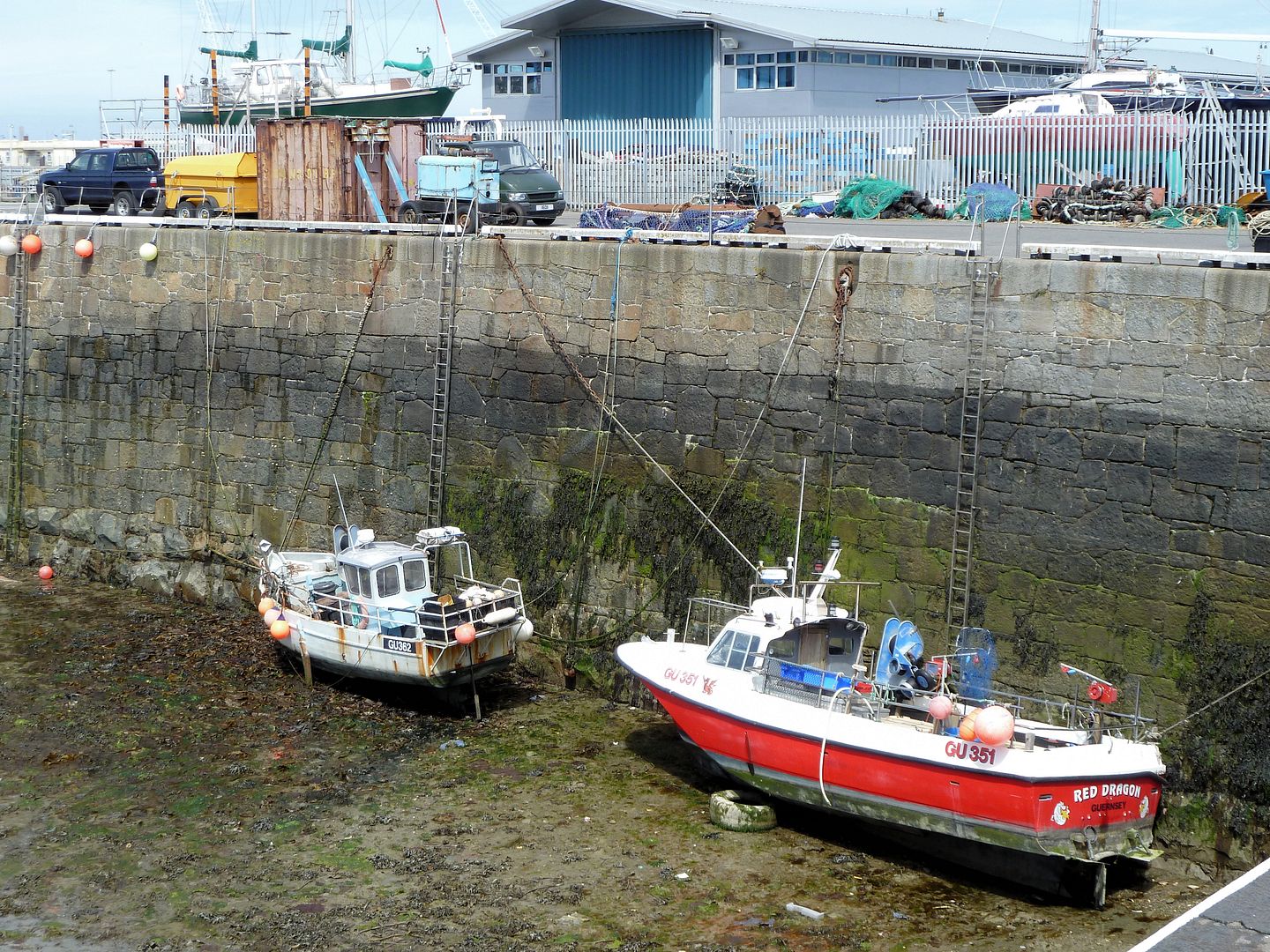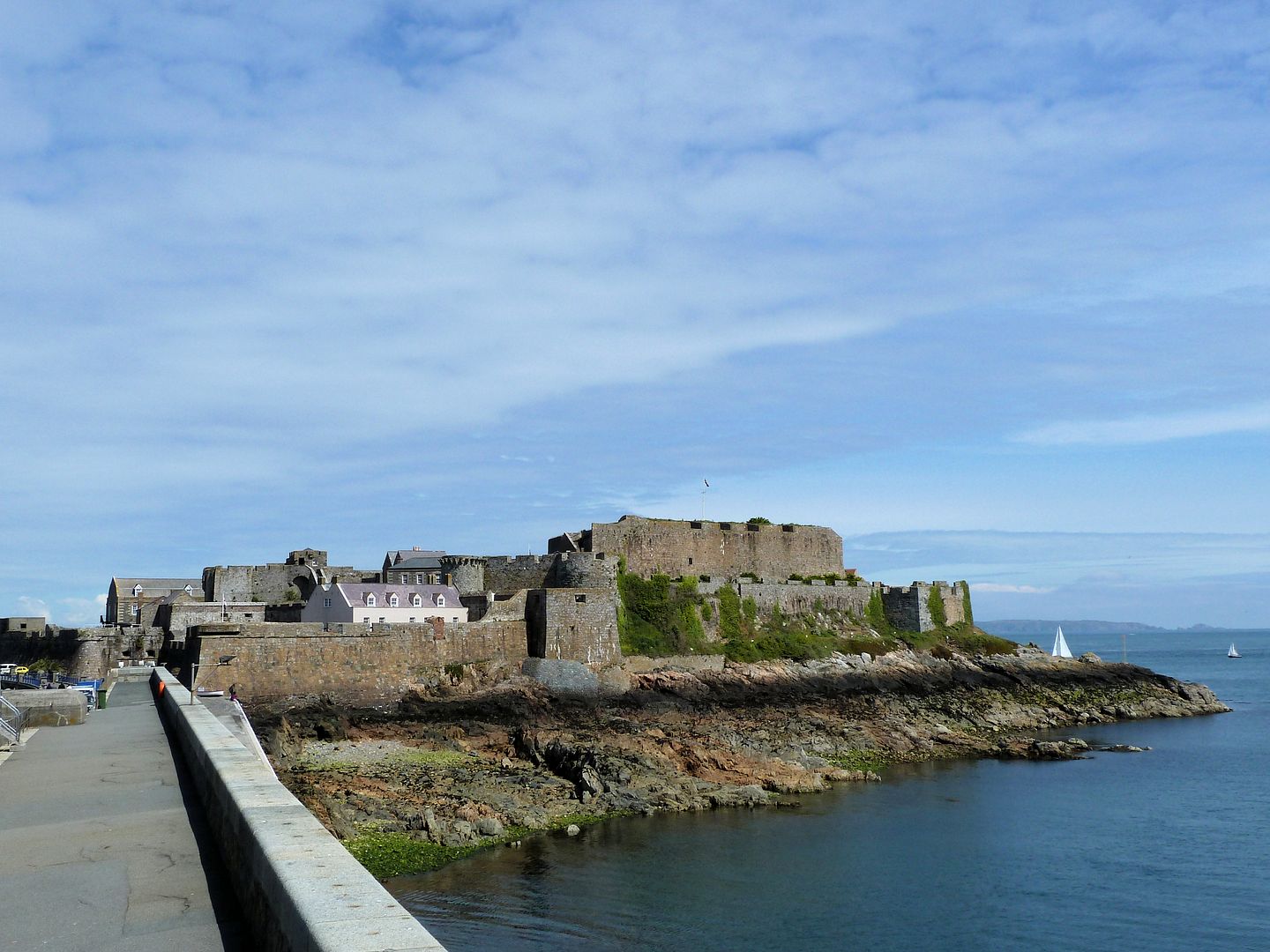 Saturday, 15 May 2010
Guernsey (GCI) - Manchester (MAN)
Aurigny Air Services GR678
17:15-18:40 (17:16-18:38)
Flying time: 01:11 (hrs)
Economy Class, Seat 19C

ATR 72-500
G-VZON (MSN 853)
Delivered in 03/2009
1st flight on G-VZON
3rd ATR 72-500 flight
6th ATR 72 flight
8th ATR 42/72 flight
95th airline
After spending about two hours in St. Peter Port we returned to the airport. We had already checked in online so we could go straight to the small gate area. Boarding commenced on time and we walked to 2009 built
G-VZON
, one of two ATR 72-500s in the fleet: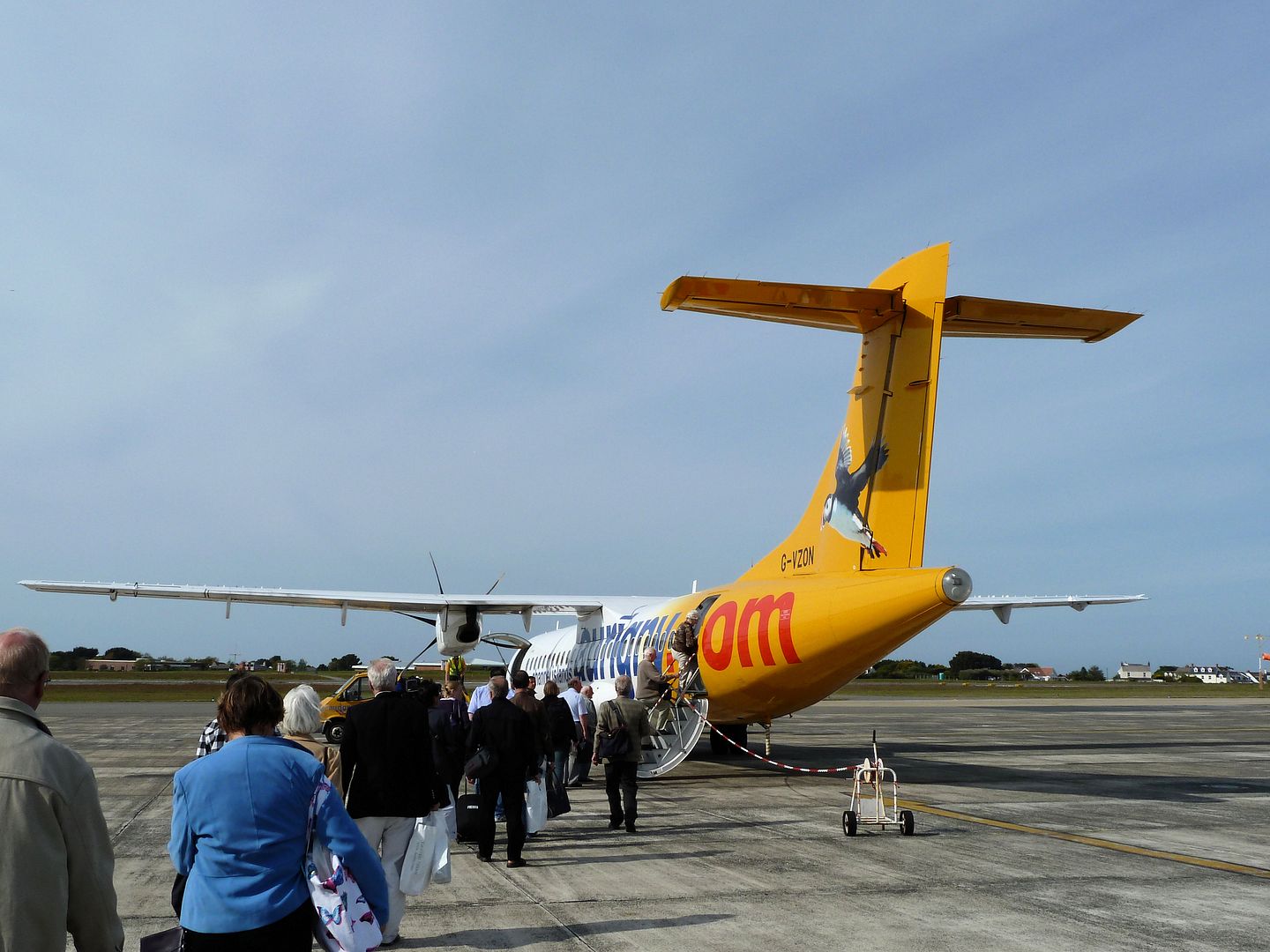 Other planes on the apron were sister ship G-COBO and Flybe's G-JEDP in special colors: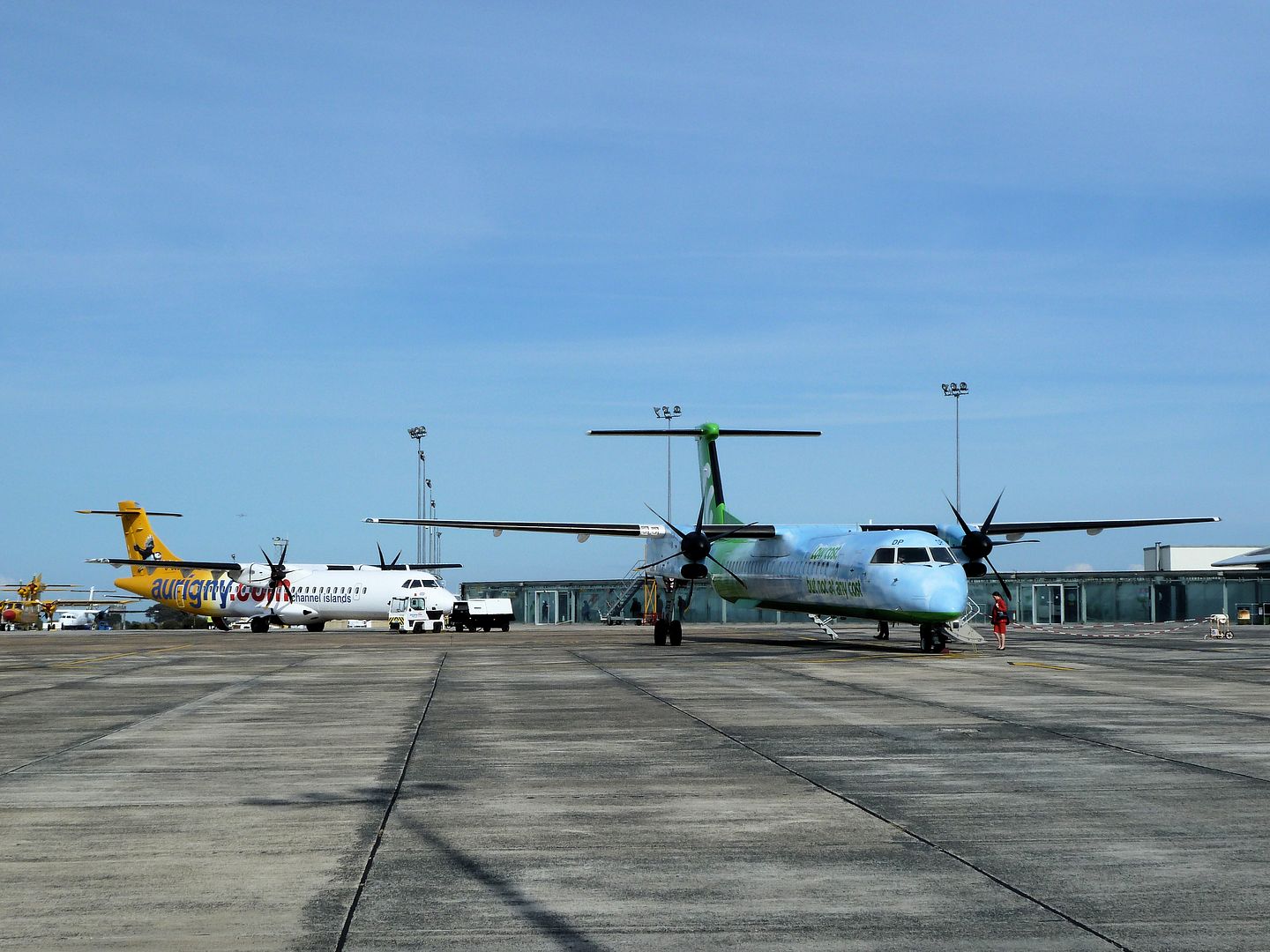 The flight attendants were friendly, but not as nice as on Flybe. Although the new-style leather seats on Aurigny looked better than on Flybe, they were less comfortable...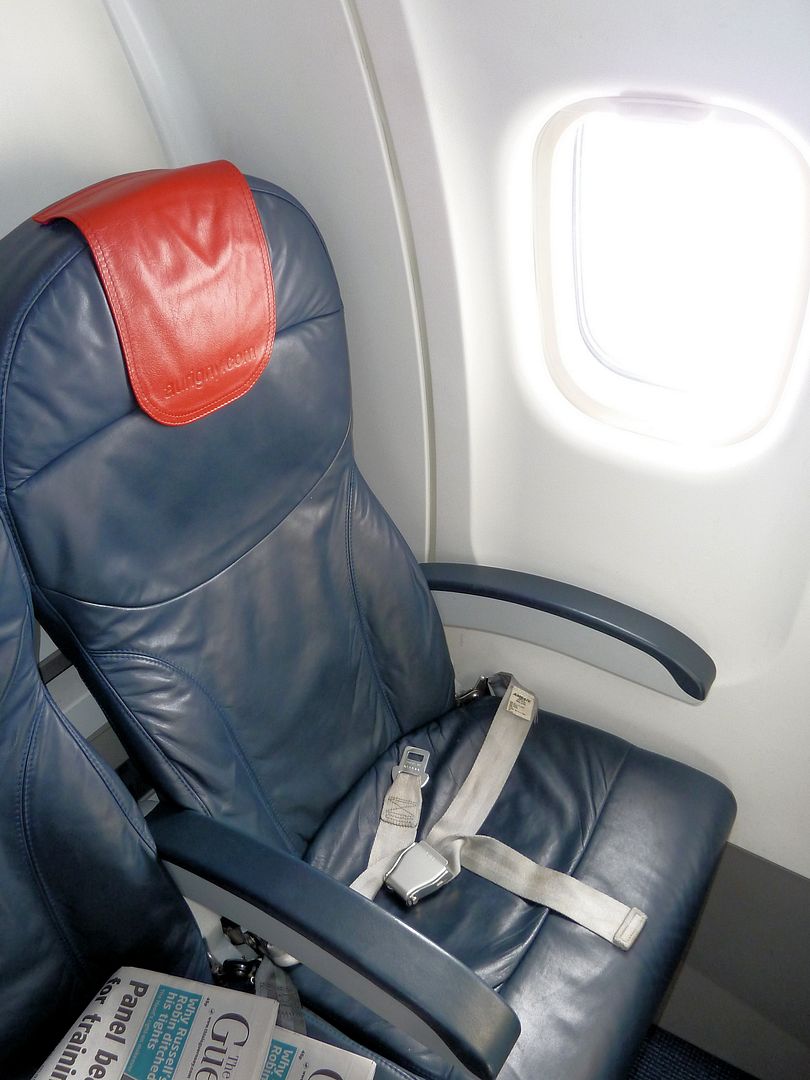 ...and legroom wasn't as good as on Flybe either: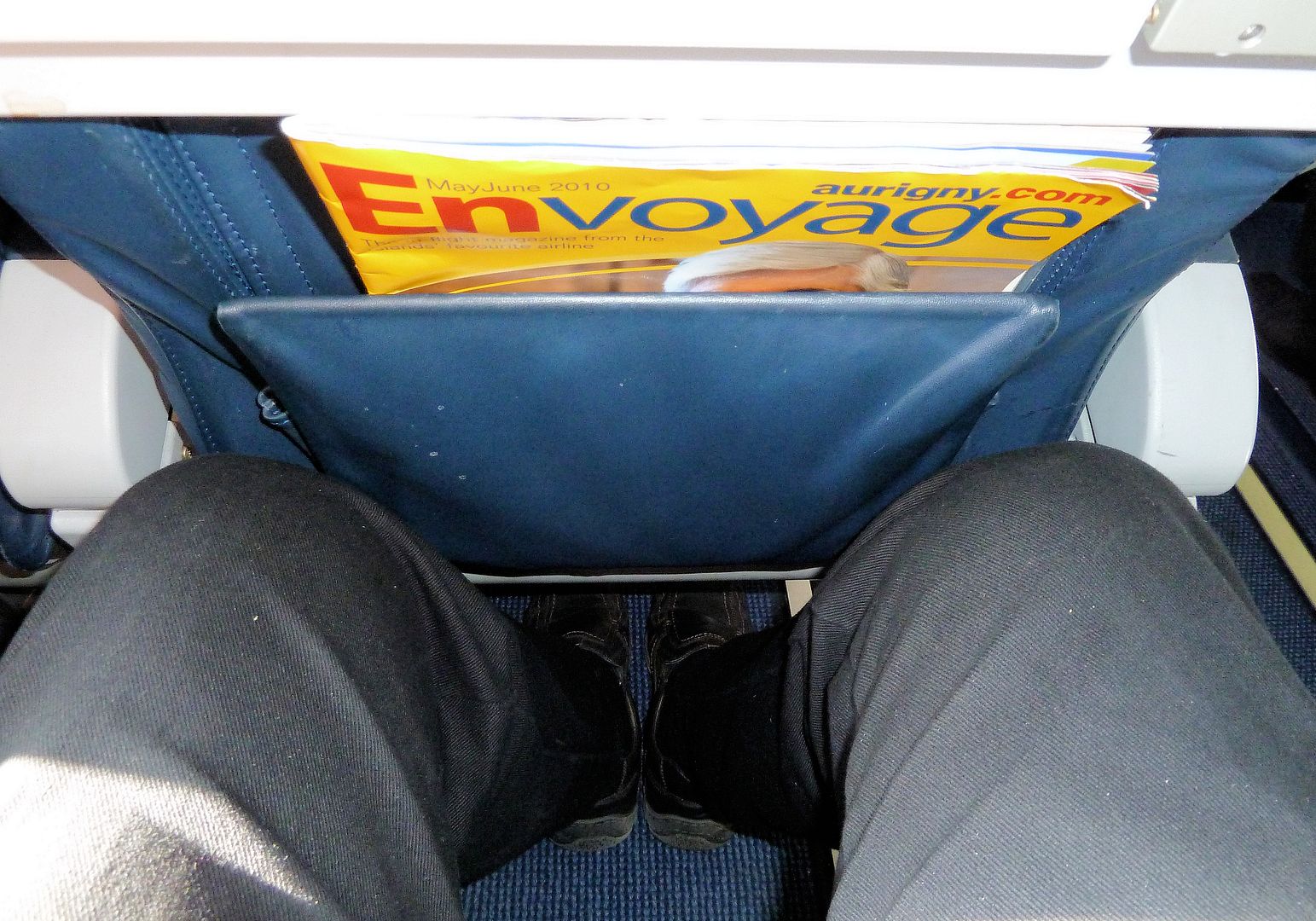 We also noticed that the Aurigny cabin looked a bit worn and wasn't as clean as on Flybe.
G-VZON
left the stand almost on time and started taxiing. This is Blue Islands' sole ATR 42-300 G-DRFC, recently tested by member
FlyingFinn76
: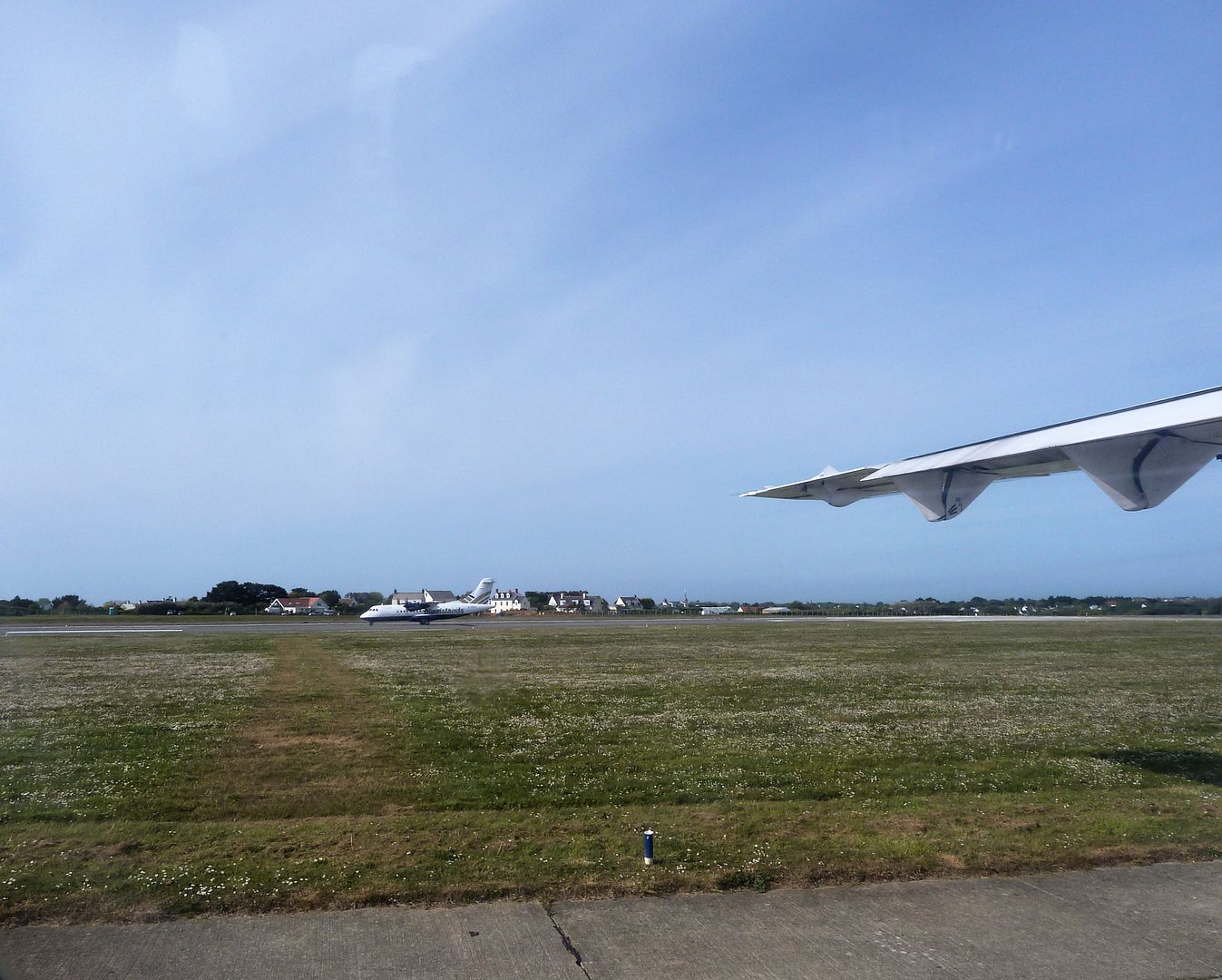 Some minutes later we lifted off and passed numerous greenhouses:
The cabin shot shows that the flight was full:
Aurigny Air Services offers newspaper and a considerable range of drinks free of charge: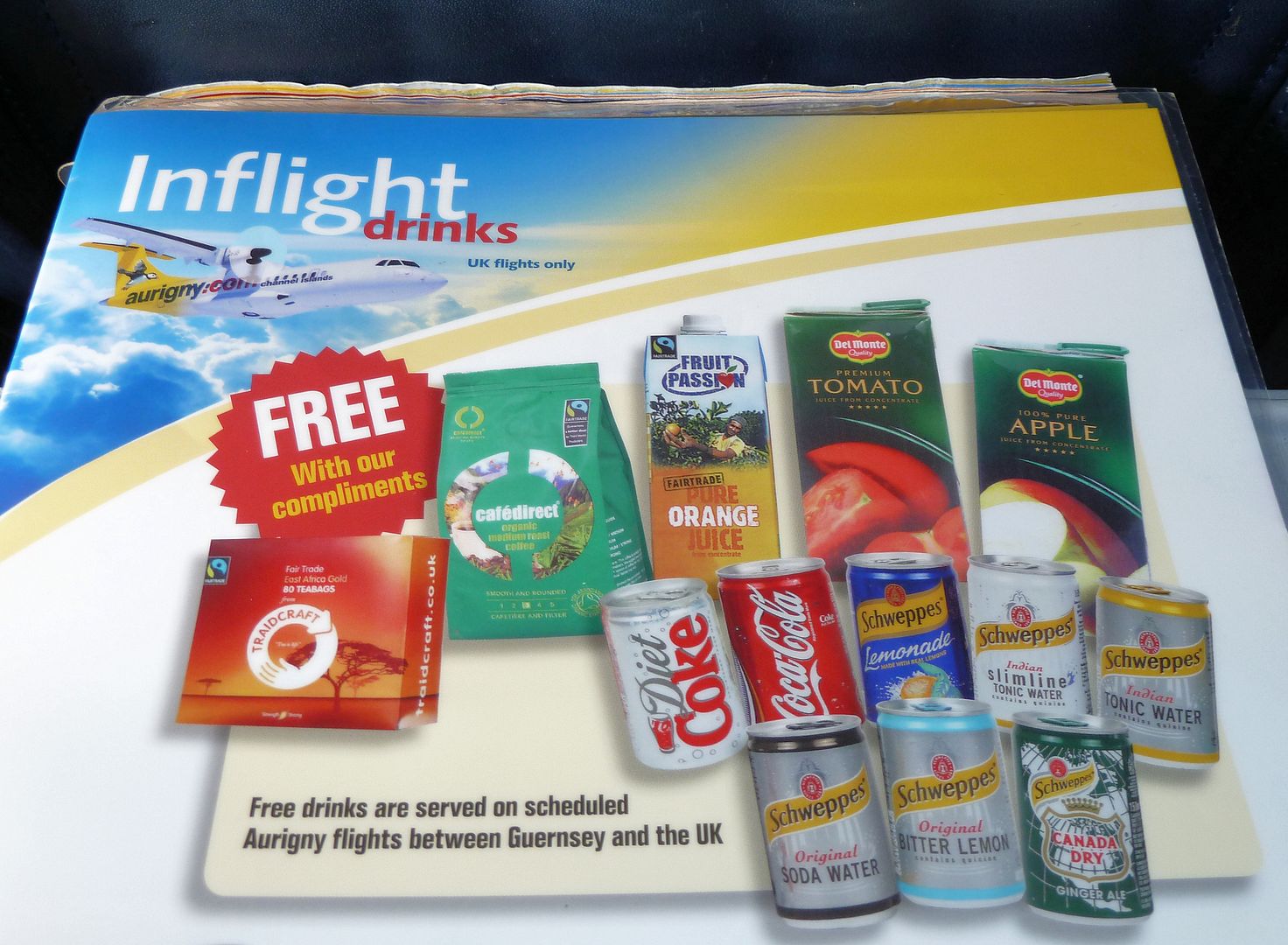 So what did I order? Ginger ale, of course!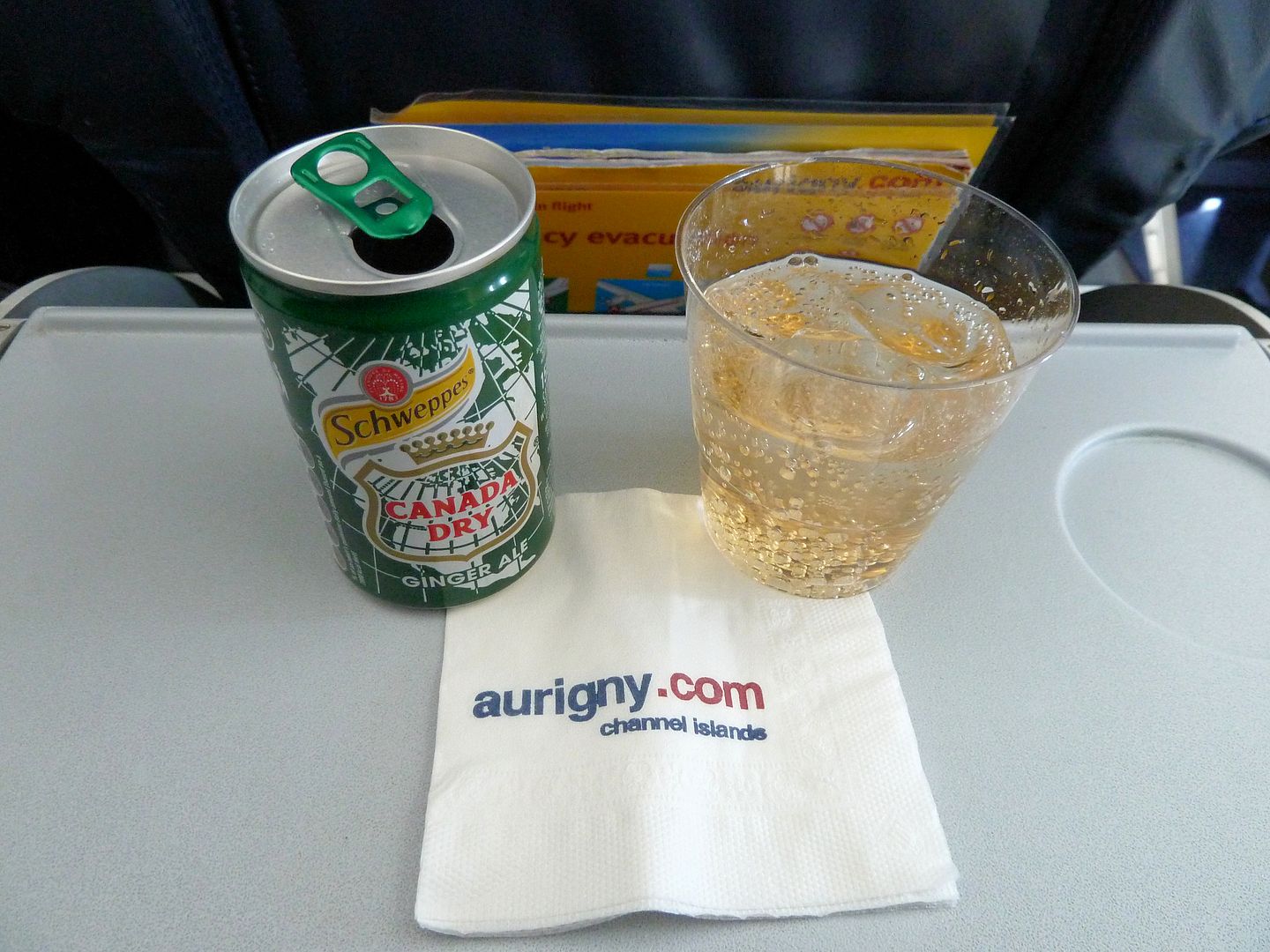 I would have tried a sandwich or anything else, but only muffins and similar small items were available for sale.
Unfortunately, we were facing the sun, so it was difficult to take good pictures during approach. Here's an acceptable one:
We touched down after a flying time of 1 hour and 11 minutes - and were photographed by some German spotters
(more details to follow later in the text)
:
View Large
View Medium


Photo © Dominik Zimmermann
After disembarking I took one more picture of
G-VZON
- the tail logo looks really nice: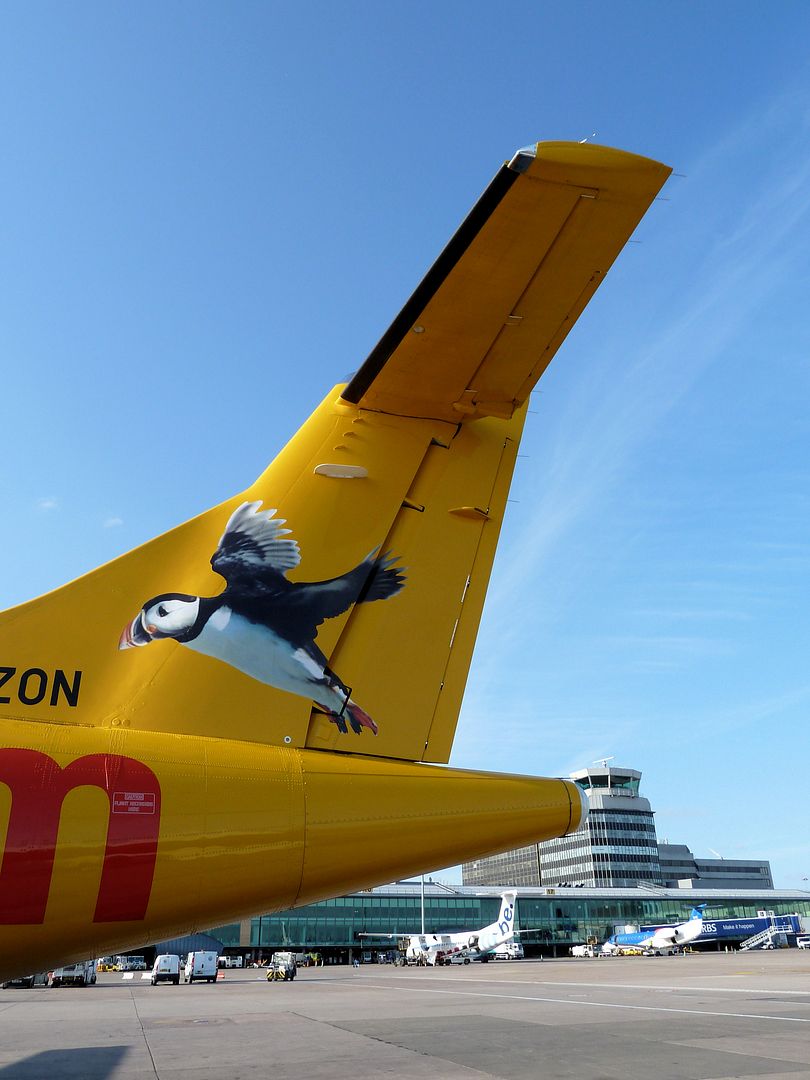 !Ash Cloud Alarm!
We spent 30 more minutes on the top level of the Terminal 1 parking structure, ate for dinner and finally took the shuttle bus to the (average) Crowne Plaza Airport Hotel. During the short ride I noticed some talk about "ash cloud" and "airport closures" on the radio, but couldn't understand any details. I was becoming highly alarmed and immediately turned on the TV after checking in. I couldn't believe what I saw: Despite the originally positive forecasts for the weekend a new volcano ash cloud from Iceland was suddenly heading to the UK - and airports "in the South" would have to be closed on Sunday for up to three days!
The news channels concentrated on London airports and didn't mention Manchester, but it was likely that an ash cloud heading to London may pass and affect Manchester, too. We immediately logged on the Internet via smartphone and checked the Met Office prediction charts. According to these charts, the ash cloud would reach Manchester between 06:00 and 12:00. Our flight was scheduled to depart at 09:20, so there was still some hope. However, we kept wondering whether Singapore Airlines would still fly MUC-MAN in view of a possible closure. Anyway, we simply had to wait. But we didn't enjoy the rest of this evening any more.
Sunday, 16 May 2010
Manchester (MAN) - Munich (MUC)
Singapore Airlines SQ327
09:20-12:25 (09:14-12:20)
Flying time: 01:43 (hrs)
Economy Class, Seat 50K

Boeing 777-312ER
9V-SWH (s/n 615)
Delivered in 02/2007
1st flight on 9V-SWH
5th 777-300ER flight
27th 777 flight
Shortly after waking up in the morning I saw a Qatar Airways A330 on approach, so I knew that the airport was still open.
The news channels weren't showing new developments, so we checked out and took the shuttle to the airport. According to the flight information display, SQ328 from Munich would arrive on time and the check-in agent also confirmed that everything was still fine. Of course we were glad to hear that, but there were still two hours to go...
We ate breakfast, walked through some shops and finally went to the gate.
9V-SWH
, delivered in February 2007, arrived on time as predicted. Unfortunately, it was impossible to take good pictures through the dirty windows: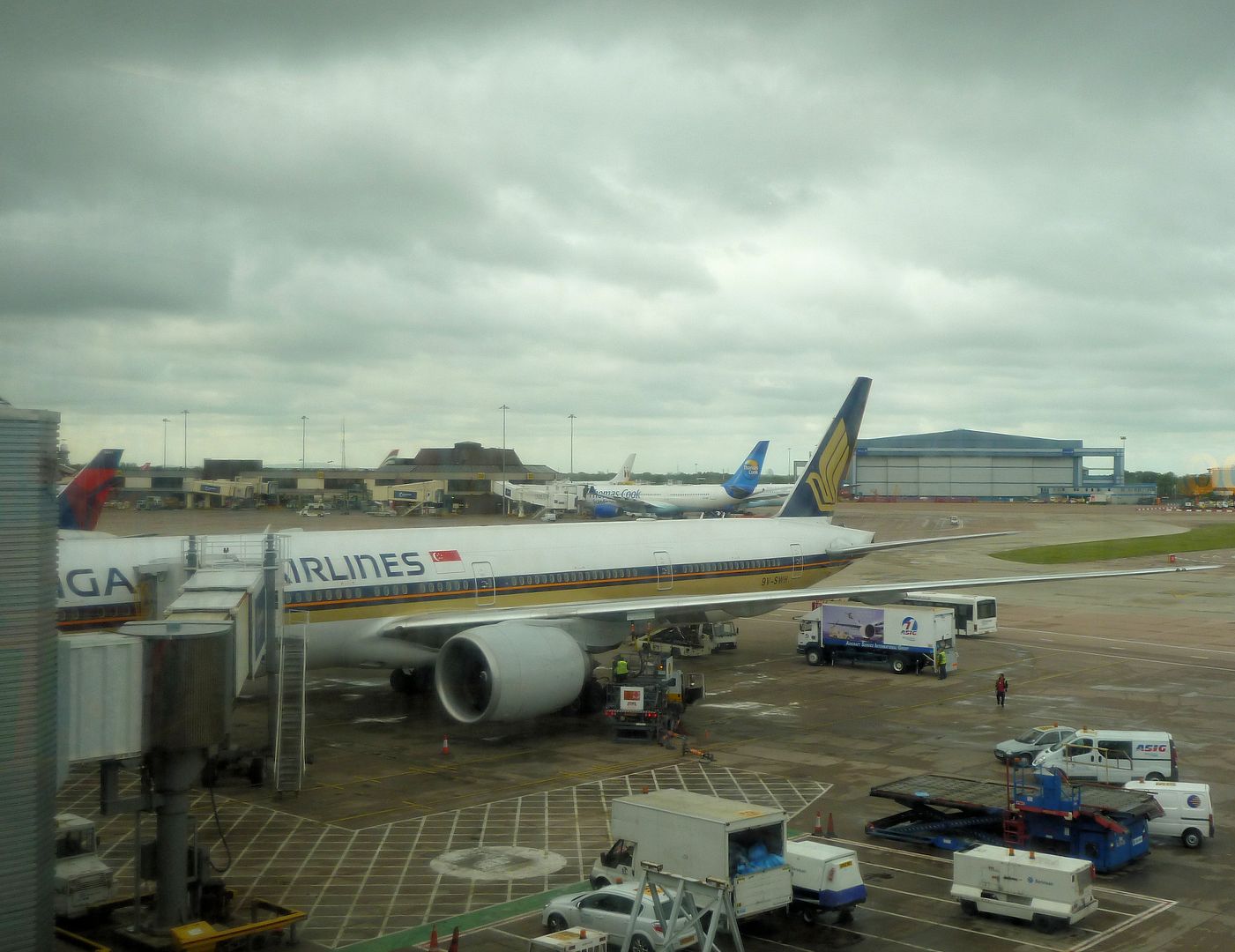 About 40 minutes later we were really glad to hear the boarding announcement. Only a few dozens of passengers were lining up, even less than at MUC on the day before. After the customary friendly welcome we settled down in row 50. Parked next to us was Delta (ex-NWA) 757-200 N545US: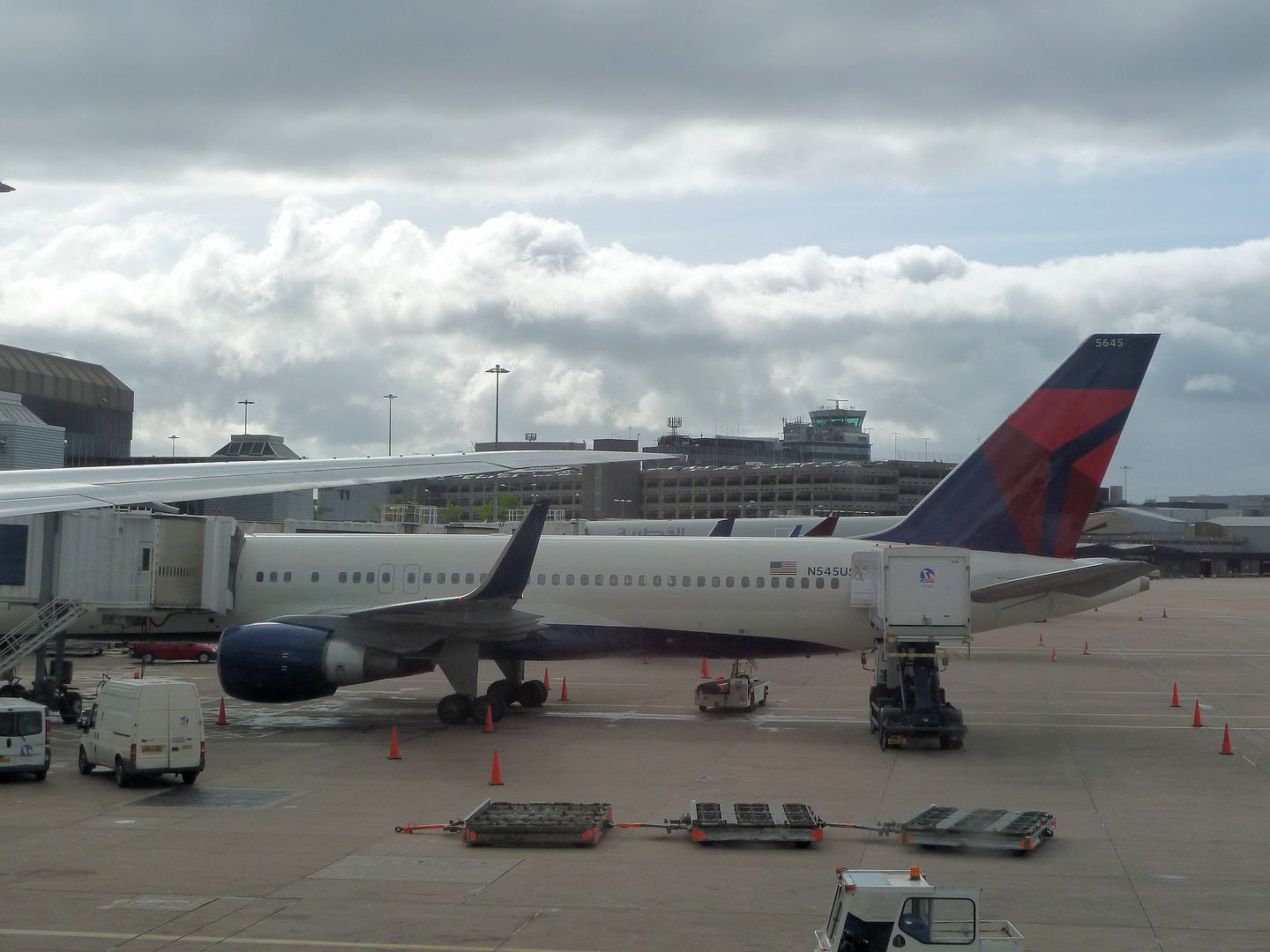 9V-SWH
started moving six minutes ahead of schedule and we were quite confident now that we would indeed depart. Some time later we turned onto runway 23R...
...and lifted off after an unspectacular takeoff roll. The famous visitor park: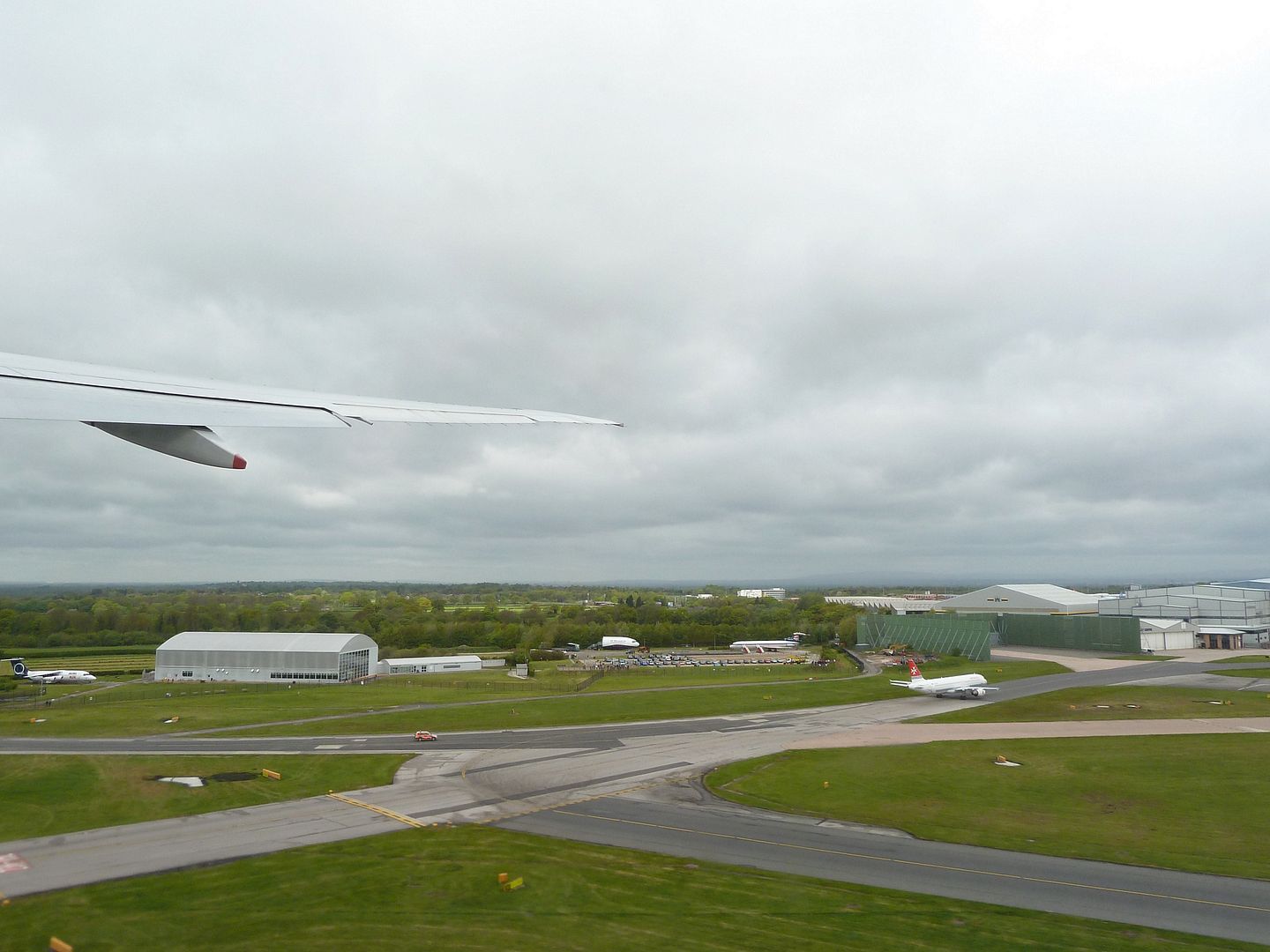 Goodbye, Manchester!
We were really glad that we could escape from the ash!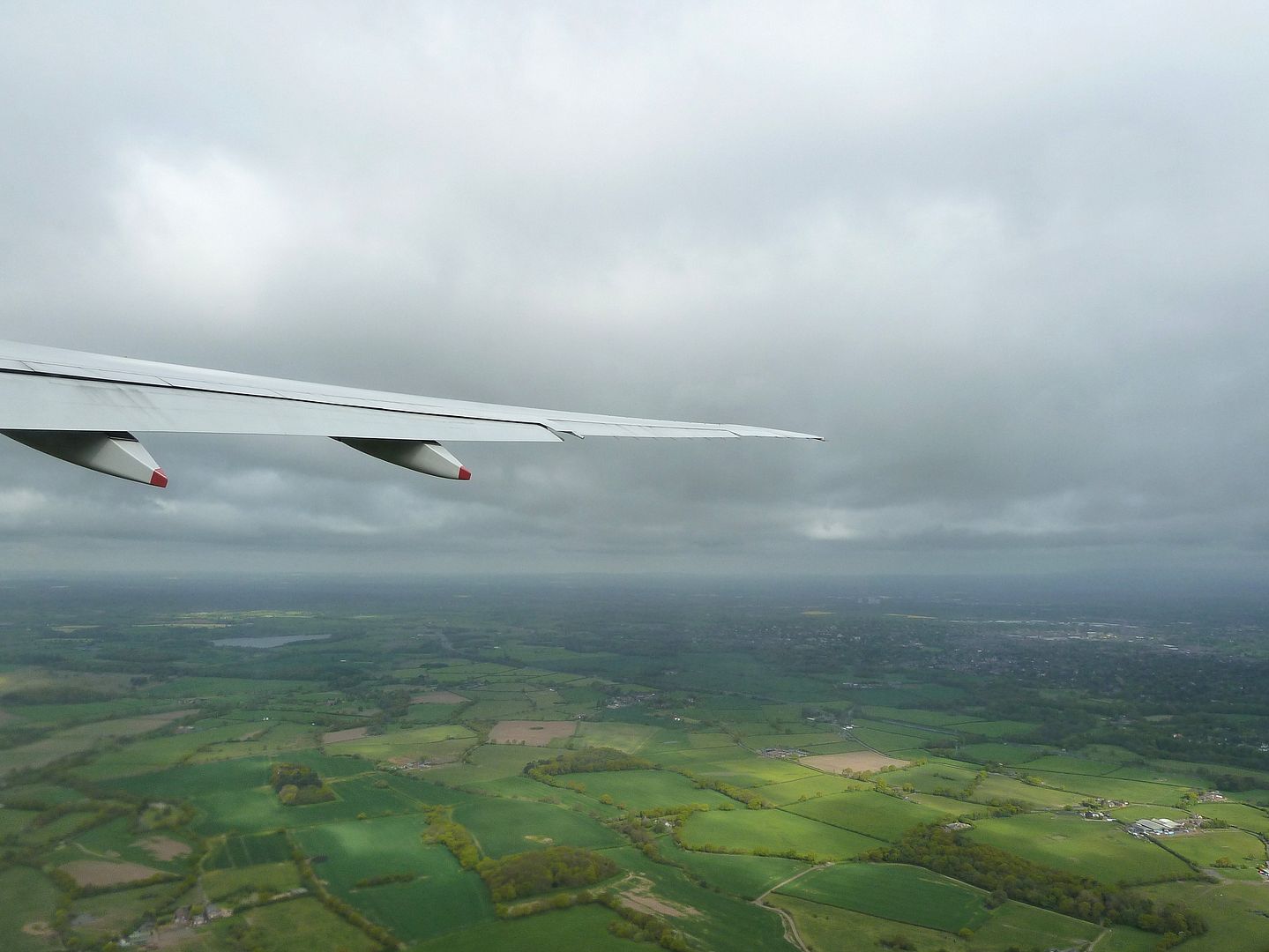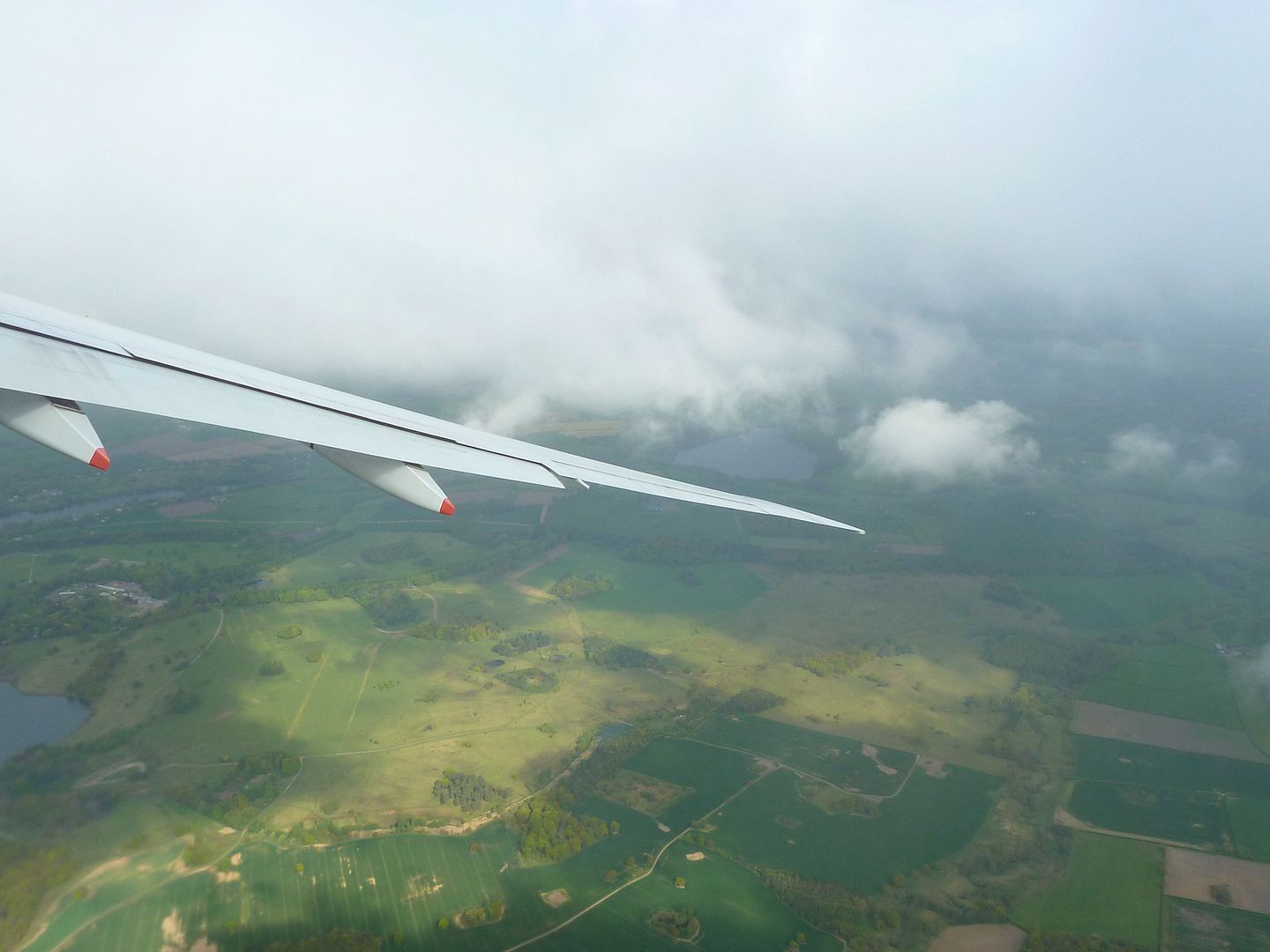 Our 77W had quickly climbed to cruising altitude:
Of course, menu cards had been distributed again:
I ordered the croissant...
...while my girlfriend decided to try the Danish pastry: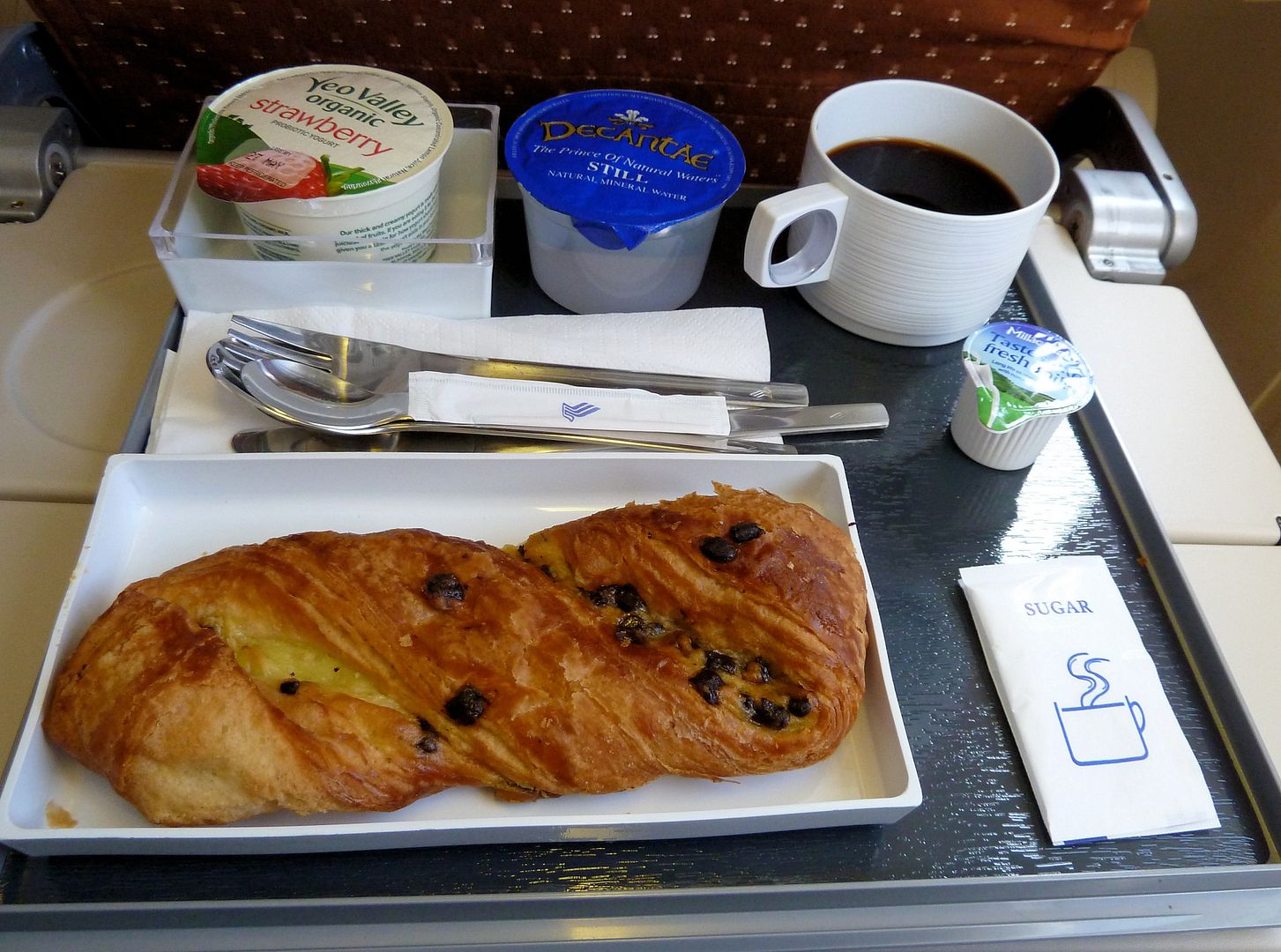 Again we enjoyed the breakfast, everything was fresh and tasted good.
After taking some cabin pictures...
...I approached a group of young guys who had done the same earlier, using big cameras. Spotters? Airliners.net? Yes! The three guys turned out to be a.net photographers. During our chat they told me that they had taken pictures of my Aurigny Air Services plane arriving from Guernsey on Saturday afternoon
(see the picture above)
. That was really nice!
The time on SIA's marvellous 77W had passed too quickly once again...approach to MUC's runway 08L:
We touched down after a flying time of 1 hour and 43 minutes - almost the same as on the day before. If nothing goes wrong I will soon fly on one of these extra-long Lufthansa birds: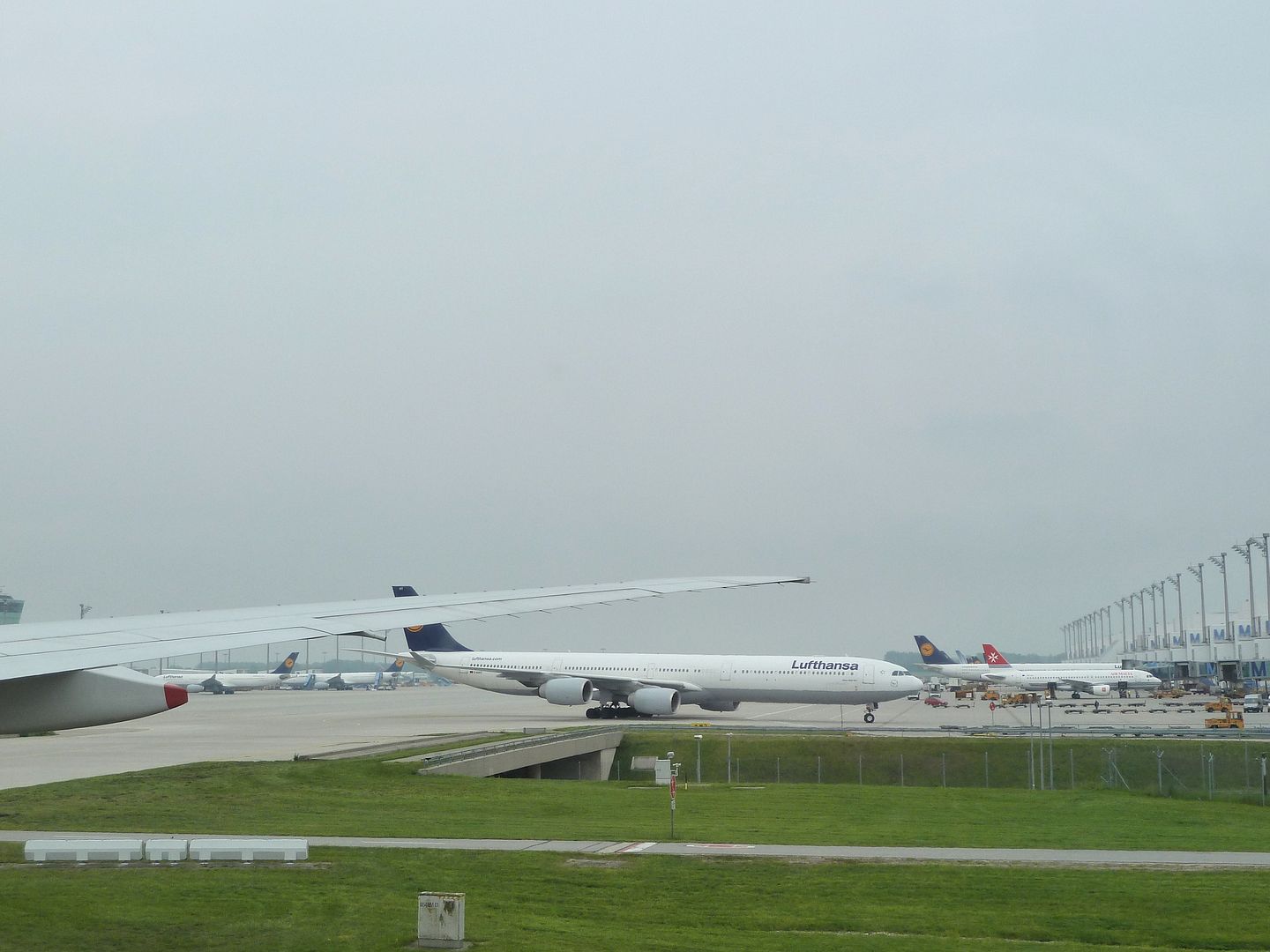 Deserted roads - at least for the moment: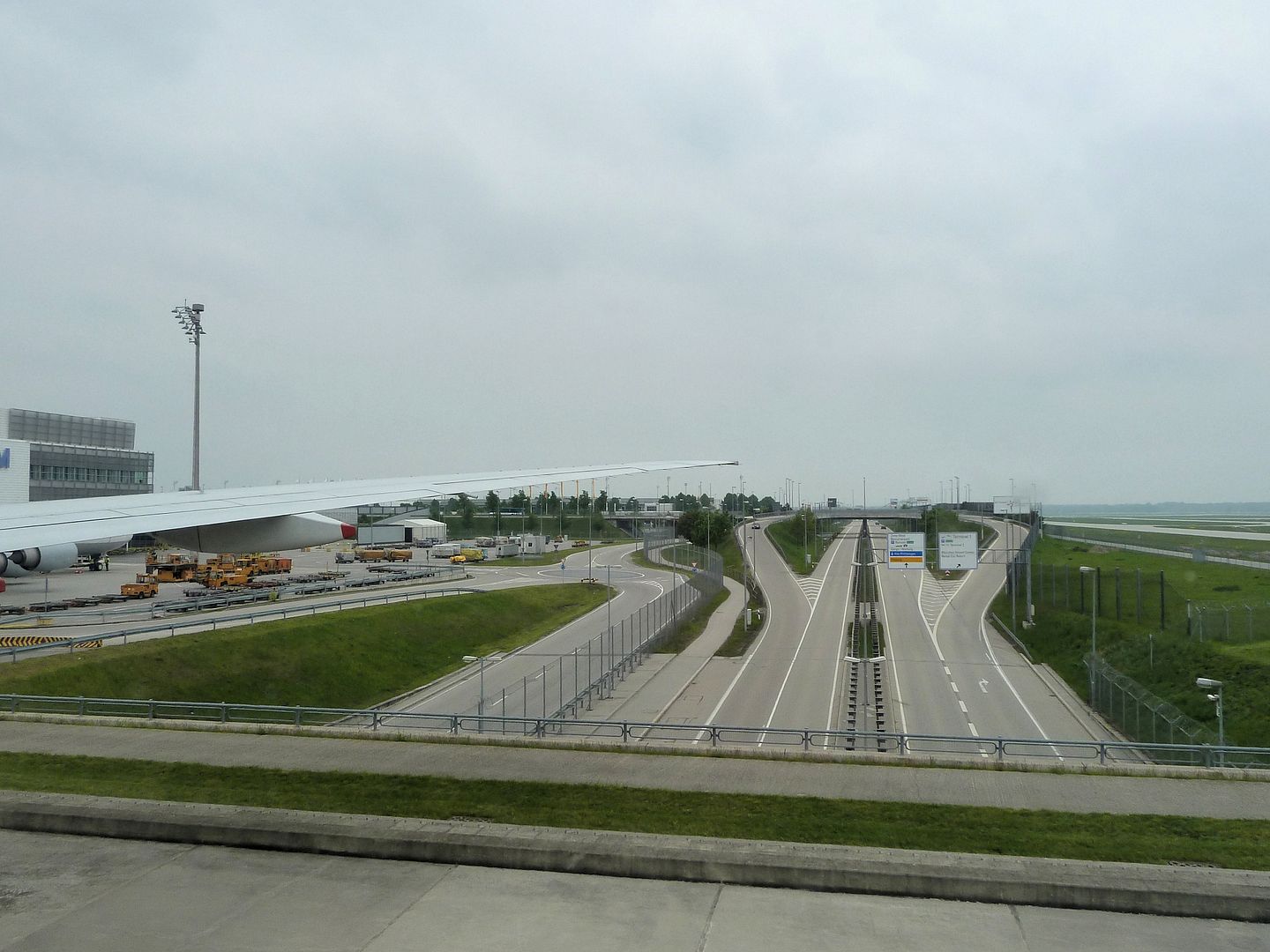 We arrived at the gate five minutes behind schedule - too bad we couldn't stay on board for the onward flight to Singapore. Lufthansa ruling the scene at Terminal 2 as usual: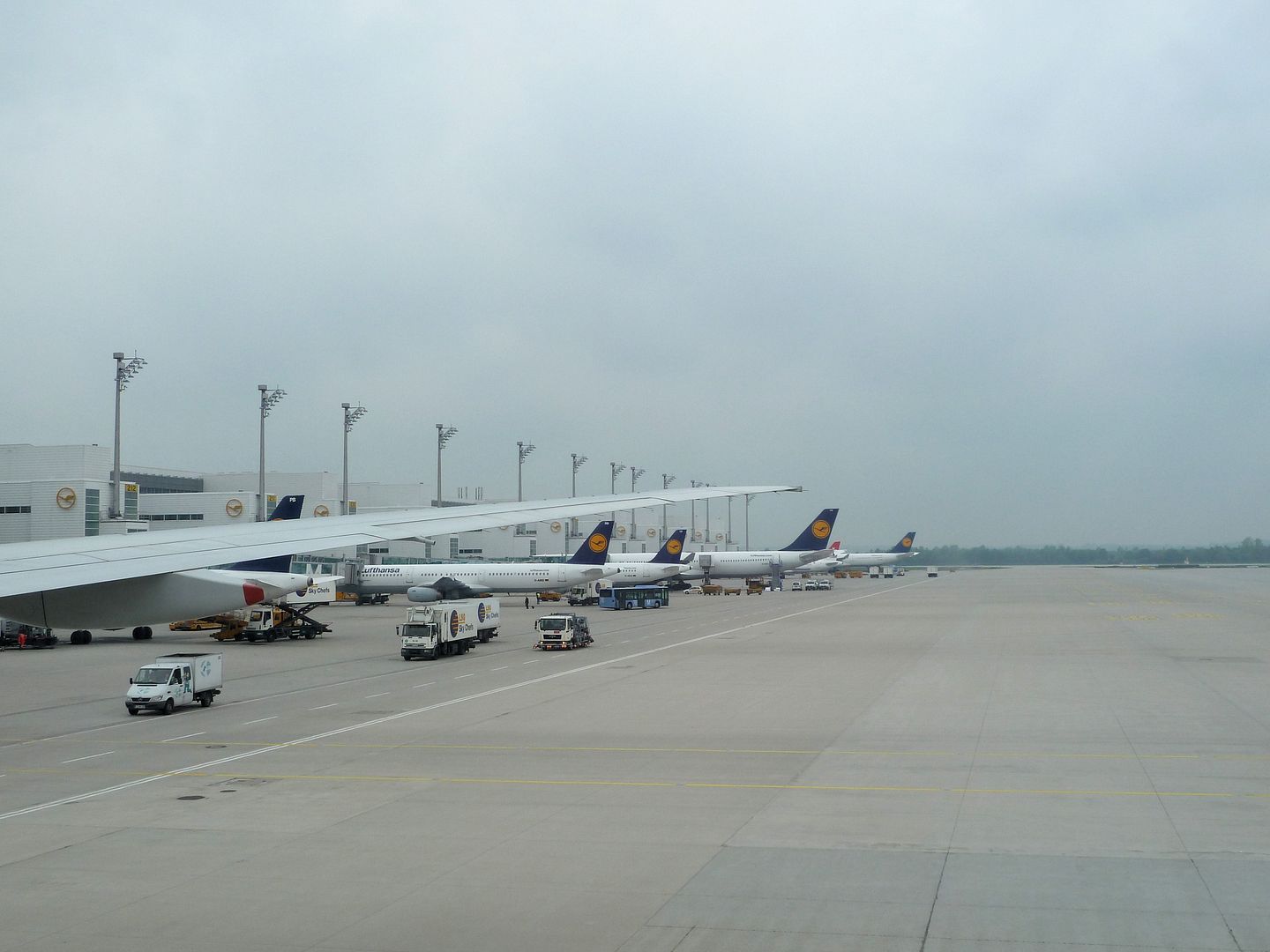 About an hour after arrival, while driving home, we heard on the radio that several UK airports - including Manchester - had been closed at noon. Wow, we were really happy that it hadn't been closed earlier. However, MAN was opened again later in the evening, so the situation wasn't as bad as predicted.
Conclusion
I can only recommend to try
Singapore Airlines'
(now daily) flights between Munich and Manchester. Flying on a magnificent Boeing 777-300ER within Europe is definitely something special - and in addition you can enjoy SIA's superb seating comfort, IFE and service.
Even though
Flybe
is a low-cost carrier and doesn't offer anything for free I would prefer it over
Aurigny Air Services
. The seating comfort on Flybe was clearly better, the cabin was in better shape and the staff were friendlier. The delay was a bit annoying, but that can happen anywhere and anytime.
Best Regards,
PlaneHunter
P.S.: Just in case you missed them - other more or less recent reports:
Totally Thrilling: Scenic Flight On Lufthansa A380
Cirrus D38, Adria CRJ & Captain Niki Lauda On Duty
Monarch Hot Meal, E195 & More: PMI-ALC-MAN-MUC
Premium Meal & Palma Spotting: MUC-PMI, DE 757-300
The Dead Slow Transfer: PEK-MUC On Air China A332
Cancellation Brings Joy: HKG-PEK on Dragonair A330
A380 Cacophony, 777 Star Livery: DXB-SIN-HKG on SQ
The Next 5* Carrier? MUC-MCT-DXB, Oman Air A330
Turkey For 1.5 Hrs: Daytrip To AYT On Sky Airlines
CO Scores Again: ATL-IAH-EWR-FRA On ERJ, 752 & 764
Riding The Ultra Long-Haul Twin: Delta 777-200LR
Pacific Coast Jaunt: 3 Carriers, E120, E140 & Fog
The Ultimate 737: LHR-IAH-PDX On CO 777 & 739ER
Bye Bye, Hell! TRD-OSL-TXL-NUE - DY/AB/HE DH4
My Trip To Hell: NUE-CPH-OSL-TRD On Cimber & SAS
SFO-YUL-FRA: Map- & Sleepless On Air Canada's 77W
Sin City Gloss & Virgin America's Chic First Class
Seat Dilemma & Canyon Glamour: FRA To LAX, AC 763
On Par With Air France? DTW-AMS-MUC, KLM A330
Goodbye, Red Tails! DC-9-40/50 & Chicago Tour
Champagne & World Of Coke: Air France A340 To ATL
"Mission A380": Disappointing Legs On BA/BD/EI
Delights Of Doha, 773 & 77W: DOH-DXB-LHR On EK
A380 Really a Step Forward? LHR-DXB-DOH On EK
Quality & Style: HKG-LHR On Air New Zealand 744
Taiwan Trio: TransAsia, UNI Air And The Taipei 101
"The Wings Of Taiwan": EVA Air A332, 744 Combi
SHA-SZX, Shanghai 757: Delayed By The Military
PEK-SHA, China Eastern A330 & Shanghai At Night
Striking Newcomer: Berlin-Beijing On Hainan A330
[Edited 2010-09-26 12:19:49]