Feedback always appreciated.
I > Background:
As some of you are aware, I had temporarily located to our Bangkok office for 3 months to build some client relationships. As much as I love Bangkok, it can become a handful … especially at the state of near civil war that has been going on in the country when everything shuts down. Anticipating trouble, I decided to getaway and scouted the internet for pleasant deals. Thai Airways was having a great First Class sale on their LHR flights and the price was competitive compared to their Business product. Having never flown them in FCL, I decided it was time to "pamper" myself as see how smooth as silk Thai can be.
In general, there are very few intercontinental First class reports on A.Net – and, I think this will be the first for 2010 for TG's FCL product. Interestingly, I found 3 other reports in total on TG FCL – 1 each on BKK to LHR, FRA, and SYD.
II > Pre-Flight:
a) Before Airport:
Thai Airways is the national flag carrier and largest airline of Thailand. A founding member of Star Alliance, Thai flies to 71 destinations in 34 countries, using a fleet of 98 aircraft.
Booking was done at Thai's website at
www.thaiair.com.
The site is clean and I was soon able to buy my ticket – including chose my seat. I could also go back and view and edit my seat selection with no problem. There was no ability to change my ticket however … but that is really a super advanced function.
b) At Airport:
Suvarnabhumi Airport in Bangkok is one of the world's largest and an appropriate hub at the cross-roads of global aviation routes. A controversial project plagued with delays, corruption, and operational issues, BKK has improved over the years and now is usually lauded for its overall quality.
Royal First Class passengers on Thai Airways benefit from its unique partnership with the airport authority and this is manifested in an exclusive check-in heaven. At the very beginning of the terminal so VIP's can get dropped first and whisked away from the masses, TG's Royal First Class (TG-RFC) zone is as exclusive as you can get – outside a private jet that is. There were several porters standing outside the entrance shocked when I whisked by them with my carry-on not needing help. As soon as I entered the airport, there was a woman standing with names of passengers – spotting my name and verifying it, she quickly introduced me to her colleague who would be my personal guide through the process. She quickly took my travel papers and called for a porter who took away my carry-on. All three of them were most pleasant full of warm smiles. The lady escorted me to the check-in lounge and another staff member got a cold towel and a welcome drink – very refreshing, don't know the name. The lady asked me to relax and that she would be back after having done with the formalities. Soon, I was joined in the area by some high ranking Thai general and later by Miss Universe 1988 from Thailand. The entire area felt extremely exclusive and suddenly I began to wonder how I put up with J class all these years. Oh God, it is going to be tough getting back to reality!
Anyways, the sweet lady soon returned with my boarding pass and passport, and directed the porter to escort me to the lounge. I thanked her – and then was whisked to a separate area for passport control and security. After this was done, the porter began to take me to the Royal First lounge. However, since I had some shopping to do, I told him I'd find my way. He thanked me for flying Thai and went about. Now, this is where I am going to do a side-bar and vent about the lack of signage at BKK. I am no airport novice and the confusing layout and minimum signs and various levels made me walk twice as much (in wrong directions) before making my way to the Royal First Lounge.
Now, I have been to literally hundreds of lounges around the world, and I can attest that the First Class Lounge at Bangkok is undoubtedly the absolute best in customer pampering. An agent greeted me and asked if I wanted a private room (I declined) and then took me to a seat. She asked whether I wanted a massage (HELL YES!) and booked me the same at the Royal Spa. As soon as she disappeared, a waiter appeared asking if I wanted to eat and brought me the menu. It was pure decadence and I indulged in every bit of it sampling the excellent food from the menu (besides a buffet option), checking out the various rooms (lots of hidden private rooms, etc.), and scanning the business center. Later, I made my way to the Royal Spa, where an escort immediately took me to a private First Class room and brought me a welcome drink as I waited for my masseur. I got both the shoulder and neck massage, and the foot massage and both really were absolutely amazing. This is not the cheap 10 minute "therapy" you get at the Clarins "spa" and the hard-sell of Clarins products at Air France in Paris. This was the real deal … though, (thankfully) no happy ending was offered. It got me completely relaxed and I profusely thanked my attendant and gave her a generous tip.
I returned to the lounge briefly … and one of the lounge attendants said London was boarding and that she would walk me to the gate. She asked if I needed help with my bag (NO) and walked me to the gate. Approaching the gate, she asked for my boarding pass and whisked me past the other passengers and bid me farewell. Interestingly, she did not go all the way and introduce me to the crew.
As soon as I entered the TG 744, I was greeted by the usual Thai greeting by the senior male purser (in his 50's) and walked to my seat. He chatted with me using my name and introduced me to a Thai woman in her 40's who would be one of the main FA's. Soon thereafter, a younger man in his 30's came and introduced himself as well. All very classy and pampered. Very soon, the woman brought me hot towels and some champagne. Menus were handed to us in a folder and Pyjamas were brought in.
F load was 50% - though, I was the only revenue passenger on board. There was a Thai couple working for TG, and a British couple who were on an award ticket sponsored by their son who lives in Australia. It felt very exclusive and what I imagine travel in the old days used to be – where you got to know your fellow passengers – a complete departure from the mass market Emirates stuff.
Airport - External:
(Bangkok Airport – First Class Area)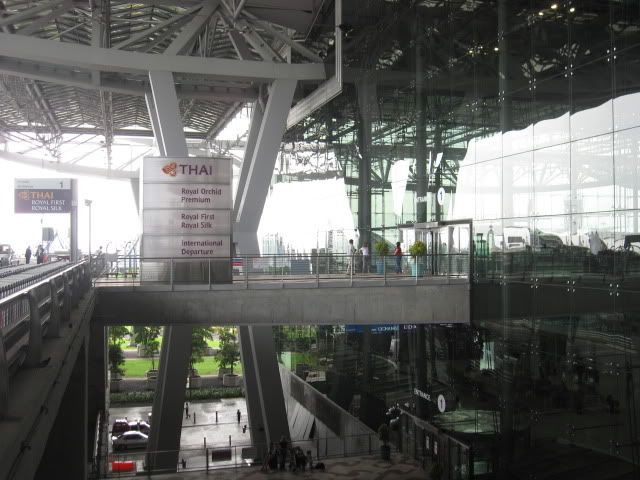 *
(Porters eager to help)
*
(Lady with all FCL passenger names)
*
Check-in:
(Thai First Class Check-in Area)
*
*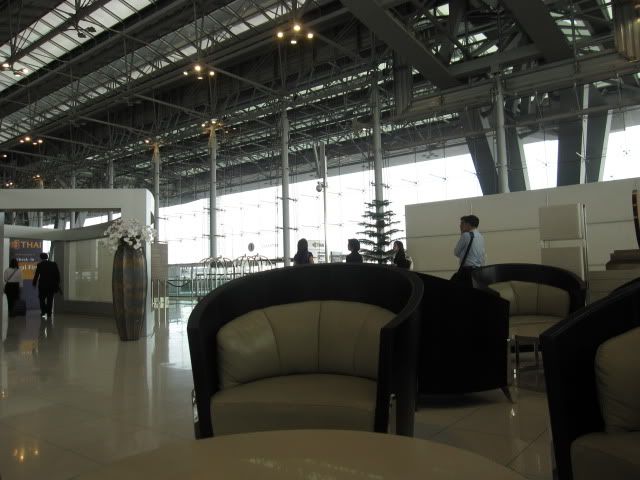 *
(I could get used to checking-in like this for all my flights)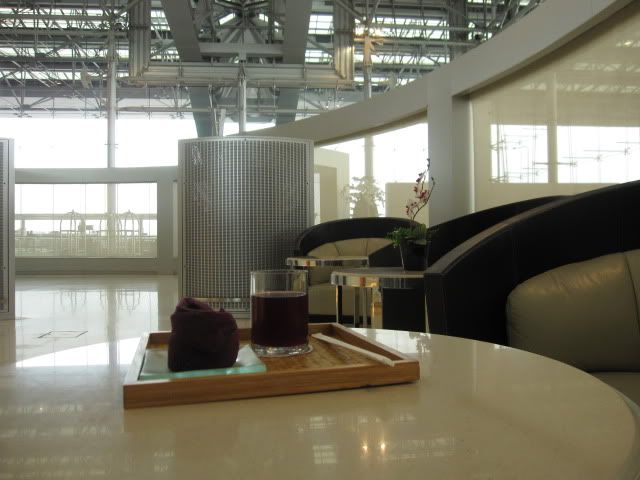 *
(Check-in area – behind the walls)
*
(My man)
Airport - Internal:
(Eclectic mix of carriers)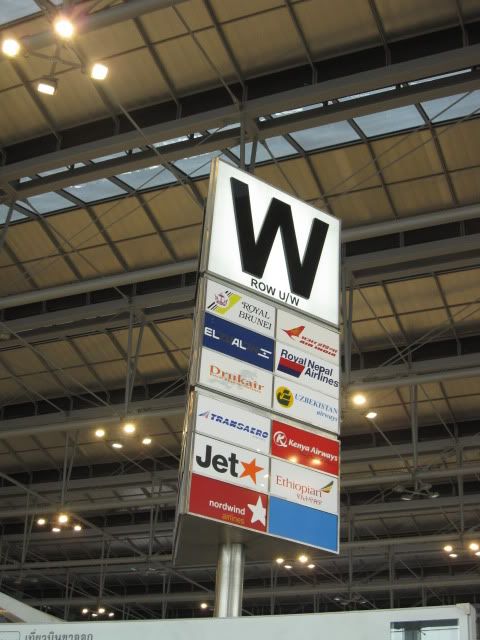 *
*
(FIDS)
NONE
(Post Security @ BKK)
*
*
(FCL Buggies on Arrival)
*
(For me, BKK has really poor signage)
Scenes of the tarmac:
NONE
Lounge
(Thai's Royal First Class Lounge & Spa – My FAVORITE in the world – thus far)
*
*
*
(Food Options & My Choices)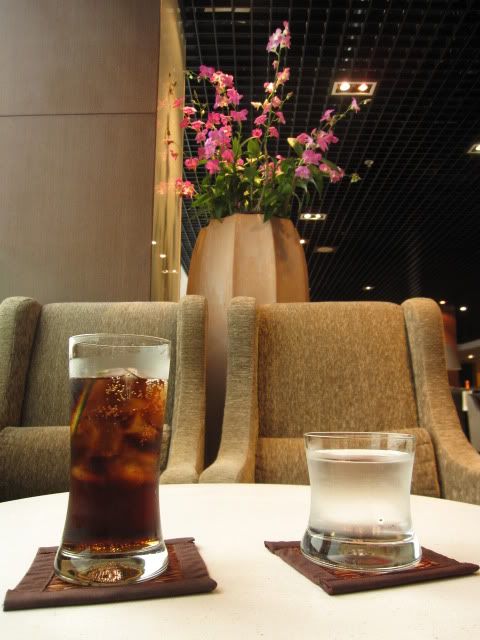 *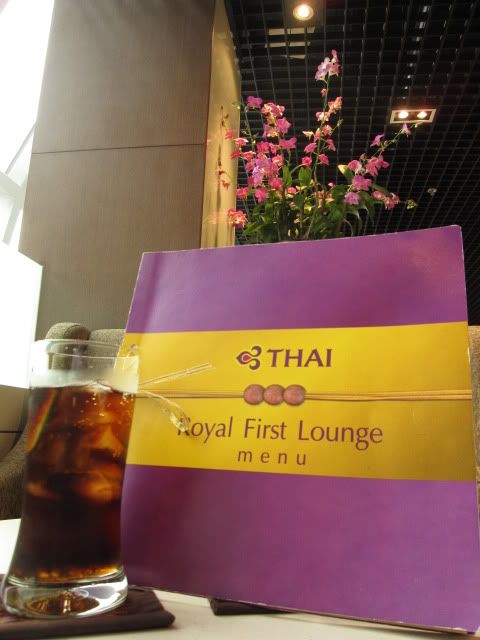 *
*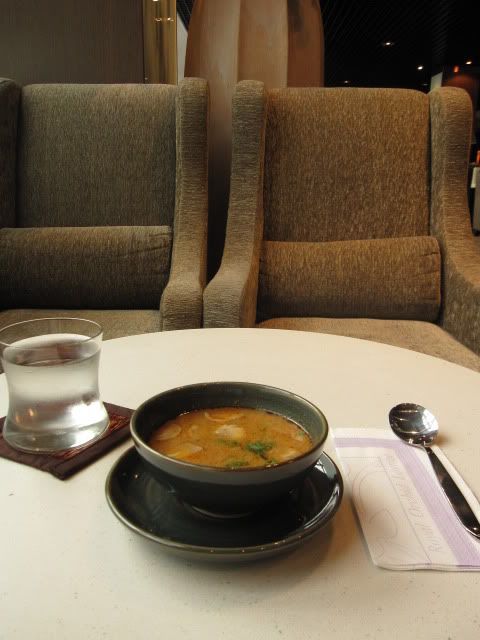 *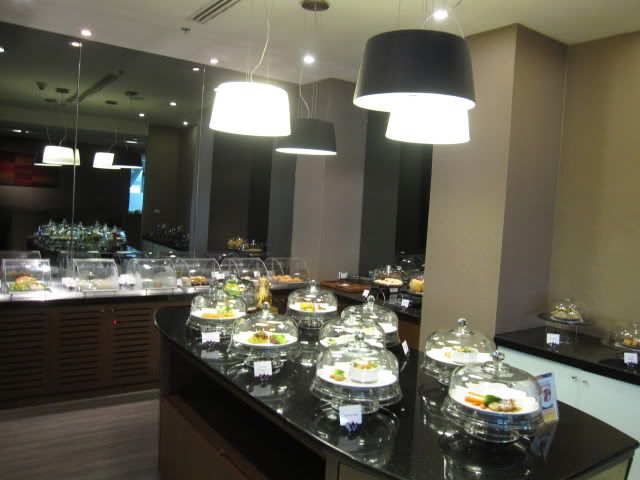 *
*
(Spa Treatment)
*
(First Class "Room" @ Spa)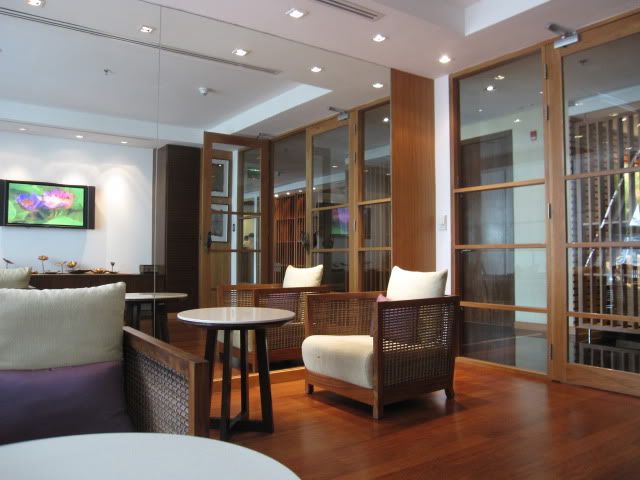 *
(Waiting for the masseur to call me…)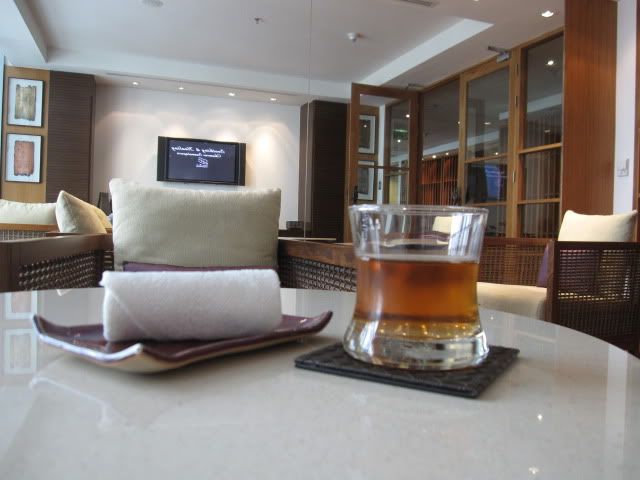 *
(Therapy Room)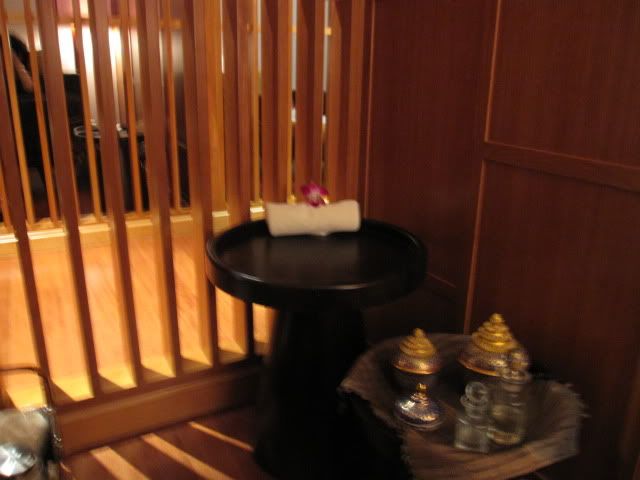 *
(And, the wonderful ladies)
*
(Other parts of the lounge – special rooms to discover, bathrooms, etc.)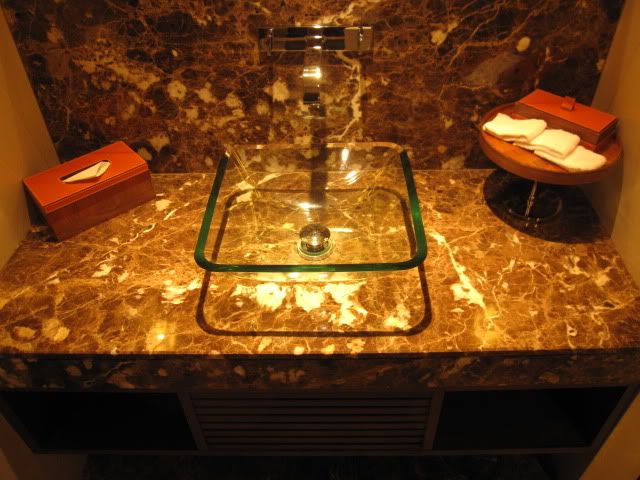 *
*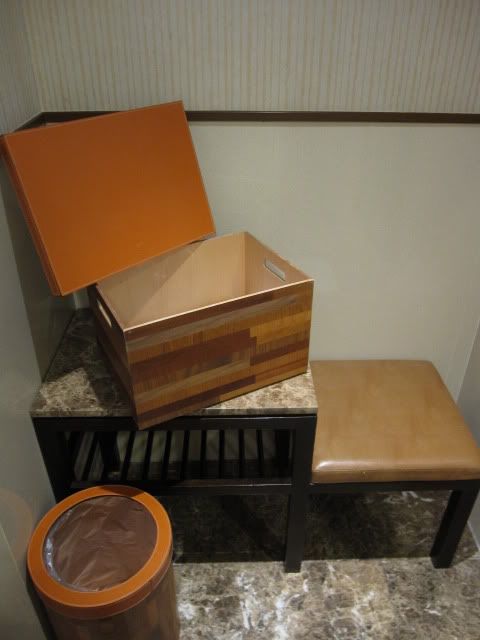 *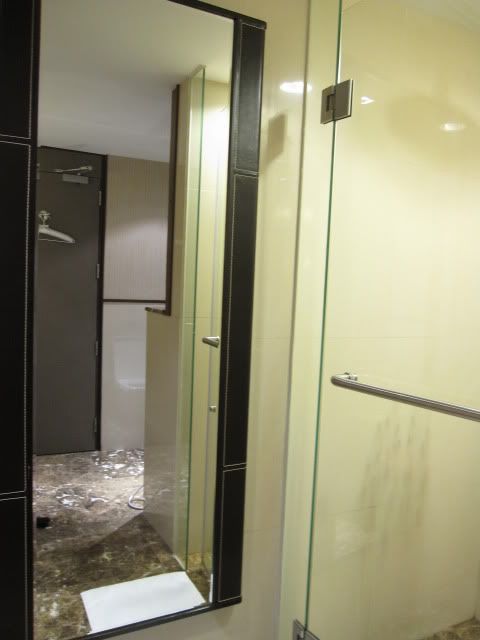 *
*
*
*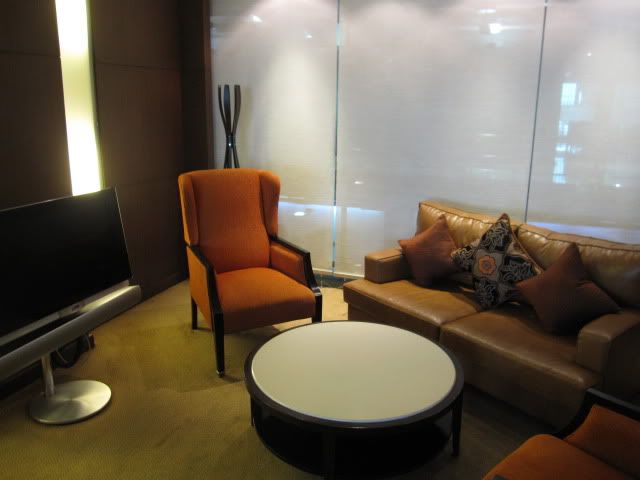 *
*
(For ONCE, I agree with Skytrax)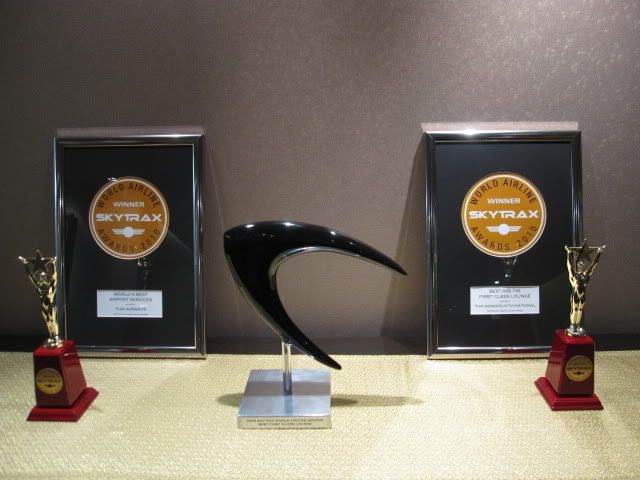 Boarding:
(Gate area)
*
(Boarding)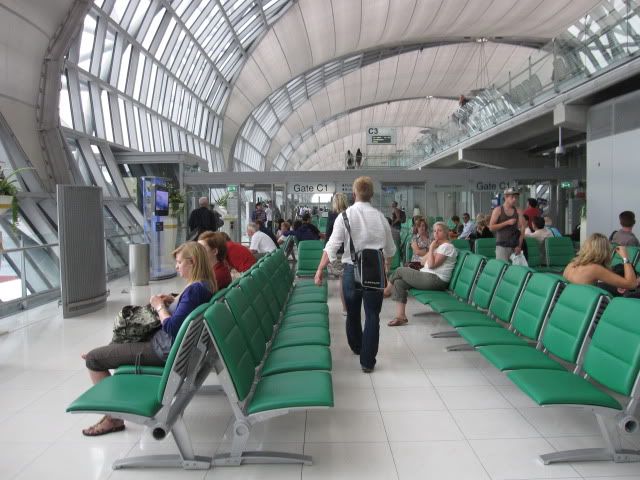 III> In-Flight:
a) Service Schedule + Impressions:
Like any good First Class service, service was tailored to passenger needs. As mentioned, prior to take-off, drinks – hot/cold towels – newspapers – menus. At my seat, there was the "Thai Stationary Packet" which included the famous DND sticker, postcards, etc. Pyjamas were brought soon thereafter along with amenity kits. Slippers were already near the seat.
After take-off, lunch service commenced. Prior to landing, another meal service. Lots of food options in the middle.
b) Aircraft + Seats:
There is something extremely elegant about a Boeing 747-400 that the Airbus 380 will never have. Thai's 744 embody that graceful spirit with the aircraft looking classy inside and outside.
While airlines have whizzed past Thai's hard product with their suite based offerings in First Class, there was still something remarkably warm and graceful about TG's F. The wood-like finish coupled with a graceful use of soothing colors and topped with an extremely private and spacious cabin ensured that I almost overlooked the lack of a suite. The seats themselves were extremely comfortable and made for an awesome full-flat bed … together with a turn down service. The only thing that I *really* missed was the lack of privacy. However, I will gladly take this for the "it hurts my eye" faux gold that is considered "classy" at a certain airline in the Gulf.
The other place where the age of the aircraft shows is in the bathrooms. While they are stocked with nice Ferragamo products (though, whatever happened to Bvlgari?!), the dingy yellow lighting was a reminder of how long this aircraft had been flying.
Aircraft:
(744 @ BKK)
Views from Aircraft:
(Sister ship)
*
(And the rival)
*
(Beautiful and distinct BKK)
*
(I wanna fly these!)
General Seat Views + Seat Legroom
(Seat)
*
(Front of seat)
*
(More seat area)
*
(Seat controls)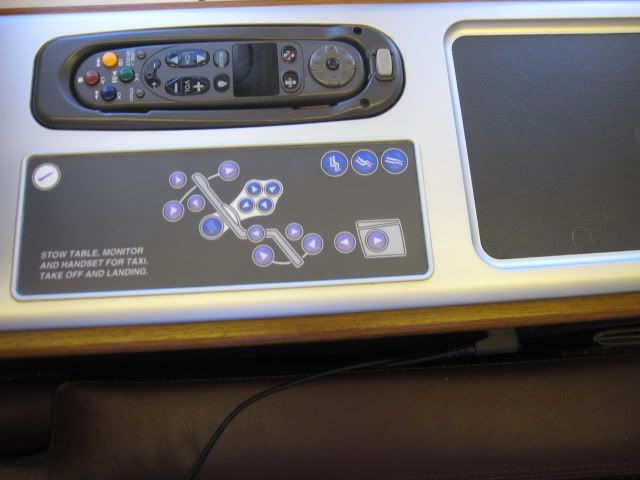 *
(And, power)
*
(Legroom)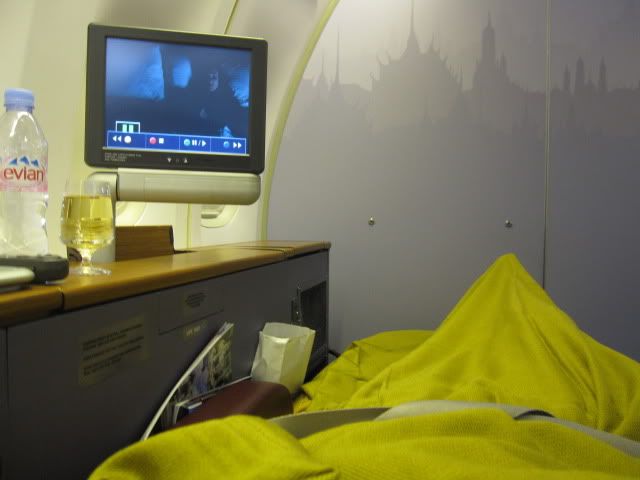 *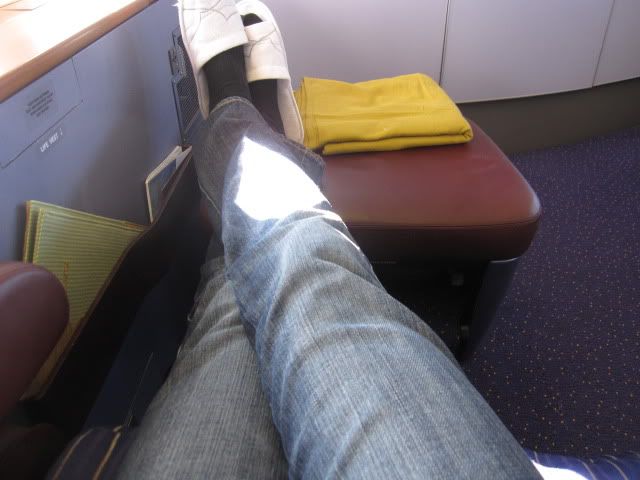 *
(Blanket)
*
Seat Recline + Angle View:
*
Cabin: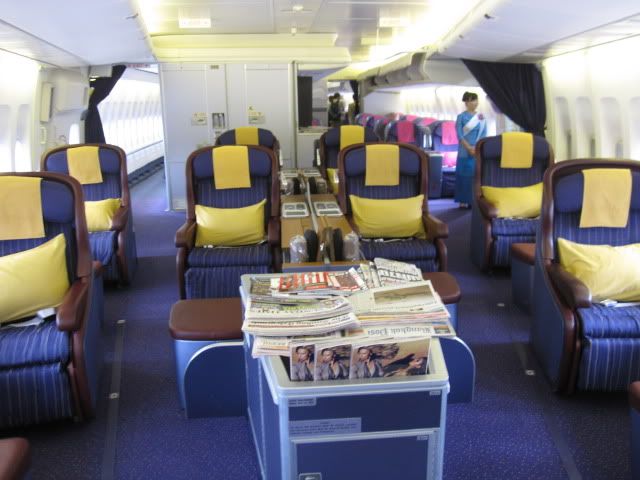 *
*
(Bathroom Amenities)
*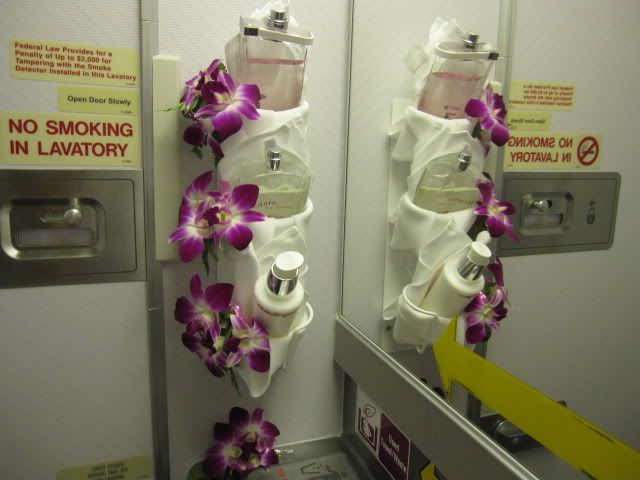 *
(JCL)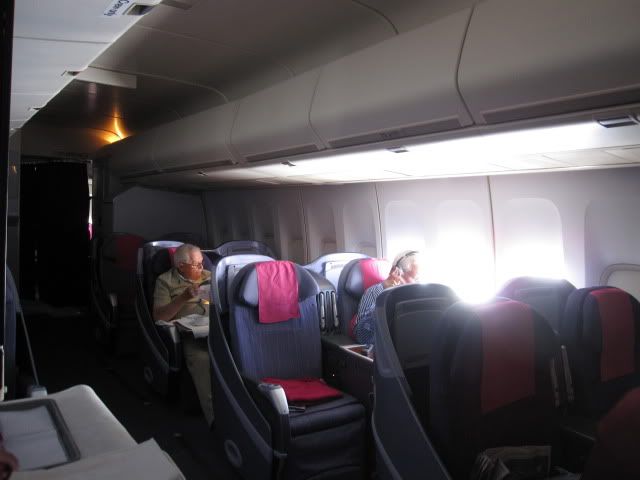 *
*
(Upper Deck)
*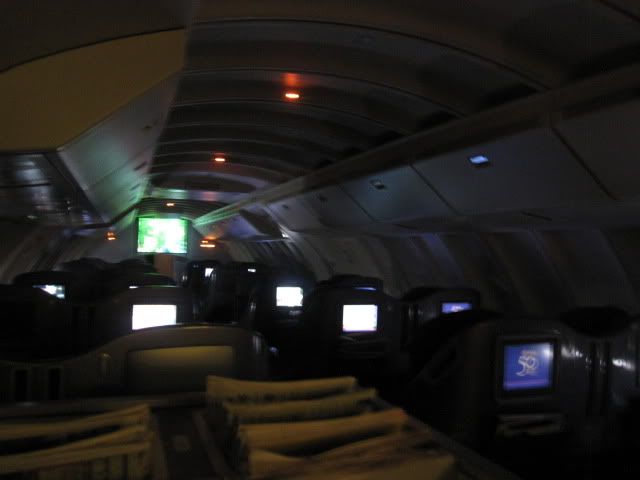 *
(Closet)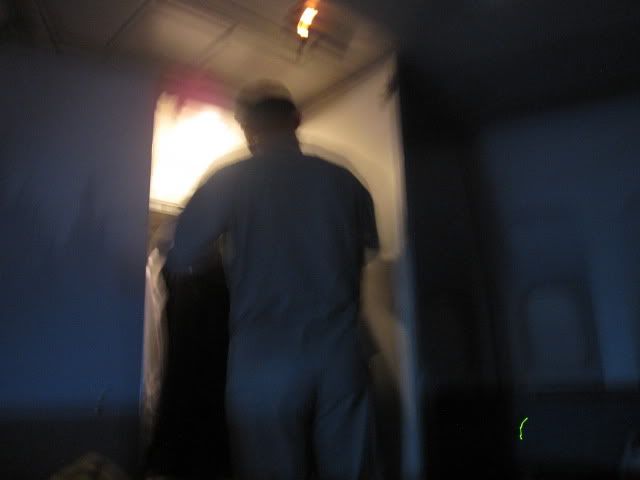 *
c) Meal + Beverage:
FCL meal service should be special. Thai definitely did not disappoint in this regard – however, there is room for improvement. Crisp linens signaled the commencement of the meal service. Before delving into the details, I must say that I wasn't impressed by the crockery used by Thai. The glasses looked a tad "blah" for a premium First cabin. Anyways, the meal service commenced with a generous offering from the diverse bread basket. The first meal service started with some excellent rice crackers with pork dippings, followed by Russian caviar. Now, the entire caviar serving was flawless. Both the flight attendants (40s woman and 30s man) served from the caviar trolley and did it with panache … all along with the vodka which any good caviar serving should have. I ate through it and was soon offered seconds – which I declined. This caviar was followed by an excellent combination of lobster and tuna. Finally, came the main course. There were 4 choices and I chose the stir-fried tiger prawn. It was succulent and absolutely delightful – the perfect use of Thai spices and served with steamy rice. All excellent and I devoured it. I thought the quantity was a tad small … but am pretty sure I could have asked for seconds. Anyways, the main course was followed by an awesome fruit platter and cheese (I declined) and topped with a desert which was a crepe. Frankly, the desert was a bit disappointing and more JCL than FCL. Thankfully, it was drowned by excellent port.
The second meal service commenced 90 minutes prior to touchdown. It started with some OK starters followed by hands-down the best soup I have ever had on a flight. The Tom Yum Gum was better than most restaurant Tom Yum soups I have had … and I am a Tom Yum snob! It was just out of this world. Again, there was a choice of 4 mains, and I went for another excellent barbecued duck in Thai curry. This was topped by the decadent walnut and date cake … with my usual glass of port wine. BTW, I think I am addicted to port wine. Oh, I digress.
Beverage choices were excellent – though, I don't know if they still serve Blue Label in FCL on TG. I was impressed by the choice of champagne – DP 2000 or Bollinger 1999. I was served from the bottle Bollinger 1999 in the beginning – and I had not paid attention to this – and immediately after tasting it, I knew what it was. Immediately, I called the crew and requested DP 2000. Ever since that time, my DP 2000 was never empty!
(Menu)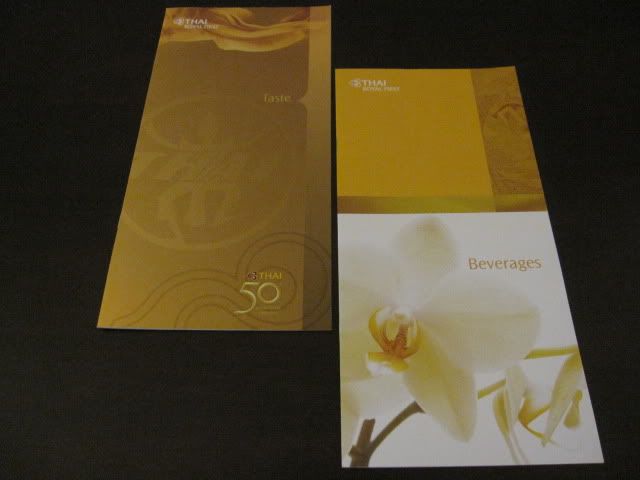 *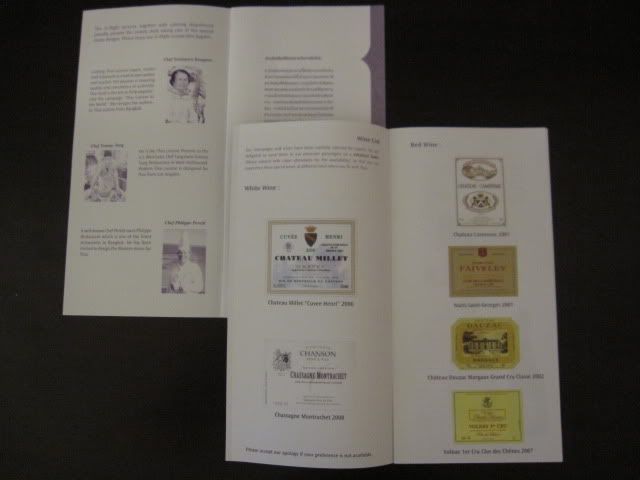 *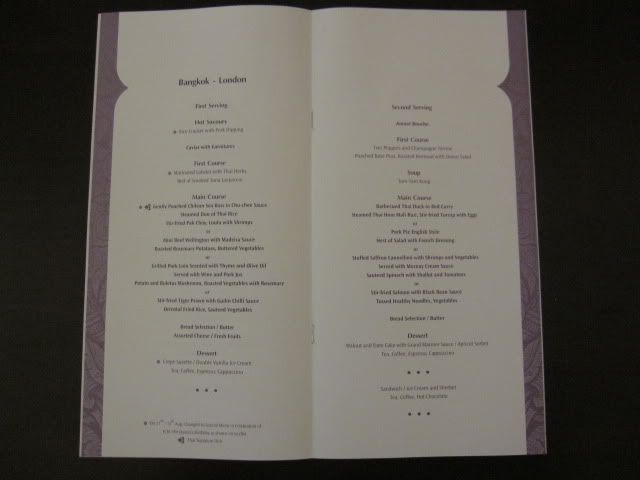 *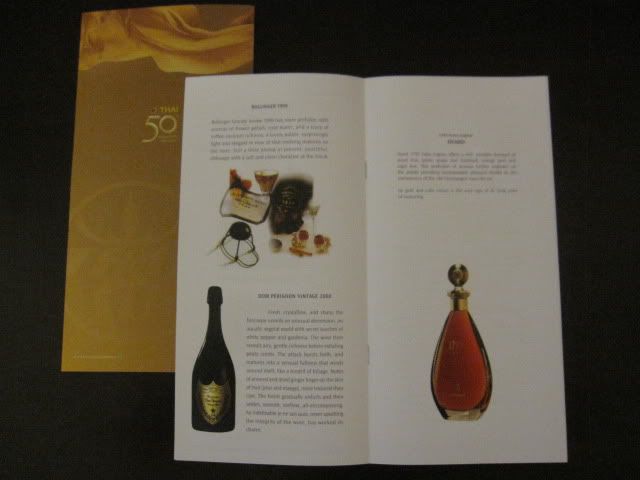 *
*
(Welcome champagne)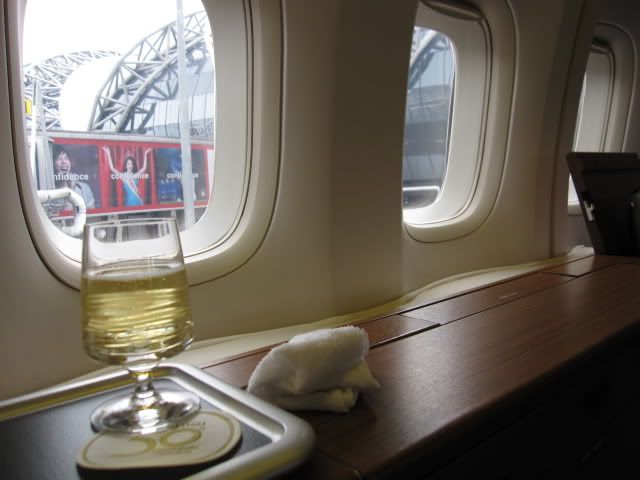 *
(1st Meal Service)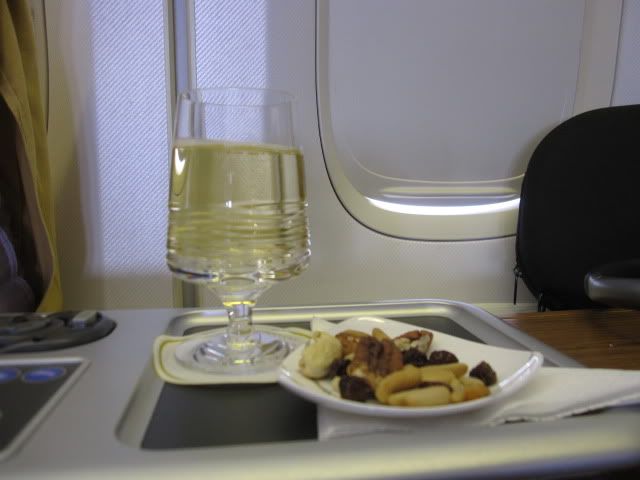 *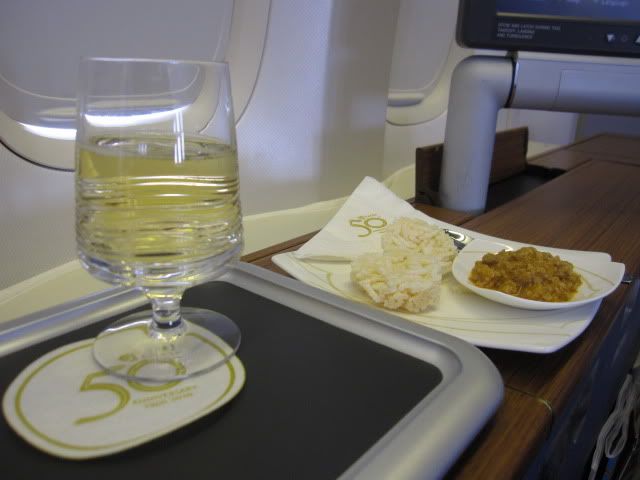 *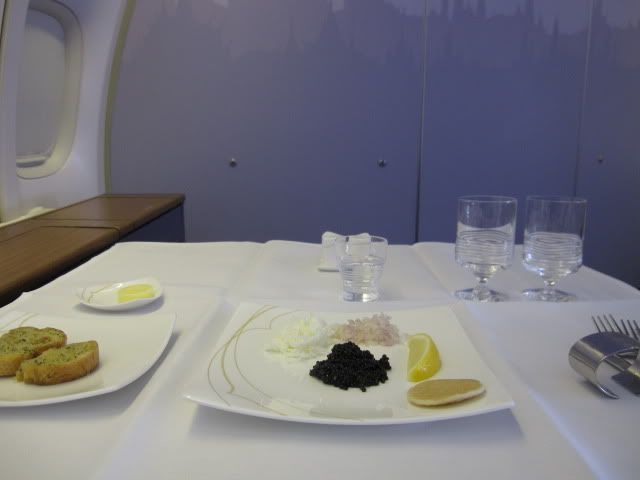 *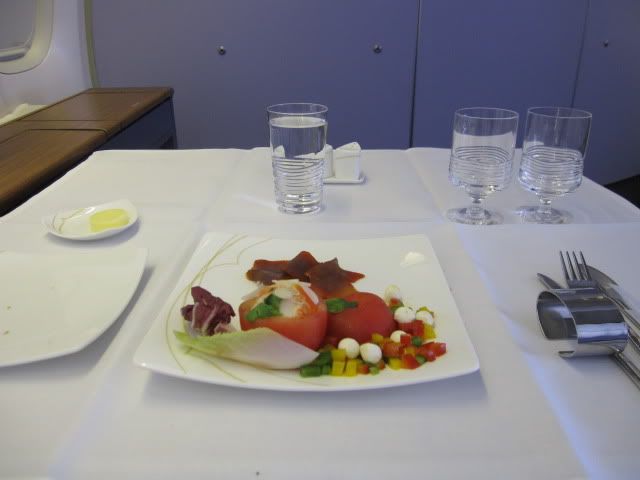 *
*
*
*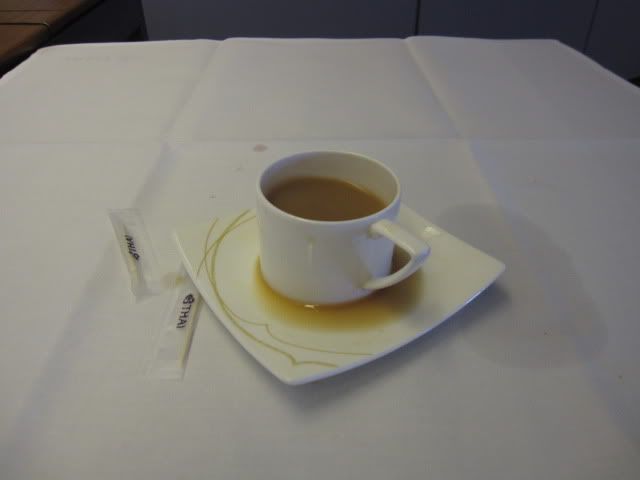 *
(Snacks en-route)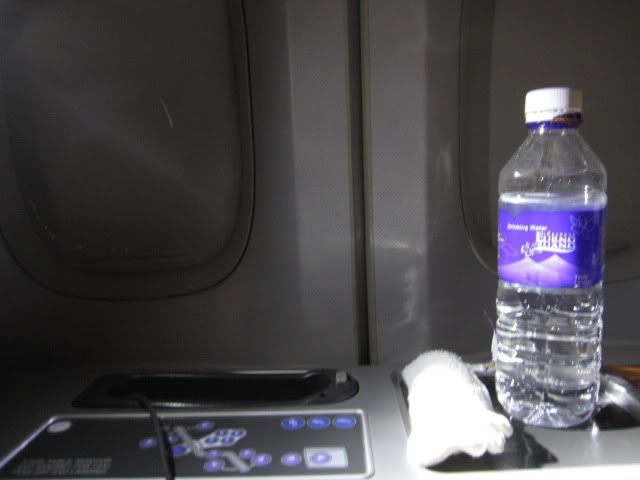 *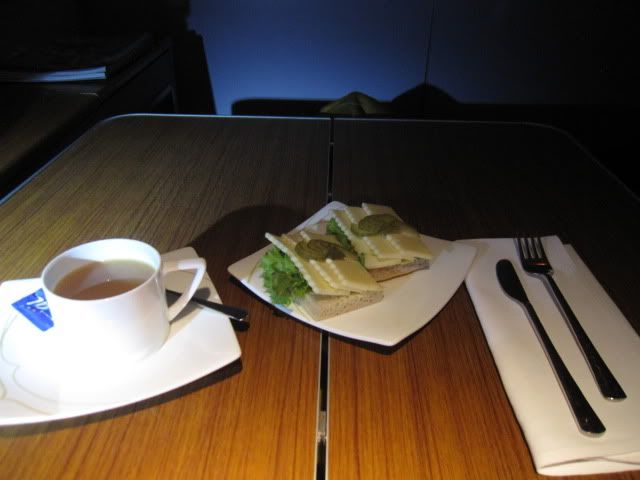 *
(2nd Meal Service)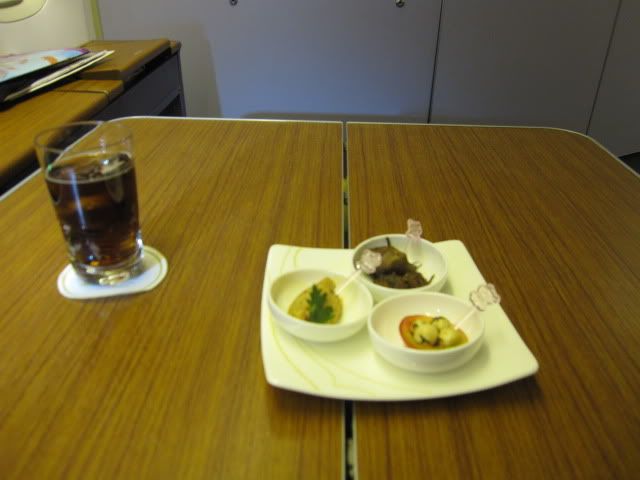 *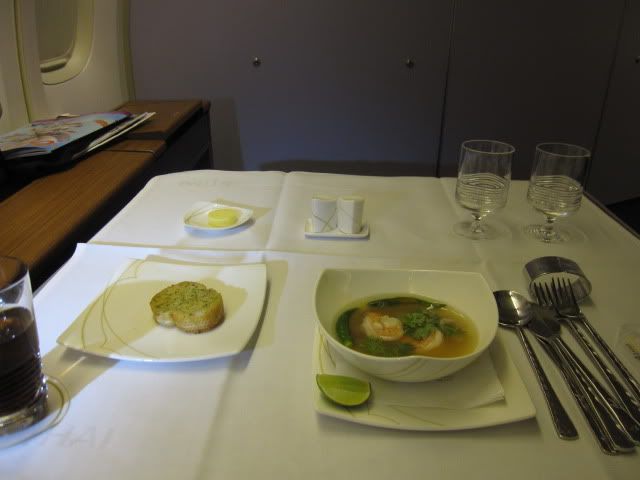 *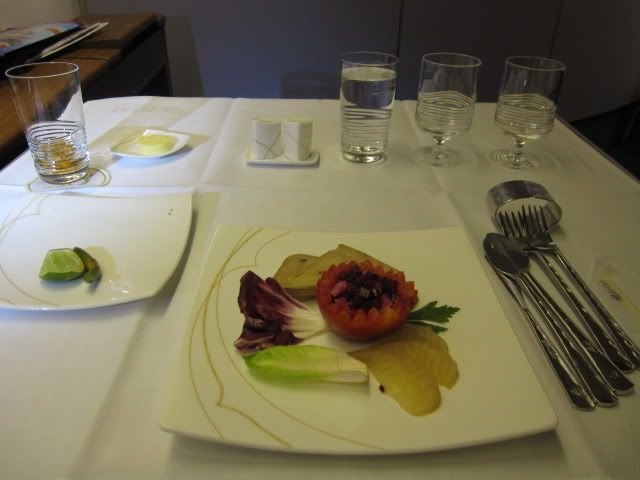 *
*
*
(Old School Bar)
d) Inflight Entertainment:
This is probably Thai's biggest shortcoming. Their current IFE just does not cut it. While their hardware (seat) is still amongst the best (but, not a top 10), their IFE barely qualifies for the "also ran" category for a top notch airline. Don't get me wrong, it is still an AVOD system with enough movie choices to keep a lot of people busy – but, it is simply not competitive in today's marketplace. Thankfully, the movie choices were actually interesting … though, one had to watch it on small screens. Perhaps, I have just been pampered by the other carriers of the world! The head-phones were OK … though, what's up with half the non-movie/TV features of the IFE not working?!
As always, the "Sawasdee" in-flight magazine was outstanding and had the right balance of articles and airline info.
(Controls + Headset)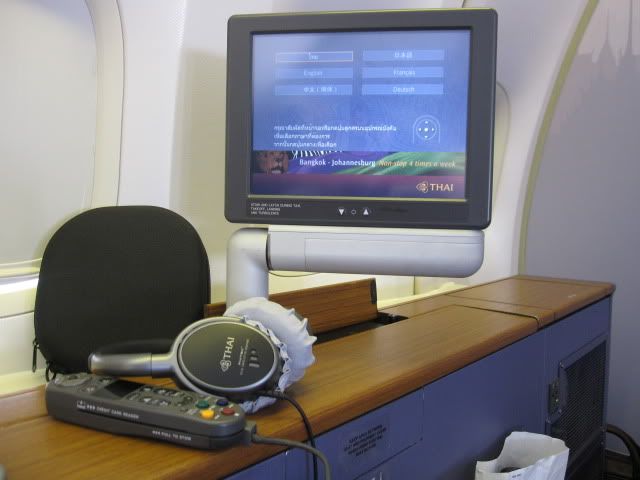 *
(IFE System)
*
*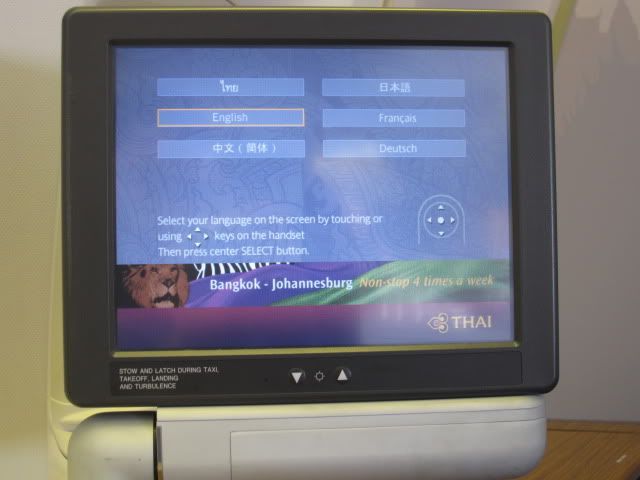 *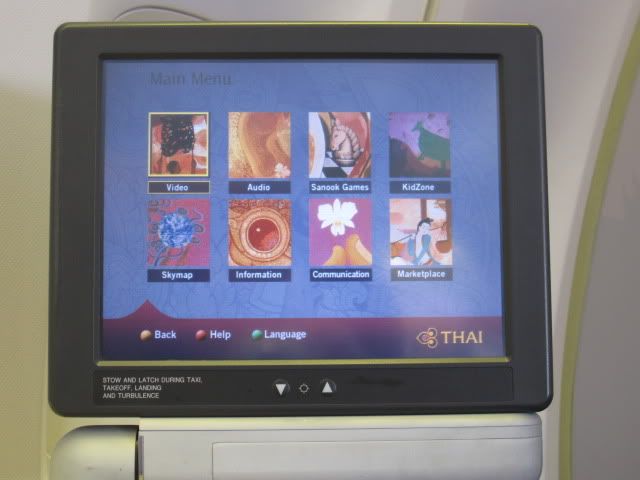 *
*
*
*
(Hmmm…)
*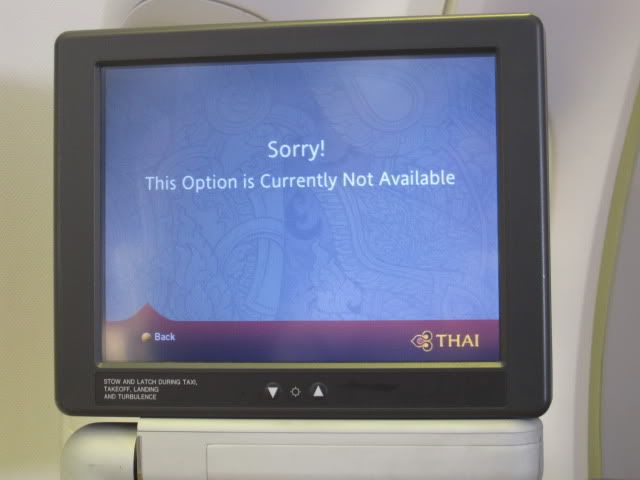 *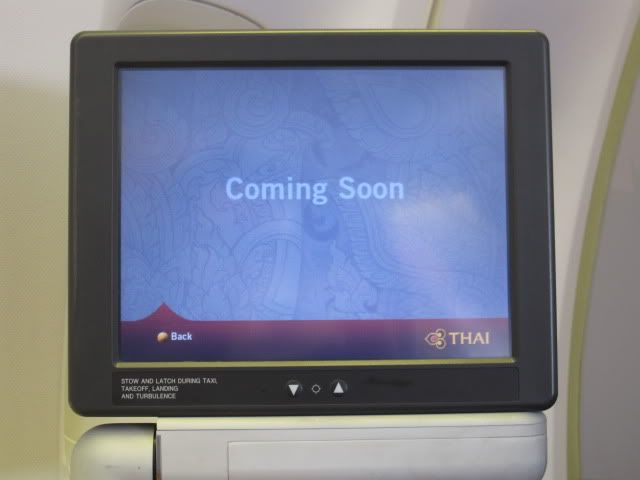 *
("In-flight magazines", Boarding Passes, etc.)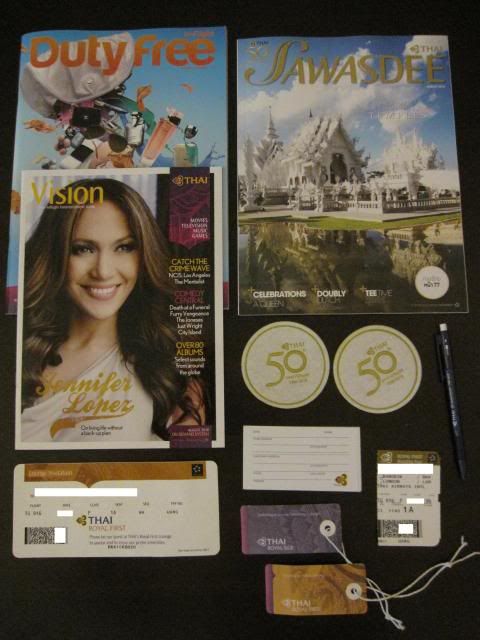 e) Crew:
Thai's crew were absolutely outstanding. They were distinct and distinguished, and recognized the nuances of excellent service to the discerning First Class traveller. I observed them throughout the flight and was absolutely impressed by their individual approach to each of the clientele. For example, for the British couple who wanted to sleep, their approach was much more "hands-off", for the exciting airline kid in me, much more "hands-on". From the moment they greeted and escorted me to my seat, to the end of the flight, when all crew members came and thanked me for flying, there was an amazing sense of genuine warmth ... each of them in every instance addressed me by my name, and remembered all the individual touches. Some highlights:
+ Always pouring champagne/etc. at my seat
+ When I poured some café on the table, an attendant appeared from nowhere to clean it up and was all apologetic
+ Coming and asking if I wanted a photo taken as I was clicking pictures
+ The whole "anticipate needs approach" – turning on my light, picking up my magazine, tucking me in to the duvet, gently waking me up when requested with a hot towel ... all without appearing "pushy"
+ Entire service and every request was done with a smile and no request sounded too much
Basically a group of crew who went out of the way to make me feel at home and make the flight a truly memorable one. Just pure awesome and service from the heart.
IV> Post-Flight:
Landing at LHR was smooth and I was soon gate-side. Interestingly (and surprisingly), there was no escort to greet FCL passengers on arrival.
(LHR Arrival – the unique TG arrival token)
*
(LHR)
*
*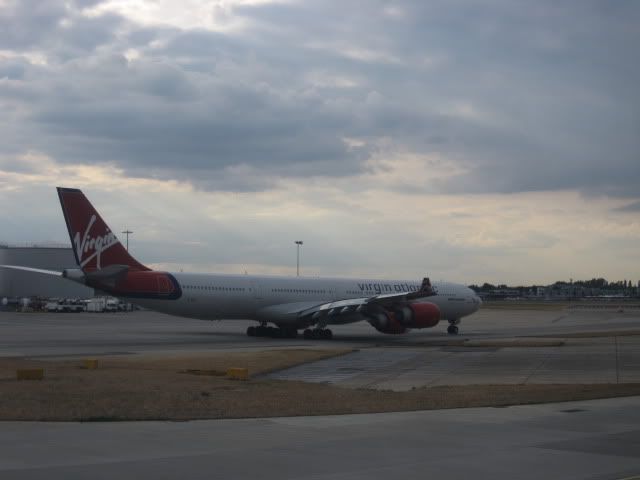 *
*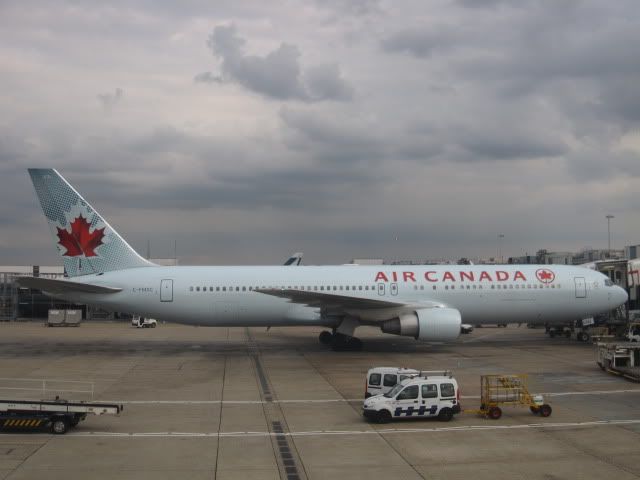 V> Impressions + Scores:
Thai Airways' intercontinental First Class is near flawless. First of all, the service on the ground in Bangkok is truly stellar and probably a global benchmark. Not only are the facilities top notch, the personnel truly make you feel welcome and take the stress away of navigating airports. The Royal Spa is probably the best I have encountered in the world. On board, this truly impeccable service continues with perfect execution from a set of crew that embody Asian hospitality at its best. By the way, I felt that the age range of the crew made it for a perfect flight! In fact, the perfect "software" ensures that one overlooks the "hardware" that has definitely fallen behind TG's chief competitors. While the cabin is still excellent, the IFE is where TG really fails to deliver. Thankfully, these are things that CAN easily be improved.
First Class service should be distinguished from Business Class, exclusive and make you feel special. TG far exceeded that from the moment I walked into the airport. I would fly TG in a heartbeat and go out of my way to chose them … and, be more than happy to pay a price premium. Two thumps way up!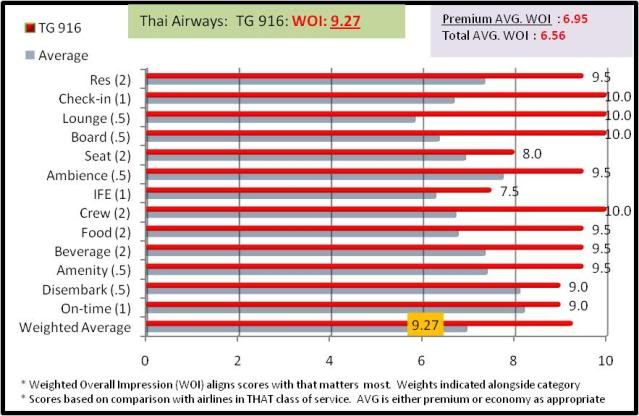 VI> Other Trip Reports:
PREMIUM:
9.27: Thai Airways ** FIRST ** (108): JFK-LHR: 07/2010
A new number 1 across all categories – "beats" AI's YCL review of 9.26
8.66:
Brussels Airlines (93): FIH-BRU: 01/2010
8.64:
Turkish Airlines (59): JFK-IST: 11/2008
8.63:
Jet Airways (88): JFK-BRU: 10/2009
8.61:
Air Canada (49): YYZ-SCL: 06/2008
8.54:
Turkish Airlines (77): GRU-DKR-IST: 04/2009
8.36:
Kingfisher (98): BOM-HKG: 01/2010
8.30:
Jet Airways (74): KWI-BOM: 04/2009
8.23:
United Airlines (72): SFO-SYD: 03/2009
8.11:
Aeroflot (33): MOW-DEL: 09/2007
8.05:
Air India (80): CCU-JFK: 06/2009
8.04:
Korean Air (40): NRT-ICN: 10/2007
8.02:
Delta Airlines (24): JFK-CDG: 08/2007
7.66:
Sri Lankan (104): DEL-CMB: 07/2010
7.64:
Royal Jordanian (91): AMM-YUL: 12/2009
7.61:
China Southern (103): LOS-DXB: 04/2010
7.57:
Pakistan Airlines (102): ORD-BCN: 06/2010
7.46:
LAN (55): YYZ-JFK: 09/2008
7.82:
Singapore Airlines (06): EWR-SIN: 09/2006
7.25:
Iran Air (88): BOM-IKA: 12/2009
7.23:
Virgin Atlantic (81): BOS-LHR: 07/2009
7.14:
Swiss (52): SCL-GRU: 06/2008
7.11:
Aer Lingus (105): MAD-IAD: 05/2010
7.11:
Austrian (79): VIE-JFK: 06/2009
7.07:
Privatair (84): BOM-FRA: 08/2009
7.02:
Qatar (68): DOH-JFK: 01/2009
6.96:
Etihad (61): JFK-AUH: 12/2008
6.93:
Delta Airlines (18): SEA-JFK: 11/2006
6.84:
ConViasa (65): CCS-DAM: 01/2009
6.82:
Air Burkina (106): BKO-OUA: 06/2010
6.81:
Air Canada (17): ICN-YYZ: 10/2006
6.70:
KLM (32): EBB-AMS: 08/2007
6.52:
Emirates (99): LHR-DXB: 02/2010
6.39:
South African (97): EZE-JNB: 01/2010
6.36:
Privatair (60): MUC-BOS: 12/2008
6.29:
TAM Brasil (96): POA-EZE: 02/2010
6.25:
Korean Air (45): NAN-ICN: 10/2007
6.21:
Iberia (87): BOS-MAD: 10/2009
6.11:
A SKY (107): OUA-COO: 06/2010
6.11:
TAP Portugal (53): GRU-OPO: 06/2008
6.00:
Gulf Air (75): BOM-BAH: 04/2009
5.88:
African Express (89): DXB-NBO: 11/2009
5.75:
Singapore Airlines (16): CCU-SIN: 10/2006
5.64:
SATA Azores (101): BOS-PDL: 04/2010
5.64:
NorthWest (46): ICN-NRT-SEA: 10/2007
5.54:
Ethiopian Airlines (95): ADD-BOM: 01/2010
5.46:
Icelandair (83): KEF-BOS: 08/2009
5.39:
LOT (54): WAW-JFK: 06/2008
5.21:
Egypt Air (73): CAI-IST: 02/2009
5.07:
TACA (66): JFK-SAP: 01/2009
4.42:
Air France: CDG-JNB (25): 08/2007
ECONOMY: Long + Medium:
9.26:
Air India (48): JFK-DEL: 02/2008
7.38:
Avianca (01): BOG-LIM: 07/2006
7.07:
Sri Lankan (62): KWI-CMB: 12/2008
7.00:
LAN (94): IPC-SCL: 01/2010
6.41:
Avianca (78): JFK-BOG: 05/2009
6.41:
American Airlines (58): LHR-BOS: 11/2008
6.39:
Condor (85): SEZ-FRA: 09/2009
6.26:
Jet Blue (21): CUN-JFK: 02/2007
6.06:
Air Canada (04): YYZ-YVR: 09/2006
5.89:
USA 3000 (19): PUJ-BDL: 01/2007
5.85:
Spanair (69): MAD-LPA: 02/2009
5.79:
Air New Zealand (42): RAR-NAN: 10/2007
5.52:
Aerolineas (86): USH-AEP: 10/2009
5.46:
TAP Air Portugal (23): OSL-LIS: 05/2007
5.19:
Air Europa (70): LPA-MAD: 02/2009
5.16:
Iberia (71): MAD-BOS: 02/2009
5.11:
Air China (82): FRA-PEK: 08/2009
ECONOMY: Short
8.56:
Paramount Airways (38): BLR-MAA: 09/2007
8.56:
Kingfisher (64): HYD-CCU: 12/2008
8.24:
Kingfisher (14): IXA-GAU: 10/2006
7.87:
Indian (34): BOM-MAA: 09/2007
7.72:
Alliance Air (13): CCU-IXA: 10/2006
7.57:
Indian Airlines (10): DEL-CCU: 09/2006
7.23:
West Jet (03): YYC-YVR: 09/2006
7.15:
JetLite (37): BOM-GOI: 09/2007
6.98:
Air Koryo (100): PEK-FNJ: 04/2010
6.70:
Spice Jet (09): CCU-DEL: 09/2006
6.63:
Air Fiji (44): NAN-SUV: 10/2007
6.63:
Jazeera (67): DAM-KWI: 01/2009
6.58:
Air Tran (02): EWR-MDW: 08/2006
6.48:
Air India Express (63): CMB-MAA: 12/2008
6.44:
CO Micronesia (39): ROR-YAP: 10/2007
6.41:
Pacific Sun (43): NAN-SUV: 10/2007
6.37:
Skybus (47): SWF-CMH: 02/2008
6.33:
Kenya Airways (29): NBO-BJM: 08/2007
6.33:
Sky Europe (56): LTN-BTS: 10/2008
6.31:
Indigo (15): GAU-CCU: 10/2006
6.31:
easyJet (57): BUD-LTN: 11/2008
6.22:
Air Link Swazi (28): MTS-JNB: 08/2007
6.22:
Air India (36): HYD-BOM: 09/2007
6.13:
Adam Air (07): SIN-CGK: 09/2006
6.13:
Air Rarotonga (41): RAR-AIT: 10/2007
6.00:
Transairways (27): INH-MPM: 08/2007
5.95:
Air Canada (05): ALB-YYZ: 09/2006
5.85:
SAS Norge (22): OSL-AES: 05/2007
5.81:
LAM Mozambique (26): JNB-MPM: 08/2007
5.69:
Air Deccan (12): IXZ-CCU: 10/2006
5.67:
Rwanda Air Exp (30): KGL-NBO: 08/2007
5.37:
Felix Airways (92): SCT-SAH: 12/2009
5.11:
Aero Republica (76): BOG-CCS: 04/2009
5.07:
Go Air (35): MAA-HYD: 09/2007
5.00:
Sky Airline (51): IQQ-SCL: 06/2008
4.96:
Valuair (08): CGK-SIN: 09/2006
4.78:
Air Comet Chile (50): SCL-IQQ: 06/2008
4.74:
Fly 540 (31): MYD-LAU: 08/2007
4.33:
Viva Aerobus (20): ELP-MTY: 02/2007
4.11:
Air Sahara (11): CCU-BOM: 09/2006
(Note on Codes: Y – Economy, J – Business, F – First :: I/D – International/Domestic :: SR/MR/LR – Short/Medium/Long Haul)
(Note on Date: Dates are modified to be +/- 3 days from actual flight date to not reveal actual flight pattern)
VII> Other Pictures:
(Amenity Kit)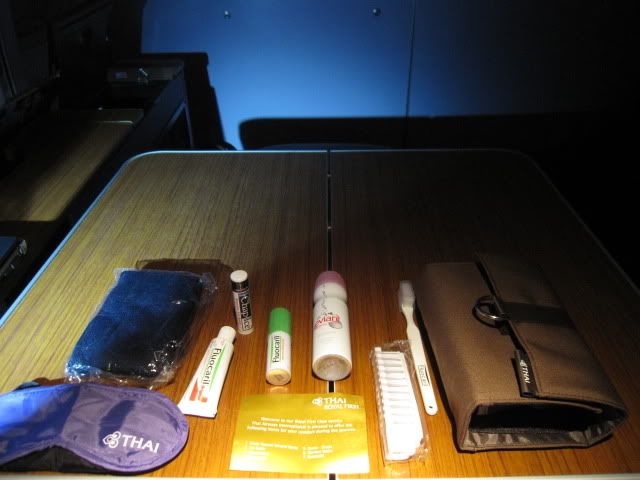 *
(Pyjamas)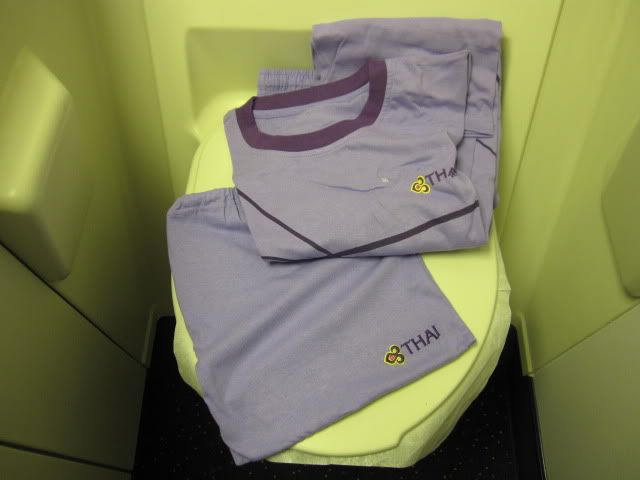 *
(Other "stuff" you get)
*
(Slippers)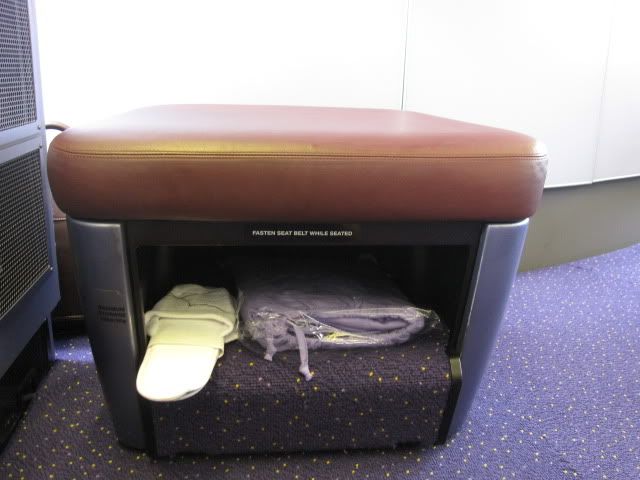 [Edited 2010-09-27 13:44:03]