Hello dear readers, welcome to my latest trip report.
As many of you know, BA now offer 2 daily weekday flights from London City airport to JFK, with a 45 minute stop in Shannon to refuel and complete US immigration.
The 45 minutes can actually be shorter if the load is light.
This new service was designed for the business traveller to minimise airport travel time and check-in times. In addition the services aimes to maximizing passenger productivity on board, this through the use of OnAir capability, this allows passengers to send emails, texts from their mobile phone and connect to the Internet throughout the flight, a pretty decent tool IMO - though not sure I'll need this on this trip, however this flight was designed for business passengers, not me on a jolly!
These special services use the old Concorde flight numbers, a throwback to the good old days, though not supersonic, this is something special for sure!
Since first being announced, I had wanted to get on this service, mainly as was something different, finally I found an excuse, MrsBA319131 wanted to return to NYC for a vacation, as usual, she sorts the hotel, I sort the flights.
The flights were booked on
www.ba.com.
The website is easy to navigate and we were able to select our seats through the manage my booking option. I originally chose 1 A & B but later went back and took the last row, row 8 as I figured it would be more private down the back of the plane & Markus would approve too!
Welcome to my trip on the BA001 to JFK!
15.09.10
BA001
LCY-JFK via SNN
A318-112 - G-EUNA
Built 2009
Seat 8A Club World
1st Flight on this aircraft, 2nd on the A318
Sch Dep 12:50 Sch Arr 17:15
Act Dep 12:51 Act Arr 16:35
View Large
View Medium


Photo © Cary Liao
Though not the most convenient airport to us, LCY was todays departure airport, some one hour away without traffic.
Since check-in for this flight closes some 15-20 minutes before departure, we saw no need to hurry and left the house at around 10am, this would allow time to fuel the car, drop it off and still have a quick drink or 2 in the lounge.
Another reason for not padding out the airport experience was due to the lounge being small in size, limited operating hours and of course reduced F & B options, though again, the whole Club World service at LCY has been designed around the business traveller who is not likely to want to spend hours in an airport lounge.
Upon arrival, bags in tow we headed to the terminal, in the lobby area BA have a manned podium and a baggage cart, the kind you find in decent hotels. Check-in occurs here, boarding passes are issued, bags tagged and advise given on how to access the priority security queue, your hand luggage gets a special tag for that. Hold luggage is left here, seems a BA porter will take it for you, just like a good hotel.
Terminal exterior, Avis have pole position here
Self service machines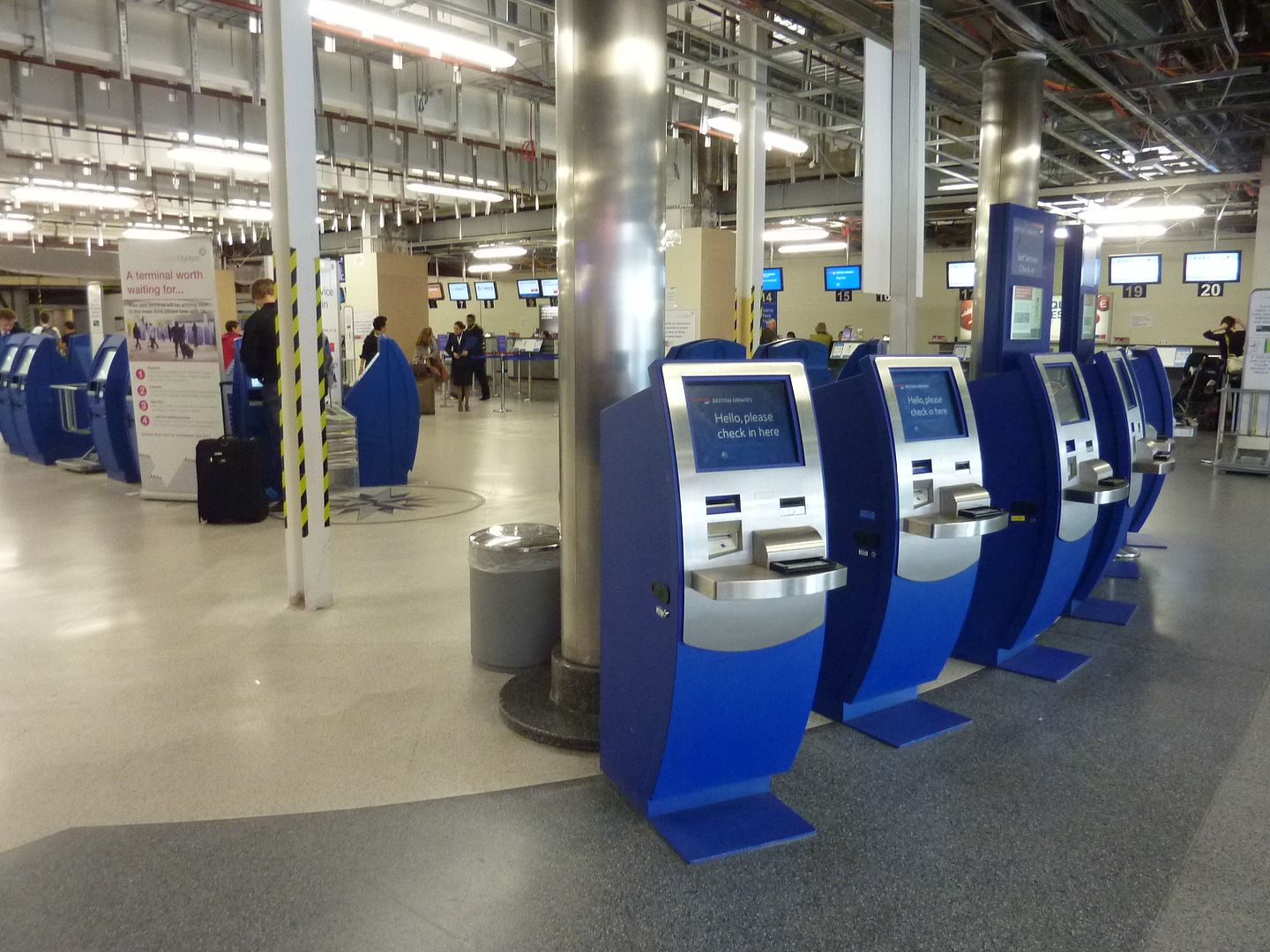 So far, excellent start to the day.
Next stop was Travelex to collect pre-ordered money, this however took some 20 odd minutes as they could not find our order despite presenting them with a printed confirmation! It got sorted in the end but the whole episode was not handled well.
Next stop security, en route I noted new stairs being installed along with some additional refurbishment taking place behind boarded up areas.
There was no queue when presenting boarding passes however the agent was clearly uninterested in her job, paid no attention to the boarding pass or priority tag's and just indicated for us to join the main queue for security, so much for priority security screening! - I don't blame BA for this, more the airport and what ever crummy security company they use.
Anyway, it took a good 5 minutes to get through, there are loads of staff but they only had 2 screeners open, most staff seemed to be standing around doing nothing.
One going through the machine I beeped, must have been a random,they wanted me to remove my shoes and give me a pat down, no biggie though once that was sorted they wanted me to remove the ipad from the bag and send them back through screening again - I did point out there we no signs advising customers to remove ipads, if they want them removed they should improve their communication rather than cause annoyance to passengers.
Once airside I was feeling a little stressed to be honest, I fully expected the drive on the M25 to be the worst part of the trip but no, changing money and security!
A quick walk through duty free for MrsBA319-131 to pick up a few items then off to gate 24 where our plane would depart from.
Hmm, which one is ours?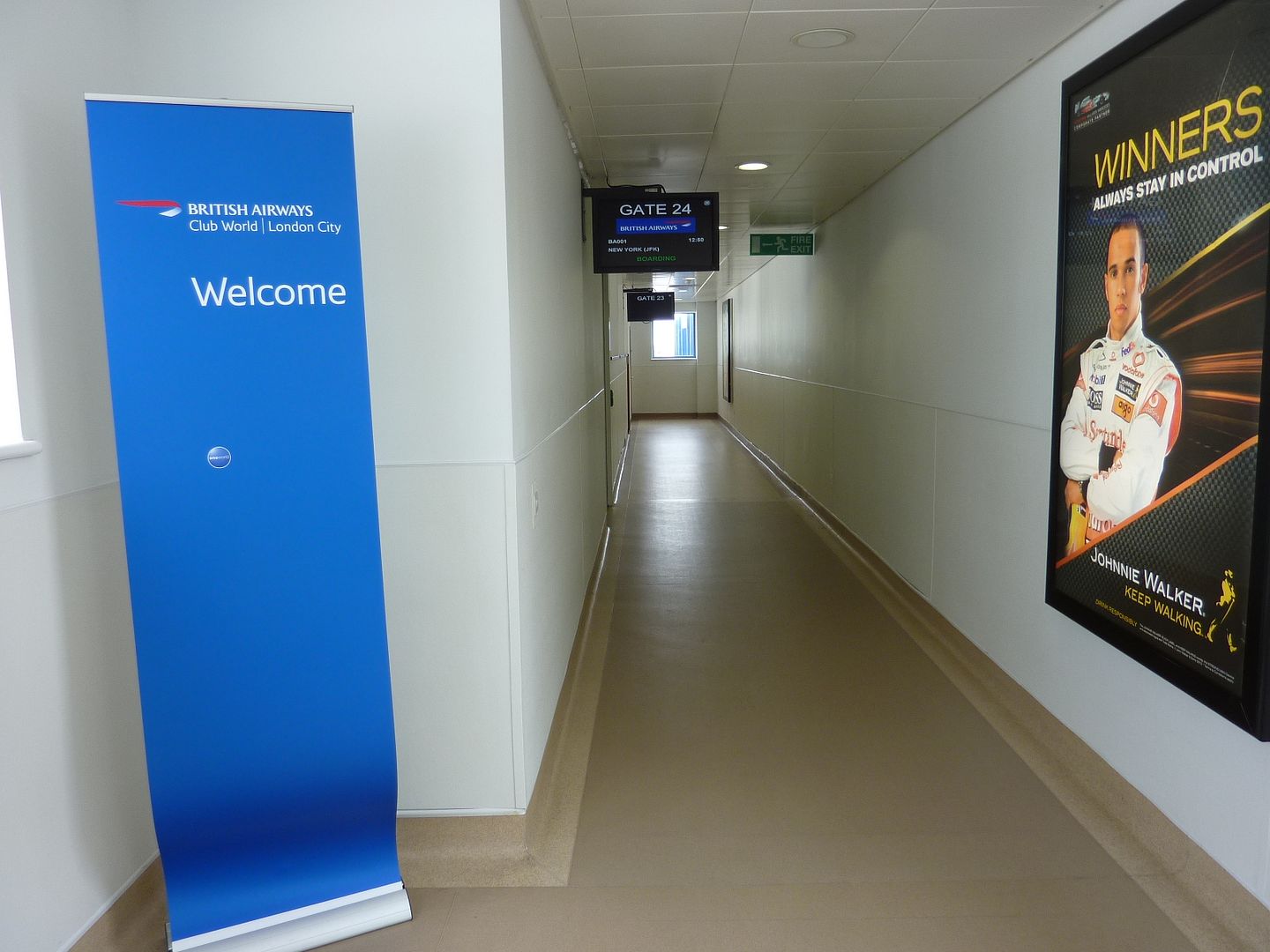 Once at gate 24 you have to go down a few sets of steps to ground level where the gate is actually located, once there we were met by a chirpy member of staff who checked boarding passes and pointed out magazines and refreshments.
The lounge is indeed small, some 32 seats for 32 passengers if the flight is full, we easily found a couple of seats close to the window, our bird was right outside. F&B offerings are quite limited, as expected but they do have champagne to which we had a glass, well I did need something soothing at this point!
I've not many pictures from here, it was kind of small and had a few business types in so it did not feel appropriate to be taking too many pictures, that said there was some press photogropher being shown around and taking lots of pictures.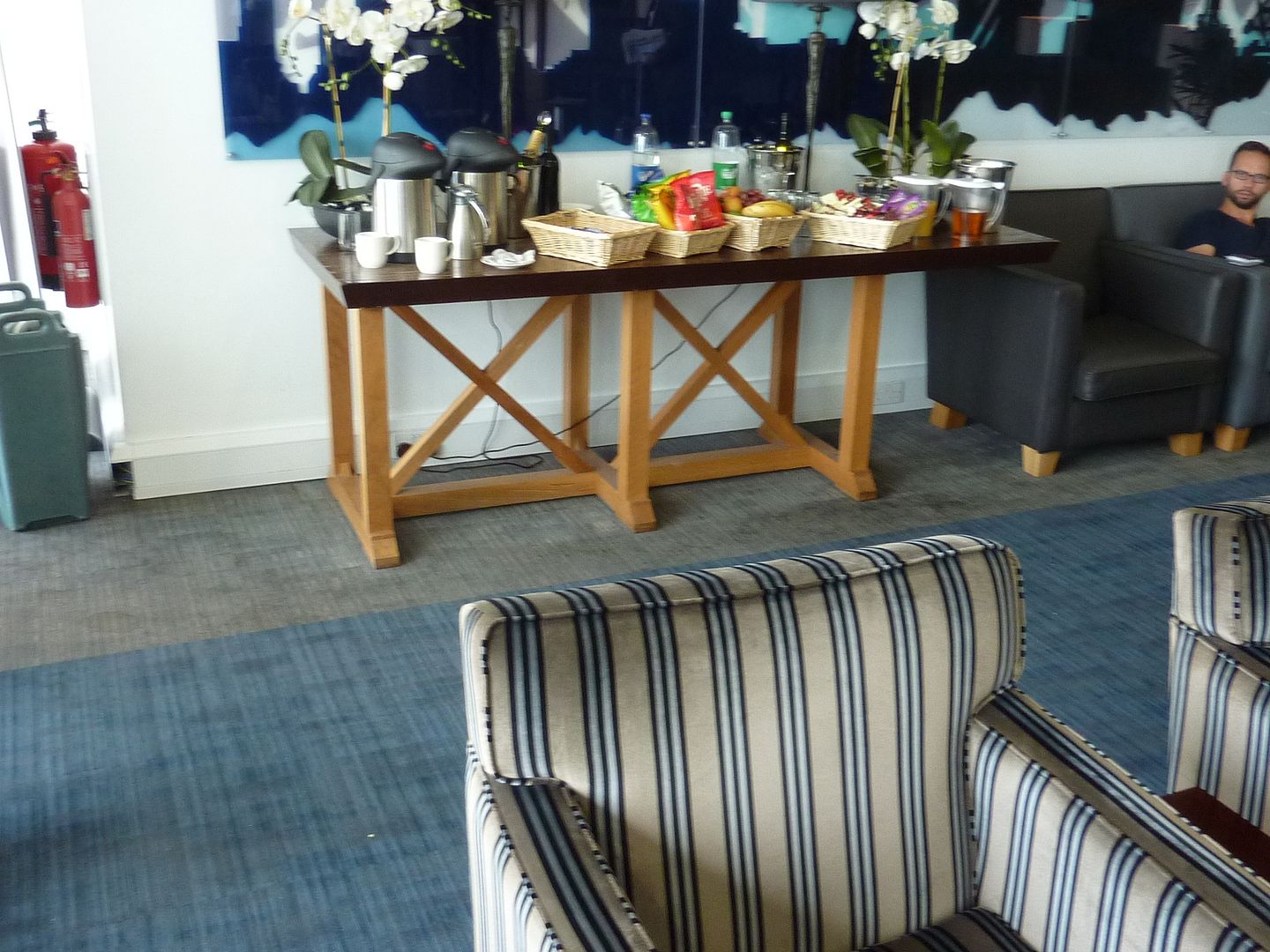 View outside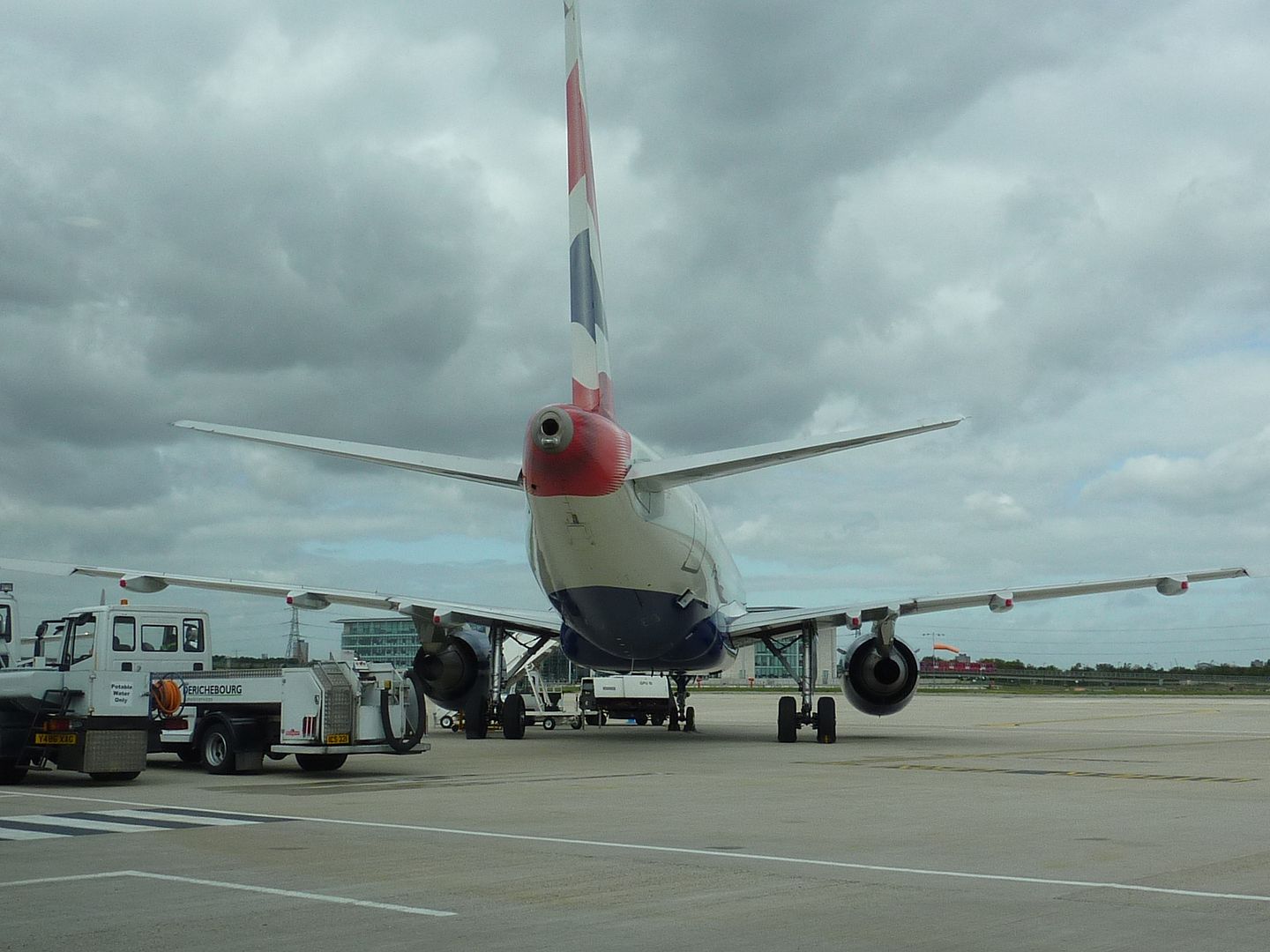 Seems we had only been in the lounge a few minutes when boarding was announced,it was now 12:25 & I'd not even finished my first glass of champers!
We let the majority board first, by majority today's load was some 15 passengers in total, quite low but this is a mid week service, I suspect Mondays & Friday services are the fullest.
Passports and boarding passes are checked before you take the short walk across the ramp to the aircraft, I took these shots on the way.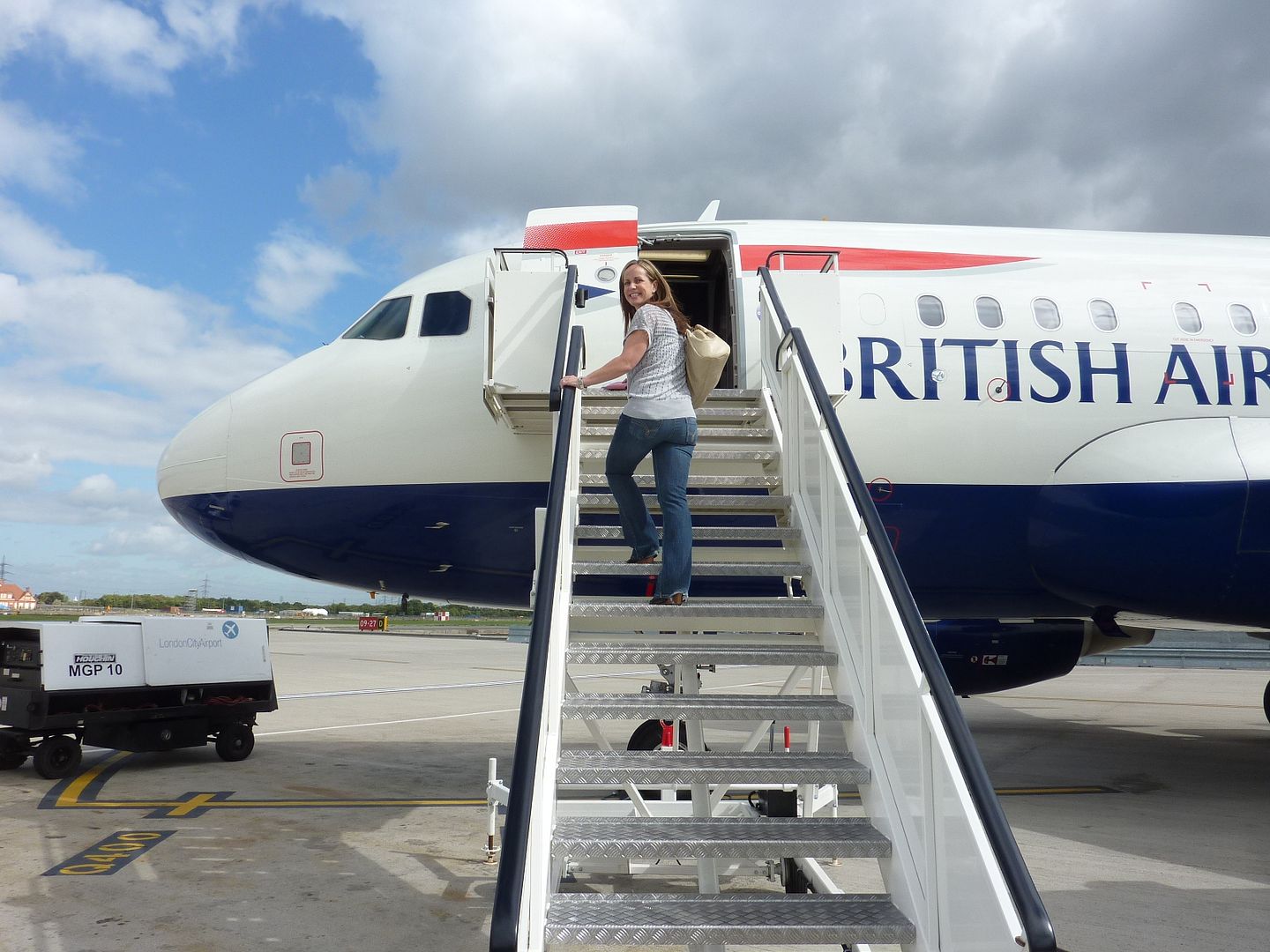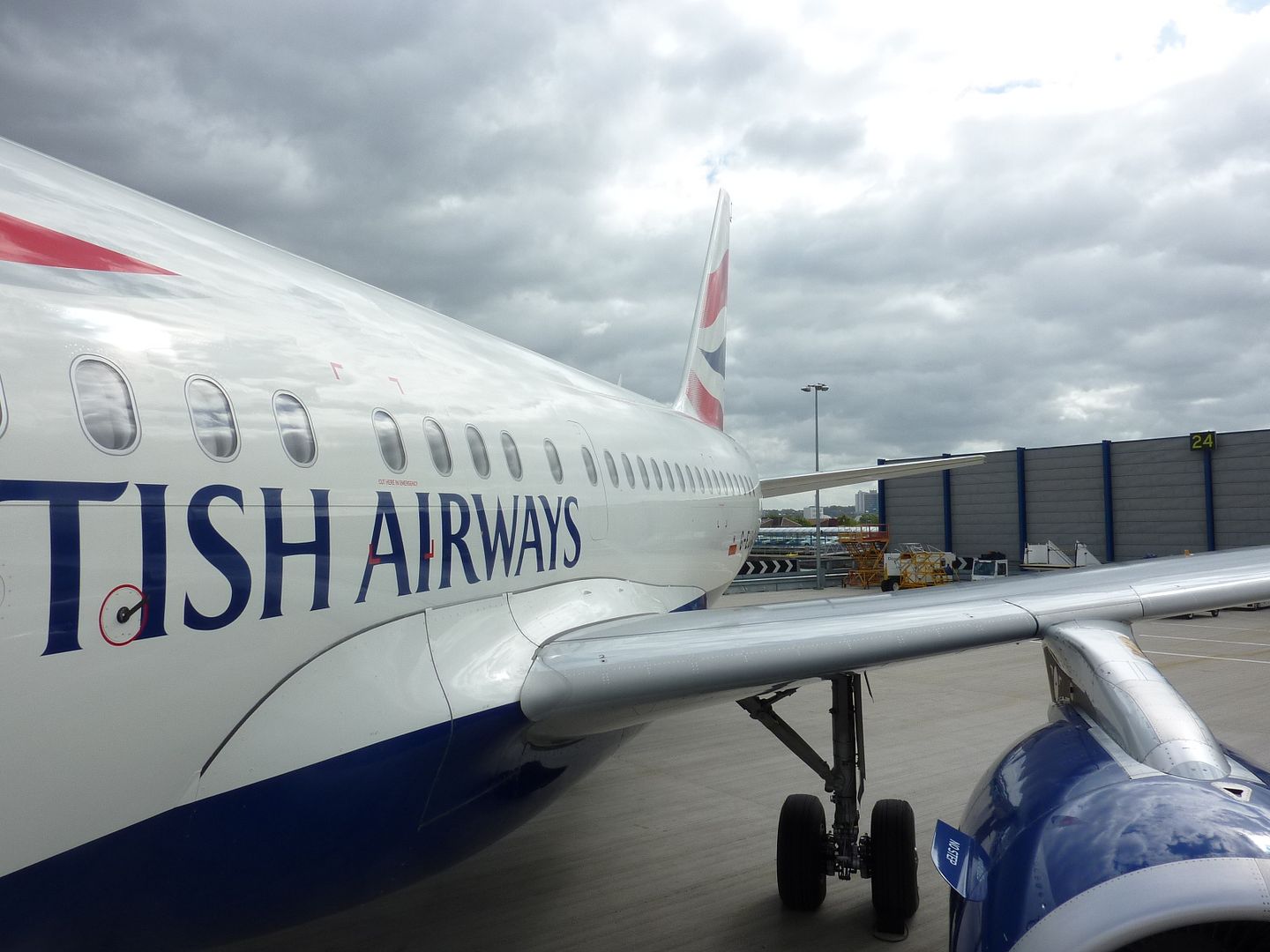 Up the steps to the front door to be greeted by Chris the CSD who welcomes you by name as he checks your boarding pass
Our seats today were 8 A & B, originally I had reserved 1 A & B but decided the back was likely to be better for cabin pictures and the like, good choice it was too!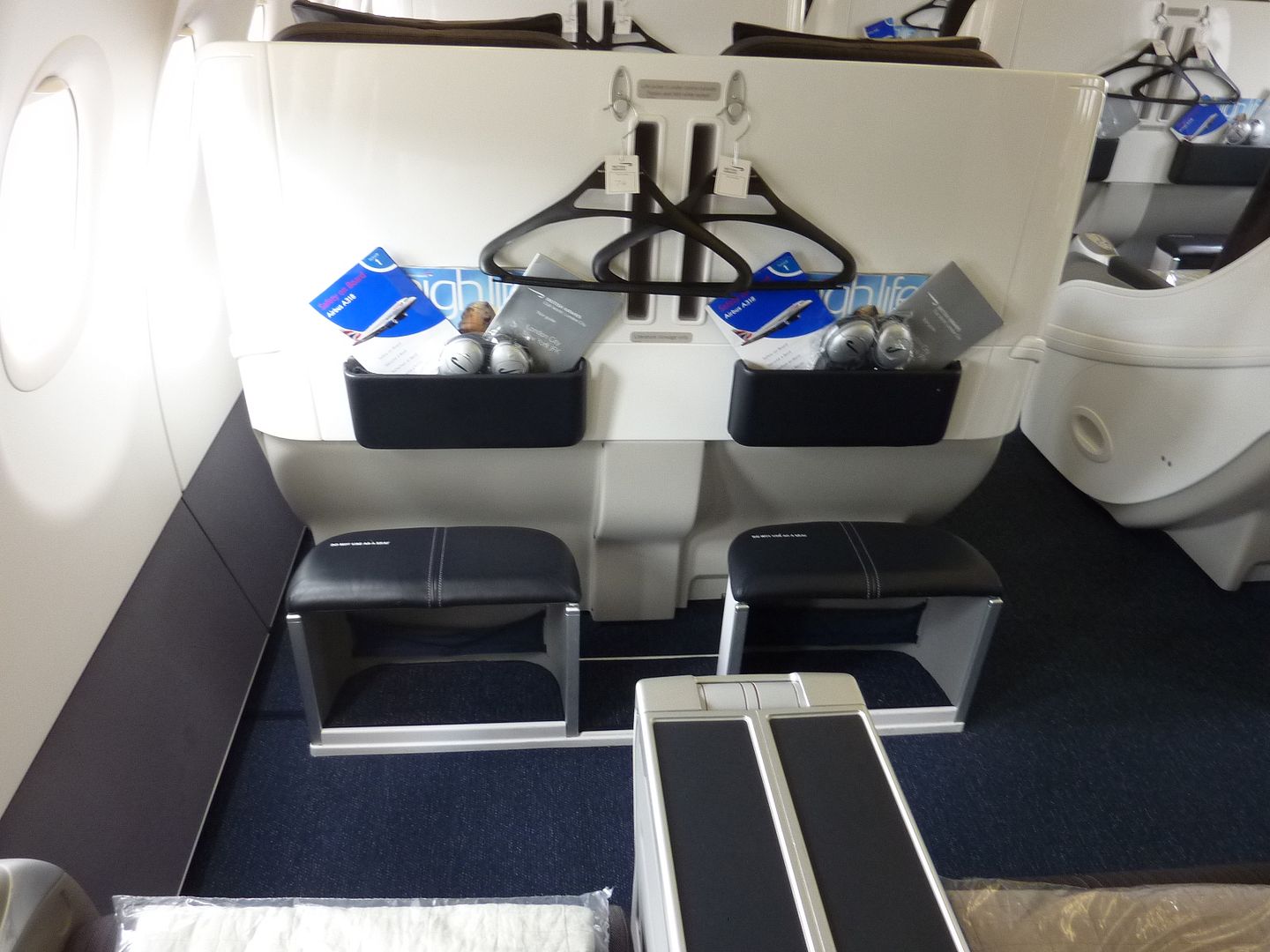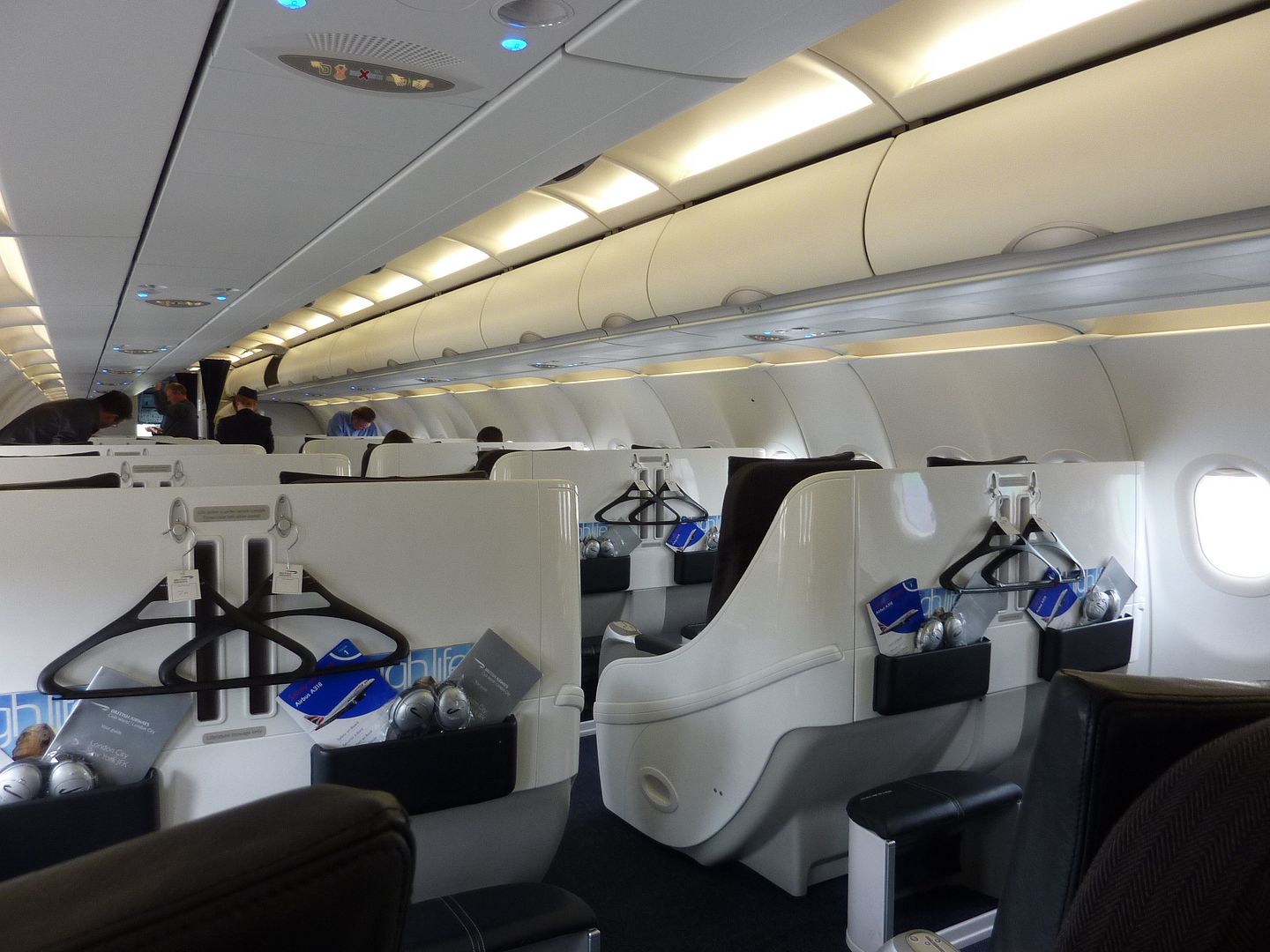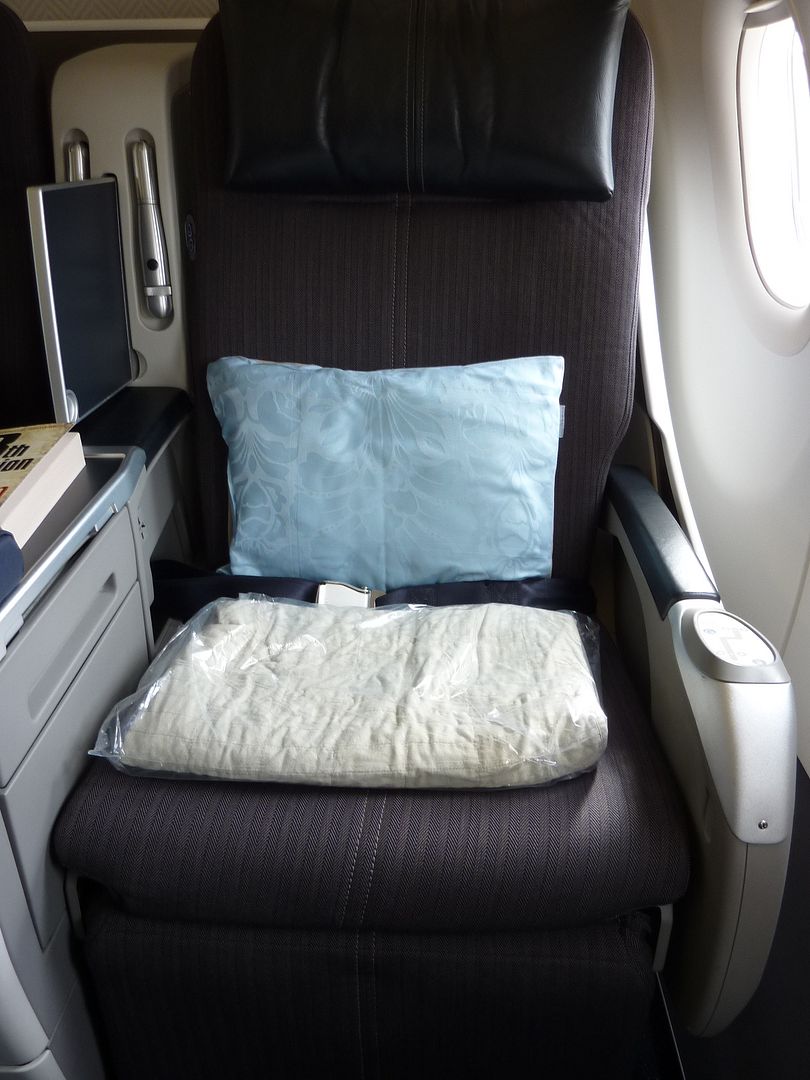 Row 8 is the last row on this 2-2 forward facing 32 seat aircraft.
Whilst settling into the seat menus were distributed by Chris who also advised of two wines on the menu which were now not available today, one was a the Zinfendal which am quite partial too, shame.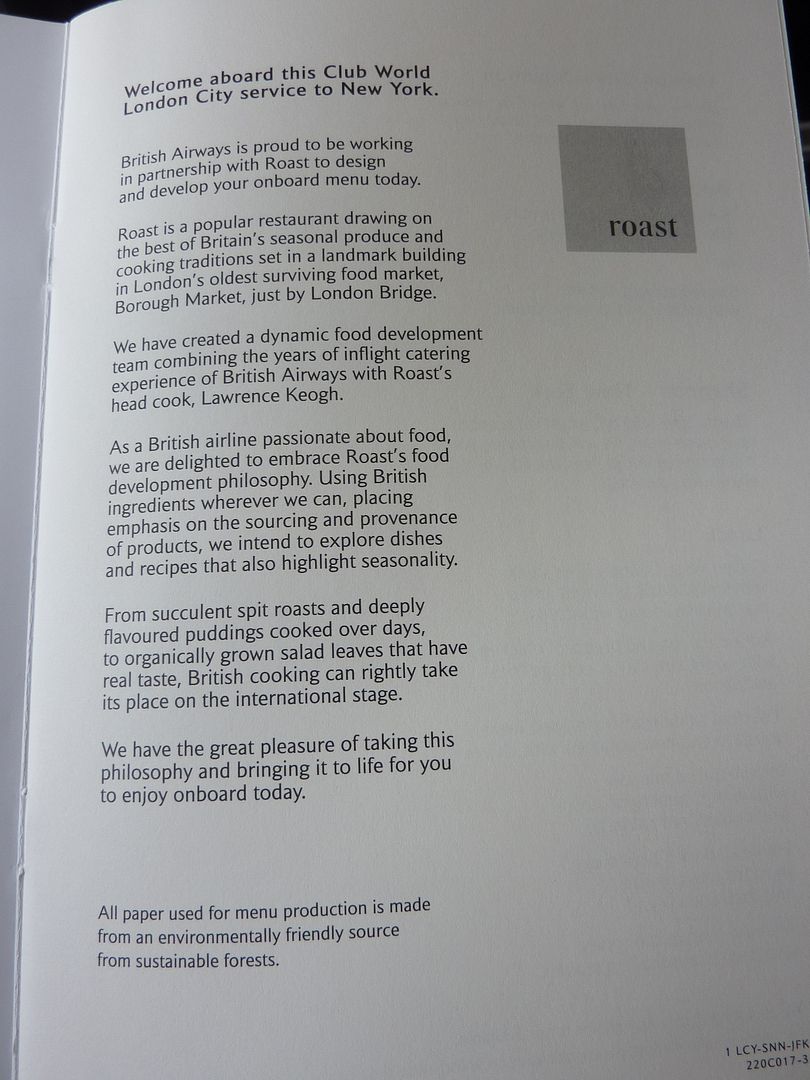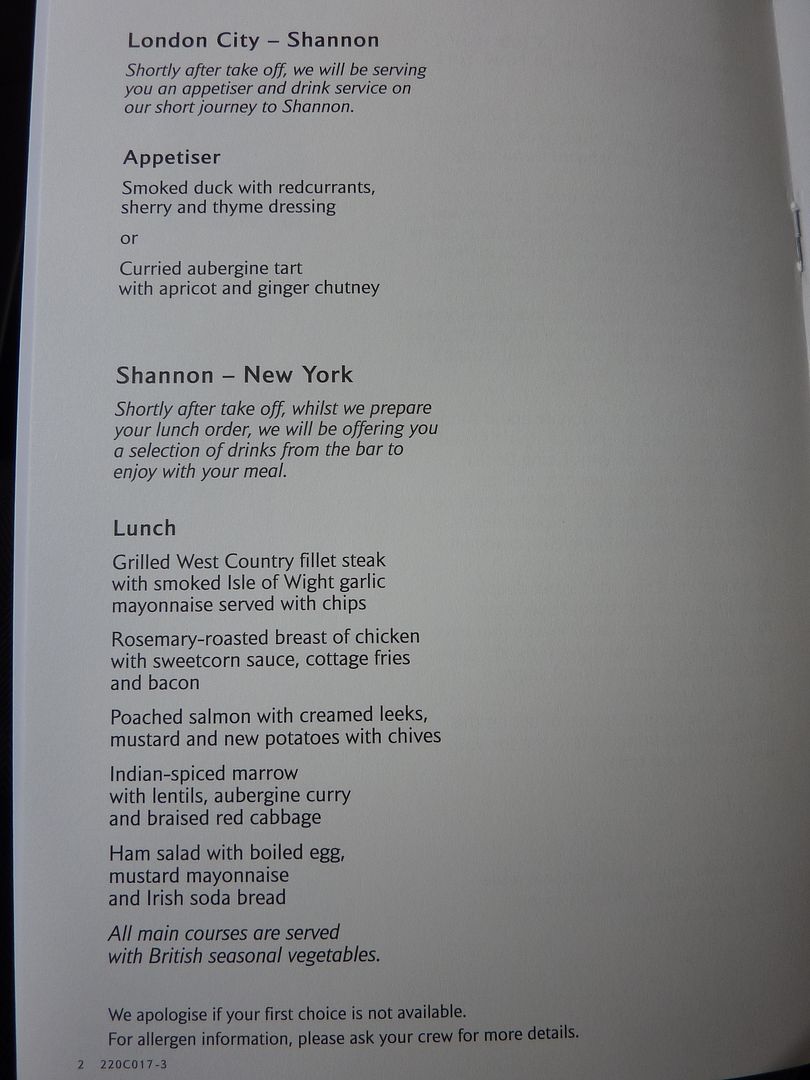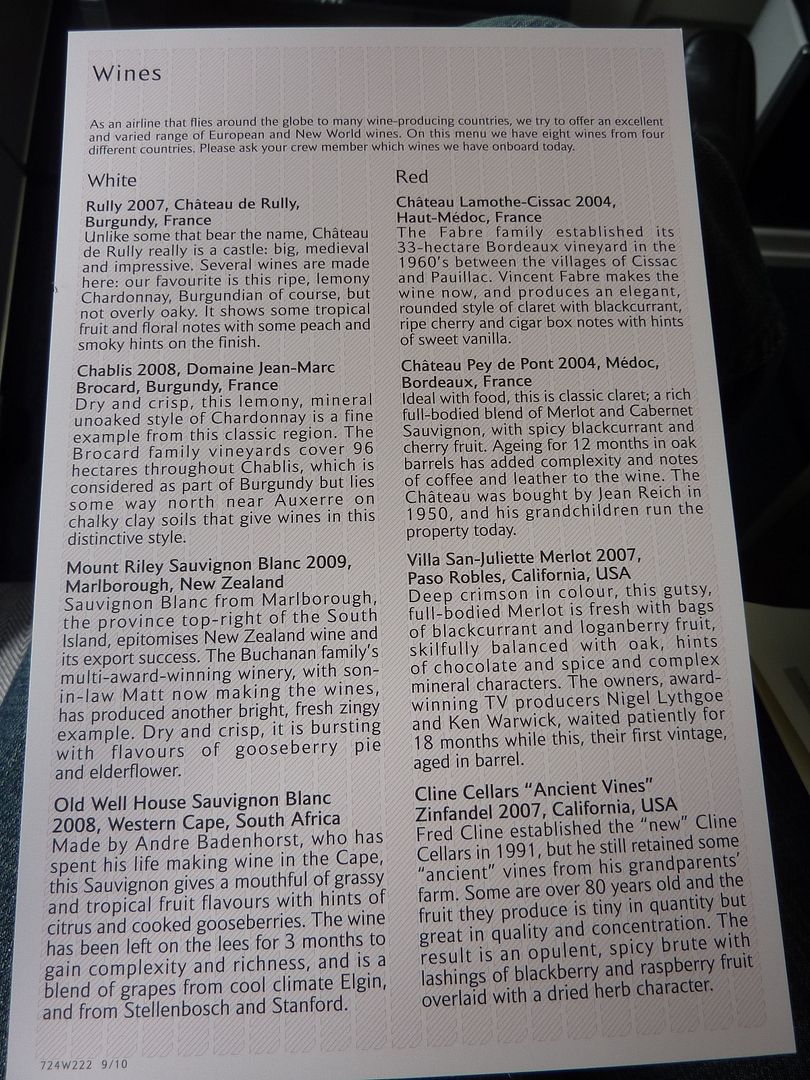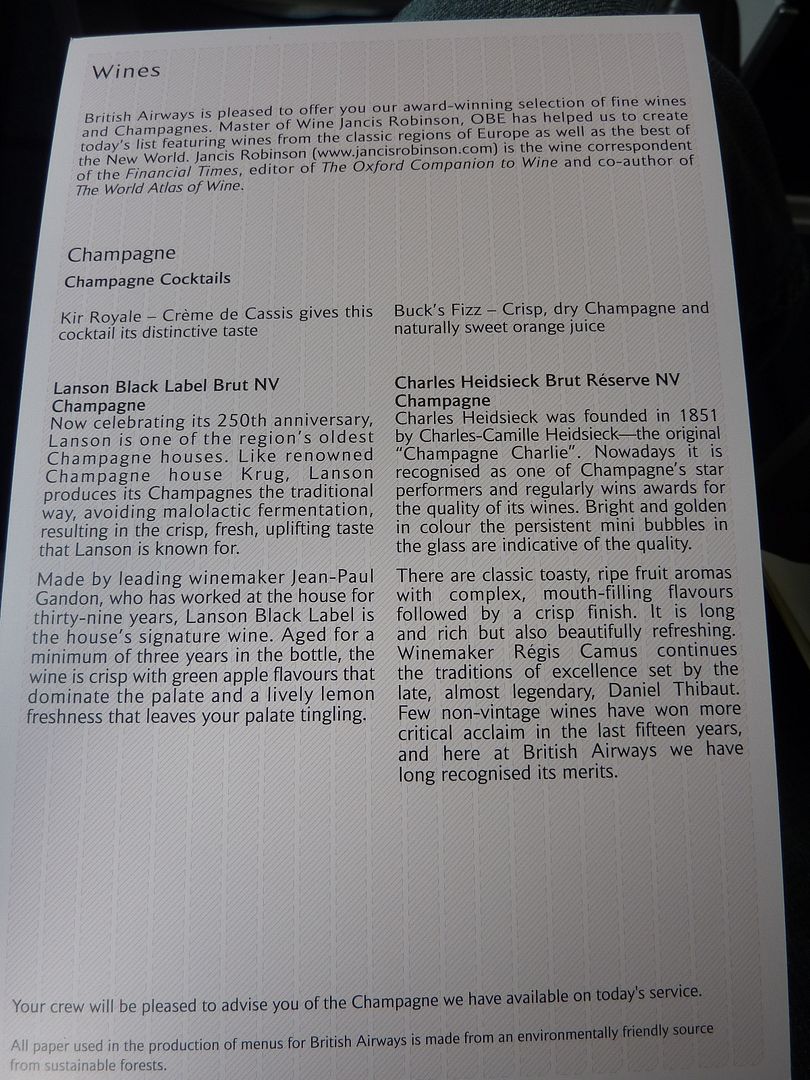 The seat fabric looks to be a mix of blue/brown, with a nice leather headrest, the seat backs in white, the choice of colours and fabrics creates a quite a nice environment, I actually thought it looked nice than the regular Club World cabins on the BA 747 fleet.
Need power?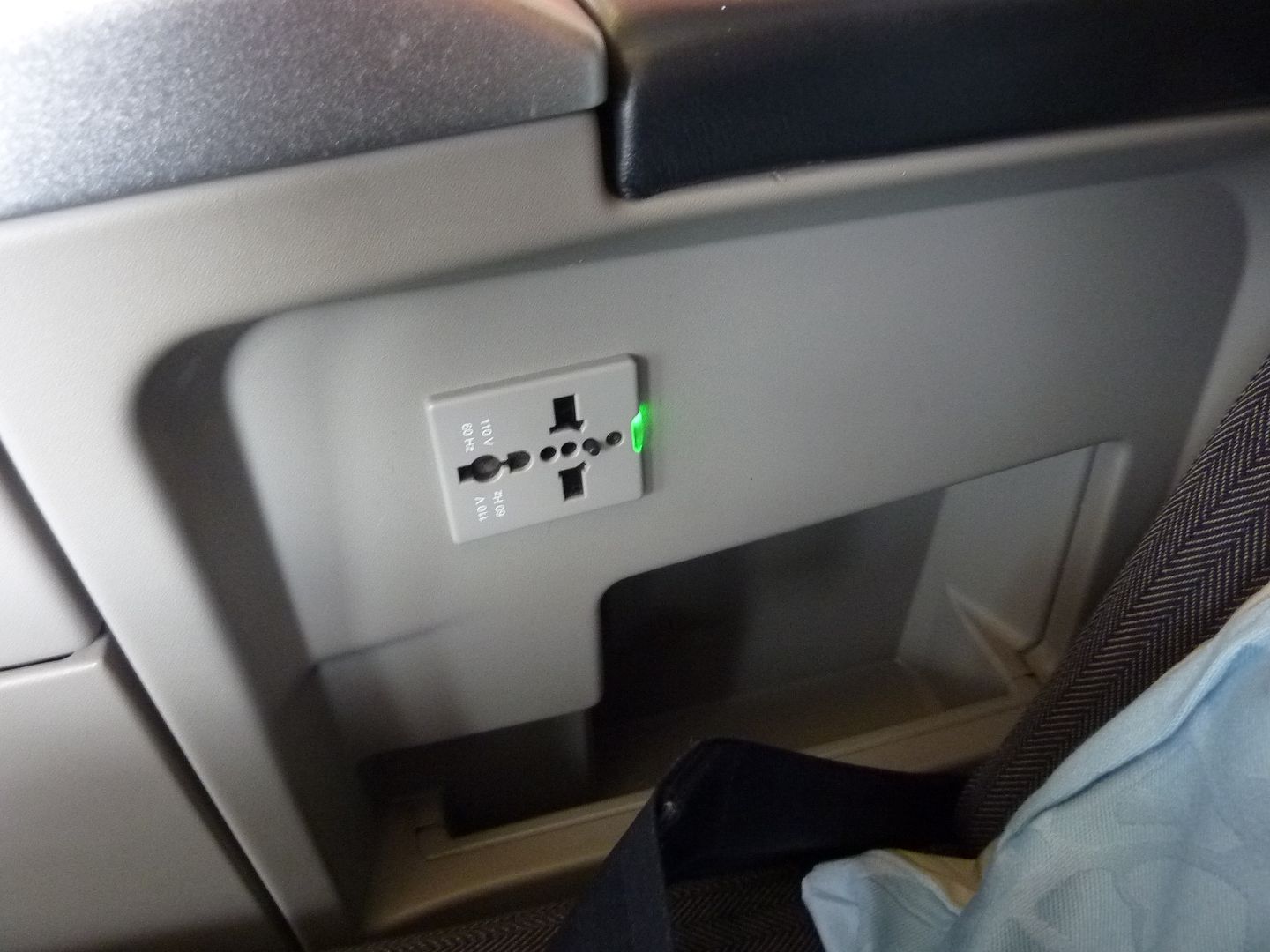 Light and another seat control
As we waited for the last passengers to arrive you could feel the plane gently rocking from side to side in the wind.
No drinks are served or offered prior to departure, perhaps if you ask?
Push or should I say taxi forward took place 1 minutes behind schedule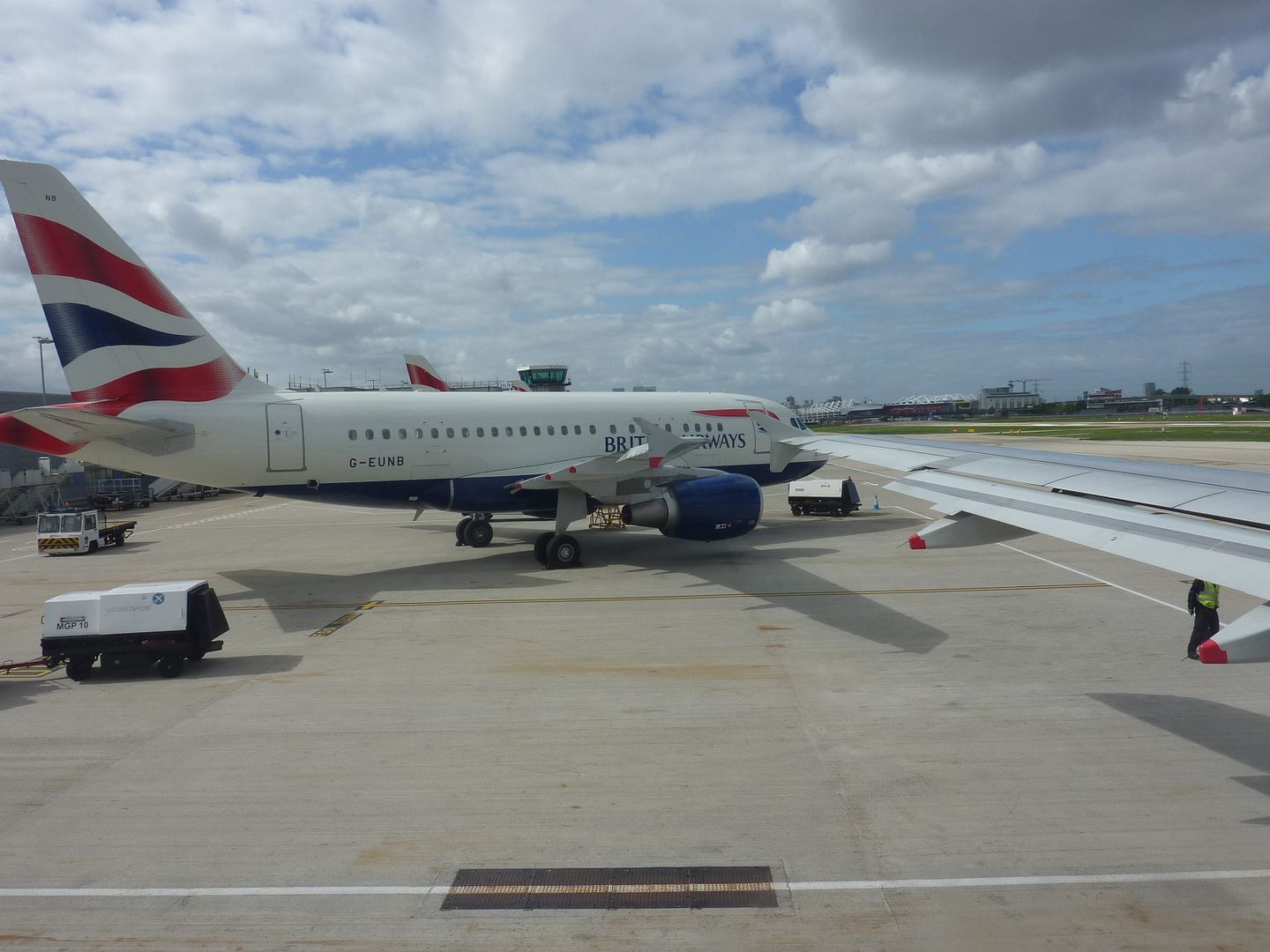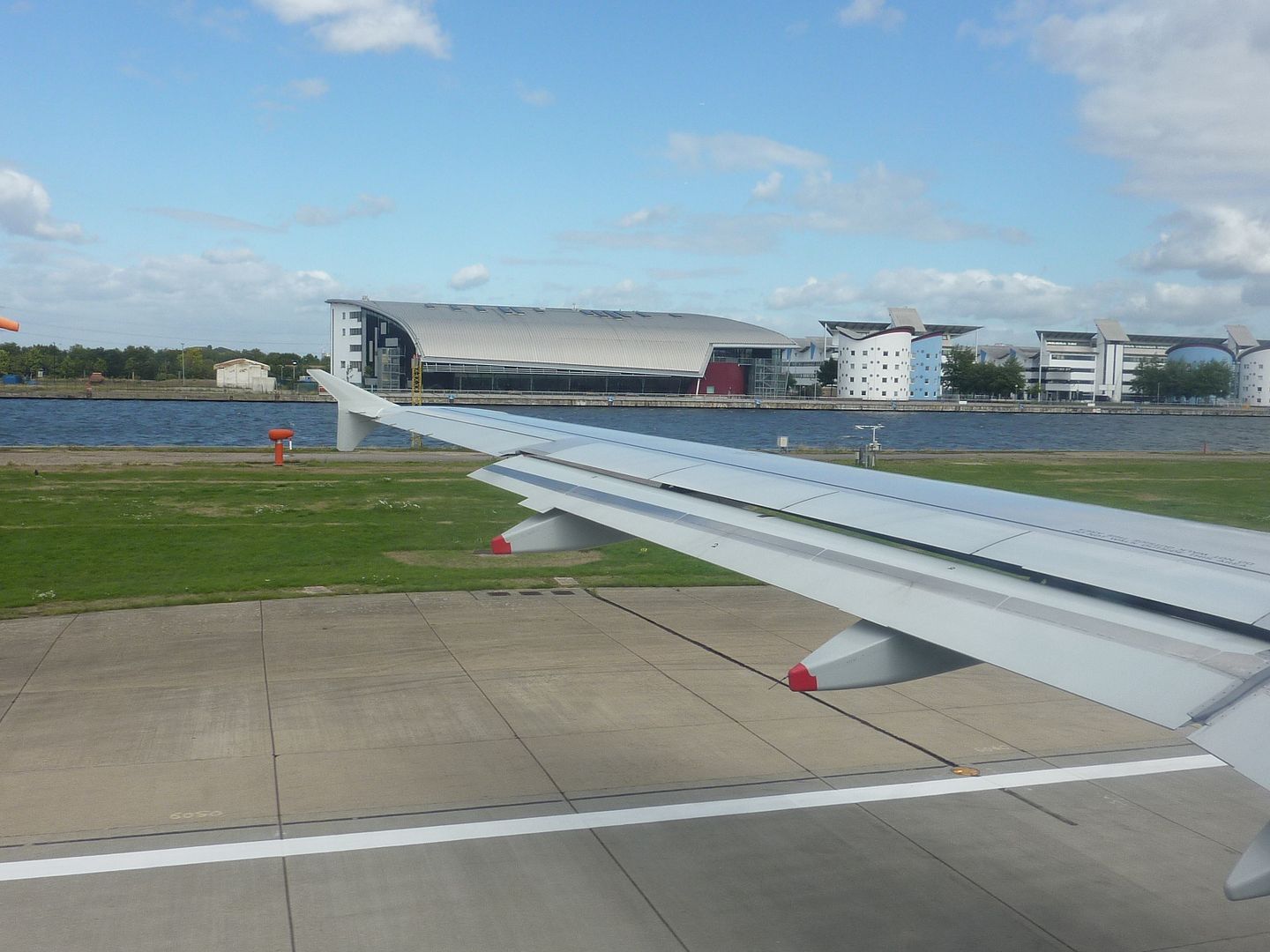 a brisk taxi out down the active runway to turn around at the end and take off to the east, wheels were up @ 12:55, the take off run could not have lasted much longer than 10 seconds, shortest take off I think I've ever had, wish I'd timed it!
Climb was steep just like those good old 757 takeoffs, it was also pretty darn bumpy, taking pictures was a pretty tough job, though once through the cloud things smoothed out nicely.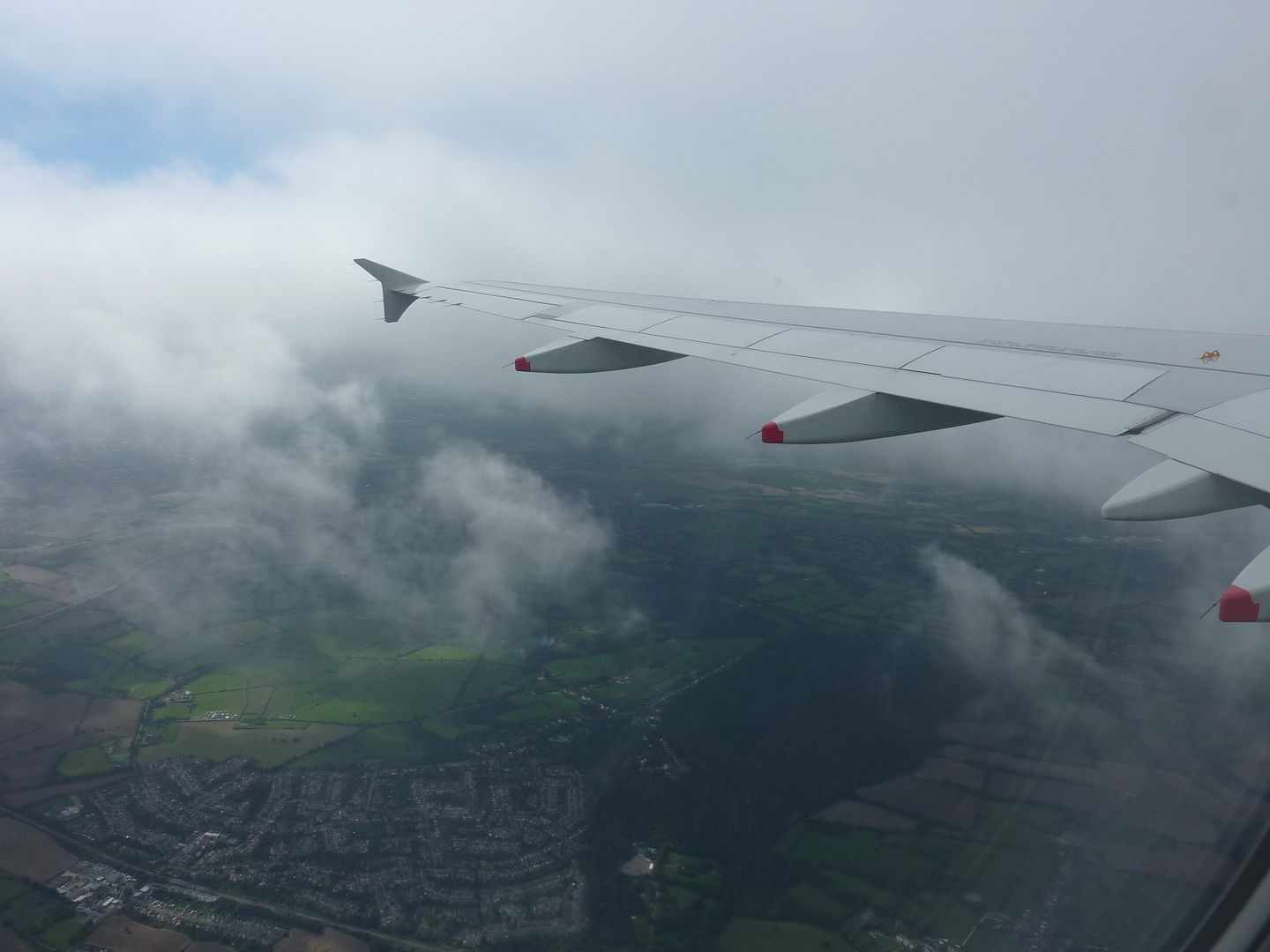 Once the cabin crew were released service started, first off Chris took meal orders for the next sector, along with asking if individual IFE players were required,drinks were offered from a trolly and your choice of snack, we both took the duck which was just excellent!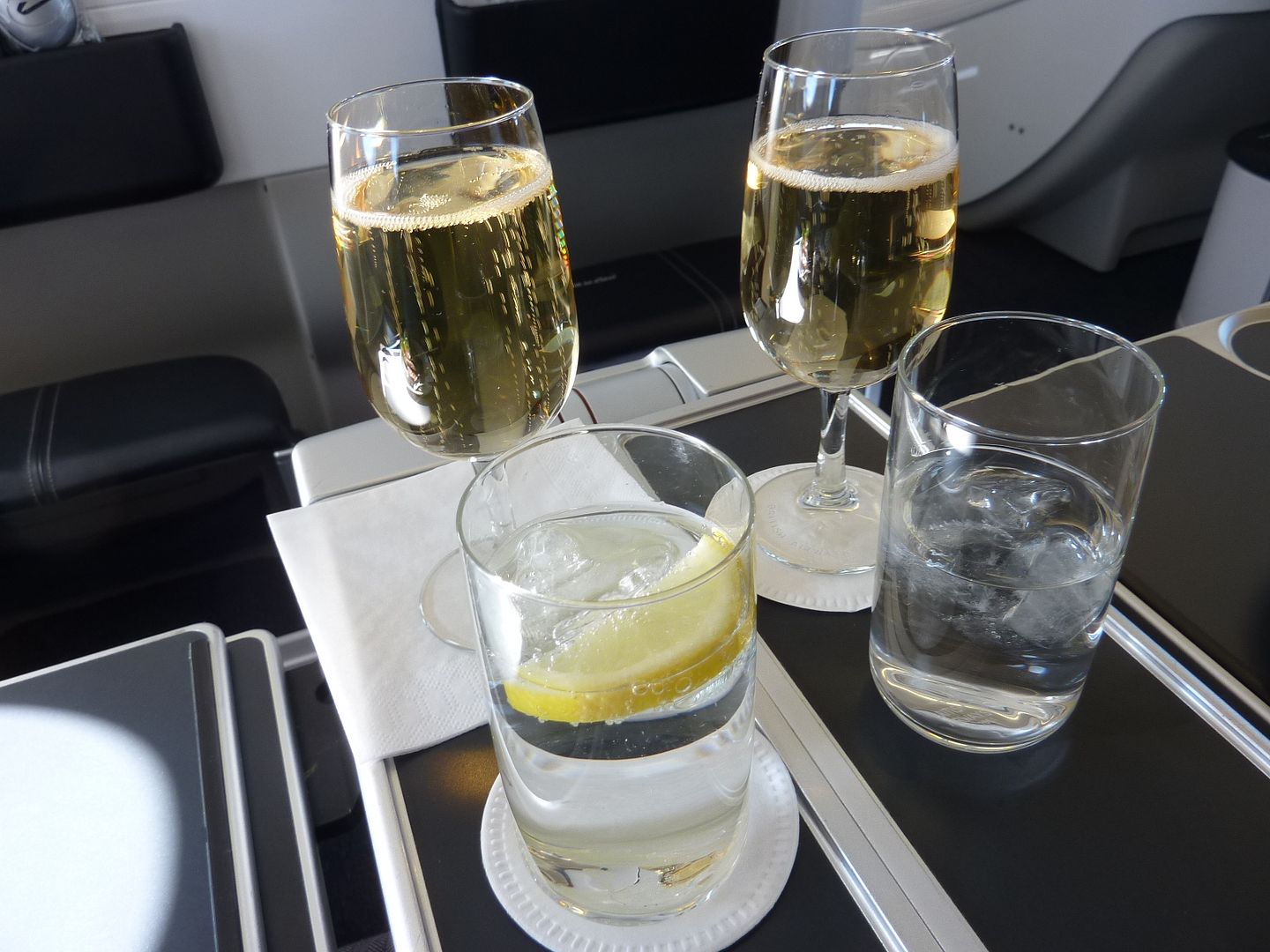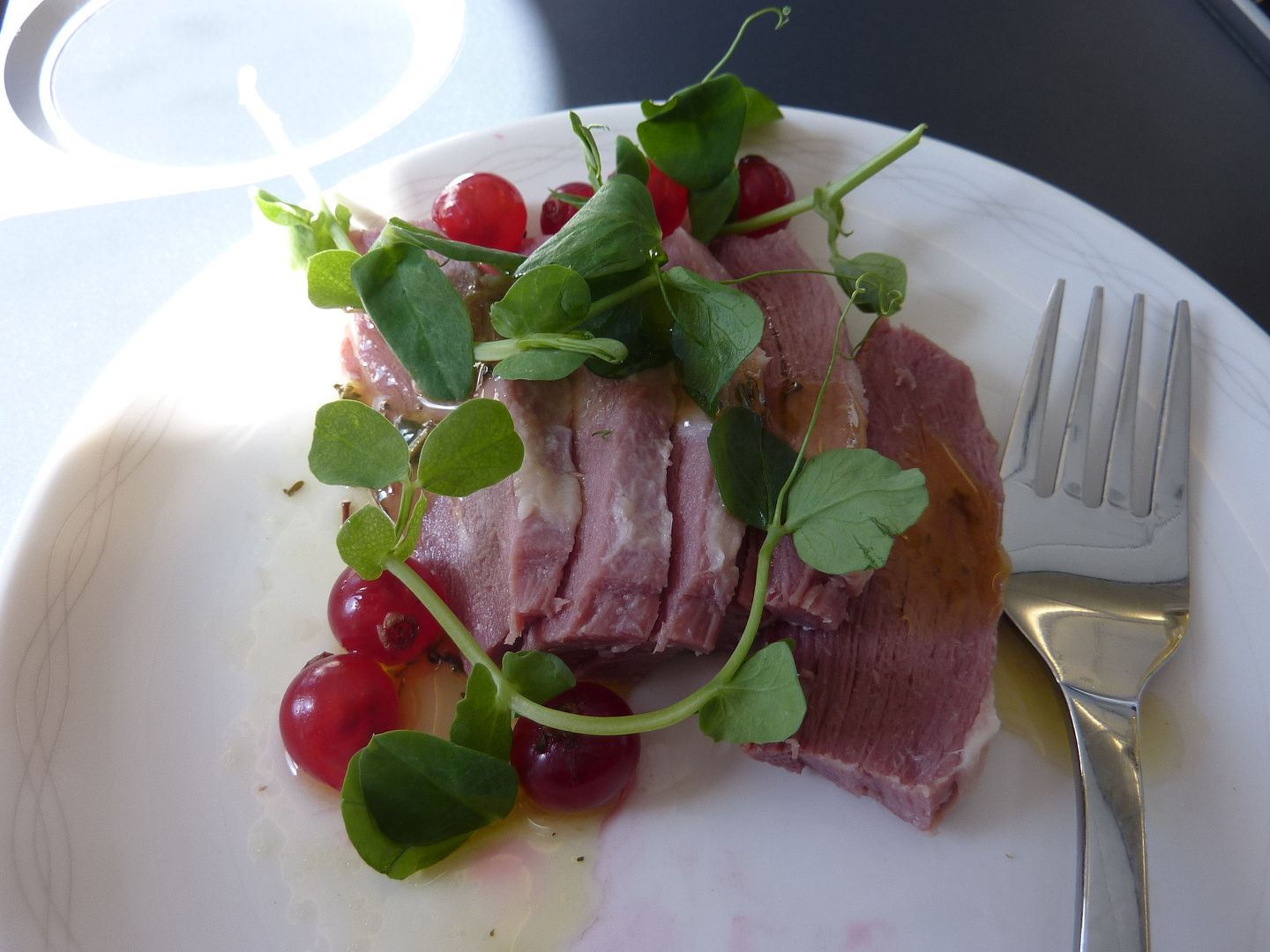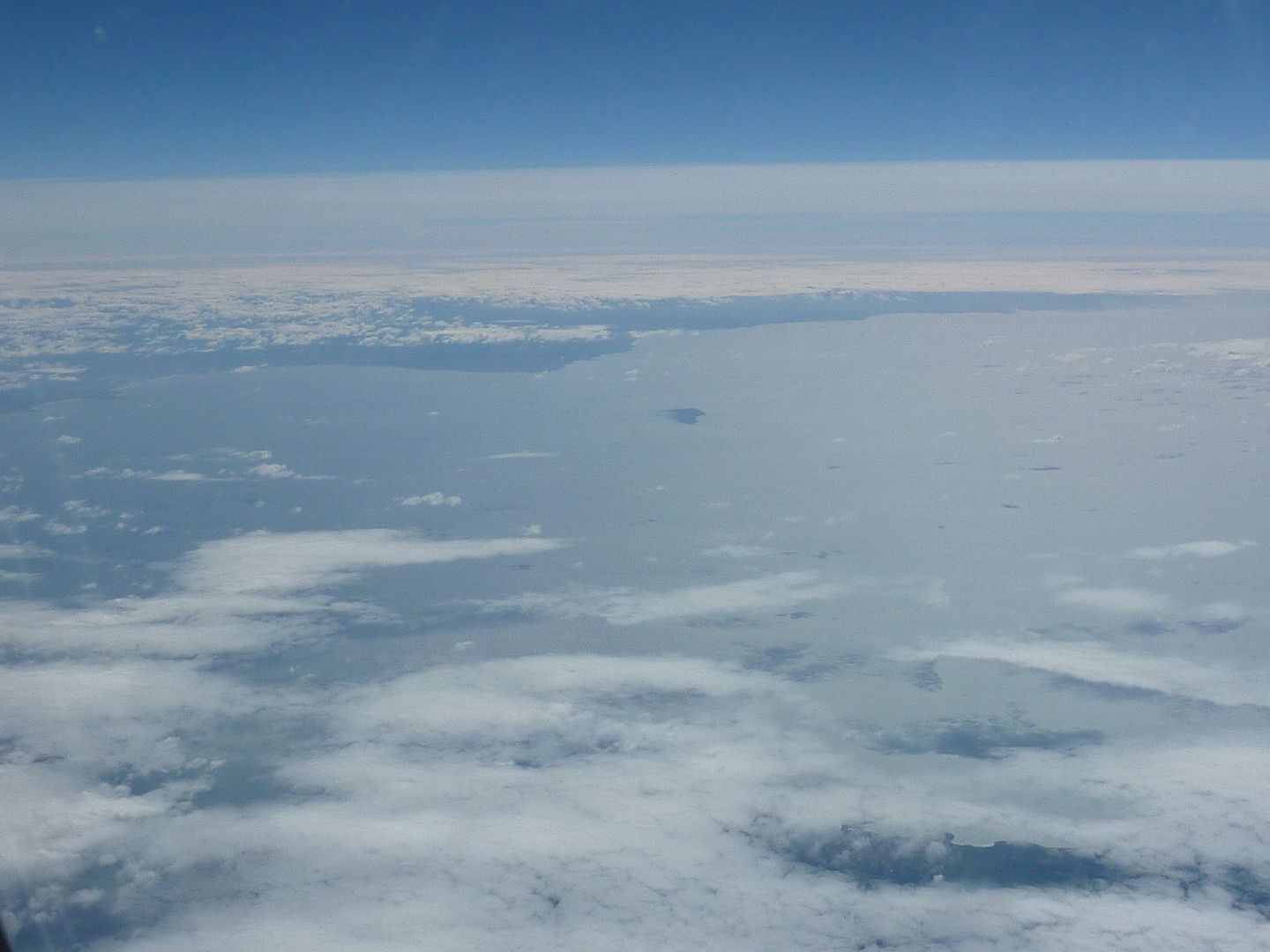 Rear galley area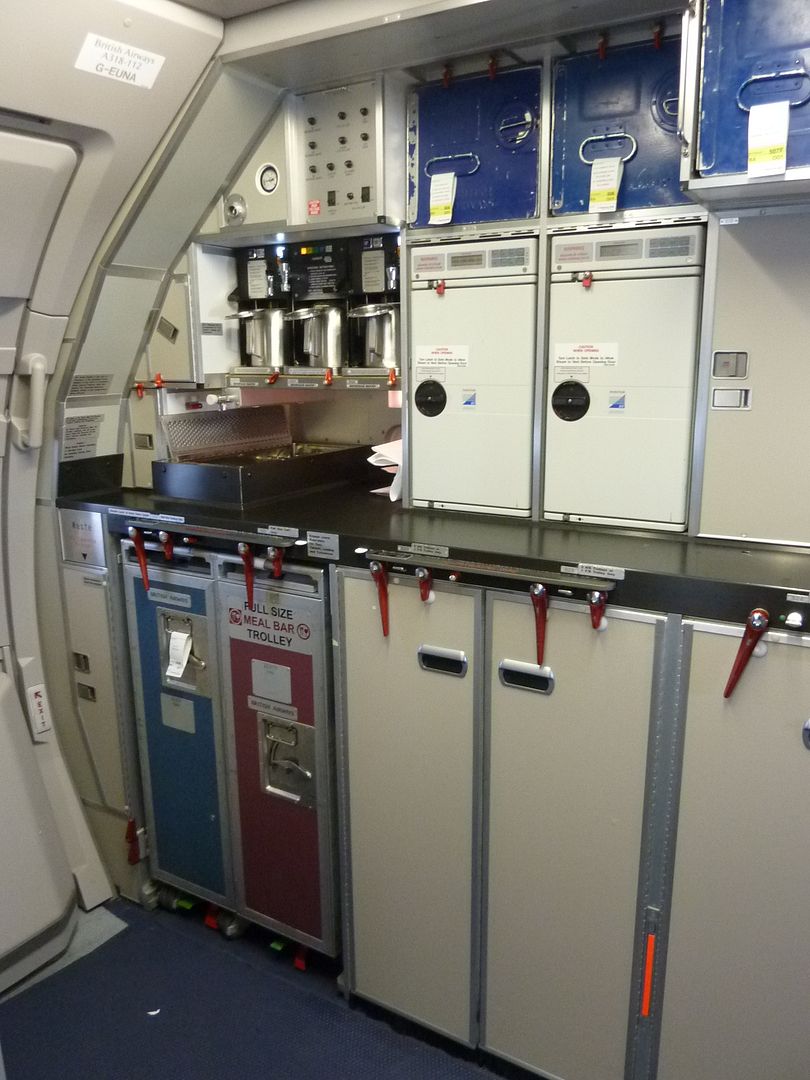 111 732 733 734 735 736 73G 738 739,7M8 BBJ 741 742 743 744 752 753 762 763 764 772 77L 773 77W L15 D10 D30 D40 AB3 AB6 312 313 318 319 320 20N 321 21N 332 333 342 343 345 346 359 351 388 CS1 CS3 I86 154 SSJ CRJ CR7 CR9 CRK 145 170 175 220