Hello Dear Readers.
As many of you know, today saw the final services of the Boeing 757-200 with British Airways.
BA's last 3 machines would be flying today, G-CEPR, G-CEPS & G-CEPT.
It has been a few years since BA operated the 757 on domestic routes, however to mark this special day, Edinburgh, Glasgow and Manchester would each receive one final service by a BA 757, the operating aircraft being the specially repainted G-CPET.
G-CEPR & G-CEPS would be operating flights to Spain.
Having flown 22 different BA 757's on 26 flights, I really wanted to get on one of these services to have my final goodbye to the beautiful plane.
The final schedule for the domestic flights was as follows:-
BA1384/SHT2E LHR-MAN 07.45 - 08.40
BA1389/SHT3R MAN-LHR 10.00 - 11.05
BA1482/SHT6T LHR-GLA 12.15 - 13.40
BA1487/SHT7H GLA-LHR 14.25 - 15.45
BA1454/SHT8H LHR-EDI 17.25 - 18.50
BA1463/SHT9C EDI-LHR 19.35 - 21.00
As much as I would have liked to be on the last flight from EDI, prior commitments in the afternoon and evening put an end to that idea, however the inbound from MAN was possible.
Looking at ba.com, the earlier flights from LHR looked a bit steep price wise, however the LGW service to MAN was a steal, so I booked the 2 flights as one ways.
After some e-mail communication within our 'gang', the legend that is P, AKA FlyingFinn76, was able to join the flight, flying in from HEL the night before.
Let's fast forward about 2 weeks to the special day!
LGW-MAN
Boeing 737-436 G-DOCY built 1993
Seat 25A Economy
1st Flight on this aircraft, 37th 737-400 flight, 87th flight on the 737 series.
SCH DEP 06:40 SCH ARR 07:40
ACT DEP 06:40 ACT ARR 07:24
View Large
View Medium


Photo © Andreas Mueller - Spotterteam Graz
View Large
View Medium


Photo © Gary Watt
The alarm went off at 4am, it's at that point you question your sanity on these early morning flights, I've another in about 2 weeks!
As one would expect, traffic was light on the M25 this morning.
Dropped off the car and headed upstairs to the BA check-in zone.
It's pretty quiet here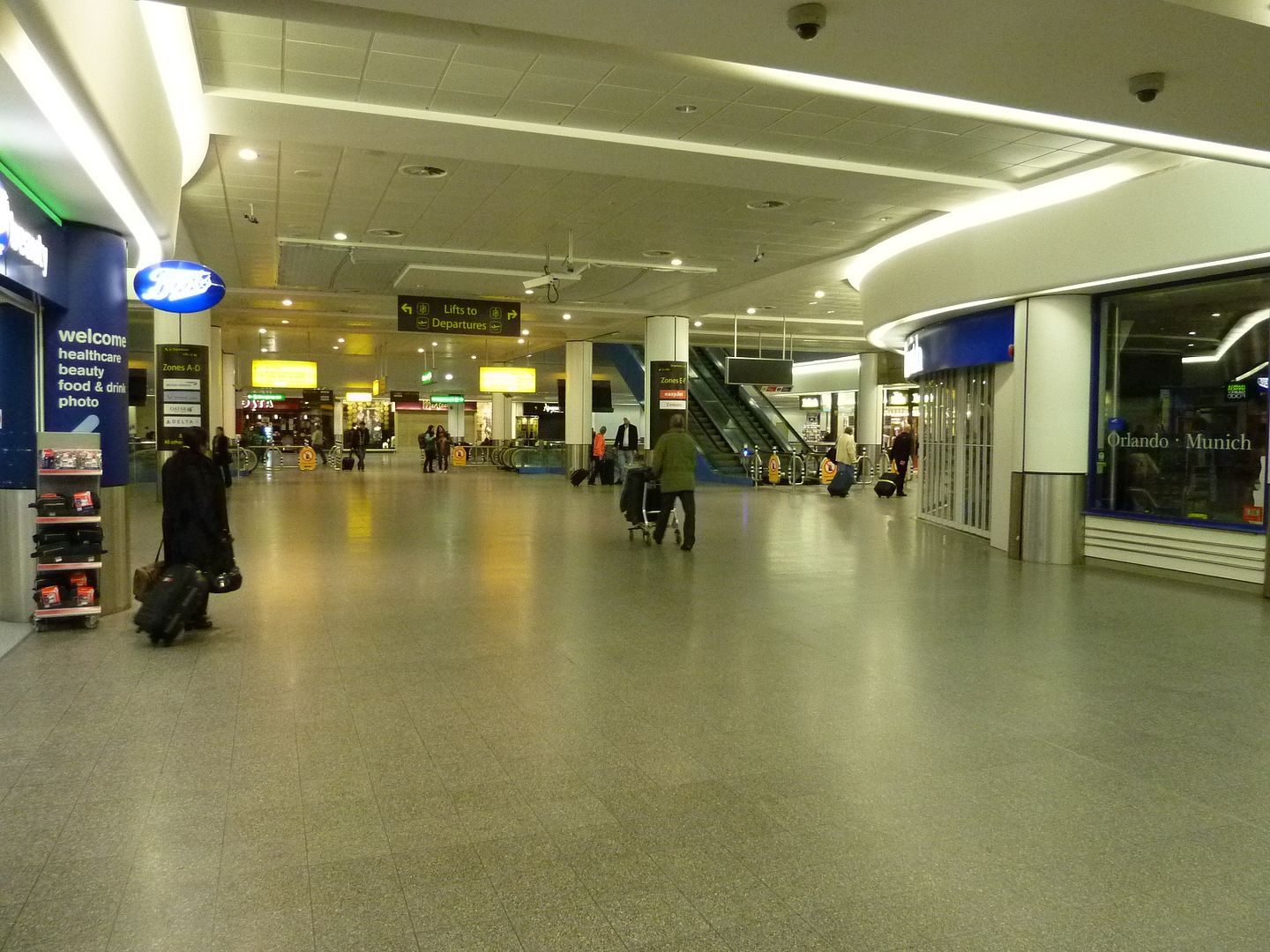 Hmm, new logo and colours, not sure about it
the first self service machine died on me but the next one happily spat out a card boarding pass, oh yes, the Gatwick machine still dispense card boarding passes.
Security was quick, given the ipad track record with security, I enquired if they required it to be removed from my bag, the answer came back they had not been given any instructions on how to screen it.
I'm airside, grabbed some cash just in case and headed to the BA Terraces Lounge, two seemingly chirpy ladies greeted me as I entered, not bad given the still early hour, around about 05:40 now.
Todays North Terminal departures
Coffee and a bit of breakfast was the order of the day.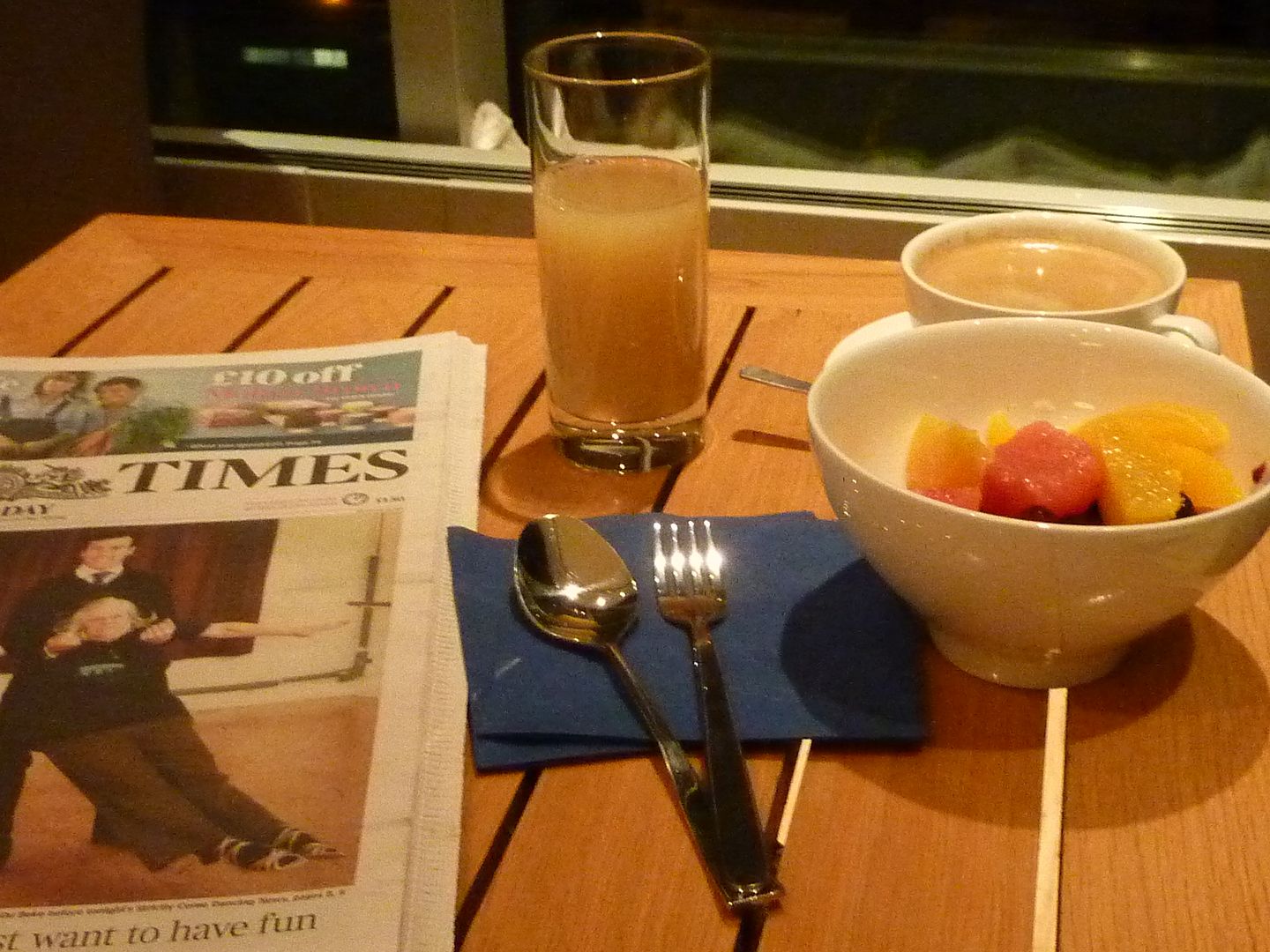 View outside
Lounge view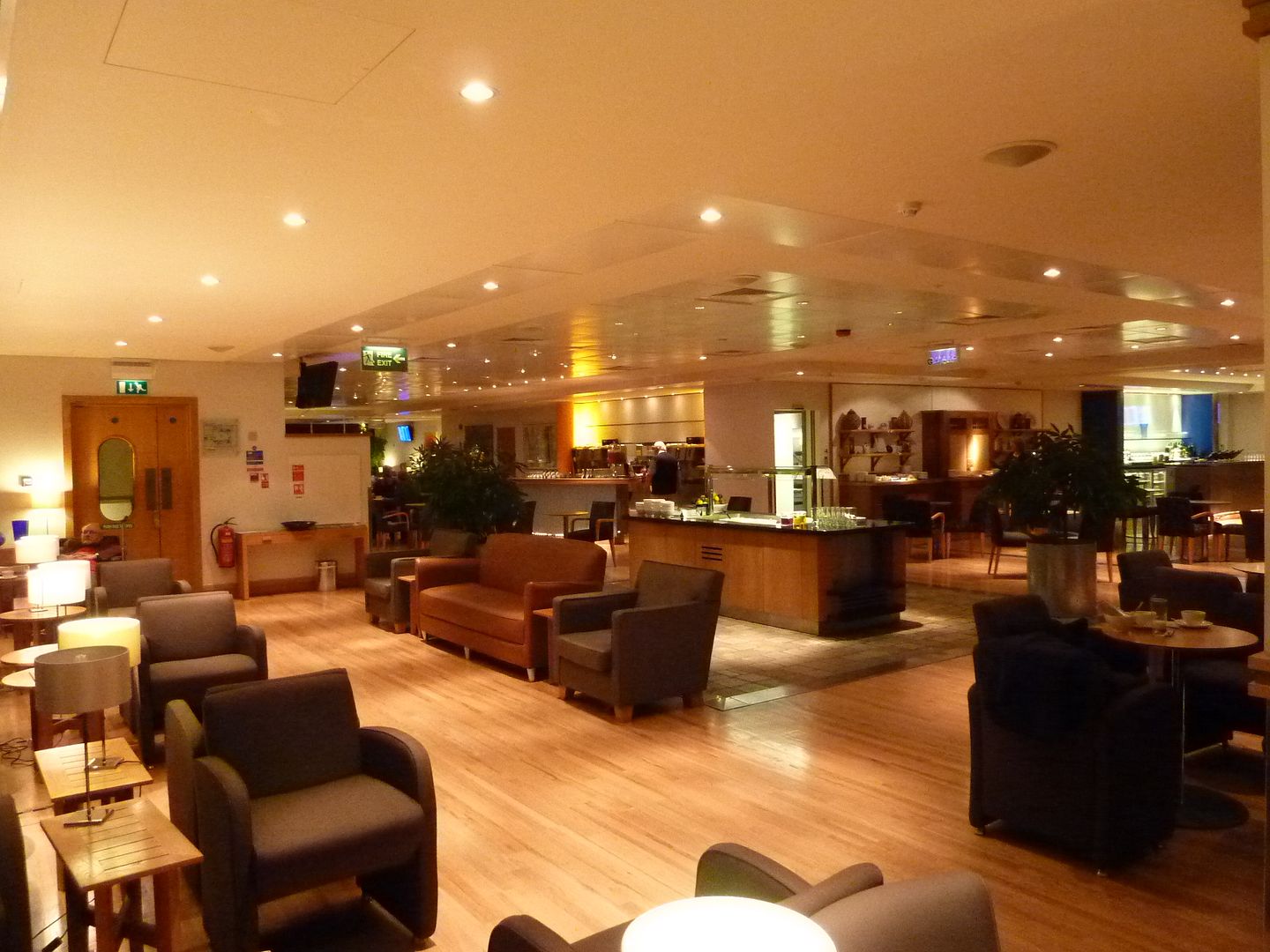 No boarding calls are made in the lounge so you have to check the monitors from time to time, on one such check the flight was showing final call in the red box, it was only 06:19! Despite plenty of time to departure I grabbed my stuff and headed down to gate 55, arriving at the gate area some 3 minutes later.
This is my bird today, a new frame for me.
Greeted at the door by two smiling crew, always nice to see especially on an early start.
Since Markus was not travelling today I chose his usual seat, last in the house and especially so on these BA 737-400's since row 25 has excellent legroom.
Not much to see outside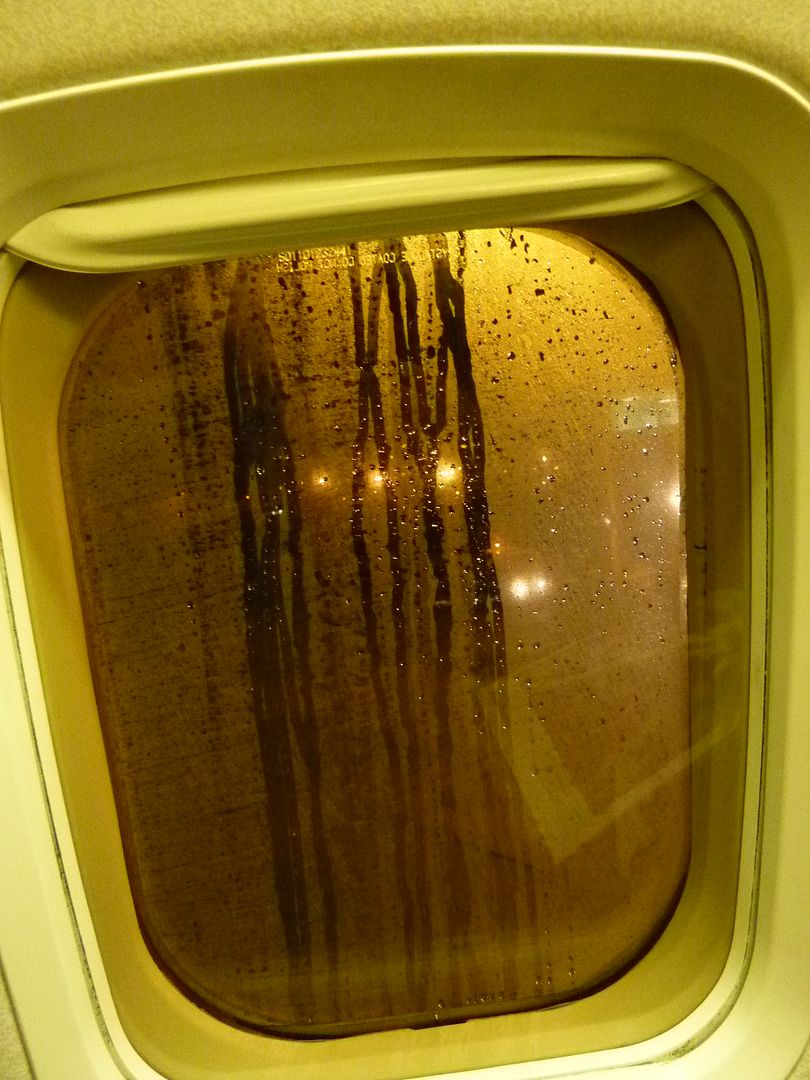 Load was light this morning, no more than 30 of us on this flight today.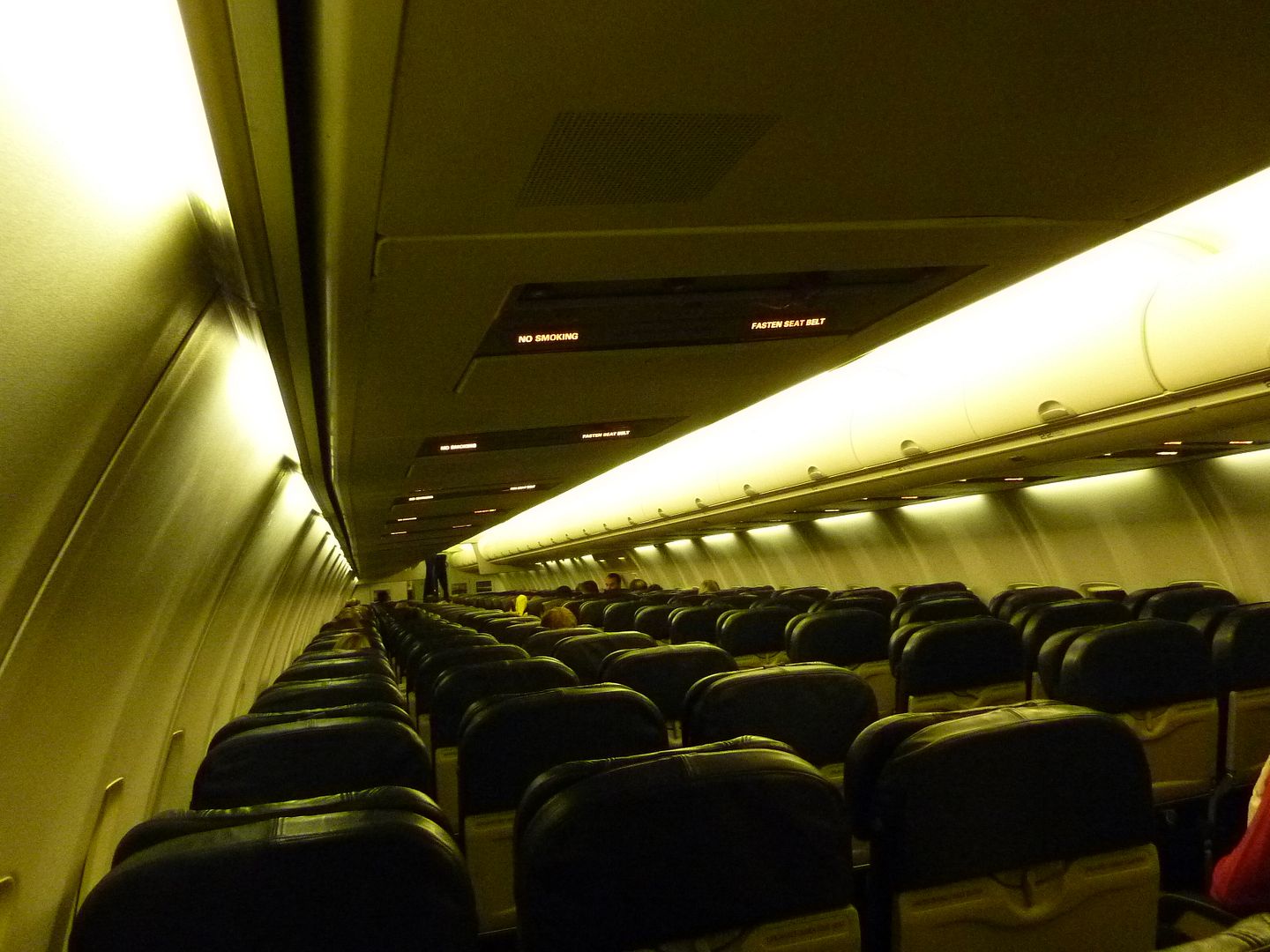 Captain Parsons welcomed us aboard and gave a brief overview of the expected flight time and routing.
Push back occurred 2 minutes early, DOCY headed to the active whilst the crew conducted the safety demo, I always pay attention to these, I know where the doors are etc but always feel it's just courteous to the crew.
On to the active and after a 43 second takeoff roll DOCY left the ground at 06:51.
Nothing to say about the flight as I slept pretty much all of it, only waking up on finals, touching down at 07:24, not so much touching down, more planting the plane in the runway!
A quick taxi to the gate, not much action here to see
On stand @ MAN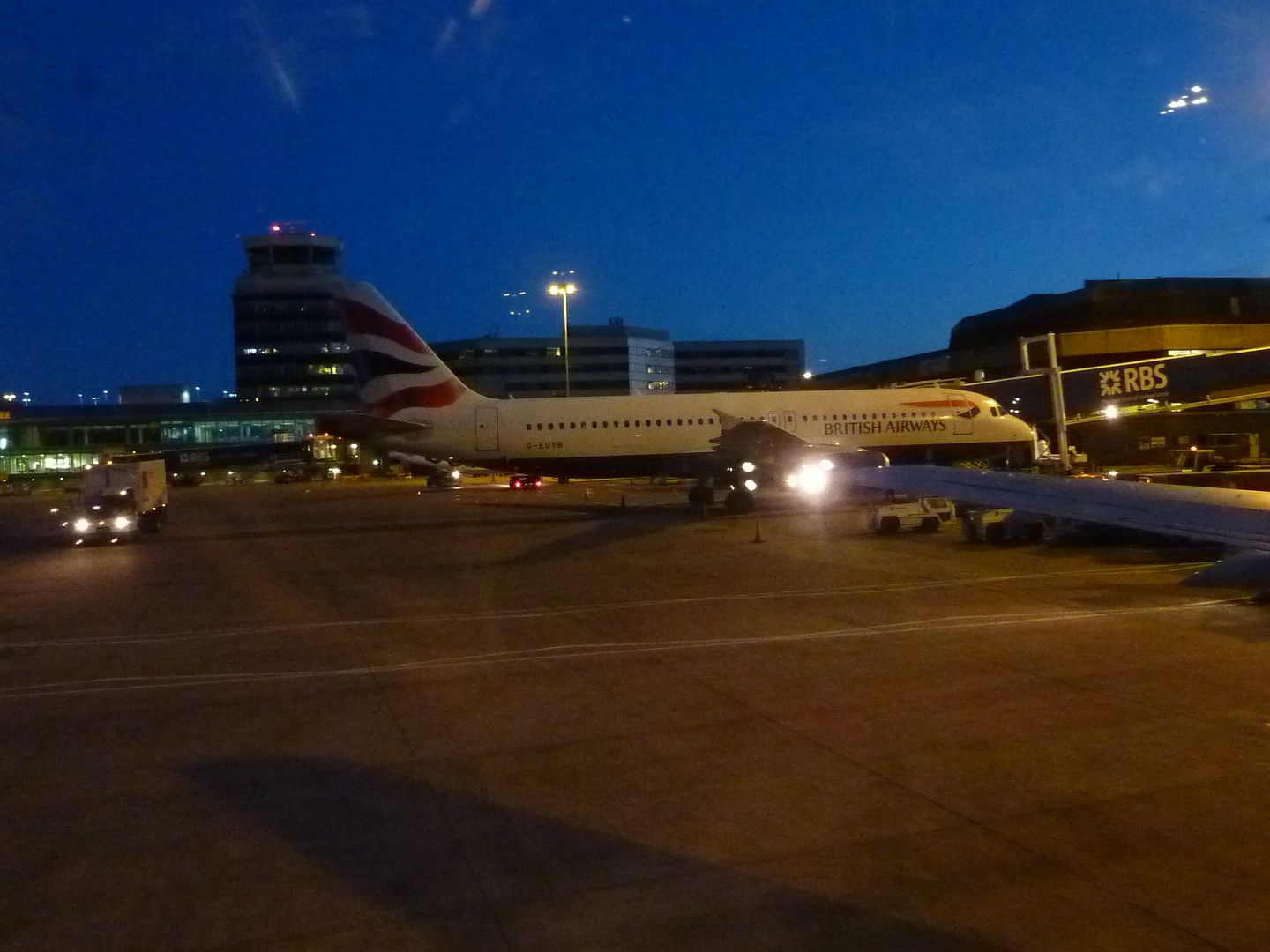 I was off the plane following the flight transfer signs.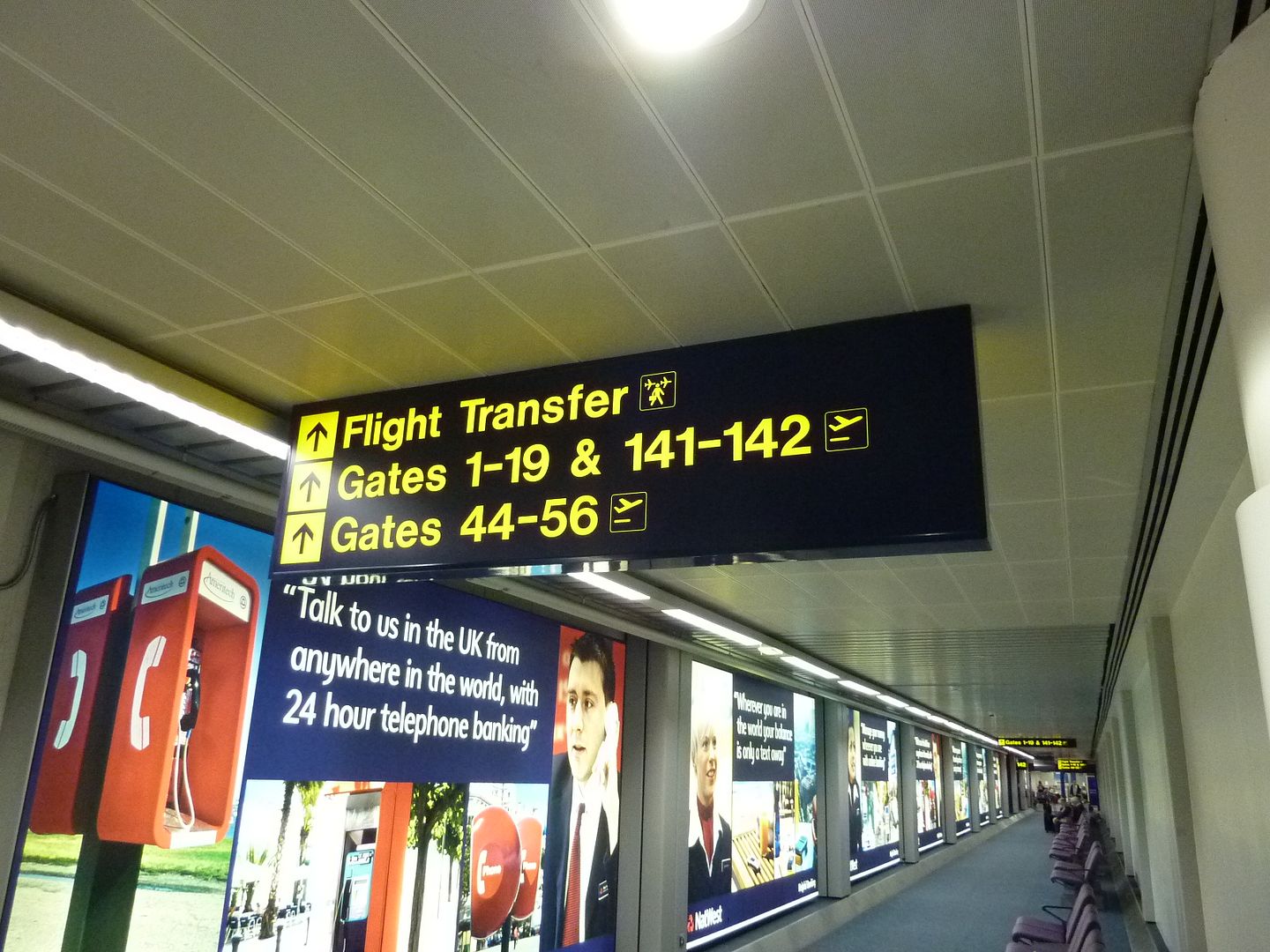 A couple of pictures en-route to the BA lounge.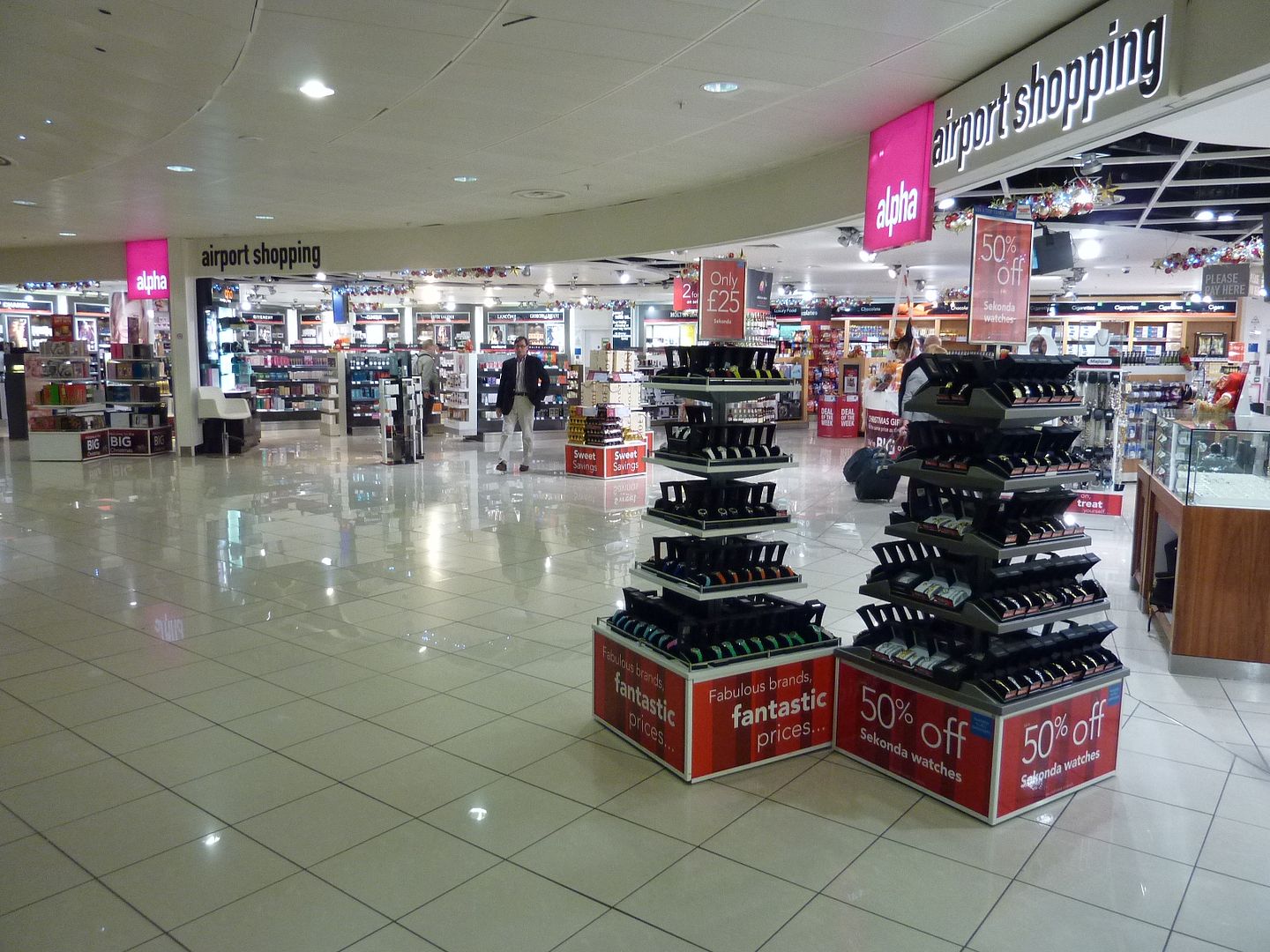 The lounge has shrunk since I was last here, the 'missing' section is now occupied by Flybe.
For the Americans?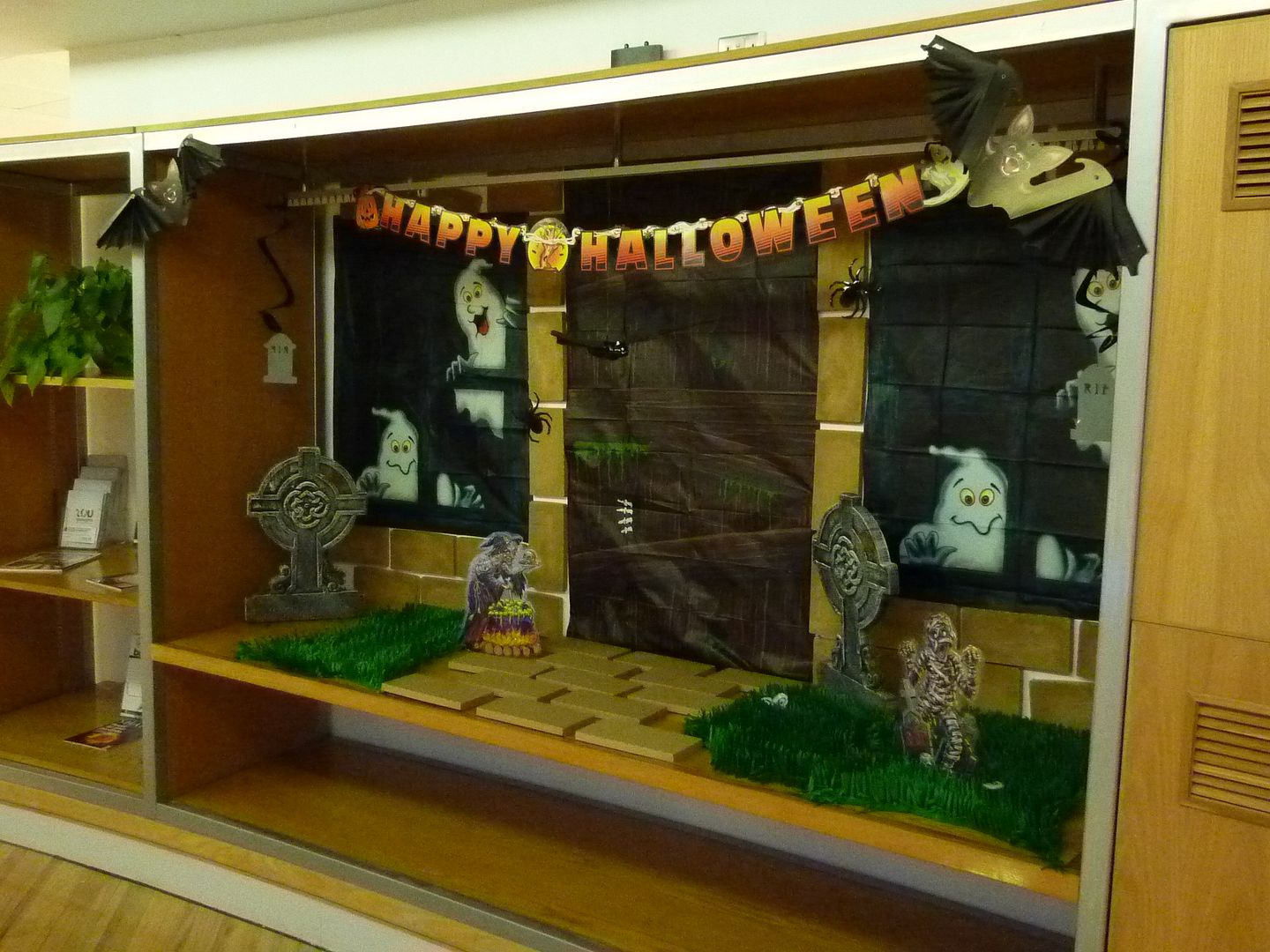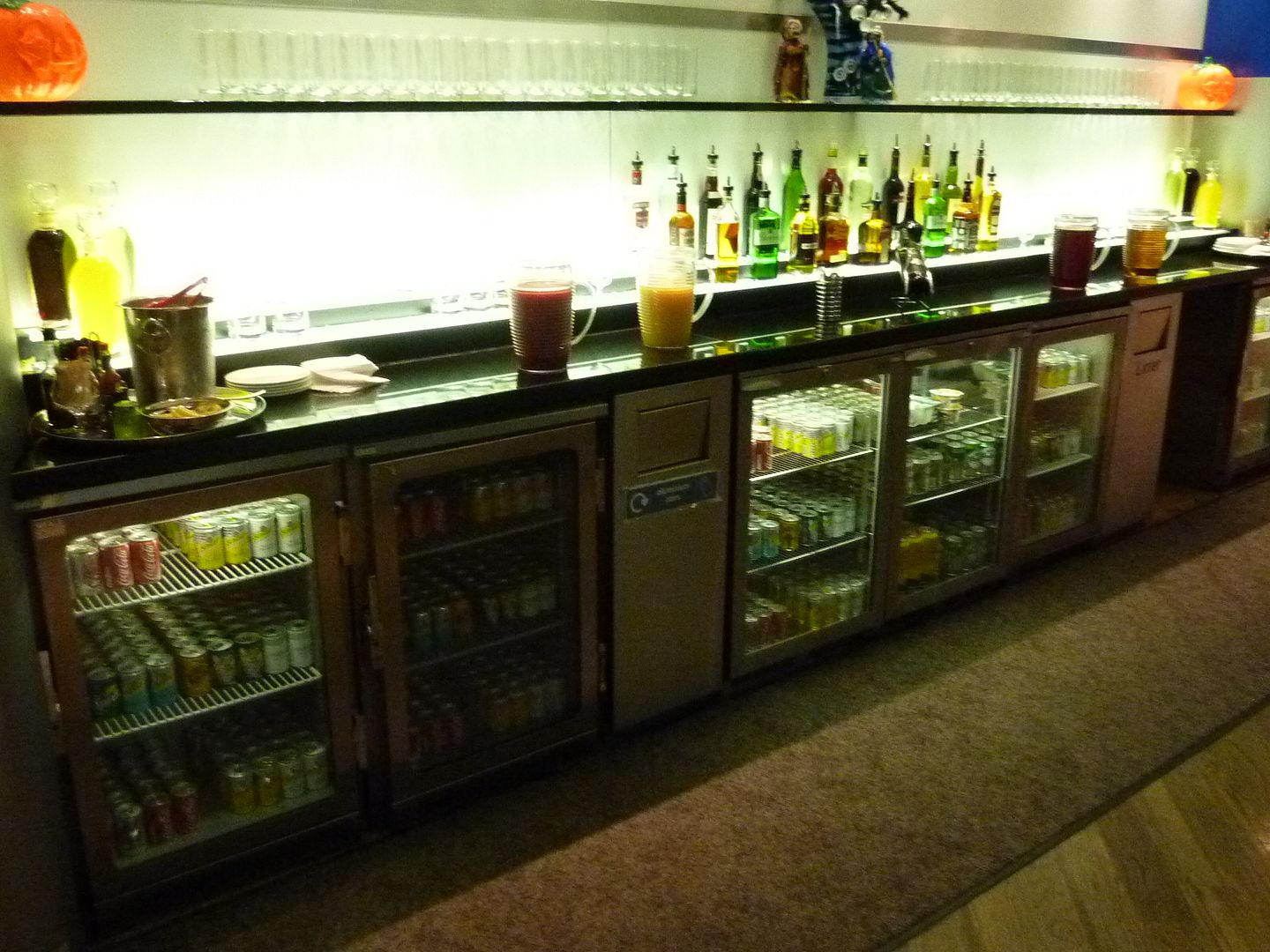 Managing to secure a couple of seats by the window I headed for the coffee machine as P rang – he would be up in a few minutes, I'd meet him at the lounge entrance and sign him in as my guest, feeling generous today
A bad picture of CPET arriving, dirty windows and facing the sun don't help!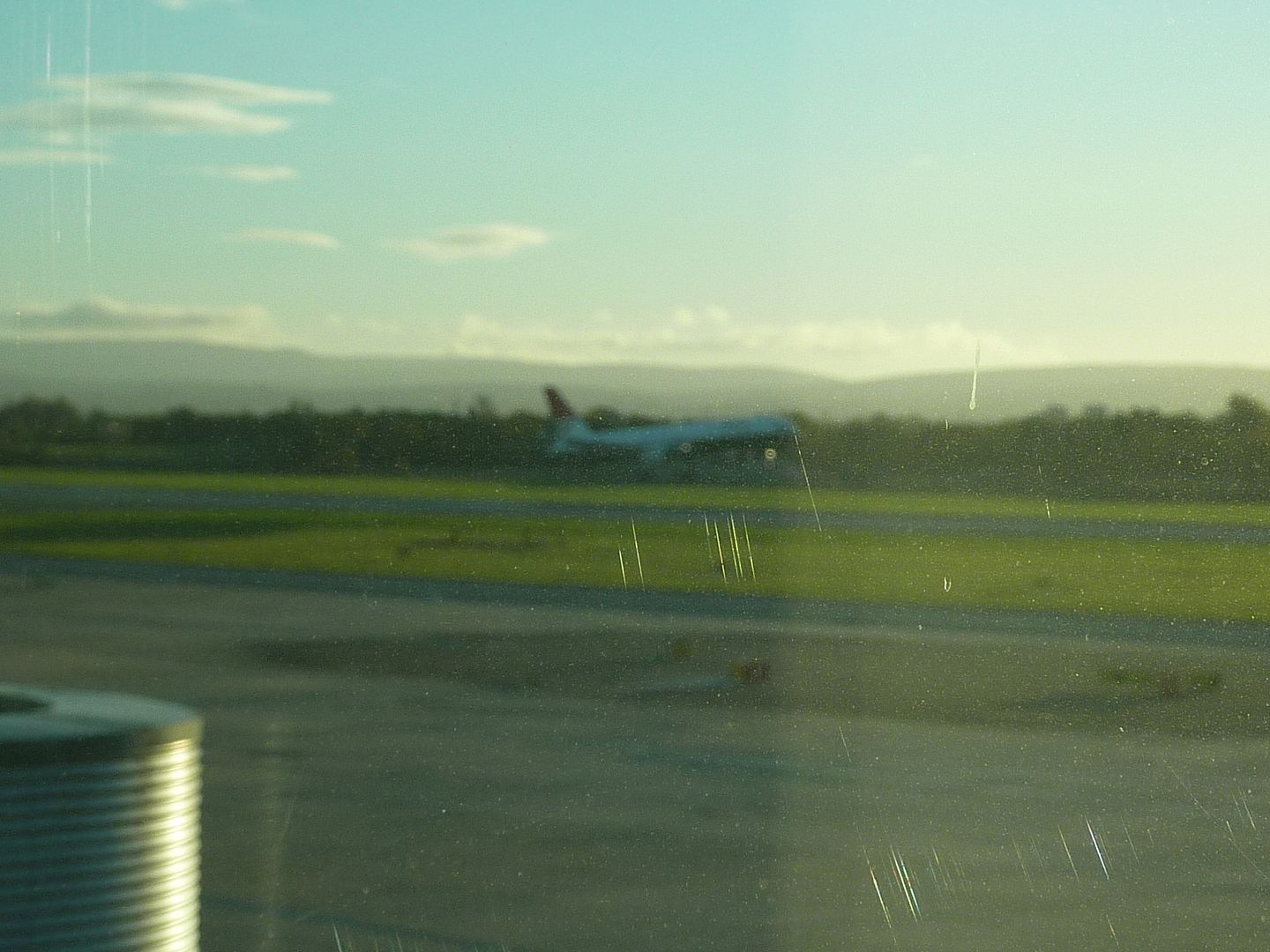 So food, drink and some chats about all things and it was time to head down to the gate when the call was made, @ 09:34 – BTW P, thanks again for the chocolate , I'll enjoy for sure!
MAN-LHR – final BA 757 service from MAN
Boeing 757-236 G-CPET built 1998
Seat 9A Economy
2nd Flight on this aircraft, 37th 757 flight.
SCH DEP 10:00 SCH ARR 11:05
ACT DEP 10:01 ACT ARR 11:02
View Large
View Medium


Photo © Darren Varney
View Large
View Medium


Photo © Dennis Löffler
The boarding queue was pretty long, we found a window to get a couple of shots of out bird.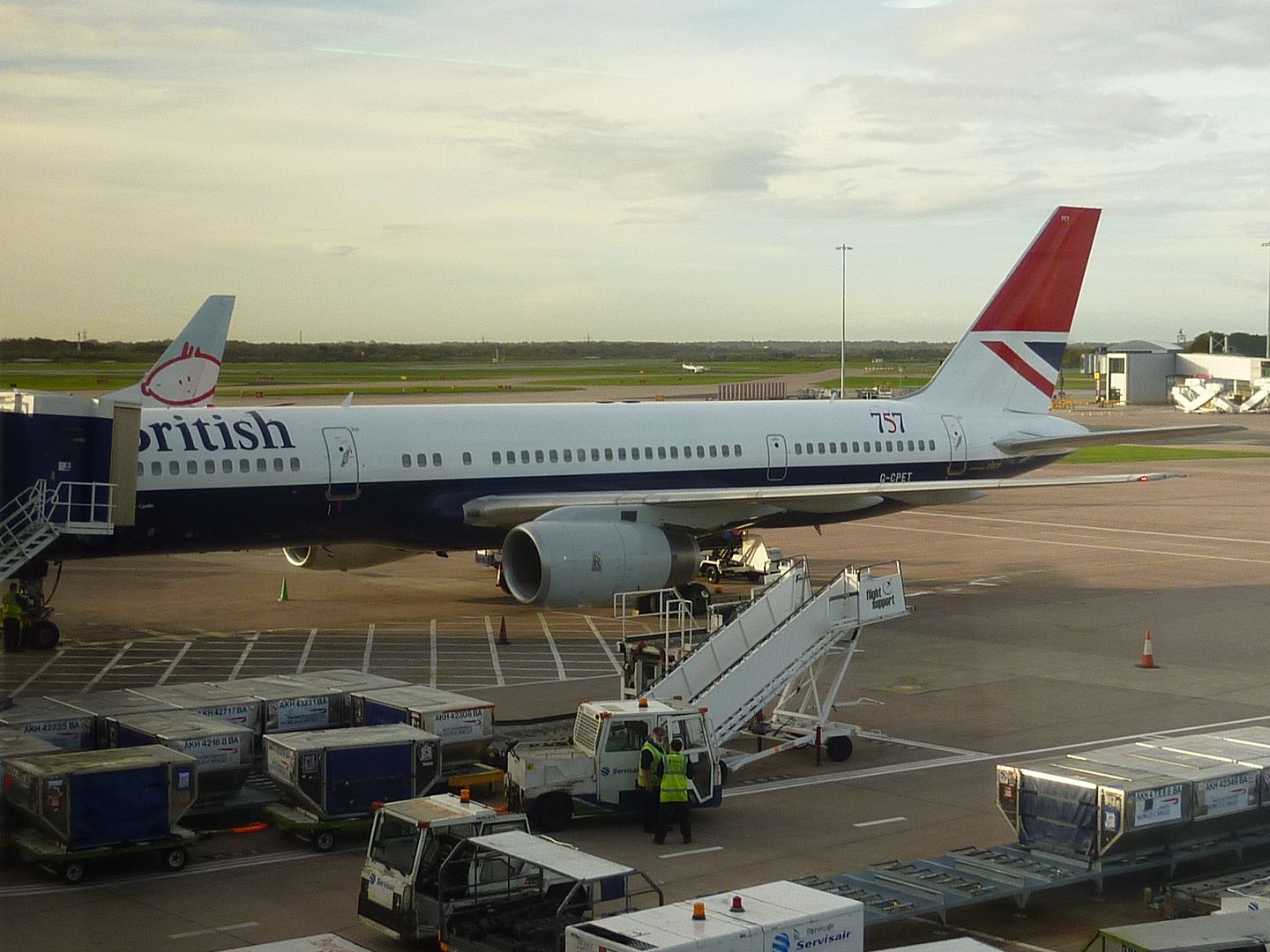 A quick chat with the friendly gate agents, I don't think they quite knew why people were taking pictures of the plane, yes, we were not alone today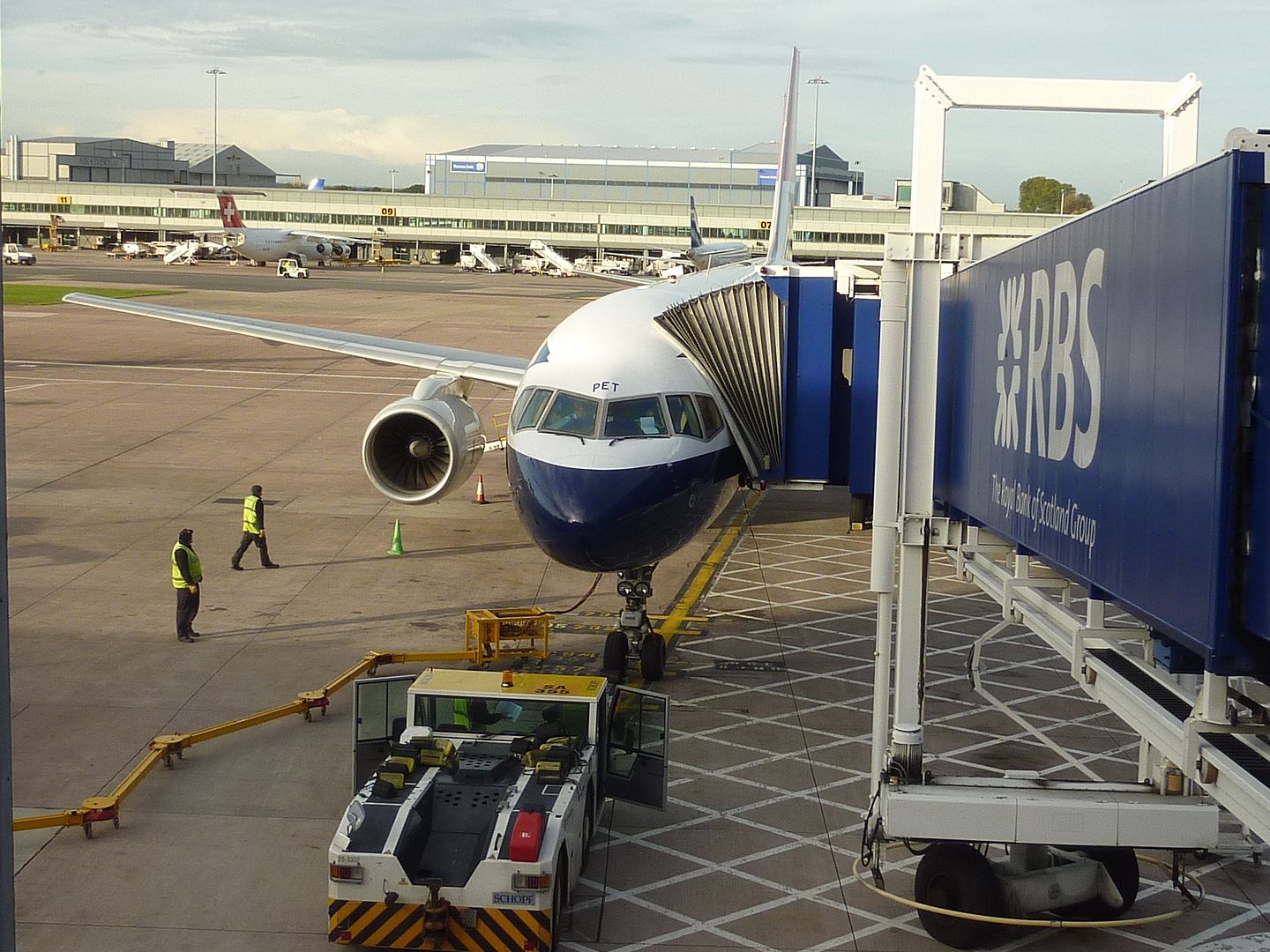 Down to CPET....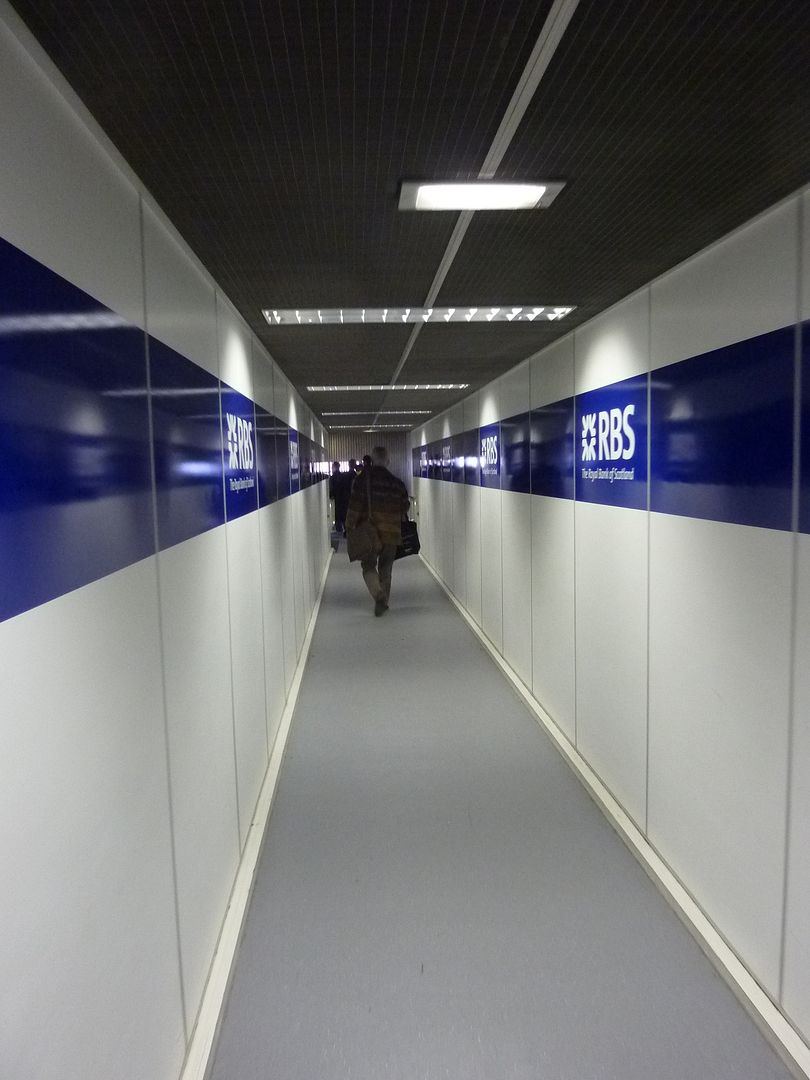 We have arrived!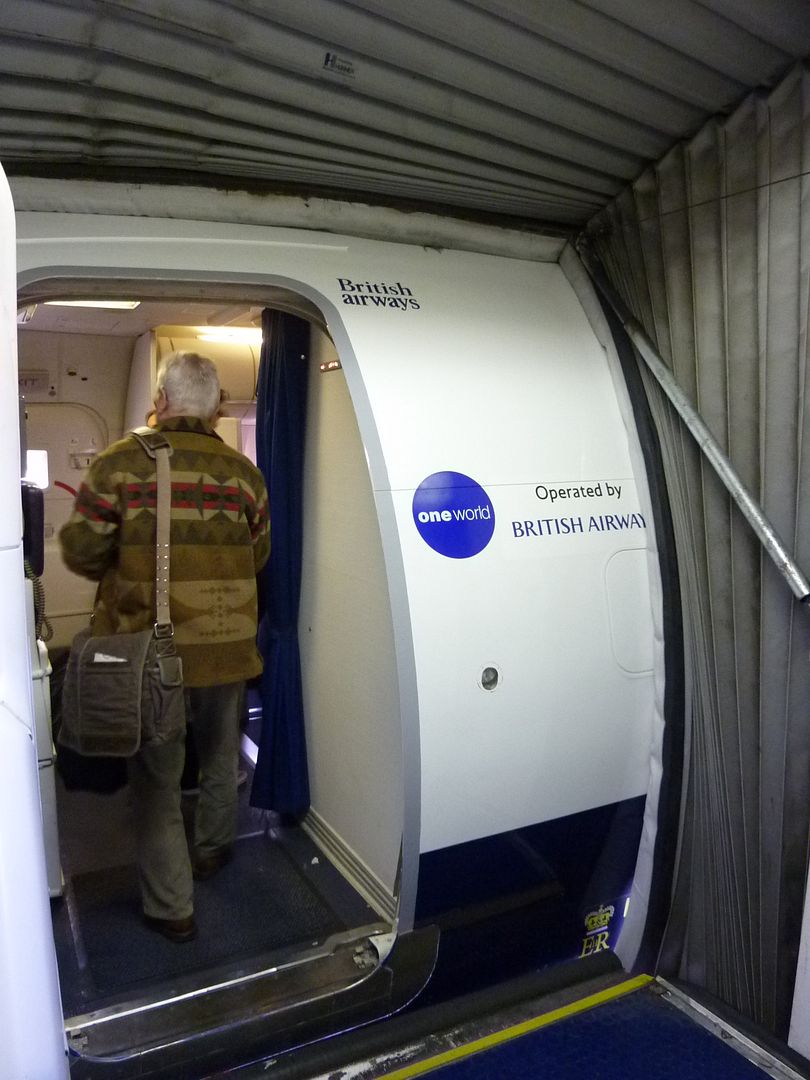 Greeted at door 1L by two friendly crew, one, the CSD, Claire, decked out in 1980's BA uniform, what a great sight so see and added something special to the already special occasion.
I took my seat in 9A which is the last row in the front cabin, P headed back to row 12, seat F.
Captain Hall came on the mike and said a few words about the route, expected flight time and a brief chat about this being a special flight, promising to give us more information on the 757 in BA service during the flight.
I think this was a nice touch as the majority of passengers would be completely unaware they were taking part in a piece of history.
Despite the healthy load today, 9B remained free
Forward cabin
Interior falling apart!
Push occurred a minute behind schedule, as we headed off towards the active I could see various ground staff taking pictures of this historic event.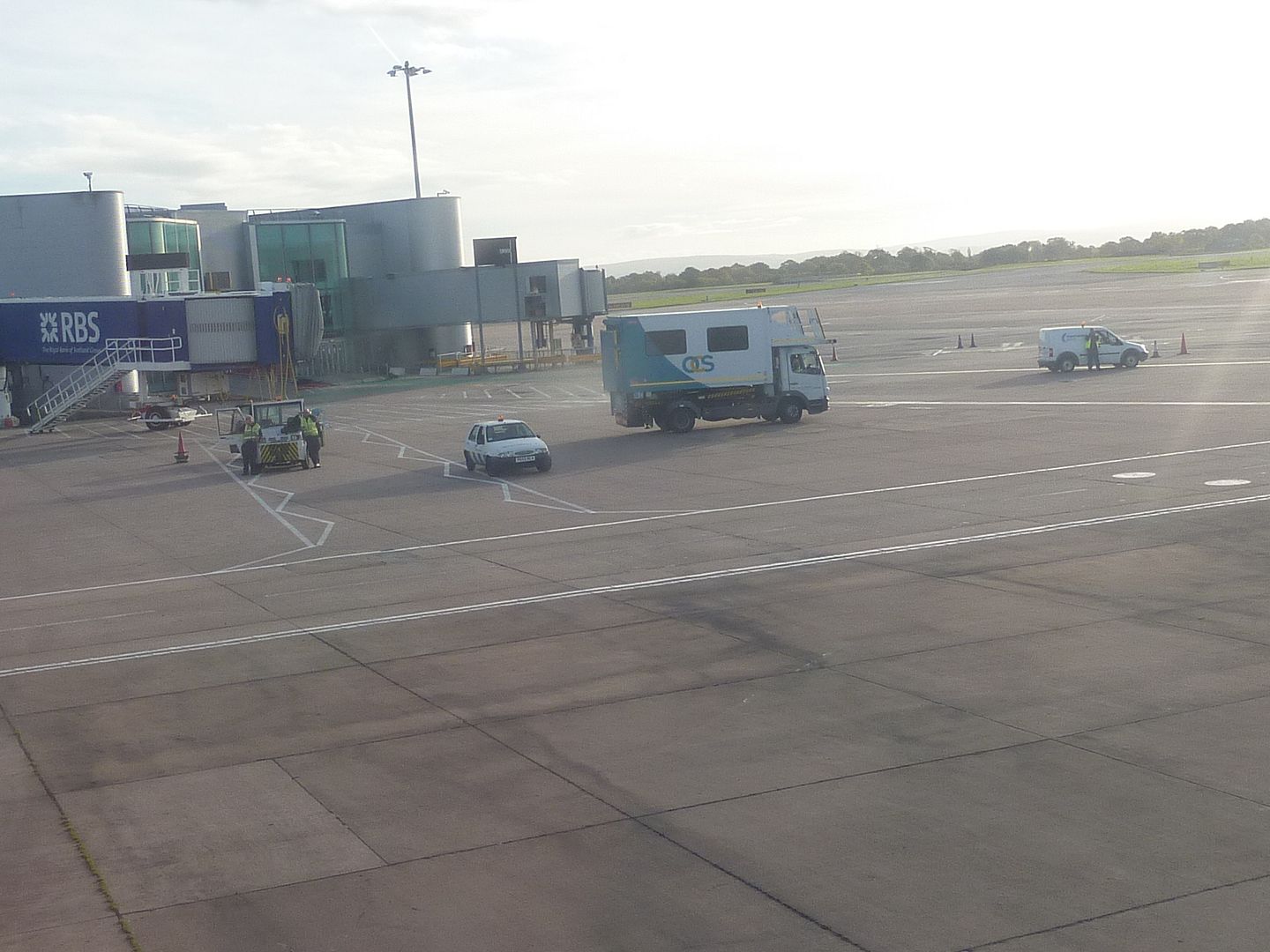 Onto the active and 34 seconds later CPET was
in the air heading for London @ 10:12, I had hoped for one of the pocket rocket take off's we used to get in the good old days, alas, not to be – a quick chat with the Captain @ LHR revealed they are not allowed to do those anymore, shame.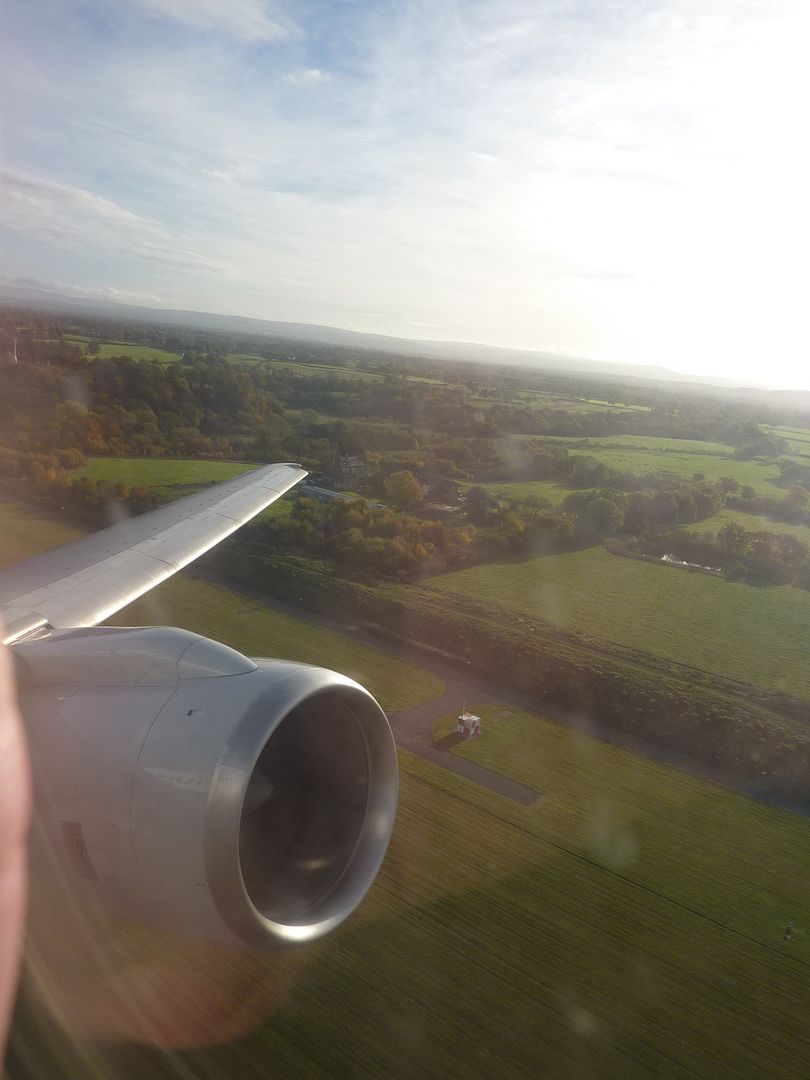 Once released the crew started the drinks service, Claire being the CSD was serving our front section, I could see many people asking her about the uniform and about the plane, nice to see people show some interest.
MAN in the distance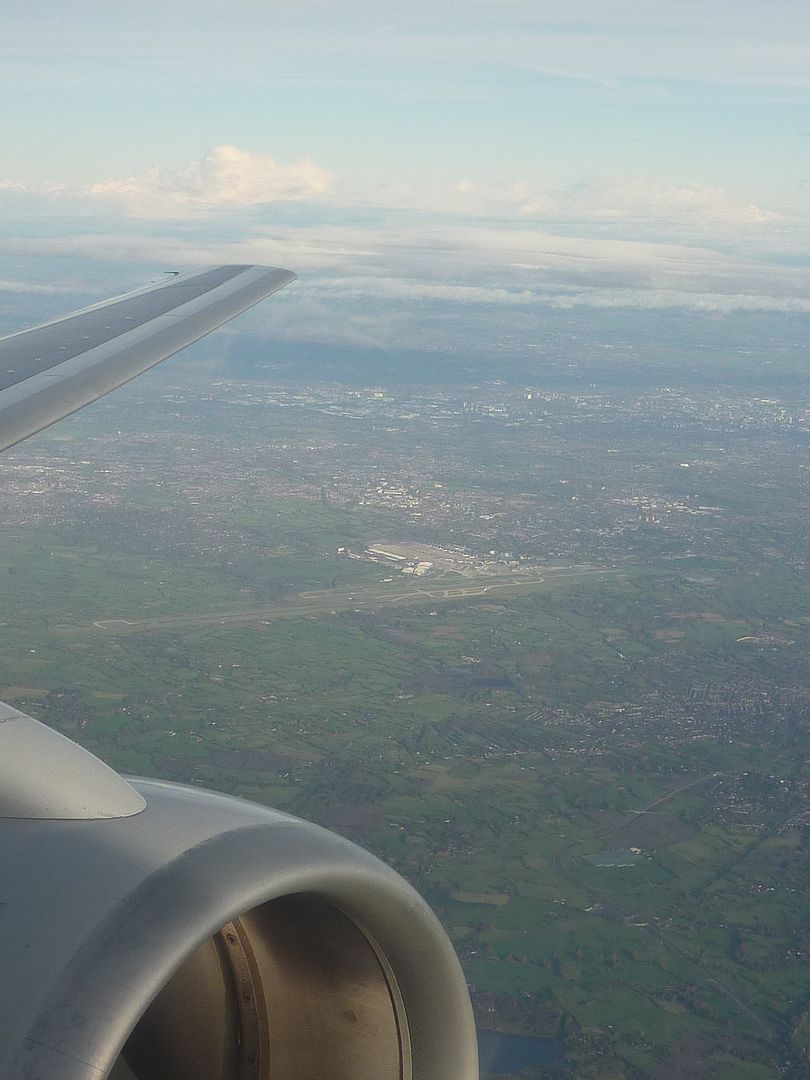 I took a coffee and G&T, seemed only fair to say cheers to the old girl.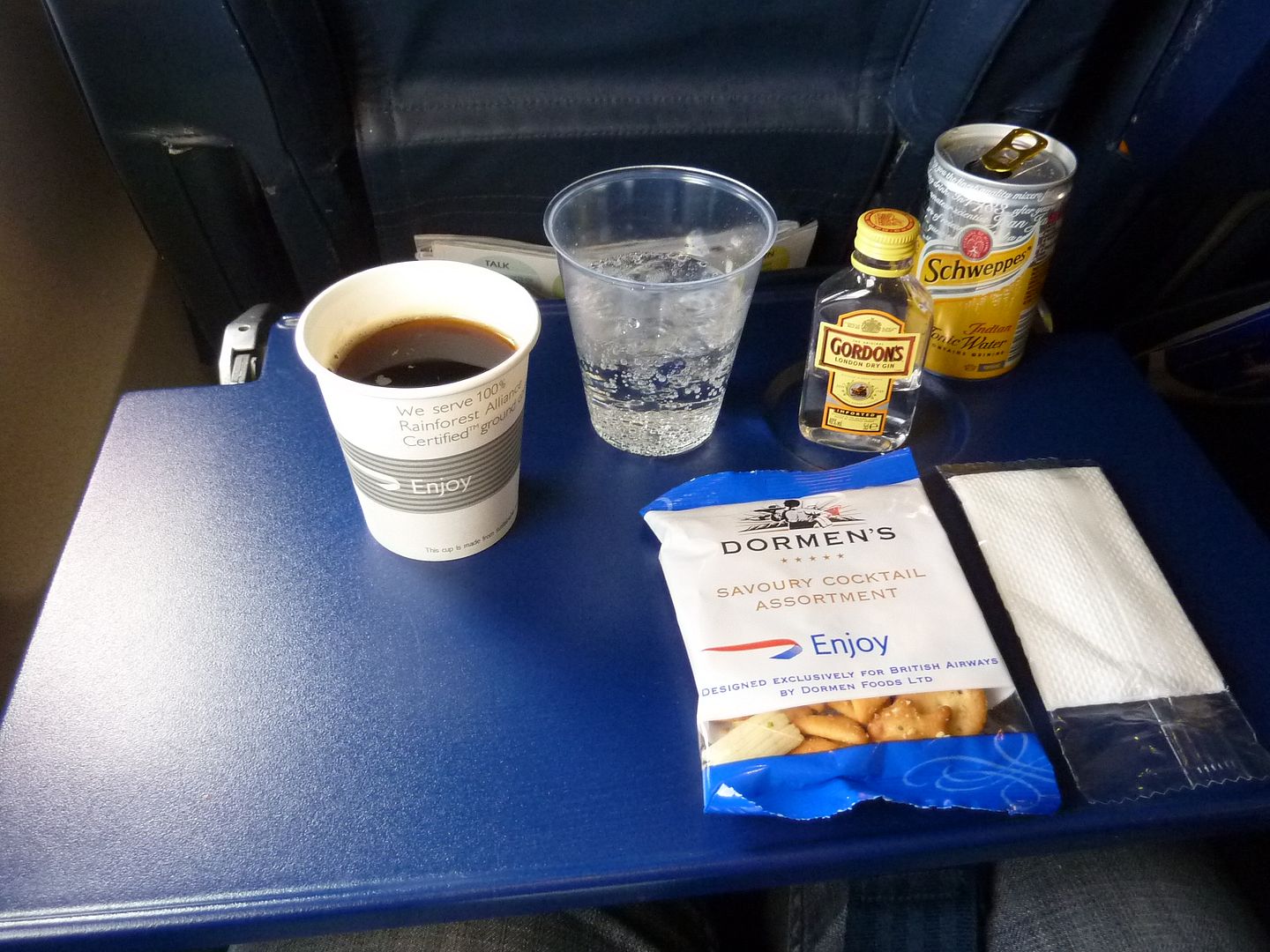 The rest of the flight was pretty uneventful, Captain Hall came back on the mike and advised we had reached cruise @ 19,000ft, then gave us more information on the history of the 757 at BA, looking around the cabin I could see other passenger put down their papers and listen to the narrative.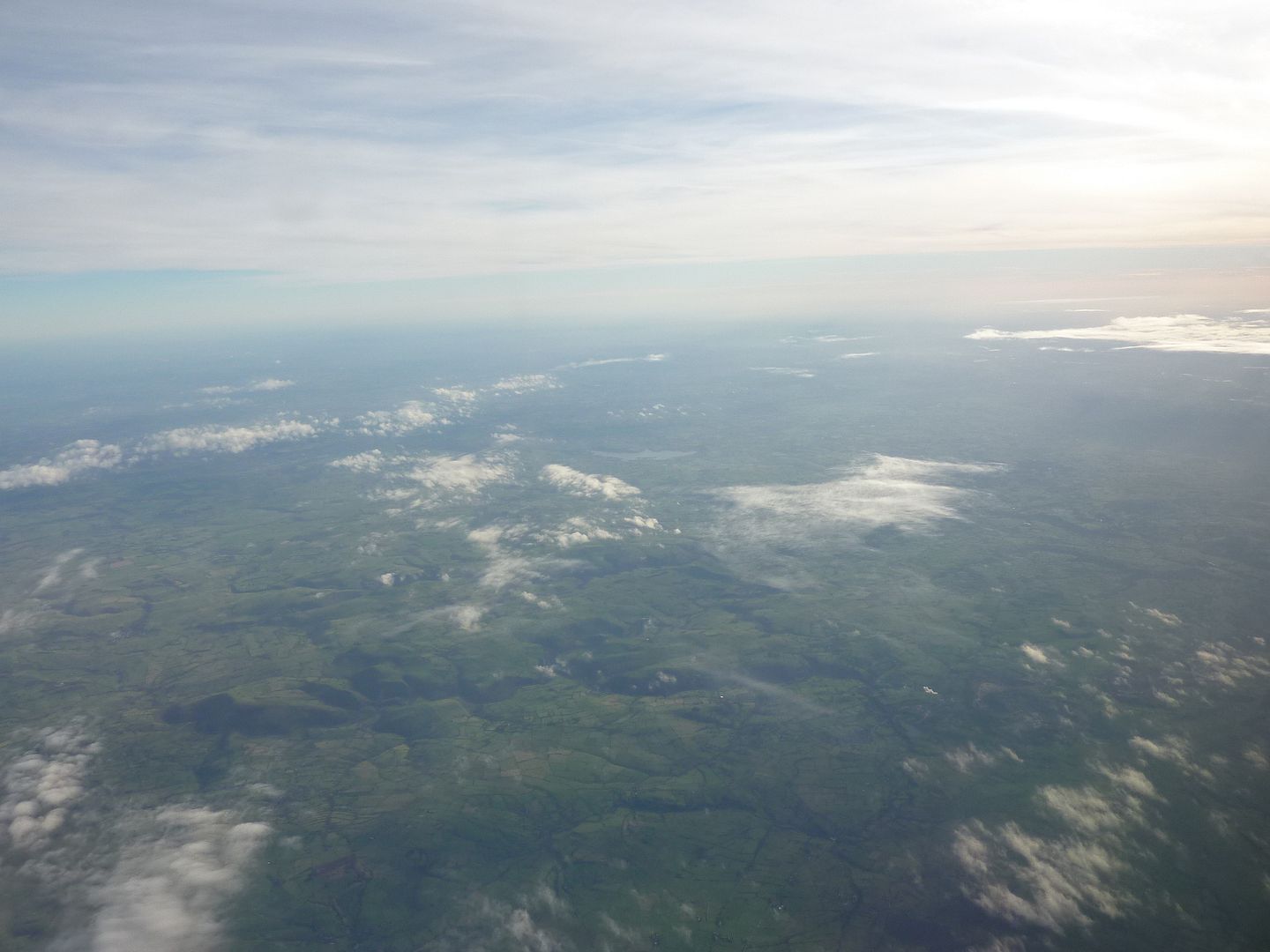 Dated overhead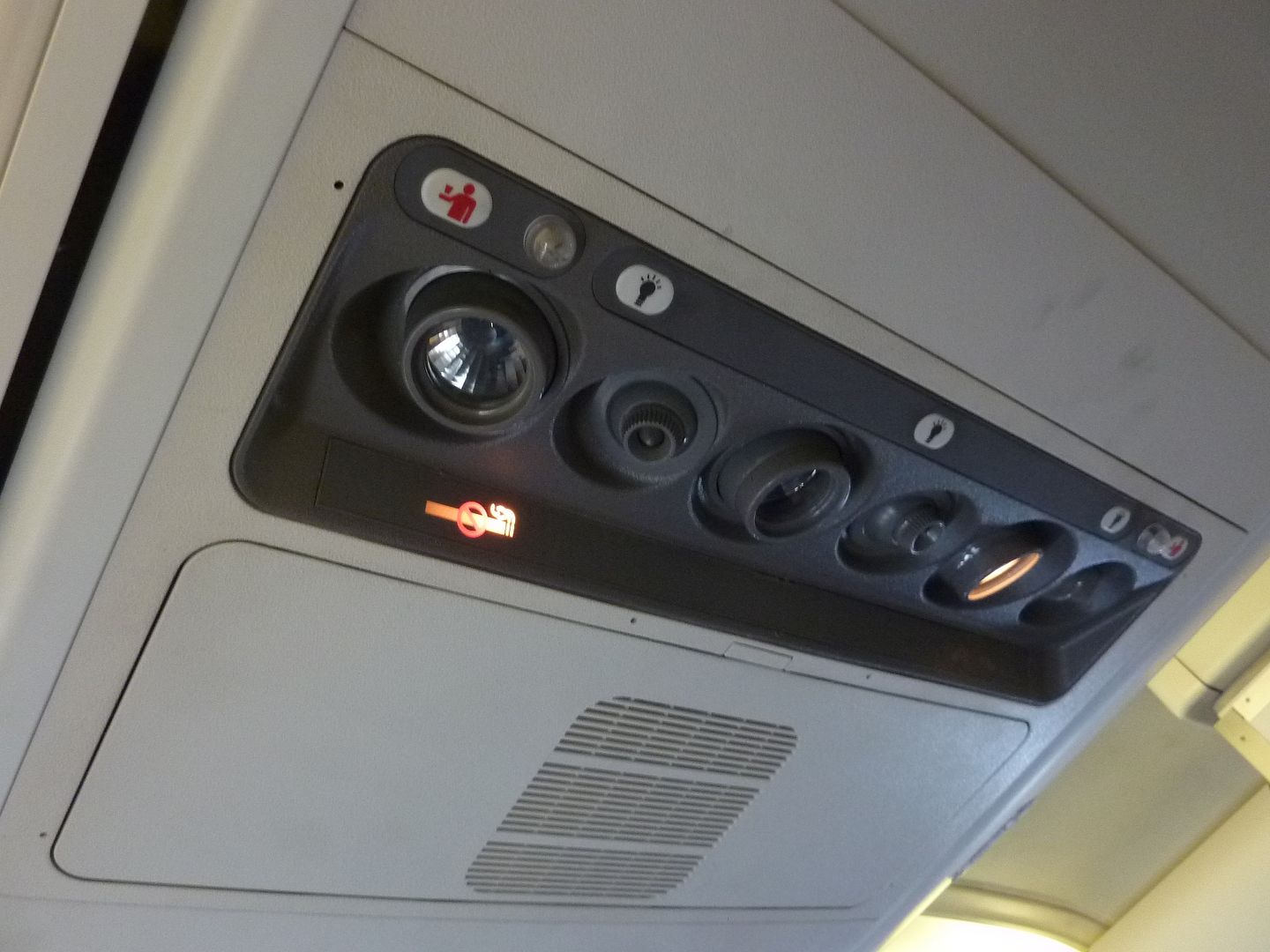 Initially Captain Hall suggested we would arrive early, however did warn things could change, he was right and advise us ATC had asked Shuttle 3 Romeo to slow down, we would also incur 2 circuits of the Bovindgdon hold, I could see my house!
Also in the hold
Cleared to leave the hold it was across North London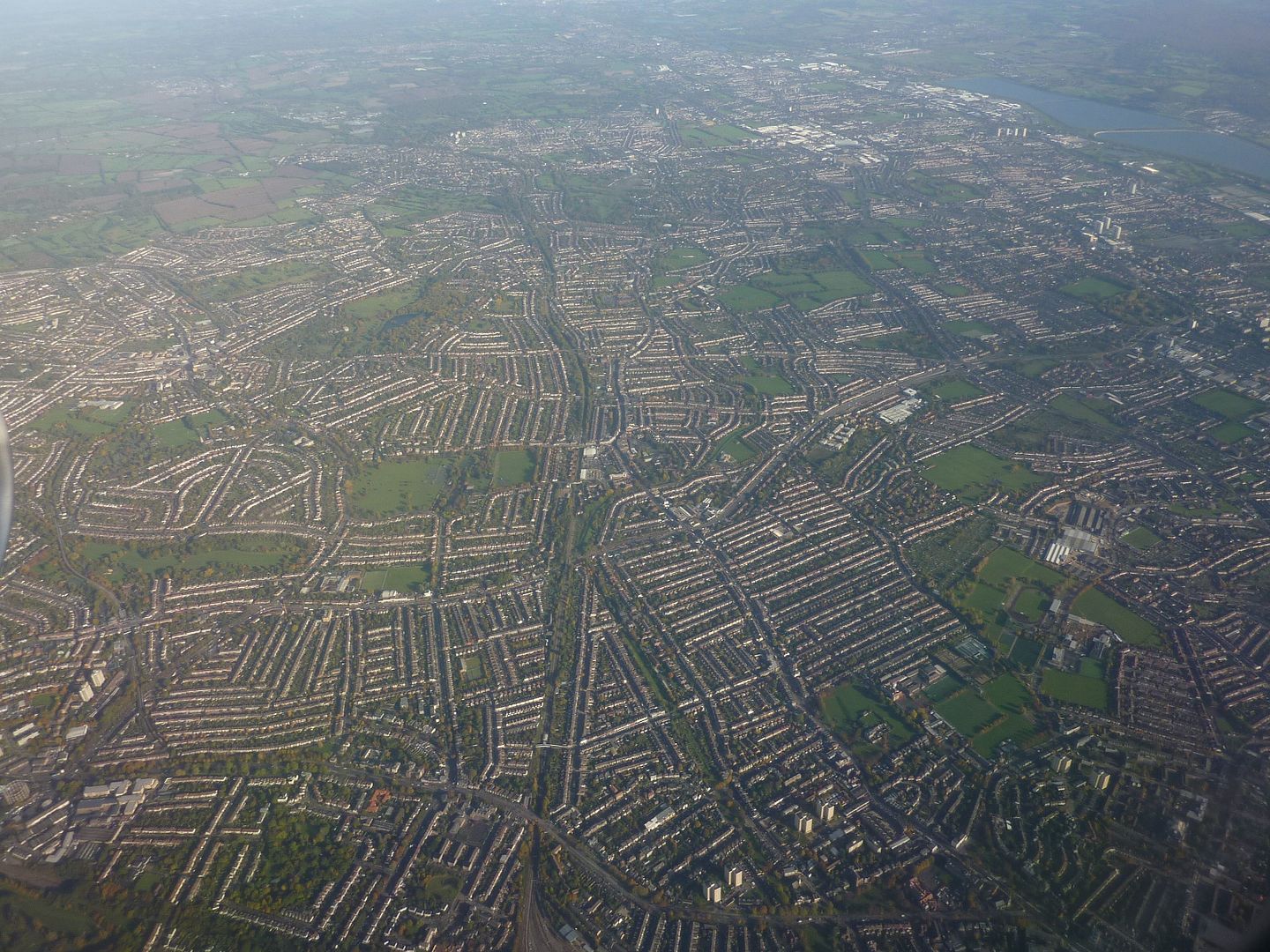 to Canary Wharf, a right hand turn and we were over London heading to Heathrow.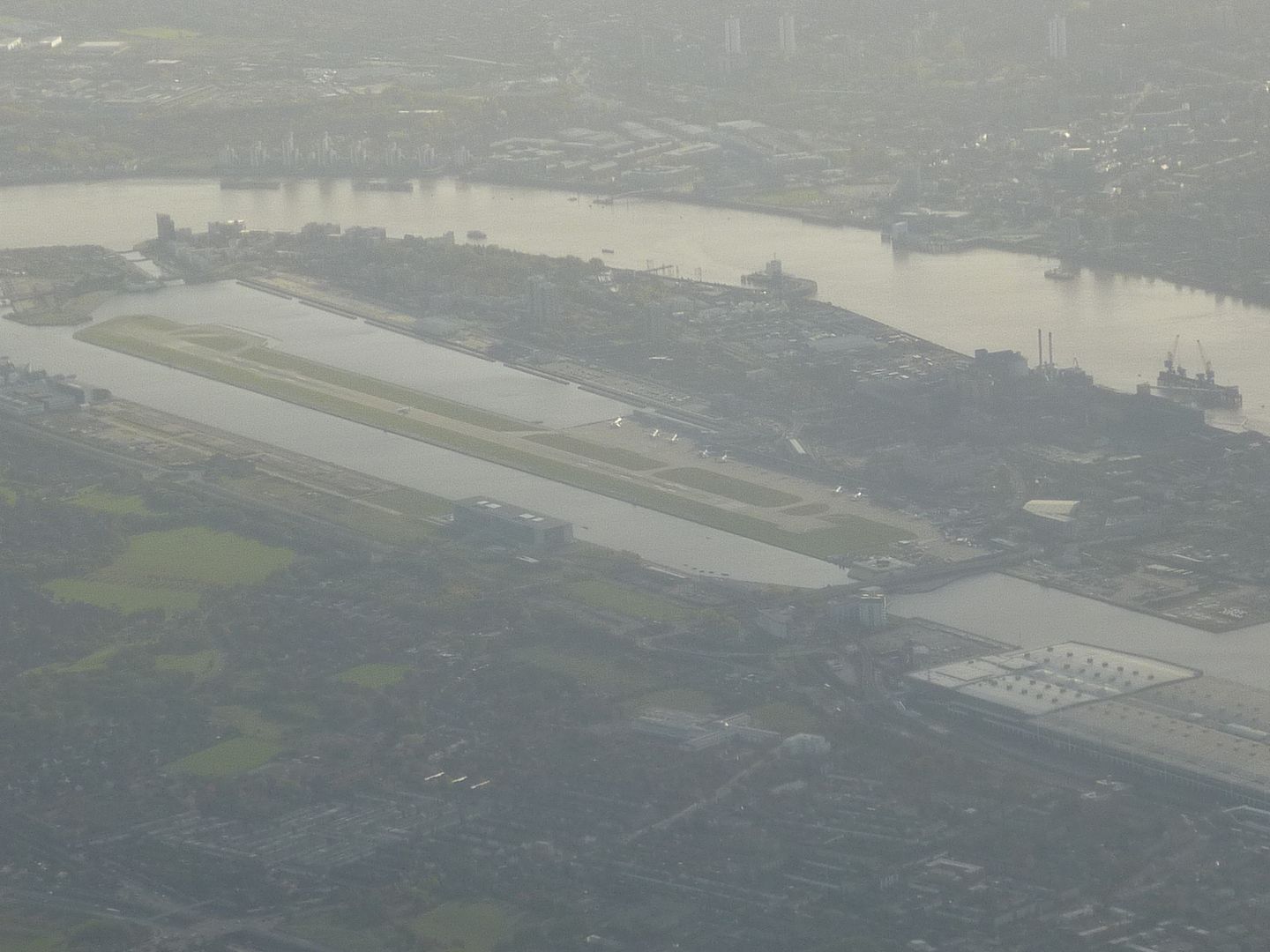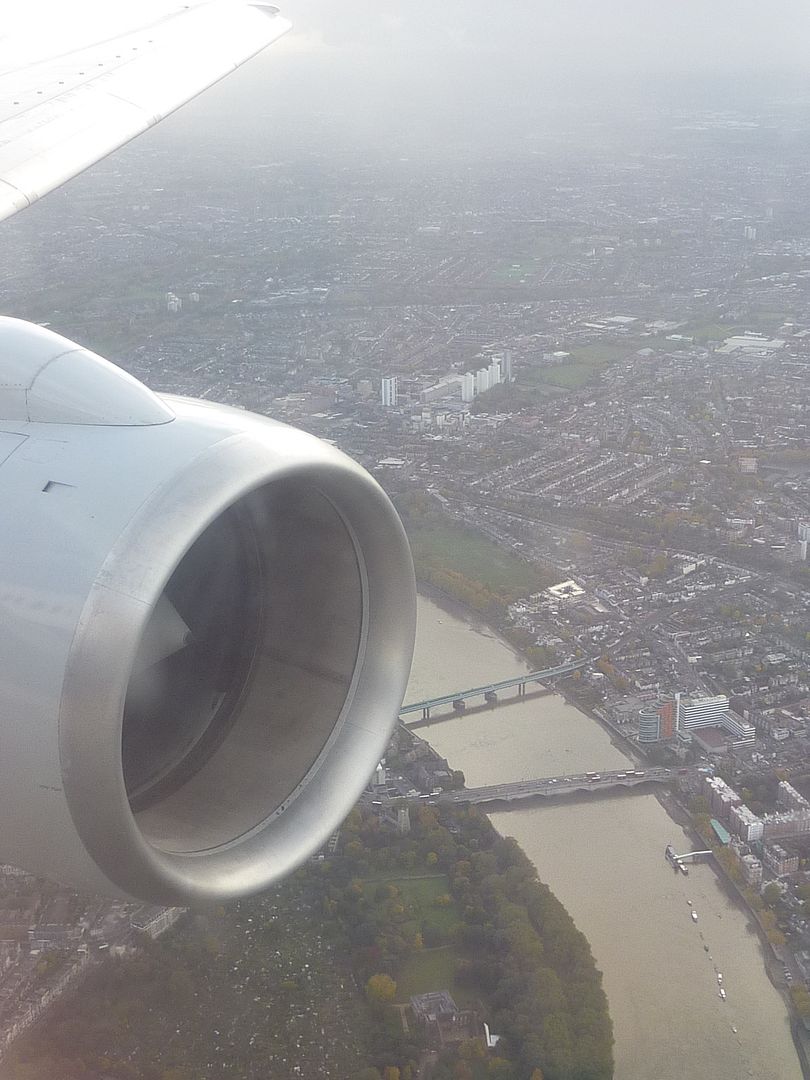 Unfortunately on approach I was facing the sun so pictures were pretty hard to take, however P has some great shots from the other side of the cabin, I'm they will be up in a few days time.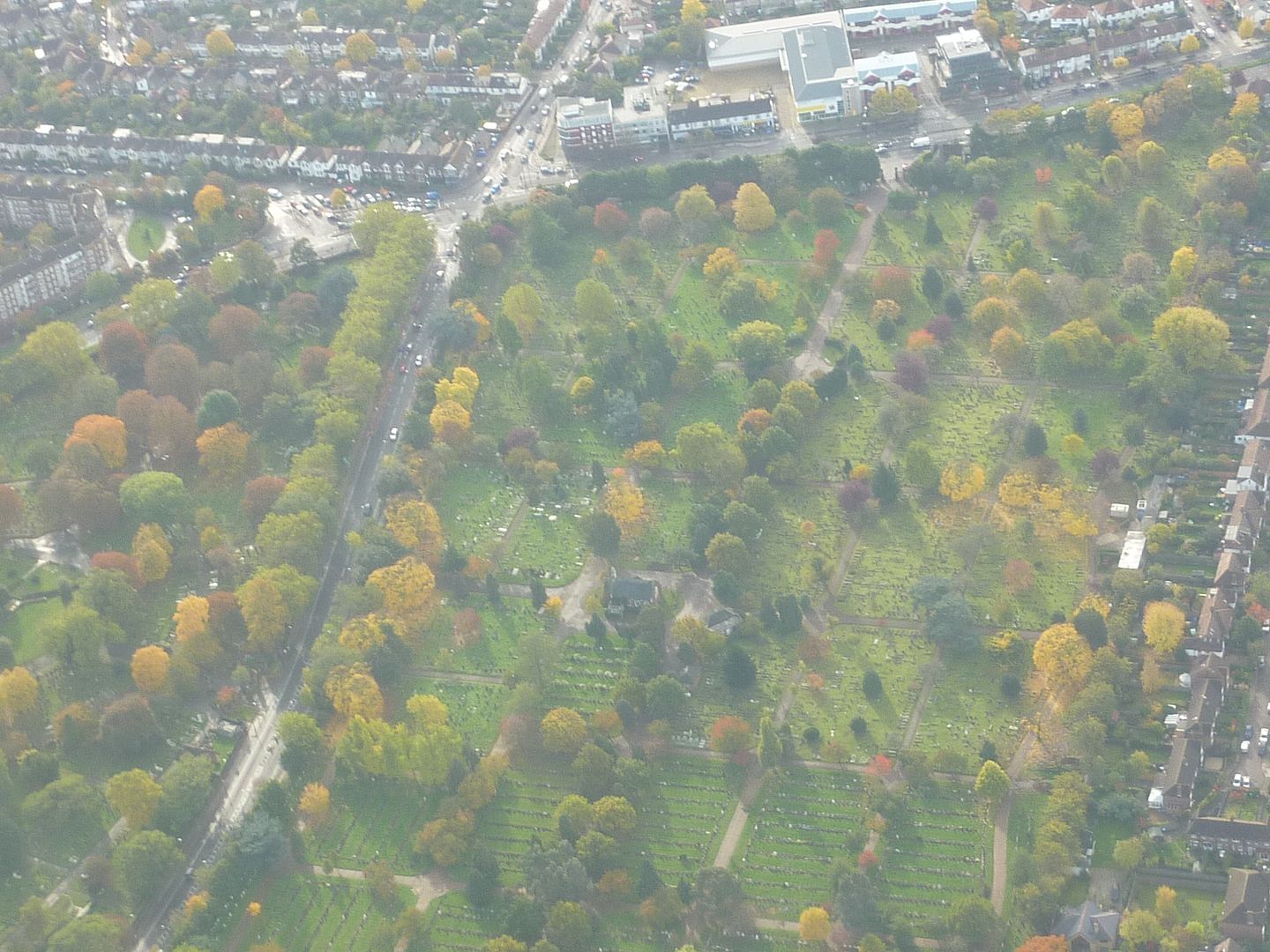 Getting closer now, shame the flight has to end, it's been a real joy.
CPET touched down @ 11:02, ending it's final ever flight from Manchester International.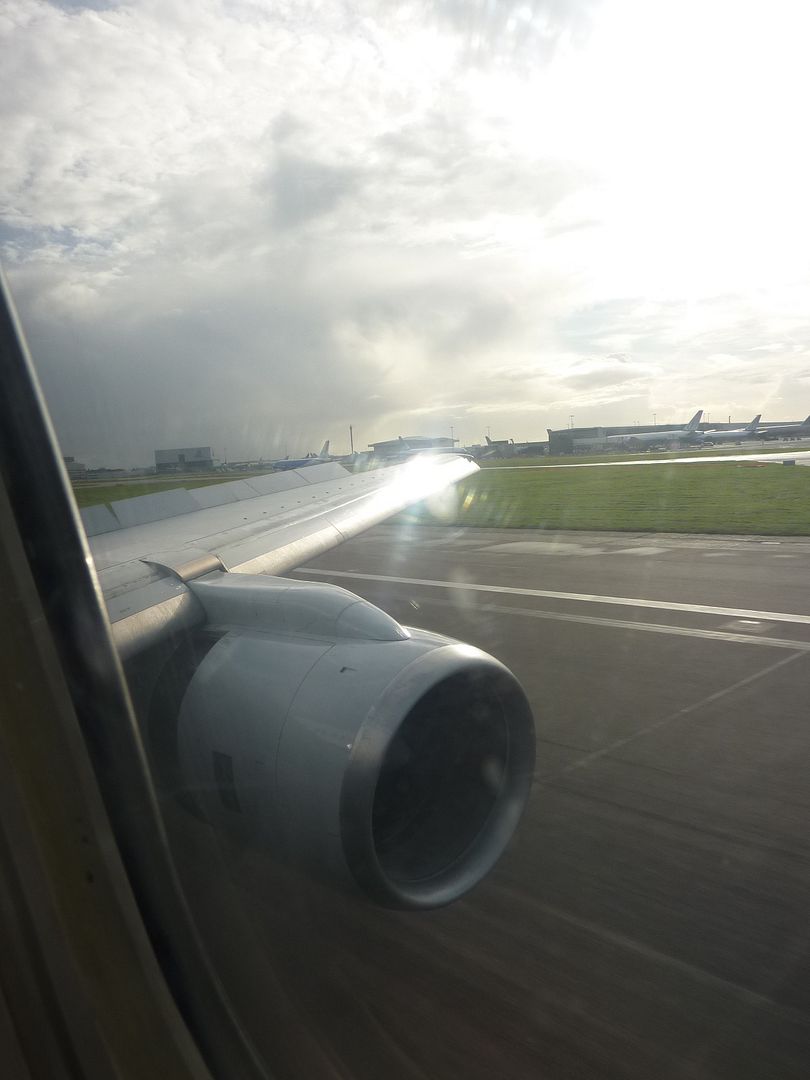 During taxi to the gate Captain Hall came on again for a final few words and pointed out the new BA 777-300 to our left.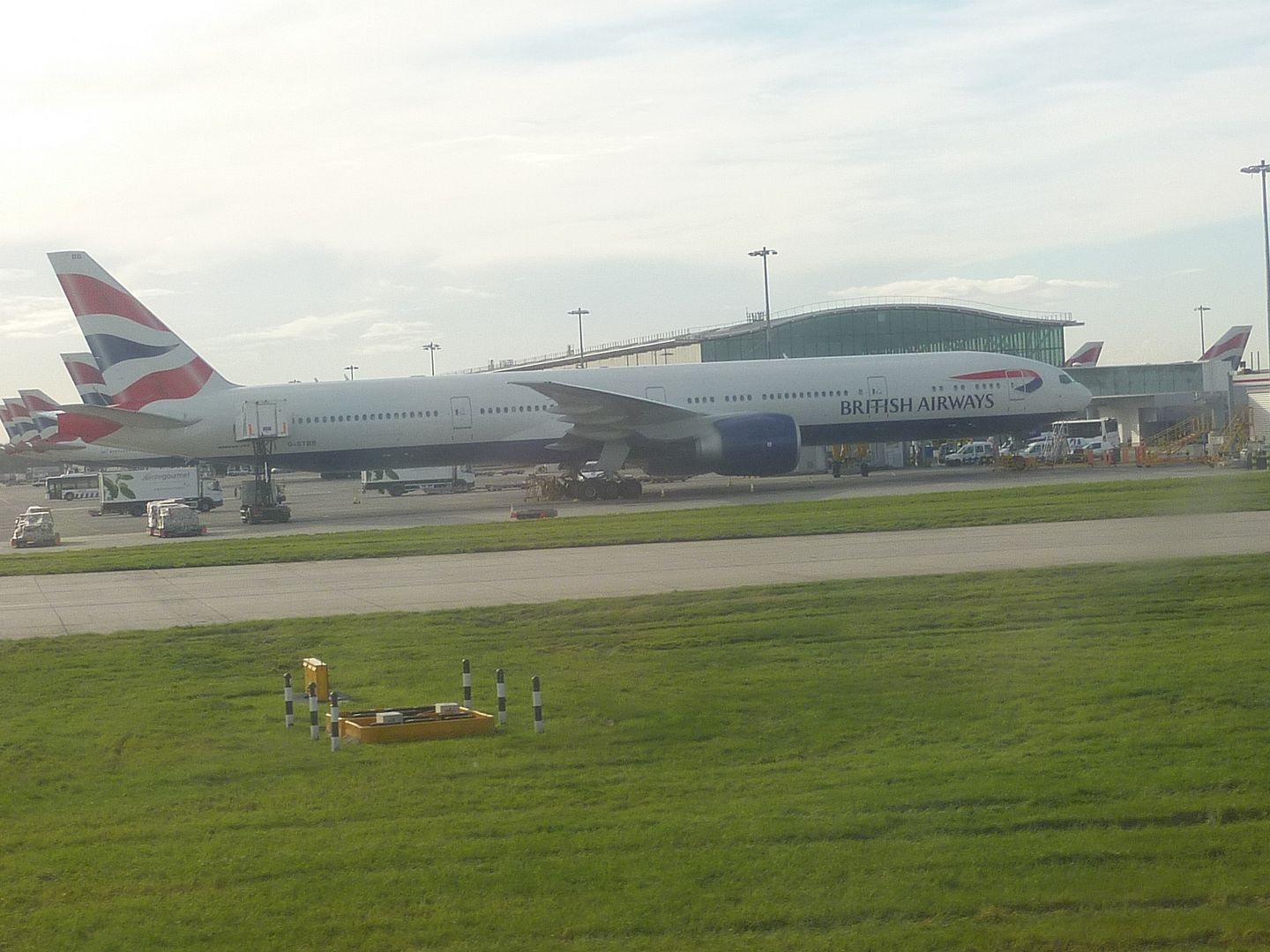 A first for me, CPET pulled up to a gate on T5A, the 757's have not been used out of T5 since it opened, instead they had been operating services to Spain and Portugal from T3.
Door L2 was used to disembark, right behind me, however I remained behind and joined a bit of a queue to visit the front office for a few pictures and a chat with the crew, friendly bunch they were too.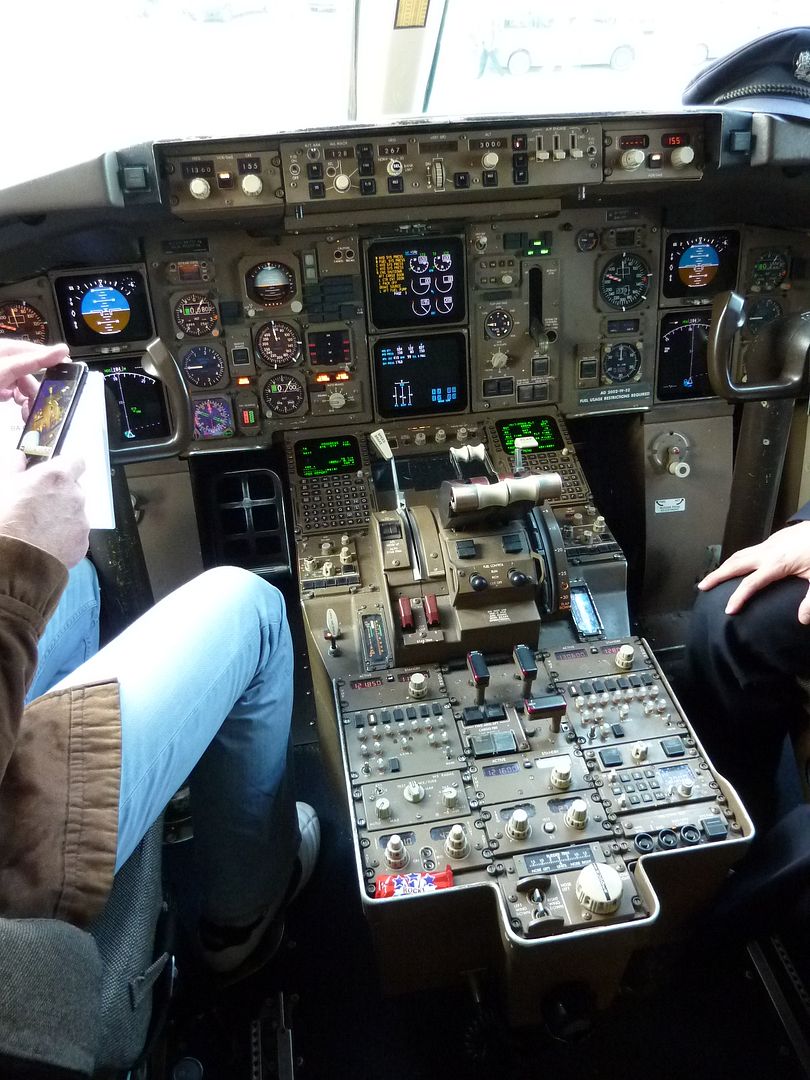 Last cabin look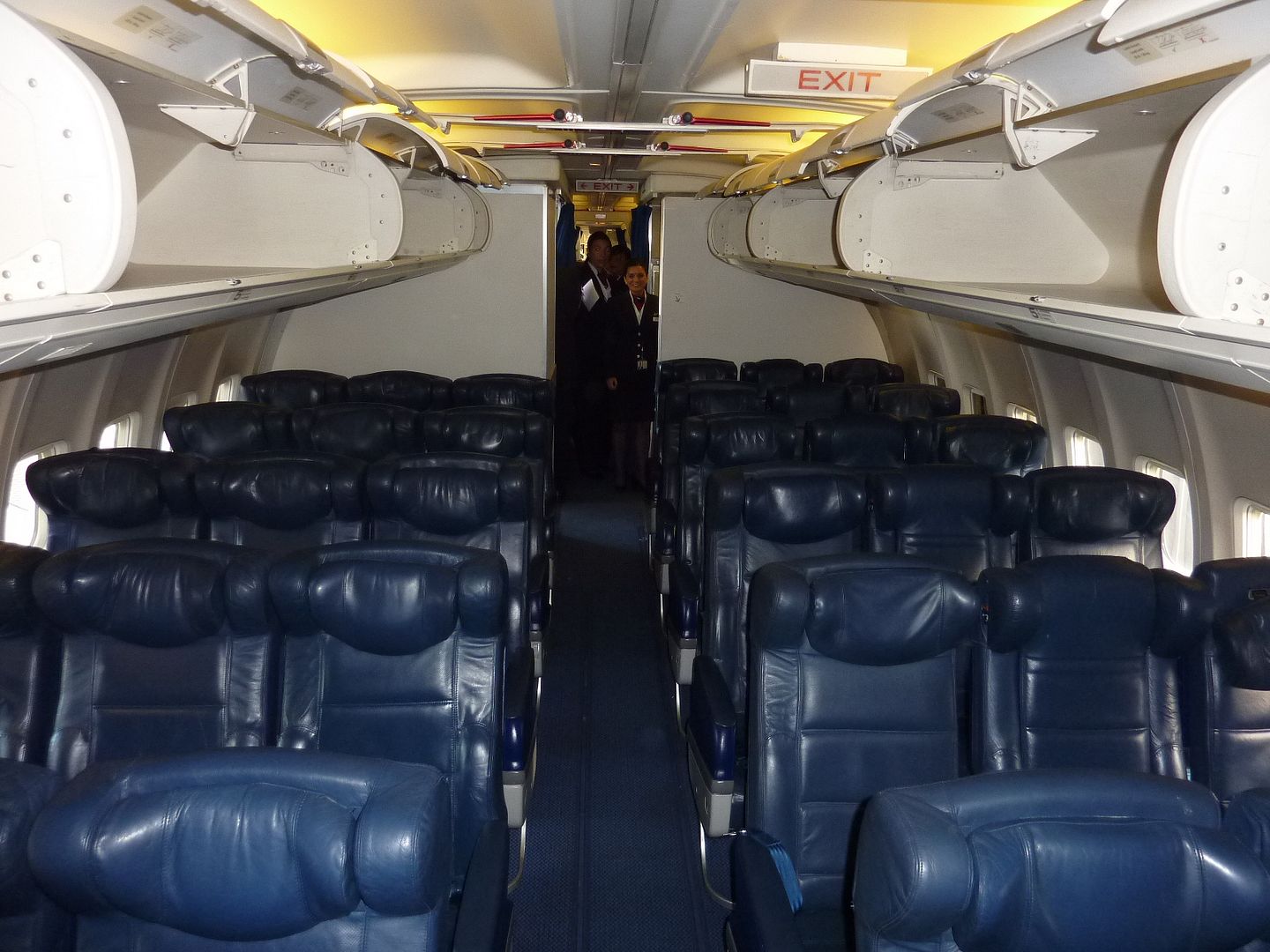 By the time P & I left the plane, the cleaners were already aboard and the FA's had left, bit of a shame leaving her to be honest, shame the day had not been free to fly all 6 domestic sectors.
Heading up the jetway we passed the next cockpit crew as they headed down for their final flights with her, I wished them and enjoyable flight and they all thanked us.
It seemed to me all the crew we had seen today were in good spirits, I guess for them it was a special day too, having spent so many years flying with the 757, I imagine for the pilots especially, it was a sad day.
Last shots from the jet way
The 757's may have had their day with BA, but we can look back of some 27 years of excellent service, over 60 different frames, not a single hull loss - great work by BA crews and Boeing for producing this safe & sturdy plane.
What's next for BA's 757's?
Like the original 535C engine machines, these 535E4 versions will be convert to freighters, joining the growing 757 fleet @ Fedex, expect so see these birds flying for at least another 20 years.
Last thoughts
I feel incredibly lucky to have been on this final flight from Manchester, whilst not the very last flight of the day, it's close enough. I could feel the history of the plane, reflecting on it's passing as what was one cutting edge aeroplane is confined to freighter status as it leaves service from a major blue chip airline.
Thanks to P for joining me today, it was great to catch up again and to share this special flight.
Thanks for reading, it's always good to see others read and on occasion drop a comment or question, so go ahead, feel free to drop a line.
Best Wishes
Mark – BA319131