bmi Business Class, Tbilisi to London via Azerbaijan
Hello!
This trip report follows on form the first two parts of my trip
[url=
TK Biz LHR-IST. From Terrible To Fantastic
(by
gabrielchew
Oct 21 2010 in Trip Reports)] Part 1: Turkish Airline Business Class A340 London – Istanbul[/url]
[url=
TK Biz, IST-BUS (Batumi, Georgia). Not Again!
(by
gabrielchew
Oct 24 2010 in Trip Reports)]Part 2: Turkish Airline Business Class B73G Istanbul – Batumi (Georgia), inc photos of Istanbul and Batumi[/url]
A few photos of Georgia
Borjomi (home of the Sparking Water)
Bakuriani, ski resort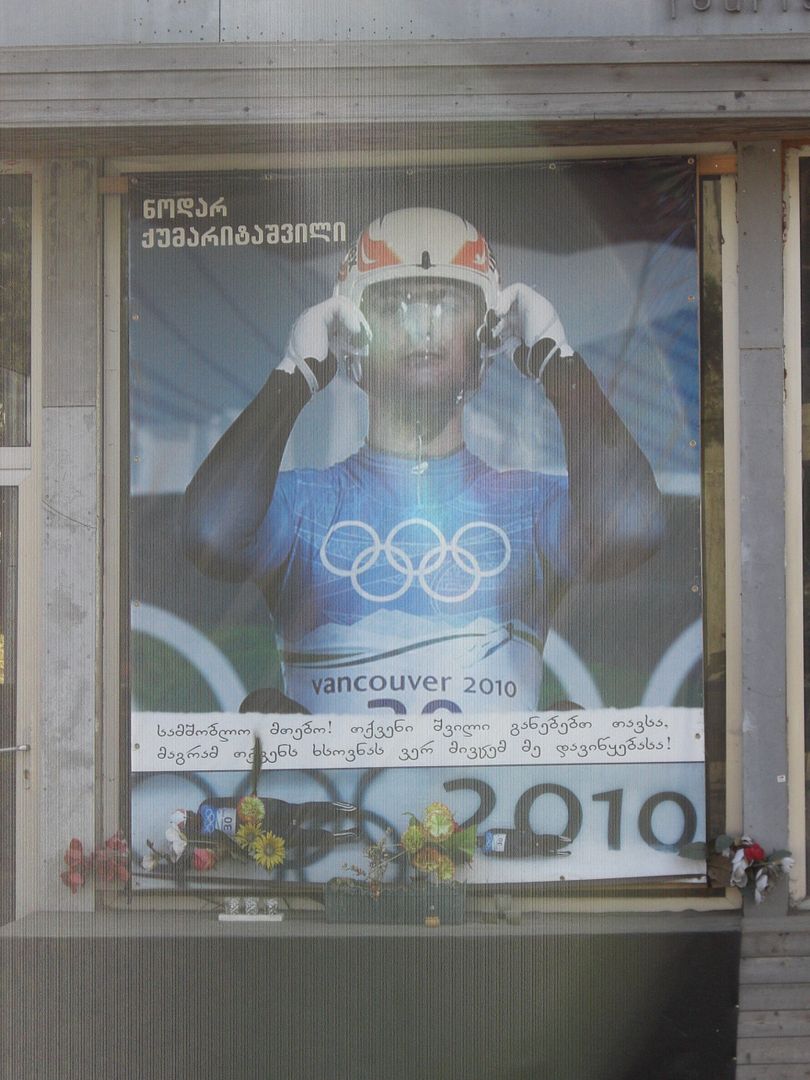 Gori, hometown of Stalin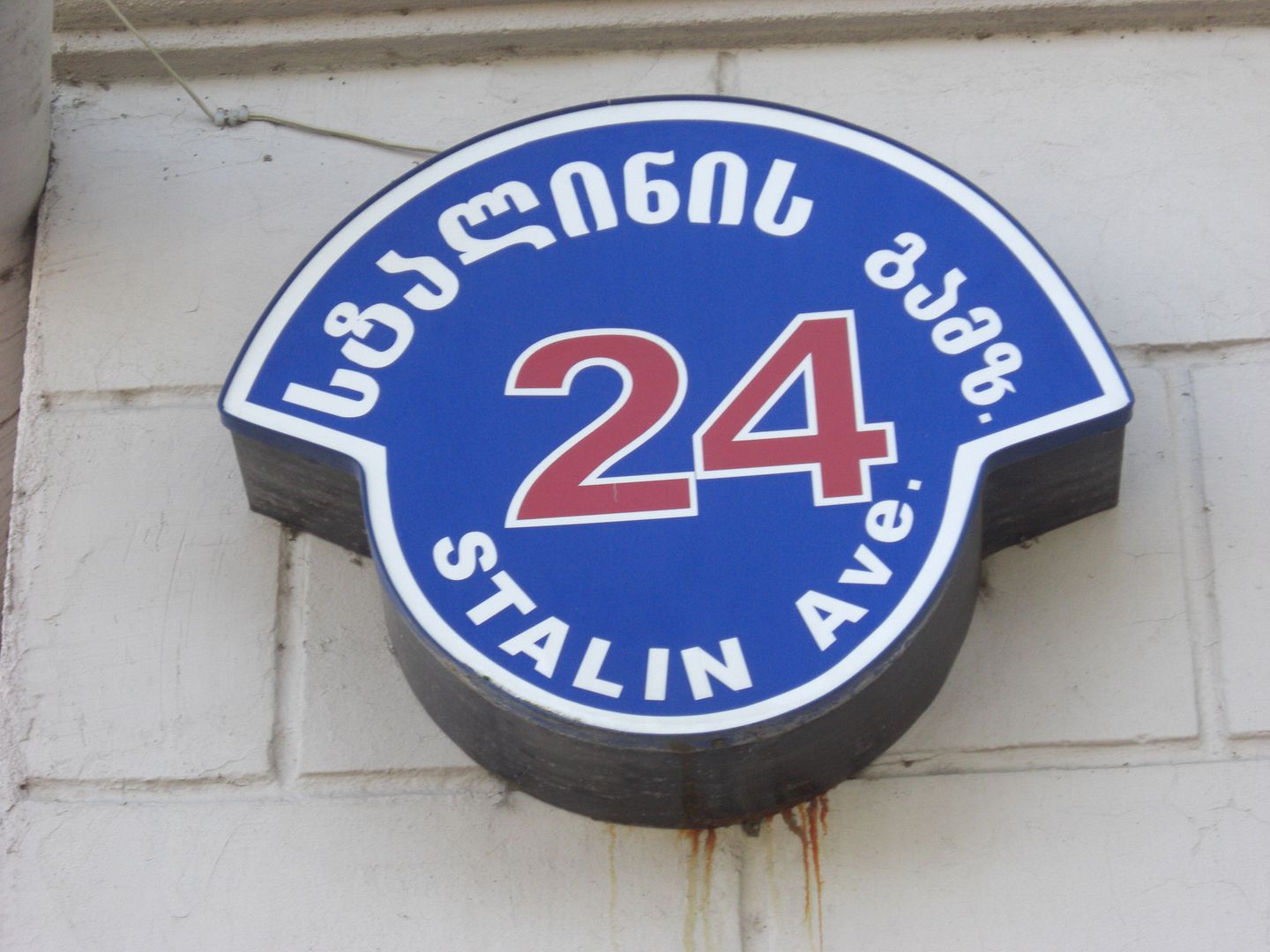 Stalin's House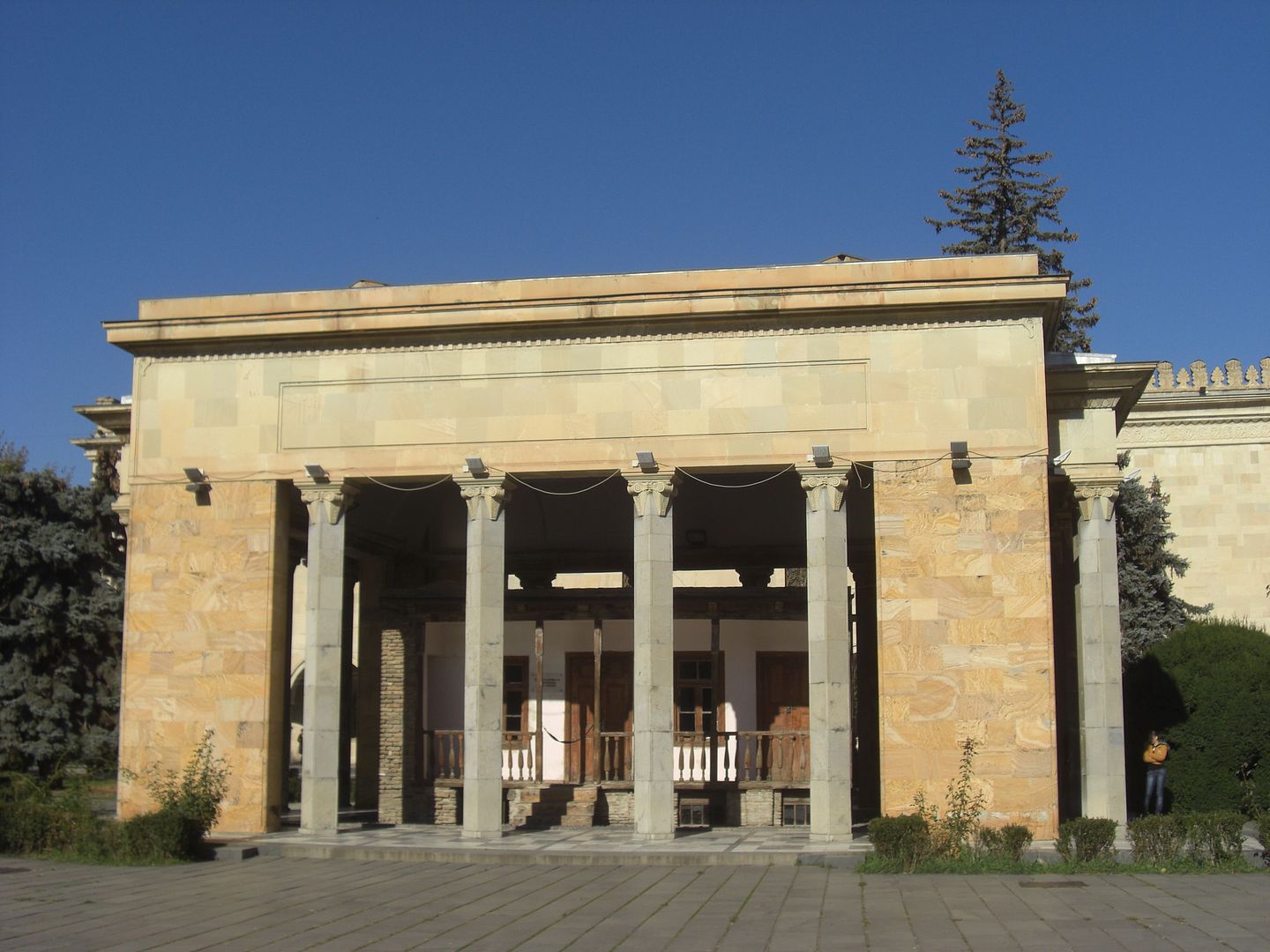 Gori Castle
Uplistsikhe, 3600 year Silk Road cave city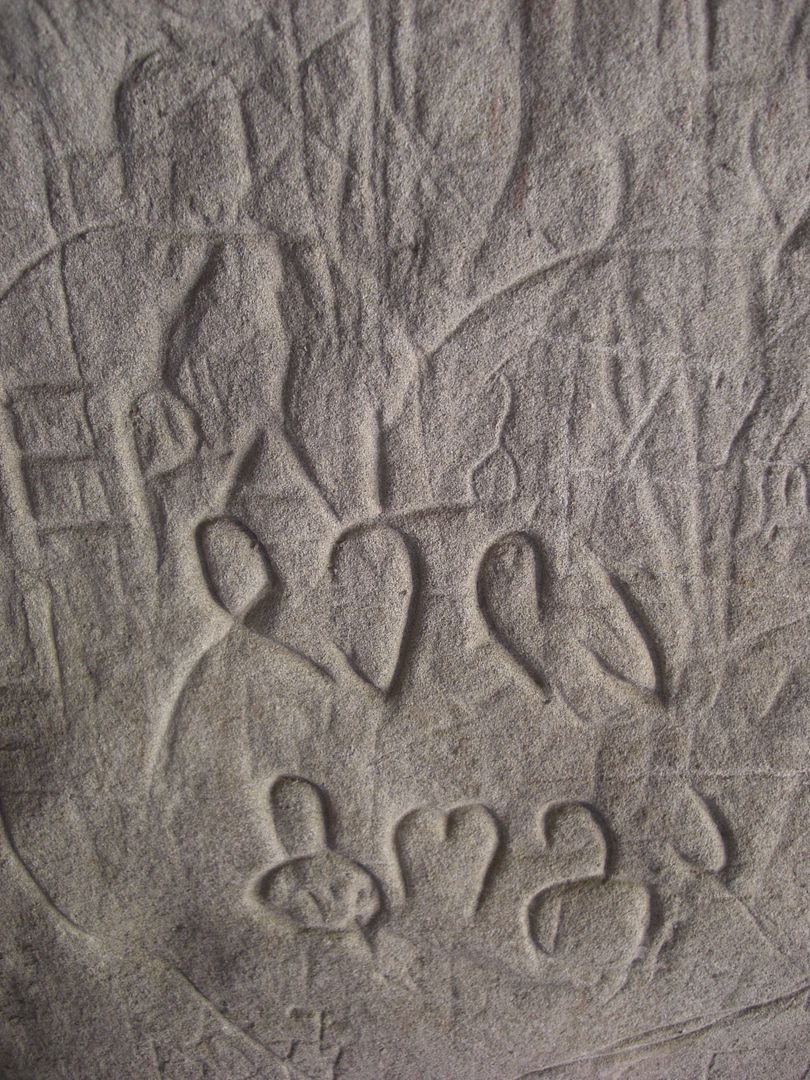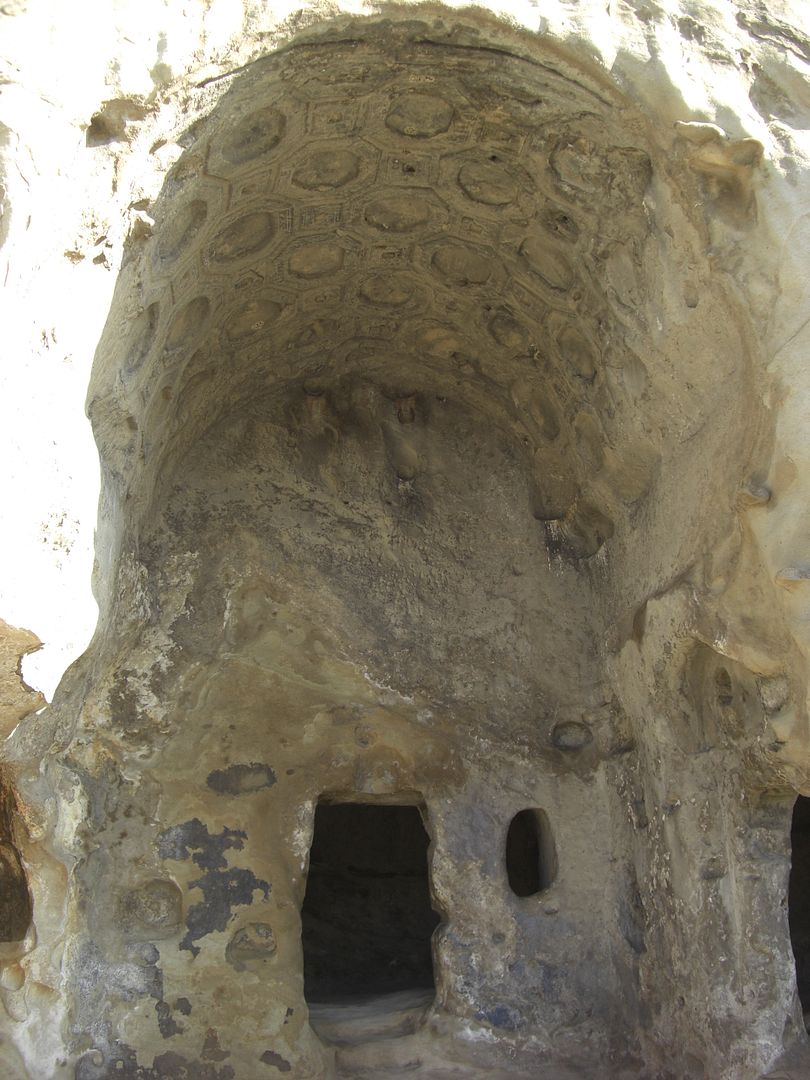 Ananuri Monastery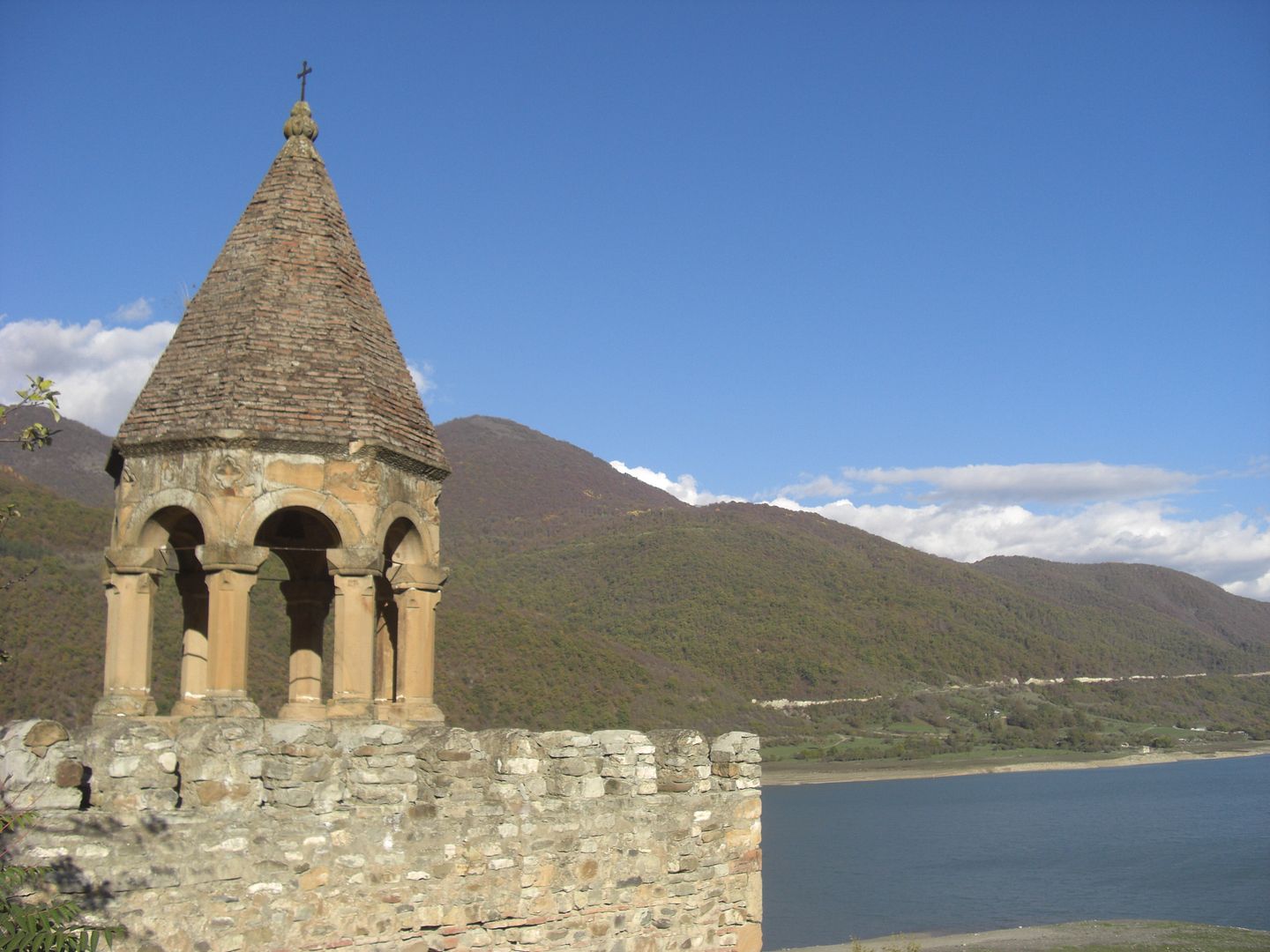 Kazebgi Mountain Region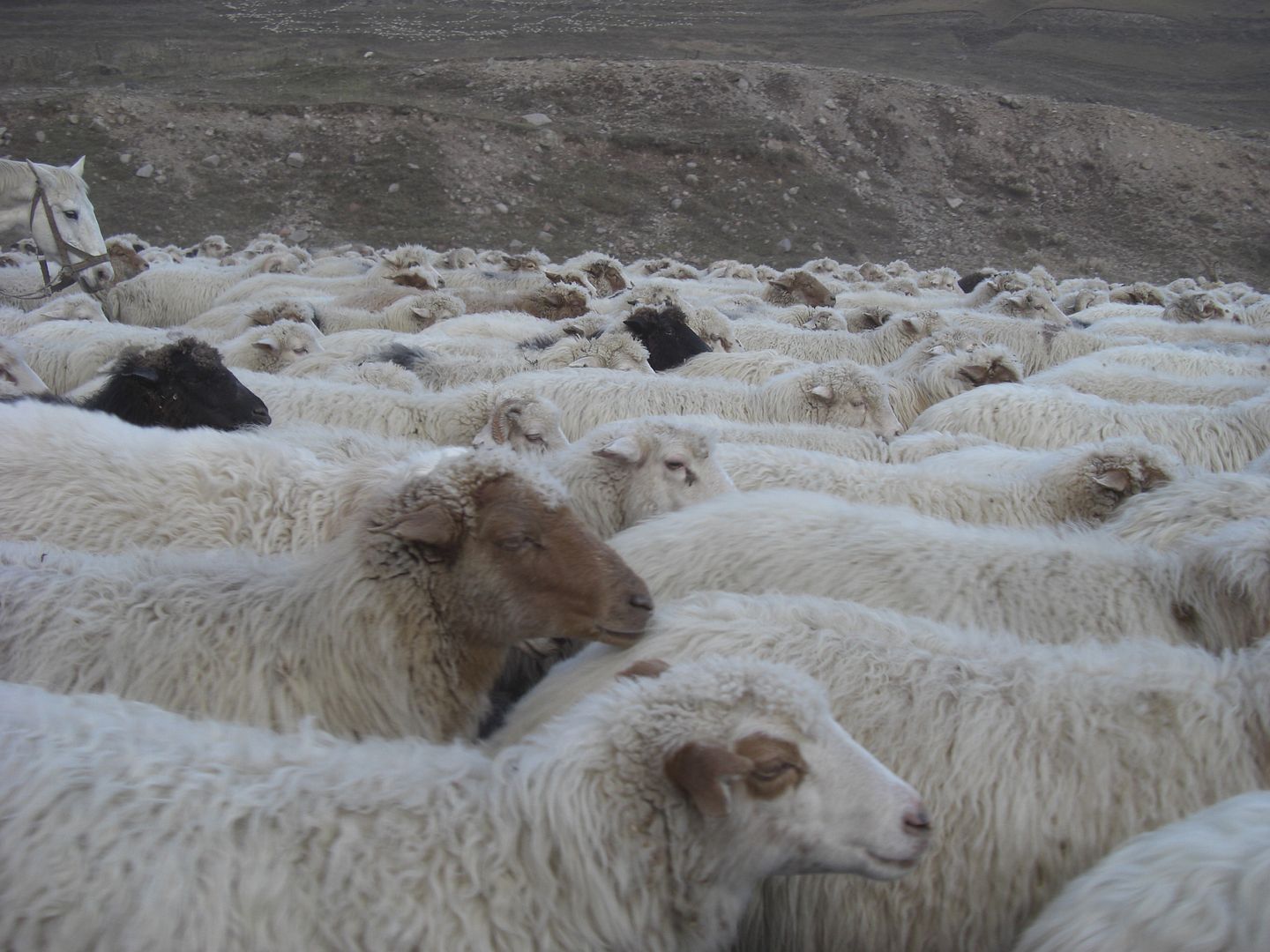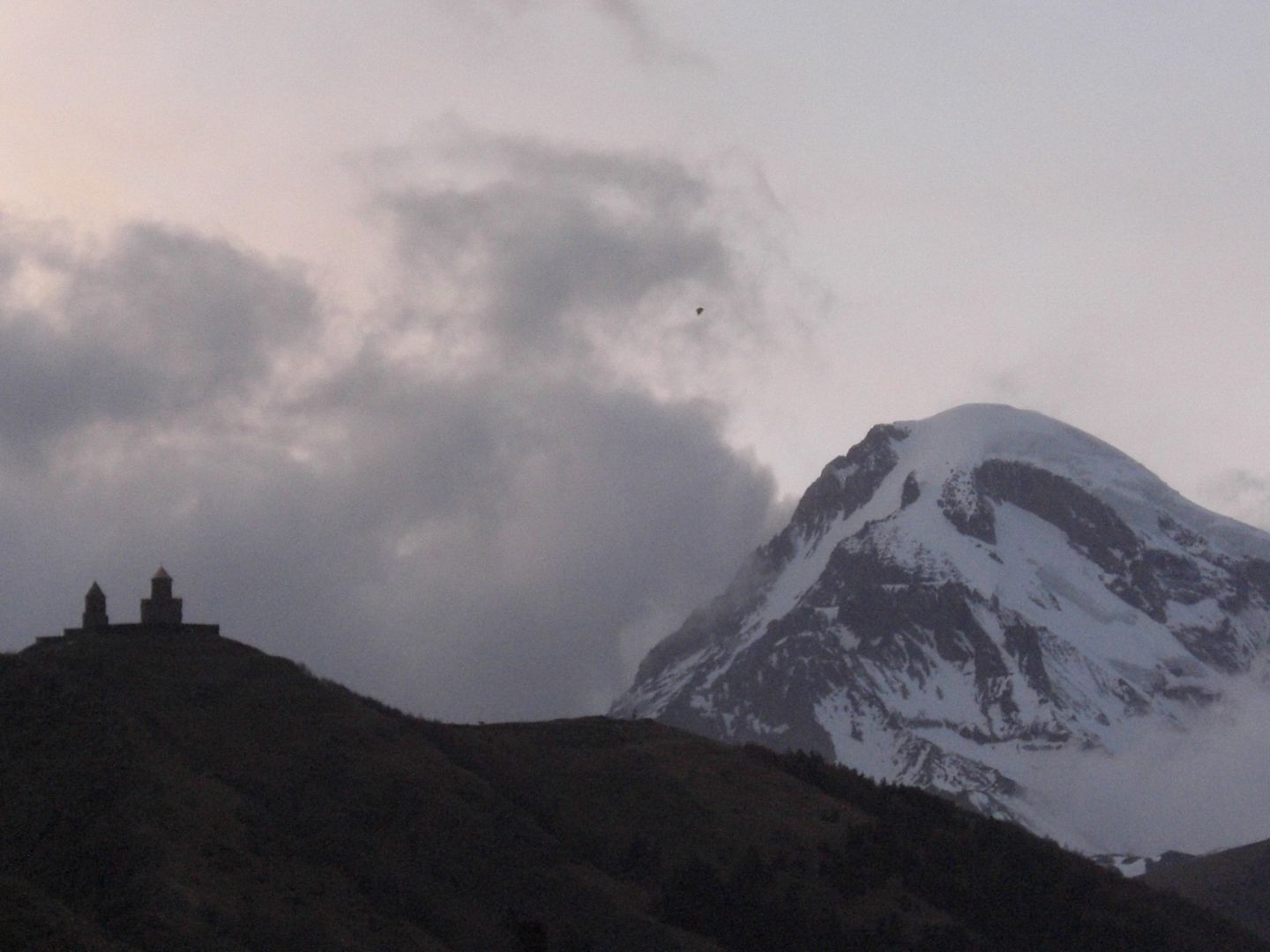 Local Beer
Gergeti Trinity Church and Mt Kazbegi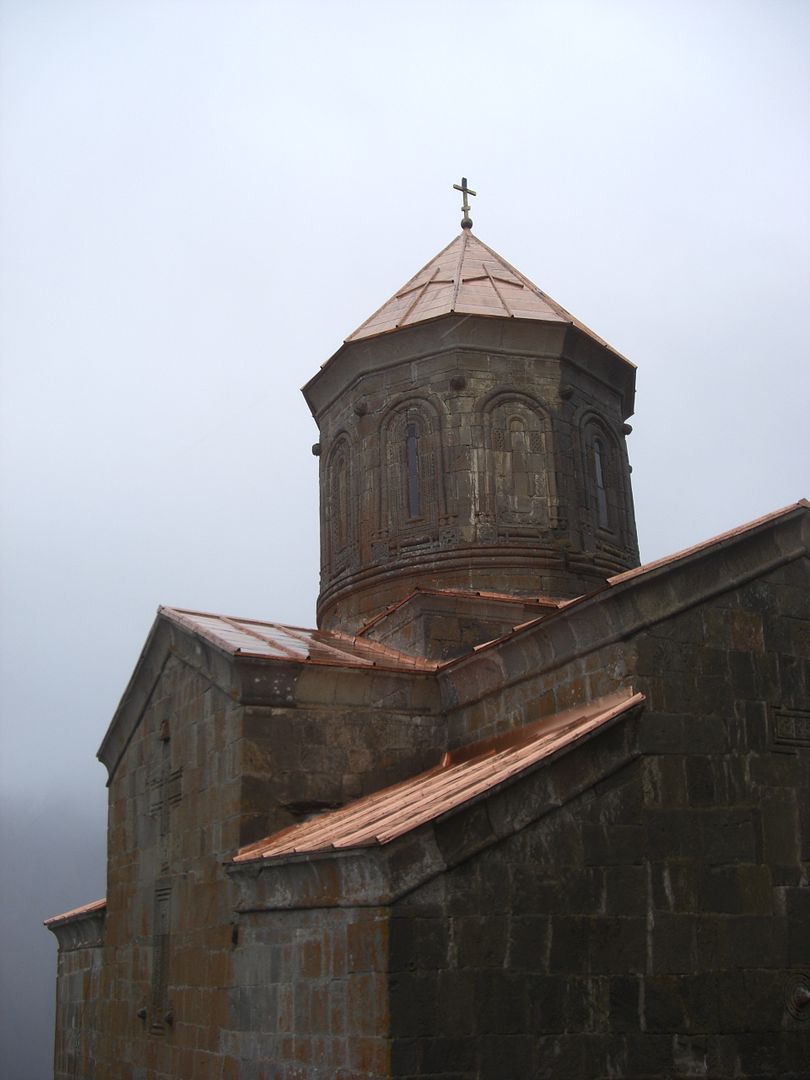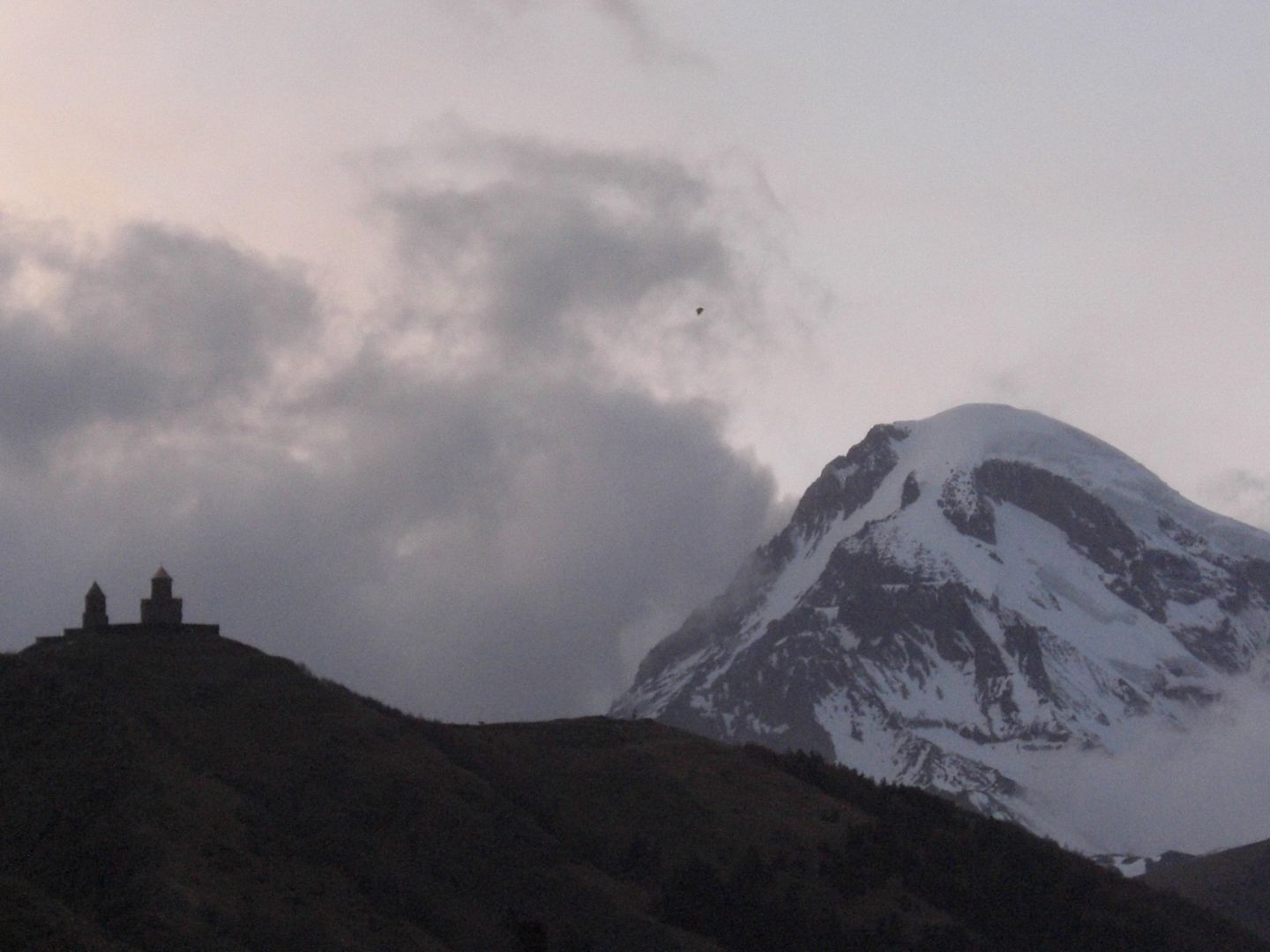 The Georgian and Russian borders (Chechen, Ossentian and Ingushetian areas)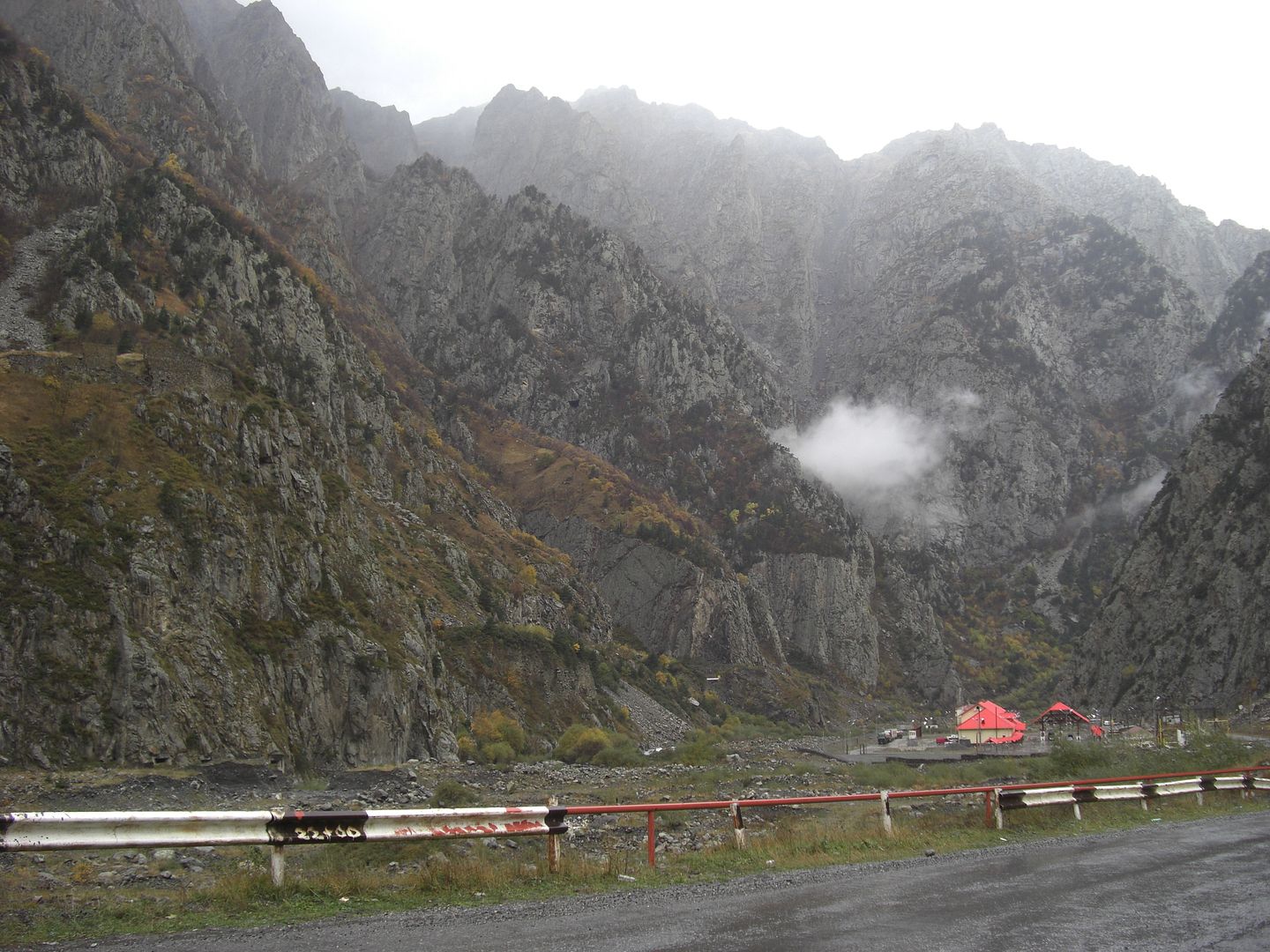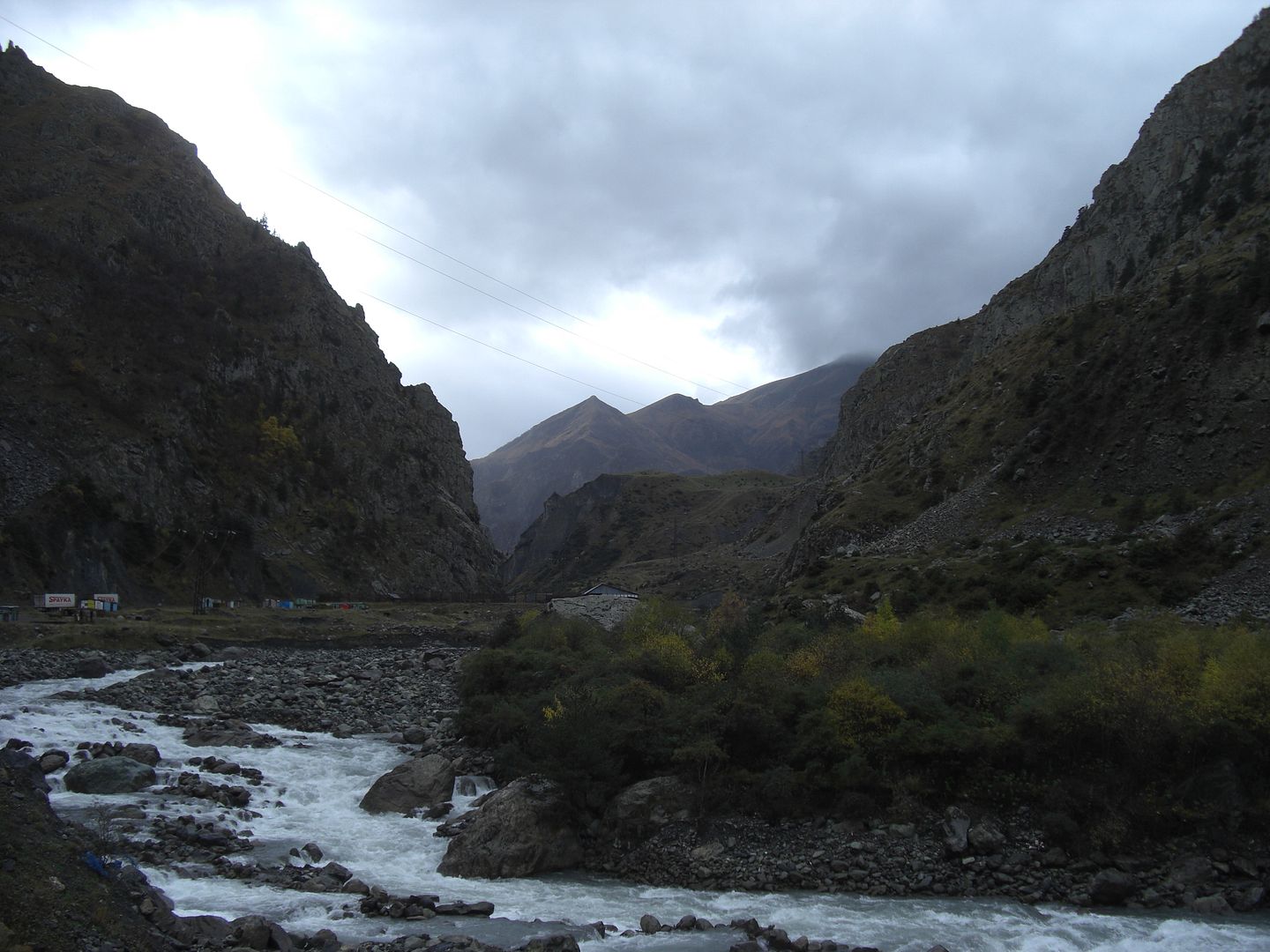 Typical Georgian Food
Tbilisi, Georgia's capital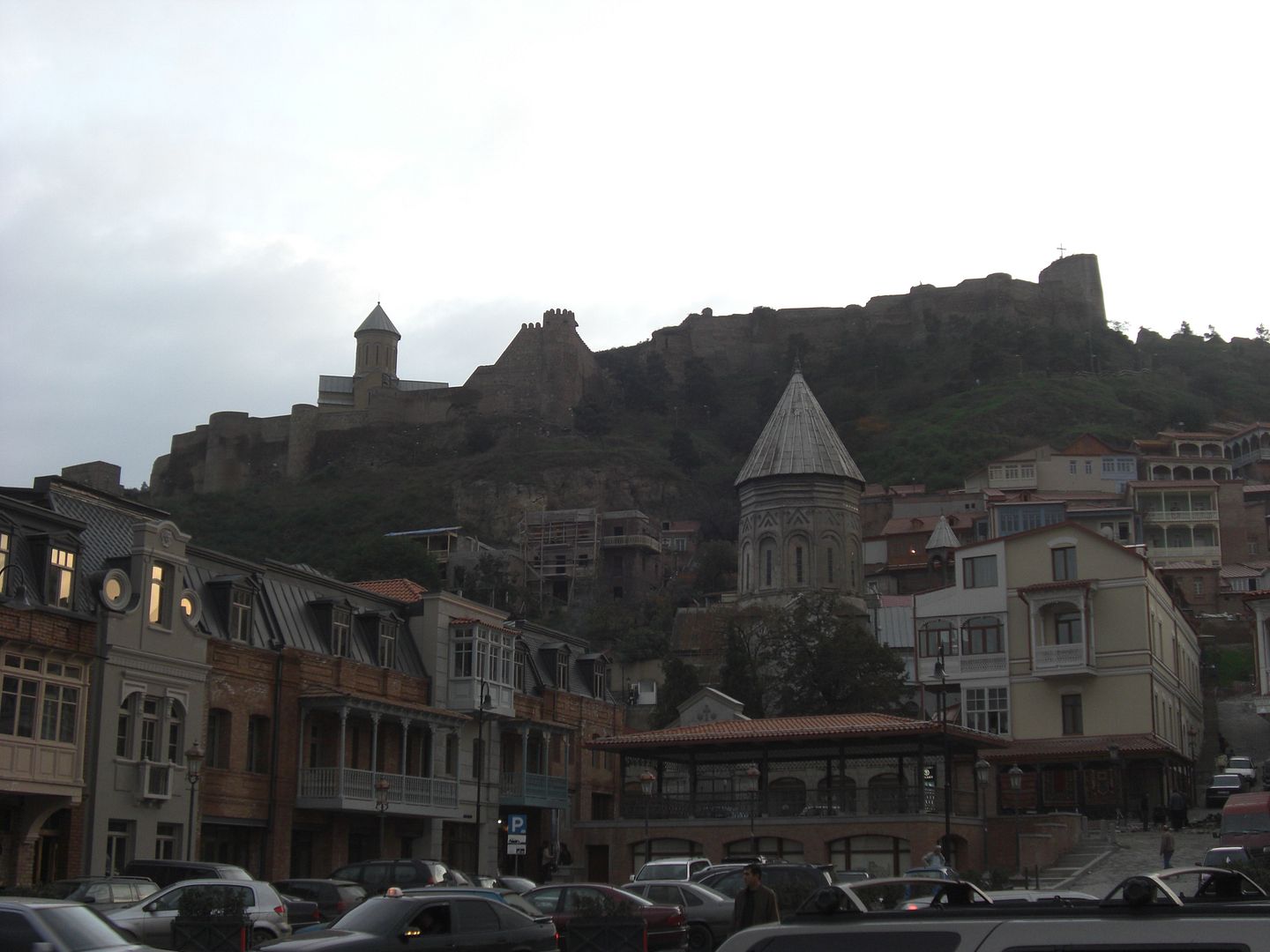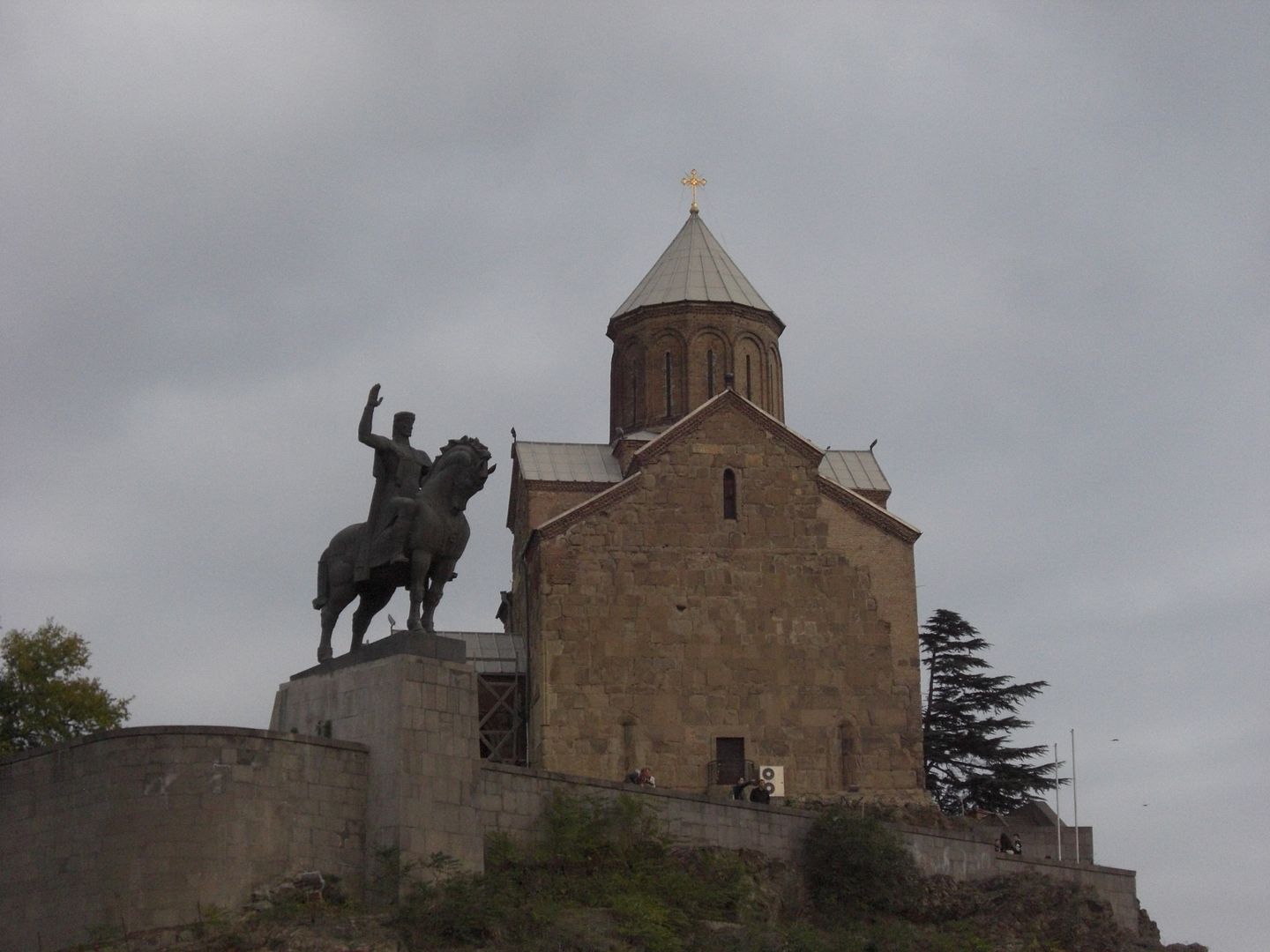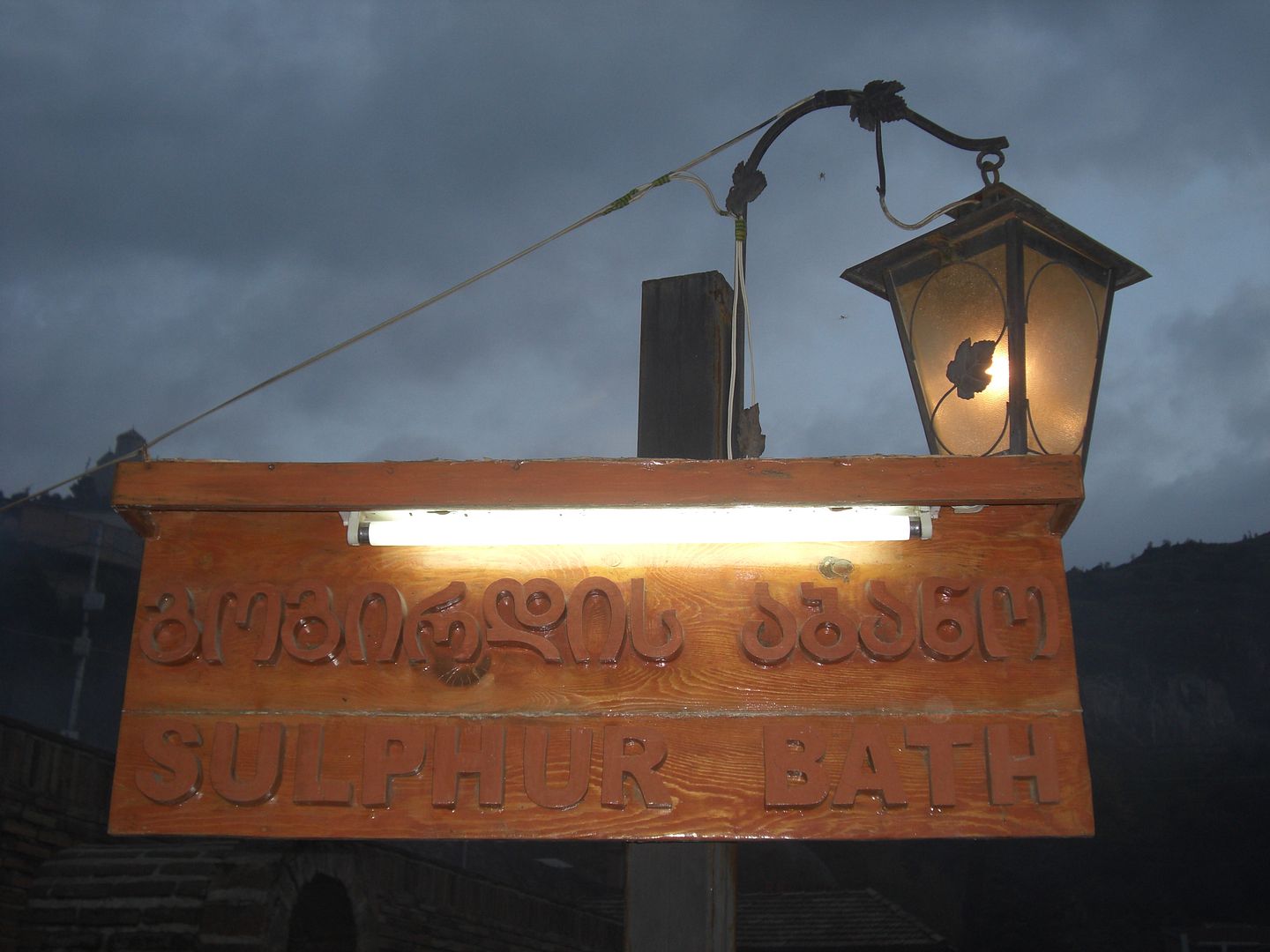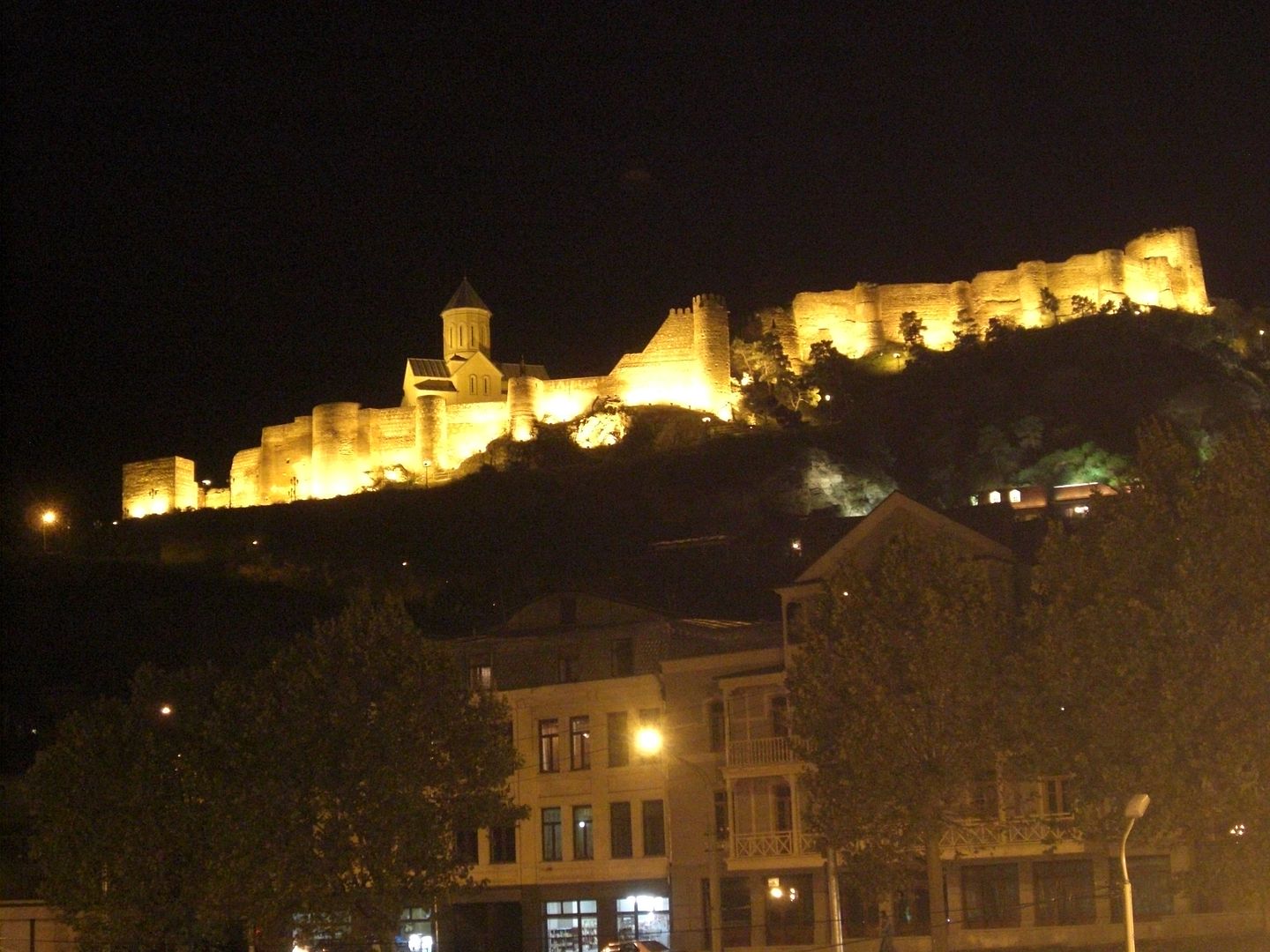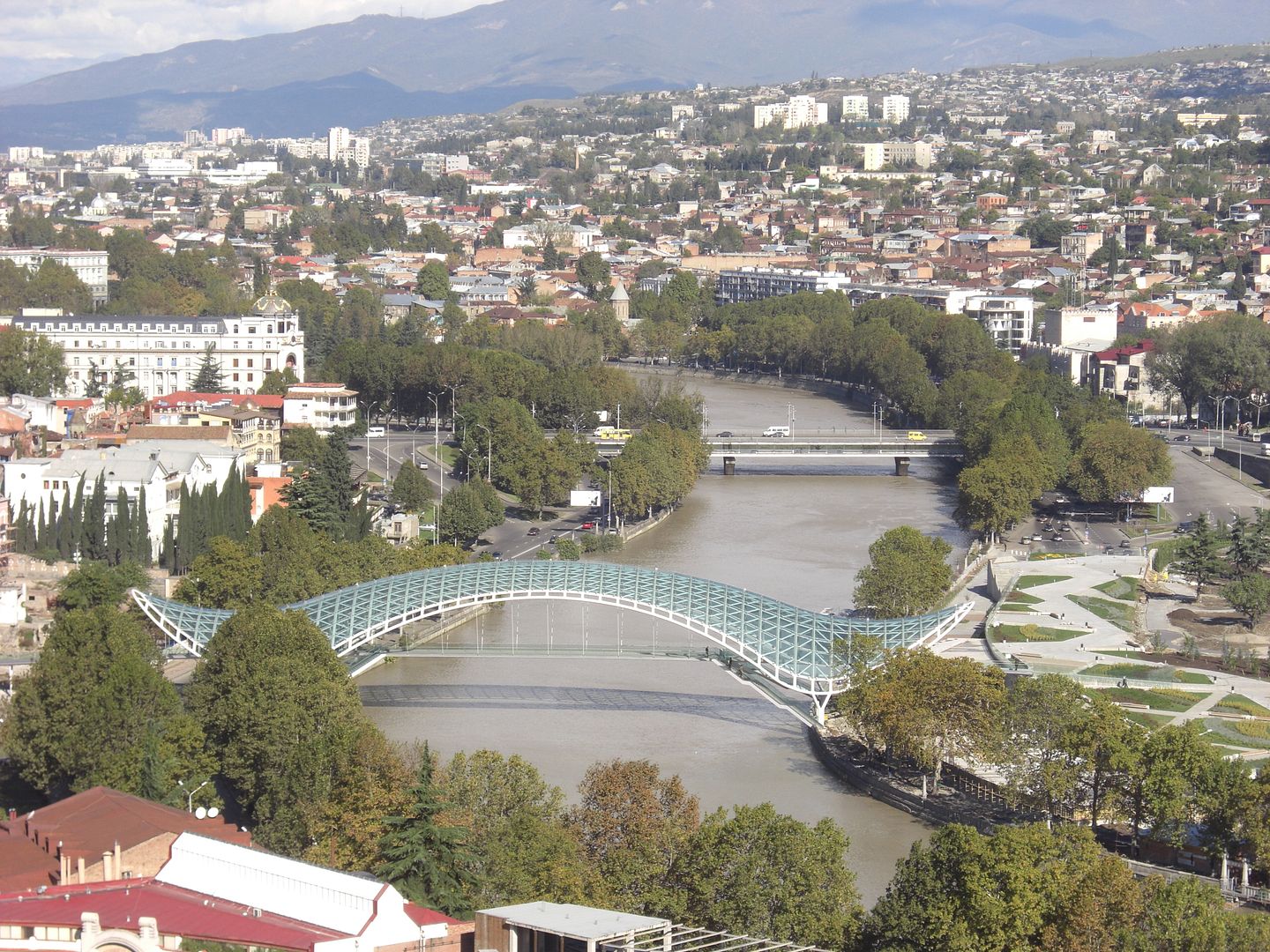 My return flight to London on bmi would be my 6th flight (6th and 7th sectors) with bmi, having previously flown them a few times between Heathrow and Dublin and Paris. Unfortunately due to incessant trimming of the schedules on this route, and the bizarre pricing, I've switched to using with Air France from, London City (the only decent airline on what is one of the worlds busiest international routes) or, dare I say it, Ryanair (its true, often they really are the cheapest). I planned on taking TK back as well, but the connection from Tbilisi to Istanbul (to connect with TKs B77W First Class would mean leaving at 4am, not something I fancied).
My journey started with a short taxi ride to Tbilisi's Airport. Like a lot of the region's airports, the middle of the night is peak time, so when I arrived at 0750, the airport was deserted save for passengers for the bmi flight.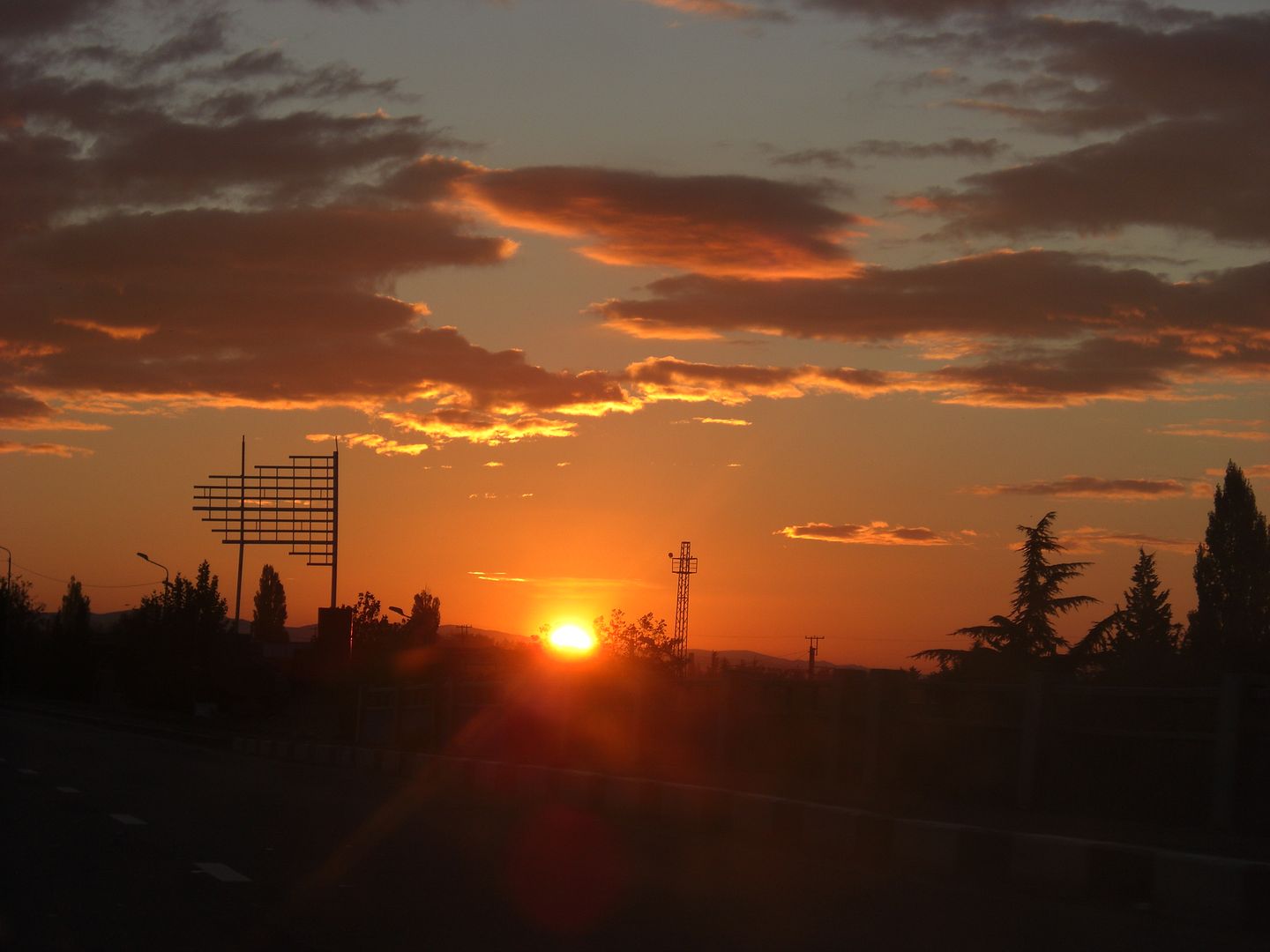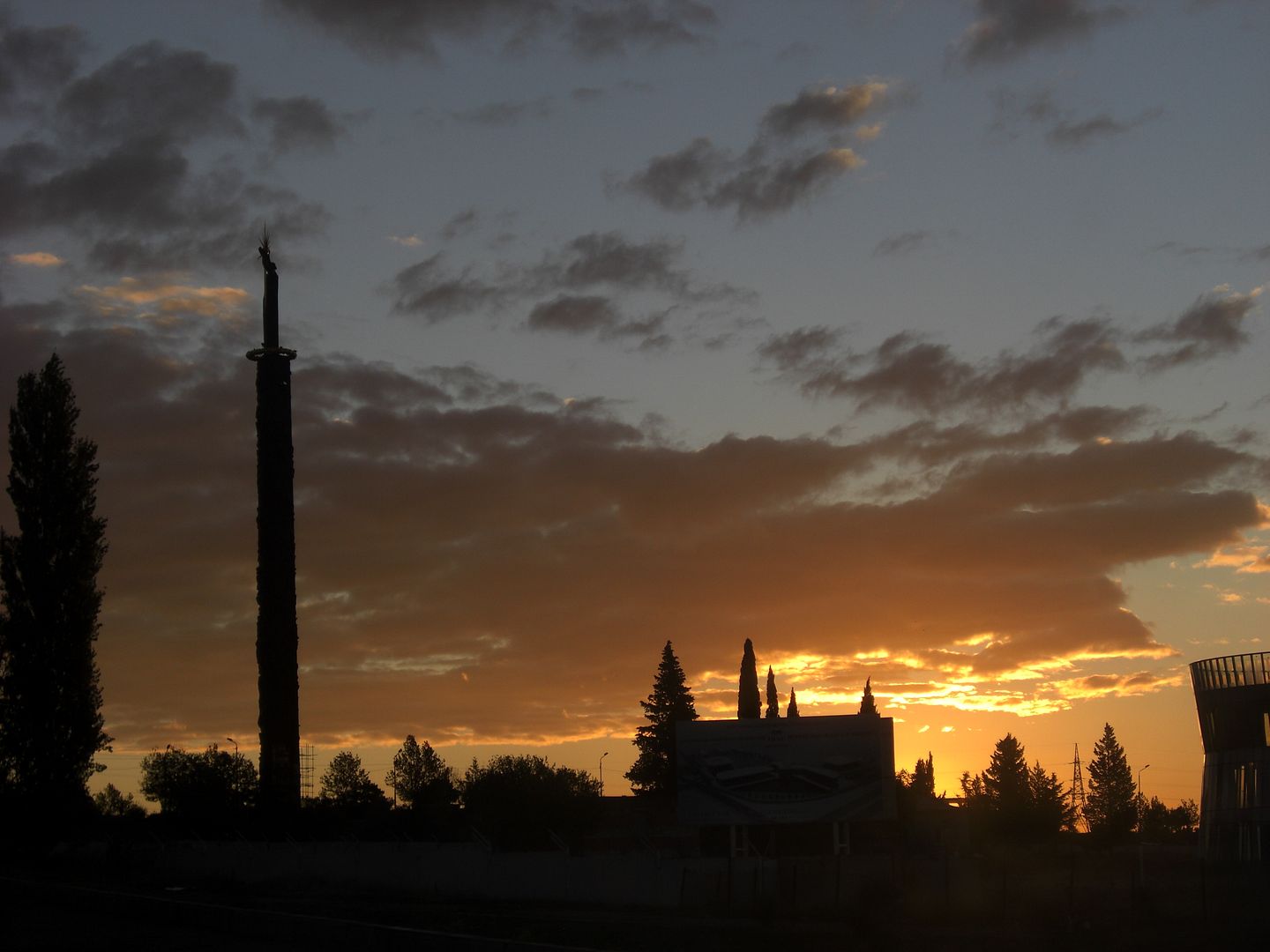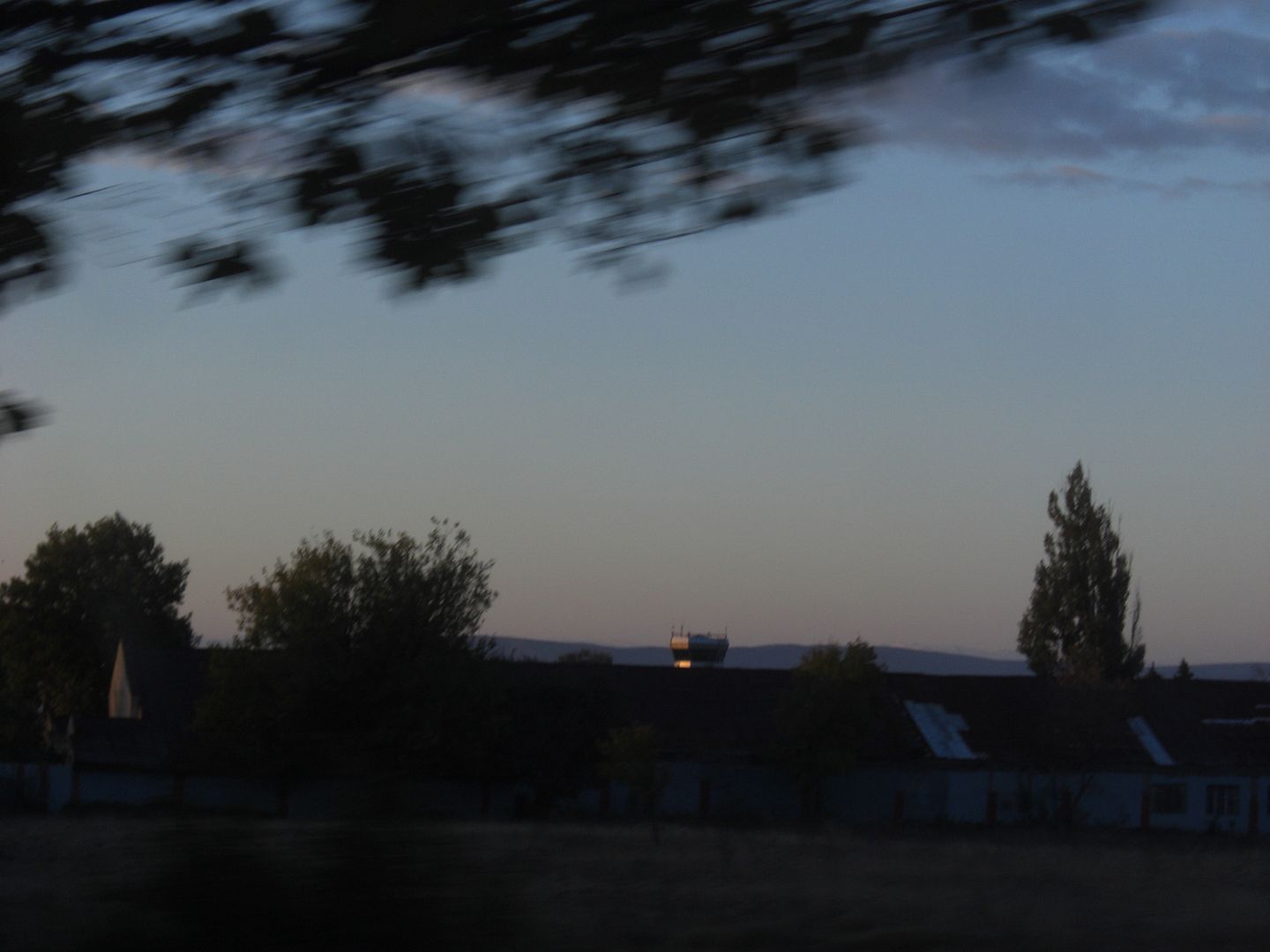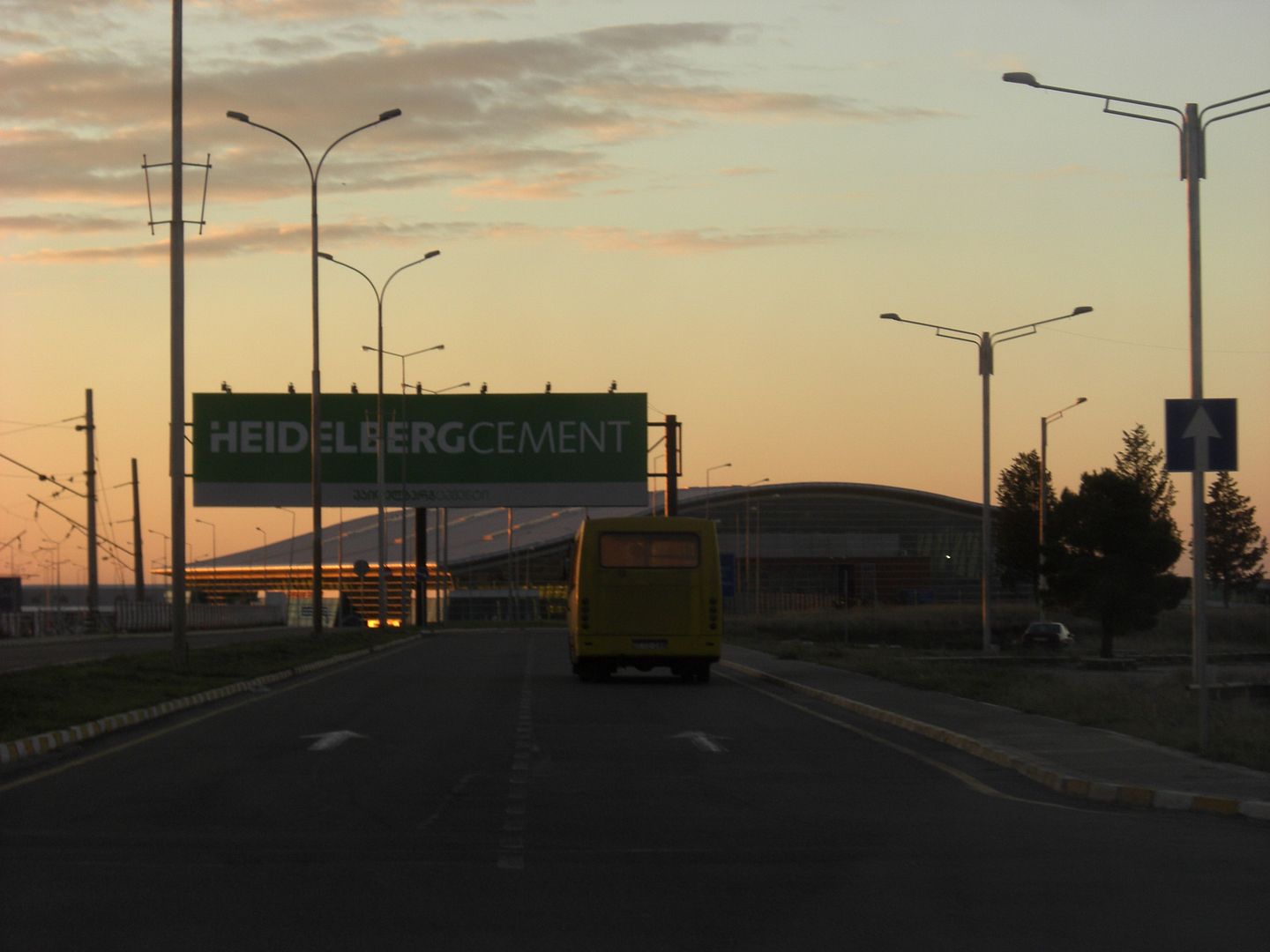 Despite advertising a 3 hour check in, the desk only opened when I arrived, less than 2 hours before departure. I was second to be served. The two people manning the desks seemed to be having quite a few problems with just about everything, which may have explained the late opening. I was given a lounge pass, and directed upstairs.
Tbilisi's Airport was reconstructed in 2007, and is now a beautiful terminal to use, with lots of glass and metal. Views of the tarmac are a little awkward due to the holding pens blocking the views (so you can get some views when you board).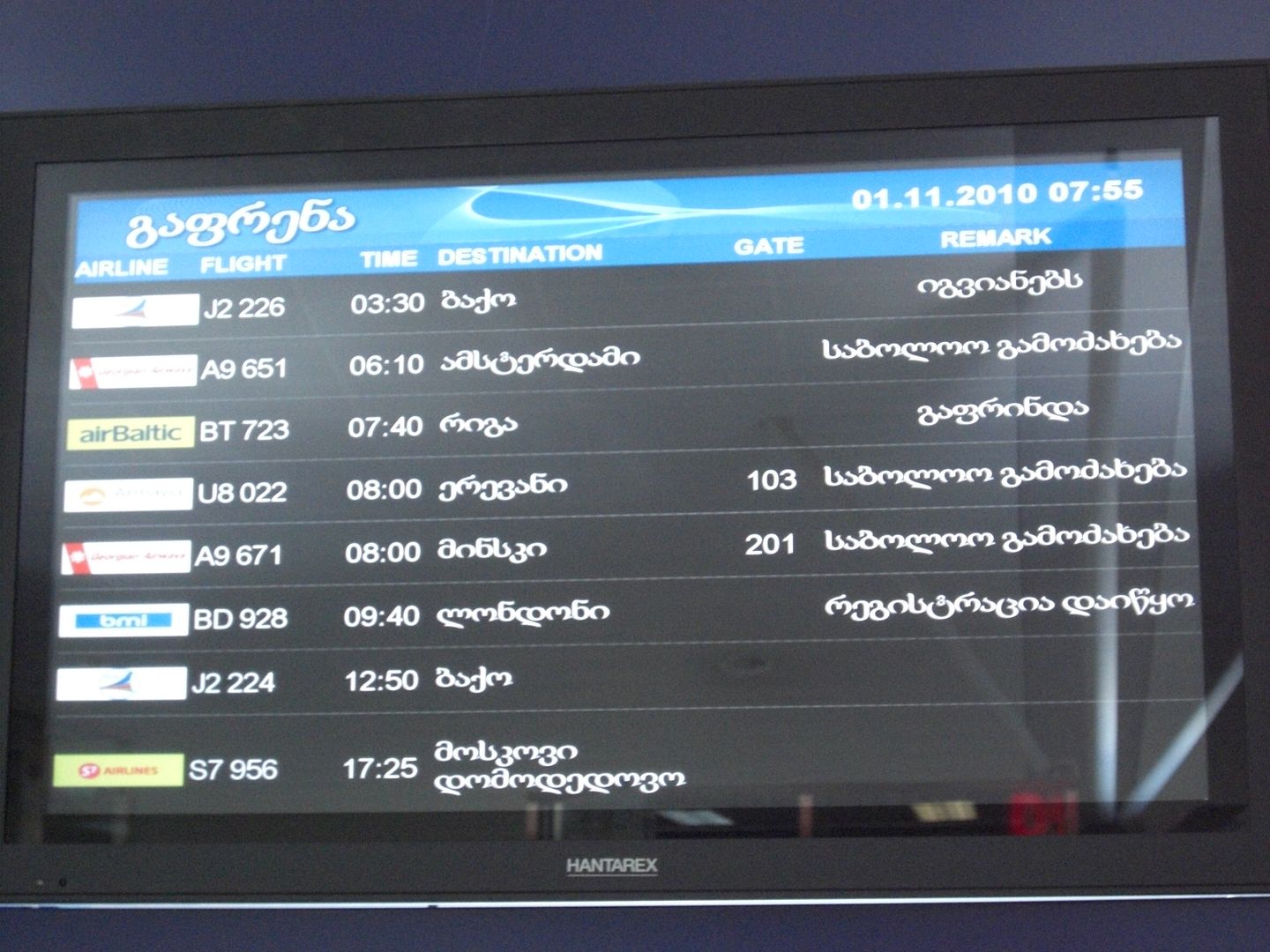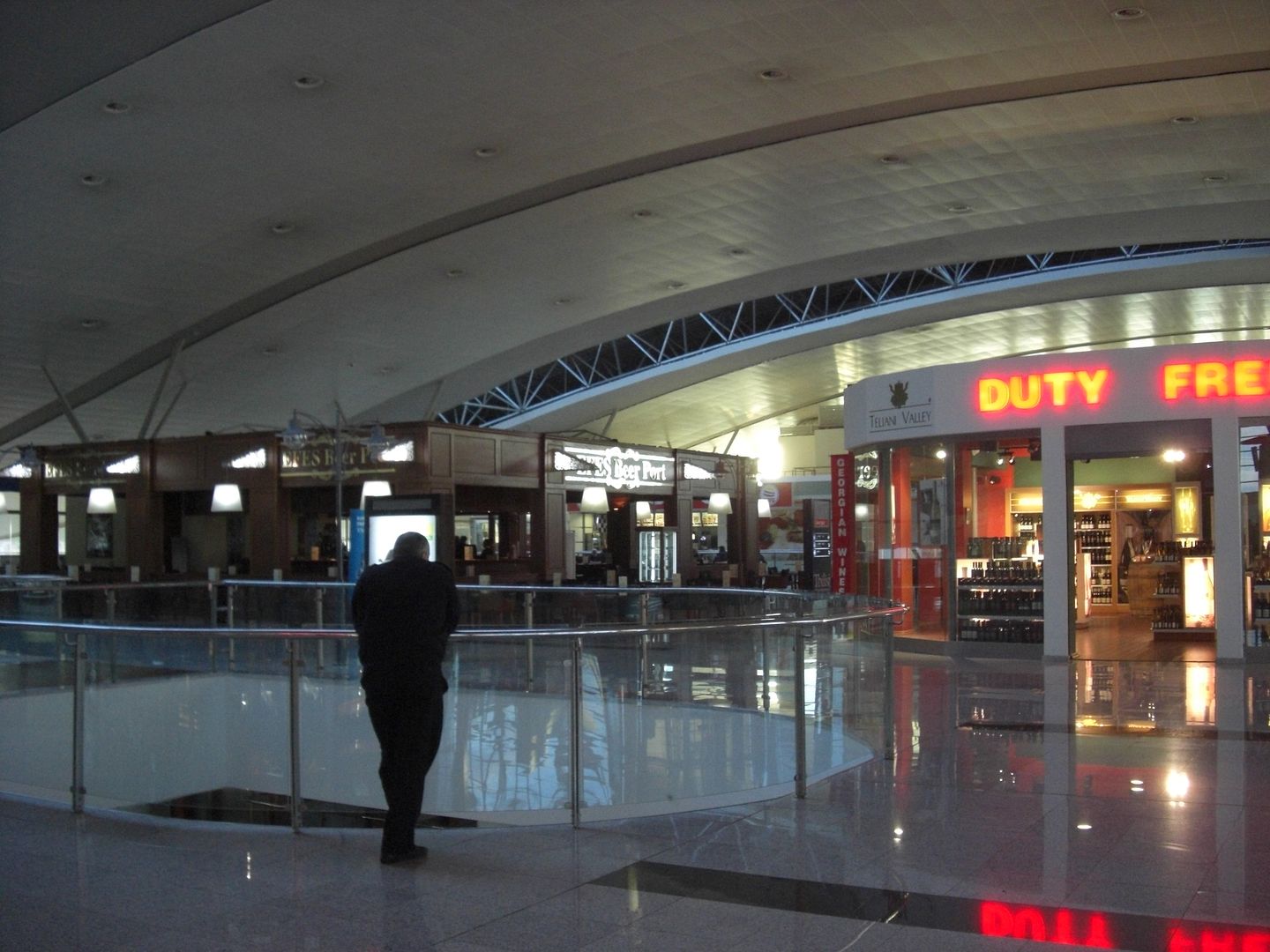 After being stamped out the country (by a rather rude lady), I went into the 'prime Class'. It wasn't the best lounge ever, but was clean and comfortable. The range of food on offer was a bit strange given the time of day, but the drinks selection was good. The inclusion of the microwave on the buffet table was a bit odd, especially as there was nothing much to microwave.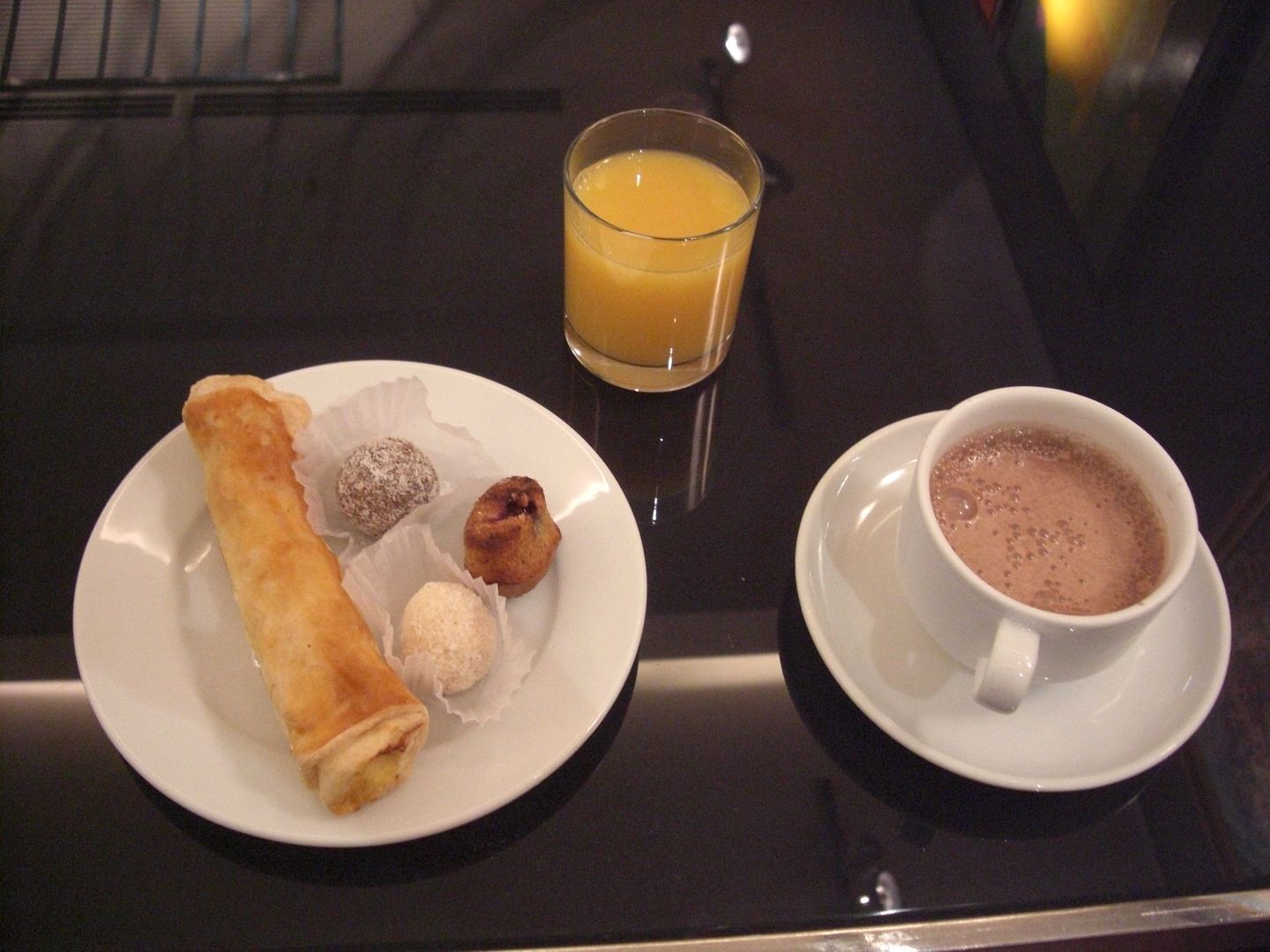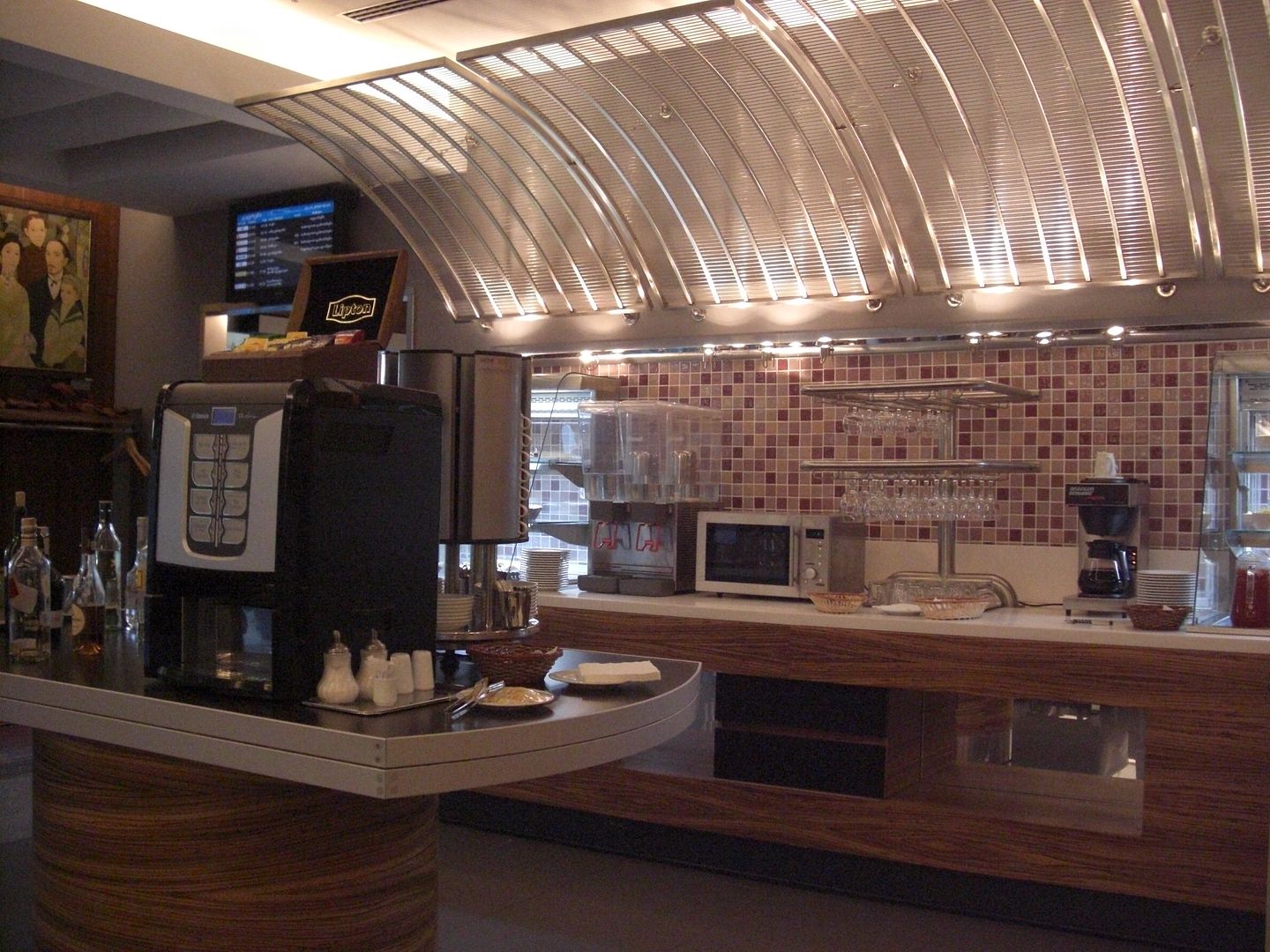 One nice aspect of the lounge was the 'terrace' area, which was on a balcony thing in the main departure hall, but separated by a gap. Interestingly, this was also a smoking area, despite being inside. The Georgians love to smoke!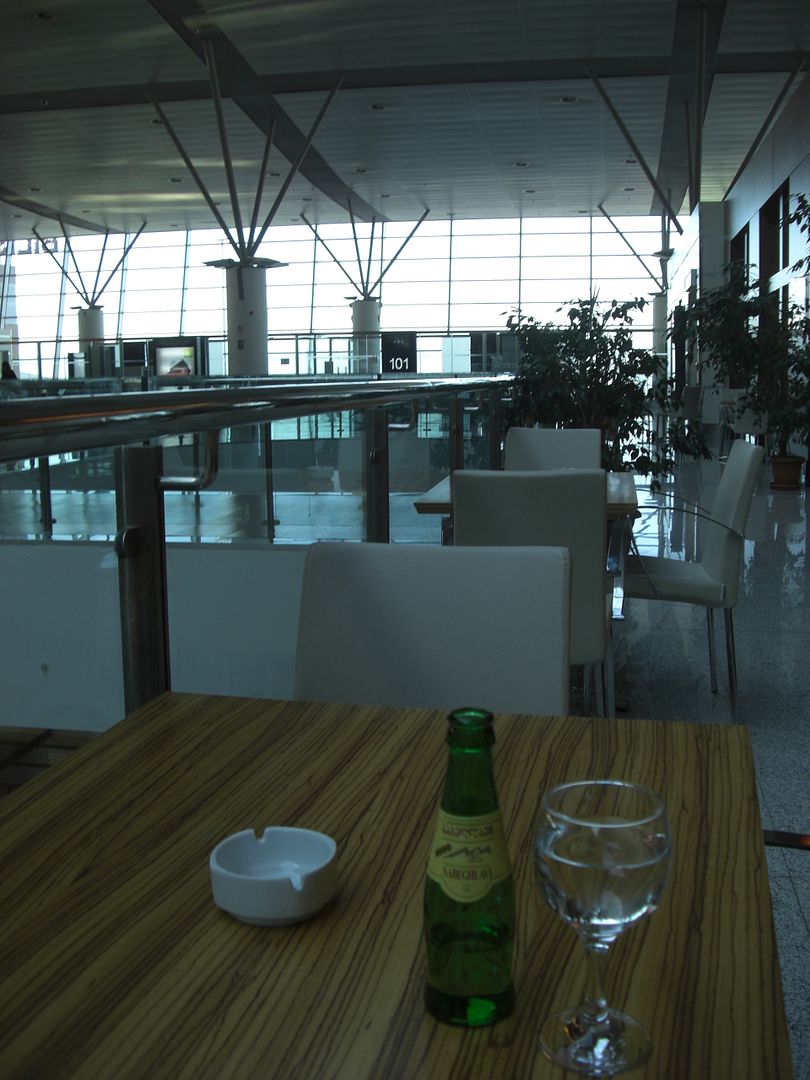 Check in desks as viewed from the lounge terrace
The Armavia flight to Yerevan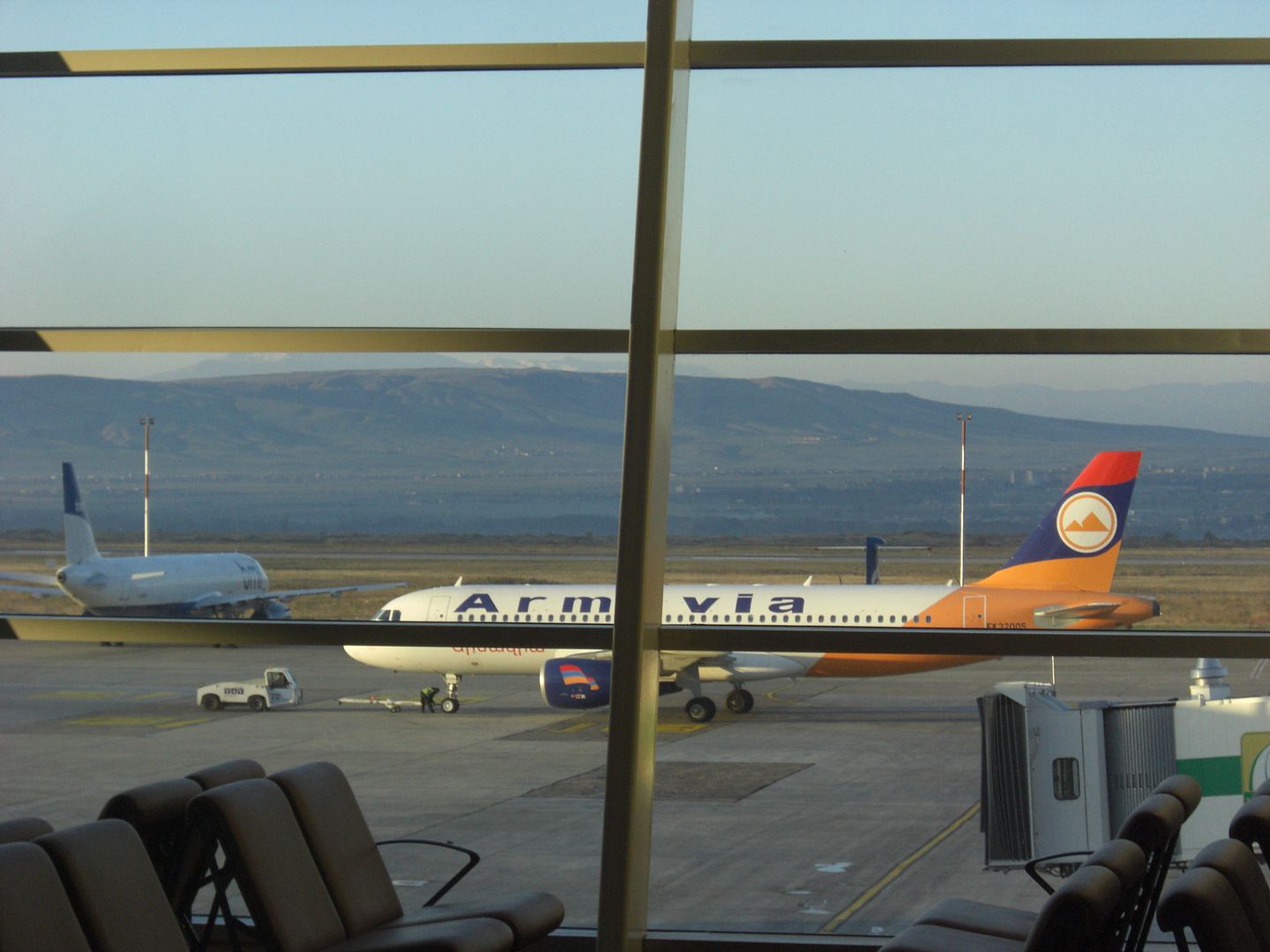 The Air Zena (Georgian Airlines) flight to Minsk (there was also a Belavia flight to Minsk earlier that morning)
'My' bmi resting
Around 9am I went over to the gate area for security, which was very slow, as they were making everyone take out their laptops and turn them on
Boarding was announced not long after I entered the holding room, and as everyone else was very slow moving, I was the first onboard
The crew were only half ready for us, as there was no one waiting at the door to welcome me; however I was seen very quickly, and directed to me seat. The load on this leg was 27 + 1 infant in economy, and 2 in Business (I overheard). However, the leading FA, Sarah, said that I was the only Business pax on this leg. The other guy in Biz seemed to be some sort of trouble shooter (he had an Airbus ID tag), and he left the aircraft in Baku (I saw him wondering around the tarmac). As such, I had two crew all to myself on this sector – my first time with a private cabin (well, sort of).
The seats in Business were pretty comfortable, very nice for a daytime flight, although not really ok for a nighttime one.
Tarmac views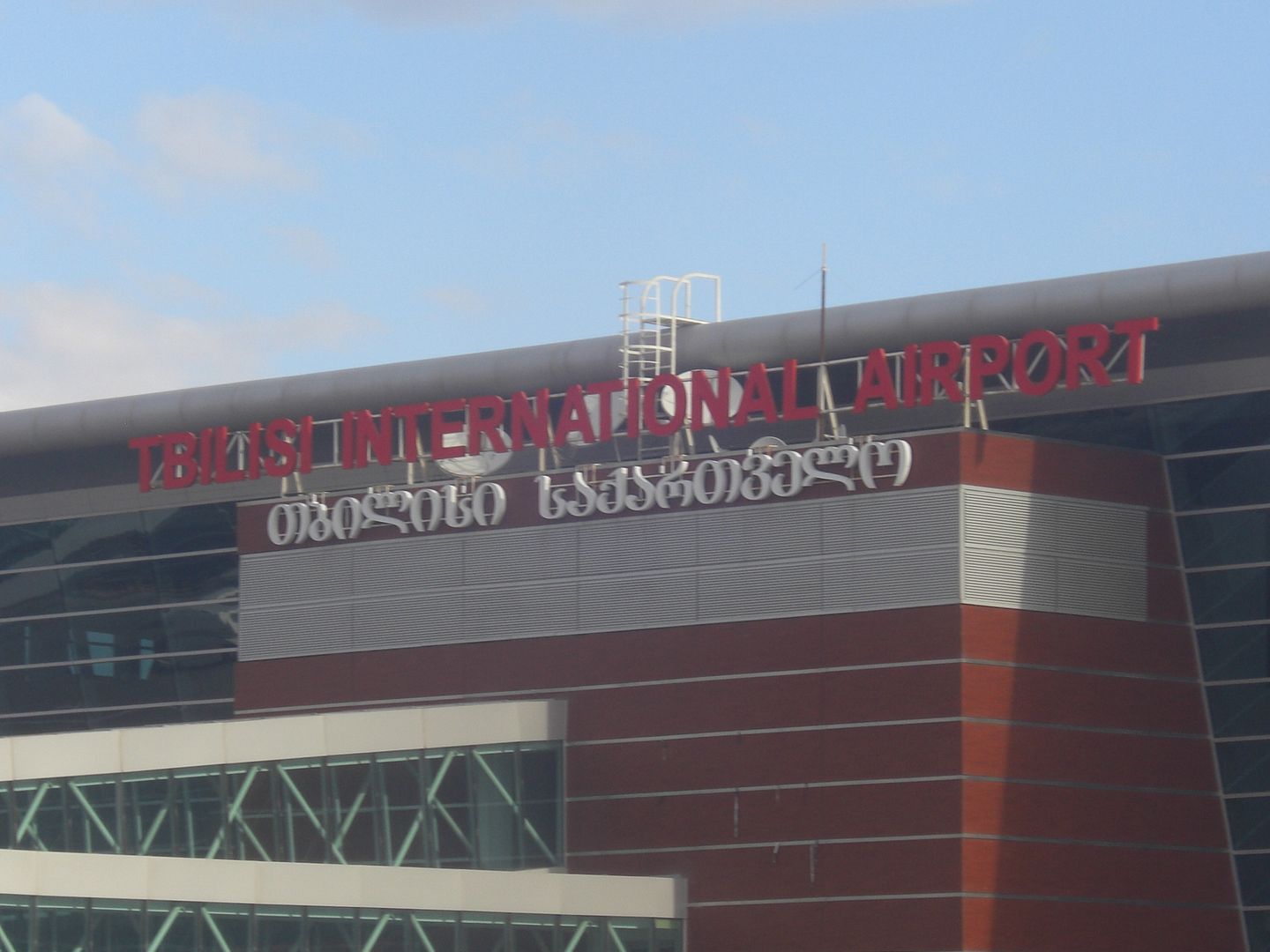 I was asked for my choice of boarding beverage, and got champagne
Goodbye Georgia!
November 2010
bmi British Midland International BD 928
Tbilisi (TBS) –Baku (GYD)
Airbus A321 (G-MEDG)
Scheduled: 0940-1055 (1h15m)
Actual: 0942-1034 (0h54m)
Business Class
We took off into a beautifully sunny sky two minutes behind schedule. The views over Tbilisi were great.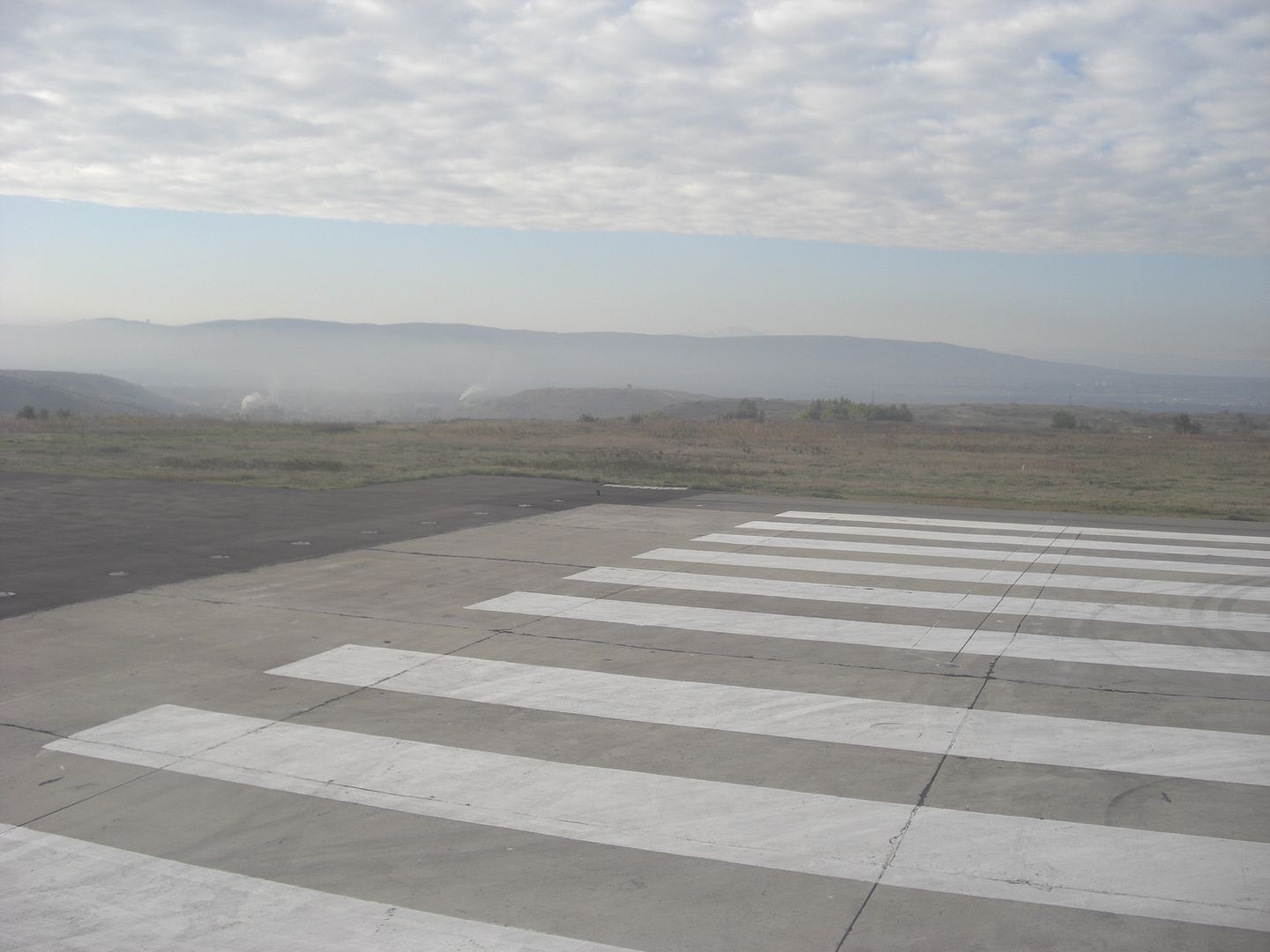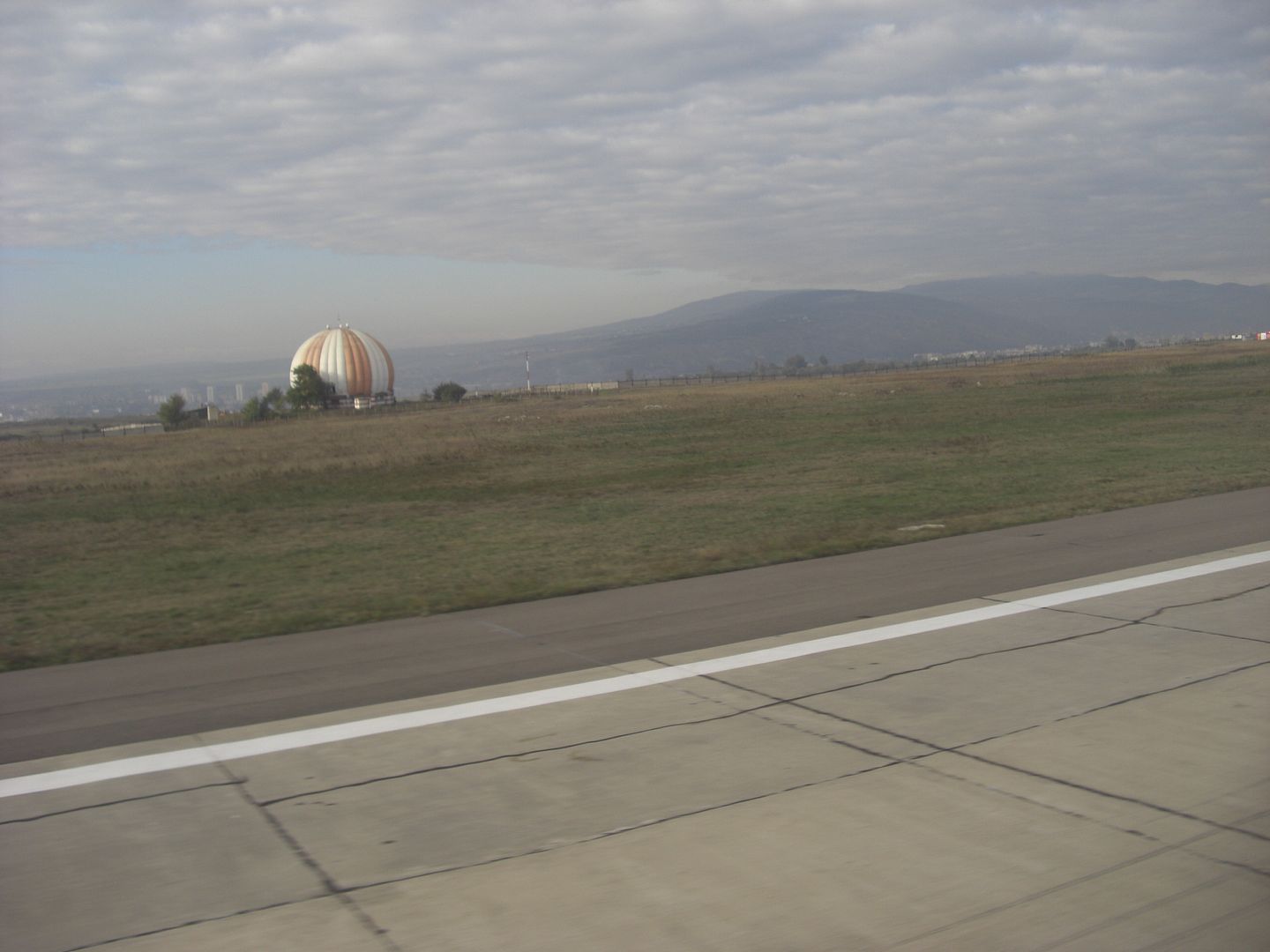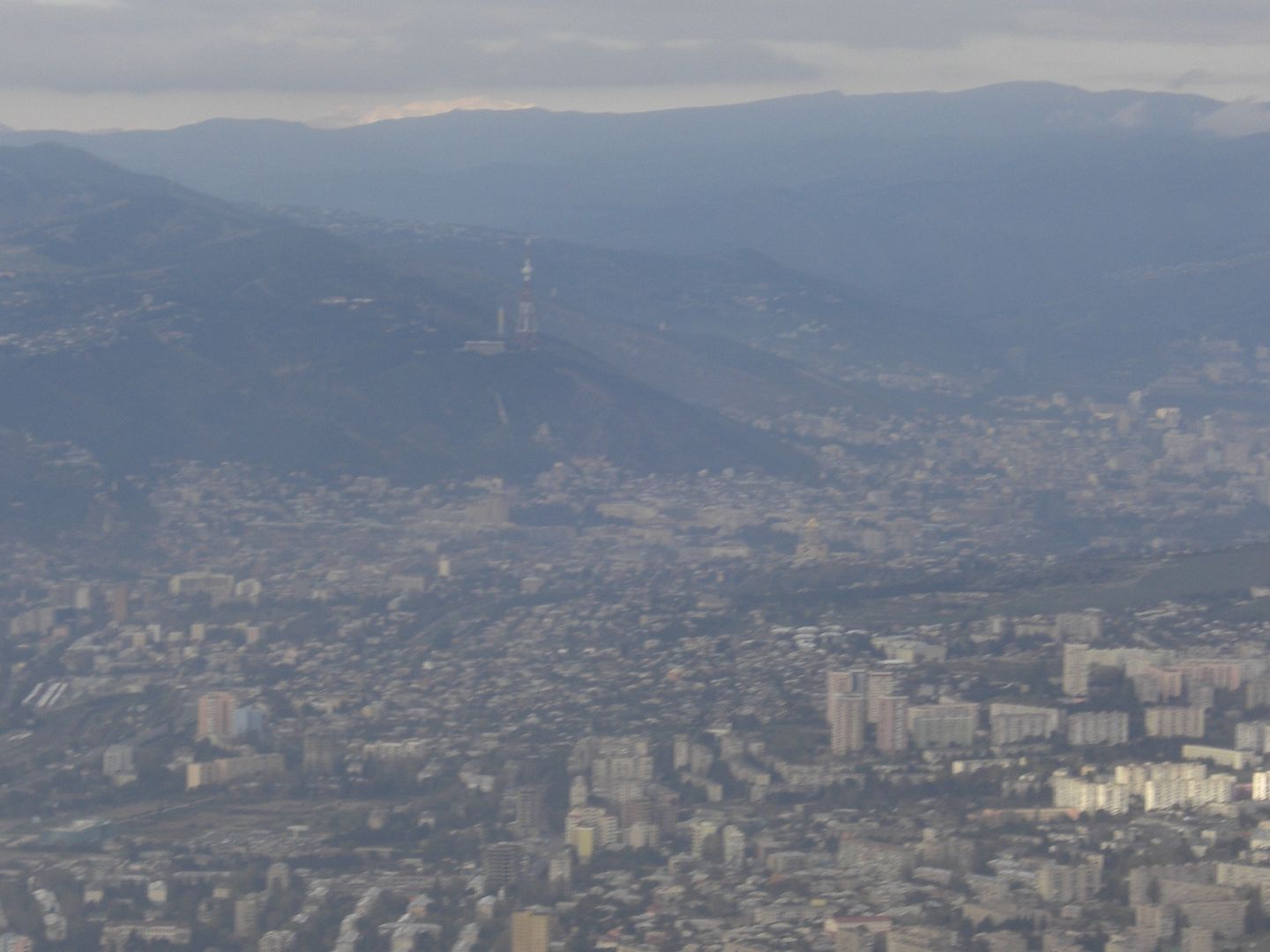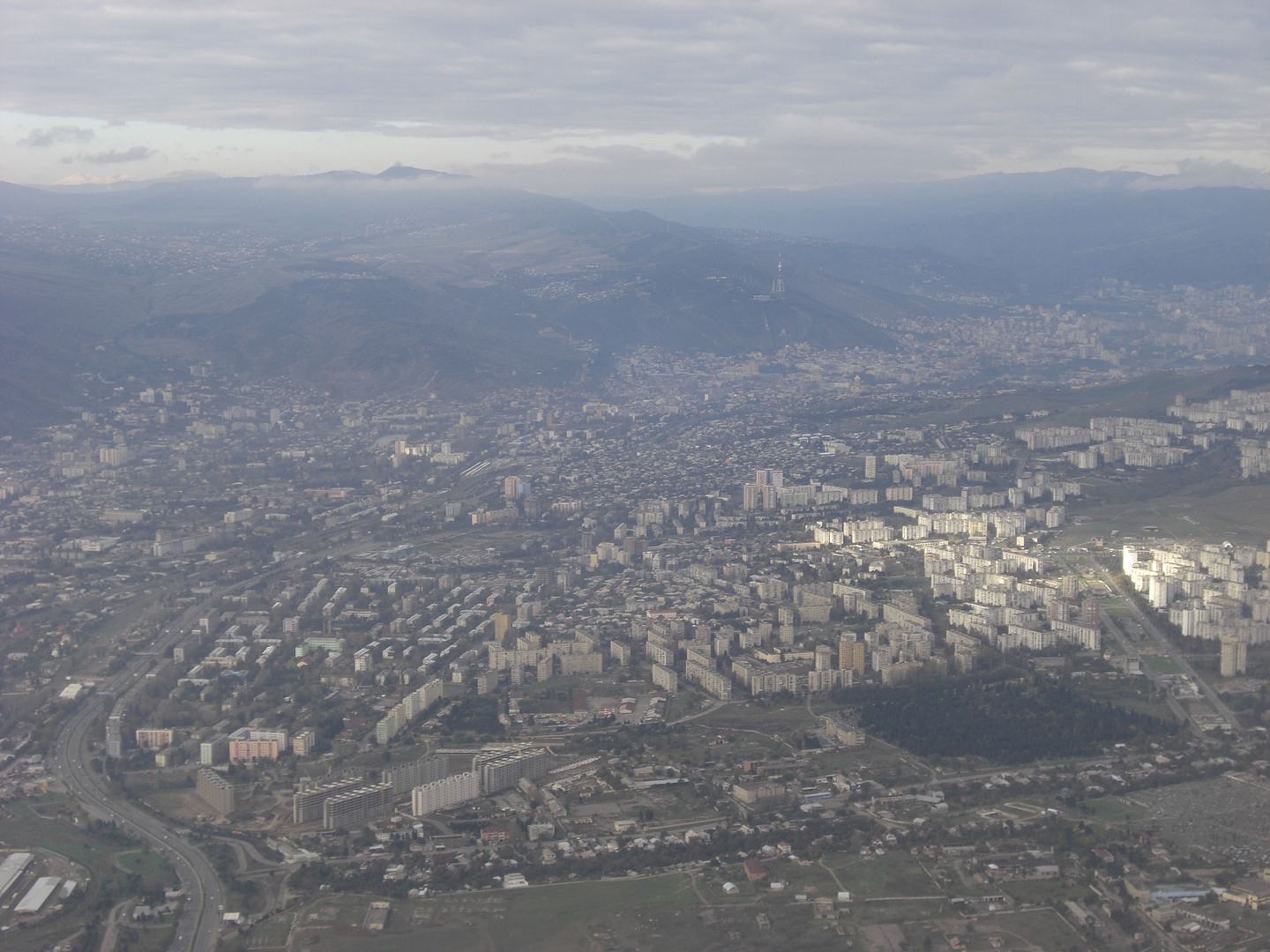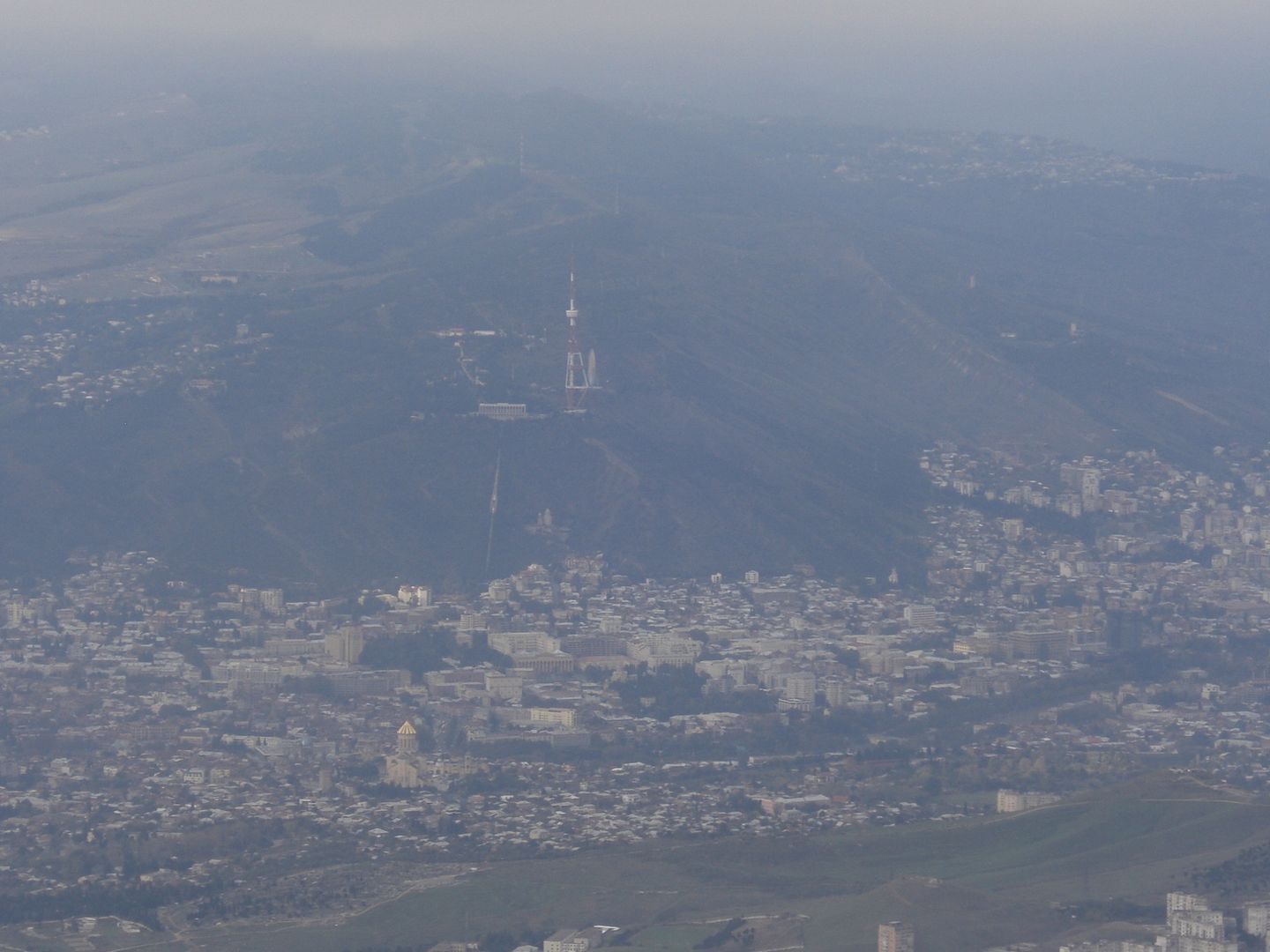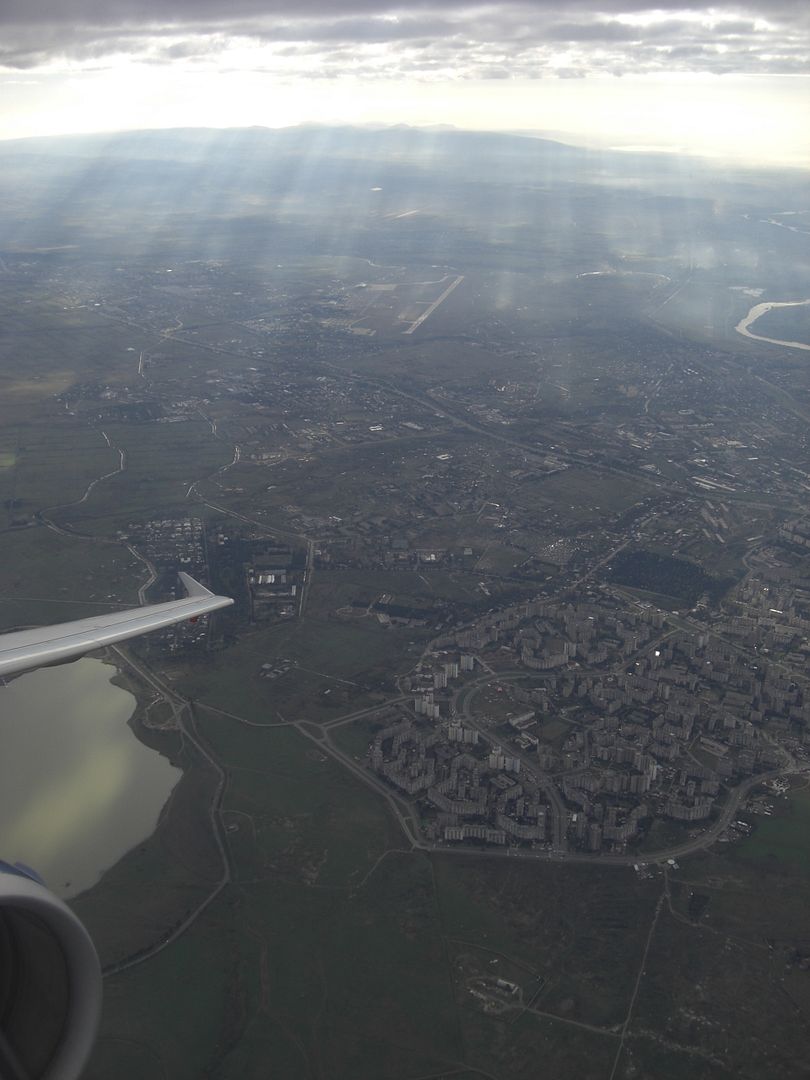 As well as Tbilisi, there were also fantastic views of the snowy Caucasian Peaks.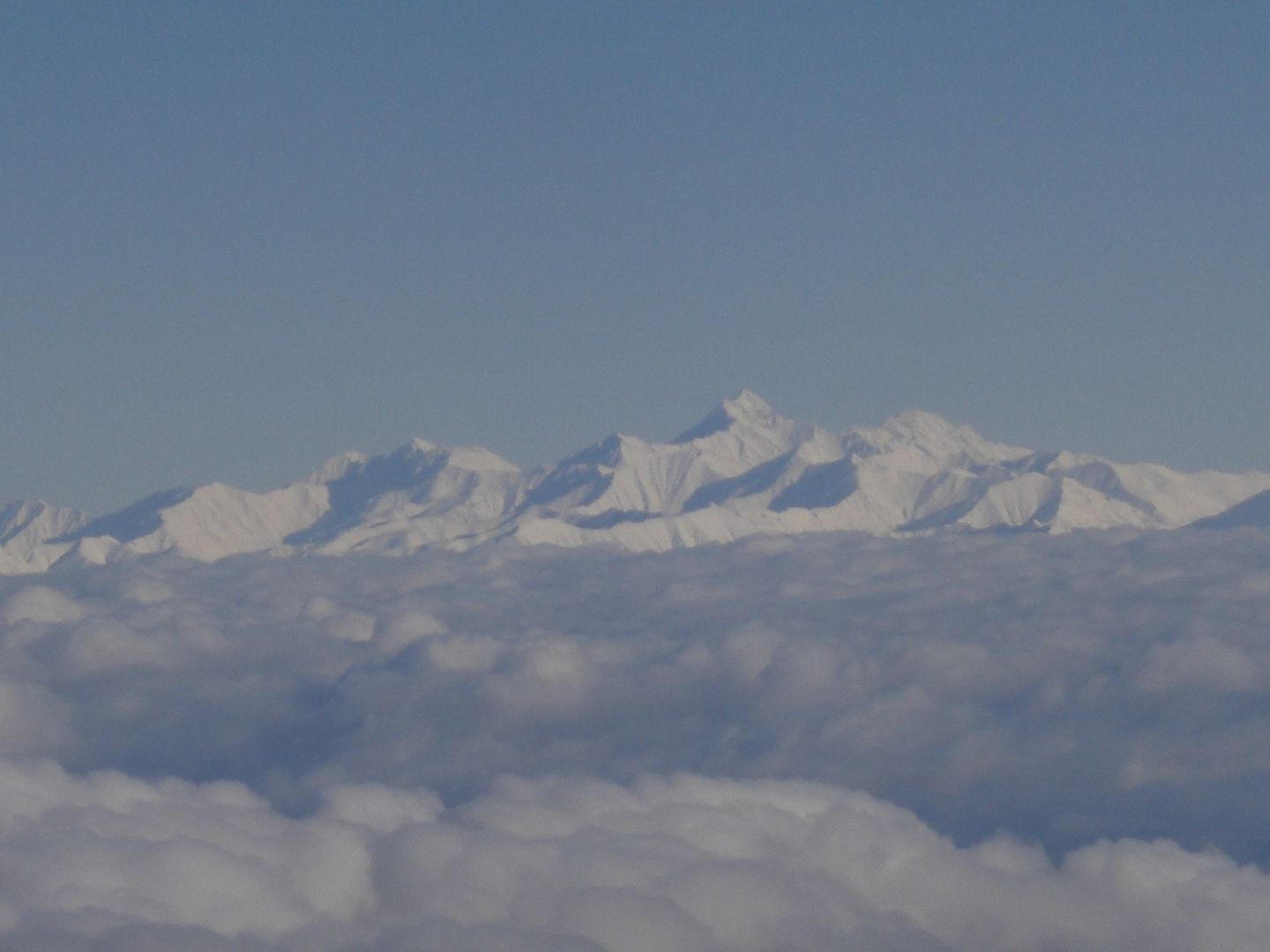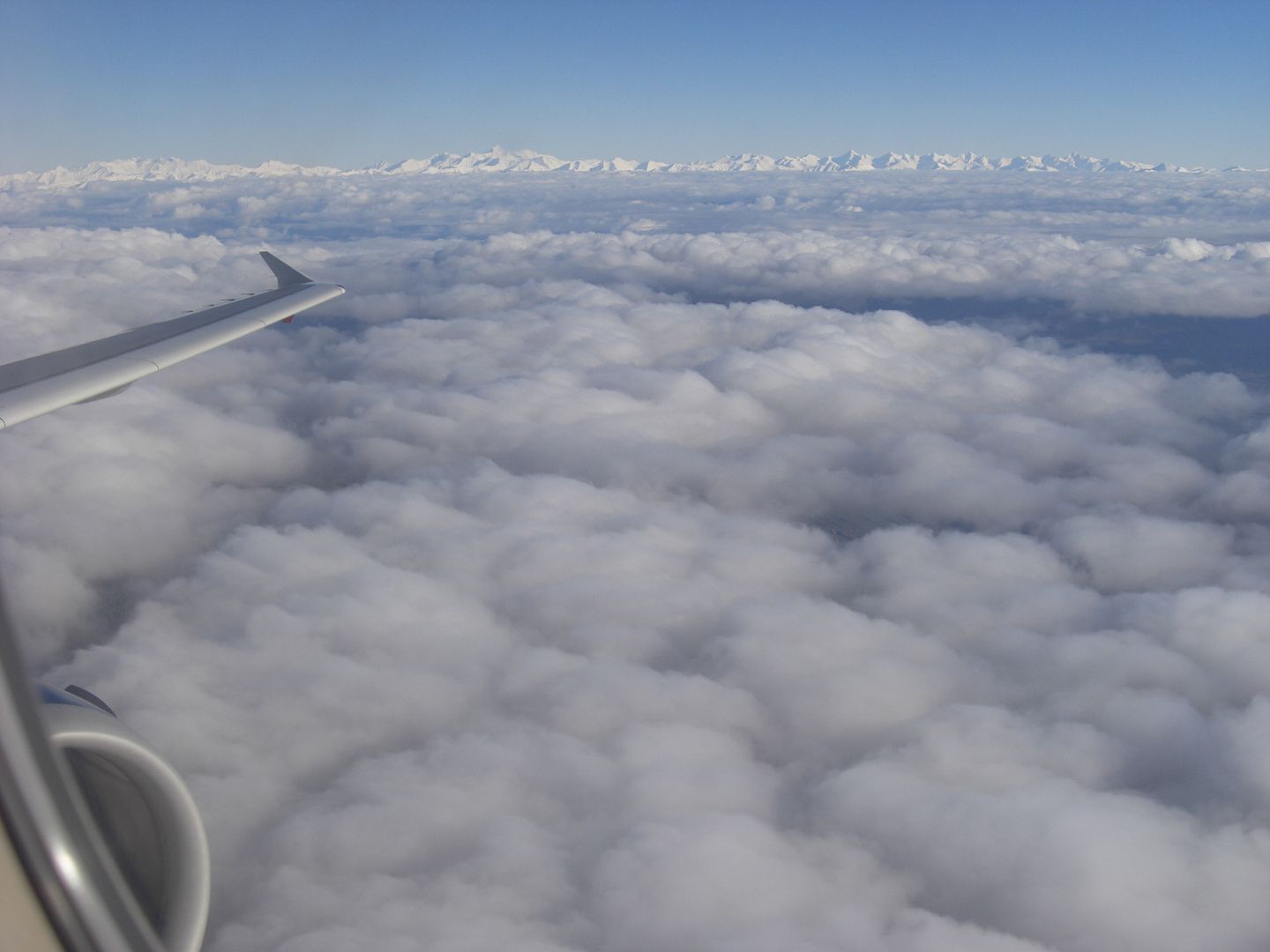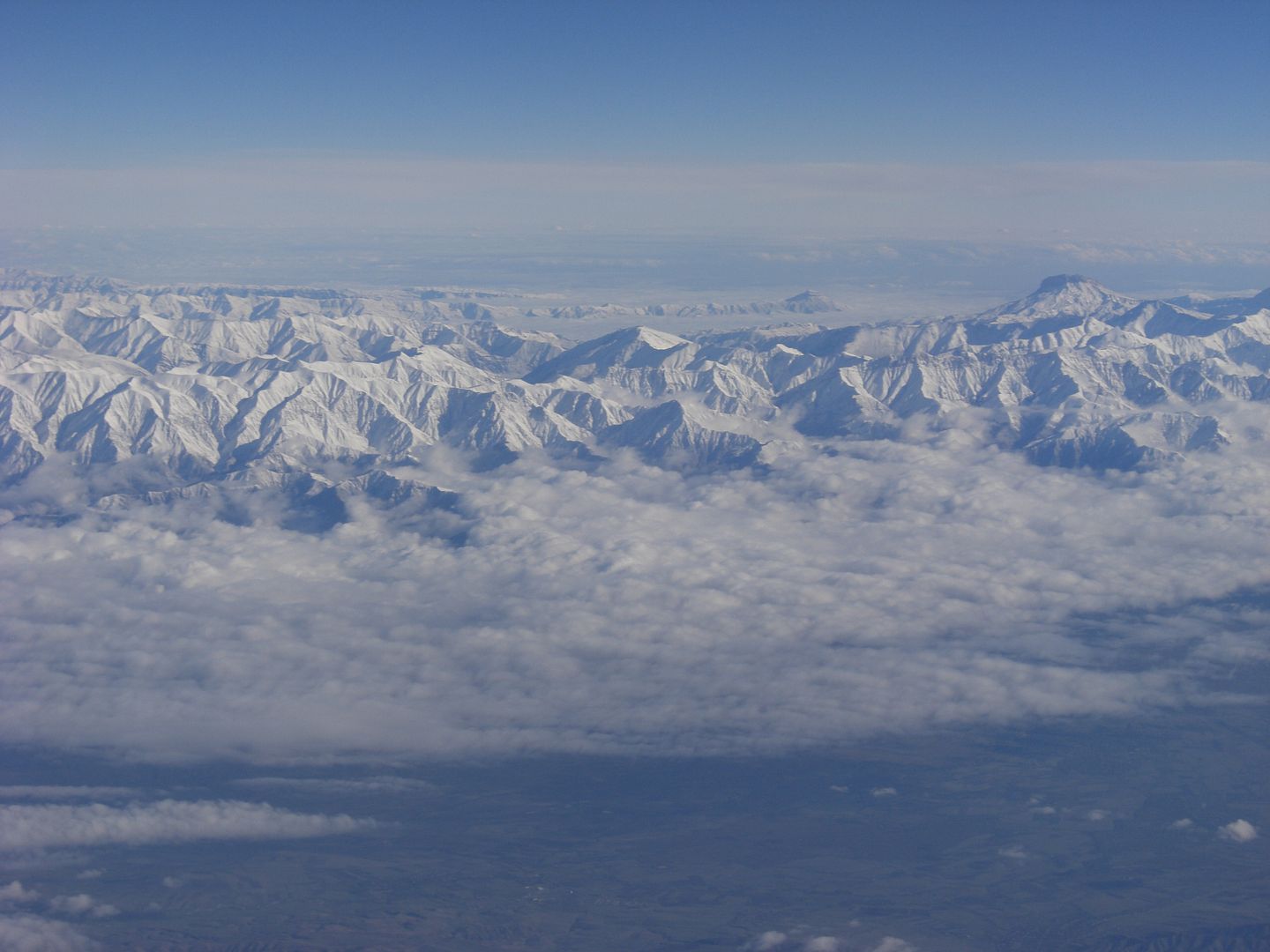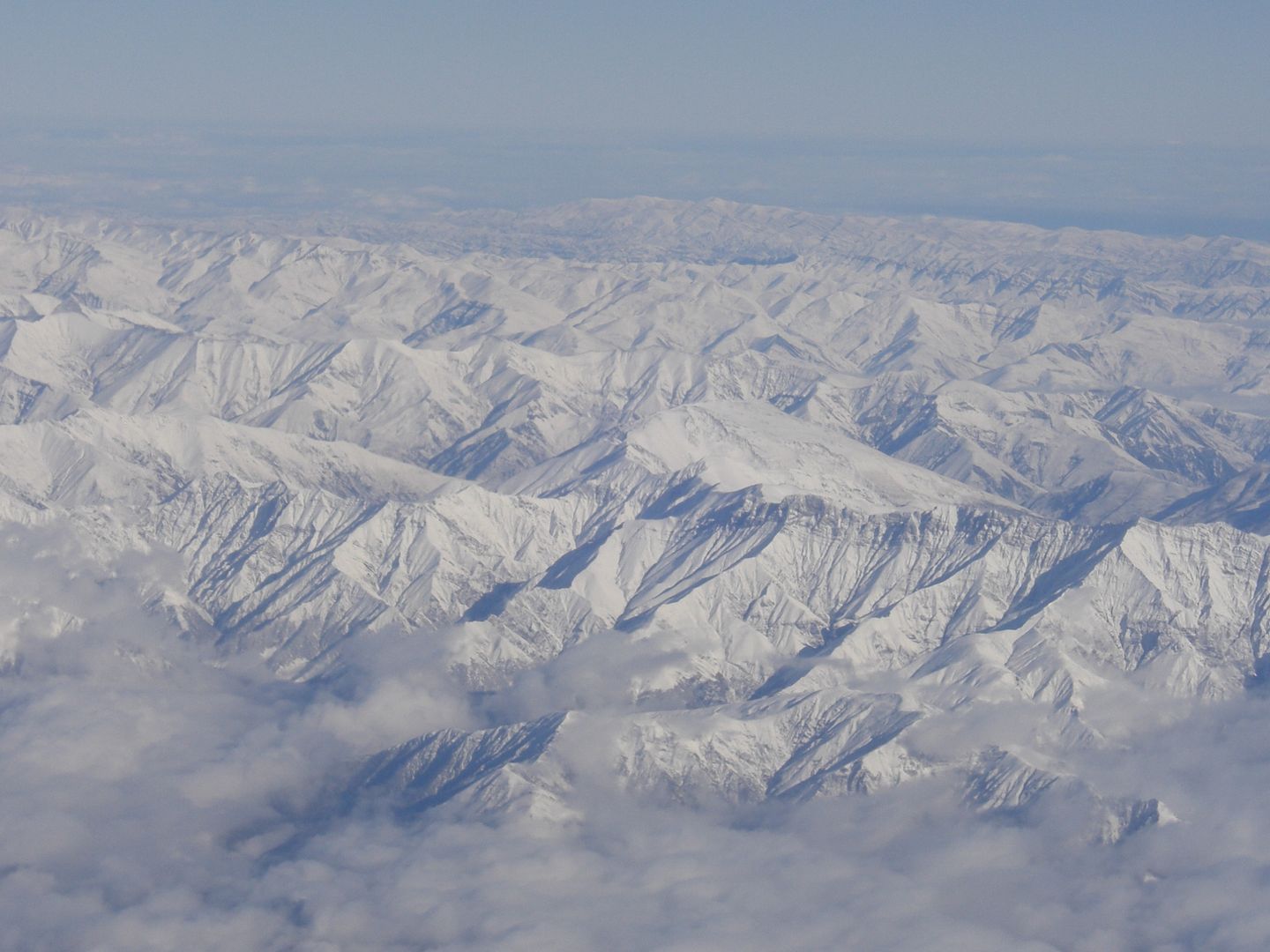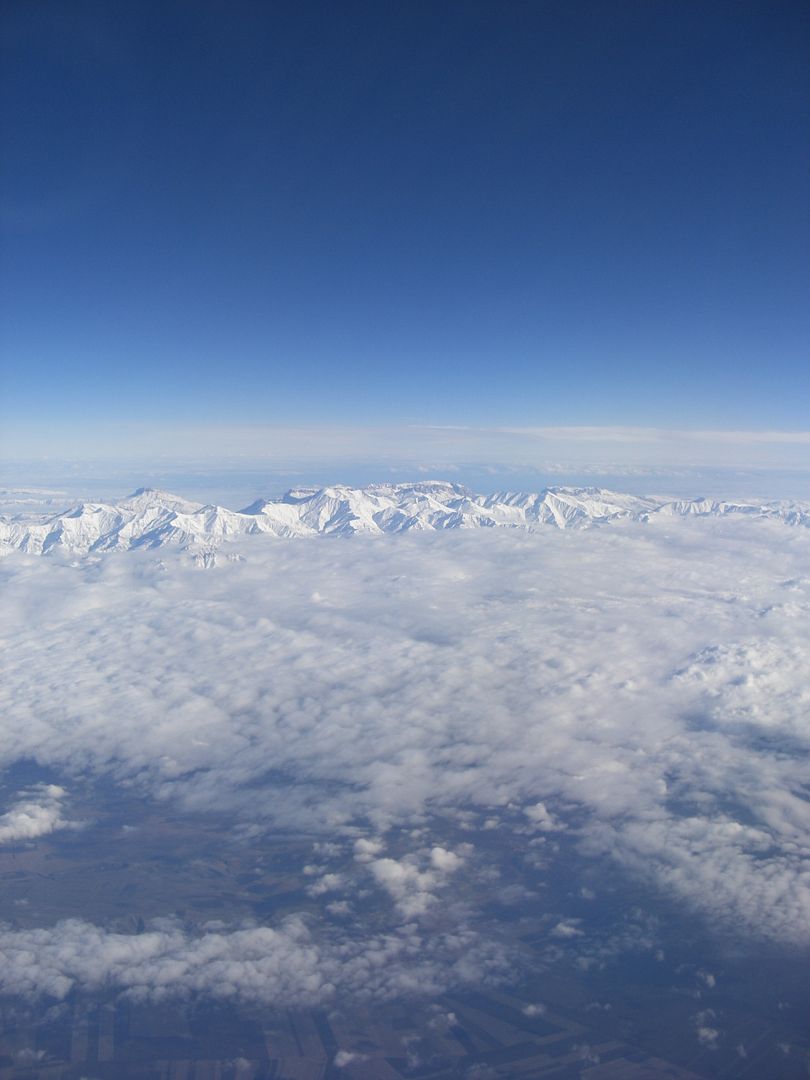 Once the seatbelt signs were off, I was offered another drink (water and champagne), and some nuts
Empty cabin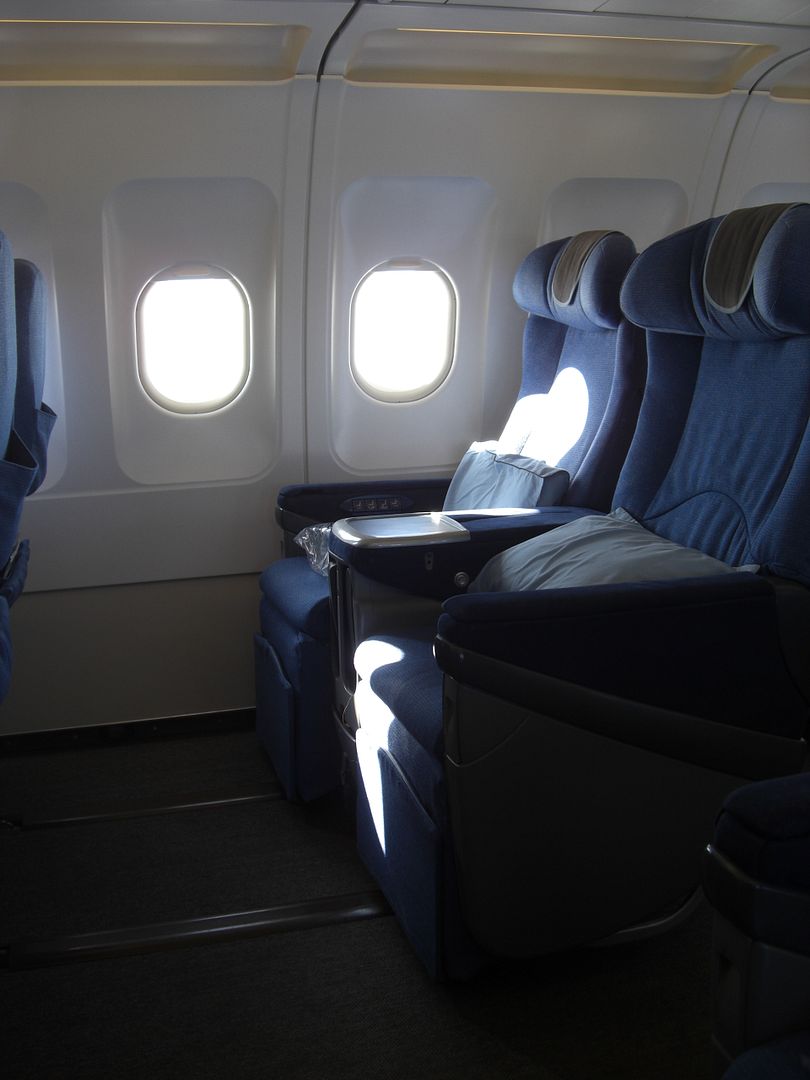 The approach to Baku took us over the city (I had to switch sides), which looked a lot drier and dustier than Tbilisi.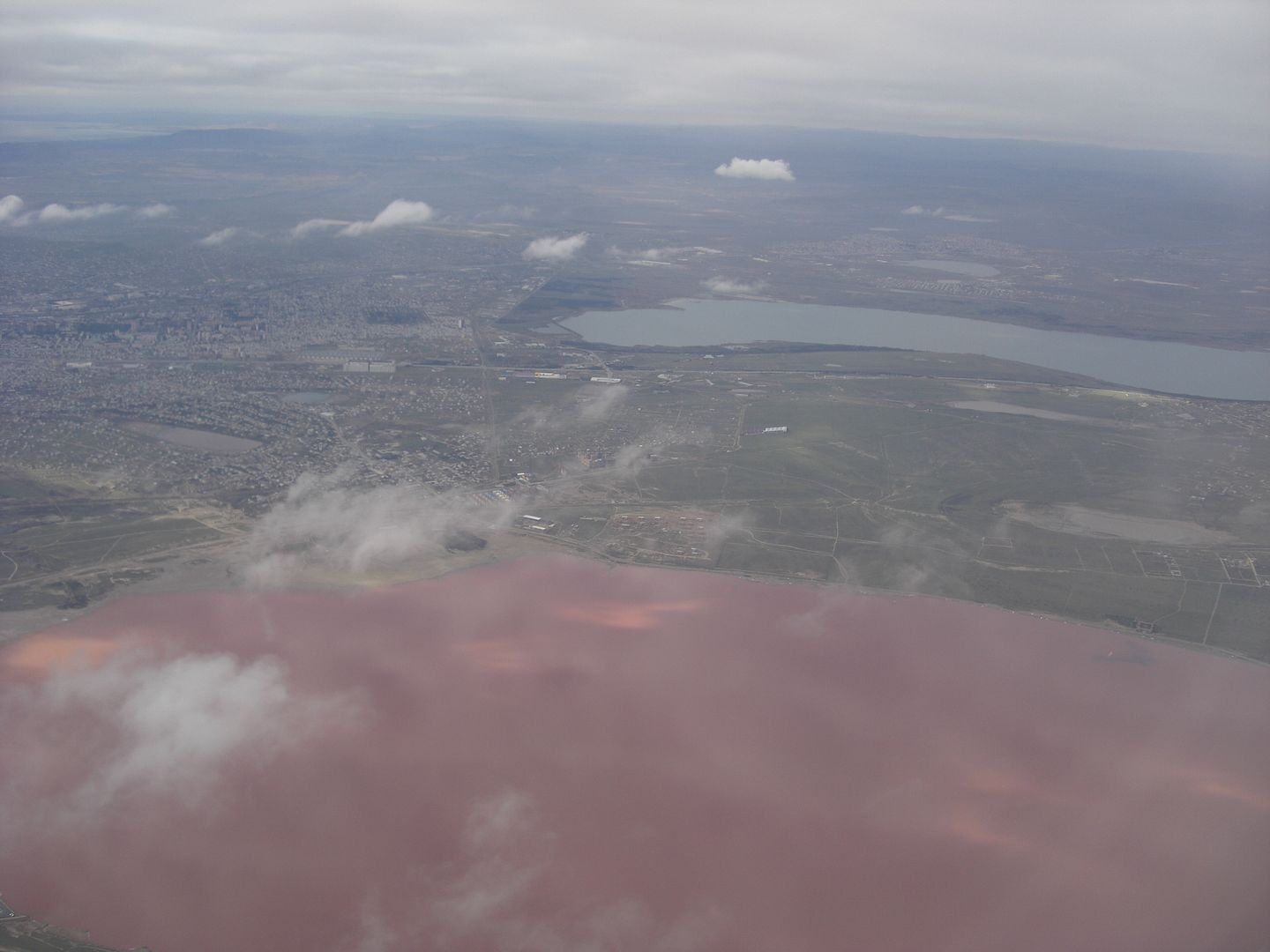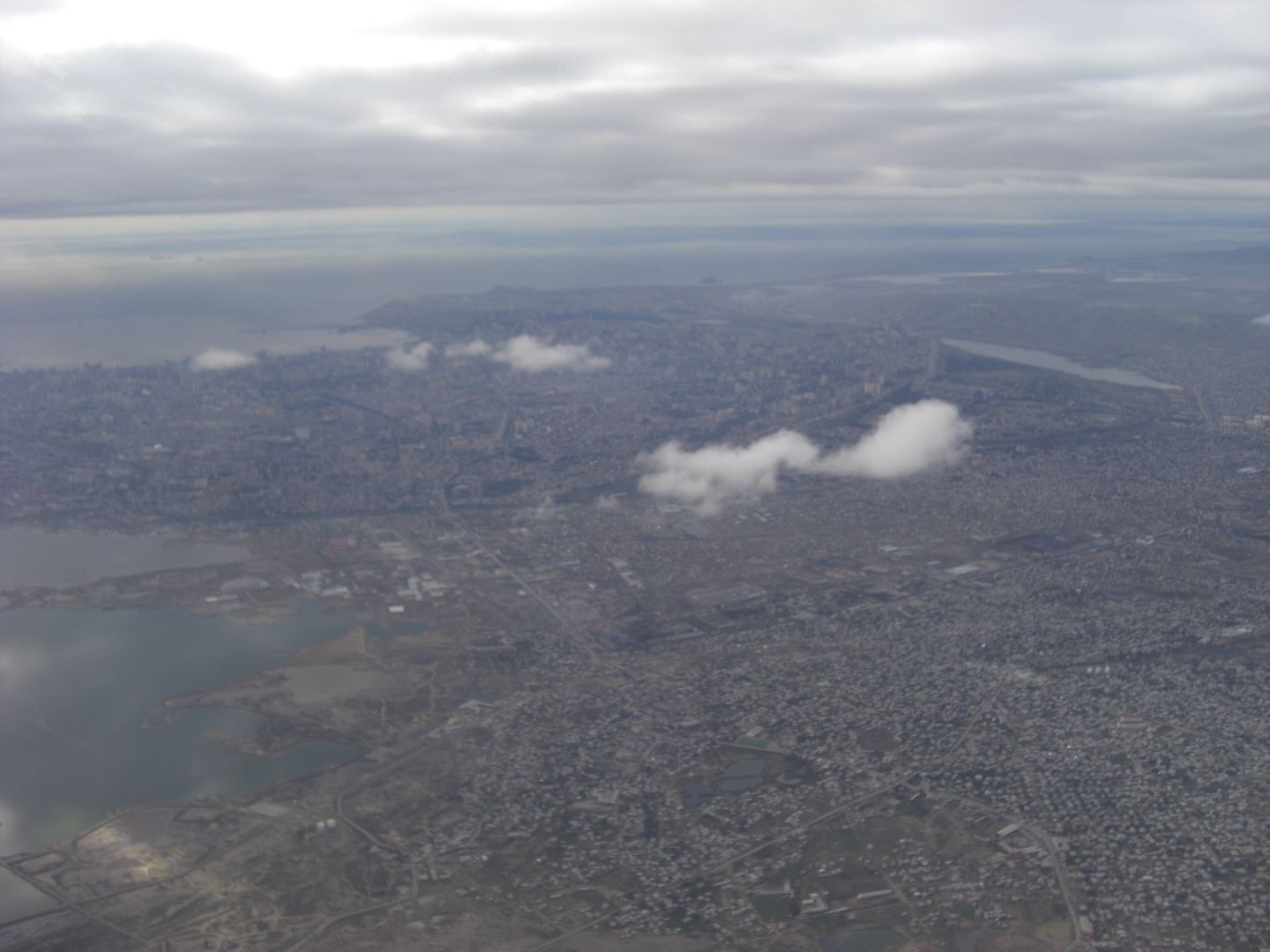 The Caspian Sea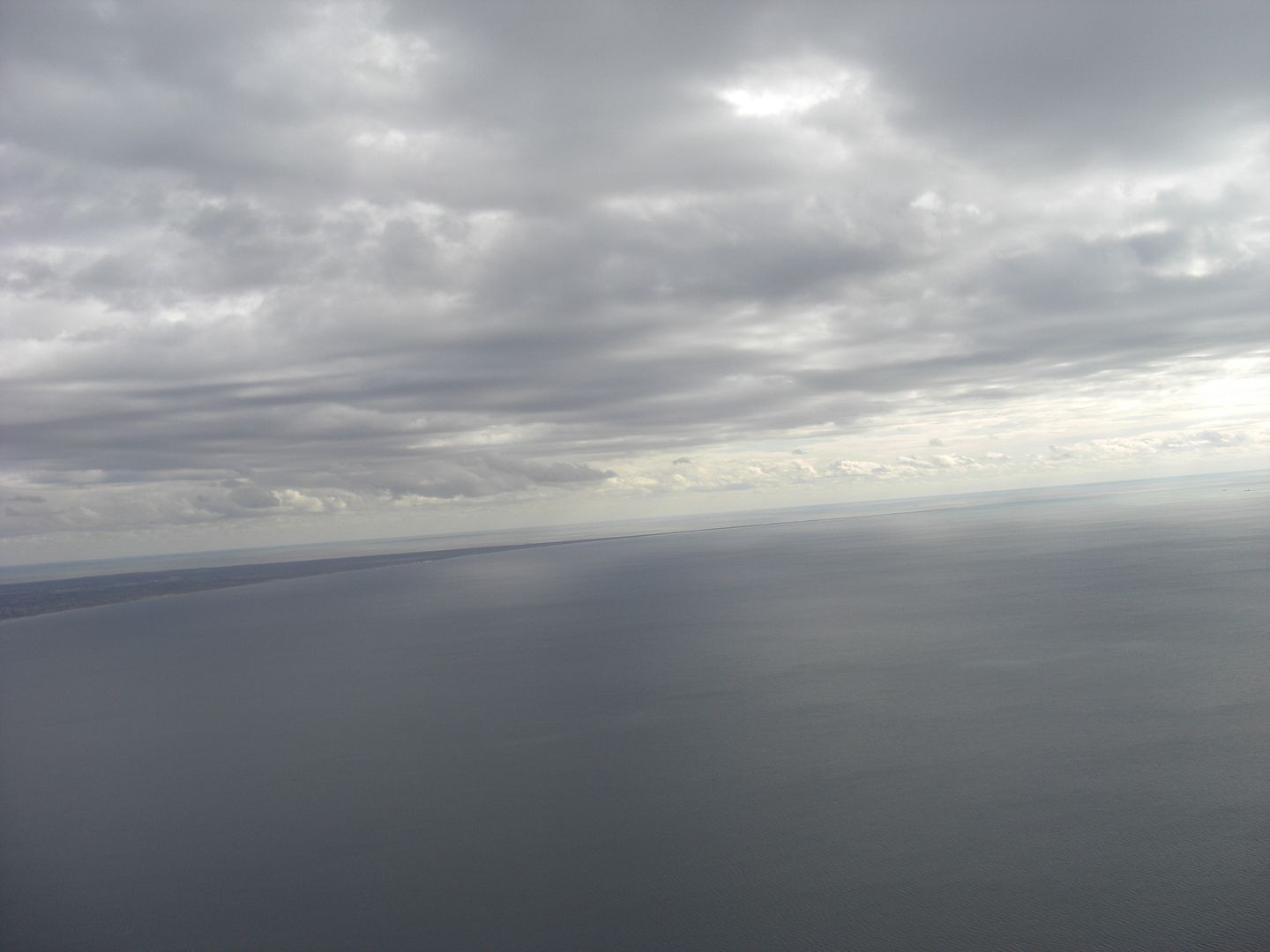 Baku Airport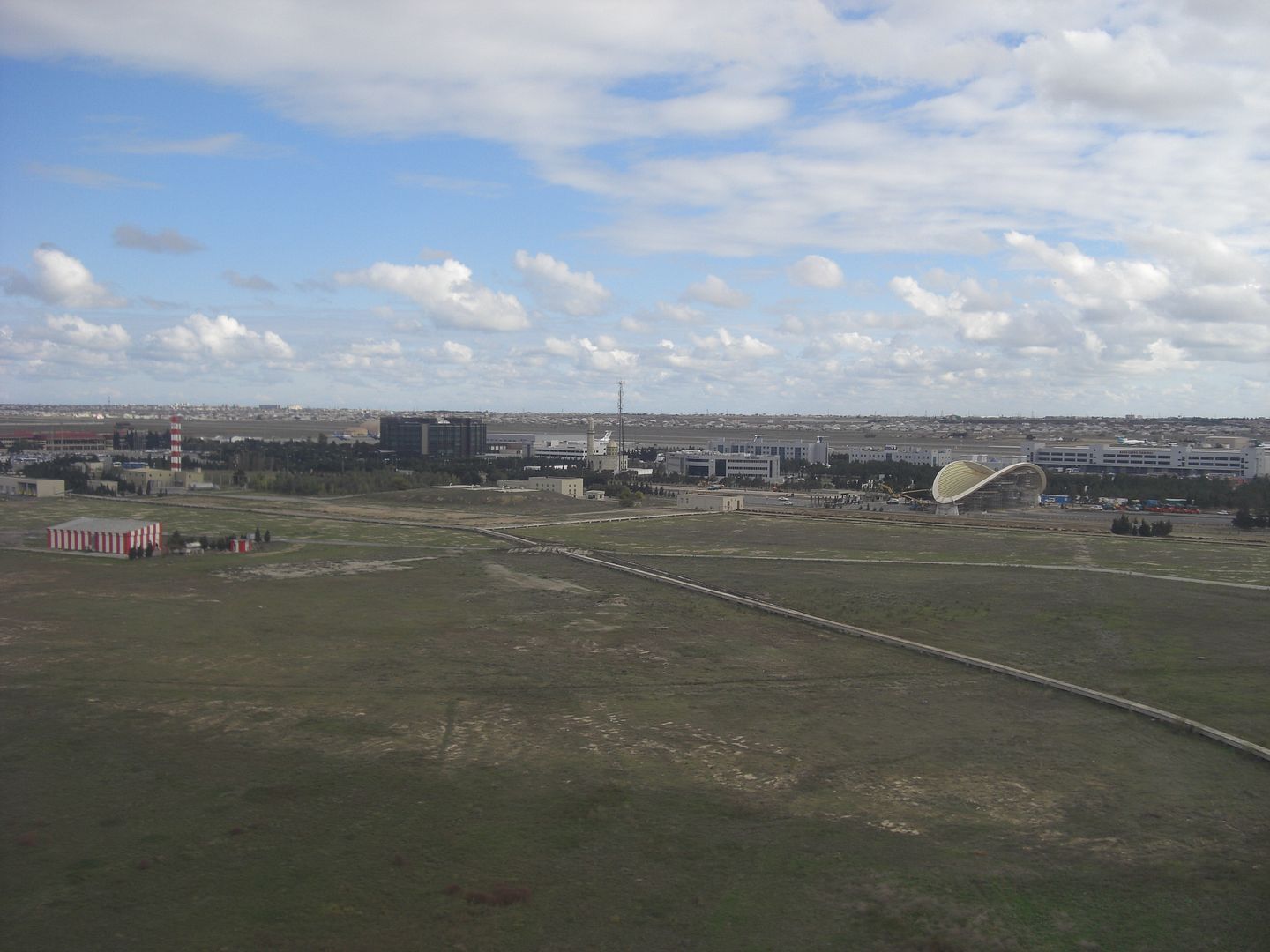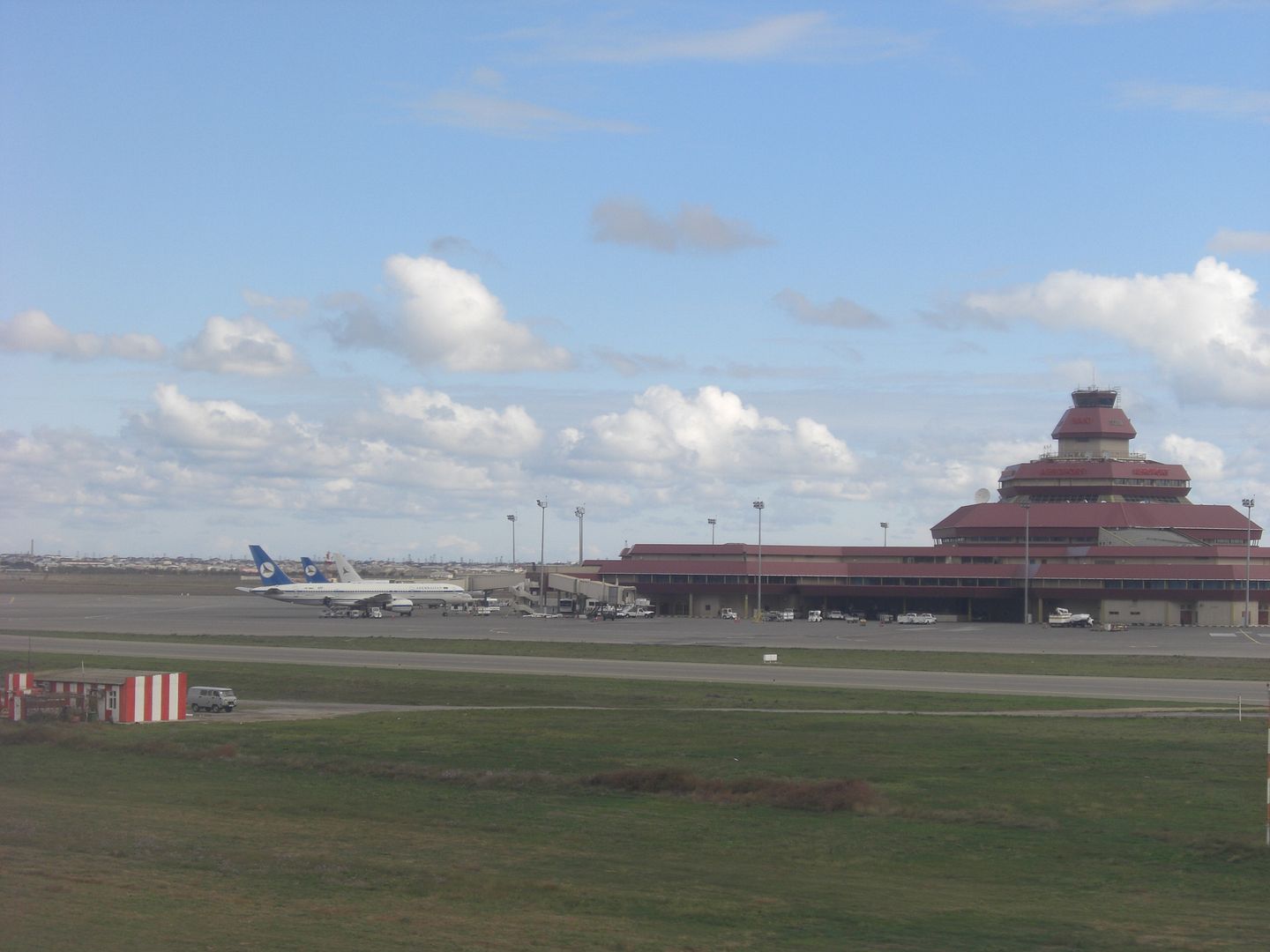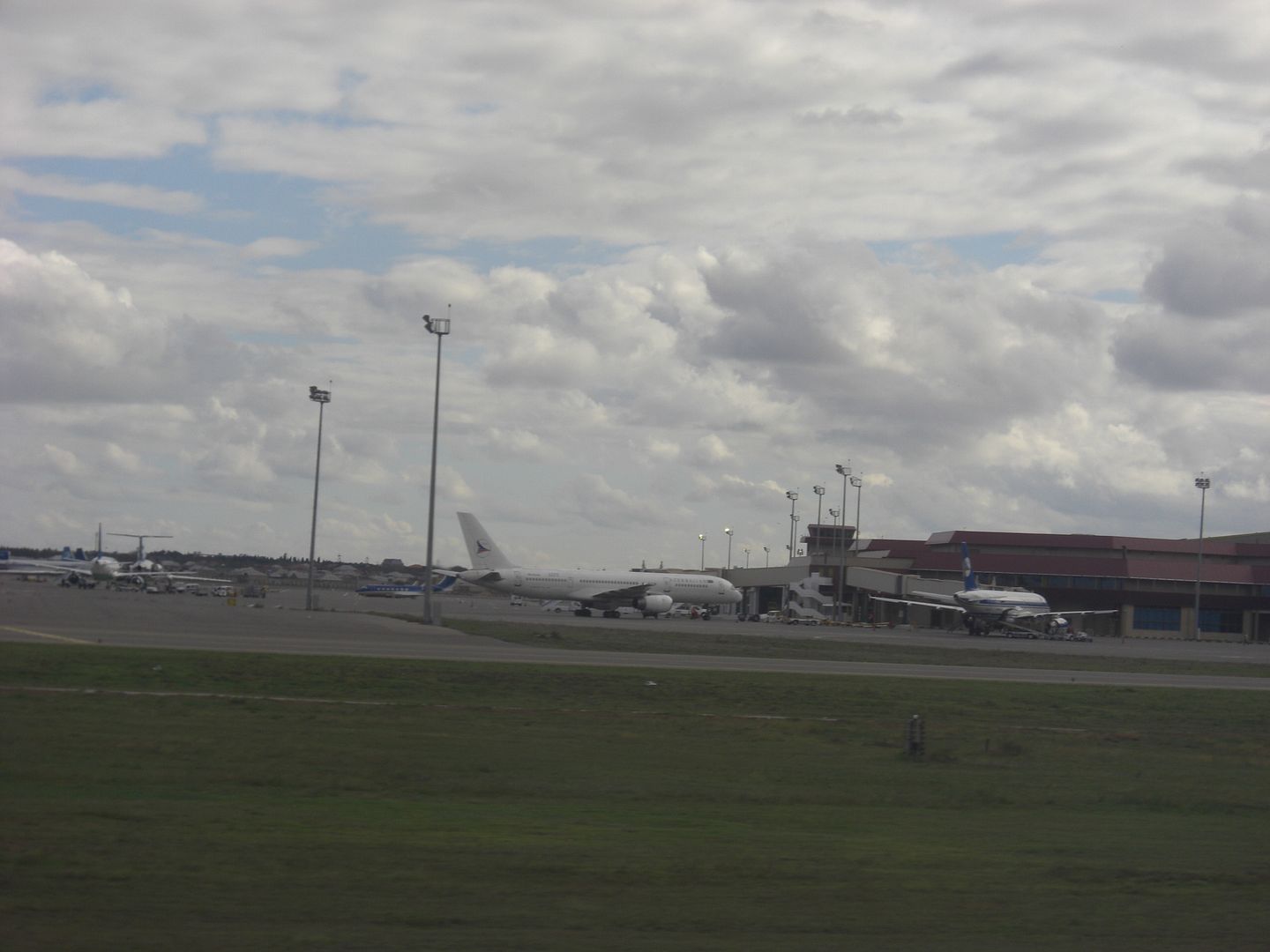 We were advised that we would upload fuel, meals and passengers here, so to keep out belts off, but stay in our seats.
For the next sector, the load was 55 in economy, and 8 in Business.
November 2010
bmi British Midland International BD 928
Baku (GYD) – London Heathrow (LHR)
Airbus A321 (G-MEDG)
Scheduled: 1140-1405 (6h25m)
Actual: 1139-1307 (5h28m)
Business Class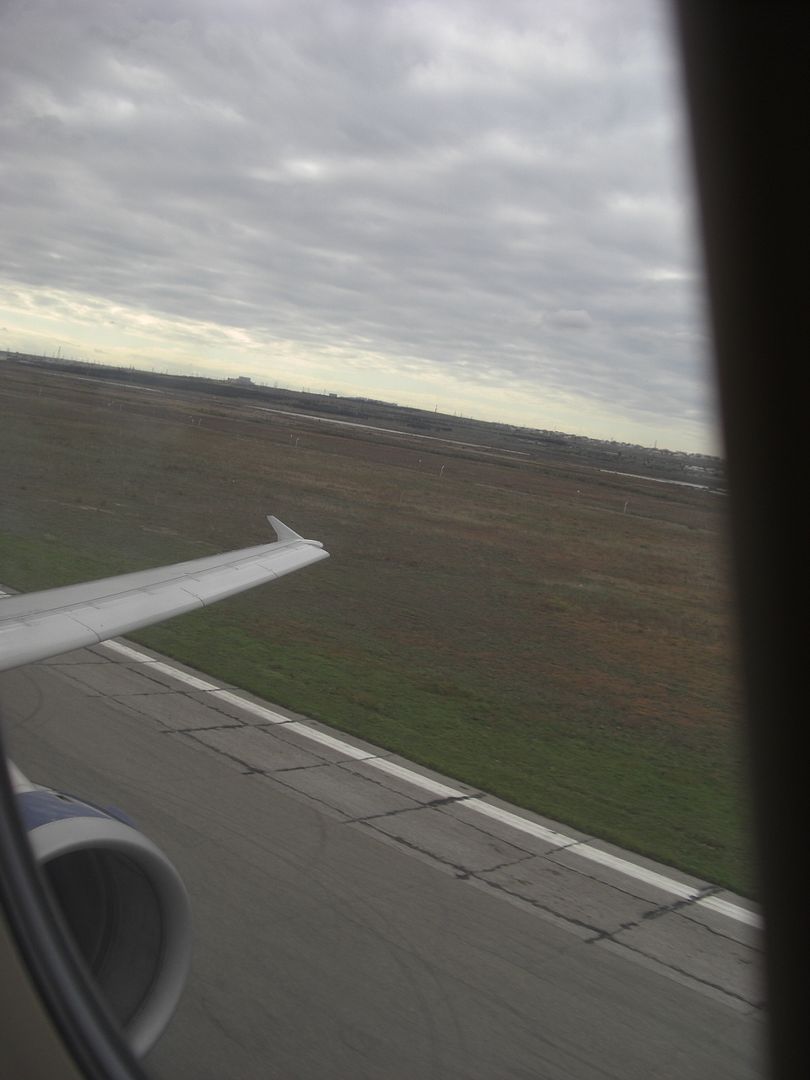 This time, we took of a minute early into a cloudy Azeri sky. Menus were distributed detailing lunch offerings.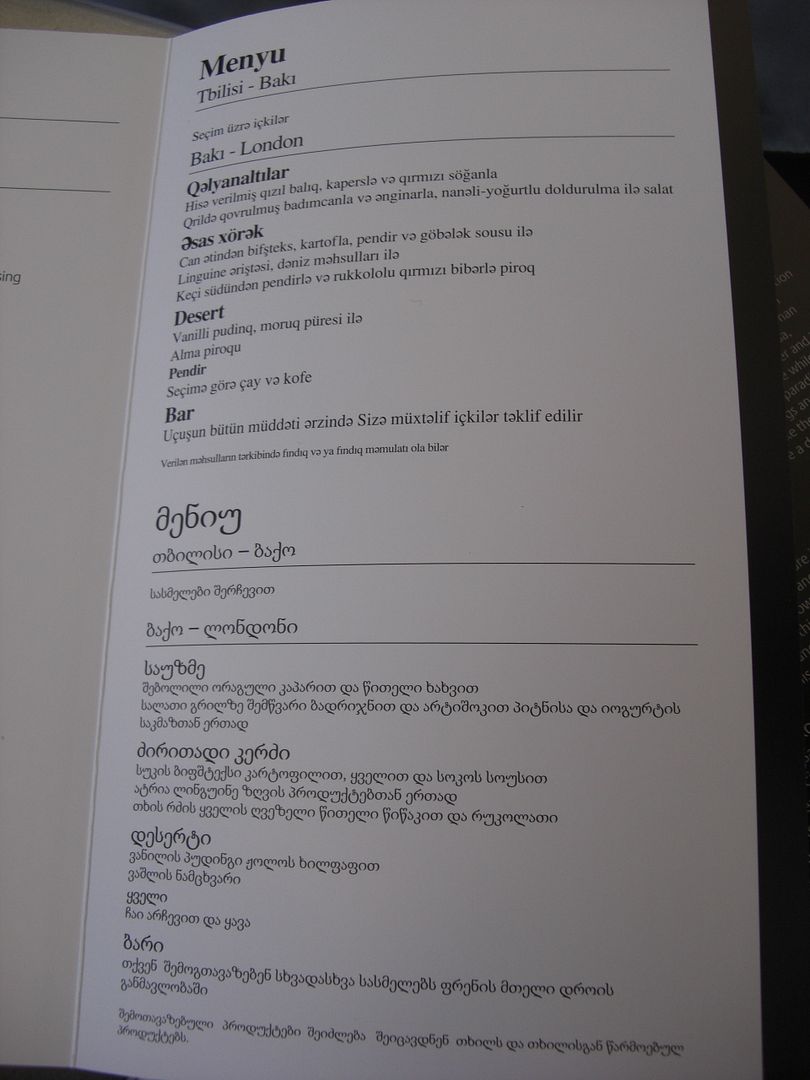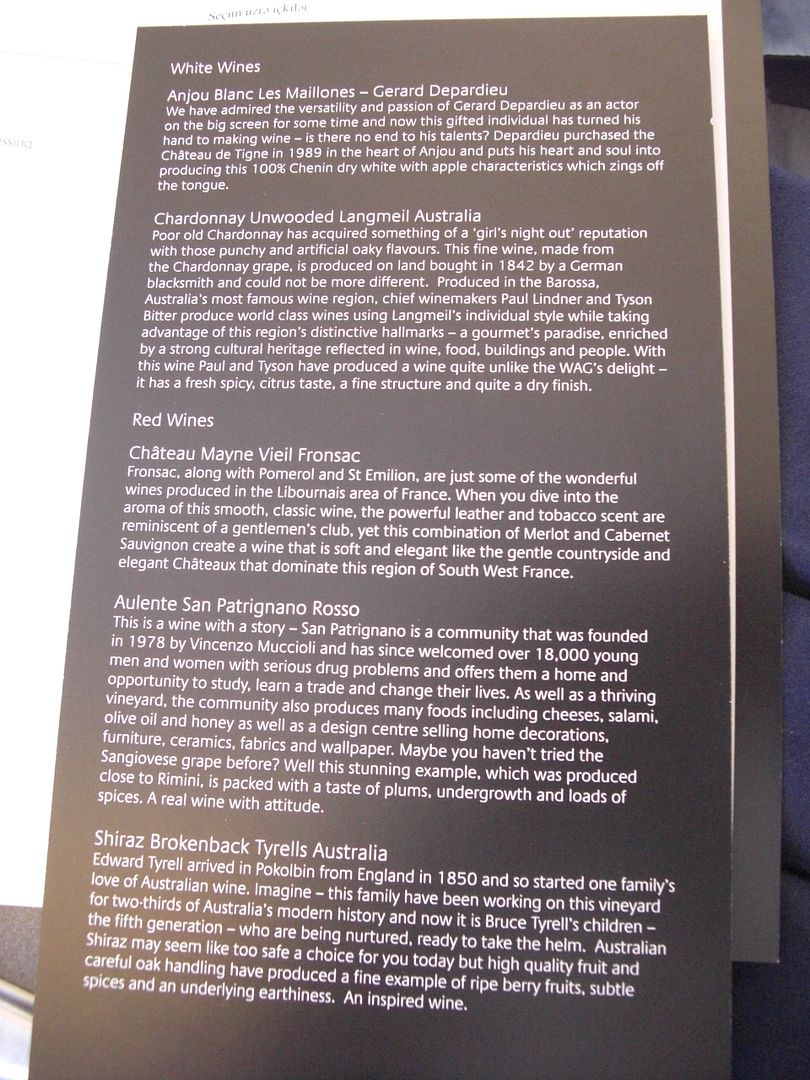 An amenity kit was also handed out. In the little box was some lip balm and moisturising cream, and in the black case, an eye shade, ear plugs and a few other bits and bobs. It was more than I was expecting for a daytime flight.
IFE was provided by the non-AVOD system. The selection of films (around 4) was really bad, so I forwent the TV altogether (minus a few short looks at the map). The screens were tiny, and had terrible contrast.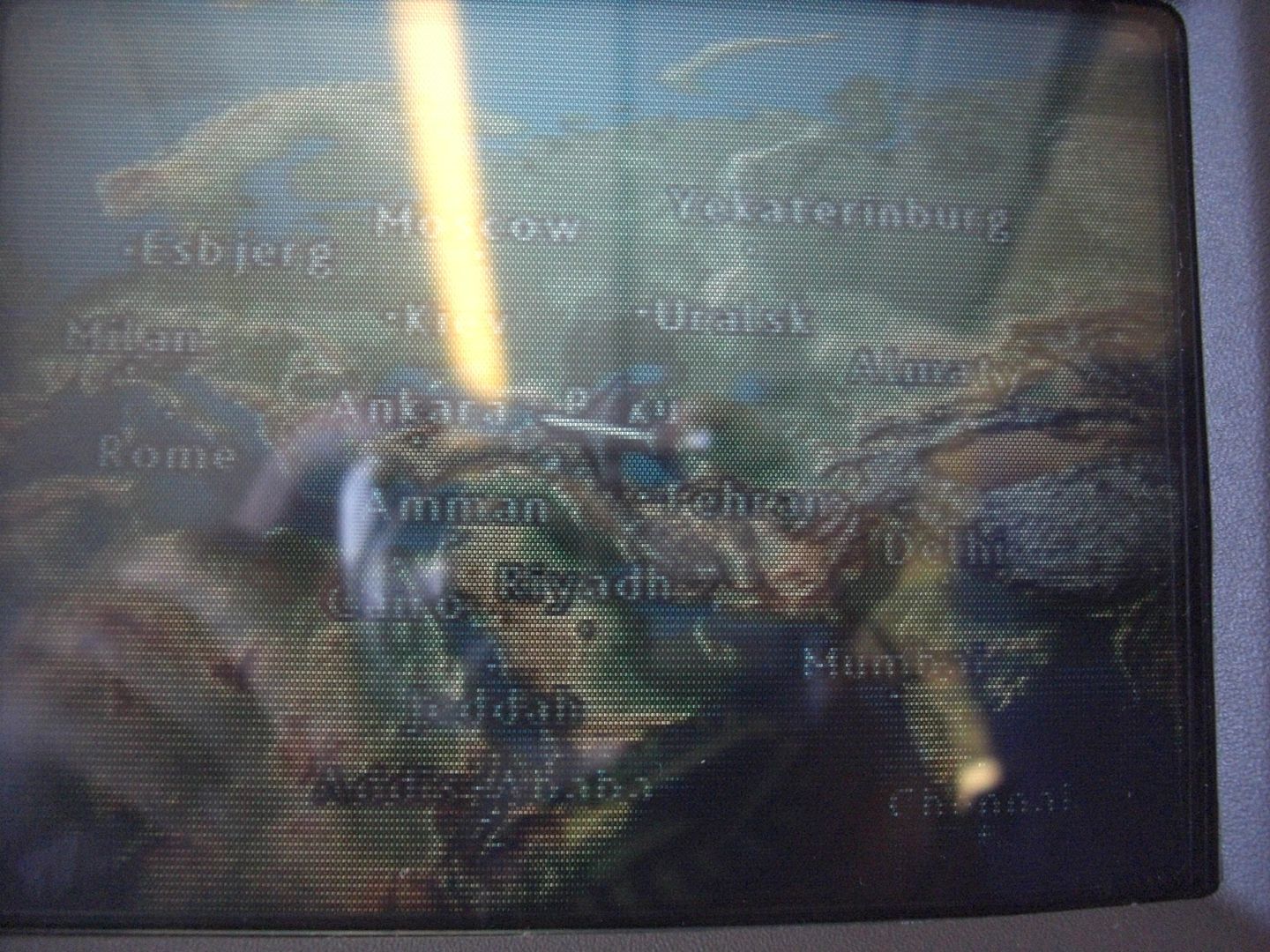 More champagne, water and nuts
View with Lunch: Mount Elbrus I believe, Europe's highest mountain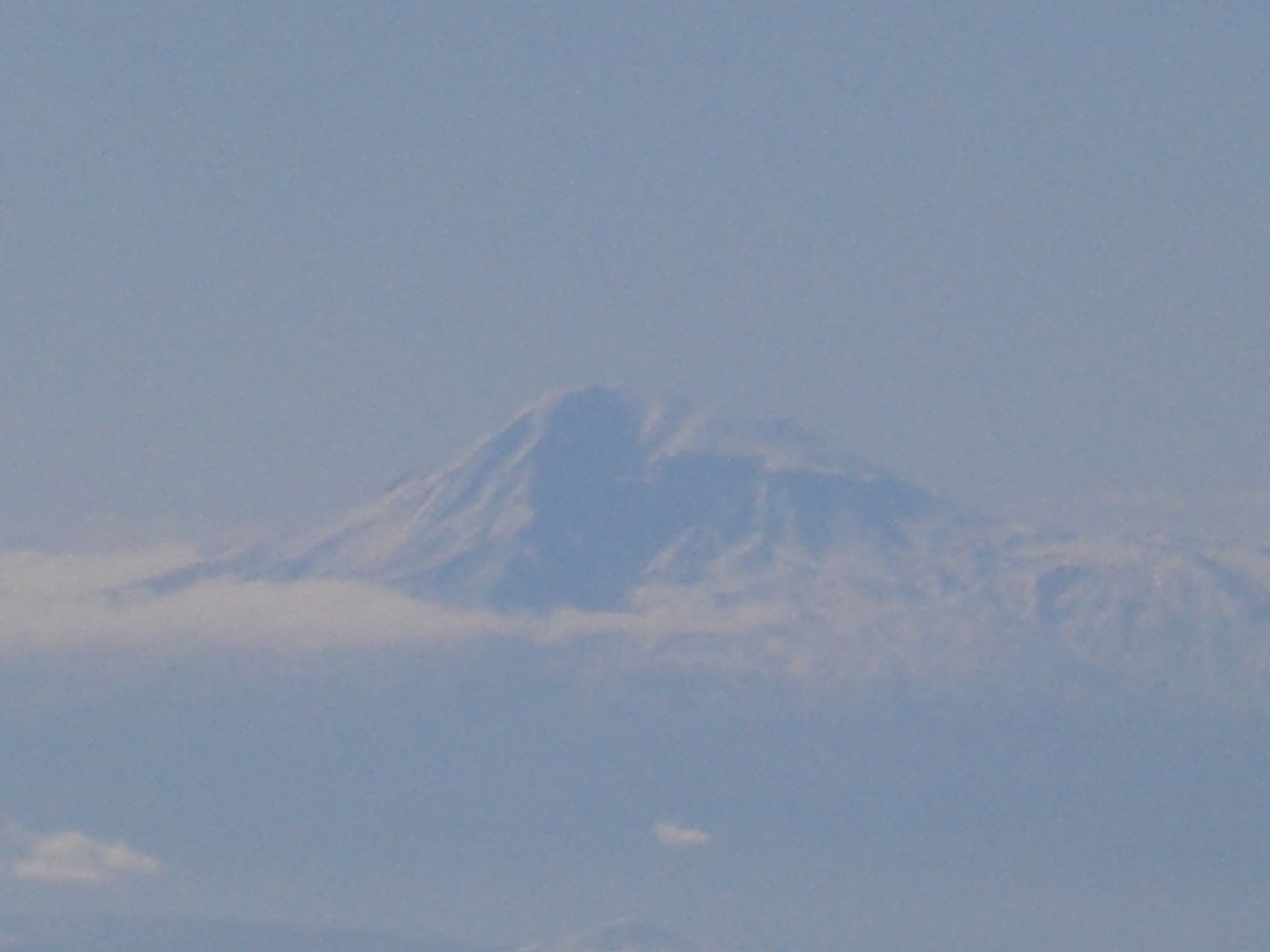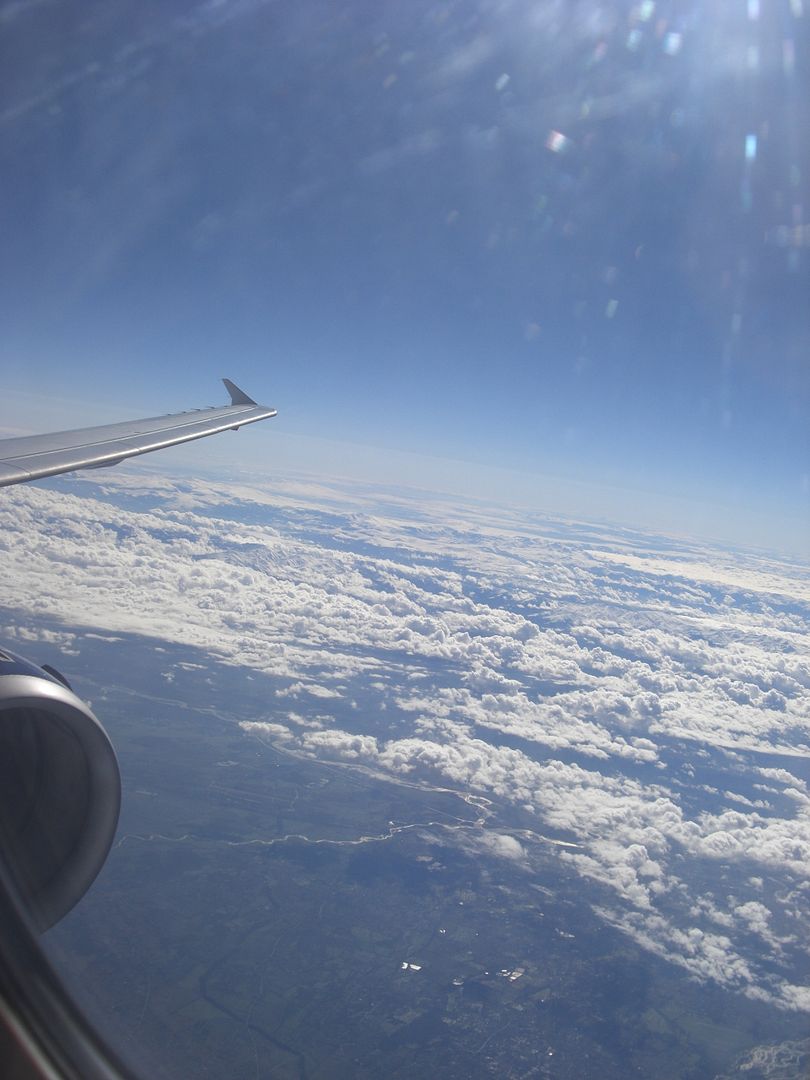 Smoke Salmon Starter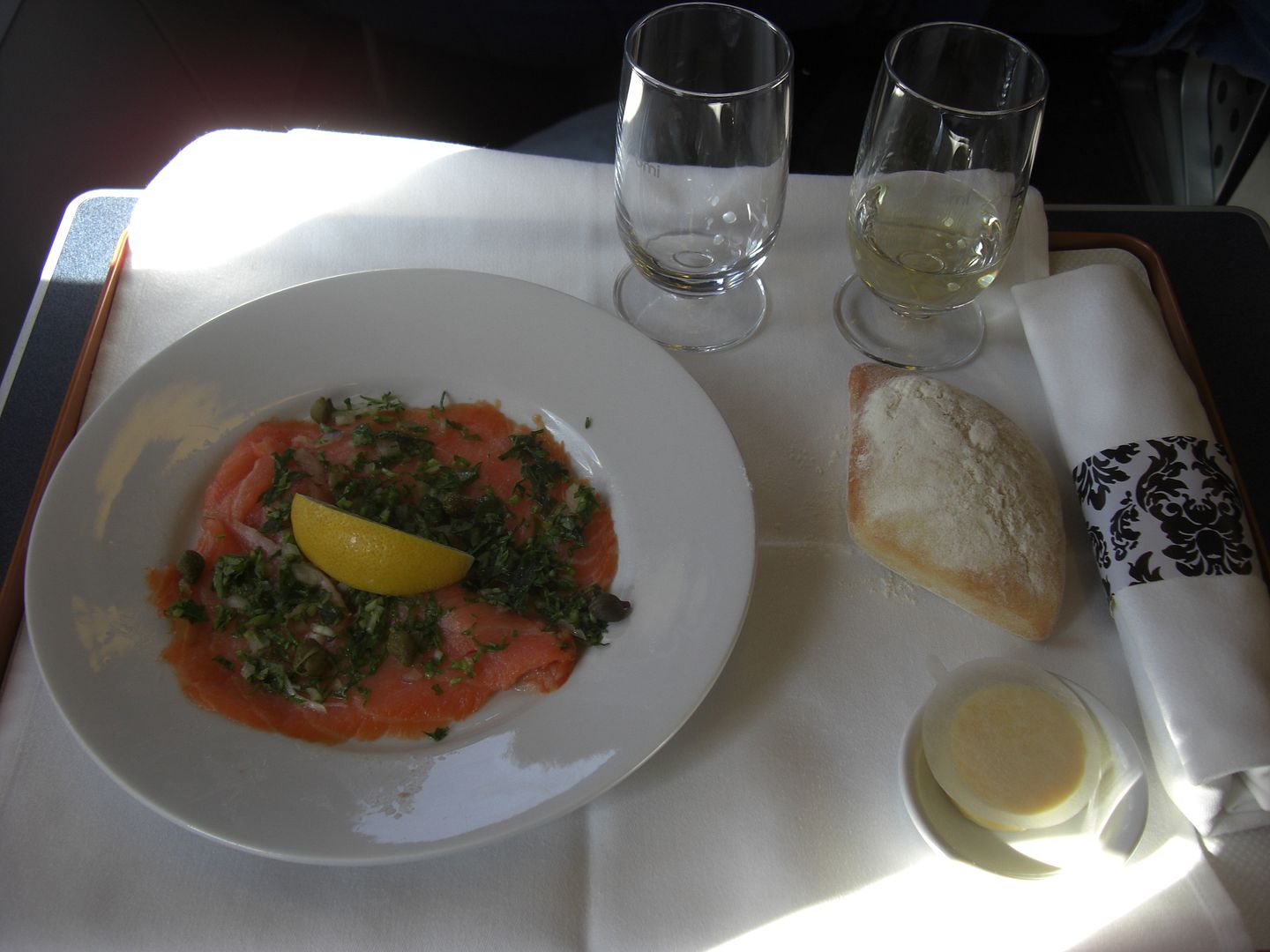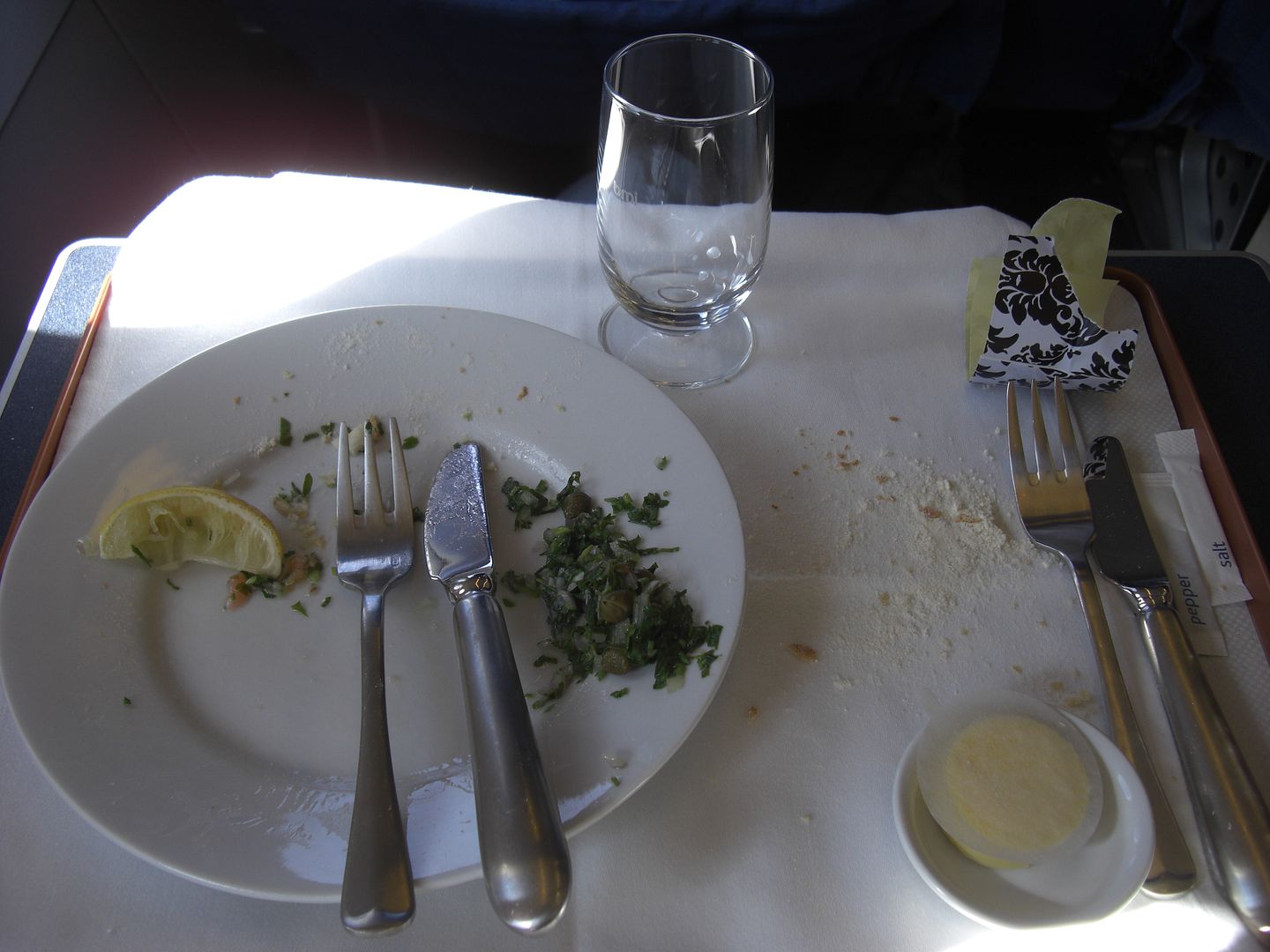 Top ups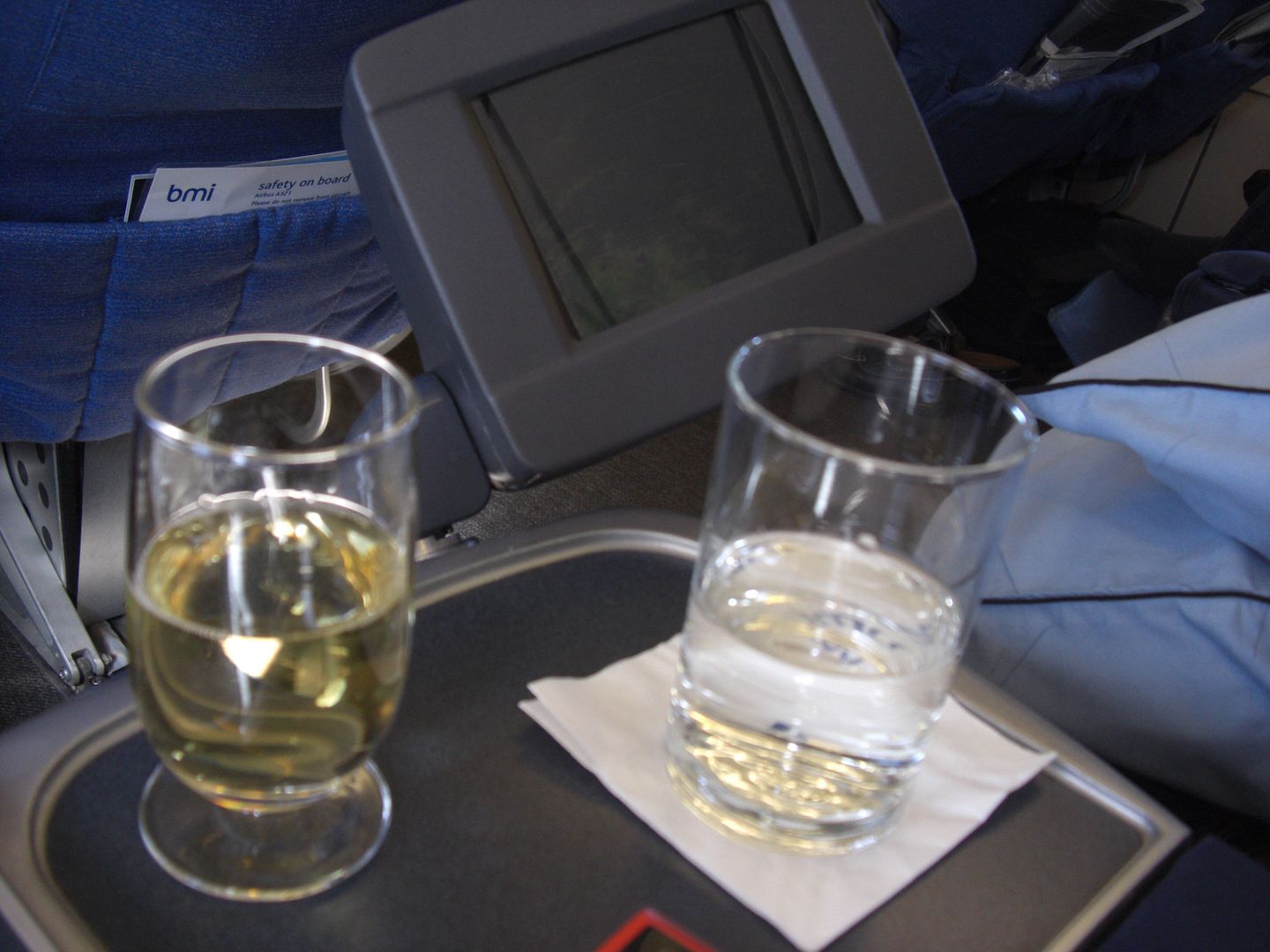 Seafood Linguini – very tasty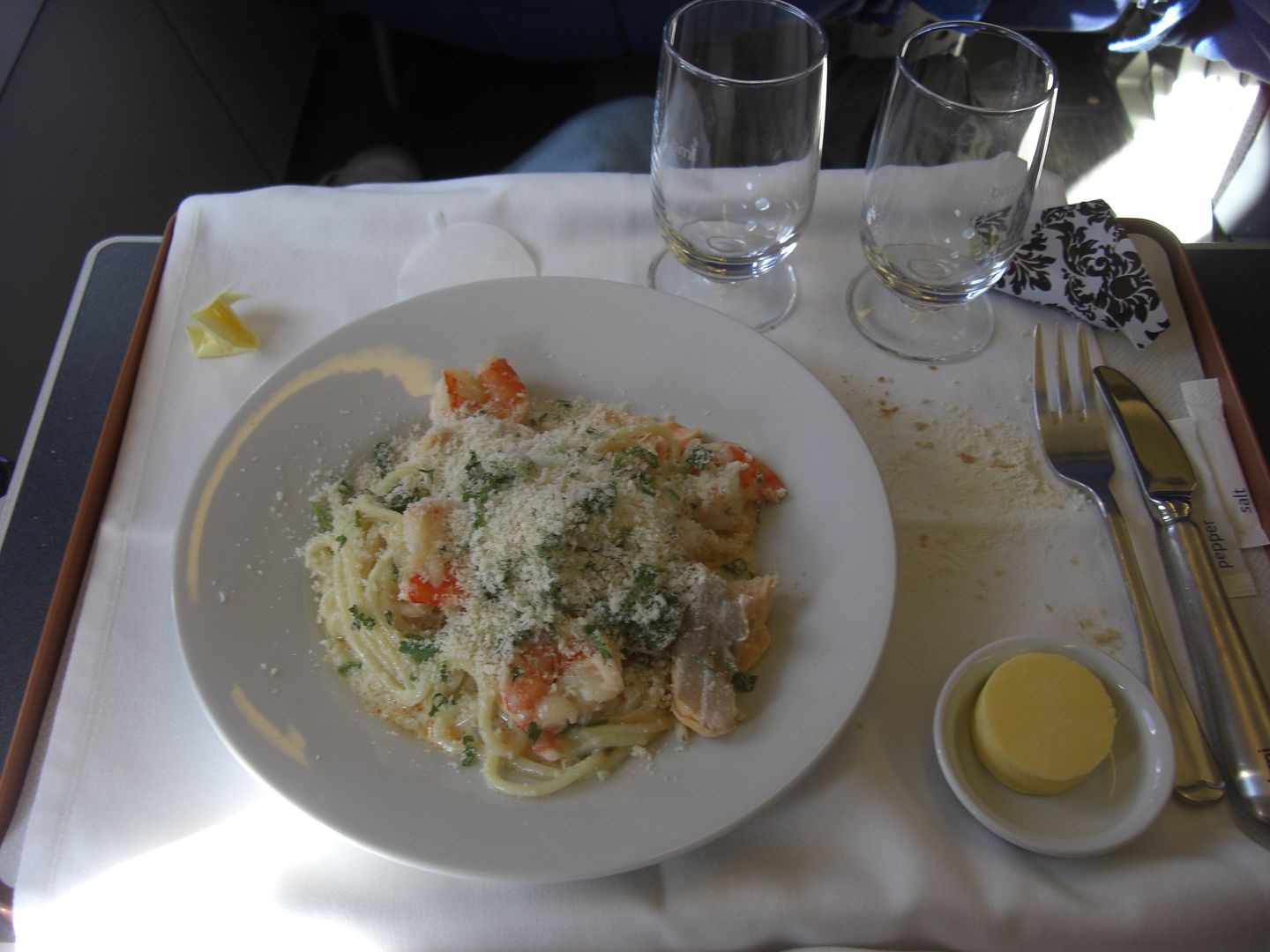 Vanilla Dessert – not great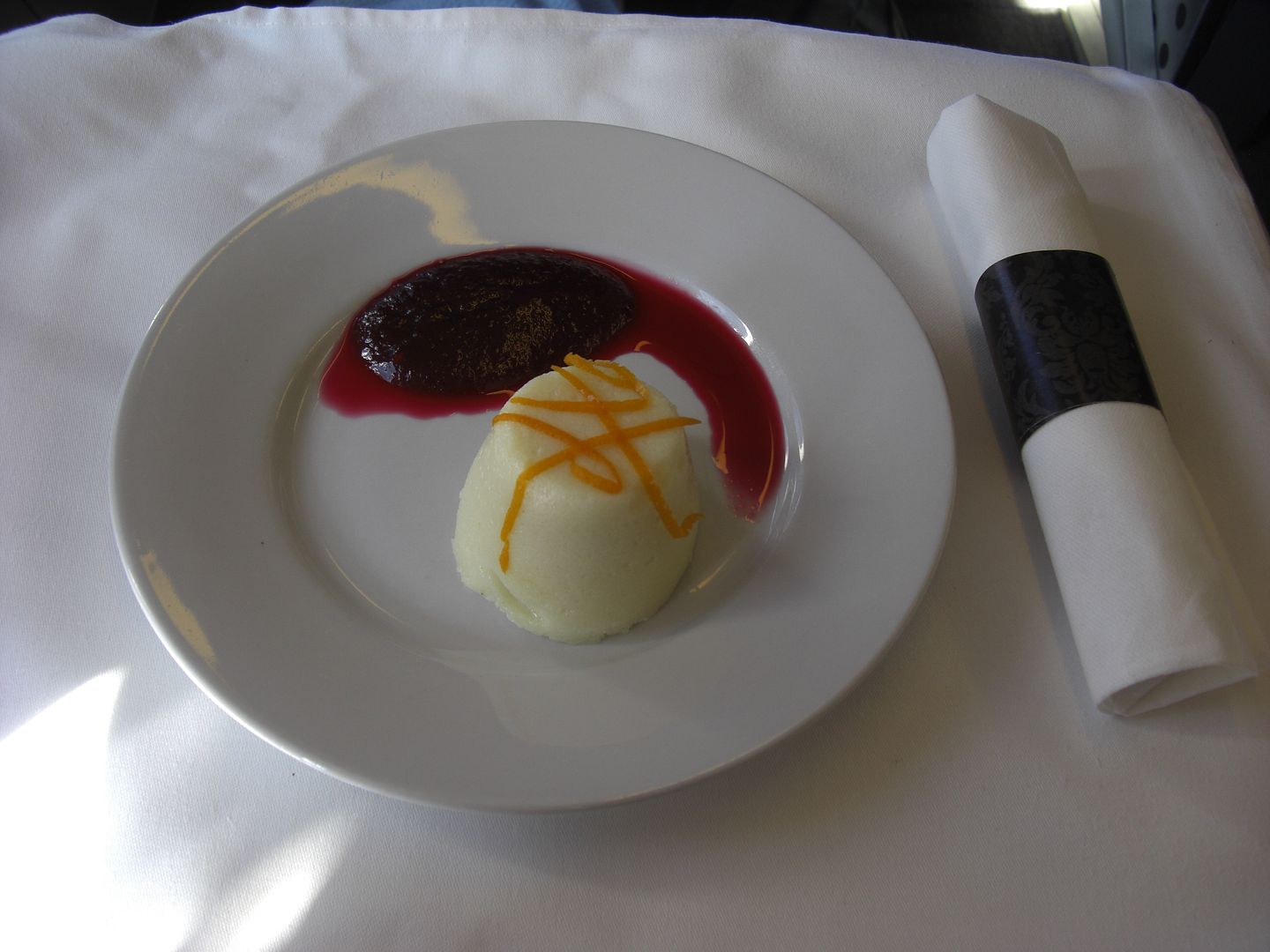 After dinner tea
What I much preferred with BD rather than TK is that not only are you served a drink after takeoff, but they serve meals from the trolley so when you get you starter and main course, you are simultaneously offered drinks top ups and bread. On TK everything is brought out separately for everyone which a) takes much longer, and b) means that its much easier to forget something like I was (I wasn't offered a drink on LHR-IST). After lunch, a few people went to sleep, a few watched TV. I settled in with a good book (The Third in the Steig Larsson Millennium Series)
This kept popping up on the flight map, which was quite annoying
Seeing double
Signs in the toilet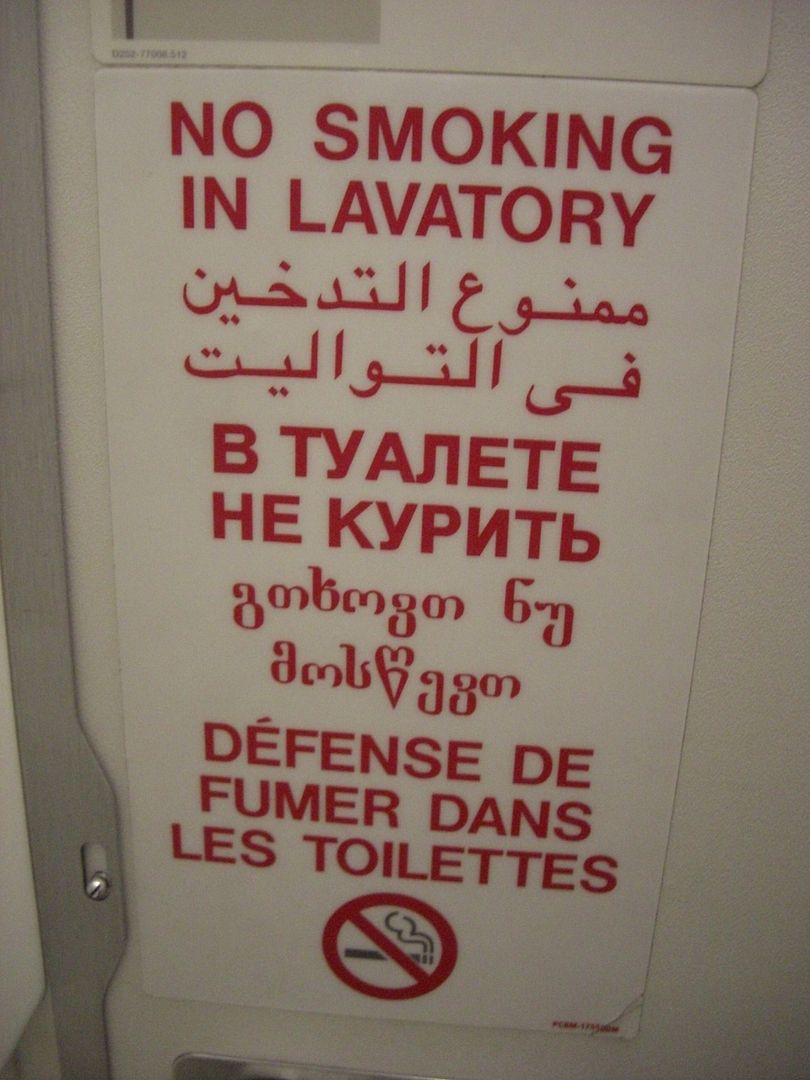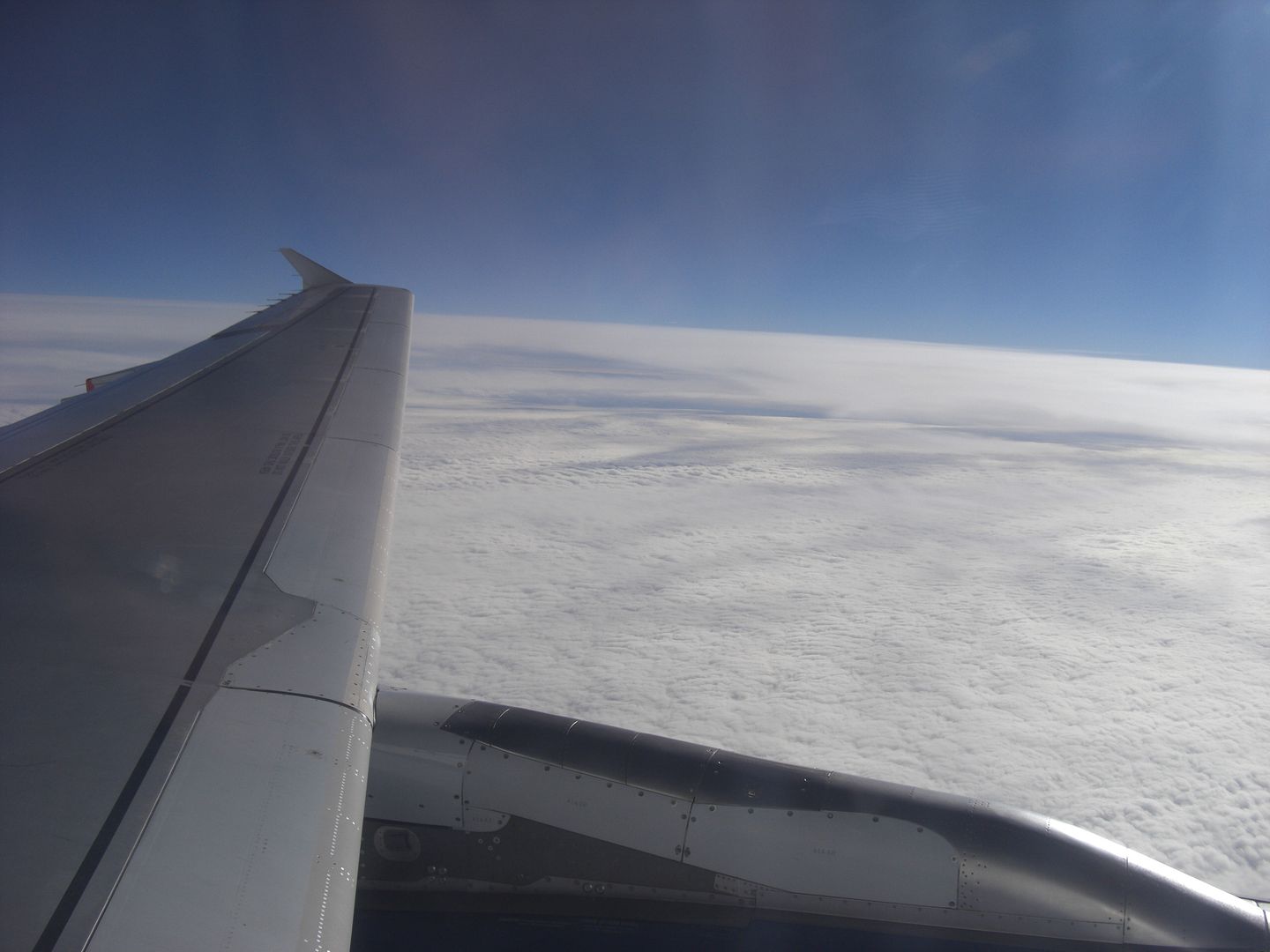 Cabin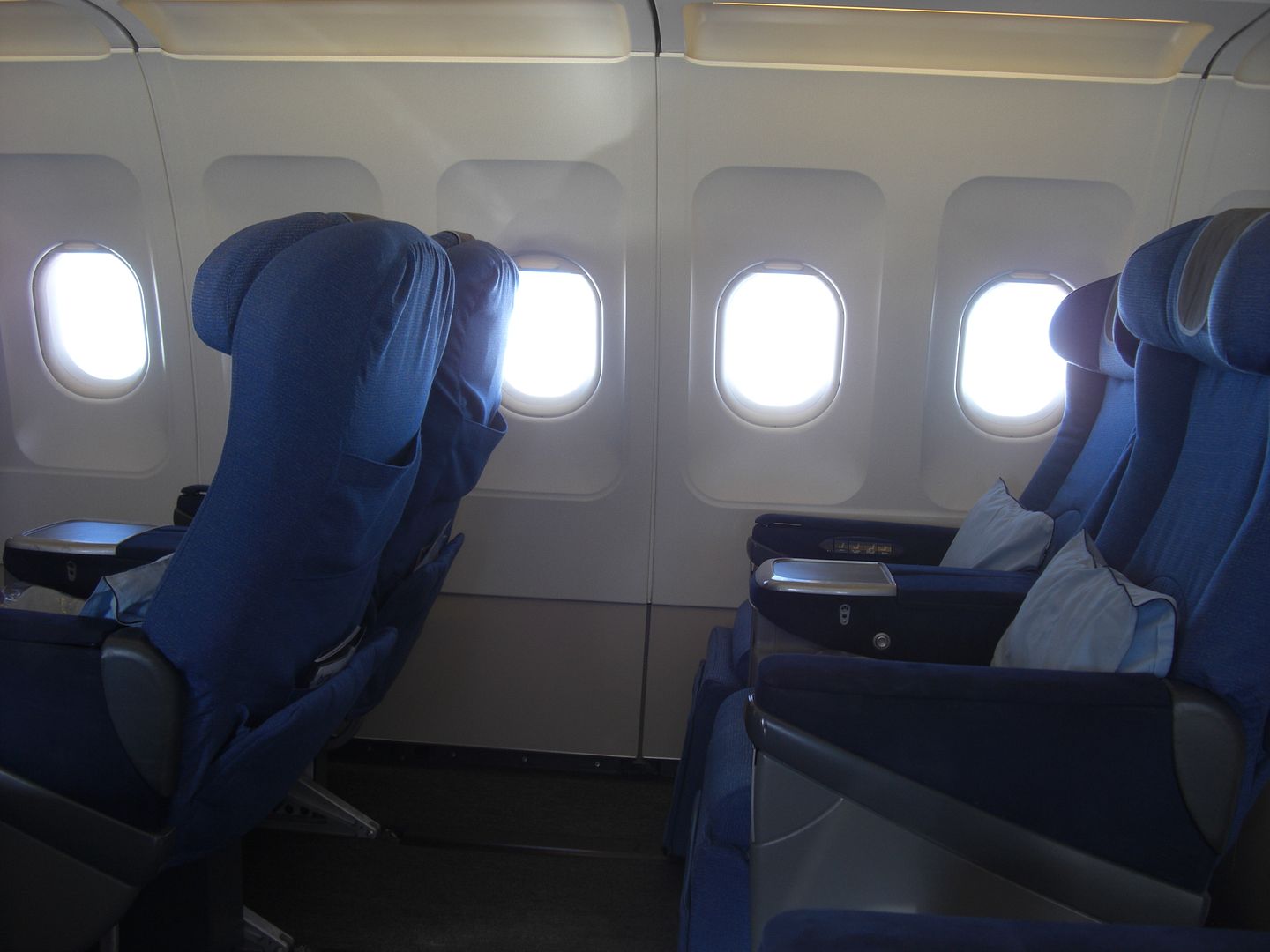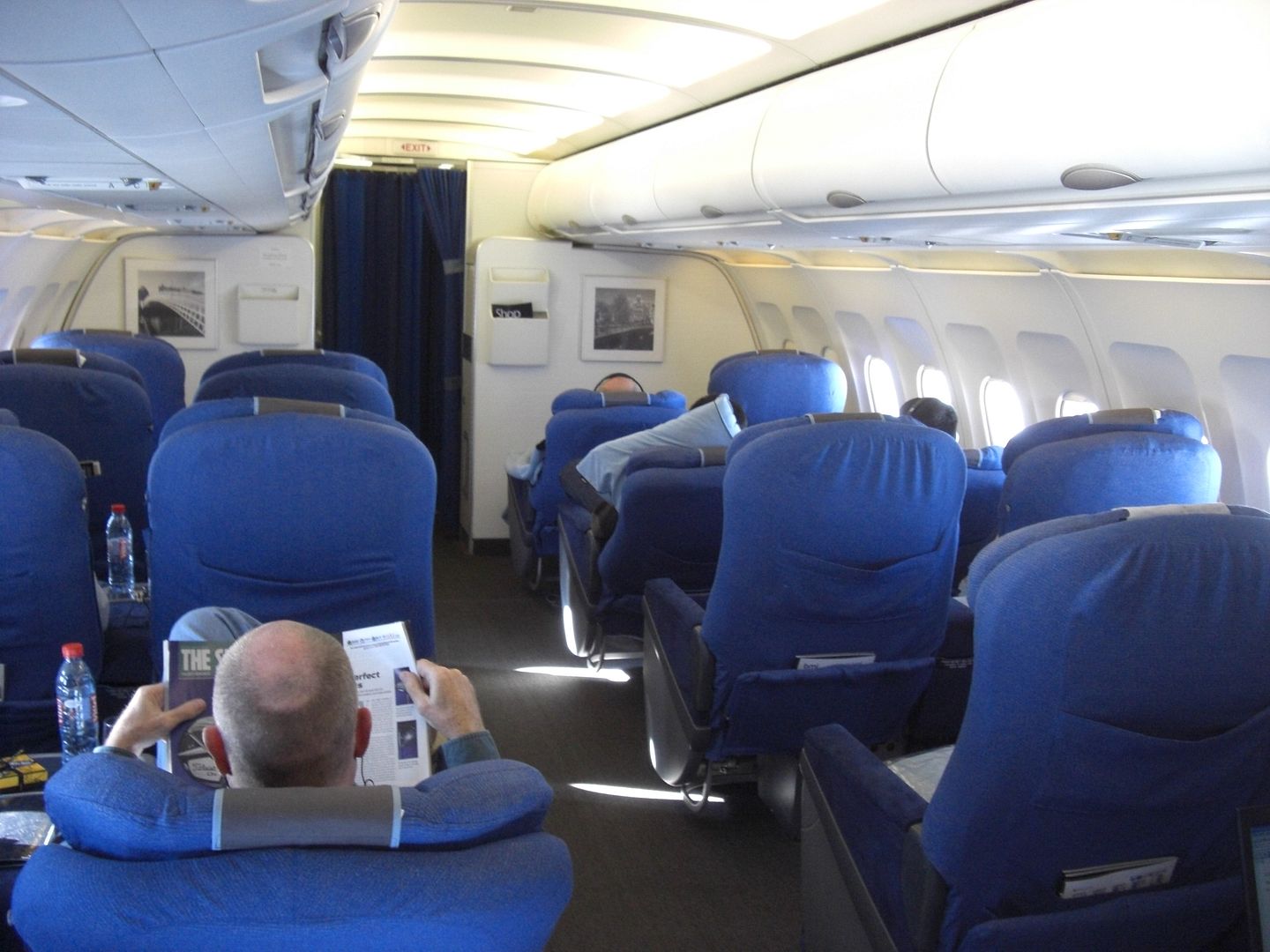 An hour or so out of London I was feeling a bit peckish, so asked if there were any snacks available. There wasn't much, but I was offered a started from earlier, along with some more nuts and Champagne. Aubergine, artichoke and pomegranate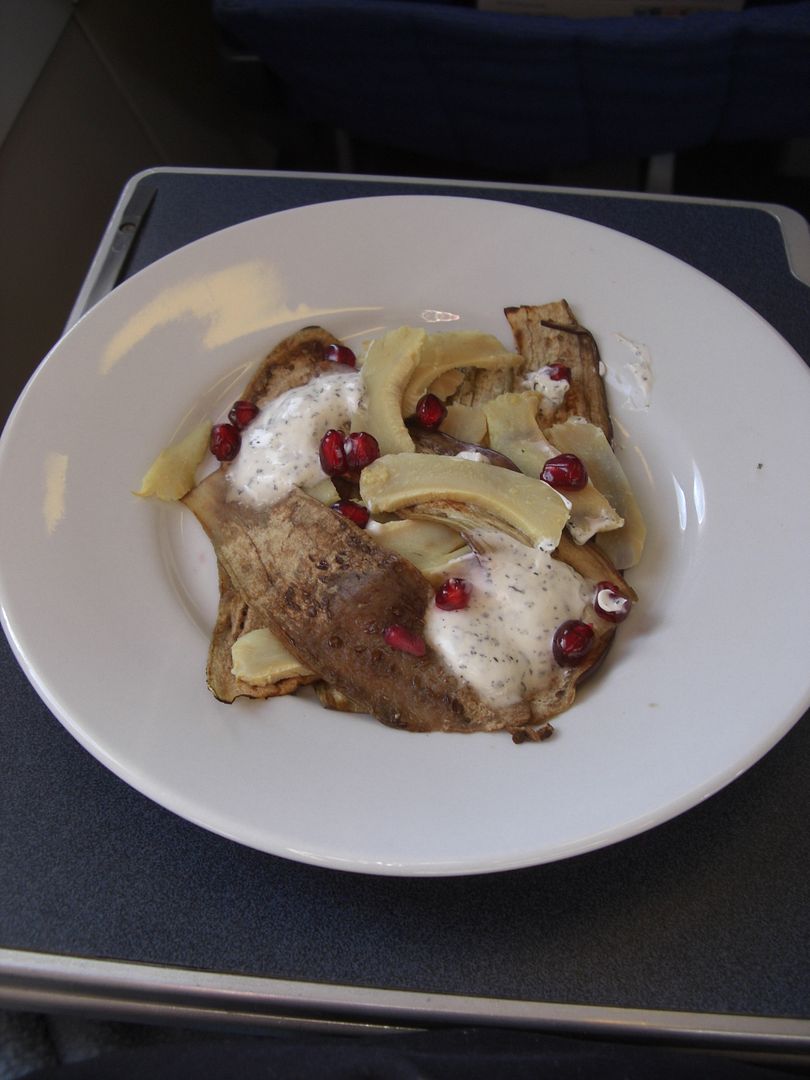 I asked the purser for a comment card after my second lunch. She looked a bit concerned, but I said that I'd had a great flight and wanted to commend them. I filled in the card (which incidentally seemed designed for complaints only ("What was wrong with your flight?") – I wrote on the card that I thought that this showed a strange lack in their own confidence that anyone might have enjoyed their flight! After praising the crew, I mentioned about my difficulty dealing with Diamond Club, then handed the card back. Not long after, the purser came around, and we talked a bit about the problems experienced with DC. She then gave me the contact number of the head of Diamond Club, together with a UK telephone number (hurray, no more calling India!), along with her name (incase anyone asked where I got the number from). What a result! Excellent customer service.
bmi's schizophrenic route map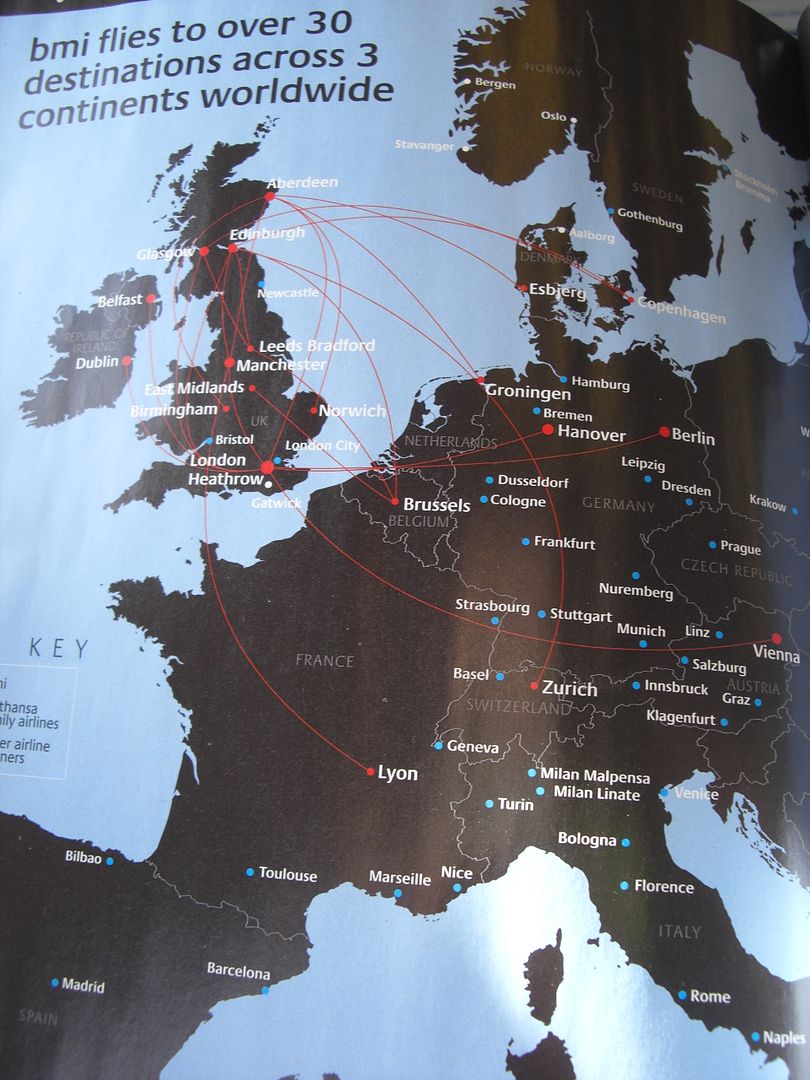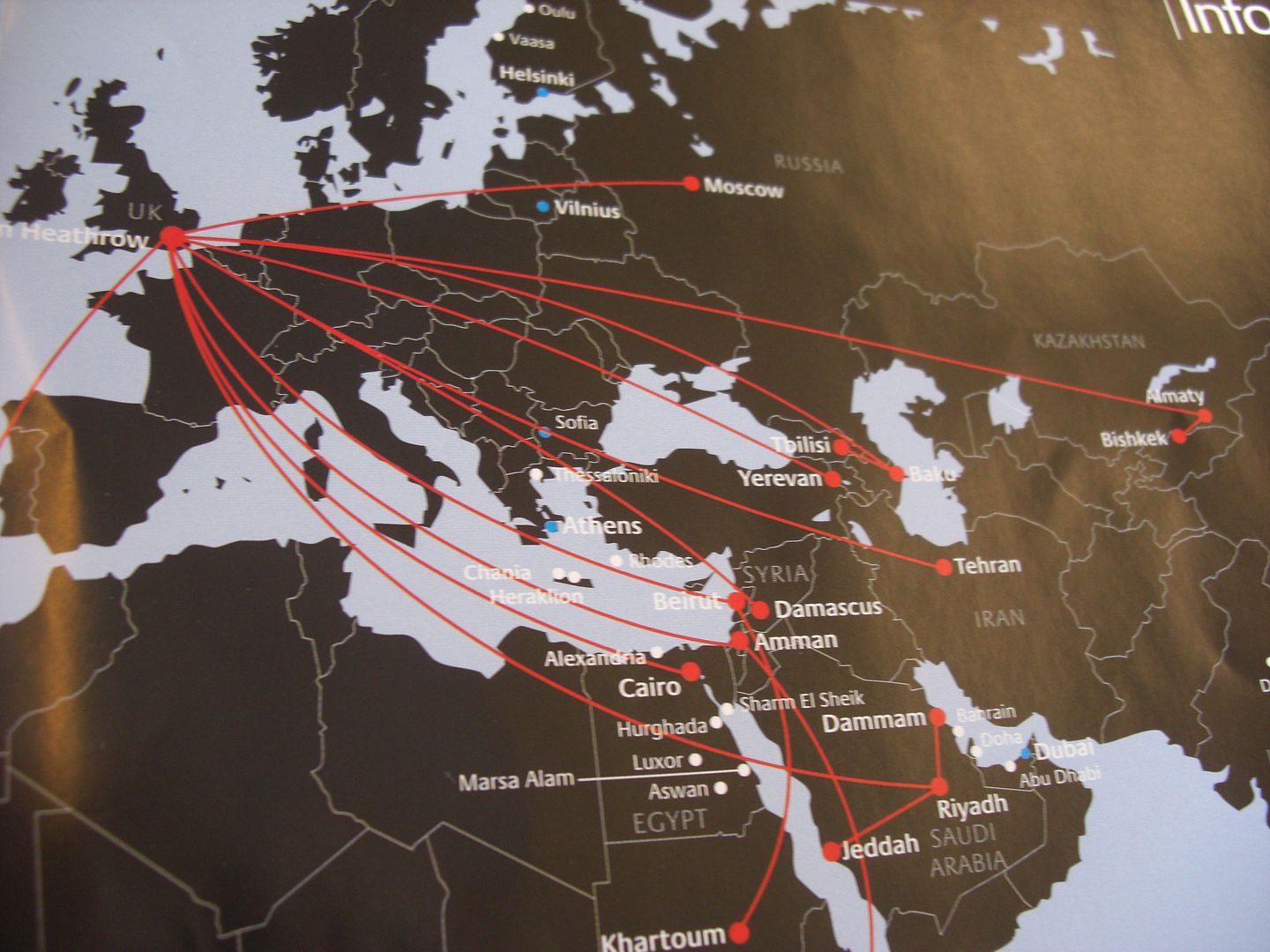 And fleet
Our descent into London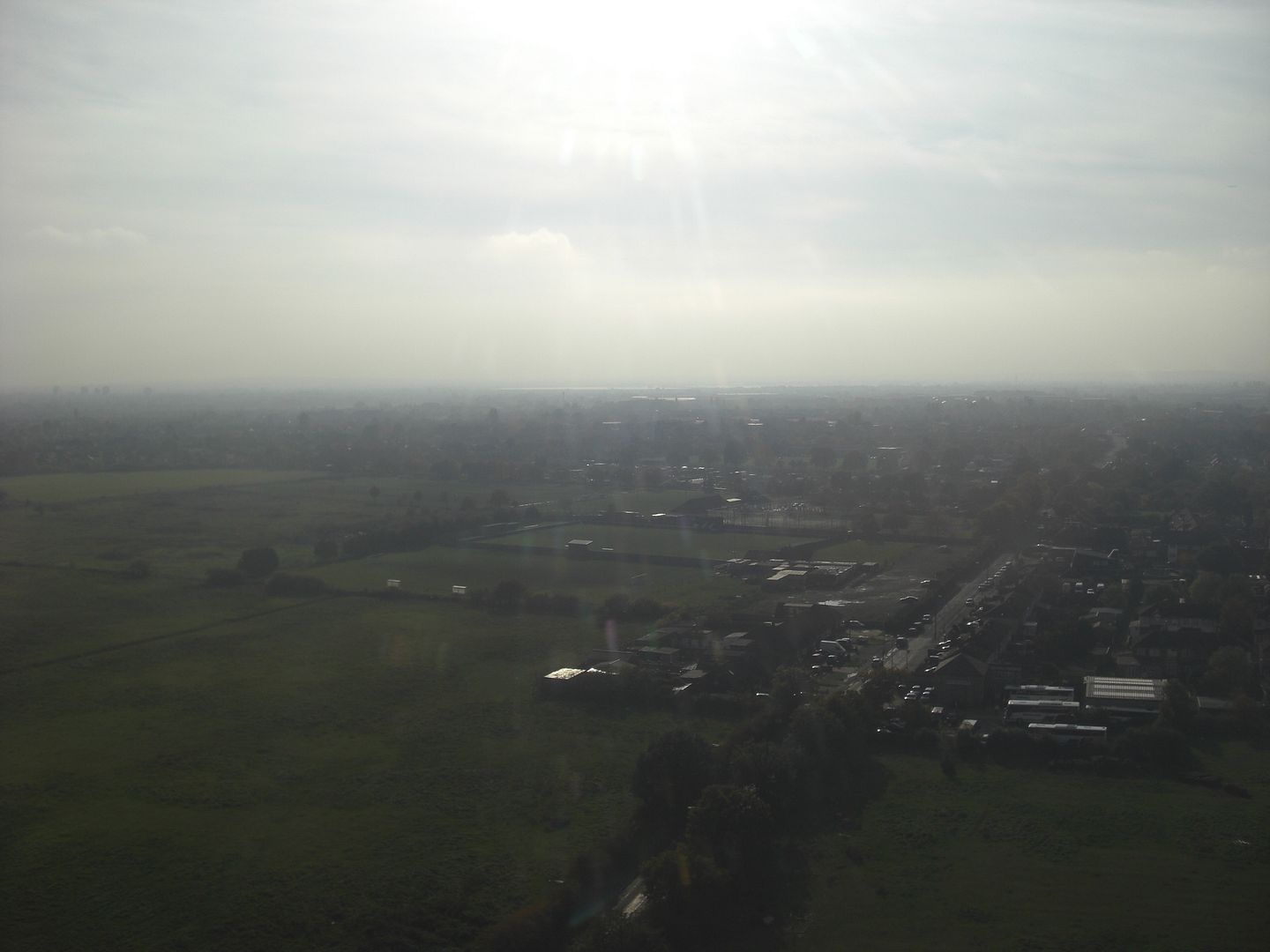 We touched down nearly a full hour ahead of schedule, which was great. We had to wait a while for our gate to be vacated by a previous LH A320.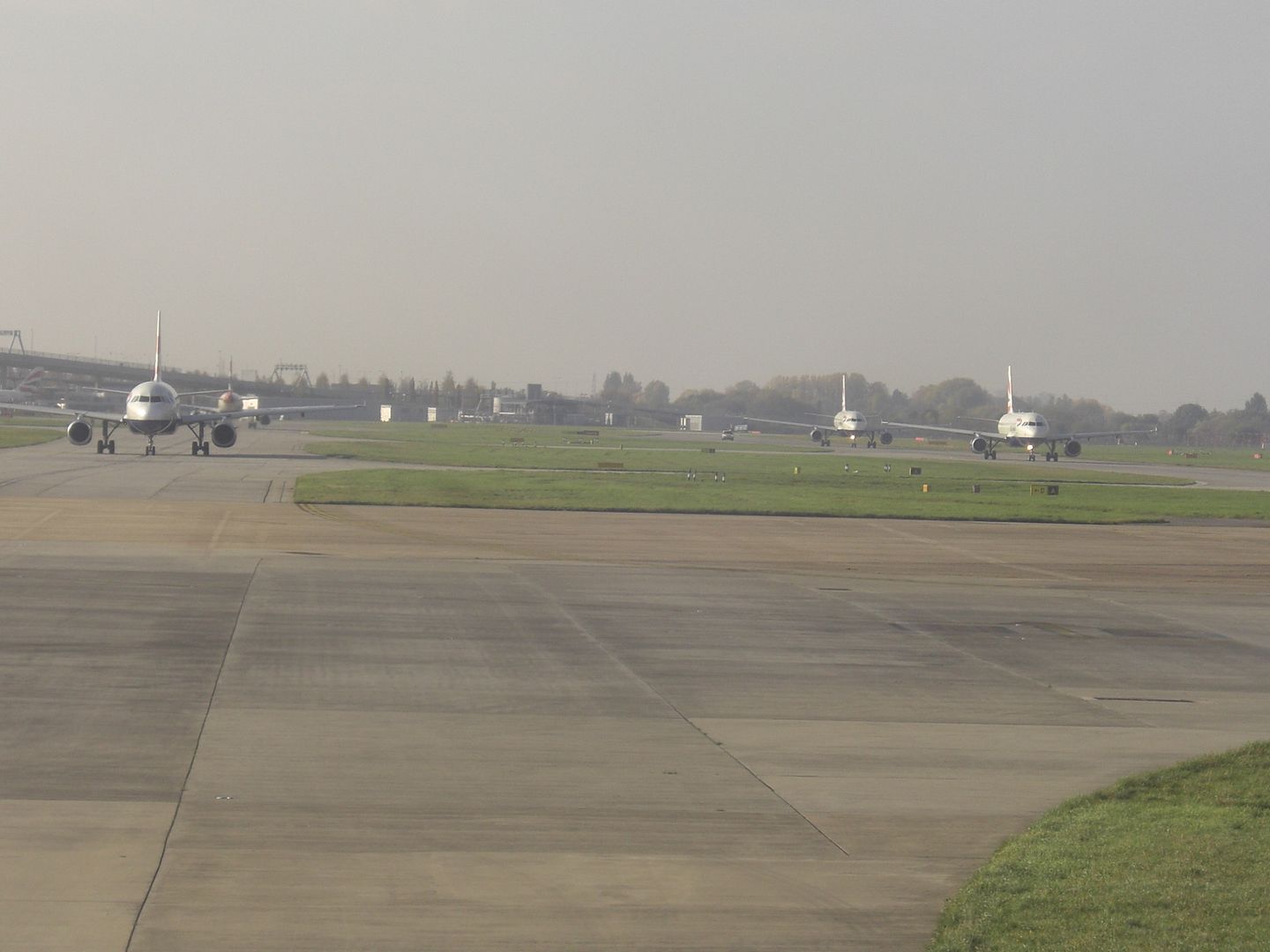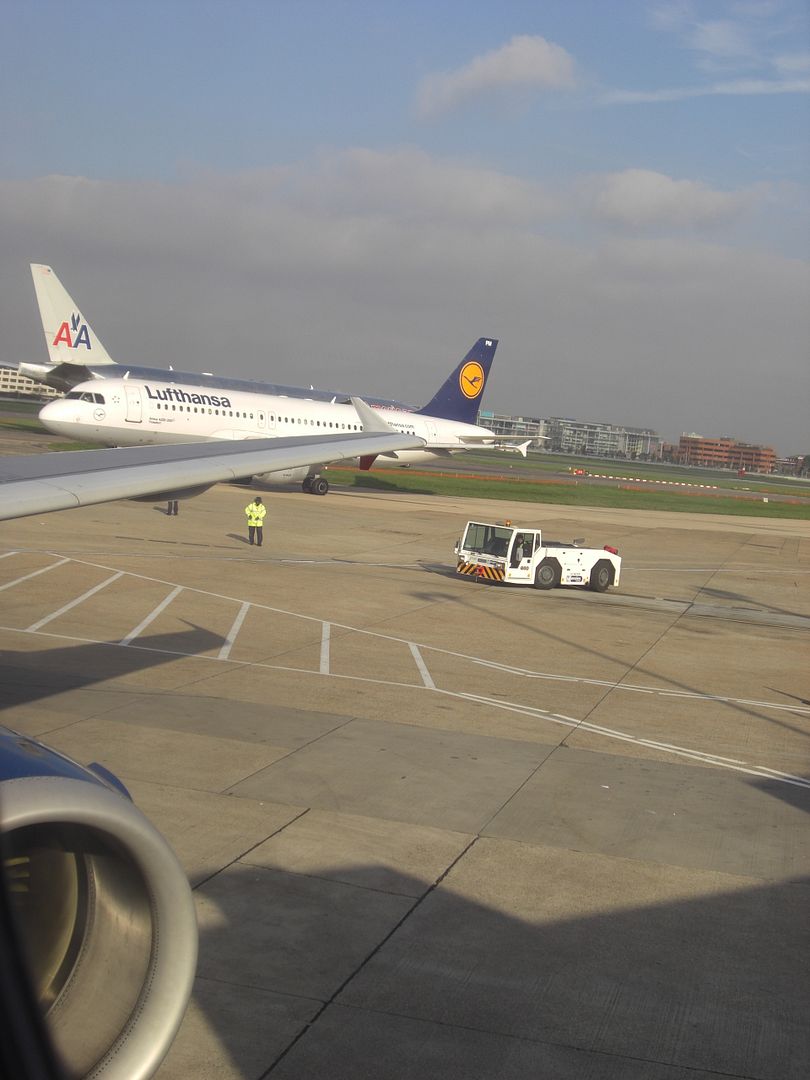 As I disembarked, I was thanked by the crew for my feedback, and told "good luck" dealing with Diamond Club, along with a thumbs up!
From the gate, there was a LONG walk to immigration, then on to baggage reclaim.
And herein ends my trip report. bmi was a very pleasant surprise. The crew were fantastic, and the catering very good. The seats were perfect for a daytime flight. The flight times were good, and we arrived well ahead of schedule. I now just have to deal with the Diamond Club to try and get my miles recruited after my downgrade with Turkish Airline at the beginning of my holiday. However, now that I have DC's director's name and number, it might be easier!
Georgia is a beautiful country – it's not quite set up for mass tourism yet, but for most countries, you can visit visa free, and the scenery is simply stunning! You'd better brush up on your Russian before you go though!
Thanks for reading, and I look forward to seeing your comments!