Introduction
In August Ryanair announced the opening of a new route from Tampere: Rygge/Moss, the quickly growing airport that is surpassing Sandrefjord/Torp as THE low cost airport for Oslo. At the same time they also announced the closing of a couple of routes ex-TMP, but as any PR professional will tell you: hide the bad news within the good news! Anyway being a fan of inaugural flights (not that I expect FR to have any special celebrations, but maybe the TMP airport will have something!) I decided to do it. The date of the first flight would be 31st of October, so the flight was booked for a reasonable 34 EUR including priority boarding and the various fees.
I couldn't find anything interesting from Rygge onwards, so I had to fly back from the main Oslo airport Gardermoen. Since I'm trying to get some status in SK Eurobonus at the moment (after they relaxed the rules a while ago you can no get Star Gold for only 40 segments on SAS Group airlines in any booking class, not too shabby actually!) I narrowed the return flights down to SAS or KF. The latter had a perfectly timed evening flight OSL-HEL for around 70 EUR and it was scheduled on one of their new Boeing 717s - that would be nice. However SK was also offering a detour via CPH for 100 EUR, with CPH-HEL on a Mad Dog - so in the end I went for this. Who knows how long the MDs will still be around and besides it's an additional qualifying segment for me!
As usual with new routes FR kept playing the rescheduling game on me, shuffling the flight time backwards and forwards half an hour or so a few times. Nothing too bad, though, I think we ended up on the original schedule in the end.
Here's the routing: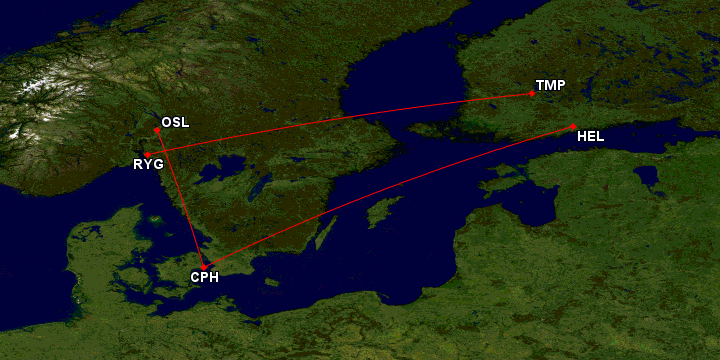 Finally I had a bit of a dilemma on how to get to TMP airport - there is a bus that runs between the Tampere railway station and the Ryanair terminal which is synchronized with Ryanair flight schedules. Well, for whatever reason there wasn't a dedicated bus for the Rygge flight, the only bus left Tampere station already at 8.10, serving both the earlier Bremen departure and my flight. Too bad that is far too early to make there with any train (by far the most convenient and fastest way from my place), the earliest arrive half an hour later. There's a bus running from Helsinki-Vantaa airport to Tampere departing at 5.45 which I considered for a while, but decided to abandon the idea as that meant far too little sleep and still left me with only five minutes to get from the bus station to the train station for the bus, quite risky considering that it is around a kilometer or so. So in the end I bit my lip, accepted the fact that I had to take an expensive taxi from Tampere station to the airport and booked a ticket on the later train.
Sunday 31.10.2010
Luckily the previous night saw the switch to the Daylight Saving Time which allowed me an extra hour of sleep - after all I got home from the previous trip:
End Of The BA 757 Era: HEL-MAN-LHR-HEL
(by
FlyingFinn76
Nov 2 2010 in Trip Reports) just 7 or so hours earlier. Up and away, I make my way to my local train station and board the 7.46 Intercity train up to Tampere, sleeping through the whole journey.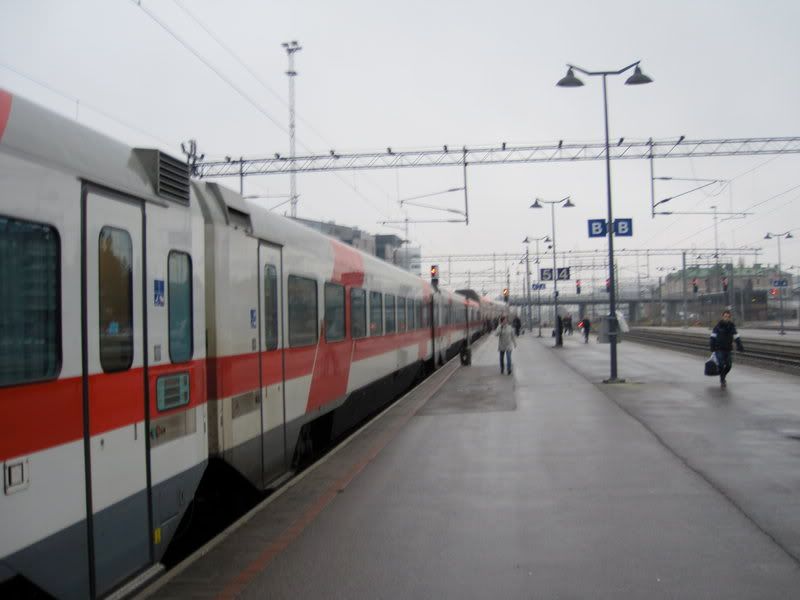 At Tampere station I buy a sandwich for breakfast, call a taxi which arrives in two minutes - Sunday mornings aren't exactly peak times - and end up at Tampere Airport Terminal 2 25 minutes later. I mention to the taxi driver that the ride cost about the same as my ticket to Rygge - but he doesn't seem to appreciate the irony...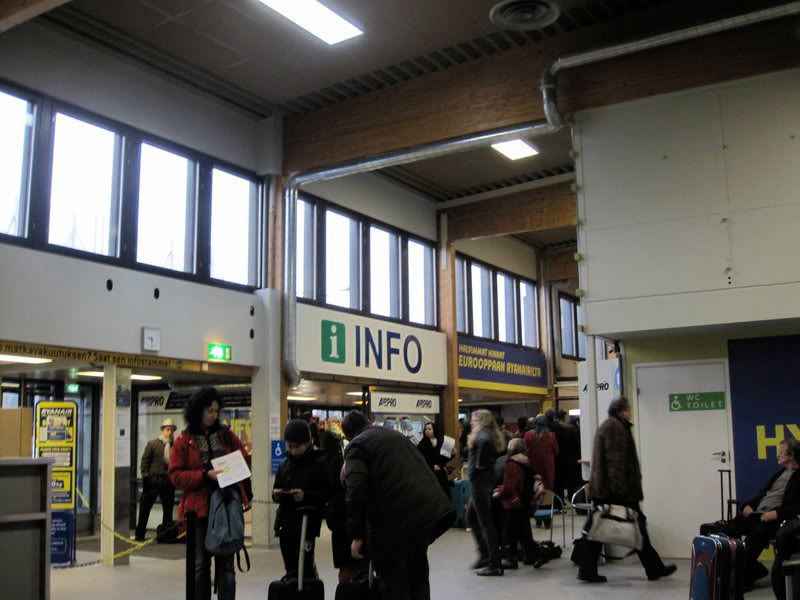 Lots of people around - the BRE flight has just arrived and passengers are deboarding. There are separate check in desks for BRE and RYG, and once checked in (yes, even though I did OLCI they still insist to scrutinize your documentation at the desk) I am handed a small eyeglass wiping cloth with a city of Tampere motif "to celebrate this inaugural flight on behalf of the city" - sheesh, is this all I'm going to get? I ask what if i didn't have glasses - "Well you can use it to wipe something else as well!"
The BRE flight: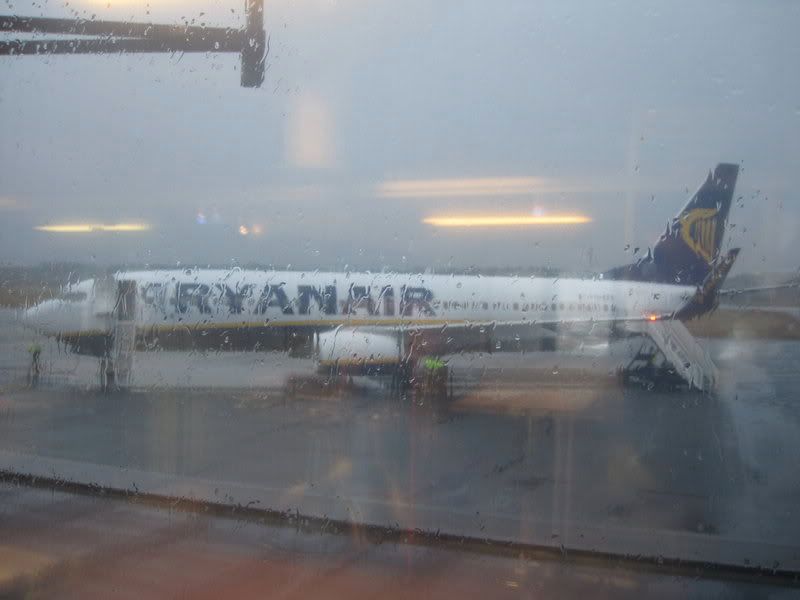 Security is annoying as some Russians (there are plenty of them around here) in front of me seem to be doing everything wrong, lots of oversized liquid containers, coins in their pockets, you name it which slows down the progress. Airside is still packed with pax queuing for the BRE boarding, but once those queues are gone it becomes strangely quiet - I ask the girl working at the store there do they have any plans of introducing real tax free now that there are flights to Norway (outside the EU, thus qualifying for genuine tax free) but she doesn't know. I grab a coffee at the upstairs cafe. Here's my inaugural flight gift in all its glory: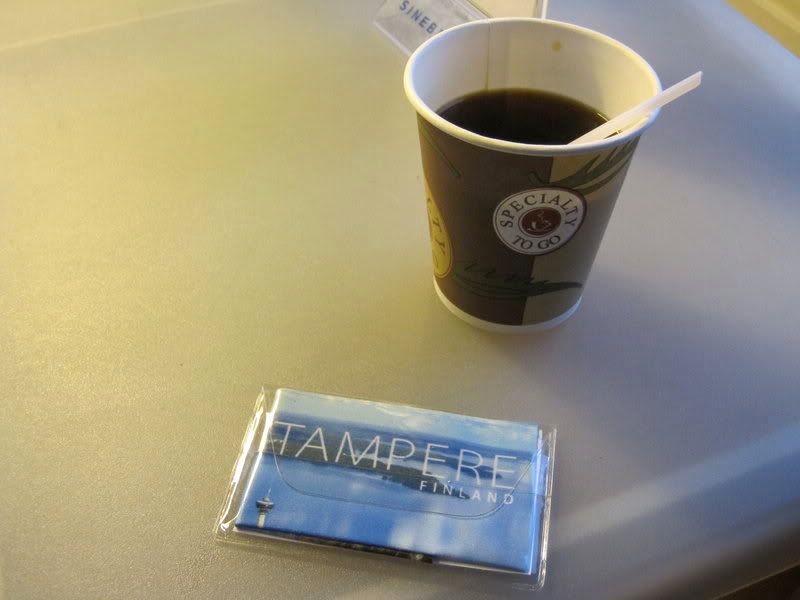 The seating arrangements downstairs in front of the sole gate always remind me of a church: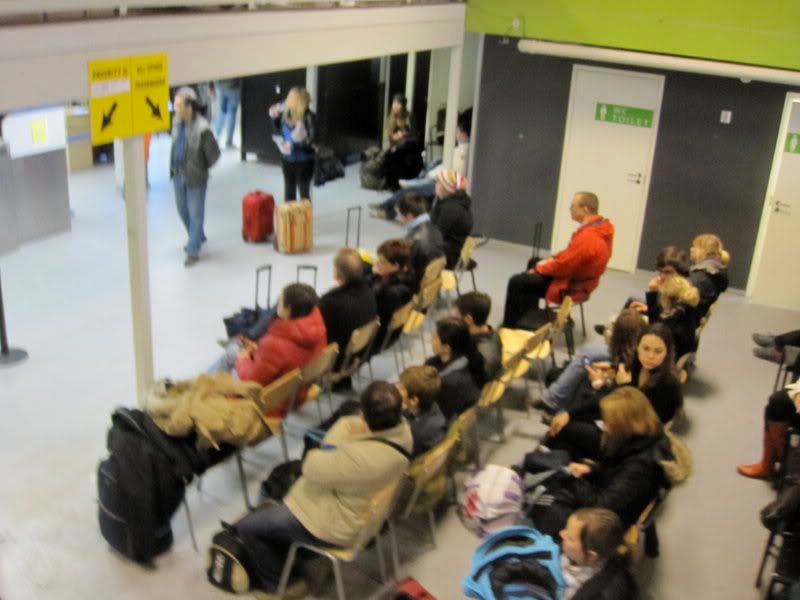 The inbound flight arrives early at 9.45. Interestingly they delay the deboarding of the flight until 9.55 after the BRE flight has left - I guess they don't want pax walking on the apron with a departing plane or something. Not that many passengers deboard and boarding is called already five minutes later. There are only three persons in the Priority queue, so I manage to be the first one.
Today's ride is EI-EMJ, a new frame for me.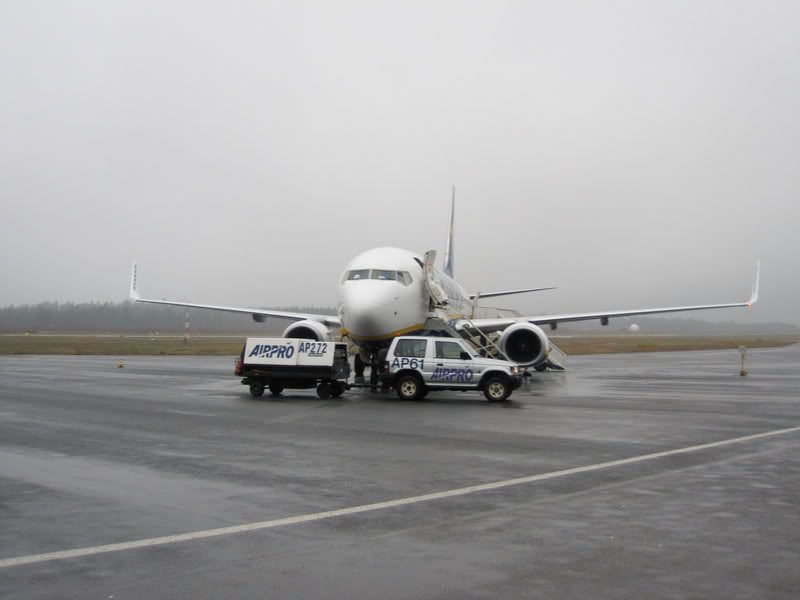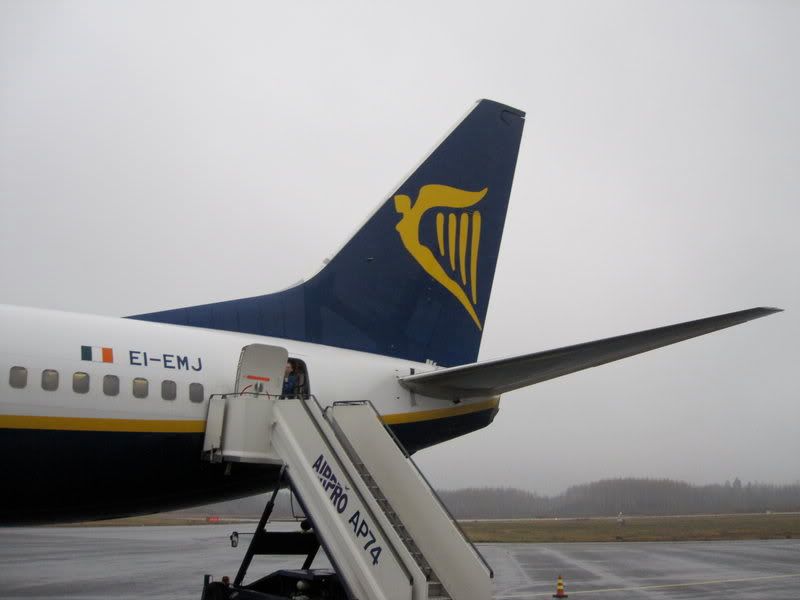 TMP - RYG
FR1362
B737-800 EI-EMJ
Seat 29F
10.14 - 10.27
I board through the back stairs. I tell the Eastern European girl in the back galley "What a horrible weather, please tell me Oslo weather is sunny and twenty degrees!" - she mutters something although I get the impression that she didn't really understand what I said... Several rows in the back have been blocked off as is usual on the FR flights with lighter loads. I grab a window on the last available row, 29.
Lots of Russians here as well - some of them try to occupy the blocked seats but luckily the purser, Inga speaks fluent Russian and is ready to put them straight. The guys trying to sit behind me reek of fresh vodka at ten in the morning - luckily they go somewhere more up front instead of my row, leaving me with a block of three seats.
None of the four cabin crew members are Norwegians, two Eastern European girls and two boys who are from Southern Europe, Spain I think.
Load is around 60%, not too bad for an inaugural flight on an obscure route like this, actually. Boarding is completed rather quickly, and soon our Norwegian captain comes on with a very eager welcome speech along the lines of "Welcome, fantastic new plane (well, it is half a year old!), great crew, wonderful flight...". I start worrying whether he is fit to fly the plane - after all he sounds like he's stoned or on steroids or something. Flight time is announced as 55 minutes with "the same kind of weather in Oslo as here in Tampere" - now that sounds bad to me!
Departure is 11 minutes early, with take off from runway 26 two minutes later. Very cloudy in Finland so no views.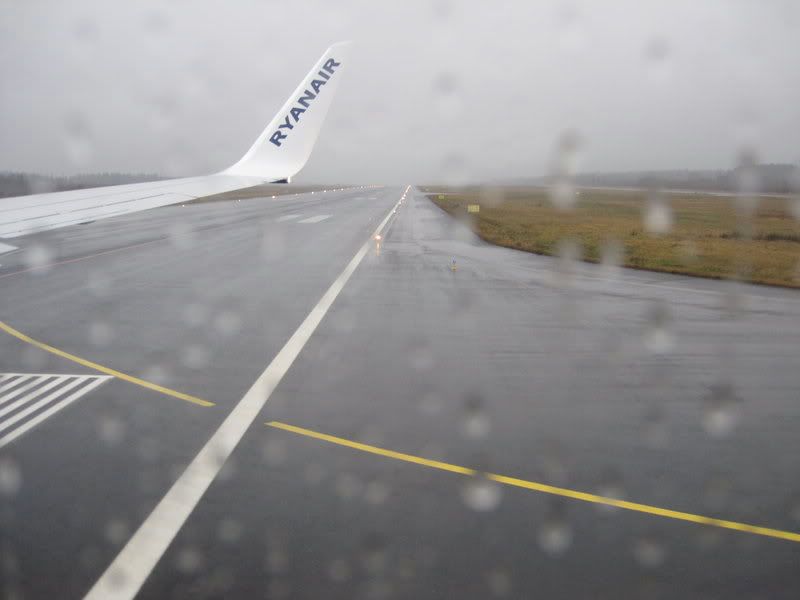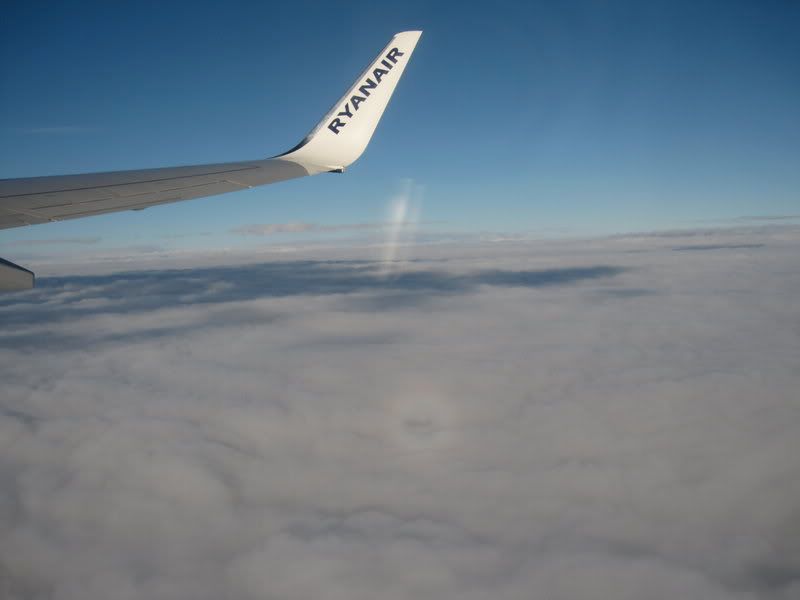 I decide not to bother with the BOB service, just read the paper and try to catch some more sleep later. No bin ads on this bird:
Some scattered views of Sweden enroute, but not many: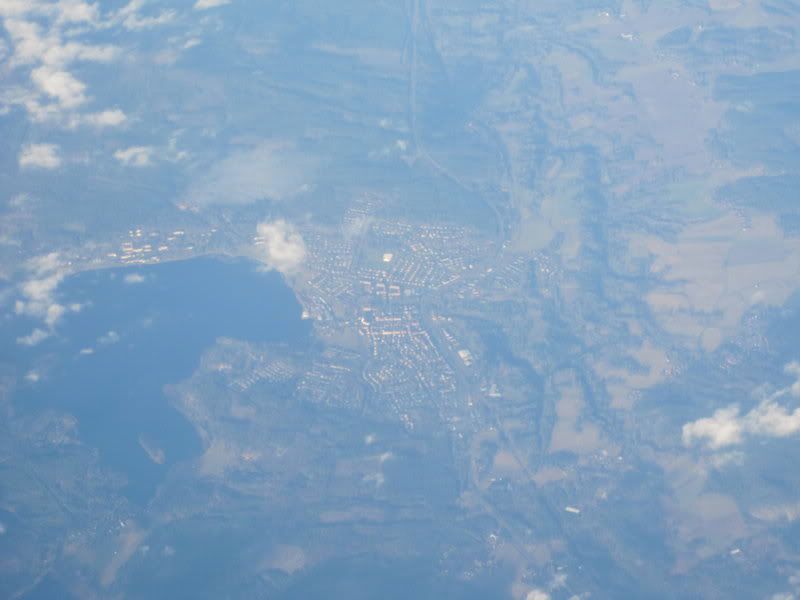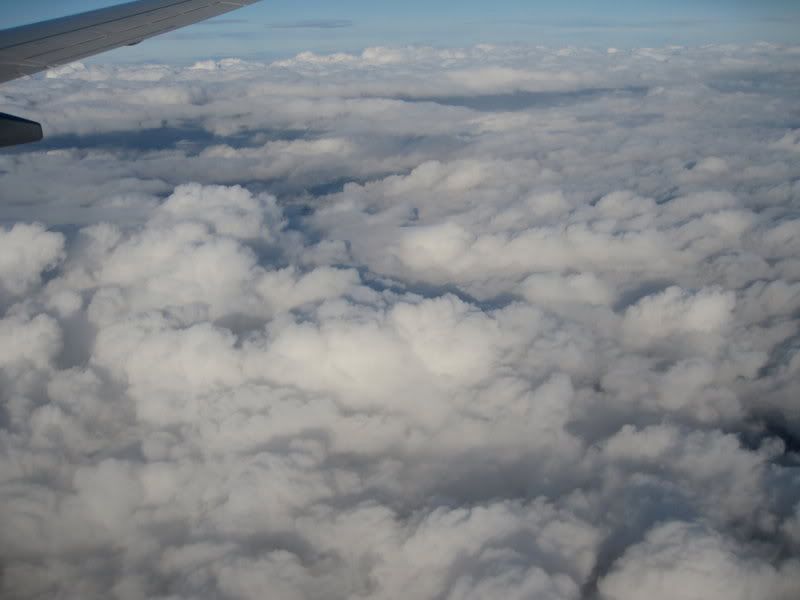 The estimate for the flight time seems to have been a bit optimistic since the seat belt sign is switched back on a good hour after departure, with "landing in ten minutes" announced soon afterwards. Initially the weather looks rather bad during our descent - I like this shot with our shadow in the middle of a halo: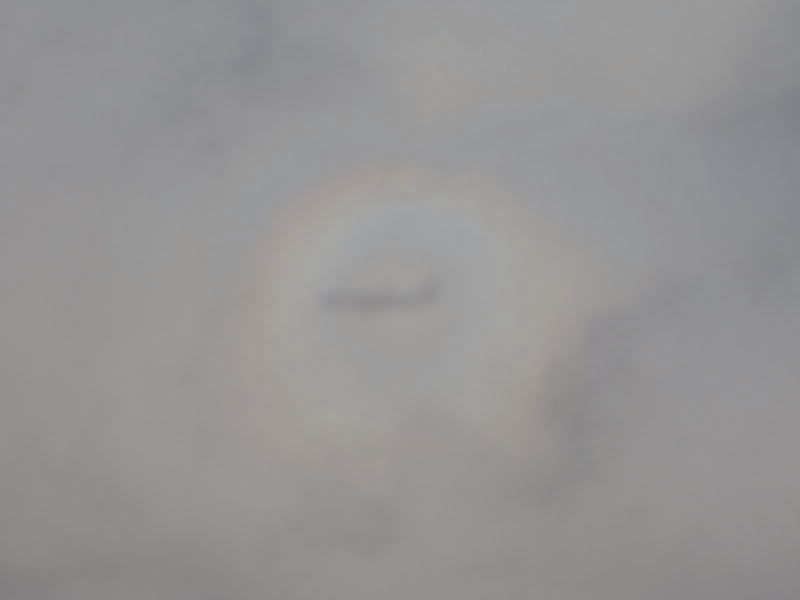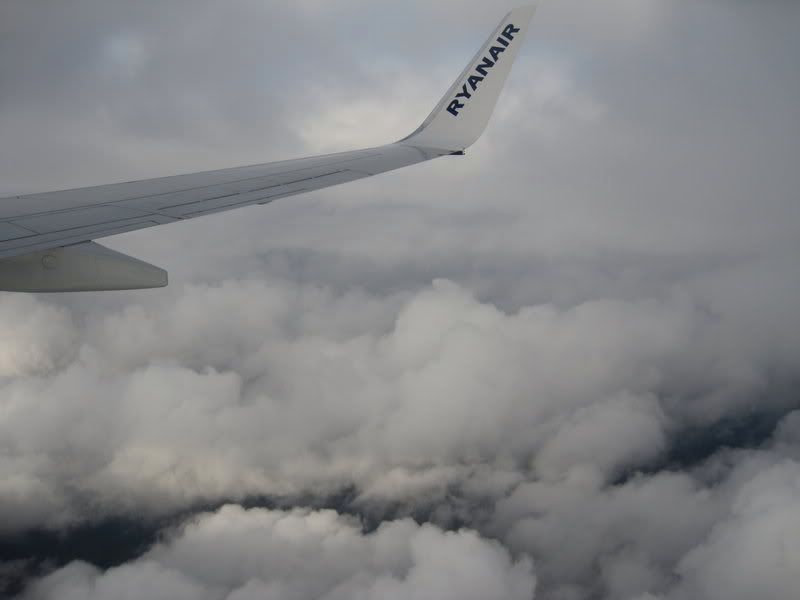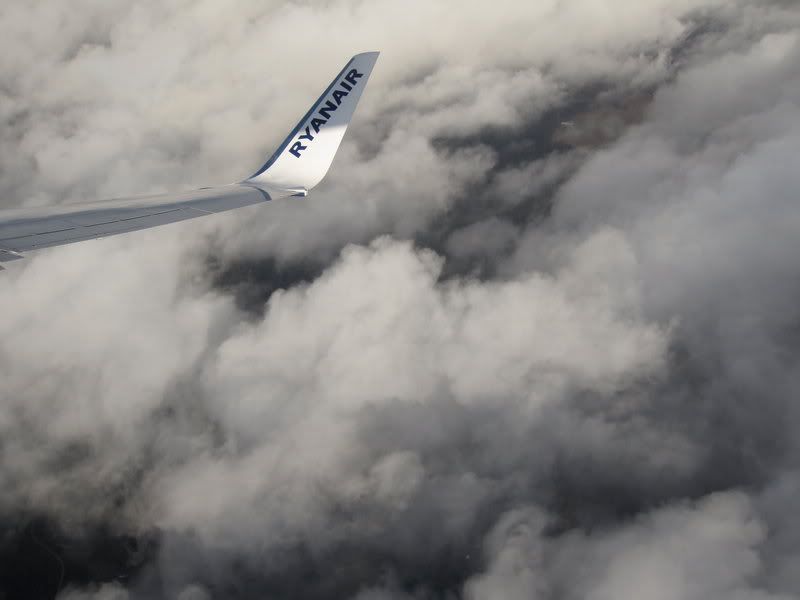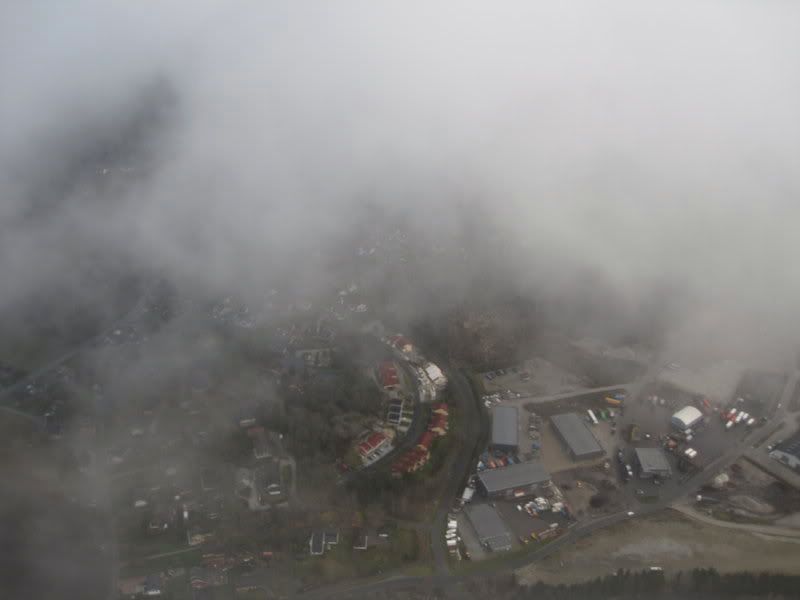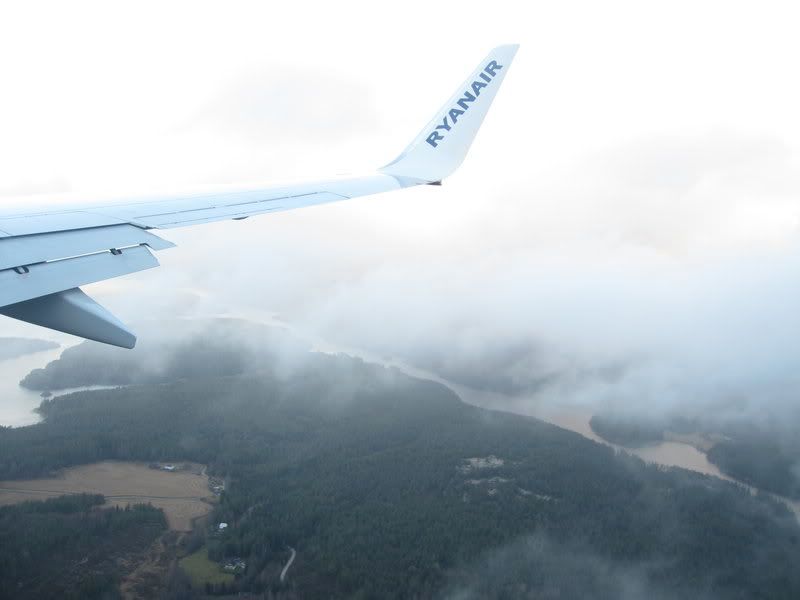 But suddenly we break the clouds into glorious sunshine:
The military apron: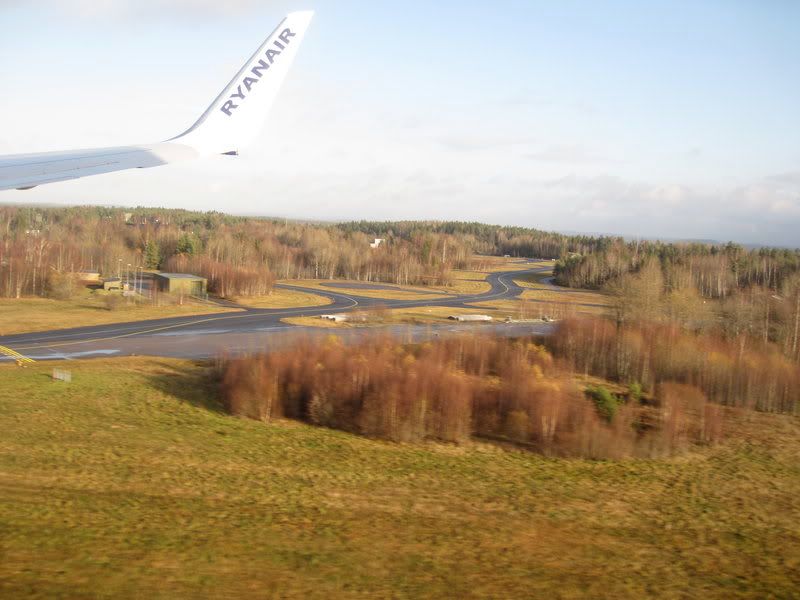 There's quite a lot of sidewind, so our landing on runway 30 around 1h10mins after departure is very uneven and wobbly, for a while I'm afraid we will actually skid off the runway.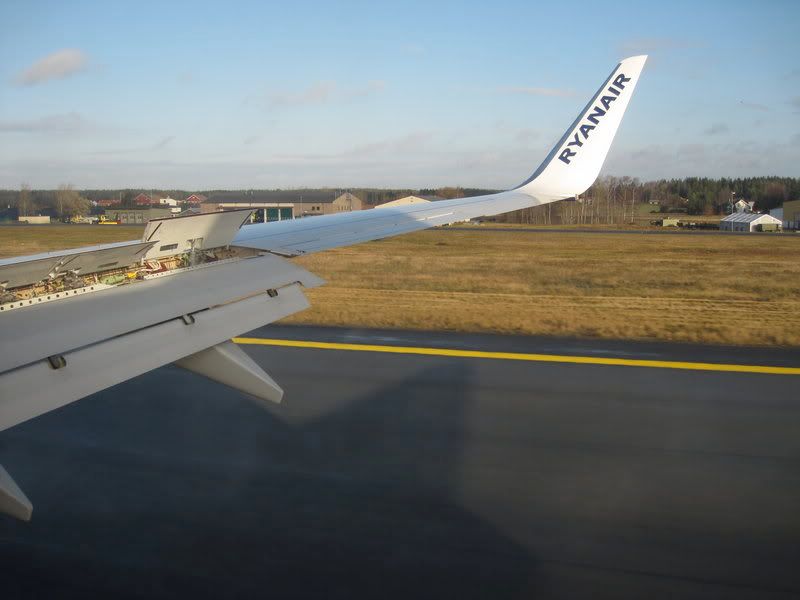 The "Another early Ryanair arrival" fanfare is of course played out - well with the generous paddings they use on their schedules its no wonder we are almost half an hour early.
Our captain is on it again, very eagerly welcoming us to "Gorgeous sunny Norway 25 minutes ahead of schedule!!!".
While taxiing to our parking position a number of the Russians get up and start opening the overhead bins - they do not seem to react to English announcements asking them to sit down, but luckily the purser's Russian works better. Apart from one guy, who sits down but immediately pops up again and grabs his coat from the overhead bin, this time one of the FAs has to physically push him down and close the bin.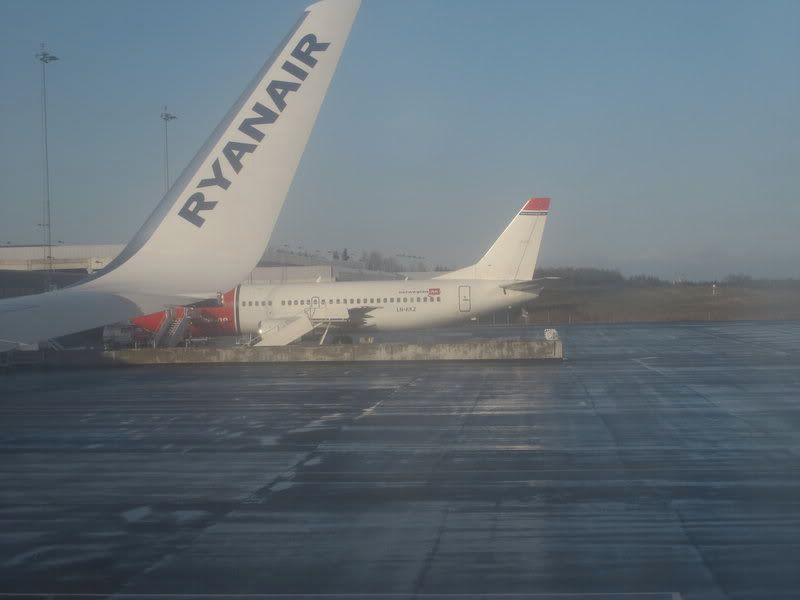 While waiting for deboarding through the rear door I ask the crew whether the captain is always too happy like this - "We don't know, he's not our regular captain, he is just helping here for today". The plane and the crew are off to Gatwick next.
Bye: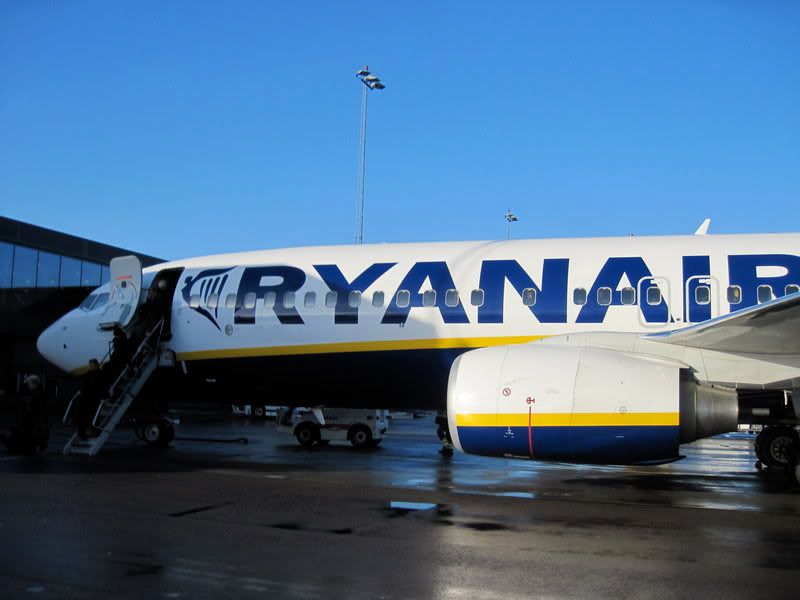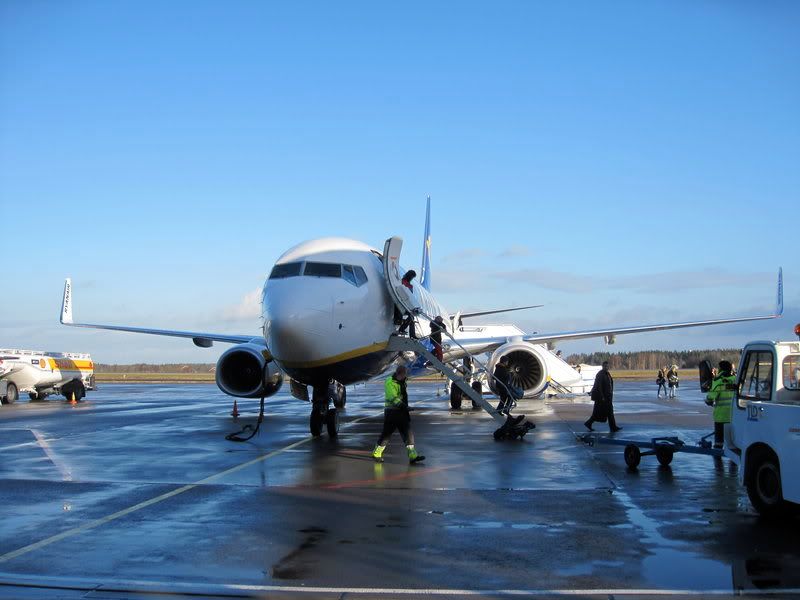 Since the bus schedules are aligned with the official flight times there's a bit of slack before the next bus departs, so I take a quick look around this airport: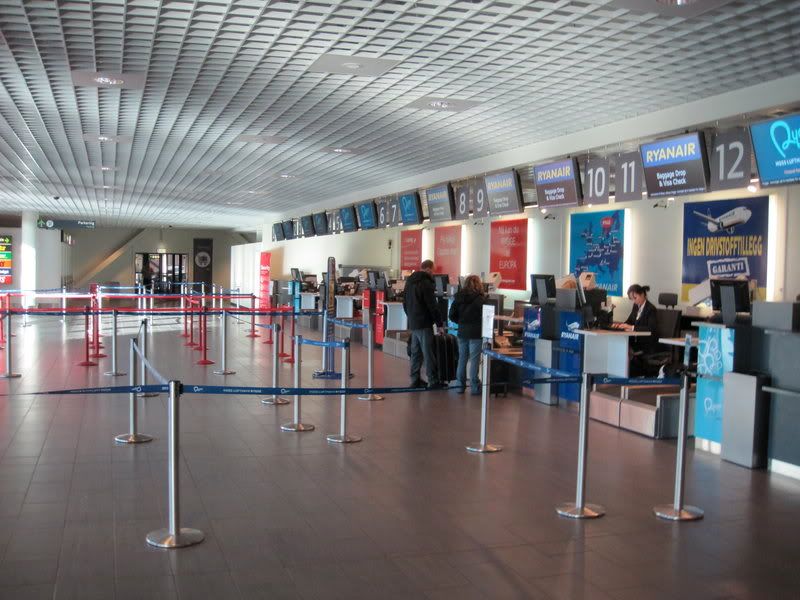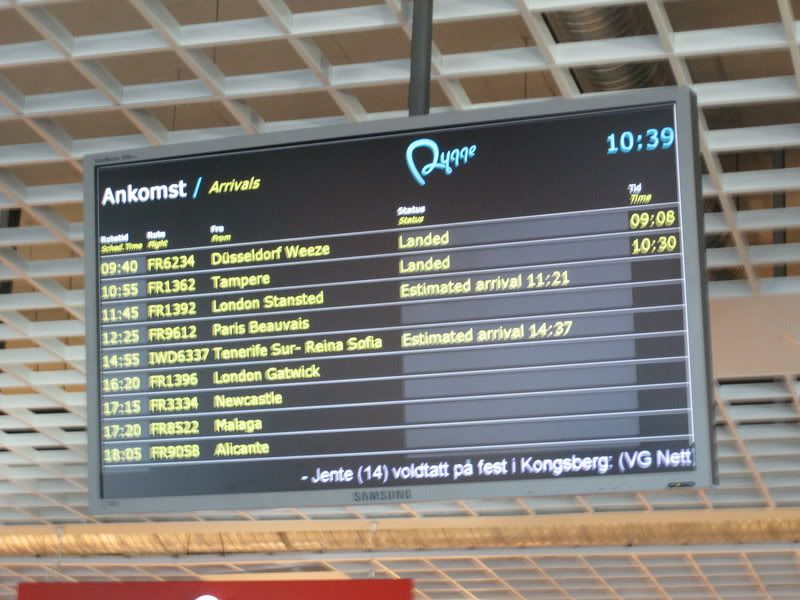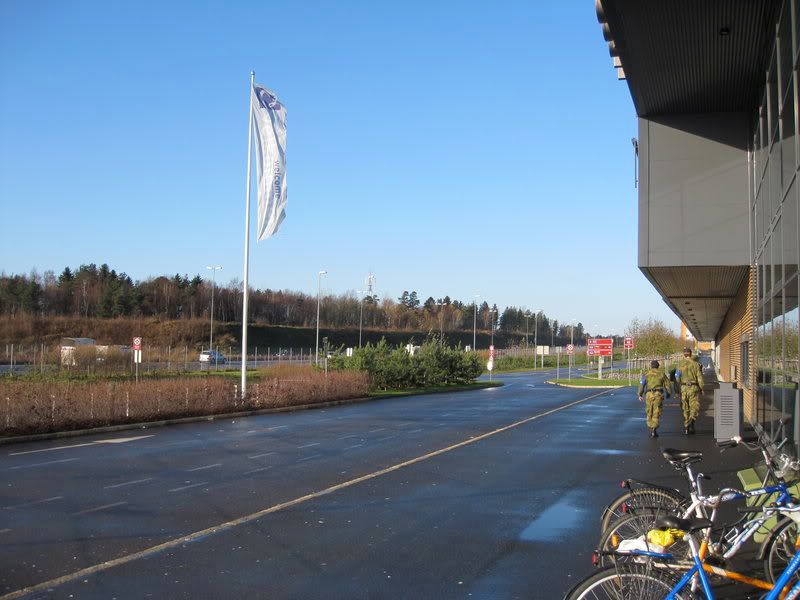 Finally the bus arrives, although boarding it takes a very long time - there are lots of very confused passengers, including a good number of Russians who don't seemingly speak any other language so even buying a simple ticket (for 16 EURs, so expensive) seems to be very hard. There's also a French girl (apparently studying in Tampere) who is shocked to learn that Norway doesn't use Euros - tsk, I think you should do a bit more preparation for your trips!
Oslo
Finally, almost two hours after landing the bus stops at the Oslo bus terminal. The weather is still gorgeous, so I head for a nice stroll around Oslo.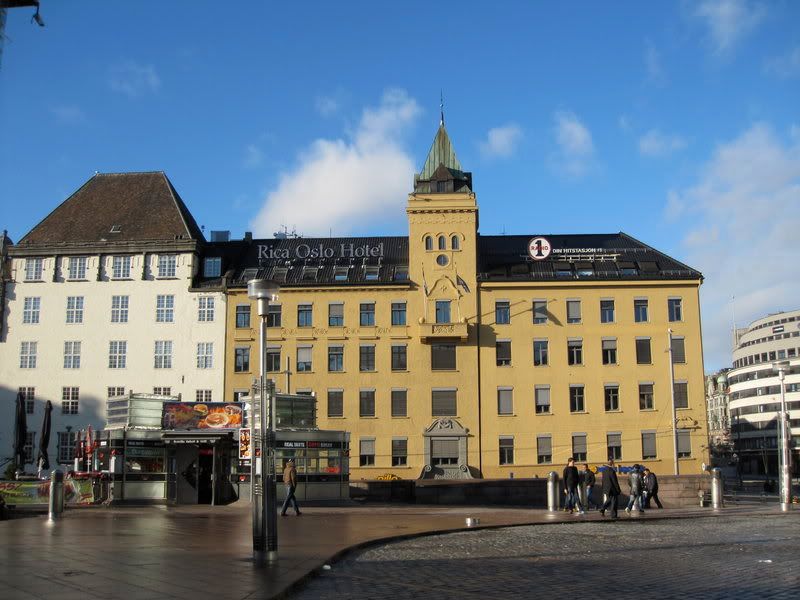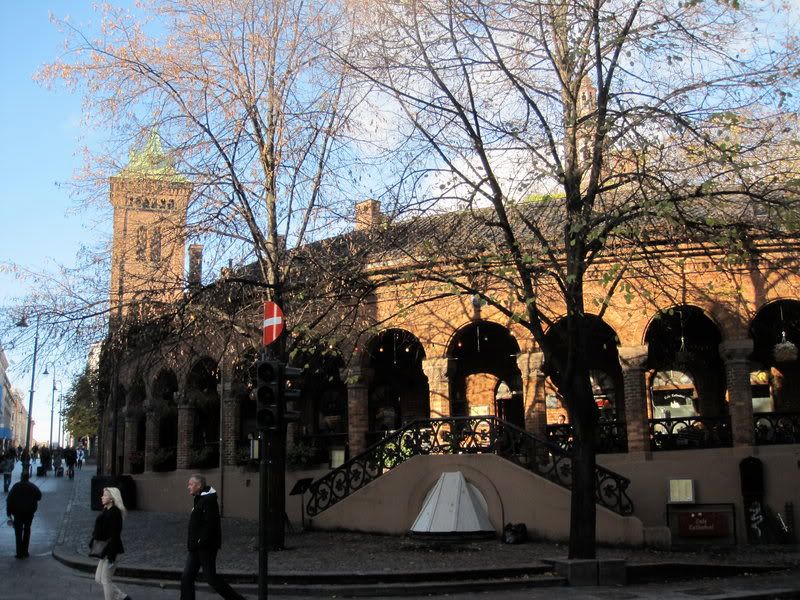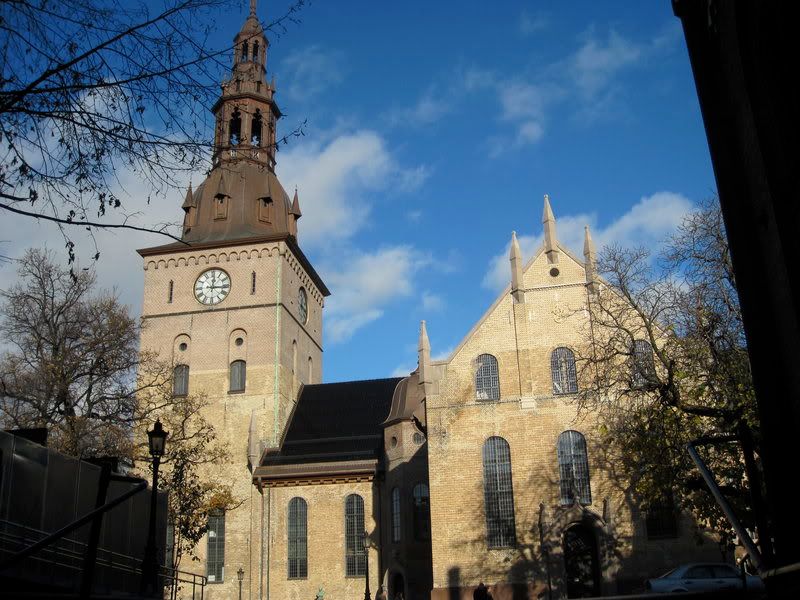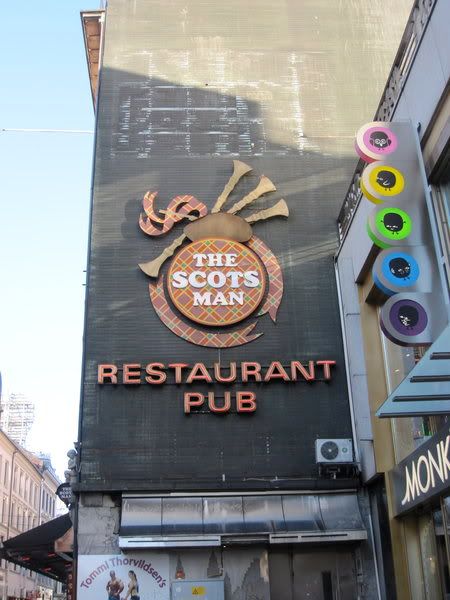 The famous Karl Johans Gate, leading to the Royal Castle up on the hill: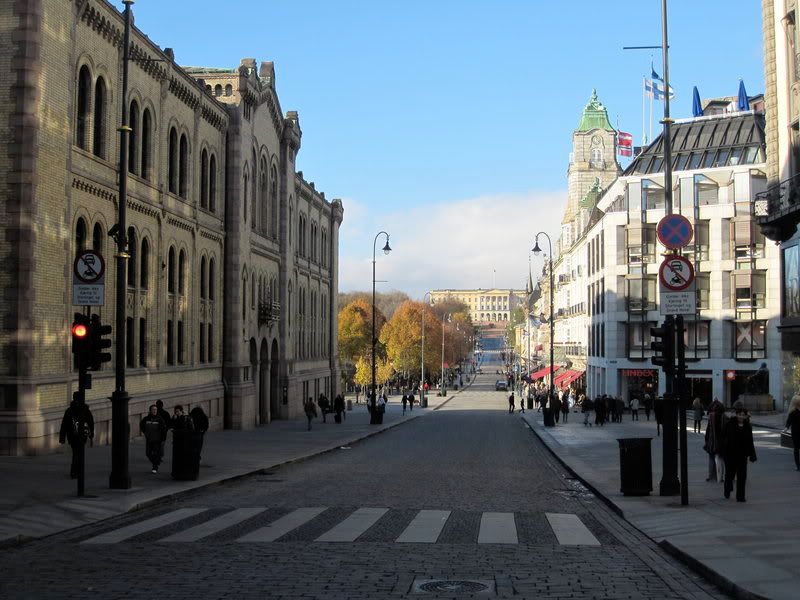 The Norwegian Parliament (Stortinget):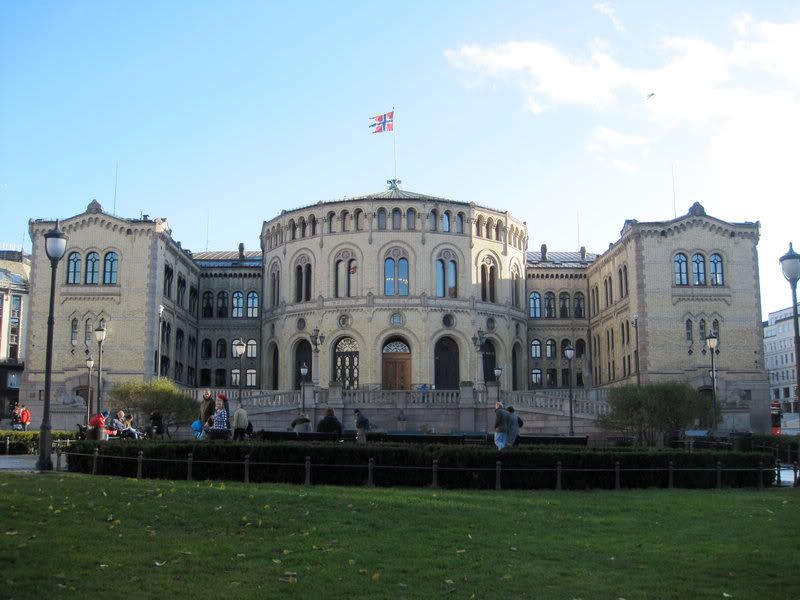 The have a skating rink here during the winter:
Norwegian National Theater (surprise!):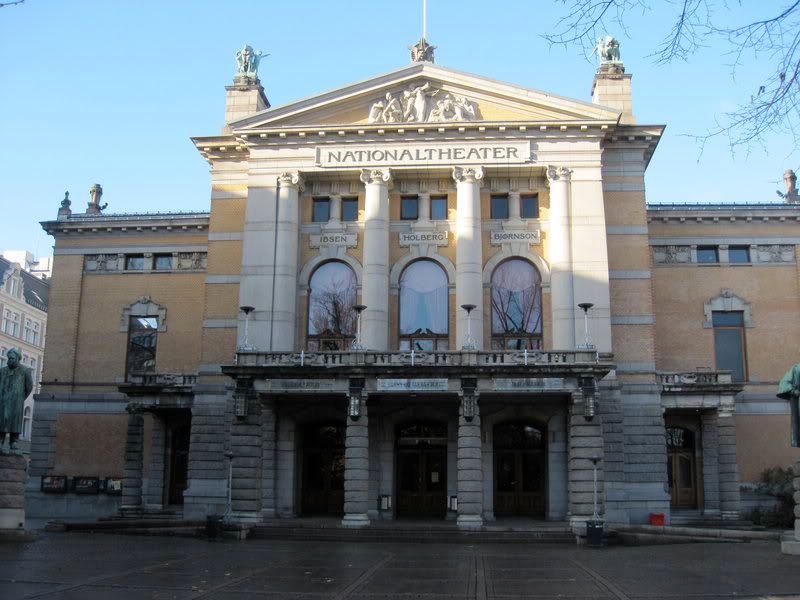 I end up at the waterfront, on the Aker Brygge area which used to be a bunch of rundown old harbor warehouses and other derelict buildings, but has been rejuvenated into a modern shopping/dining/nightlife area. There are tons of people around enjoying the sunny and warm weather.
The rather ugly city hall of Oslo, where the Nobel Peace Price is awarded each year: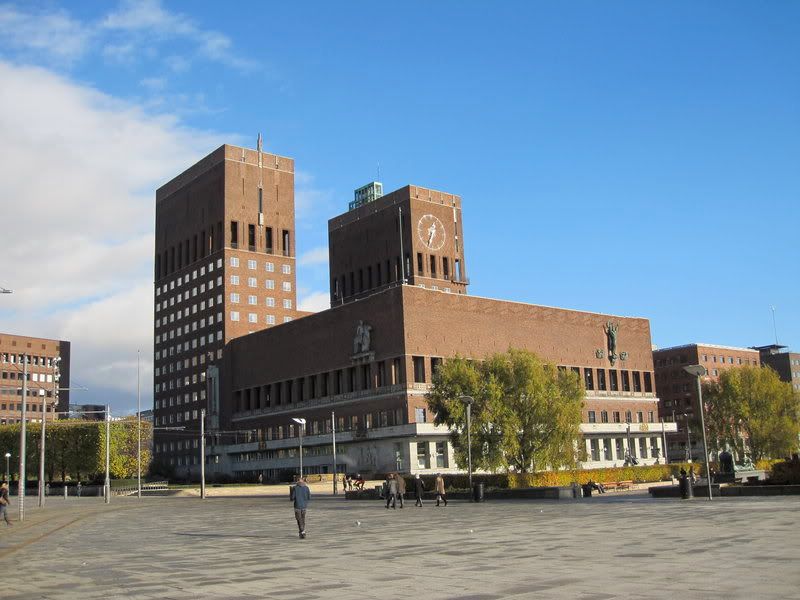 This is the Nobel Visitor Centre, I'm not sure about that "Slaughter" in front, though: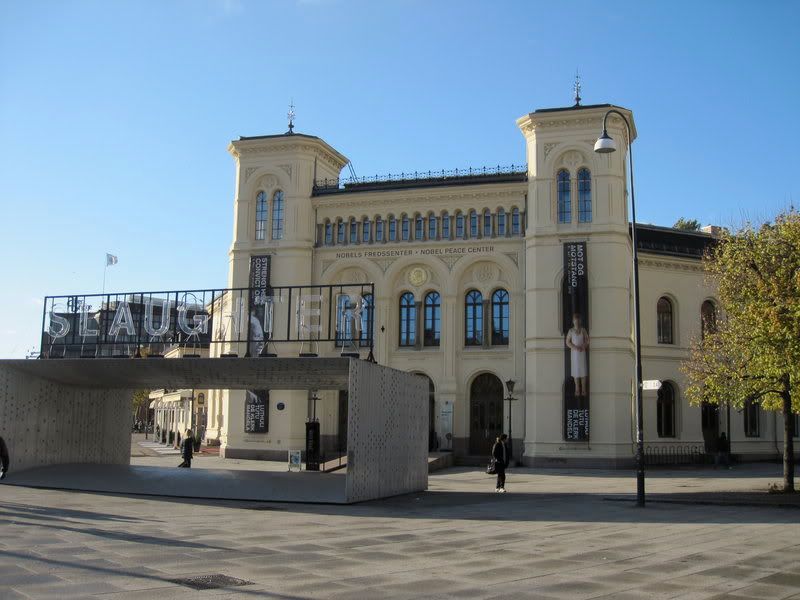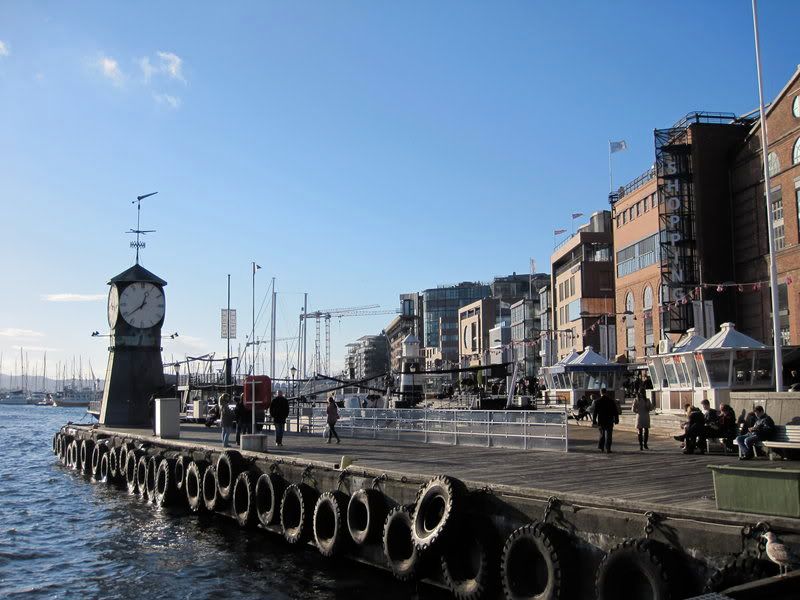 Akershus Fortress:
The sun glittering on the Oslofjord: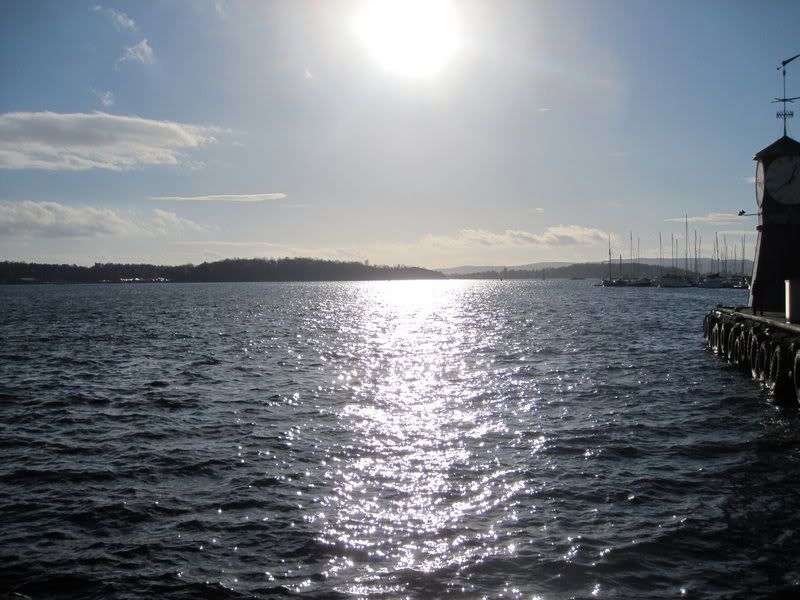 "Paralyzed by the beauty of her eyes":
Ok, last time in Lisbon I wondered about dirty pants posing as art - this falls into the same category: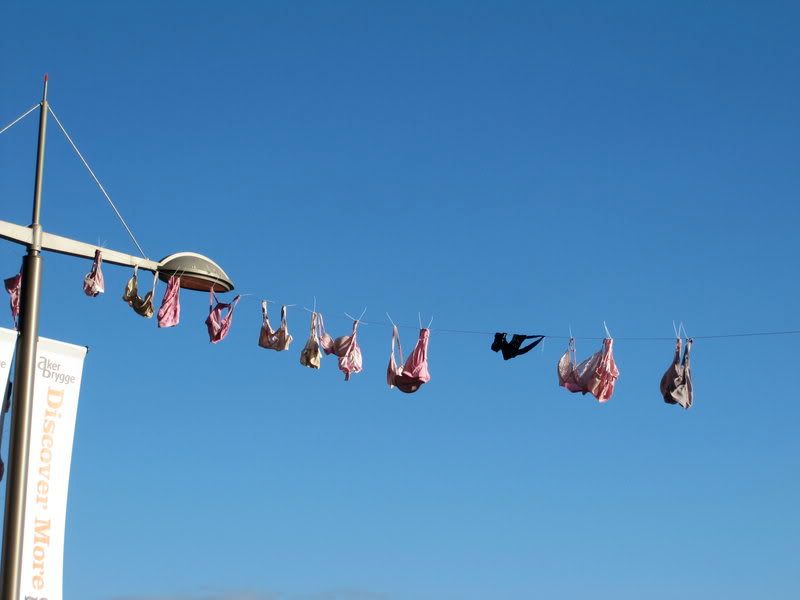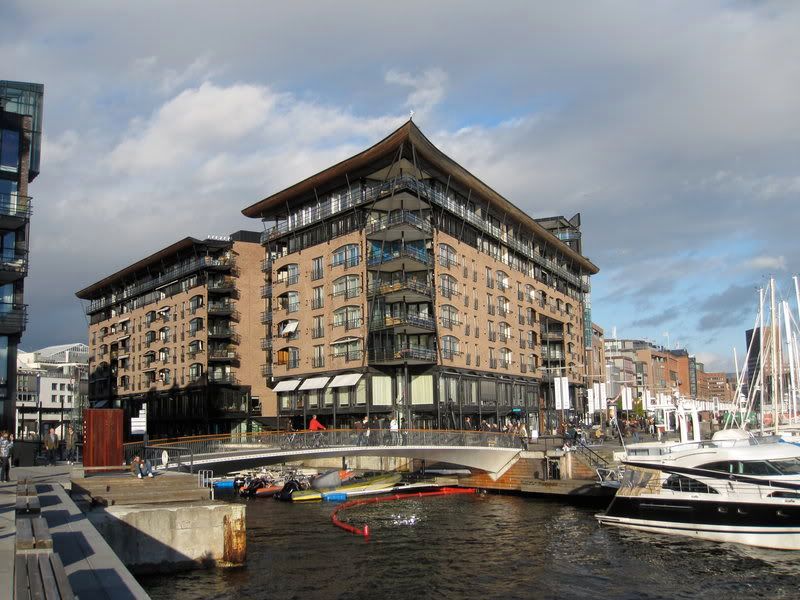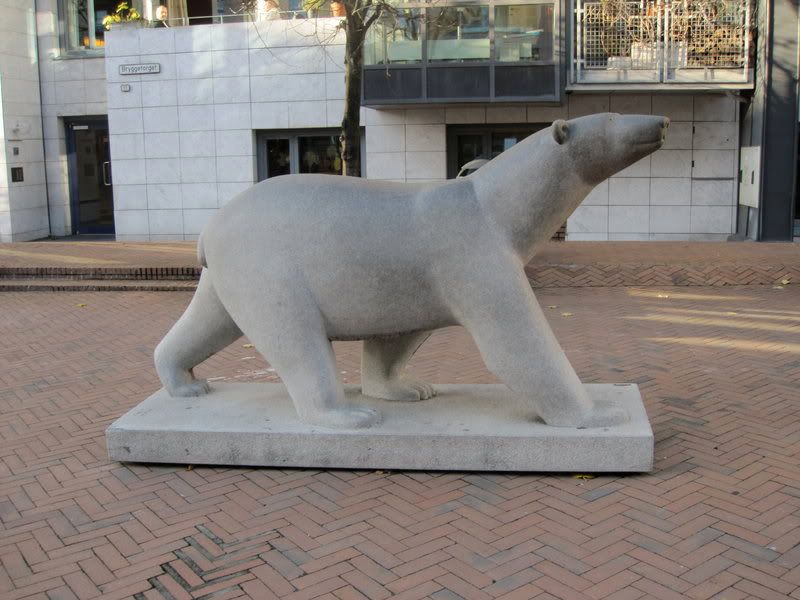 Love it: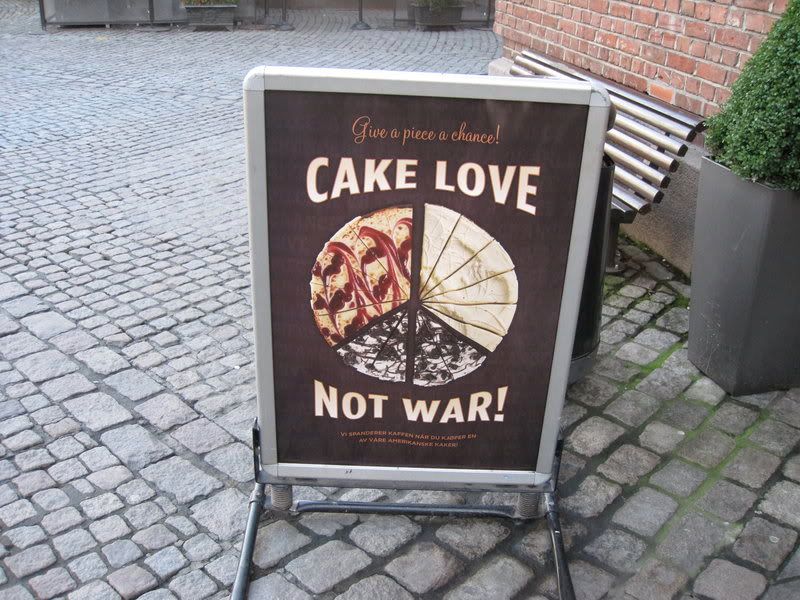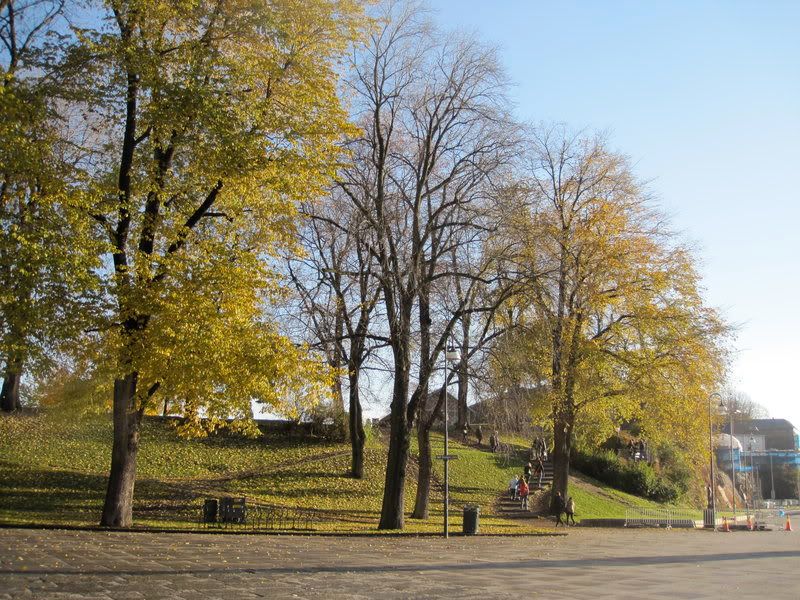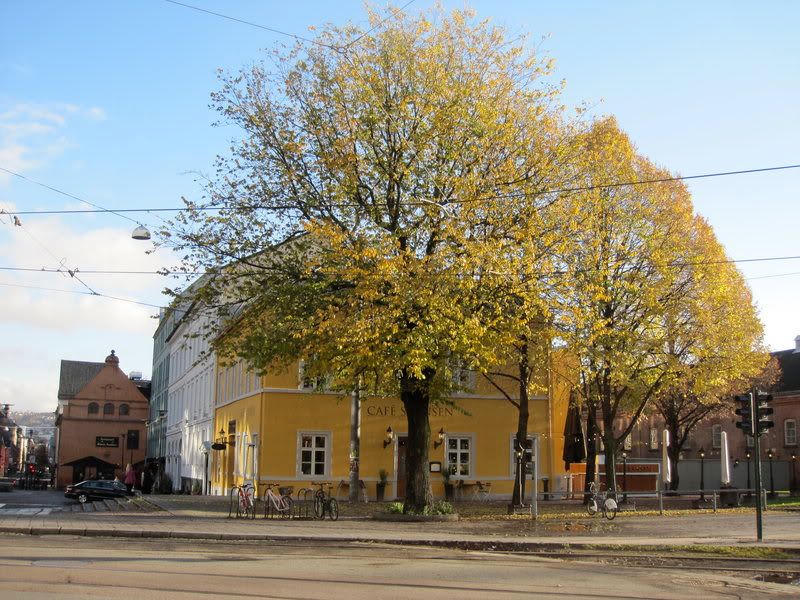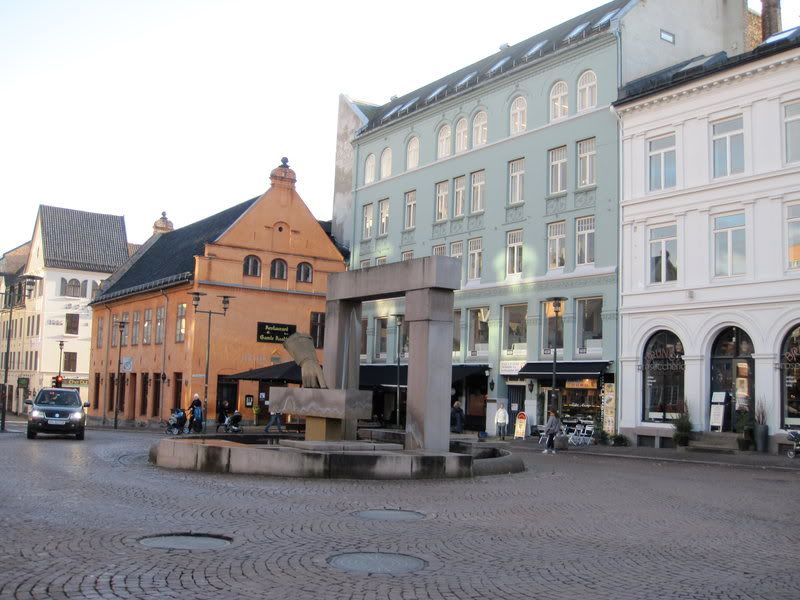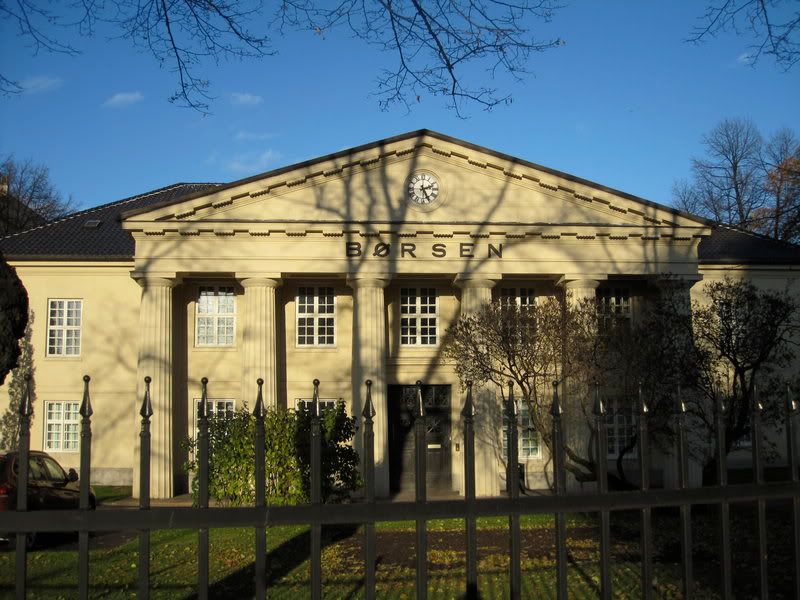 Is Oslo the next Dubai?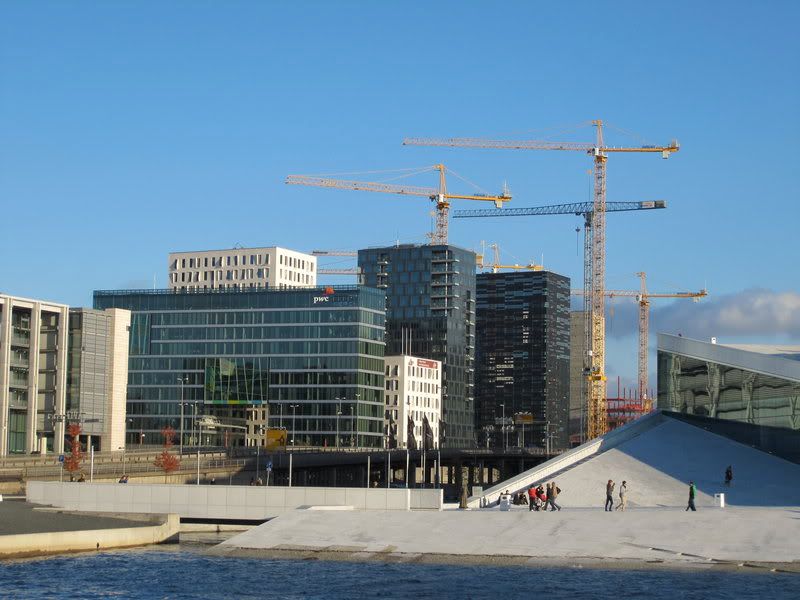 The architecturally distinct Opera house: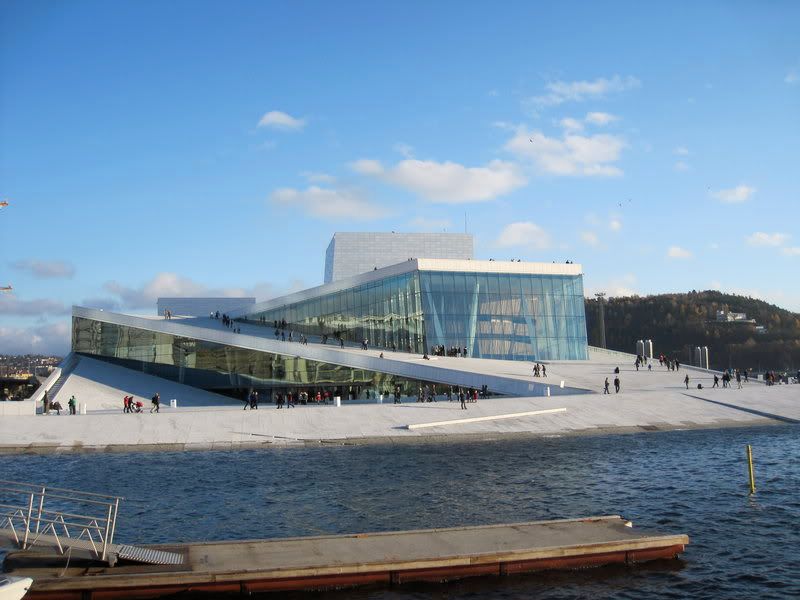 After a few hours of walking around, admiring the sights, enjoying the beautiful weather and a horribly expensive lunch I head back to the train station. My original plan was to catch one of the local trains to Gardermoen airport, but after I stumble upon the Flytoget high speed train area: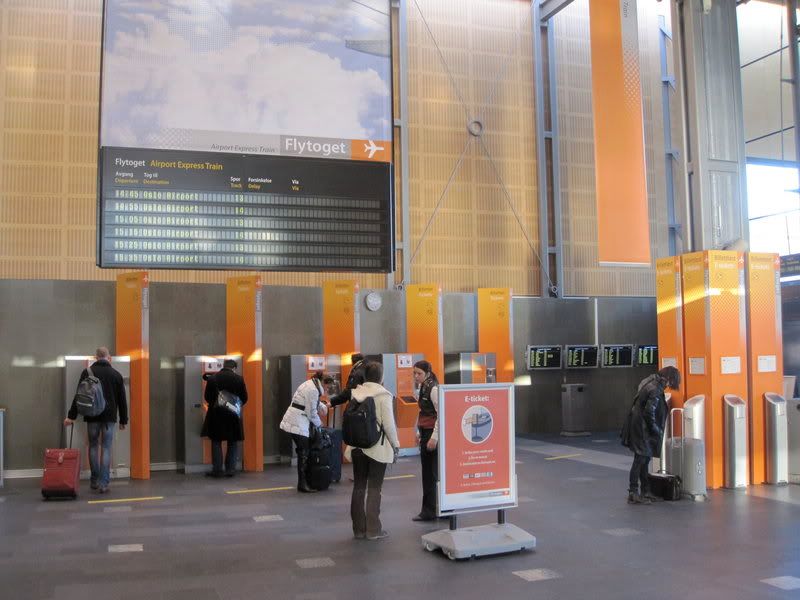 I decide to take it instead - at 22 EUR it is expensive, but then again with the damage Oslo already did to my credit limit I don't think it will matter any more.
Norwegian has check in machines next to the Flytoget ticket ones: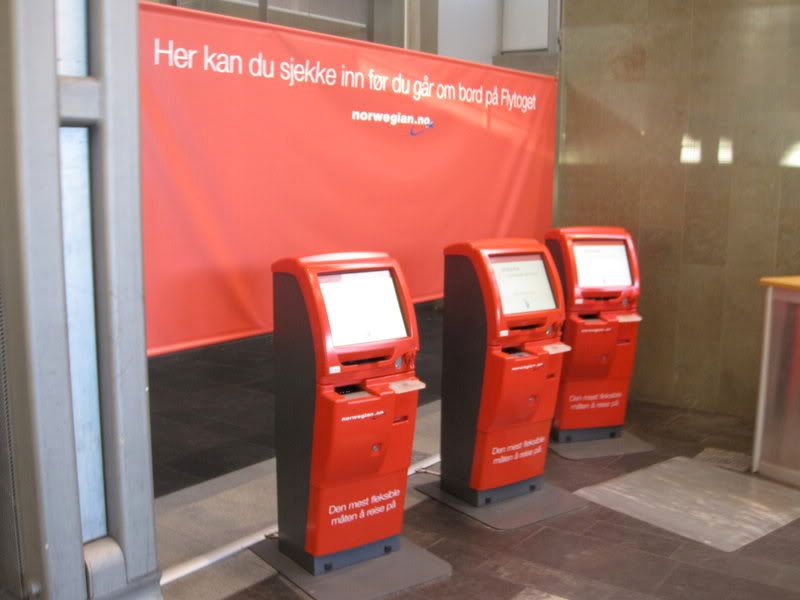 The train: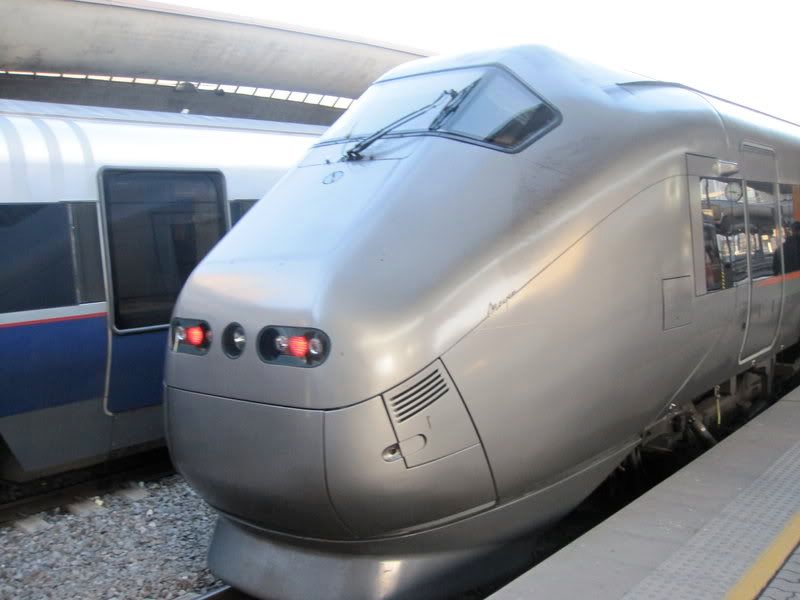 Exactly 22 minutes later I step off the train at Gardermoen airport.
Oslo Gardermoen Airport
Here's a local train: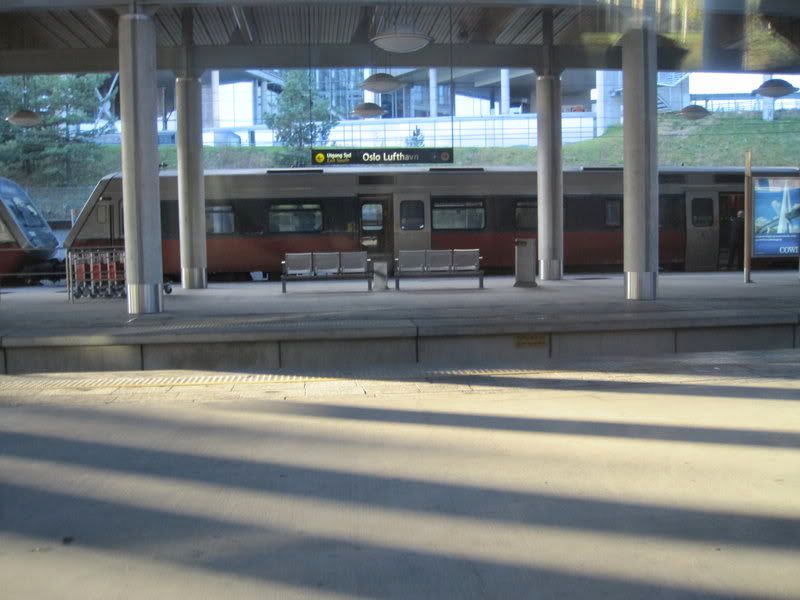 The ATC tower from an interesting perspective: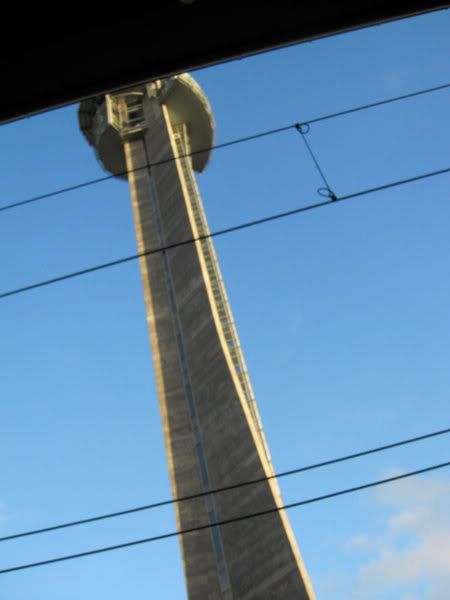 The airport is packed - but that's nothing unusual, I don't think I've ever seen OSL less than so. Security is luckily very efficient, and soon I'm airside. With plenty of time I decide to walk down the domestic pier first, watching for any interesting planes. Here's a WF baby Dash:
SASBraathens remains the biggest player here: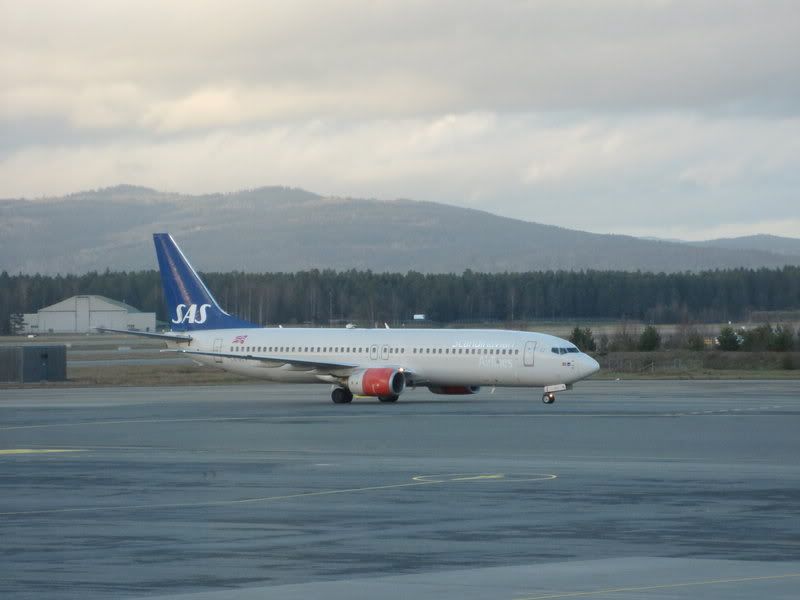 Closely followed by Norwegian: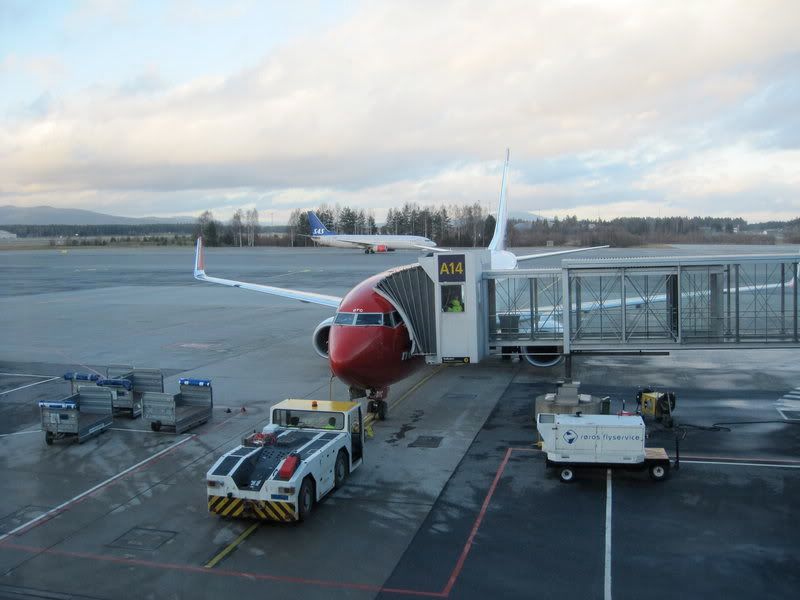 I never cease to be amazed by the sheer number and frequency of Norwegian domestic flights, made all the more impressive by the fact that many of these flights are operated by 737s. All this in a country of 4,5 million people - Finland with a similar land area and 5,3 million people has most domestic flights operated by FC ATRs apart from a few trunk routes and peak time departures on jets: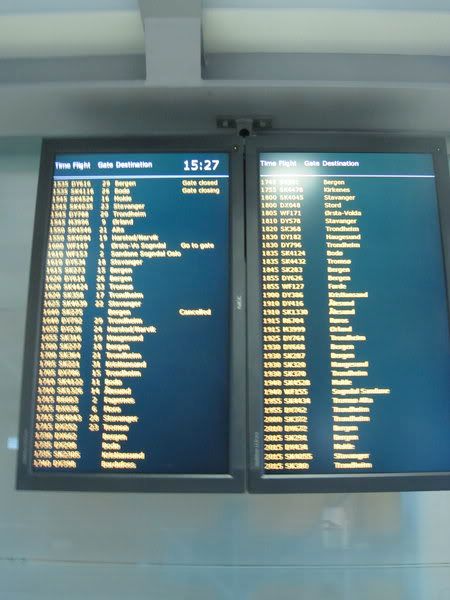 I head to the international part, stopping for some shopping on the way. Interesting name on this beer: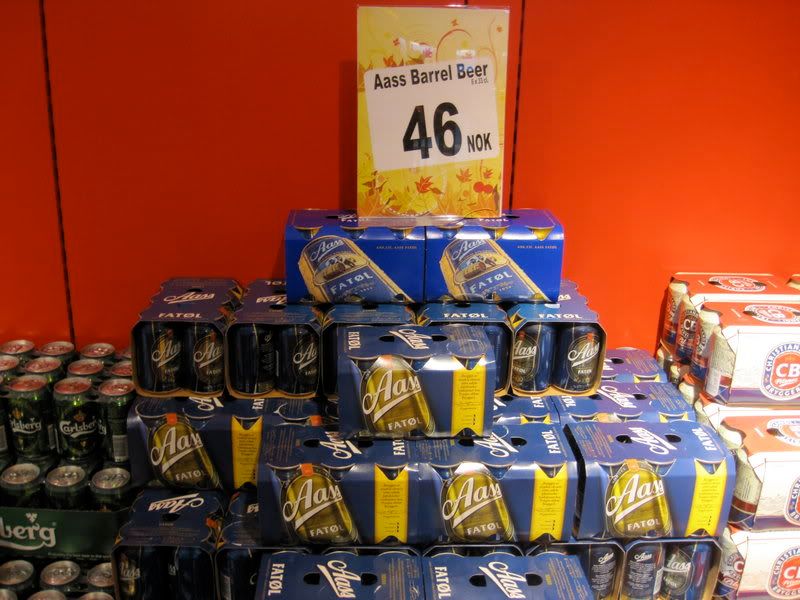 Another WF to GOT: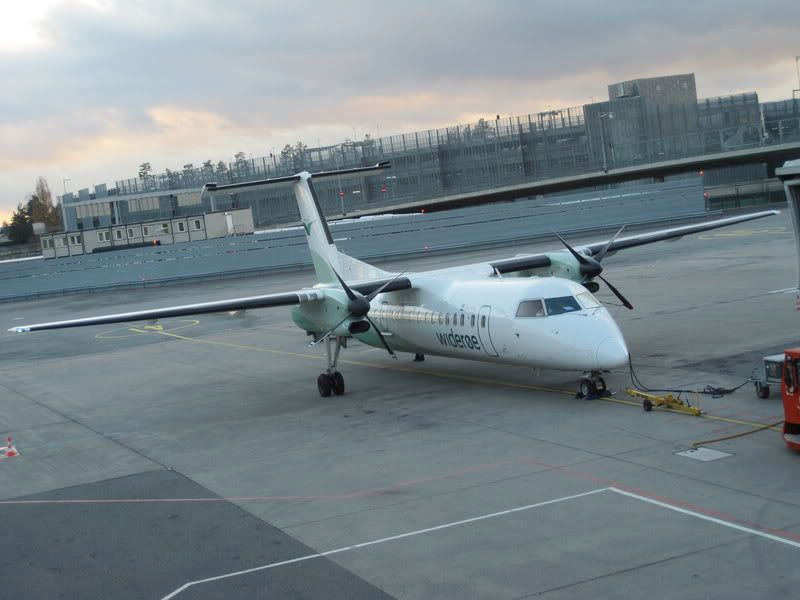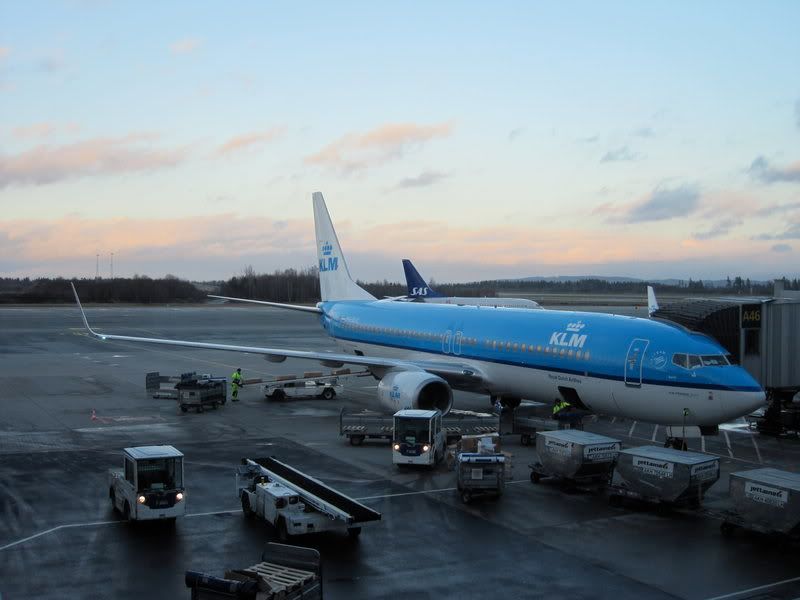 To kill time and ease my addiction I buy an expensive hour of wifi time. That exhausted, I go to check out the KF flight to HEL, which should be operated by the new 717s - and it indeed is: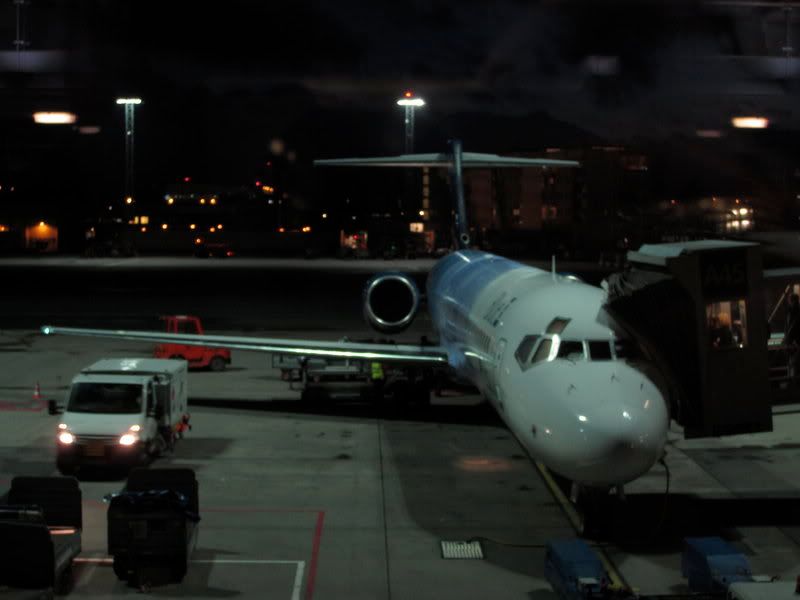 Just beautiful, I should be riding one of these babies in a week's time: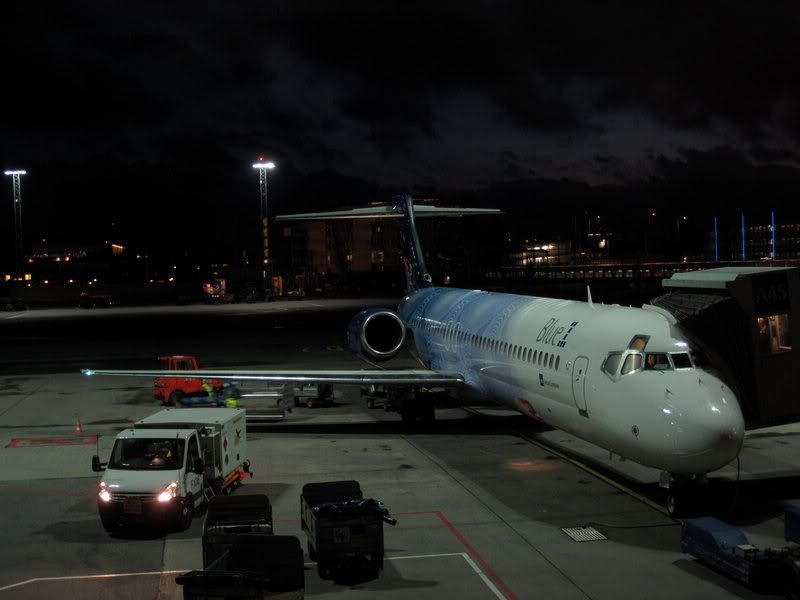 Some Russian guys at the gate ask me why am I "and all the people" (not that I see anybody else) taking pictures of this plane, I explain that it is a brand new plane and type for Blue1, they seem to be satisfied with this explanation. Since I'm unable to see the registration I ask the gate agent, it turns out to be Mike, or more precisely OH-BLM, the first KF 717 delivered in the beginning of August.
I grab a very overpriced pint of beer at a bar and head to my gate. The OLCI was showing a 737-400 instead of the originally scheduled -700, and this is confirmed by the presence of LN-BRQ at the gate. Not too bad, a new registration for me and another chance to fly a 737 classic.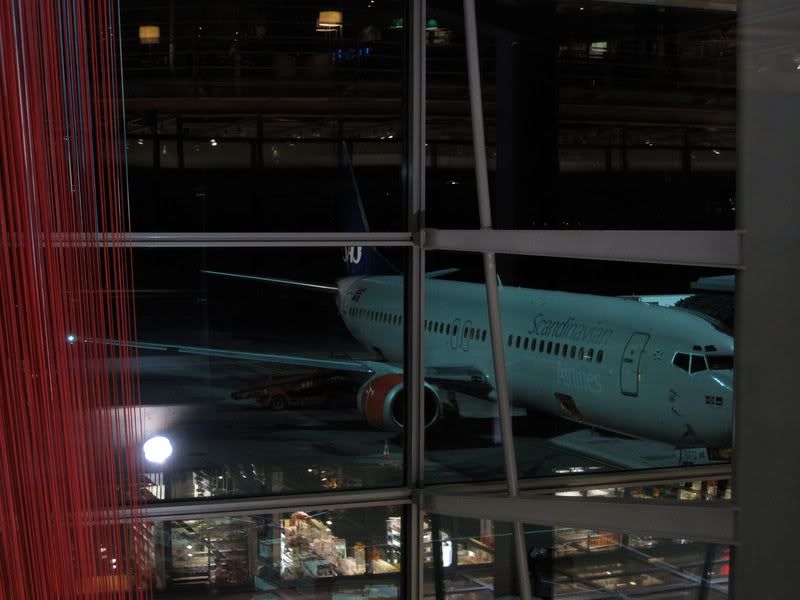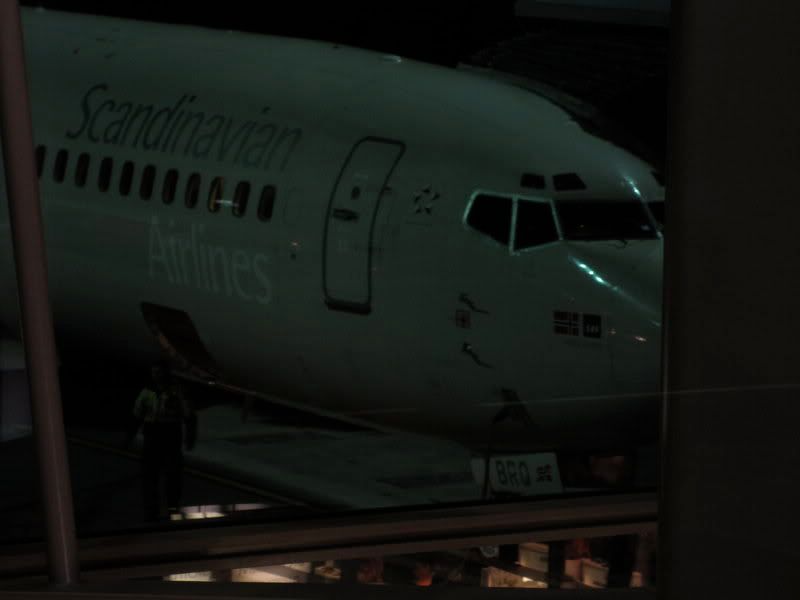 Boarding is called around 25 minutes before departure. There are lots of uniformed SAS FAs and pilots at the gate area, I ask the gate agent "Is this some sort of SAS crew shuttle flight?" - "Oh, they are the crews for the late long haul flights from Copenhagen" is the answer.
OSL - CPH
SK1477
B737-400 LN-BRQ "Harald Gråfell"
Seat 8F
18.00 - 19.06
I like these glass jetways: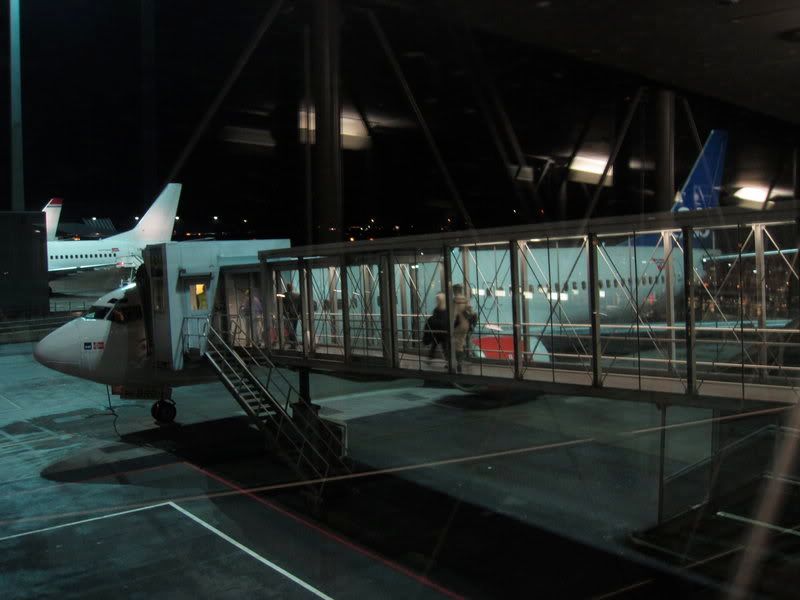 Old fashioned controls:
Load is quite good, 80% or so. Luckily I get an empty middle seat next to me. There are five rows of economy extra today. Flight time is announced as 55 minutes and push back is about five minutes ahead of schedule.
While taking this picture it occurred to me that OSL is definitely 737 land:
Take off is from 19L. It is very dark and cloudy so no good photo opportunities at all.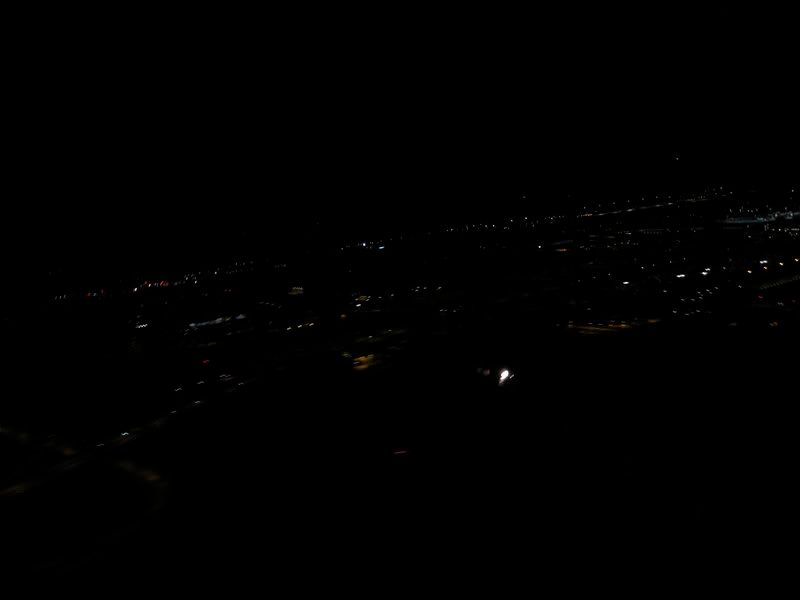 I decide to buy a beer - paying with a 5 EUR note I get back 4 NOK as coins. I tell the FA "At least they have holes in them so I can make them into a necklace." - for whatever reason she finds this very funny.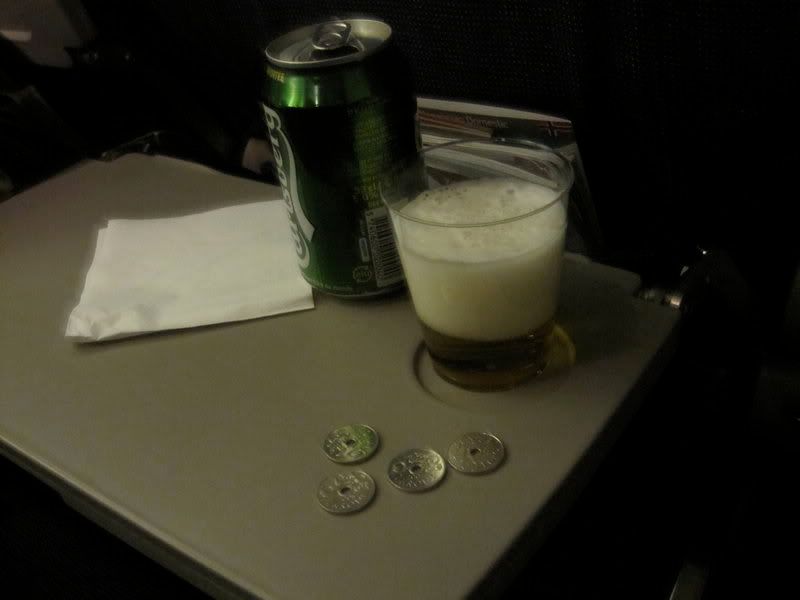 The seatbelt sign is switched back on after around 50 minutes in the air, with an announcement that we should be "on the ground in 10 minutes". I have a hard time figuring out where we are as there are lots of lights down below where they shouldn't be any if we were approaching the usual runway 22L. Eventually I figure out that we seem to be landing on the 04s instead, so are passing the airport from the west, flying over the western suburbs of Copenhagen. This is confirmed after we turn 180 degrees towards the left and land on runway 04L after a bit over an hour of flight time.
Some minutes later we dock to a jetway at the B-pier: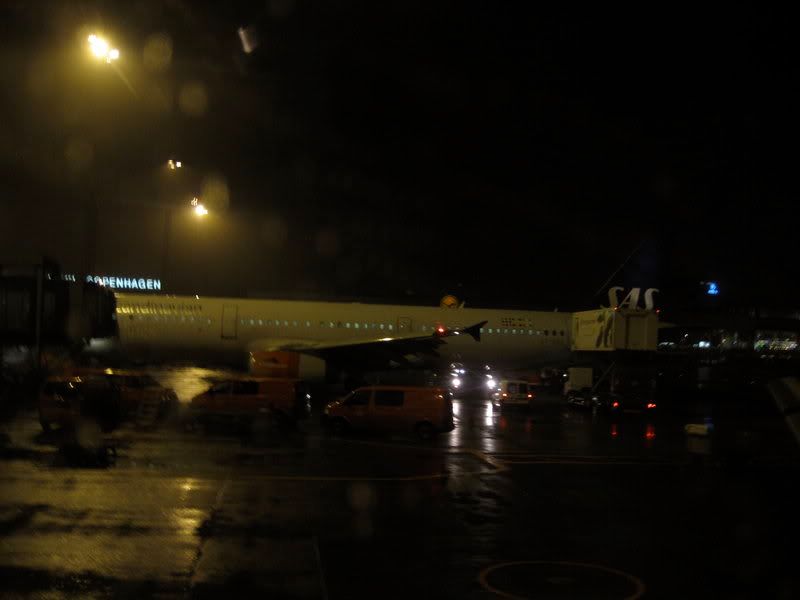 Kastrup Airport
From the plane window I spied a mad dog just two gates over. It turns out to be my ride to HEL:
No gate agents are yet here and more than half an hour before the departure so I decide to pay a quick visit to the lounge. Over there I grab a glass of wine and make myself a large sandwich - very delicious apart from my liberal sprinkle of mustard which turned out to be very hot. The red wine is quite horrible as well, so I need to recalibrate my taste buds with some Tuborg.
15 minutes later I head back to the gate, snapping a photo of the plane along the way: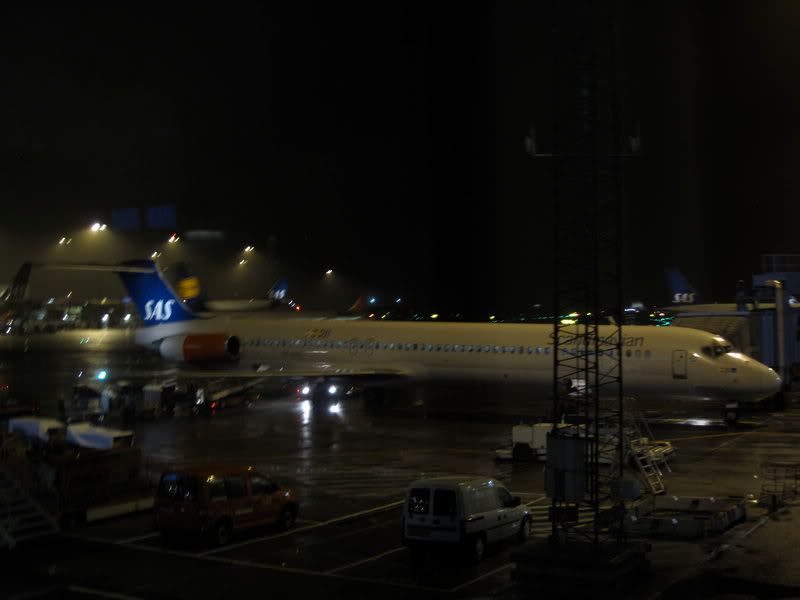 It's the expected MD-82 OY-KHG, surprisingly a new registration for me - I thought I had pretty much all the SK Mad Dogs already logged but apparently not.
Boarding starts right as I arrive at the gate.
CPH - HEL
SK714
MD-82 OY-KHG "Alle Viking"
Seat 6F
20.03 - 22.25
The captain was out at the gate area to snatch a newspaper, he boards just in front of me and almost trips on the threshold. I look at him funnily - the purser sees this and immediately says "He's the captain!" - "What has he been up to?" I ask and get a bunch of smiles in response.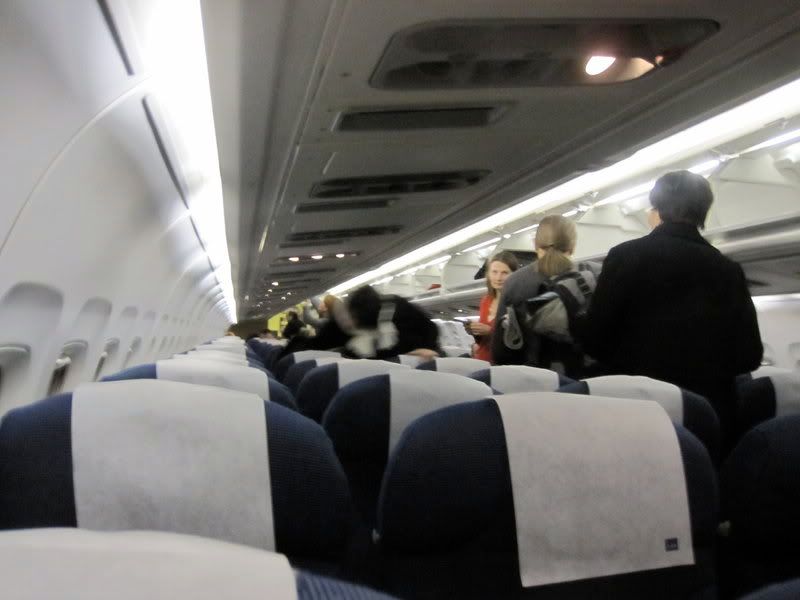 The legroom on these old trustworthy birds has always been good: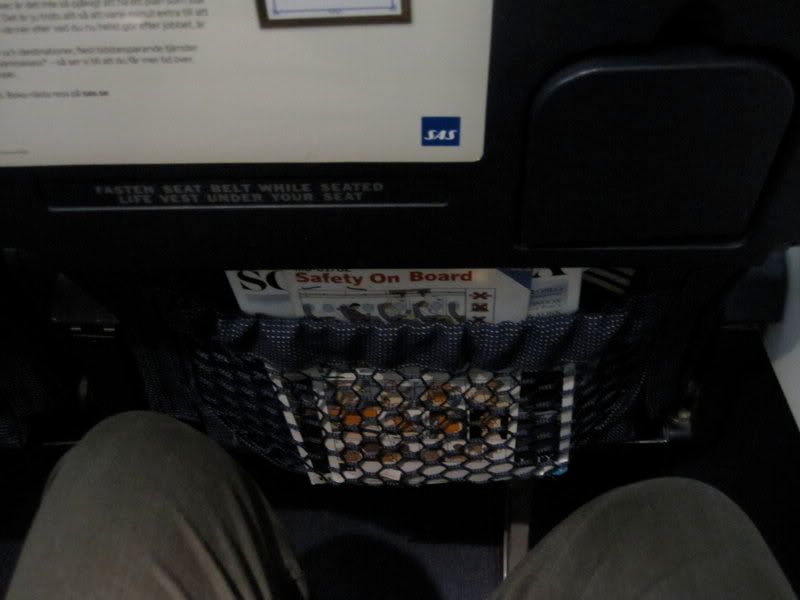 There are three rows of business class and two of economy extra today. I'm sitting in the front economy row. All the seats (apart from the blocked middle seats in business) appear to be taken in every class, so the load is 100% as far as I can see. At the last moment a panting Swedish guy arrives and sits down in the middle seat next to me - apparently he got confused with the Finnair flight departing some minutes earlier and was at that gate over at the A pier and had to run here - quite a distance actually. He eyes curiously my log book which I'm browsing and asks if I write down all my flights. "Yes" - "Oh cool, why do you do it?" - I try to explain but he doesn't really seem to get the point.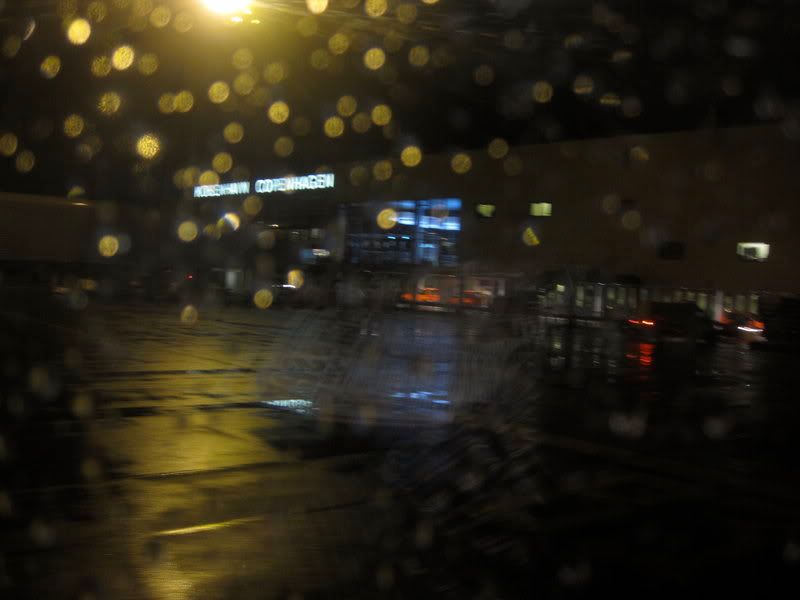 Flight time is announced as 1h20mins with "favorable tailwinds getting us to HEL ahead of schedule" promised by the captain. Push back is two minutes ahead of schedule, with take off from runway 04R seven minutes later.
Not much to say about this flight, I watch some videos on my Ipod, the captain pops in to say that we have "up to 30 knots of tailwind having us land 15 minutes early" and before I know we are descending again towards very rainy and windy HEL where we land on runway 15 after 1h15mins of flight, the promised 15 minutes ahead of schedule. A minute later we dock to a jetway at T1.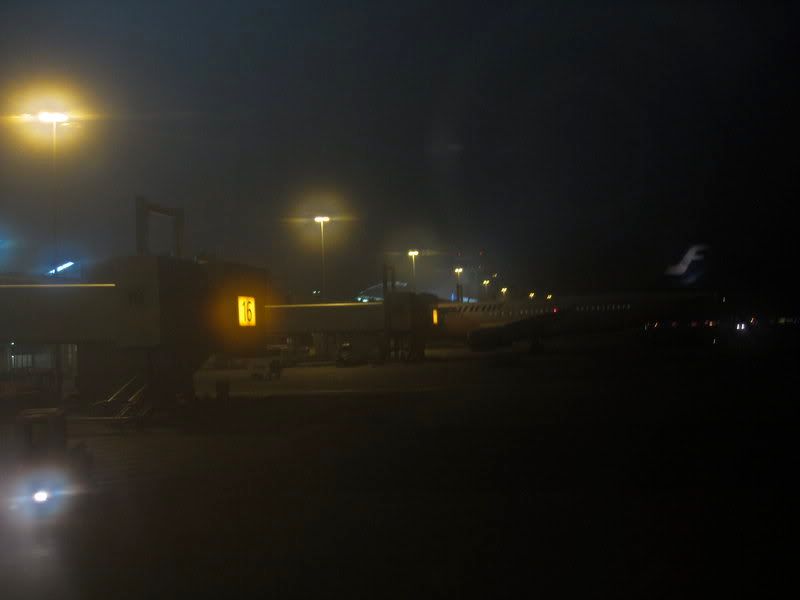 While deboarding the captain is there and after he sees me he says "You know, I was only kidding!" - "That's what you say! Good night!".
A bus home brings an end to yet another trip.
Conclusions
The great sunny weather in Oslo worked wonders for me - I very much enjoyed my day there.
As for the airlines - well, to be honest I'm starting to grow weary of Ryanair. Sure, the fares are still good (even though they've been going up compared to what was available a year ago for example) and you can easily log some very obscure airports and routes. But the uncomfortable and tight seats, general nastiness, weird cabin crew and fellow passengers who range from normal folks to scum of the earth are starting to get on me. Compared to Ezy who I just flew two days prior there definitely is a difference, and unfortunately it is not to FR's favor.
SAS provided a couple of perfectly decent flights, nice to catch a flight on both a 737 classic and a Mad Dog, and both were even frames I hadn't logged before, so no complaints there.
Next weekend brings yet another trip, it's back to the fringes of the UK this time with HEL-RIX-PIK/GLA-BHD/BFS-LHR-HEL including (hopefully) my first ride on a KF 717!
Happy contrails!