Background
Fifth Freedom is a magic term in aviation enthusiast circles. Fifth Freedom enables us to fly on airlines without having to travel all the way to their home countries. One of the various non-European airlines with traffic rights between some European cities is Kuwait Airways. I had been interested in the carrier and its operations between Franfurt and Geneva (A340-300) and between Rome and Paris (A300-600) for a long time. By the end of May I finally decided to book a flight on one of these routes. It soon turned out that flying times and fares were most attractive on the Rome-Paris run. Getting on the A300-600 was not a priority, but of course I wasn't unhappy about another ride on that meanwhile classic and more or less rare bird.

The next task was to find attractive flights to Rome and from Paris. One-way fares to Rome were insanely expensive, but I soon discovered a reasonably priced MUC-FCO-MUC round trip on Alitalia, operated by an Air One CityLiner CRJ900. In order to avoid fare increases and booking fees I quickly bought the tickets on Expedia and then started searching for a hotel and interesting return flight options. Kuwait Airways would be my 98th airline and Air One CityLiner would be my 99th, so of course I tried to complete my itinerary with airline No. 100. Some days later, after checking countless return flight options, I booked a room at the Ibis CDG Terminal hotel and three more segments on three different airlines (details to follow in the next part).
Saturday, 17 July 2010
Munich (MUC) - Rome (FCO)
Alitalia AZ437, operated by Air One CityLiner

11:50-13:25 (11:56-13:27)
Flying time: 01:05 (hrs)
Economy Class, Seat 24A

Bombardier CRJ900ER
EI-DVP (MSN 15116)
Delivered in 03/2007
1st flight on EI-DVP
2nd CRJ900 flight
7th CRJ flight
98th airline
Checking in online hadn't been possible on Alitalia's website, so I went to the airport in due time. Two hours prior to departure I arrived at the Terminal 1 SkyTeam check-in area which was crowded at usual. I tried my luck with a check-in kiosk and was happy that my Alitalia reservation code had been accepted without problems. I selected seat 24A, printed the boarding pass and went to the southern end of the gate area for spotting.
EI-DVP
, one of ten CRJ900s in the fleet, arrived on time and boarding commenced soon. As usual I left the bus last so that I would have enough time to take pictures: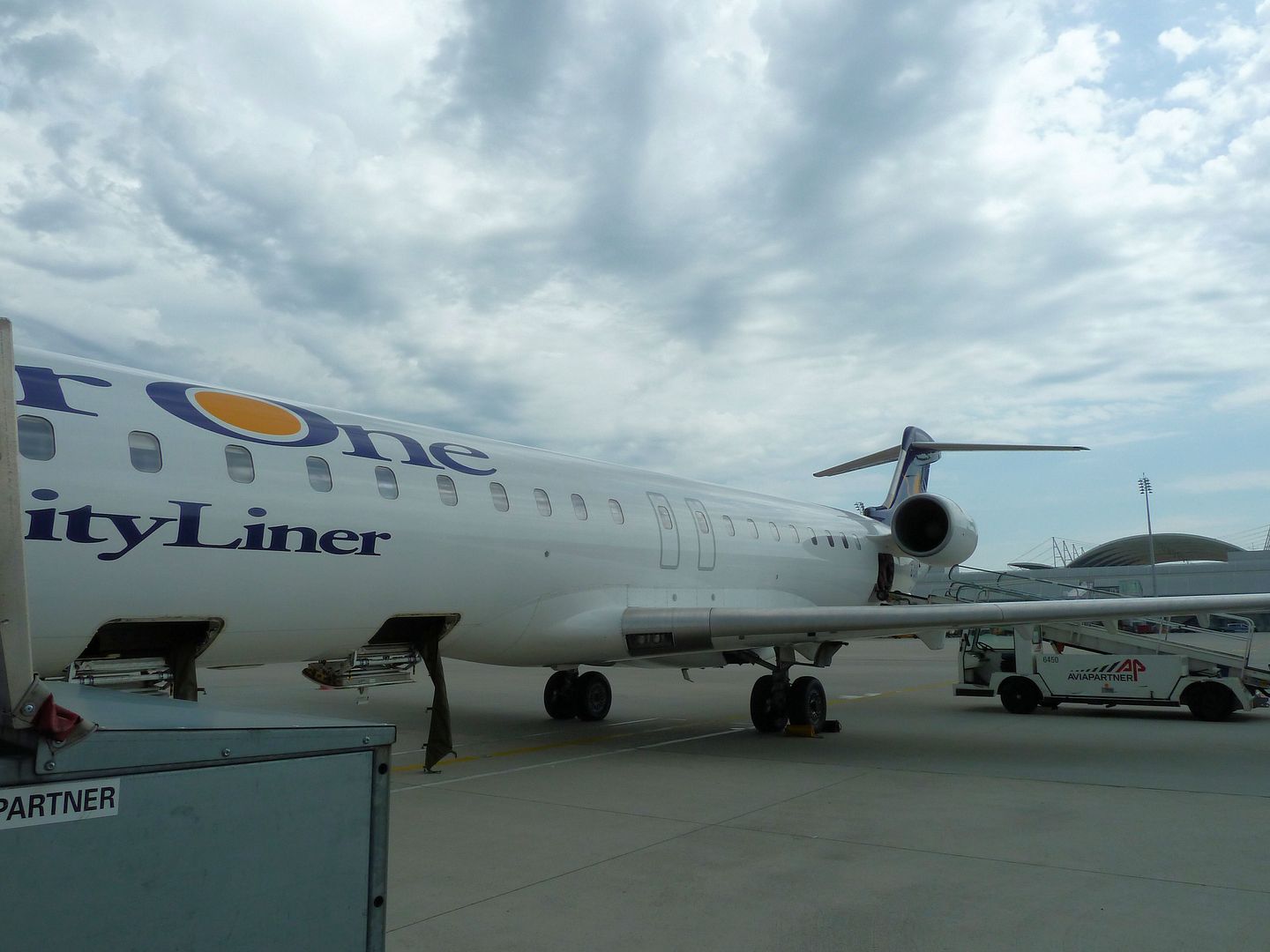 One flight attendant welcomed me with a smile, the other one wasn't really friendly. The leather seats were comfortable...
...and legroom was quite generous:
Unfortunately, it started raining again...the plane next to us was a Brit Air CRJ100: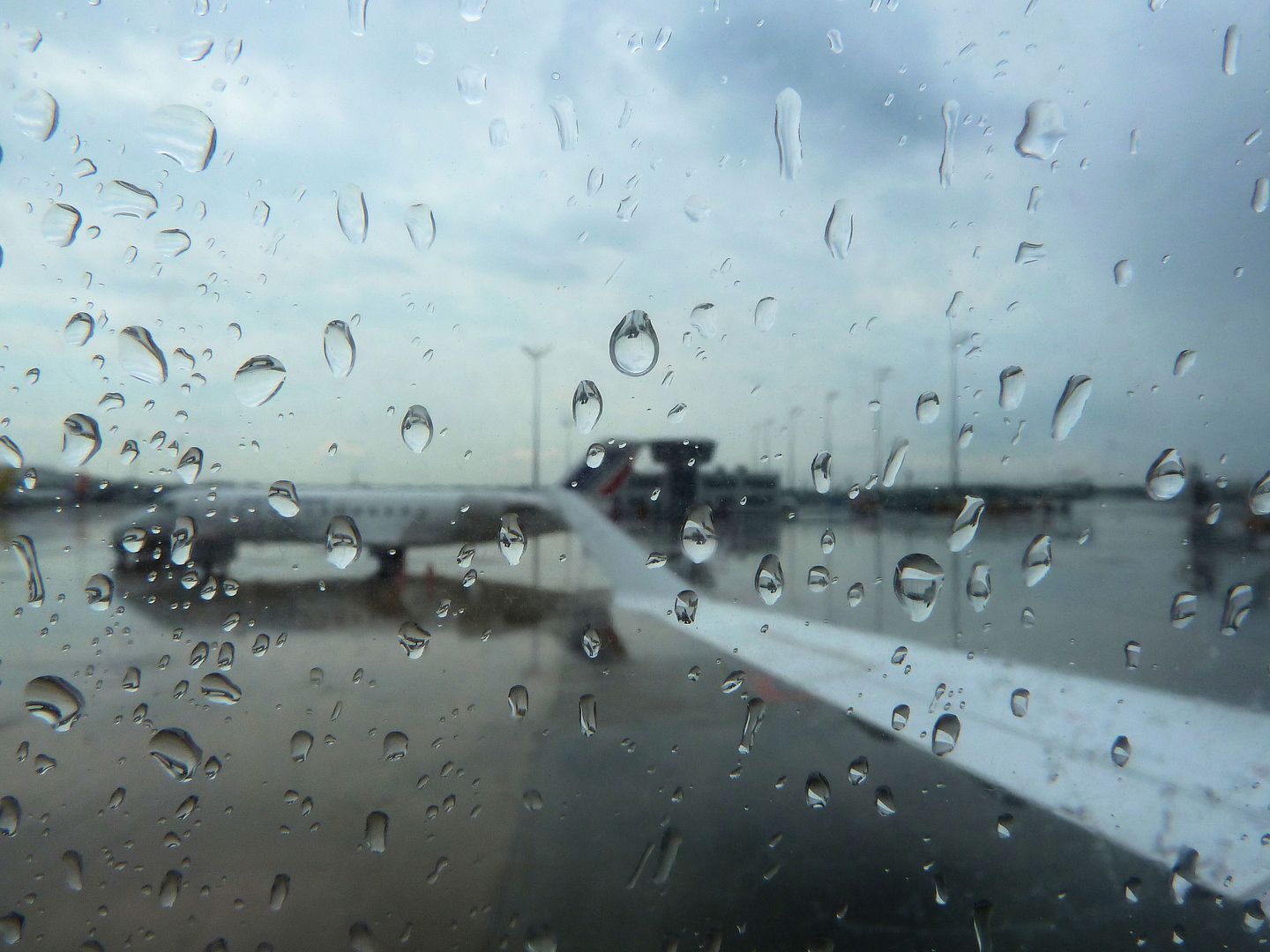 The flight was packed and only a handful of seats remained empty. The aisle seat next to me didn't belong to those, but at least it was taken by a friendly mid aged lady. One of the flight attendants told the people in the last row that the seats wouldn't recline and offered them to move elsewhere. Nice gesture - but many a.netters would decline, of course.
During taxi the captain announced that we would be number six for takeoff. Almost 20 minutes after leaving the parking position we finally took off from runway 26L. It was still raining, so it didn't make sense to take any pictures.
Shortly after we had reached cruising altitude it was time for a cabin shot: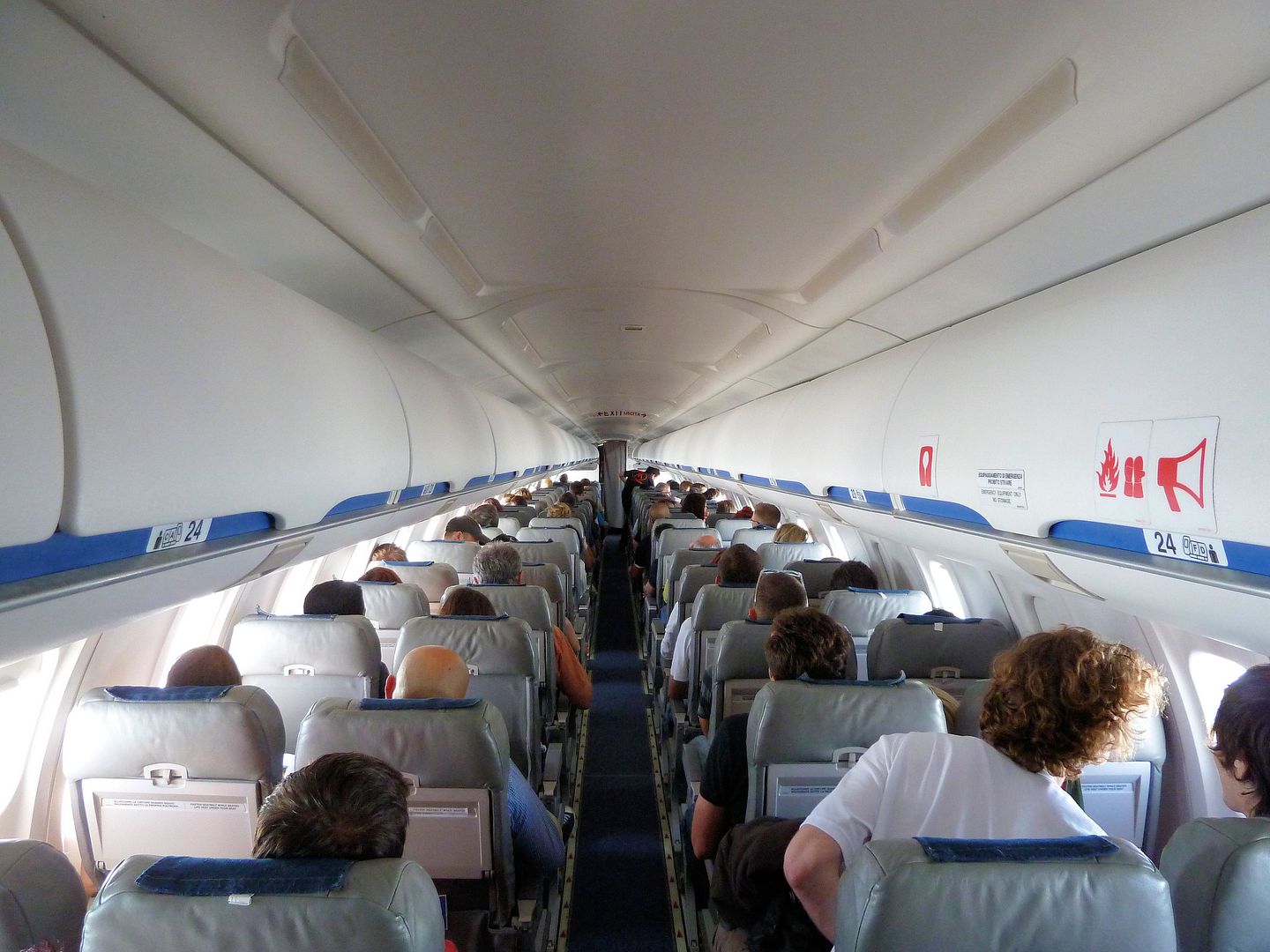 The flight attendants soon started serving drinks and snacks. I ordered an orange juice and got a tasty blood orange juice as well as good cookies. In addition, the flight attendants handed out Air One-branded wet towels and napkins with Alitalia logo:
Nice Italian weather: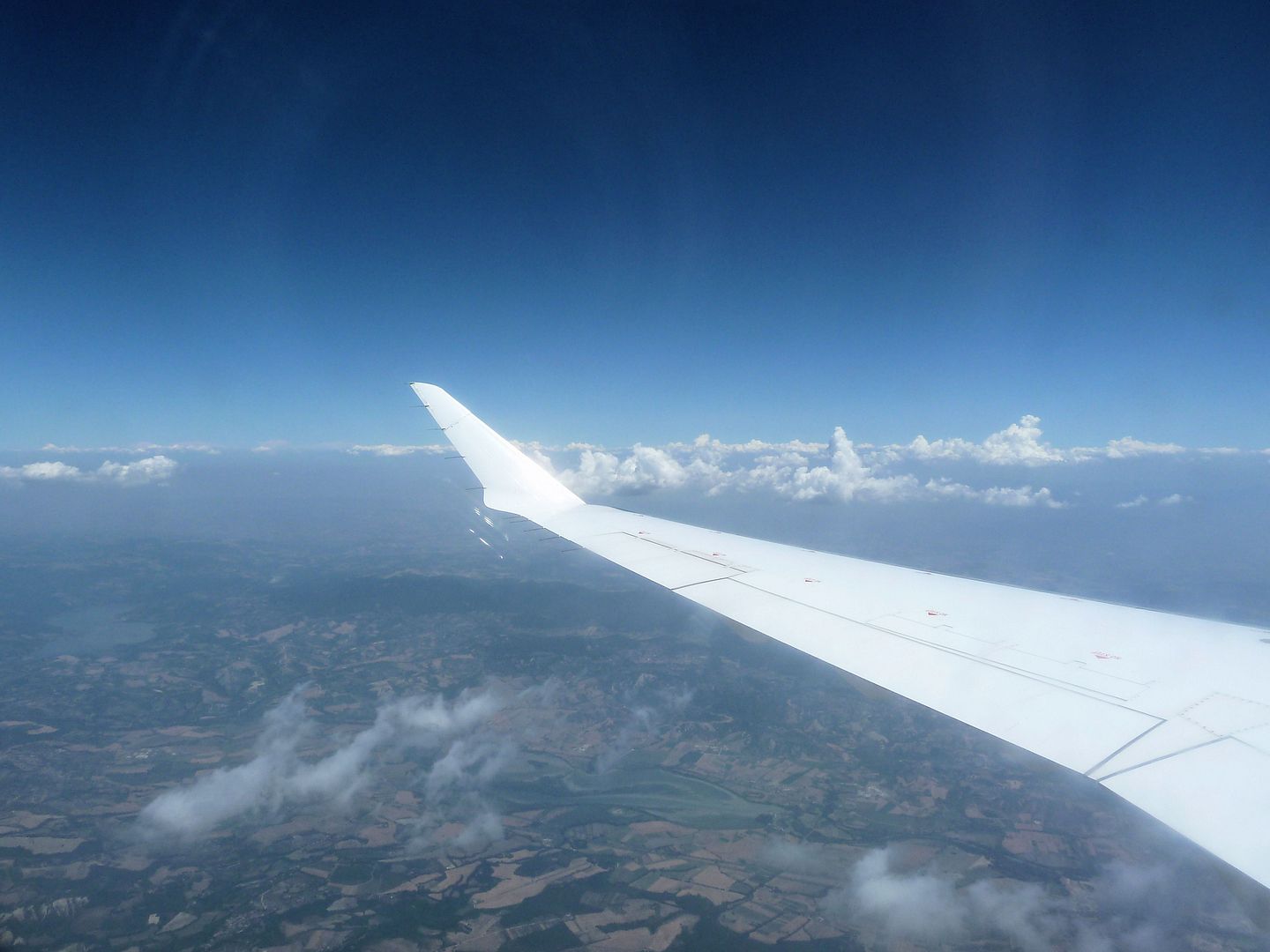 We touched down after a flying time of only 1 hour and 5 minutes and arrived at our Terminal 1 remote parking position two minutes behind schedule. Alitalia A321-100: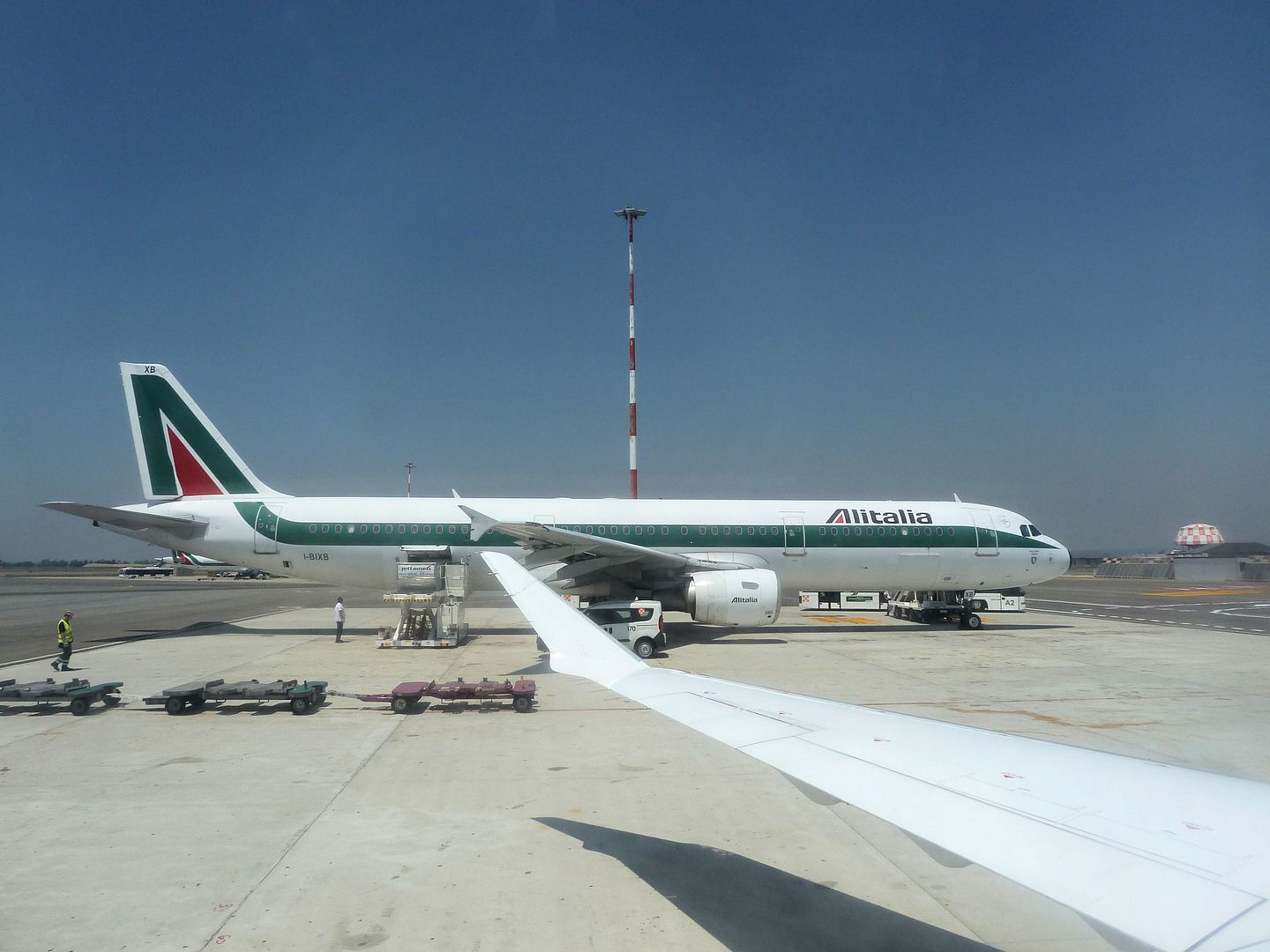 Transfer at Rome-Fiumicino
After a short bus ride to the terminal I immediately had a look at the next available arrivals screen. I was glad to see that KU165 from Kuwait would arrive on time and went to the carrier's check-in counters. However, as expected, checking in wasn't possible until two hours prior to departure. So I went to a food court and discovered tables and seats at a glass front wherefrom I could enjoy nice views of various terminal and apron areas and runway 07/25 in particular.
After writing down registrations for a while, a man in the 40s sat down next to me and asked if I was a plane spotter. I confirmed and we started talking. He turned out to be a German tour guide who was waiting for the arrival of a new tourist group. I was amazed to hear about his countless tours to countries around the world - and he was surprised to hear about my systematic hunt for airlines and aircraft types. Interestingly, he told me that he actually didn't enjoy flying. Anyway, we had a nice chat about our flight experiences until I had to return to the check-in counters.
Saturday, 17 July 2010
Rome (FCO) - Paris (CDG)
Kuwait Airways KU165
16:55-19:05 (17:08-19:10)
Flying time: 01:36 (hrs)
Economy Class, Seat 30K

Airbus A300-605R
9K-AMA (MSN 673), named "Failaka"
Built in 11/1992 and delivered in 05/1993
1st flight on 9K-AMA
4th A300-600 flight
4th A300 flight
99th airline
Only few people were waiting in line in front of the Kuwait Airways check-in counters. I had already reserved my window seat on KU's website, so there was no reason for concern. Some minutes later a friendly agent handed out the boarding pass to me and I headed to Terminal 3 (west satellite), using a sky-bridge train.
The building, opened as Terminal C in 1999, is quite nice and roomy, but the windows are horrible from a photographer's point of view. The glass is colored and dirty - and the bright sun didn't help either. Anyway, the terminal is fine for spotting and I enjoyed the great variety of airlines and aircraft. I logged 29 new registrations between arrival and departure. Some interesting visitors are visible on this picture: Blue Air 737-400, Yemenia A330-200 and Air Transat A310 (hard to see):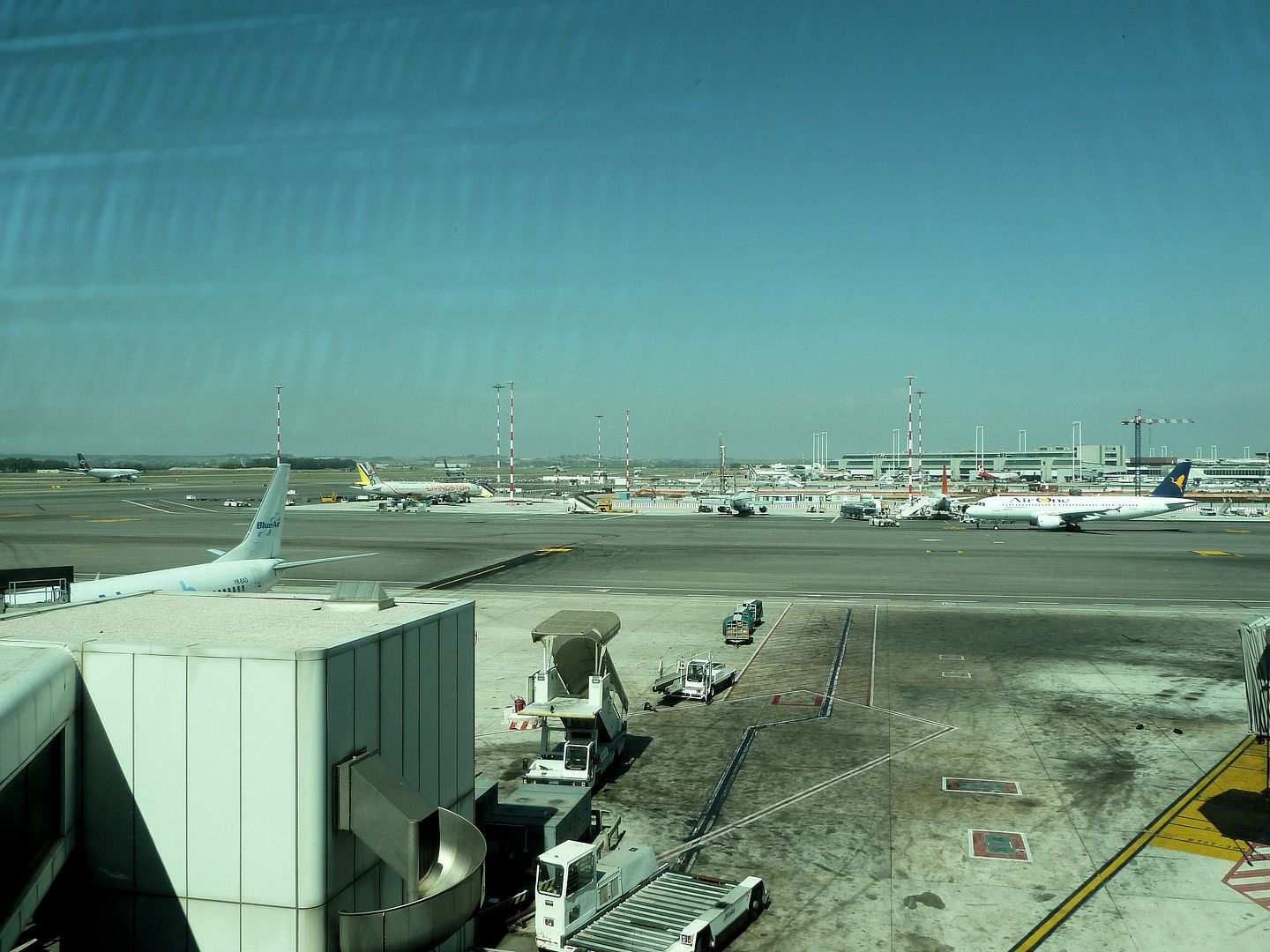 Finally the object of desire arrived - and I was pleased to see it was
9K-AMA
, the first of five A300-600s delivered to Kuwait Airways: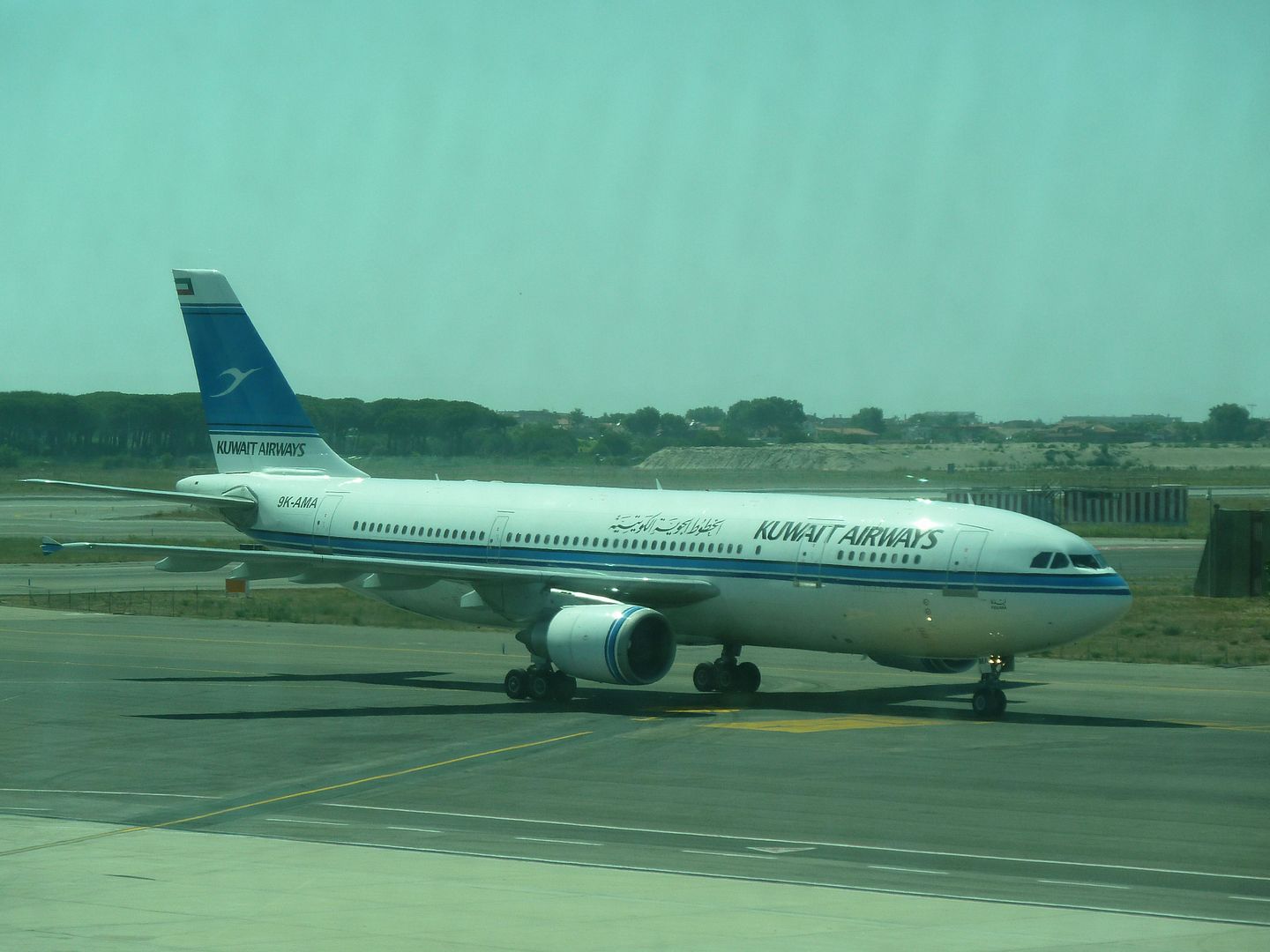 The plane seemed to be in immaculate condition, I didn't see a single spot of dirt: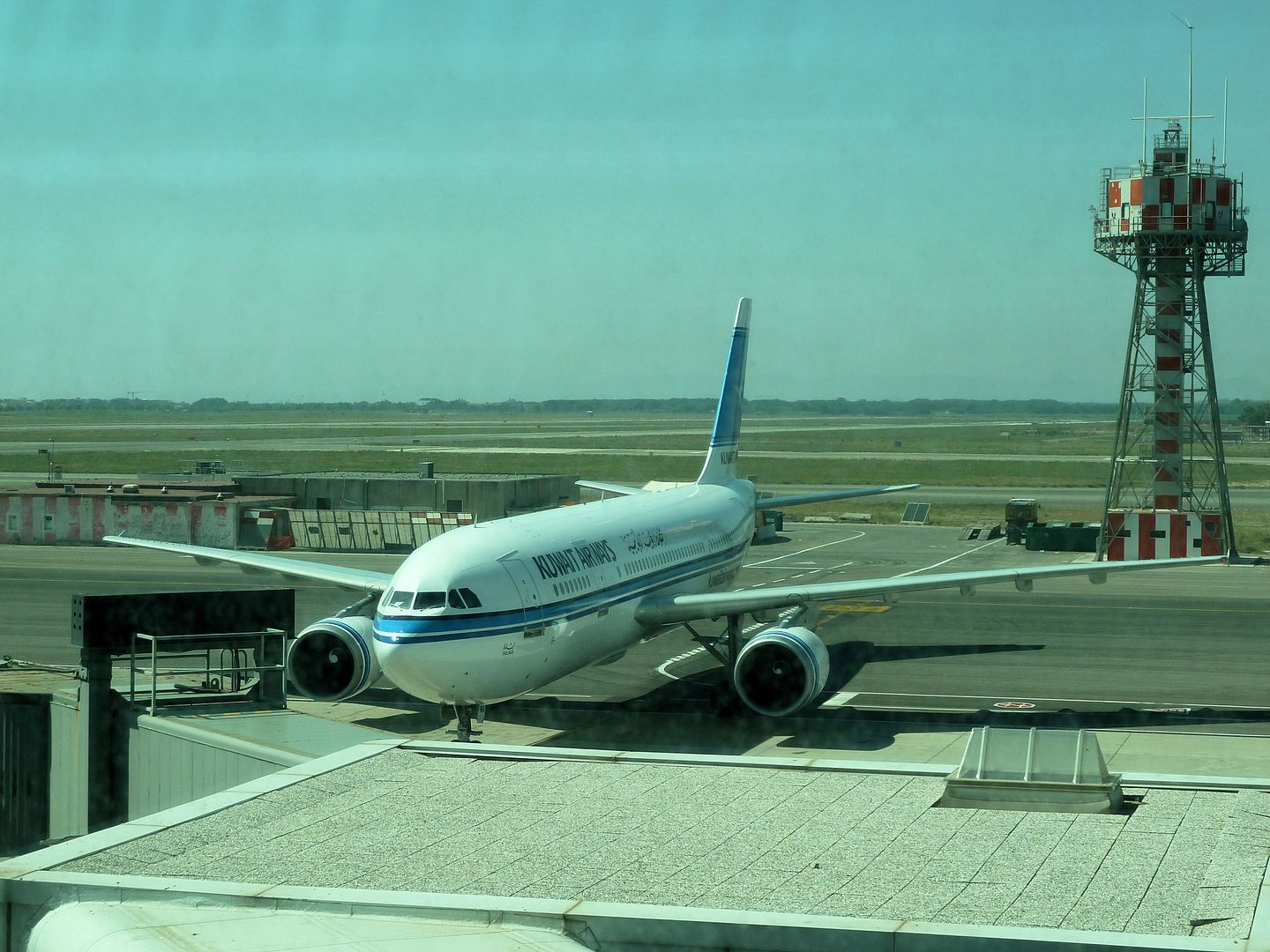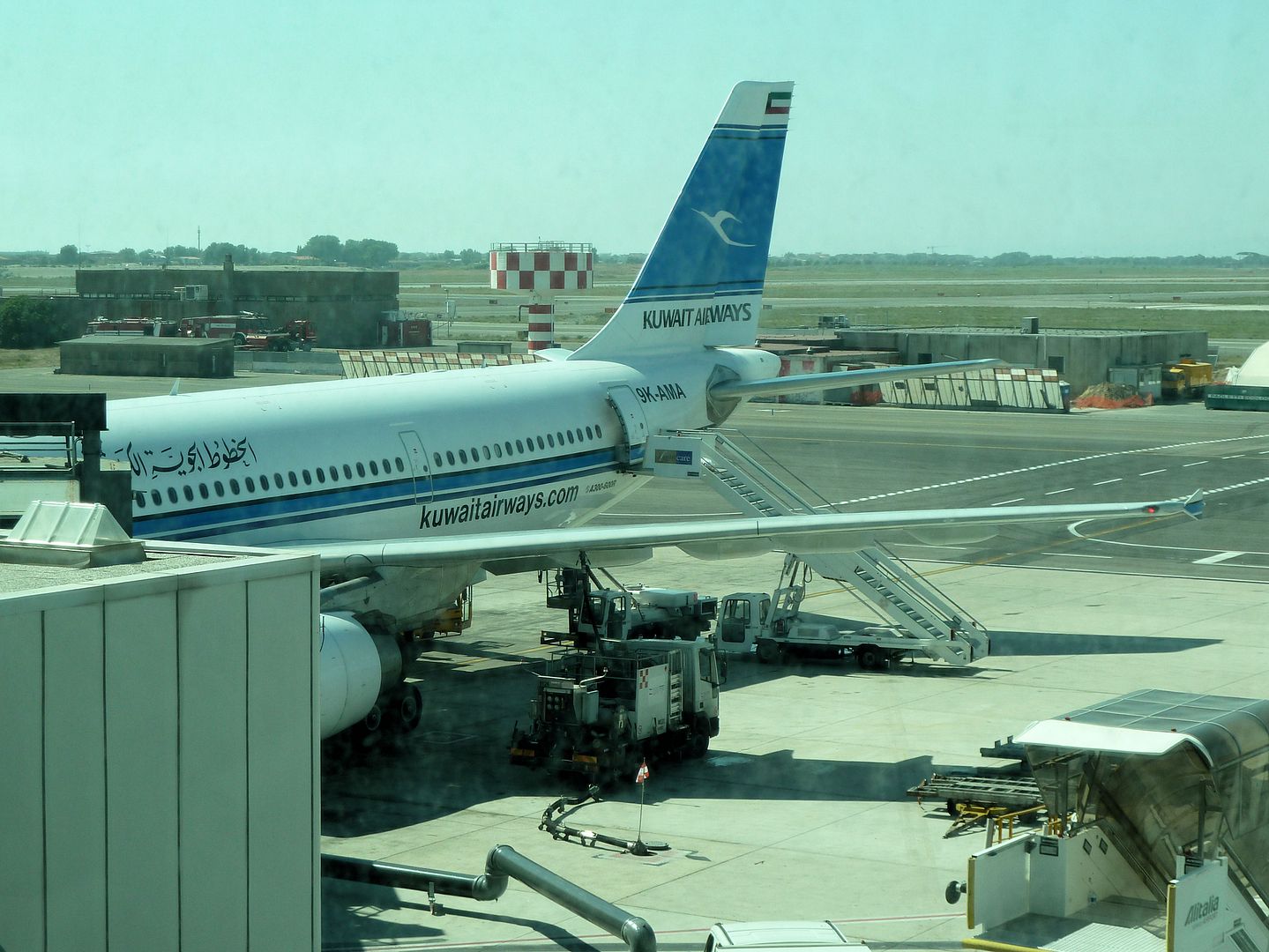 Only two or three dozens of people were waiting in the gate area - but soon I would find out that the Paris-bound travellers had to stay on board during the stopover. After the boarding pass check and an additional bag search by security staff I walked down the jetway and was wondering what to expect in the cabin...a friendly flight attendant welcomed me at the door, another one didn't even look at me. I was still hoping to find a mostly empty cabin, but after a few steps I realized that the flight would be packed: most seats were already occupied by Paris-bound passengers. There were numerous families among them and I guess most travellers were from India, Pakistan, Bangladesh or Sri Lanka. What I also realized was a bad smell in the cabin - and some people hanging around in the aisle certainly contributed to that.
The plane's interior in general looked a bit worn and I was surprised to find thick leather seats - however, those were quite comfortable, at least for the next two hours: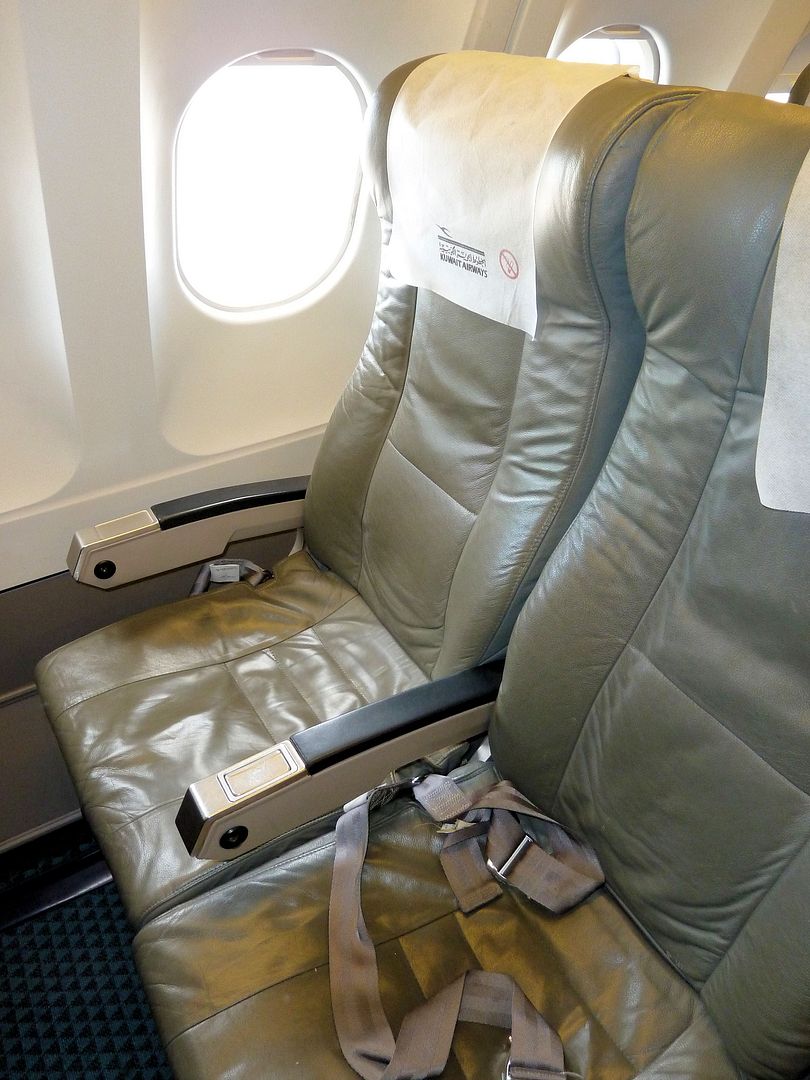 Legroom was quite good, the IFE box didn't bother me: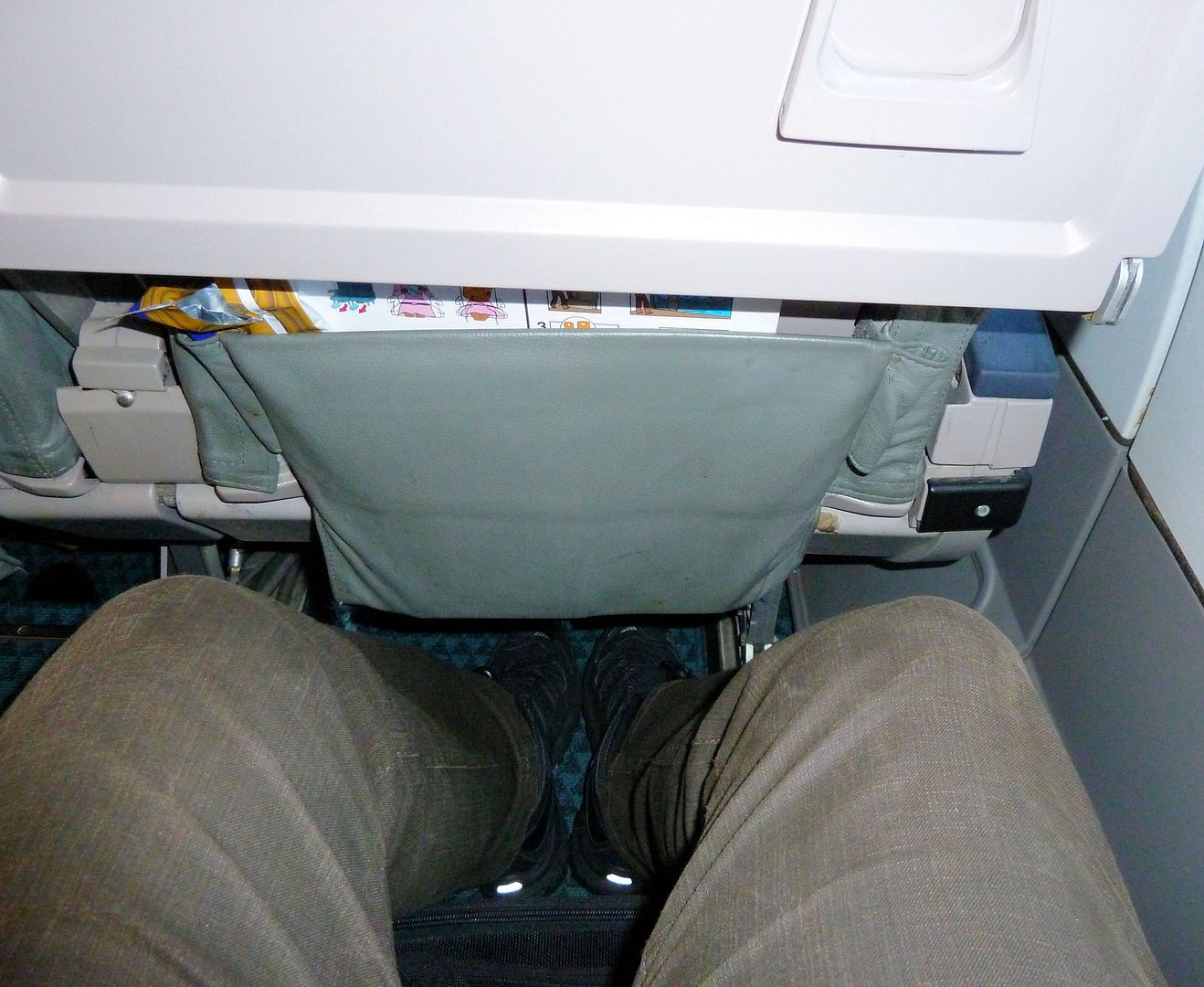 An empty cup and a snack packaging were still stuck in my seat pocket (see above) - I quickly handed that out to a flight attendant who took it with a shamefaced expression and said sorry. It's not nice to find trash at your seat, but I understand that it's not easy to clean a cabin with most seats occupied.
I wasn't surprised to find individual screens on the A300 because I had read about it a long time ago. Kuwait Airways actually belongs to the PTV pioneers. However, these models are outdated and worn out:
Welcome screen:
I had a look at the inflight magazine and discovered a nice page with seat maps...
...and detailed fleet information - including delivery dates. Can you identify two mistakes here?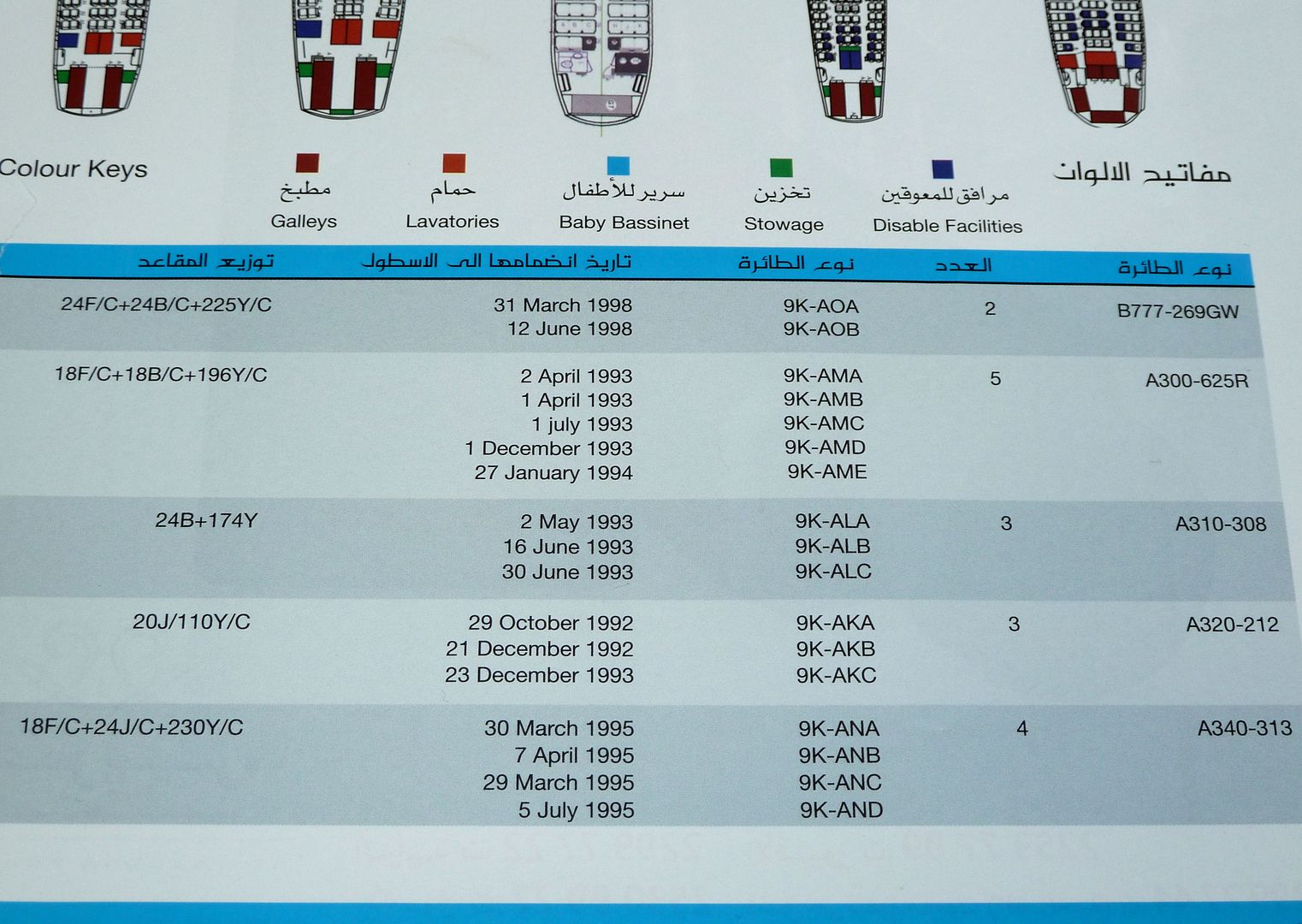 What I also found interesting was
"The Kuwait Airways Story"
on another page, a text about the company's history. Most of it seemed to be fine, but one sentence in the second last paragraph made me smile:
"...KAC's fleet comprises: three A320-200s, three A310-300s, five A300-605Rs, four A340-200s and two B777s, all equipped with the latest entertainment systems."
No more comments necessary...
After boarding had been completed, the air conditioning suddenly stopped working. It was quite warm in the cabin and I was glad when it was switched on again after a short while. I was expecting an immediate pushback now, but instead, the whole power supply was suddenly gone. Lights, PTVs, air conditioning, everything was inoperative. Two flight attendants looked at each other with surprised faces, one of them asked:
"What's happening?"
I don't know exactly whether that situation lasted a minute, two or more, but it was enough to raise some concerns - not about safety, but my itinerary. I knew that a delay wouldn't be a big problem, because I would spend the night at Paris - but I was a bit afraid of the consequences of a possible cancellation.
Anyway, I was soon relieved when the power supply was restored and one of the pilots announced
"Prepare for immediate departure!"
.
9K-AMA
was finally pushed back 13 minutes behind schedule. Qatar Airways A330-300 in the distance:
We taxied to runway 25, so I could log a few more registrations. Livingston was still operating back in July: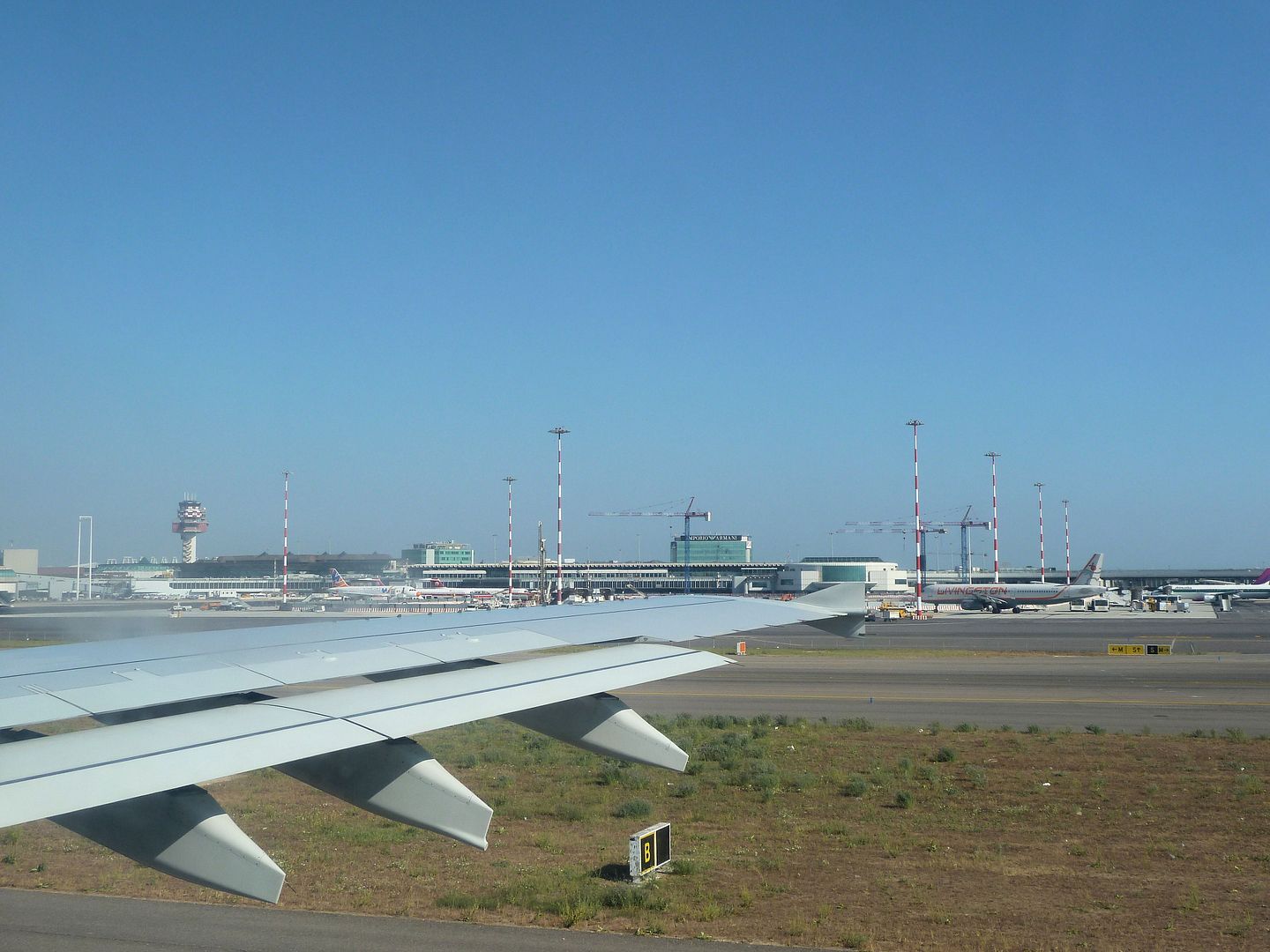 16 minutes after leaving the gate the plane rolled onto the runway and accelerated. Unfortunately, takeoff was not as powerful as expected. I hadn't been on an A300 or A310 for a while, so it was interesting to note how loud the plane was during climbout. Nice scenery: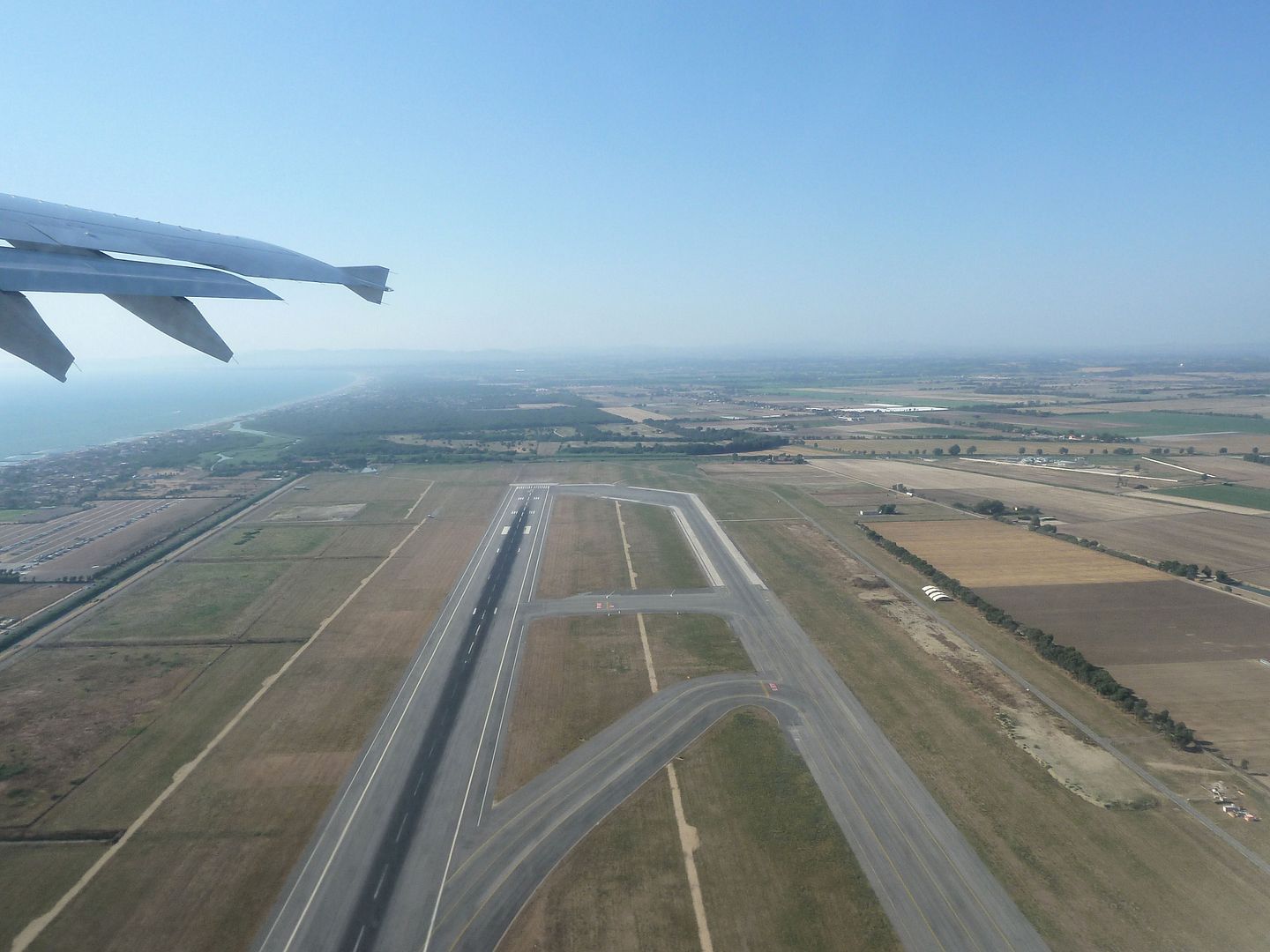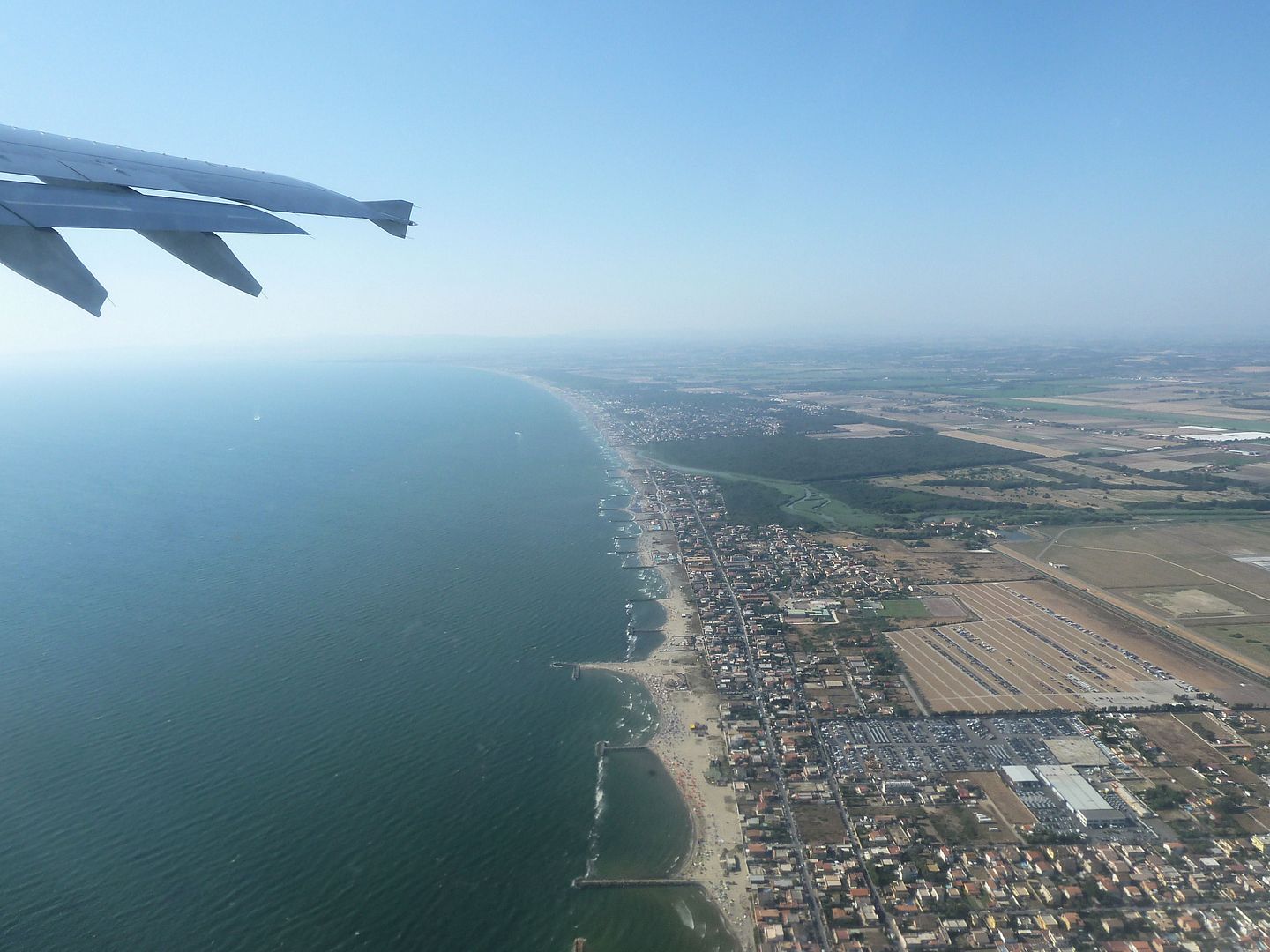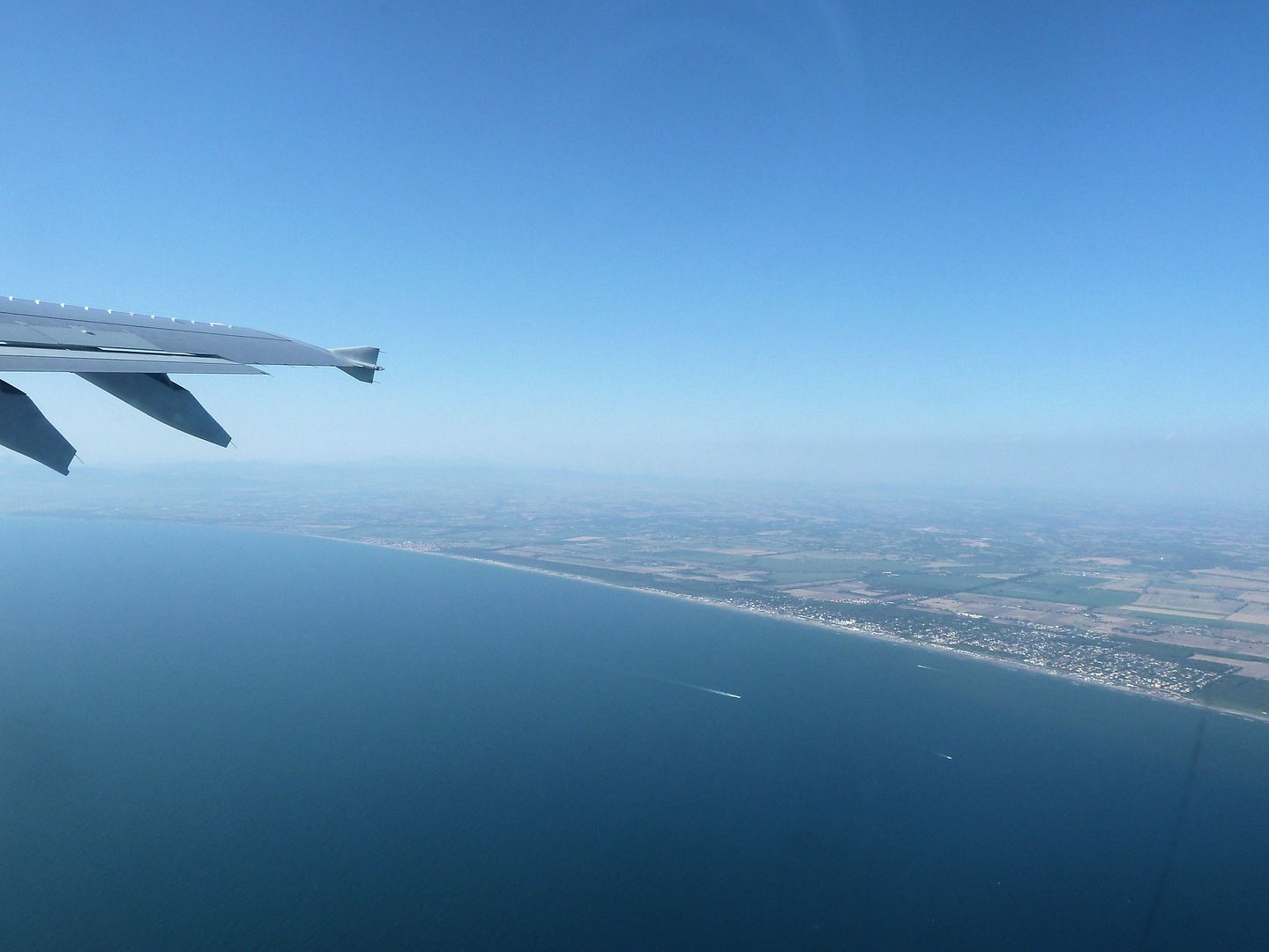 Ten minutes after takoff we were passing the peninsula of
Monte Argentario
:
I soon found out that the IFE system was mostly inoperative, only the airshow channel was available. Headphones weren't available either. However, I wouldn't have watched anything else anyway.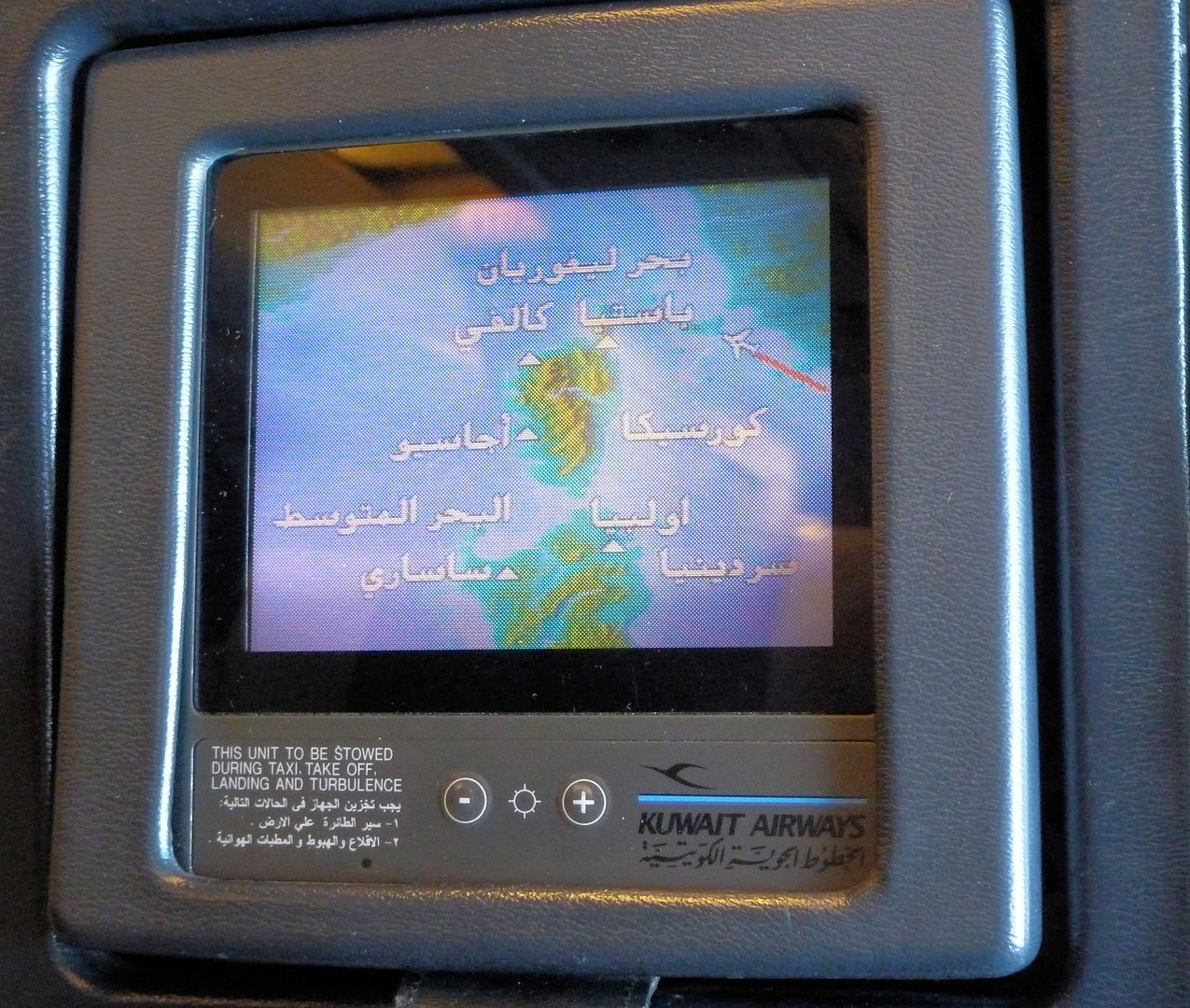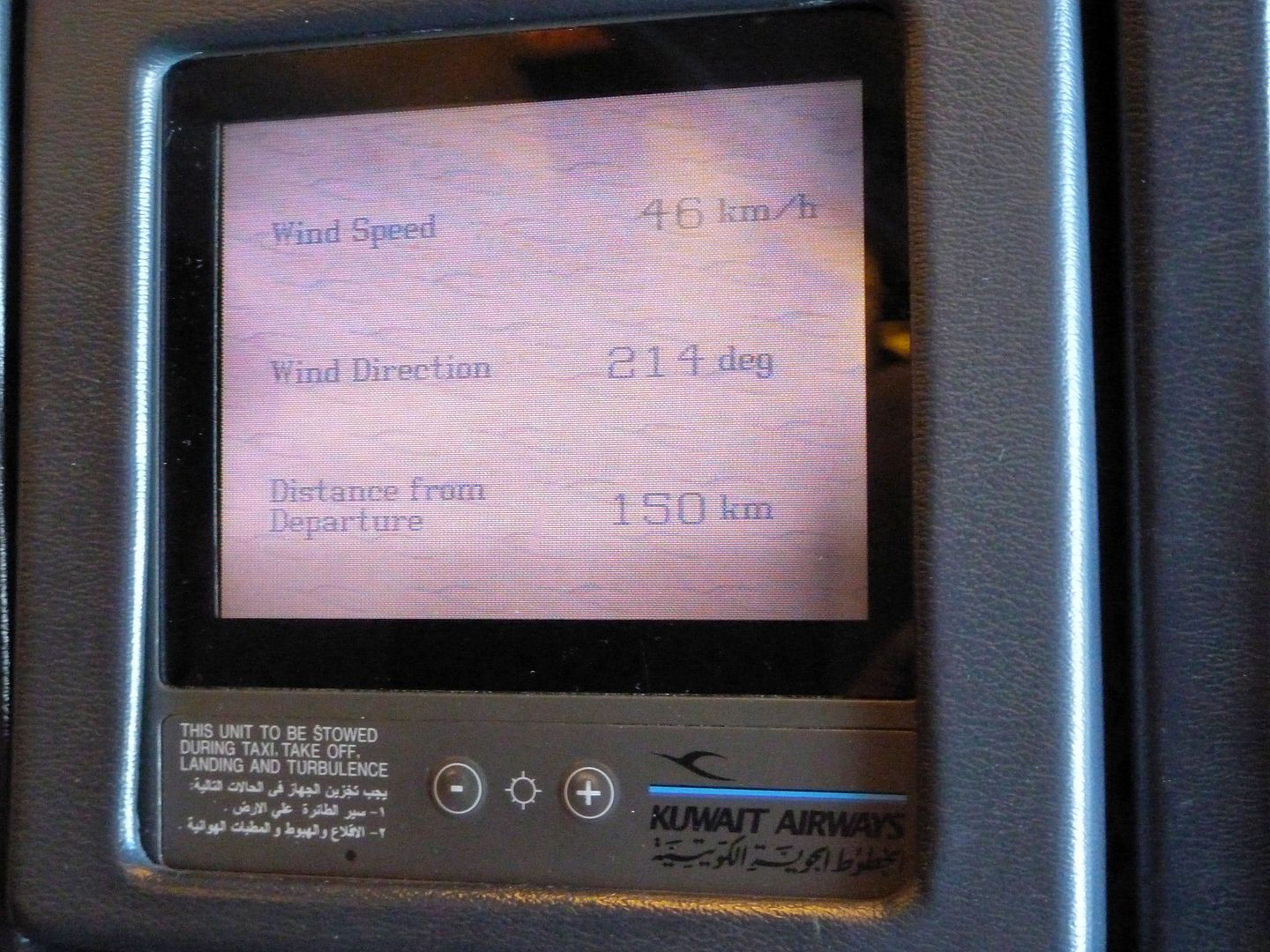 Direction of Mecca: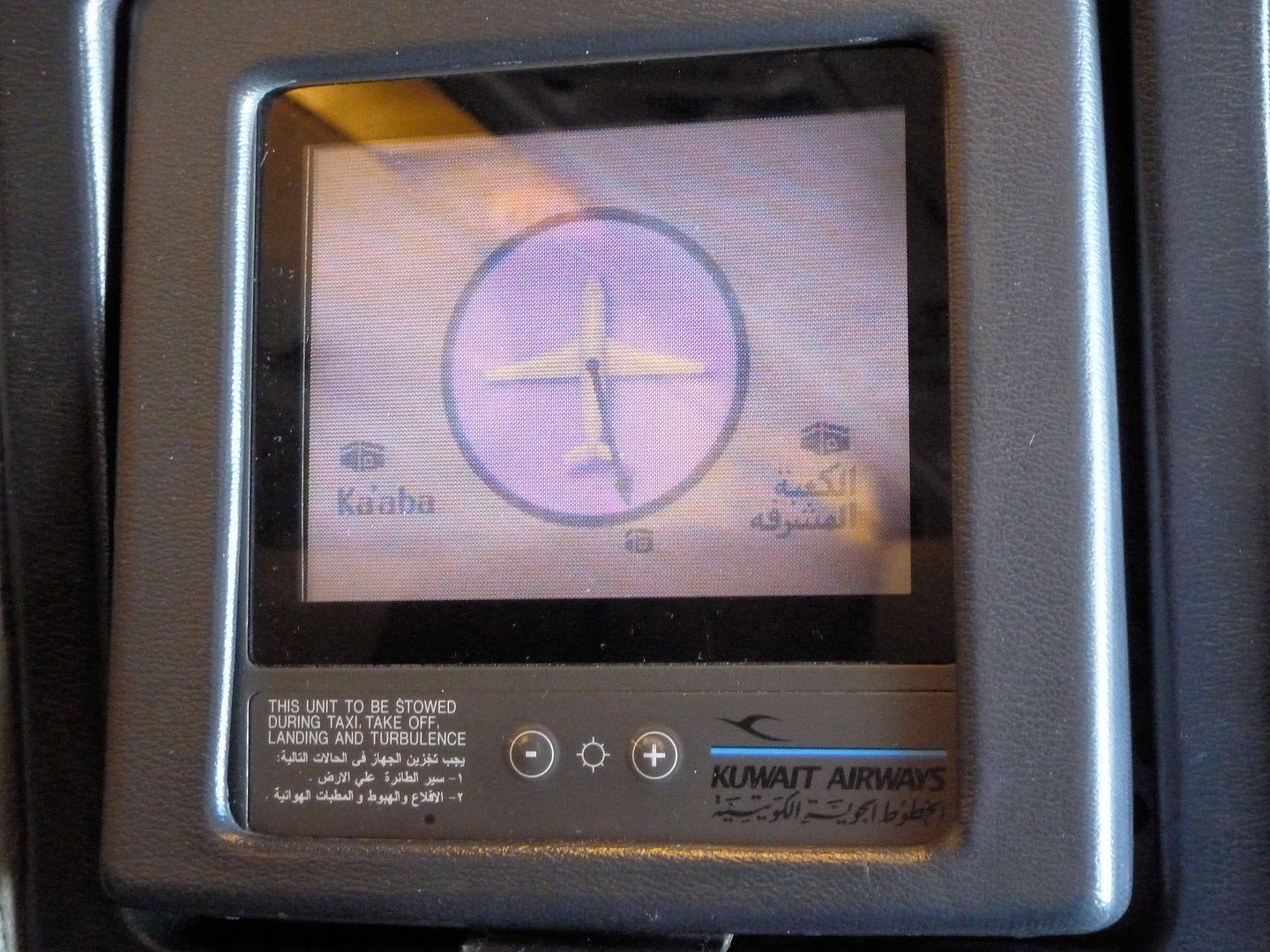 Before the flight attendants started the meal service I had found a menu card in the seat pocket: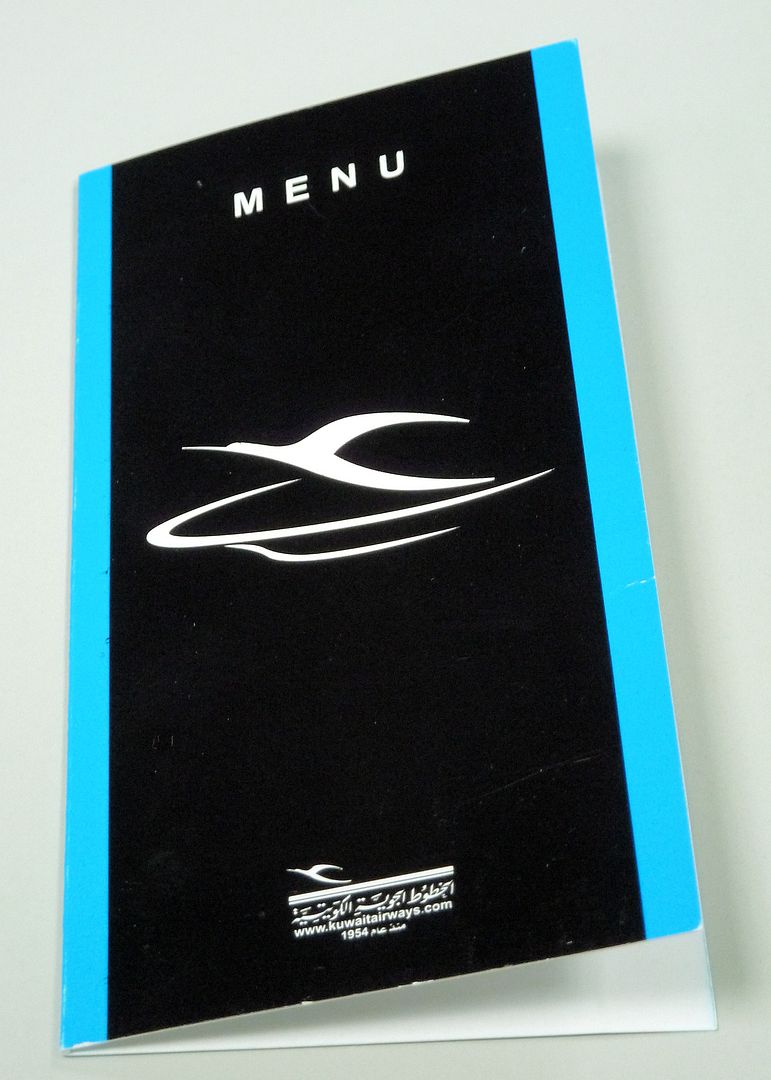 Prior to the trip I had already read on KU's website that a hot meal would be served on this flight. But would they offer a choice of three different main courses? No way. This menu card showed the options which had been available on the KWI-FCO sector: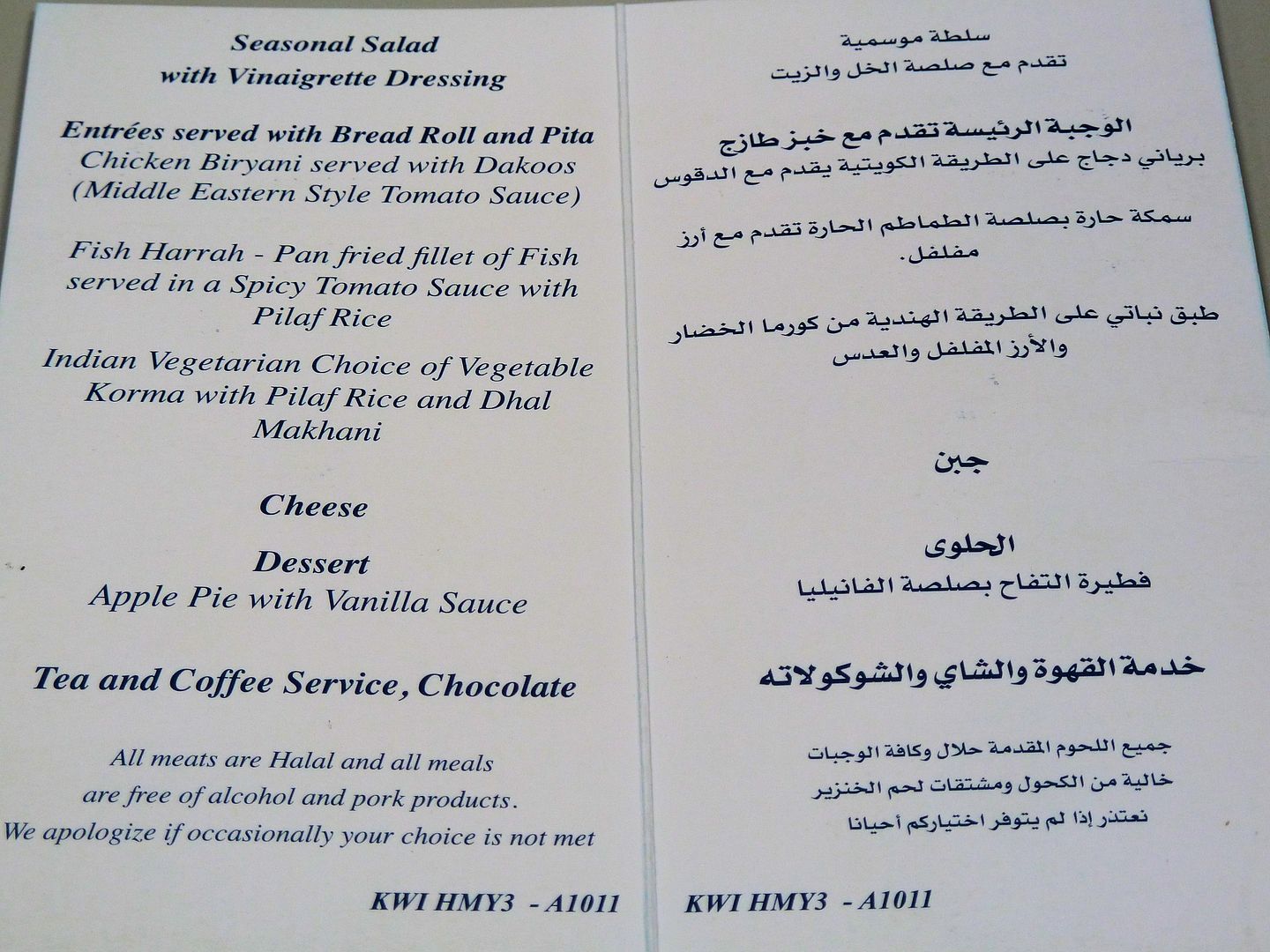 Actually I didn't have a choice at all. But the tray looks quite promising, doesn't it?
I wasn't sure what to think about the main course at first...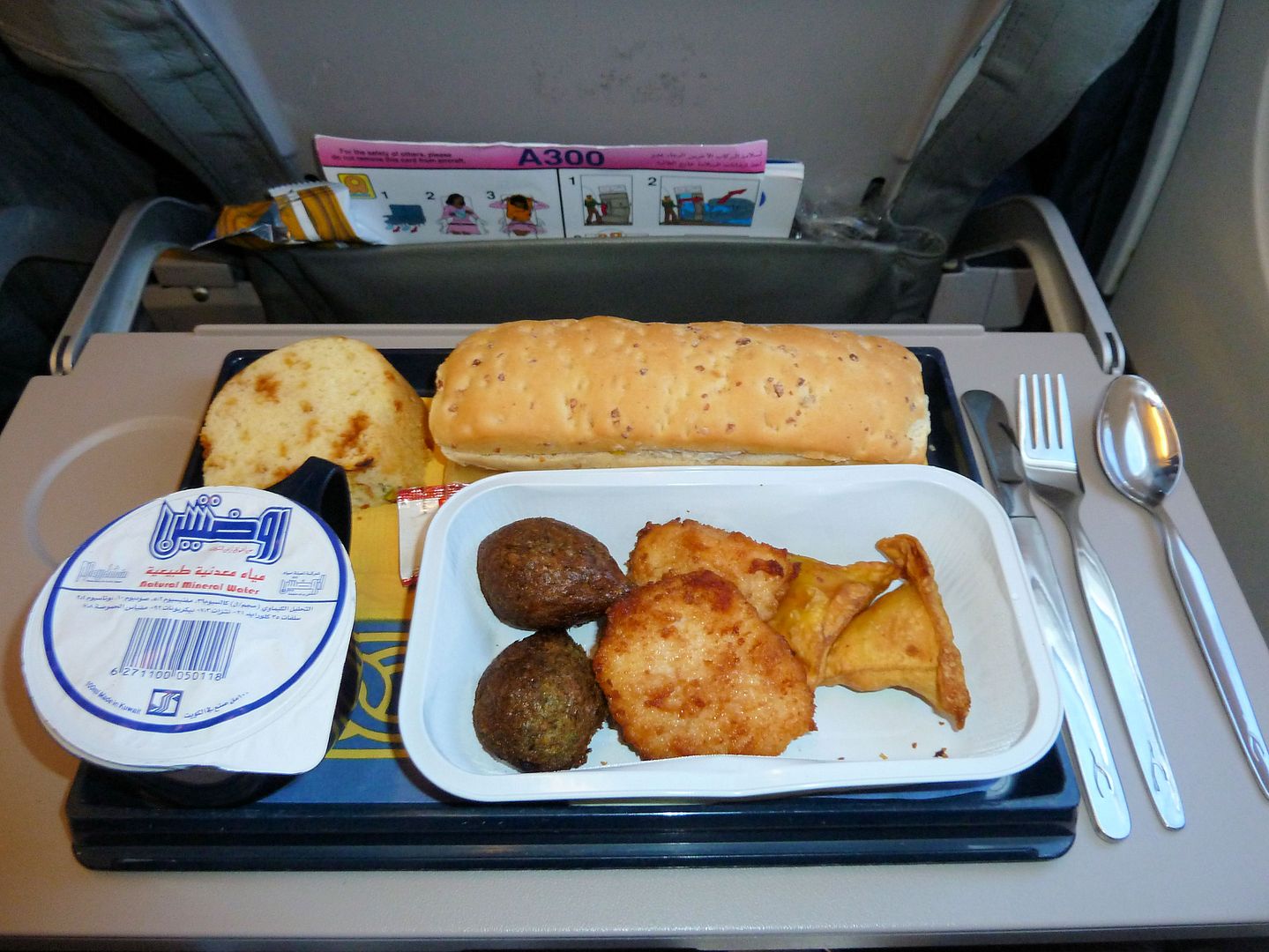 ...however, all the hot items - meat balls, fried fish filet and so-called samosas (filled pastry) - were quite tasty. I only missed a sauce or a dip. The sandwich, stuffed with a tuna, corn and onion cream, as well as the piece of cake tasted good, too. I cannot complain about the food, but I didn't like the tea with its taste of chlorine.
After dinner it was time for a cabin shot. I didn't see an empty seat in Economy Class: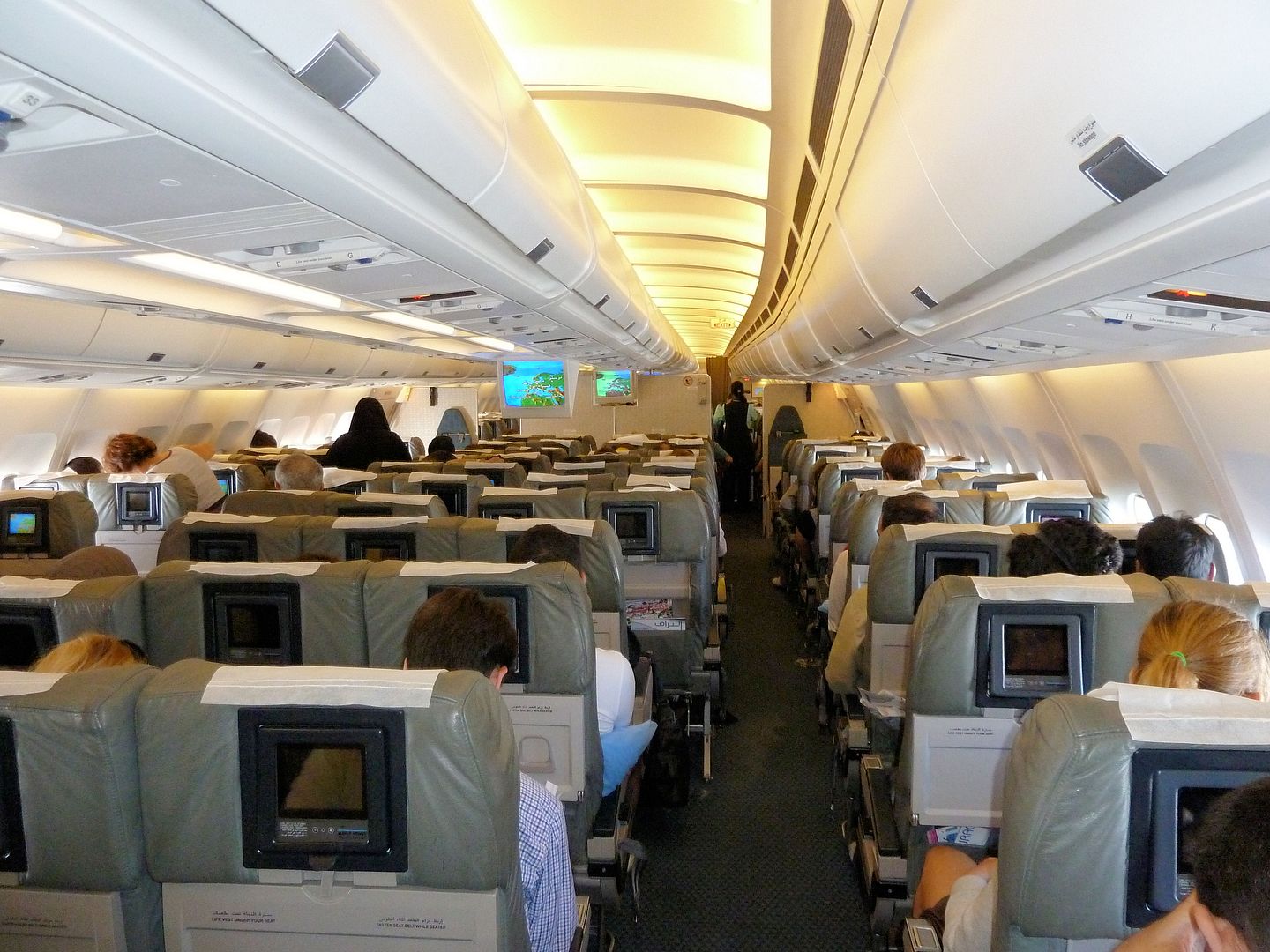 Before returning to my seat I also checked one of the lavatories. The interior was a bit worn, just like the cabin, but it had been kept clean. Unfortunately, I almost burned my hands under the water tap...so be careful when you fly on that bird.
Beautiful Alpine scenery: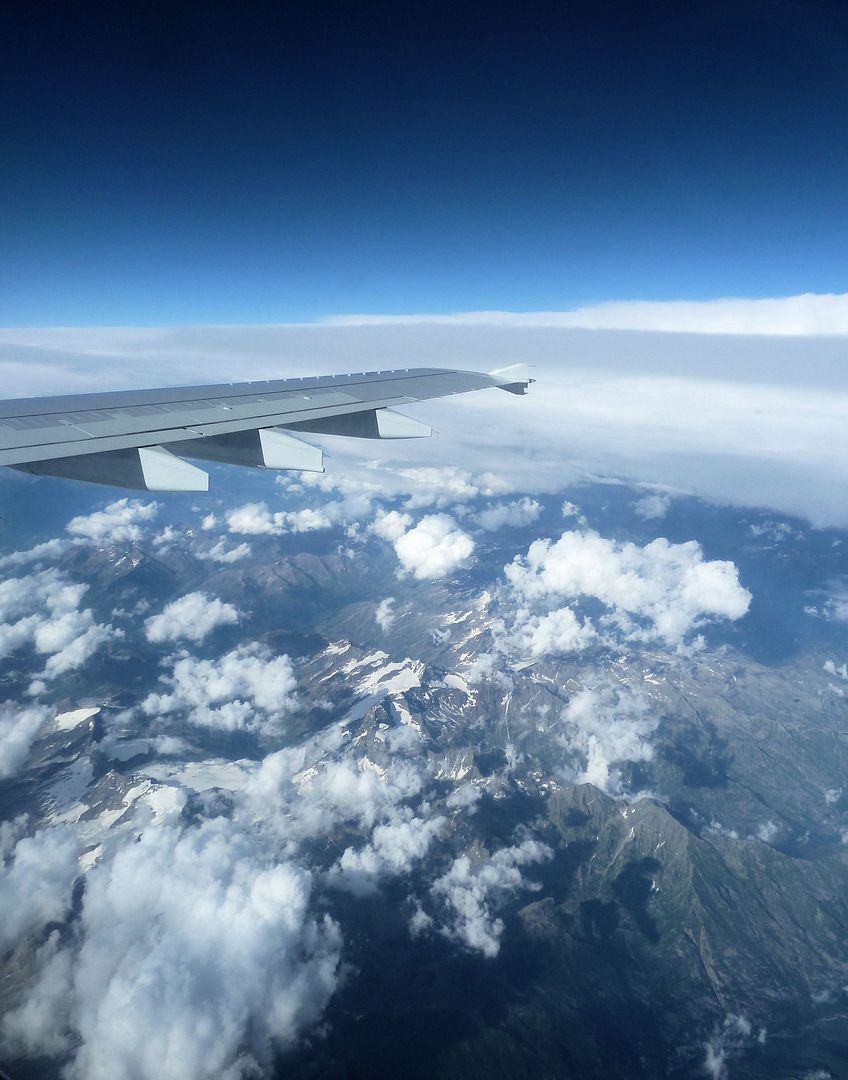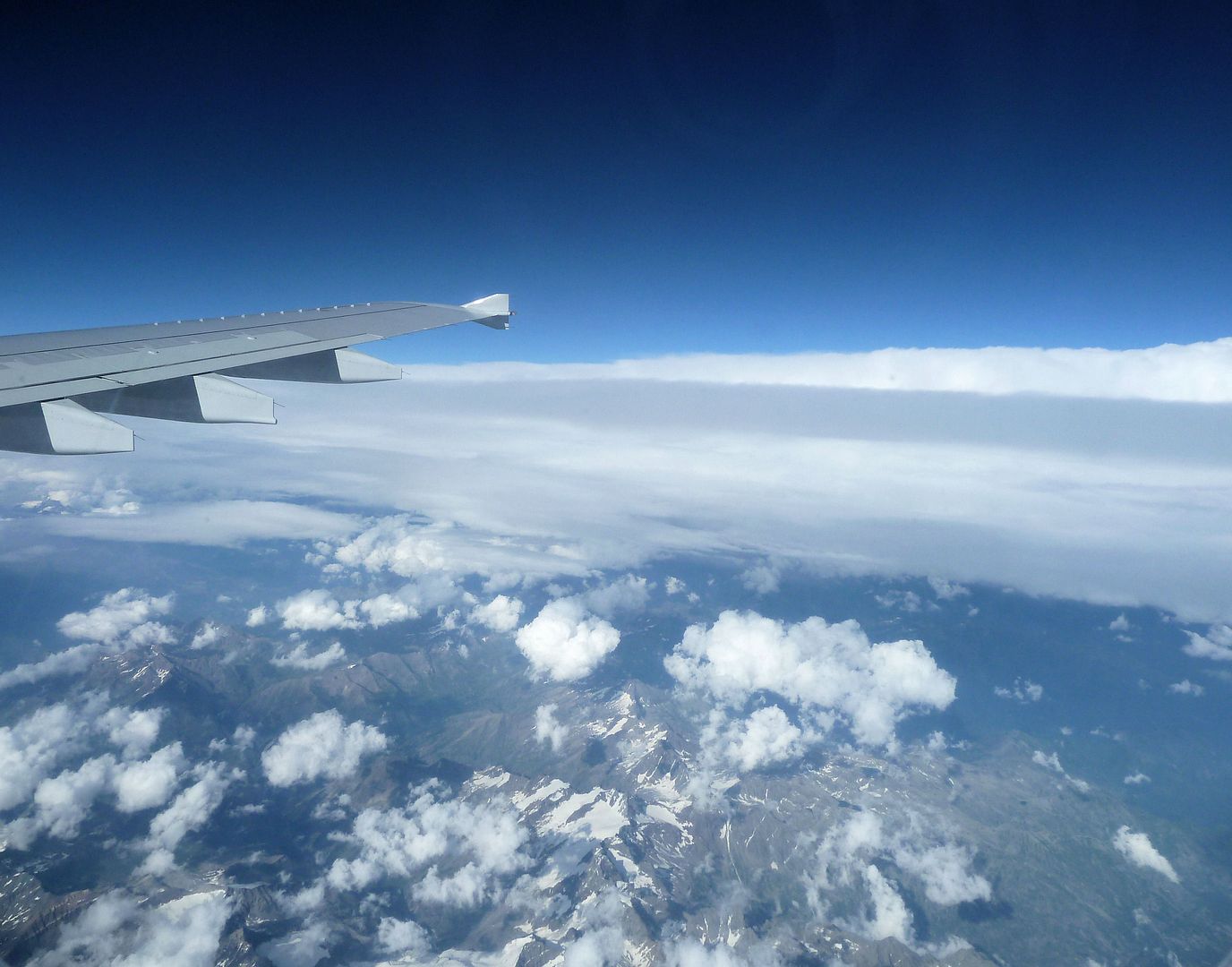 The rest of the flight passed by without anything significant happening. The plane started descending less than 1.5 hours after takeoff:
TGV: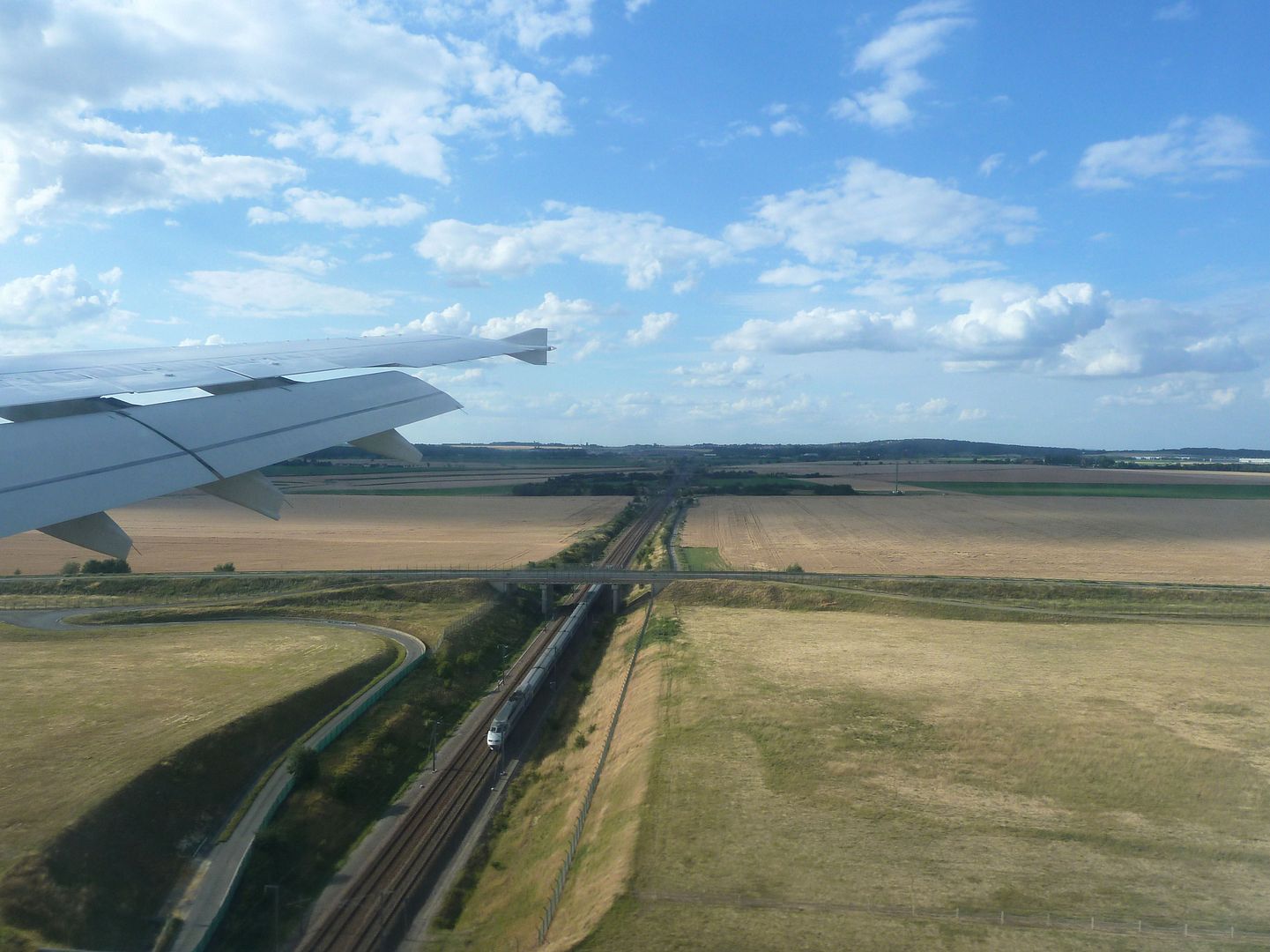 9K-AMA
touched down after a flying time of 1 hour and 36 minutes...
...and arrived at the Terminal 1 gate 10 minutes behind schedule. Parked next to us was TAM A330-200 PT-MVN in special colors: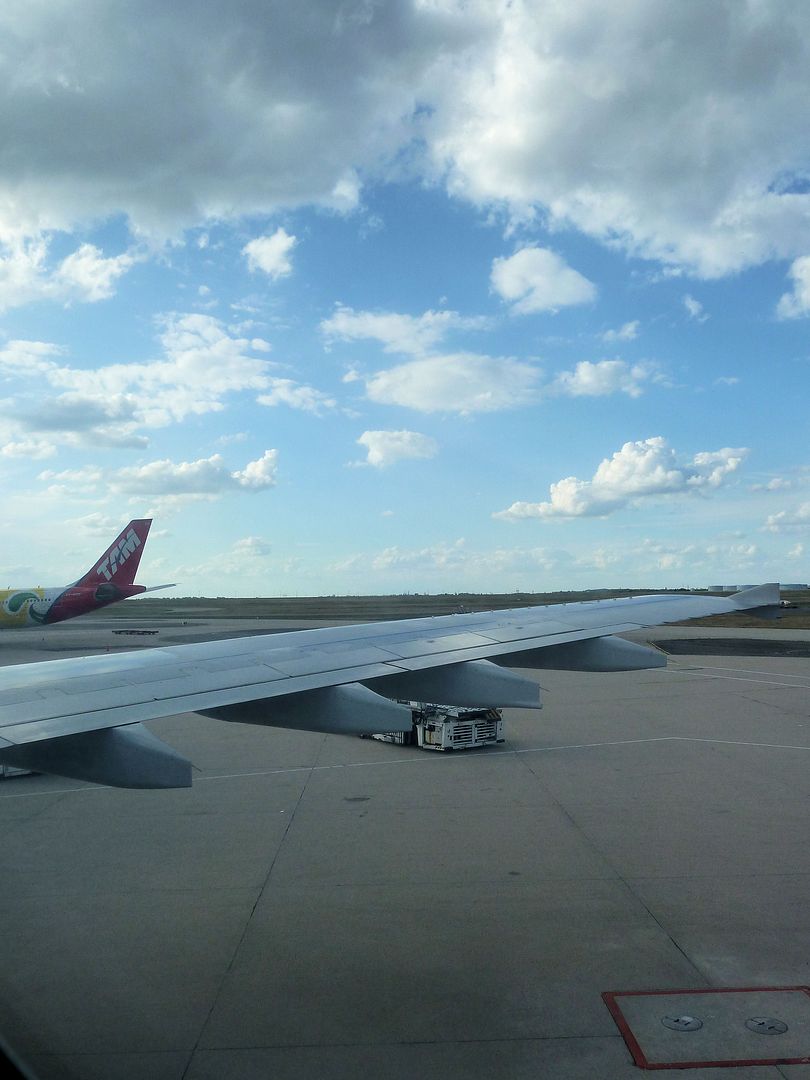 I remained seated until most other people had left and then took some more cabin pictures: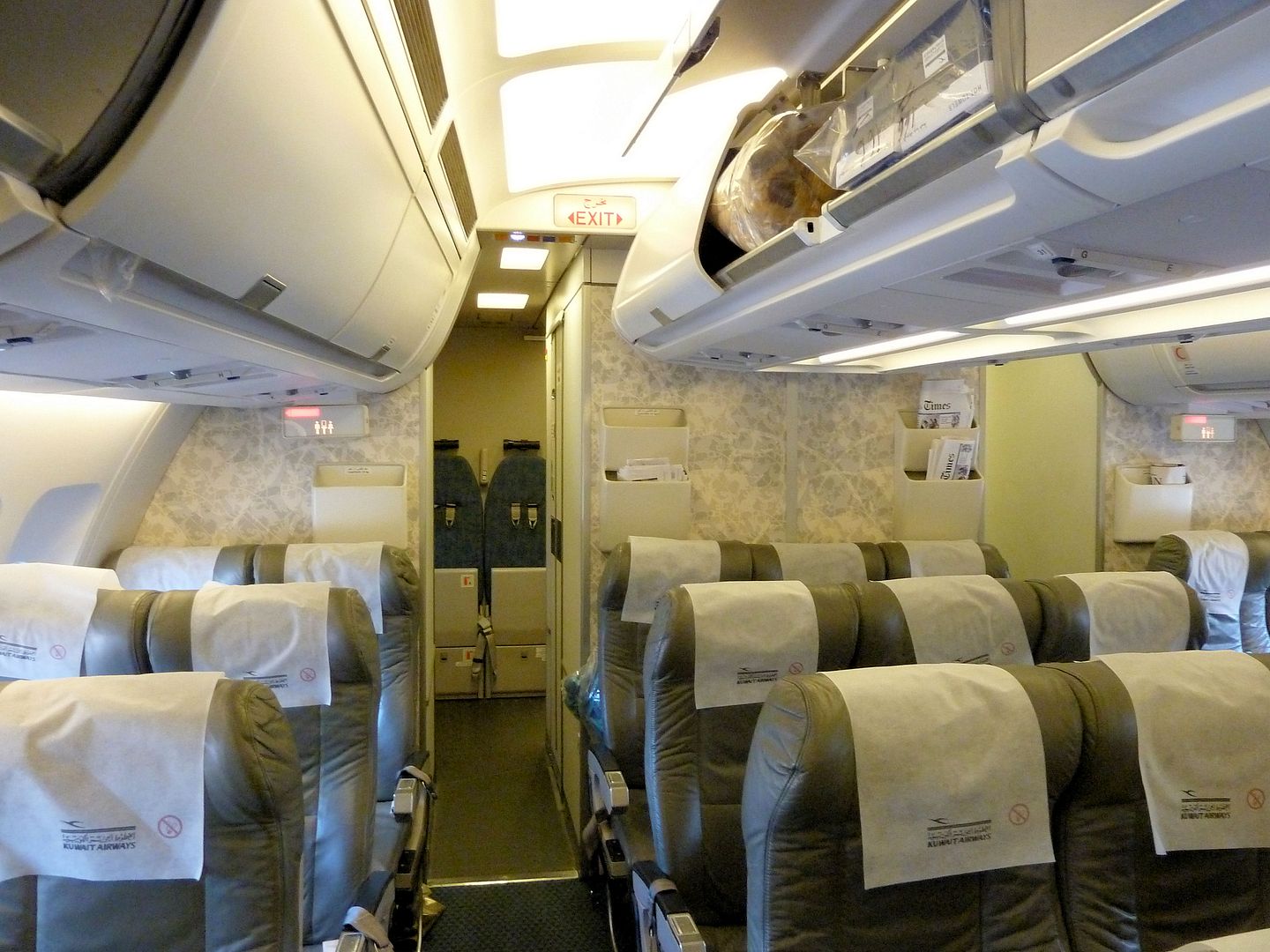 After leaving the jetway I tried to get a decent exterior picture of the plane which hadn't been possible at Rome. Again the window reflection presented a real problem. However, as soon as I had taken a picture, a female airport employee approached me and advised me that it's not allowed to take pictures...
Of course I had been aware of that ridiculous rule at CDG Airport, but I had hoped that nobody would see me taking pictures. Anyway, here's the result - not perfect, but still acceptable:
After arriving in the main building, I went outside, logged a few more registrations, had dinner and finally took the CDGVAL train to the Terminal 3/Roissypole station. From there it was just a short walk to the hotel.
Ibis CDG Terminal
I had chosen the hotel due to location and price and my expectations hadn't been very high after reading certain reviews. However, I was soon positively surprised. A very friendly receptionist welcomed me and gladly accepted my request for a room with apron/runway view. The room itself was small, but contemporary furnished and clean...
...and I could enjoy great views: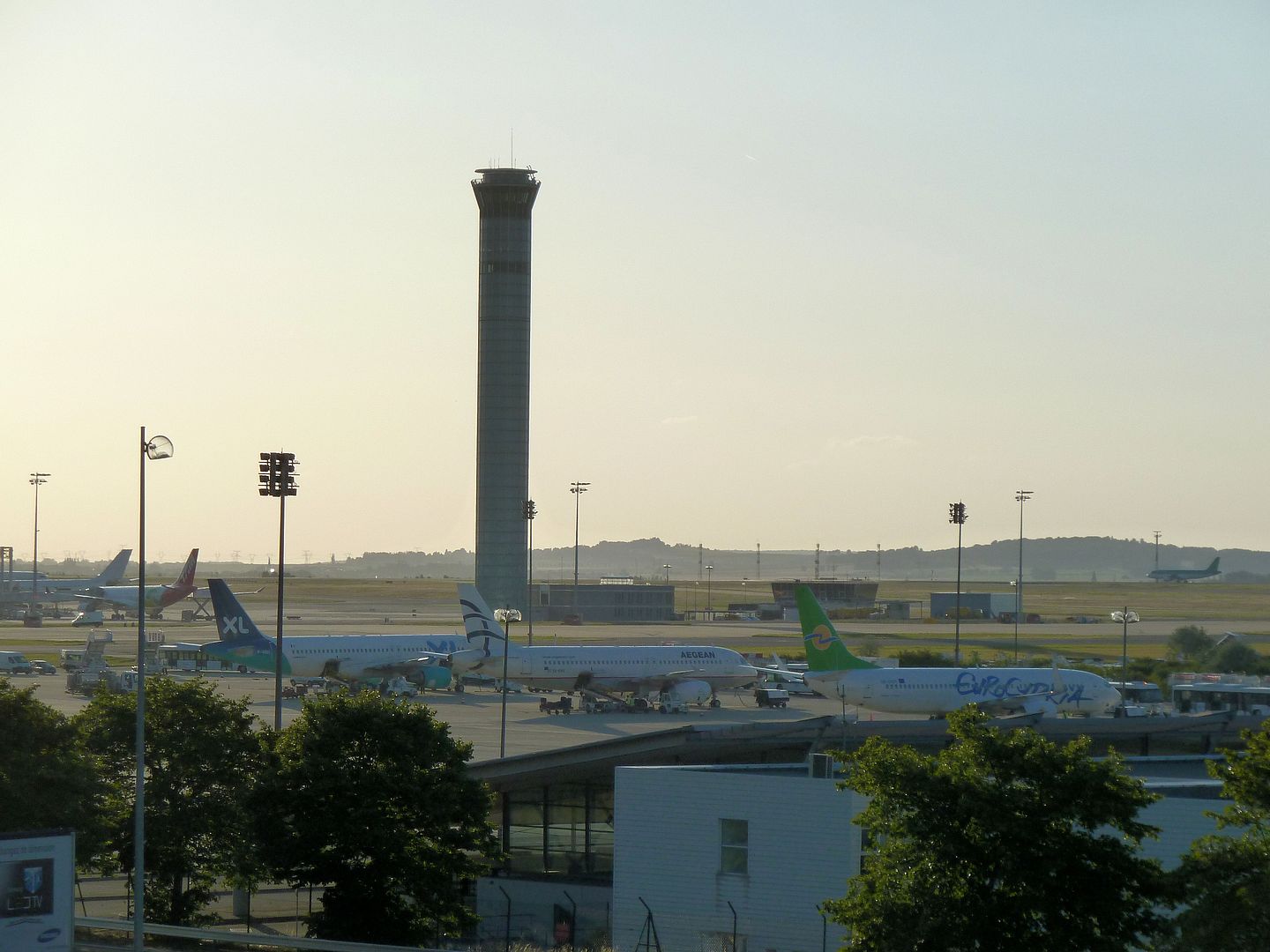 Of course I kept logging registrations until it became dark. And guess what I did in the morning before having breakfast...
Story to be continued.
Conclusion
Flying on
Kuwait Airways'
A300-600 within Europe was a real pleasure. It's just a matter of time until that carrier will replace these classic birds - and who knows how long it will keep flying between European cities. Of course, seating and IFE on these A300s are not on par with other Gulf carriers' offerings, but that doesn't matter on such a short hop. The cabin hadn't been cleaned well at Rome, but one needs to consider that the Paris-bound passengers weren't allowed to leave the aircraft. I cannot complain about the meal service - getting such a big and tasty meal on a 1.5 hours flight is certainly impressive. Some flight attendants were friendly and knew how to smile, others were quite the opposite. But you meet grumpy crew members on many carriers. Would I choose Kuwait Airways for a long-haul trip? Yes - after the introduction of new aircraft or refurbished cabins.
There's not much to say about the
Air One CityLiner
flight. Clean cabin, comfortable seating, decent service - what else can you ask for on such a short hop?
Best Regards,
PlaneHunter
P.S.: Just in case you missed them - my previous trip reports:
Ship Vs. Plane: Porto Santo Line & Sata Air Açores
Awesome Approach, Splendid Scenery: LIS, FNC & TAP
Guernsey, Ash Cloud Alarm & Mostly Empty SQ 77Ws
Totally Thrilling: Scenic Flight On Lufthansa A380
Cirrus D38, Adria CRJ & Captain Niki Lauda On Duty
Monarch Hot Meal, E195 & More: PMI-ALC-MAN-MUC
Premium Meal & Palma Spotting: MUC-PMI, DE 757-300
The Dead Slow Transfer: PEK-MUC On Air China A332
Cancellation Brings Joy: HKG-PEK on Dragonair A330
A380 Cacophony, 777 Star Livery: DXB-SIN-HKG on SQ
The Next 5* Carrier? MUC-MCT-DXB, Oman Air A330
Turkey For 1.5 Hrs: Daytrip To AYT On Sky Airlines
CO Scores Again: ATL-IAH-EWR-FRA On ERJ, 752 & 764
Riding The Ultra Long-Haul Twin: Delta 777-200LR
Pacific Coast Jaunt: 3 Carriers, E120, E140 & Fog
The Ultimate 737: LHR-IAH-PDX On CO 777 & 739ER
Bye Bye, Hell! TRD-OSL-TXL-NUE - DY/AB/HE DH4
My Trip To Hell: NUE-CPH-OSL-TRD On Cimber & SAS
SFO-YUL-FRA: Map- & Sleepless On Air Canada's 77W
Sin City Gloss & Virgin America's Chic First Class
Seat Dilemma & Canyon Glamour: FRA To LAX, AC 763
On Par With Air France? DTW-AMS-MUC, KLM A330
Goodbye, Red Tails! DC-9-40/50 & Chicago Tour
Champagne & World Of Coke: Air France A340 To ATL
"Mission A380": Disappointing Legs On BA/BD/EI
Delights Of Doha, 773 & 77W: DOH-DXB-LHR On EK
A380 Really a Step Forward? LHR-DXB-DOH On EK
Quality & Style: HKG-LHR On Air New Zealand 744
Taiwan Trio: TransAsia, UNI Air And The Taipei 101
"The Wings Of Taiwan": EVA Air A332, 744 Combi
SHA-SZX, Shanghai 757: Delayed By The Military
PEK-SHA, China Eastern A330 & Shanghai At Night
Striking Newcomer: Berlin-Beijing On Hainan A330
Short & Splendid: MXP-MUC On Air Dolomiti's 146
3 Hours On Blue1: HEL-MXP On The MD-90
BCN-MAD-ZRH-MUC: UX Shuttle Meets Swiss Quality
MUC-MAD-BCN: Star MD-87 & The Pain Of Vueling
Low Fares, Lovely Island: AK & Best Of Langkawi
4 Stars Or 5 Stars? FRA-KUL-FRA, Malaysia 777s
First And Last Time? JFK-FCO-MUC, Alitalia 777
JFK For 1 Day: Transatlantic Hop On CSA's A310
Sardinian Sun, Shiny New 73Gs & Cramped Mad Dog
Top And Flop: KIX-HEL-MUC, Finnair A320 & MD-11
The 524-Seat Twin-jet: HND-ITM On ANA 777-300
Kobe For 1 Hour: 767-Quickie On ANA & Skymark
Rocketing To Tokyo: FUK-HND On JAL (ex-JAS) 777
Oddities & Okinawa: JTA 734 & JAL 744D(Domestic)
MUC To Nagoya: Finnair E170 & (Old) "New" A340
Mad Dog, A320 Tech Delay & Best Of Lanzarote
Canaries Prop-Hopping: Islas Airways & Naysa
Canaries And Confusion: LH CRJ900 & Spanair A321
Hubbing For 162 Miles: HOQ-FRA-STR Ret On IQ/EW/LH
BOS-JFK-AMS-MUC: SSSS-Check And KLM 777
ATL-PIT-JFK-BOS: FL B717, JetBlue E190 And Delays
MUC-AMS-MEM-ATL On NWA A332 And 40-year-old DC-9
FRA-BKK-FRA Via CMB: SriLankan A332 & A343
BNE-SIN-DXB-MUC On Emirates B772ER & B773
2 Hours In Paradise: Hamilton Island (JQ/DJ)
BNE-SYD-BNE: Domestic Run On QF's Oldest B747-400
Testing Qantas: SYD-MEL-SYD-BNE (B738, B763, A332)
Going Down Under: MUC-DXB-SYD On EK A332 & A345
9/11 Review: Failed Trip To LAX - Fuel Dump Pics
Surprised By NIKI's Newest A320 & Screw-up By AB
Leisure Vs. Full Service: Condor & SN Brussels
"betterFly" On LH: Business Class For 99 Euro
Weekend Transatlantic Trip (2): US A321 & B762
Transatlantic For A Weekend (1): MUC-DCA On US
[Edited 2010-12-02 11:11:04]