I have been reading articles from this website for a few years now, and after reading countless trip reports from the forums, I have decided to contribute something myself.
Background:
For the last month or so I have searched for the best way to get from LHR to CMB this Christmas. After sorting through the usual options such as EK and QR, I came across an airline that I had never flown (or considered flying) before: Gulf Air.
The tickets were only marginally cheaper than the others, however I was expecting an excellent level of service from an airline that was looking at elevating itself up from it's current, unprofitable state. My main worry was Gulf Air's history of inconsistency, with many passengers reporting widely varying levels of service from flight to flight.
In fact, their new falcon gold class only seemed to support the claims of inconsistency. Full-fare paying passengers are provided with the old first class sleeper seats, where others are given the old business class lie-flat seats. The only change seemed to be the improved levels of service and the availability of a sky chef to all falcon gold passengers, rather than just first class.
I decided that it would be interesting to try out this airline, and hopefully add to the little impartial information available about falcon gold. I booked the tickets roughly a month in advance.
My final itinerary:
GF002 LHR-BAH
GF066 BAH-CMB
GF063 CMB-BAH
GF007 BAH-LHR
Welcome to my first trip report.
Online Check-in:
Gulf Air's website is easy to use, and I was able to book my tickets quickly and easily. However, their 'manage my booking' system (from sabre) was at best, mediocre. Compared with the competition, this separate website was harder to use and my main concern was that you could not change your seat selection once made.
Online check-in opens 24 hours before the flight, and I decided to check-in at 10:00 the previous morning. However, after FIVE failed attempts, I called their office and explained that after the final seat selection, the system (also by sabre) would simply stop responding. They told me that my seats were booked, however not the sleeper seats, but did not offer any explanation as to why I could not check-in online.
Airport:
My taxi arrived at 05:30 to take my not-checked-in self to Heathrow's Terminal 4, now used by Gulf Air, and also Qatar Airways. I arrived at the shiny new terminal twenty minutes before check-in opened due to a lack of traffic. Even so, the wait was only ten minutes before I was processed.
I requested the sleeper seats, but was told that today the flight was busy, and I would have to request again at the gate. The new check-in area is much better compared to what it used to be, and the whole row of counters appears to have been pushed back, making more room for passengers.
I made my way through Fast-Track and to the new Sky Team lounge, located opposite gate ten. The lounge is set across two levels, both of which offer the same facilities, although I would recommend the upper level due to fewer passengers. This lounge is also much better than what it used to be.
Upper level: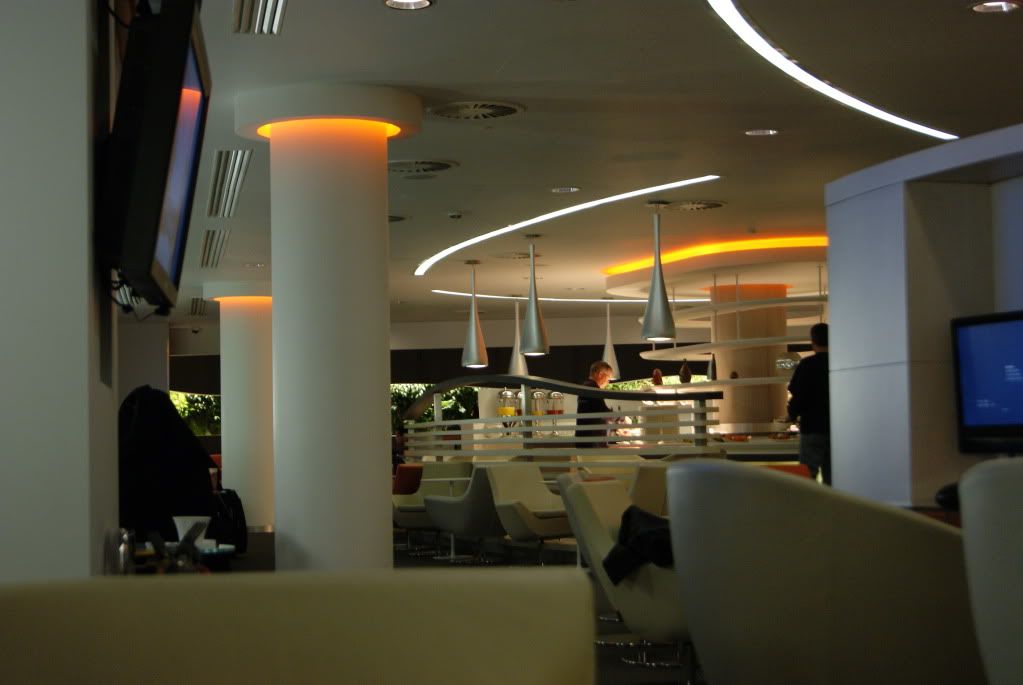 Video game area:
Food selection was very good, and as was drink selection. In fact, I prefer this lounge to the CX and EK lounges in T3. Airfield views aren't bad, but the windows are dirty and it is difficult to get a good picture. Boarding was announced thirty minutes prior to departure.
View:
GF002 was to depart from gate seven, which is in a corner, and so tends to be crowded during boarding. I requested the sleeper seats again from the check-in agent and was told that all eight were full. Maybe next time.
December 2010
Gulf Air GF002
LHR – BAH
Departure: 09:30 (09:51)
Arrival: 19:05 (19:00)
Equipment: A330-200
Cabin: Business (100% full)
Boarding was done though door 2L, meaning that it took ages to board a full A330. At least the loads appear to have improved for GF in comparison to previous reports.
First impressions were negative, with aging seats (even though lie flat), and one rushed, tired male crew member pointing passengers to their seats. The only drinks offered prior to take off were orange juice and water, both of which at room temperature. A hot towel run was completed, and a wide range of newspapers were offered. The Sky Chef dispensed menus and wine lists, and the previous, tired crew member had thankfully run off to Y, leaving a friendly and warm Asian female flight attendant (can't remember her name) for my section of the J cabin. Things appeared to be looking up.
It is important to note here that although the seats were aging and showed signs of wear and tear, leg room was very good, and as was recline. They are very similar to the old QR J seats on the A300-600 if anyone remembers those.
A rather small PTV: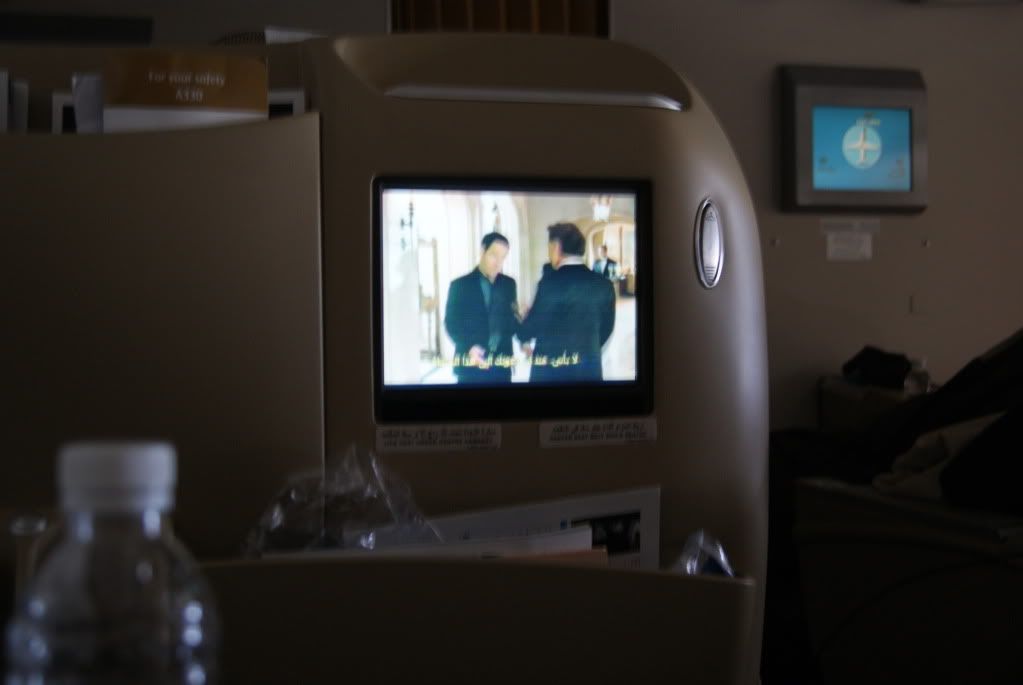 Legroom: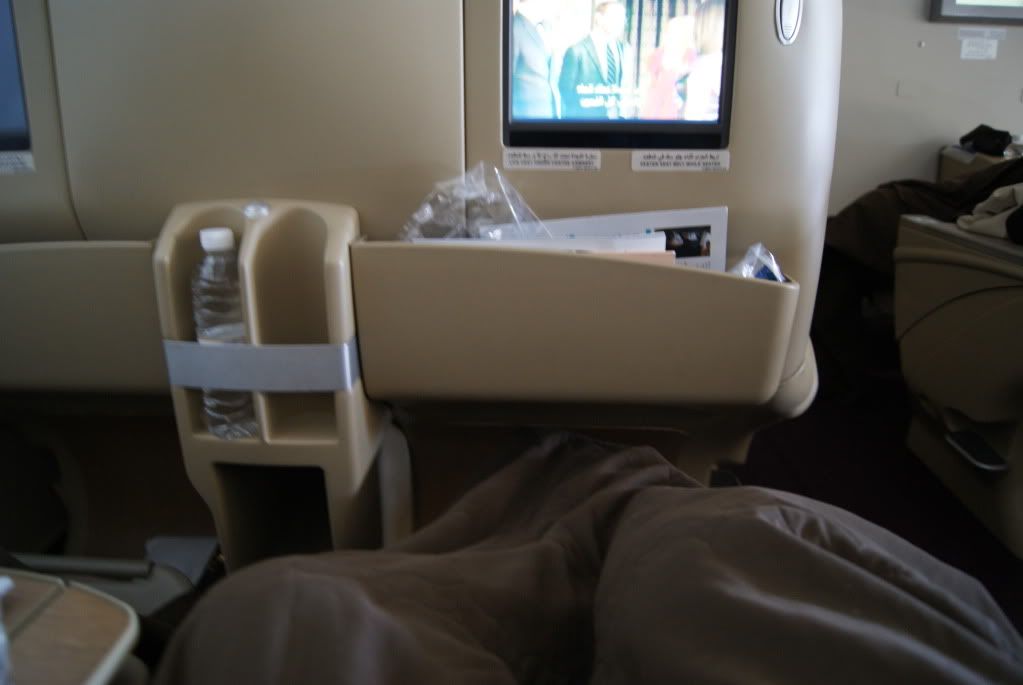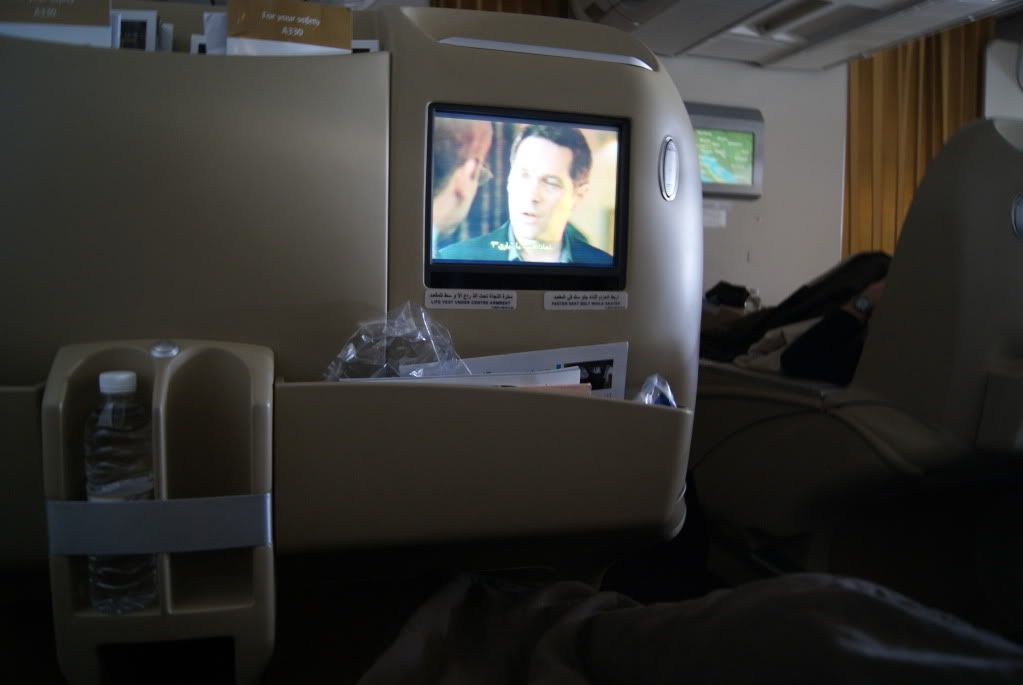 Film selection:
Push back was late but the taxi to runway 27L was short, and we were in the air very soon. As soon as the seatbelt signs were extinguished, two flight attendants came around with trolleys and served a light breakfast of scones, sandwiches (cheese, beef, chicken or salmon and dill), cakes and very good coffee. There was also a wide wine selection, and Laurent Perrier champagne on offer.
GF's in-flight team looking after falcon gold seem refined, and focused on the passenger's needs. However, even a simple request for file paper for me to do some work could not be met because there was none on board. I would like to remind you at this point that every EK magazine rack contains a stationary set. Although it may seem petty to pick on such a small thing, but IMHO every airline must realise what passengers will need during their flight, and ensure that it is onboard, especially if you are going to charge almost as much as the market leaders.
IFE was also a let down. The PTVs are small and do not offer AVOD , or a wide selection of films or TV programs at all. It is like stepping back fifteen years or so. Gulf life (the in-flight magazine is good, and duty free offers an adequate selection.
With nothing to do, I found myself listening to my iPod for most of the flight. I was offered coffee and water every two hours, as well as snacks. All three falcon gold lavatories are different, with the best being on the left side of the aircraft, between the sleeper seats and business seats.
Weather was good, with mild turbulence over the Netherlands and Germany.
The light outside started to fade, and two hours before arrival, the cabin lights were switched on in Saudi air space. The Sky Chef came around to offer us lunch, and I chose to have the Arabic Mezze, Beef Wellington and Chocolate desert.
Menu: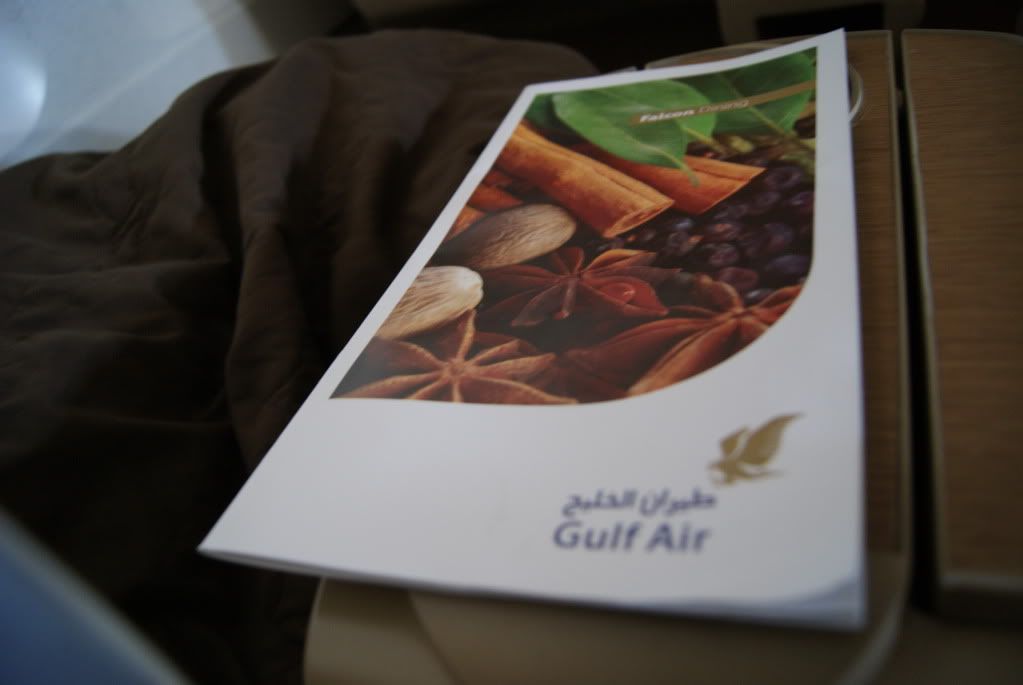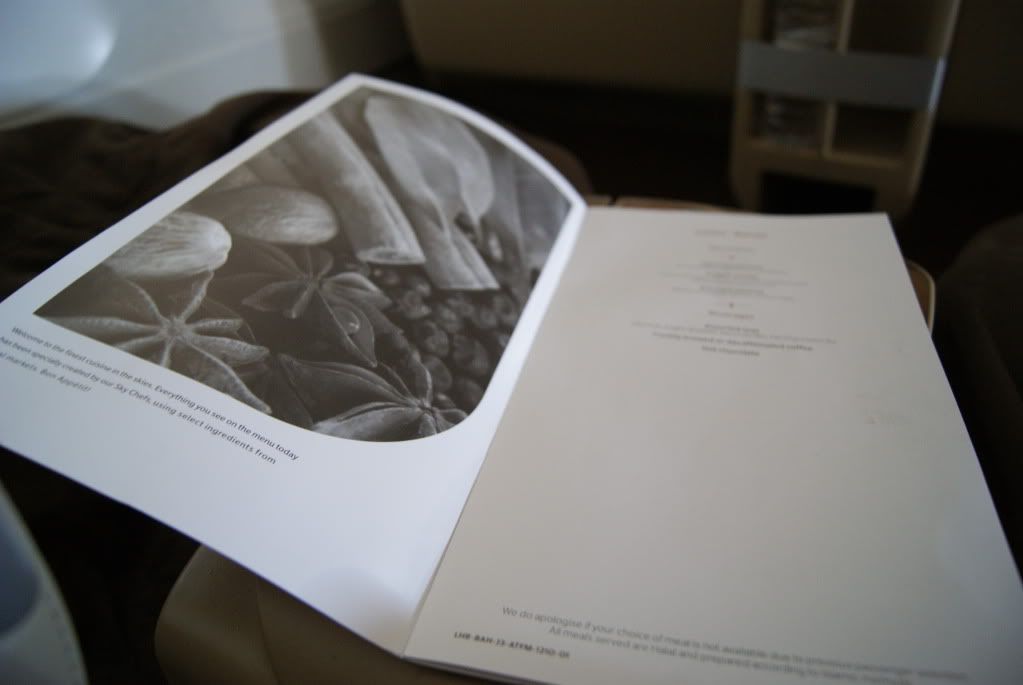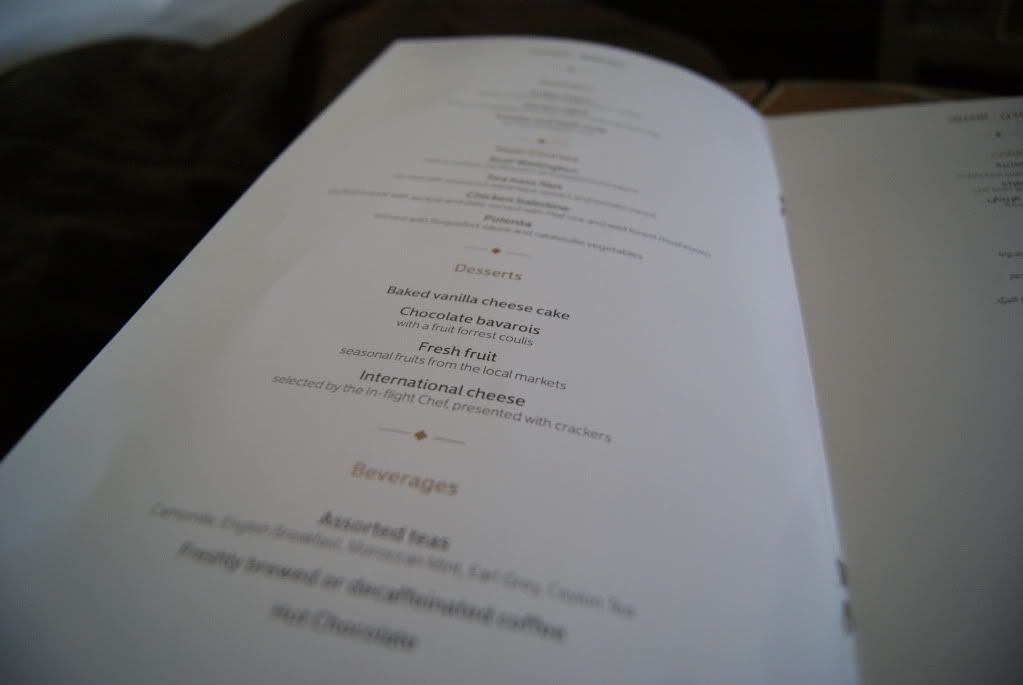 Dining really is an experience onboard Gulf Air. Food is presented beautifully and tastes great – amongst the best I have ever had, on par with QR and SQ. The tray tables are small and far away from you, meaning it is slightly harder to enjoy the meal. The beef wasn't dry at all, and everything was cooked perfectly. It looks as if it's worth having a Sky Chef onboard.
The food was so good that I forgot to take pictures, except this one, of my finished plate: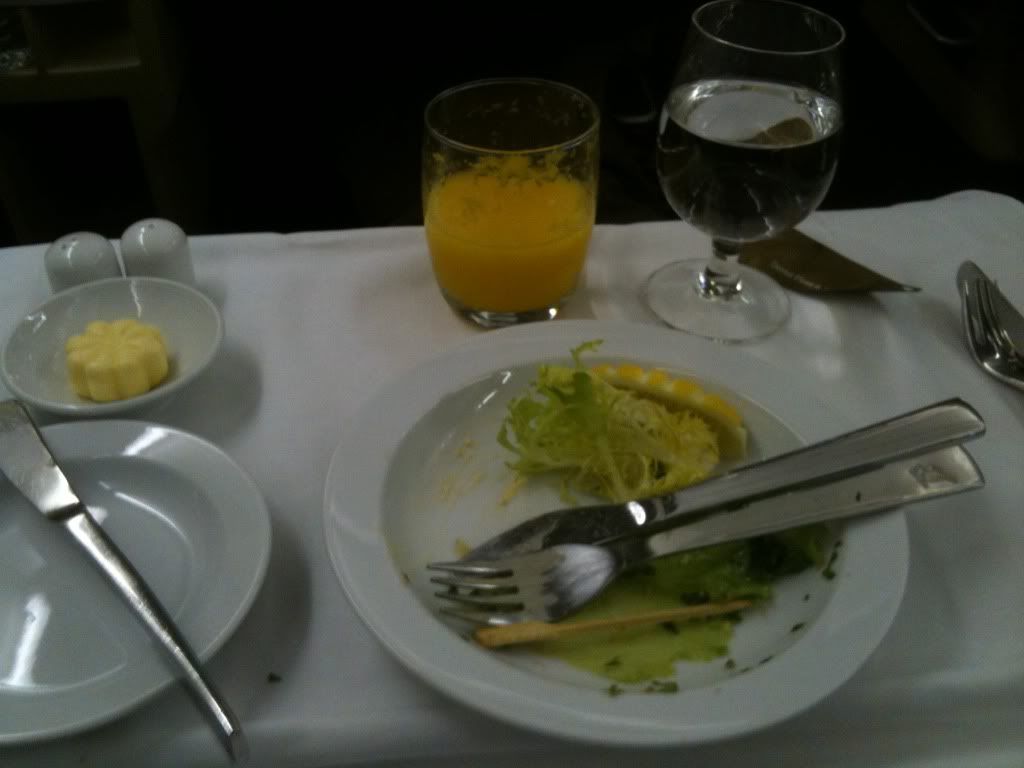 Shorty after the meal service we commenced decent into BAH. By now it was pitch black outside and the lights of the Saudi coastline were all that could be seen below the light cloud covering. We touched down fast and smooth, and had a short taxi to our gate.
Transit
BAH = Chaos
Transit can hardly be described as a pleasant experience in BAH. The airport is busy, and security does not have a fast track lane ensuring that queues take a long time. With long haul flights coming in frequently, the transit area is in need of renovation, similarly to the rest of the airport.
Because BAH is so old, ceilings are low, design is unfriendly and impractical for a modern transit hub. I decided to forgo the lounge and head to the gate after some shopping.
Gate 32 was to be used for GF066 to CMB tonight. Gates 31 through 34 are on the ground flood for passengers to be bussed to remote stands. They all lead from the same small hall, which is madly inadequate for the flights departing. (UL to CMB, GF to somewhere, GF to CMB and QR to DOH).
It was only after seeing the chaos that is this departure hall that I truly regretted not paying a visit to the falcon gold lounge, located on the upper level. I sat in a corner next to some other poor soul who it turns out had left the lounge early and was also heading to CMB. I could not return upstairs because I had come so far from the lounge now it would be impractical, and there was no priority boarding.
Once most of the Y passengers had been processed and bussed to the aircraft, I joined the queue and was told to be seated in the small area beyond the counter. The agent then came around and placed 'checked baggage' tags on our hand luggage. I anticipated what was coming next, but could not bear to tell my travelling companion that all the jewellery, bank details and the deed to a property that was in her hand luggage was about to be sent to the hold, without a lock.
We and our hand luggage were then ushered to the back of a truly awful bus (almost a converted van), along with a dozen Y passengers and sent in the Bahraini heat to the waiting A320-200. I would like you to note now that we were surrounded by luxurious CoBus 3000s. My travelling companion, who has quite a lot of experience with this route, told me that they always treat the CMB and Indian passengers like this, in the same way they are treated in society: as second-rate citizens.
December 2010
Gulf Air GF066
BAH - CMB
Departure: 20:20 (20:46)
Arrival: 03:50 (04:02)
Equipment: A320-200
Cabin: Business (56% full)
This flight could be my idea of heaven. A medium-haul route operated by an Airbus narrowbody with a 2-2 J arrangement. A full meal service, full amenities and a half empty cabin. Throw in some light turbulence for good measure (always there on routes between the gulf and CMB), and there is nowhere in the world where I am happier. There truly is something special about the A320 on night flights in this configuration, but I can't quite figure out what it is.
On these aircraft it is just you, no complex gadgets or gimmicks such as showers or bars. Just you in a simple but comfortable seat and the gentle rumbling of the engines. Don't get me wrong – I love gadgets and the A380, in fact I am always the first to sing praise for it. This sort of flight truly reminds you of what flying is about, and I am sure that most aviation enthusiasts will agree with me.
Unfortunately, my dream flight got off to a slow start. After disembarking from the, frankly, crap bus that took me to the aircraft, my fears became reality, as me and my travelling companion were stripped of our hand-luggage, giving me just enough time to salvage my laptop. My argument that I was in Business Class went ignored.
For the firs time ever, I headed up the stairs to an aircraft without a suitcase in my left hand. Once onboard, I protested to the purser who was standing at the doorway, and the First Officer who happened to be standing there as well. They were shocked when they heard that my bag had been taken although I was travelling in J, but apologised because they could do nothing now.
It is clear to me that the GF ground staff and general services at BAH are in need of a major overhaul, and some people needed to be re-trained or fired. I am still surprised with the rudeness that they addressed me with.
Having said that, I cannot stop singing praise for the flight attendants who provide consistent flawless service. I will go into this at a later point.
Anyway, rant over, it was time for my favourite type of flight. Pre-flight drinks were offered, as well as hot and cold towels. Menus were distributed, as well as amenity kits and headsets. Pushback was late due to slow boarding at Gate 32 (the four gates should be combined to form two IMHO).
Seats: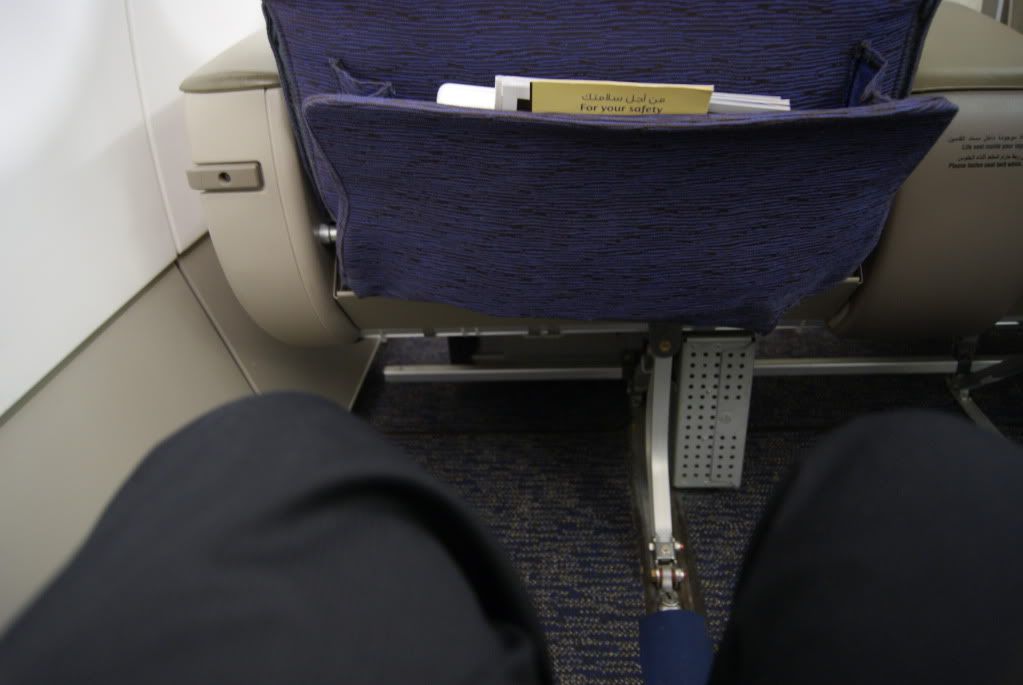 Taxi was again short, and take off was powerful. As we levelled off, dinner orders were taken. I decided to have he Egg Plant salad, chicken curry, and the coconut crepes. I did not eat the salad because it was bland and boring. As for the rest, I cannot fault the food or presentation. I've known even QR to forget about presentation on these aircraft, but GF got it just right.
Second course: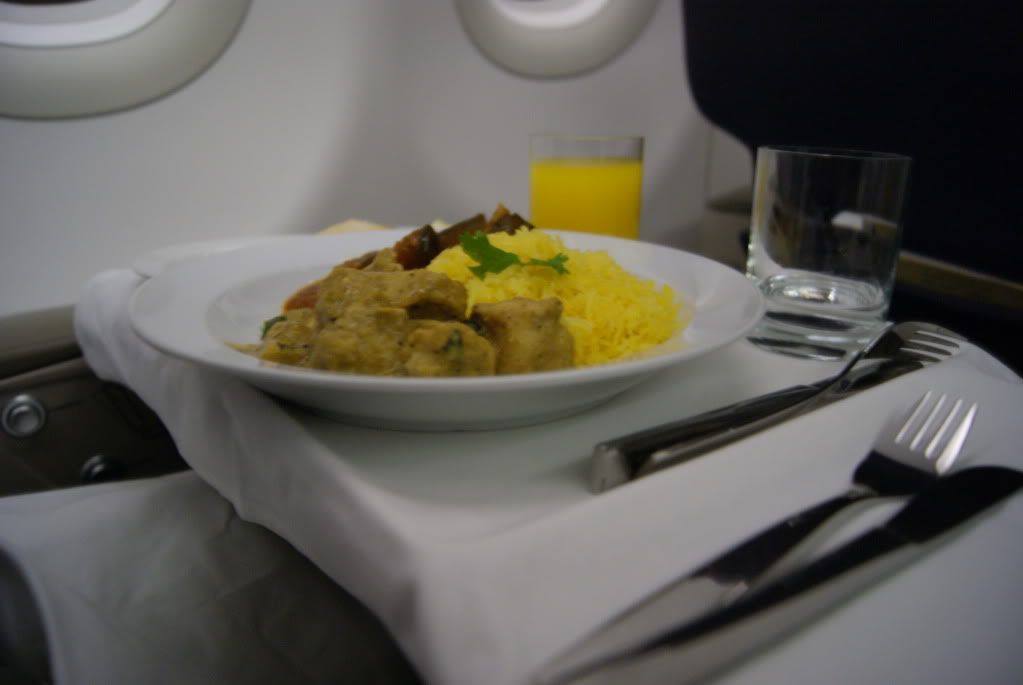 Coconut crepes:
IFE on this flight consisted of the regular audio channels, as well as a Bollywood film and some cartoons showed on the main screens. I was offered coffee and refreshments constantly by the exceptional South Asian ISM. Service was again faultless.
The aircraft began to shudder slightly as we passed over the UAE, and the captain announced that we would experience unexpected turbulence all the way through the flight.
The main screens turned off midway through the flight, and with everyone asleep I asked the ISM to turn them on to the airshow so I could check the progress of the flight. She called the someone to check, and came back and told me that entertainment was on loop and she couldn't turn it on. She had gone and checked with the captain, and we had just passed Chennai and would commence descent in just over an hour.
We began our decent on time into CMB, and after some rough weather on the way (There had been thunder storms for the past two weeks and Colombo had been flooded. MPs had had to be airlifted from parliament.) and landed ten minutes behind schedule.
At this time, the only other arrival was and EY A320 twenty minutes before us, and for once immigration was a painless process. Unfortunately, after waiting an hour for our baggage, we went to see the UL ground handling staff, who checked and told us that our baggage had never been loaded onto this aircraft and may still be in LHR!!
Our two pieces of hand luggage that had been taken to the hold did come though, and we had a single change of clothes. The rude GF ground staff here did not see this as abnormal, and said that if the LHR – BAH aircraft was overweight, a random passenger's bags would be unloaded for the next flight. This is a policy that I have never heard of. They could not locate my bags exactly, and there is a chance that they were loaded to another flight in BAH. Somehow, priority doesn't mean anything on this airline. The helpful UL agent handed us a sheet with a 24hour telephone number and a reference, and advised us to visit the GF office as soon as possible.
We went later that day, and told a clueless agent our story. She took a half-hour call to their airport manager, and after much negotiating, all we got was $50 compensation per day. This was all they were prepared to give two business class passengers who had needlessly had their baggage lost for them.
Anyway, I will try to get my return flight cancelled, and rebook with another airline if I get a fair refund.
Service onboard was generally of very high quality as you can see, but the ground handling on this airline is so bad it may be worth reconsidering flying it. Service, meals and amenities are good, although the hardware on the LHR – BAH flight was aging. The flight to CMB was better than I could have asked for, and I cannot fault it.
To sum up, Service is good, ground handling is poor.
Thank you for reading, comments welcome.