Introduction
After their expansion spree in Finland over the spring and summer airBaltic considerably slowed down their pace for the winter season. Only a couple of new routes were announced, a direct RIX-RVN service on selected days (the route was launched earlier this year with an intermediate stop at TMP) and a service to Kittilä in Lapland, operating direct from RIX on some days, and again having a stop at TMP on some days.
I wanted to fly at least the direct RIX-KTT service, with the RIX-RVN a bit lower on my "wish to fly" list. So after searching and waiting for a while until a good enough fare was available I booked HEL-RIX-KTT for a week before Christmas for the cheap fare of 72 EUR.
Arrival time was late at night, so I had to spend the night at Levi, the largest winter holiday resort in Lapland, and the main purpose the KTT airport exists, let alone has so much traffic during the winter season. To get back home, I booked the late afternoon flight on Blue1 direct to HEL for 68 EUR. As an additional bonus this would be operated by one of their new 717s.
I thought I was all set, until a month later or so when airBaltic notified me of a schedule change. The RIX-KTT flight wouldn't be operating on my travel day, instead I was booked on RIX-TMP-KTT the previous day. Well, this didn't really work with me so I sought other alternatives. In the end I asked to be rebooked on RIX-TMP-RVN as this flight was operating on my chosen travel day and I could always take the bus up to KTT from Rovaniemi. My request was dealt with promptly by the airBaltic customer care.
Since I was a bit disappointed by these developments I decided to treat myself and upgraded the BT flight up to RVN to business. It is only 4500 Baltic Miles, upgrades both segments as they have the same flight number and BT business class is very good even on these short hops so that sounded like a winner to me.
Finally I decided to try my luck with Optiontown on upgrading the KF flight the next day to Premium as well - domestic Finnish flights cost only 25 EUR to upgrade and with 900 EB points (next year this will be bumped up to 1200, thanks Eurobonus!) earned per segment instead of the measly 150 plus some free food and booze (or so I thought) onboard it definitely sounded worthwhile to me!
Here's what the final itinerary ended up looking like: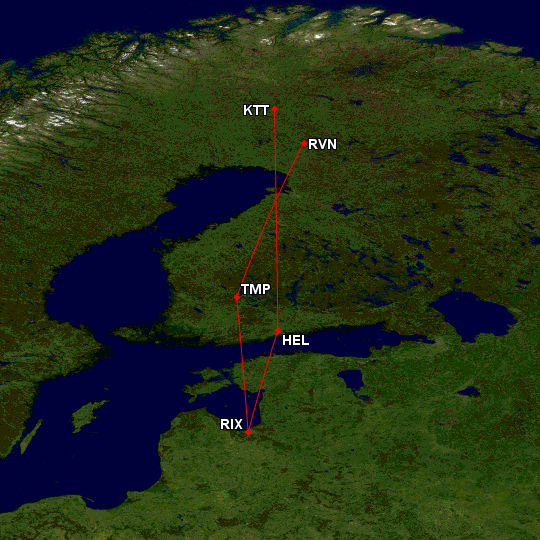 .
Thursday 16.12.2010
I have some trouble leaving the office early enough, but eventually manage, drive home, pick up my gear and take the bus to the airport. Running a bit late I am at T1 only 45 minutes before departure, and additionally OLCI refused to work as it claimed I hadn't accepted a schedule change (the departure ex-RIX was changed an hour earlier) - sure I didn't accept it because you never told me about it! Anyway the counters are empty, so very quickly I get checked in, and ask for a Delivery at Aircraft tag for my rollaboard, it's too large for the Fokker.
I grab some cash from an ATM, waltz my way through the empty security (well, it's more like breakdance as I need to take off my shoes). I limp to the nearby lounge with my shoelaces undone and my belt dangling from my neck, and once inside ask one of the reception ladies "Can I come in even if not properly dressed?" - The oldest one of them seems to have a great sense of humor, so she scans me from head to toes and answers "You seem to have your pants on and apart from that there's no dresscode, so welcome".
The buffet features traditional Christmas foods, so after getting properly dressed I grab some ham and excellent salmon terrine, washed down with an average Cava: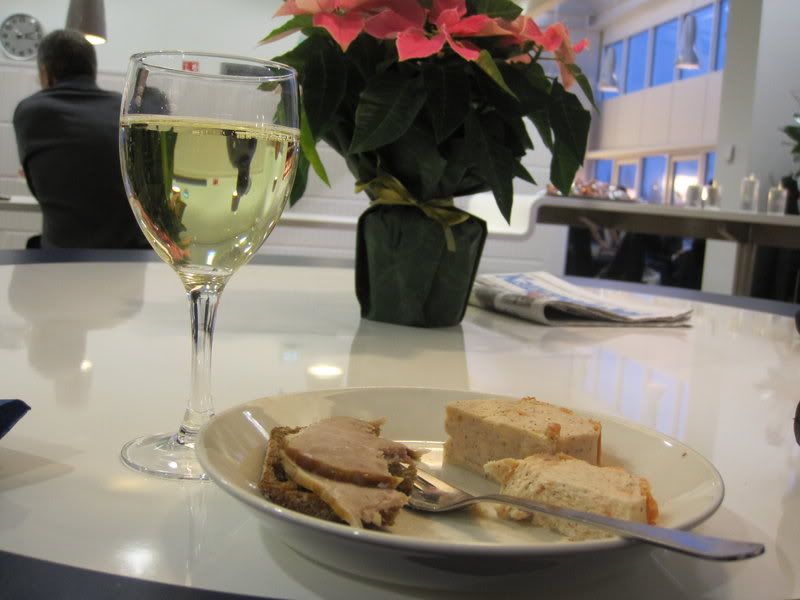 I manage to fit in barely ten minutes of lounge time before the flight status changes to boarding, so I grab my kit and head to the gate 15A, a bus gate. Boarding is indeed in progress, so downstairs to the bus to wait for the strugglers - have I ever mentioned how I hate bus boarding for this particular reason?
Finally we drive the short way to the apron, stopping in front of the expected Fokker 50, YL-BAS. This would become my seventh flight with her. By the way the scheduling of this flight is quite weird, the inbound from RIX arrives already just past noon, with the crew apparently sitting idle at HEL until it departs back to RIX at quarter to four.
The weather is quite miserable, snowing with a cold wind blowing. I notice a guy who doesn't have a coat at all, just a short-sleeved shirt. I offer him the chance to board before me, saying "You look like you can't handle it too long out here!" - He explains that his coat is in his hold luggage, he is coming all the way "from Africa" - his boarding pass is on KLM stock so I guess he flew via AMS to HEL first. I say "Well, I sure hope your luggage makes it to Riga".
HEL- RIX
BT306
F50 YL-BAS
Seat 8A
15.55 - 17.03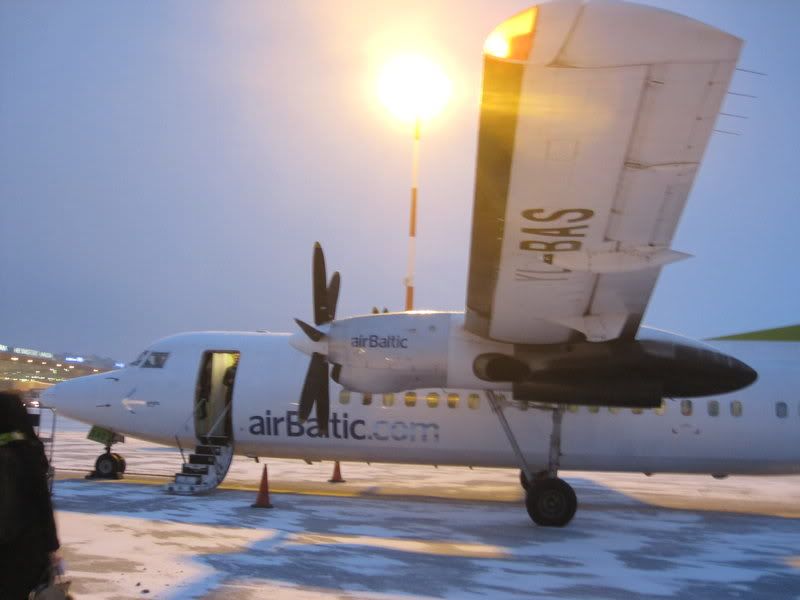 Quite a good load today, over 80%. There's a bunch of some sort of Finnish flight crew as there are some pilots, girls who look like FAs and some other guys. One of them sits next to me and I makes a phone call saying something like "Hi, I'm making a quick trip to Riga, should be back by eleven, do you mind if I come visit you after that?". I try to chat him up but the guy is not really in a chatty mood at all, so the mystery remains unsolved. More on this later.
At our scheduled departure time the captain makes an announcement that we have just been deiced but still need to wait five minutes or so as the runway is right now being sweeped for snow.
The five minutes is more like ten, but finally ten minutes late we start our engines and start moving. A few planes are ahead of us, so take off from the nearby runway 22L is eight minutes later.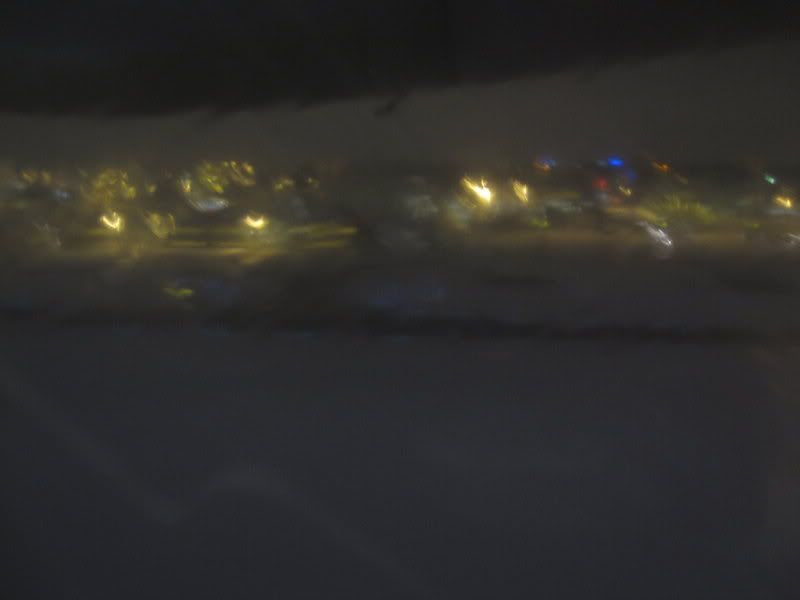 It stays overcast for the whole flight and since the Fokkers cruise at quite a low altitude there's basically nothing to see during the whole flight. I buy a beer and spend the rest of the flight reading. The cabin heater seems to have exactly two settings: on and off, so the cabin temperature alternates between uncomfortably hot and almost freezing, on a sine wave pattern.
Approach is straight in to runway 18 where we land after exactly an hour in the air. The Riga - Jurmala motorway: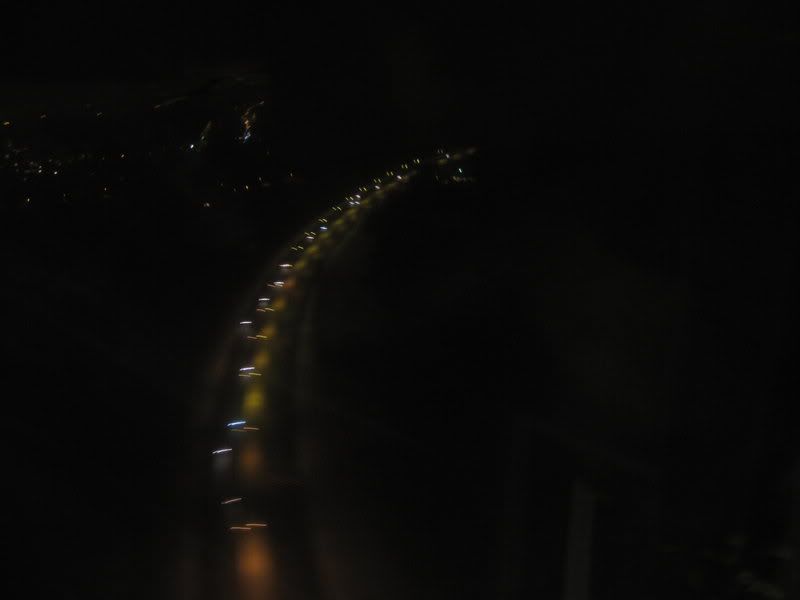 Luckily we get a parking position in front of the arrivals door, saving us another tedious bus trip. During deboarding my seat mate wishes me "Well, have a nice stay" - "A couple of hours in the lounge and then onward" - "Ok, for me it's more like a couple of hours in the lounge and then back". This certainly gets my interest up, and when his entourage leaves I notice that some of the guys have Air Finland and 757 stickers in their pilot bags - so these guys are actually an OF flight crew - now I'm really curious as to what are they doing here.
Bye: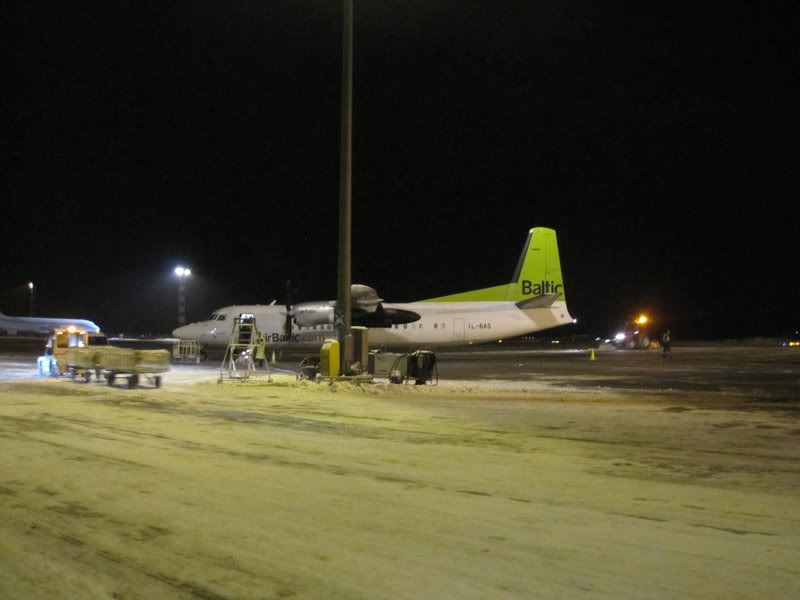 Riga Airport
Going up to the departures level via the transit elevator the doors refuse to open upstairs. Luckily the elevator still goes back down and the doors open there, so I and an older Finnish lady on her way to BRU get out. She turns out to have some sort of leg injury, hence the elevator, so I perform my good deed of the day and carry her rollaboard up the stairs and point her to the right direction for her gate. Only later I realized that I could've guested her to the lounge as well.
At the lounge entrance there's none else but the OF entourage being checked in. I say to my former seatmate "Oh, you all are here!". But he doesn't really answer. Bugger, I'm dying to know the deal.
Anyway I settle for the couple of hours I have to wait in a comfy chair and grab some refreshments: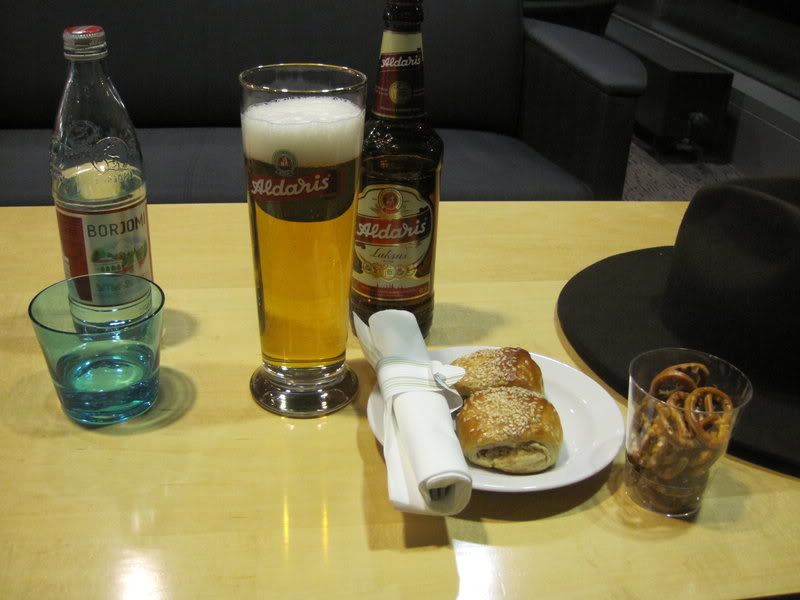 AY E170 parked at a jetway just across from the lounge: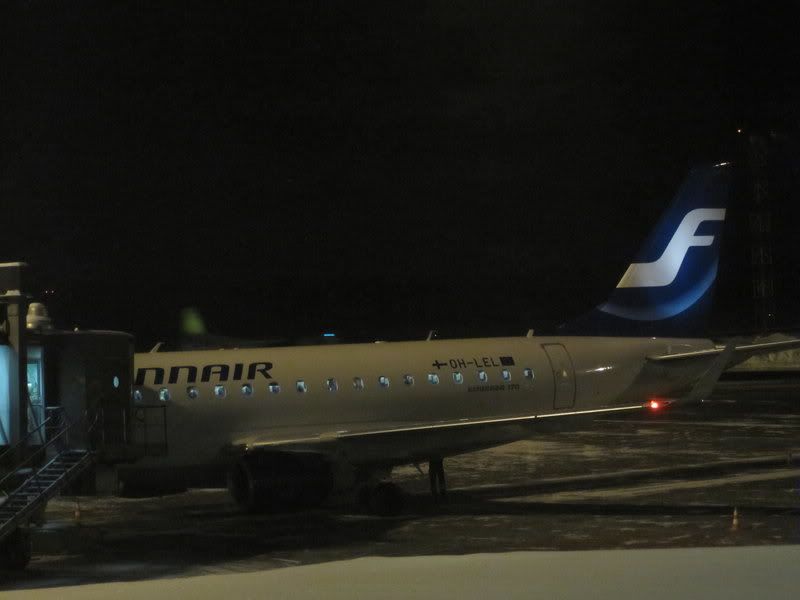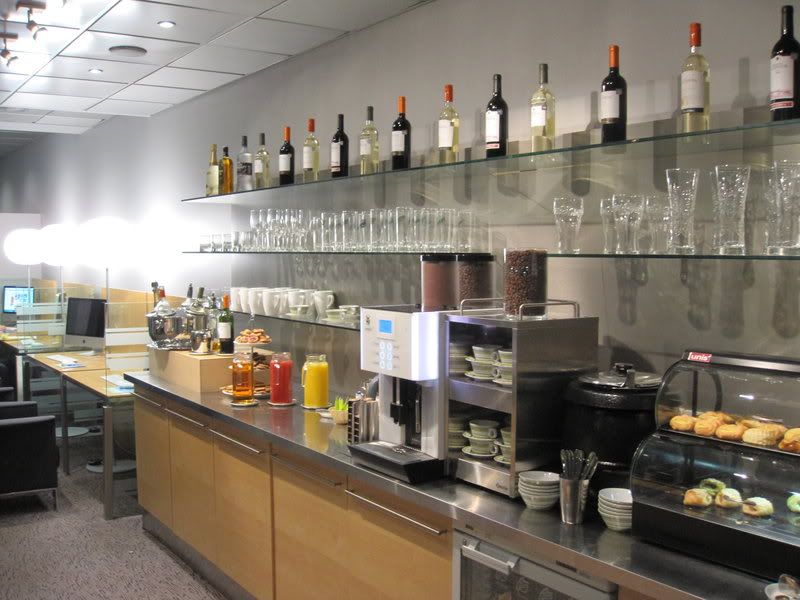 Free wifi and magazines (I always nick the latest copy of the Economist from this lounge!) make the time fly and at 18.50 the lounge attendant comes to tell me that boarding has commenced. I like this personal service here. The gate is B10, a bus gate downstairs just a short way from the lounge. I stop at the Travel Value store on the way to stock up on some cheap booze. By the time I get downstairs there's no queue anymore, and only surprisingly few people in the bus, so I guess they already sent the first one away. This turns out to be right as when the gate agent boards the bus the passenger manifest in her hand is definitely way longer than what is needed for the 30 pax in the bus.
Soon enough we drive to a number of parked 737s in the southern apron, stopping in front of the expected -300 model (well, this flight was initially scheduled to be operated by one of the new Dashes, but as always with BT, nothing is ever certain!) YL-BBI, my fourth and fifth flights with her.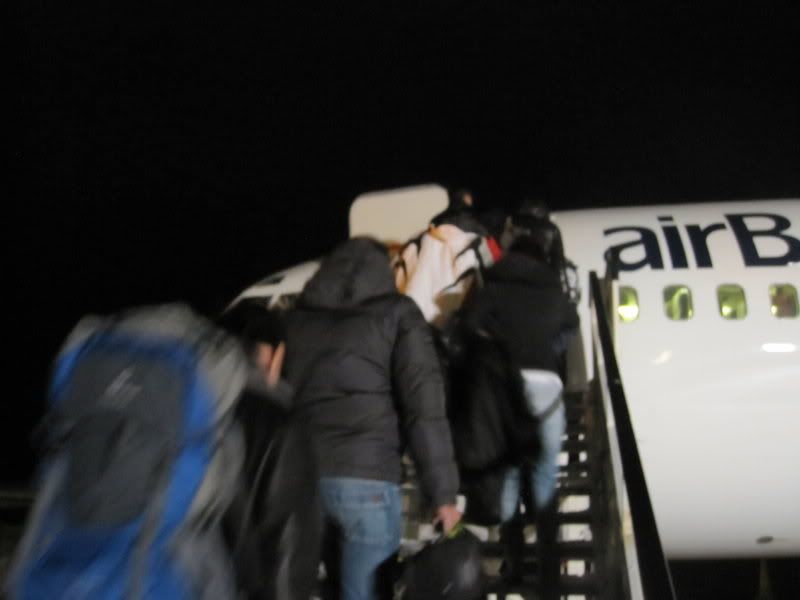 Wizz arriving from LTN: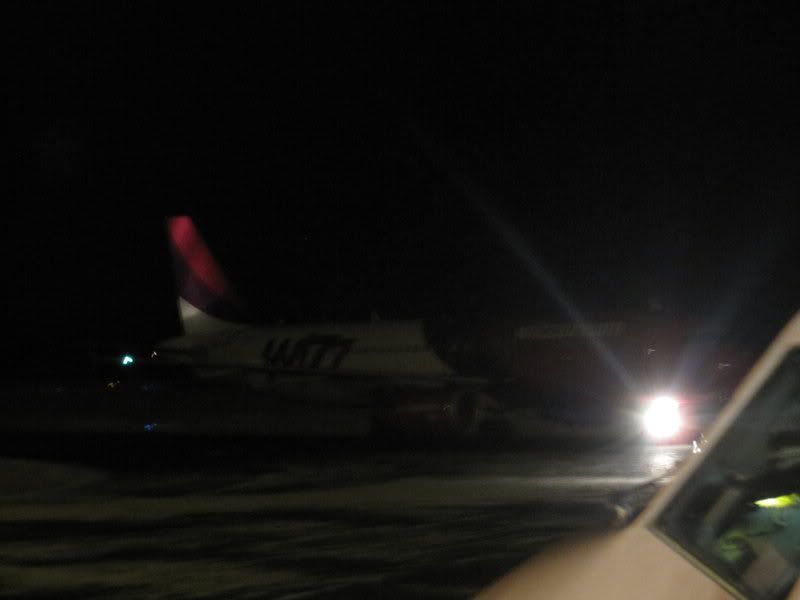 A horribly cold wind is blowing outside so queuing up the stairs is a bit of a chilly affair even though I'm properly dressed for the arctic. A Turkish-Finnish couple with a baby excuses themselves and passes everybody on the stair, the Turkish father explaining something like "Sorry, not enough clothes on the baby, must hurry, she will get cold!". Geez, don't these people ever realize that they are heading to a cold land and should dress accordingly?!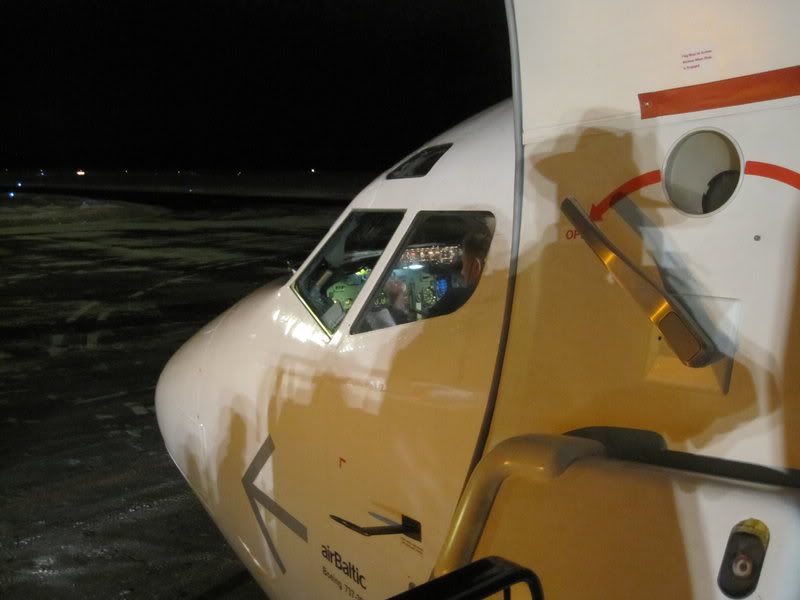 RIX - TMP
BT1367
B737-300 YL-BBI
Seat 2A
19.21 - 20.15
Three rows of business class on this flight. There's another guy on 3F as well, but he's some sort of non revenuer as he seems to be well known by the crew, doesn't really get any service apart from a can of beer and leaves the plane at TMP.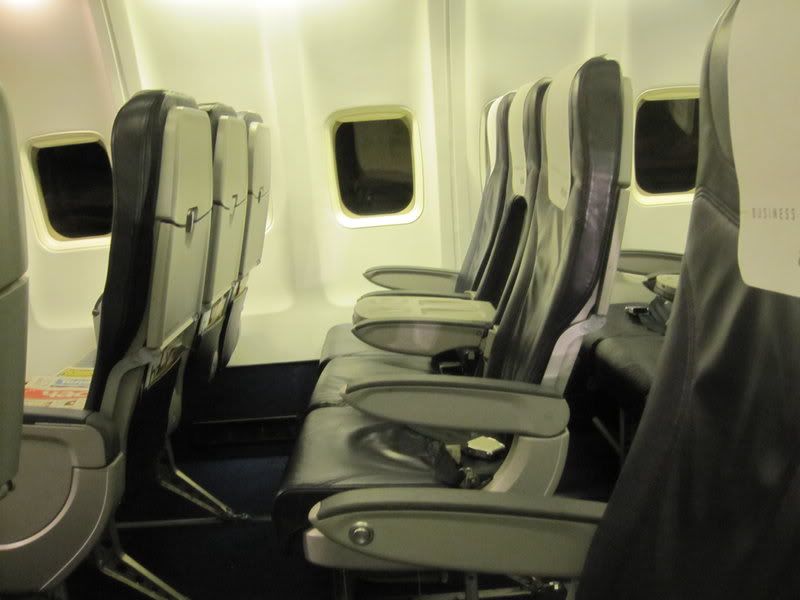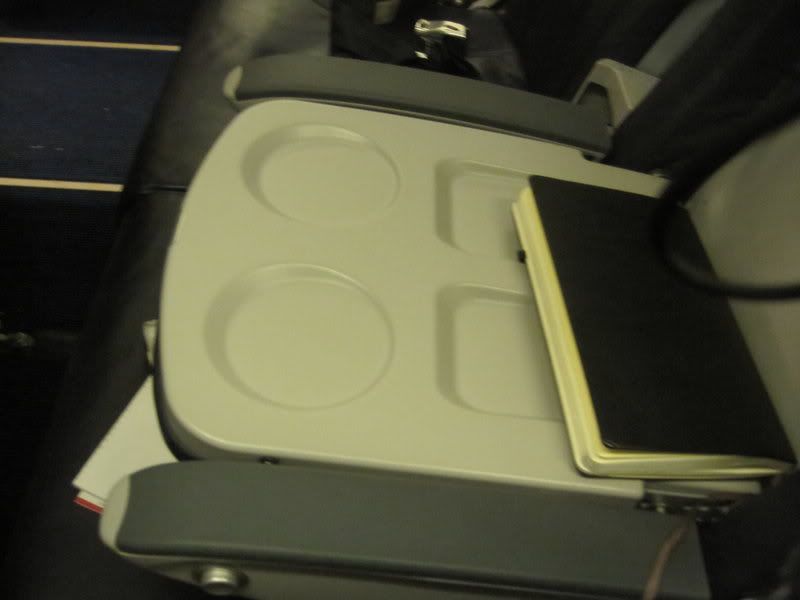 An older Italian man sits down on 1C, saying something to his traveling partner who heads into economy. Once boarding is finished the chief FA is onto him, asking for his boarding pass and sends him back to economy where he belongs, tail between his legs. Do these guys really think they can get away with it?
Economy looks much fuller, 75% maybe.
As usual with BT, predeparture drinks follow: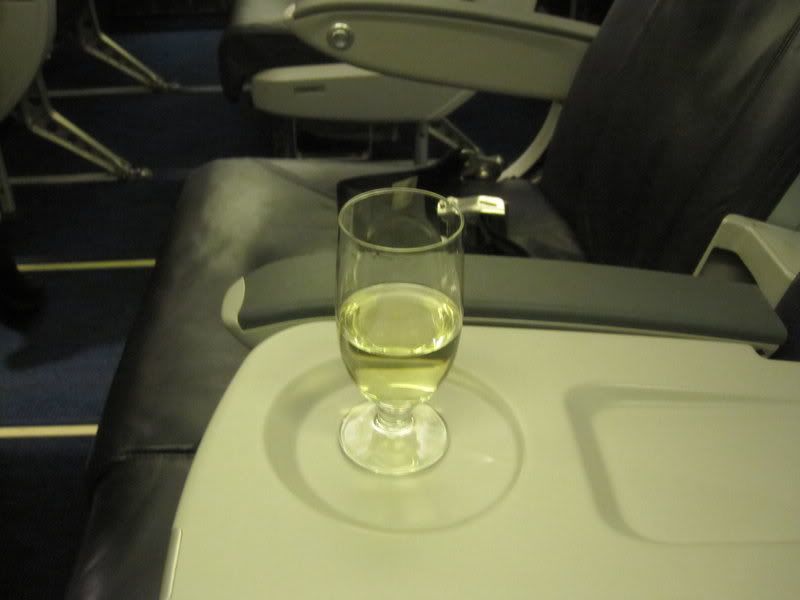 Together with some reading material, quite a good selection of newspapers and magazines actually: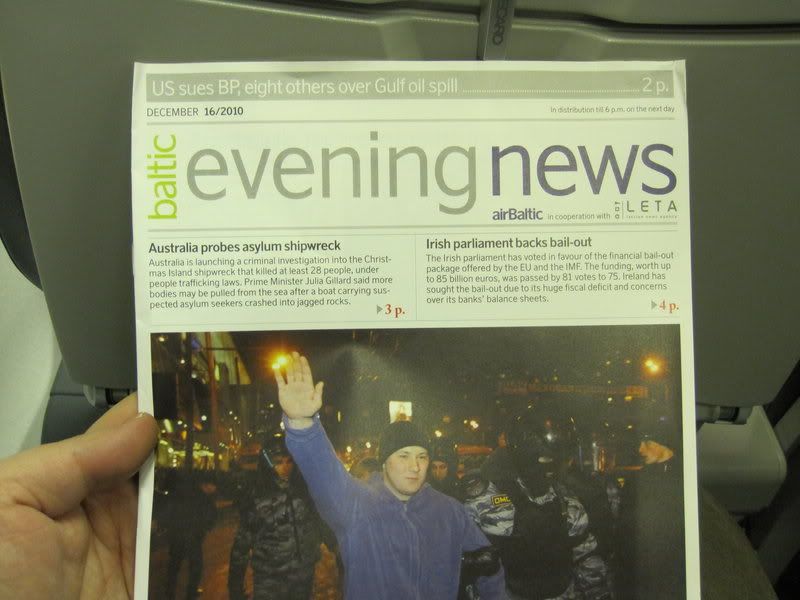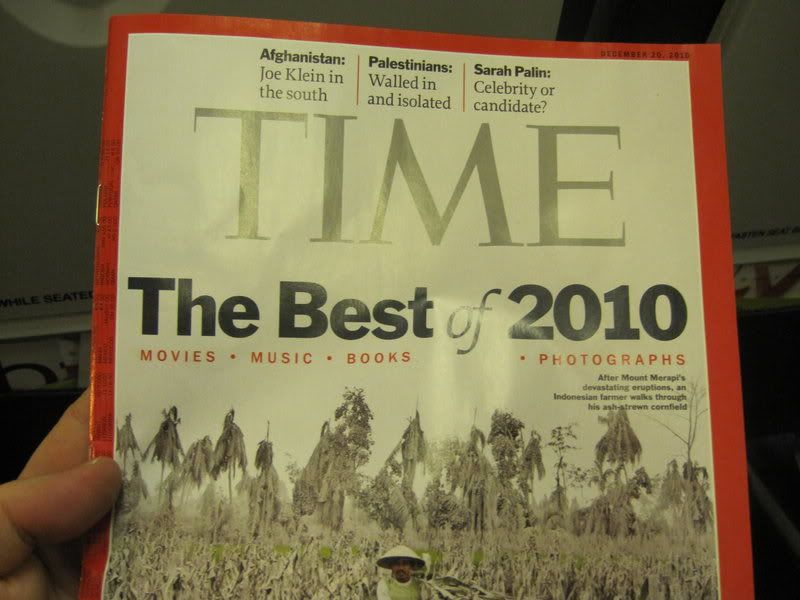 Flight time today is 55 minutes. Deicing: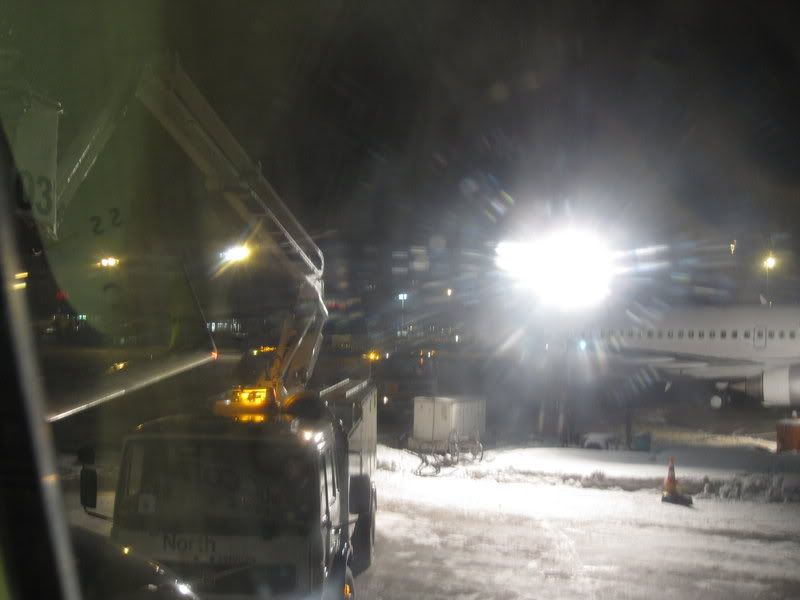 An all-white Smart Lynx Airbus: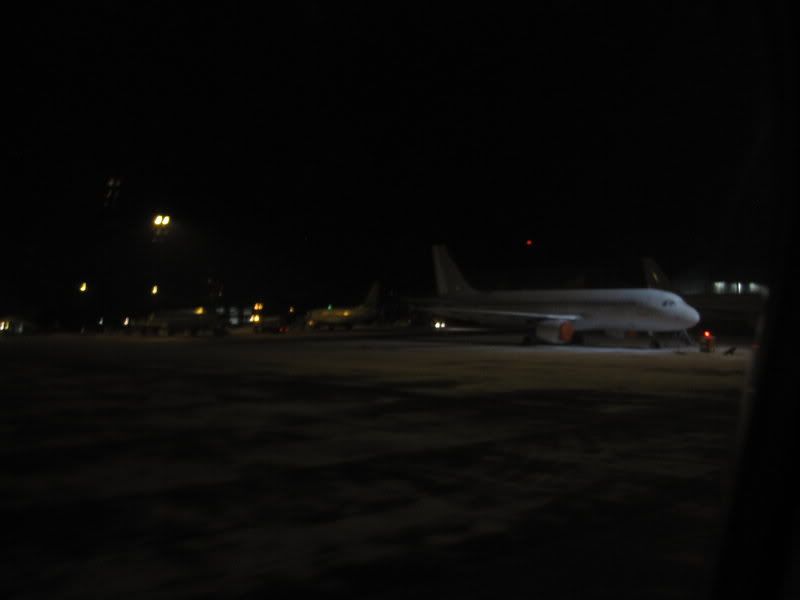 Departure is 11 minutes late, with take off from runway 18 four minutes later.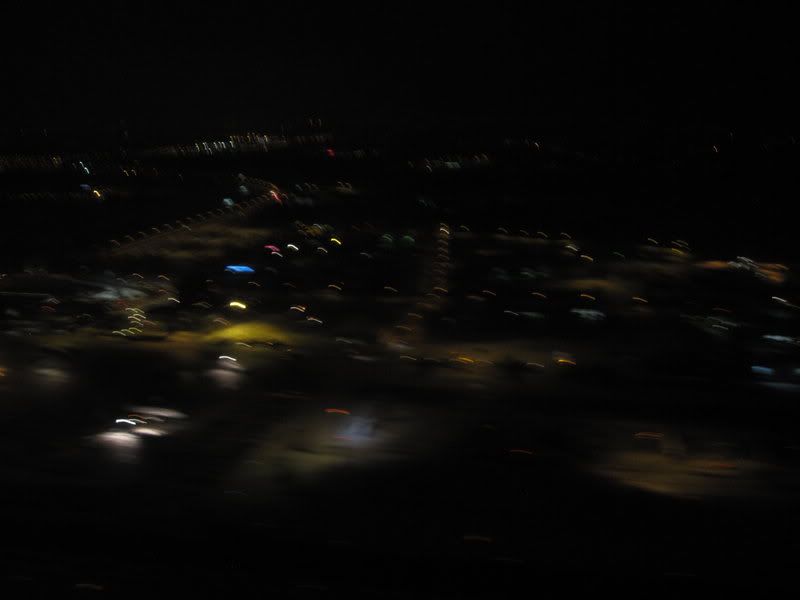 The service starts with the customary hot towels: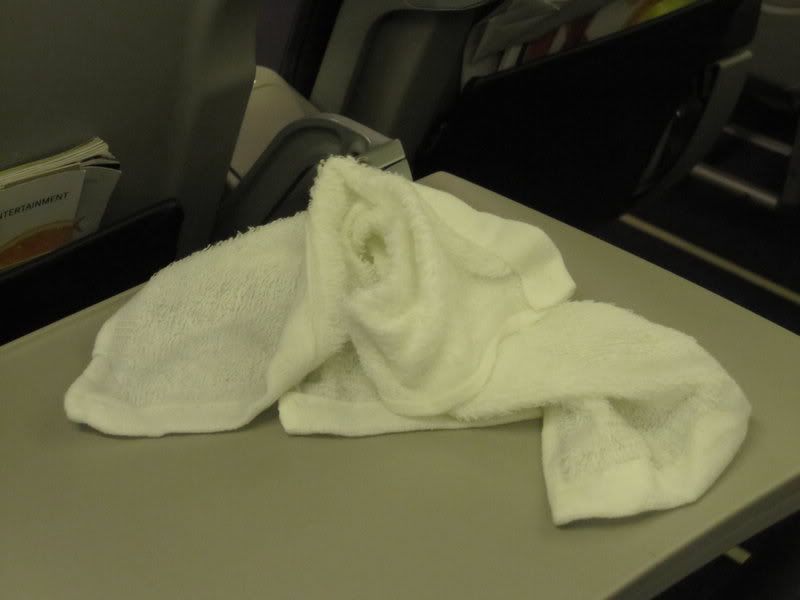 Then I'm asked for my choice of drink - I ask what the main course is and the FA says "Oh, actually I don't know! Let me check". She goes back to the galley and comes back saying "It's fish, sir." "Ok, in that case it will have to be white wine, please." "Spanish or German" "Errr... I think I'll have the German one, thank you.".
It turns out to be a rather agreeable Riesling: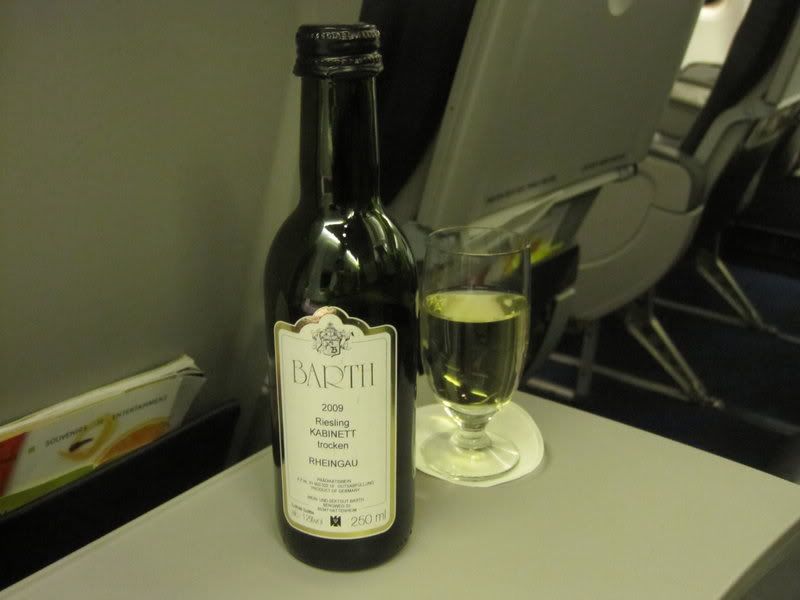 Soon the food tray arrives: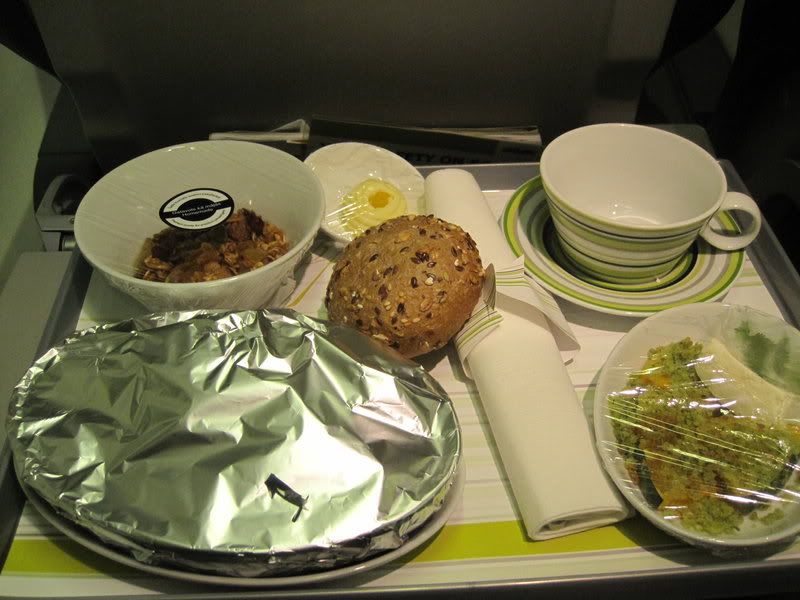 The main course is potatoes, carrots and some white fish, I think it is pollack. The sauce is very tasty, I like it a lot.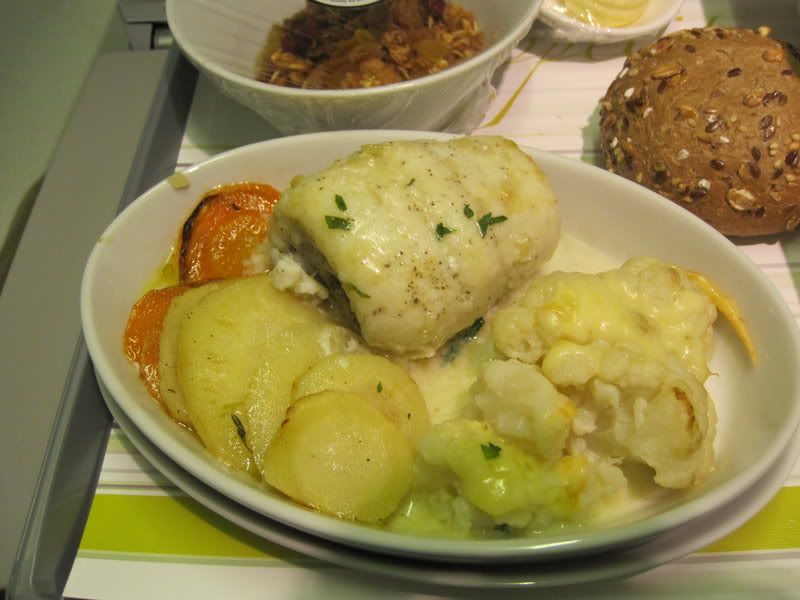 The appetizer, some sort of weird concoction of cheese, aubergine and couscous: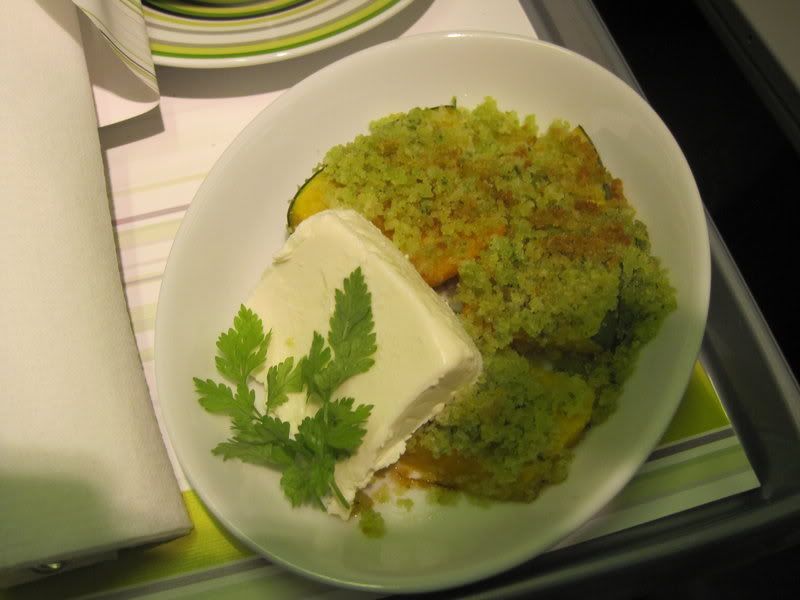 Finally the dessert - not so sure about the homemade part: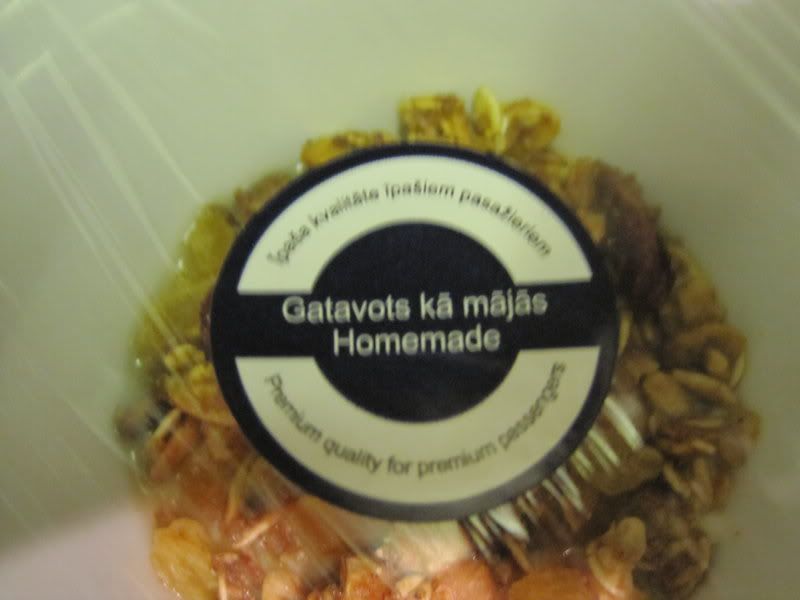 It is contains very tasty (which probably equates to very fatty and sugary!) yogurt mixed with granola. I think the Americans would call it a parfait. Very good as well.
After finishing I'm asked if I want some tea or coffee. As we are already descending at this point I say "Not right now, thank you. I'm going all the way up to Rovaniemi so we'll have time for that on the next sector."
Candies are handed out as the cabin is readied for landing: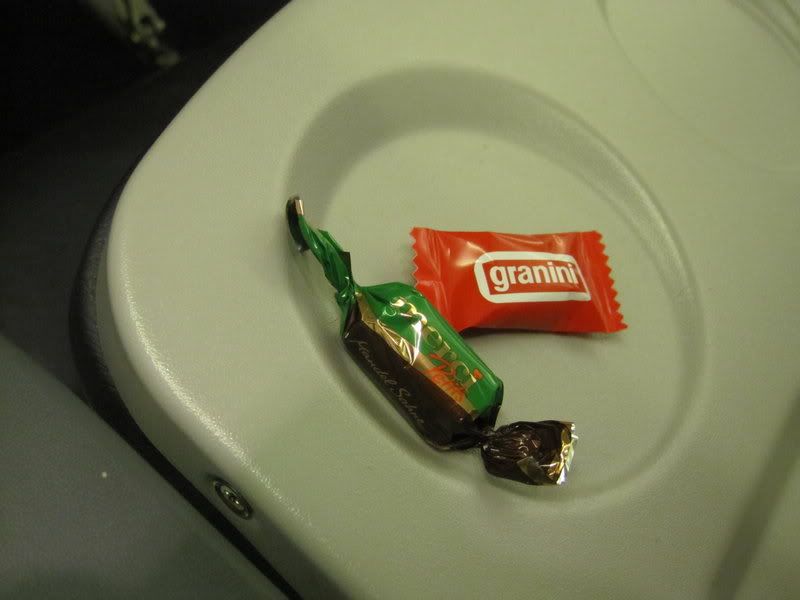 Overcast in Tampere as well, so the first view of the ground is mere seconds before touchdown on runway 24, 50 minutes after take off. A couple of minutes later we stop in front of the terminal building: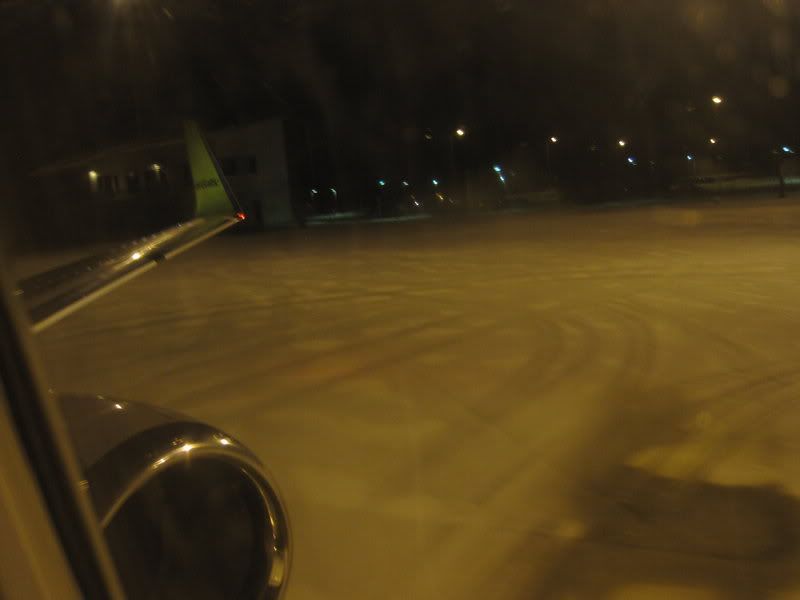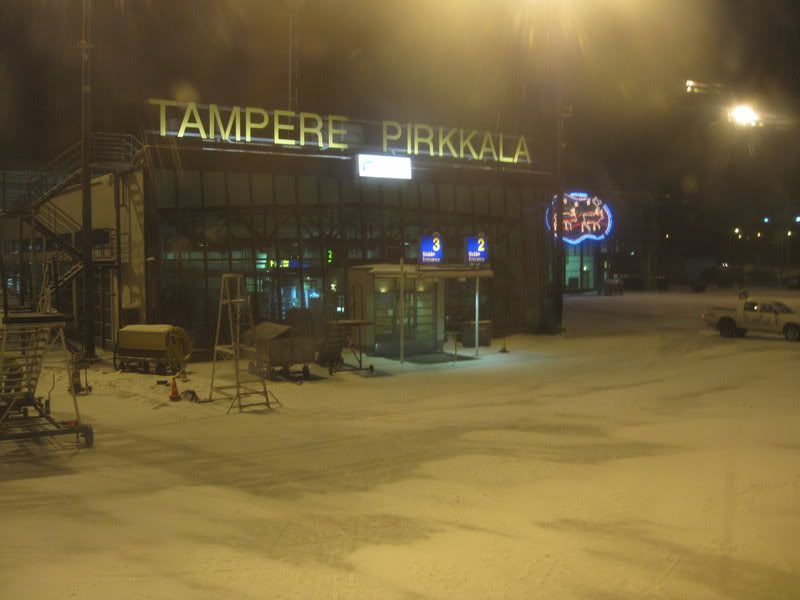 Christmas decorations, looks quite kitchy to me: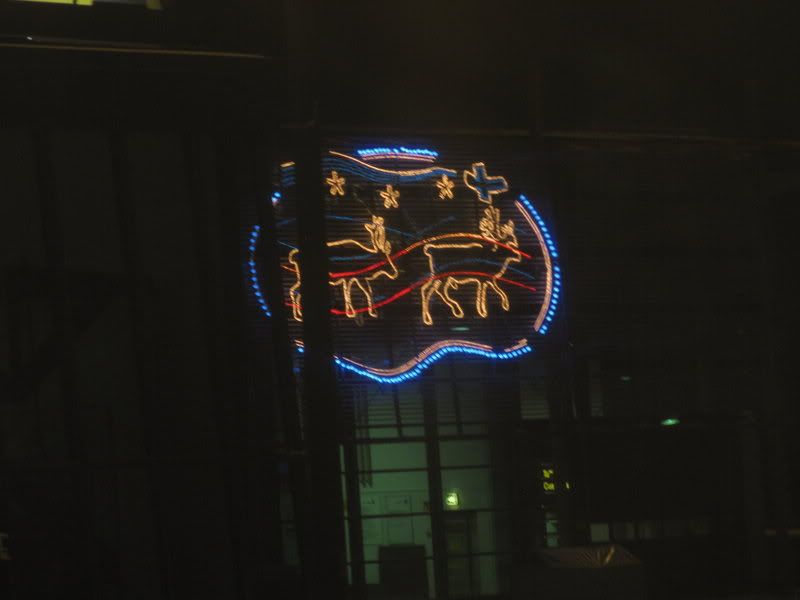 I count 37 passengers deboarding. Checking for ice on the wings: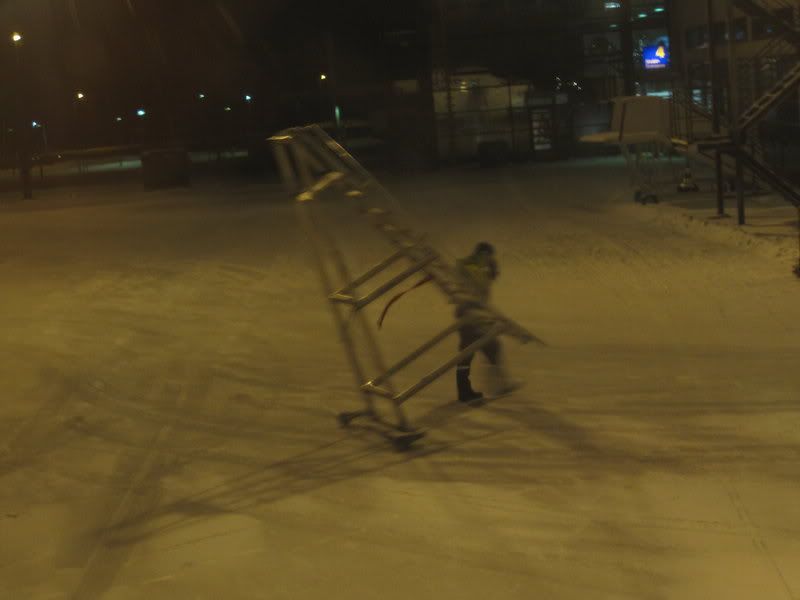 I overhear the ground crew and the lead FA discussing that 20 new pax will board here. Soon new blood joins us: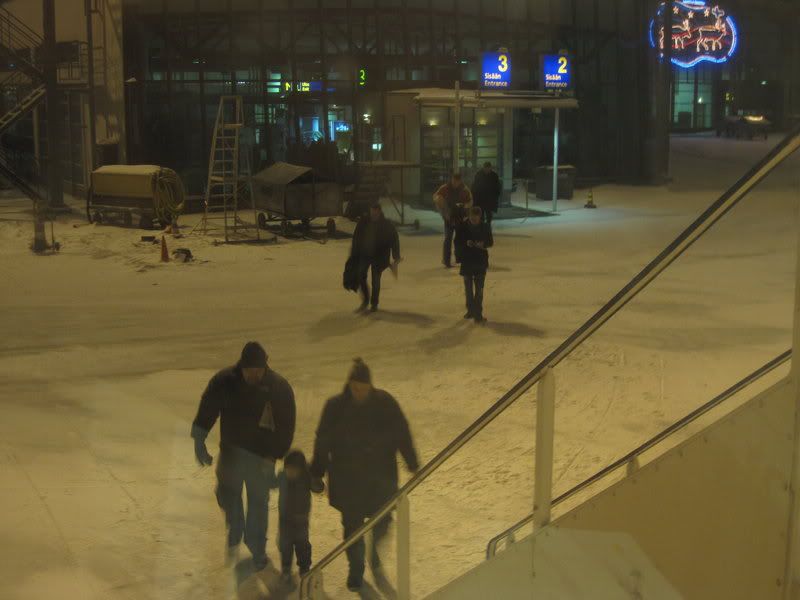 View towards the back:
TMP - RVN
BT1367
B737-300 YL-BBI
Seat 2A
21.00 - 21.55
Doors are closed after a ground stop of only 25 minutes, but another deicing follows which takes a bit of time: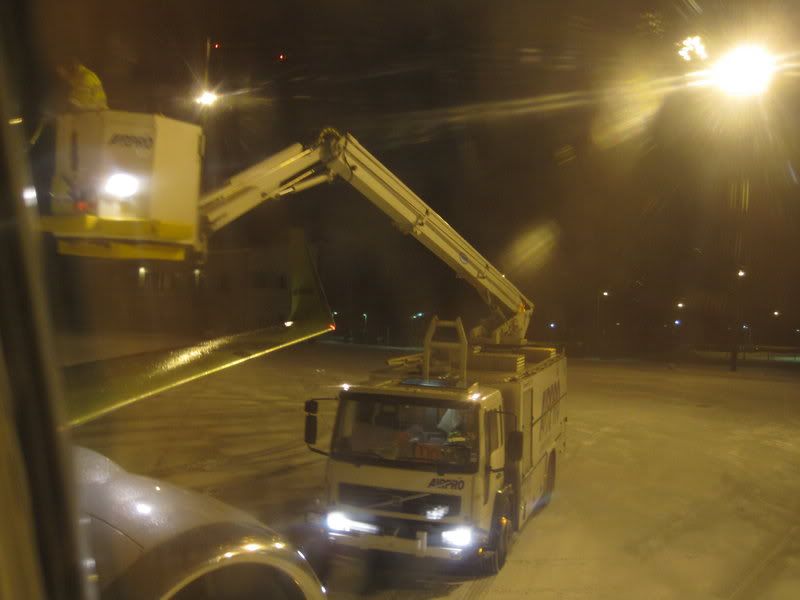 Flight time to Rovaniemi is announced as 55 minutes. Departure is finally 45 minutes after landing. We taxi to runway 24 right past the low cost terminal, where a Ryanair bird is being boarded: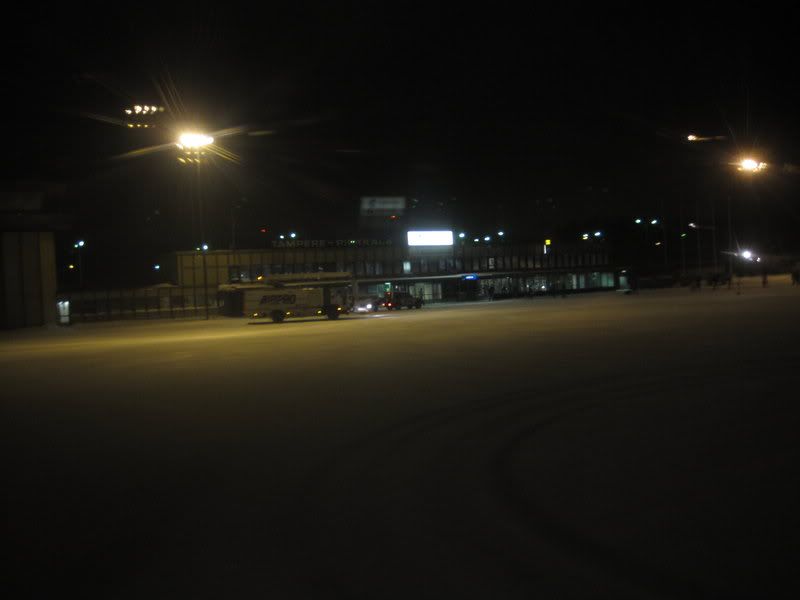 Right after the seat belt sign is switched off the service commences. I'm handed another tray with "We only have a small snack for you on this sector, sir.". Well, I'm full anyway so this is just about appropriate, I guess: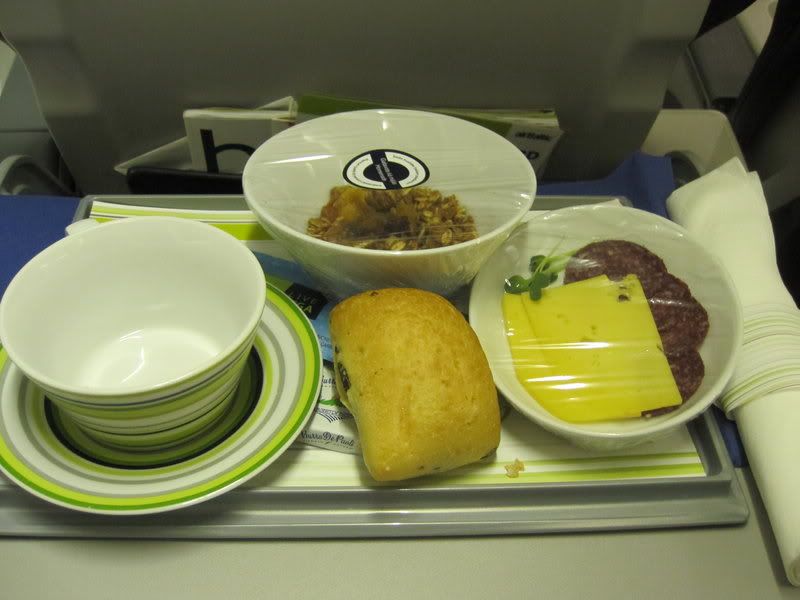 Some cheese and salami, another one of those parfait desserts and warm bread from a basket. Works for me.
I ask for some champers: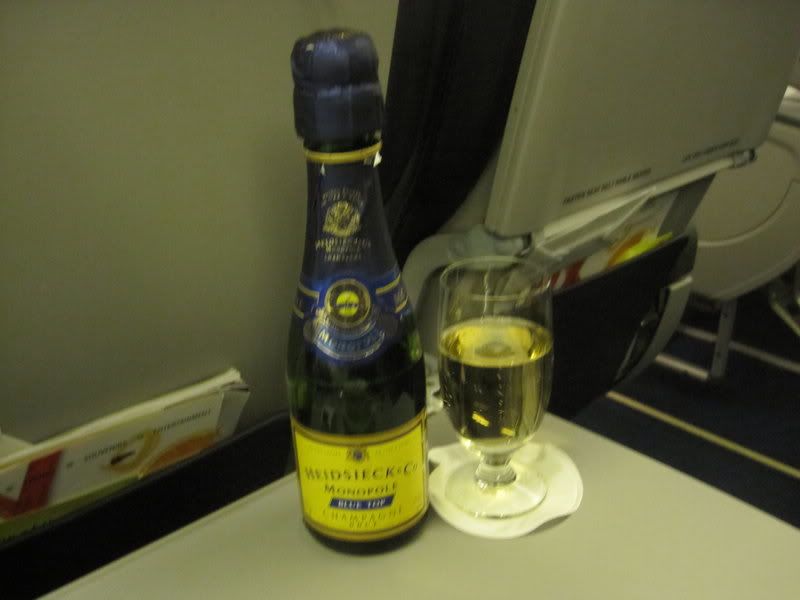 And some lovely peppermint tea: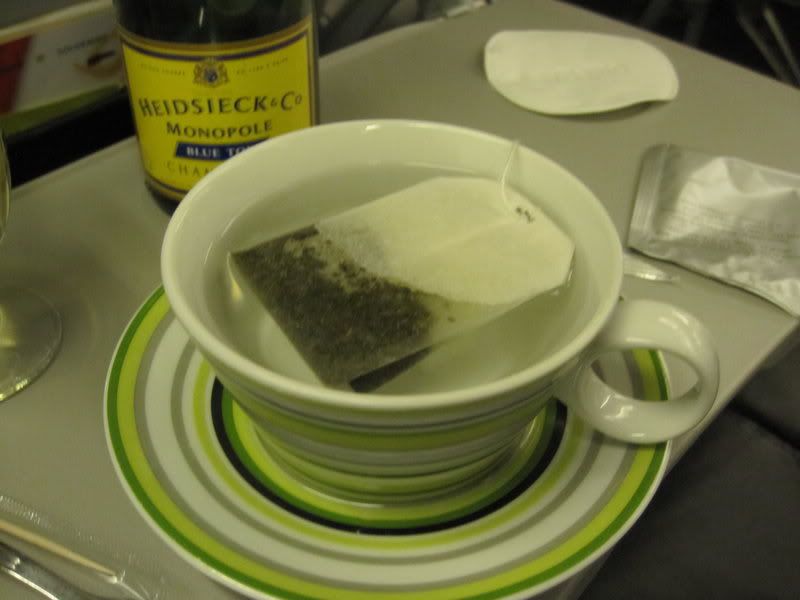 Finally, to wrap the flight up a nice glass of Riga Black Balsam on ice: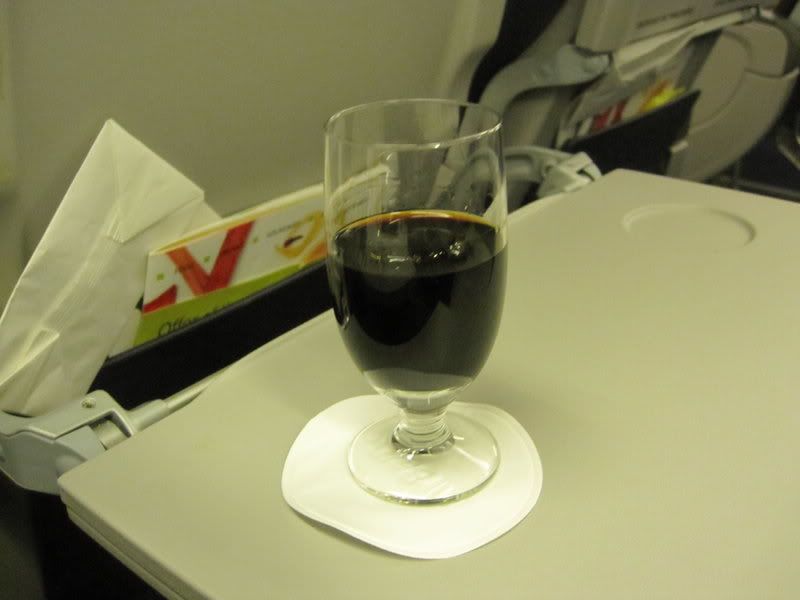 Soon after this I fall asleep, only being woken a few minutes before landing by a member of the crew asking me to put my Ipod away. Landing is on runway 03 after less than 55 minutes in the air. Interesting fact of the day: The Arctic Circle actually bisects this main runway, 03/21!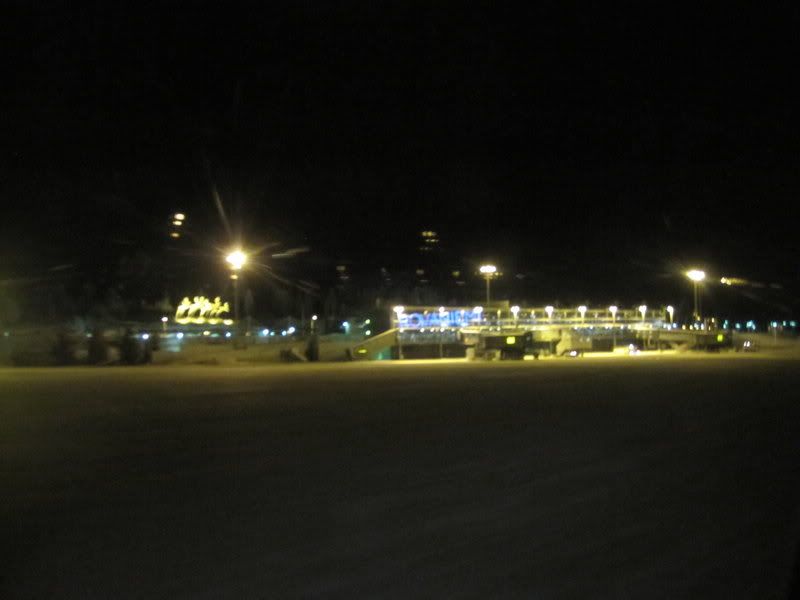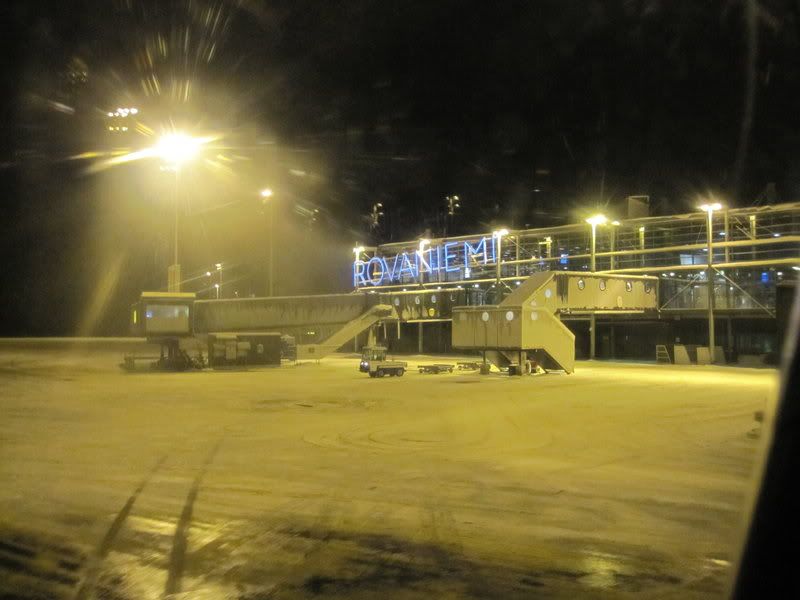 We get a jetway parking position (mind you, there are only two airports with jetways in Finland - HEL and RVN):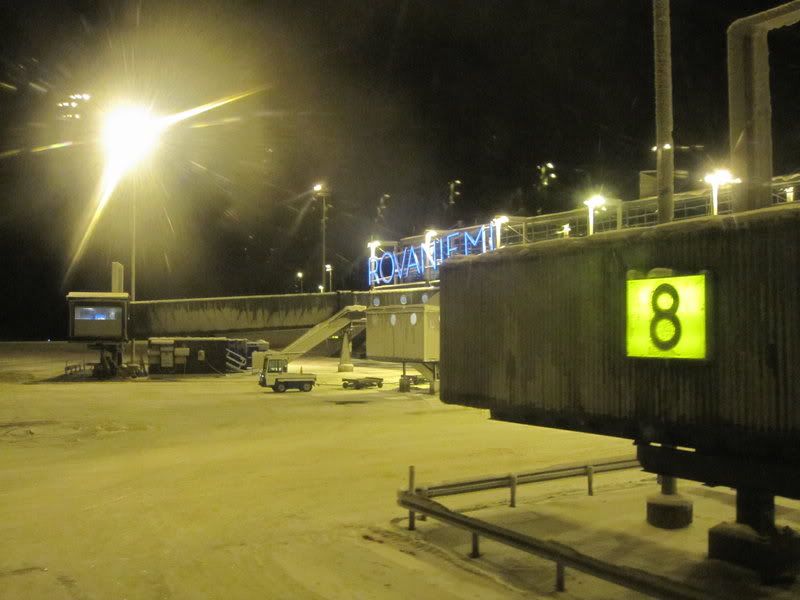 The official airport of Santa Claus sign in the jetway: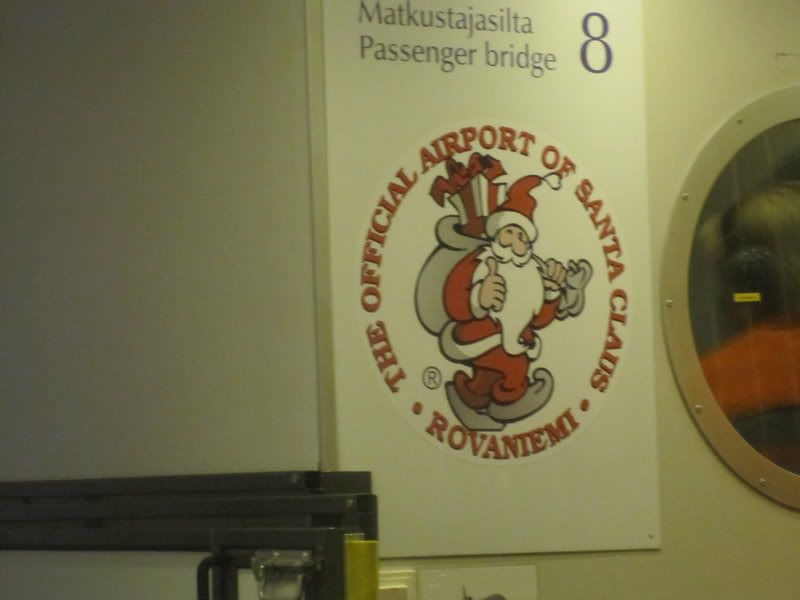 Bye:
Rovaniemi
Outside it is freezing, only minus eleven or so but with a horribly chilly wind straight from the north it feels much worse. Luckily the airport taxi (sort of a shared van/route taxi meshup) is waiting right in front of the terminal. For a reasonable 7 EUR it delivers me right to my hotel for the night, the curiously named Hotel Aakenus. Not a very glamorous place, but quite ok with me - it's clean, comfortable enough, has free wifi and most imporantly charges far less than the more established chain hotels in the city centre a kilometer away - the tourist season definitely has started!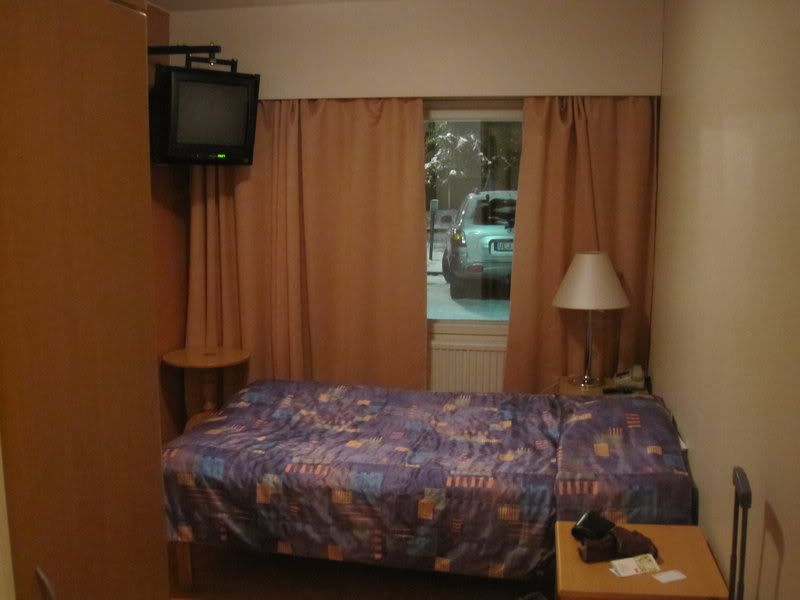 Hmm, I guess this is supposed to represent the wilderness of Lapland: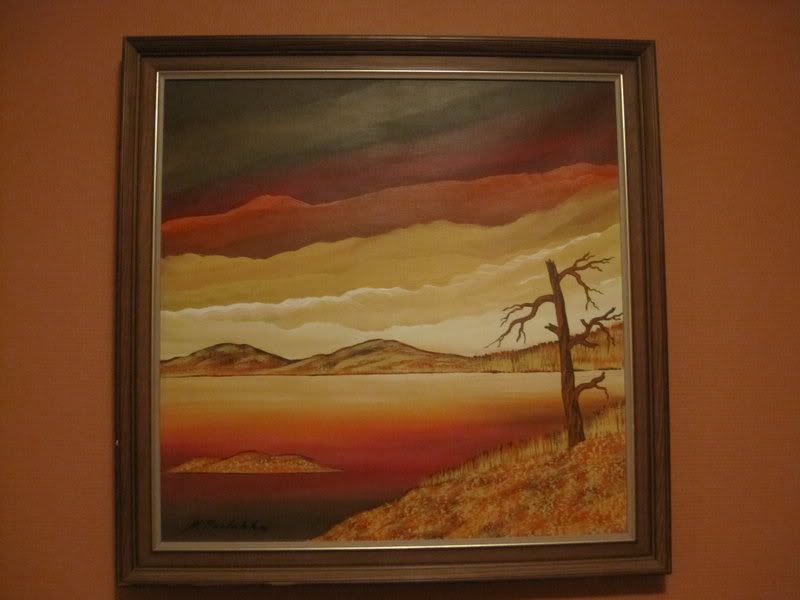 I decide not to listen to the voice of reason and head to a local watering hole instead for a couple of pints - I love these regional cities in Finland for their general atmosphere and Lapland is a special case in itself. Some very interesting characters can be found here, are tonight is no exception! A couple of hours later I stagger back to the hotel and call it a night.
Friday 17.12.2010
With my bus up to Kittilä not leaving until 11.30 and Rovaniemi being a very familiar city to me I'm not in any particular hurry this morning, so I decide to skip the hotel breakfast (I'm not much of a brekkie person anyway) and enjoy a long sleep in.
Finally I get my act together and head outside for the short stroll to the bus station. The temperature: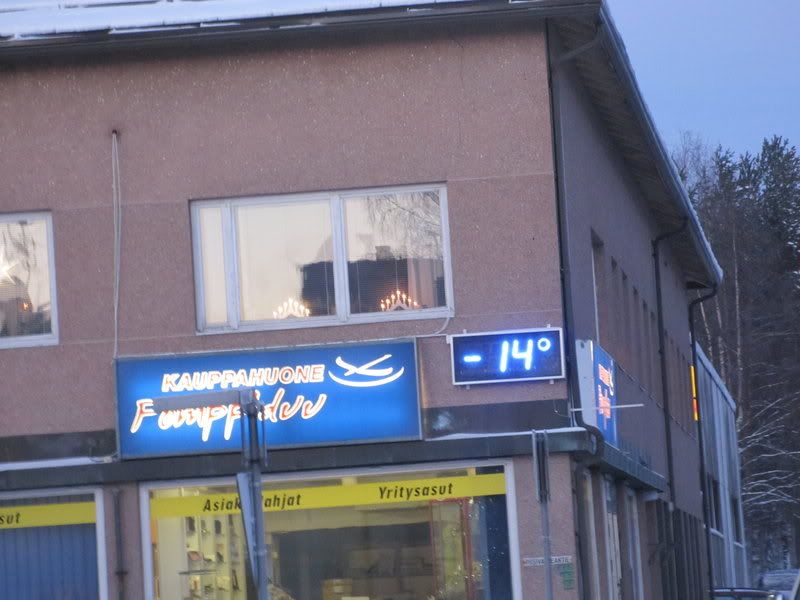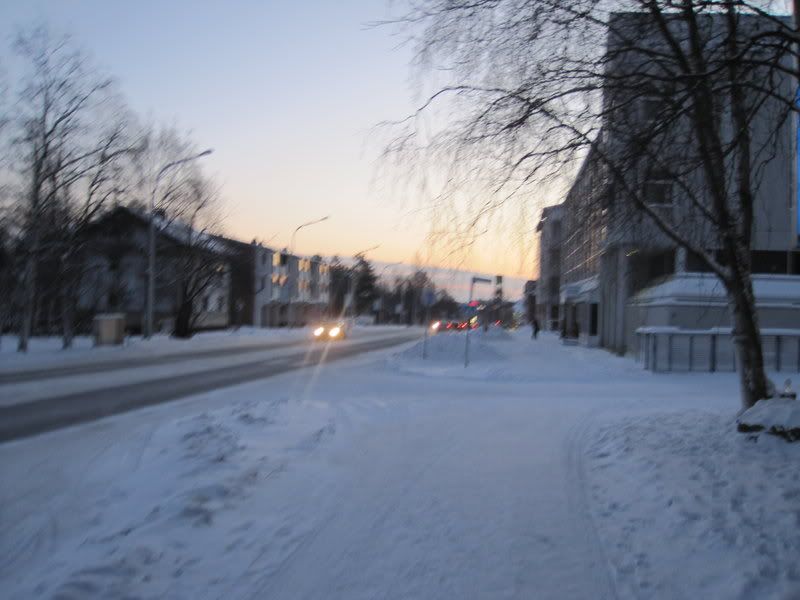 Being just barely south of the Arctic Circle the daylight is very low on the horizon:
When I see this: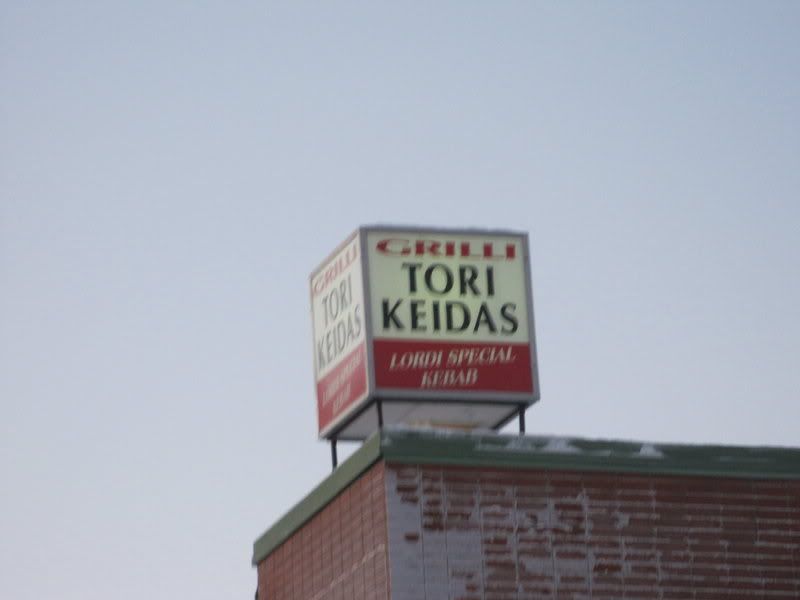 I just have to go there to get one of these Lordi Special kebabs - quite an epic portion I say!
I guess a bit of explanation is on order here. Lordi, the 2006 Eurovision winner is a native of Rovaniemi (even though he has lived in Helsinki for many years already). After he won the song contest, the city Rovaniemi went a bit crazy and did all kinds of things in his honor, including renaming the central square of the city to "Lordi Square". As he is known to be a big fan of kebab and he once mentioned this hole-in-the-wall kebab joint as his favorite one around they created this special portion in his favor. It comes with 220 grams of kebab meat, a very tasty sauce (even though there's too much of it!) and your choice of garnishes, a huge dollop of potato mash in my case.
Anyway with my belly so full even standing upright hurts I somehow waddle across the road to the bus station: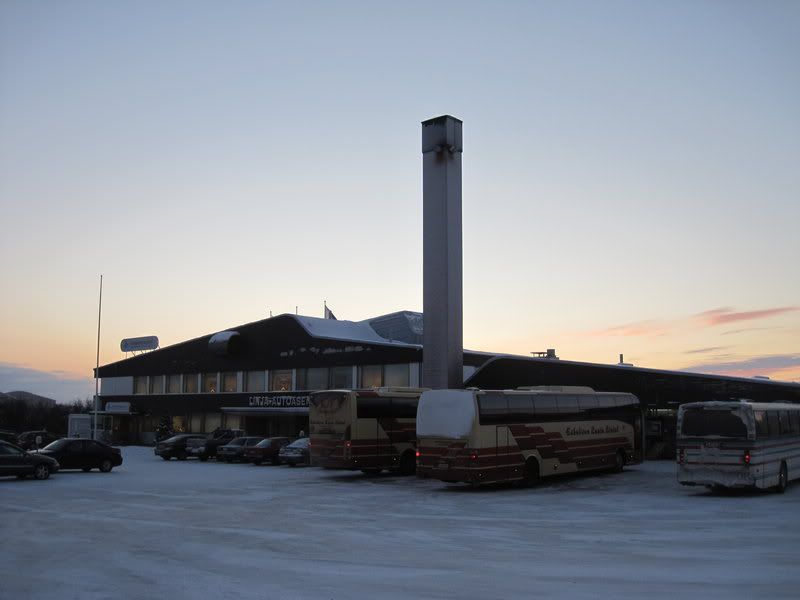 And after a bit board the bus, going all the way up to Enontekiö. Quite a good load on this service, and it gets funny when an entourage of seven Chinese shows up at the last minute. Apparently only one of them speaks any English and they have tons and tons of luggage - heck they even used three different taxis to get to the bus station to get all the luggage there!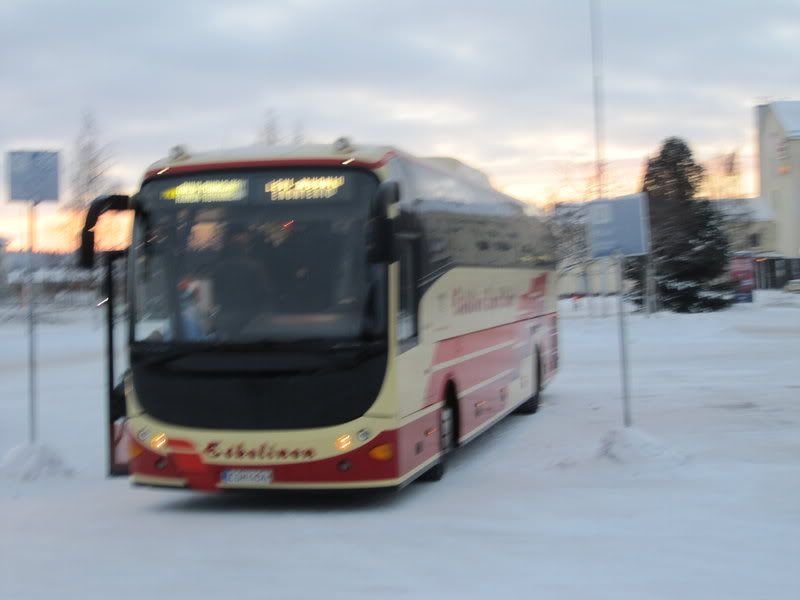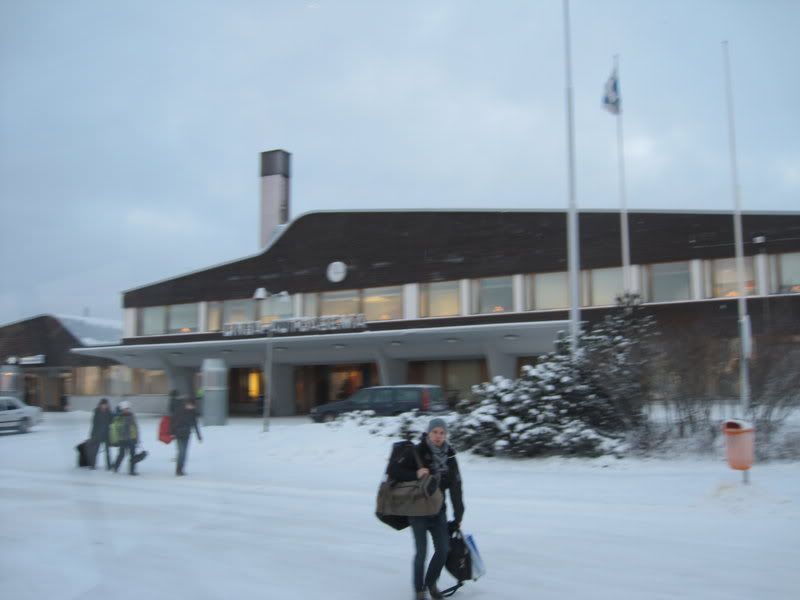 Luckily the bus driver is a very jolly guy, as people around here tend to be and we get a good chuckle out of the situation. I help him by acting as an interpreter to get things done. Finally we leave some ten minutes late for the two hour ride.
Christmas decorations in the bus as well: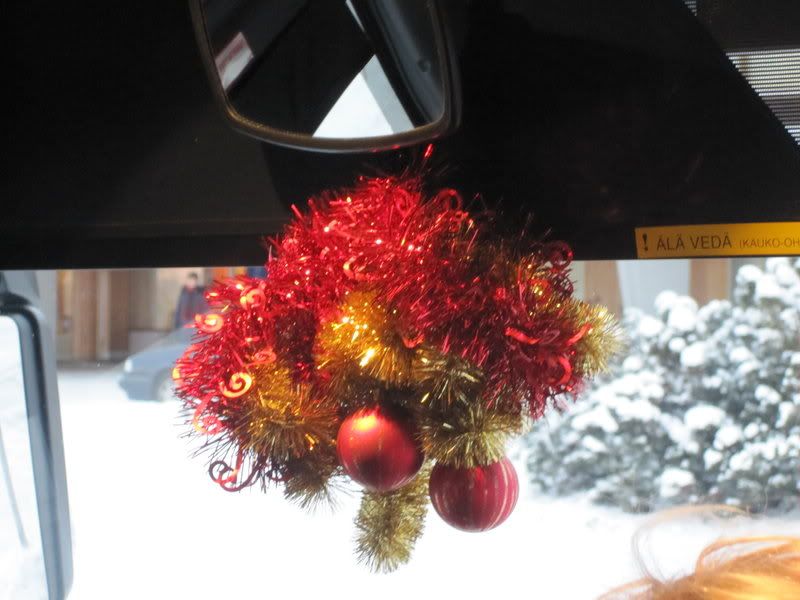 The bus ride is quite special - watching all that snow covered scenery with only a few signs of human settlements dotted every now and then and listening to some sad old songs on my Ipod sure puts a guy into a very moody mindset. I think one day I will do a more epic journey all the way up to Norway to see how that would turn out to be. I manage to catch an hour of sleep, though, and that fixes things up somewhat.
Finally we pull at Kittilä Airport and I bid the driver goodbye, merry Xmas and luck in dealing with the Chinese in nearby Levi where they are getting off and head to the terminal.
Kittilä Airport
Check in is not yet open so I snap some pictures: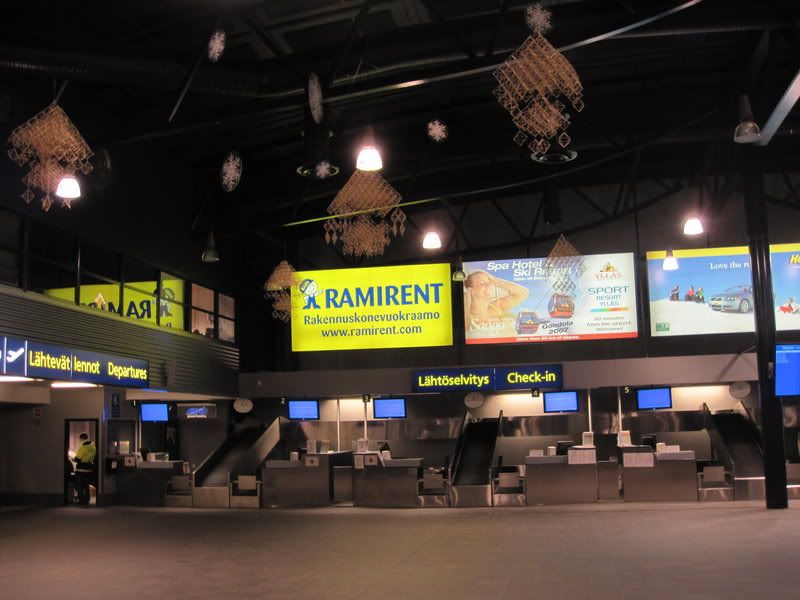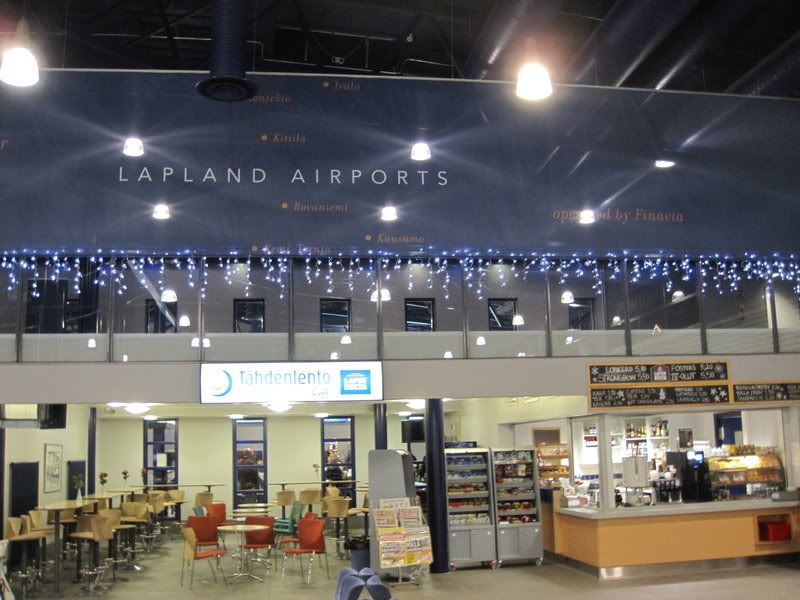 FIDS: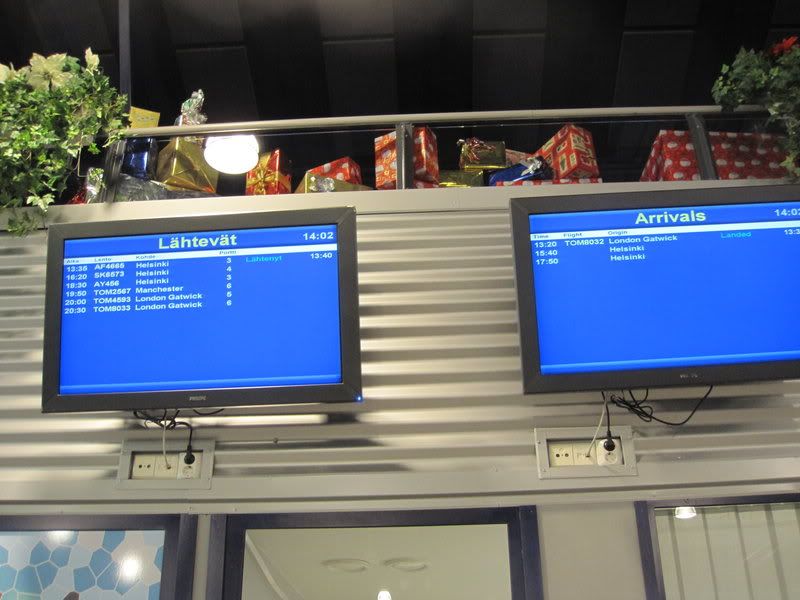 A FirstChoice/Thomson charter from LGW has just arrived and people are being ushered to their buses. Welcome sign: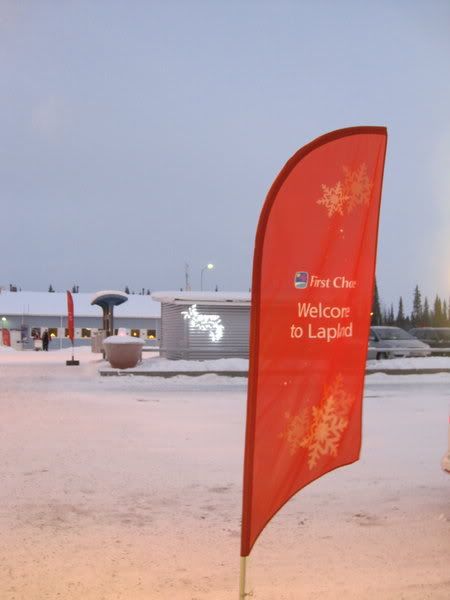 The terminal: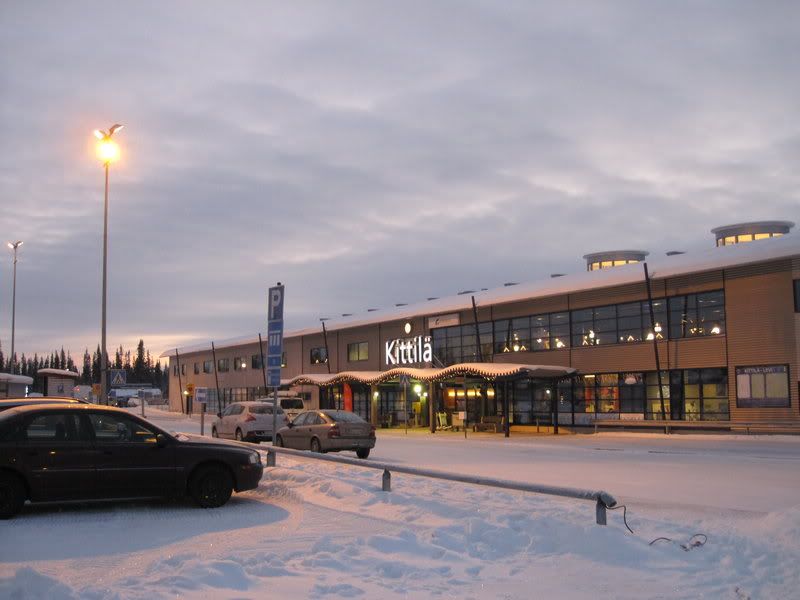 Ice sculptures: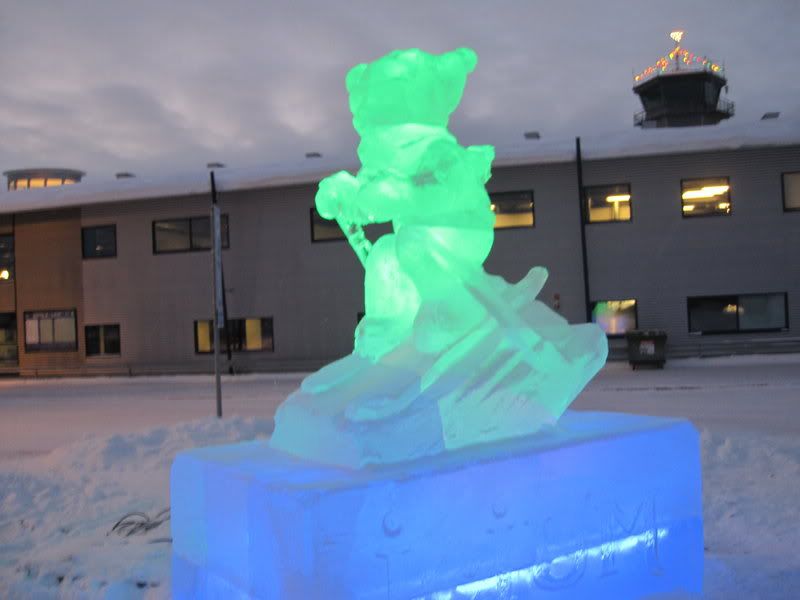 One can actually see part of the slopes at Levi from here: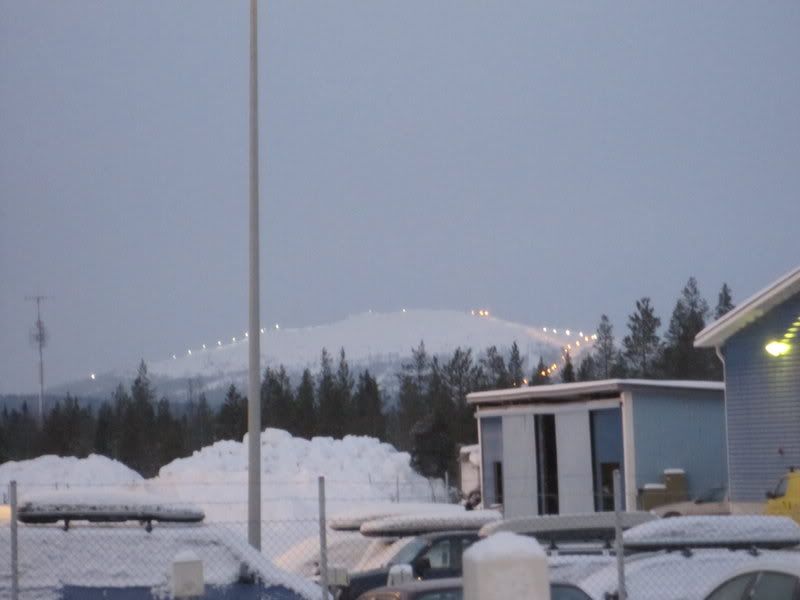 The tower, looking almost like a Christmas tree:
The FirstChoice 757, there turned out to be three planes from then on the ground here: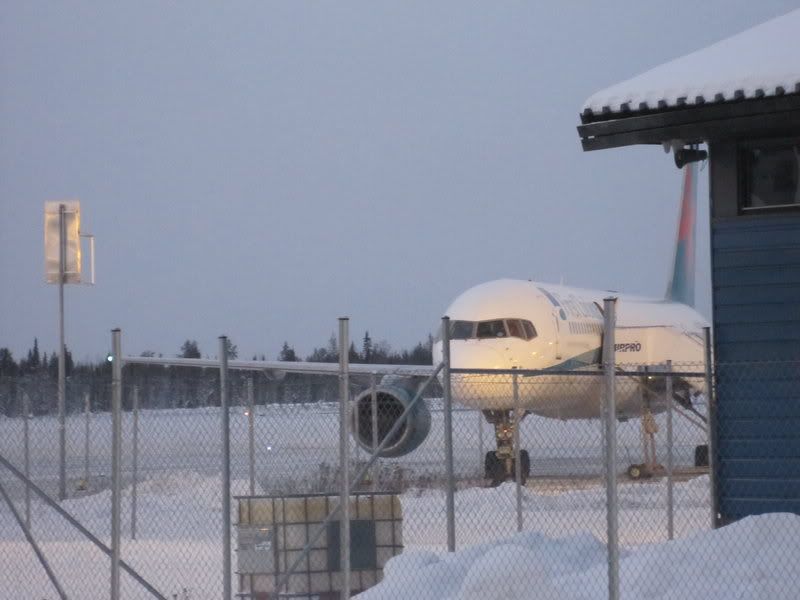 It is quite cold outside, far more than in Rovaniemi so I head inside and nurse a pint while waiting for the check in to open. It soon does, although when I get there I learn that they have followed AY's suit and outsourced the balance etc. calculations to Bangkok and apparently the flight is being held locked by then. This is resolved in five minutes, and I get rid of my rollaboard (it contains very dangerous liquids purchased at RIX the prior night - so pointless really!) and get my boarding pass with a sequence number of 1 - whoa, not many OLCI users up here (well, when doing a same-plane turnaround here last year my OLCI boarding pass caused massive confusion among the staff...). I ask which plane it is - "717" - "Ok, I meant the registration?" - "I think it is BLM" - bugger as that's the only KF 717 I've already flown a month prior.
I head through security to the empty departure hall: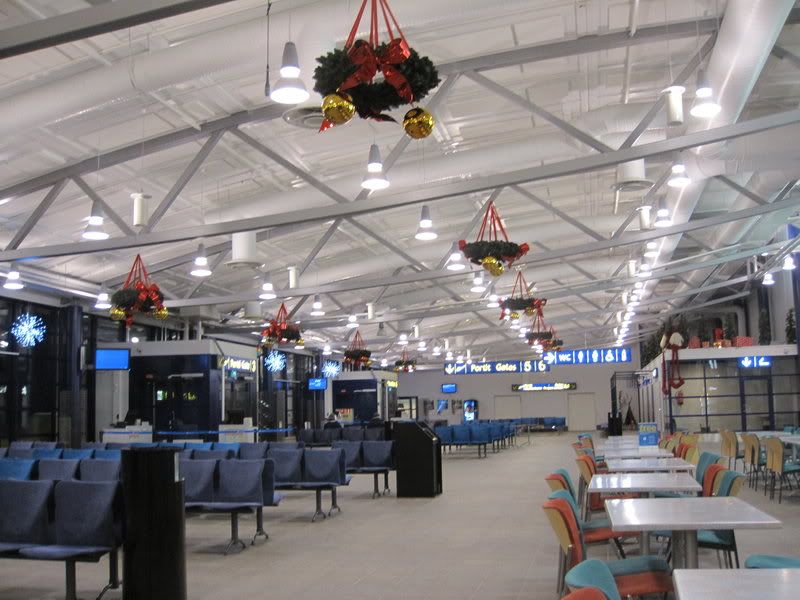 The free wifi and a number of pints from the bar help me pass the time. At some point I overhear the guy on the next table calling somebody about "a delay". I check the flight statuses and sure enough, the inbound from HEL is showing a 50 minute delay. I keep monitoring the flight from the HEL airport website and it finally departs 1h4mins late from HEL.
At some point the fire alarm goes off - nobody seems to care so I decide not to either. Somehow it just brings me the creeps as this terminal extension where we are now burned down four years ago just before its grand opening. While getting another pint I ask the barmaid and she just shrugs it off "Oh, it's been going on and off like that for the last month or so.".
Finally I spot the inbound plane arriving at 16.25 - indeed it turns out to be Lima Mike so my second flight with her.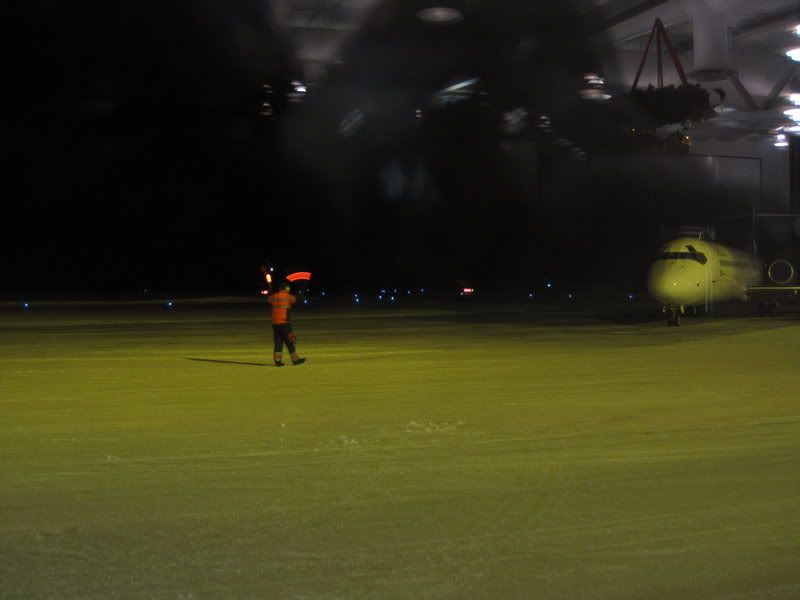 They have set up a photo exhibition of the airport's history, it includes a photo of the aforementioned terminal fire, how appropriate: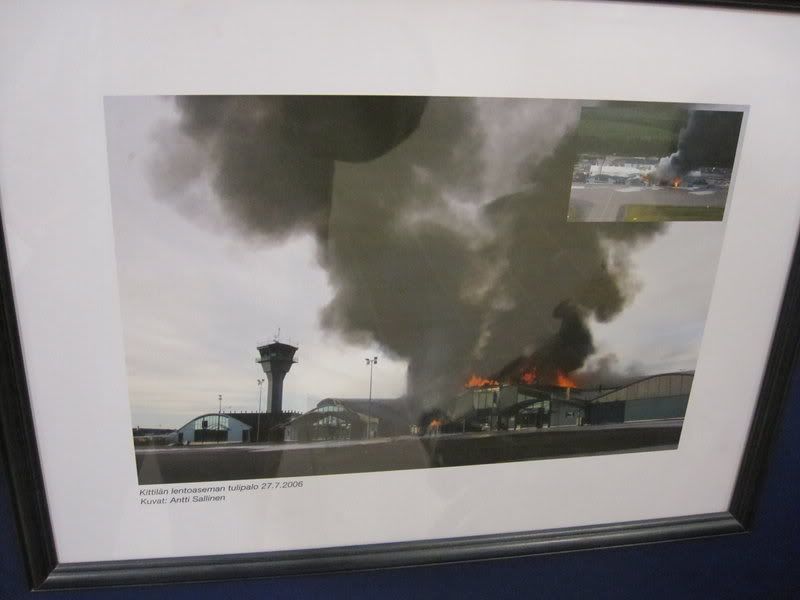 Boarding is called at 16.45.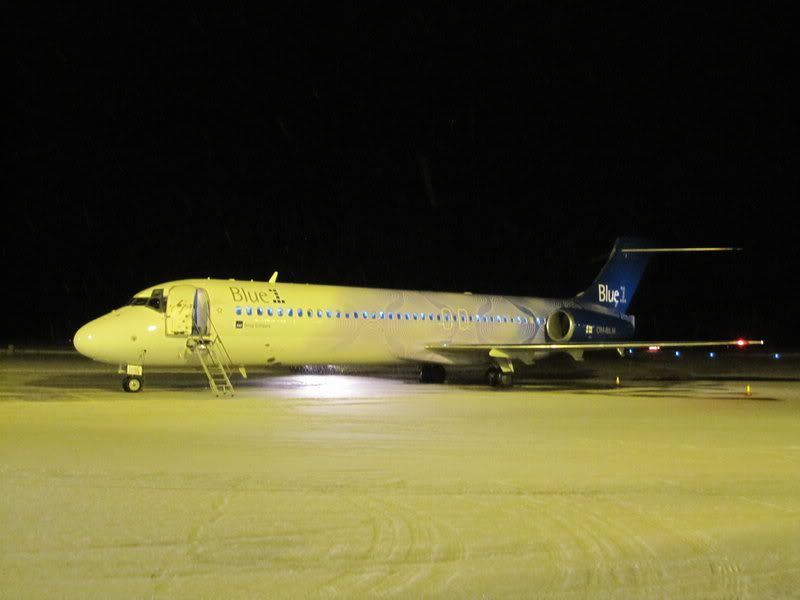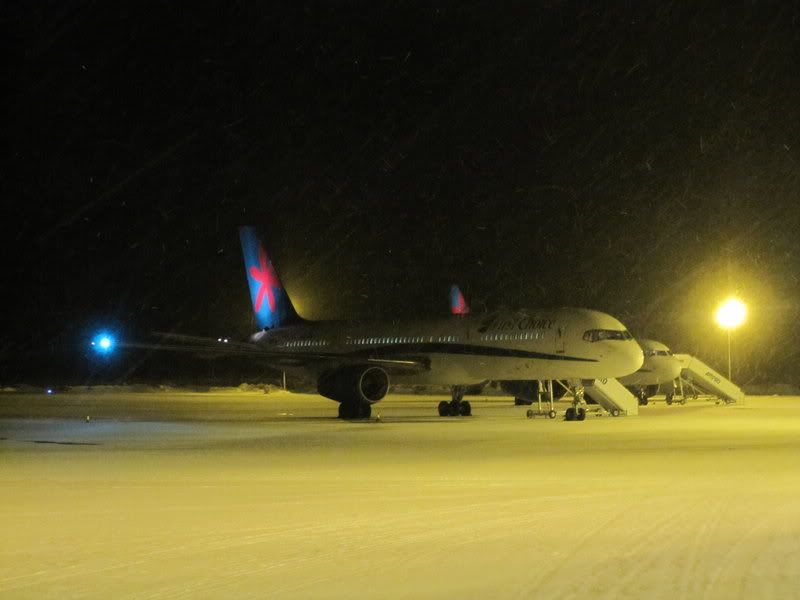 KTT - HEL
KF294
B717 OH-BLM "Kevätsade / Spring Rain"
Seat 4F
16.55 - 18.20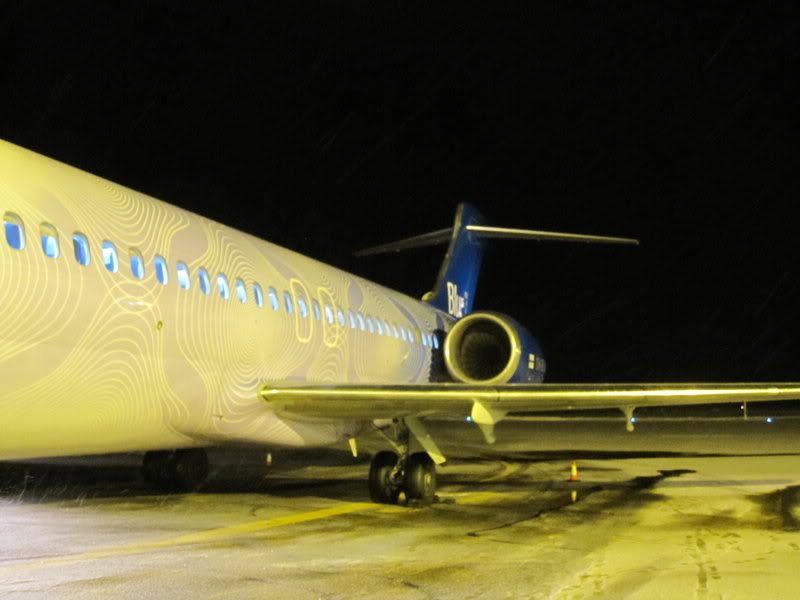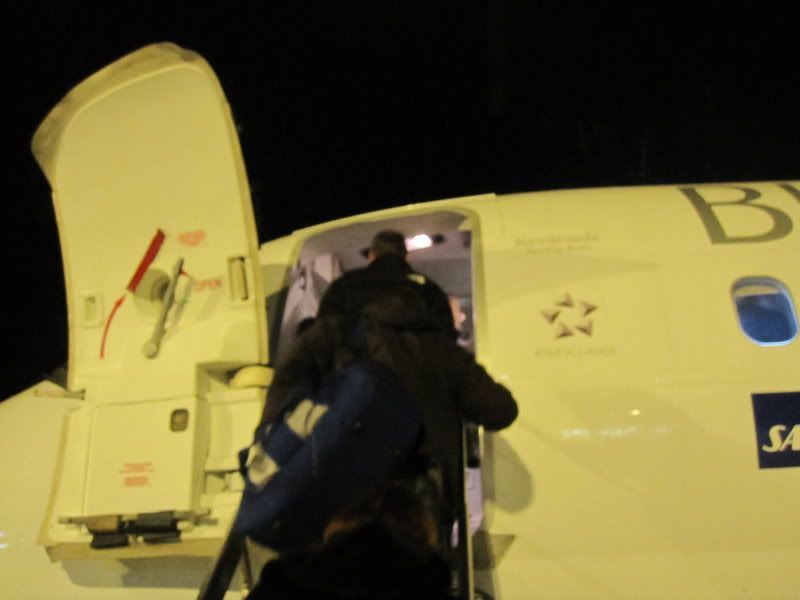 Onboard I sit down on my originally assigned seat 5A and get very disappointment at seeing this: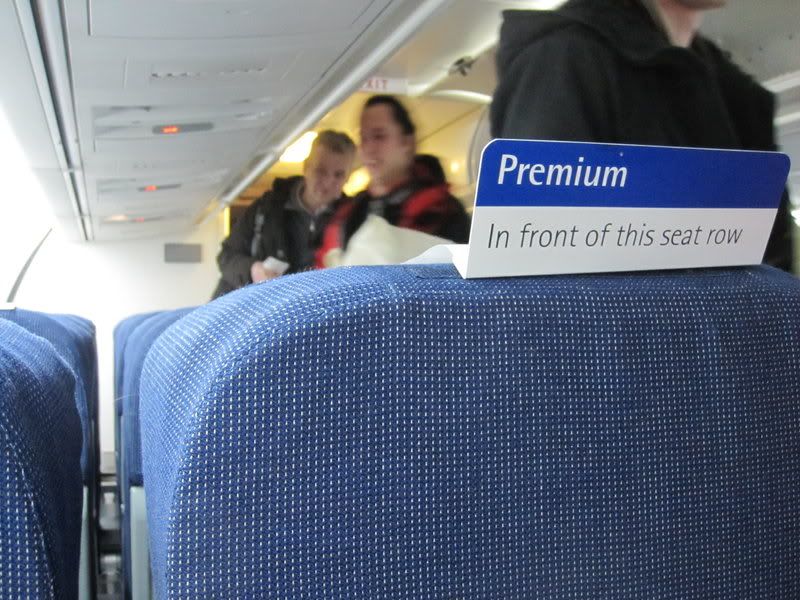 Top