Greetings again my most excellent friends.
This trip report is of a short trip I took to Adelaide for a cricket match. Being a short hop, and that I was not going for a long time, I didn't need fancy features. I would have driven, but after looking at all the options (JQ, DJ, QF and TT) TT won with $9.95 each way fares including taxes. Flying turned out to be the cheaper option, even after paying for parking.
My friend and I were geared up for this trip. It was going to be a blokes weekend, beer, cricket and more beer. It did not disappoint (result of the match not withstanding).
Utilising the online check in facility (check in at airport is now $20, online is free) we had our boarding passes ready. With no luggage to check in, it was just a matter of getting to the airport. Easy. Of course, we were flying from AVV and not MEL, but that actually made life easier. Further, yes, but cheaper parking and no toll roads. Plus, we parked all of about 20 metres from the terminal, so we were quite quick on arrival.
Heading towards AVV
Air show advertising.
Arriving at AVV
MX hangers
Canberra bomber (I believe)
Car park and terminal. It's quite a budget airport.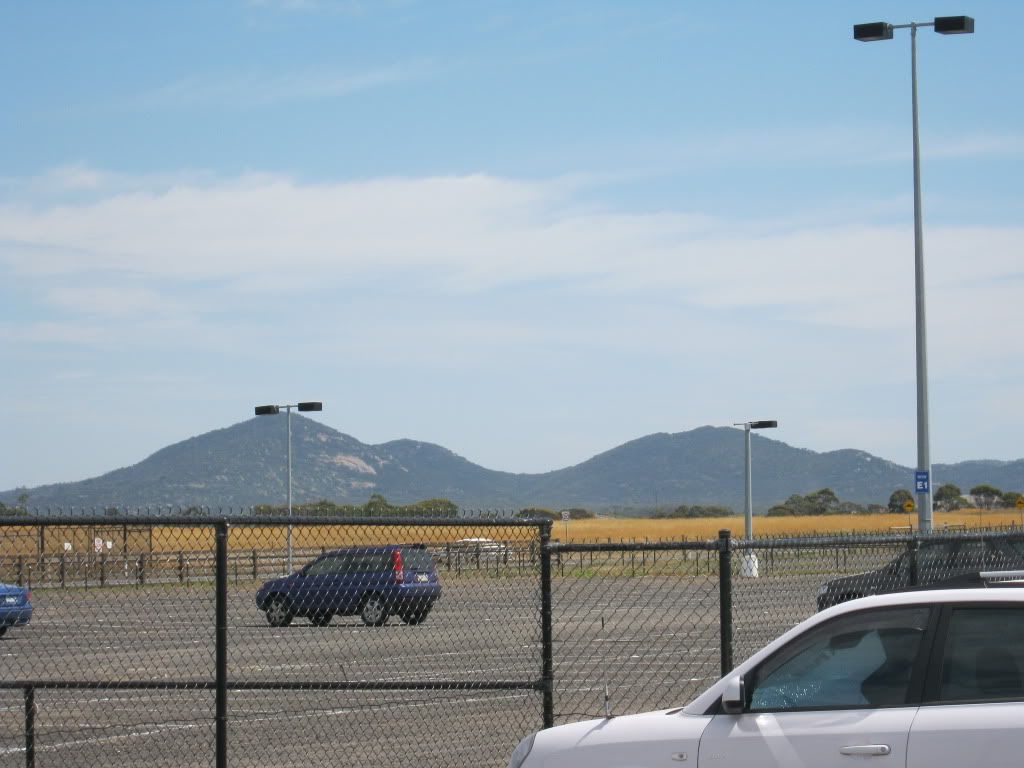 The You Yangs. Only mountainous feature on the flat Keilor Plains.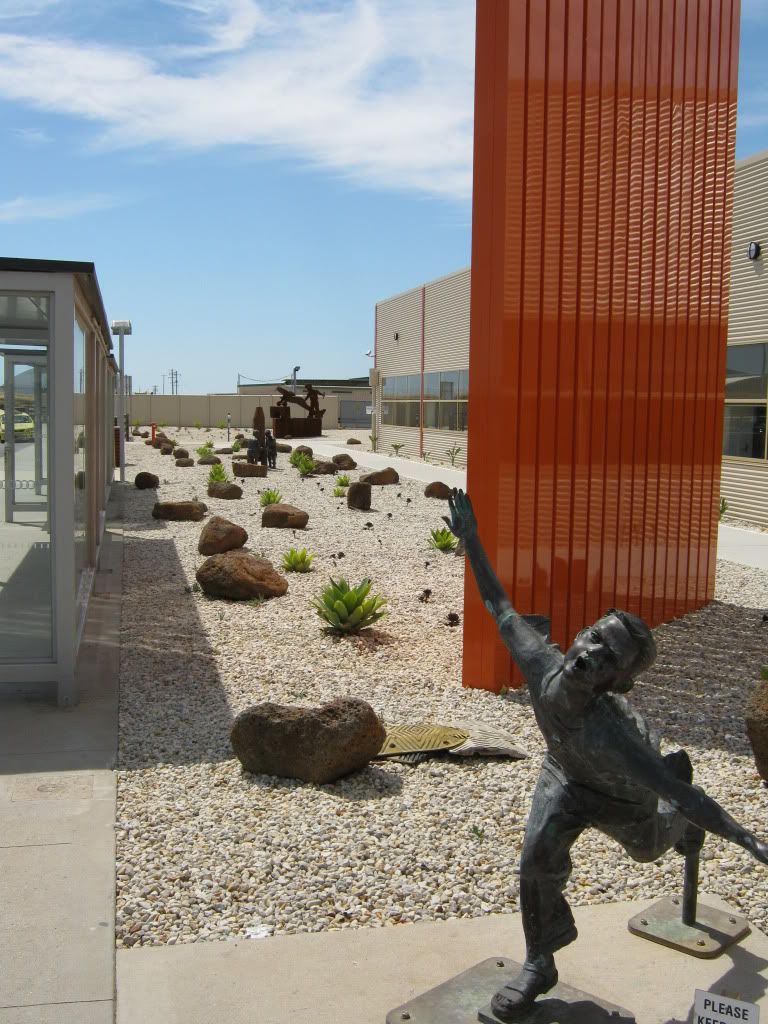 Exterior. Note the sculptures.
Sculptures outside arrivals.
It's unclear what this is all about.
Empty terminal.
As you can see, it's not a busy airport. Ours was the only flight for a couple of hours.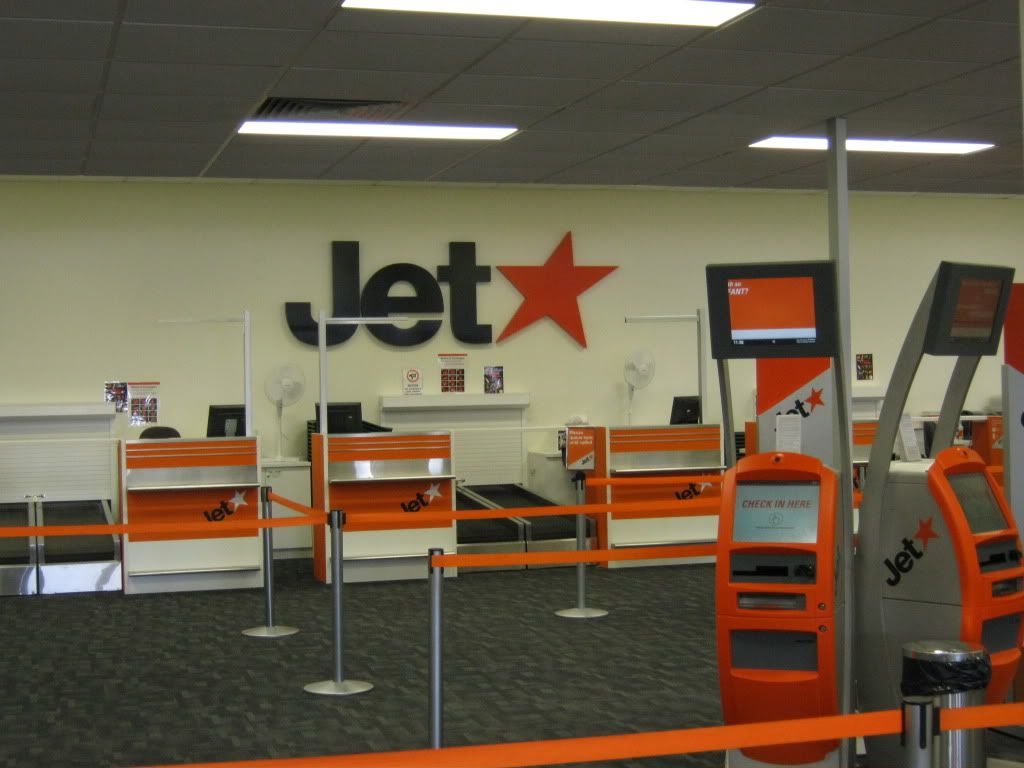 If you look closely, you can see the tumbleweed.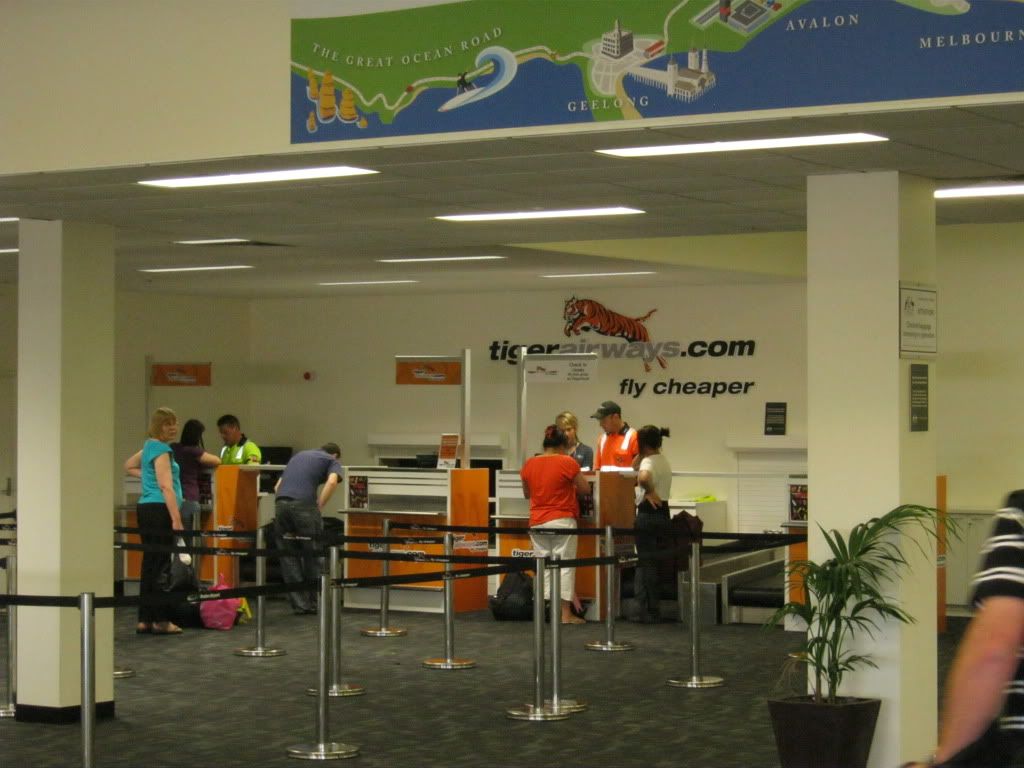 A handful of people checking in. Or perhaps dropping bags.
Breakfast of champions!
Ooohh...now these are interesting! Convair's for firefighting. Have not been used yet due to a very wet summer. Their time will come.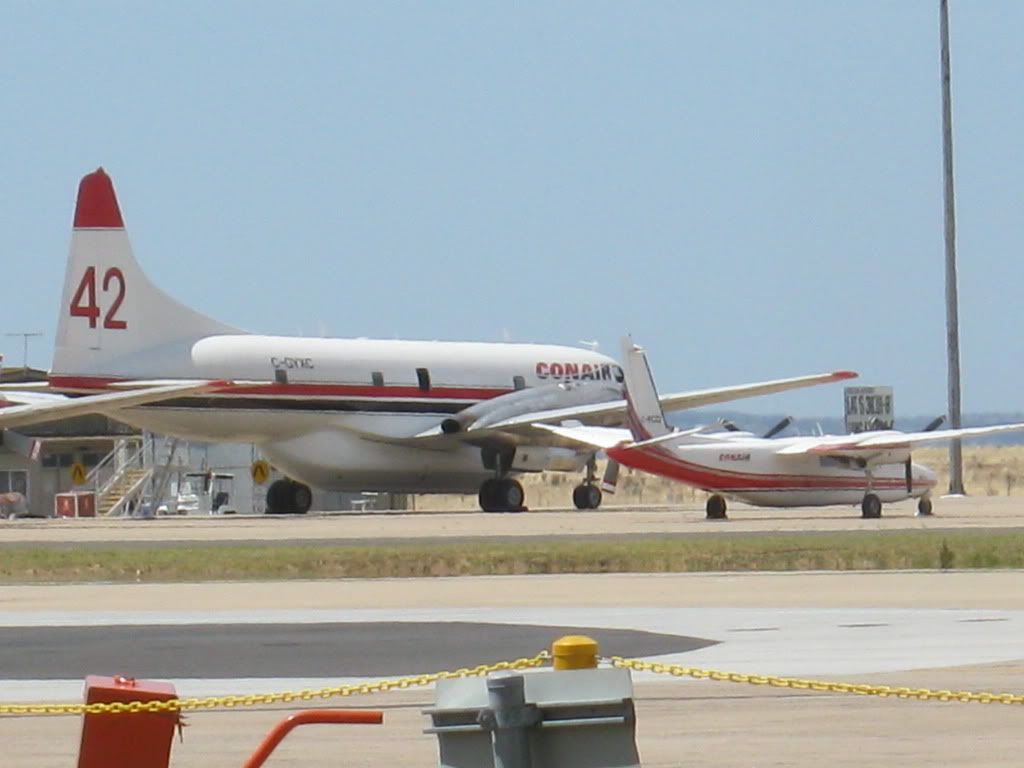 Close up.
Our chariot through the skies.
I think this is one of the old Aboriginal painted QF 744's, but I might be wrong.
TT8243
A320
AVV-ADL
STD: 1230 (15 mins late) STA:1320 (5 mins late).
Load: about 90%
Whilst walking out to the plane I was taking some shots before I was told there was no photography allowed on the tarmac. I toyed with the idea of arguing the toss, but decided not to. Just grinned and said "rightyo matey" and squeezed off one more.
Boarding was via the rear stairs. As we passed one of the rear bathrooms, it had an "out of order" sticker on it. During the usual spiel, the cabin manager told us there were 2 bathrooms in the back and 1 in the front. Was the sticker a ruse? Or did she just not bother varying her routine to say "well, actually folks, one is busted, so expect a bit of a line up"?
Now, due to the online system not allowing you to pick seats unless you pay for the privilege, the system will invariably give 2 passengers 1 aisle and 1 middle, or 1 window and 1 middle. Luckily for me , my travelling companion has happy in the middle. Unfortunately, the outbound flight had me in an aisle seat, and the lady at the window did not want to swap. C'est la vie.
Minimal leg room. Seat width was wider than I remember, it was actually pretty comfortable.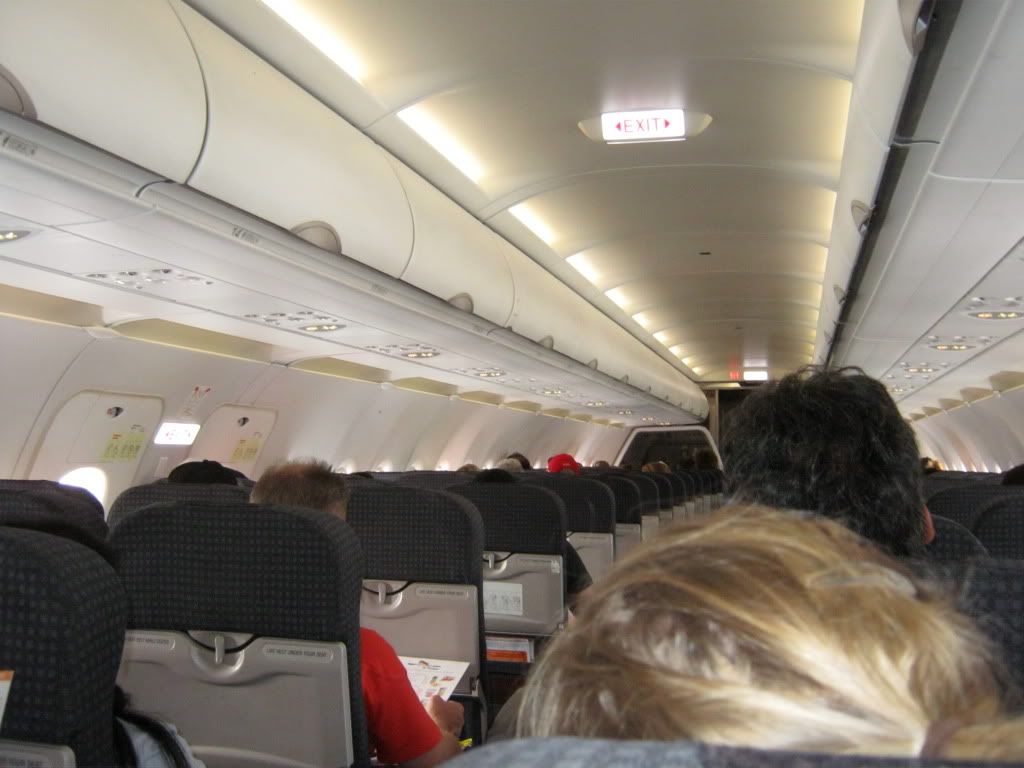 Cabin shot.
Boarding was relatively orderly, though some people were clearly above the requisite size and weight for carry on. It's also worth noting that for no checked luggage, you get 10kgs of carry on in 2 bags. Still, there was an awful lot of cabin baggage.
Push back was more of a pull forward, and we turned and headed for the runway. A bonus of flying from AVV is that there's almost always no-one in front of you for departure, or waiting on incoming traffic. Just line up and go! Take off was smooth and to the south, before we turned left and headed towards Adelaide.
Flight time was a little over an hour. Flight was unremarkable really, as I'd hoped. A little bit of chop as we passed through some weather, but otherwise smooth sailing, and we touched down in a damp and humid Adelaide.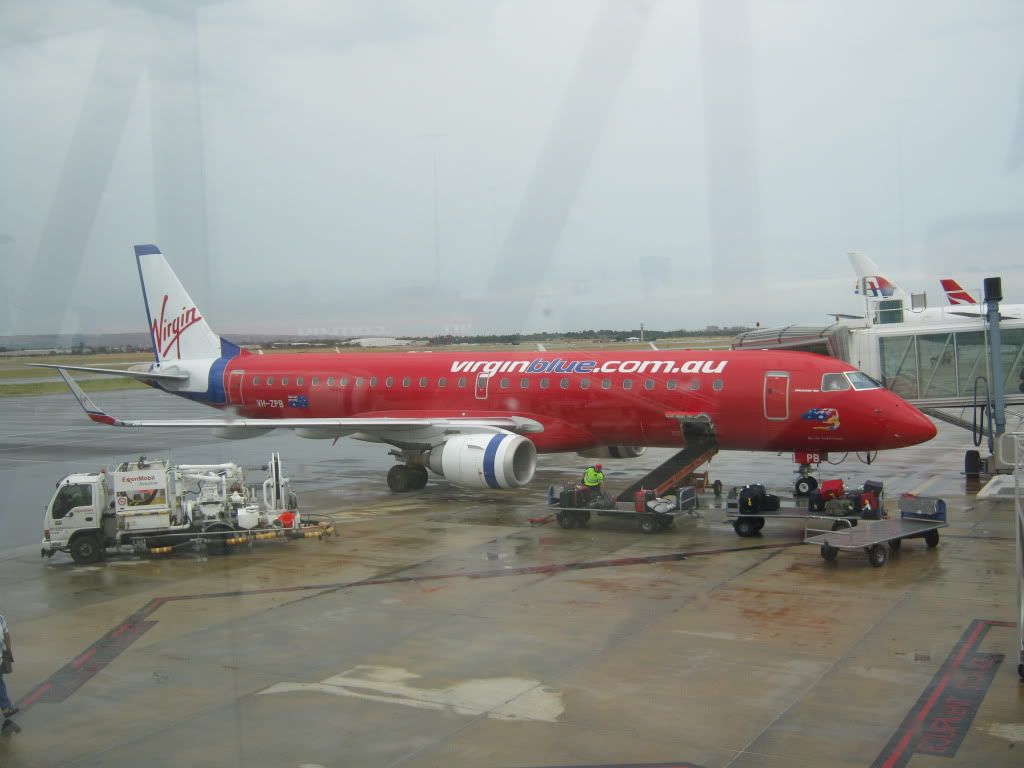 DJ flight to Perth.
One of the few international flights from Adelaide.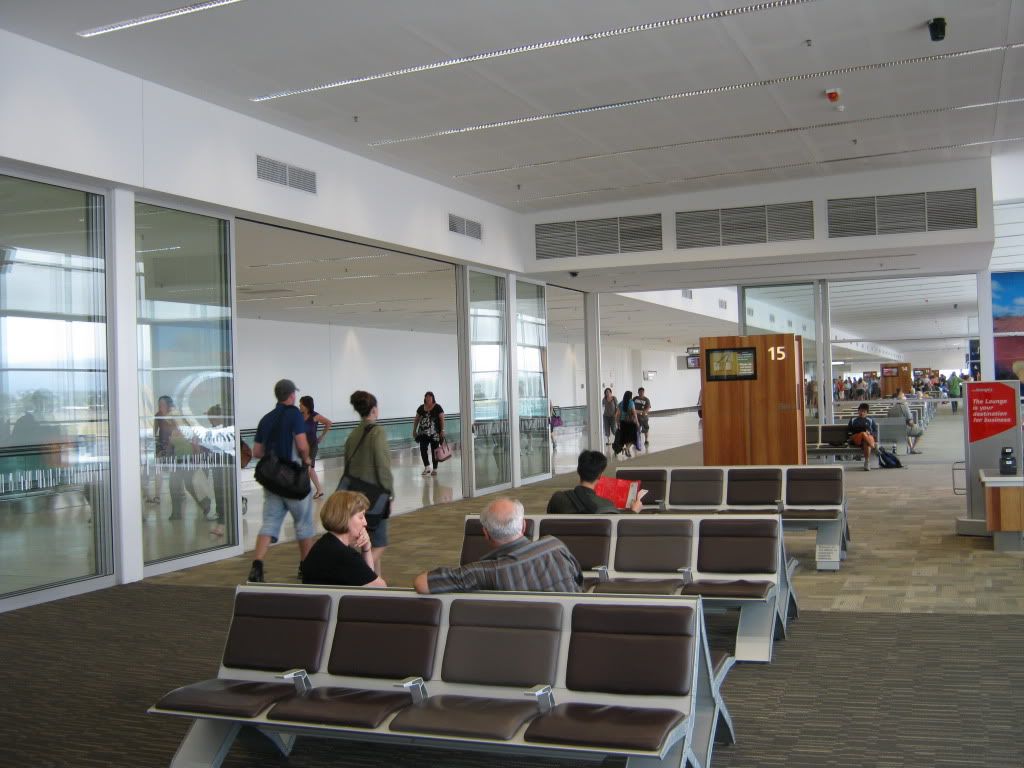 Because ADL sees only a few international flights, a dedicated terminal for them is wasted. Instead, they have a system where they can shut off as many gates as they need with security doors for international purposes, or leave them open for domestic usage. Genius.
One Rex and 2 Sharp airline planes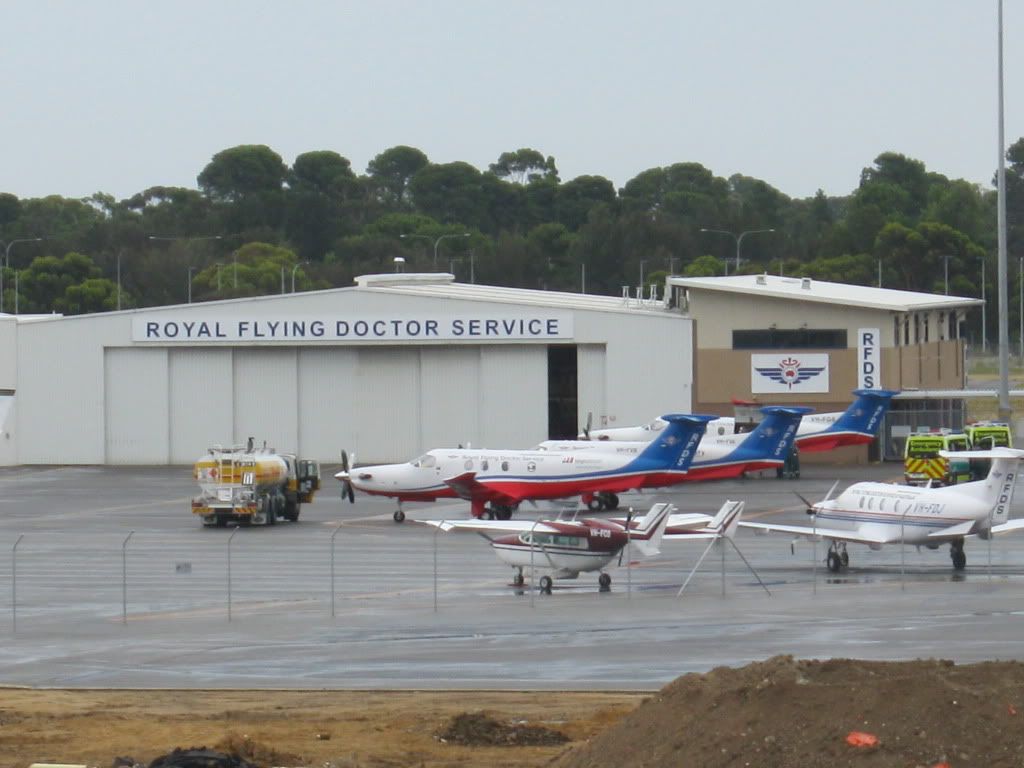 RFDS base.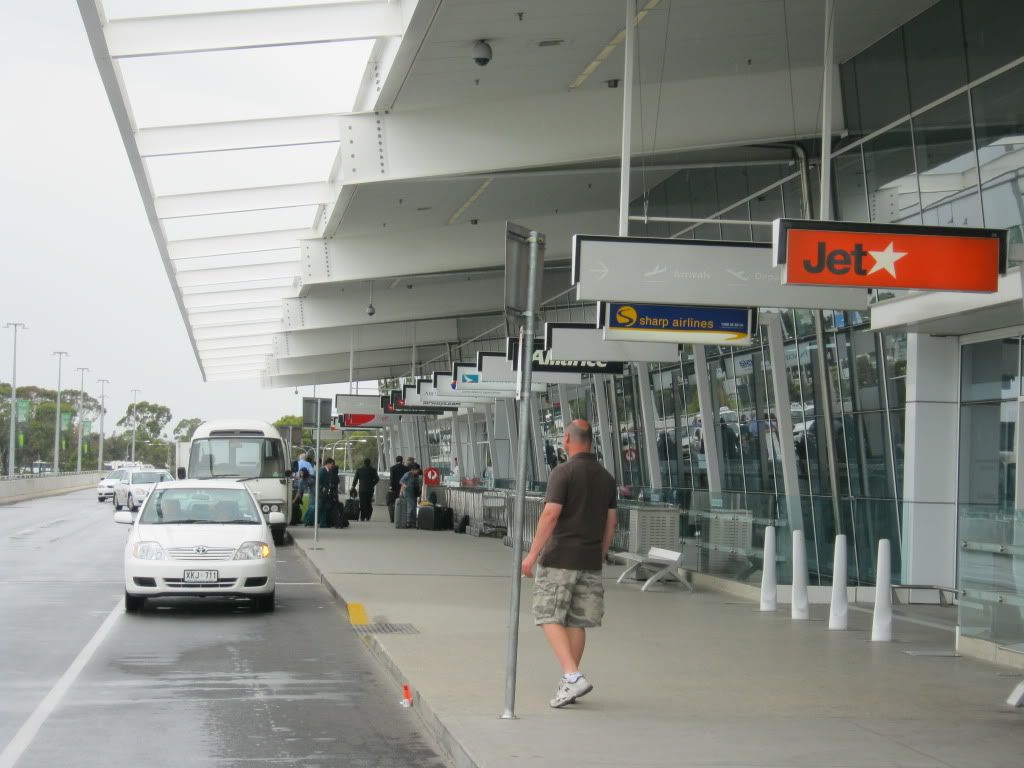 Exterior ADL
Adelaide is quite a civilised place. The airport is not located in the boondocks, and you can get a public bus that takes you straight to the city in 20 mins for a measly $4.60. Good times.
Anyway, we checked in to our hotel, then proceeded to hit Hindley Street for a number of beers, and then headed to the Adelaide Oval. This part will no doubt be boring to anyone who is not a cricket fan, but hey, this was my whole purpose for going...so why not?
Adelaide Oval is one of the best venues for watching cricket in Australia. Small ground, lots of atmosphere, the classic scoreboard, and the two grassy hills perfect for lazing on.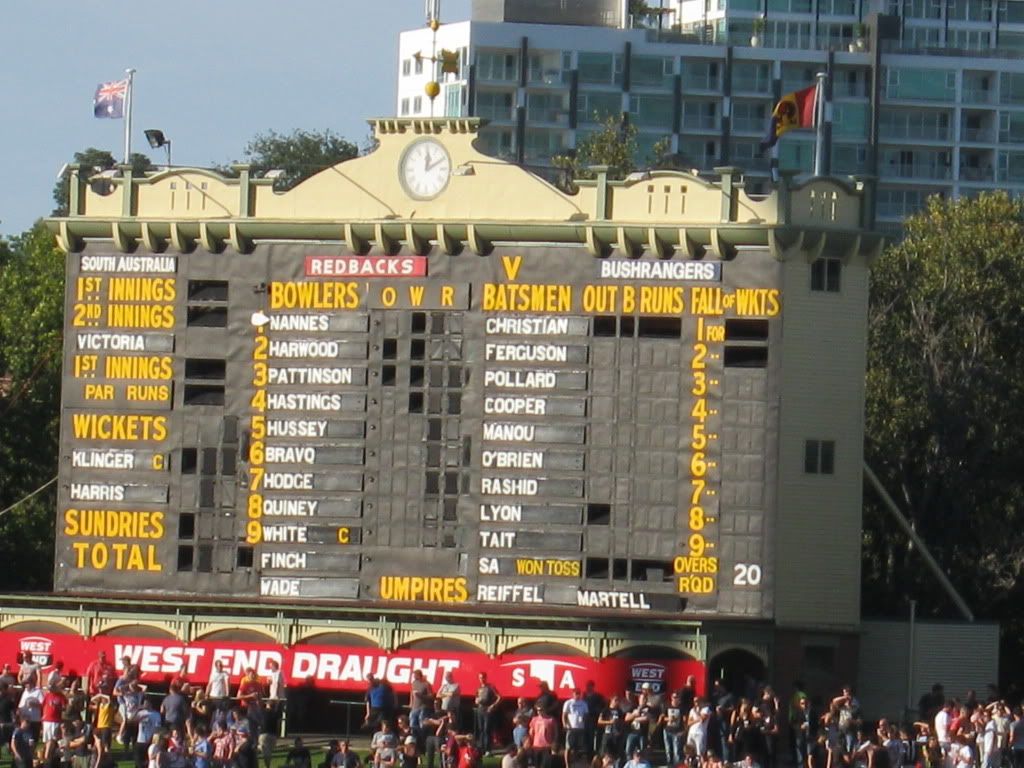 The classic scoreboard. There's a bar underneath, and the grassy area in front is where the more "boisterous" crowd will sit. Being Victorians at an away match in Adelaide, we withdrew to the family area...but we still were mocked.
The game in action. It's sometimes called "Pyjama Cricket" for obvious reasons.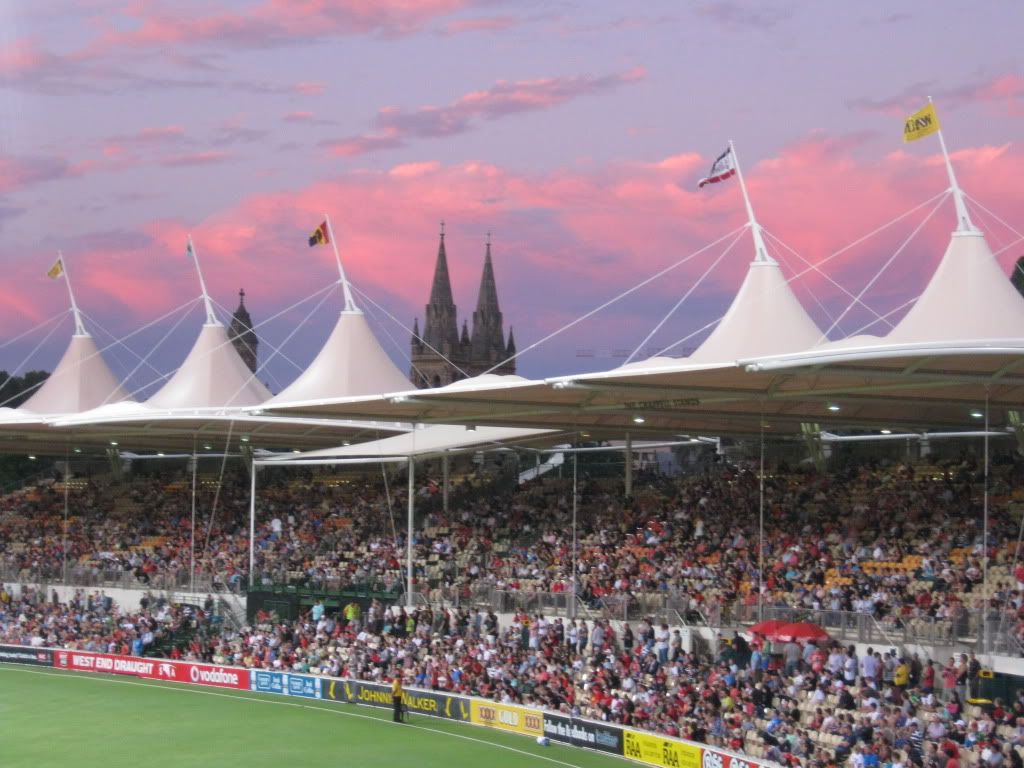 Great colours over North Adelaide.
Victoria lost the match. The rest of the evening was spent sampling Adelaide nightlife and great South Australian beer (Coopers).
The following day, back on the public bus to ADL.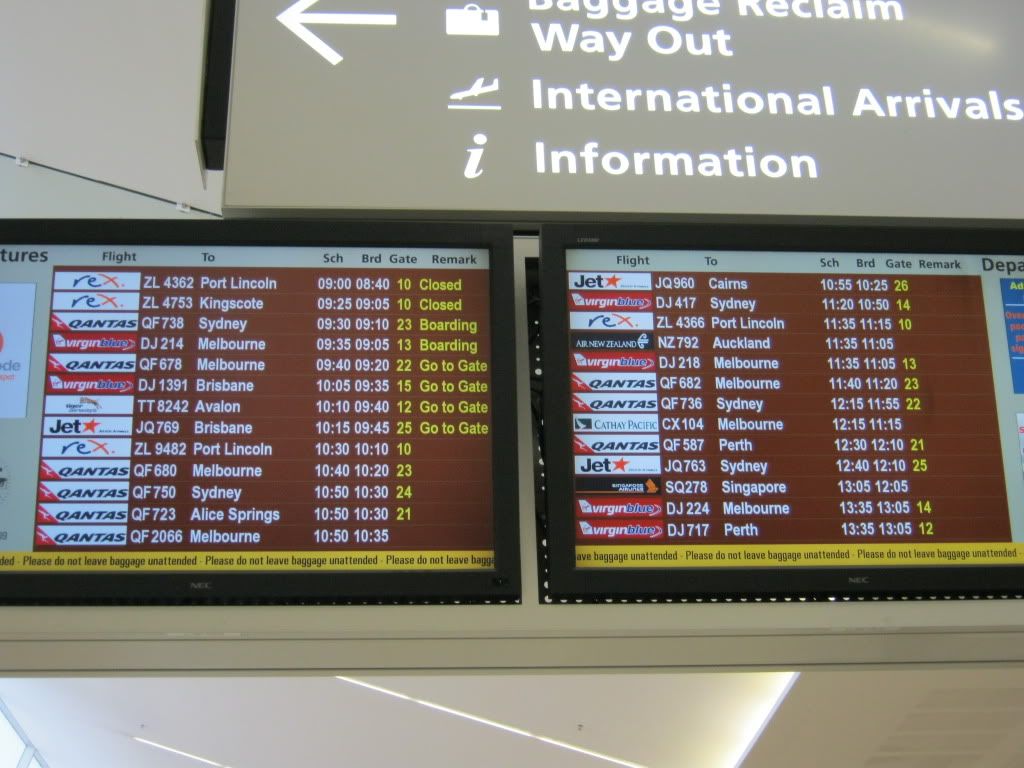 A few more departures here.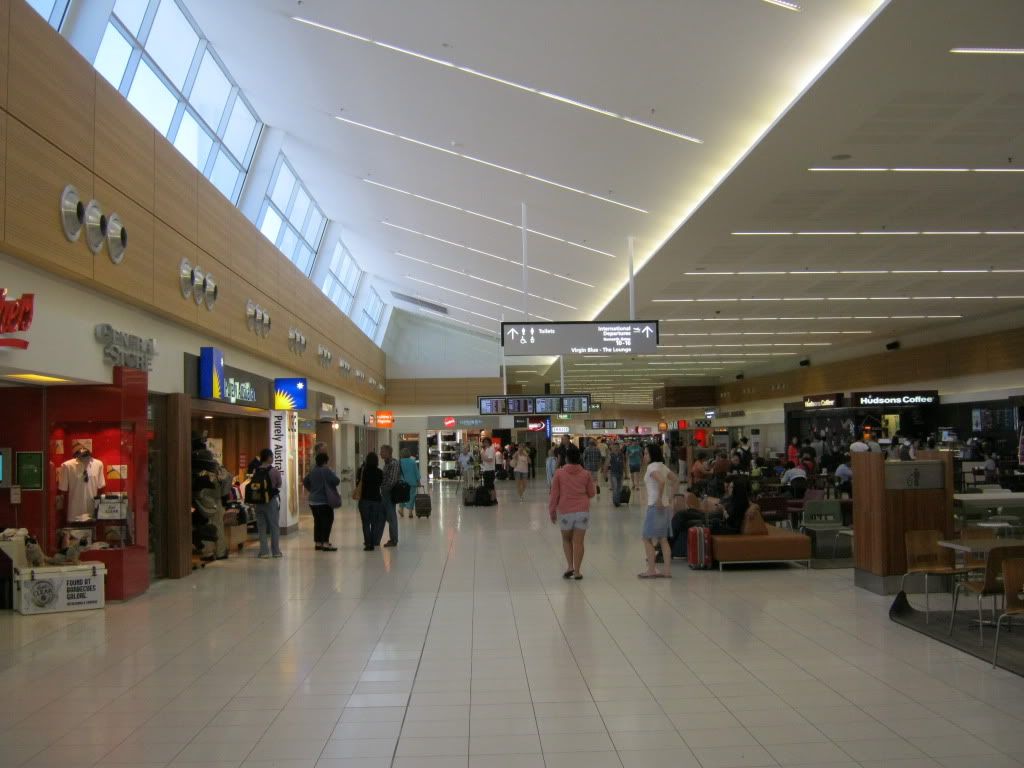 Inside of the terminal. Quite pleasant really.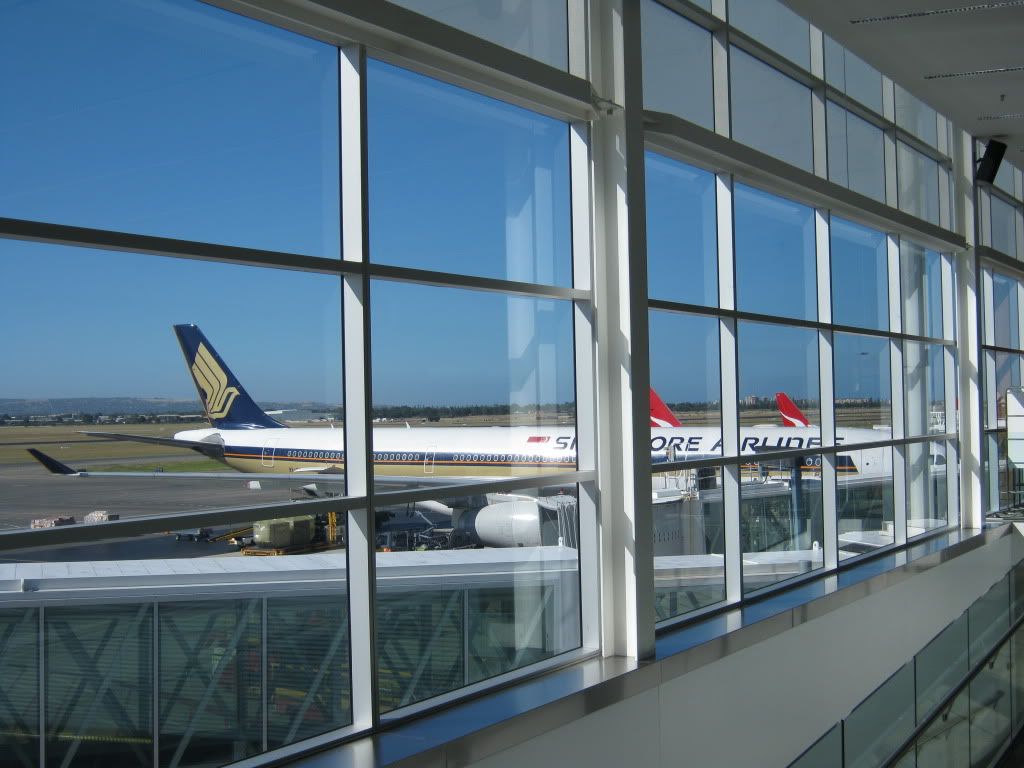 SQ A330.
Looking across to Adelaide downtown and the Adelaide hills.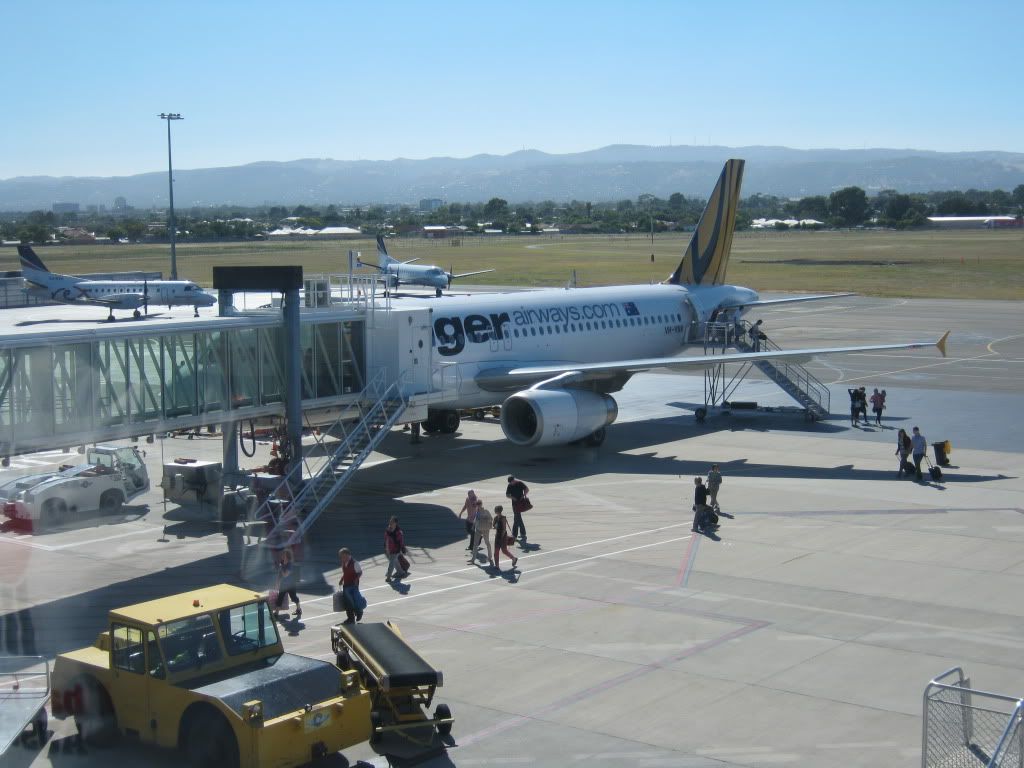 Same aircraft as yesterday!
TT8242
A320
AVV-ADL
STD: 1010 (5 mins late) STA:1155 (on time.
Load: about 90%
I had a window seat this time!
Flight was otherwise about the same as the outbound; no surprised, nothing special, but quick and comfortable enough. No complaints; though an observation about Tiger most people make is the passengers tend to be a little bit more, shall we say, lower class. The people sitting in front of me were the epitome of such a belief. Im usually not so judgemental, but if you had to sit next to these people on a public bus, you'd probably move seats, and wonder why you didn't drive yourself. Fortunately, though loud, nasal, and littered with profanity, they did settle down enough during the flight to not be a bother.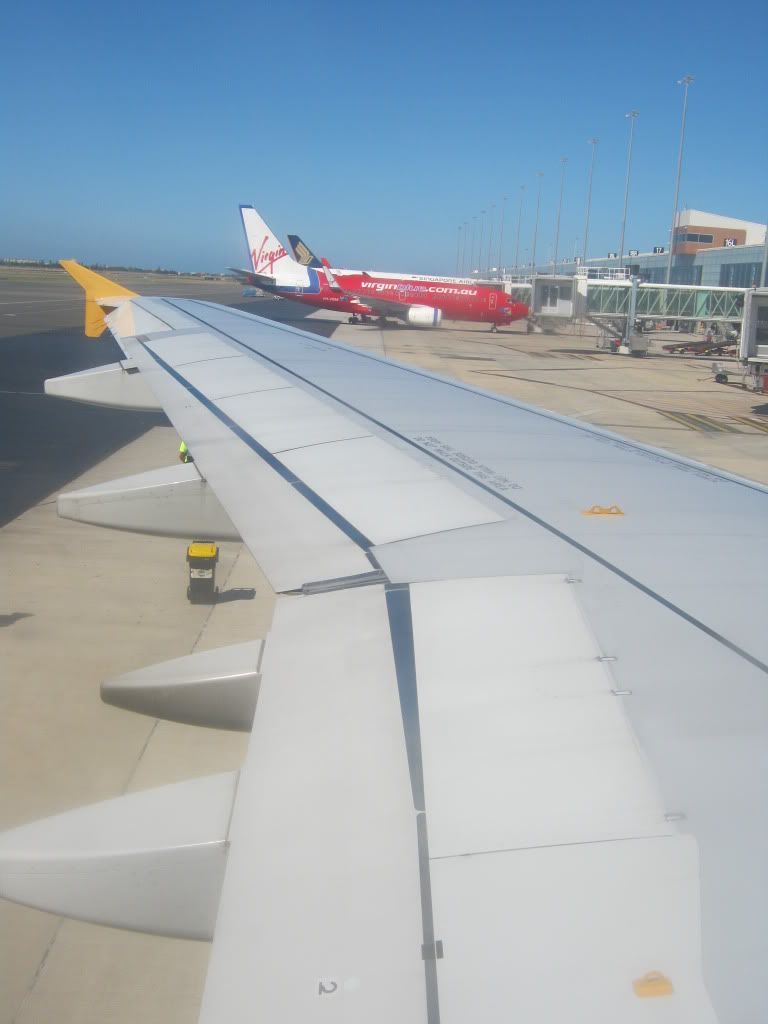 View across terminal.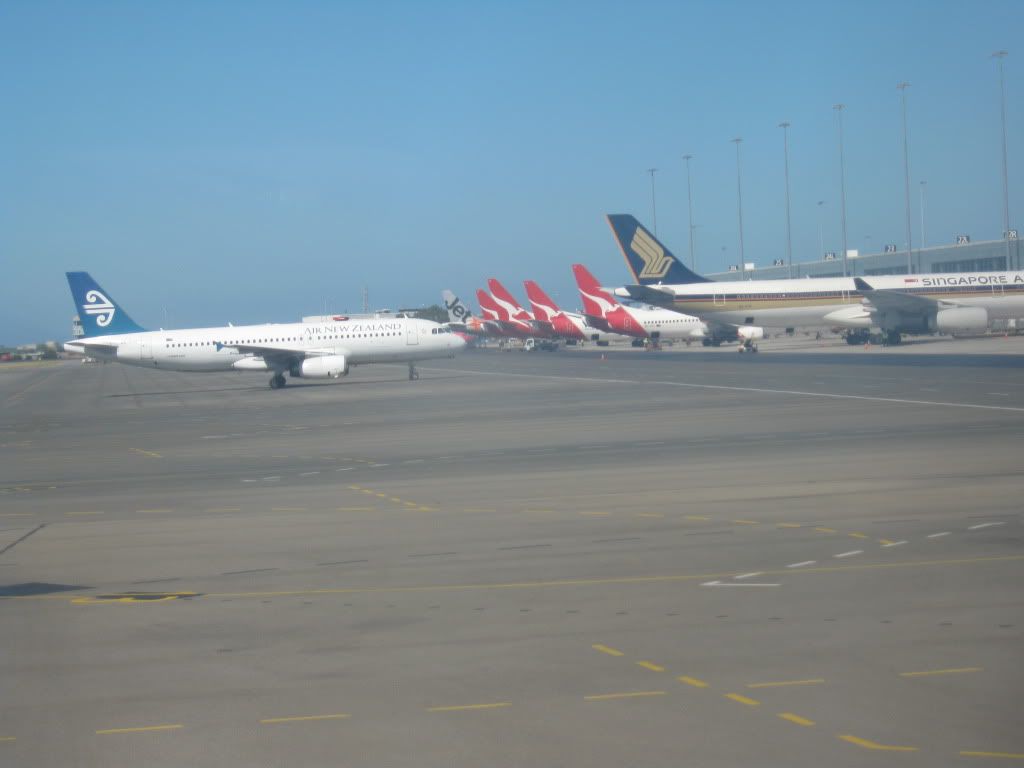 NZ A320 from Auckland. A fair hike in a narrowbody.
Taxiing.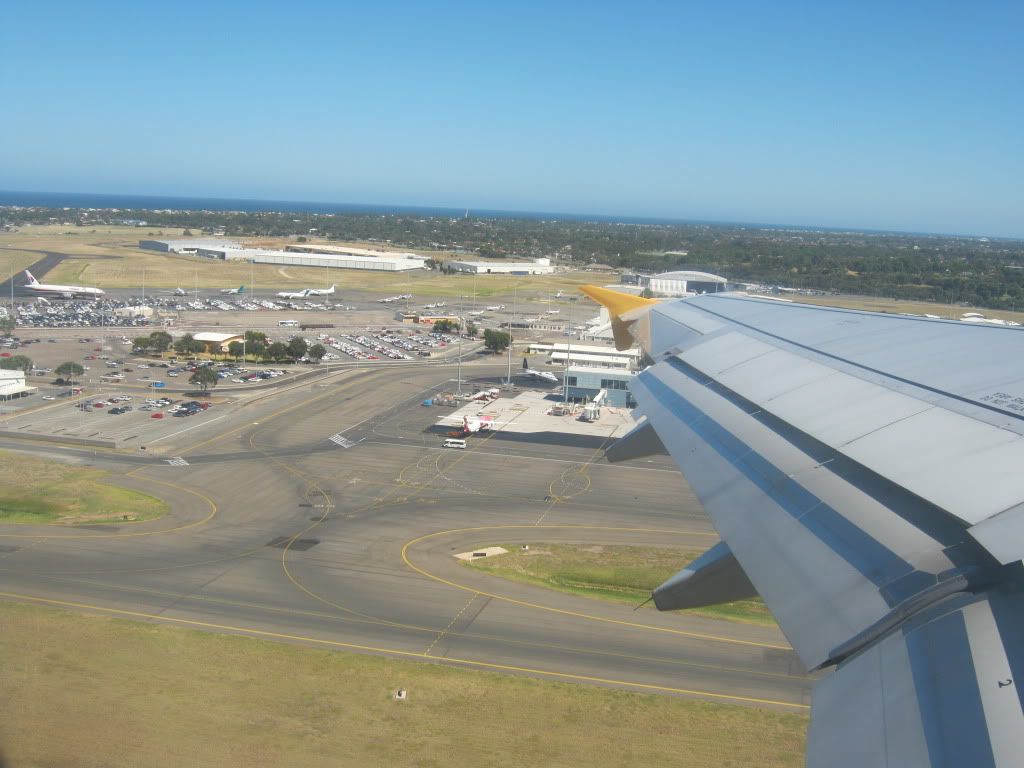 Airborne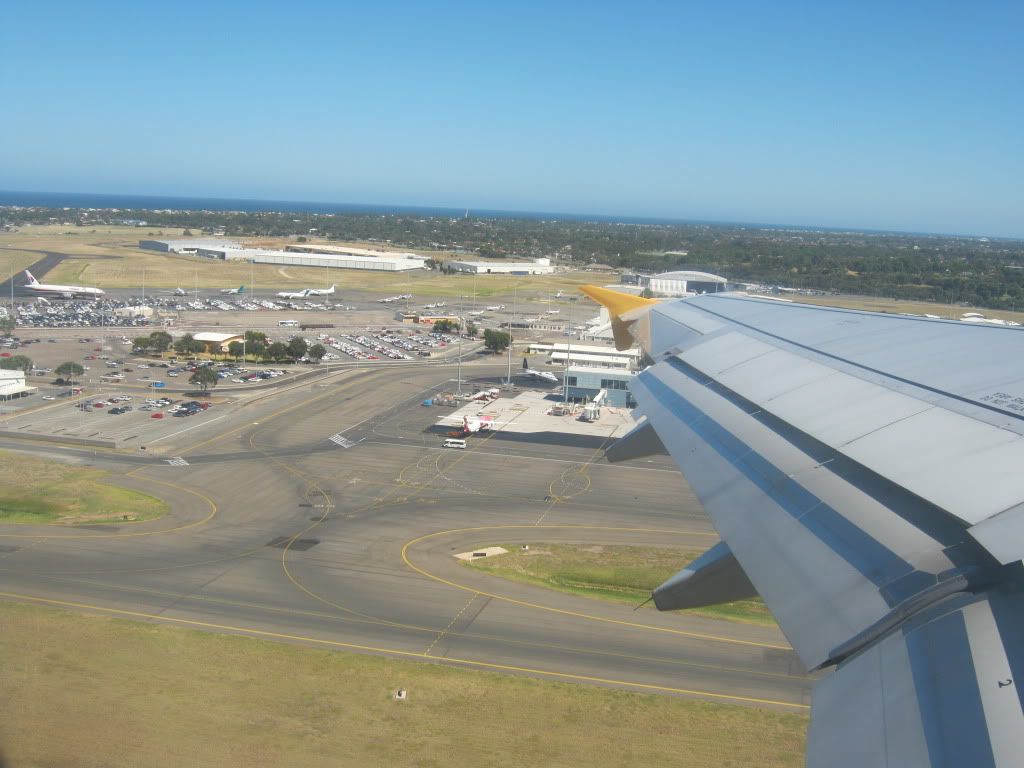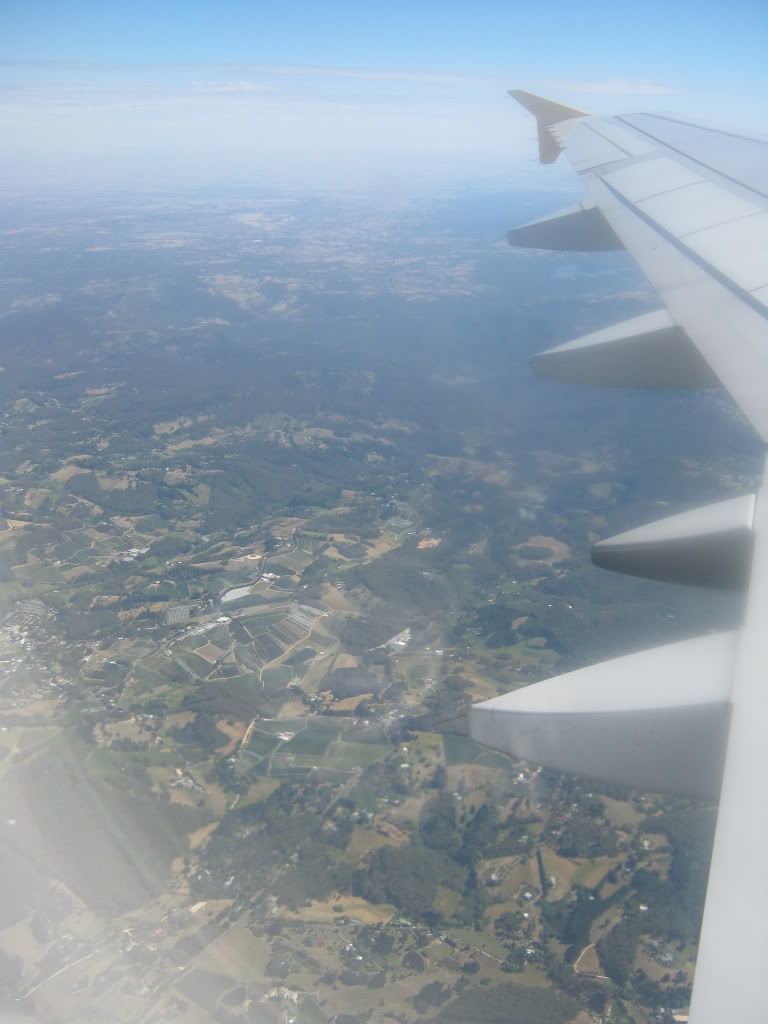 Adelaide Hills
Somewhere over Western Victoria. My parents were driving back from another part of SA, so we must have passed over them at some stage.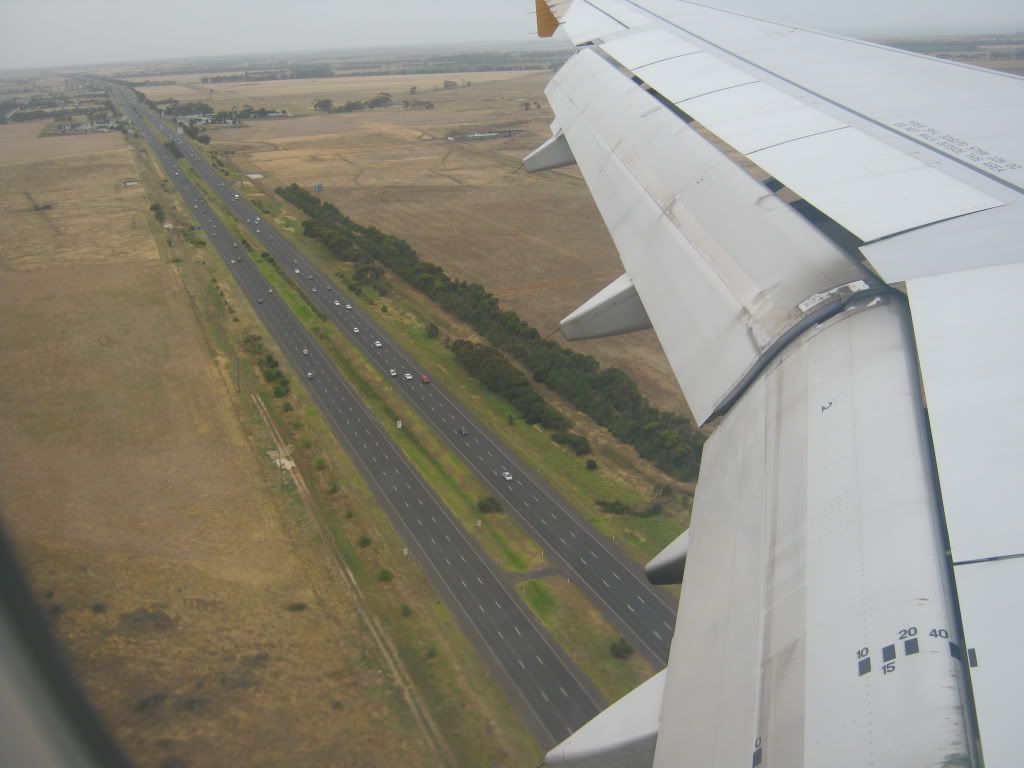 Geelong Road, just before touchdown.
Nearly there!
On the deck!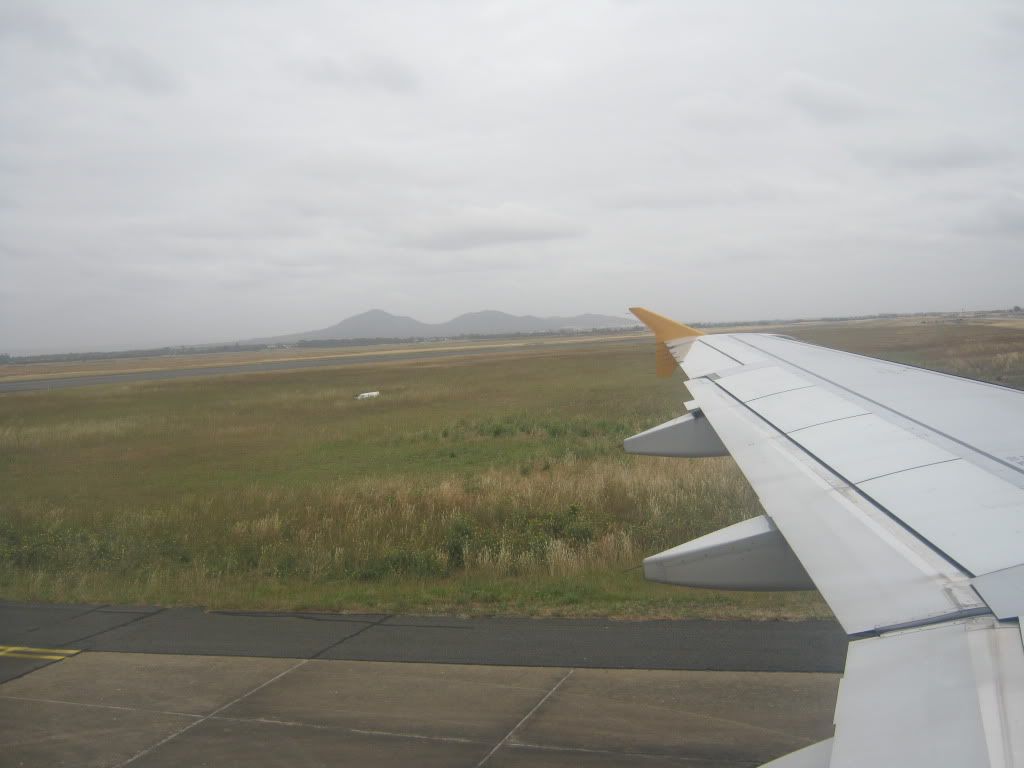 Looking over to the You Yangs.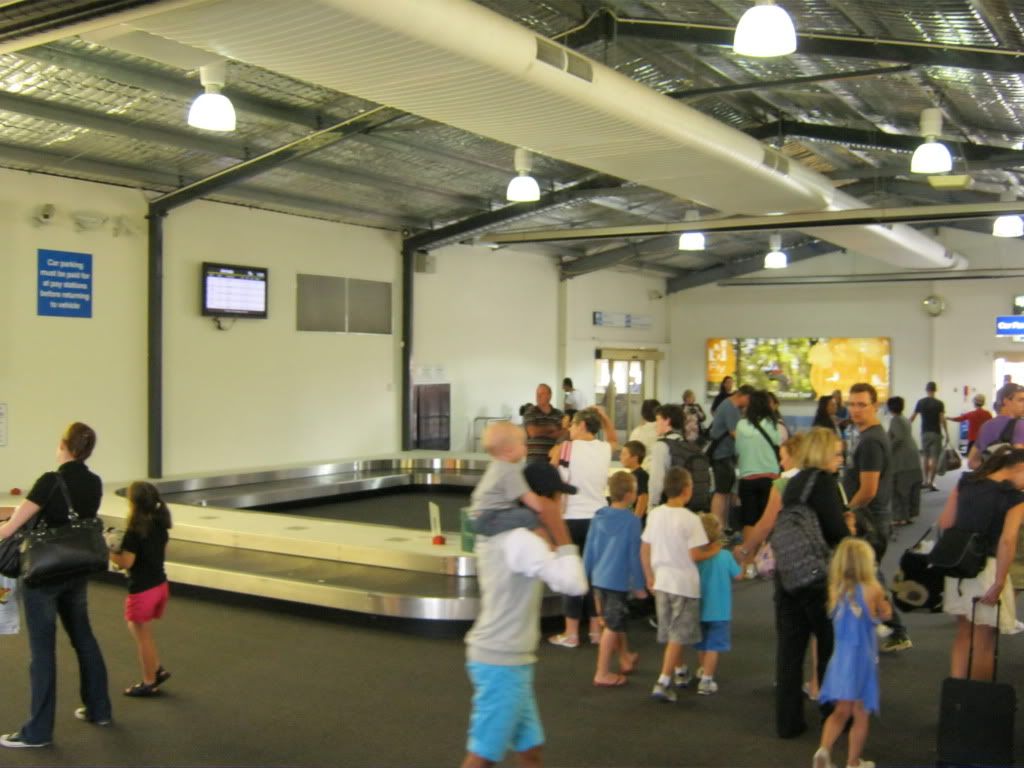 Baggage Carousel.
So, overall, it was a more than pleasant trip. Given I paid less than $20 round trip, I have no reason to complain. Flights were acceptably timed, no great delays. Flights were comfortable, aircraft was clean, cabin crew friendly, but not overly so. The outbound Captain was South African, the inbound was a Kiwi. Apparently Tiger can't hire Australians pilots (lol).
A lot of people bag Tiger. I go in to with the thought that they will get me where im going. It might not be on time, but they'll get me there. Anything else is a bonus. But, people used to flying Qantas and to a lesser extent Virgin Blue (and maybe even Ansett) get used to a certain level of customer service and expectations you just can't get on a $10 flight. And that is where the problem really lies. It's not Tiger, it really is the passengers. Luckily on these flights there were no problems, but I've witnessed it with my own eyes, so I know the ignorance is out there.
Would I fly them again? Yes. In fact, a nearly carbon copy of flights in about 5 weeks. Between now and then though, I am off to India, so I promise I will write a TR about that!