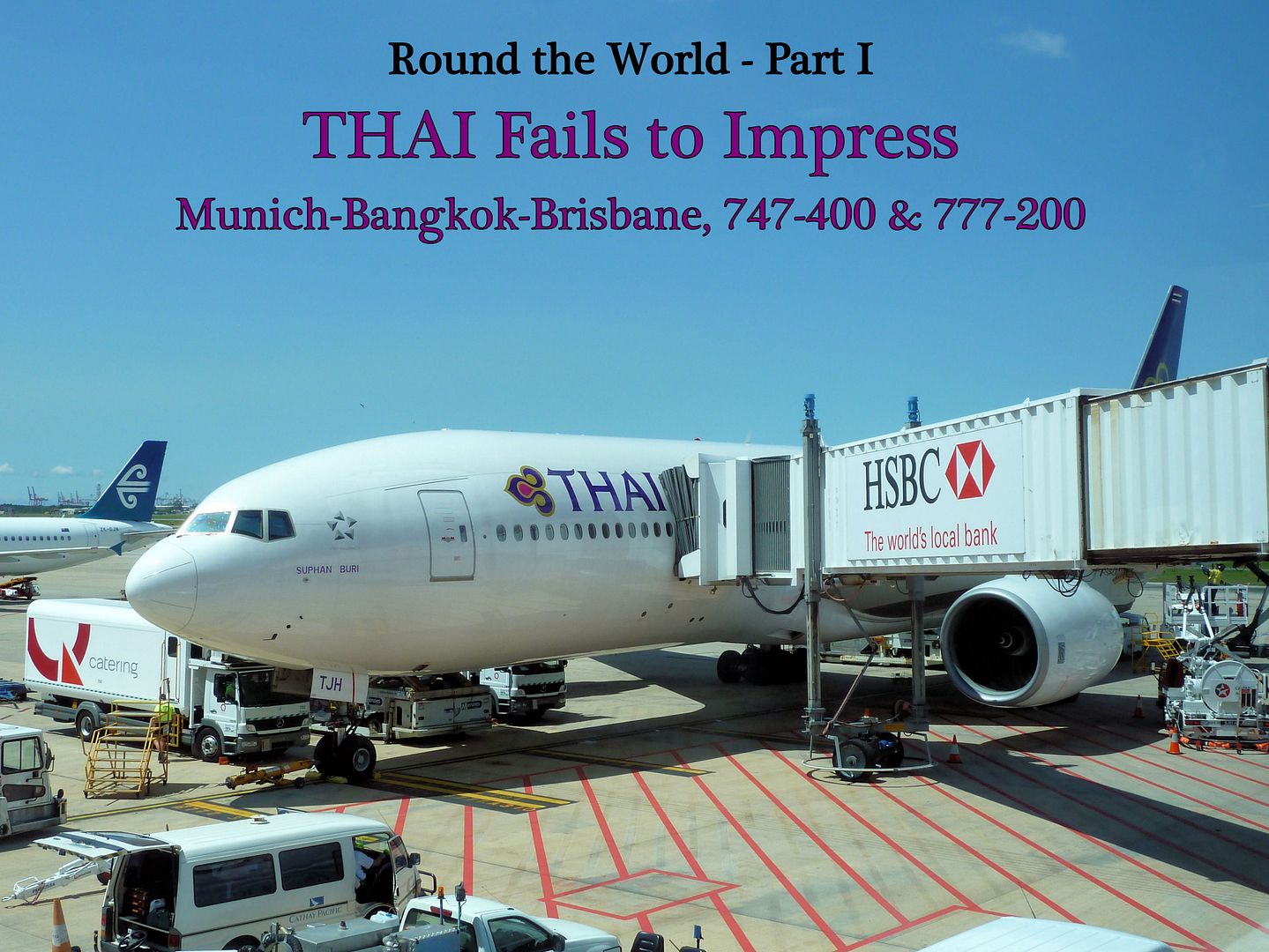 Map generated by the Great Circle Mapper - copyright © Karl L. Swartz
Background
I had wanted to take a round-the-world trip for many years and last summer I finally decided to do it. Originally, my plan for October 2010 was to visit a good friend in Brisbane again after a break of four years. While searching for flight options, I realized that a visit to Brisbane would be a great opportunity to create a round-the-world trip. RTW packages by the large alliances didn't attract me due to numerous restrictions and the limited choice of airlines. I found it much more interesting to combine all kinds of airlines without someone restricting anything.

As usual, my focus was on new carriers and new types - and my intensive searches turned out to be successful. First of all, I booked the long-haul flights, followed by a few connecting flights. Finally, I added some more side trip flights. Final routing: Munich-Bangkok-Brisbane-Melbourne-Albury-Sydney-Auckland-Christchurch-Dunedin-Wellington-Auckland-San Francisco-Munich. The itinerary included 12 flights, 7 new airlines, 5 new airports and 3 new types. I would leave on 2 October and return 11 days later, after flying 26345 miles (42398 kilometers).

Thai Airways International was my airline of choice between Munich and Brisbane. I had never flown Thai before and been anxious to try it after reading and hearing countless positive reports. Thai was also one of a few carriers offering acceptable one-way fares between MUC and BNE. I was well aware that Thai's 747-400s aren't equipped with individual IFE screens, but I was planning to rest on the night flight to BKK anyway. Not to forget, generous legroom could be expected on the 747. Another good reason for Thai: the flight between Bangkok and Brisbane would be operated by a 777-200ER with new seats and advanced IFE. I finally booked the Thai combo on STA Travel, the one and only agency selling it at a reasonable price. Due to the transfer time of more than 10 hours at Bangkok, I also reserved a room for 6 hours in the Louis' Tavern transit hotel.
Saturday, 2 October 2010
Munich (MUC) - Bangkok (BKK)
Thai Airways Int'l TG925
21:50-13:40 (22:12-13:27)
Distance: 5474 miles
Flying time: 09:49 (hrs)
Economy Class, seat 63H

Boeing 747-4D7
HS-TGW (s/n 1111), named "Visuthakasatriya", STAR ALLIANCE cls
Delivered in 04/1997
1st flight on HS-TGW
16th 747-400 flight
20th 747 flight
101st airline
Former appearance:
Checking in online hadn't been possible, so I had to join an extra-long queue in front of Thai's desks. Even though I arrived at Terminal 2 more than two hours prior to departure, some 150 people were already waiting in line. Most of them were Asians, many of them equipped with large suitcases, boxes and shopping bags. Anyway, there was no reason to worry because I had already reserved my seats in advance. I had selected an aisle seat on the 747 and a window seat on the 777, both of them in the rear section. After an annoying waiting time of more than 30 minutes, I finally received my boarding passes. Interestingly, my pre-reserved aisle seat on the left side had been replaced by a similar one on the right side, but I didn't mind about that.
About an hour prior to departure, I passed one of the mostly deserted security checkpoints. I was expecting to be at the gate only a few minutes later, but things should develop differently: Masses of people were waiting in long queues at passport control. Even though two dozen flights - including several long-haul flights - were scheduled to leave from the H gate area (non-Schengen) within the next 1.5 hours, only 50 percent of the existing counters were staffed by Bundespolizei (federal police) officers. There was an express line for certain flights, but lining up there didn't help anyone. Numerous people were concerned about missing their flights and asked whether they could move up front. Just like in May, when I was heading to Manchester, there was a dramatic lack of officers - quite a shame considering that MUC's Terminal 2 is one of the most modern and most convenient airport buildings in the world.
Another 30 minutes later, I finally arrived at the gate area and I was happy about spotting a black tail. I had hoped to get one of two specially painted planes in the 18-strong 747 fleet - and Thai had indeed sent
HS-TGW
, wearing the Star Alliance livery: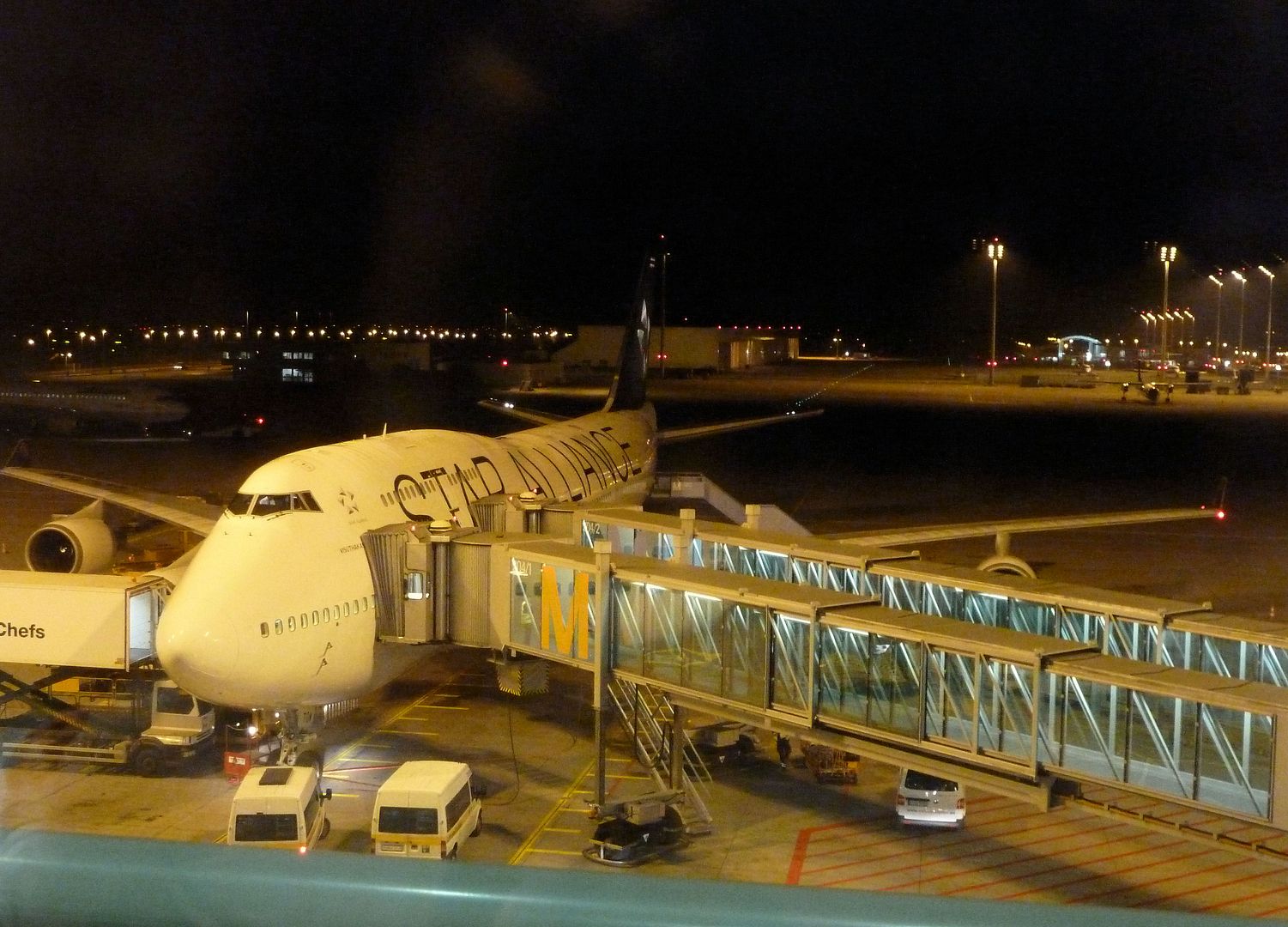 The gate area was crowded and it was obvious that the flight would be full. A boarding announcement was only made for First and Business Class passengers - a general boarding call apparently wasn't considered necessary, so I simply joined the queue after a while. The welcome on board was not as sincere as expected, some flight attendants were quite reserved.
The colorful old-style seats were quite comfortable…
(picture taken after landing)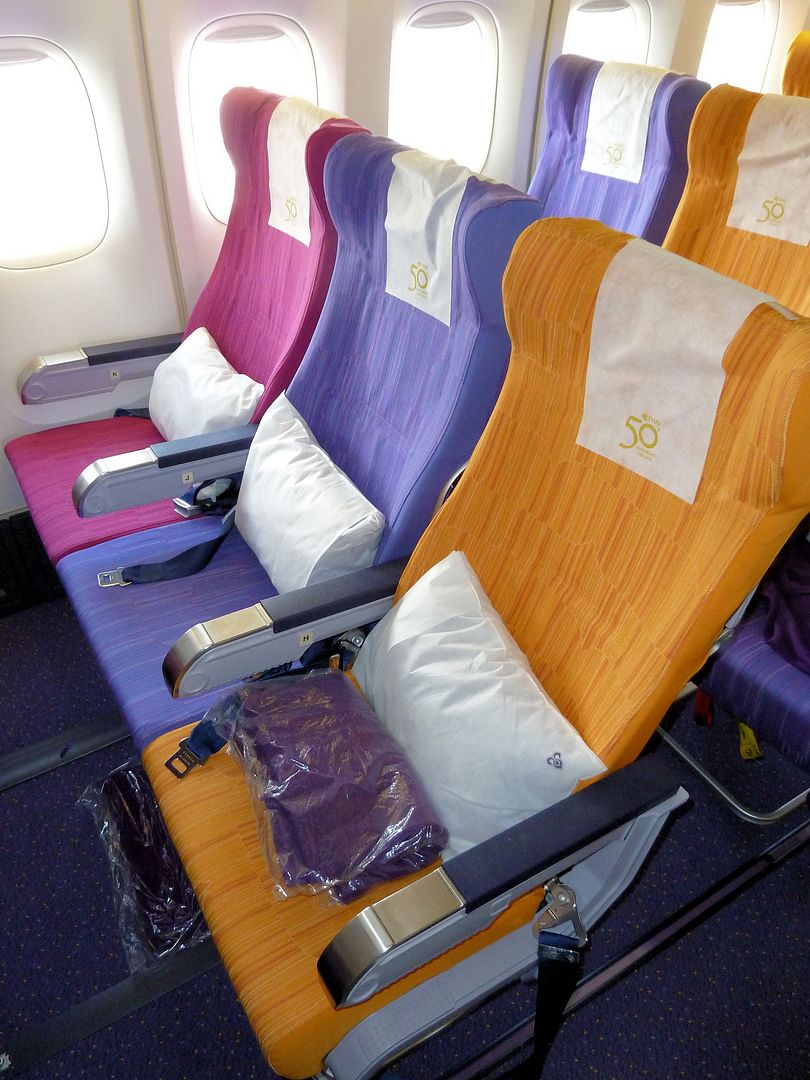 ...and the 34-inch seat pitch was simply great:
The two seats next to me were taken by a nice Bavarian couple who was going on a long-haul trip for the first time. We would talk a bit from time to time in the next 10 hours. At one point they reacted with surprise when I told them that I had flown on 100 different airlines - probably they didn't believe me because they remained quiet for a while afterwards.
After boarding had been completed, flight attendants offered hot towels and handed out menu cards as well as nicely packed headsets:
Entertainment guide: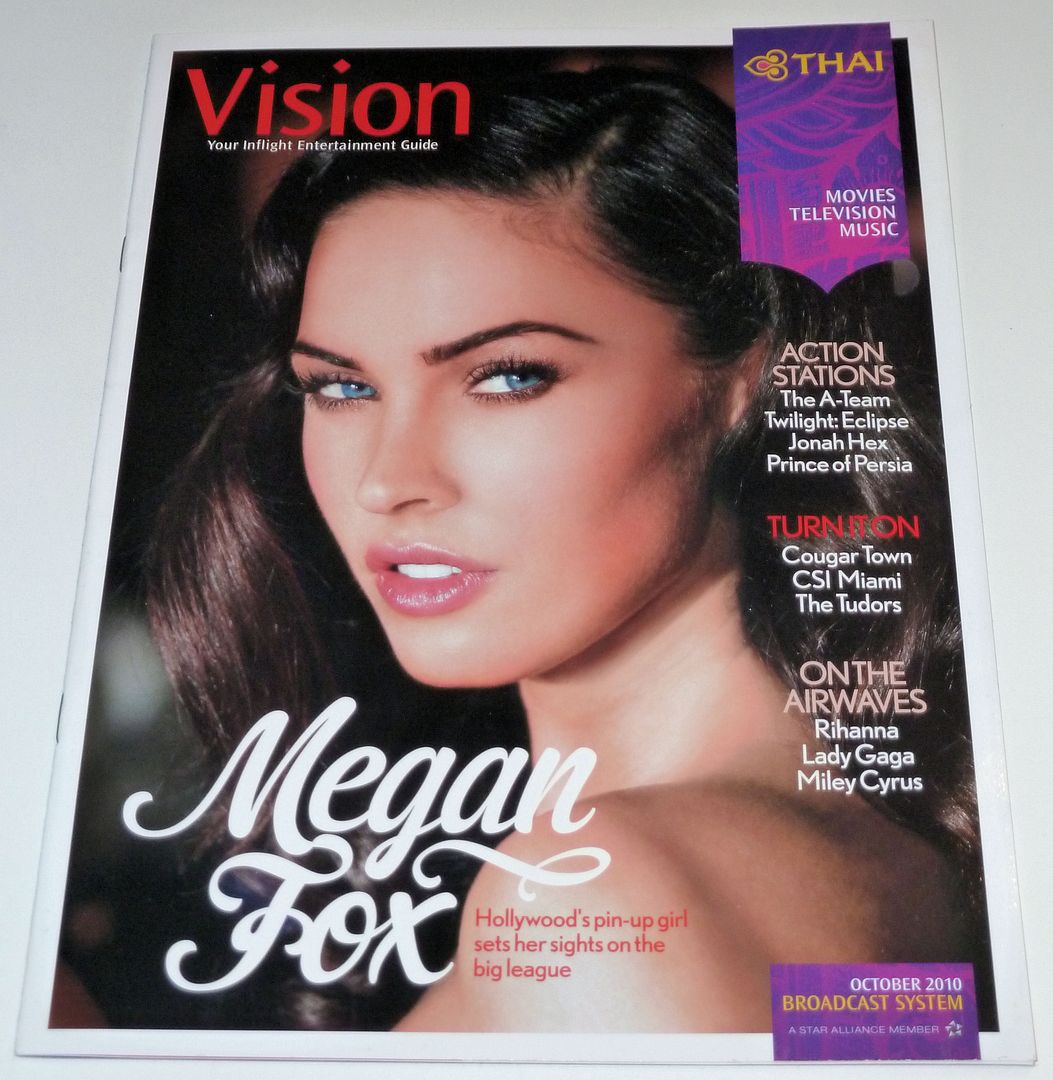 Inflight magazine:
The plane was pushed back 22 minutes late, but I never heard an explanation. As soon as the plane started taxiing, the air conditioning was turned up and cold air kept strongly blowing straight at me. I was very annoyed about that because I had just recently recovered from a cold. 16 minutes after pushback, we finally reached runway 08R and
HS-TGW
started its long takeoff roll. About 15 minutes after takeoff, fortunately, the air conditioning was turned down again.
After we had reached our cruising altitude, the captain made a welcome speech and informed about the routing. We would fly over Azerbaijan, Afghanistan, Pakistan and Myanmar, among others. That was quite helpful because the map would be shown only shortly from time to time on the main screen.
Drinks and peanuts were offered 30 minutes after takeoff. My ginger ale was served in a cup:
Soon it was time to have a closer look at the pretty menu card:
That sounds quite promising, doesn't it?
I ordered the curry chicken, but it wasn't available any more and I had to take the steak - not exactly what I would usually eat late at night.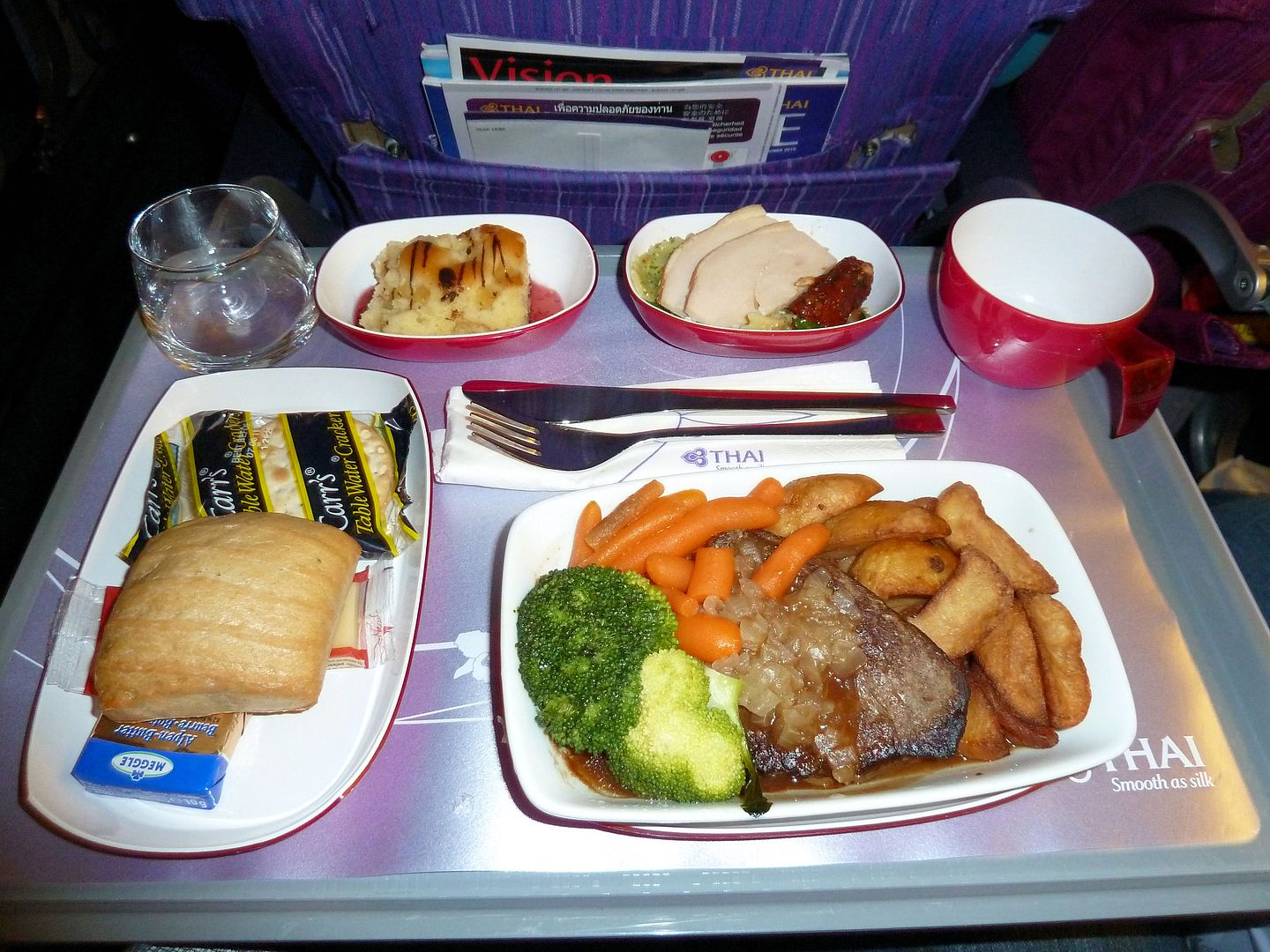 No doubts, the presentation was very good and the portion was big - but the main course and the salad lacked quality. The steak was hard like a brick and the potatoes were quite dry - some more sauce would have been useful. I neither finished the meat nor the salad - the latter tasted very strange, who knows which kind of herbs contributed to that. The cake was okay, but couldn't make up for the other items. That meal was a big disappointment.
I wasn't interested in the main screen programming and (successfully) tried to get some sleep instead. More than six hours after dinner, the flight attendants started serving breakfast. The description sounded promising again:
Another pretty tray...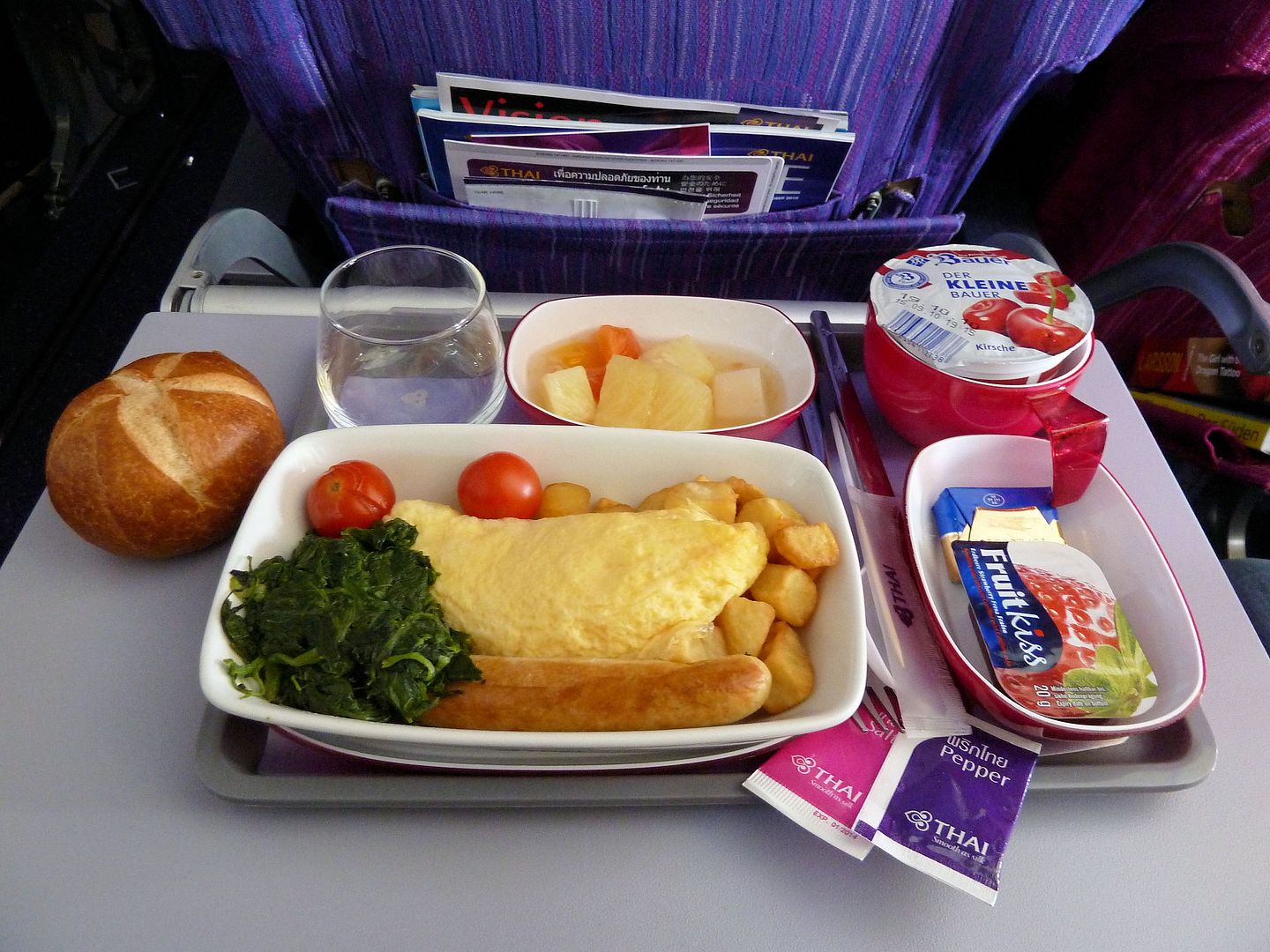 ...and this time I was entirely satisfied with the meal. The spinach was a bit sludgy, but everything else was fine. Even the chicken sausage tasted good. Well done, Thai!
After breakfast, it was time for a cabin shot. I didn't see an empty seat in Economy Class:
Nice scenery, about 45 minutes before landing:
We touched down at Bangkok Suvarnabhumi Airport after 9 hours and 49 minutes and arrived at the gate 13 minutes early. Parked next to us was sister ship HS-TGP, the other 747 wearing a special livery (retro colors):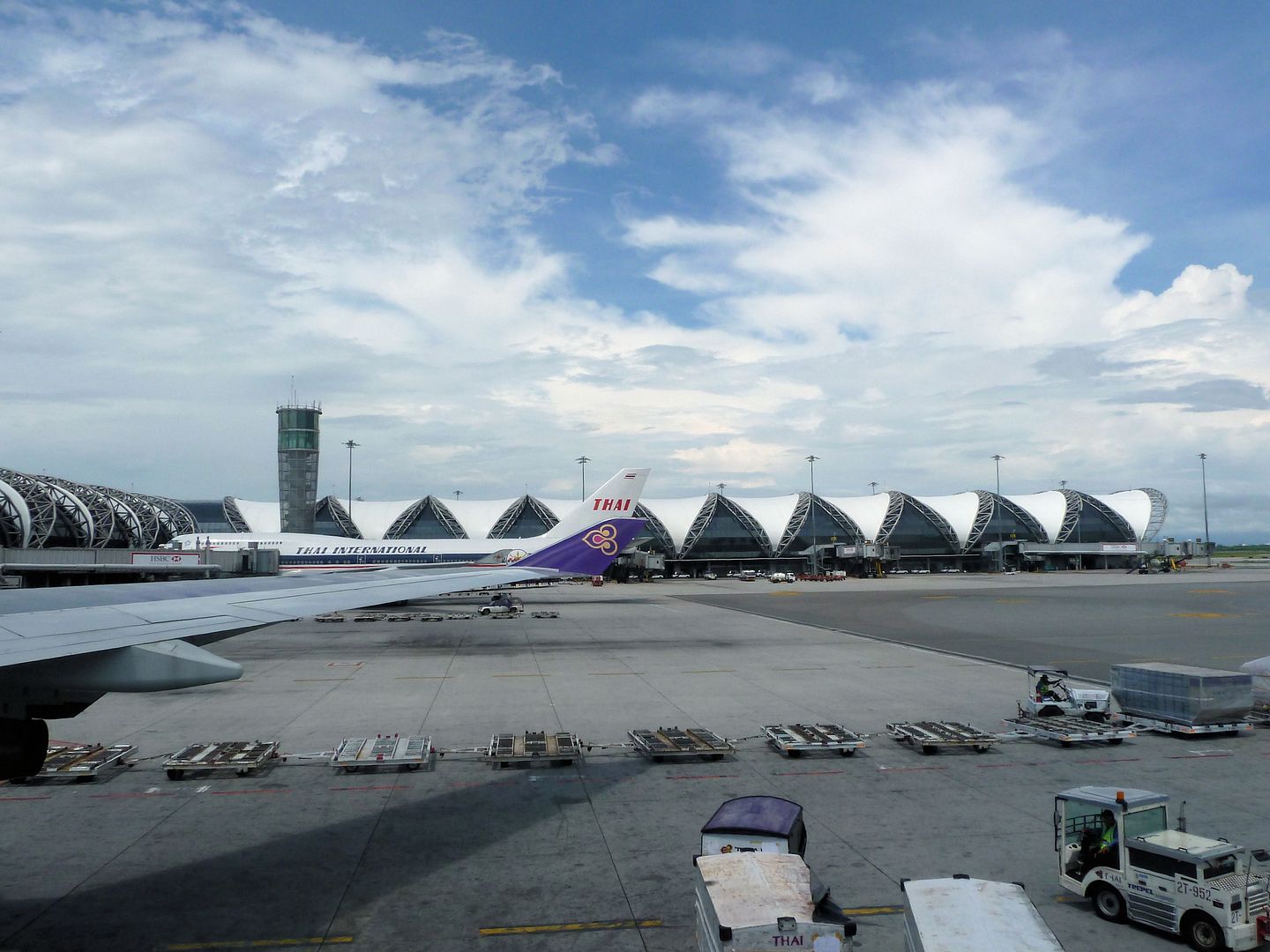 One more cabin shot - I must admit I really like Thai's colorful cabins: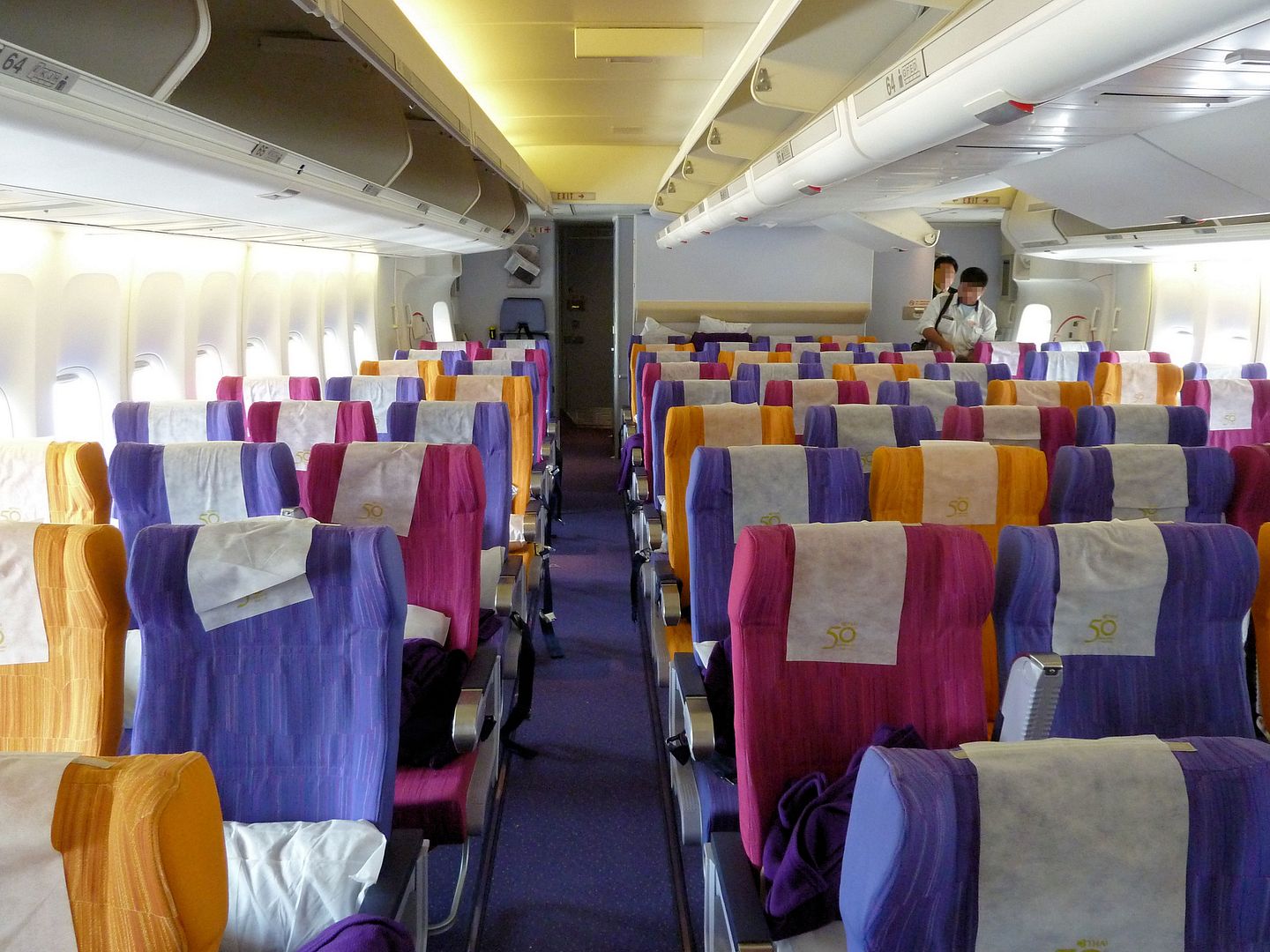 Goodbye,
HS-TGW
:
Transfer at Bangkok-Subvarnabhumi
Just after disembarking, I realized that the
Louis' Tavern
transfer hotel was located more or less on the other side of the airport. Walking more than 25 minutes in the terminal can be a real pain due to the lack of a proper air conditioning. At least the artwork in the terminal is nice: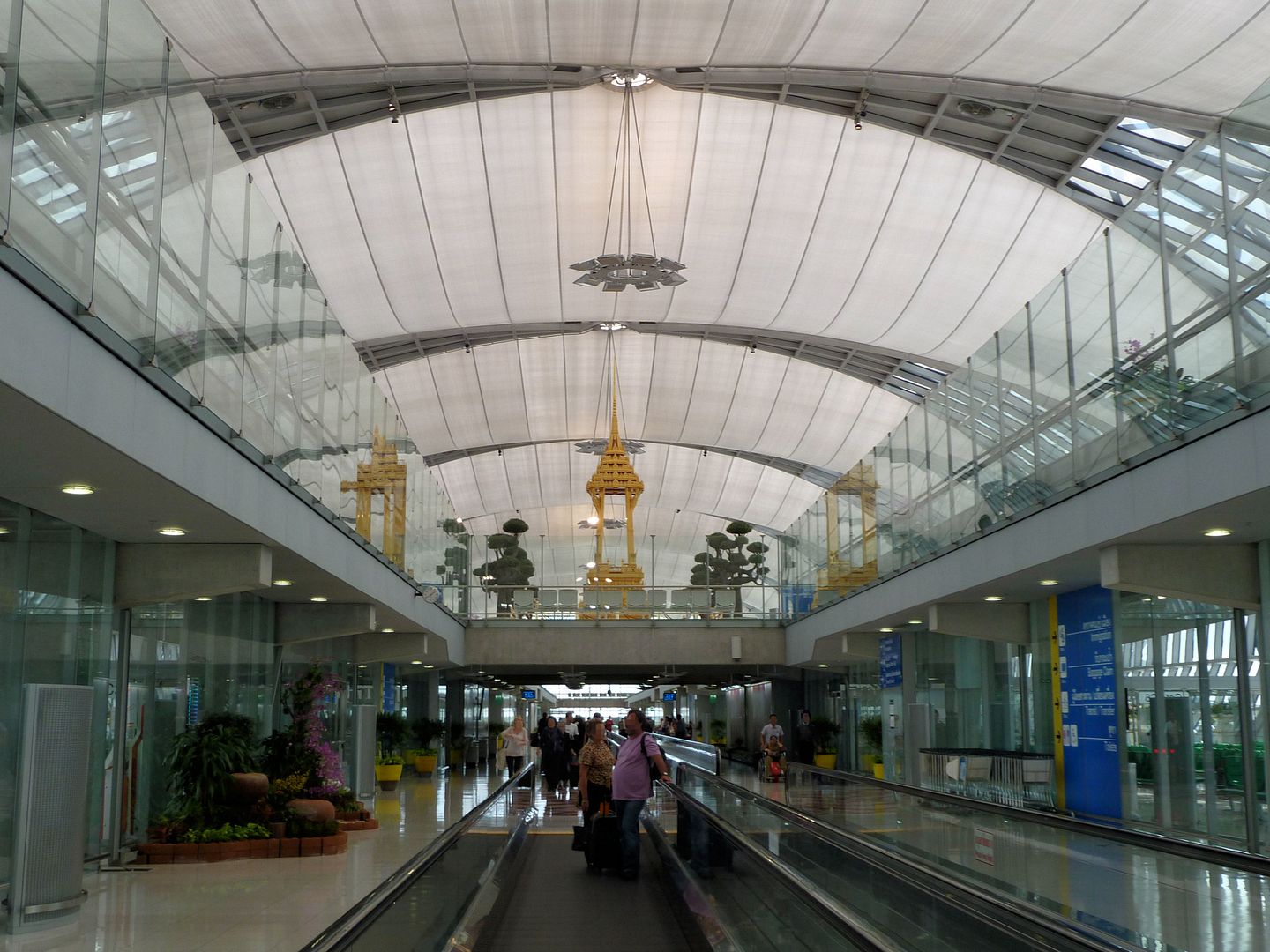 Louis' Tavern is located in a corner on the 4th floor of concourse G: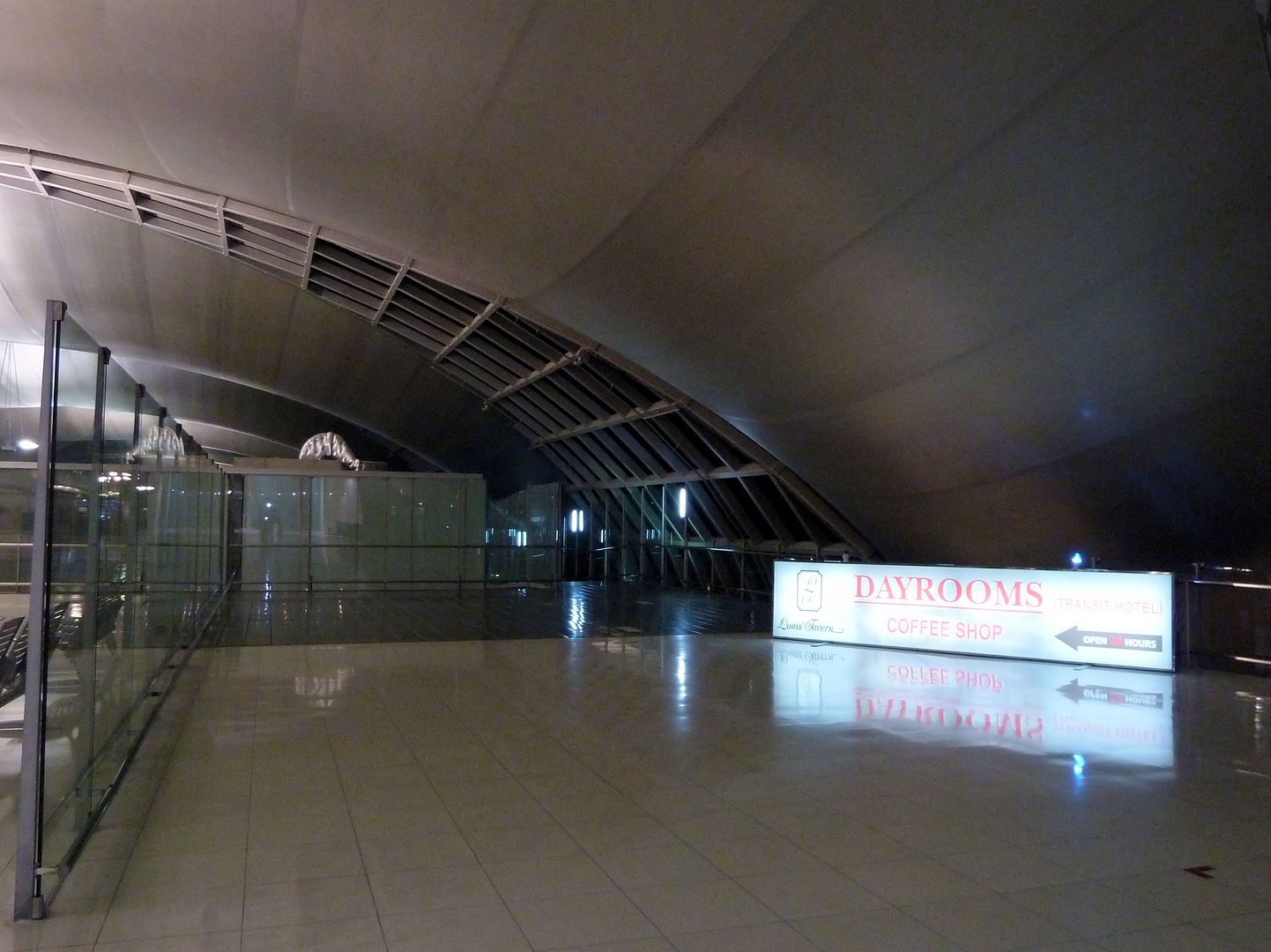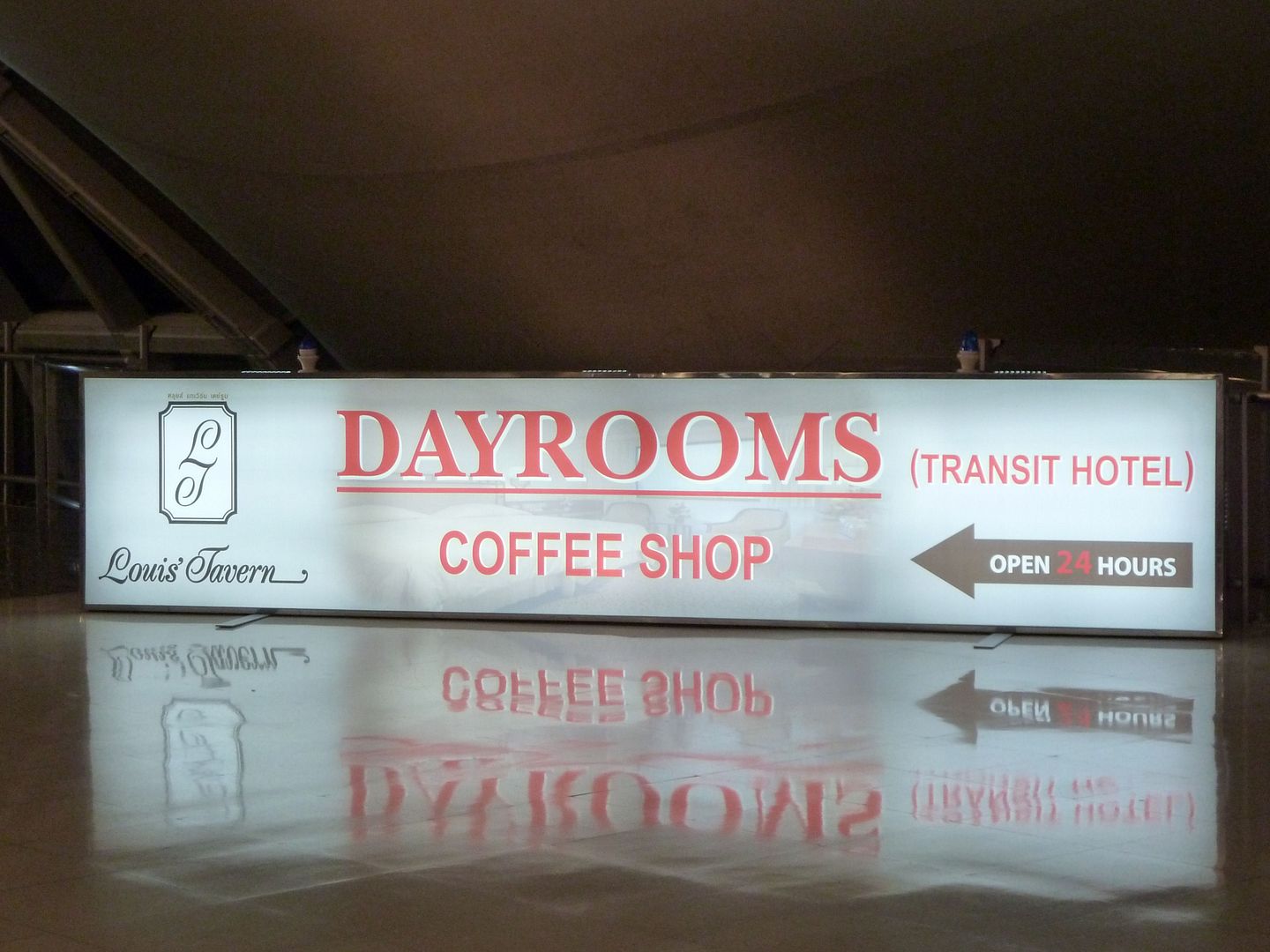 The rates are based on a six hours basis and include a continental breakfast (extensions possible). I paid 3500 Baht (about 85 Euro) back in October, but it may be cheaper in other months. The receptionists were nice, but the room itself didn't impress me. It looked worn and wasn't perfectly clean: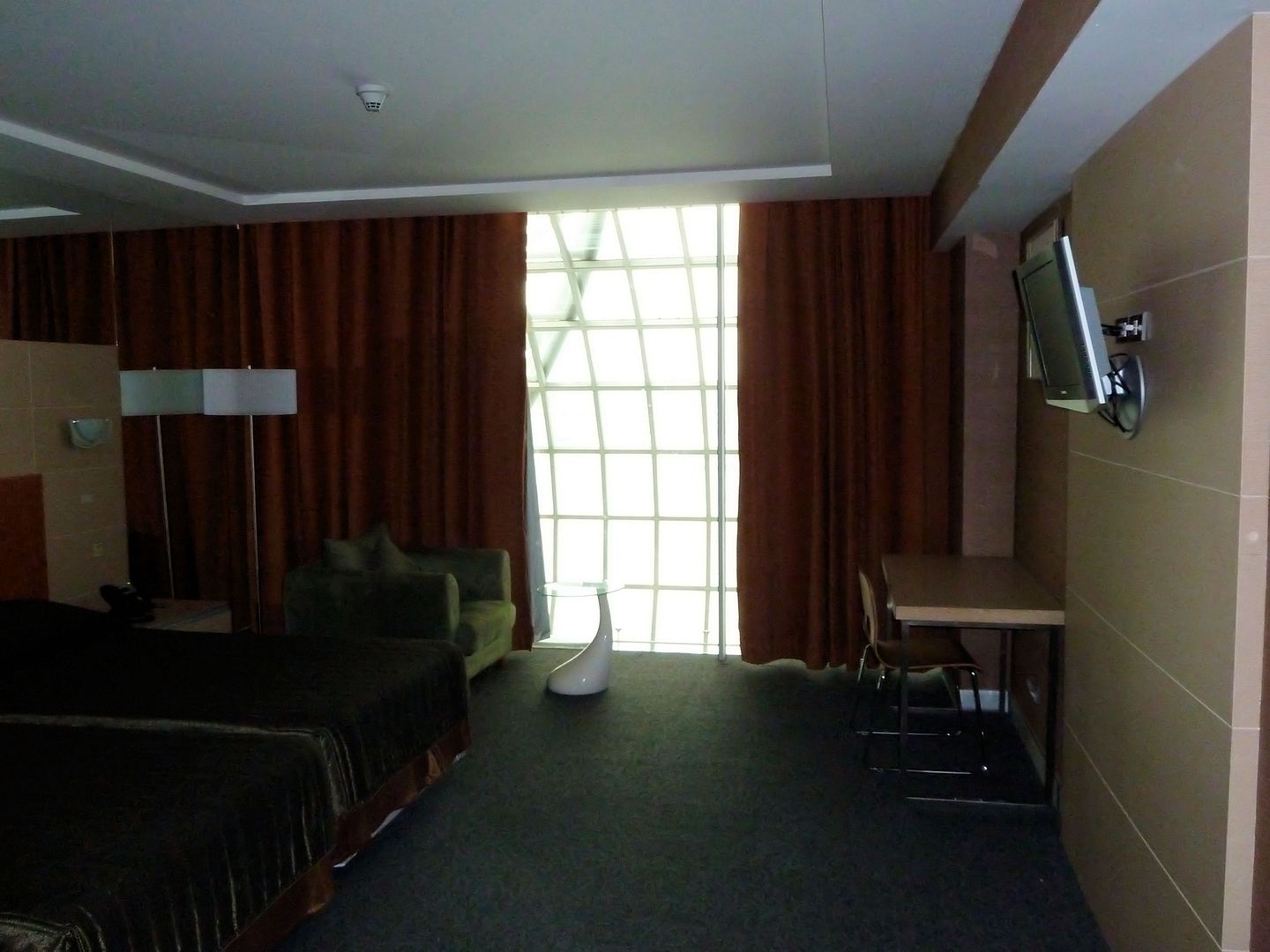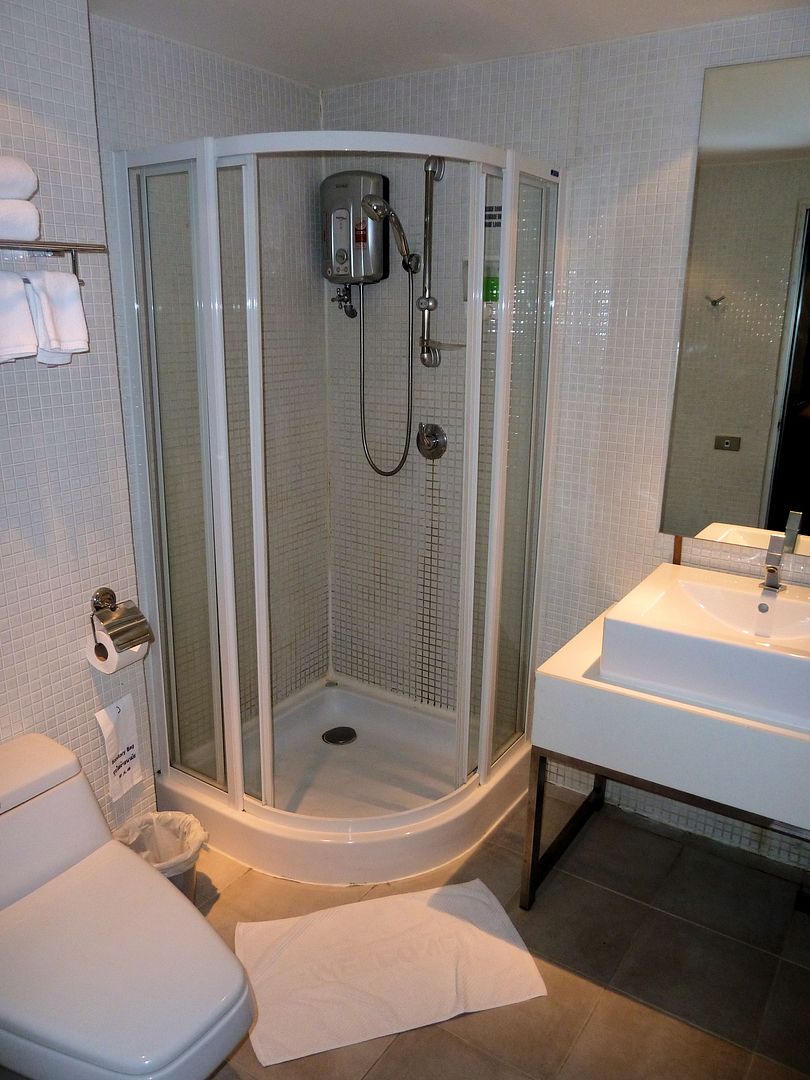 What bothered me most was the air conditioning which I couldn't turn lower. The shower didn't work properly either. Anyway, at least I could see some planes from my room, e.g. Ethiopian 767-300ER and Turkish A340-300:
EVA Air 747-400: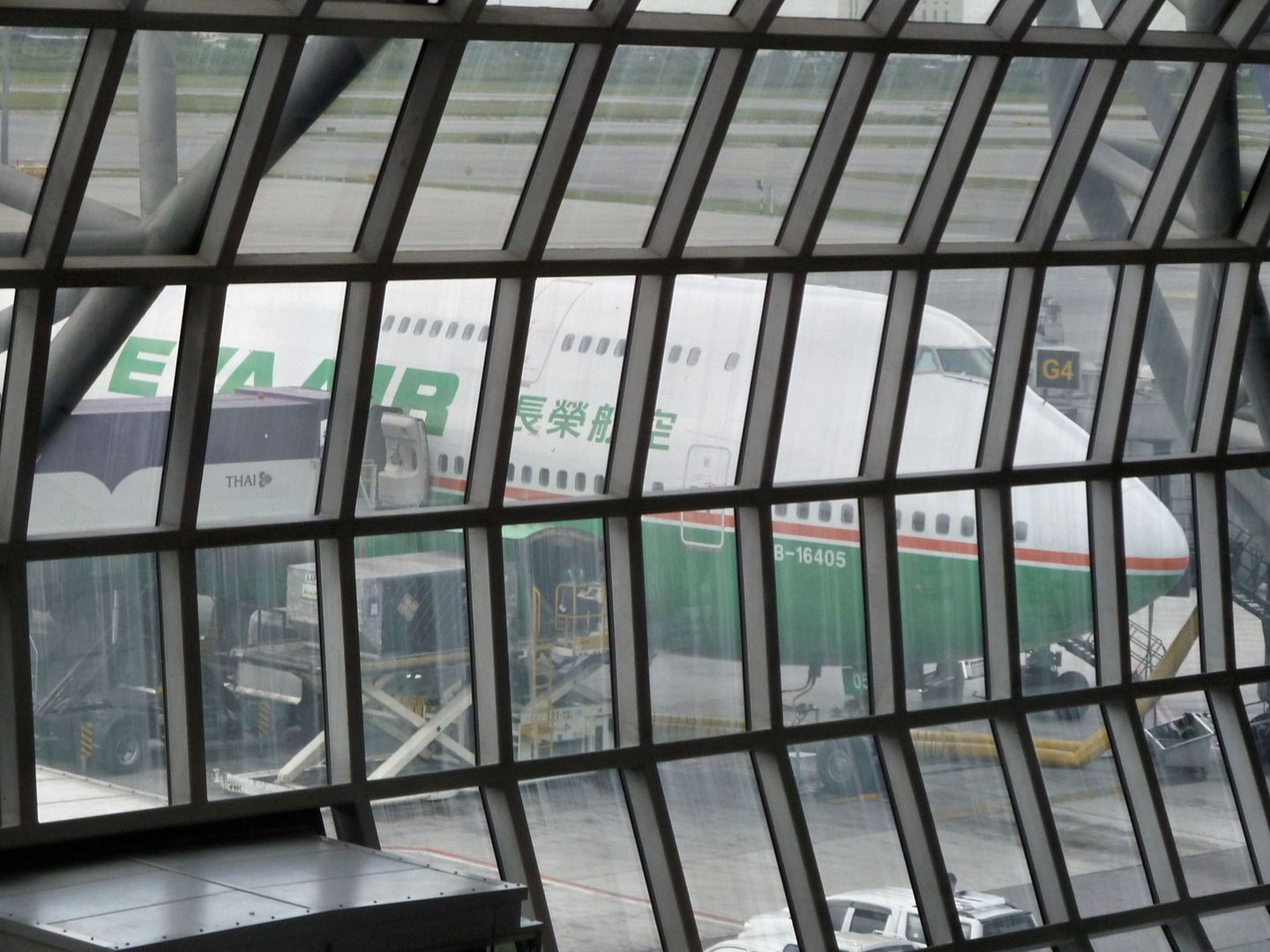 I slept a few hours and left the room on time. Then I went to the cafeteria and found out that the continental breakfast was rather disappointing. I only ate some bread and fresh fruit.
About 3 hours before departure, I left the transit hotel and started walking back to the other side of the airport again where my flight to Brisbane would depart from. Nice artwork again: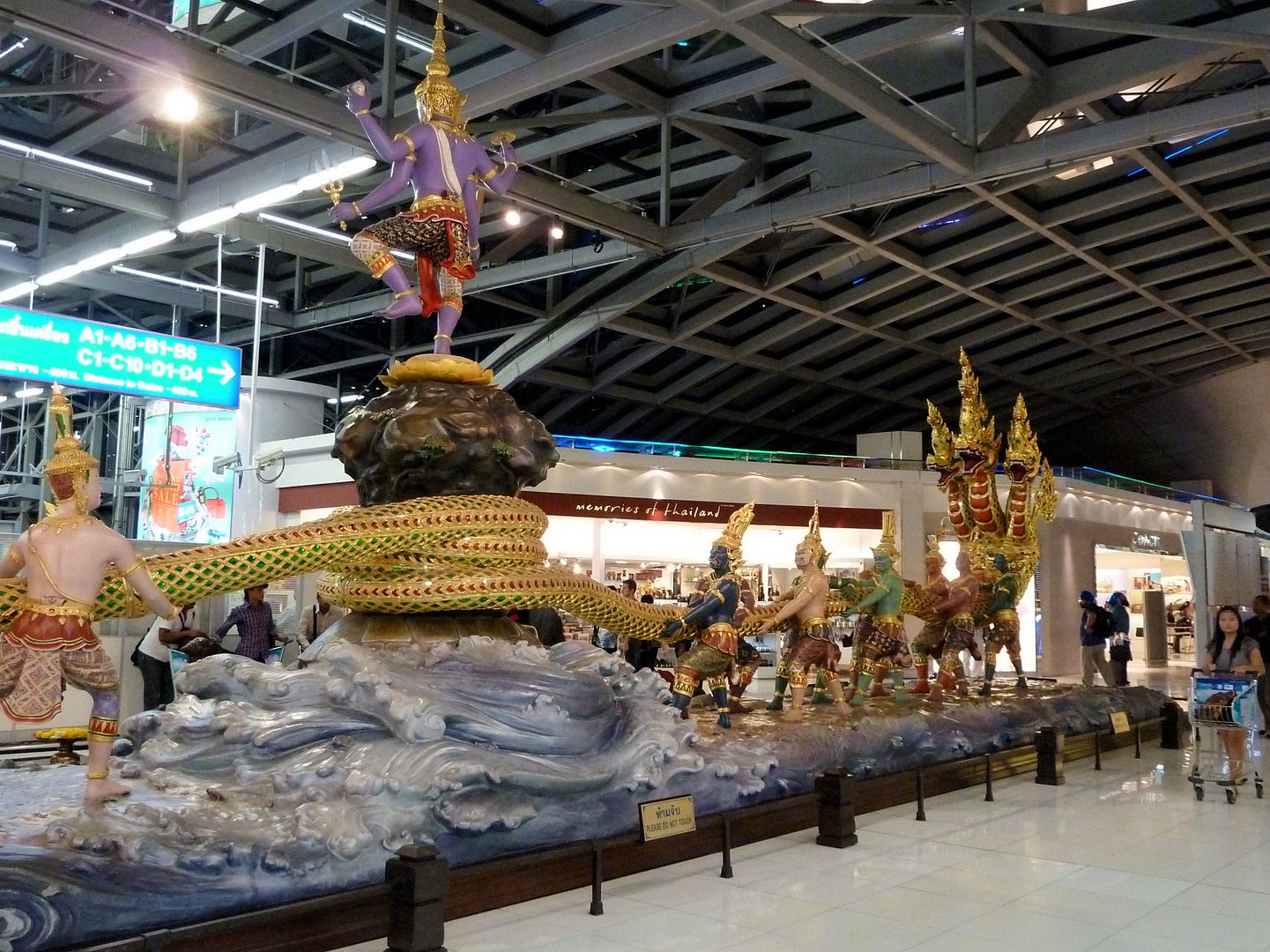 Sunday, 3 October 2010
Bangkok (BKK) - Brisbane (BNE)
Thai Airways Int'l TG473
23:59-11:50 (00:22-12:11)
Distance: 4506 miles
Flying time: 08:19 (hrs)
Economy Class, seat 58K

Boeing 777-2D7
HS-TJH (s/n 113), named "Suphan Buri"
Built in 12/1997 and delivered in 01/1998
1st flight on HS-TJH
7th 777-200 flight
28th 777 flight
Former appearances:
There were still a few hours to kill and I mostly kept reading near my gate. Spotting was impossible in the darkness and the rainy weather, one couldn't even see the registrations of planes taxiing by closely. It was still hot in the terminal, I felt tired and suffered from headache. At least my flight was still on schedule - the one to Sydney had been cancelled.
The gate was opened about one hour prior to departure. Interestingly, the plane hadn't arrived yet. Finally, after another 20 minutes, the 777 showed up. At the time of booking and in the subsequent weeks TG473 had always been operated by the relatively new 777-200ERs, but according to ACARS, Thai then started to sporadically use the older 777-200s, too. Of course I had been hoping that I would get a 777-200ER...but Thai did me no favors. The plane at the gate was
HS-TJH
, the newest of eight 777-200s, delivered in January 1998. It was almost impossible to take pictures through the odd windows in the darkness: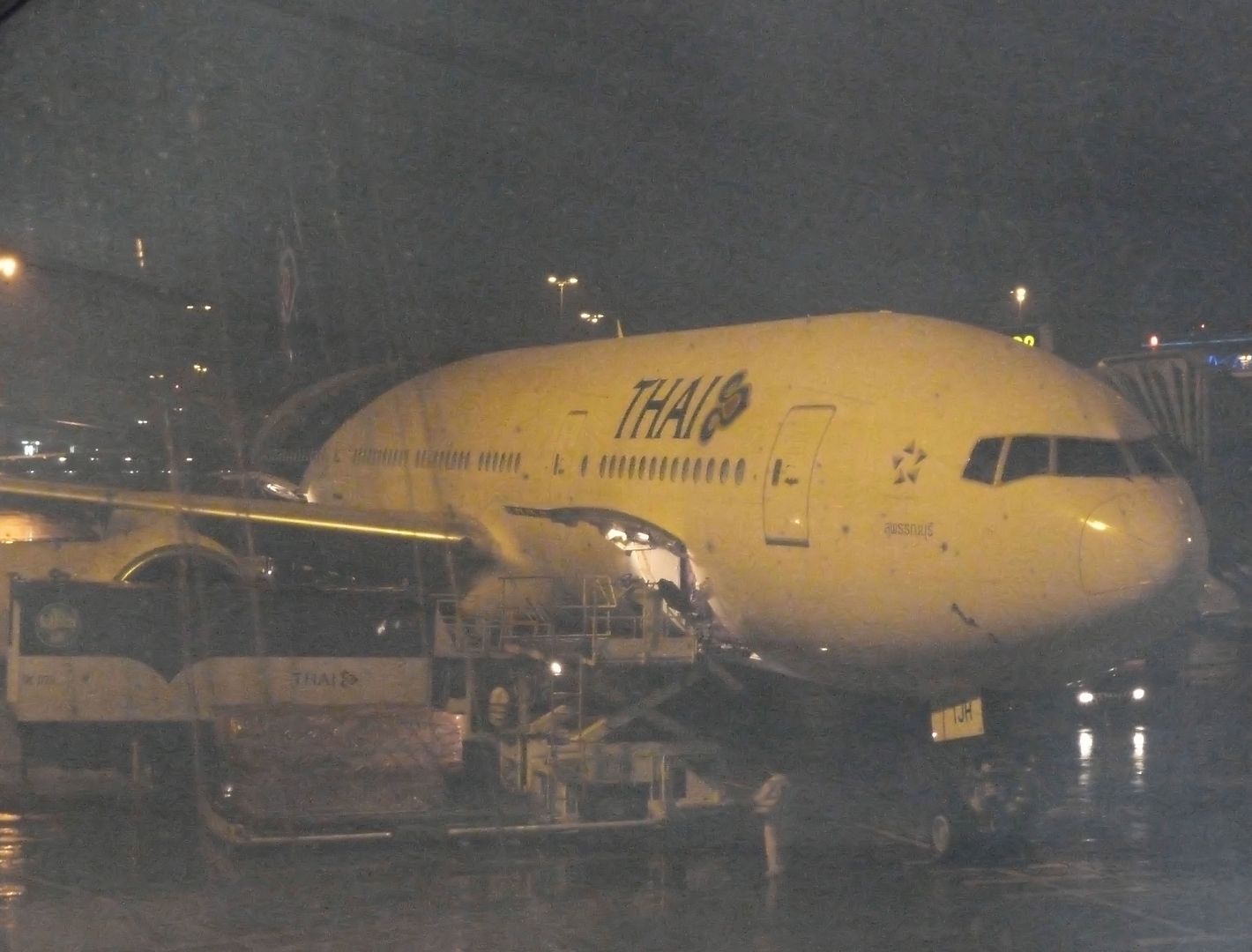 Of course I was disappointed at first, but I was very tired and my headache had become worse, so the annoyance was soon gone.
I joined the queue early and stepped on board among the first Economy passengers. Friendly flight attendants welcomed me, but again I missed a special touch. The new-style seats were comfortable...
...but I didn't like the dull seatback: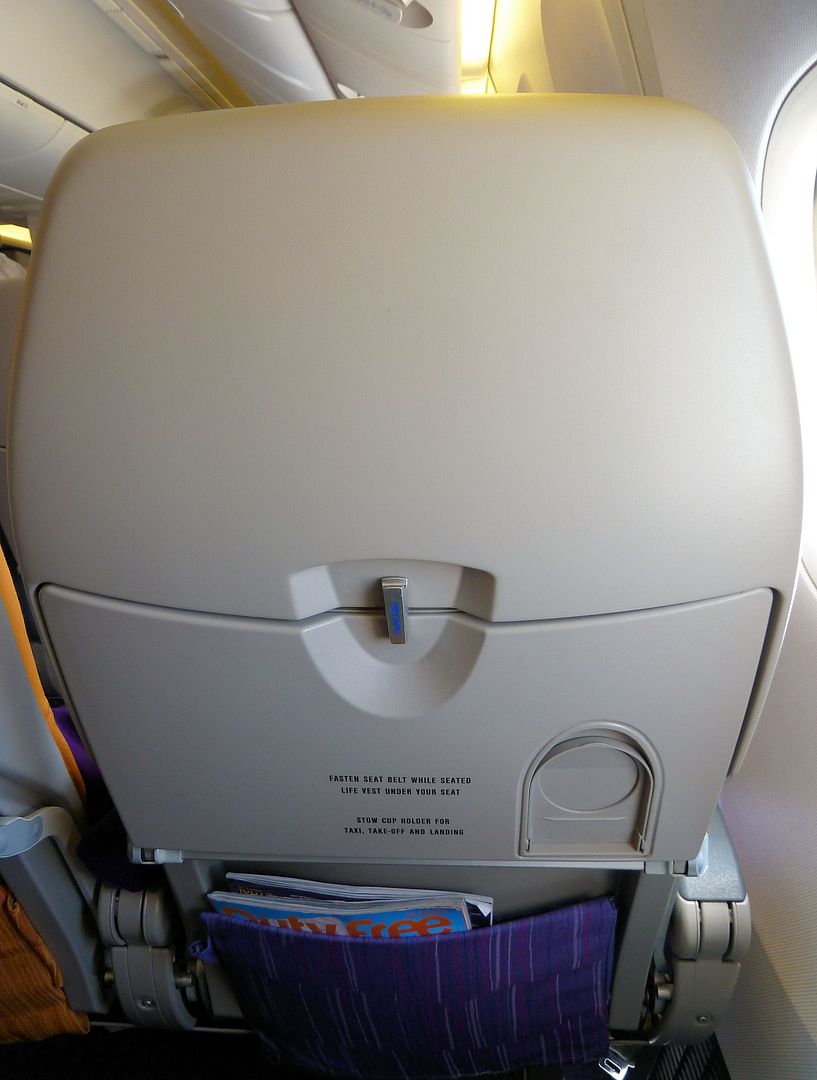 Seat pitch (most likely 31 inches) was insufficient - and the useless IFE box didn't help either:
According to Seatguru, the seats in the rear Economy section on Thai's 777-200s and 777-200ERs have less pitch than those in the forward section. Quite odd!
Again I didn't see an empty seat in the cabin, two Australian guys in the late 30s filled up my row. After the flight attendants had handed out hot towels, headsets and menu cards, we left the gate 23 minutes late. Then it took another 22 minutes until
HS-TJH
powerfully climbed into the night sky. The plane's front camera had been switched on for takeoff, but I had only limited views of the screen.
This time I got a whole can of ginger ale: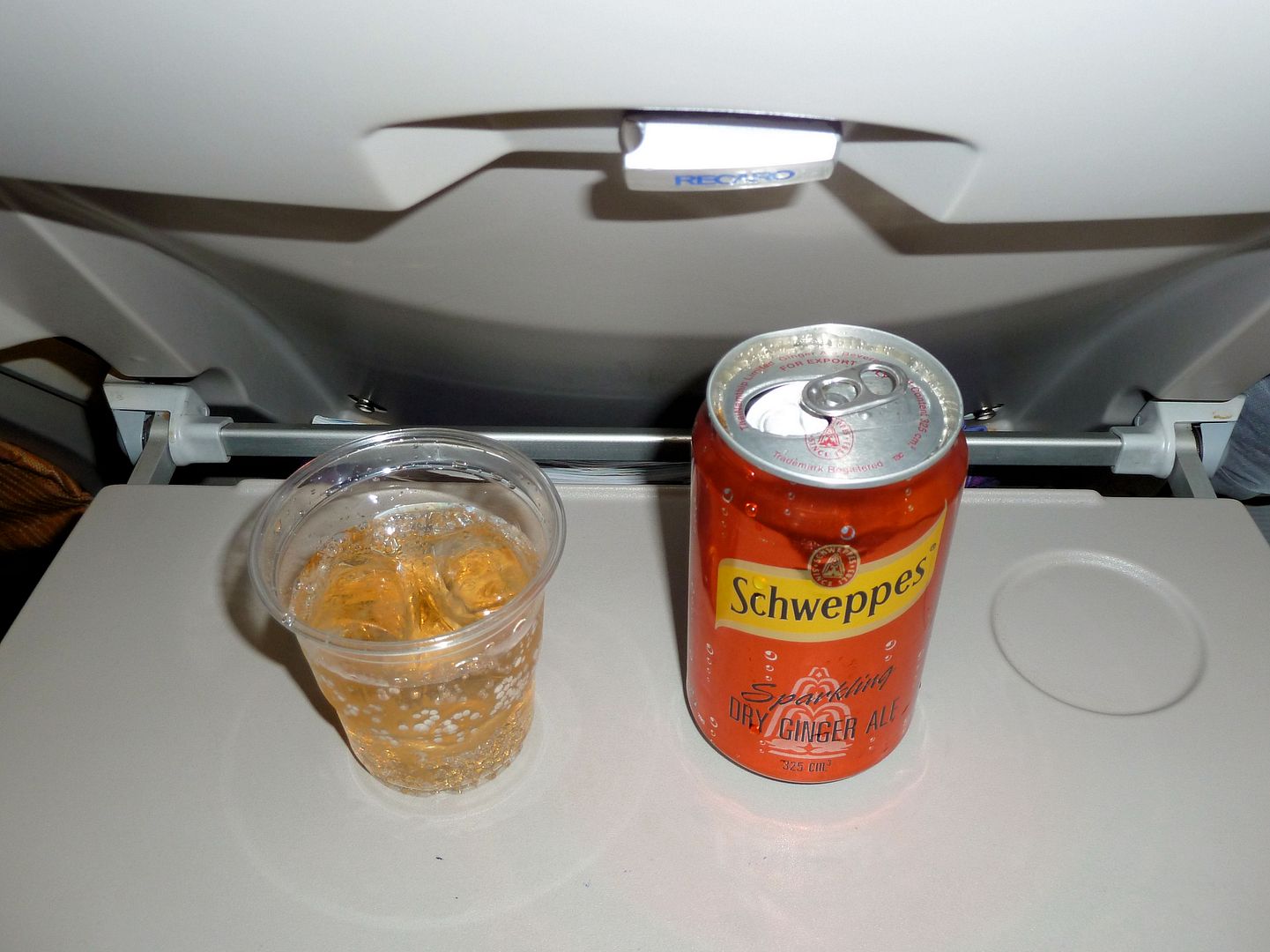 I had a quick look at the menu card and decided to order the cold cuts platter:
And guess what? Yes, the cold cuts platter wasn't available any more.
I wasn't keen on chicken with garlic, so I took the fish:
The presentation was nice and the fish itself was okay, but the sauce didn't taste acceptable at all. The prawn and bean salad was even worse than the one on TG925, totally awful. At least the cake tasted good. I'm really wondering why Thai offers two hot meal options in the middle of the night - I guess most passengers prefer a light snack like the cold cuts platter.
After some hours of rest and sleep, we were cruising over Eastern Australia: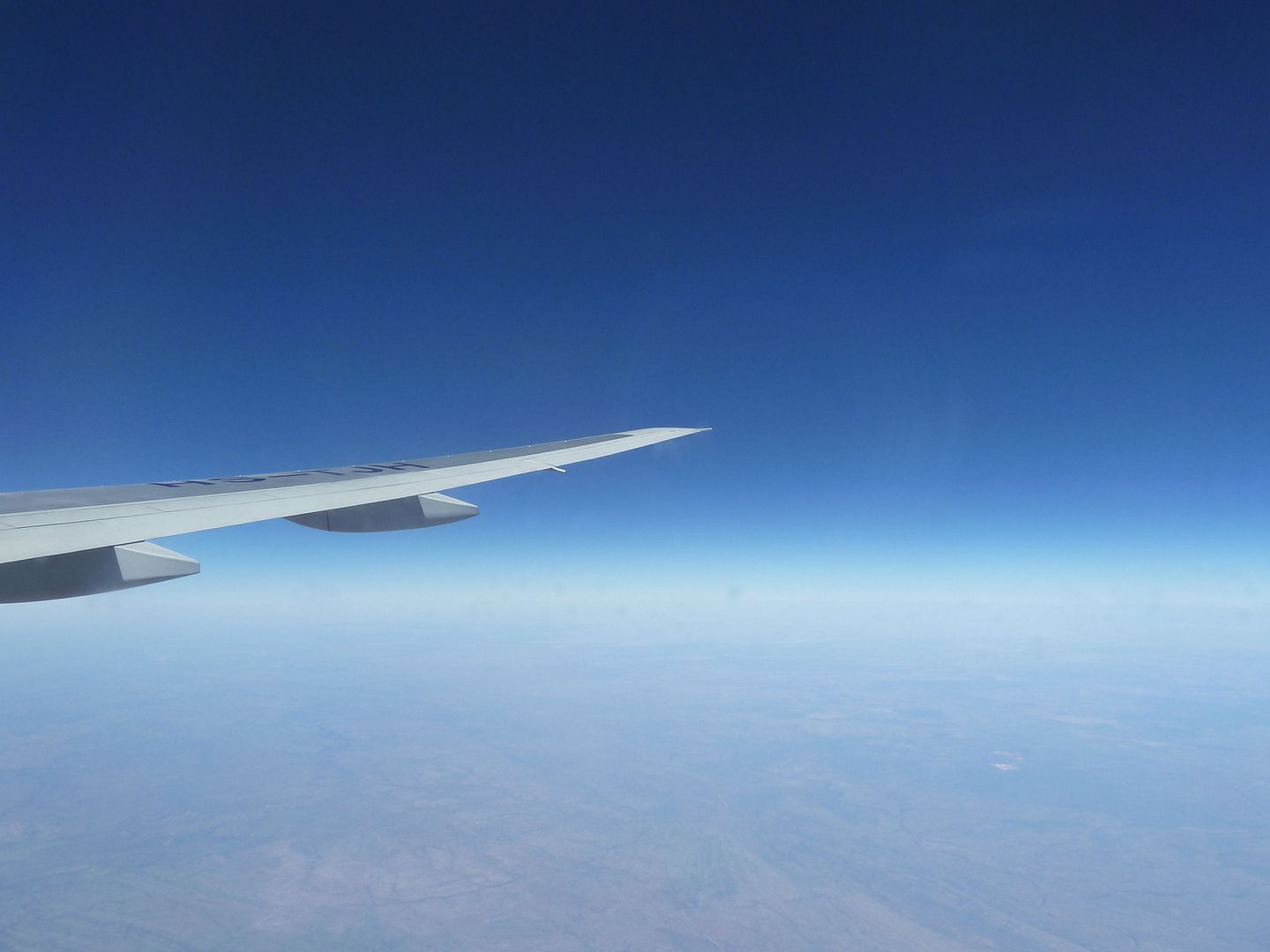 Breakfast time: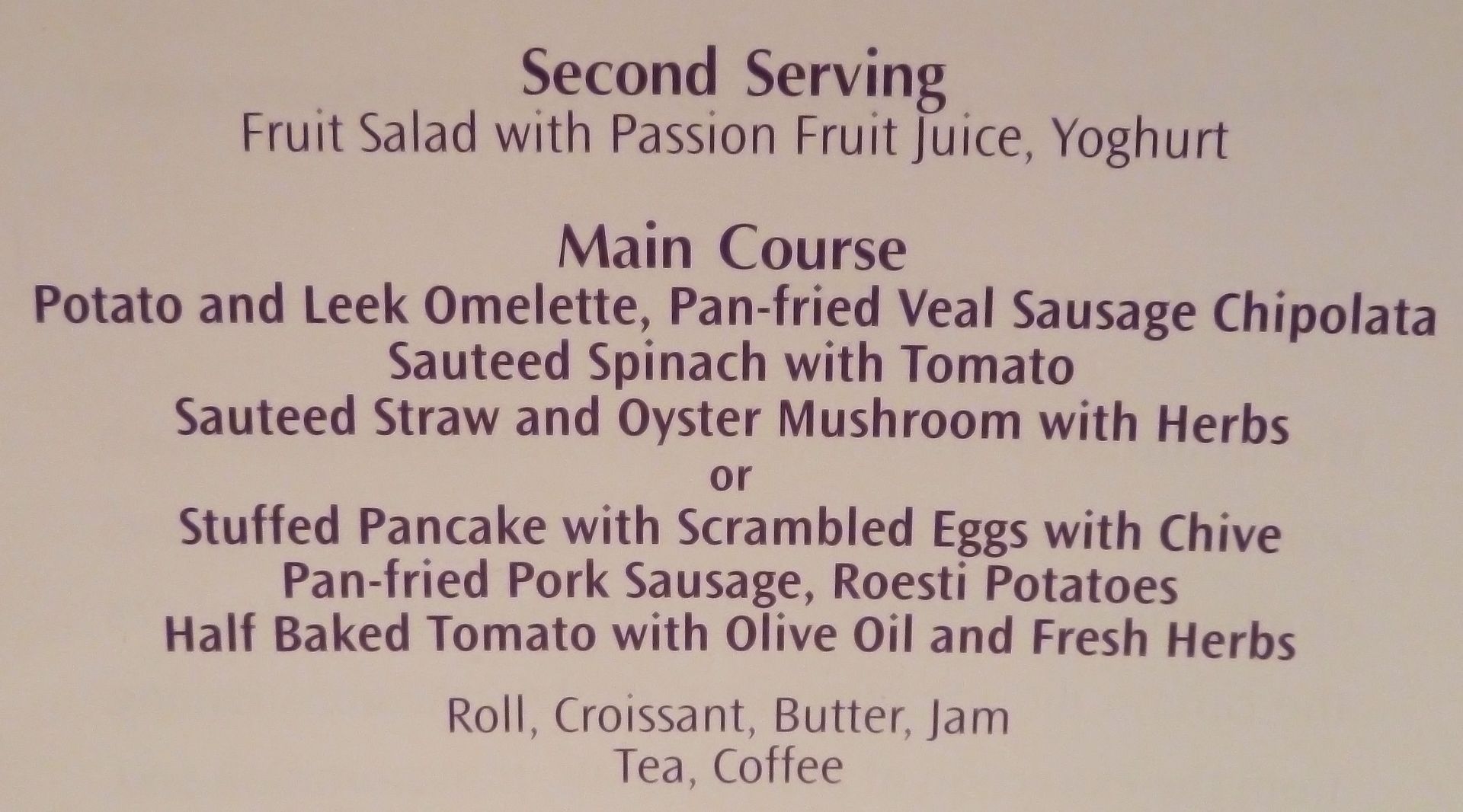 I ordered the omelette and even got it:
Just like on TG925, the breakfast was fine, except for the sludgy spinach.
The obligatory cabin shot:
HS-TJH
left its cruising altitude some 25 minutes before landing: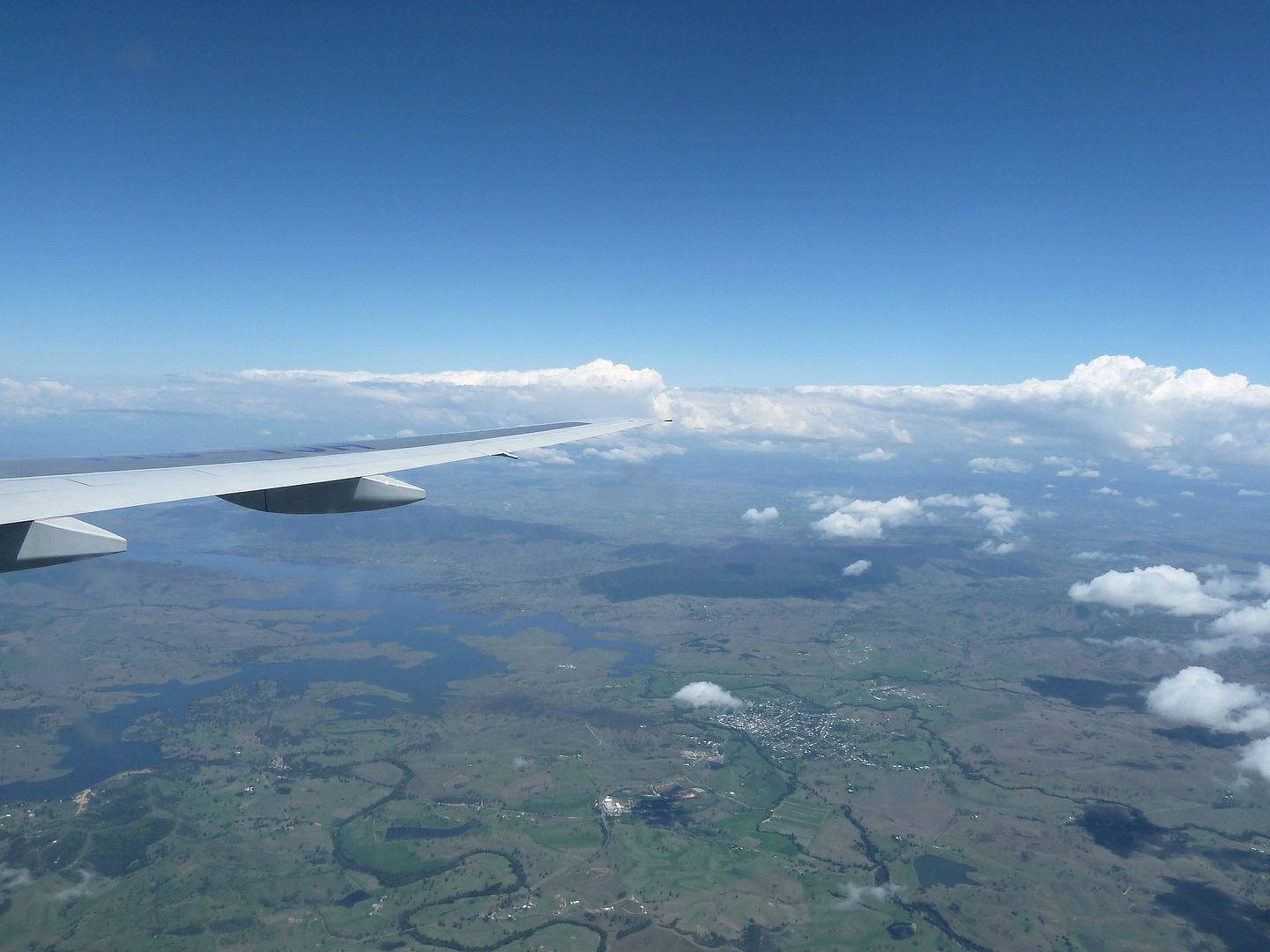 Final approach: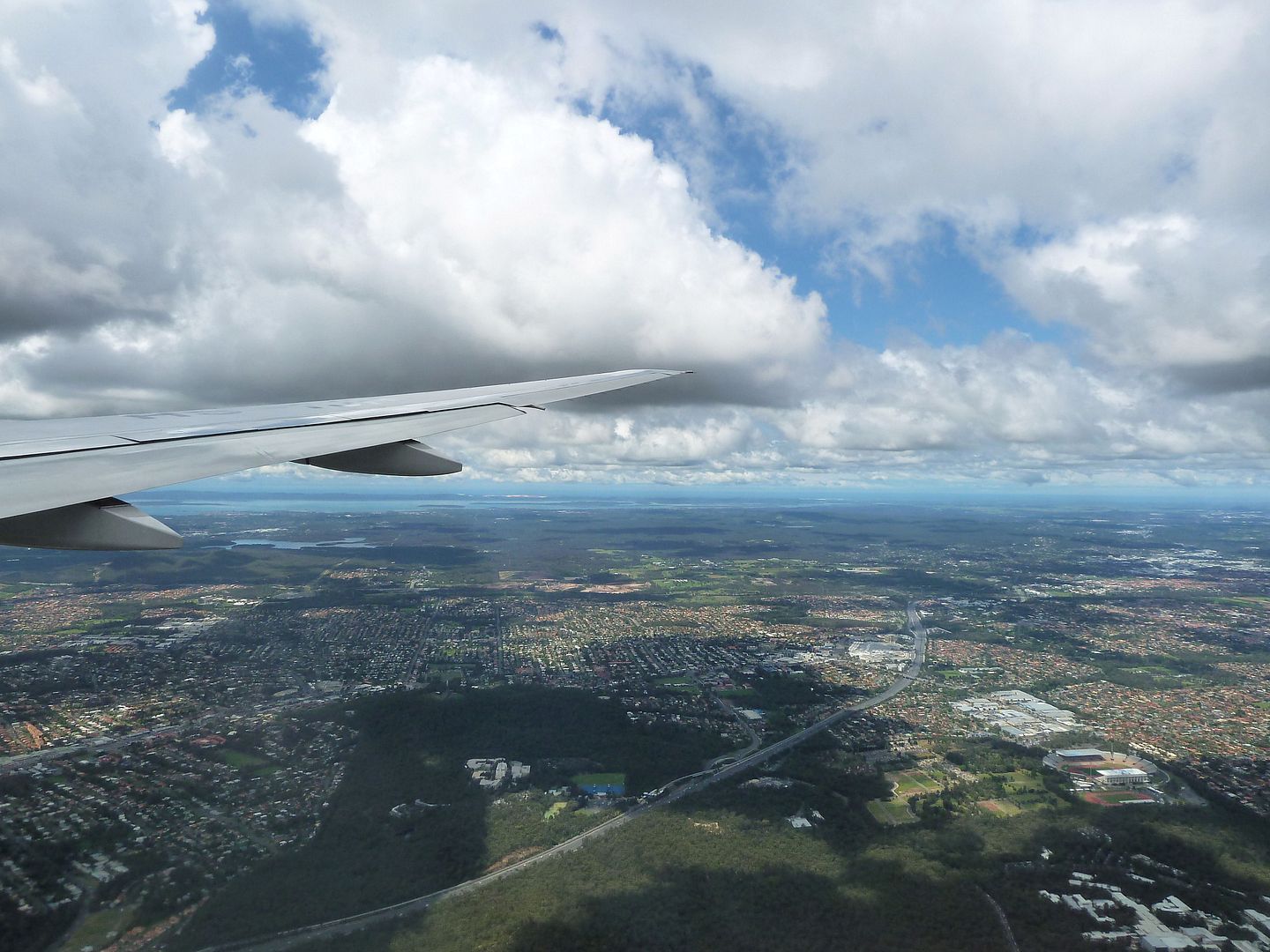 Gateway Bridge: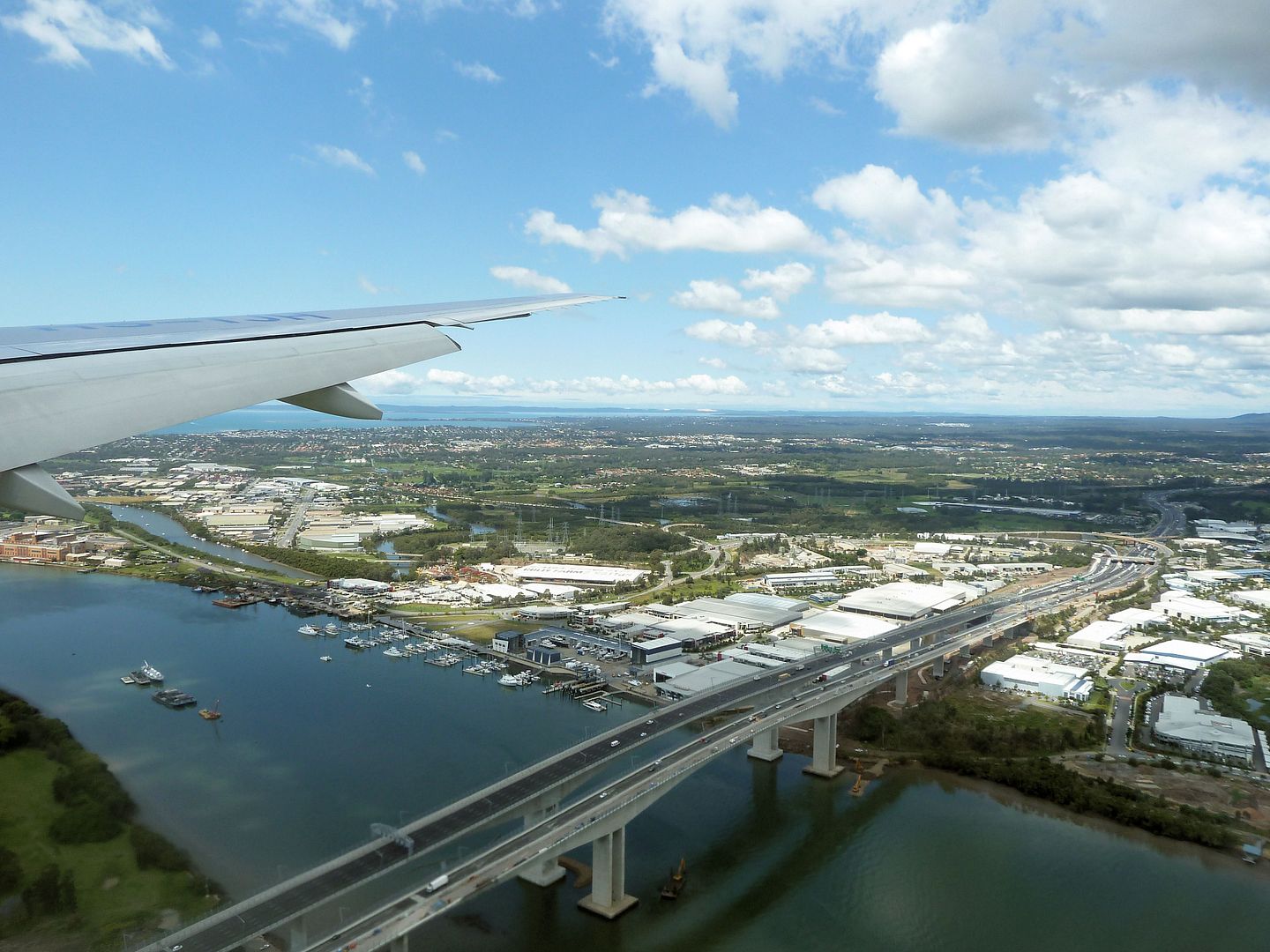 We touched down on Australian soil after 8 hours and 19 minutes and taxied back to the international terminal where we arrived 21 minutes late. Some other visitors:
HS-TJH
in daylight: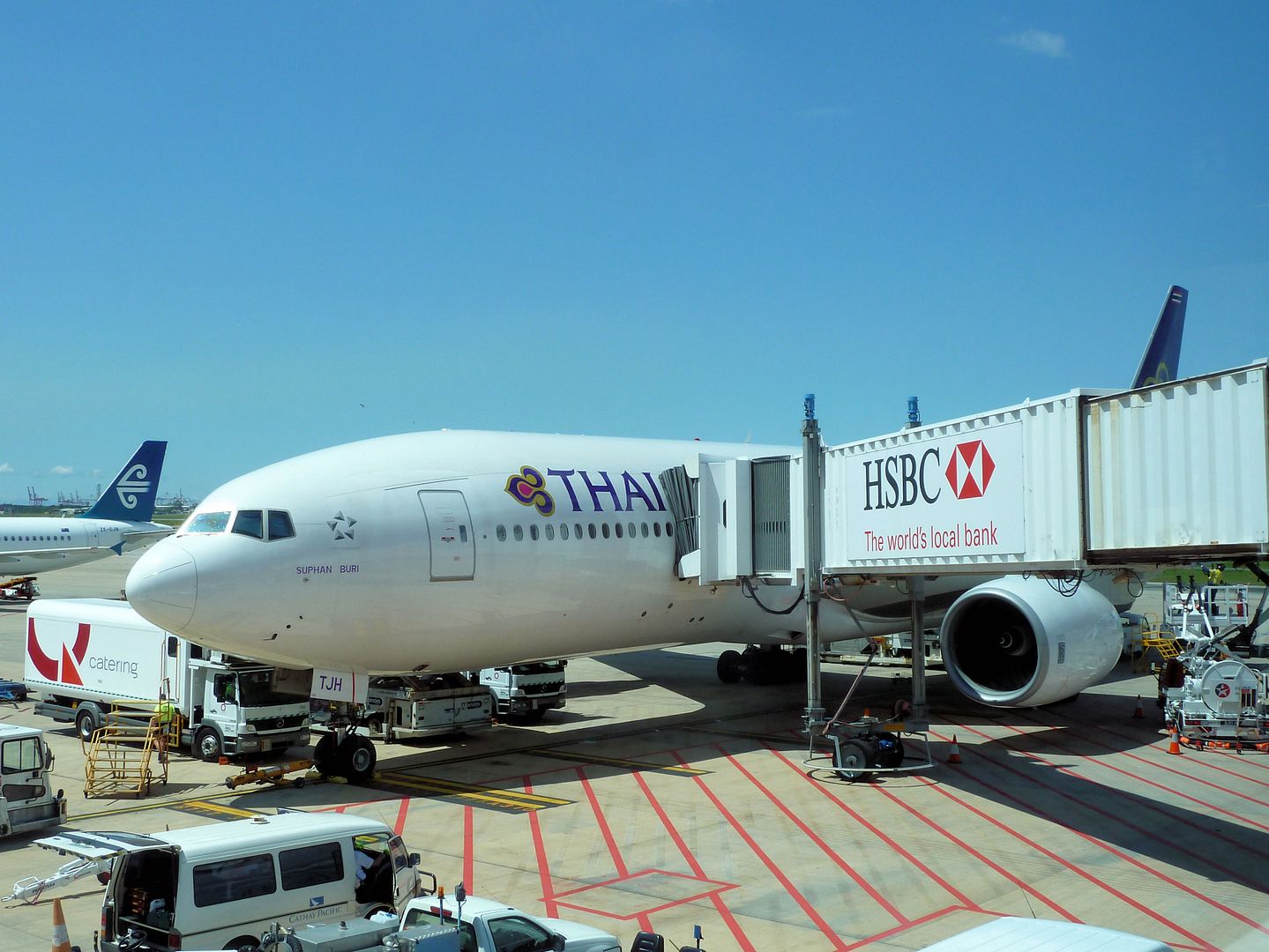 Passing immigration and customs didn't take very long this time and I already met my friend about half an hour after landing.
Story to be continued...
Conclusion
My first flights on
Thai Airways
were okay, but far from being as good as expected. While I liked the seating comfort on the 747, I felt cramped on the 777. The lack of individual IFE on both night flights didn't turn out to be a major problem. However, I wouldn't want to spend 20 hours without decent IFE on successive day flights. I really hope Thai will also install new seats and the latest IFE on its 747 fleet which will remain operative for many more years.
While I cannot complain about meal presentation and food quantity in general, I wasn't satisfied with the quality of the main courses and the salads. Offering a choice of three main courses is nice, but it's disappointing if you don't get the desired food on two successive flights.
Flight attendants and ground staff members were friendly and helpful, but quite reserved in many cases. Were they really as special as often claimed? Definitely not - rather average I would say. What I liked on Thai was the supply of hot towels and menu cards.
Anyway, even though Thai didn't impress me, I would give the carrier a second chance - probably after the introduction of factory-fresh 77Ws and A380s.
Best Regards,
PlaneHunter
P.S.: Just in case you missed them - my previous trip reports:
Painful Delay & My 100th Airline: AF A380, VO F100
Fifth Freedom Tidbit: Kuwait Airways A300-600
Ship Vs. Plane: Porto Santo Line & Sata Air Açores
Awesome Approach, Splendid Scenery: LIS, FNC & TAP
Guernsey, Ash Cloud Alarm & Mostly Empty SQ 77Ws
Totally Thrilling: Scenic Flight On Lufthansa A380
Cirrus D38, Adria CRJ & Captain Niki Lauda On Duty
Monarch Hot Meal, E195 & More: PMI-ALC-MAN-MUC
Premium Meal & Palma Spotting: MUC-PMI, DE 757-300
The Dead Slow Transfer: PEK-MUC On Air China A332
Cancellation Brings Joy: HKG-PEK on Dragonair A330
A380 Cacophony, 777 Star Livery: DXB-SIN-HKG on SQ
The Next 5* Carrier? MUC-MCT-DXB, Oman Air A330
Turkey For 1.5 Hrs: Daytrip To AYT On Sky Airlines
CO Scores Again: ATL-IAH-EWR-FRA On ERJ, 752 & 764
Riding The Ultra Long-Haul Twin: Delta 777-200LR
Pacific Coast Jaunt: 3 Carriers, E120, E140 & Fog
The Ultimate 737: LHR-IAH-PDX On CO 777 & 739ER
Bye Bye, Hell! TRD-OSL-TXL-NUE - DY/AB/HE DH4
My Trip To Hell: NUE-CPH-OSL-TRD On Cimber & SAS
SFO-YUL-FRA: Map- & Sleepless On Air Canada's 77W
Sin City Gloss & Virgin America's Chic First Class
Seat Dilemma & Canyon Glamour: FRA To LAX, AC 763
On Par With Air France? DTW-AMS-MUC, KLM A330
Goodbye, Red Tails! DC-9-40/50 & Chicago Tour
Champagne & World Of Coke: Air France A340 To ATL
"Mission A380": Disappointing Legs On BA/BD/EI
Delights Of Doha, 773 & 77W: DOH-DXB-LHR On EK
A380 Really a Step Forward? LHR-DXB-DOH On EK
Quality & Style: HKG-LHR On Air New Zealand 744
Taiwan Trio: TransAsia, UNI Air And The Taipei 101
"The Wings Of Taiwan": EVA Air A332, 744 Combi
SHA-SZX, Shanghai 757: Delayed By The Military
PEK-SHA, China Eastern A330 & Shanghai At Night
Striking Newcomer: Berlin-Beijing On Hainan A330
Short & Splendid: MXP-MUC On Air Dolomiti's 146
3 Hours On Blue1: HEL-MXP On The MD-90
BCN-MAD-ZRH-MUC: UX Shuttle Meets Swiss Quality
MUC-MAD-BCN: Star MD-87 & The Pain Of Vueling
Low Fares, Lovely Island: AK & Best Of Langkawi
4 Stars Or 5 Stars? FRA-KUL-FRA, Malaysia 777s
First And Last Time? JFK-FCO-MUC, Alitalia 777
JFK For 1 Day: Transatlantic Hop On CSA's A310
Sardinian Sun, Shiny New 73Gs & Cramped Mad Dog
Top And Flop: KIX-HEL-MUC, Finnair A320 & MD-11
The 524-Seat Twin-jet: HND-ITM On ANA 777-300
Kobe For 1 Hour: 767-Quickie On ANA & Skymark
Rocketing To Tokyo: FUK-HND On JAL (ex-JAS) 777
Oddities & Okinawa: JTA 734 & JAL 744D(Domestic)
MUC To Nagoya: Finnair E170 & (Old) "New" A340
Mad Dog, A320 Tech Delay & Best Of Lanzarote
Canaries Prop-Hopping: Islas Airways & Naysa
Canaries And Confusion: LH CRJ900 & Spanair A321
Hubbing For 162 Miles: HOQ-FRA-STR Ret On IQ/EW/LH
BOS-JFK-AMS-MUC: SSSS-Check And KLM 777
ATL-PIT-JFK-BOS: FL B717, JetBlue E190 And Delays
MUC-AMS-MEM-ATL On NWA A332 And 40-year-old DC-9
FRA-BKK-FRA Via CMB: SriLankan A332 & A343
BNE-SIN-DXB-MUC On Emirates B772ER & B773
2 Hours In Paradise: Hamilton Island (JQ/DJ)
BNE-SYD-BNE: Domestic Run On QF's Oldest B747-400
Testing Qantas: SYD-MEL-SYD-BNE (B738, B763, A332)
Going Down Under: MUC-DXB-SYD On EK A332 & A345
9/11 Review: Failed Trip To LAX - Fuel Dump Pics
Surprised By NIKI's Newest A320 & Screw-up By AB
Leisure Vs. Full Service: Condor & SN Brussels
"betterFly" On LH: Business Class For 99 Euro
Weekend Transatlantic Trip (2): US A321 & B762
Transatlantic For A Weekend (1): MUC-DCA On US
[Edited 2011-01-23 09:56:32]