I had not planned to write a TR for this trip, but after nearly 3 years of inactivity on A.net I thought it was about time to make a return. Hence, please pardon the limited amount of photos, especially for the return leg (I was feeling a little out of sorts during the flight). Also, it's been a few weeks since the trip so some details like the aircraft rego, crew names etc have escaped me.
A Little Background
In mid-December, I had just finished my 2 years of compulsory National Service and was looking to travel overseas for a holiday with friends before we head off for university. My friends and I have been saying for ages that we ought to take a trip together, but thus far no concrete plans had ever materialised. With a little cash saved up, I was hoping I could get a cheap premium fare to make it a real luxurious holiday. So I sat down at the computer and started scouring the Internet in the hope of finding a cheap deal. Finally, I came across the special offers on Qatar Airways' Singapore website. I looked down the list of fares and stopped at the fare for Bali, "Hmm...SGD565 for J sounds affordable." I then hopped over to SIA's website to see how much a Y ticket costs in comparison. At over SGD430 for SQ Y, it was no fight. For me, the extra 30% in cost was well worth it for the chance to see if the 2010 World's Best Business Class and World's Best Business Class Onboard Catering were really that good (or whether my already little faith in Skytrax was misplaced).
With a little gentle persuasion, I managed to get a couple of friends to join me, with all of us flying J. After 6 years of flying only SQ and not having flown a Middle Eastern airline since 2003, I was really looking forward to this change. It was also my first time flying J on any airline other than SQ. We eventually worked out the details of our trip, flying in on 6th Jan and returning on the 9th. I then left the rest of the planning to my friends as I disappeared to Italy for a family holiday, as we settled down in anticipation of what promised to be an exciting adventure.
SIN-DPS
QR638
Aircraft: B777-300ER
STD: 1635
STA: 1915
Dep Gate: A10
Seat: 3A
Finally the day of travel had arrived.I opted to head down to Changi later than my friends who had gone ahead to have lunch with their families. My dad dropped me off at Terminal 3 at 2.45pm and I made my way to the Qatar counters at row 5. Having done online check-in the morning before, I was hoping to quickly drop my bag, collect my boarding pass and head for the lounge. However, there was already someone at the counter for Internet check-in so I headed for the C class counter instead, which thankfully was free. Throughout the check-in process, I sensed some curiosity in the lady's demeanour, like why and how this young adult was flying Business Class. Having done the online check-in for our entire party, I had already selected the seats 3A, 3B and 3E. With boarding pass in hand I made my way towards immigration and got stuck in a large group of mainland Chinese passengers travelling on an MU flight. With queues at all the manned immigration counters, I went straight for the biometric scanning machines instead. This was negotiated without incident and I made my way towards the SATS Premier Lounge to join my friends.
The SATS lounge in T3 is located with all the other lounges near the central apron at T3 on the 3rd level. Unfortunately I do not have any pictures of lounge. It was a pretty standard lounge to me, with a food counter, reasonable selection of beverages, computer terminals and shower facilities. The food selection that day was typical lounge fare, sandwiches, biscuits, crisps and a selection of 3 hot foods. The large amount of seating betrayed the fact that it's used by almost, if not all, the airlines that serve T3 besides SQ. The lounge was quiet at that time of the day, with just a group of mainland Chinese and a few other individuals the only other occupants of the lounge. One interesting thing we noticed was that one of the computers blatantly stated "This is not a genuine Windows OS" on the wallpaper. I wonder if that's for real or some bored passenger decided to add that in. Having had lunch prior, none of the food interested me and my hunt for an ice-cream also turned up nothing, so I grabbed an apple juice and sat down to chat with my friends as we waited for boarding. We made some preliminary daily plans for what we hoped to do in Bali, and I listened in amusement as one of my friends related how his dad finally found out earlier that he was flying Business Class. A little past 3pm, we saw the QR plane that would take us to DPS taxi by on its way to the gate after landing from DOH.
Around 3.45pm, we dusted ourselves off and made our way towards A10 for boarding. We were greeted by a long queue of about 20 passengers waiting for pass through the security check. This queue of passengers unfortunately obscured our view of the shorter queue for premium passengers, which left us stuck in the longer queue for a couple of minutes. I finally spotted the arrow indicating the queue for premium passengers and we quickly exited the long queue and skipped across to the other checkpoint. A woman behind us tried to move across as well, but suddenly retreated, probably having noticed it was the queue for premium pax. Security seemed tighter than I'm used to, even the magnetometers seemed more sensitive. Rarely have I had to remove my belt and equally rarely has it set off the magnetometer, which it did that day. One of my friends, who is of mixed blood and has a darker complexion got pulled aside for further checks, although obviously we had nothing prohibited. After we passed through security, it was obvious that the flight was still not boarding. Passengers were still scattered around the waiting area of the gate and majority of the seating benches were taken up. Most of the passengers that day appaeared to be Europeans.
Eventually at about 1615, a boarding call was made for business class passengers, families with children and elderly to board first. As we got up to board, I dug my hand into my pocket to pull out my passpart and boarding pass stub. The passport came out alright, but the stub didn't appear. I flipped to the bio-data page of the passport where I usually put the stub, and hey, still no stub! Panic seized me as I thought I'd dropped my boarding pass yet again! Memories of HKG in 2007 (that incident is mentioned in my TR from that flight) came flooding back. I dug into my pocket again, no stub, quick scan of the ground, also no stub. Finally, I practically ripped through my passport and out popped the stub. Relief washed over me as I realised that all along it'd been stuck in between the cover and the back of the bio-data page. Stub in hand, I quickly made my way down the jetbridge to catch up with my friends, who had stopped halfway down, unaware of my earlier troubles. I headed towards Door 1, when my progress was blocked off by a ground staff, who in typical Singaporean stereotyping manner said, "Sir, economy class is that way" in a slightly condescending manner. Normally, this sort of treatment would have got my blood boiling, but still recovering from my panic attack, my mind failed to react and I just thrust my boarding stub at him. "Oh Business Class, through here sir" was the somewhat more humble and polite reply from the ground staff as he pointed towards Door 1.
We were greeted at the door by a crew member and directed towards our seats. As we settled in, another crew member came by and asked if we would like a drink. All 3 of us opted for champagne. The champagne was duly delivered as we settled down for what promised to be ant enjoyable flights. The load factor in Business that day was around 66%. The crew seemed to hail from all over Asia, there were Middle Easterners, an Indian, a Korean and a Thai. A crew member came round and offered us a cold or hot towel, I went for the latter.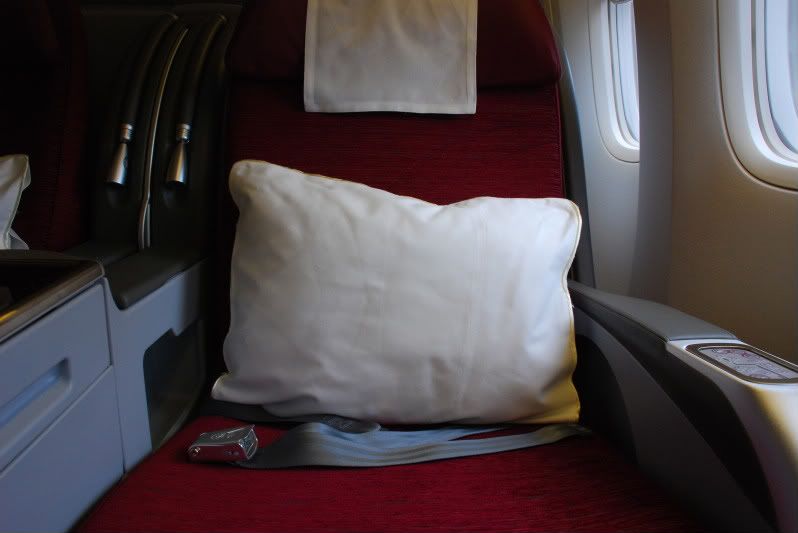 My seat for the flight
View forward from my seat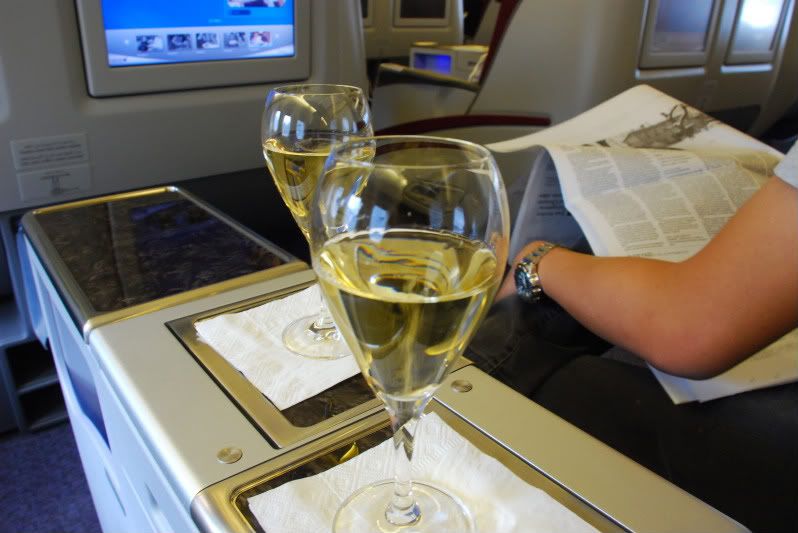 First glass of champagne. Beneath the tray where the glasses are is a compartment for storing bottles or cans of drinks.
Menus and headsets were handed out while we were still parked at the gate. The menu was simple folded piece of hard paper with the options printed in English on one side and Arabic on the other. Newspapers were also offered. When boarding was almost completed, the Middle Eastern Captain came on the PA. Unfortunately, his heavy accent rendered his announcement virtually incomprehensible. The only thing I managed to catch was a flight time of just under 2h 30min. At around 16.40, we finally pushed back from the gate. The sound of GE90s on the 77W starting up is one of the loudest sounds I've ever heard when flying, but from the front, the sound was more muffled. Engines running, we began the taxi across to runway 02C. The crew also collected post-takeoff drink and meal orders while taxiing.
Taxiing on one of the South Cross taxiways (I've never figured which is which) that span the expressway below
We came to a stop shortly after, as we waited for traffic to pass and clear from the taxiway running parallel to 02C. We slotted in behind a queue of about 5 aircraft waiting to depart, including a similarly timed SQ flight also heading for DPS. At about 5pm, we finally turned onto 02C and began our takeoff roll. From the sounds of the engines, it didn't seem like a maximum thrust takeoff, unsurprising given that the aircraft was pretty light. Still, we were off the ground as we passed South Cross, which is very quick.
Turning on runway 02C
As we climbed clear of Changi, I felt the aircraft pull up even more. We seemed to climbing quite steeply indeed. Once the seatbelt signs were turned off, I ducked into the toilet. To my disappointment, the toilet was nothing special. It was also poorly stocked, with a plain toothbrush set the only thing for collecting.a search through the drawers turned up nothing more than a spare soap bottle. A plate of mixed nuts was delivered to our seats, along with more champagne.
Mixed nuts, with champagne to follow
With food and drink beside me, I settled down to fully explore the seat and entertainment. The first thing that struck me was that the seat didn't seem particularly wide. It was more than adequate for me, but then I'm a little on the small side even by Asian standards.
Seat controls
Legroom was generous at 74 inches, and certainly more than enough for most people. The 3 preset positions available on the control were good, and I didn't find the need to make any adjustments from the presets. I also tried out the 8-way massage feature. I personally couldn't really distinguish one motion from the next, but I did find it pretty realxing. You can also adjust the 'ferocity of the massage. Overall, I found the seat to be really comfortable and IMO should suit most passengers rather well. I personally don't fancy this sort of shell seats for sleeping on long hauls, even if they are lie-flat like QR's. If i'm looking for a good sleep in J, SQ's long haul product still seems the best choice. I also noticed QR has their signature Oryx logo on the seatbelt buckle.
There was a very wide selection of entertainment options, with over a 100 movies. This is an aspect that I think the Gulf carriers do really well. I noticed that unlike SQ which only usually offers at most 2 episodes, QR offers several episodes of each individual TV show. I do have quite a few gripes with the IFE system though. Firstly, I'm not a fan of the touchscreen. I find it doesn't quite make sense when you're seating that far away. This is compounded if you let the screen go black. When this happened while on the ground at Changi, I resorted to a rather un-elegant solution: I grabbed the entertainment magazine and used it to poke the screen back into life. Furthermore, when I brushed past my friend's screen while clambering back into my seat after a trip to the loo, it seems I accidentally reset his movie. Secondly is the navigation. Navigating the numerous menus is done either by the touchscreen (not really an option to me) or by the directional pad on the controller. Because the system uses a cursor, a D-pad can get frustrating sometimes. Personally, I think QR could do some refining to technical side of the entertainment system.
As the crew prepared for the meal service, I finally settled down to the "The American" after reviewing the extensive choices available.
Cover of the menu.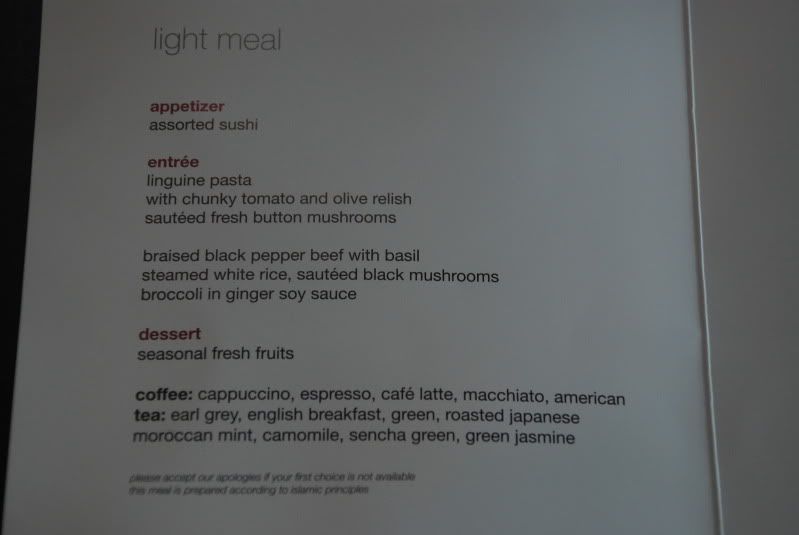 Menu for SIN-DPS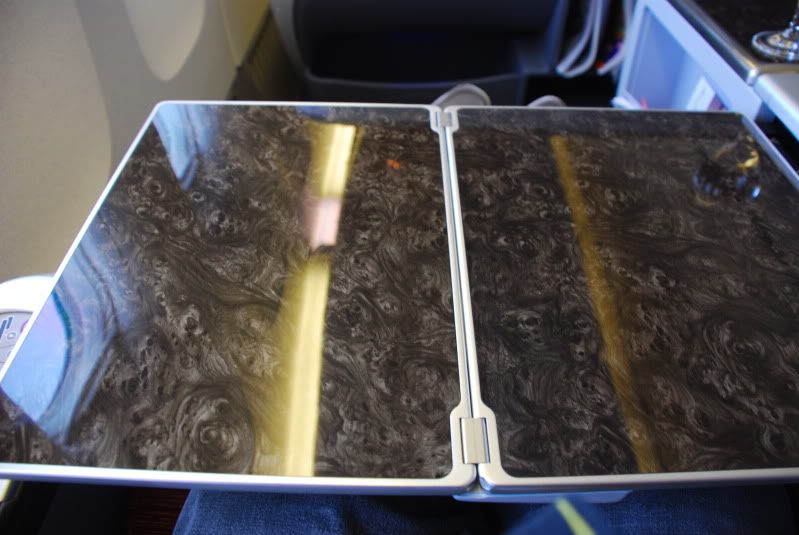 Tray table. I personally find it very attractive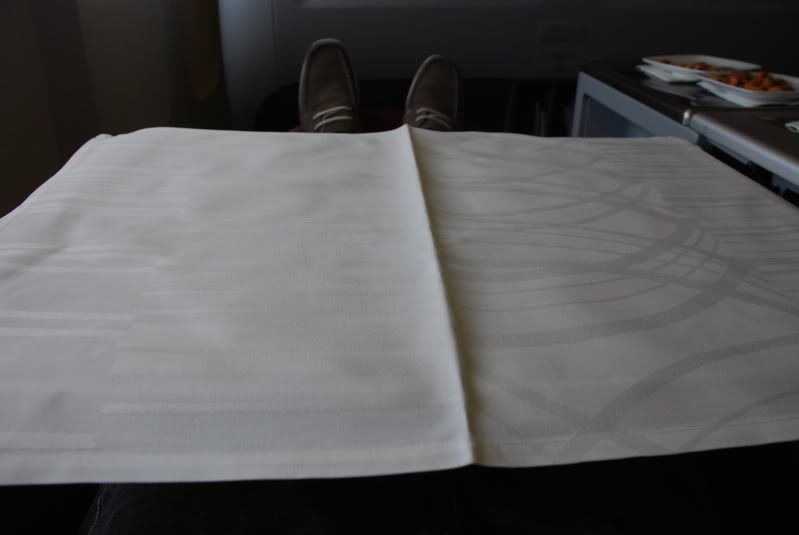 Tablecloth
My friend next to me and I both chose the braised beef, while our other friend chose the linguine. Both options were delivered on one tray together with the other courses and the cutlery.
My braised beef
My friend's linguine
The food was decent without being spectacular, though the plates they were served in were piping hot. A crew member came round with a bottle of still and sparkling water in each hand. Our glasses of champagne, which had remained alongside, were also constantly topped up. I polished off my meal and the crew were pretty quick to remove my tray. I also requested an Earl Grey tea to wash down the meal and to ease off the champagne. The tea was sadly lacking in flavour and there was not enough sugar for my liking. The moroccan mint tea my friend was having seemed a more attractive option.
After the meal service, one of my friends went to check out the reading materials available. Sadly it was rather disappointing. The only thing that piqued our interest was a slightly out-of-date (Dec 2010) Torque , a Singapore automotive magazine. If the crew had better magazines stashed away like SQ does, it wasn't offered at any point.
In fact, I wasn't that impressed with the 'soft' aspects of QR's Business Class. The crew do perform their jobs well, but on this leg I noticed a lack of enthusiasm from the crew. The professionalism and politeness is there, but I don't see the smiles or eagerness you see in most SQ crew. I must apologise for the numerous comparisons to SQ, but that's really the only basis I have to work on and I think most would agree it's a pretty good standard to go by, especially in terms of service. Throughout the flight, I also noticed that sense of curiousity towards our trio, the Korean stewardess even asked my friend a little about our background.
The flight was smooth and uneventful. I absorbed myself in the movie and the rest of the flight flew by, until the Capt came on again and announced that we were beginning our descent into DPS. Another difference I noted was that, almost immediately as we began our descent, the seatbelt sign was turned on. Another contrast to SQ. I wonder if it's done for safety or security reasons?
We flew through some pretty thick and low cloud cover as we descended. At one point, there was only cloud outside for a couple of minutes. We finally broke through the cloud cover as we made our descent in DPS. We crossed a main road the runs by the airport fence and perpendicular to the runway, touching down right on schedule at 1915. The pilot hit the brakes hard briefly halfway down as we slowed, probably trying to take an earlier exit but then giving up. We pulled up to the gate after a short taxi. Oddly, despite there being two jetbridges, only one was connected, to door 2L. This was the same when we departed. Perhaps someone with more familiarity with DPS ops could explain that to me?
Our seats, 3A and 3B after landing in DPS
After a short wait we finally disembarked and made our way to immigration. This being the first visit to Indonesia for all of us, we werren't quite sure where we were supposed to go, what with the visa on arrival stuff and all. Thankfully, we heard an airport staff member nearby directing Singaporean and Malaysian passport holders to go straight to immigration. We promptly headed there and made our way through quickly and continued on to collect our bags. Our bags arrived quickly and after passing through a customs security check, we headed outside only to be welcomed by a sea of noise. It took a phone call to finally get hold of our hotel rep, who arranged our transport and gave us a cold towel and water to refresh ourselves. We were then led to the carpark for our transport and set off into the Bali evening and the start of our holiday.
DPS-SIN
QR639
Aircraft: B777-300ER
STD: 2220
STA: 0050+1
Dep Gate: 5
Seat: 6A
After 3 days of rain and shine in Bali, it was time to head home. We had checked out of our hotel earlier in the afternoon, had lunch then headed back to the hotel to wait until a suitable time to leave. In our boredom, we forked over more cash to the hotel to use the business centre, where we proceeded to do the Internet check-in. To our shock, only a handful of seats were left, and only one bank of 3 seats was available at 6A, 6B and 6E, which we grabbed.
We got to the airport at about 1950 after yet another hair-raising ride through Bali traffic. At Ngurah Rai, you are supposed to present your ticket almost immediately upon getting inside the terminal and only passengers are allowed through. We were worried about this, because none of us had remembered to print it. While at the hotel, we'd decided to just smoke it and hope for the best. As it came to our turn, we just closed up and followed right behind the couple in front of us. Evidently, security weren't too interested in a trio of youngsters lugging luggage and golf bags as we made it through without showing them anything. we passed security and made a beeline for the Qatar counters. The Business Class counter was empty so we headed there where a friendly Indonesian lady greeted us. Besides tagging our check-in bags, we were also given a tag for our carry-ons to write our contact information. We were also given our lounge invitations to the Prada lounge. With nothing else to do, we head upstairs immediately to pay our 150,000 rupiah airport tax. Along the way, we almost literally bumped into the crew that would be operating our flight.
The airport tax and immigration were swiftly negotiated and we attempted to make our way to the lounge. Attempted, because we followed the map on the invitation too closely and ended making a few circles, before realising the map was just terribly out of scale and we should have just walked on further instead of thinking we'd passed it.
Again, no photos of the lounge. I was feeling rather out of sorts, it seems the long wait in the afternoon had sapped all my energy. There was a decent selection of food available, some rice, noodles and assorted fried items. There was also a so-called seafood soup, which had no seafood but a lot of pepper. You really tasted nothing but pepper and salt. There was a reasonable variety of soft drinks and the usual hot drinks available. With over an hour to kill before boarding, we ate a little and just relaxed. The computer terminals were rather hopeless though, one couldn't be used while the Internet connection on the other was so slow it wasn't worth my while.
At 2135, we made our way towards gate 5 for boarding. Along the way we paused at a cafe that was showing the Man Utd-Liverpool FA Cup match, just in time to catch Ryan Giggs convert the penalty for the only goal of the game. (I'm a fan of neither club). There was a queue for security at the gate, but it moved along at a good pace. There was no priority queue here. with boarding already underway, we headed straight for the aircraft as we sped through the checks. My friends boarded first while I paused to phone home to let the folks know I was on the way back. Again, only one jetbridge was used, leading to the formation of a yet another queue. When I got to the door, I was surprised when the male FA who checked my boarding pass said "my colleague will bring you to your seat". The female FA who was standing opposite promptly led me over to row 6, where my friends were already settling in. When you enter the aircraft at door 2L, you are greeted by a large Oryx on the wall. As passengers streamed by, the three of us seemed to be attracting a rather lot of dirty looks from our fellow passengers. Contrary to what the seat selection had suggested earlier, the aft cabin where we were in was less than half full, in fact there were only 8 passengers including us, all on the left side of the aircraft. The forward cabin was more full, probably closer to 80%.
The usual routine of welcome drinks (more champagne), towels, menus and headsets were dealt with soon after. The female FA who was serving our side of the cabin (well actually the whole cabin, since only the left side was occupied) introduced herself. The chief purser, a 30-something Middle Eastern guy, then came to each individual group of passengers and introduced himself to us. He saw my dSLR and we had a quick chat about cameras before he moved on to the family sitted in row 5. First impressions of this crew was very good indeed. They seemed a lot more personable and friendly. Captain William then made an announcement, mentioning a flight time of about 2h.
At 2200, we pushed back from the gate and with no other traffic around, made straight for the runway. We turned onto the runway immediately and began our takeoff roll, which was definitely full power this time. Sitting closer to the wing this time, the sound the big GE90s were noticeably louder. We lifted off at exactly 2205, a full 15 minutes before our scheduled departure time. About 30s into the climb, I again felt an increase in our rate of climb, something I don't normally feel on our other climb outs, on SQ or from hazy memories of EK and CX in '03 and '04.
The seatbelt signs were soon turned off and a fresh round of drinks were brought to our seats along with the plates of mixed nuts. Meal orders had been taken at some point, but I've forgotten exactly when.
Menu for DPS-SIN
Looking at the menu, it appeared that the appetizer and dessert had been loaded on at Changi, possibly the main dish as well, but I can't be sure. Not in the mood for more Indonesian food, all three of us opted for the pasta this time.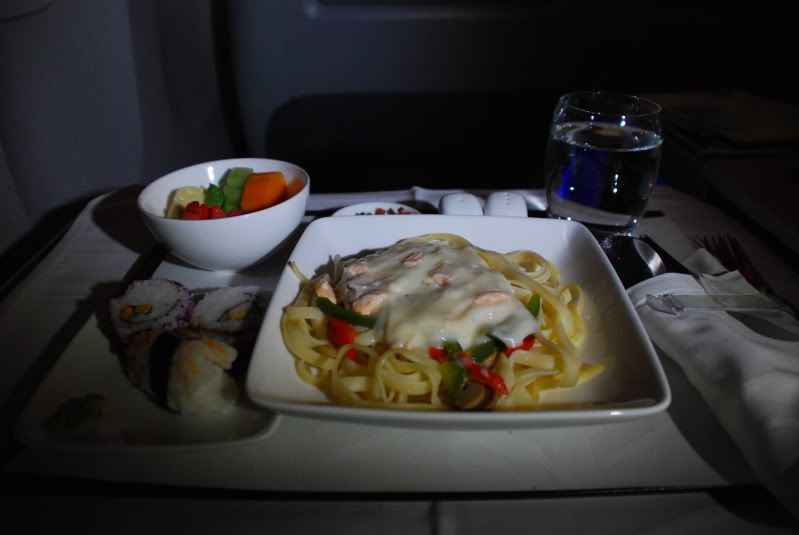 The presentation was indentical and again a choice of still or sparkling water was offered. The cream sauce was a little too thick and not seasoned enough for my liking, but overall perhaps one of the better pasta dishes I've had on a plane. It was light enough and the peppers, mushrooms and salmon were quite well done. The tray was removed quickly after I fnished, and I moved the seat into bed mode for some rest.
Having taken in some Big Bang Theory before and during the meal, I now turned my attention to the audio available. Again, I was left somewhat irriated by the IFE system. The listing of albums available in the entertainment guide doesn't quite seem to match up with the categories seen in the system. In addition, when I enter an album to listen and add songs to the Jukebox, when I exit the album it goes back to the first page of the category. You can change album from a gallery below when viewing an album, but only the album title is listed with no mention of artist. Another problem I find with the navigation in the IFE.
I finally managed to get a decent number of songs into the Jukebox, so I switched over to the moving map to monitor our progress. One nice feature of the moving map that I liked was the wing-view and cockpit view, kind of Flight Sim-ish.
You can see the wing view in my IFE screen
The mood lighting was the only lighting on throughout the whole flight. It's good for passengers hoping to catch a power nap on this short flight, but I didn't find it particularly useful during the meal service. It probably also contributed to my lack of enthusiasm for taking photos during the flight!
The flight was again smooth and uneventful, as I drifted in and out of sleep. I had planned to visit the Y cabin and also see if I could strike a conversation with the crew serving the J cabin, but my drowsiness made me forget all that. Soon enough, Capt William was back to announce that we were commencing our descent into Changi. Once again, the seatbelt signs were turned on right after he completed his announcement. I again wondered the reason for the immediacy of turning on the seatbelt sign.
Once again, there was some thick cloud cover and we encountered more turbulence during our descent. The cloud ceiling was pretty high though, once we were through it was clear visibility all round. Since we were flying more or less north anyway, we headed straight on apporach for runway 02L, with just a bit of zig-zagging here and there. We eventually touched down at 0015, 35min ahead of schedule. From these two flights, it seems to me that QR's pilots haven't quite refined the skill of landing a 777. Both landings were pretty rough and hard, remniscent of SQ's first few years of 777 service. No sudden hard braking this time, we slowed down smoothly and turned off around the end of T3, making a u-turn back towards the A-gates. We held position for quite a while at the central apron of T3, no doubt waiting for one or more SIA birds to start up and move off for departure. We finally pulled into our gate and disembarkation was swift. We made our way down to the empty immigration area and made a stop to buy some duty free. After collecting our bads, predictably we were stopped by customs to x-ray our bags.Singapore customs are, frankly, too predictable when it comes to conducting checks on arriving passengers. Thus ended a piar of my most pleasant flights ever.
Final Words
I would gladly fly Qatar Airways again, even in Y. 6 years of waiting to experience something other than boring old SQ, and I was not disappointed. QR has in fact, made me eager to experience more, to broaden my horizons. I would go as far as to say that it has re-ignited my interest in aviation and flying again, an interest which has been dying (2 yrs of NS can do that to you), as my years of inactivity on A.net can testify to.
That said, I feel the product isn't quite perfect yet. In terms of comfort, IMO they are right up there. Service wise, there are inconsistencies. The contrast between the crews on my 2 short flights was obvious. Some simple things like sorting out attire, what they should be wearing when, need to be ironed out. With their Business Class to be become their only premium cabin soon (correct me if I'm wrong...?), they have the opportunity to and should push the standards of their product up even more. Consistency is the key, it's why SQ is popular, because people trust them to give the same level of service every flight. I wasn't entirely satisfied with the IFE either, for the reasons I mentioned earlier. I think it's another area that could do with some practical, technical refinement. Nonetheless, the wide variety of entertainment choices made up for the flaws.
All in all, I consider my little splurge to be money well spent. Qatar AIrways appaear to be as good as promised. I think they can give anyone a run for their money and more.
I hope you enjoyed reading this TR and thank you for taking the time. Any feedback is welcome as always.
Wishing all a good 2011,
Joel