Introduction
For introduction about this trip and the first half of it, see the first part:
European Capital Tour, Part 1: HEL-LHR/LCY-MAD-CDG
(by
FlyingFinn76
Feb 2 2011 in Trip Reports)
This story picks up where the first part ended, deep asleep in my hotel room in the 9th
arrondissement
of Paris.
Saturday 29.1.2011
I wake up feeling quite miserable, with that unmistakable feeling of an oncoming flu. The long night and beers at the weird corner bar where the bartender was just as drunk as the customers just down the street sure didn't help either... Anyway since my flight is only departing mid-afternoon there's no need to rush so I have a long lie-in, wondering about the weirdness of French TV.
I finally get my act together, shower, pack up and head out. The weather has turned quite nice - sunshine but cold, just a few degrees: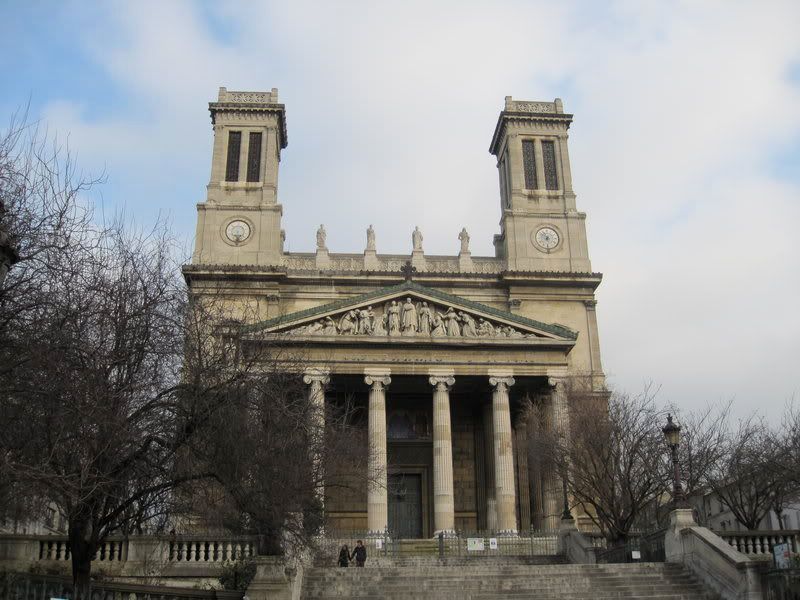 I walk back to the Gare du Nord station: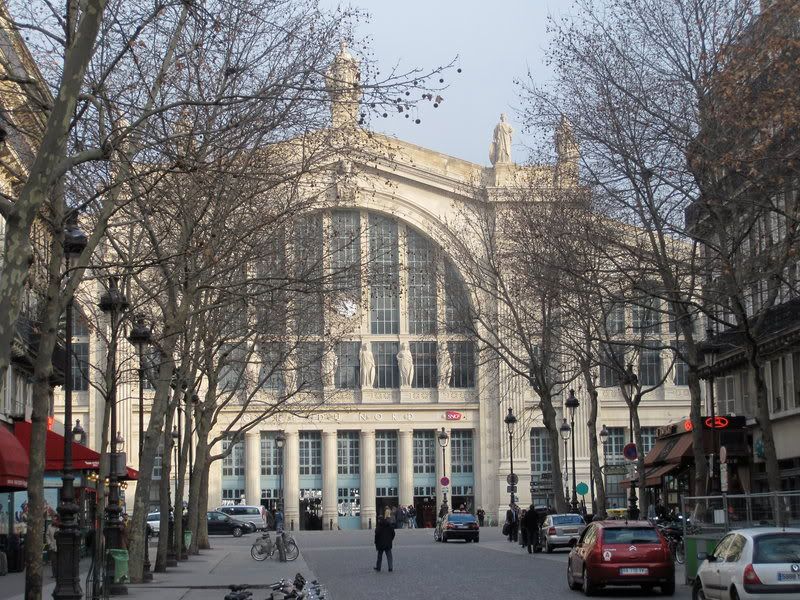 I decide to treat myself to a nice, juicy burger at Quick just opposite the station - I just didn't have the energy to go to the breakfast and somehow the general hotel atmosphere made me convinced that it wouldn't be that spectacular... Besides you need all those extra calories when you are sick: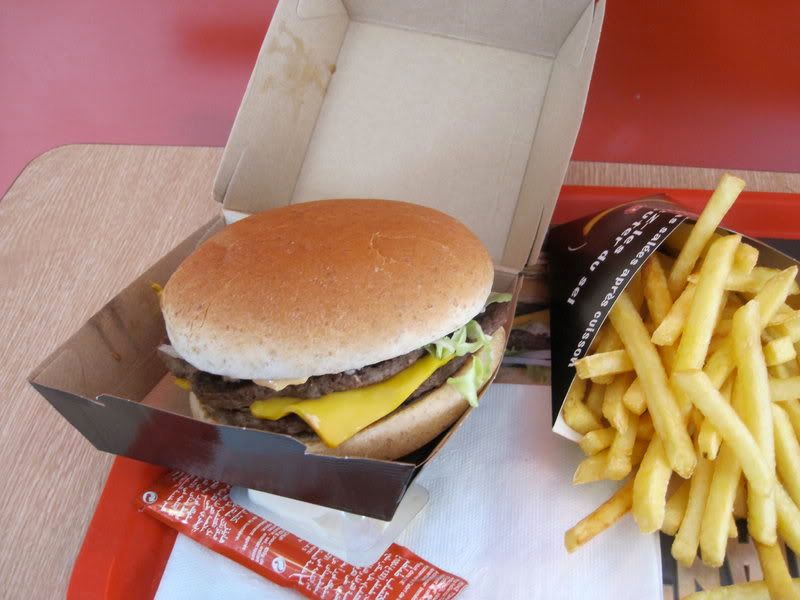 Inside the station: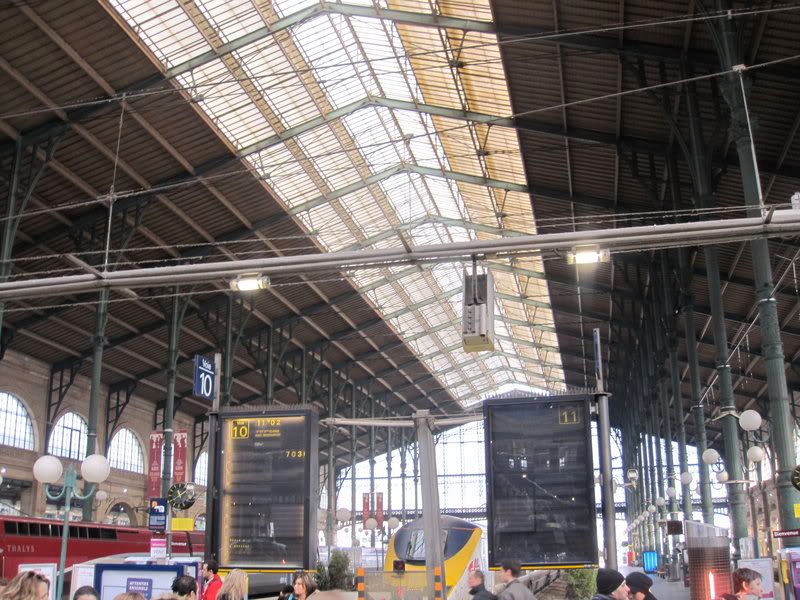 TIDS: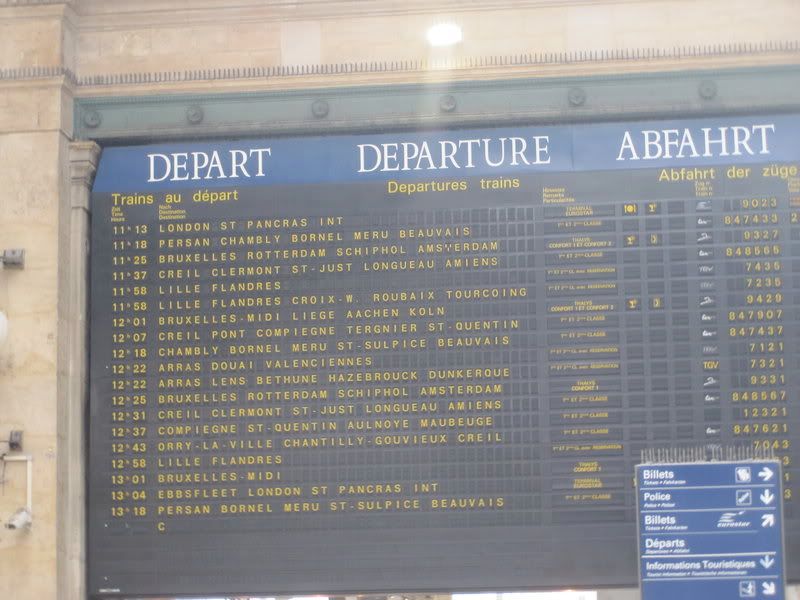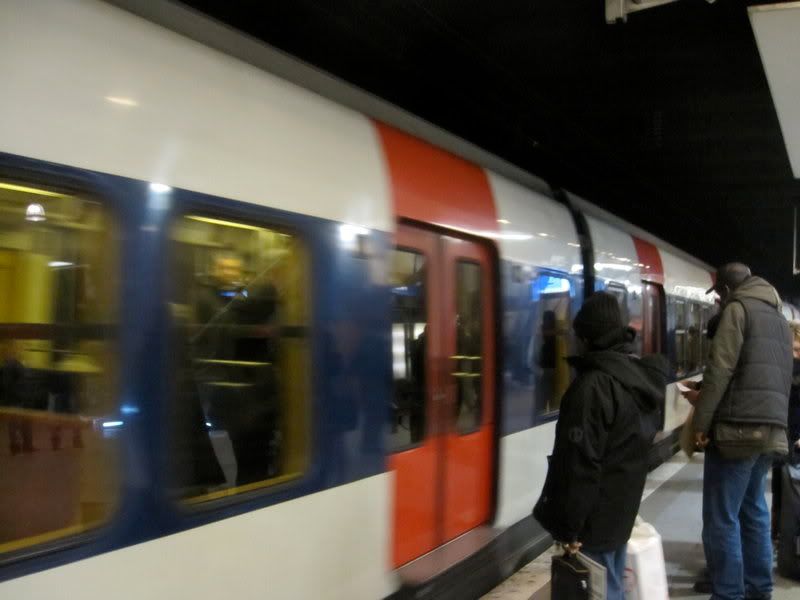 Another RER ride up to the CDG T3 stop follows, this time the train is almost empty. From T3 the automated CDGVAL train takes me to the cylindrical concrete donut also known as T1. You can say many things about this terminal, but at least the toilets are very stylish: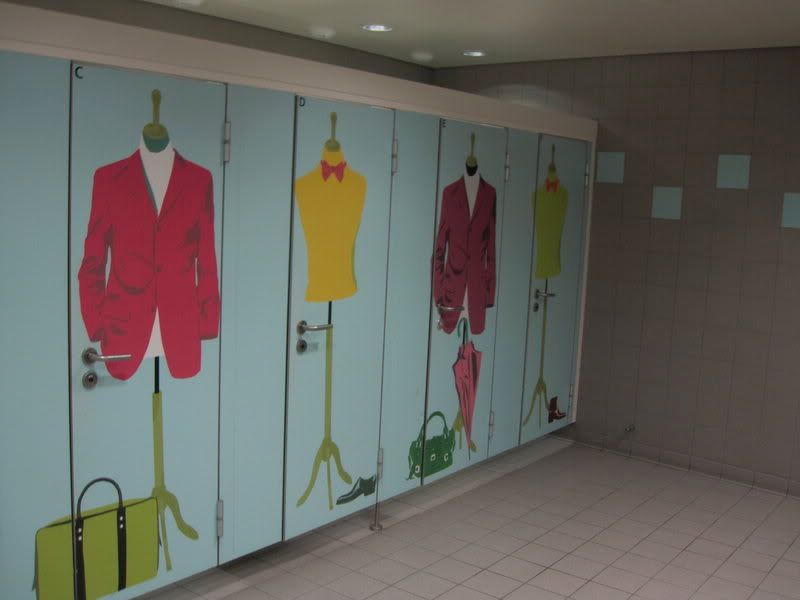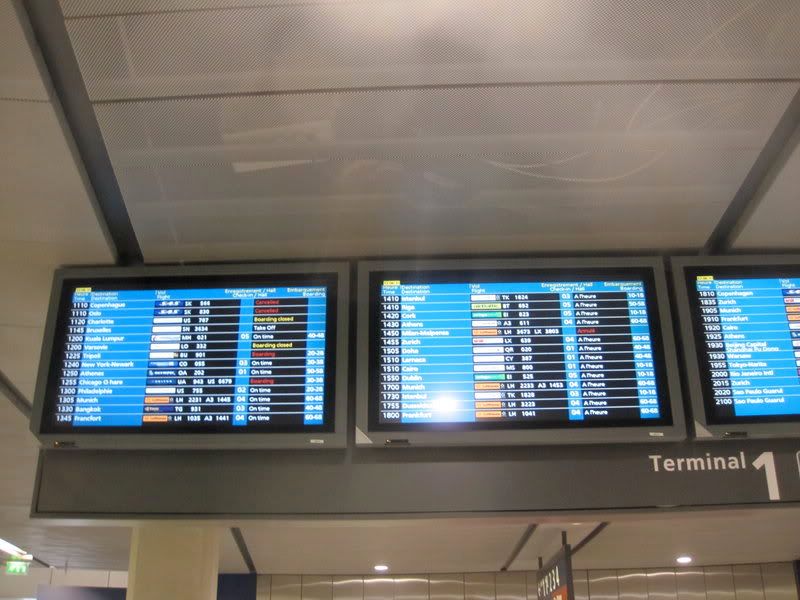 Check in is on the second level - by the time I get there there's already quite a queue and people appear to be carrying tons of luggage. The agents are just setting up the counters. I actually checked in on line, but couldn't print out my boarding pass. However I spot a separate bag drop desk so that's where I go to ask the agent if I can use it. No problems with that, although it takes some minutes to get the computer up to speed, but I appear to be the first passenger of this bunch to receive my boarding pass.
Up through the funky tubes - I'm starting to like these, very retro. I'm just wondering what an earth were the designers thinking (or maybe drinking - oh, it was the sixties so probably just expanding their mind)?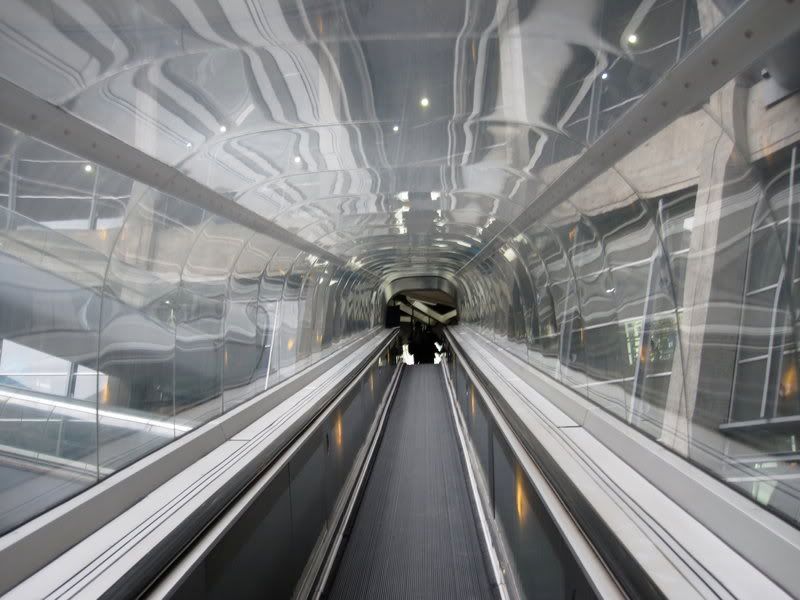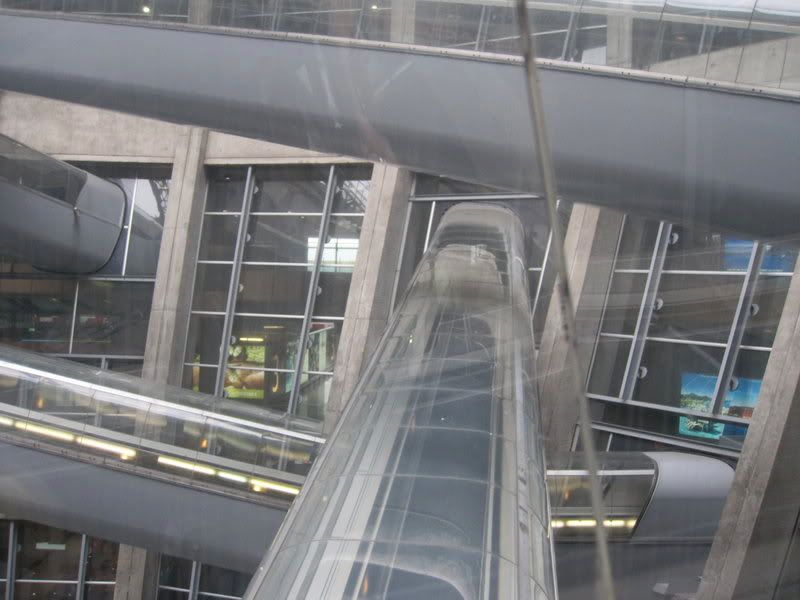 There's a lounge accessible with my Diners Club card, but it's on the non-Schengen side. The website said I should get an invitation from the info desk but can't see one one my route so decide to try my luck. The boarding pass checker in front of the passport desks accepts my explanation, as does the border guard after I show him my card.
The Icare lounge is upstairs, next to the UA RCC. A quite nice facility actually, with two very pleasant women as staff, especially the younger one.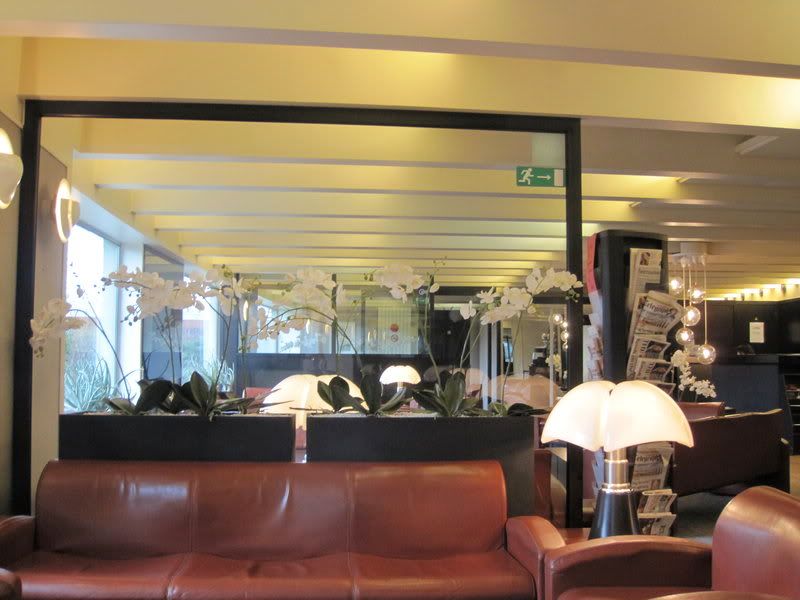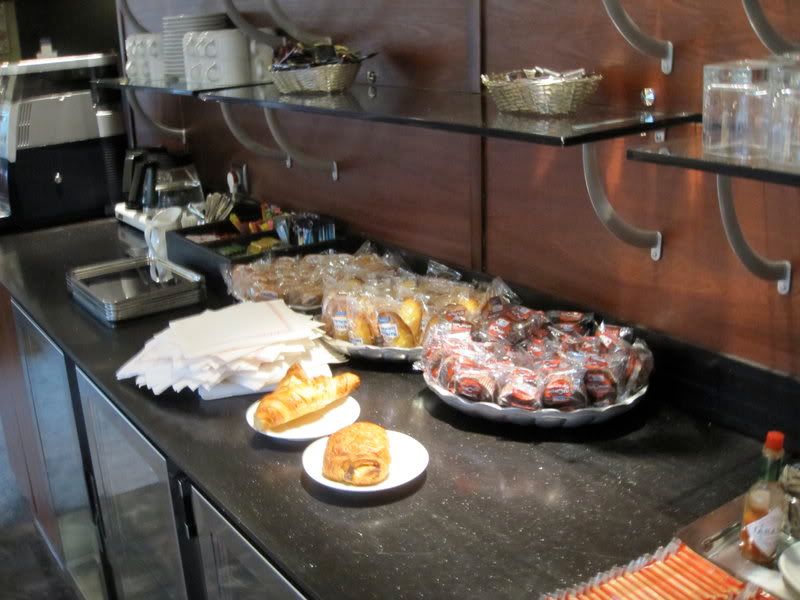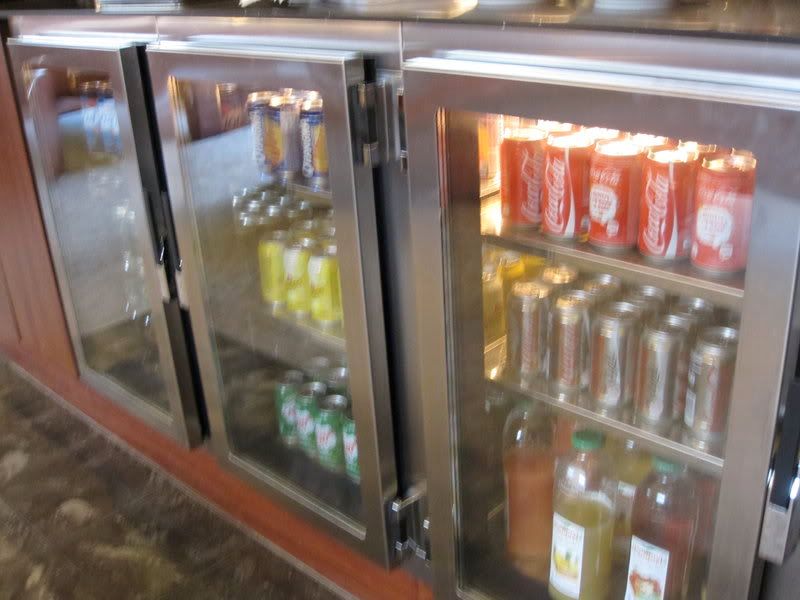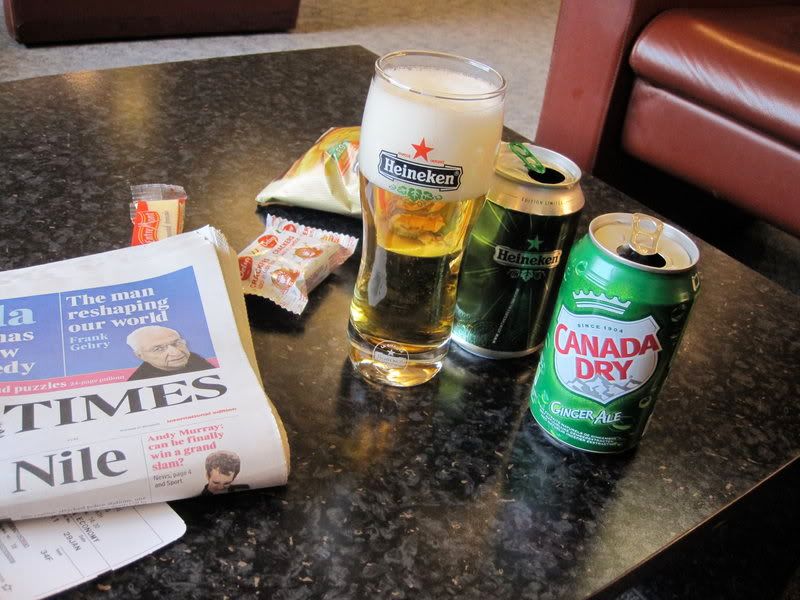 The lounge is almost completely empty, I ask about this and apparently right now is lull time between various departure banks. Not sure which airlines use this lounge, but at least FlyBE does.
Free wifi is offered, as expected from any decent lounge, so that helps to pass the time. I keep monitoring the inbound flight from acarsd.org, it is showing SX-DVP but referring it to as A320 - so I assume an equipment change had taken place. I just hope they can still give me a good seat - I'm again on the last row and - well, show me an A320 with 34 rows and I'll show you a special charter flight for supermodels! Anyway the check in agent said that it wasn't busy at all when I asked so I'm having my hopes up.
I leave a bit early for the gate as there's still a virtual international border to cross and I have no idea how busy it will be. Not to worry, there are no passengers at all on the passport controls, although the young French guy checking documents and boarding passes and sorting people to the correct queues tells me that Finland "is not EU, monsieur!". Where do they find these guys?! Luckily after a bit of arguing his supervisor comes there and puts him straight.
Another funky piece of 60's surrealism follows - the under-apron travelator to the satellite terminal - the same one used by LH (and SK/KF I think?):
Looks like I timed my arrival just right as most of the passengers are already airside and there are no queues at the security check. At the gate I am relieved to see that it indeed is SX-DVP and it still is A321 - looks like acarsd needs to update their database!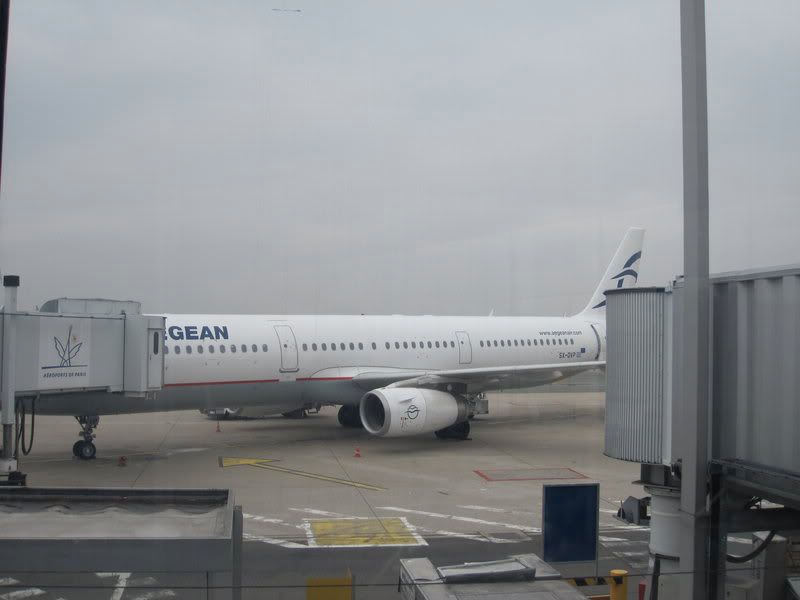 Boarding has not yet started, actually it takes another twenty minutes before they do so. The 09s are in use today, so there's a constant stream of planes taxiing out to departure just past the satellite terminal, so I don't mind the wait: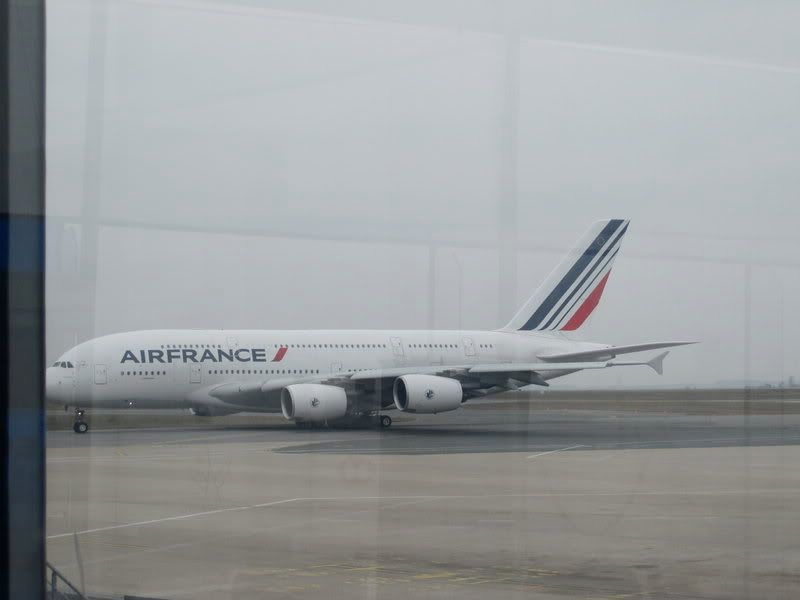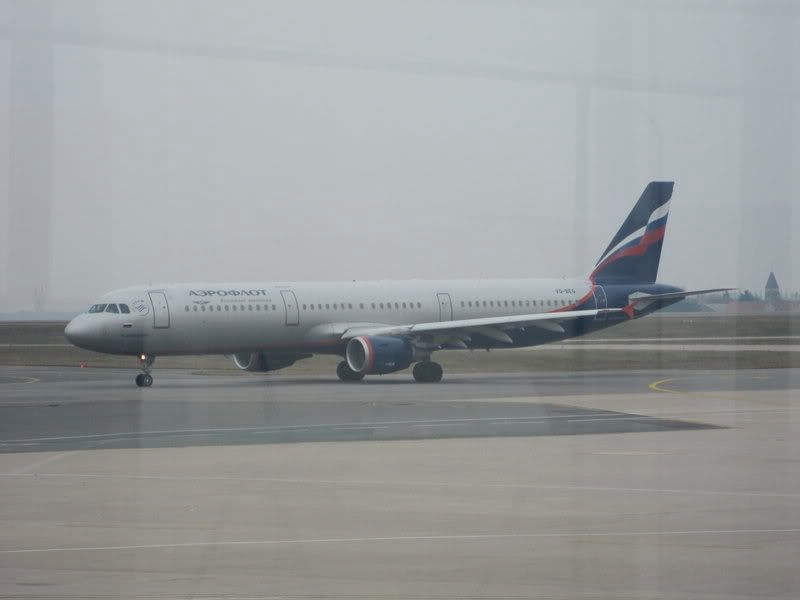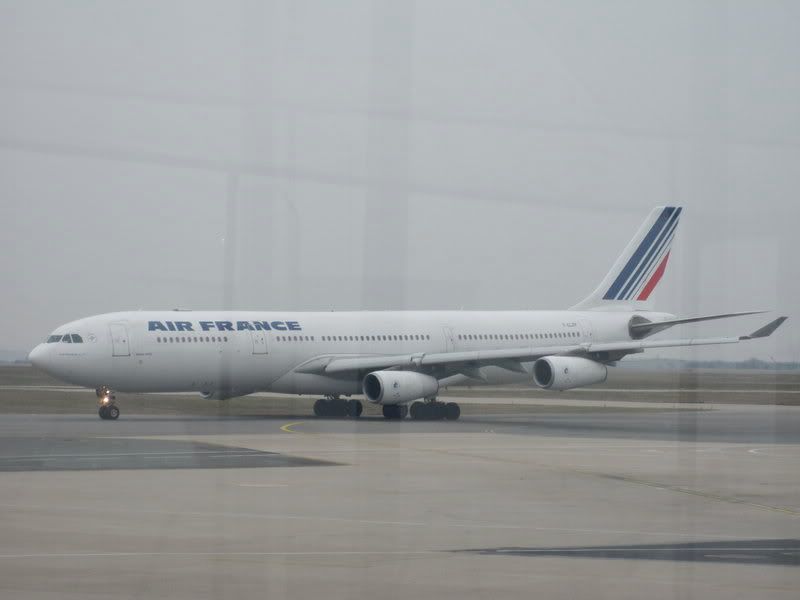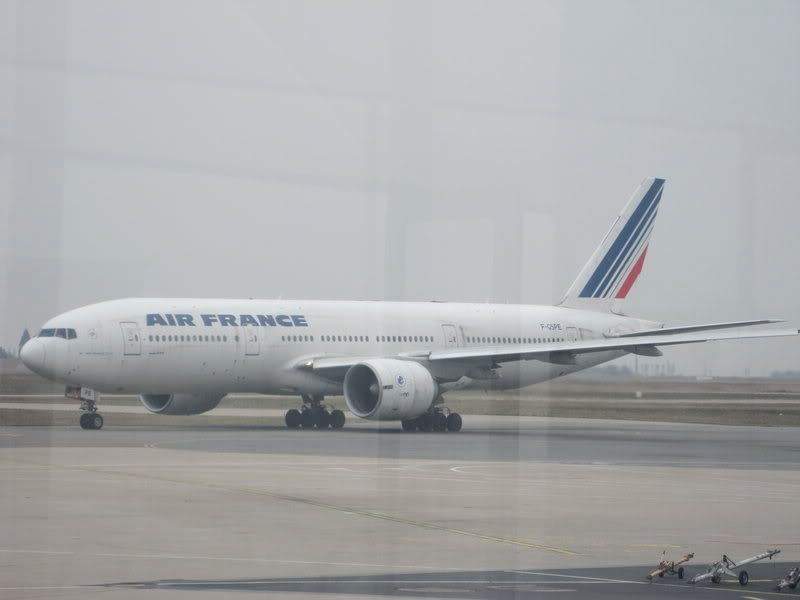 Finally boarding is called 25 minutes before departure.
CDG - ATH
A3611
A321 SX-DVP
Seat 34F
14.29 - 18.18
The first officer and the purser are both welcoming passengers on the front door. Very friendly all-female cabin crew onboard today. I like the red highlights in the cabin: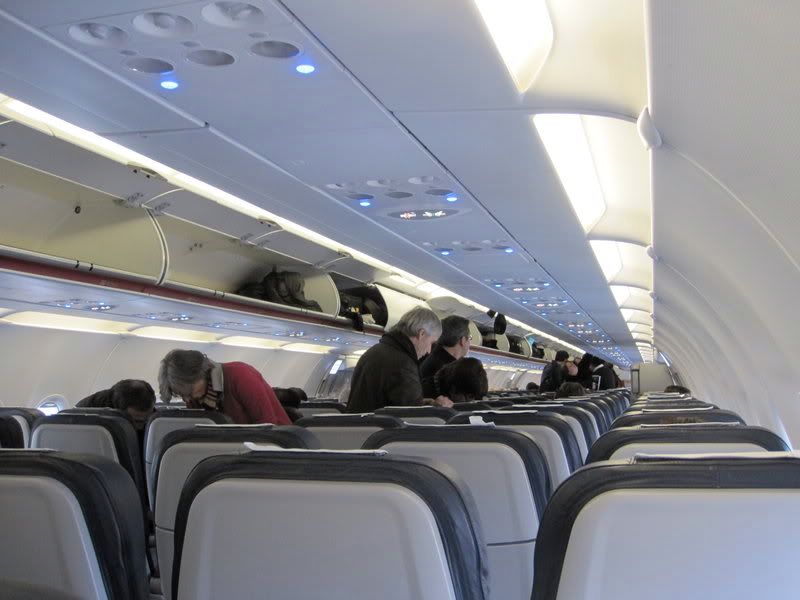 Very comfortable slimline leather seats, ok legroom: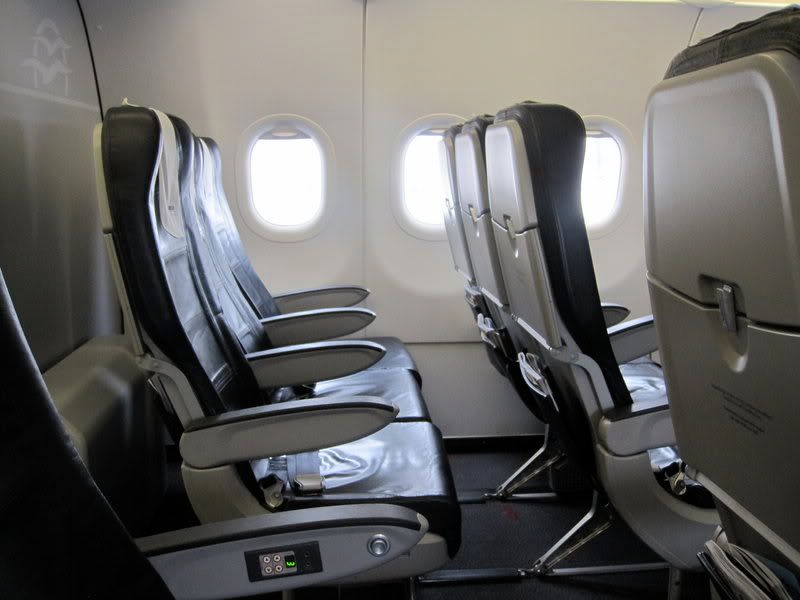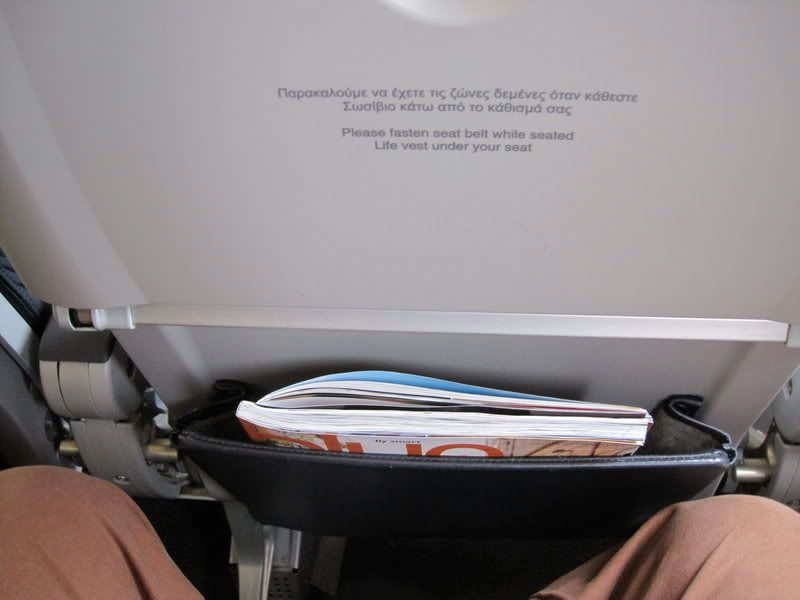 Yep, it's a new plane, as can be told from the latest controls: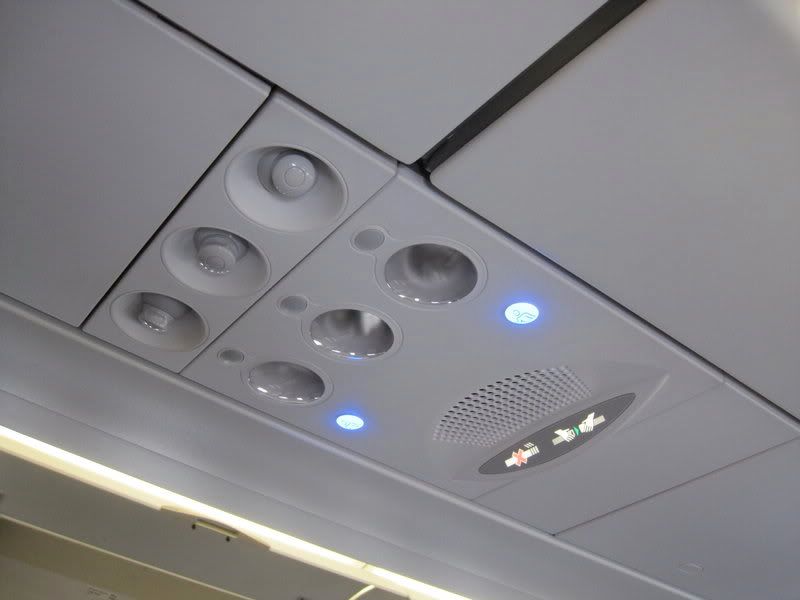 The load ends up being less than 60%, a whole block of three for me which is very much appreciated. The captain promises an "on time departure, good weather enroute and currently ten degrees at Athens" - finally some warmth, heck in Finland we call that kind of temperatures balmy, and that's during the summer!
The purser adds her own bit of announcements, the most important thing being a flight time of 2h50mins. Push back is a minute ahead of schedule.
Hola, mi amigo: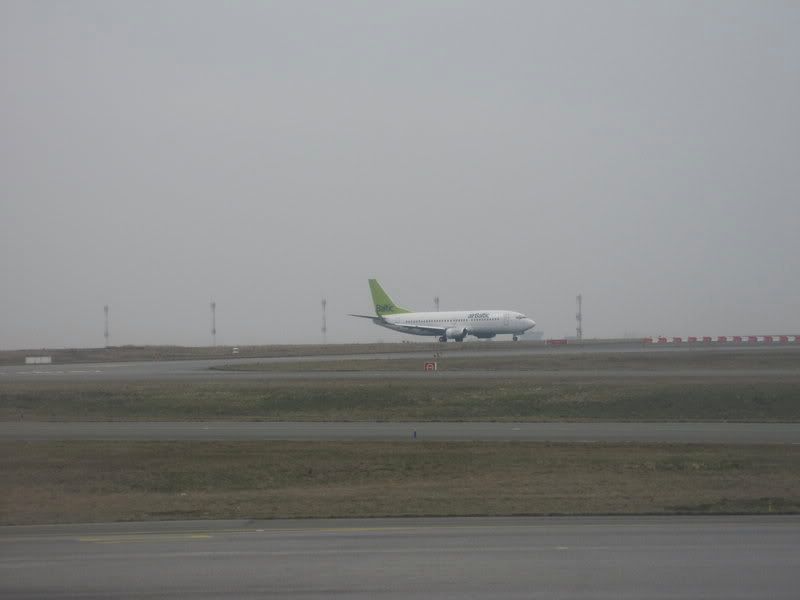 I had no idea Cimber flew here, to BLL I assume: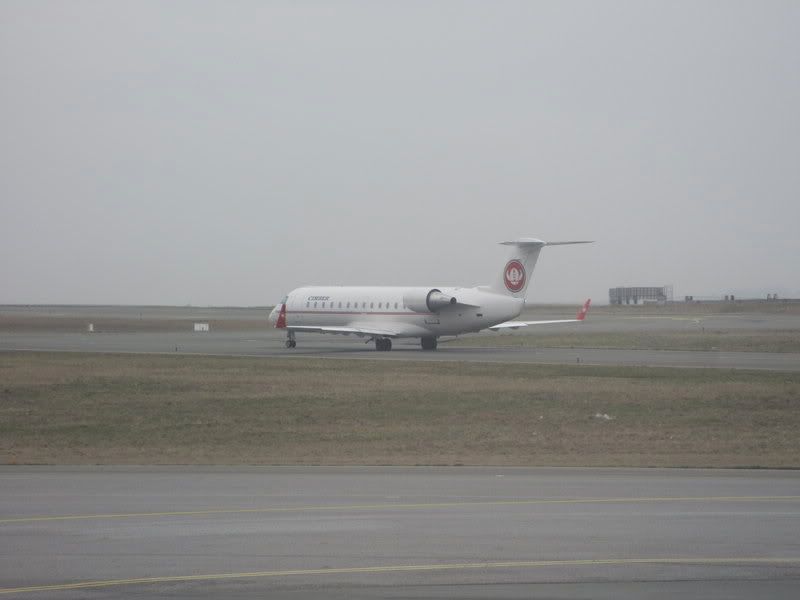 The AF long-haul operation here is really quite impressive - here are three widebodies (headed by the Whalejet) lining up for take off: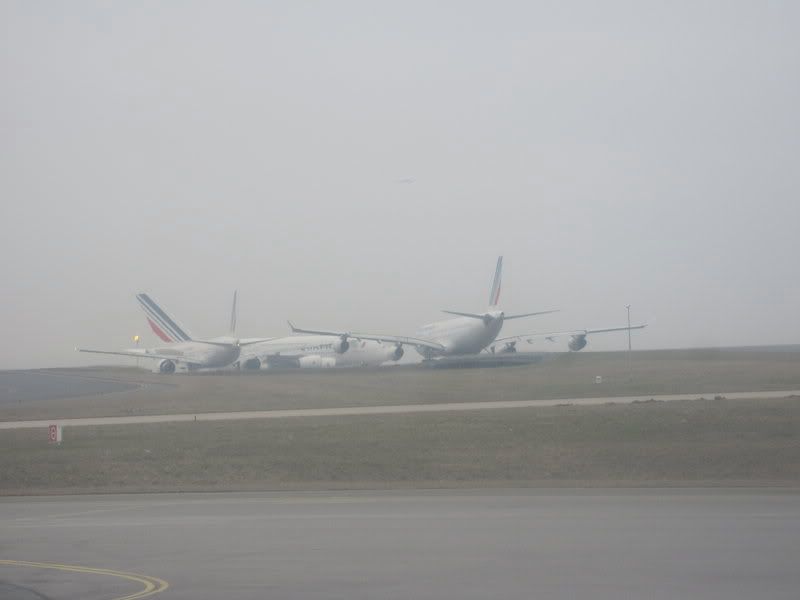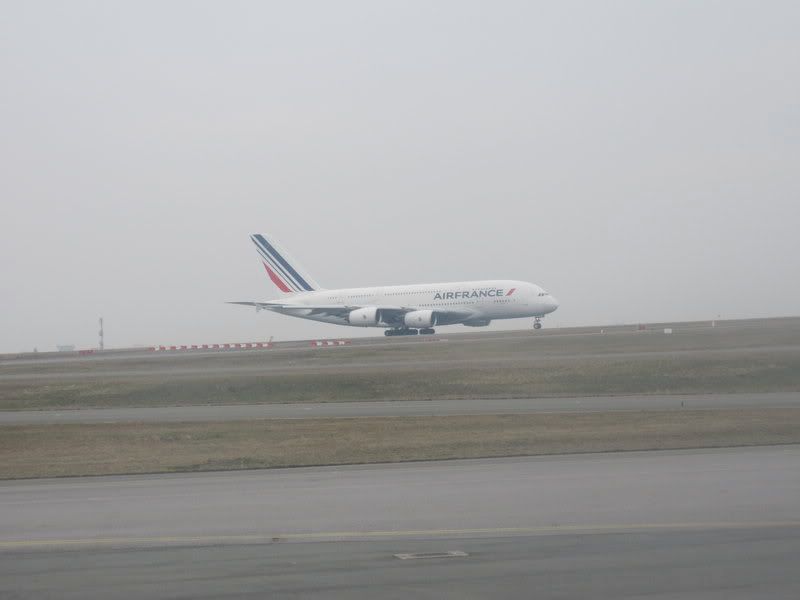 Before take off candies are handed out - the FA taps my shoulder as I'm so engrossed watching the traffic through the window: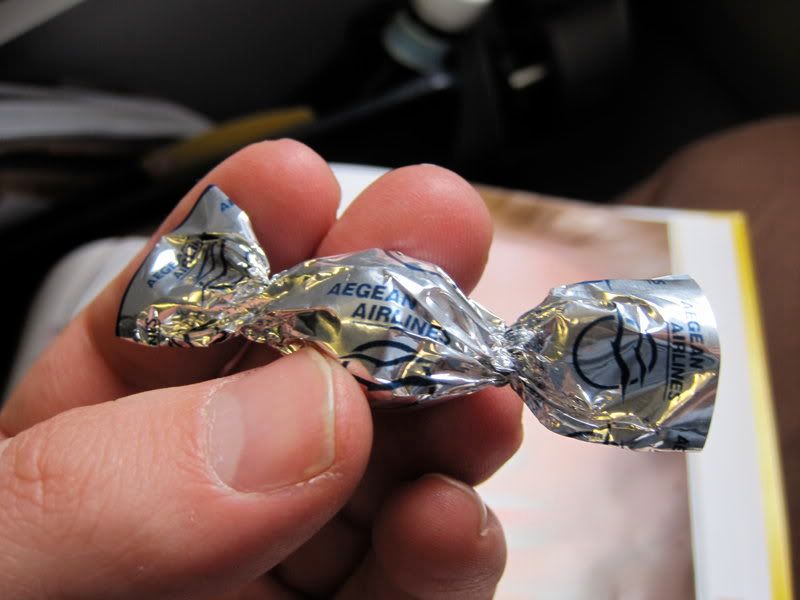 Latest Airshow system on this new bird: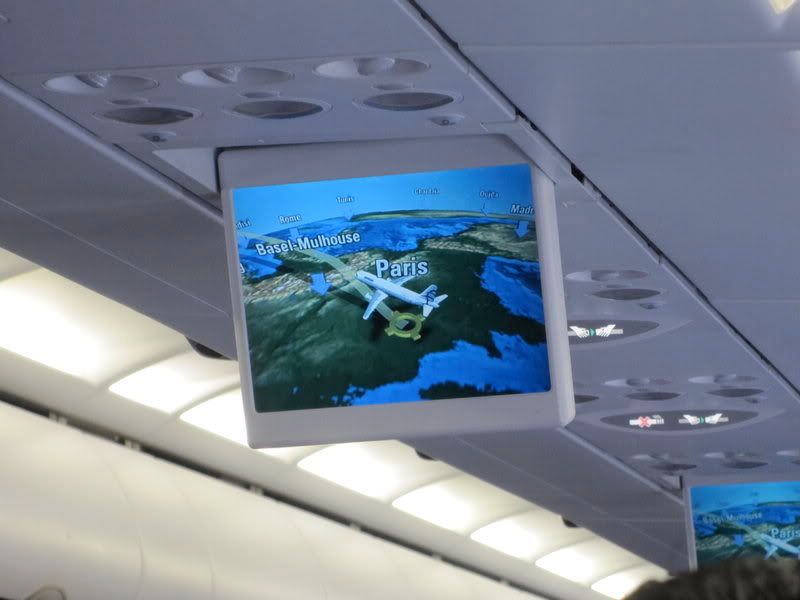 A very powerful take off from 09R commences nine minutes after pushback.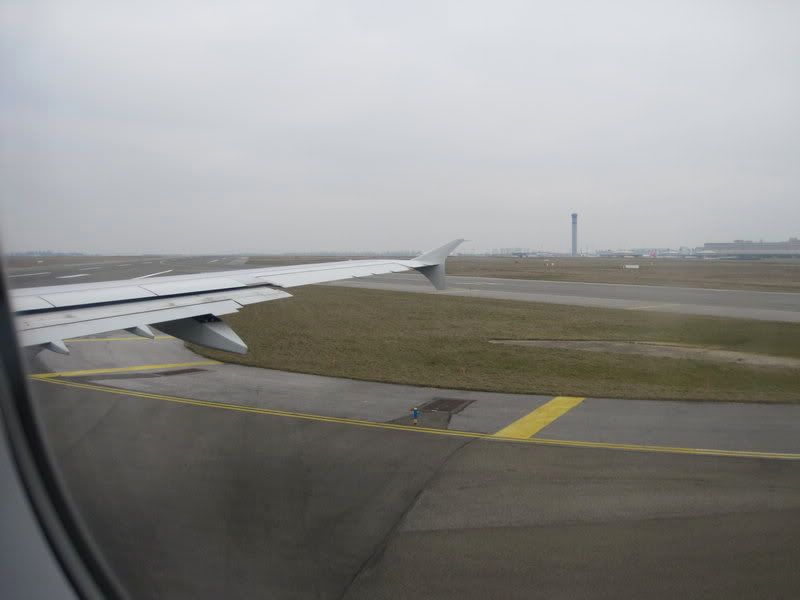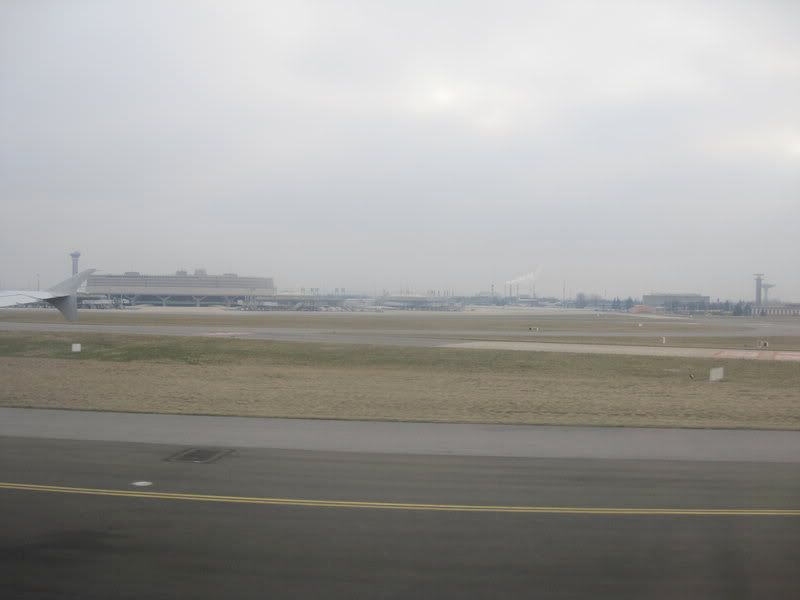 You could very easily think that the Concorde is actually taking off: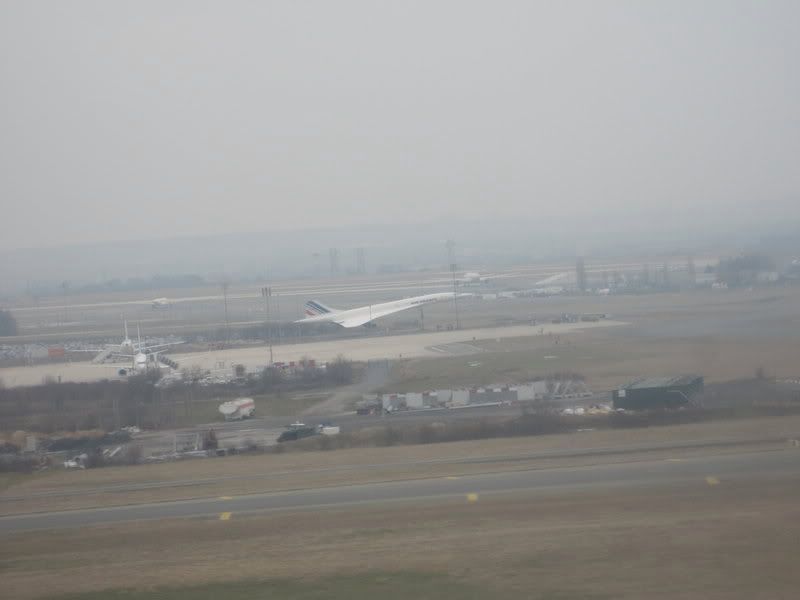 Part of the gigantic T2, the (somewhat) nicer part of CDG: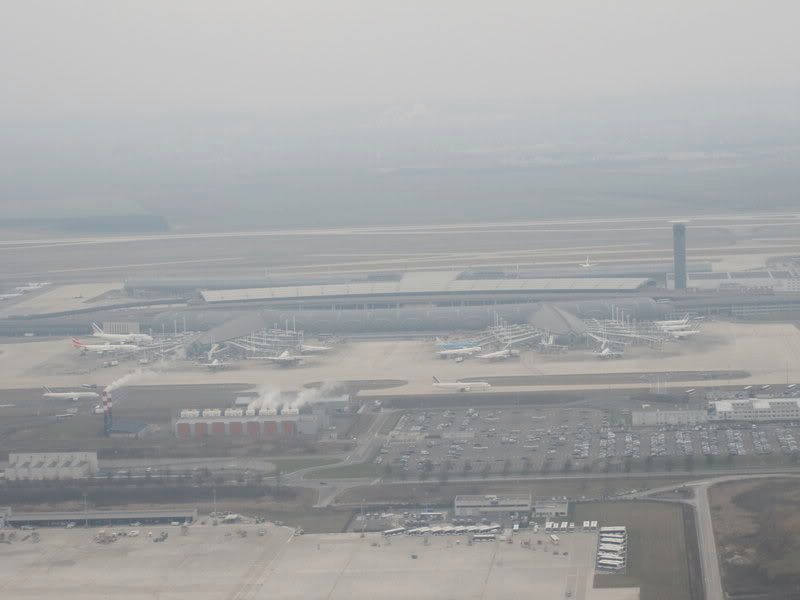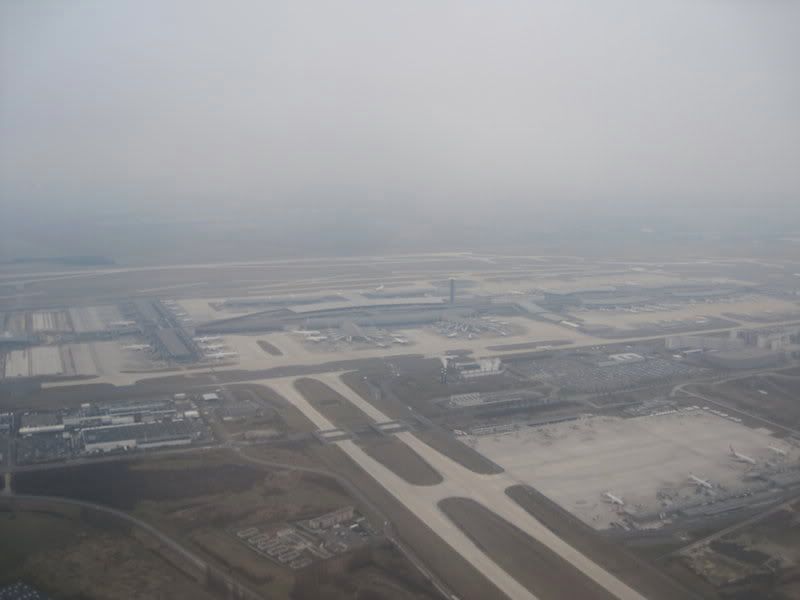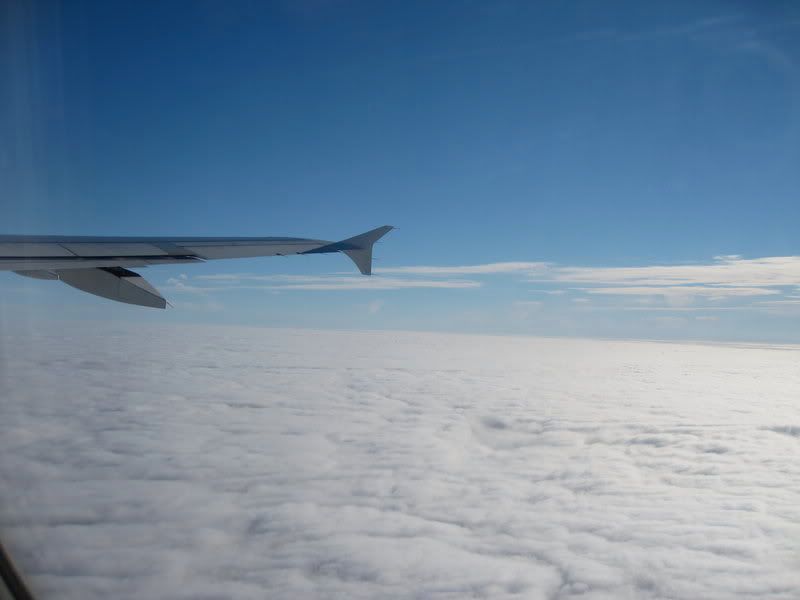 Okay, I guess they really don't want any trash in the toilet: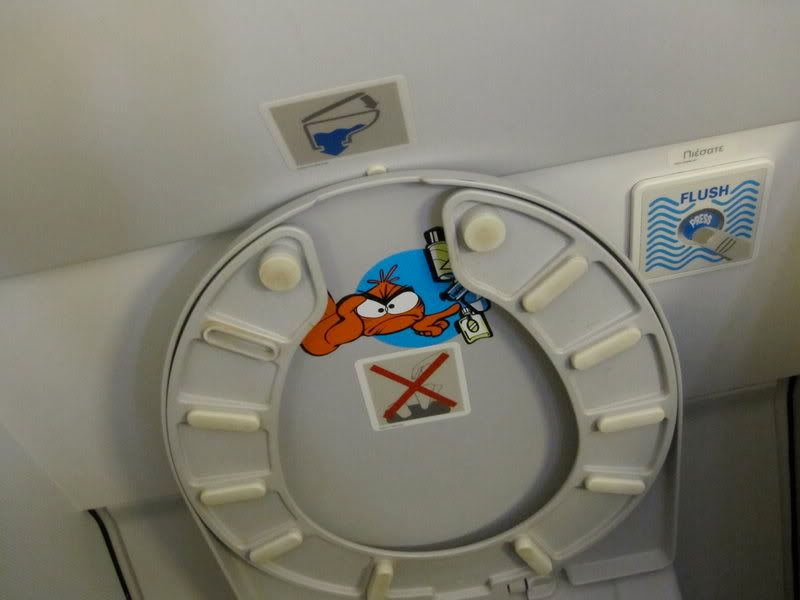 Cabin view: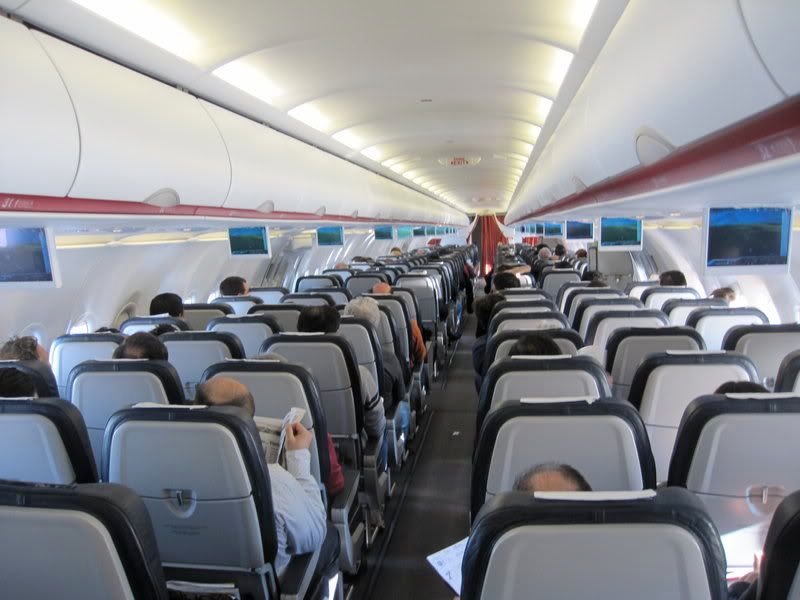 I kinda like these virtual cockpit views on the new Airshows: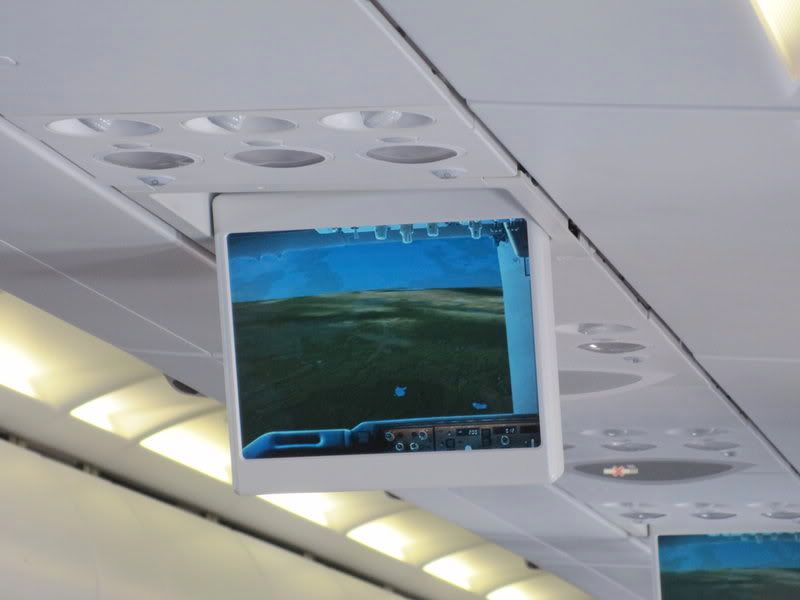 … but alas it was not to last, soon they started some utterly crappy American "family friendly" movie: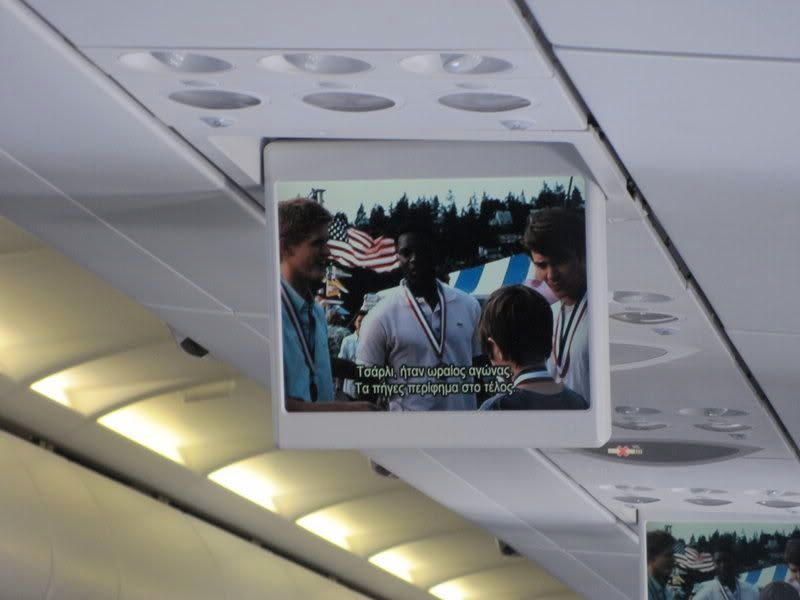 Not that I really care about the movie, I have my own IFE, thankyouverymuch.
Soon a good smell of food being heated up starts wafting through the cabin. The woman in front of me is served her special meal first, but apart from that they start their service run from the front of the cabin so it takes a looooong time before they reach the last row. Not that I mind, I have these nice views of the Alps to admire: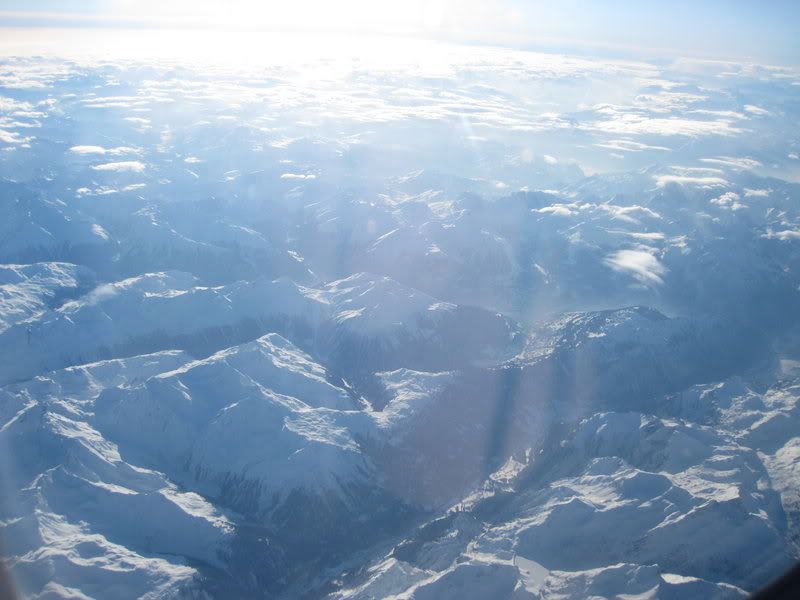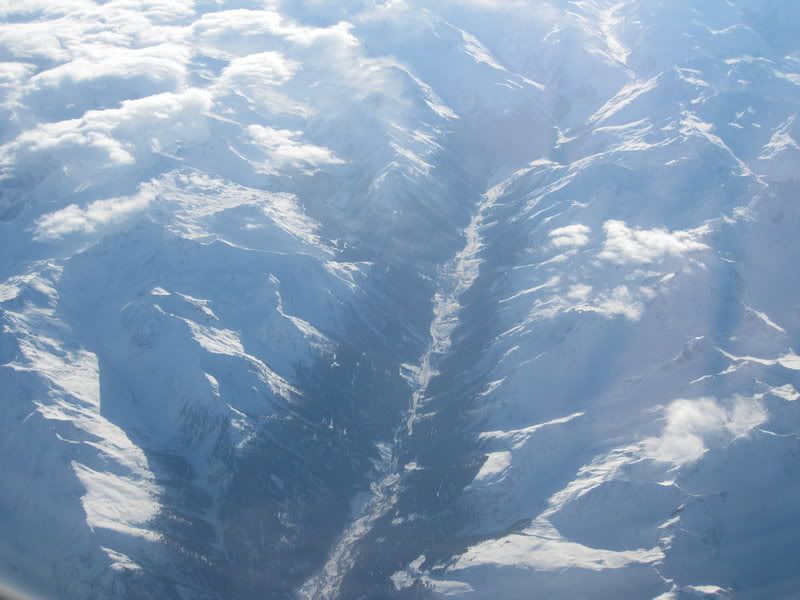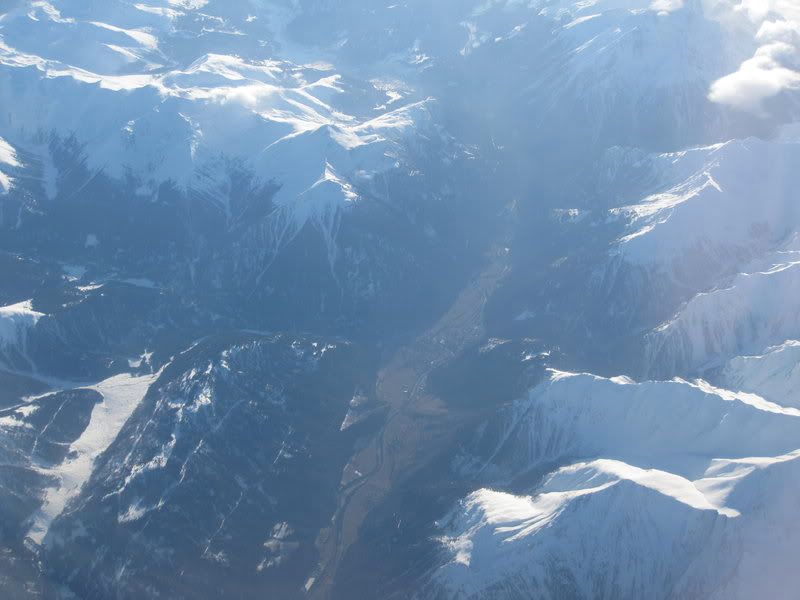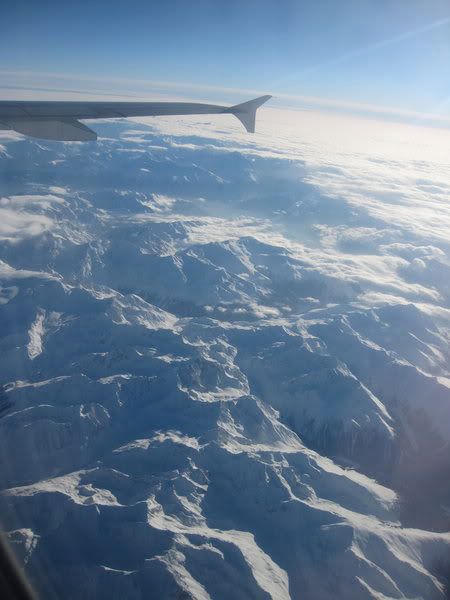 Is that powder snow?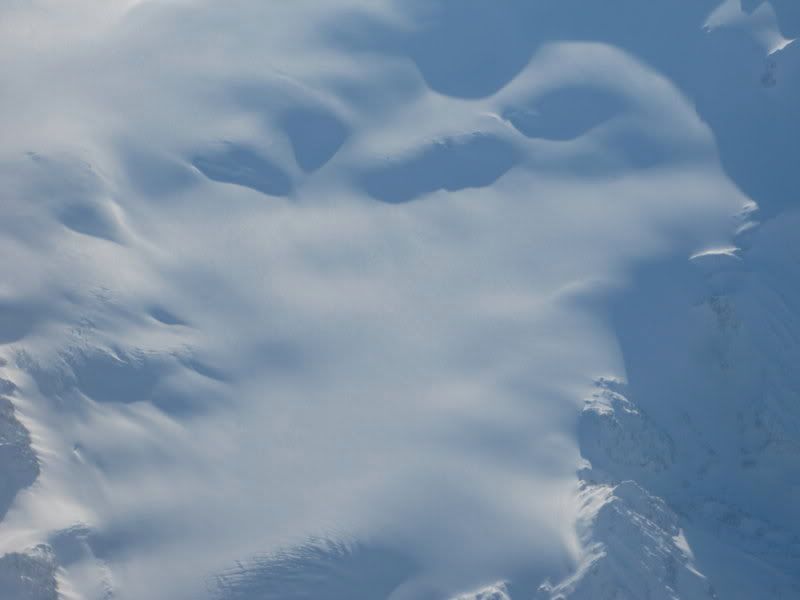 Finally I'm served my meal tray (as the last person on this flight), featuring a hot meal of mince meat patties with weird cube potatoes and veggies: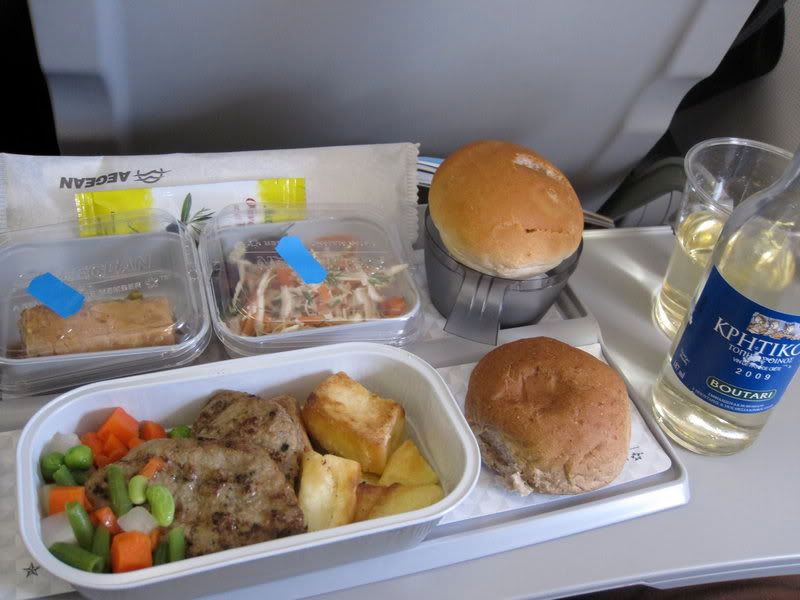 There's also an appetizer salad, apple pie for dessert and a warm roll. Additional (warm) rolls are offered from a basket. Quite a good meal, everything is pretty tasty, apart from the apple pie which is sickly sweet so I eat only a few spoonfuls of it. Getting additional wine bottles is not a problem.
Somewhere over the Balkans the skies start to darken with a great views of the setting sun towards the west: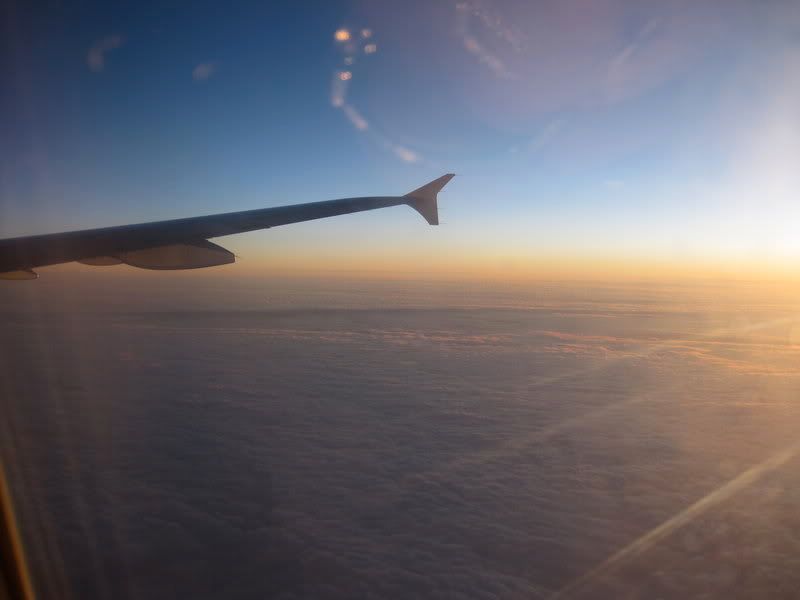 Almost there: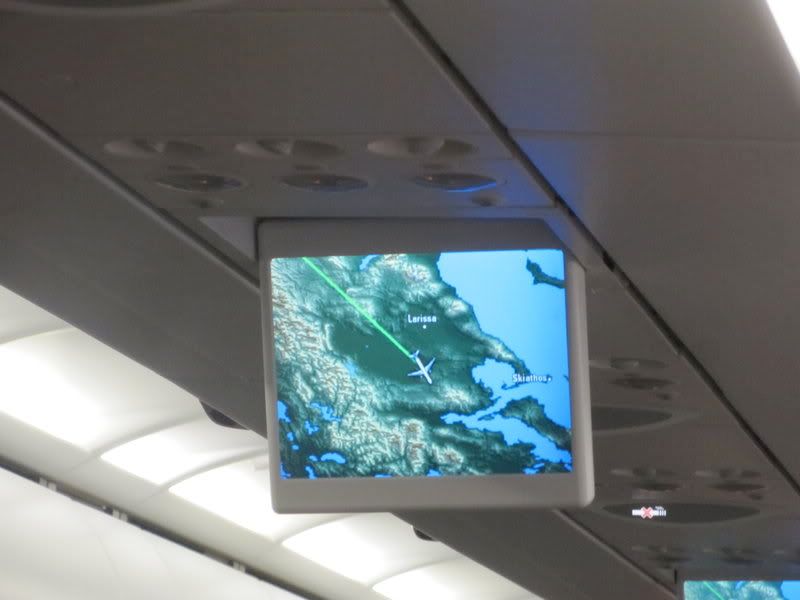 I really like this display with the day/night boundary: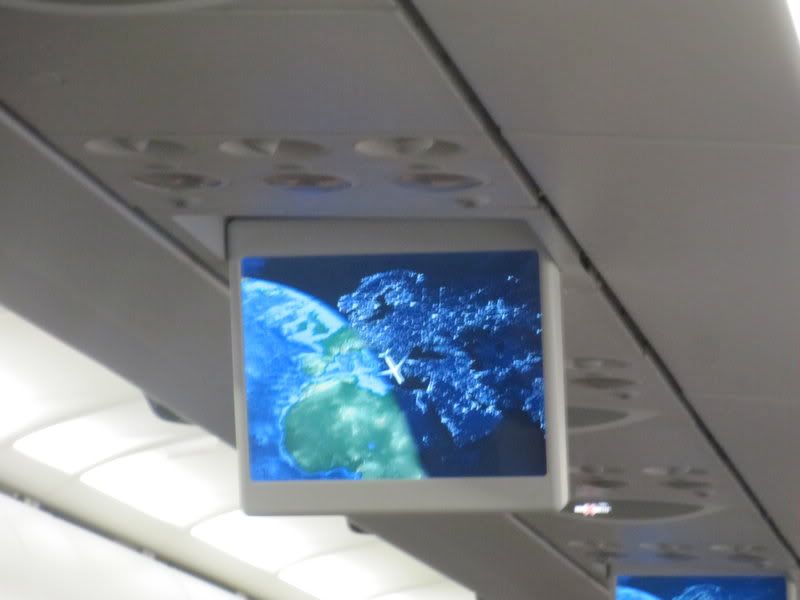 Descent starts some 120 miles out of Athens. I am treated to a gorgeous view of the last rays of the sun: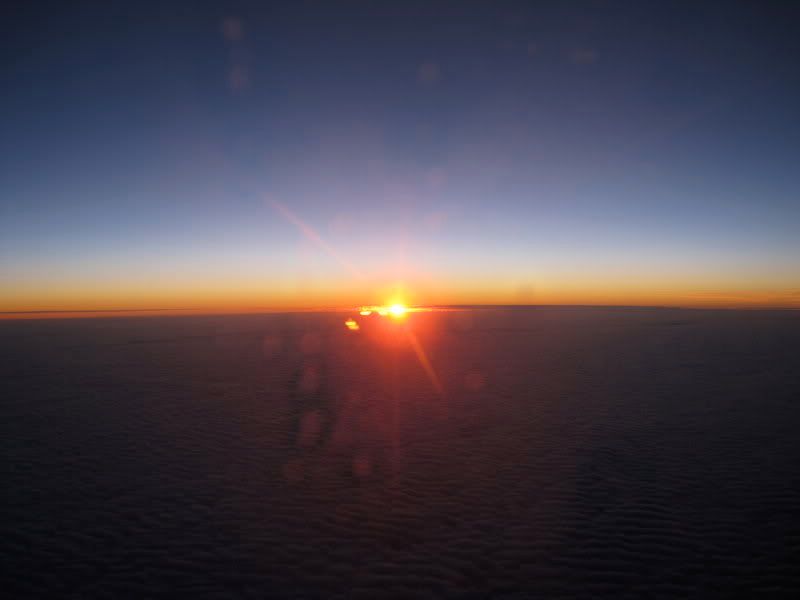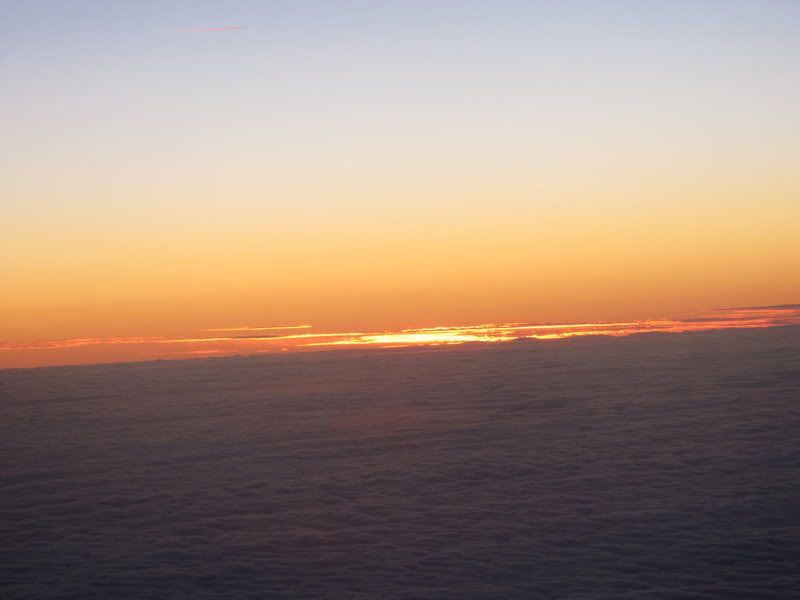 Followed by interesting lighting effects as we penetrate the clouds to the darkness below: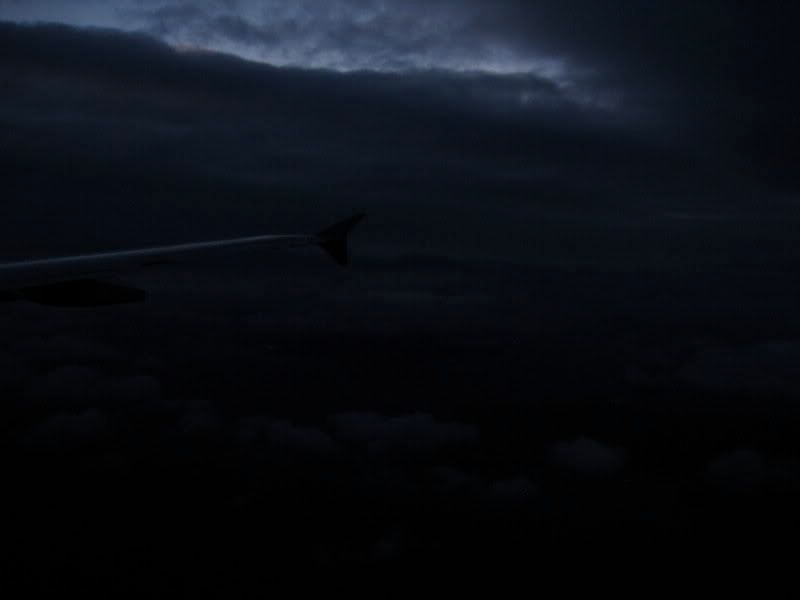 Over the Aegean Sea south of Piraeus we turn left to line us up with ATH: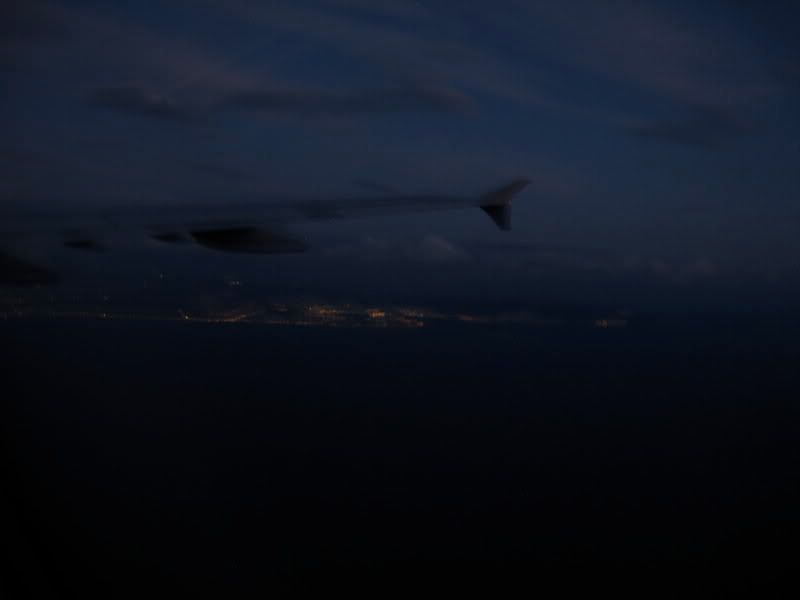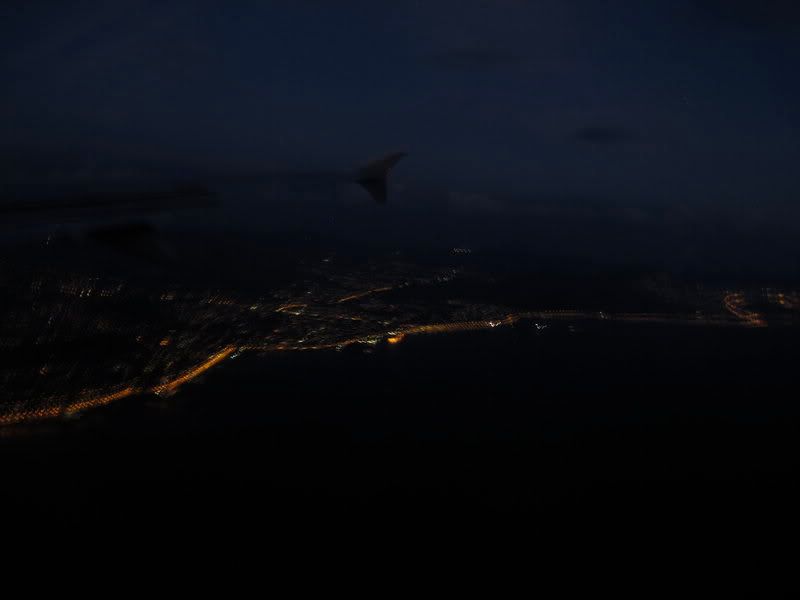 Landing is on runway 03L after 2h40mins of flight time.
We get an apron parking position, next to this interesting bird - never heard of the carrier before: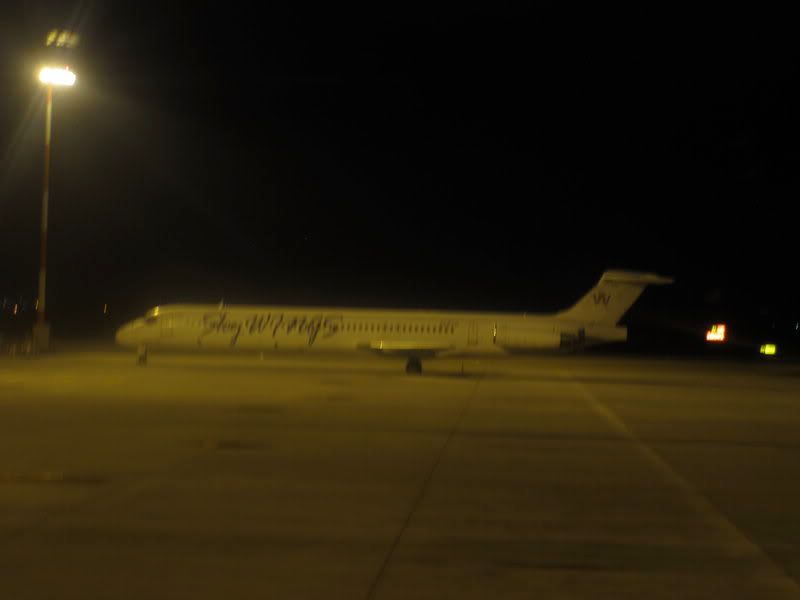 There's also an Hellenic 743 nearby, more about that tomorrow.
Bye:
Athens
A couple of buses take us to the terminal. Outside I catch the next X95 bus to Syntagma - a packed and quite lengthy ride, but nice value for money at only 3,20 EUR.
Syntagma square at night: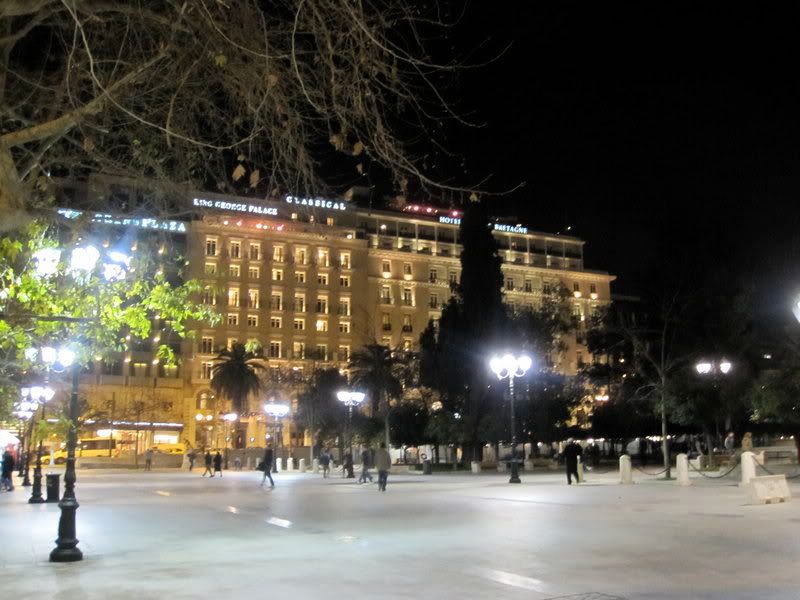 From Syntagma it's about a 20 minute walk to my hotel - the areas keep getting more and more rundown, and by the time I finally reach the hotel the area is looking like something out of Baghdad or somewhere in Africa. All kinds of riff raff, panhandlers and idle young men just hanging around, and let's put it this way: Greek they sure ain't!
Now I understand why this hotel, Hotel Marina was so cheap at 42 EUR for the night!
Inside at the reception there's an older British couple who seem to be shocked - their taxi driver told them not to carry any large amounts of cash with them in this area! The friendly guy checking me in is a bit more down-to-earth with it, and we chat a bit about the immigrant situation in Greek and the EU rules only making it worse.
My room, very old fashioned and the free wifi signal is very flaky: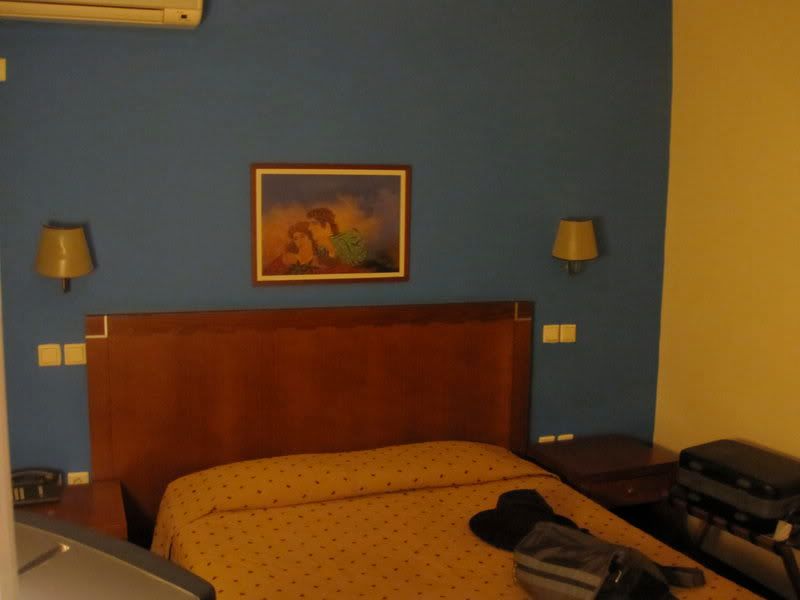 After refreshing and a bit of a rest I head out for dinner, the guy at the reception told me a way to an area with many restaurants and bars side by side just next to Monastiraki. Well, he showed me a detour via the major roads on the map, apparently he thought that I should stay clear of the direct route through more dodgy areas. Well, I'm a Finn, and as such stubborn as hell, so I find a far more direct route from the map and use it instead. Sure, there are weird guys hanging around, lots of abandoned buildings and some interesting sights: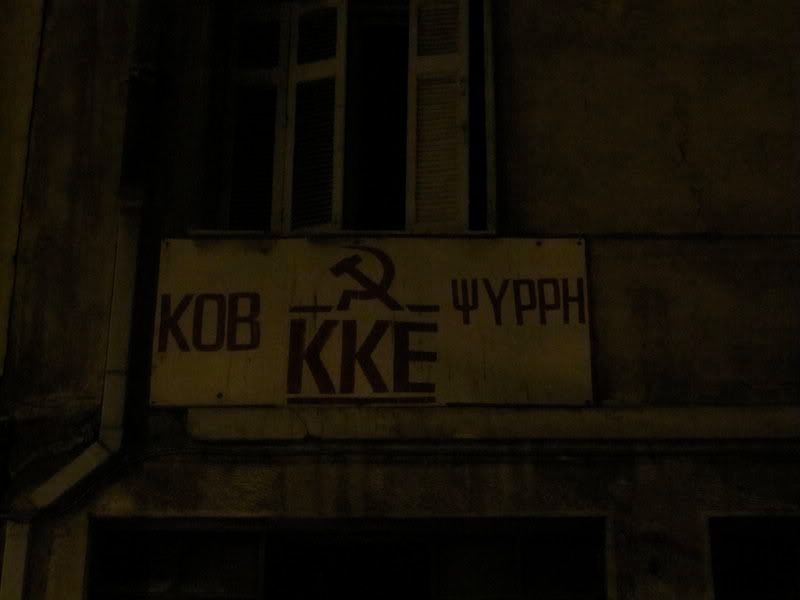 Hmm, is that the superlative form of "super market"?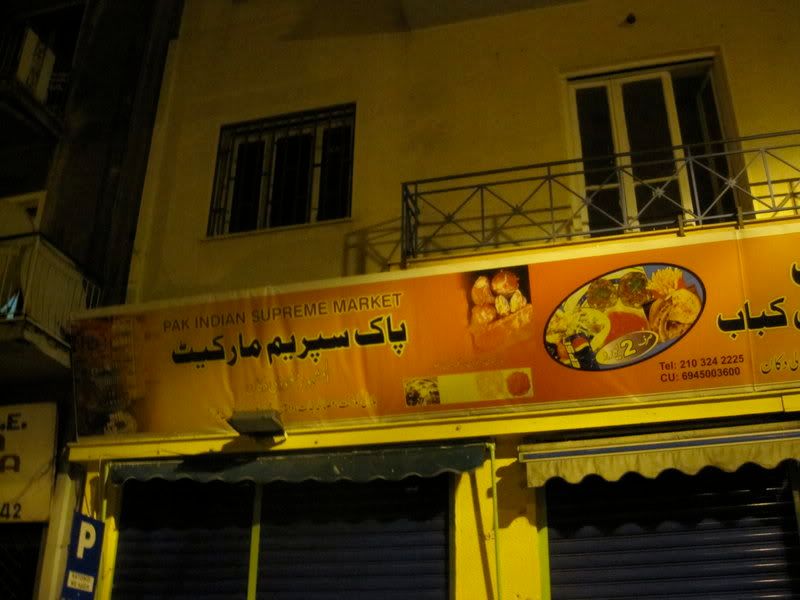 Anyway I've been to far rougher places and am pretty streetwise, plus a big guy so no problem for me, although I bet those two Maghreb youngsters who tried to run me over with their moped will remember the Finnish swearwords I hurled at them for quite a while!
Oh, I couldn't leave Athens without at least a picture of the Acropolis, could I: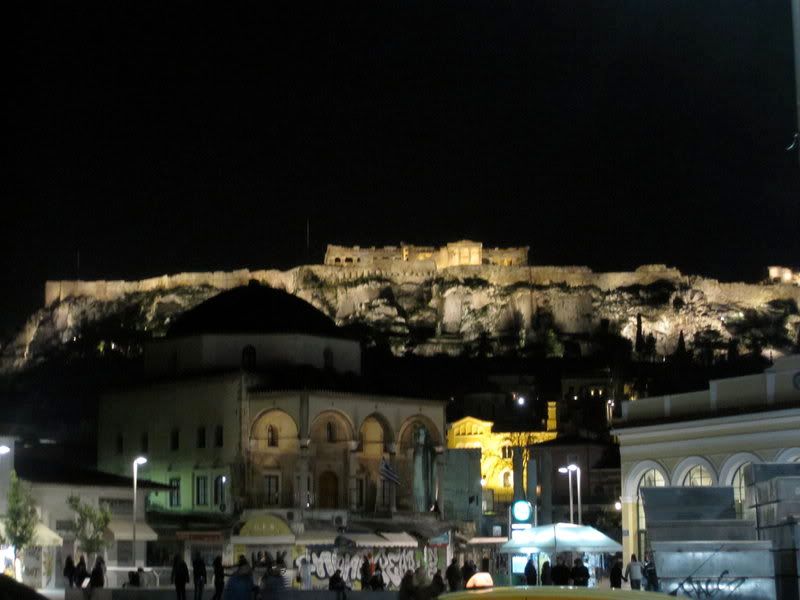 A very generous portion of Chicken Gyros at a nice but far too empty (sign of the economic hardships, I guess) restaurant - I could barely finish half of it:
The perfect way to end a Greek meal and kill flu bugs - Ouzo: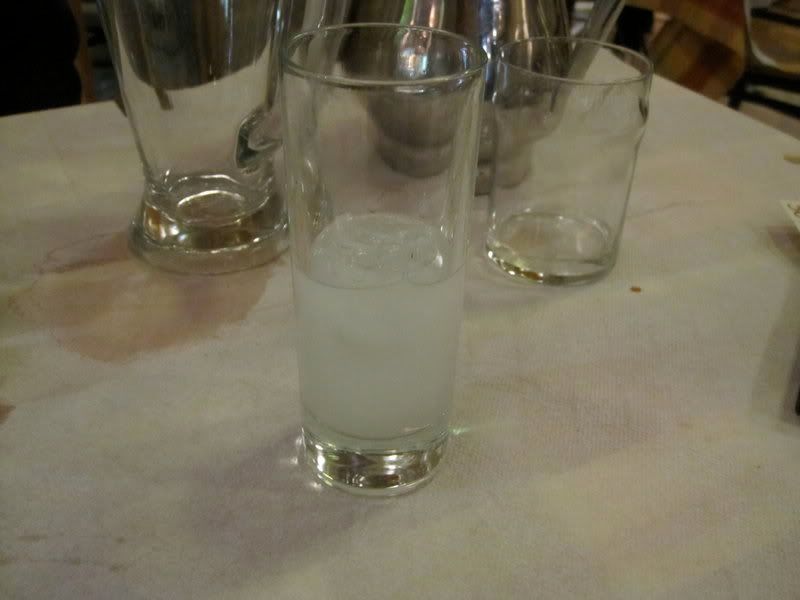 I have a couple of drinks at some bars in this very lively area, but that soon turns out into an annoyance as sitting in an outdoor table I keep getting harassed by beggars, gypsies, kids selling worthless junk and all kinds of weirdos, so I decide to head back to the hotel and just crash for the night.
Sunday 30.1.2011
I wake up feeling not very refreshed at all - the night was bad with my flu and the room door being made out of balsa wood (or so it seems at least) I could hear everything that was going on in the corridor - sounds like a lot of people were out partying during the night. To add insult to injury it sounds like they decided to start doing some repairs including lots of hammering in the opposite room at six in the morning - on a Sunday! Sweet.
Another lazy lie-in, shower and packing operation later I'm out of the hotel at 9.30. Feeling so weak I decide to give the metro a try for the short hop to Syntagma: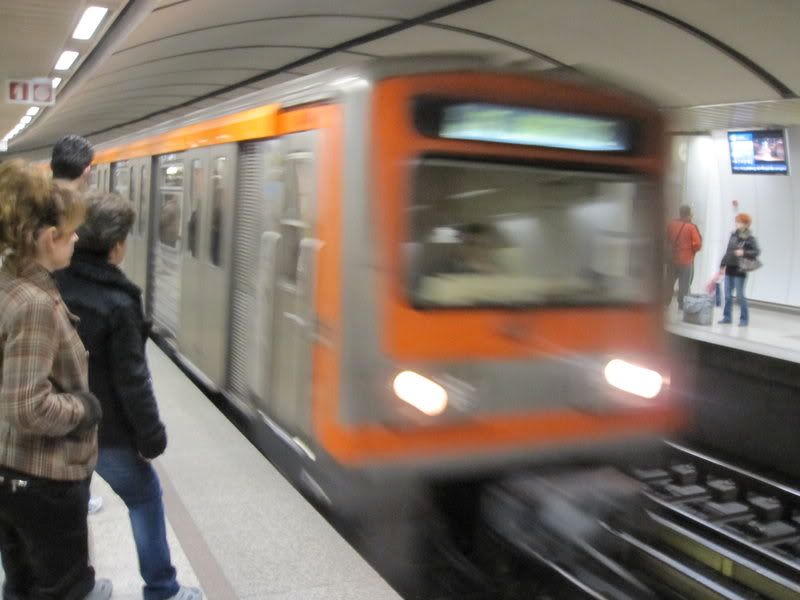 Another fast food brekkie follows, this time at McD's: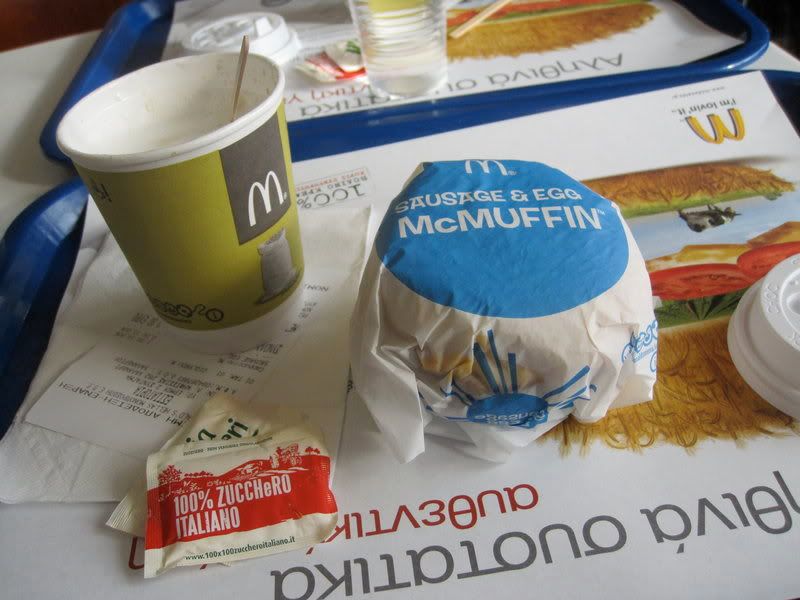 The original idea was to walk around a little bit but I manage just a small circuit before deciding to head to the airport early.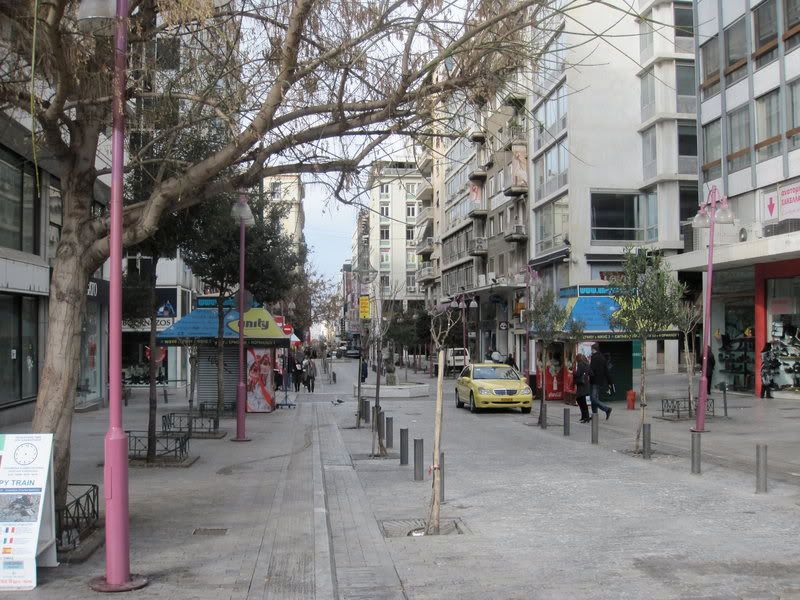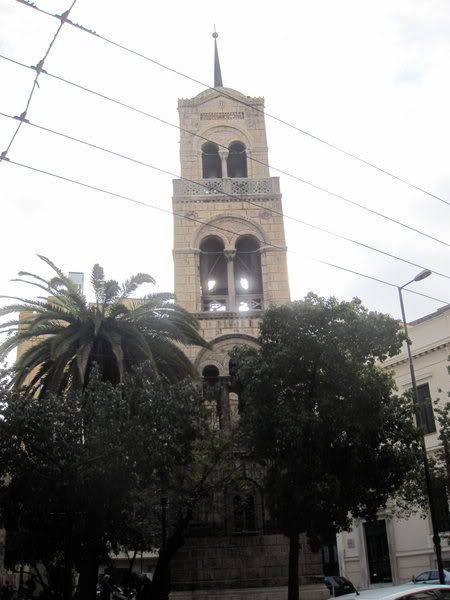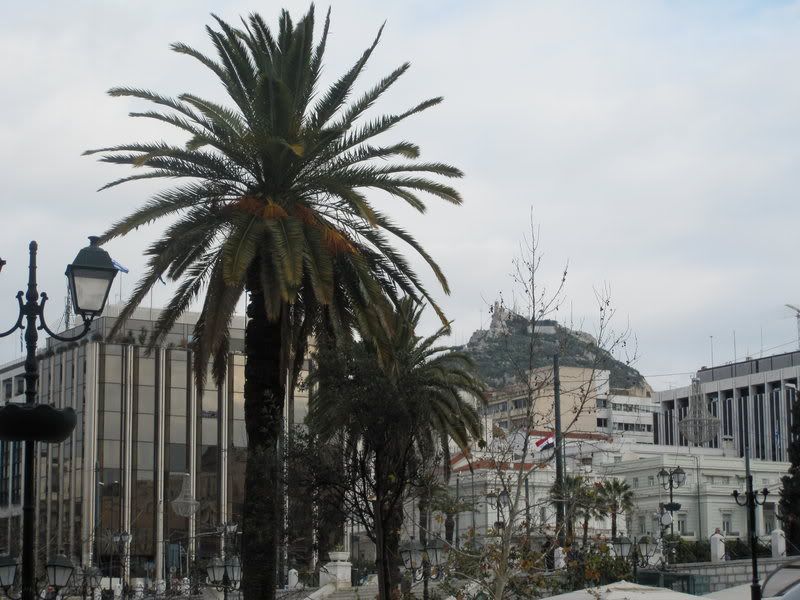 I'd really liked to take the metro there, but since it is more than twice the price of the express bus and takes just about as long I vote with my wallet and hop in the bus instead - quite weird really, I think they ought to promote train travel more - but I guess the infrastructure has to be paid for, and the Greek state isn't exactly swimming in cash right now...
The ride is much more pleasant this time as traffic is light, the bus is not so packed as the previous night and there's actually daylight outside. I'm quite surprised by the urban sprawl of Athens and the Attica basin - the city just seems to go on forever. Finally we reach the motorway and eventually the airport.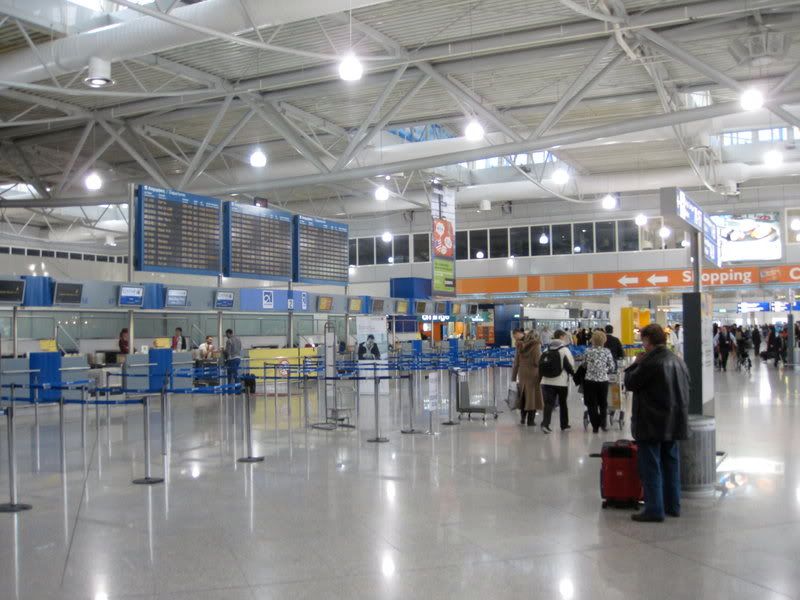 I pick up my boarding pass from an bag drop desk - again I did OLCI from the hotel. Next stop is the pharmacy downstairs to pick up some drugs for the flu, I think I'm running a slight temperature as well. Then I head for the Swissport Lounge on the non-Schengen side, stopping for a bottle of Ouzo from the travel value store.
This lounge is very nice, located at the far end of the terminal and providing a nice view of the apron where all the arriving traffic from 03L taxies past. The place is almost empty as well, nice and peaceful.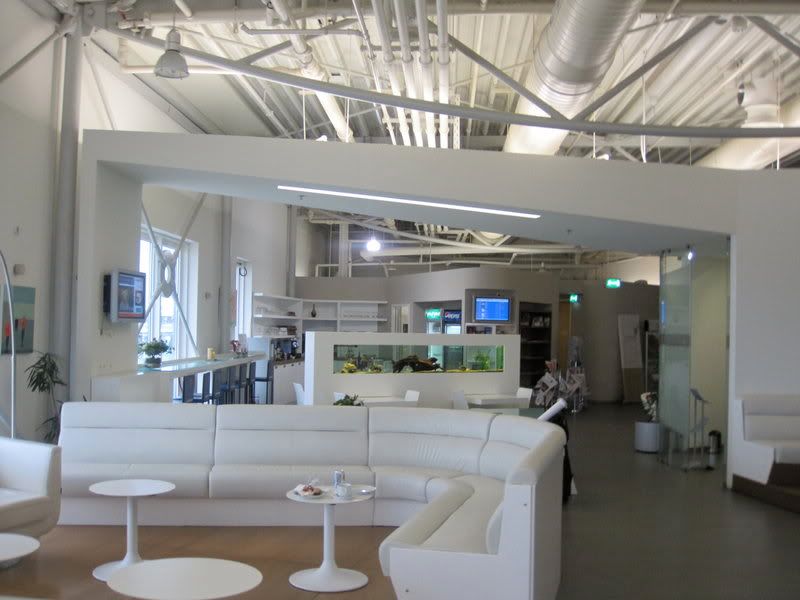 The drink selection is good: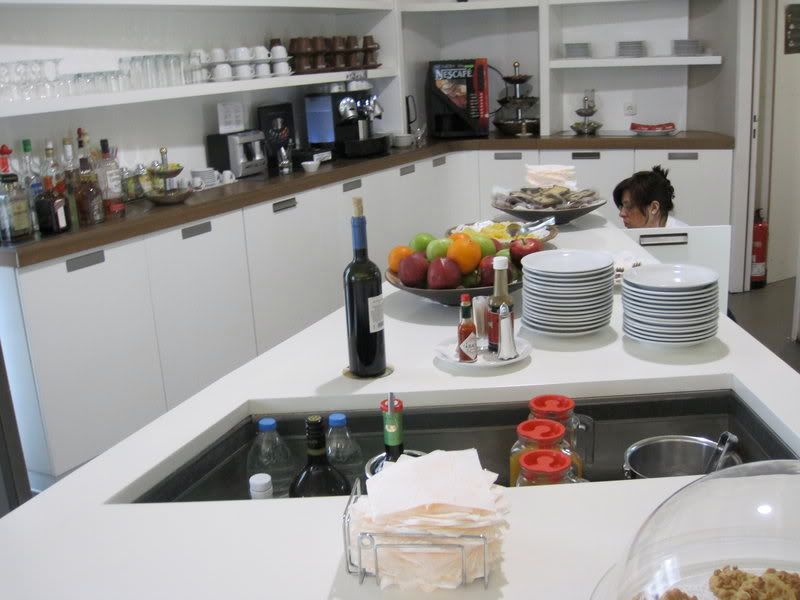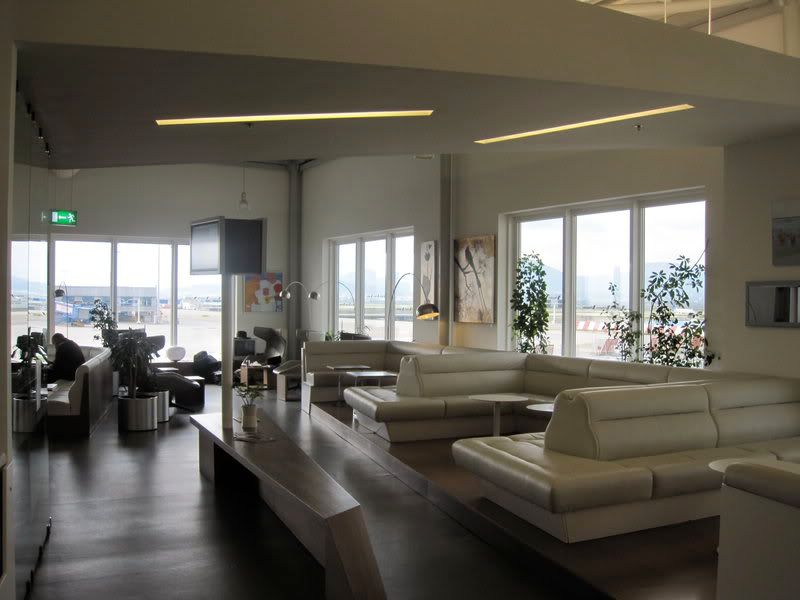 They have the famous Greek spinach pastries - yummy: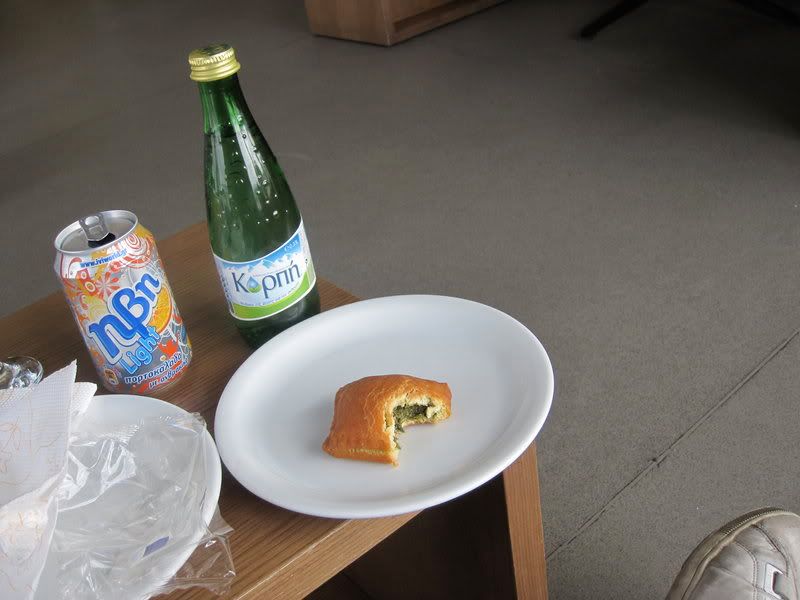 I grab a nice easy chair right next to the window and spend some quality time reading the paper and watching passing traffic: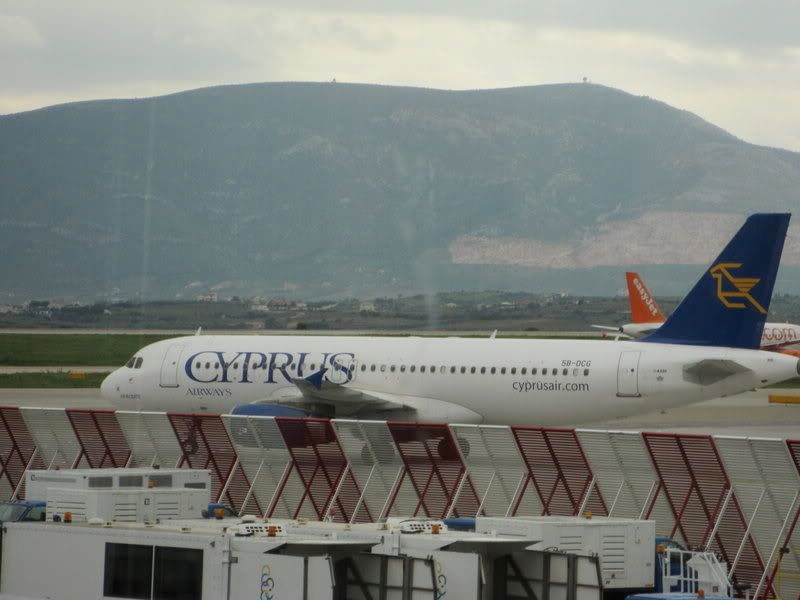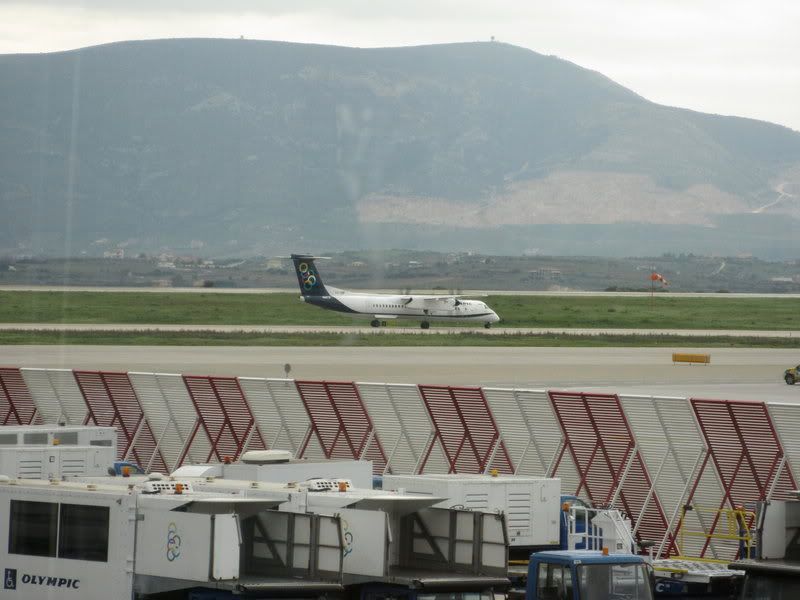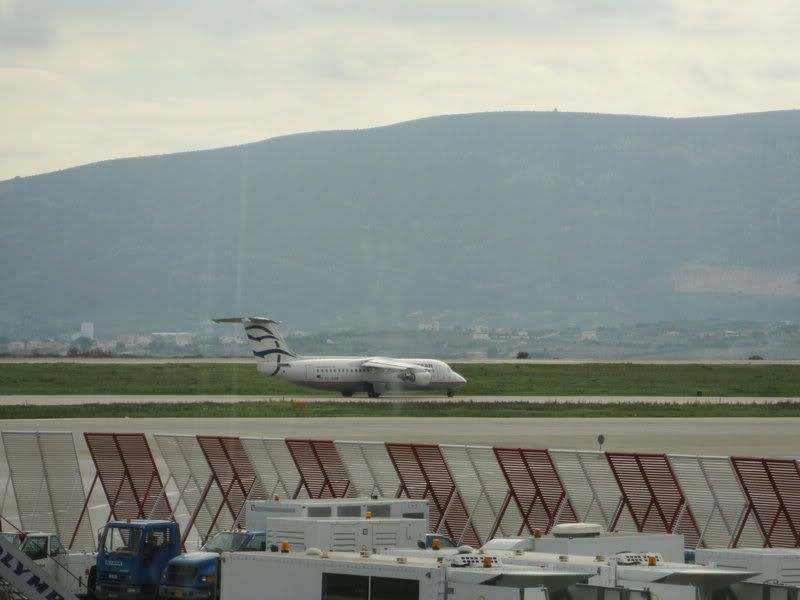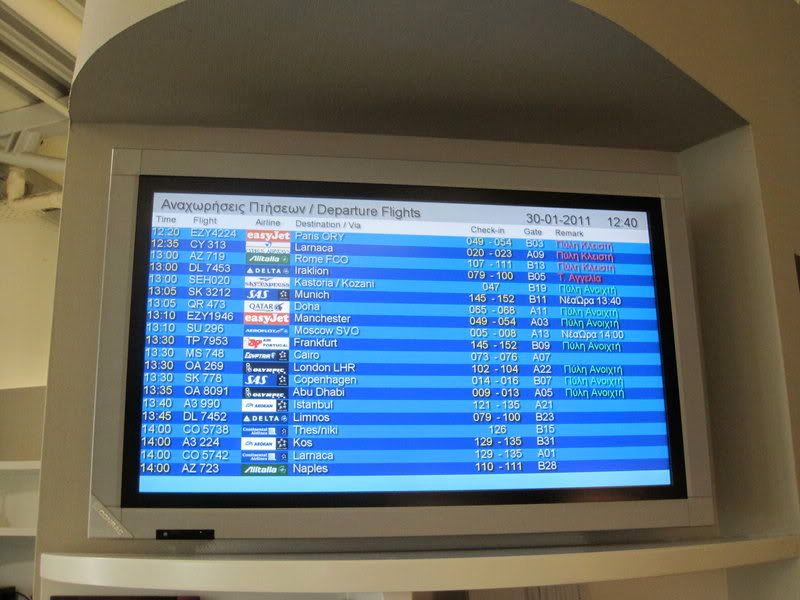 Since the security is at the entrance to the gate area here I finally decide to leave a bit early - a good thing as the security check is a bit of a hassle. Our gate, A22 is a bus gate downstairs - come to think of it there are absolutely no OA planes docked to the jetways, only A3 and various foreign visitors.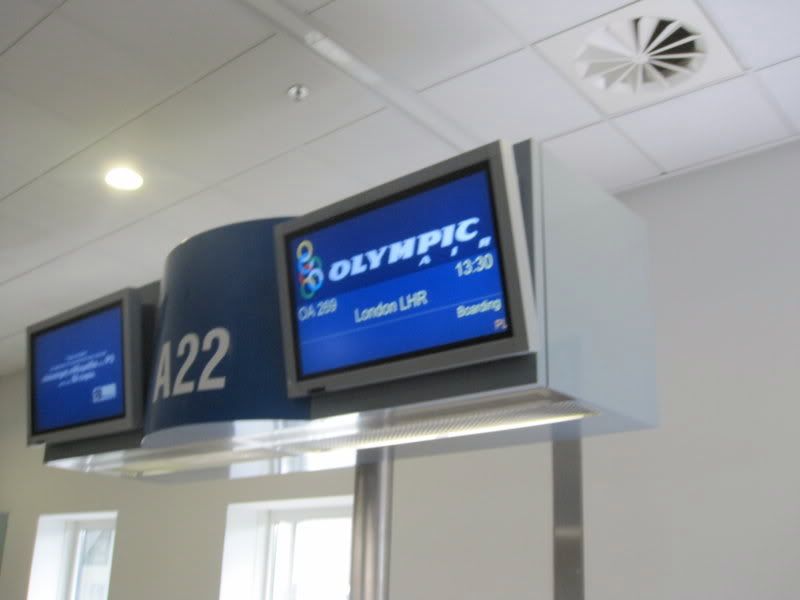 I timed my arrival perfectly, as soon as I sit down they announce boarding for the flight. Out to the bus - this got a chuckle out of me, I don't think "Tropical" means "diesel fumes and bad BO"...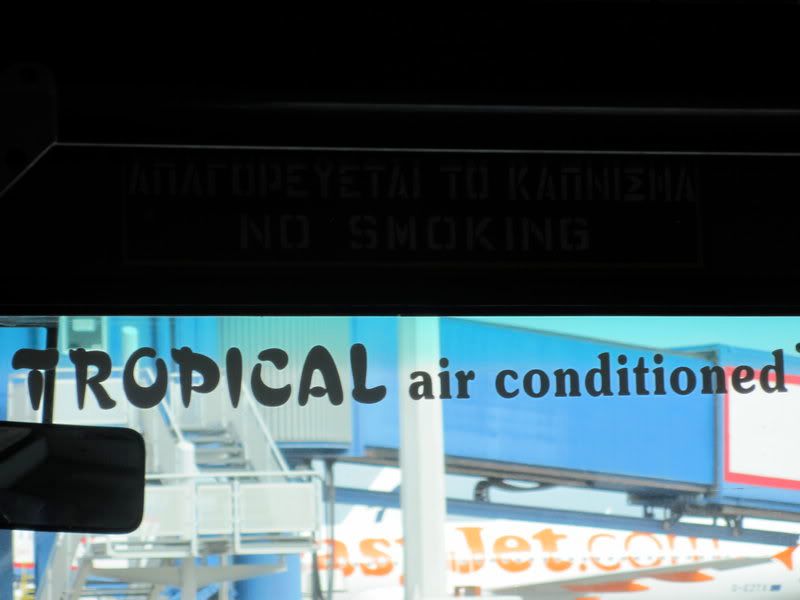 We drive to a line of four Olympic Airbuses a short distance away from the terminal, stopping in front of SX-OAT, the expected A320, and a rather new one with almost exactly one year of age.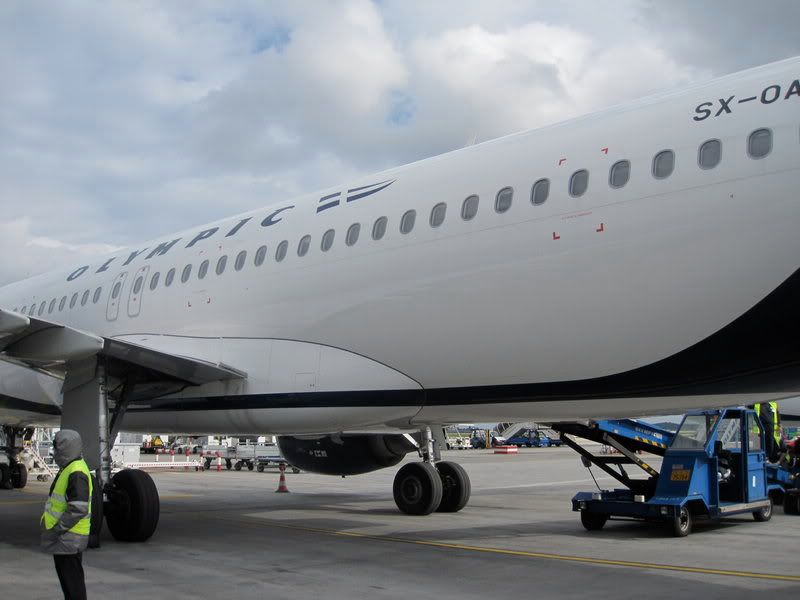 They are using both stairs for boarding, and having a seat on the last row (again?!) I of course use the back stairs.
ATH - LHR
OA269
A320 SX-OAT
Seat 27F
13.26 - 15.00
I most certainly didn't expect these weird colored cloth seats! They feel somewhat old-fashioned compared to the leather ones with Aegean and not as nice. I think the legroom is slightly worse as well: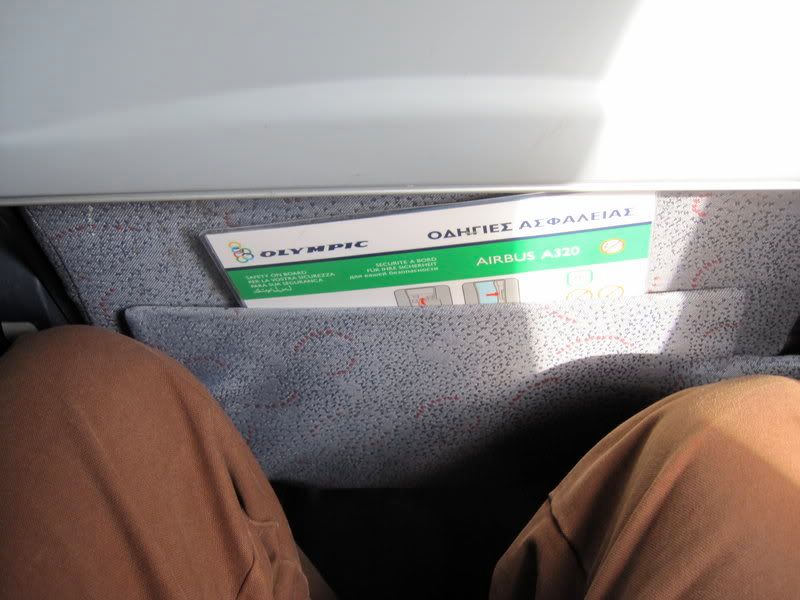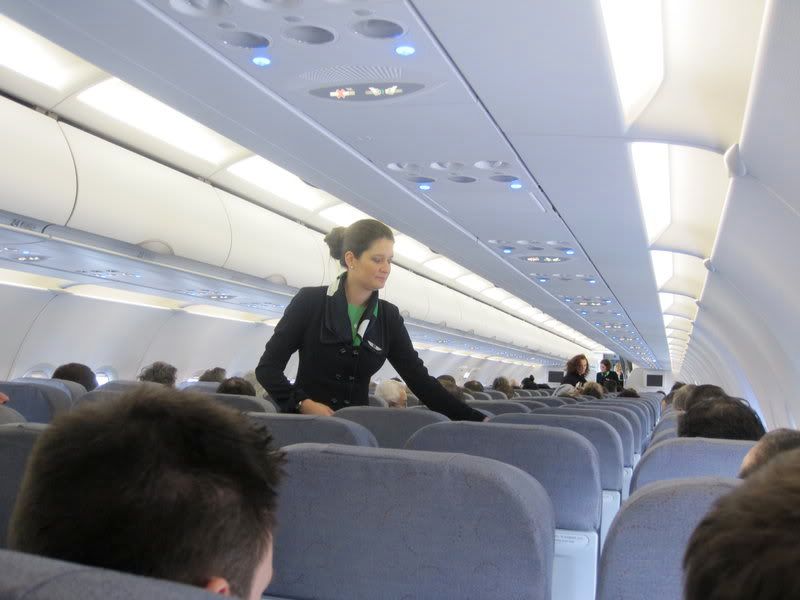 Emirates taxing past: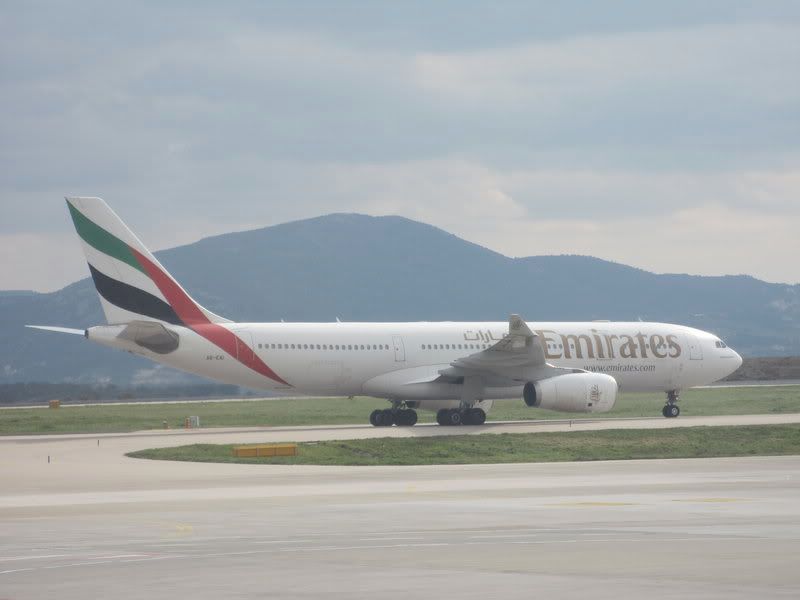 Judging from the number of people in the bus I expect this to be a quite lightly loaded flight, but after a while another busload of pax joins us, bringing the load to somewhere around 70%. At least I manage all three seats to myself - for a while at least. The captain announces our flight time as 3h10mins and a take off from 03R followed by a left turn over the sea and then direct to London.
Pushback is four minutes early, followed by ten minutes of taxi to the runway.
See, no OA tails to be seen: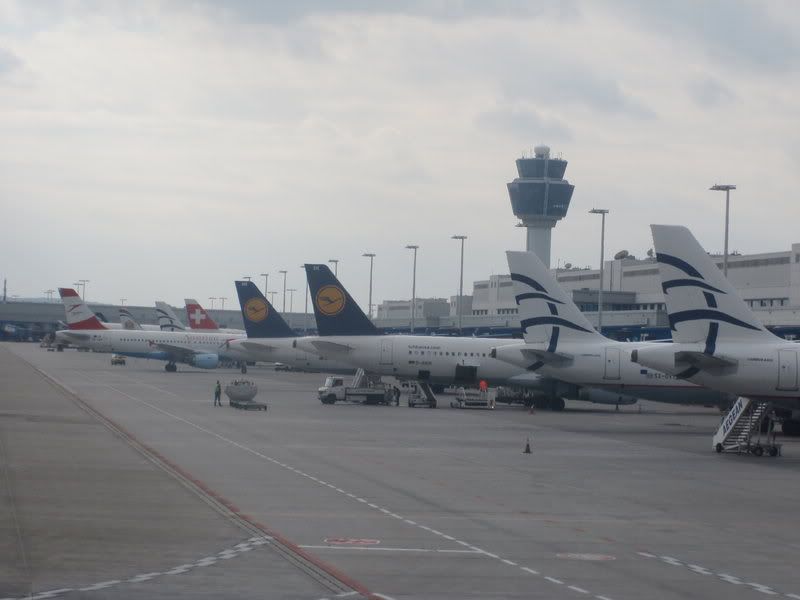 ...because they are all here, the empty spot was ours: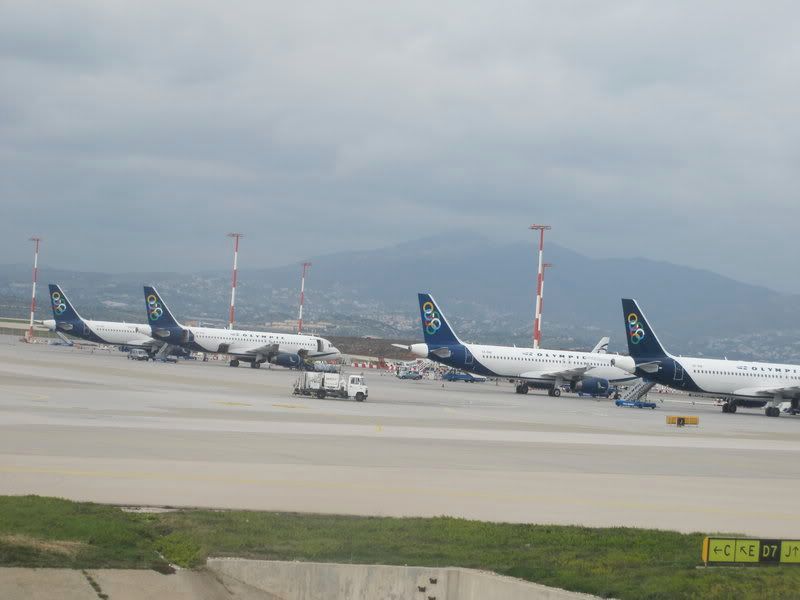 Baby Etihad: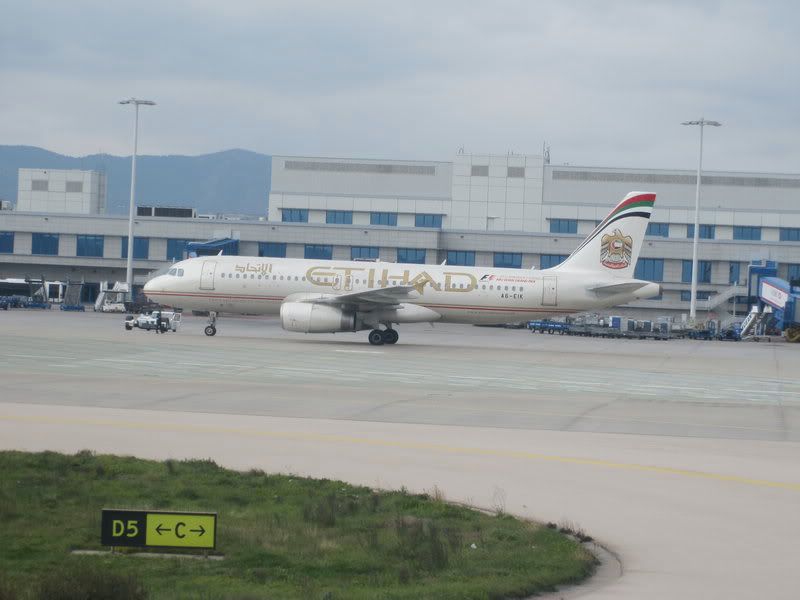 What's this - some sort of midfield terminal? Anyway nice to see some Hellenic 743s: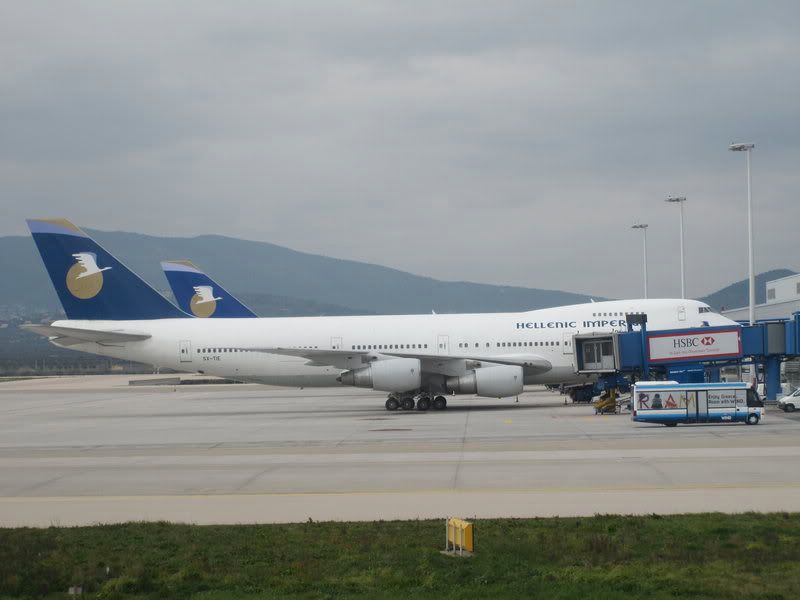 Top