.
There is nothing that can be said about Dubai that hasn't been said before. That's just as well because I have nothing to say about the city I am visiting. It isn't anything personal you understand - it's just I didn't see any of it. I remember the winter weather as being pleasant, and taking a much-needed shower before crashing into bed: that's about the extent of it. An original plan to arrive on Christmas day morning and leave on Boxing day - spending some 24 hours here - is scuppered by a strike in Nepal: such is the ability of long-distance travel to throw up unusual surprises at the eleventh hour. It's Day 2 of my round-the-world journey and less than five hours since I checked into my hotel room. "Good morning Sir, this is your morning call. It's 8 a.m." Already? It is time to be on the move again...
.
DUBAI
(GMT +4)
December 26, 2010
.
I had started the journey yesterday in Kuala Lumpur. A 18-hour circuitous route here via Indonesia provided a quick insight into the thriving domestic scene - one that I'd like to examine in greater detail - as well as the first experience on a rejuvenated Garuda Indonesia. On many levels, the series of flights on Dec 25 - part of a hastily cobbled-together 'Plan B' itinerary - was surprisingly satisfying. If you haven't seen it, a detailed account of the first three sectors of the journey:
Kuala Lumpur to Medan - on Firefly ATR72;
Medan to Jakarta - on Sriwijaya Air B737-400; and
Jakarta to Dubai - on Garuda Indonesia A330-200
can be found in the
first part
of this round-the-world series.
But this is indeed another day, and the start of another series of flights that will hopefully get me to London before the day is out. And the experience surely can't get very much better than two sectors on Qatar Airways, the region's most highly regarded airline - at least according to Skytrax, which has rated it a lofty "5-star". Like some here on A.net, I regard that website as a bit of a joke, but my previous experiences on Qatar Airways suggest that, at the very least, my choice today is a safe one. No major surprises are in store.
And the day is starting out particularly well. A.netter Ronerone is at the hotel lobby to greet me on home turf, and has very kindly offered me a lift to the airport despite having a hectic schedule to keep ahead of his own multi-sector journey that includes a unique southern oceanic adventure on Air Austral (read his excellent trip report
here!
) Traffic is light and, at the entrance to DXB's Terminal One, we're soon saying our farewells - at least temporarily, for we have agreed to meet up in exactly one week's time to exchange notes when Roni swings by KUL as part of his exotic itinerary.
.
Maps generated by the
Great Circle Mapper
- copyright ©
Karl L. Swartz
.
.
There are two main reasons why I'd chosen Qatar Airways to Heathrow via Doha: the first is pricing, which is among the lowest on Expedia for oneway travel between Dubai and London today. I could have gone slightly cheaper on Gulf Air or Kuwait Airways, and was tempted to upgrade to business class on Turkish going for double the cheapest economy price - but it is QR's equipment type on the route that clinched it. Between DXB and DOH, the Middle East's only "5-star airline" is flying the B77L, a type which has continued to elude me. The fact that the world's longest range airliner is being misused on a bunny hop adds to the attraction. I can't wait to add this plane to my list today! The longer haul between DOH and LHR is on the iconic flagship 001 - the route that started the ball rolling for QR (and by extension, the tiny state of Qatar's) attempt at world domination - and that's flown by the A346, one of my favorite airliners.
.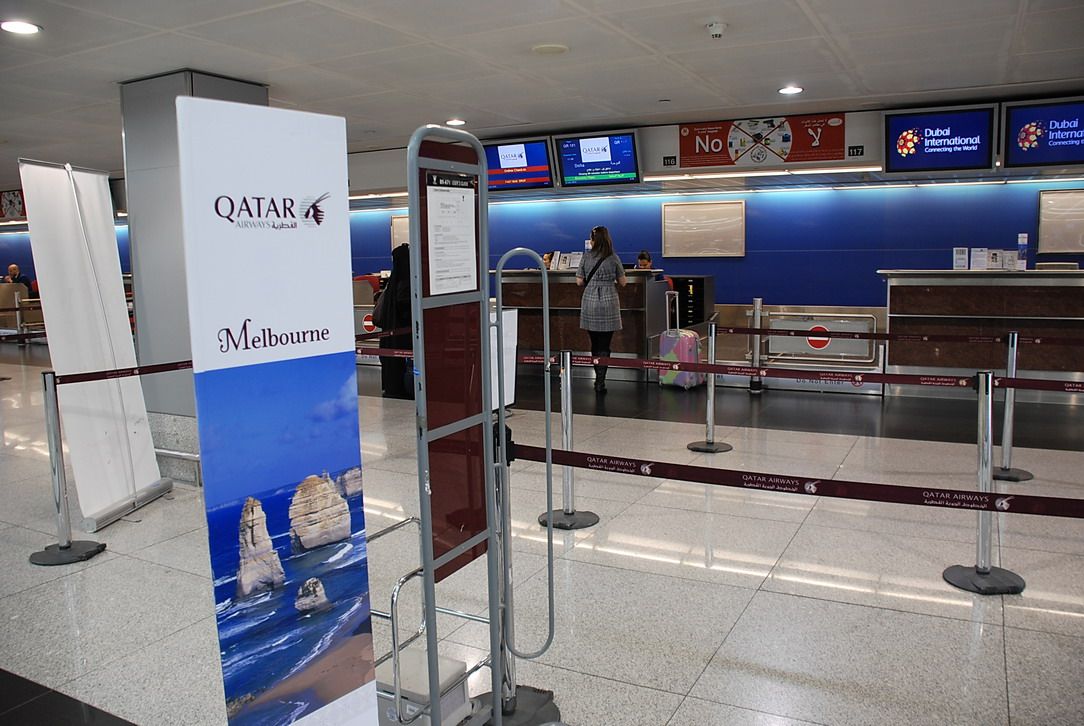 .
The QR check-in area is quiet today, and there aren't any queues for the late morning flight 101 departing for Doha - one of an impressive eight flights a day the airline operates on the short hop across the Gulf. A friendly and efficient Filipina agent working one of the three economy desks says it's "very light" on the DXB-DOH sector today, and "about 70%" on the onward London flight but assures an empty seat next to me has been blocked, without my asking. She makes a cursory check of my passport - far less rigorously than the experience at Jakarta yesterday - and sends me off with a chirpy "Selamat Jalan". It's a good start on Qatar.
.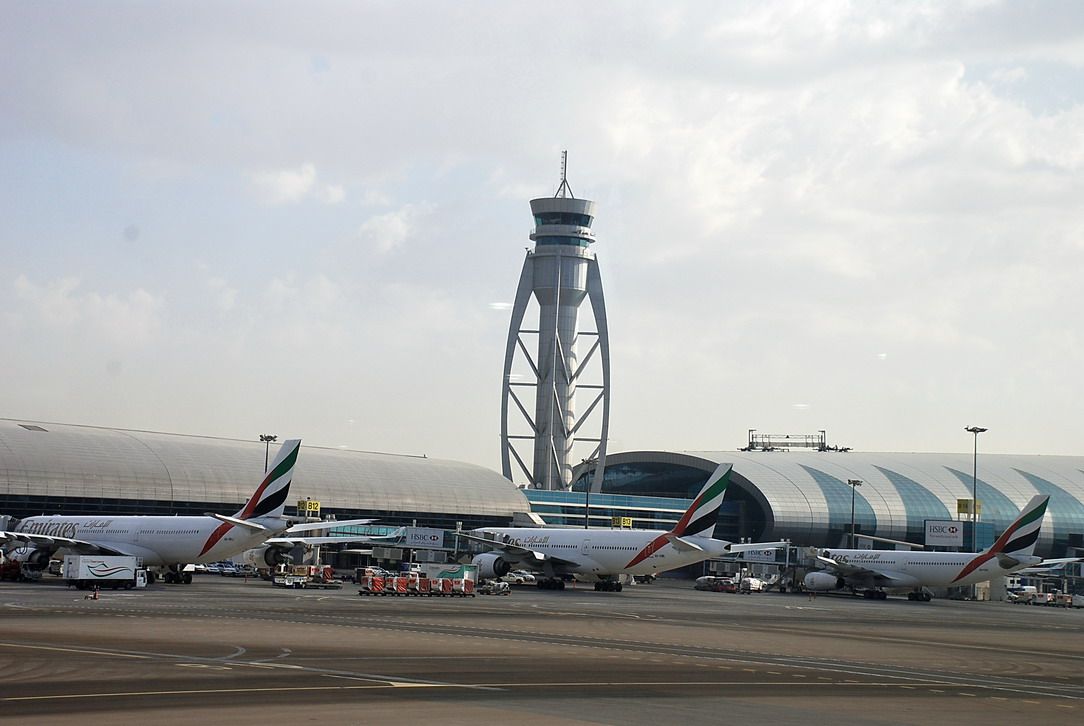 .
There's a glassy wall at one end of Terminal One's check-in area that has a decent view of tarmac activity surrounding the ATC tower that straddles the two main concourses at Dubai International. Unless you're travelling on an LCC, these are the two monstrous tubular terminals (of which my camera captures only a small segment) you will likely be using at DXB. What's interesting here are the bits of the terminal that remain unseen - a massive subterranean complex underneath the tarmac that is exploited to the full extent in the newer Terminal Three. In order to get to your plane, a departing passenger from Terminal One will have descend into the depths - and many escalators and travelators later - reemerge at the shiny shopping mecca (below) that has become a DXB trademark.
.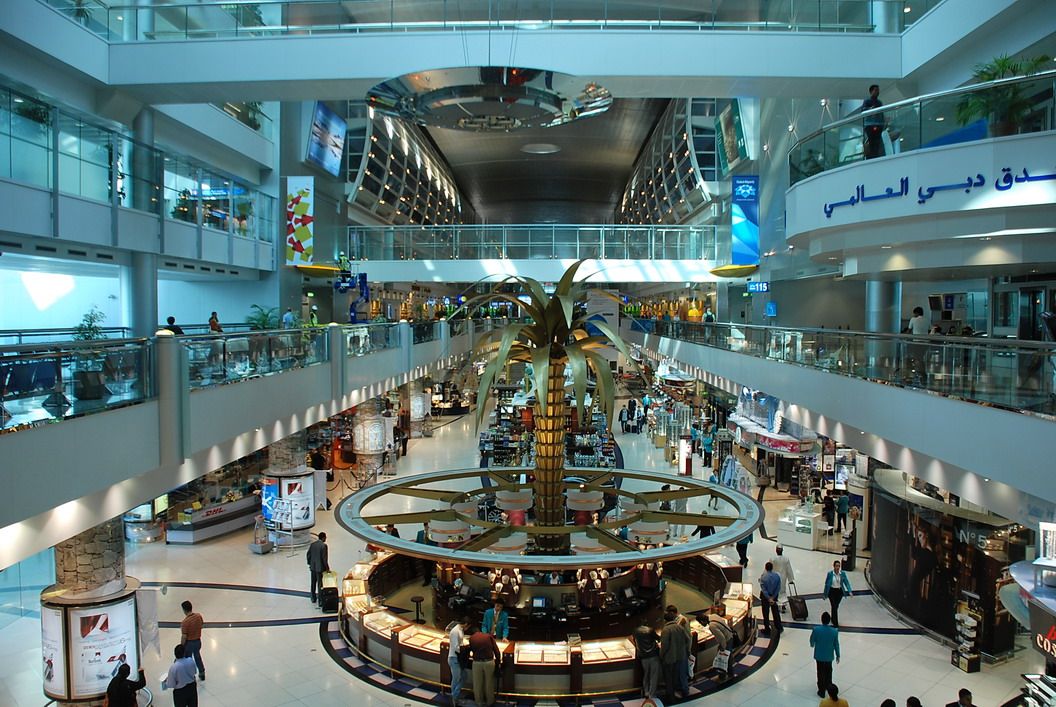 .
My flight is scheduled to depart from gate 115, which can't be more centrally positioned within the terminal's concourse 1. A food court with an excellent view of the tarmac is located right next door which means I may get to catch the arrival of my first B77L ride as I absorb that crucial first caffeine fix of the day. At an adjacent gate, a Virgin A346 is pushing back on its daily service to Heathrow. During the planning phase of this RTW, I had very briefly considered the option of a direct service to LHR, but the oneway fares on VS for instance are almost three times higher, effectively simplifying my decision-making. Apologies for the bluish tint from the anti-glare on these pics taken from the terminal.
.
.
.
About an hour before scheduled departure time - and right on time - my ride on Qatar Airways arrives from Doha. Sadly, that's the extent of the good news. From a distance I see the unmistakable presence of winglets on the grey and maroon fuselage, which can only mean one thing: the B77L has eluded me yet again! I really shouldn't be surprised that on a short hop like DOH-DXB equipment substitutions can, and probably do, happen with great regularity, but that doesn't make it any less disappointing.
.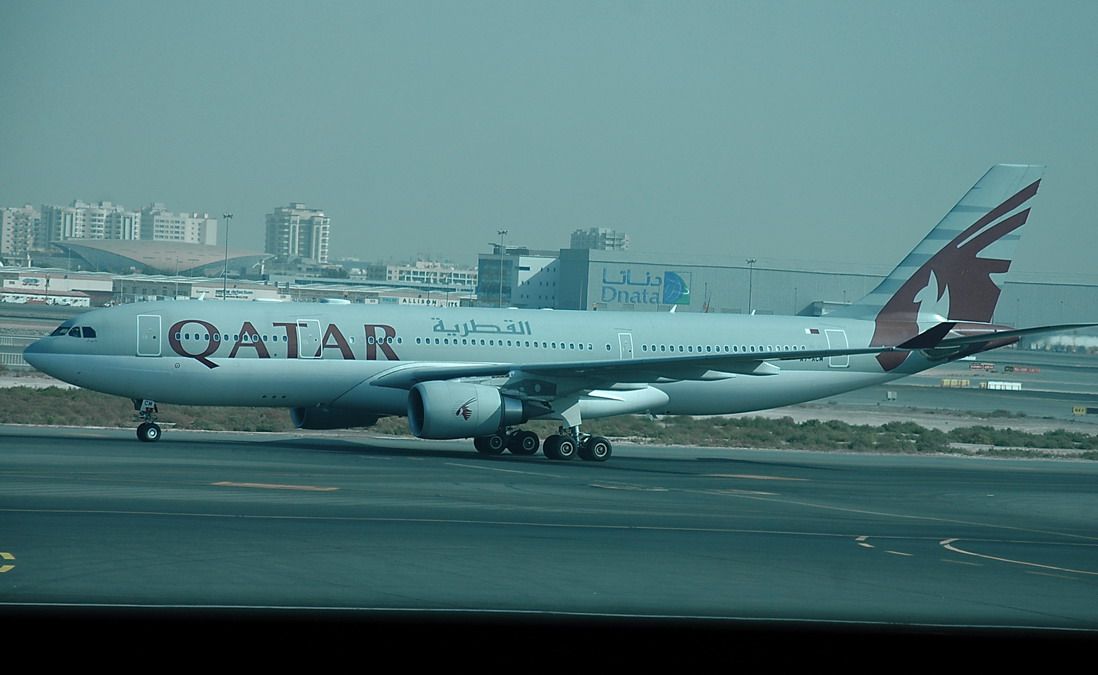 .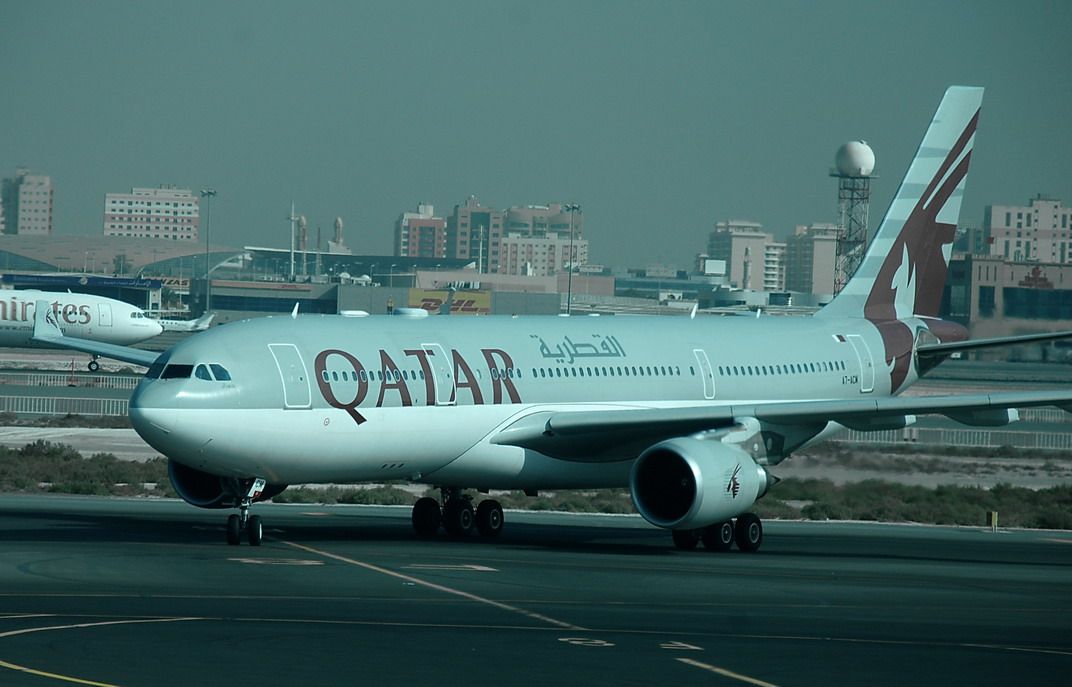 .
Operating flight 100 from DOH this morning is three-year old A7-ACM, among the newest of 16 A330-200s in Qatar Airways' fleet that are used primarily on medium-haul routes to Europe, the Indian subcontinent and Far East, as well as on short hops like this one. (On a more personal note - as I take stock of my flights at the close of the year - this unexpected ride pushes the A332 to the top of the list as my most flown aircraft type this year, accounting for 13% of all flights taken in 2010.) I may be missing the B77L today but it's a small consolation the views from where I'm sitting just in front of the DXB T1 McDonald's are really quite good: in addition to tarmac activity, the proximity of 12R-30L means that I'm also catching the last of the departures from the morning bank of EK flights.
.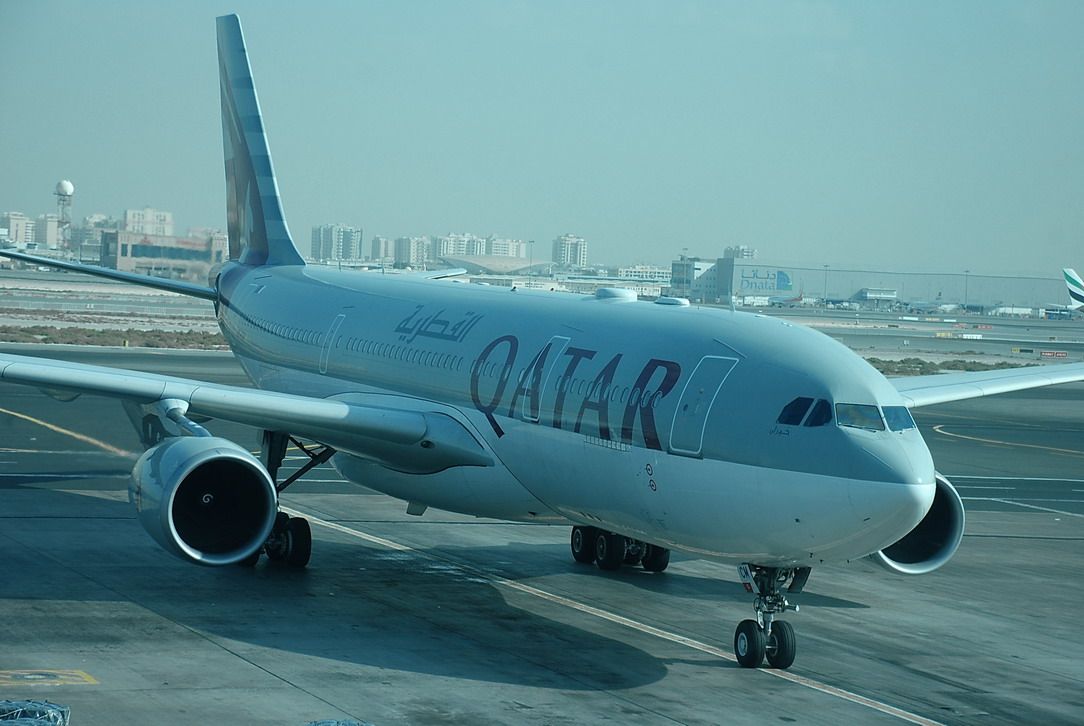 .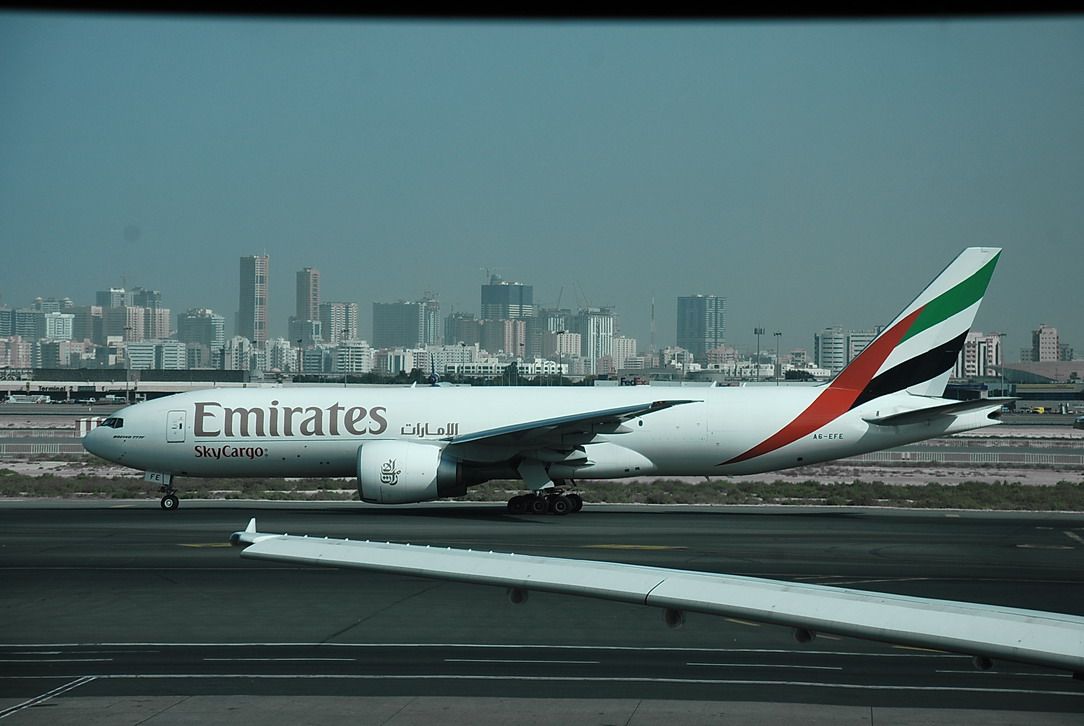 .
You can't possibly be bored airside in Dubai: with time, I'm sure one could easily fill a whole trip report entirely with planes spotted from this food court! This morning, among the more notable planes passing my window is this B77F - a relative rarity as one of only two triple-seven freighters in the Emirates fleet currently. Further away is a Dhaka-bound Biman en route for runway 30R. This particular A310-300, registered S2-AFT and wearing the airline's latest livery, is interesting for being a new addition to the BG fleet in 2010. Fancy that.
.
.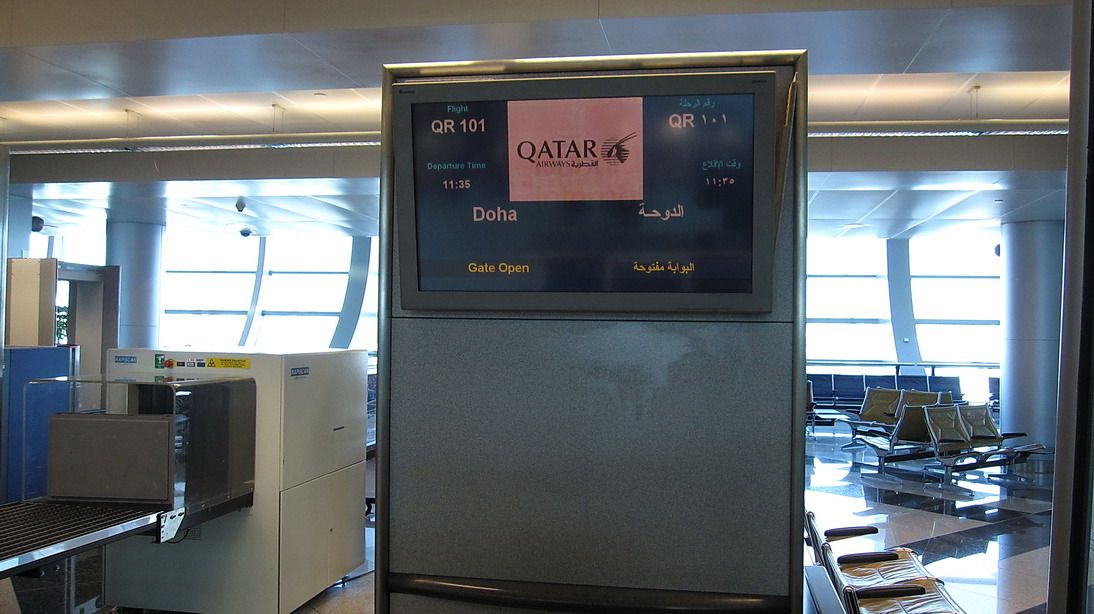 .
Departure gate 115 is just a few steps away from my spotting vantage. I make my way there on time, but my fellow passengers are slow to trickle in. As boarding time approaches, the holding lounge is still sparsely occupied with only a couple of dozen passengers at most: if this is indeed the passenger load to Doha, QR could have downgauged today's flight to an A320 and still have room to spare! Not surprisingly, the boarding call at 11.10 a.m. is a general one - without the need to refer to zones or seat row numbers. There are no queues and the flow is leisurely: if only flying was always so civilized...
.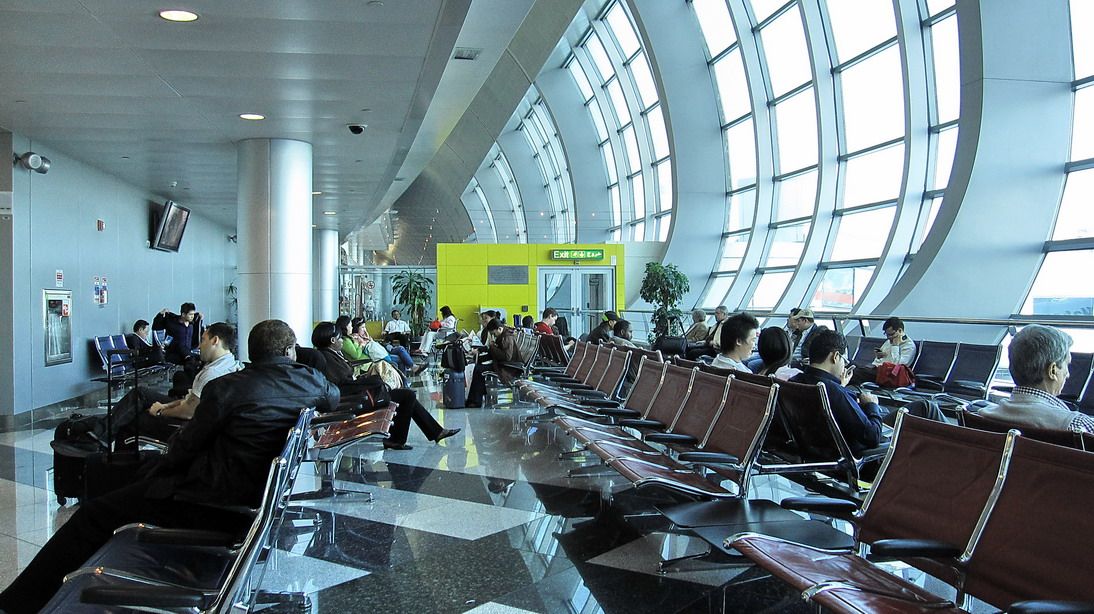 .
.
Dubai to Doha
383 km
Qatar Airways flight QR 101 A330-202 A7-ACM
Dept: 1137 Arrv: 1135 (on time)
I am greeted at door 2L by a friendly stewardess dressed in maroon and sent down the aisle towards my seat in the aft economy cabin. Although I'd taken my time to board, the cabin - seats decked out in QR's standard maroon with pale blue or yellow headrest covers - is still mainly unoccupied. Everything looks immaculately clean and tidy. I must admit this is, for me, probably not the most exciting of interiors - one might even call it boring - but what must also be said of QR is its steadfast adherence to a consistent image both inside and out that's quite admirable. (Better than some muddled airlines I know that have gone on wild flights of fancy!) The same maroon color is used in J class as well, while the carpets are always grey, delivering the clear, unequivocal message that: yes, you're flying Qatar.
.
.
The tone for a flight is often set by the first flight attendants one interacts with on board. And on this one, QR's got it all sewn up for me within moments thanks to Barbara, a naturally cheerful flight attendant who's been flying with the airline for all of nine months. She's friendly, polite, intelligent, approachable, proactive and professional - the epitomy of what good service should ideally be like in economy class. Spotting that I'd got my camera out, she chats with me about photography - even dipping briefly into the Canon v Nikon debate - before excusing herself to quickly help some passengers load their carry-ons. At moments like this, even a corny slogan like
world's 5-star airline
sounds totally believable.
.
.
The interior appears to be in reasonably good condition. There are pillows at every seat while the pitch is a standard 32 inches, and nothing to complain about on a short-haul. Most of the center seats stay unoccupied with the light load this morning. I'd been wrong though in guessing that Christmas automatically equates to low load factors - Barbara tells me the inbound DOH to DXB flight was completely packed out, but quite the opposite on the return. "Looks like many are coming to Dubai to ring in the new year," reasons Barbara.
.
.
All the seats feature PTV AVOD but on this short hop, it isn't switched on and headsets aren't handed out. Only the safety video is played on the screen before departure, while comedy of the
Just for Laughs
visual gags variety is aired mute during the flight. Boiled sweets are passed out - a nice touch - as the doors are closed, exactly on the dot. We push back from the gate 2 minutes later. Flight time to Doha is 45 minutes.
.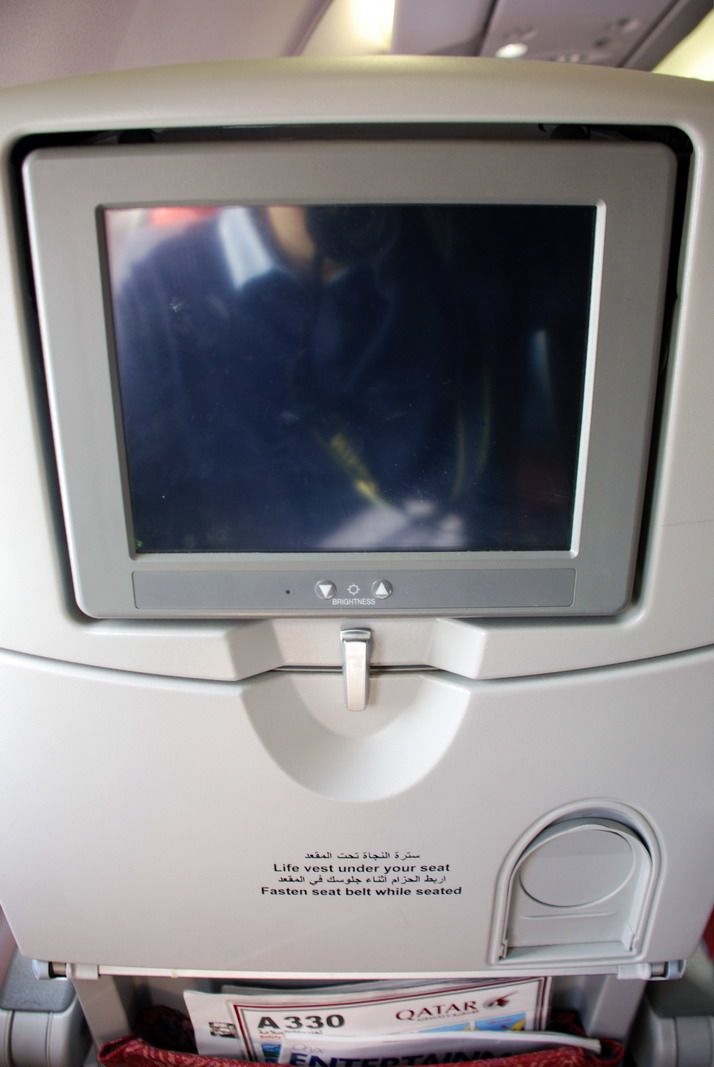 .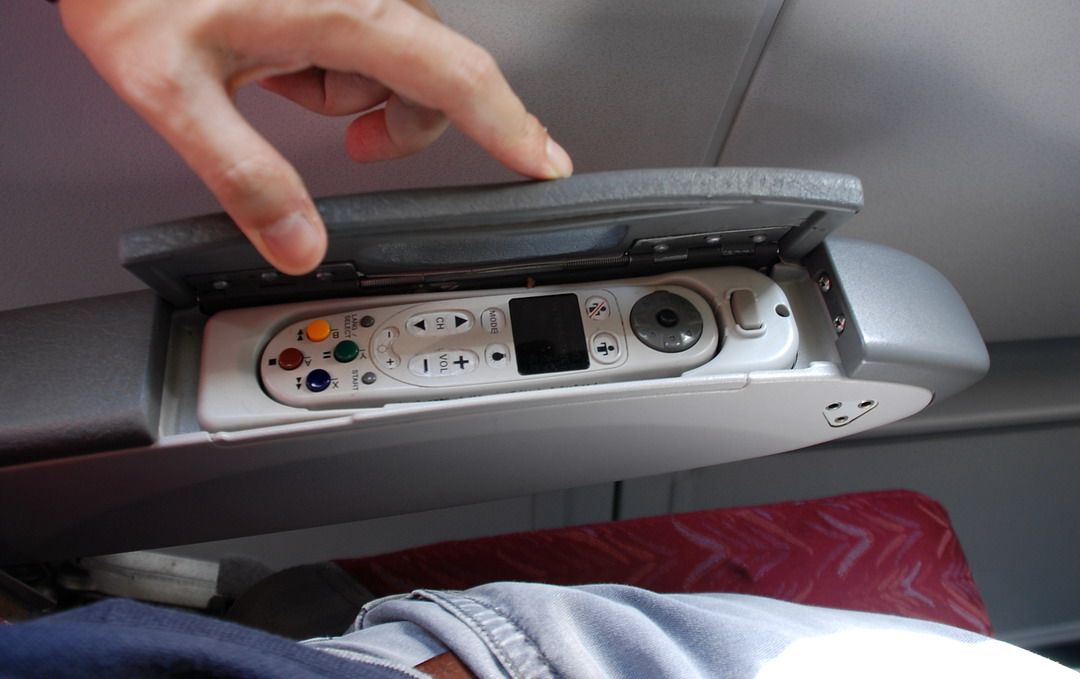 .
Things have been going swimmingly so far, but if one was forced to find fault it'll be in the annoying IFE box that occupies such a large portion of the space underneath the seat in front of me that almost half the legroom is gone. That's something to keep in mind if you're planning to sit by the window on QR's A332s next time. The pedal-like legrests don't do very much for me either.
.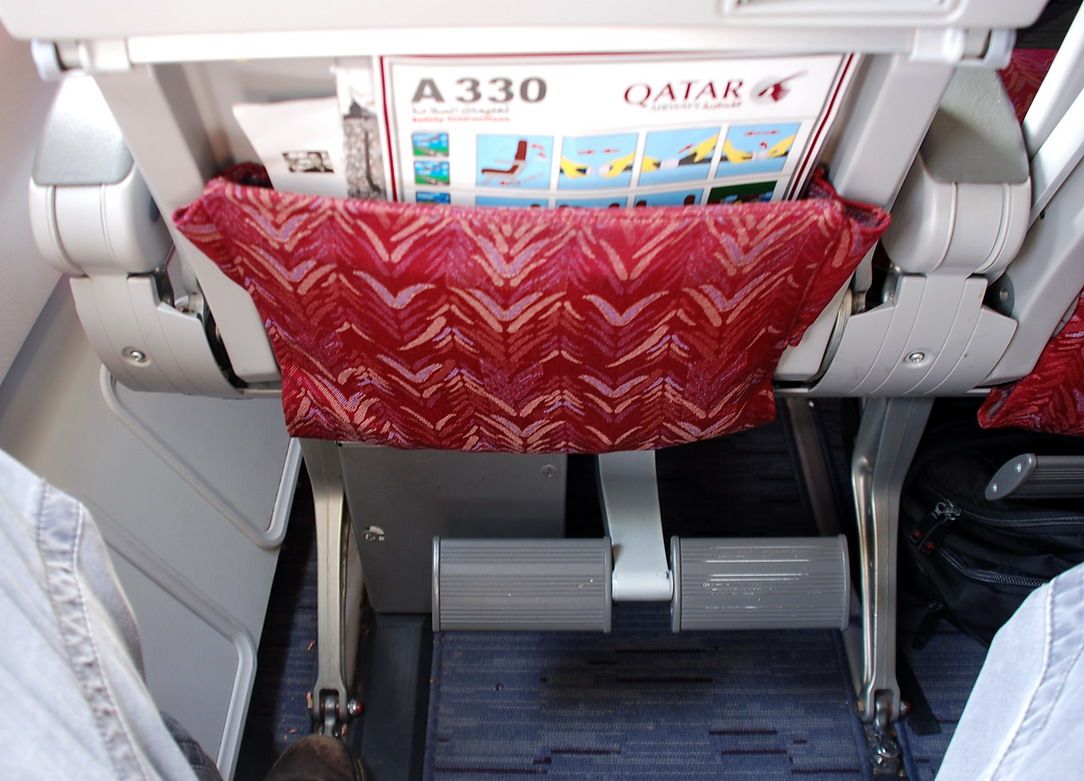 .
.
The taxi to active runway 30R affords a view, on the port-side, of the massive EK hangars - like almost everything else in Dubai, they're record-breakingly huge. I'm not sure if they're the world's largest, but that hardly matters for I reckon you can't go too wrong with using superlatives liberally in the UAE - if some monument isn't currently the biggest or tallest, it just means China has momentarily overtaken to take poll position for a year or two, before the completion of the next Gulf mega structure. And so on. Two A380s are spotted resting here between flights. I still can't get over the fact EK already has 15 of them in its fleet - and that's larger than the entire orders of most airlines taking delivery of the A380.
.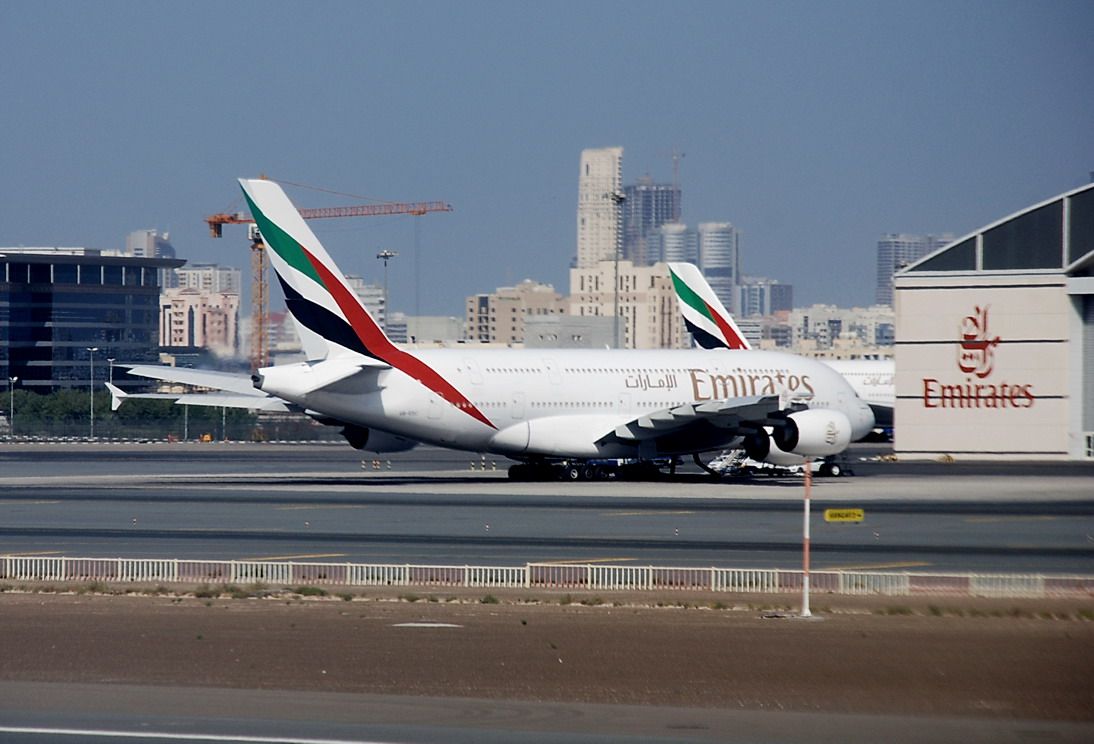 .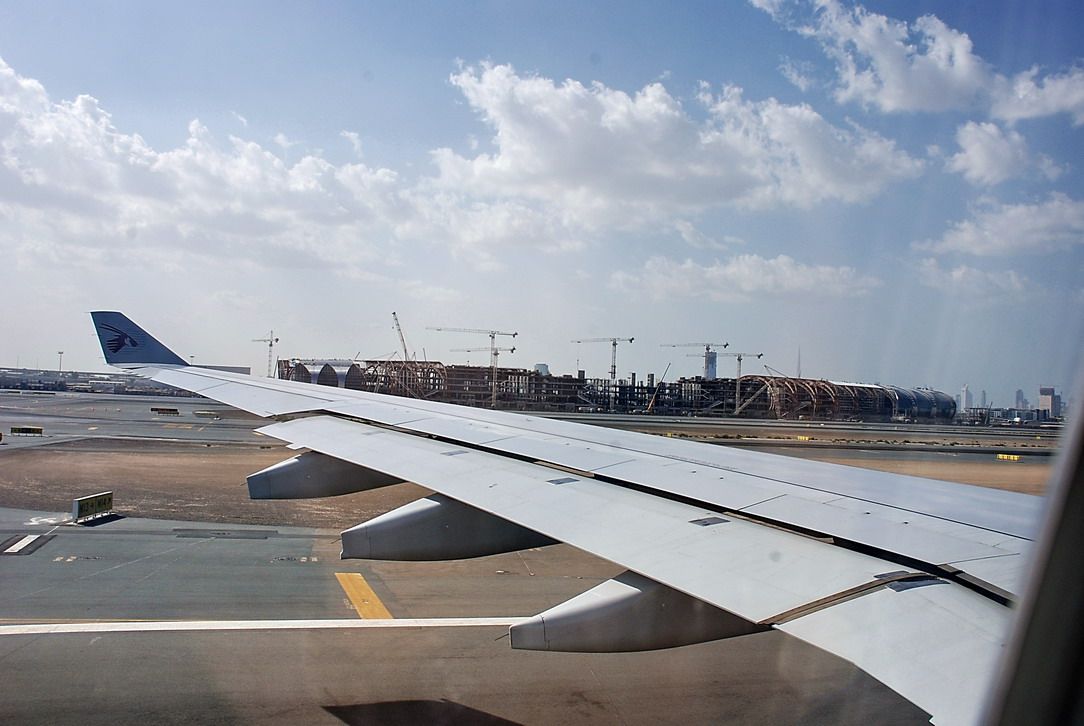 .
As we roll onto 30R, the view is of construction work on another superstructure - and that is DXB's Concourse 3 which will, when completed early next year, be able accommodate no less than 18 A380s at any one time. Work seems to be progressing well, with the building starting to take shape. As we are light as a feather today, our short take-off run is rather undemanding: we lift off slightly more than halfway down the 4000 meter runway. The view below is of the kilometer-long Concourse 1 where we had earlier been parked, while just beyond the airport perimeter is the city of Dubai proper. This is undoubtedly also the largest downtown city airport in the world.
.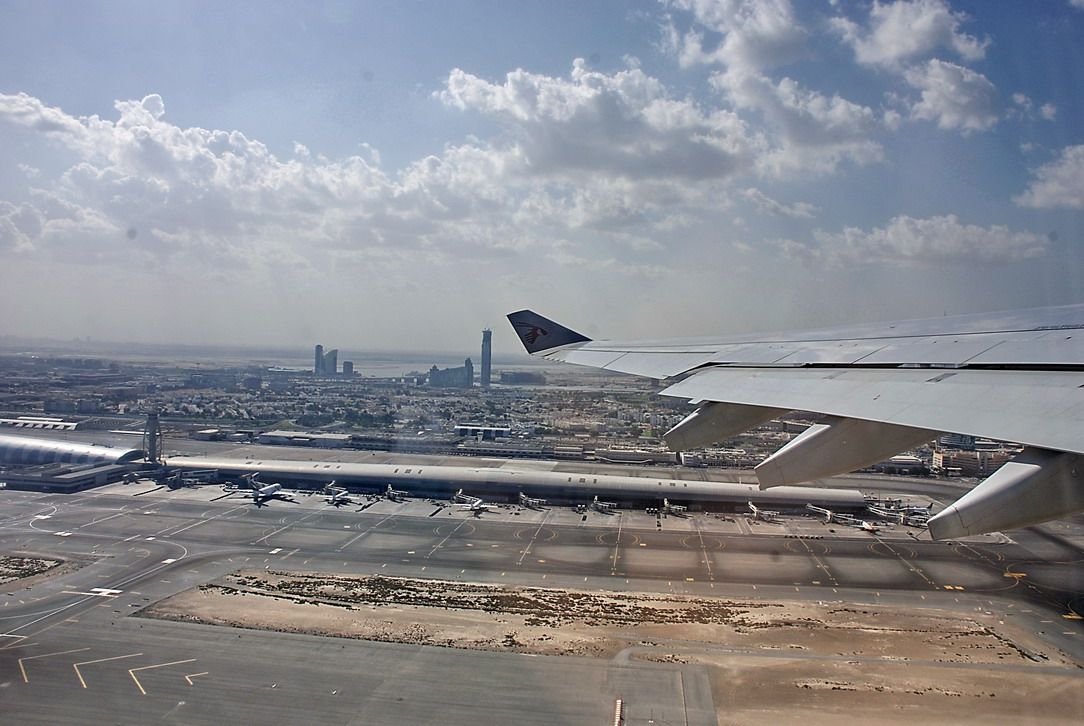 .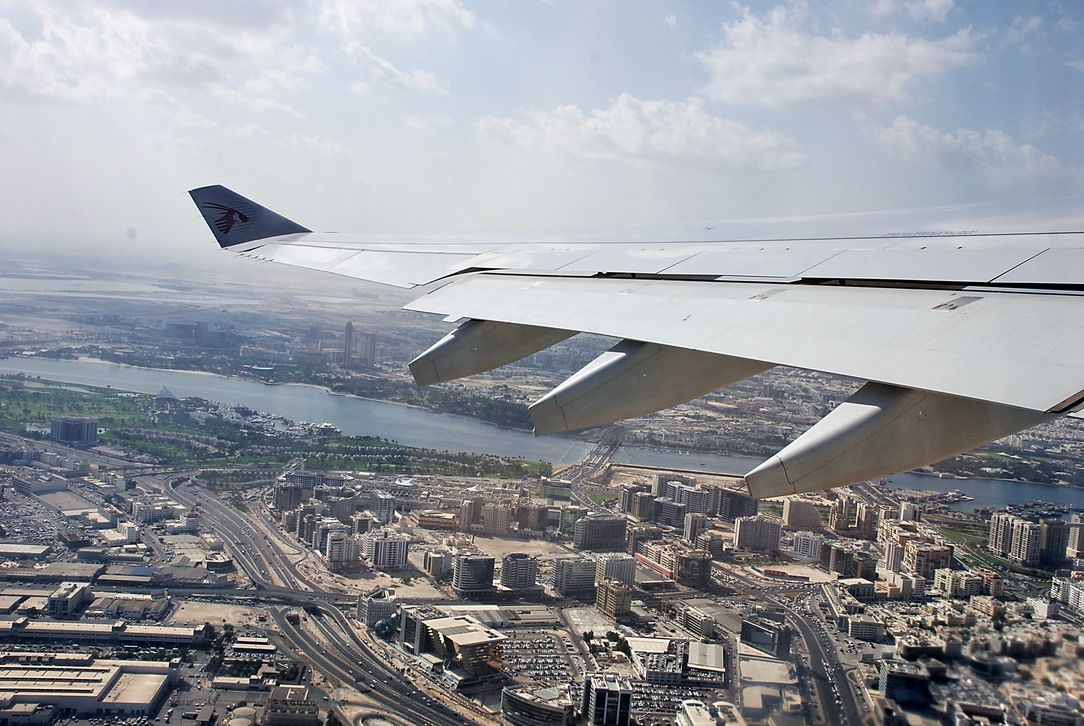 .
We climb over Deira, the city's oldest neighborhood in which the airport is located, on the east side of the Dubai Creek. The past and future of this amazing trade-dependent maritime city is strangely intertwined in this small area - creek-side docks still repair wooden dhows, as A380s climb out above them many times a day. On the other side of the creek is Bur Dubai and then the newer parts of the city sprawl westward from there.
.
.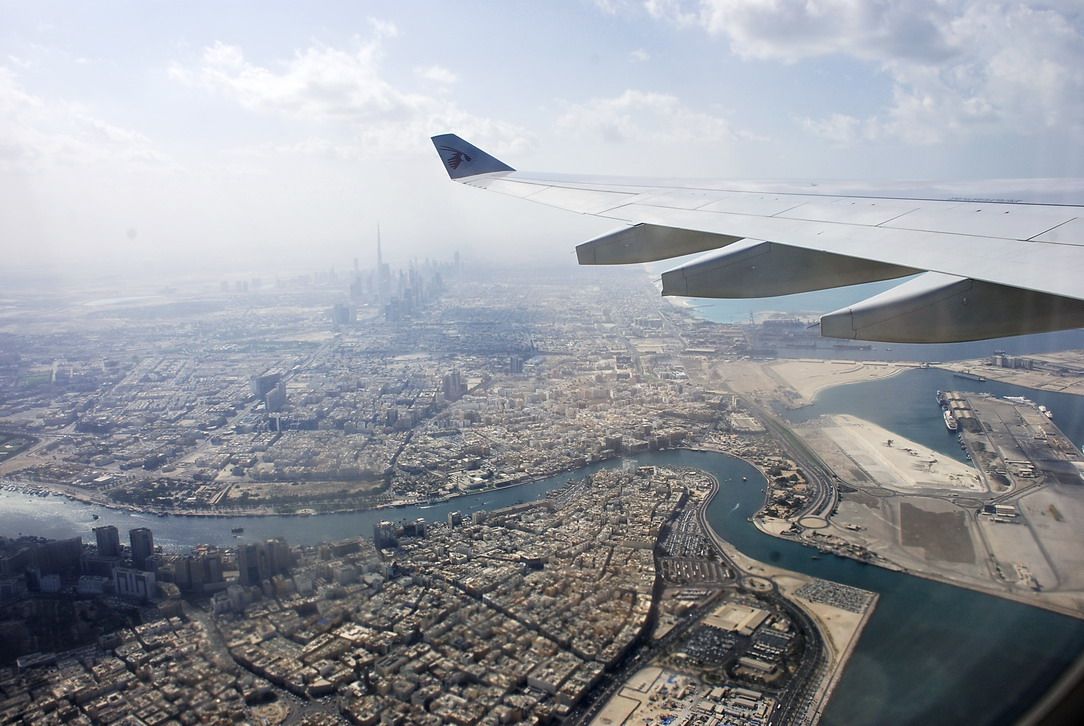 .
The world's tallest building stands out in the hazy distance as a "hey, look at me" monument. It dominates an area known as Downtown Dubai which is fast becoming the new moneyed center of the city. Our heading directly west brings us quickly over the Persian Gulf and a distant view of the beaches of Jumeirah before haze and low cloud obscures the vista.
.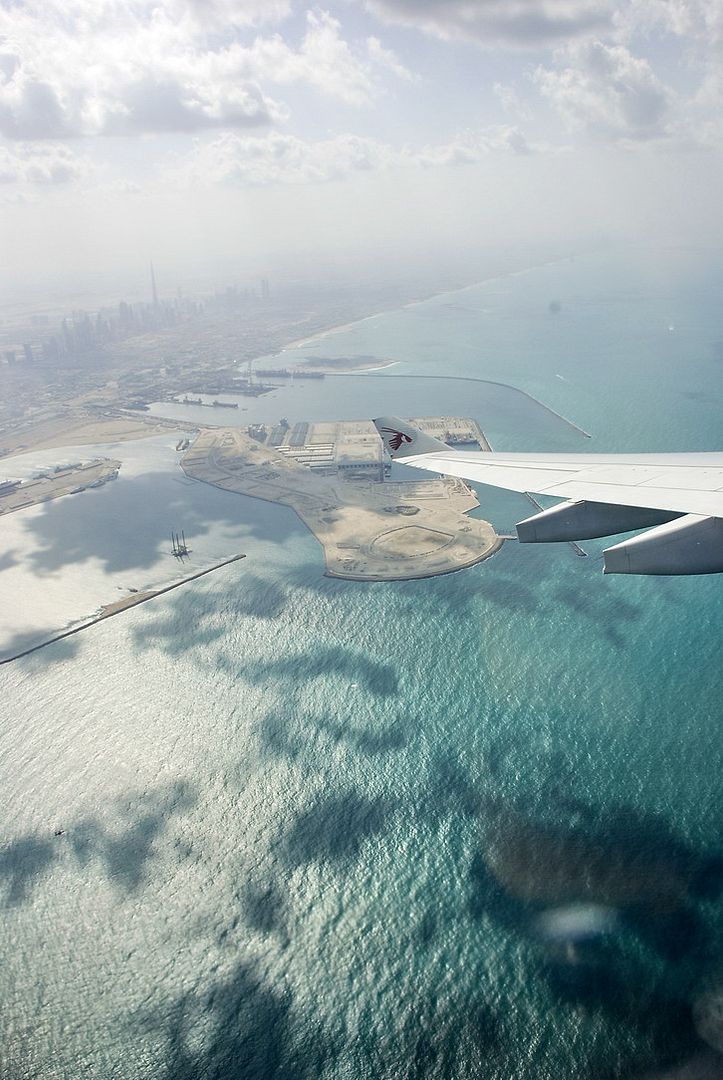 .
Back aboard QR101, it's interesting to see the ambient mood lighting switched on even for a short hop like this one. It's not long after this pic is taken that the seat belt signs are switched off, main cabin lights switched on, and service starts in earnest.
.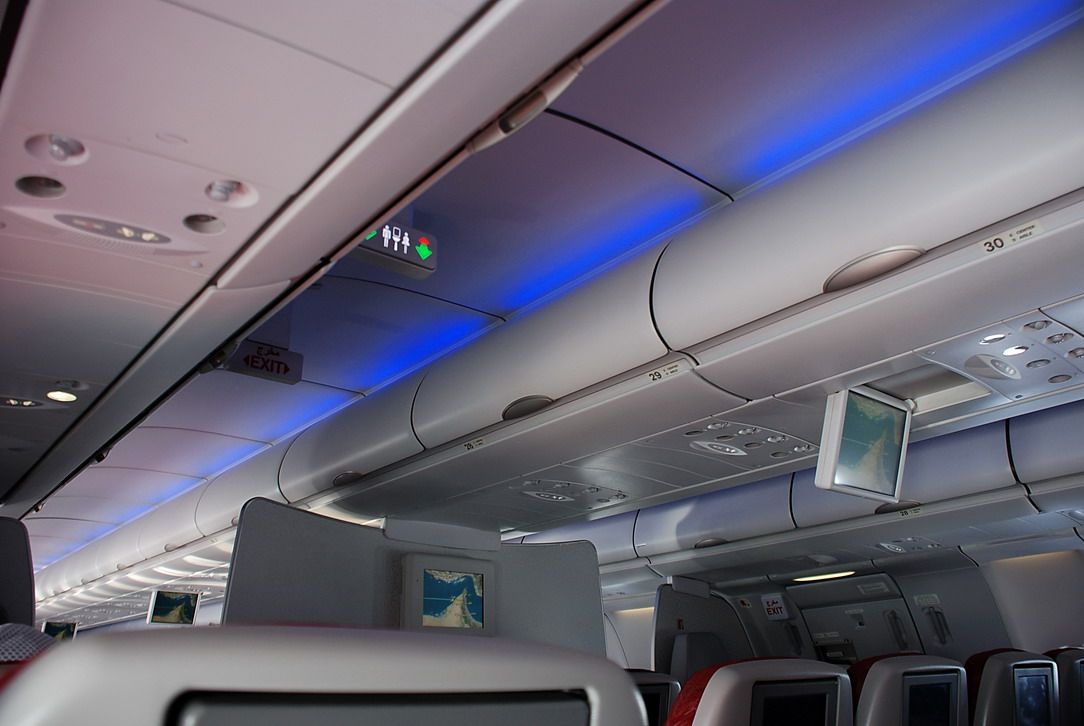 .
The contents of the seat pocket include the Oryx Entertainment Guide - QR calls it "a multiplex in the sky" - not much use on this flight, but at least it's useful for planning ahead for what to watch on my sector to LHR. The choices are not as extensive as that on EK's ICE (which airline's is?) but it's easily among the best around with a selection of over a hundred movies and even more TV programs. The inflight magazine dubbed "5-Star Reading" features stories on Nice, Phuket and Hanoi, among this airline's latest destinations. It added only 10 new points to its route network in 2010.
.
.
The crew have now put on a dark service jacket over their light color blouses - presumably in lieu of aprons. Catering on this flight is quick and comes in the form of pre-packaged water, OJ and hot chicken roll with an upper-crust name. Perfectly fine, and the pie is quite tasty - but a hot coffee would have been very much appreciated too.
.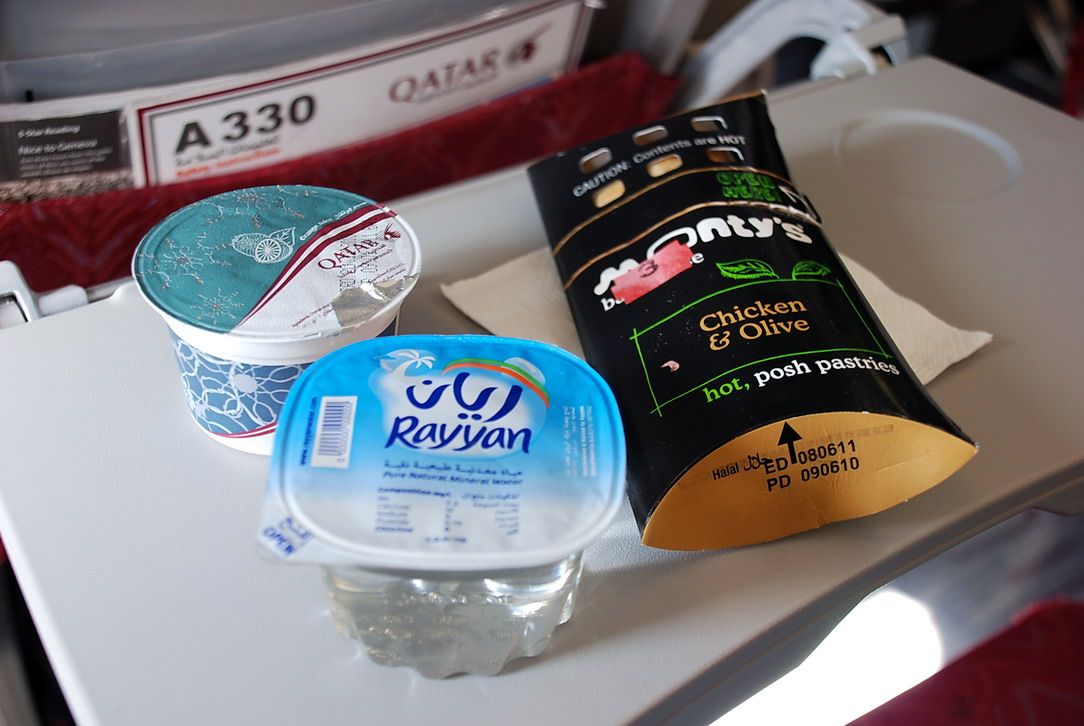 .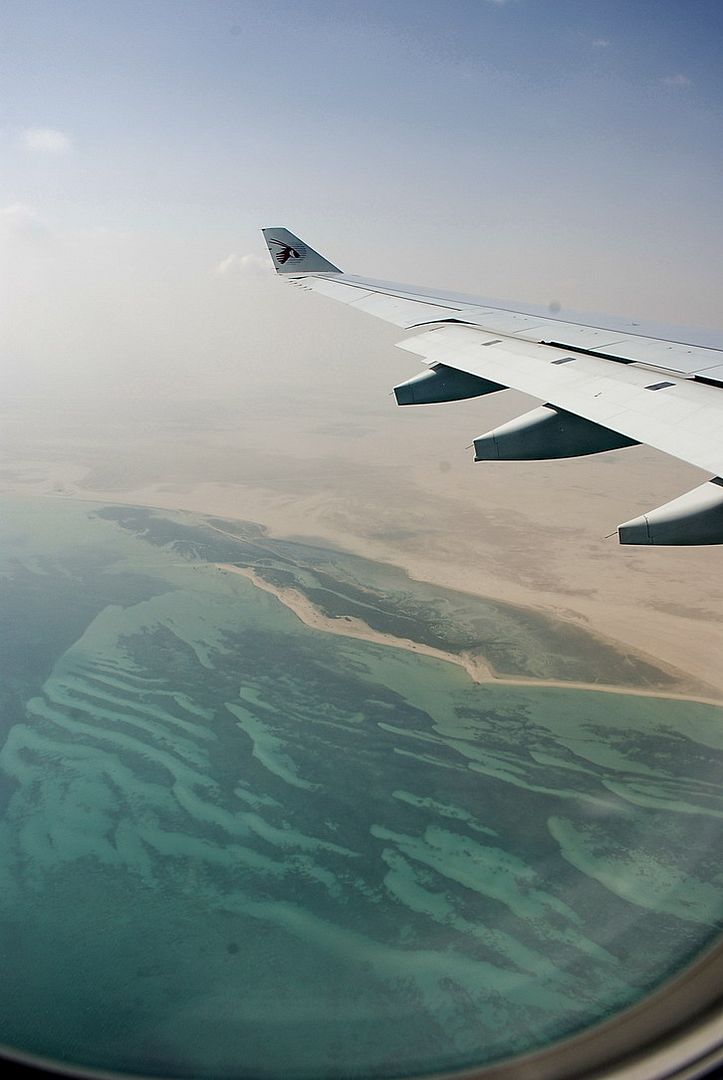 .
It's not long before we start our descent for Doha International, located beside the turquoise waters of the Gulf. We're soon making a smooth landing and taxing the short distance to the airport terminals. The opening in mid-December of a new Arrivals Terminal results in a detailed bilingual announcement about what to do when disembarking. All are bus gates at DOH, but now arriving and departing passengers are to be processed in separate buildings. "To avoid getting off at the wrong terminal", each passenger holds a boarding pass folder that's been color-coded: a blue folder indicates someone destined for the Arrivals Terminal while a yellow folder belongs to a transfer passenger headed for the Transfers and Departures building. First and Business class passengers meanwhile are transported and processed seperately at a dedicated Premium terminal or Arrivals lounge, depending on whether they're connecting or terminating. It's all rather complicated and I'm not surprised to see many passengers getting off at the wrong stops: I'm sure it happens after every flight.
.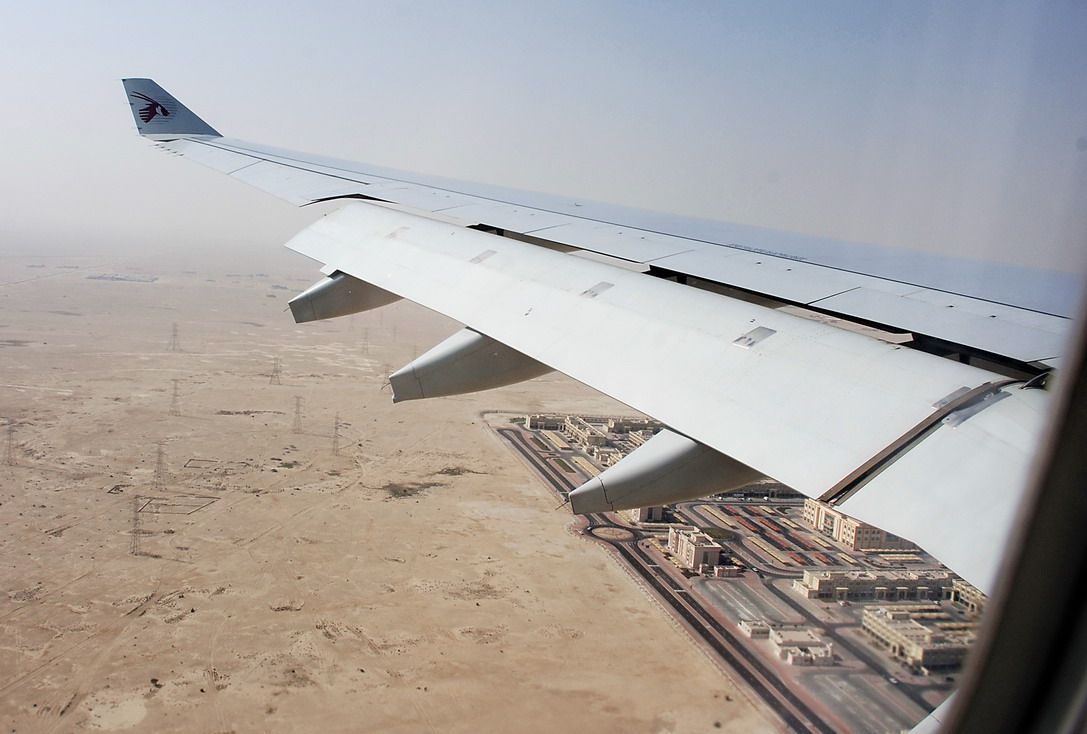 .
continued below...