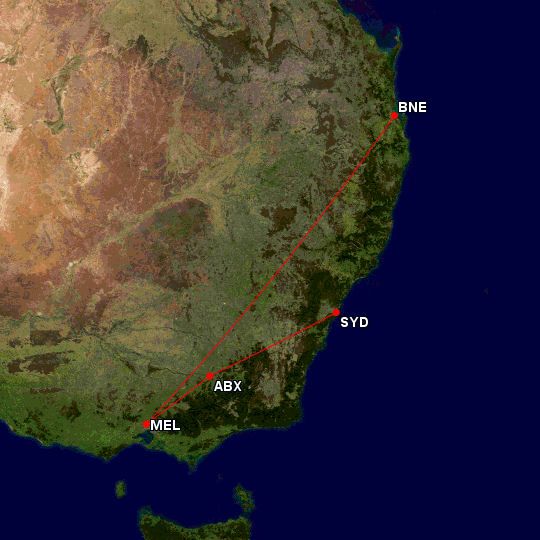 Map generated by the Great Circle Mapper - copyright © Karl L. Swartz
Background about the Round-the-World Trip
A round-the-world trip had been on my wish list for many years and last summer I finally decided to go. Originally, my plan for October 2010 was to visit a good friend in Brisbane again after a break of four years. While searching for flight options, I realized that a visit to Brisbane would be a great opportunity to create a round-the-world trip. RTW packages by the large alliances didn't attract me due to numerous restrictions and the limited choice of airlines. I found it much more interesting to combine all kinds of airlines without someone restricting anything.

As usual, my focus was on new carriers and new types - and my intensive searches turned out to be successful. First of all, I booked the long-haul flights, followed by a few connecting flights. Finally, I added some more side trip flights. Final routing: Munich-Bangkok-Brisbane-Melbourne-Albury-Sydney-Auckland-Christchurch-Dunedin-Wellington-Auckland-San Francisco-Munich. The itinerary included 12 flights, 7 new airlines, 5 new airports and 3 new types. I would leave on 2 October and return 11 days later, after flying 26345 miles (42398 kilometers).

Part I can be found here:
Thai Fails To Impress: MUC-BKK-BNE On 744 & 777


Planning Details - Part II
How to get from Brisbane to Sydney? That was one of the key questions during the planning phase. I wanted to try some new airlines, so I ruled out Jetstar, Qantas and Virgin Blue. REX Regional Express was of particular interest because I would get both a new carrier and a new type (Saab 340). However, REX doesn't fly to Brisbane, so I somehow needed to get to one of its destinations first. Then I found out that Tiger Airways Australia - another new carrier for me - offered flights from Brisbane to Adelaide and Melbourne at reasonable prices. REX uses both airports as hubs, but Melbourne seemed to be the better choice due to more suitable flying times and connecting options. REX even offered one-stop connections between Melbourne and Sydney, but I tried to add another new carrier. So I started searching for destinations between Melbourne and Sydney served by both REX and QantasLink. I compared flying times and fares and identified Albury (ABX) as the most suitable destination for a self-made connection. So I finally booked BNE-MEL on Tiger, a night at the Best Western Melbourne Airport, MEL-ABX on REX, ABX-SYD on QantasLink - operated by an Eastern Australia Airlines DHC-8-300 - and a night at the Formule 1 Hotel Sydney Airport.
Brisbane & Gold Coast Sightseeing
I hadn't been in good shape after my arrival in Brisbane, but on the next day I felt fine again. My friend and I took a bus to downtown Brisbane for some shopping.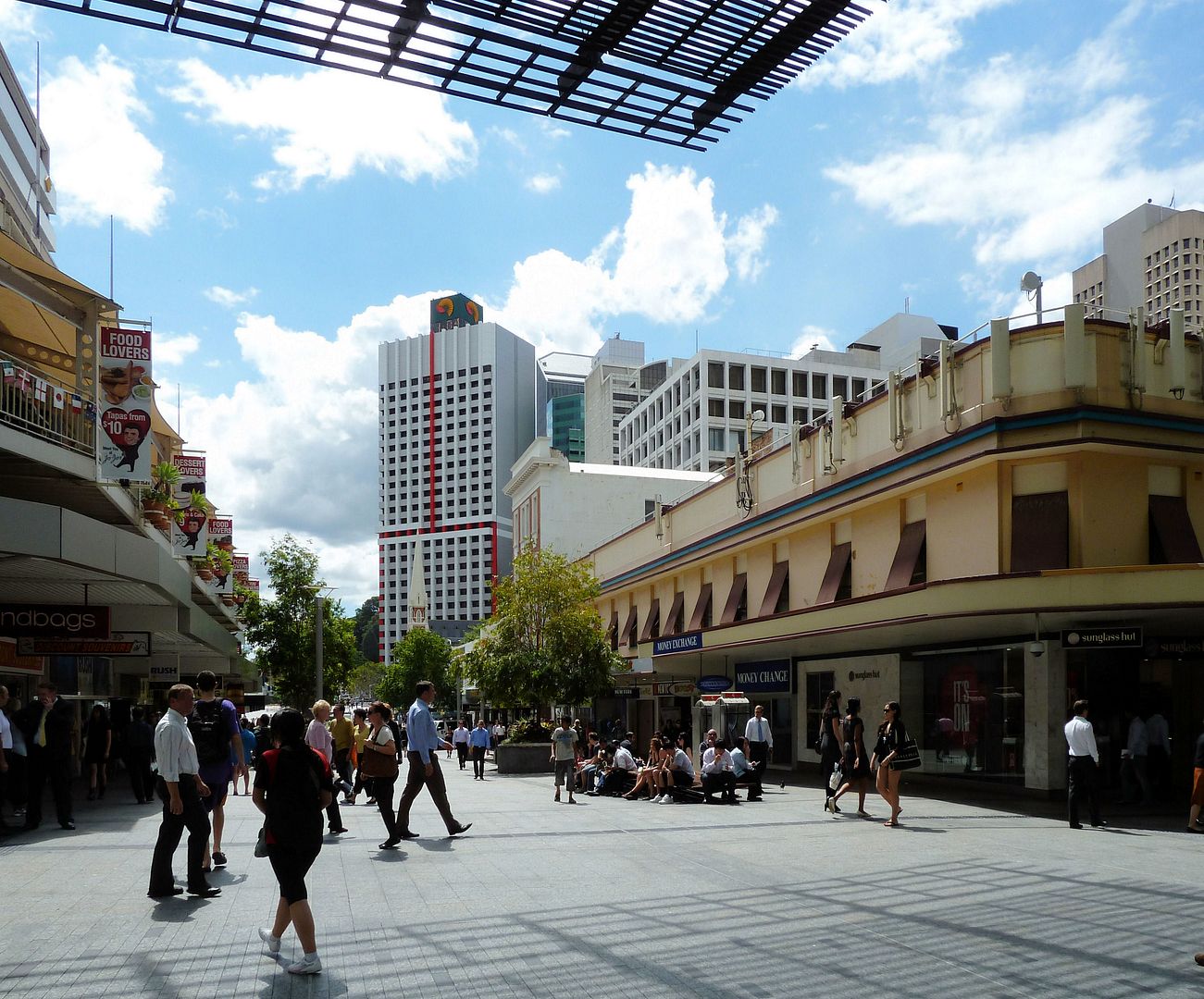 City Hall: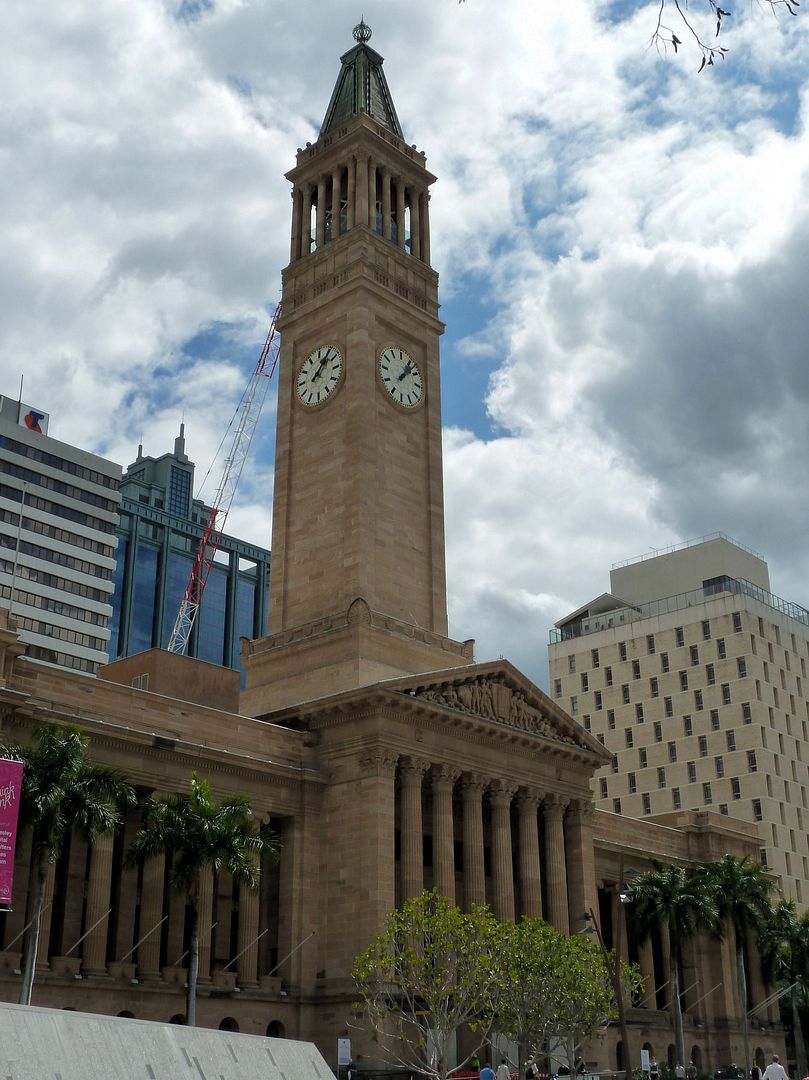 Customs House:
South Bank: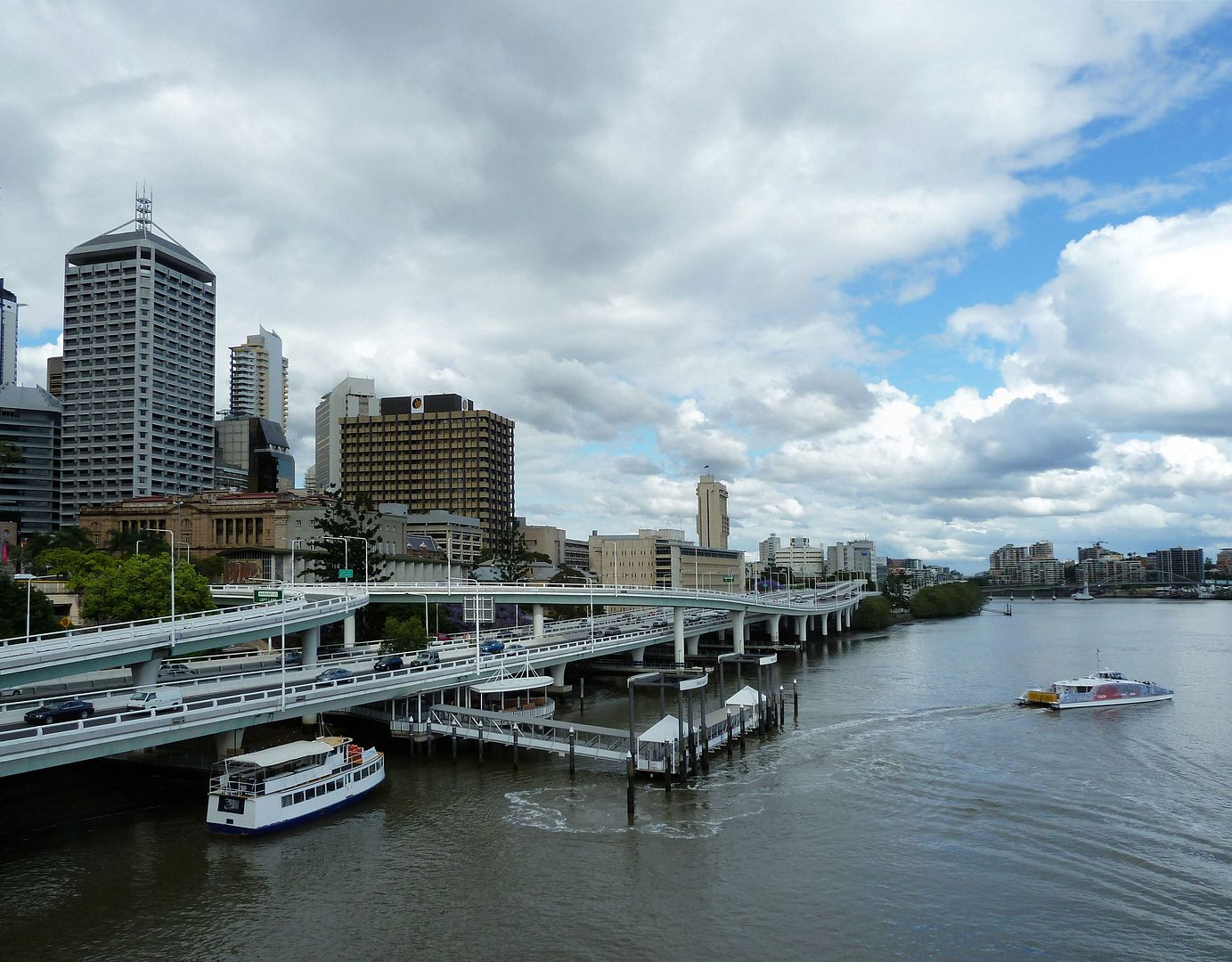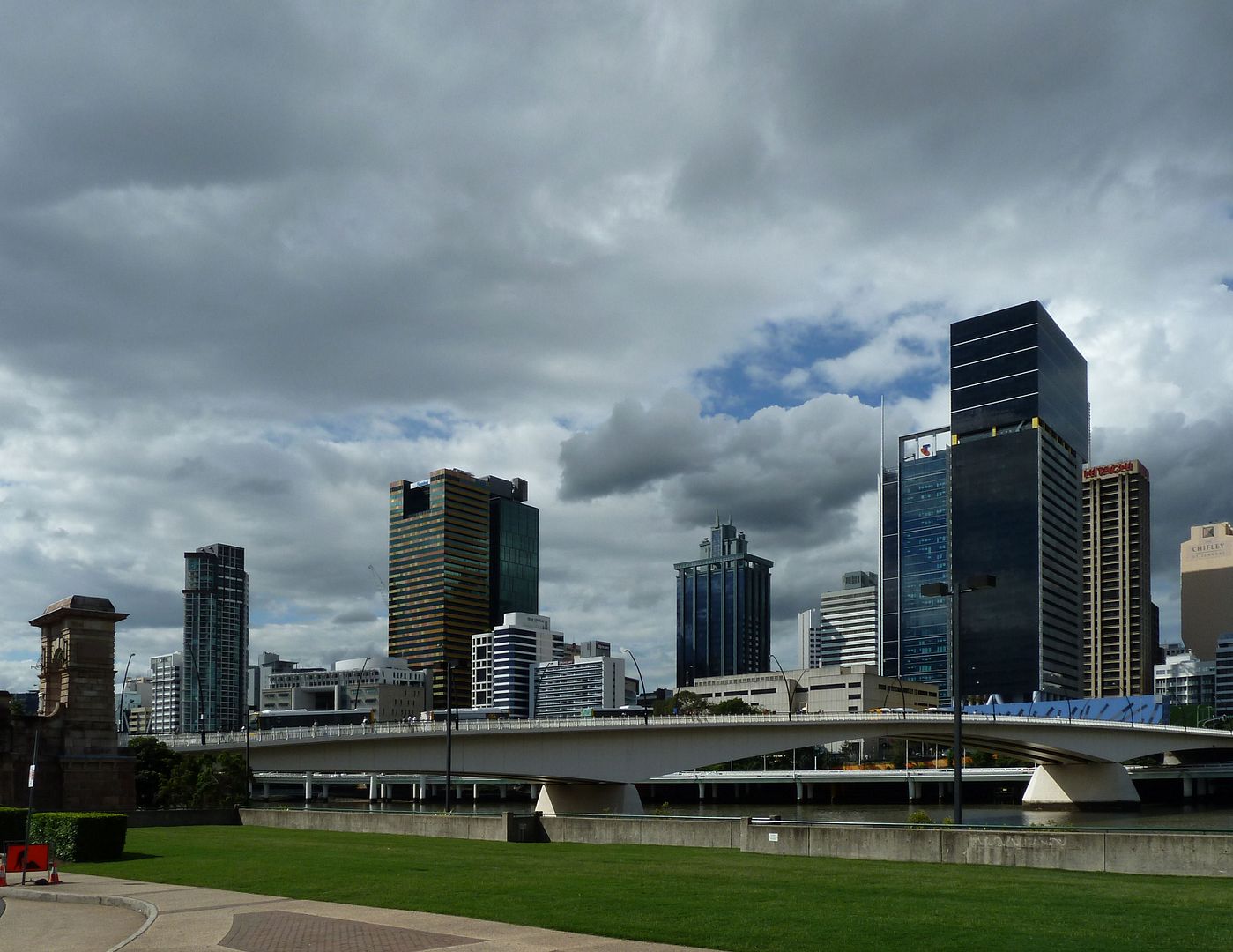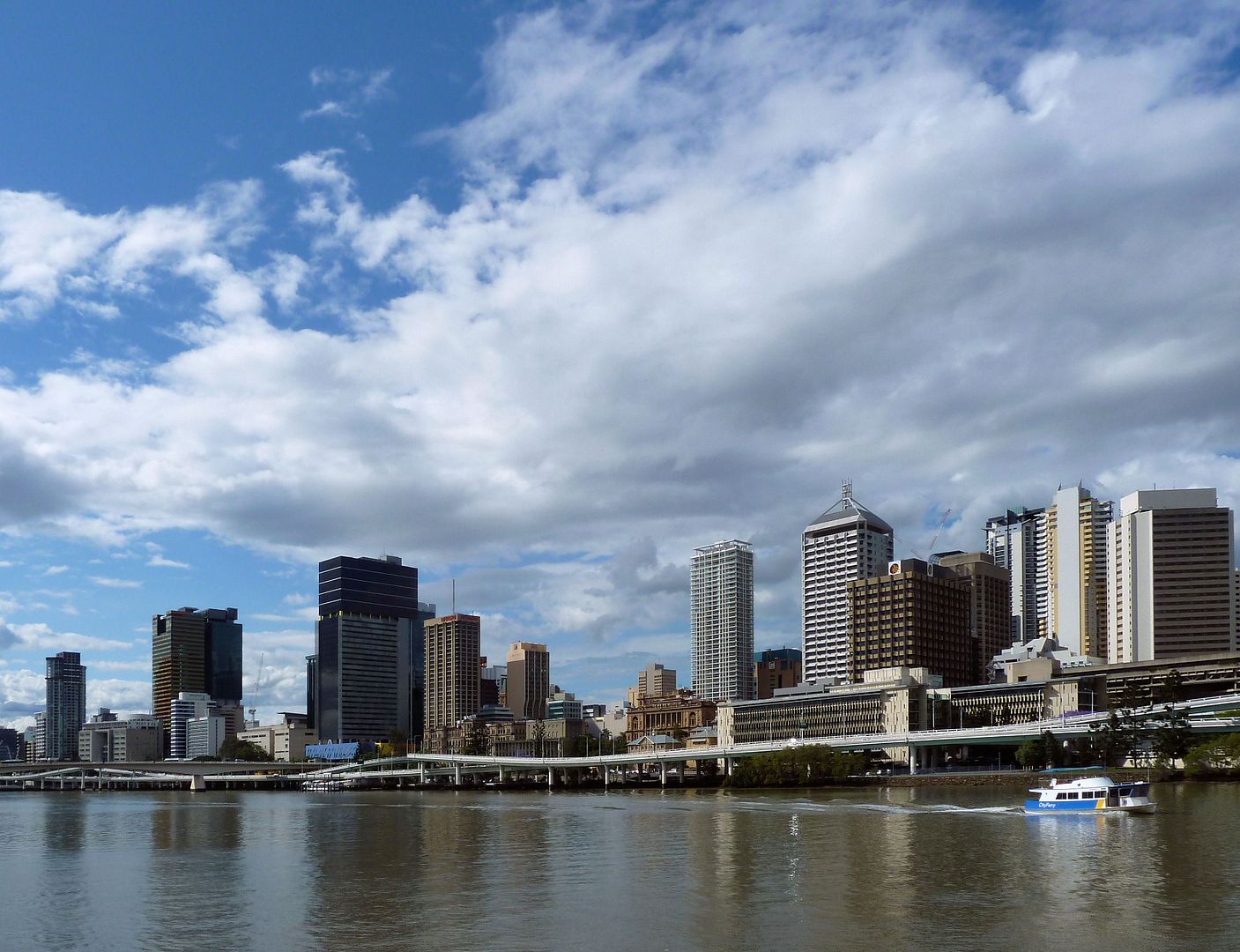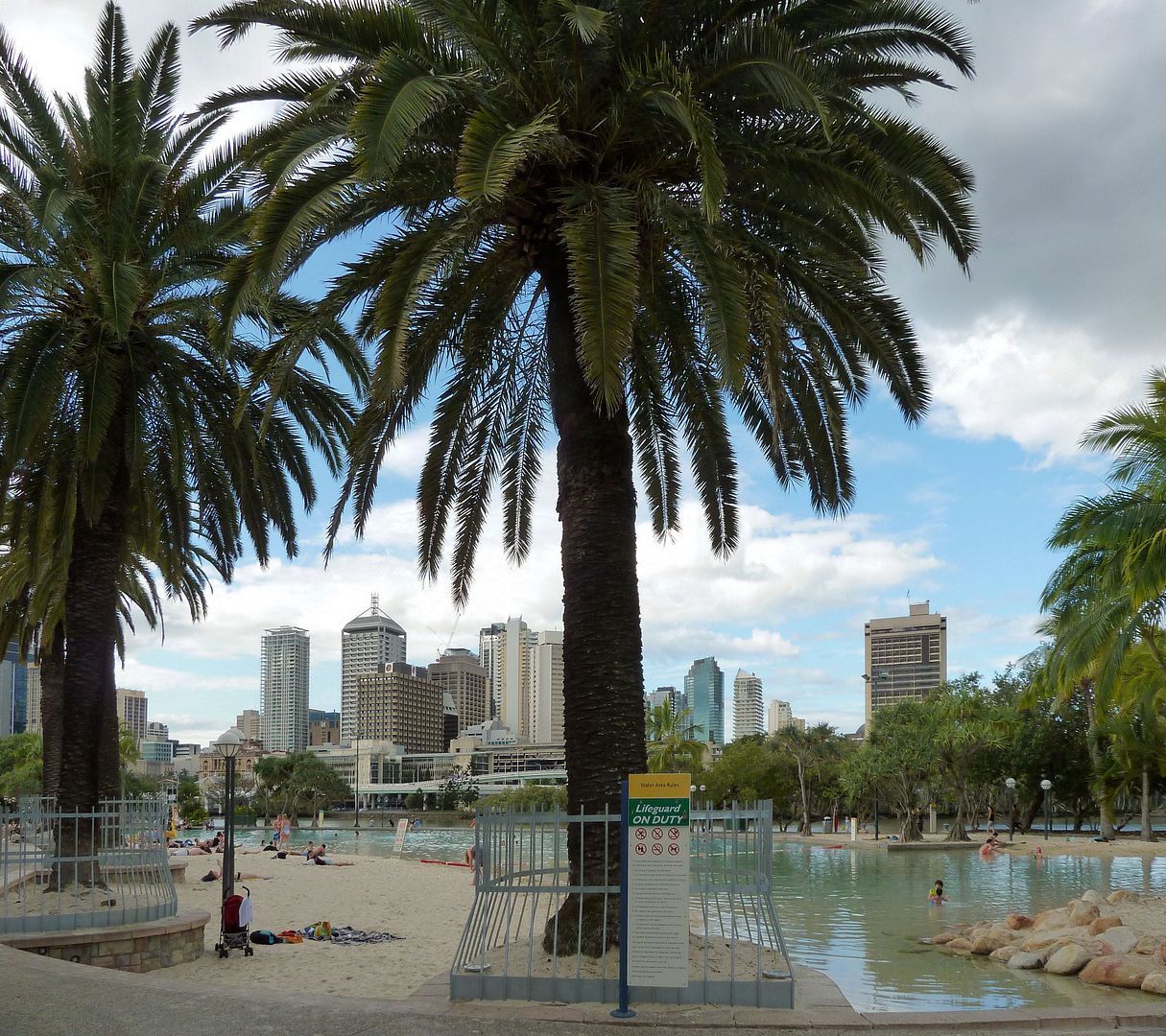 Of course I wanted to see some wildlife, so we went to the nearby
Alma Park Zoo
on the next day. It's quite small, but you can see the country's most famous species there: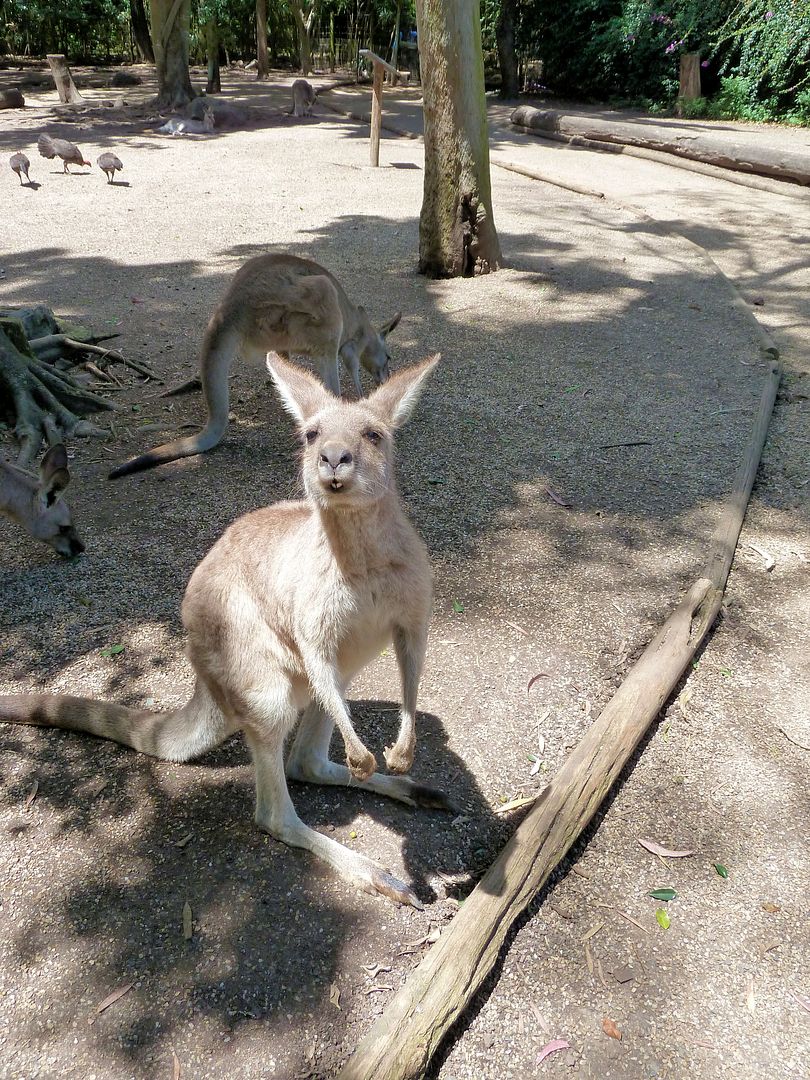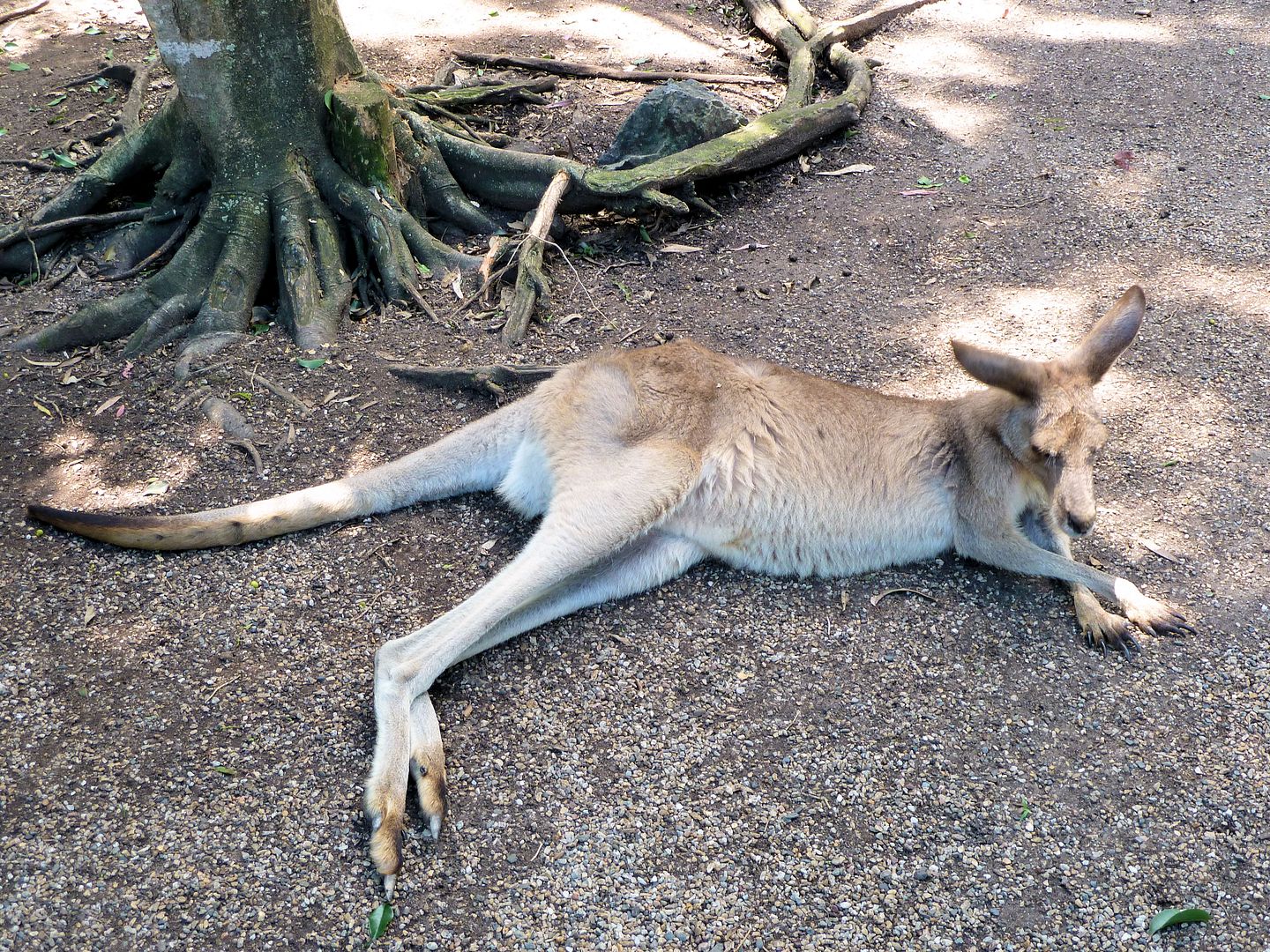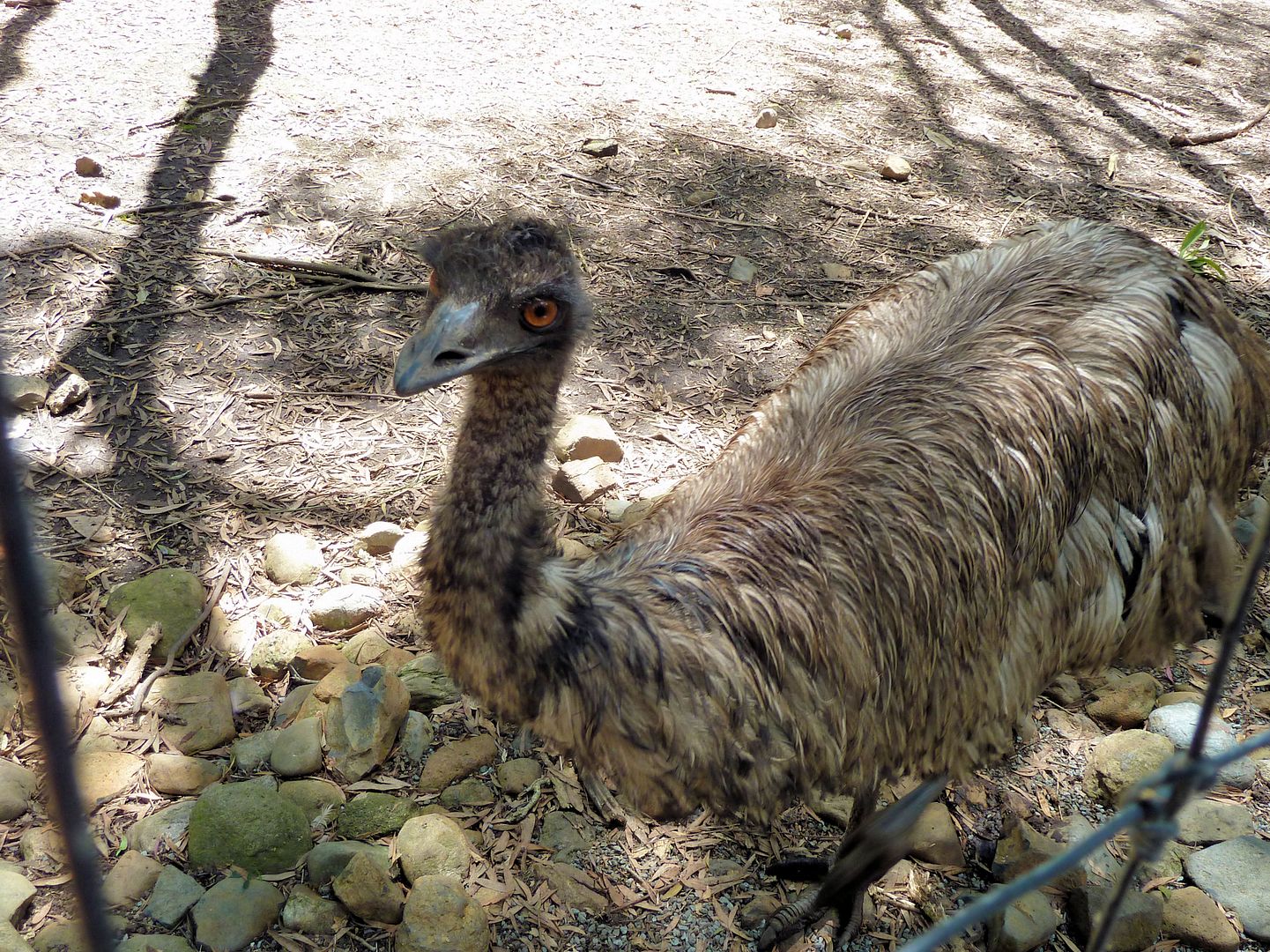 Some lazy guys: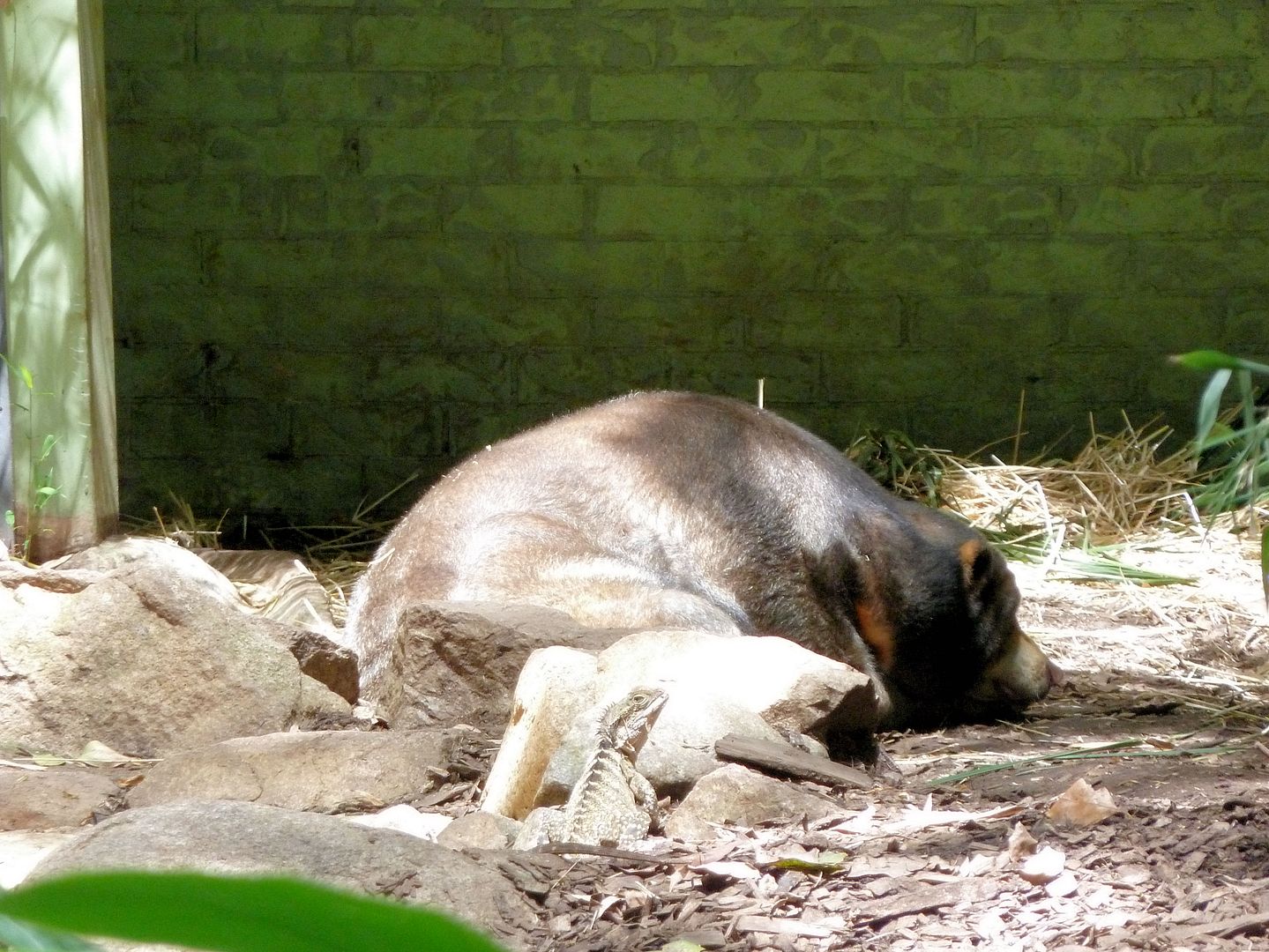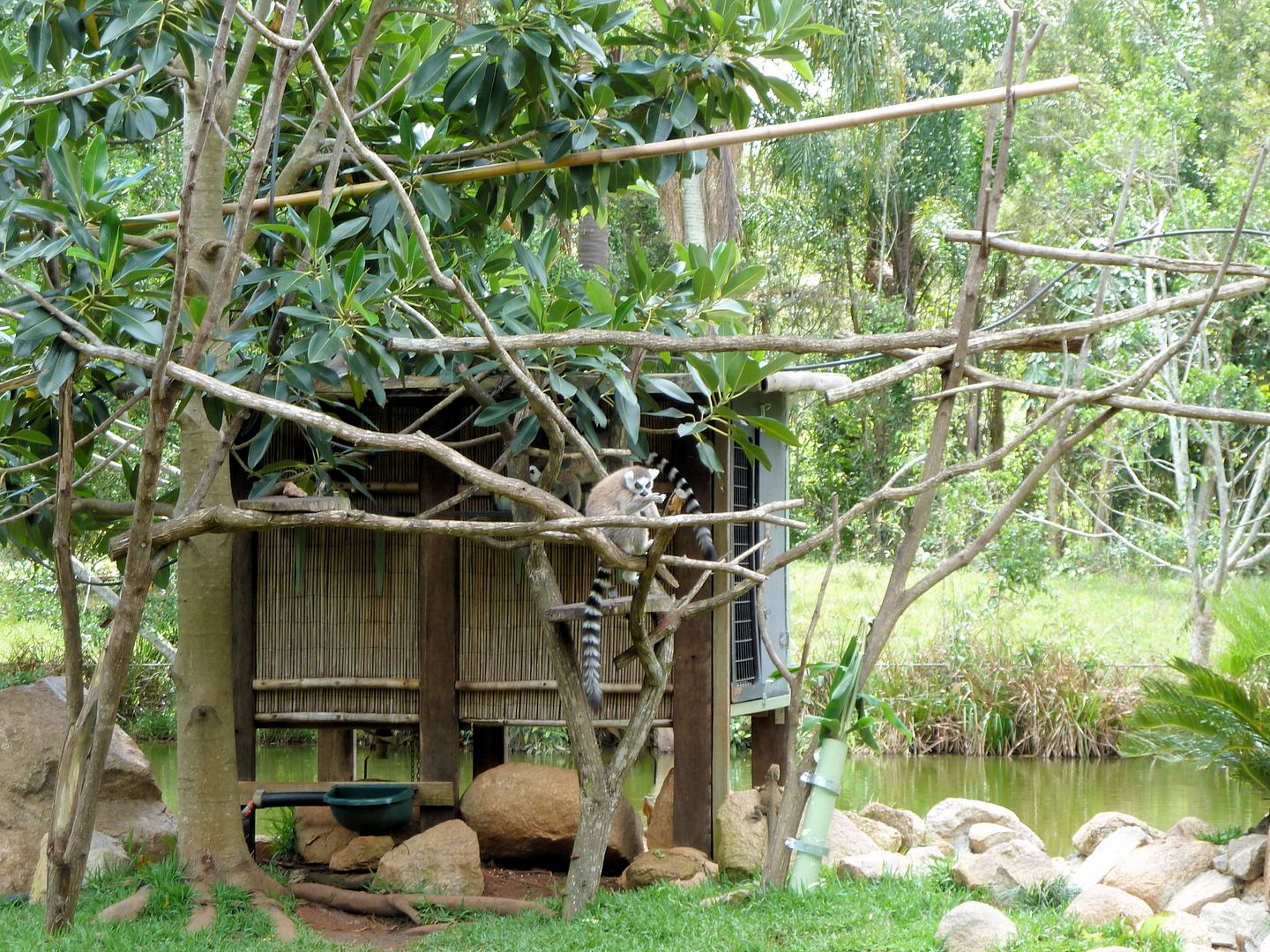 Very impressive bird:
Koalas certainly belong to Australia's cutest animals: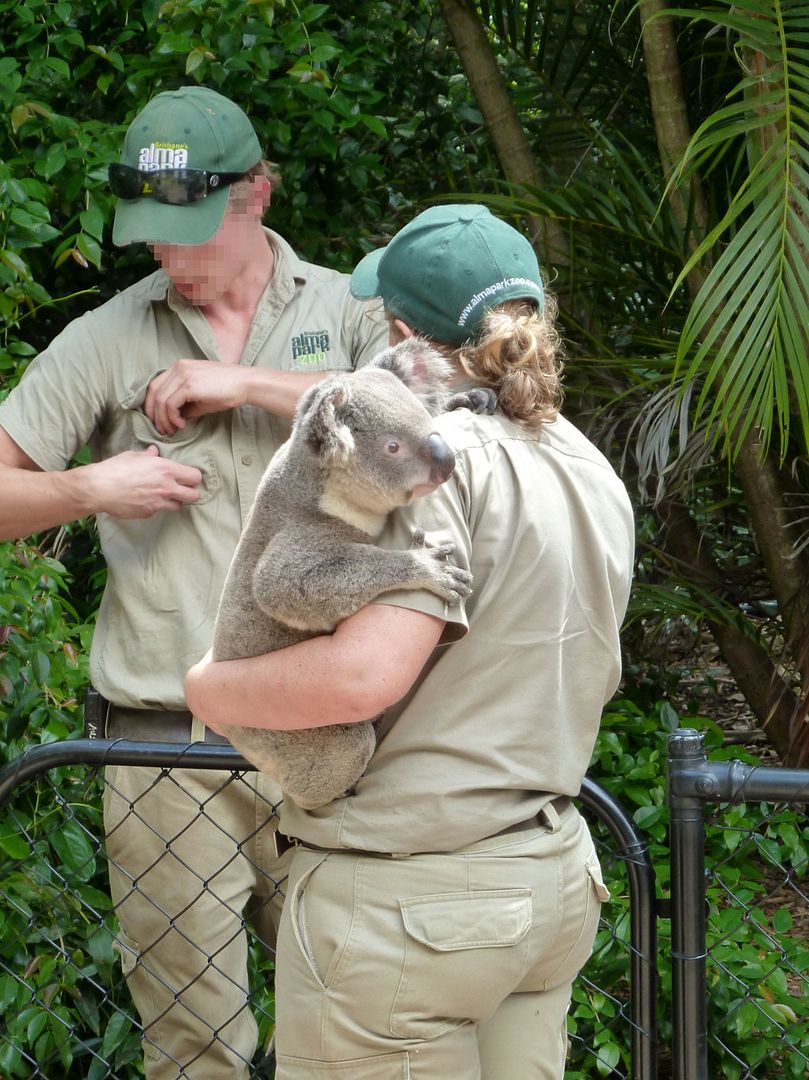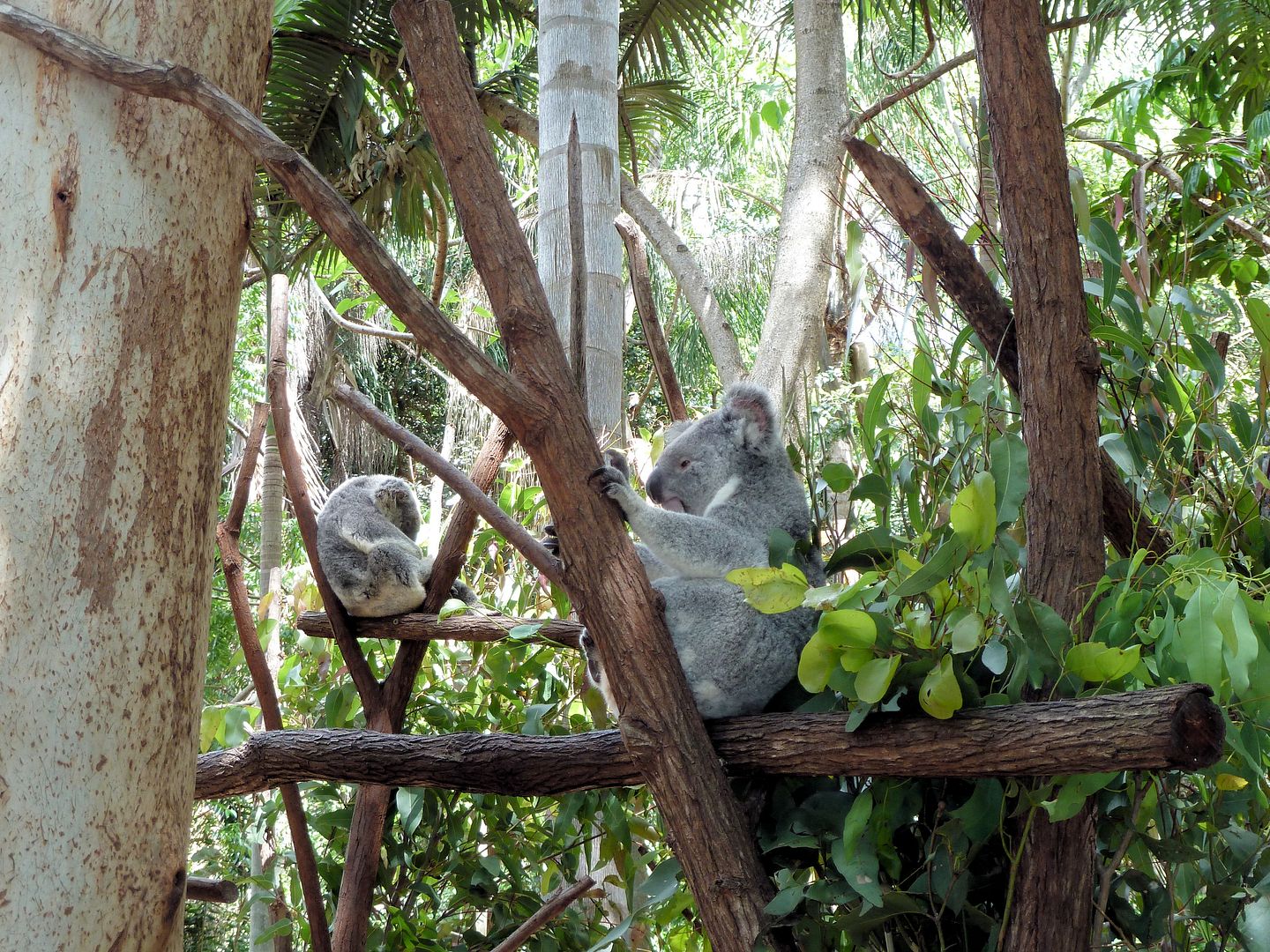 What would Australia be without snakes?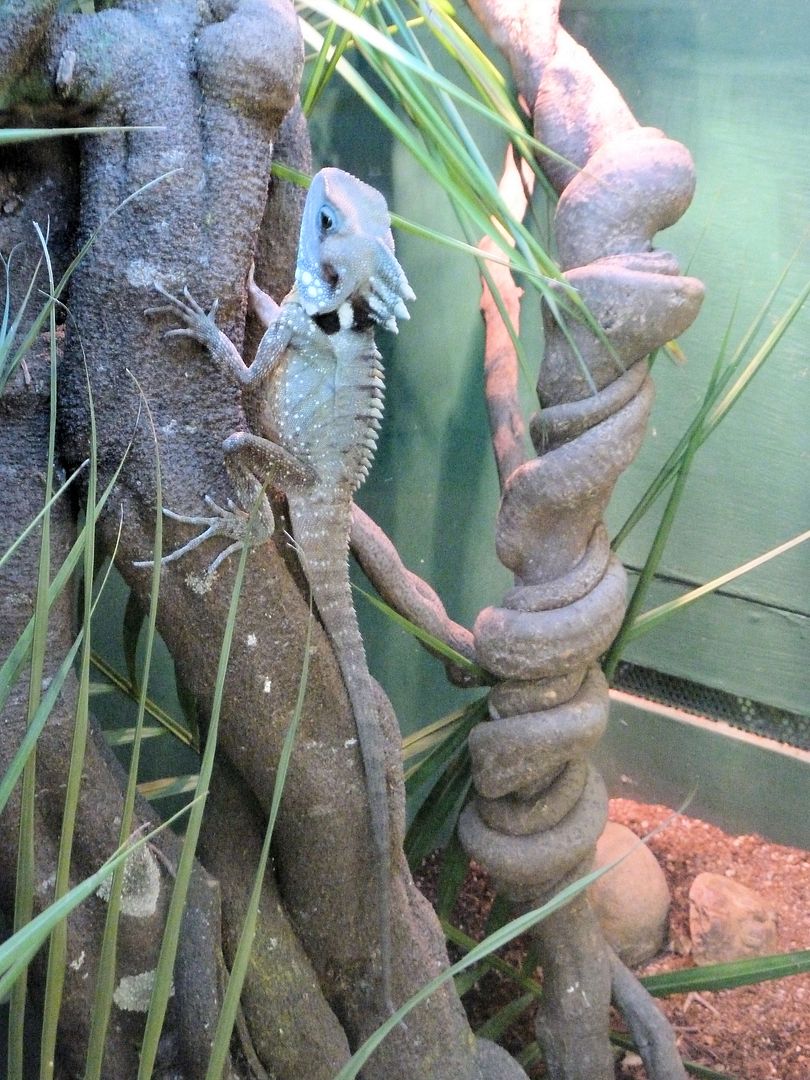 Impressive tree:
On the way back to Brisbane we made a stop at
Mount Coot-tha
and enjoyed great views of the city: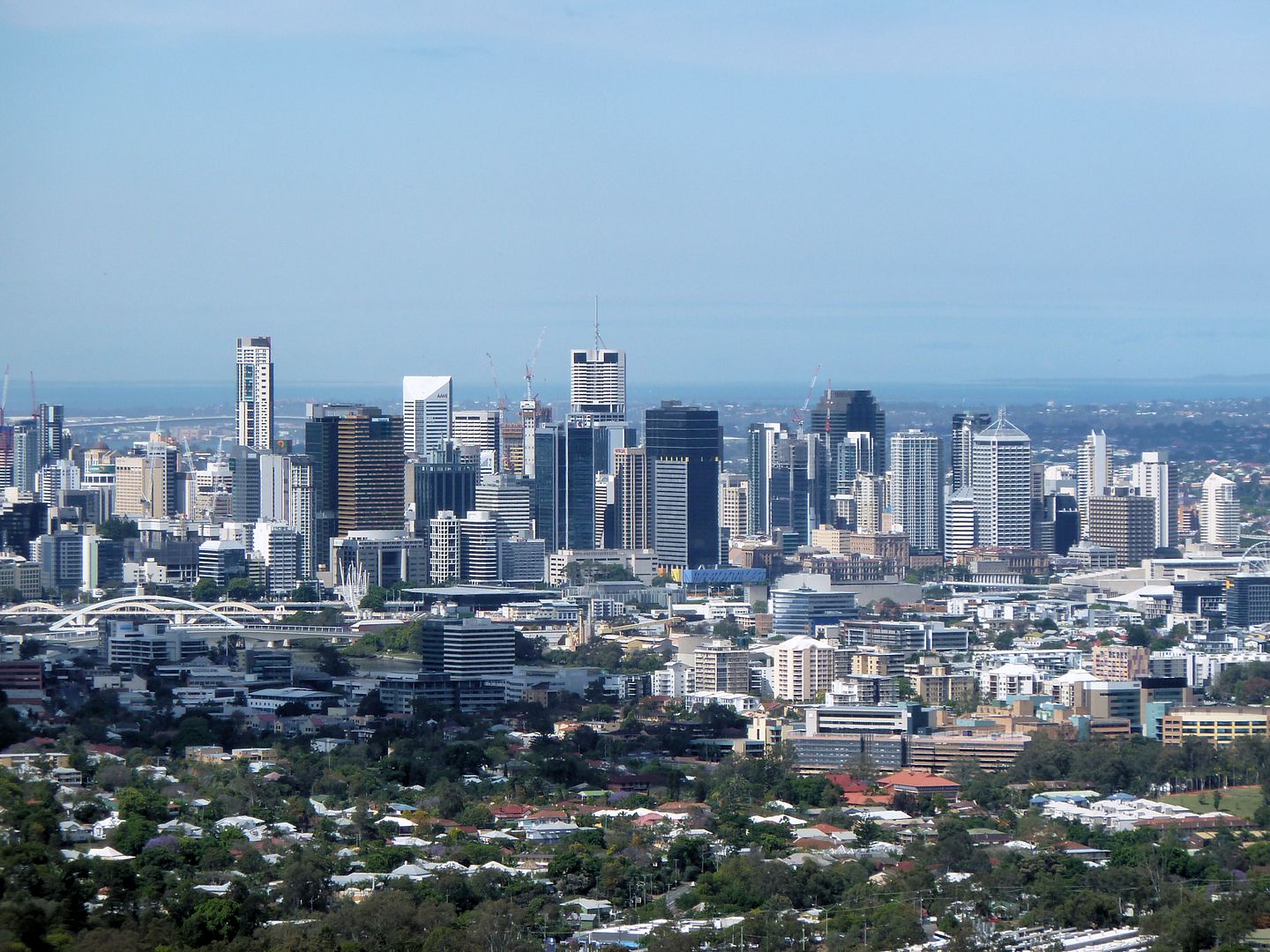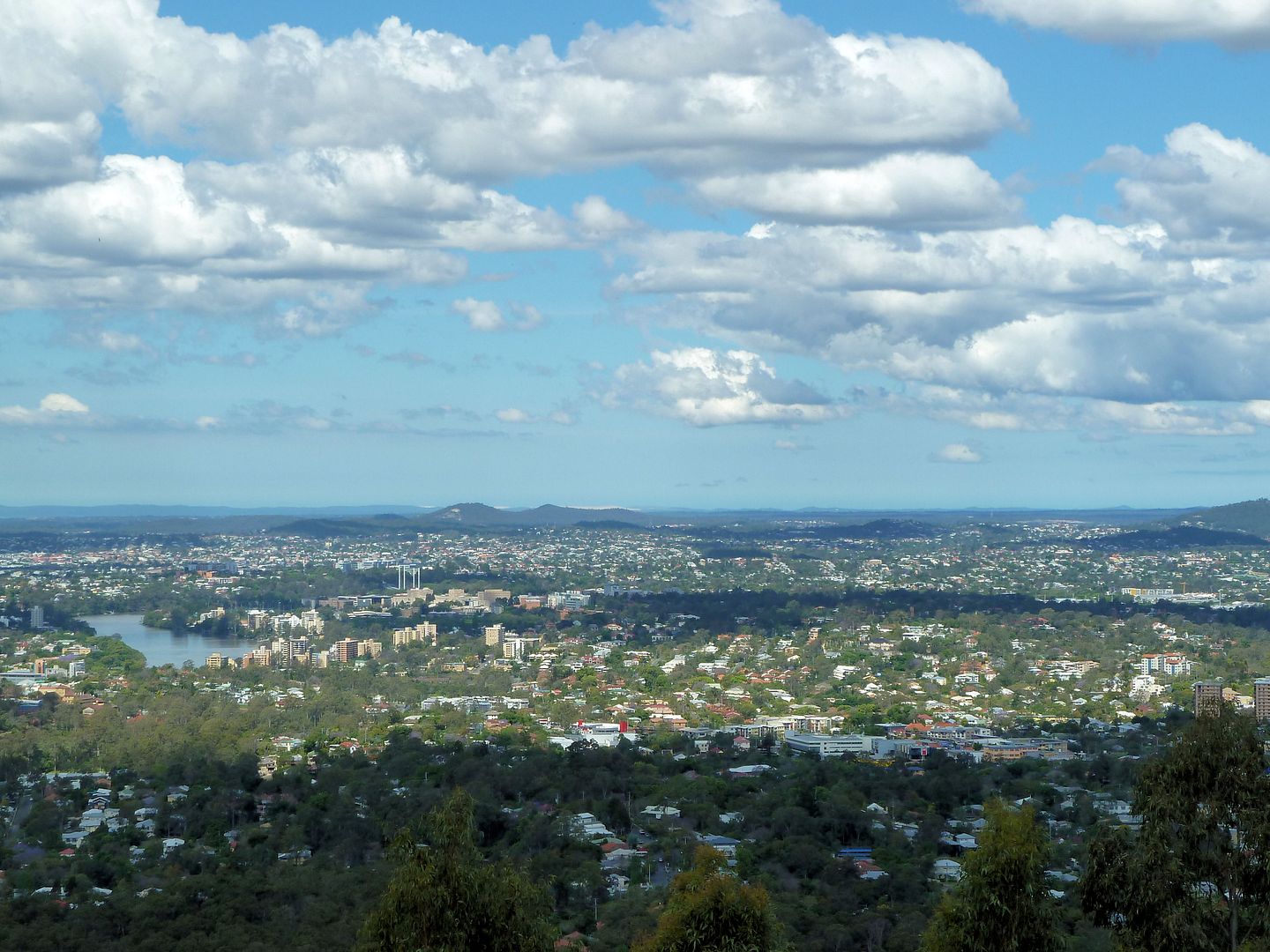 On the next day we headed south to the famous
Gold Coast
. First of all, we made a short stop at Coolangatta Airport (OOL) where I got three new registrations (Airnorth Regional E170, Jetstar A320, Virgin Blue 737-800). We even saw a Jetstar A330-200 departing to Tokyo from the distance. Btw - the runway straddles five suburbs of twin cities across the state border of Queensland and New South Wales. During summer these states are in two different time zones. Quite odd!
Then we visited
Point Danger
, a headland indicating the border between New South Wales and Queensland. You can find a lighthouse there...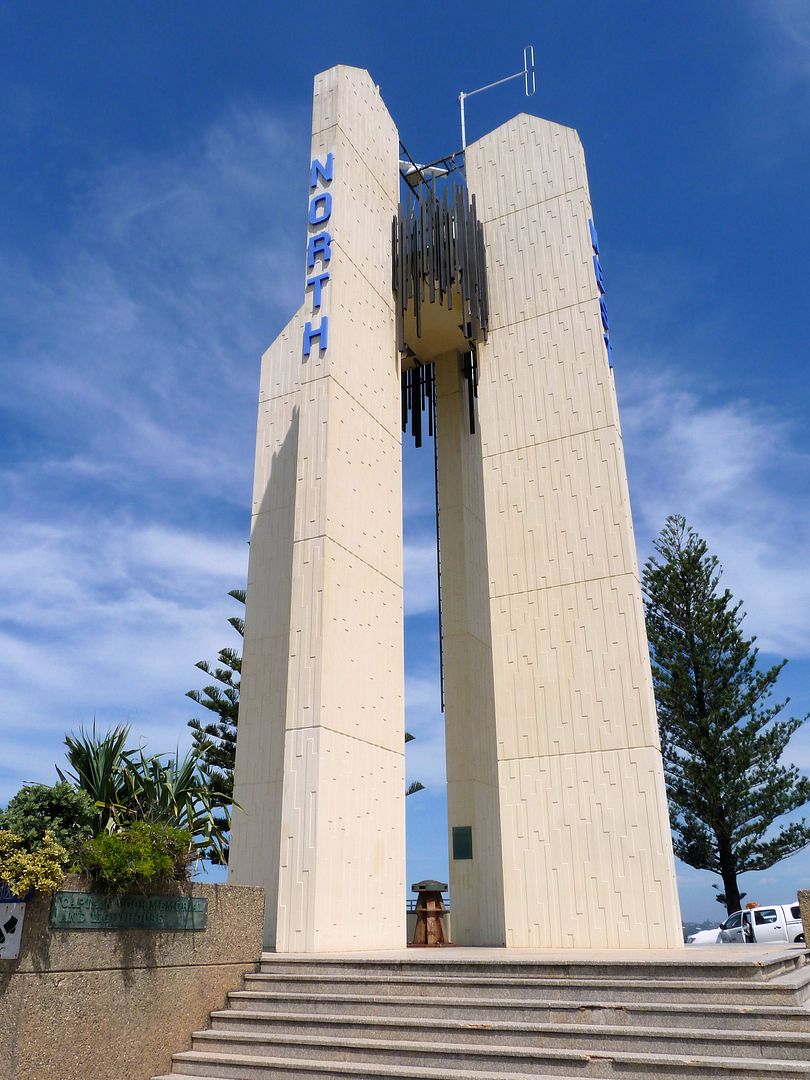 ...as well as a Captain Cook memorial:
Beautiful scenery: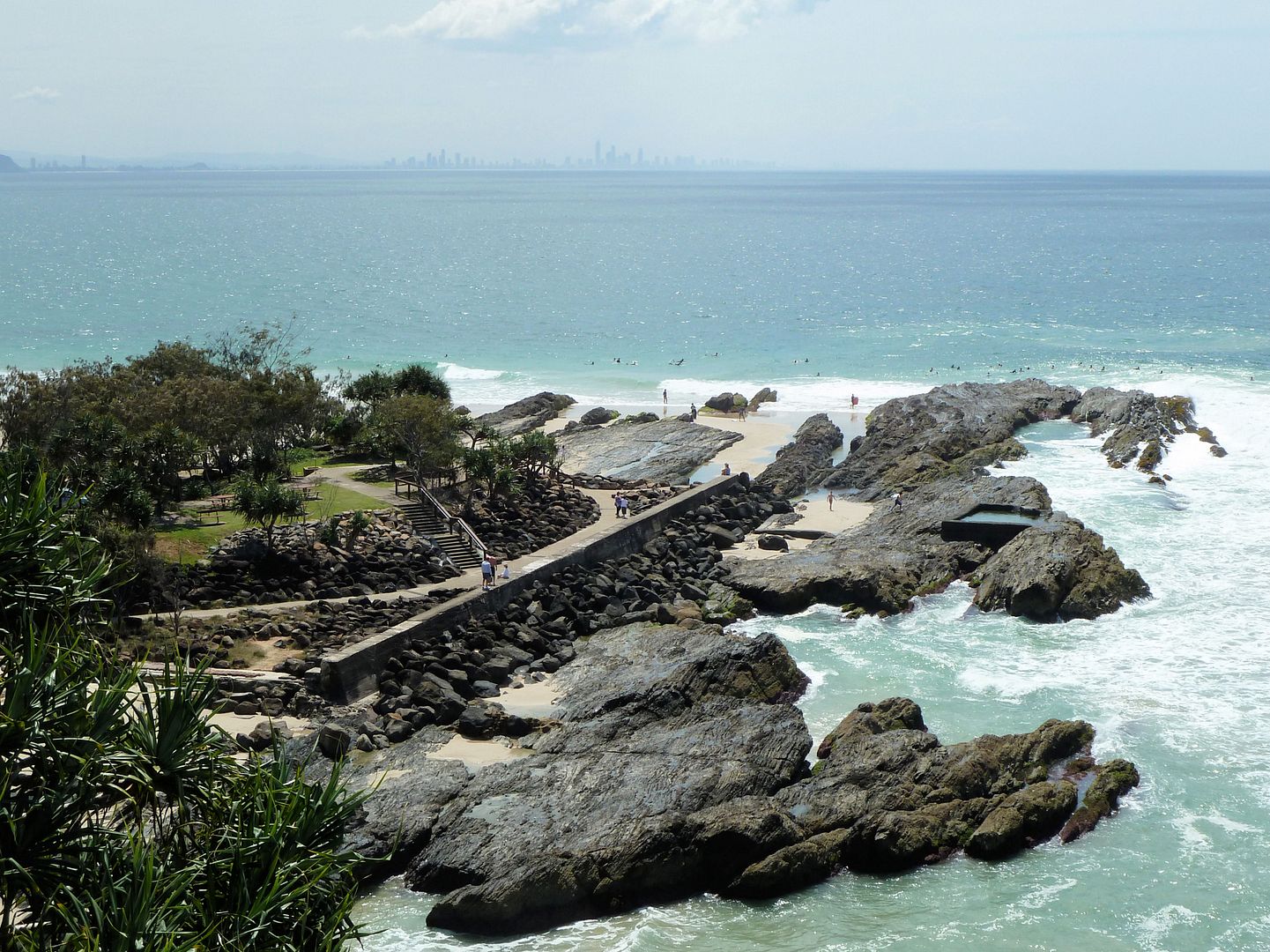 We went to a fabulous beach for a while and also walked a few steps through shallow water. In the background you can see the skyline of Surfers Paradise:
Dark rain clouds soon gathered over the area and we decided to return to Brisbane: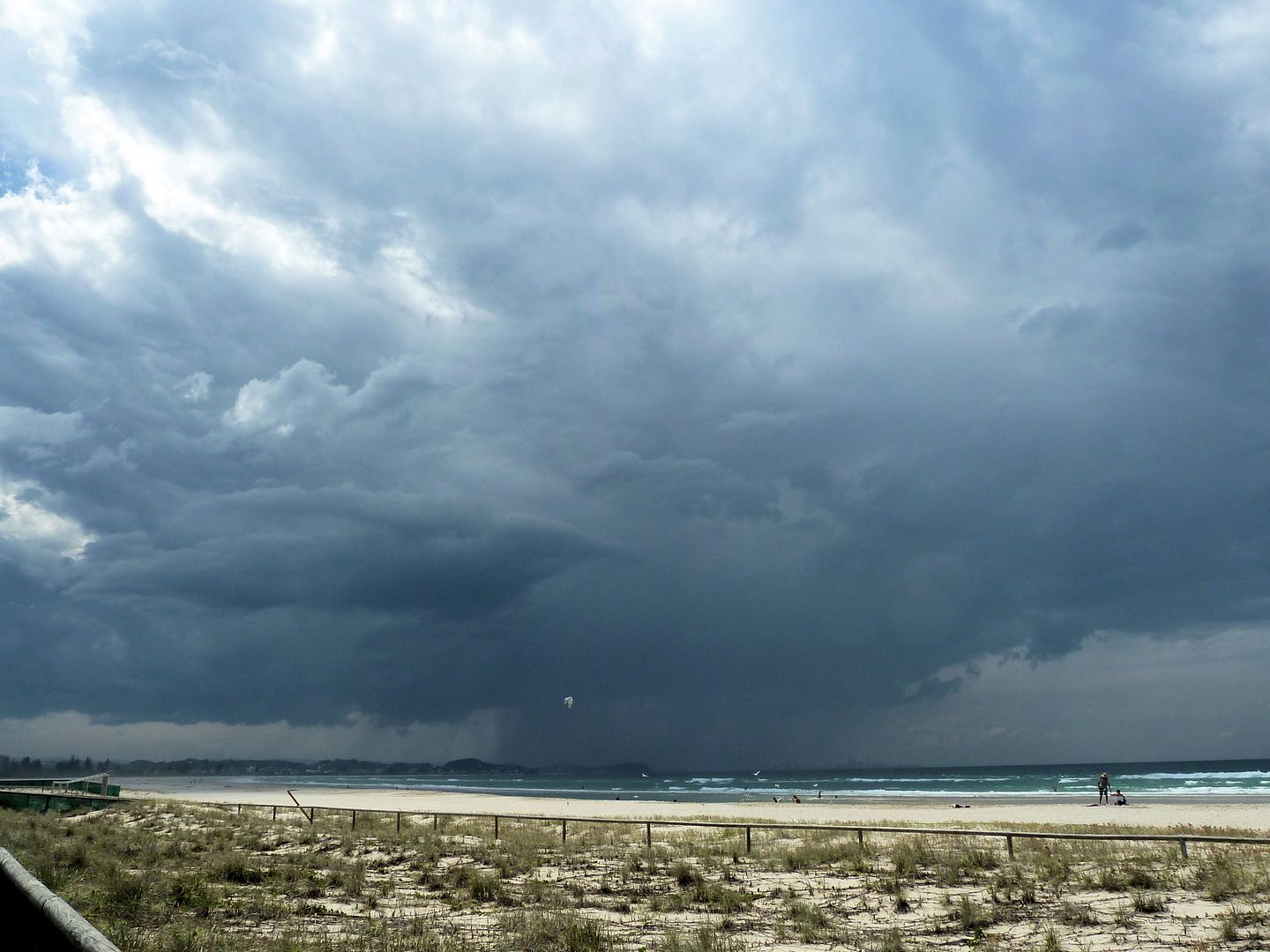 Friday, 8 October 2010
Brisbane (BNE) - Melbourne (MEL)
Tiger Airways Australia TT5205
Scheduled times: 14:20-17:40
Actual times: 14:30-17:50
Flight duration: 01:59 (hrs)
Distance: 857 miles
Economy Class, seat 8A

Airbus A320-232
VH-VNO (MSN 4053)
First delivered to Tiger Airways as 9V-TAL in 10/2009
1st flight on VH-VNO
35th A320-200 flight
36th A320 flight
62nd A32X flight
102nd airline
View Large
View Medium


Photo © George Canciani
Former appearance as 9V-TAL:
My friend had to drop me off early at Brisbane Airport on departure day and I killed the time by reading and spotting. There is a spot next to the domestic terminal parking lot where you can see a part of the apron and a part of the main runway, but it started raining and I had to return after a while. Unfortunately, you cannot see anything from the public area in the terminal.
According to the flight information display screens, the flight would operate on time. I had been concerned about that Tiger service after hearing and reading numerous reports about delays, schedule adjustments and cancellations. On the evening before, I hadn't found the flight on Melbourne Airport's website and not even on Tiger's website. However, it turned out to be sold out - that's why I hadn't found it by using the booking engine. Btw - it hadn't been possible to check in online because I was planning to travel with checked luggage (already paid for at the time of booking). Just recently, Tiger has changed its check-in options and introduced an AUD 20 fee for all those who travel with hand luggage only and don't check in online.
Anyway, I went to the counters early enough and was among the first passengers to check in after the agents had shown up two hours prior to departure. In addition to the luggage fee of some AUD 35, I hadn't wanted to pay an extra fee of AUD 10 for a pre-reserved seat. I had hoped to get a window seat in the back at check-in, but the agent could only offer me 8A. That was quite disappointing, but of course I accepted it. Now I was finally able to go airside and could continue spotting there: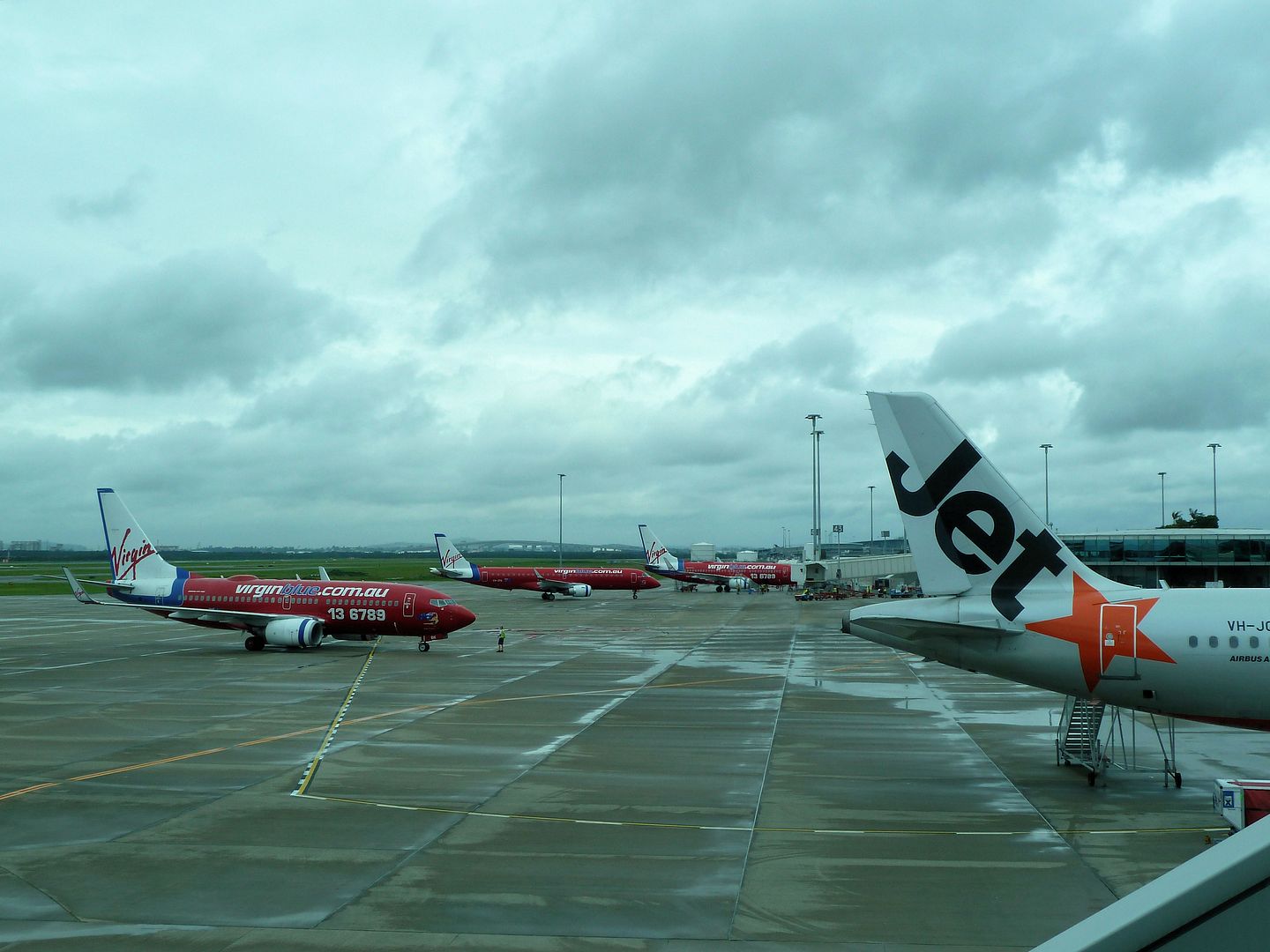 Qantas 737-800 VH-VXB
Yananyi Dreaming
: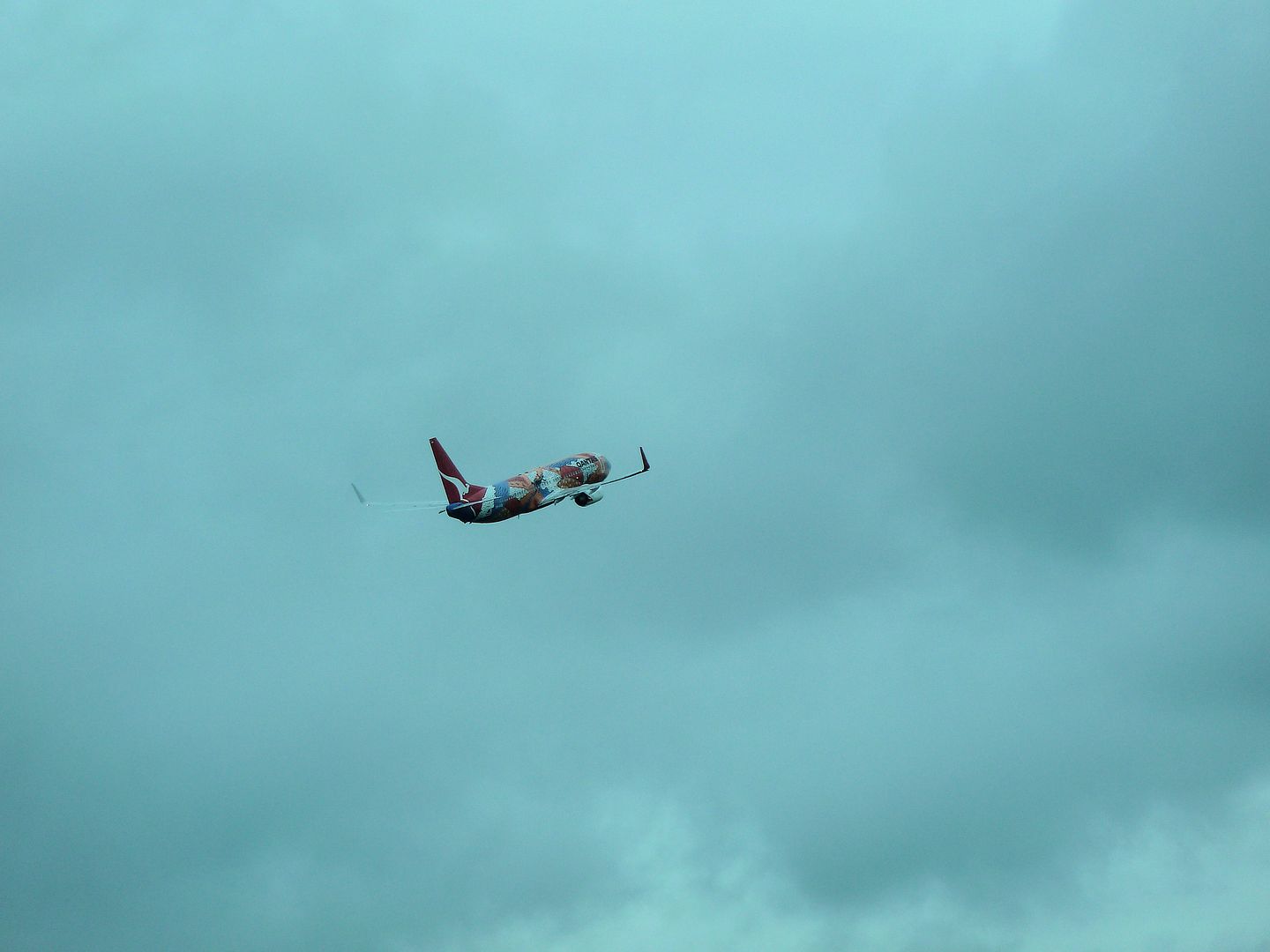 Time passed quickly and in the end I had logged a total of 28 new registrations. My Tiger A320 from Melbourne,
VH-VNO
to be exact, arrived on time and boarding commenced shortly.
VH-VNO
was the newest plane in the fleet back in October. Originally it had been delivered to Tiger Airways (Singapore) as 9V-TAL in October 2009. Tiger Airways Australia currently operates a fleet of 10 A320-200s.
The airline doesn't use jet bridges at Brisbane - probably the one and only jet-equipped carrier doing so - and all passengers had to go for a walk. No doubts, it turned out to be my longest boarding walk ever. I don't know whether that was caused by ongoing construction work. When will the aircraft finally show up?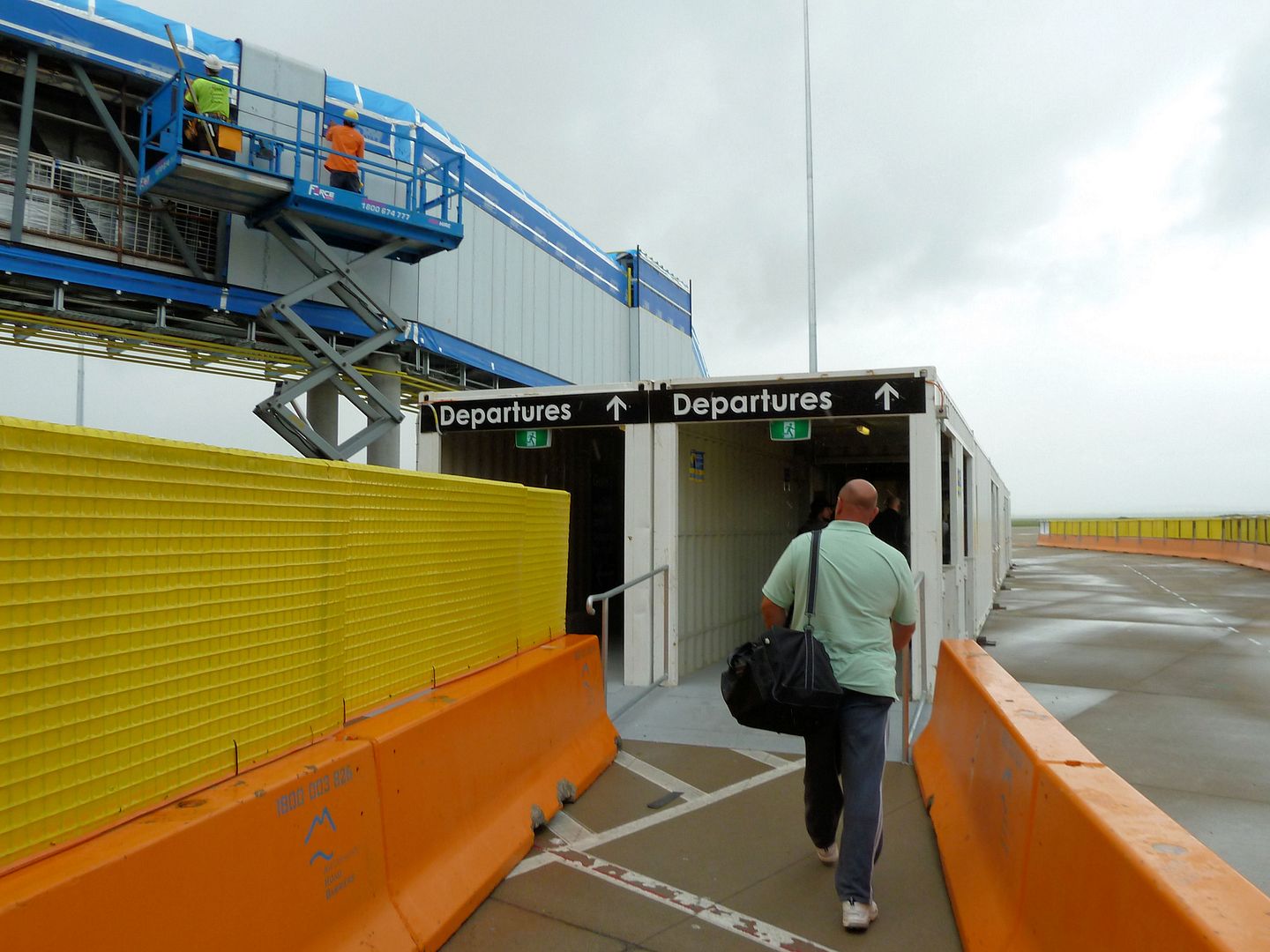 Ah, there it is!
Virgin Blue 737-700 VH-VBY taxiing out for departure: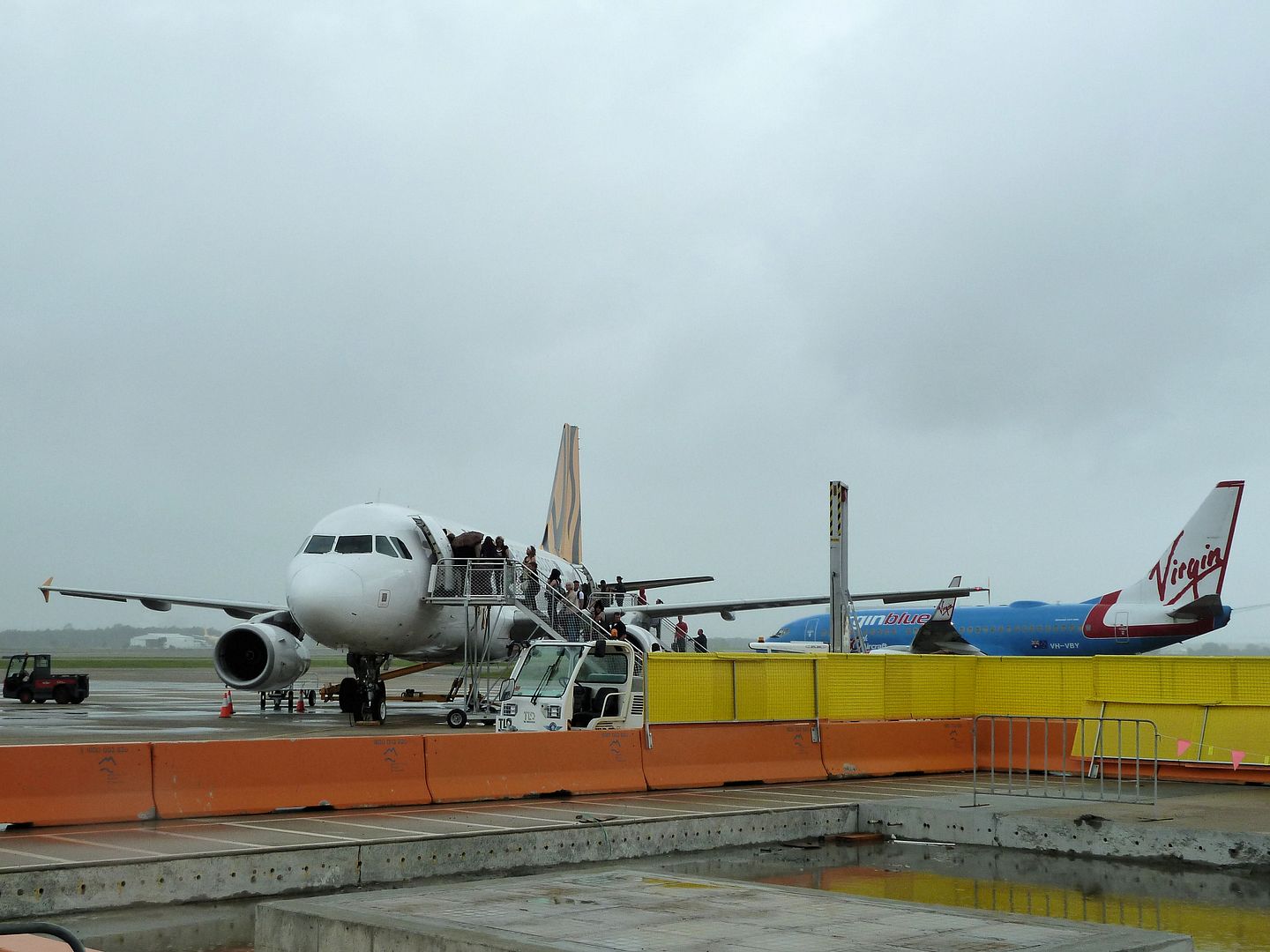 Unfortunately, the rain had become stronger and the queues outside the aircraft doors had become longer. Numerous passengers - including myself - stopped walking and kept standing under a roofed area for a while. Some people had taken umbrellas - lucky folks!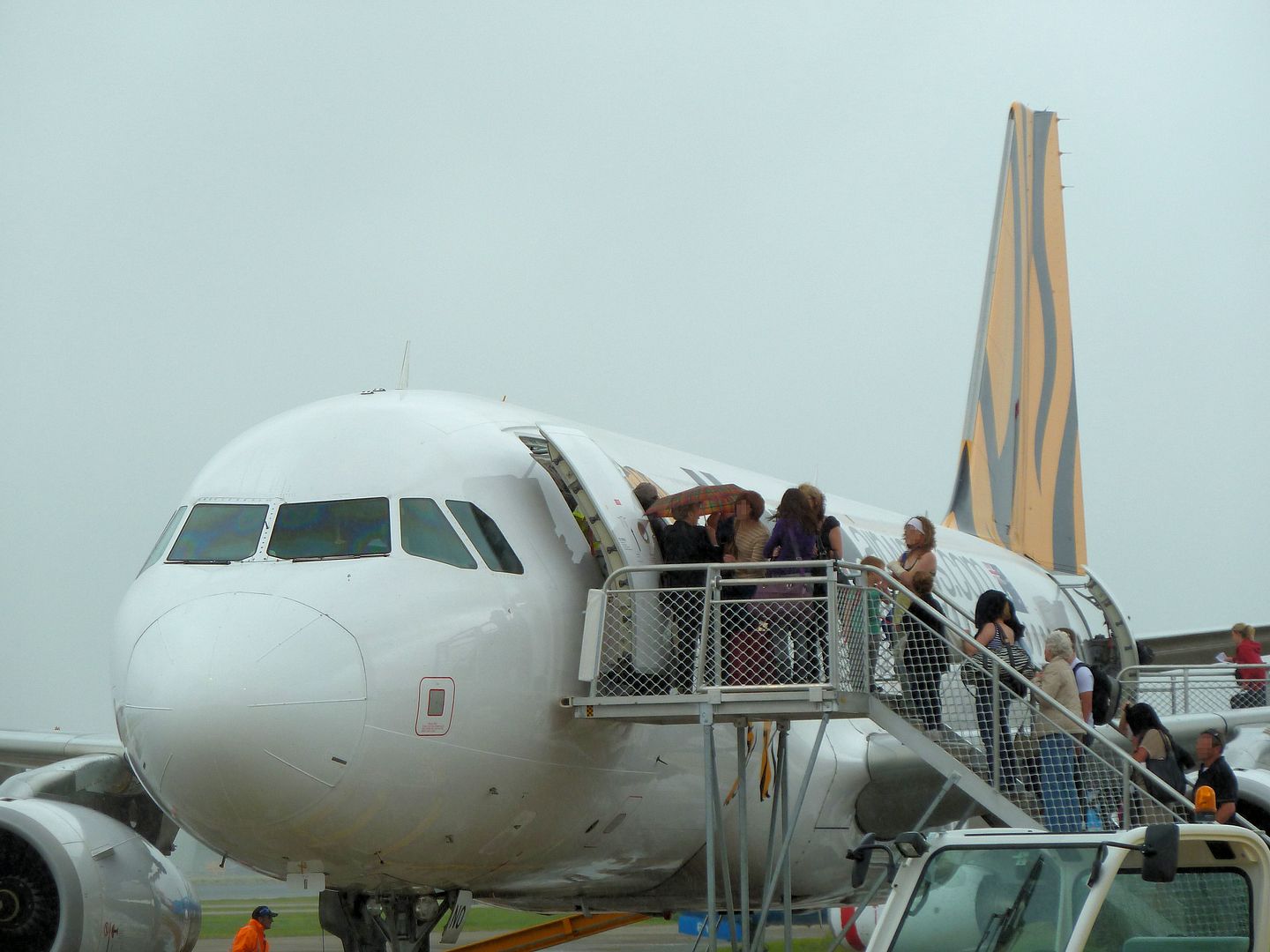 Anyway, I had to move forward at some point and got a bit wet until I could enter the cabin. Despite the rain, I took a picture of the Tiger...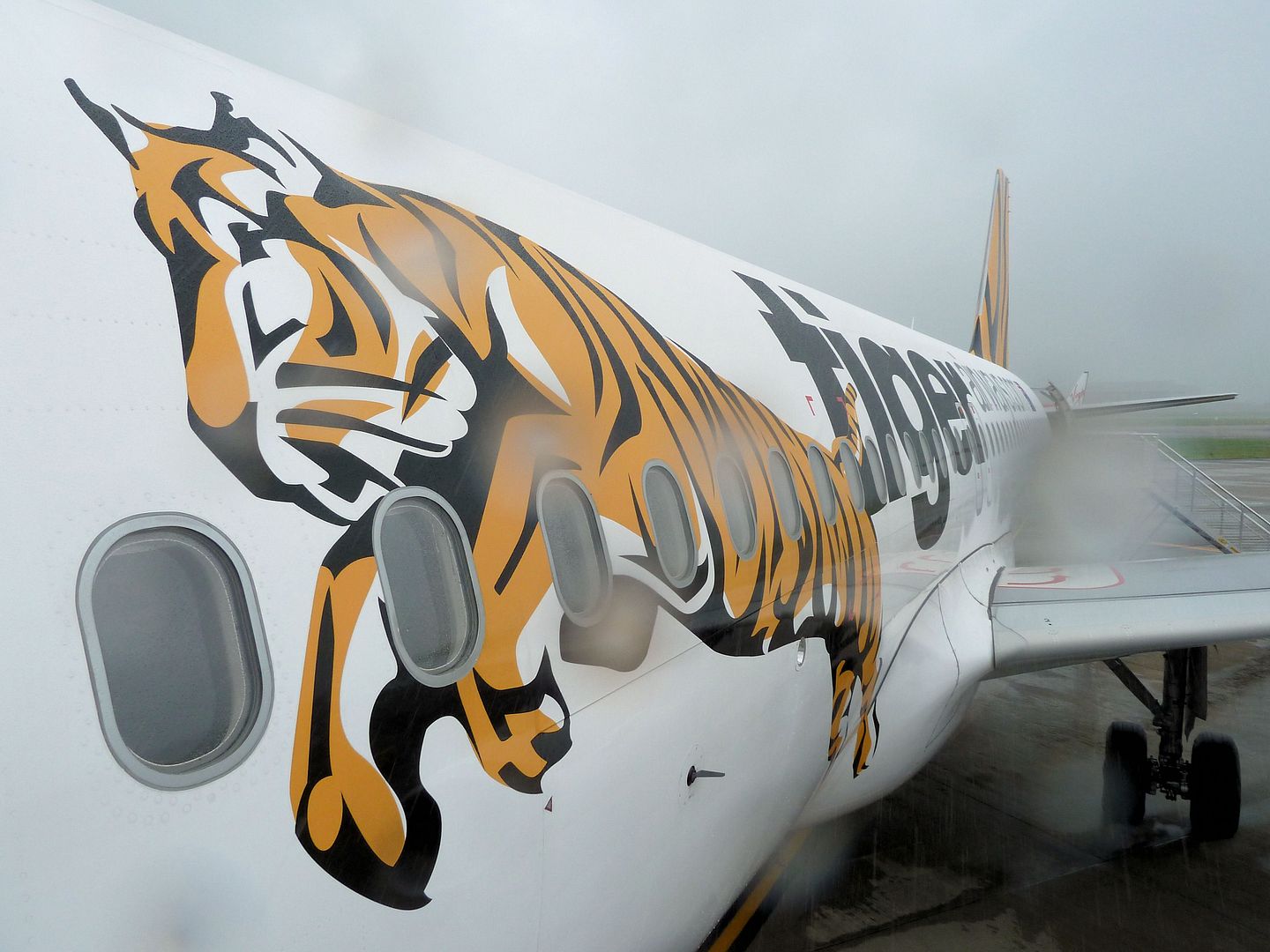 ...but only a few moments later I realized that it had been a bad idea: the camera lens cover didn't close any more.
I was very concerned about that and carefully wiped away all the tiny drops. Luckily, after a few minutes, the lens cover closed again.
Two flight attendants in the 30s were present at the main door - the female was friendly, but the male neither smiled nor greeted - he didn't seem to be happy about another load of "cattle"...
The basic fabric seats weren't comfortable...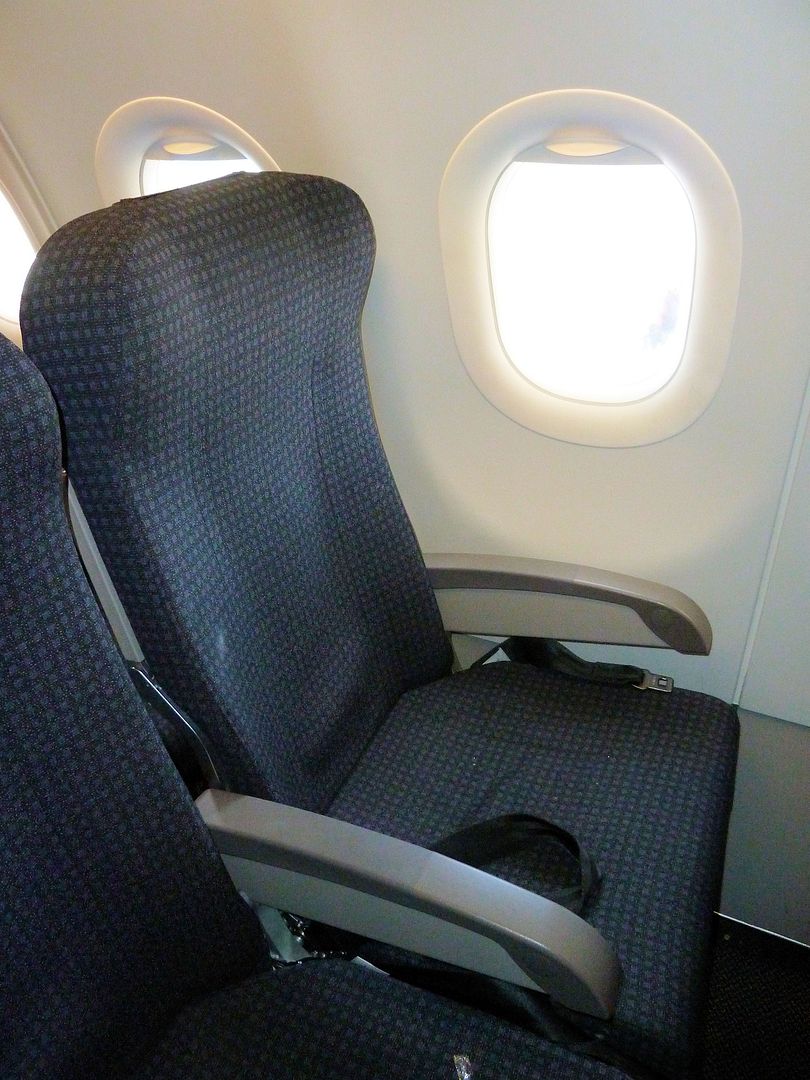 ...and legroom wasn't enjoyable either:
The rain had become much worse and I was glad about being seated now. It was high time to leave Brisbane!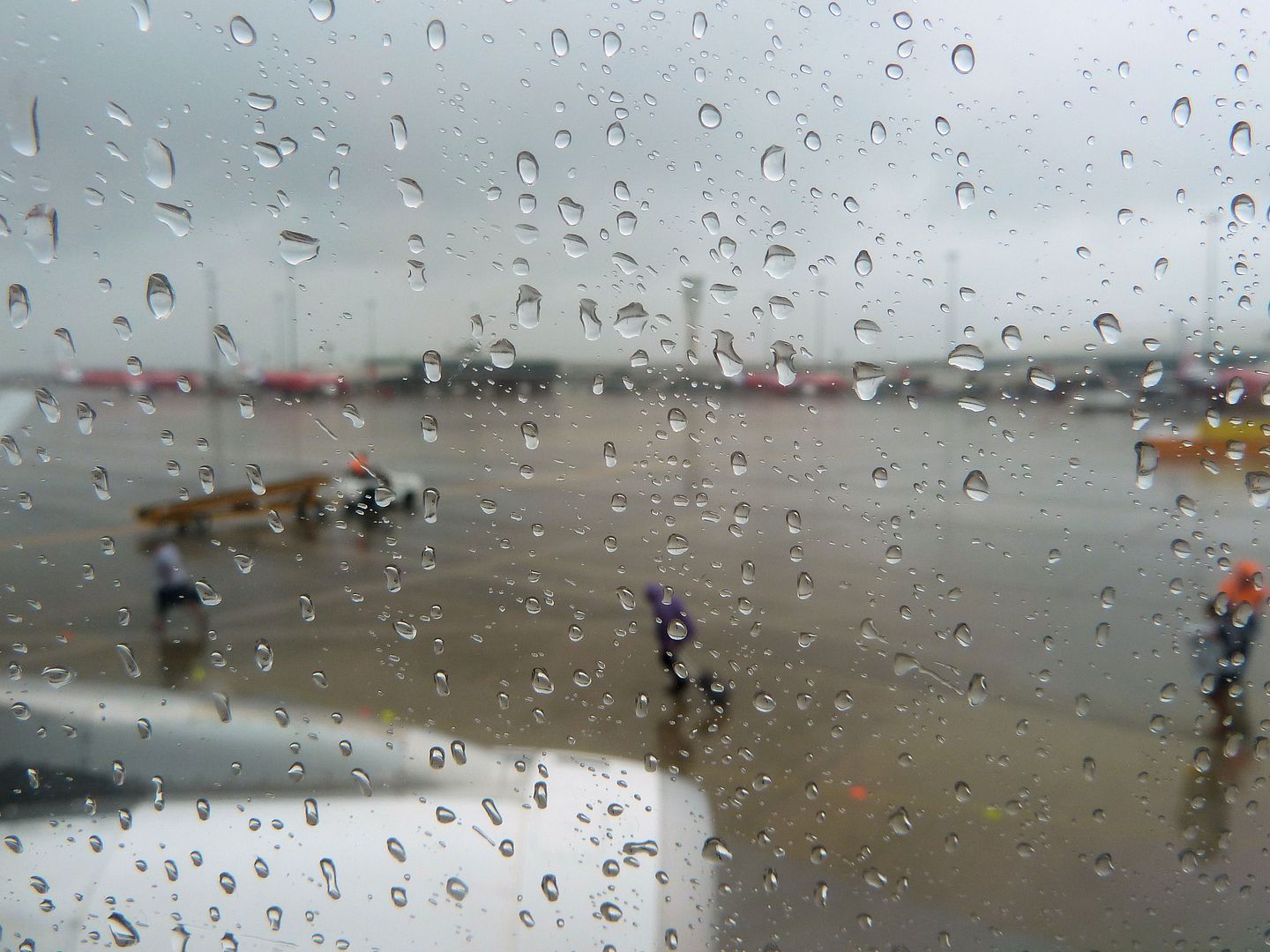 After all seats had been taken, we left the parking position slightly late and taxied to runway 19. This is a nice spotting spot close to the runway: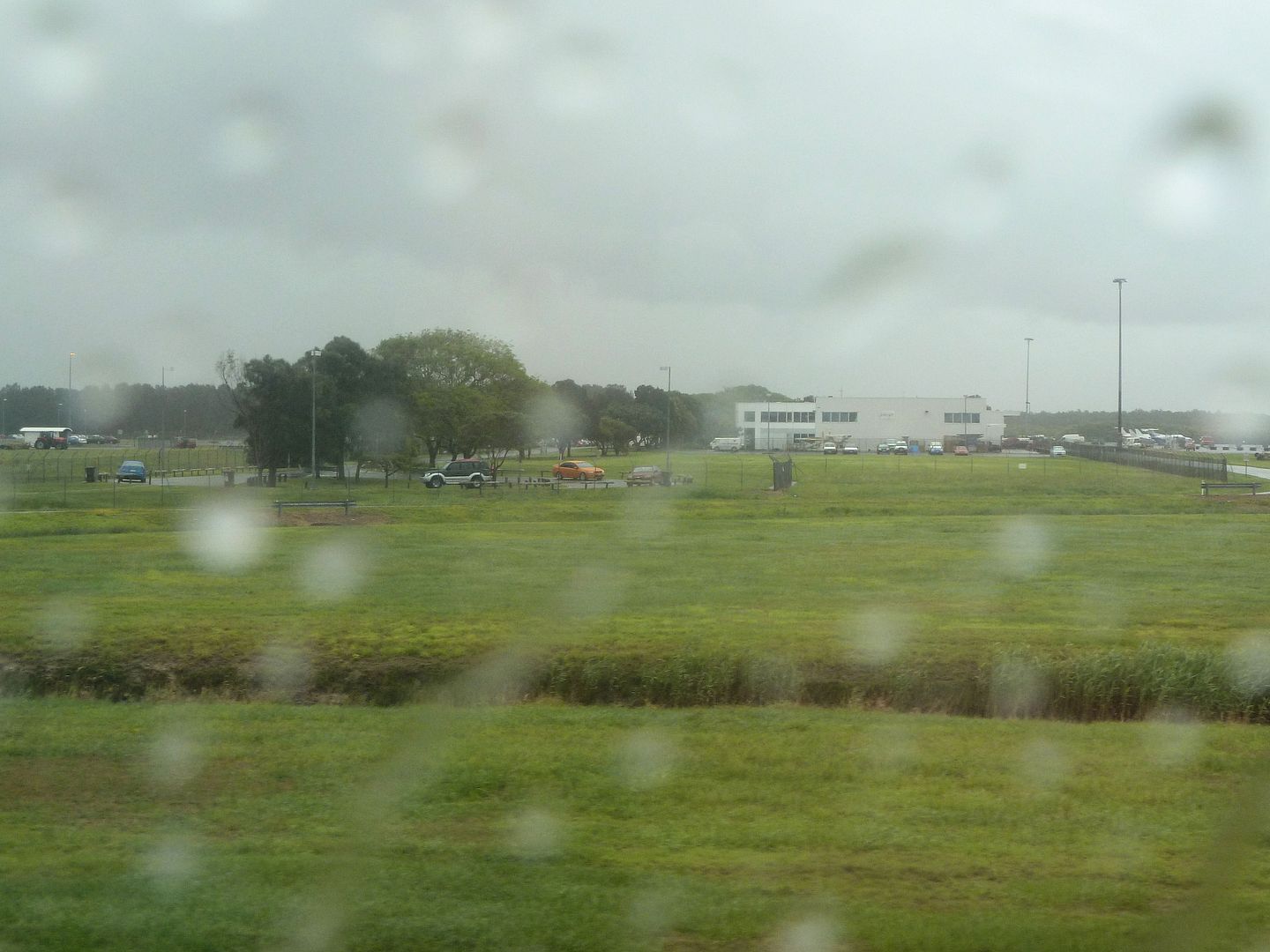 We took off into grey skies...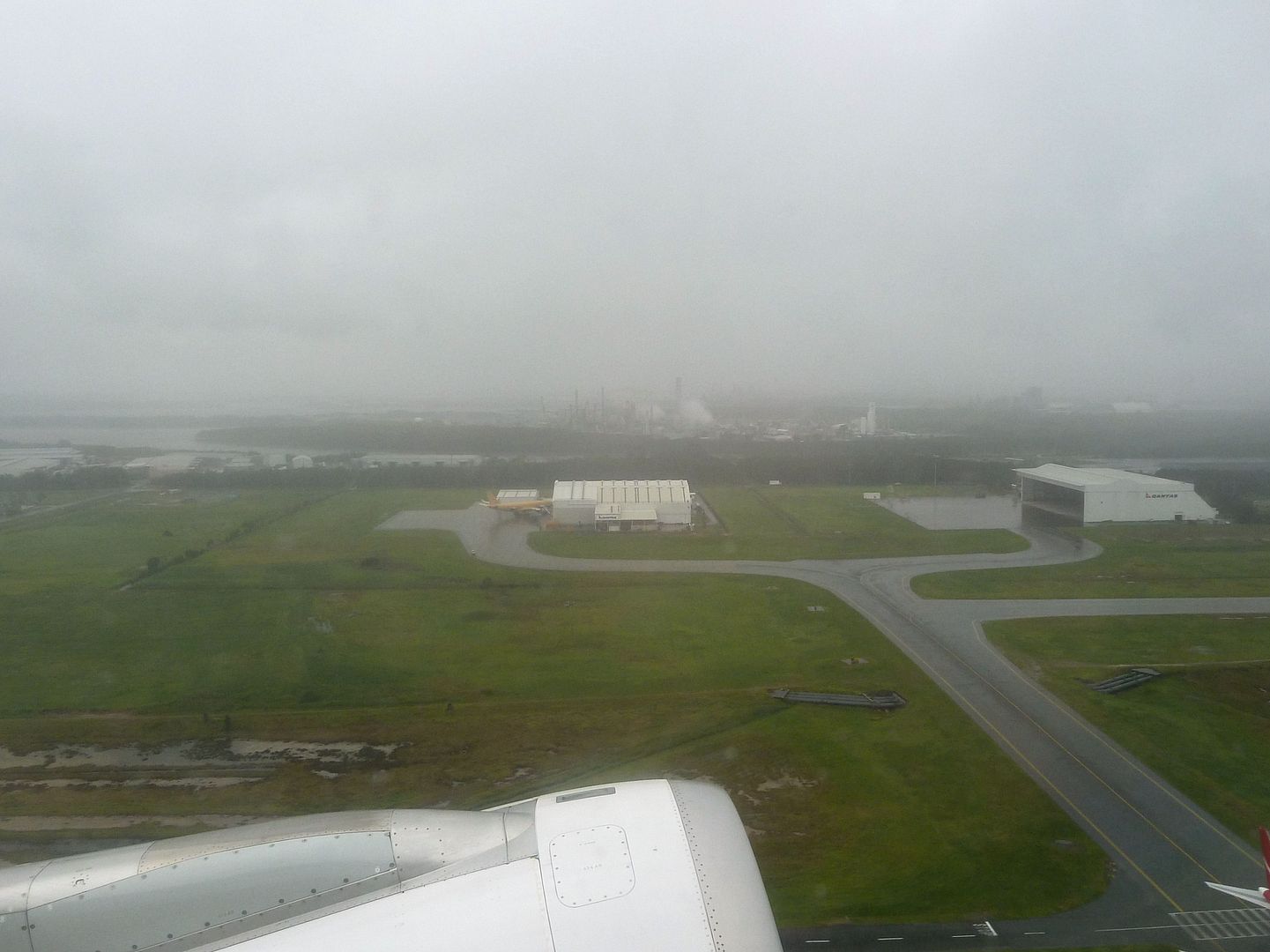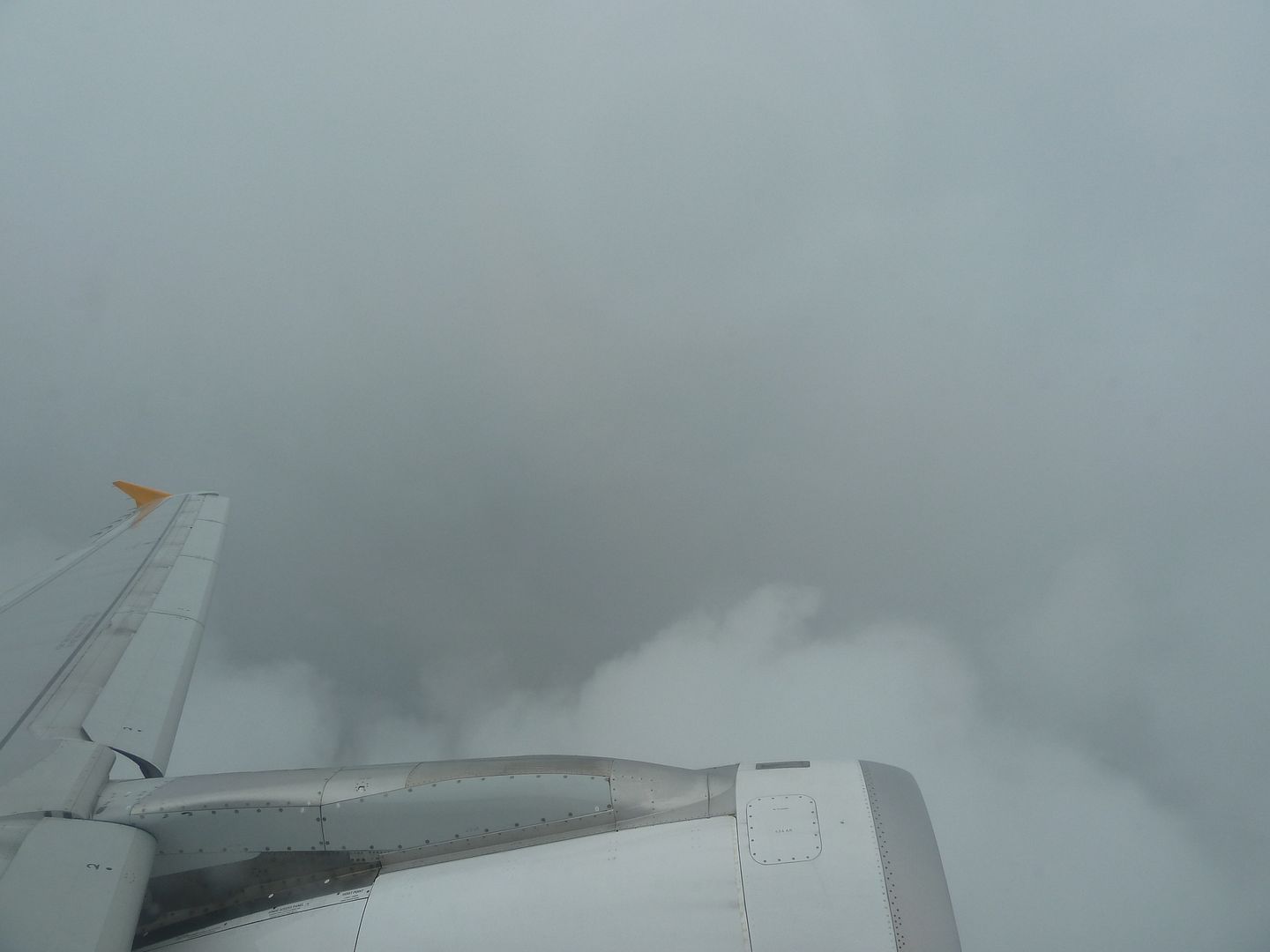 ...and cruised over a thick layer of clouds for a while:
Then it was time to have a look at the buy-on-board options. I was quite disappointed about the lack of sandwiches or any decent hot items:
I also found it very odd that the advertised combos cost the same as combined single items:
Finally, I decided to try a "gourmet muffin" (AUD 4) and a Schweppes lemonade (AUD 3):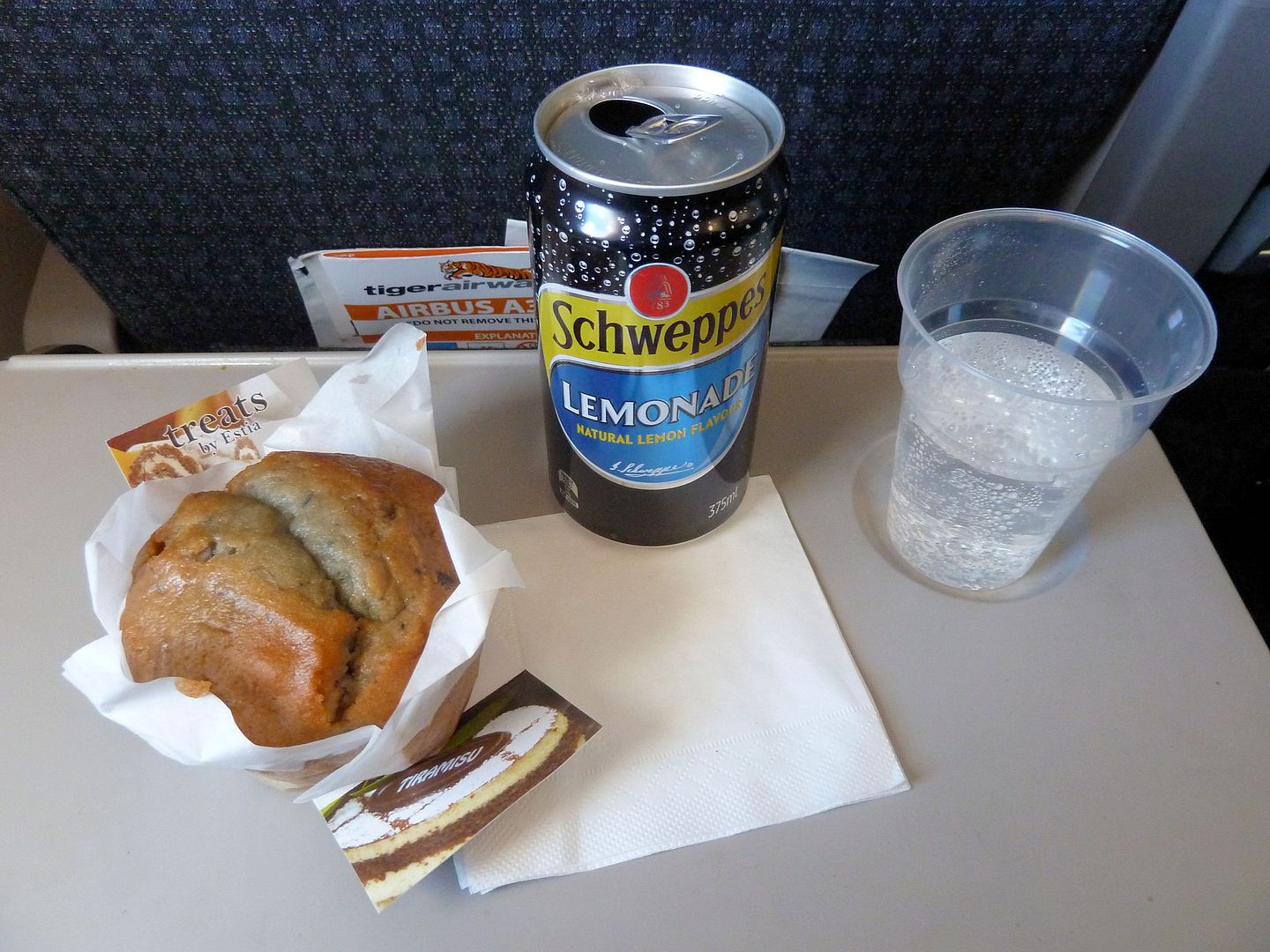 The muffin (tiramisu flavor) wasn't bad, but I'm still wondering why it is called "gourmet muffin"...
My female seat neighbor ordered a so-called "handi-rice", but it didn't smell like red curry, but garlic...
More than an hour after departure it looked much better down there: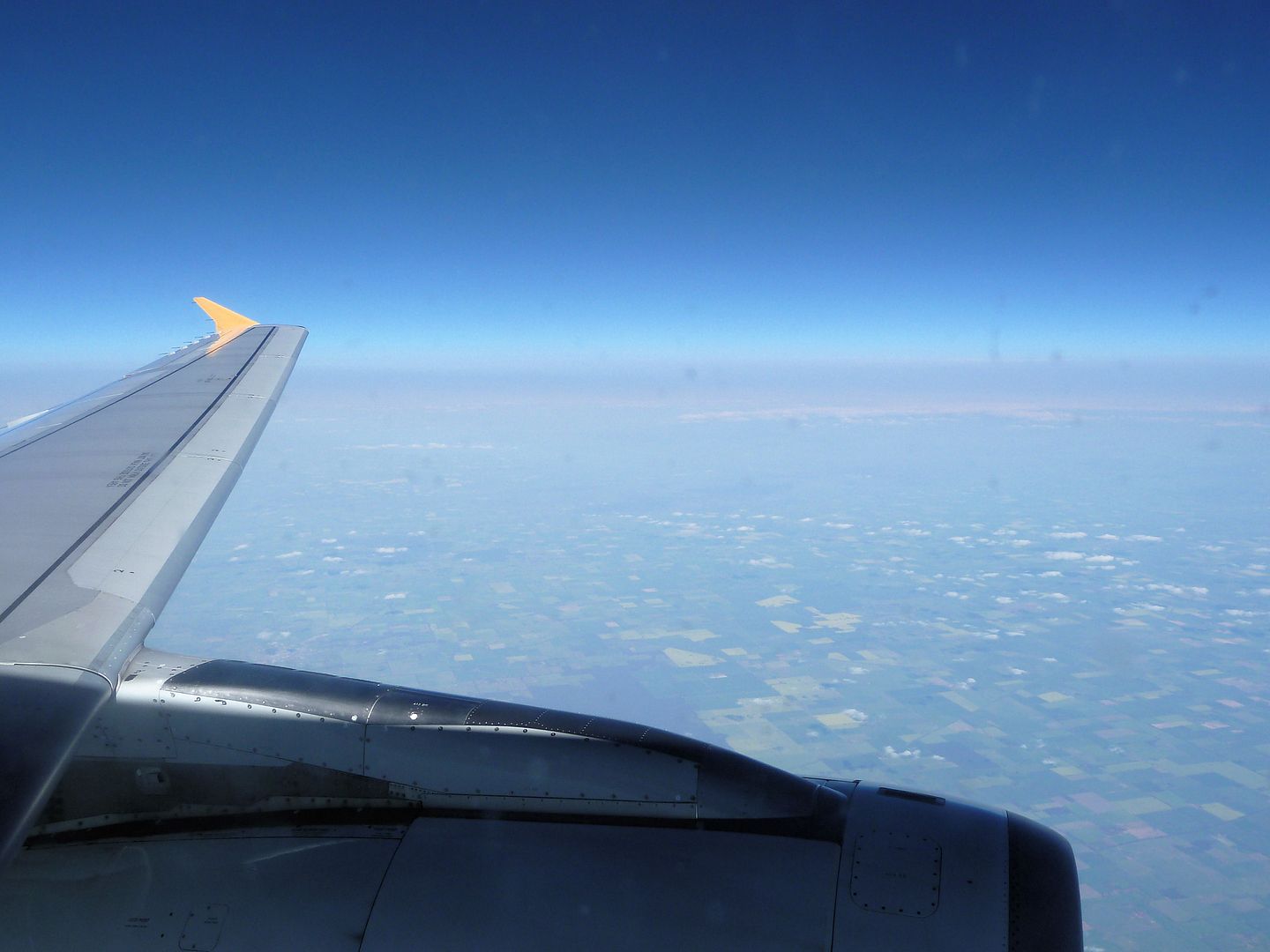 Later in the flight, I walked all the way to the rear section in order to take a cabin picture: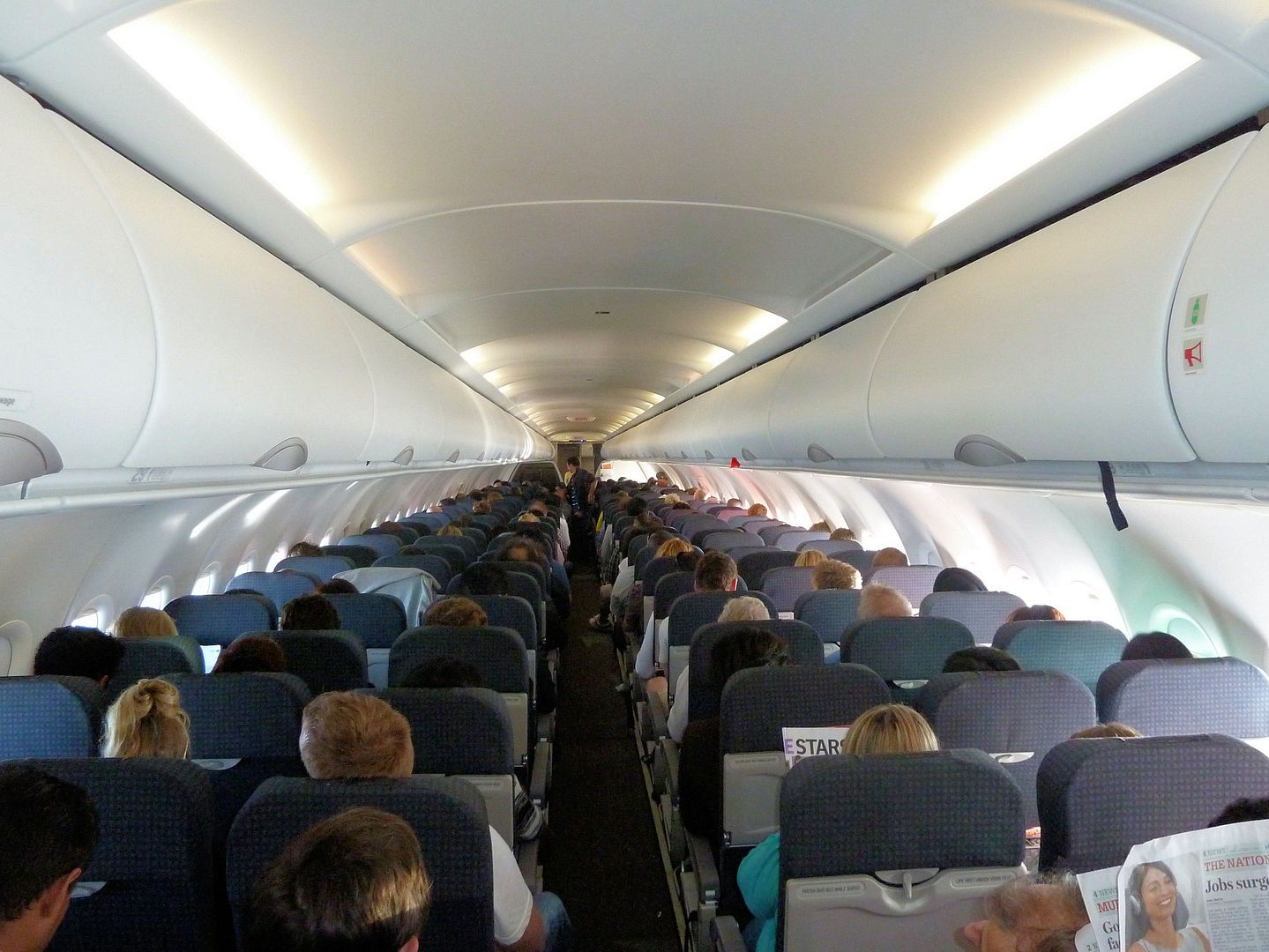 On approach to Melbourne Tullamarine: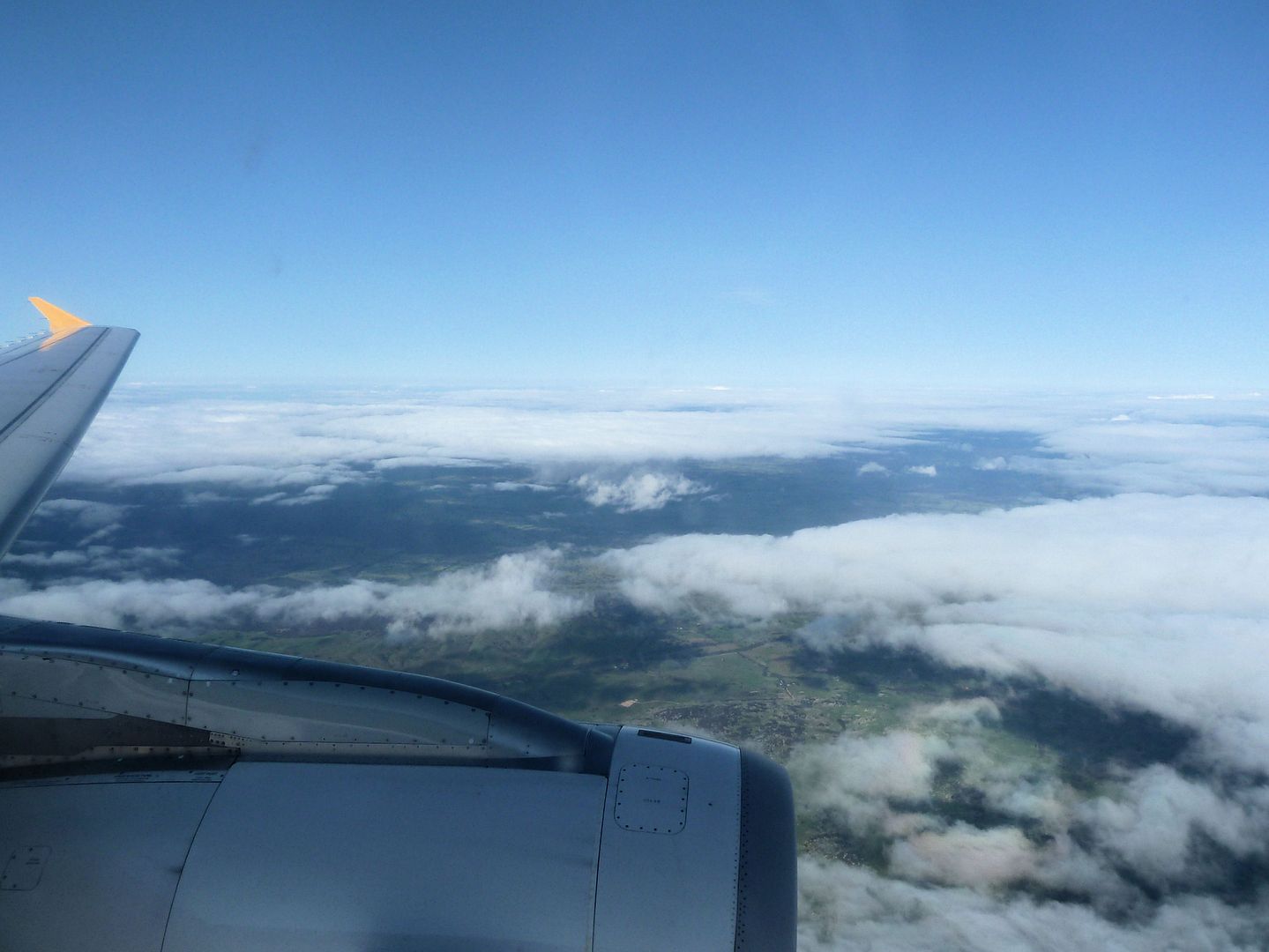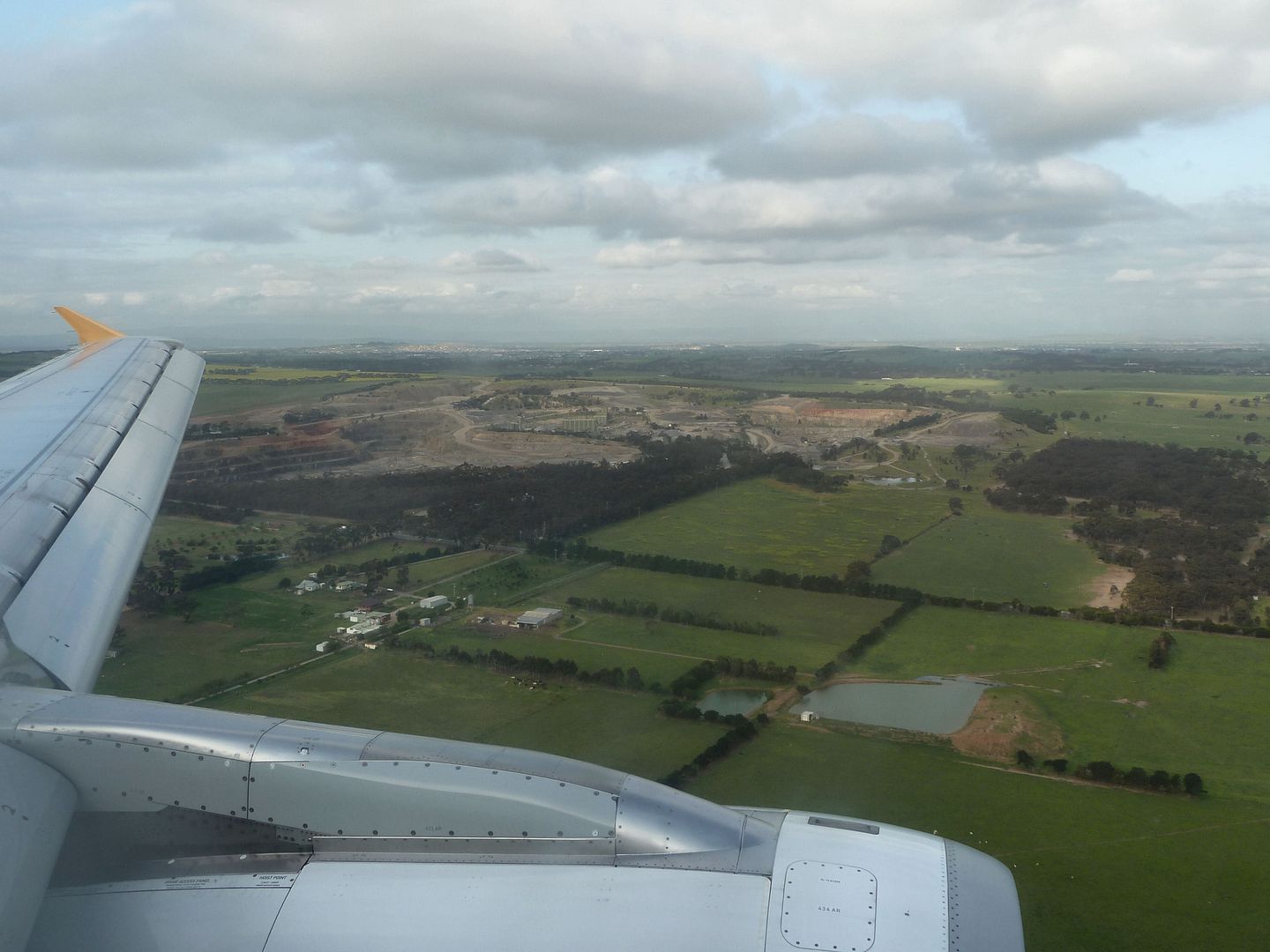 We touched down after a flying time of 1 hour and 59 minutes. Emirates Boeing 777 tail next to two Air New Zealand A320s:
VH-VNO
taxied to a remote parking area, but I didn't mind this time because the weather was quite nice.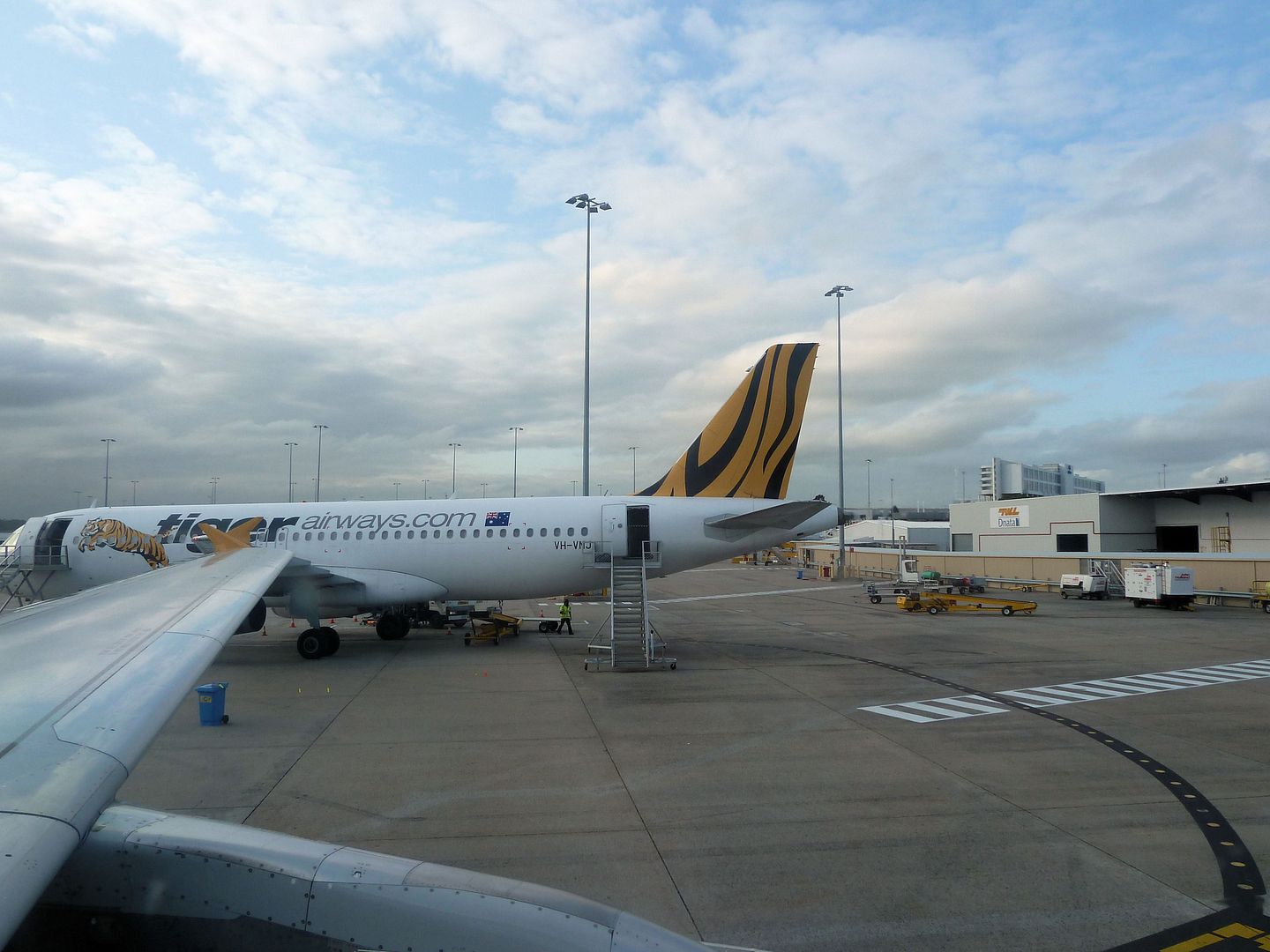 I took the chance to take some more pictures in the late afternoon sun. When a ground staff member asked me to stop, I just nodded and put the camera away - I had already taken all desired pictures: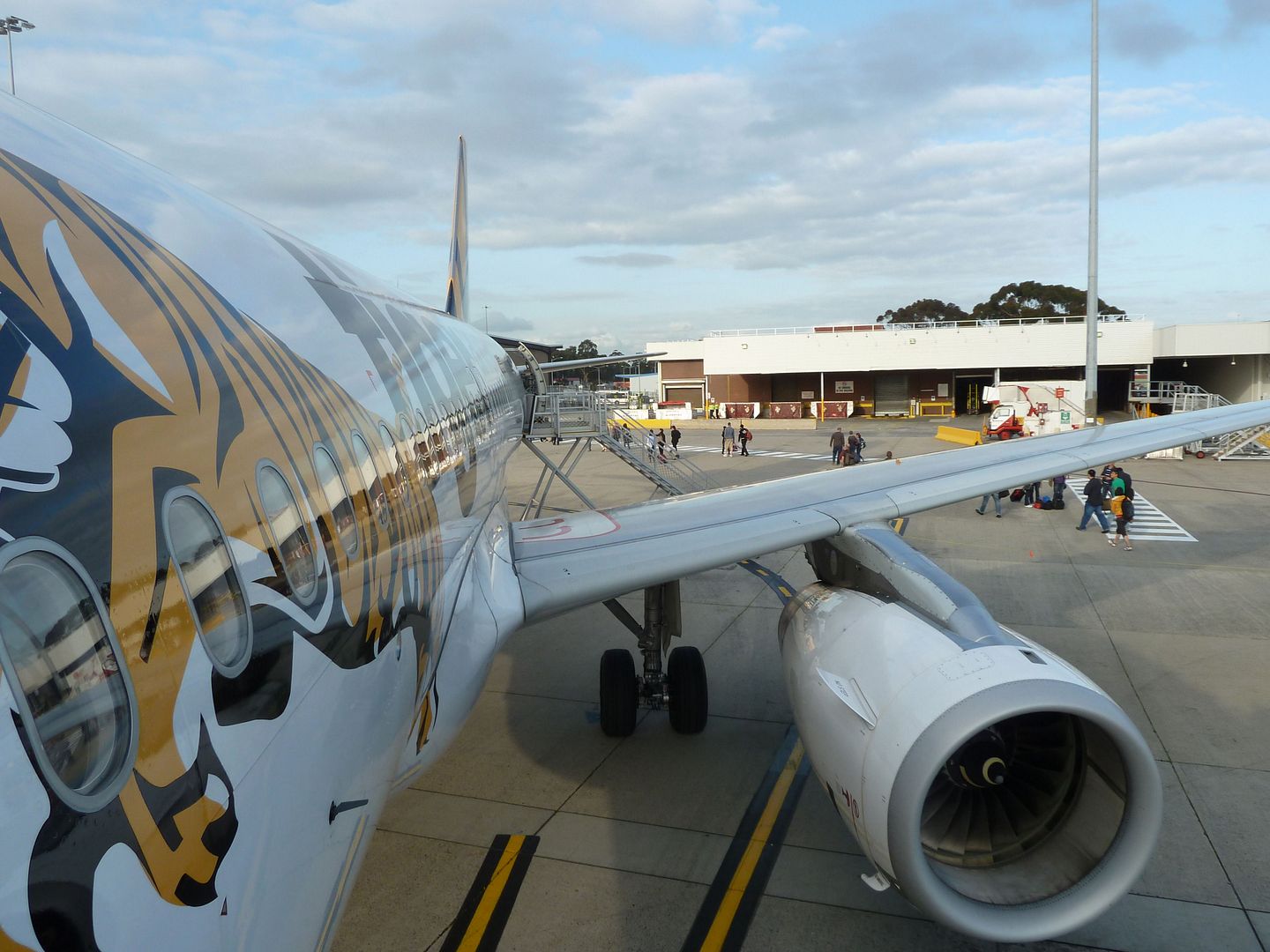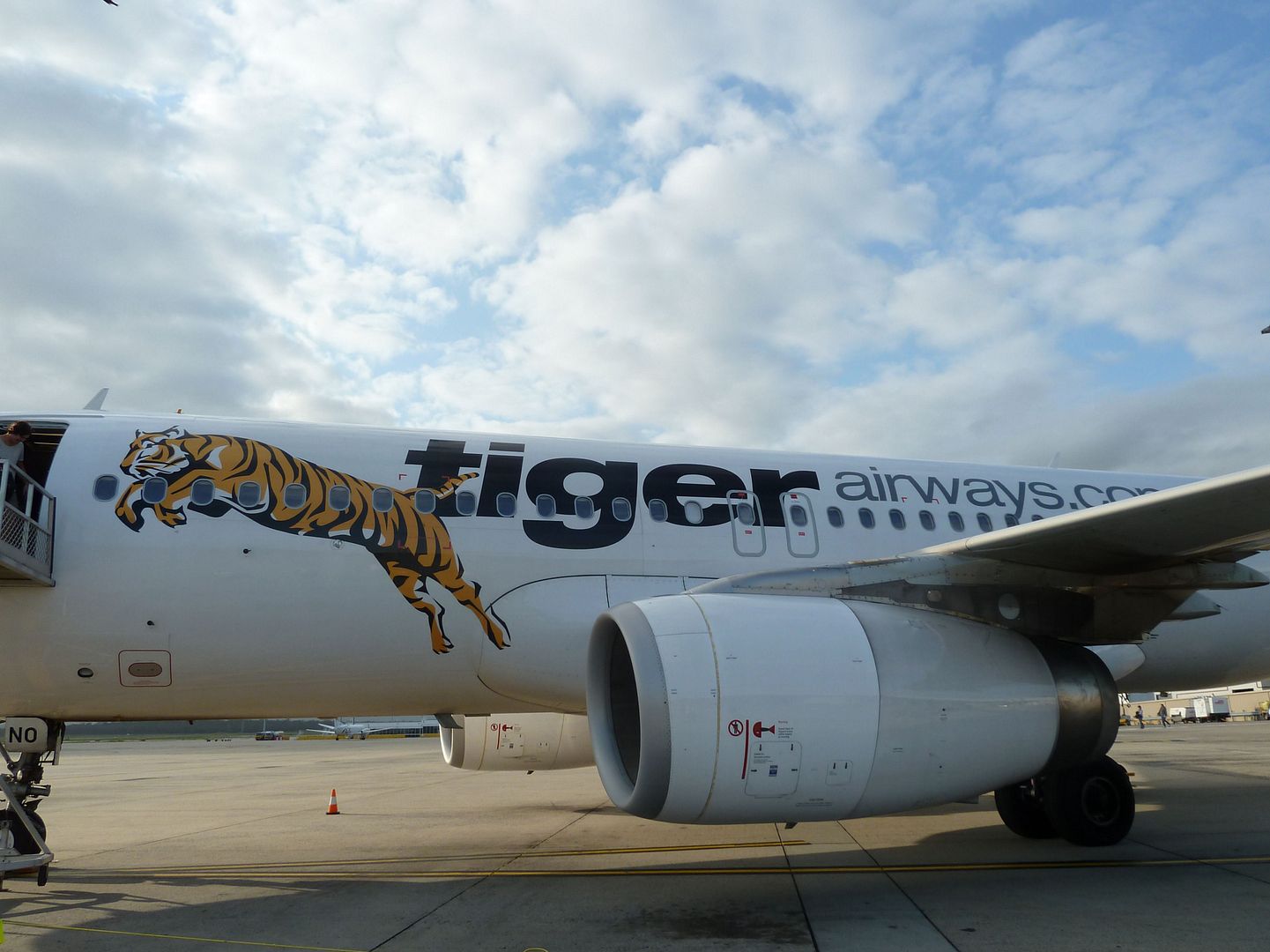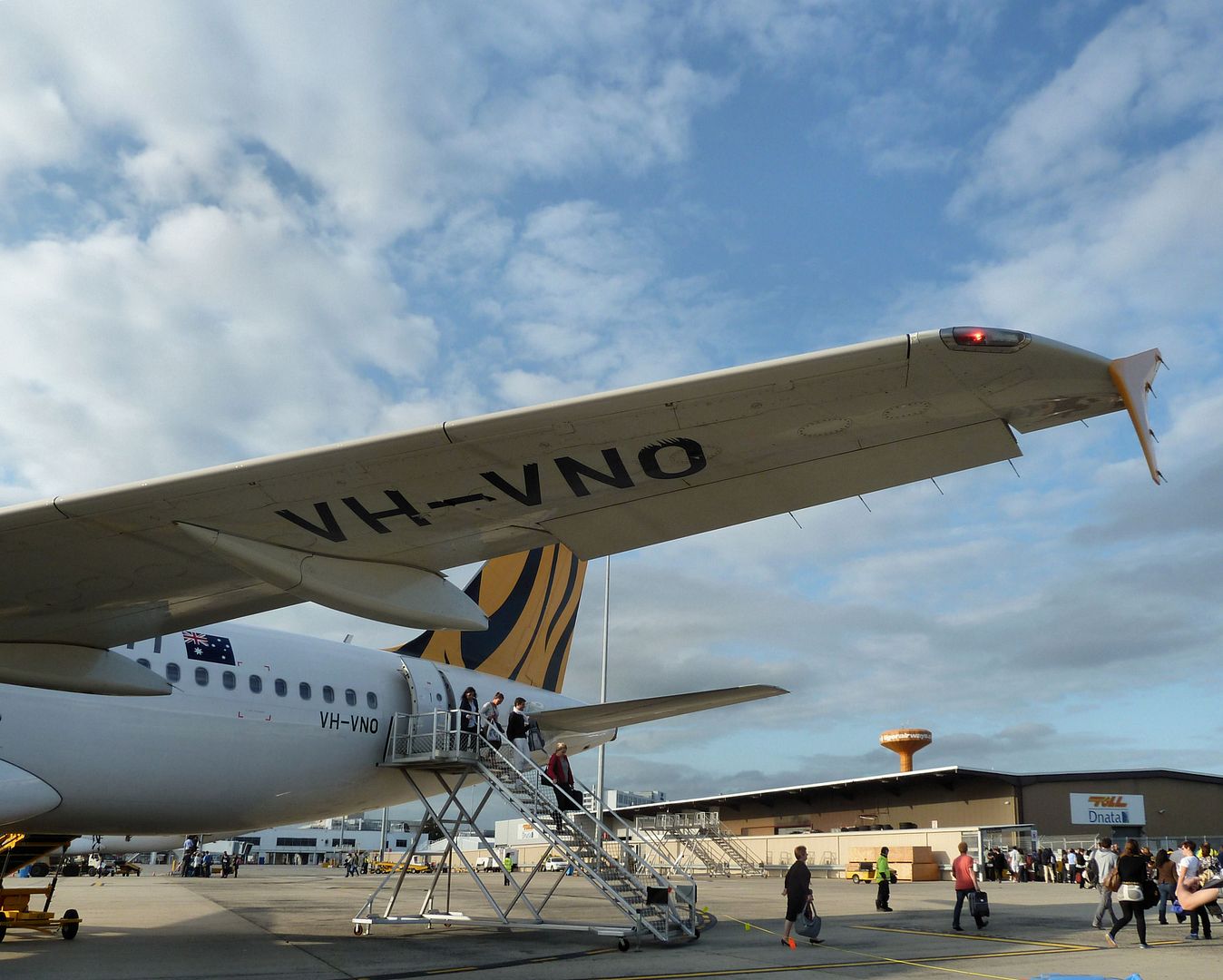 Two minutes later I stepped into a rather interesting "arrival hall" - or whatever you would call this:
Vending machines, seats, restrooms - that facility left nothing to be desired...
As soon as I had picked up my luggage, I went to the main terminal building and called my hotel. Less than 30 minutes later I arrived at the Best Western Melbourne Airport. It's a rather basic and aged hotel, built in motel style, but it was okay for one night. It was very cold in the room and I even complained about the apparently broken heater, but a staff member showed up and explained that this old-style model was just a bit slow…
Saturday, 9 October 2010
Melbourne (MEL) - Albury (ABX)
REX Regional Express ZL3154
Scheduled times: 09:45-10:35
Actual times: 10:12-10:58
Flight duration: 00:41 (hrs)
Distance: 161 miles
Economy Class, seat 10A

Saab 340B
VH-TRX (s/n 287)
First delivered to Business Express as N360BE in 02/1992
1st flight on VH-TRX
1st Saab 340B flight
1st Saab 340 flight
103rd airline
Former appearances as N360BE:
Early the next morning I took the shuttle back to the airport and went straight to the REX check-in counters. The area was deserted and I didn't have to wait in line. I was glad to see that my suitcase weighed less than 15 kilos which is the airline's limit. An excess baggage fee of AUD 5.50 would have been levied for each additional kilo. I asked for a single seat in the back and gladly accepted 10A. Then I quickly went to my gate and enjoyed the views through large windows. I would get 19 new registrations until departure.
Here's the REX apron:
Tiger A320 and Singapore Airlines Cargo 747-400F in the background: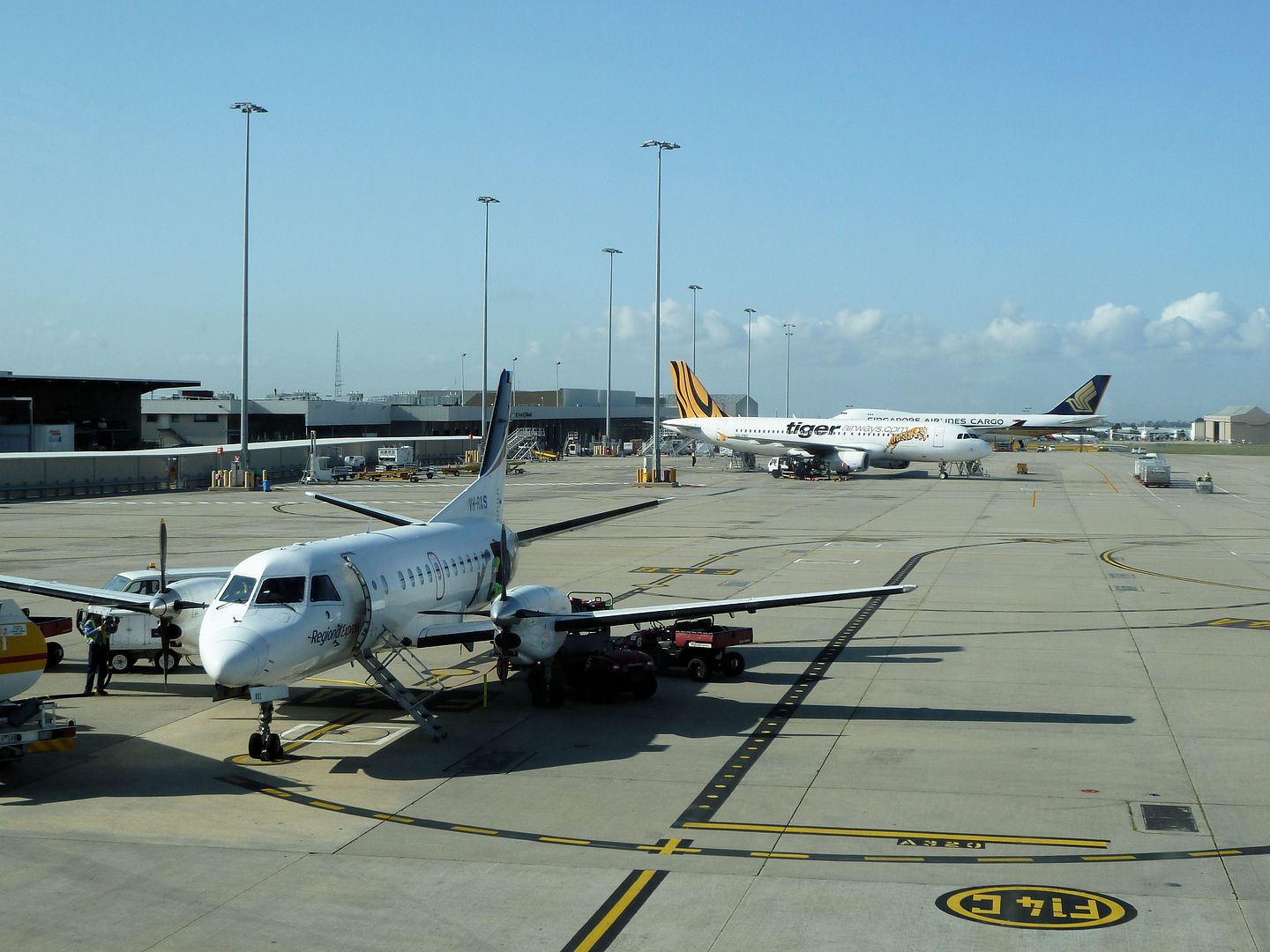 Boarding commenced on time, but after the boarding pass check all passengers had to remain in a ground floor waiting area for the time being. Unfortunately, I didn't completely understand an announcement due to acoustic reasons. Obviously, passengers were asked to wait some more time due to a delay. Some moments later, I spotted a mechanic starting to work on VH-ZRB, the nearest Saab 340:
I was convinced that our delay was caused by a technical problem with VH-ZRB and I simply hoped that it would be solved soon. My connecting time at Albury was more than 3 hours, but you never know...anyway, the mechanic finished his work some 15 minutes later and I felt relieved. Some minutes later we were invited to board - but we were led to another aircraft!
Last minute aircraft change or not? I wasn't sure. Anyway, our flight would be operated by
VH-TRX
, one of 45 Saab 340s in the fleet: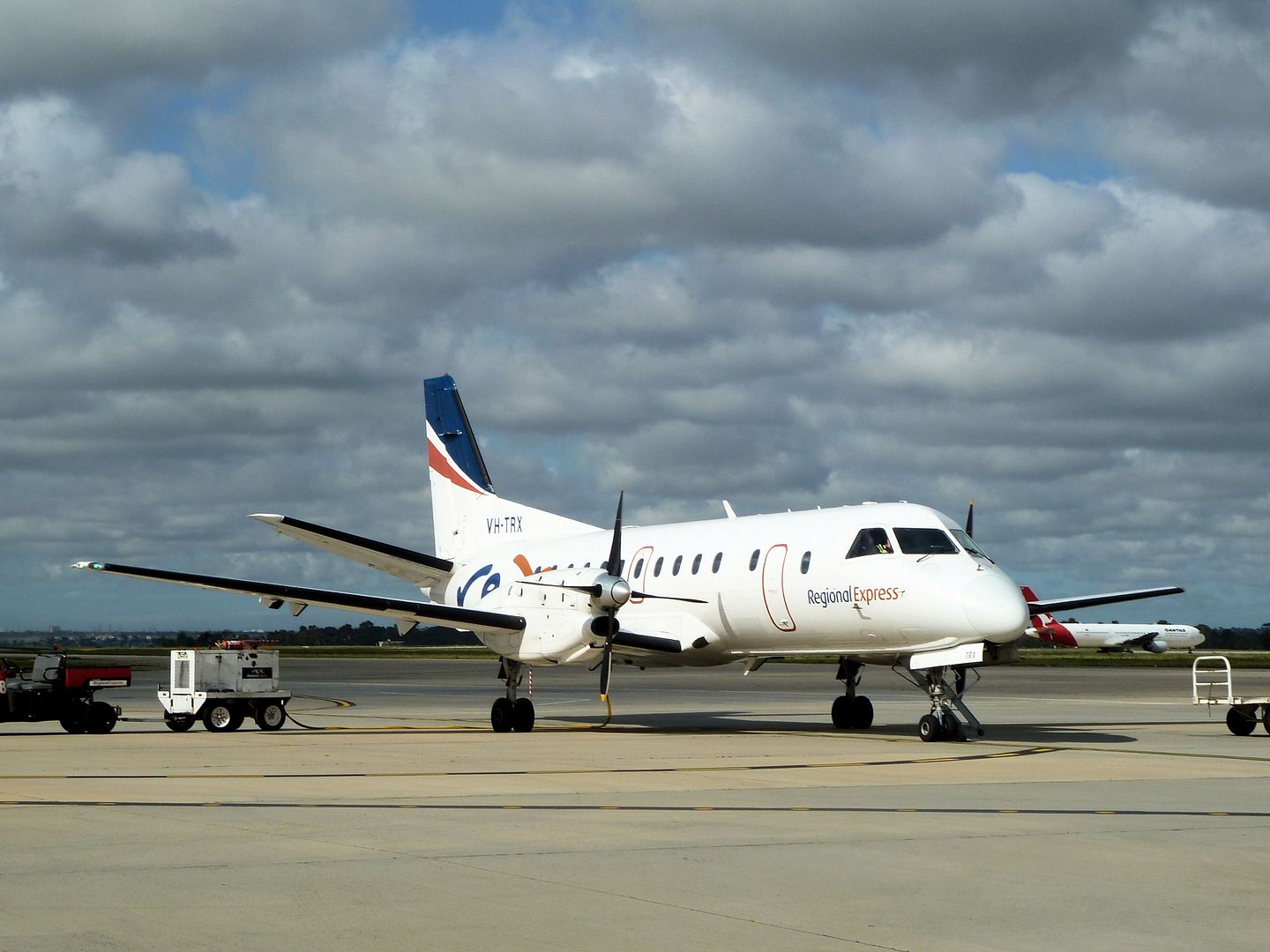 The first officer, wearing a yellow safety vest, was standing in front of the propeller and greeted all passengers. After a very friendly welcome by the female flight attendant, I walked down the small cabin to my row. The plane was equipped with comfortable old-style leather seats...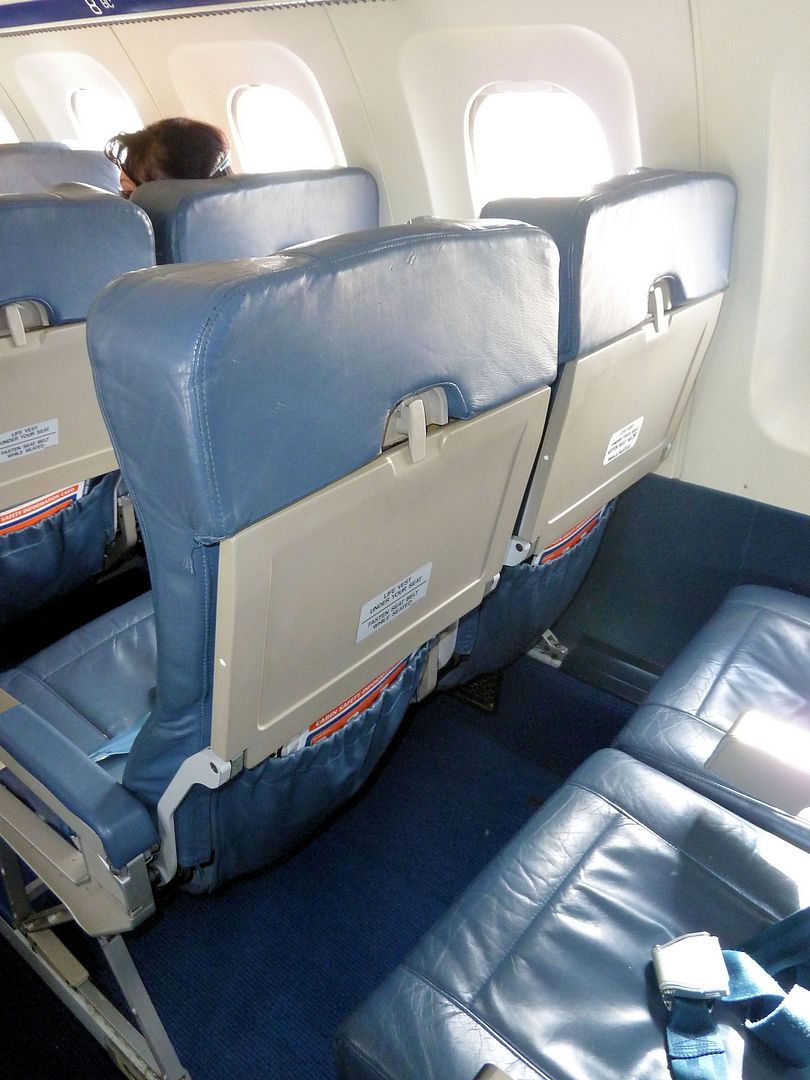 ...and seat pitch wasn't bad either: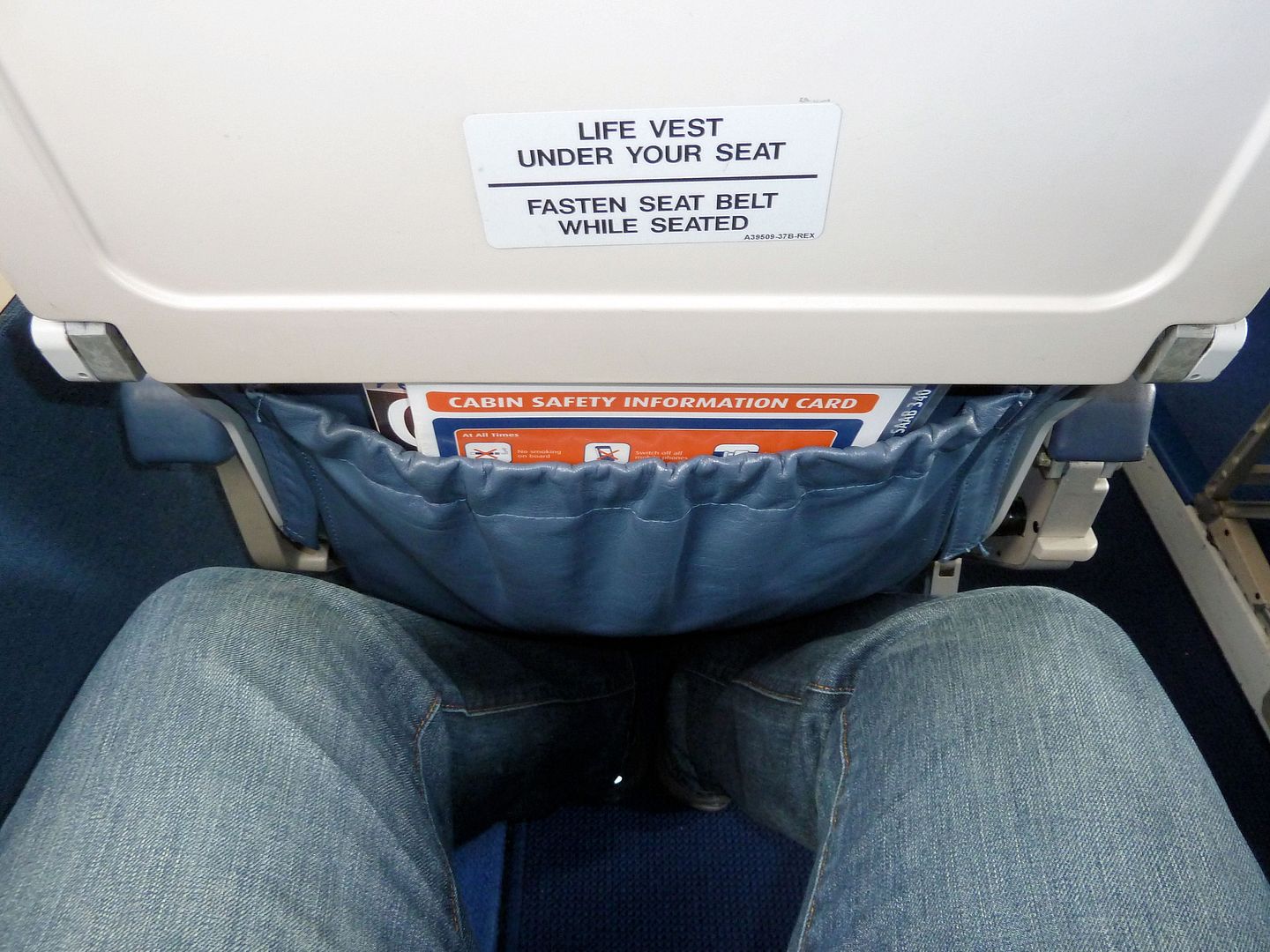 I counted a total of 15 passengers, including myself: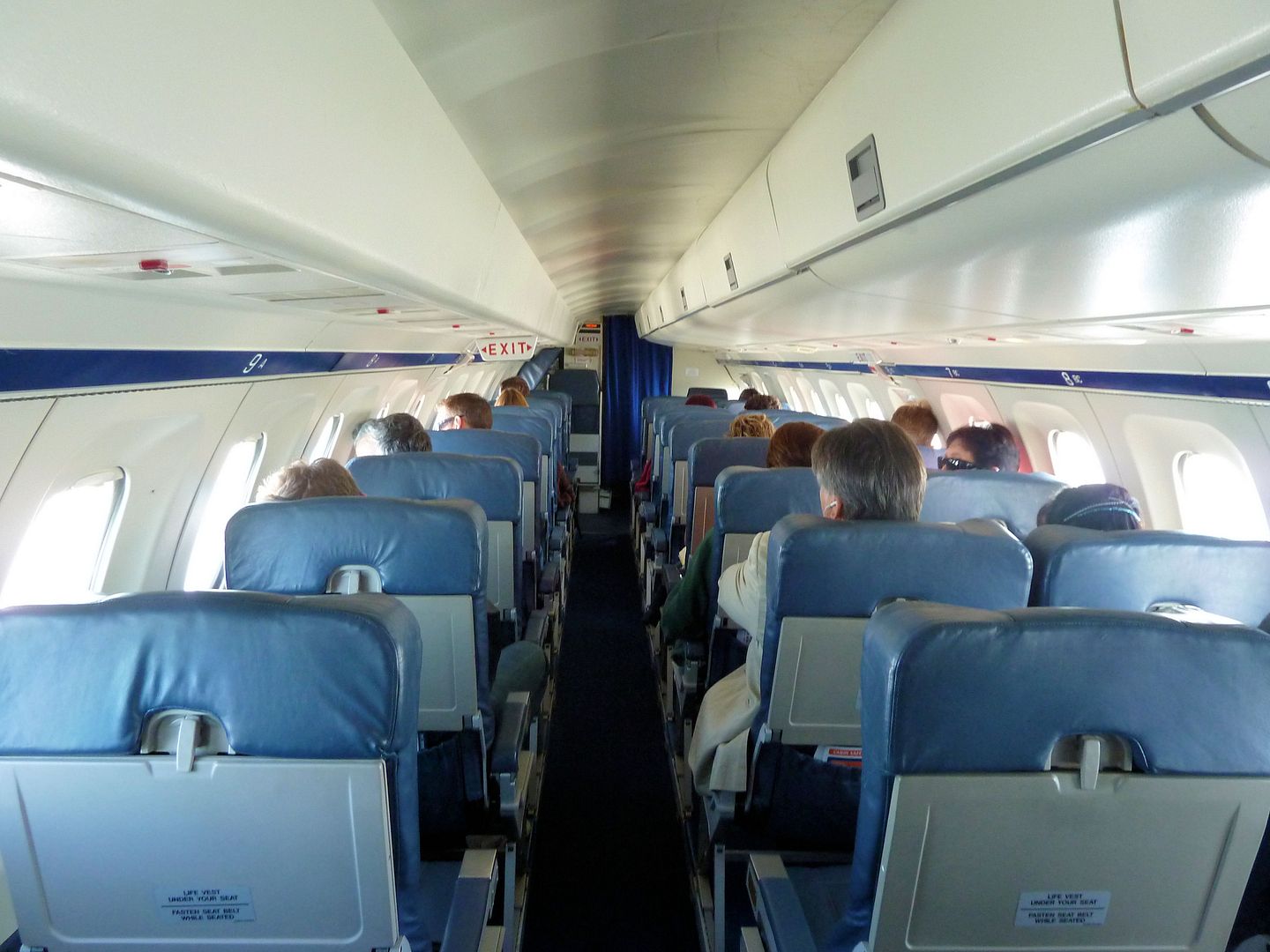 Nice view from seat 10A: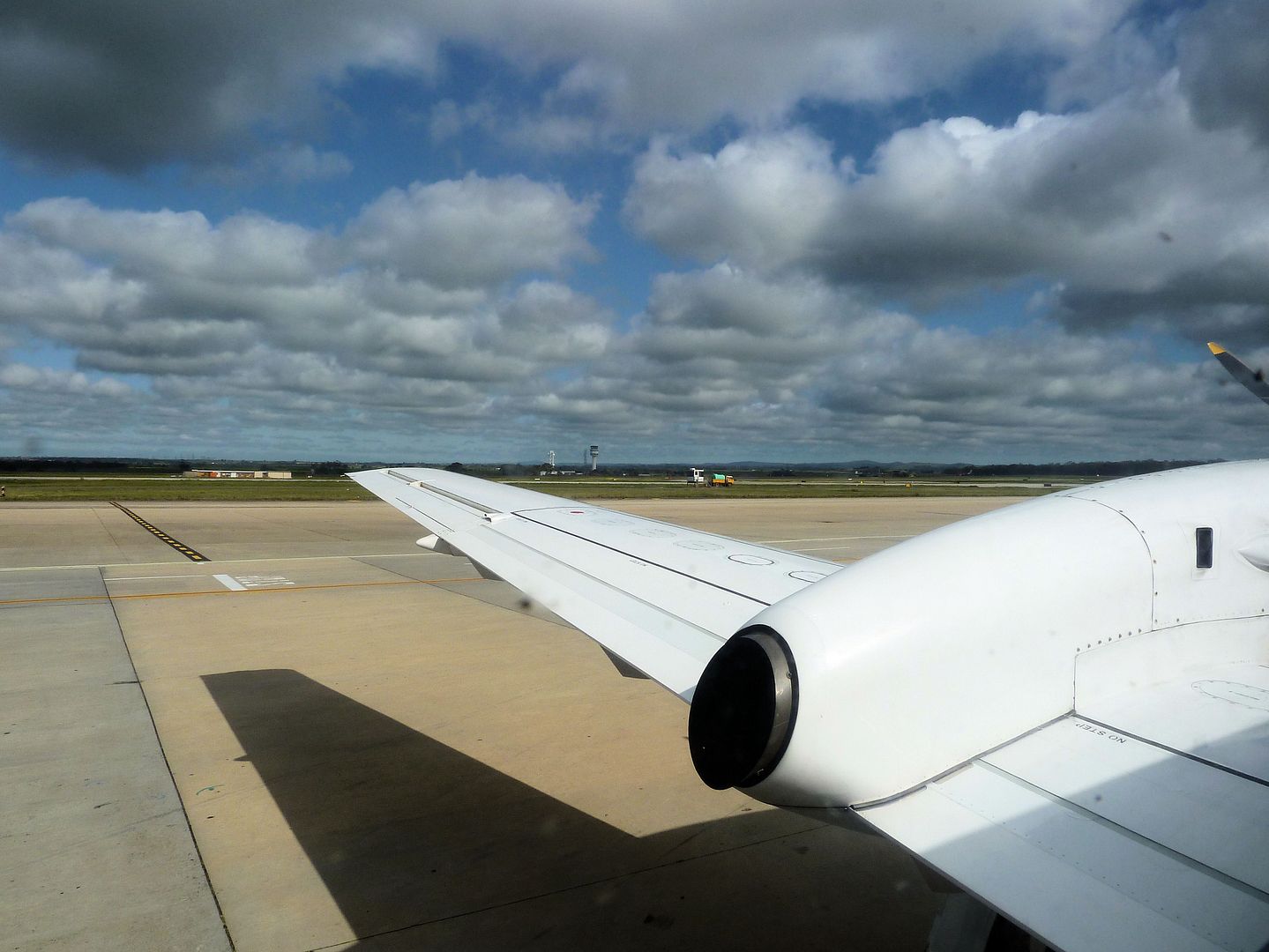 Again, just like on the Embraer 120, I was surprised by the well-tolerable noise level. Takeoff was unspectacular, but I enjoyed the scenery:
Shortly after takeoff, the friendly flight attendant served coffee, tea and water as well as tasty butter cookies:
The well-made REX inflight magazine:
Descend commenced about 30 minutes after takeoff: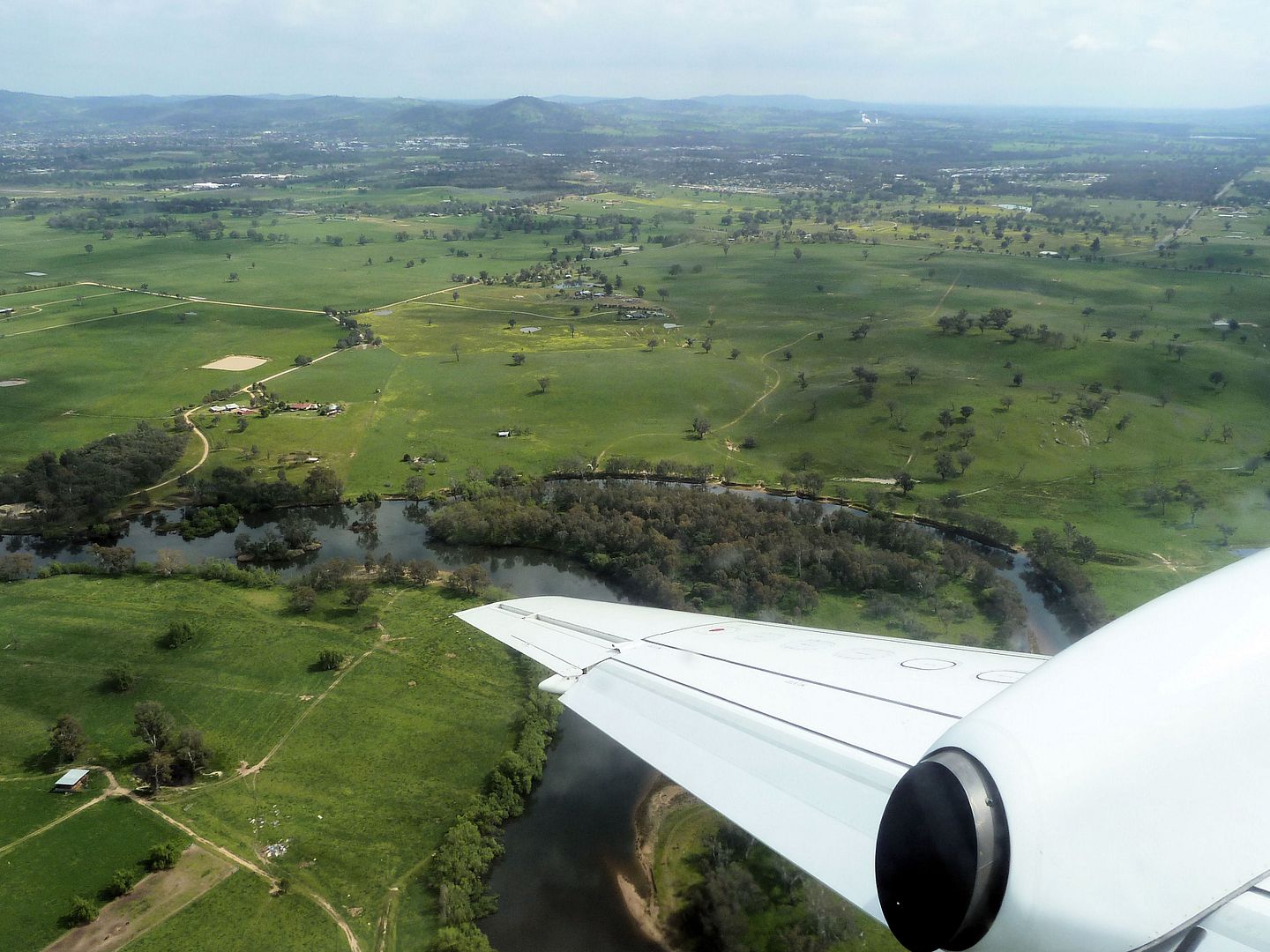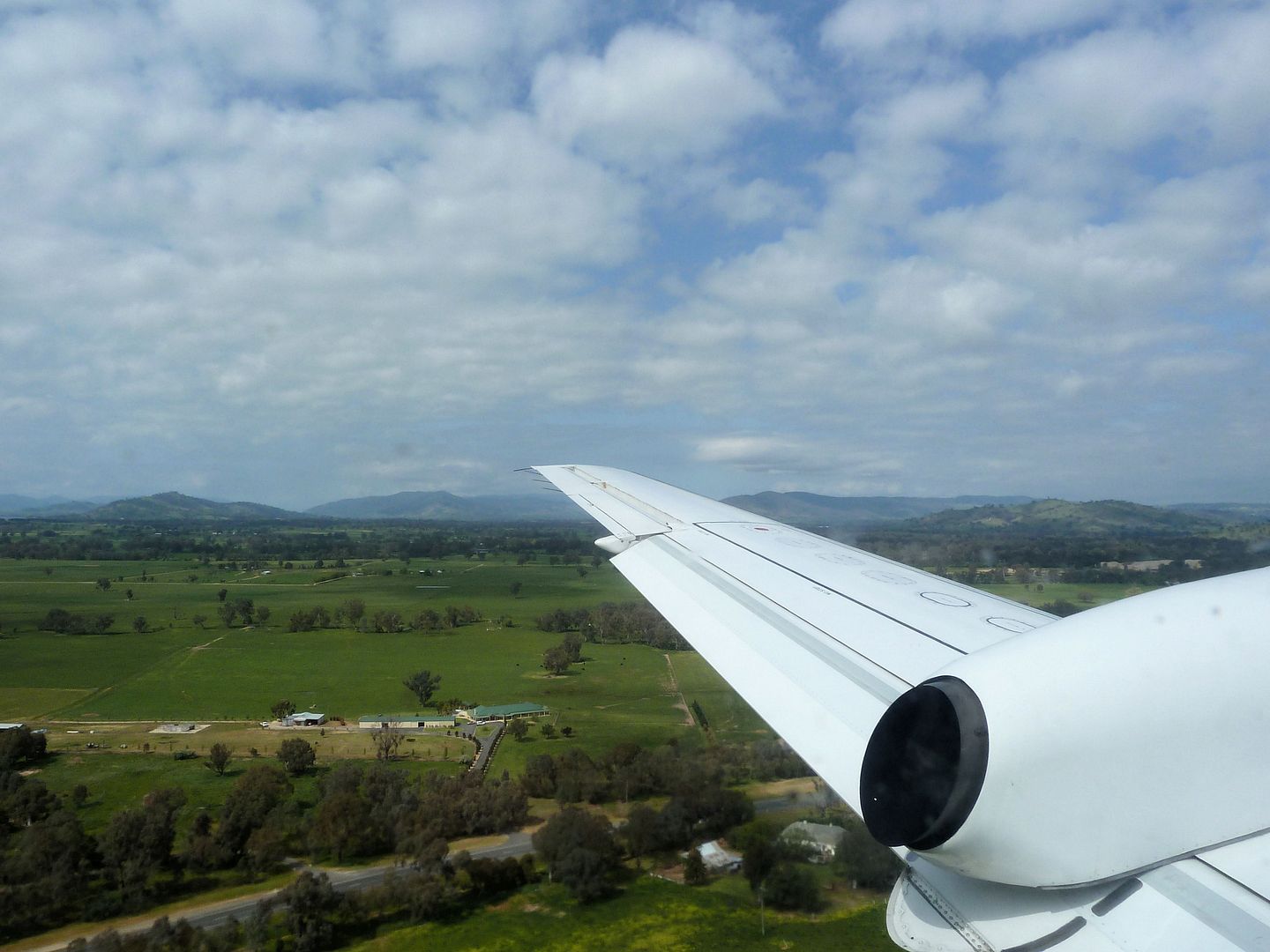 There wasn't much to see after touchdown, we came to stop next to a parking lot: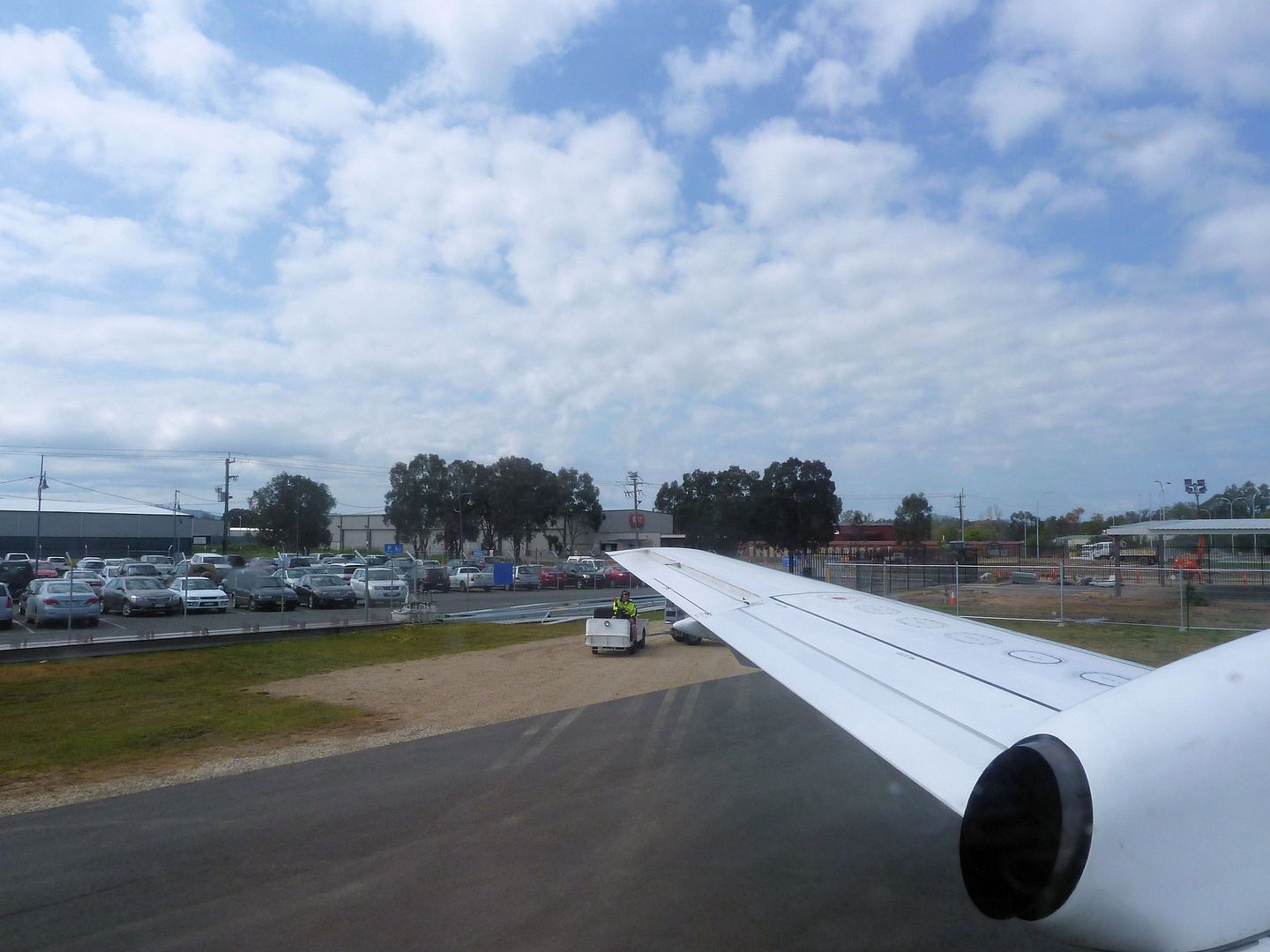 The first officer had taken his position in front of the propeller again and said goodbye to all passengers.
"Sure!"
, he said after I asked whether I could take pictures. Then he even offered to take a picture of me and the aircraft and of course I agreed. Nice!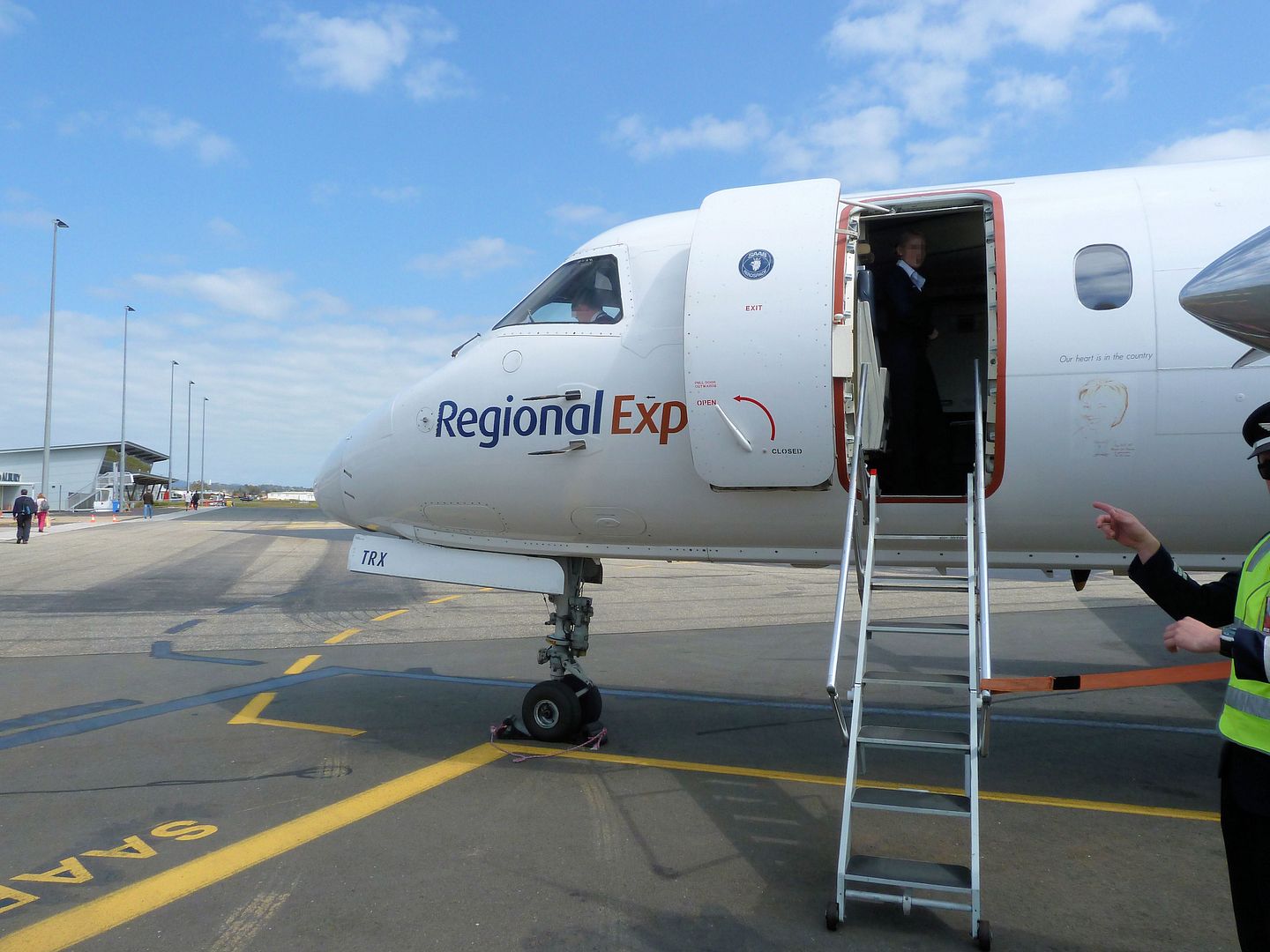 Btw - have a look at the writing and the painting below the first cabin window. First of all, there's the airline's motto which can be found on many, if not all REX aircraft:
"Our heart is in the country"
. In addition to that,
VH-TRX
has a caricature of Kay Hull, MHR (Member of the Australian House of Representatives) whose efforts were instrumental in helping REX to become established. The City of Wagga Wagga, where the airline's headquarters is located at, is within her electorate of Riverina.
Transfer at Albury
After a short walk, I stepped into the small arrival hall, picked up my luggage and went to the check-in area which is equipped with nice and comfortable leather chairs: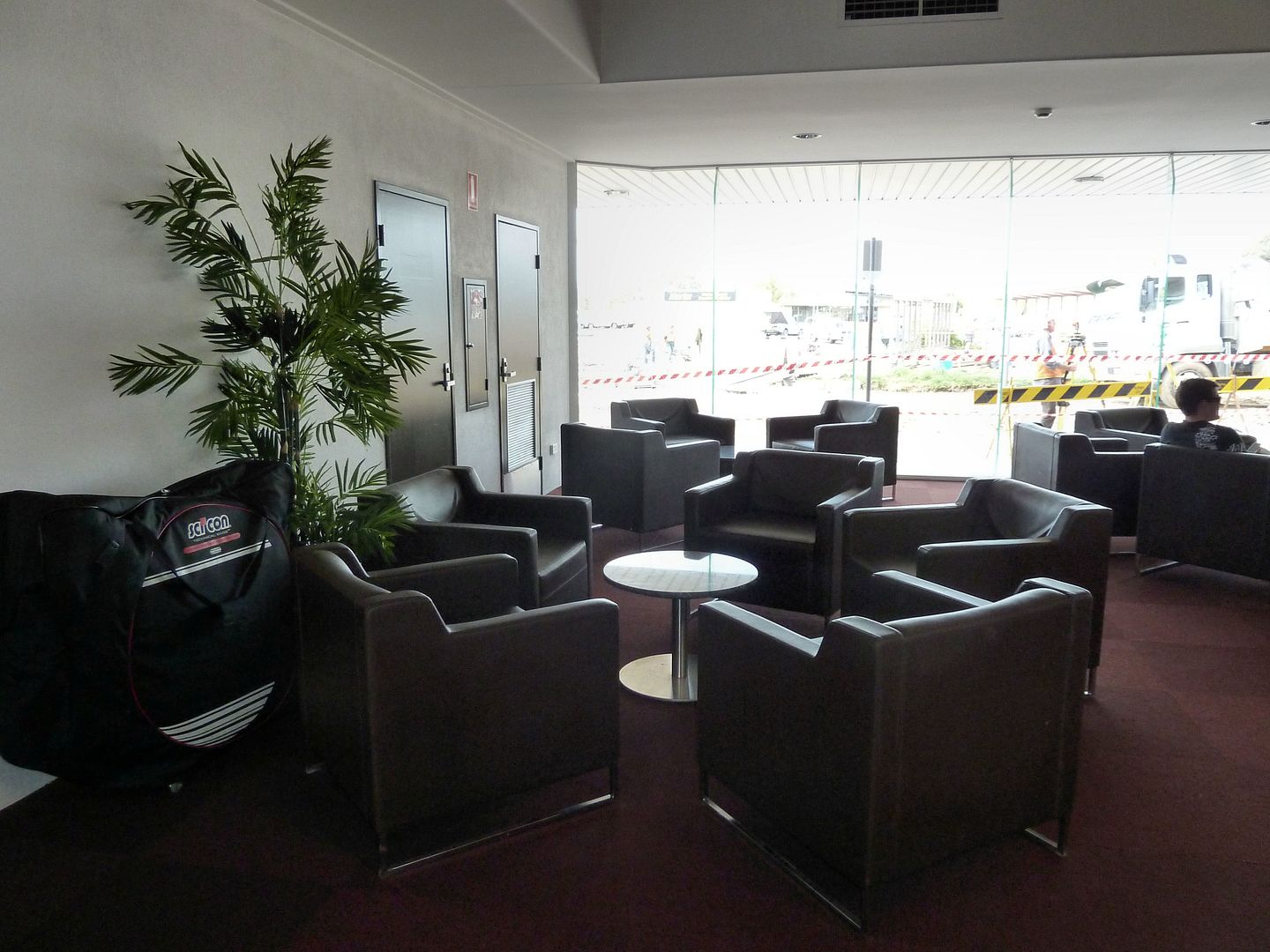 Usually I don't take pictures of flight information display screens, but this one was quite interesting: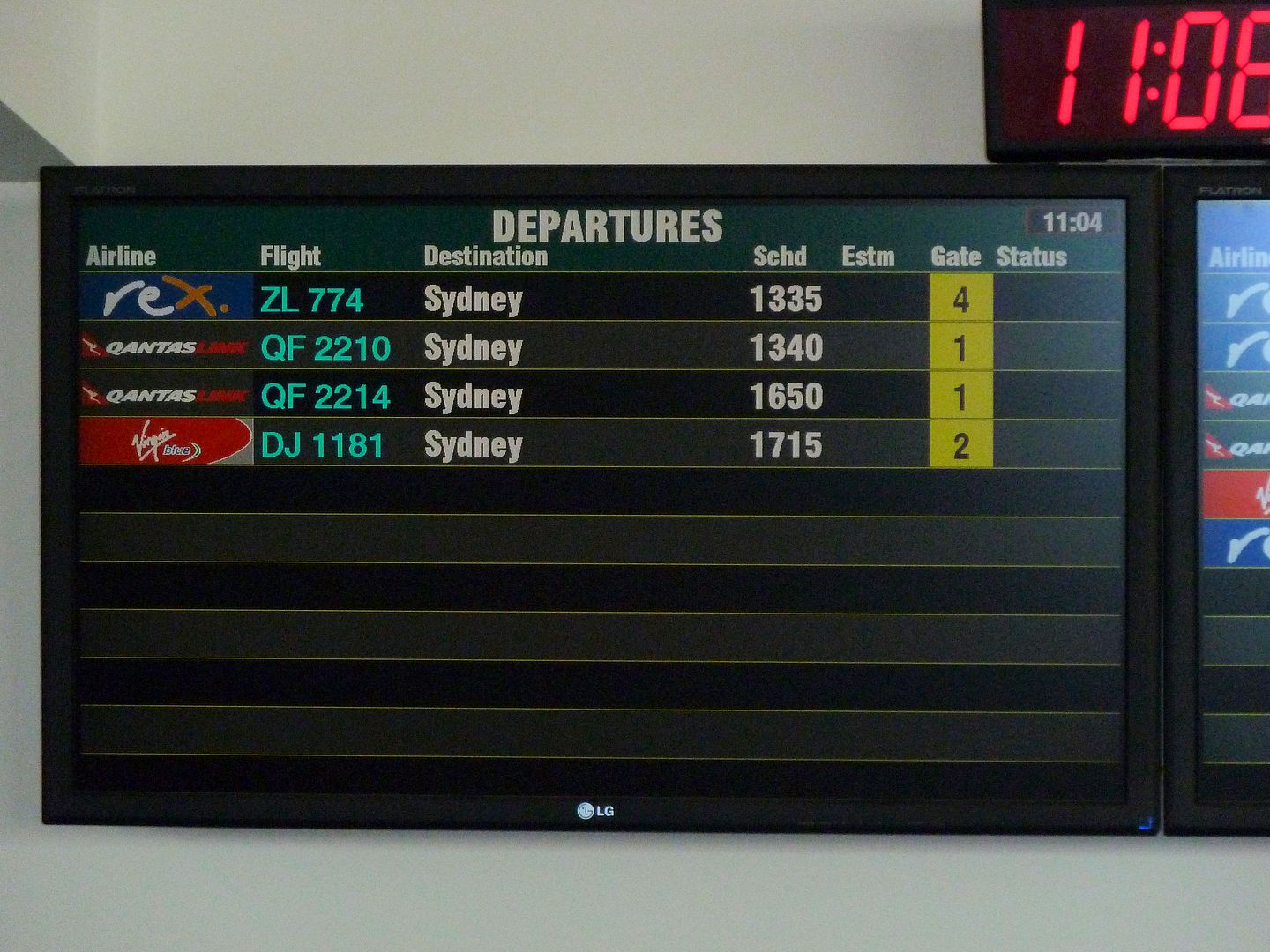 This is the gate area - accessible without security control:
Apparently, the existing security checkpoints are only activated for certain flights, e.g. the Virgin Blue E-Jet services. You don't get screened if you fly on QantasLink and REX turboprop planes.
Checking in wasn't possible yet, so I bought a drink and a snack and took a seat in the gate area. Usually you only find these kinds of chairs in a lounge: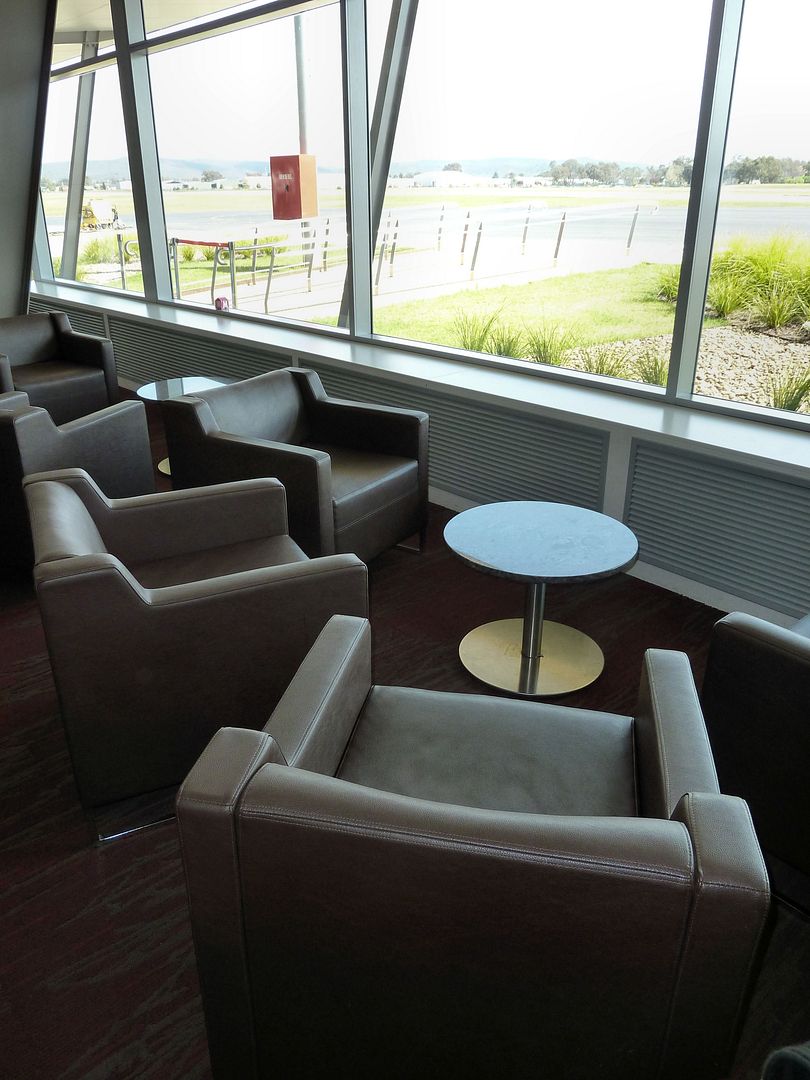 Very exciting movements kept me busy...
While waiting there, I got a phone call by
Airliners.net
community manager
PanAm_DC10
alias Paul McCarthy. I had sent him a message from Brisbane and asked whether he would be interested in a spotter meeting at Sydney Airport. I had also met him during my last Australia visit in 2006. Paul now told me that he could indeed pick me up later in the afternoon - excellent news!
Saturday, 9 October 2010
Albury (ABX) - Sydney (SYD)
QantasLink QF2210, operated by Eastern Australia Airlines
Scheduled times: 13:40-15:00
Actual times: 13:44-15:02
Flight duration: 01:11 (hrs)
Distance: 280 miles
Economy Class, seat 11D

Bombardier DHC-8Q-315
VH-SBV (MSN 595)
First delivered to Sunstate Airlines in 06/2003
1st flight on VH-SBV
6th DHC-8-300 flight
9th DHC-8 flight
104th airline
As soon as the counters were opened, I checked in and returned to the comfortable chairs in the gate area. I had asked for a seat in the back and the friendly male agent had offered 11D which I gladly accepted.
VH-SBV
, one of 14 active Dash 8-300s in the Eastern Australia Airlines fleet, arrived on time: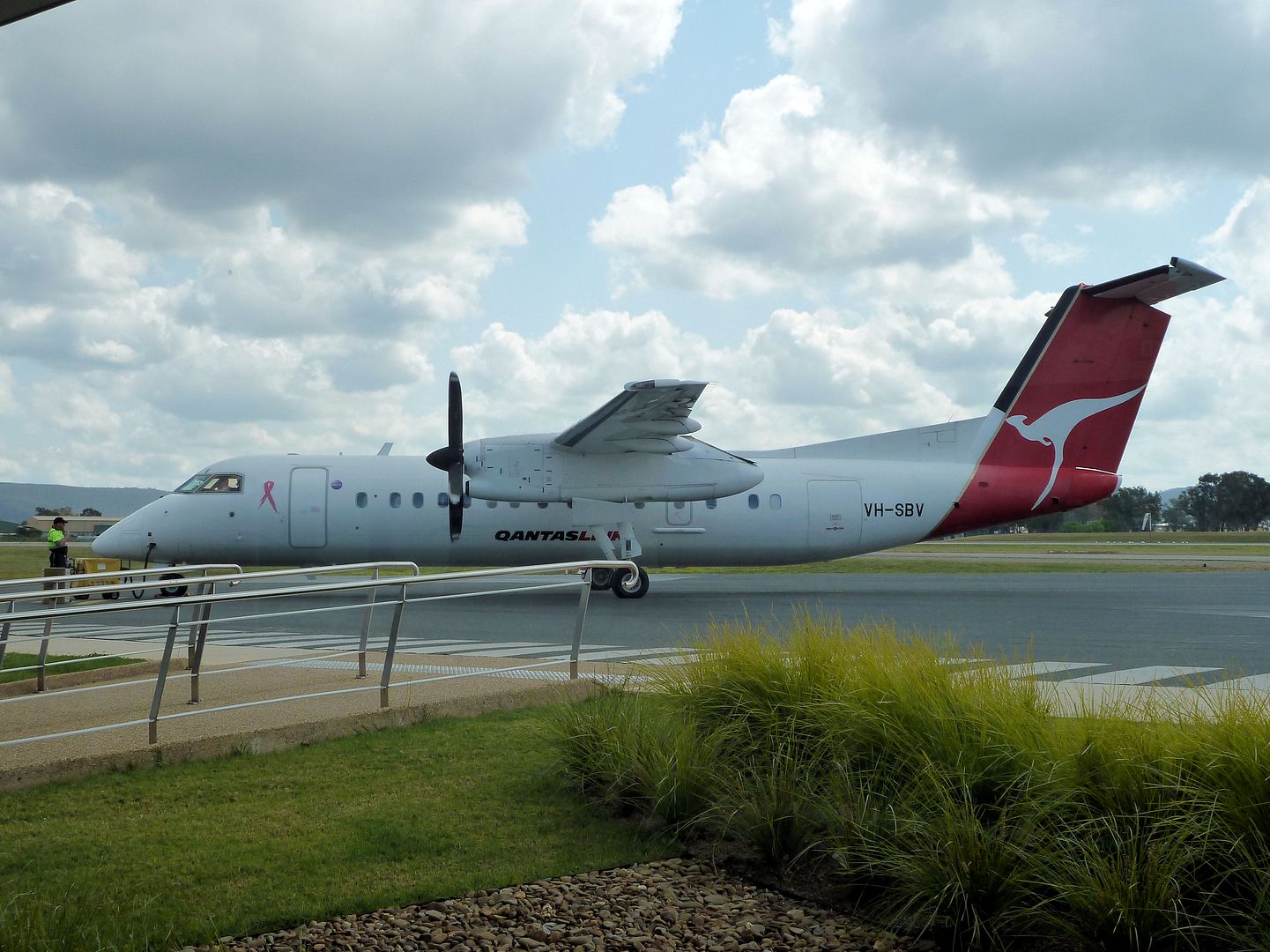 The pink ribbon next to the main door is to advertise QantasLink's support of breast cancer research. Sunstate Airlines even operates a specially painted Dash 8-400 (VH-QOH) for that reason. I would have preferred the Dash 8-400 in general for my hop to Sydney, but that type had only been available on earlier and later flights. Taking pictures wasn't a problem at all:
After a friendly welcome at the door, I found an older lady sitting in my window seat. Of course I didn't want to give up my reserved seat, so I politely told her about the situation. She explained that she hadn't carefully checked the seat number and immediately agreed to switch to the aisle seat. If it had been a common flight within Europe, I wouldn't have insisted in changing seats. However, I don't see the nice Australian landscape very often.
The black leather seats were comfortable...
...and legroom was even better than on REX: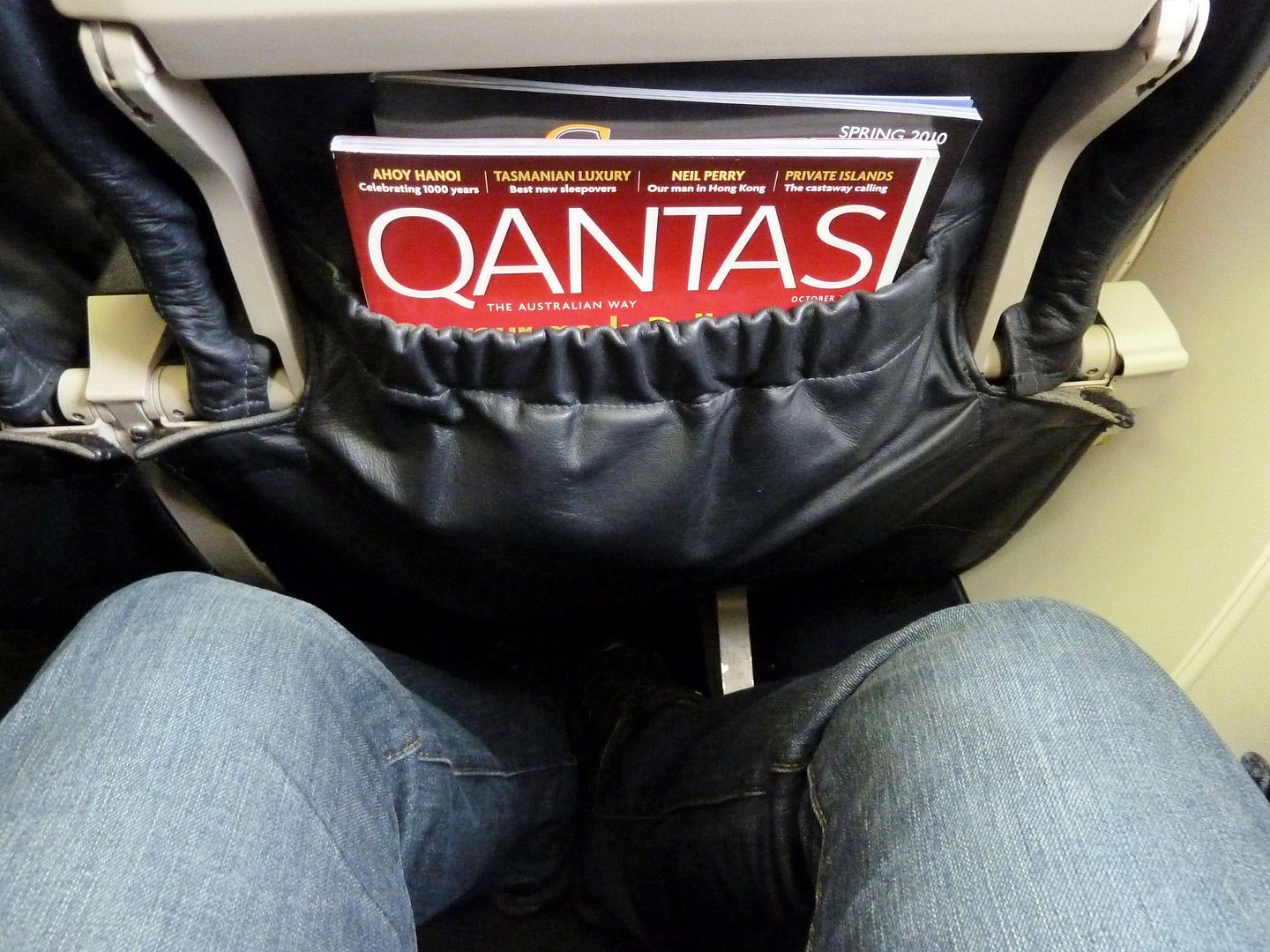 We left the parking position slightly behind schedule, but rolled onto runway 07 only four minutes later: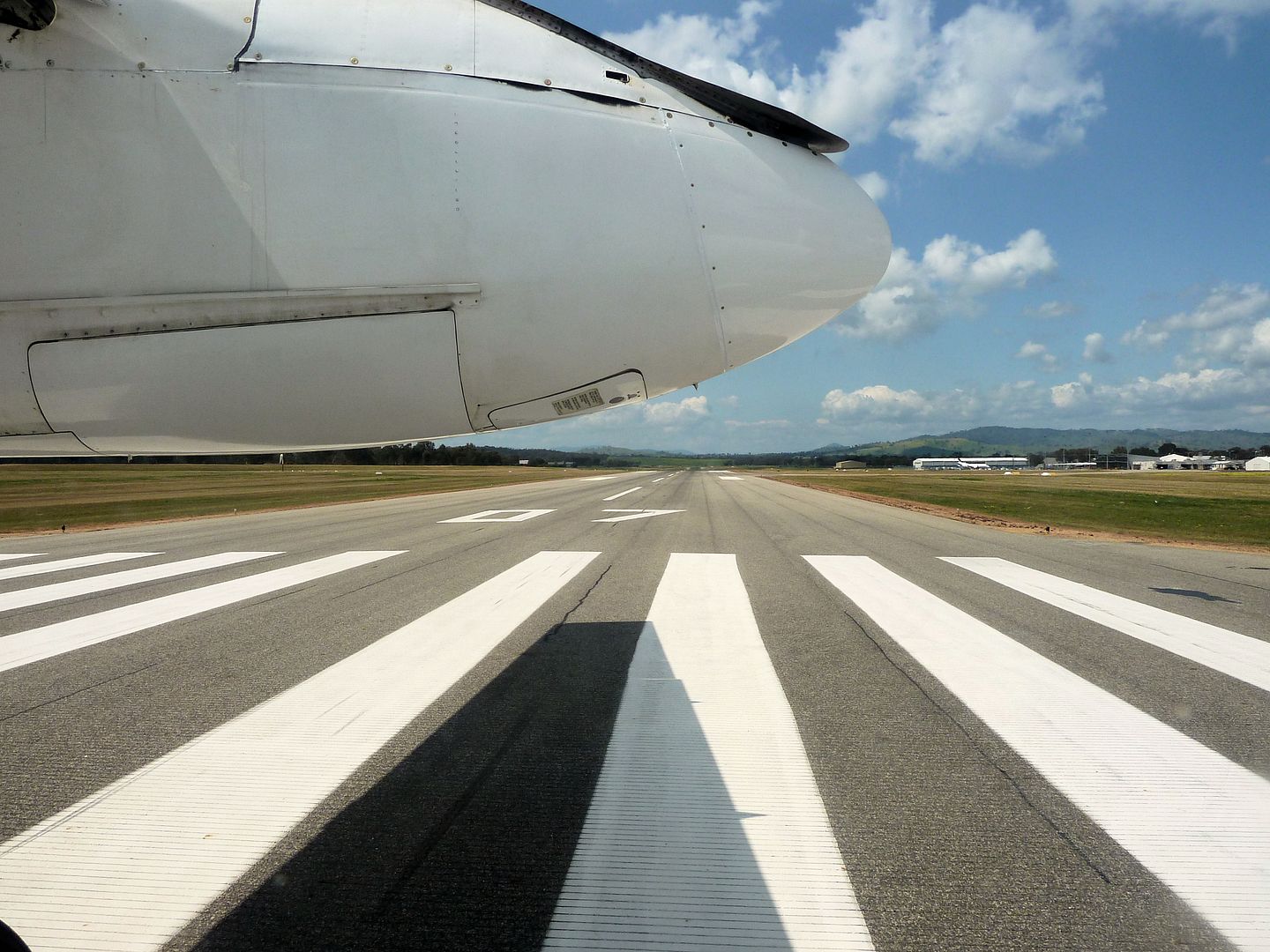 What a beautiful day, what a beautiful scenery: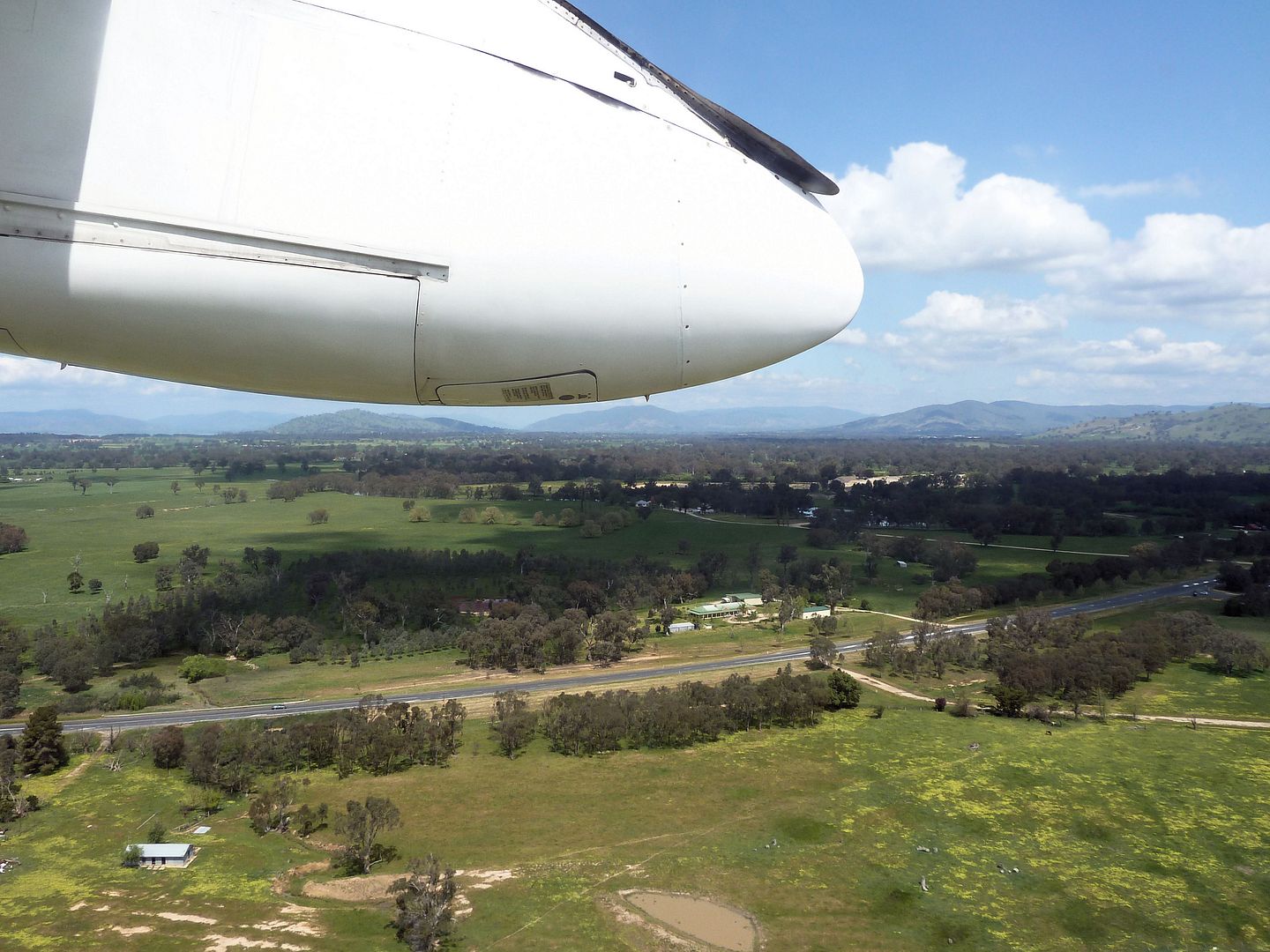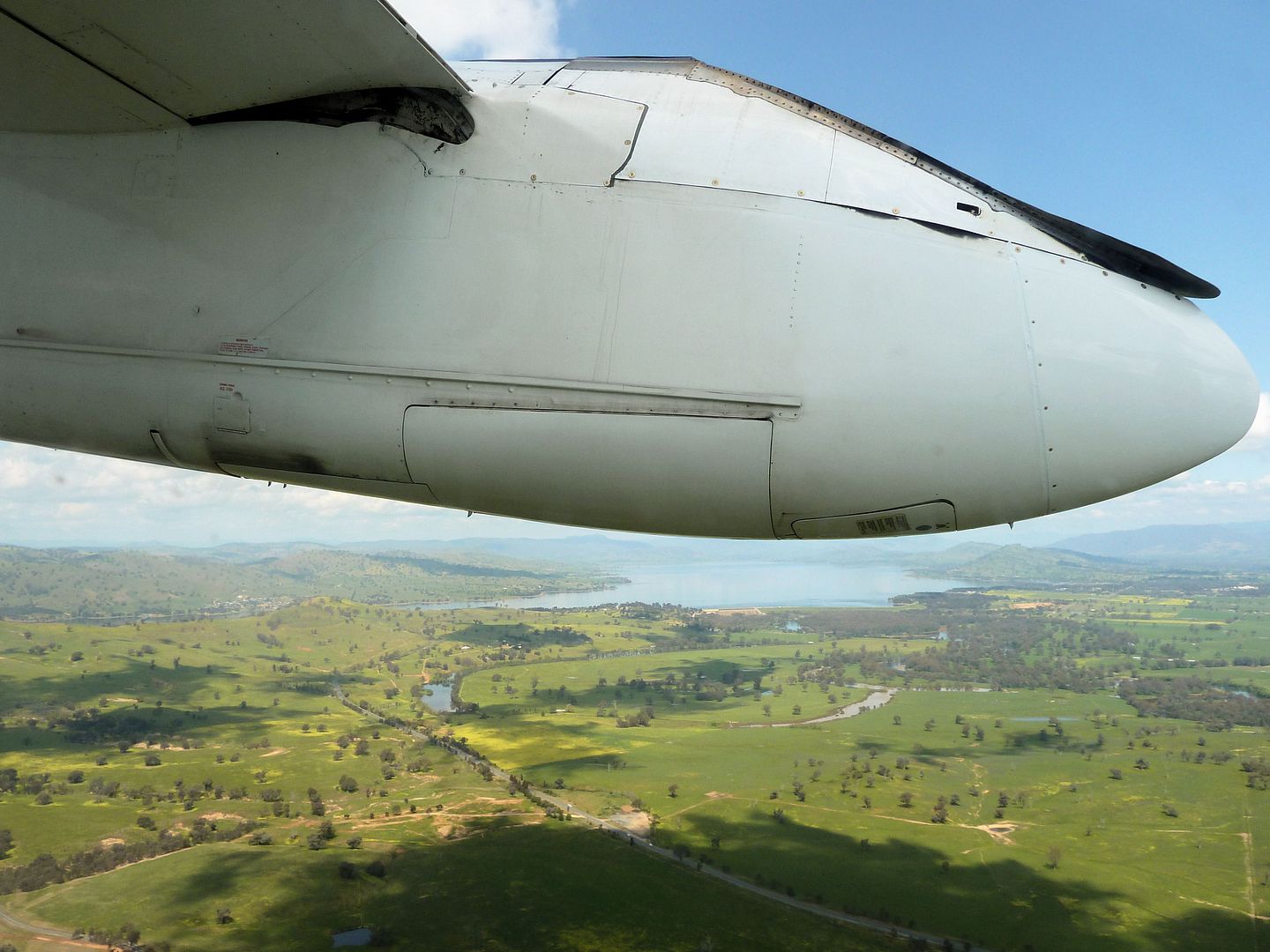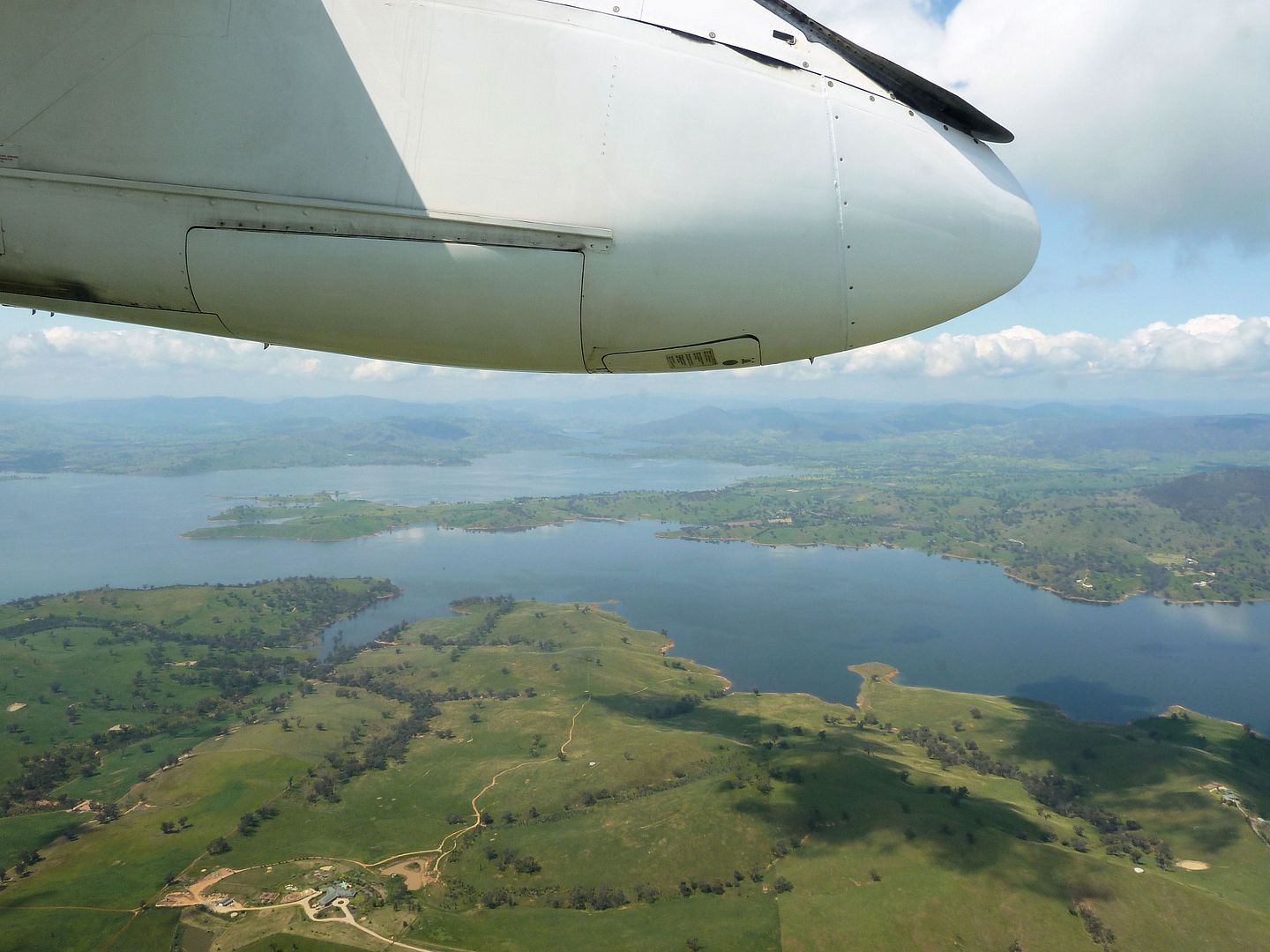 Coffee, tea, water and tasty cupcakes were served 15 minutes after takeoff. The pink iced cupcake is another sign of QantasLink's support of the National Breast Cancer Foundation: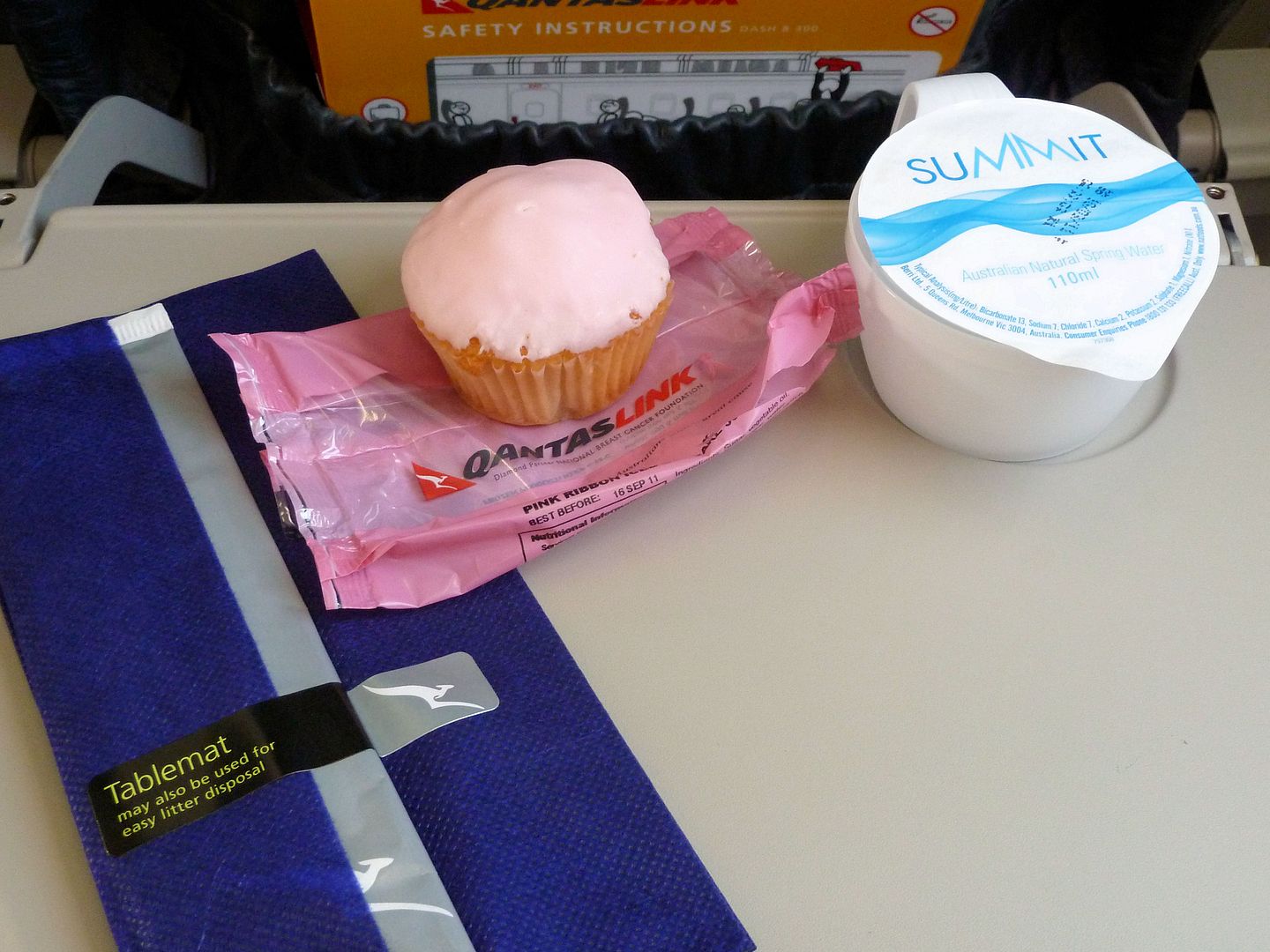 I didn't leave my seat for a cabin picture during the flight out of respect for the older lady next to me, but I decided to do that after landing. The approach to Sydney was truly enjoyable: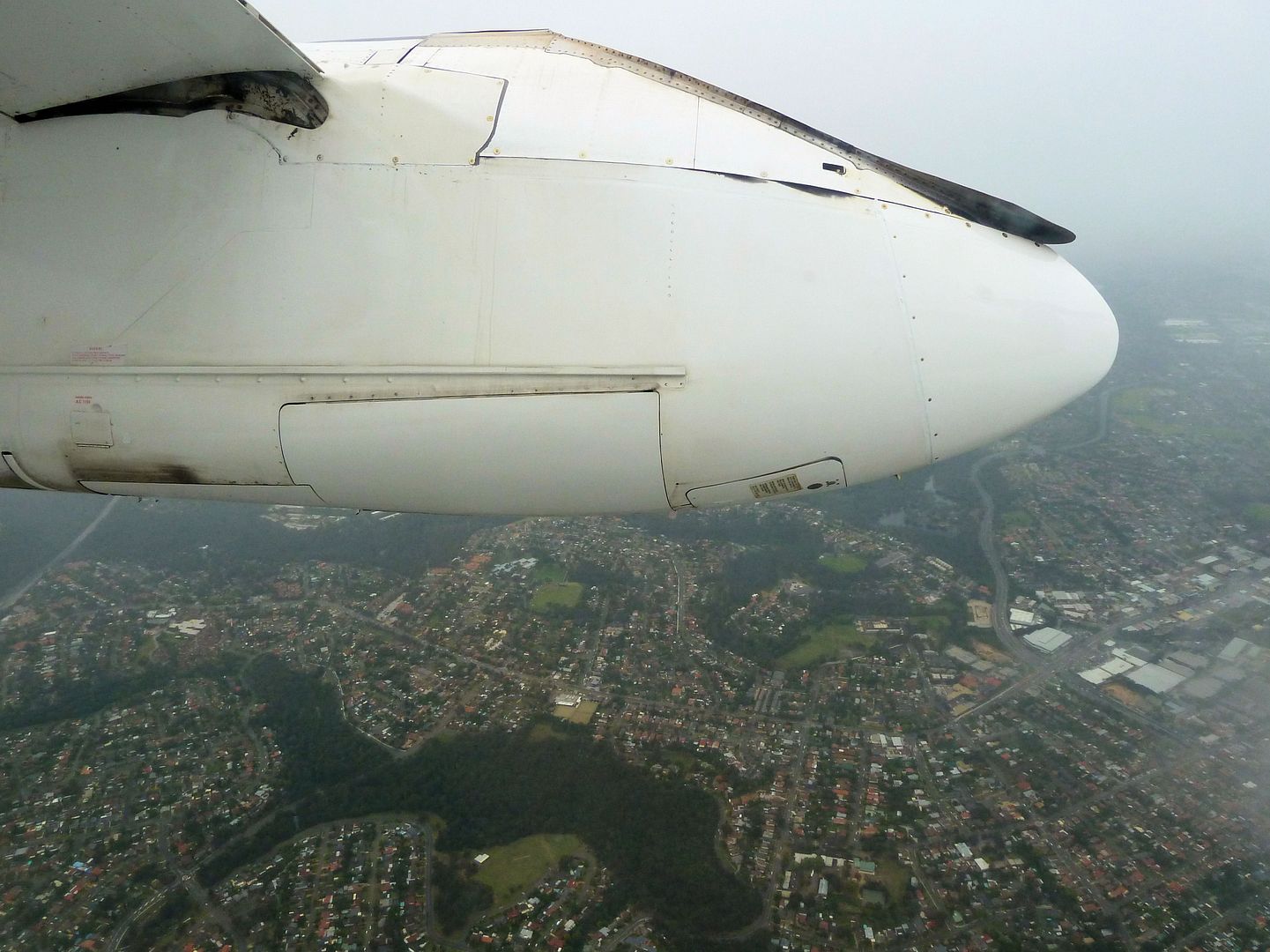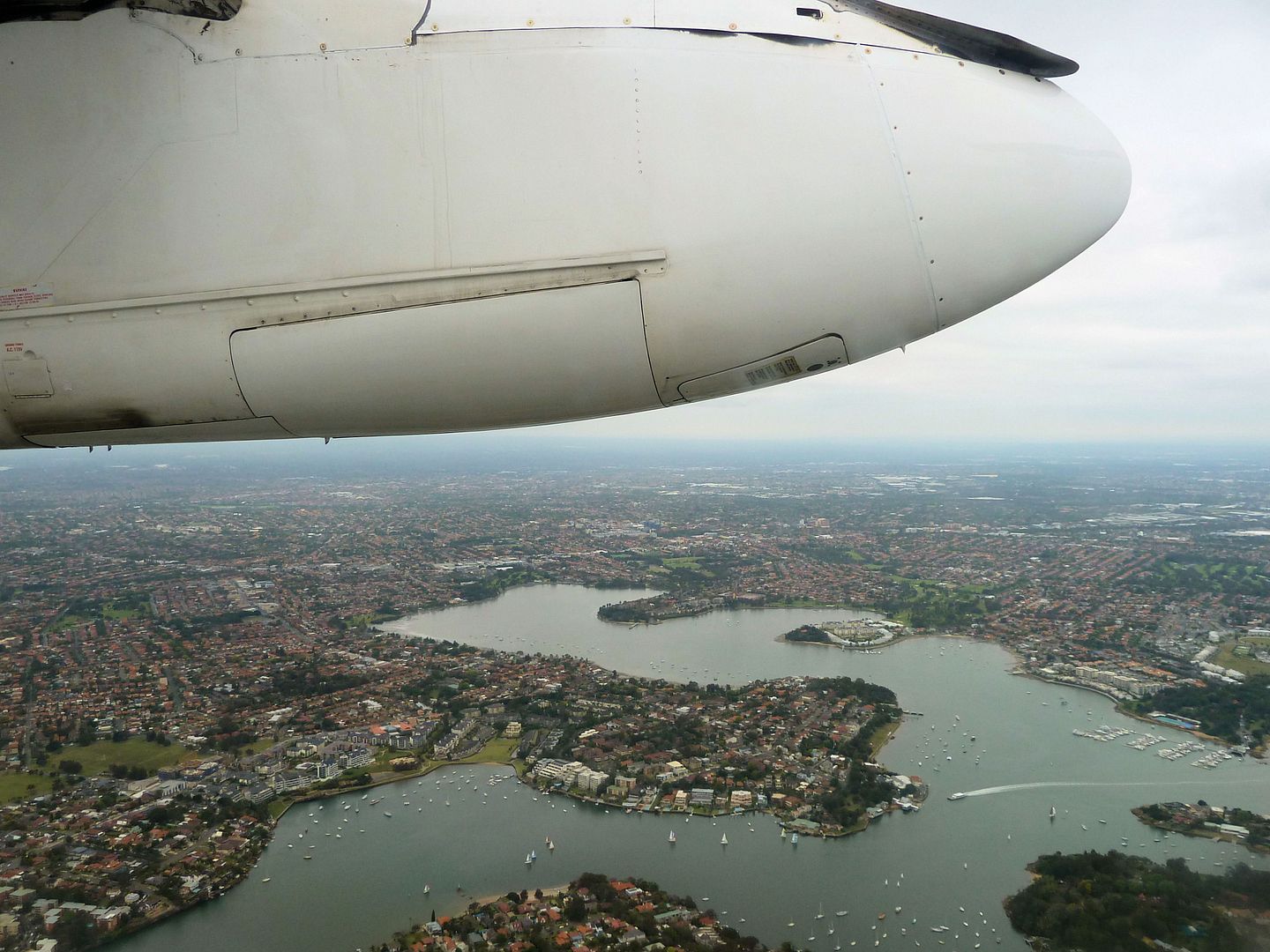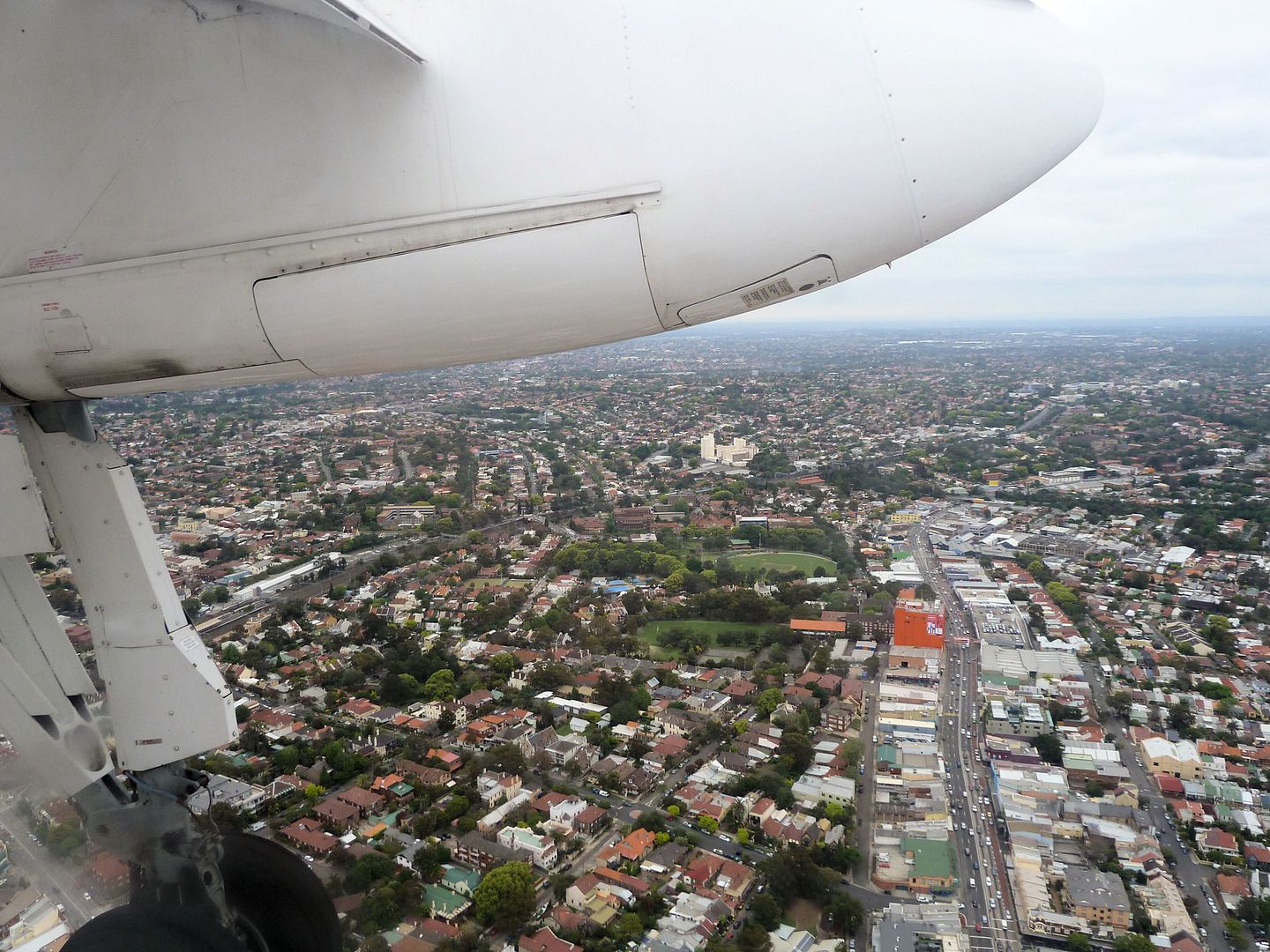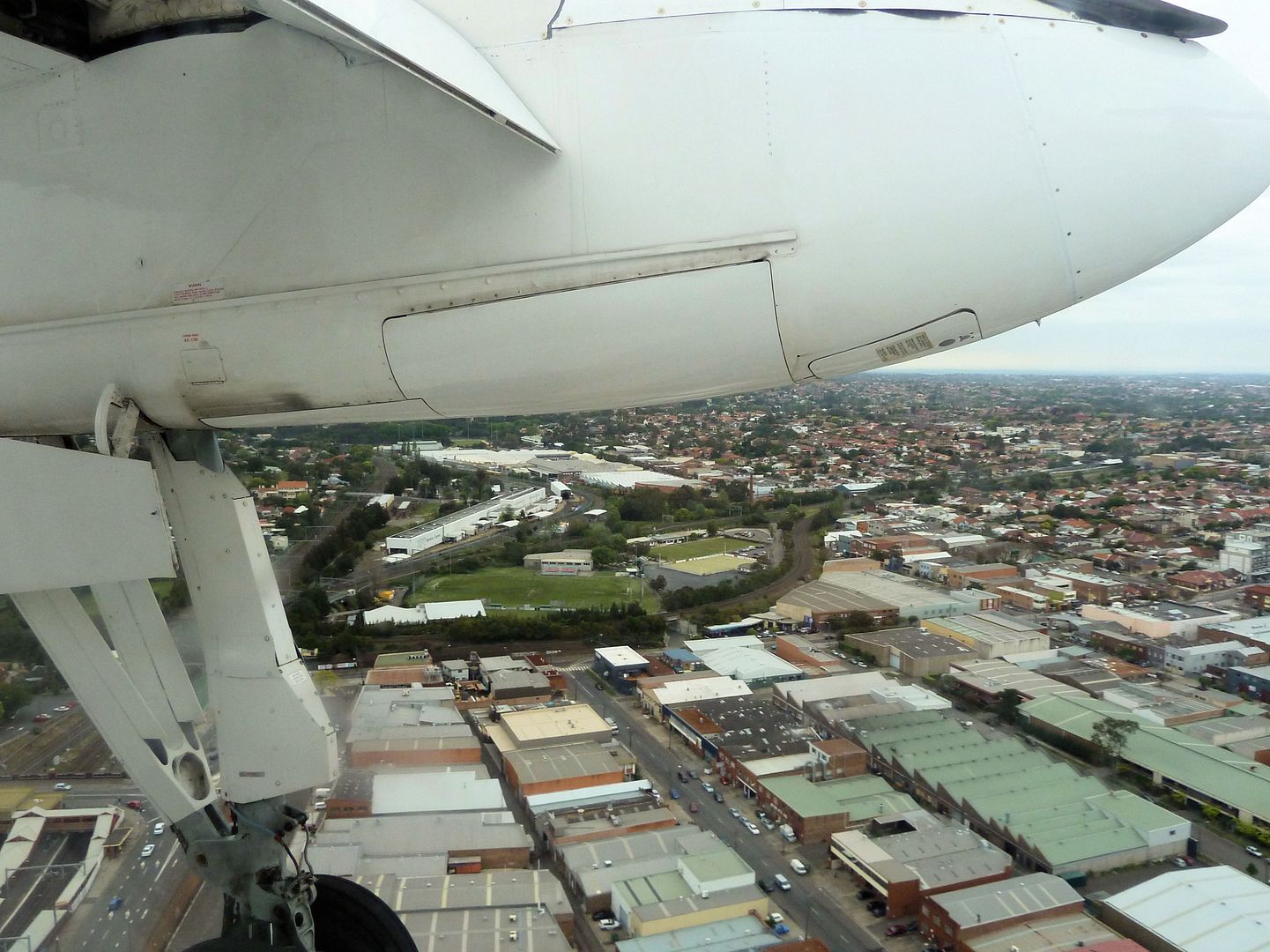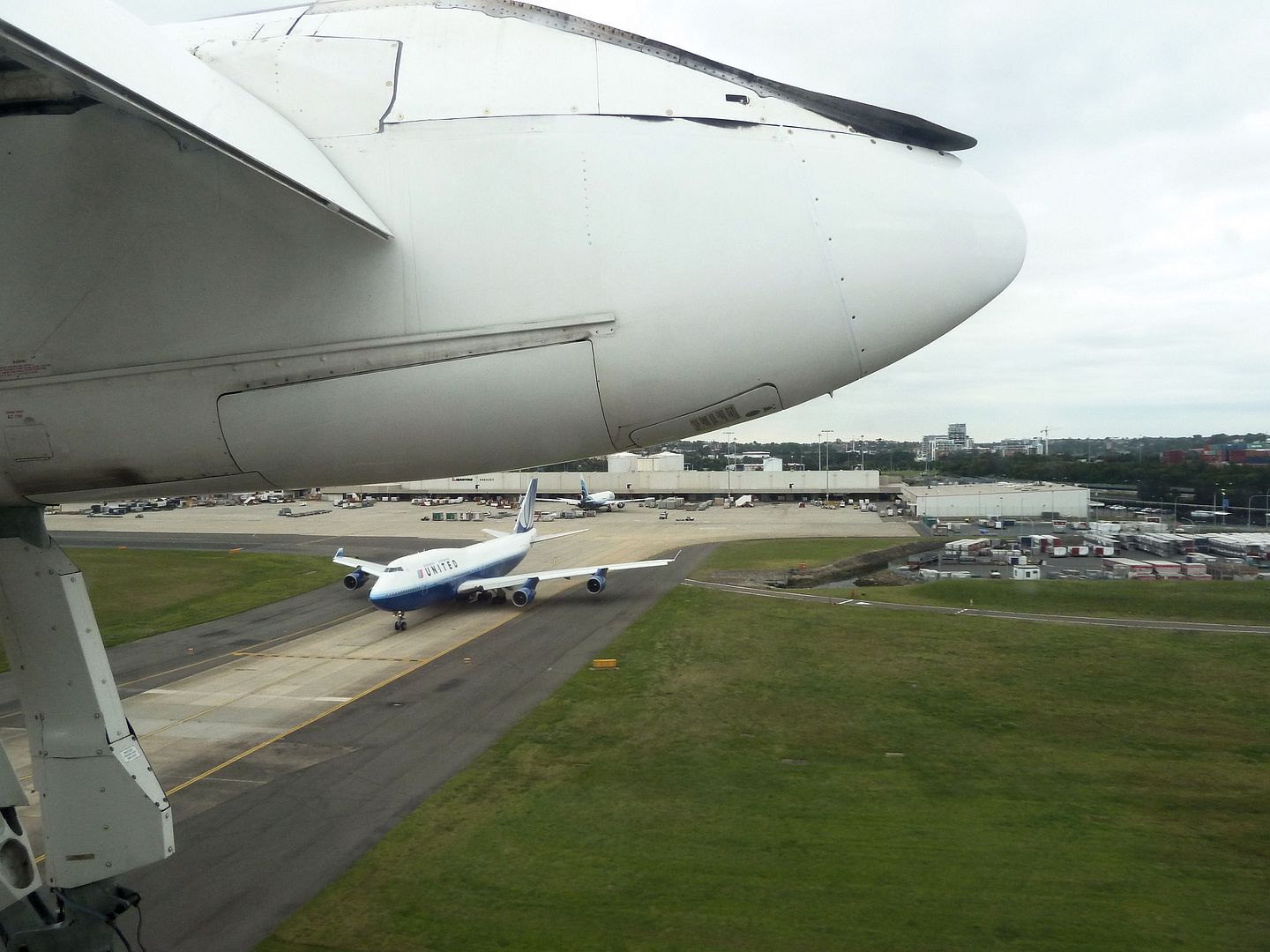 We touched down after 1 hour and 11 minutes and came to stop only three minutes later. I waited until most other passengers had left (load factor almost 100 percent, btw) and finally took a cabin picture: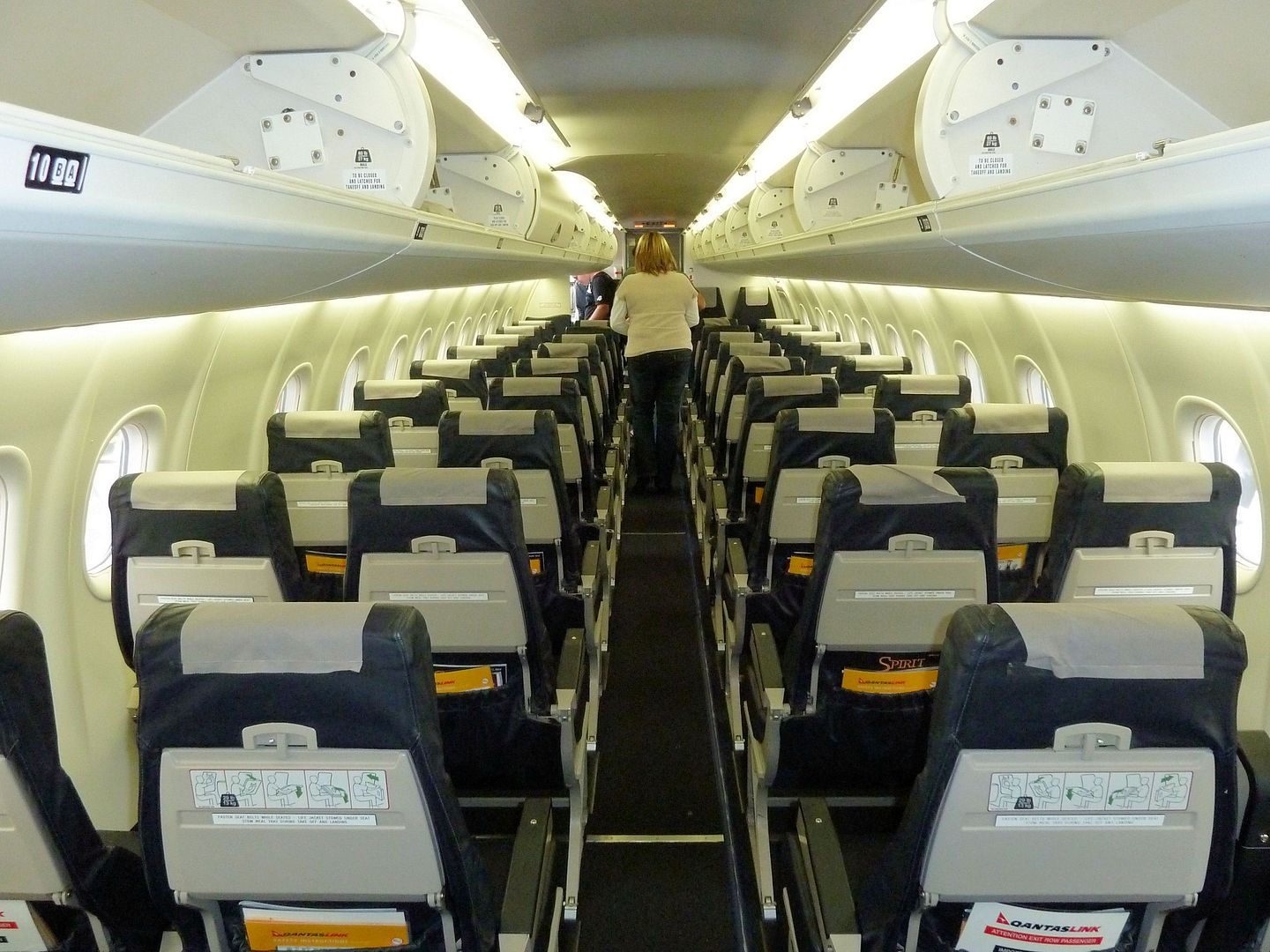 A young female flight attendant, probably a trainee, found it quite amusing that I took pictures of the empty seats and the cabin and I briefly told her about my intention. Then her colleague offered to take a picture of me and I gladly agreed. Very nice ladies!
Formule 1 Hotel and Sydney Spotting
Hotels had been quite expensive at Sydney Airport and I didn't like the location of some of them. Finally, after reading numerous reports on TripAdvisor, I decided to try the relatively new Formule 1 hotel which is within walking distance from the domestic terminal. Of course you shouldn't expect too much - it's a very basic low-cost facility - but the receptionist was friendly and the room was clean:
Here are some views from the room - fast food supply...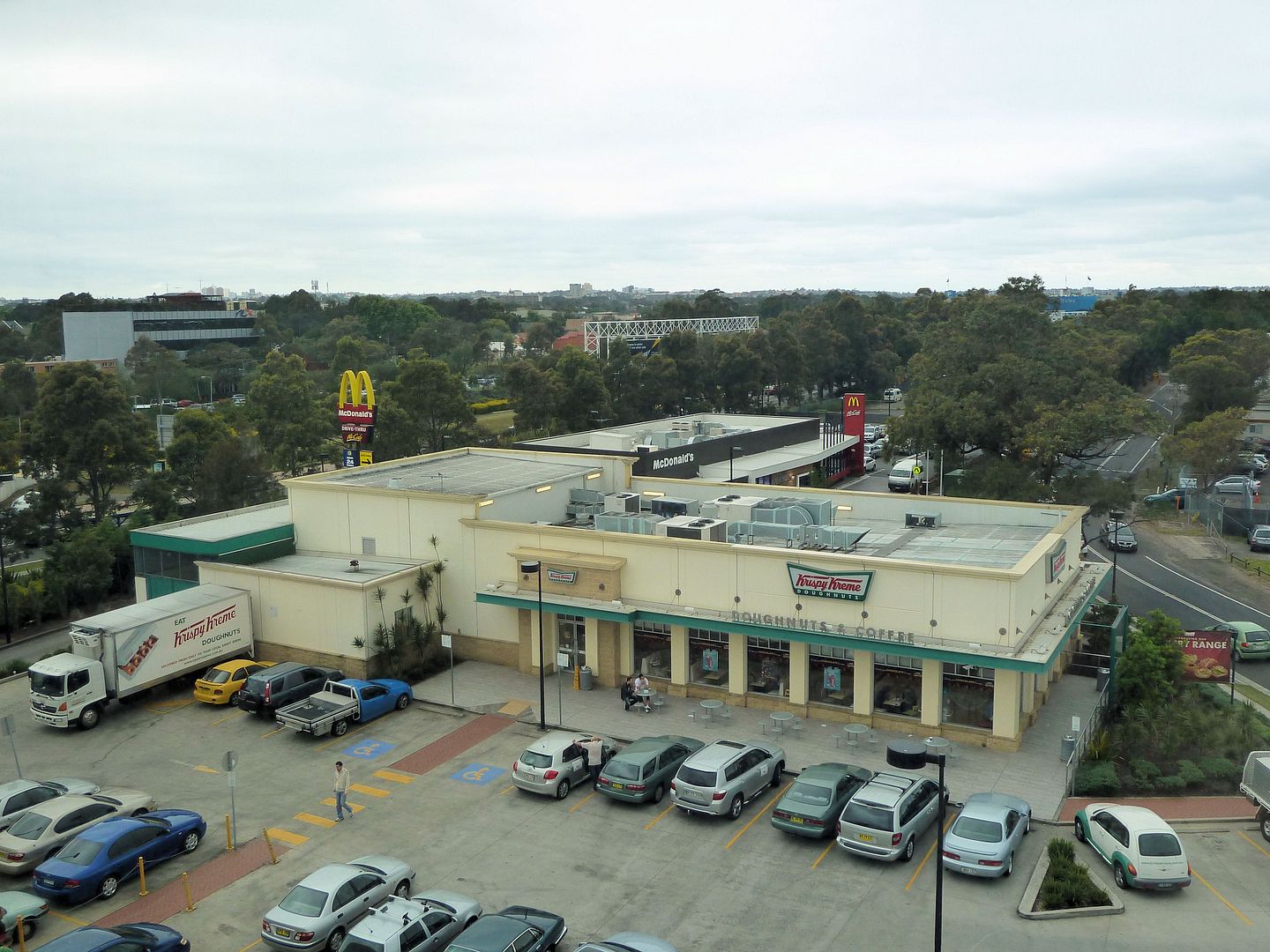 ...and some aircraft: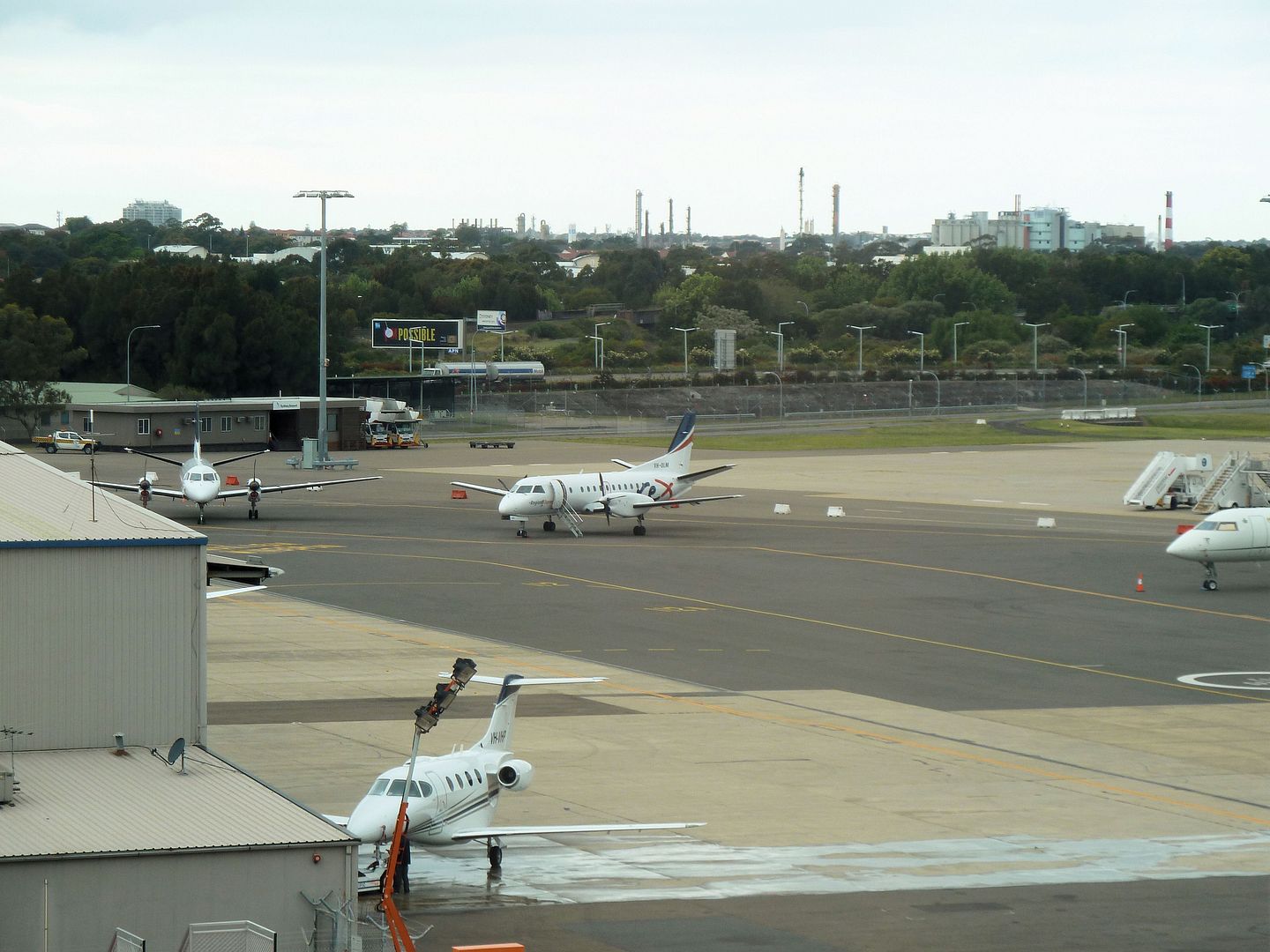 Paul soon called again and picked me up shortly afterwards. Then we went to a nice spot, enjoyed the movements and talked a lot about the airline business and Airliners.net.
Jetstar A330 and SIA 777: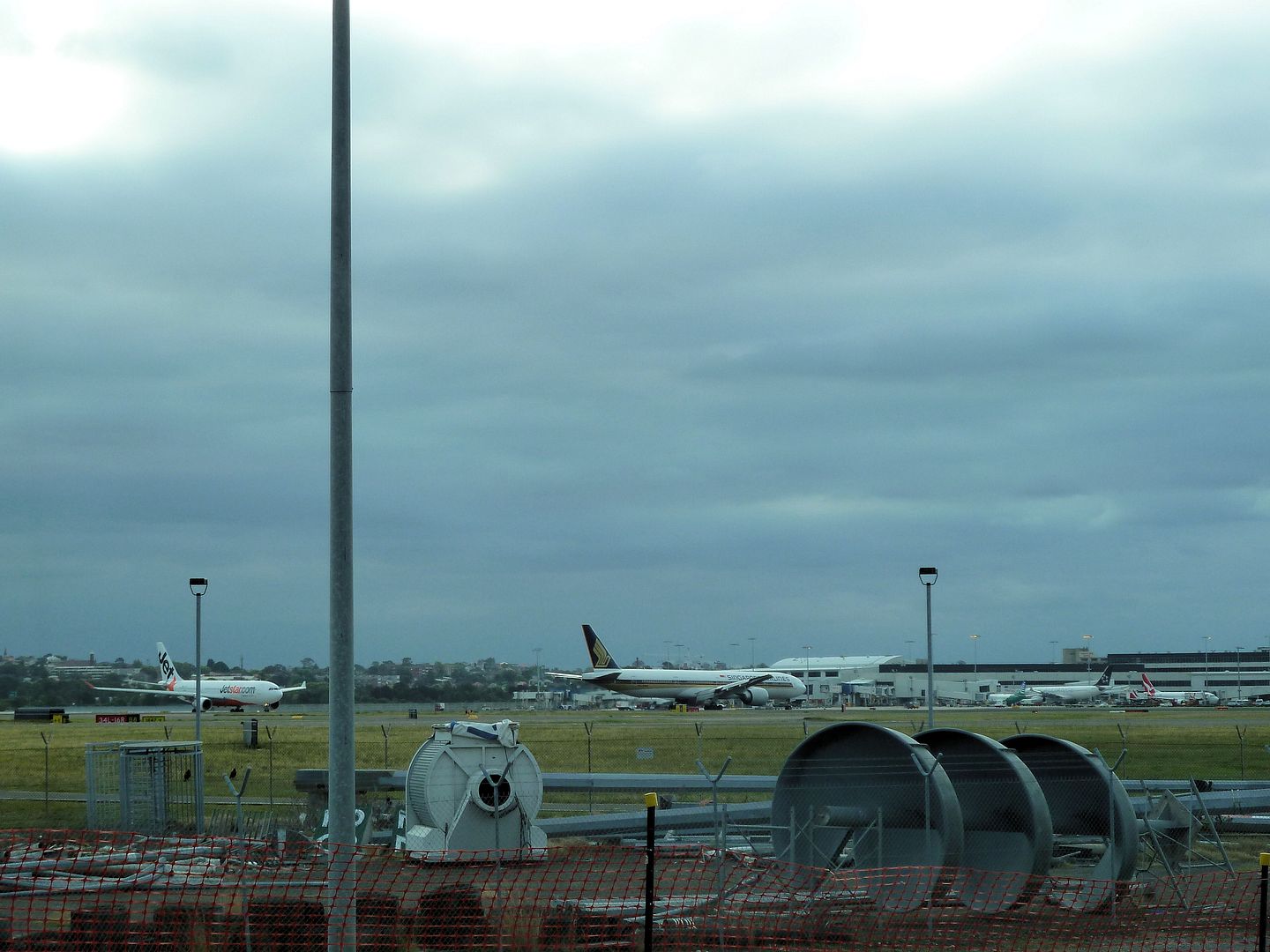 What would Sydney be without the A380? This is VH-OQD: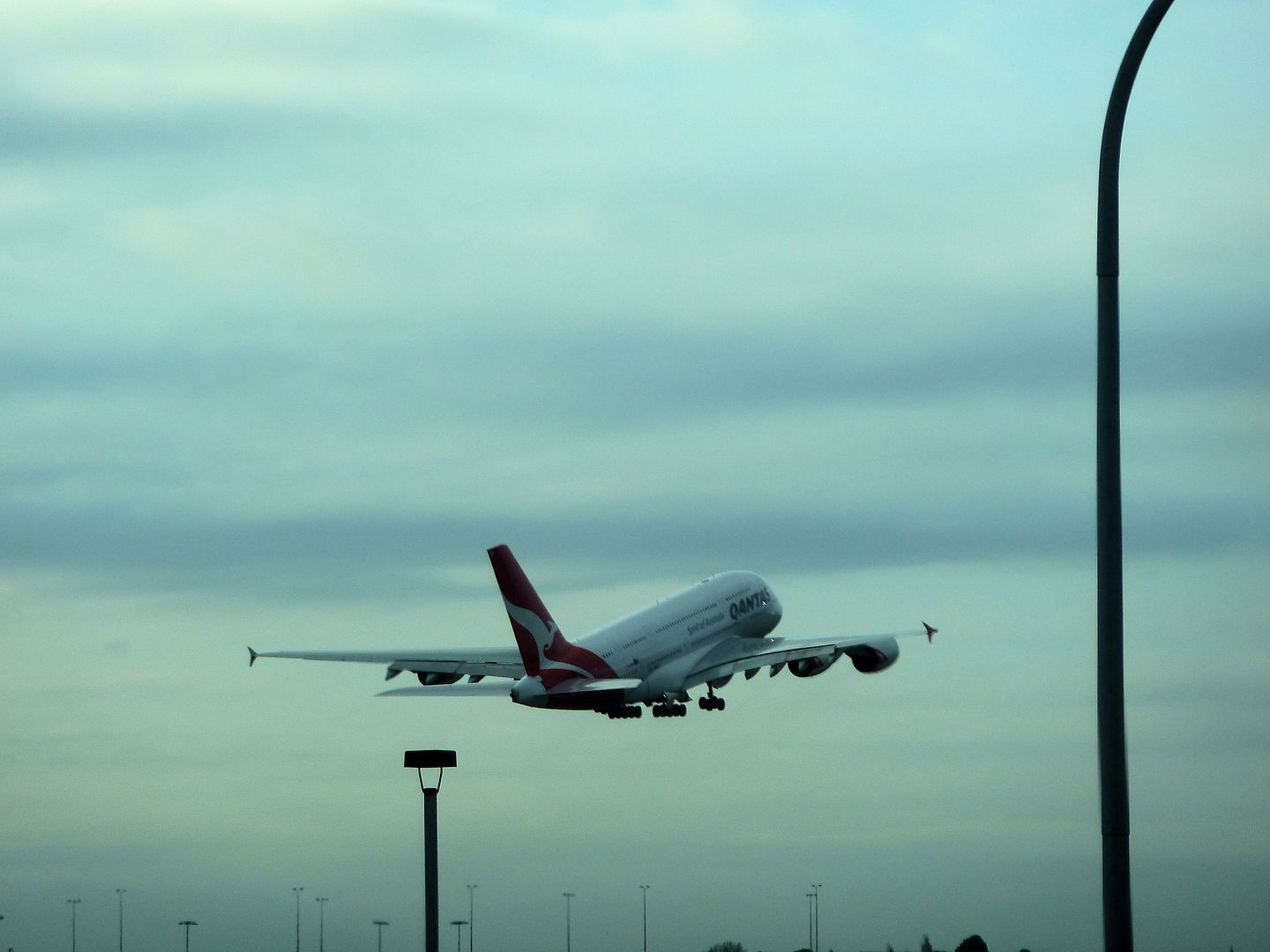 We stayed there until it got dark and within a few hours I had logged 32 new registrations. Many thanks again to Paul for taking the time and driving me around.
Story to be continued...
Conclusion
Tiger Airways Australia
is just another low-cost carrier without a special product. You have to pay for almost everything, seating is cramped and uncomfortable, the buy-on-board options are limited. Passengers can easily get wet during boarding and may arrive at the least attractive terminal areas. My flight operated on time, but there are numerous reports about a lack of reliability (delays, cancellations etc). If I have the choice in the future, I will most likely invest a bit more money and take Qantas or Virgin Blue.
In contrast, flying
REX
and
QantasLink
was a pleasure: comfortable seating, free service (catering and checked luggage), friendly staff. What else can you ask for on short domestic hops? I can only recommend to try these carriers.
From an enthusiast's point of view, the journey between Brisbane and Sydney was a big success: three new airlines (operating almost on time), one new type, one new airport, 86 new registrations and a nice spotter meeting - the result could hardly have been better.
Best Regards,
PlaneHunter
P.S.: Just in case you missed them - my previous trip reports:
Thai Fails To Impress: MUC-BKK-BNE On 744 & 777
Painful Delay & My 100th Airline: AF A380, VO F100
Fifth Freedom Tidbit: Kuwait Airways A300-600
Ship Vs. Plane: Porto Santo Line & Sata Air Açores
Awesome Approach, Splendid Scenery: LIS, FNC & TAP
Guernsey, Ash Cloud Alarm & Mostly Empty SQ 77Ws
Totally Thrilling: Scenic Flight On Lufthansa A380
Cirrus D38, Adria CRJ & Captain Niki Lauda On Duty
Monarch Hot Meal, E195 & More: PMI-ALC-MAN-MUC
Premium Meal & Palma Spotting: MUC-PMI, DE 757-300
The Dead Slow Transfer: PEK-MUC On Air China A332
Cancellation Brings Joy: HKG-PEK on Dragonair A330
A380 Cacophony, 777 Star Livery: DXB-SIN-HKG on SQ
The Next 5* Carrier? MUC-MCT-DXB, Oman Air A330
Turkey For 1.5 Hrs: Daytrip To AYT On Sky Airlines
CO Scores Again: ATL-IAH-EWR-FRA On ERJ, 752 & 764
Riding The Ultra Long-Haul Twin: Delta 777-200LR
Pacific Coast Jaunt: 3 Carriers, E120, E140 & Fog
The Ultimate 737: LHR-IAH-PDX On CO 777 & 739ER
Bye Bye, Hell! TRD-OSL-TXL-NUE - DY/AB/HE DH4
My Trip To Hell: NUE-CPH-OSL-TRD On Cimber & SAS
SFO-YUL-FRA: Map- & Sleepless On Air Canada's 77W
Sin City Gloss & Virgin America's Chic First Class
Seat Dilemma & Canyon Glamour: FRA To LAX, AC 763
On Par With Air France? DTW-AMS-MUC, KLM A330
Goodbye, Red Tails! DC-9-40/50 & Chicago Tour
Champagne & World Of Coke: Air France A340 To ATL
"Mission A380": Disappointing Legs On BA/BD/EI
Delights Of Doha, 773 & 77W: DOH-DXB-LHR On EK
A380 Really a Step Forward? LHR-DXB-DOH On EK
Quality & Style: HKG-LHR On Air New Zealand 744
Taiwan Trio: TransAsia, UNI Air And The Taipei 101
"The Wings Of Taiwan": EVA Air A332, 744 Combi
SHA-SZX, Shanghai 757: Delayed By The Military
PEK-SHA, China Eastern A330 & Shanghai At Night
Striking Newcomer: Berlin-Beijing On Hainan A330
Short & Splendid: MXP-MUC On Air Dolomiti's 146
3 Hours On Blue1: HEL-MXP On The MD-90
BCN-MAD-ZRH-MUC: UX Shuttle Meets Swiss Quality
MUC-MAD-BCN: Star MD-87 & The Pain Of Vueling
Low Fares, Lovely Island: AK & Best Of Langkawi
4 Stars Or 5 Stars? FRA-KUL-FRA, Malaysia 777s
First And Last Time? JFK-FCO-MUC, Alitalia 777
JFK For 1 Day: Transatlantic Hop On CSA's A310
Sardinian Sun, Shiny New 73Gs & Cramped Mad Dog
Top And Flop: KIX-HEL-MUC, Finnair A320 & MD-11
The 524-Seat Twin-jet: HND-ITM On ANA 777-300
Kobe For 1 Hour: 767-Quickie On ANA & Skymark
Rocketing To Tokyo: FUK-HND On JAL (ex-JAS) 777
Oddities & Okinawa: JTA 734 & JAL 744D(Domestic)
MUC To Nagoya: Finnair E170 & (Old) "New" A340
Mad Dog, A320 Tech Delay & Best Of Lanzarote
Canaries Prop-Hopping: Islas Airways & Naysa
Canaries And Confusion: LH CRJ900 & Spanair A321
Hubbing For 162 Miles: HOQ-FRA-STR Ret On IQ/EW/LH
BOS-JFK-AMS-MUC: SSSS-Check And KLM 777
ATL-PIT-JFK-BOS: FL B717, JetBlue E190 And Delays
MUC-AMS-MEM-ATL On NWA A332 And 40-year-old DC-9
FRA-BKK-FRA Via CMB: SriLankan A332 & A343
BNE-SIN-DXB-MUC On Emirates B772ER & B773
2 Hours In Paradise: Hamilton Island (JQ/DJ)
BNE-SYD-BNE: Domestic Run On QF's Oldest B747-400
Testing Qantas: SYD-MEL-SYD-BNE (B738, B763, A332)
Going Down Under: MUC-DXB-SYD On EK A332 & A345
9/11 Review: Failed Trip To LAX - Fuel Dump Pics
Surprised By NIKI's Newest A320 & Screw-up By AB
Leisure Vs. Full Service: Condor & SN Brussels
"betterFly" On LH: Business Class For 99 Euro
Weekend Transatlantic Trip (2): US A321 & B762
Transatlantic For A Weekend (1): MUC-DCA On US
[Edited 2011-02-22 11:34:46]