.
Raison d'être
.
Apparently nobody goes around the world for no reason. So what're you doing over the holidays? Reply that you're visiting a loved one, going bungee jumping, or even lazing on a beach will get you an instant nod of approval. But saying "just flying around" - wouldn't. Being purposeful is our reason for being, it seems. Going walkabout - that wonderful Aboriginal rite of passage - doesn't have a place in today's world. After all, heaven forbid that you fail to update your Facebook status because there's no internet access. No, in the real world, "flying" is a means to an end - not an end in itself. And it's destinations that matter: "so how was London?" I am asked on my return. Very cold and dark, I say. Hotel's nice and really convenient for the airport. Lots of running hot water in the bathroom. Polite bus drivers... my friends outside this forum are so barking up the wrong tree.
.
LONDON
(GMT)
December 27, 2010
.
It's a cold morning with hard-packed snow on the pavements - so let's start with some cold, hard facts. This third RTW installment is the longest distance flown so far within a single calendar day. Leaving a wintry London before dawn, I plan to be in balmy Honolulu just after dinner. It looks deceivingly short thanks to the time difference, but airport-to-airport in real time pushes beyond 24 hours - while total distance travelled today at 7,040 nautical miles is only little short of the two previous stretches between
Kuala Lumpur and Dubai
, and
Dubai and London
combined (at 7,498 nm). Yeah, it'll be a long day.
But it's not a bother. The one over-riding thought as the first Hoppa bus of the day deposits me at Heathrow's Terminal Four at 4.40 a.m. is the fact I'll soon be flying on a trijet. I haven't been able to concentrate on much else. If pressed for one reason why I'm doing the RTW,
this
will have to be it: riding on one of the very few scheduled passenger MD11 flights in existence on the only airline in the world that still operates it. Even if KLM vows to keep theirs flying for a few years yet - don't count on it - we aren't likely to see planes designed like this anymore.
Away from hard fact and in the realm of soft sentimentality, the MD11 brings back distant memories of its handsome predecessor, the DC10, in the days when flying was a much grander affair. So is it worth travelling half-way round the world just to catch a plane with a third engine fitted at the base of its vertical stabilizer? For sure, it must be: this RTW journey exists only because I'm not able to resist confirming the Expedia option showing KL as operating an MD11 between AMS and SFO. The rest, as my credit card company keeps reminding me, is history.
.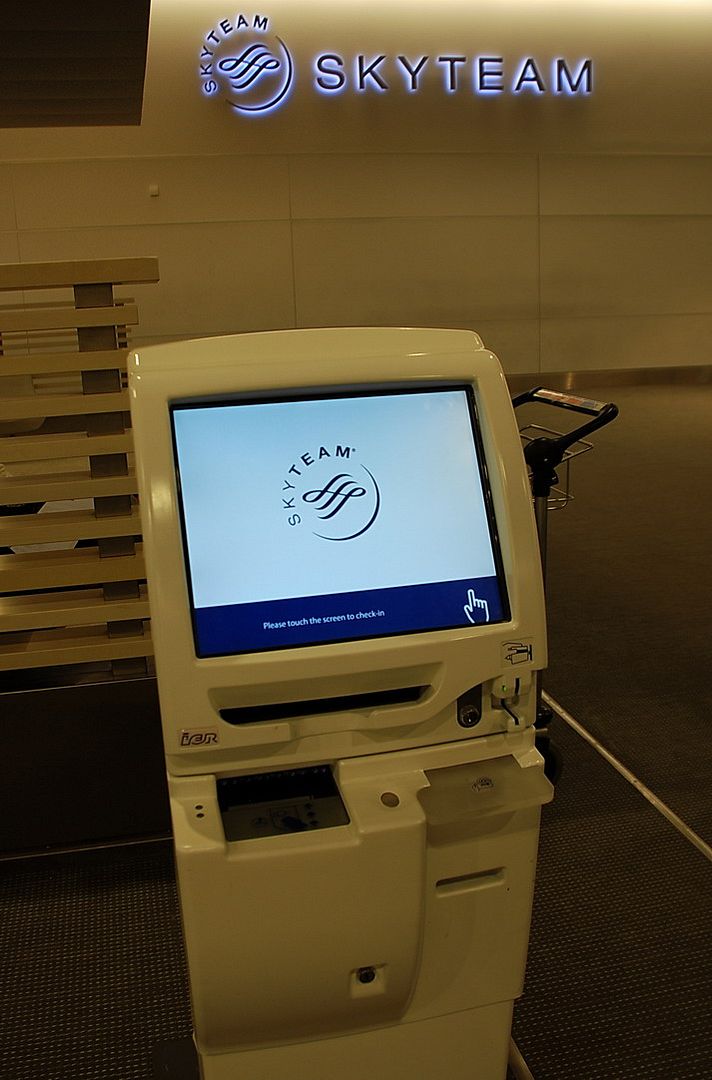 .
An interesting offer came when I attempted to check-in on my computer last night. My pre-selected window seats haven't changed, but I'm also offered the options to upgrade to economy comfort for 120 euro, or business class for 463 euro, on the AMS-SFO sector. KLM's economy comfort (basically Y class with extra legroom) doesn't excite me, but the J class upgrade is really good value considering the fare I paid for Y. So hey, why not splash out a little more? But my attempt at trading-up ended in frustration: the site tells me at the payment stage there's a "technical" problem, and leaves me wondering if the upgrade went through.
My instincts tell me I'm still stuck in Y, but this morning at T4, the queues for SkyTeam's economy class check-in are so messy (where exactly do these lines start?), I'm reluctant to join them. There's a sense of déjà vu about it all - and not in a pleasant way - I remember the state of disarray here while trying to check-in for an AF flight exactly one year ago yesterday, and it seems nothing's changed.
.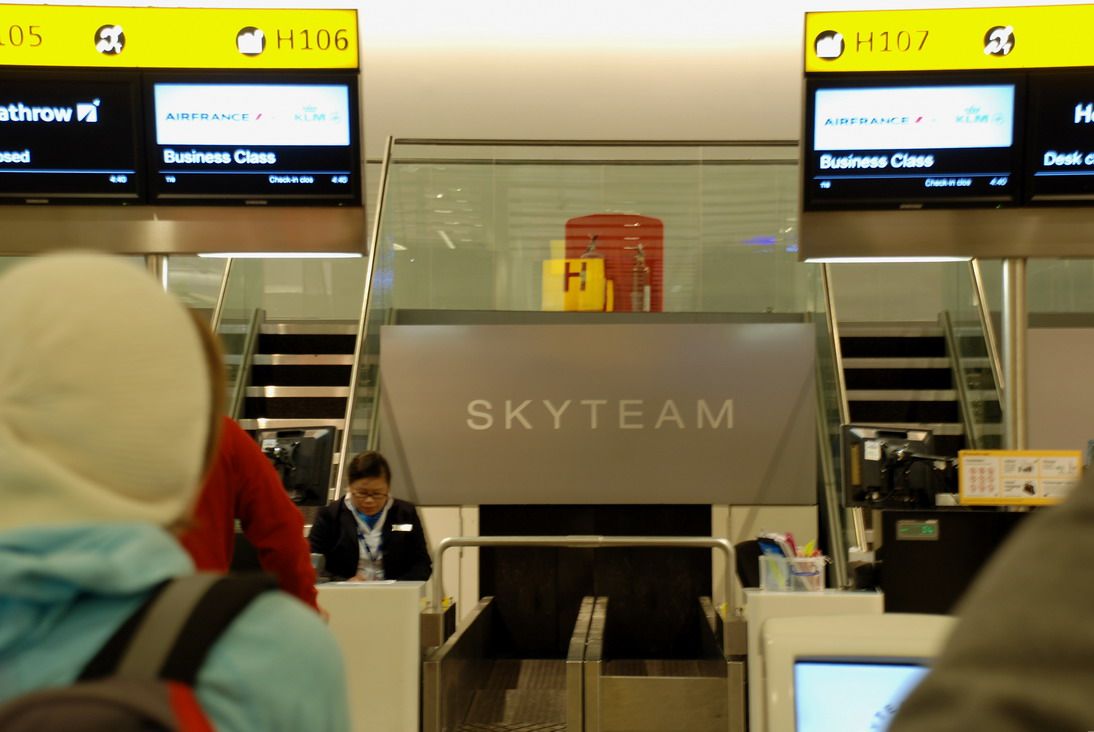 .
The much shorter lines at the premium class desks look much more inviting, and so I try my luck there, explaining my predicament to a friendly agent. She confirms I'm still booked in Y and suggests I try the ticketing desks first to check about the upgrade. So off I pop to another counter where a ticketing agent says he knows nothing of the online offer. The only upgrade to business class he can offer is based on the published fare, and that'll cost me a couple thousand euro! No, thank you. Looks like I am destined to join the muddle of Y queues.
.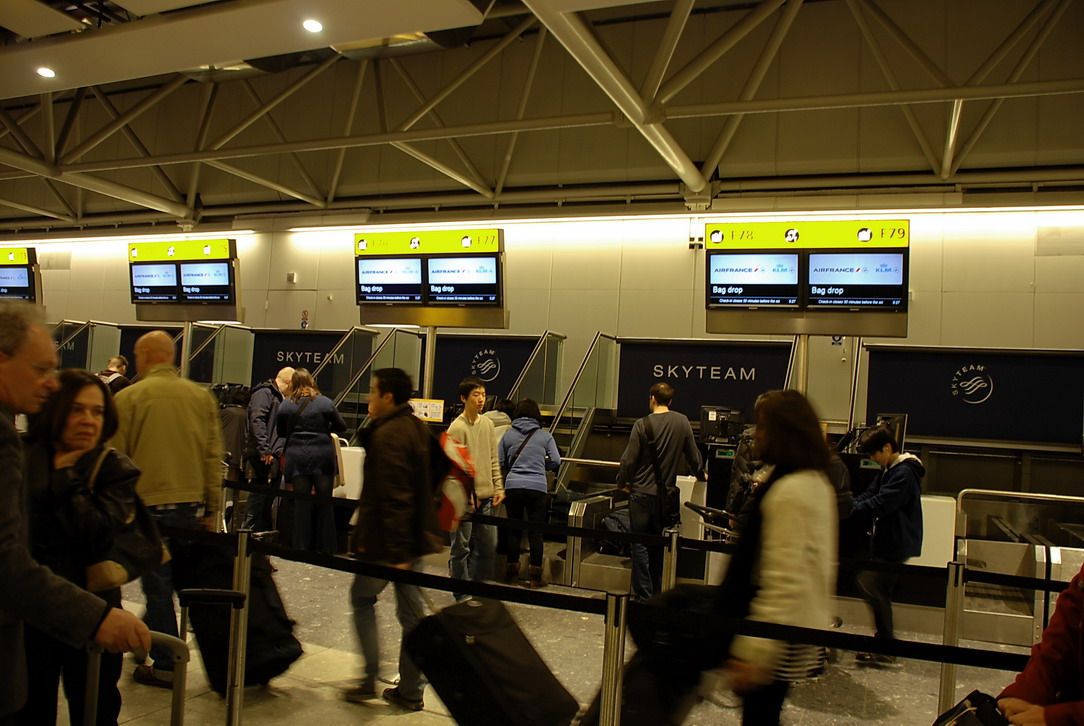 .
As it happens, the check-in experience isn't as horrendous as it looks from a distance. I first get my boarding passes - for all three flights today, including the last SFO-HNL sector on Delta - printed quite easily at an empty self-service kiosk within the premium check-in zone. One of the reasons why the Y class area looks more chaotic than it should be is because of a shortage of these kiosks. Combine that with T4's space constraint, inexperience in using these machines by passengers headed out on multiple sectors - almost everyone is on these early morning KL and AF flights - and what you get is a scrum of confused and frustrated travelers, in their hundreds. Once you learn how to bypass them, the queue (when you find where it starts) for the bag drop is at least reasonably organized and fast-moving. The whole rigmarole takes me more than an hour - faster, I am certain, than for many others here - and I'm glad to be finally moving on. I just love Heathrow.
.
.
Mercifully short queues at security are painless, and I'm soon tracking via an uninspiring shopping mall down to gate 15, where the boarding process for LHR's first flight of the day to Amsterdam is already underway. There's no view of the plane from here - a B738 is scheduled, though I'm secretly hoping for a last minute substitution with a -700 or -900 - but in any case, it's still dark outside. I join the boarding queue and am soon aboard.
.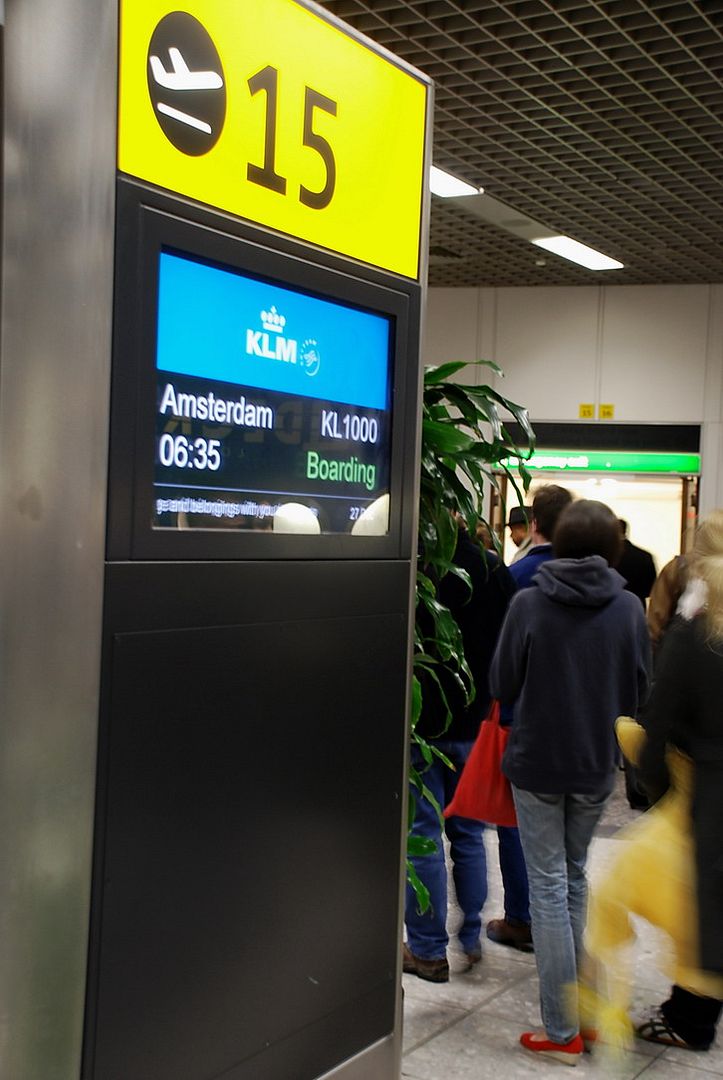 .
London (Heathrow) to Amsterdam
371 km
KLM Royal Dutch Airlines flight KL 1000 Boeing 737-8K2 PH-BXW
Dept: 0657 Arrv: 0901 (on time)
Good morning! The welcome is more efficient than warm, but it's pleasant enough. My seat is close to the back of this well-maintained 3-year old baby Boeing christened
Patrijs
. (KLM's 737NG fleet is named after birds - which kinda reminds me of JAL's MD11 J-birds, which I had the privilege of riding when they were still around.) Apart from a very small, 2-row business class forward section in the standard European configuration, it's all economy seats in the dark blue fittings that I've associated with KLM ever since I can remember. Considering this is an almost full flight with plenty of bulky coats and hand baggage to stow, the crew gets everyone seated quickly, in a remarkably smooth boarding process.
.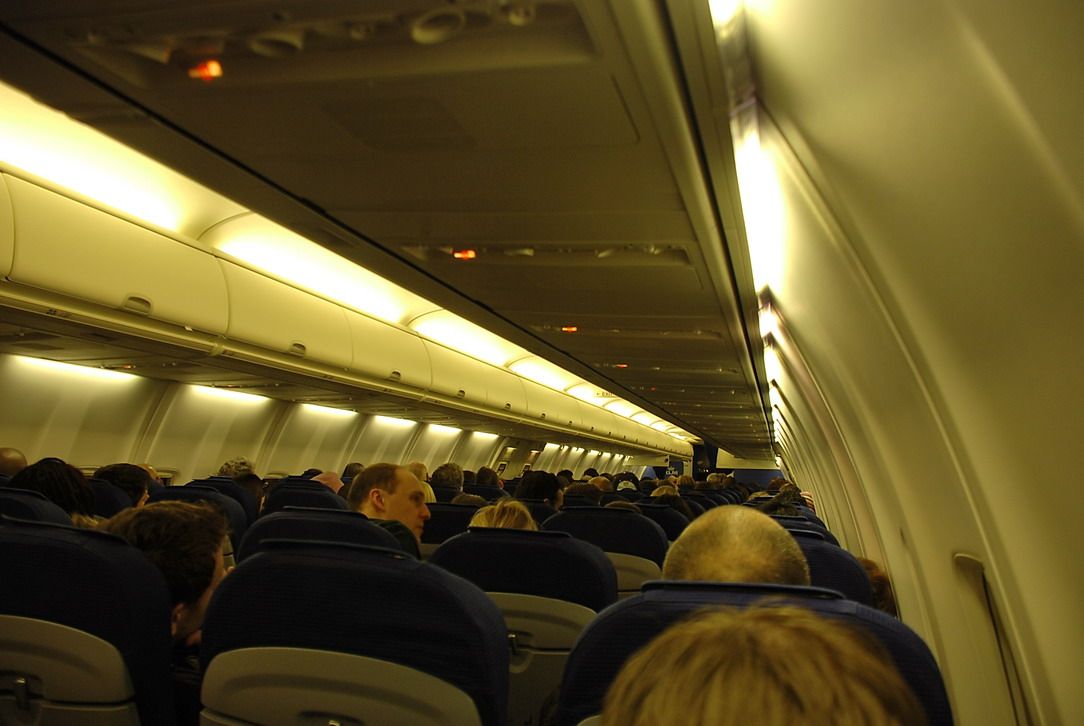 .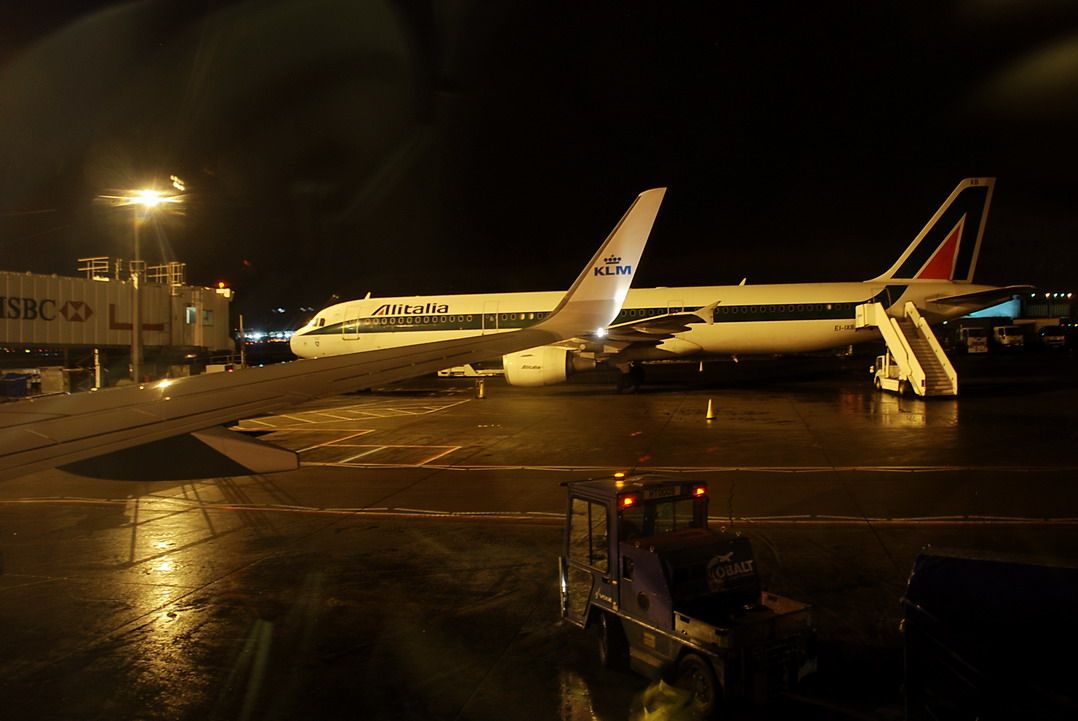 .
It seems we are almost ready to go. Outside an Irish-registered AZ A321, having spent the night here, is parked alongside awaiting a departure home later. Aboard KL1000, the first of several cheerful updates from the flight deck welcomes us aboard. This is very much appreciated, of course. But what I haven't yet grasped is the ability to make out - much less spell - Dutch names, and to fully appreciate Dutch humor. "Good morning, this is (I don't catch the name) the First Officer speaking... hmmm, but today, the Captain on this flight. Hahaha. Also on the flight deck is (another name I don't catch), the First Officer; you can call him Purser on this flight. Hahaha." After hearing that, I take comfort in the thought this may just be funny talk from the man in command of a plane belonging to trusty, reliable KLM - the world's oldest airline, after all. (Had this been a cockpit announcement from a less reputable airline, I would have been a little worried.) The speech ends with wishes for a good flight on "this really fantastic Boeing 737-800."
.
.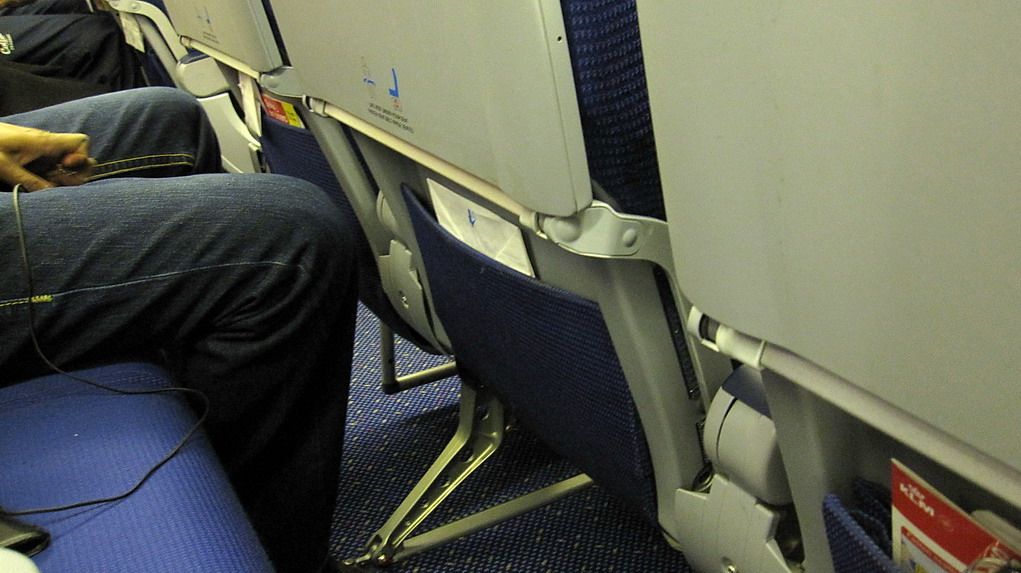 .
Our departure is however delayed due to a missing passenger, and after removing the checked baggage, we finally push back more than 20 minutes late. Legroom is standard and not uncomfortable for the short 40 minute sector. I am also rewarded with one of the few empty seats on this flight right next to me, so I can hardly complain. We taxi out, crossing nearby runway 27L that's busy taking early long haul arrivals this morning, and push on to 27R, the active departure runway, where there's no further delay. The CFM56s are a lot louder during climb than I've heard them before, and we're quickly into cloud in a mildly bumpy but uneventful hop across the North Sea.
.
.
Two trolleys, each manned by two crew members, are rolled out immediately the seat belt signs come off. Breakfast is dispensed in an efficient and yet friendly manner, which is somewhat how I've always pictured service aboard this most egalitarian of regal airlines. The food offering isn't fancy but is of good quality: the packed chicken and cheese sandwiches are fresh and moist, there's an offer of good coffee, tea, orange juice and water. Rather nice catering I think.
.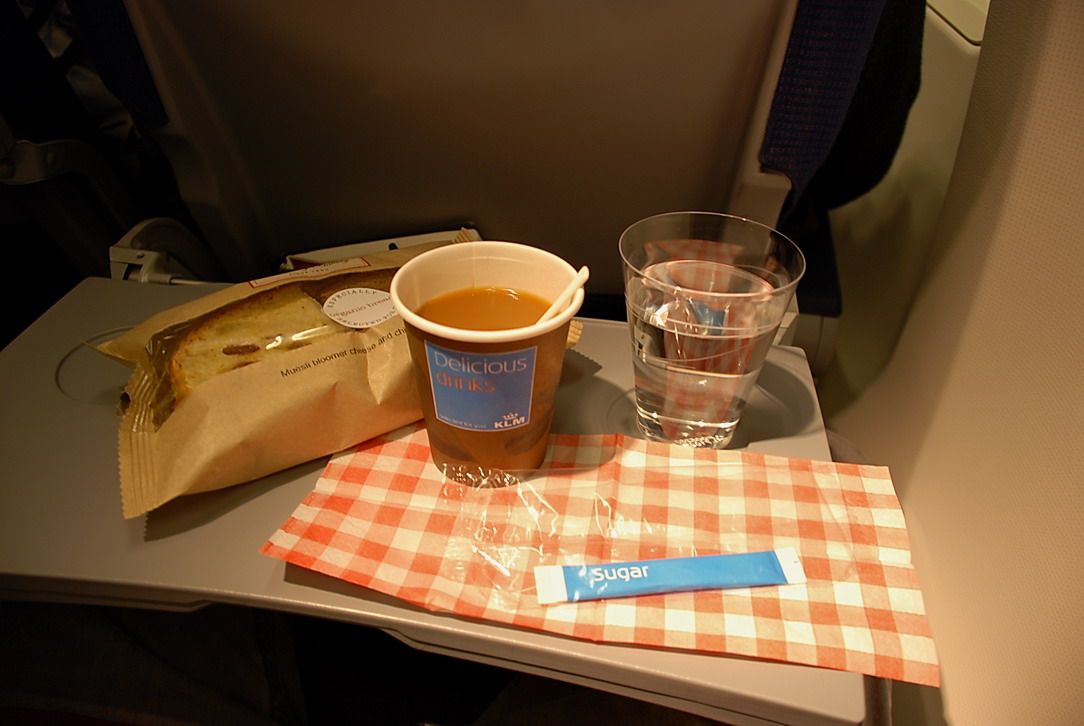 .
Glimmers of a sunrise in the distant east accompany our descent into Schiphol. The First Officer/Purser comes on to say we're 10 minutes out. It's a bit foggy in Amsterdam and temperature's minus one degree Celcius. He warns of a long 15 minutes taxi after landing, and says we'd been allocated gate D10 - a most appropriate one, I thought, ahead of an MD11 ride! Despite the departure delay and long taxi on arrival, we're still expected to be some 5 minutes early at the terminal - which just shows the incredible amount of schedule-padding airlines do these days.
.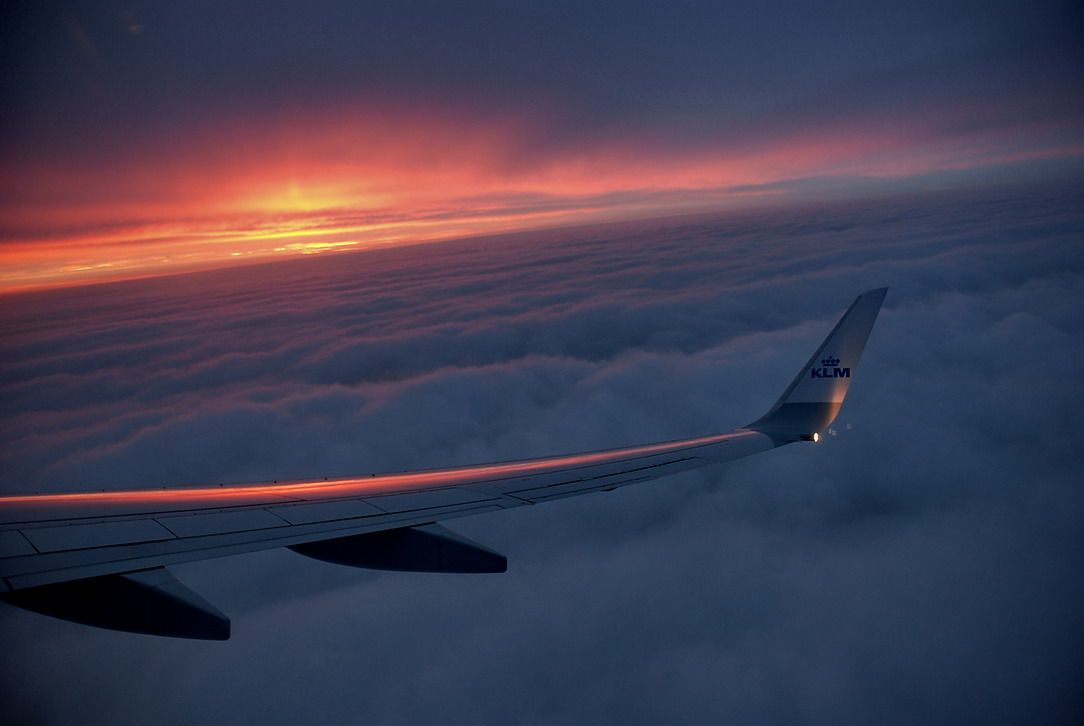 .
.
Our pilot isn't kidding about the fog. Thick cloud obscures almost everything and visibility is poor - it's not until moments before touchdown that I see the snow-covered fields and frozen soil around the airport. Of course, I'm assuming it's the airport because that's what I'd been told - the Schiphol terminal is nowhere to be seen.
We'd apparently arrived on 18R/36L - otherwise known as
Polderbaan
(isn't it cool that AMS names its runways?) - the airport's longest runway. But it's better known among frequent fliers as the runway located so far from the Schiphol terminal, it's in another town - not to mention the butt of many a sacarstic joke among KLM crew. And no wonder. The taxi (I'd be tempted to call it a 'drive') itself is quite fascinating - passing snowy fields, along and then across a canal, alongside trunk roads, and then crossing a busy eight-lane highway. It's lots of fun. And for someone traveling round-the-world with hardly a decent stop along the way, I think this qualifies as sightseeing.
.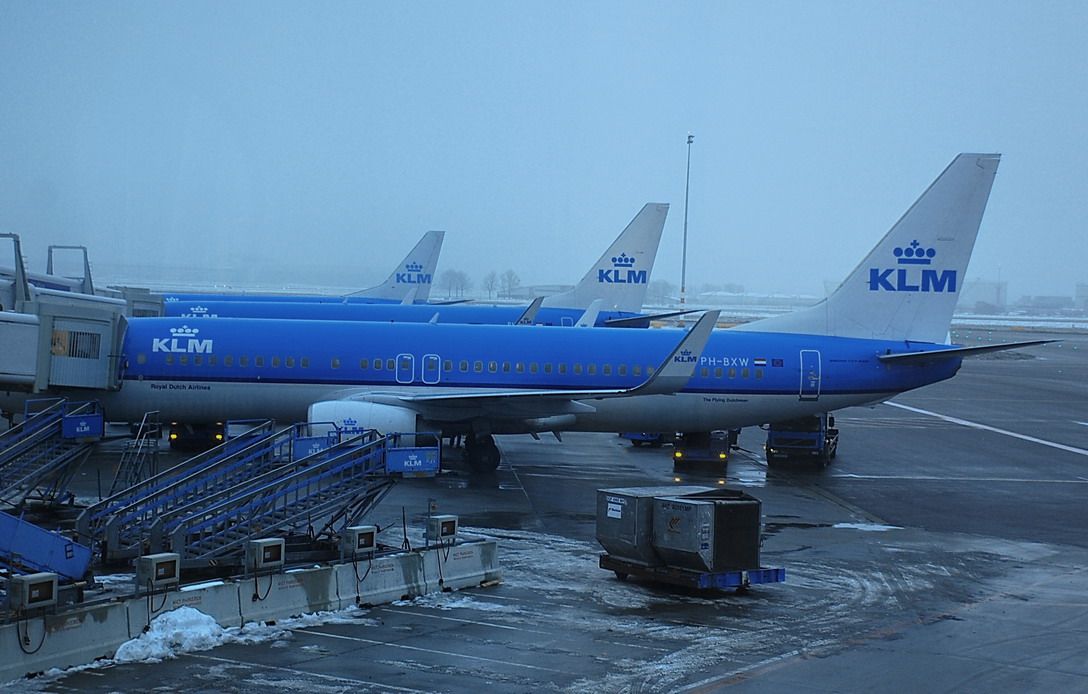 .
It takes us about 20 minutes to get to gate D10, where we slip in among familiar machines, amazingly four minutes ahead of schedule. The weather is bleak and austere but at least it looks managable here - much better than at nearby CDG which is still reeling from weather paralysis over Christmas. Winter travel is always dicey but this season, things seemed to have turned really bad on both sides of the Atlantic.
.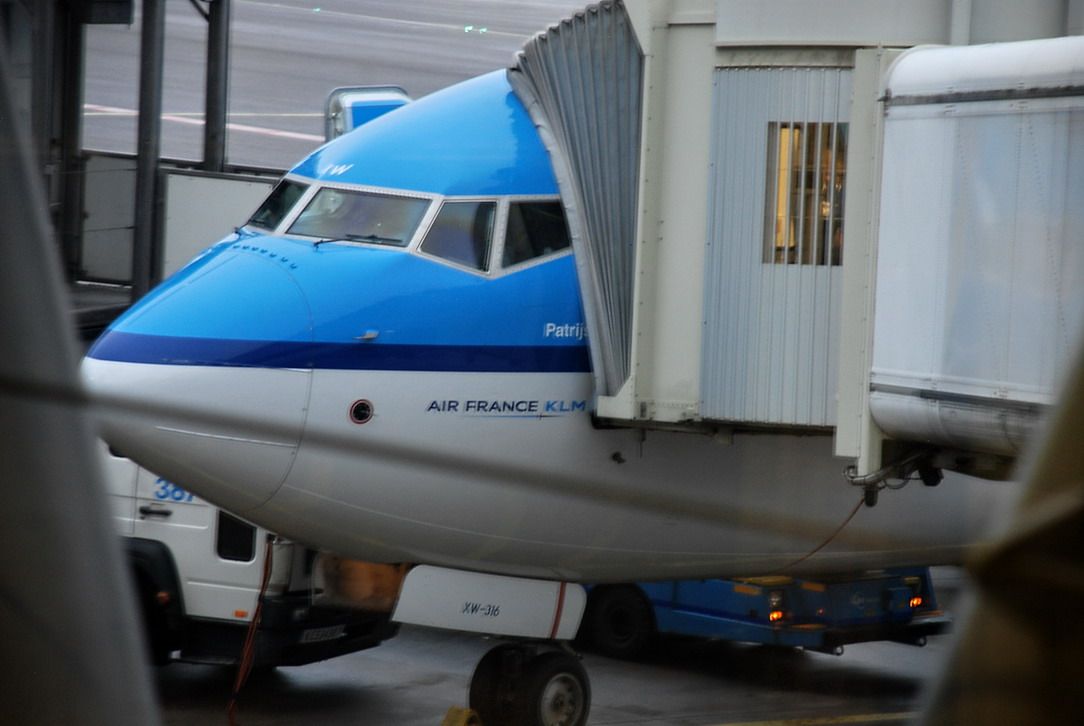 .
AMSTERDAM
(GMT +1)
.
It's been a long while since I'd been to this airport - heck I must have been just a kid then - so this visit does feel a little like a first. And what a nice place it is. A single terminal with bright open spaces, Schiphol is uncomplicated and instantly likable. No wonder it frequently wins the top places among the world's best airports. It feels a little like Singapore's Changi Airport without the carpeting - but then maybe that's not entirely coincidental: the original design of SIN was modelled on AMS, wasn't it?
.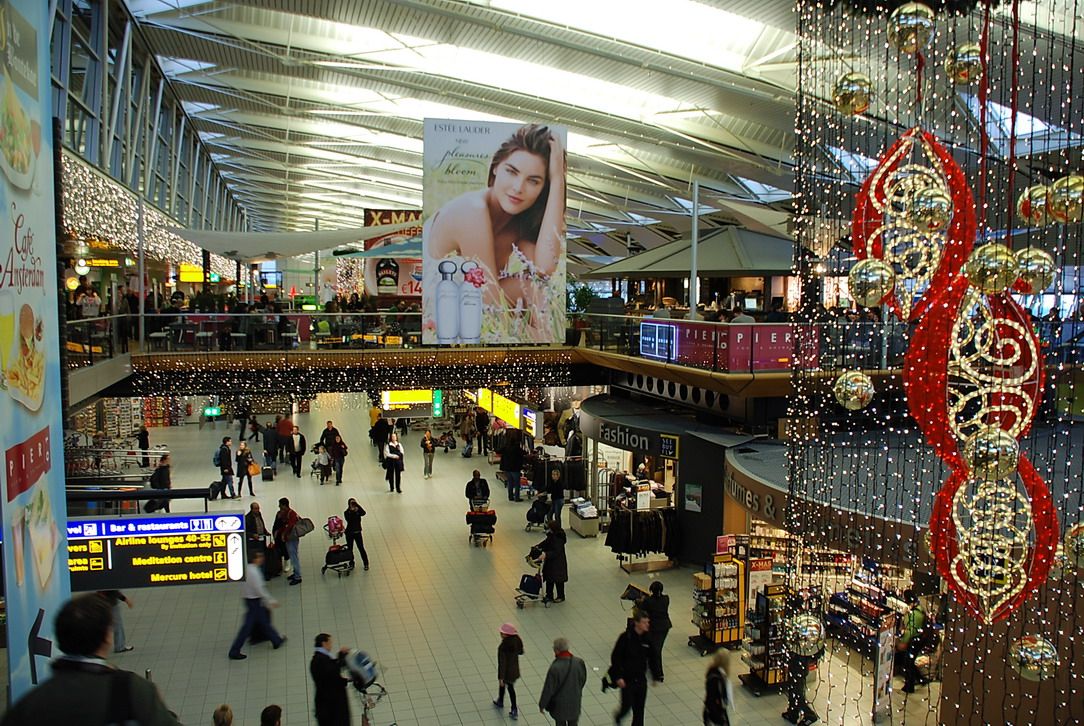 .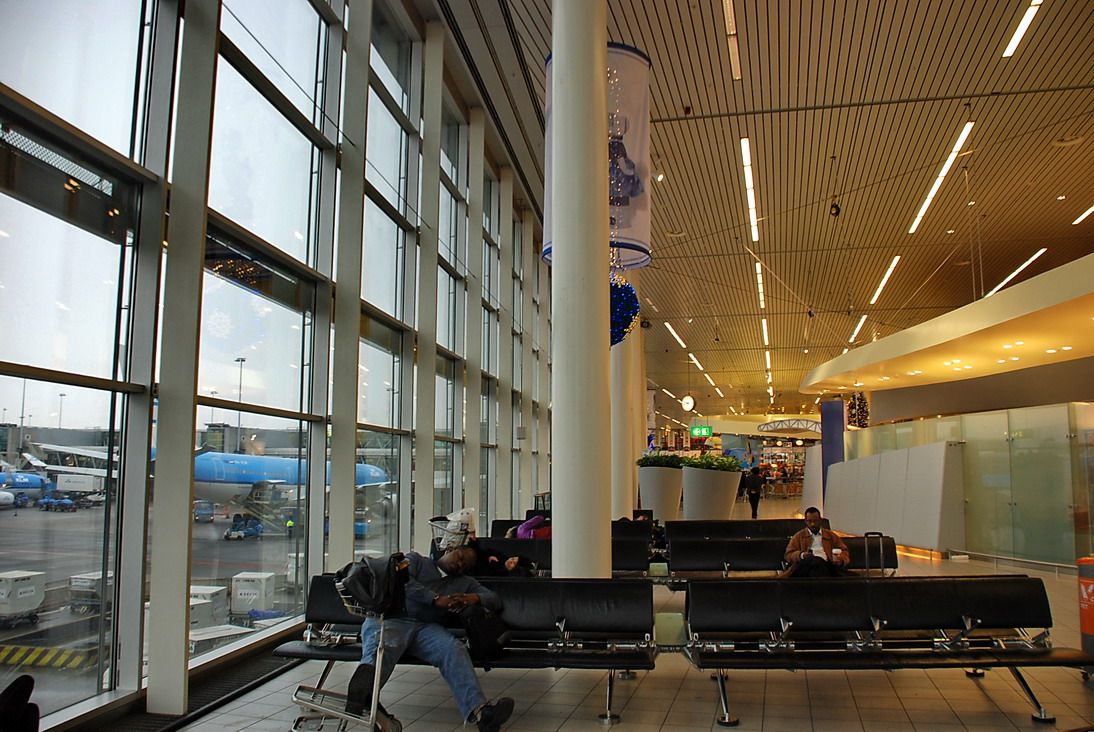 .
There's no shortage of shops, food outlets or diversions (like a casino or museum) available to transfer passengers the moment they get off the plane at Schiphol - no dark, windowless passageway to a cheerless security check-point here. Pity the airport's rooftop viewing terrace is only available landside, but the large windows airside with a view of the tarmac aren't too bad either. I don't have to try hard to spot this Martinair 50th anniversary retrojet, and am now quite glad I did, with the airline expected to cease all passenger flights this year. This machine will be headed for Punta Cana in the Dominican Republic next. Parked in the adjacent gates are a couple of MD11s, one of which, I'm almost certain, is my ride today.
.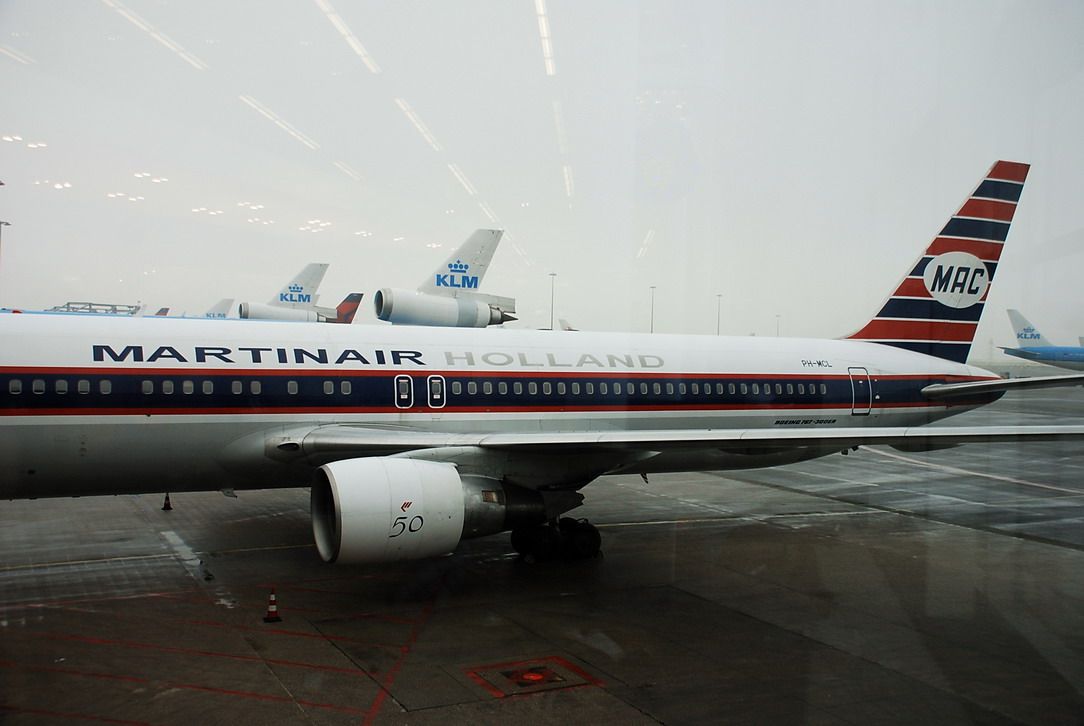 .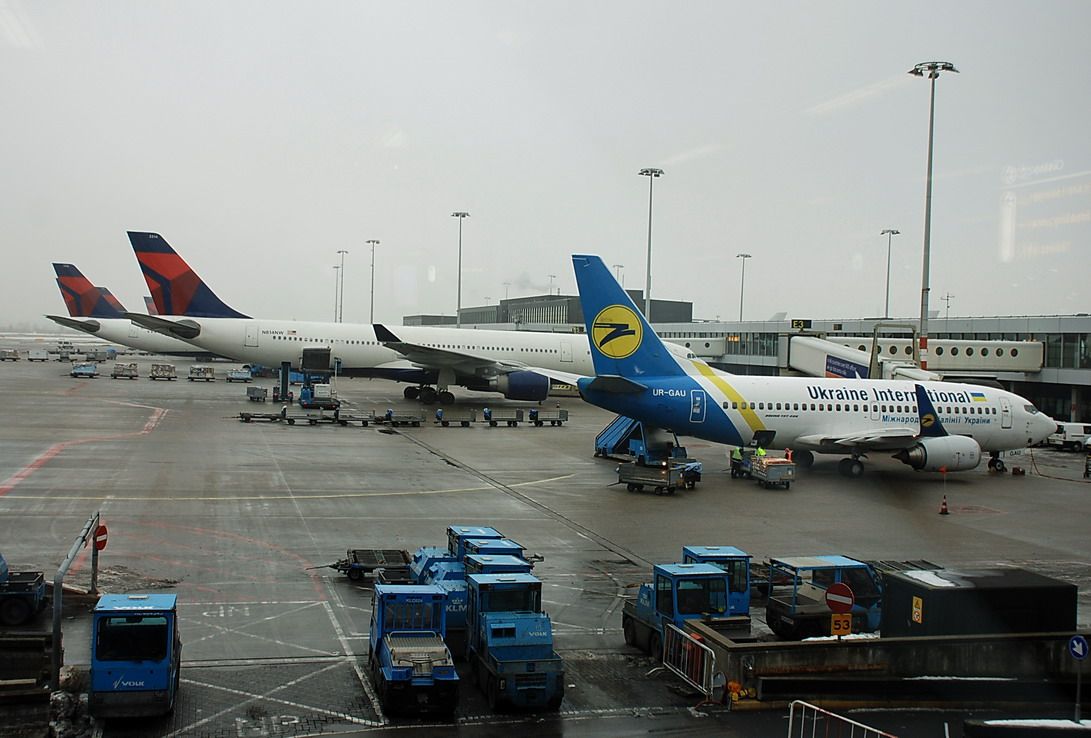 .
Across the other side of Pier E, which handles non-Schengen flights, is a whole delegation of A330s headed soon for every major DL hub across the pond. More interesting, is this Ukraine International Boeing 737 - one which I initially mistaken for a series 700 or 600 (neither of which the airline operates), but only when I look more carefully at the fuselage, do I realize it's a B737-500 fitted with blended winglets. Outside of the U.S., and maybe parts of Europe, a classic with winglets is quite a rare spotting - and I'm mighty pleased. This unique bird is no spring chicken though: she's 19 years old, having previously flown (without winglets) for China Southern.
.
.
Delft blue pottery, tulips, and the Royal Dutch airline, three meters below sea-level - the essence of Holland, from an outsider's perspective, condensed into one frame. I truly appreciate how this airport frequently, but subtly, reminds you of where you are - so different from say Heathrow that would probably consider any display of local identity that wasn't paid advertising an extravagance.
.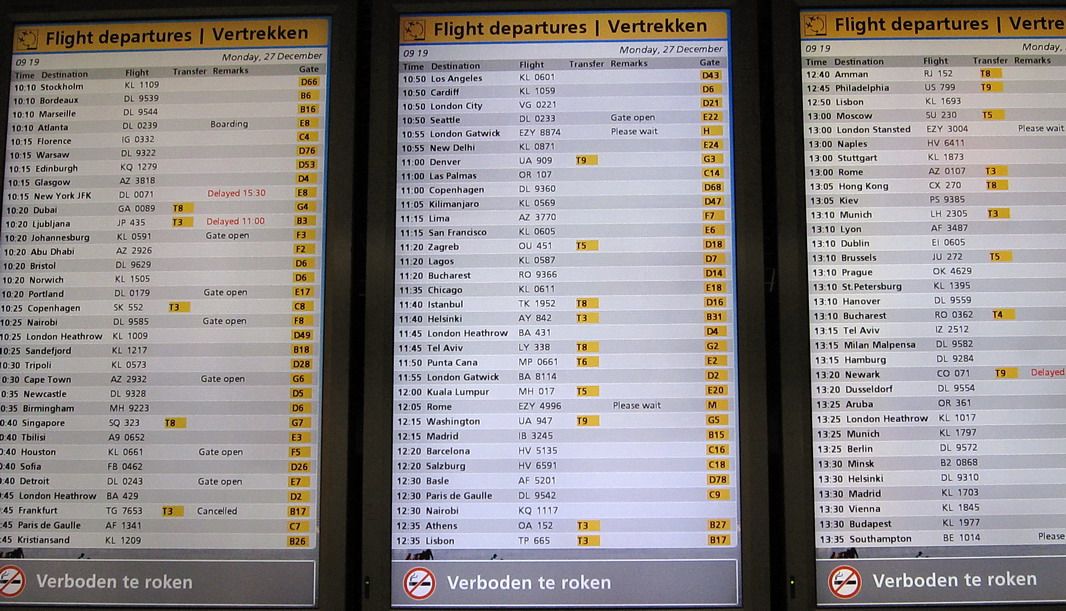 .
Passing the transfer counters, I couldn't resist stopping to ask about last night's mysterious upgrade offer. I doubt if the offer is still good now, but it's worth one last shot I reckon - if they don't know about it at HQ, I can't imagine who would. There's a whole row of self-service machines, but I go straight past them to join a queue to see one of the counter agents. But even before I get there, I'm intercepted by a KLM ground staff asking if she can be of assistance. I explain my situation, to which her immediate response: "Aaah that... humans can't help you!" is rather funny. "Let's try one of these, and see whether the offer is still in there," she says, leading the way to one of the blue boarding pass dispensers.
.
.
The agent stays with me as I punch in my PNR and true enough, there they are on screen: the upgrade offers I saw online last night, at the same prices! Incredibly, all this is happening scarcely an hour and a half to departure. I click the J class option without hesitation, select my new seat - aisle, as unfortunately all windows had been taken, which wasn't the case last night - insert my credit card into a slot, and out pop my new boarding passes, all in less than two minutes. Amazing how little time it takes to transform steerage filler into a low-yielding premium pax worthy enough of being addressed by name. "Mr Lee, do you know how to get to the business class lounge?" she asks. Ain't credit great?
.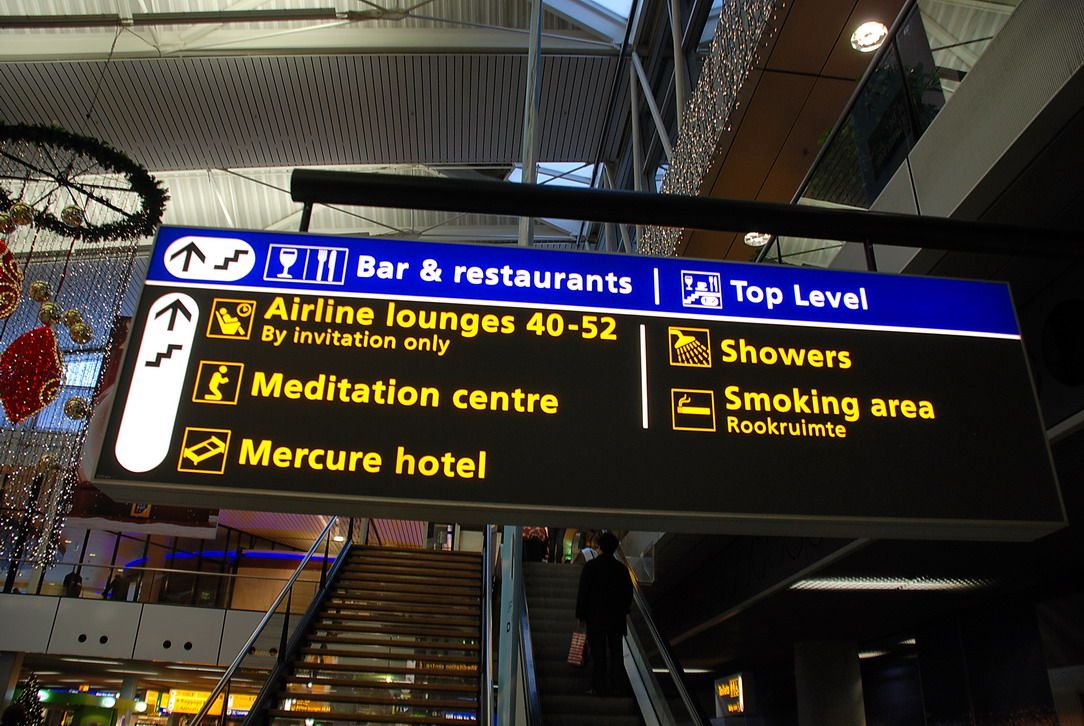 .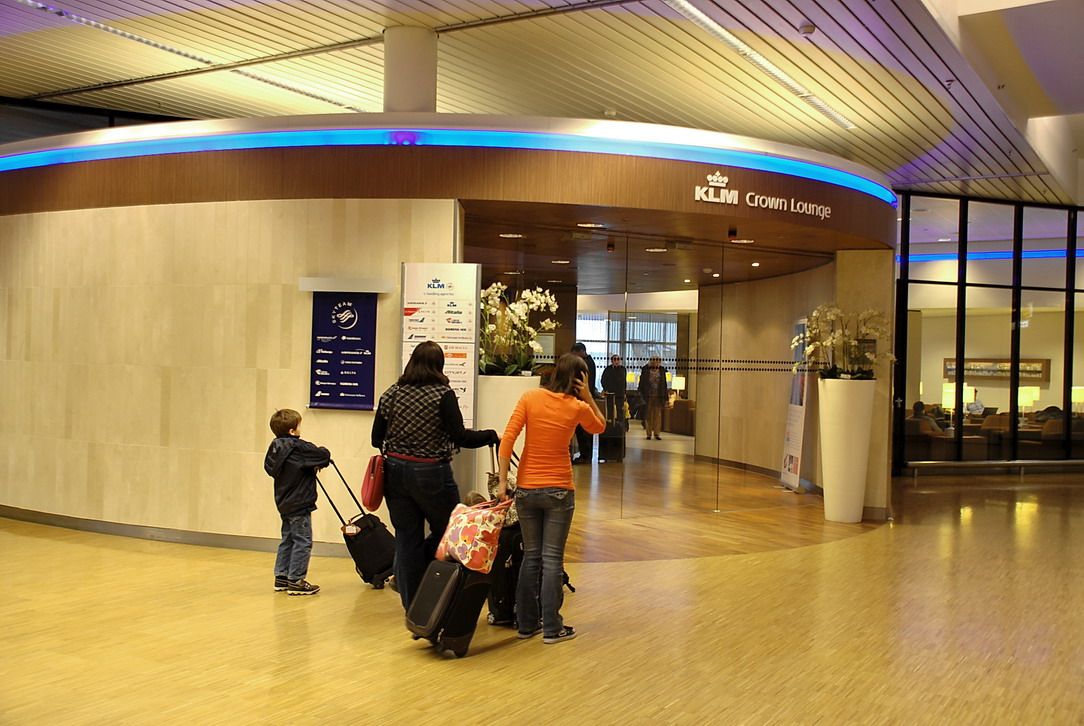 .
Business class lounge number 52, otherwise known as the KLM Crown Lounge, is located upstairs near pier F, a short walk away via Holland Boulevard, a trendy and up-market collection of shops and food outlets with a distinctly Dutch theme. There's a bright and welcoming entrance to the premium lounge that's also open to passengers of SkyTeam carriers, as well as those from a few other non-member airlines, including prospective members CI and GA.
.
.
The interior of this spacious lounge is rather pleasant - the split levels, seperate areas for lounging and dining, and interesting lighting make it worthy of a couple of pics, at least. That's basically why I come in here - the privelege of using a premium lounge is usually quite wasted on me: unless I'm traveling with company, I'm usually wanting to be leaving 10 minutes after I arrive. This place, nice as it is, isn't an exception.
.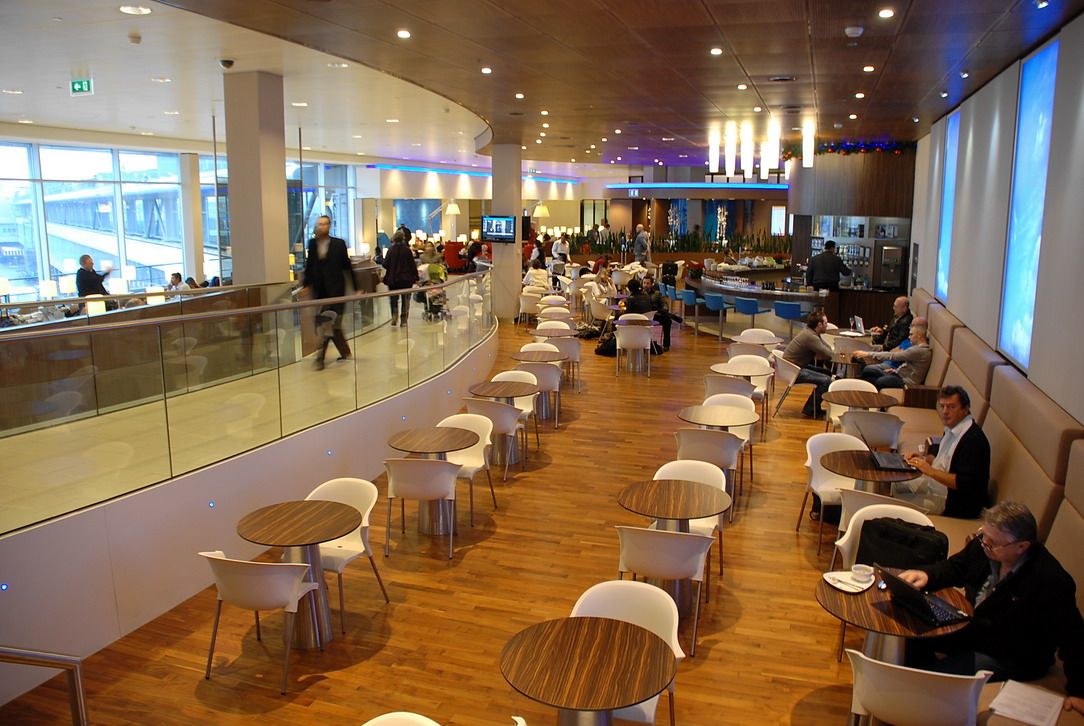 .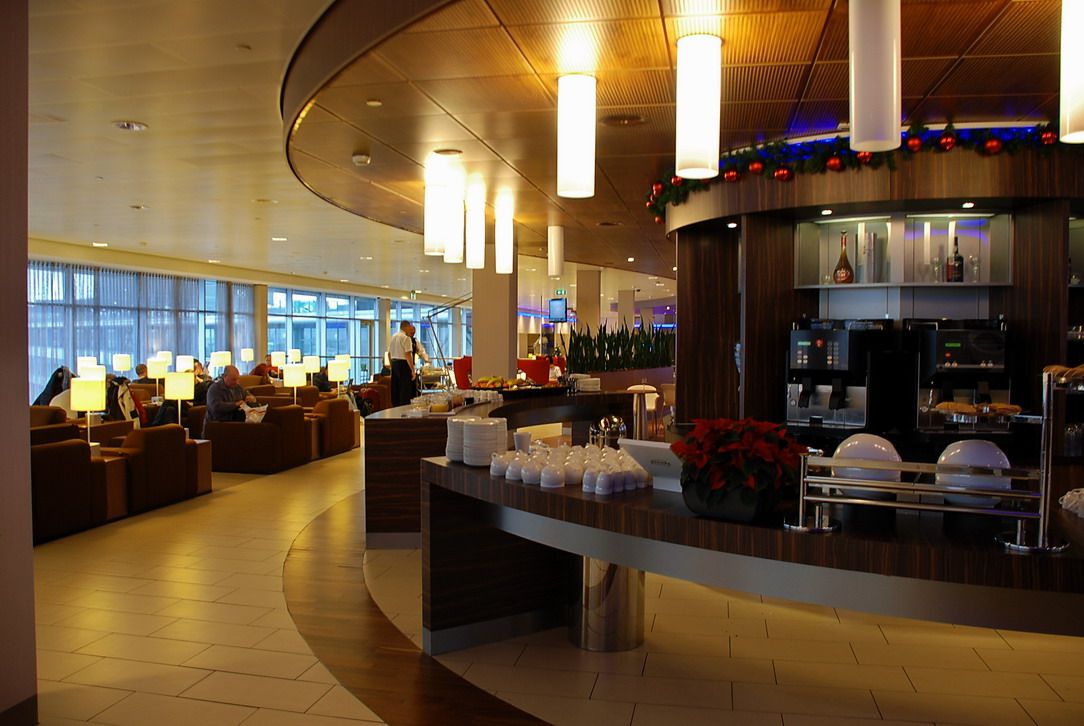 .
It's not overly crowded today, but I heard it can be. There are coffee stations, bar counters with a good selection of drinks, and a fair - but not overly exciting - choice of breakfast items. It's about an hour to departure and the large FIDS screen in the lounge indicates the gate for my SFO flight is open. I gulp down a coffee, and am all ready to go.
.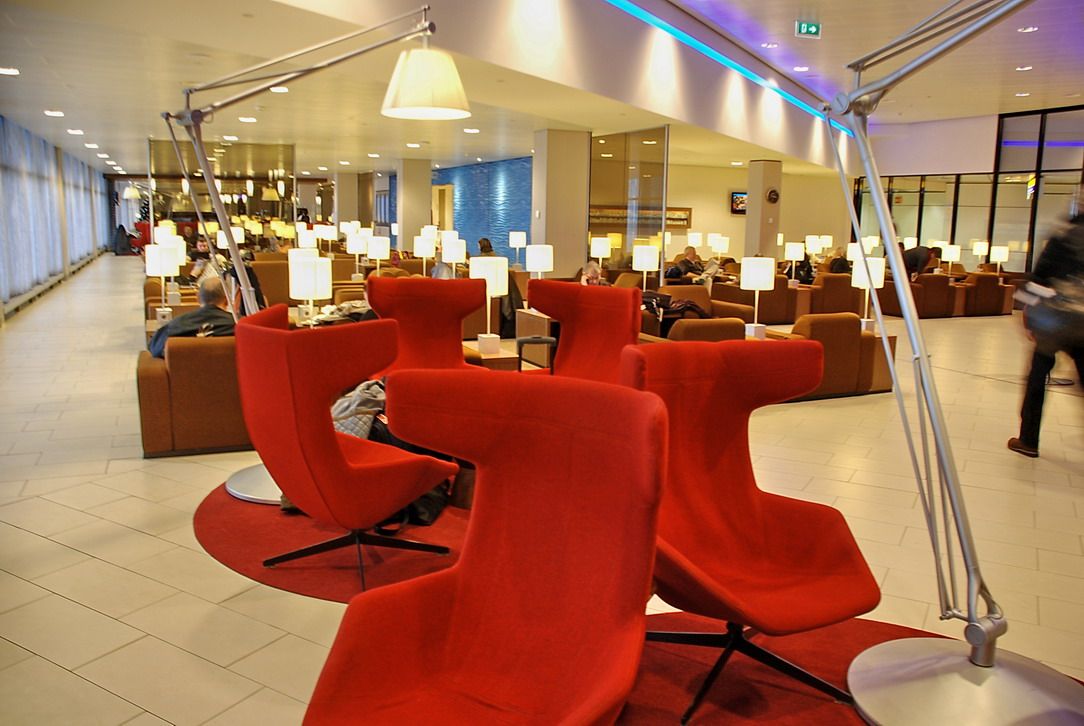 .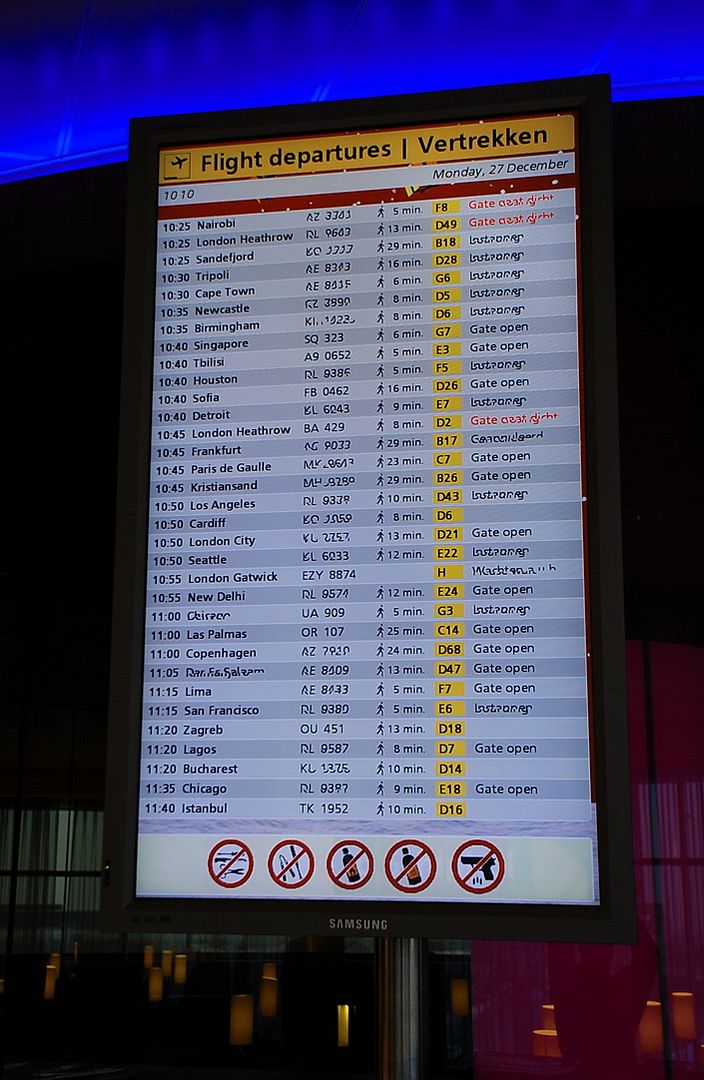 .
It's a short few minutes' walk to gate E6 where my gorgeous MD11 awaits. Operating KLM 605 today is PH-KCK, delivered in 1997 and the youngest of ten trijets with the airline, and also the very last MD11 passenger jet made in Long Beach that's still flying passengers today. She could be a little bit cleaner but looks majestic all the same. Before I forget, much more on the MD11 can be got at this fantastic tribute site:
http://md-eleven.net
Looking at the list of past operators, I am quite amazed how many passenger carriers had operated the type over a relatively short life-span.
.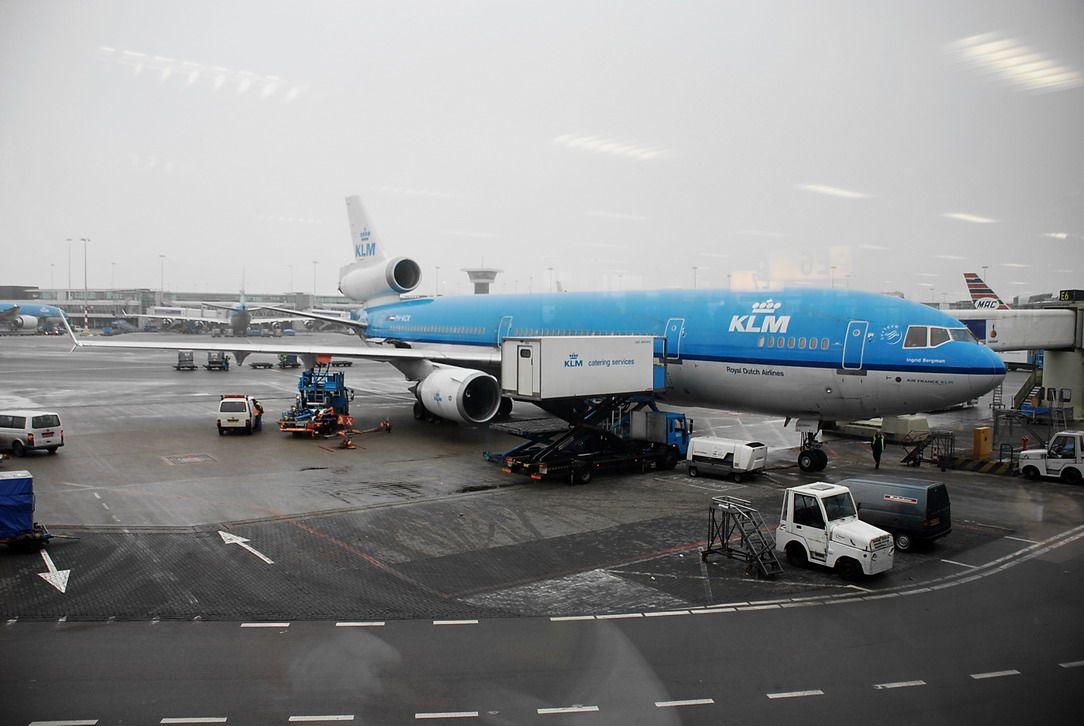 .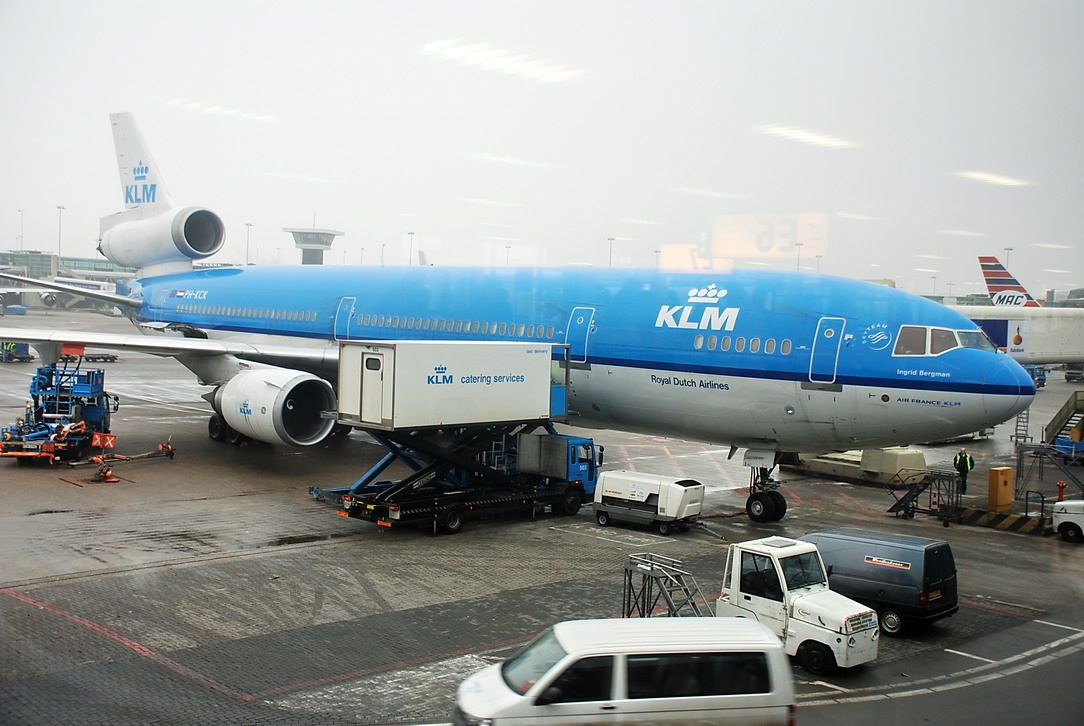 .
The light isn't great, so these pics aren't the best: my apologies. (Yeah, blame it on the weather when you can, haha.) Each of KLM's MD11s are named for famous - but largely uncontroversial - European women, and today, it's Swede Hollywood star
Ingrid Bergman
who'll be winging her way to California. Other MDs include
Mother Teresa
, opera singer
Maria Callas
and physicist
Marie Curie
, making for a truly eclectic mix.
.
.
There can't be a more staunch General Electric customer than KLM: the airline and the CF6 turbofans in their various guises go way back, almost to the first wide-bodies actually. The CF6s powered the airline's DC10-30s, while KLM was the first customer of the CF6-operated B742. The tradition continued with the A310, B743, B744, B763, MD11 and A332, all came equipped with GE CF6s. Meanwhile all of KL's B777s are powered by GE90s. Talk about loyalty. The particular version on my MD11 today is the CF6-80C2D1F I believe.
.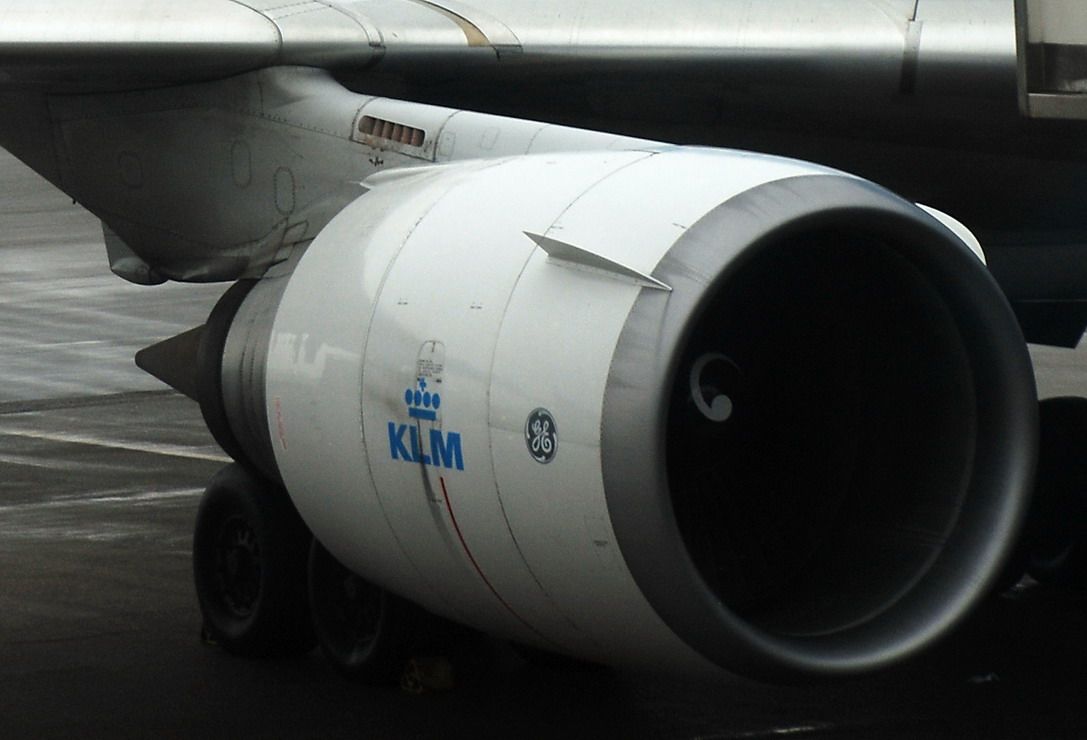 .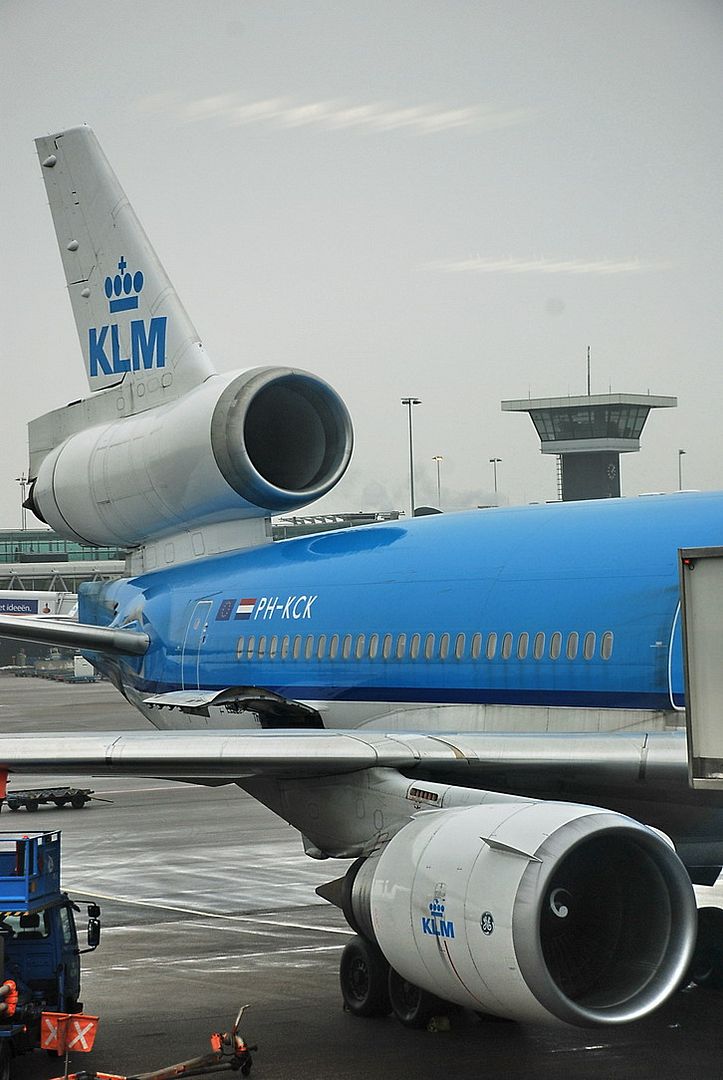 .
Correct me if I'm wrong, but there doesn't seem to be much love lost on A.Net with the "old and flawed" design of the MD11, not to mention its predecessor, the DC10 - which is a shame. There's sometimes the odd positive statement, but generally, there are relatively few fans of these trijets. I wonder why that is, and maybe it's due to our obsession with all that is new and latest - and that, by definition, will always be "better". For me, their passing represents the end of a golden era in civil aviation when wide-cabin airliners (that include the B747 classics and L1011 Tristars) redefined the way the world flew, and when airlines were run by people more interested in aviation, than fuel hedging or financial bottom lines. Alas no more.
.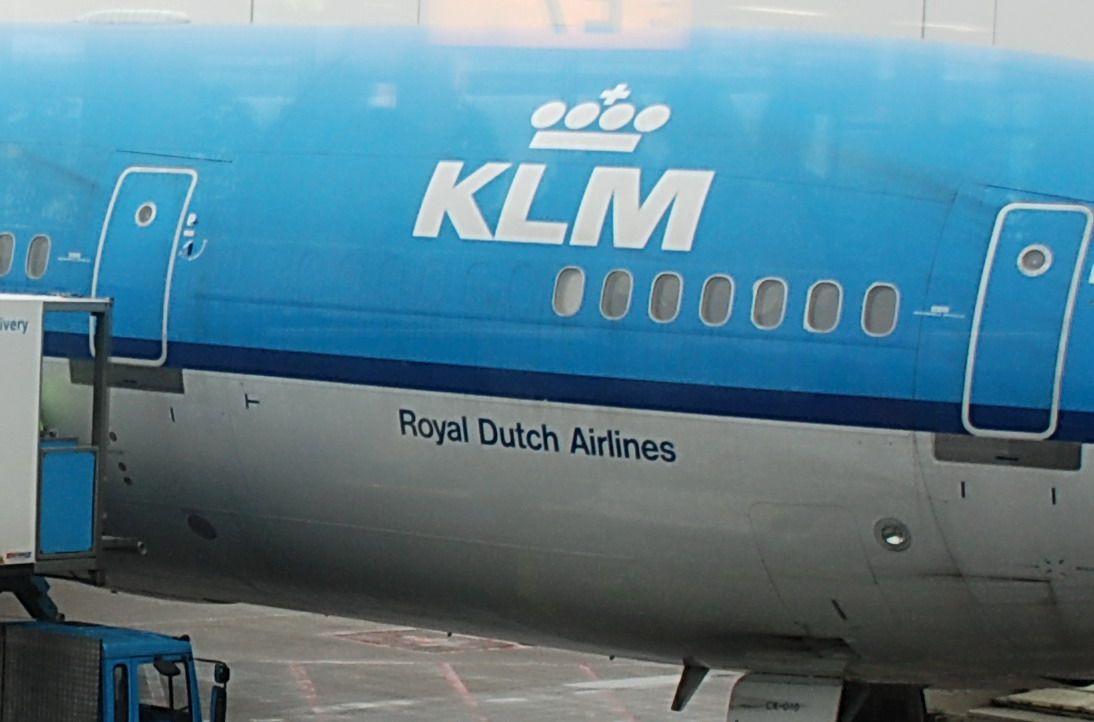 .
The boarding for this flight is a bit of blur to me now. Perhaps I am too transfixed at the view outside, I have nothing recorded in my note book about the process: the horror of it!
I do remember queuing at a seperate, shorter line for J class, and am soon boarding via the single aerobridge heading for door 2L. As you can see, KLM has an interesting configuration at the front of the plane with windows disappearing half-way between doors 1 and 2. A sizable galley complex and washrooms fit in this space. I wonder if any of the other MD11 operators had this kind of configuration?
.
.
.
continues below...
.