PDX-AMS-LHR-JFK (2 days) – PDX
I booked this trip a few months ago after I had completed my Italy Trip (link to report)
I try to get to a new international destination once or twice a year – and the opportunity arrose to visit a Trade Show in London. (I also paid a side visit to NYC to visit a friend)
Portland has one non-stop flight to Europe, Delta Flt. 178 to Amsterdam with an A332. We used to have Lufthansa service to Frankfurt on an A340, but now we're left with one flight.
Having previously used Lufthansa to get to Europe, I took the Delta flight last October to Italy and was mildly unimpressed. Nothing awful, just very middle of the road... My segment to AMS this time around proved to be a bit better in some regards. No matter, it's a simple and effective way to get to Europe quickly, and I really like to support the non-stop service.
Off we go!
3/3/11
PDX-AMS
Delta AirLines A332
Seat 32J
The flight departs past 4pm for some reason so I had time to go to the office, get some work done and then hop on the MAX train to the airport.
I refuse to check baggage during travel, including international flights, so after checking in online, I strolled through security in a mostly quiet airport and walked towards the gate.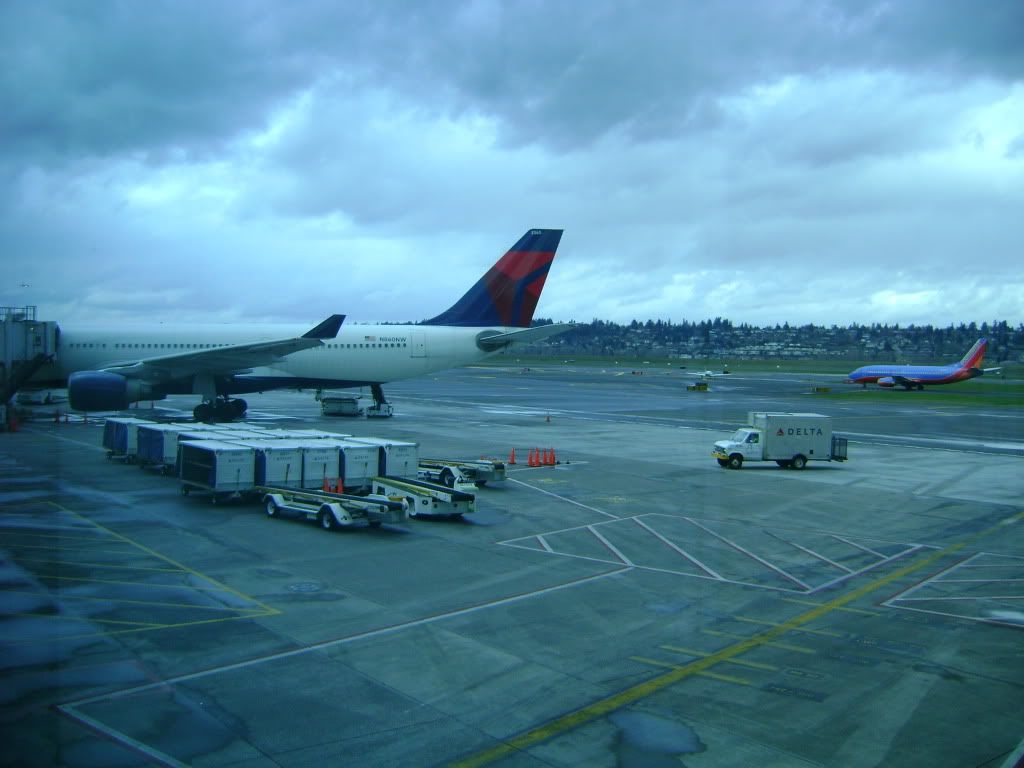 While the gate area was bustling, the flight ended up only 2/3rds full. The route is 4x/5x in the winter and then daily in the summer.
I was one of the many fortunate people to not have a seatmate, so I was spread out in all the glorious economy section comfort I could manage for the 10 hour flight.
(I ended up curling up on the 2 seats, shamlessly sprawled out and slept for over 4 hours. Which is very very rare for me, nice!)
I watched two movies and before I went to sleep, I peaked out the window. There was some glow...
I stared for a few seconds, and as my eyes adjusted, I realized I was seeing something I had always wanted to see.... the Northern Lights!
Oh what a display they put on. We were north of Hudson Bay, Canada and the green ribbons just danced on the horizon for 15 or 20 minutes. It's an awful picture, but if you squint you can see a bit of the beauty I saw. AMAZING.
Wake up to an awful Delta breakfast – thing – which I ate and then were on approach to AMS.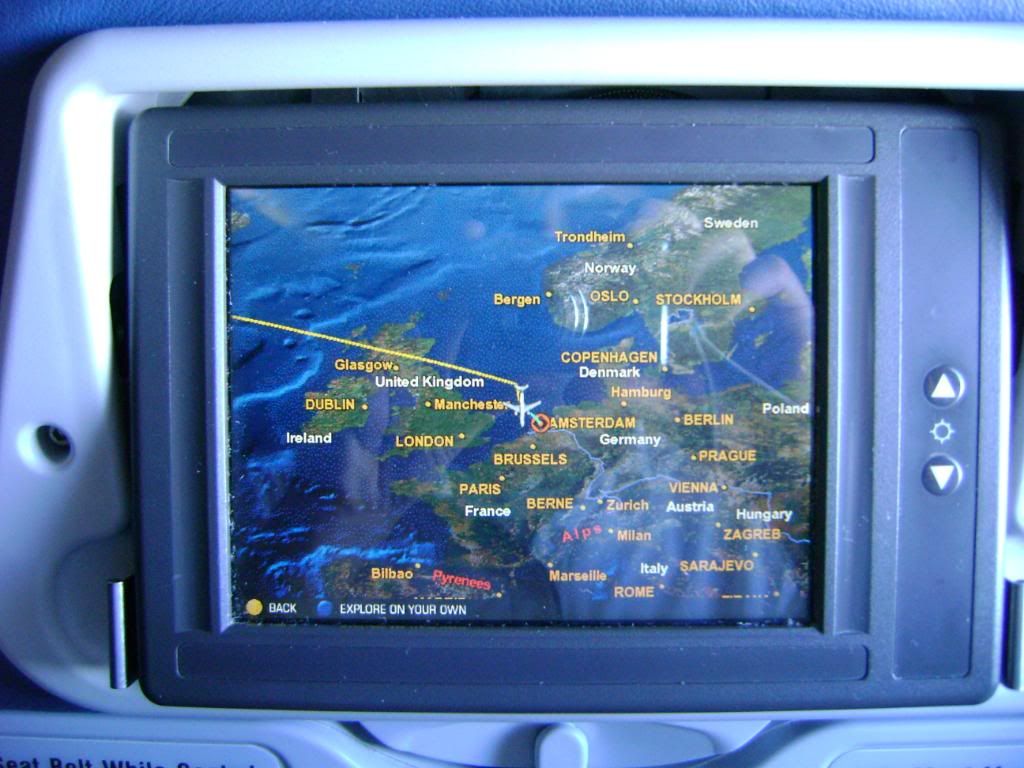 A painless flight all around. Better than the October trip, not as magical as the LH flights, but simple and effective transport to Europe.
3/4/11
AMS-LHR
KLM CityHopper Fokker 70
Seat 16? A
Now, landing in AMS after a 10 hr flight and 9 hr time change is always disorientating.
Since I was connecting onto a CityHopper flight, I was able to walk directly to the gate without going through passport control.
One of the big drawbacks of the AMS timing inbound from Portland is that you get to AMS at 11am or so. You've missed lots of the early connections and the next ones don't start for 2 hours or so. I usually don't mind airports, but after a longhaul and massive time change, I don't do much but sit and stare out the window.
The flight to LHR was a blur because of that.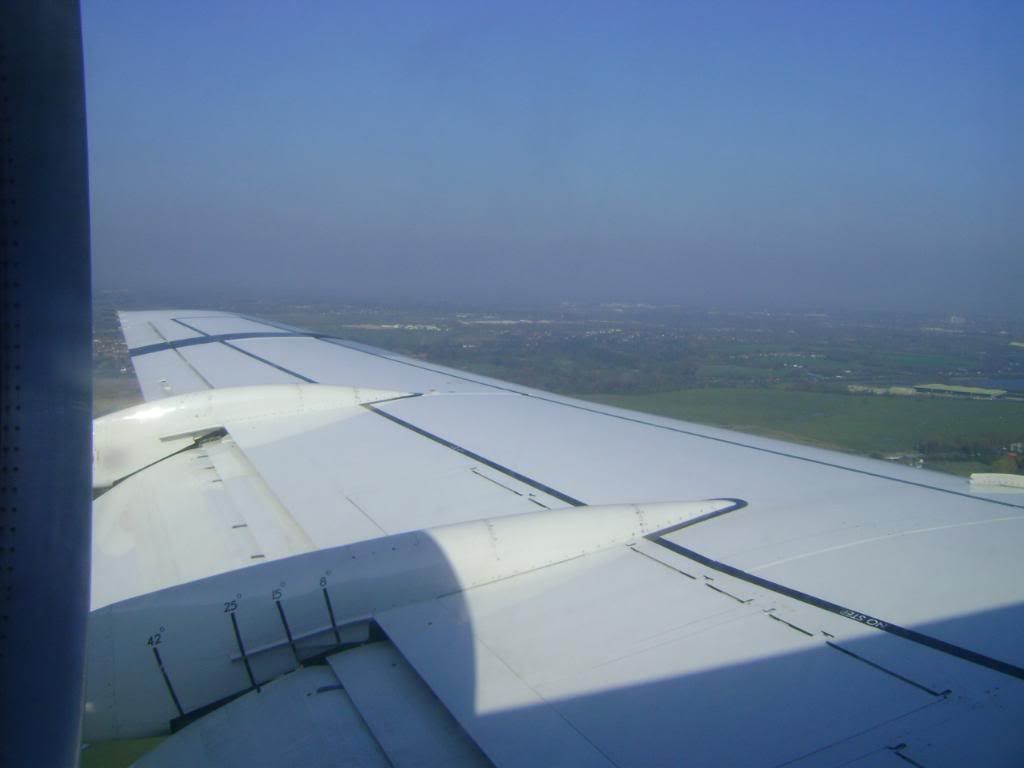 Fokker 70 was a treat, but i was near the back of the bus, last window seat with a view of anything.
Sitting on the left side of the plane and landing 9L I didn't get to see much of the airport... which was the worst part of the flight.
Arrived at T4 in some remote part of the airfield and off I went to catch a train and tube to downtown.
London was great, what a fabulous city. Cool but clear with only a tiny bit of rain. All the museums and history. Need to come back here someday.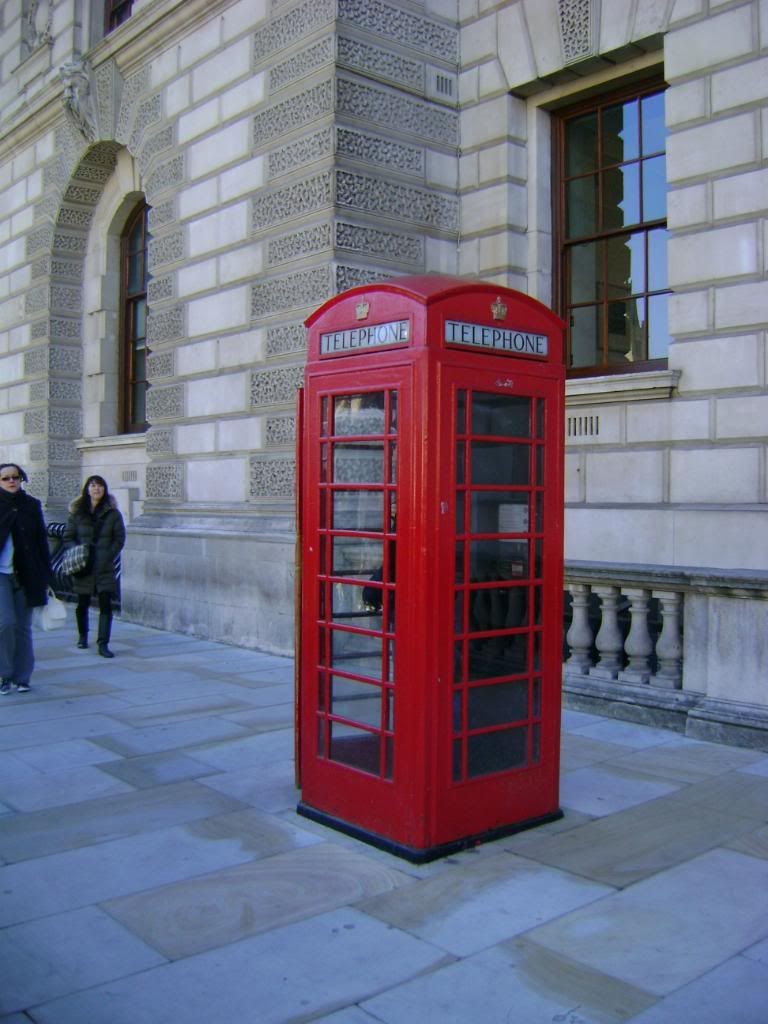 3/11/11
LHR-JFK
Delta AirLines 764
Seat 32G
Where I was in London required a bit of a hike to get to Heathrow. Bus to underground to train to airport. It's fun, but took about 1.5hrs to get to the airport, even though the ride from Paddington Station to the airport is only 15 minutes itself.
I rolled into T4, went through security and that was it. I was in the terminal. It took about 10 minutes tops. Very nice. No passport control on the way out, very simple. They don't assign gates in T4 until 90 minutes before departure. I'm sure if you transit there a lot you get a good idea of what gates are used by what airlines... still, it's a little nerve racking just milling about waiting for further instructions.
The apron of Heathrow is awesome. In fact, the whole airport is just wildly impressive.
There is nothing in the world like watching a BA 744 rotate into a dark and cloudy sky in the afternoon.
I saw planes I had just seen on the internet in ABUNDANCE every type and operator you could imagine. No place like it.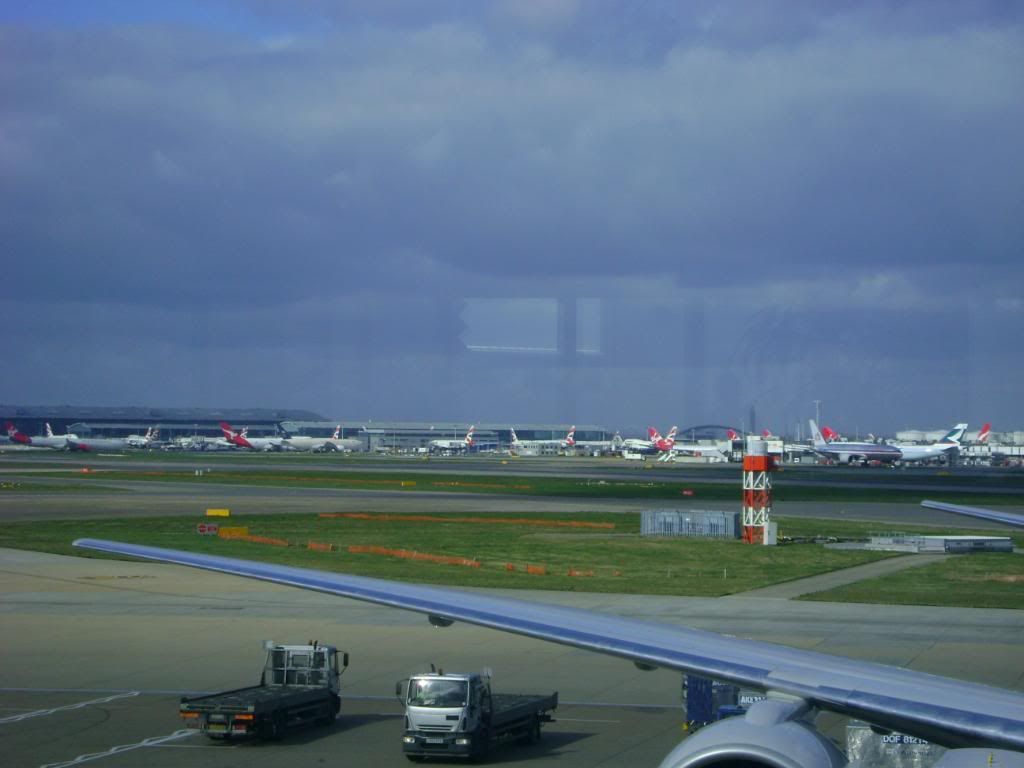 We boarded a few minutes late. This was my first ride on a 764 and the load was quite light, maybe 60%? We boarded up, waited 10 minutes or so to push, and then taxied around to 27R and thundered off to the US
I had a seat mate for a while, but about 3 or 4 hours in, he vanished to another part of the cabin and I had my 2 seats to myself
This was my first true atlantic crossing, in the sense that normally I am way north over Iceland or so, so it was a little exiting.
The contrails remind you this is a heavily trafficked route though, so many people making trips from Europe to the east coast of the states.
We took a slight detour north over Rhode Island and then down the sound to JFK. Smooth flight and a nice sunny approach to the field.
I spent two days in NYC visiting a friend. Got to see lots of new construction downtown and enjoy two sunny days.
3/13/11
JFK-PDX
Delta AirLines 738
Seat 25F
No Photos, I was tired and worn out from 10 days off and about.
Flight was painless. IFE included but they make you pay $2 for headsets domestically. I just watched the moving map and got ready for work in the morning.
Landed 10L in PDX and took the MAX light rail downtown and walked home.
Delta did good, painless and efficient transport to Europe and back. My Alaska mileage account likes that, I'll be MVP for the first time ever this year, all before April. Lots of traveling this year, can't wait for more destinations further afield....