Feedback always appreciated.

I > Background:
This is going to be a special report for many reasons. After having sampled how the "other half" lives, and what First Class travel is all about, I return to my "roots", and bring you a series of rather "exotic" reports which I hope you will like.
At the end of November 2011, I took some time off from work to visit parts of North Africa for some much needed rest and relaxation. As cliché as it sounds, I have always had a desire to go "off the beaten path", and my itinerary was to visit a friend in Egypt, then have 2 days in Libya (the maximum visa I was given for "transit" without a sponsor), and finally end up in Tunisia. Little did I know then that during and after my visit, these countries would fundamentally change and that so much of my visit would become part of the "old order". Looking back, I feel like I visited East Germany before the Wall fell ... or Soviet Union during collapse. My friends feel weird because I had returned from Yemen three days before "civil war" broke out, and "escaped" from Iraq a day before the U.S. led invasion of 2003. Personally, I have always felt extremely lucky and always travel with the belief that the world can change anytime, anywhere.
I know I suck at A.Net searches ... but this time (vamos a ver), I am pretty confident that this will be the first Business class review of Libya's 2 carriers - Afriqiyah and Libyan Arab Airlines. There has been one Y report on LGW-TIP on 8U, but it did not have any pictures. Perhaps, this is also the first report from Libya with pictures? The report will focus on my 8U segment between CAI and TIP. In a departure from all my reports thus far, I will report on the unexpected LN flight from TIP to TUN. Since I did not plan on being on the route, there really won't be any report or scoring - but some pictures at the end, and the reason why I ended up in it ... keep reading ...
II > Pre-Flight:
a) Before Airport:
Afriqiyah Airways is an airline based in Tripoli, Libya. It operates domestic services between Tripoli and Benghazi and international scheduled services to over 25 countries in Europe, Africa, Asia and the Middle East. Based out of Tripoli, the name Afriqiyah comes from the Arabic language word for African. The 9.9.99 logo on the side of Afriqiyah's airplanes refers to the date of the Sirte Declaration which marked the formation of the African Union, and where Mohd. Gaddafi formulated the idea for Afriqiyah to be the "Airline of Africa" with its hub in Tripoli.
As you read this, the evolving situation in Libya makes you wonder what would happen to 8U and its planned merger with Libyan Arab Airlines ...
... which is the official flag carrier of Libya based in TIP as well.
Originally, my routing was supposed to be on 8U from CAI to TIP and then TIP to TUN. I tried to buy the ticket on Afriqiyah's own website at
http://www.afriqiyah.aero/
- which is actually surprisingly good and actually let me go all the way - before (like many other "exotic" airlines) - it faced its mortal enemy - a foreign credit card. Here is where the site choked and I had to call them. Thankfully, the people on the phone were very nice and mentioned I could pick it up in CAI. Cool. After the e-ticket was issued, I could go online and chose seats (a MAJOR surprise) - and view and print the itinerary.
b) At Airport:
Afriqiyah uses T1 at Cairo. Now normally, Cairo T1 is a microcosm of a quintessential Cairo experience where one jostless and pushes their way past countless random people hanging out at the entrance to make their way into the terminal past security guards. You are asked for a little "bakseesh" along the way and all you can think of is leaving CAI. This time was different - I did not really like the sterile T3 and longed for such experiences ... sadly, this was not to be as I had a remarkably smooth sailing. Perhaps, I had finally started walking like an Egyptian!
Unlike when MS used T1 and had a separate premium section, all airlines are thrown into the pool. Just after entering, your bags are scanned and then you walk up to the check-in counter. The man there was totally surprised seeing me heading to Libya and had to double/triple check my Libyan tourist visa. He even took my famous Liechtenstein passport to his "supervisor" and they both excitedly had random questions about my country. Neither of them had obviously heard of it. Anyways, boarding and lounge card in hand, I made it pass the trademark smoke-filled immigration booths out of an Arabic movie into the boarding areas. They had gone through some changes and the area looked much better than the 1970's movie set I had encountered even an year earlier. For those familiar with Cairo, there is a whole nicer second floor and a third floor with eateries. Actually, it reminded me a bit of Colombo airport's second floor.
CAI still has these random themed lounges which make no sense as none of them live up to their glorious names ("Egyptian" lounge, "American" lounge, "Italian" lounge, etc.). Anyways, after a quick café and light snacks, I plane spotted some interesting birds - including a Buraq flight also heading to TIP, a flight of Nile Air, and several unmarked carriers that left me wondering.
There was no call for boarding and as I made my way to the gate near boarding time, I knew we were delayed. This being Cairo there were no staff to be seen and the security guards just kept on telling me to go to the gate area. The gate area itself was a mess and in typical Cairo fashion yelling, shouting, and screaming unfolded with people demanding what was going on. The hapless security guard just kept on saying things to people in Arabic that I obviously did not understand ... but I bet it was something along the lines that he was not Afriqiyah staff. Anyways, over an hour late, and with no apology offered, the staff came by and decided to board. I don't know what was more sad - the staff not offering any apologies. Or, the fact that these upset people were so used to receiving this shoddy service.
Anyways, we were bused to our gate where our rather impressive looking Afriqiyah stood basking in the sun. Climbing up the staircase, I was surprised to enter the cabin and be greeted nicely by the purser who escorted me to my seat. They were obviously not comfortable with English and were a little amused by the only Caucasian person in an all-Arab cabin. The second surprise came when the cabin (and, I had done no research or seen pictures of 8U's JCL) appeared immaculate with attractive green seats that were very well maintained. Not bad at all. I soon forgot my shabby experience at the gate and eagerly looked forward to my voyage on Afriqiyah
J load was around 60%.
Airport - External:
(Approaching Cairo Airport)
*
(CAI Terminal 1)
Check-in:
(8U Check-In Area)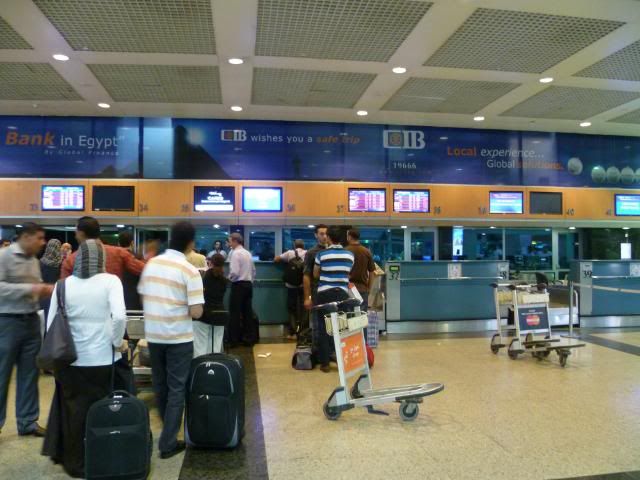 Airport - Internal: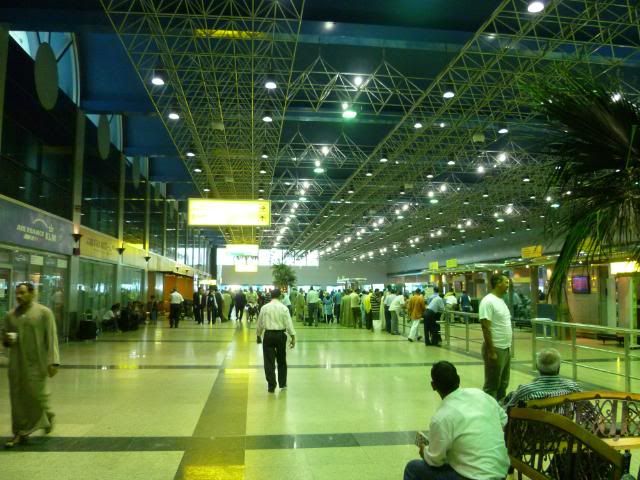 (FIDS)
(Post Security @ CAI)
Scenes of the tarmac:
(Nesma Airlines)
(Nile Air)
*
*
*
(Buraq also flying to TIP)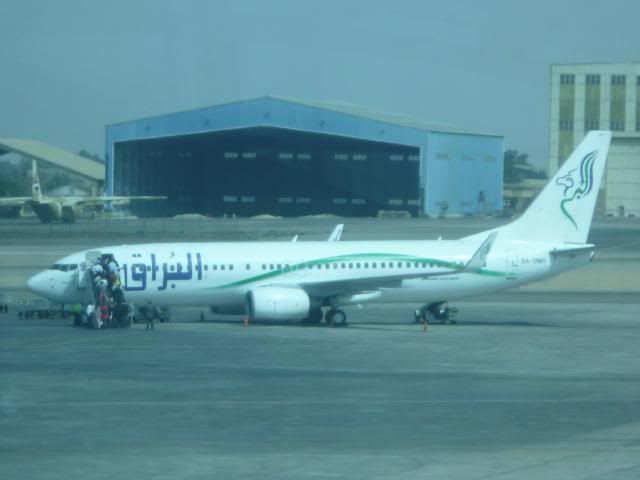 *
(Unmarked 737's - any clue who these belong to?)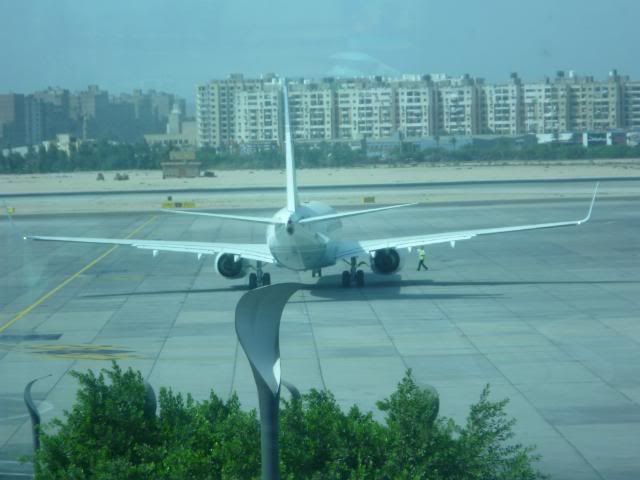 *
Lounge
(Common Lounge - that famous CAI invitation)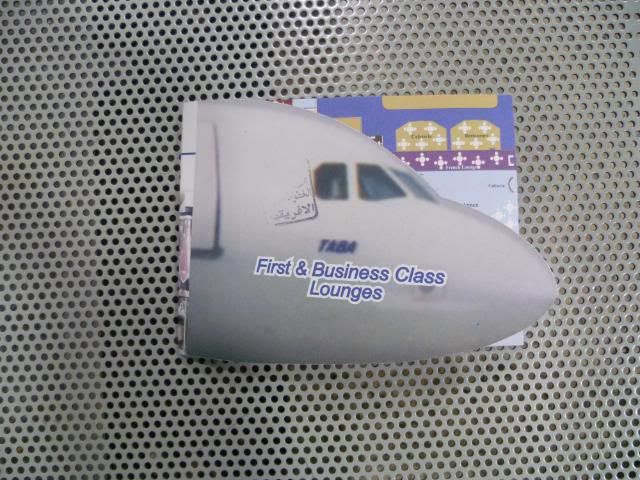 *
*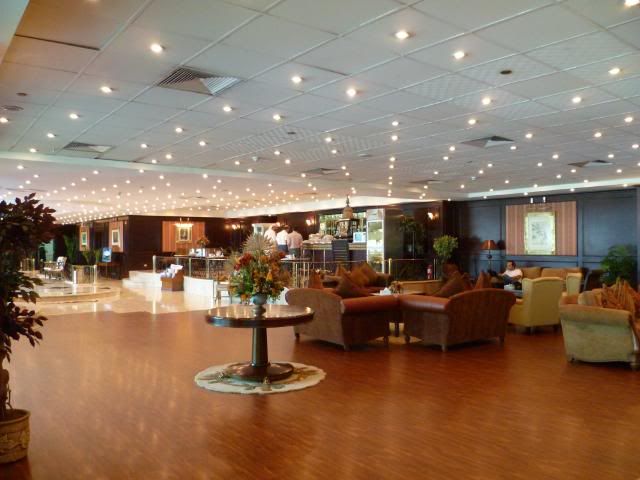 *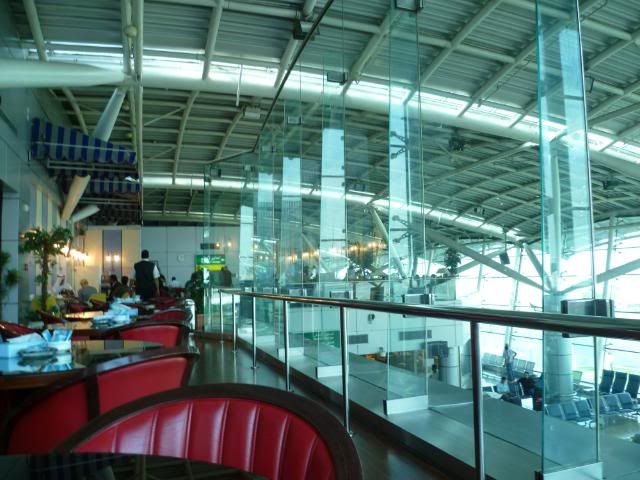 *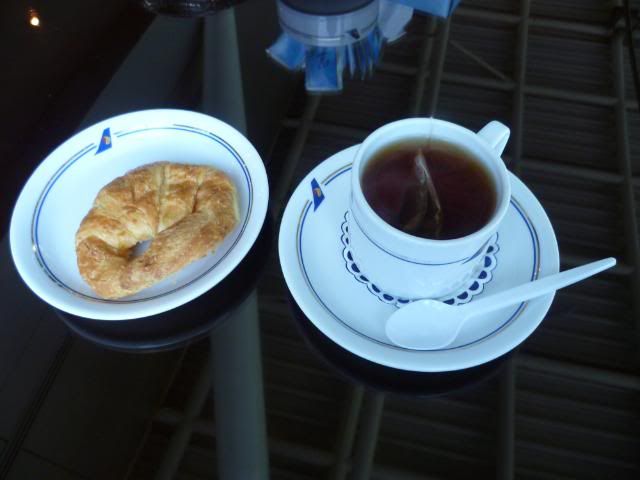 *
Boarding:
(Madness and confusion @ CAI gates - this is pretty normal)
*
*
(Boarding, at last)
III> In-Flight:
a) Service Schedule + Impressions:
Prior to take-off, water was offered. After take-off, hot towel service followed by a light snack service. Just prior to landing, a "comment card" was given out - now I don't know if anyone actually read these in Libya (yes, I am cynical), but I did appreciate the gesture.
b) Aircraft + Seats:
Afriqiyha's 332 are extremely attractive looking birds. While their livery has "random" origins, I like it and am even more impressed by the interiors. The green seats are very well maintained and I actually like the overall vibe I got from the inside. Moreover, perhaps because green is not an often used color, the interior looked fresh and different.
I was most impressed by the complete lie-flat seats - which I initially thought were lie-flat and turned out to do much more than that. Perhaps some of our frequent LAN or Air India travelers can clarify, but this appeared as the identical seat to LAN/Air India? While the seat was comfortable in regular position, and had some nifty pre-set relax positions, it truly shone when in full-flat. "Bumps" and "folds" were minimized and the only slightly uncomfortable thing was the weirdly placed legrest. If it was offered on a longer flight, I'd no doubt I would get a good night's sleep! Around the seat was a USB port and power adopter (impressed again), and relatively ample storage space.
The bathroom was spotless ... though, it lacked any amenities besides some scented facial wipes.
Aircraft:
(8U 332)
Views from Aircraft:
(Who is this?)
*
(Goodbye Cairo - how you have changed since then ...)
*
*
(MS parallel take-off)
*
(Between Benghazi and Tripoli - what's going on there as I type?)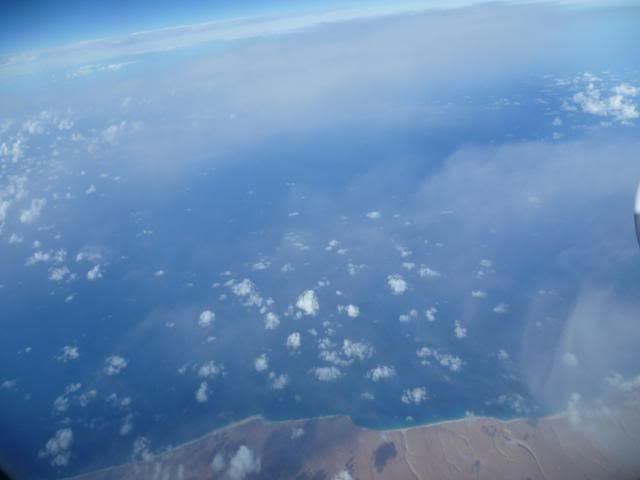 *
*
General Seat Views + Seat Legroom
(Good looking seat)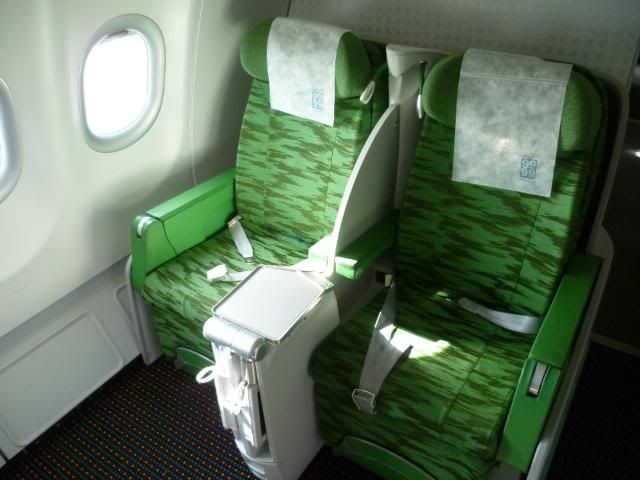 *
(Seat guide)
*
(Front of seat)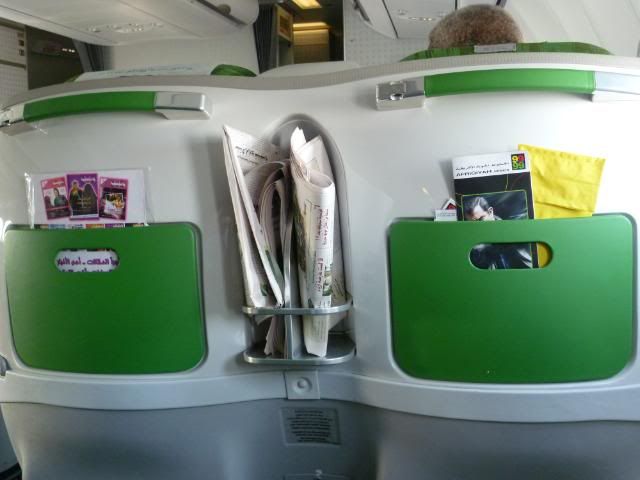 *
(Around the seat)
*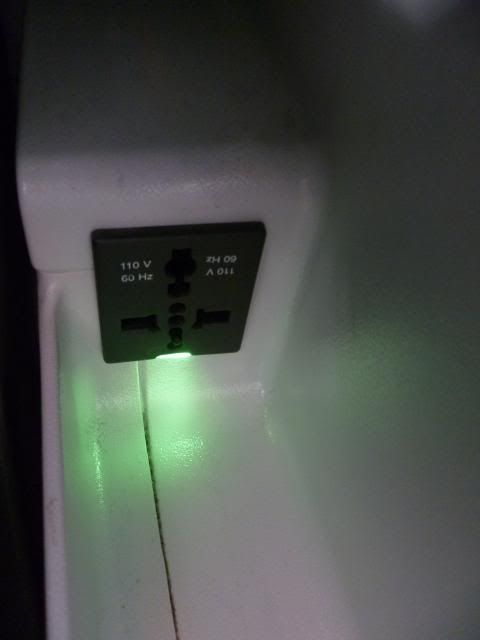 *
(Seat Controls)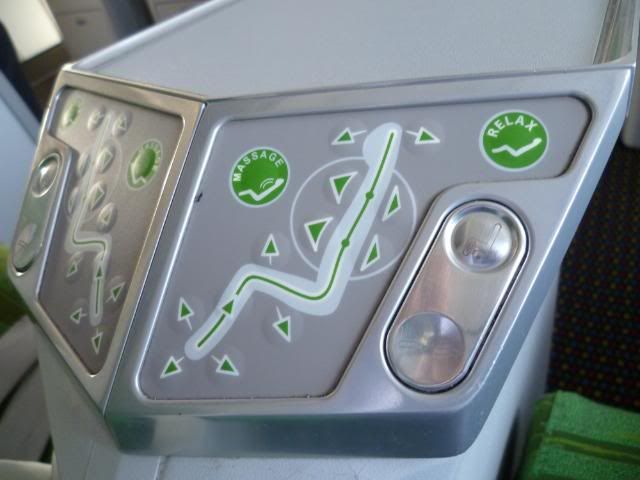 *
(Legroom: My customary "brown shoe" shot)
Seat Recline + Angle View:
(Full flat)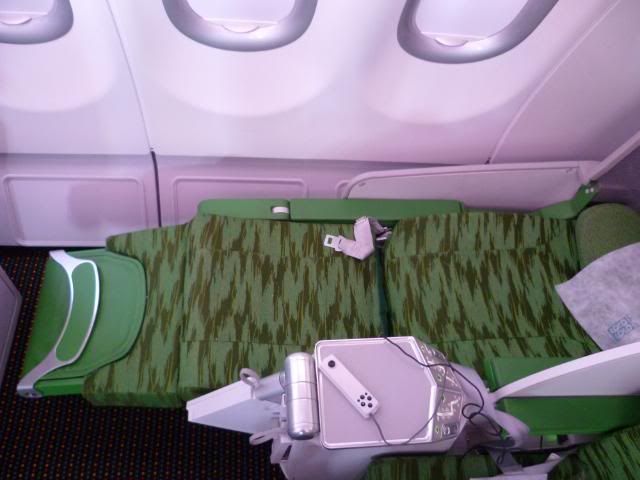 *
Cabin:
*
*
(Mood lighting)
*
(Framed windows)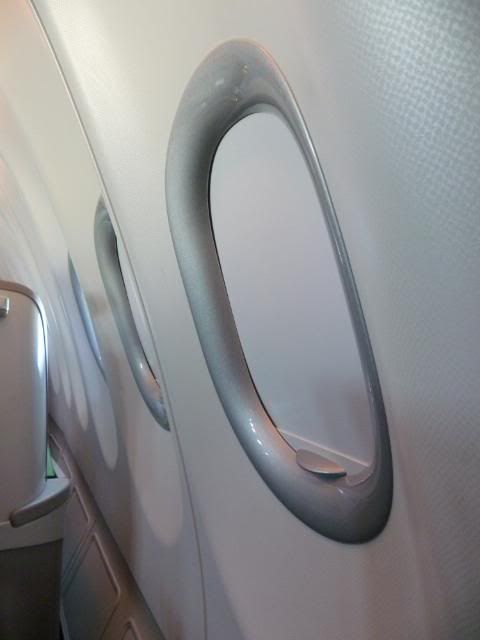 *
(This is how the bar area on a dry airline looks like)
(Blanket ++)
NONE
(Bathroom)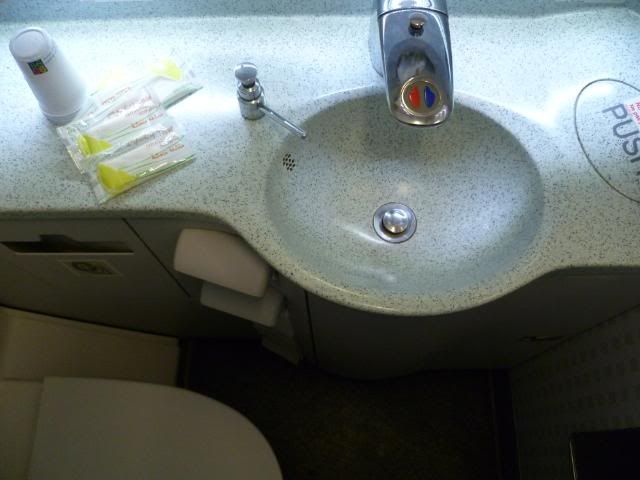 c) Meal + Beverage:
On the ground, water and several juices were offered on this dry airline. Keeping in mind that the flying time was only around 3 hours in an awkward 1430-1630 period, I was not really expecting anything impressive. However, I was pleasantly surprised when my table was set up for a full meal service. There was no menu, but the crew came to offer me a choice of salmon, chicken, or vegetarian. I chose the salmon which was accompanied by a medley of traditional and VERY yummy Arabic starters. They were actually the highlight of the meal and compensated for the rather bland salmon itself. The bread was fresh ... though the dessert was uninspiring. After the meal service, some very strong café rounded an entirely memorable experience and left me smiling as our flight continued hugging the north African coast. Weird how I look back at the moving map and each of that land mass underneath me is now a war zone between rebels and Gaddafi's forces.
(Menu)
NONE
(On Ground: I wish I had taken one of these glasses)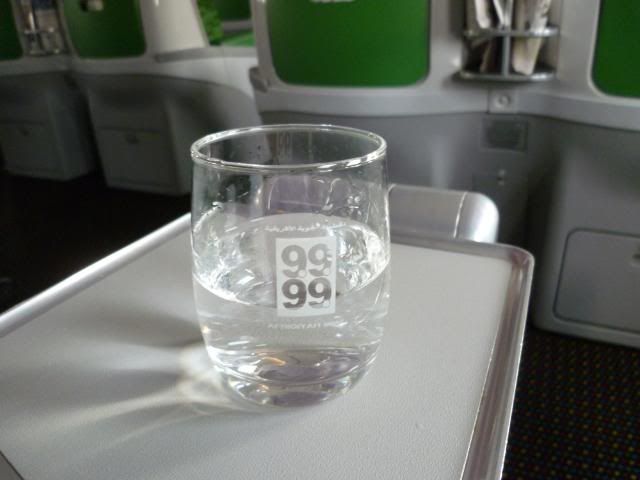 *
(Meal Service)
*
*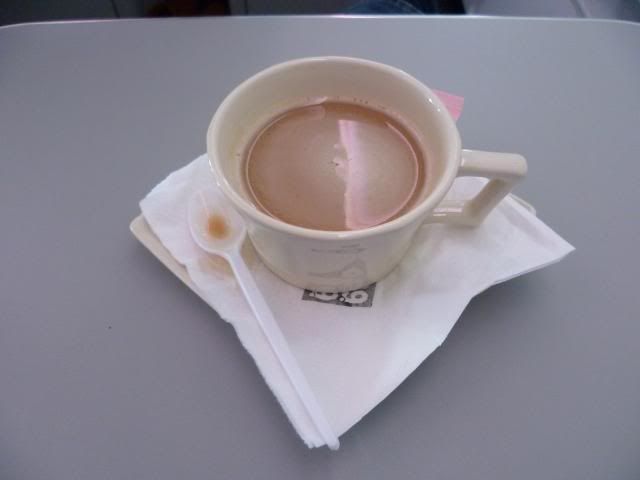 *
d) Inflight Entertainment:
Besides the interiors, probably the biggest surprise for me was Afriqiyah's IFE. The fact that they even had an AVOD IFE was a surprise to me. The screen size and resolution was stellar - the headsets were mediocre - and the actual content very amusing. Besides some VERY random collection of music, including some "covers" by obviously Pinoy artists, it was hilarious to browse through movie titles that had been translated back into English from their Arabic translation. I did not have a real chance to play with the system, but again, it was perfectly adequate. It was not a SQ or EK IFE ... but better than supposed global flag carriers such as Air France or American.
(Controls + Headset)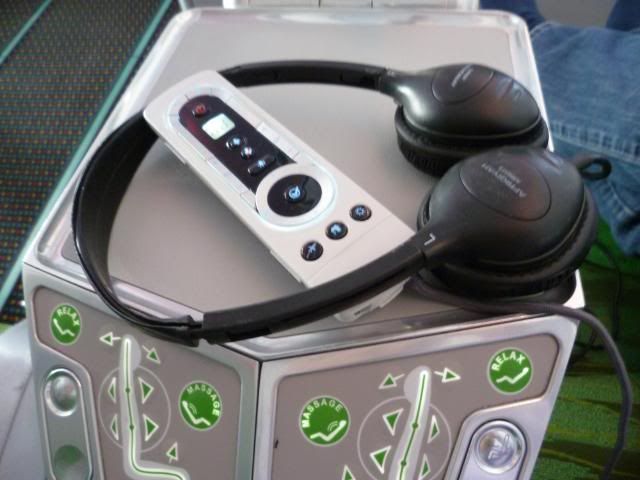 *
*
(IFE System)
*
*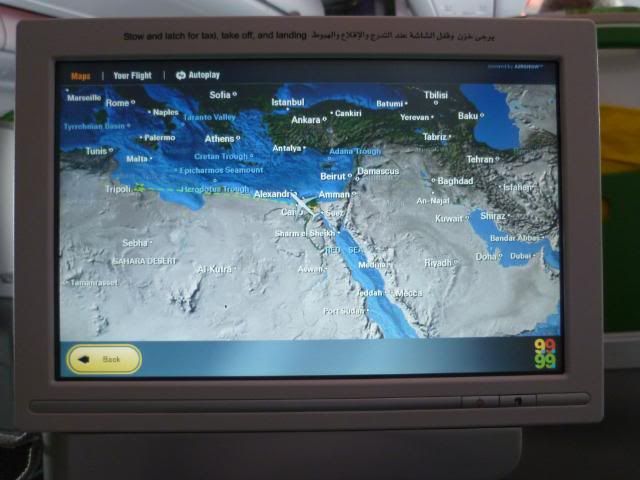 *
*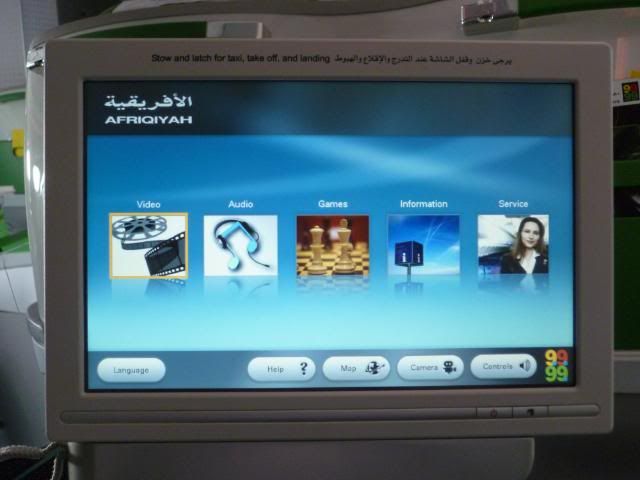 *
*
*
*
("In-flight magazines", Boarding Passes, etc.)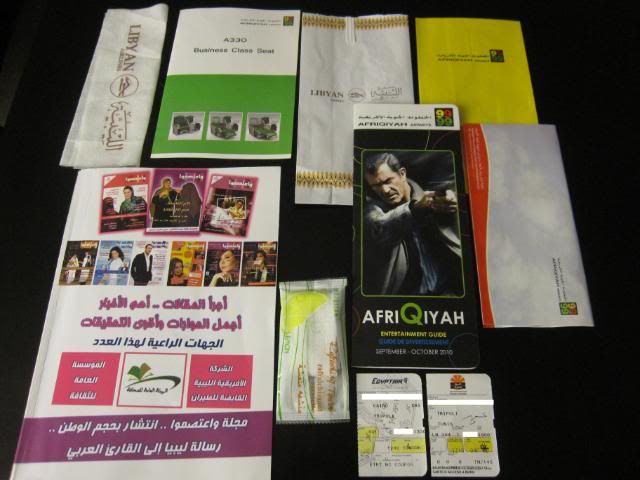 e) Crew:
Outside the Gulf countries, I have usually found Arabic hospitality to be excellent. These Libyan crew members were no different ... though I was later told by a friend that the way to distinguish between Afriqiyah and Libyan Airlines crew were the former were Tunisians without headscarves and the later were Libyans with them. Any truth to that?
Either way, the crew was very sweet and genuine. At boarding, they purser walked me to my seat ... the entire meal service was done with a smile ... and the crew periodically checked on me to see if their strange white passenger was having a good flight. I felt very pampered and looked after. It truly felt like I was a guest in their house.
If their English was better, or if I spoke Arabic, I think I would probably have connected better with the crew. I could tell they were curious to see what I was doing ... but probably just did not have the "experience" to randomly talk to me like the excellent Iran Air crew I had on the BOM-IKA flight.
IV> Post-Flight:
Now here is where things got "interesting". After a smooth landing, we were taken at a very remote stand where a bunch of army officials boarded and took someone off the plane. It was very bizarre and I started feeling like I was part of a hijacking movie. Things were obviously tense for whatever reason ... anyways, as soon as I got to the terminal and was heading toward immigration, a frantic lady from Afriqiyah came running to me. She was sweating and asked if I was "Alex M". Now, I said "Yes", and she took me aside and wanted to have a "few words". I was a little weirded out but decided it was best to play along.
Now she mentioned that there was a "situation developing" in Tripoli and her advice to all incoming tourists had been to wait it out at the lounge and not go to TIP. She mentioned that the Immigration officials were not allowing anyone on tourist visas (without a Libyan travel agency) to enter the country and a bunch of foreigners were spending time in the departure lounge. If it had not been for her innocent face and genuine sense of panic, my cynical self would have thought this was an elaborate plot to get some "bakseesh". However, this was not the case. I spoke to some of the foreigners and apparently there was some kind of riots and foreigners were not being allowed in. Who would have thought that a few months later, these riots would become so much more real ...
... anyways, I explained to the lady of my transit visa situation and she got even more concerned. If I could not get out today or tomorrow, I was in Libya illegally ... something even an adventure seeker like me did not want to do. So while I was really tempted to wait this out, I asked her if there was any way I could continue to Tunisia. You could see the sadness on the eyes that I could not use my Libyan visa ... she frantically called someone on her mobile phone and started doing some insane shouting and pleading in Arabic. It was slightly nerve wracking watching all this unfold in "no man's land" just prior to entering the terminal. Anyways, after she got off the phone, she said there was some a Libyan Airlines flight bound for Tunis and she might be able to put me on. She said, "I am so sorry for this ... but can you chose." Now normally, Alex would have stayed back ... but Libya was not a country where I wanted to be an illegal ... so I said, "OK". She literally said "Come" and I followed her through this surreal process of through a few officers who all inspected my passport ("they see if Israel stamp"), had my bags scanned, and then she took me to the J class lounge. At the lounge, she said, "I run and get you ticket" ... implying boarding pass I guess. I ask her if I need to pay anything as I was now going on Libyan and did not have any ticket. In the most sweetest thing, she said, "Libya create problem for you. I solve problem for Libya and you". Aaw.
Off she went as I entered the J class lounge. It was all strange as if I was just taking another flight. While the lounge appeared "normal", it clearly was not. From the moment I stepped in, I noticed one of the guys at the door follow me ... and literally keep an eye on me. It was slightly disconcerting and I kept on reminding myself mentally that I had "survived" Congo, Somalia, Somaliland, and DPRK ... that I should not worry.
A few minutes later, the lady came to grab me. She said "flight boarding. Let us run". I thanked the lounge attendant, and then ran past the foreigners who were being "held" near the boarding gates. She took me to the gate and made sure I got on. As I was doing my security check, she profusely apologized and wrote her address down ... saying that next time, I would be a guest of hers in the country.
I think I was way too confused and boarded the Libyan flight with this weird feeling in my stomach. I did not have much time after boarding to settle in my seat and reflect on "WTF" was happening ... as soon as I started feeling strange at being again the only "white man" on board, some random guys from the army came on board with a man in a white shirt who appeared to be some kind of "leader". I am assuming he was part of the military police. Anyways, there was a bunch of commotion as some passengers from Y-class were "taken" off the plane. There was a lot of crying at the aircraft doors ... and it was all just weird because here I was sitting not understanding anything going on in Arabic and just being like ... "none of my friends will believe this one".
An hour of madness later, doors were closed, and the plane took off for Tunis. I have travelled to over 140 countries and never had I gone through something so random. A part of me questions what would have happened if I let my usual adventurous self win. Another part of me (the one who is seeing all the stuff unfold in Libya) was glad that I didn't let that part win.
The flight on Libyan after all that drama was event-less. And the stereotype of the head-scarf covering did hold true.
(Approaching Tripoli)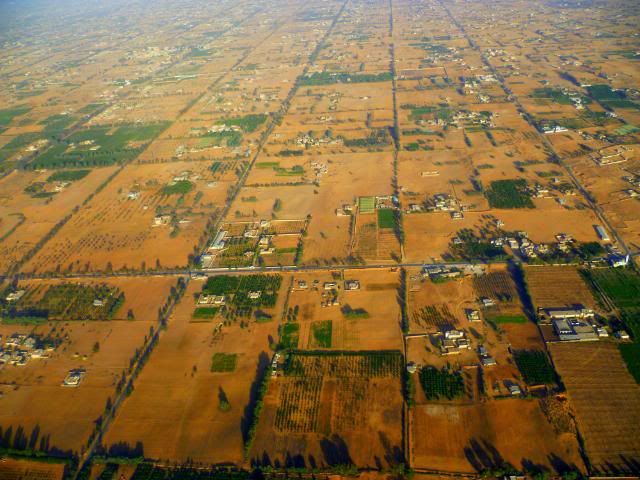 *
(Enjoy these rare photos of Tripoli as our aircraft was taken away from the terminal for some man to be offloaded)
*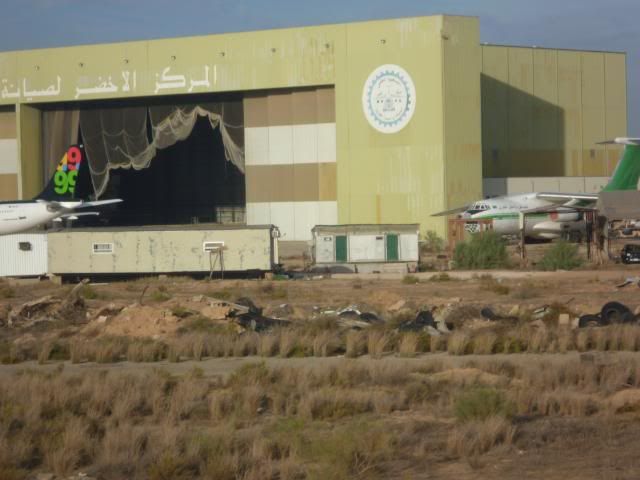 *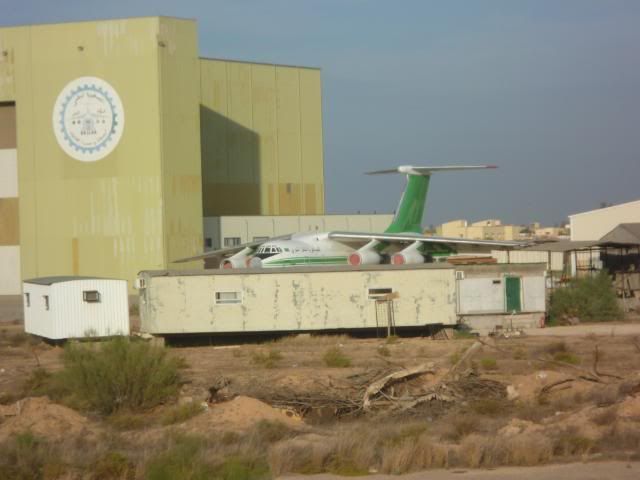 *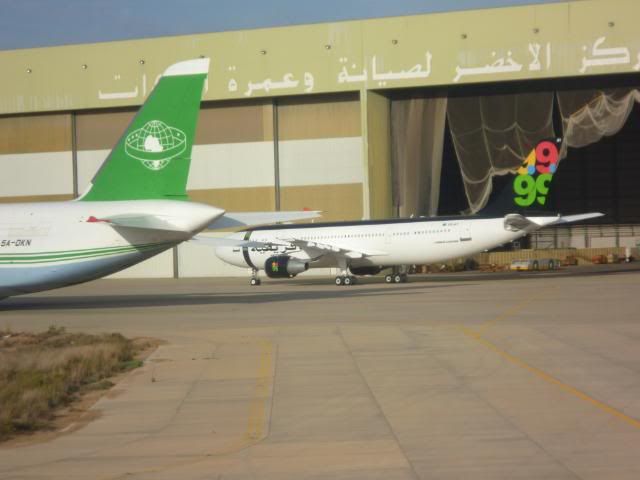 *
*
*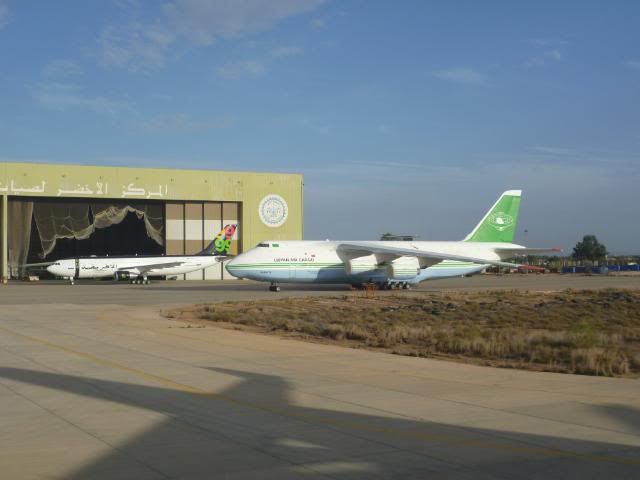 *
*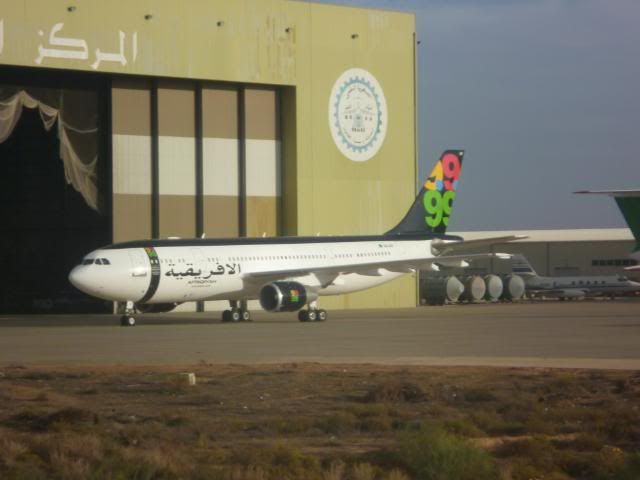 *
*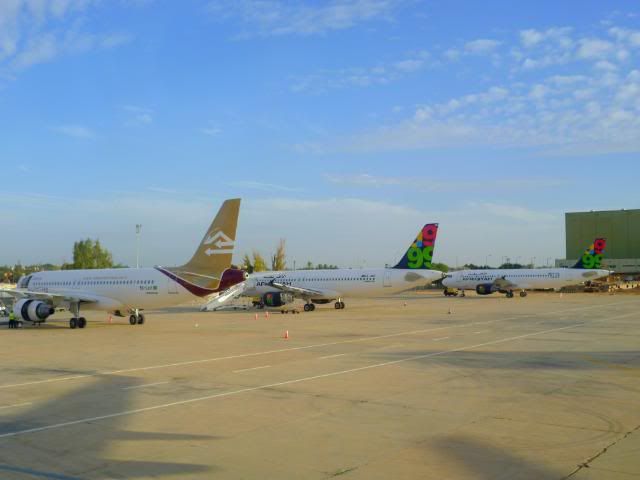 *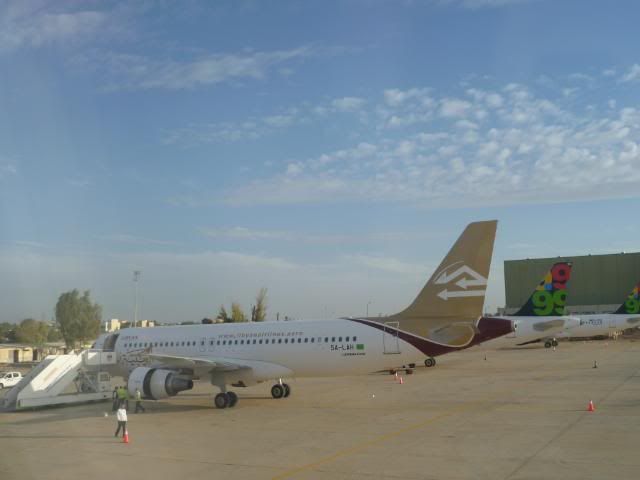 *
V> Impressions + Scores:
This obviously did not end up being the usual trip report ... and I will not focus anymore on the extraneous "stuff". In terms of service, Afriqiyah proved to be quite a surprise. On a 3 hour flight, I was impressed by the quality of the food, the IFE, and the rather nice (albeit, reserved) crew. Their full-flat seats are great and adds to the fresh ambience of the cabin. Ground service like always can be improved in Cairo ... but, the exemplary service of this Afriqiyah agent in Tripoli just has left an irreversible mark on me. Who knows what would have happened ... all I know is she was my angel and too me as per project. Wherever she is right now, I wish and pray for her safety in Libya.
As I write this, I feel weird as I have no idea what Afriqiyah or Libya would look like. All I can say is that based on the flight, I give them a two thumps up and would look forward to flying them again ... and who knows, perhaps the next time I am actually allowed in ...
VI> Other Trip Reports:
PREMIUM:
9.27: JET AIRWAYS **FIRST** (110): LHR-BOM: 10/2010
9.27: THAI AIRWAYS **FIRST** (108): BKK-LHR: 07/2010
8.66:
Brussels Airlines (93): FIH-BRU: 01/2010
8.64:
Turkish Airlines (59): JFK-IST: 11/2008
8.63:
Jet Airways (88): JFK-BRU: 10/2009
8.61:
Air Canada (49): YYZ-SCL: 06/2008
8.54:
Turkish Airlines (77): GRU-DKR-IST: 04/2009
8.36:
Kingfisher (98): BOM-HKG: 01/2010
8.30:
Jet Airways (74): KWI-BOM: 04/2009
8.23:
United Airlines (72): SFO-SYD: 03/2009
8.11:
Aeroflot (33): MOW-DEL: 09/2007
8.05:
Air India (80): CCU-JFK: 06/2009
8.04:
Korean Air (40): NRT-ICN: 10/2007
8.02:
Delta Airlines (24): JFK-CDG: 08/2007
7.82: UNITED AIRLINES **FIRST** (110): SFO-ICN: 10/2010
7.82:
Singapore Airlines (06): EWR-SIN: 09/2006
7.66:
Sri Lankan (104): DEL-CMB: 07/2010
7.64:
Royal Jordanian (91): AMM-YUL: 12/2009
7.61:
China Southern (103): LOS-DXB: 04/2010
7.57:
Pakistan Airlines (102): ORD-BCN: 06/2010
7.46:
LAN (55): YYZ-JFK: 09/2008
7.38: AMERICAN AIRLINES **FIRST** (112): LHR-JFK: 10/2010
7.38: CATHAY PACIFIC **FIRST** (109): HKG-LHR: 10/2010
7.25:
Iran Air (88): BOM-IKA: 12/2009
7.23:
Virgin Atlantic (81): BOS-LHR: 07/2009
7.14:
Swiss (52): SCL-GRU: 06/2008
7.11:
Aer Lingus (105): MAD-IAD: 05/2010
7.11:
Austrian (79): VIE-JFK: 06/2009
7.07:
Privatair (84): BOM-FRA: 08/2009
7.02:
Qatar (68): DOH-JFK: 01/2009
6.96:
Etihad (61): JFK-AUH: 12/2008
6.93:
Delta Airlines (18): SEA-JFK: 11/2006
6.84:
ConViasa (65): CCS-DAM: 01/2009
6.82:
Air Burkina (106): BKO-OUA: 06/2010
6.81:
Air Canada (17): ICN-YYZ: 10/2006
6.75: Afriqiyah + Libyan (113): CAI-TIP: 11/2010
6.70:
KLM (32): EBB-AMS: 08/2007
6.52:
Emirates (99): LHR-DXB: 02/2010
6.39:
South African (97): EZE-JNB: 01/2010
6.36:
Privatair (60): MUC-BOS: 12/2008
6.29:
TAM Brasil (96): POA-EZE: 02/2010
6.25:
Korean Air (45): NAN-ICN: 10/2007
6.21:
Iberia (87): BOS-MAD: 10/2009
6.11:
A SKY (107): OUA-COO: 06/2010
6.11:
TAP Portugal (53): GRU-OPO: 06/2008
6.00:
Gulf Air (75): BOM-BAH: 04/2009
5.88:
African Express (89): DXB-NBO: 11/2009
5.75:
Singapore Airlines (16): CCU-SIN: 10/2006
5.64:
SATA Azores (101): BOS-PDL: 04/2010
5.64:
NorthWest (46): ICN-NRT-SEA: 10/2007
5.54:
Ethiopian Airlines (95): ADD-BOM: 01/2010
5.46:
Icelandair (83): KEF-BOS: 08/2009
5.39:
LOT (54): WAW-JFK: 06/2008
5.21:
Egypt Air (73): CAI-IST: 02/2009
5.07:
TACA (66): JFK-SAP: 01/2009
4.42:
Air France: CDG-JNB (25): 08/2007
ECONOMY: Long + Medium:
9.26:
Air India (48): JFK-DEL: 02/2008
7.38:
Avianca (01): BOG-LIM: 07/2006
7.07:
Sri Lankan (62): KWI-CMB: 12/2008
7.00:
LAN (94): IPC-SCL: 01/2010
6.41:
Avianca (78): JFK-BOG: 05/2009
6.41:
American Airlines (58): LHR-BOS: 11/2008
6.39:
Condor (85): SEZ-FRA: 09/2009
6.26:
Jet Blue (21): CUN-JFK: 02/2007
6.06:
Air Canada (04): YYZ-YVR: 09/2006
5.89:
USA 3000 (19): PUJ-BDL: 01/2007
5.85:
Spanair (69): MAD-LPA: 02/2009
5.79:
Air New Zealand (42): RAR-NAN: 10/2007
5.52:
Aerolineas (86): USH-AEP: 10/2009
5.46:
TAP Air Portugal (23): OSL-LIS: 05/2007
5.19:
Air Europa (70): LPA-MAD: 02/2009
5.16:
Iberia (71): MAD-BOS: 02/2009
5.11:
Air China (82): FRA-PEK: 08/2009
ECONOMY: Short
8.56:
Paramount Airways (38): BLR-MAA: 09/2007
8.56:
Kingfisher (64): HYD-CCU: 12/2008
8.24:
Kingfisher (14): IXA-GAU: 10/2006
7.87:
Indian (34): BOM-MAA: 09/2007
7.72:
Alliance Air (13): CCU-IXA: 10/2006
7.57:
Indian Airlines (10): DEL-CCU: 09/2006
7.23:
West Jet (03): YYC-YVR: 09/2006
7.15:
JetLite (37): BOM-GOI: 09/2007
6.98:
Air Koryo (100): PEK-FNJ: 04/2010
6.70:
Spice Jet (09): CCU-DEL: 09/2006
6.63:
Air Fiji (44): NAN-SUV: 10/2007
6.63:
Jazeera (67): DAM-KWI: 01/2009
6.58:
Air Tran (02): EWR-MDW: 08/2006
6.48:
Air India Express (63): CMB-MAA: 12/2008
6.44:
CO Micronesia (39): ROR-YAP: 10/2007
6.41:
Pacific Sun (43): NAN-SUV: 10/2007
6.37:
Skybus (47): SWF-CMH: 02/2008
6.33:
Kenya Airways (29): NBO-BJM: 08/2007
6.33:
Sky Europe (56): LTN-BTS: 10/2008
6.31:
Indigo (15): GAU-CCU: 10/2006
6.31:
easyJet (57): BUD-LTN: 11/2008
6.22:
Air Link Swazi (28): MTS-JNB: 08/2007
6.22:
Air India (36): HYD-BOM: 09/2007
6.13:
Adam Air (07): SIN-CGK: 09/2006
6.13:
Air Rarotonga (41): RAR-AIT: 10/2007
6.00:
Transairways (27): INH-MPM: 08/2007
5.95:
Air Canada (05): ALB-YYZ: 09/2006
5.85:
SAS Norge (22): OSL-AES: 05/2007
5.81:
LAM Mozambique (26): JNB-MPM: 08/2007
5.69:
Air Deccan (12): IXZ-CCU: 10/2006
5.67:
Rwanda Air Exp (30): KGL-NBO: 08/2007
5.37:
Felix Airways (92): SCT-SAH: 12/2009
5.11:
Aero Republica (76): BOG-CCS: 04/2009
5.07:
Go Air (35): MAA-HYD: 09/2007
5.00:
Sky Airline (51): IQQ-SCL: 06/2008
4.96:
Valuair (08): CGK-SIN: 09/2006
4.78:
Air Comet Chile (50): SCL-IQQ: 06/2008
4.74:
Fly 540 (31): MYD-LAU: 08/2007
4.33:
Viva Aerobus (20): ELP-MTY: 02/2007
4.11:
Air Sahara (11): CCU-BOM: 09/2006
(Note on Codes: Y – Economy, J – Business, F – First :: I/D – International/Domestic :: SR/MR/LR – Short/Medium/Long Haul)
(Note on Date: Dates are modified to be +/- 3 days from actual flight date to not reveal actual flight pattern)
VII> Other Pictures:
(Drama after arrival - as mentioned, I was taken to the Business Lounge)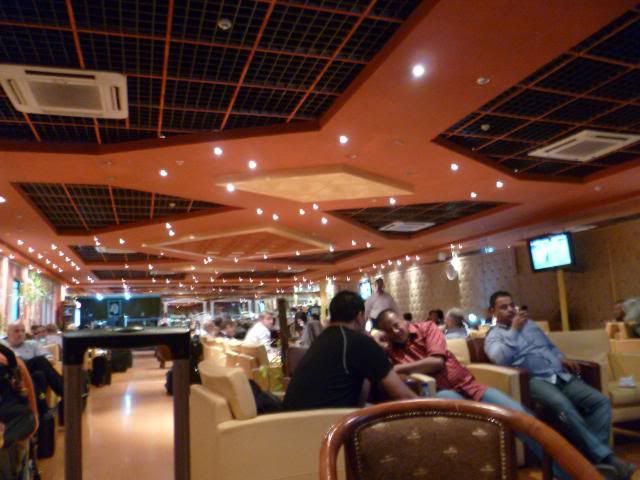 *
(With interesting bathroom)
*
(And then rushed through the airport)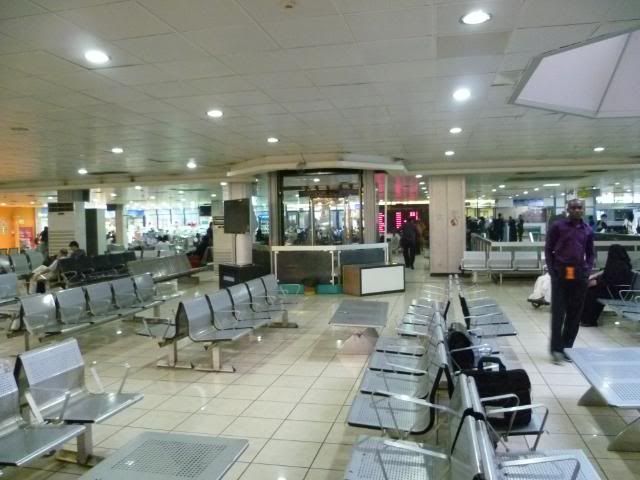 *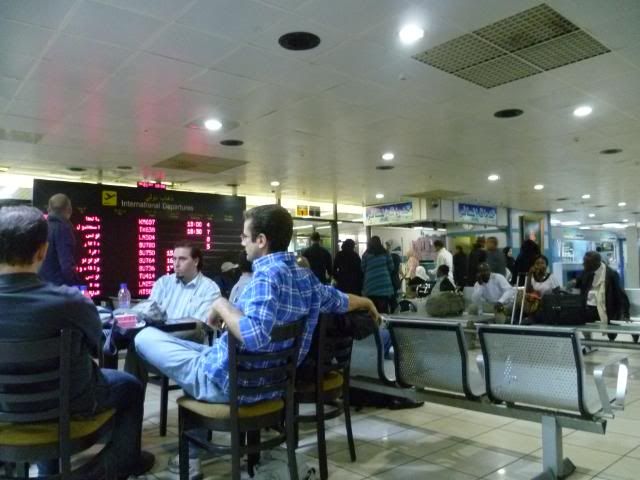 *
(And empty corridors)
*
(Where time had stood still)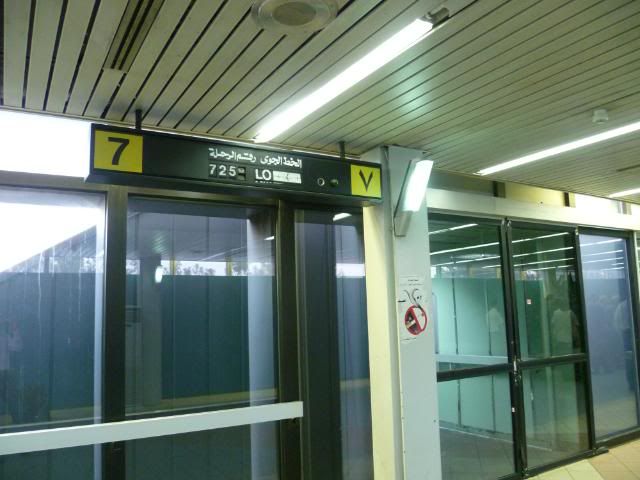 *
(On board my Libyan 320, I see a familiar face)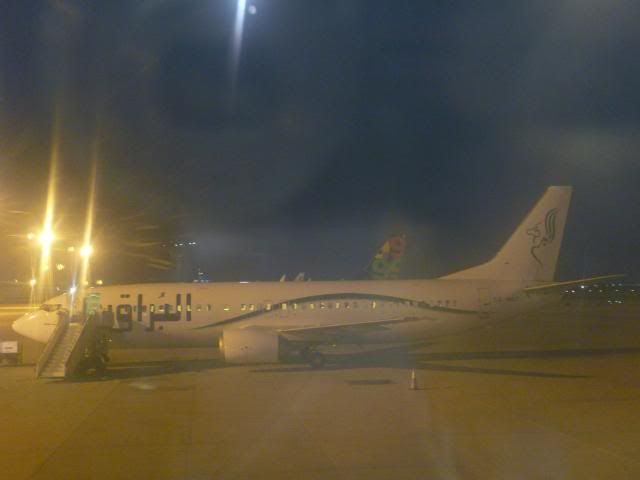 *
(But, more drama and people being take off the plane)
*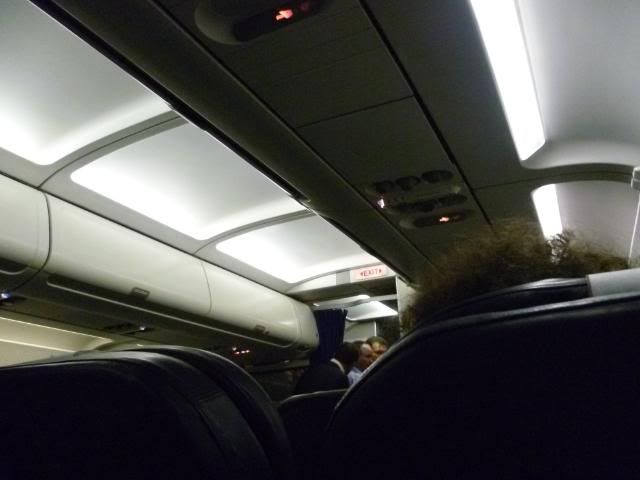 *
(This lady was VERY worried)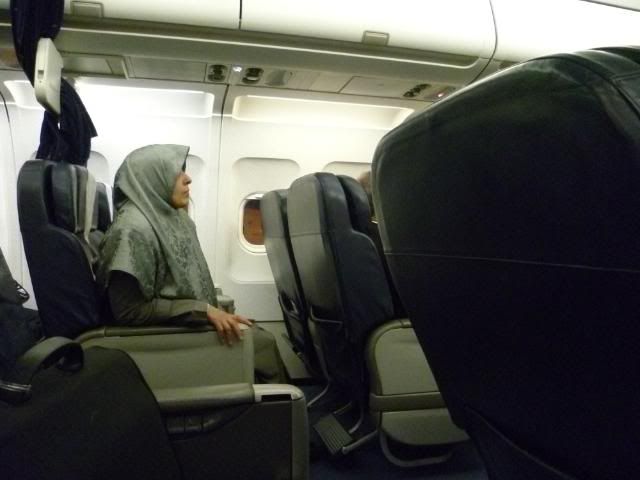 *
(Got off the ground ... started reflecting ... but had to take a picture of my legs)
*
(Libyan 320)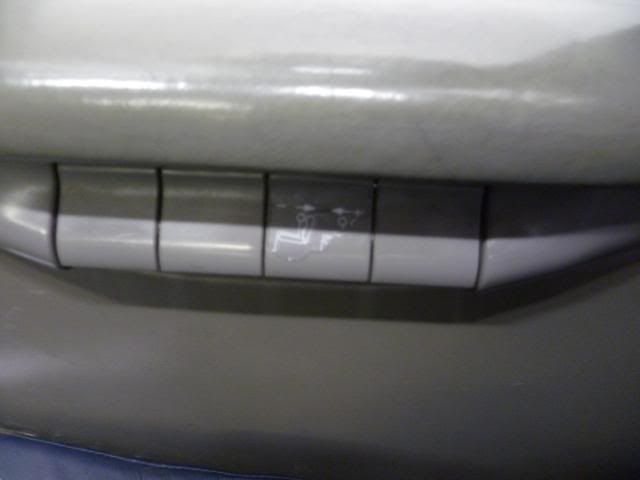 *
(Food enroute)
*
(Yummy baklava)
*
(Damn ... should have stolen these cups!)
*
(And finally, I leave you with the picture that left the most mark on me at TIP airport ...)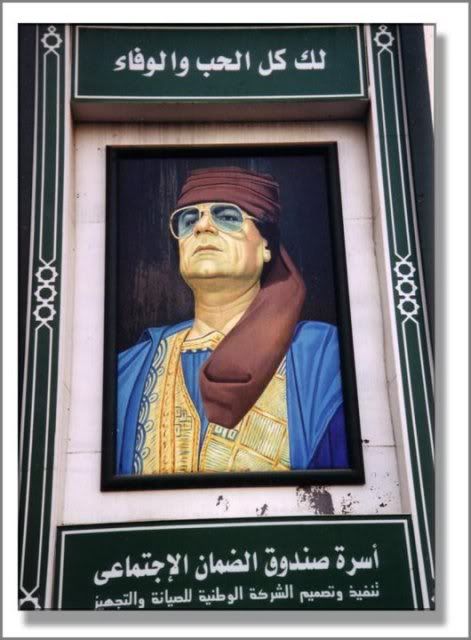 [Edited 2011-04-03 10:11:24]