.
Background
As happens almost every year, I found myself looking at interesting ways with which to travel down to Heathrow from Sheffield for a meeting with a group of friends (including NQYguy, kdhurst380 and FlyingFox27 from the forums). The easiest way would have been the direct train into London St Pancras, but being an aviation enthusiast I couldn't have that! I decided upon including a day trip to Edinburgh the day before the meet, as I hadn't been for a few years and it would give me a chance to do something new there. Getting up to Edinburgh was the easy part, and I plumped for the tried and tested Flybe. Given I would have to travel down from Edinburgh to London, there was only one thing to do – try something new, and fly BA on a domestic run.
My options were threefold: fly into Heathrow directly, Gatwick, or London City. Having never flown into Gatwick or City, I priced up both, and eventually decided to go with the exciting option of flying into City Airport for the first time! Not only this, it would be my first flight on a BA Cityflyer Embraer, specifically the E90. In order to get back to Manchester for my return to Sheffield, I had a choice of flying directly from Heathrow or trying Gatwick for the very first time – I'm sure by now you know which I chose! Initially there was the added bonus of flying the Boeing 737-400 for the first time; however a while before the flight this changed to one of the 2 summer based A319s, which was most disappointing. Either way, I ended up with this mildly triangular domestic itinerary, with 3 new routes, 1 new aircraft type and 2 new airports.
MAN-LCY.gif" border="0"/>
.
Flight Details
BE291 MAN-EDI
BA8717 EDI-LCY
BA2908 LGW-MAN
Flight #1
Date:
01APR11
Flight:
BE291
From:
Manchester (MAN/EGCC) Terminal 3
To:
Edinburgh (EDI/EGPH)
Dep:
08:20 (08:20 actual)
Arr:
09:25 (09:15 actual)
Aircraft:
Dash 8-Q400
Reg:
G-JECN
Class:
Economy
Seat:
16A
Whenever I fly Flybe, I generally leave check in until the airport because their online check in system allocates you a seat which you cannot change, however I decided to risk it this time as I wasn't getting to the airport as early as I normally would – it seems my gamble paid off and I was allocated 16A, which is where I wanted to sit anyway.
As usual with my early morning flights from Manchester, I caught the 05:11 First TransPennine Express service from Sheffield direct to Manchester Airport, arriving a little under 2 hours until departure. Again I had most of the train to myself, like my previous journeys.
.
Upon arrival I headed over to Terminal 3 where my Flybe flight would depart from – this was the first time I had used T3 at MAN, as usually I depart from T1 or T2. I headed upstairs to the check in desks (where there was no queue) because I didn't have a printer to print out my boarding pass from online check in. I was scolded for this by the agent who told me I "should have printed it off!" Oh well, clearly it wasn't any real bother as my replacement boarding pass (with '*DUP*' for 'Duplicate' written all over it) was handed to me along with my passport and I was then able to head through security to departures.
Security, like my last 2 visits, was a simple affair and I was through in no time. It's interesting to note that MAN installed boarding card scanners for pax to let themselves into the security search area – however they have been taped up because apparently it was confusing too many passengers! Useful investment there then. The usual rigmarole of jacket off, liquids out, belt off was complete and I was straight through into departures around 1 hour before my gate was due to open.
I headed to Boots to get a meal deal, and sat down in the dingy waiting area near the centre of T3. This has to be my least favourite of MAN's terminals. It's dark and hot and generally unpleasant, but maybe they'll invest in it one day.
.
One benefit of T3 is that it does have a view overlooking runway 23R, which was useful for a spot of viewing before departure. I wandered up and down seeing what was on the gate and the arrivals landing, including the Etihad 77W and an Air Berlin A330.
This EZY bird was almost fully boarded at this point, but it didn't leave until after us.
At around 07:50, the gate number (which escapes me) was displayed and I headed downstairs to a number of gates which opened right out onto the ramp. There weren't many people around, so I suspected a light load on today's flight. After around 5 minutes waiting we were called forward for boarding, and we went outside into the blustery wind and spots of rain that had just started falling. Our Dash 8, G-JECN, was parked up close to the terminal so it wasn't very far to walk in the end.
I was welcomed onboard by a cheery older Scottish lady, and proceeded down the narrow aisle to my seat, 16A. As I suspected, the load was around 20-25 pax. Not very full at all. It took about 10 or so minutes until we were shut up and were ready to be pushed back, with the Captain coming on the PA to inform us that we would get away on time, if not a little bit earlier, and that the flight time today would be 45 minutes, with him doing his best to avoid the rough weather that was over the North of the UK.
Pushed back and ready to taxi. I wanted to be near the landing gear, and so I was! The downside is the engine blocking any view that you might have.
23L was in use today as the departure runway, and we trundled away before holding at 23R. A gap in the arrivals came up, and the pilot used a large amount of thrust to propel us quickly across the runway before the next traffic could land (something I've never experienced before, but was quite exciting).
We taxied directly to the runway, held for a few moments, and skipped ahead of a bmi A319 to Heathrow by lining up. A short wait for the departing traffic ahead, and the wonderfully powerful acceleration on the Dash 8 had us in the air in no time, at which point the winds started buffeting us around. Lightly loaded Dash 8's are immense fun in strong winds!
Manchester Departure Video
http://www.youtube.com/watch?v=w-zGrkhmMFI
.
We performed a 180 turn to the right after departure, breaking through the first of many layers of clouds. Just visible through a small gap was Liverpool John Lennon Airport in the distance.
Liverpool Airport (LPL)
After we'd climbed up to around 20,000 feet the flight began to smooth out. The buy on board service was started, but there weren't many takers on this flight with so few people. One thing I'd forgotten about the Dash 8 was what the interior was like. The seats are narrow and the seat pitch is tight for someone my height, but hey – it's a small plane. At least with the light load the seat next to me remained free to stretch out into.
Interior during cruise.
During the cruise we never really escaped the high level cloud that was around, although the sun was pretty visible.
.
Around 15-20 minutes before arrival, the Captain came on announcing our descent, informing us we would be approaching Edinburgh toward the west (giving me a good view of the city) and that we should arrive roughly 10 minutes ahead of schedule all being well.
Descending over the countryside.
.
The weather provided some interesting views out the window (which was terribly scratched).
.
We continued descending out over the Firth of Forth before finally making some turns that brought us in line with runway 24 at Edinburgh. This was where it got interesting, and our lightly loaded Dash 8 was getting battered nearly all the way until touchdown. It certainly made for an interesting ride!
Edinburgh Arrival Video
http://www.youtube.com/watch?v=YPVHcxQsekg
Eventually, we touched down and slowly decelerated before turning off the runway having arrived 10 minutes ahead of schedule. We taxied the short distance back to the terminal, and the engines were powered down.
On stand.
We were soon allowed to disembark from the front or rear, and it was a short walk over to the terminal building and domestic arrivals.
Farewell G-JECN.
I was out in a matter of minutes and heading to catch a bus toward Edinburgh Zoo (the 48/X48 from Ingliston Park and Ride, a 15 minute walk away from the terminal, in case anyone is wondering – it's £3.20 for a day ticket on all Lothian Buses excluding Airlink so it's cheaper than the £6 return on the Airlink if you're doing a day return, and journey time is roughly the same). On the way I passed this rather magnificent structure...
Edinburgh ATC.
Flight #2
Date:
01APR11
Flight:
BA8717
From:
Edinburgh (EDI/EGPH)
To:
London City Airport (LCY/EGPH)
Dep:
19:00 (19:00 actual)
Arr:
20:20 (20:05 actual)
Aircraft:
Embraer 190 (operated by BA Cityflyer)
Reg:
G-LCYL
Class:
Economy
Seat:
18D
After a wonderfully sunny (if windy) day at Edinburgh Zoo, it was time to return to Edinburgh Airport for my first flight on BA Cityflyer, the Embraer 190, and into London City Airport. 3 very good reasons to be excited! I arrived back at Ingliston Park and Ride at around 5pm and walked the short distance back to the terminal.
Sheltered walkway from car hire/taxi rank to the terminal.
Edinburgh Departures.
The BA check in area (right next to the bmi check in area) was easily located on the ground floor next to the doors. My flight was showing on time, so I proceeded to the self service kiosk to obtain my boarding pass. With this in hand (and not a flimsy paper one like at Terminal 5!), I headed immediately upstairs to security – my last trip through Edinburgh I had experienced a lengthy queue and 30 minute wait, so I didn't want to run any risks.
The queues weren't so bad today, but it still took around 10-15 minutes. Again off with the jacket, liquids out, belt off... I'm really getting used to this. I start to do it automatically before I'm anywhere near the machines! Once that was done it was through into the average departure lounge.
Typical BAA, thinking their airport is a shopping mall.
Since my last visit several new bars had opened, including a rather large Wetherspoons that now obstructs what was a free flowing movement between the main gates and the Flybe gates. It now feels very crowded compared to what it was like.
The Flybe gates – I forgot quite how far the walk is to them.
It was still around an hour until the gate was scheduled to open, so I picked a spot near gates 10 and 11 (where constant BA boarding was happening – first to Gatwick, then to Heathrow, then the 18:00 to London City). They have some mostly comfortable armchair style seats facing the runways here, so I sat watching the wind making life difficult for the multitude of arrivals (including my E90 from LCY).
The E70 getting ready to leave for LCY ahead of me. I shall have to catch this another time.
Around 40 minutes before departure, the FIDS showed 'go to gate' next to gate number 5. My boarding pass when printed had gate 11 shown, however a late departure to Heathrow would now leave from 11. I headed over to gate 5, and found that there weren't a great number of people around (surely not another lightly loaded flight?!).
After 5 minutes or so, boarding started and I was one of the first down onto the tarmac toward our E90 today, G-LCYL. I was correct in assuming a light load, and it wasn't long before we were under way. The seat next to me remained free again.
On stand.
Taxiing past the terminal.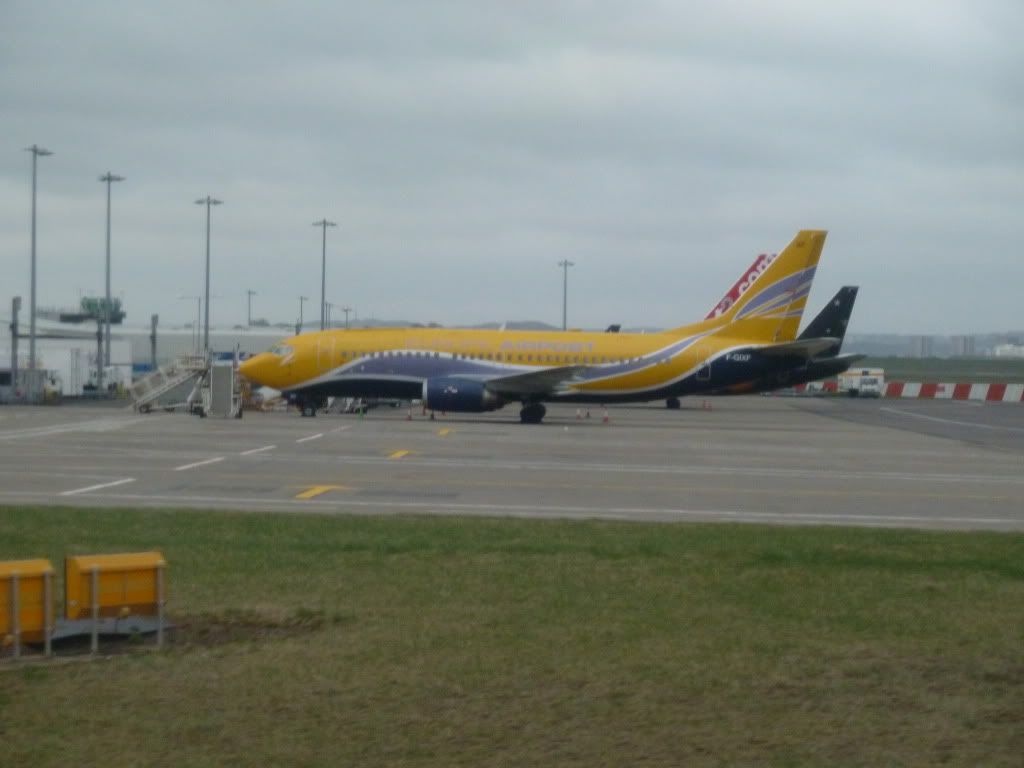 Europe Airpost parked up.
Holding at runway 24.
It wasn't a long taxi to runway 24, and there were only 2 departures ahead of us before it was our turn. A sprightly takeoff roll followed, before we were immediately hit by the strong winds around. It made for a very fun departure with the aircraft dropping and rolling a number of times – who needs rollercoasters?!
Edinburgh Departure Video
http://www.youtube.com/watch?v=LPdU2-8U6w0
We climbed above the worst of the weather and the rest of the journey was pretty smooth. Our routing tonight, according to the Captain, would be toward Glasgow, then down over Manchester and Birmingham.
.
The Embraer E-jet series of aircraft are my favourite regional jets for a reason – not only are they quiet, but they are incredibly roomy and often have fantastic seat pitch. Flybe offer 31" onboard their E95, but BA offer 34", and boy did it show.
Obligatory leg room shot.
Coupled with a very low load, it made for an exceptionally comfortable ride down to London City.
Low load tonight. These seats are very comfy.
Spacious, modern cabin.
The complimentary snack and bar service started soon after, and John (the member of cabin crew at the rear of the aircraft) came around with a basket full of goodies including Rocky bars, crisps and what I think was either shortbread or flapjack of some kind. I took the Rocky bars, as I love them just a little.
The bar service was one of the reasons I was looking forward to flying BA, and when John and purser David came around with the trolley, I ordered a Vodka and Coke. When John relayed this order to David, the purser asked me "Would you like a large one?" to which I responded "Why not!" What excellent service. So I ended up with a quadruple Vodka and Coke, and some Rocky bars. Needless to say I simply reclined my seat, took in the view and enjoyed my drink!
.
I do like winglets.
.
Chilling at 30,000 feet. Another thing Embraer E-jets have going for them is the large windows.
The rest of the flight was uneventful, and we cruised south while the sun slowly started setting to the west.
.
.
.
.
.
.
Soon we started descending toward London, and the Captain announced that he hoped to get us on the ground around 15 minutes early, traffic allowing. He also informed us we'd be landing toward Canary Wharf, not past it.
Descent Video
http://www.youtube.com/watch?v=EEErRHSljhM
.
.
.
London City Arrival Video
http://www.youtube.com/watch?v=SanQLujmuDA
Having never done a steep approach before, it was quite exciting, and it's amazing how high up you seem to be considering how close you are to the runway. Nevertheless, the spoilers popped up and we made it down (albeit with a few gusts of wind a few hundred feet above the runway) onto runway 27 at London City, a full 15 minutes ahead of schedule.
.
.
The skill of manoeuvring an E90 onto those tight stands is amazing. A few moments after we arrived, the E90 next to us was starting up, so once the doors were opened we were held for a minute or so to allow it to move off stand. Soon enough though we were allowed off, and were able to head across the ramp to domestic arrivals.
.
Unfortunately it seemed the doors to domestic arrivals were locked, so we had a short wait while someone came round to open them. So much for the seamless travel experience at LCY
I was, however, out and onto the Docklands Light Ralway a mere 10 minutes after arrival. Very impressive. I travelled across London via DLR, Tube and Bus to my hotel for the next two nights, the Heathrow Central Travelodge. Feeling very tired having been awake for 33 hours straight, I crashed immediately.
Flight #3
Date:
03APR11
Flight:
BA2908
From:
Gatwick Airport (LGW/EGKK) North Terminal
To:
Manchester Airport (MAN/EGCC) Terminal 3
Dep:
15:55 (15:55 actual)
Arr:
16:55 (16:45 actual)
Aircraft:
Airbus A319
Reg:
G-EUOB
Class:
Economy
Seat:
17F
After a wonderful weekend with friends, it was time to head over to Gatwick for my return flight to Manchester. It's amazing that, considering the length of the journey from LHR to LGW, I only paid £4.65 with a combination of my Oyster card and an advance purchase Southern Railway ticket. Considering the Gatwick Express is only 5 minutes faster than my train, I don't see why anyone pays for it.
Empty tube trains.
The expensive Gatwick Express at Victoria.
My comfortable Southern Railway C377 Electrostar.
Journey time to Gatwick from Victoria was billed at 38 minutes; however we did arrive around 3 minutes early in the end. It was nice to catch the train out this way, as it's not an area of London /the South East I have ever seen.
.
Battersea Power Station.
I alighted at Gatwick and headed upstairs into the South Terminal. BA leave from the North Terminal, so across there on the terminal transit it was!
.
.
Slight view of the apron.
Hello North Terminal.
A few escalators later and I was immediately outside BA check in. I again printed off my boarding pass, and went straight through security not knowing what to expect.
.
I hear that Gatwick aim to get people through security in around 5 minutes average. Today was not one of those days... 30 minutes of queuing later and I was finally through into the large departure lounge.
.
I had a wander around for a while just to see what it was like, having never visited before.
.
Virgin's new A330, G-VKSS.
.
.
After a brief sit down in one of the numerous seating areas, it was time to head to the gate, 55D this afternoon. It was quite a lengthy walk down a number of corridors.
.
.
.
Boarding hadn't started yet, but one older gentleman took it upon himself to have a go at the staff for being sent 'to the gate when we're not even boarding yet.' The poor staff member explained it was an automated system and that all airlines use it, but he turned away and raised his hand to dismiss her! Very rude.
Around 5 or 10 minutes after this incident, boarding was called, and I was 3rd onto our aircraft, G-EUOB, the scheduled A319, and one of two (the other being G-EUPS) based at Gatwick for the summer.
.
.
I was welcomed onboard by a young female, who was trying to do about 3 things at once, but she just about managed to check my boarding pass and I headed down the aisle.
.
The flight was a bit more full than my previous two, but there were still a few empty seats toward the rear after boarding had finished a while later. I saw the older gentleman from before coming down the aisle and hoped that he would be sitting somewhere else... well, you guessed it, he occupied 17D. I suppose this was better than 17E, which remained free once more.
Bags still being loaded.
Still boarding.
Not long after the rude gentleman had taken his seat on the aisle, we were ready to go and we soon pushed back for the taxi toward runway 26L which was in use this afternoon.
.
Passing a number of old BA 757s.
Alas, what could have been...
Holding for 26L.
We waited for the 737 above to depart, and barely a minute after they had left the runway we taxied on and performed a rather leisurely rolling takeoff.
Gatwick Departure Video
http://www.youtube.com/watch?v=4lUi0d38e8s
As is evident in the video, we levelled off after 6,000 feet and stayed at around 6-8,000 feet whilst flying in totally the wrong direction to which we should have been going. I was wondering what was going on, but I am assuming that traffic in the London area meant we had to keep out of the way. In the end we skirted around the eastern edge of London.
.
.
.
After 15 or so minutes of this low and slow diversion, we eventually picked up speed again and started climbing once more. There was a lot of high level cloud around during the early part of the flight.
.
Because of the diversion, the seat belt sign remained on longer than usual, and the crew weren't released as early. However soon enough the complimentary snack and bar service started, and today it was only a small Vodka and Coke, accompanied by a Chocolate and Currant Cookie (which I have to say, was very nice).
.
During the odd gap in the cloud we were able to enjoy some good views of towns and cities below us as we routed slightly east of the normal flight path.
.
.
Ratcliffe on Soar Power Station, which can only mean......
Yes! There's East Midlands Airport (EMA).
And Nottingham too.
As we neared Manchester, our Captain came on to inform us that we were trying to dodge a few weather fronts in the area, but she hoped to get us on stand 10 minutes ahead of schedule. Shortly after this announcement, a jolt shook the plane, the seat belt signs came on, and the plane dropped a couple of times (accompanied by a few 'oooohs!' from passengers around the cabin). The descent through these clouds made for excellent viewing.
.
.
.
.
.
.
.
Soon enough the peaks gave way to Greater Manchester, and we came in for a rainy landing on Manchester's 23R.
Manchester Arrival Video
http://www.youtube.com/watch?v=dhNSgR46Irg
Welcome to Manchester, where it's raining... again.
We landed 10 minutes ahead of schedule as per the Captain's earlier words, and it was a short taxi over to Terminal 3 where we were quickly hooked up to an air bridge and we started disembarking. I waited behind and proceeded to the front (where the cockpit door was open) and asked the member of cabin crew stood there if I could possibly visit the cockpit. She very enthusiastically replied "Yes of course!" before making sure with the First Officer that it was okay.
I had a brief chat with him about the flight, and he mentioned there were a few electrical storms just outside Manchester Airport which you can see off to the right in the arrival video. I asked if I could take a quick photo, to which he replied "Yes I think so, just don't get me in it!" I snapped one quickly, not wanting to outstay my welcome, thanked him for his time and went down the air bridge and into domestic arrivals.
.
I was outside within 5 minutes of leaving the aircraft, which is very impressive. I was then picked up by my parents and headed off to have a Mother's Day meal, since we shouldn't forget about our Mums! Another exciting weekend of travelling had come to an end, but hey! It's not long til my next trip.
Concluding Remarks
Flybe: They may not be as cheap as other 'low cost' airlines, but their crew are friendly and I've never had a massive problem with them. They do the job at an average cost, which is about all you can ask for really!
BA Cityflyer: My first trip with BACF really exceeded my expectations, the crew were fantastic and the aircraft are absolutely amazing from a comfort perspective. I would happily pay the premium to fly BACF out of LCY now.
BA: Another solid trip with British Airways mainline. The crew were friendly enough, and the snack/bar offering was okay for the flight duration. I wouldn't hesitate to fly them, even if the strike threats continue.
Airports: None of the 4 airports really stood out to me on this trip, although the speed with which I exited all of them was great. Manchester Terminal 3 is particularly dull, small and dingy. Edinburgh has gone from spacious to crowded in the space of 2 years, so it's not as good as it was. City Airport I didn't see much of, but it's well linked transport wise and easy to get through. Gatwick was okay, but does need touching up in a few departments.
If you have managed to reach the end, then I applaud and thank you. Any comments and questions you have are more than appreciated.
Regards,
Daniel.
Previous Trip Reports:
How To Miss 2 Flights & Lose £58 - A Ryanair Story
(by
DanTaylor2006
Jan 18 2011 in Trip Reports)
Trying Out Aer Lingus On MAN-DUB-MAN
(by
DanTaylor2006
Jan 9 2011 in Trip Reports)
Finally Catching The A380 - CDG-LHR - 25/07/10
(by
DanTaylor2006
Jul 29 2010 in Trip Reports)
No A380... Or The AF 77W - LHR-CDG - 24/07/10
(by
DanTaylor2006
Jul 28 2010 in Trip Reports)
Flying Loco; FR BHX-DUB-BHX In A Day
(by
DanTaylor2006
Sep 15 2009 in Trip Reports)
BHX-DUS-BHX; FlyBe Day Trip (Only A Few Pics)
(by
DanTaylor2006
Aug 9 2008 in Trip Reports)
BA - LHR-ZRH Return - Club Europe (+ Pics)
(by
DanTaylor2006
Aug 3 2008 in Trip Reports)
Birmingham - Krakow (Charter) Return
(by
DanTaylor2006
Apr 30 2008 in Trip Reports)
Thomsonfly; Manchester - Naples Return
(by
DanTaylor2006
Apr 3 2008 in Trip Reports)
LHR-AMS Return (British Airways & T5)
(by
DanTaylor2006
Apr 3 2008 in Trip Reports)
Future Trips:
LHR-FCO-MAD-LIN-LHR with Alitalia