Farewell Again: Last Scheduled SQ 744 In LAX In F
Posted: Sun Apr 10, 2011 8:42 am
Farewell again: Last Scheduled SQ Boeing 747-400 passenger flight into LAX in First
As recalled on my last "Farewell to SQ 747-400 flight," I issued a roundtrip on SQ first class last year using my Delta miles before Delta ended its contract with SIA, and the dates were really randomly selected, but I made sure that the return flight was after the beginning of the Spring season, as there was rumors that SQ will use A380 on SQ 11/12 soon. Of course, SIA made the announcement of the switch earlier this year, and my return on April 4th on SQ 12 changed to Suite Class. I was definitely looking forward to my first and possibly only Suite Class experience. Of course the earthquake in Japan changed the course of thing. Singapore Airlines has been modifying the flight schedule and understandably reversed the introduction of A380 on SQ 12, and reintroduced Boeing 747-400 on SQ 11/12 on a temporary basis. It has also added Osaka Kansai as an additional stop to comfort the crew, as there are water and food shortage in Tokyo, as well as frequent aftershocks. But I was disappointed that my suite class experience will definitely not happen for a while. Finally a week before the flight, Singapore Airlines has decided to utilize the smaller Boeing 777-300ERs beginning April 5th on this flight, as some of these 747-400s are already sold or reaching the end of its lease. In some way, I am disappointed, but accidentally, I was on the last Singapore Airlines' Boeing 747-400 passenger flight into LAX. The Osaka refueling stop was also eliminated and our flight was the first one that went back to the nonstop from Singapore to Los Angeles via Tokyo Narita.
Sometimes life is unpredictable and this flight ended up being one of the most memorable flights, especially experiencing the real Singapore Airlines service. I also got to talk a number of senior staffs that have lots of memory of the airline and the history of this "MEGATOP." I get to understand Singapore Airlines' operation a bit better and despite of people's frequent complaint of SQ F/As being aloof, impersonal and robotic, there was not an ounce of it on this return flight from Singapore to Los Angeles via Tokyo Narita. It also reaffirms my theory why Singapore Airlines is still the best airline in the world. Their attention to details is immaculate and I came away with an amazing gift. I want to sincerely thank the crew of SQ 12 again and words can't do their service justice.
April 4, 2011
SQ 12 Singapore to Tokyo Narita Lv0925 Arr1730 Boeing 747-400 9V-SPM
Photo Link to the full album and please be warned that there are about 200 pictures:
http://share.shutterfly.com/action/welcome?sid=8QbNHDNy5bqTJg
History:
The first Singapore Airlines' Boeing 747-400 9V-SMA was delivered to SIA on March 29, 1989, and I believe London was the first route that SIA Boeing 747-400 went, and SIA was the first airline to fly the plane on its transpacific flight. According to conversations with various flight and cockpit crew, Megatops will become history by the end of 2011. My aircraft this morning, 9V-SPM, was one of the latest model and was delivered on February 2000, and first flight was on March 30, 2000. It was also my first flight on 9V-SPM.
9V-SPM at Singapore Changi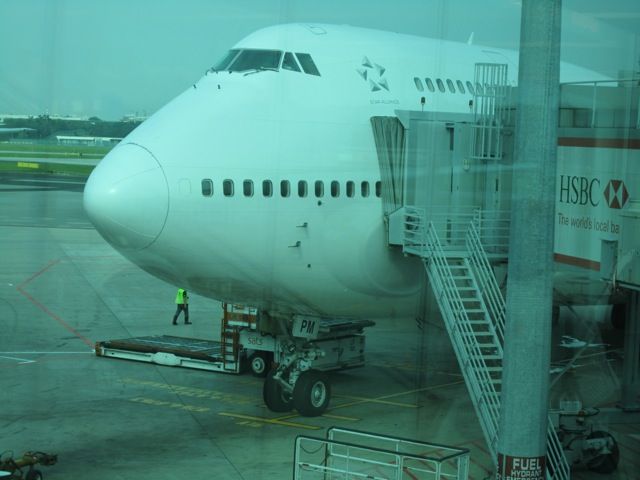 Check-in:
I arrived Singapore Changi Airport two hours prior to arrival, and the taxi driver dropped me off at the SQ First class lounge. It was a busy morning here at the first class check-in lounge, but a staff immediately asked me to take a seat and took my check-in bag and passport. He came back five minutes later with a baggage claim and boarding pass. The service was straightforward and the staff was not particularly friendly or personable, just courteous. The goal of check-in experience is efficiency, but nothing addition. Compared to its spectacular air service, ground service is lukewarm at best. The staff did not enter my bmi number into the reservation. They seemed a bit hassled due to the crowd.
Check-in lounge entrance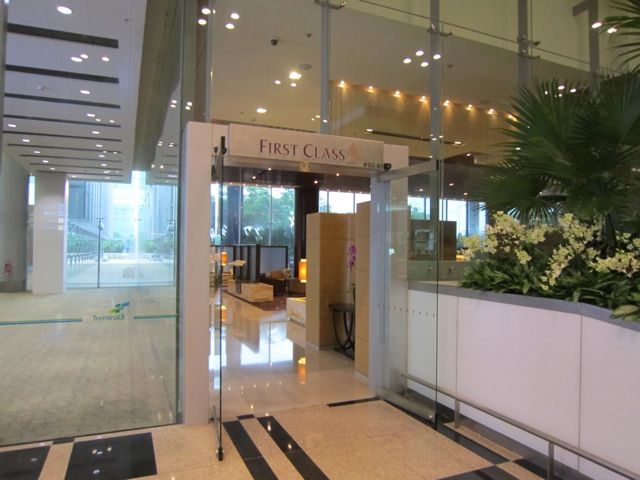 Check-in lounge seating area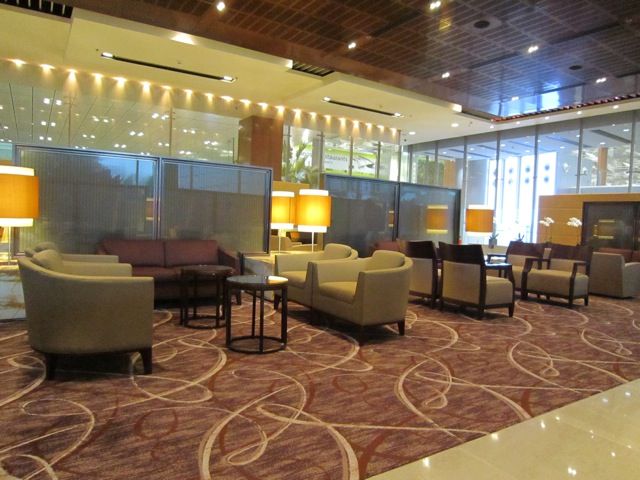 Nice floral arrangement
Lounge:
Singapore has recently changed its lounge admittance policy, and as a first class award ticket holder, I am now allowed to use the Private Room (TPP). The attendant brought me to the TPP entrance and it felt good to pass through the J lounge, then the F lounge and then into the TPP. The TPP was just a private first class lounge and there was a private dining room with an on demand menu. I was addressed by my last name during the whole stay. I first headed towards to the dining room and had a nice breakfast of duck congee. It just hit the right spot in the early hour.
Dining Room
Breakfast Menu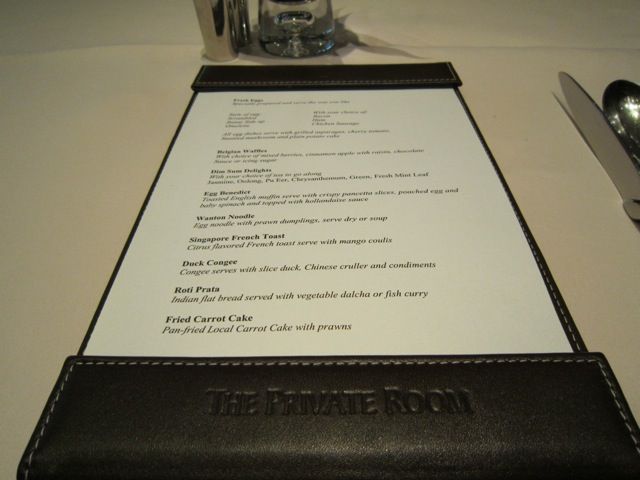 Duck Congee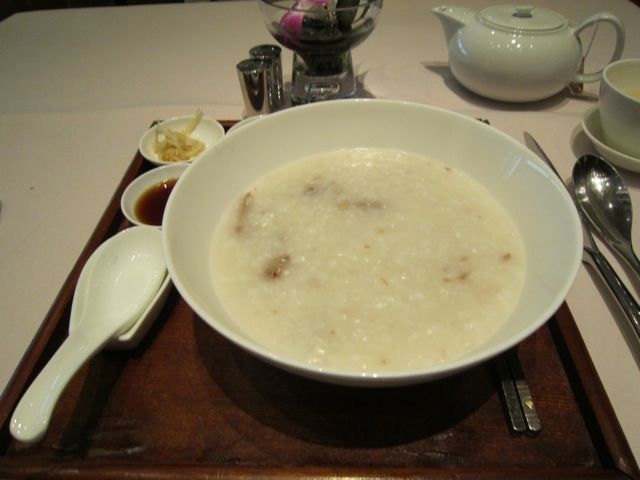 The lounge was spacious with plenty of individual stations to sit on!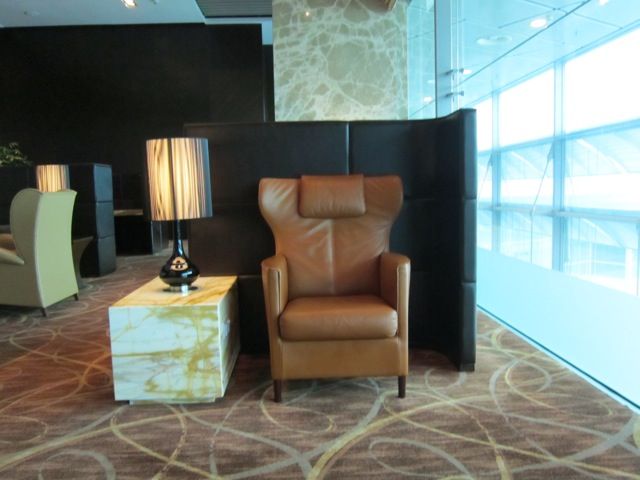 There are numbers of seating areas surrounding some flat screen TV.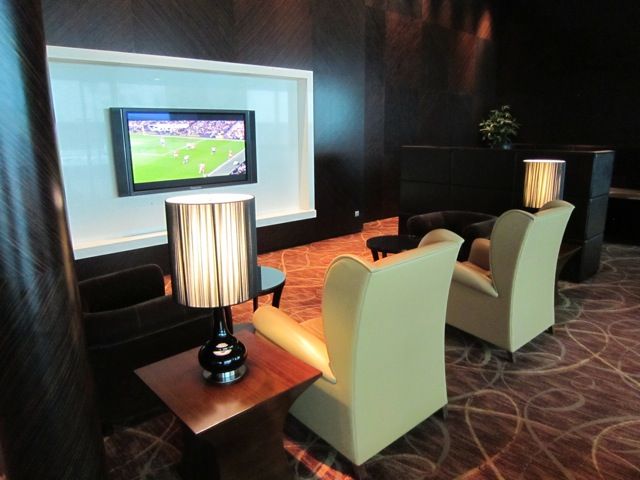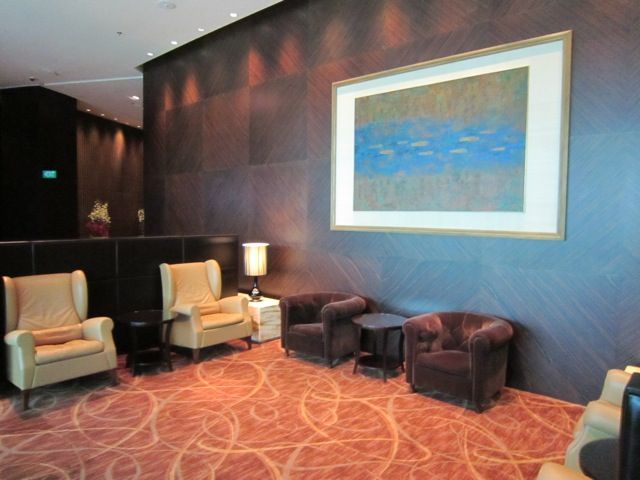 The really nice floral arrangement