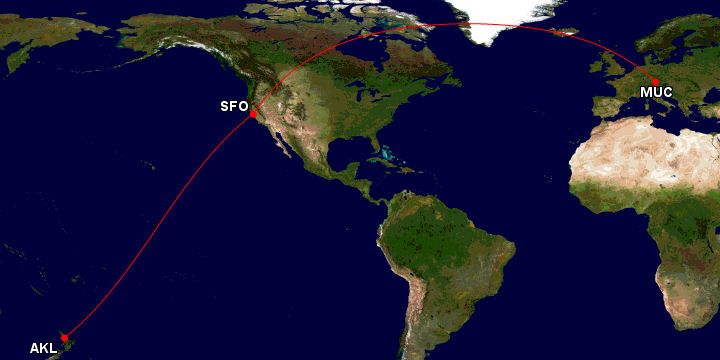 Map generated by the Great Circle Mapper - copyright © Karl L. Swartz
Background about the Round-the-World Trip
A round-the-world trip had been on my wish list for many years and last summer I finally decided to go. Originally, my plan for October 2010 was to visit a good friend in Brisbane again after a break of four years. While searching for flight options, I realized that a visit to Brisbane would be a great opportunity to create a round-the-world trip. RTW packages by the large alliances didn't attract me due to numerous restrictions and the limited choice of airlines. I found it much more interesting to combine all kinds of airlines without someone restricting anything.

As usual, my focus was on new carriers and new types - and my intensive searches turned out to be successful. First of all, I booked the long-haul flights, followed by a few connecting flights. Finally, I added some more side trip flights. Final routing: Munich-Bangkok-Brisbane-Melbourne-Albury-Sydney-Auckland-Christchurch-Dunedin-Wellington-Auckland-San Francisco-Munich. The itinerary included 12 flights, 7 new airlines, 5 new airports and 3 new types. I would leave on 2 October and return 11 days later, after flying 26345 miles (42398 kilometers).

Parts I, II, III and IV can be found here:
Thai Fails To Impress: MUC-BKK-BNE On 744 & 777
Detours To Sydney: Wildlife, Tiger, REX & QFLink
Trans-Tasman Treat: Aerolineas Argentinas A340-200
Bad Weather & Other Bad Luck: Touring New Zealand

Planning Details - Part V
Shortly after had I started working on my RTW itinerary, I found a very attractive one-way fare between Auckland and Munich, offered by Air New Zealand. The price was only half of the lowest available round-trip fares which was quite remarkable. There was a choice of three different options: Auckland-Hong Kong-Munich, Auckland-Los Angeles-Munich and Auckland-San Francisco-Munich. All options involved stopovers of about nine hours and more which would give me the opportunity to relax in a day room. In either case, the second sector showed a Lufthansa Airbus A340-600 - a type which was still missing in my log. I quickly ruled out AKL-LAX-MUC, because I had already flown on Air New Zealand's Boeing 747-400. The other two options included an Air New Zealand Boeing 777-200ER - definitely more interesting! Finally, I decided to make an eastbound RTW trip and booked the AKL-SFO-MUC connection on NZ's nice and functional website. Some weeks later, I also booked a cheap room at the Red Roof Inn in Burlingame where I would spend a few hours between the two long-haul flights.
I was really looking forward to my first A340-600 flight, my second long-haul flight on quality carrier Air New Zealand and - not to forget - my first Pacific crossing.
Auckland Spotting & Sightseeing
After another relaxing night and an excellent breakfast at the
Jet Park Airport Hotel
....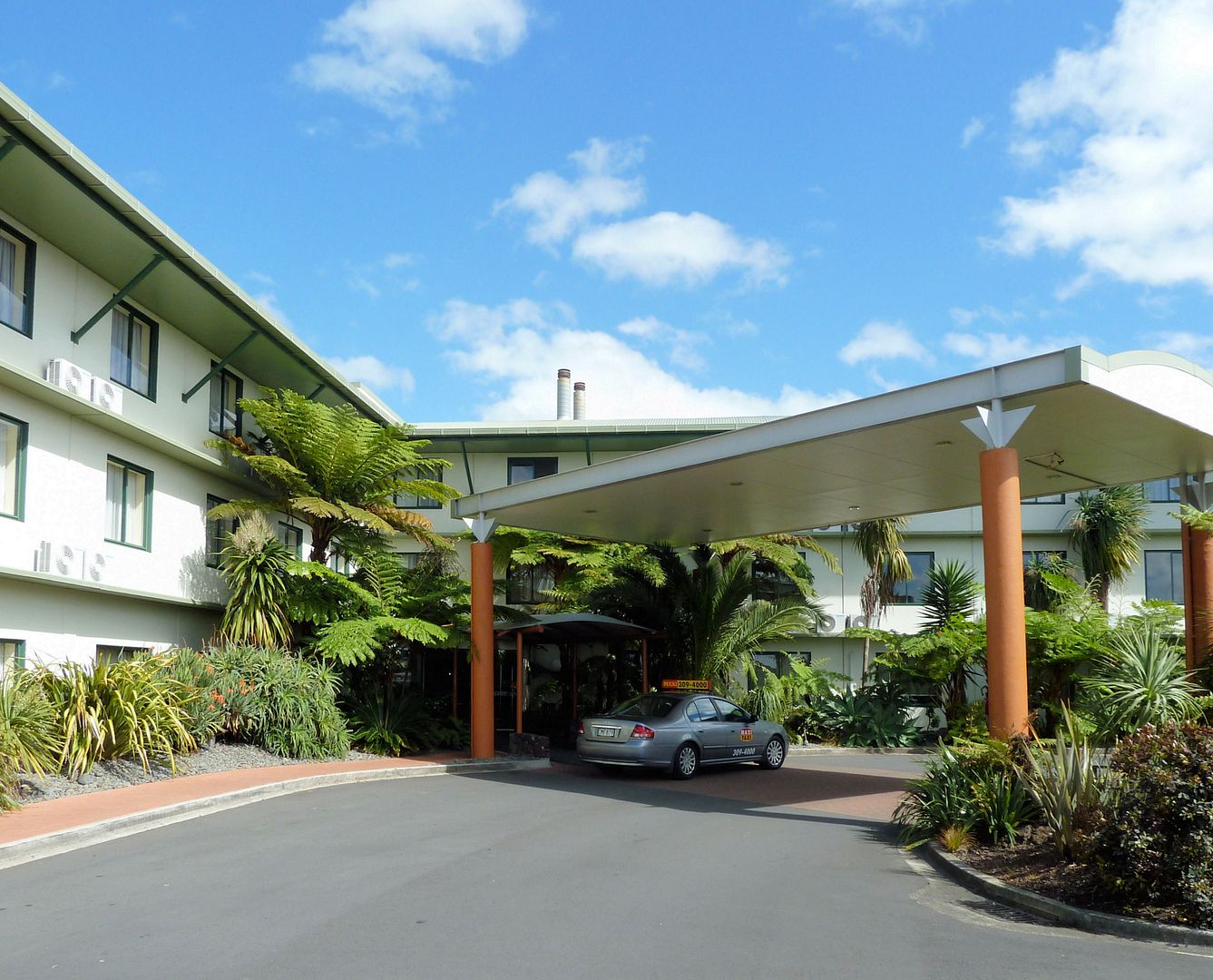 ...I checked out and met
Nicholas
alias trip reporter
NZ107
for the first time. We went to a popular spot where you can take good pictures of aircraft on final approach and taxiing to the runway. I got numerous new registrations, including V8-BLC...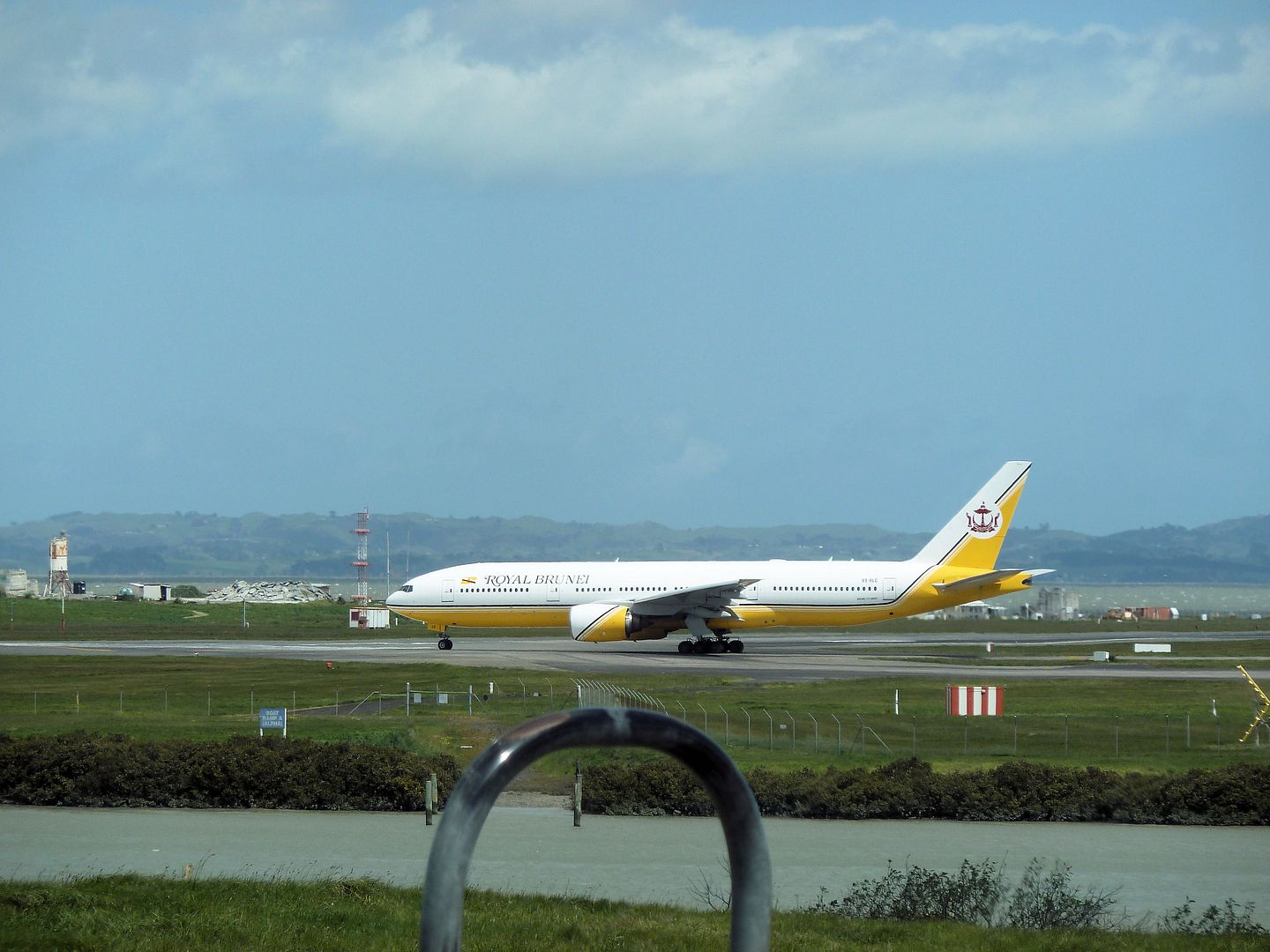 ...and A6-EDC: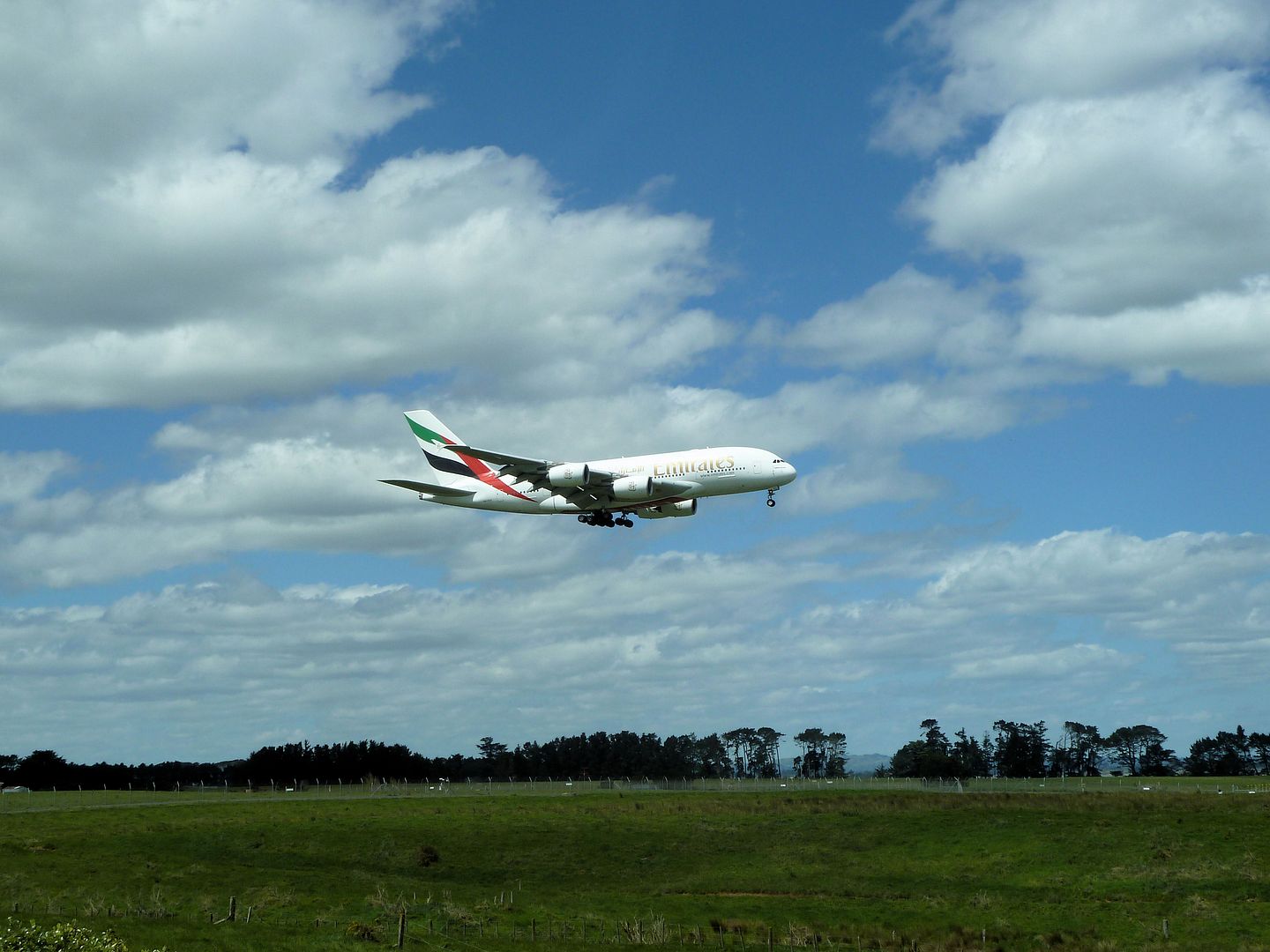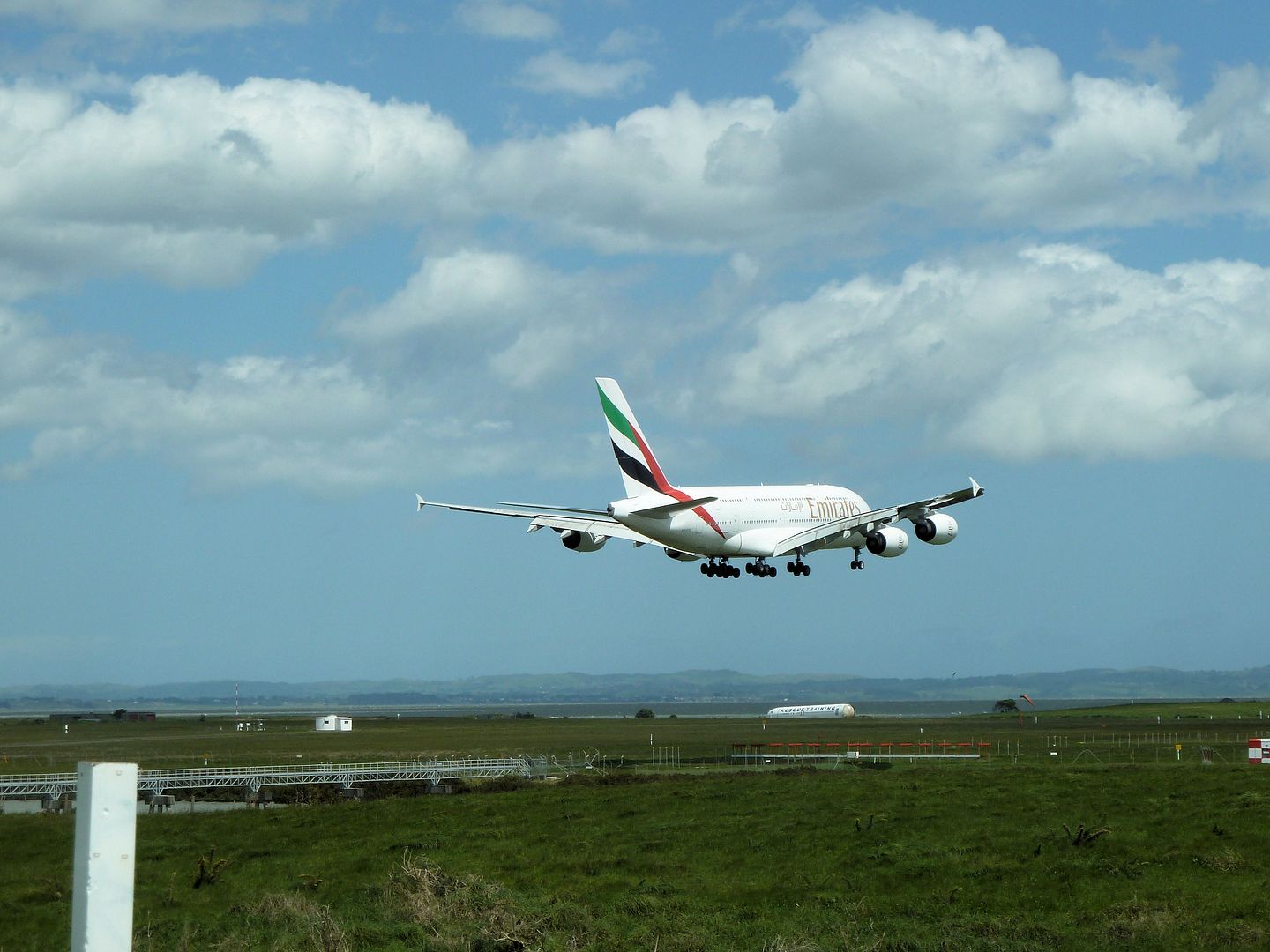 Here are two great pictures taken by Nicholas during our meeting:
Around noon, Nicholas took me to some nice spots where I could enjoy fantastic views of Auckland and the surrounding area. First of all, we went to
One Tree Hill
: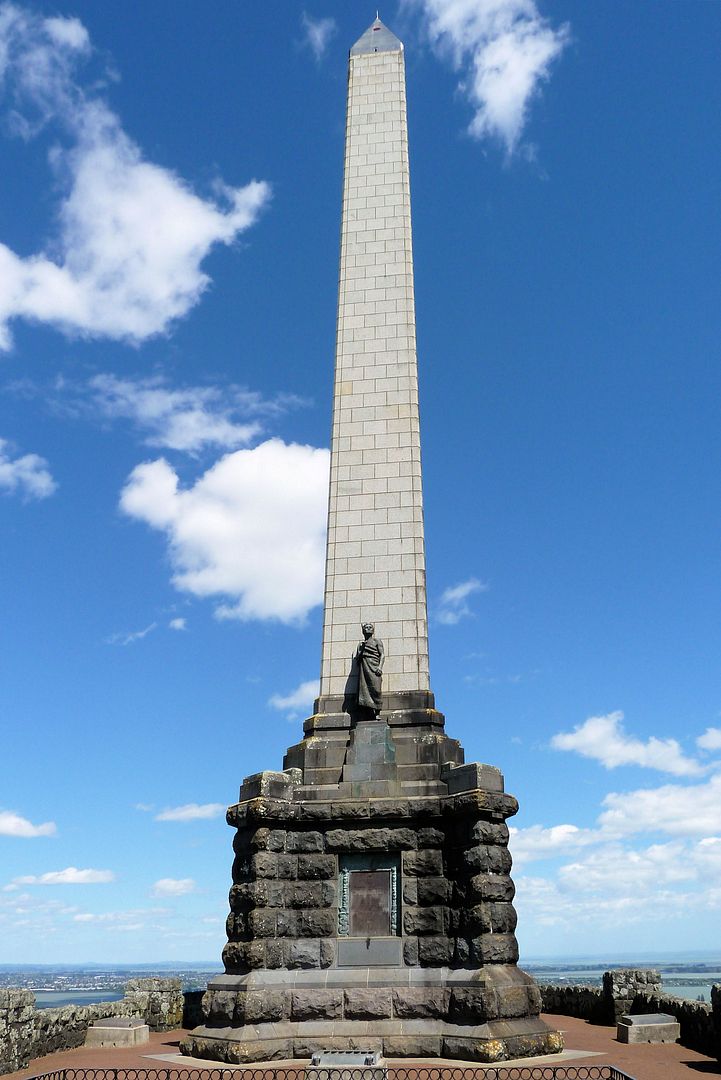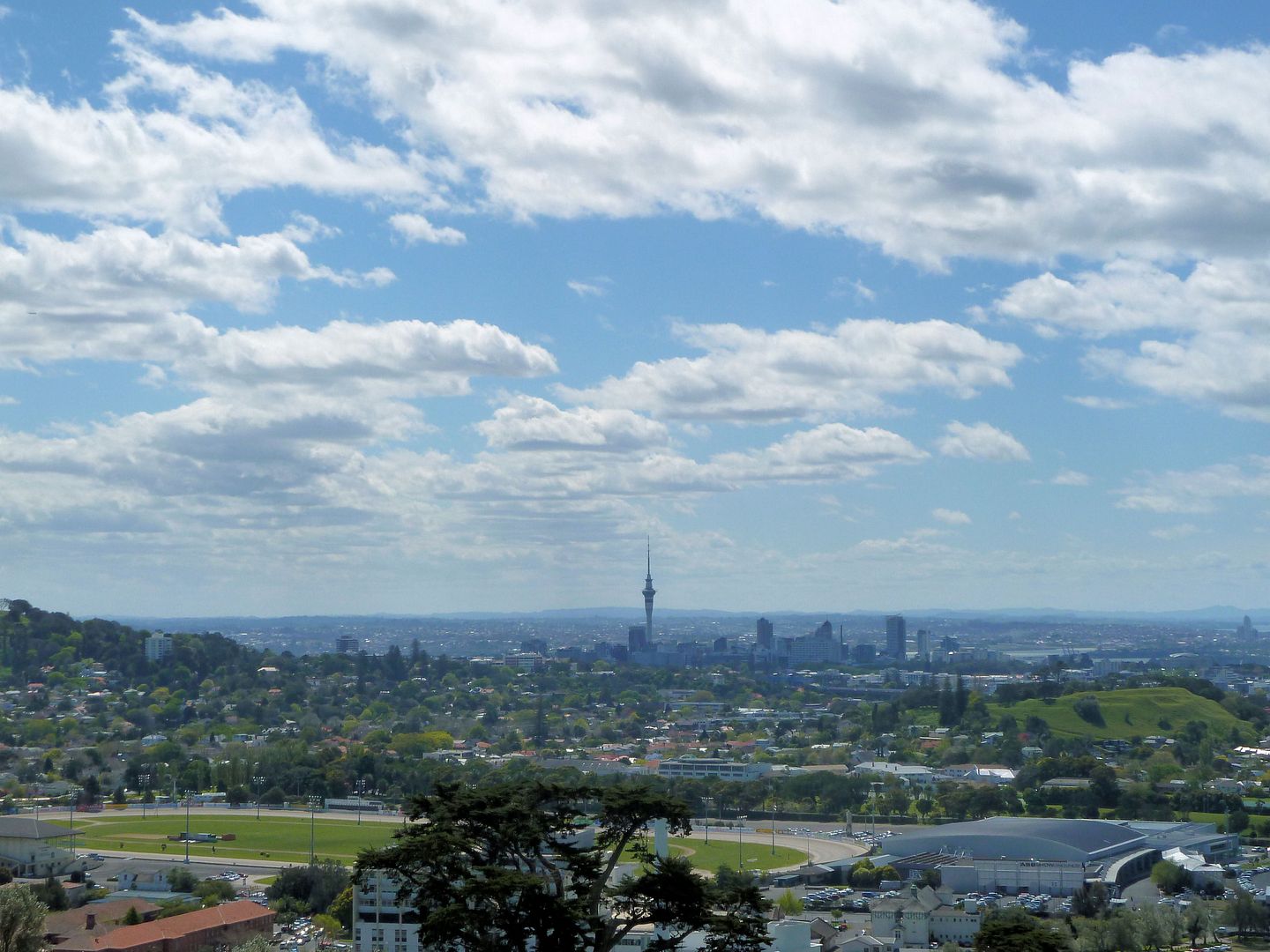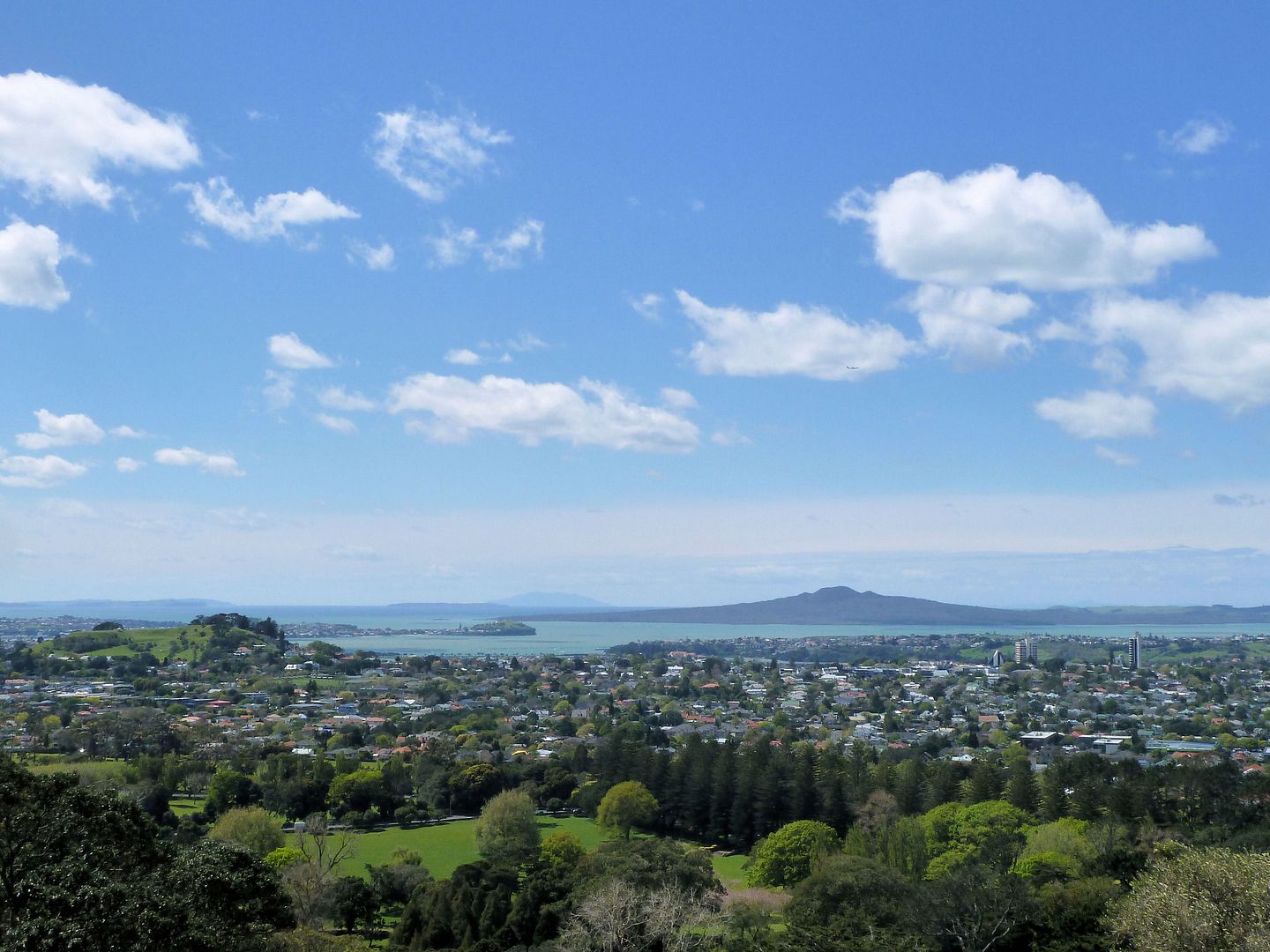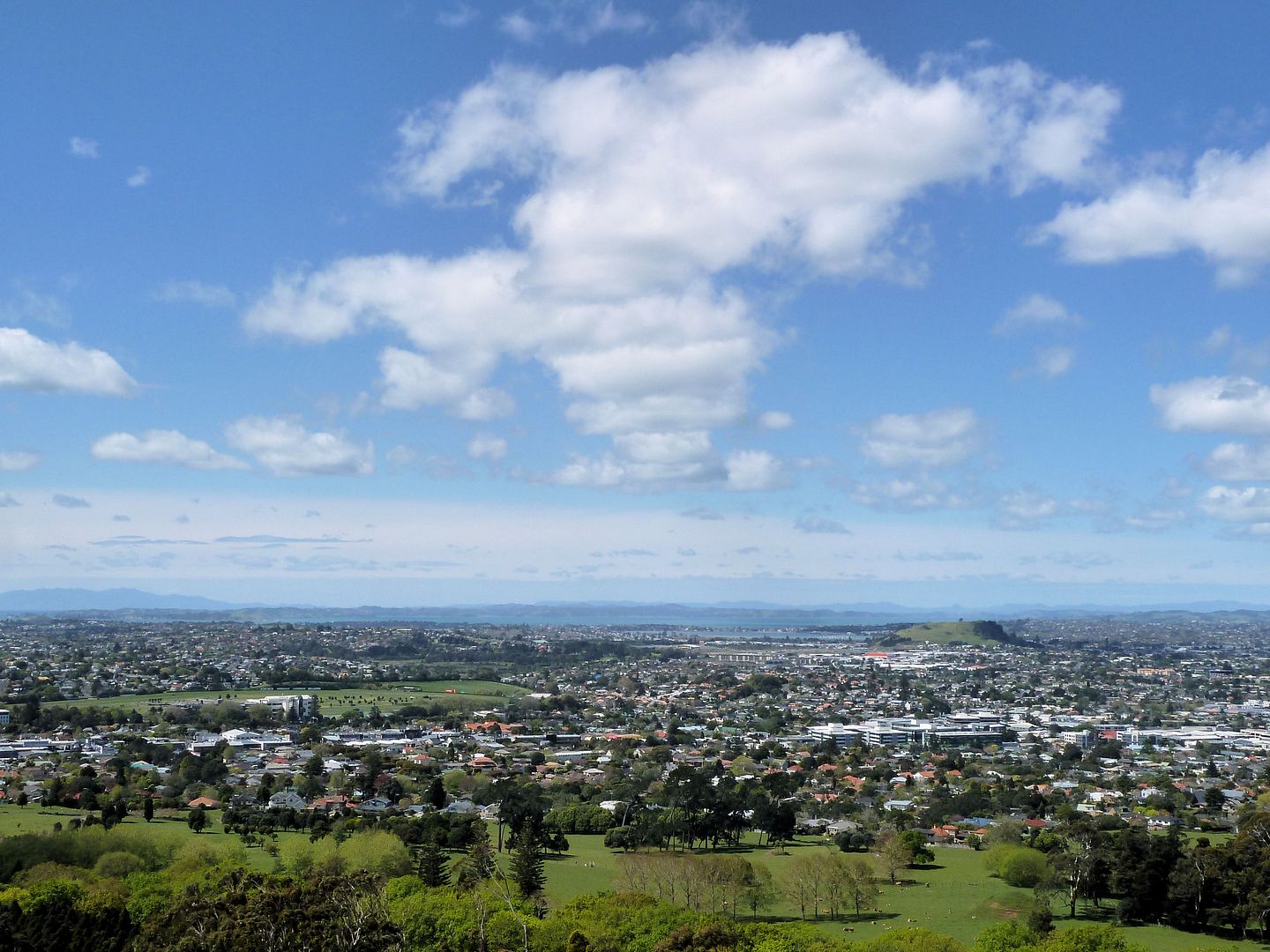 Then we went to
Mount Eden
, the highest natural point in the whole of Auckland. You can find a majestic bowl-like volcano crater there: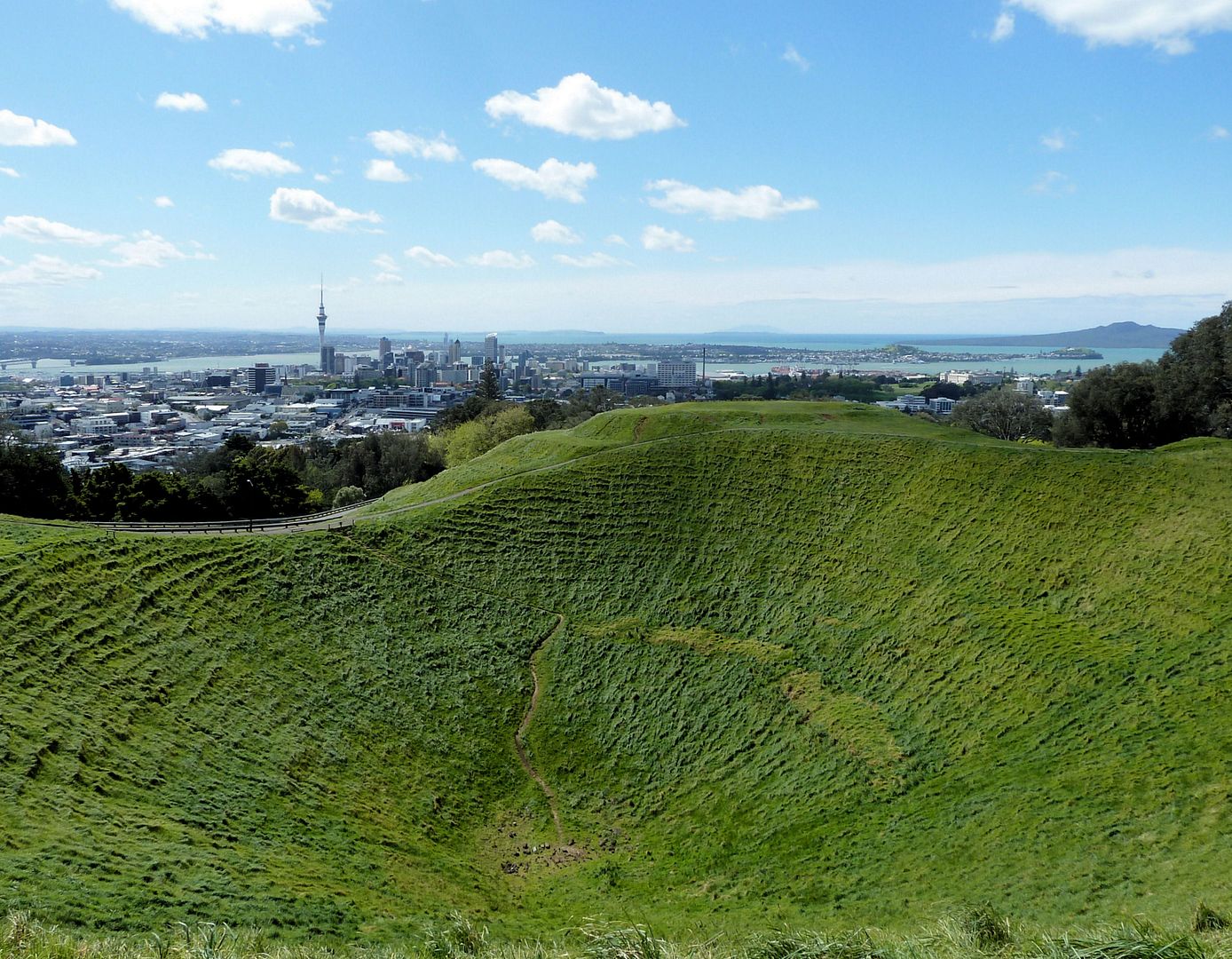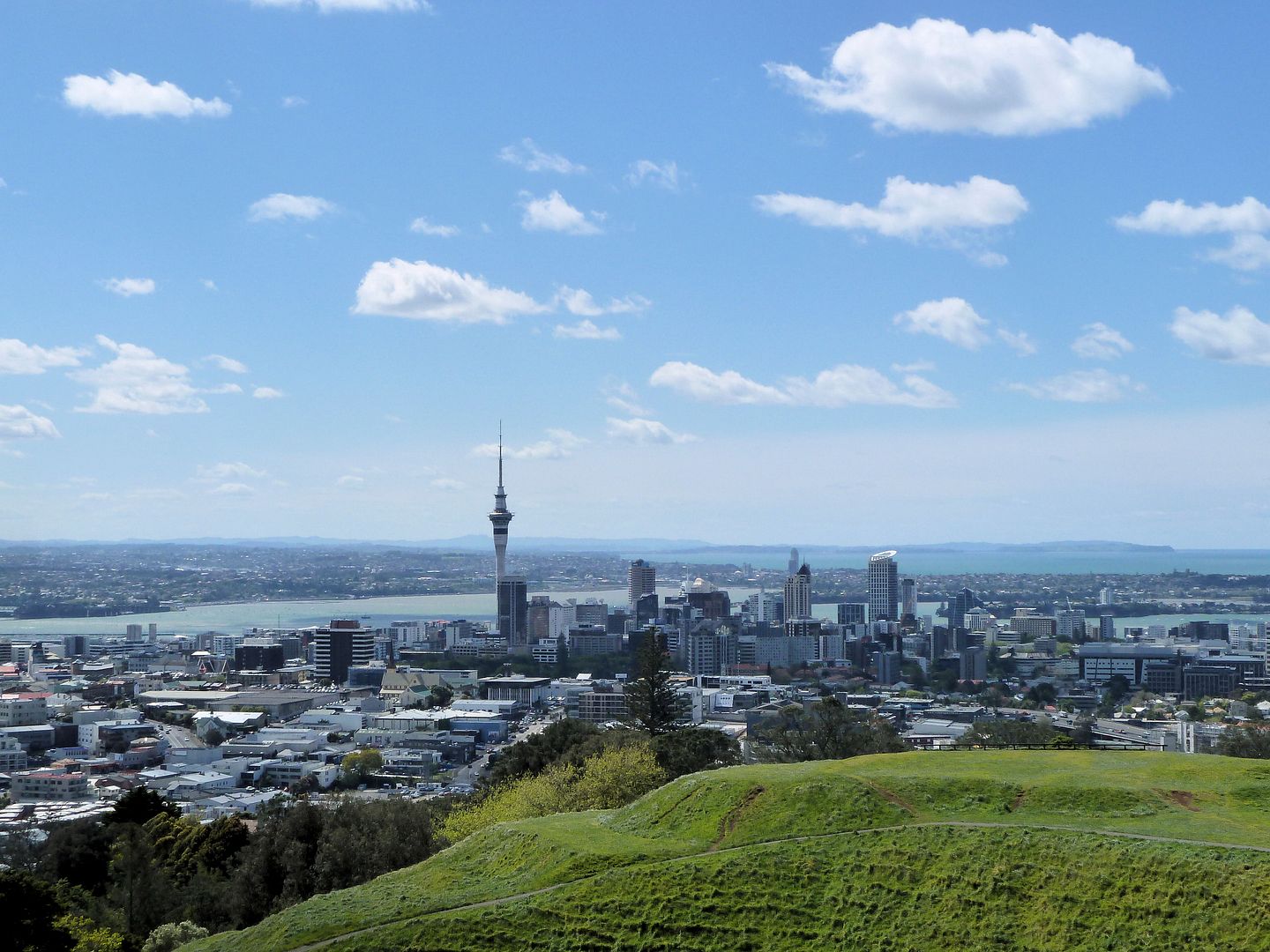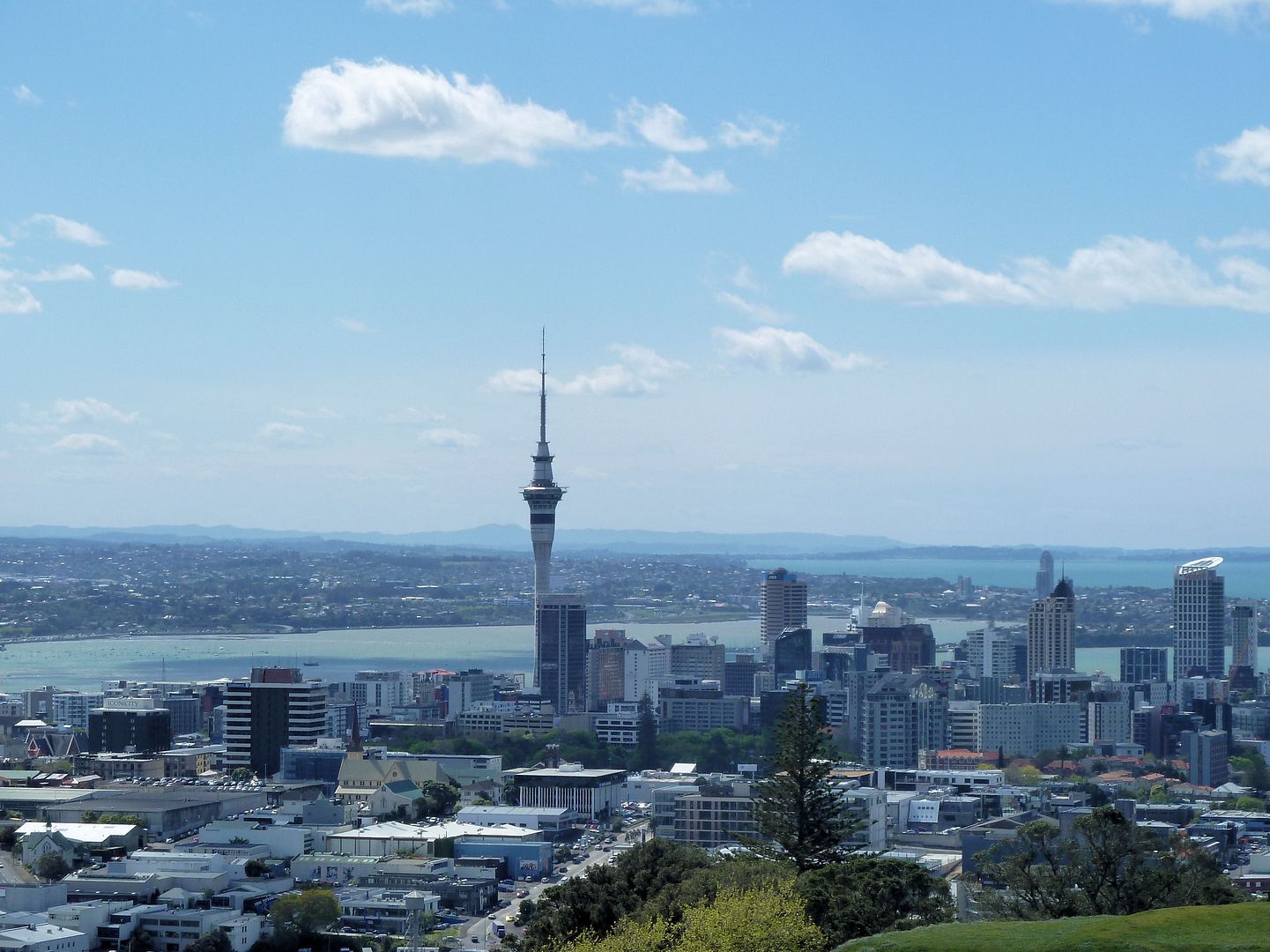 Here you can see
One Tree Hill
in the distance: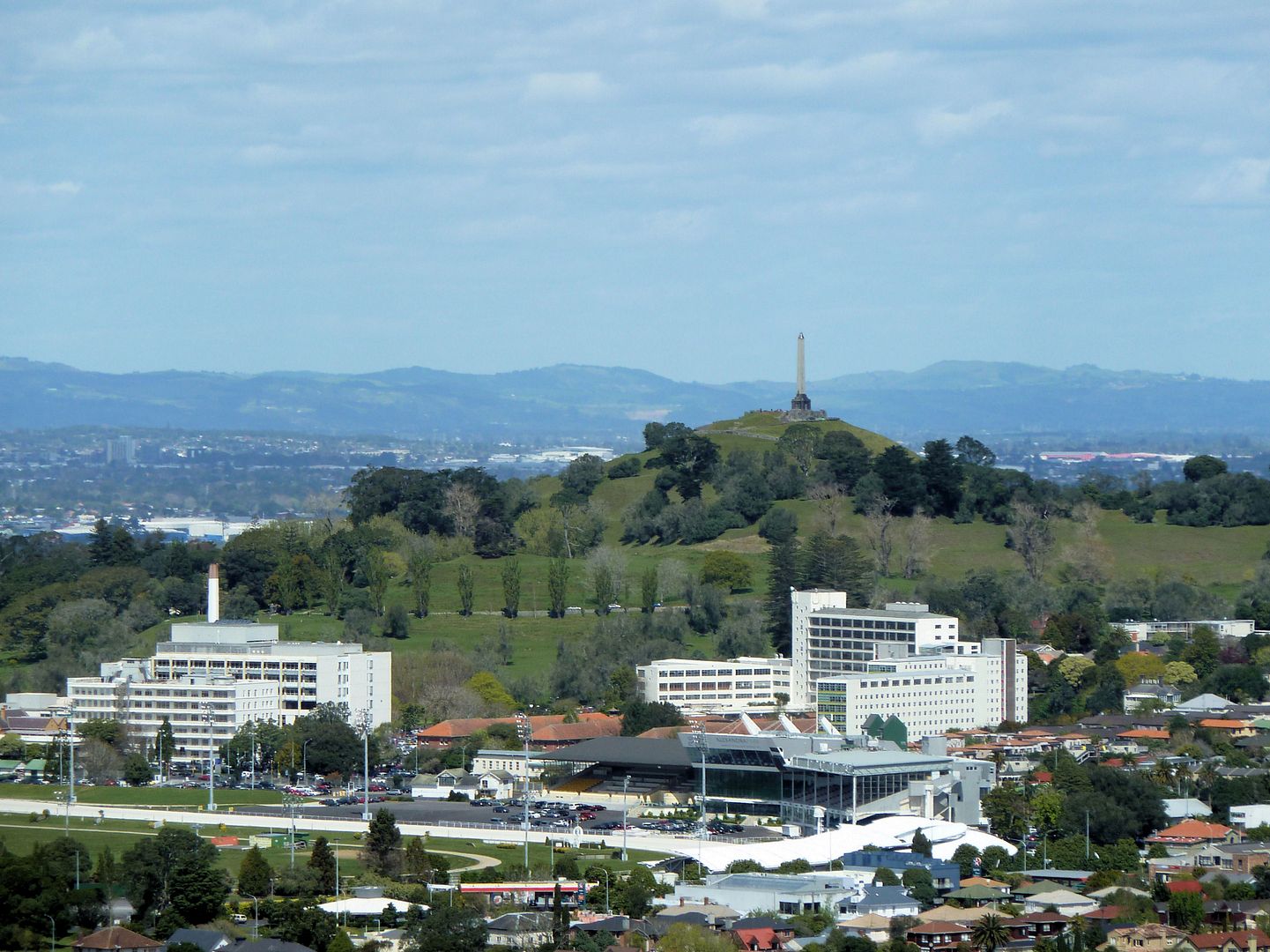 After having lunch in a nice little bistro, we went back to the airport and continued spotting for a while under the approach path. I got a total 21 new registrations on that day which wasn't bad. About 2.5 hours prior to departure, it was time to leave for the airport.
Tuesday, 12 October 2010
Auckland (AKL) - San Francisco (SFO)
Air New Zealand NZ008
Scheduled times: 19:30-11:45
Actual times: 19:29-11:26
Flight duration: 11:38 (hrs)
Distance: 6516 miles
Economy Class, seat 65A

Boeing 777-219ER
ZK-OKH (s/n 605)
Built in 12/2006 and delivered in 01/2007
1st flight on ZK-OKH
11th 777-200ER flight
29th 777 flight
There were plenty of staffed counters in the Air New Zealand check-in area and I just had to wait a few minutes until a very friendly male agent waved to me. Only a few minutes later, he printed the boarding pass for the SFO flight with my pre-reserved seat number (65A, last row). Then I asked the agent whether he could already issue the second boarding pass, too. He wasn't able to get access to the Lufthansa seat map at first, but then he asked a colleague and looked something up in a manual. He remained in good mood all the time and seemed to be very motivated to sort this out. Finally, his machine printed the boarding pass (seat 55A) and he cheerfully said
"Yessssss!"
Before leaving, I asked him about the passenger load on the SFO flight.
"It's half empty!"
, he said and wished me a pleasant journey. That's what I call a good start!
It wasn't necessary yet to pass security, so Nicholas and I went to the indoor observation deck for some more spotting. It's a nice and clean facility with numerous seats where you can easily spend a few hours. It was quite busy at the international terminal: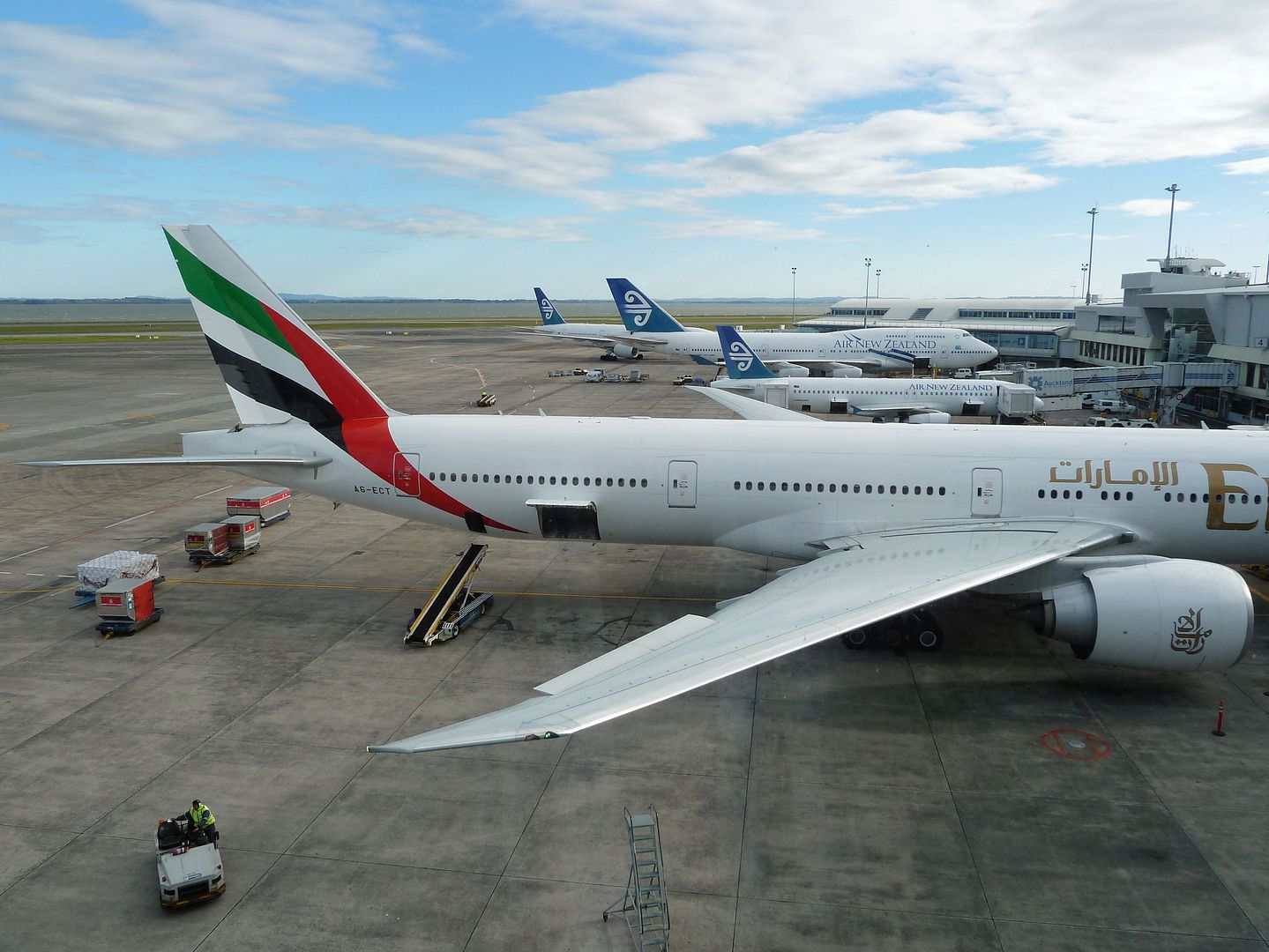 Finally, it was time to go airside and I said goodbye to Nicholas who had been an excellent guide. Thanks again for a great day in Auckland!
After passing security, I noticed that this 777 was parked at gate 8 - which was my gate:
The plane turned out to be
ZK-OKH
, the newest of eight 777-200ERs in the fleet.
In order to reach the gates for the USA flights, I had to pass another security checkpoint. Finally, I could take a seat in the gate area.
ZK-OKH
was built in December 2006 and delivered in January 2007: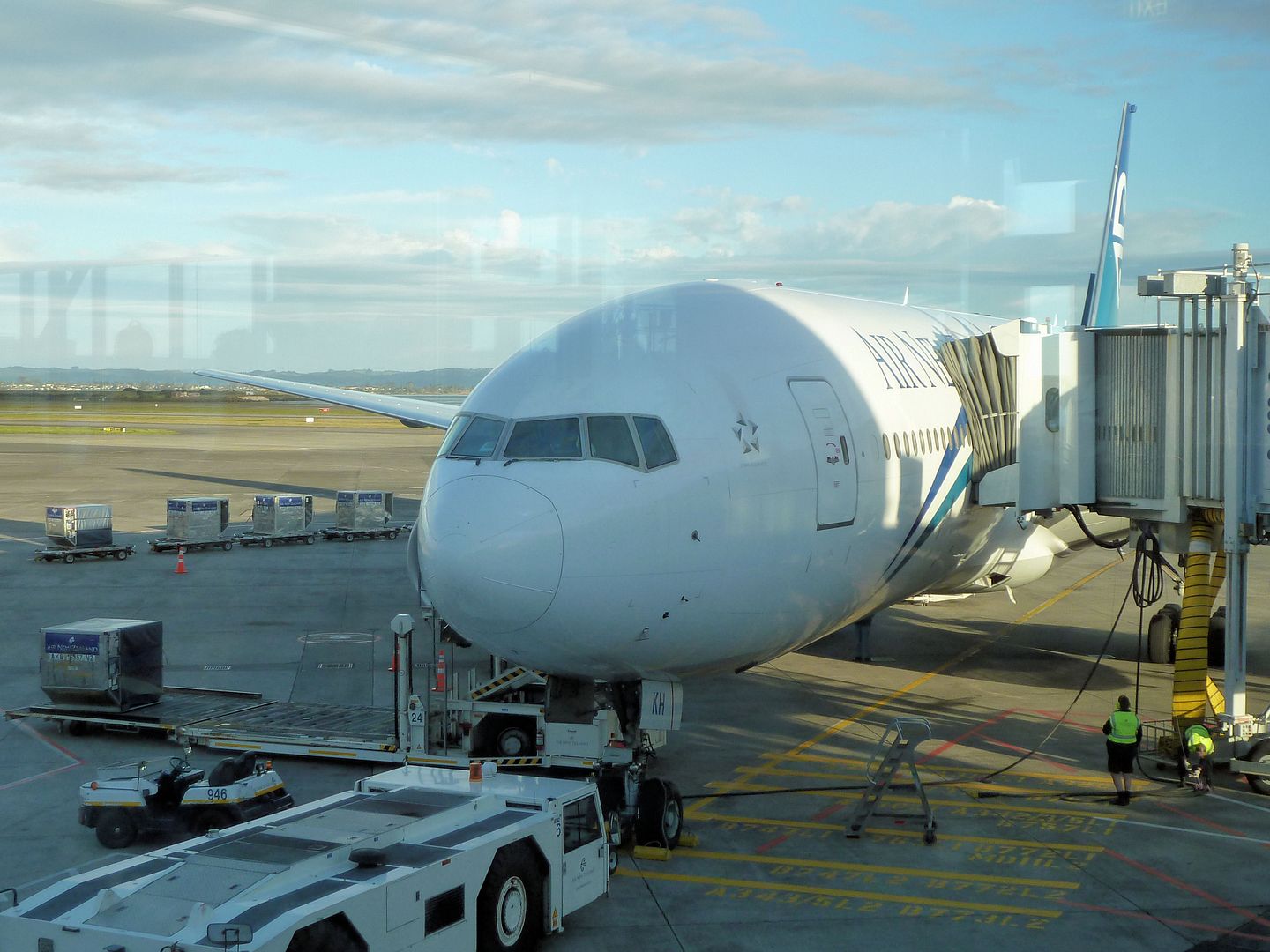 After boarding had commenced, I remained seated for a while so that I could log some more registrations. I entered the cabin among the last few passengers and friendly flight attendants welcomed me on board. Only few people were seated in the rear section - and I was happy that the aisle seat next to me remained empty!
The seats were the same as on my Air New Zealand 747-400 flight in 2008 - very comfortable: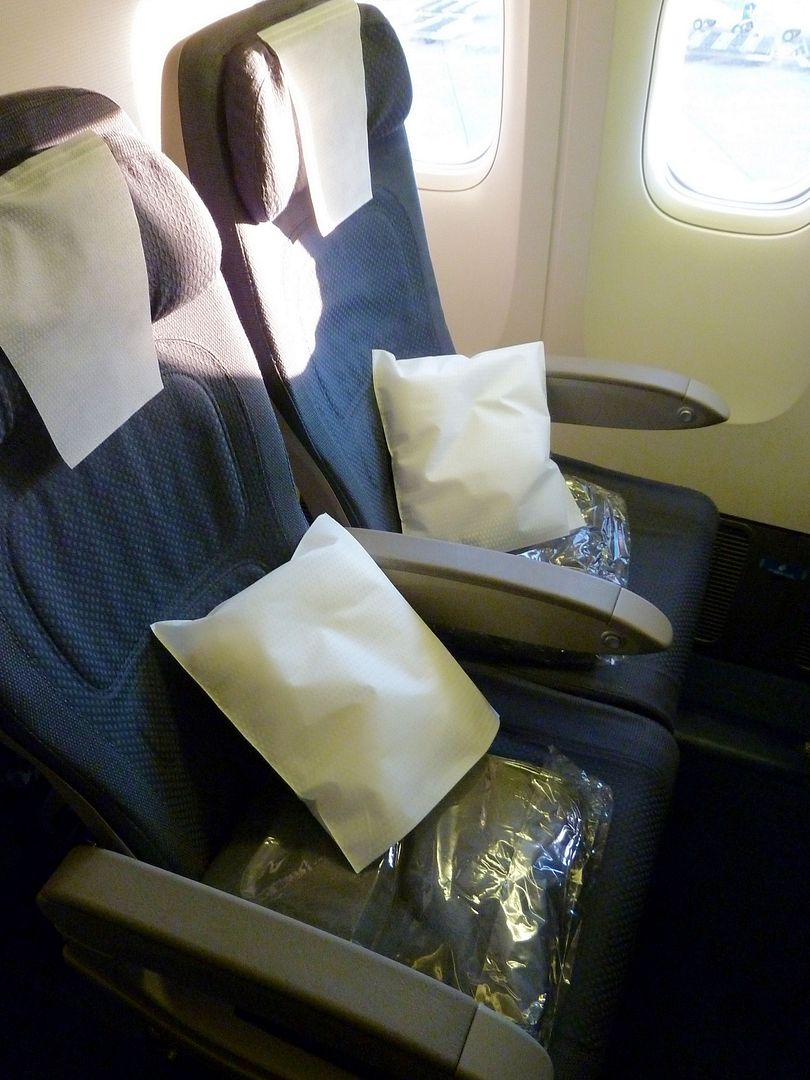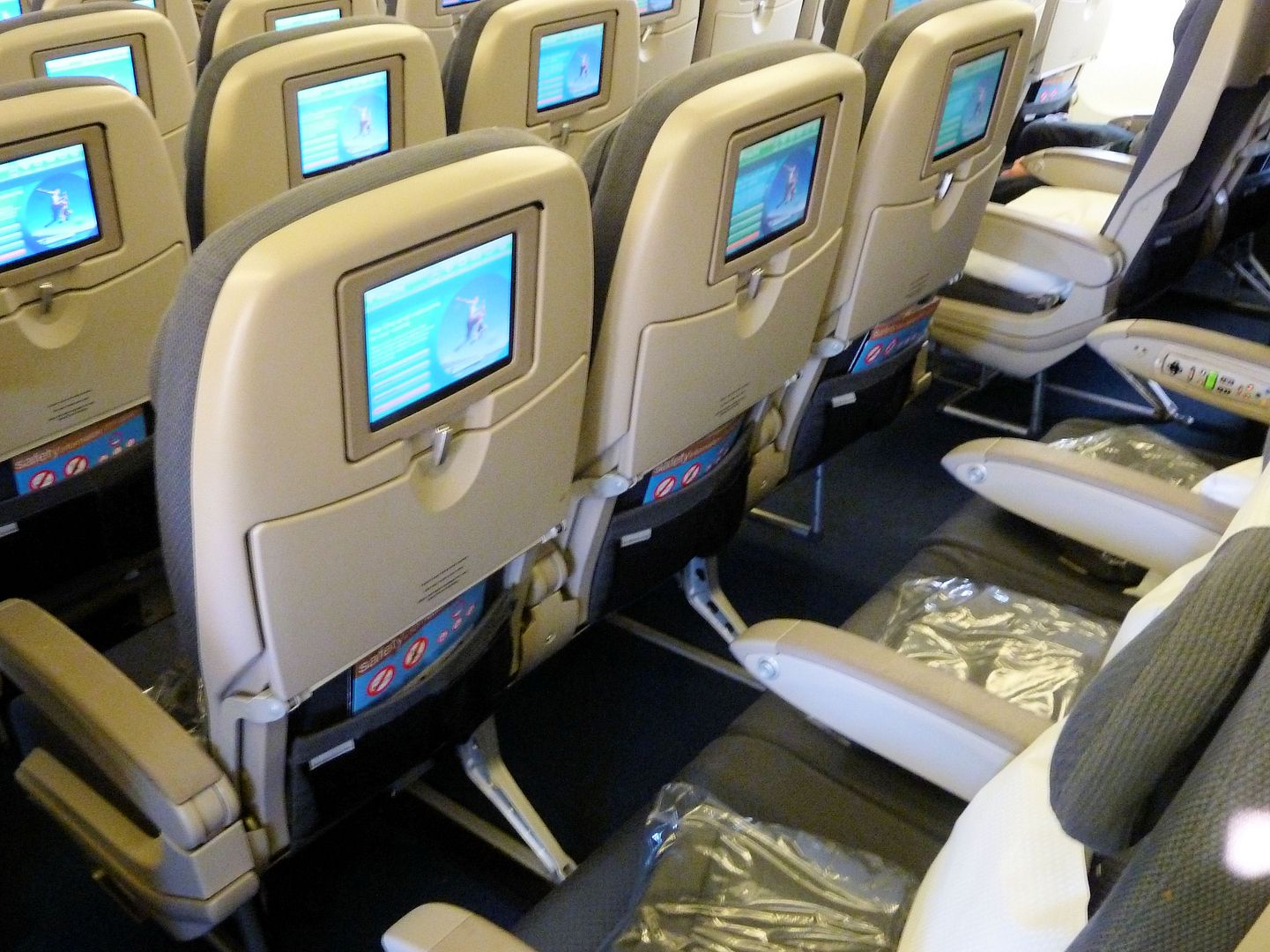 Legroom (most likely 32 inches) was not as generous as on the 747-400 (34 inches), but still sufficient for a long flight:
Inflight magazine: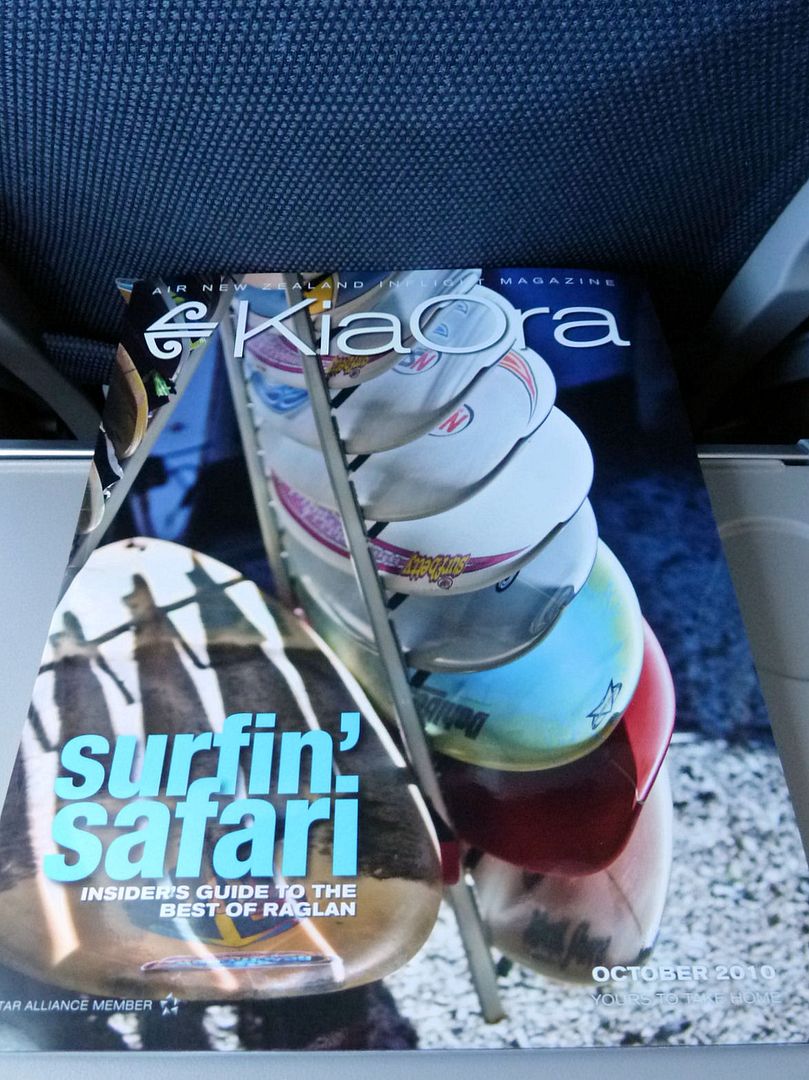 The IFE guide...
...even contained a fleet information page: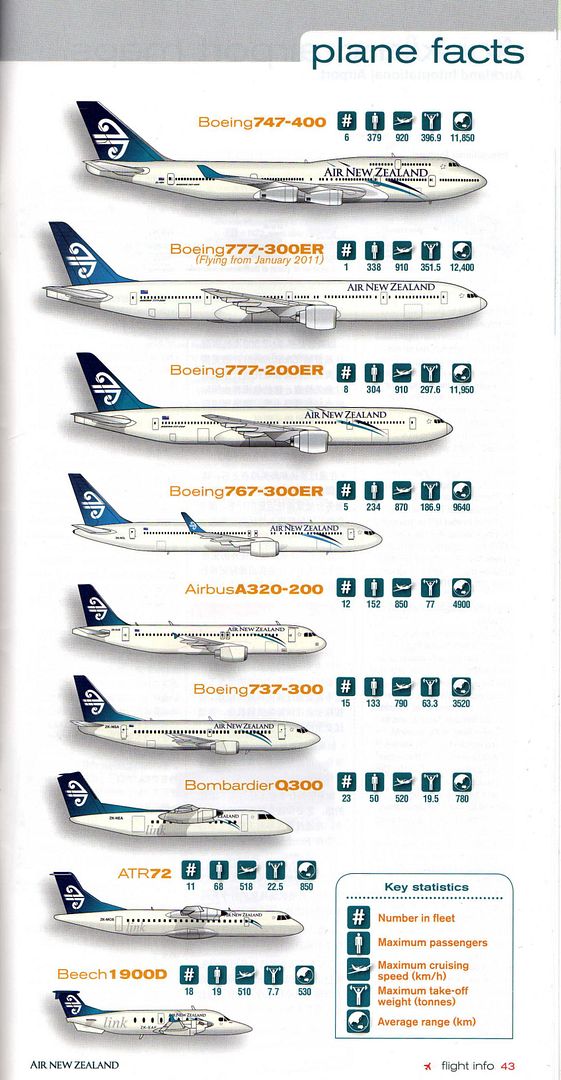 Pretty good headphones were available, but neither amenity kits nor hot towels: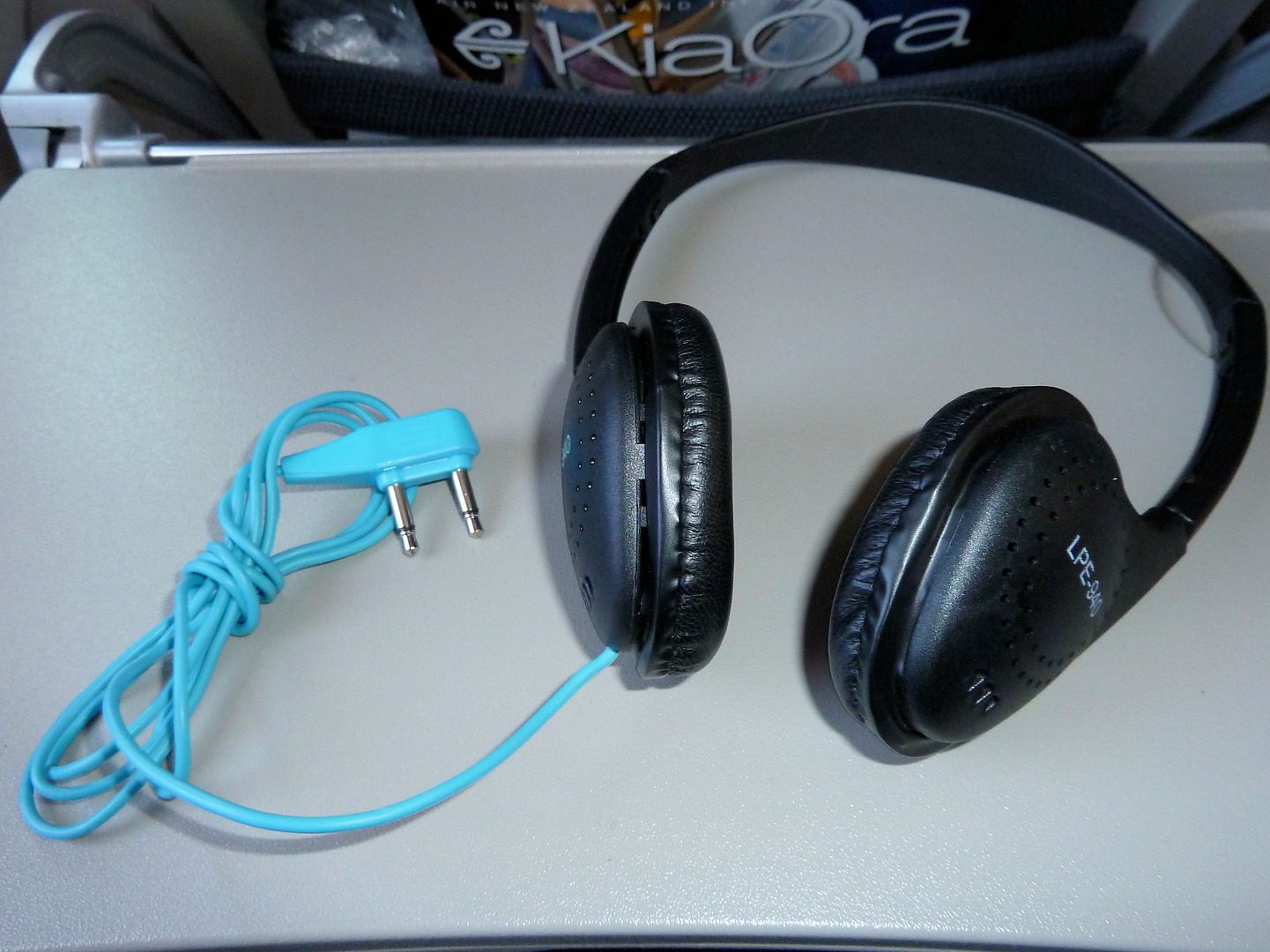 After the doors had been closed, the captain informed us about the route and announced a flying time of 11 hours and 45 minutes. I was glad about being seated on this comfortable 777 for the next 12 hours - and not on the familiar neighbor to the left: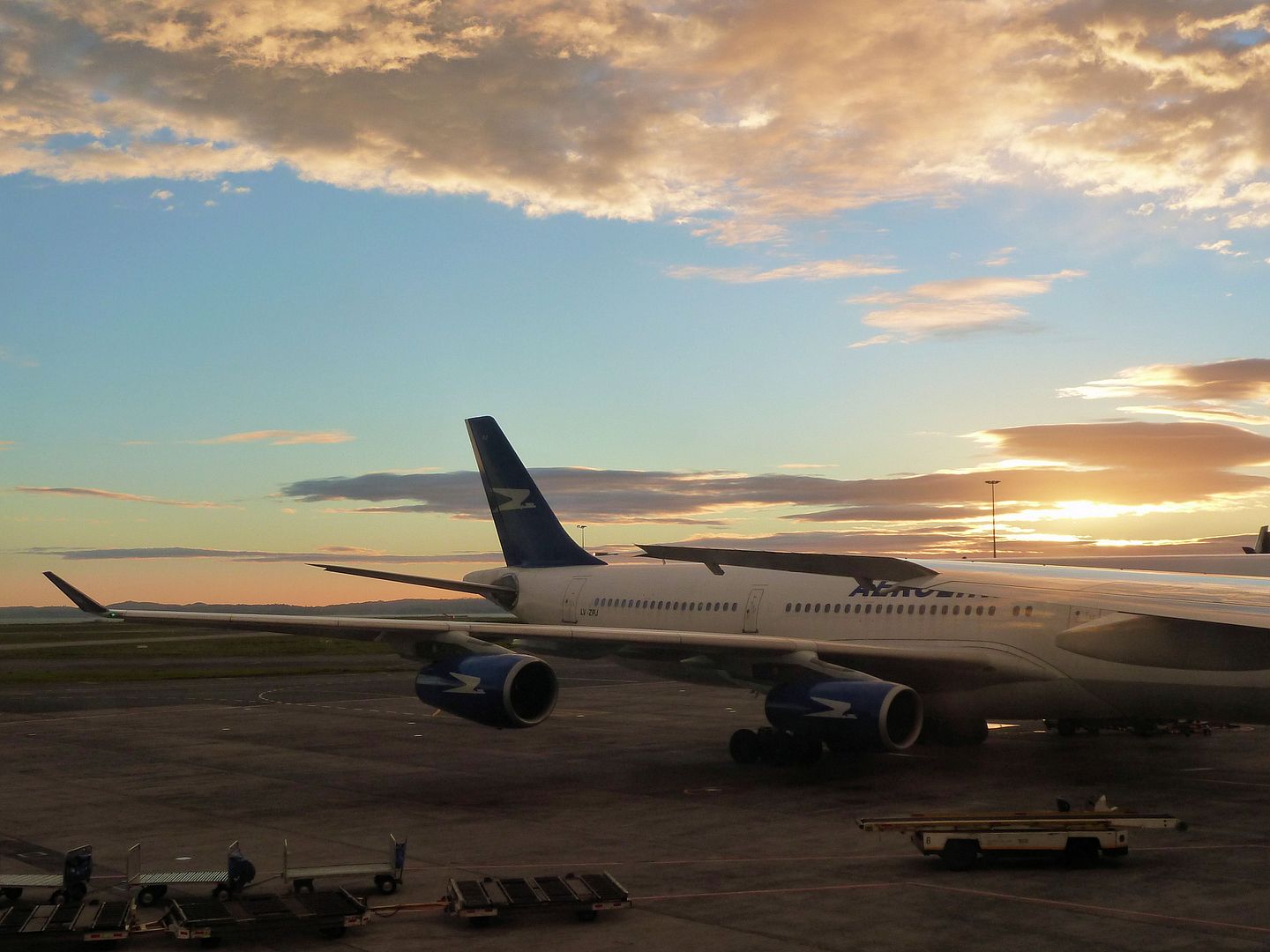 We left the gate slightly ahead of schedule in beautiful evening light: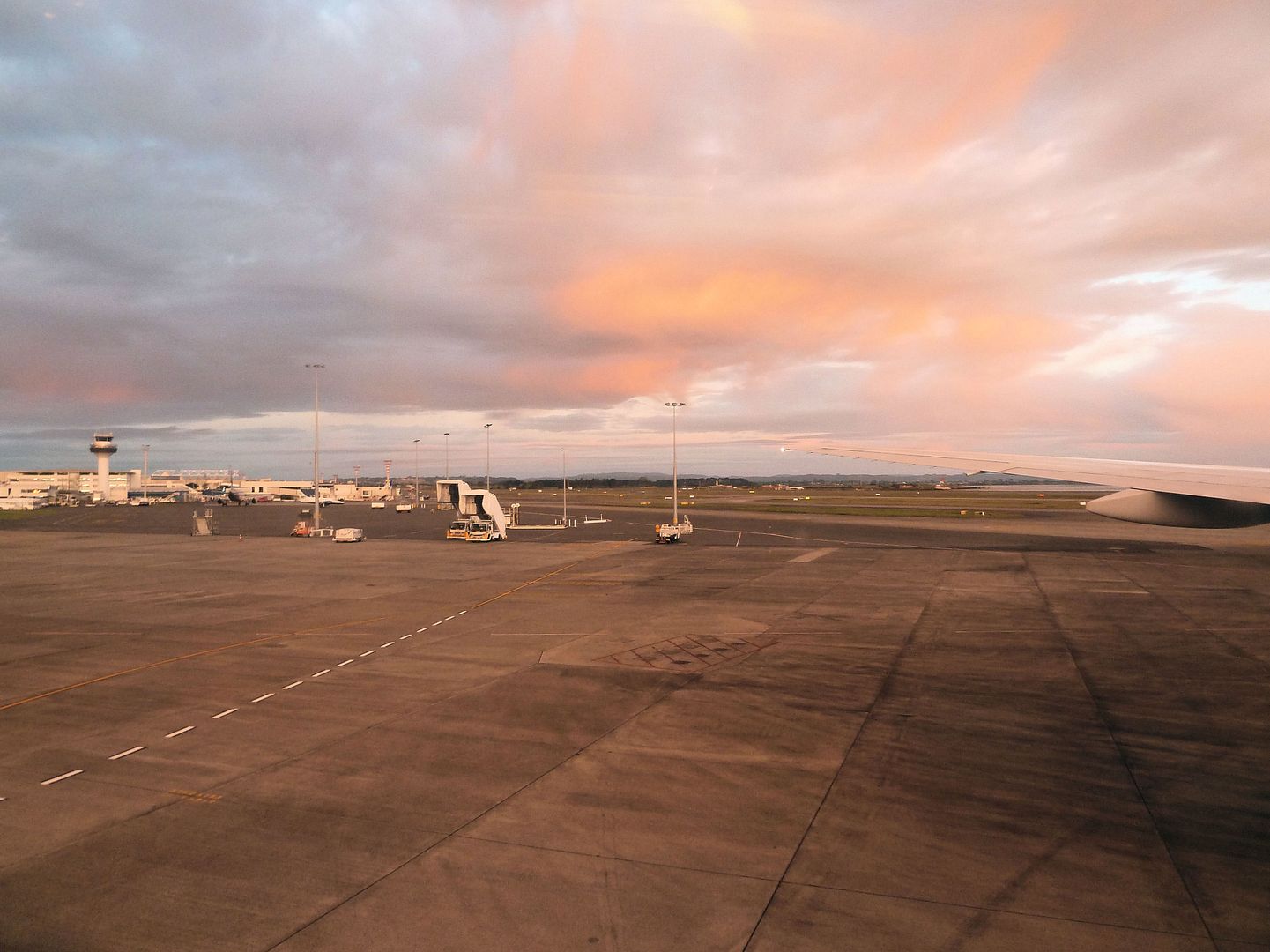 Two NZ heavies resting in a hangar: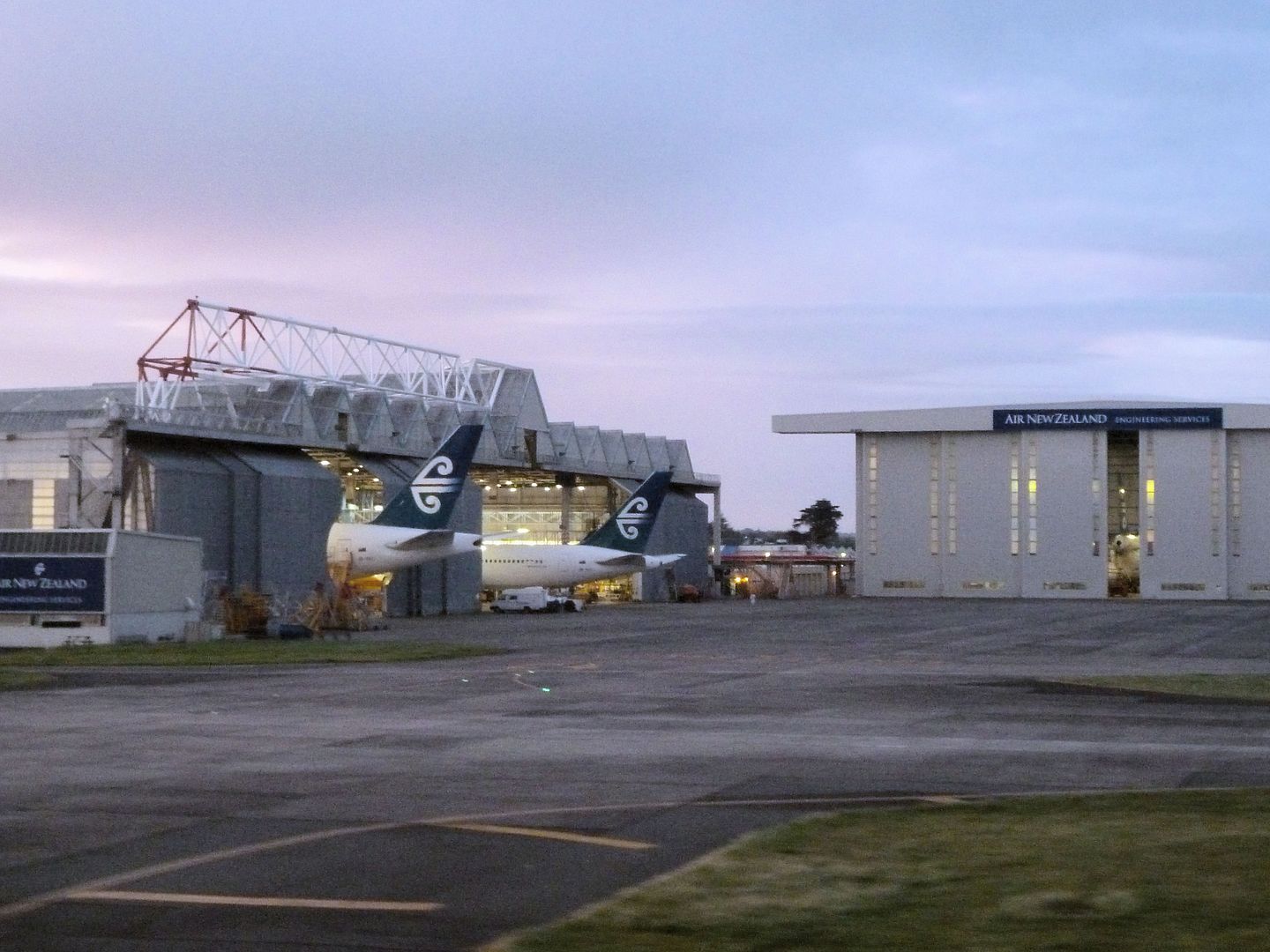 The Rolls-Royce Trents soon started roaring and the 777 lifted off after a powerful takeoff run: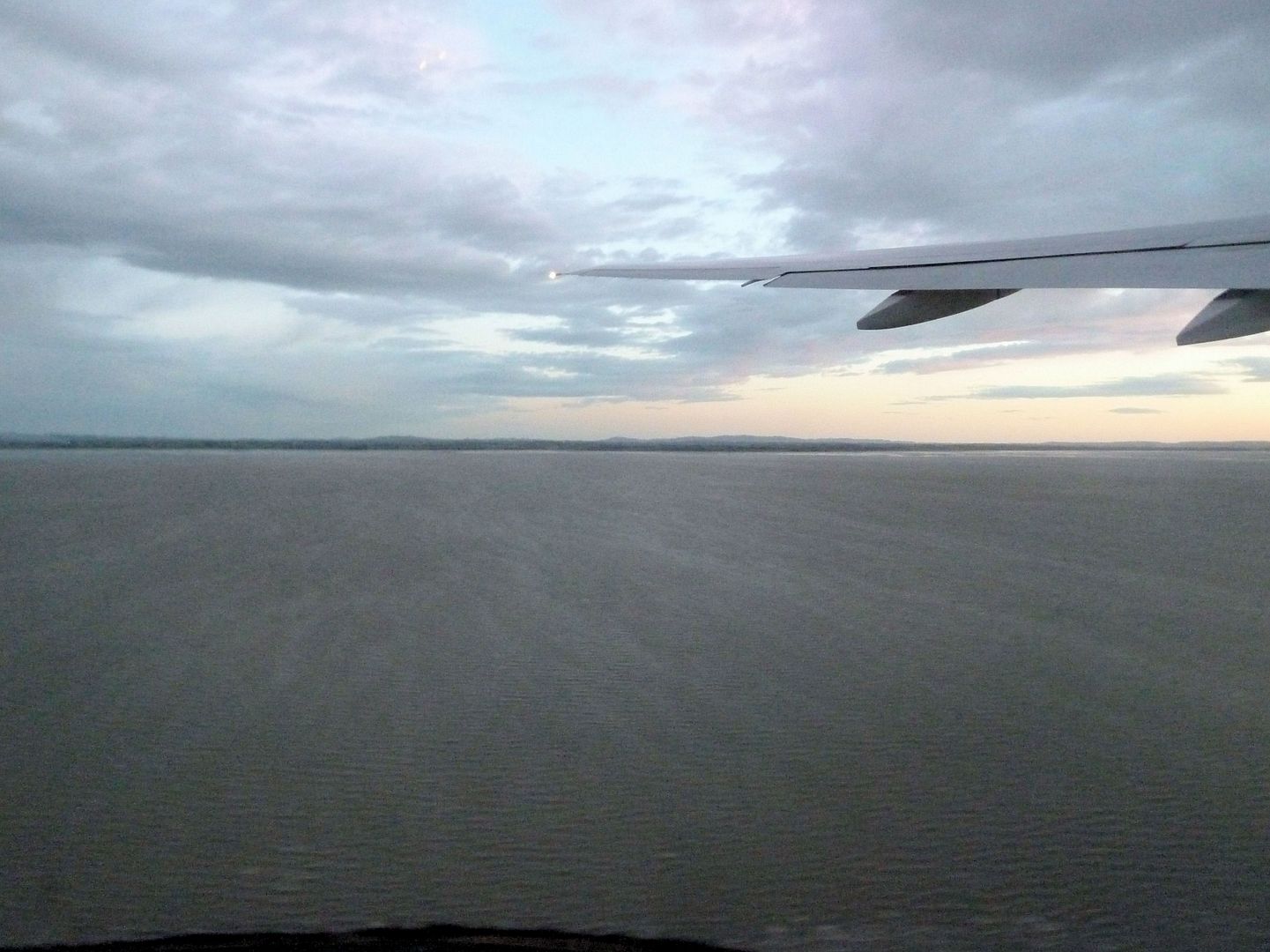 Right turn, let's go east!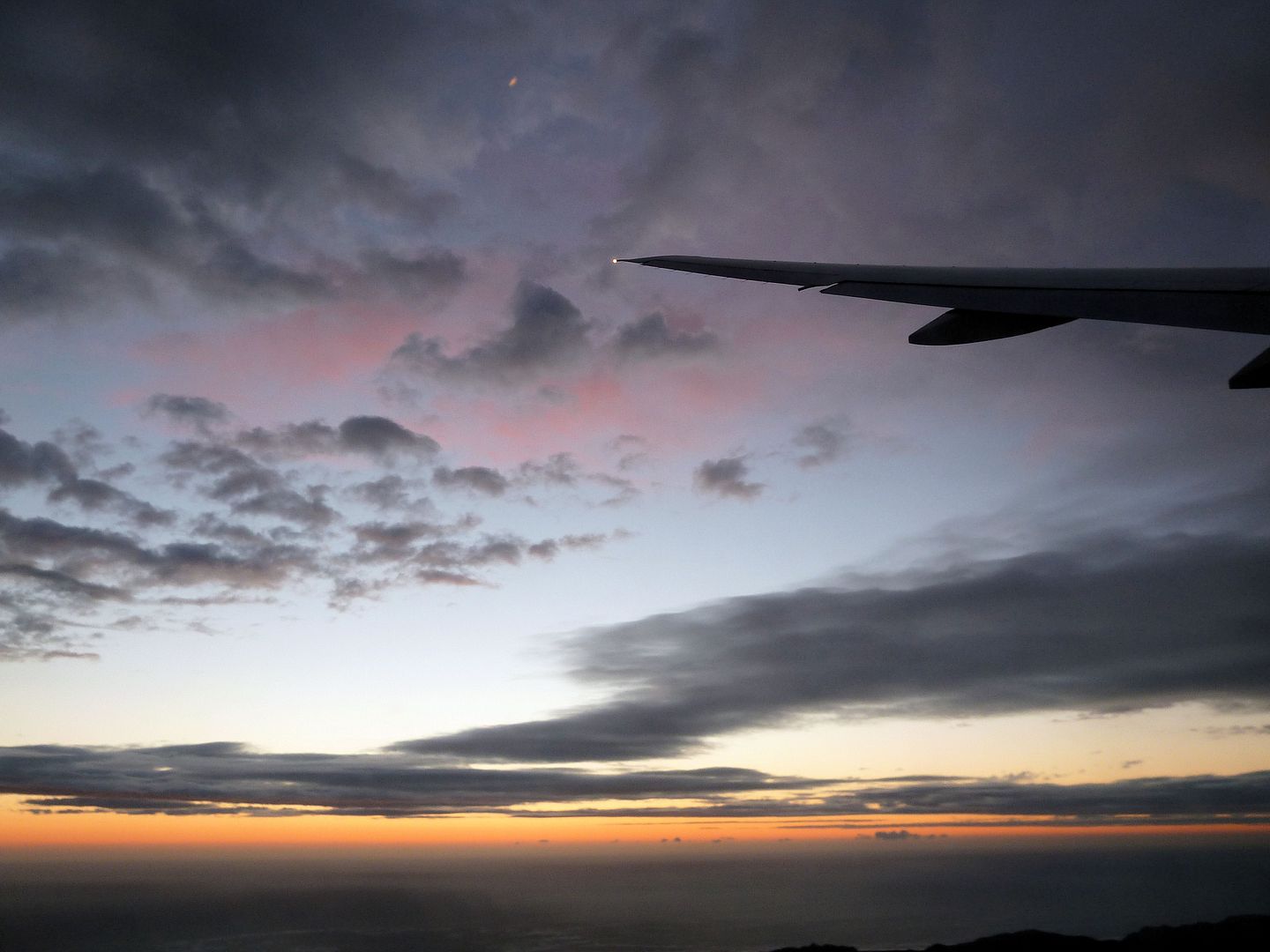 While the plane was climbing to cruising altitude, I had a look at the AVOD entertainment system. It's easy to navigate and offers a wide range of options, including more than 70 movies in numerous languages, more than 70 TV features, 16 music channels, more than 200 music CDs (playlist builder), 20 video games, a 3D airshow channel, destination information and travel guides. Main menu: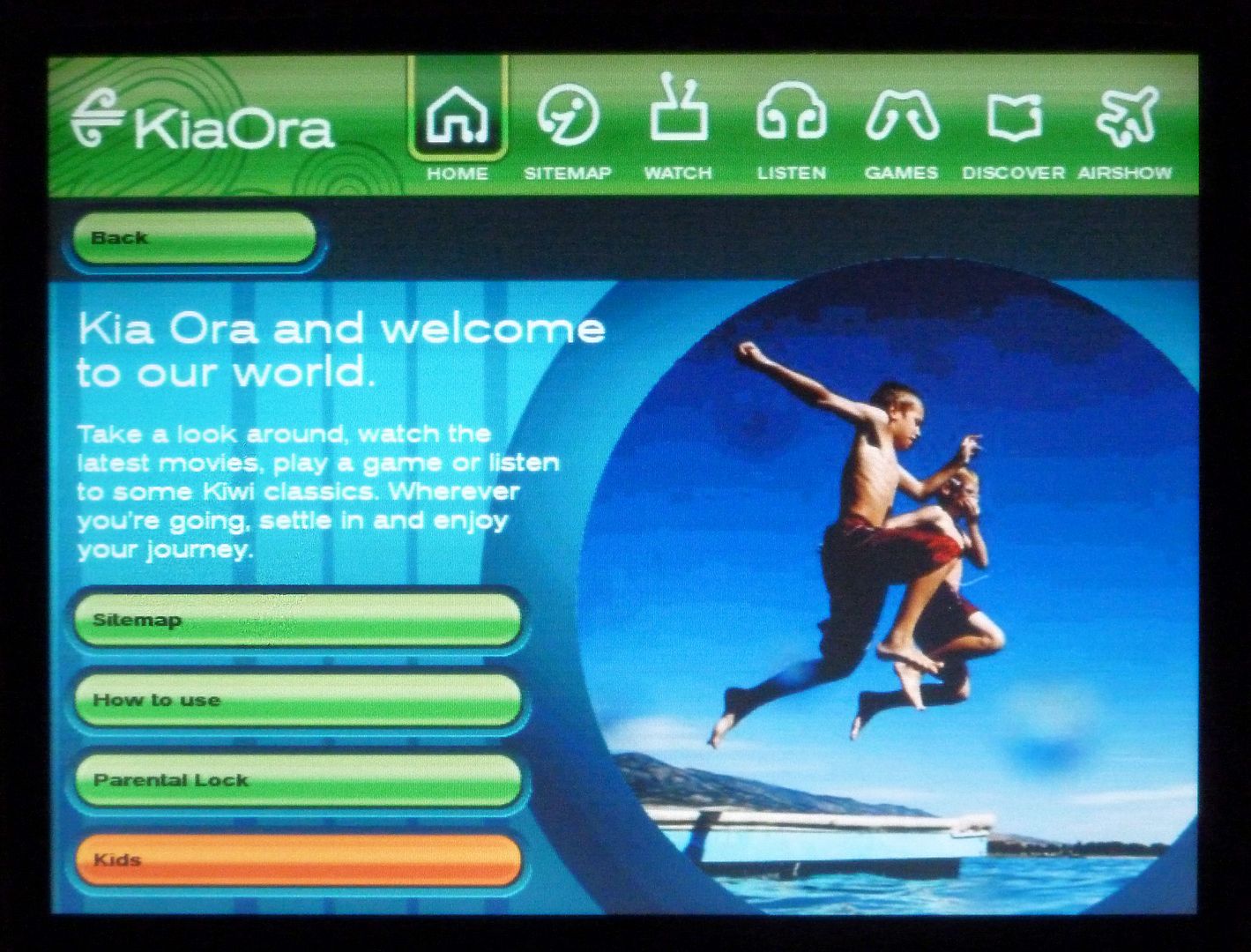 Movies main page:
You don't find menu cards on Air New Zealand which prefers to show the meal options on the IFE screen. About 45 minutes after takeoff, exactly that happened. Unfortunately, the options soon disappeared again, so I couldn't take a better picture: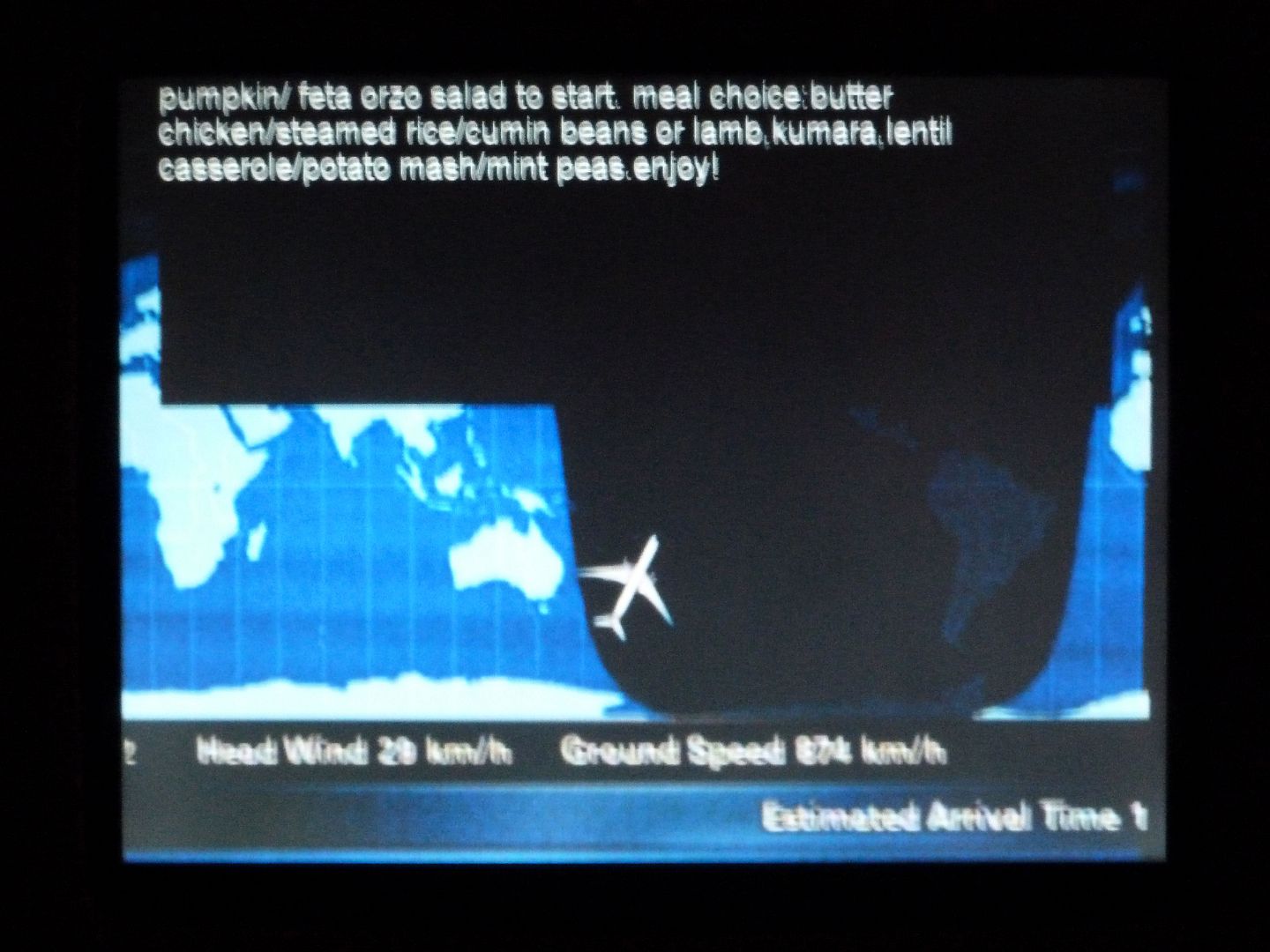 I continued watching the airshow channel until the food arrived: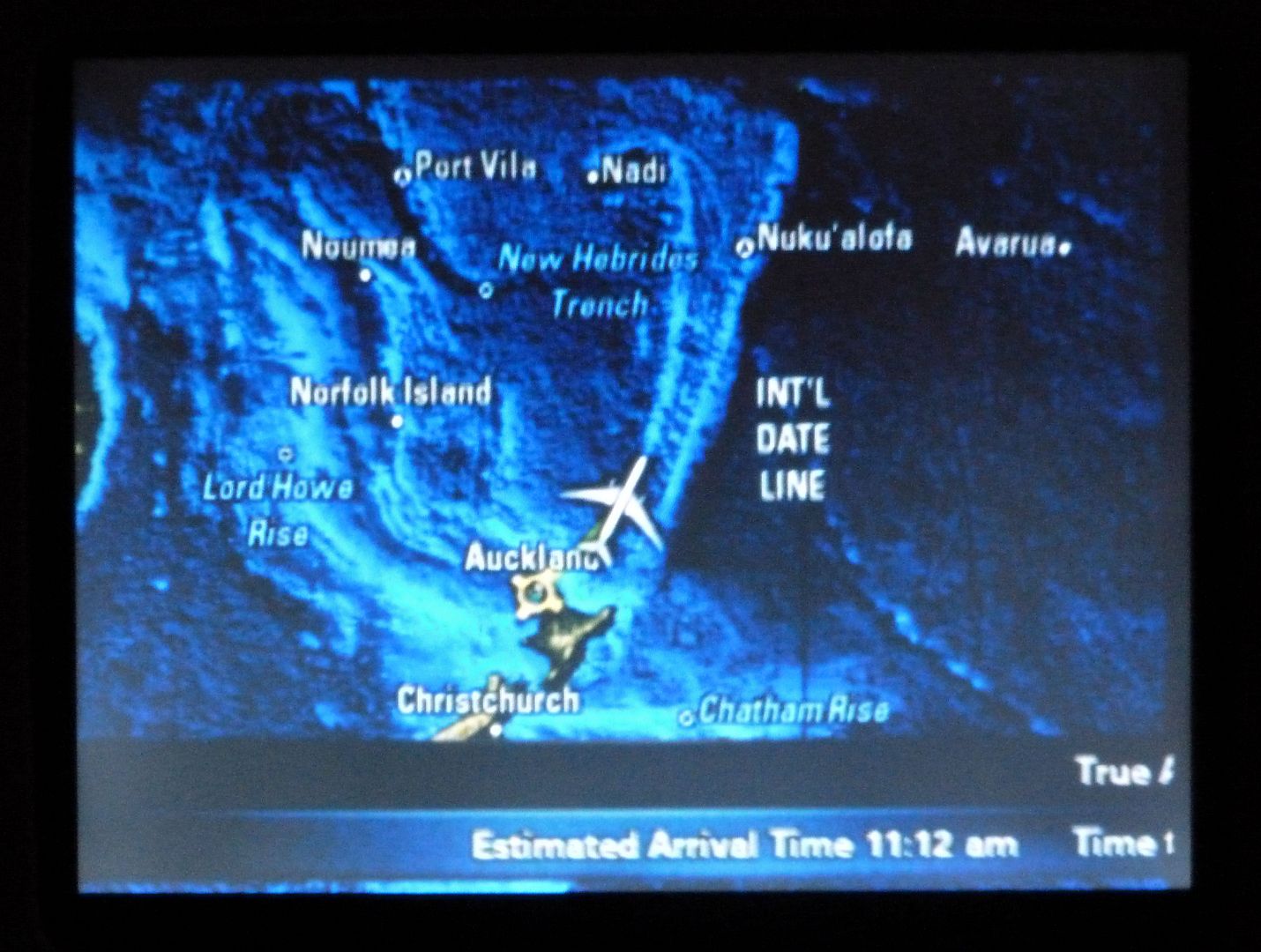 Pretty interesting features: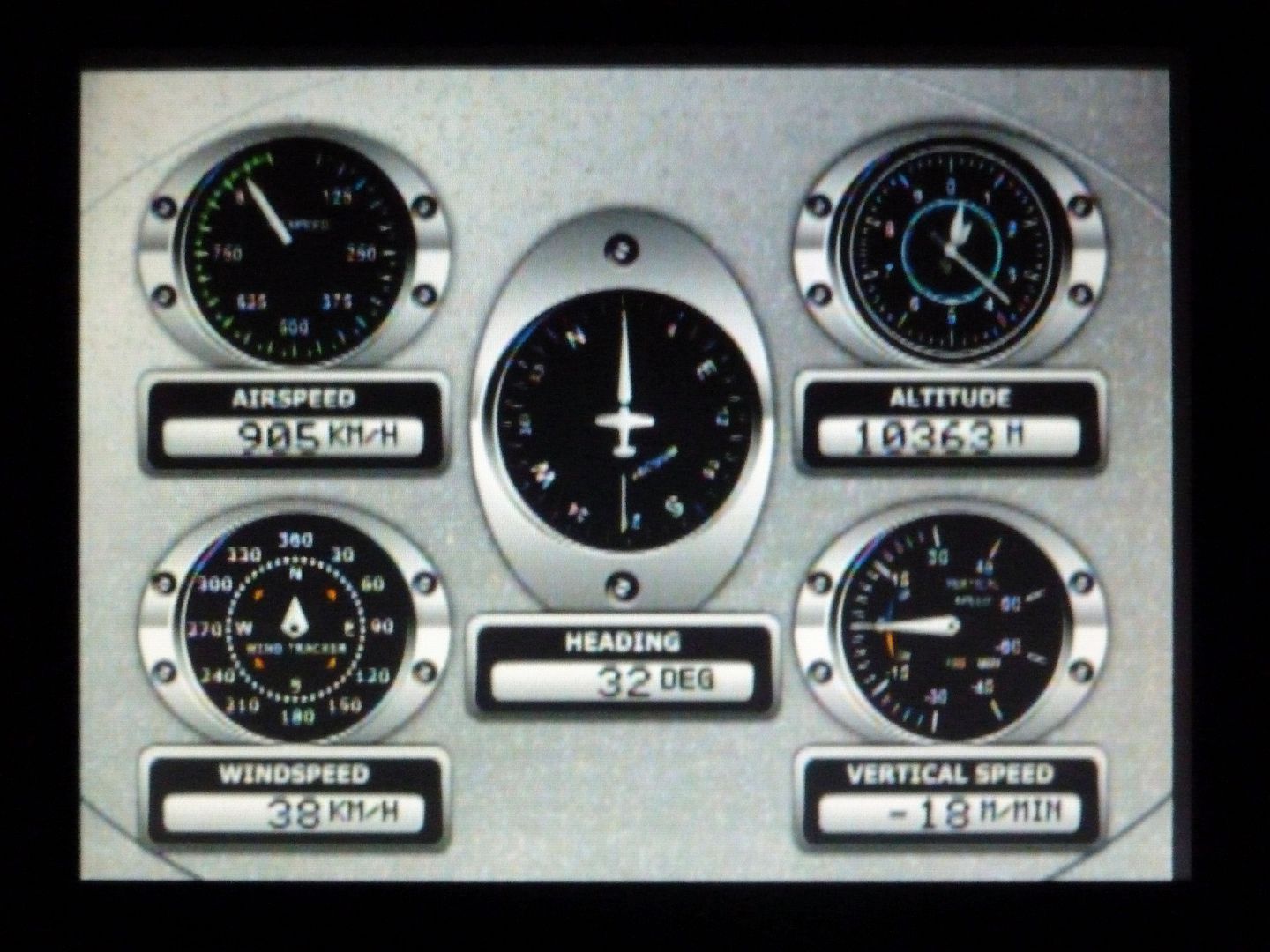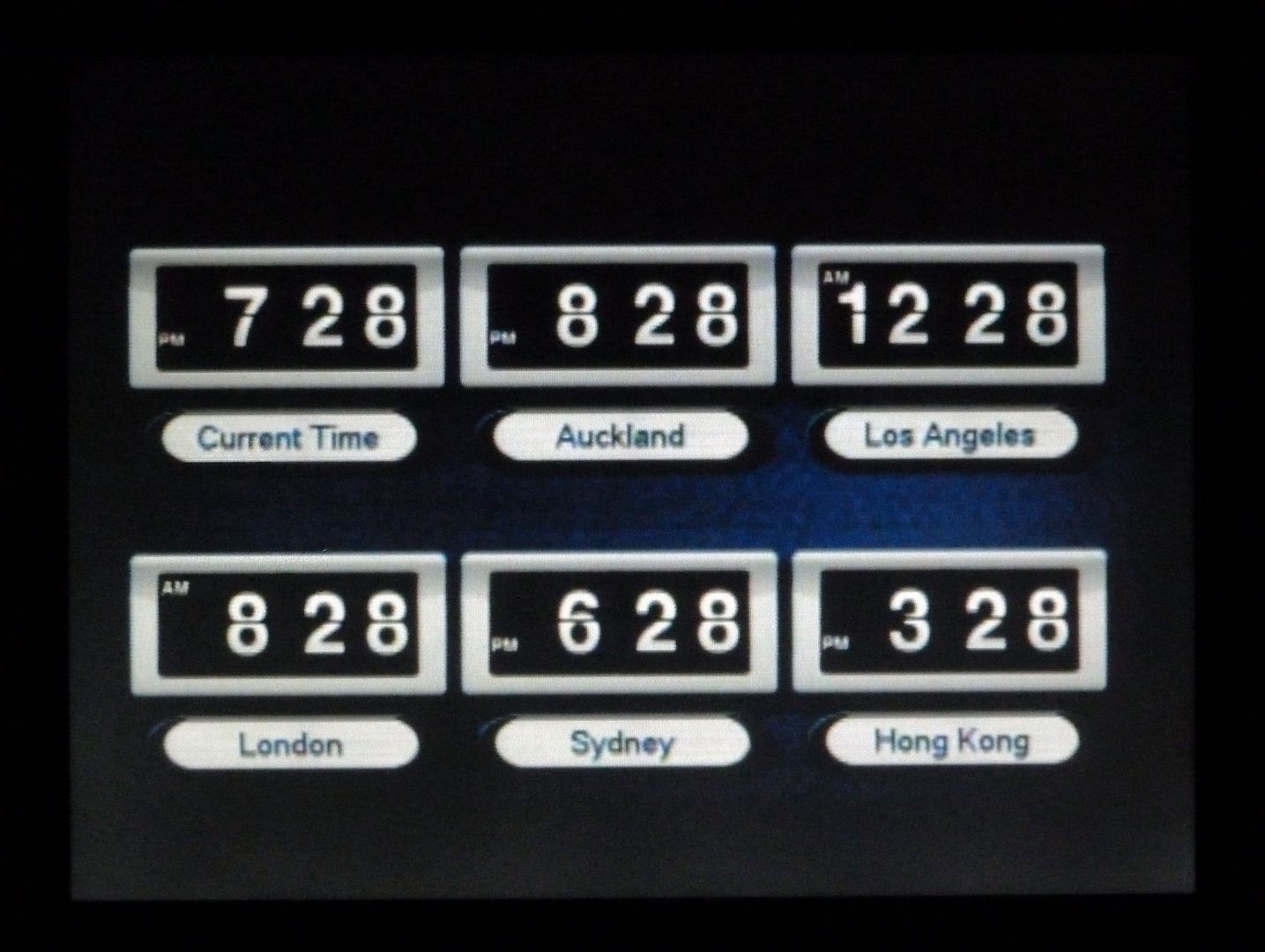 Back in 2008, I had been impressed by NZ's lamb, so this was my choice again: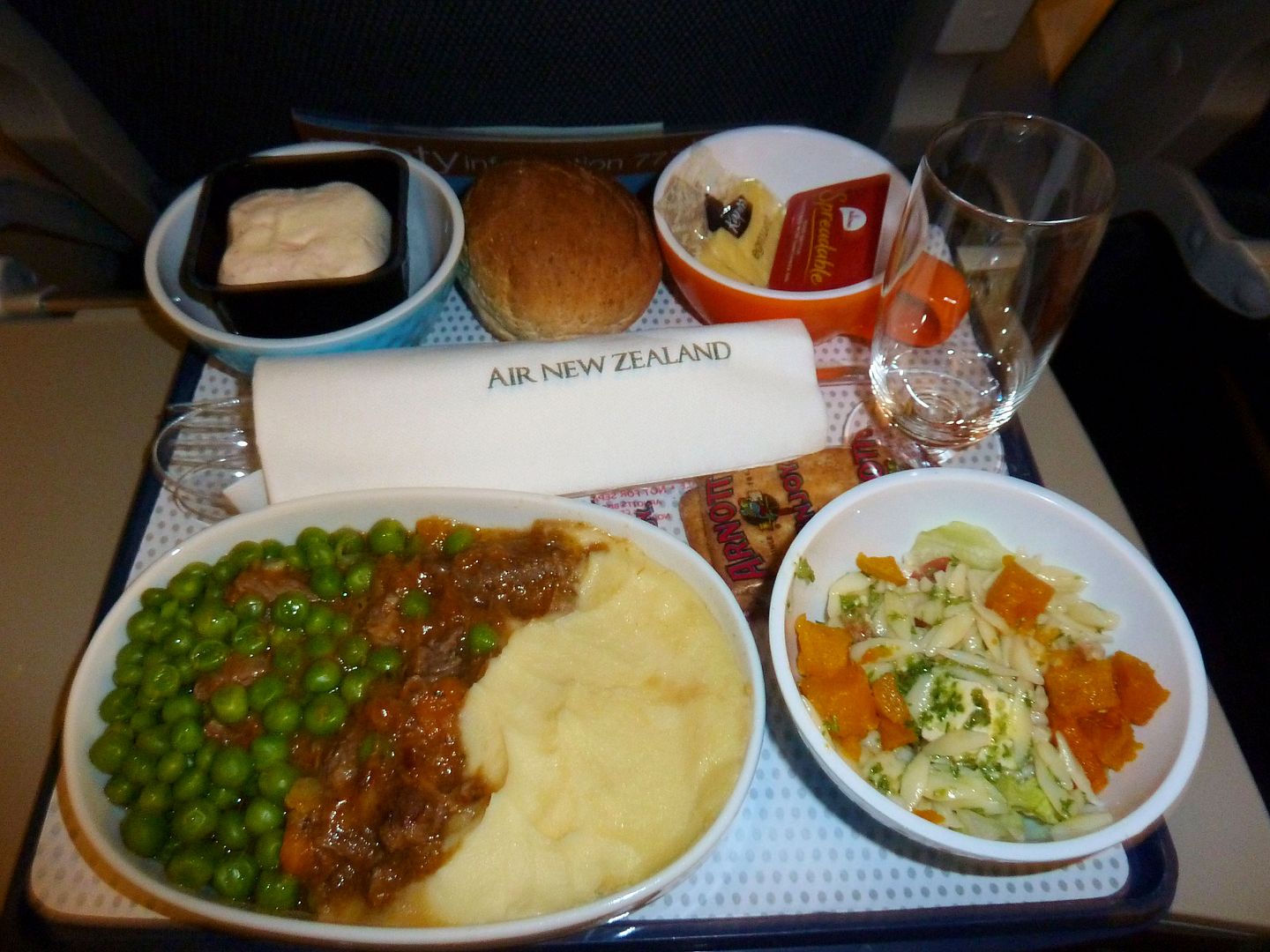 The meal was nicely presented and tasted quite good in general, but there were too many fatty pieces in the main course. The ice cream dessert (no Häagen-Dazs like in 2008) tasted fine, but it had already partly melted when I was ready to eat it.
Shortly after dinner, we entered a period of turbulence which would last between five and six hours. The intensity kept changing, but became quite strong from time to time. Anyway, this couldn't scare me and I just leaned back and enjoyed watching the airshow. Flying over the Pacific was really something special: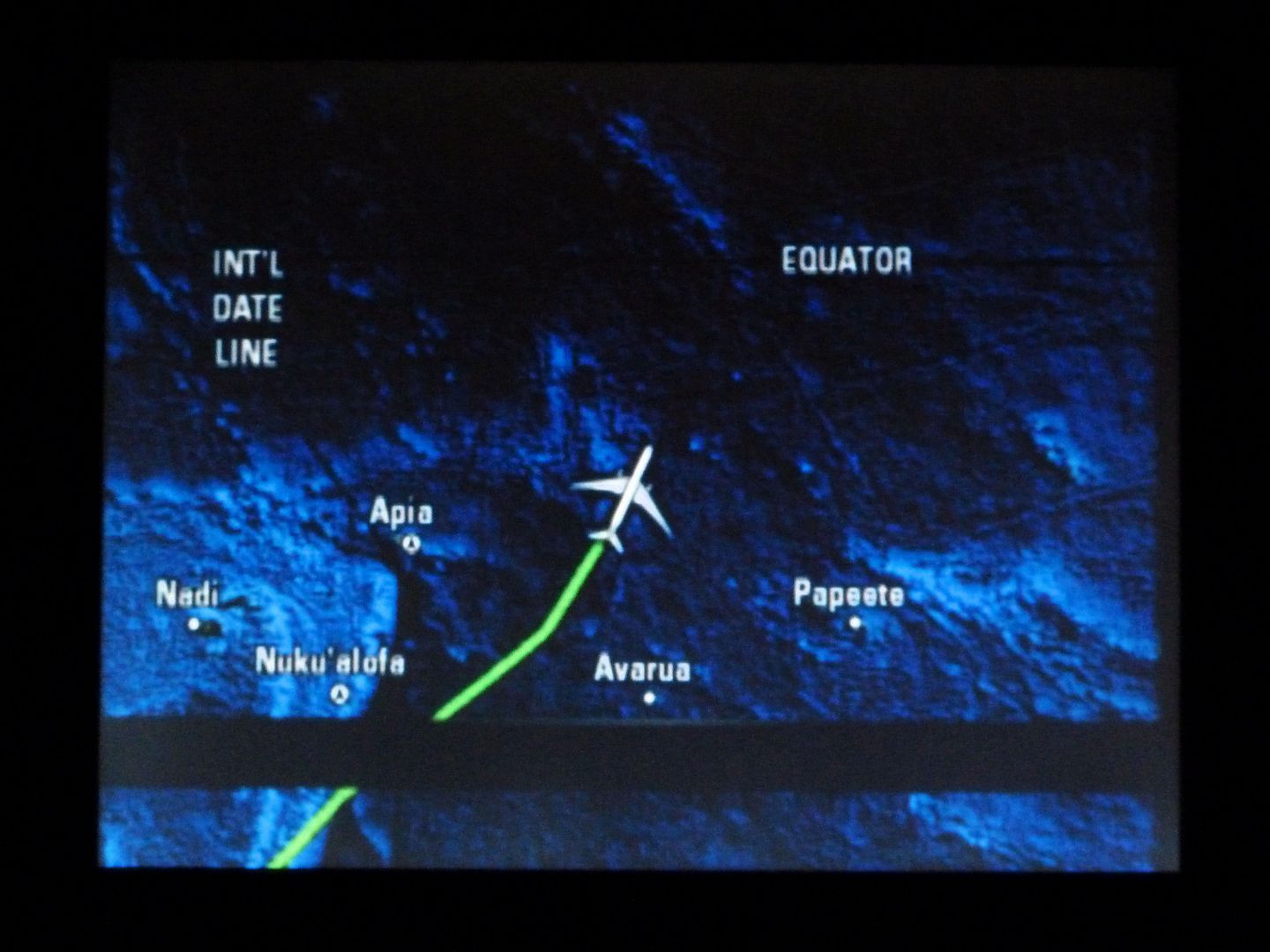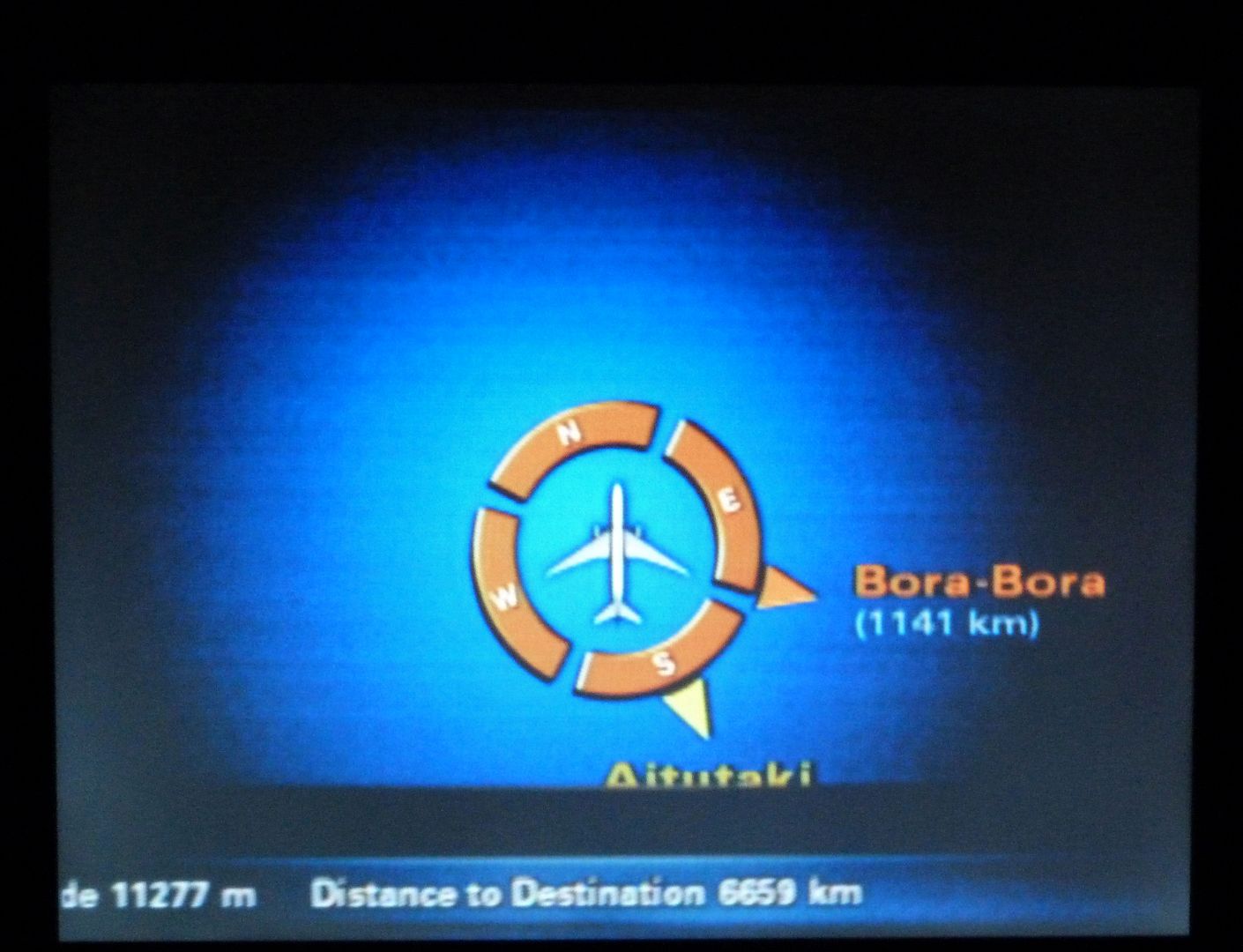 During a period of light turbulence, I went to the galley to get a drink. A friendly female flight attendant in the 40s quickly handed it out to me and also spontaneously gave me two cracker packs. Very nice service!
Later, I also noticed that the flight attendants frequently kept passing through the cabin with water. And I liked the fact that they had always put lemons in their water carafes.
Finally, I got quite tired and even fell asleep. I woke up several times and noticed how the plane was being shaken by turbulence, but always fell asleep again. When I finally felt fit again, we were smoothly cruising in daylight somewhere between Hawaii and the US West Coast: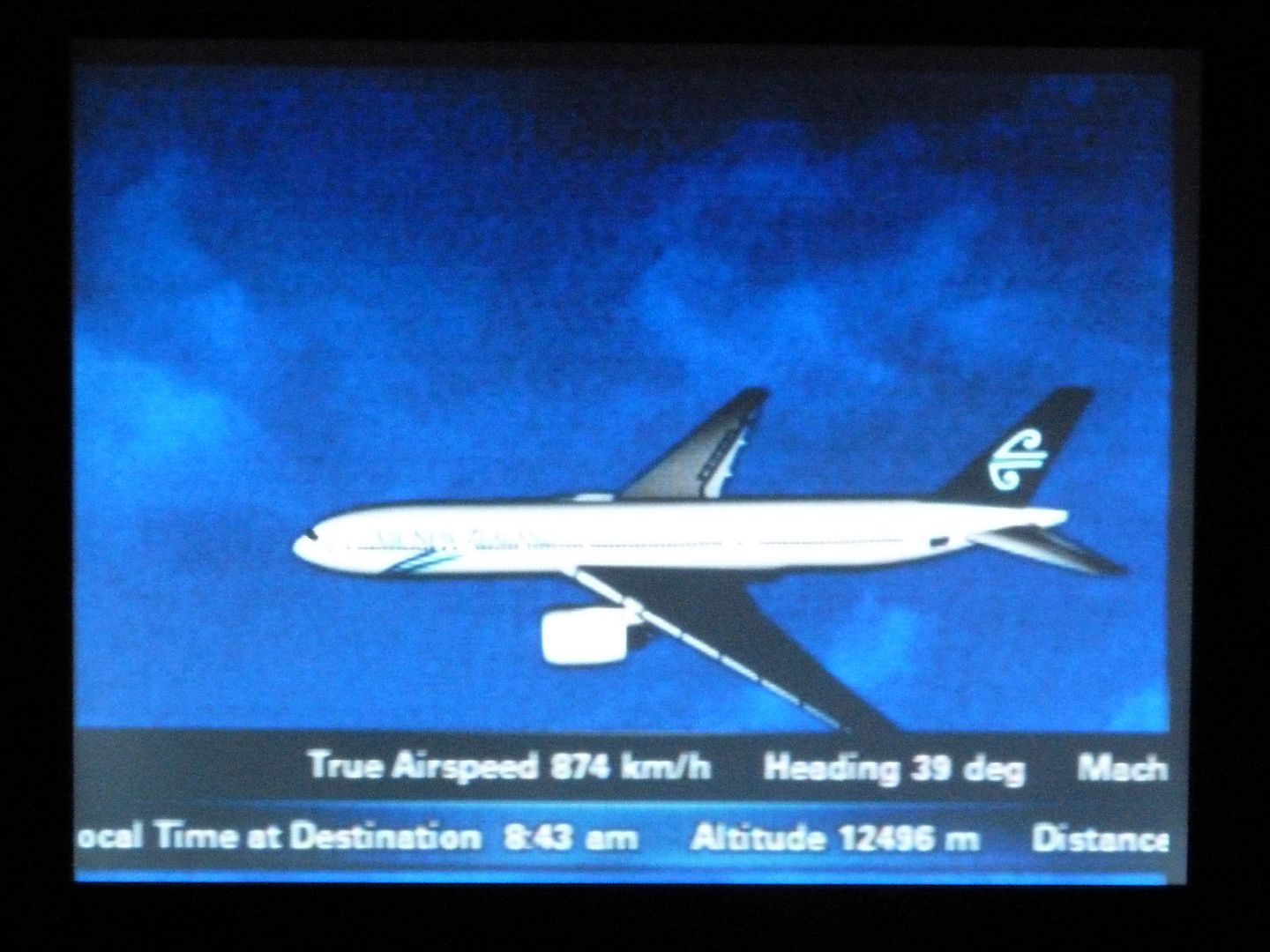 The flight attendants were preparing to serve breakfast and I started playing "Who Wants to Be a Millionaire":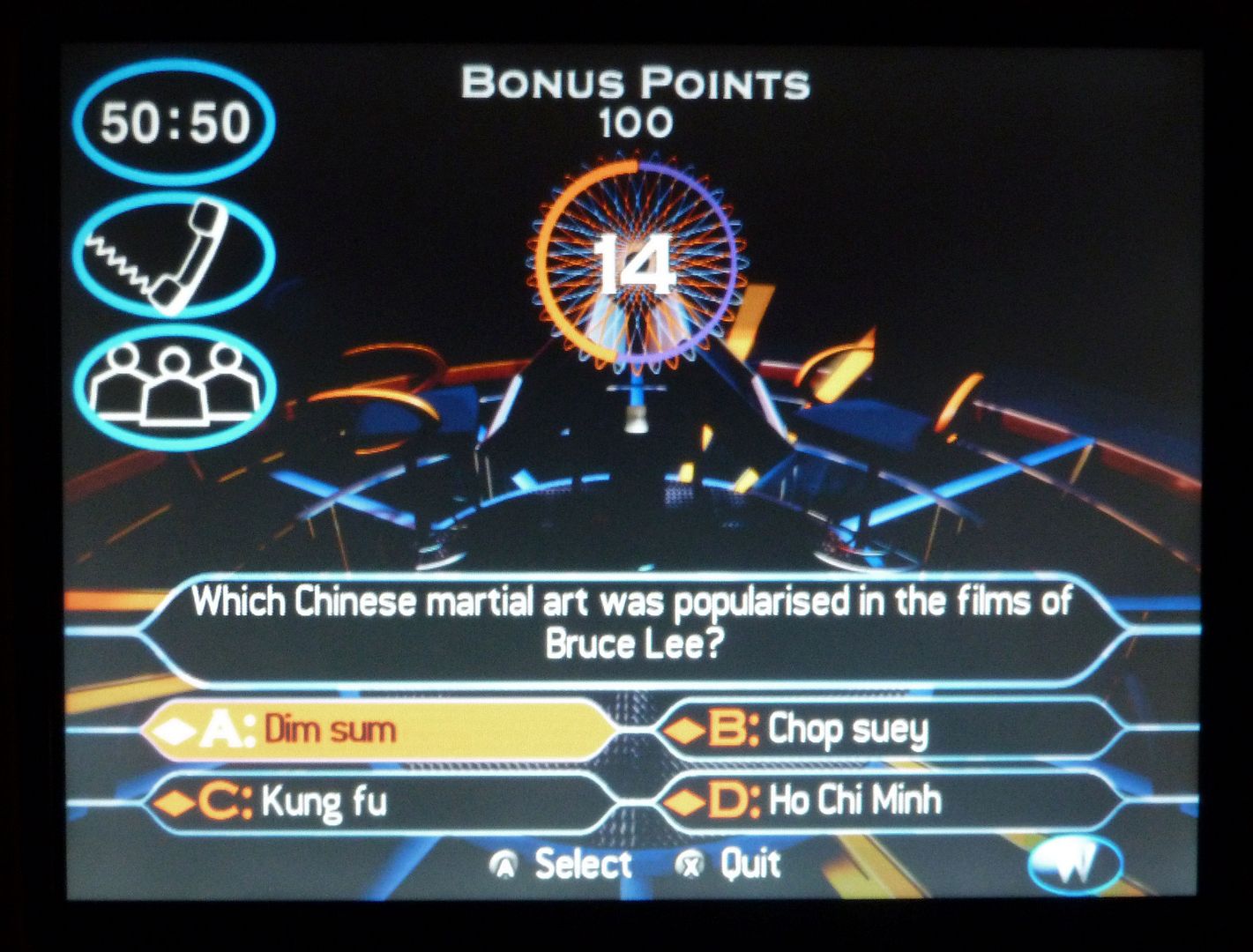 Scrambled eggs or pancakes? I opted for the former:
The breakfast was delicious, everything was really tasty. And the presentation was nice, too. Well done, Air New Zealand!
Thick layer of clouds over the Pacific: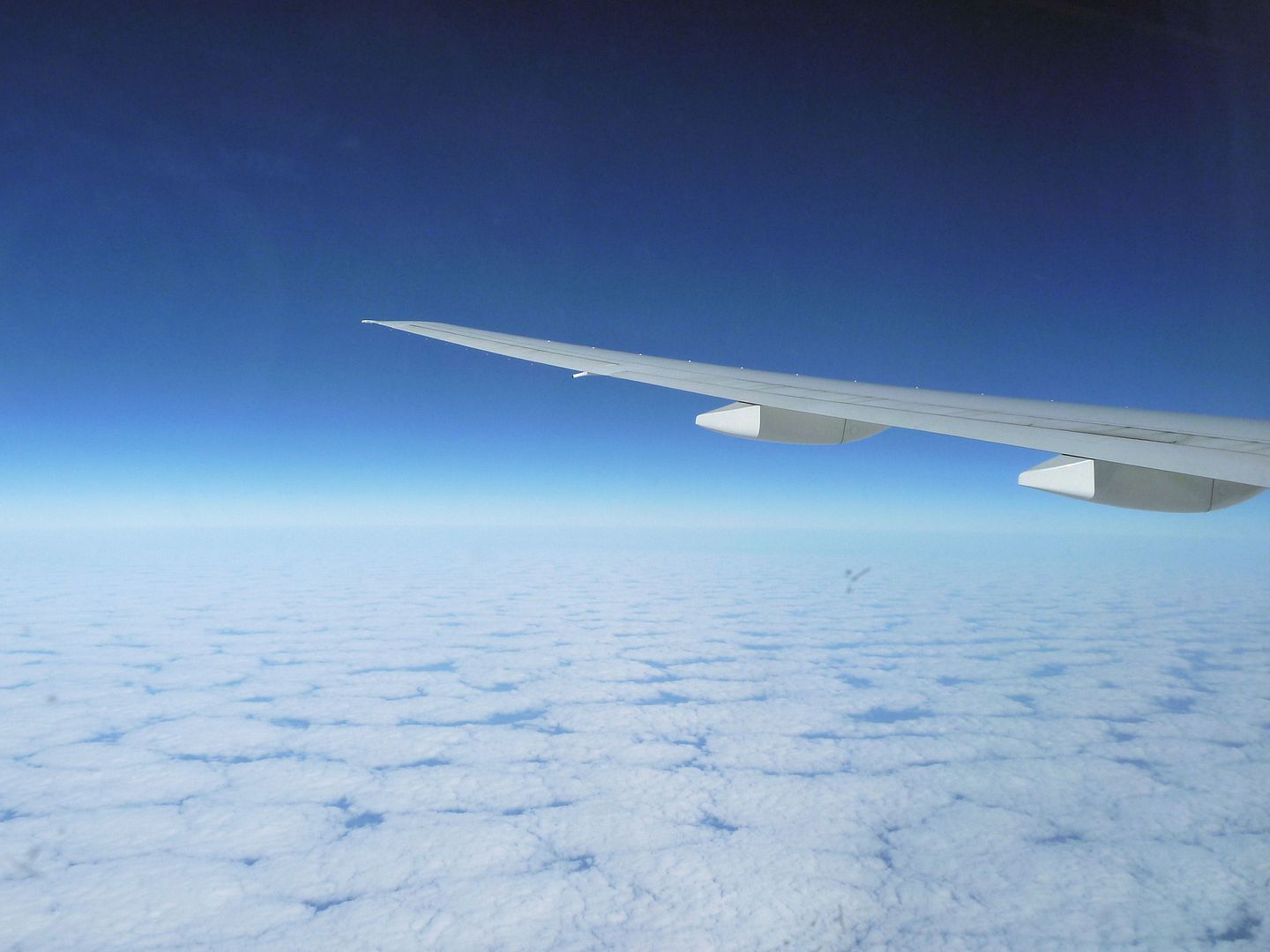 After breakfast it was time for the indispensable cabin shot: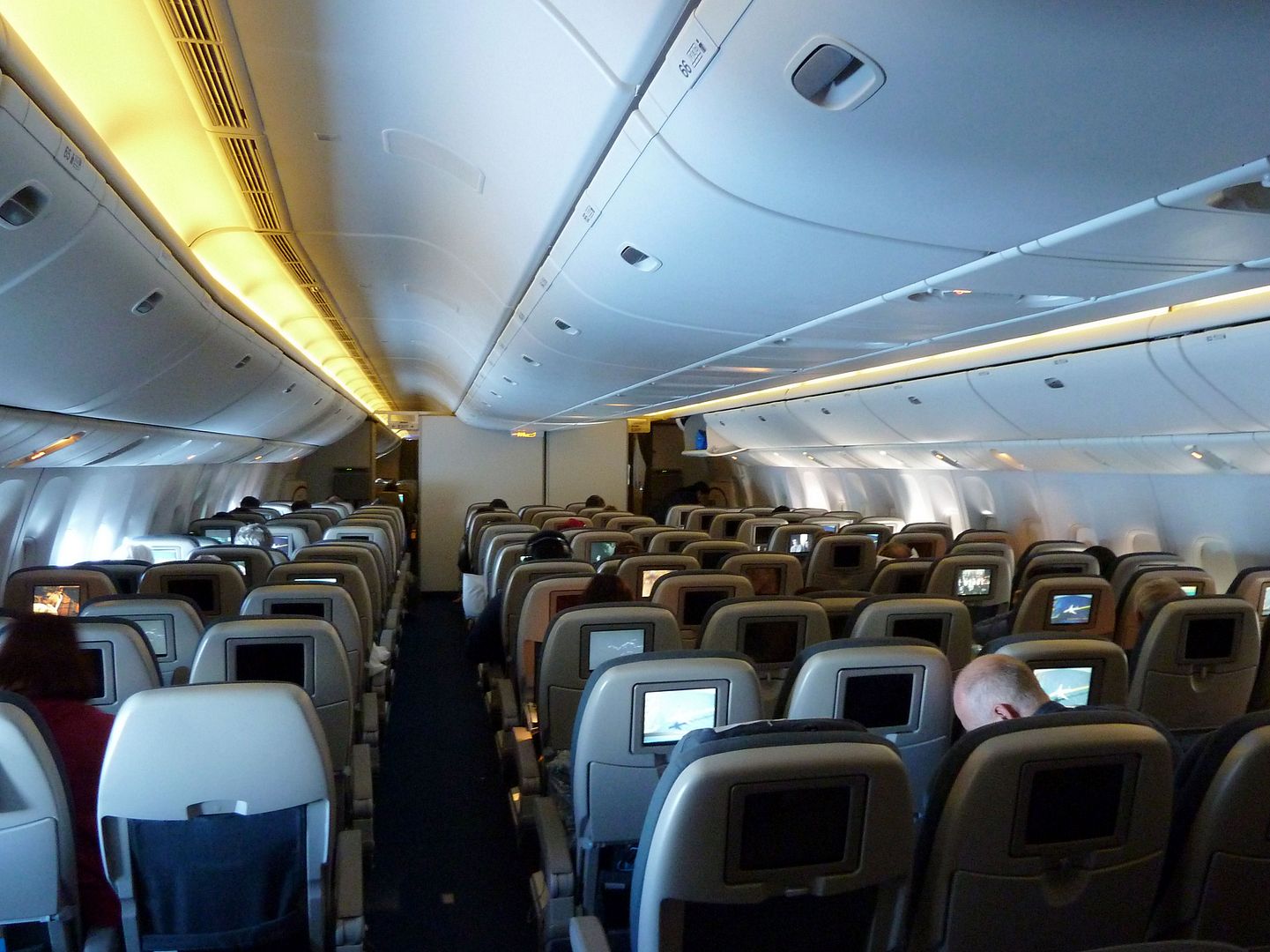 Due to the great IFE system, the remaining flying time passed quickly. About 20 minutes before landing, flight attendants offered candy - and on my side a little girl was strolling through the aisle with a candy basket.
"So you are helping out today?"
, I asked her and she nodded with a smile. Very nice gesture by the cabin crew - I guess it made the girl really happy.
Land in sight!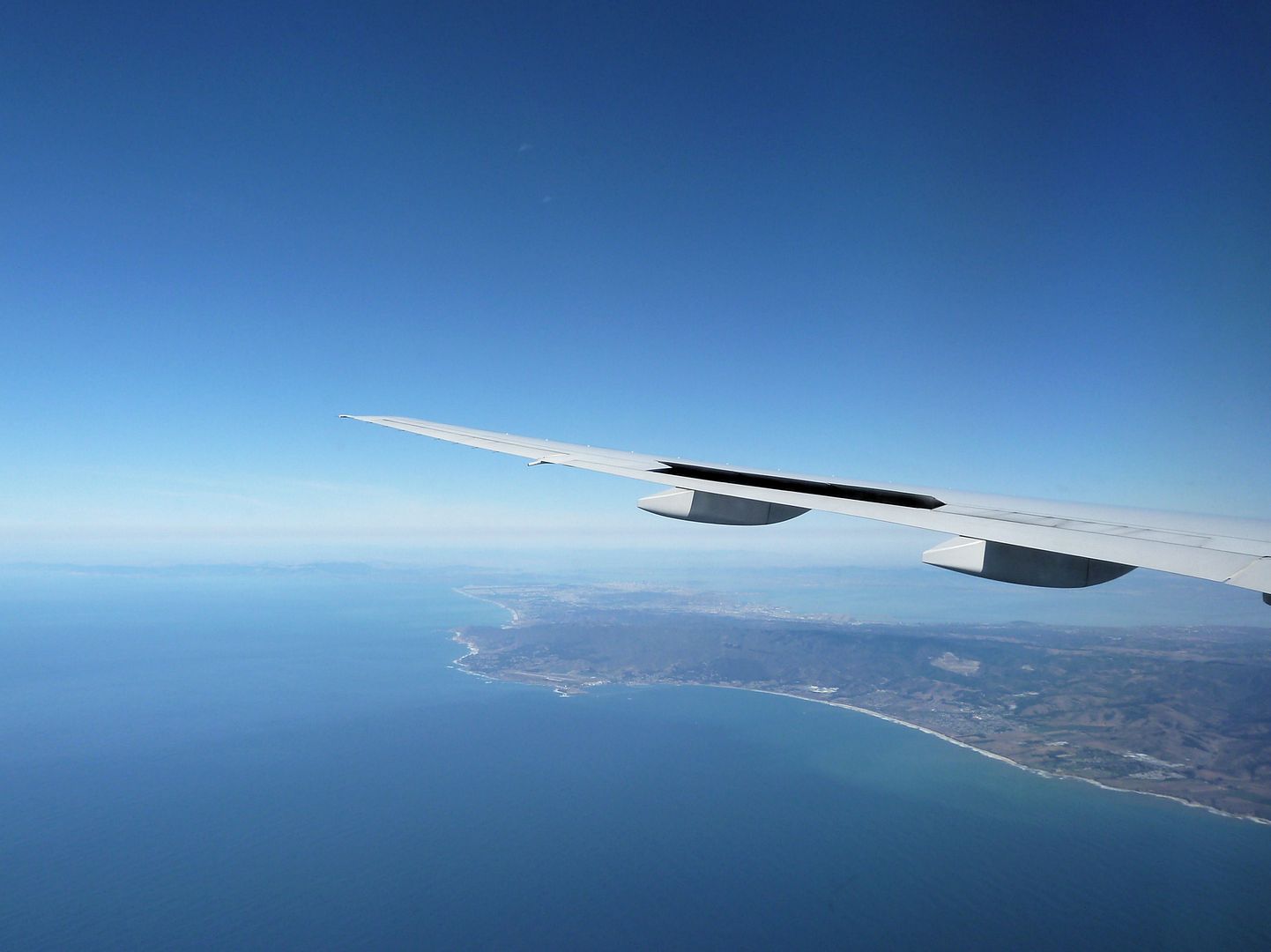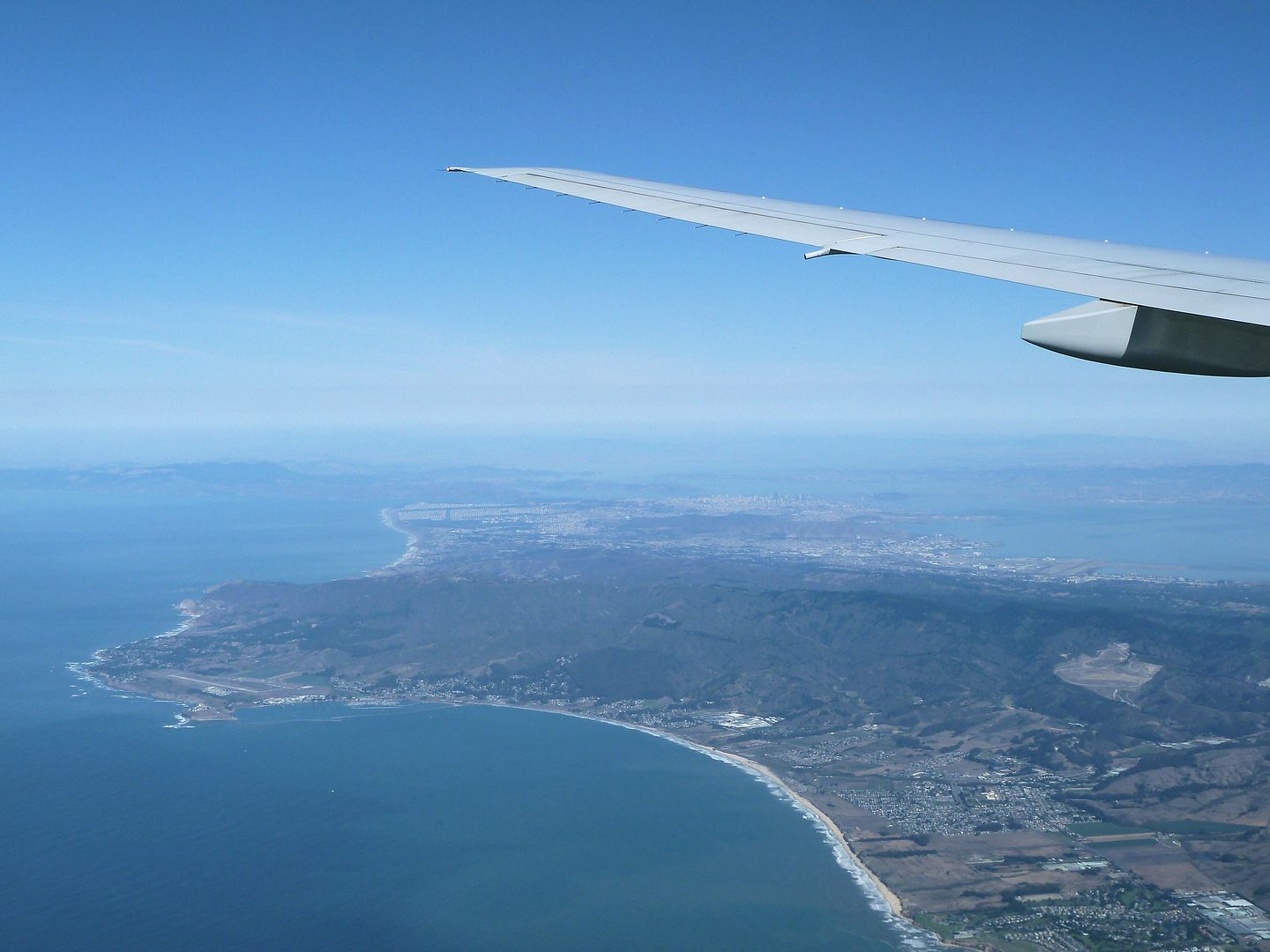 Beautiful weather in the Bay Area - what more can you ask for?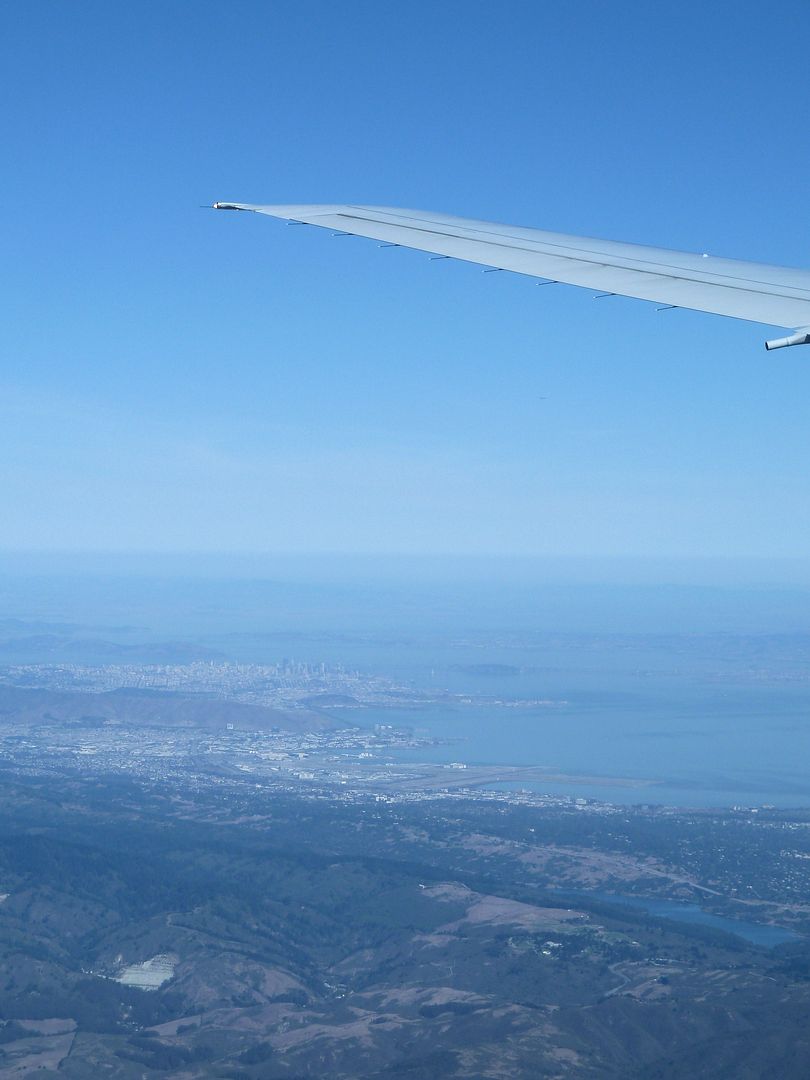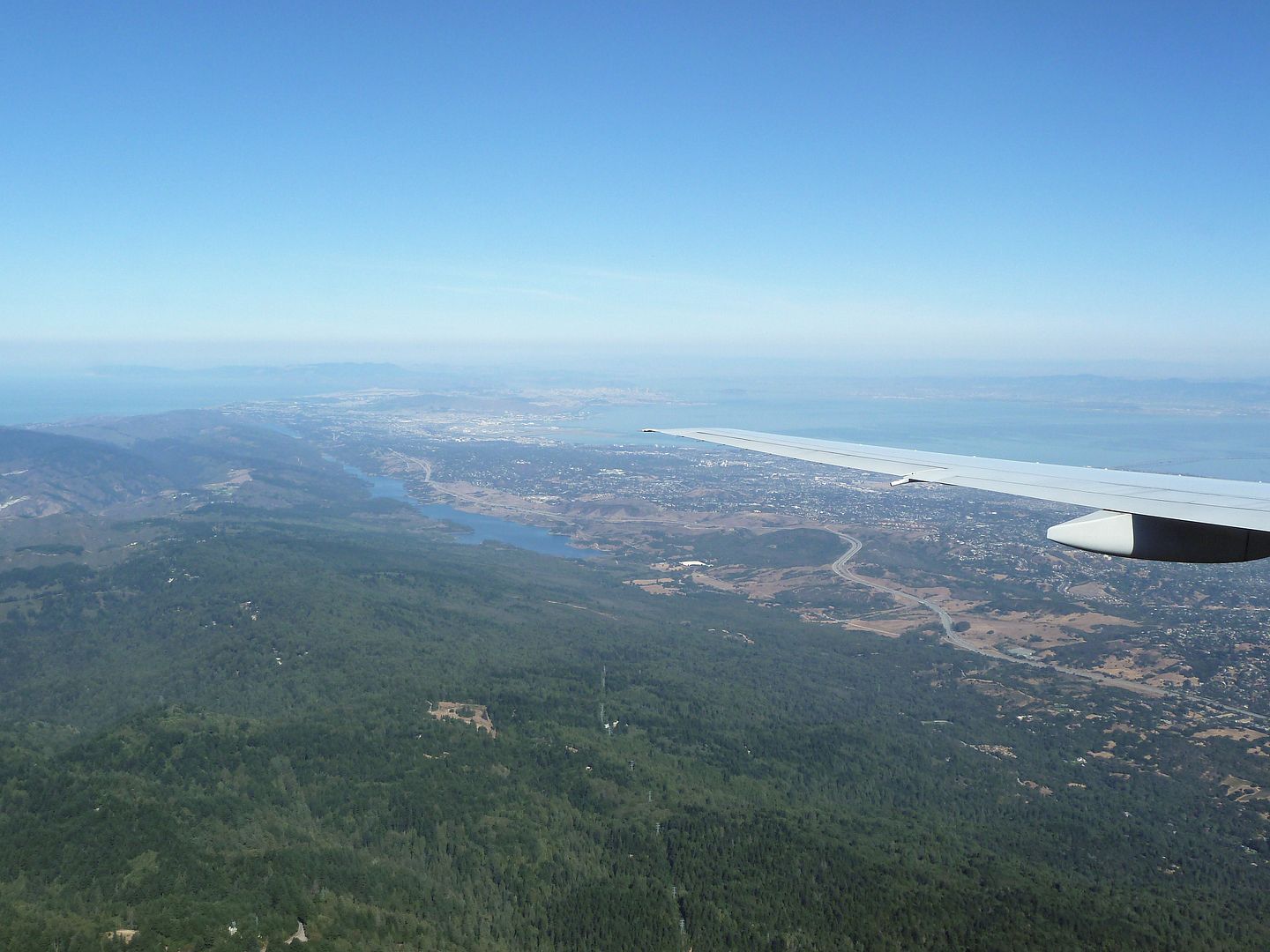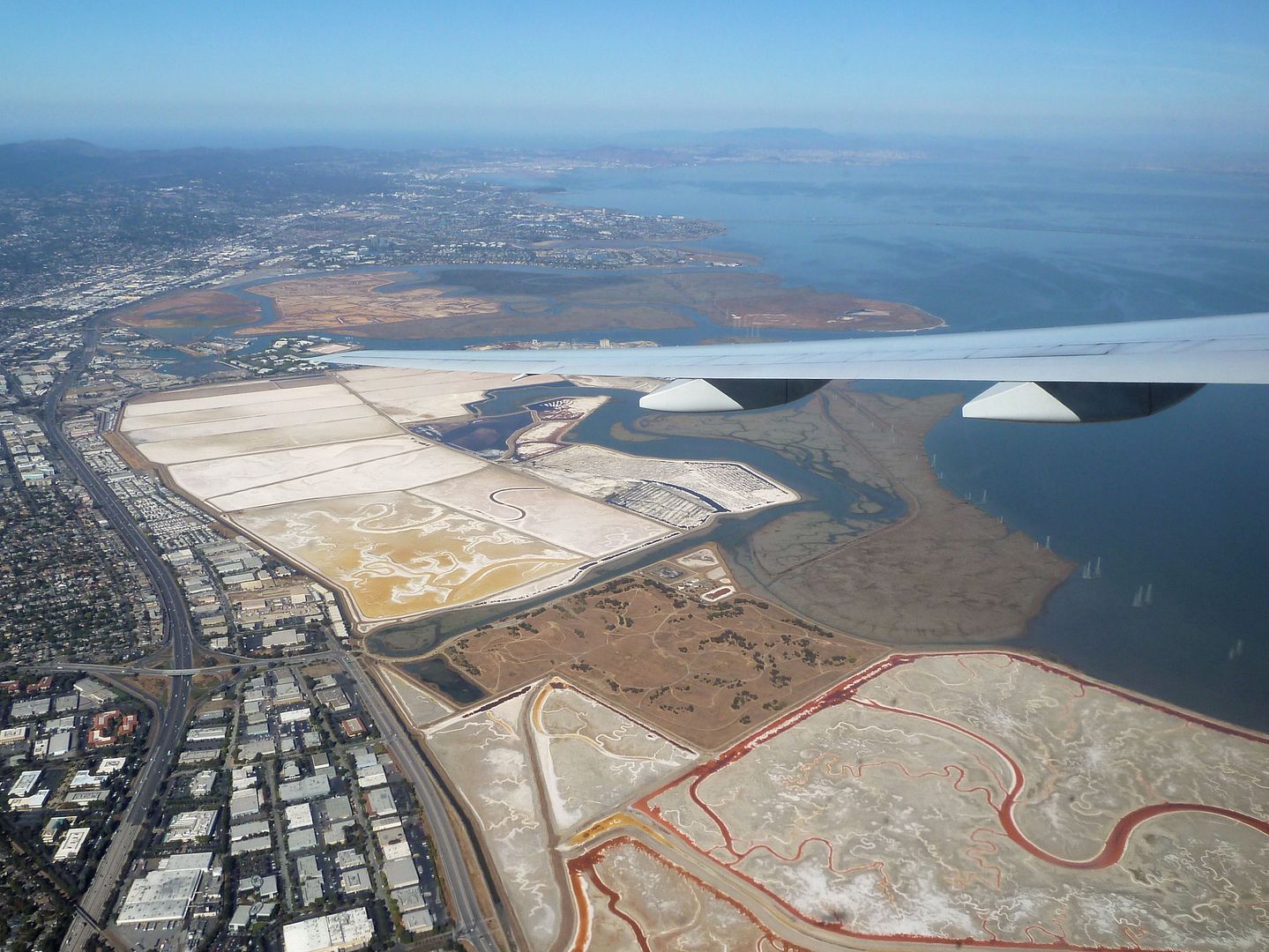 Left turn to final approach: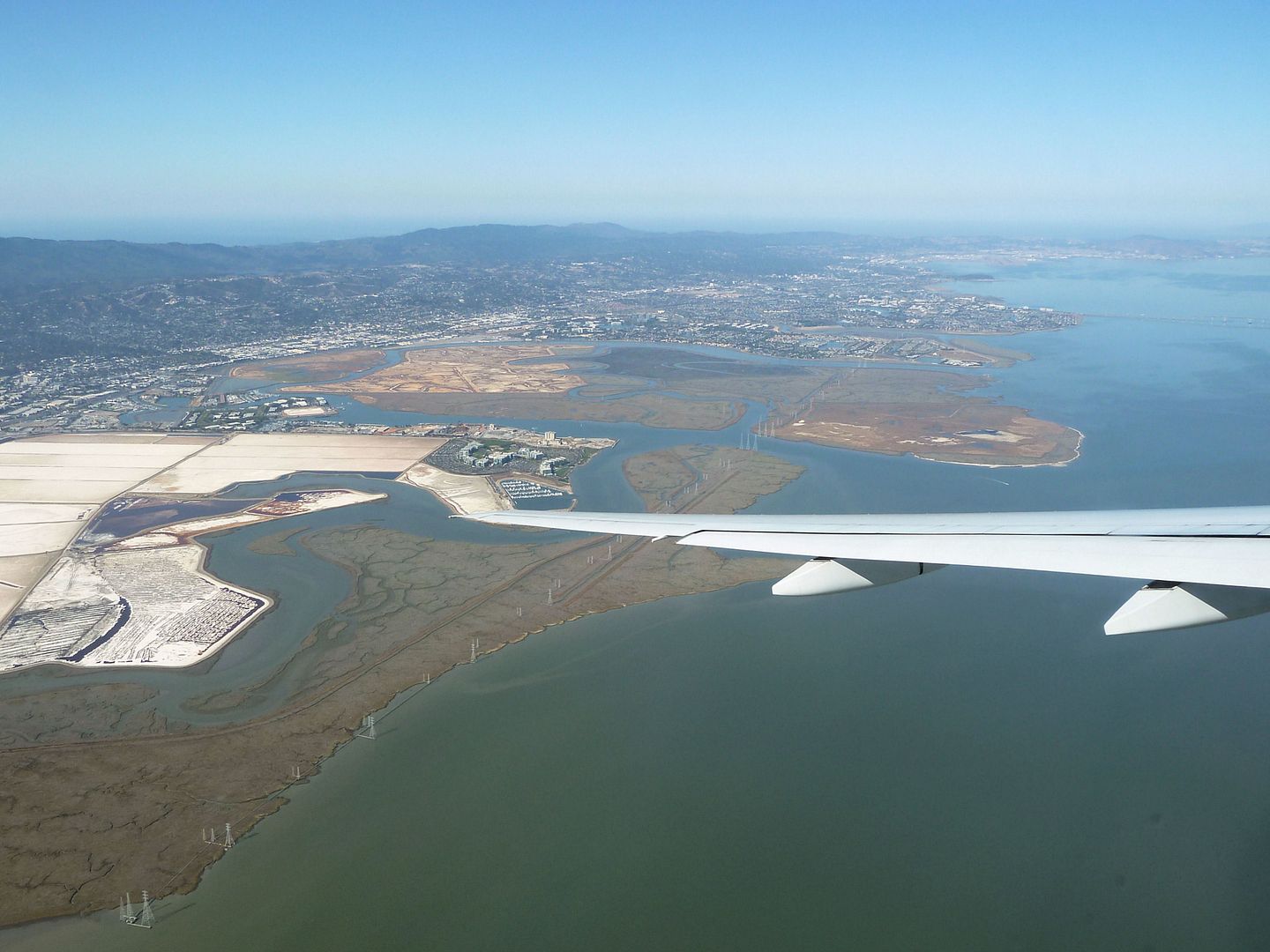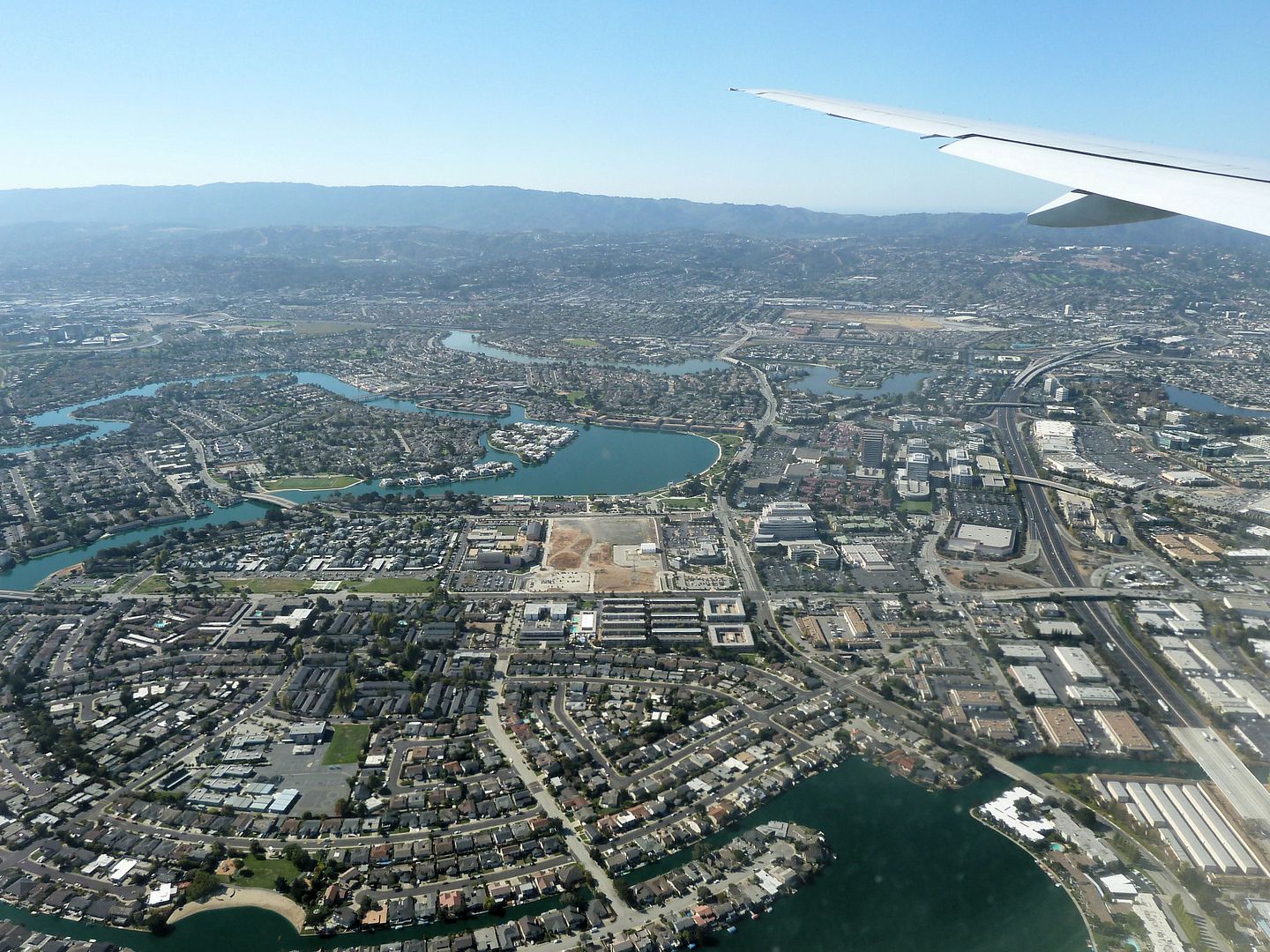 United heavy waiting for clearance: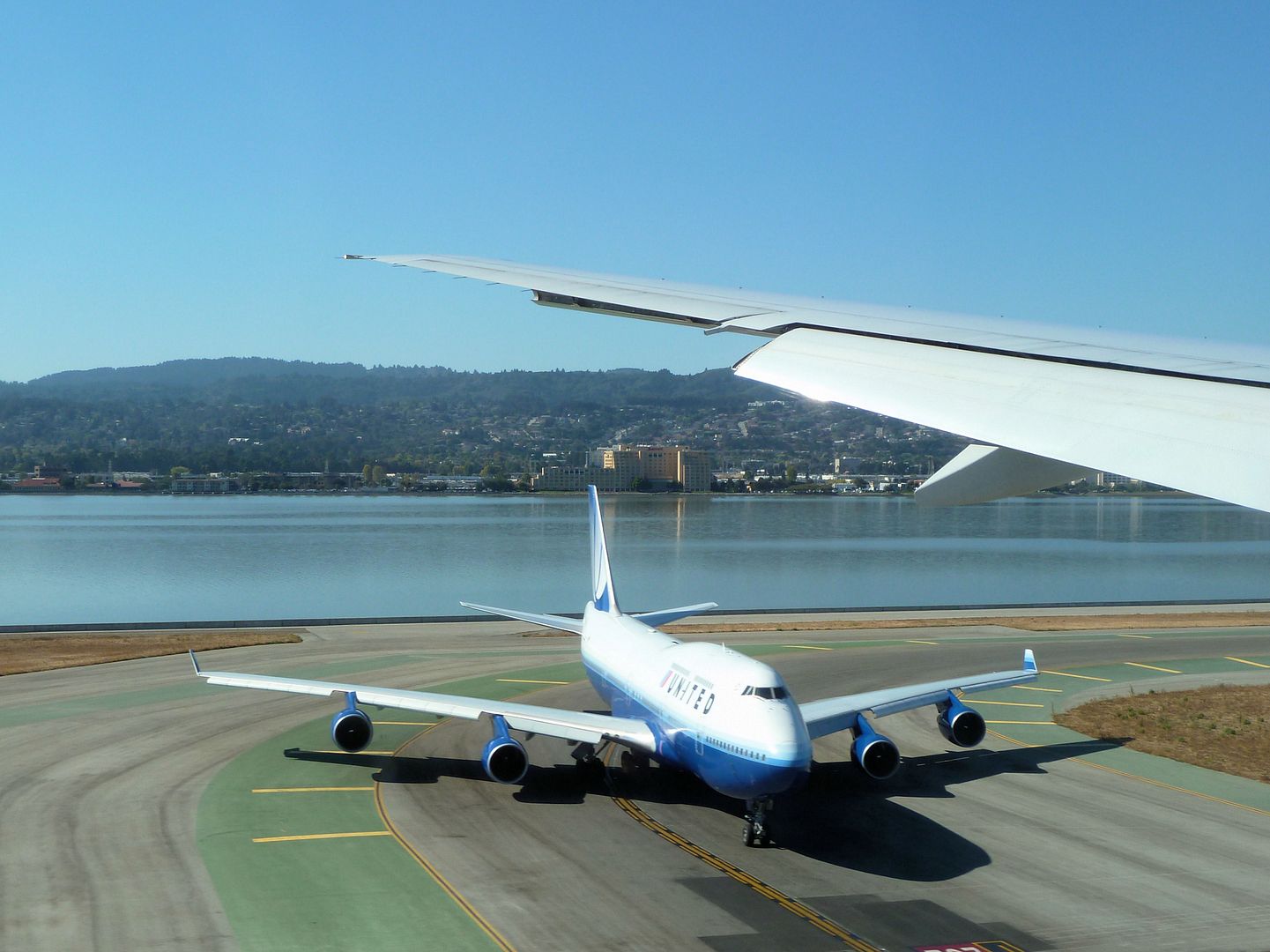 Our Pacific crossing came to an end after 11 hours and 38 minutes. After a short taxi...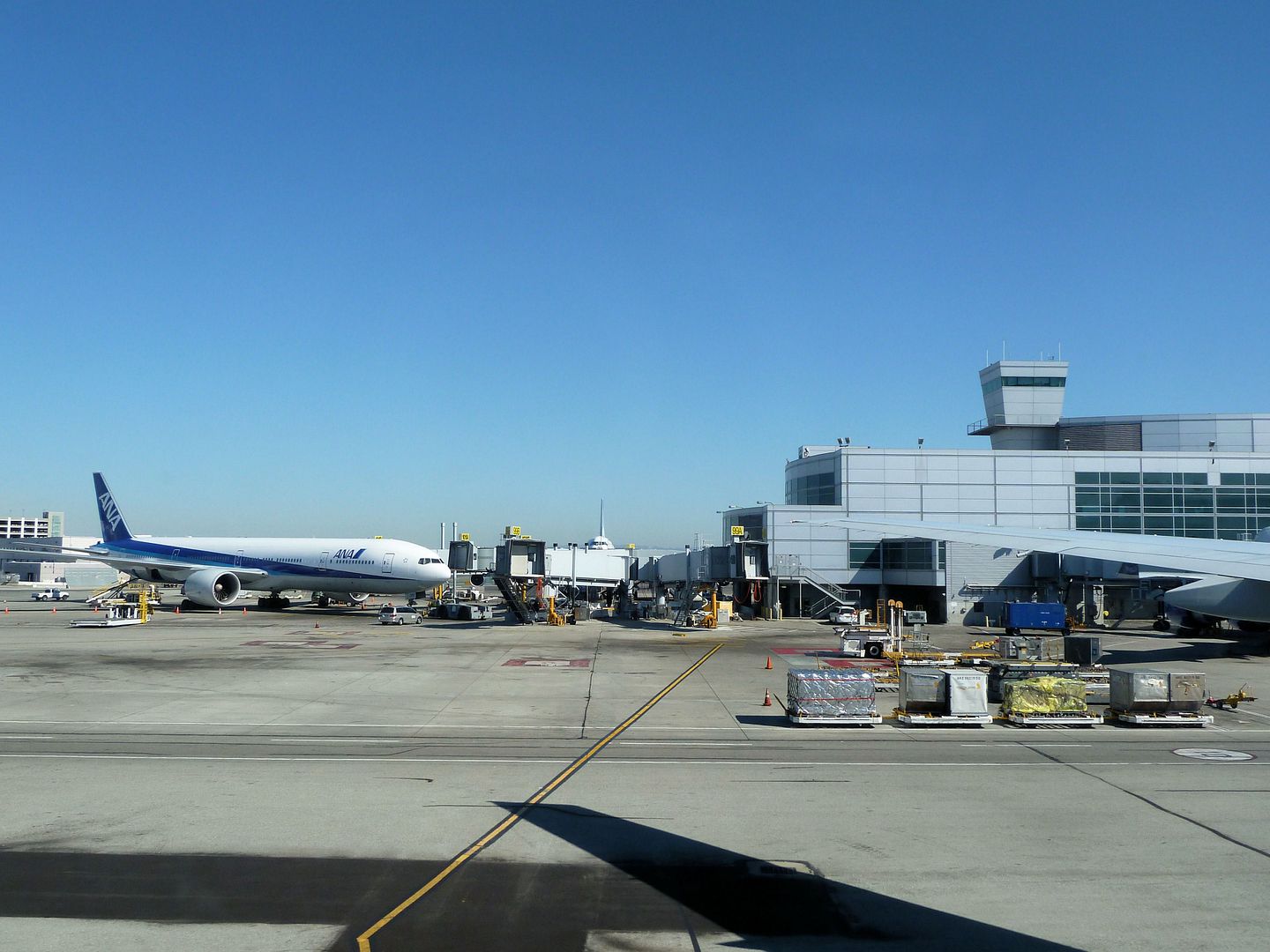 ...we arrived at the gate almost 20 minutes ahead of schedule. Another United heavy was parked next to us - no doubt, SFO is United territory: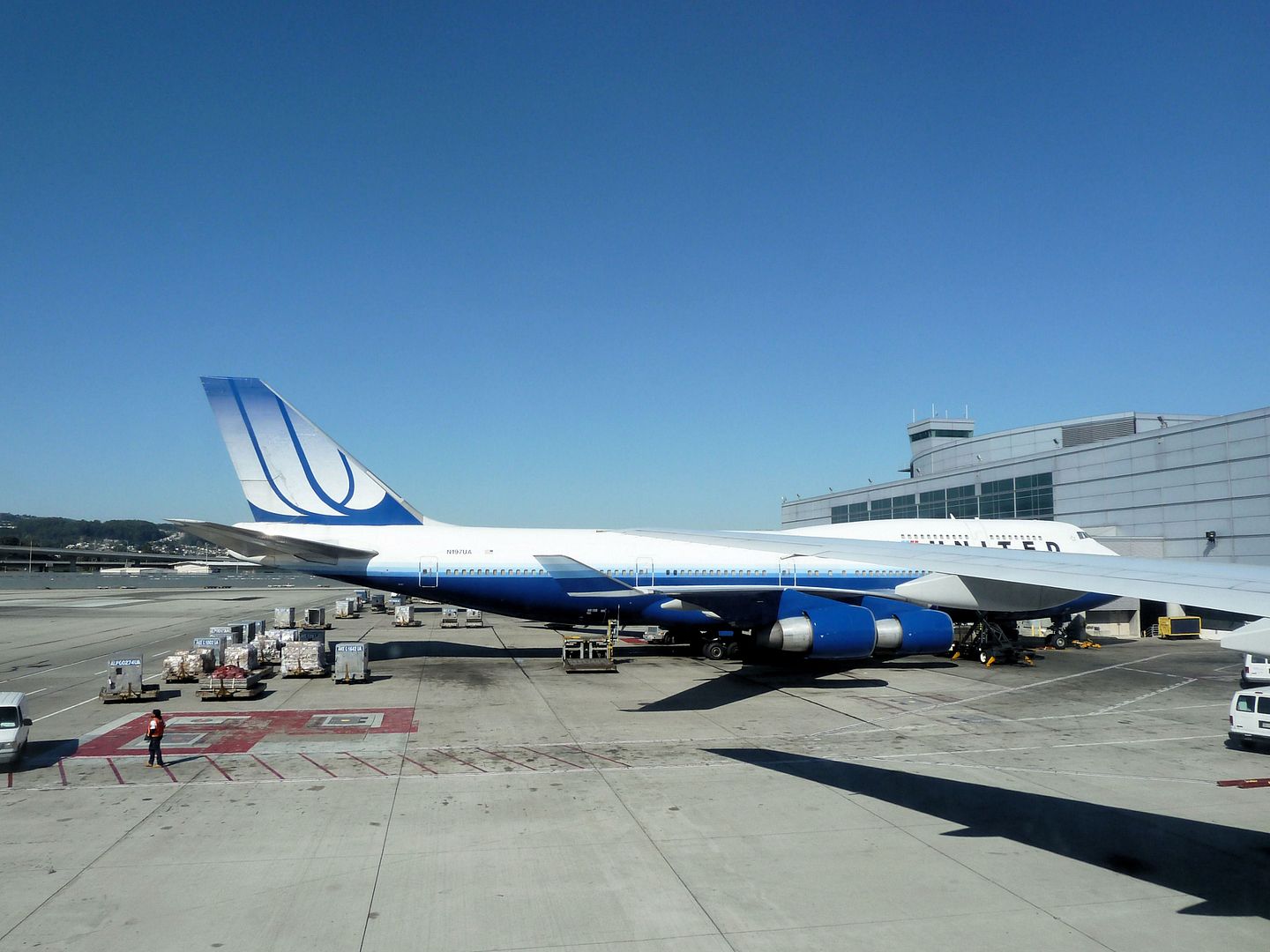 Before leaving the aircraft, I thanked the friendly flight attendant in the 40s for the good service and told her that I had been quite satisfied with the seating comfort. Of course she was happy to hear that.
Transfer at San Francisco
It wasn't very busy in the terminal around noon, so I didn't have to wait very long at immigration. After grabbing my luggage, I immediately walked to the hotel shuttle pick-up zone and 20 minutes later I checked in at the Red Roof Inn in Burlingame. Friendly staff, big and clean room, numerous amenities - I was very satisfied with that cheap motel. Room view: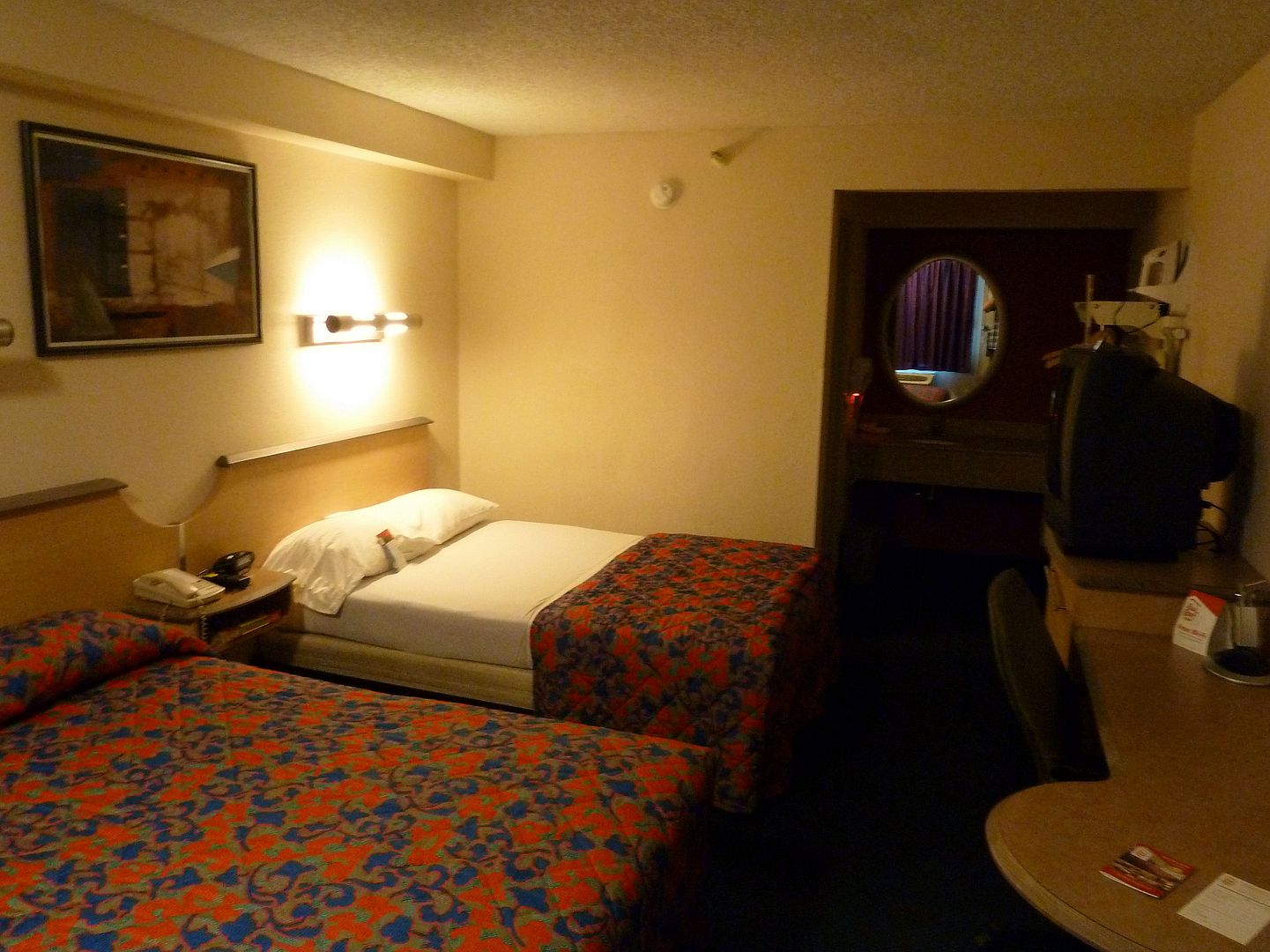 After resting for a few hours, I felt totally fit for the last sector of my journey. About two hours prior to departure, I took the shuttle back to the airport.
Tuesday, 12 October 2010
San Francisco (SFO) - Munich (MUC)
Lufthansa LH459
Scheduled times: 21:00-17:15
Actual times: 20:51-17:07
Flight duration: 10:52 (hrs)
Distance: 5879 miles
Economy Class, seat 55A

Airbus A340-642
D-AIHA (MSN 482), named "Nürnberg"
Delivered in 12/2003
1st flight on D-AIHA
1st A340-600 flight
9th A340 flight
Even though the agent at Auckland had already checked me in, I went to a Lufthansa counter to make sure that everything was alright. A rather unfriendly male agent confirmed my seat 55A and printed a new boarding pass. Then I passed security and walked down all the way to gate G99. It was dark outside and I couldn't see much of the aircraft except for a part of the tail. I took my binoculars out to identify the second of the two letters there - it seemed to be an "A", but I wasn't sure. Anyway, I just had to wait some more time.
I took a seat in an area above the actual gate and soon noticed that the Lufthansa cabin crew had also gathered about ten meters away for the pre-flight briefing. The male purser appeared to be quite rigorous while he was speaking, he somehow reminded me of a strict teacher.
More than half an hour later, friendly flight attendants welcomed me on board. When I saw the name
"Nürnberg"
on a badge next to the galley, it was clear that the second letter on the tail had indeed been an "A": The plane was
D-AIHA
, the oldest A340-600 in the fleet. However, it was once delivered to Lufthansa after its sister ships D-AIHB, D-AIHC and D-AIHD. I usually prefer getting the oldest or newest frame, so this was a perfect start of my first trip on the A340-600.
When I arrived at my row, I noticed that a laptop had already been placed in the seat pocket of the aisle seat...so this crushed my hope for another flight without a neighbor. Then I went to the single rear lavatory which turned out to be huge - that one is perfect for passengers with mobility problems who have trouble to reach the A346's six underfloor lavatories. Before returning to the seat, I asked a friendly (and very young) male flight attendant about the today's load.
"There are numerous open seats"
, he replied and I started hoping that the passenger next to me would move.
After I had returned to my seat again, a guy sat down next to me and asked whether this was my laptop in his seat pocket...this was rather odd, I thought. Some moments later, another guy showed up, took the laptop and disappeared again. Then the guy next to me checked his boarding pass, jumped up again, took all his belongings and also walked away. Now the seat next to me was empty again - and it remained so even after boarding had been completed. This made my day!
The seat itself felt quite hard and was narrower than the counterpart on Air New Zealand (17 vs 17.8 inches), definitely less comfortable: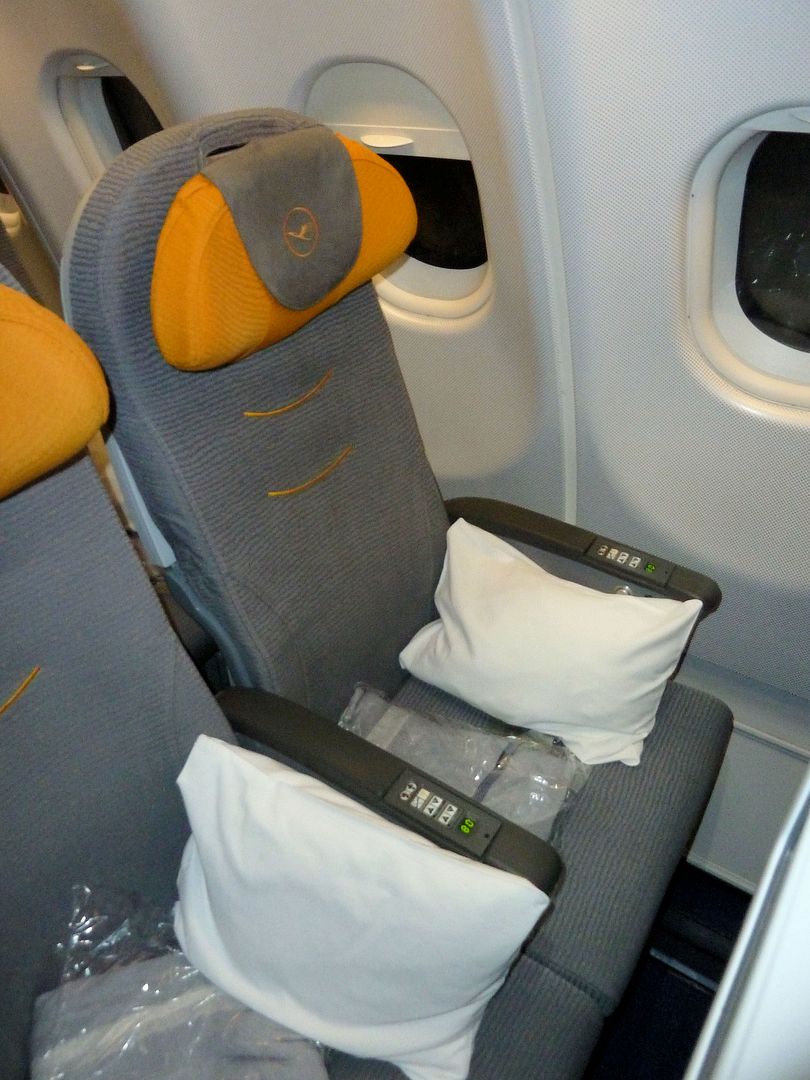 Lufthansa has introduced rather big PTV screens, but the IFE boxes are quite big, too. They are installed under A, D (picture) and K seats: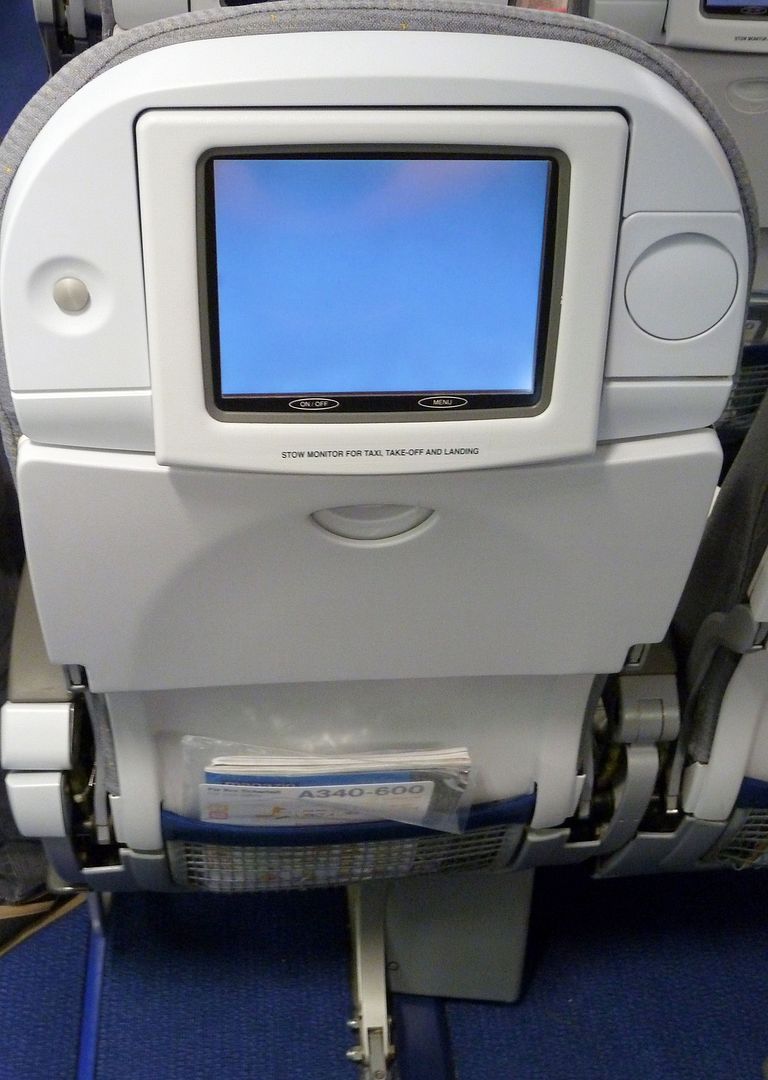 A 31-inch pitch is usually acceptable - however, in Lufthansa's case, the seat design is a bit flawed: the seat back extends too far down which makes it more difficult than usual to stretch out. Lufthansa should provide shin pads...
Welcome screen: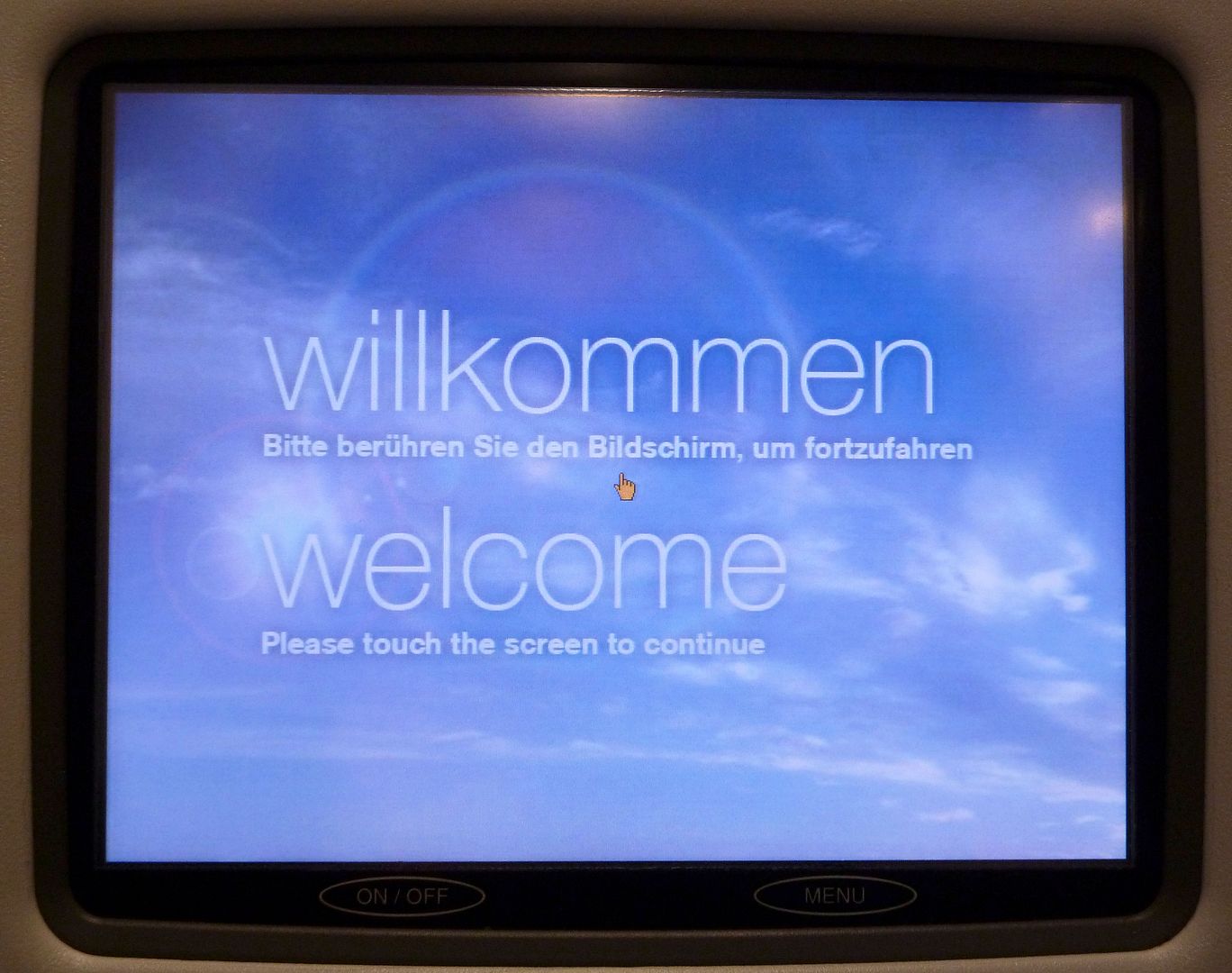 Lufthansa's excellent inflight magazine also contains an IFE guide: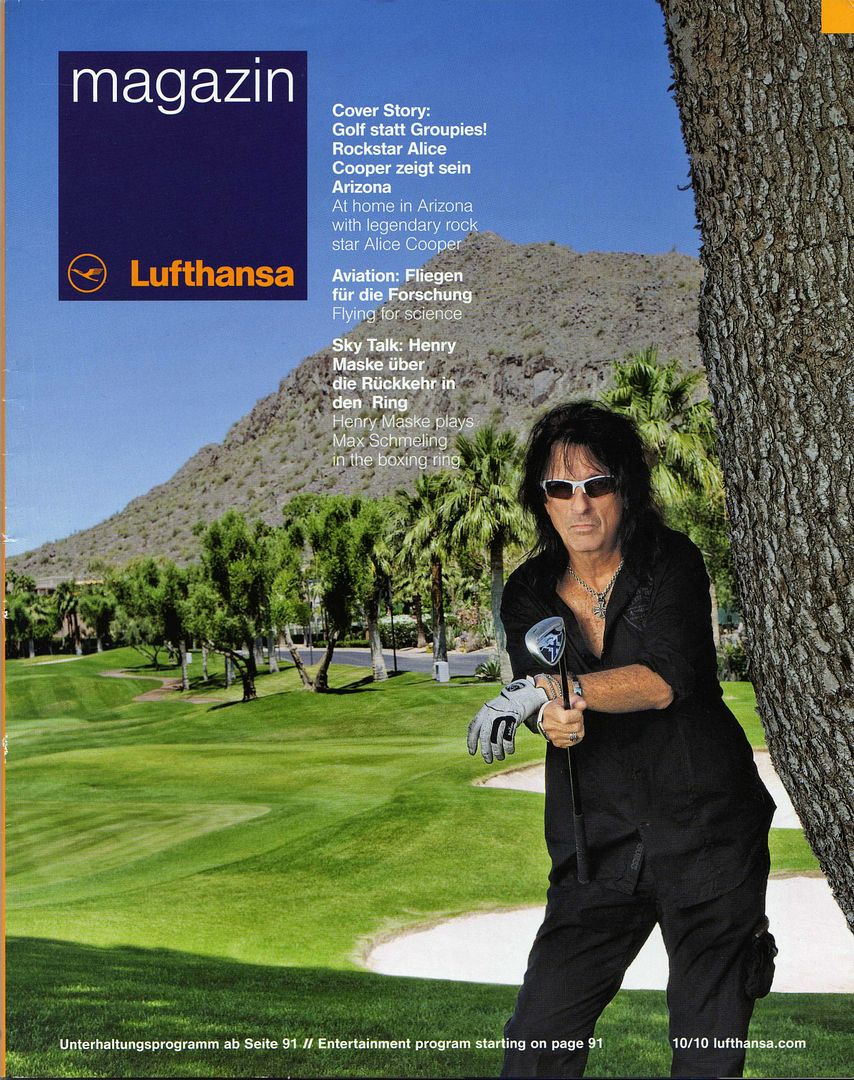 The headphones looked cheaper than the ones on Air New Zealand - but they did their job. I guess the lower cabin noise on the A346 helped a bit.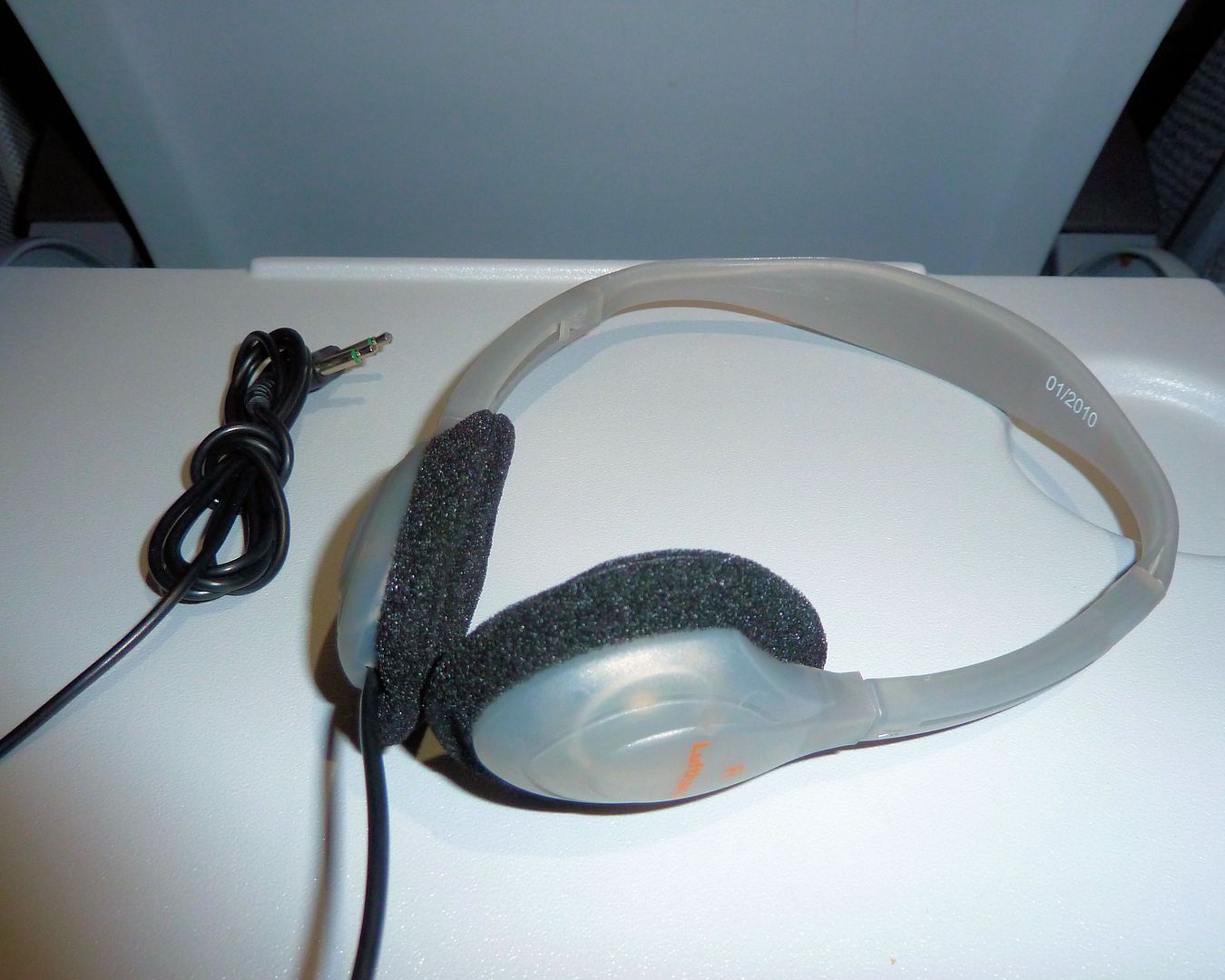 Neither amenity kits nor menu cards were available, but at least hot towels were distributed. Before we left the gate, there had been two nice welcome announcements, one by the purser and another one by one of the pilots. Among other things, the purser informed that a snack and an aperitif would be available before dinner. I felt really welcome on board, leaned back and looked forward to my first A340-600 flight and my first Lufthansa long-haul flight after more than 15 years (Los Angeles-Frankfurt on a 747-400 in 1995 had been my last one).
The
"Nürnberg"
was pushed back almost ten minutes ahead of schedule, but it took almost 20 more minutes until the plane smoothly and relatively quietly lifted off into the clear night sky. The countless lights of San Francisco looked fantastic.
Crackers and drinks were served about half an hour after takeoff. I ordered a Campari Orange and the friendly male flight attendant who I had talked to earlier also offered a cold drink. So I additionally ordered sparkling water:
Now it was time to test Lufthansa's AVOD IFE system. There's no handset for the IFE system, but the touchscreen control worked smoothly and faultless in my case: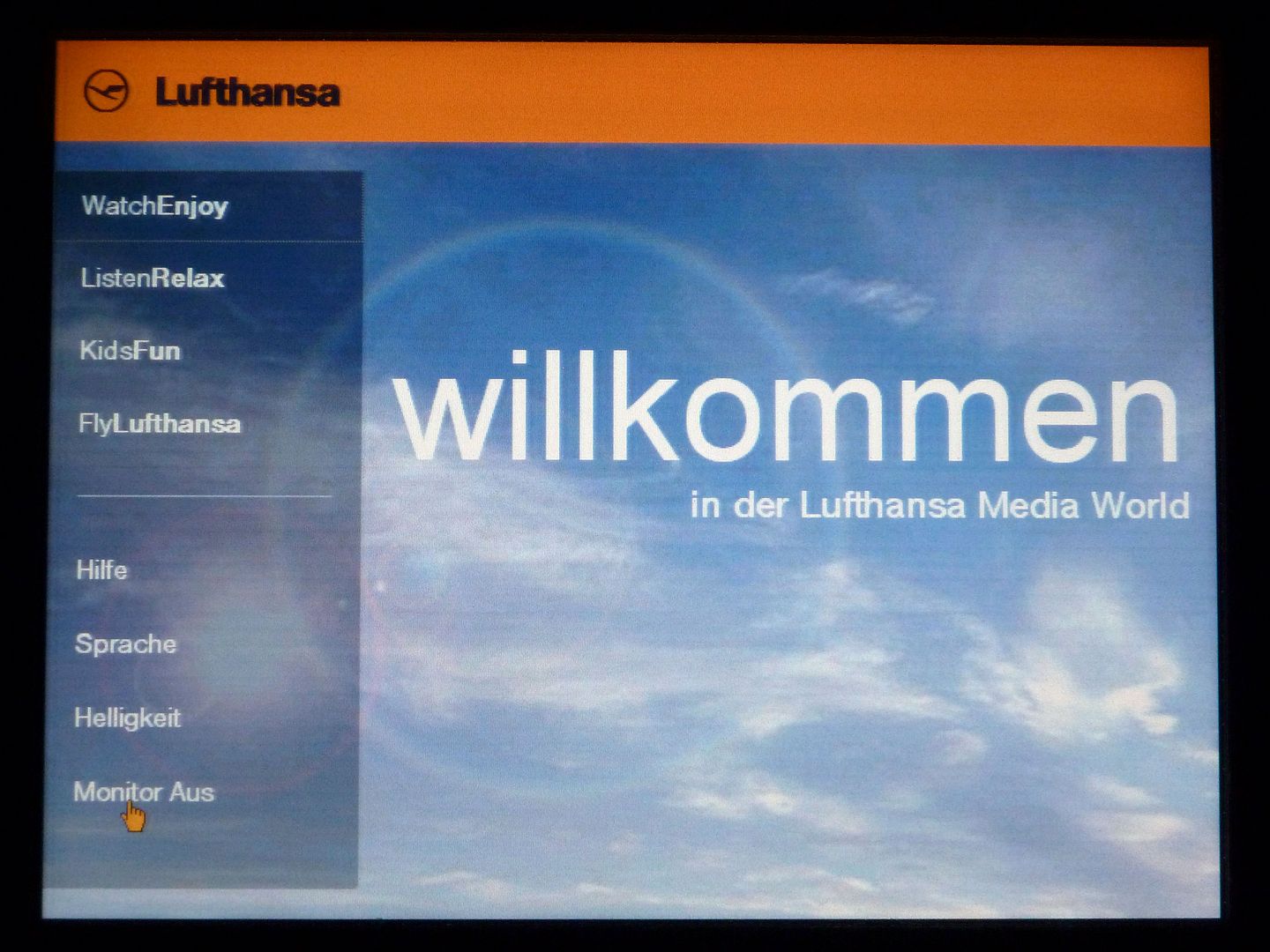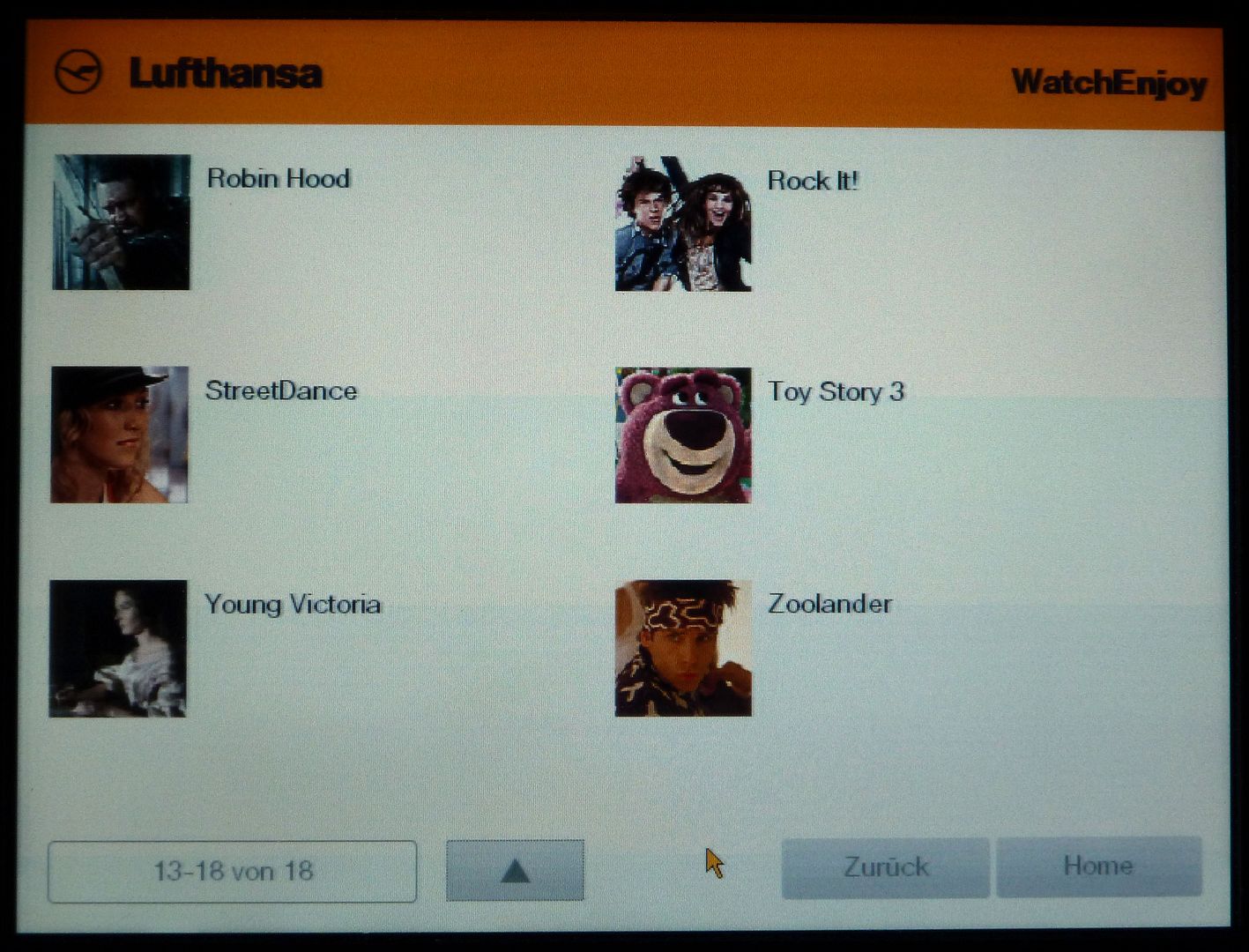 You can choose between 18 movies in numerous languages, 35 TV and music programs, 30 radio channels, 100 CDs and audio books and a classic airshow channel. Games are only available on the A380. LH's "mediaworld" certainly doesn't belong to the most advanced systems in the business, but it can keep you entertained for a long time.
Dinner was served about one hour after the snack service. The young male flight attendant showed up again and didn't just quickly ask "chicken or pasta", but kindly said:
"We have chicken or pasta for dinner today, what would you like to eat?"
I decided to try the chicken and also ordered white wine:
The main course didn't look very appealing, but the meat, the sauce and the pumpkin mashed potatoes tasted quite good. I also enjoyed the salad, the tiramisu cake and the wine.
After dinner, I walked forward and had a look at the underfloor lavatory section. Here's the entrance:
Let's go down...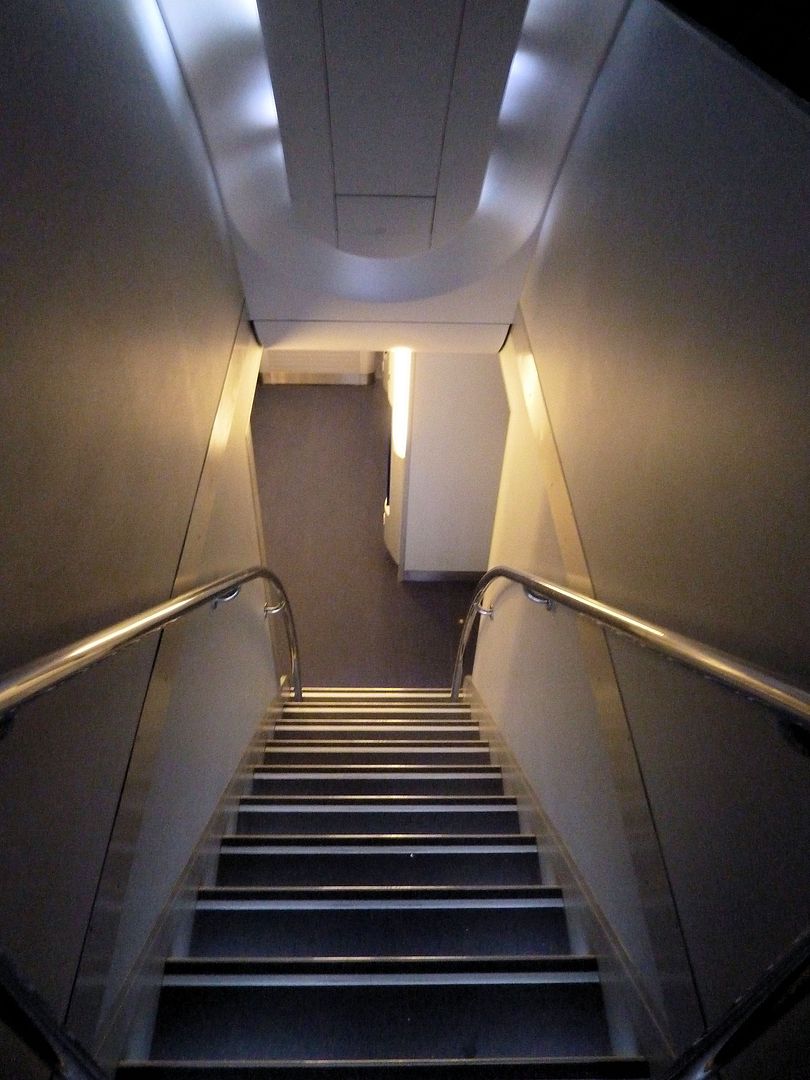 There are three lavatories on each side: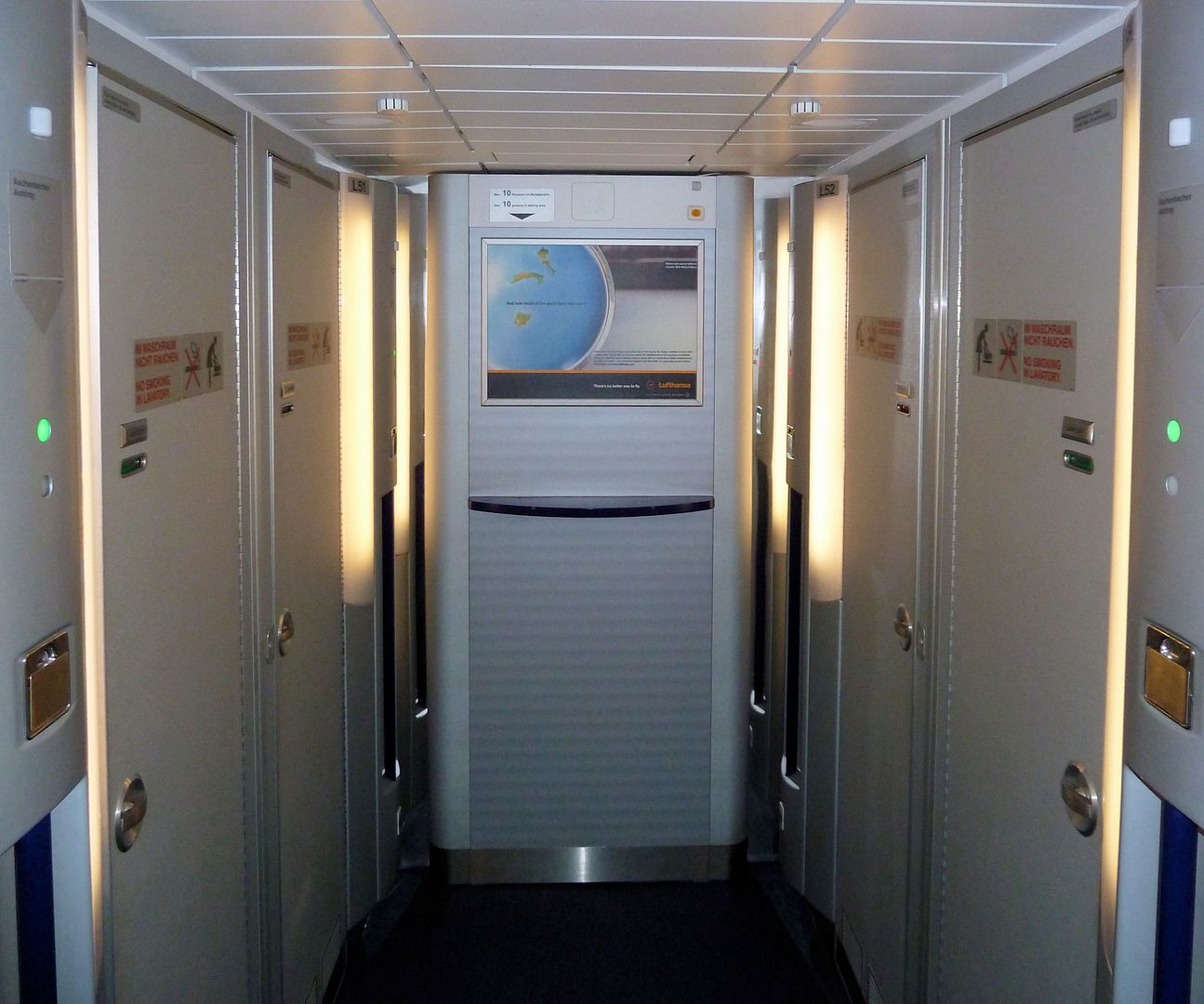 You can also find a small snack bar there - and on the opposite side there's also a crew rest entry door:
Up to three people were hanging around in that area at the same time. I still didn't feel cramped, though.
Nicely illuminated stairway: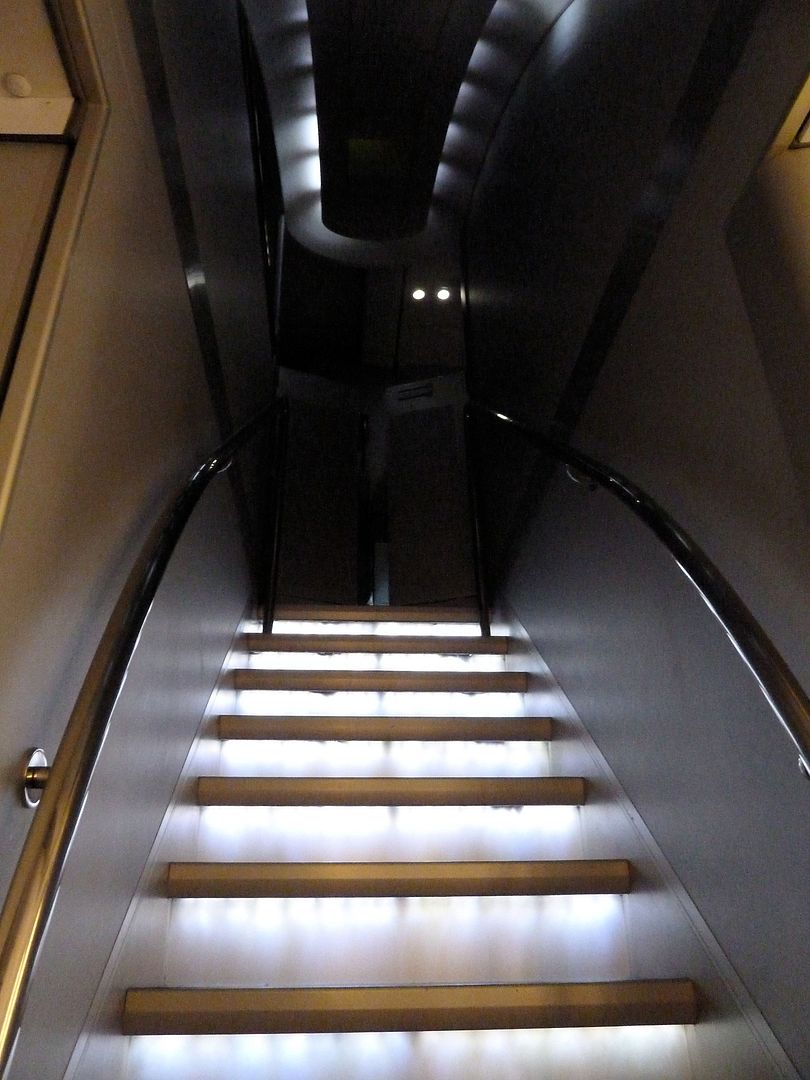 Later in the flight, a young female flight attendant was resting in the galley near the entrance to the underfloor section and I asked her whether that facility had proven useful. She looked thoughtful at first and then she said that passengers usually like it. However, she also explained that it can become quite crowded around the entrance during service times. I confirmed the positive impressions of the underfloor lavatories, but told her that seating comfort and legroom in particular weren't as good as on Air New Zealand. She didn't look surprised about hearing that and said:
"I don't think that will change anytime soon."
After watching "Robin Hood" with Russell Crowe, it was time for a cabin shot. Some mood lighting would be welcome:
What I noticed after a while was the lack of water runs at night. I didn't mind about going to the galley to pick up a drink, but that would have been more difficult with an occupied aisle seat.
I didn't feel tired at all and enjoyed watching the airshow. We took a quite northerly routing: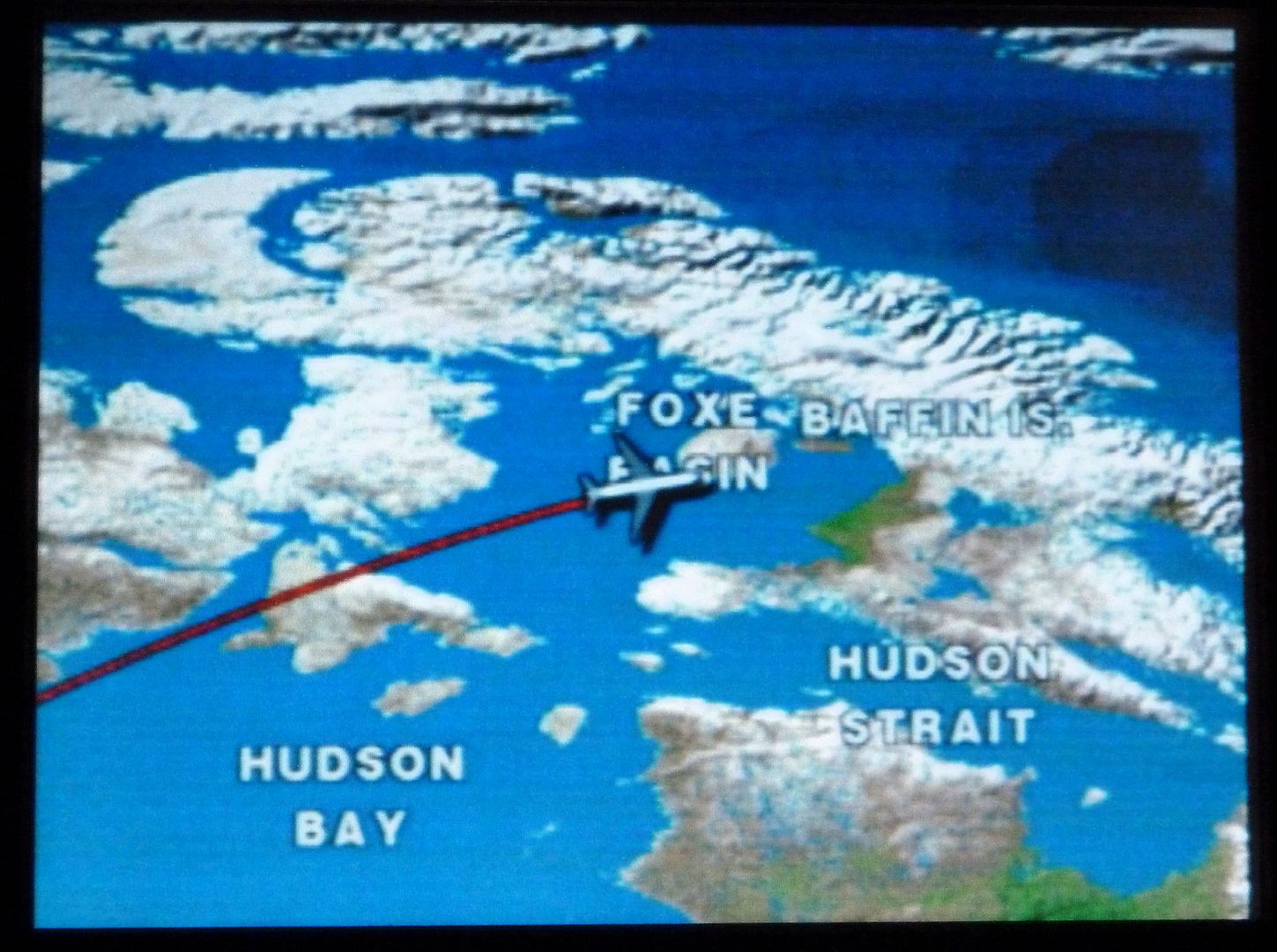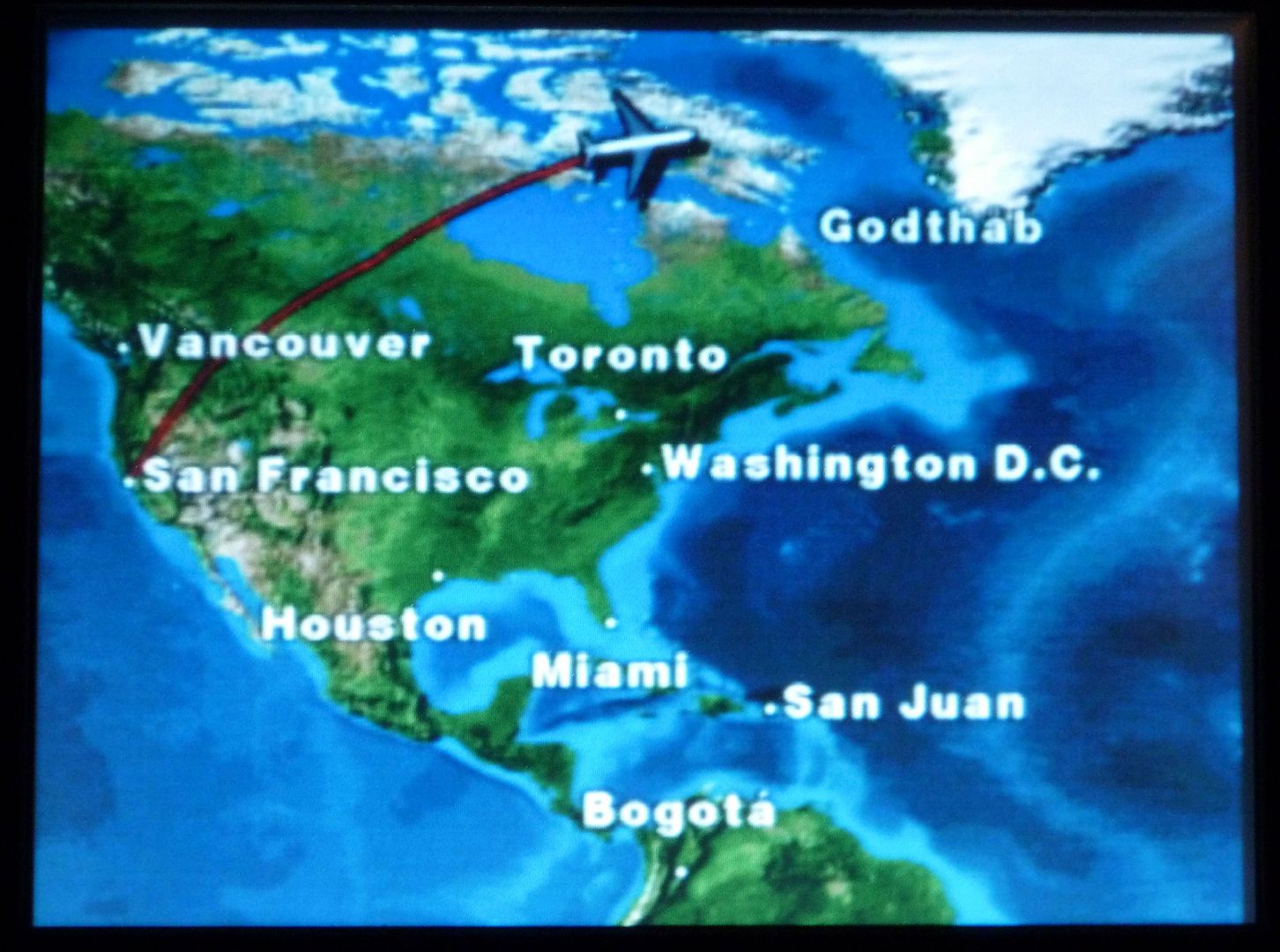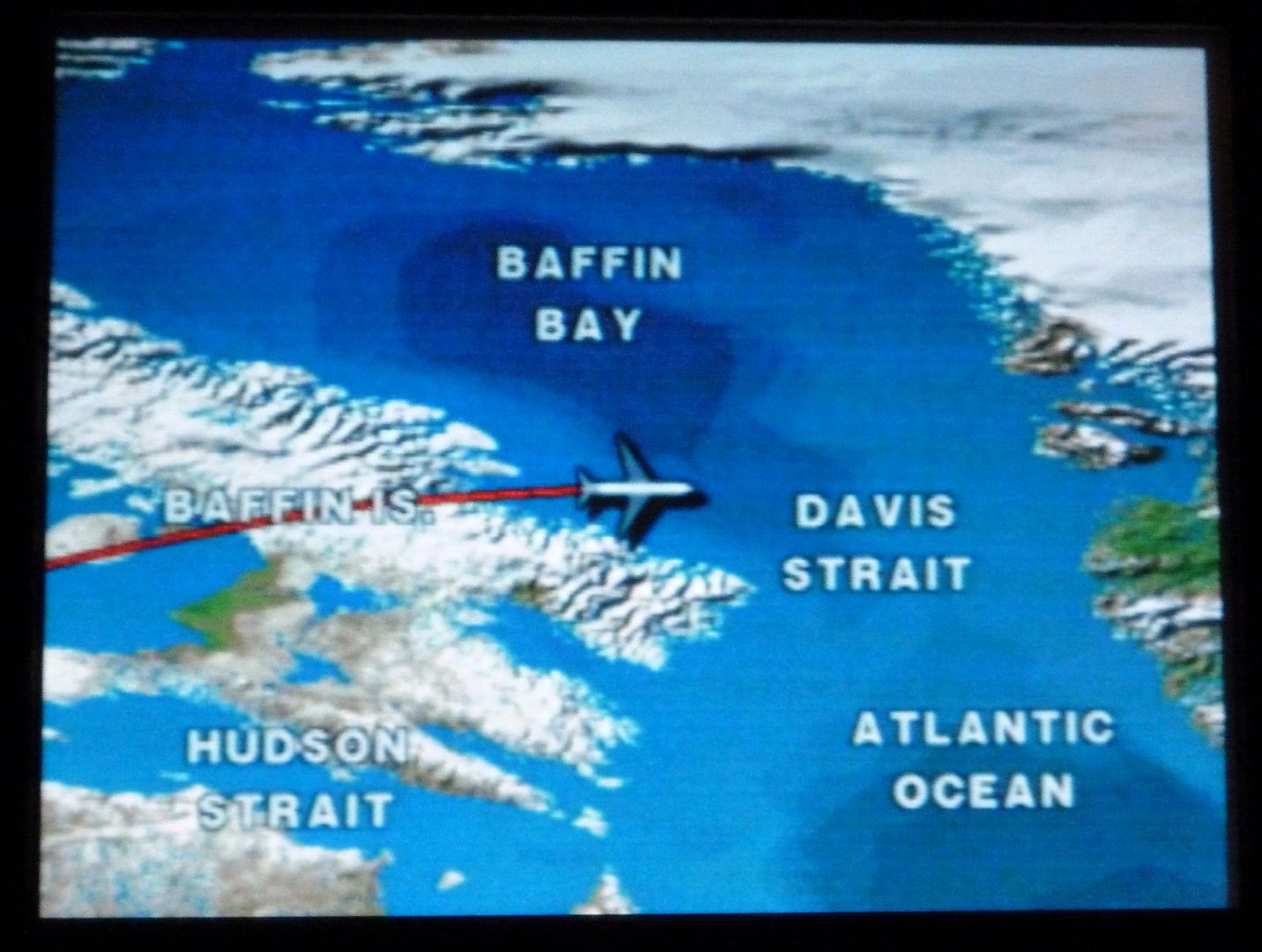 Sunrise over Greenland's ice surface - simply beautiful: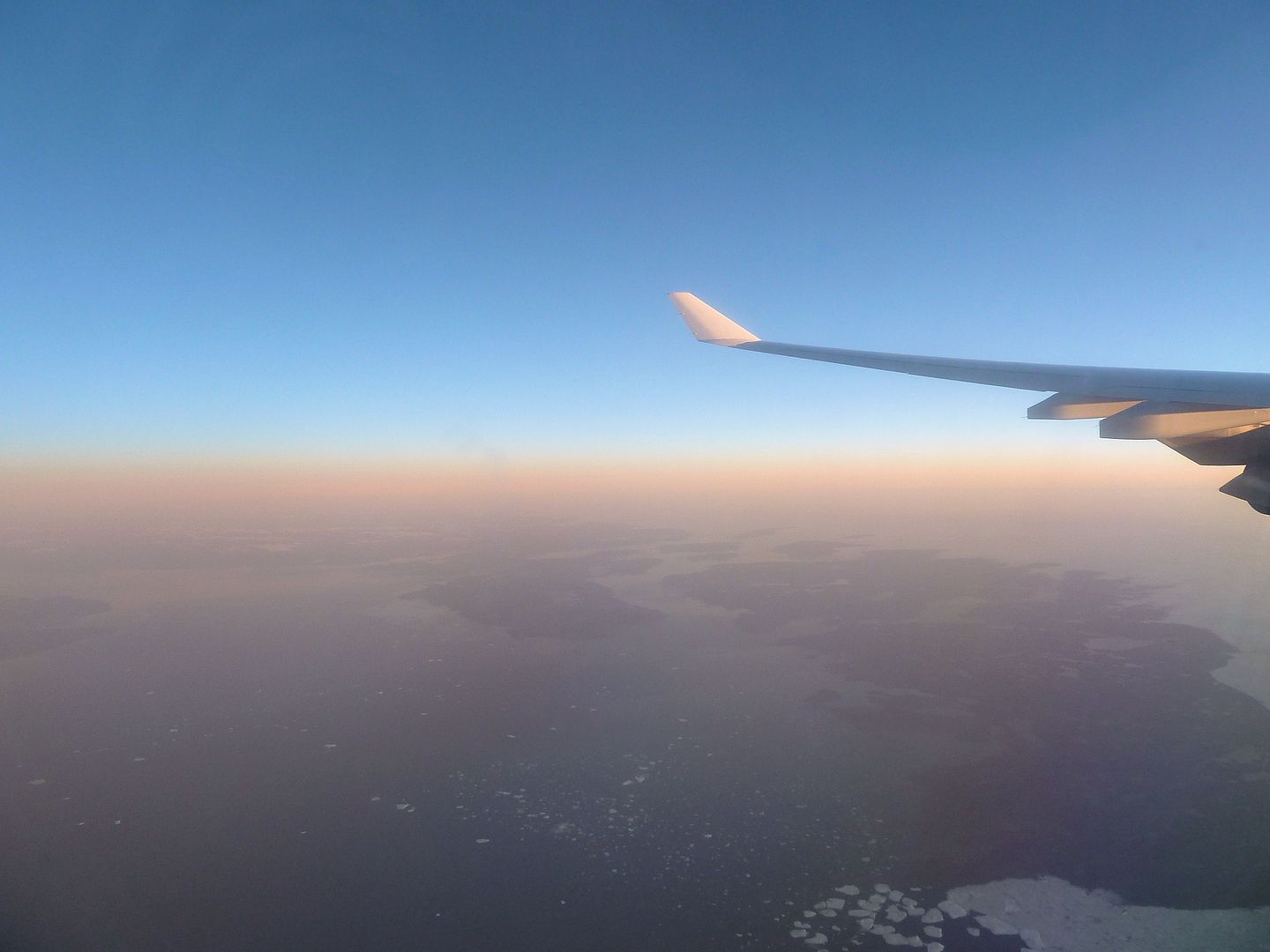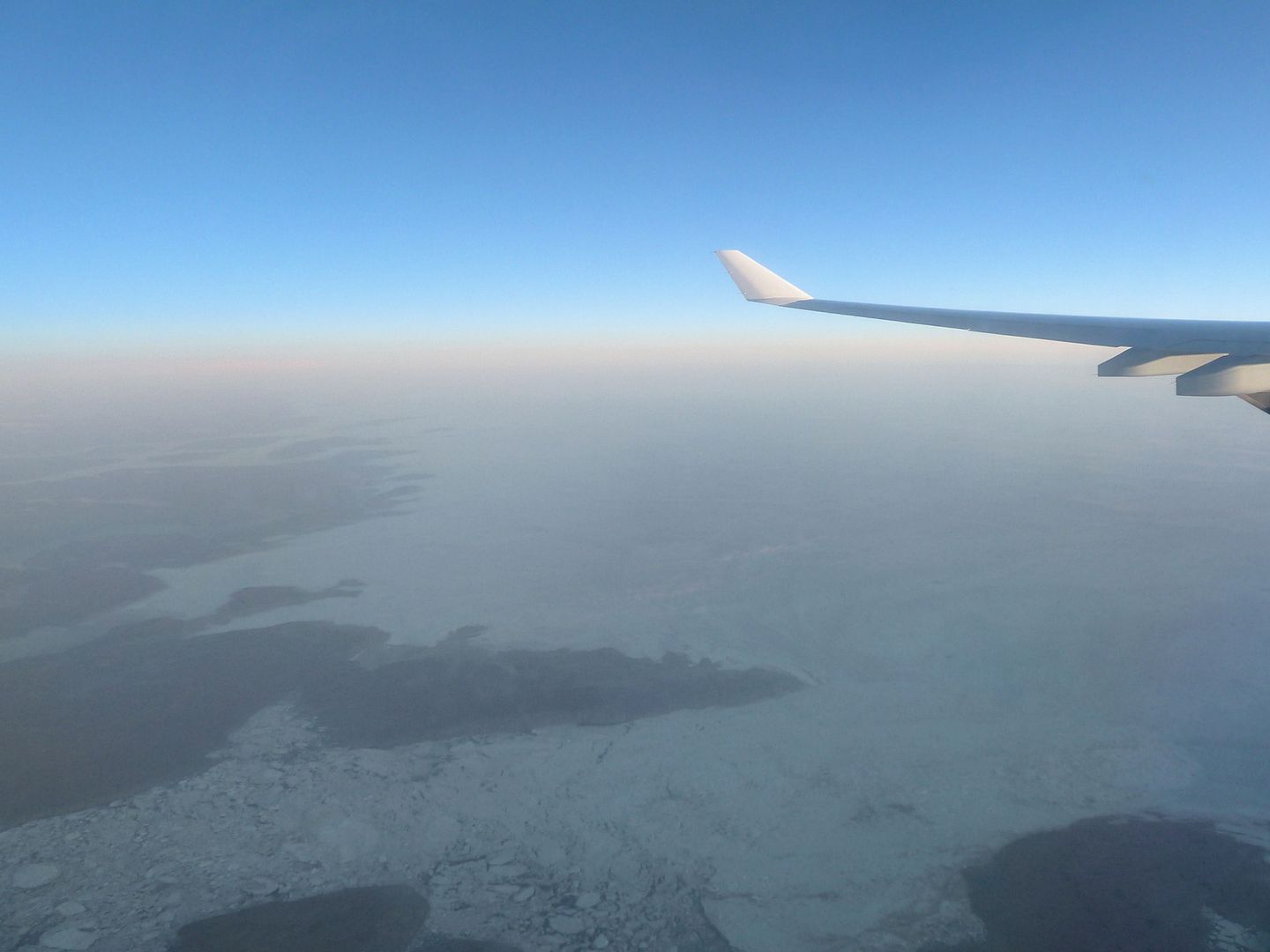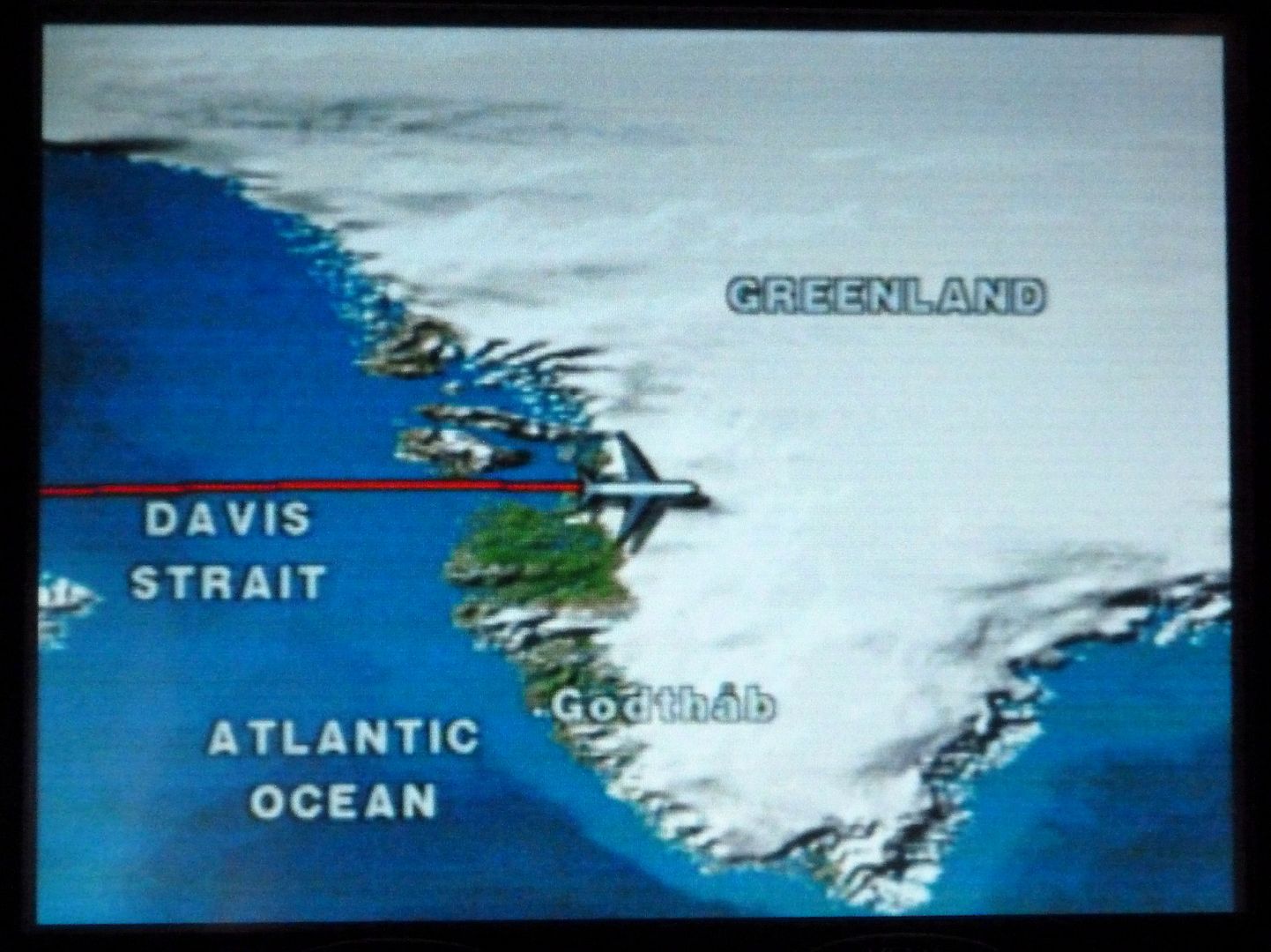 Breakfast was served about 75 minutes before arrival. I decided to try the omelette:
What to say? I can only praise Lufthansa for that breakfast - everything tasted good, including the coffee. And the quantity was just right, too.
Another cabin picture, this time in daylight: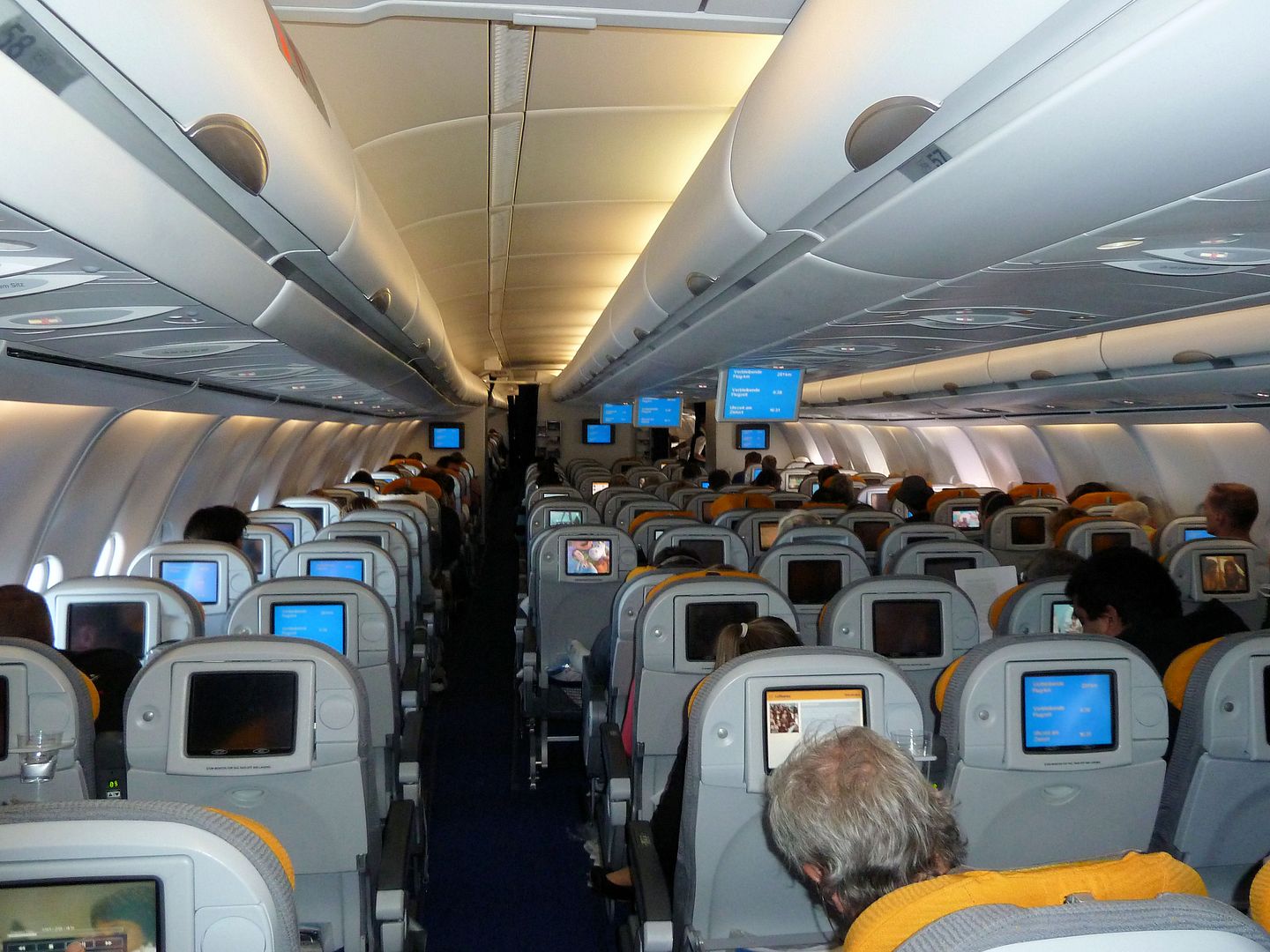 After flying more than 42000 kilometers, my round-the-world trip slowly came to an end. The
"Nürnberg"
on approach to München: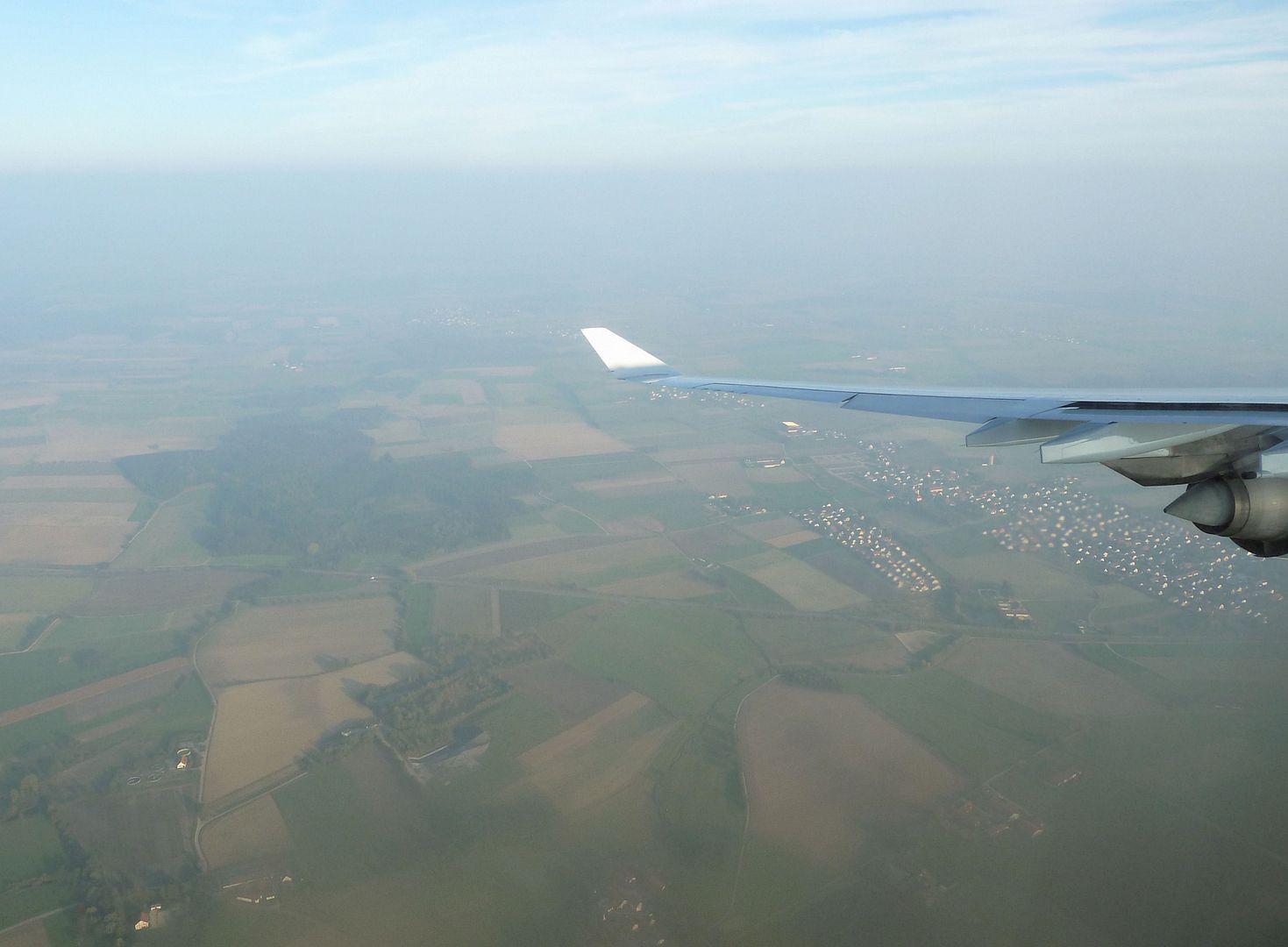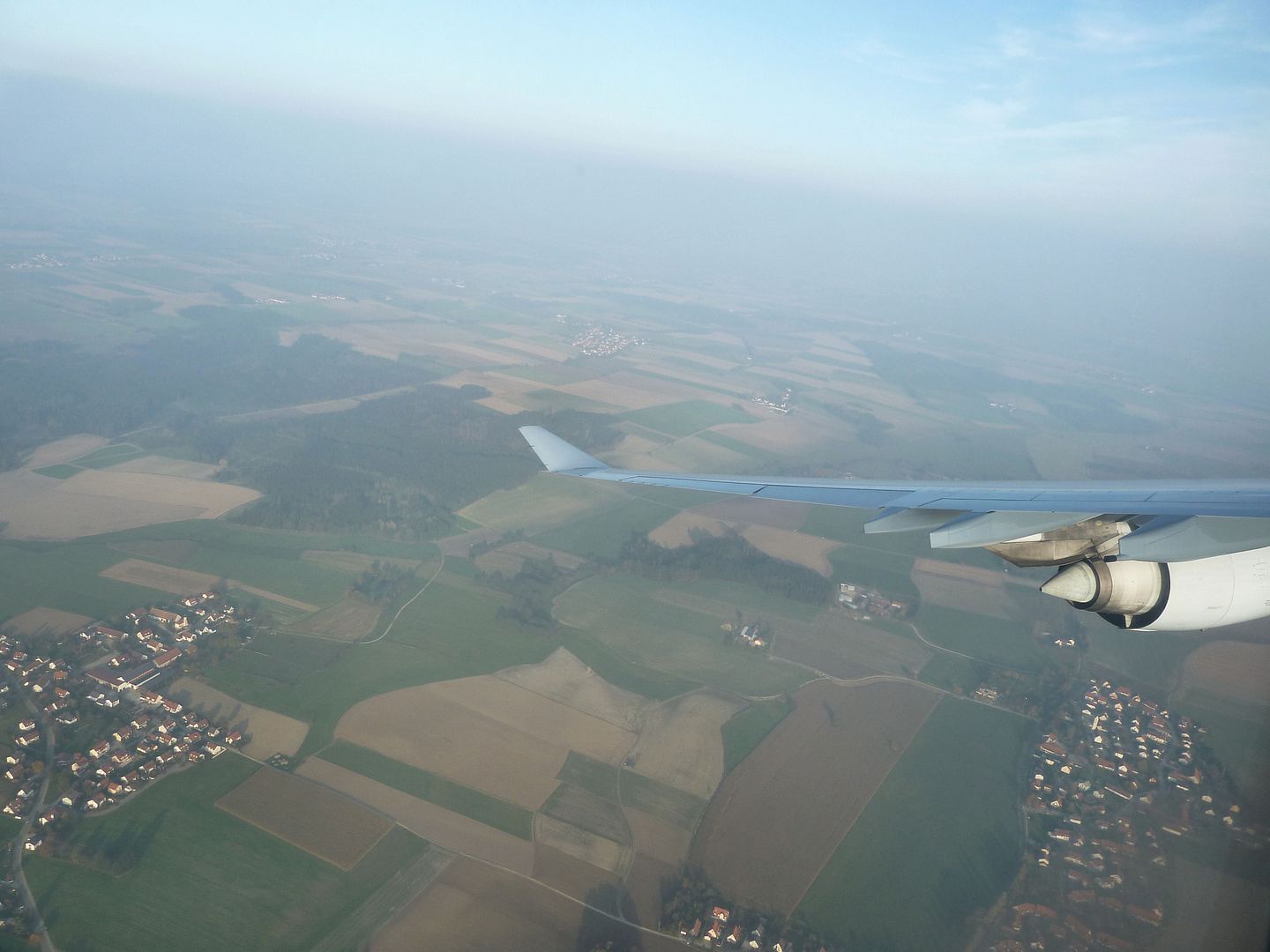 Only a few more moments to go: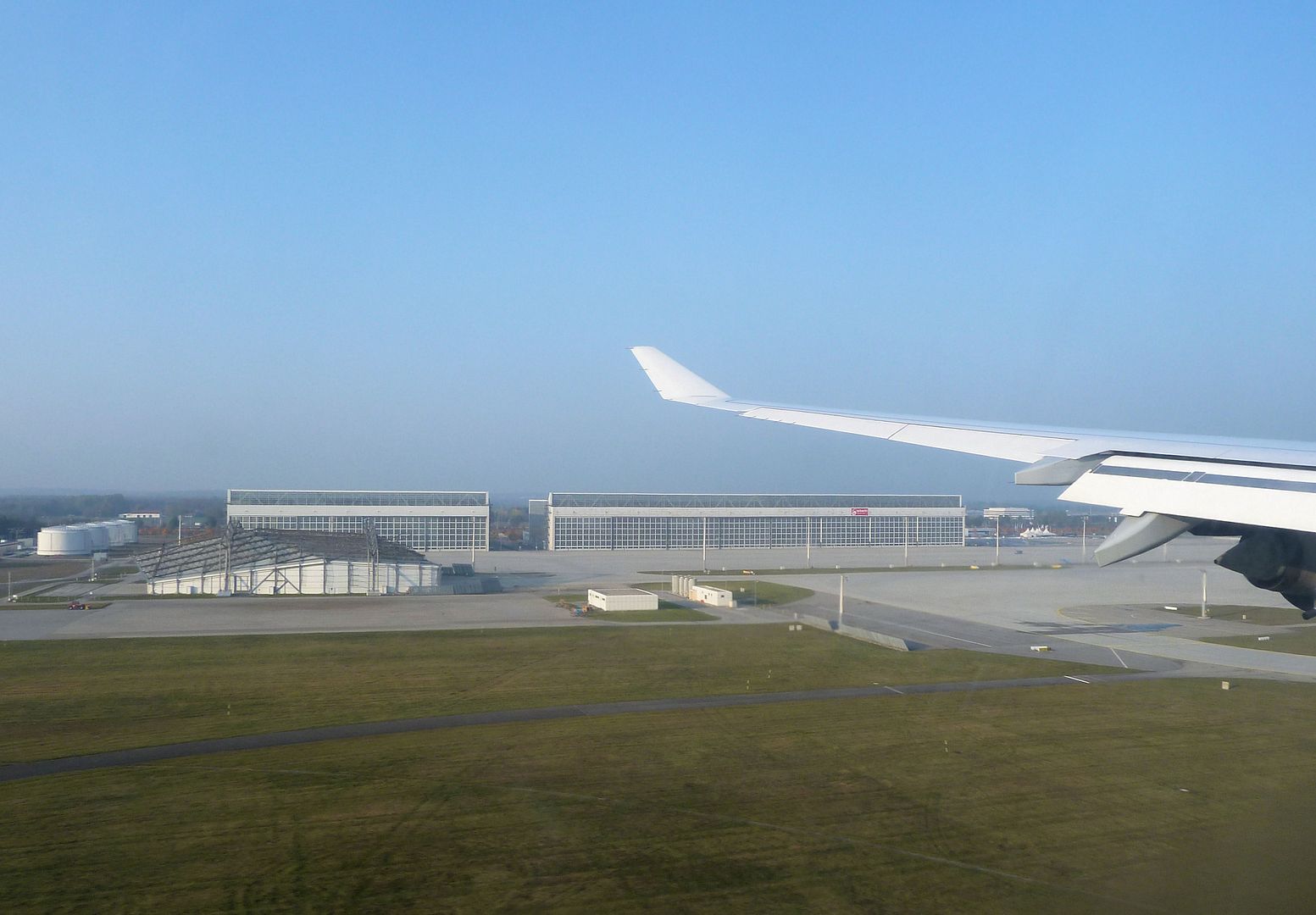 D-AIHA
gently touched down on runway 08R after 10 hours and 52 minutes and taxied to the southernmost gate of Terminal 2, just next to an Aegean A320:
During disembarking, I took some more cabin pictures: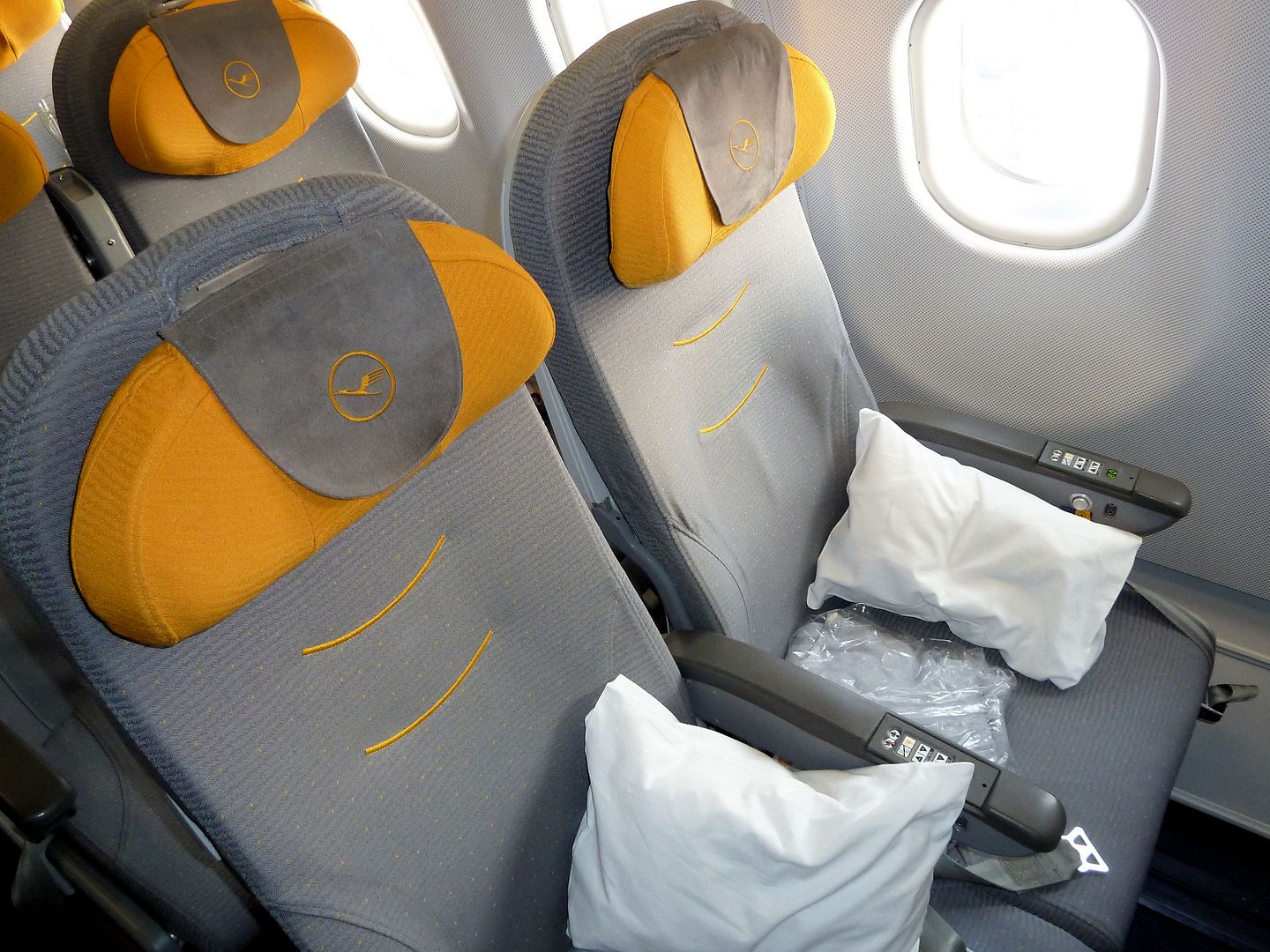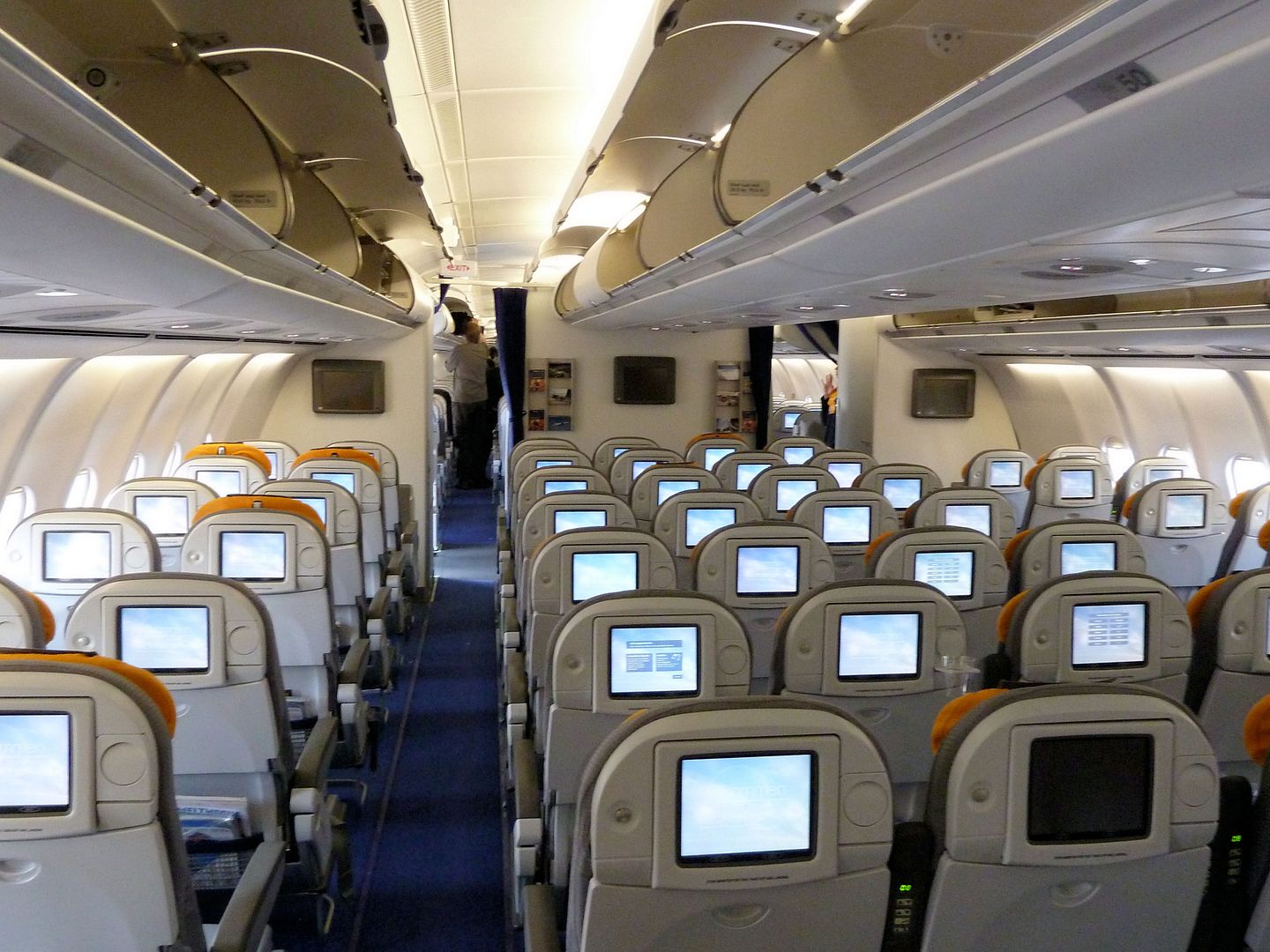 When I arrived at the exit, I took the chance to take a picture of the plane's name badge. Despite trying several times, I couldn't get a really crisp one: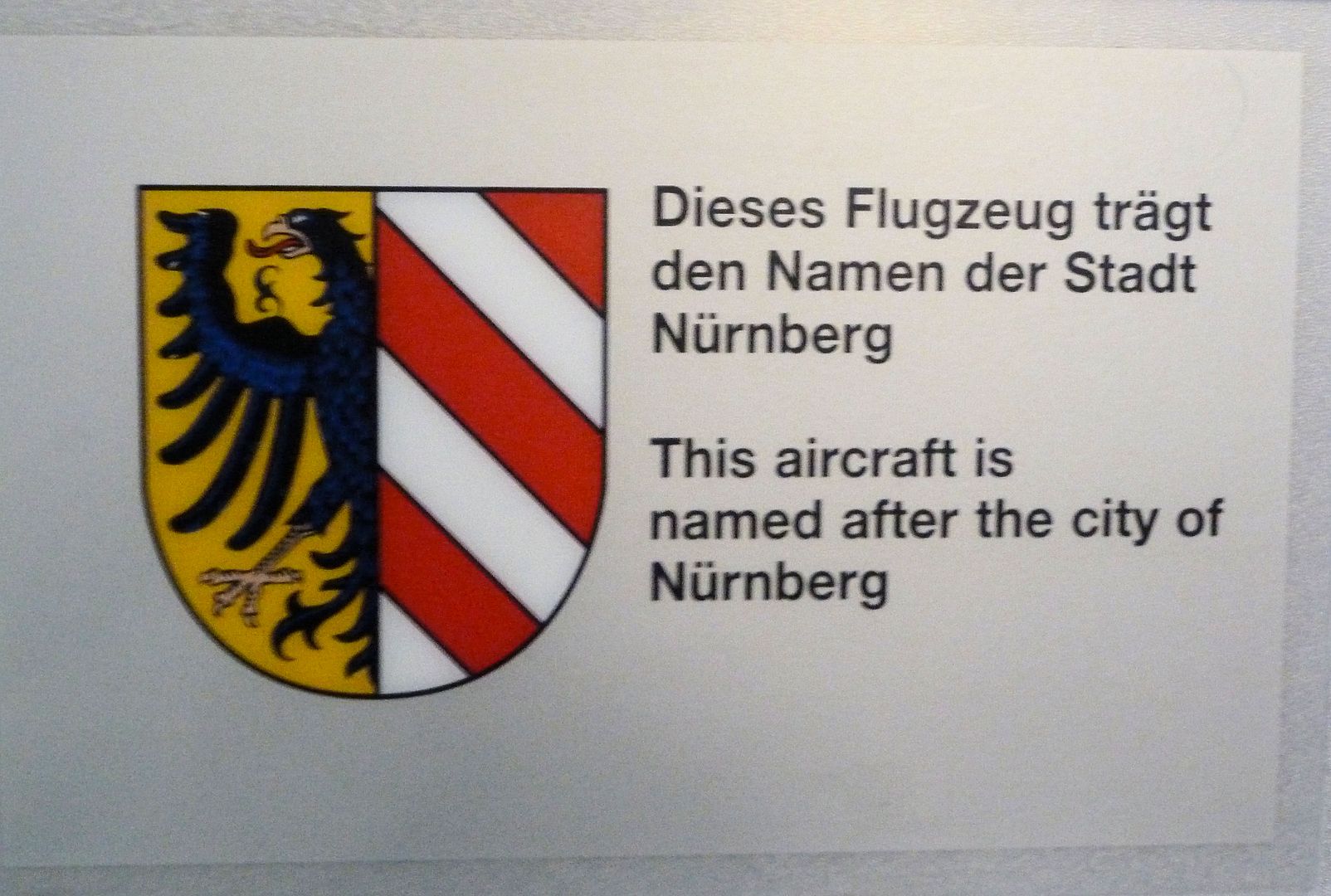 "Are you from Nuremberg?"
, a female flight attendant kindly asked me while I was taking pictures of the badge. I just told her that I had been glad about getting on the
"Nürnberg"
after also flying on the (new)
"München"
on a sightseeing flight over the Alps in summer.
"Oh, you are ahead of us!"
, she replied.
Totally Thrilling: Scenic Flight On Lufthansa A380
(by
PlaneHunter
Aug 5 2010 in Trip Reports)
The long forward fuselage section of the A340-600:
One more picture from the terminal - my first ride on the longest plane in commercial service was a really enjoyable one: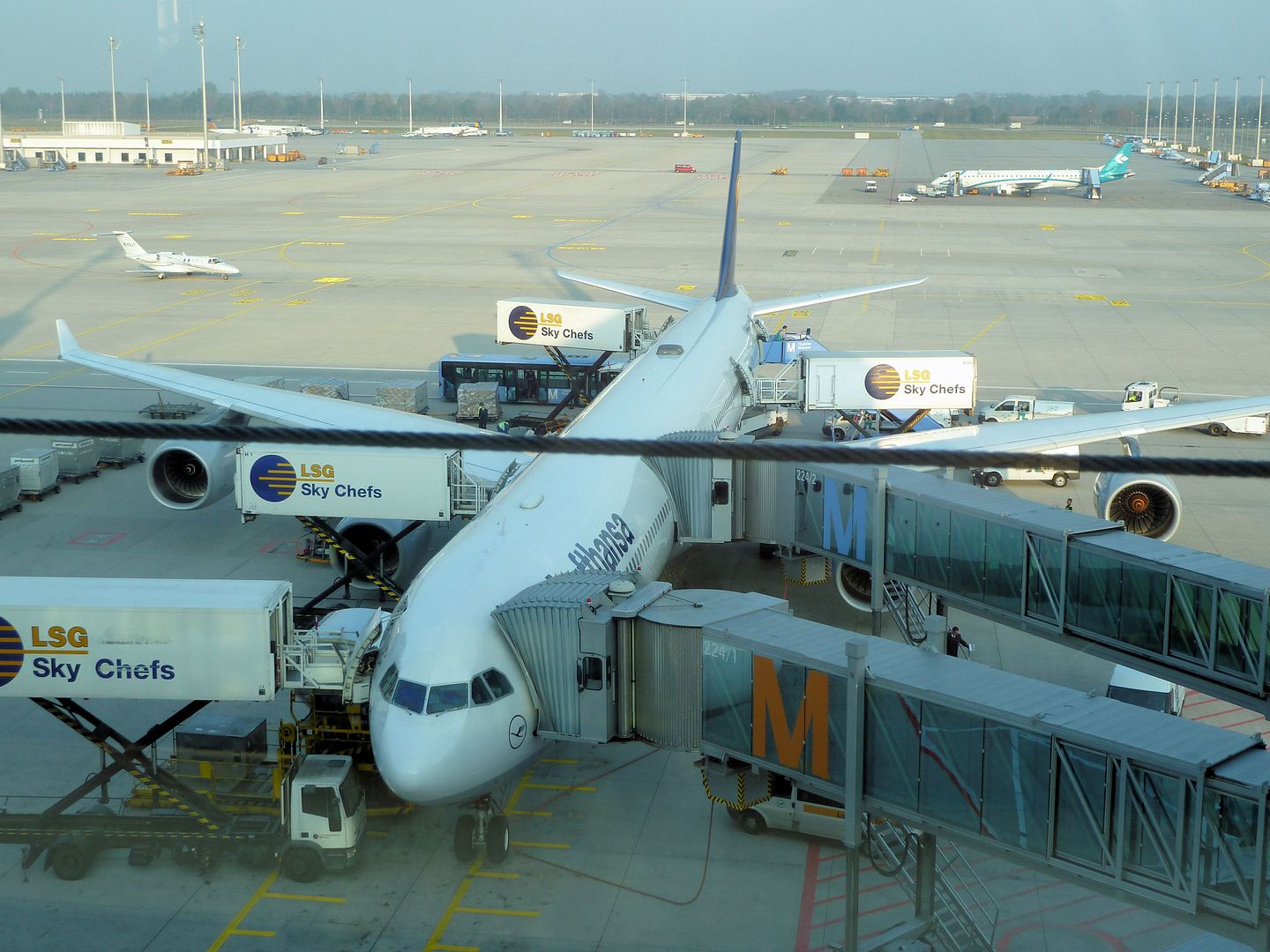 About 20 minutes after leaving the plane, I grabbed my luggage, went to my car and drove home after a fantastic and memorable trip.
Conclusion
Crossing the Pacific on
Air New Zealand
was a pleasure due to comfortable seating, decent food, great IFE and good and personal service. However, the catering had been a bit better on the HKG-LHR flight in 2008. Flying on the carrier's 777-200ERs may be less comfortable once the planes get 3-4-3 seating like the new 777-300ERs. Seat width will shrink from 17.8 inches to 17.1 inches, pitch will partly increase and partly decrease (31-33 inches to 32 inches). Anyway, I wouldn't hesitate to fly on that great carrier again.
The
Lufthansa
flight was good, but not as enjoyable as the ride on Air New Zealand. While service and catering were more or less on par, seating comfort on Lufthansa left a bit to be desired. Pitch should be increased to 32 inches and the carrier should also think about using an improved seat back design. LH's IFE system cannot match NZ's system, but that's not a major issue. Of course I will fly Lufthansa again - actually I have just recently booked a trip which includes another LH long-haul flight.
My first round-the-world trip definitely belongs to the most exciting, most enjoyable and most successful trips I have ever made. Not everything went as it should have, but that's part of the hobby. I flew on
7 new airlines
and
3 new types
, visited
4 new airports
and logged a total of
187 new registrations
. That's not easy to top, but I will try my best.
Best Regards,
PlaneHunter
P.S.: Just in case you missed them - my previous trip reports:
Bad Weather & Other Bad Luck: Touring New Zealand
Trans-Tasman Treat: Aerolineas Argentinas A340-200
Detours To Sydney: Wildlife, Tiger, REX & QFLink
Thai Fails To Impress: MUC-BKK-BNE On 744 & 777
Painful Delay & My 100th Airline: AF A380, VO F100
Fifth Freedom Tidbit: Kuwait Airways A300-600
Ship Vs. Plane: Porto Santo Line & Sata Air Açores
Awesome Approach, Splendid Scenery: LIS, FNC & TAP
Guernsey, Ash Cloud Alarm & Mostly Empty SQ 77Ws
Totally Thrilling: Scenic Flight On Lufthansa A380
Cirrus D38, Adria CRJ & Captain Niki Lauda On Duty
Monarch Hot Meal, E195 & More: PMI-ALC-MAN-MUC
Premium Meal & Palma Spotting: MUC-PMI, DE 757-300
The Dead Slow Transfer: PEK-MUC On Air China A332
Cancellation Brings Joy: HKG-PEK on Dragonair A330
A380 Cacophony, 777 Star Livery: DXB-SIN-HKG on SQ
The Next 5* Carrier? MUC-MCT-DXB, Oman Air A330
Turkey For 1.5 Hrs: Daytrip To AYT On Sky Airlines
CO Scores Again: ATL-IAH-EWR-FRA On ERJ, 752 & 764
Riding The Ultra Long-Haul Twin: Delta 777-200LR
Pacific Coast Jaunt: 3 Carriers, E120, E140 & Fog
The Ultimate 737: LHR-IAH-PDX On CO 777 & 739ER
Bye Bye, Hell! TRD-OSL-TXL-NUE - DY/AB/HE DH4
My Trip To Hell: NUE-CPH-OSL-TRD On Cimber & SAS
SFO-YUL-FRA: Map- & Sleepless On Air Canada's 77W
Sin City Gloss & Virgin America's Chic First Class
Seat Dilemma & Canyon Glamour: FRA To LAX, AC 763
On Par With Air France? DTW-AMS-MUC, KLM A330
Goodbye, Red Tails! DC-9-40/50 & Chicago Tour
Champagne & World Of Coke: Air France A340 To ATL
"Mission A380": Disappointing Legs On BA/BD/EI
Delights Of Doha, 773 & 77W: DOH-DXB-LHR On EK
A380 Really a Step Forward? LHR-DXB-DOH On EK
Quality & Style: HKG-LHR On Air New Zealand 744
Taiwan Trio: TransAsia, UNI Air And The Taipei 101
"The Wings Of Taiwan": EVA Air A332, 744 Combi
SHA-SZX, Shanghai 757: Delayed By The Military
PEK-SHA, China Eastern A330 & Shanghai At Night
Striking Newcomer: Berlin-Beijing On Hainan A330
Short & Splendid: MXP-MUC On Air Dolomiti's 146
3 Hours On Blue1: HEL-MXP On The MD-90
BCN-MAD-ZRH-MUC: UX Shuttle Meets Swiss Quality
MUC-MAD-BCN: Star MD-87 & The Pain Of Vueling
Low Fares, Lovely Island: AK & Best Of Langkawi
4 Stars Or 5 Stars? FRA-KUL-FRA, Malaysia 777s
First And Last Time? JFK-FCO-MUC, Alitalia 777
JFK For 1 Day: Transatlantic Hop On CSA's A310
Sardinian Sun, Shiny New 73Gs & Cramped Mad Dog
Top And Flop: KIX-HEL-MUC, Finnair A320 & MD-11
The 524-Seat Twin-jet: HND-ITM On ANA 777-300
Kobe For 1 Hour: 767-Quickie On ANA & Skymark
Rocketing To Tokyo: FUK-HND On JAL (ex-JAS) 777
Oddities & Okinawa: JTA 734 & JAL 744D(Domestic)
MUC To Nagoya: Finnair E170 & (Old) "New" A340
Mad Dog, A320 Tech Delay & Best Of Lanzarote
Canaries Prop-Hopping: Islas Airways & Naysa
Canaries And Confusion: LH CRJ900 & Spanair A321
Hubbing For 162 Miles: HOQ-FRA-STR Ret On IQ/EW/LH
BOS-JFK-AMS-MUC: SSSS-Check And KLM 777
ATL-PIT-JFK-BOS: FL B717, JetBlue E190 And Delays
MUC-AMS-MEM-ATL On NWA A332 And 40-year-old DC-9
FRA-BKK-FRA Via CMB: SriLankan A332 & A343
BNE-SIN-DXB-MUC On Emirates B772ER & B773
2 Hours In Paradise: Hamilton Island (JQ/DJ)
BNE-SYD-BNE: Domestic Run On QF's Oldest B747-400
Testing Qantas: SYD-MEL-SYD-BNE (B738, B763, A332)
Going Down Under: MUC-DXB-SYD On EK A332 & A345
9/11 Review: Failed Trip To LAX - Fuel Dump Pics
Surprised By NIKI's Newest A320 & Screw-up By AB
Leisure Vs. Full Service: Condor & SN Brussels
"betterFly" On LH: Business Class For 99 Euro
Weekend Transatlantic Trip (2): US A321 & B762
Transatlantic For A Weekend (1): MUC-DCA On US
[Edited 2011-04-10 03:00:29]