Dear readers, welcome to the first TR of my 2011 adventure, Mexico and beyond into South America, new territory for me.
It's 5am, the alarm awakes me from a decent sleep, the best for days actually, the day had arrived, after months of planning it was time to go on my 2011 spotting jolly!
Today sees the start of a 10 day 12 flight trip, LHR-MAD-MEX-BOG-SCL-EZE-GRU with side trips of CGH-RIO-CGH-SDU-CGH before heading home GRU-LIS-LHR.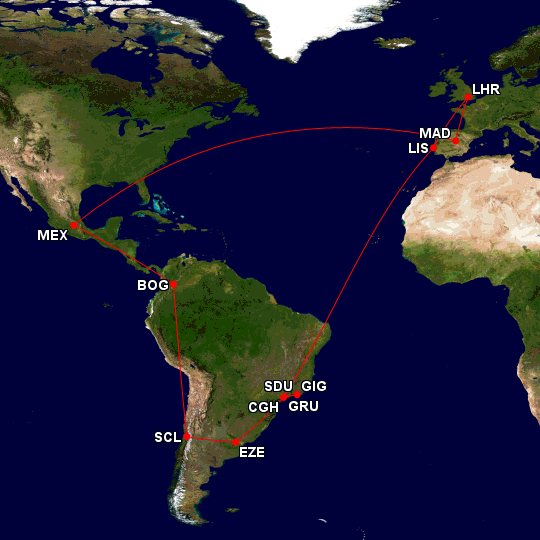 Today's flights were BA to MAD and then Iberia to MEX.
There are very few long haul IB TR's posted here on A.NET, those posted in the past have generally not been kind so I really kept my expectations low, at least that way if things were bad at least I'd not be too disappointed.
I'd packed most of the stuff the night before so we were cleaned up, said goodbye to Fred our 2 year old basset hound, miss that dog already, and were were out of the the house at 6am.
Given the time we took the M25, the earlier hour meant missing the traffic which frequently turns the place into one of the largest car parks on the planet.
Mrs BA319131 had agreed to drop me off at T3 for this adventure, she would then head north to Stansted Airport for her meeting, she is not really a morning person so it's best not to be too cheerful first thing.........
Traffic was fine all the way to Heathrow's Terminal 3, a good bye to the wife and the adventure was starting.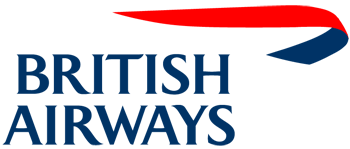 25.02.2011
BA456
LHR-MAD
A320-232 G-EUUE Built 2002
Seat 3A Club Europe
3rd Flight on this aircraft, 98th A320 flight
Sch Dep 08:15 Sch Arr 11:35
Act Dep 08:20 Act Arr 11:20
View Large
View Medium


Photo © Tommy Desmet
Heading towards Terminal 3 I took a couple of pictures, whilst not the best of terminals, I quite like the exterior, at least in the dark, nicely lit up with hints of purples and blues, quite refreshing.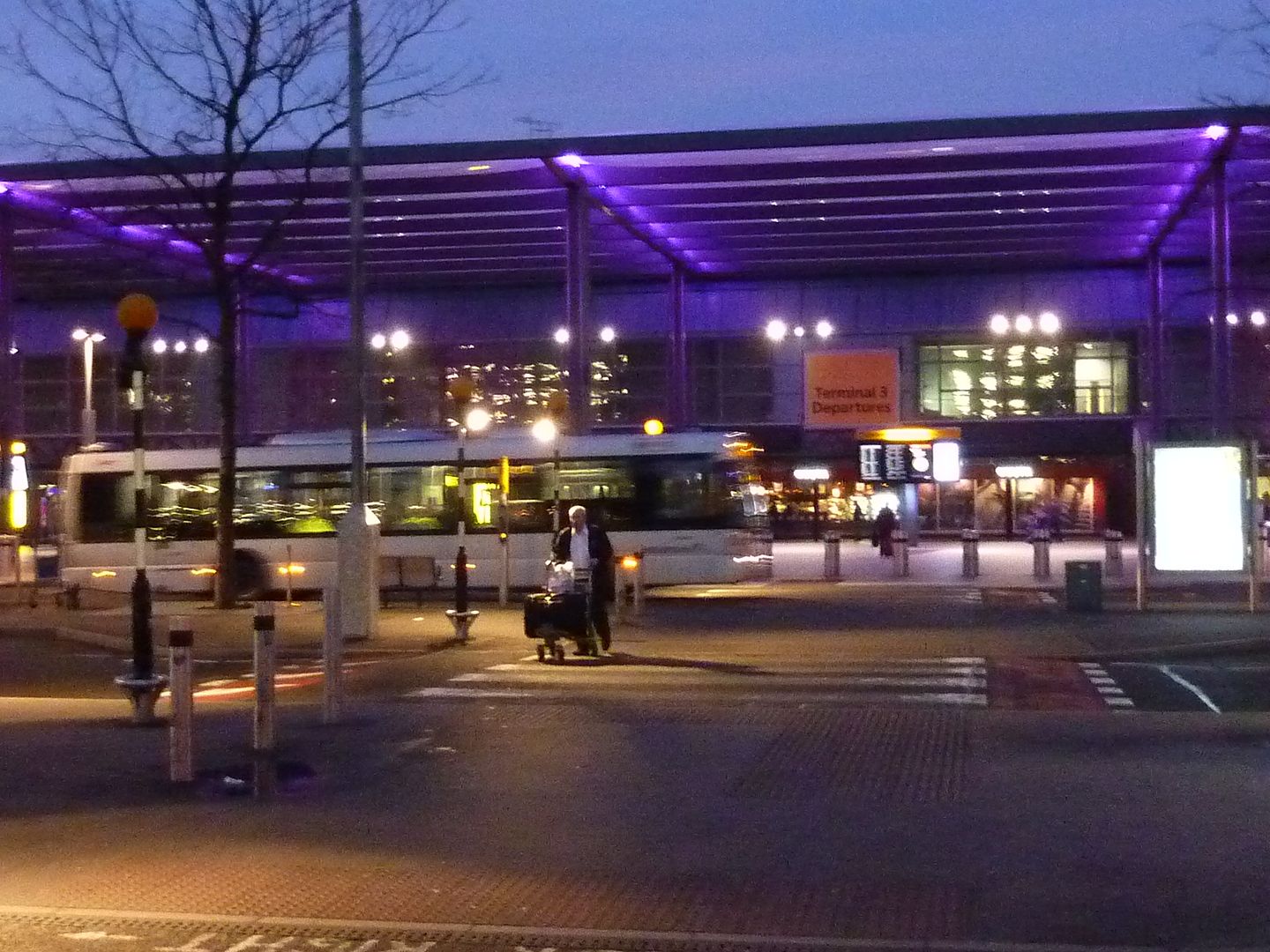 A quick glance at the flight monitor outside reveals BA use check-in area F.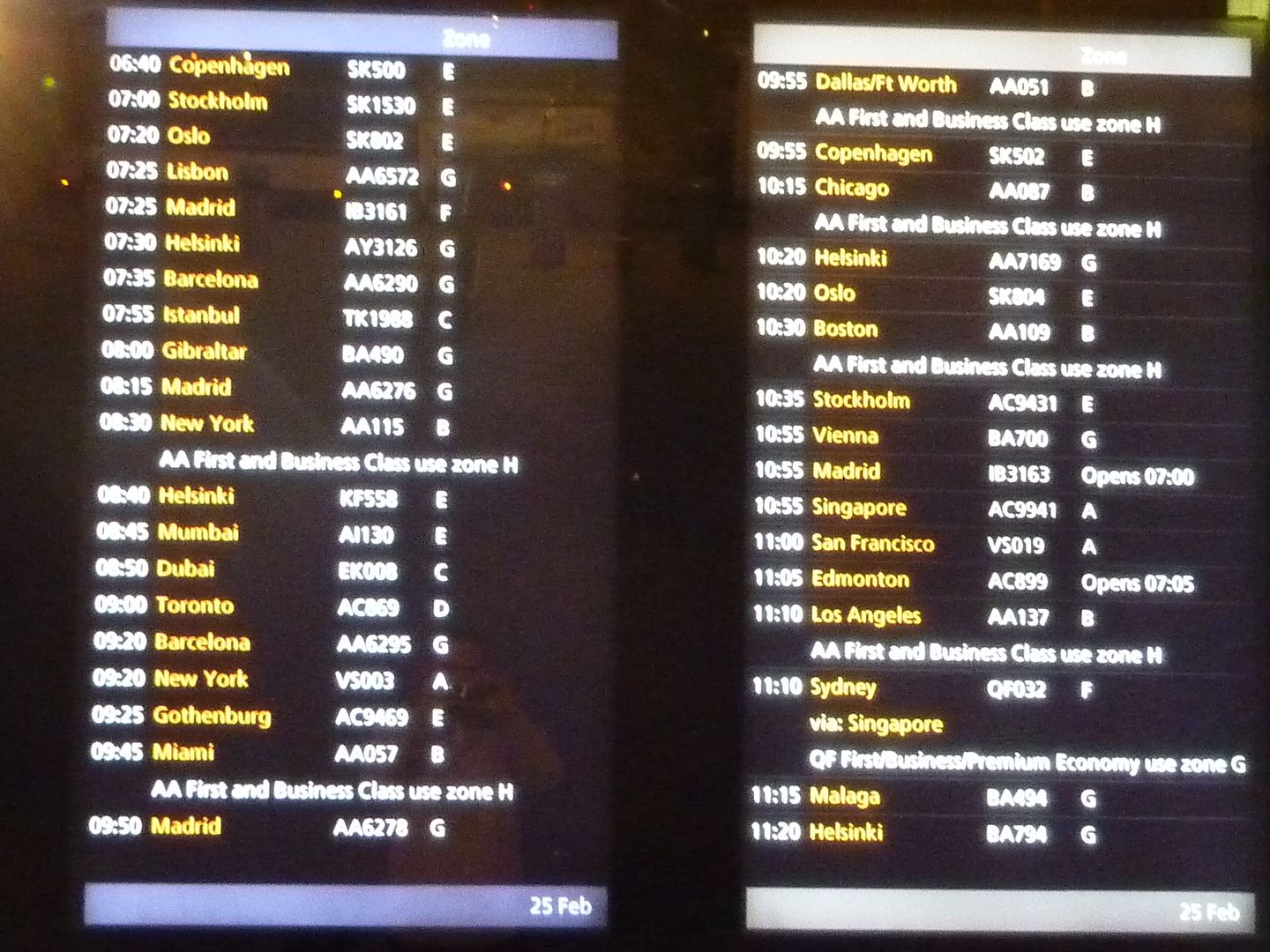 Entering area F, the manned check-in desks are off to the right, self service machines which can be used by BA, IB, AY and AA customers are straight ahead, with just hand luggage I used the machine.
The machine worked fine apart from it not showing my onward connection to MEX with IB, odd given it was booked on the same ticket.
With my sole boarding pass in hand I headed over to a couple of BA staff deep in conversation about 'stuff', apologising for interrupting them, I enquired about the lack of onward boarding pass, they suggested checking with Iberia, and pointed behind me before continuing their important conversation about 'stuff'.
Thanking them for their assistance I headed to the Iberia ticket desk, upon arrival I stood, whilst the two ladies finished their conversation, appears one was telling the other off for some reason.
The issue over and the lady composed, I was called forward only to be directed to the check-in desks, I thanked her for her assistance and wished her a pleasant day.
Ten meters later I stood at the front of the Business Class line, explained the problem and handed over the BA boarding pass and passport as requested. The tapping of keys on the keyboard, a couple of sighs and then the words, 'there is a problem with your booking'.
These are not the kind of works you take well at any time, even more so when you have not even managed to fly the first leg, with another 11 to go!
More tapping of the keys follows, more sighs and then, ok, it is fixed, as if by magic my Iberia stock boarding pass for the MAD-MEX sector is handed over.
With much relief I thank the agent, wish her a nice day and head upstairs to pick up my pre-received money and clear security.
The security screenings was pretty quick this morning, I was airside by 7 am.
Clearing security releases you airside or should I say in a shopping mall?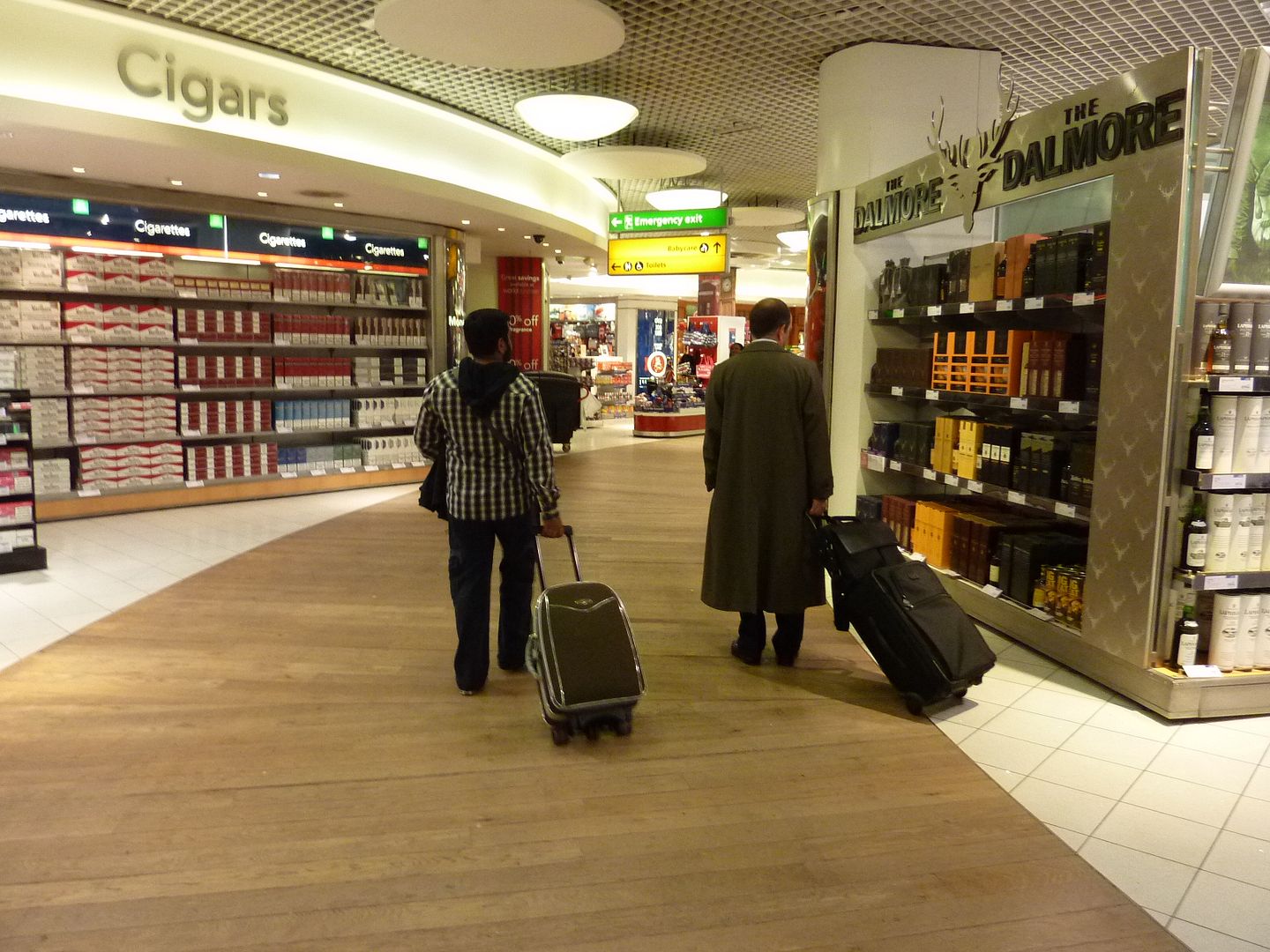 I made a couple of purchases in various shops then hit the BA Terraces lounge.
As much as I love the lounges in T5, I quite like the T3 lounge, there never seem to be too may people here, I imagine it's different in the evenings when the long haul flights take place, but my previous am flights have found this place to be nice and relaxing due to the lack of people.
I took a stool by the window, P this this for you.
I took in a bit of fruit and a coffee and just relaxed thinking of the long haul ahead of me, hardly relaxing , I seemed to be cramming in quite a lot into the 10 days ahead, oh well, too late to change it!
Here are a few lounge shots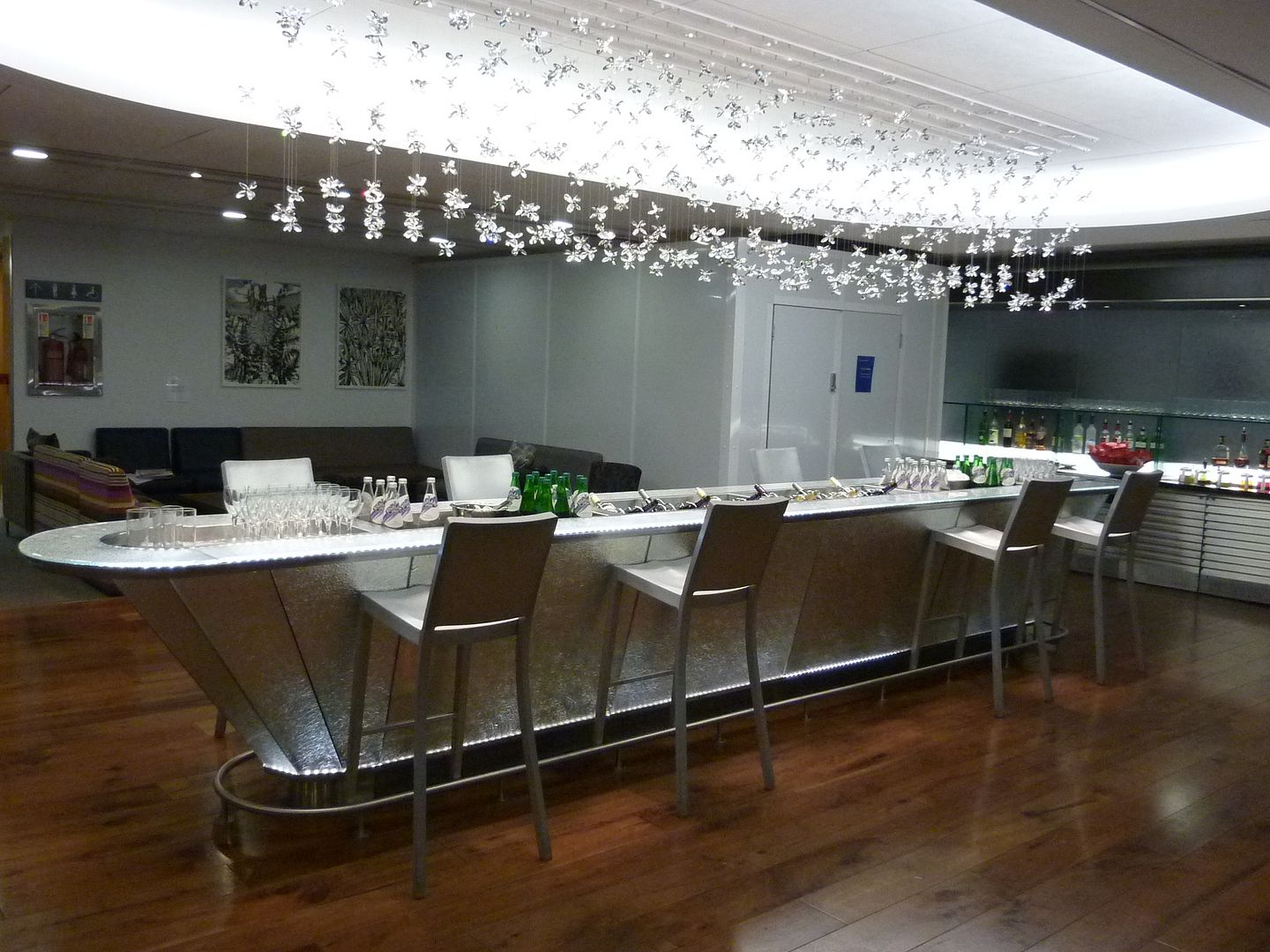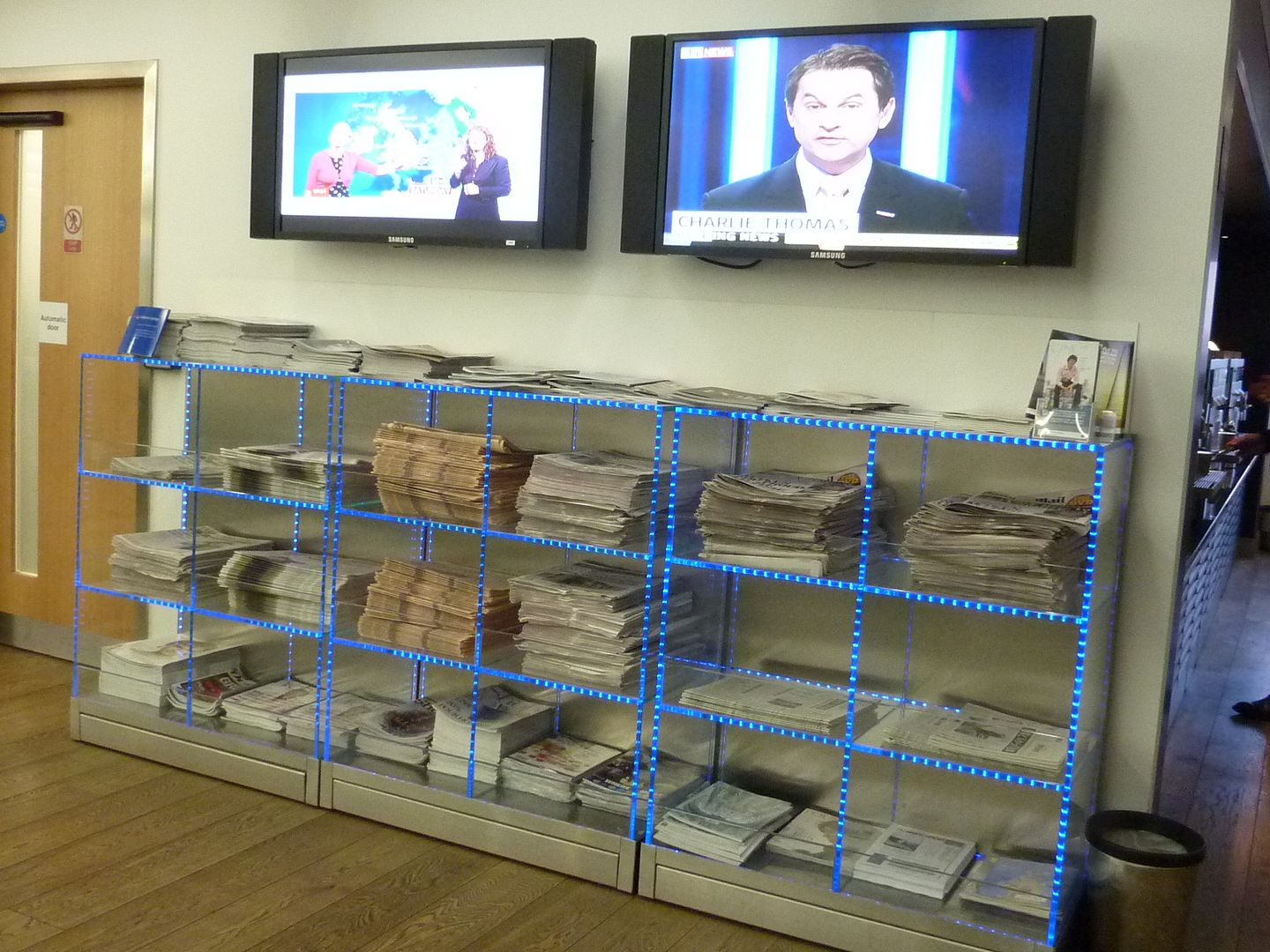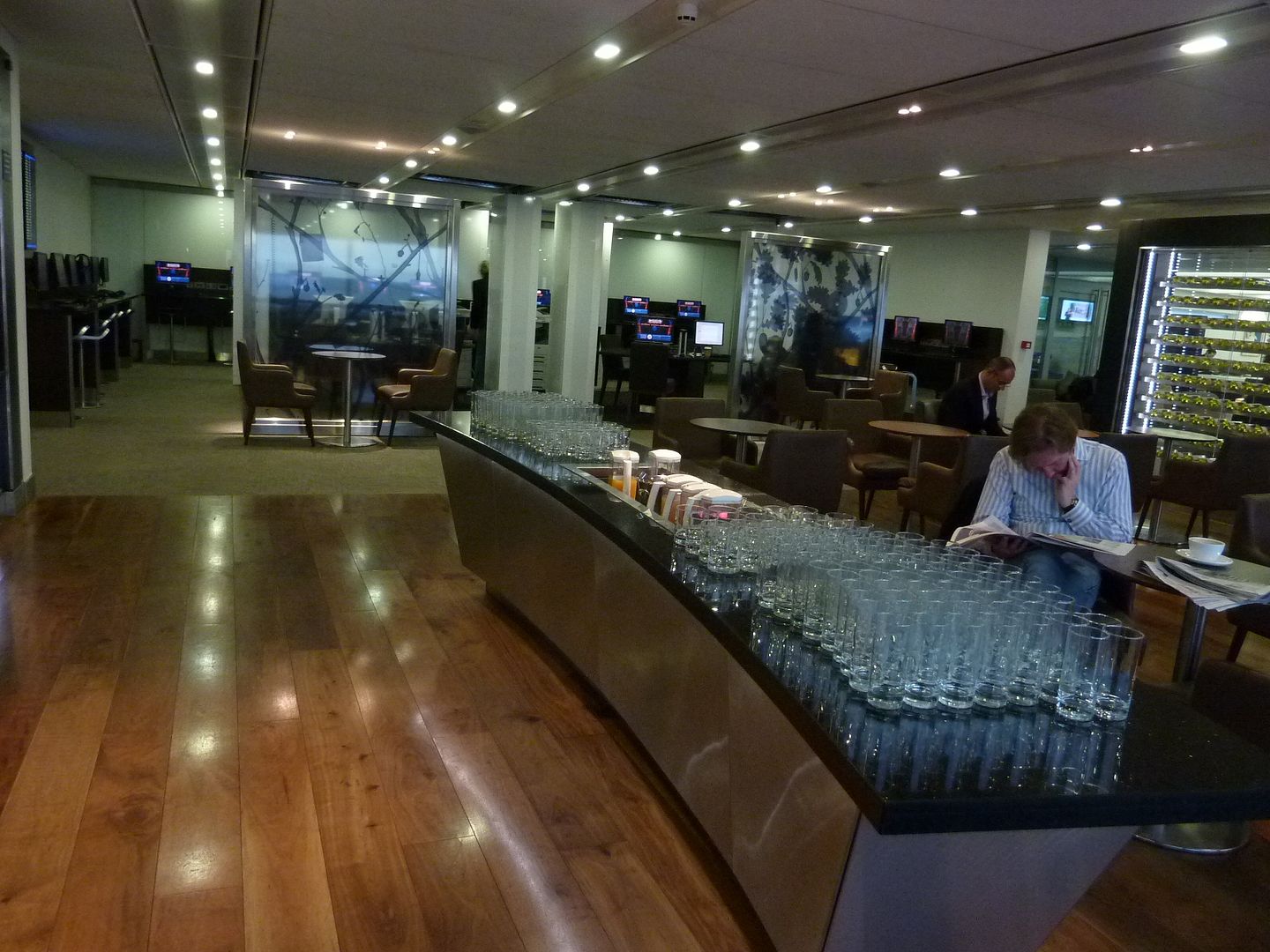 Light pre-flight brekky
View outside
Minimal luggage for the 10 days ahead
I'm not sure exactly what time boarding appeared for the flight but I noticed it at 07:40, so I grabbed my stuff and headed out of the lounge. By the time I passed the next monitor it was stating gate closing, at tad of a worry since I was a good 5 minutes away, I quickened my pace, I noted other passengers pass me at a jog, I guess they were more concerned than me with gate closing on the monitors.
Views en-route
Down to gate 24 area
The gate 24 area is all bussing, P knows this area quite well from his regular jaunts home to HEL on BA. This was the first time I've been here, all in all it's a quite tidy set up.
Upon arrival my boarding pass and passport were checked, proceeded into the holding pen and boarding was announced for our flight, great timing!
The only drawback to this whole set up is it is bussing, hardly a very premium service being packed like sardines in a bus then being unloaded on the tarmac whilst your turn to get on the stairs to climb unto the plane, I but it's miserable in the wet, thankfully today was dry.
There is one good side to boarding by stairs, a few close up shots of the plane.
Eventually I manage get onto the stairs and started the slow climb towards the door, touching her skin as I got close enough, then through the door to be greeted by the crew, a quick check of the BP and I'm free to head into the cabin to claim my seat and locker space.
Today I am in 3A, club seating goes back to row 11 today.
Still boarding
Over the previous week, I had changed seats on numerous occasions when the seat next to be became occupied, it looked a pretty healthy load, however when the doors were closed club's load was less than 50%, the seat plan was looking more like 80%, odd!
Lighting showing signs of age
The skipper said a few words over the Intercom, he advised some ATC delays would affect us but he still expected us to arrive at least on time in Madrid, as a result our push off of the remote stand was 5 minutes behind schedule.
The new terminal is really taking shape
Task out took us to a 27R departure, a short hold to allow 3 aircraft ahead of us to depart, we followed a company 319 chasing it down the runway when cleared to depart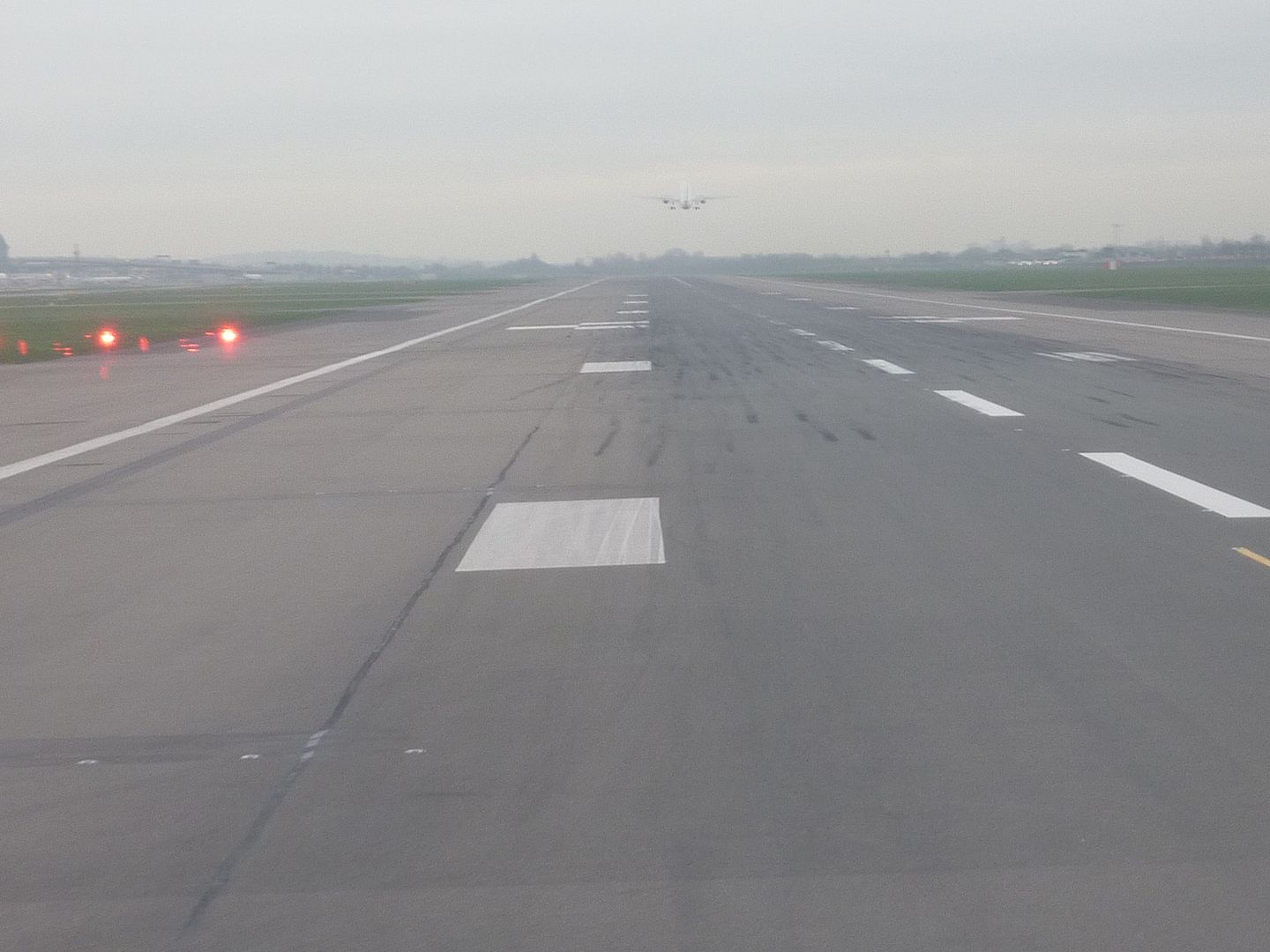 whees up @ 08:32.
Our climb soon took us into the cloud, though we soon emerged above them, it's always nice to breakthrough the cloud and see the sun, a left and turn as EUUE headed south to warmer climes.
Crew released and the customary hot breakfast was offered, a few in front declined, as I would normally do, the calories in these meals are off the scale, however today I was on holiday and decided to treat myself and wash it down with some champagne, did I feel bad, nope! - not even after the second bottle!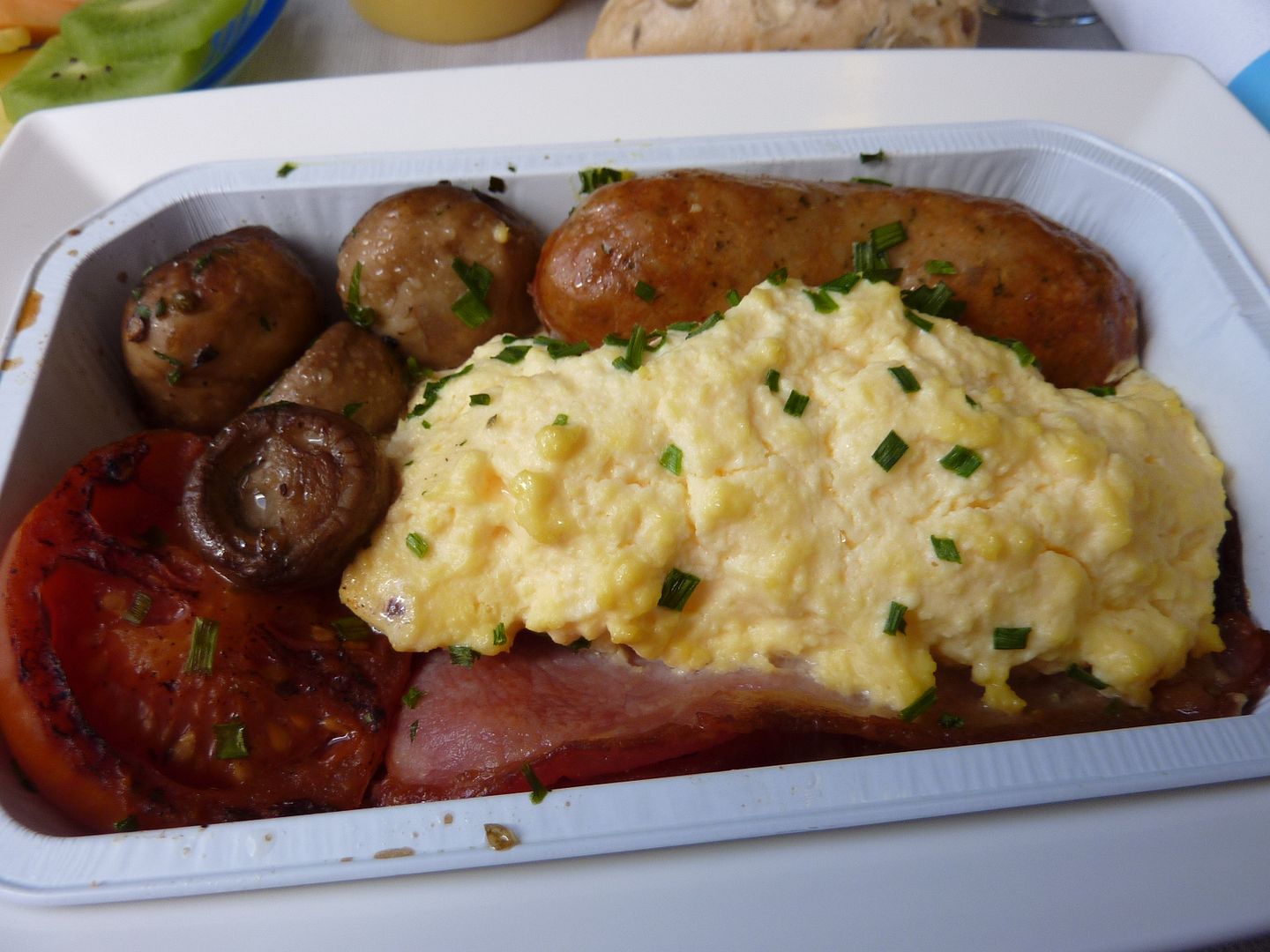 I might be working, but it looks like BA has tweaked the meal, visually it looked better , perhaps the chives sprinkled over the meal?
The food was tasty as usual and for a change the butter was not frozen solid, extra breads were offered, I declined.
Trays cleared away I relaxed, reading the paper, glancing out of the window, sipping on my champagne, this is the life, no worries, no work phone ringing, no e-mails pinging, just you and tranquility, well that's how these moments feel to me, I cherish these moments, even more so with the seat open next to me!
That said I did start work on this report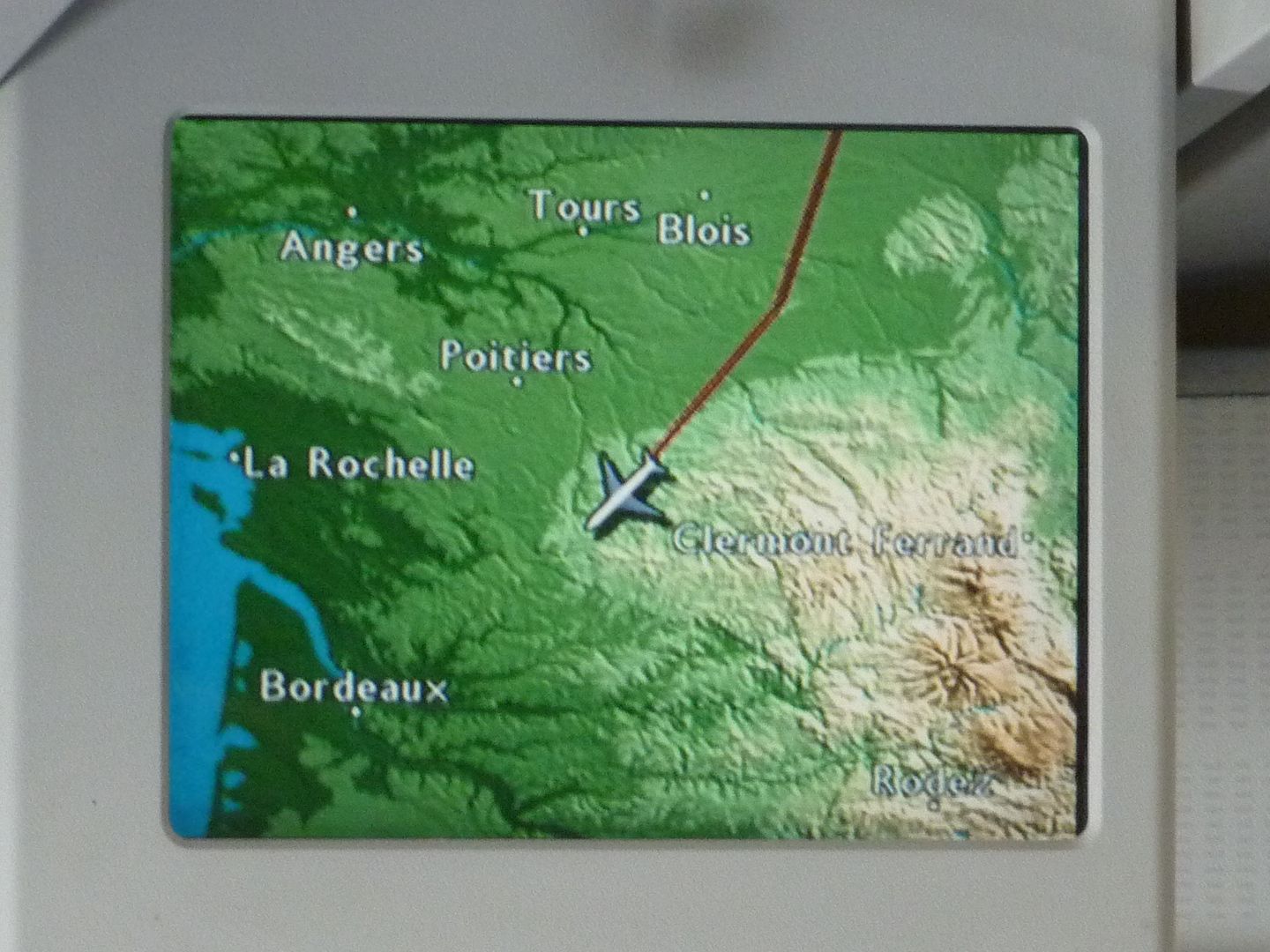 All to soon it was to come to an end, descent started
wheels are dropped and the pilots have MAD in their sights, flight 1 of 12 over 10 days is almost at an end, and what a fine flight it has been.
We touched the ground @ MAD at 11:20, some 15 minutes ahead of schedule and that with an ATC delay, just shows the padding put into schedules these days to keep the on-time figures looking good.
A good taxi around T4S garnered me a few new planes
and seeing some stored ones
Oneworld!
before we settled in next to a sexy Iberia A340-600, we were somewhat dwarfed as you would expect!
Front doors open and were were off, a goodbye to the crew.
All in all another solid flight from BA, northing to get excited about but more important, you get what you expect with noting to complain about.
Here is a last shot of EUUE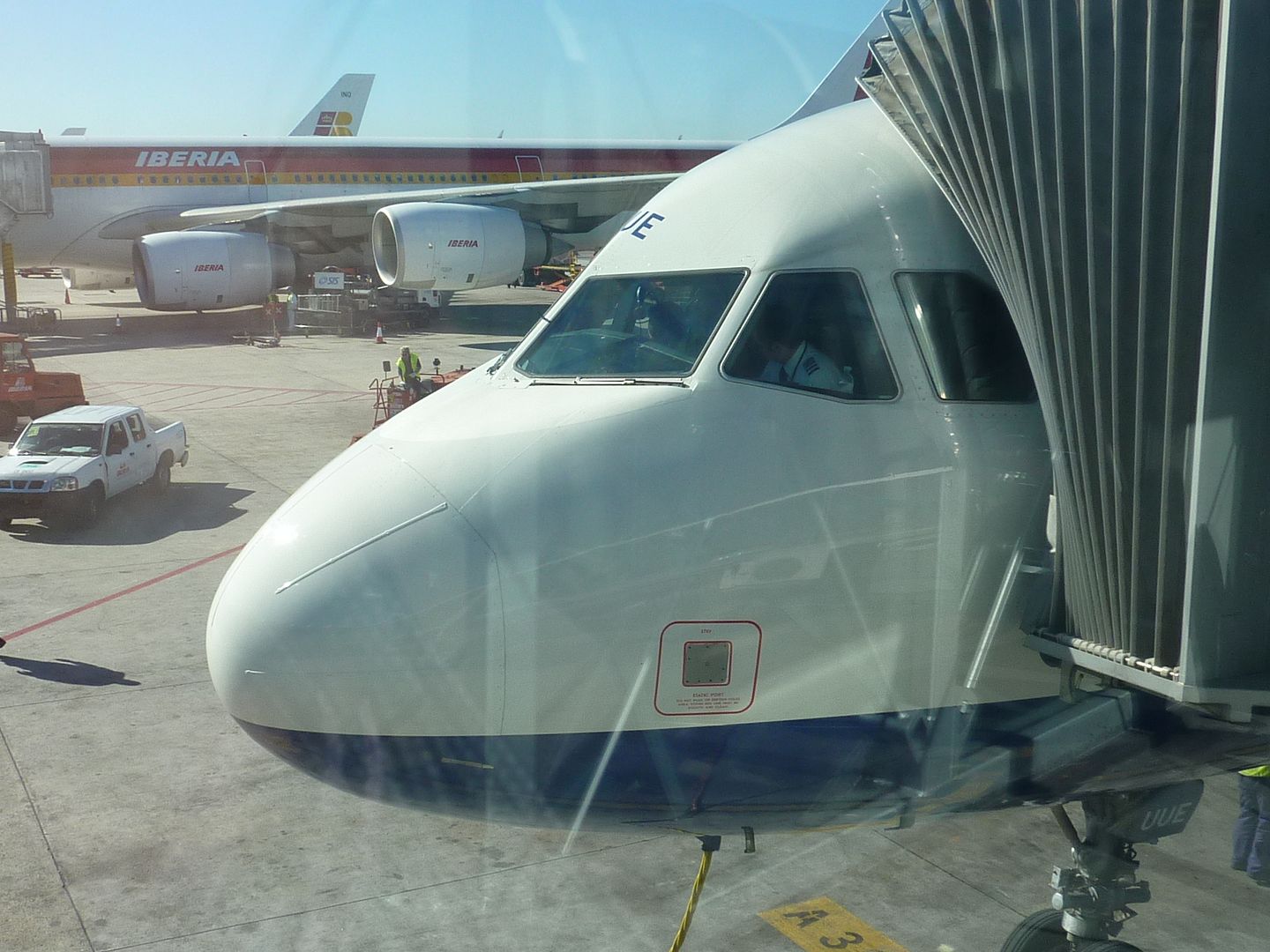 Continued below