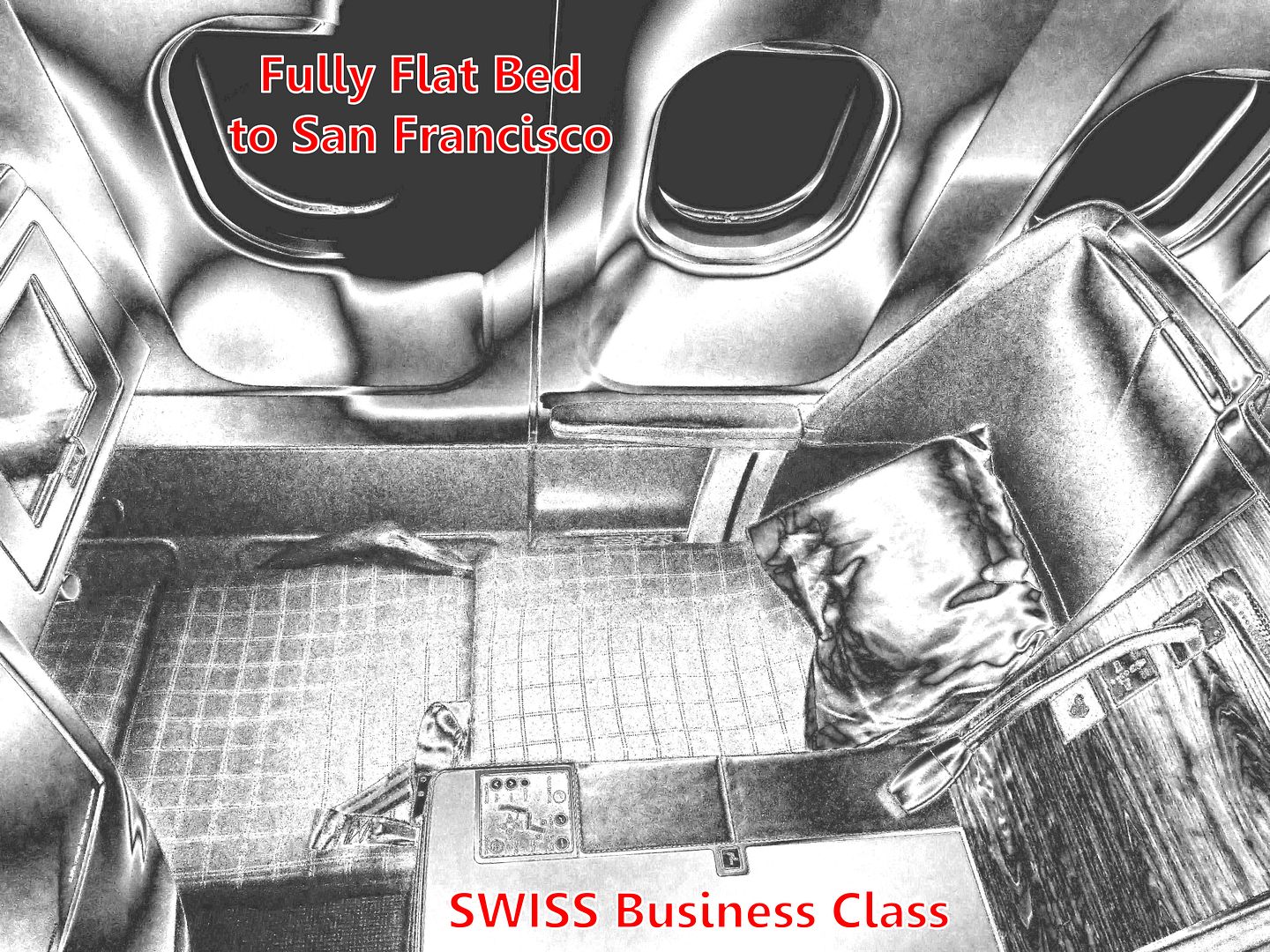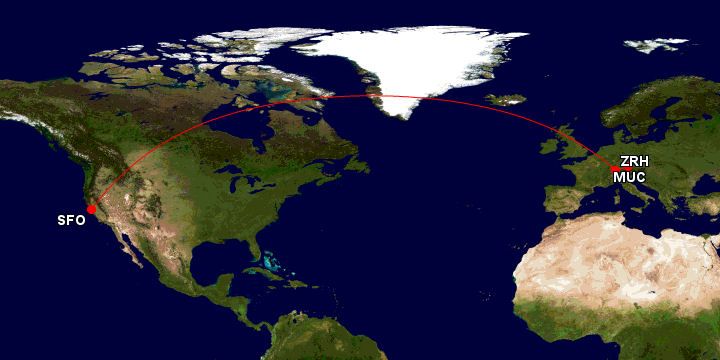 Map generated by the Great Circle Mapper - copyright © Karl L. Swartz
Background
In the middle of the cold and snowy December 2010 my brother and I decided to escape to the US West Coast for a few days in early February. My brother hadn't been to that part of the country yet and he was very interested in visiting Las Vegas, Los Angeles and San Francisco. I always enjoy going to California and saw the chance to meet some very good friends again. We came to the conclusion that it would be a good opportunity to exchange accumulated miles for Business Class tickets. After checking all possible flight options on the Miles & More website, it was clear that we would try SWISS' new intercontinental Business Class with lie-flat seats. That innovative product was available on all A330-300s and a few A340-300s. Destinations served by the retrofitted A343s in early February were San Francisco, Boston, Hong Kong, Los Angeles and New York (once weekly).

I was first considering to take an A330 flight to Chicago and an A340 flight from Los Angeles or San Francisco so that we would be able to get both types. But I quickly scrapped that idea because I didn't want to risk being stuck at Chicago in a possible snow storm. So we finally booked Munich-Zurich-San Francisco and Los Angeles-Zurich-Munich, operated by Swiss A340s, a Swiss European Avro RJ100 and a Lufthansa A319. At the end of the convenient booking process we were able to select our seats on all four sectors - and there were still many empty seats, so we got exactly what we wanted: single window seats on the flight to SFO and center seats in the two-row forward section (so-called "Stübli") on the return flight from LAX.

Here's the seatmap:
http://www.swiss.com/web/EN/about_sw...ircraft/Pages/airbus_a340_new.aspx

After booking the long-haul flight combo, we added a few more flights to and from Las Vegas and reserved rooms in four different hotels (details to follow).
February 2011
Munich (MUC) - Zurich (ZRH)
Lufthansa LH2366
Scheduled times: 08:00-08:55
Actual times: 07:58-08:49
Flight duration: 00:30 (hrs)
Distance: 162 miles
Business Class, seat 3D

Airbus A319-114
D-AILE (MSN 627), named "Kelsterbach"
Delivered in 11/1996
1st flight on D-AILE
16th A319 flight
63rd A32X flight
The Business Class check-in area was mostly deserted in the early morning. We were immediately called to a counter and the friendly agent quickly issued our boarding passes. Note the ad supporting the Munich 2018 Olympic bid on the carpet: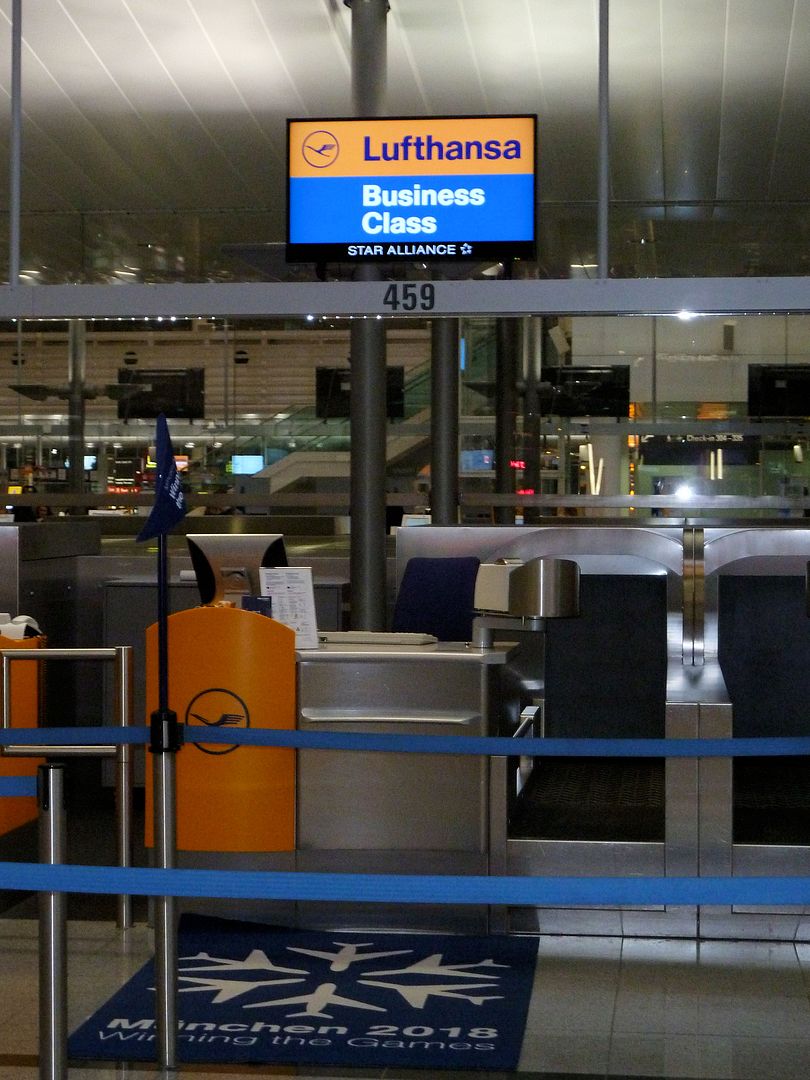 After quickly passing security, we made a visit to the Lufthansa Business Lounge:
The lounge was quite crowded and clusters of business people were permanently strolling around the buffet, so I didn't take any pictures. We sat down in an area with rather basic chairs and tables, ate a few items and soon left again. The breakfast selection was limited and we knew that we would get plenty of good food later in the day anyway.
Our plane was
D-AILE
, one of the older frames in the 23-strong A319 fleet: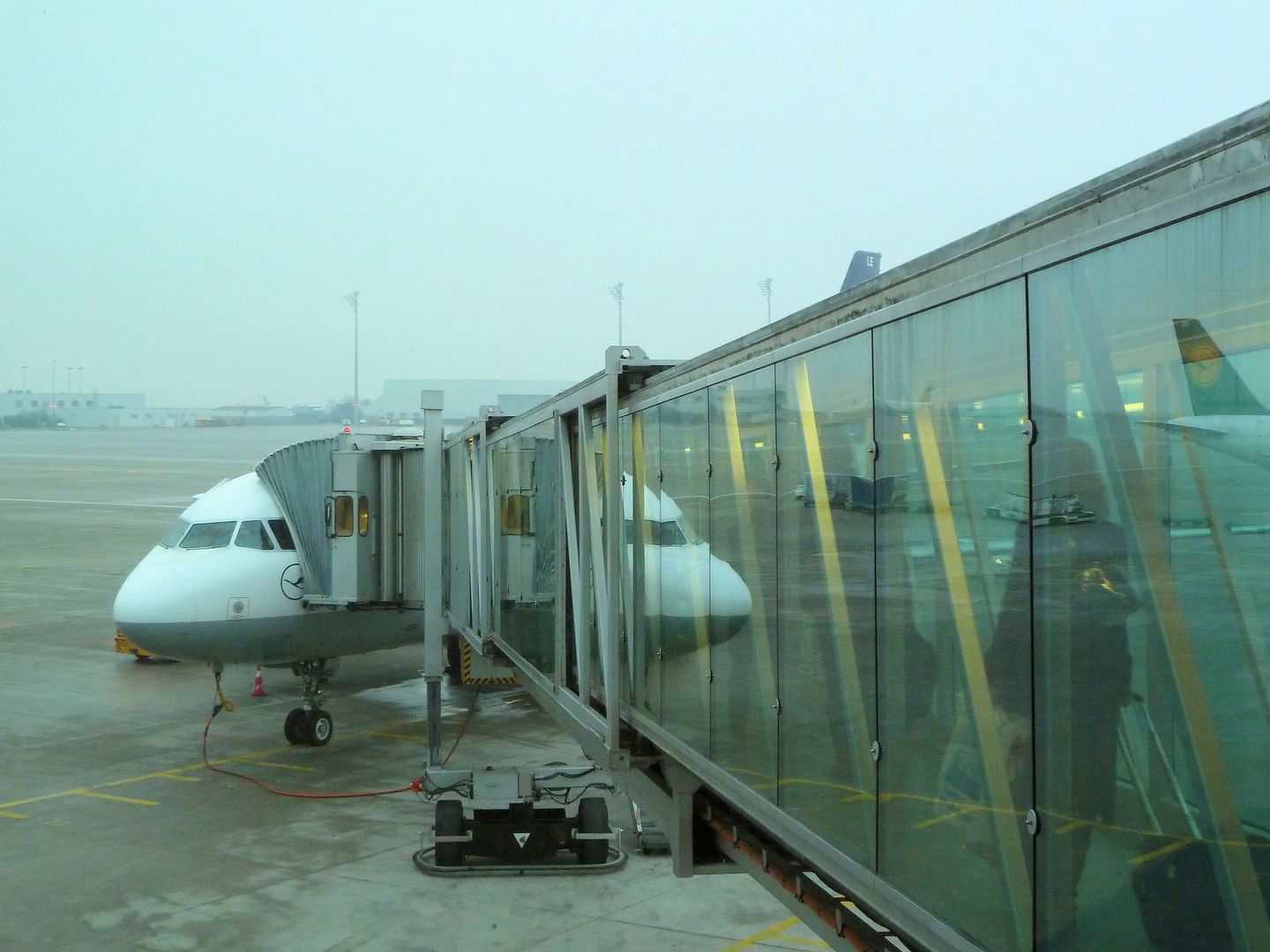 The middle seats are blocked in LH's short-haul Business Class: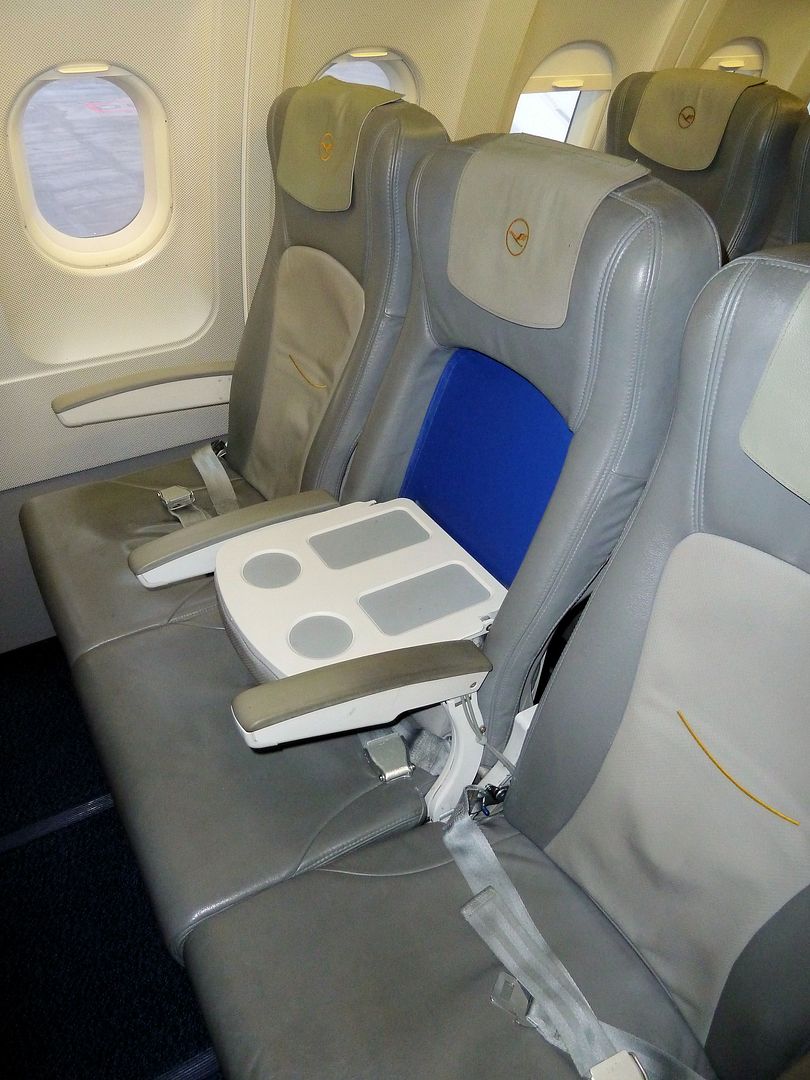 Seat comfort and legroom were decent:
After the friendly flights attendants had offered German and Swiss newspapers and magazines, the captain made a welcome speech and informed about the routing. Several seats had remained empty, load factor in Business Class was around the 70 percent mark.
Qatari oryx surrounded by German cranes:
We left the gate ahead of schedule, taxied to runway 26L and soon broke through the grey clouds: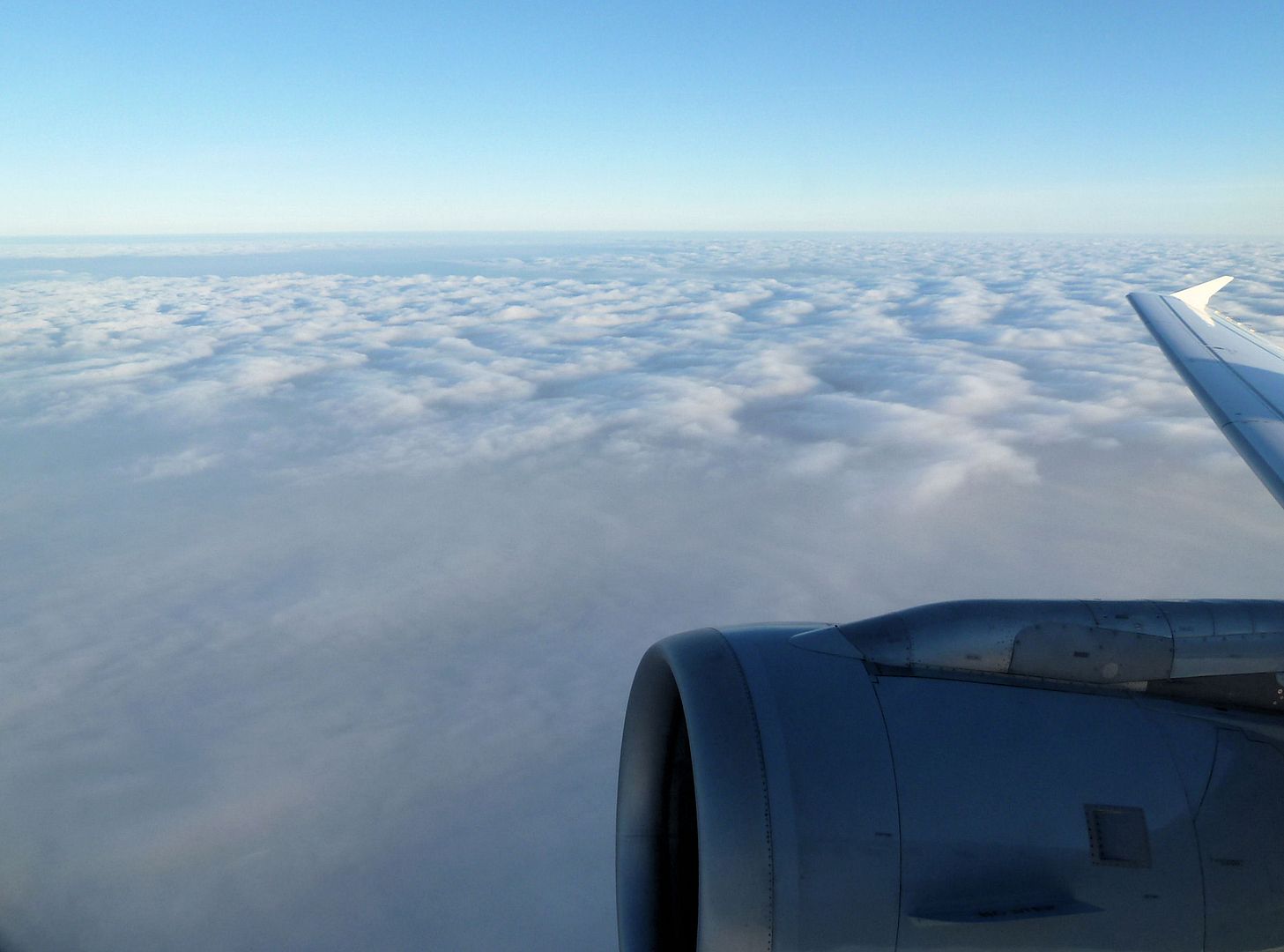 Picture taken by my brother
Lufthansa A321 turning north after takeoff from runway 26R: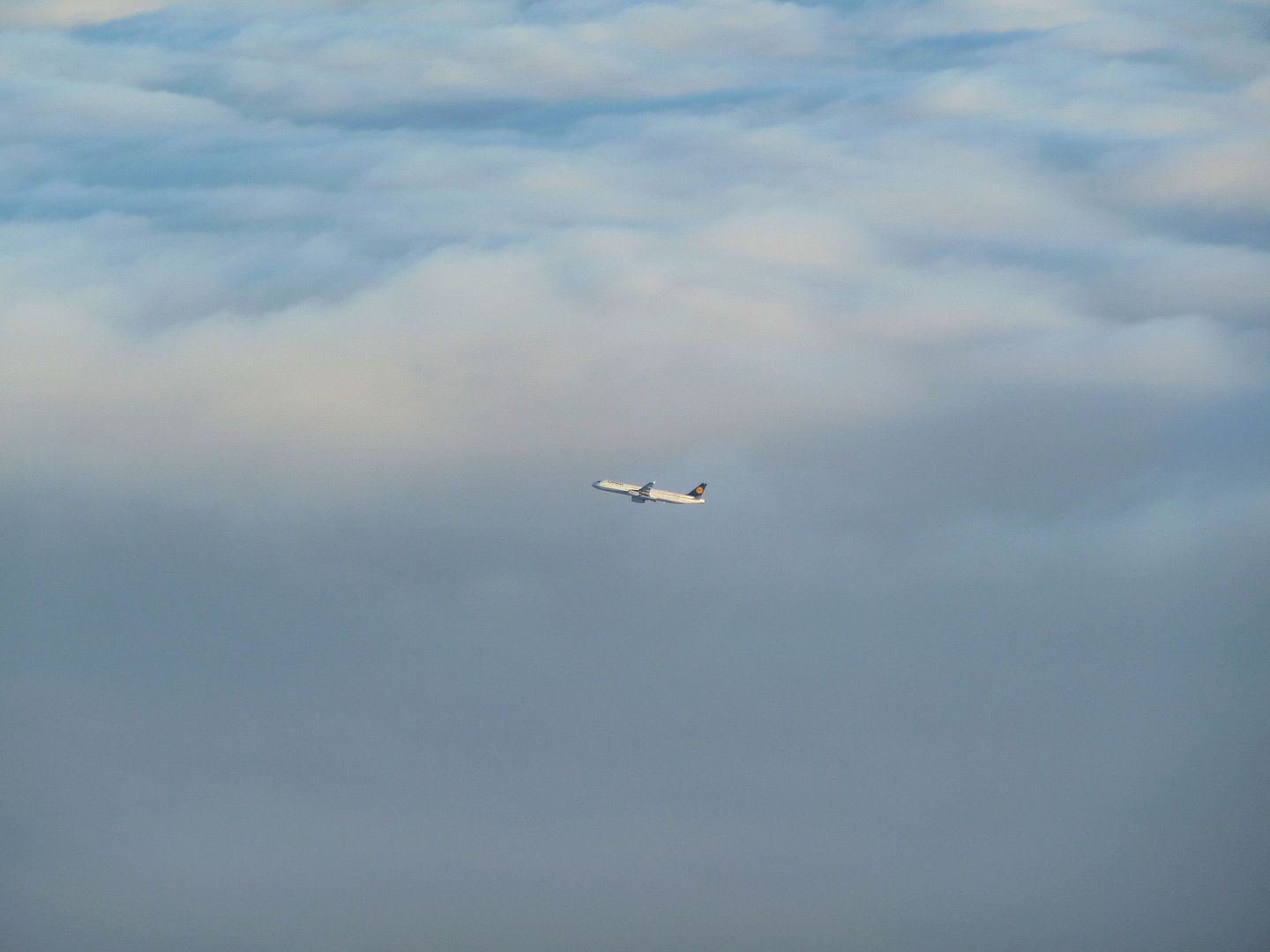 Picture taken by my brother
Only a few minutes later we got a nice breakfast tray: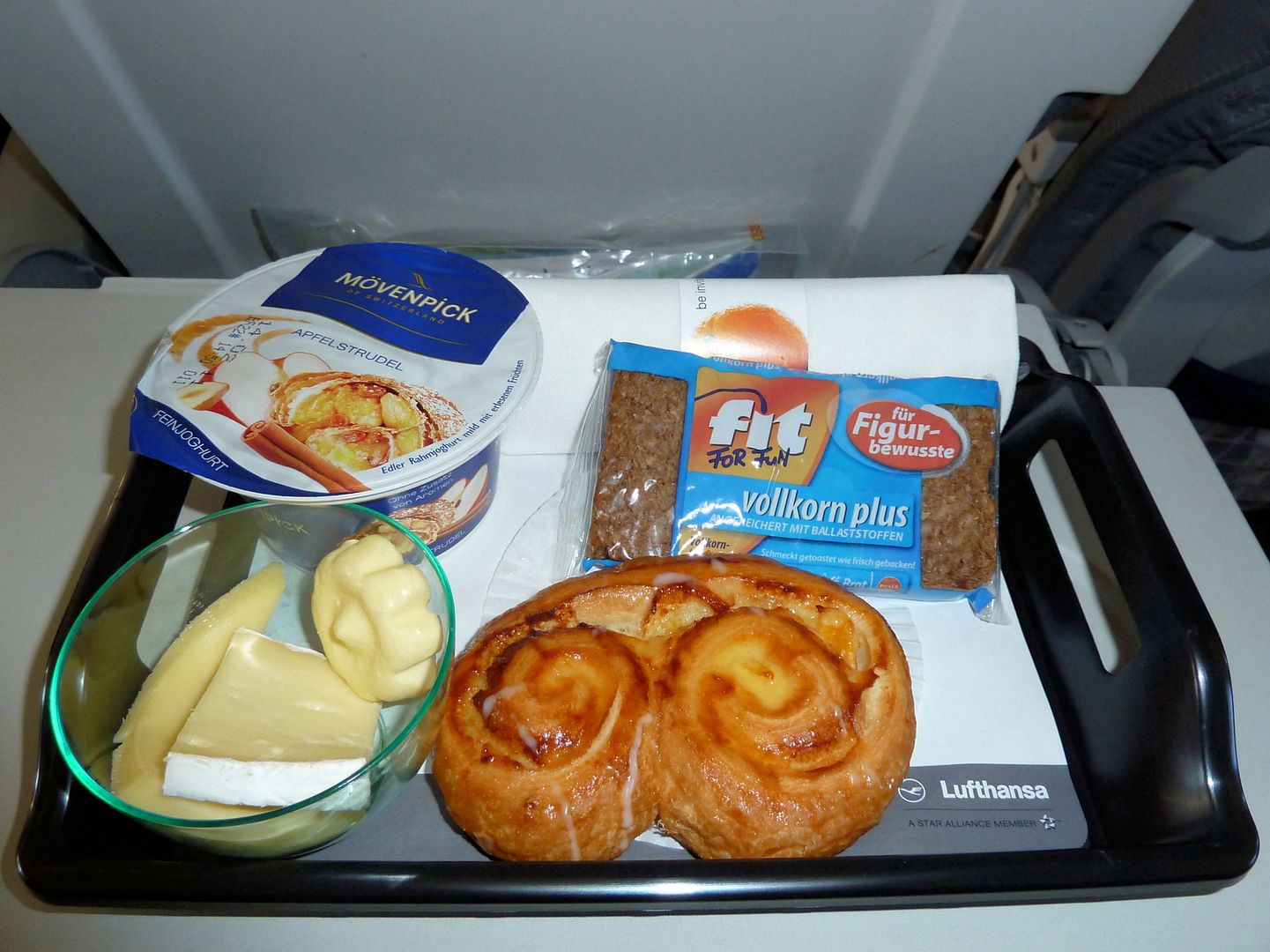 Everything tasted fine - and I felt really full after finishing the last item. What I particularly liked was the freshly-squeezed orange juice.
The plane was already descending when the flight attendants took away our trays. Giotto wafer bites were distributed prior to landing: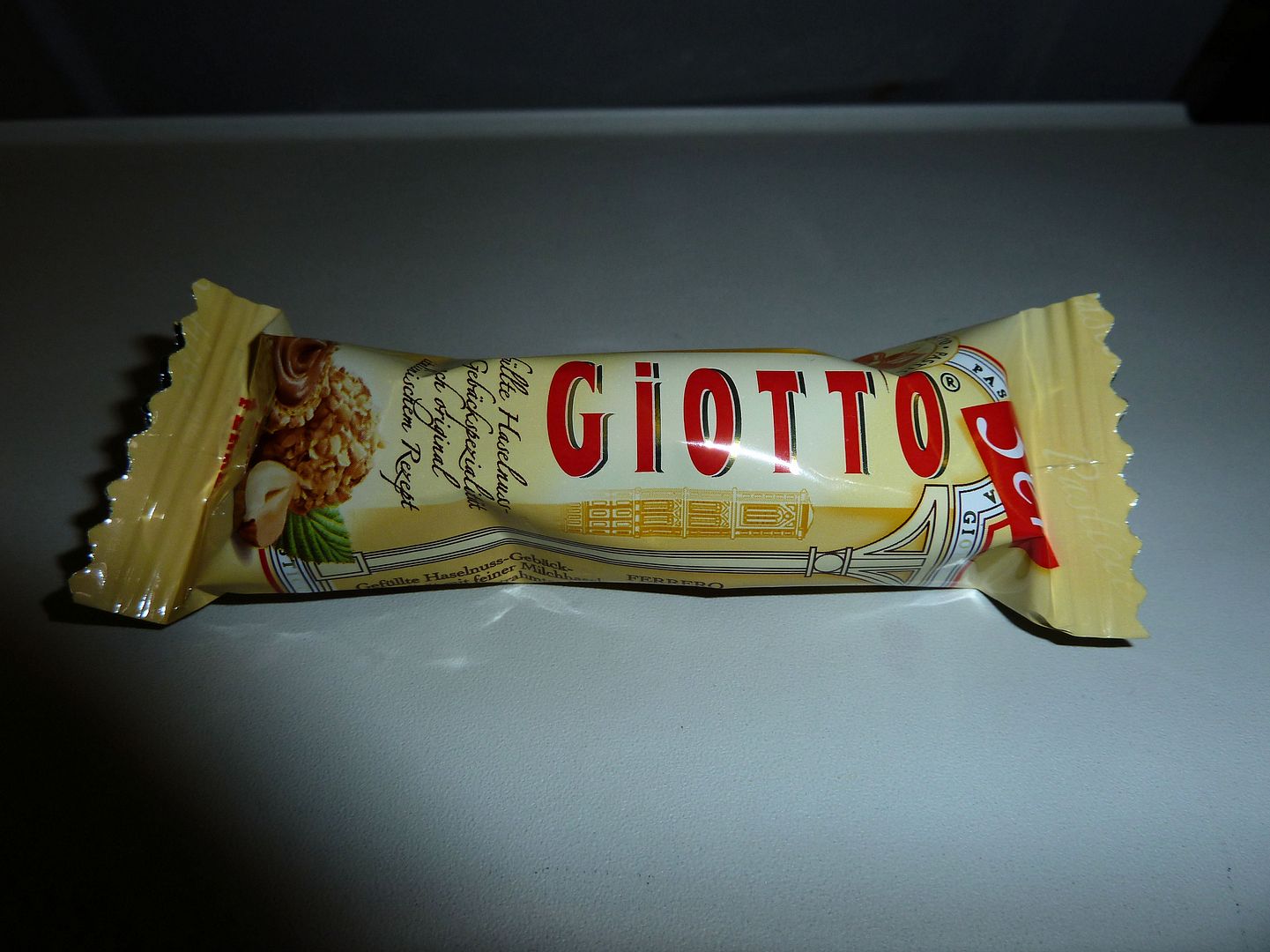 We touched down exactly 30 minutes after takeoff and arrived at the gate six minutes ahead of schedule.
Zurich Airport
After disembarking, we went straight to the Swiss Business Lounge in Zone A. Nice apron view from the corridor near the entrance:
Picture taken by my brother
Swiss' Business Lounge is equipped with 216 seats spread over 1110 square meters and gives access to the famous 28,6 meters long smoker's bar where you can find another 91 seats: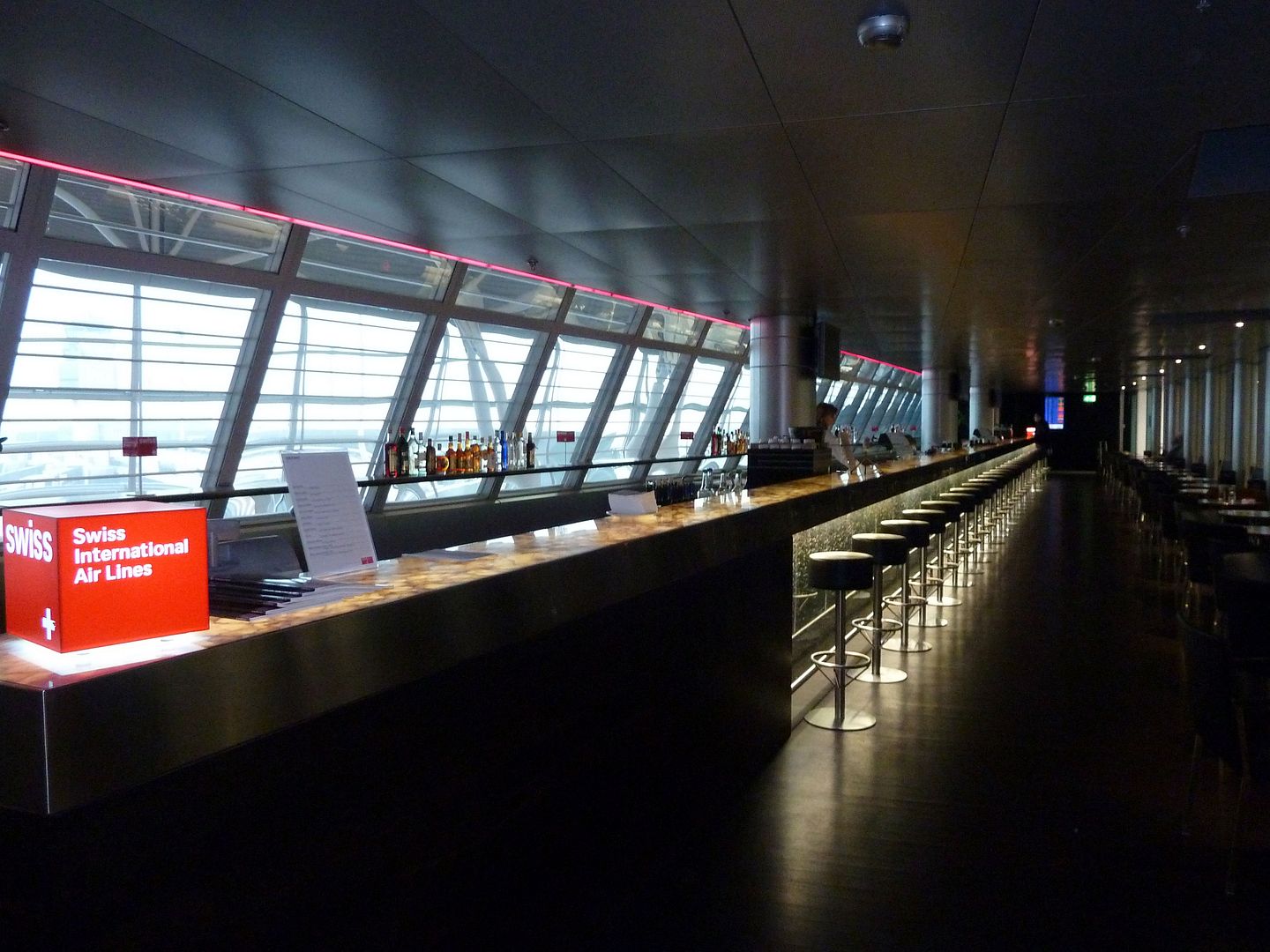 The lounge wasn't as crowded as its counterpart in Munich - and I really liked the elegant interior: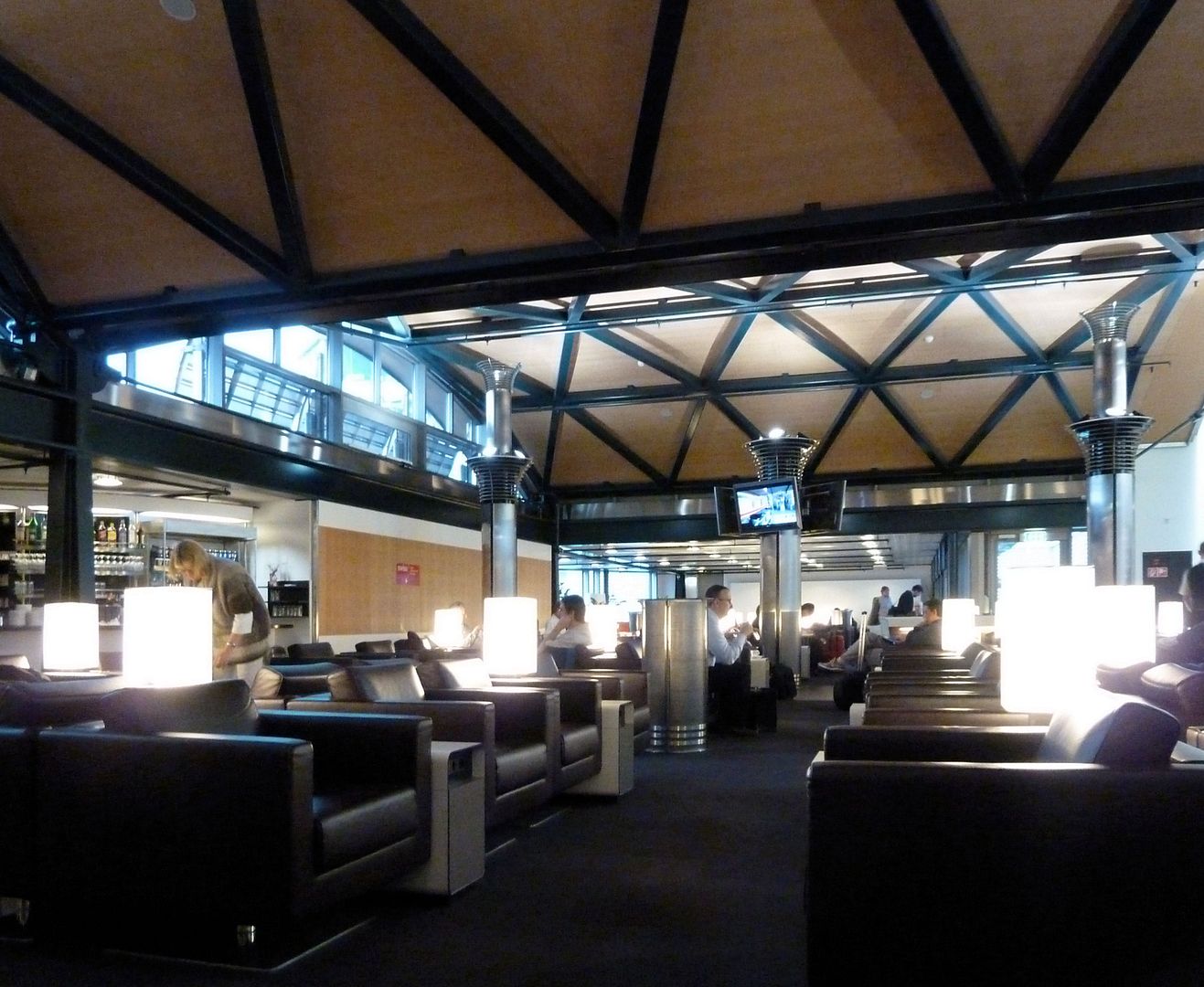 We had some drinks...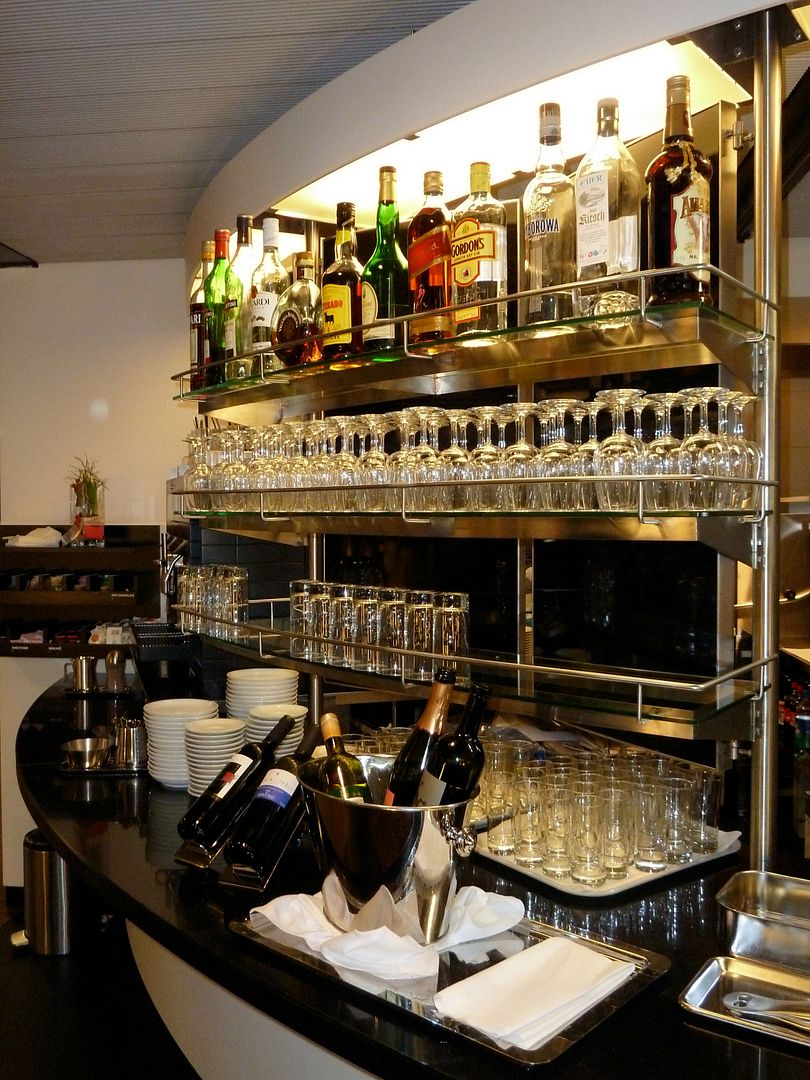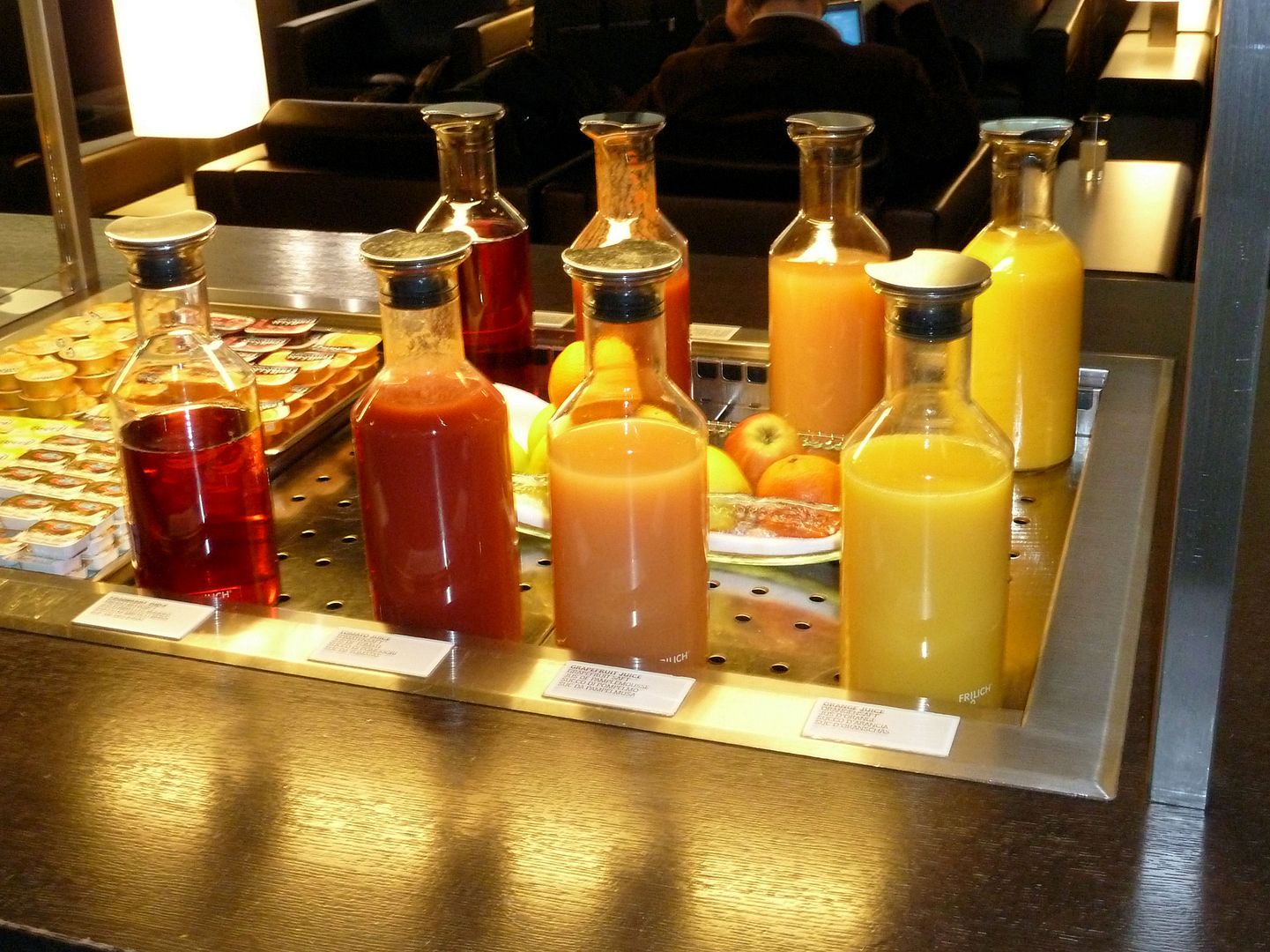 ..but didn't try the cold and warm snacks, we were still full after LH's breakfast. We sat down on a comfortable couch wherefrom I could overlook a taxiway and a part of a runway.
The lounge was becoming quite crowded by noon and we headed to the Skymetro train station. Very stylishly designed terminal and shops: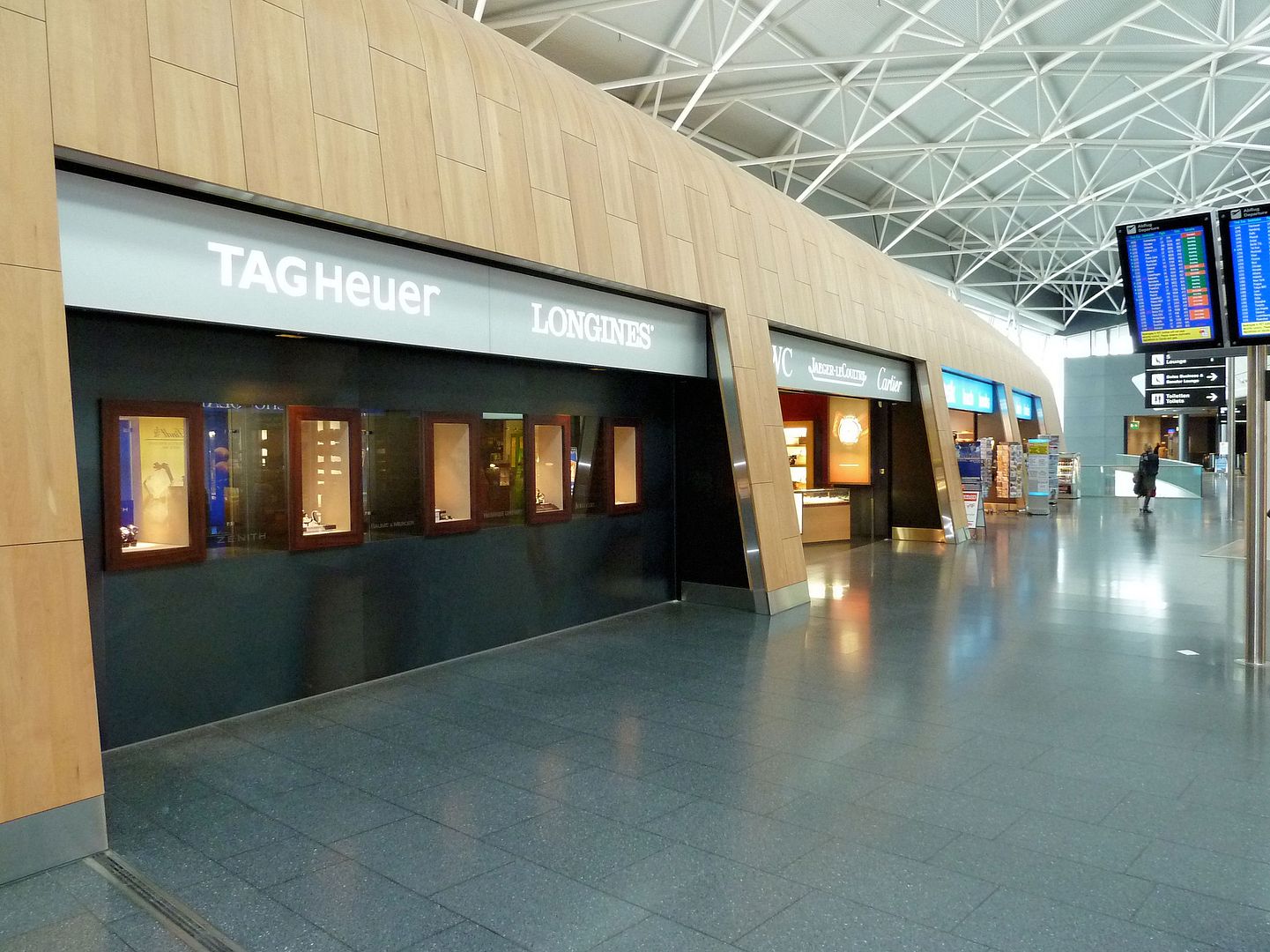 Picture taken by my brother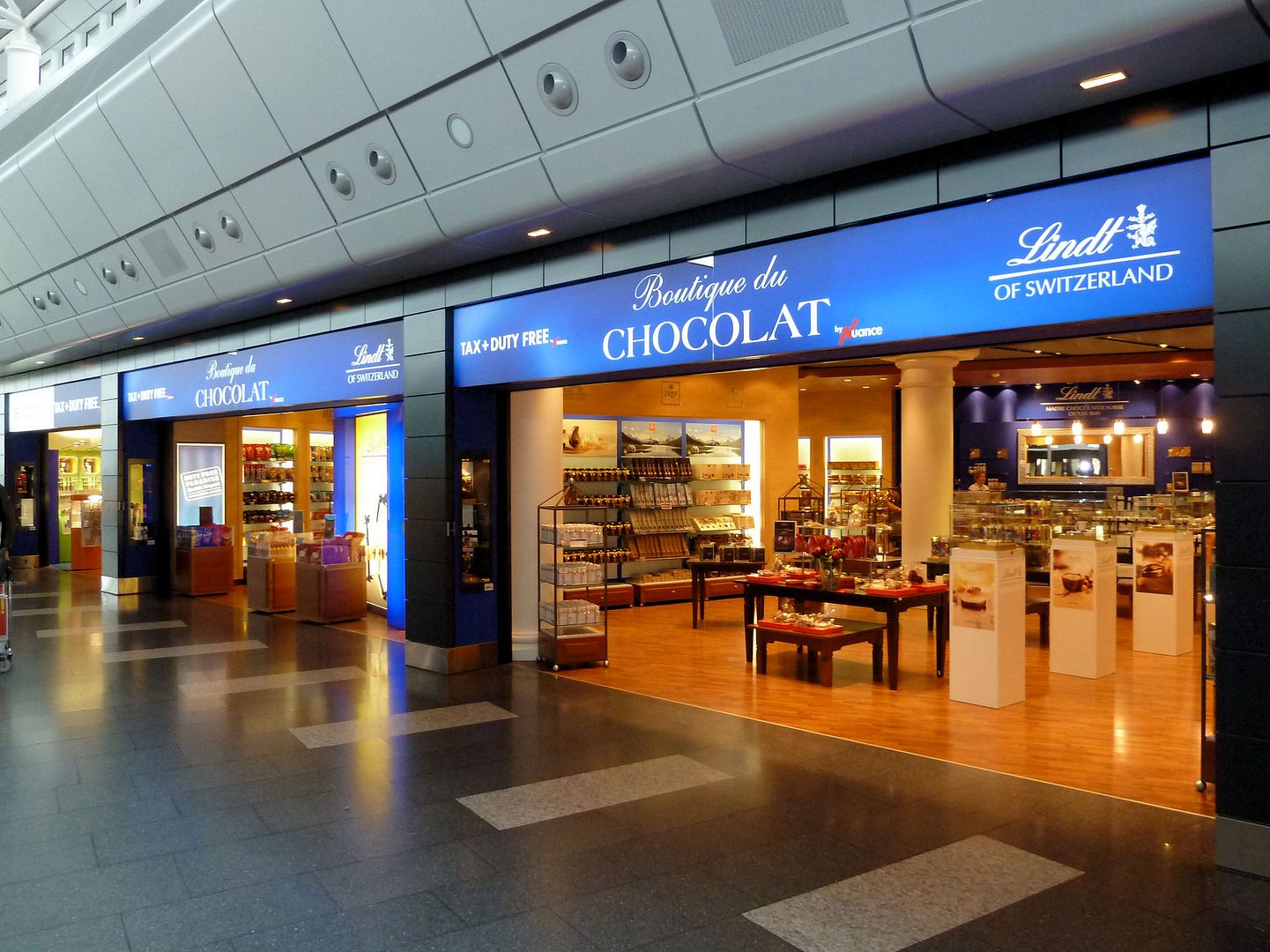 Picture taken by my brother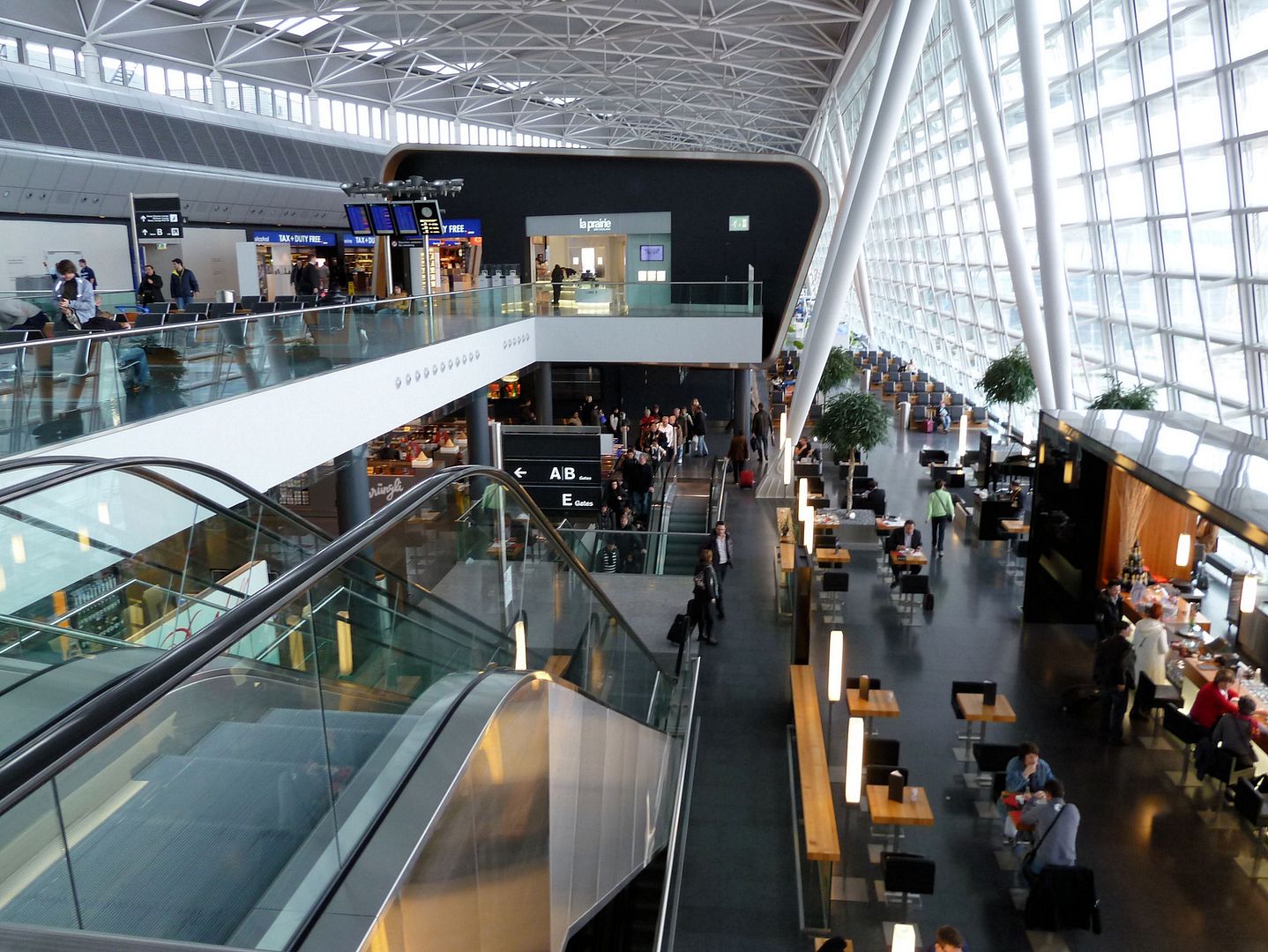 Picture taken by my brother
After arriving at Dock E, we passed Edelweiss Air A330-200 HB-IQI...
...and then we encountered HB-JMJ, wearing the famous San Francisco livery: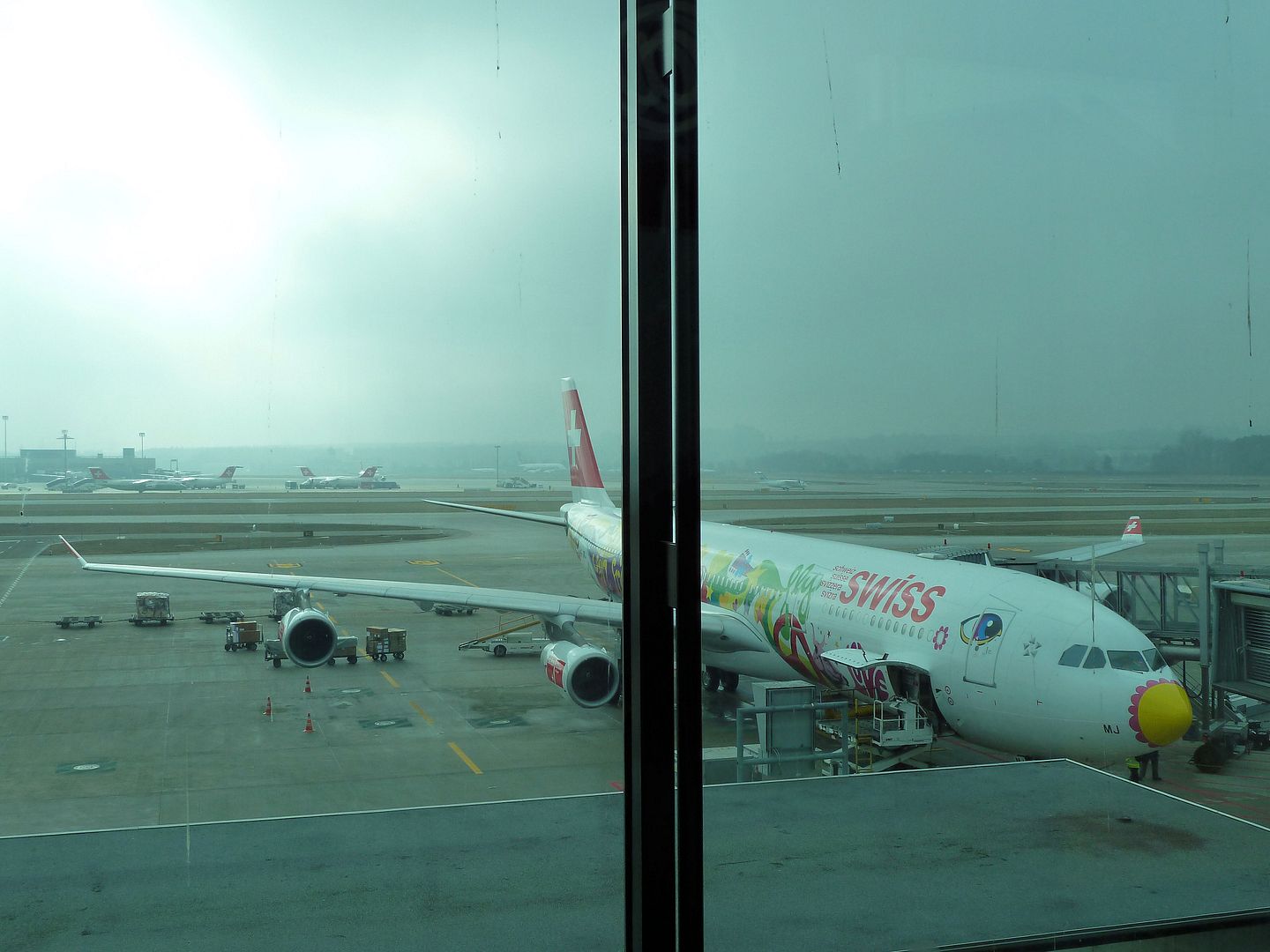 Honestly, I wasn't amused at all to see that plane...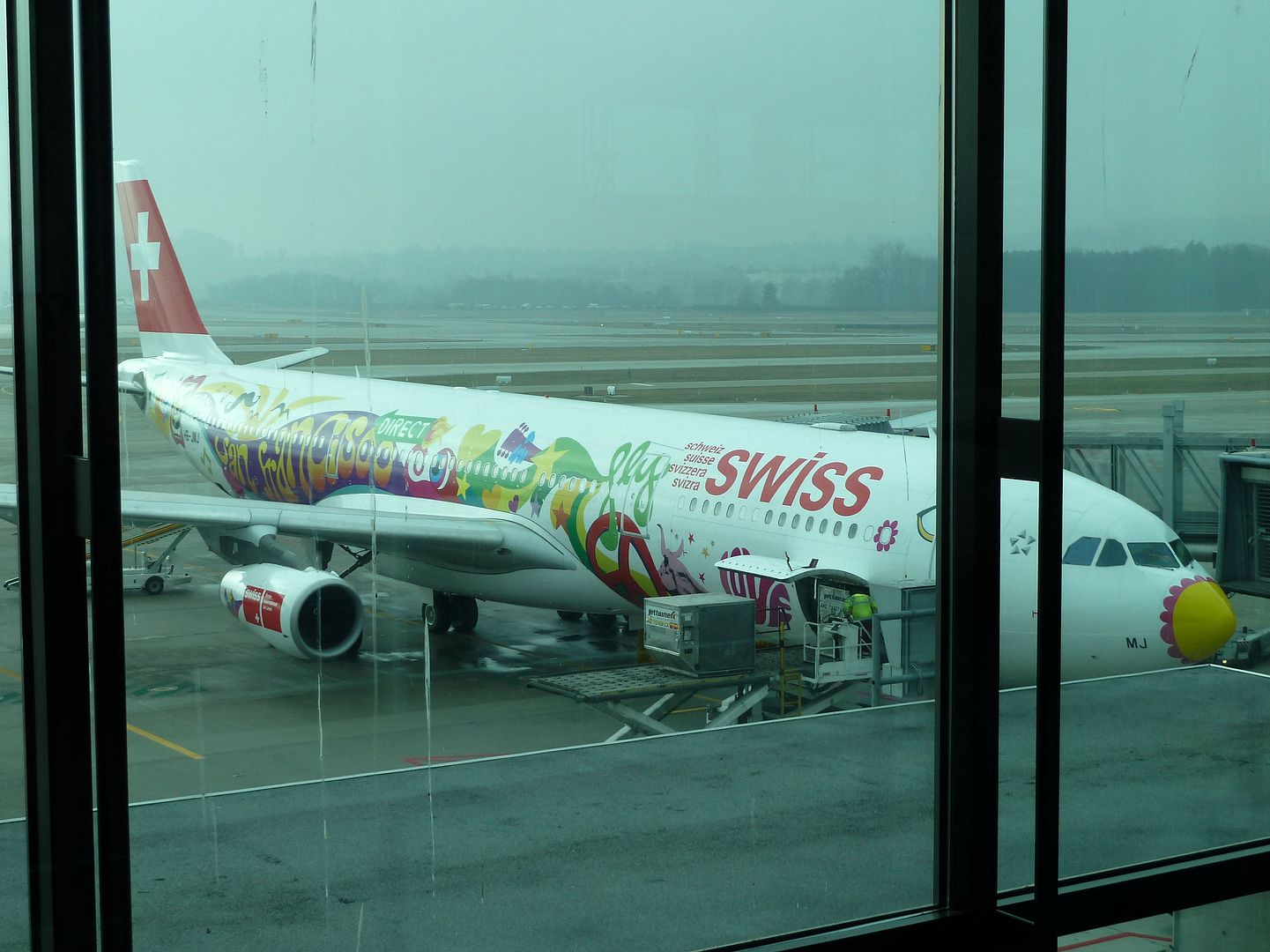 Picture taken by my brother
...why? Because I had already found out on Zurich Airport's website (departures) on the evening before that HB-JMJ would go to Los Angeles, while our flight to San Francisco would be operated by
HB-JMK
.
Of course I was disappointed because the chance to get HB-JMJ had been quite good - 1/3, to be exact (two out of five retrofitted A340s were out of question). Anyway, at least we didn't get a replacement plane with the old Business Class. Only a few days before, Swiss had - exceptionally - sent non-refurbished A340s to Los Angeles and San Francisco.
February 2011
Zurich (ZRH) - San Francisco (SFO)
Swiss Int'l Air Lines LX038
Scheduled times: 13:15-16:30
Actual times: 13:18-16:02
Flight duration: 11:11 (hrs)
Distance: 5840 miles
Business Class, seat 11K

Airbus A340-313X
HB-JMK (MSN 169), named "Aarau"
First delivered to Austrian Airlines as OE-LAK in 04/1997
1st flight on HB-JMK
7th A340-300 flight
10th A340 flight
Former appearance as OE-LAK:
After another passport and boarding pass check, we could proceed to the gate area.
HB-JMK
is one of two former Austrian Airlines planes in the 15-strong A340-300 fleet: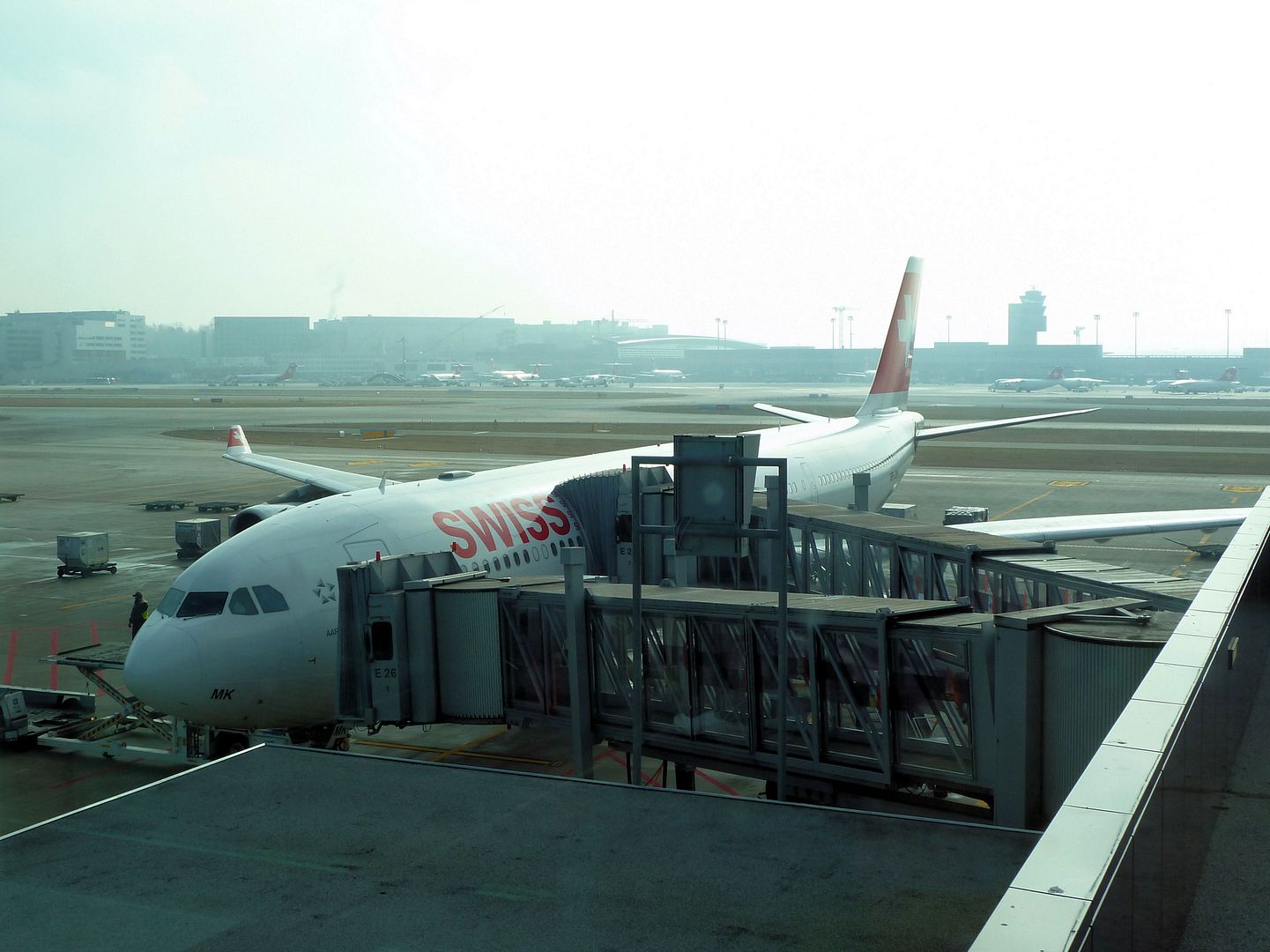 I really like the mid-field terminal, but the windows need to be cleaned more often:
In a pre-boarding announcement, a young female ground staff member (probably a trainee, accompanied by some older colleagues) informed that First and Business Class passengers should use the right exit, while Economy Class passengers should use the left exit. Well, that was only true for her perspective behind the desk - actually it was the other way round. Mistakes can happen, of course.
The result was that all kinds of passengers started to line up on both sides of the desk. However, the first of two dedicated signs was soon illuminated and we could walk down the jetway: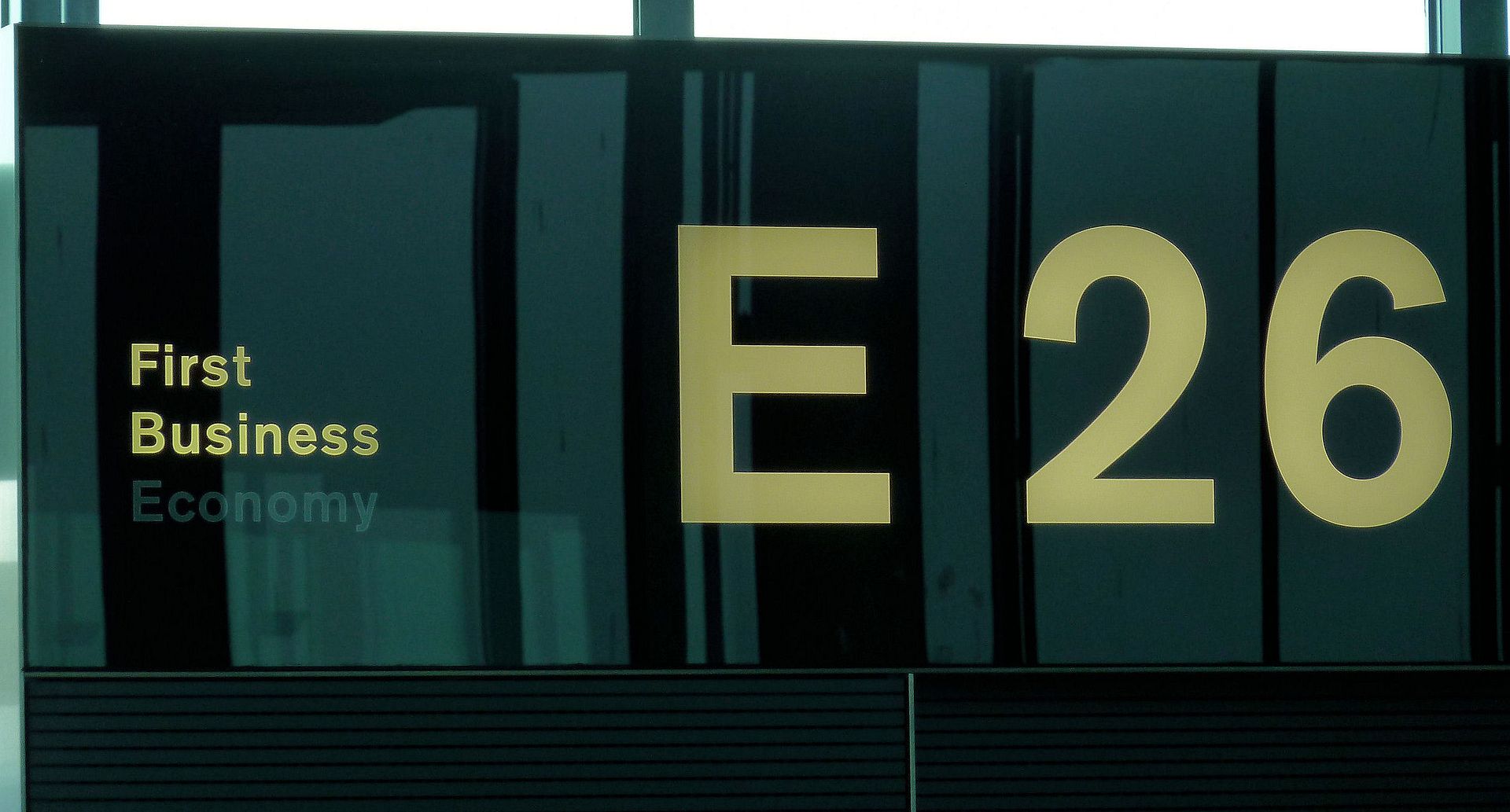 Can you spot the name?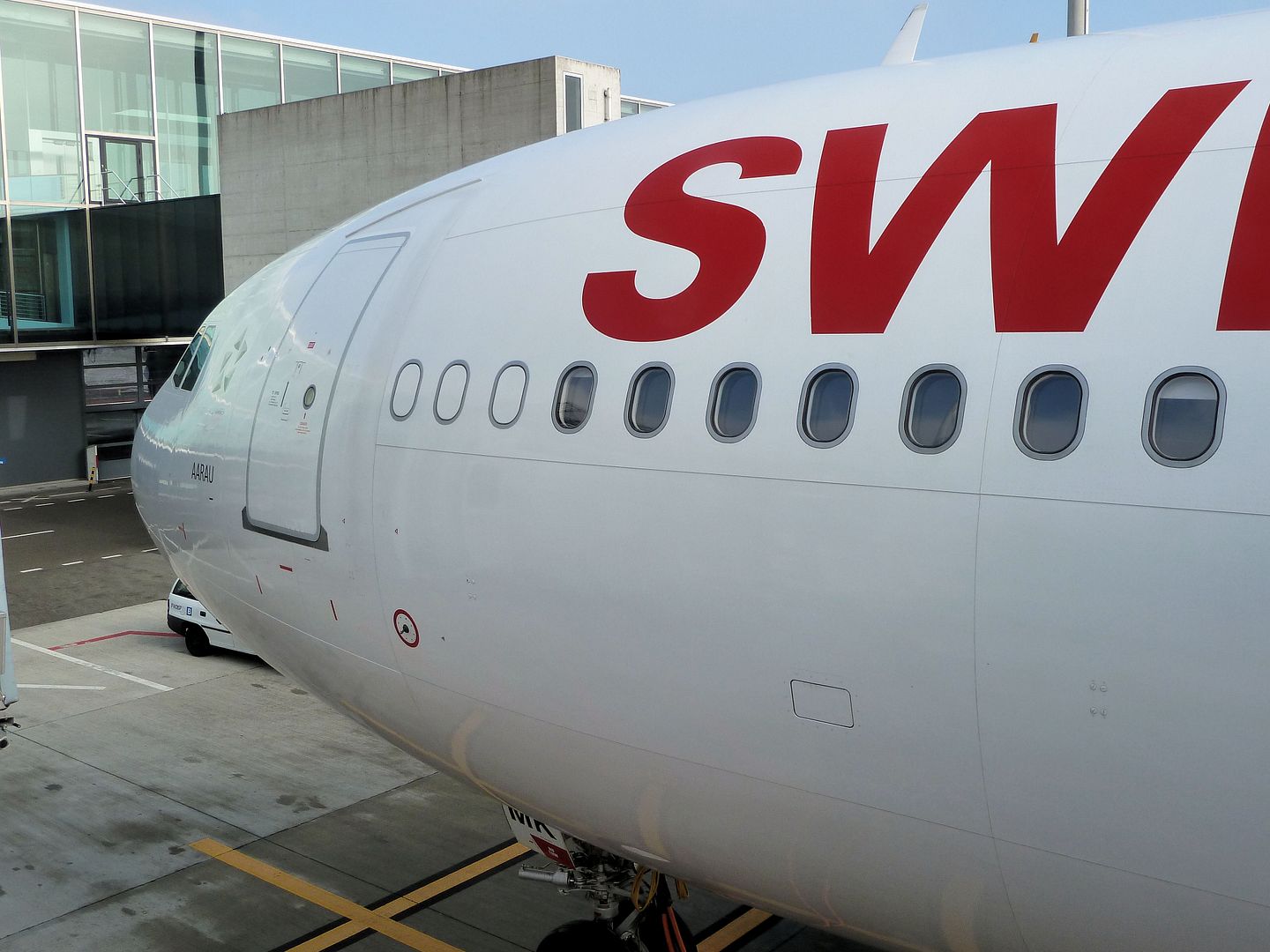 HB-JMK
was named
"Aarau"
in September 2010, almost three years after joining the fleet.
After a very warm welcome at the door, we stepped into the elegant Business Class cabin. The interaction of colors and materials creates a cozy atmosphere, I immediately felt comfortable:
Half of the Business Class seats remained empty, not a single passenger took a seat in the center section. Therefore, I felt very private in that cabin: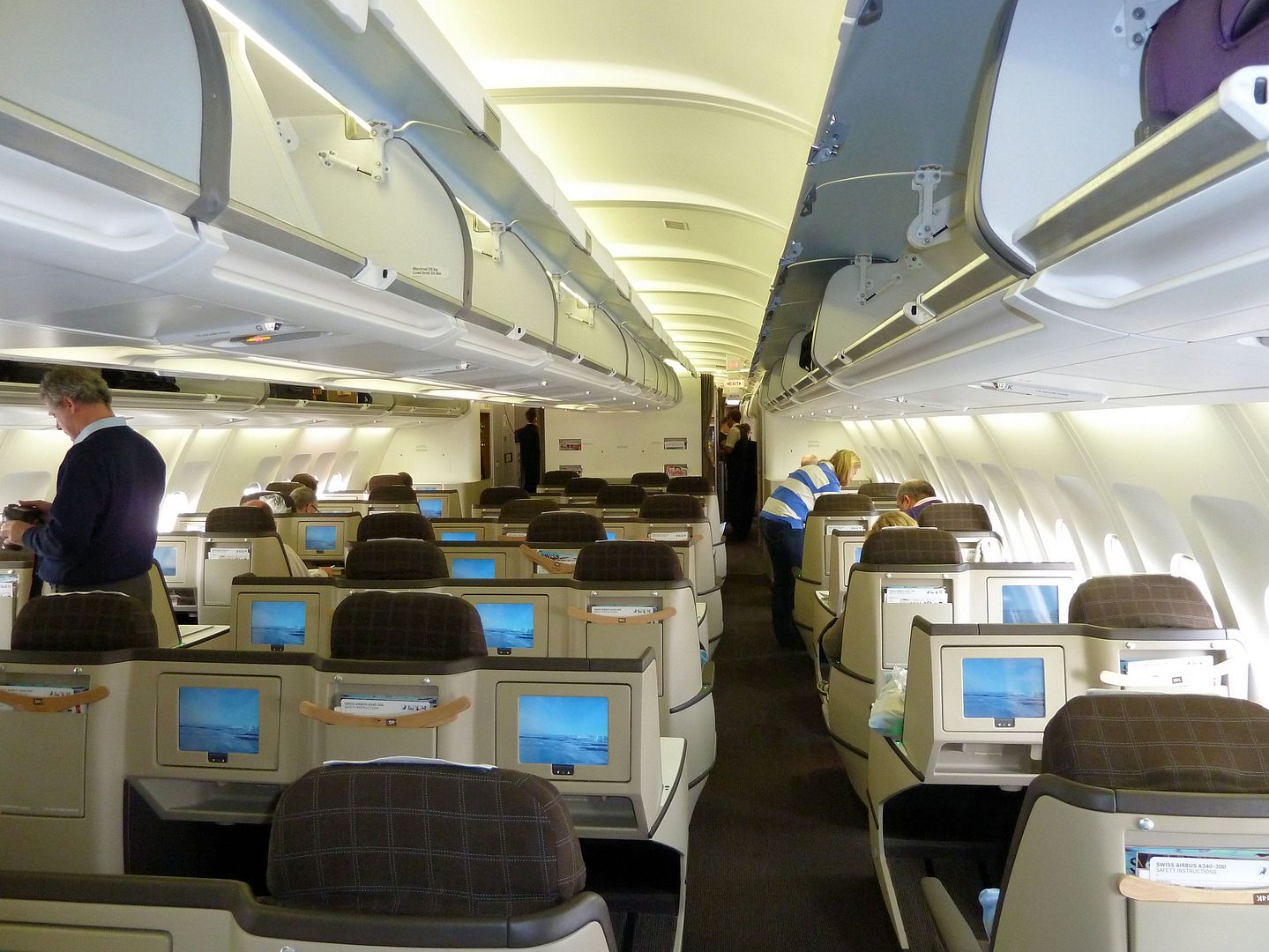 My seat of choice for the next 12 hours: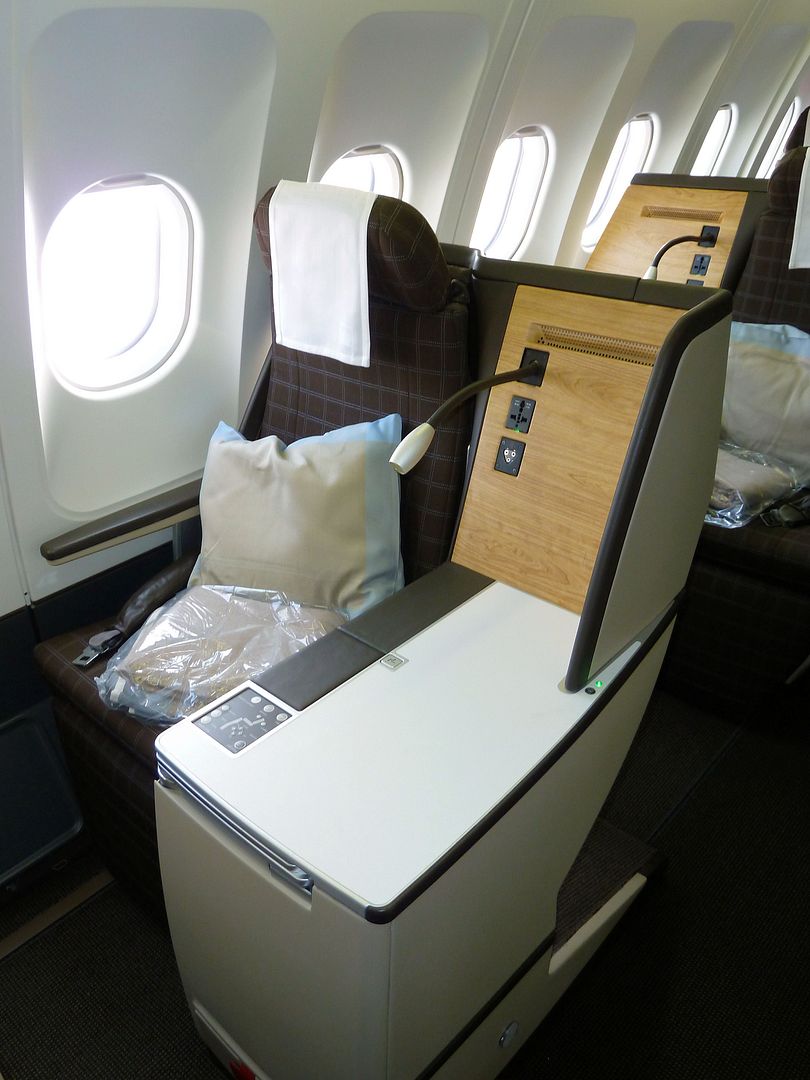 The screens on the A340-300s (10.4 inches) are slightly smaller than on the A330-300s (12.1 inches). Plenty of storage space can be found on the shelf next to the armrest and under the screen:
More than enough room for my legs:
The seat felt a bit hard, but the problem could be solved within seconds by pressing the "softer" button. I also liked the massage function:
High-quality headphones:
Navyboot
amenity kit: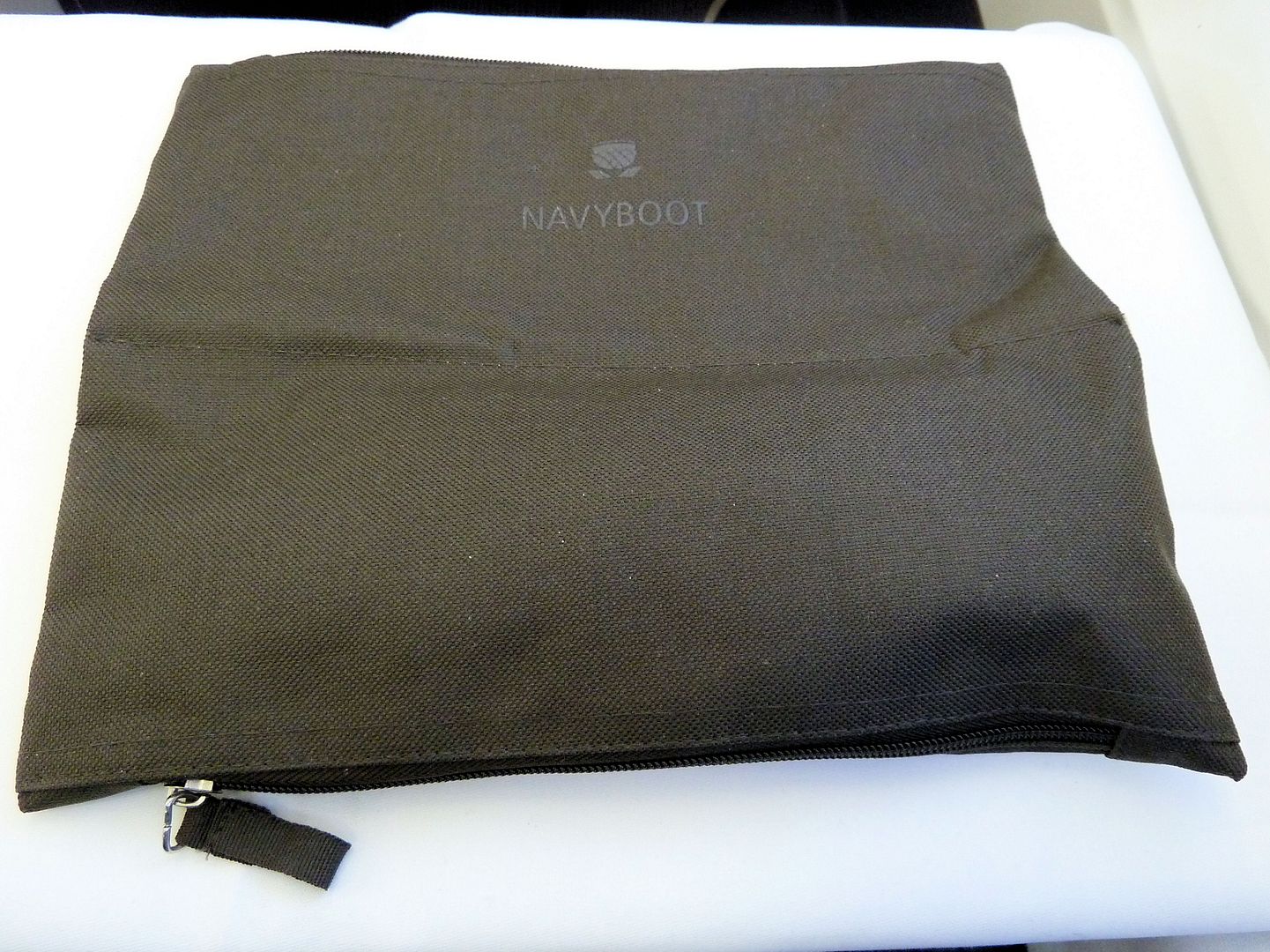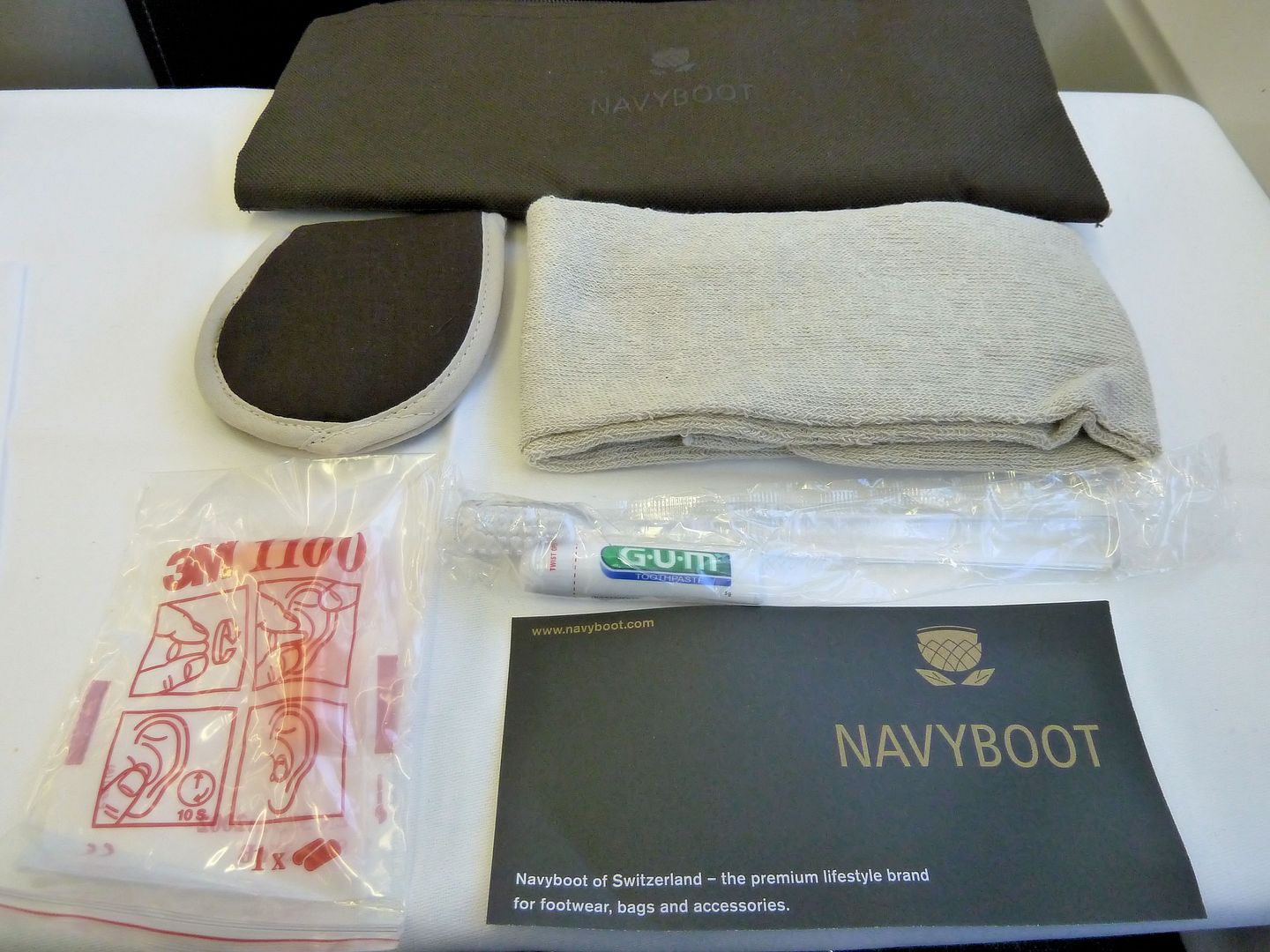 "May I take your jacket?"
, a friendly male flight attendant asked. Sure!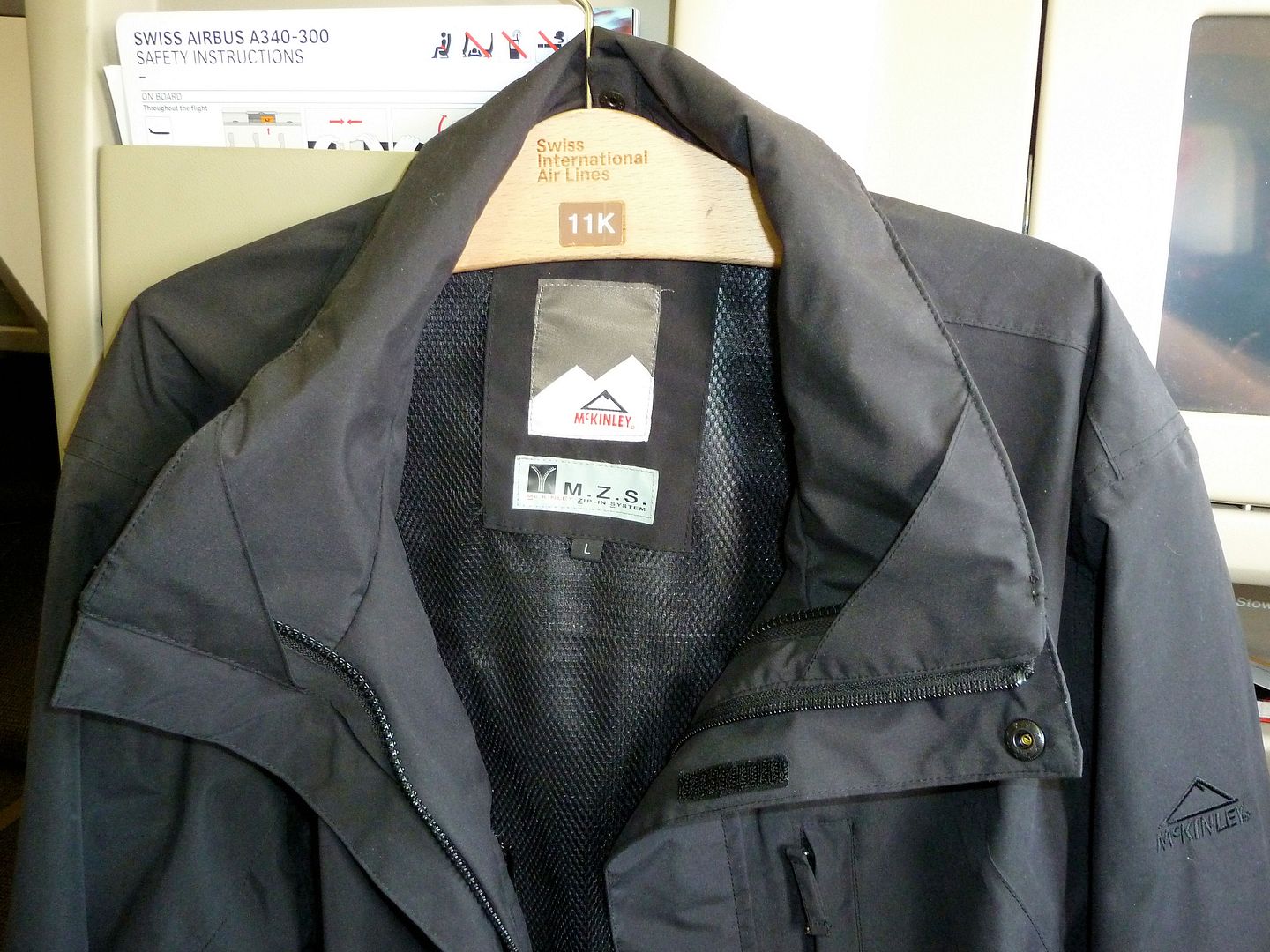 "Would you like a drink?
", a female flight attendant kindly asked some moments later. Sure! Champagne, of course.
Now it was time to relax...and to continue spotting. Parked next to us was Swiss' first A330-300 HB-JHA: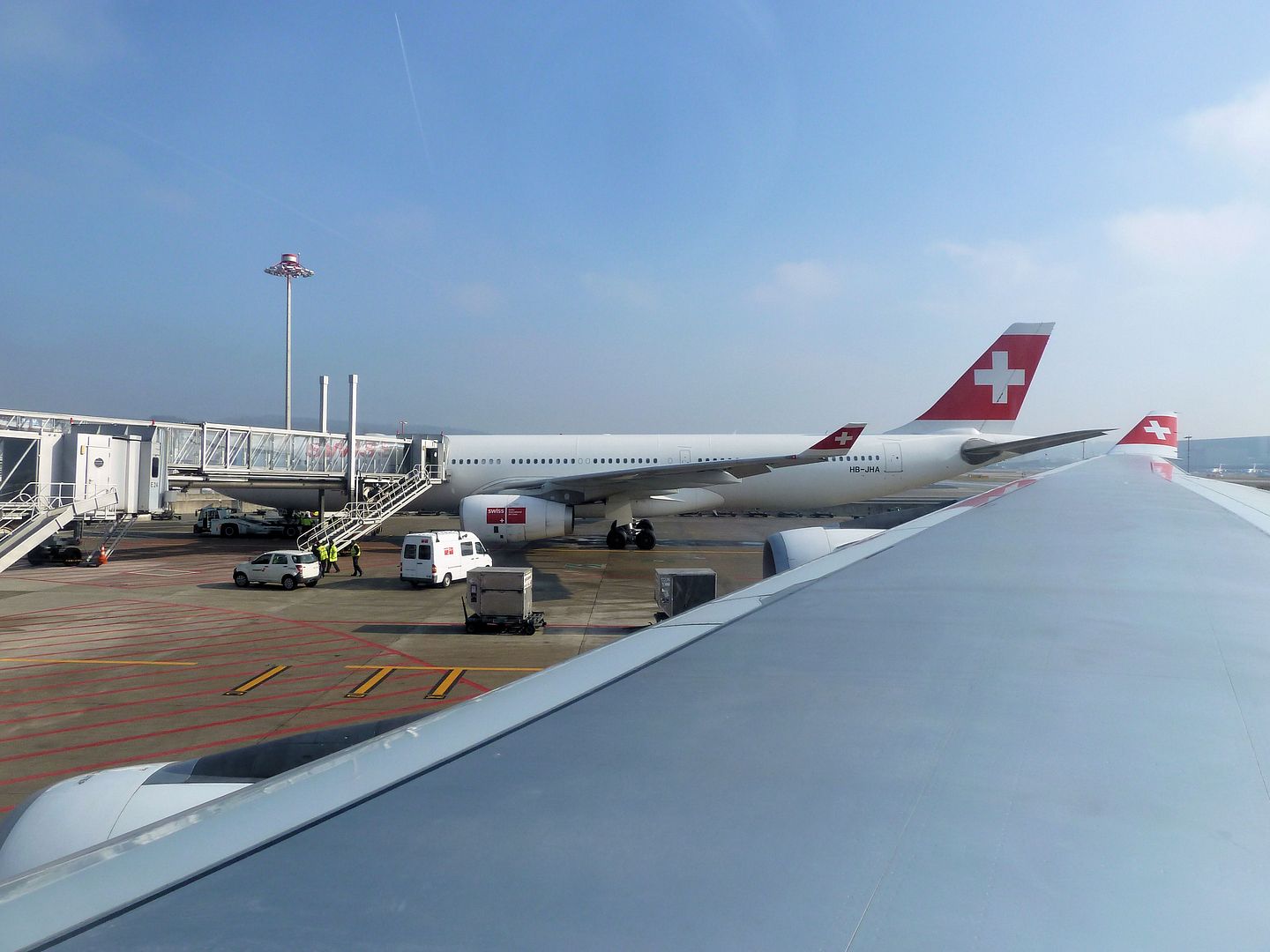 While sipping the bubbly, I listened to a nice announcement by the maître de cabine (purser) who - among other things - referred to a flying time of 11 hours and 15 minutes.
We left the gate exactly three minutes behind schedule and started taxiing to runway 16. Privatair Boeing 737-800 HB-IIR operates flights to Newark on behalf of Swiss: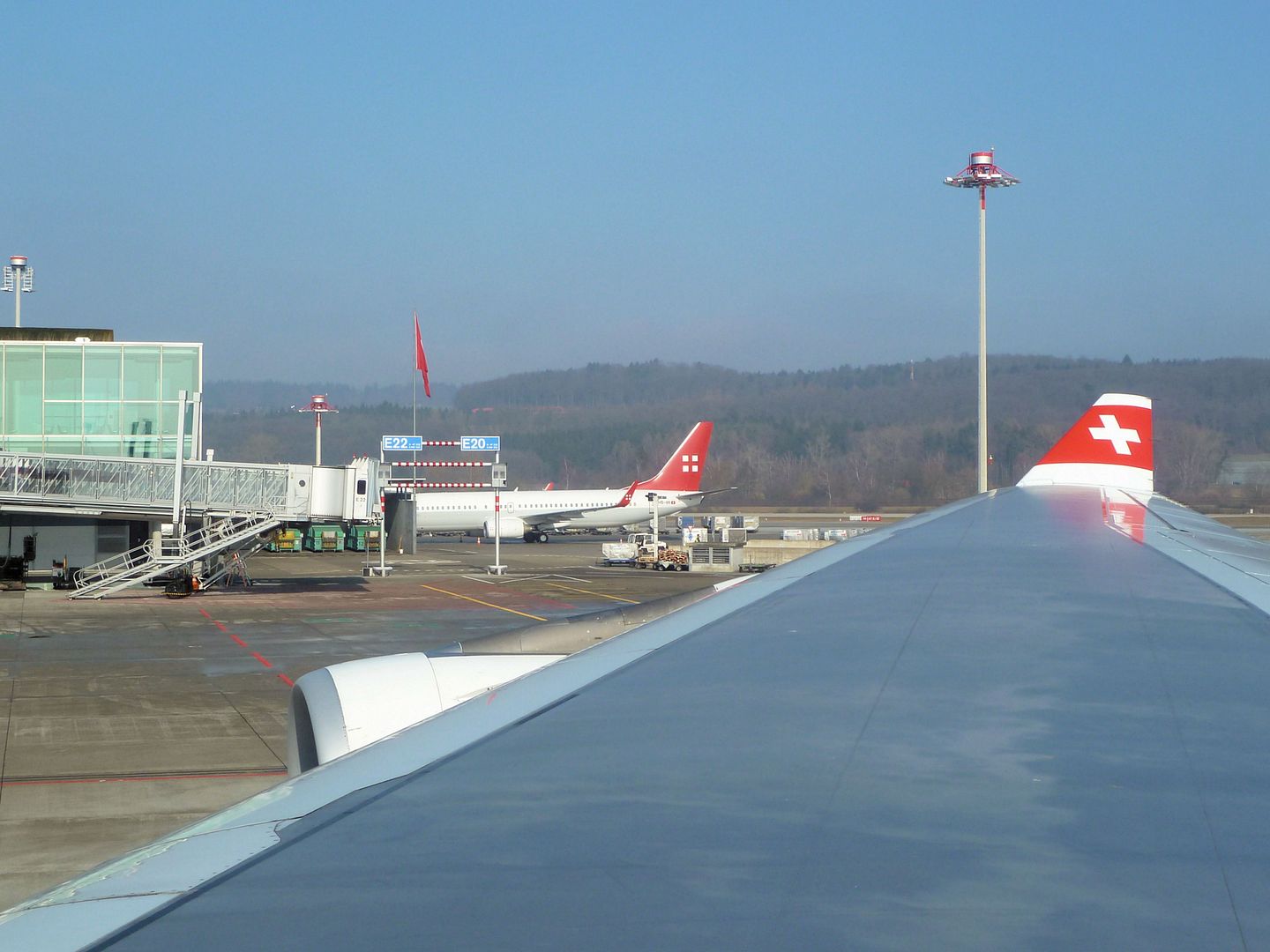 Some spotters on the observation deck: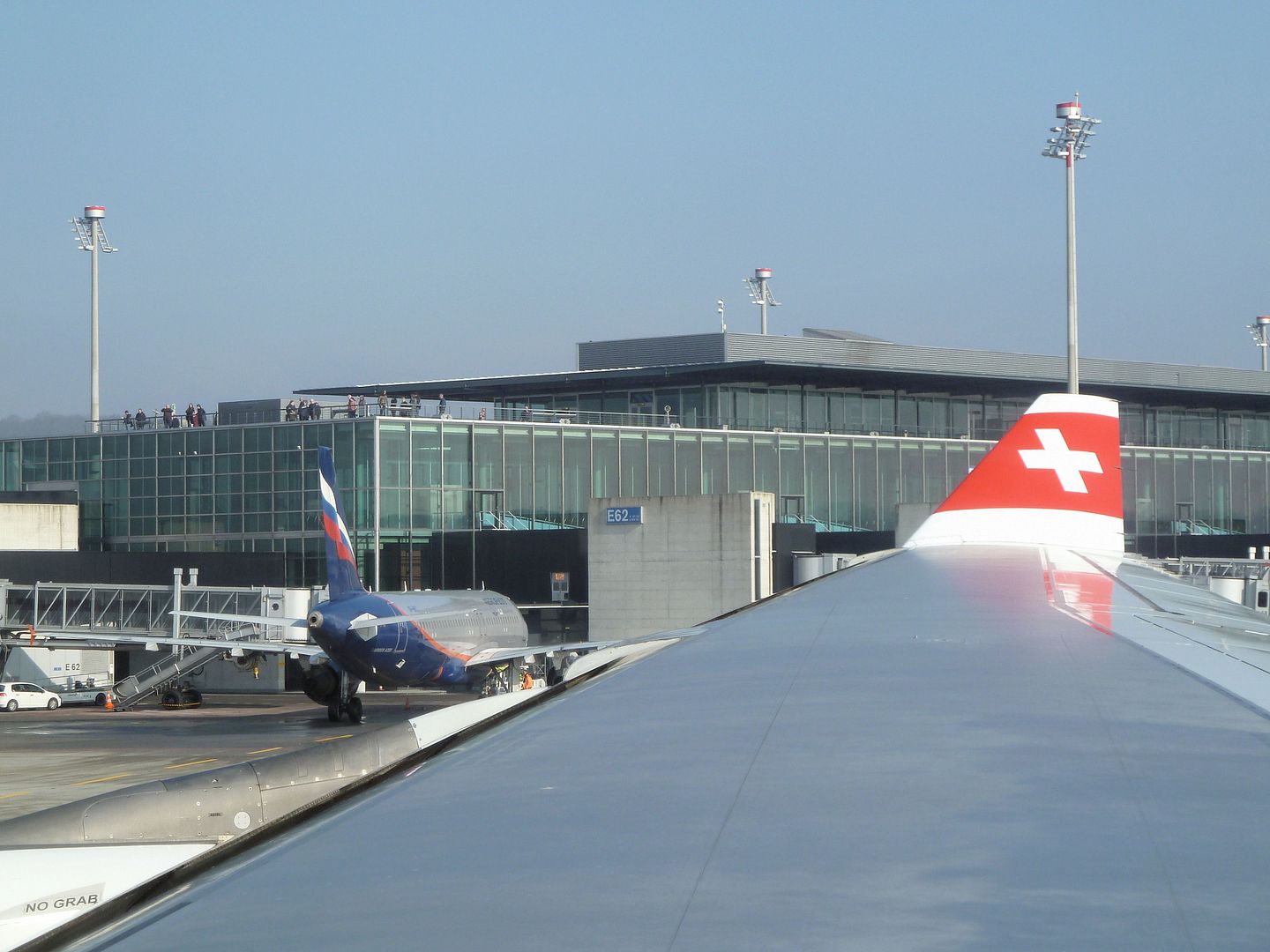 An Air Canada 767-300ER overtook us on the right: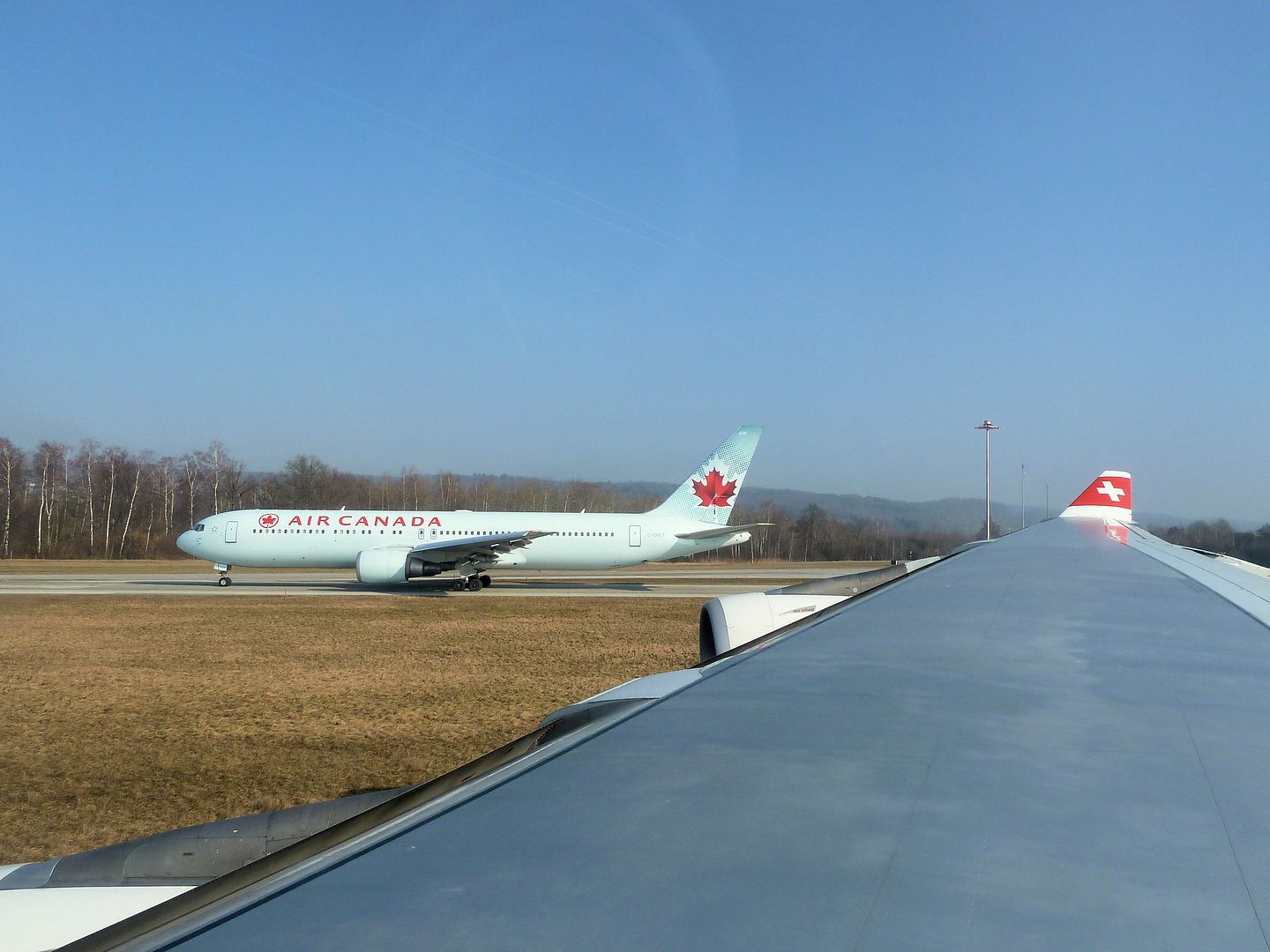 While we were slowly moving forward, the captain introduced himself, informed about the routing and told us that we were number four for takeoff. The most interesting sentence was this one:
"We will take off from runway 16 which requires to fly a 72-degree turn shortly after lift-off."
That was indeed great to hear!
Front camera view - Air Canada 767 taxiing behind a Thai A340-600: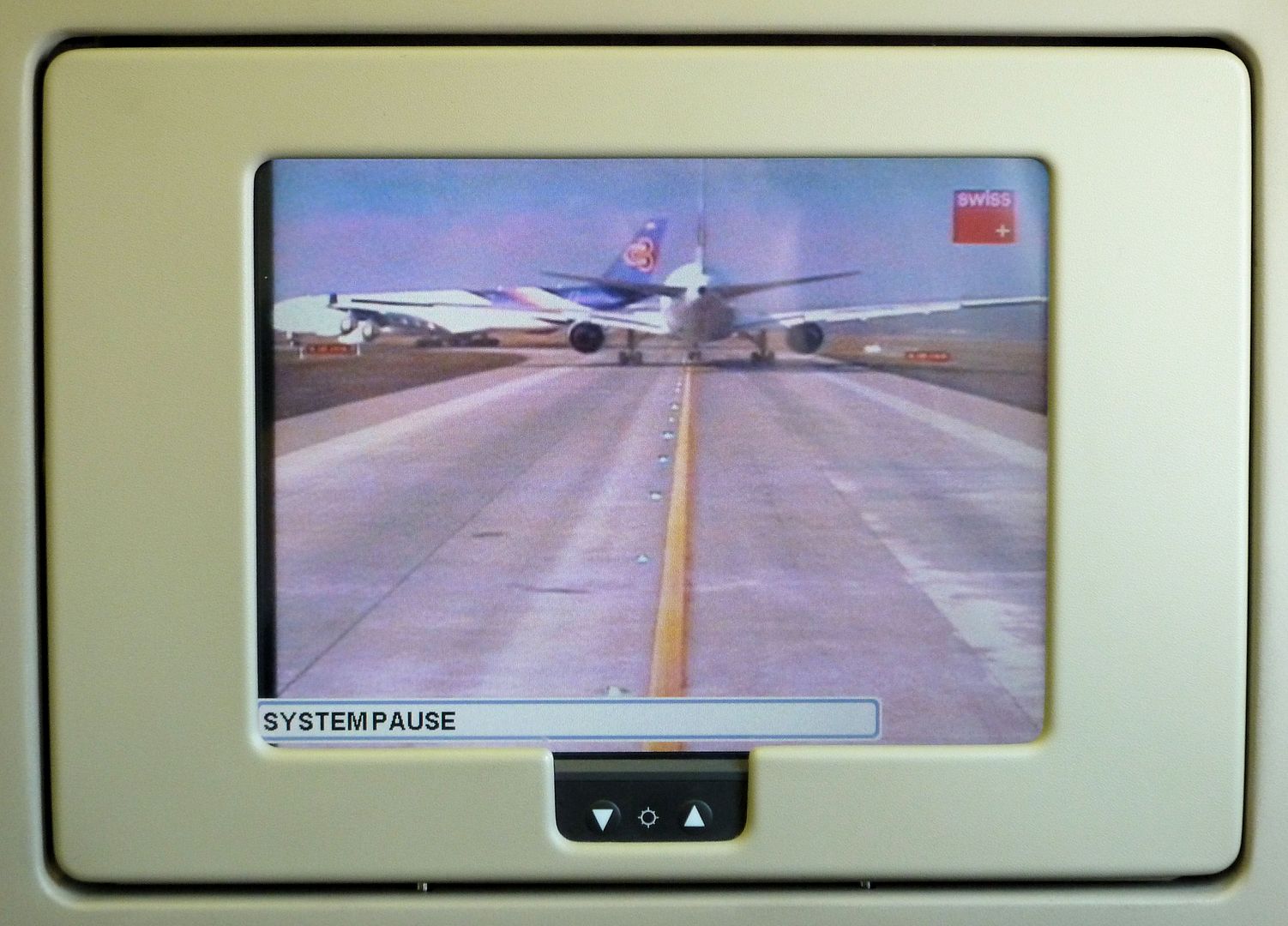 Another four-hauler...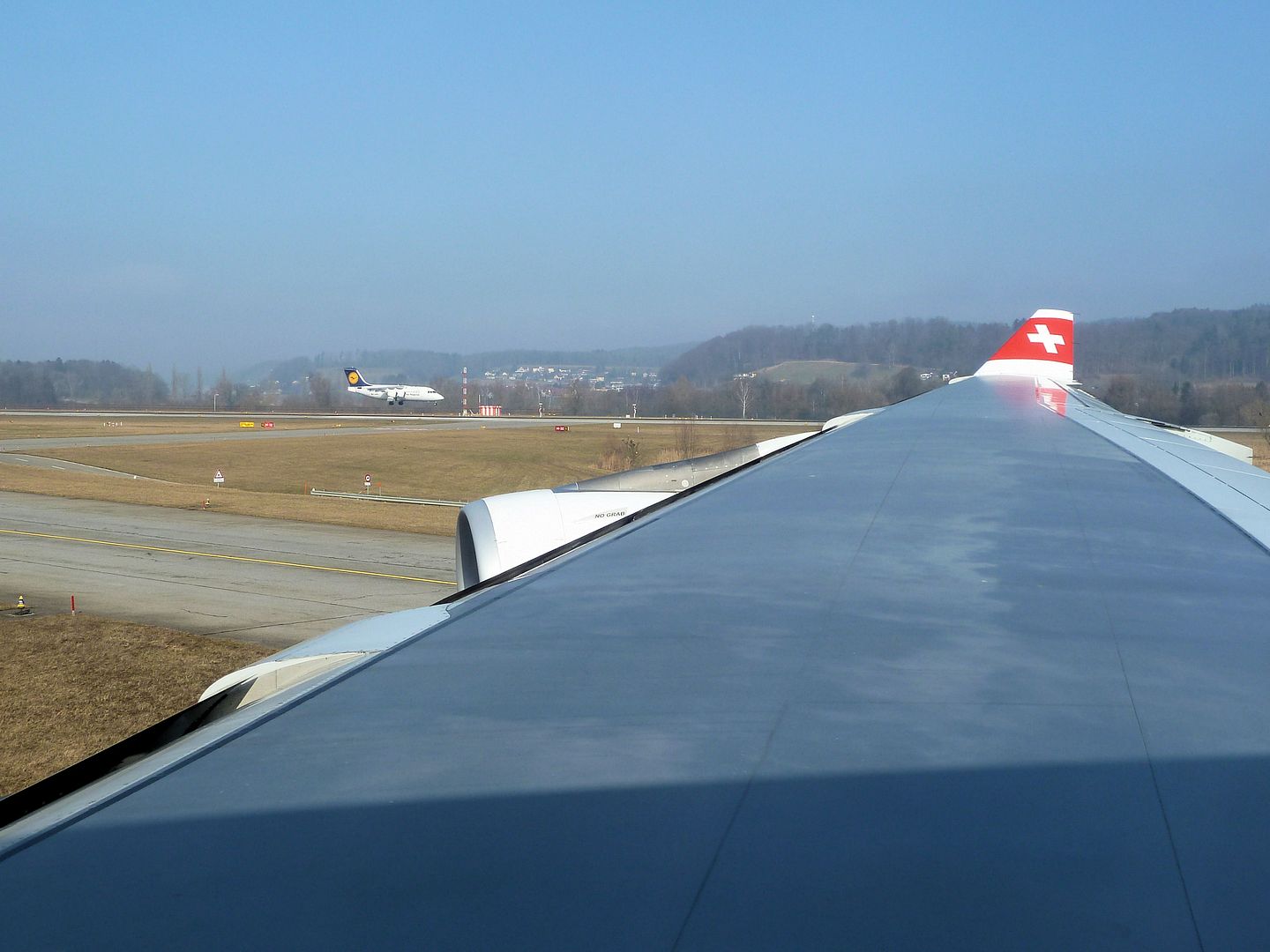 It's our turn now!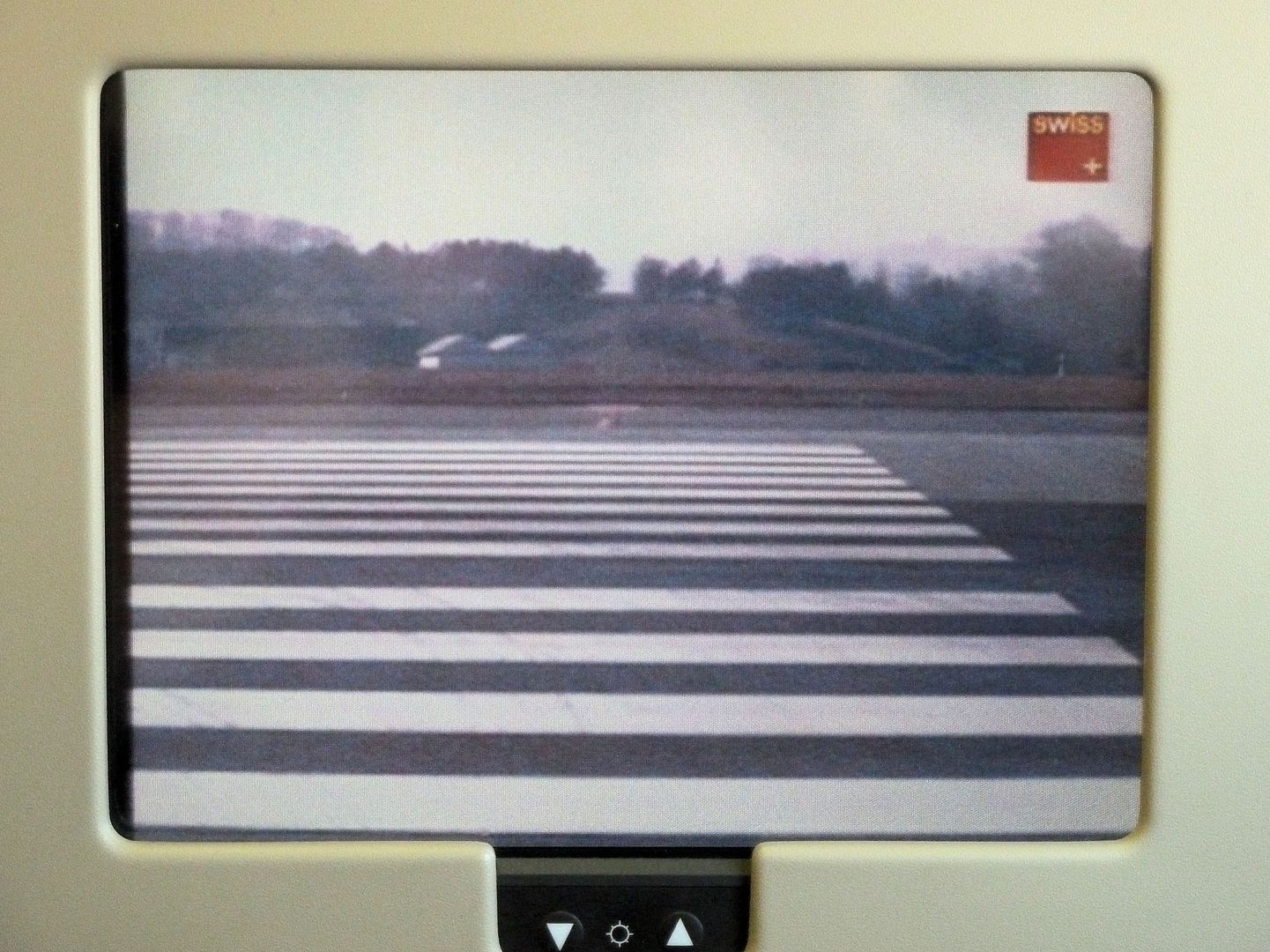 The four "hairdryers" quietly accelerated
HB-JMK
...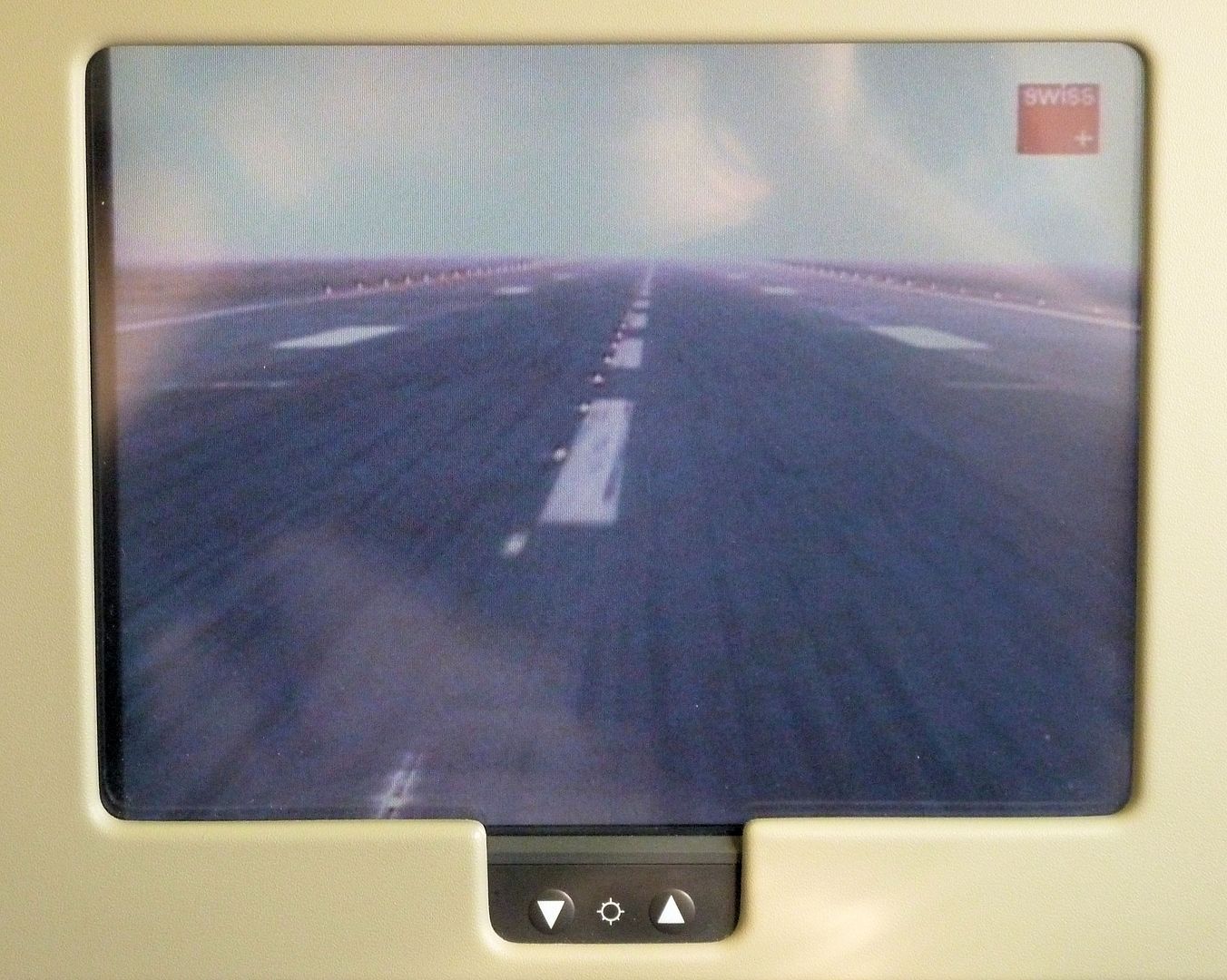 ...which lifted off sooner than expected. Note the Singapore Airlines A380 which had gone tech on the day before: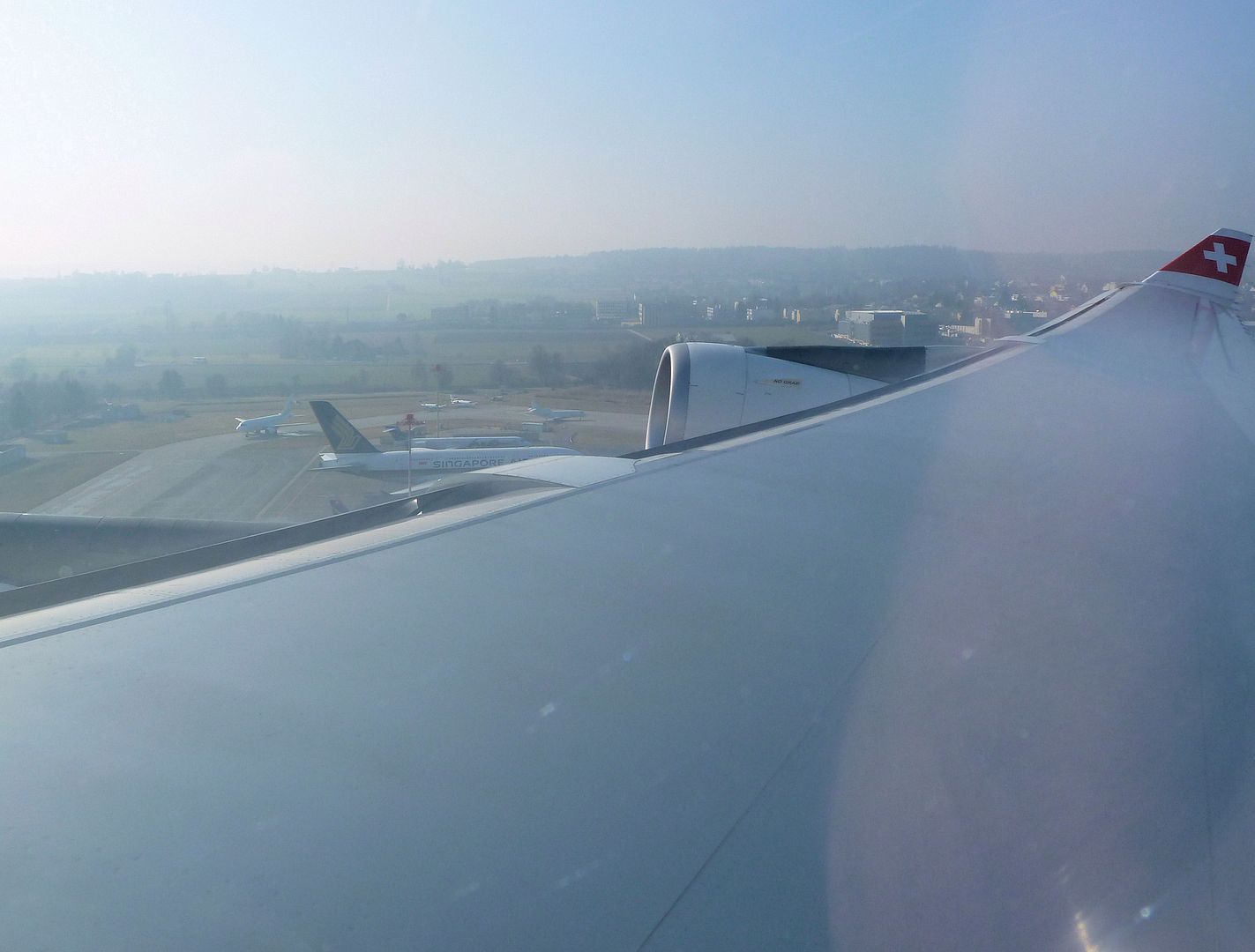 Some moments later the plane sharply turned left as announced - that was a remarkable maneuver performed by this heavily loaded A340-300!
Winglets in bright sunshine: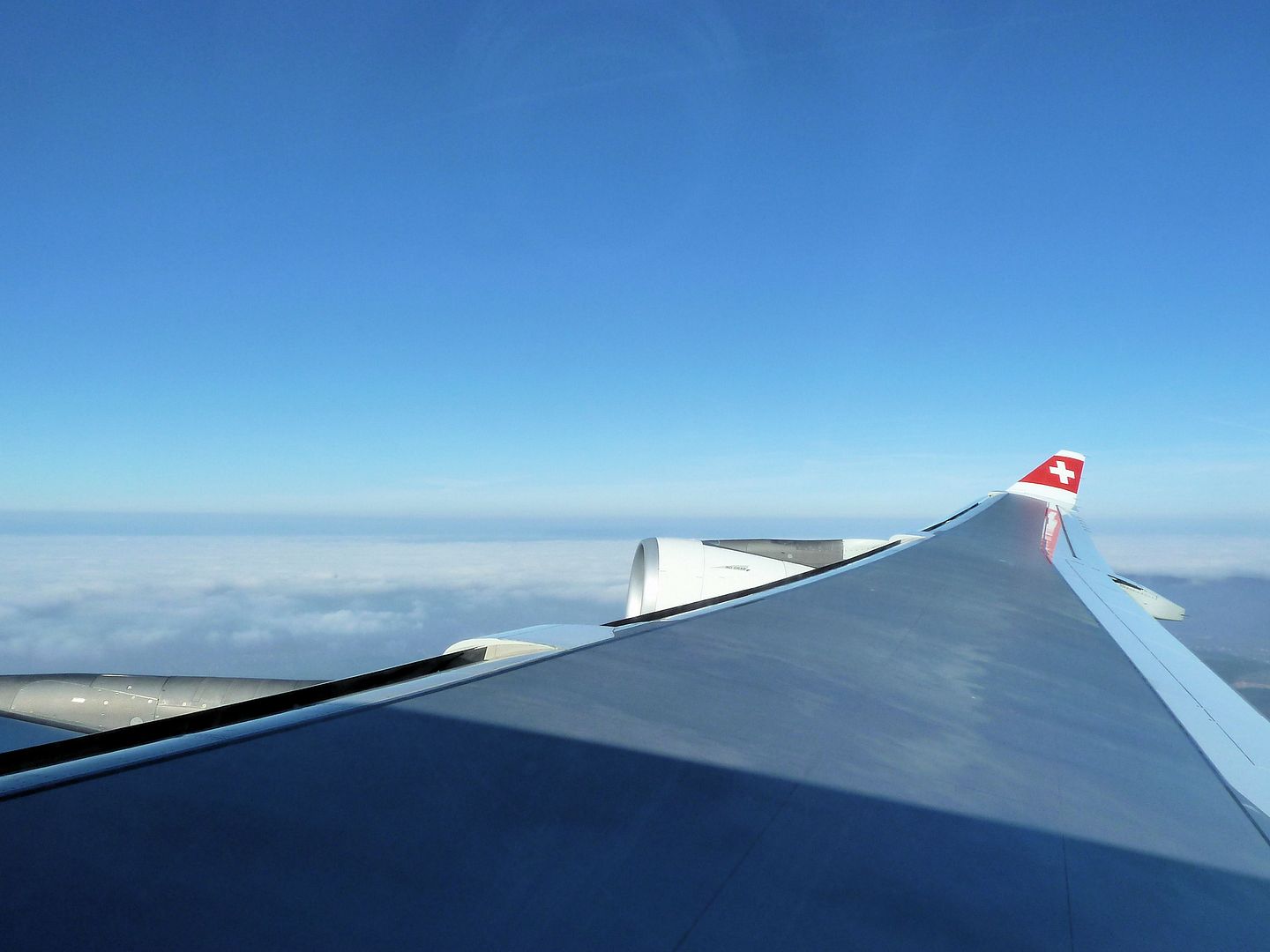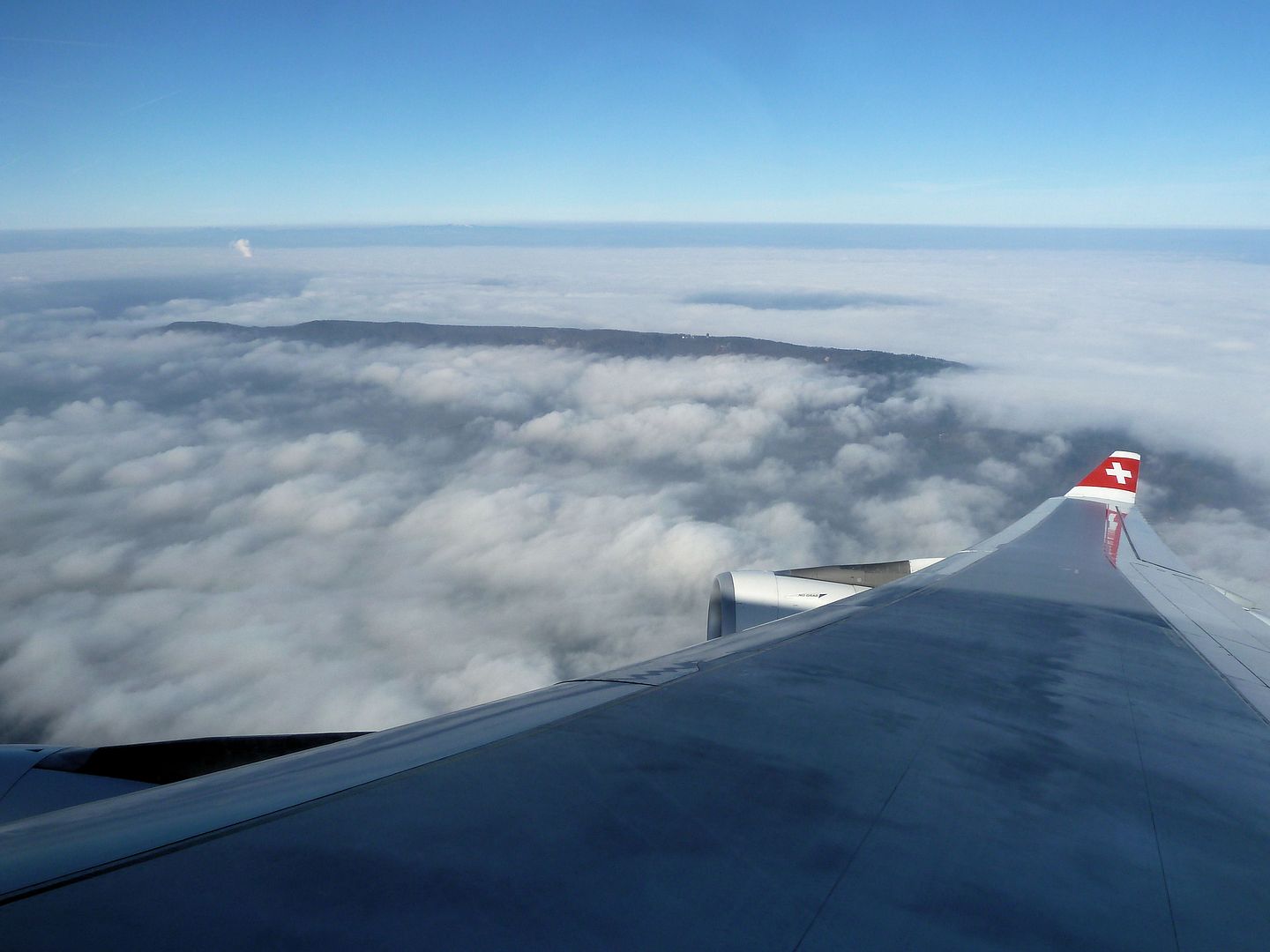 Now it was time for my favorite IFE feature: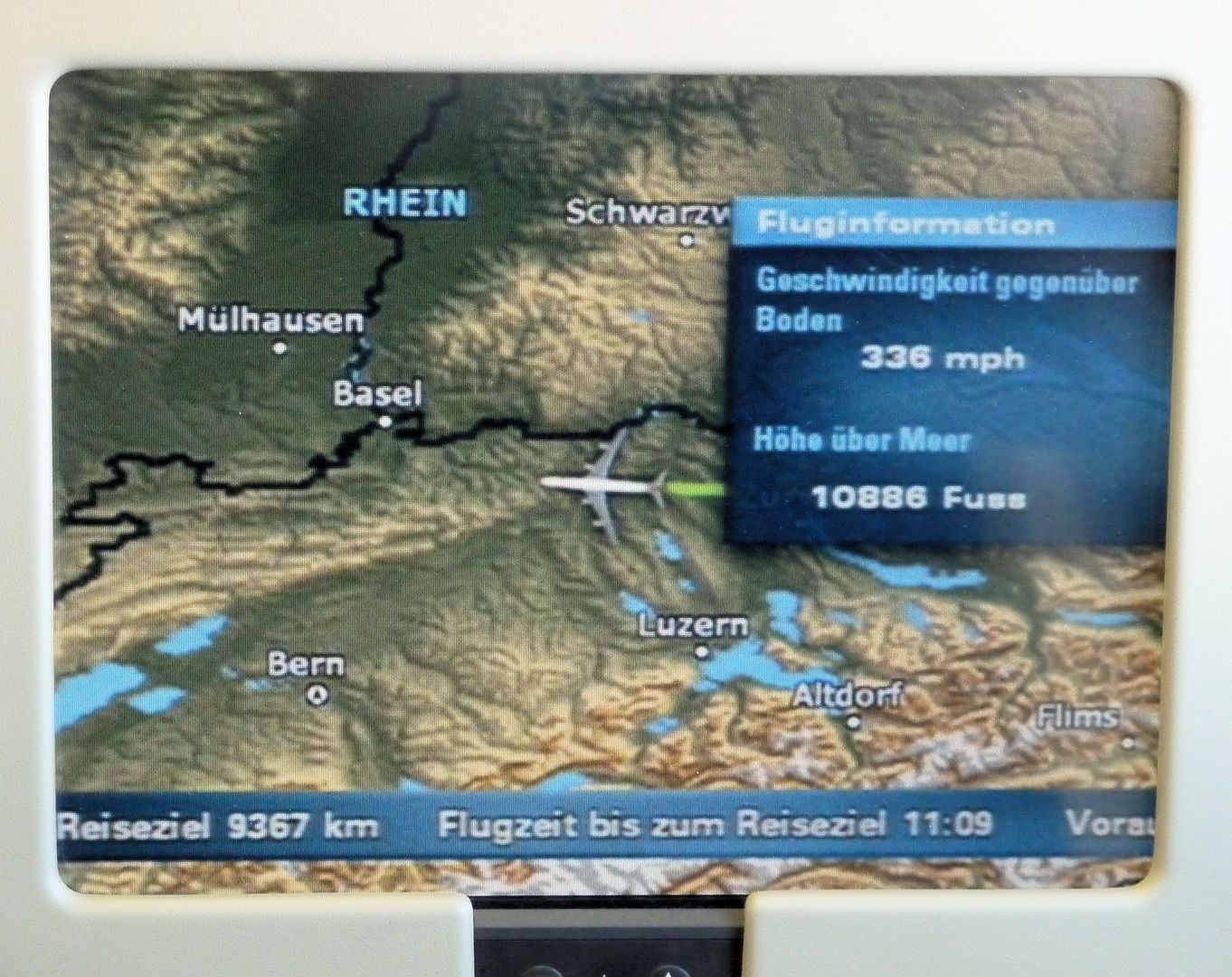 Just nine minutes after take-off, the friendly male flight attendant (I'll call him
M.
) started taking the appetizer and main course orders. He always squat down next to the seats - apparently to be on eye-level with the passengers.
Of course I had already read through the menu: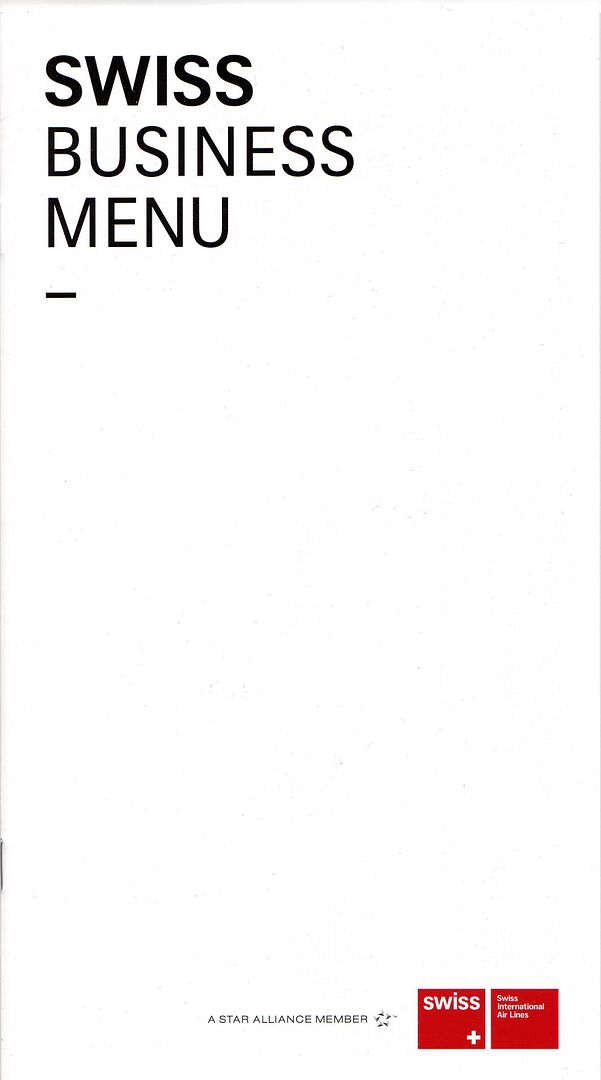 Very interesting intro: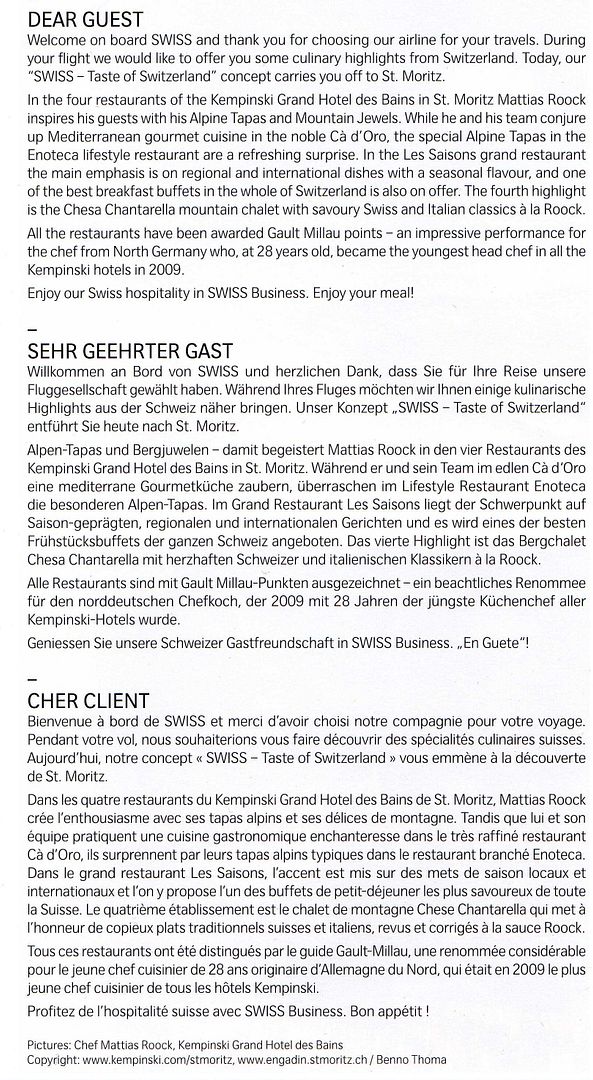 Chef Mattias Roock, responsible for the four restaurants at the
Kempinski Grand Hotel des Bains
in St. Moritz, had created most dishes of today's flight: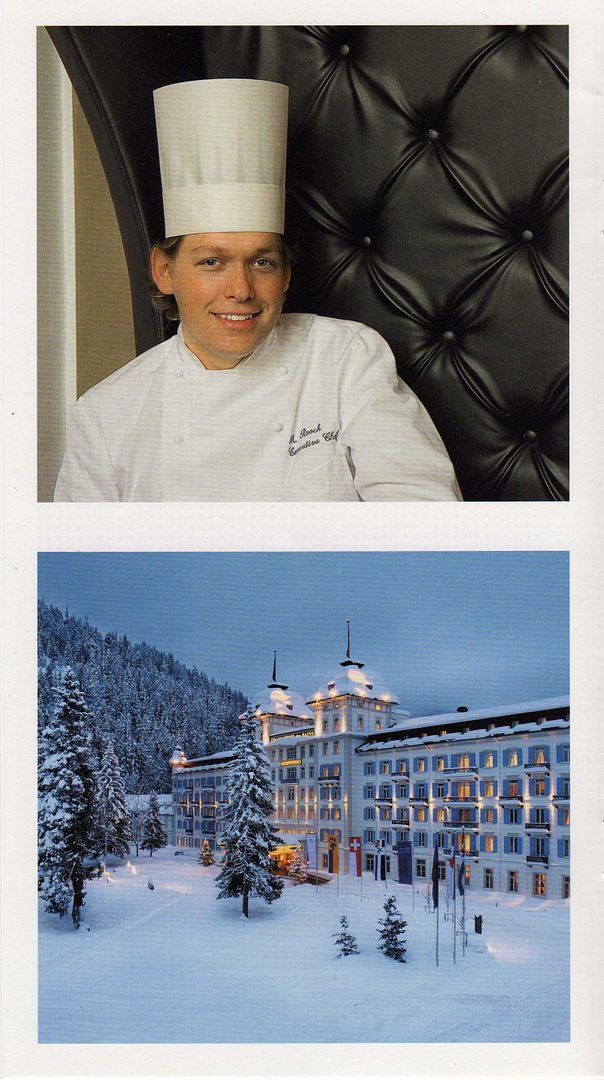 Simply mouth-watering: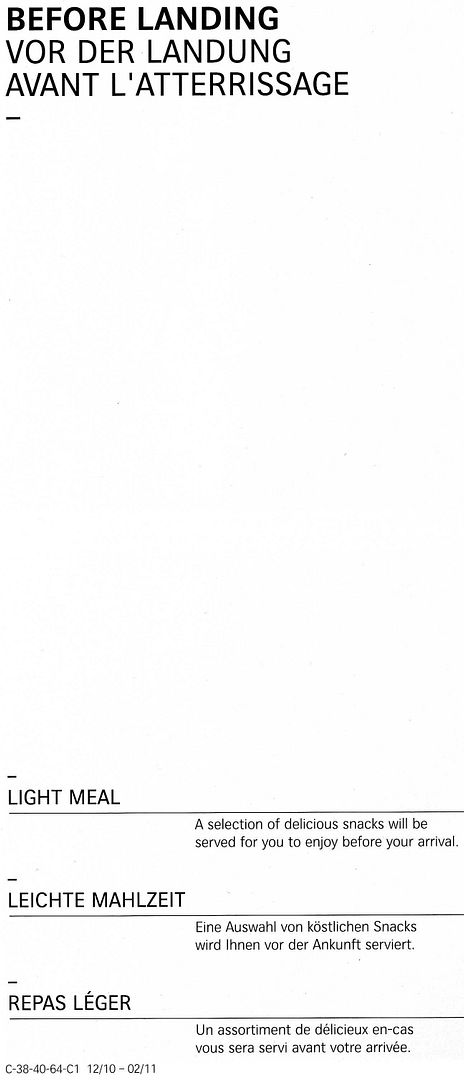 Wines and more: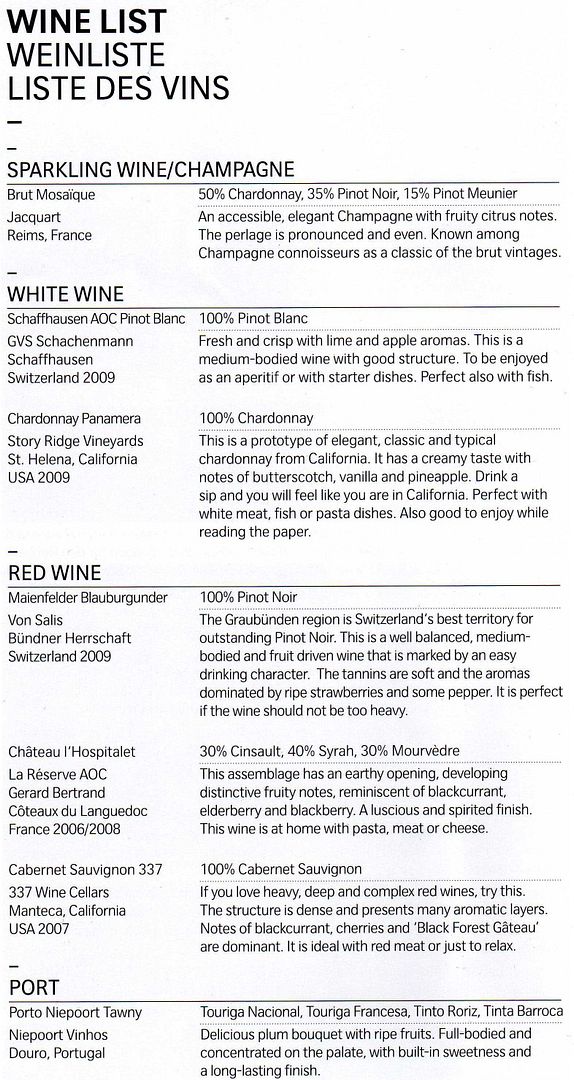 My dishes of choice were the smoked salmon and the fillet of beef...which I was really looking forward to.
Shortly thereafter,
M.
started laying down white table cloths. Interestingly, I failed at folding out the table - it seemed to be a quite complicated mechanism.
M.
smiled and told me that folding out the new seat's table would indeed require some training...
As soon as all tables had been prepared, salty snacks and drinks were served. Nuts and orange juice for me:
While waiting for the appetizer, I had a look at the various publications in the seat pocket. Inflight magazine:
Personalized service in Swiss' Business Class? No doubt about that!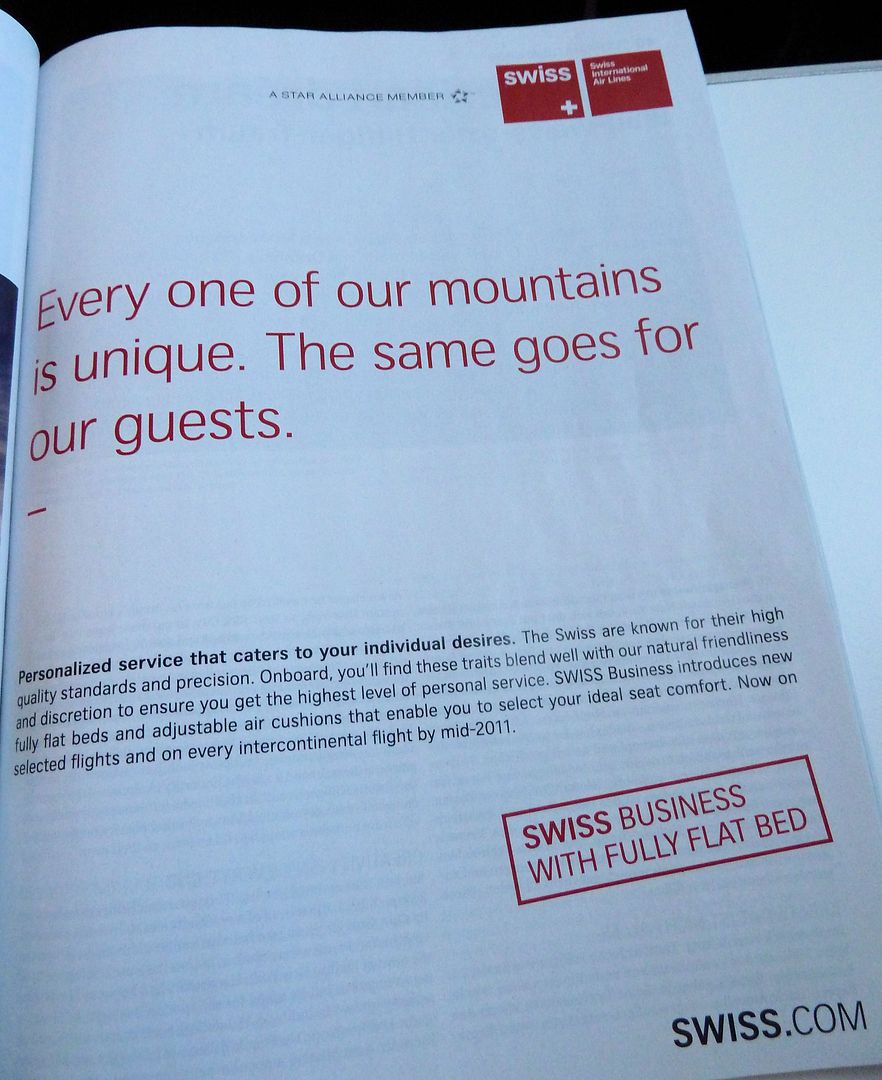 Dedicated magazine for First and Business Class passengers:
Duty free magazine: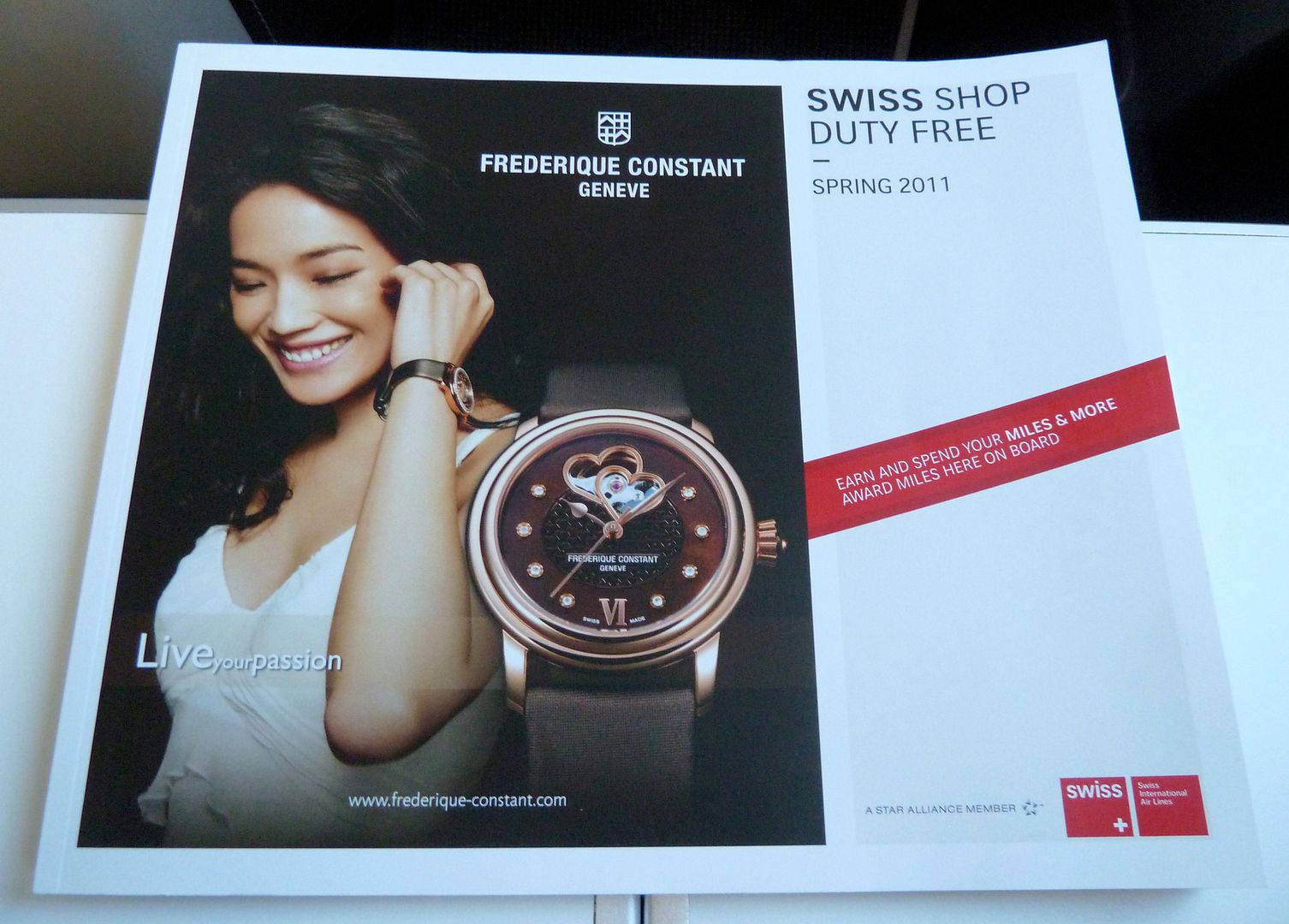 About 25 minutes after the snack service, one of the female flight attendants arrived with the appetizer cart.
"Unfortunately, only smoked salmon is left"
, she regretfully said.
"But that's exactly what I want!"
, I replied. Then she offered four different kinds of warm bread. A younger colleague immediately followed with the drinks trolley and I asked for a medium-dry white wine.
"That's a good question"
, she answered and simply referred to the two available options, without giving further details. Anyway, I decided to try the
Chardonnay Panamera
from California.
The tray looked mouth-watering - and everything did indeed taste excellent: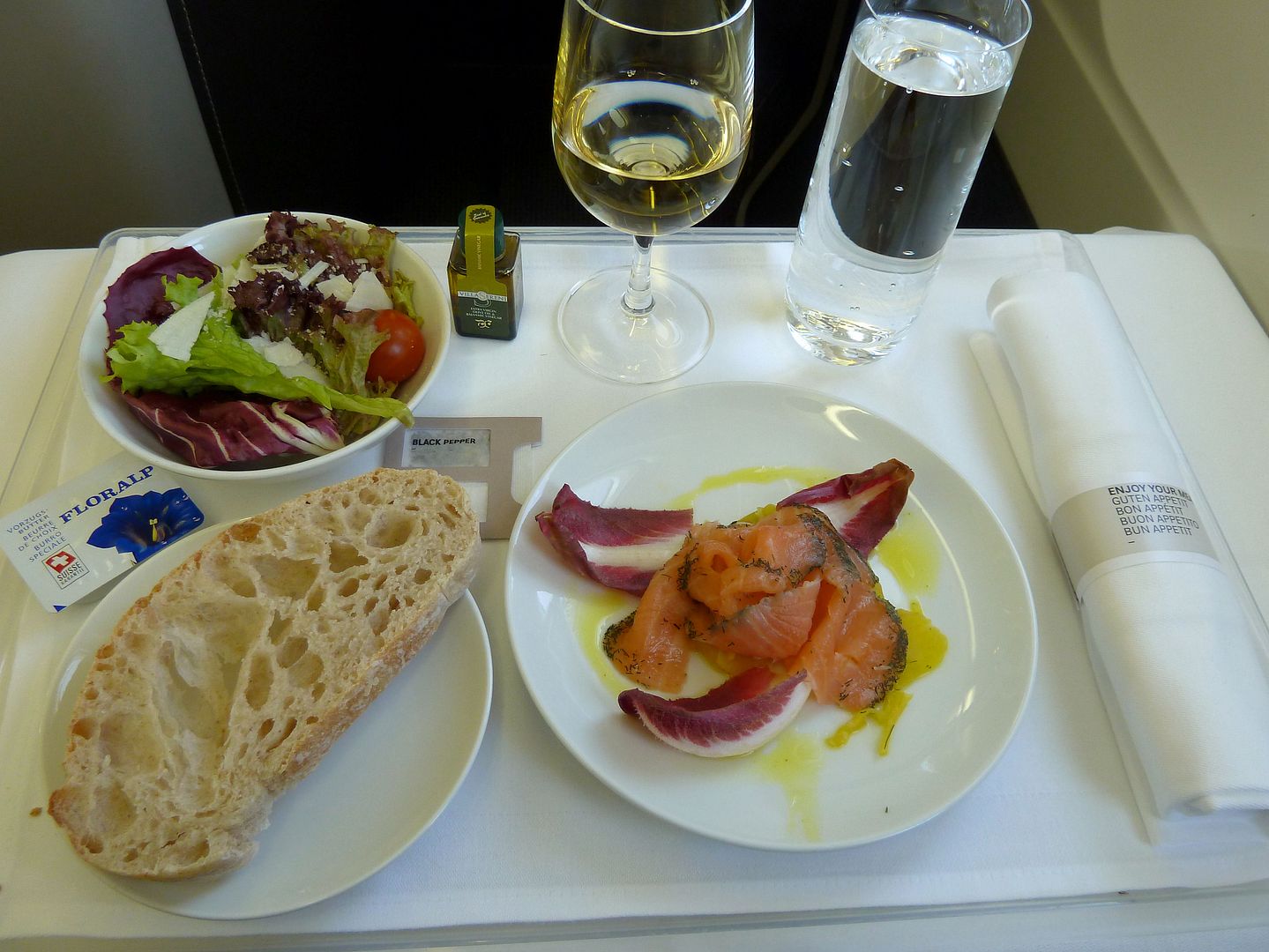 M.
then served the main course whose presentation could have been a bit better: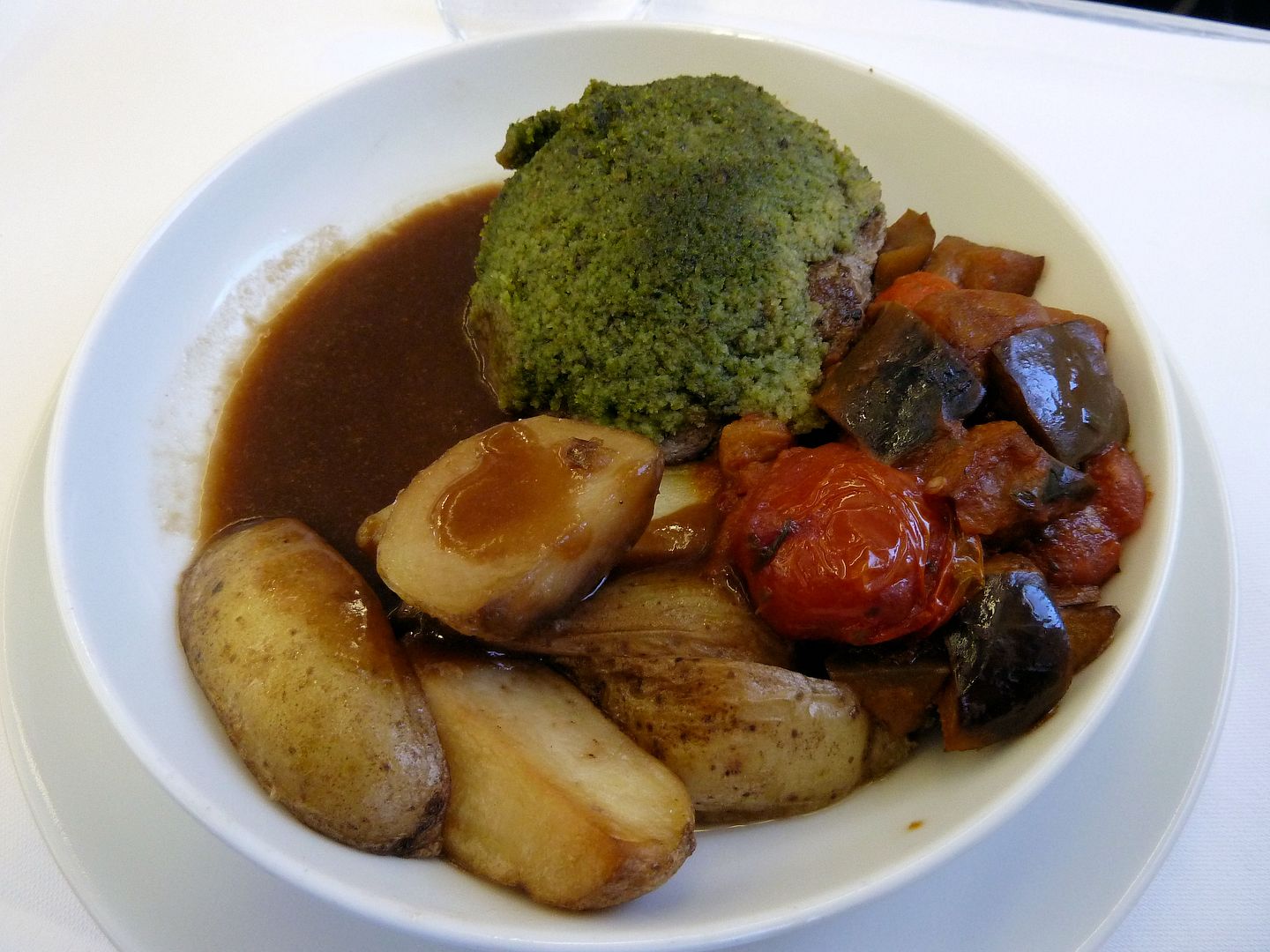 I have to admit that the herb crust on the fillet of beef was not to my taste - but everything else was great, above all the meat itself: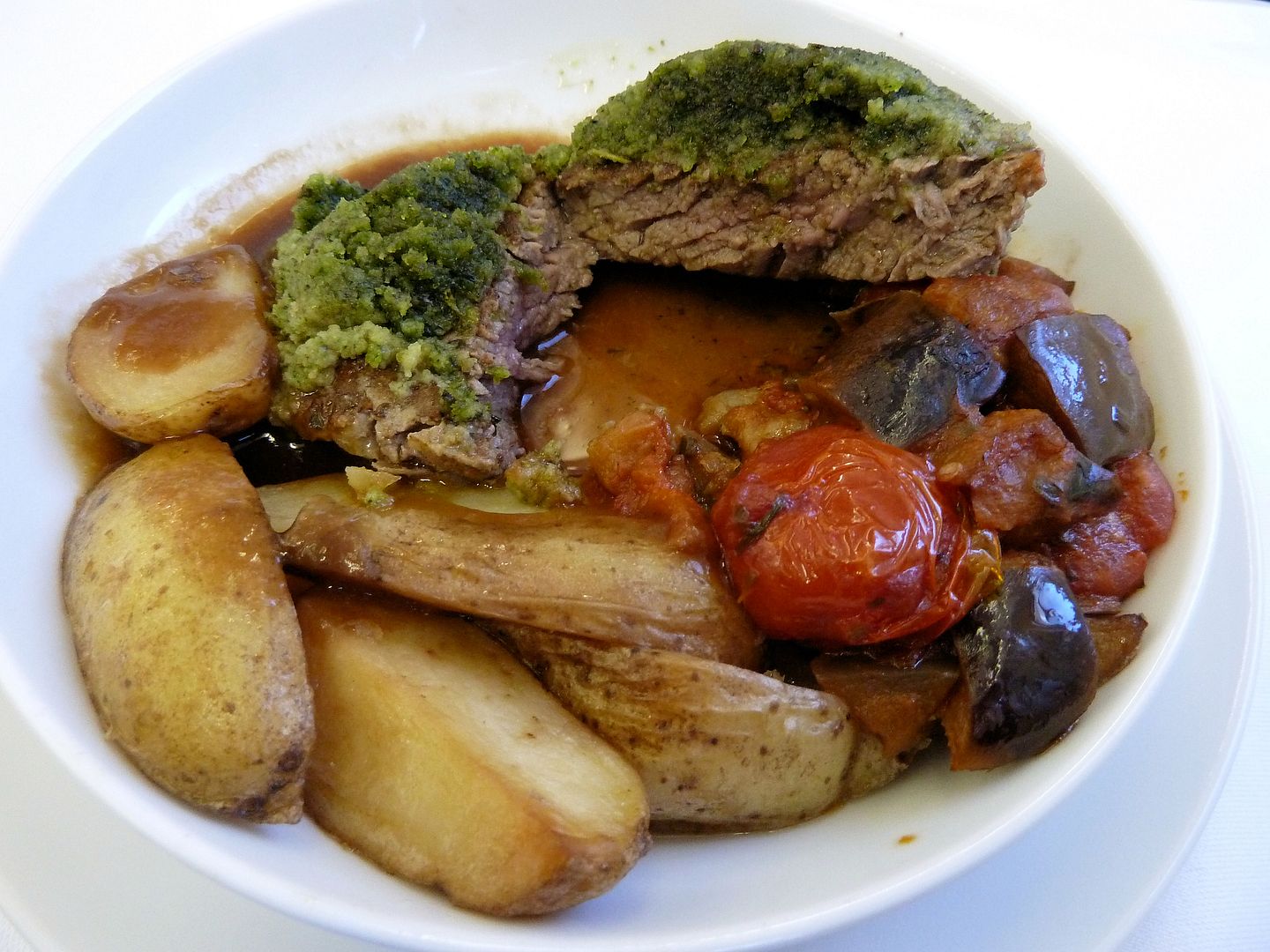 After the trays had been collected, the cheese and dessert cart arrived. First of all, I ordered a small cheese plate. The friendly female flight attendant recommended to try some sweet pear bread - and that was a good choice indeed: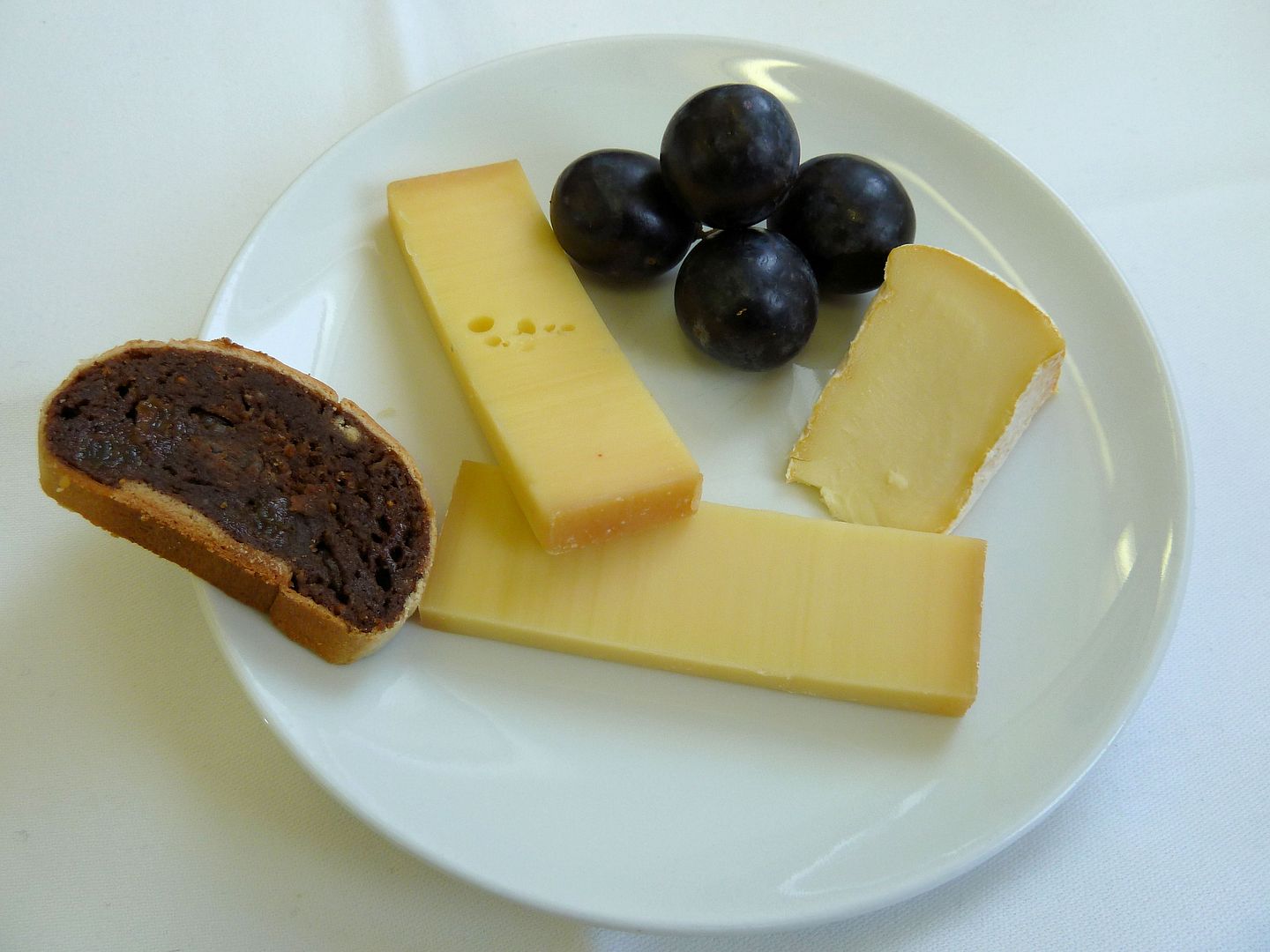 The lunch had been great so far - but the crunchy chocolate mousse with mango sauce was simply awesome!
Strong after-lunch espresso:
Finally,
M.
passed through the cabin with golden boxes...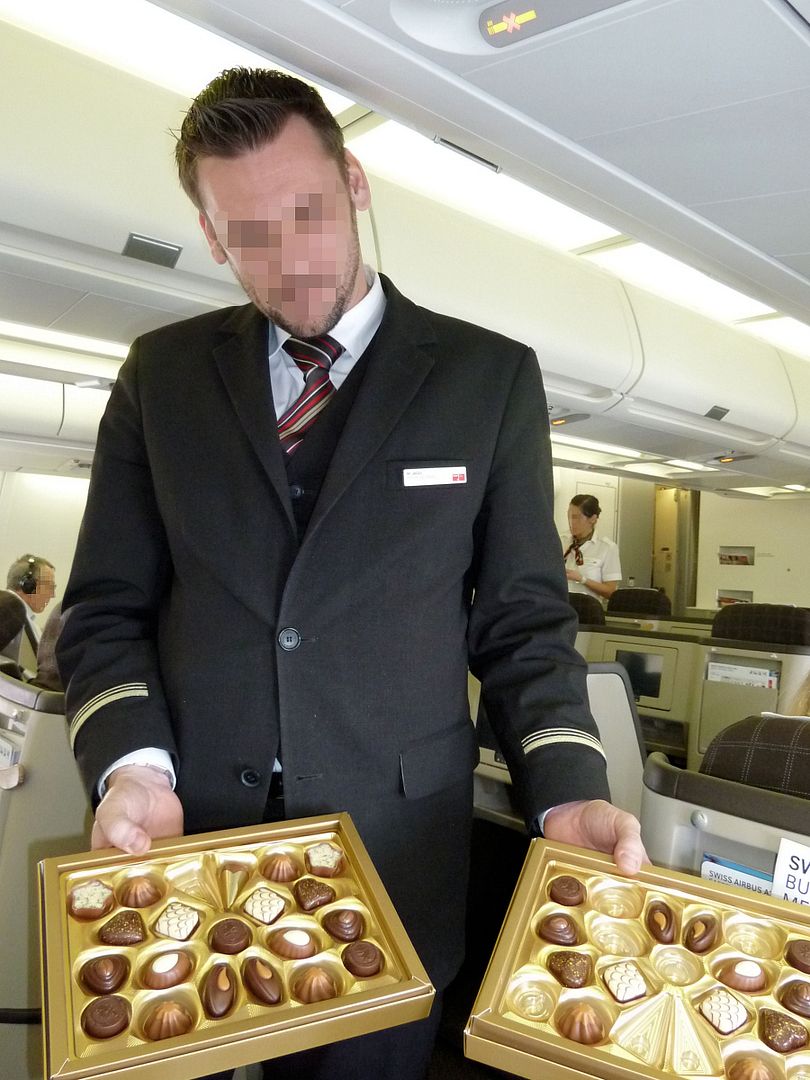 Picture taken by my brother
The
Lindt
chocolates were delicious: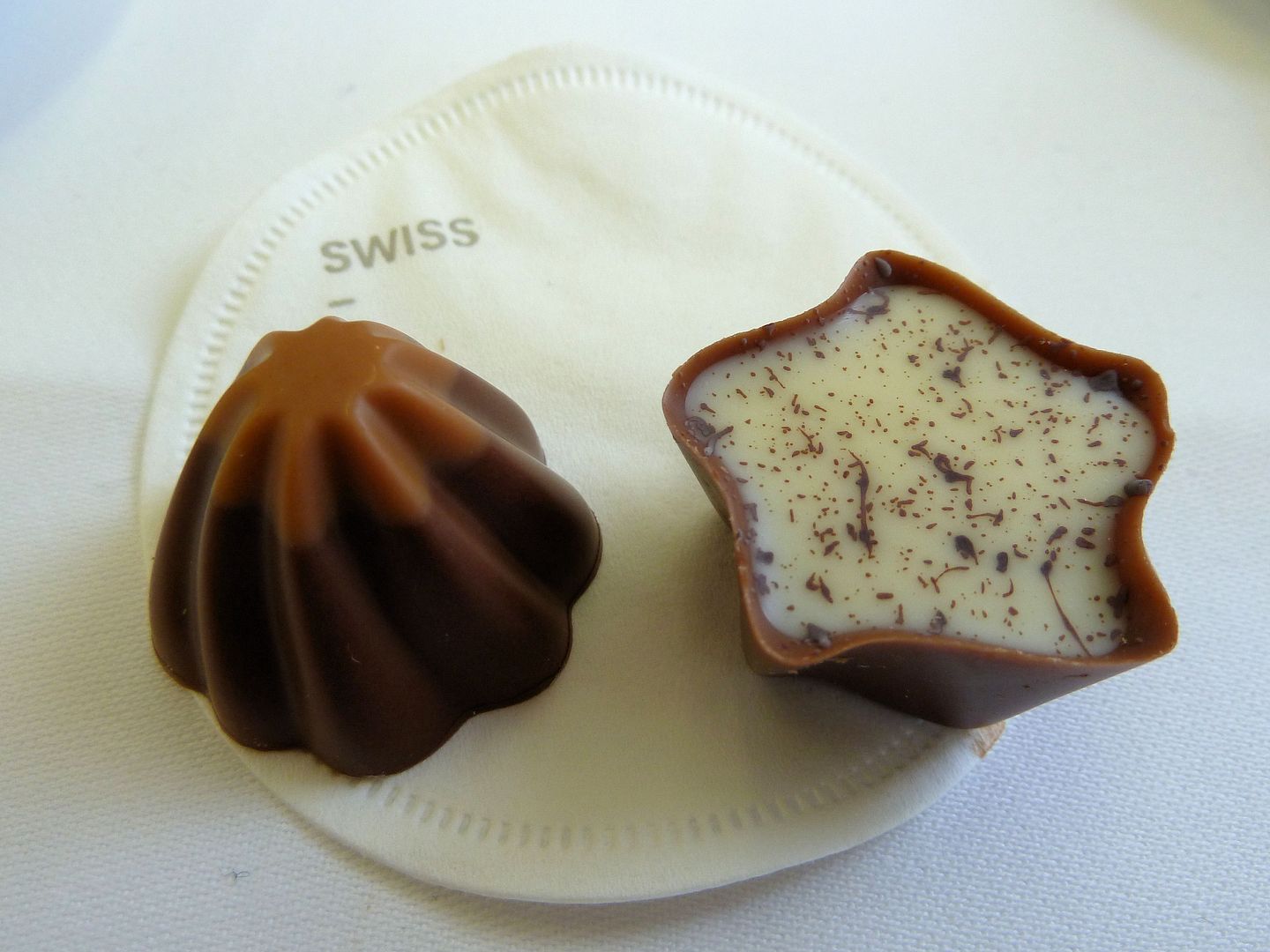 After Swiss had fed me, it was time to rest for a while. This is the lounge position: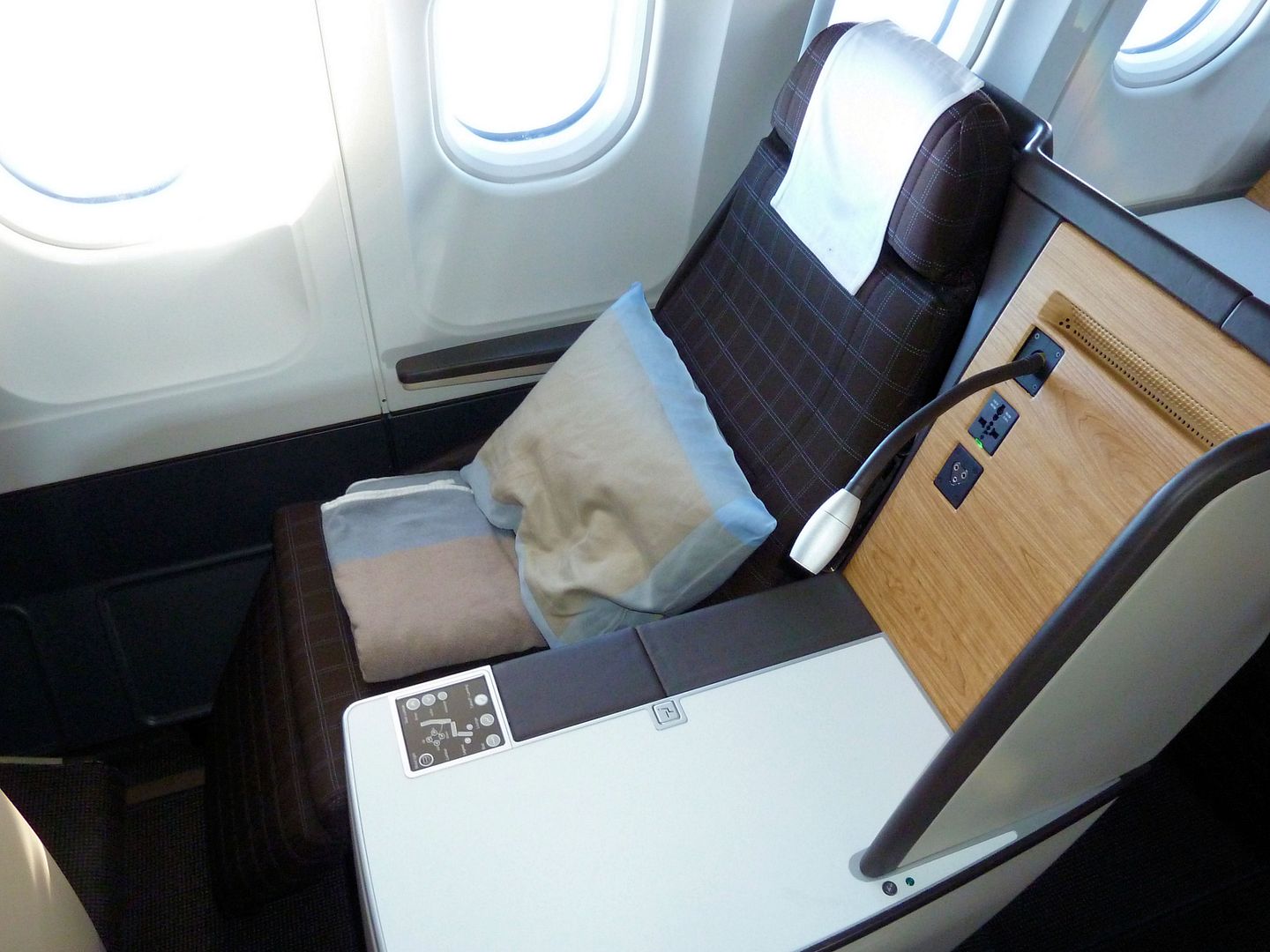 And here it is - the fully flat bed:
Lying flat, watching the airshow and listening to good music - what else do you need at 39000 feet?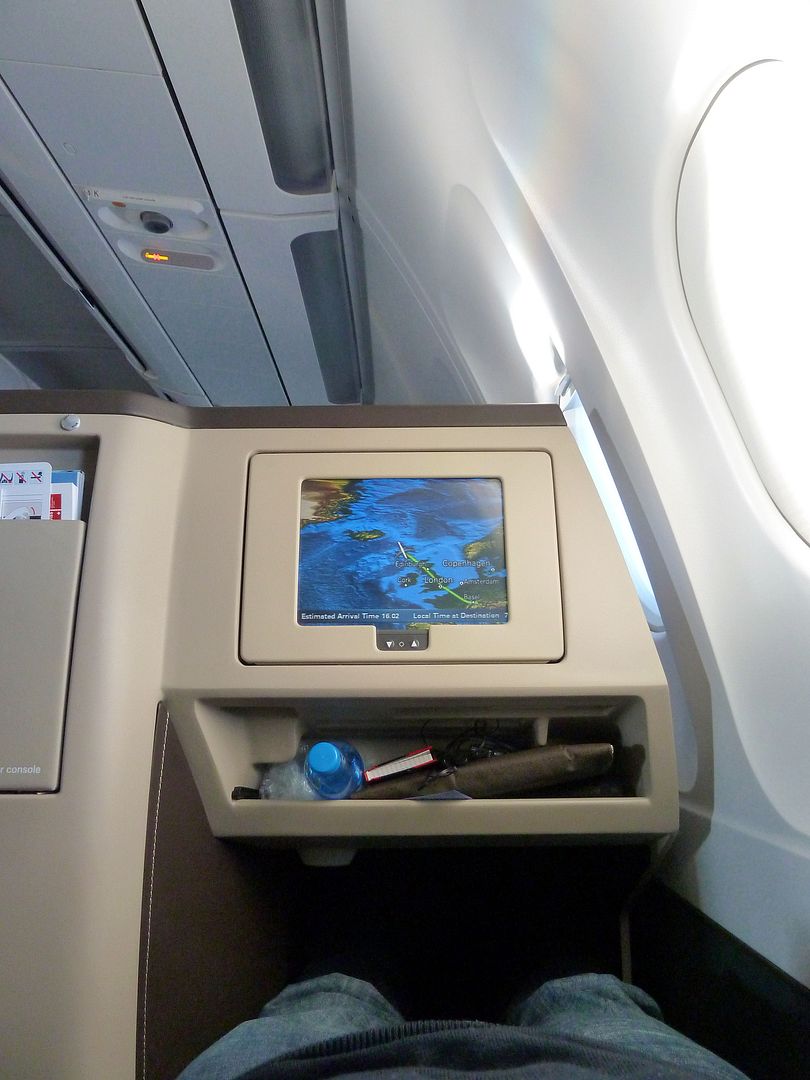 Some time later, a female flight attendant in the mid-20s who I hadn't seen before went straight to seat 9K and started talking to my brother. They were soon joking around and I was asking myself:
"Do they know each other???"
Just after I had stopped listening to music in order to investigate, she came to my seat and cheerfully said:
"So you are also from Bavaria, right?"
She then told me that she came from the city of Straubing - and that a colleague in Business Class had informed her about a compatriot being seated in 9K. Apparently her colleague had identified my brother's dialect. I moved forward to the empty aisle seat 10G for a while and the three of us had a really nice conversation.
After the nice girl had returned to work in Economy Class, I took a closer look at the AVOD entertainment system. Handset:
Main page: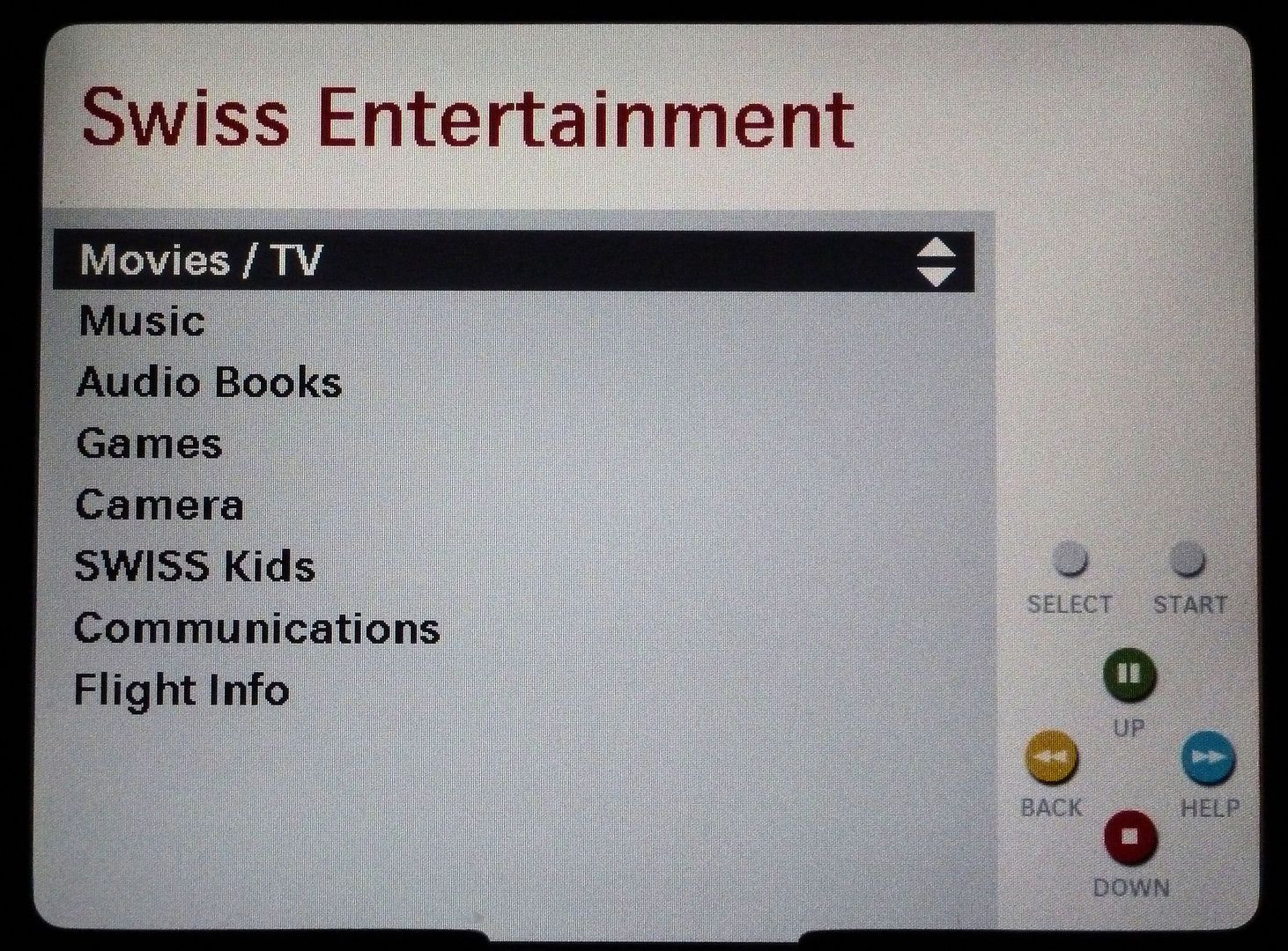 Movies: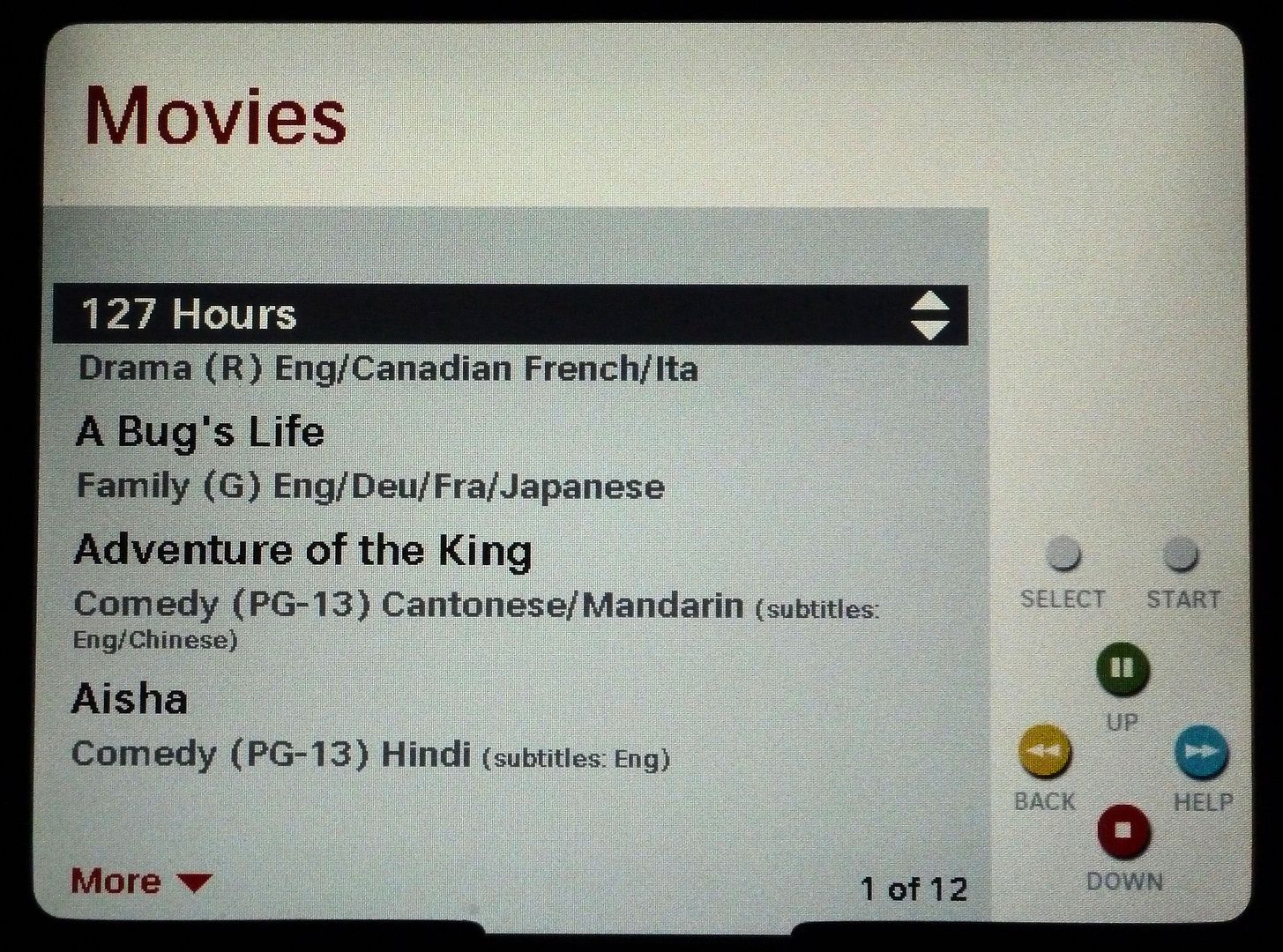 Games: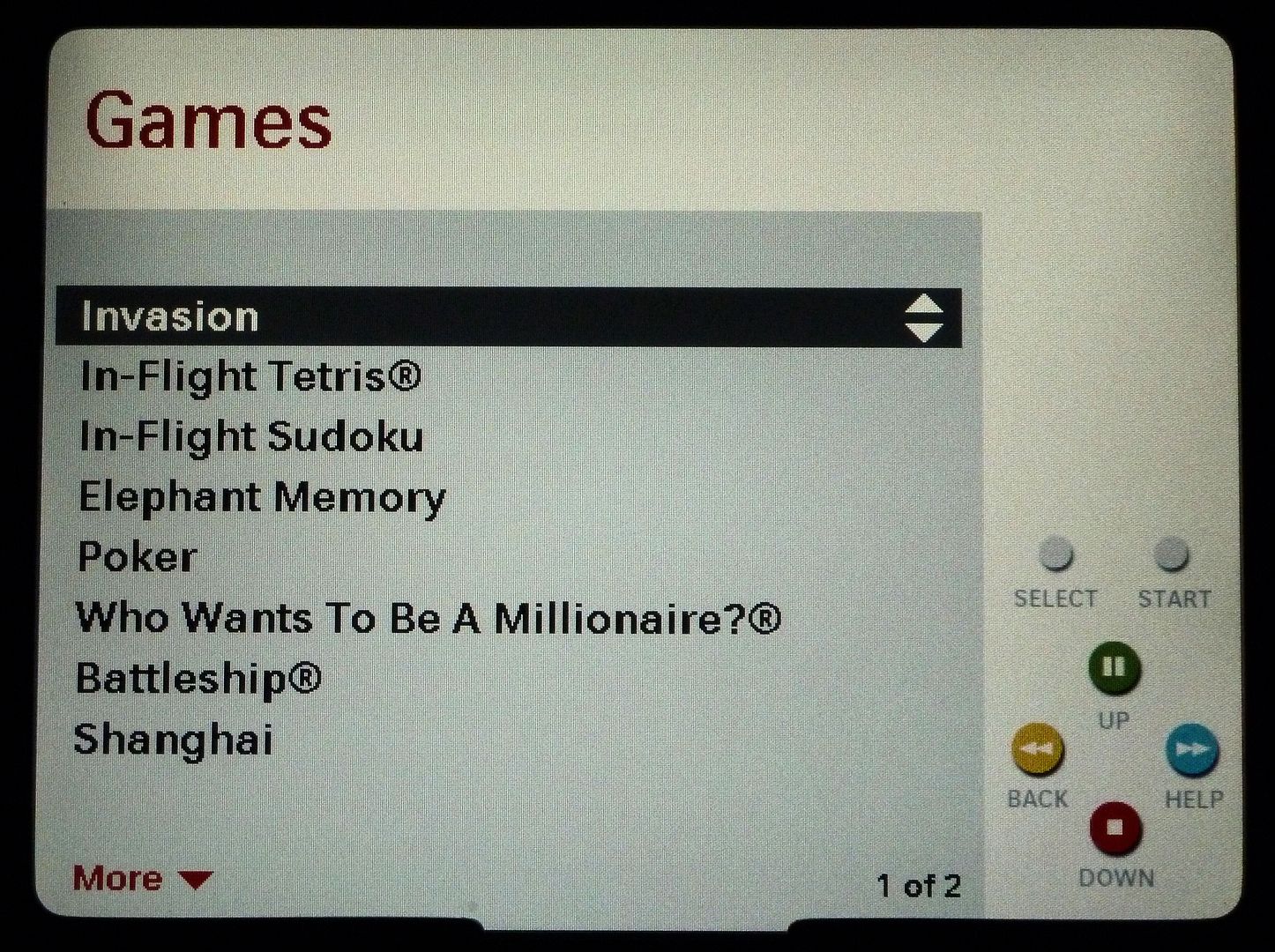 The system is easy to navigate and offers a choice of 22 movies, 40 TV programs, 16 music channels, 300 music CDs and 15 games. That's definitely enough to keep you entertained for a while, but various other quality carriers offer many more options. Swiss should particularly increase the number of movies.
Anyway, I switched back to the airshow channel...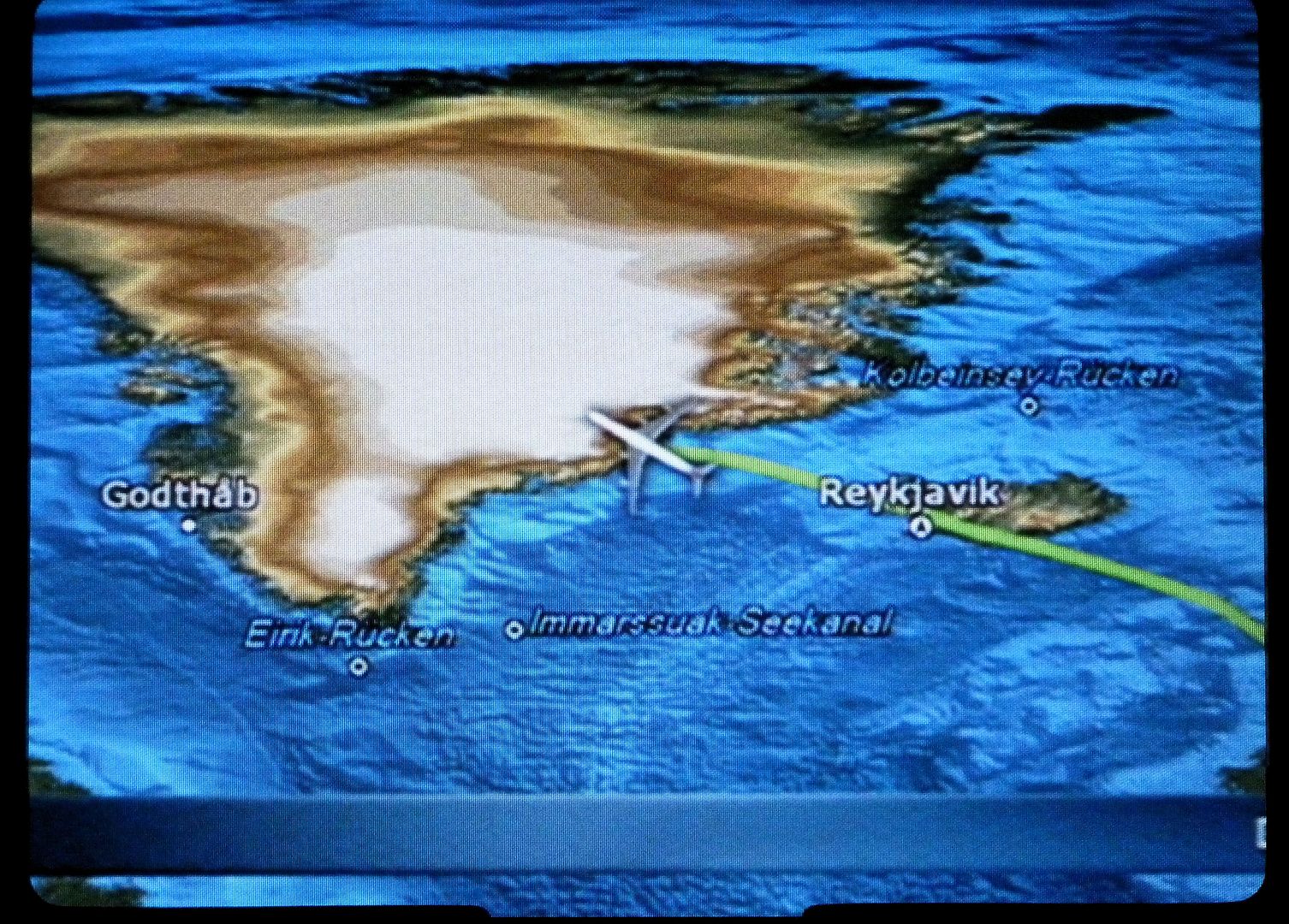 ...made my seat flat again, relaxed and tried to find some sleep. It seems I slept almost two hours on that comfortable lie-flat seat - my only criticism is that shoulder space is a bit tight.
Some time later,
M.
offered Mövenpick vanilla ice cream and I ordered a single scoop waffle cone.
M.
also handed out a glass of water without having asked - very nice service!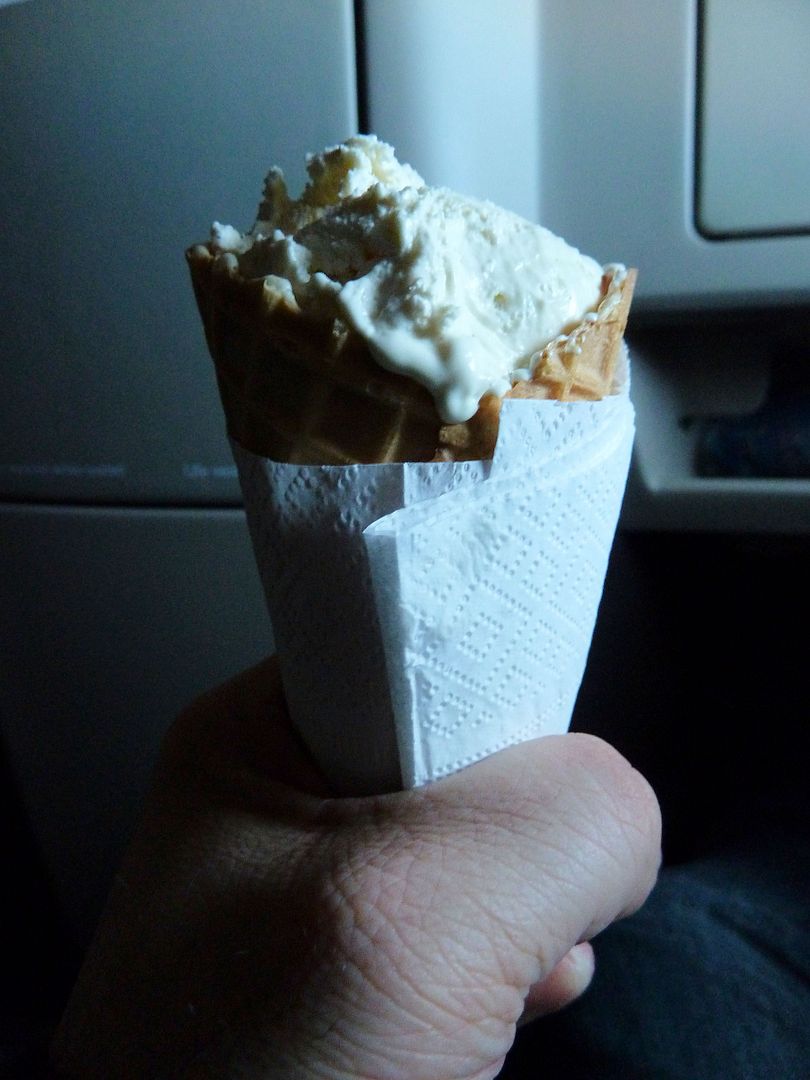 Only 2 hours and 20 minutes left - I really asked myself where all the time had gone: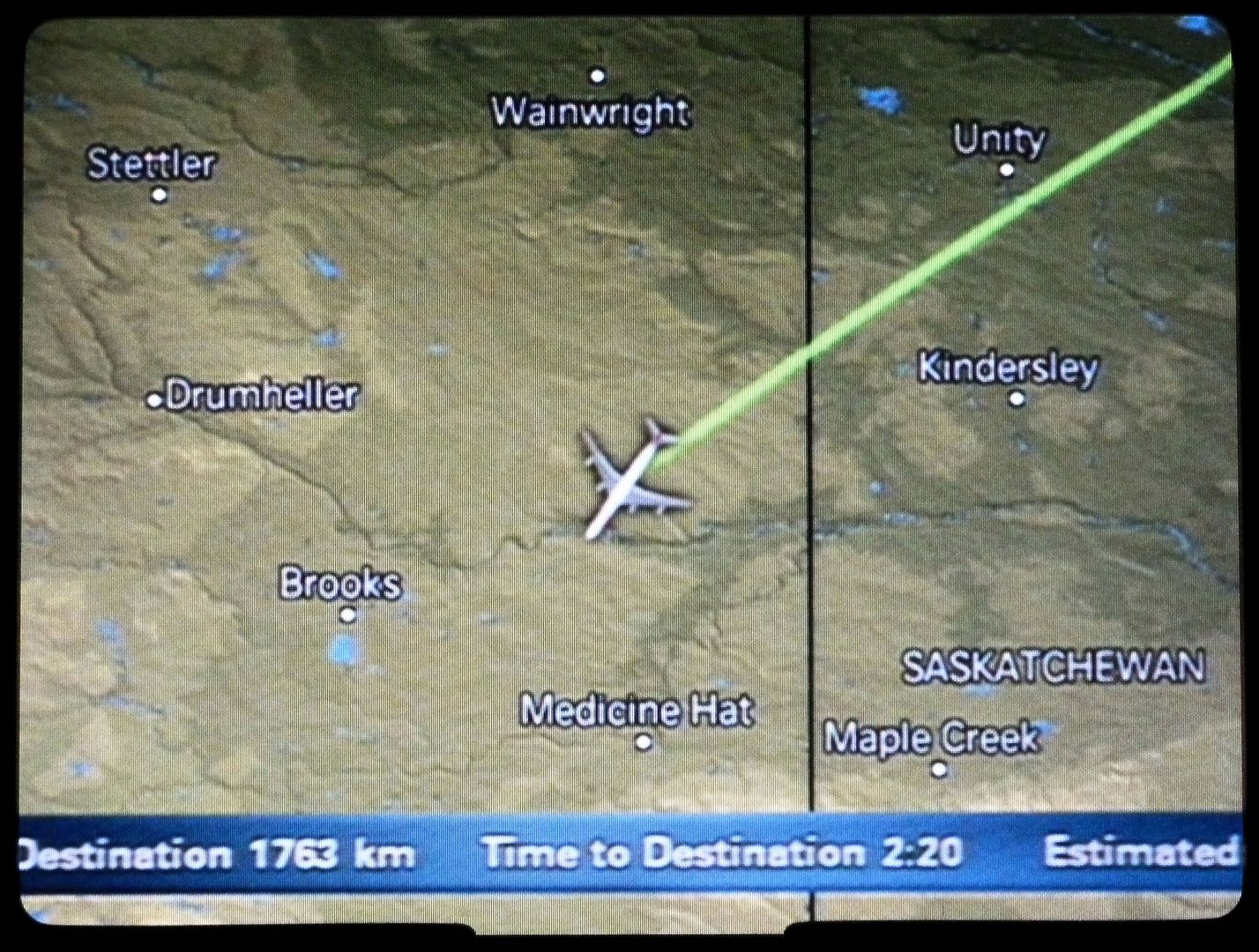 I couldn't get enough of the new-style airshow: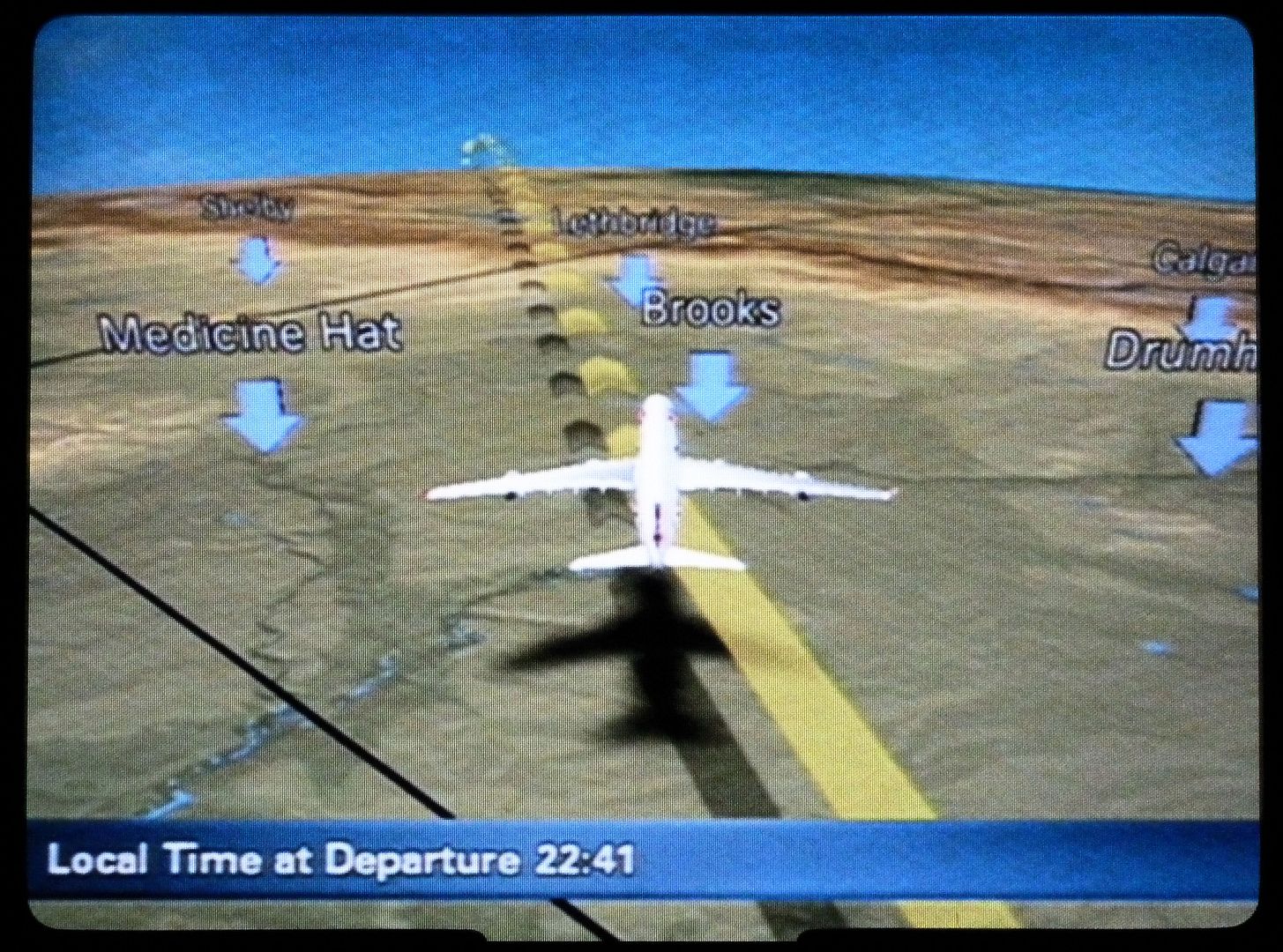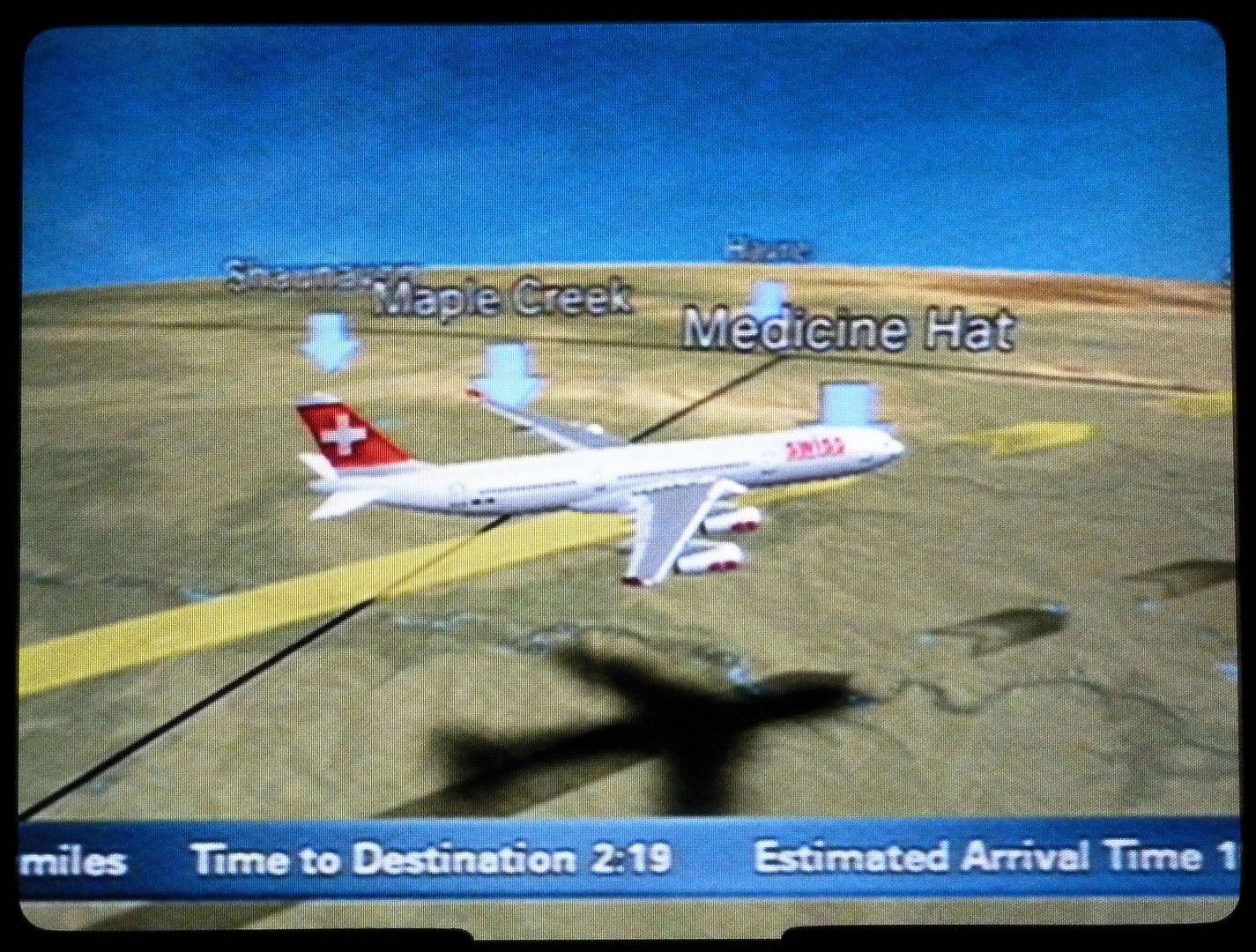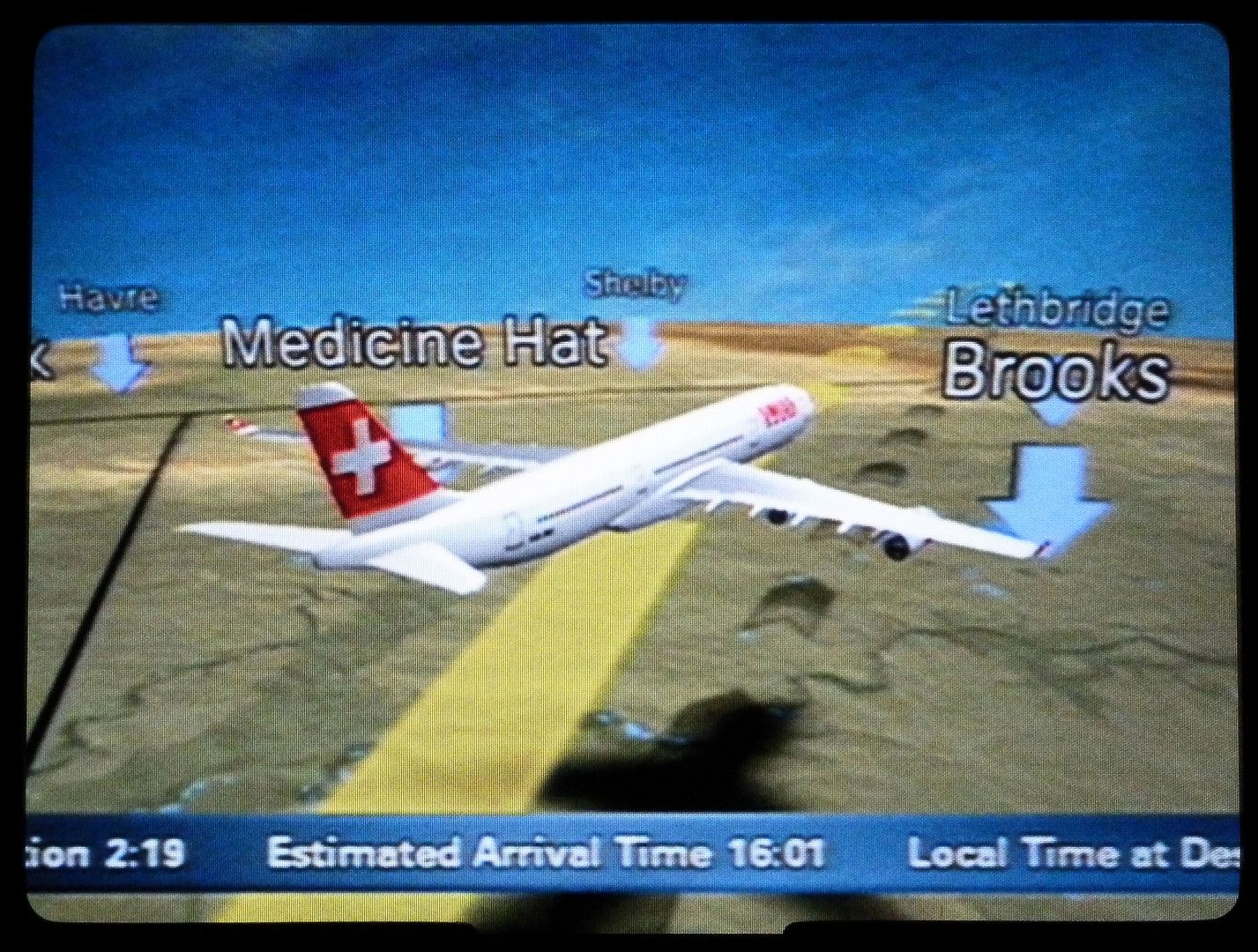 Lavatory amenities: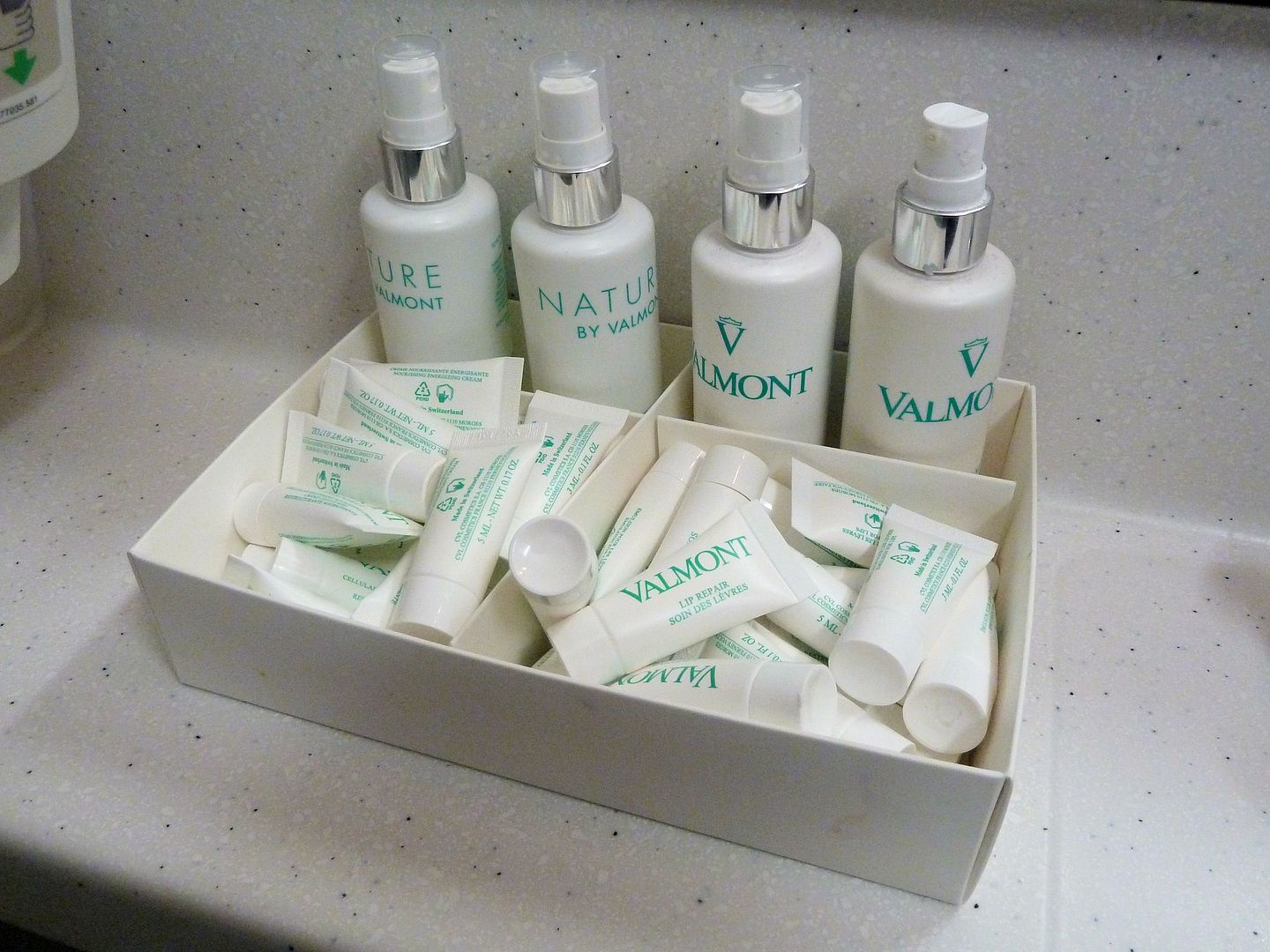 Snowy mountains, deep blue sky and a nice wing with white engines: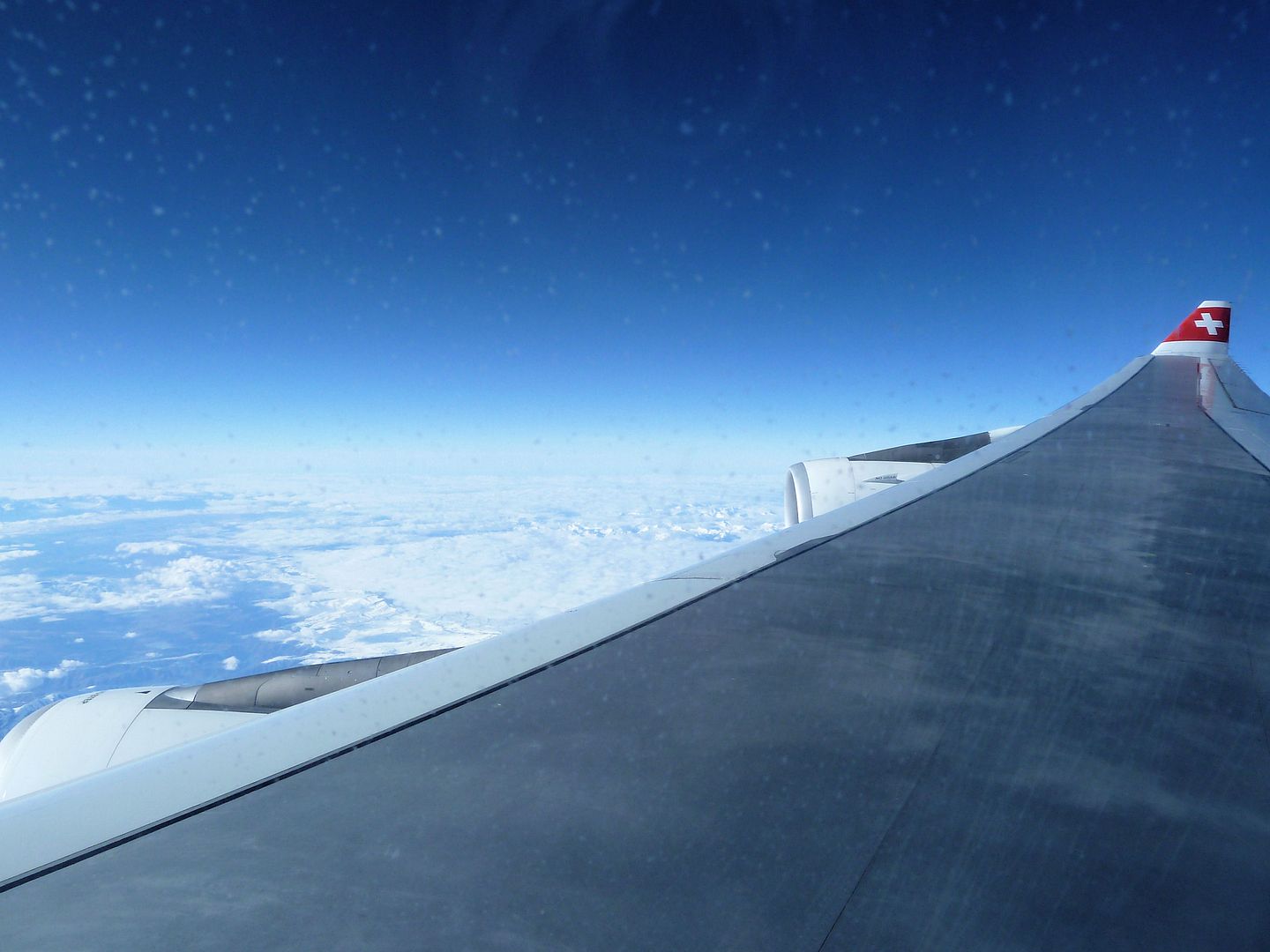 About 75 minutes prior to arrival, the flight attendants offered a selection of light snacks: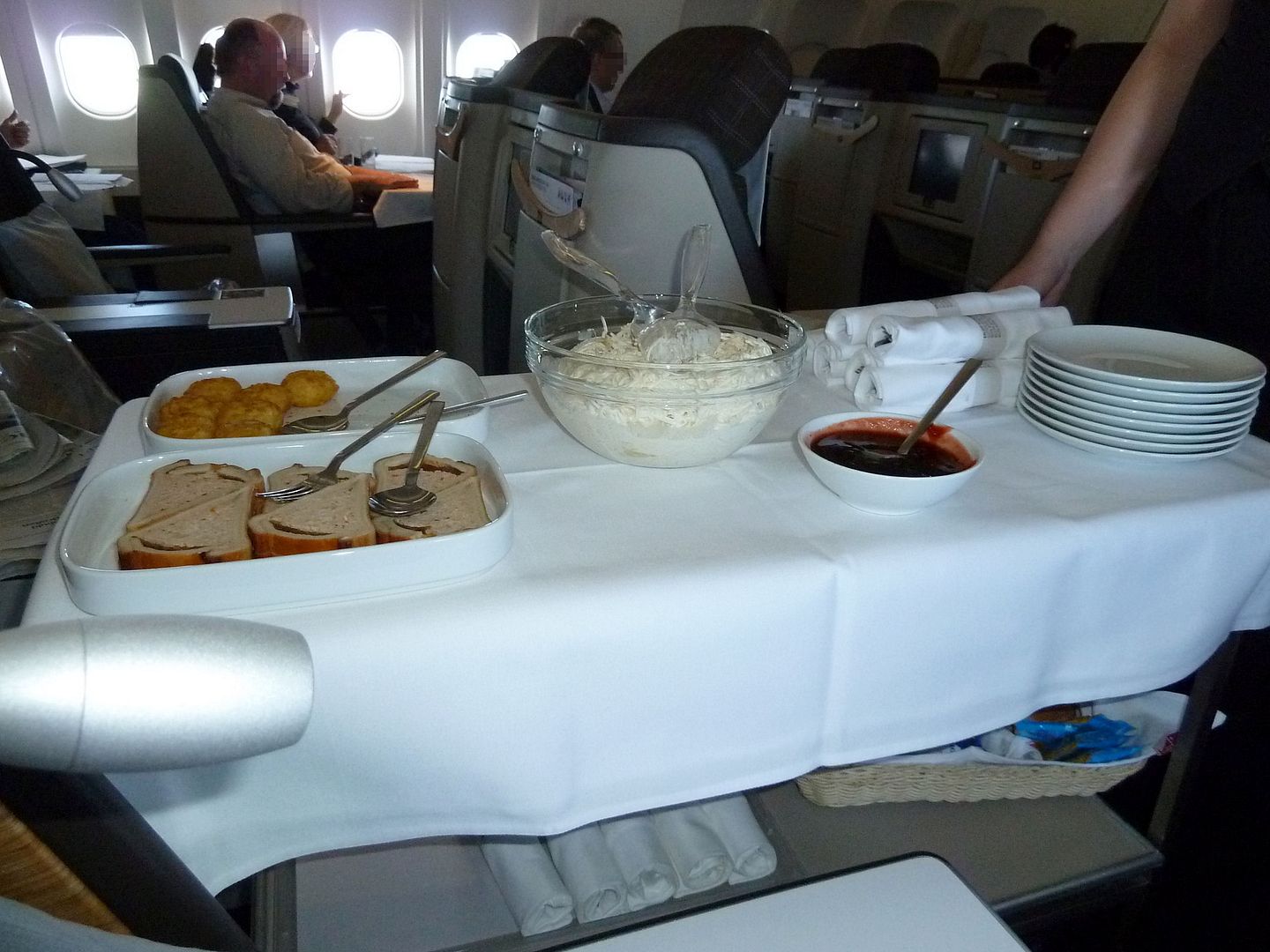 Picture taken by my brother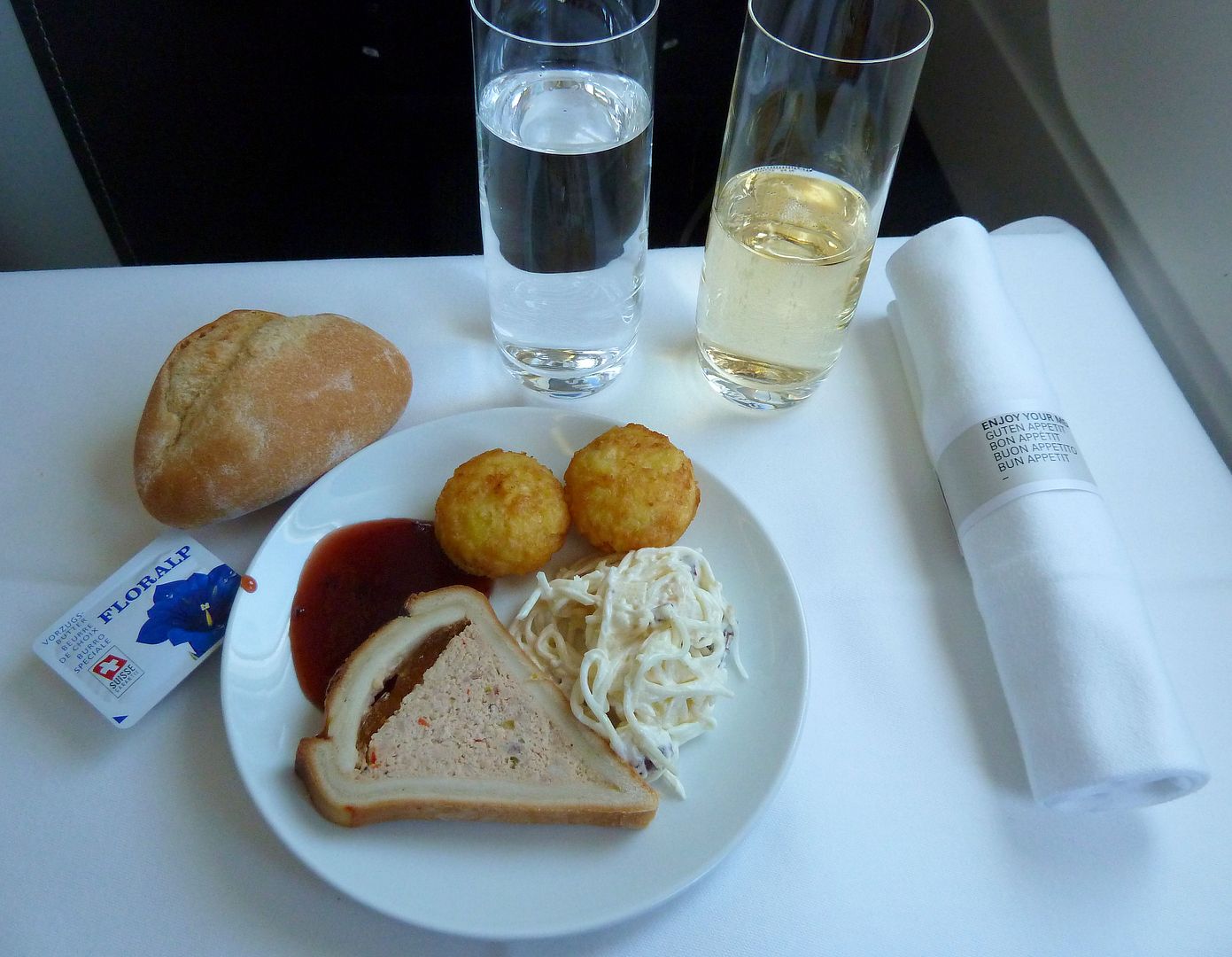 I'm neither a fan of poultry pate nor celery salad, but both snacks weren't bad at all. My favorites were the warm cheese filled roesti balls and the Cumberland sauce - not to forget the champagne, of course!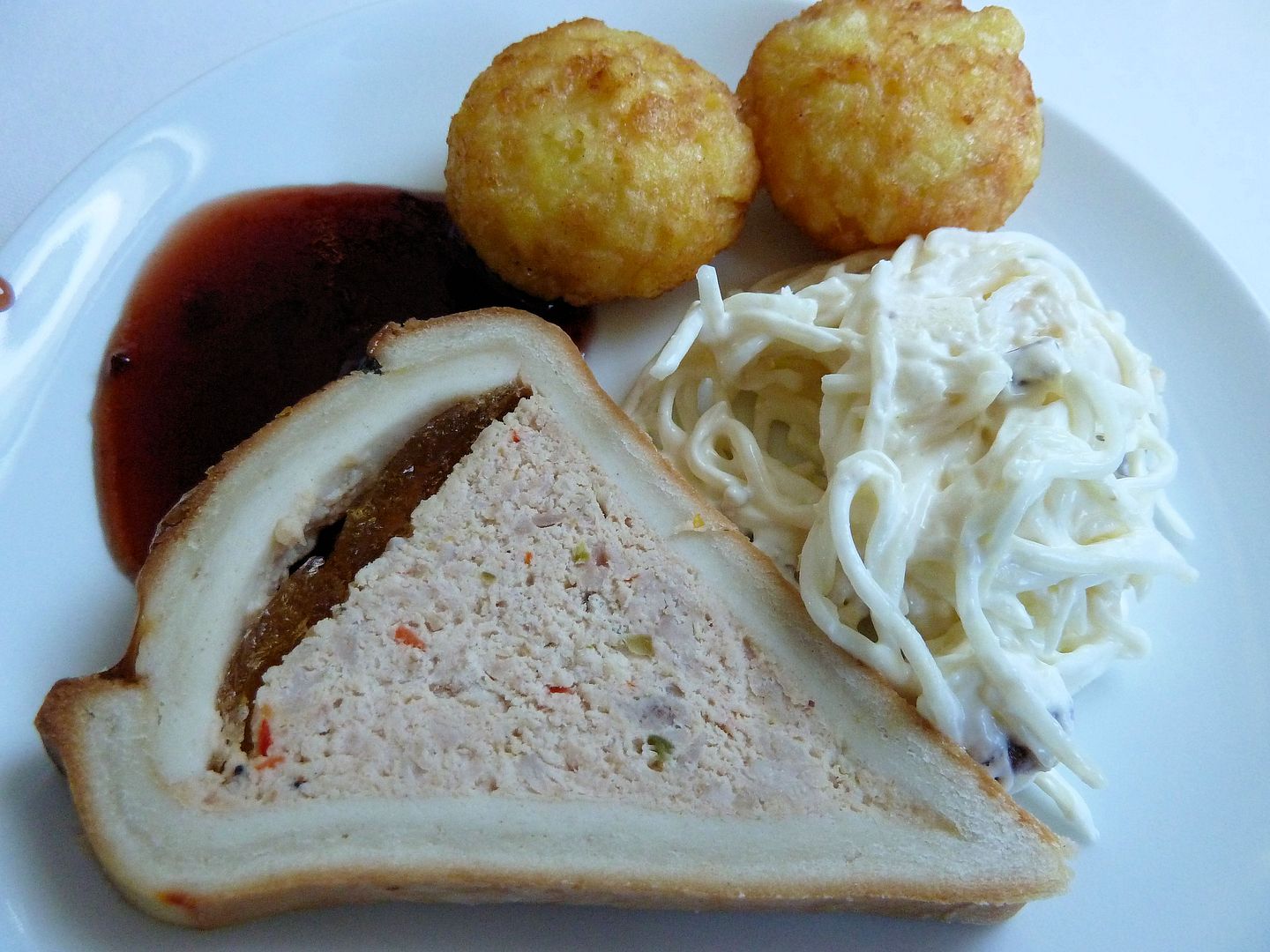 M.
served dessert this time - and I decided to try both the white chocolate blueberry mousse and the nut cake: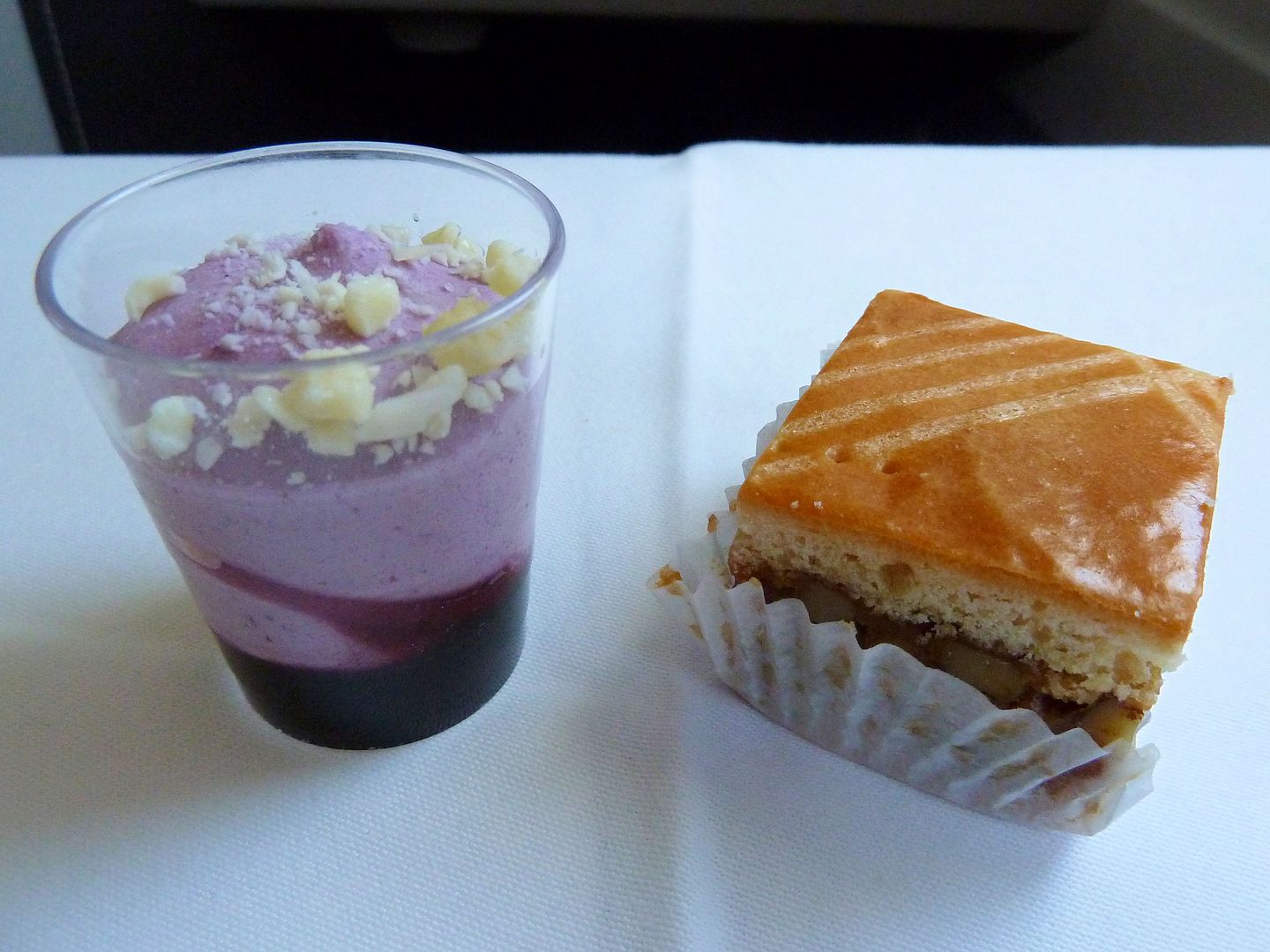 Which one did I prefer? I don't know, both the mousse and the cake tasted great.
I finished off the light meal with a good black tea:
After commencing descent, the captain came on the speaker again and informed us about fabulous weather in San Francisco. Some time later, he recommended to look out of the windows on the left side because we were passing downtown San Francisco and the Golden Gate Bridge in beautiful sunlight. Some passengers even shortly left their seats to sneak a peek - despite the fact that the seat belt signs were illuminated. Anyway, we hadn't been on final approach yet.
The weather in the Bay Area was indeed fabulous: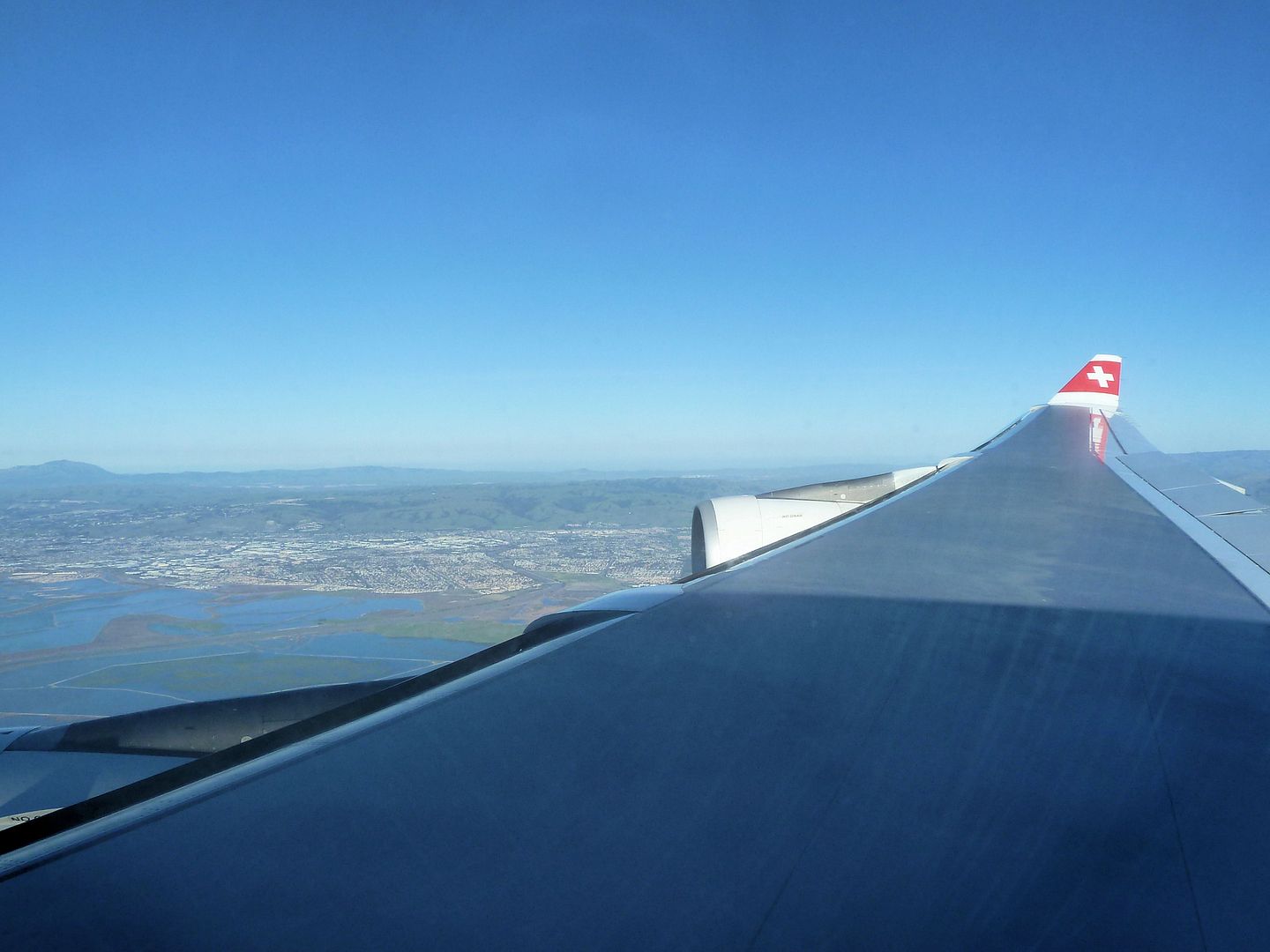 This is the San Mateo-Hayward Bridge: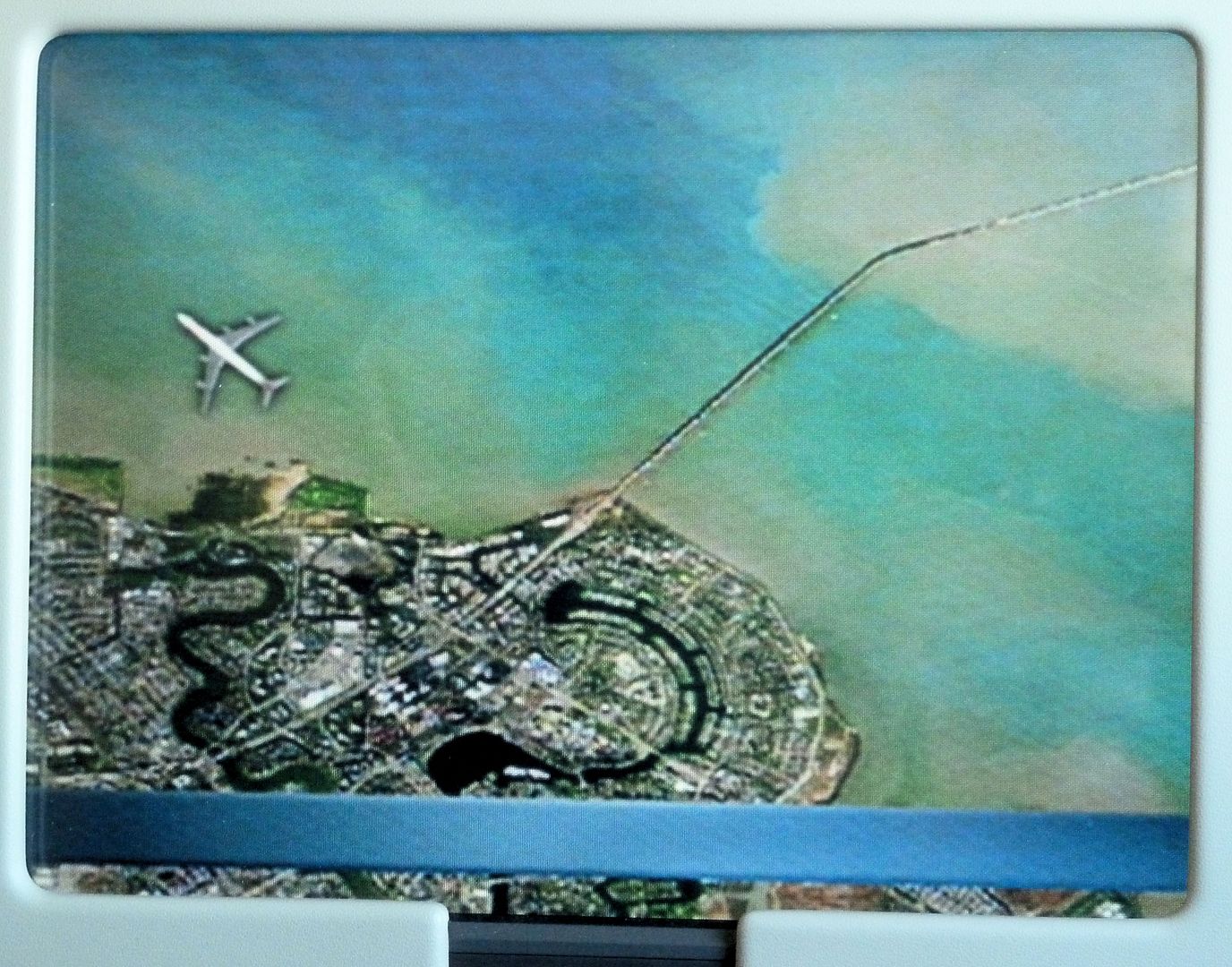 Only a few more seconds to go:
We touched down after a flying time of 11 hours and 11 minutes...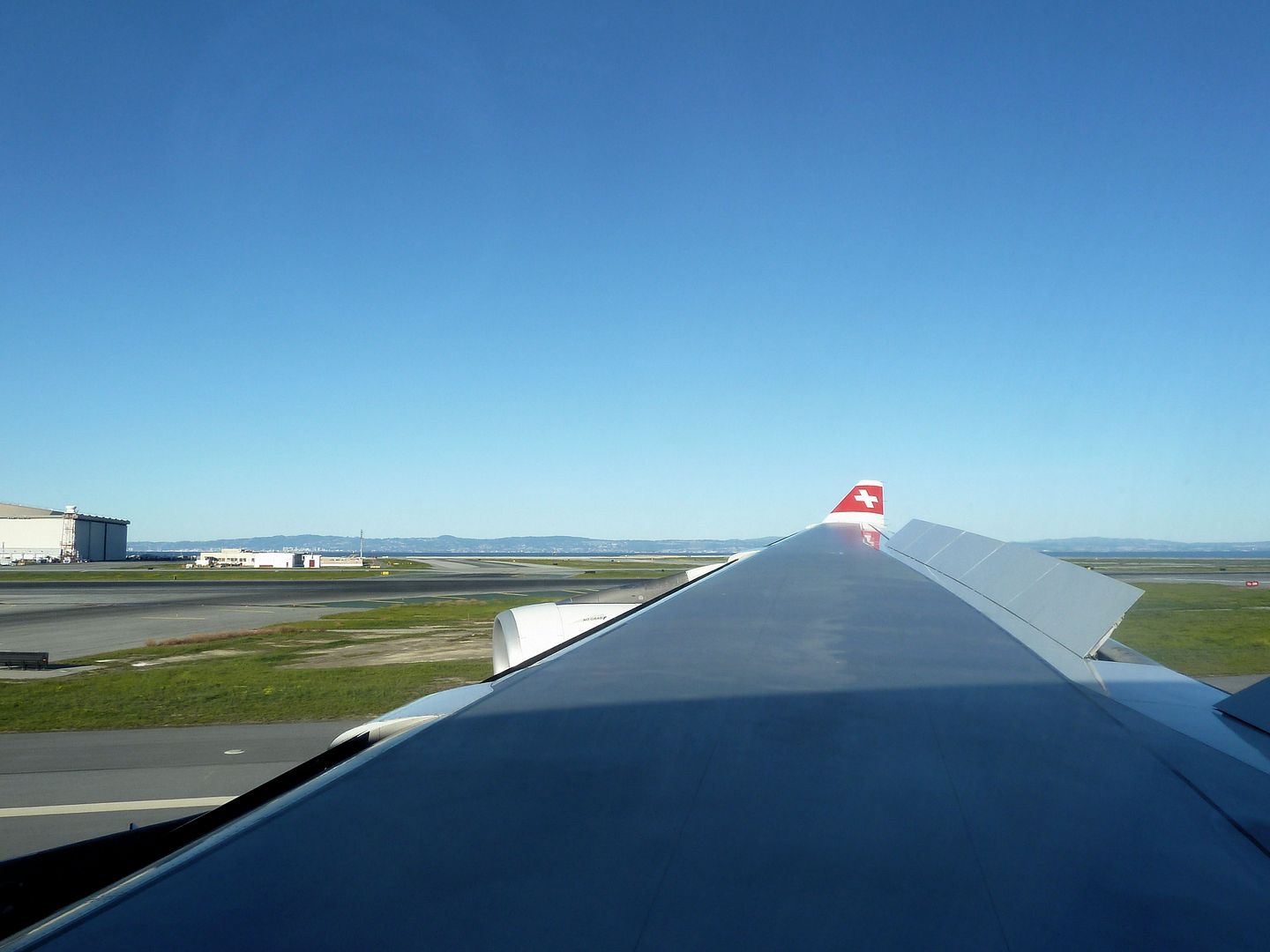 ...and quickly taxied to the gate at the international terminal where we arrived almost half an hour ahead of schedule.
Goodbye, Swiss! See you again in Los Angeles in a few days!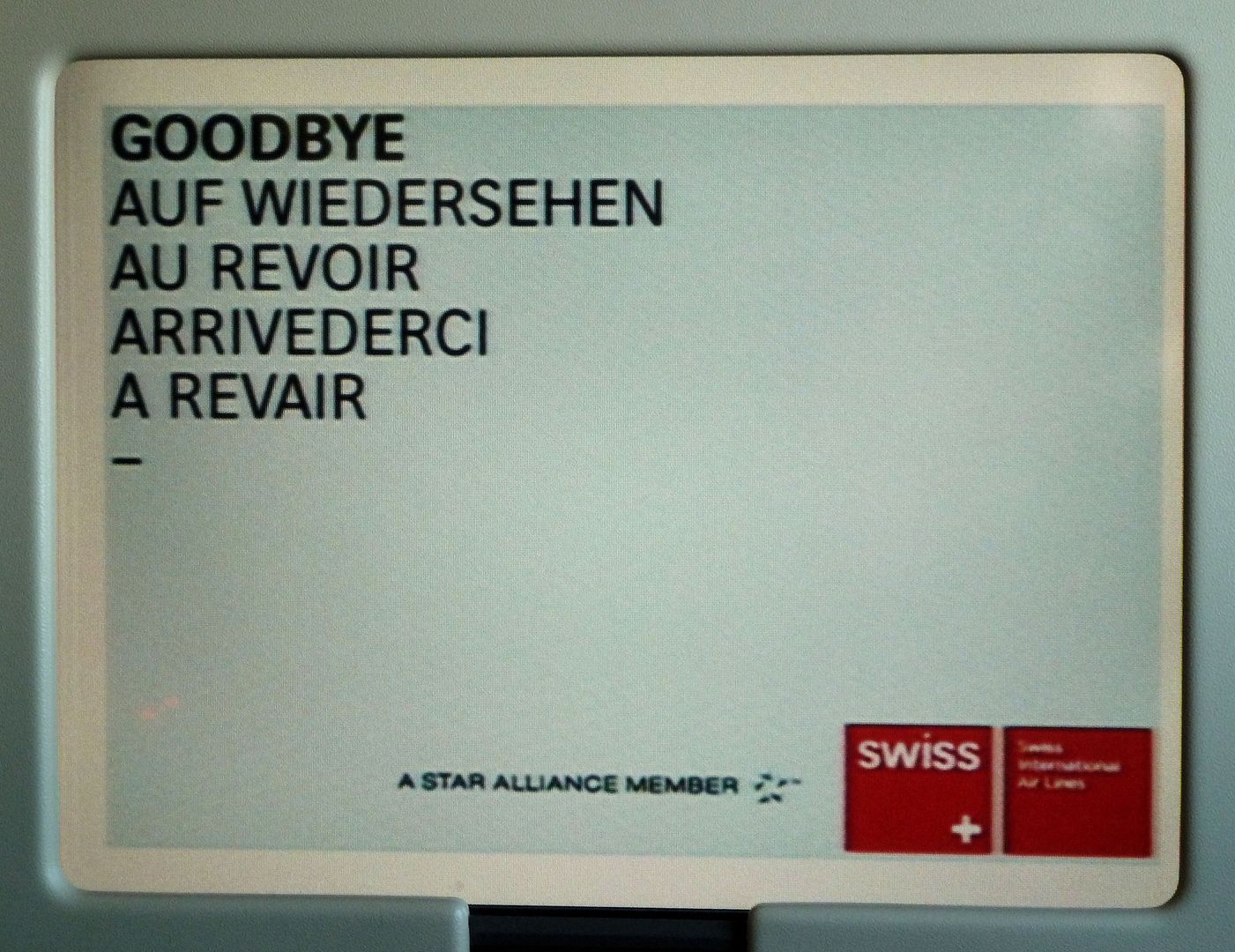 We thanked our flight attendants for the good service and quickly walked to the immigration counters. About 45 minutes after landing, we took the BART to downtown San Francisco. I guess I had never felt so relaxed after a long-haul flight before.
Story to be continued...
Conclusion
Great seats, great food, great crews: Despite a few minor weaknesses,
SWISS
offers a great long-haul Business Class product. The new configuration offers lots of privacy, the lie-flat seats are very comfortable and there's plenty of armrest and table space. I enjoyed a warm and personal service, the food was outstanding in most cases. However, the carrier should improve its IFE. The Business Class Lounge in Zurich is much nicer than Lufthansa's counterpart in Munich, but both can become very crowded.
There's not much to say about the very short hop on
Lufthansa
. The flight attendant was friendly and customer-orientated, the breakfast was fine and seating comfort was decent - however, I wouldn't invest extra miles or money for a Business Class ticket if I were planning to travel a short distance only.
Best Regards,
PlaneHunter
P.S.: Just in case you missed them - my previous trip reports:
Mountains, Meals & More: SunExpress Vs. Pegasus
Crossing Two Oceans: AKL-SFO-MUC, NZ 777 & LH A346
Bad Weather & Other Bad Luck: Touring New Zealand
Trans-Tasman Treat: Aerolineas Argentinas A340-200
Detours To Sydney: Wildlife, Tiger, REX & QFLink
Thai Fails To Impress: MUC-BKK-BNE On 744 & 777
Painful Delay & My 100th Airline: AF A380, VO F100
Fifth Freedom Tidbit: Kuwait Airways A300-600
Ship Vs. Plane: Porto Santo Line & Sata Air Açores
Awesome Approach, Splendid Scenery: LIS, FNC & TAP
Guernsey, Ash Cloud Alarm & Mostly Empty SQ 77Ws
Totally Thrilling: Scenic Flight On Lufthansa A380
Cirrus D38, Adria CRJ & Captain Niki Lauda On Duty
Monarch Hot Meal, E195 & More: PMI-ALC-MAN-MUC
Premium Meal & Palma Spotting: MUC-PMI, DE 757-300
The Dead Slow Transfer: PEK-MUC On Air China A332
Cancellation Brings Joy: HKG-PEK on Dragonair A330
A380 Cacophony, 777 Star Livery: DXB-SIN-HKG on SQ
The Next 5* Carrier? MUC-MCT-DXB, Oman Air A330
Turkey For 1.5 Hrs: Daytrip To AYT On Sky Airlines
CO Scores Again: ATL-IAH-EWR-FRA On ERJ, 752 & 764
Riding The Ultra Long-Haul Twin: Delta 777-200LR
Pacific Coast Jaunt: 3 Carriers, E120, E140 & Fog
The Ultimate 737: LHR-IAH-PDX On CO 777 & 739ER
Bye Bye, Hell! TRD-OSL-TXL-NUE - DY/AB/HE DH4
My Trip To Hell: NUE-CPH-OSL-TRD On Cimber & SAS
SFO-YUL-FRA: Map- & Sleepless On Air Canada's 77W
Sin City Gloss & Virgin America's Chic First Class
Seat Dilemma & Canyon Glamour: FRA To LAX, AC 763
On Par With Air France? DTW-AMS-MUC, KLM A330
Goodbye, Red Tails! DC-9-40/50 & Chicago Tour
Champagne & World Of Coke: Air France A340 To ATL
"Mission A380": Disappointing Legs On BA/BD/EI
Delights Of Doha, 773 & 77W: DOH-DXB-LHR On EK
A380 Really a Step Forward? LHR-DXB-DOH On EK
Quality & Style: HKG-LHR On Air New Zealand 744
Taiwan Trio: TransAsia, UNI Air And The Taipei 101
"The Wings Of Taiwan": EVA Air A332, 744 Combi
SHA-SZX, Shanghai 757: Delayed By The Military
PEK-SHA, China Eastern A330 & Shanghai At Night
Striking Newcomer: Berlin-Beijing On Hainan A330
Short & Splendid: MXP-MUC On Air Dolomiti's 146
3 Hours On Blue1: HEL-MXP On The MD-90
BCN-MAD-ZRH-MUC: UX Shuttle Meets Swiss Quality
MUC-MAD-BCN: Star MD-87 & The Pain Of Vueling
Low Fares, Lovely Island: AK & Best Of Langkawi
4 Stars Or 5 Stars? FRA-KUL-FRA, Malaysia 777s
First And Last Time? JFK-FCO-MUC, Alitalia 777
JFK For 1 Day: Transatlantic Hop On CSA's A310
Sardinian Sun, Shiny New 73Gs & Cramped Mad Dog
Top And Flop: KIX-HEL-MUC, Finnair A320 & MD-11
The 524-Seat Twin-jet: HND-ITM On ANA 777-300
Kobe For 1 Hour: 767-Quickie On ANA & Skymark
Rocketing To Tokyo: FUK-HND On JAL (ex-JAS) 777
Oddities & Okinawa: JTA 734 & JAL 744D(Domestic)
MUC To Nagoya: Finnair E170 & (Old) "New" A340
Mad Dog, A320 Tech Delay & Best Of Lanzarote
Canaries Prop-Hopping: Islas Airways & Naysa
Canaries And Confusion: LH CRJ900 & Spanair A321
Hubbing For 162 Miles: HOQ-FRA-STR Ret On IQ/EW/LH
BOS-JFK-AMS-MUC: SSSS-Check And KLM 777
ATL-PIT-JFK-BOS: FL B717, JetBlue E190 And Delays
MUC-AMS-MEM-ATL On NWA A332 And 40-year-old DC-9
FRA-BKK-FRA Via CMB: SriLankan A332 & A343
BNE-SIN-DXB-MUC On Emirates B772ER & B773
2 Hours In Paradise: Hamilton Island (JQ/DJ)
BNE-SYD-BNE: Domestic Run On QF's Oldest B747-400
Testing Qantas: SYD-MEL-SYD-BNE (B738, B763, A332)
Going Down Under: MUC-DXB-SYD On EK A332 & A345
9/11 Review: Failed Trip To LAX - Fuel Dump Pics
Surprised By NIKI's Newest A320 & Screw-up By AB
Leisure Vs. Full Service: Condor & SN Brussels
"betterFly" On LH: Business Class For 99 Euro
Weekend Transatlantic Trip (2): US A321 & B762
Transatlantic For A Weekend (1): MUC-DCA On US
[Edited 2011-05-07 12:39:51]