Background
It has been a very long while since I wrote a trip report. This one is rather special. Me and my partner have been having tons of difficulties lately, without going into details, we had decided to take some time apart, so I remained in Argentina and he moved temporarily to Chile, where he is from.
Finally, after a lot of talk, we decided to take a trip together, and we picked Easter Island, thinking it would be a nice place to visit, isolated from people, things and other distractions.
To make a long story short, our week in Easter Island was a total success, he is in fact coming back to Argentina next week and we had an amazing time.
For people who say that 2 or 3 days are enough in Easter Island, well… my opinion is that they are terribly mistaken. The island is very small, but there are a million and one things to do. Visiting those weird statue heads is just a small part, you can go to the beach, go hiking into the volcanoes, take a four by four and go exploring, go out at night to really nice bars, do some plane spotting and more. We had a blast. We spend five days over there.
So this trip report is about the flight back to Chile from Easter Island. We had to take LAN as they are the only carrier that flies there. I, however, don't get the negative comments I read from some people here in the forum about LAN as they usually provide me with very good service, and this was no exception.
The airport
The airport in Easter Island is very weird. It's very small but it has a very long runway. I am sure you nerds know by now that it was to be used as an alternative landing site for the space shuttles, so NASA and the government of Chile extended the runway to over 10.000 feet. The airport is very basic though:
And a funny sign:
Some thing this airport is fantastic for, is the plane spotting opportunities it provides. While you are waiting for your plane, you can walk almost to the runway and photograph your ride back to the continent. Here are some pics of my plane landing. It was one of the Oneworld birds!!!
Check in was a breeze, and the lady at the counter was really nice. She produced our boarding passes and assigned our seats 2A and 2C today (we had flown into the island on 1A and 1C).
After the plane landed, people were asked to go into the boarding area, and we obediently complied. There is an x-ray machine prior to checking in, which prevents people from taking things from the island, such as stones, part of the monuments, etc. The other x-ray machine is located next to the boarding area. Some pics from the boarding area:
My ride:
A nice looking moai:
This is the gate, there is a different line for business and elite passengers:
This shot attempts to be artistic, with all the flight attendants and the bird behind:
This is a plaque talking about the NASA and Chilean collaboration:
Boarding was called, and we proceeded to the gate. I have to say that the plane was late into the island, so we were delayed a good hour and a half. However, since the island is so small and everybody knows about everything, we were told about this during checkout at the hotel, so our transfer bus to the airport was delayed accordingly. Everything was very relaxed.
Here are some pics of the boarding process… we were the first ones to board the plane 
Captain waiting for us:
Yours truly: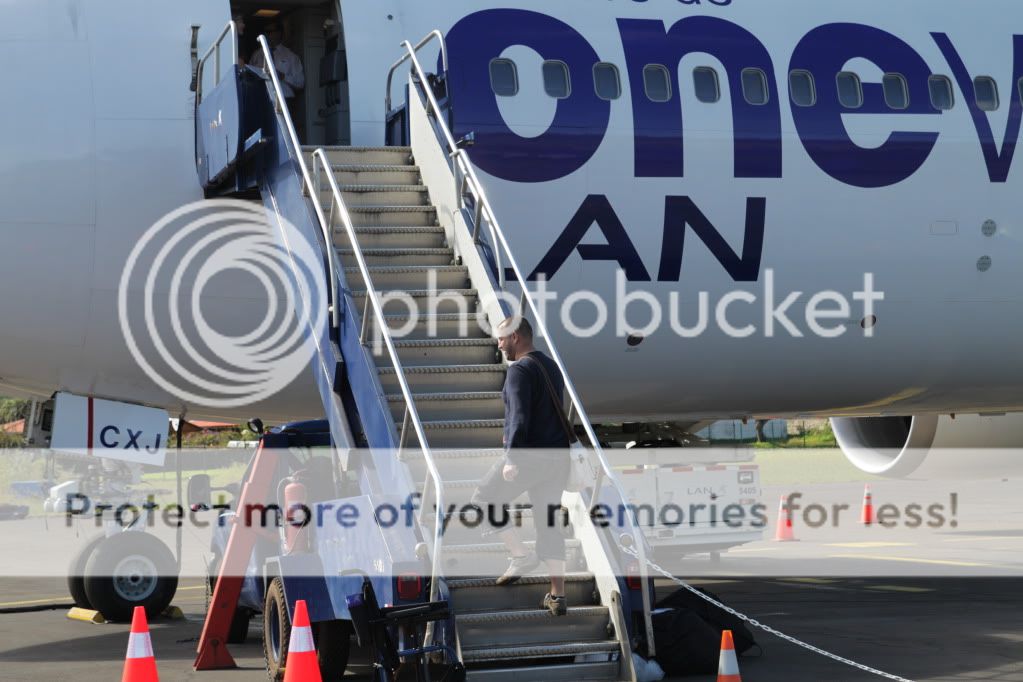 During boarding, we were greeted by a very nice flight attendant, who said she would take care of us during the flight, and offered the customary drinks. LAN offers a nice Pisco Sour aside from the champagne and the water, and that's what we had:
Then, my partner (who is a photographer btw, and a very good one) asked the flight attendant to ask the pilot if it would be ok to take a pic of the cockpit, and the pilot was very happy to let him. The pilot had not heard of airliners.net though… :P
After that, doors were closed and we commenced our taxing into runway 10. There were only a few seats empty today in J, which was very different from our flight into the island, in which we were only 7 people in J. During both flights I took a walk to Y, and would say that load was over 80% as there were very few seats left.
Here is a very nice video of the take off:
http://www.youtube.com/watch?v=h5NsfndfEgw
And some more pics of the map, it looked hilarious, as if we were in the middle of nowhere, but in a way I guess we were:
Menus were waiting for us in our seats and this is what was offered today:
I chose the agnolotti and my partner the tuna:
We were also offered a nice Chilean sauvignon blanc.
The flight was only 4 hours and 10 minutes, so this was the only meal service offered. I have to say my dish was very nice, but my partner´s tuna was rather dry. During the meal the flight attendants made runs offering wine, warm bread and water.
After the meal trays were taken away, the flight attendants offered pillows and duvets, which were warm and comfy. I only took one more pic, as I fell asleep the rest of the way.
Conclusion
LAN is one of my favorite carriers. I don't believe they have anything lacking when compared to other world class carriers and still fail to see the attitude, robotic demeanor, cold service that other people see. And I fly with them at least once a month. I loved this flight, service was very nice, and flight attendants were very kind and accommodating.
Easter Island is a must. There are too many cool things to do in the island, and we didn't even do them all… We had no time for the scuba diving, surfing or boat trips. I recommend strongly visiting. Also, plane spotting can be very fun. I leave you guys with some pics we took while spotting:
And the Qantas plane that we were lucky to get while there:
[Edited 2011-05-29 08:29:02]