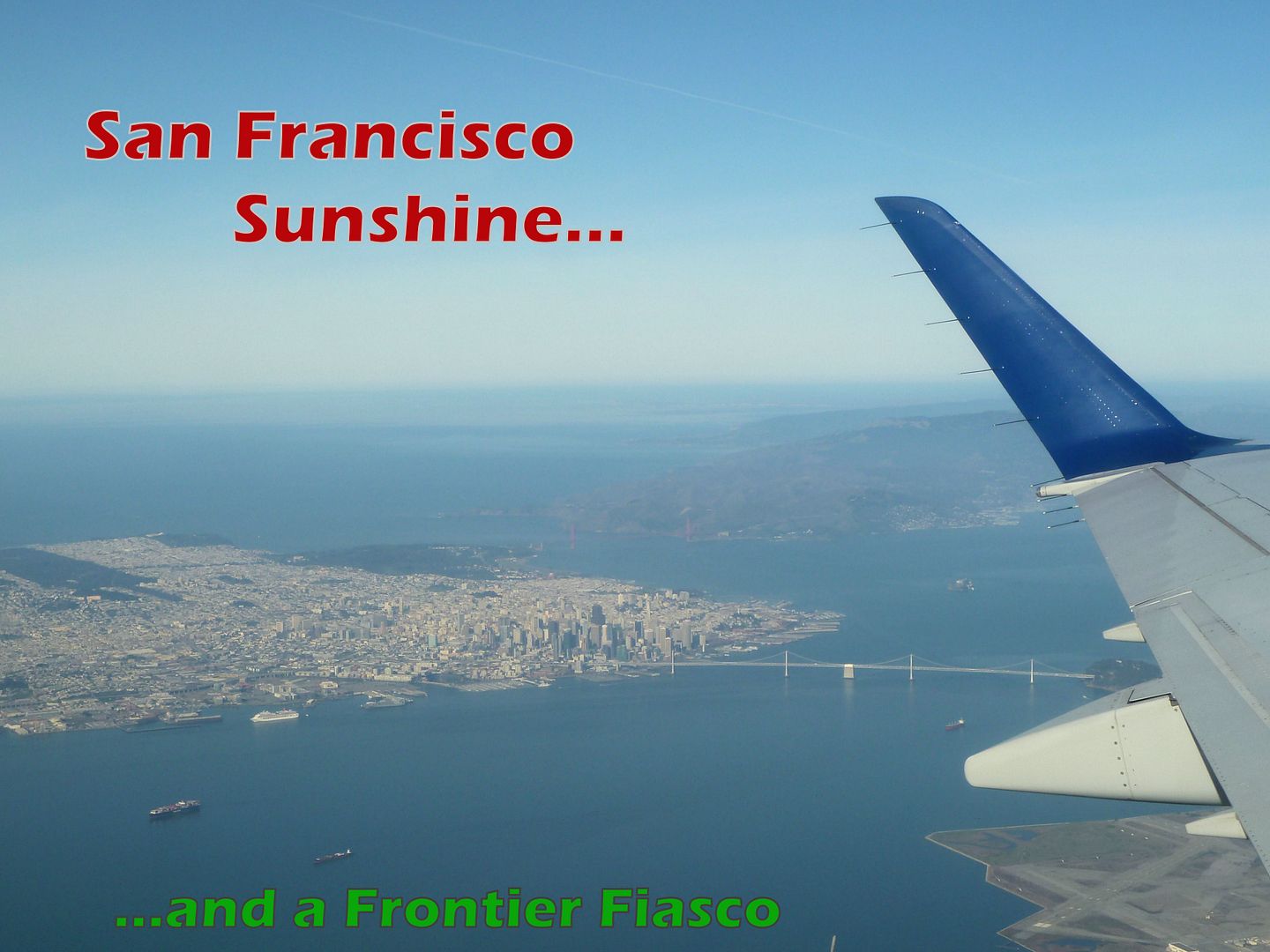 Map generated by the Great Circle Mapper - copyright © Karl L. Swartz
Background
In the middle of the cold and snowy December 2010 my brother and I decided to escape to the US West Coast for a few days in early February. My brother hadn't been to that part of the country yet and he was very interested in visiting Las Vegas, Los Angeles and San Francisco. I always enjoy going to California and saw the chance to meet some very good friends again. We came to the conclusion that it would be a good opportunity to exchange accumulated miles for Business Class tickets. After checking all possible flight options on the Miles & More website, it was clear that we would try SWISS' new intercontinental Business Class with lie-flat seats. That innovative product was available on all A330-300s and a few A340-300s. Destinations served by the retrofitted A343s in early February were San Francisco, Boston, Hong Kong, Los Angeles and New York (once weekly).

I was first considering to take an A330 flight to Chicago and an A340 flight from Los Angeles or San Francisco so that we would be able to get both types. But I quickly scrapped that idea because I didn't want to risk being stuck at Chicago in a possible snow storm. So we finally booked Munich-Zurich-San Francisco and Los Angeles-Zurich-Munich, operated by Swiss A340s, a Swiss European Avro RJ100 and a Lufthansa A319. At the end of the convenient booking process we were able to select our seats on all four sectors - and there were still many empty seats, so we got exactly what we wanted: single window seats on the flight to SFO and center seats in the two-row forward section (so-called "Stübli") on the return flight from LAX.

Here's the seatmap:
http://www.swiss.com/web/EN/about_sw...ircraft/Pages/airbus_a340_new.aspx

After booking the long-haul flight combo, we added a few domestic hops. Of course I wanted to get some new airlines, so we decided to book a San Francisco-Denver-Las Vegas connection on Orbitz. There would have been cheaper options (including numerous nonstop flights), but Republic Airlines (Embraer 170) and Frontier Airlines (A319) were new carriers for me - and I had never been to Denver. Interestingly, that Frontier Airlines connection wasn't available on the Frontier website. It was simply impossible to search for flights from San Francisco to Las Vegas. Probably they are convinced that people would never want to connect through Denver on the way from San Francisco to Las Vegas…Finally, we reserved rooms in the Venetian and the Bellagio.

Part I can be found here:
Fully Flat Bed to SFO: SWISS' New Business Class
San Francisco Sightseeing
After arriving at SFO on LX038, we took the BART to downtown San Francisco and then took a taxi to the
Holiday Inn Express
near
Fisherman's Wharf
. Some time later we went to
Pier 39
...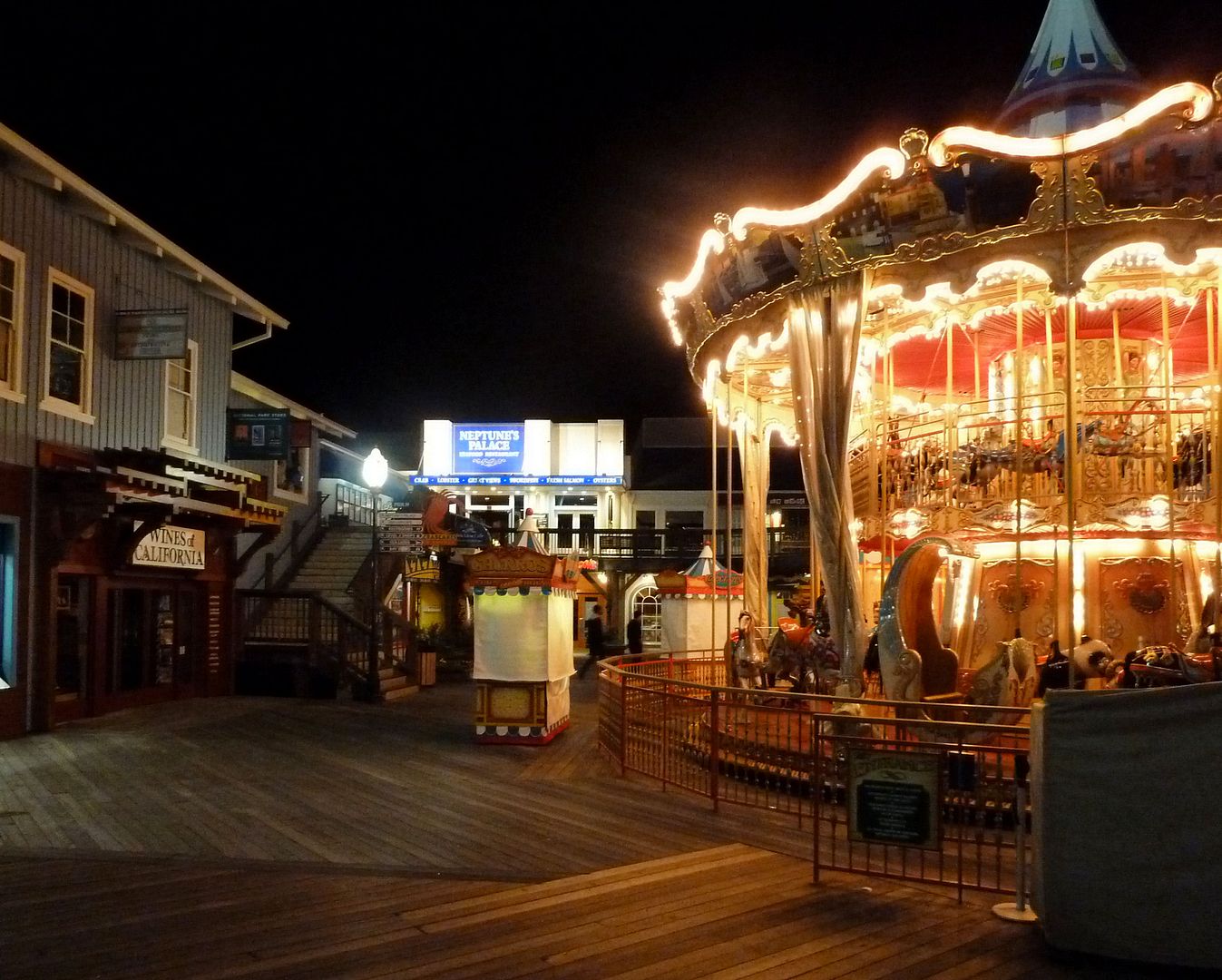 Picture taken by my brother
...and enjoyed great seafood at
Neptune's Palace
: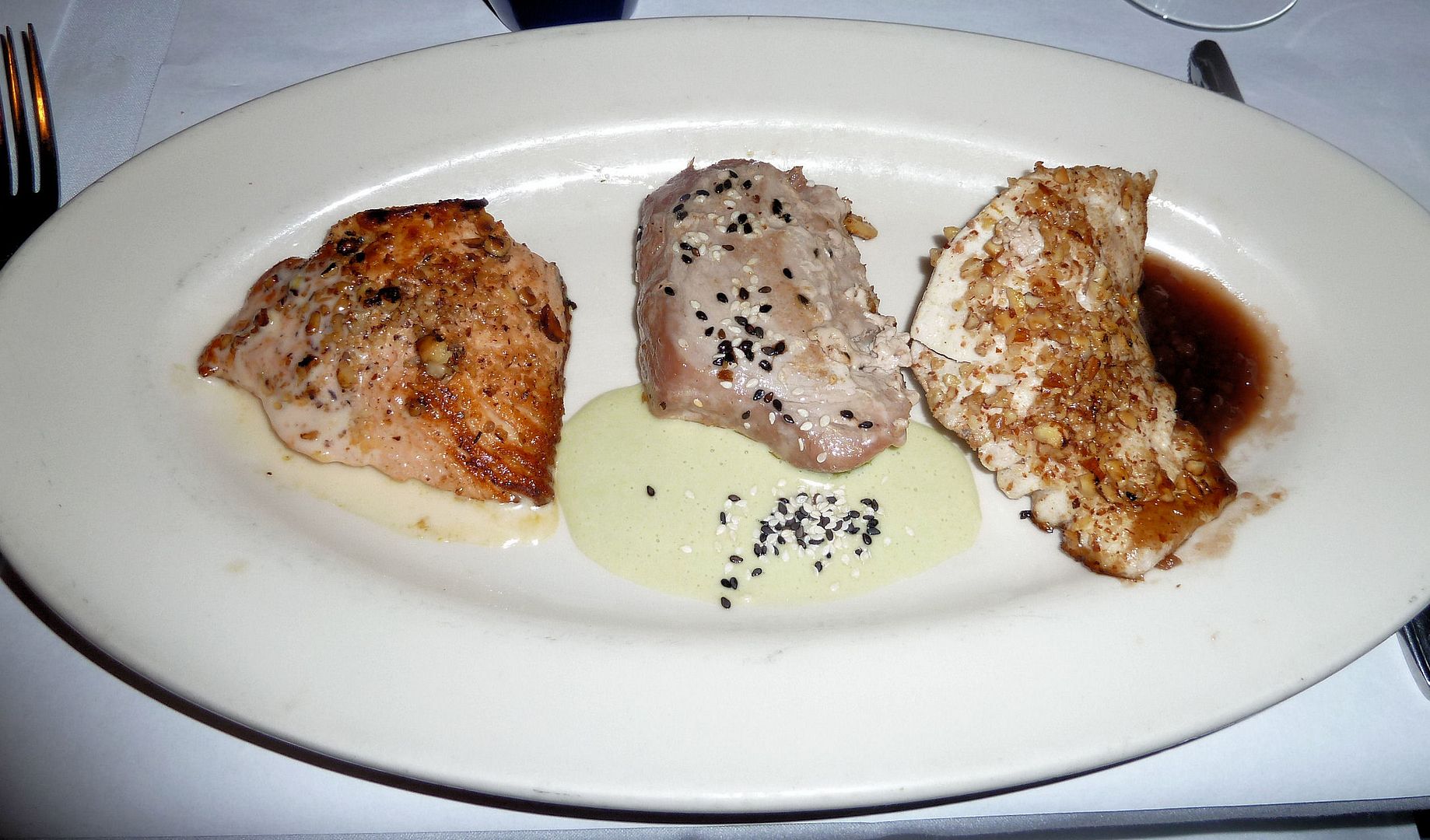 Picture taken by my brother
On the next morning we walked to Pier 33 and took the ferry to
Alcatraz
:
Picture taken by my brother
Clear sky, warm sun - the weather was perfect: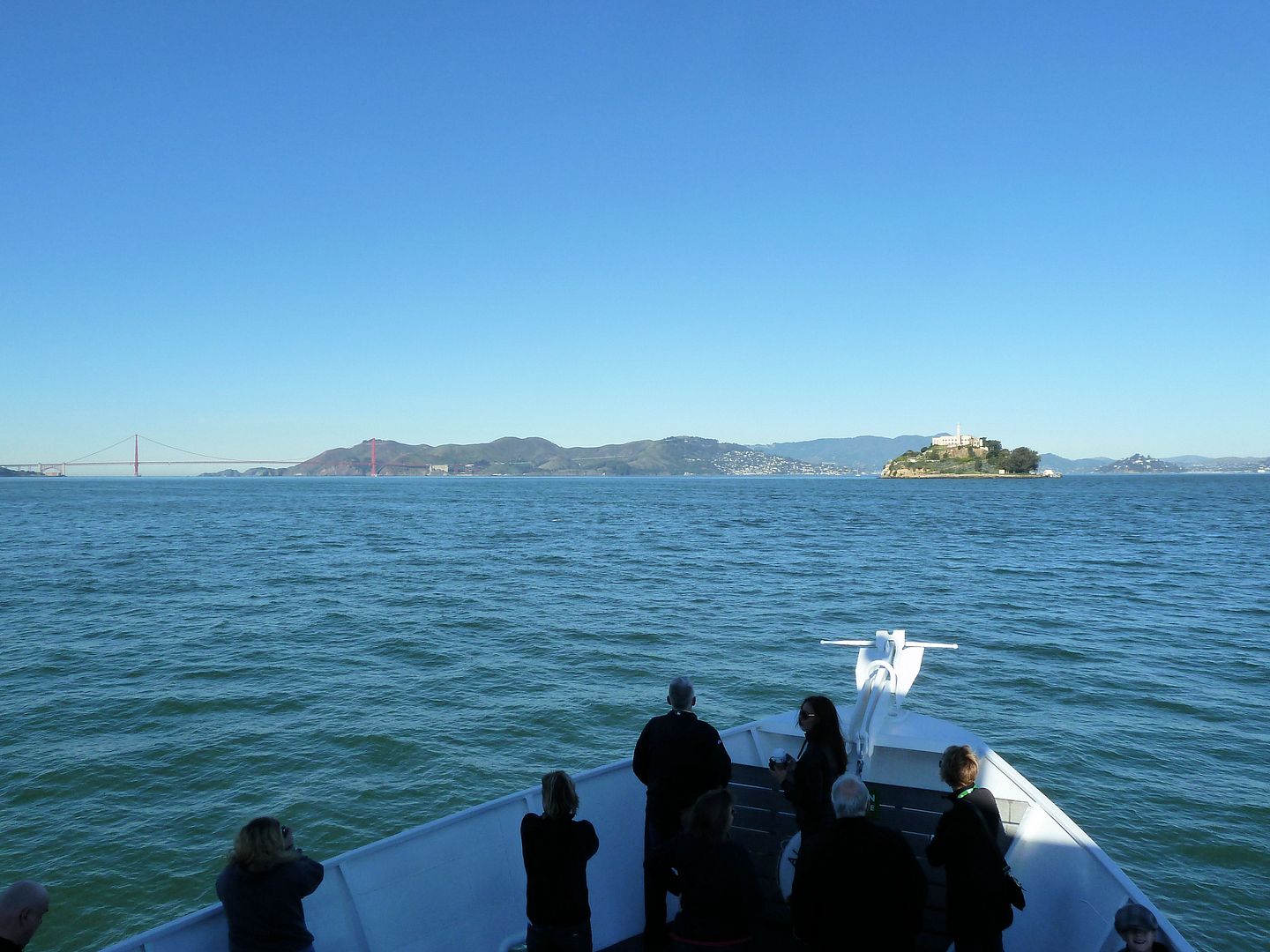 Picture taken by my brother
Almost there: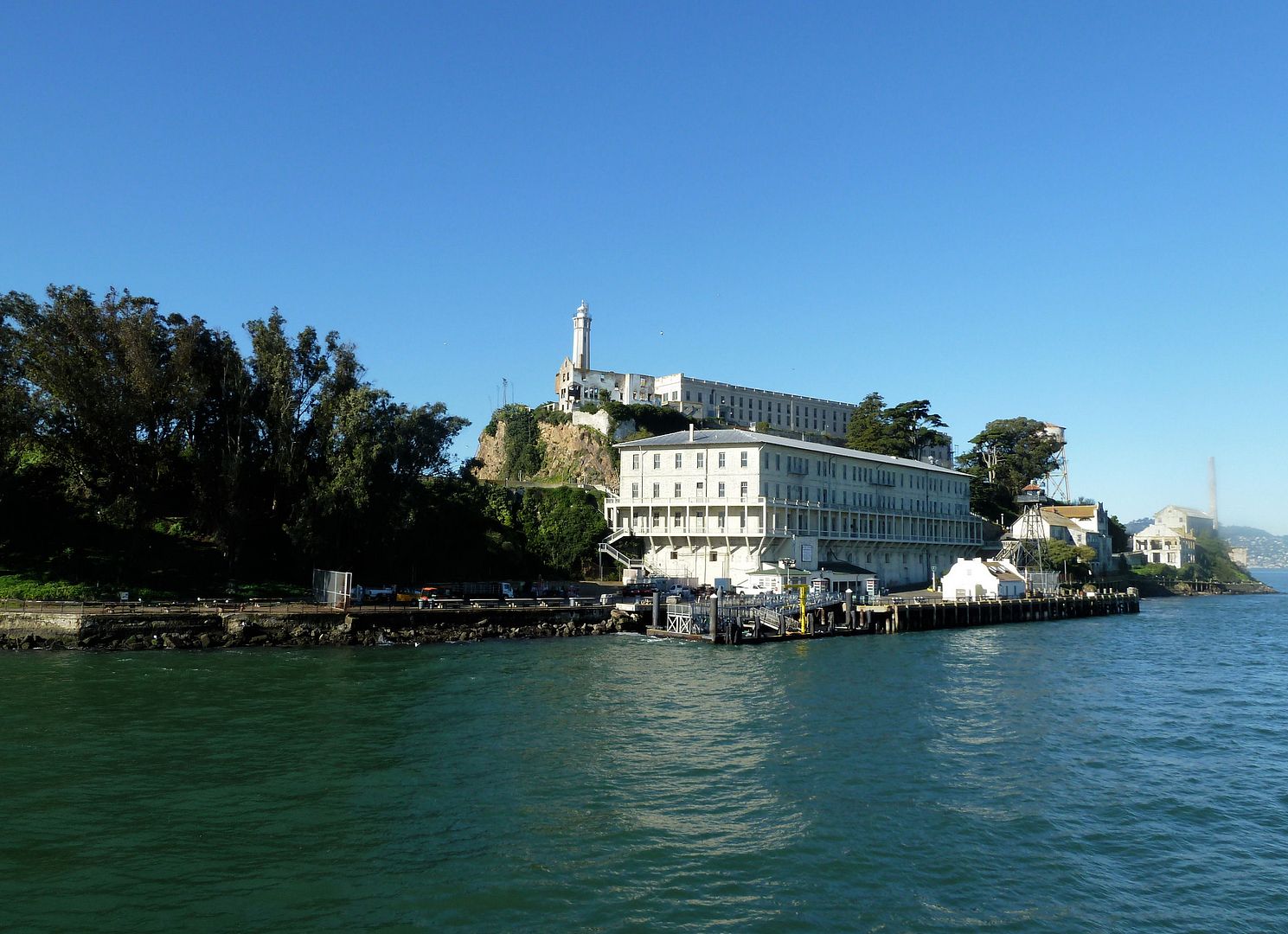 Picture taken by my brother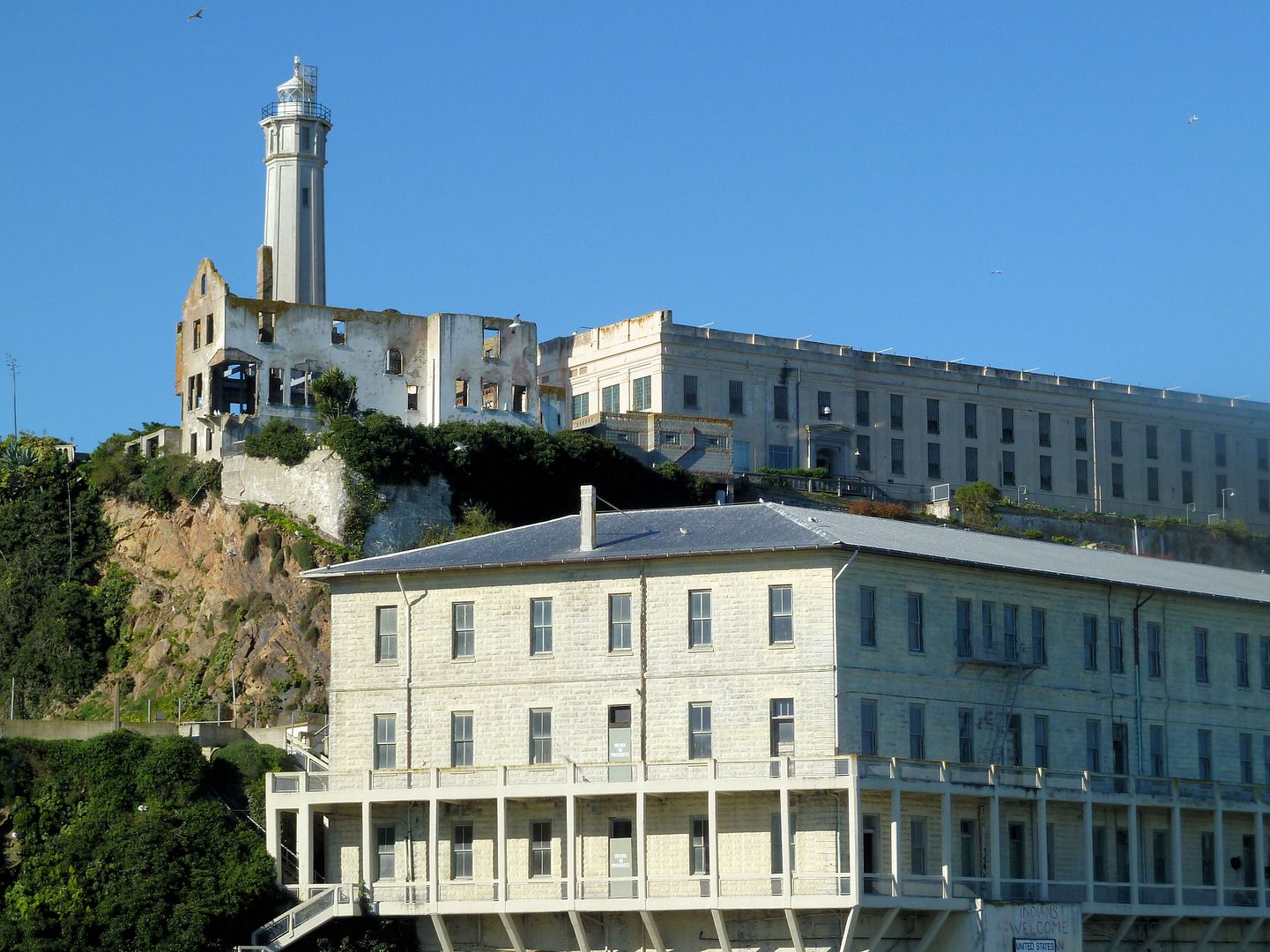 Picture taken by my brother
Charming welcome to Alcatraz Island:
On the way to the cellhouse:
Picture taken by my brother
There are many rundown areas: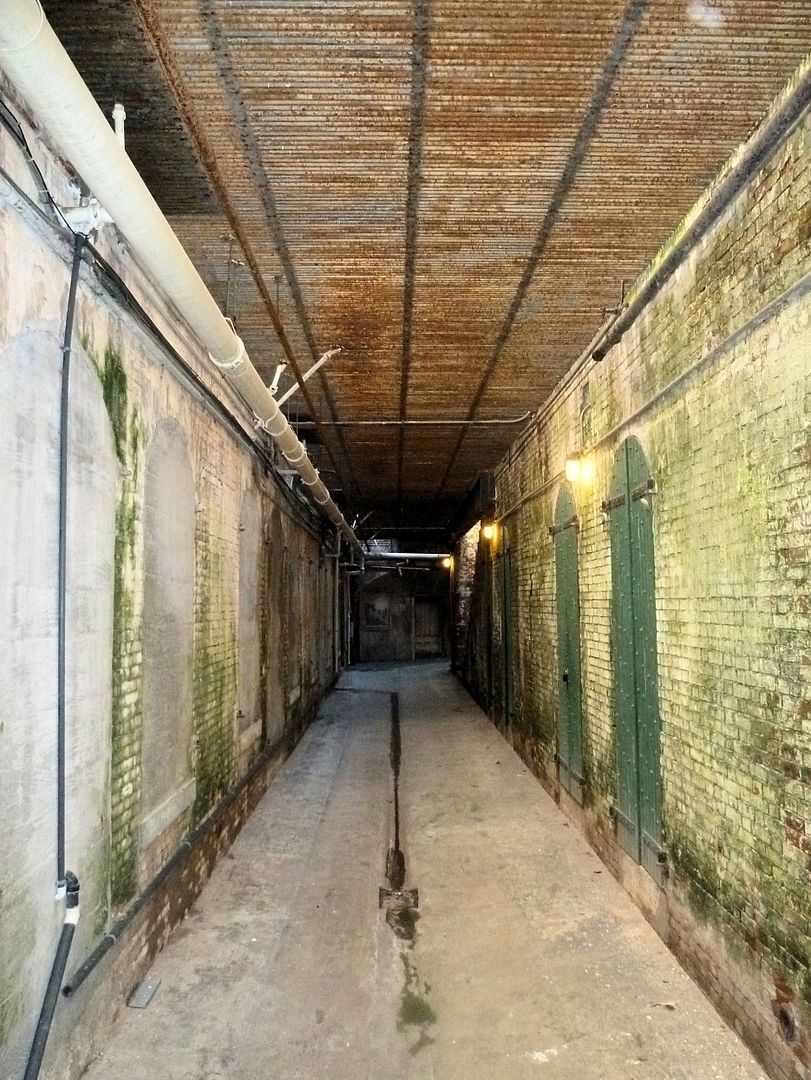 Picture taken by my brother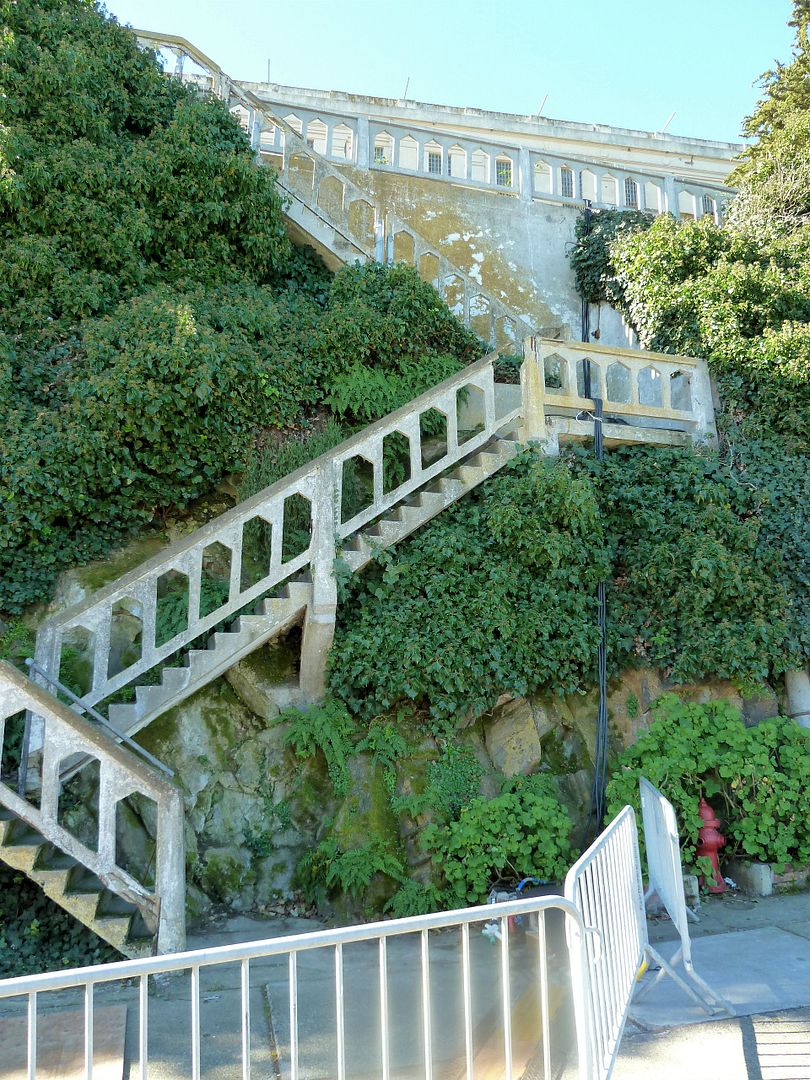 Picture taken by my brother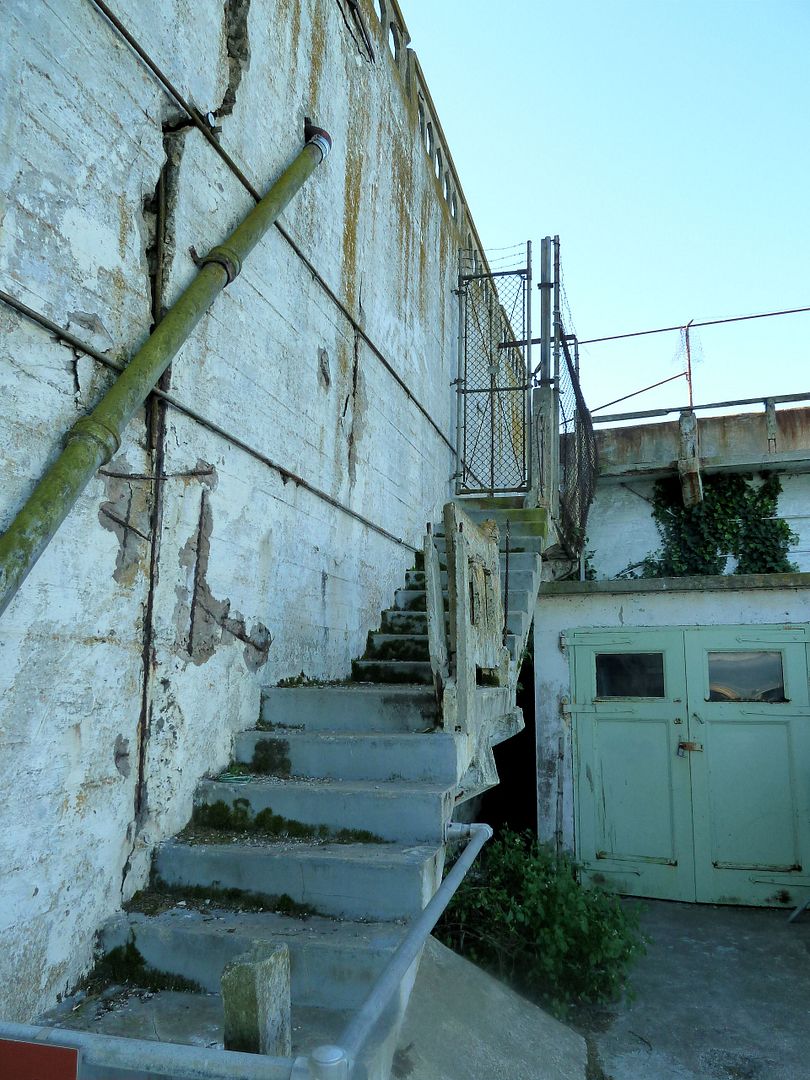 Picture taken by my brother
Welcome to the prison's central part: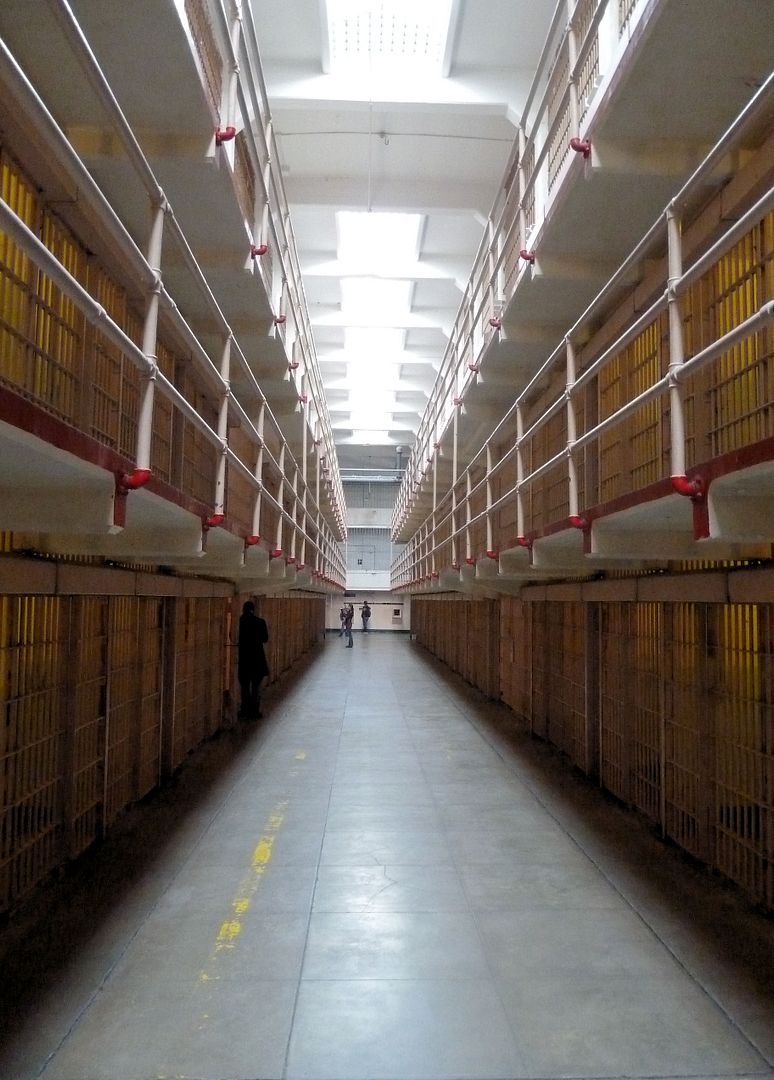 Picture taken by my brother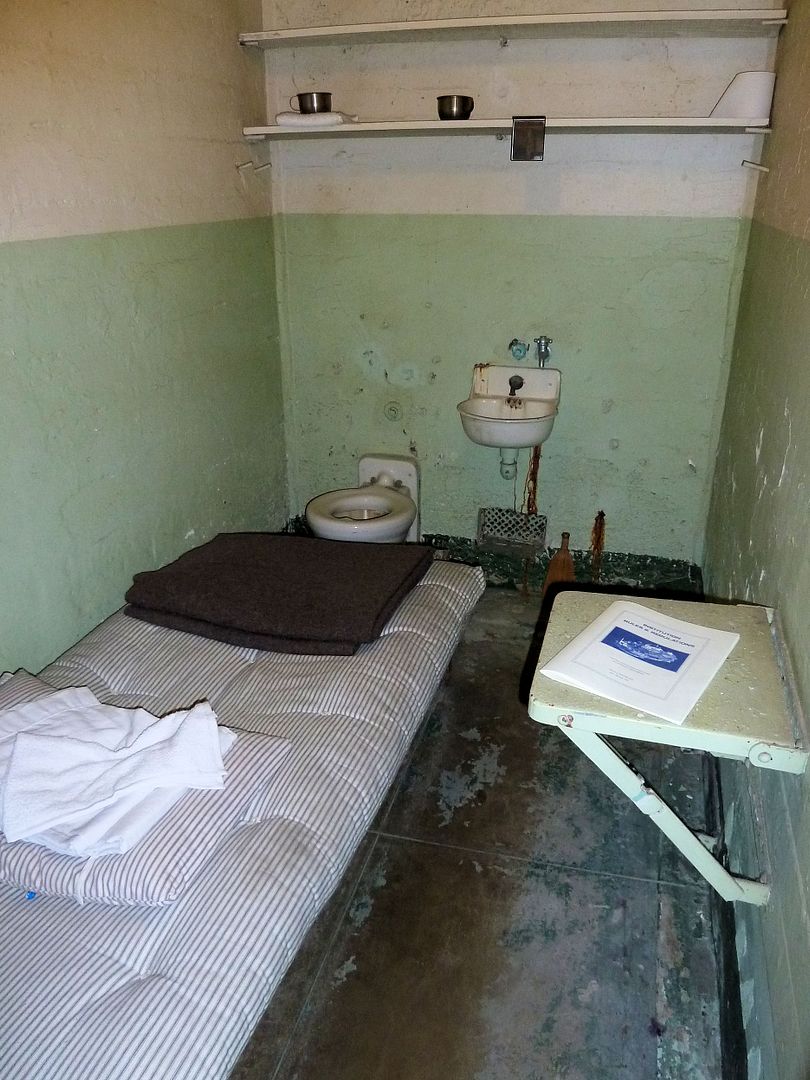 Picture taken by my brother
Picture taken by my brother
Punishment cell: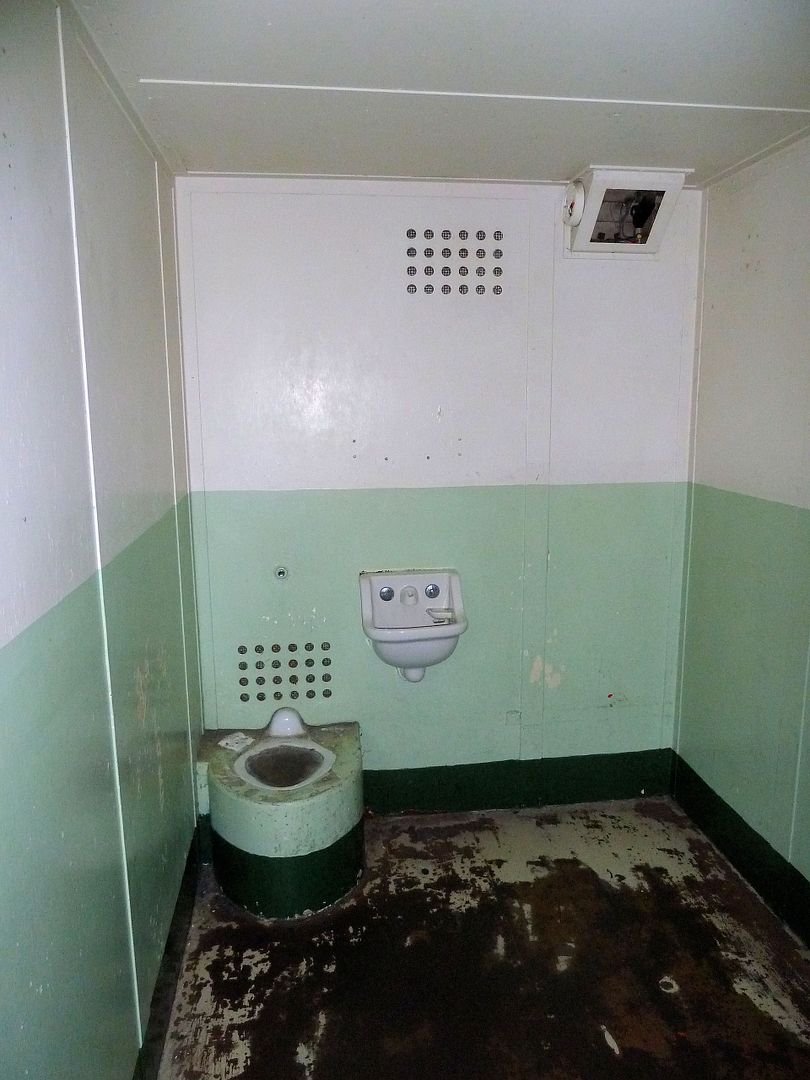 Picture taken by my brother
Shower area: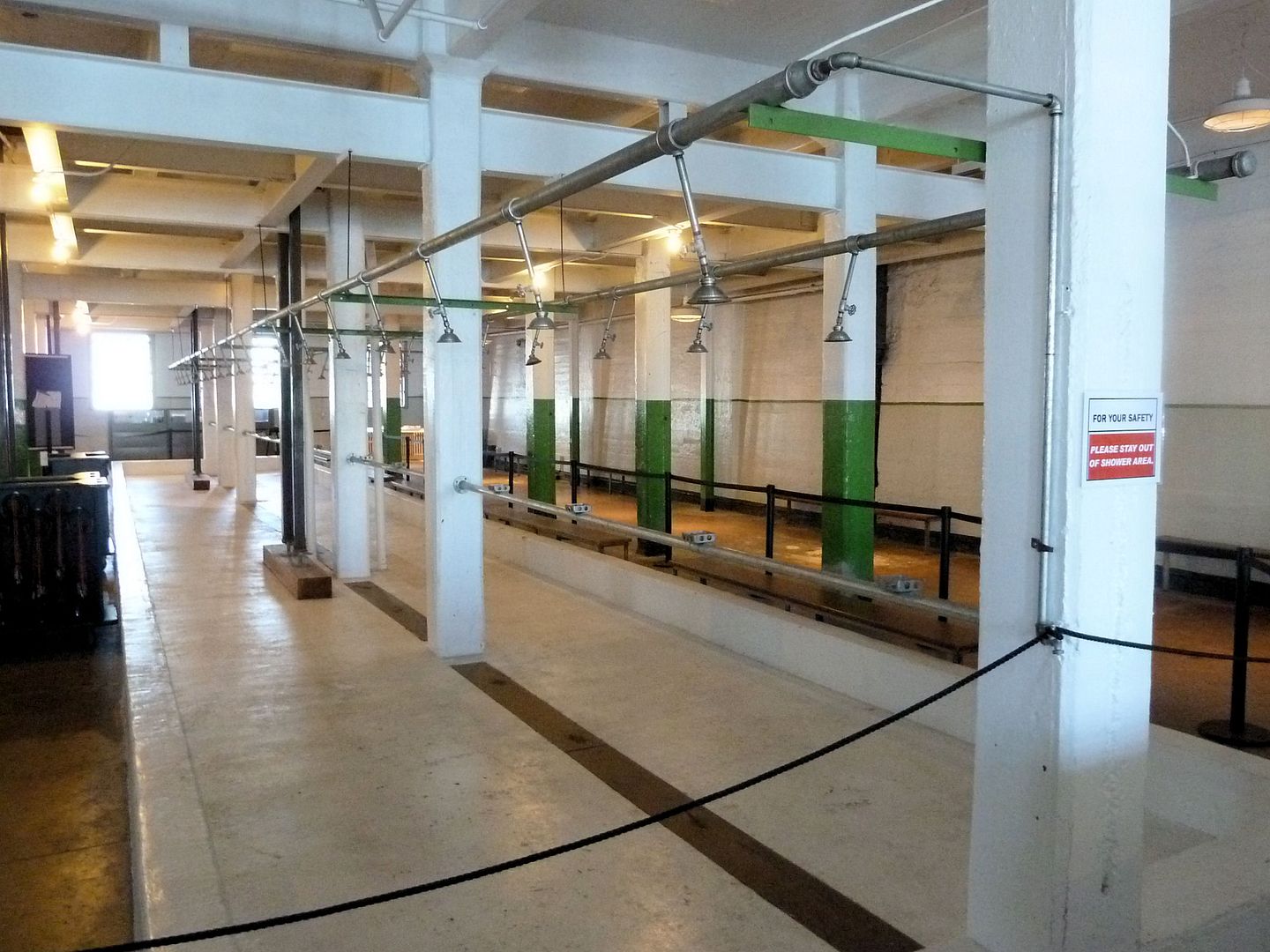 Picture taken by my brother
This used to be the dining room:
Picture taken by my brother
The last breakfast menu before the prison's closure:
Picture taken by my brother
Some famous inmates:
Picture taken by my brother
The
Golden Gate Bridge
behind barbwire: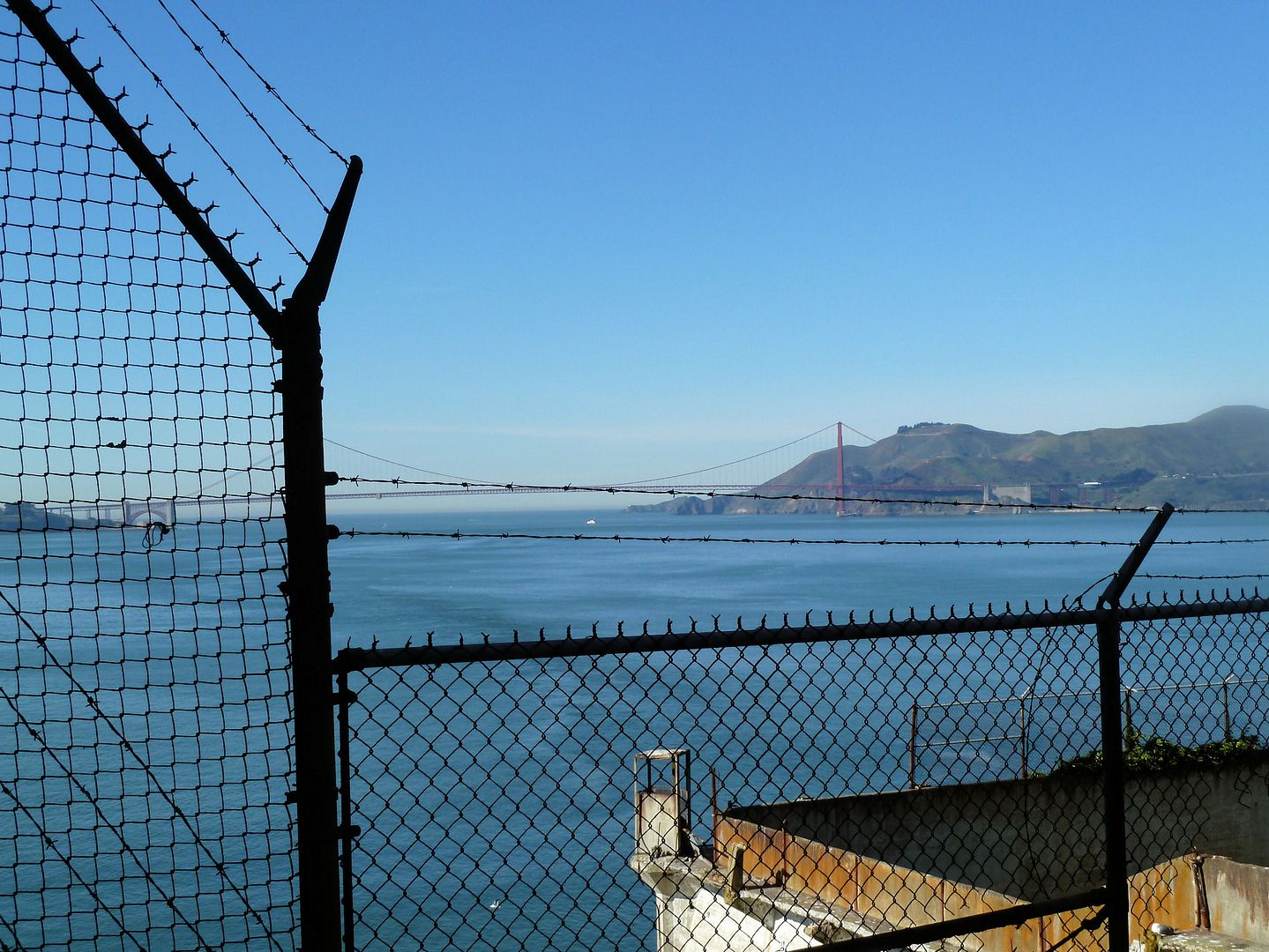 Picture taken by my brother
This used to be the warden's house:
Picture taken by my brother
Former lighthouse: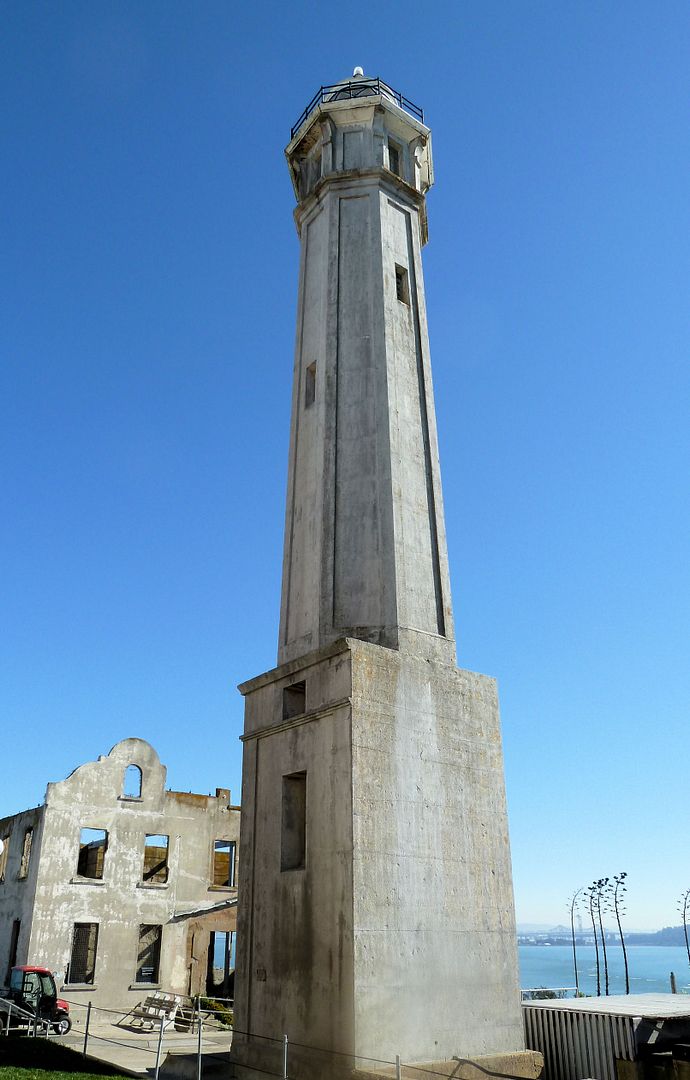 Picture taken by my brother
Lovely view:
Picture taken by my brother
I had been to Alcatraz before, but this time I took the cellhouse audio tour (which is available in several languages). It's excellent, an absolute must do!
After spending about 1.5 hours on the island, we took the ferry back to Pier 33 and walked straight to Pier 39. The famous seals are always nice to watch: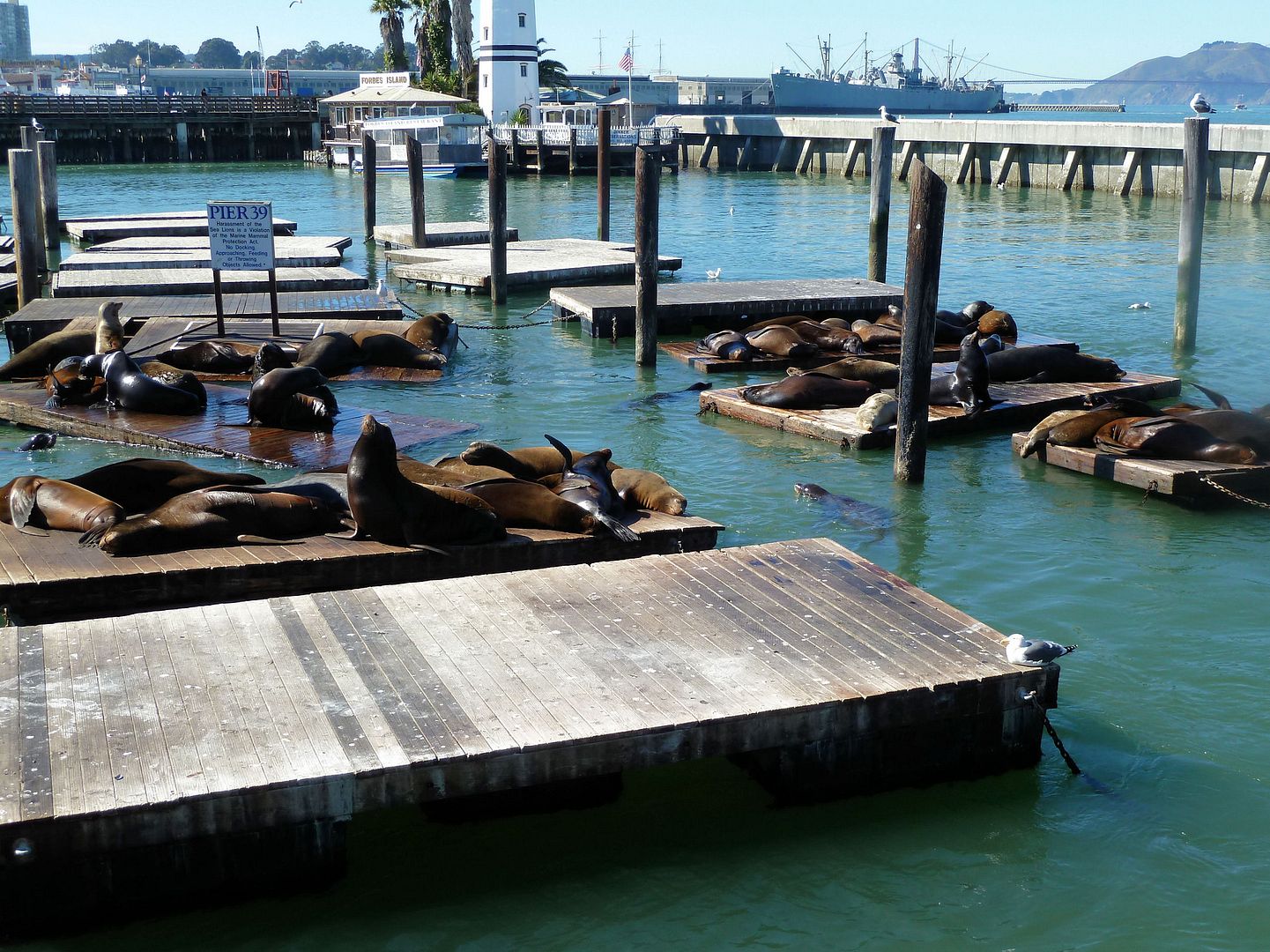 Picture taken by my brother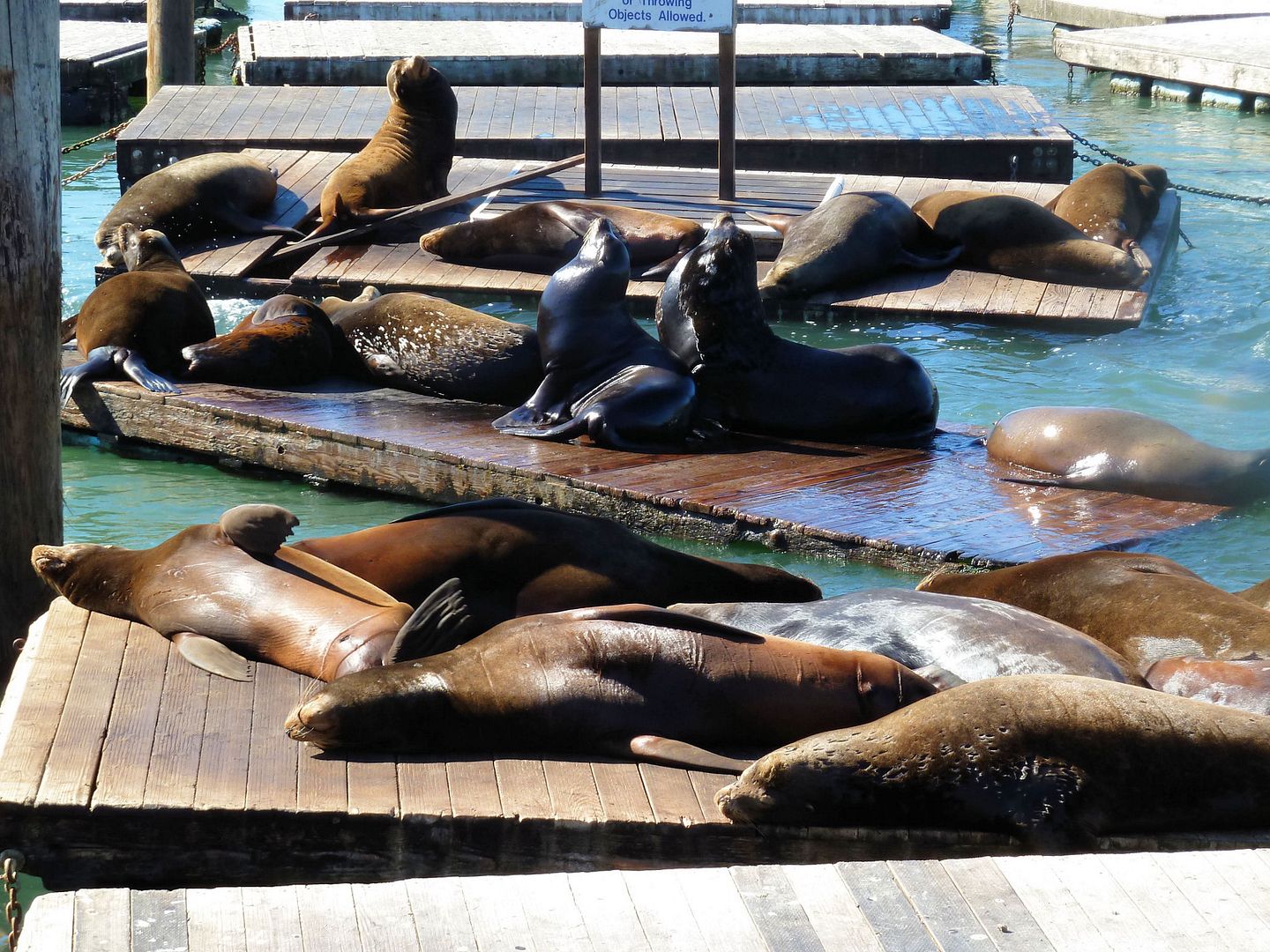 Picture taken by my brother
After dinner we took a taxi to the
Coit Tower
at
Telegraph Hill
…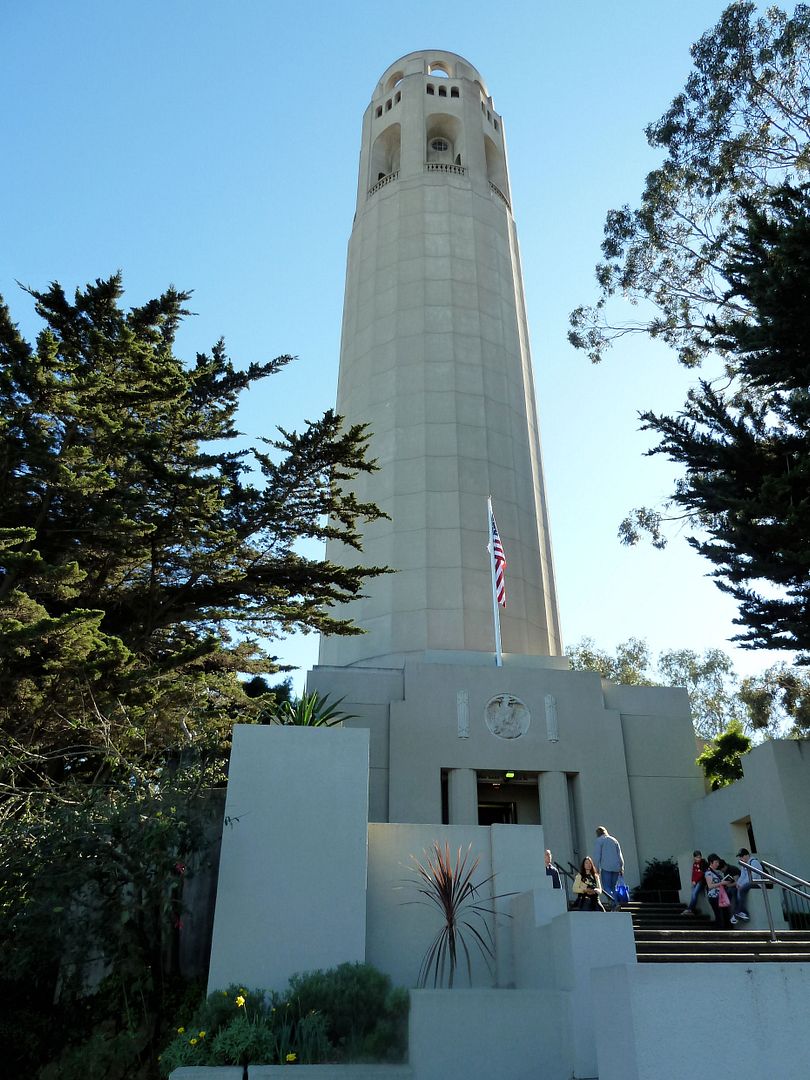 Picture taken by my brother
…went on top and enjoyed awesome views of the bay and the city: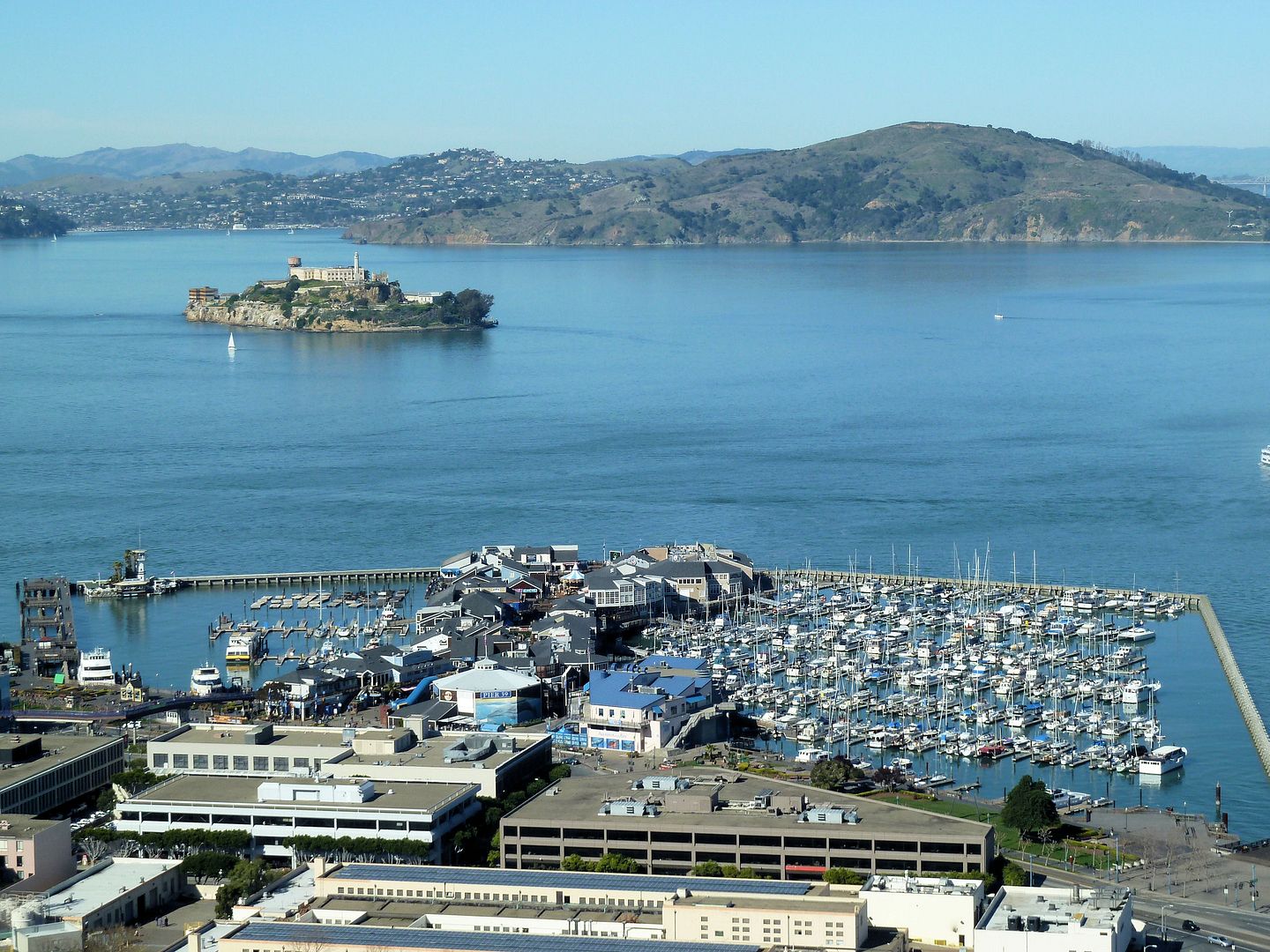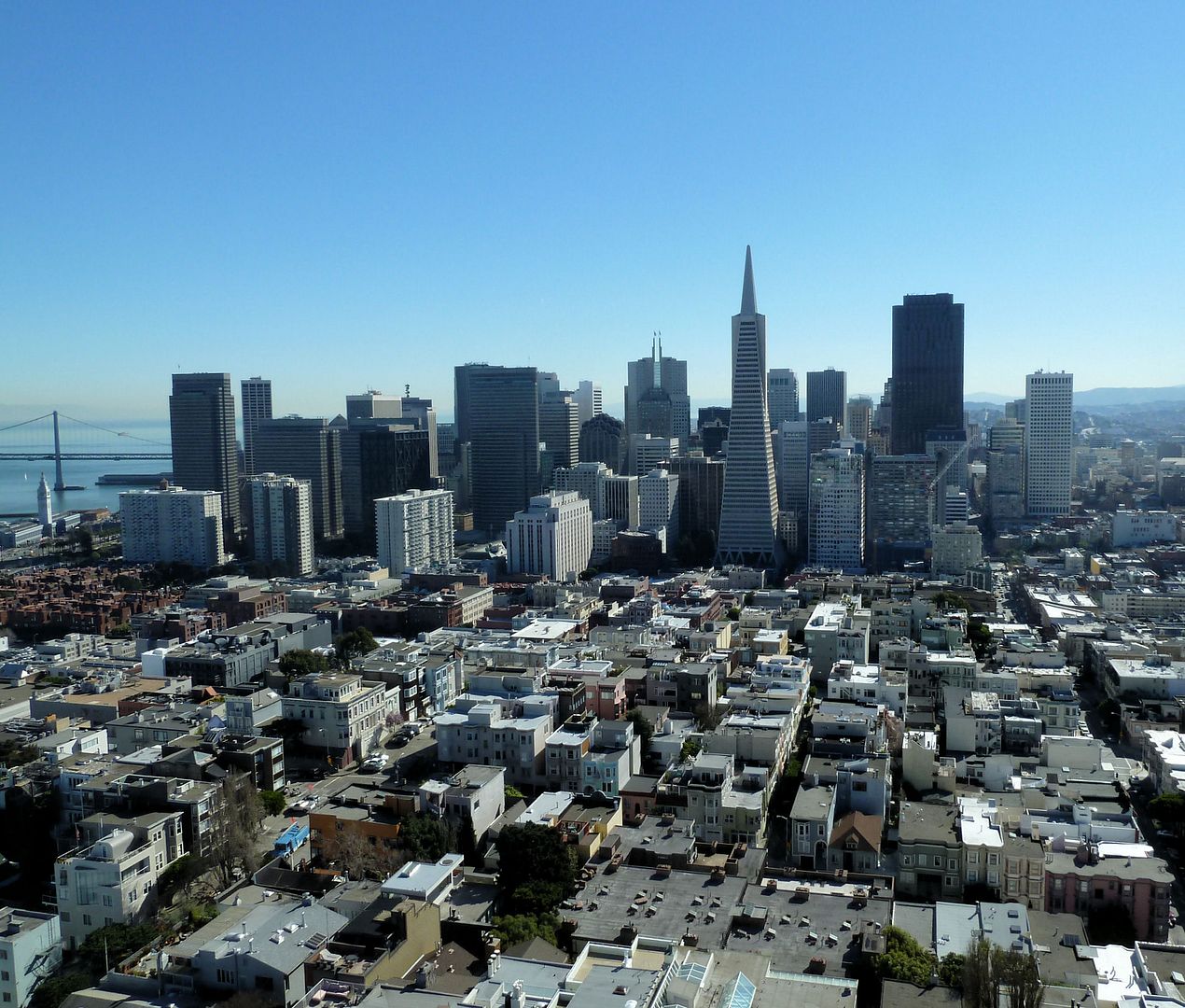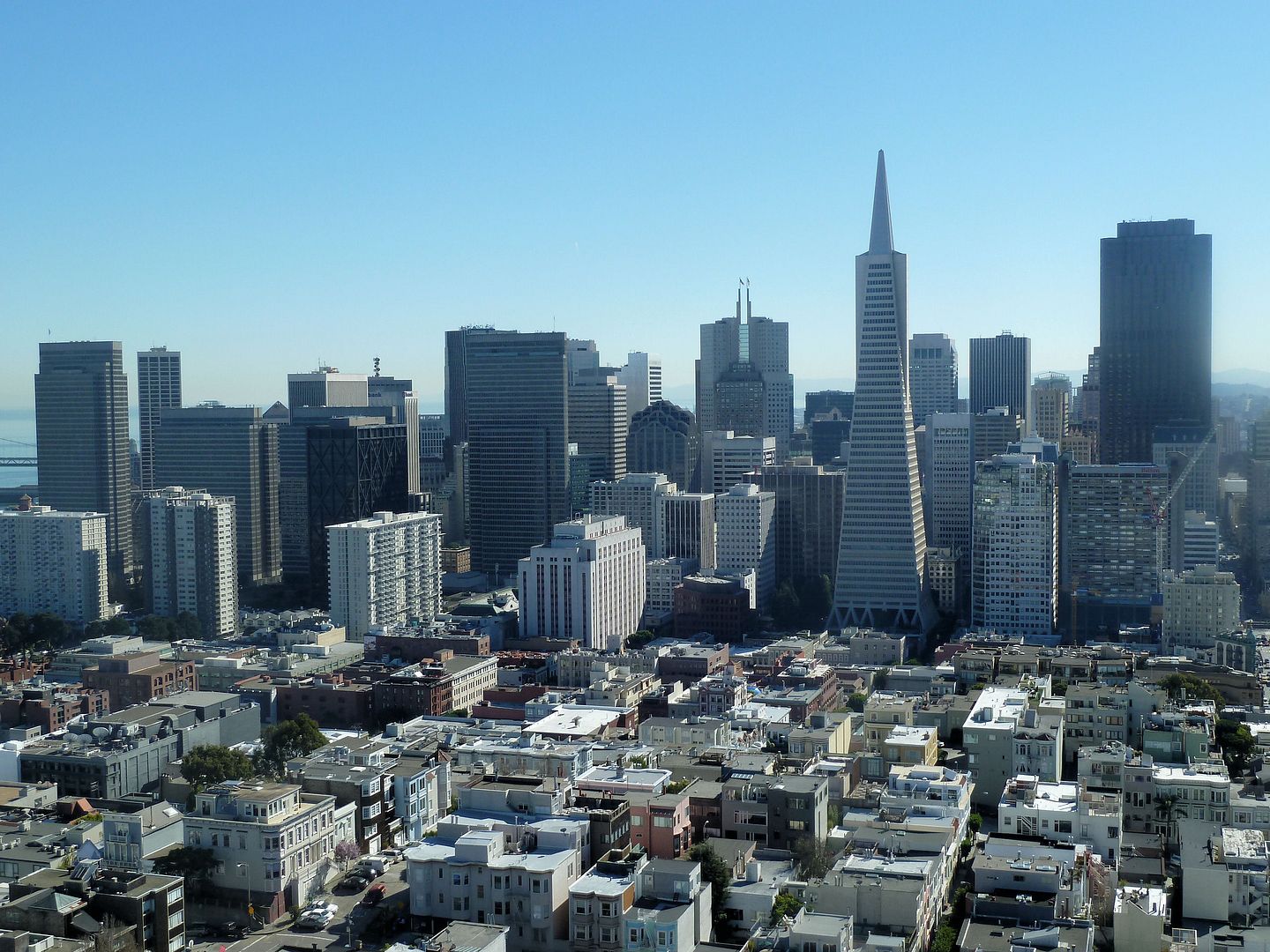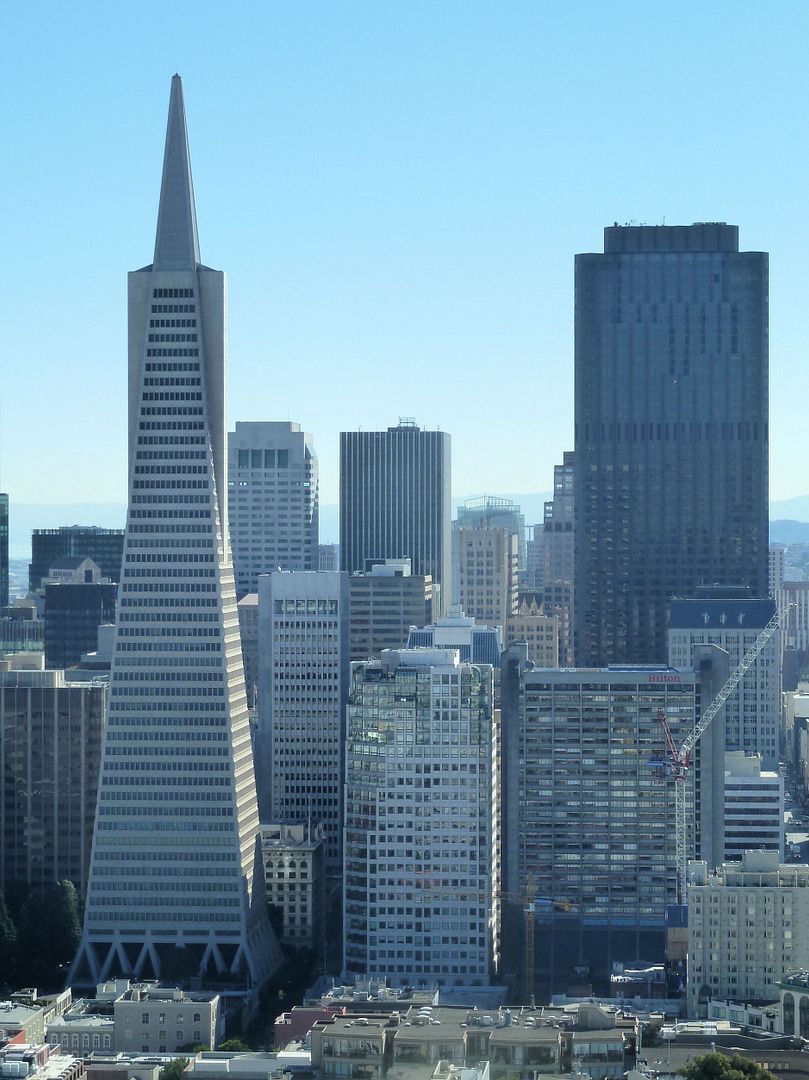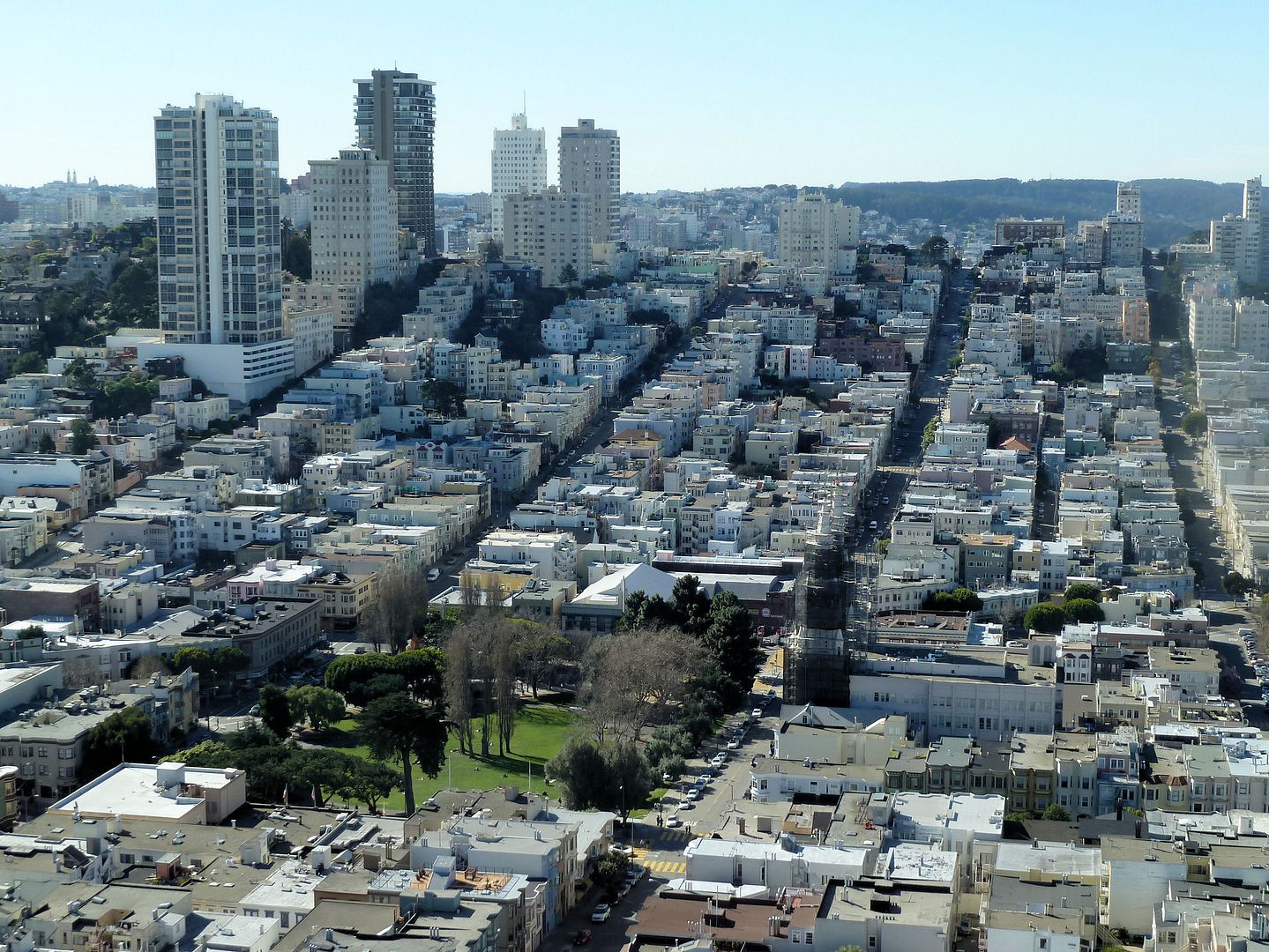 We returned to the Fisherman's Wharf and asked a taxi driver to bring us to the
Point Vista Overlook
north of San Francisco. Entering the bridge: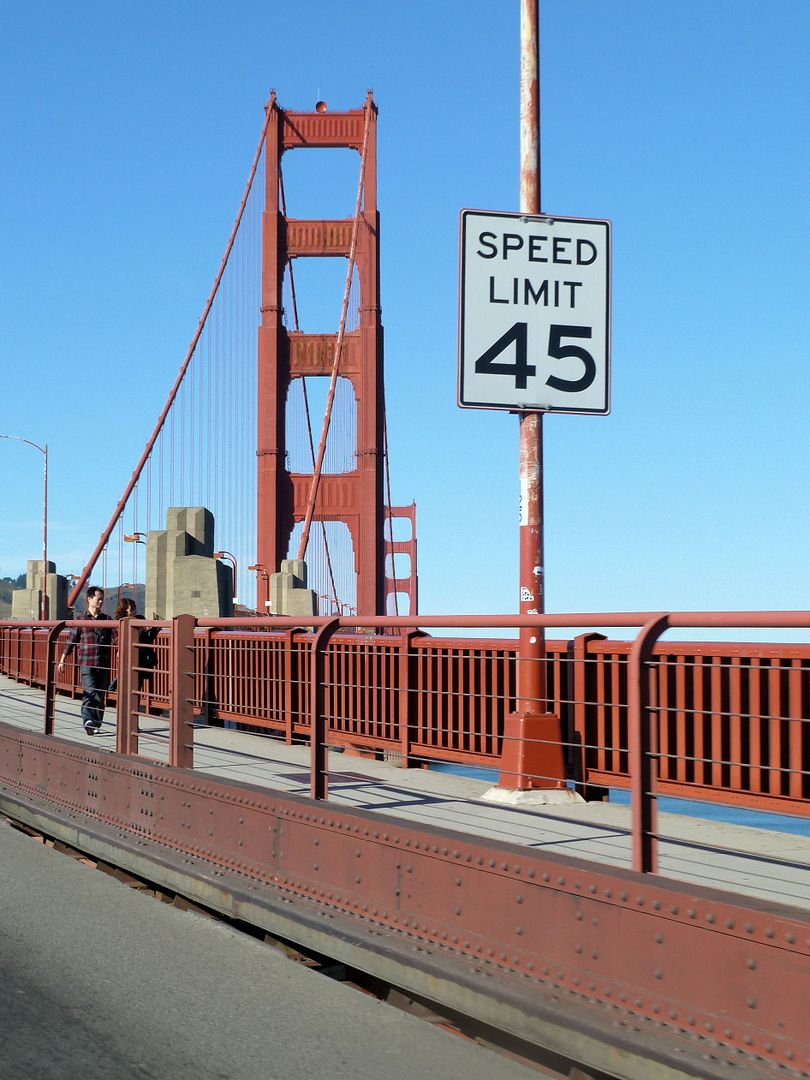 Lovely views from
Point Vista Overlook
: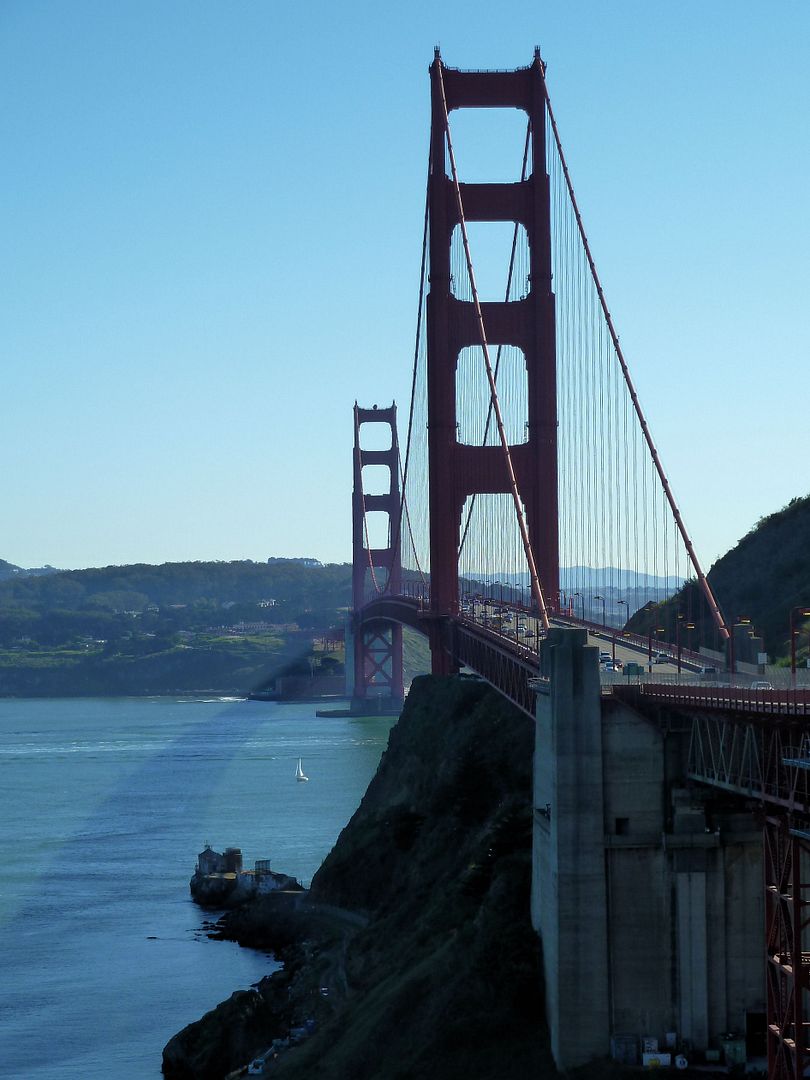 Picture taken by my brother
Picture taken by my brother
Picture taken by my brother
Picture taken by my brother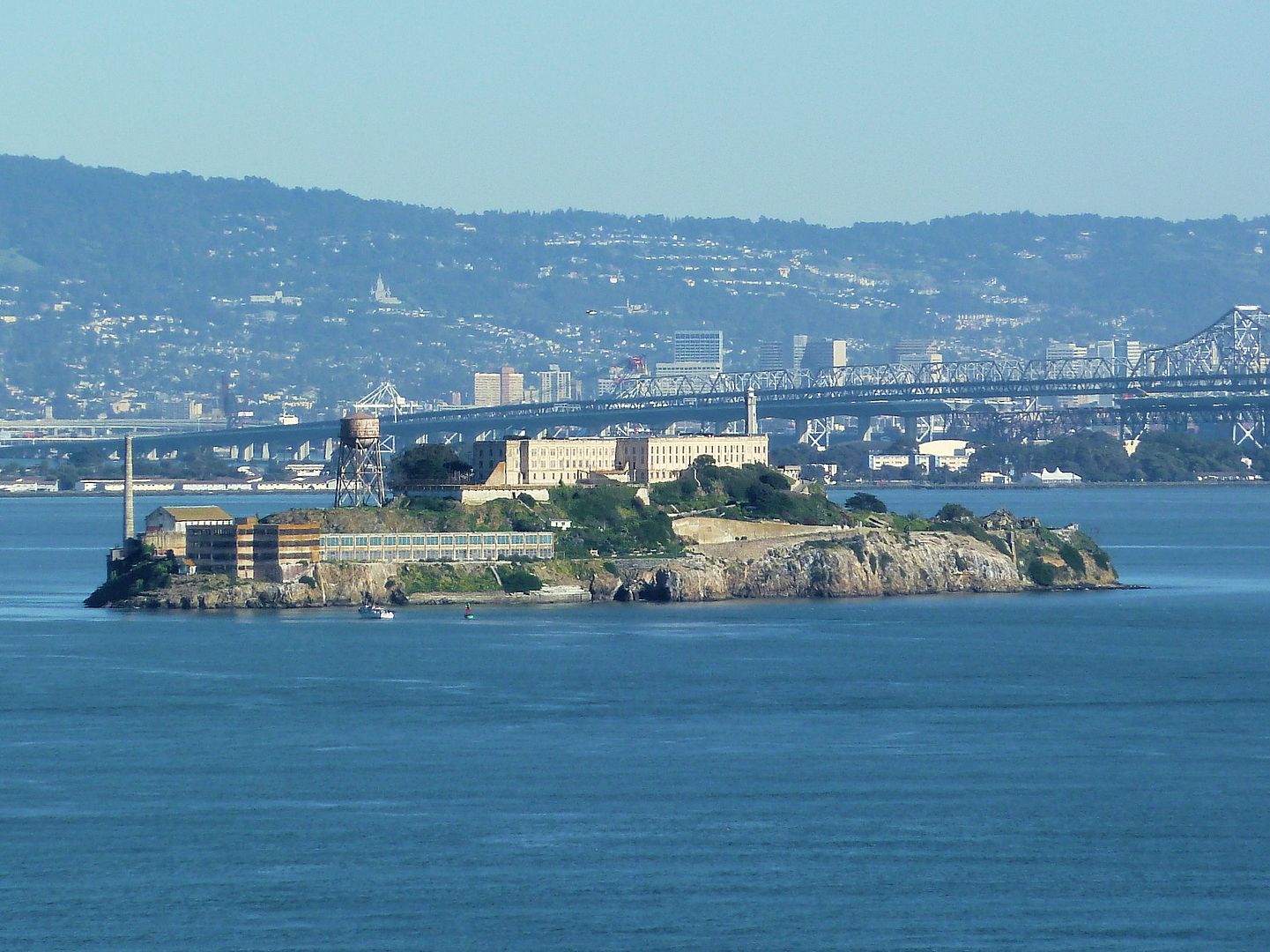 Picture taken by my brother
What would a visit to San Francisco be without a cable car ride? We took the famous
Powell & Mason Line
back and forth: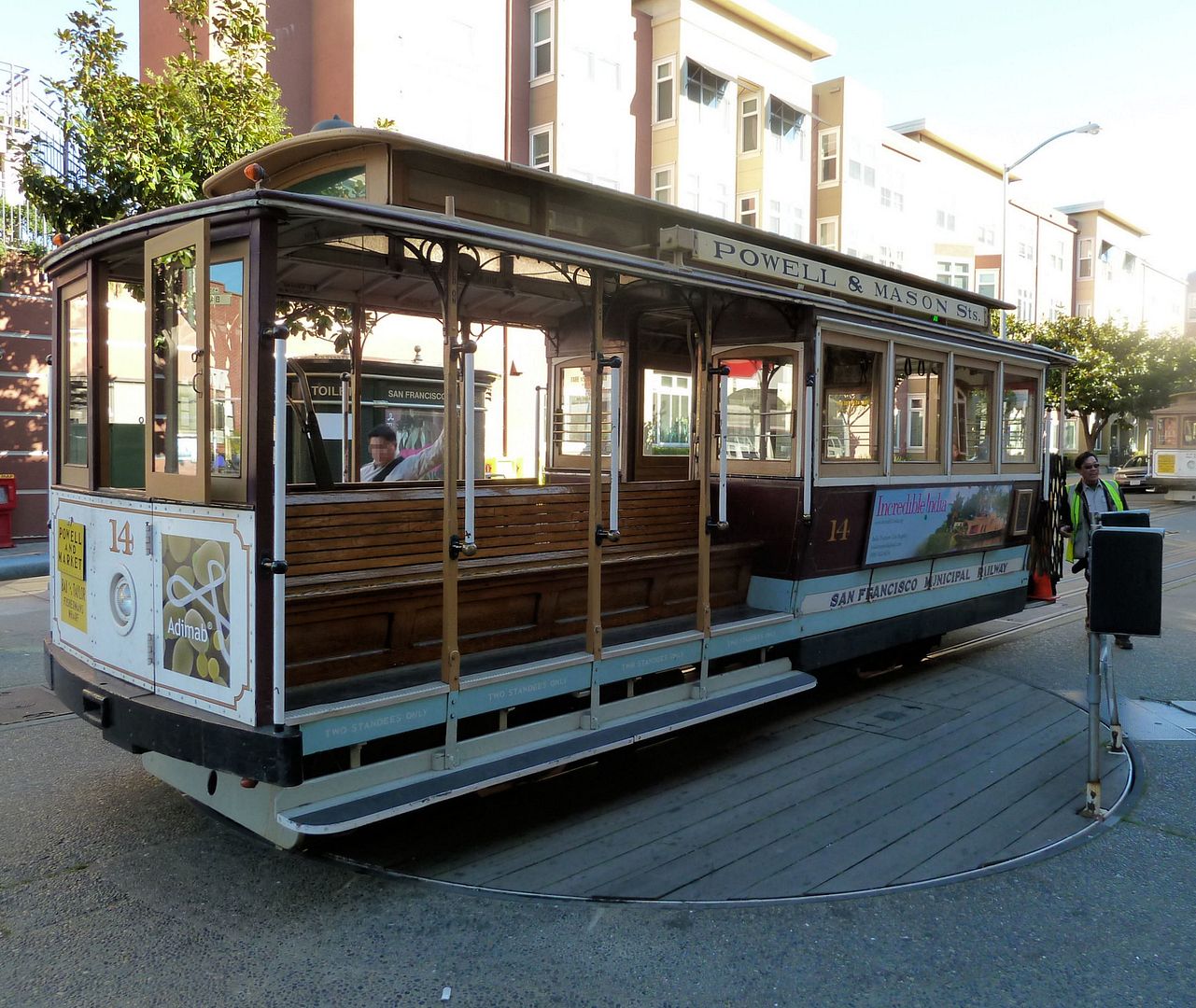 Picture taken by my brother
Lots of handwork required: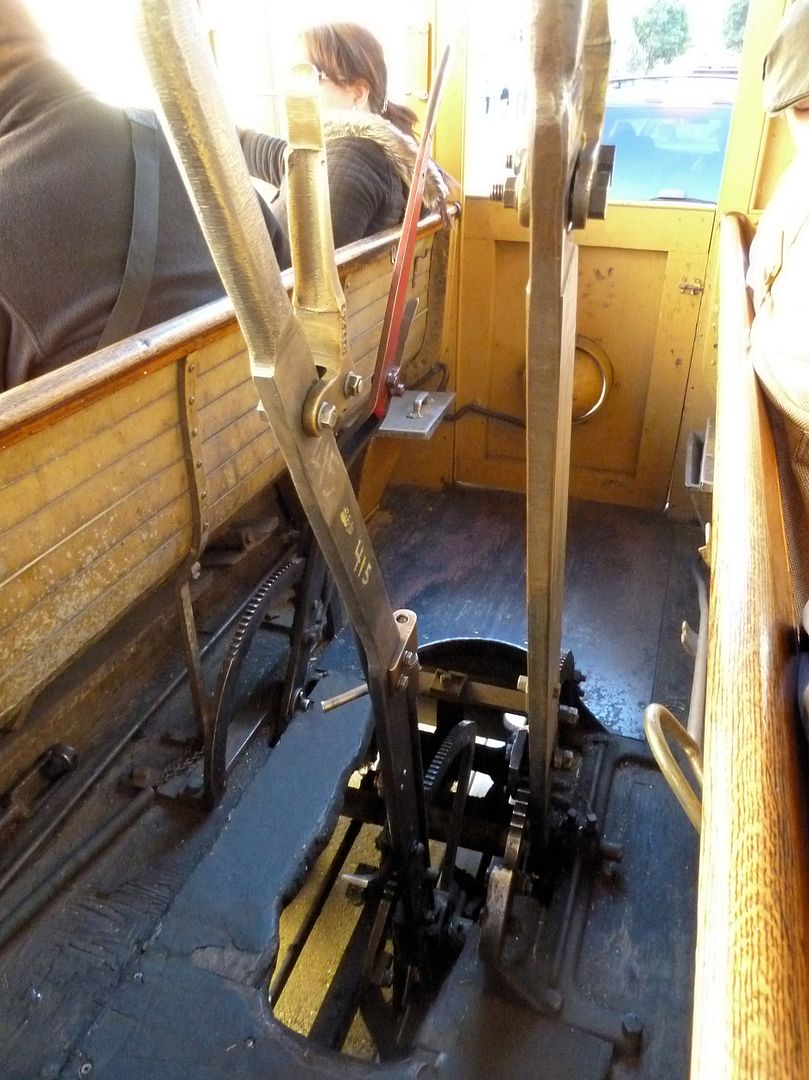 Picture taken by my brother
Picture taken by my brother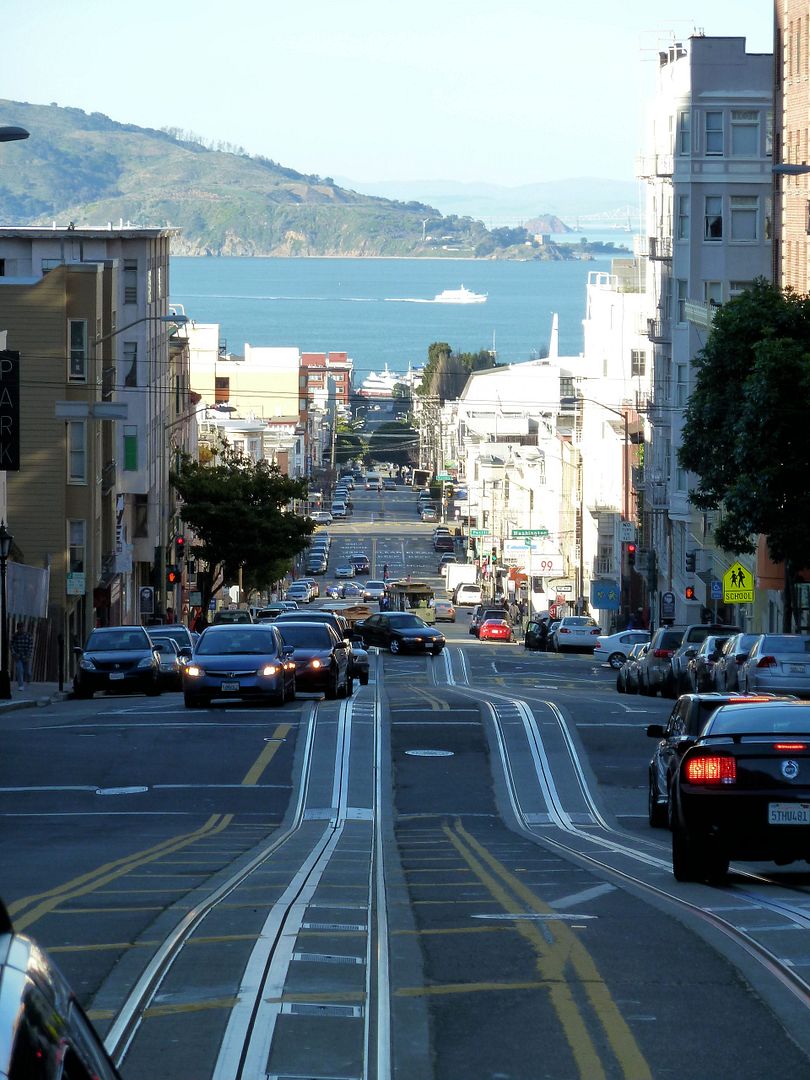 Picture taken by my brother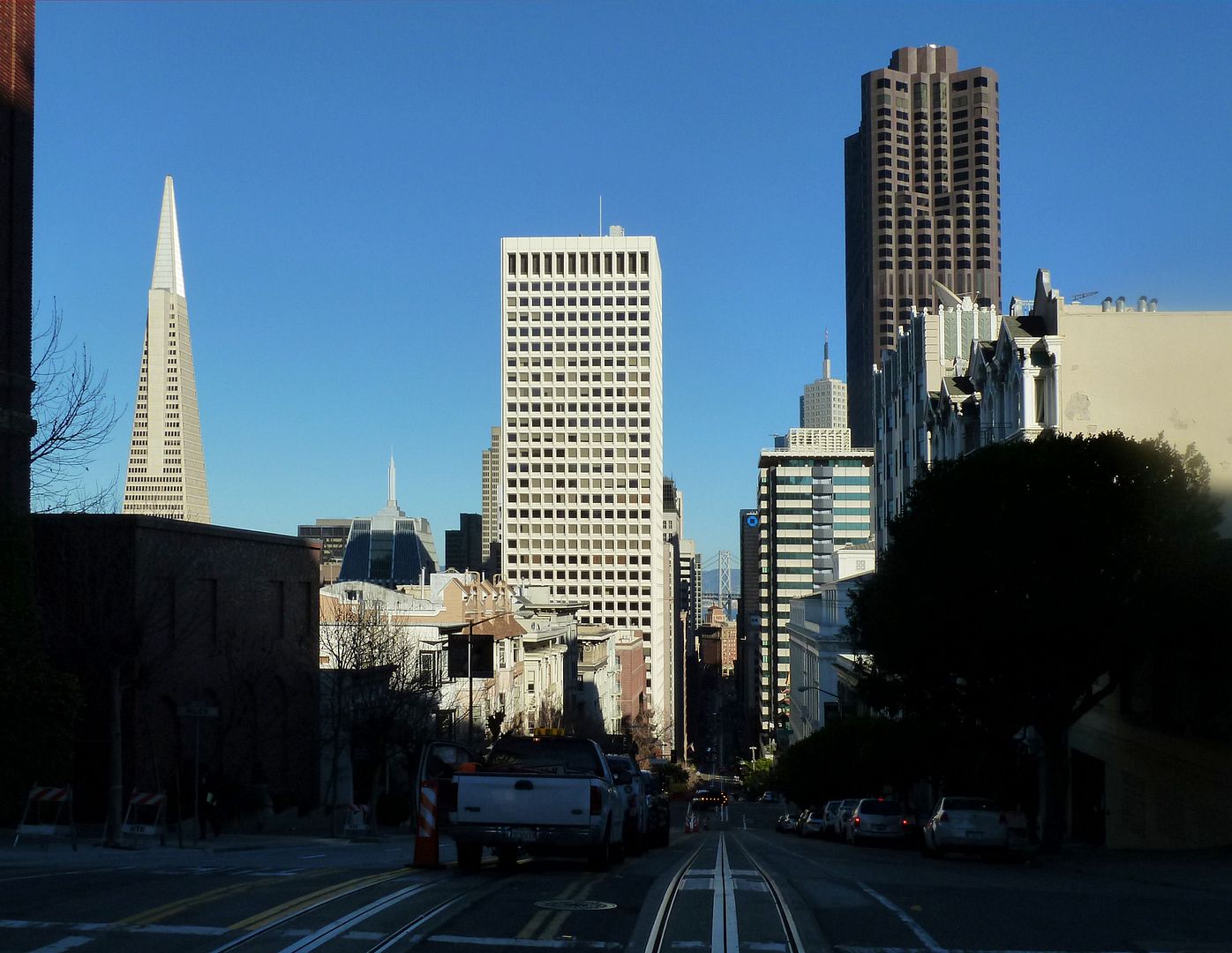 Picture taken by my brother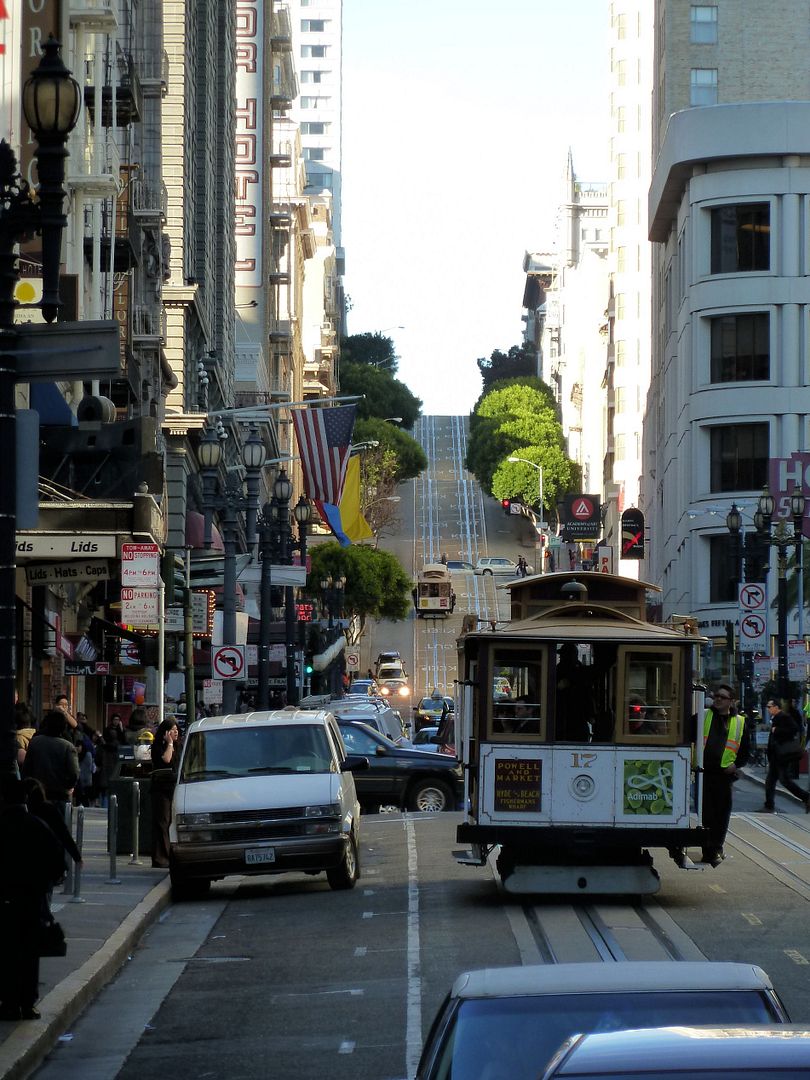 Picture taken by my brother
Picture taken by my brother
Picture taken by my brother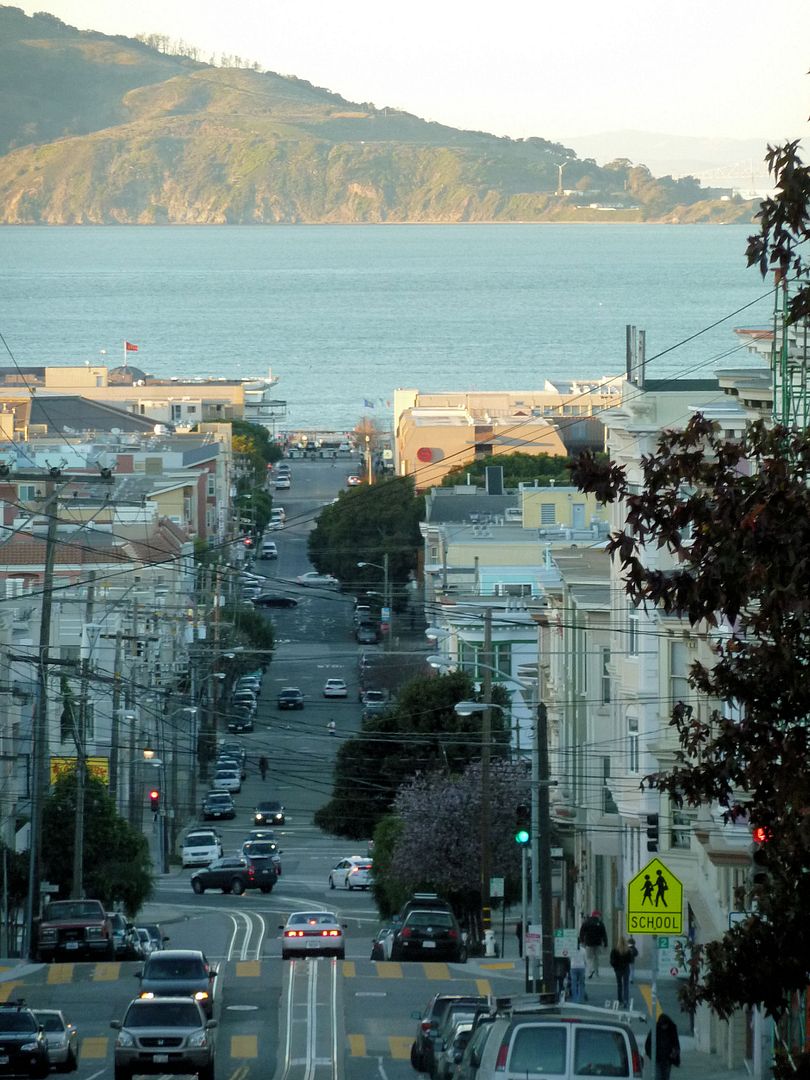 Picture taken by my brother
After returning to the origin, we took a pre-ordered shuttle to the airport and changed to the
Bay Landing Hotel's
complimentary shuttle. I had chosen this hotel near the airport due to the early departure on the next morning.
February 2011
San Francisco (SFO) - Denver (DEN)
Frontier Airlines F9 1668, operated by Republic Airlines
Scheduled times: 09:00-12:29
Actual times: 09:02-12:37
Flight duration: 02:08 (hrs)
Distance: 967 miles
Economy Class, seat 12A

Embraer 170
N873RW (MSN 17000144)
First delivered in 09/2006 to Shuttle America
1st flight on N873RW
2nd Embraer 170 flight
6th E-Jet flight
110th airline
Former appearances:
About two hours prior to departure, we took the shuttle to the airport and went to Frontier's check-in area where you only find kiosks. A friendly female check-in assistant immediately showed up, but we didn't face any problems. After paying an extra $20 for each checked bag, we got our boarding passes. "Stretch seating" had been offered for $25 per person, but we had declined the offer.
Our plane turned out to be
N873RW
, painted in full Midwest colors: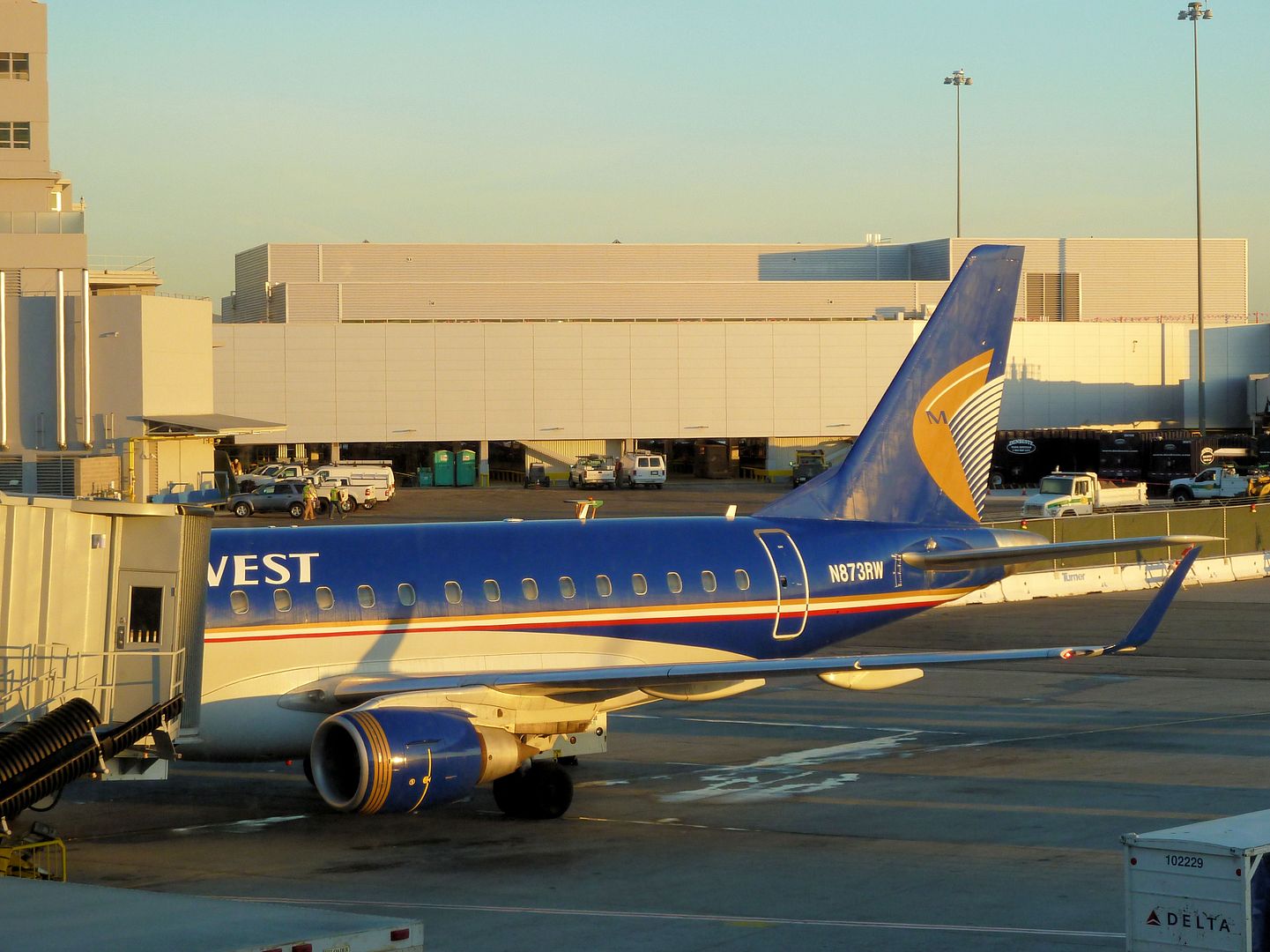 That livery is not bad, but I would have preferred the Frontier colors the plane used to wear: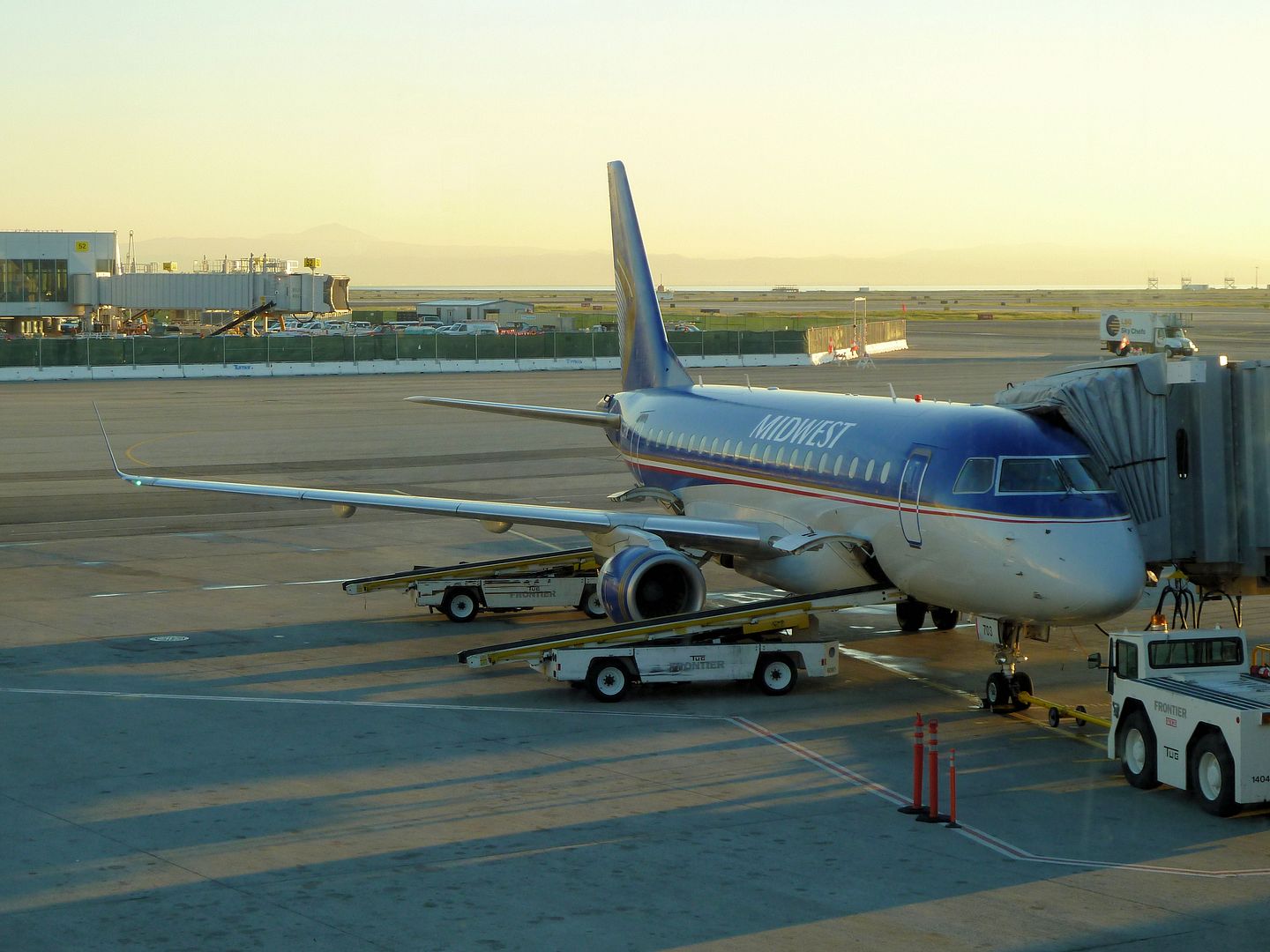 As soon as we stepped on board, I noticed a bad air quality - and the green leather seats weren't comfortable at all: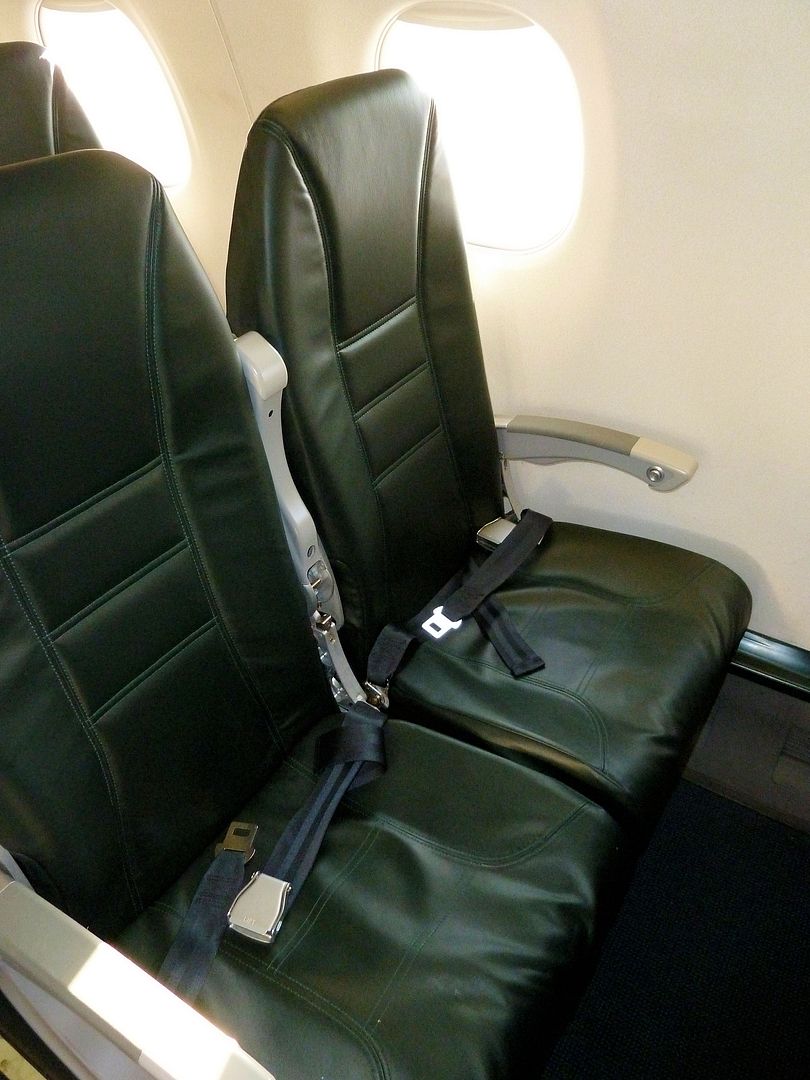 Legroom wasn't great either:
Inflight magazine...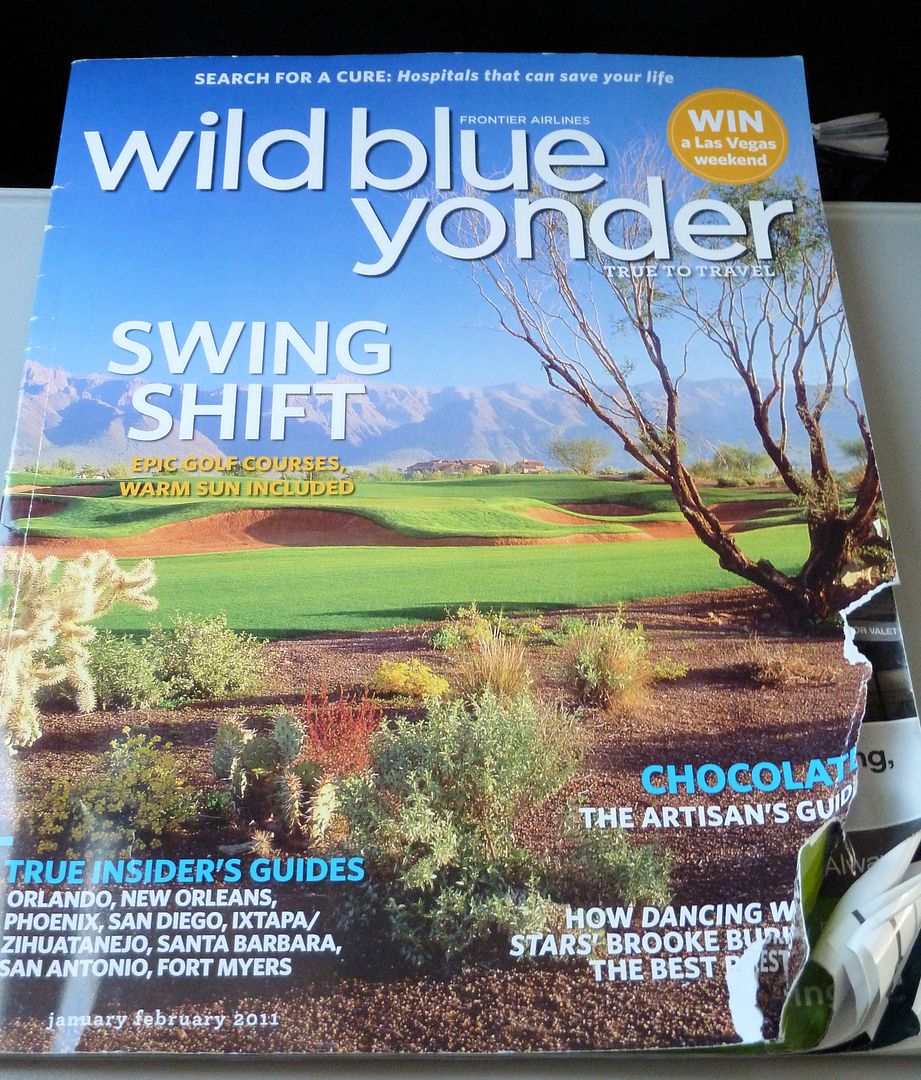 ...with integrated buy-on-board menu: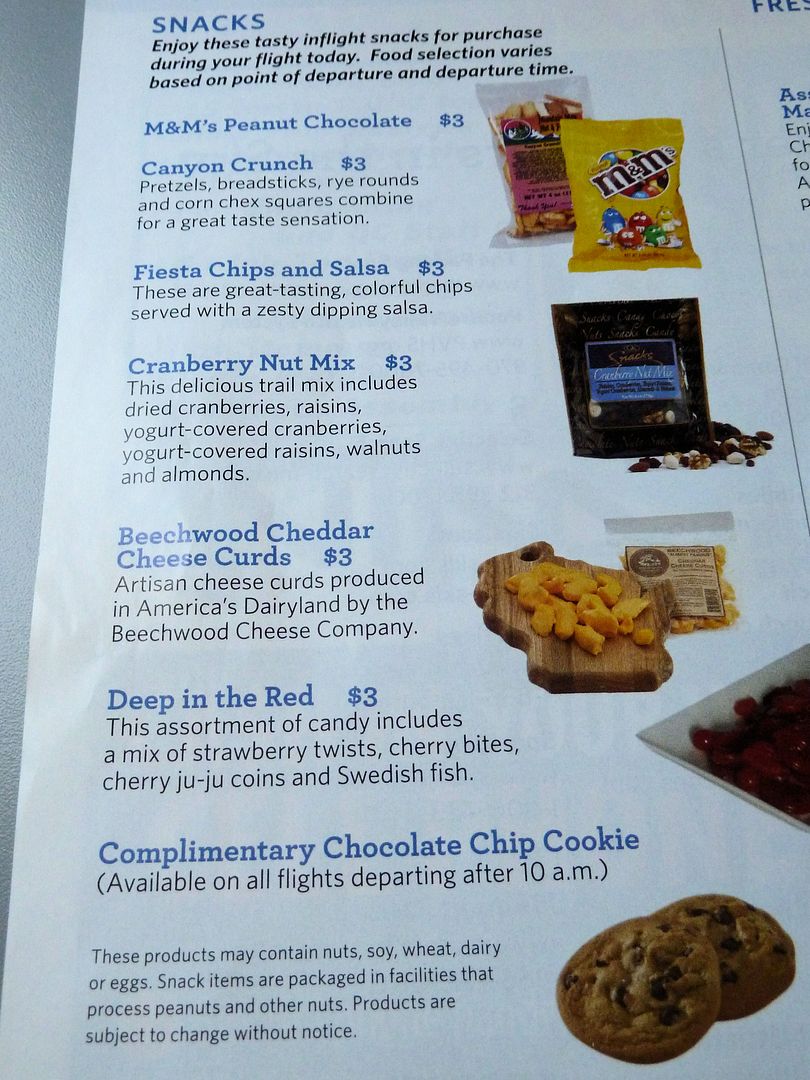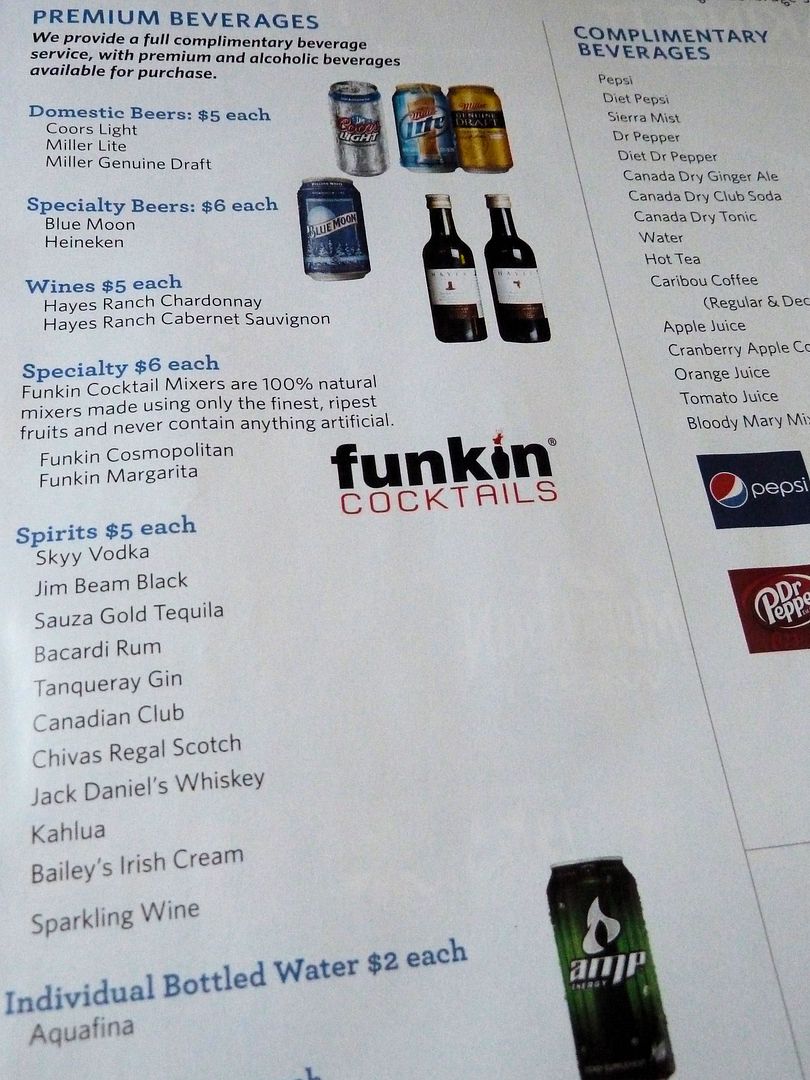 The air quality improved only slightly after the air conditioning had been switched on - the 100 percent load factor took its toll. A young lady two rows behind us had started to chat intensively with her seat neighbor and she awfully giggled after every sentence - and that wouldn't change for the next two hours...
Anyway, I concentrated on the traffic: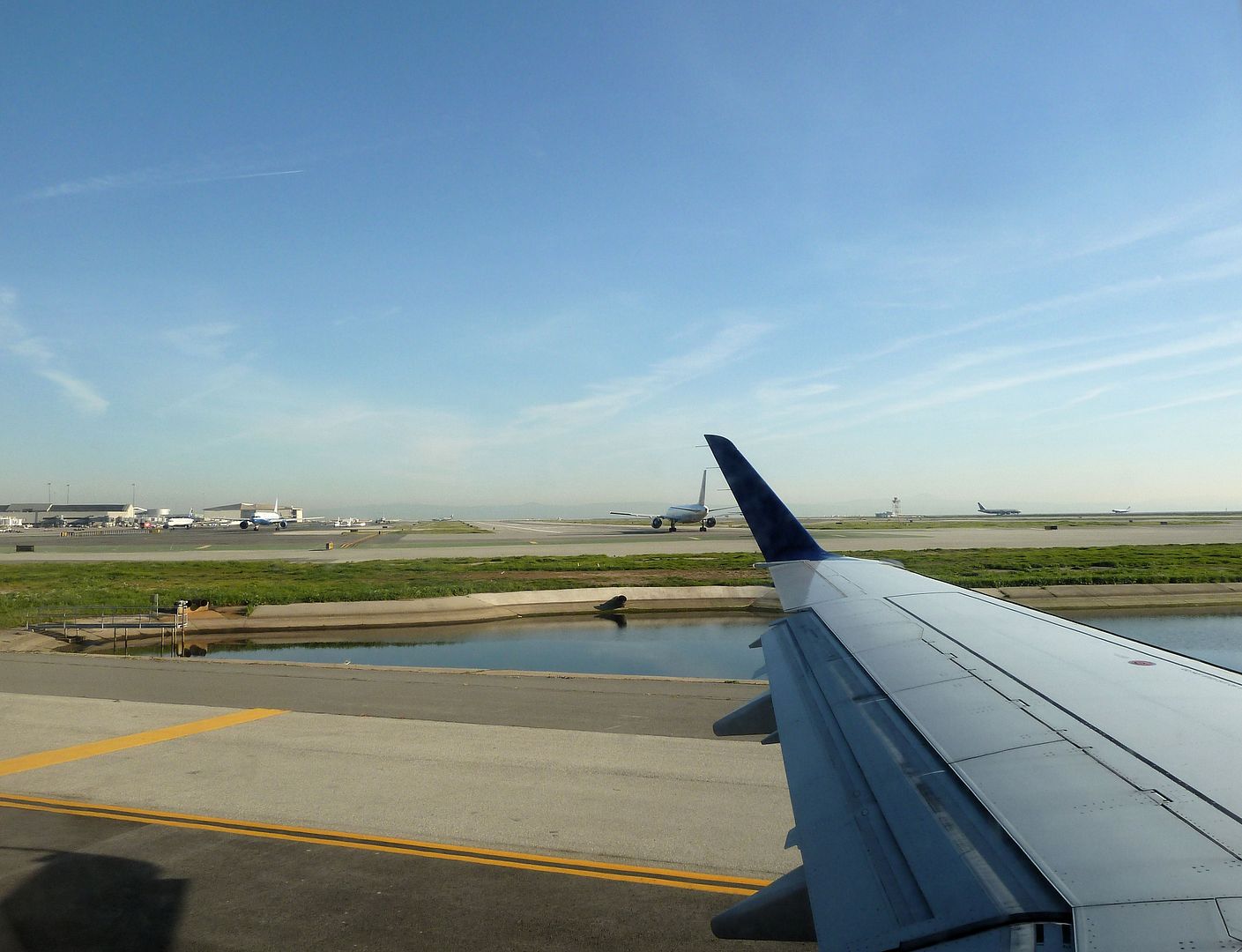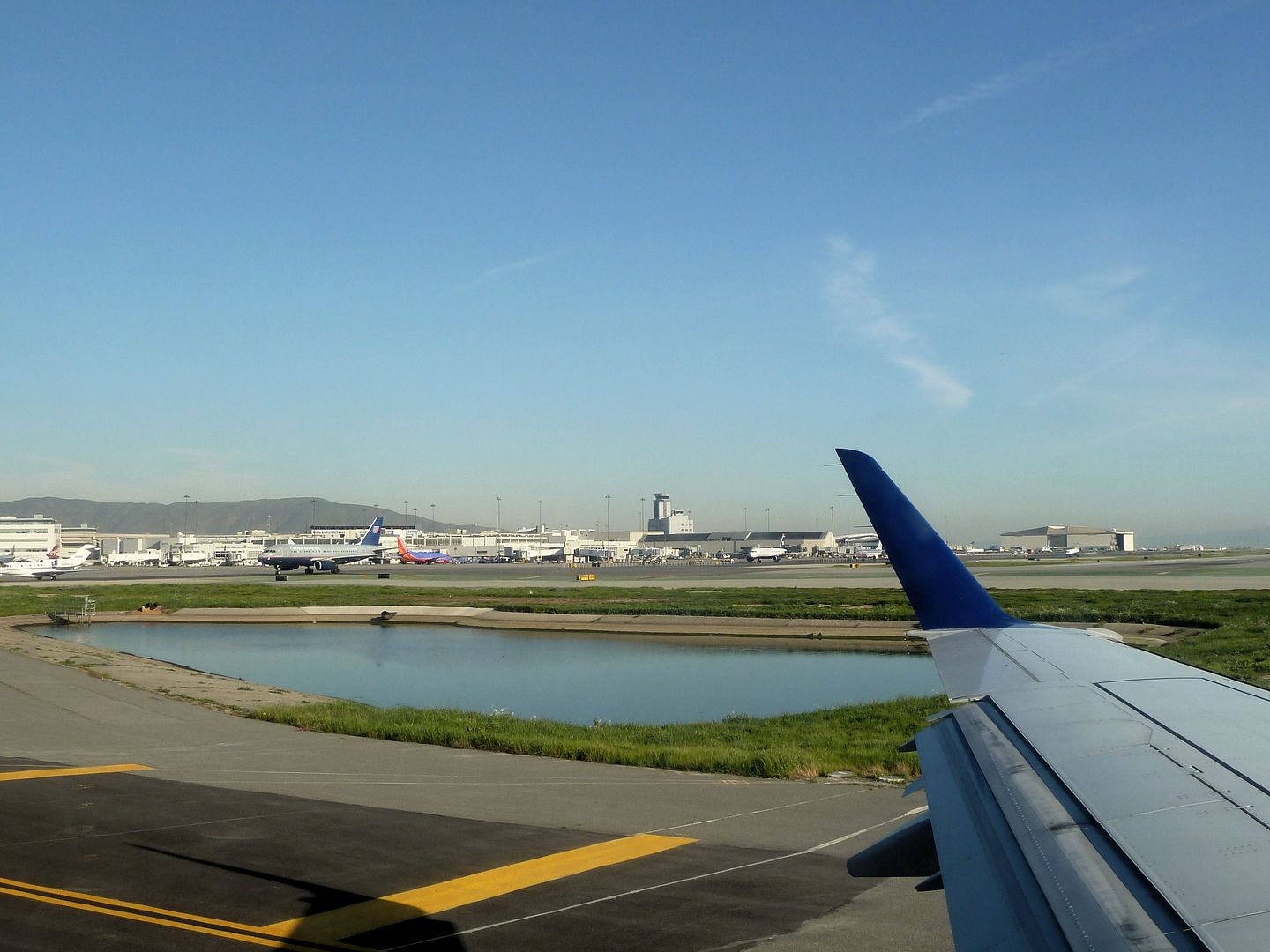 Entering runway 1R: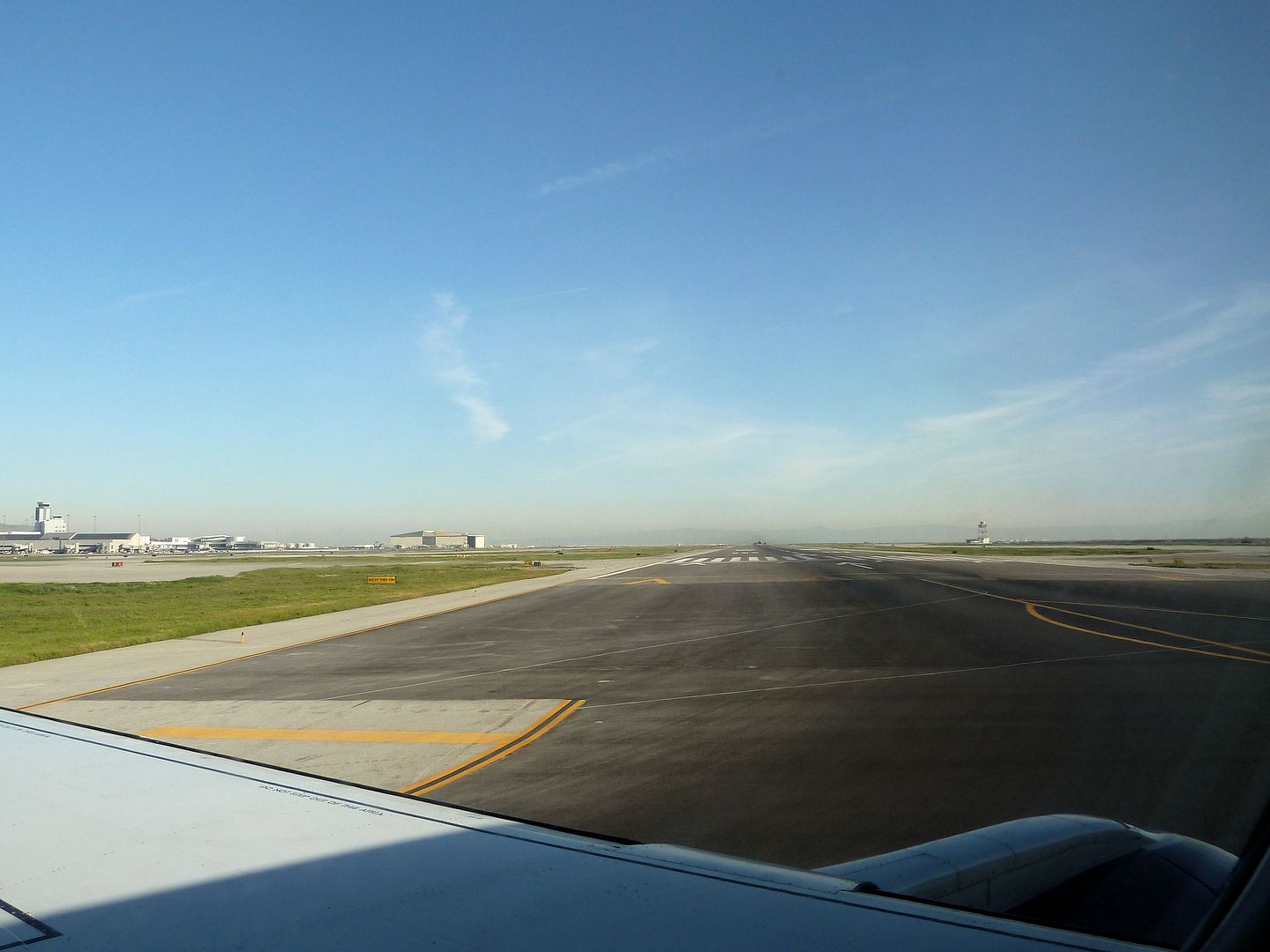 Southwest 737-700 on 1L: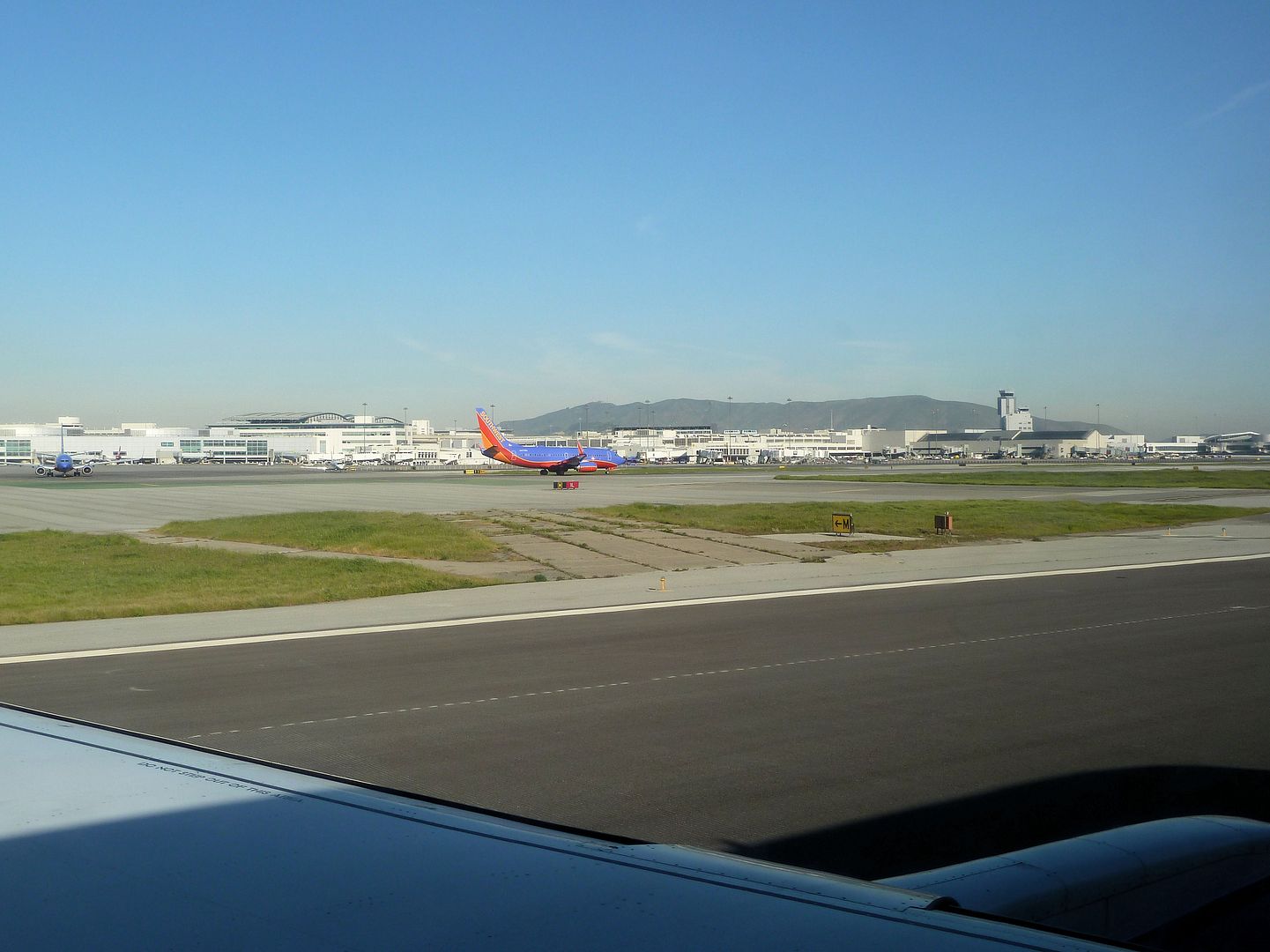 Takeoff into clear blue skies: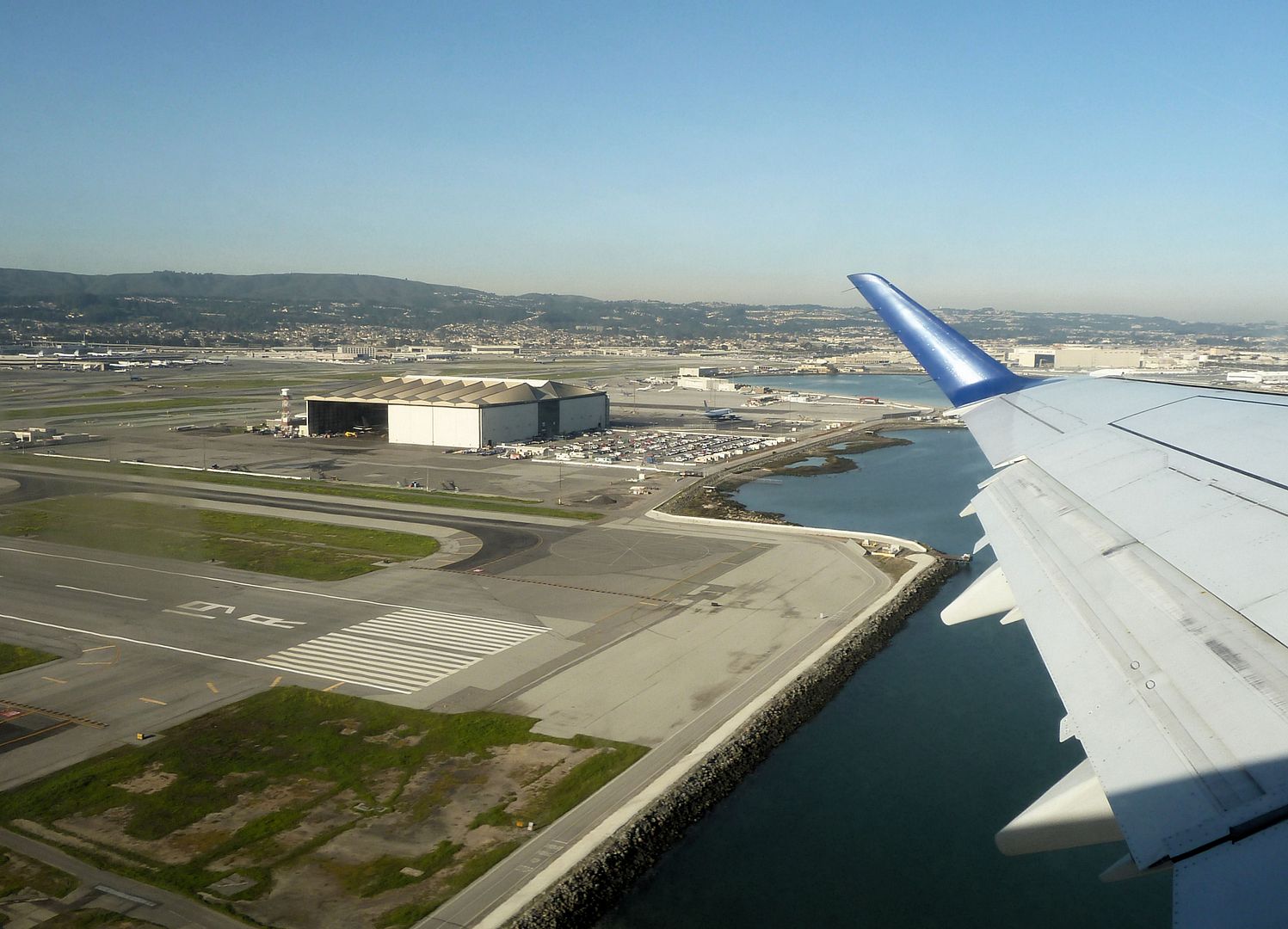 Beautiful views of San Francisco: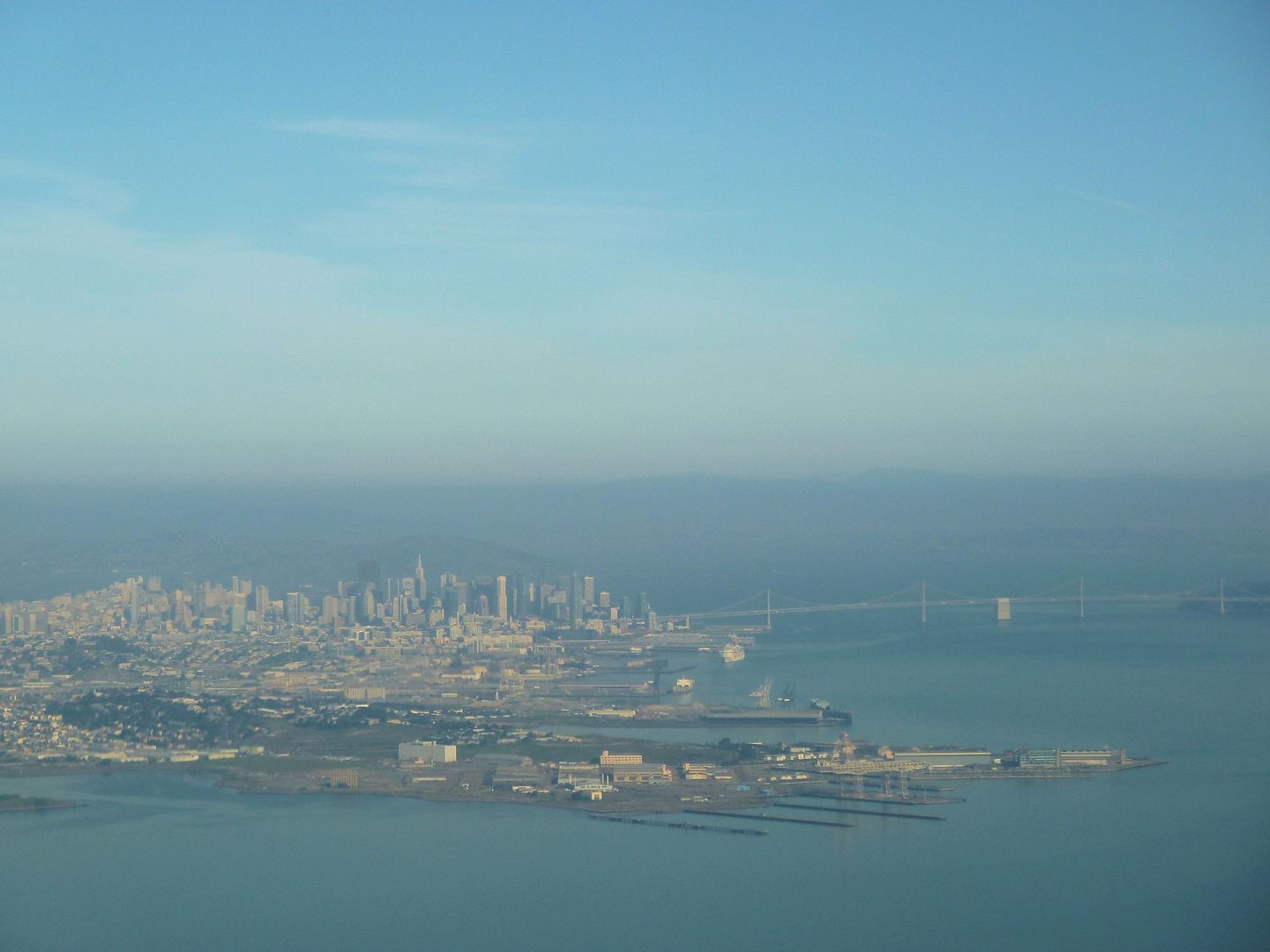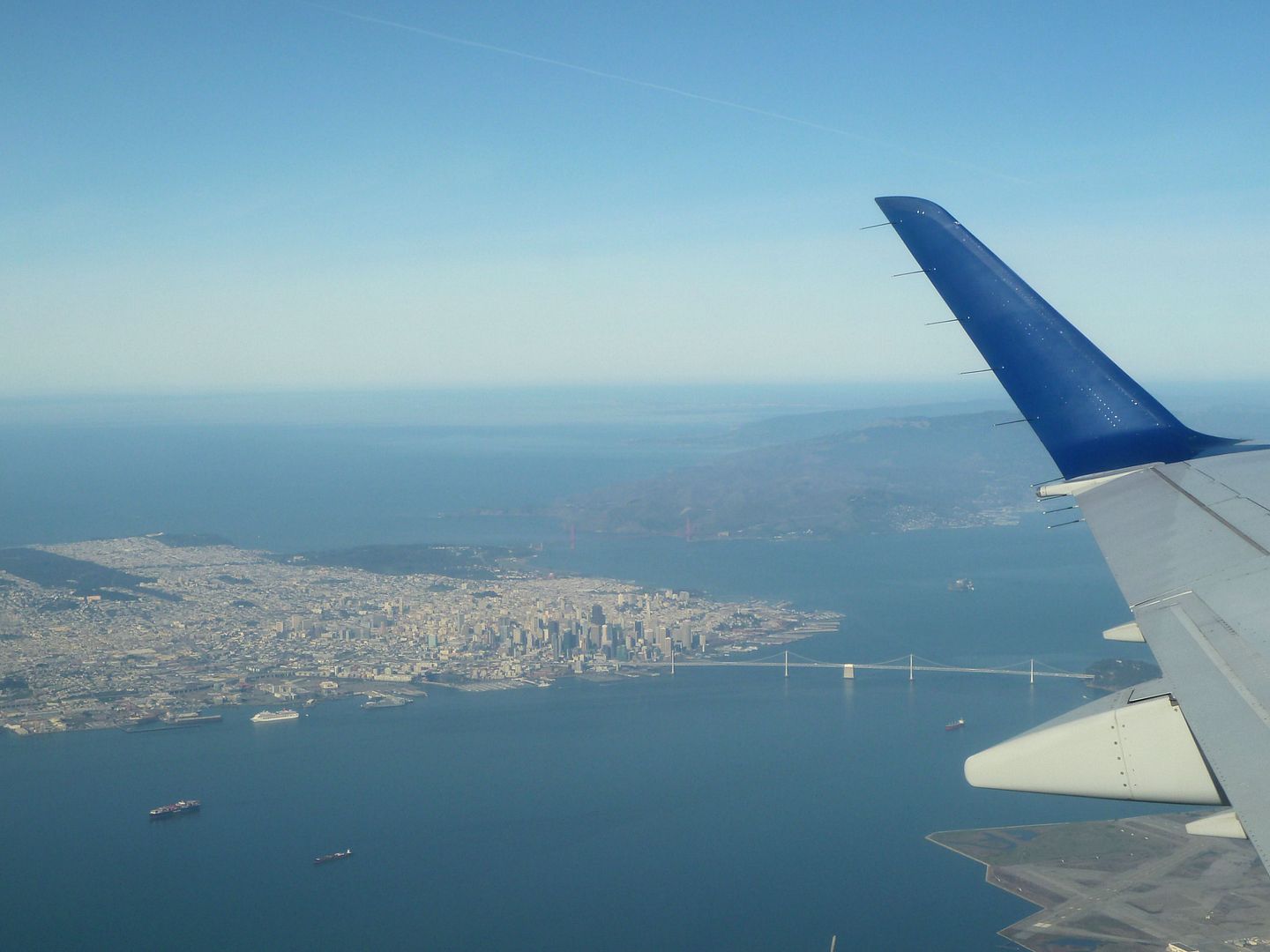 Here you can see Oakland Harbor and the former
Naval Air Station Alameda
:
Only 16 minutes later we were cruising over snowy mountains: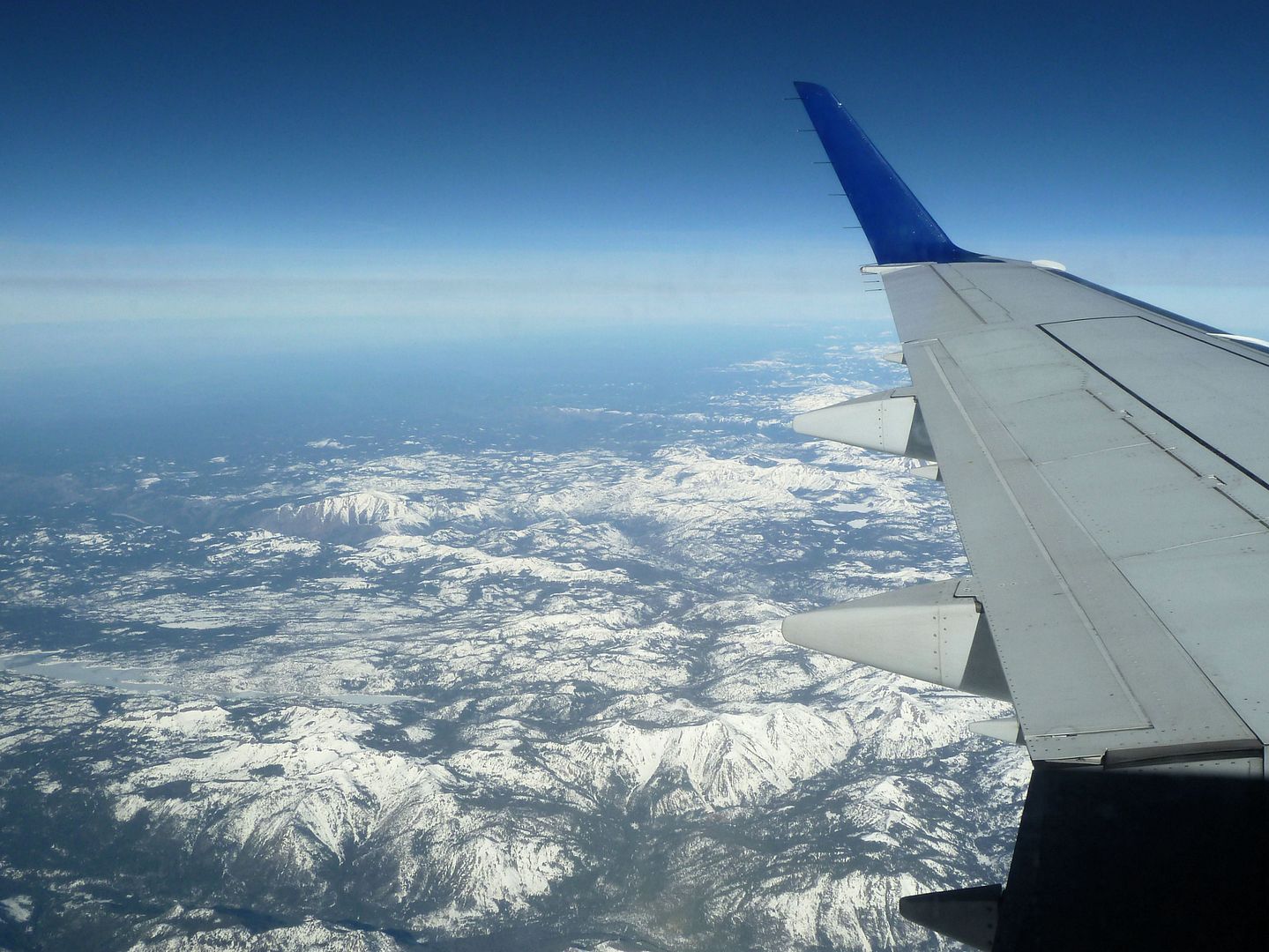 Non-alcoholic drinks were served free of charge. Ginger ale for me, of course: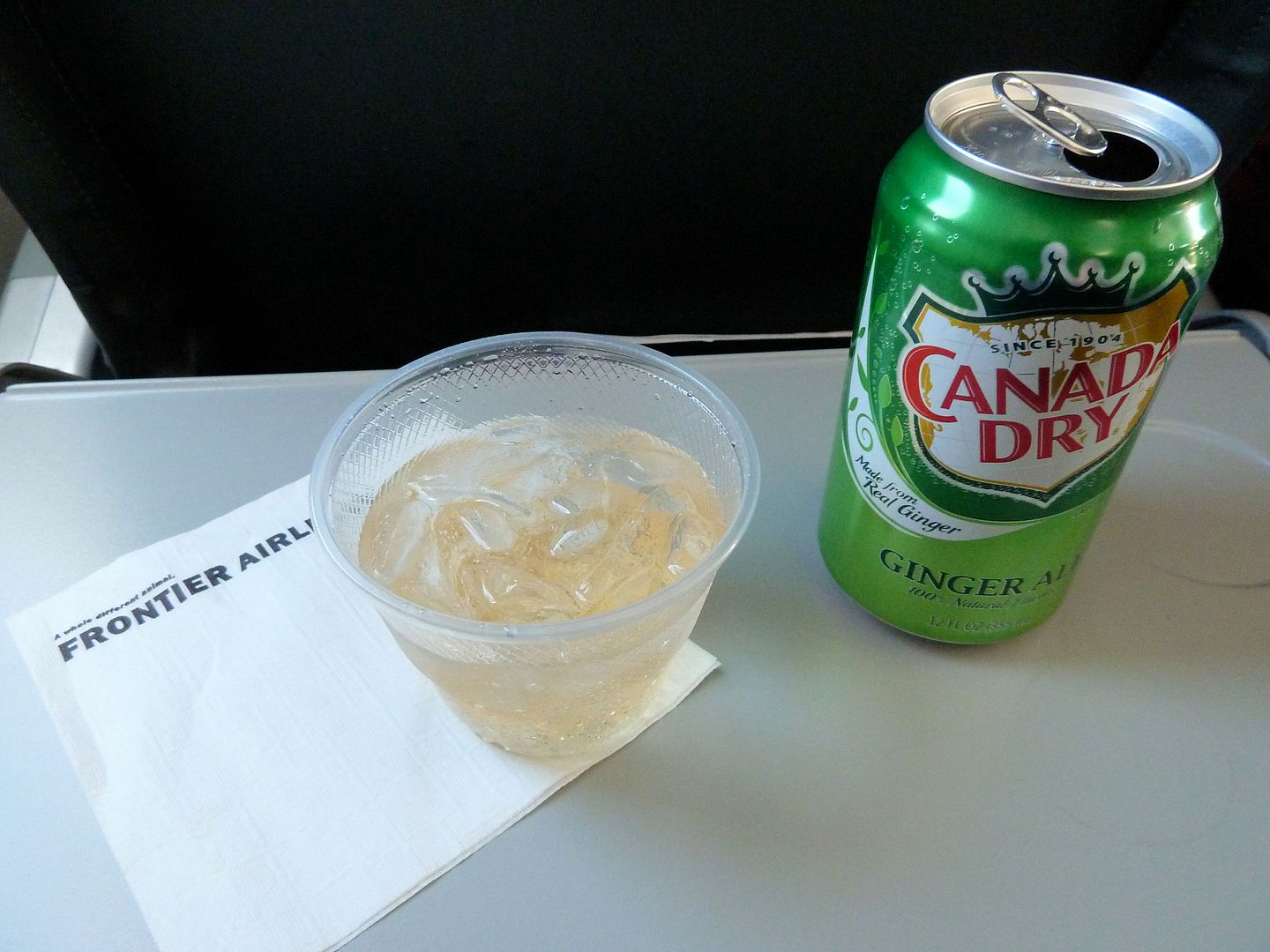 Then I bought a breakfast for $6: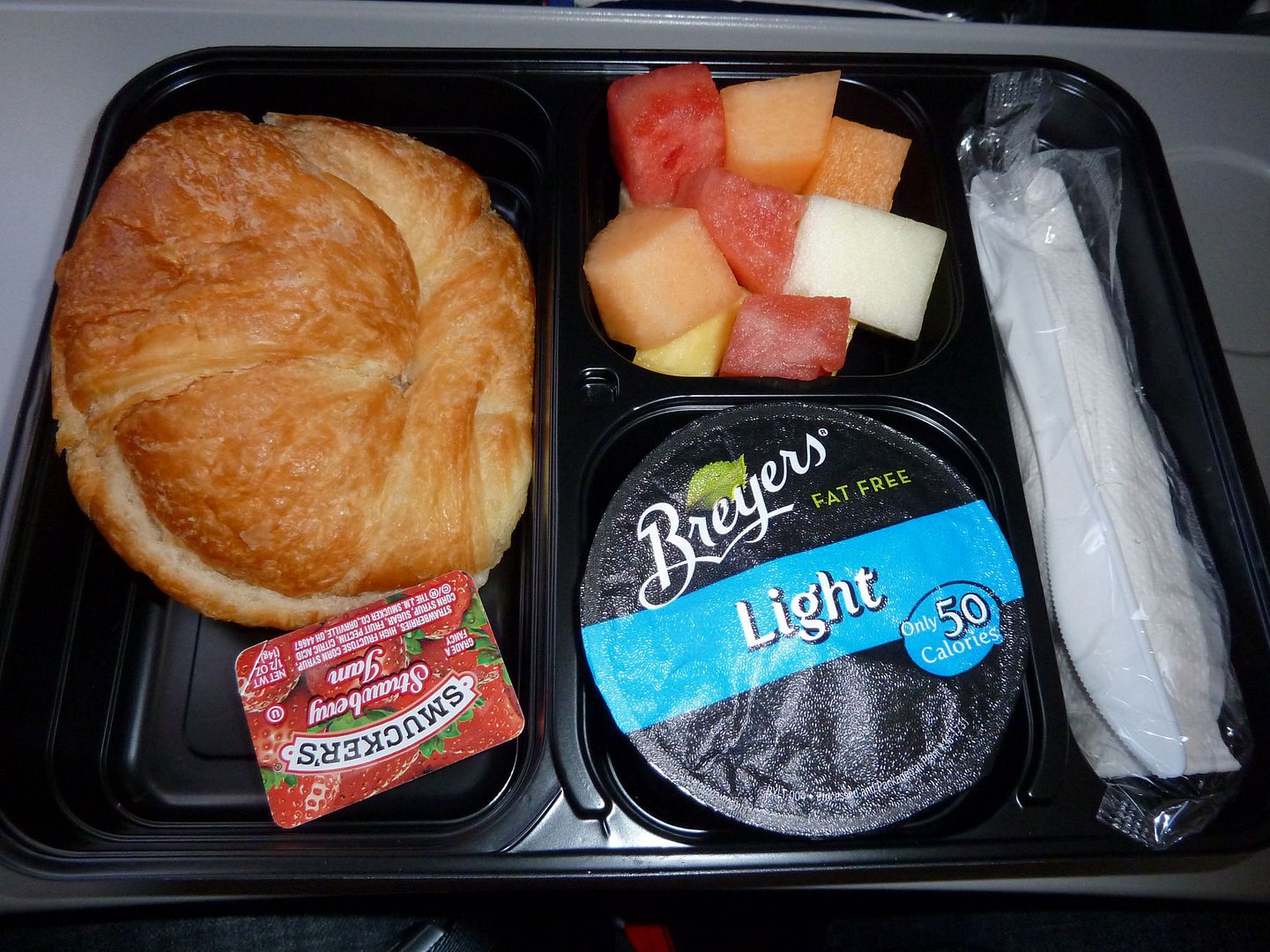 Stale croissant, hard and tasteless fruit pieces and an average yogurt – I cannot recommend to buy that!
Nice scenery, about 50 minutes prior to landing: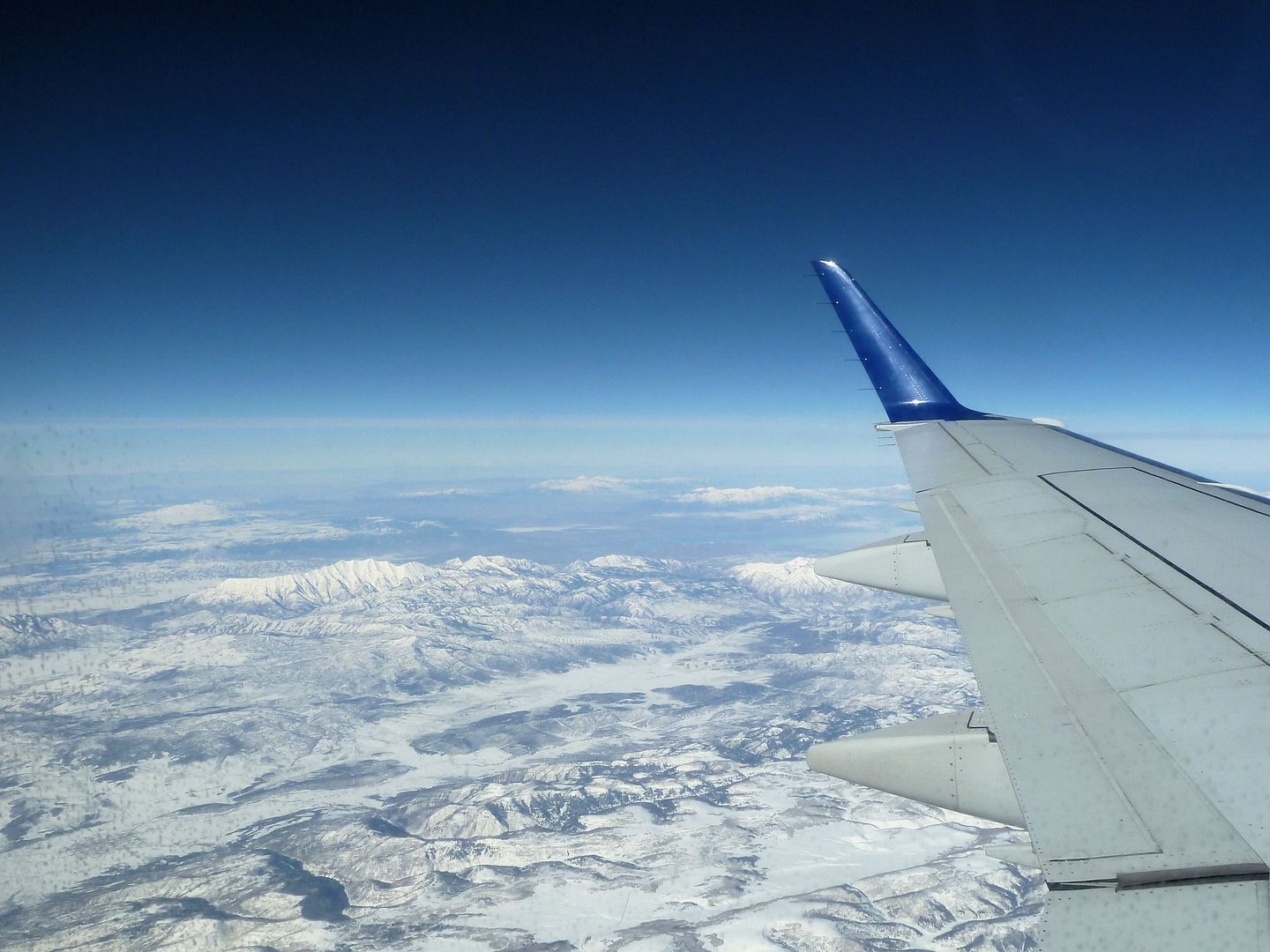 Cabin view: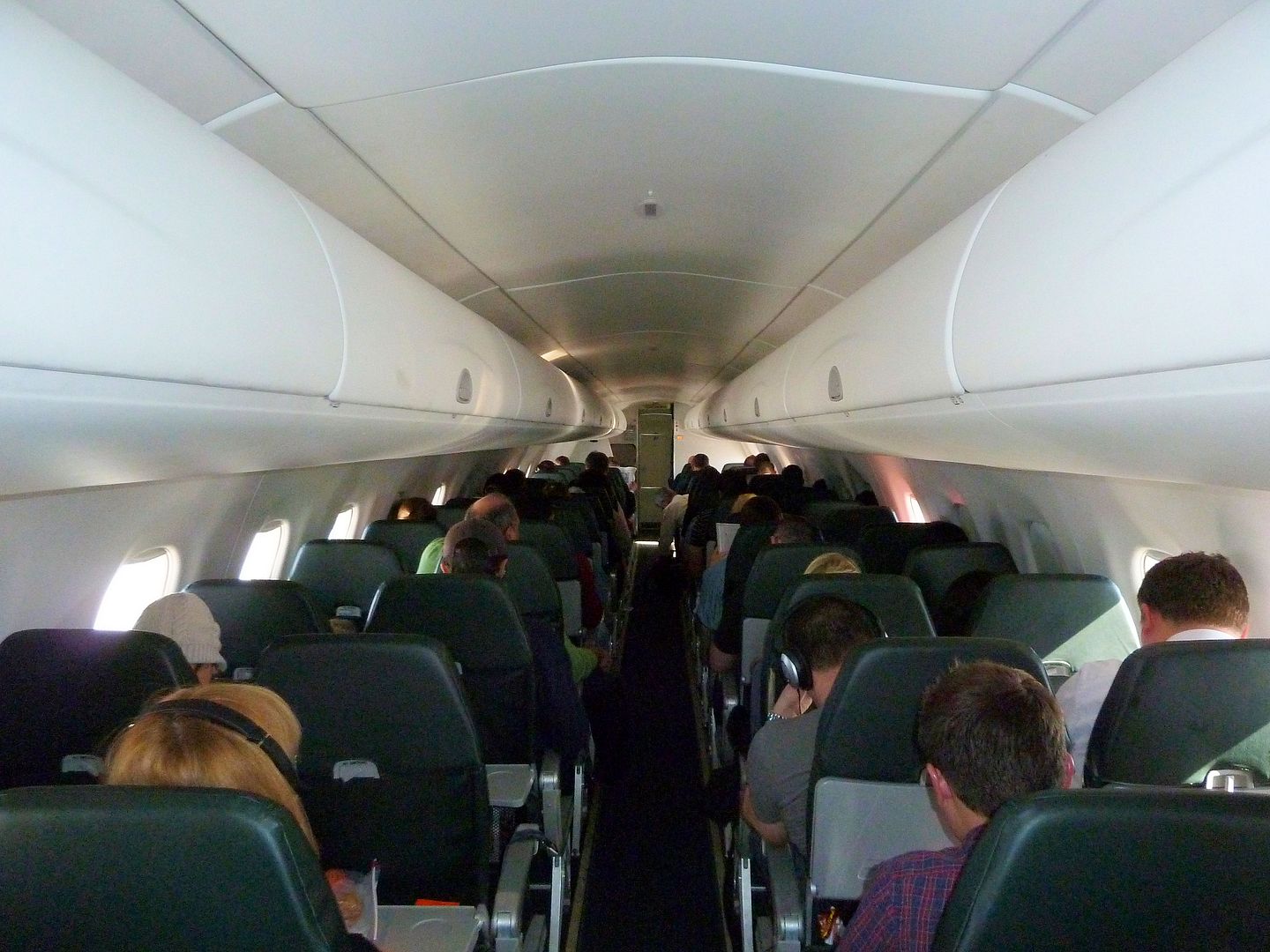 Finally on approach: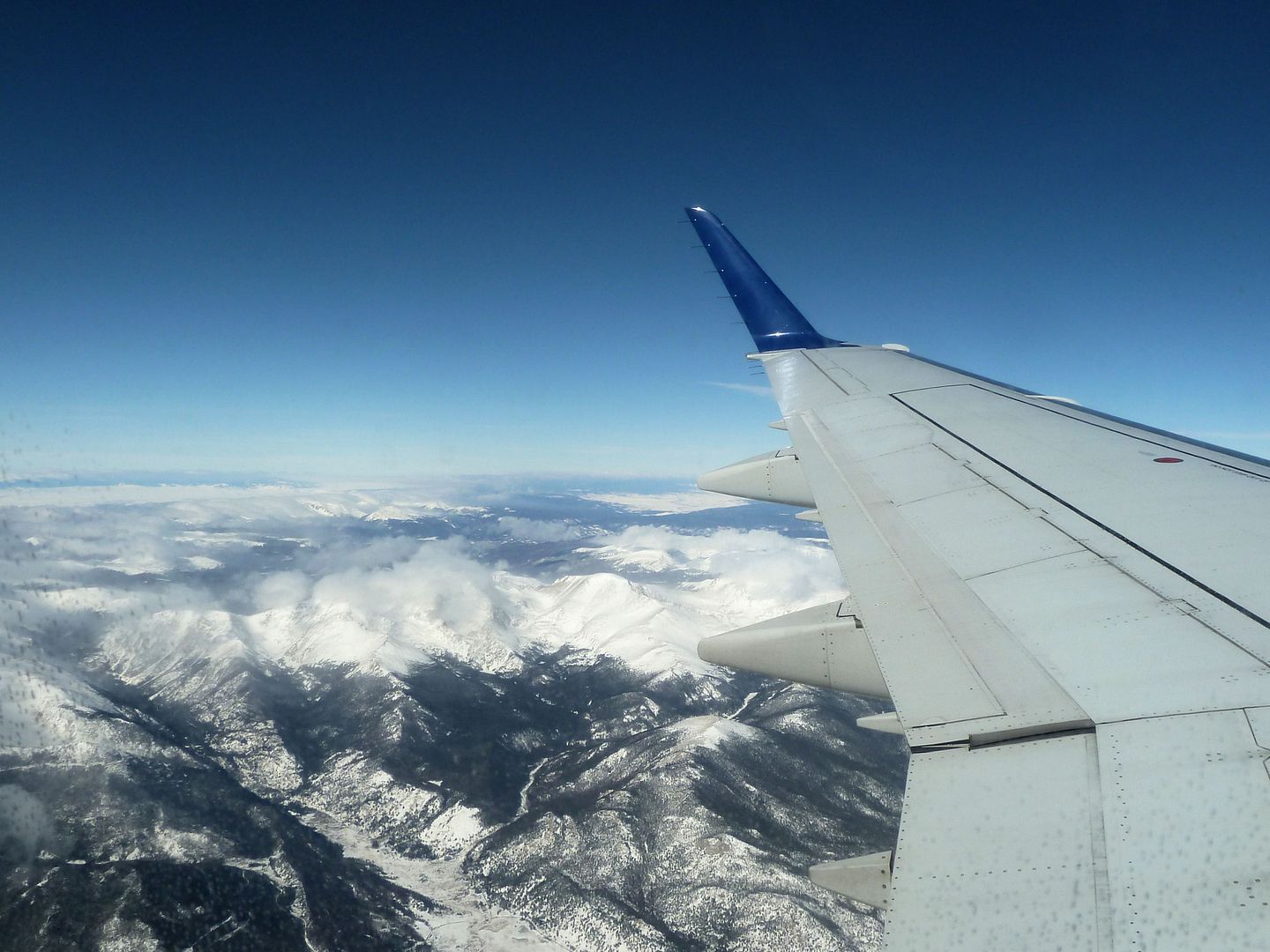 Barren landscape…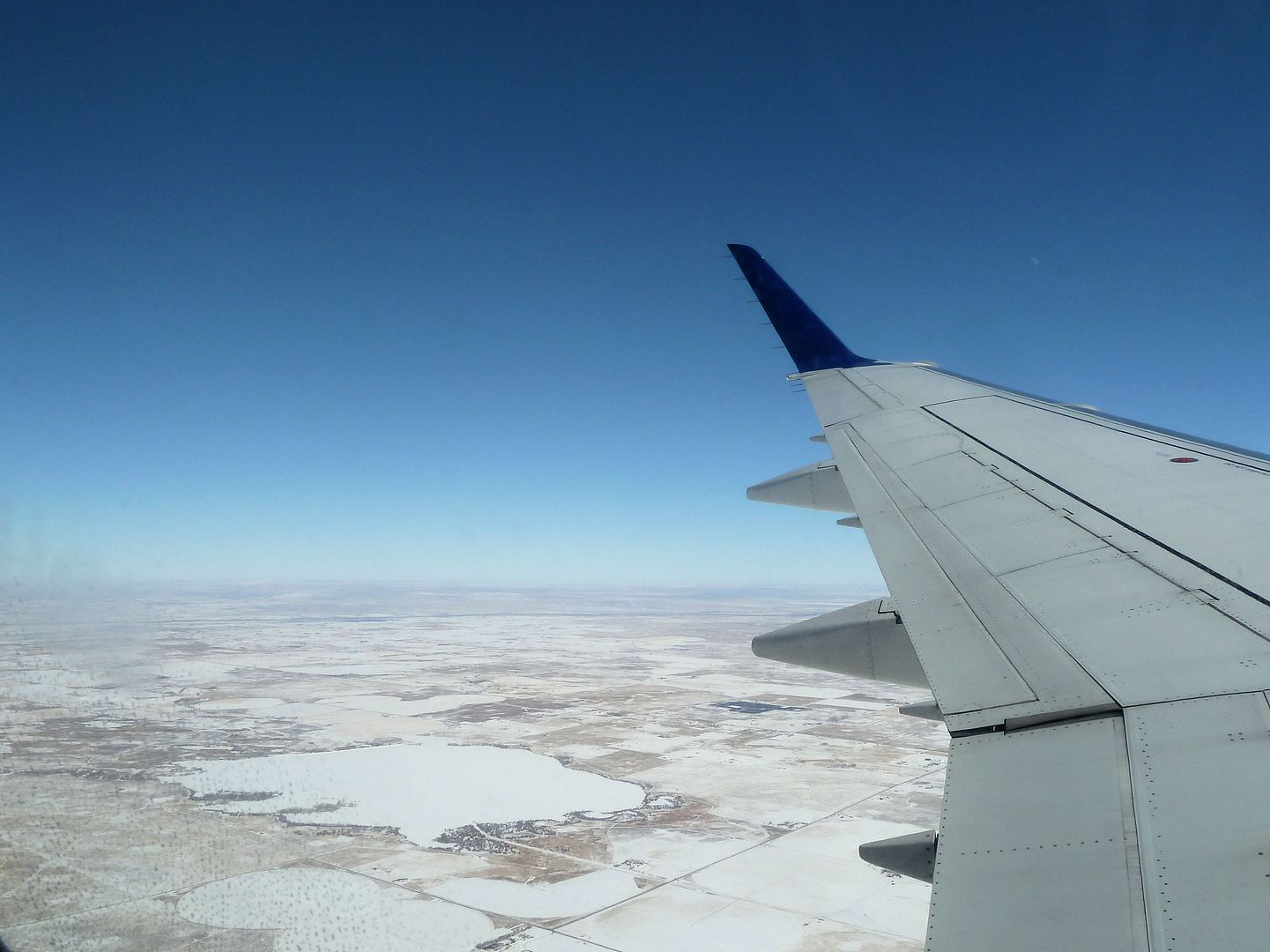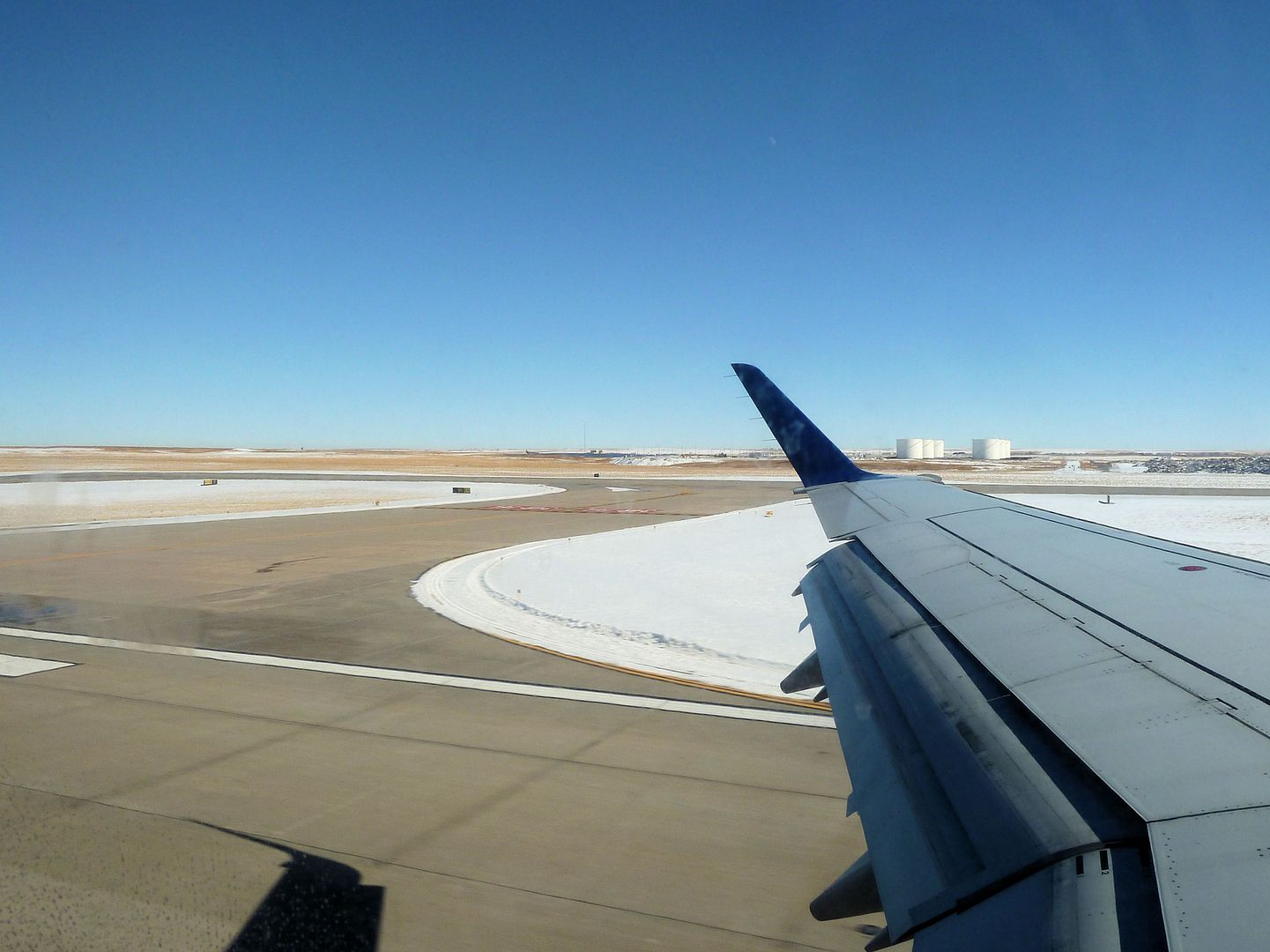 We arrived at the gate a few minutes late and I was glad about the bright sunshine - at least a weather-related delay at DEN was unlikely now...
Transfer at Denver
Changing planes was very convenient in our case - our (Concourse A) departure gate was only a short walk away from our arrival gate. Here's the
Jeppesen Terminal
with its famous tensile fiberglass roof which resembles the Rocky Mountains: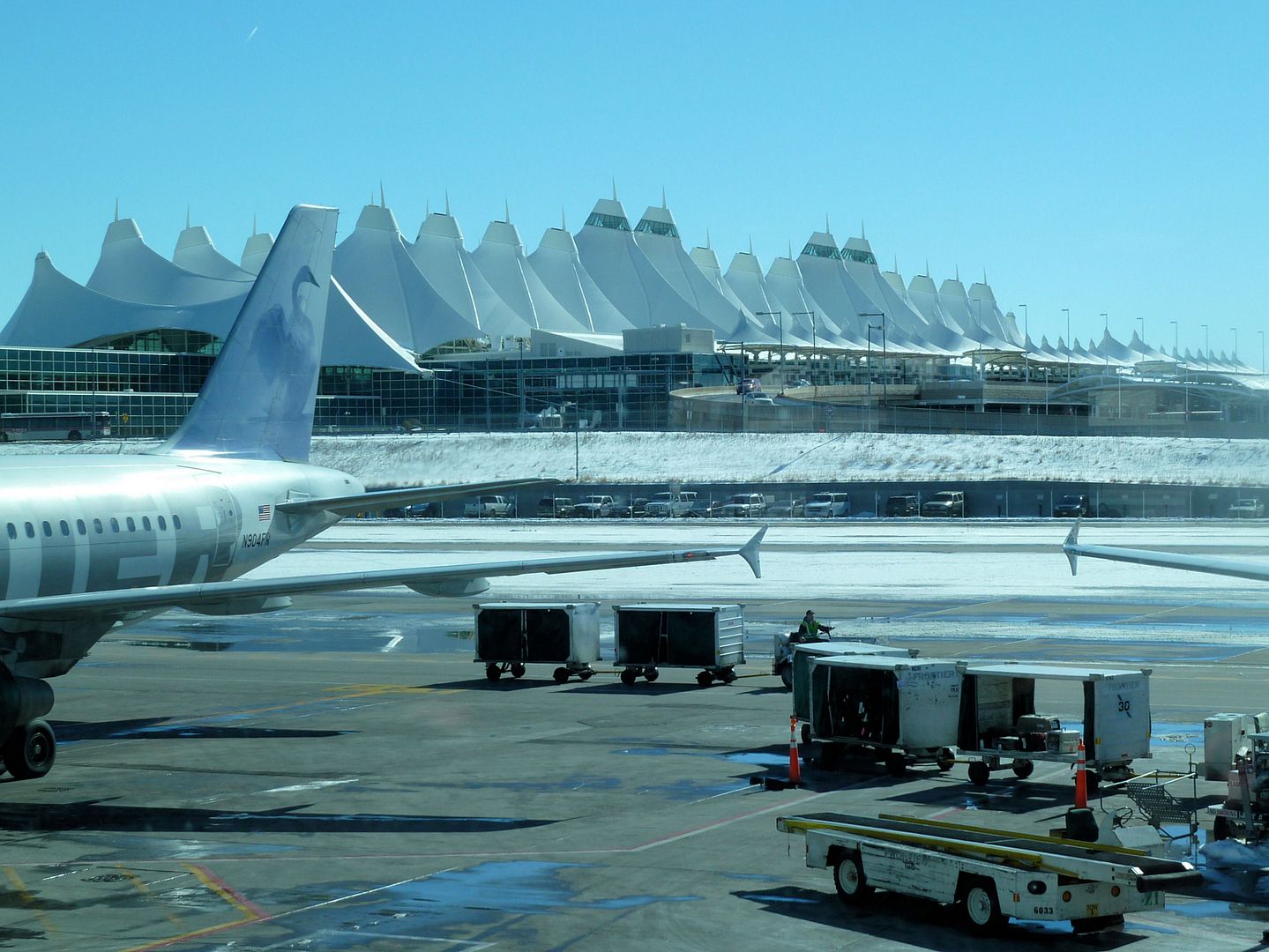 Unfortunately, I didn't see many planes except those taxiing to and leaving our concourse. Nevertheless, the scenery was nice: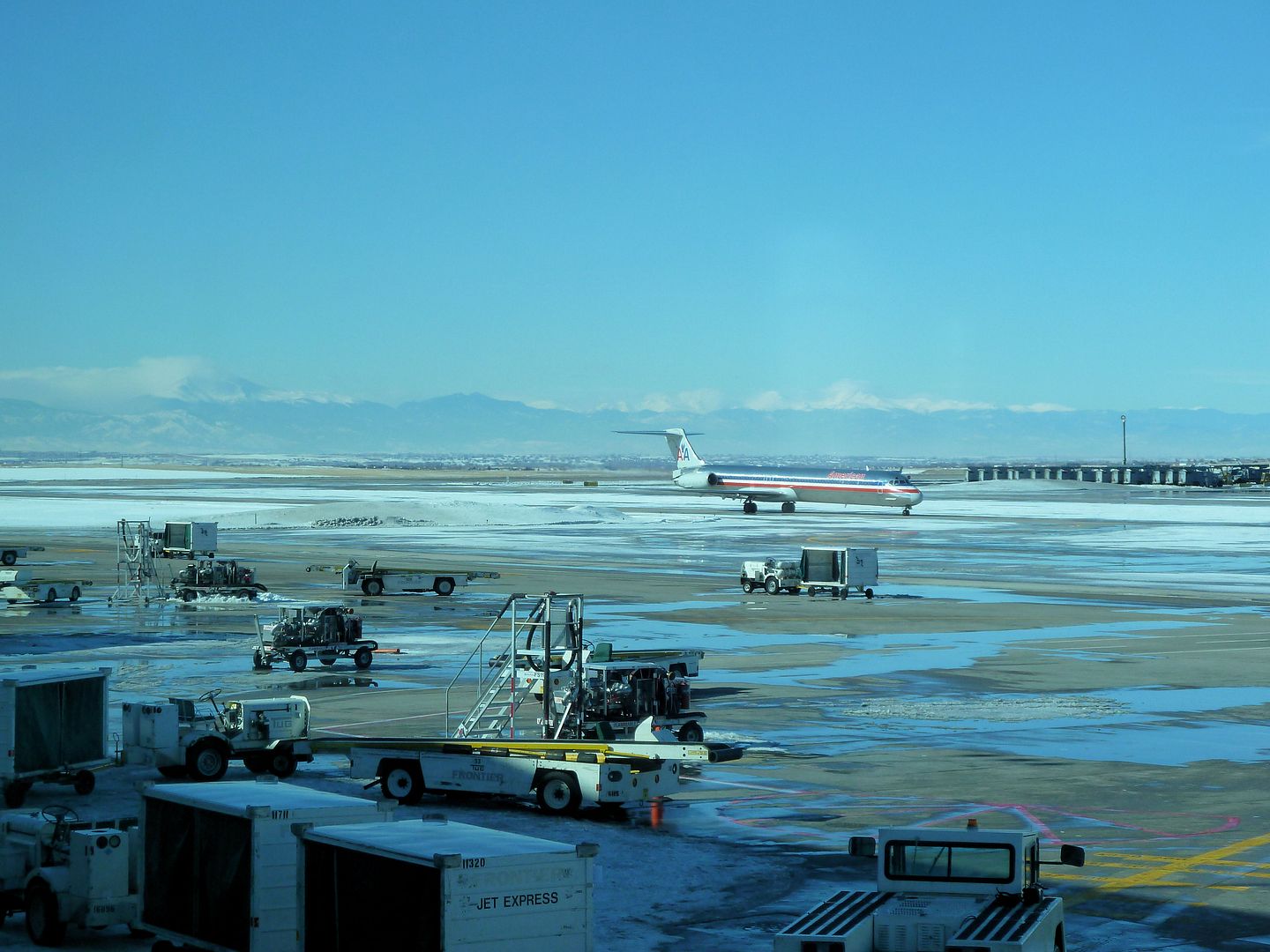 February 2011
Denver (DEN) - Las Vegas (LAS)
Frontier Airlines F9 777
Scheduled times: 14:07-15:00
Actual times: 18:25-19:03
Flight duration: 01:23 (hrs)
Distance: 628 miles
Economy Class, seat 11B

Airbus A319-111
N902FR (MSN 1515), named "Woody the Wood Duck"
Delivered in 06/2001
1st flight on N902FR
17th A319 flight
64th A32X flight
111th airline
Our departure gate was located close to the famous pedestrian bridge connecting the Jeppesen Terminal with Concourse A:
The plane scheduled for our flight to Las Vegas was
N938FR
...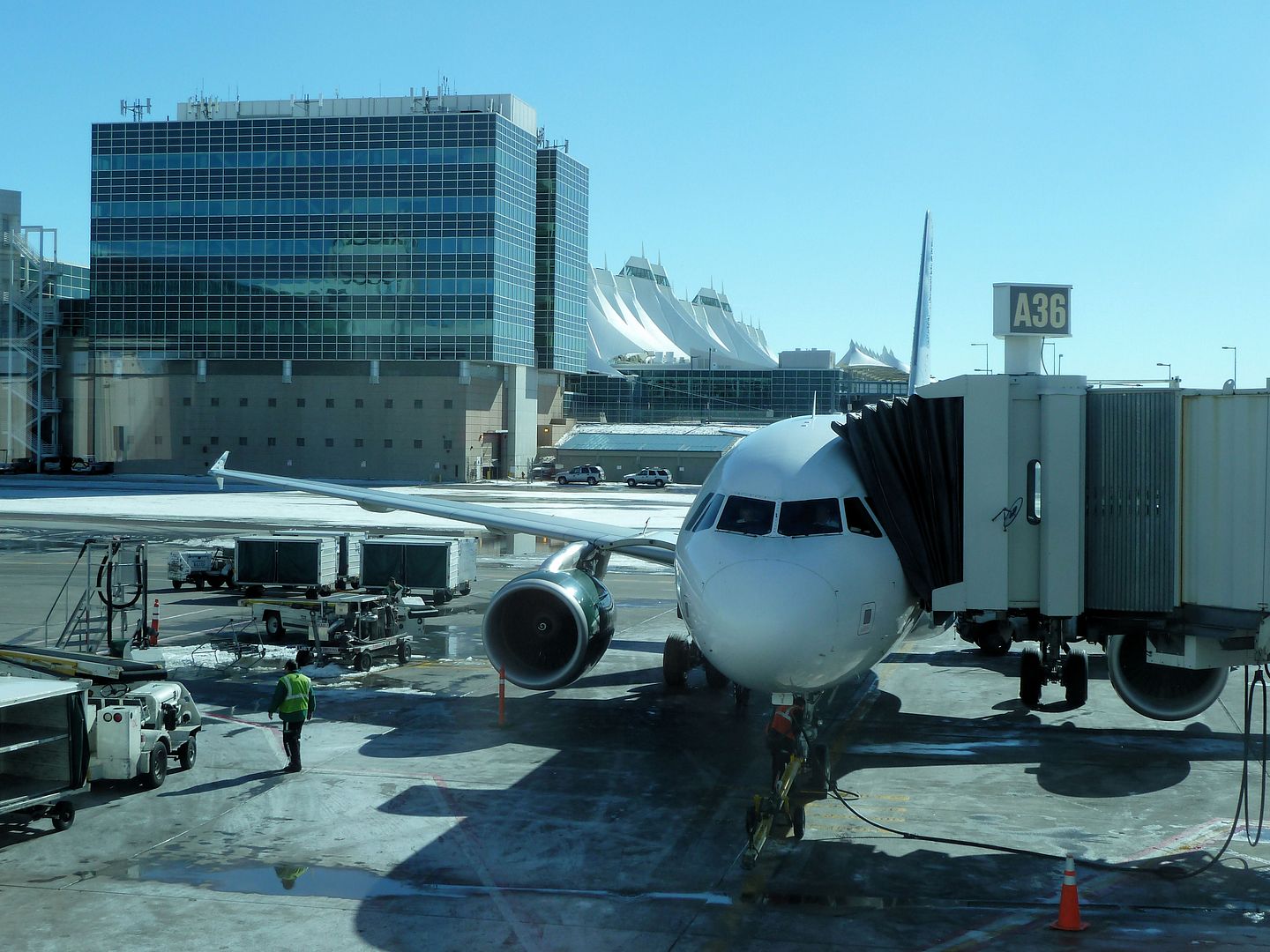 ...named
"Misty the Arctic Fox"
:
While waiting in row, a gate agent asked us if we were interested in changing seats with a couple. The older man was not allowed to sit in the emergency exit row due to a walking disability. We agreed and got the couple's boarding passes in exchange for ours.
A friendly female flight attendant in her 50s welcomed us on board. However, what looked totally out of place was her signal red lipstick...anyway, the old-style leather seats were quite comfortable: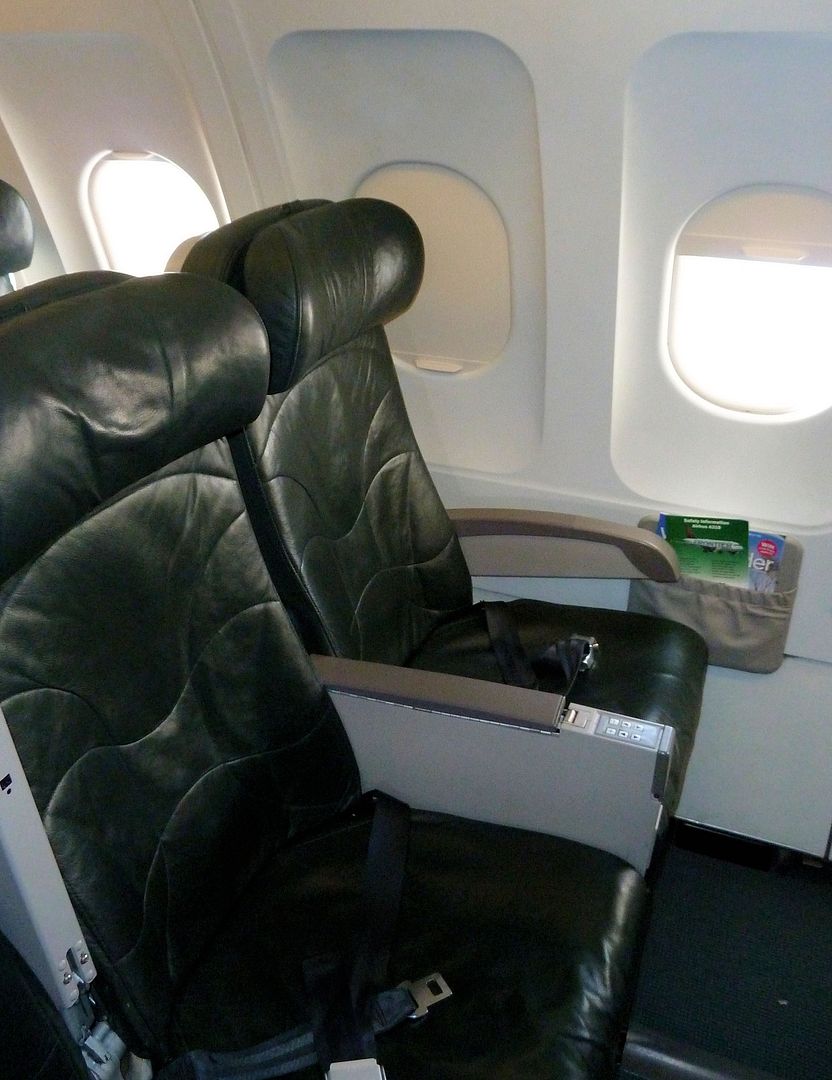 Legroom was good in that exit row: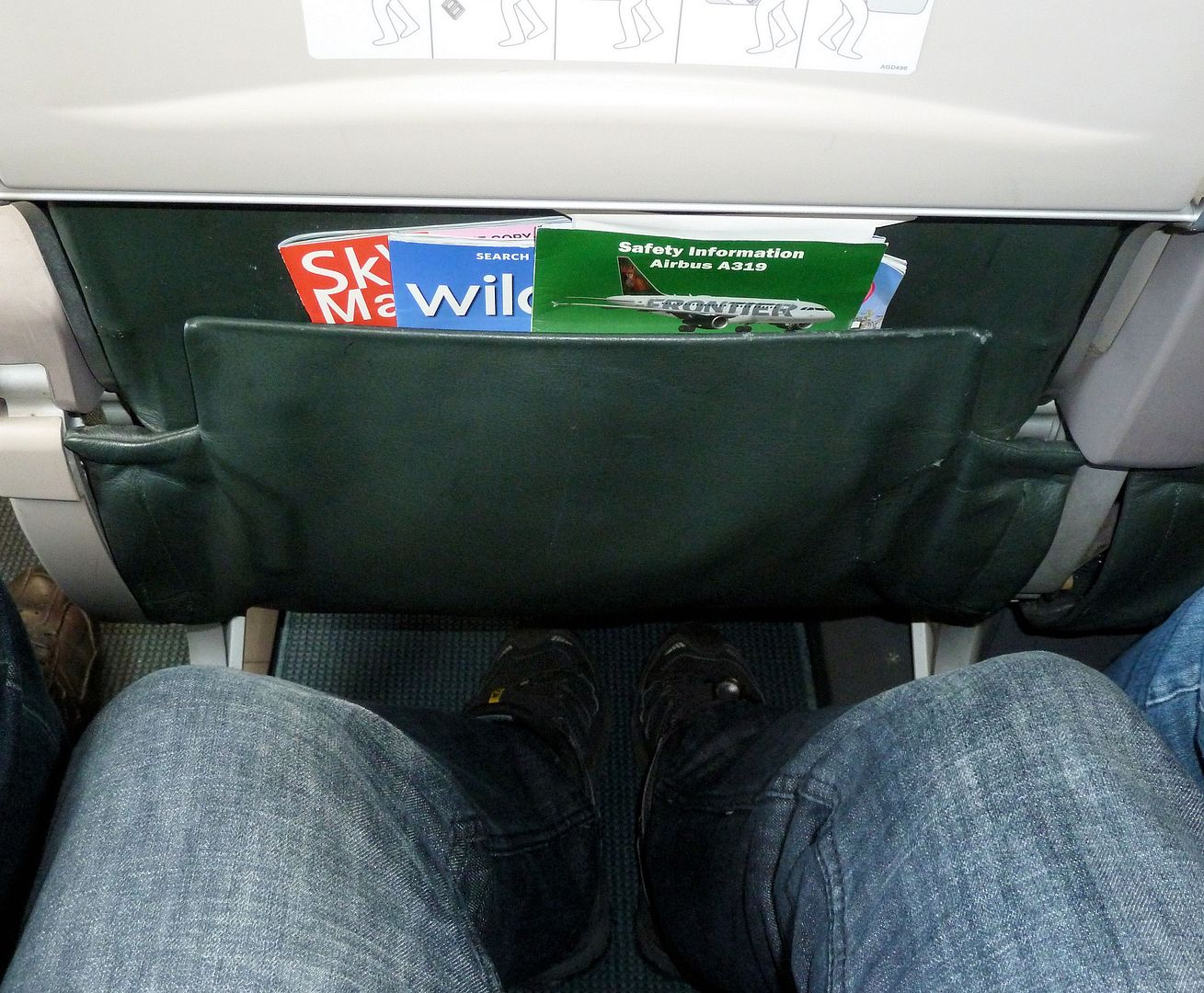 My brother could completely stretch out due to the lack of a seat next to the emergency exit: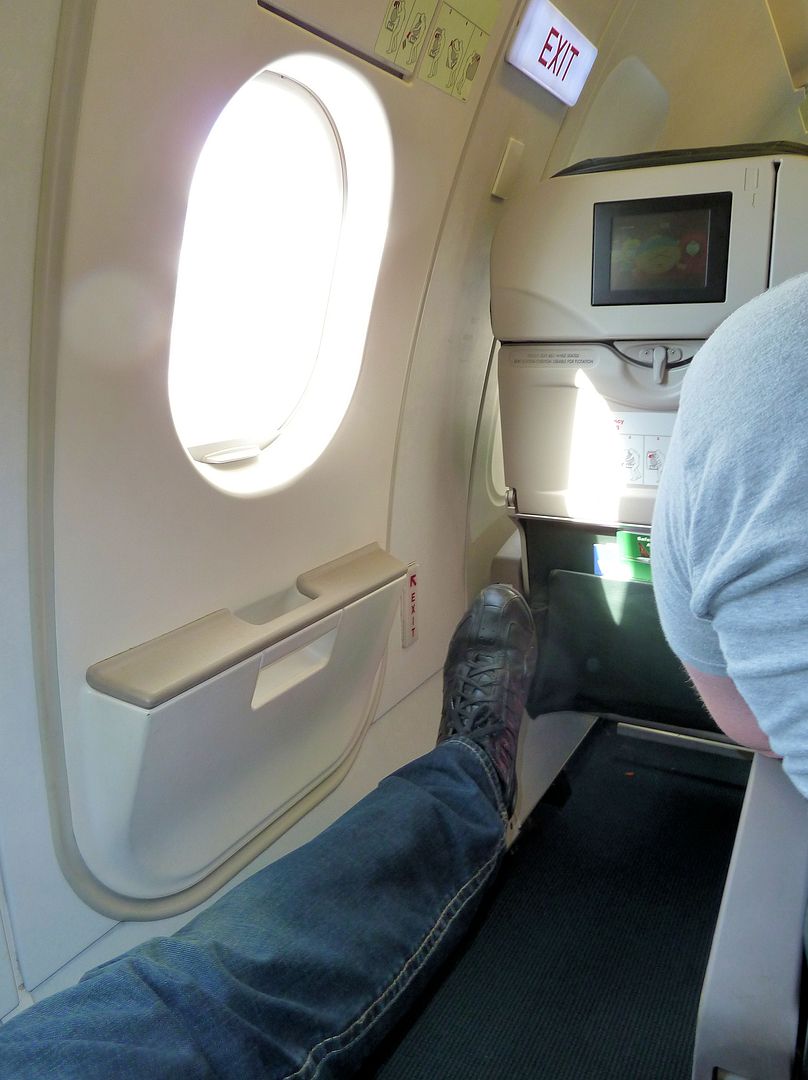 Frontier Airlines offers 24 channels of live
DIRECTV
service at every seat on the Airbus fleet:
The cost to access all channels is $6, but the service is free for
Ascent
and
Summit Level
members in the
EarlyReturns
mileage program.
After boarding had been completed (probably 100 percent load factor), nothing happened for a while - with the main door remaining open. Finally, after a few minutes of silence, the captain showed up next to the door and made an announcement: He explained that the cabin control screen had gone black and that a reset hadn't been successful.
"The mechanics will check it and eventually replace it"
, he added.
"You can stay in the plane, but if it takes longer you have to go back to the gate."
We had been optimistic, but ten minutes later the captain asked us to leave the aircraft and said that we would be kept updated in the gate area.
The screen at the gate showed a new departure time of 3:00 PM which wouldn't have been too bad...but some 15 minutes later it changed to 5:43 PM which was a big disappointment!
A gate agent made an announcement and promised that all passengers would get a flight coupon worth $100 as compensation. Well, that couldn't improve our mood because we would still lose lots of time in Las Vegas - and we didn't know when we would travel to the United States again.
Then I contacted a (very friendly) female Frontier agent near the gate and asked about the possibility of a cancellation. She said that there were no plans to cancel the flight - actually Frontier was planning to use a plane inbound from Chicago. However, she told me that we should check the gate status every 20 minutes just in case another replacement aircraft would be available sooner than currently planned. Well, that meant that we would be stuck in that boring area around gate A36 for more than three hours. And you cannot really do much there.
In the next few hours, I permanently checked the status of the inbound flight from Chicago. It was running a bit late, but I was confident that Frontier would be able to get the plane ready again until 5:43 PM. I walked around Concourse A a few times and also went to the passenger bridge over the apron. At least I got some more Frontier and Republic registrations: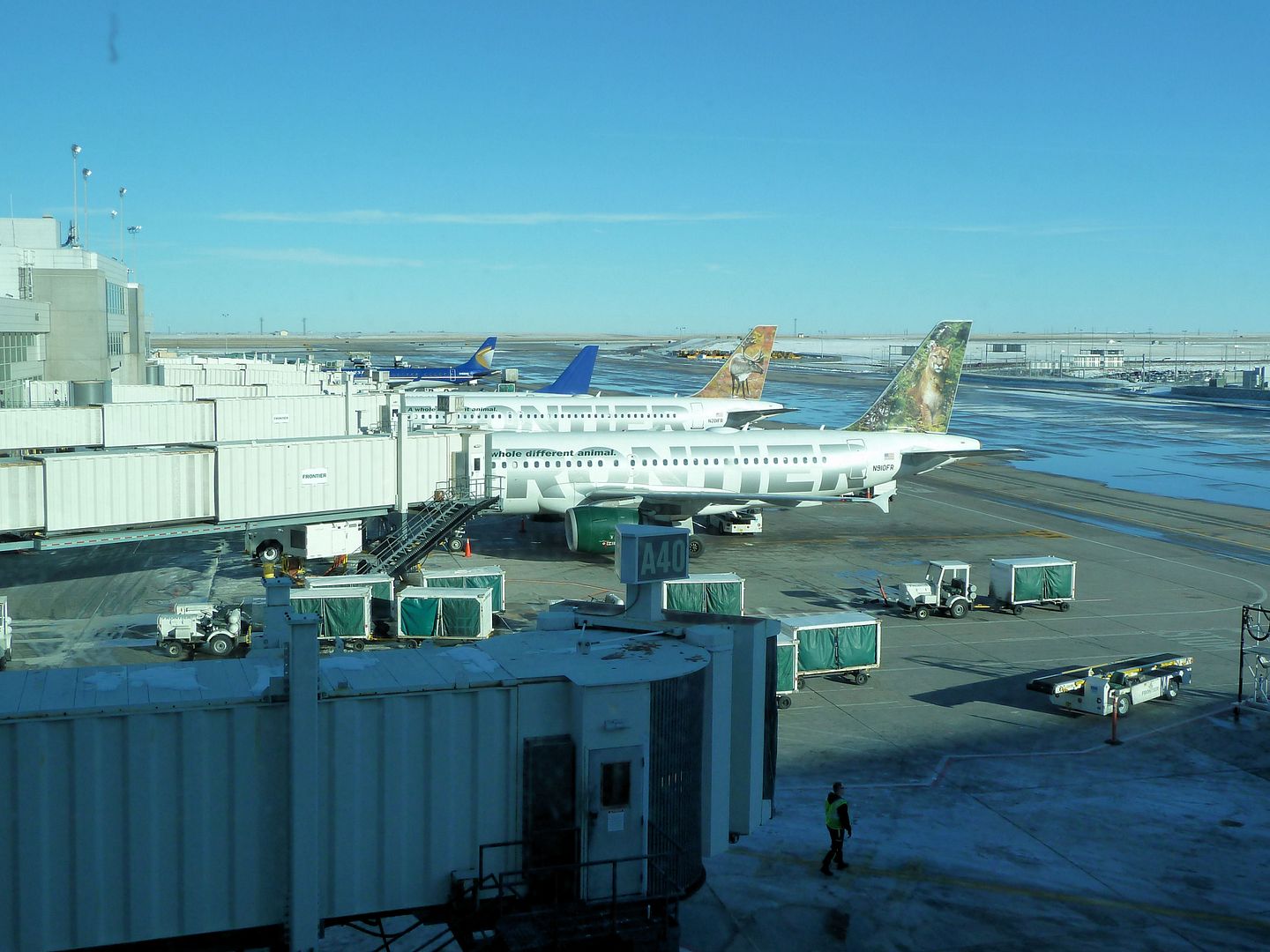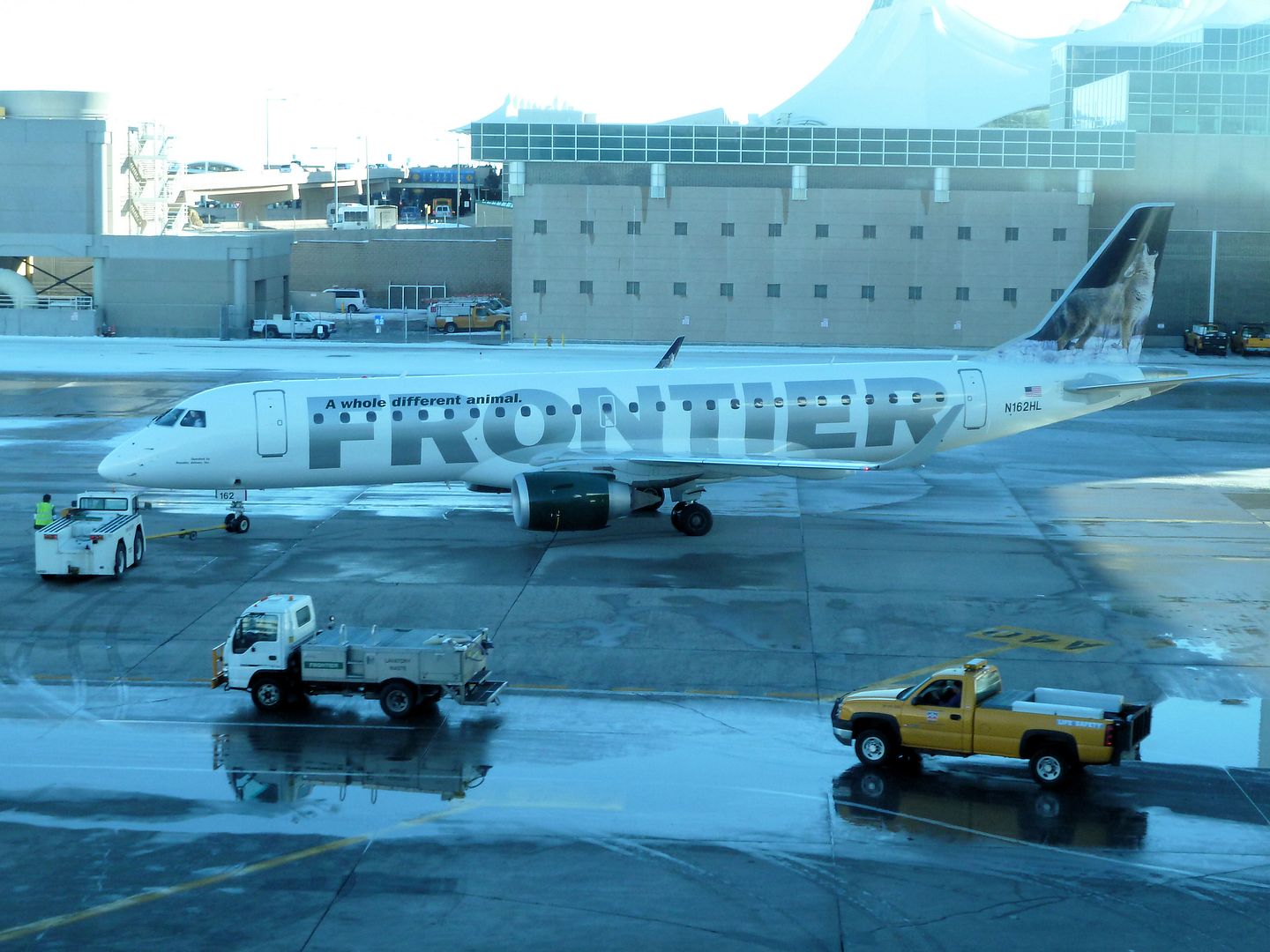 During the frustrating waiting time I went to a Frontier customer service desk and asked for a different kind of compensation, explaining that we probably wouldn't be able to use our flight coupons within a year. The friendly agent told me that Frontier didn't offer anything else except for food vouchers in certain cases. I declined because I had eaten something only a short time before. Since our gate A36 had meanwhile been deserted, I asked the customer service agent about our flight's status...and I learned that the departure time had been changed to 6:08 PM...
Some 20 minutes prior to the alleged new departure time, gate A36 was still deserted. The broken aircraft hadn't been removed yet either and I was really wondering where the plane from Chicago had been parked - I hadn't been aware of a gate change. Then I noticed that people in the adjacent gate A34 were apparently boarding a flight - but it said "Kansas City" on the screen. Some minutes later I realized that the Kansas City flight was scheduled to leave at 7:15 PM, more than an hour away. That was strange and I decided to ask one of the passengers in line which flight they were going to board. I was shocked when he said "Las Vegas"! So the gate for our flight had been changed and boarding had started - but neither the one nor the other had been announced over the loudspeakers. According to the very passenger, an announcement had only been made directly at the gate. We had been seated only some 30 meters away and hadn't heard anything. I can only wonder why the actual destination wasn't shown on the new gate's screen. So we would have almost missed our flight despite the fact that we had been around all the time.
The replacement aircraft at the gate turned out to be
N902FR
, the oldest A319 in the fleet: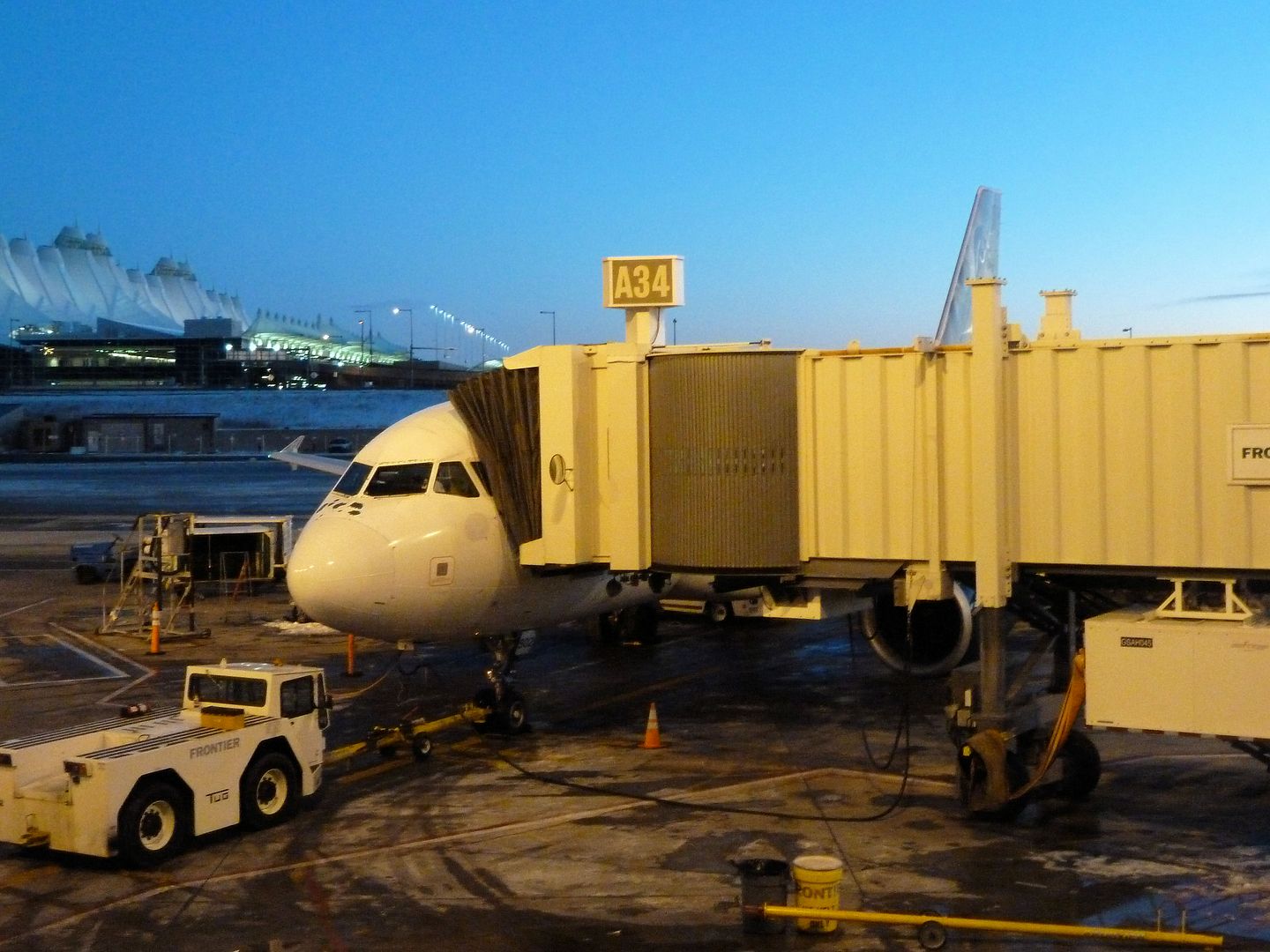 It wasn't easy to take a picture of the tail showing
"Woody the Wood Duck"
: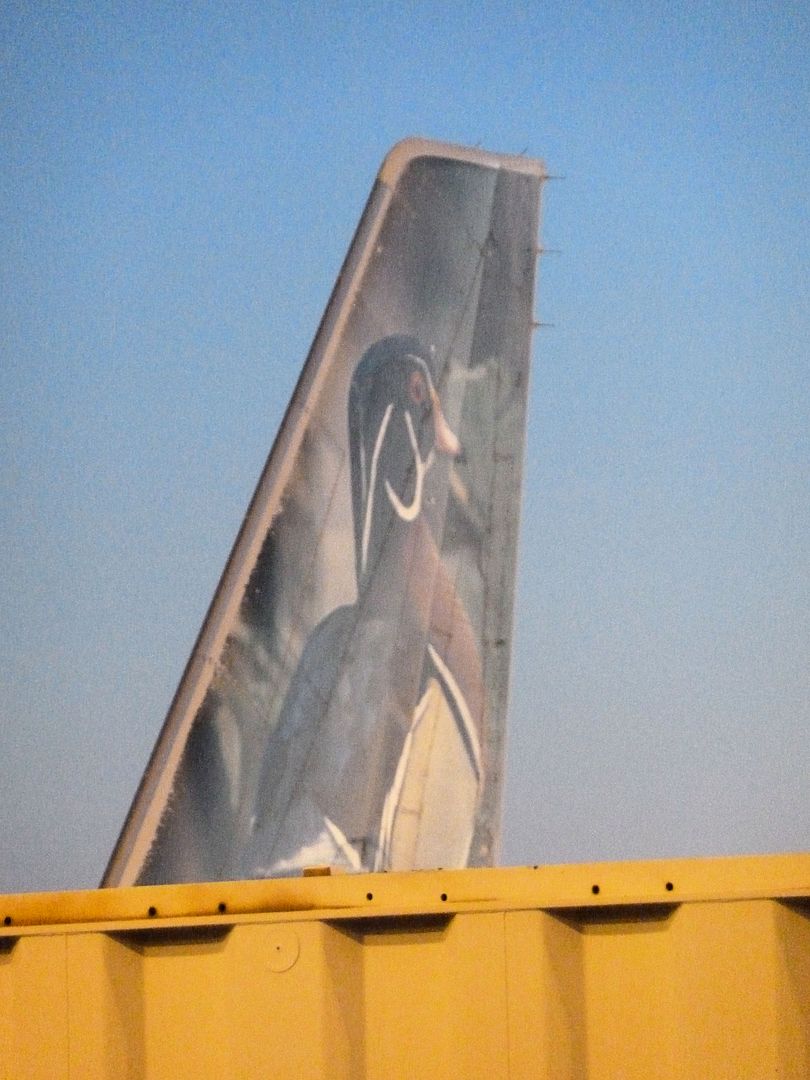 After we had joined the queue, our names were called. We showed the boarding passes which we had received in exchange for our own ones from the older couple earlier in the afternoon and the agents crossed out our names on a list. When we stepped on board, I was surprised to see the same crew again. The plane's interior was identical to the other one's, but it looked more worn.
A grumpy looking female flight attendant in the 50s (not the one with the signal red lips) explained the emergency exit rules and then asked us to confirm that we had understood her by saying "yes". She first pointed towards my brother who did answer, but just not straight away - at least not as fast as the lady had obviously expected him to do so.
"I have to move you"
, she harshly said and of course we were quite irritated to hear that. I quickly replied that he had indeed said "yes" and that the delay may have simply been caused by a slight tiredness after that four-hour delay.
"So what's the problem?"
, I asked. She looked at me as if I was an enemy.
"I haven't talked to you"
, she snarled and pointed out snappishly that she simply had to do her job. I was really amazed again about that rude and military-like reaction.
Then she started all over again and the same happened again - my brother didn't answer immediately which was not acceptable for her. She emphasized that she had to move him and started asking for volunteers. Justified or not, we had to accept her decision. My brother had to move to a window seat two rows in front and I got a new neighbor. I wanted to avoid any more problems, so I quickly shouted "yes" after the rude lady had started the questioning for the third time. Finally, the plane was ready to go, taxied to the runway and took off into the dark sky.
As an additional compensation for the delay, all channels were available free of charge: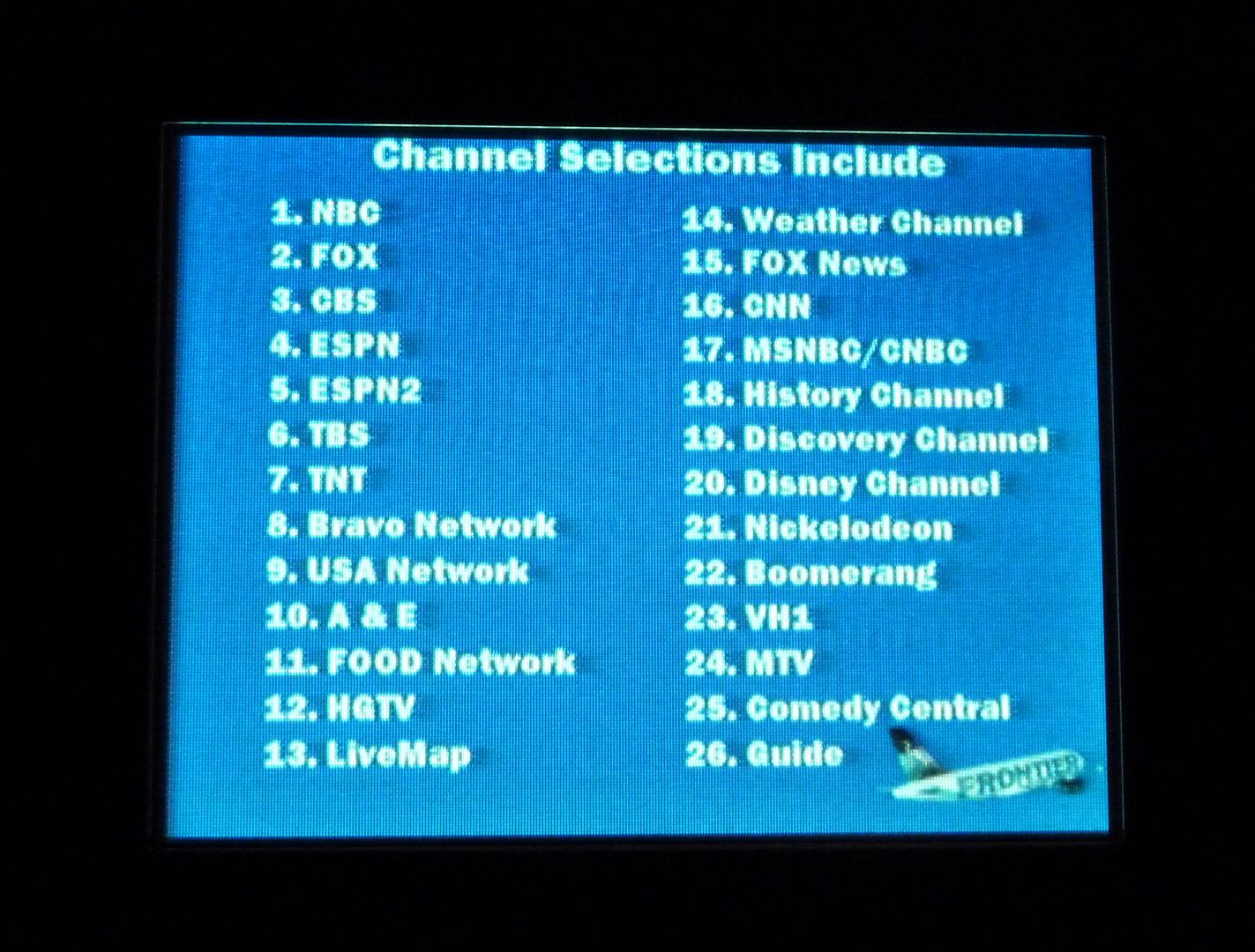 Warm cookies and drinks were served some time after takeoff. I ordered ginger ale - one of very few positive aspects on that evening:
I wasn't interested in the live TV channels and watched the moving map most of the time:
"Welcome to L-a-s V-e-g-a-s!!!"
, the "lipstick lady" cheerfully emphasized after we had touched down. I found that totally inappropriate, but many passengers started cheering and applauding...
Interestingly, we hadn't received the promised coupons in the end - neither at the gate nor at the plane. Who knows, probably those had been distributed before we had been aware of the gate change. I was planning to write a letter of complaint anyway...After grabbing our luggage, we took a taxi to the
Venetian
and tried to make the most of the remaining evening.
Story to be continued...
Conclusion
My first journey on
Frontier Airlines
was a very disappointing one. I don't blame the airline for the delay itself, but for the poor way it was handled. At least the ground staff members were friendly and helpful. What I found absolutely unacceptable was the flight attendant's rude behavior. But even if the flight to Las Vegas had operated on time, I wouldn't have been impressed by the airline's product. You get free drinks and warm cookies, but there's nothing which makes that low-cost carrier particularly attractive or special in comparison to others. And due to the uncomfortable seating and the bad air quality I couldn't even enjoy the Embraer 170 flight on Frontier's partner
Republic Airlines
. And the breakfast was an additional letdown.
Back at home, I wrote a detailed letter of complaint and mentioned all that day's negative events. Surprisingly, I got a reply only a few days later. Well, it contained some explanations and the standard phrases which you would expect to hear from a customer relations department, but it was good to get an apology. One sentence hit the nail on the head:
"No matter what the situation our flight attendants should provide a friendly tone and accommodating personality."
We also got two electronic certificates in the amount of $150 each which provides a discount on a future Frontier Airlines flight (valid one year). So will I give Frontier a second chance? Probably.
Best Regards,
PlaneHunter
P.S.: Just in case you missed them - my previous trip reports:
Fully Flat Bed to SFO: SWISS' New Business Class
Mountains, Meals & More: SunExpress Vs. Pegasus
Crossing Two Oceans: AKL-SFO-MUC, NZ 777 & LH A346
Bad Weather & Other Bad Luck: Touring New Zealand
Trans-Tasman Treat: Aerolineas Argentinas A340-200
Detours To Sydney: Wildlife, Tiger, REX & QFLink
Thai Fails To Impress: MUC-BKK-BNE On 744 & 777
Painful Delay & My 100th Airline: AF A380, VO F100
Fifth Freedom Tidbit: Kuwait Airways A300-600
Ship Vs. Plane: Porto Santo Line & Sata Air Açores
Awesome Approach, Splendid Scenery: LIS, FNC & TAP
Guernsey, Ash Cloud Alarm & Mostly Empty SQ 77Ws
Totally Thrilling: Scenic Flight On Lufthansa A380
Cirrus D38, Adria CRJ & Captain Niki Lauda On Duty
Monarch Hot Meal, E195 & More: PMI-ALC-MAN-MUC
Premium Meal & Palma Spotting: MUC-PMI, DE 757-300
The Dead Slow Transfer: PEK-MUC On Air China A332
Cancellation Brings Joy: HKG-PEK on Dragonair A330
A380 Cacophony, 777 Star Livery: DXB-SIN-HKG on SQ
The Next 5* Carrier? MUC-MCT-DXB, Oman Air A330
Turkey For 1.5 Hrs: Daytrip To AYT On Sky Airlines
CO Scores Again: ATL-IAH-EWR-FRA On ERJ, 752 & 764
Riding The Ultra Long-Haul Twin: Delta 777-200LR
Pacific Coast Jaunt: 3 Carriers, E120, E140 & Fog
The Ultimate 737: LHR-IAH-PDX On CO 777 & 739ER
Bye Bye, Hell! TRD-OSL-TXL-NUE - DY/AB/HE DH4
My Trip To Hell: NUE-CPH-OSL-TRD On Cimber & SAS
SFO-YUL-FRA: Map- & Sleepless On Air Canada's 77W
Sin City Gloss & Virgin America's Chic First Class
Seat Dilemma & Canyon Glamour: FRA To LAX, AC 763
On Par With Air France? DTW-AMS-MUC, KLM A330
Goodbye, Red Tails! DC-9-40/50 & Chicago Tour
Champagne & World Of Coke: Air France A340 To ATL
"Mission A380": Disappointing Legs On BA/BD/EI
Delights Of Doha, 773 & 77W: DOH-DXB-LHR On EK
A380 Really a Step Forward? LHR-DXB-DOH On EK
Quality & Style: HKG-LHR On Air New Zealand 744
Taiwan Trio: TransAsia, UNI Air And The Taipei 101
"The Wings Of Taiwan": EVA Air A332, 744 Combi
SHA-SZX, Shanghai 757: Delayed By The Military
PEK-SHA, China Eastern A330 & Shanghai At Night
Striking Newcomer: Berlin-Beijing On Hainan A330
Short & Splendid: MXP-MUC On Air Dolomiti's 146
3 Hours On Blue1: HEL-MXP On The MD-90
BCN-MAD-ZRH-MUC: UX Shuttle Meets Swiss Quality
MUC-MAD-BCN: Star MD-87 & The Pain Of Vueling
Low Fares, Lovely Island: AK & Best Of Langkawi
4 Stars Or 5 Stars? FRA-KUL-FRA, Malaysia 777s
First And Last Time? JFK-FCO-MUC, Alitalia 777
JFK For 1 Day: Transatlantic Hop On CSA's A310
Sardinian Sun, Shiny New 73Gs & Cramped Mad Dog
Top And Flop: KIX-HEL-MUC, Finnair A320 & MD-11
The 524-Seat Twin-jet: HND-ITM On ANA 777-300
Kobe For 1 Hour: 767-Quickie On ANA & Skymark
Rocketing To Tokyo: FUK-HND On JAL (ex-JAS) 777
Oddities & Okinawa: JTA 734 & JAL 744D(Domestic)
MUC To Nagoya: Finnair E170 & (Old) "New" A340
Mad Dog, A320 Tech Delay & Best Of Lanzarote
Canaries Prop-Hopping: Islas Airways & Naysa
Canaries And Confusion: LH CRJ900 & Spanair A321
Hubbing For 162 Miles: HOQ-FRA-STR Ret On IQ/EW/LH
BOS-JFK-AMS-MUC: SSSS-Check And KLM 777
ATL-PIT-JFK-BOS: FL B717, JetBlue E190 And Delays
MUC-AMS-MEM-ATL On NWA A332 And 40-year-old DC-9
FRA-BKK-FRA Via CMB: SriLankan A332 & A343
BNE-SIN-DXB-MUC On Emirates B772ER & B773
2 Hours In Paradise: Hamilton Island (JQ/DJ)
BNE-SYD-BNE: Domestic Run On QF's Oldest B747-400
Testing Qantas: SYD-MEL-SYD-BNE (B738, B763, A332)
Going Down Under: MUC-DXB-SYD On EK A332 & A345
9/11 Review: Failed Trip To LAX - Fuel Dump Pics
Surprised By NIKI's Newest A320 & Screw-up By AB
Leisure Vs. Full Service: Condor & SN Brussels
"betterFly" On LH: Business Class For 99 Euro
Weekend Transatlantic Trip (2): US A321 & B762
Transatlantic For A Weekend (1): MUC-DCA On US
[Edited 2011-06-04 00:50:01]