Leg 4: Phoenix Rising (or, Runnin' in the Sun) –April 16, 2011
Some photos have been omitted for your convenience. The full album may be found here:Slideshow for Leg 4.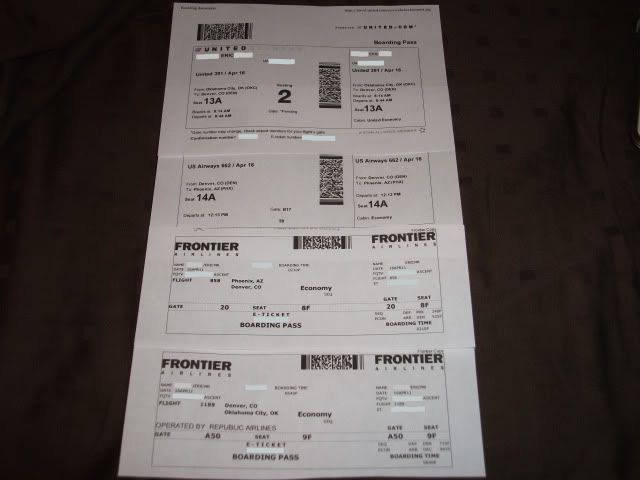 Another week, another destination. How would I follow up last week's journey? It looked a little anticlimactic on the surface. On the other hand, I had faith that PHX would be able to give me something to work with. Plus, I would be able to spend a little more time in DEN. There would be one different thing: a flight on US Airways. As you may see below, each of the first two flights are referred to in US terms first. I booked the trip through the US website, so I had to settle for a codeshare given that US doesn't serve OKC anymore.
I woke up in preparation for my day, and I was grateful for one thing: the sun was already up. Keep in mind that I was over halfway to ORD at the same time the previous week. It stands to reason that with the later departure time, there would be a longer security line than usual. Even though I had a longer wait, I did see something that perked me up: they
finally
put in a priority security line. I would get to use that line in about 32 hours. More on that later…
The tail of my plane peeking over the wall
Good morning, OKC!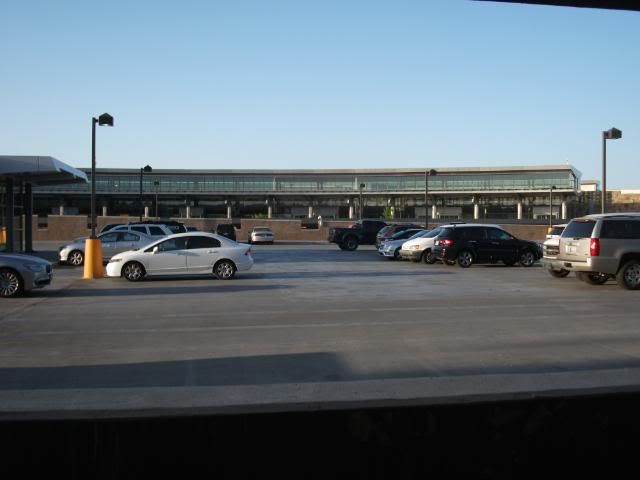 My gray Airbus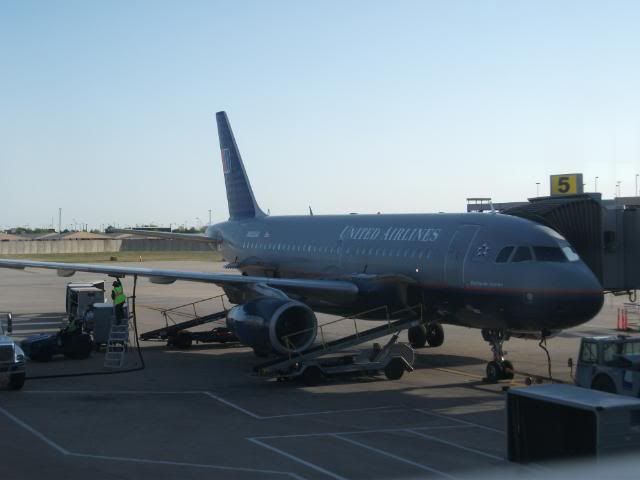 Nothing remarkable happened before takeoff, so we'll fast forward to flight time.
US Airways 6007, operated by United Airlines (391) OKC-DEN
Scheduled: 08:44-09:28
Actual: 08:37-09:10
Airbus A319-131 (N822UA)
A smooth takeoff was had from Runway 31, and we were in the air. The flight attendant mentioned the sitcom that would be on the IFE to be found on channel one. I then remembered that I was flying UA, so I grabbed the headphones and tuned in to channel nine. I got concerned when I didn't hear anything for a few minutes, but voices soon came across the line. Incidentally, my first encounter with US would be the controllers trying to contact Cactus 400, with little success. They eventually got through to them by asking another US plane to contact them.
Seemed a little close with the bulging seat pocket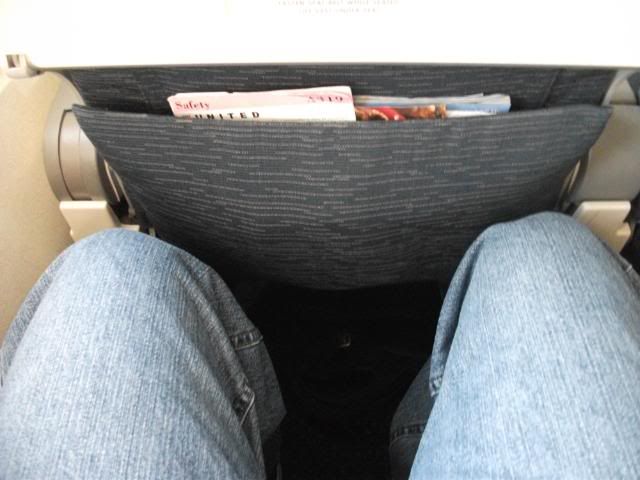 Views from the fabulous seat 13A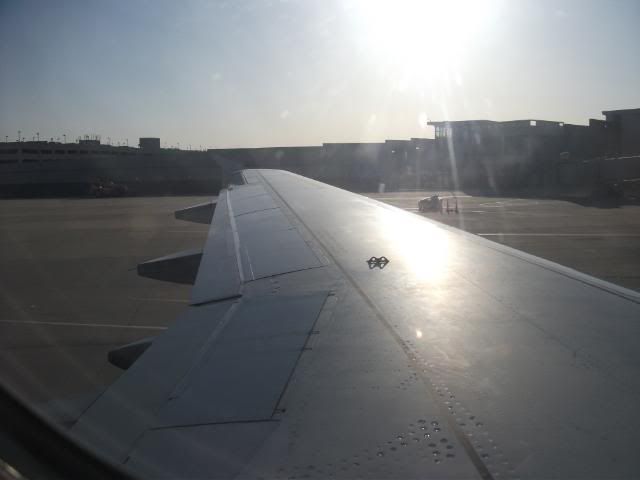 The cabin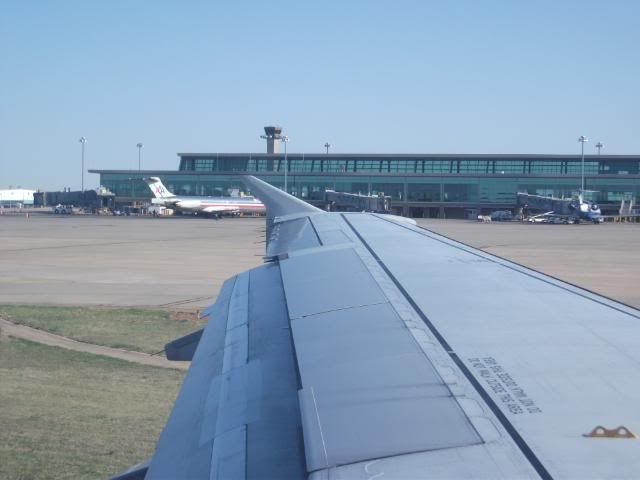 In the air
Beverage service came next. The flight attendants were of slightly advanced age, which is common on airlines in the USA. They displayed none of the gruffness that they have been known to do. Last week's near-disaster was still fresh in my mind, so I opted for the water. With channel nine and a nice view through the window, I was pretty much set. At exactly 8:32 Mountain time, we got permission to begin descent. A couple of seconds later, the nose went down. At 8:43, we were asked about our speed; it was 283. We were then told not to exceed 280 for spacing. I felt us slow down. We were cleared for landing on runway 35R. A few minutes later, we were told that 35L was clear and we could take it if we liked. That's what we chose, and we corrected our course accordingly. Frankly, how anybody could sit here and not listen to these interactions is insane.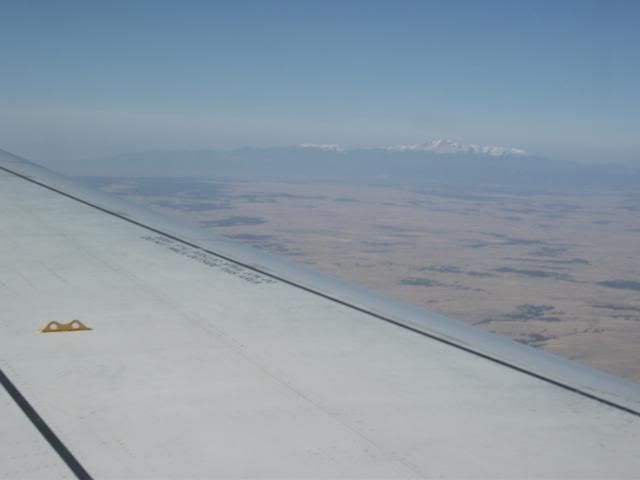 Buckley Air Force Base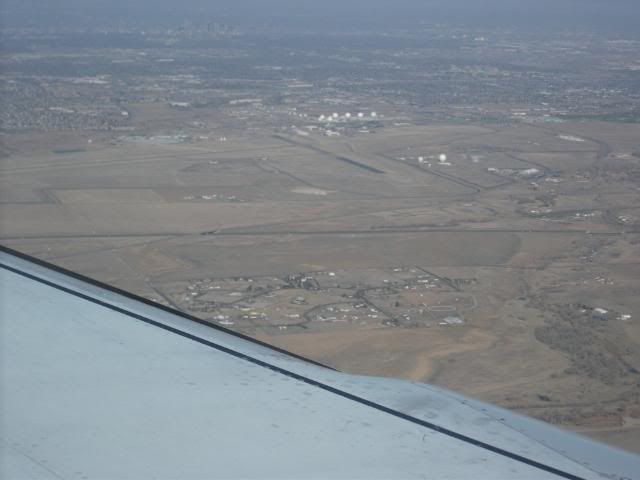 On the ground, but still a mile up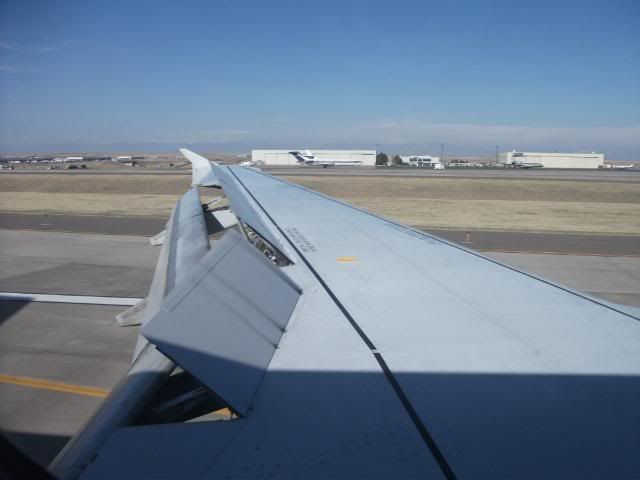 Jeppesen Terminal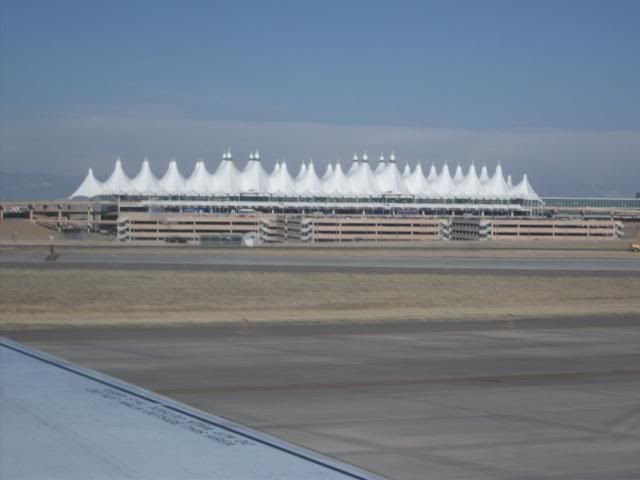 Have a nice day!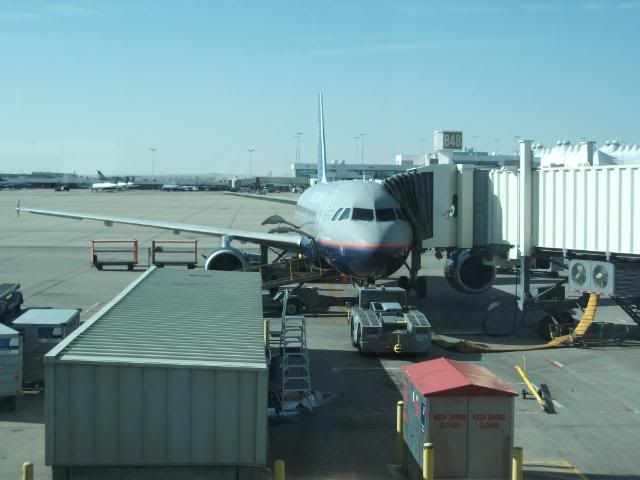 We got in a little after 9:00, which meant I had three hours to burn. DEN is like a second home to me, so I didn't mind. A quick look at the departures board showed that my flight was still on time. After consuming my obligatory dark cashew bear, I made my way to Concourse C to begin my roaming. The ample connection time allowed me to find a spot to plug in and enjoy the stuff from Caribou Coffee. DEN has a few seating areas on the second level, providing nice concourse picture opportunities and plenty of electricity. I may be overly philosophical about this, but airports are some of the best places to be alone and with a few thousand of your closest friends at the same time. One thing that differentiates DEN from ATL: the former utilizes carpet instead of hard floors, so the only thing you hear is the chugging of escalators and moving walkways. If you're ever at the west end of Concourse B late in the day when the departures are few, you've pretty much got a giant section of concourse to yourself with no sound but the walkways. A better chill-out spot is hard to find.
Concourse B train station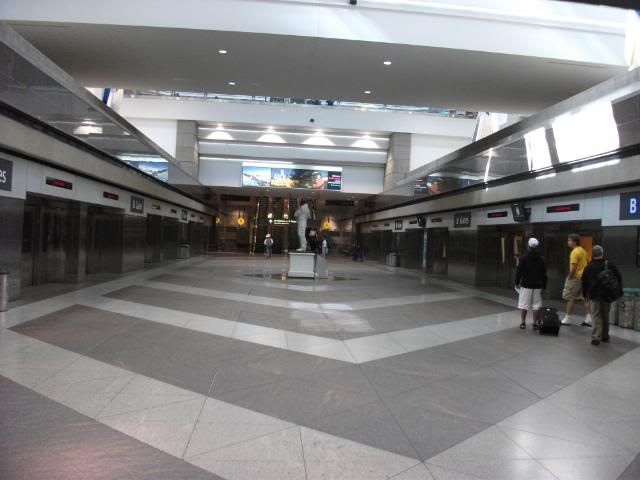 So, when is that going to become a globe?
Concourse C train station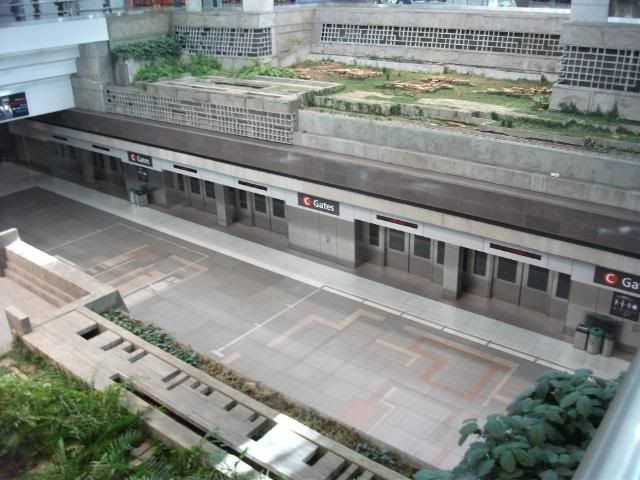 Concourse C, home to WN and DL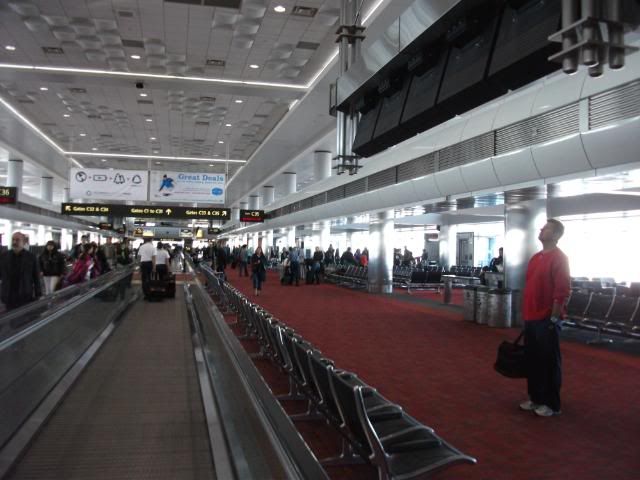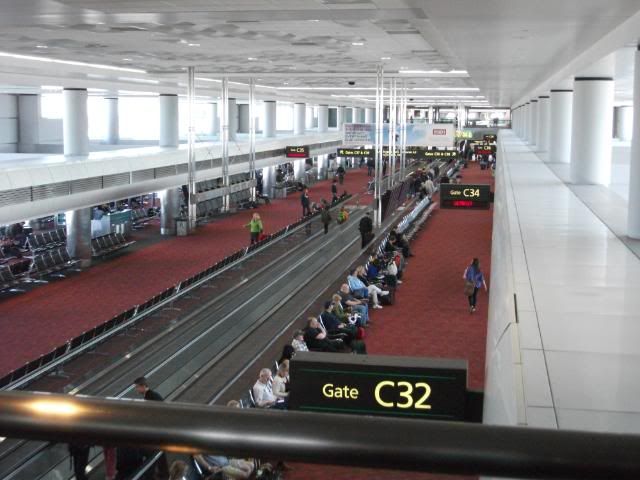 You knew it was coming, so sit back and take it in!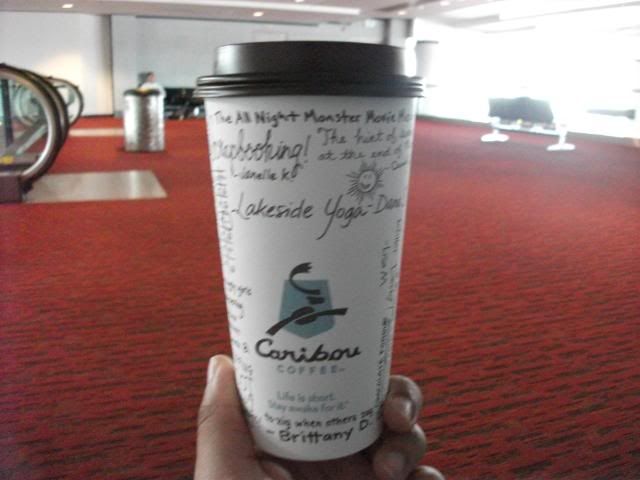 With the bagel and mocha done for, I went to Concourse A. I had another one of those satisfying moments when I was inquired about applying for a F9 credit card. I was ready for her; I pulled out my wallet when I saw them down the concourse. I showed her my card, whereupon she expressed pleasure with my plastic. She asked me if I knew the animal's name. I said, "That's Larry the lynx, of course!" She praised the correct answer, we exchanged farewell pleasantries, and I was off. My first stop in A was a place I call the "Sub-Cave". It's the bank of gates where you board outside: A54-A68. The Sub-Cave ranks below the Cave (the UA Express gates B80-B95) and above the Sub-Sub-Cave (the little hallway, UA Express gates B59-B79).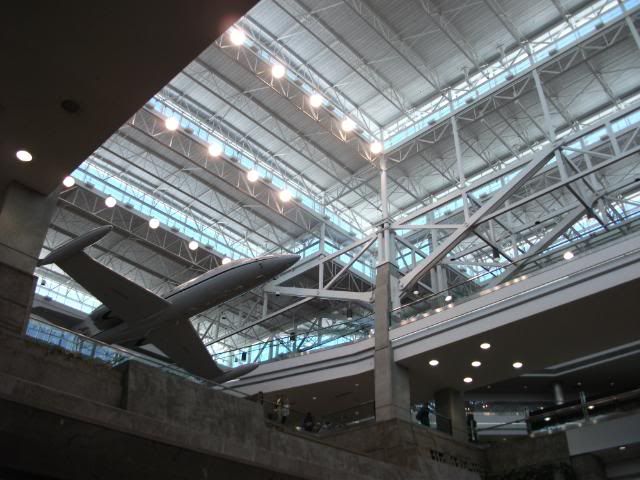 Concourse A train station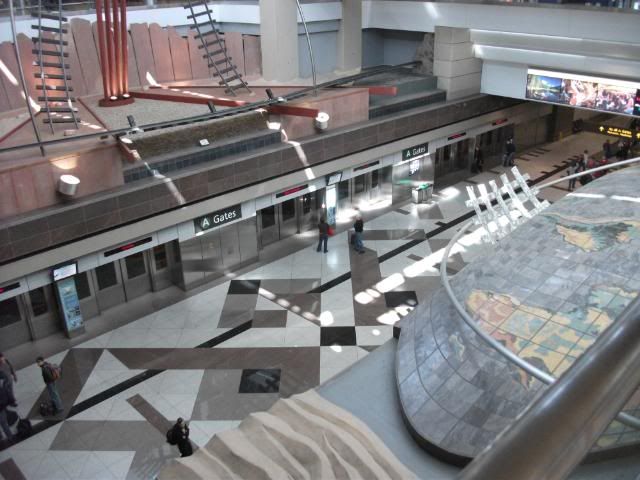 Concourse A
F9 roll call. Trixie: present and accounted for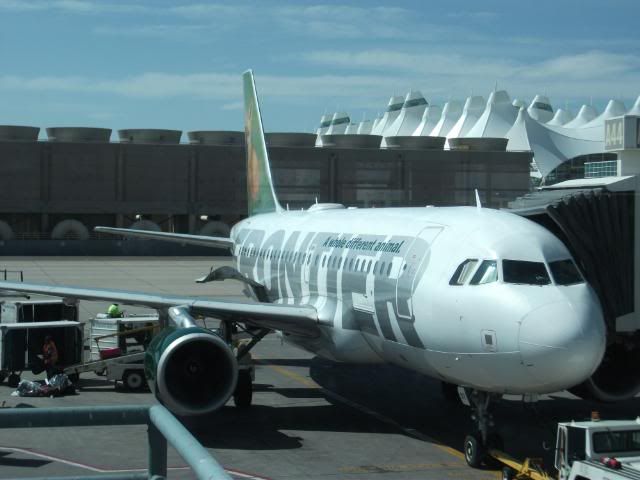 Grace: present and accounted for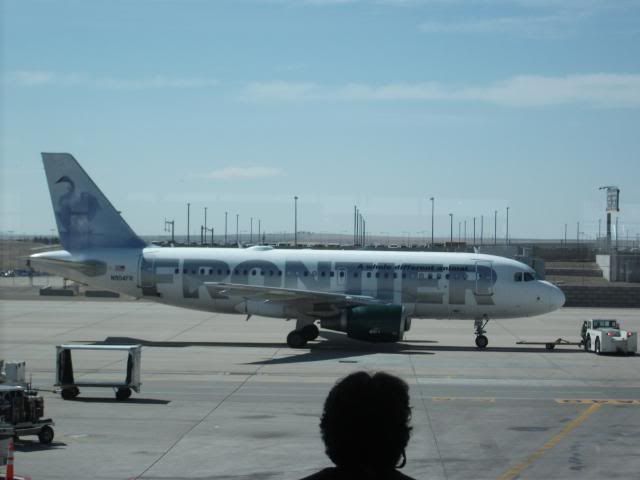 Welcome to the Sub-Cave
Back above the fray
Freedom and Misty: present and accounted for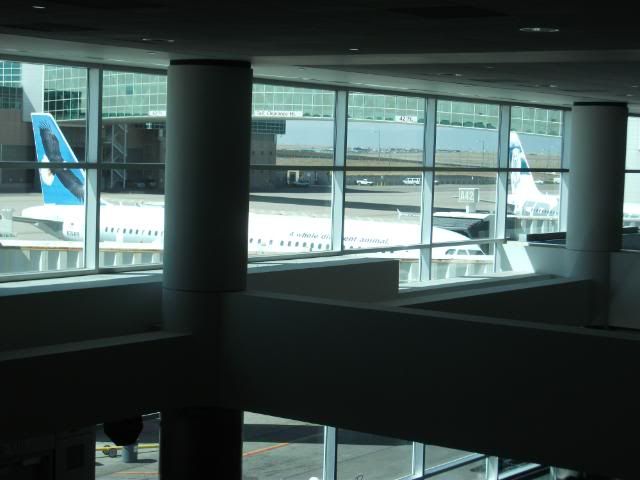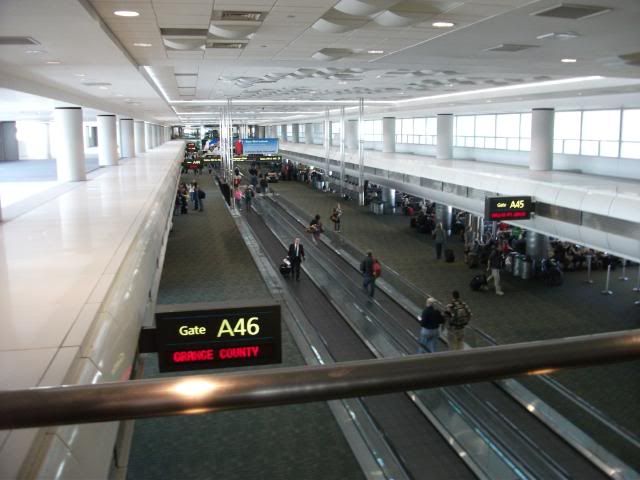 O'Malley and Flip: present and accounted for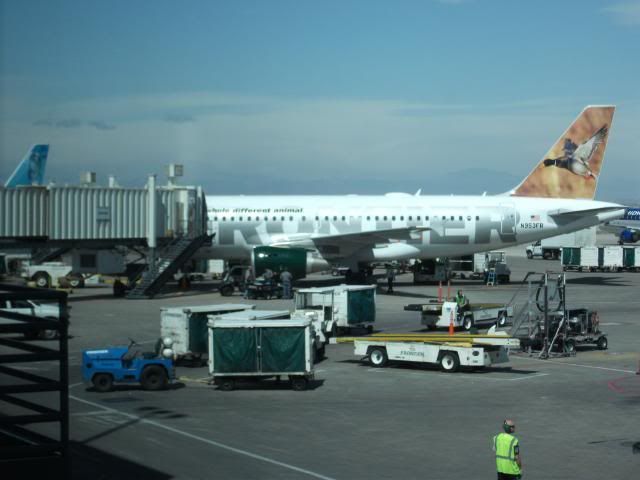 Maya: present and accounted for (one of my favorites; I have yet to fly with her)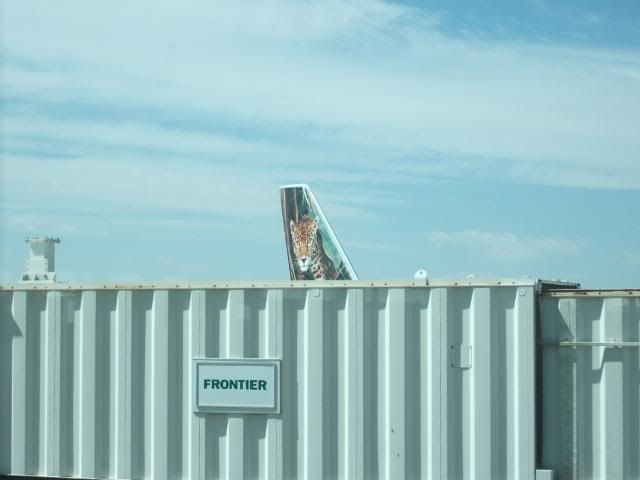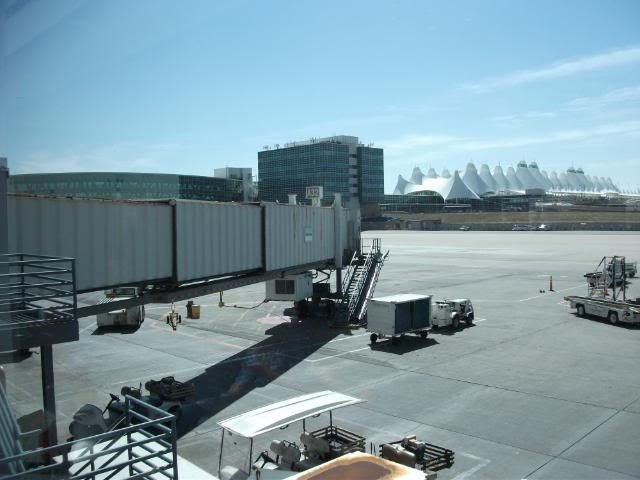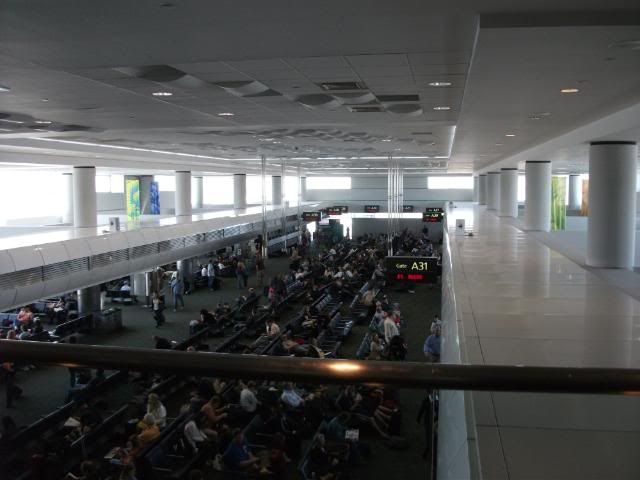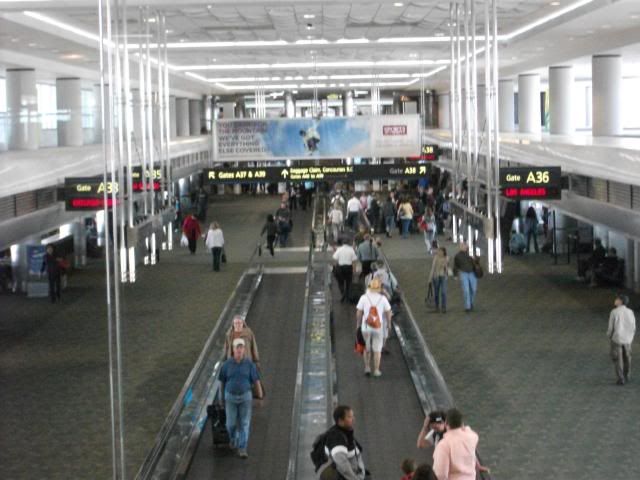 Sally: present and accounted for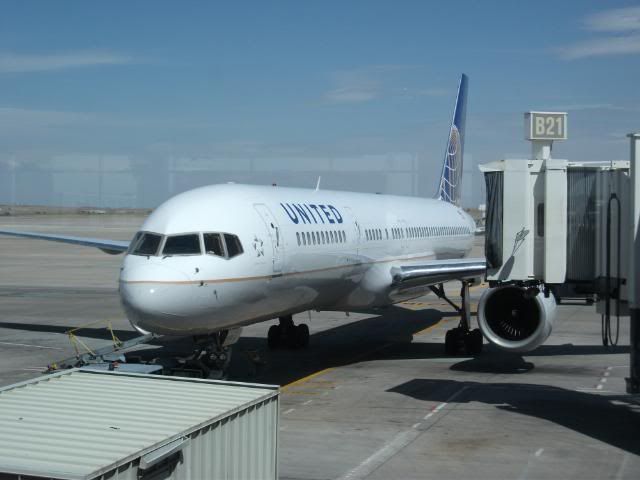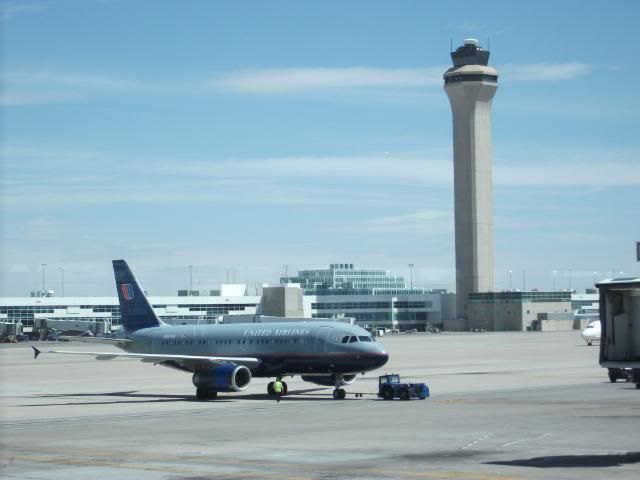 With about 30 minutes left until boarding time, I decided to get to my gate. If you want to see Concourse B, I thought it would be appropriate to give it its own time, so I decided to go through after my return from PHX. (I didn't know just how much longer after PHX, as it turns out.) With about 15 minutes left until boarding, I got to B17, and this was what I saw: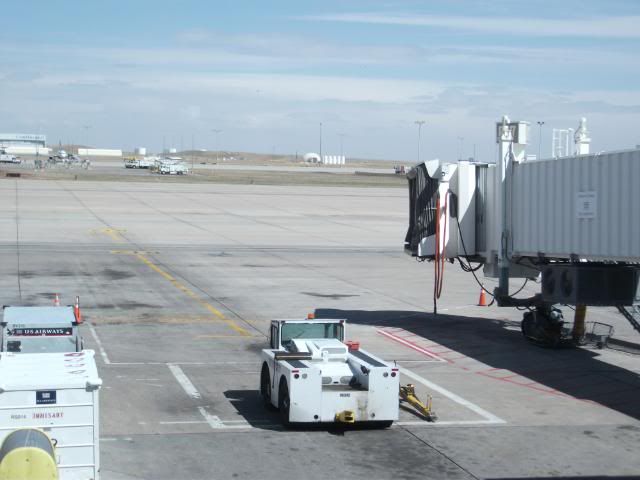 There was supposed to be a 733 sitting there. Same song from last week: slightly delayed inbound plane. I decided to visit the lavatory while I waited. There were just enough people to dampen my shutterbugging, so I hoped to finish it on the way back. Once again, it was just about ten minutes, and I saw a 733 making its way to the gate.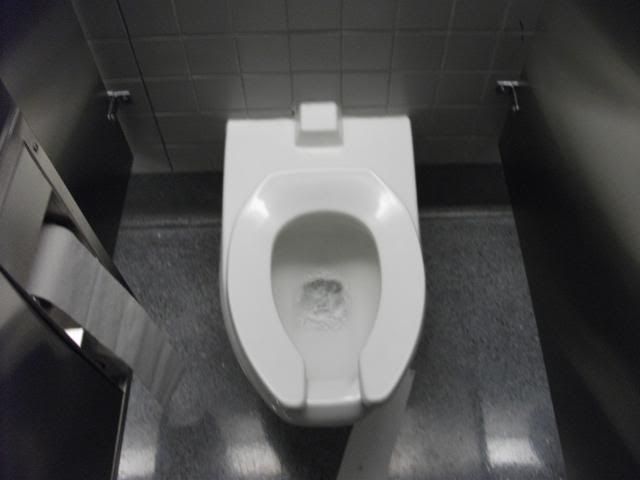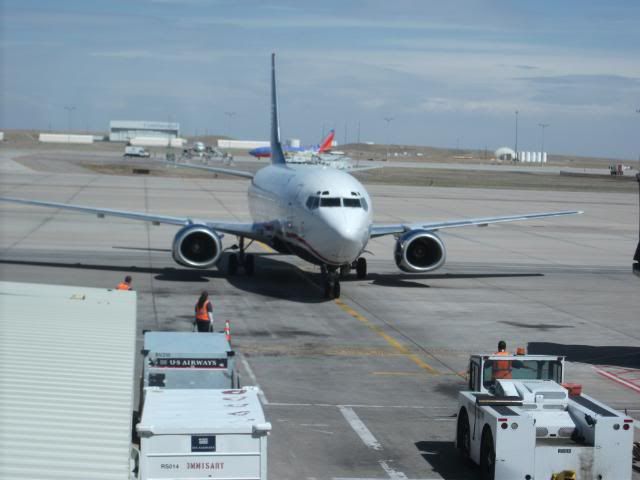 US Airways 662 DEN-PHX
Scheduled: 12:13-13:05
Actual: 12:11-12:58
Boeing 737-3G7 (N154AW)
A few minutes passed while the plane was made ready for its trip to PHX. It didn't take long for a passenger to approach the podium. She was carping about something; I imagine it was about why we hadn't boarded yet. The agent replied, with a hint of matter-of-factness in his voice, "Because I don't know when we'll be able to start boarding yet." A nearby passenger quietly chuckled as Miss Carp left the podium. We boarded soon after that.
The flight was 100% full according to the agent. Fine by me; the more, the merrier, even if it is a 733. We all found our seats and things seemed to progress smoothly. There were a couple of interesting questions from the passengers in 13A and C:
Mr. 13C: I need to get something from my bag. Can I have it real quick?
Flight attendant: Where is your bag?
13C: I had it gate checked.
FA: Oh, then you won't be able to have it. When we interrupt the scanning process, that's when bags get lost nowadays. Are you connecting to another flight?
13C: Yes.
FA: Then you'll have to wait until you get to your final destination. Sorry about that.
and…
Mrs. 13A: *raises hand*
FA: Yes?
13A: Why are these seats so cramped?
FA: Because this is a small aircraft. There are smaller than this, trust me.
Now, I will grant Mrs. 13A a small measure of credit; it was a tad tight. On the other hand, I knew coming in that it was a 733, so there wouldn't be vast spaces to spread out. I was alright with the arrangements. I had to be, or else I would have booked the flight with the A320. Besides, I survived the experience you read about with the CR7, so this is small potatoes. On the other hand, I liked the experience of flying in an America West time machine—the interior was from the HP days. I hadn't flown or even had any real awareness of them before the merger, but I'm pretty sure I can go ahead and say that I miss the livery of this neat airline. (In a way, I
did
fly America West, but it's pronounced "US Airways"…)
The seat left a little to be desired…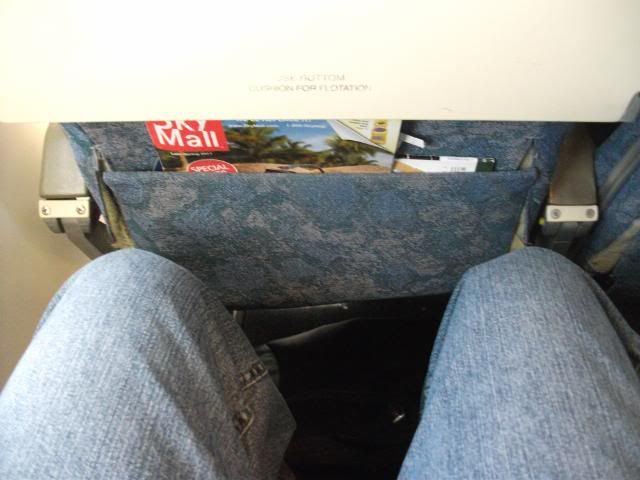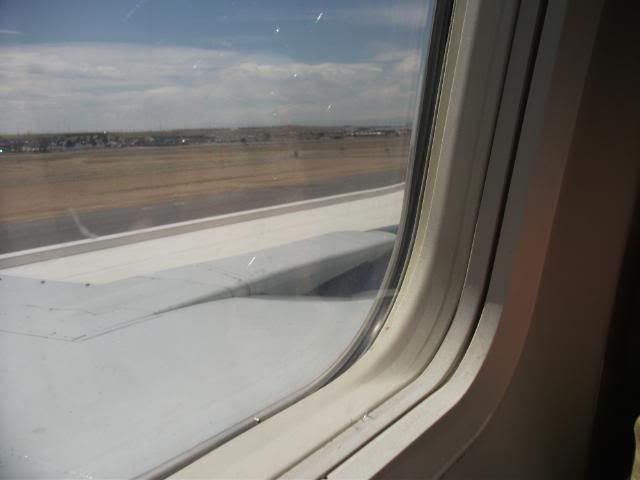 And we're off!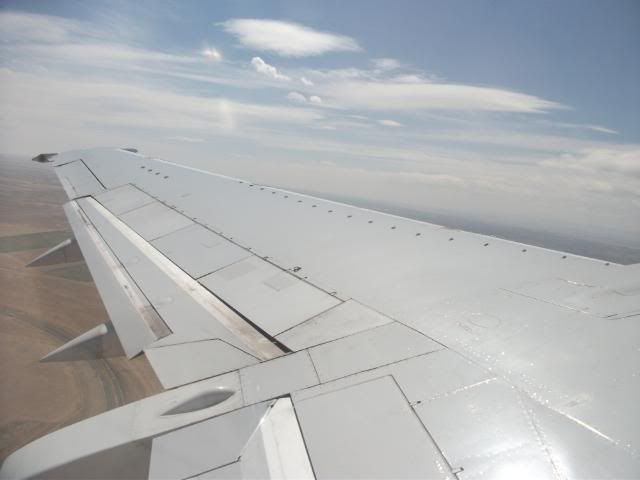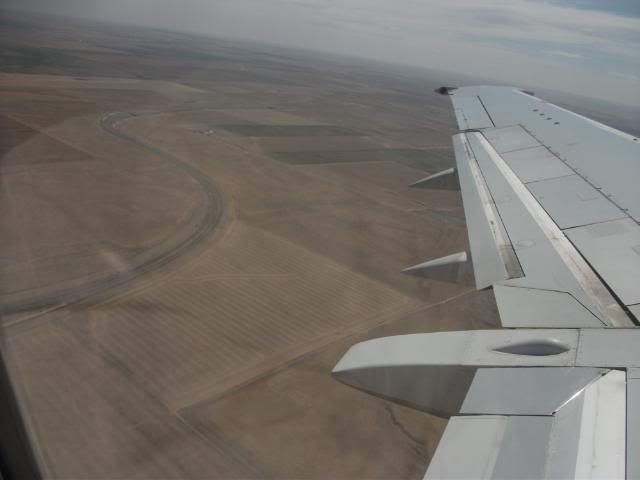 Here lies Stapleton
What one sees from 14A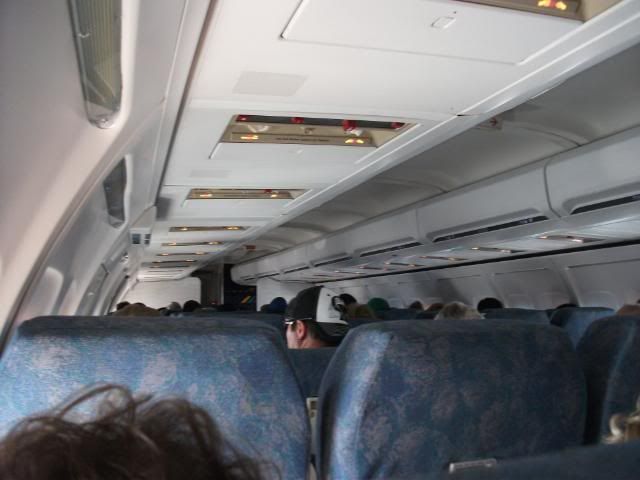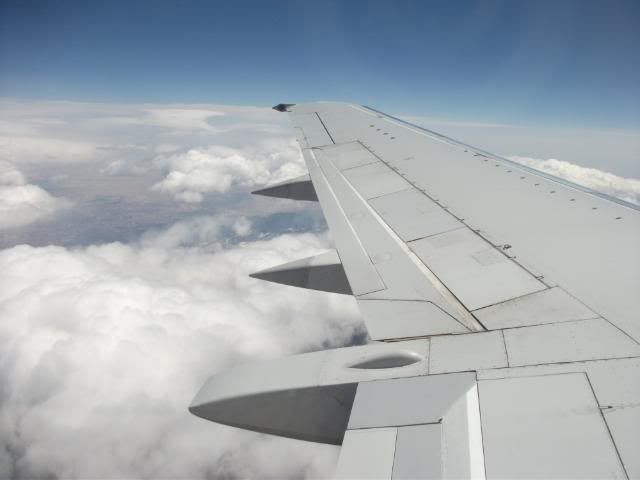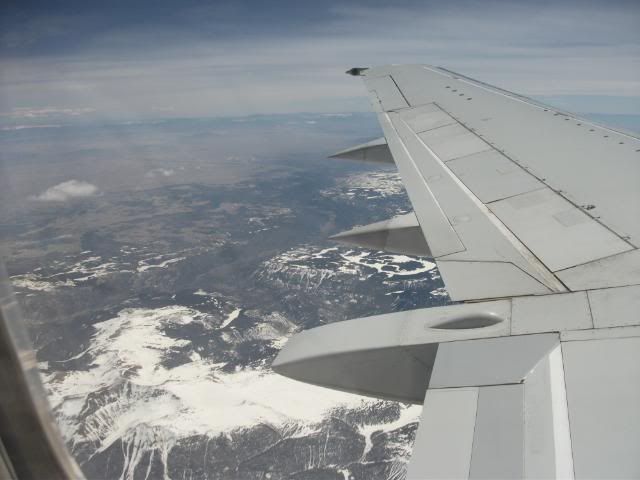 Coke Zero and Chardonnay. The former went down first, with ice cubes to cleanse the palate.
Another traveling buddy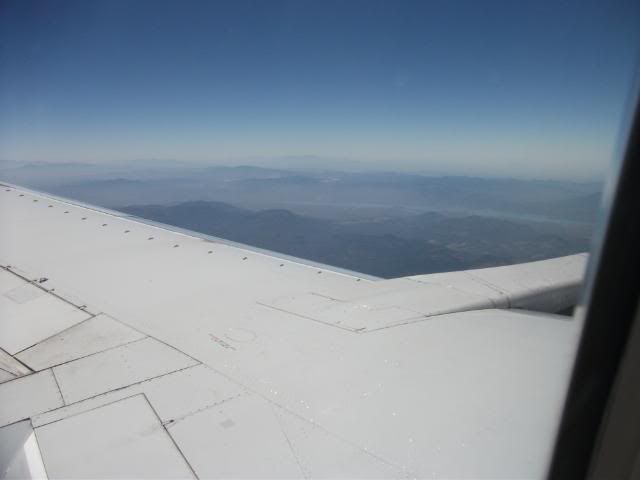 The fellow next to me in 14B pulled out his boarding pass for his next flight. Given that I am a creature of curiosity, I took a shifty peek at it. I swear upon the good name of US Airways, Mr. 14B shared his name with a character in a Fox animated TV show. At any rate, we landed in PHX with no muss and no fuss. As it turns out, the muss and fuss would be just ahead.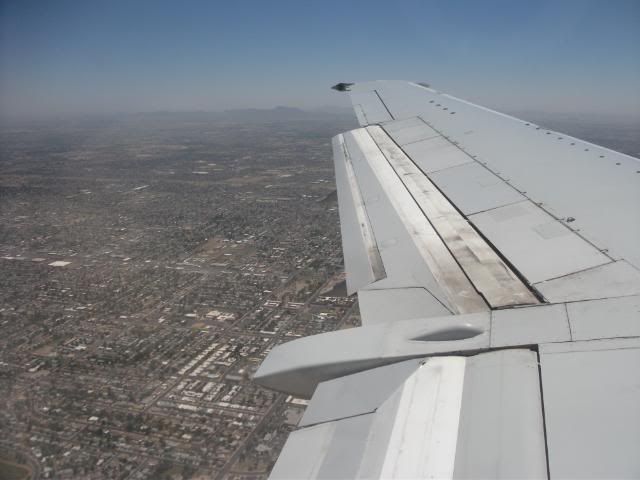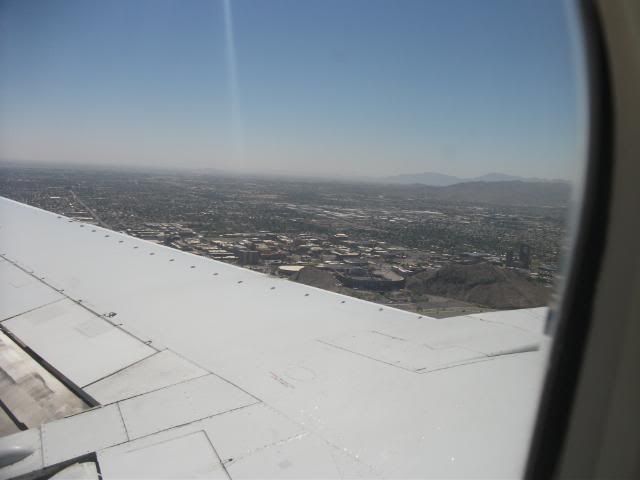 We're on the ground again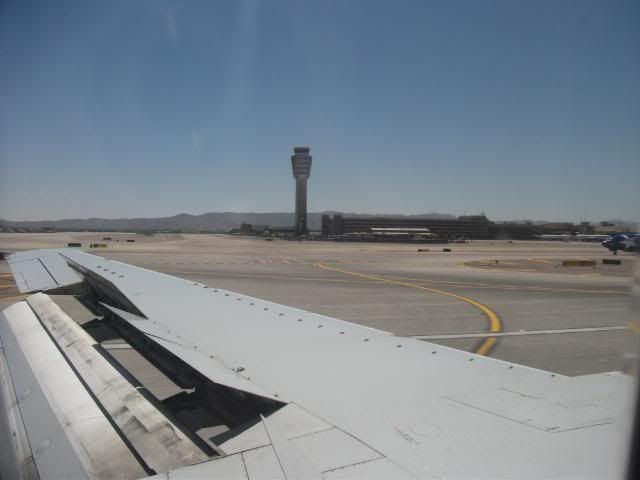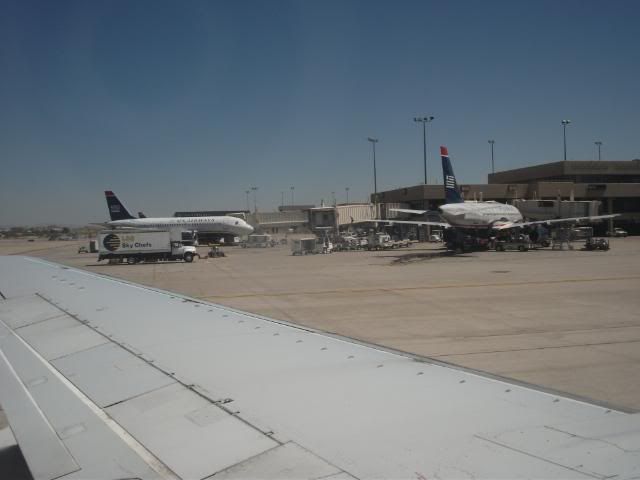 I stepped out of the jetbridge and surveyed my surroundings. It was about a 5.3 on a scale of 10. I had one hour and one minute to see what I could before boarding time, so I got to it.
I'm sure you know what that is. More from another throne room later.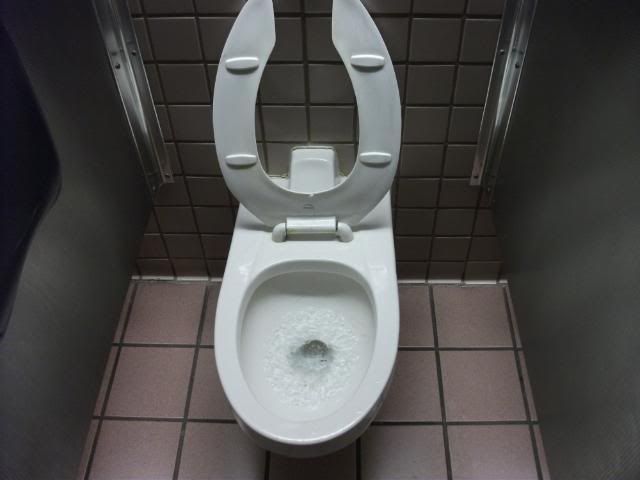 The plane that got me here. It was the only US 733 I saw there. (A couple of months later, I learned that this frame was taken out of service and stored. Rest easy, buddy.)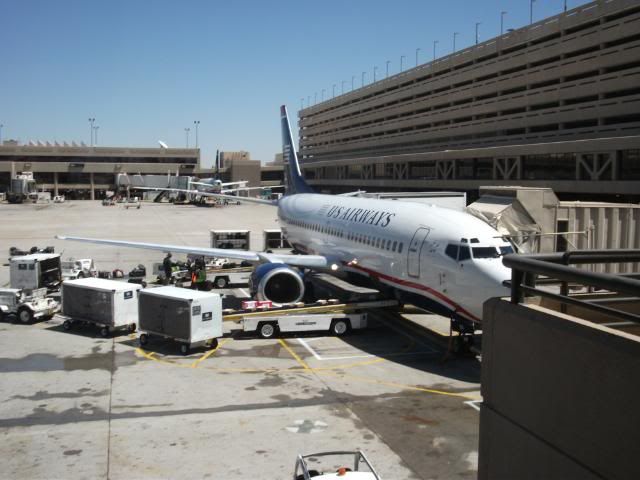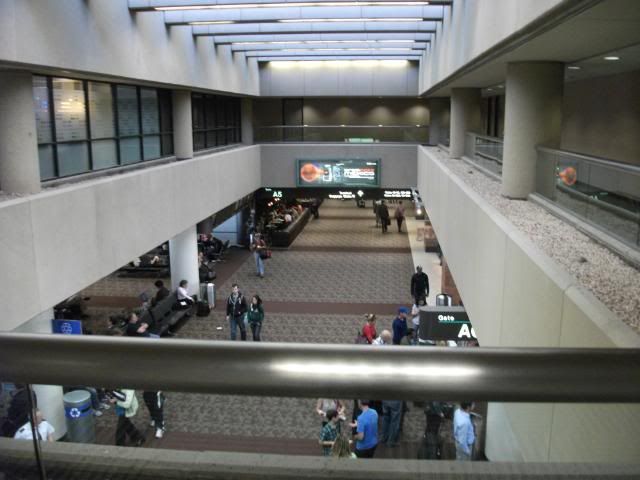 Welcome to Terminal 4, Gates A1-A14
A long moving walkway to A17-A30. This would be a recurring theme. (I stopped at the Blue Burrito for a black bean and cheese burrito. It was tasty.)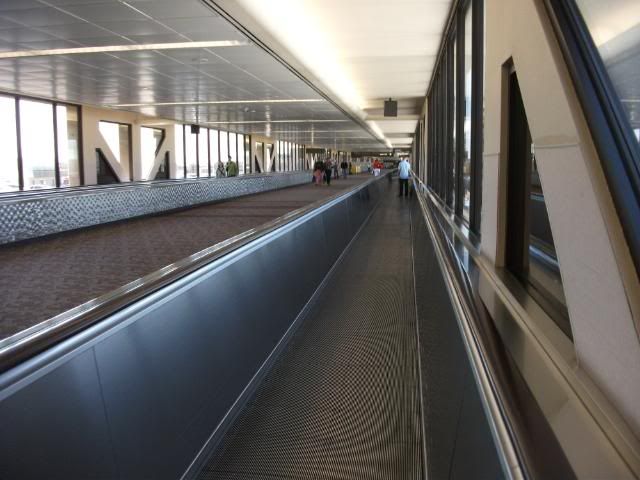 A typical boarding area. Sorry for the darkness.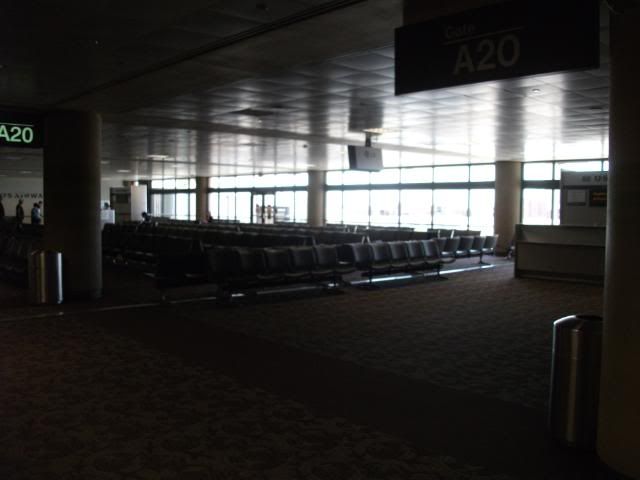 Old school info screens. Note the continuing existence of America West…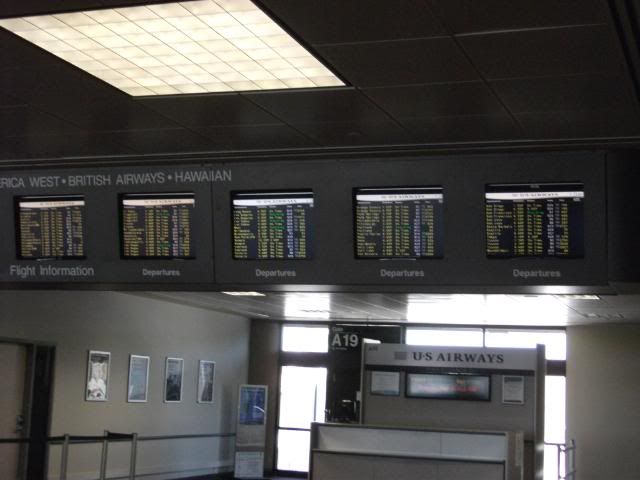 What a moving walkway looks like when it's broken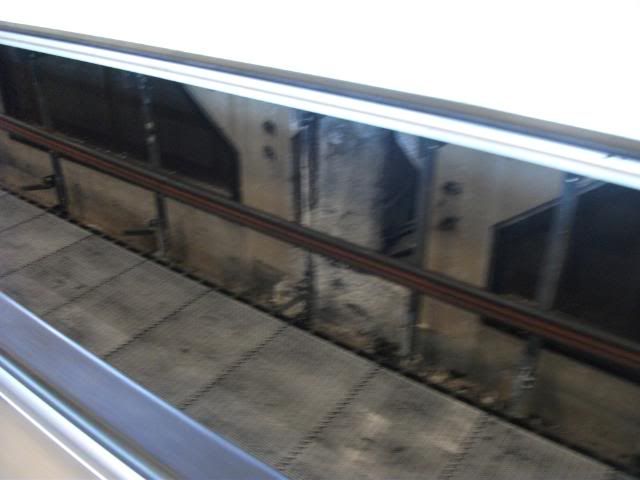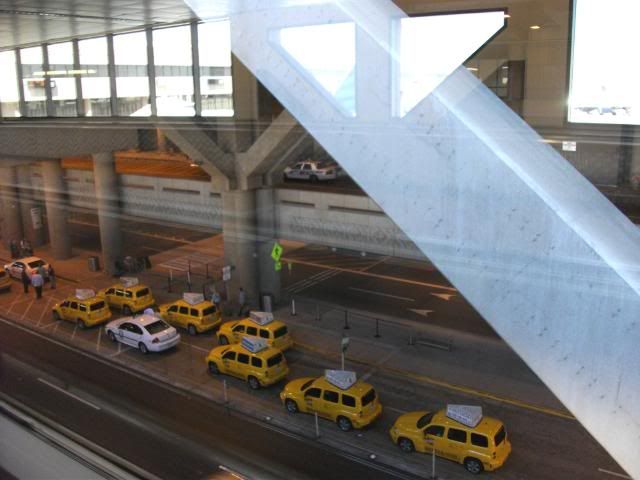 Long walkway to B1-B14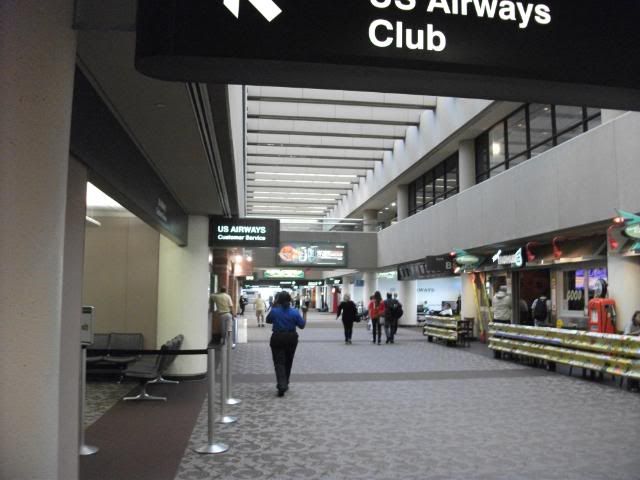 As promised, the rest of a bathroom; it's the same as the first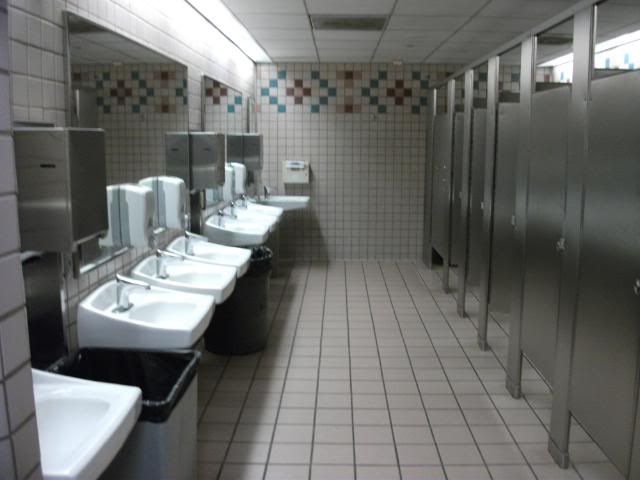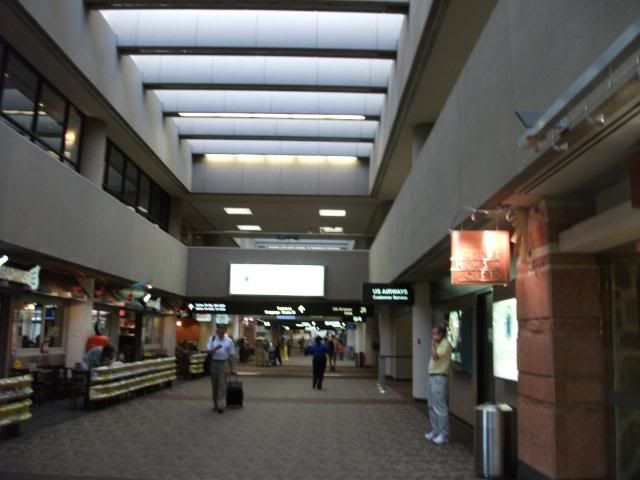 Long walkway to C and D (C was the same as A and B)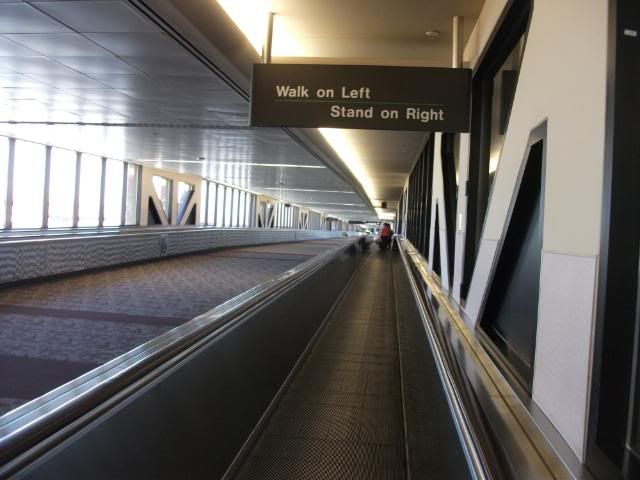 Train under construction. Could've used it today…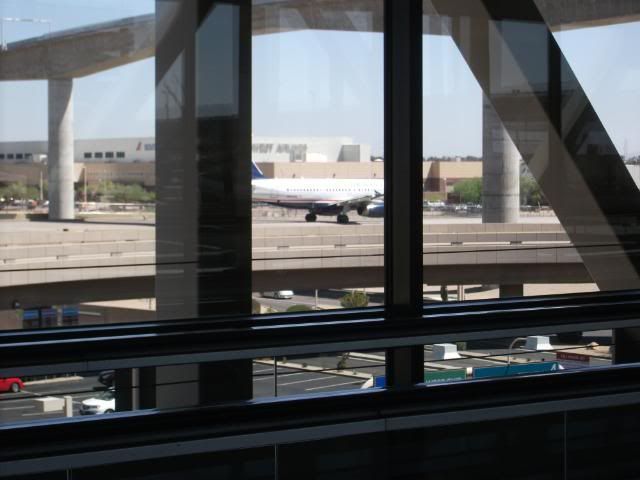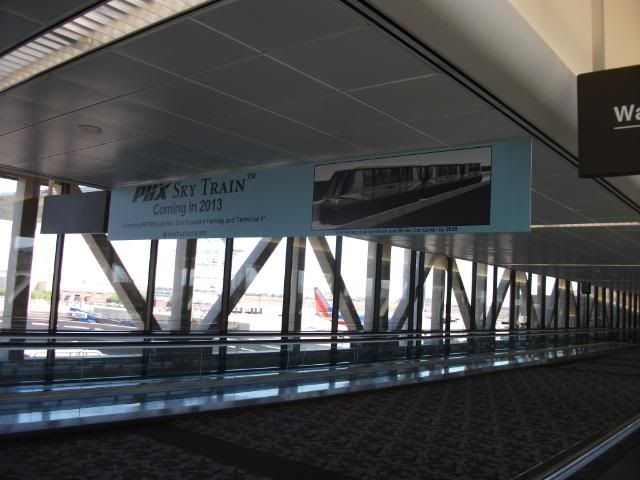 Along the way, there were some windows etched with histories of various aircraft.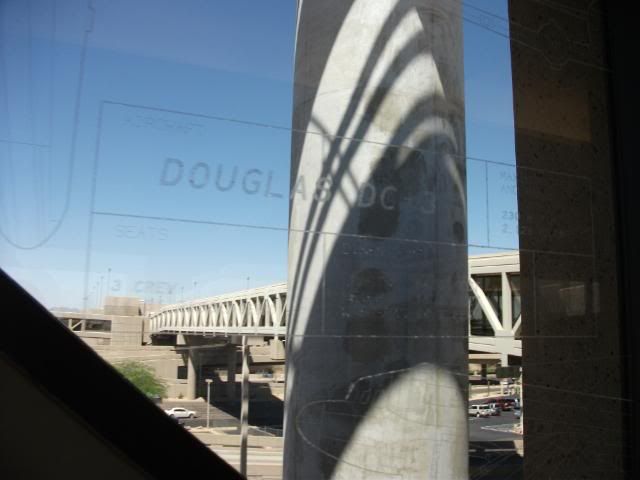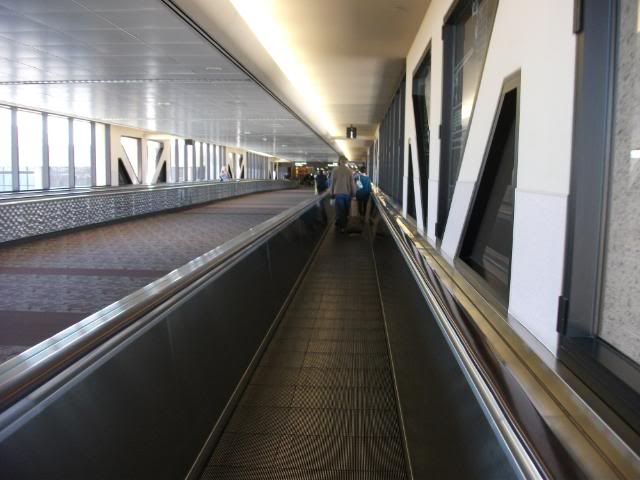 D from C1-C10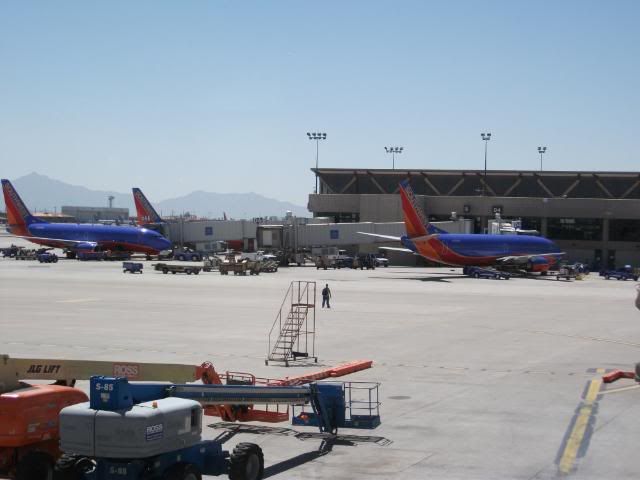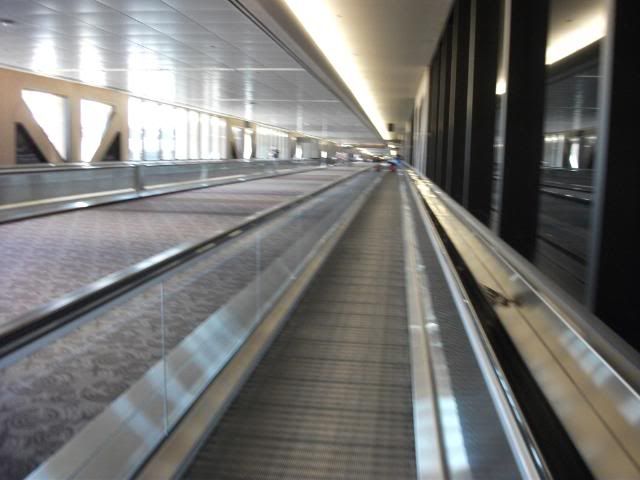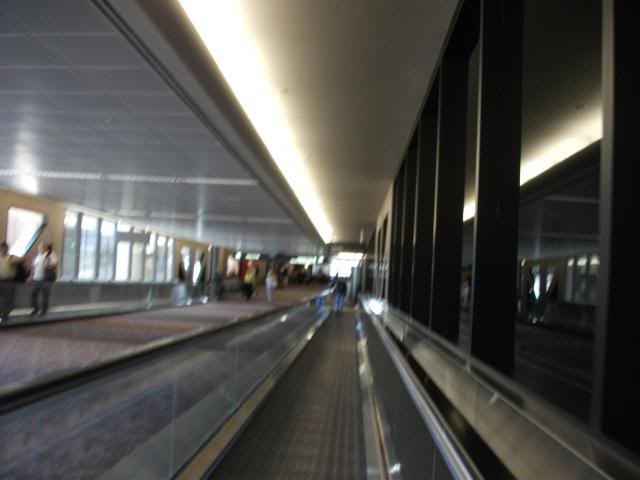 D1-D8. Criminy, why don't they make everything else look like this?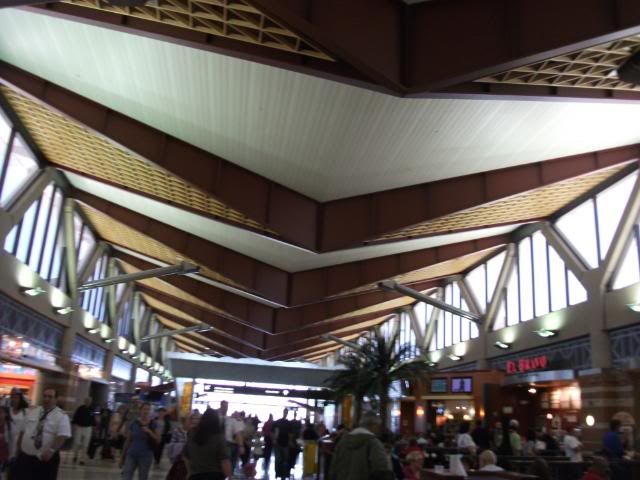 Thus, I reached concourse D. PHX had seemed to save its best for last, but there was one nagging thing: I had seen neither hide nor hair of any airline other than US and WN. Where, then, was the mystical Gate 20 where F9 was supposed to be? While I was on the US plane, I realized that I hadn't looked at a map of PHX in well over a week, and I kinda needed one while I was there. Guess what? I never saw anything even resembling a terminal or airport map. Even if they're there, it means that they're not easy to find, and I was looking just about everywhere. (Yes, it's quite possible that I missed one, but I'll save that conclusion for when I see one that I overlooked.)
It was less than 15 minutes before boarding time, and I was unsure of where to go. I decided to exit the secure area to try my luck. Fortunately, there was a nearby information desk, so I asked the lady where F9 departed from. I had to go down to the second level and walk all the way down to door 22. From there, I had to take the airport shuttle to Terminal 3. Of course, this meant reclearing security as well.
D'oh!
I thanked the information lady, thought a couple of nasty thoughts against PHX, admitted that I hadn't properly gotten the lay of the land, and descended the staircase.
Despite my rush, I was still in a picture-taking mindset. I was looking around for door 22, and I saw doors 23 and 24. I thought, 'Crap, I went too far!' So I turned around to go to the previous doors. They were 25 and 26. 'Crap, I didn't go far enough!' I eventually got to the right place and boarded the shuttle after a short wait at the station. To be fair, PHX would quickly get back in my good graces.
Ticketing/check-in areas
Blurry sun light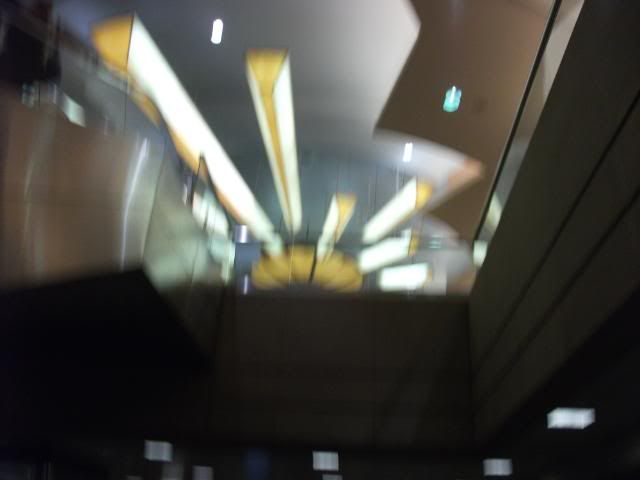 T3 entrance
Or maybe they could make the rest of the airport look like this…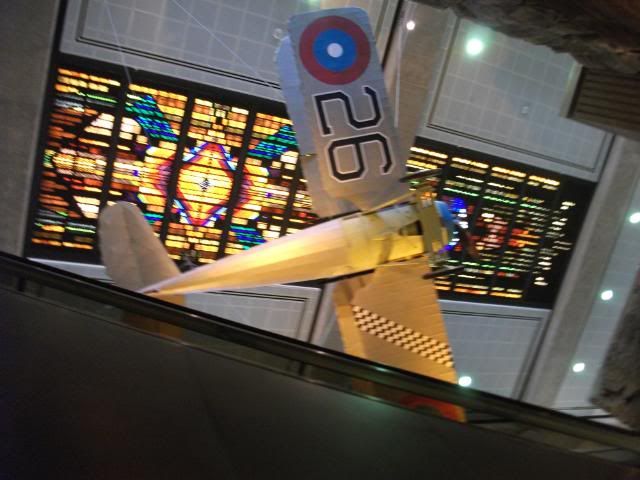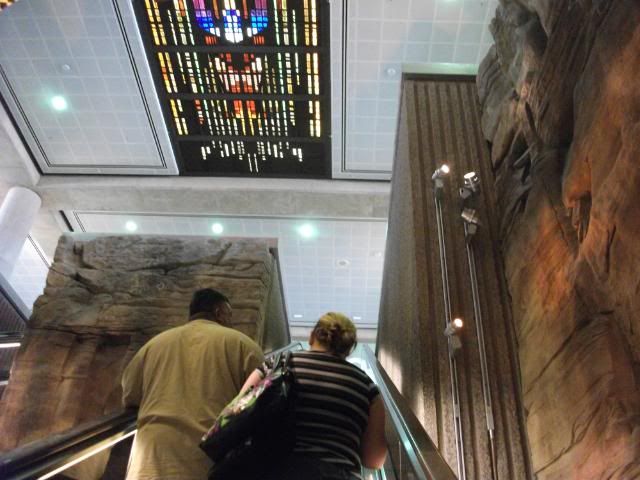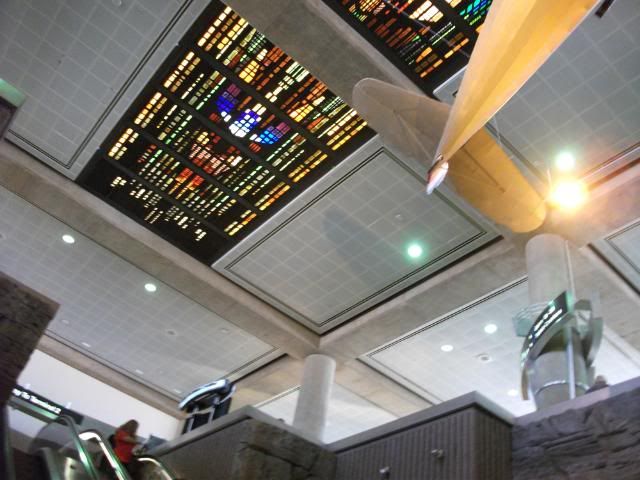 I got to security and I saw what any person doesn't want to see when they might be against the clock: a long line. But what did I spot right next to the security line? The lane for high-powered elite frequent flyers…such as myself. Bwahahaha, my luck was starting to turn! The Tigerguy confidently strode through the empty lane and waited about ten seconds before I was motioned to the security podium. It was the first time I'd gotten to use such a lane, and it felt great, especially under the circumstances. I made it through security and went down to number 20, but not before a couple of pictures:
Terminal 3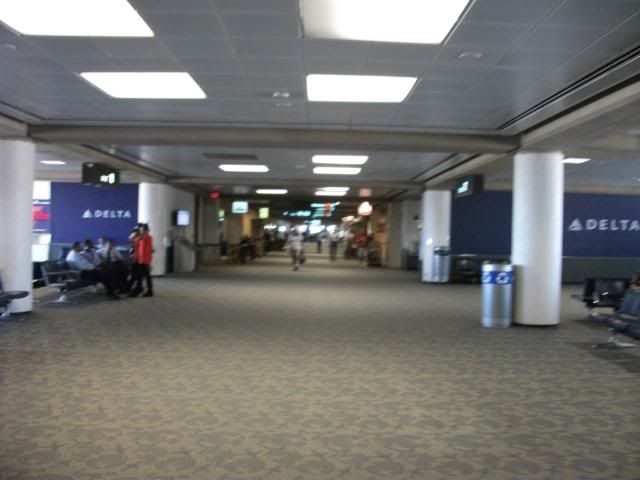 People waiting to board my flight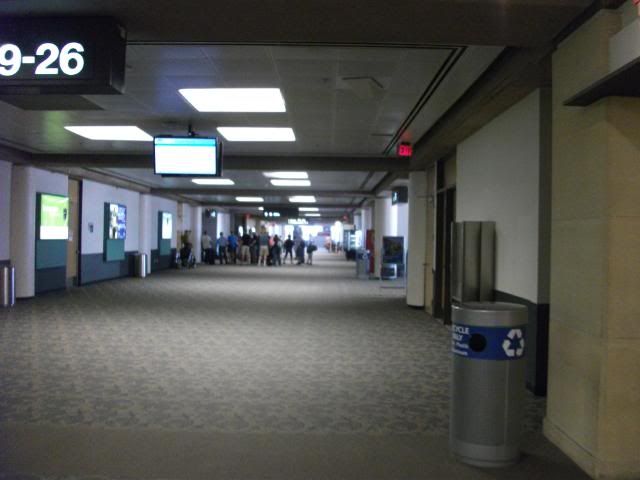 I heard the call for people with non-Economy tickets and high-powered frequent flyers as I approached the gate. I therefore walked right up to the line once I got there. At 2:13, I was on the plane. Little did I know that Andy would have one more surprise in store for me.
Frontier Airlines 858 PHX-DEN
Scheduled: 14:40-17:25
Actual: 15:20-17:56
Airbus A319-111 (N906FR)
As can be expected, I was still somewhat giddy after snatching victory from the jaws of defeat. After everybody boarded, we sat there for a little while. About four minutes past the scheduled departure time, the captain came on the horn and informed us of the situation: there was a computer glitch requiring a system reset. He said that we'd be out in another 5-10 minutes. The doors were closed and armed in that time frame and the safety demonstration was given. And then we continued to sit there. A few dings, and the FAs were talking on the phone. At 2:59, we heard, "Aft doors disarmed." Oh, hell, what is it now? Another message from the captain; what follows is a paraphrase. There had been a malfunction with the proximity switch. Although the door appeared closed from the outside, the indicator light said it was still open. Having doors open under pressure is usually a bad thing, so a mechanic was called to have a look. He'd keep us informed about the situation. I wasn't particularly worried (yet), so I grabbed my laptop and typed this paragraph, among others.
Legs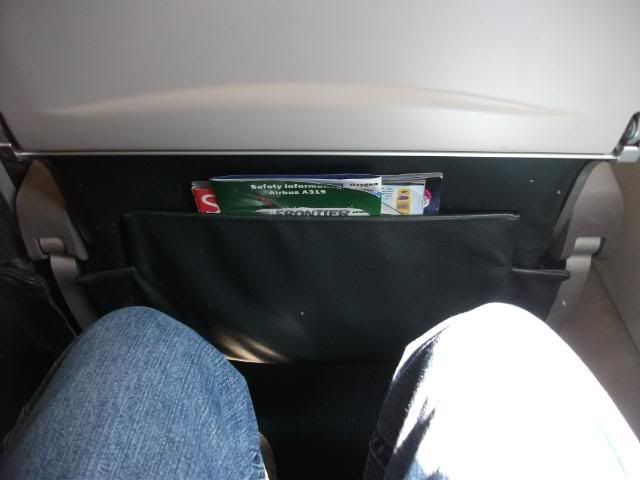 Hi Andy!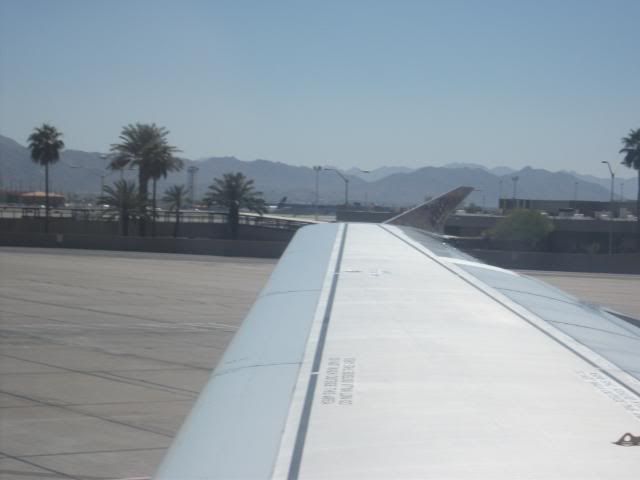 At 3:09: the captain informed us that their suspicions about the proximity switch were correct. The fix was made and we'd be on our way after the proper documentation. Further, the announcement was made that connecting flights to MCO and COS would be held for those who needed it. I could feel the tenseness ease a bit in the cabin; I've not yet had reason to worry about a F9 flight being canceled from under me, so the faith is still there. In a show of goodwill, they allowed everyone to have free TV access. (It was free for me anyway, but still an excellent gesture.)
See the F9 sign through the window?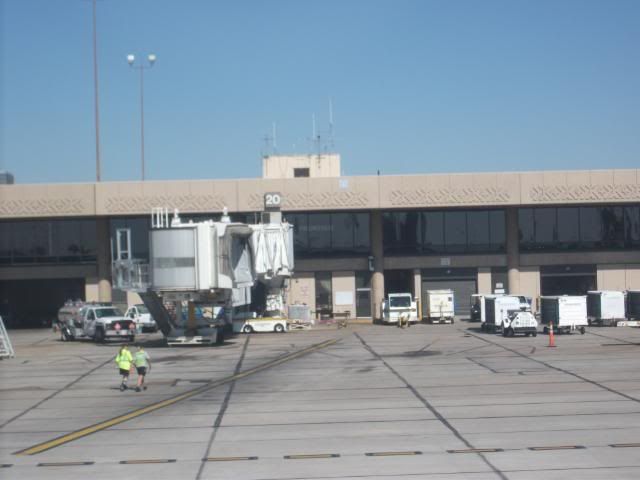 HP-tailed N838AW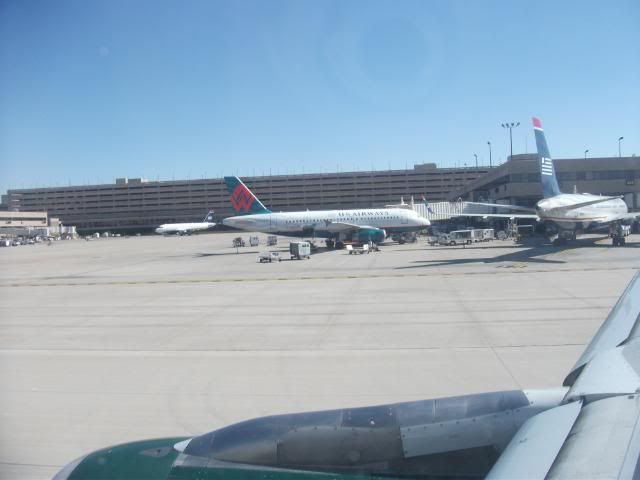 Waiting for takeoff. That 757 held us up.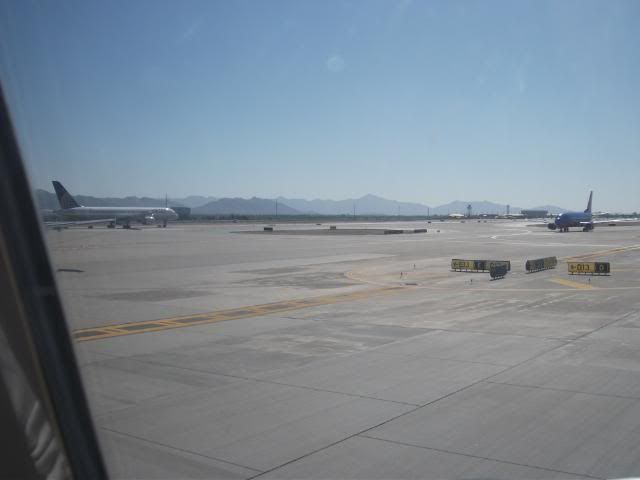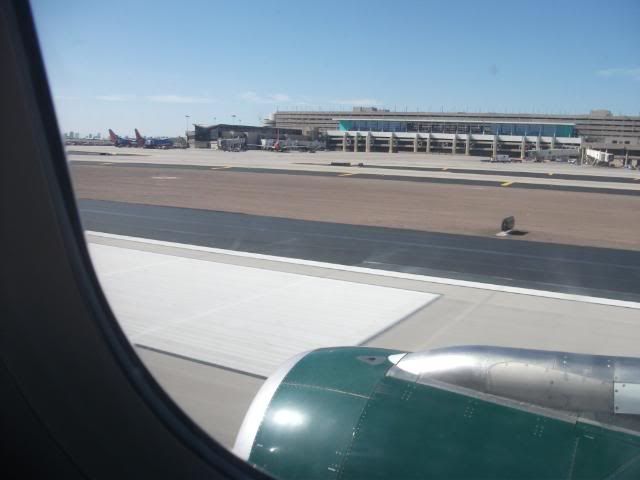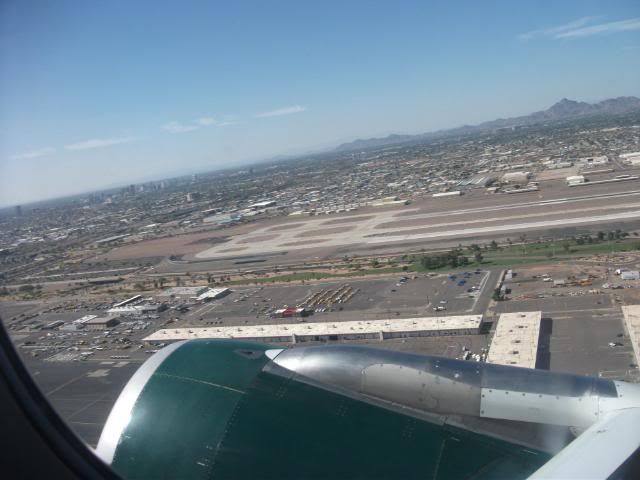 US Airways Center, slightly left of center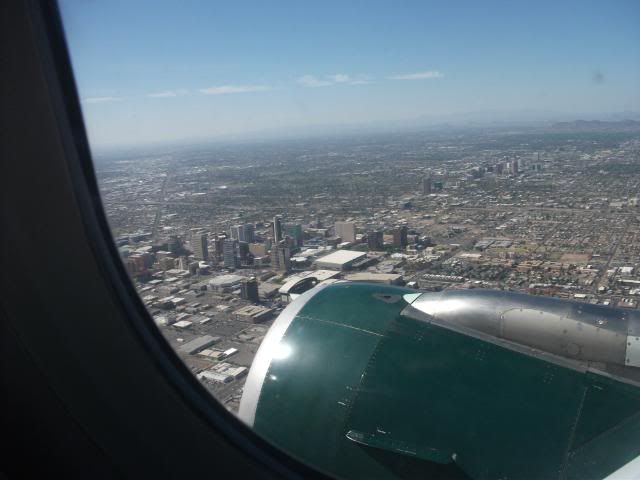 University of Phoenix Stadium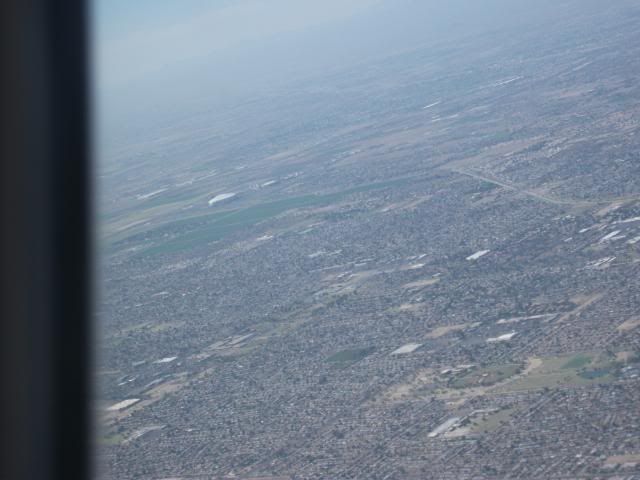 A bit hazy, but it's a last look at PHX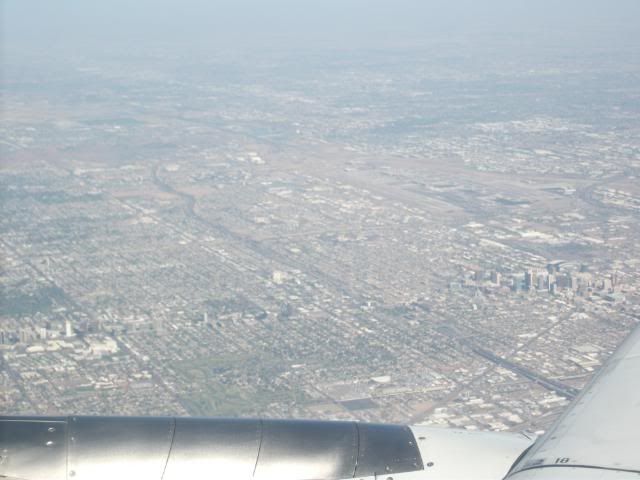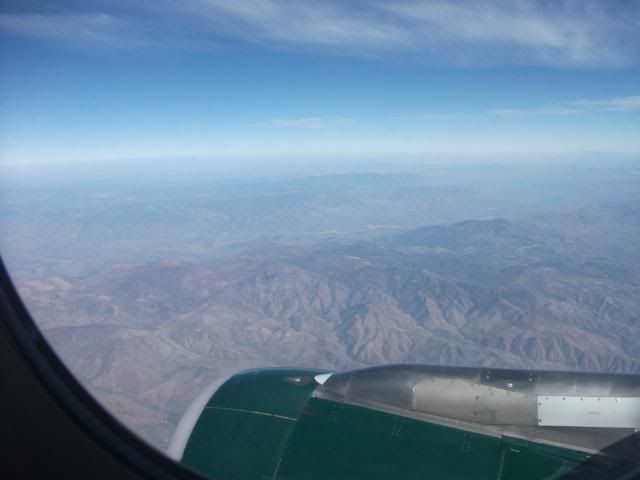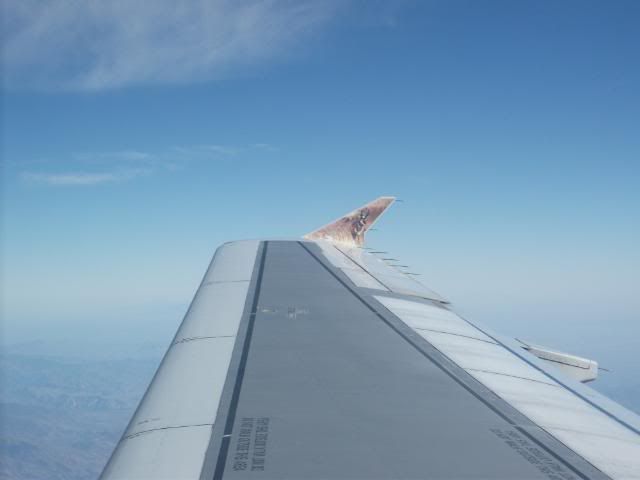 Don't you love it when your Airbus smells like cookies?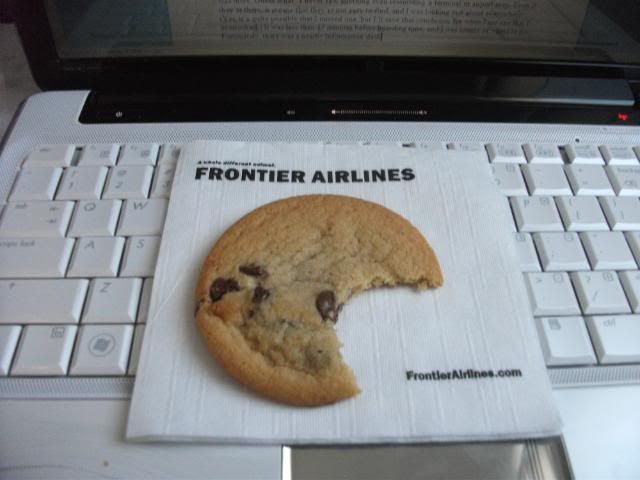 Sometime during the flight, I was fiddling with the IFE, when my seat suddenly gave way and I leaned all the way back. I looked to see Mr. 8E trying to get his seat to lean back. I told him that his button was on the other side. I didn't quite hear his response, but I imagine it wasn't anything other than friendly. He was an interesting fellow—among other things, he would raise his empty cup in an attempt to get the FA's attention. He eventually got his second cup of soda when she came by on a trash run. Near the end of the flight, on the final trash run, he asked if there were any extra cookies. He received and promptly ate two. Let me tell ya, it took an extreme amount of willpower for the Tigerguy to not flag down the FA and ask for more cookies of my own! I
really
wanted another one of those cookies, but I held fast and watched the cart roll away.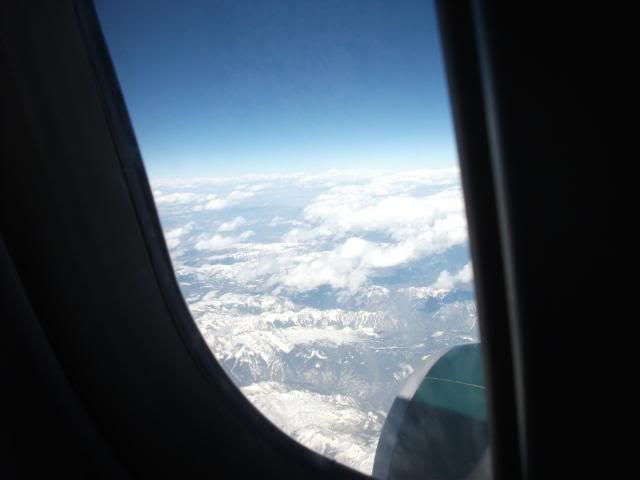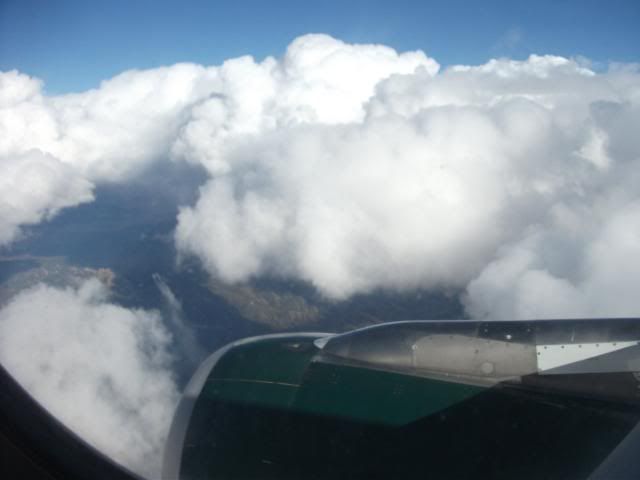 Another happy landing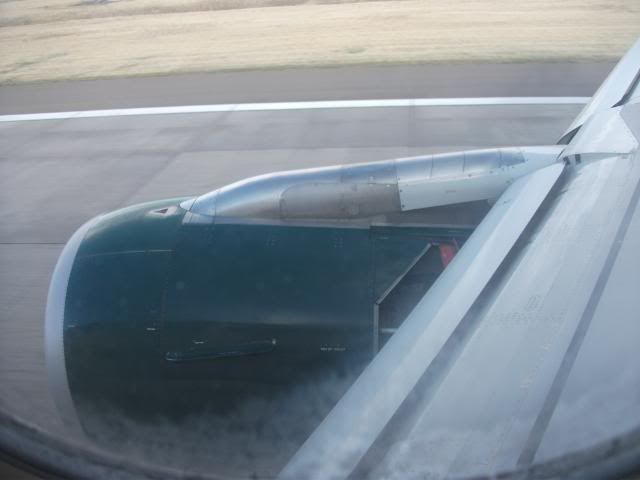 I returned to DEN with Concourse B still to walk. I'd lost a huge chunk of time with the delay, and there were about 40 minutes until boarding for the OKC flight. Given the amount of time it takes to walk that thing twice, I decided to save it for the next day. Now B has its own day; it should feel special. (No, I didn't book a flight less than a day in advance just to see a concourse. The next leg has the details…) I sat down to type some more after a few pics:
LH 744
The day's departures are running dry…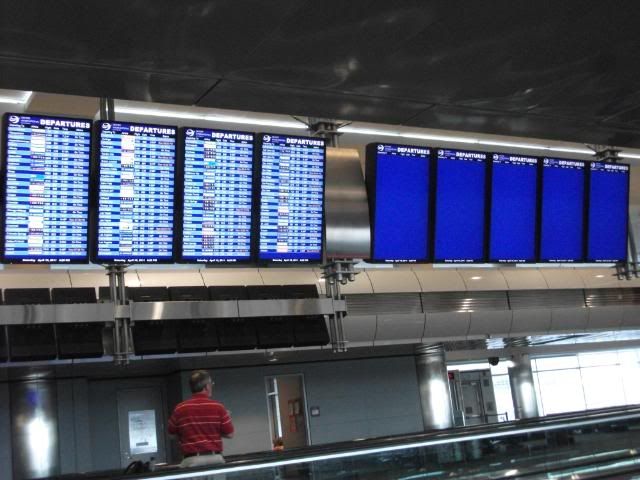 The plane to OKC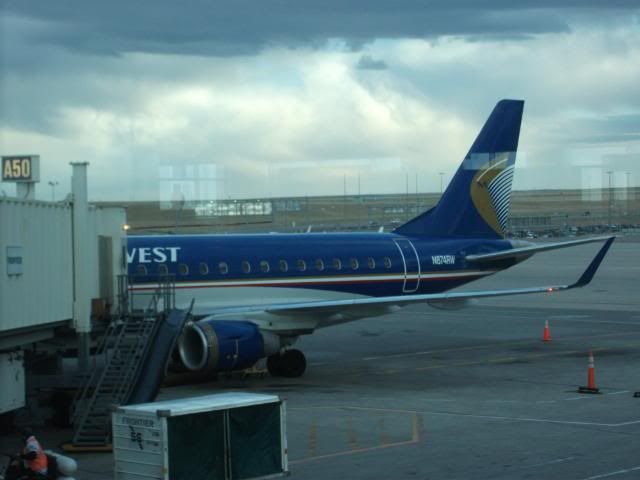 Frontier Airlines 1189, operated by Republic Airlines DEN-OKC
Scheduled: 19:10-21:42
Actual: 18:59-21:30
Embraer ERJ-170-100SE [E-170] (N874RW)
Cabin shot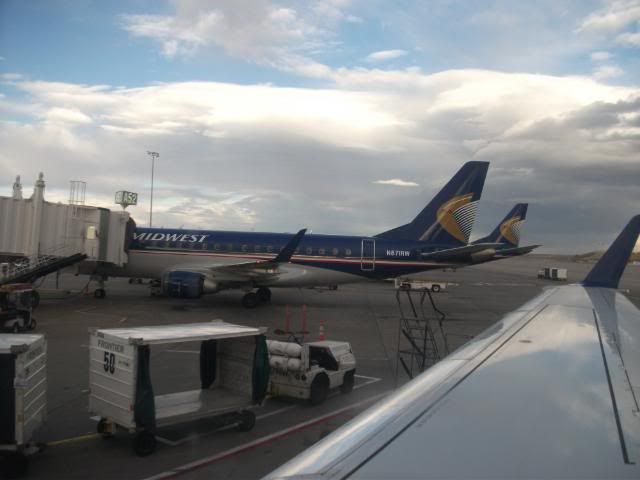 Legs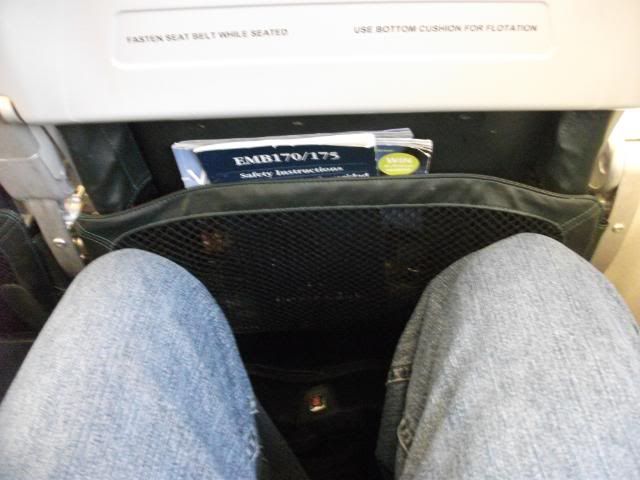 A bunch of planes waiting for departure. F9 planes went one way, UA went another.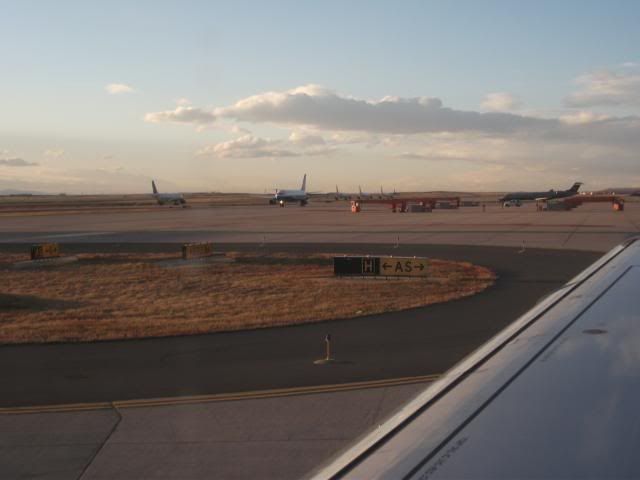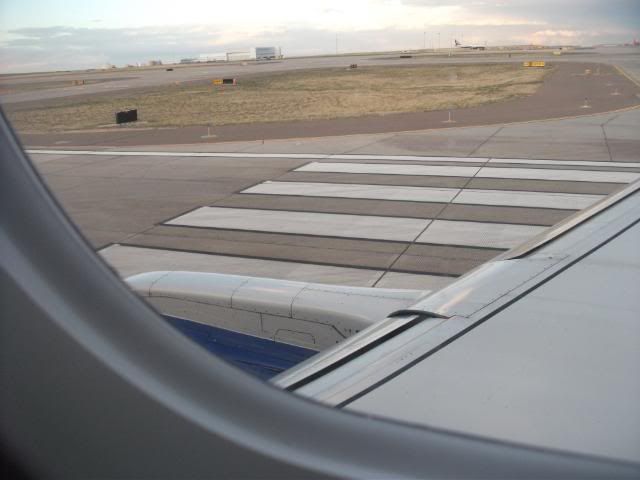 DEN again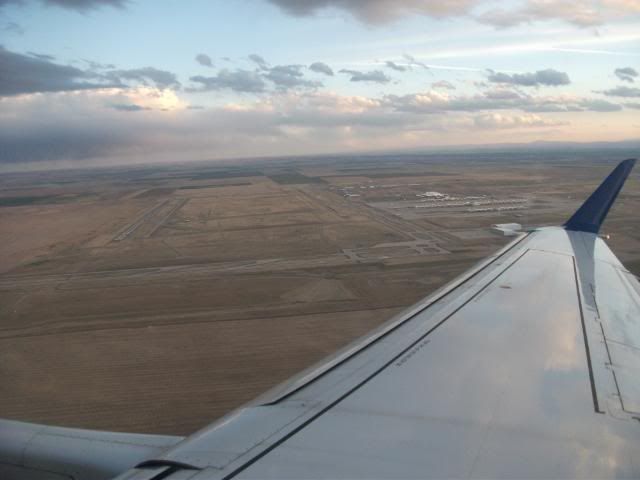 Front Range Airport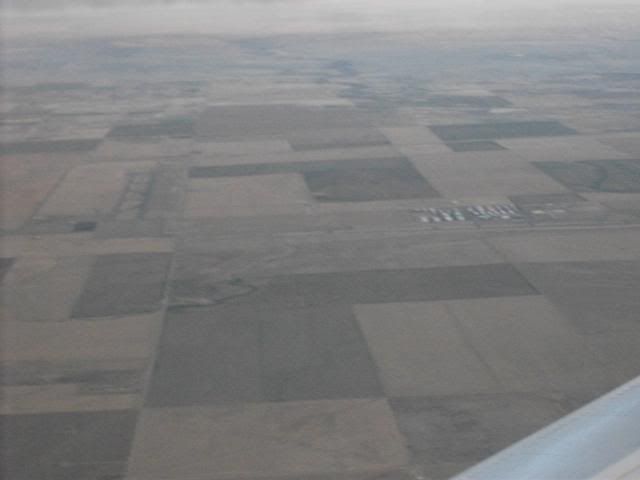 This would end up near the top of my "Most Memorable Flights" list because of my seatmate. Mr. 9D was a very colorful individual. We struck up a conversation that went all over the place throughout the flight—in the style of Quentin Tarantino. When he referred to the Tigerguy as a "cool cat," I was feeling all warm and fuzzy. I can't say that the warmness and fuzziness lasted, though…
It became obvious after a few minutes that Mr. 9D had consumed enough liquid courage to addle his brain. He wasn't rude or obnoxious, but he'd had just enough to be a little…off. He'd make little comments to nearby passengers. He'd interact with the flight attendants. He'd break out into a few seconds of whistling. He'd tell me about how he would have relations with the pretty flight attendants.
There was one point where, after the initial beverage service was completed, he asked for a can of ginger ale. He got it, poured a little into his cup, and gave it back when the FAs came back around. Perhaps as a sign of sympathy for my plight, one of them gave me an unsolicited can of Sierra Mist.
The cookies were warmed and served, the darkness closed in, and we safely made our way back to OKC: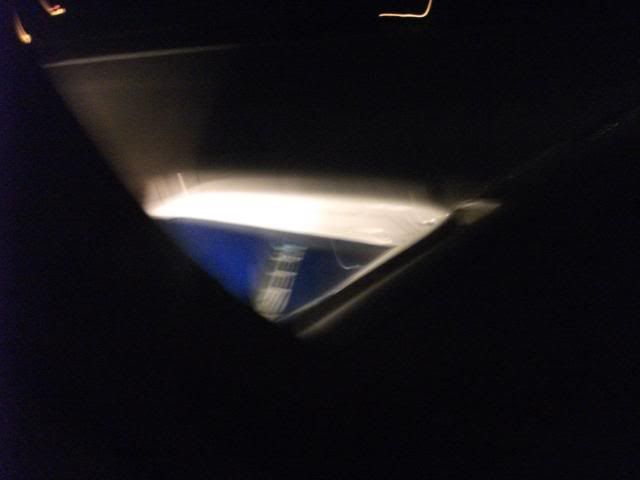 We pulled into the gate, and there was the usual logjam of people wanting to get off the plane. I made a point of it to stay behind a little while. I waited until Mr. 9D and most everyone else had gone. One of the flight attendants was at the front with the captain, which gave me the opportunity to thank her for a job well done—on the flight and in general—and give her a handshake. I was prompted by the antics of Mr. 9D and the amount of people that chose to blabber on during the safety announcement. (It was more noticeable than usual; I detest people who are so into themselves that they carry on asinine chitchat when they are asked for their attention. The least they could do is look up and pretend to pay attention.) She took my hand and returned the pleasantries, and we bid each other good night.
And that's the way it was. For the record, US Airways had only one hour and 47 minutes to make a good impression. It wasn't a "wow" experience, but I still thought they handled things nicely. Taking care of a plane full of people isn't always the easiest thing to do, and I think they completed their task without issue. There wasn't anything I didn't like about the experience, so they've already come out ahead. The biggest thing they could do to gain points is return to OKC…
Airport Conclusions:
DEN: I could give you some right now, but I'll wait until after I complete my official visit.
PHX: This desert airport was hot and cold. I will admit that I had forgotten about that whole "you may have to change terminals and re-clear security if you're changing airlines" part on the airport website. But the do-it-yourself part of me (the part that many travelers have because they don't bother to look at the website at all) couldn't find a map, or a diagram, or a series of stick figures showing where to go. The layout has the potential to be incredibly annoying, especially without the ability to quickly cross between north and south in T4. (At least you know you're getting somewhere on DEN's walkways.) You can walk, run, or cut across the middle and re-clear security. This is one of those airports where you need to know exactly what you're doing. Incidentally, PHX is building a train system to be fully complete by the end of the decade. As far as design, much of what I saw was run-of-the-mill, but the D gates showed a lot of promise, as did some of the areas before security. (I think there should be more stained glass, don't you?)
Coming up next: Dash to the Rockies (or, Taken Off the No-Fly List)