Asia Part 2: CX Business Class to Tokyo (PVG-HKG-HND)
This is part two of my recent trip to Asia. Part one can be found [url=
Asia Part 1: LHR-China With LH (LHR-MUC-FRA-NKG)
(by
gabrielchew
Jul 4 2011 in Trip Reports)]here[/url].
After my Lufthansa flights from London to Nanjing (via MUC and FRA), I spent a night in Nanjing, before taking a circuitous route back to Shanghai via a couple of mountains.
Nanjing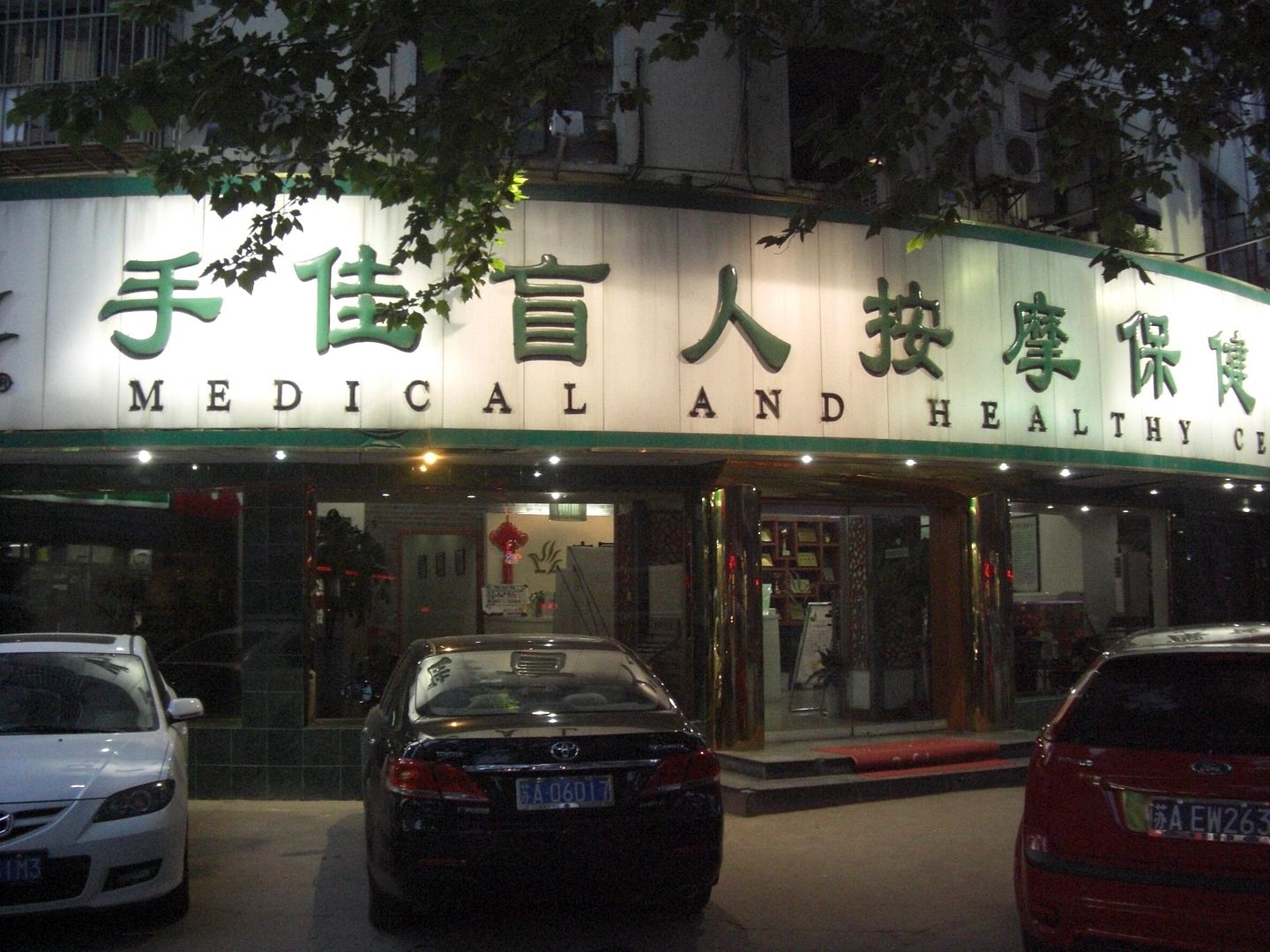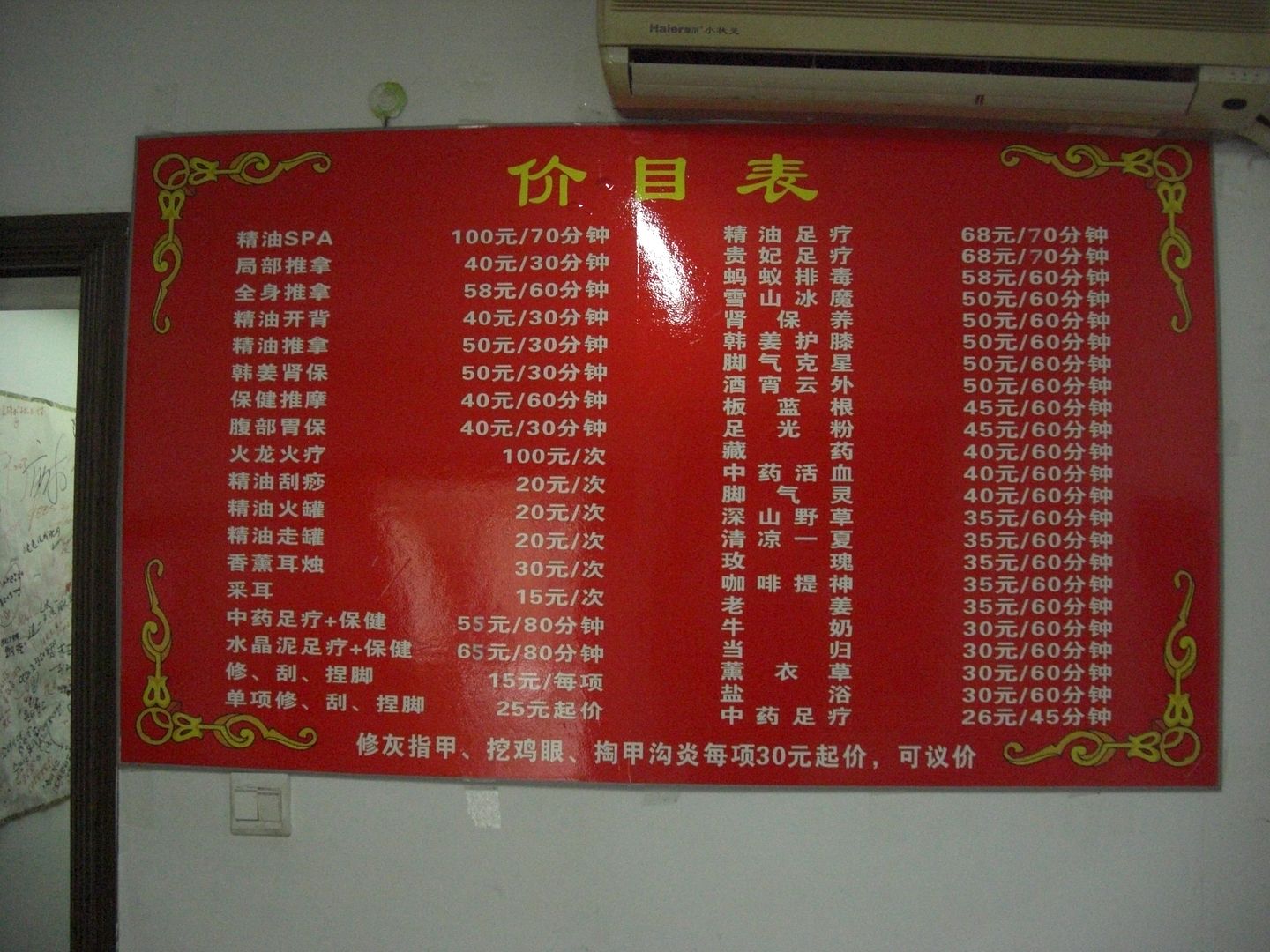 Jiuhuashan, one of China's Five Holy Mountains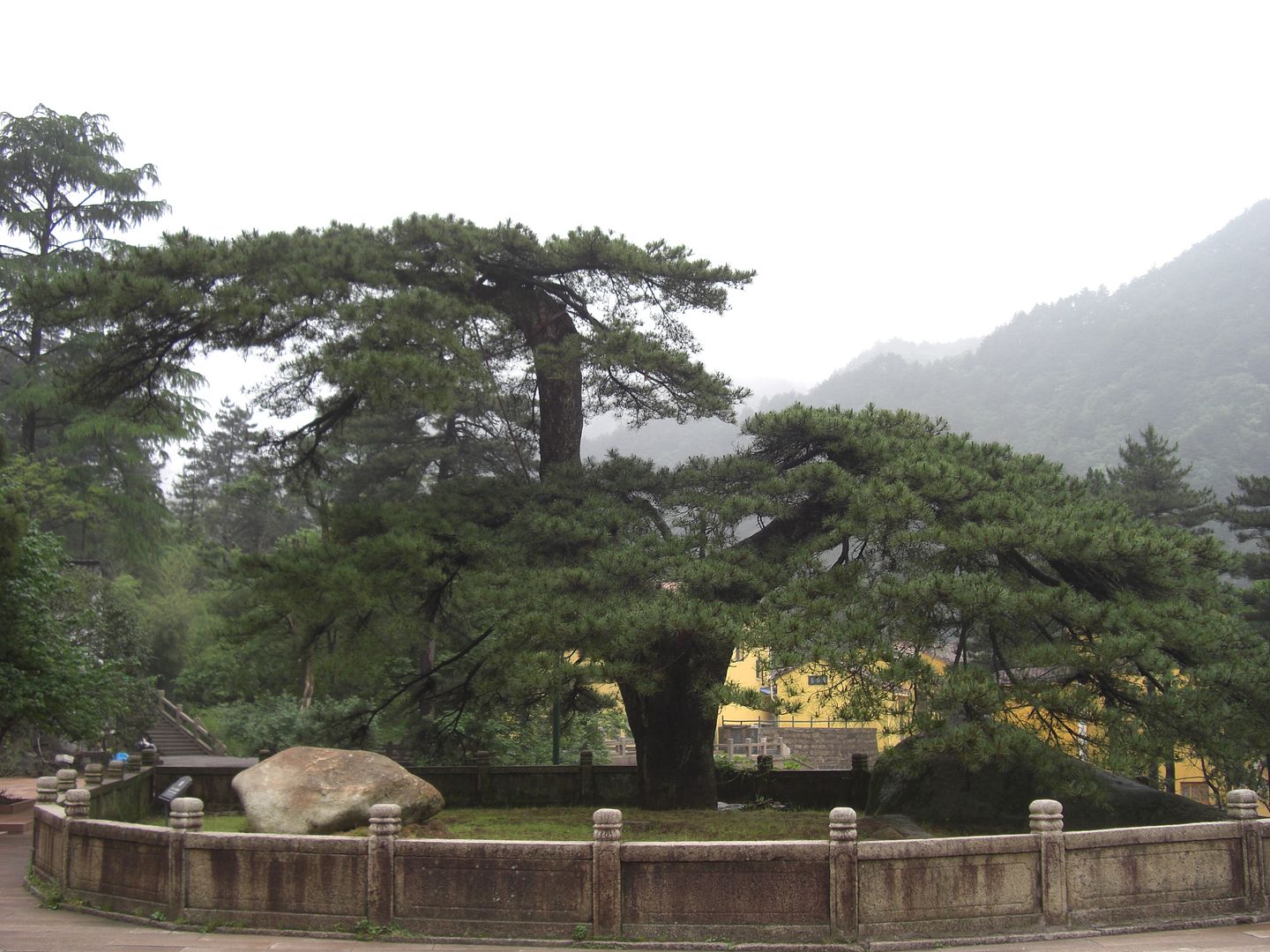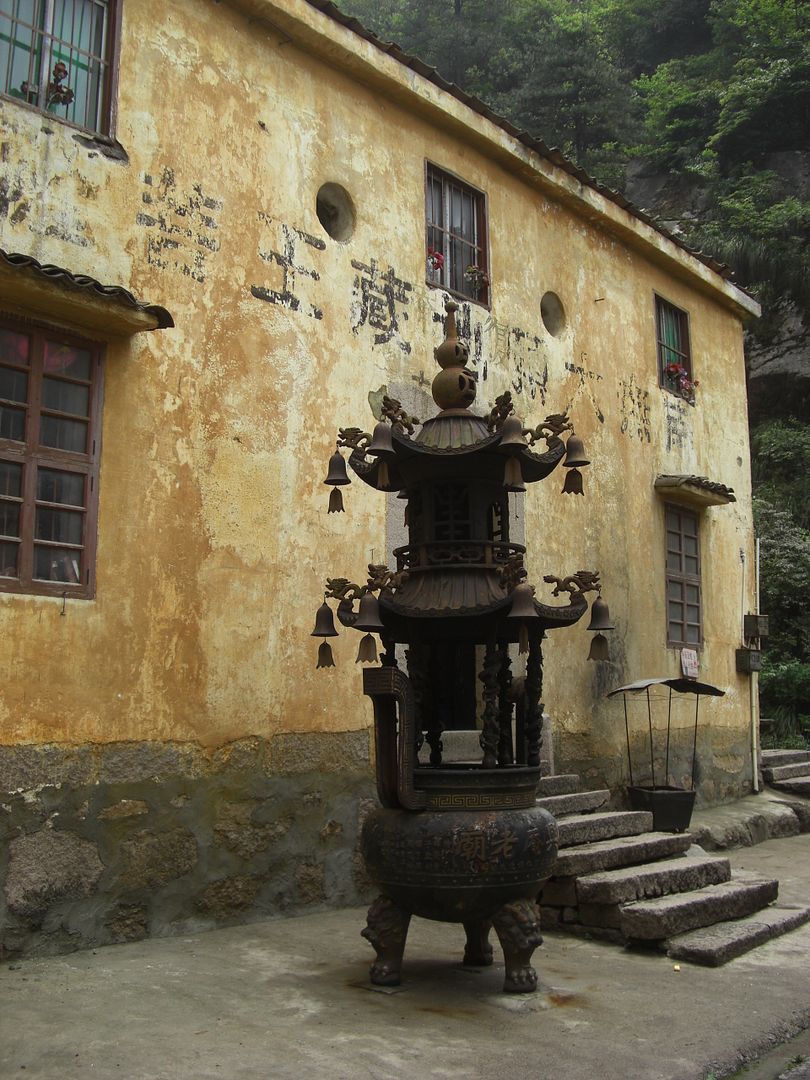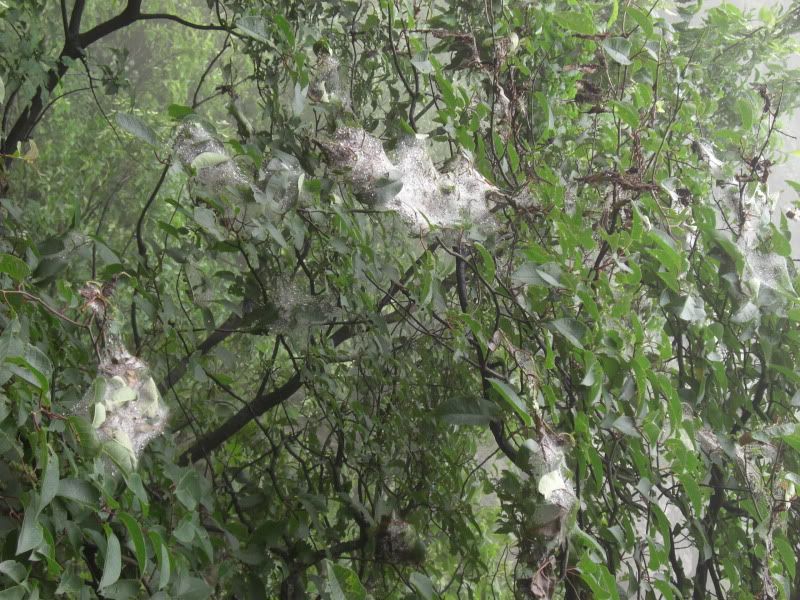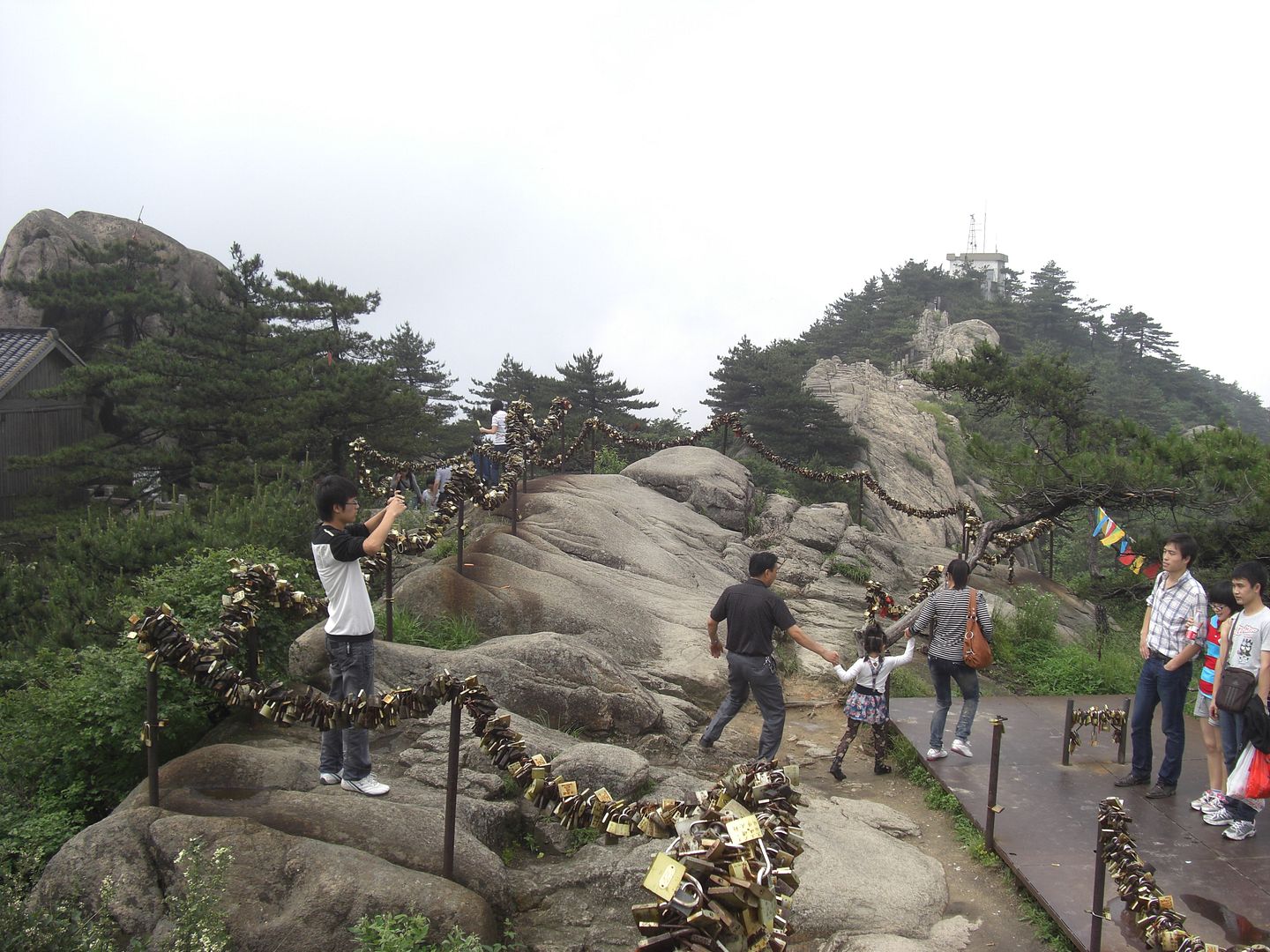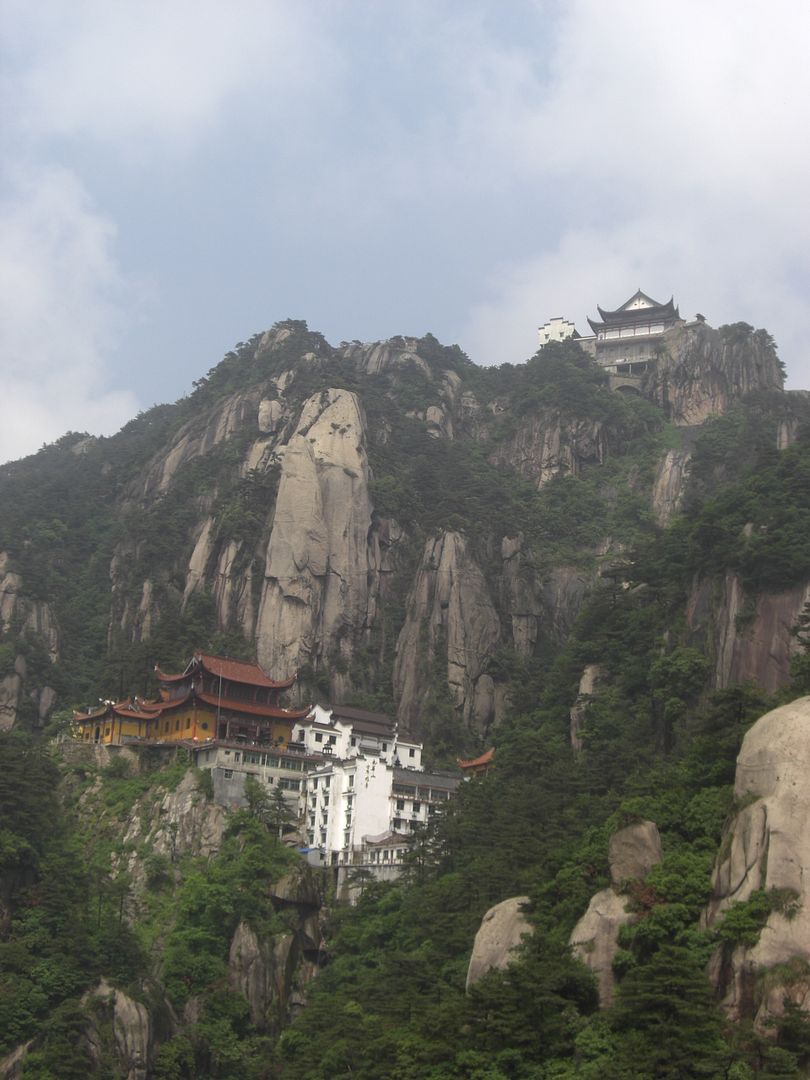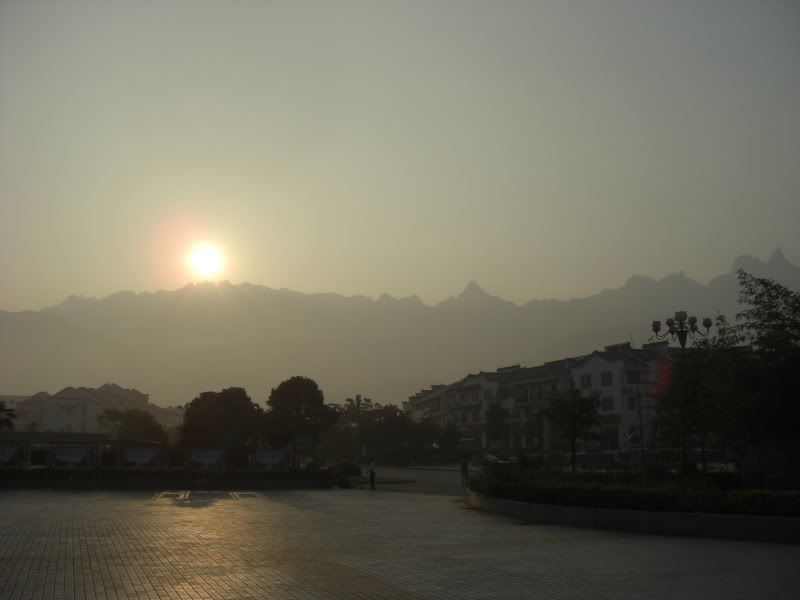 Huangshan, not a holy mountain, but probably the country's most famous. Apparently, the Floating Mountains in Avatar was based on Huangshan. I got a sunny first day, then an overcast and cloudy second day.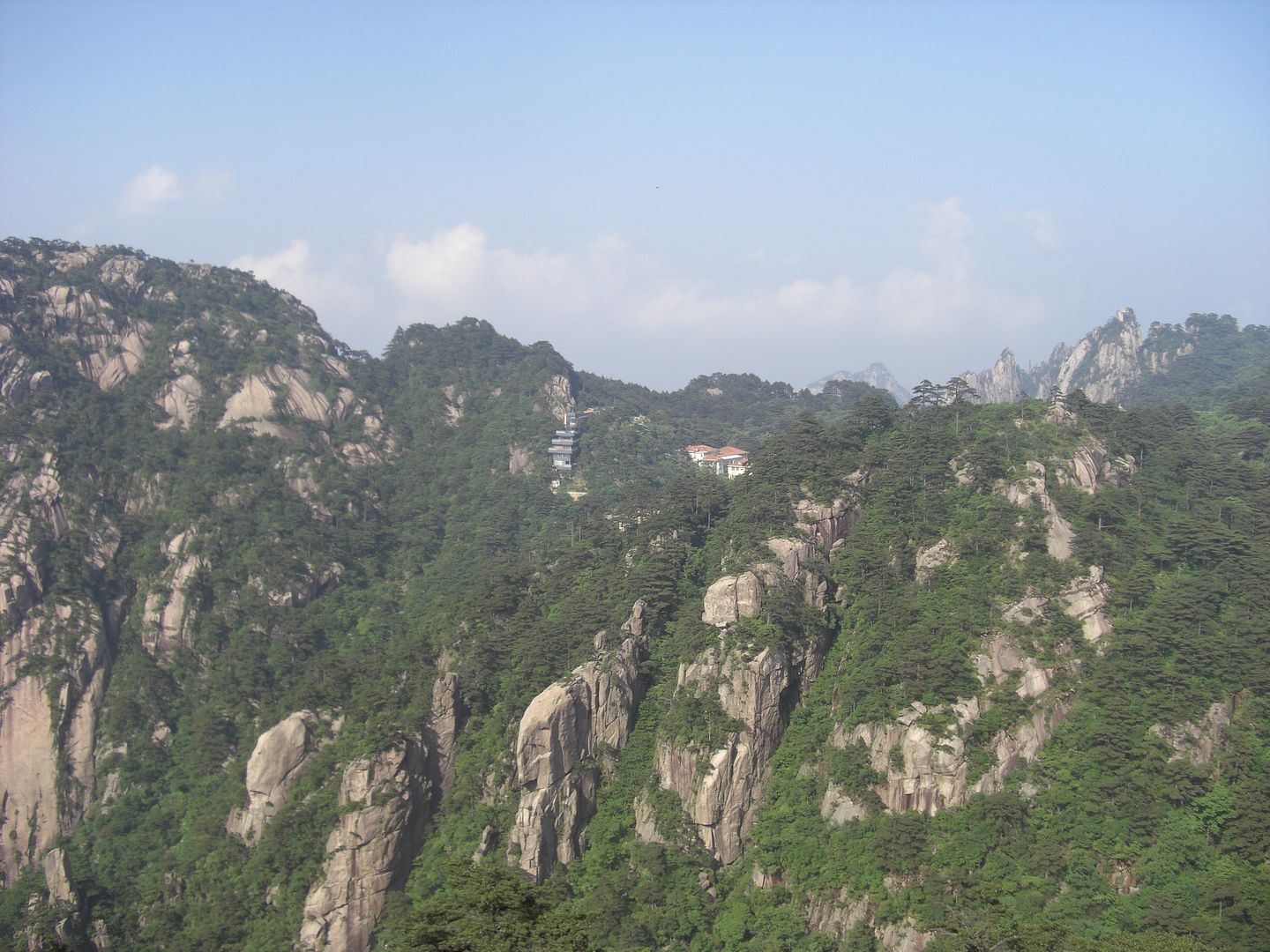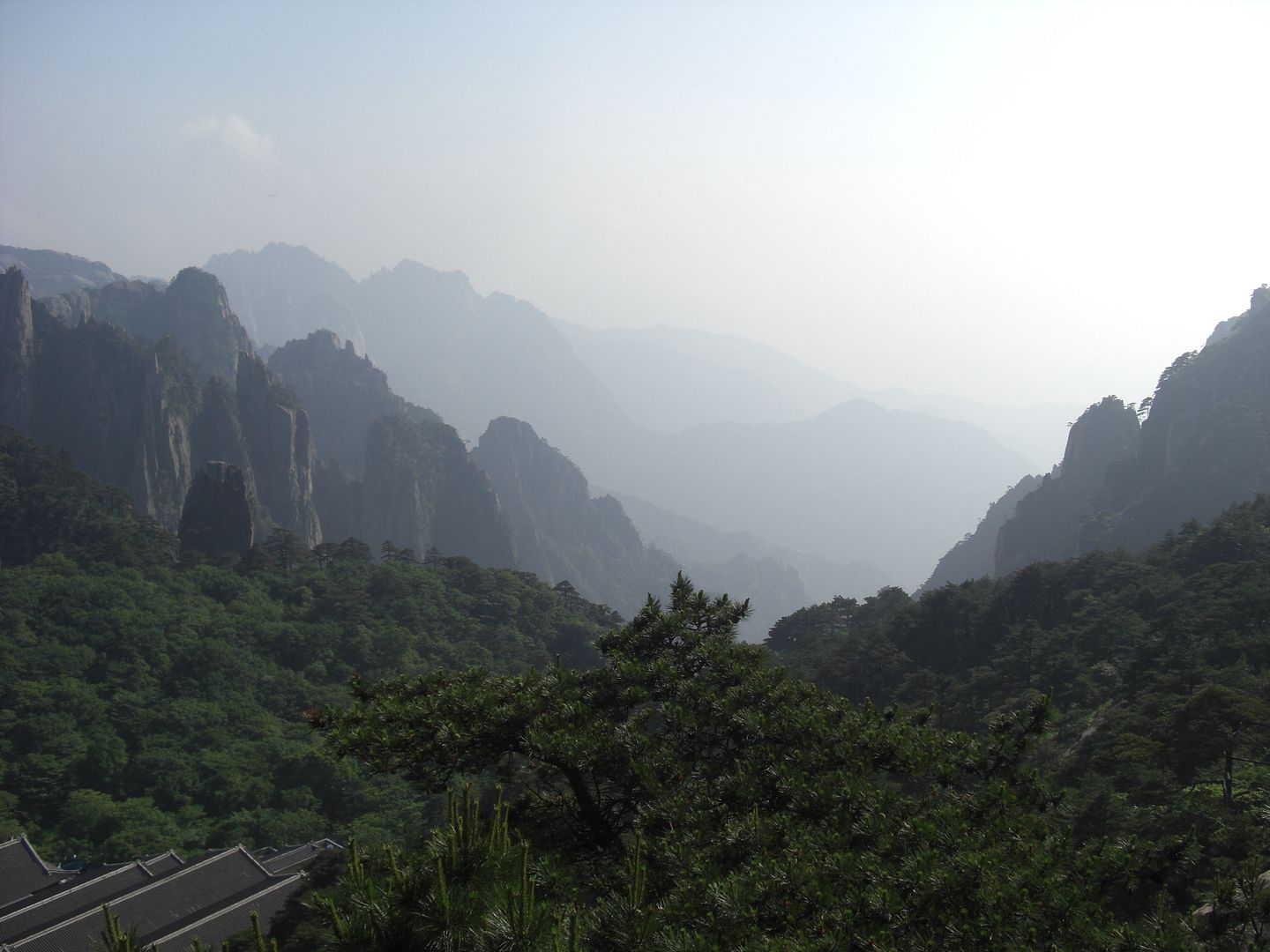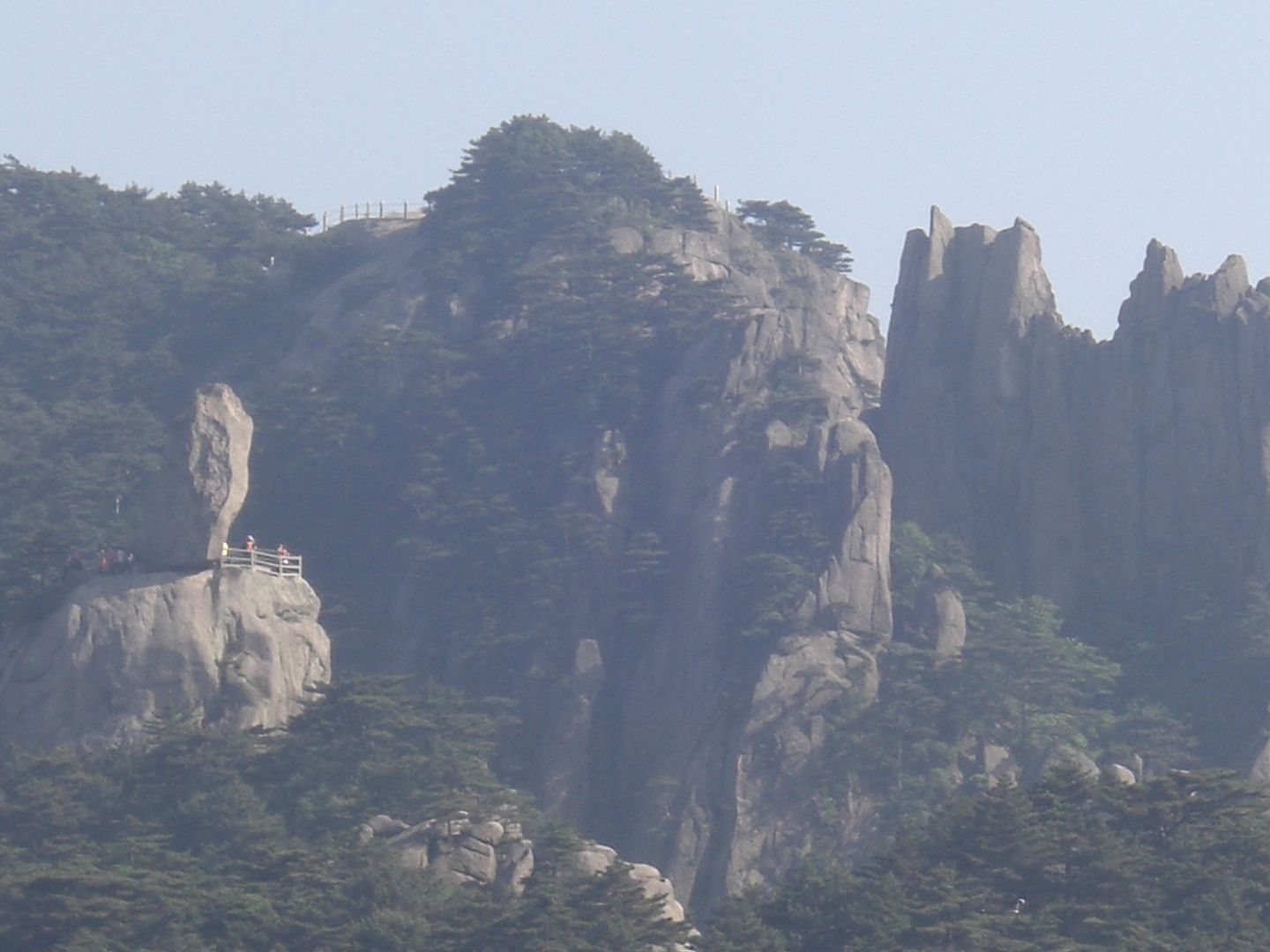 Staying the night at one of the vastly overpriced hotels to see sunrise is apparently on the China's "not to be missed" experiences. Honestly, I thought the whole thing was very overrated. I'd recommend getting the cable car up early in the morning, spending the day wandering around, then getting the other cable car back down in the evening.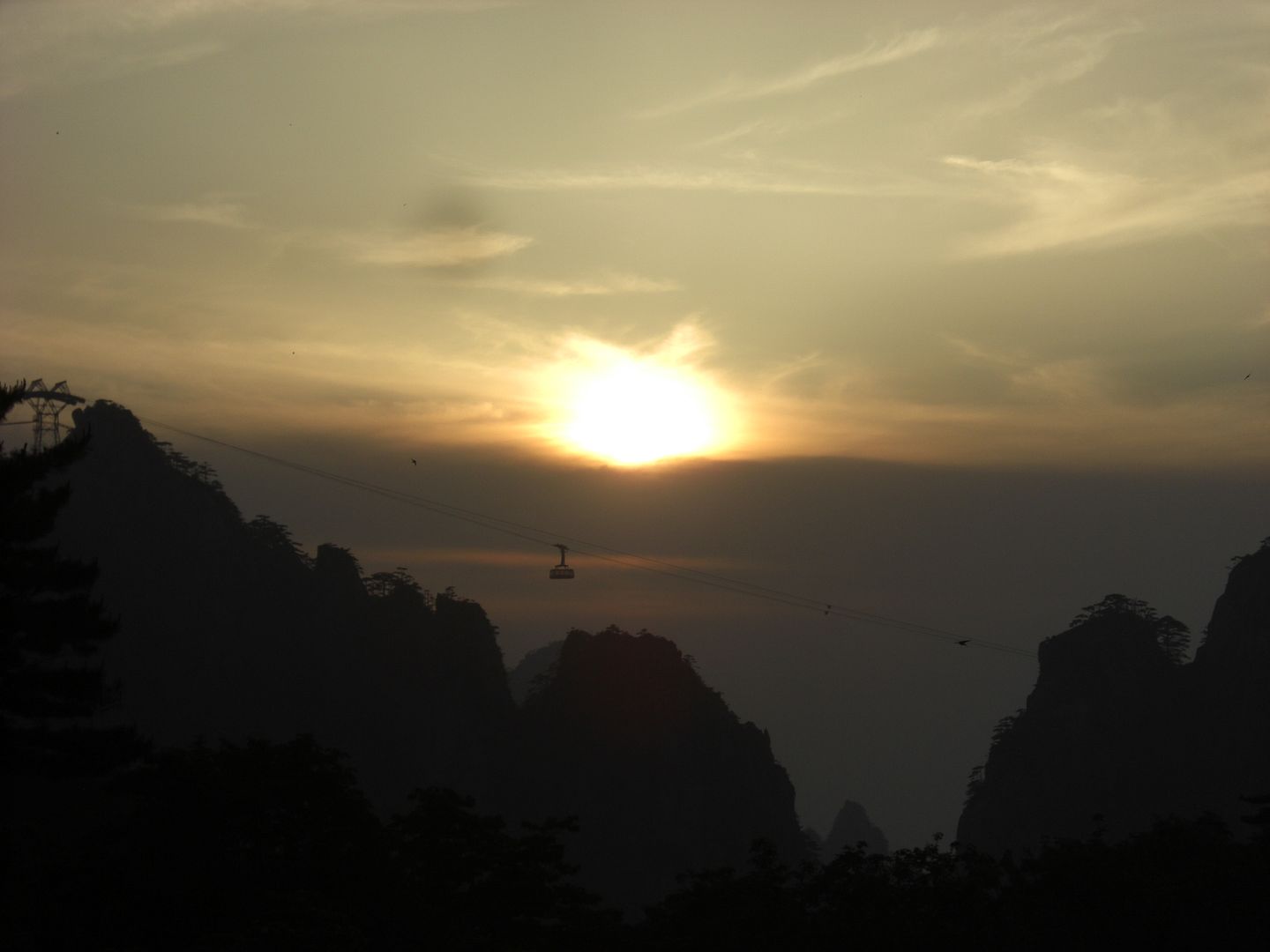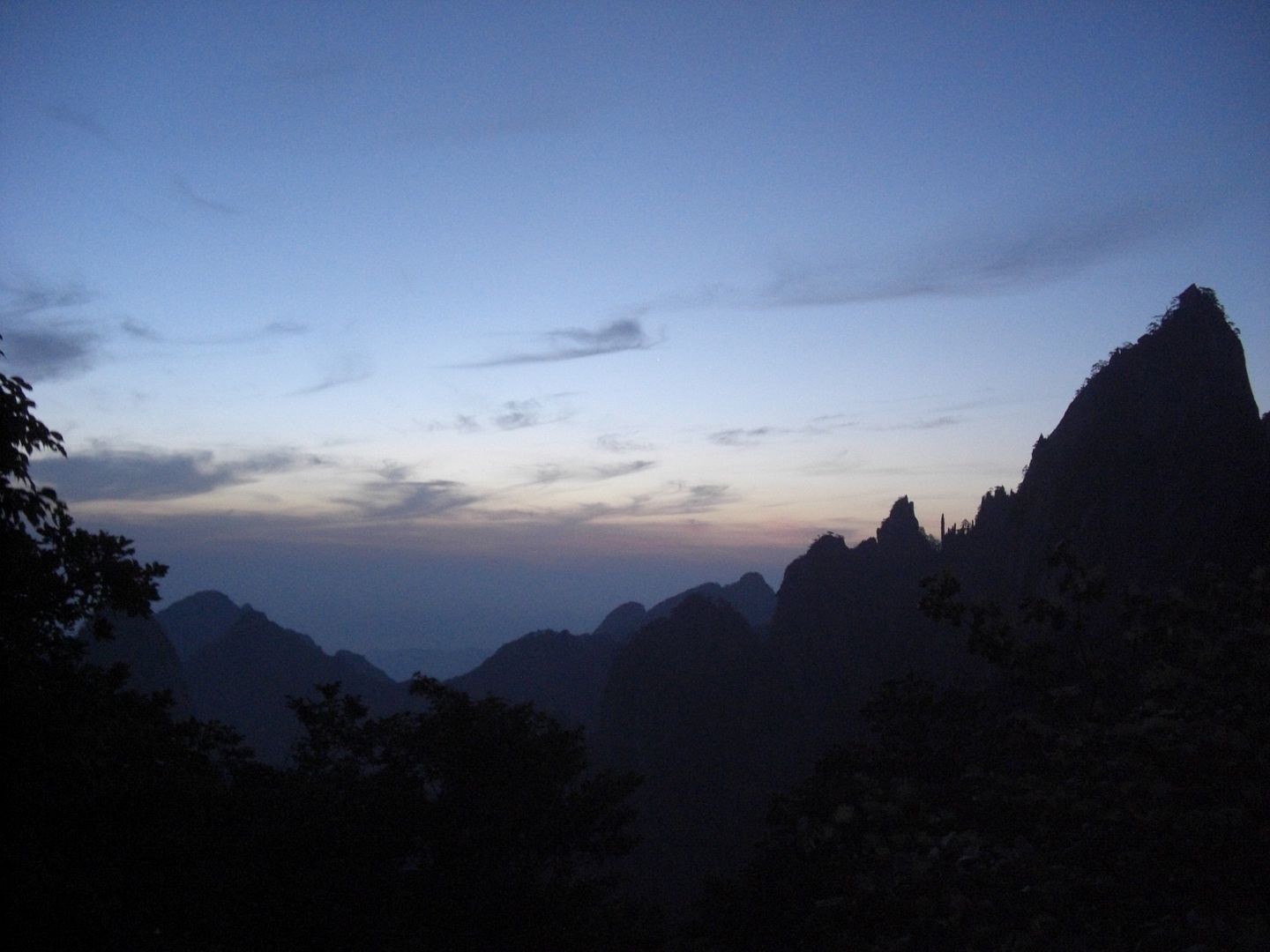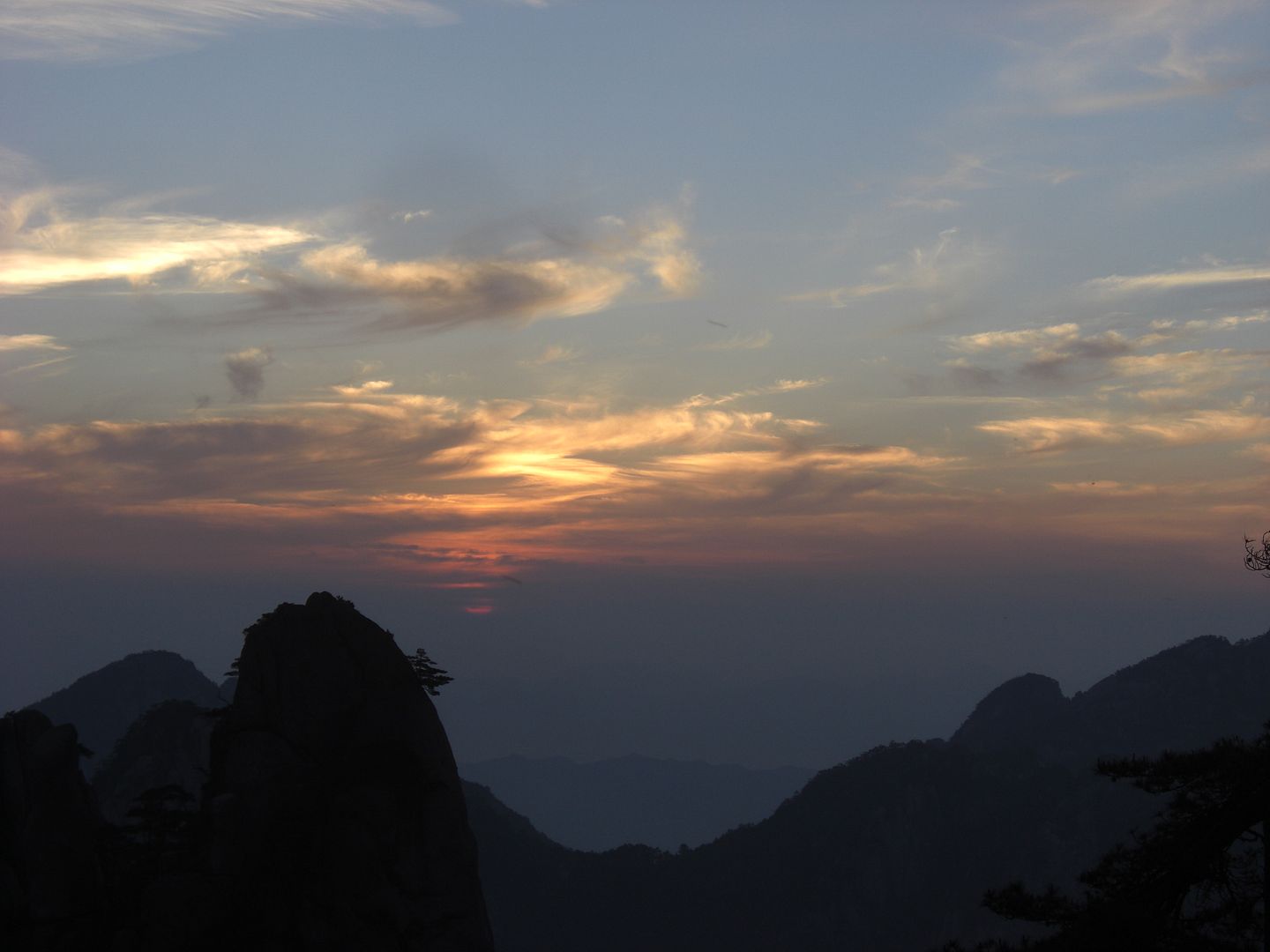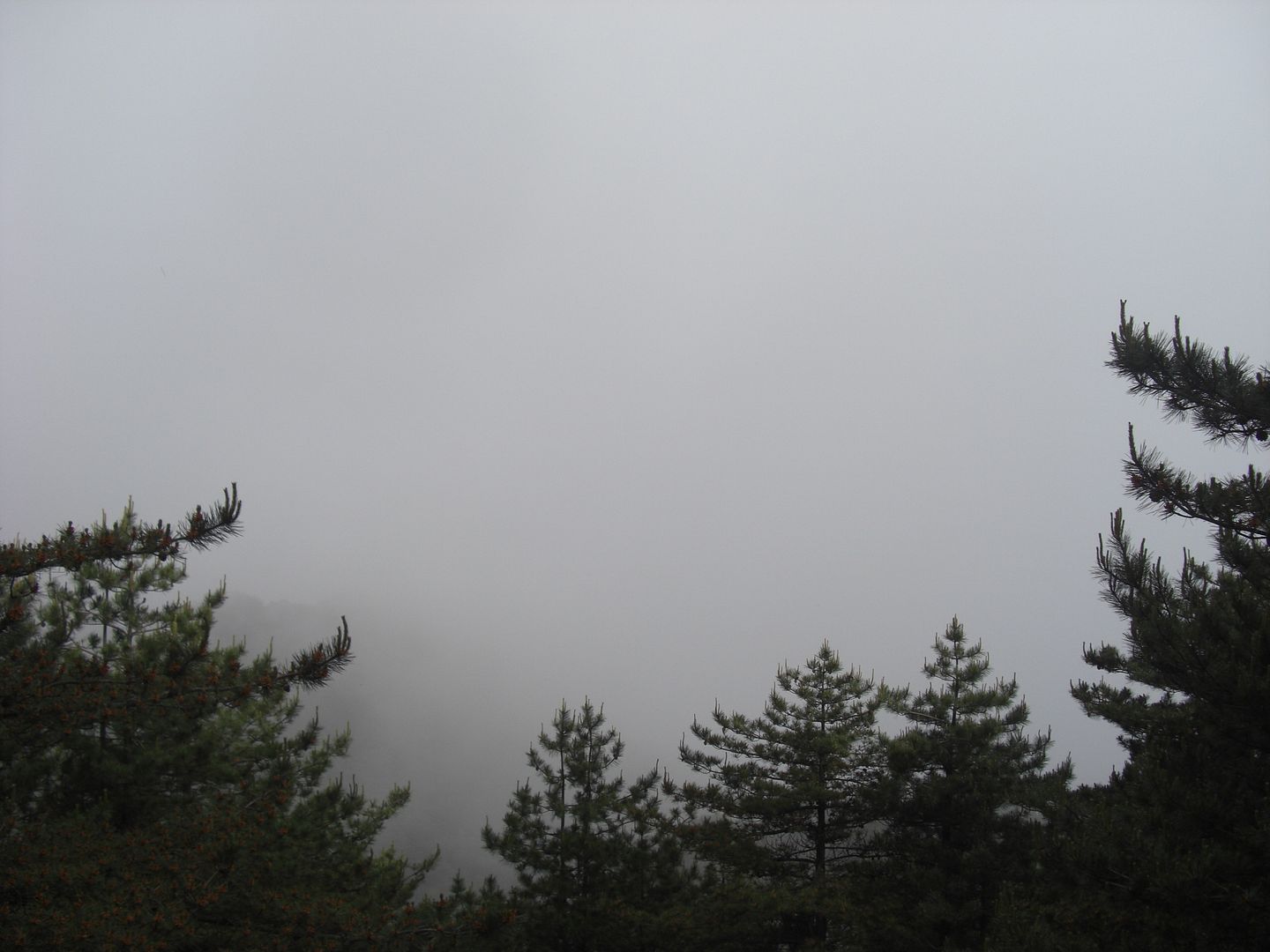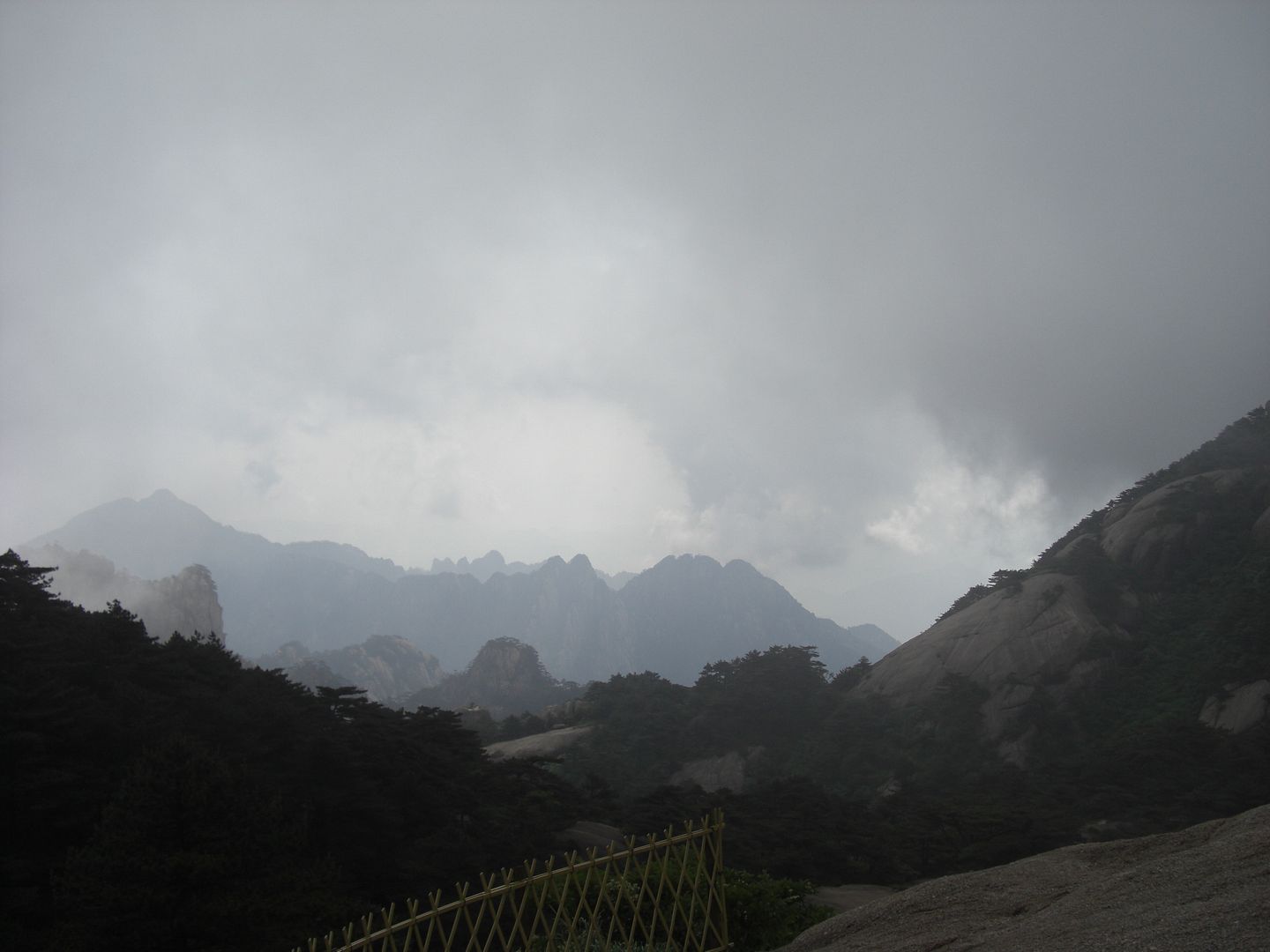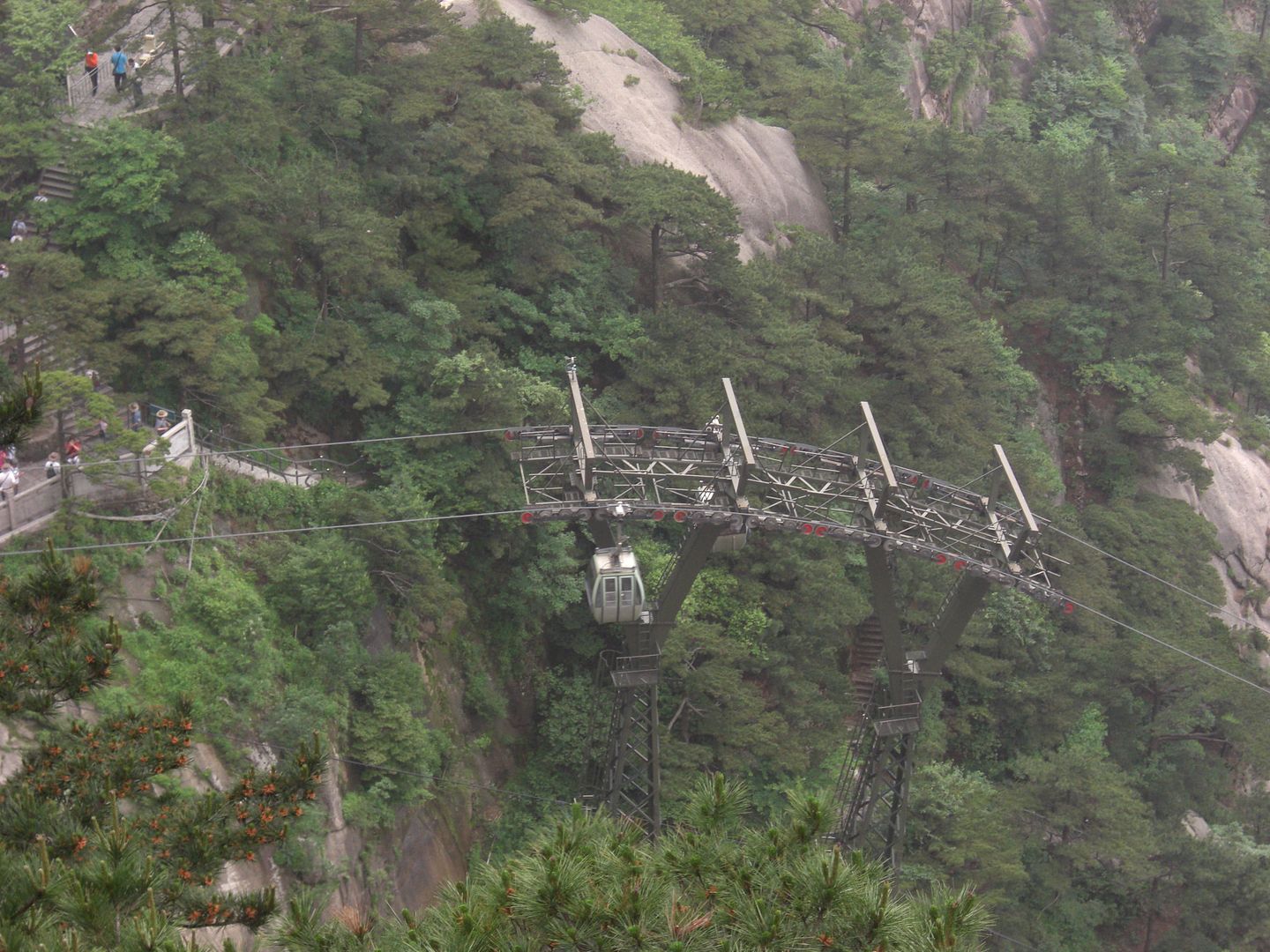 Pretty much everything consumed at the top of the mountain is brought up the mountain by these guys: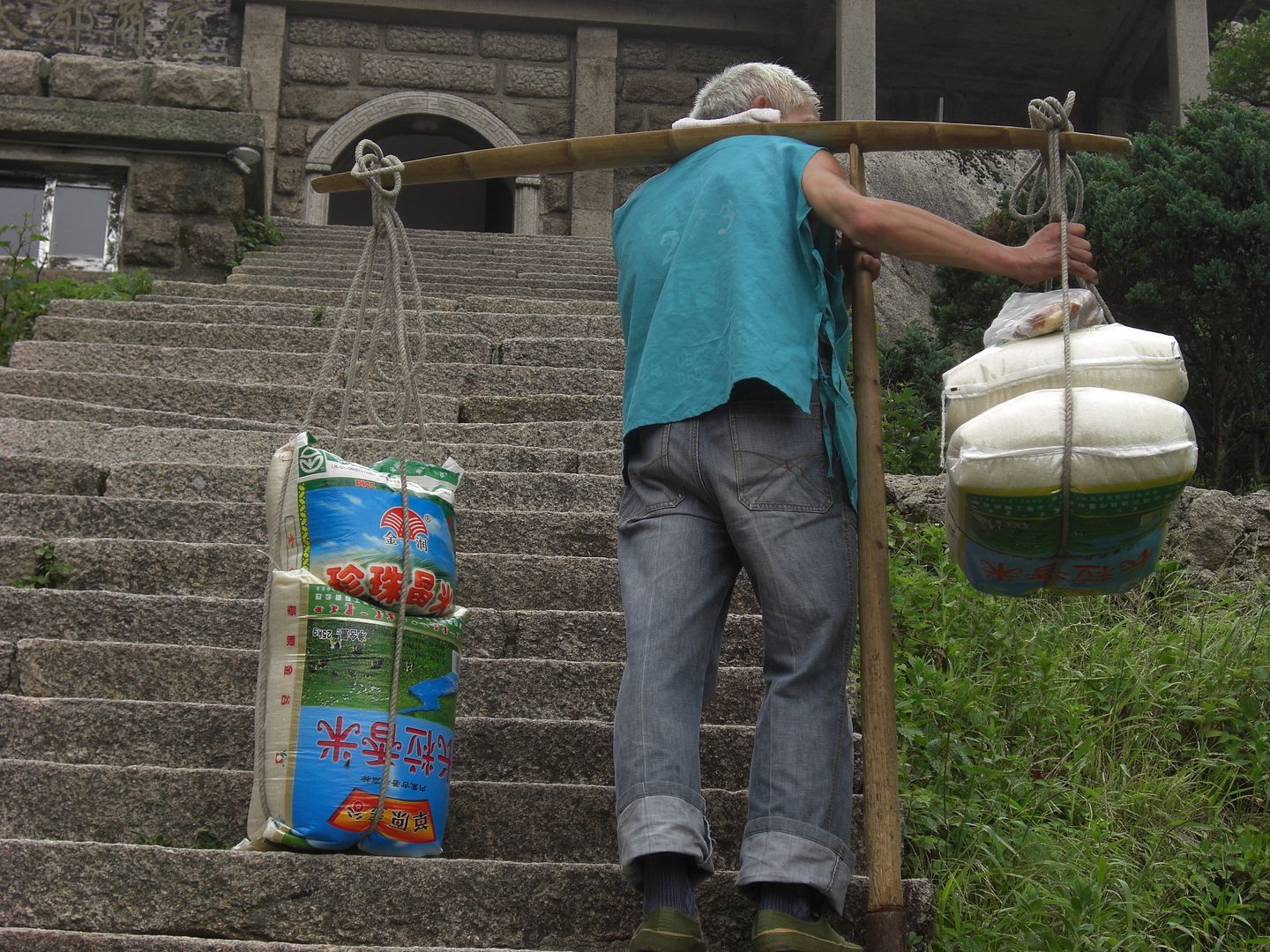 A squirrel in a trap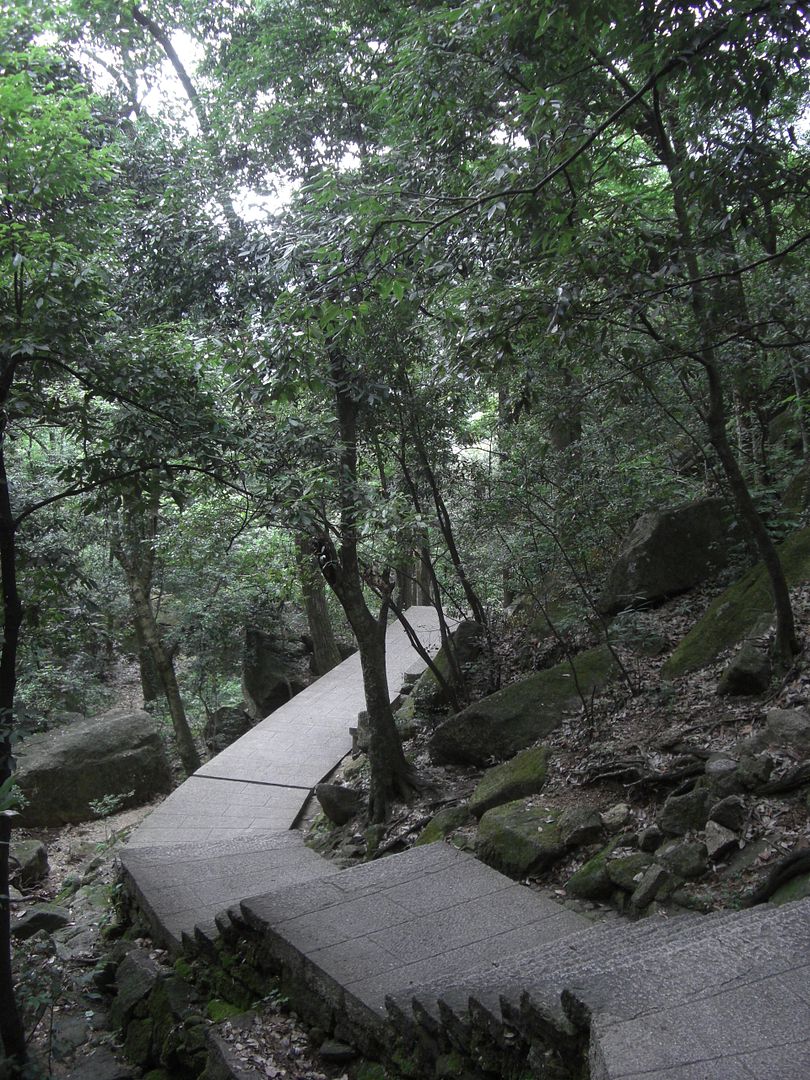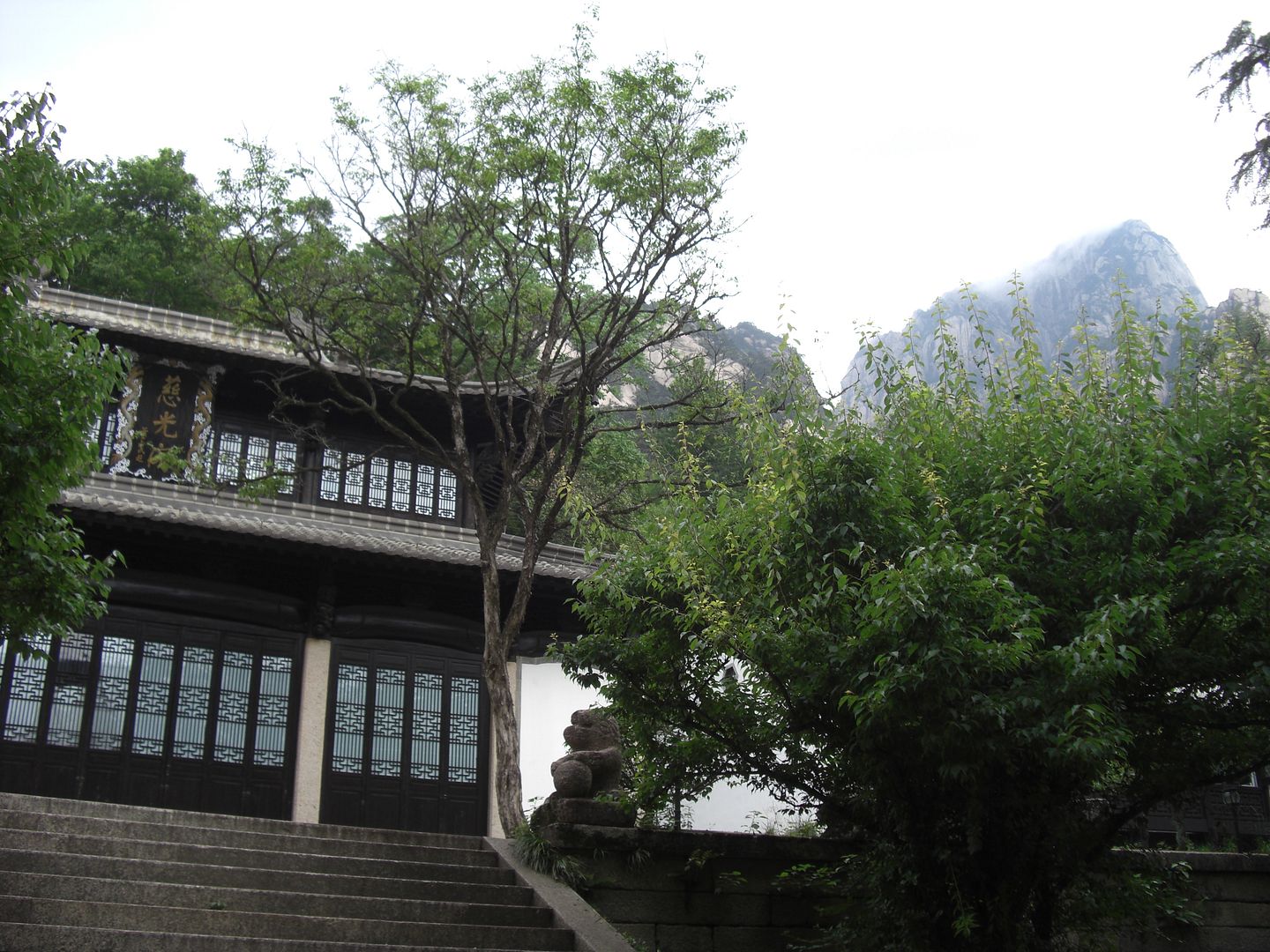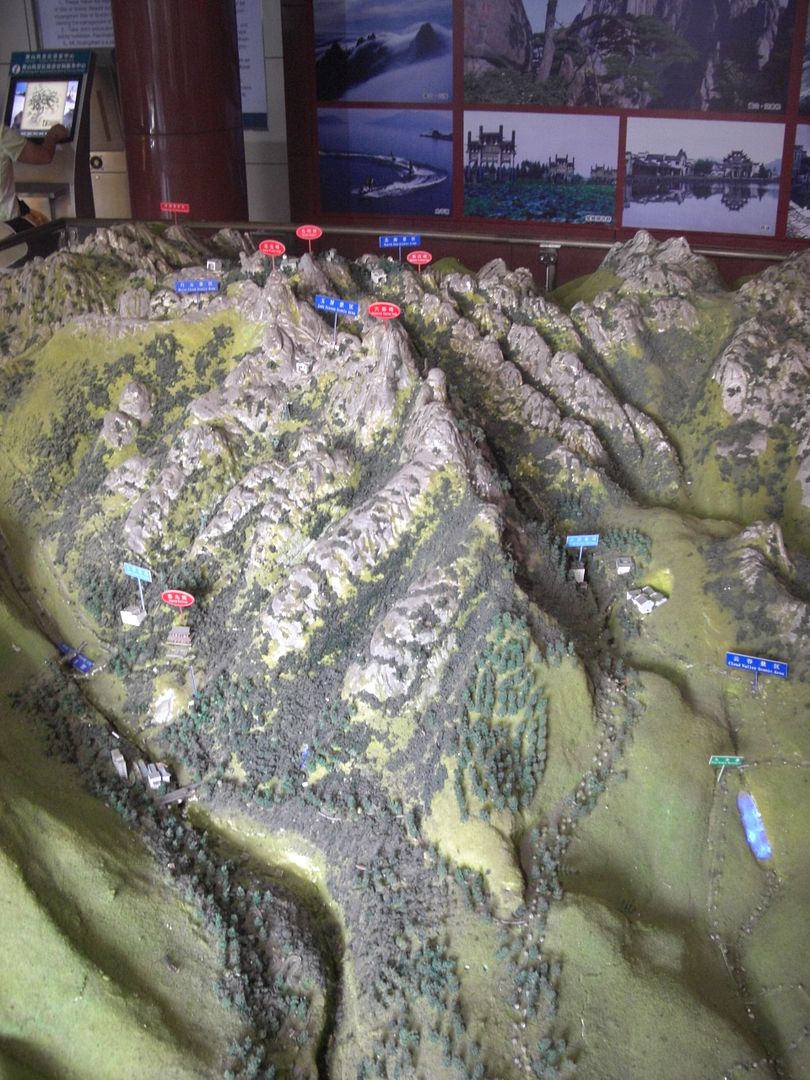 The town of Tunxi, at the foot of Huangshan. Not long after taking this photo, the heavens opened, and it rain for the next week or so.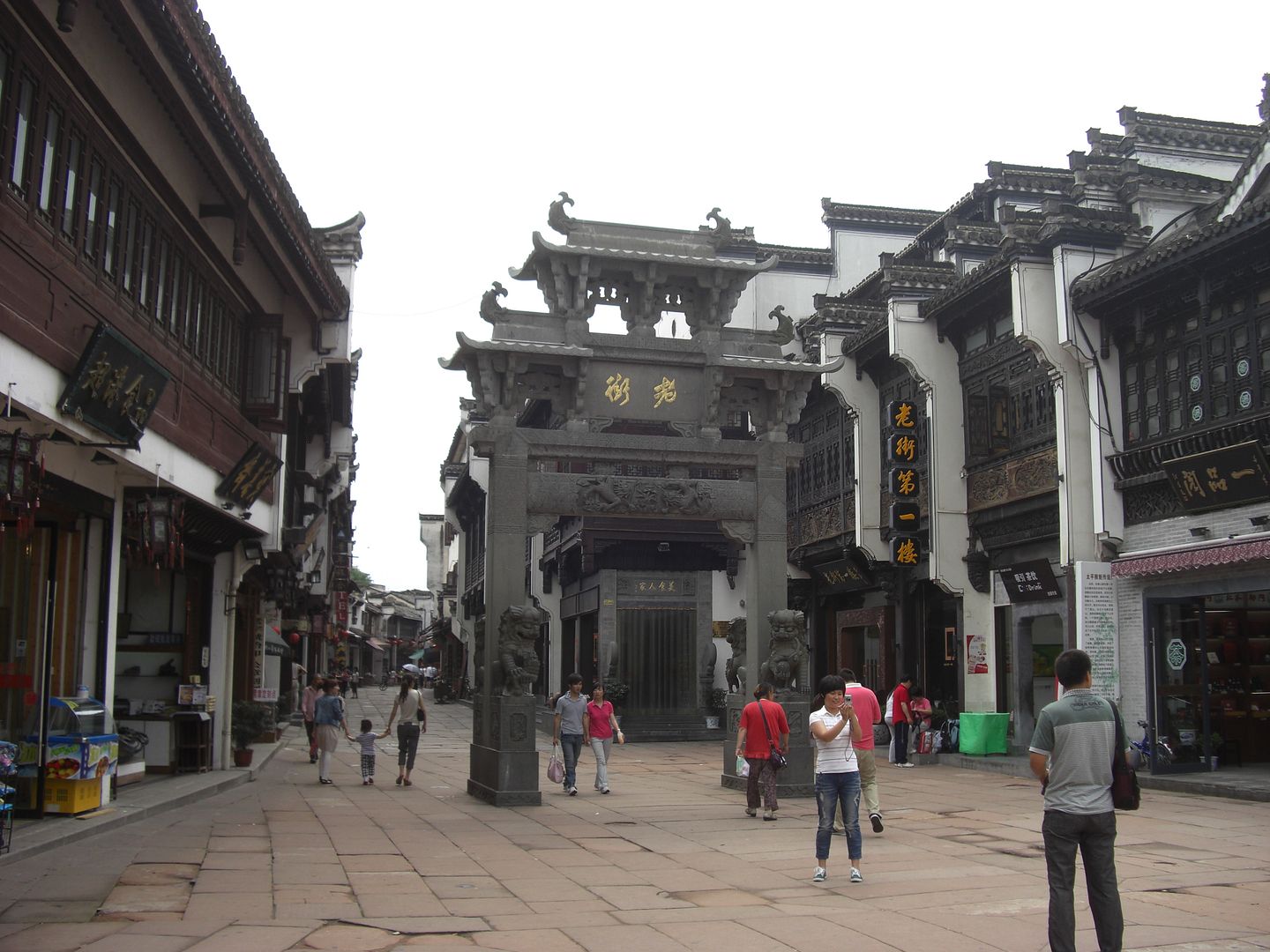 I took the opportunity of being in Tunxi to visit the Bamboo Forest featured in Ang Lee's Crouching Tiger Hidden Dragon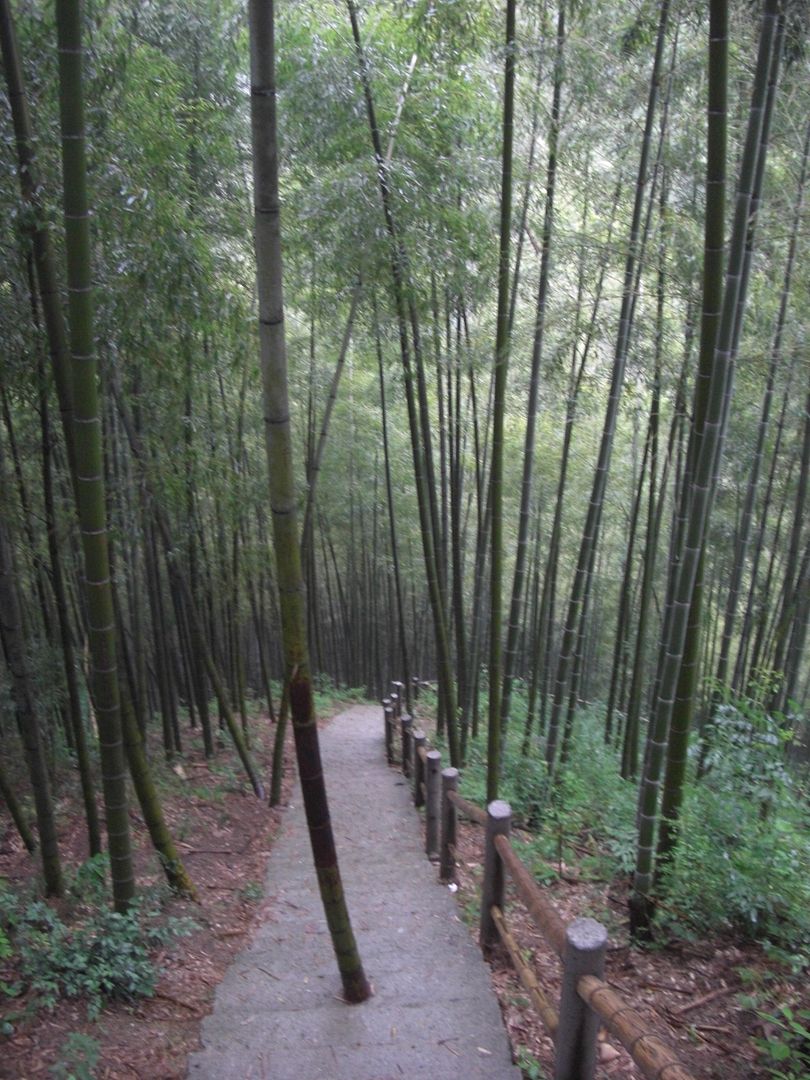 Some rural food and scenery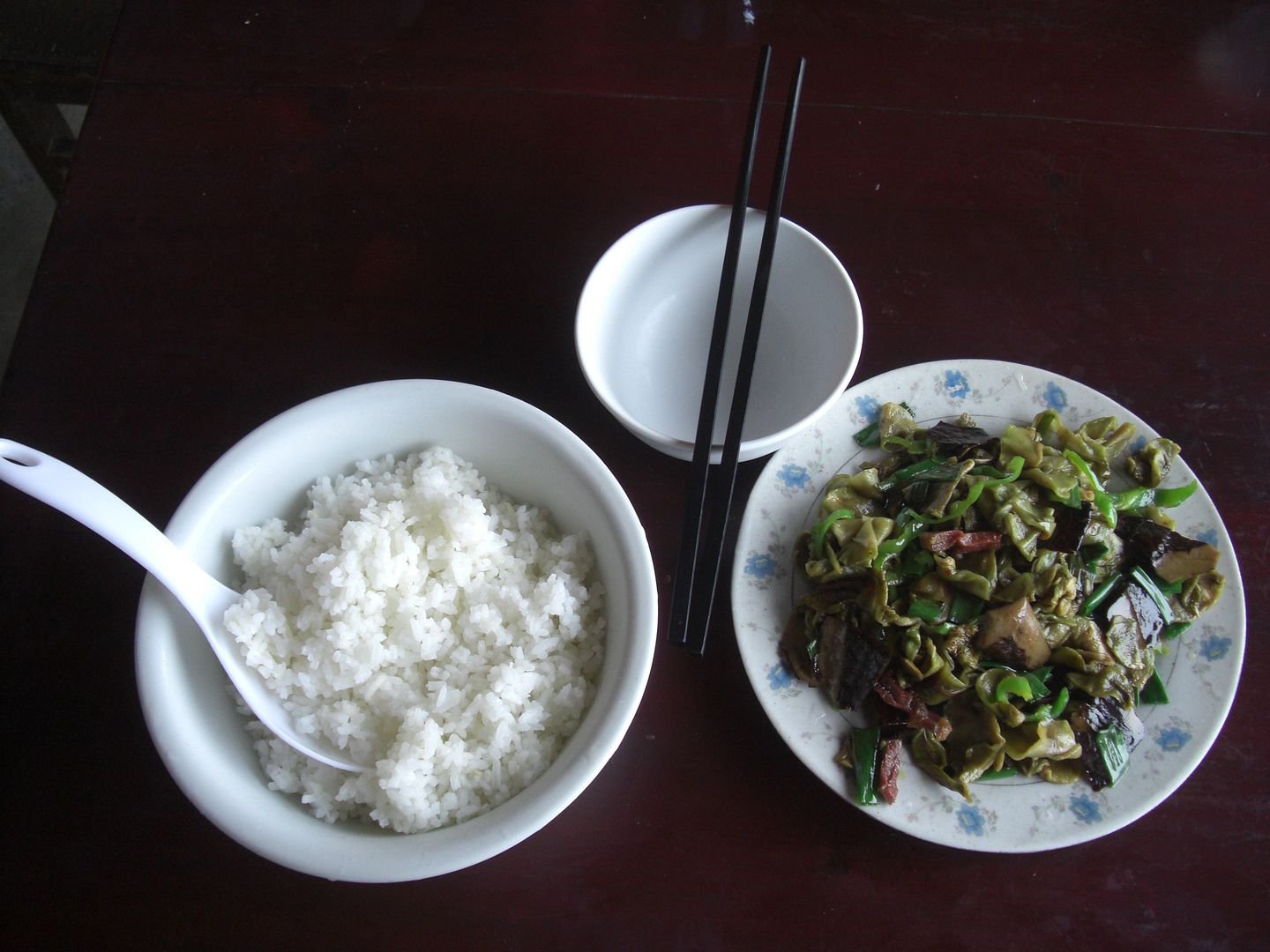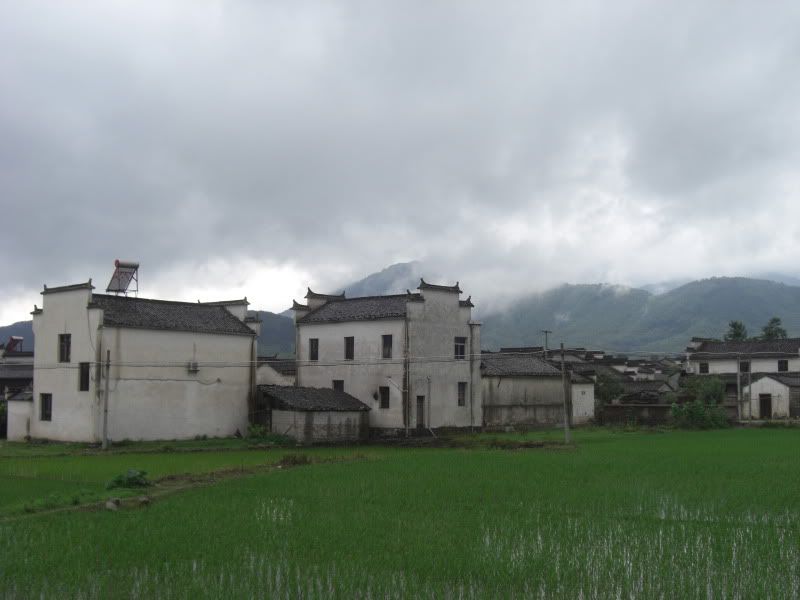 Ningbo, second city of Zhejiang Province, jumping off point for Putuoshan, the only seaside hold mountain. The first day, the fog/smog was awful, although it did lift a little
Ningbo Art Musuem
Putuoshan, another Holy Mountain, although it wasn't so much a mountain as an island. It rained most of the time I was there, but of course, it stopped just as I was getting on the ferry back to Ningbo.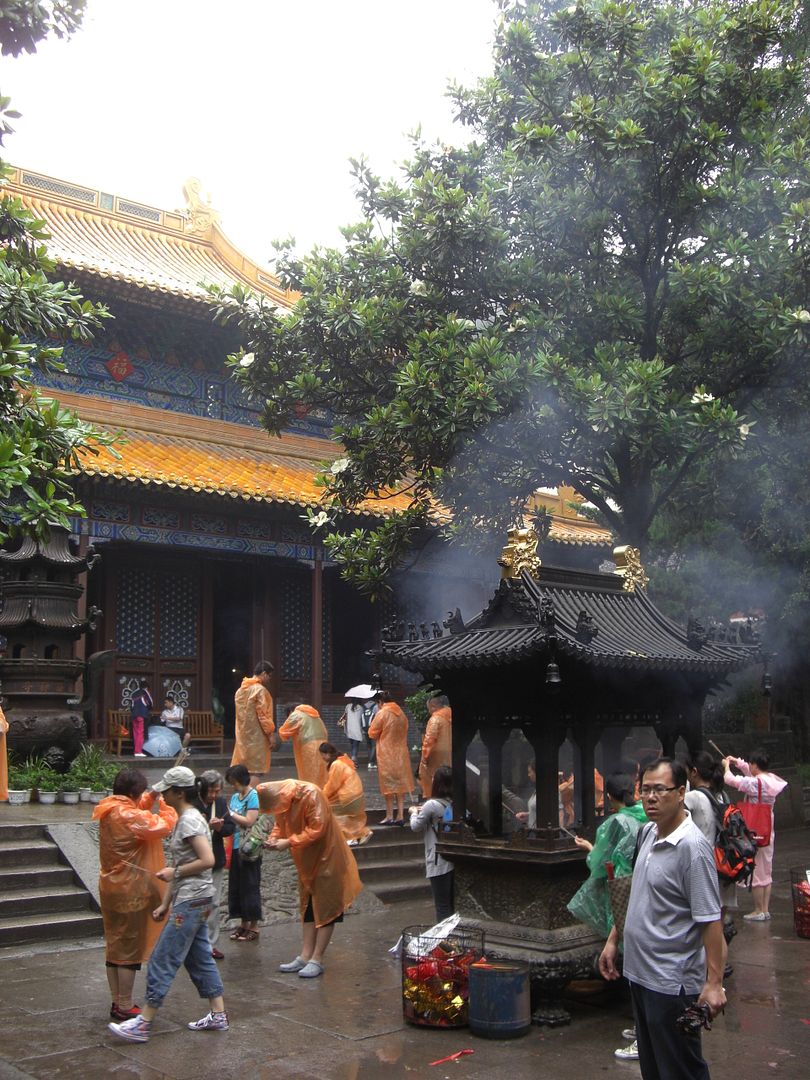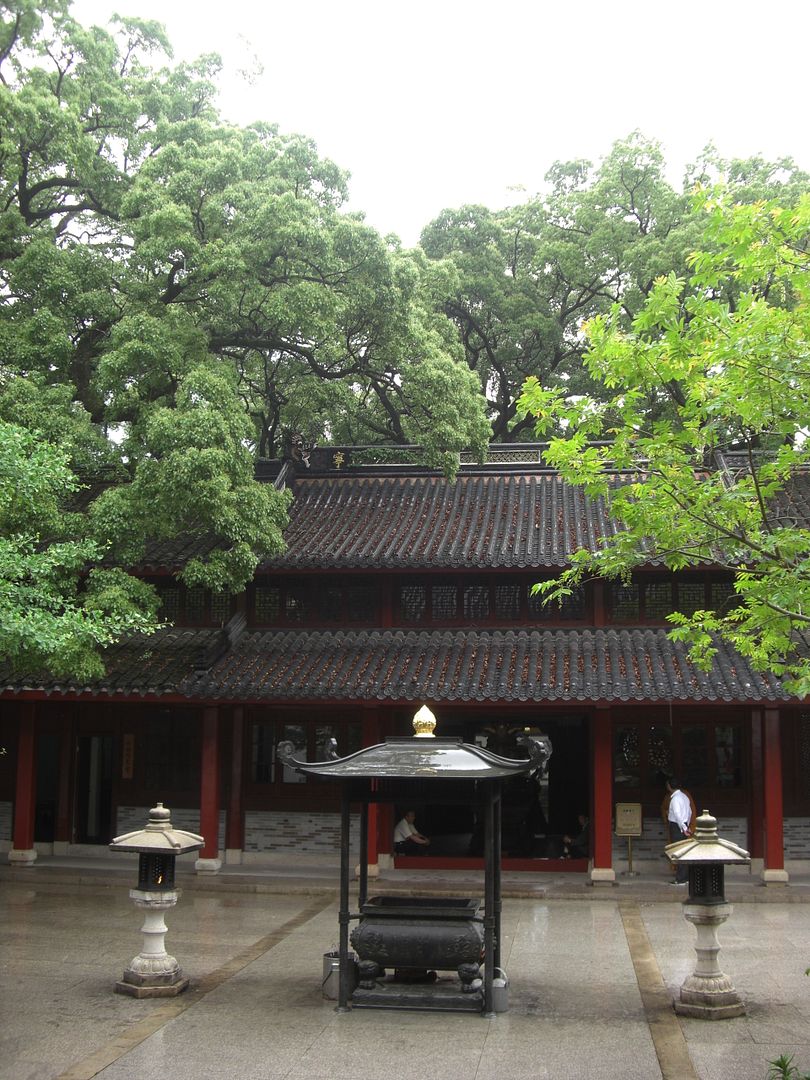 A Xiamen Airlines B738 leaving Zhoushan Airport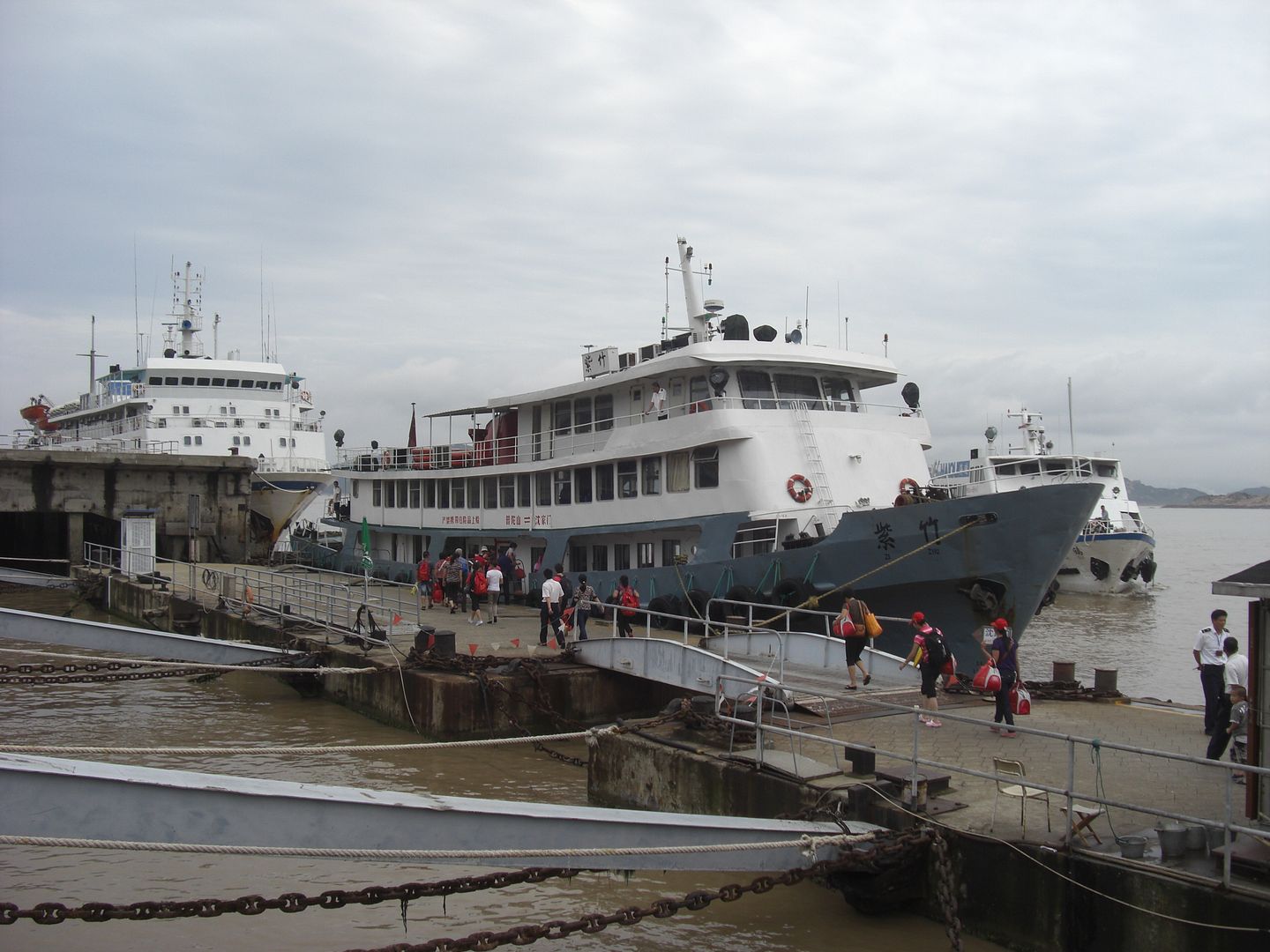 From Ningbo, I took a morning 'bullet train' (actually referred to as 'hexie hao' or 'civilised' train back to Shanghai. Since I was last in Shanghai, they've opened a new interchange near Hongqiao Airport (main domestic airport for Shanghai).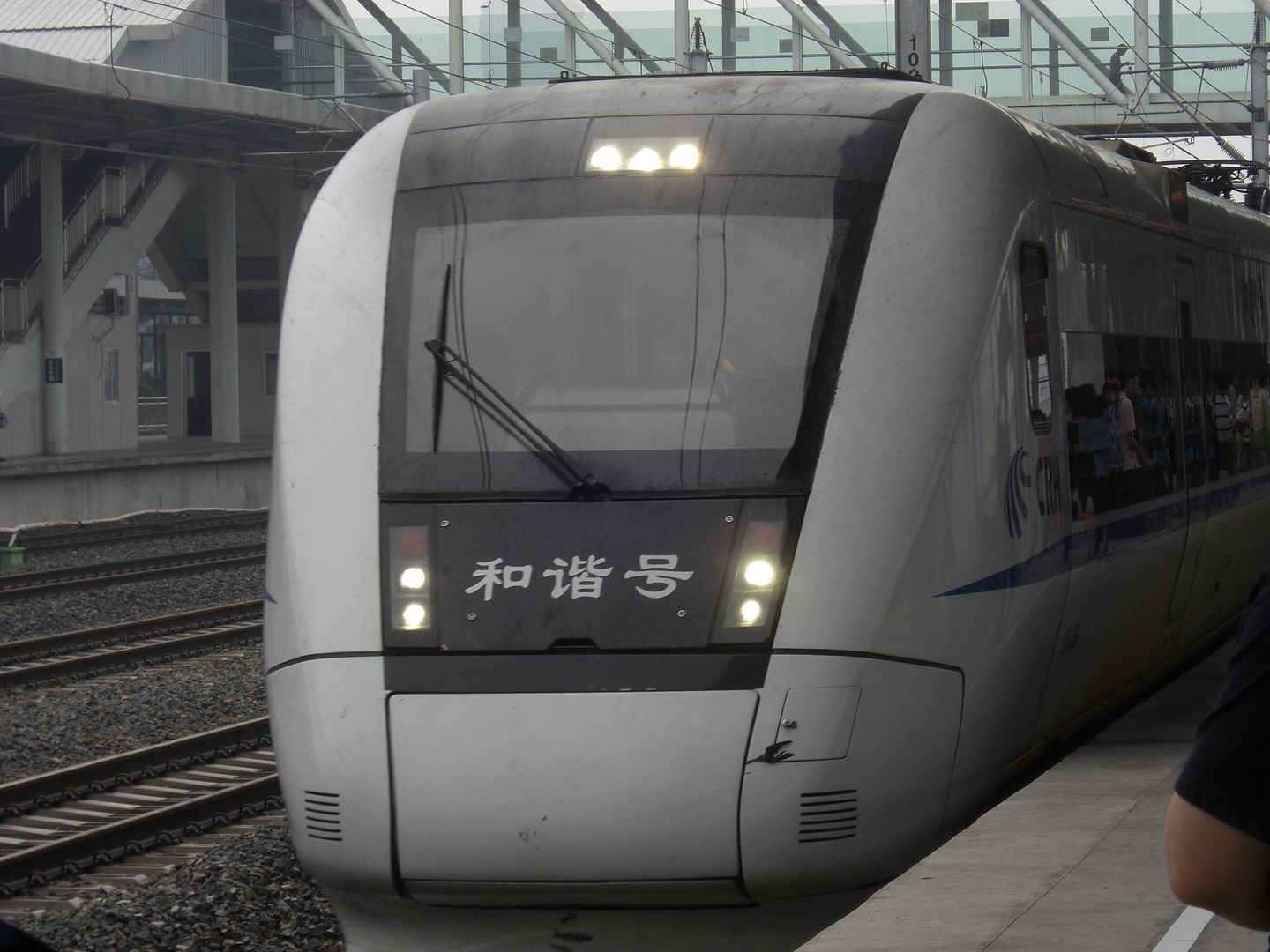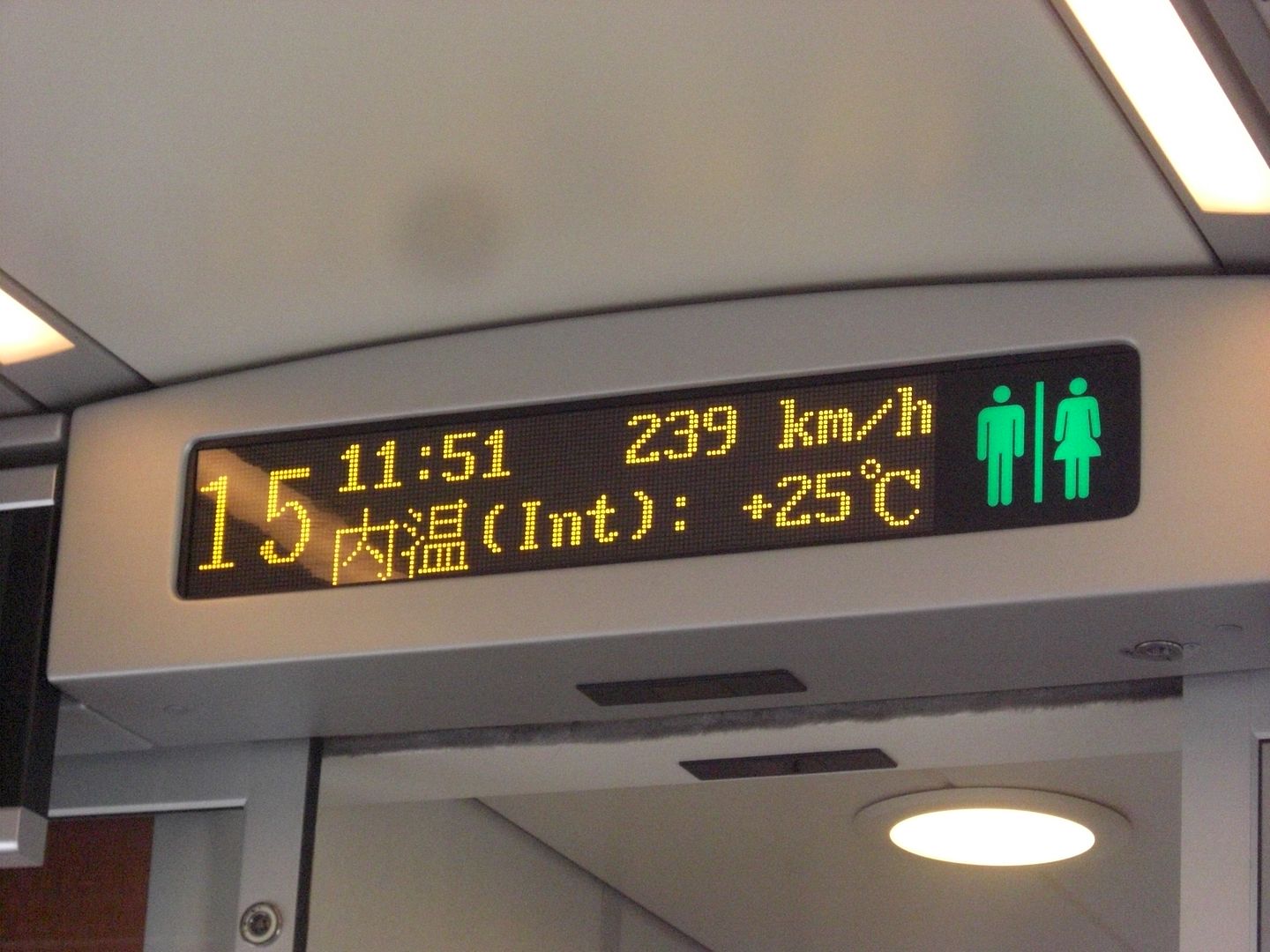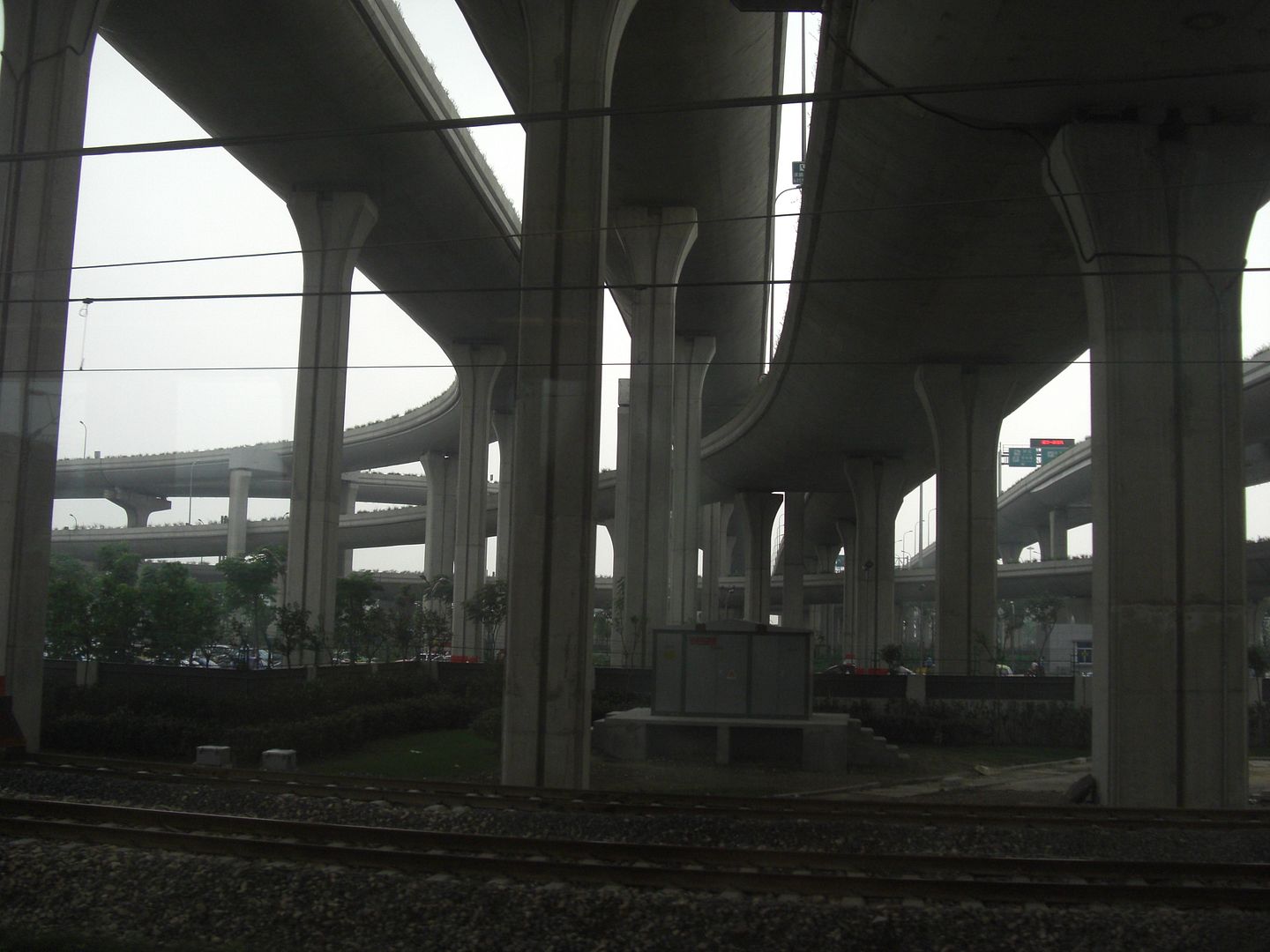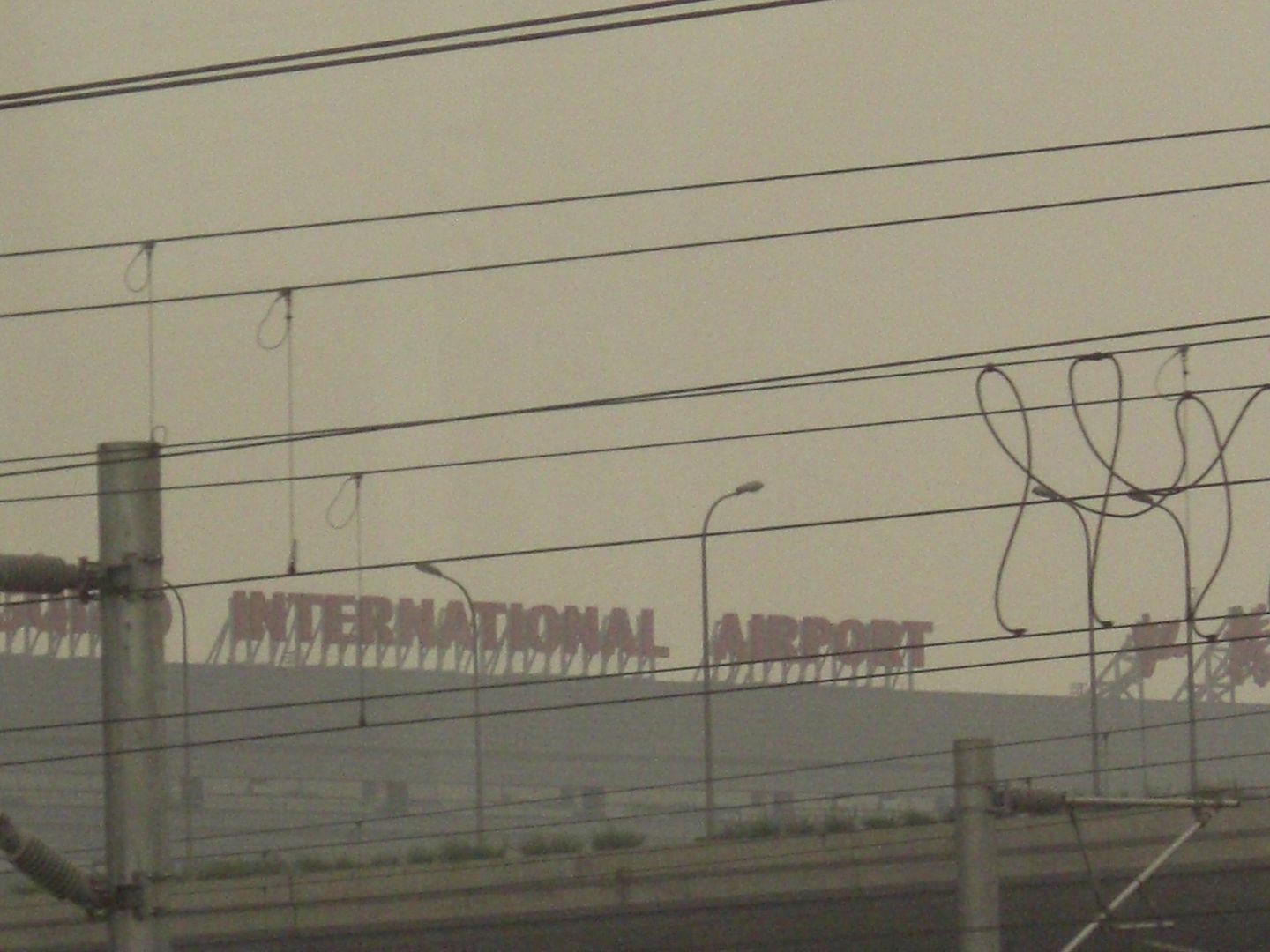 From Hongqiao, I took the metro over to Pudong. At 1 hour 50 minutes on the same line, this must be one of the longest metro journeys ever – and it felt it, I was very glad to finally get off in Pudong.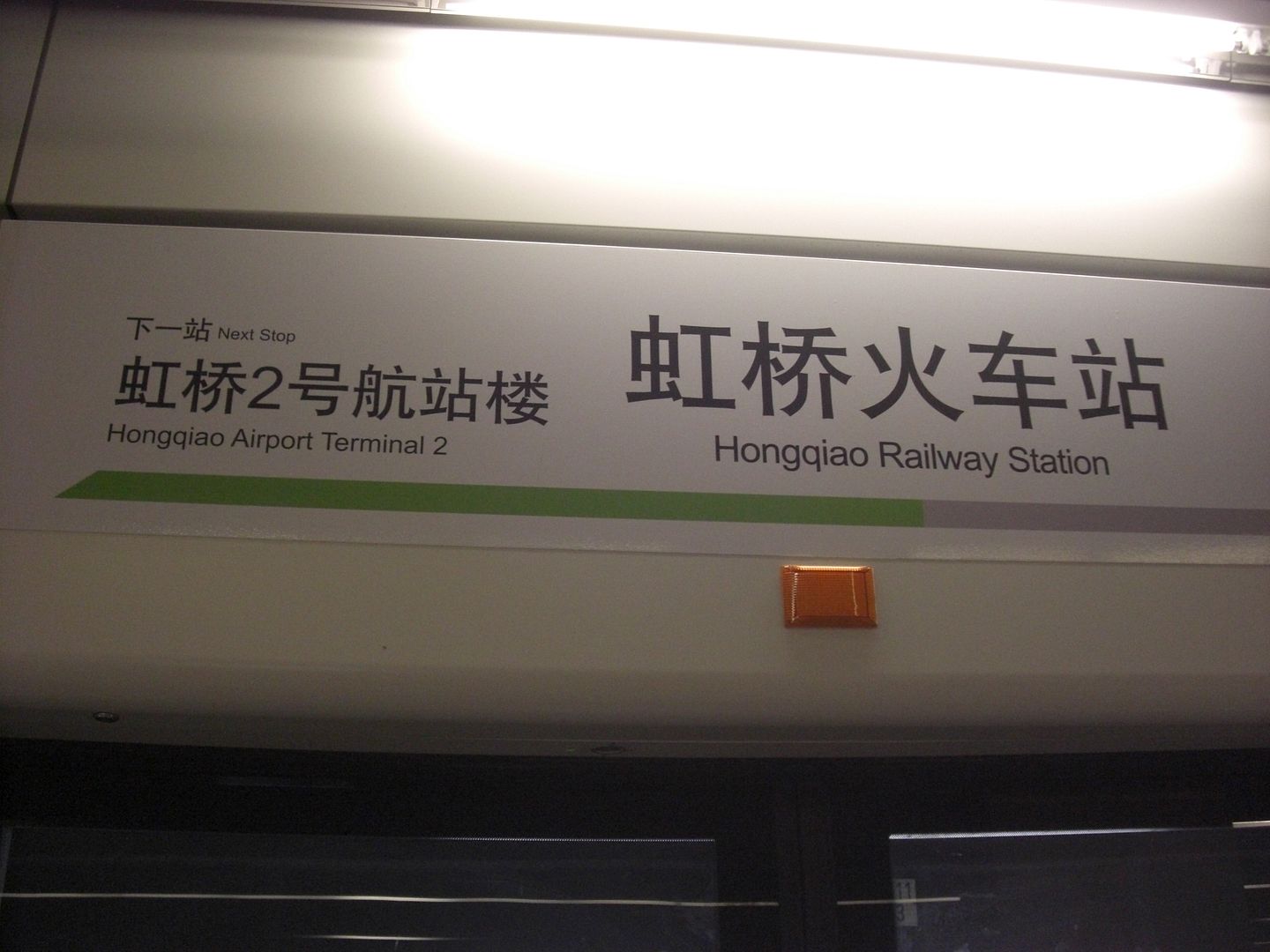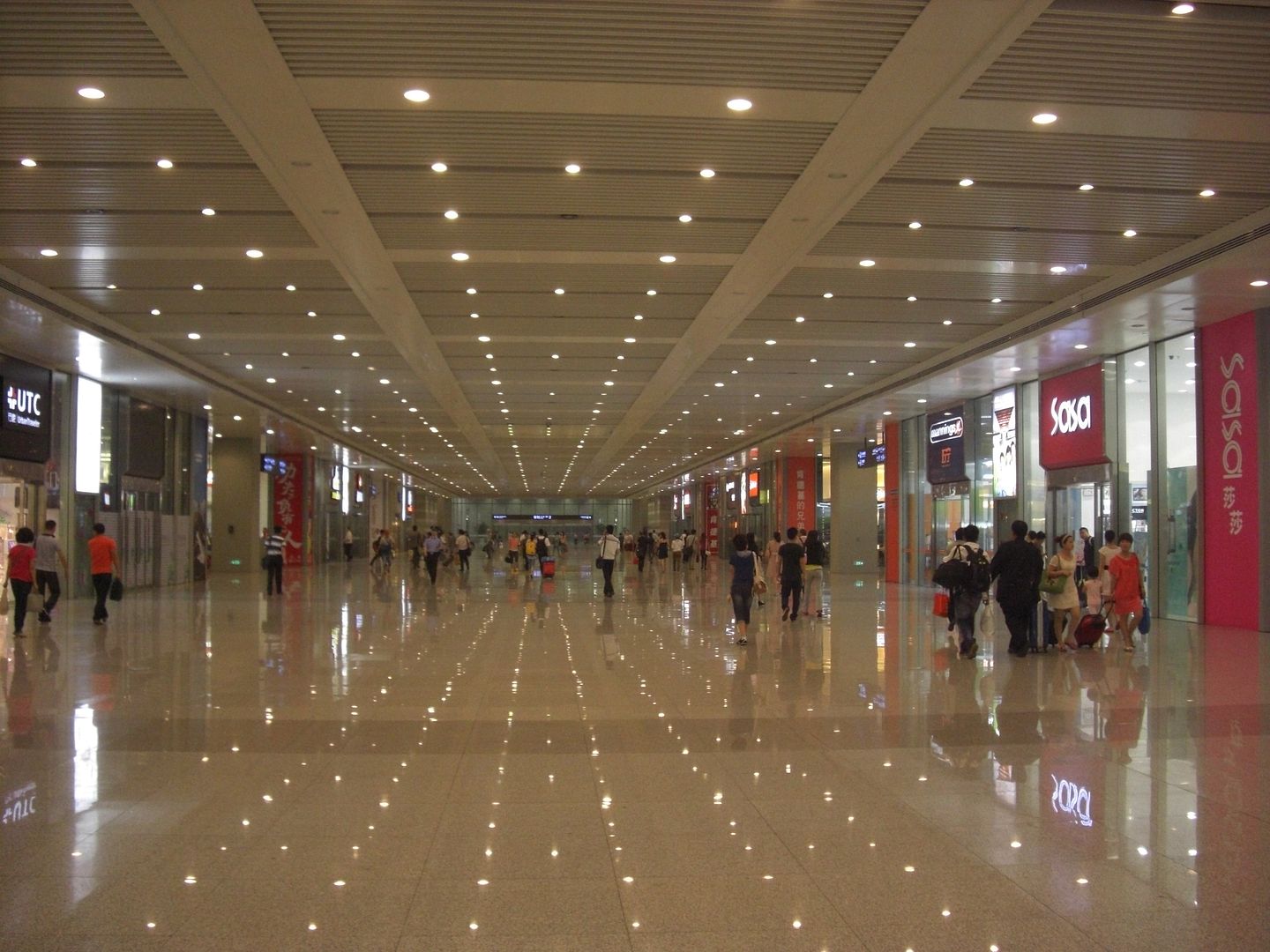 I booked these flight with my BA miles. I had originally wanted to fly Ningbo (NGB) – Hong Kong (HKG) – Tokyo (HND) – Okinawa (OKA) on Dragonair (KA), Cathay Pacific (CX) and JAL (JL) respectively. However, it seems like BA have varying mileage redemption costs depending on how many airlines you redeem on. Seemed a bit weird to me to be honest. So, in order to get a reasonable set of flights, I had to change to PVG (Shanghai) – HKG – HND, all on CX. I didn't mind missing out Okinawa, but having to fly out of PVG was a hassle especially seeing as it's further in distance than NGB (so surely costing BA more?). Seemed a lot more complicated than Star Alliance redemptions that I'm used to.
My flights with Cathay Pacific
PVG departures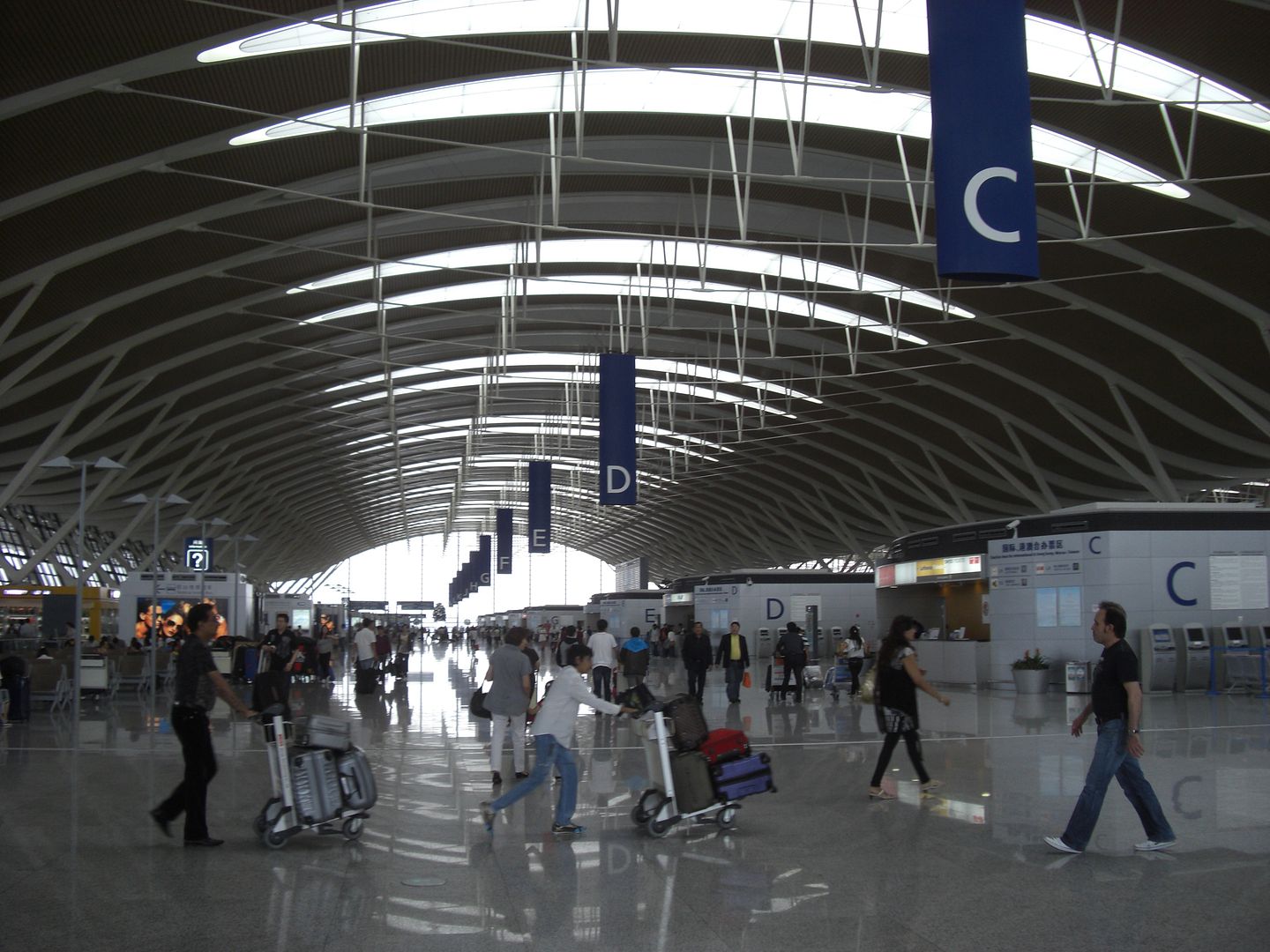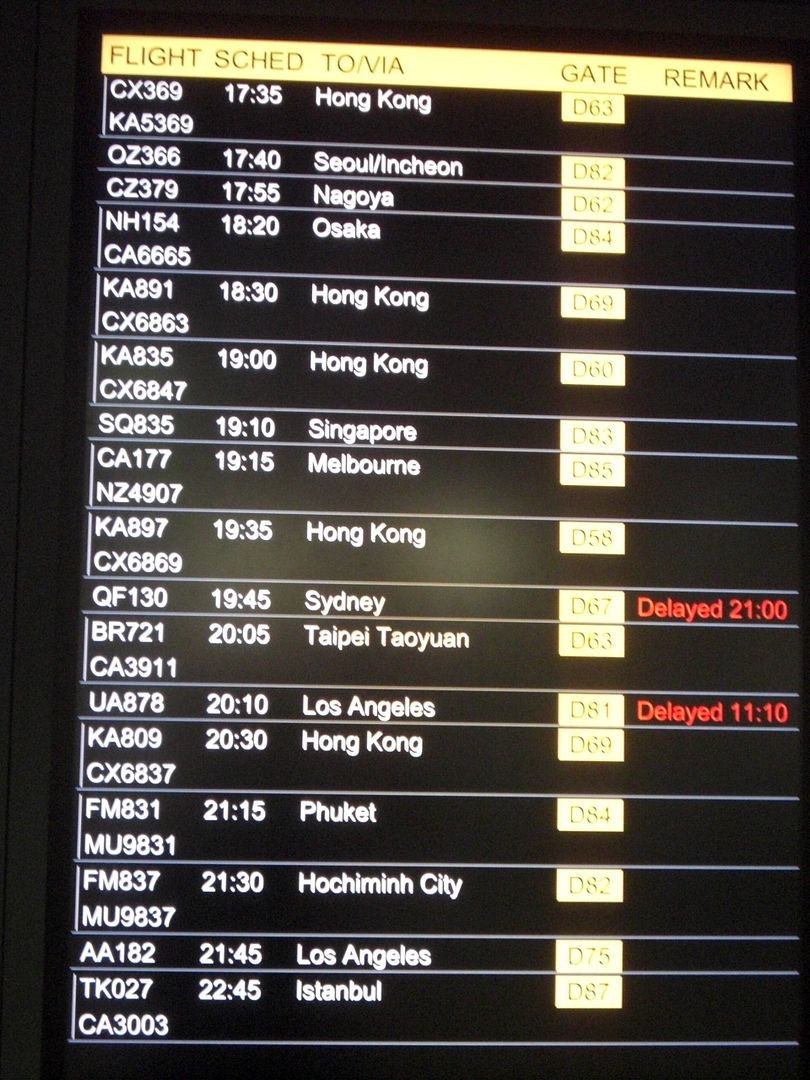 From the metro I made the short journey over to the international check in desks. There was no queue for the combined KA/CA desks. As I approached a Business Class desk, the check in lady stood up, and welcomed me. She asked (as I expected she would) if I wanted to take one of the earlier Dragonair (KA) to HKG. I declined, saying that I wanted to try the CX flight with the longhual seats, which she found a good enough reason.
The CX desks. The board with green and red on shows availability for today down to HKG
With my bags sent on their way, and my boarding pass in hand, I headed through immigration and security.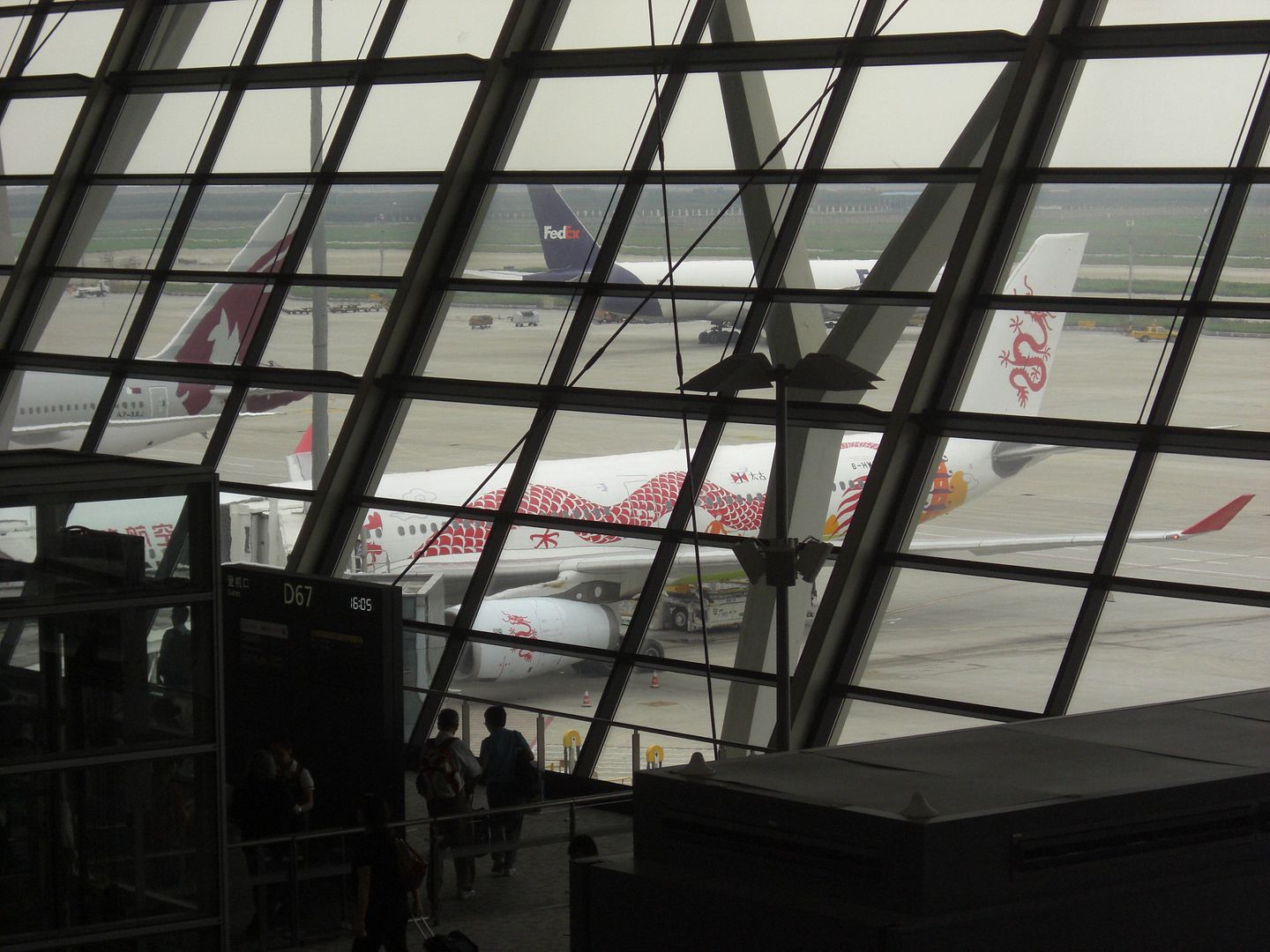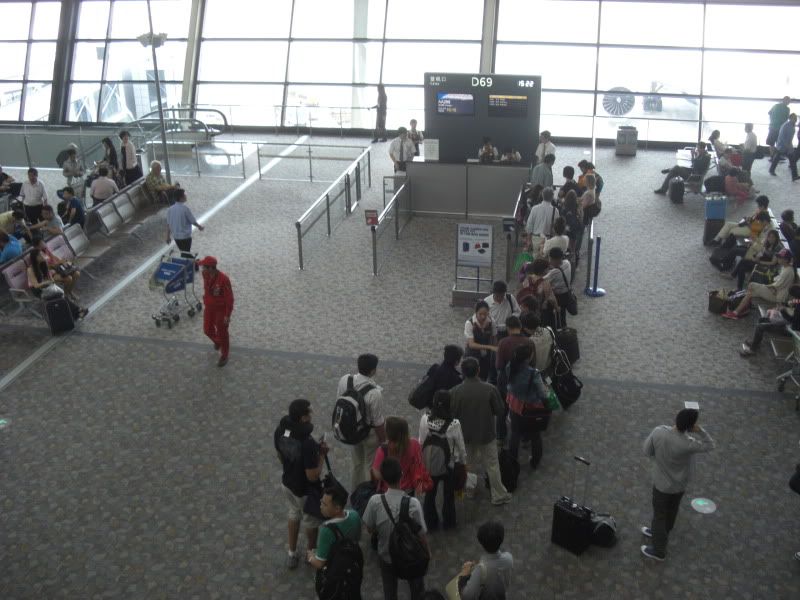 After a quick perusal of the duty-free (1L Gordons Gin for GBP7), I headed to the KA/CX lounge. It wasn't the most amazing lounge in the world, but there were quite a few sofa/able combos available, so I settled down in a nice spot, with a few drinks and snacks to while away the next 3 hours.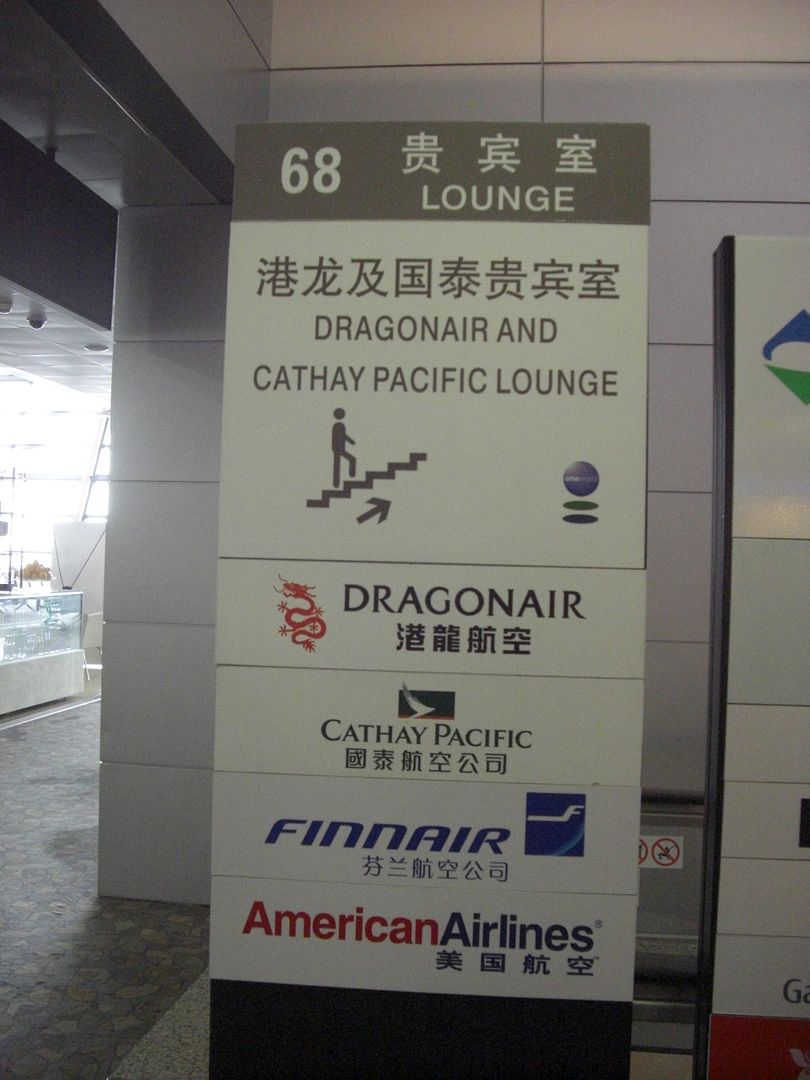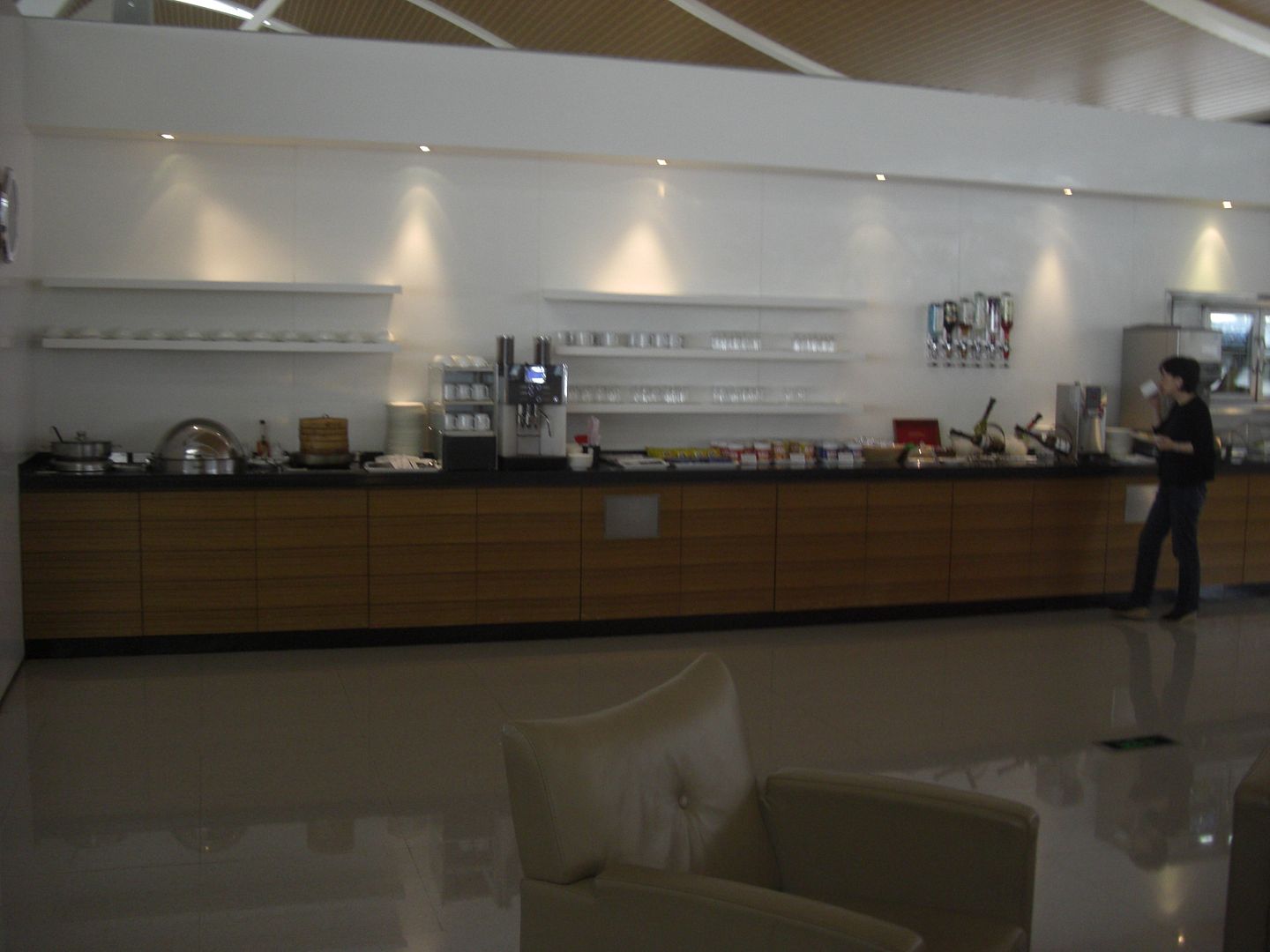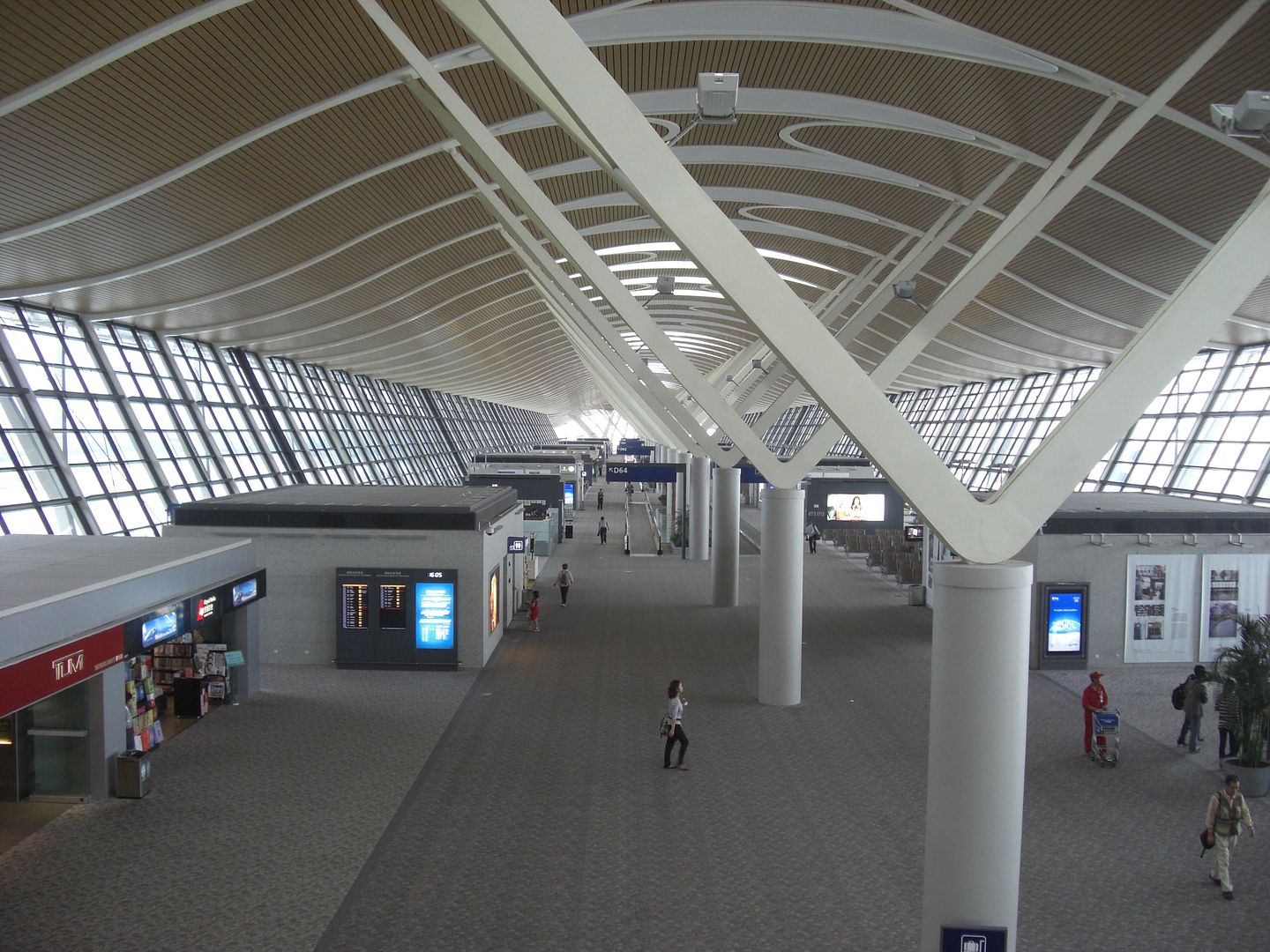 China Daily in the lounge
Around 1600, a chef turned up, and set up a wonton soup stall – always a sucker for these sorts of lounge snacks, I ordered a bowl.
I was quite happy with this photo! LH in China!
My CX landing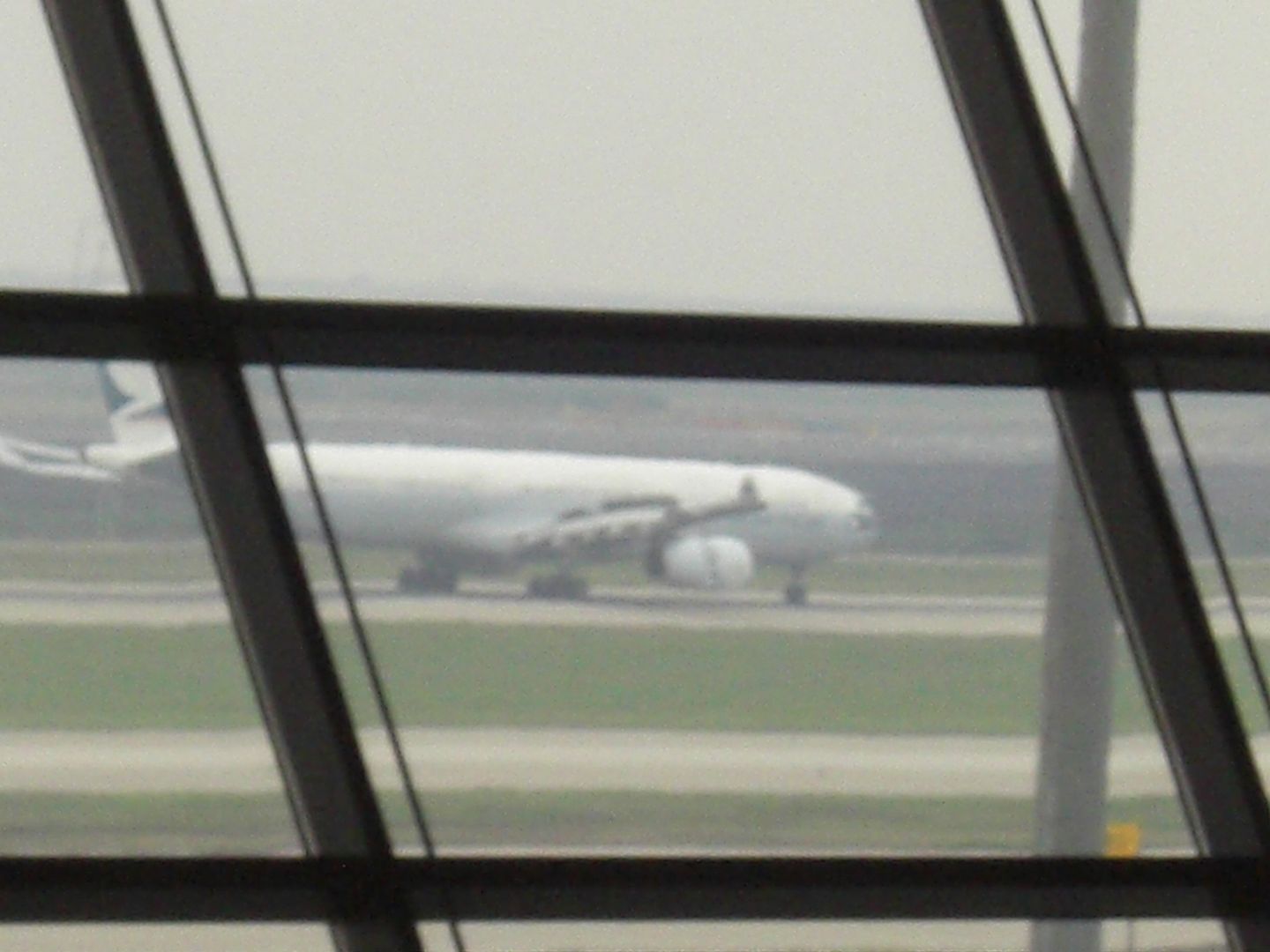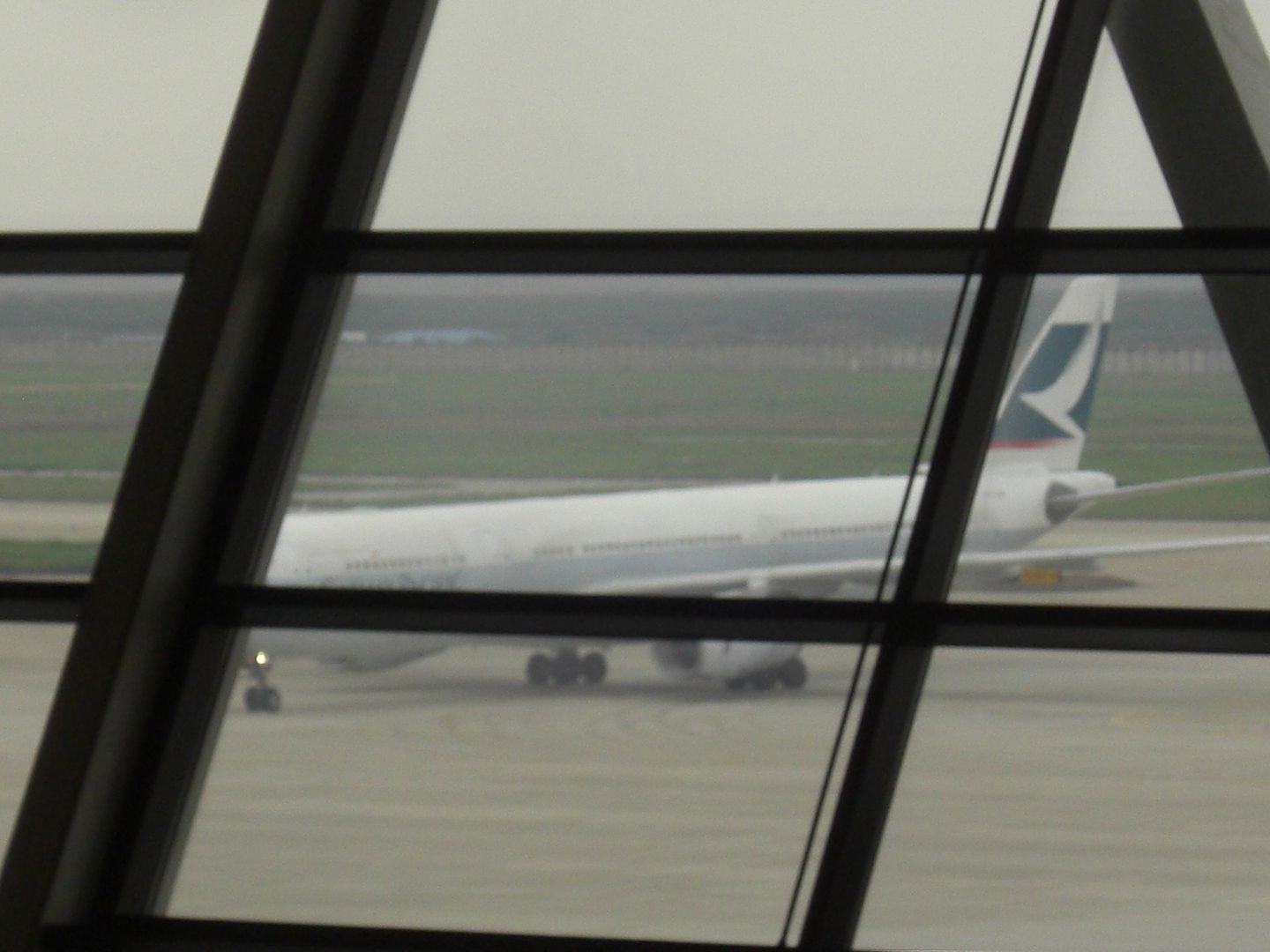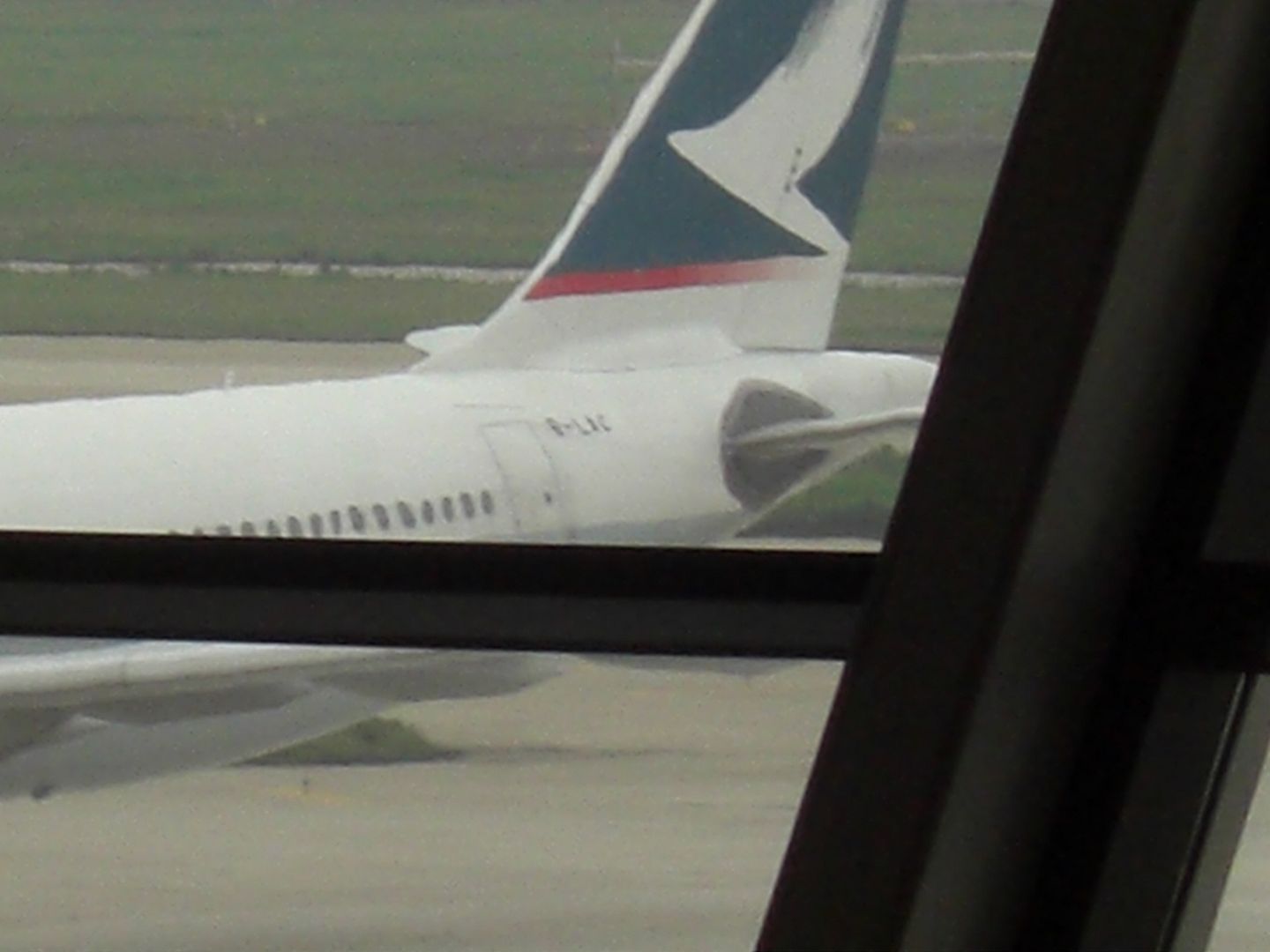 June 2011
Shanghai Pudong (PVG) – Hong Kong (HKG)
Cathay Pacific CX 369
Scheduled: 1735-2010 (2h35m)
Actual: 1739-1942 (2h03m)
A330-300 (B-LAC)

Half an hour prior to scheduled departure, I headed down to the gate, where boarding was underway.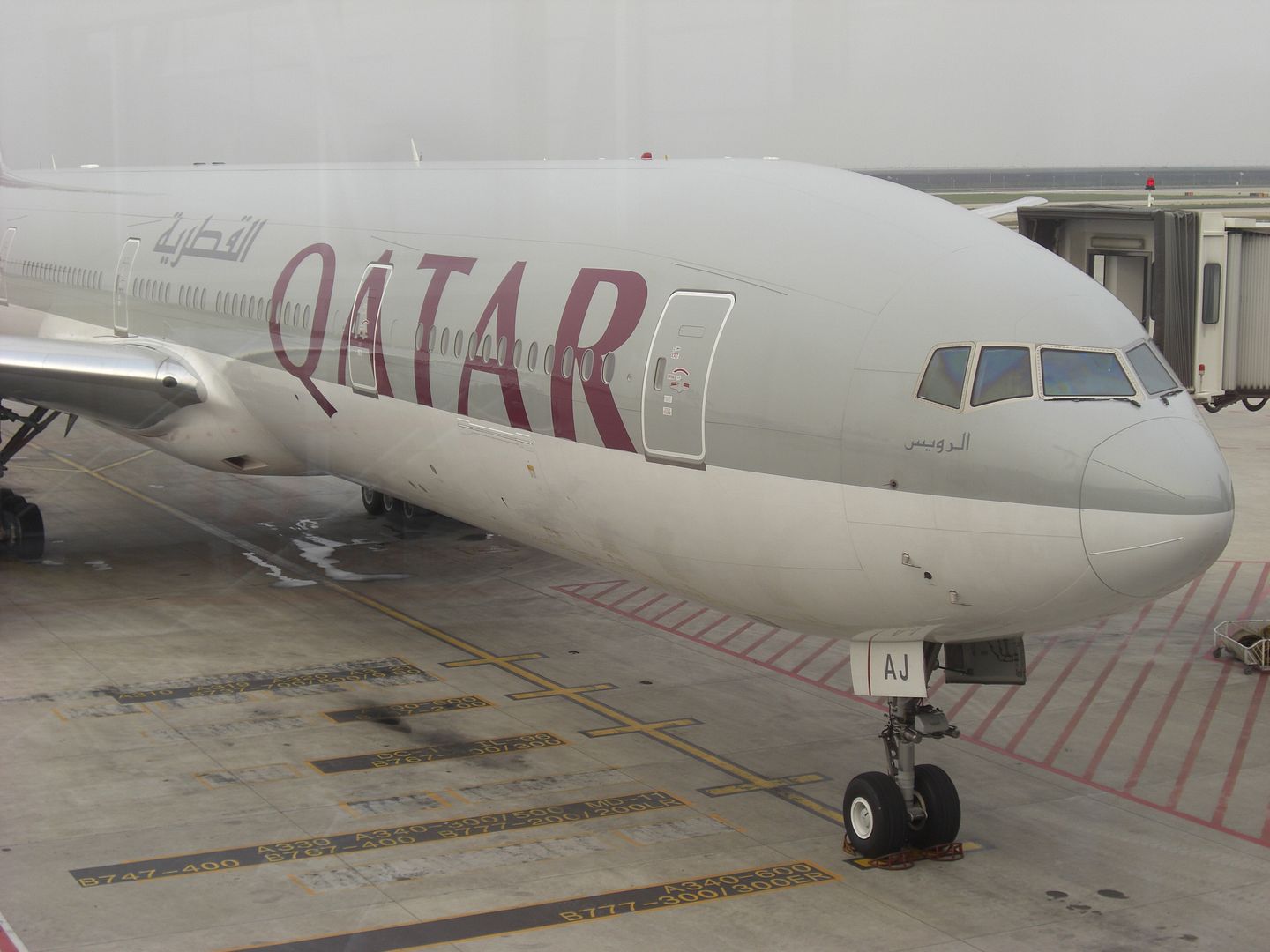 This would be my first flight on a 'herringbone' style business class, so I was quite excited (actually so excited that I sat in the wrong seat! To be honest, it's a bit confusing the first time in the cabin with all the seats facing the 'wrong' way).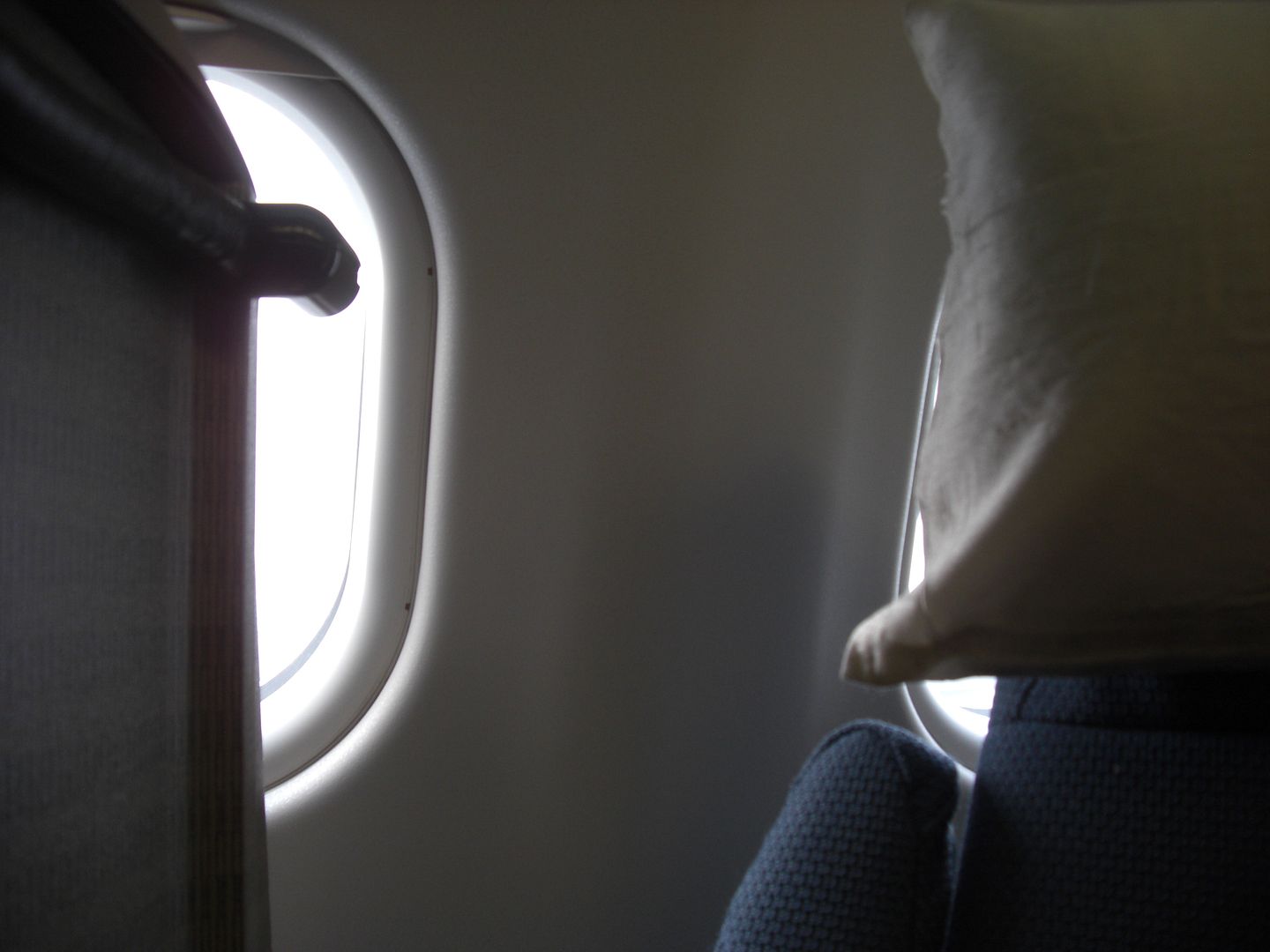 Not long after sitting down, I was offered a choice of water, OJ or champagne. I went with the latter!
First impressions of the seat were that it wasn't nearly as claustrophobic as reviews had lead me to believe. On the other hand, I found the seat awful in terms of seclusion (you face the aisle 100% of the time!), and window views were painful to find (stay sitting facing forward, and move your head to you're looking over your shoulder – not comfortable is it, at least for any length of time. And photos on take off, forget about it!).
Out route down to Hong Kong this afternoon
A hot towel was also handed out
Off we go!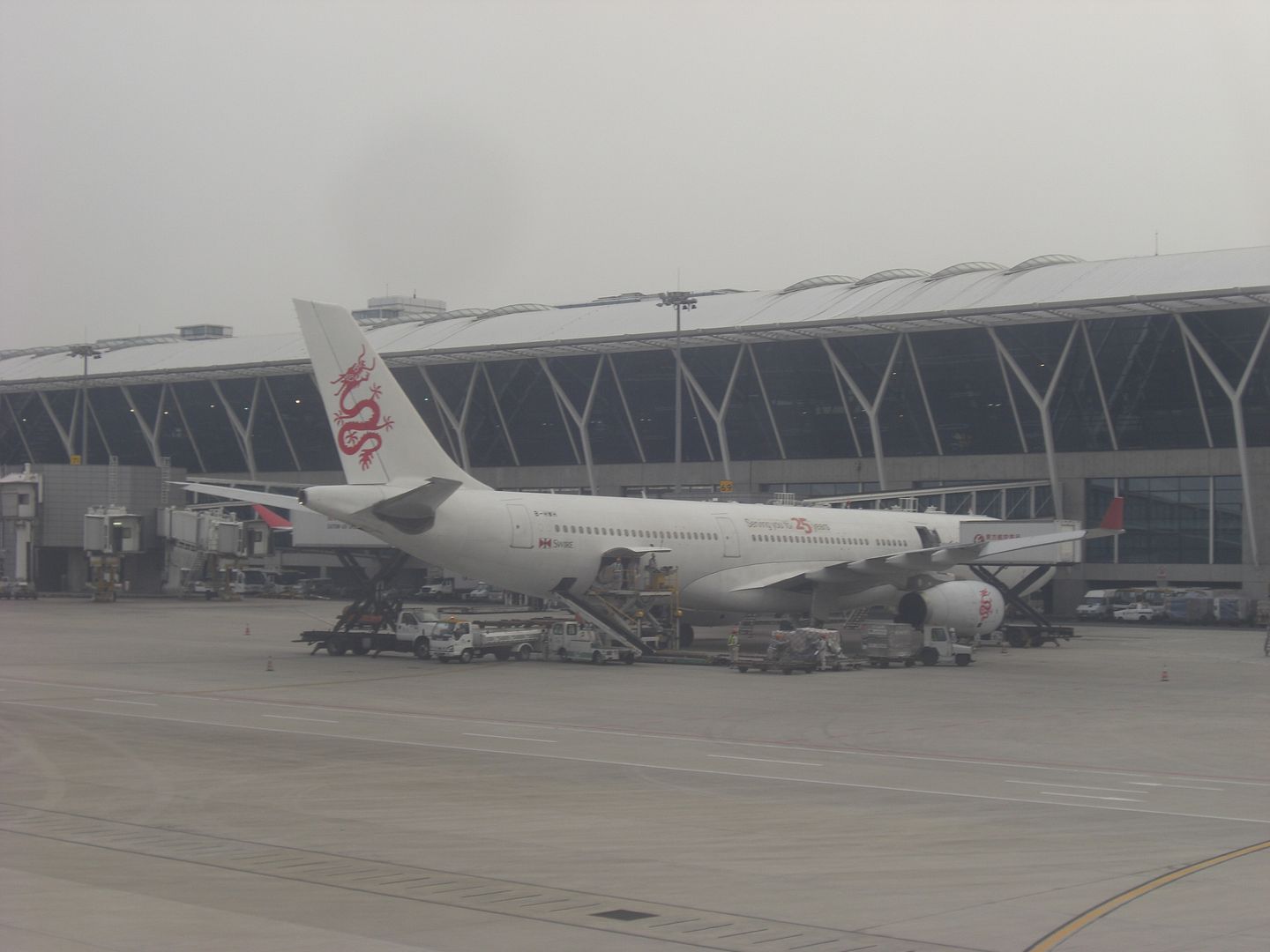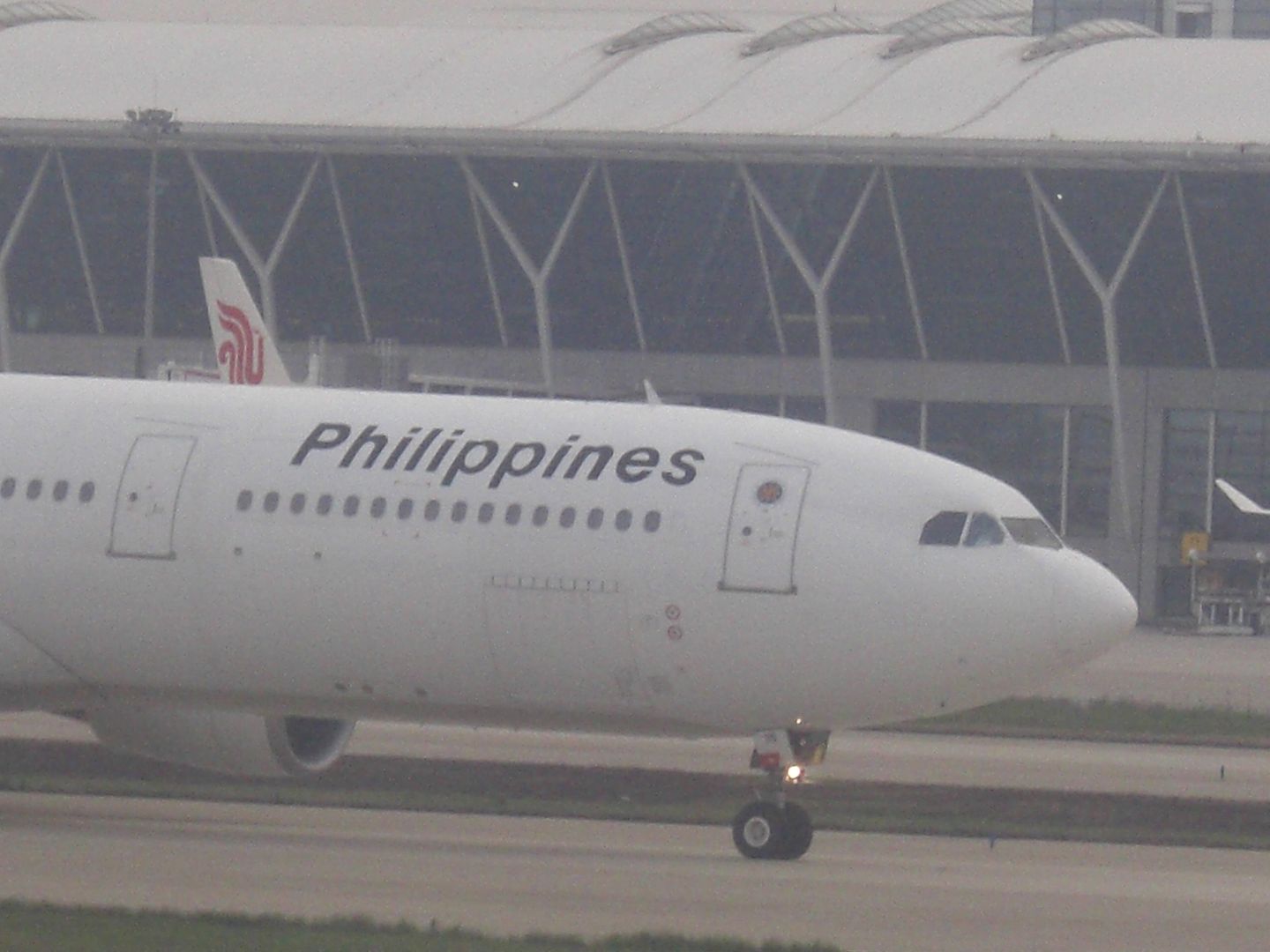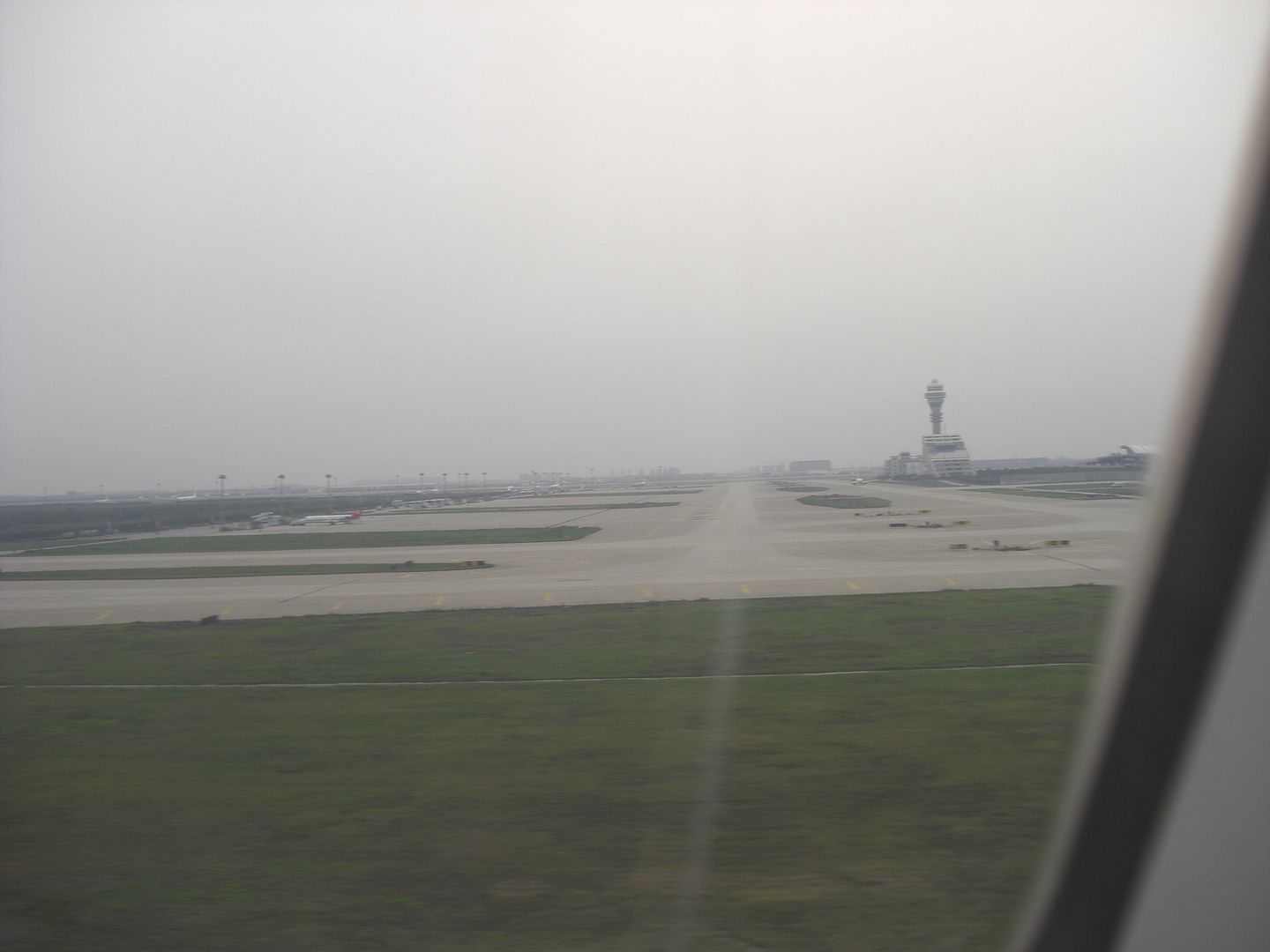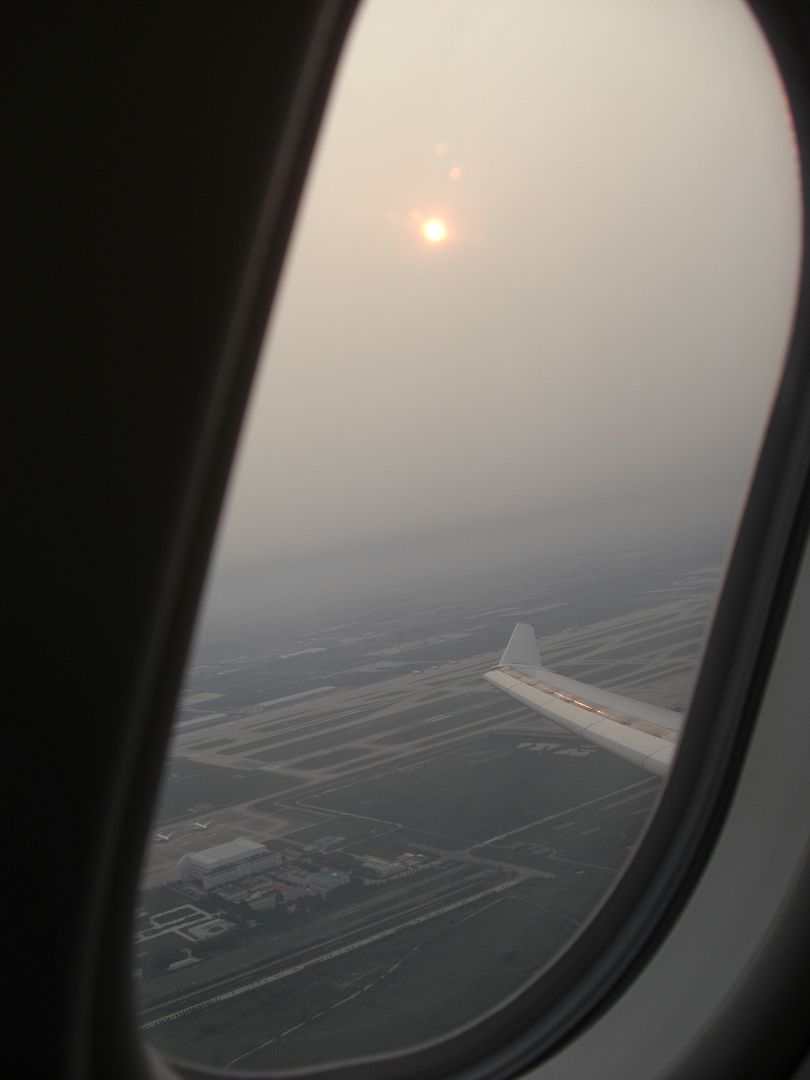 Whilst it's great having a satellite view of where you are, it's better if the maps have been updated to show the new runways! Looks like only half of PVG has been built.
The arrow in the top right is Ningbo, where I started my journey at 8am this morning – now you can see why I wanted to fly directly from NGB!
I had an explore of the 'Studio CX'. I wanted to watch a film, but I just couldn't find them. It was pretty frustrating. I thought I was being very inept at not being able to find them. I'm normally a very logical person, so when things are hidden for no apparent reason, it really annoys me! I had to ask a member of crew who said that they weren't available on this leg. Not terribly impressed. Instead I watch a few episodes of Raising Hope.
Menu for his afternoon's flight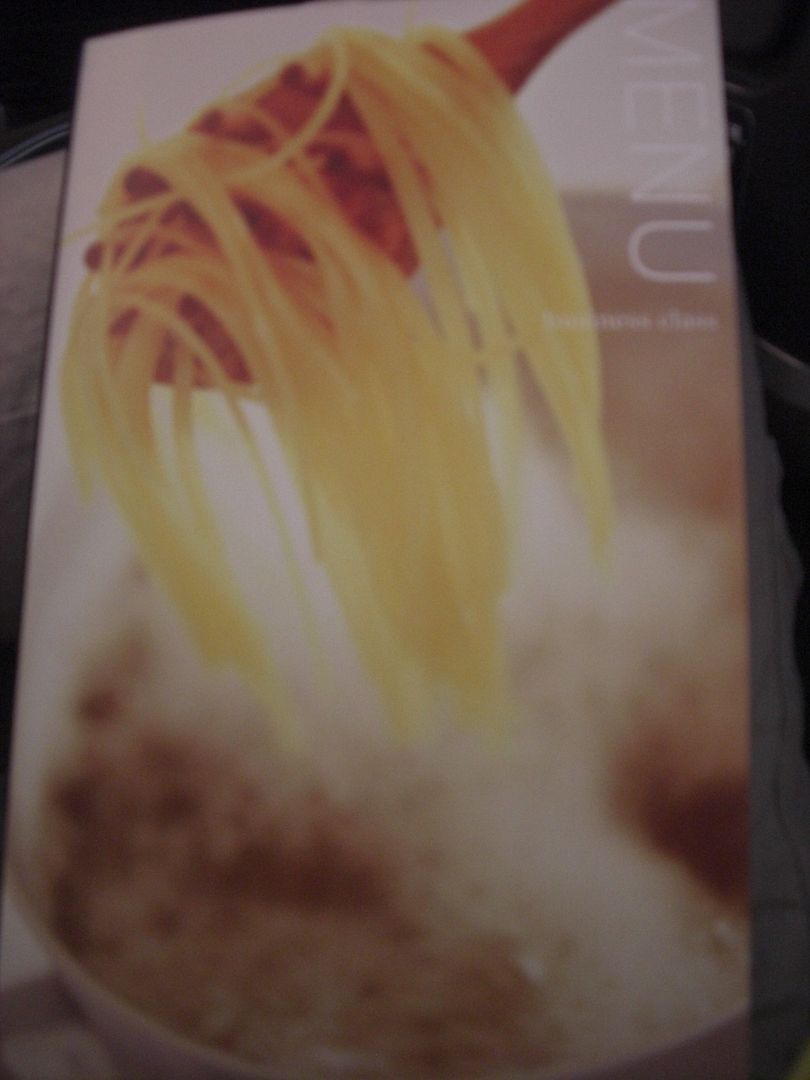 First, tray tables were handed out, along with a choice of bread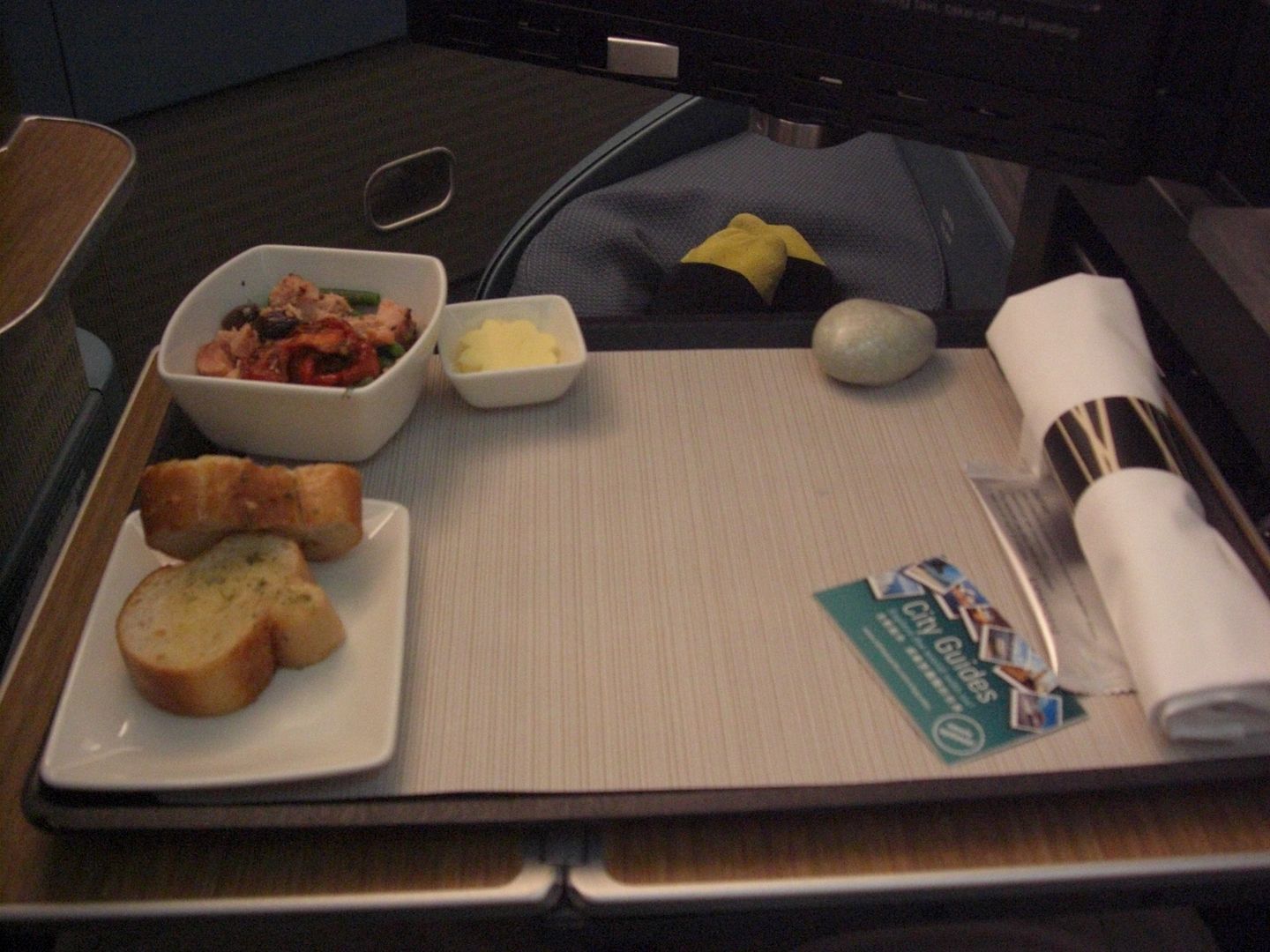 Next the starters were handed out, along with more bread
A while later, the main courses arrived. I went with the prawns with rice, which were pretty tasty
After the trays were cleared, the dessert trolley came around. I asked for a top up of champagne, and some ice cream. I was given the champagne, and asked what flavour ice cream I wanted, but then the lady moved on. Um, hello, can I have the ice cream?!
I caught her before she'd moved on too far, and she came back with the ice cream a bit shamed faced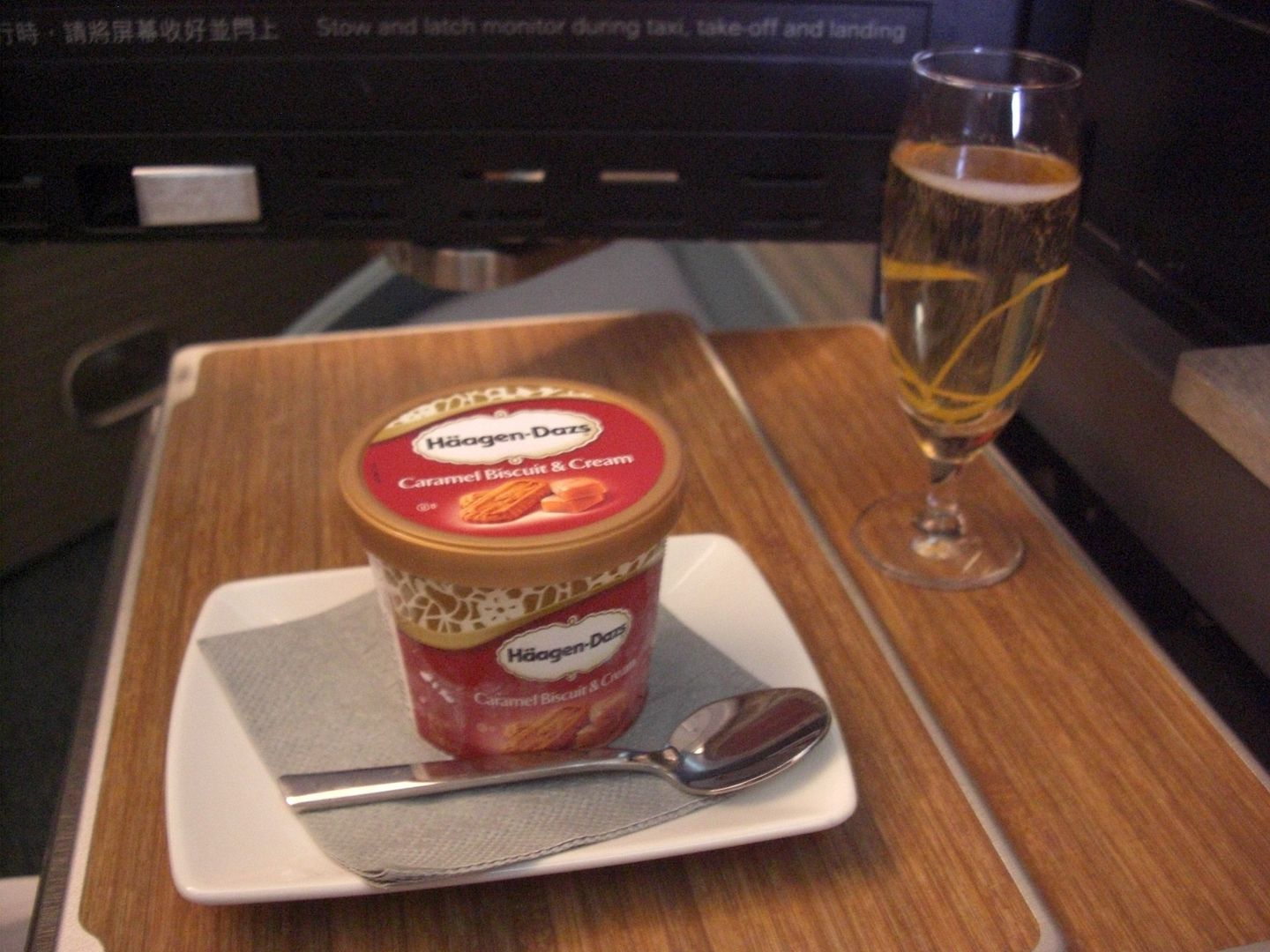 The ice cream was tasty, although frozen completely solid. I had to wait a good ten minutes before I could start chipping away at it. A praline was also served.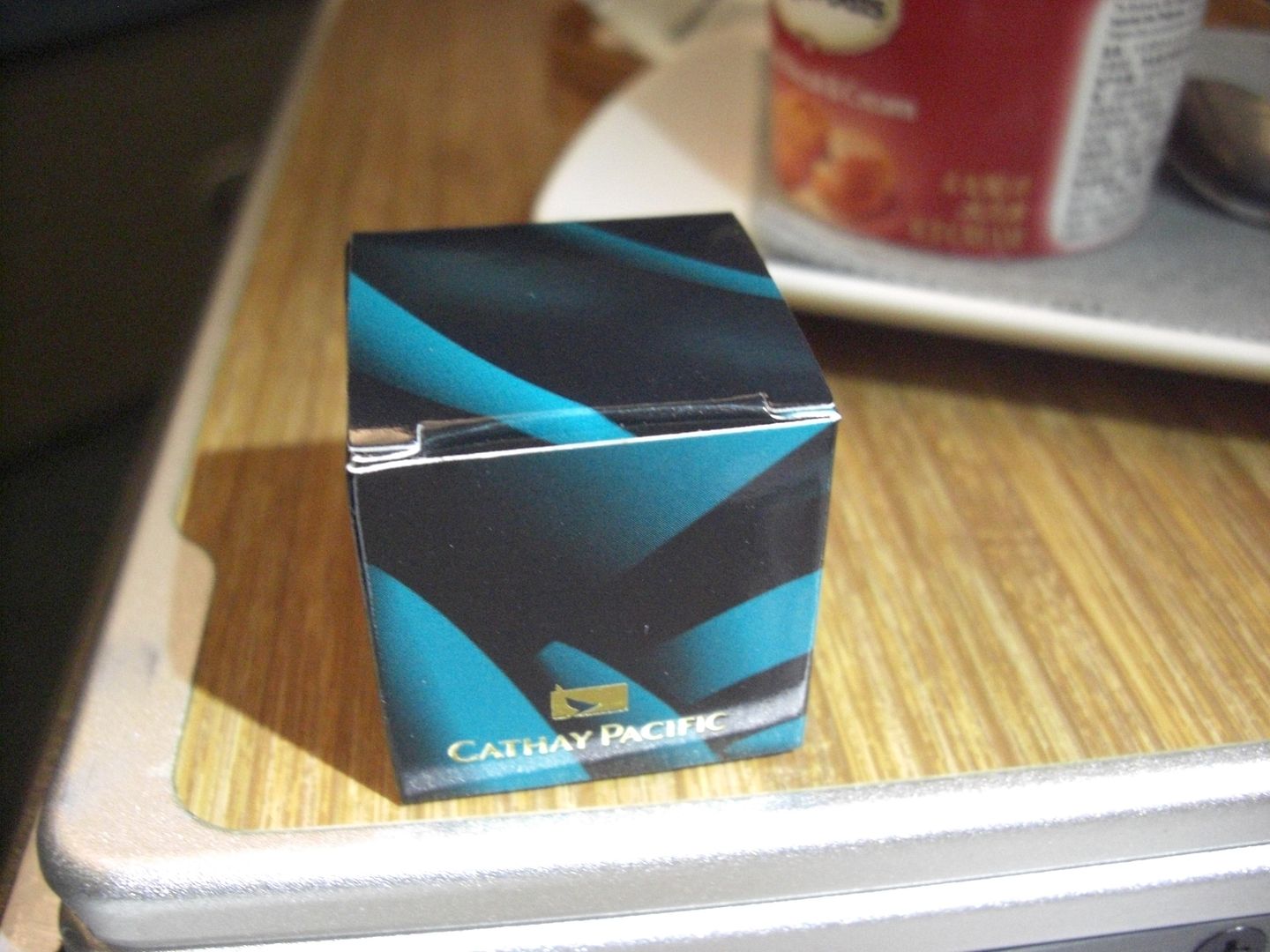 Bathroom amenities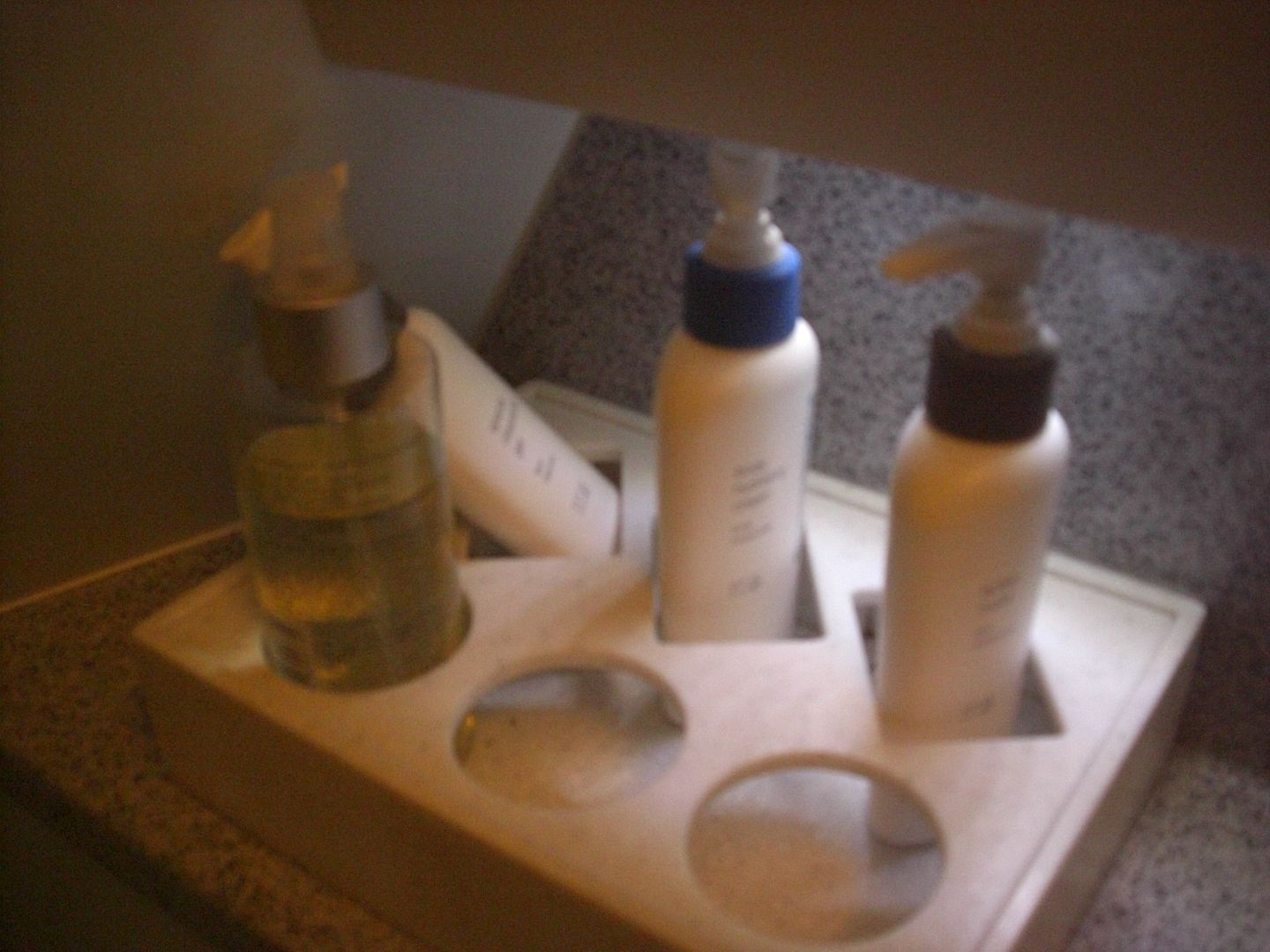 Views