Date: 11 July 2011
Route: Manila MNL – Vancouver YVR
Distance: 6567mi
Flight : PR 116
Flight Time: 11:35h
Dep. Time: 19:18
Aircraft: Boeing 777-36N/ER
Registration: RP-C7776
Dep. Gate: N05 (T2)
Seat: 33A
Movies: The Adjustment Bureau, Unknown
189th flight on a 777, 12th on a 777-300/ER
Flown on 111 different 777 frames
47th 777 carrier flown (now flown on all 777 carriers with direct delivery from Boeing)
View Large
View Medium


Photo © Allen Zhao
View Large
View Medium


Photo © Mike Head - TargetAir Images
Hi !
Background
I had originally planned to attend the trip reporters meeting in FRA on 9 July but I would have had to change my dialysis and go four days between dialysis's sessions and I thought that was a bit too risky. Since I had the weekend off , why not try for another trip that would fit my schedule ? Monday 11 July was still open for vacation at work so I put in for it and started thinking. I still missed Philippine Airlines 77W and with the possibility of a transplant perhaps soon, it would just be very nice to complete my 777 carriers flown for now since I can't go anywhere for a while later. I also have a good friend who lives there but was moving soon so it was prefect time to now rather than later.
Schedule actually worked very well even with my restrictions, PR flying the 77W MNL-YVR on Mondays,Wednesdays and Fridays with a connection to LAX the same evening on OO or AC. This meant I could be back in time for dialysis for Tuesday morning. I just had to leave LAX on Saturday after dialysis and connect thru NRT to MNL on NH or DL. I would spend about 24h there before going on the PR flight to YVR.
I get no discount on PR so had to purchase the ticket as a regular passenger. I went to their website and it was very easy to book it. I booked about 10 days before I travelled and unfortunately, the fare had gone up since I first had started planning the trip. It was also possible to select seats thru the website and I got the last window seat available,33A. This was over the wing and not what I would have preferred but at least it was a window. The seat next to me was open as well.
I had a nice flight on UA to NRT in First on a 777, N217UAand no problem getting on JA607A, a 763 to MNL on NH. I got picked up by my good friend Rich Strollo and I spent the night at his house. Next morning we went spotting for a few hours but it was raining so not really ideal. Later we had lunch and after a while later, he dropped me off at Terminal 2 at MNL.
Trip
Check in was a specifically designated check in areas for each flight rather than having one economy check in area for all destinations. The latter concept seems to have less wait and less lines so I had to wait for about 20 minutes for the available agent. There were only two check in agents available for economy class to Vancouver. Agent was friendly and efficient so soon I had my boarding pass in hand for 33A.
Not much to do in the terminal land side just a small convenience store. Very barren actually. I had to pay my departure tax before going thru passport control and then security. Not much wait at any of these lines and I was thru all of them in about 15 minutes.
Not much at air side either except of a smaller convenience store and small café that also sold sandwiches. I did some spotting before heading to my gate. I had half a can of something that very closely resembled Fanta but I forgot what it was called. There was an extra security check at the gate for the flight including going thru x-ray machine again. No problem for me and I was thru in no time.
Boarding started about 45 minutes before departure and started with Business calls first and then by row numbers from the back forward. Since I was in the third row from the front, I was in the last group to board which is not what I prefer. I like to board early to get pictures of the cabin before it gets too crowded.
First impressions of the seat was nice; a pillow and a blanket at every seat along with an amenity kit.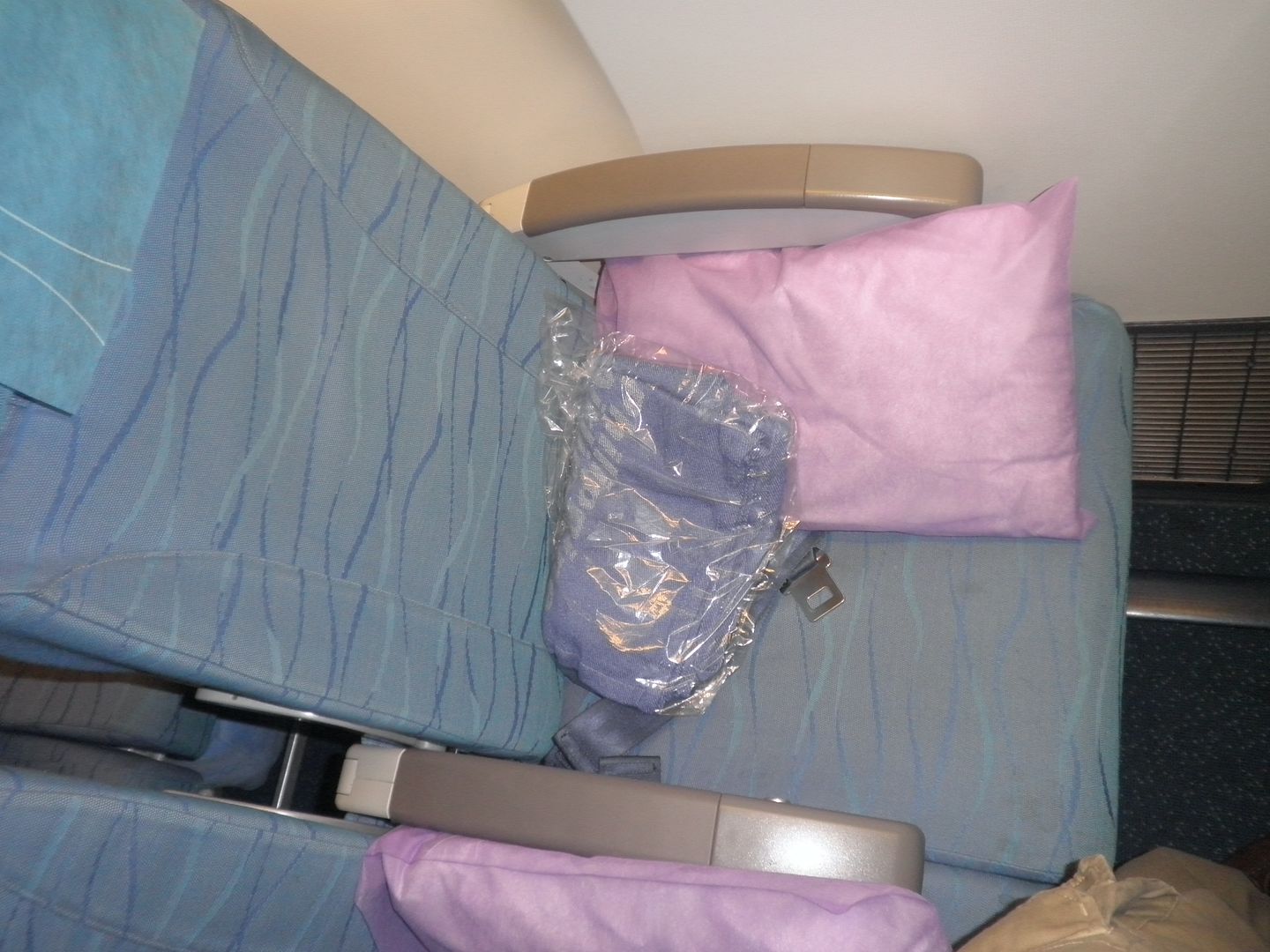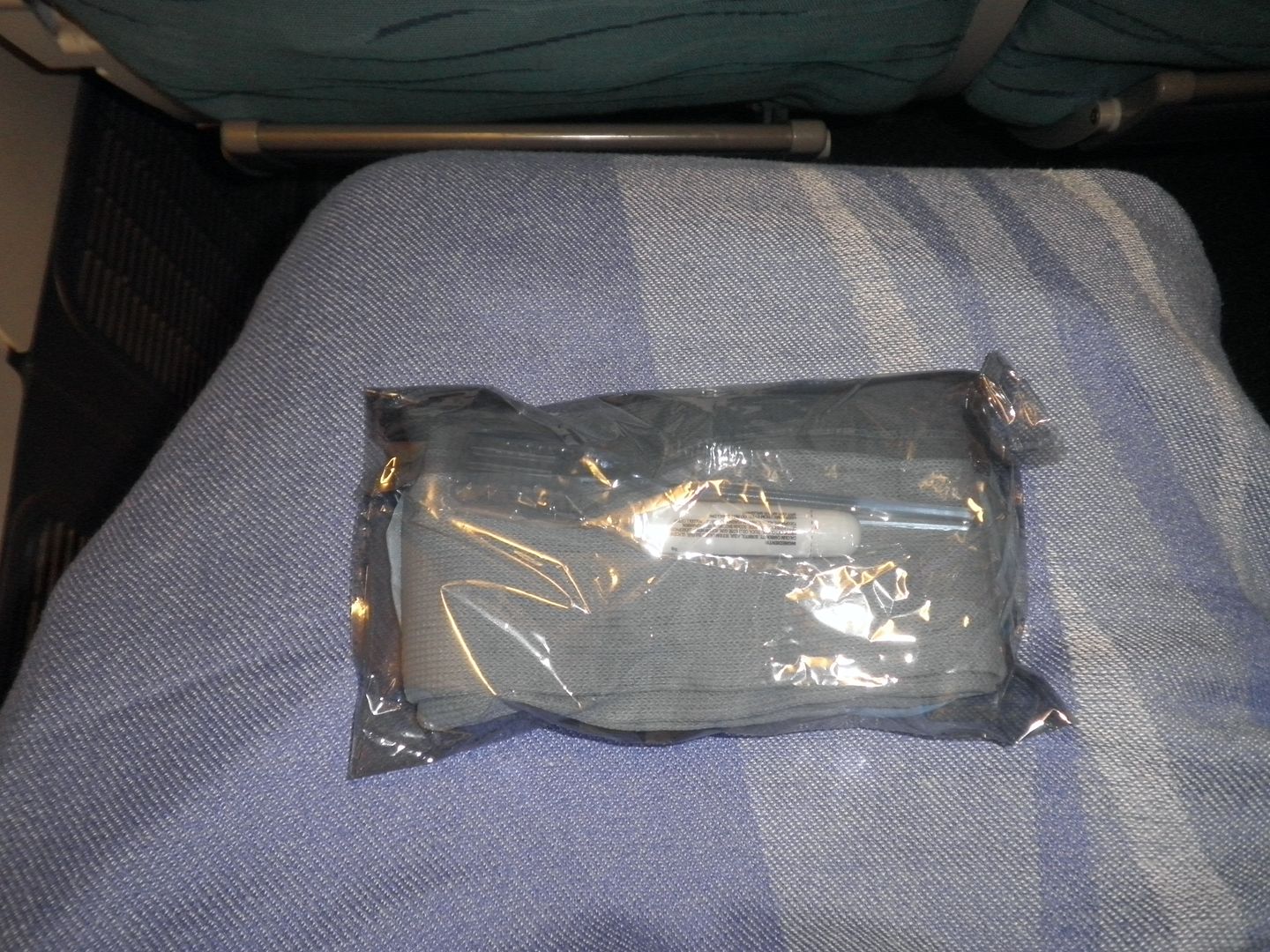 Unfortunately, I was in a windowless window seat. I did have about half a window slightly behinds me but not so great nonetheless.
Soothing colors in the cabin as well although they do not match the colors of the flight attendants uniform at all which are khaki-colored and a bit dated. I flew Philippine Airlines on my first Trans Pacific flight in Feb94 and they had the same uniforms back then. Flight attendants were not very friendly this time and just did their job. Nice to see the footrest as well and legroom was good.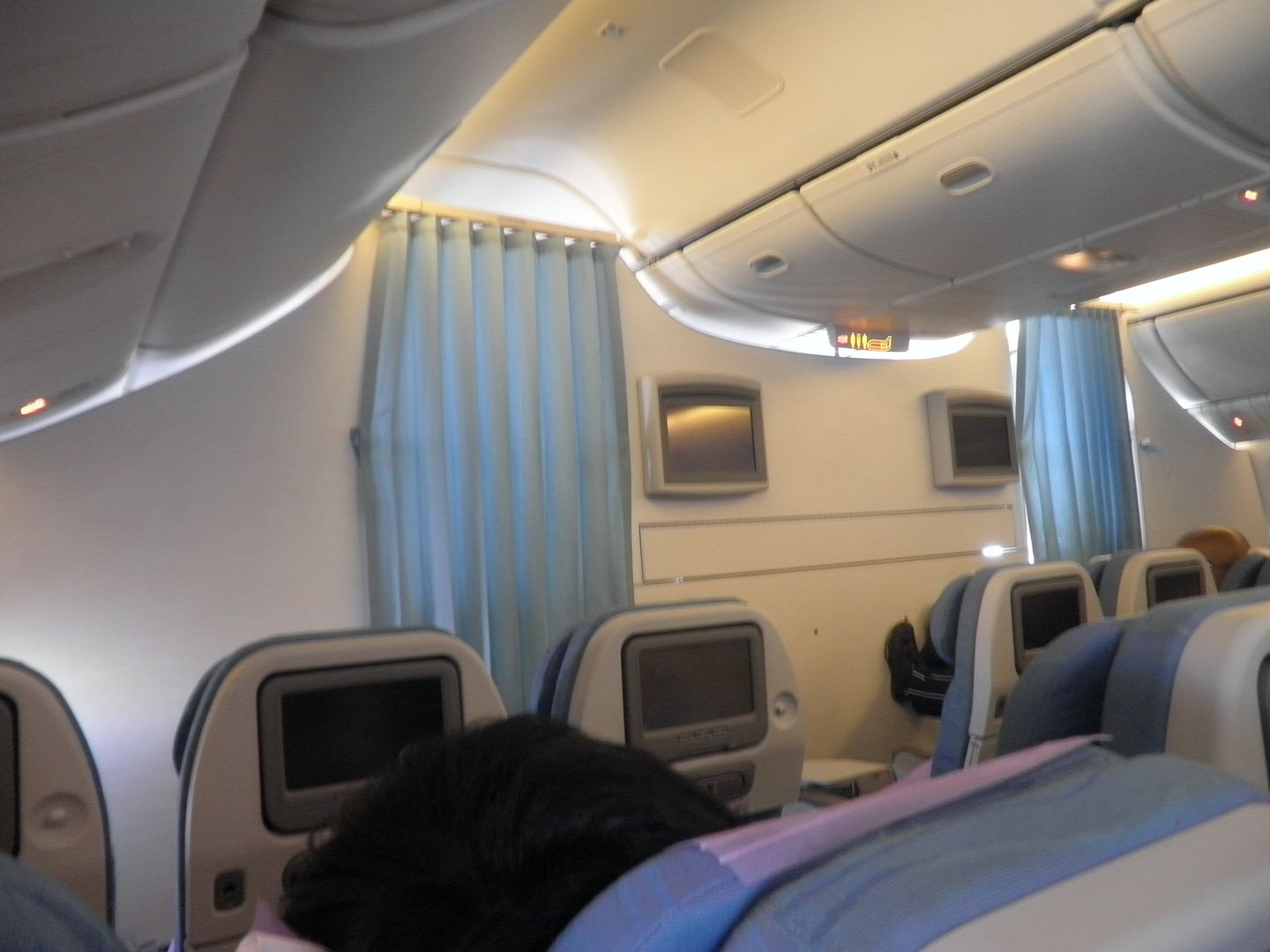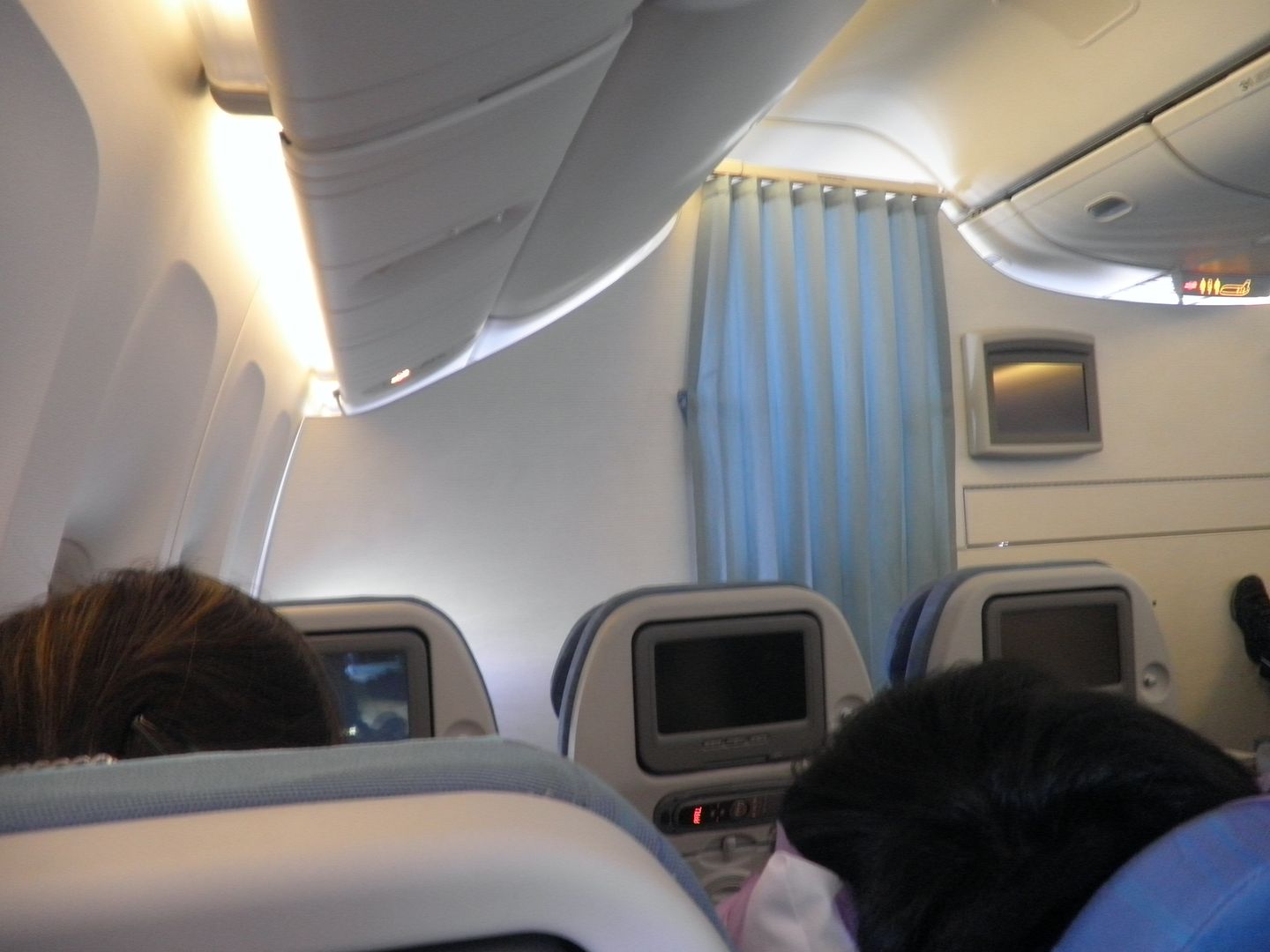 The seats, screen and entertainment system seems to be almost exactly as on DL's new 77Ls and UA's refurbished 777s. There's also a USB port which comes in handy to charge an iPhone or IPod.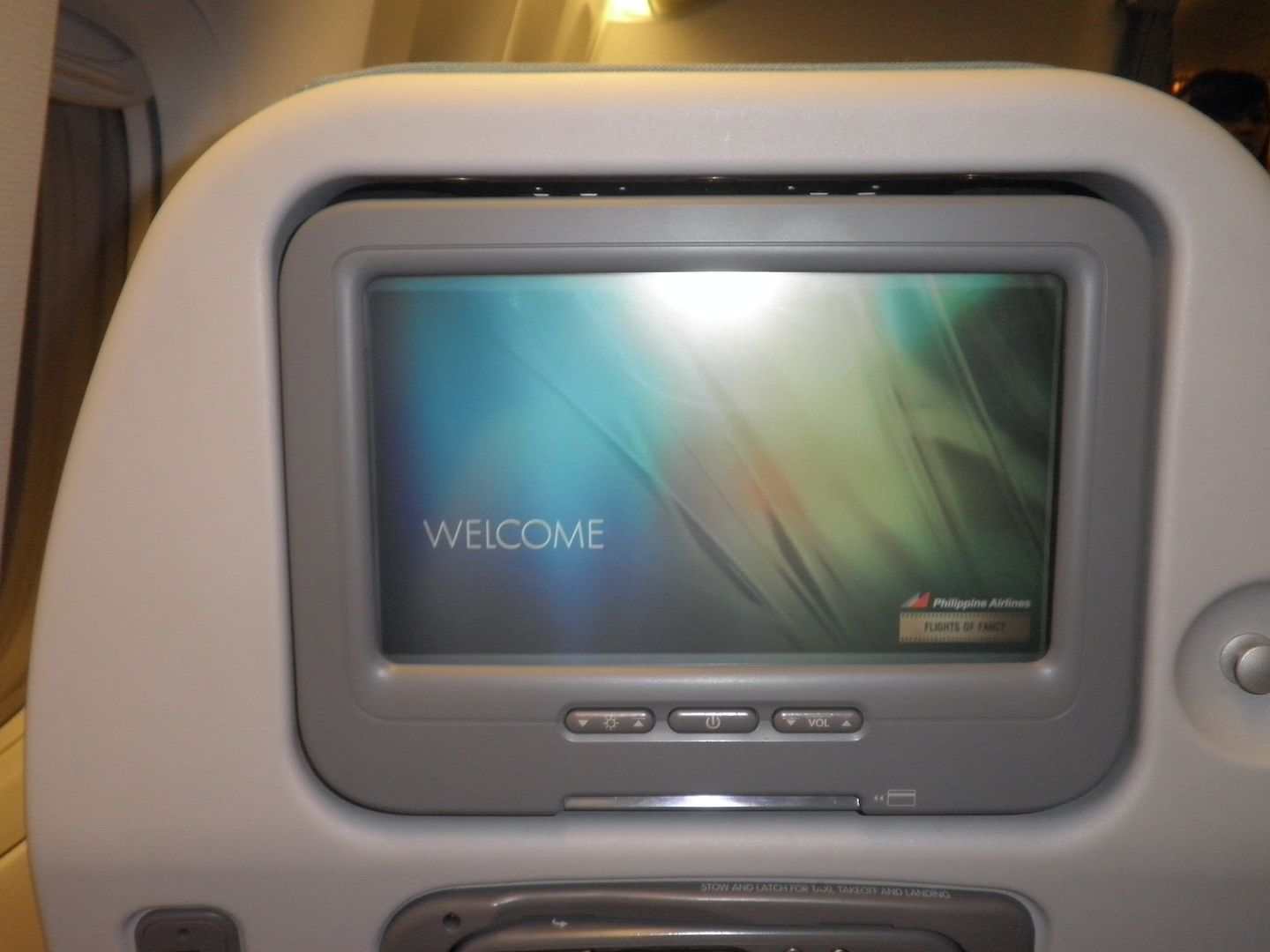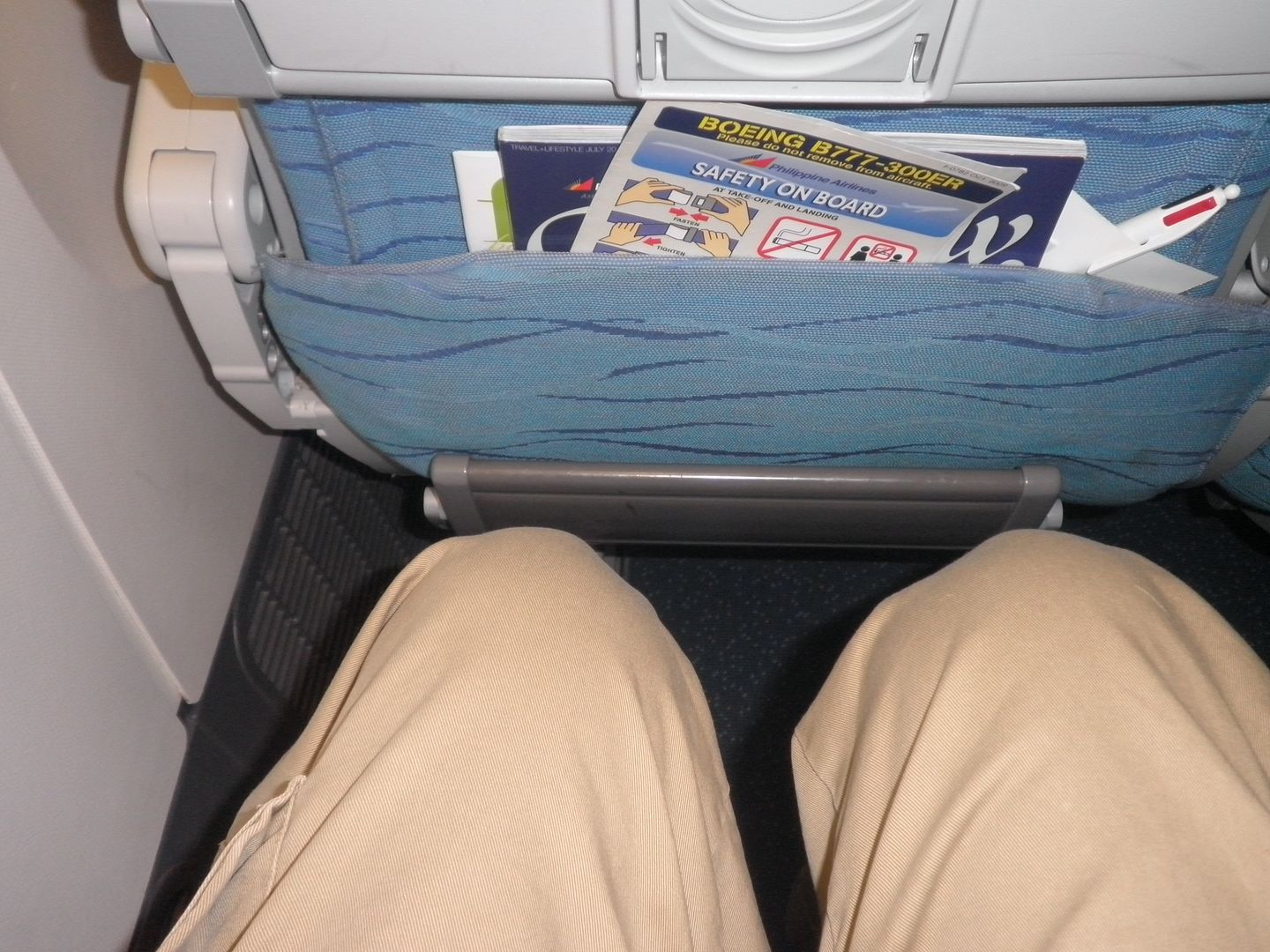 We pushed back a few minutes early and soon had a powerful but long take off. It was dark at this time and raining again so not too much too see except for the lights of Manila.
About 30 minutes after take off dinner service started and they started at the front of the cabin so I was served quickly. No menu was given out but the made an announcement about the two choices which I think were chicken or beef. I chose beef which came with rice, vegetables, bread and a pasta salad. I had a glass of Coca Cola to drink. The pasta salad wasn't good at all and the beef wasn't that good either. I had some tea afterwards.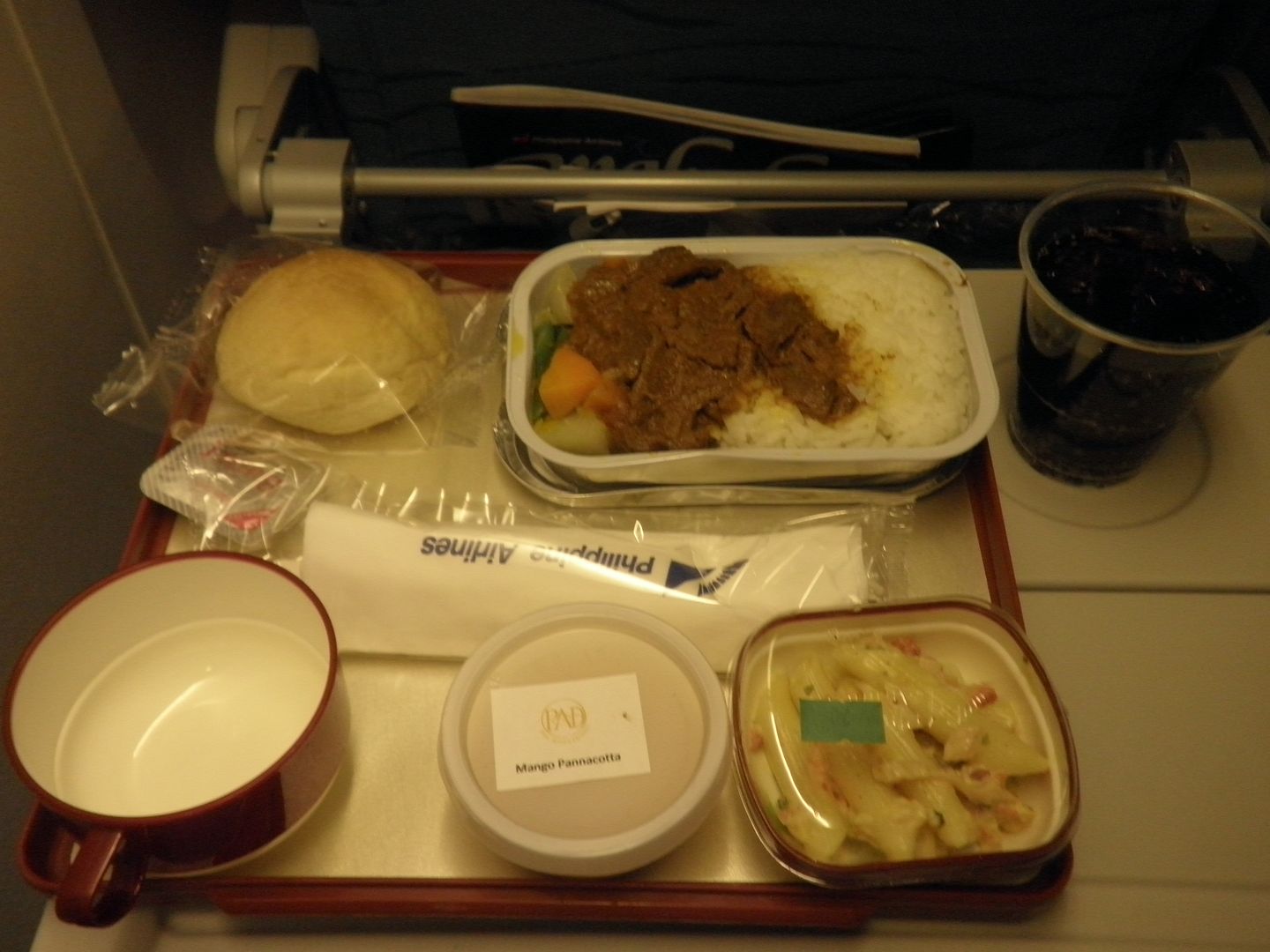 I started the Airshow map and it was a new generation which is very good. Interestingly enough, it also displayed the direction to Mecca which is a bit odd considering most Filipinos are Catholic but there is a large Muslim minority.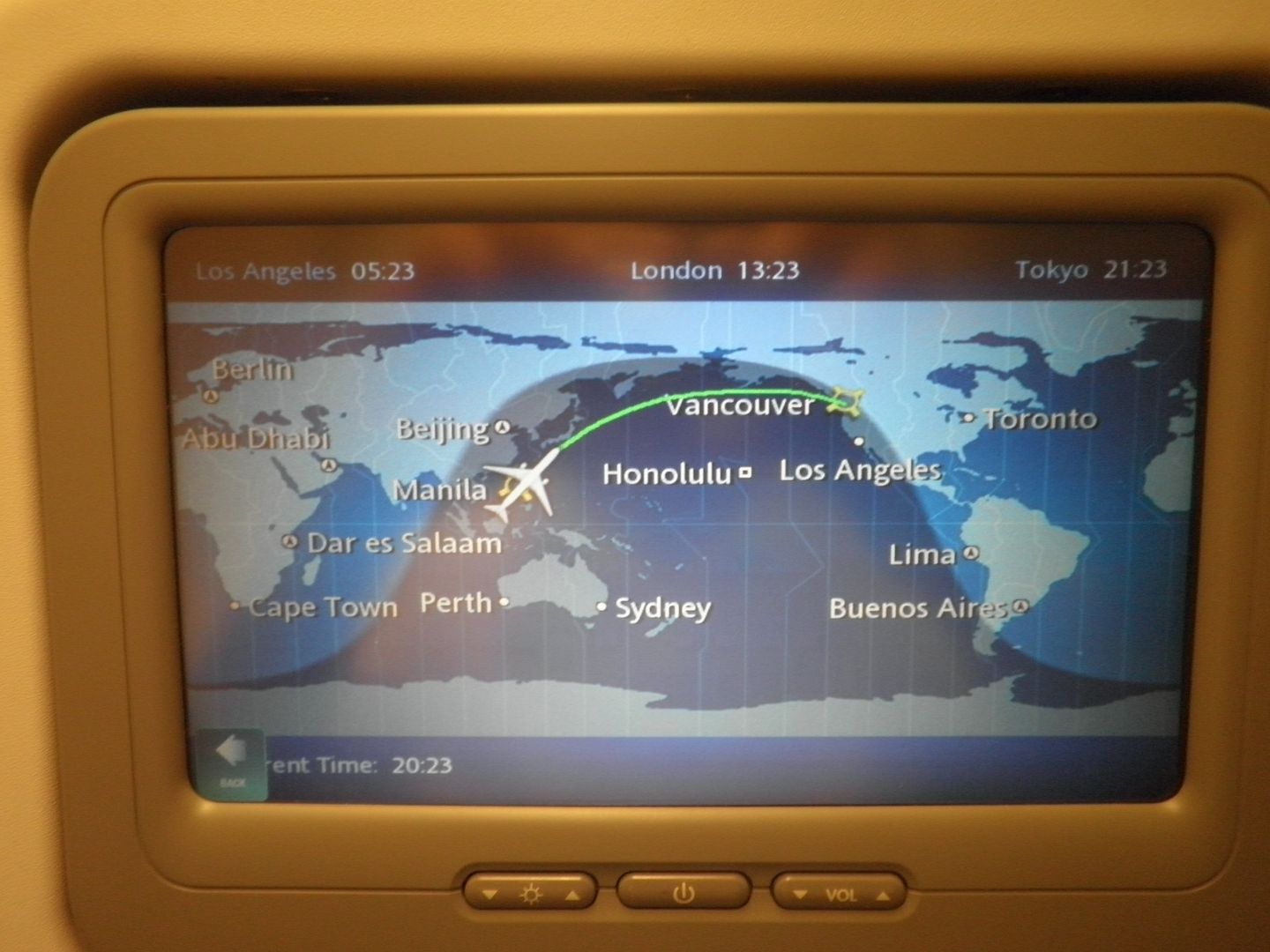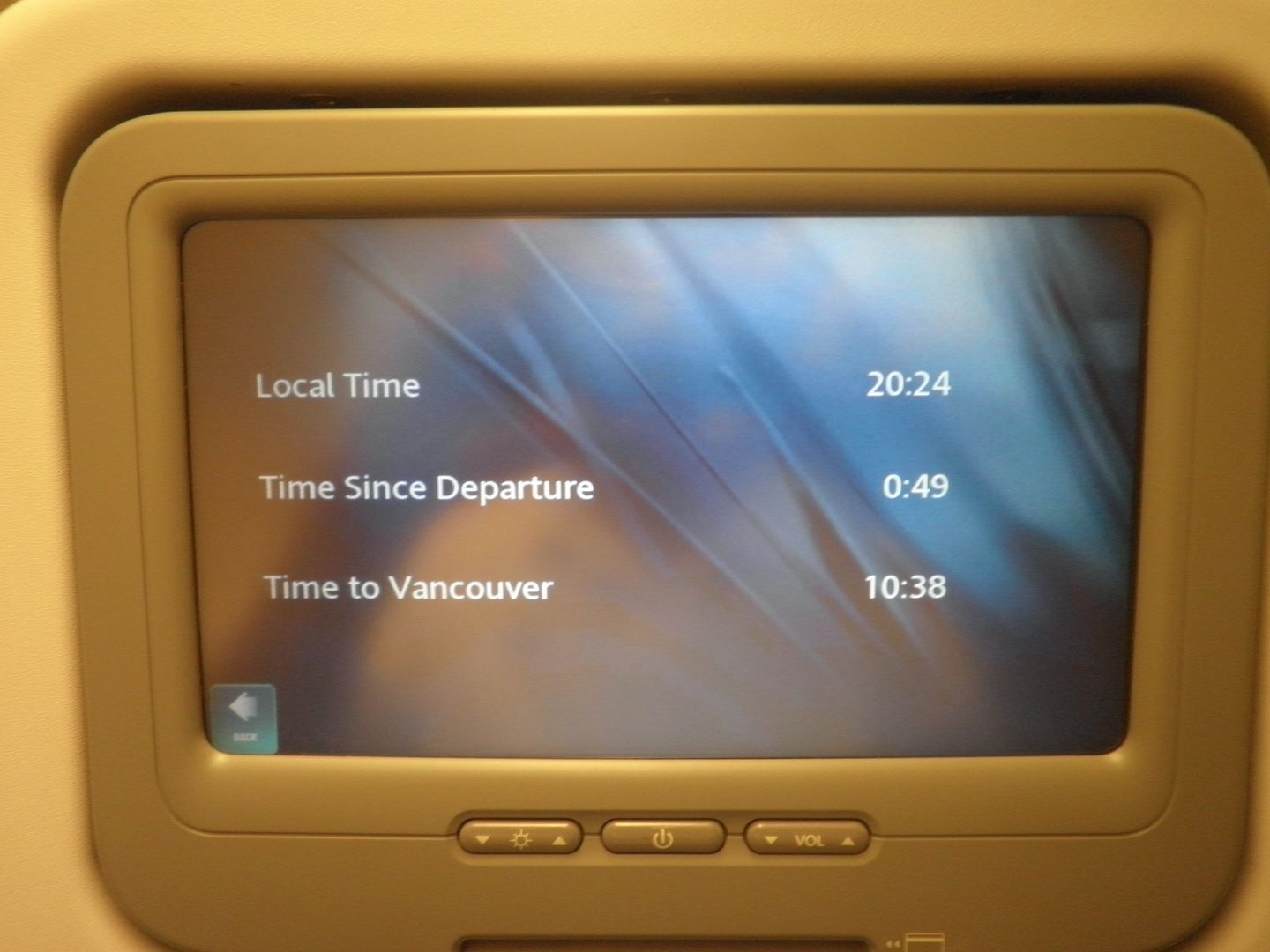 I started watching movies; The Adjustment Bureau before I got tired and went to sleep. The selection of movies was not that great and a bit too limited in my opinion. From what I could see, the offered about 80 movies but a lot of them were older or a whole series ie all Harry Potter movies (except the last one). I must have been very tired as I slept about five hours or so . After I woke up, I watched Unknown and shortly after that breakfast service started about 90 minutes before arrival.
I had chicken with rice and it also came with a pastry, bread and some fruit. The chicken was better than the dinner and the pastry was very tasty. I had a glass of orange juice along with a cup of tea. A pet peeve of mine is to get a toothpick with the meal and it did come with breakfast but not with dinner which is a bit odd.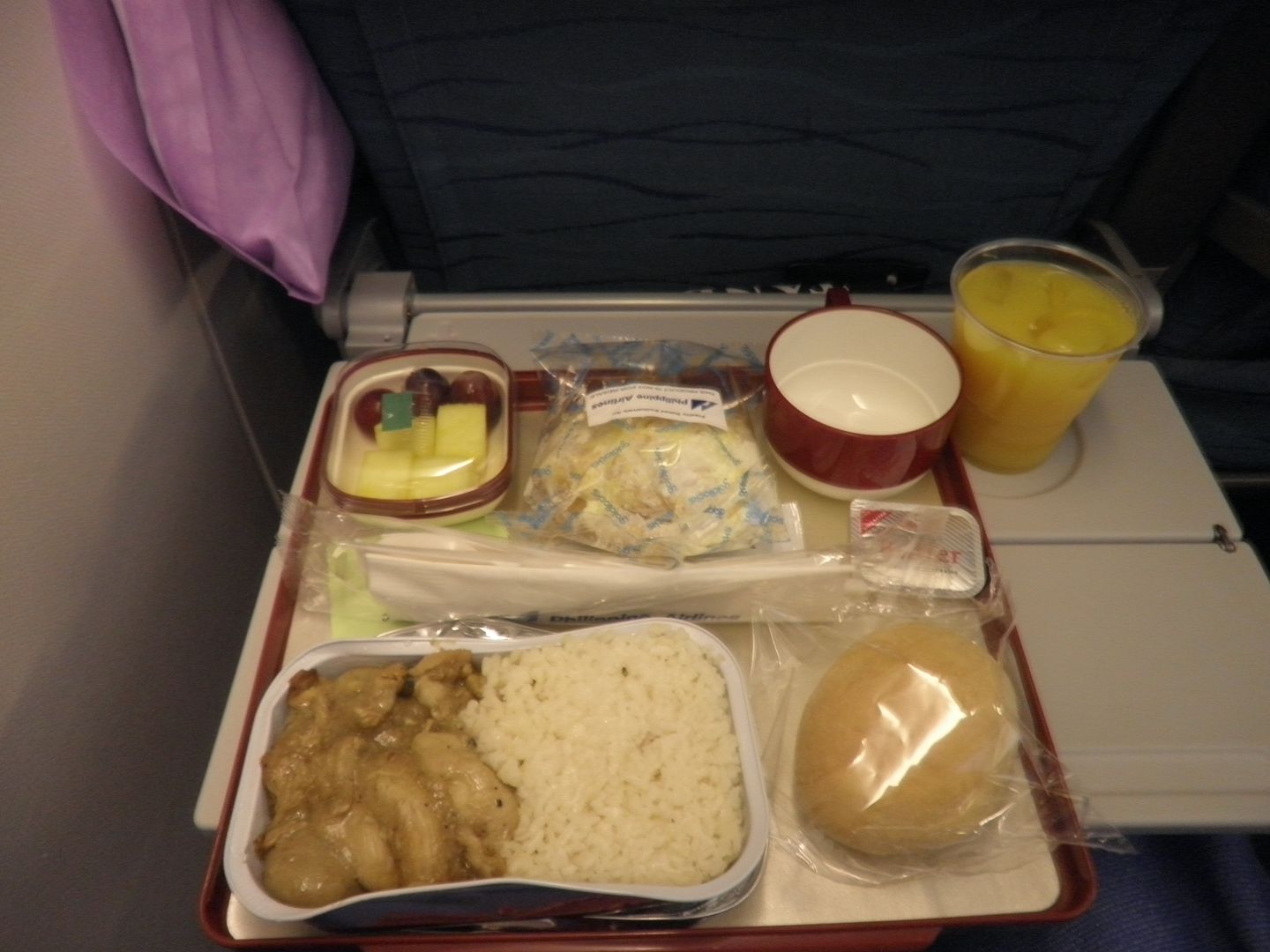 Even though most passengers were born in the Philippines and most likely spoke Tagalog, all announcements including from the cockpit were only in English except for a brief arrival announcement in Vancouver. All conversations during meal service with flight attendants were in English only that I could hear.
We had a scenic approach to Vancouver and had smooth landing towards the west. A short taxi followed and my latest 777 adventure was over. Routing was close to the coast of Japan and then straight across the Pacific to Vancouver. We eventually got up to 38 000 feet.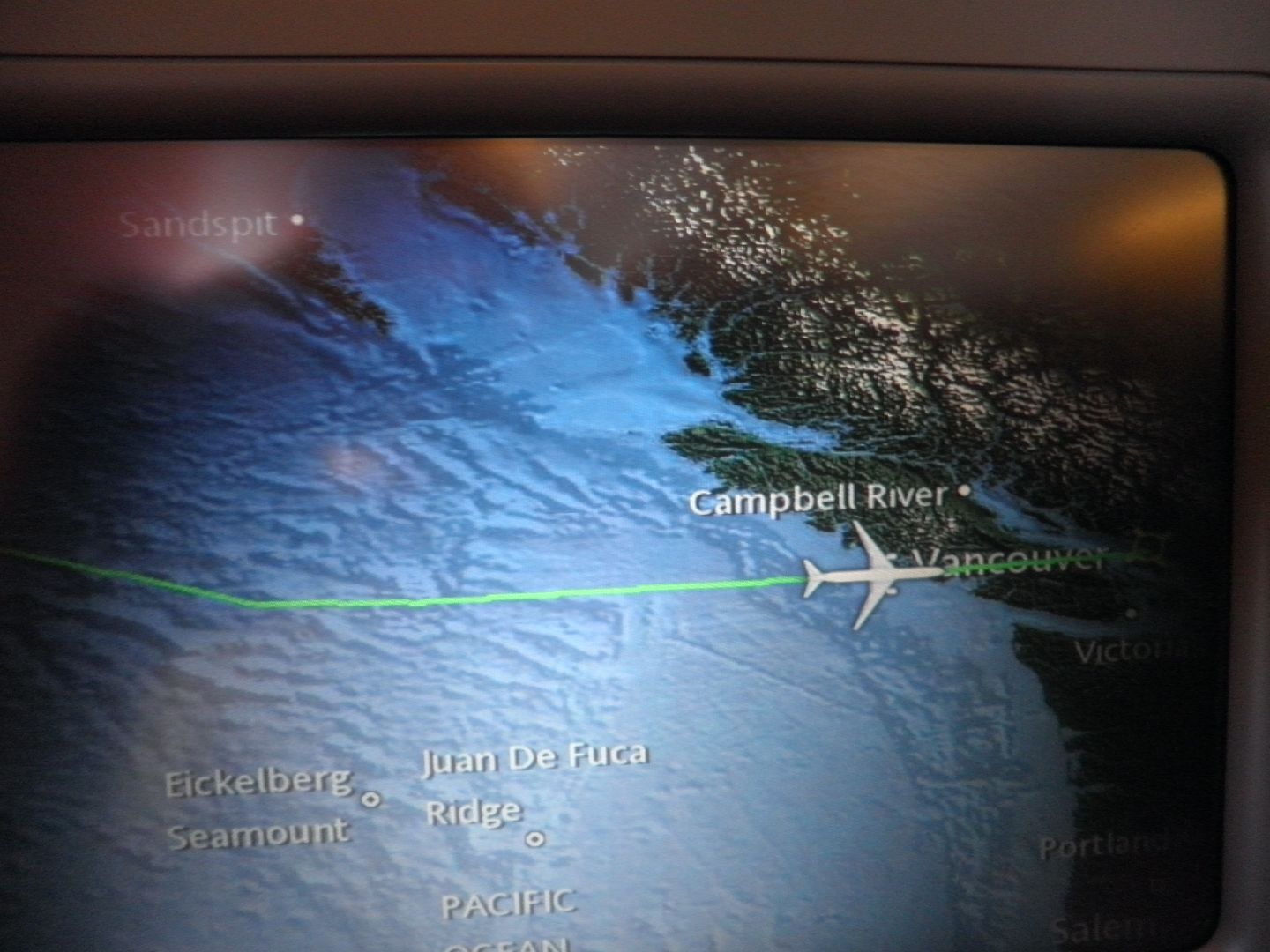 Epilogue
I still had to fly home to Los Angeles and I was the only passenger heading for US immigration and Customs from the PR flight. I was actually called in for secondary inspection at Customs as they were curios why I had no bags and that my trip was very short. I was cleared in about 30 minutes and got to the gate for the UAX/OO flight but it tunred out that the flight was full so I could not get on. I then tried my luck with AC and that worked out fine so I had my first flight on a EMB-190 which is a great airplane. The PTV was working including the airshow map and I watched The Fighter all the way to LAX.
Flying on PR was okay but nothing special. It was nice to complete my 777 carriers flying for now but the flight itself was not that special. Food could be better as well as FAs along with the entertainment. My first Trans Pacific flight with PR was actually more memorable with friendlier FAs and better food.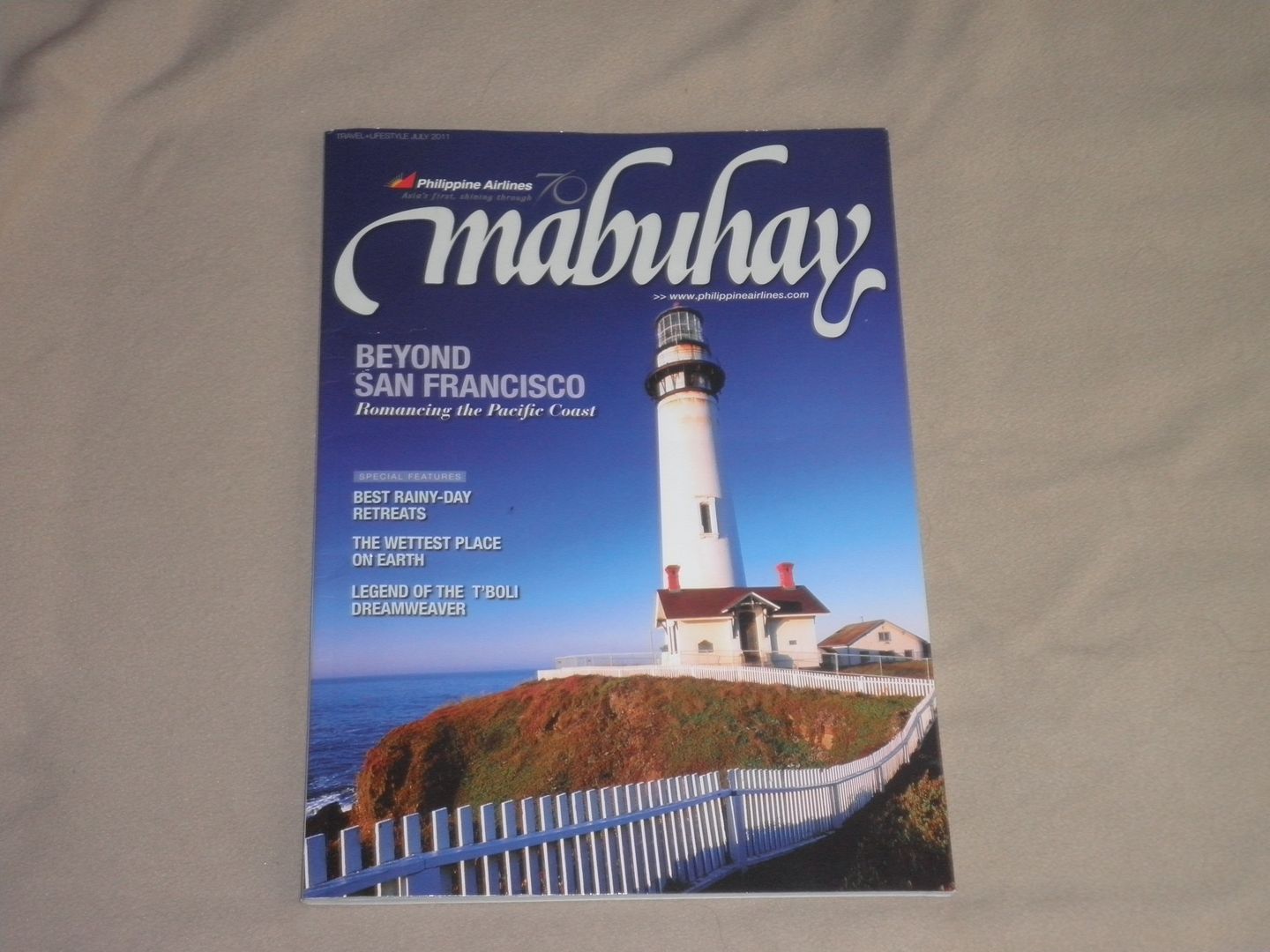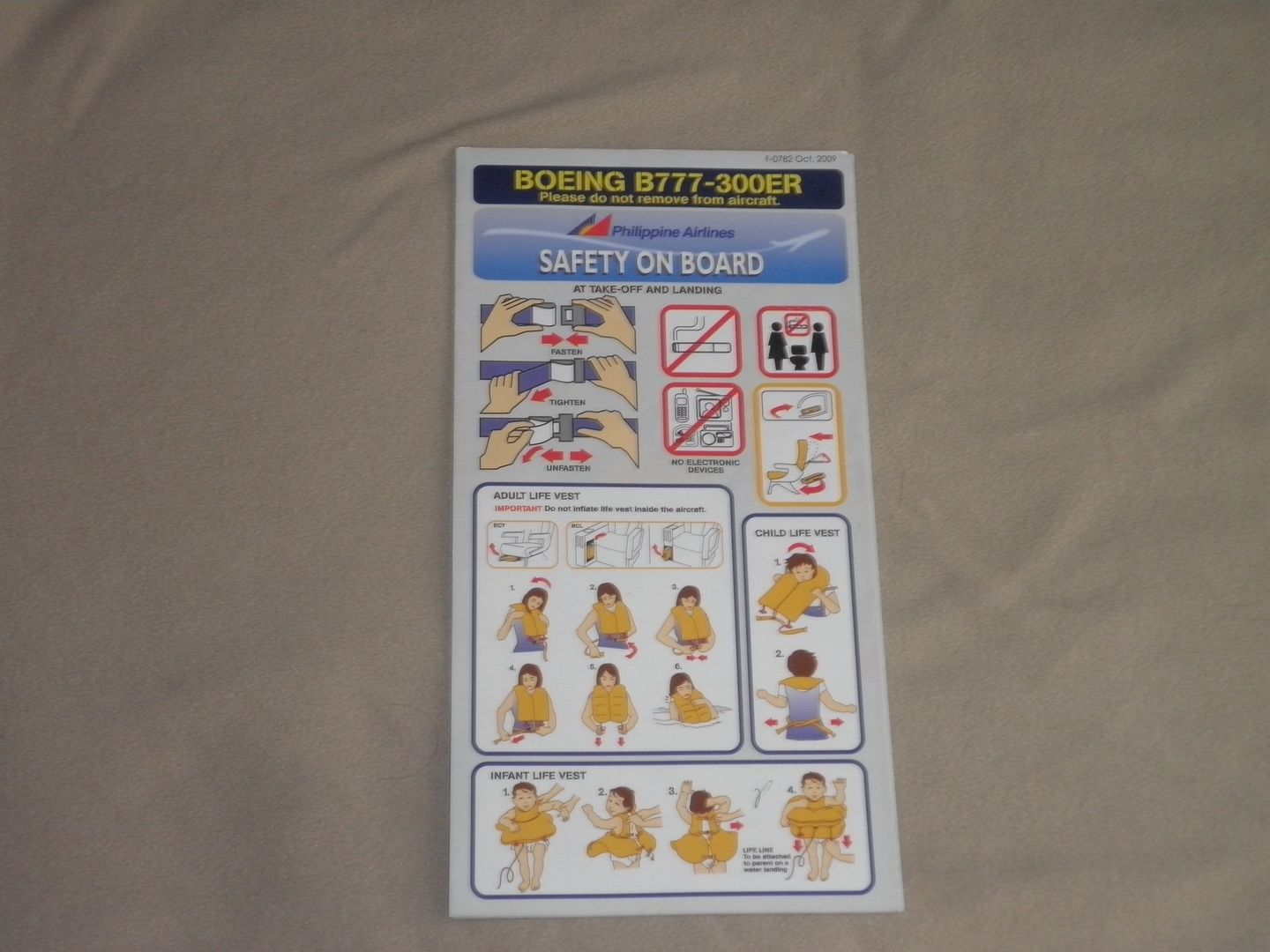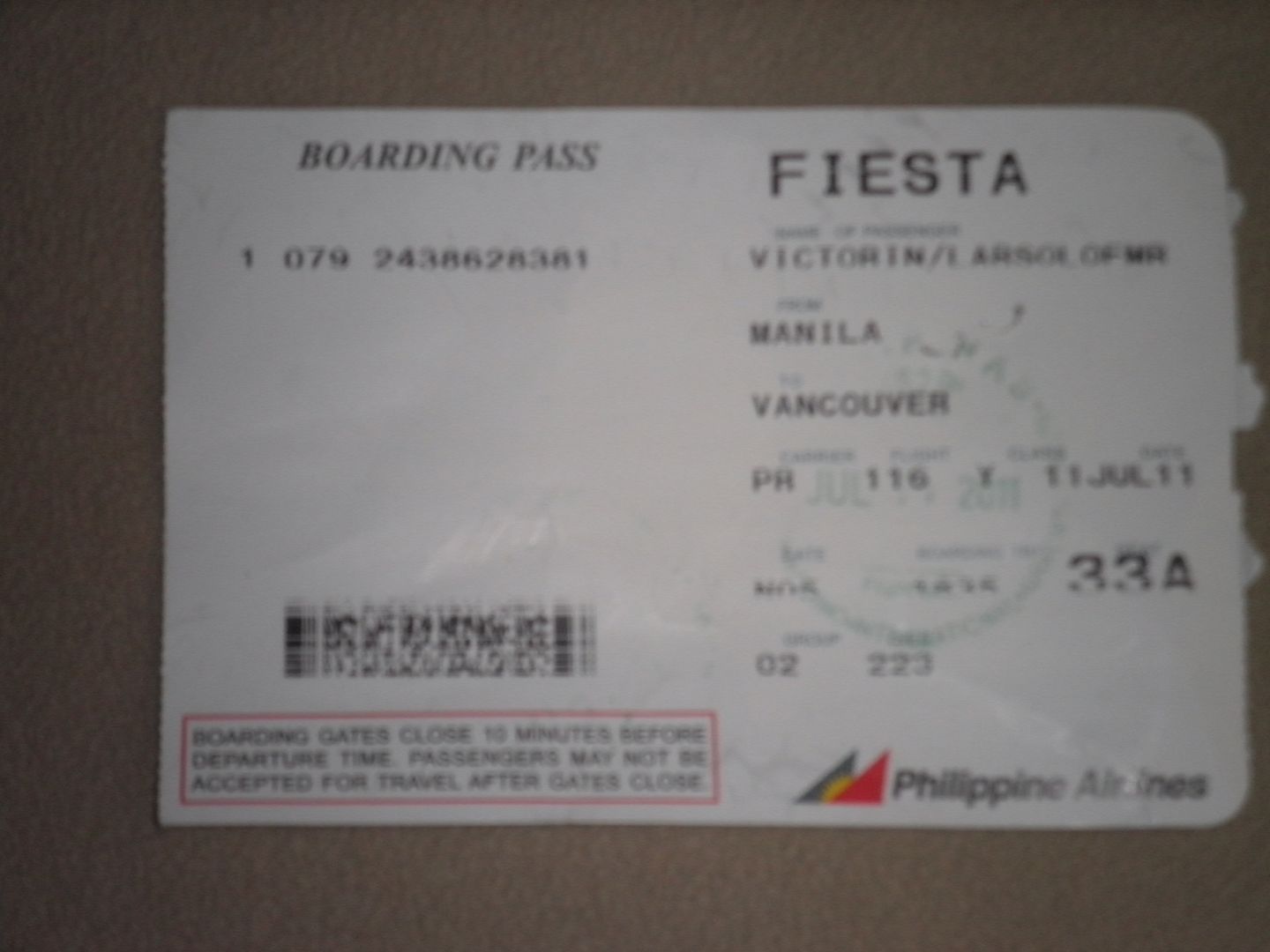 I started to fly on different carriers's 777 in May 1997 with my friend Rich Strollo so very fitting to complete it for now with a visit to see him in MNL and to fly the last carrier for now, PR.
I dedicate this report to him.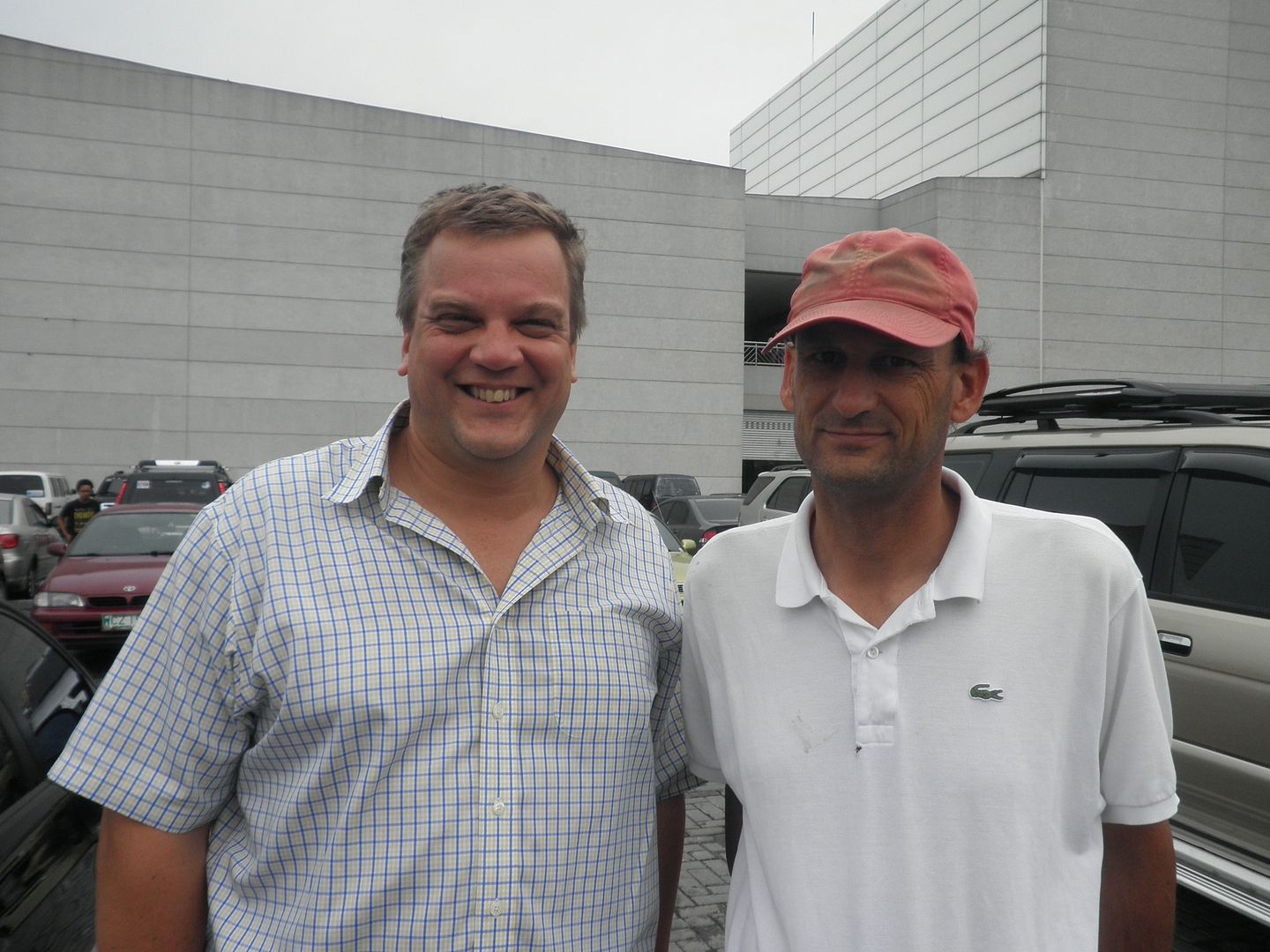 There are currently three more carriers scheduled to take delivery of 777s direct from Boeing, Biman Bangladesh, Garuda Indonesia and Royal Brunei (although still listed as unidentified customer) and I hope to fly on these as they take delivery. Next one for me probably early next year on Garuda.
Thank you for reading and looking forward to your comments.
The777Man