Feedback always appreciated.
I > Background:
Having accomplished my "mission" to see São Tomé and Príncipe (STP), it was time to head home. Now, I could go back the same way ... but that is so against the fundamentals of being an airline dork. Being in TMS severely limited my options ... since I did not want to fly TP, and Ceiba International's flight to LBV was sold out, I got a seat on TAAG's flight to LAD. This flight comes from RAI and since I had never flown DT, it would be perfect!
I was a little apprehensive about flying to Angola as I find its bureaucracy mind numbing, and each time, the process of obtaining the Angolan visas had been a "telenovela". Anyways, numerous phone calls to old contacts at the World Bank ensured and after a flurry of activities and phone calls, and a bottle of Mr. Walker Blue, I obtained my visa in a record 8 days.
I believe this is the first report on TAAG's 73W service in JCL, and the first on this route.
II > Pre-Flight:
a) Before Airport:
TAAG Angola Airlines is the national flag carrier of Angola. It operates domestic services within Angola, as well as medium-haul services in Africa and long-haul services to Brazil, Cuba and Portugal. Wholly owned by the Angolan government, it has benefited from Angola's resource boom, and the well guarded bi-laterals that have prevented real competition from taking shape.
TAAG has a dramatically improved website (http://www.taag.com/), and I was able to not only browse, but also actually buy my ticket. I could not chose my seat - but that was fine by me. Later on, I could view my itinerary as well. The entire site worked - though had tons of quirks, and very reminiscent of Air India's old site.
b) At Airport:
I hitched a ride with a farmer going to the airport and arrived around 3 hours prior to departure. I had been warned that DT always overbooks these flights, and as much as I loved STP, being stranded there would be terribly inconvenient for my dinner plans in Luanda and my onward plans out of Angola.
As I looked one more time at the airport and smiled, I realized what an incredibly remote part of the world I had seen. I was grateful for my life. At the airport, the queue to enter started building. They had blocked the entrance and were not allowing anyone to go through. In the usual African scene, a porter asked for a payment to put me in the front of the line. A lady came by to sell fish to the people standing by. As customary in these places, there were tons of NGO workers and I started chatting with one of them and realized that I had not paid my airport tax. She vaguely pointed at a direction and I asked if she would not mind looking after my bag. I had no intention of losing my space in the line.
As I made my way to the counter, I begun to understand something was amiss. I speak Portuguese well enough to comprehend that a man (later finding out he was the station manager) was having a heated discussion with someone in Luanda. As I was more interested in hearing the conversation than paying the departure tax, the woman at the counter (let's call her Ms. CW) said rudely: "Sir, you pay or go?". I think I stunned her with my response in Portuguese: "You and I know very well that this flight is not going anywhere. So why create health problems and rush?". Haha. I think she was stunned and managed to apologize and let me even pay in the local money. $1 = 24,000 Dobras (or something like that) ... so it made her life difficult.
Anyways, having caught strains of the conversation with the station manager, I confronted him, and he basically as a matter-of-fact mentioned that the plane had developed a mechanical in RAI and had never left. Now, RAI-TMS is a near 6 hour flying time. Why had he not mentioned to all the ranking passengers was beyond me?! Not that he cared. Anyways, as I was thinking of what to do, I realized my bag was still with the NGO worker. So I went back to the line and gave her the news. Soon people came all around me - and the fun yelling, anger, and drama started. People demanded to be let inside the airport. The station manager came outside to calm the situation. Having traveled throughout Africa, I basically decided to see how the even unfolded. In typical fashion, angers soon subsided and everyone realizing the flight would only go tomorrow began to withdraw.
Since there was no other flight out, I resigned to fate and now had to make my way to the TAAG city office. There was no other way of getting hotel accommodation, and I morally refused to pay. Negotiating with the taxi drivers had become hopeless. Well, let me rephrase: negotiating with the random men with cars who would give me a ride to town was hopeless. They knew that this white dude was stuck at the airport and was quoting over $100! I was beginning to just accept the 10KM walk to town in 35C heat when Ms. CW came and started yelling at the taxi drivers for being bad host to the foreign guest. Aaww ... SOOO African/Latin/Asian
. She was a big lady and people listened to her. Soon, one of the men just mumbled me to get in. As he was about to pull away, she said to him in Portuguese that it was a small island and she better not hear tomorrow that I had been ripped. She knew the driver's mom. Haha. Thanking her severely as my taxi pulled away, a big smile engulfed me. Here I was ... stranded. Yet, everything felt right. It was almost as if it was a way of humanity to remind me that it existed.
The driver was also incredible. He waited for me at the TAAG city office as they arranged for my hotel stay at the top place in STP. This was as "old school" as it got.
After spending the rest of the day bonding over drinks with fellow stranded passengers, next morning, we all got on the pre-arranged transfer service to the airport. At the airport, things were much calmer. I had bought a box of chocolate for Ms. CW and you could see the joy on her face. She immediately basically took me to the secure area where government vip's hang out (shockingly -roll eyes- same place where I had landed) and basically had some dude bring me drinks and stuff as someone checked me in. Haha. Can you beat that Thai First Class at Bangkok
? Minutes later, I had my boarding pass, went through immigration, and was on the boarding wait area. I had some time and wanted to buy some more local stuff so basically just walked past the immigration and security guy back to landside to haggle with the ladies. No question asked - it felt empowering to have entered STP illegally!
When boarding was called in, everyone jumped and we were all herded on to walk to our 73W. I took a deep breath and mentally captured the scenery of the young kids around the airport perimeter and climbd onboard.
Greeted at the door, I went to my seat. Y load was around 90%, J load was around 80%. Interestingly, most J passengers were from RAI.
Airport - External:
(STP Airport)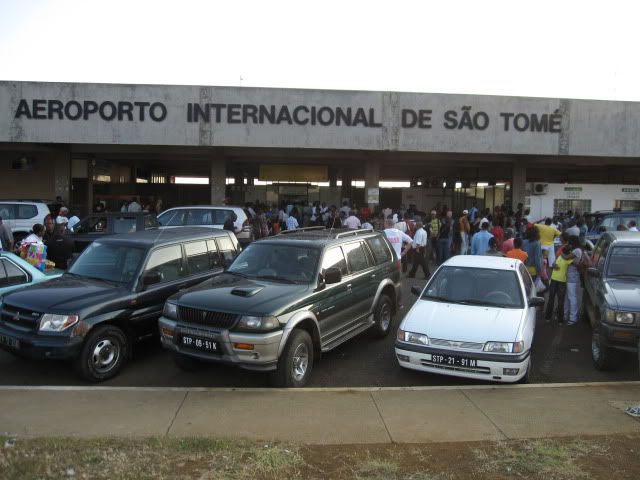 (Queue to get-in)
(People park their luggage hours before and just leave)
(Queue getting long and no idea of when check-in opens)
*
Check-in:
(Very old school)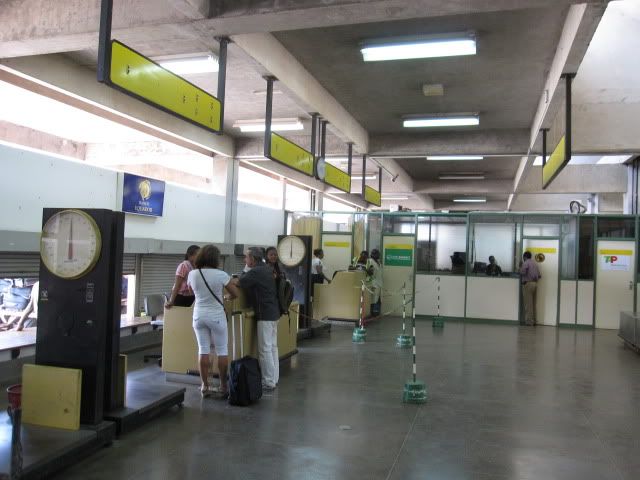 Airport - Internal: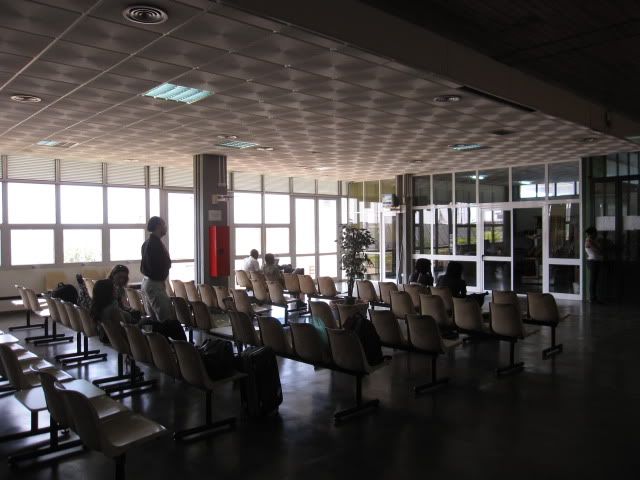 *
*
(FIDS: What is that?)
NONE
(Post Security @ TMS)
(Technically, this is the VIP room I was given access to - the same one at arrival)
*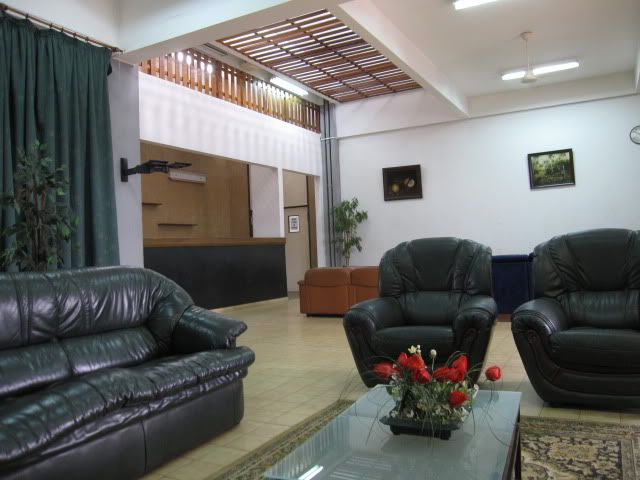 Scenes of the tarmac: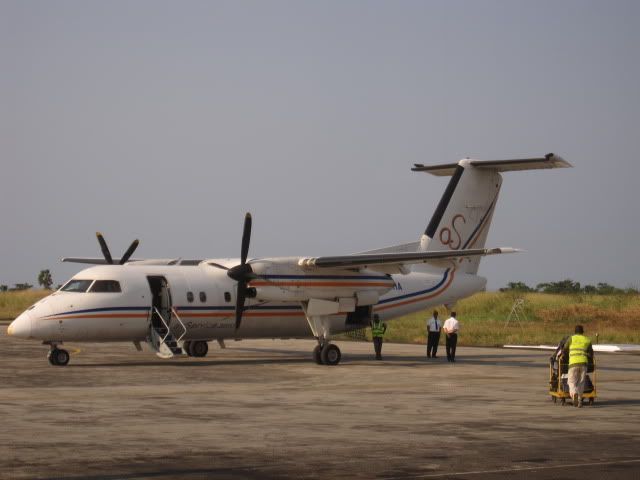 Lounge: NONE
Boarding:
(Gate Area)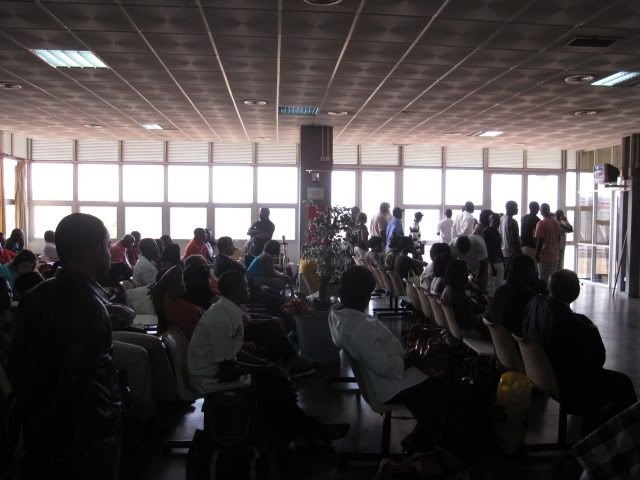 (Boarding - the inevitable crazy rush)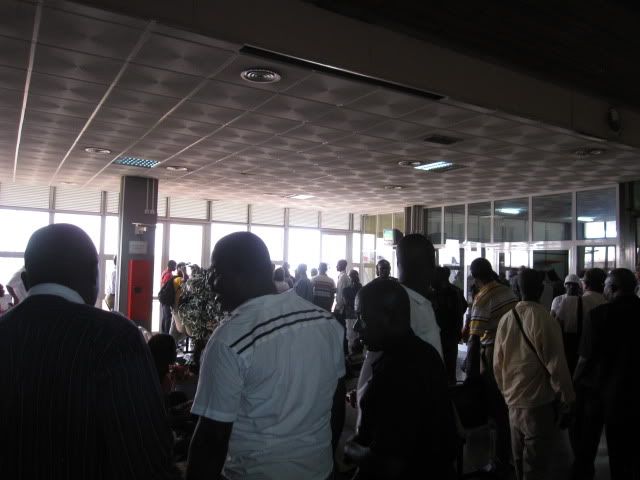 III> In-Flight:
a) Service Schedule + Impressions:
While on the ground, just water offered. After take-off, following service and order: skimpy headphones and a meal service. I was curious if they had an amenity kit - and shockingly, they had one and gave it to me!
b) Aircraft + Seats:
I personally find TAAG to have one of the smartest liveries out there, and this 73W looked immaculate in the tones of its colors. While the inside was maintained enough, it was not immaculate and the regular wear and tear was far more than an aircraft of this heritage should be. The bathroom looked rather dingy (far more than its age) and could have been better maintained. The seats were normal cloth seats and very average. While pitch was rather average, recline was generous and reminded me of the Jet Airways reclines on their international 73Ws's.
Aircraft:
(DT's 73W @ TMS - personally I think they have one of the most striking liveries out there)
*
Views from Aircraft:
(Random birds @ TMS)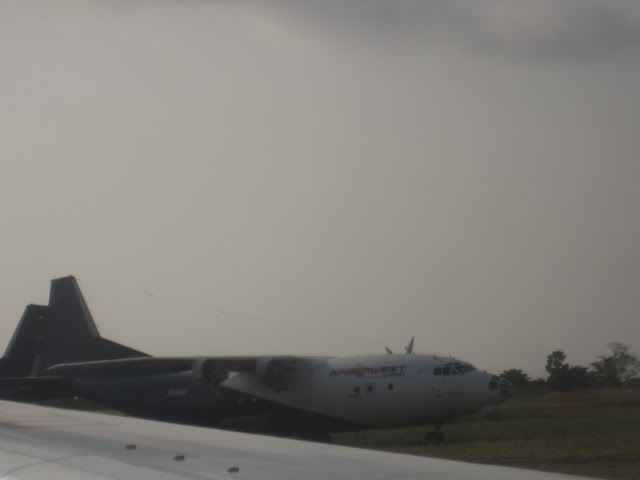 (Dedicated to debonair)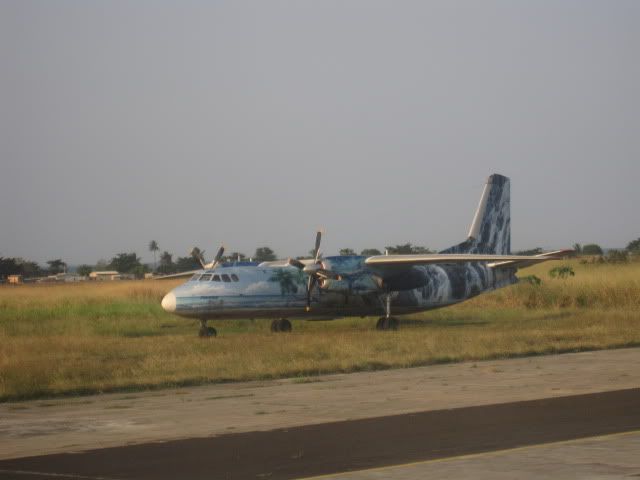 (Bye bye kids on the runway)
(Bye bye beautiful STP)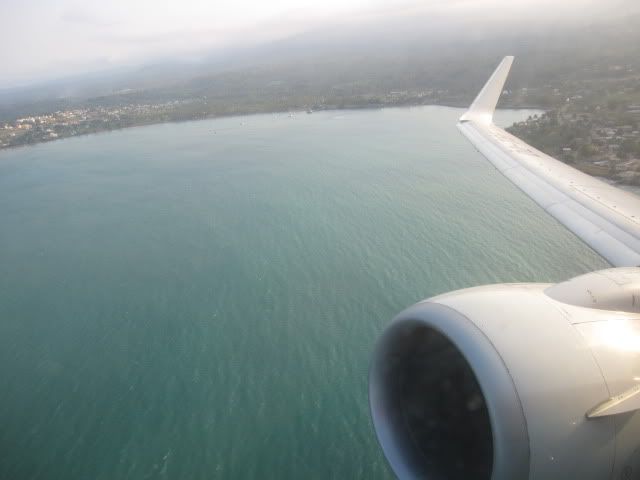 *
General Seat Views + Seat Legroom
(Seat)
*
(Front of seat)
*
(Seat controls)
*
(Legroom)
Seat Recline + Angle View:
(Impressive recline for a regional JCL)
*
Cabin: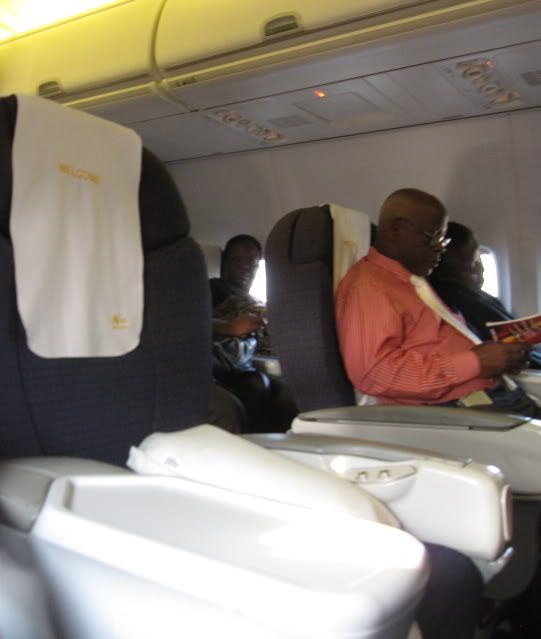 *
(Blanket ++)
NONE
(Bathroom: could do with a bit of sprucing up)
c) Meal + Beverage:
Meal service commenced soon after take-off and was an "interesting" affair. The entire meal was brought at once and included a rather generous lobster salad which was rather delicious. For main (there were no choices), it was a local delicacy(?) - rice, chicken, carrot, and beans. Unlike what would be in parts of Latin America, this was rather bland and I felt like I was eating food to lose weight. Not good. Finally, the dessert was just weird - perhaps it caters to more local tastes, but I did not truly enjoy a loaf of bread soaked in a sugary sauce filled with pineapple and mango stripes. All strange. Thankfully, the café was splendid and did wonders to drown the other stuff out.
No other meal or beverage service offered, and the crew did not come with water or anything. To be fair, on a small JCL, passengers just asked for stuff, and they delivered.
(Dinner)
*
(Excellent café)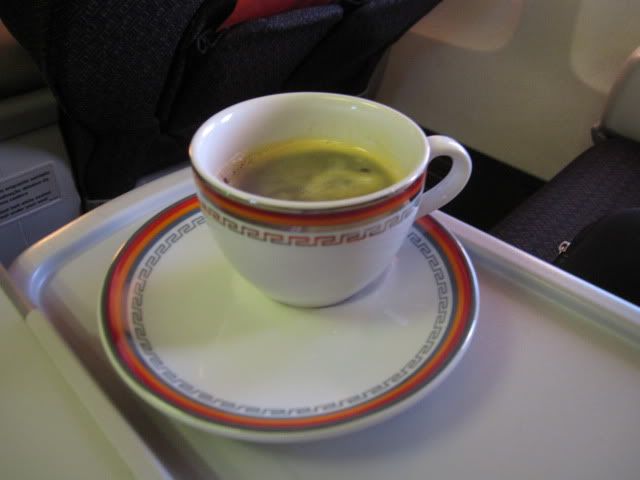 d) Inflight Entertainment:
Fold down screen showed a second-run Hollywood movie that I cannot recall. We were handed out some of the poorest headphones I have seen in Business Class. Also disappointing was the lack of any magazine. Overall, extremely poor for a JCL product.
(IFE Screen and Control)
*
*
("In-flight magazines", Boarding Passes, etc.)
NONE
e) Crew:
The best word to describe the TAAG crew would be "indifferent". I felt they were in "auto pilot" throughout the entire flight. They was some faint greetings during boarding, and some basic conversation during the meal service. Other than that, they did their service runs, and basically retreated behind the curtains. When a call button was rung, they came to ask for what was being asked, brought it, and then retreated back to their cocoon. It was almost like they were robots incapable of any charm whatsoever.
IV> Post-Flight:
Landing in LAD was smooth - but then the usual drama with Angolan immigration started. I was waived through with ease, but three of the people I had met at the hotel earlier were detained and put in a "holding cell". They were a Portuguese, a Japanese, and an Indian national. Their multiple entry visa had caused upset with the immigration officials who could not believe that these 3 guests of the World Bank could actually come to Luanda for one day. No way. To the paranoid Angolans, they were in there to "steal local jobs". I had promised them a taxi ride and since I have this bad habit of putting myself in situations I should not, I decided to hang out at the airport for them. The next 4 hours were spent calling contacts at the World Bank and my contacts at TAAG to secure their release. During that time, the shift of the chief immigration officer changed and there was power politics being played as the new immigration guy did not want to take responsibility for their release. After a lot of going back and forth, on the fifth hour, and after several bribes, the three were released. The entire episode was extremely sad and reflected the current mentality of the Angolan ruling elite. As frequent readers of my trip reports can attest, I am usually very aware of local "protocol" and usually find humor goes a long way in defusing these "situations". Angola is one of the few countries that I genuinely felt helpless. Here were three qualified men with connections being detained. Imagine the plight of the African workers they shared the cell with who had to apparently linger for days. The resource boom has gone into the head of the Angolan elite who feel invincible. Usually I find expat whining very off-putting - but this is one rare time where they have every right to. Talk to any expat in Luanda, and I am sure they will have similar stories to tell.
(Parked besides this bird @ LAD)
V> Impressions + Scores:
My flight out of São Tomé and Príncipe was as different as my flight into it. While I will smile and look back at the "ancillary" drama around the flights, some of it was unnecessary. It does not harm TAAG to treat their passengers with respect and notify them of a flight cancellation; nor, does it do any good for the Angolan authorities to treat everyone as an illegal worker entering their country. Besides these, TAAG does OK. While its hardware is perfectly acceptable for a flight with this stage length, it could definitely improve on its software. Adding an IFE and an in-flight magazine does not take that long. Real and sustained improvements could be had by improving the quality of its personnel - the on board staff were as detached as one could get. If this is how passengers were treated in JCL, I can only imagine how service was back in YCL.
Overall, a thumps down. I would fly TAAG only if there were no other competitive options. Irregular operations happen all the time in the airline industry. How an airline deals with it separates the great, the good, the average, and the bad. Sadly, TAAG in this instance, fell in the last category with no service recovery during the actual flight portion.
VI> Other Trip Reports:
PREMIUM:
9.27: JET AIRWAYS **FIRST** (110): LHR-BOM: 10/2010
9.27: THAI AIRWAYS **FIRST** (108): BKK-LHR: 07/2010
8.66:
Brussels Airlines (93): FIH-BRU: 01/2010
8.64:
Turkish Airlines (59): JFK-IST: 11/2008
8.63:
Jet Airways (88): JFK-BRU: 10/2009
8.61:
Air Canada (49): YYZ-SCL: 06/2008
8.54:
Turkish Airlines (77): GRU-DKR-IST: 04/2009
8.36:
Kingfisher (98): BOM-HKG: 01/2010
8.30:
Jet Airways (74): KWI-BOM: 04/2009
8.23:
United Airlines (72): SFO-SYD: 03/2009
8.11:
Aeroflot (33): MOW-DEL: 09/2007
8.05:
Air India (80): CCU-JFK: 06/2009
8.04:
Korean Air (40): NRT-ICN: 10/2007
8.02:
Delta Airlines (24): JFK-CDG: 08/2007
7.82: UNITED AIRLINES **FIRST** (110): SFO-ICN: 10/2010
7.82:
Singapore Airlines (06): EWR-SIN: 09/2006
7.66:
Sri Lankan (104): DEL-CMB: 07/2010
7.64:
Royal Jordanian (91): AMM-YUL: 12/2009
7.61:
China Southern (103): LOS-DXB: 04/2010
7.57:
Pakistan Airlines (102): ORD-BCN: 06/2010
7.46:
LAN (55): YYZ-JFK: 09/2008
7.38: AMERICAN AIRLINES **FIRST** (112): LHR-JFK: 10/2010
7.38: CATHAY PACIFIC **FIRST** (109): HKG-LHR: 10/2010
7.25:
Iran Air (88): BOM-IKA: 12/2009
7.23:
Virgin Atlantic (81): BOS-LHR: 07/2009
7.14:
Swiss (52): SCL-GRU: 06/2008
7.11:
Aer Lingus (105): MAD-IAD: 05/2010
7.11:
Austrian (79): VIE-JFK: 06/2009
7.07:
Privatair (84): BOM-FRA: 08/2009
7.02:
Qatar (68): DOH-JFK: 01/2009
6.96:
Etihad (61): JFK-AUH: 12/2008
6.93:
Delta Airlines (18): SEA-JFK: 11/2006
6.84:
ConViasa (65): CCS-DAM: 01/2009
6.82:
Air Burkina (106): BKO-OUA: 06/2010
6.81:
Air Canada (17): ICN-YYZ: 10/2006
6.75:
Afriqiyah + Libyan (113): CAI-TIP: 11/2010
6.70:
KLM (32): EBB-AMS: 08/2007
6.52:
Emirates (99): LHR-DXB: 02/2010
6.39:
South African (97): EZE-JNB: 01/2010
6.36:
Privatair (60): MUC-BOS: 12/2008
6.29:
TAM Brasil (96): POA-EZE: 02/2010
6.25:
Korean Air (45): NAN-ICN: 10/2007
6.21:
Iberia (87): BOS-MAD: 10/2009
6.11:
A SKY (107): OUA-COO: 06/2010
6.11:
TAP Portugal (53): GRU-OPO: 06/2008
6.00:
Gulf Air (75): BOM-BAH: 04/2009
5.88:
African Express (89): DXB-NBO: 11/2009
5.75:
Singapore Airlines (16): CCU-SIN: 10/2006
5.64:
SATA Azores (101): BOS-PDL: 04/2010
5.64:
NorthWest (46): ICN-NRT-SEA: 10/2007
5.54:
Ethiopian Airlines (95): ADD-BOM: 01/2010
5.46:
Icelandair (83): KEF-BOS: 08/2009
5.39:
LOT (54): WAW-JFK: 06/2008
5.21:
Egypt Air (73): CAI-IST: 02/2009
5.11:
Tunisair (115): TUN-ORY: 12/2010
5.07:
TACA (66): JFK-SAP: 01/2009
4.89: TAAG Angola (117): TMS-LAD: 12/2010
4.42:
Air France: CDG-JNB (25): 08/2007
ECONOMY: Long + Medium:
9.26:
Air India (48): JFK-DEL: 02/2008
7.38:
Avianca (01): BOG-LIM: 07/2006
7.07:
Sri Lankan (62): KWI-CMB: 12/2008
7.00:
LAN (94): IPC-SCL: 01/2010
6.81:
STP Airways/Euro Atlantic (116): LIS-TMS: 12/2010
6.41:
Avianca (78): JFK-BOG: 05/2009
6.41:
American Airlines (58): LHR-BOS: 11/2008
6.39:
Condor (85): SEZ-FRA: 09/2009
6.26:
Jet Blue (21): CUN-JFK: 02/2007
6.06:
Air Canada (04): YYZ-YVR: 09/2006
5.89:
USA 3000 (19): PUJ-BDL: 01/2007
5.85:
Spanair (69): MAD-LPA: 02/2009
5.79:
Air New Zealand (42): RAR-NAN: 10/2007
5.52:
Aerolineas (86): USH-AEP: 10/2009
5.46:
TAP Air Portugal (23): OSL-LIS: 05/2007
5.19:
Air Europa (70): LPA-MAD: 02/2009
5.16:
Iberia (71): MAD-BOS: 02/2009
5.11:
Air China (82): FRA-PEK: 08/2009
ECONOMY: Short
8.56:
Paramount Airways (38): BLR-MAA: 09/2007
8.56:
Kingfisher (64): HYD-CCU: 12/2008
8.24:
Kingfisher (14): IXA-GAU: 10/2006
7.87:
Indian (34): BOM-MAA: 09/2007
7.72:
Alliance Air (13): CCU-IXA: 10/2006
7.57:
Indian Airlines (10): DEL-CCU: 09/2006
7.23:
West Jet (03): YYC-YVR: 09/2006
7.15:
JetLite (37): BOM-GOI: 09/2007
6.98:
Air Koryo (100): PEK-FNJ: 04/2010
6.70:
Spice Jet (09): CCU-DEL: 09/2006
6.63:
Air Fiji (44): NAN-SUV: 10/2007
6.63:
Jazeera (67): DAM-KWI: 01/2009
6.58:
Air Tran (02): EWR-MDW: 08/2006
6.48:
Air India Express (63): CMB-MAA: 12/2008
6.44:
CO Micronesia (39): ROR-YAP: 10/2007
6.41:
Pacific Sun (43): NAN-SUV: 10/2007
6.37:
Skybus (47): SWF-CMH: 02/2008
6.33:
Kenya Airways (29): NBO-BJM: 08/2007
6.33:
Sky Europe (56): LTN-BTS: 10/2008
6.31:
Indigo (15): GAU-CCU: 10/2006
6.31:
easyJet (57): BUD-LTN: 11/2008
6.22:
Air Link Swazi (28): MTS-JNB: 08/2007
6.22:
Air India (36): HYD-BOM: 09/2007
6.13:
Adam Air (07): SIN-CGK: 09/2006
6.13:
Air Rarotonga (41): RAR-AIT: 10/2007
6.00:
Transairways (27): INH-MPM: 08/2007
5.95:
Air Canada (05): ALB-YYZ: 09/2006
5.85:
SAS Norge (22): OSL-AES: 05/2007
5.81:
LAM Mozambique (26): JNB-MPM: 08/2007
5.69:
Air Deccan (12): IXZ-CCU: 10/2006
5.67:
Rwanda Air Exp (30): KGL-NBO: 08/2007
5.52:
Sevenair (114): TOE-TUN: 11/2010
5.37:
Felix Airways (92): SCT-SAH: 12/2009
5.11:
Aero Republica (76): BOG-CCS: 04/2009
5.07:
Go Air (35): MAA-HYD: 09/2007
5.00:
Sky Airline (51): IQQ-SCL: 06/2008
4.96:
Valuair (08): CGK-SIN: 09/2006
4.78:
Air Comet Chile (50): SCL-IQQ: 06/2008
4.74:
Fly 540 (31): MYD-LAU: 08/2007
4.33:
Viva Aerobus (20): ELP-MTY: 02/2007
4.11:
Air Sahara (11): CCU-BOM: 09/2006
(Note on Codes: Y – Economy, J – Business, F – First :: I/D – International/Domestic :: SR/MR/LR – Short/Medium/Long Haul)
(Note on Date: Dates are modified to be +/- 3 days from actual flight date to not reveal actual flight pattern)
VII> Other Pictures:
(Why they provided an amenity kit on this short flight is beyond me - especially it being a F kit! Especially because the airline had no IFE and magazine!)
[Edited 2011-08-08 19:13:23]