British Airways to Scandinavia (LHR-CPH,GOT-LHR)
Hi Everyone!
Thanks for clicking on my most recent trip report, covering my recent flights with BA to Denmark and Sweden. Travelling back to ever so pricey Scandinavia wasn't originally on my itinerary for this summer (I will be going back , albeit very briefly in October to start a LH trip down to Colombia though), however, a friend of mine from university asked me if I fancied joining him on a trip there. Well, not having any prior engagements during his time off, and with some cheap BA flight available (for some reason, even mid-summer, BA has some great fare from LHR to most Scandinavian destinations, when southern Europe is really expensive). Whilst this was my friends' trip, I was left to organise flights and accommodation – not a problem!
After playing around with various combinations, we settled for a flight into Copenhagen, and out of Gothenburg 6 days later. I was keen to get a GOT flight, as they were my last major Scandinavian city I'd not flown into or out of (now done ARN, GOT, CPH, HEL, OSL, BGO & KEF, all direct from LHR).
A map of our flights
I'd managed to finagle a lift from a semi-willing relative down to Heathrow, thus avoid the slow bus/train, or an expensive taxi ride. We were dropped at the South end of Terminal 5, near to the Club and First desks. We bypassed the SSCI machines, and went straight to a manned desk. The Machines only give cheap carbon-paper boarding passes – not OK for my collection!
SSCI machines
Departures
The solemn-faced lady at the desk tagged our bags, and printed our boarding passes. I asked for some priority tags, which she said she'd attach (when we arrived in CPH, I was surprised to see that she had actually attached them).
The queue for security was quite long (they were sending families through the fast track line), and we ended up getting stuck behind a group of around 10 people, 7 of whom were under ten. Lots of bottles, baby food, belts, and boots. I really wish that BA would introduce a "I know what I'm doing" lane. It would be a godsend for frequent travellers.
Anyway, security dealt with, we went over to the Galleries South lounge.
Outside the lounge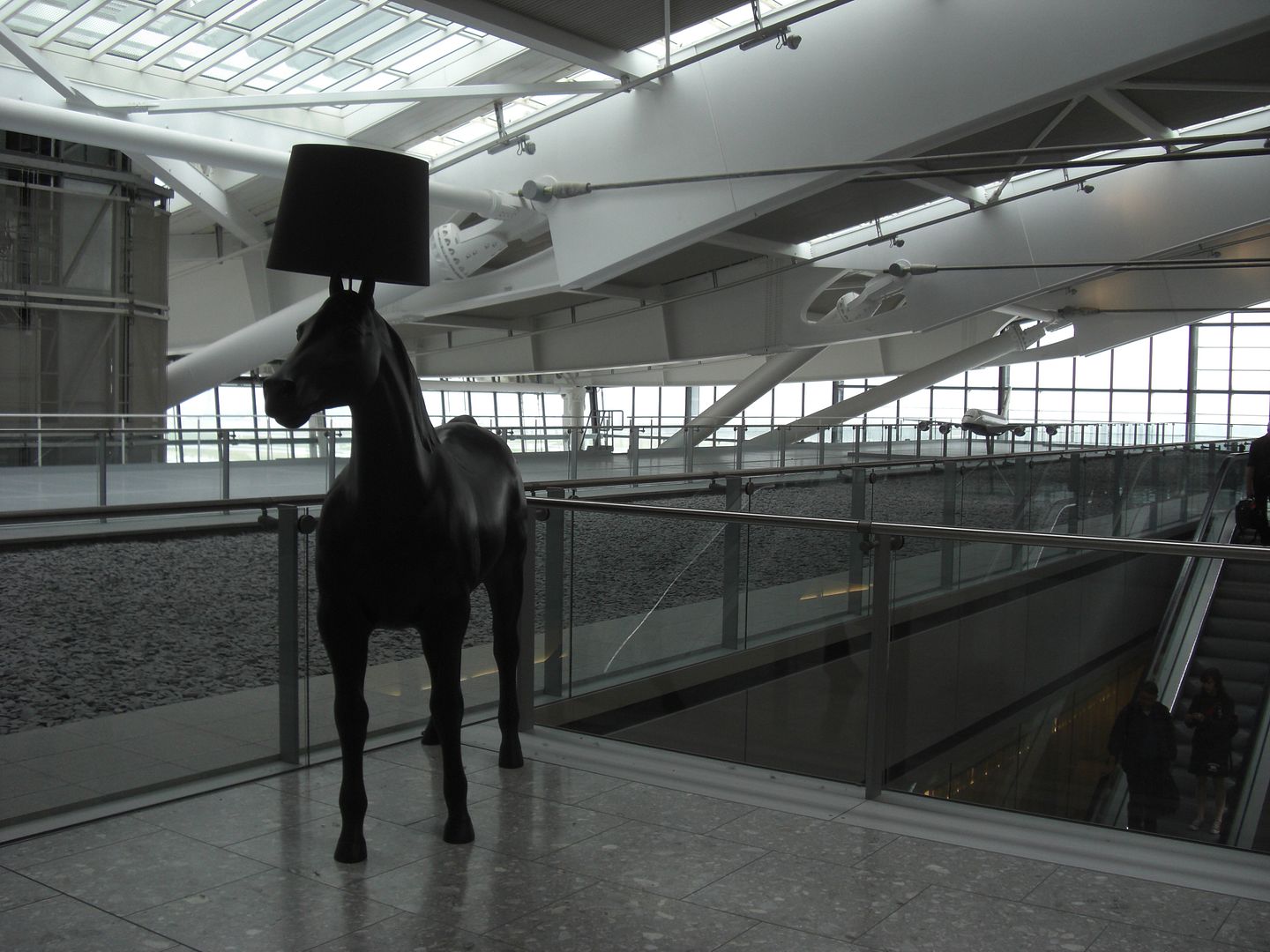 This was my friends first time in a lounge, and was suitable impressed….."is it all for…free"???? Yes, all for free!
Despite having been in this lounge quite a few times before, I had never stumbled across the ice-cream freezer. If only I'd known about this before! It was well hidden!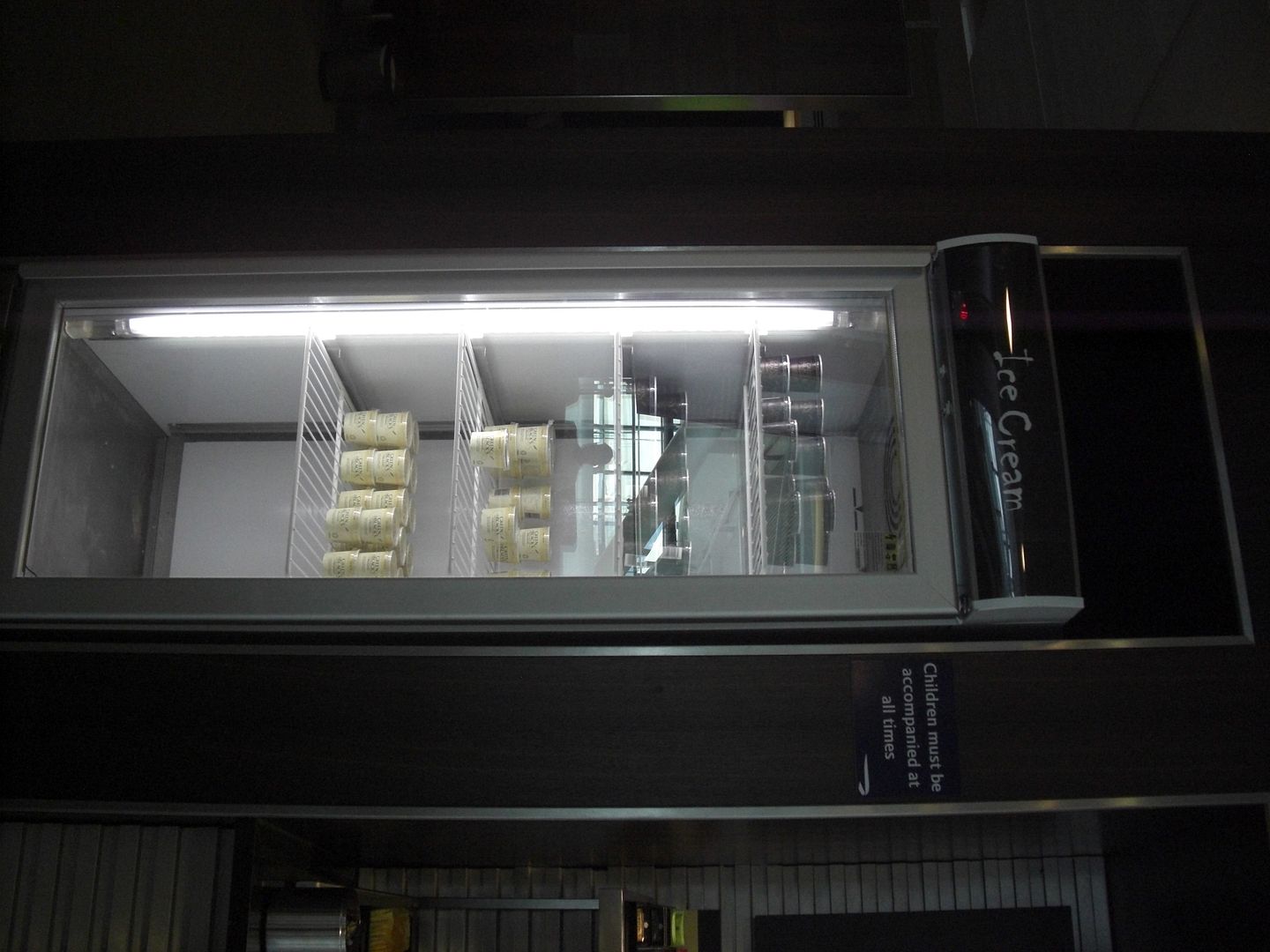 After an hour or so in the lounge, we headed down to the gate.
Our A319 for CPH
August 2011
London Heathrow (LHR) – Copenhagen (CPH)
British Airways BA 818
Scheduled: 1430-1725 (1h55m)
Actual: 1528-1749 (1h21m)
Airbus A319 G-EUPK
Economy

Boarding was slightly delayed, for no apparent reason. Once people with extra assistance were boarded, they invited Gold and Silver pax to board.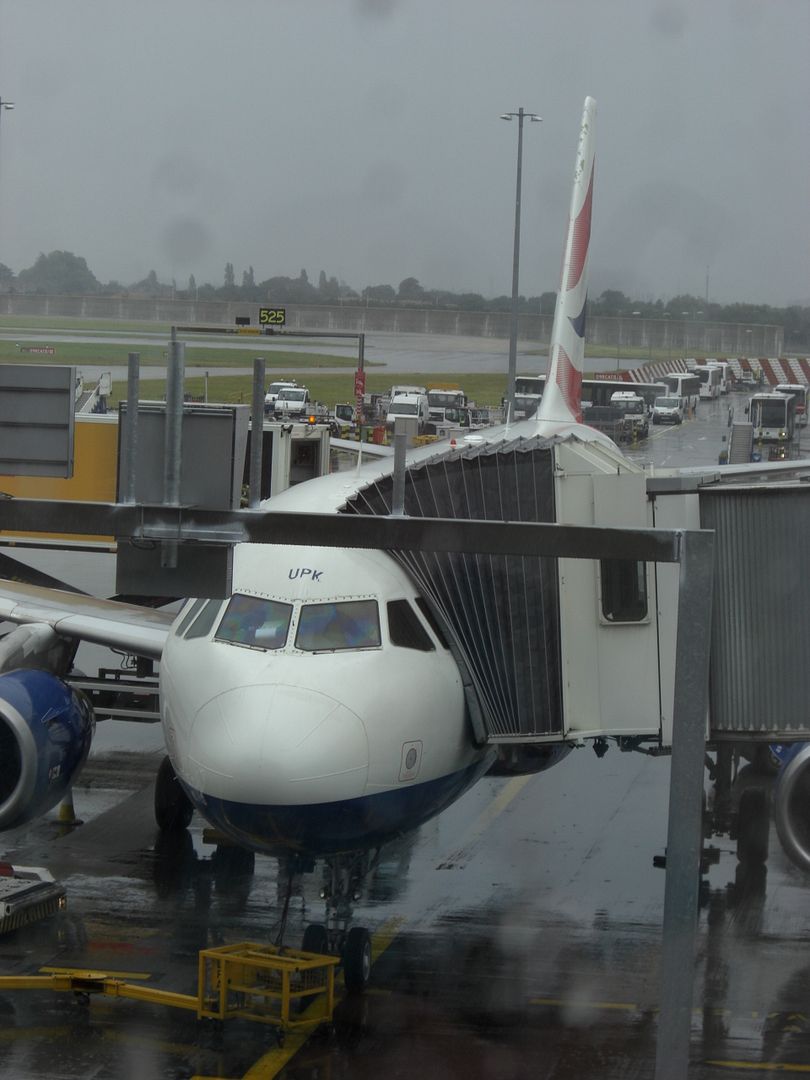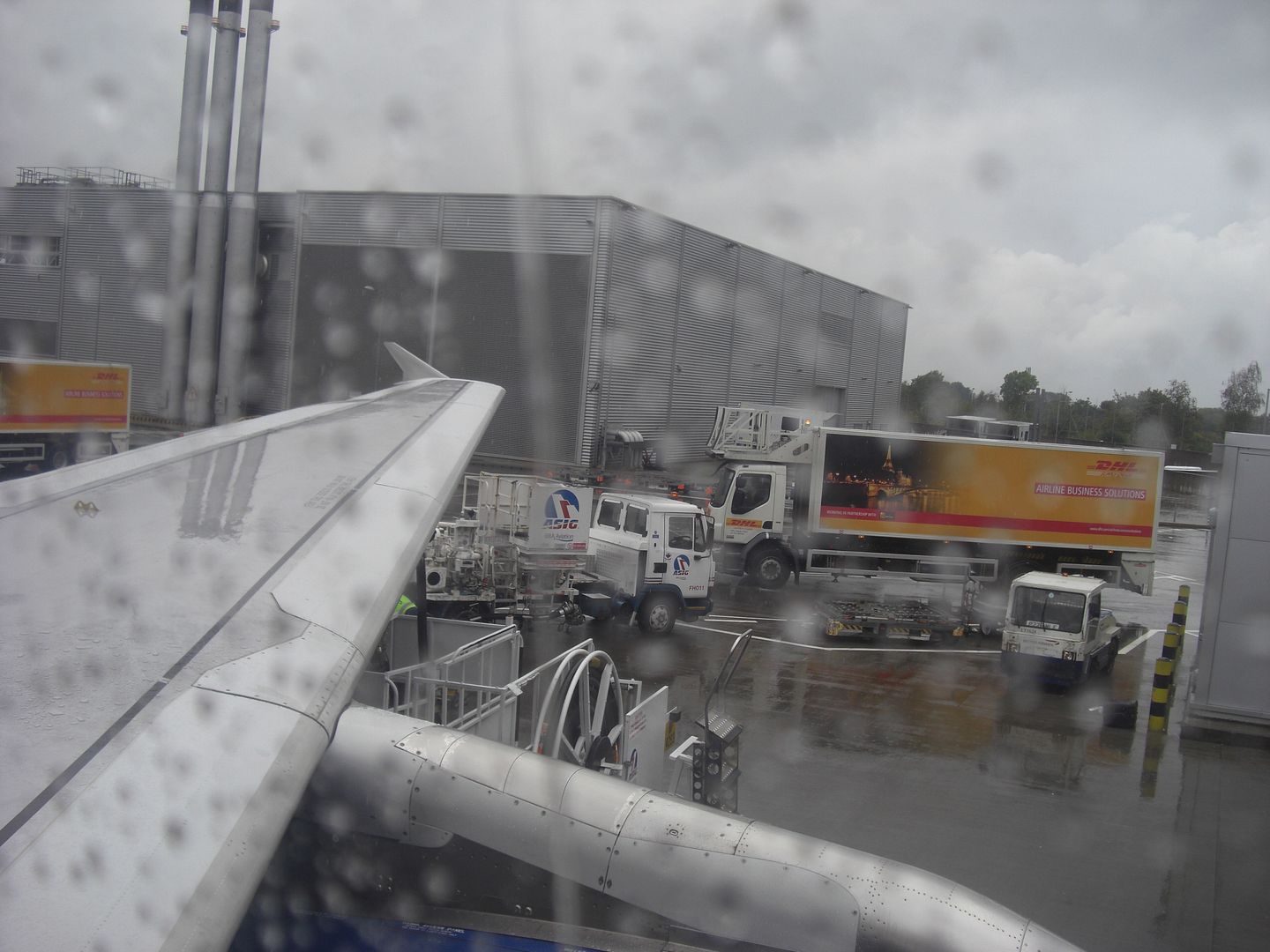 I had managed to grab the two seats behind business class that have extra seat width, so we had plenty of space on quite a full flight.
It was raining quite heavily outside
For reasons I can't quite remember, we were quite delayed pushing back. As soon as we did, our gate was taken by a sister A319.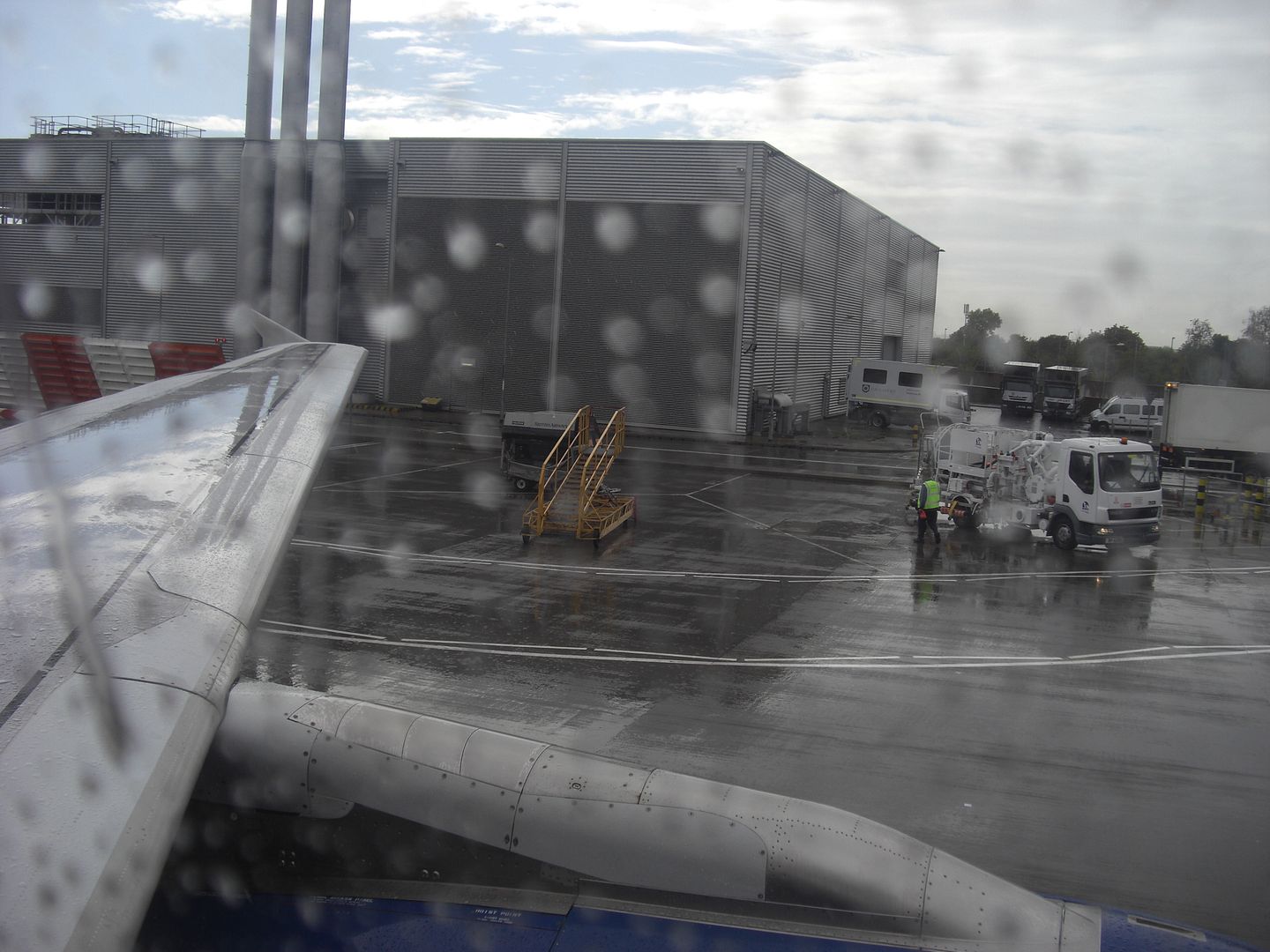 Slowly, as we taxied the length of LHR, the rain stopped, and the sun started coming out.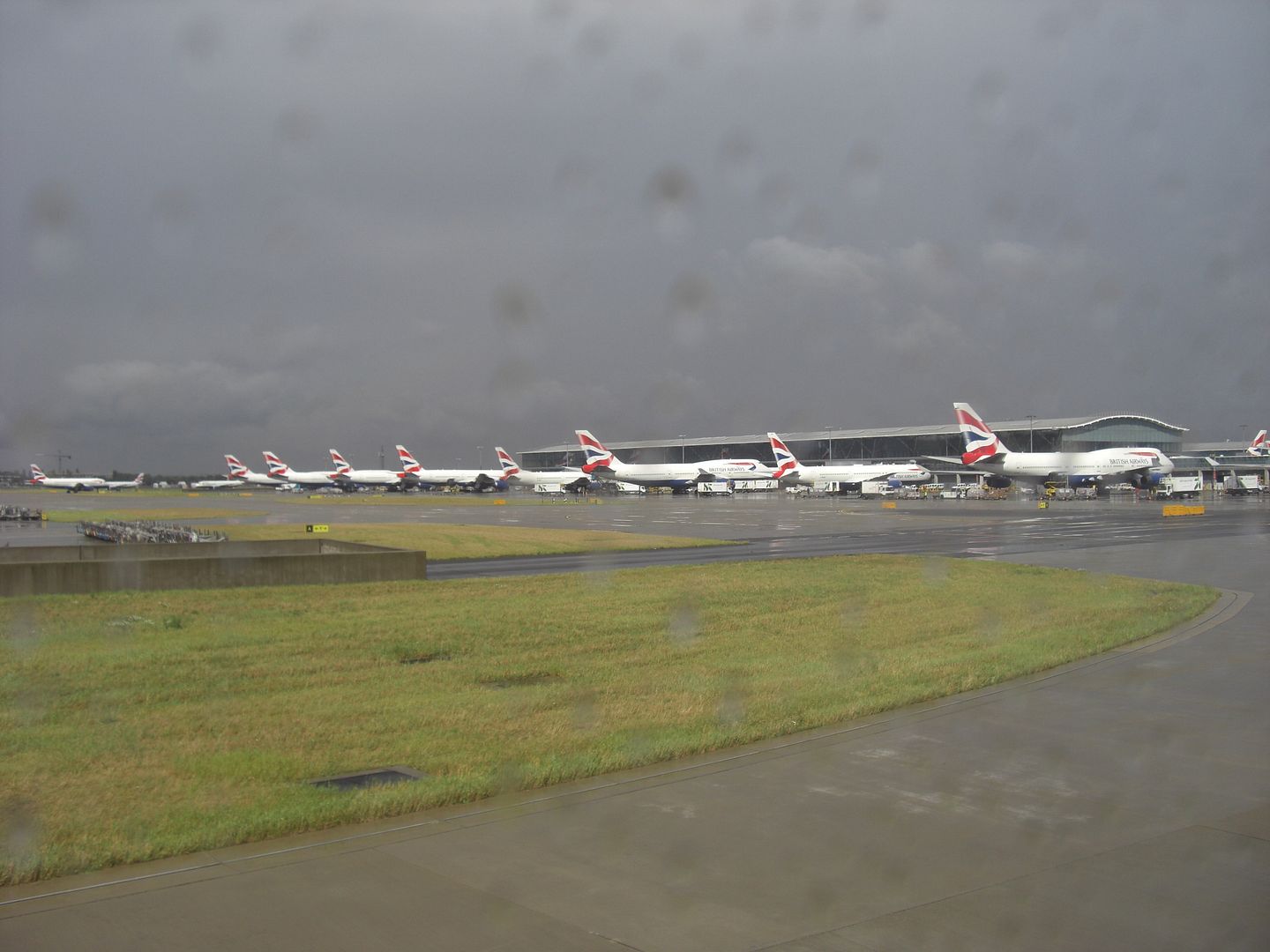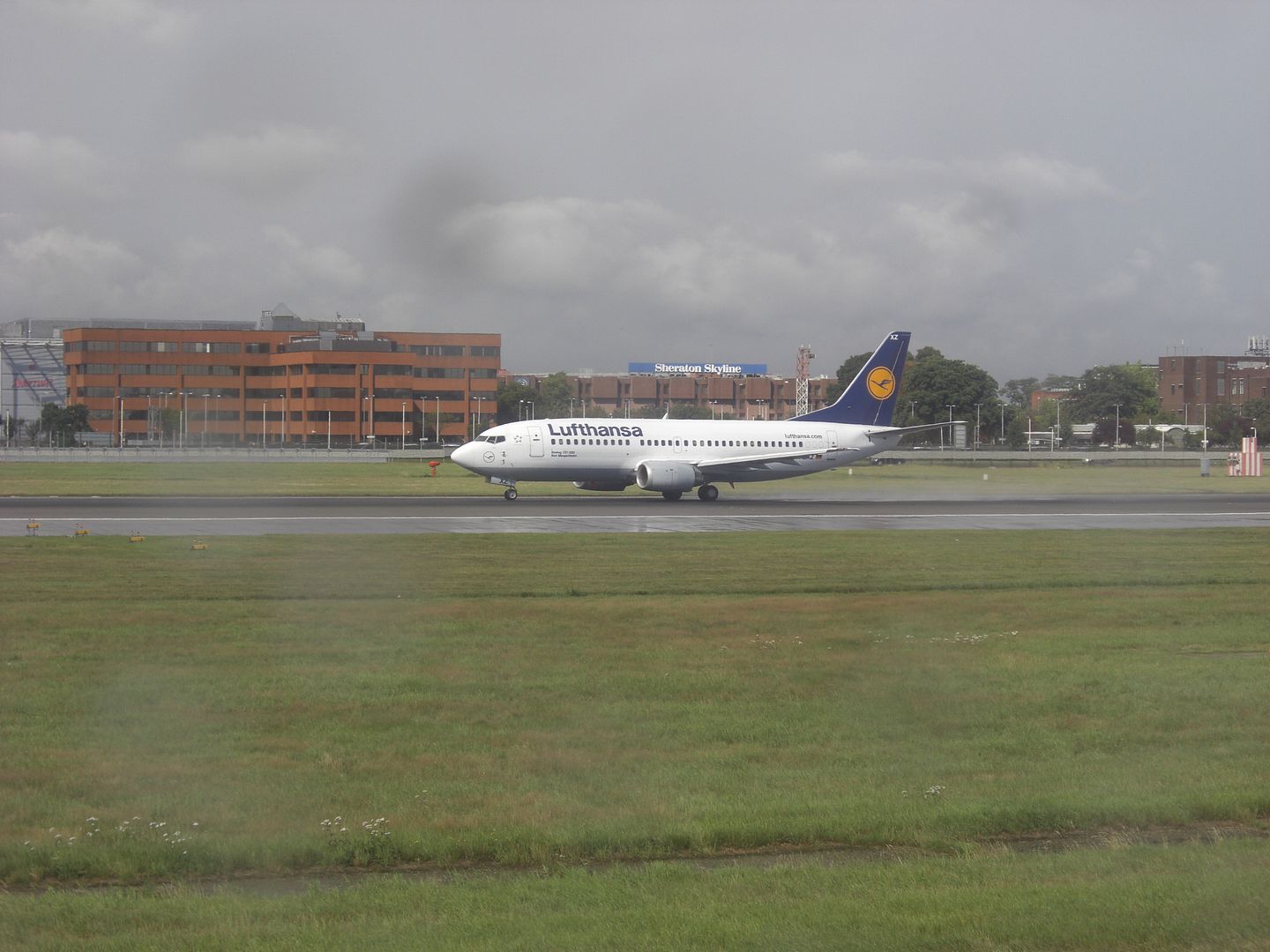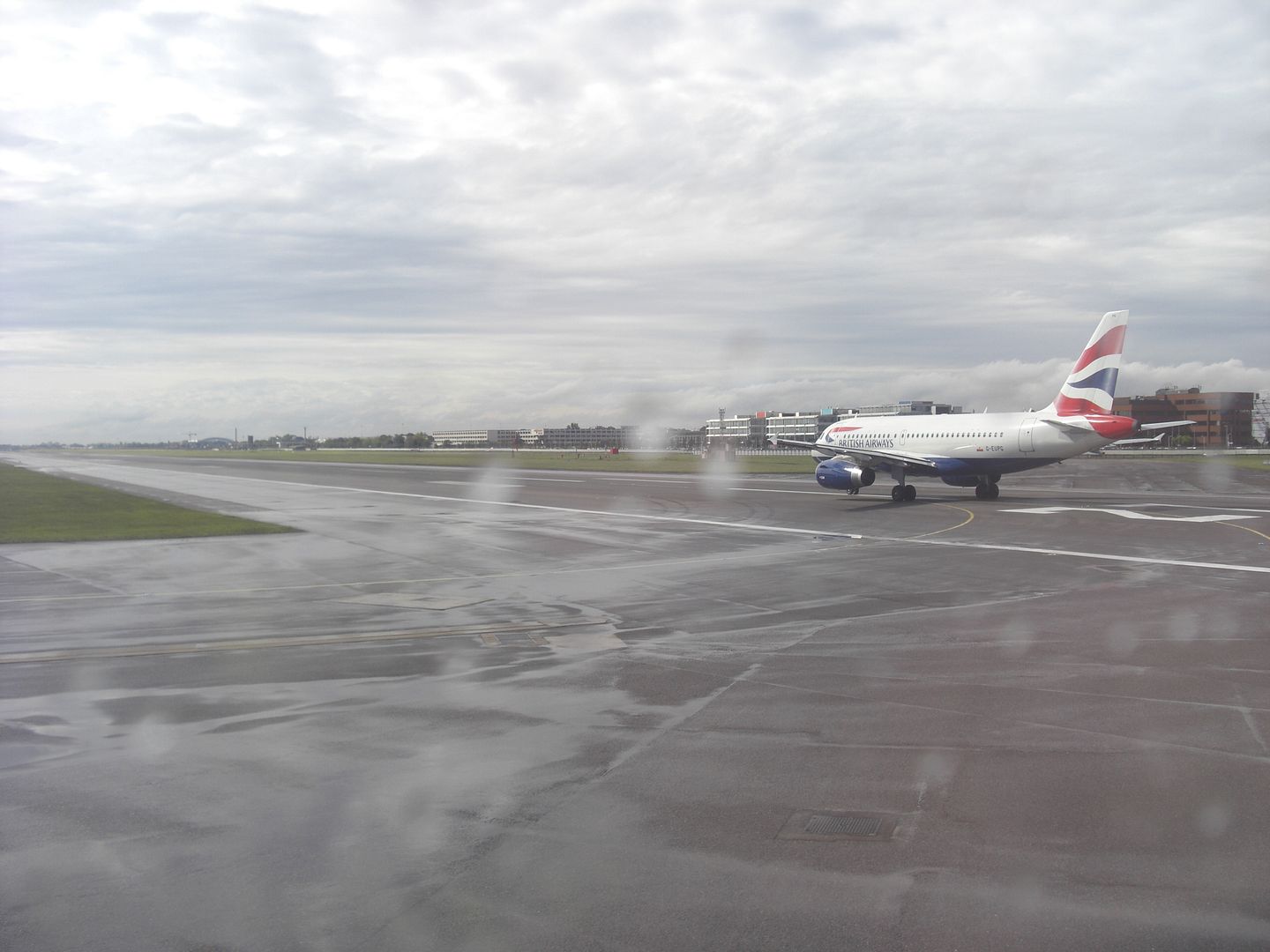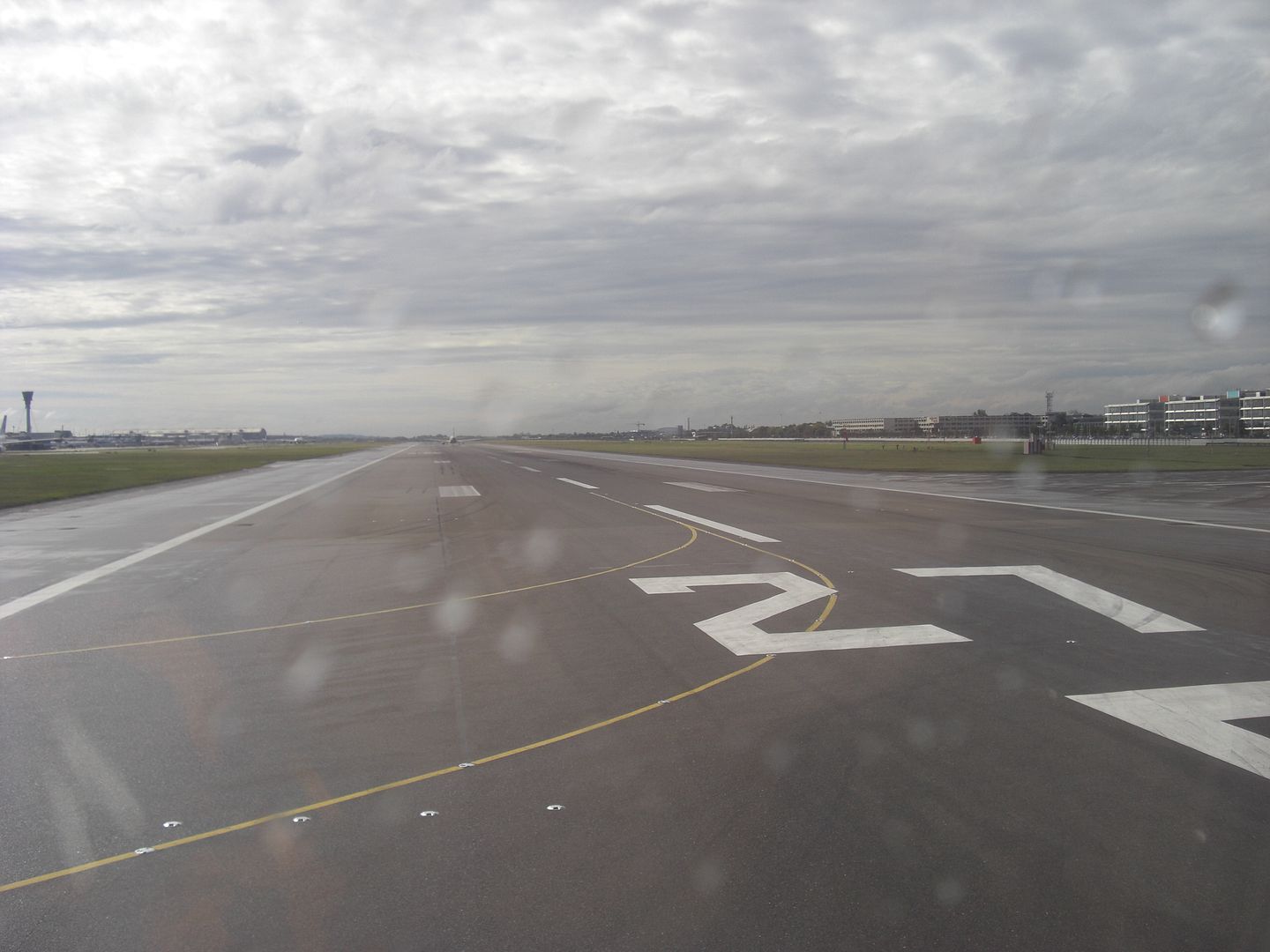 There were quite a few aircraft waiting behind us, including an Air Algerie B737, and a US Airways A330.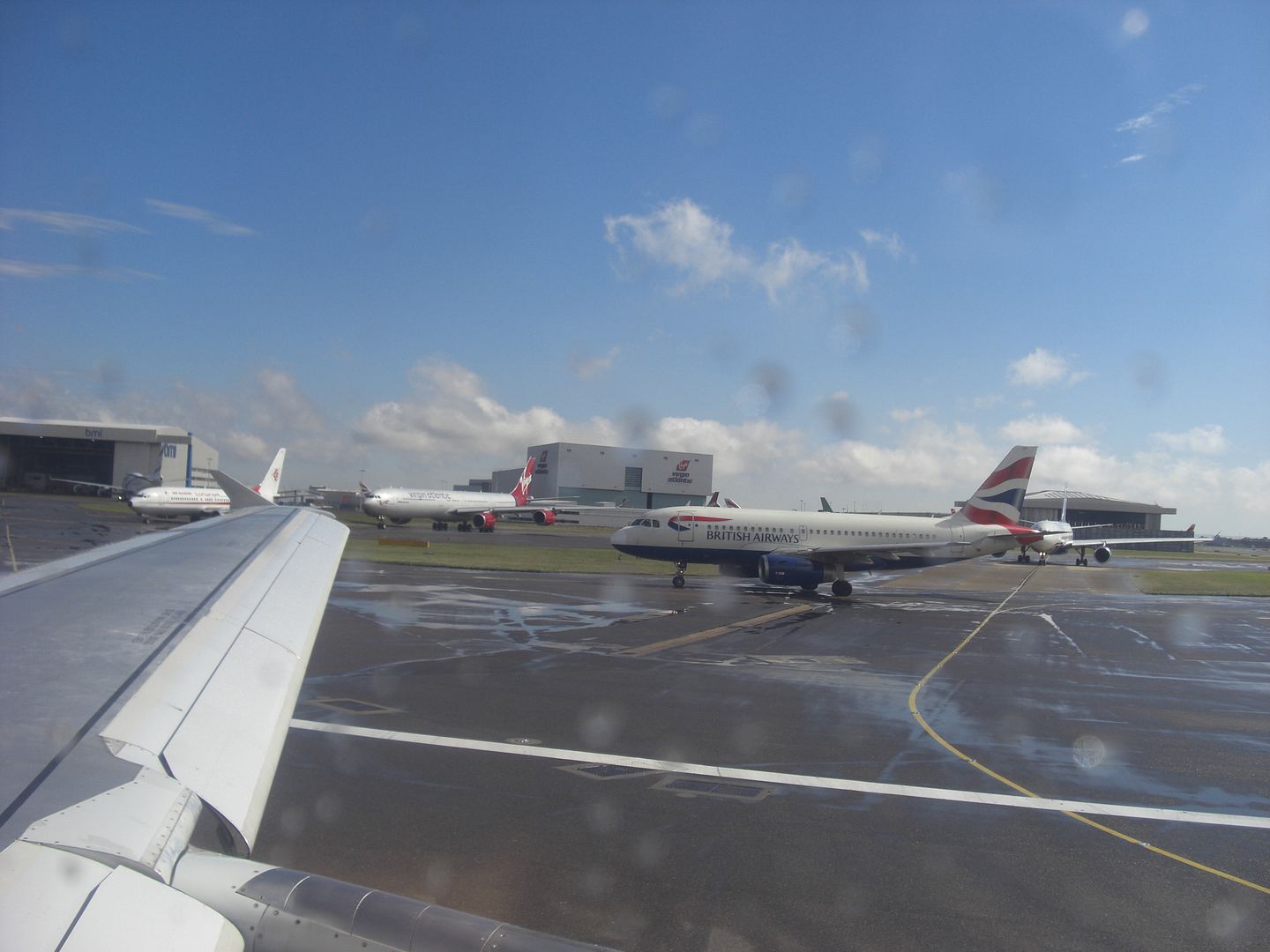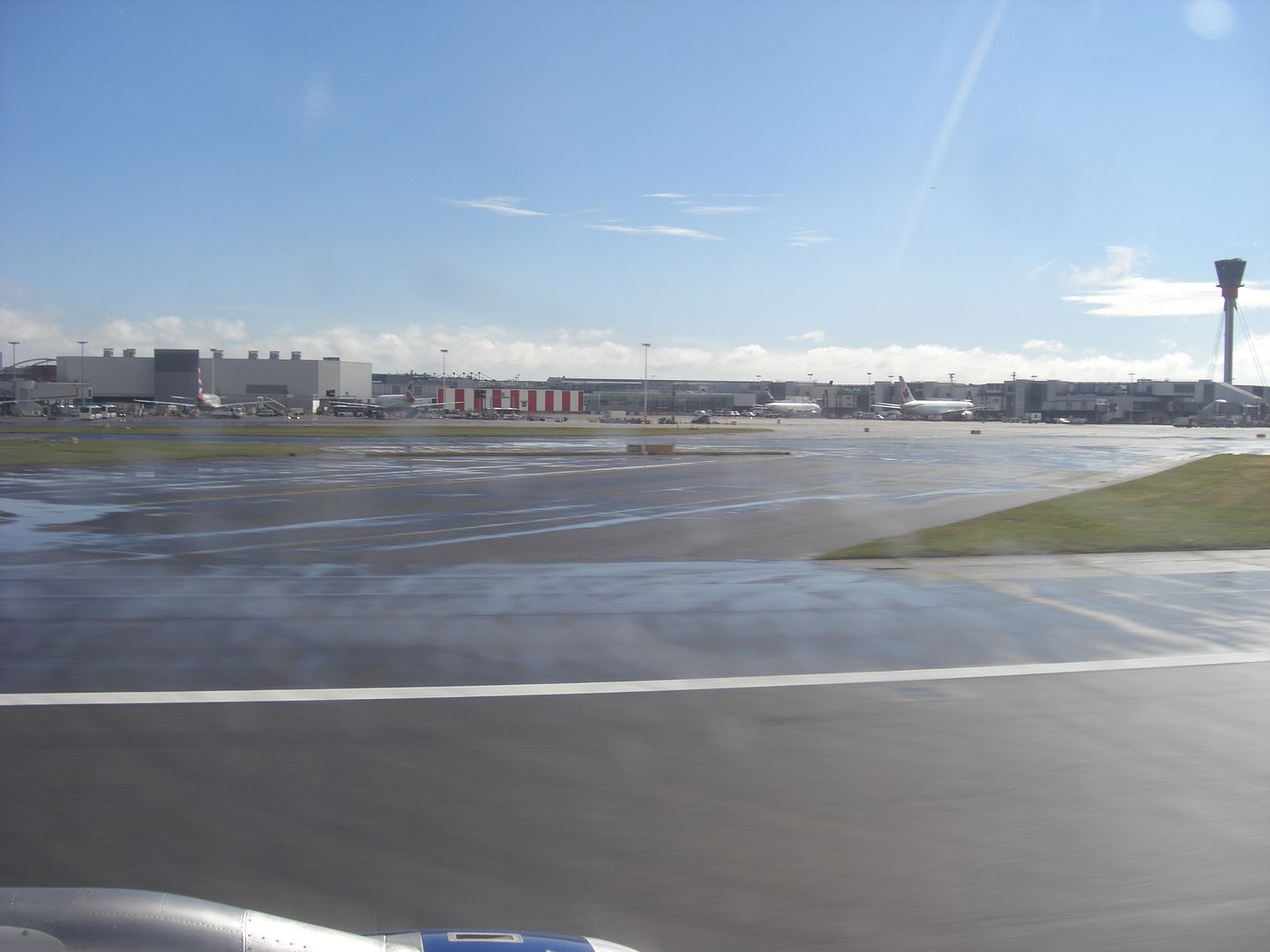 We finally rotated nearly an hour late, by which time the sun was shining.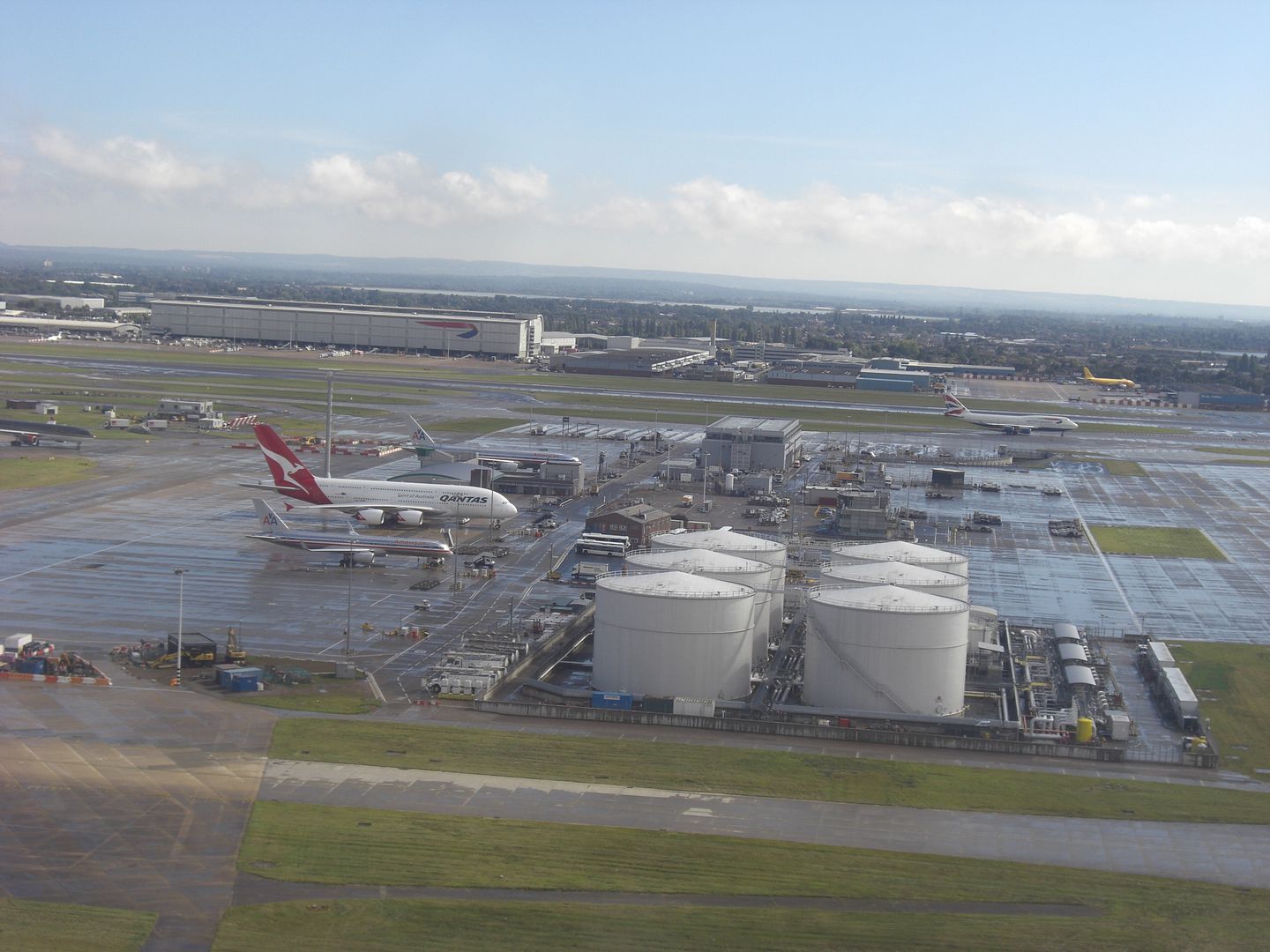 Queues on the M25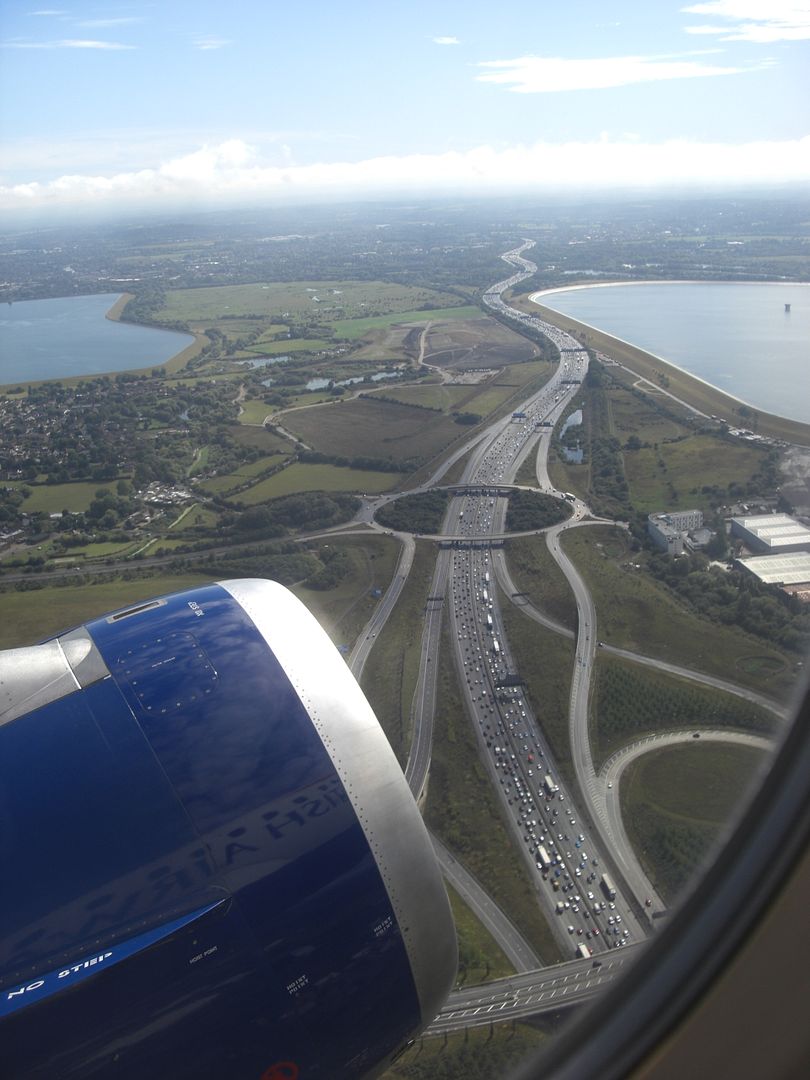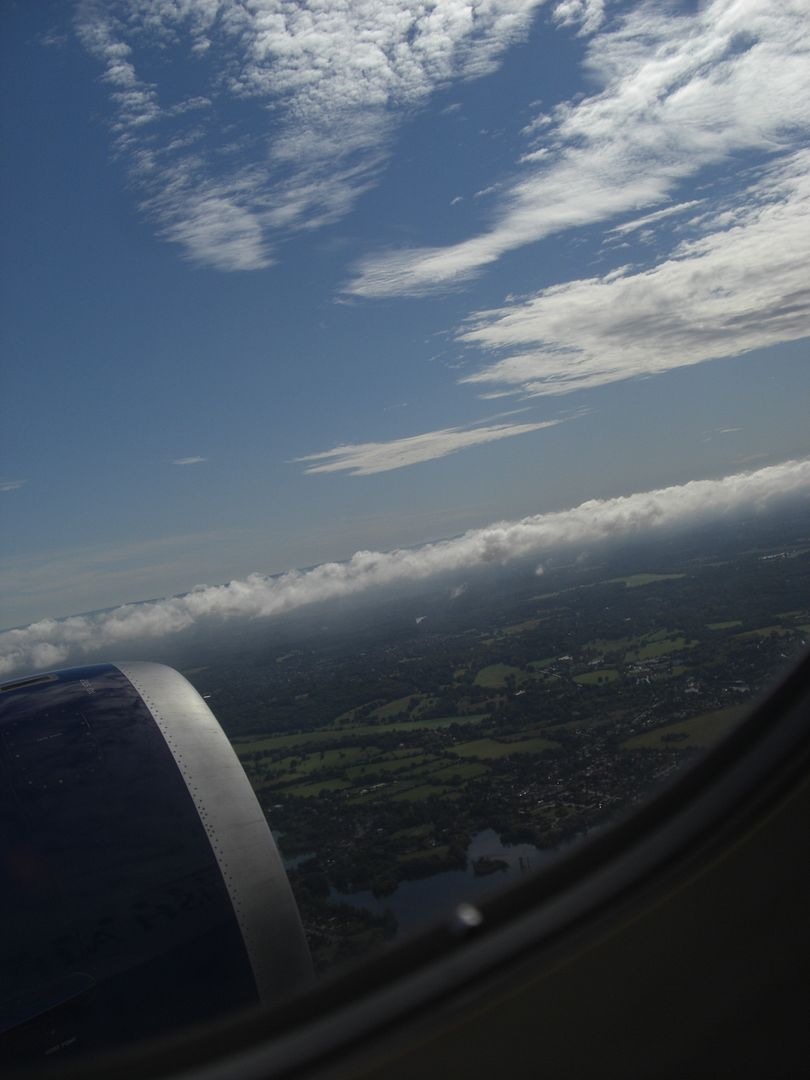 Twenty minutes after departure, the curtains between Club and economy were closed, and the in-flight service started. Despite "a choice of snacks" being announced, when I ordered some G&Ts, and my friend a coffee, I was given the (very tasty) Doormen crackers, and my friend a chocolate biscuit. No choice for either of us, although clearly both were available – exactly the same situation as on my recent
MXP-LHR flight
.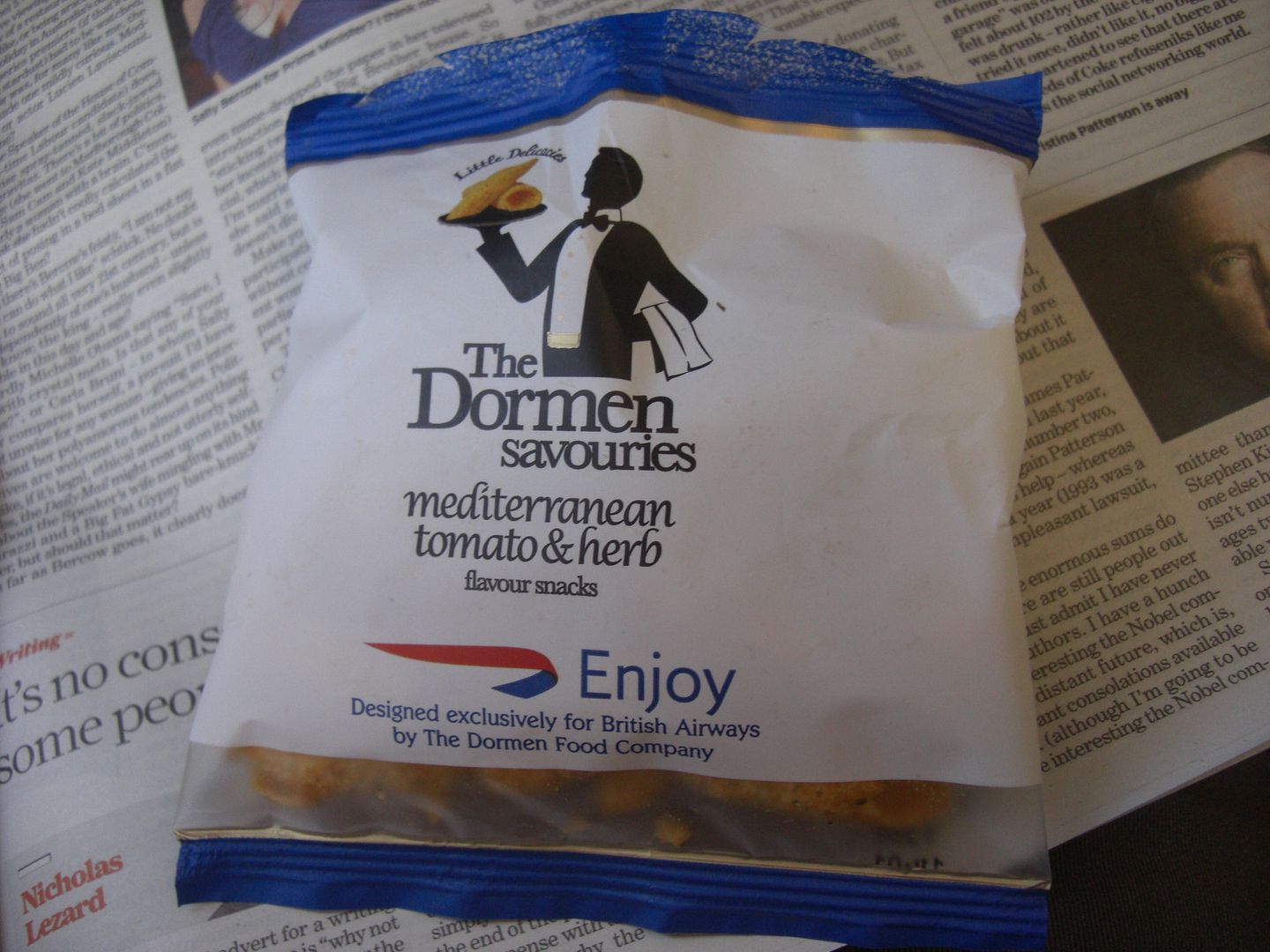 Views enroute, including crossing over the Jutland coastline
Half an hour before arrival, I ordered another G&T. Service onboard was very good today.
Clouds over Denmark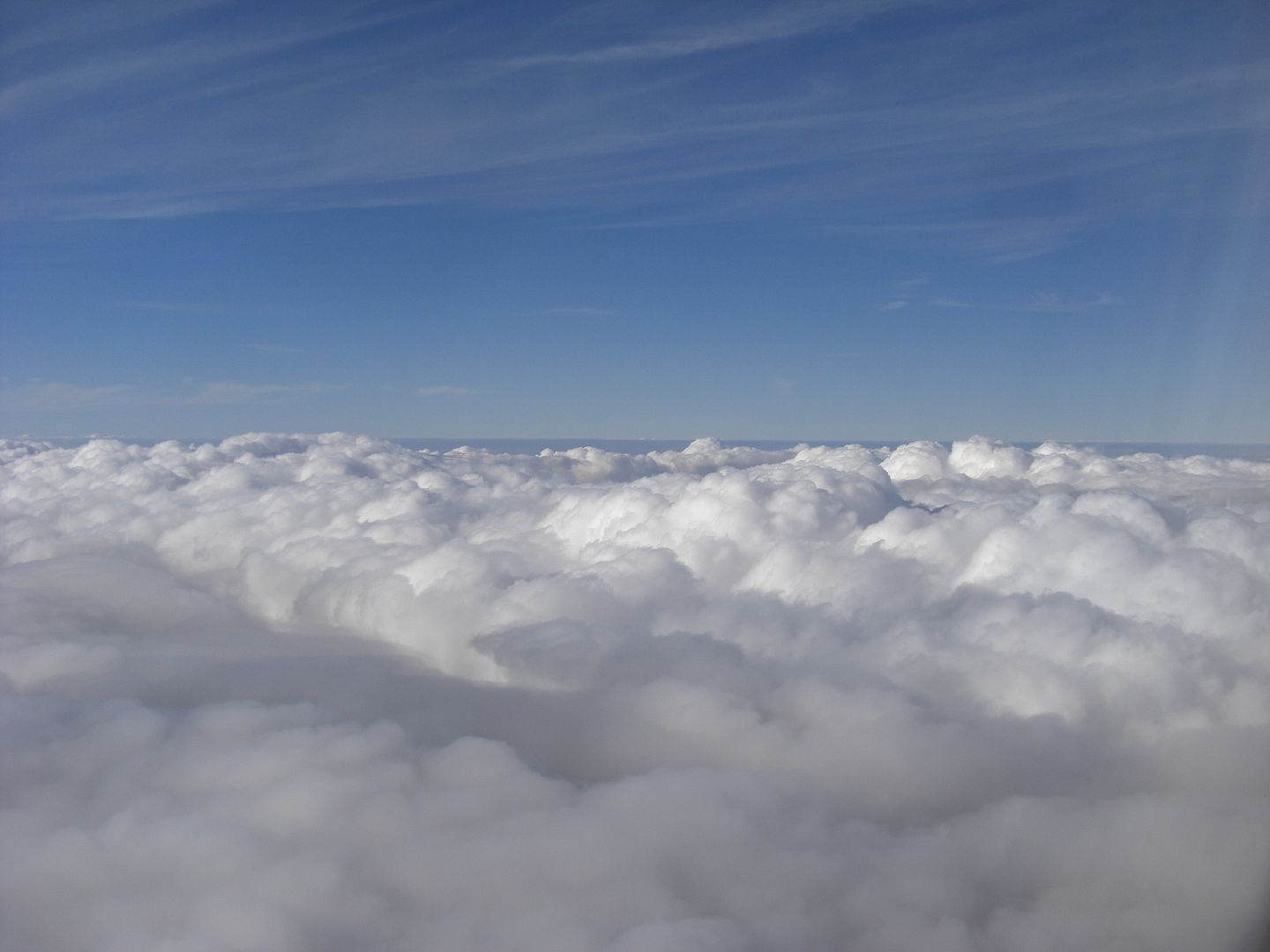 From our seats behind the curtain, we couldn't see a TV screen., so it was only on approach to CPH when the curtains were opened that I managed to get some photos of the moving map.
Approach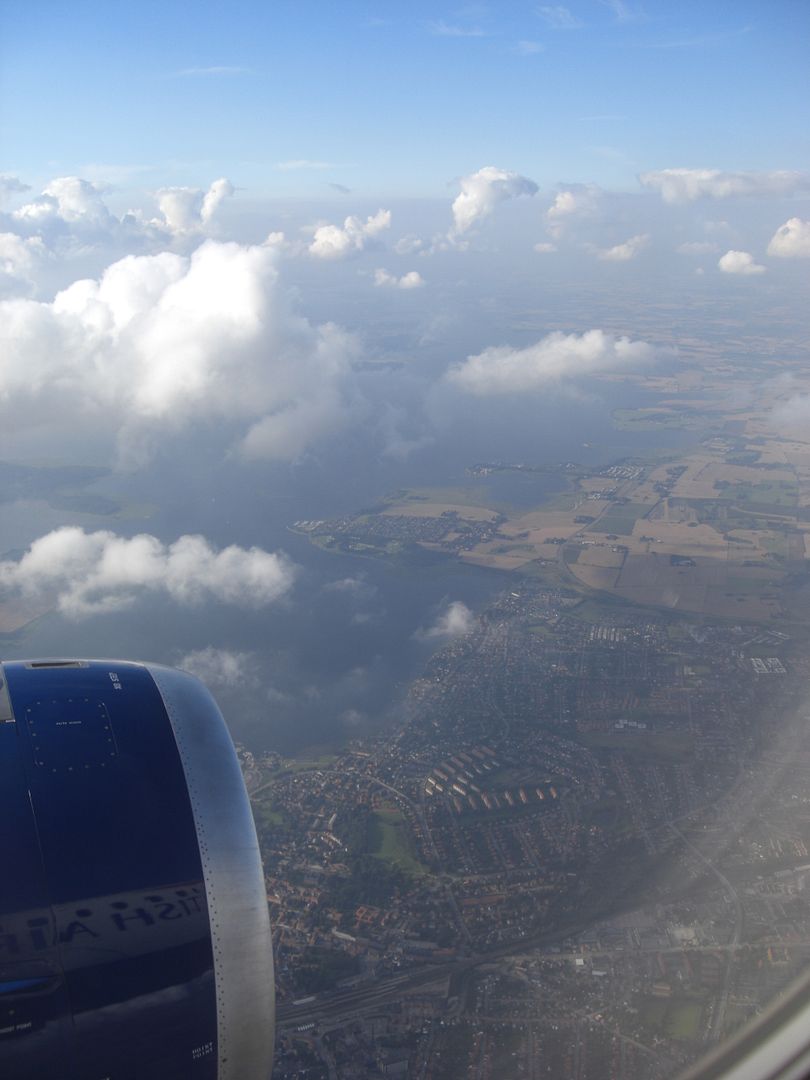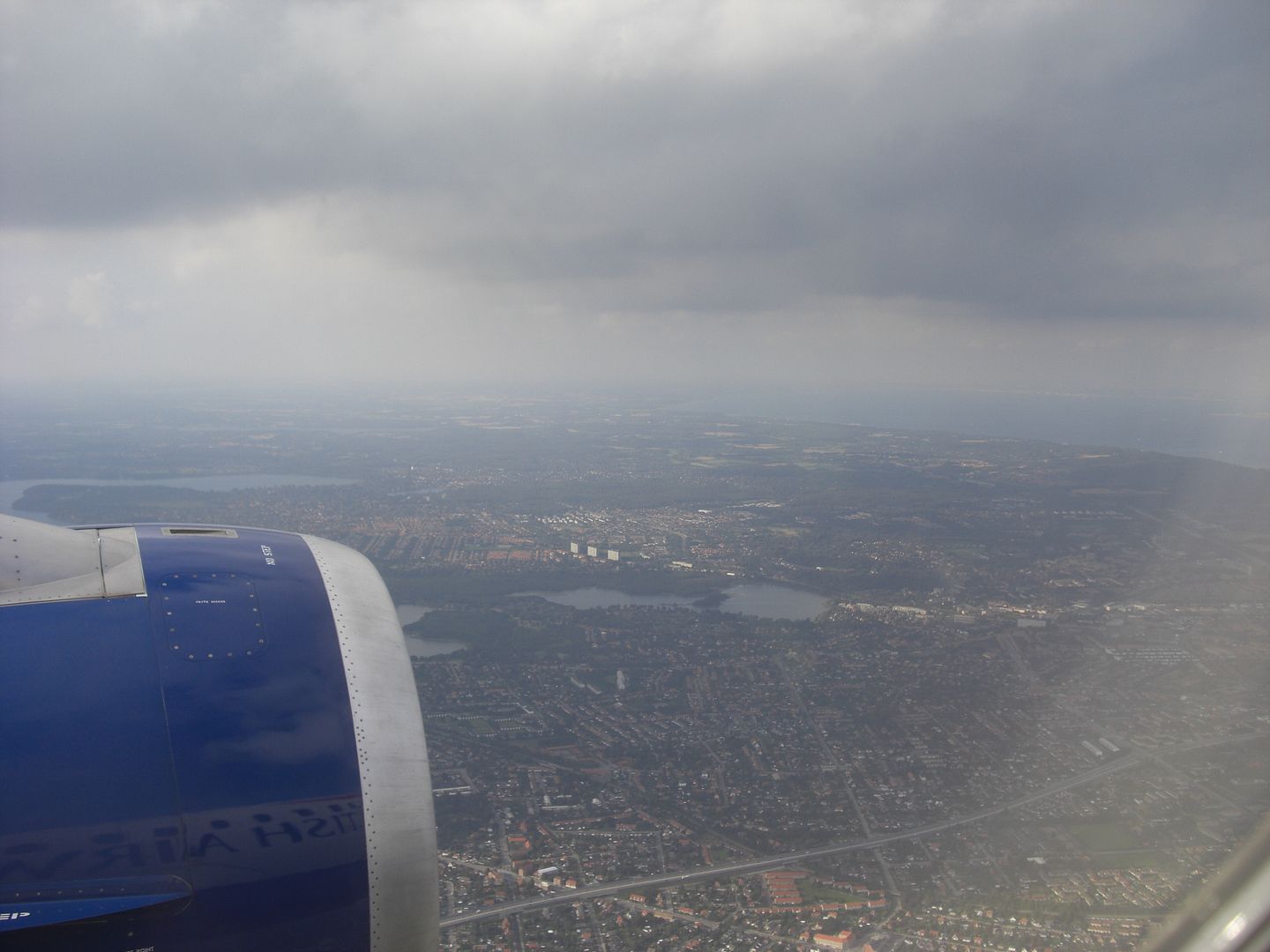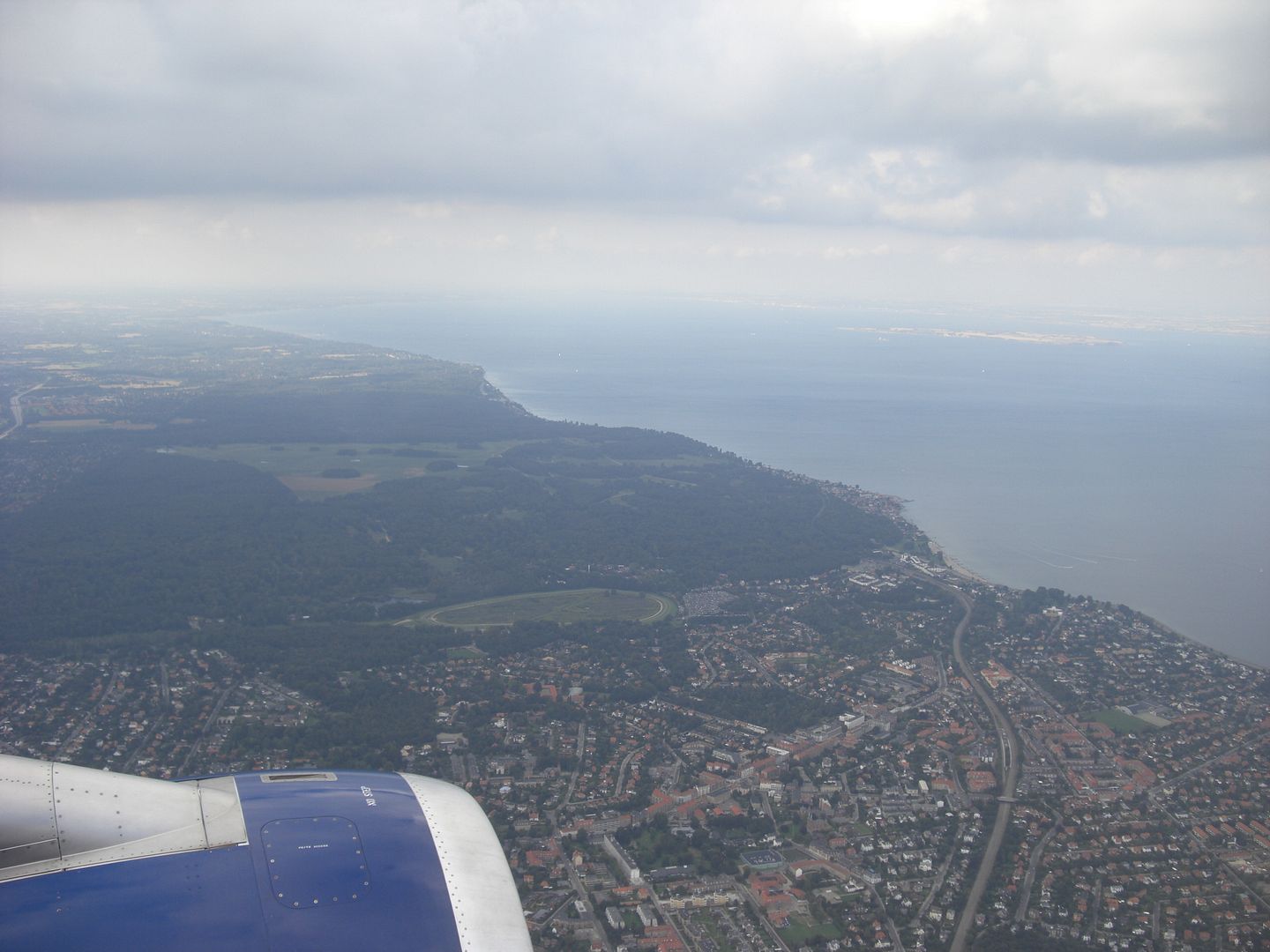 A bad photo of the Turning Torso, Sweden's tallest buidling
The Oresund Bridge
We touched down just under half an hour late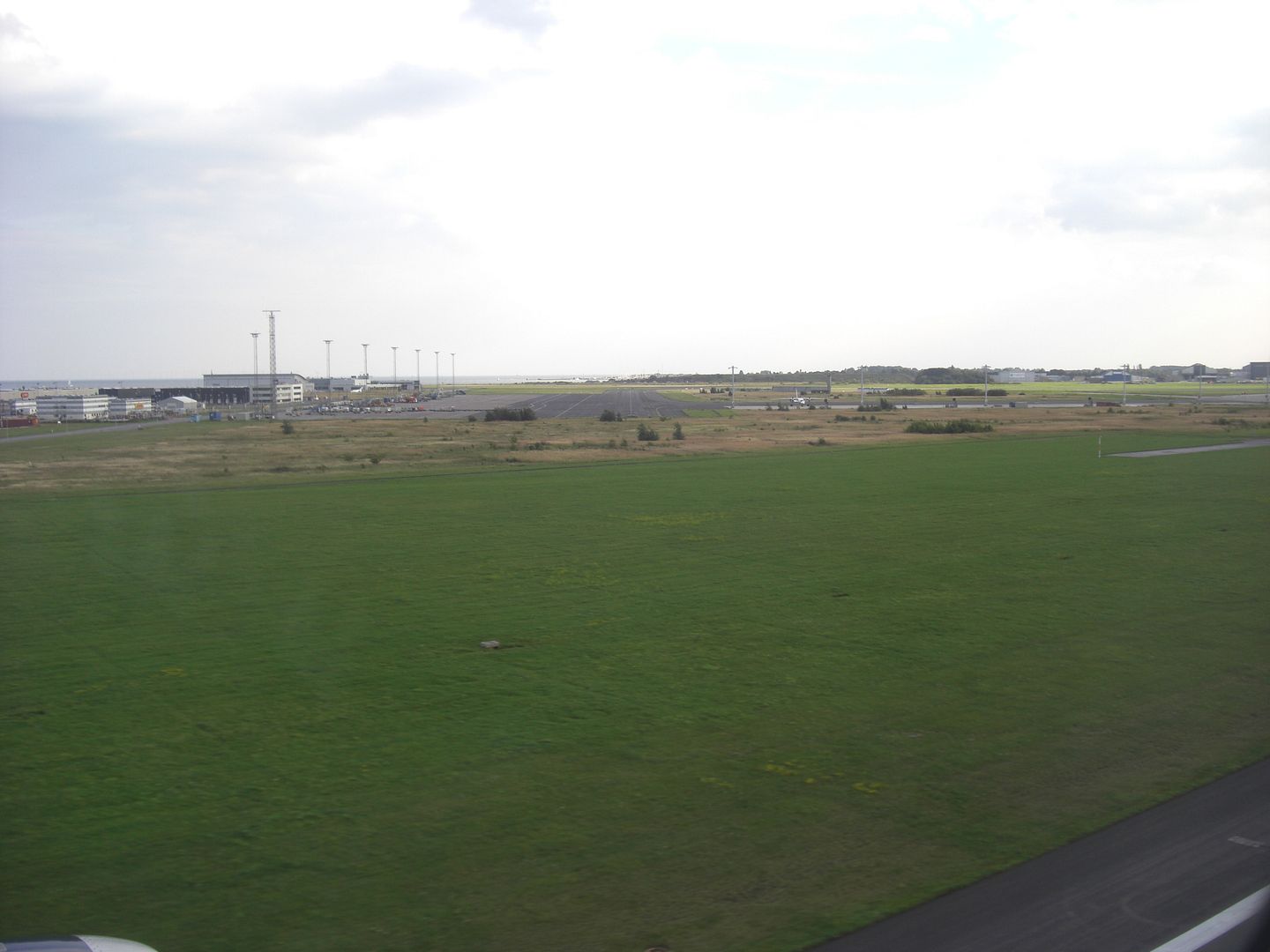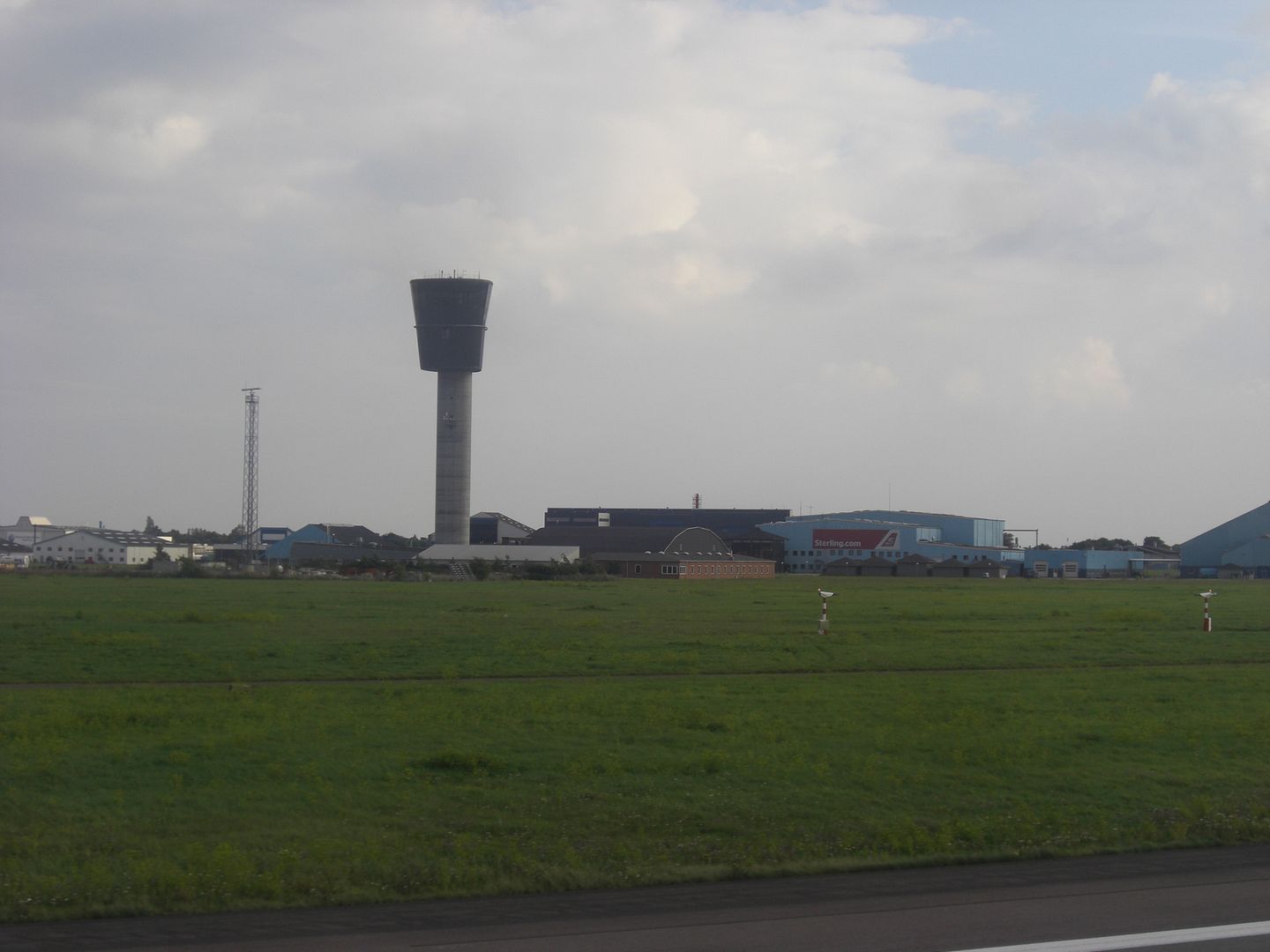 Air Pullmantur heading off to somewhere in Spain
Welcome to Copenhagen!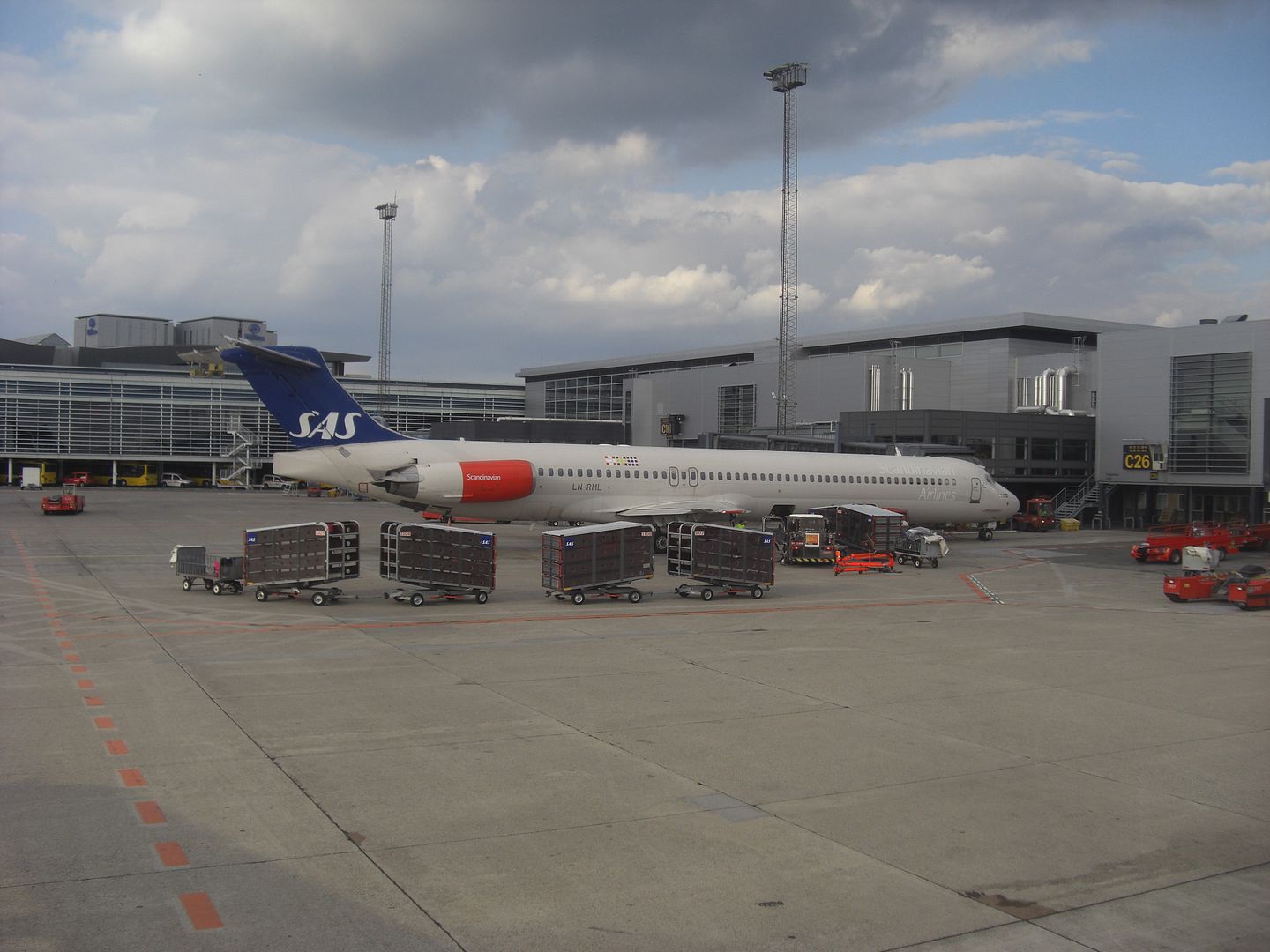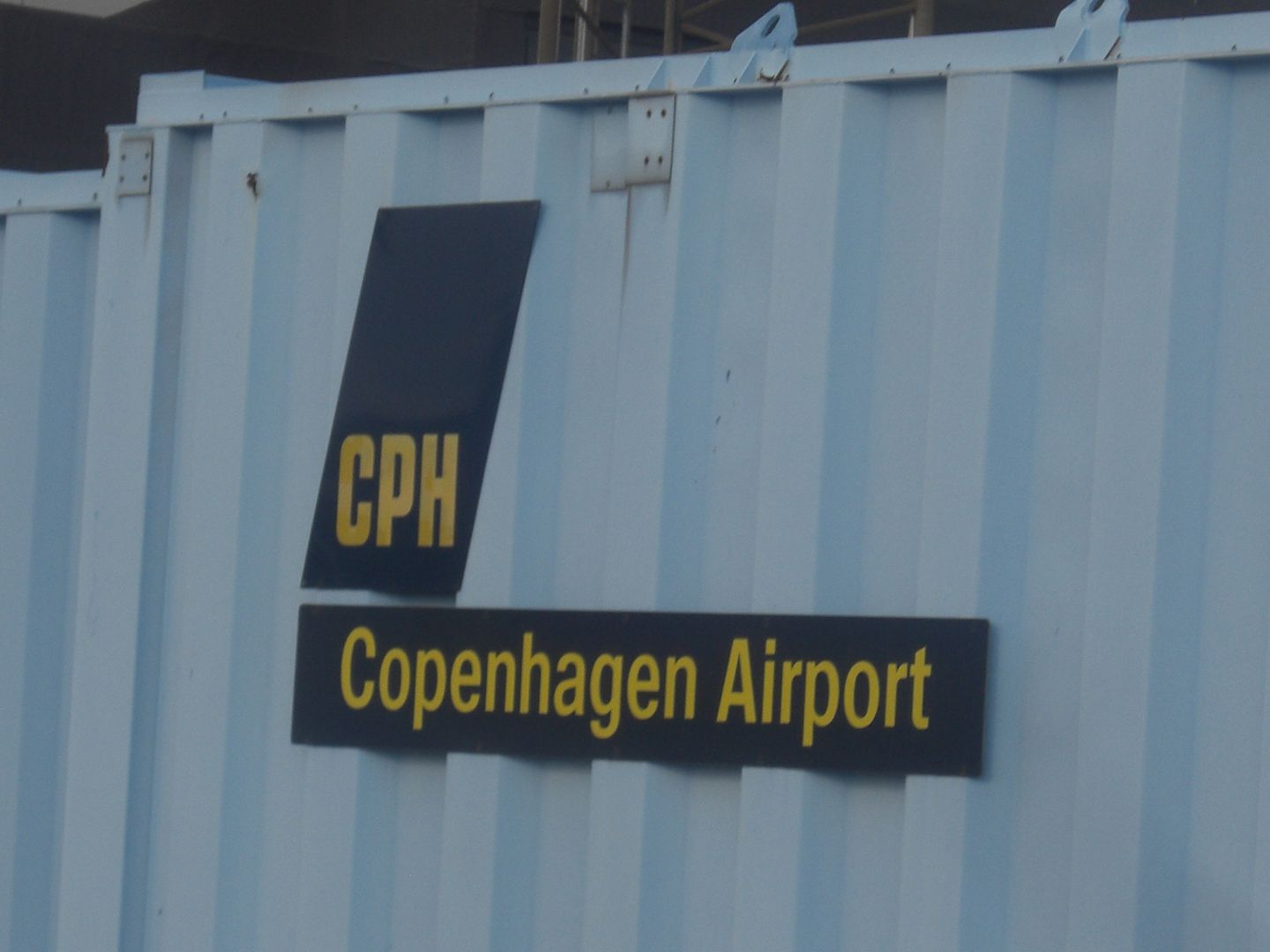 We were off the aircraft fairly quickly, and headed for immigration. It was lucky we were off near the front, as there was only one desk open for both EU and non-EU citizens. Once through, we went downstairs to pick up our bags. I'm not sure why they say the bags would come in 18 minutes, as ours came out about 3 minutes after I took this photo.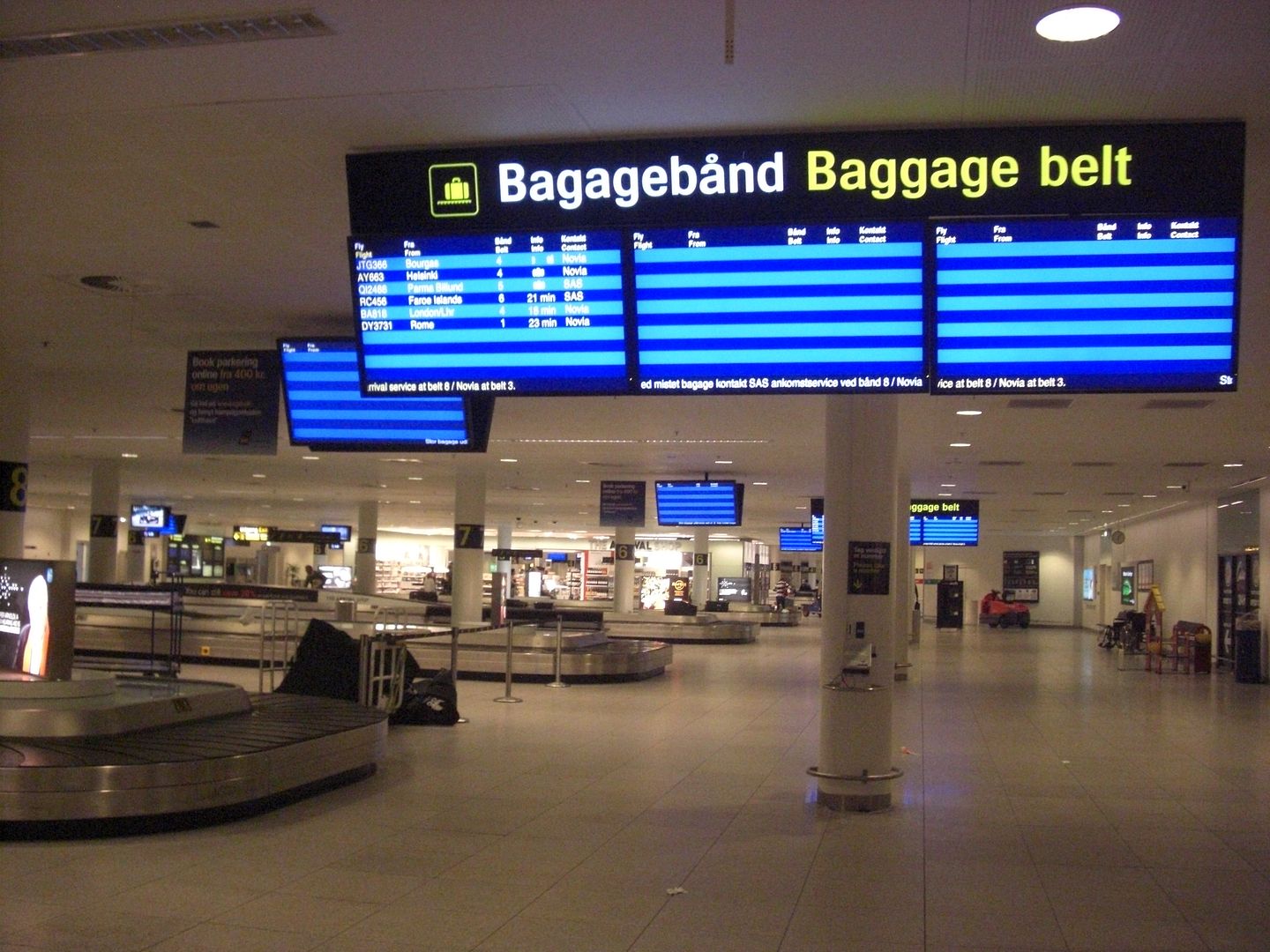 Once we got our bags, we headed out to buy train tickets for the city. Our hotel, Hotel Cabinn Metro (incidentally, Denmark's' largest hotel) was quite well located, on the line for both the city centre, airport and Helsingor, up the coast. It was also on the metro.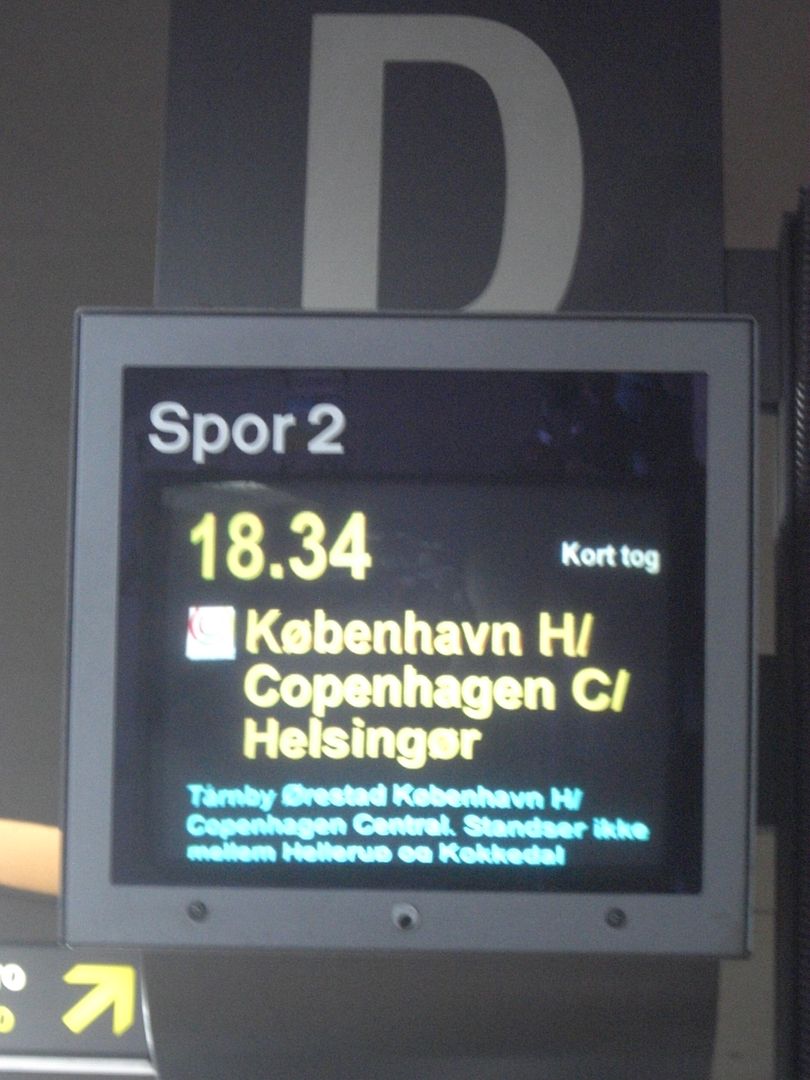 Now, I took WAY too many photos during the trip, so feel free to skip down to the next flight!
A few pics of Copenhagen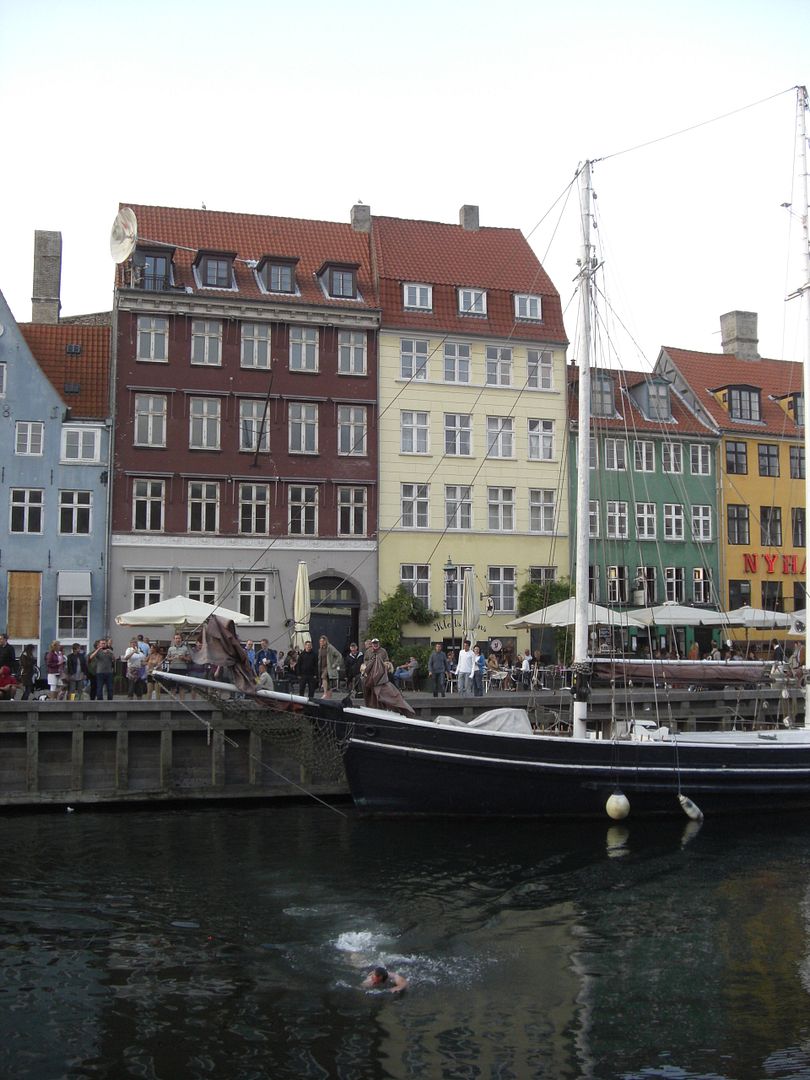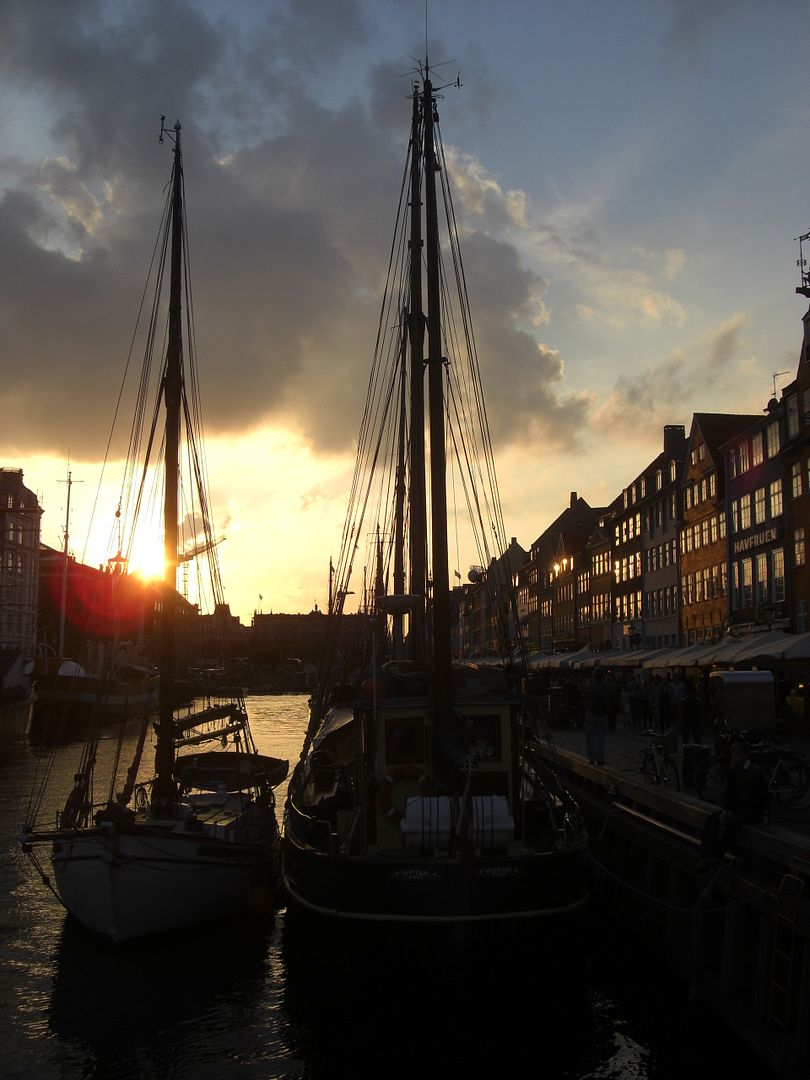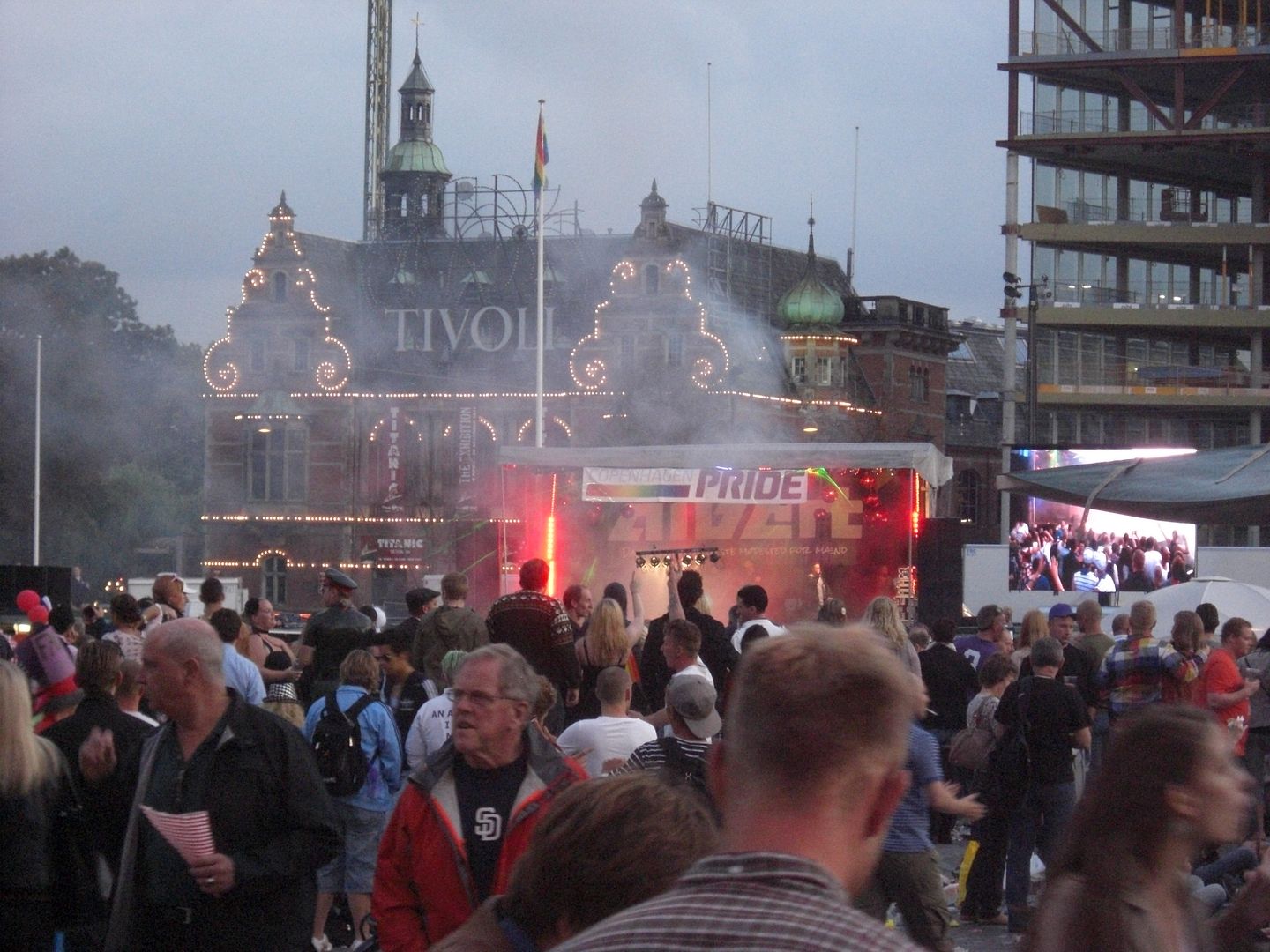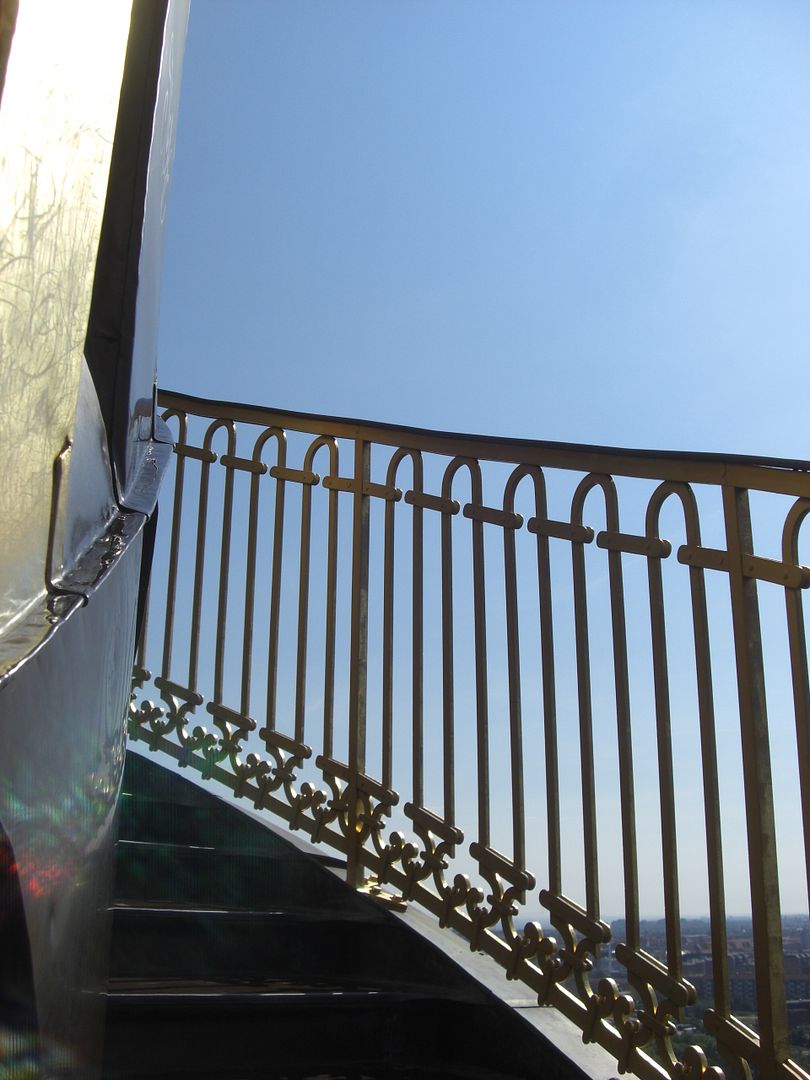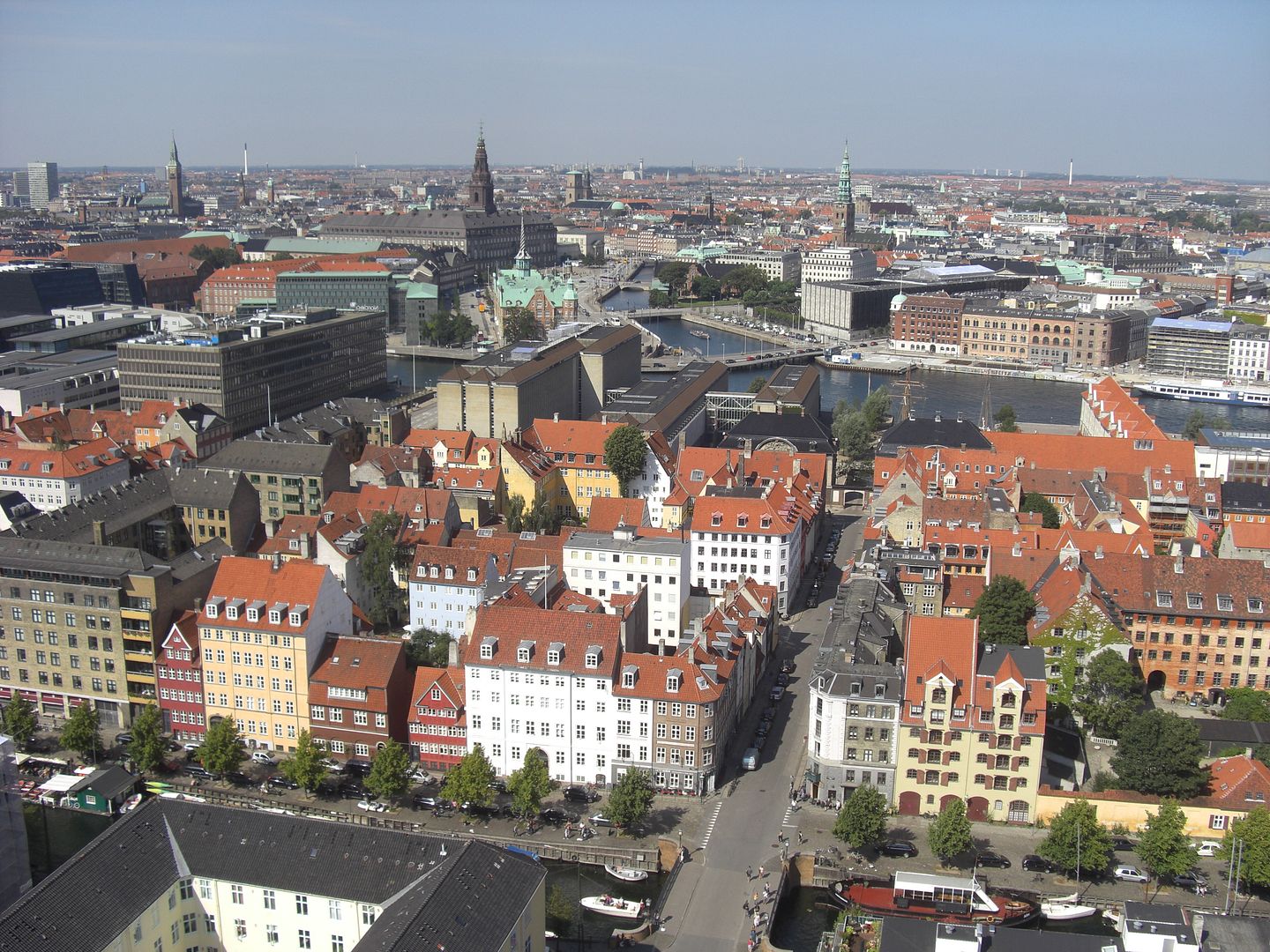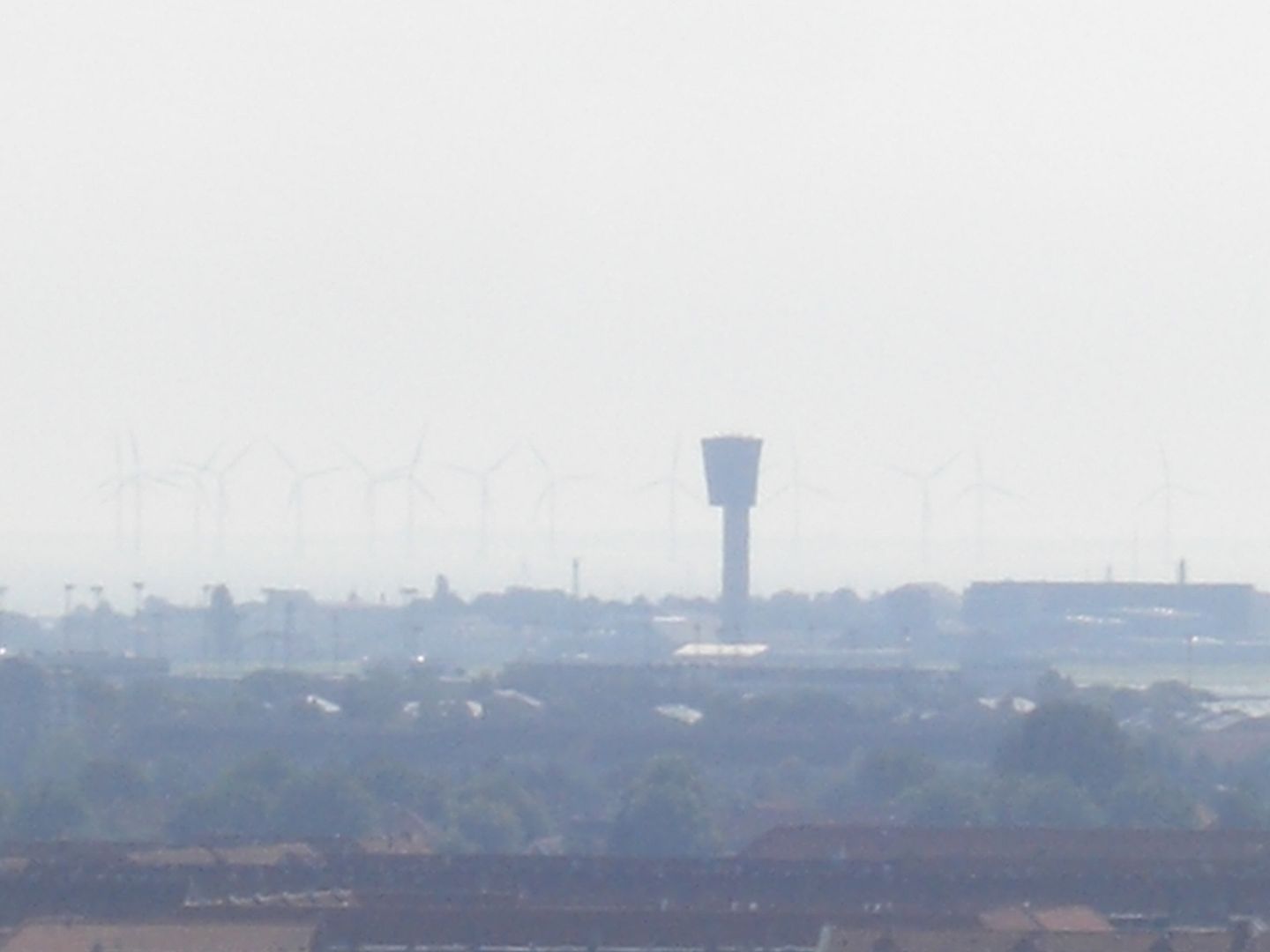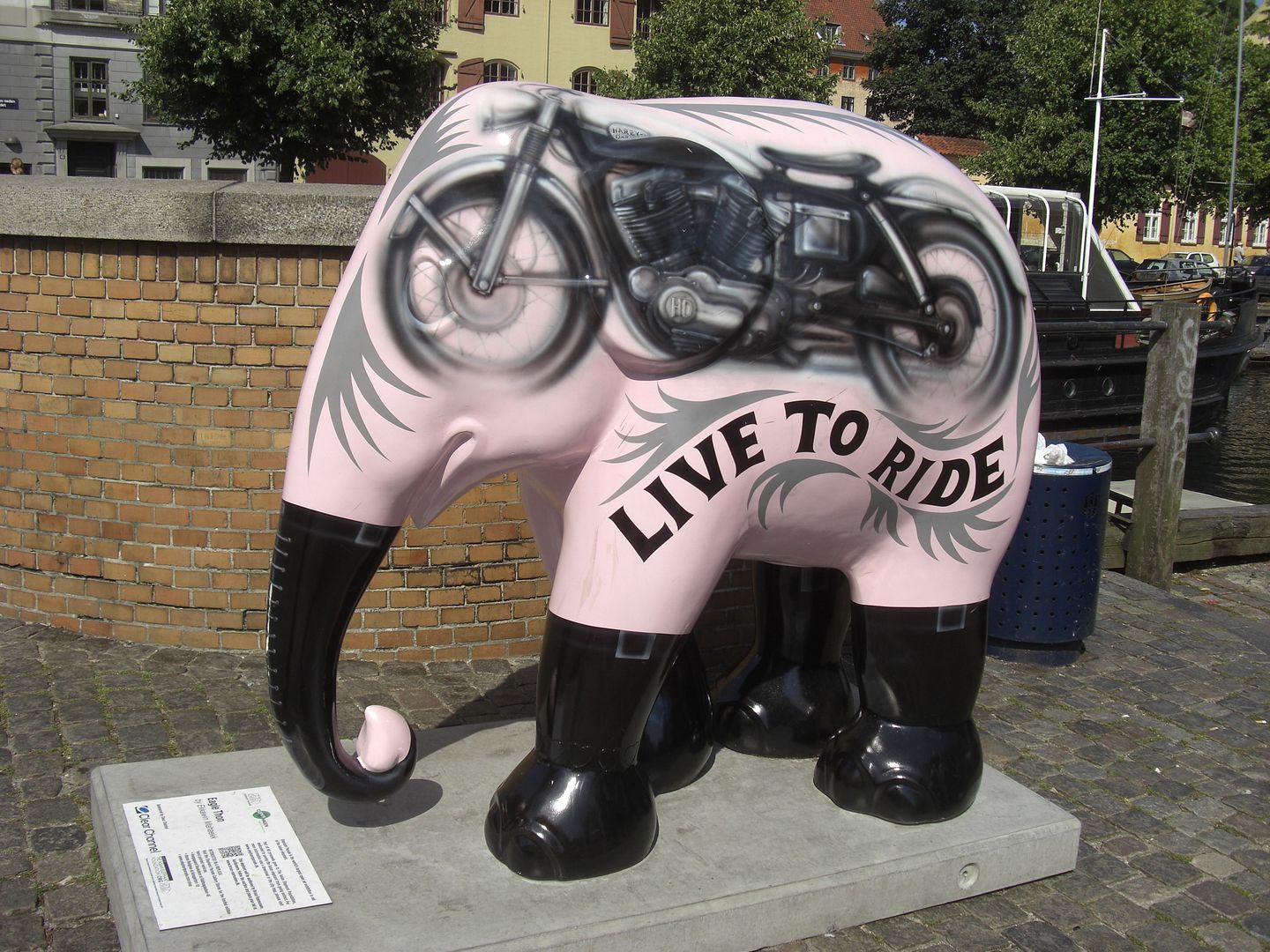 Thanks FlyingFinn for helping translate that one!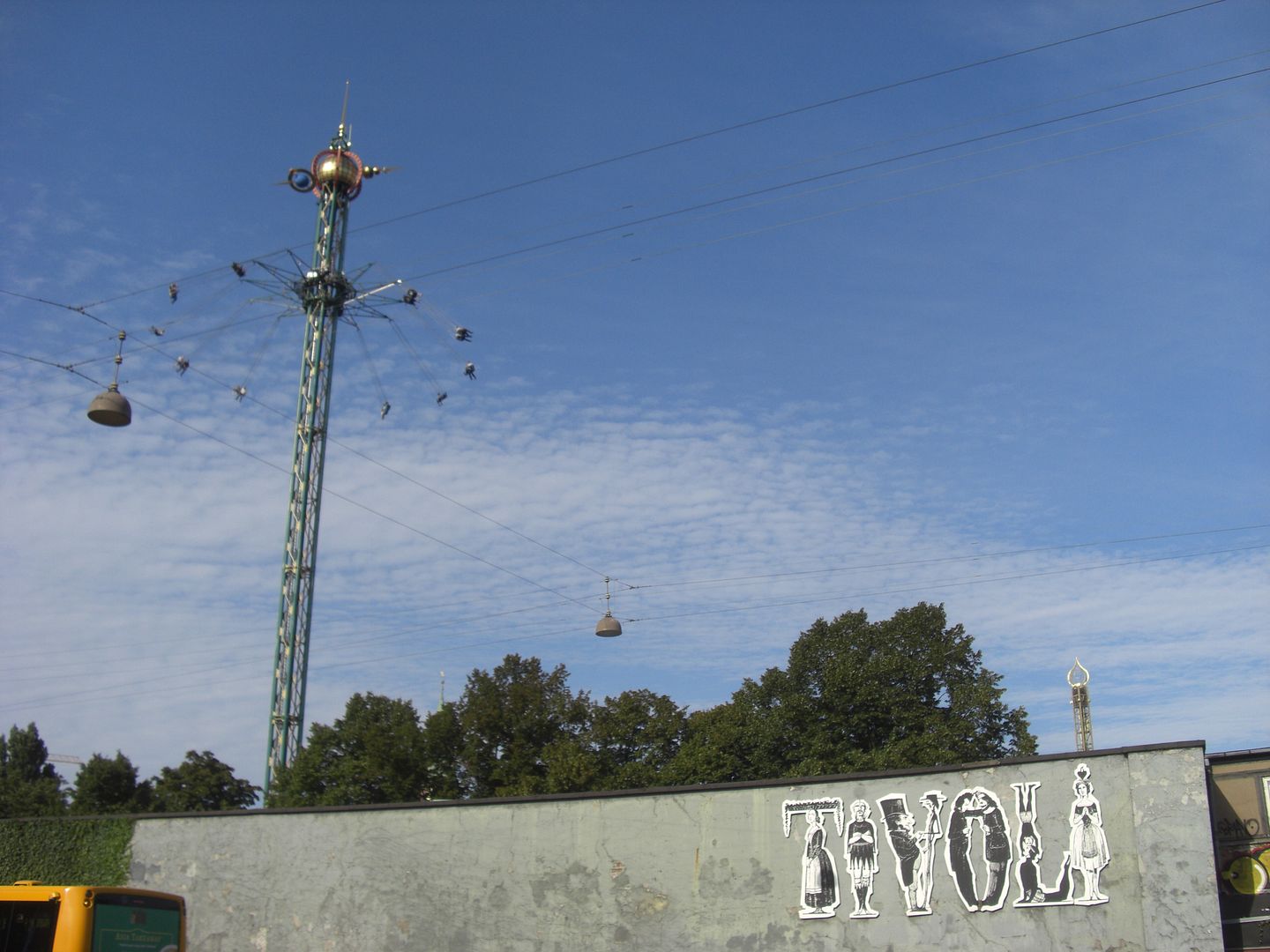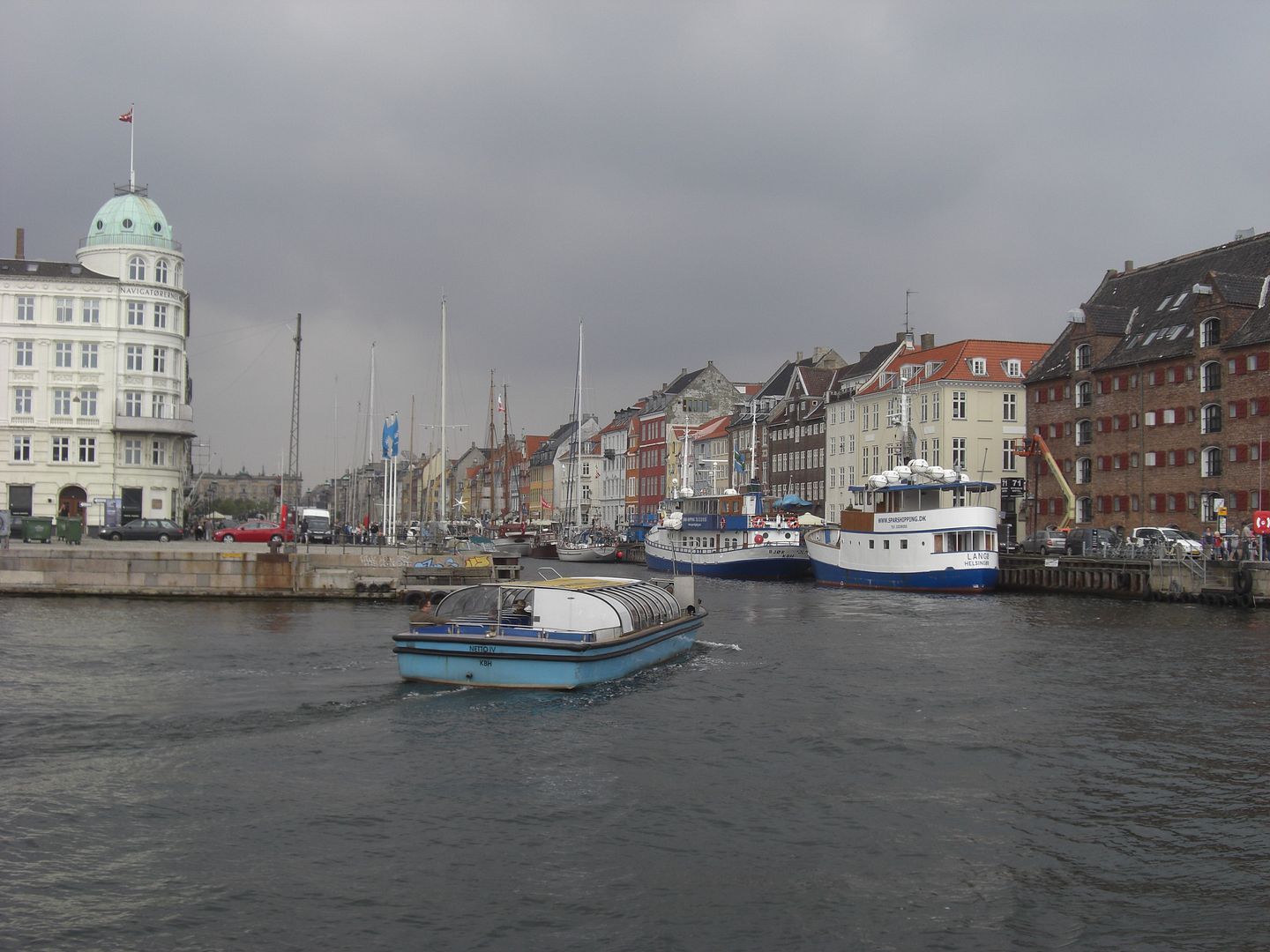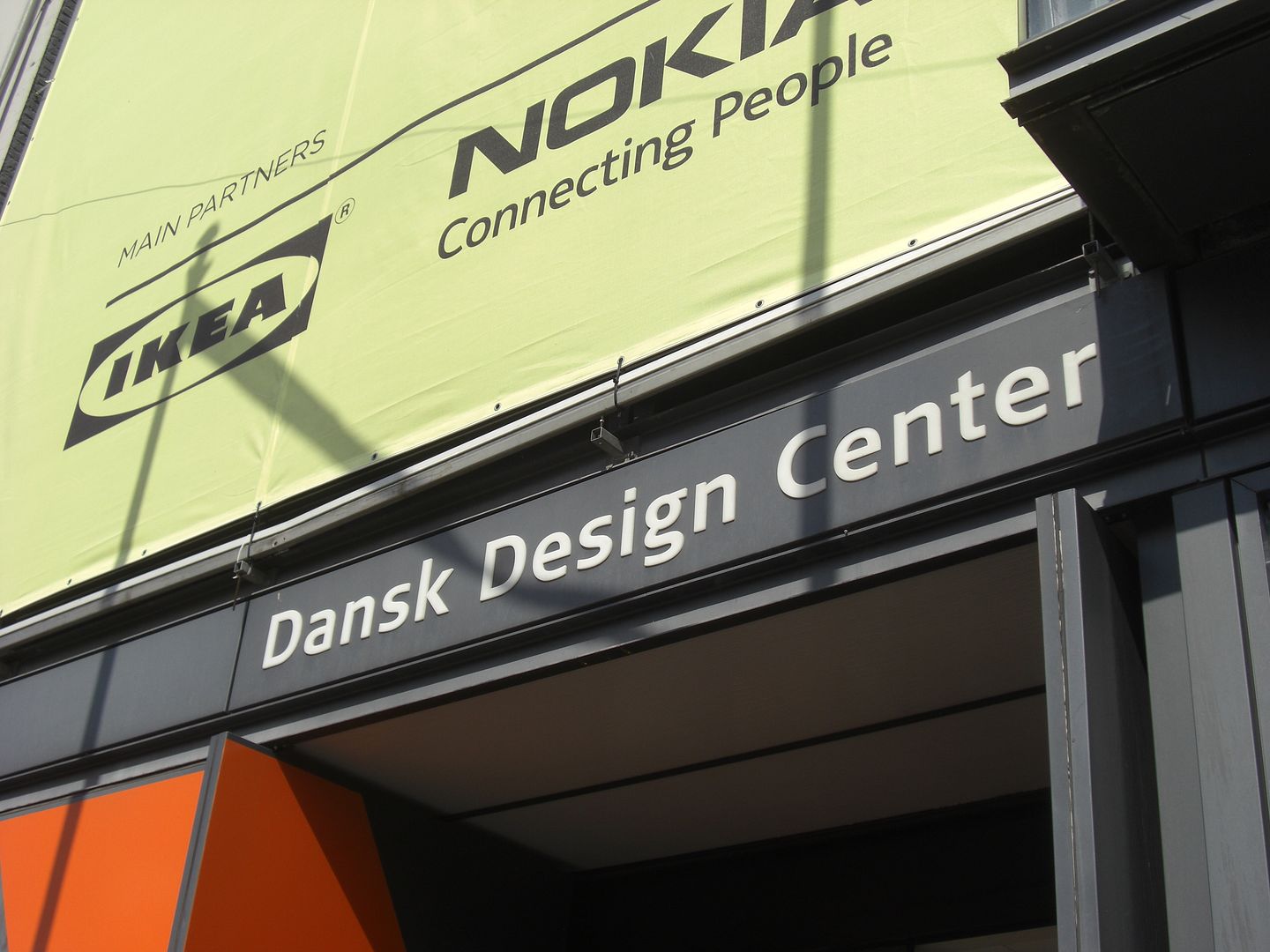 After three busy days in Copenhagen, we took the train up to Helsingor, home of Hamlet's Elsinor Castle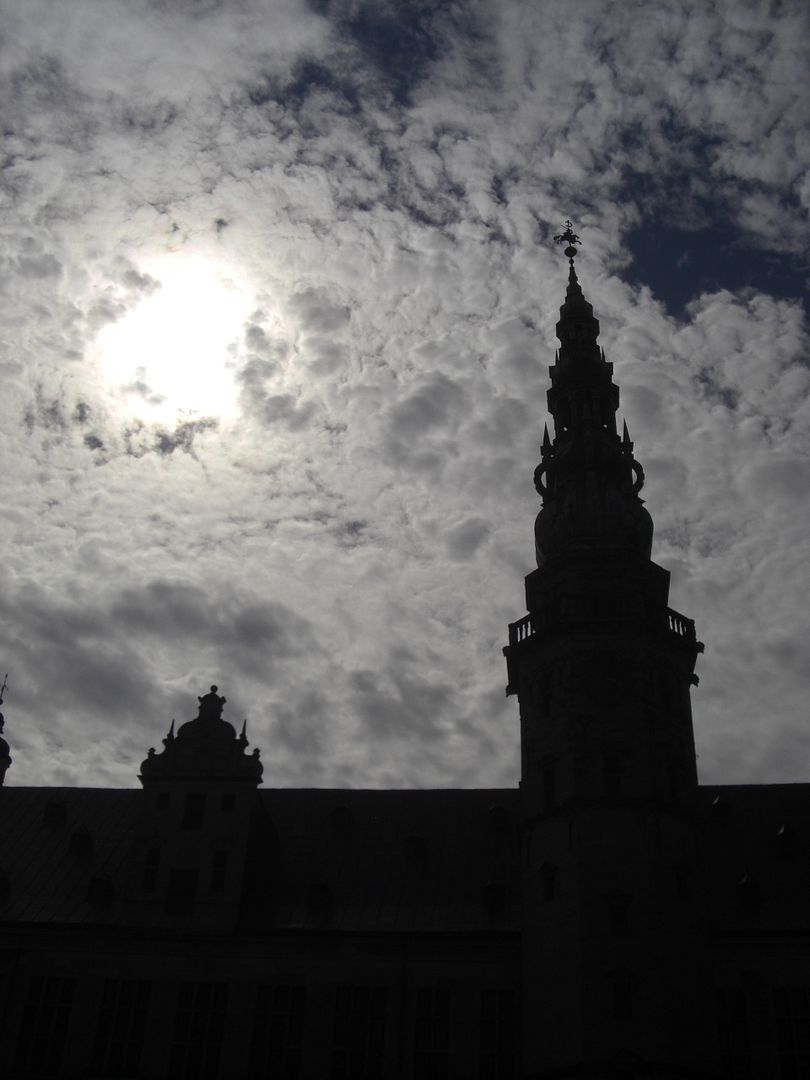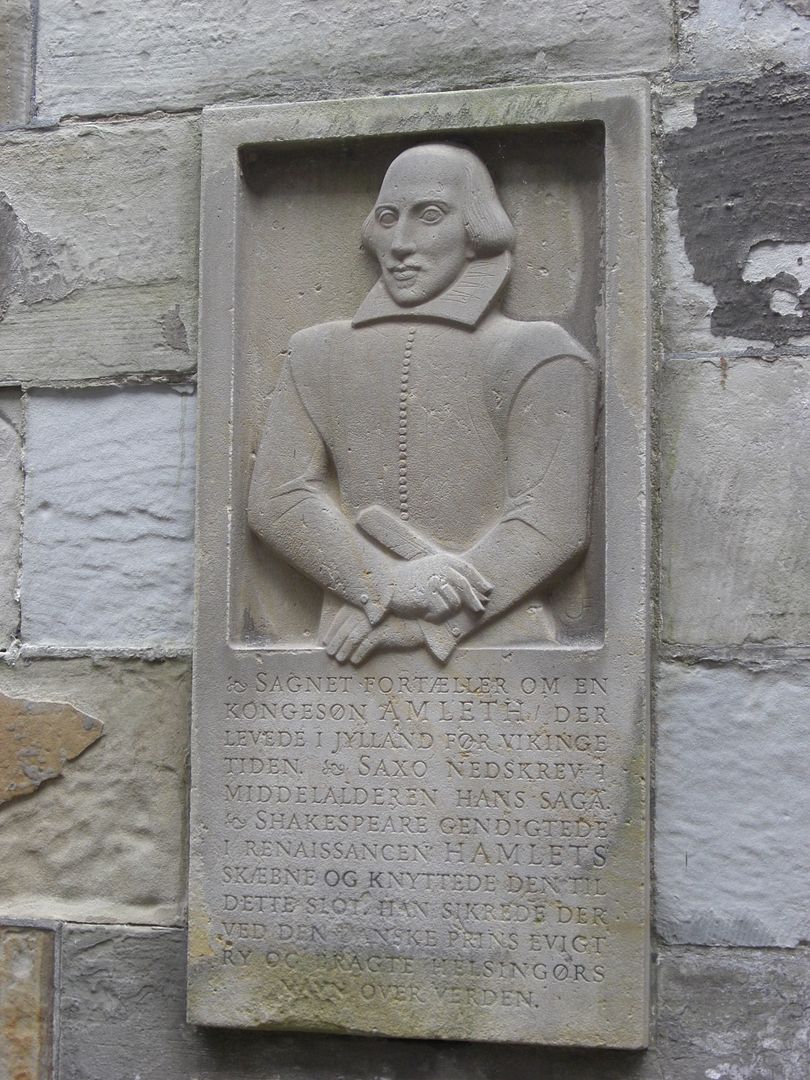 From Helsingor, we took the ferry over to Helsingborg in Sweden (juts a 20 minute journey). Booze is cheaper over in Denmark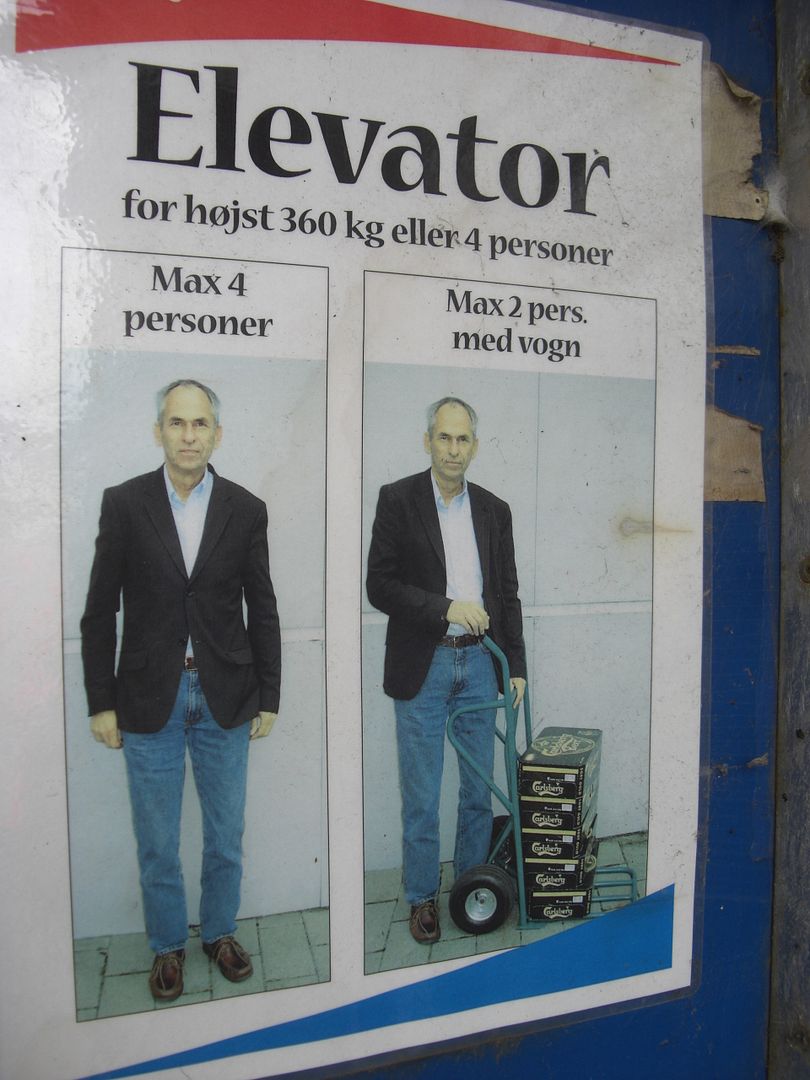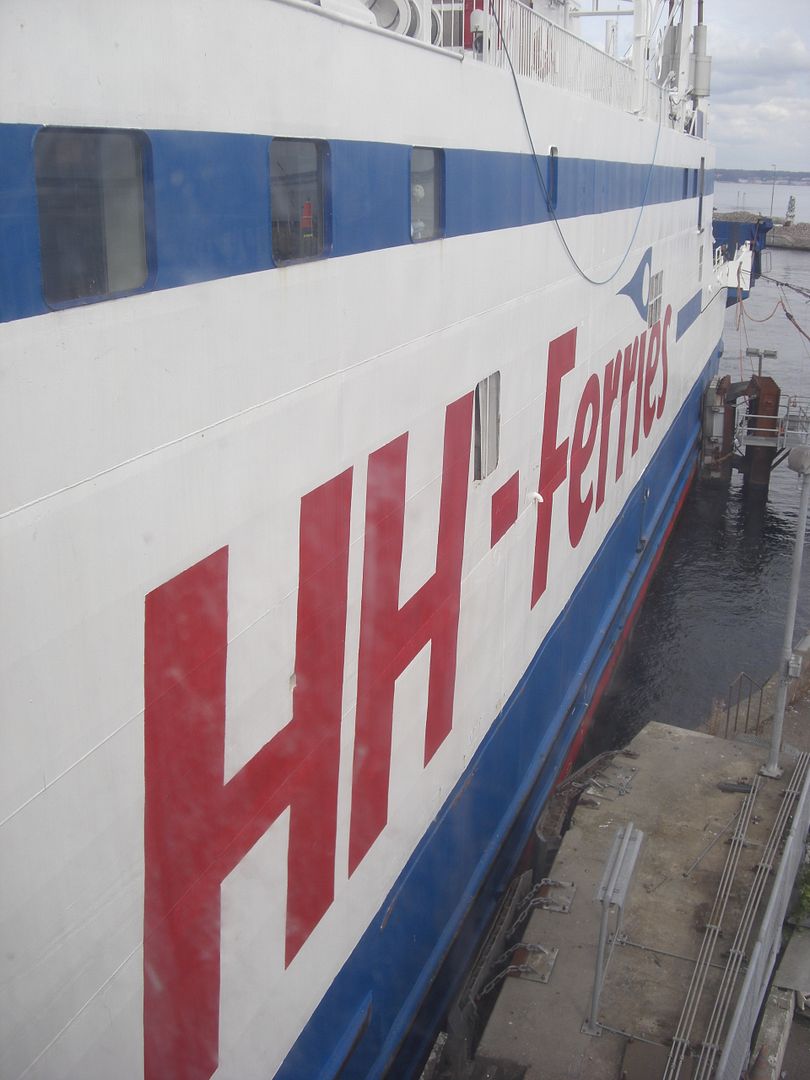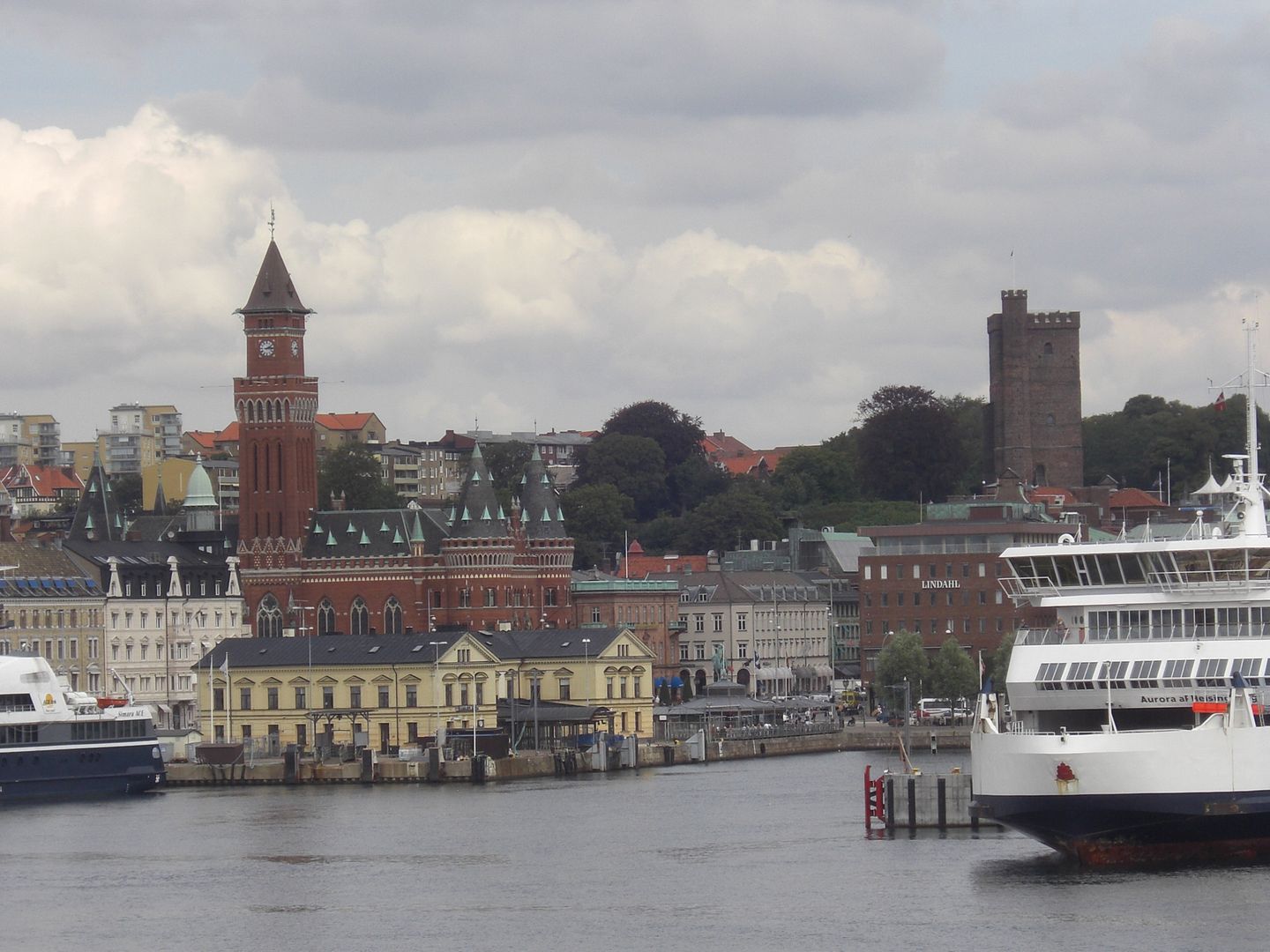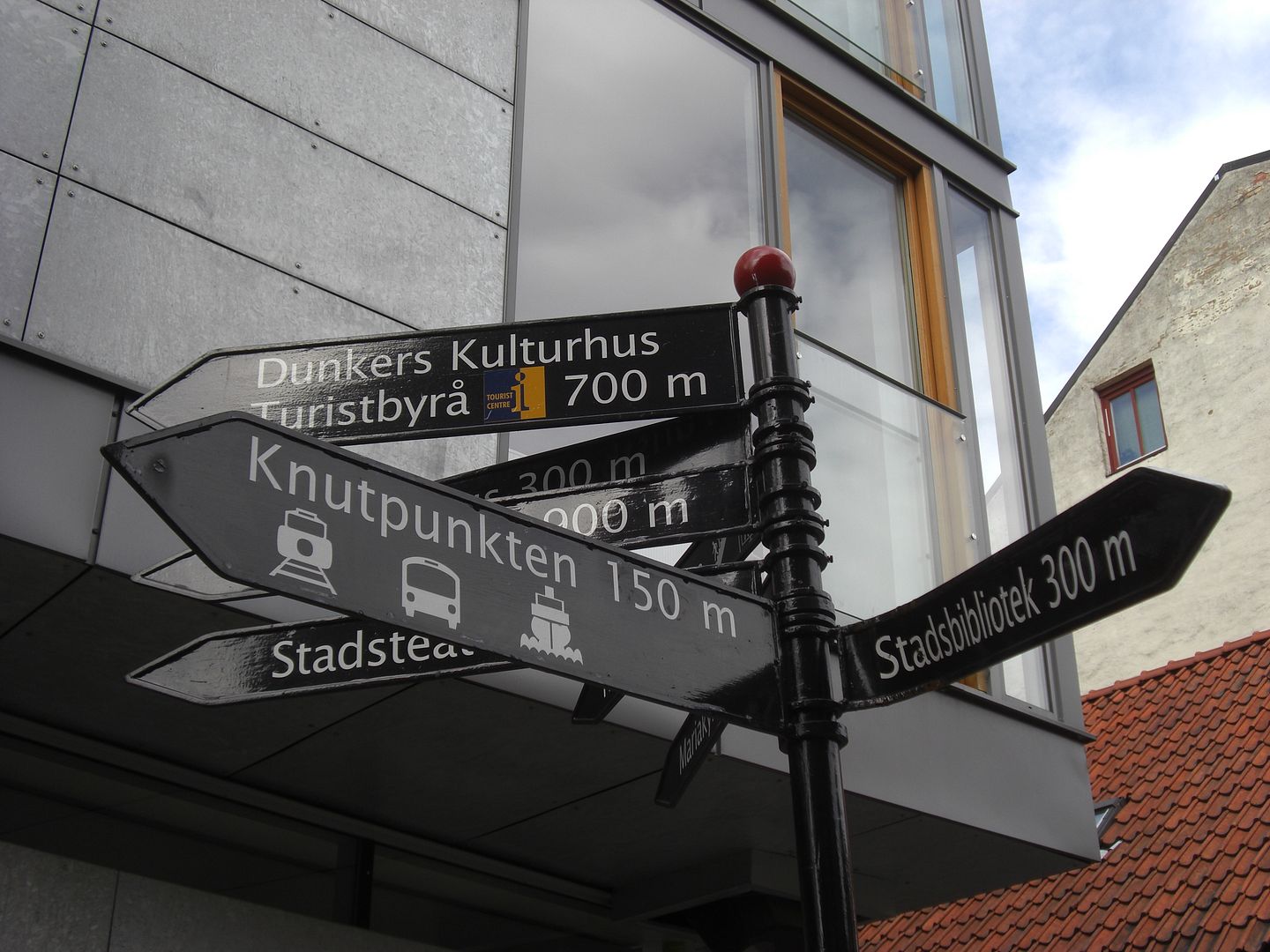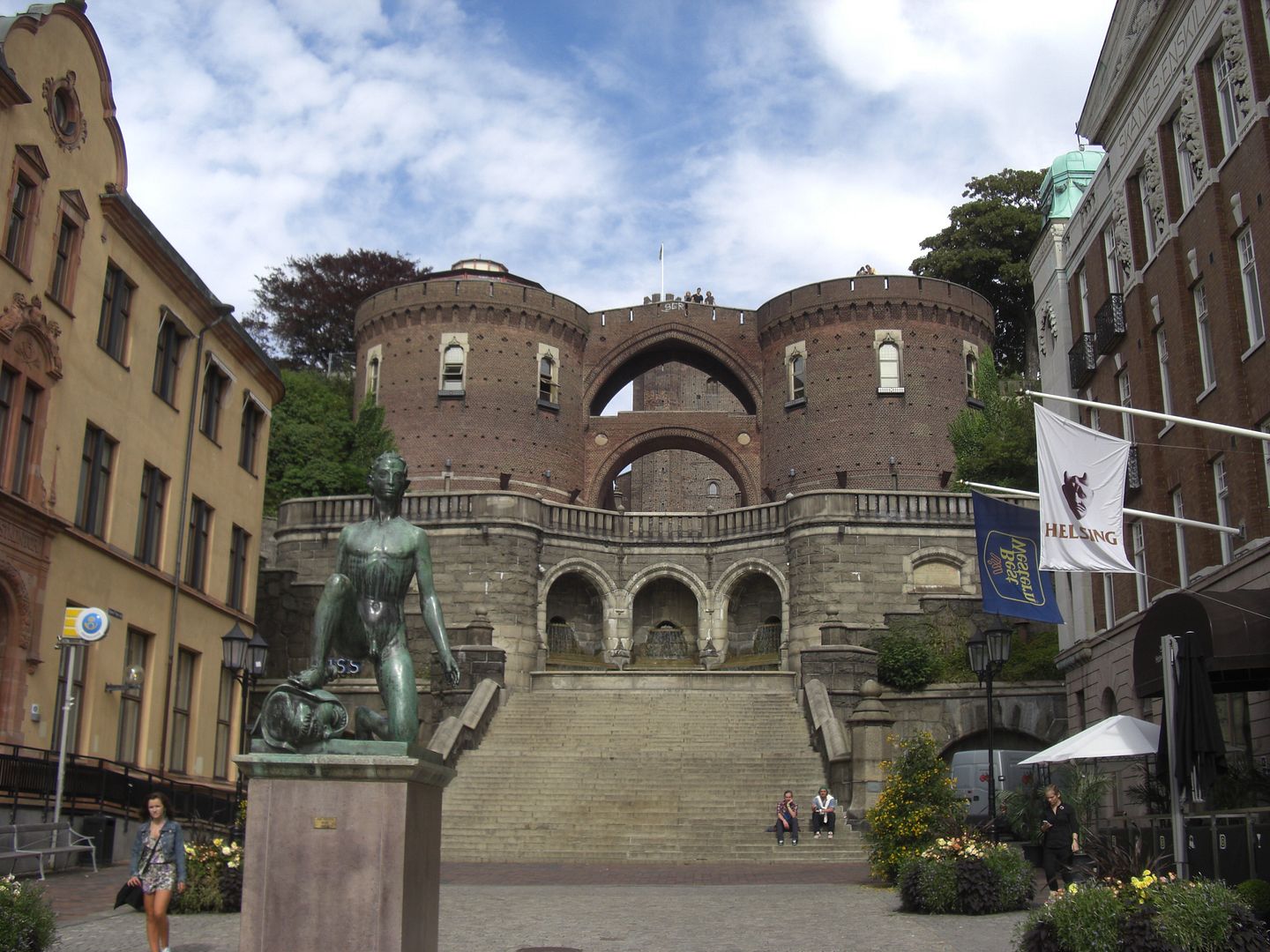 We then got a train up to Halmstad, where we stayed for 2 nights. Thanks Jonas for helping with the train booking!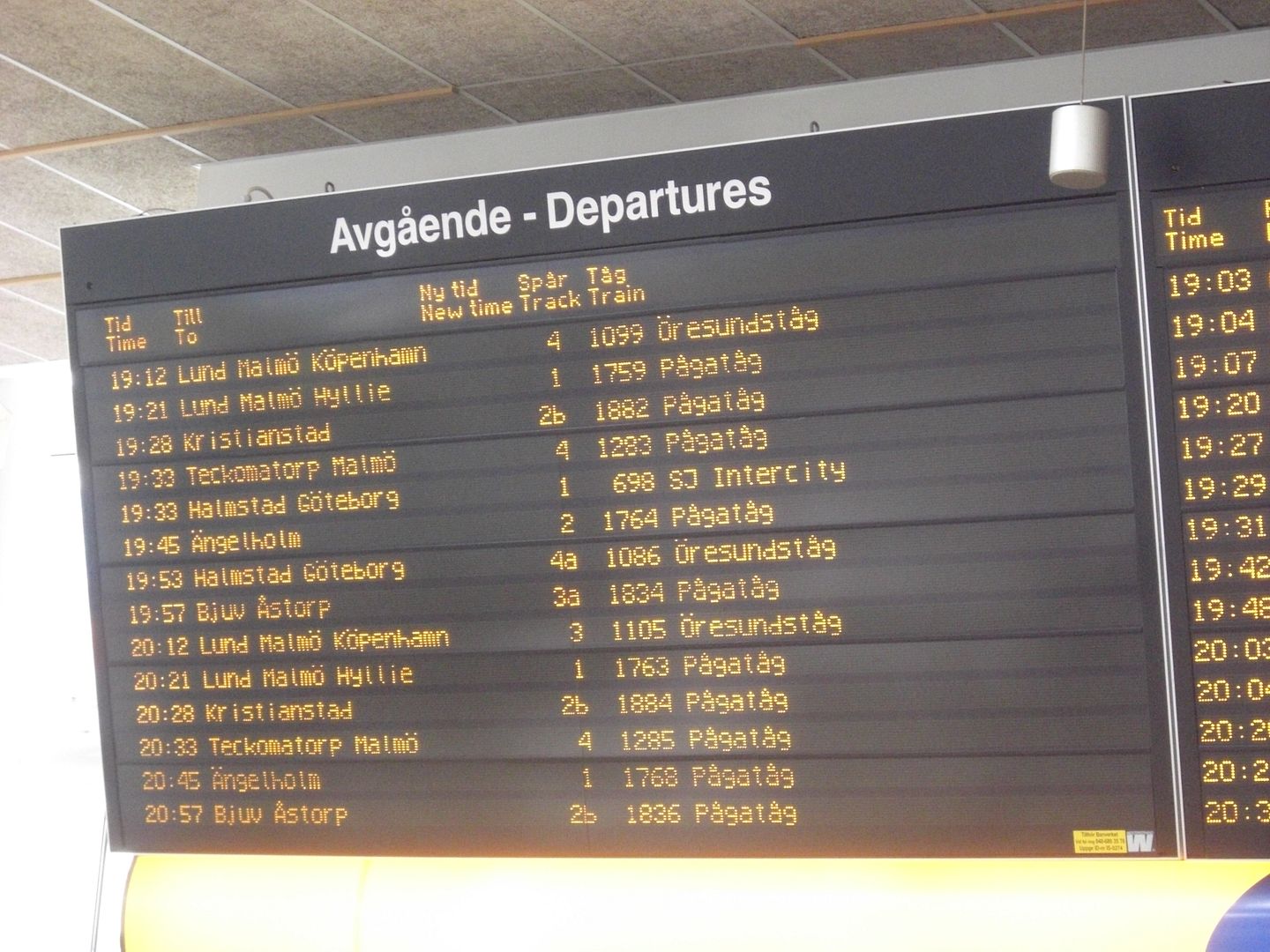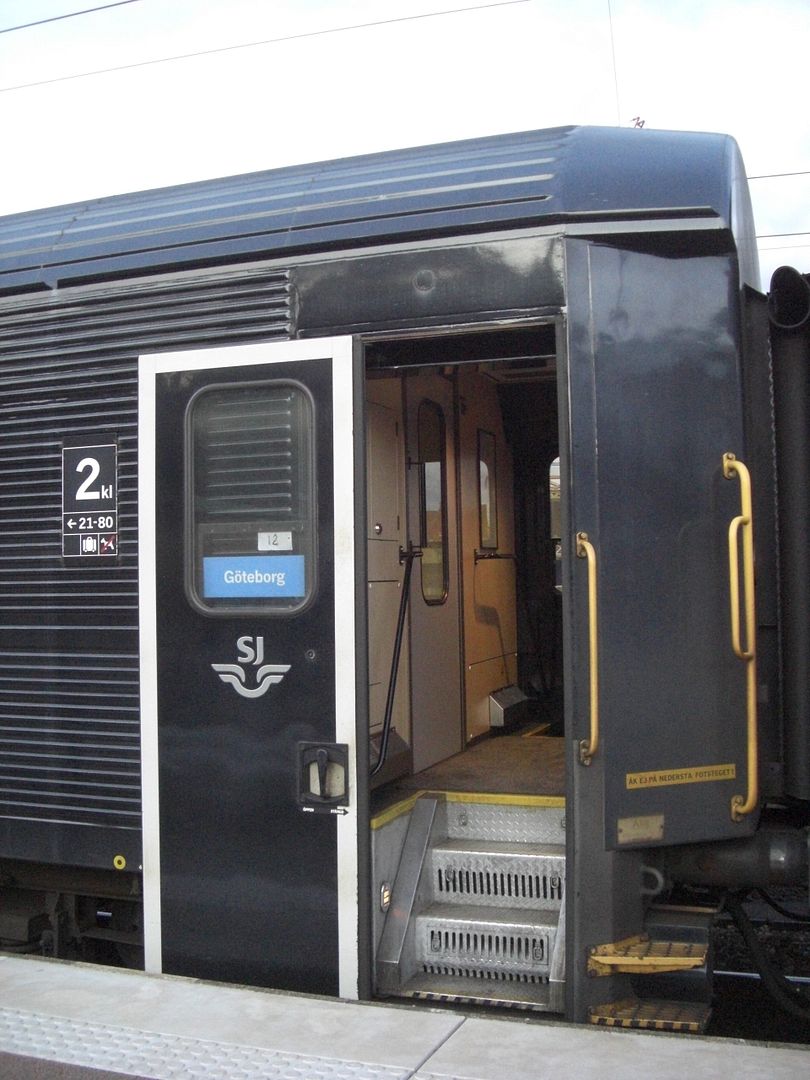 You know you're in Sweden when you see this: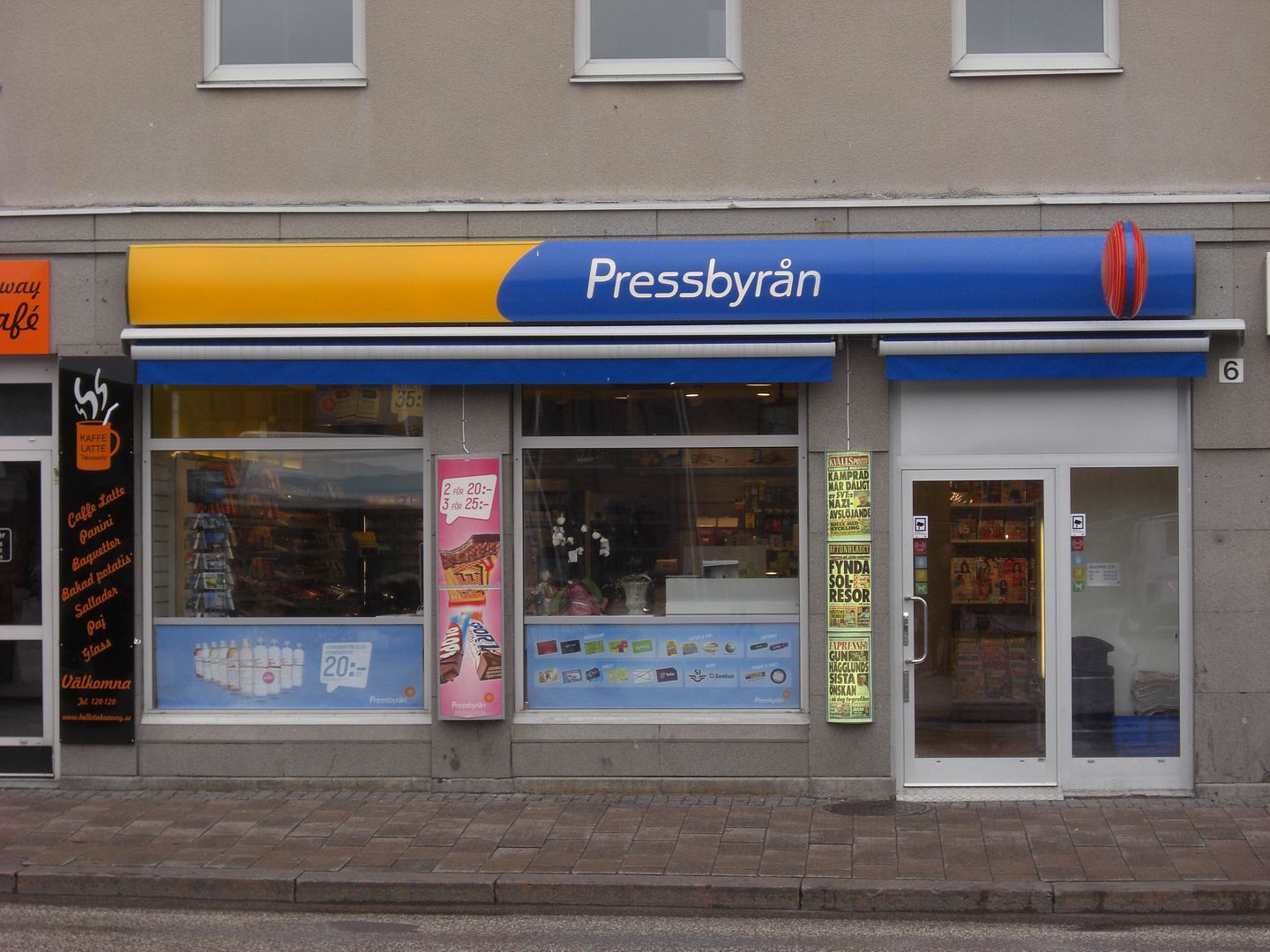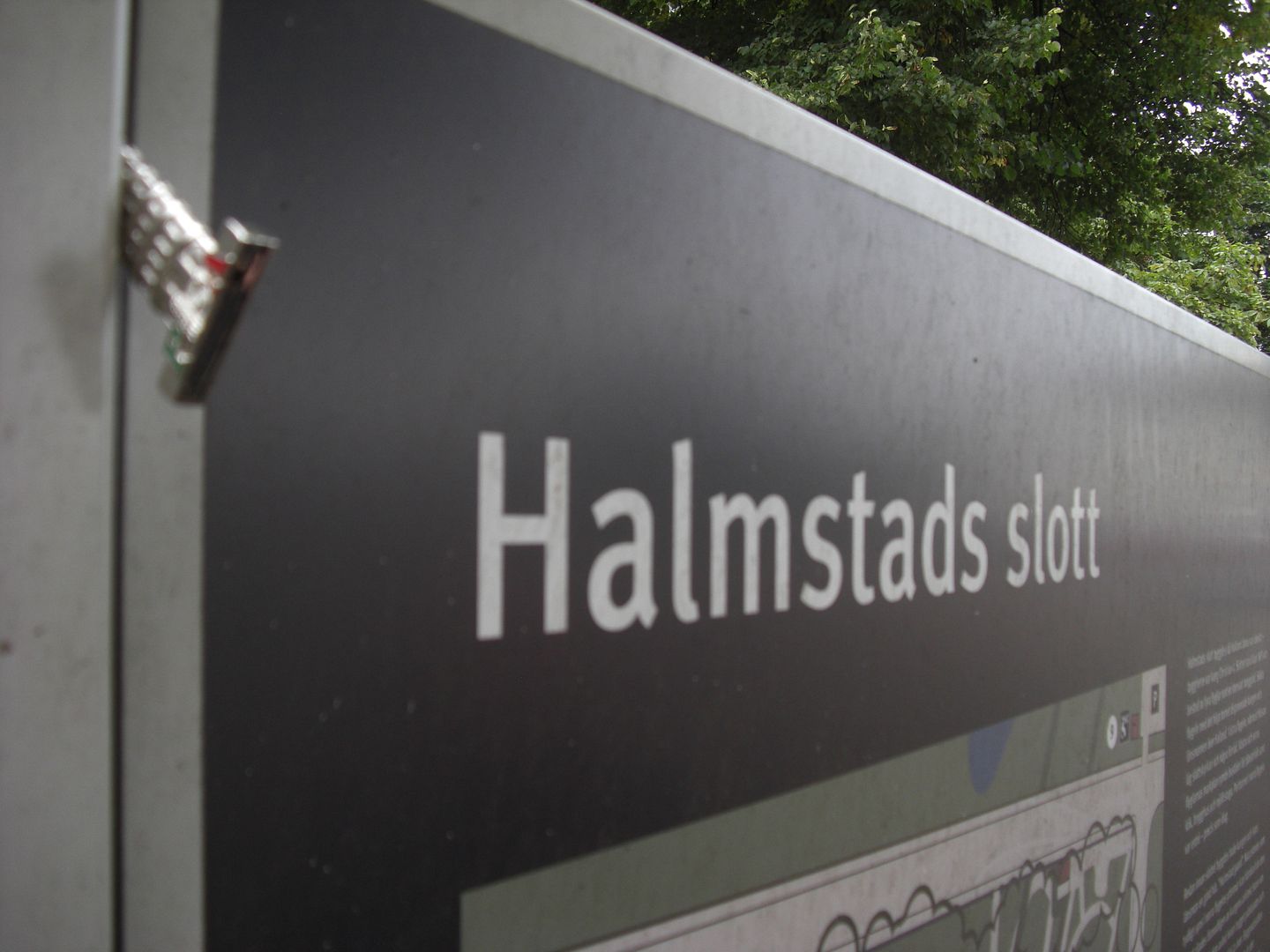 From Halmstad, we took another train up to Gothenburg, where we stayed on the Ibis Hotel ship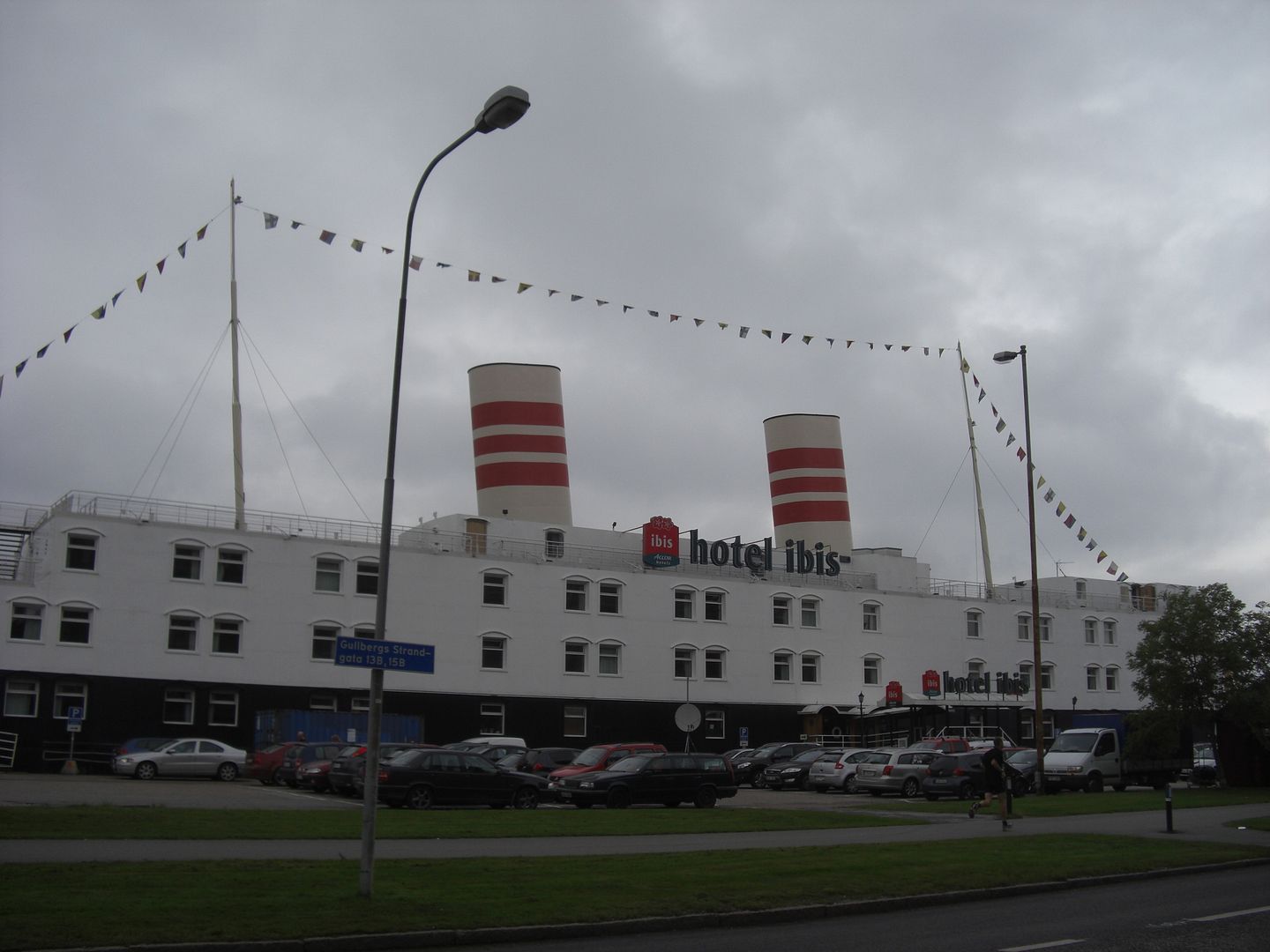 There was this interesting advert in the Gothenburg guide, trying to get people to shop (by saying how little excess baggage cost)…..seemed a bit weird, given that only one of the listed airlines flies to GOT!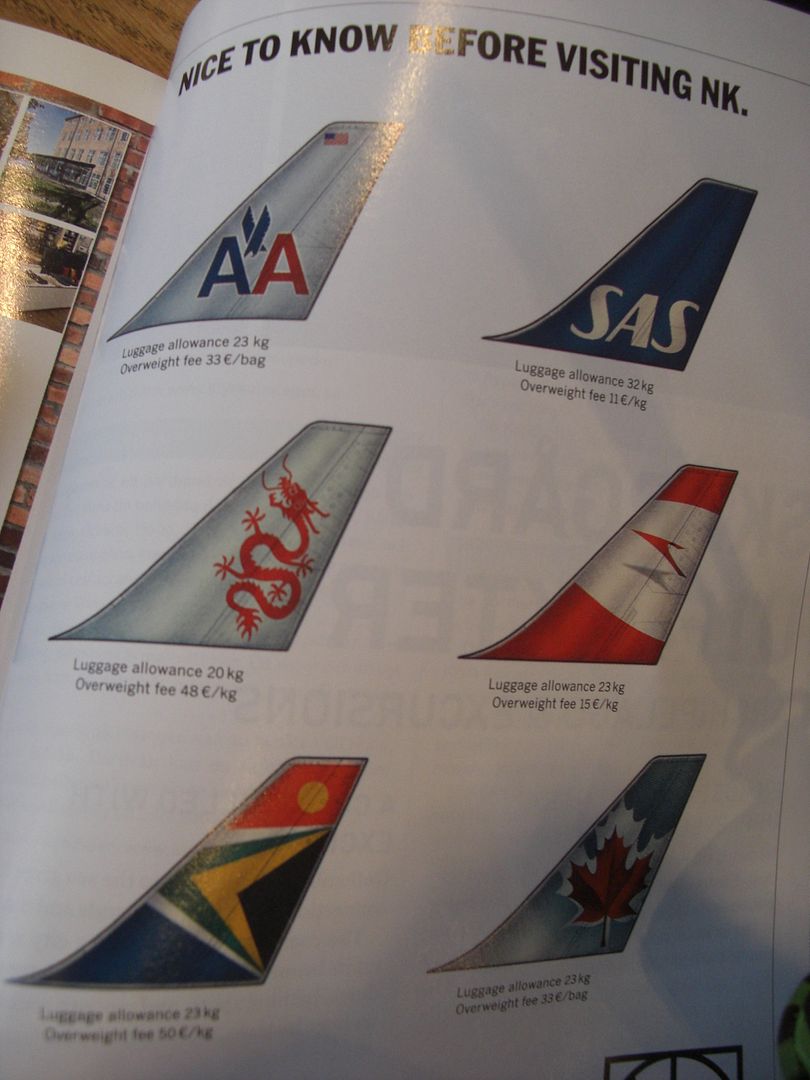 Meatballs!
When in Sweden, don't miss a burger at MAX
More Gothenburg pics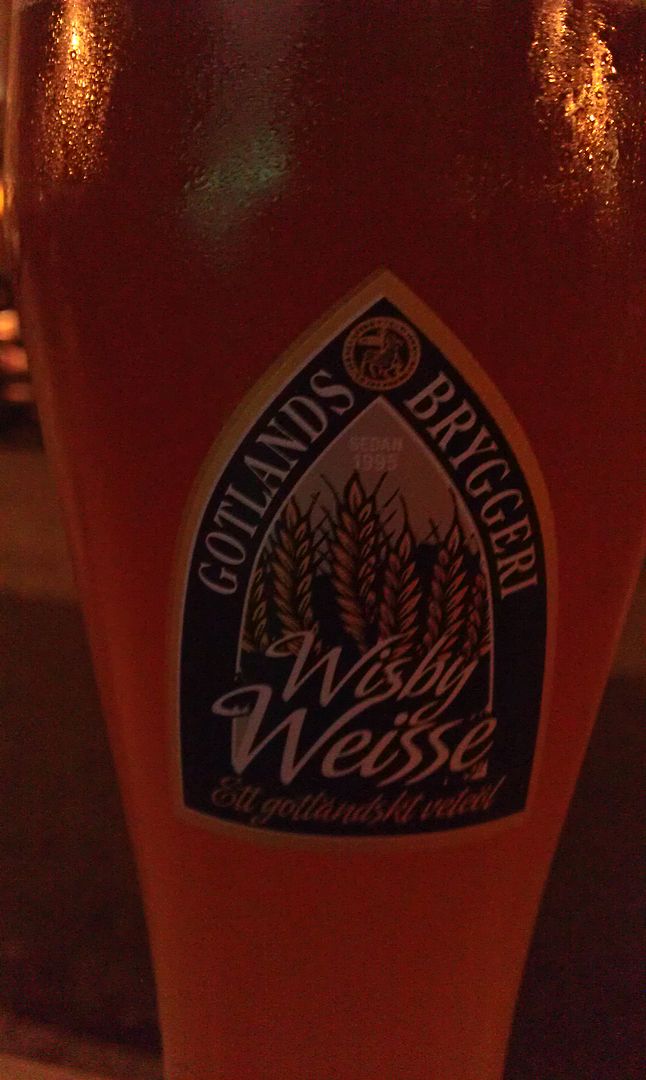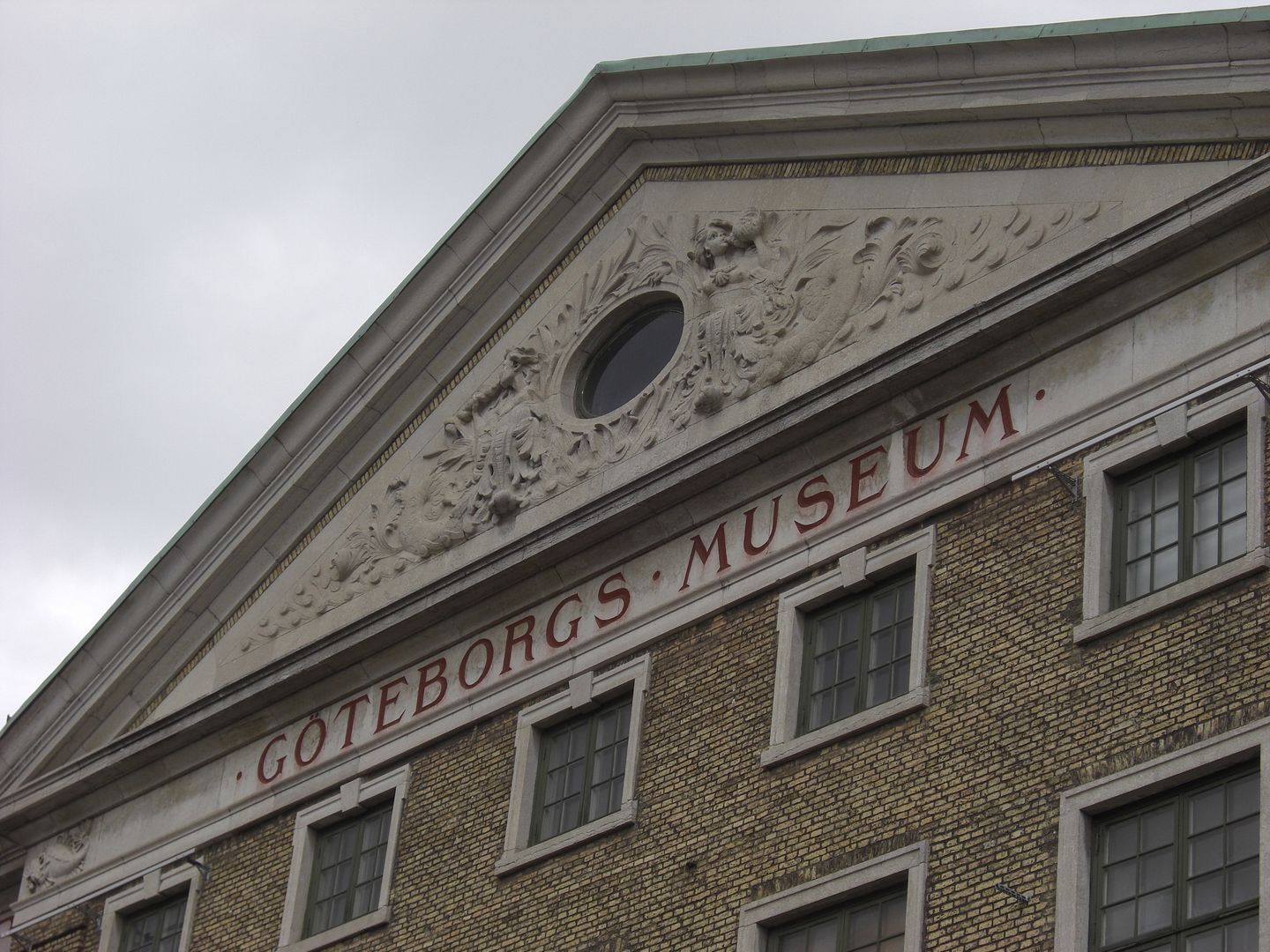 Remains of a real Viking boat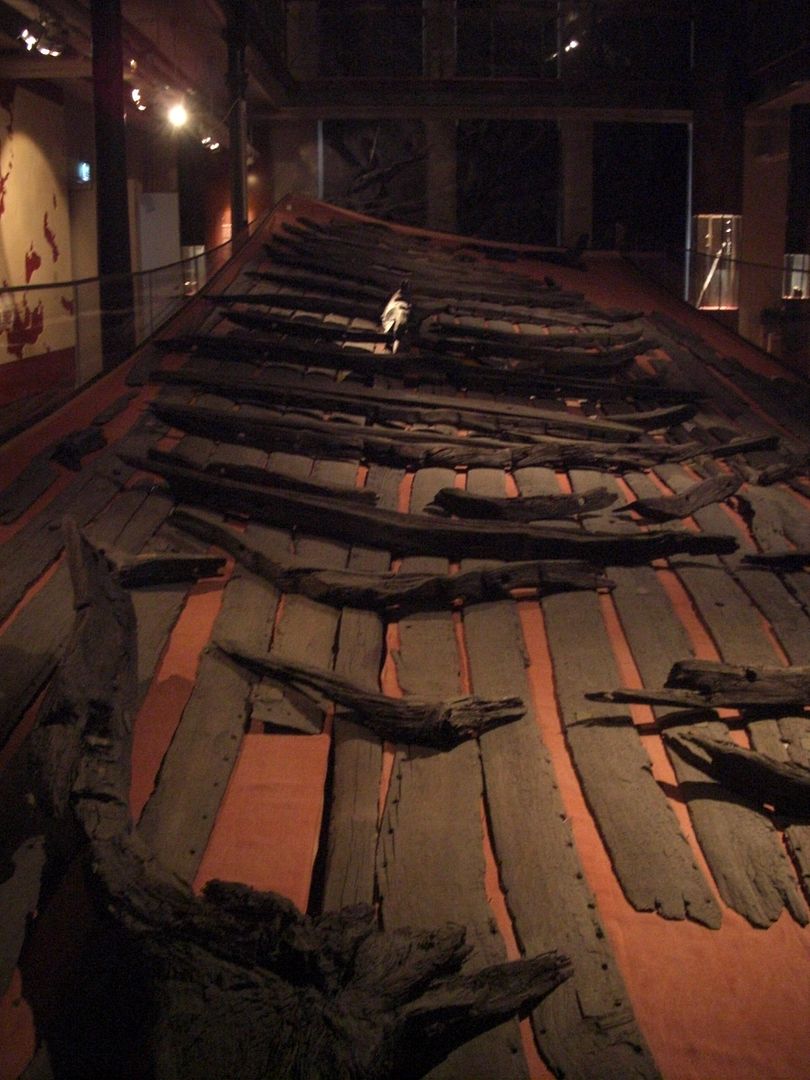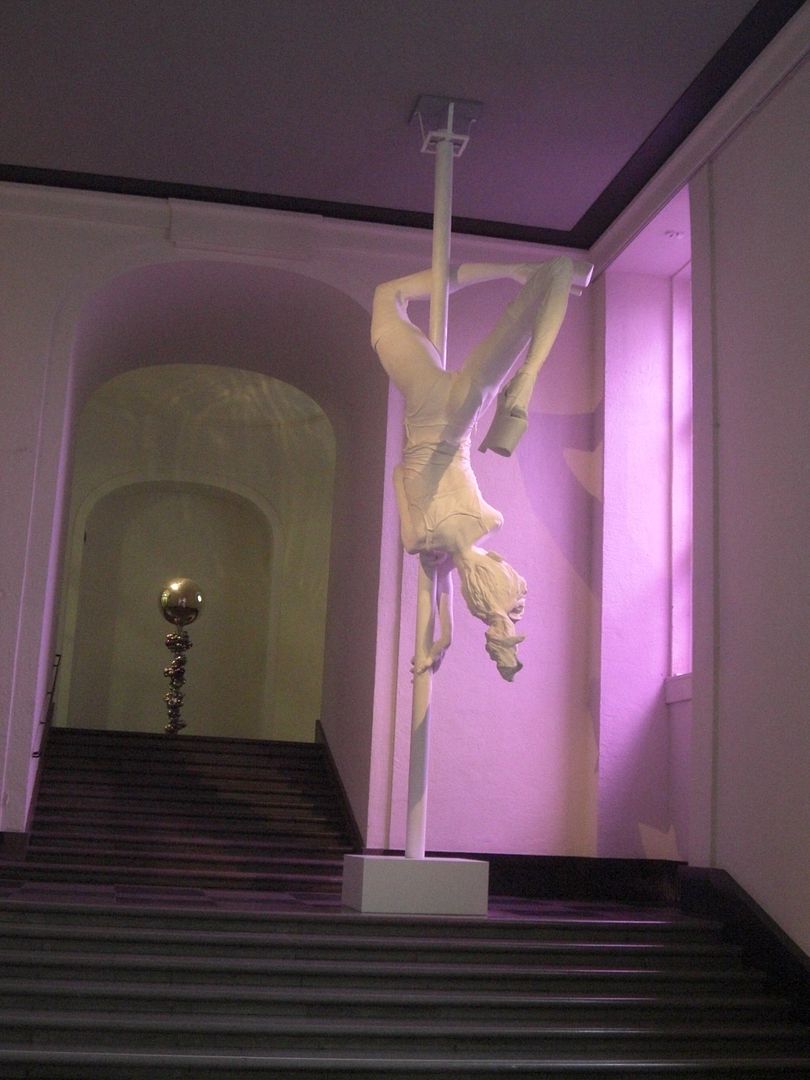 Only in Sweden!
We also did a day trip out of the Southern Archipelago, to the island of Syrso. If you are in Gothenburg, and the weather is pleasant, I would HIGHLY recommended a day trip out there.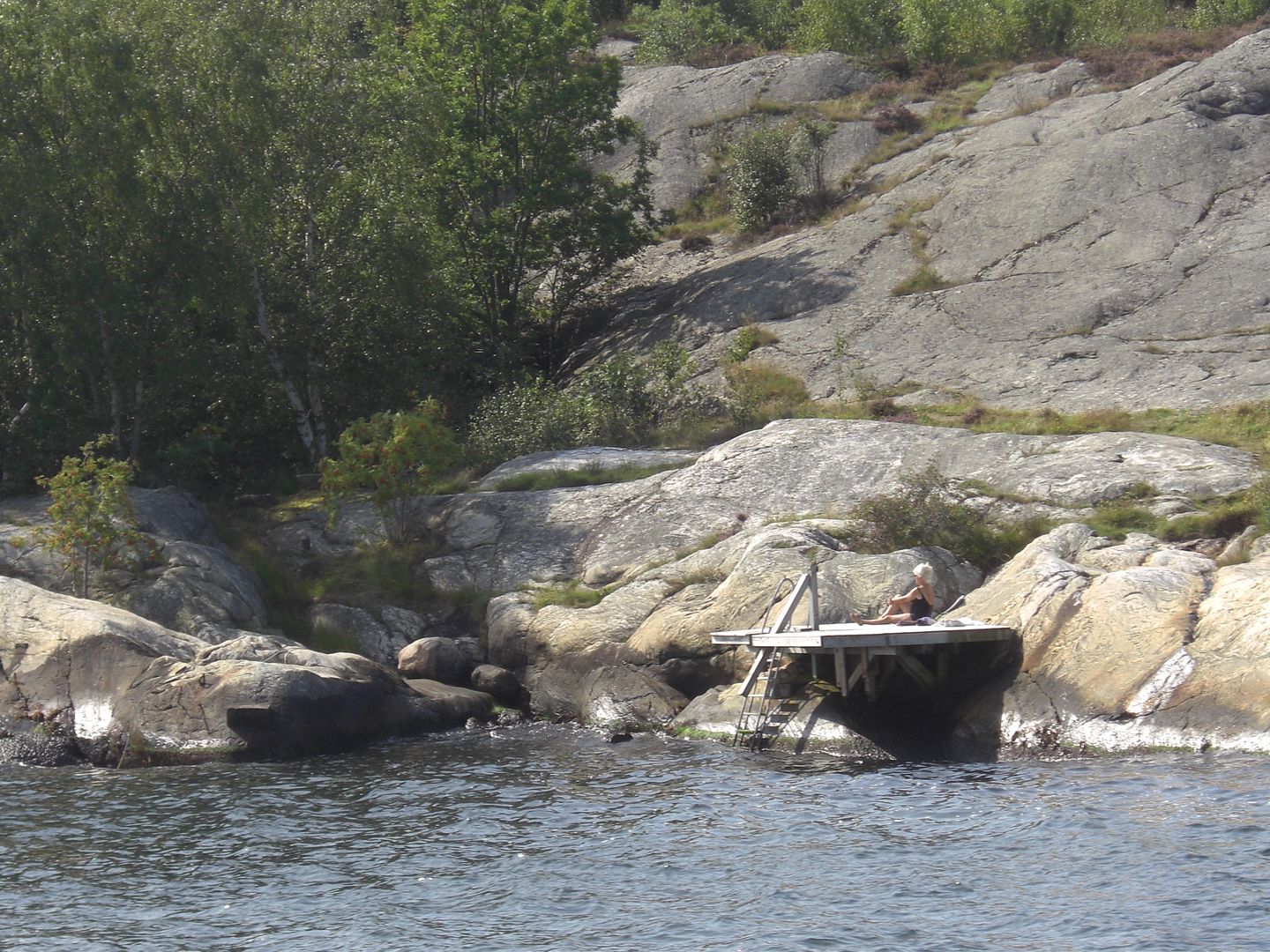 Can any Swedish members explain the significance of the long, thin flags?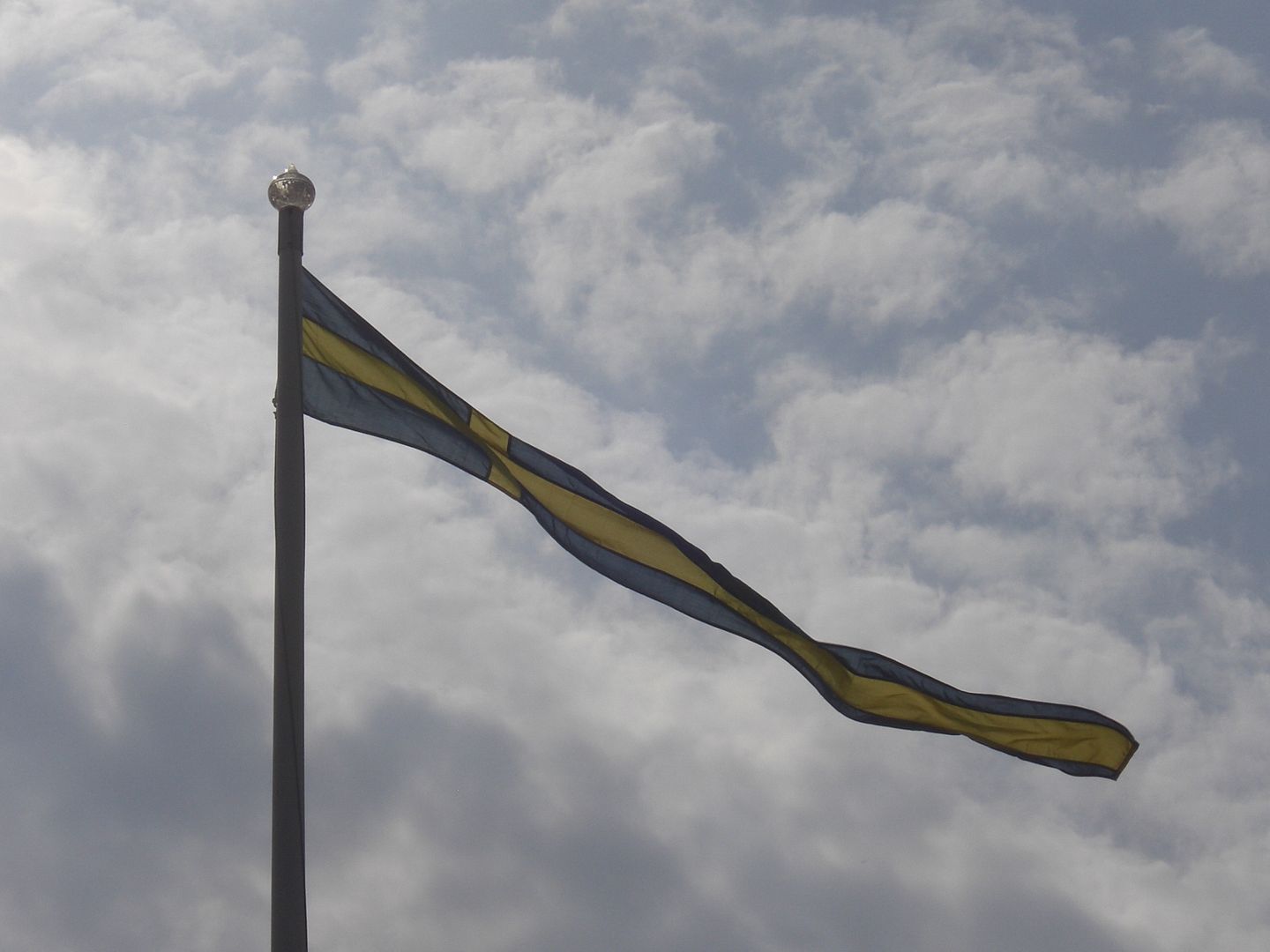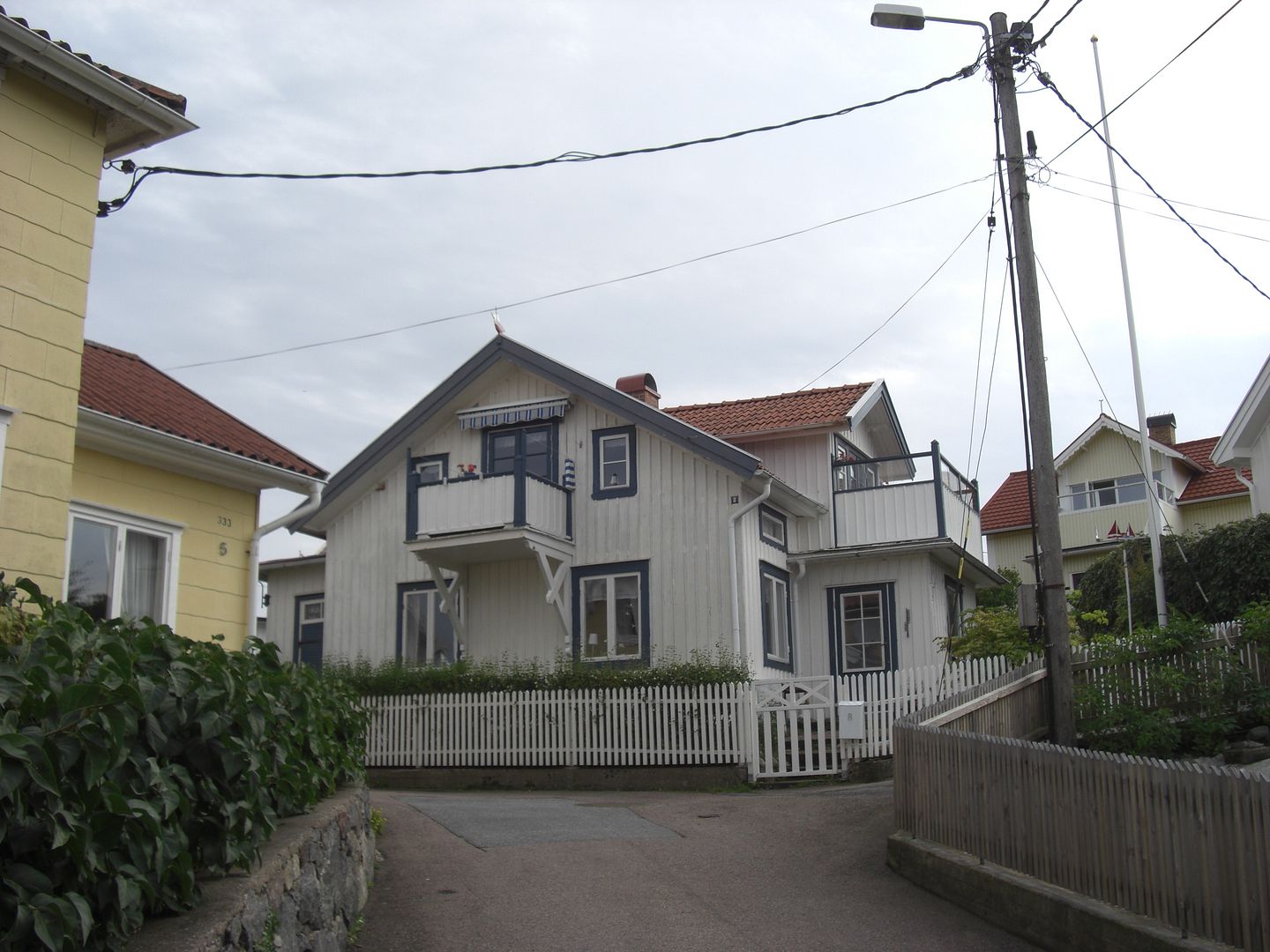 We're definitely in Sweden!
FR departing Gothenburg City Airport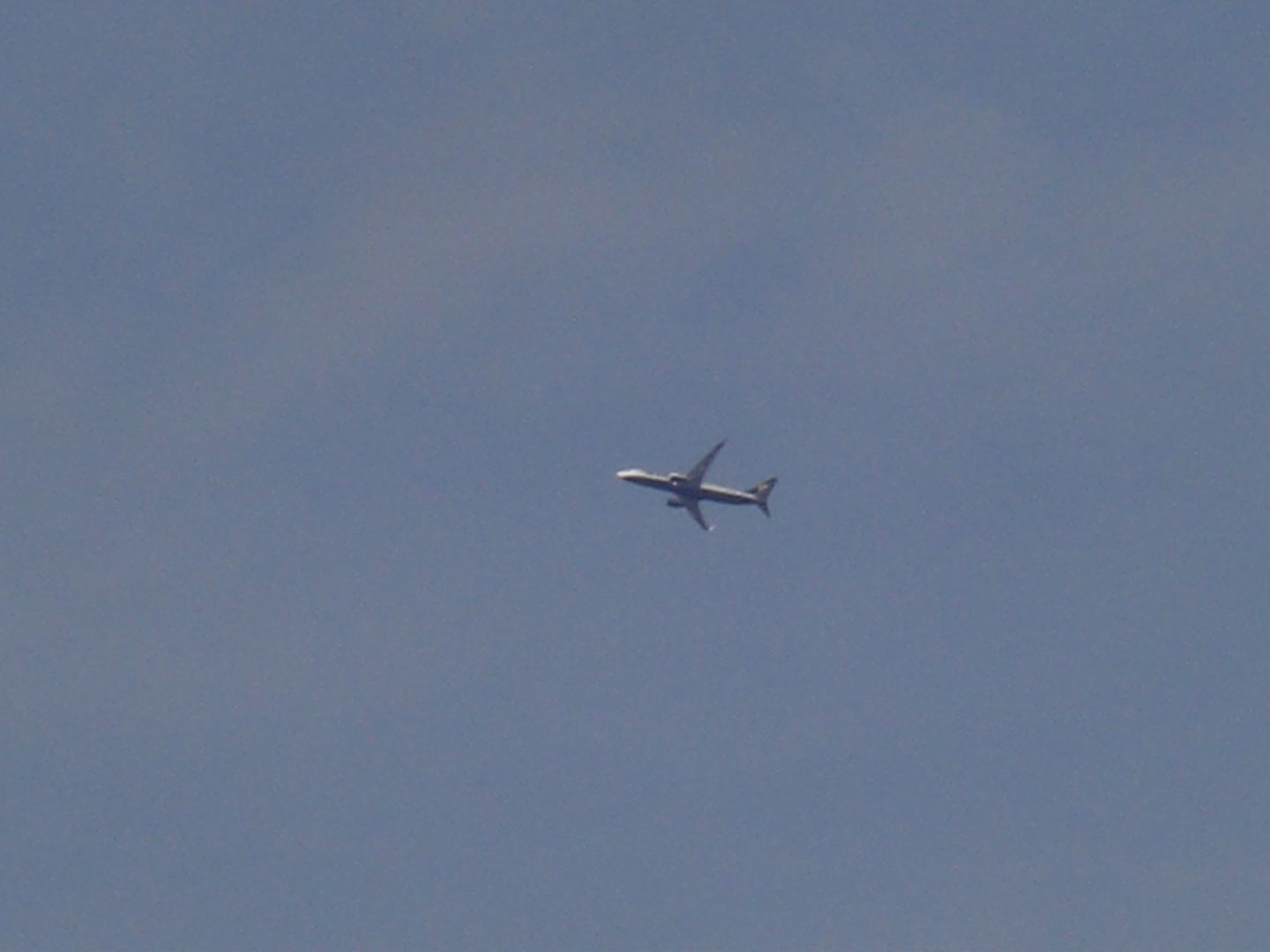 The tram back to the city centre
After our trip to Syrso, we collected our bags from the hotel, and then caught the bus to Landvetter Airport. Being a Friday afternoon, the city centre traffic was awful. We ended dup getting an earlier bus than planned, yet still arrived after our original one was meant to arrive.
Outside GOT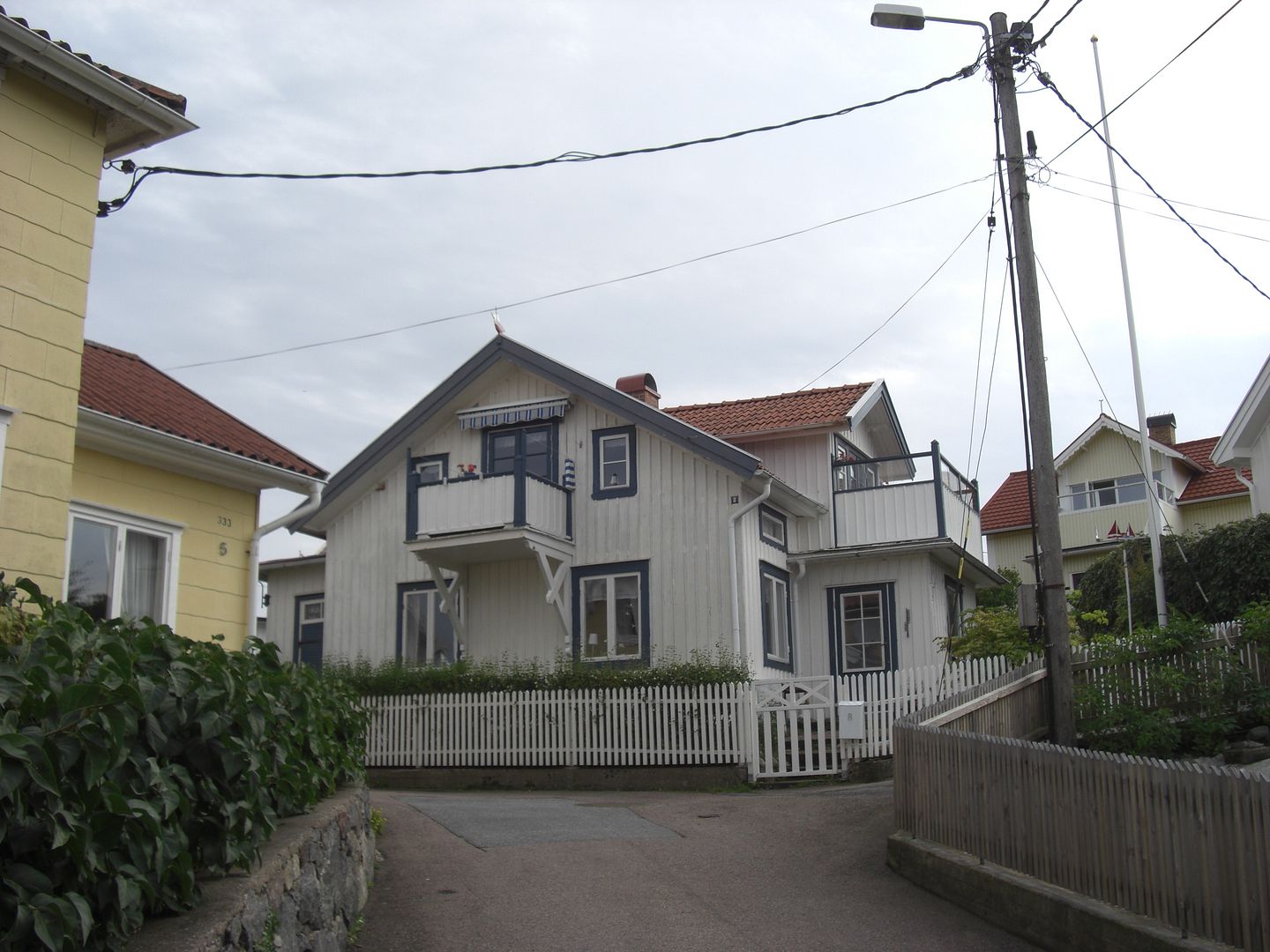 There was no queue from the Club Europe desk, and our bags were tagged, and boarding passes printed. Interestingly, a lady approached us from behind, and pout 'cabin baggage' labels on our backpacks (that we were wearing) without us noticing at first. Perhaps it would be better for her to have asked us first. It thought it was a bit rude (as well as being completely unnecessary, especially as the flight wasn't full).
GOT check in areas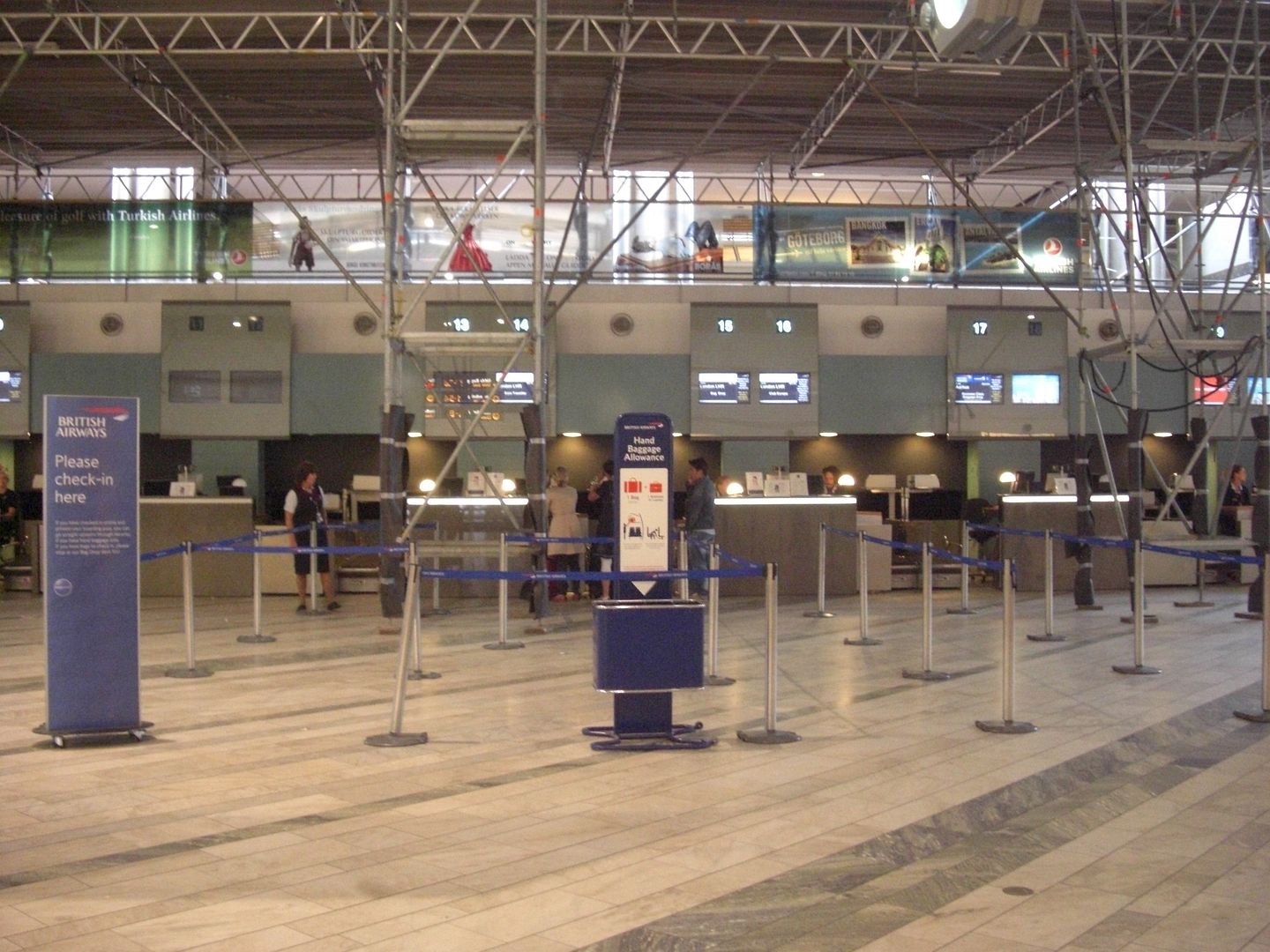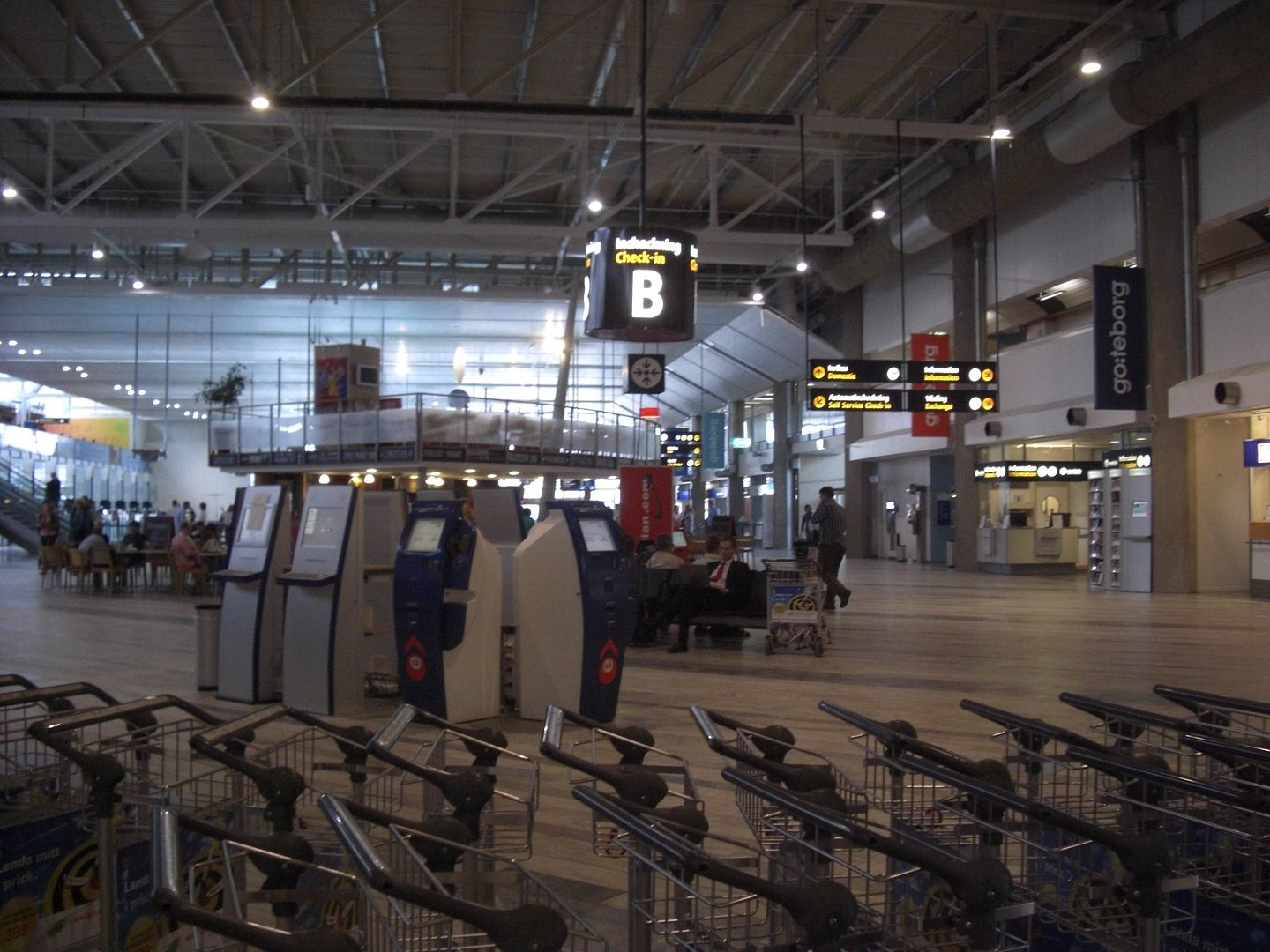 We used the last of our Swedish Krona to buy some stuff from Pressbyrån, then headed upstairs to security. From up there, there were some interesting views of the SK check in desks
Security only took a few minutes, and before long, we were walking along to the lounge.
GOT departures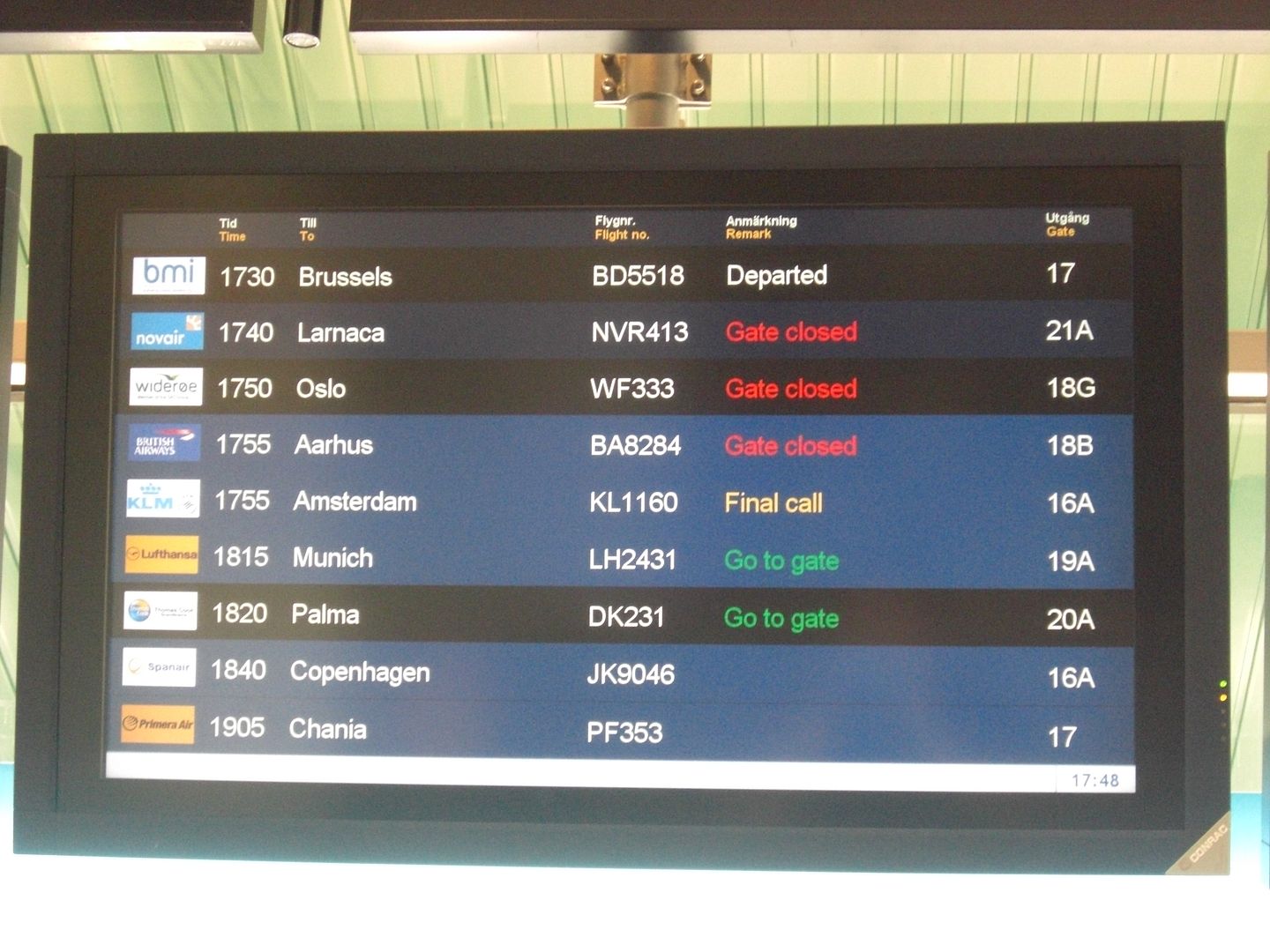 Airside – there was a different selection of aircraft than those I usually see in London.
The lounge was a contract Menzies lounge. It was large, and airy, and only had a handful of people in. there was a reasonable alcohol selection, but the food wasn't great. There were some meatball look-alikes, bread, crisps, and biscuits. Adequate enough I suppose.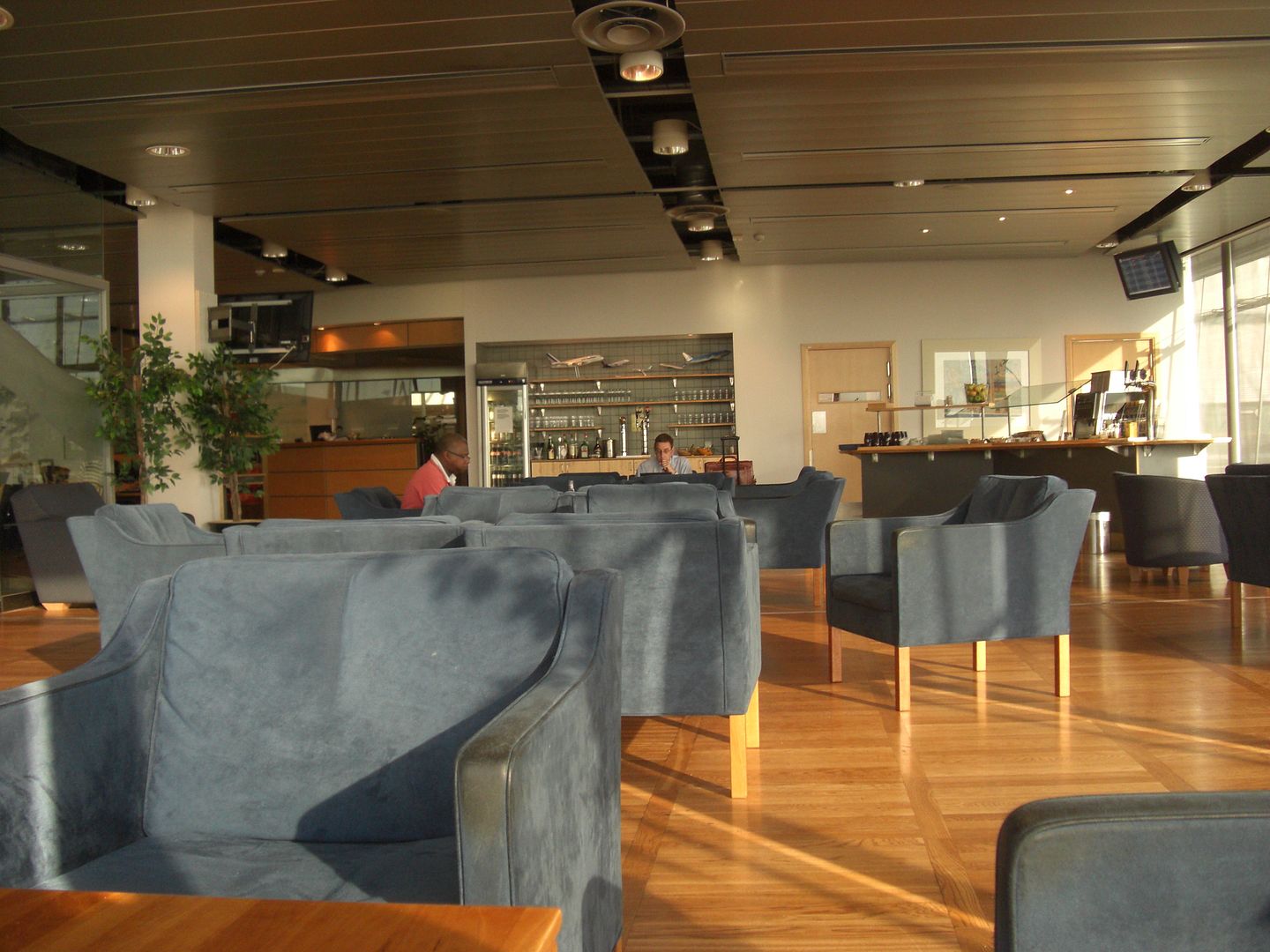 I tried some interesting Finnish vodka
There was free wifi, but reading Greeland Today was much more interesting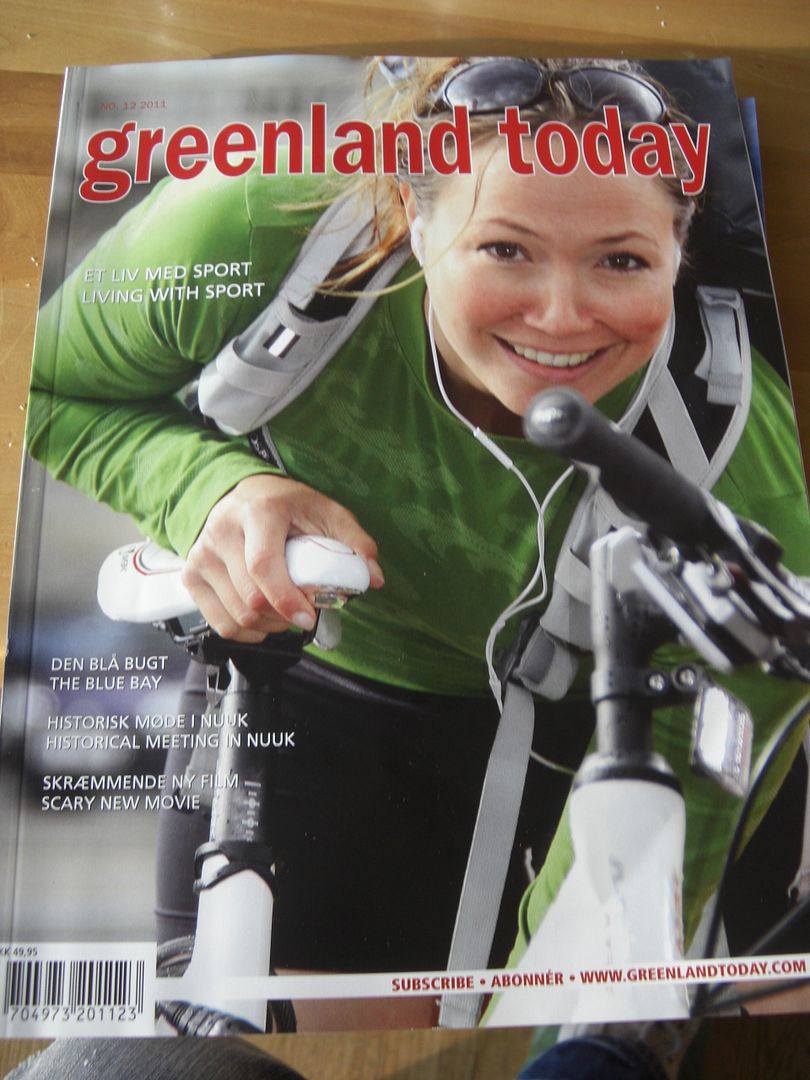 Retro SK leaving. When I pointed this out to my friend, he looked at me pitying. Such a strange obsession we have.
Our aircraft arrived around a quarter of a hour late from LHR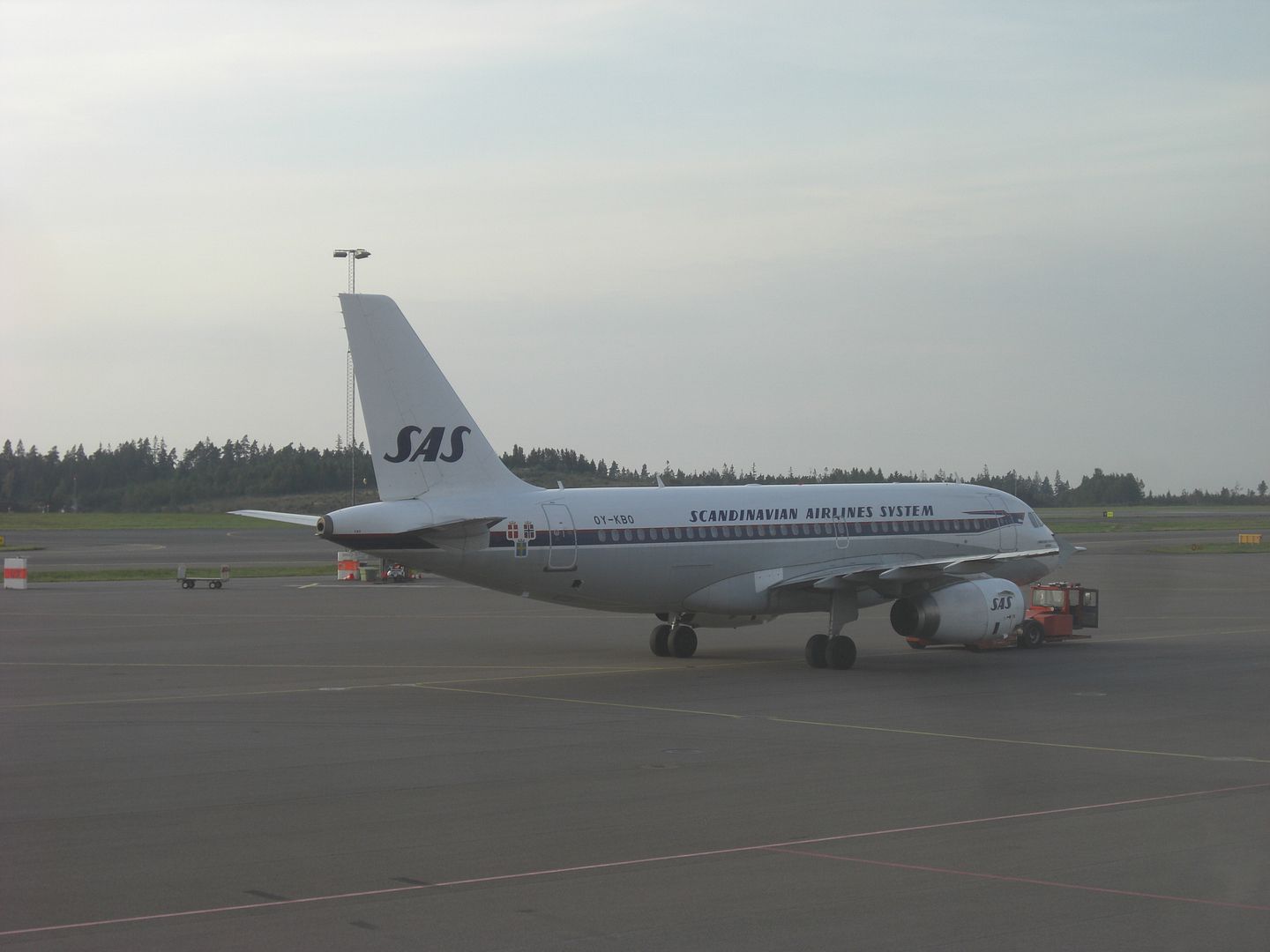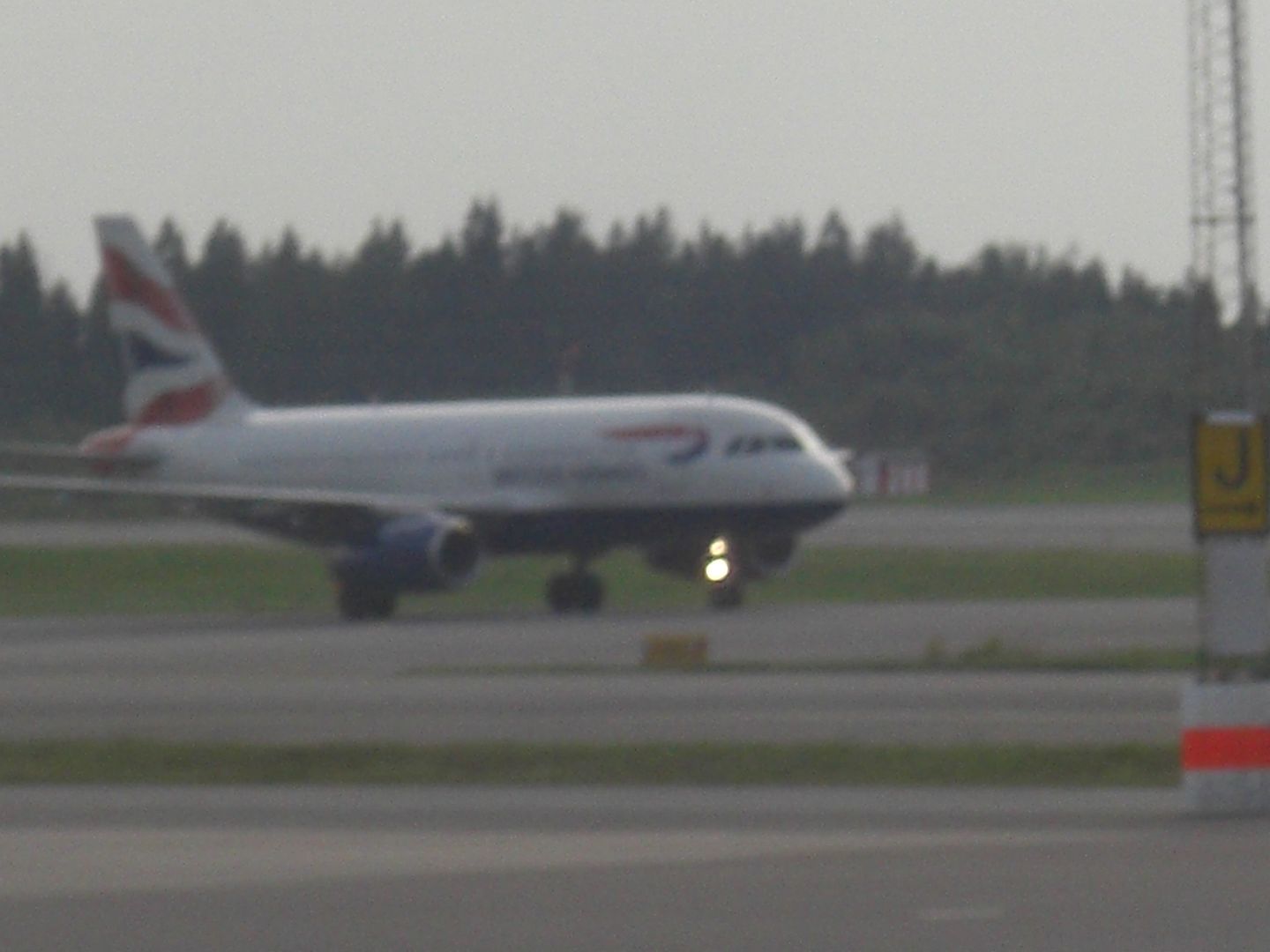 http://my.flightmemory.com/shefgab
Upcoming flights: AMS-RIX-BUD-VDA,ETH-TLV-FCO-LHR,STN-TXL-LCY,LTN-CPH-LTN,LGW-SZG,MUC-LHR