.
Once - at a more idealistic age - I imagined spending the rest of my life fishing off a remote pacific atoll. After gathering anything and absorbing everything I could find about these strange-sounding locations - mere dots in a vast expanse of blue - the early explorers who embarked for the South Seas, and never returned home, became my heroes. Mutineers were then the freedom fighters I aspired to be, while the Gauguinesque rewards looked so sweet and delicious. Nothing else on earth could compare. My escape plan wouldn't involve a plane, but a pacific-bound yatch, on which I would serve as deckhand on the wild ocean in return for passage and board, and at the right island, I'd leave to start my life anew. Well, that was the plan anyway. Until reality so rudely intervened.
That's not the first fantasy I harbored, nor was it the last. Alas, childhood is full of amazing dreams, that are systematically culled in adulthood. (Okay, maybe that's not entirely true - I'd been living one of those dreams in my job... which later evolved into a M. Night Shyamalan movie, but that's another story, for another day). Anyway, coming back to the topic, my original plans may have been aborted, but the process did teach me a thing or two about vast Oceania sprinkled with thousands of islands that are far from homogeneous. To me, Polynesia was most exotic and what we best associate with the South Pacific - stretching from Hawaii down to Tahiti, and New Zealand at the western end. Melanesia was inherently mysterious for its inclusion of New Guinea. And Micronesia? Well, those are like pearls strewn across mid-pacific, and strung together by the world's most wonderful air route.
You know this book about the 1,000 places we must see and things we must do before we snuff it - well, an aviation nut edition, if it ever exists, must definitely include flying on Air Micronesia's pacific island-hopper among the top of the list. Not only is this the
ultimate
milk-run, the stops include the world's most remote atolls, with the size of some islands barely the width of a standard runway. Continuing almost uninterrupted since 1968, few regular scheduled flights today reward passengers with such a sense of adventure. The service provides a critical lifeline to these islands a few times a week, and gives us the unique opportunity to glimpse these pacific communities at a relatively reasonable cost. It's been on my "must-do" list forever - and it should be on yours too.
The UA - CO merger added a greater sense of urgency to my mission, and I knew this would be my last opportunity to catch the flight in its original-ish version. Having obviously missed the island hopper's early B727 period, I'm catching it just after the end of its
Air Mike
era: the FAA had only recently approved the merging of Continental's operations with that of Continental Micronesia, resulting in the end of the CS code, and demise of the "Micronesia" name on these flights. And on completion of the UA - CO merger, this will just be another regular United flight. Even if the multi-stop route stays intact, it'll somehow not quite be the same anymore I feel. For now though, suspend reality for a while. Fix yourself a large drink, sit back comfortably - for it's a long flight ahead - and join me as we cross the wide expanse of
Air Mike's pacific
on a lonely 737.
.
.
a sojourn through paradise
.
Between christmas 2010 and new year's day of 2011, I embarked on an 8-day round-the-world journey that started and ended in Kuala Lumpur. There's a largely forgotten trip report series - although I realize some of you do remember it - that last broke off at Waikiki beach. This is the much delayed continuation to that journey. (There's no need to read the earlier segments of the RTW but if you must, they can be found in the links at the end of this report).
Anyway, it's in Honolulu that we start this episode. I've had a nice but short break here - especially after a couple of particularly long flying days. I even manage a refreshing dip in the pacific. The President of the United States is apparently also in town, but we somehow missed each other on Waikiki. What are the odds of that? I may not be fully recharged, but it's already time to move on. I continue the tradition of picking another daytime onward flight - not that there's much of a choice with the island hopper - which means my morning call on departure day is insanely early, as usual. My 4.30 a.m. taxi, pre-ordered by the hotel, turns out to be an ostentatious chauffer-driven stretch limo that could have been booked by the president himself and that's rather disconcerting, especially when traveling alone - I'm glad the streets of Honolulu are deserted at this hour.
.
.
My limo drops me off at Lobby 7, the semi open-air check-in zone Continental shares with American at Honolulu International Airport. United is further along the same concourse. The CO desks are already busy processing their only early morning flight: CO 957 - and until recently also CS 957 - has been the flight number allocated to the westbound island hopper to Guam ever since I fantasized flying on it, many years ago. Sadly, this flight has since been renumbered as the integration process with UA reaches its tail end. (But the service continues to operate three times a week, leaving Honolulu on Mondays, Wednesdays and Fridays. The return flight departs Guam on the same days, but bear in mind that the Wednesday flights in both directions have one less stop enroute.)
.
.
In the economy class line are about two dozen passengers - among them a fair number of Pacific islanders, carrying lots of baggage and large plastic storage trunks, are probably headed home. The Y line looks reasonably managable, but my TG card entitles me the use of the
EliteAccess
desk, where there's a queue of one. This queue-beating Star Alliance perk - a legacy of two particularly productive flying years - will be the one I'll miss most when I lose it at the end of this year.
.
.
My check-in agent at the premium desk is a mature gentleman of Japanese descent who, after swiping my passport, frowns at his computer terminal. He's deep in thought, as if trying to figure out the next move in an online chess game. Something must be amiss. I ask what. "It seems you need a transit visa for Majuro," he says distractedly; his eyes still fixed on the screen. I reply that I didn't think I needed one. (To be honest I hadn't even checked). "Neither do I, but on here, it says you do," he says and walks off to ask somebody. This is serious: based purely on this info, CO could deny my boarding this flight for not having a visa for the 51-minute stop at the Marshall Islands capital. And just like that, my dream of flying on the island hopper will come crashing down. This is definitely not good, and I have reason to worry.
I would have been a lot more worried had it not been for my check-in agent, whose demeanor and expression tell me he's not convinced by the info on the screen, and who seems intent on doing something about it. At this point, a less experienced agent could be insisting on enforcing the 'rules' - so boy, am I thankful that's what doesn't happen. I'm sure my agent's vast experience plays a big part in this, for it's not long before he comes back saying the problem is "fixed". I'm not quite sure how - but it apparently is. The only question he asks is a strange one: do I have an address in Guam he can input for the system? But I'm not stopping in Guam, I say. "I know, but you wouldn't happen to have an address there, would you?" How about the airport? I say. The man smiles, keys I've-no-idea-what into the computer, and out churn two boarding passes - one for the island hopper to Guam and another for the onward flight to Manila. What a relief!
.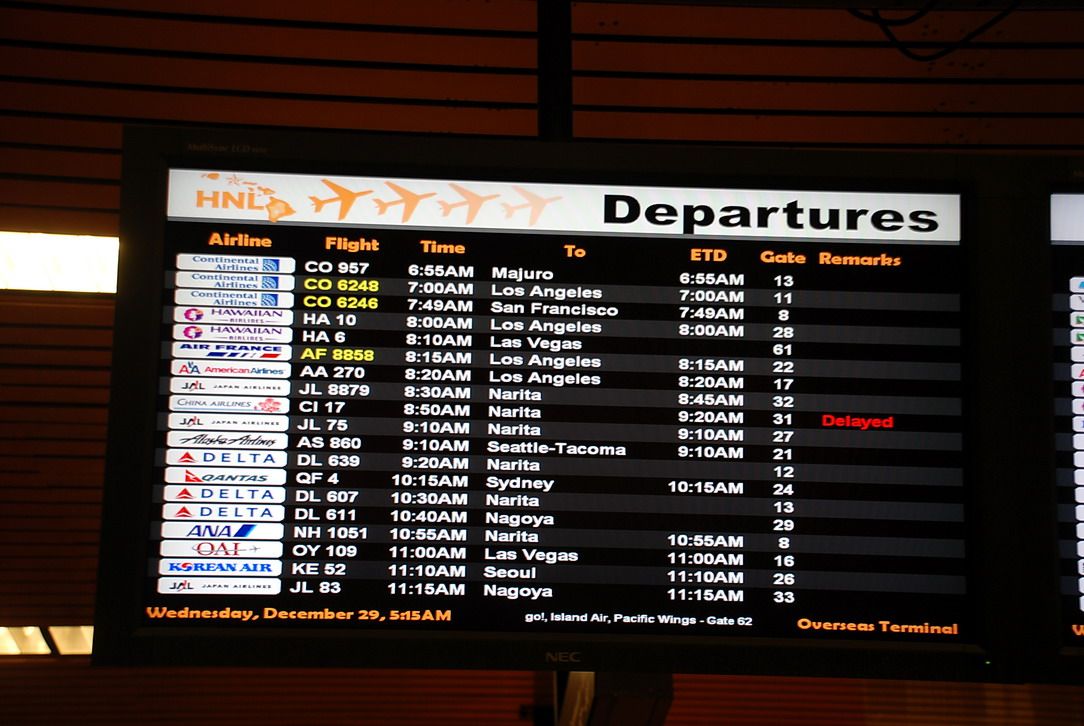 .
My boarding pass is stamped "Gold Lane" - which I only much later learn entitles me to use an express line for TSA checks - but this early in the morning, the general queues for security aren't long anyway so getting airside doesn't take long. From the FIDS screens, it does look like CO 957 is the first departure of the day from the main terminal. Look at the sheer number of flights to Japan - I count 11 departures to Narita alone between 8.30 a.m. and 1 p.m. - it's quite amazing. And it makes me wish my own flight was leaving a couple of hours later - the spotting at HNL's great open-air terminal would have been awesome.
.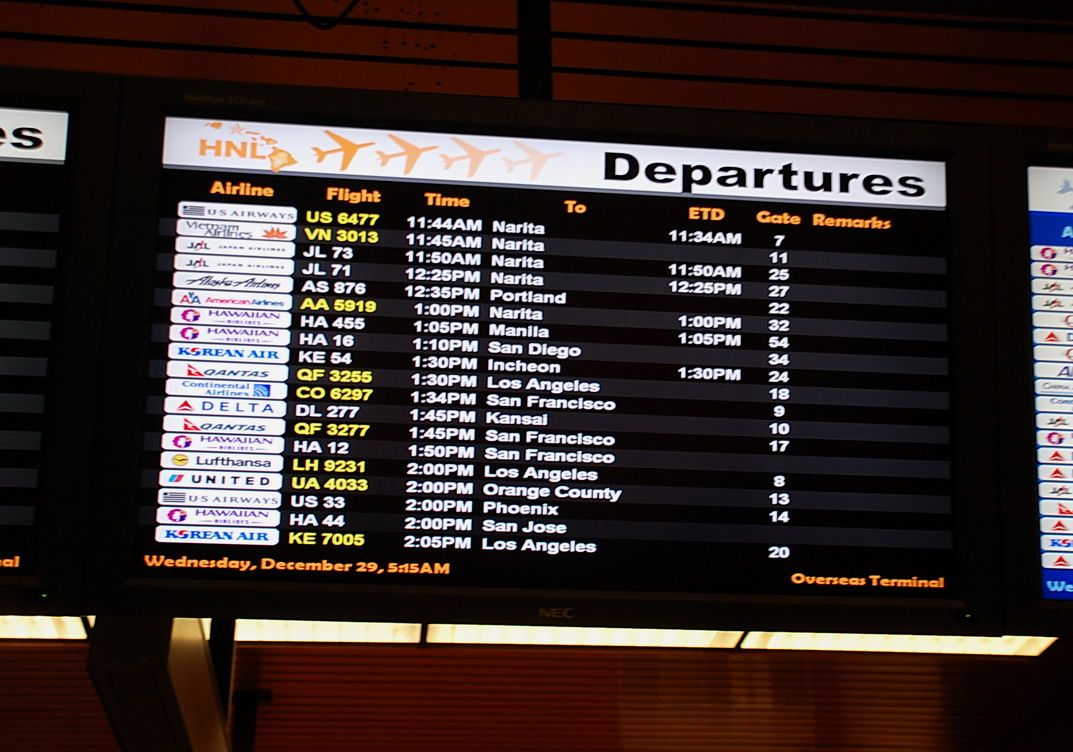 .
.
For the moment however, the airport tarmac is dark and largely empty, and so I turn indoors for entertainment. Another Star Alliance status perk is the use of a premium lounge - I am told at check-in it's still too early for CO's Presidents Club, but I may drop in on United's Red Carpet Club. At HNL, it's located above the usual UA gates at the Diamond Head Concourse, which look deserted at this time. The entrance to the lounge is interesting for its extra-prominent sign banning trolleys and outside food - must be a more serious problem than it appears.
.
.
.
I am welcomed into the lounge as its only customer, and asked if my flight had been delayed from yesterday. "I didn't realize the flights to Guam were so early," says one of the agents manning reception. My response that I'm taking the group's scheduled multi-stop service appears to be a revelation to the old United: "Ah-hah!" says the agent, sounding a little unconvinced that such a flight even exists. Once inside, I'm spoilt for choice on a place to settle down - the slightly faded, tropicalized decor looks almost identical to the hotel I just checked out from. I suspect this is very much
the
Honolulu look.
.
.
.
The facilities include a business center, a couple of conference rooms, a bar counter with booze for sale, and some basic offerings for breakfast. By the time I get my caffeine fix, the first UA passengers on the early morning California flights have already joined me in the lounge. The January 2011 copy of Hemispheres magazine - the last edition to feature the old United logo - is liberated, to be safely treasured. It's time to go.
.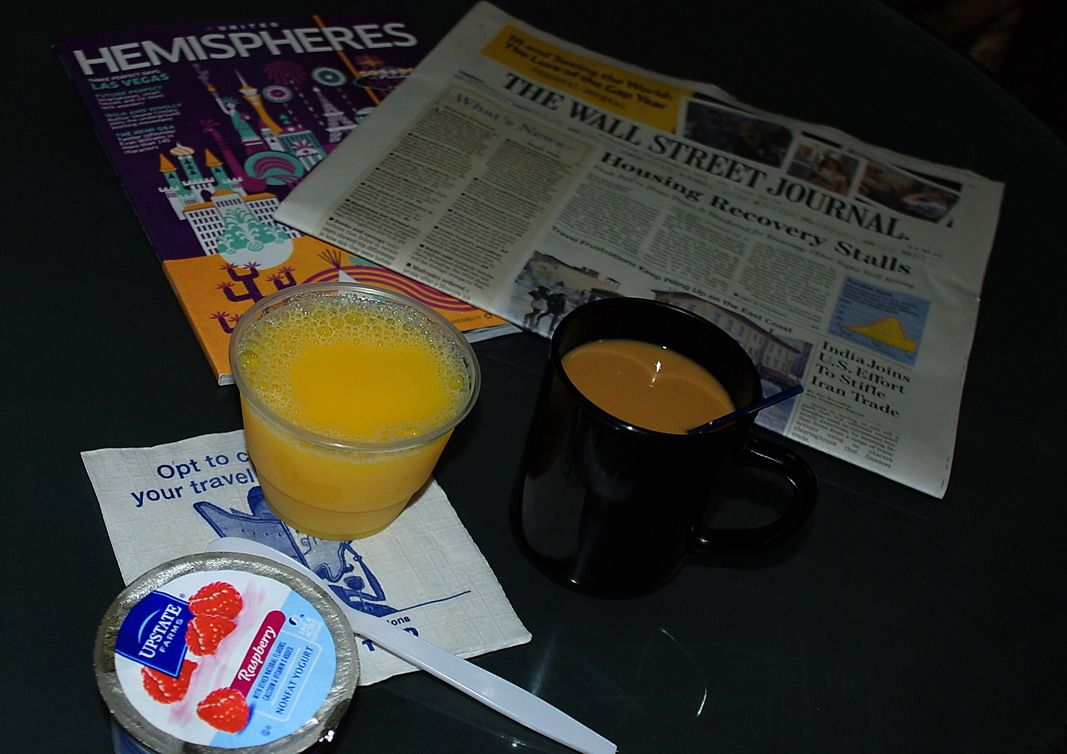 .
Retracing my steps back almost to where I started from airside, I find the island hopper parked at gate 13 - seems to be its regular gate from the other trip reports I'd read - being readied for a long day ahead. Operating Continental flight 957 today is a B738 that's been rostered for Continental Micronesia's Guam-based network for a big part of its 11 years.
.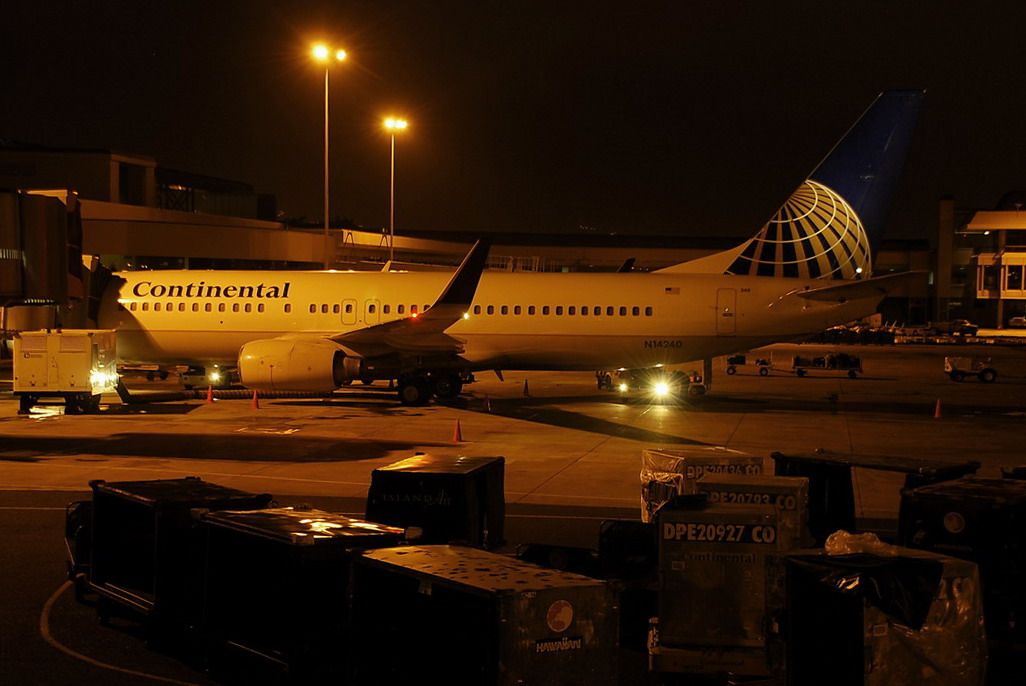 .
There's a short queue to enter holding gate 13 where a passport and boarding pass check is in progress. When it's my turn, the gate agent asks if I'm traveling to Manila, then turns to her colleague and says: "this is the same case as the other woman." I fear this is the start of something unpleasant, and think it's the Marshall islands transit visa issue rearing its ugly head again. I am asked to stand aside to let other passengers through while they "handle" my case, which is another bad sign.
Another gate agent then utters those dreaded words: "if you can't process it, we'll have to put him on the direct." She's obviously refering to CO's nonstop flight to Guam later this afternoon - and I'm about to plead:
No... please no! I really need to get on this flight!
Of course, as I'm not being addressed directly, I hold my composure for now. The agent is still checking up something on her screen - maybe only for a minute or two, but it feels like forever. Meanwhile, I hear an announcement asking all remaining passengers to board. Great - and I'm stuck here. I don't know if it's divine intervention (don't you need to believe in God for that?) but a supervisor - or maybe an angel - suddenly descends on the mess to ask what's happening. She takes a quick look at my Malaysian passport and asks if I have a valid U.S. visa - which I show her immediately - in that case, "it's okay," she tells my gate agent. I am given the green light to proceed. You can't imagine how quickly I rush down the jetway to board my flight, lest someone changes their mind. That was one hell of a scare.
.
continues below...
.