Catching the A300 to the Sun – LGW-AGP-LGW with Monarch and easyJet
This is a report about my recent trip I took on Monarch Airlines and easyJet to Malaga and back to score a ride on the Airbus A300. The photos in this report were taken either with my Canon 400D and 10-22 lens and iPhone 4.
B A C K G R O U N D
It's been a while since I've been on some kind jolly somewhere to fly on some new type or location; I think the last time was around a year ago when I visited Helsinki and Tallinn.
I had a weeks leave from work, I had planned to go and visit one of my best friends who recently moved to San Francisco with his job but this ended up falling through. So I had a week off with nothing much planned. So I got thinking of places to go/things to do on my time off.
After wanting to score a ride on the Monarch A300 for quite some time and after recent trips on the type by regular trip reporters AirbusEric and CrimsonNL I thought I'd do the same.
Next was to choose my destination. Monarch fly the A300 mostly out of London Gatwick and Manchester to popular European holiday destinations such as Faro, Malaga, Palma, the Canary Islands and Cyprus on their scheduled operation (ZB) as well as their charter operation (MON) to Greece, Turkey and Egypt.
Looking at day trip options Faro, Malaga and Palma seemed the most logical based on timings. I decided on Malaga, purely for the fact it had been 3 years since I had actually been there, I go enough with work but that's usually just for 40 minutes! Flight times are a reasonable length and there are more than enough options for return flights. There is also plenty to do as I know the area quite well from holidaying there. However I couldn't decide whether to do the City or the Beach!
The flight on Monarch I booked for a reasonable sum of £48.00 one way two weeks before departure, direct on the Monarch website. I found the website bright, colourful and easy to navigate/use. Payment can be made in either Credit/Debit card or Pay Pal. You have many options to customise your trip for example adding in flight meals, choosing extra legroom seats and other extras such as Champagne. For the return flight, the most obvious choice was with easyJet on my staff travel concessions (if fares were available). Fares were available for the last two LGW departures and I booked the last flight out of Malaga for tidy £15.99. So my itinerary looked like this…
15/10/2011 Monarch Airlines ZB763 LGW-AGP (Airbus A300)
15/10/2011 easyJet EZY8614 AGP-LGW (Airbus A320)
Once it was all booked I was looking forward to the flying this rare bird as I believe they are the only passenger ones flying in Europe (correct me if I'm wrong), bar Iran Air. Also this would be my first time flying on Monarch, I still see them as a charter carrier even though they market themselves as a scheduled airline. So it would be interesting to see the type of service they offer onboard
T H E T R I P
Saturday 15th October arrives and I am woken up by my alarm at 05:00. Time to get up, sort myself out and get a move on down to Gatwick. By 05:25 I'm in the car and on my way, journey time is about 30 minutes but is slightly longer at the moment due to 50mph speed limits because of road works on the M25 and M23 motorways. I arrive at the car park just gone 06:00 and have just missed the South Terminal bus, next one is in 10 minutes. I arrive at Concorde House just adjacent to the South Terminal so head across the road into the Terminal, entering between Virgin and easyJet check in at zone A. Monarch check in is located at the other end of the terminal in zone K. However today all MON flight numbers were being handled opposite in zone J and all ZB flight numbers were at zone K.
Overview of check in area and the new Gatwick signage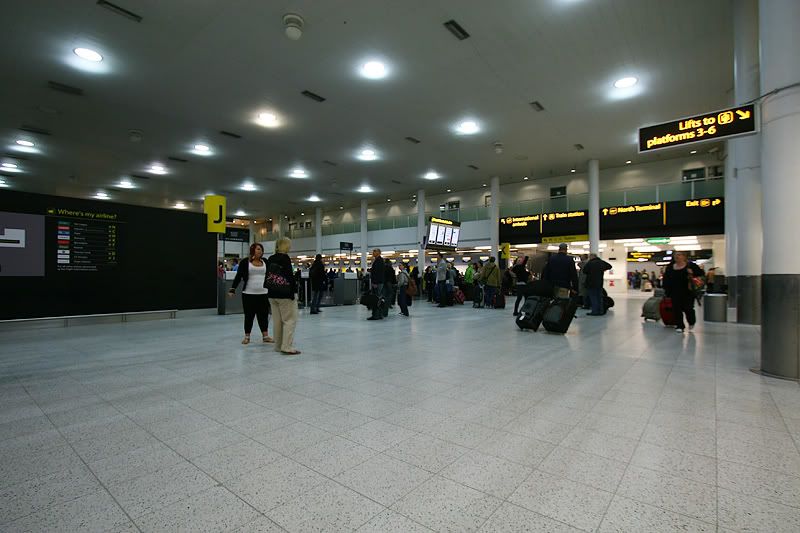 There was a relatively small queue but with so many desks open, the queue would be maximum of about a minute. As I headed towards the queue entrance I saw an Online Check in/Bag drop desk, along with a desk for Monarch Vantage card holders to the right of the main queue. I had checked in online but had not printed a pass. No queues here so I stepped up to the desk, was asked the usual questions, had my hand luggage tagged with a 'Fit to fly' tag then was handed back my passport and boarding pass, ready to head upstairs to the departure gates.
As I was using the South Terminal today I had the experience of trying out the brand new security area at LGW. Since being sold by BAA 2 years ago, Gatwick's new owners; GIP are currently taking the airport through a £1bn investment programme, those who saw the TV documentary 'Inside Gatwick' will know the South Terminal security area was one of those key developments. Masses of retail space was cleared to make way for this impressive new area and certainly looks a lot more welcoming than the previous cramped area on the ground floor. Unfortunately the airport does resemble a building site in many areas, but so far the improvements made as part of the investment programme have been great.
First impressions are good. Bright, lots of space and plenty of staff on hand to help you, as well as TV screens showing you how to prepare for security. But most of all, no queues! To access you must scan the bar code on your boarding pass at the electronic gates which are similar to those used on public transport systems. I scan, a green light shows and I'm allowed to pass. Once through the gates, screens above show 4 colours (Blue, Yellow, Green and Pink) with arrows and indicating the direction and queue time at each of the coloured areas. There are 19 lanes, majority of which are all open. Once at a lane, there is just one person in front of me. I'm not asked to remove anything from my bag such as my iPad or Laptop like some airports do. I know some people have issues with inconsistency of security staff in regards to what's in or out of the bag. However after passing through I realise I left my bag of liquids inside my bag, this was not picked up by the x-ray or any of the staff. A new procedure perhaps? The whole process from check in to clearing security took no more than 10 minutes, impressive at this hour of the morning! After security you are routed down the escalators to arrive in the main departure lounge.
Overview of the departure lounge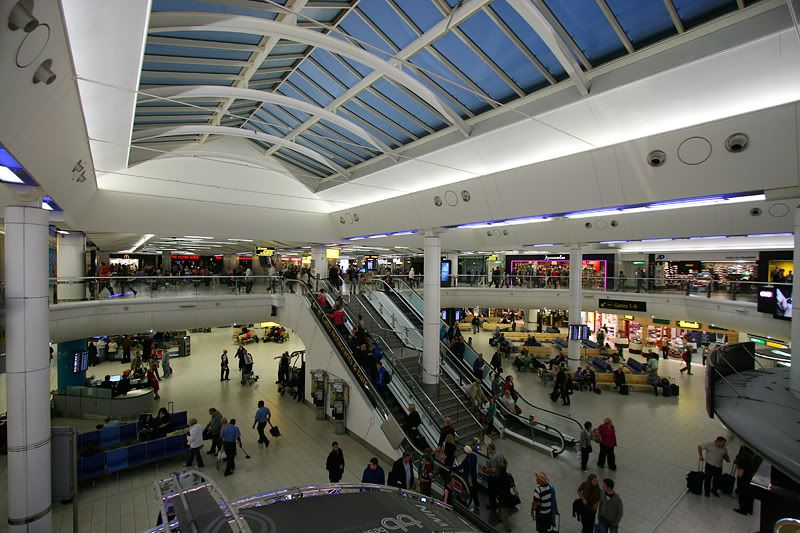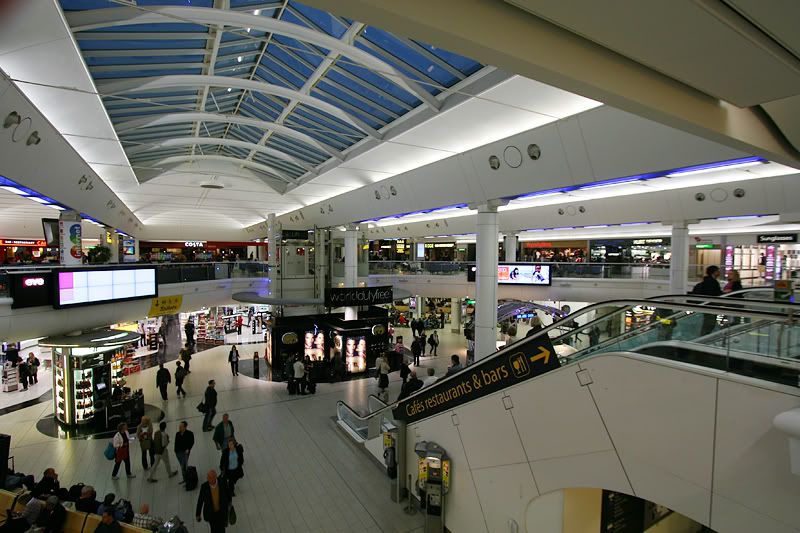 Once in the departure lounge I went up to the top floor to get something to eat. I headed to the Flying Horse Wetherspoons pub for a full English. After I'd finished my food, I had 20 minutes until my gate was announced on the screens, so decided to go for a walk around the shops.
Flight Information Screens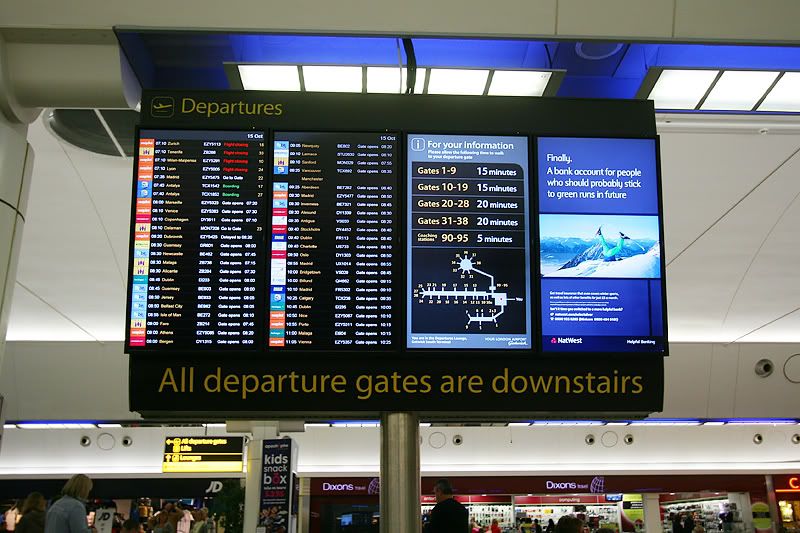 Soon my gate was displayed as gate 37, one of the furthest gates away from the departure lounge. It was a nice walk over to the gate and with plenty of windows offering views out on to the aprons.
Monarch and Virgin aircraft with a special easyJet standing out from the crowd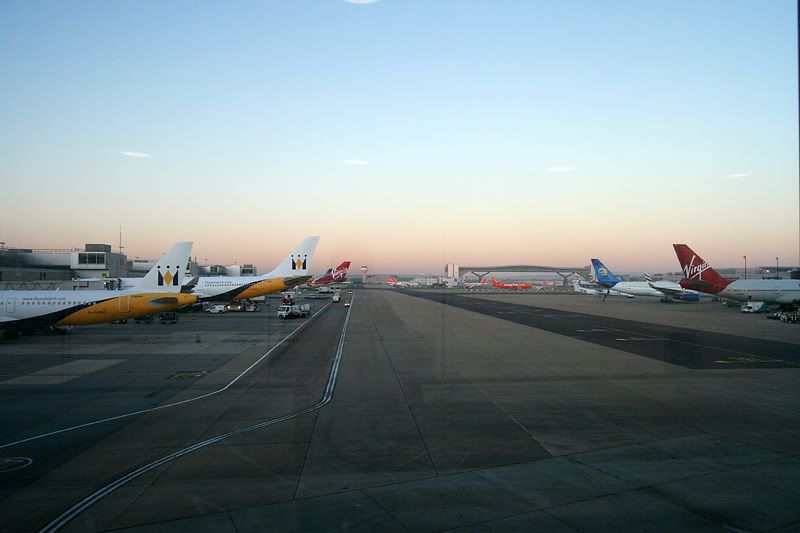 As you can see, it was a great day for flying!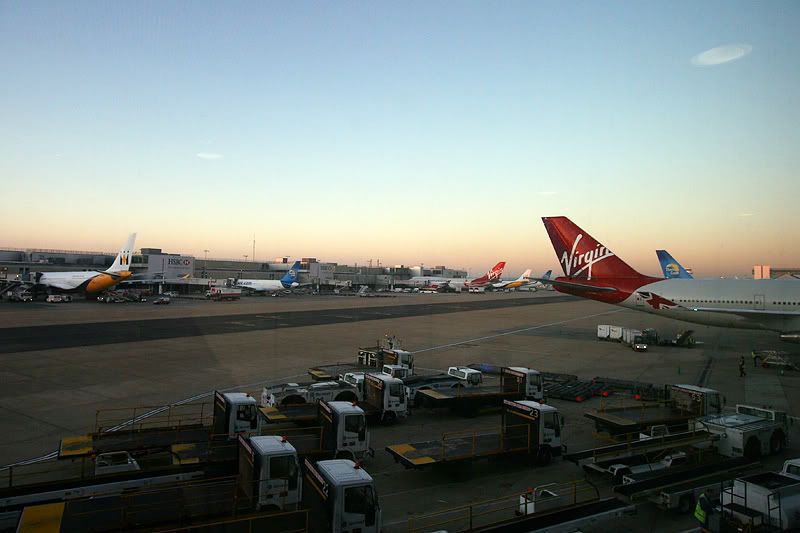 Long walkways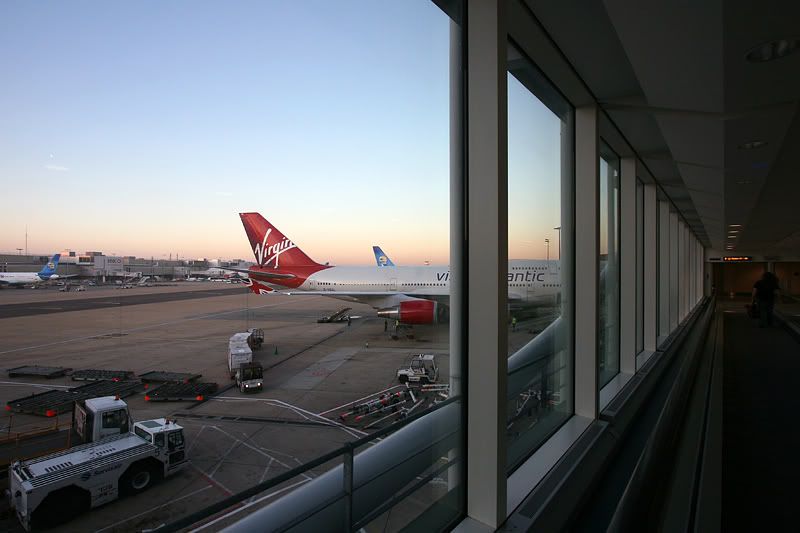 Virgin's 'Jersey Girl'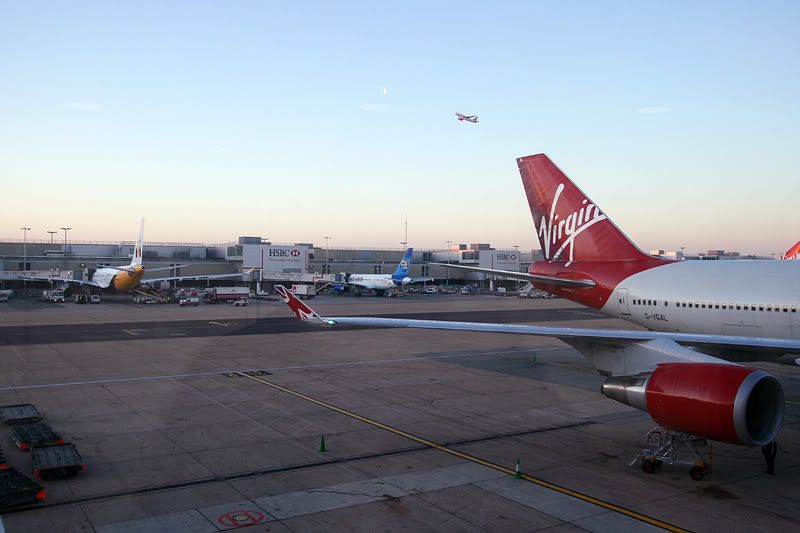 For those of you not familiar with LGW, gate 37 is over in the circular satellite building. The gates are all open plan and it's very spacious. There were 2 other flights departing from this area at the same time as ours, an easyJet flight to Dubrovnik and another Monarch A300 off to Faro. Plenty of seating for everyone to wait until boarding was called.
Looking towards the North Terminal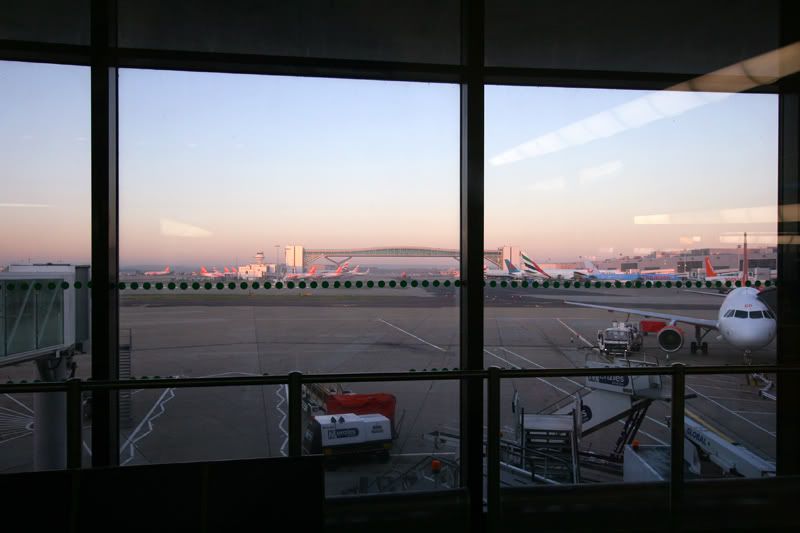 Satellite Gate Area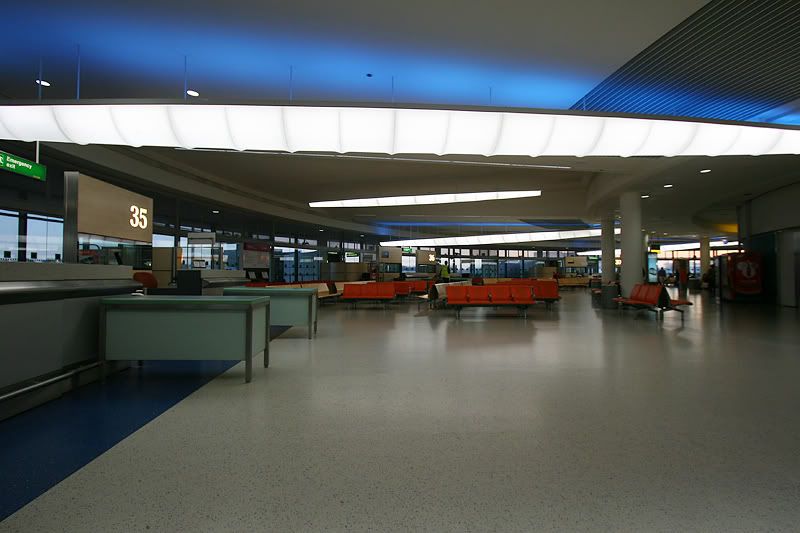 Here she is…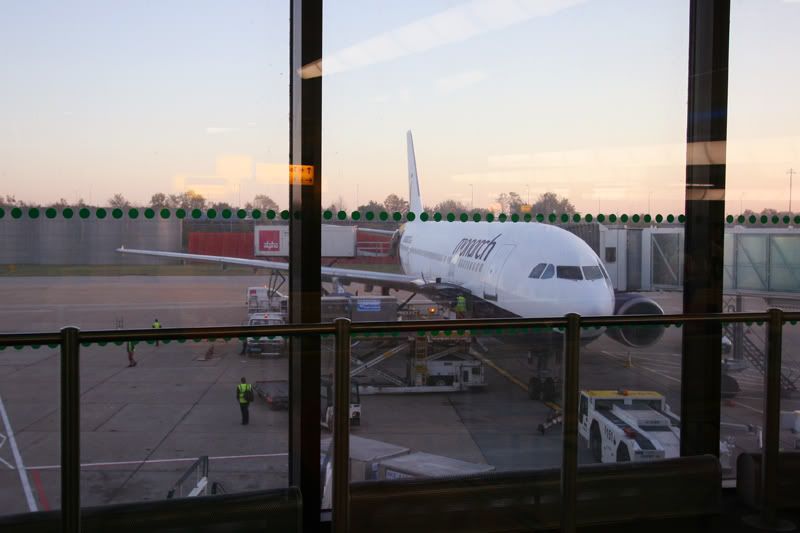 Monarch operate a fleet of 4 A300's, all configured with 361 seats in an all economy 3-3-3 layout. All were delivered new to the airline in 1990 and 1991. A look out the window revealed that I would be flying on G-MAJS, delivered in April 1991.
Date: 15/10/2011
Route: LGW-AGP
Flight: ZB763
Aircraft: Airbus A300-600R (1st flight on Airbus A300 and 1st flight on this aircraft)
Reg: G-MAJS
Seat: 36A
Scheduled Departure Time: 08:30
Actual Departure Time: 08:59
Scheduled Arrival Time: 12:00
Actual Arrival Time: 12:16
Prior to boarding it was announced that passengers requiring assistance would be boarded first then the rest of the passengers would be boarded by seat number. Passengers were asked to remain seated until the assistance passengers had been boarded onto the aircraft. Surprisingly this was actually obeyed by many passengers.
Boarding was then announced for passengers seated in rows 1-8 and 31-43, then rows 9-30. My seat was 36A so I was one of the first to board. Walking down the airbridge I was met at door 2L by two smiling (a good start) female cabin crew, one young and one older. I was greeted by the younger of the two who directed me down towards the back. To the left, rows 1-8 are fitted with a much more generous seat pitch. As I made my way down towards the rear of the cabin there was a crew member positioned there on each side of the aircraft at doors 3. I found my seat towards just a few rows past this door; I was seated in the first row of seats that are in a 2-3-2 config, where the aircraft fuselage narrows. Legroom was fine for me, I'm 5ft 11 but I've got little legs, better than other charter carriers such as Thomson and Thomas Cook. Despite its age you could tell these aircraft are really looked after by Monarch, They look dated inside but sure do look clean. The only bit of wear and tear I found was the back of the seat in front (seen below).
That all important legroom shot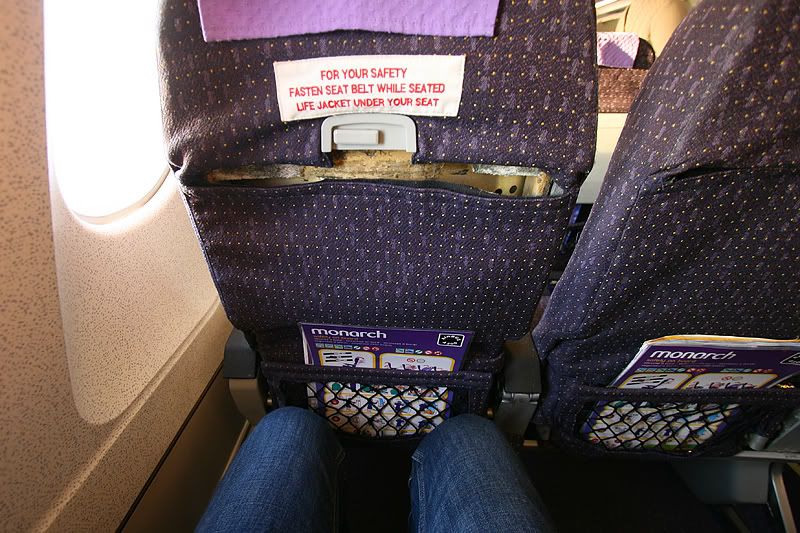 Boarding seemed to be fairly speedy with so many passengers. I had a man seated next to me who was separated from his wife, he was a really nice guy and we had a bit of a chat on the ground. I did offer to move a few rows back as these seats were free, allowing the couple to sit together. But unfortunately a couple of latecomers were seated here. The man next to me did say he mentioned it to a crew member about finding them seats together, she said she would come and find him and let him know if she had anything. Well she didn't come back and he did feel a bit disheartened, but he just got on with it in the end.
Once everyone was onboard the doors were closed, armed and a welcome announcement made by the Purser at the front of the aircraft followed shortly afterwards by one from the Captain. The Captain informed us of a fairly long taxi to the runway and explained our routing which would take us out of Gatwick, turning right down towards Seaford on the South Coast, heading to the East of Paris, right down the middle of France, towards Toulouse before heading towards Barcelona and Valencia where we would turn and towards Granada before making our approach to the South Easterly runway at Malaga. He also said we could expect smooth flying conditions all the way down to Malaga. A bit of an unusual route today, as when I have been to Malaga previously we have routed towards Southampton then down the French Atlantic coast down towards Madrid and straight into Malaga.
Actual route taken from the Plane Finder iPhone app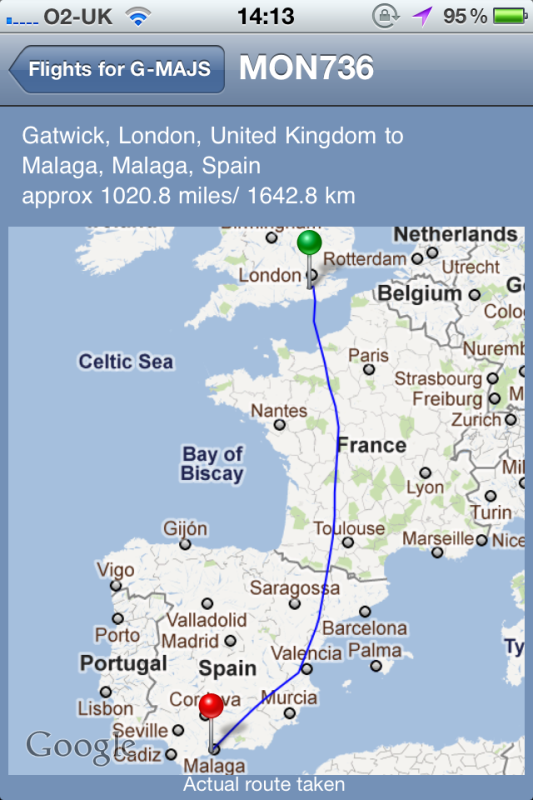 Pushback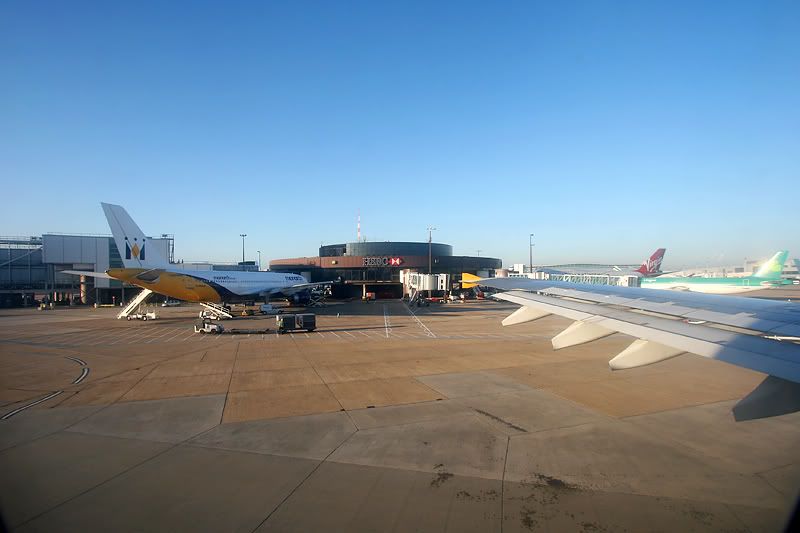 Whilst we pushed back a safety demo was performed on drop down screens in the centre of the cabin and the cabin crew stood at each door and pointed out the nearest exits. A quick walk through by the crew to secure the cabin then followed whilst we began our fairly long taxi right the way down the far end of the airfield as we'd be departing on the easterly runway today.
The guided tour of Gatwick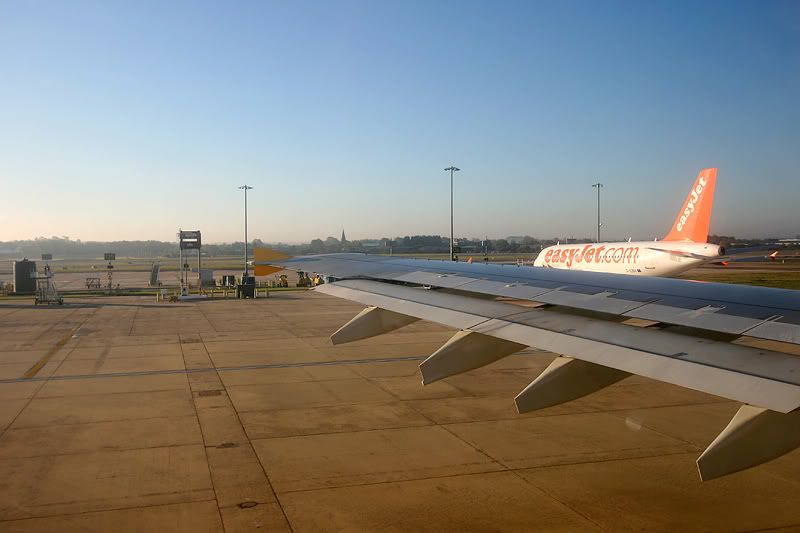 Holding…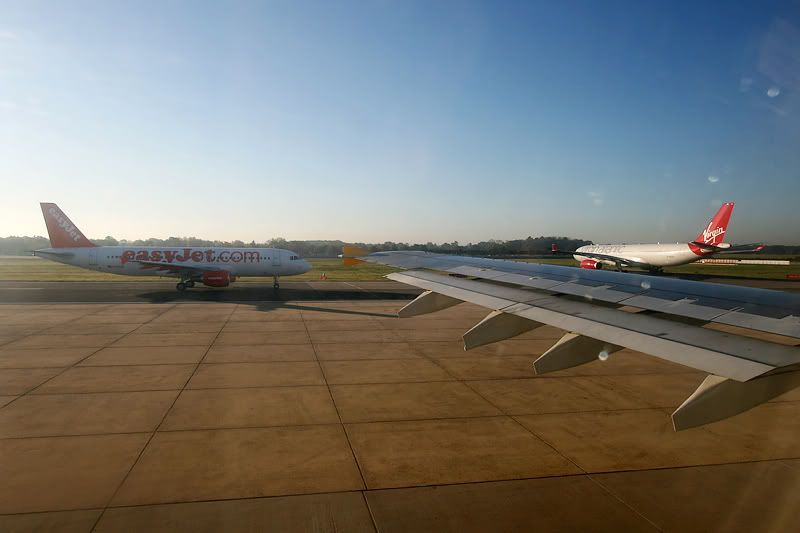 Once at the holding point there was a wait of about 10 minutes due to heavy traffic. We were 3rd in line after the easyJet A320 and Virgin A330. Once we pulled onto the runway the engines powered up and we began speeding along the runway, I was surprised at how quiet it was down the back, we lifted off the runway effortlessly, this old beast felt like a tank!
Takeoff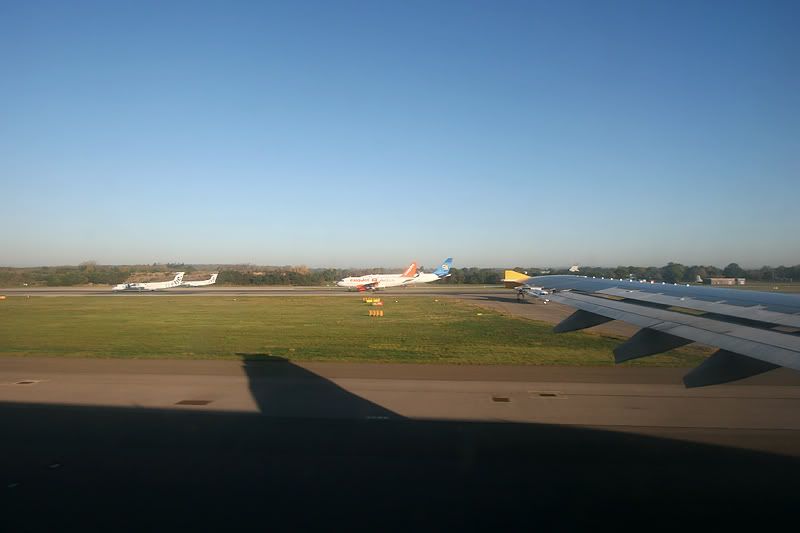 Remote stands and control tower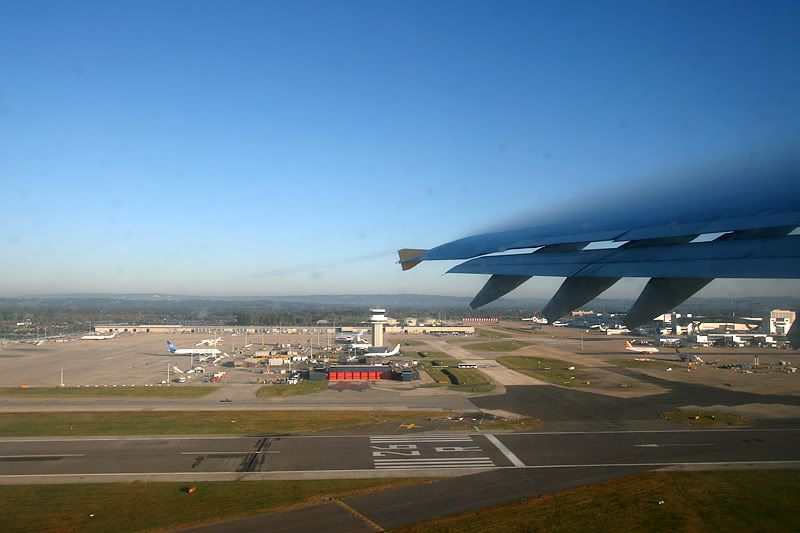 North Terminal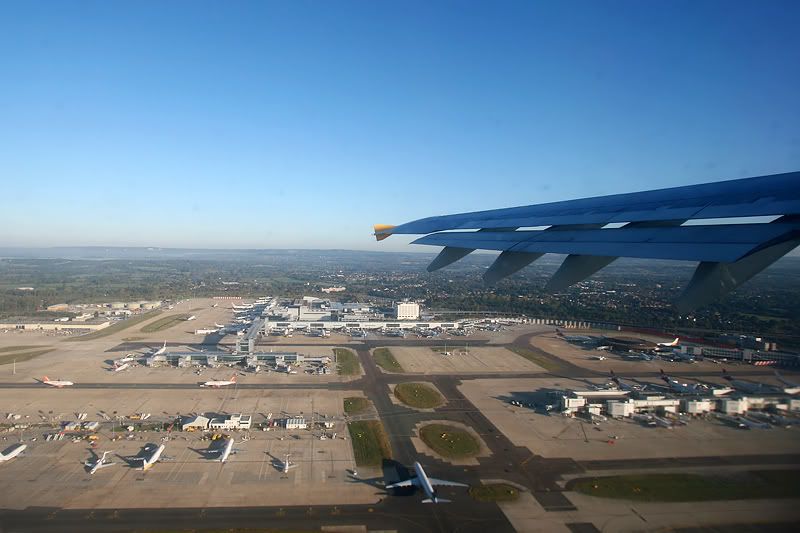 South Terminal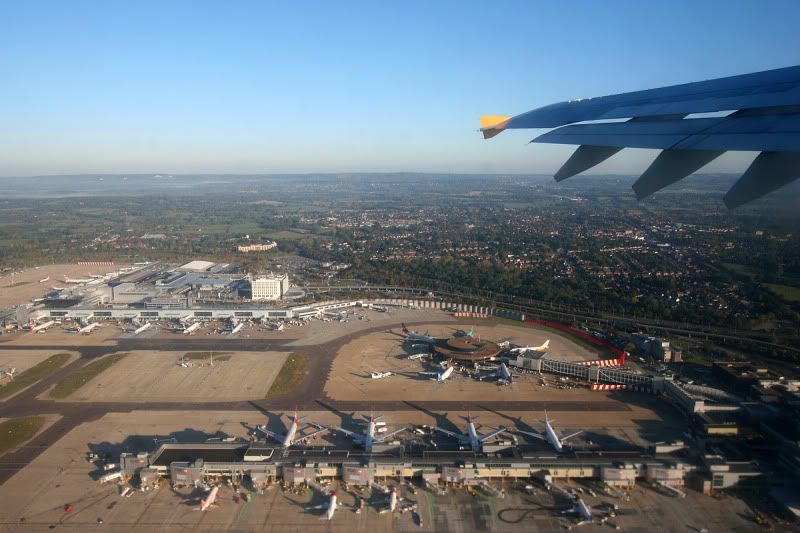 Surrey Countryside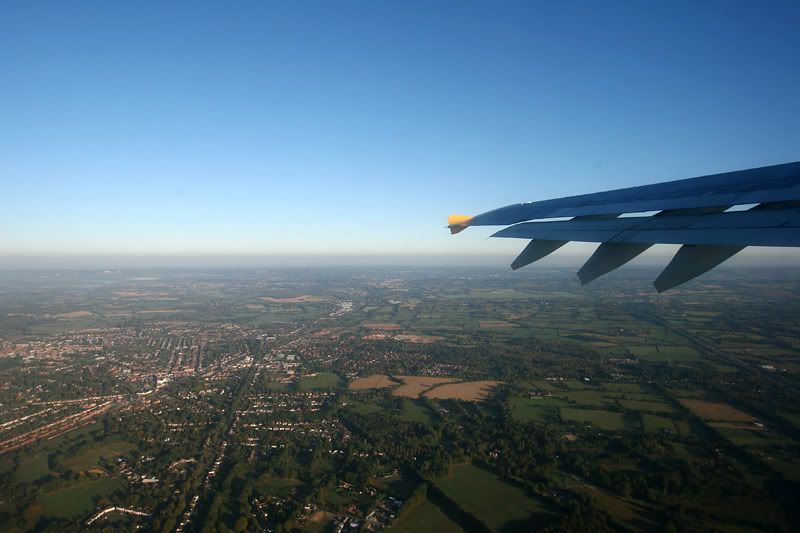 Roughly 10 minutes after take off, an announcement was made informing the cabin crew they could be released, this was shortly followed by an announcement from the Purser at the front informing us of the in flight services that would be offered today, including the selection of hot snacks available for purchase, if you had not pre-ordered a meal. The options were a Bacon Panini, Ham and Cheese toasted sandwich and a Cheese and Tomato toasted sandwich, all priced at £3.80.
Not long after the crew were released to commence their duties, the seat belt sign was switched off and the crew came into the cabin to start the service. The front and middle sections of the cabin were served by two crew members on each side of the cabin whilst the rear section where I was seated was served with just one crew member each side, who followed out about 5-10 minutes after the other crew had started with the service.
I decided to purchase a Cheese and Ham toasted sandwich and a can of Cider (never too early). These were both priced at £3.80, about average really. The nice crew member serving the rear cabin informed me the toasties were still cooking and that she'd bring it to me as soon as it was done. A few minutes later it arrived. It was really nice, nicer than the ones that easyJet used to serve onboard.
IFE and Food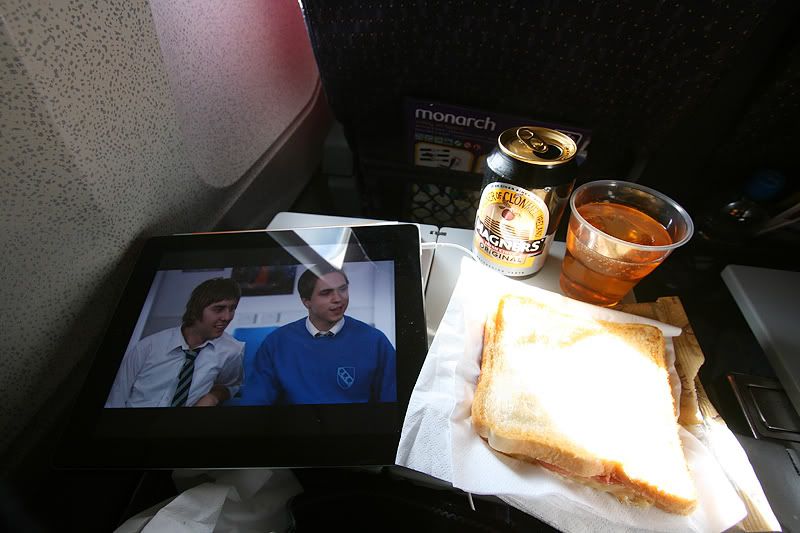 To pass the time on the flight I got my iPad out and watched a few episodes of 'The Inbetweeners' while enjoying some brunch.
A clear in of rubbish was done once the service was completed and this was shortly followed by an announcement that purchase of tax free goods would shortly be available. We were told to have a look through the 'Love to shop' retail brochure in the seat pocket and the crew member doing the announcement also highlighted a few products.
Window views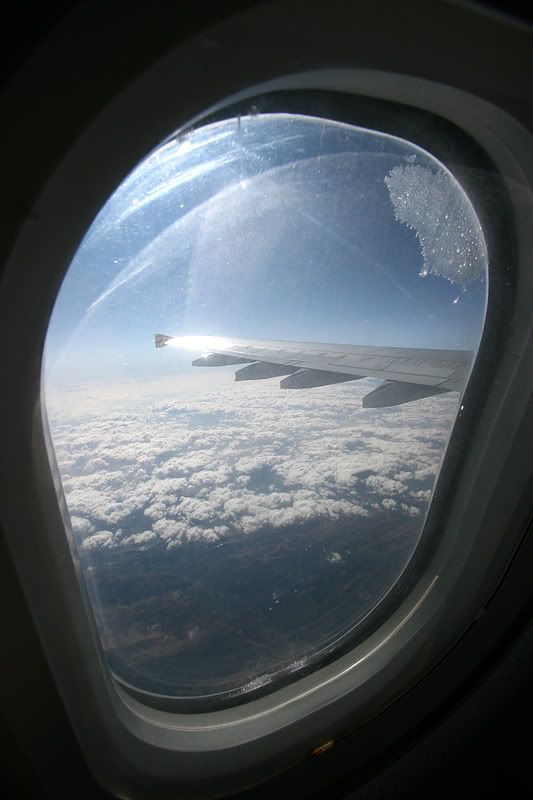 After the tax free service the crew disappeared into the galley and were not really seen again for the remainder of the flight, except for a few who did regular rubbish collections.
During the flight I was surprised how quiet this old Airbus was and it just felt like a tank in the air. I did have a wander around the aircraft in flight to stretch my legs and visit the toilet.
One for Jonas, the toilet shot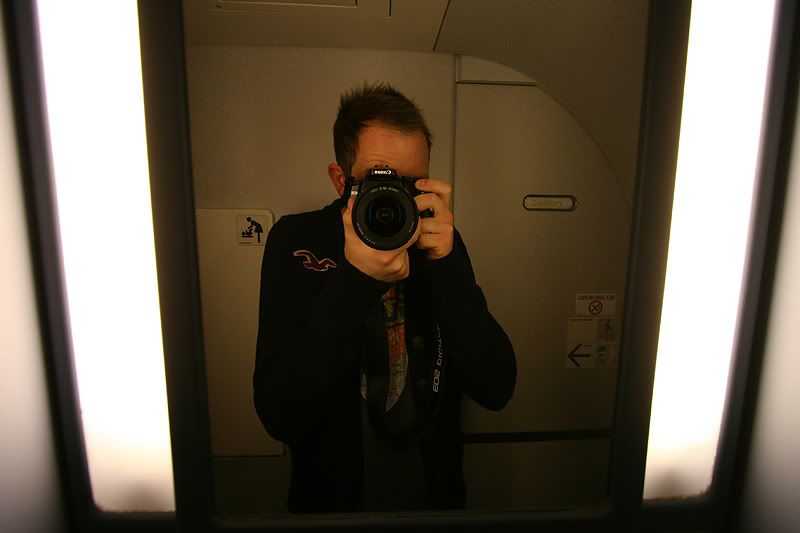 Cabin view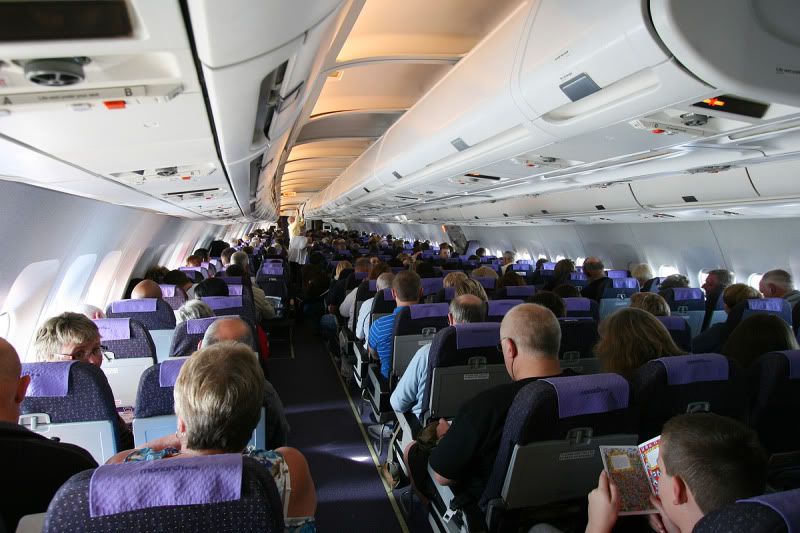 A progress report was made by the captain about 45 minutes before landing into Malaga, updating us on our progress and our expected arrival time into Malaga.
As we didn't have long left of the flight I decided to have a listen to some music before landing.
Music… David Guetta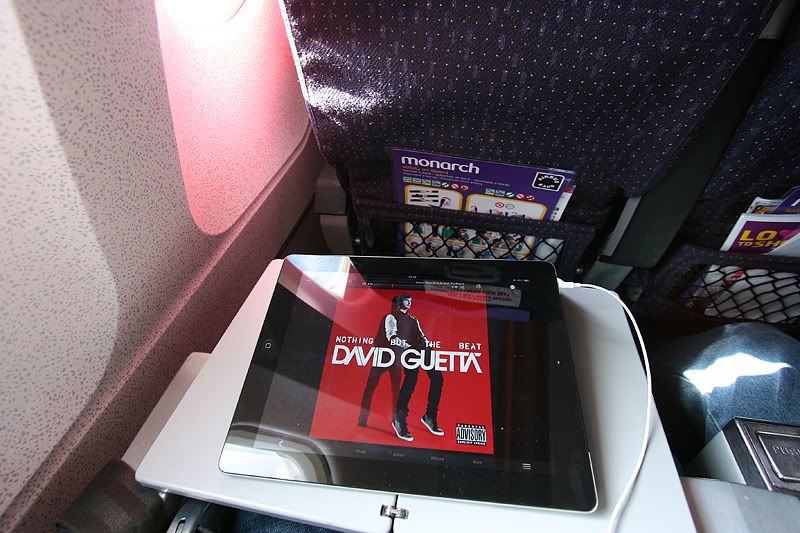 The seat belt sign was switched on about 15 minutes prior to landing and the crew then came and did a final rubbish collection before securing the cabin before landing. There were some great views on approach of the mountains to the North of Malaga.
Descent views…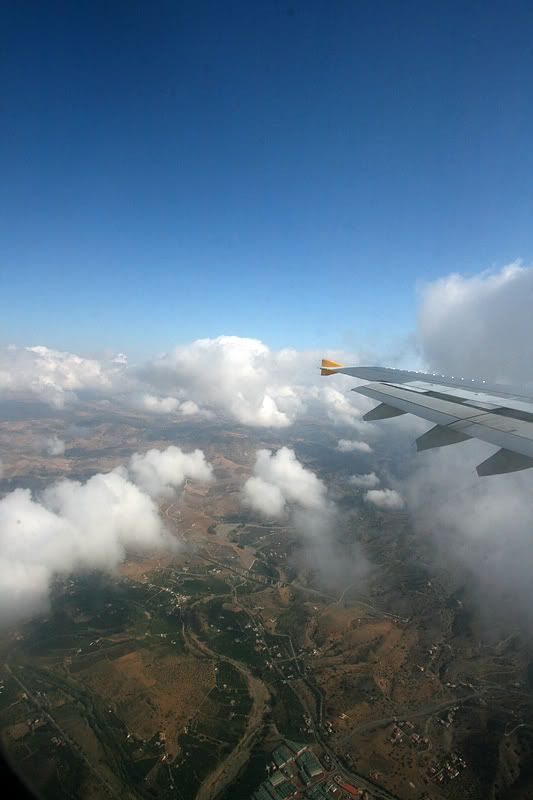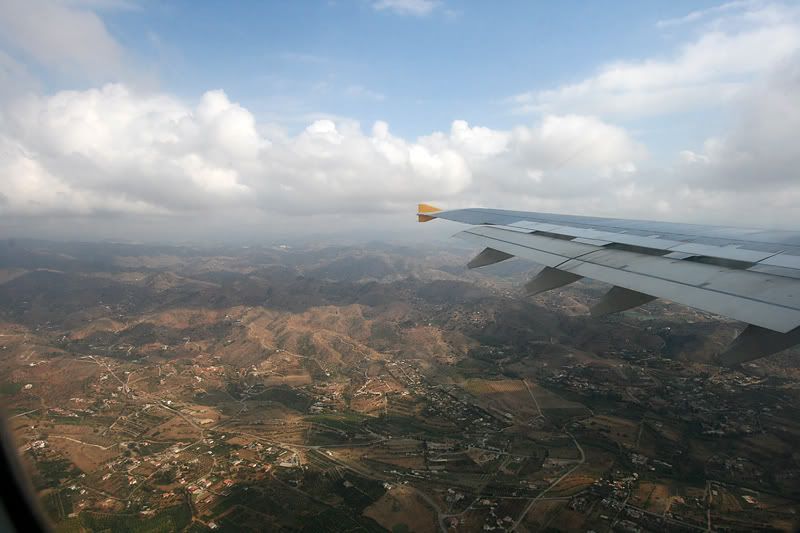 Can you see the new second runway…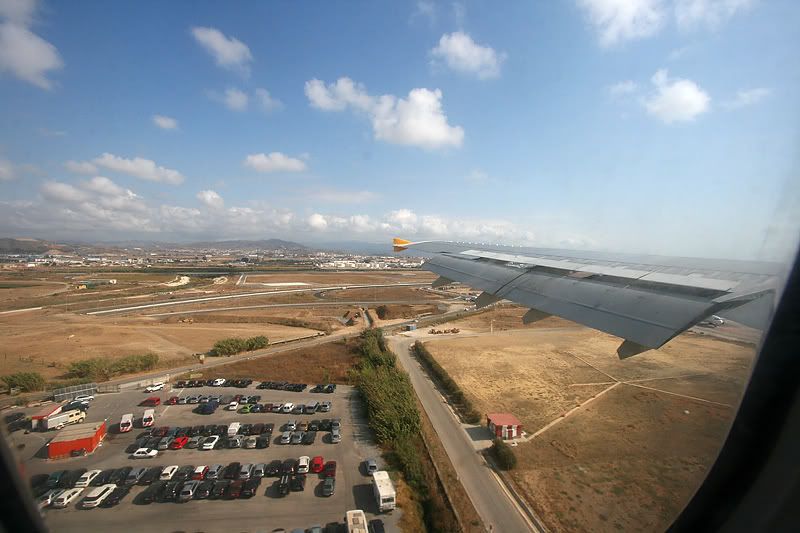 Two hours and 17 minutes after leaving a very sunny Gatwick we touched down on Malaga's RWY13, 16 minutes behind schedule at 12:16, where it was just as sunny but a lot warmer. This was a really smooth landing, I hardly felt it and like I've said before the A300 just felt like such a solid aircraft.
Short taxi today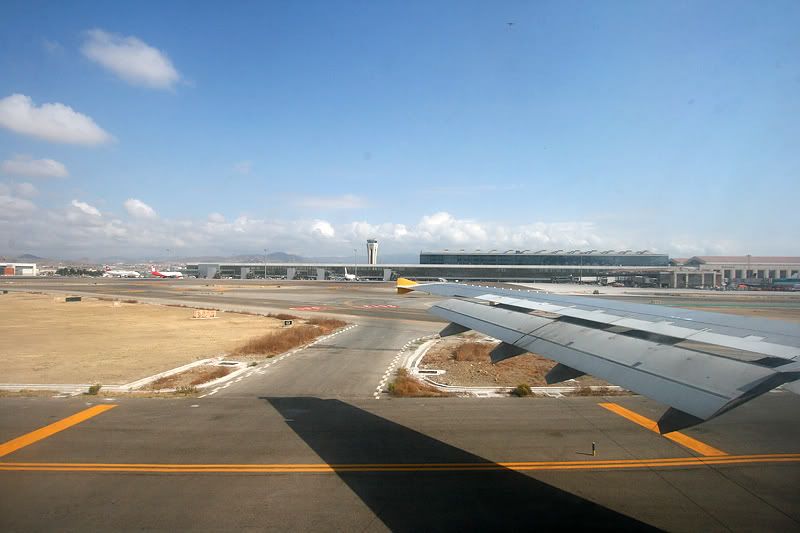 Once off the runway the Purser welcomed us to Malaga and apologised for the slight delay to our arrival, once again, this was followed by a welcome from the captain, who was a really upbeat guy. He again, welcomed us to Malaga and apologised for the delay in arrival. Also informed us of the temperature which was "25C or in old money 77F" We were thanked for travelling with Monarch and were wished a pleasant stay in Spain.
Parked on stand, showing the new terminal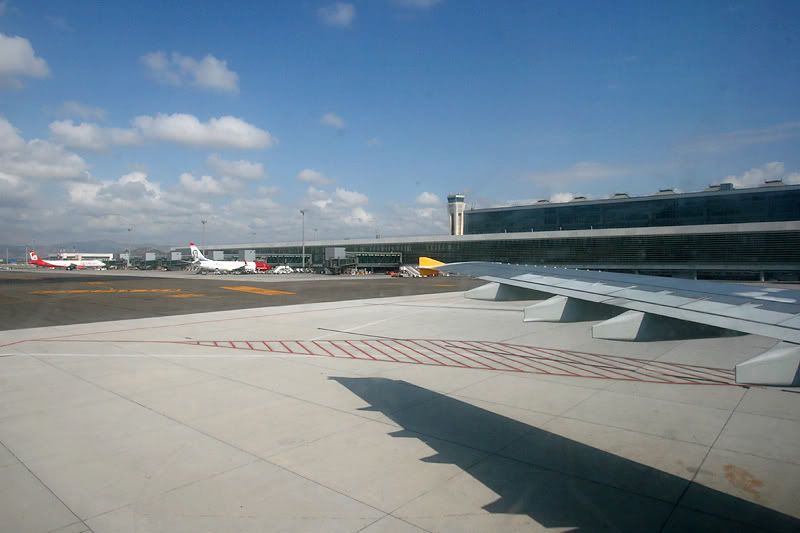 I waited for most of the passengers to disembark before I attempted to, there was a group of school children a few rows ahead who were waiting to get off last. I moved over to the other side of the aircraft to exit and thanked the crew standing by doors 2L for a nice flight, who also thanked me. I asked was it possible to go and visit the flight deck, which was no trouble at all. I had a small chat with the Captain and First Officer; I must say it was a bit strange to see an Airbus without the side stick! Really friendly flight deck and had a chat about flying and stuff before I thought it best to leave and get on my way. They both thanked me and the Purser came along and wished me a nice day before I left the aircraft.
So my A300 experience had come to an end. It was a nice flight, nothing out the ordinary and the Monarch crew were very professional and overall nice bunch. The guys at the front defiantly seemed a bit friendlier, but that's just the way it goes something.
Last view of the mighty A300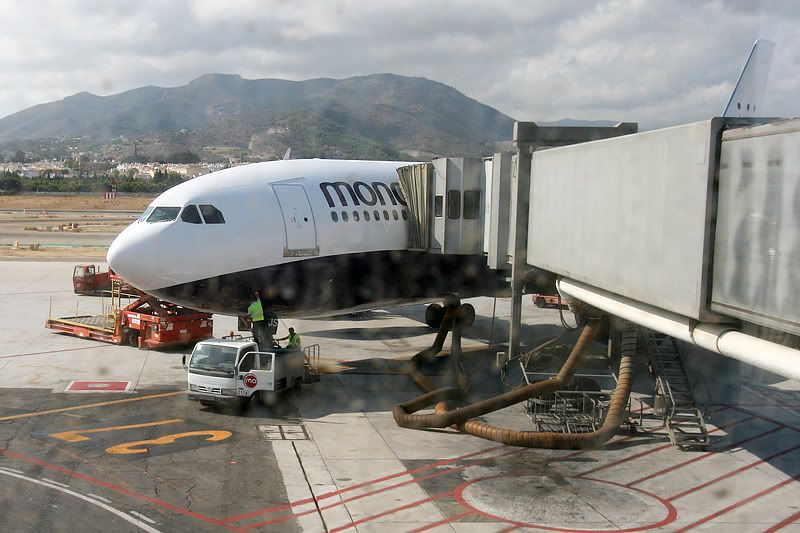 This would be my first experience with the new terminal in Malaga, last time I was here was in 2008 and it was still being built. The new pier handles Schengen area flights with a couple of non-Schengen gates located at the end. Entering from a non-schengen country we had docked at gate C37, which is part of the old terminal and has remained unchanged. At the end of the long corridor we entered the new building where there was a lengthy queue for passport control. Only 2 booths for over 300 passengers! Once through I passed down into the baggage hall but as having no bags I exited out into the arrivals hall.
I went upstairs to the impressive departures area to find an ATM and grab a Starbucks.
The new building is connected to the old terminal and the difference in the two is phenomenal, its bright, airy, large open spaces and lots of natural light let in by the large glass façades.
I decided to head into the city and see some sights first of all, then head to the beach later. Since my last visit a new railway station has been built below the terminal and is just a short walk from the main building. The airport is on the Malaga – Fuengirola train line and 3 trains an hour now run each direction. Tickets are cheap (I forgot how much it was, I think a single ticket was about €1.55 if memory serves me correctly.) I had a wait of about 10 minutes before my train arrived and I was in central Malaga not long afterwards.
Airport railway station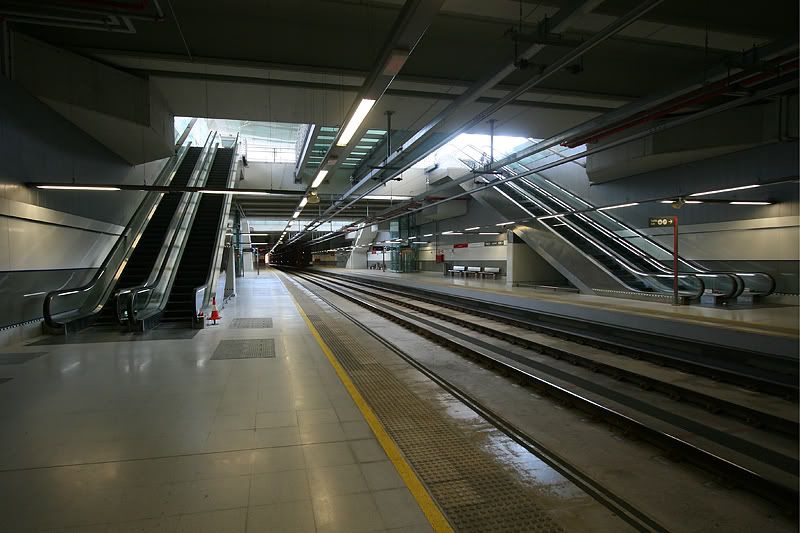 After spending a few hours wandering through the city I decided to head to Torremolinos on the train which is about a 20 minute journey from the city by the same train line. Once here I walked along the beach to Benalmadena where I've been on a few holidays. It was nice to have a chill out in the sun for a while and brought back some great memories!
Some photos of Malaga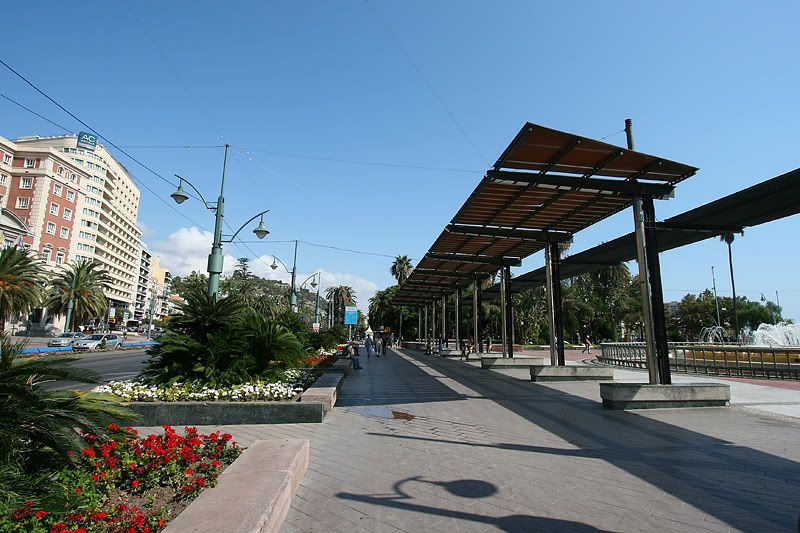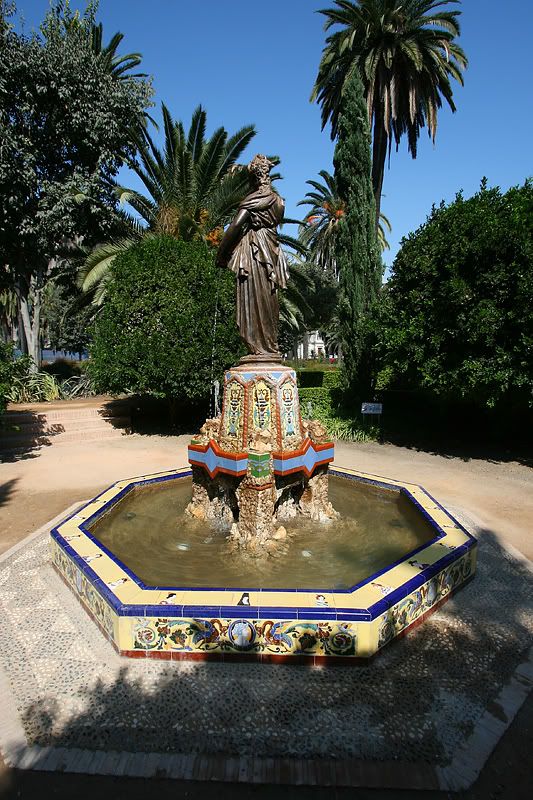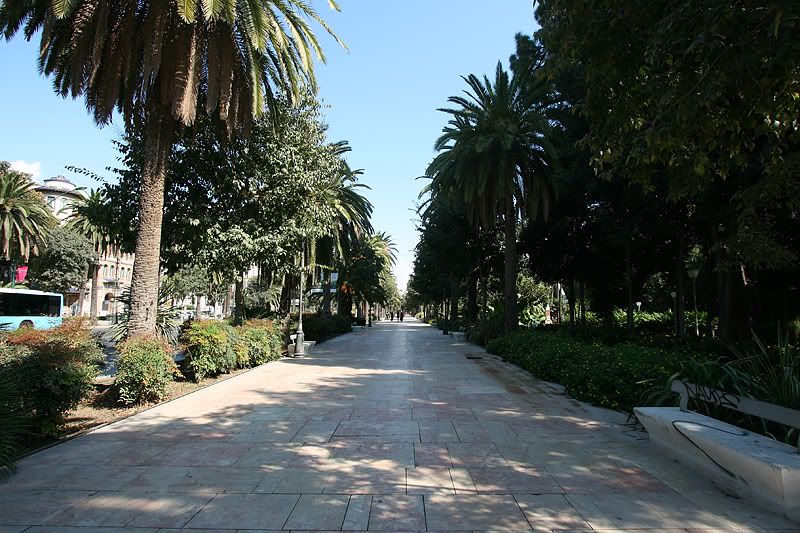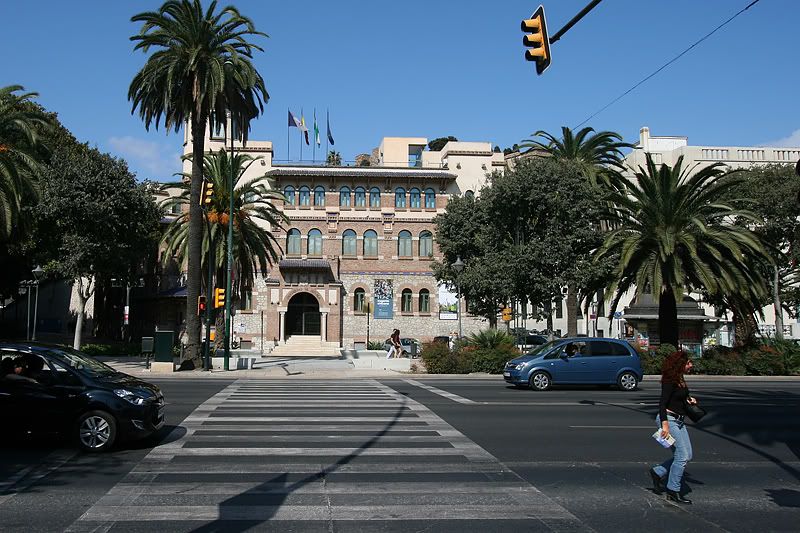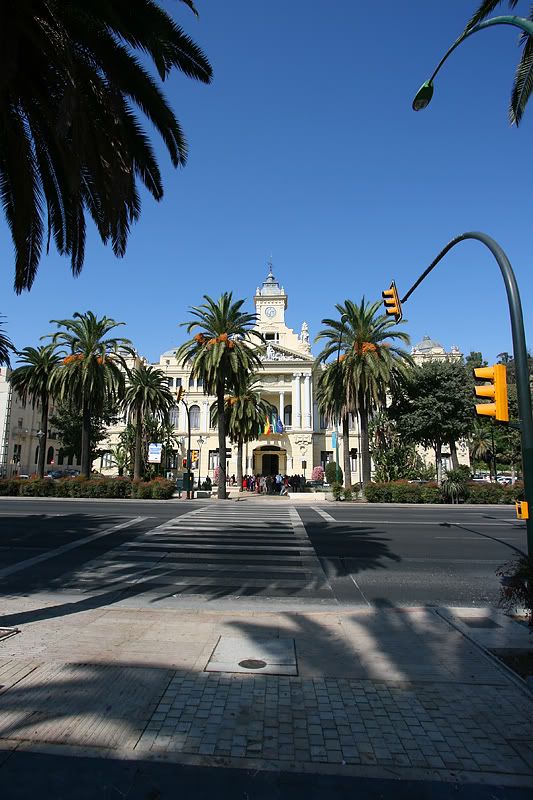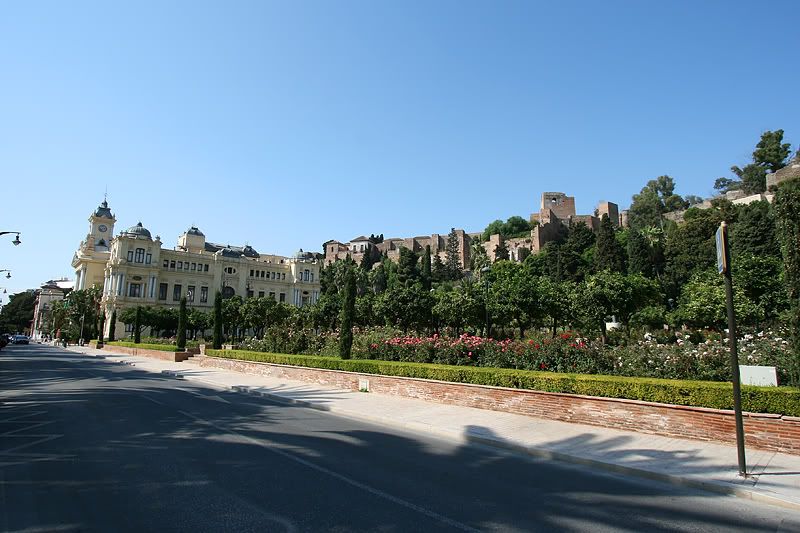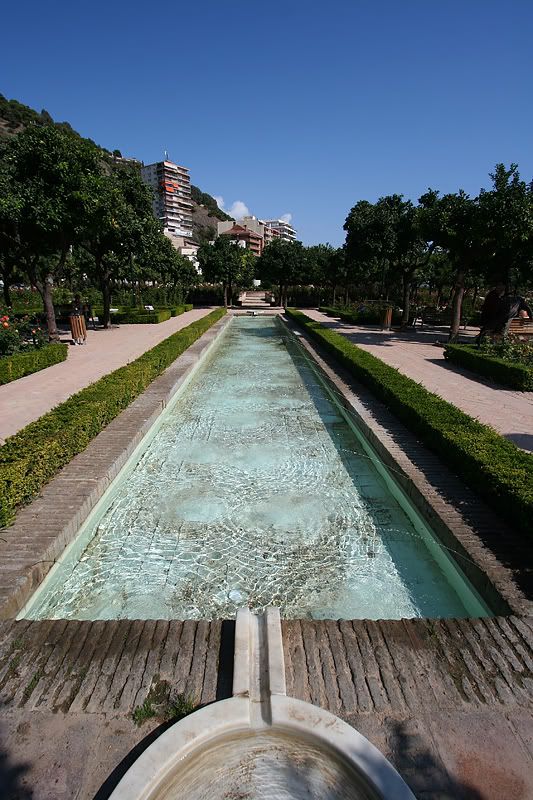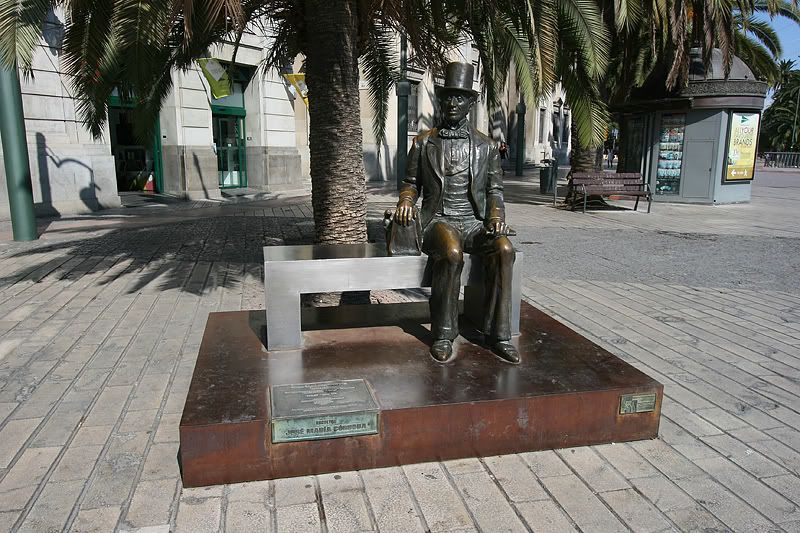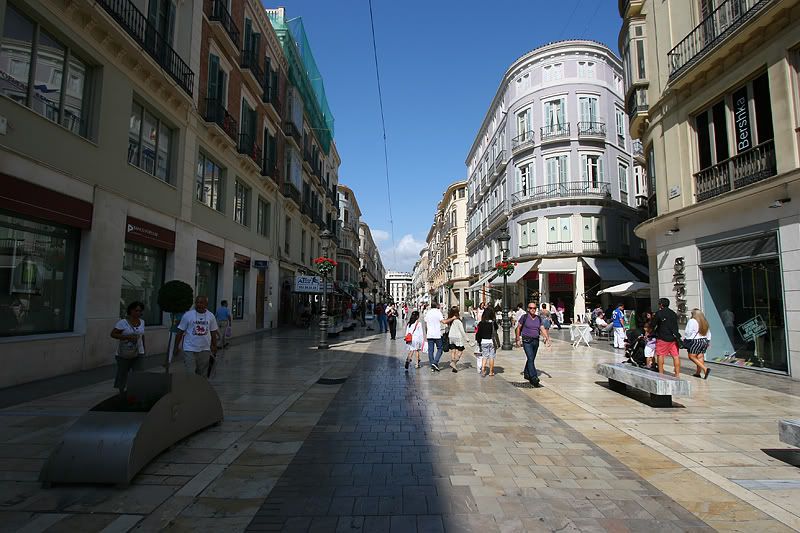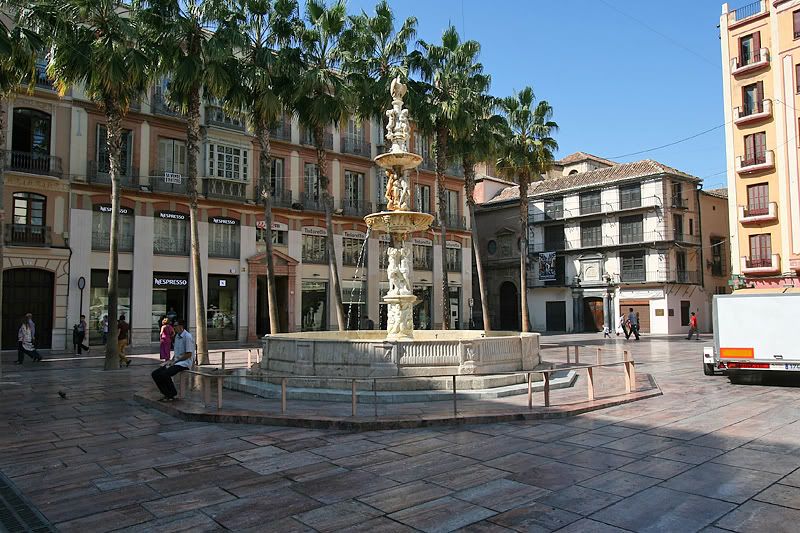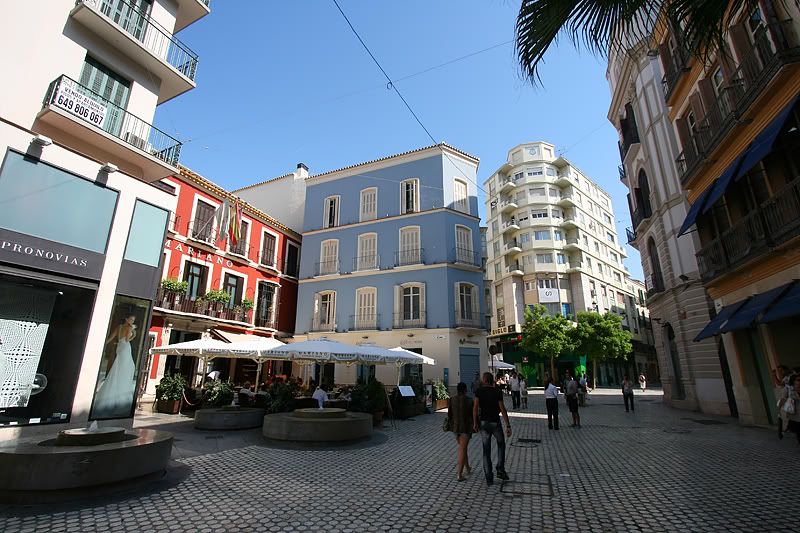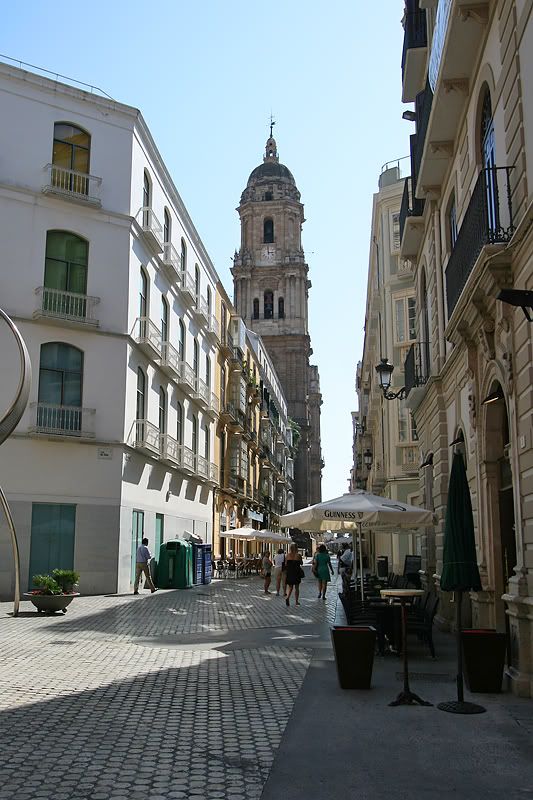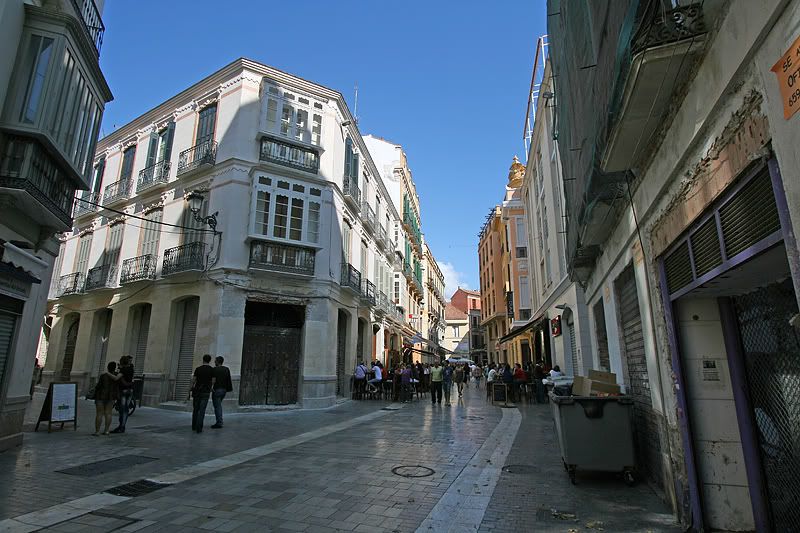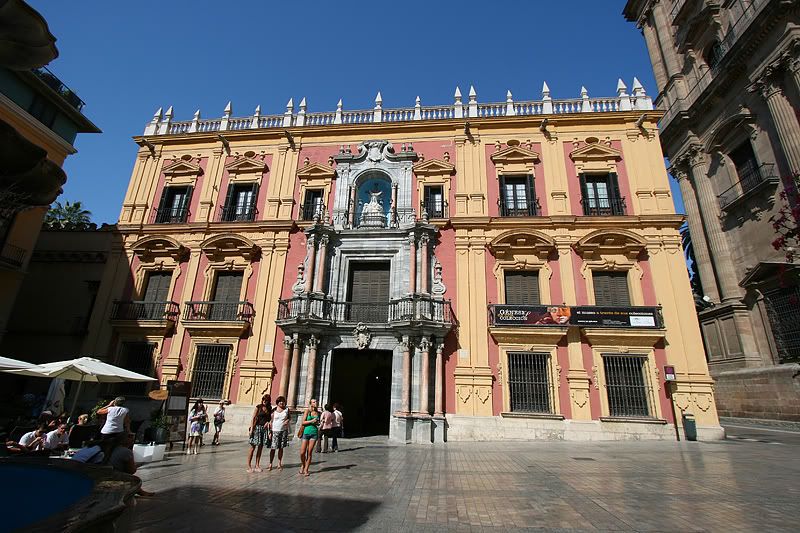 Malaga Cathedral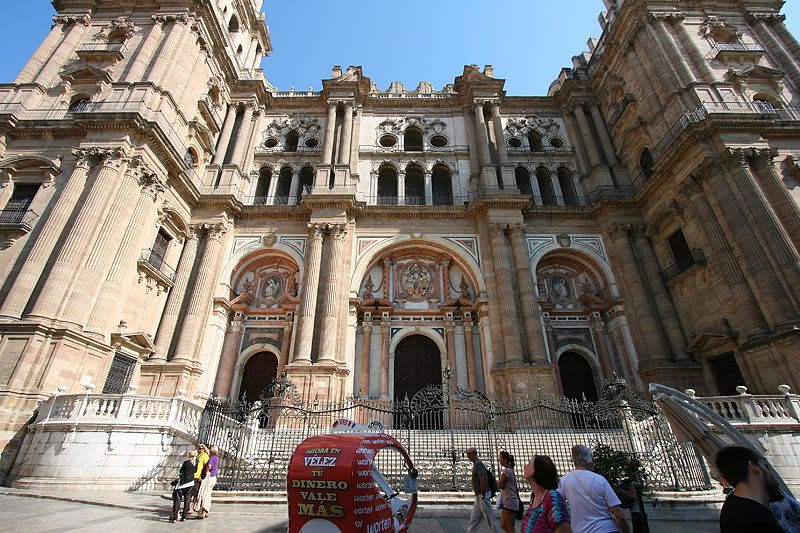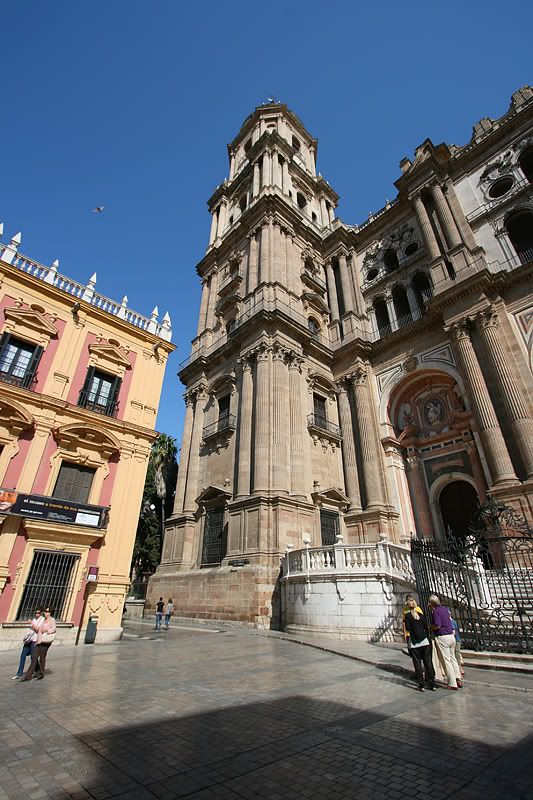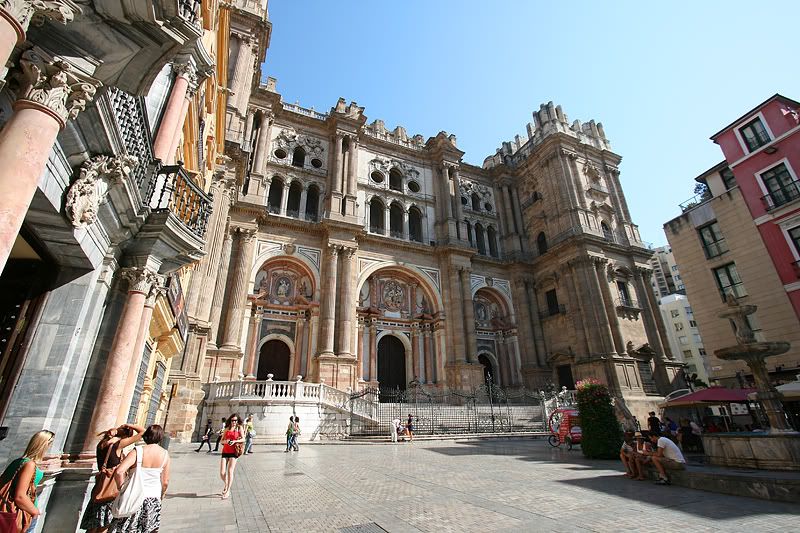 Beach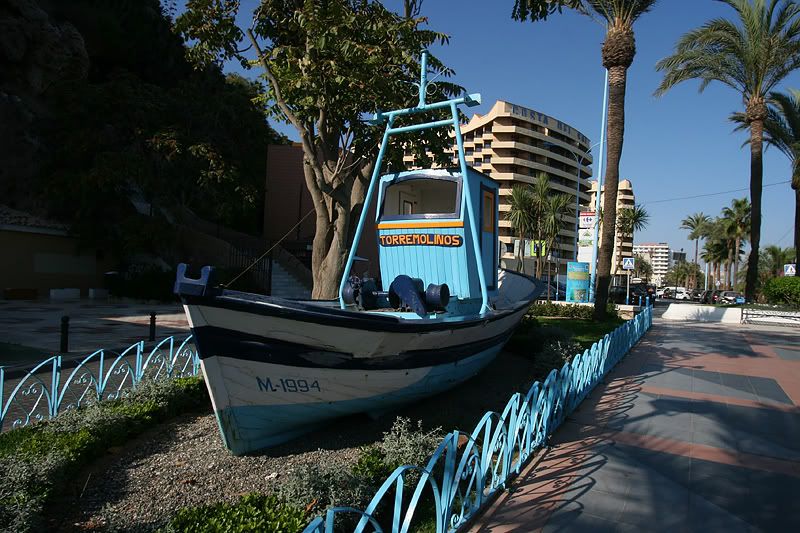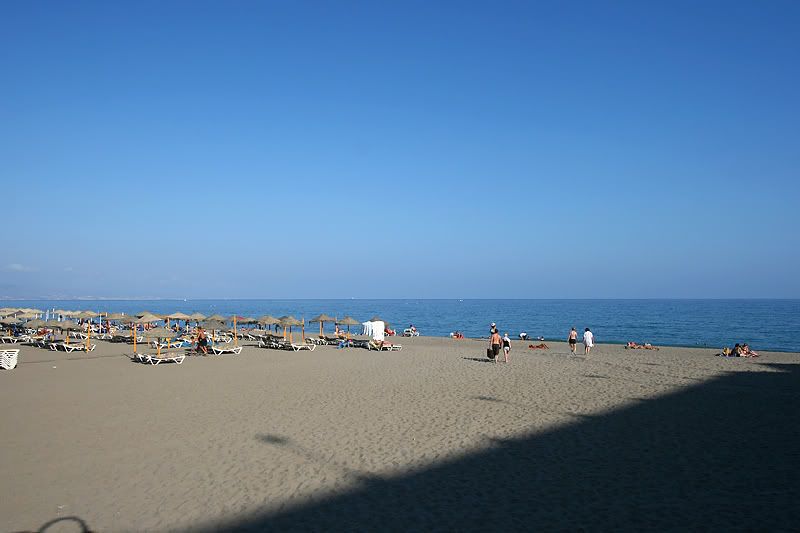 Benalmadena Marina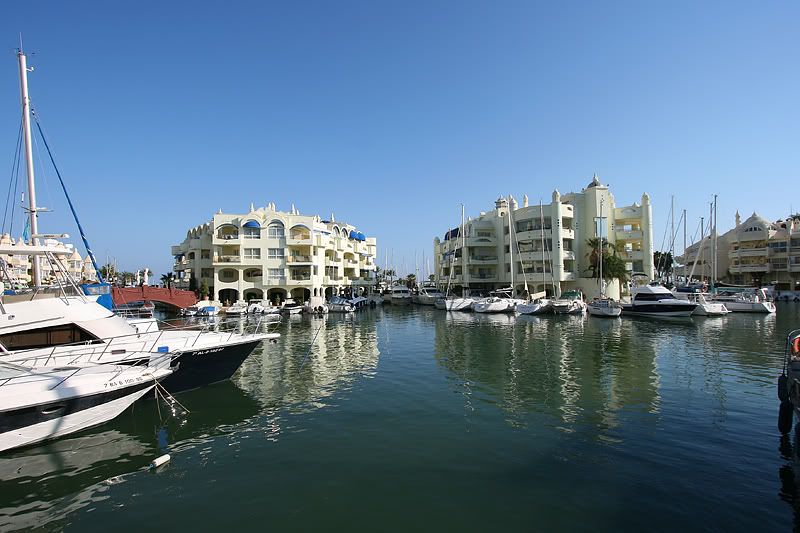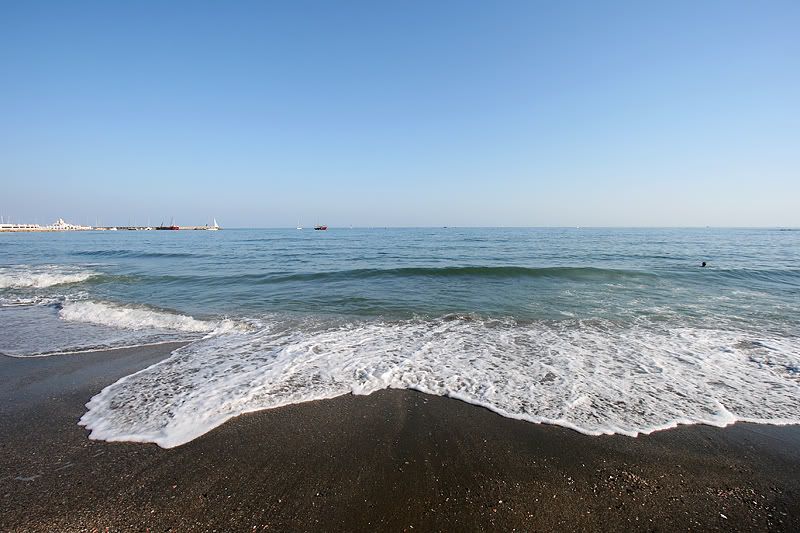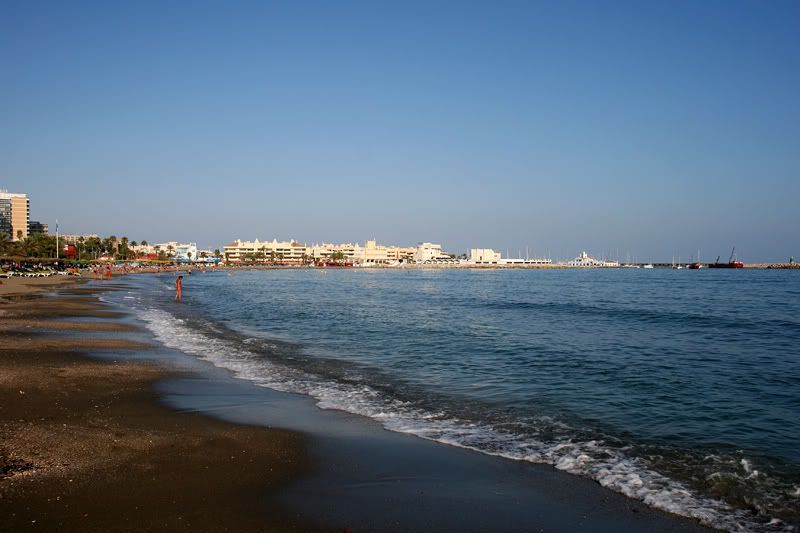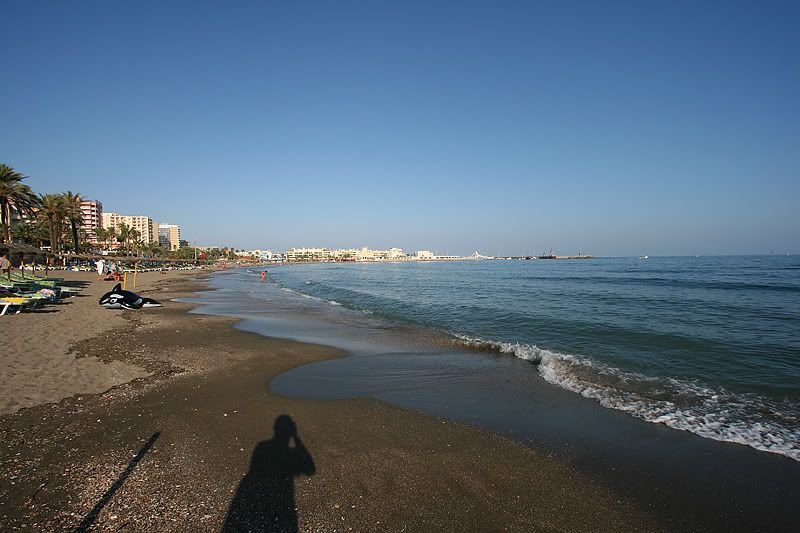 T H E R E T U R N
After some time on the beach I headed back to the airport on the train and arrived 19:00.
Entrance from the Railway station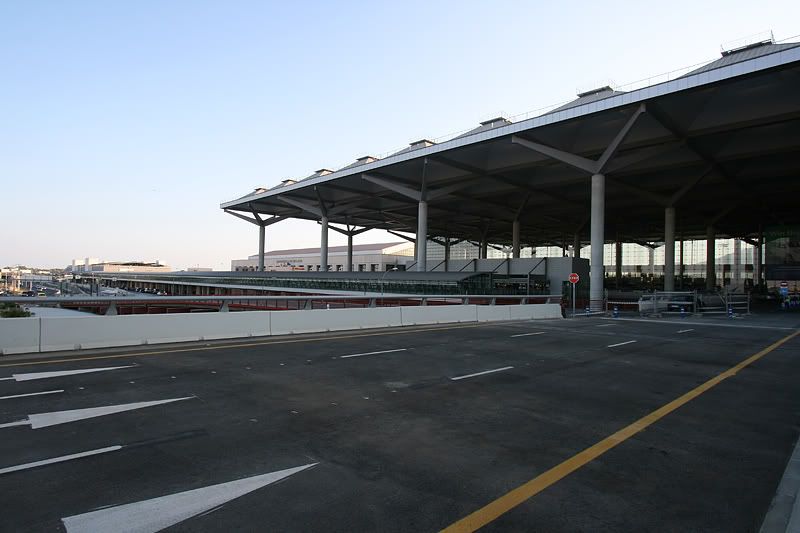 I had checked in online and printed my boarding pass at the time of booking so there was no need for me to go to the check in desks; Before heading to security I had a walk around the terminal.
Terminal 2, the old terminal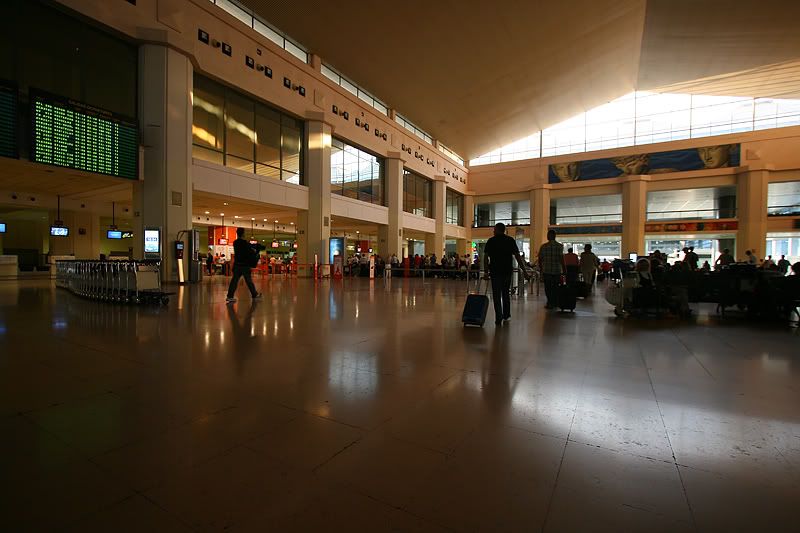 Departure Information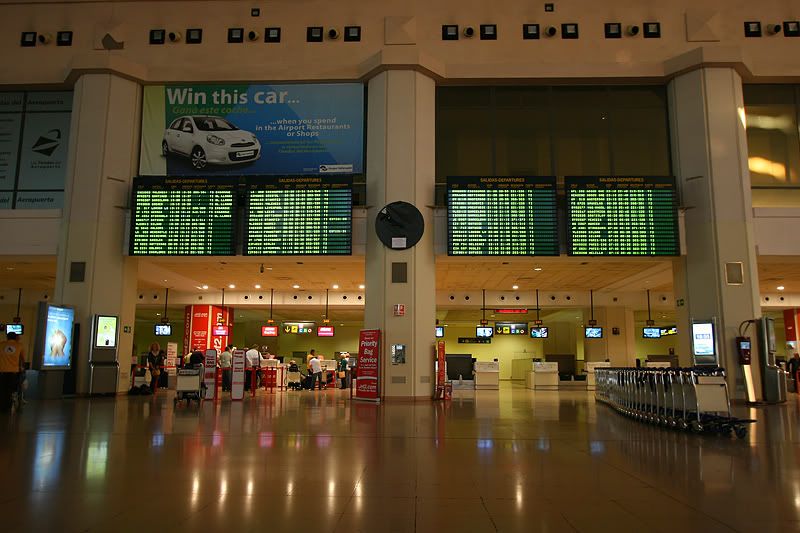 Terminal 3, the new terminal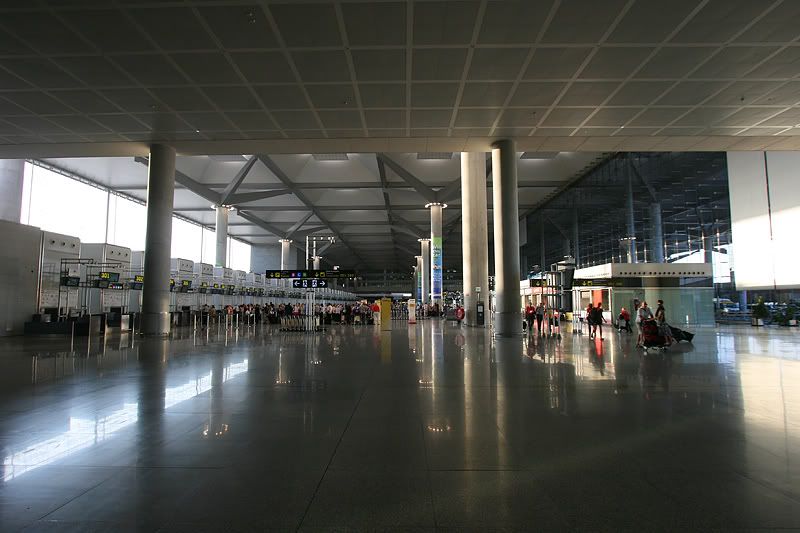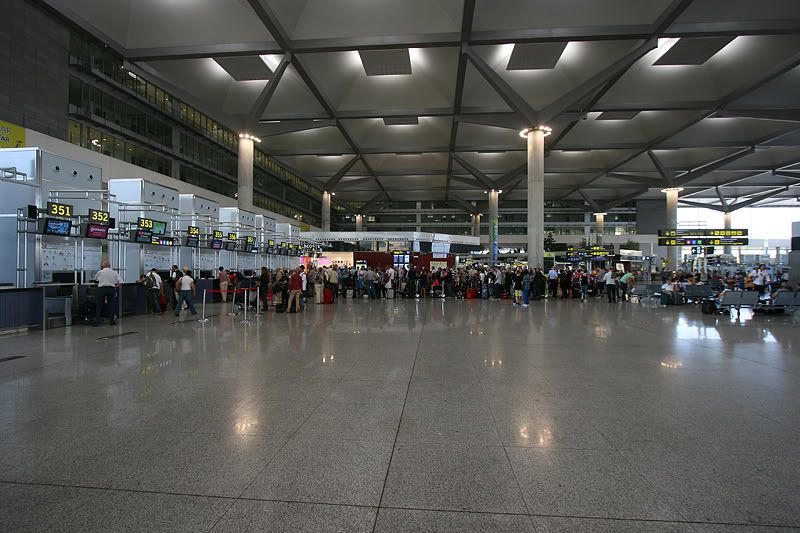 Soon after I made my way to the security check point and passed through in about 2 minutes with no issues.
I was feeling very hungry at this point so decided to go in search of food before anything else, I didn't really fancy Burger King or Pizza Hut but there was a sports bar just next to these places, this seemed right up my street! I headed to the O'Learys Sports Bar and Grill. Really great theme here, particularly with the Boston Celtics Basketball and Red Sox Baseball teams. Looking on their website it seems they have lots of outlets in Sweden and the rest of the Nordic countries. I went for a Burger with Bacon and Blue Cheese, it was great and of course this had to be washed down with a large beer. Being in Spain it was only right I went for a Cruzcampo (the only Spanish beer on the menu).
Food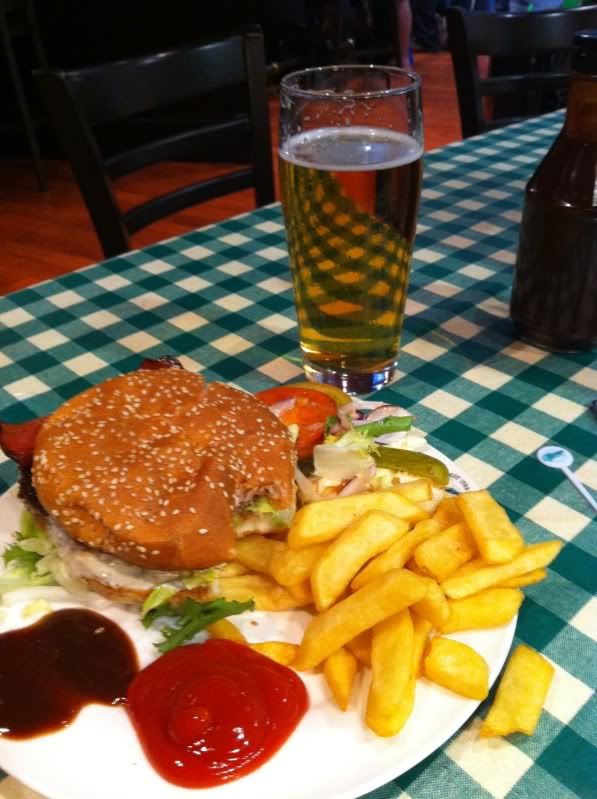 Beer and the Burger went down a treat! It was pretty expensive but then again this is the airport where all prices are generally inflated, total cost was €17, I gave my €20 note and told the guy to keep the change.
I decided to have a wander around the D gates (Schengen area) which was very busy at this time of evening, lots of flights heading off to Holland, Germany and Scandinavia from the likes of Transavia, Norwegian and Ryanair, with a couple of Vueling domestic flights. One odd thing I did notice is Ryanair using airbridges here, not something you usually see. The B and C gates were dominated this evening by easyJet, Ryanair, Jet2 and bmibaby flights, all heading to the UK and Ireland.
D Gates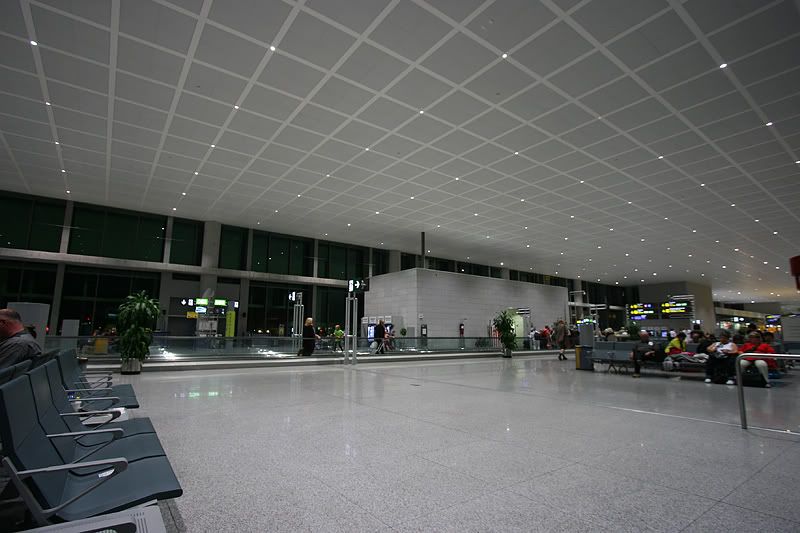 Departure screens at the airport count down the time until the gate for your flight would be displayed, by the looks of things my gate would be shown at 21:45, 45 minutes before departure time. I went and had a sit down in one of the big windows by the C gates that overlook the apron and played some games on my iPad until it was time for my gate to be announced.
Overlooking the C Gates, with EZY to Bristol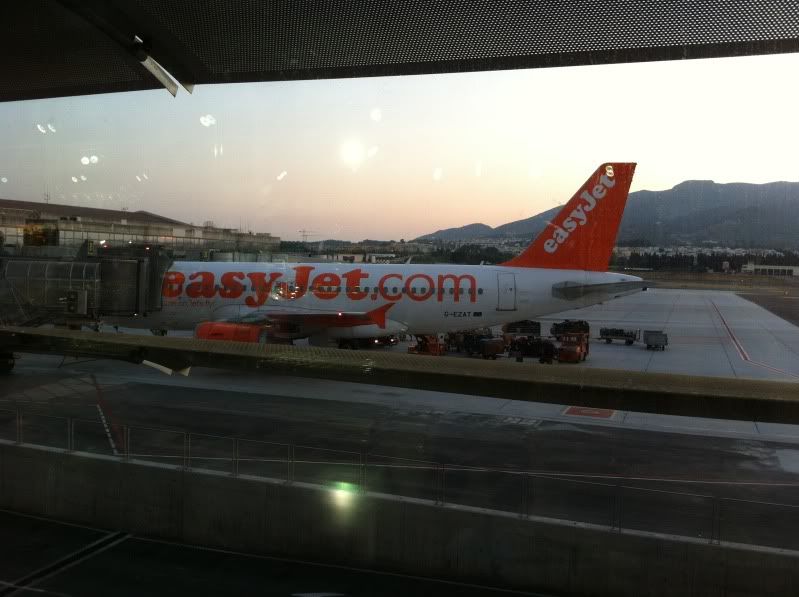 My gate was shown as C35, just a 30 second walk from where I was sitting. At the entrance to the C gates there is a border control check which I didn't have to queue at.
My gate was the 3rd one down the right hand side and a queue had already started forming at the gate when I arrived. I joined the speedy boarding queue and was one of three speedy boarders for this flight. I didn't pay for the privilege of this but as an employee I am entitled to a free plus card, giving speedy boarding and use of dedicated check in desks. A great benefit as I'd never pay for it myself.
In the morning I checked the passenger loads for the flight and they were showing as 149 so there would be around 30 seats free with the flight scheduled to be A320 operated by G-EZTY and 3 of my friends were crew on the flight.
Date: 15/10/2011
Route: AGP-LGW
Flight: EZY8614
Aircraft: Airbus A319 (208th flight on Airbus A319 and 1st flight on this aircraft)
Reg: G-EZGR
Seat: 26C
Scheduled Departure Time: 22:30
Actual Departure Time: 22:57
Scheduled Arrival Time: 00:20 +1
Actual Arrival Time: 00:11 +1
View Large
View Medium


Photo © N94504
Boarding commenced at 22:00 and we were held half way down the ramp before being allowed to enter the airbridge, as the last few passengers were still getting off. Once they had all got off we were allowed to enter and were once again held short, whilst the crew finished cleaning the aircraft.
A look out the window revealed an aircraft sub, I saw 'GR' above the flight deck window, indicating we'd now be on G-EZGR, the 166th and final A319 delivered to the airline, direct from the Hamburg factory last month. Apparently the aircraft was subbed as the expected aircraft had gone for Heraklion in the morning and had been delayed with the Greek ATC strikes.
Once onboard I was welcomed by the Cabin Manager, Dougy, who I've flown with a couple of times before, he seemed a bit surprised to see me and another friend, Steve, was working at the front of the cabin with him. I had a quick chat with them before heading down the back to see another one of my good friends, Courtney. I gave her the shock of her life when I poked my head into the galley and said hello! Its always nice to fly on these new aircraft as they still have that new plane smell.
It's free seating at easyJet so I chose myself 26C, the last row of the aircraft. The expected passenger load was 146 now so I was hoping for the 2 seats next to me to remain free. Then the family who always get on last wanting to be sat together got on. Obviously couldn't get seats together so the one parent and child sat next to me and the others sat about 10 rows ahead. Once everyone was onboard, we were waiting for a while. The Cabin Manager then went and spoke to two passengers seated in row 21, who then got up and got off the aircraft. I was later told they were too drunk to fly, captain didn't want them onboard. Apparently one of them tried to have a wee on the airbridge! With the 2 passengers taken off there was now a row of 3 seats free, so Courtney asked if the family wanted to move and sit together, which they did. Nice bonus for me!
My row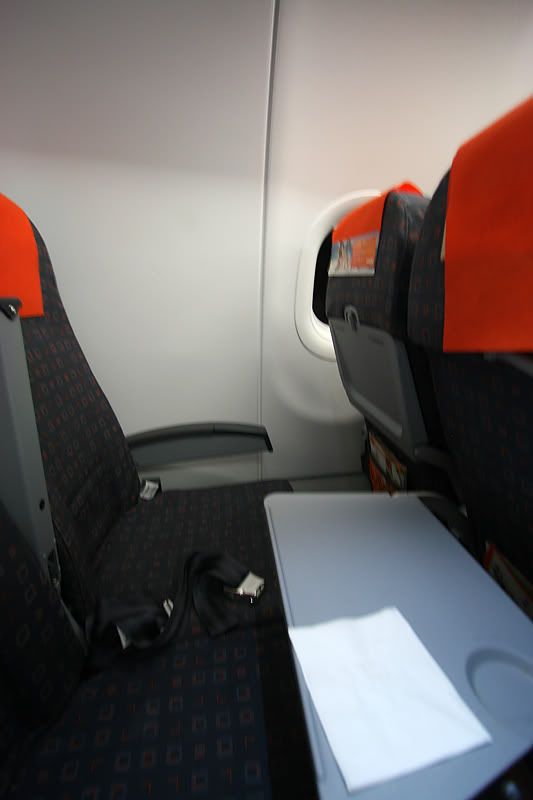 Cabin View
View Large
View Medium


Photo © Serdar Yorulmaz
Once the doors were closed, a welcome onboard PA was made by the captain, apologies were made due to the delay but this was down to paperwork, as always. Flight time was announced as 2 hours 25 minutes, this was followed by one from the Cabin Manager as we pushed back. As usual on easyJet the safety demo was performed manually whilst we taxied to the runway.
Take off was pretty quiet down back, not much power used today and we were in the air at 22:57. Once in the climb the crew were released and the after take off announcement was made, giving information about the services that would be offered on this evening's flight, highlighting the sandwiches and meal deal offers available. Firstly a newspaper and magazine service was done from the front with copies of The Times newspaper, Hello and Glamour magazines for sale, shortly followed by a distribution of Landing Cards for passengers requiring them. Not long after this the seatbelt sign was switched off so I got my iPad out once again and watched some TV programmes and listened to music.
The crew then started the Bistro service of drinks and snacks. I decided to purchase the 'Menu 1' deal, consisting of a hot drink or Soup, a Sandwich and a free Twix chocolate bar. I went for a Starbucks Hot Chocolate with a Meat Feast wedge sandwich which consisted of Chicken, Ham, Cheese, Mustard and Salad on Arctic Flatbread, which can be eaten hot or cold. I had mine hot. This deal cost £6.50 or €8.00. The sandwich was quite nice, although I still can't believe this has replaced the ever popular Ham and Cheese melt! The other choices of Sandwiches were a Bacon Baguette, Spicy Vegetable Fajita wrap and Egg and Rocket baguette.
IFE and Food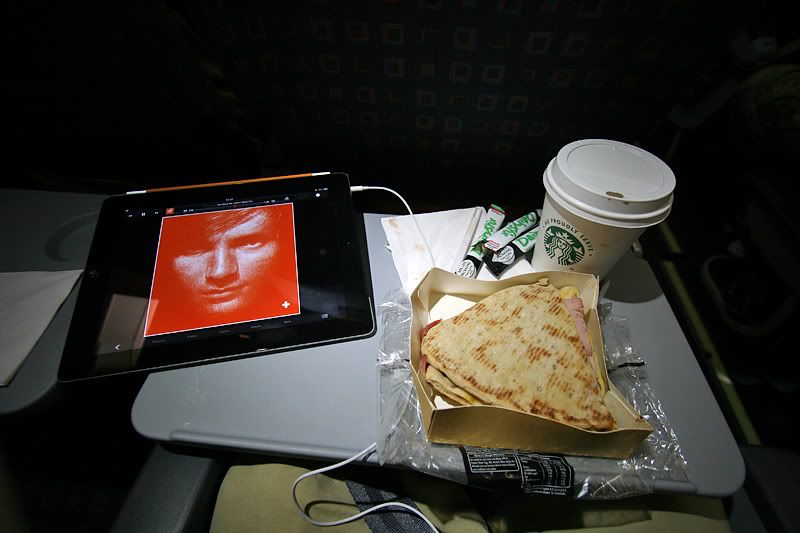 After the bistro service a clear in of rubbish was made from the front, which was shortly followed by a Funcard service and finally by the Boutique (tax free) service. One final announcement was made detailing some of the products in the boutique range along with information about Gatwick Express train tickets that could be purchased for travel into London. As it was getting late now, the lights were then dimmed to allow passengers to sleep for the remainder of the flight.
I then spent the rest of the flight listening to music and watching more episodes of 'The Inbetweeners' on the iPad, as well as chatting away to my friends in the rear galley. Halfway through the flight we were given a progress report on our routing and arrival time into LGW, we were expecting to land at ten past midnight, 10 minutes early.
I was feeling really tired by this time so in order to perk myself up a bit I decided to have another hot chocolate. They are really good! Make sure you have one if you ever fly easyJet!
The flight seemed to go pretty quick and soon we had started our descent towards LGW. Around 15 minutes before touch down the crew got the nod from the flight deck to prepare the cabin for landing and once again the crew sprung into action with 2 crew members securing the cabin and one doing a final rubbish collection.
We were landing on the easterly runway at Gatwick this evening so this would mean a short taxi over to the North Terminal. Arriving at this hour would probably result in parking at a remote stand and bus to the terminal building.
After a flight time of 2 hours and 14 minutes we touched down at 11 minutes past midnight and the landing was a bit hard to say the least, I'm not sure if it was on auto land, as it was starting to get a bit foggy outside, it was enough to make the woman across the aisle from me jump and spill her glass of wine down her, admittedly this was quite amusing.
As expected it was a short taxi over to the North Terminal and we parked up on a remote stand, 133 to be precise, opposite pier 6 of the North Terminal.
I waited until everyone had got off and I said goodbye to my friends and thanked them for a nice flight. I'd see them over at Concorde House in a short while to get the bus back to the car park. We had a short wait for a bus at the bottom of the stairs but this wasn't long at all. Within minutes we had arrived at the terminal and it was a short walk to immigration. There is now a queuing system in place, unlike before when it was a bit of a free for all. Much more organised.
Once through I fought my way through the crowds staring at the baggage reclaim screens and headed downstairs to the baggage reclaim area and exited into the arrivals hall.
I caught the inter-terminal shuttle bus over to the South Terminal and once again met up with my friends in the smoking shed before catching the bus back to the car park.
So after a really long day it was time to get in the car and head back home. I had a great little jolly out to Spain and did what I came to do. Scored a flight on the A300 and caught a bit of sunshine. All in all a good, cheap day out. With Monarch cancelling their 787 order lets hope we see these A300's flying for a few more years to come! I wouldn't hesitate to fly Monarch again, next time on their aincent 757's!
One final word from me….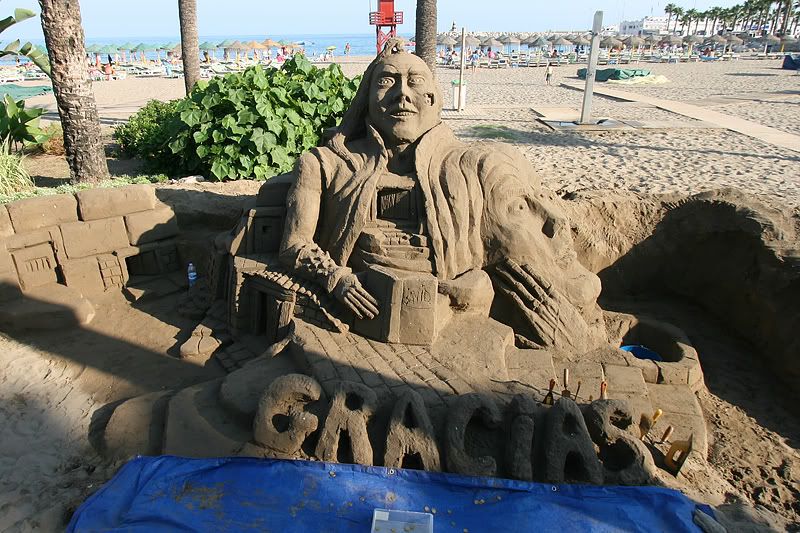 … and thank you for taking the time to read my report and as always, comments welcome.
Oh and a special thanks to Tom for the letting me borrow your lens, it came in handy.
Matt
Previous Reports:
Faro With A Friend and Finn on EasyJet/Air Finland
The Jumbo of The North – UK Domestic - BA 747 LHR-NCL
Turkish Delight in Istanbul: LHR-IST
Losing my Vegas Virginity with Virgin Atlantic - LHR-LAX-LHR