I had been invited to a friend's wedding in Tampa Fl at the end of September so jumped at the chance to tag on a few days holiday for myself. The flight left Gatwick at a very reasonable 1205 so I in turn left home at 1005, having completed the on-line check-in the night before. I was to drive to the airport and be met by one of these people who take your car away and return it to the terminal when you come home, "Meet and Greet Parking".
Problem arose on the M23 towards Gatwick with a car on fire in lane 1 and long delays begin to build as people rubber necked. Why are people allowed to drive on to a motorway and set fire to their car?? Anyway, I arrived at the North Terminal with just 50mins to pushback. My Meet and Greet was waiting for me and with my usual hand luggage only, I dashed into the terminal and the security line.
It was quite short , perhaps 10 minutes and then on to gate 60, down the spiral ramp and onto the gate, not a run or a jog but a brisk walk that got the heart muscles going. At the gate there were perhaps 6 people, no more, and I was welcomed on board.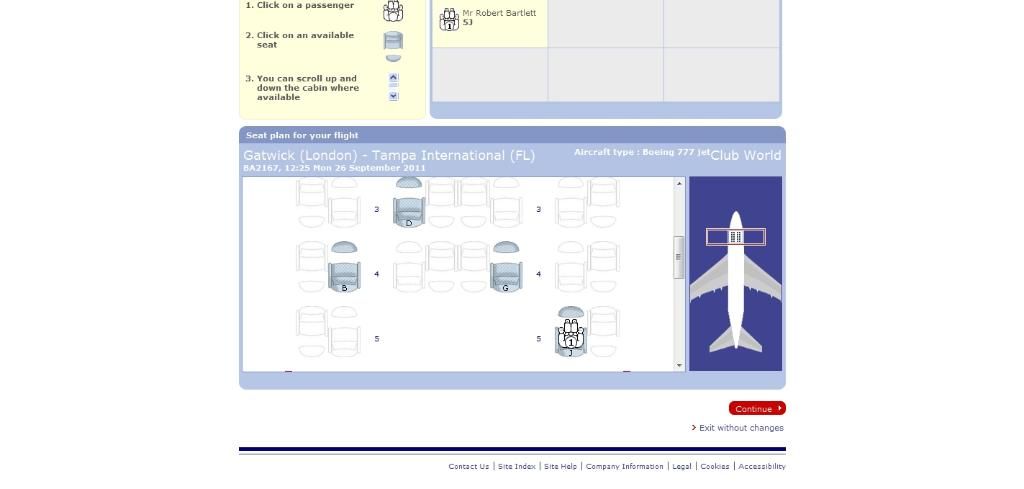 (Click on picture for larger image)
I like this seat, gives a nice view of the forward cabin and meal choice is never a problem as can happen in the second cabin. I settle back in my seat, take a glass of Champagne and a newspaper
as the Captain comes on the PA to advise a short delay, due to an elderly lady in Y having an upset
tummy, among other things, she was going to be off loaded, and her luggage.
Oh well it happens, we got to take off about 30 minutes late, and a clear run to 26L had us in the air
just 10 minutes after push back.
As we past over Cornwall washbags and Menus were handed out followed by the first drink service,
well it was after 1pm.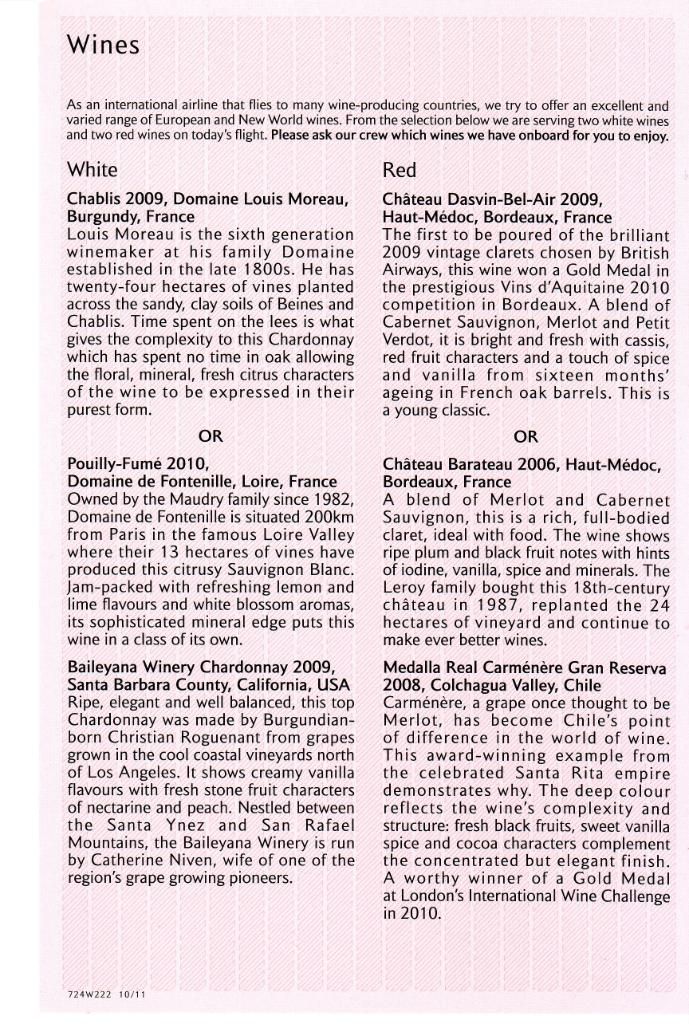 I went with the Pouilly-Fume, this was a cracking wine with just the right slate edge to keep you coming back for more.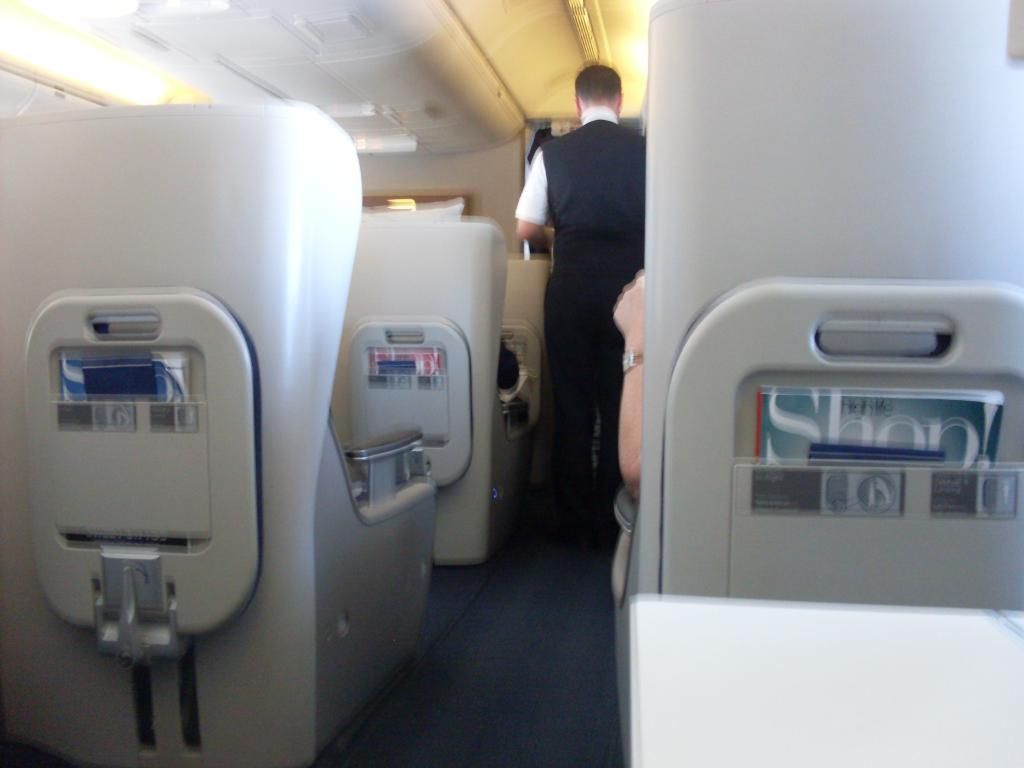 After the first drinks service, staff came around and took our menu choices, I went with the Potted Crab and the corn-feb chicken, what a good combo that was.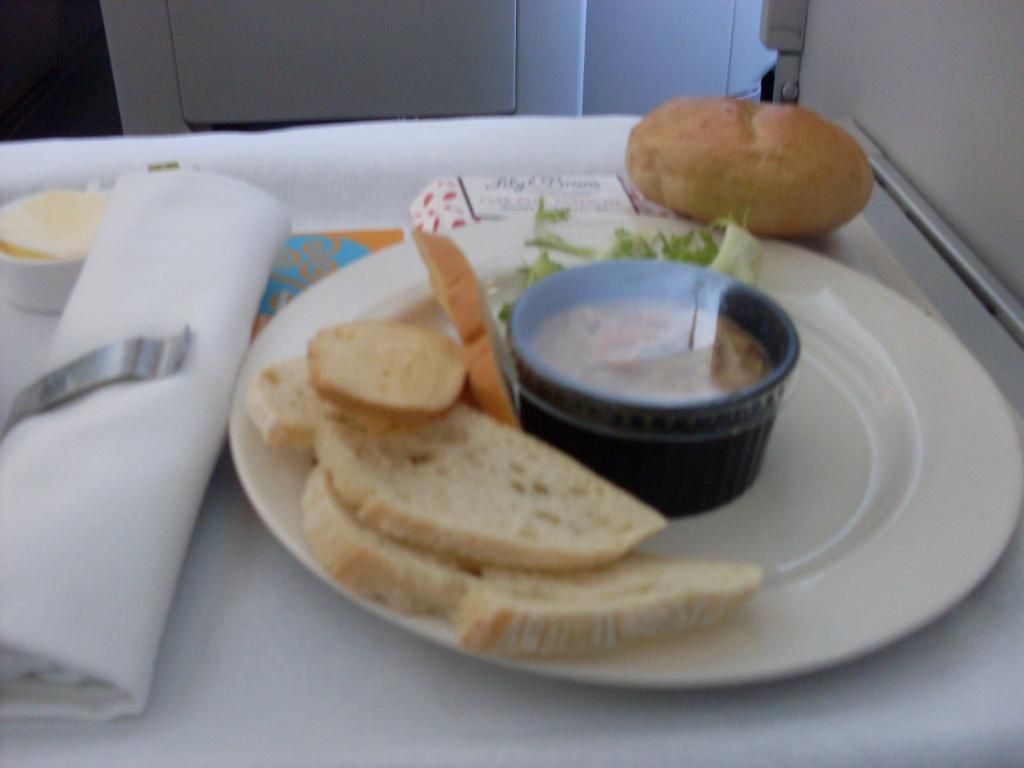 The crab was served with lightly toasted breads and was very good and fresh tasting, went really well with the Pouilly-Fume.
Main course was the Cornfed chicken, Wow this was good. Now most chicken when heated can go
hard and dry.
Take a look at the next shot, the meat was moist and almost flakey with good flavours and the Dauphinoise Potatoes where heavenly. One of the best Chicken meals on a plane in ages. Well done BA .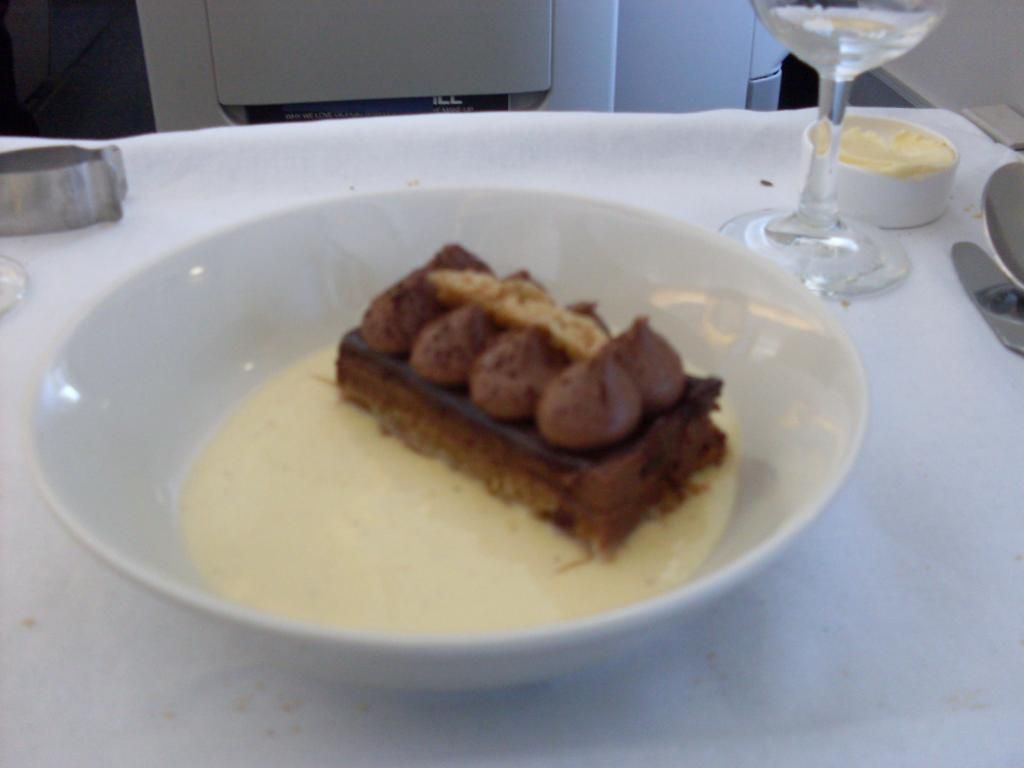 Dessert was a rich cheese cake on a flapjack which seemed to work quite well.
The AVOD was working well,no problems and after "another" glass of "Smoking Parrot"
I settled down for an afternoon nap, ahhhh!
Sometime later I awoke, refreshed, and went to stretch my legs. First to the forward toilet and then a walk to the back of the plane.
The Club forward cabin was perhaps 75% full, the second cabin 80% and Y+ 100%.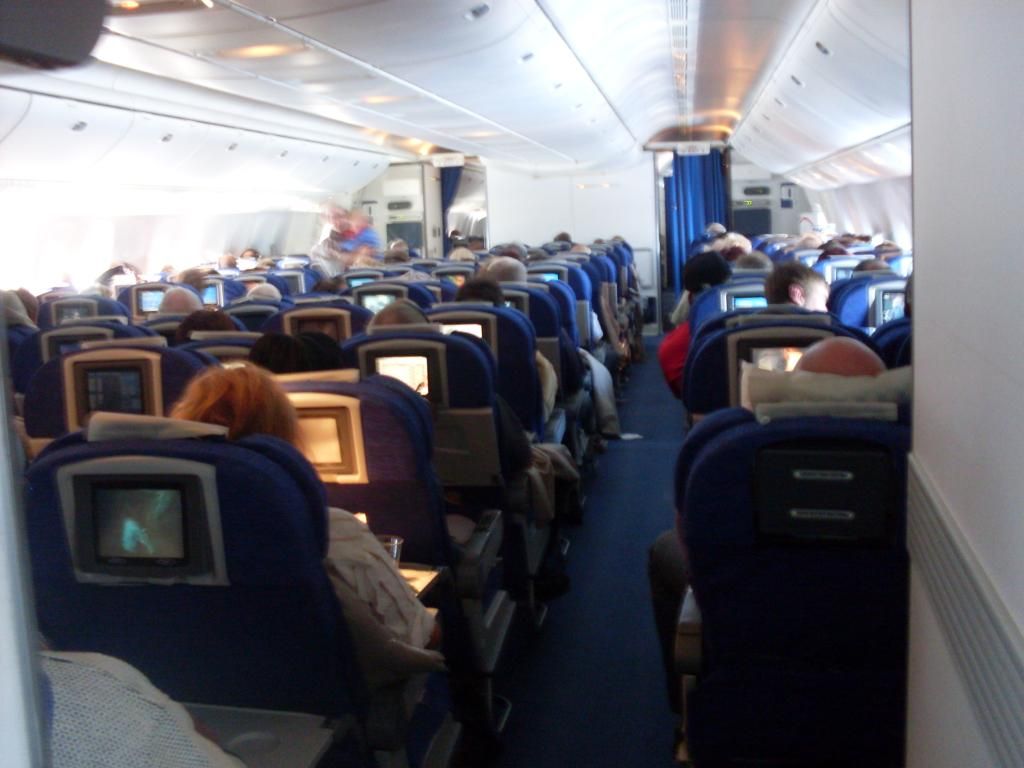 Economy has perhaps 95% and quite noisy with many children about.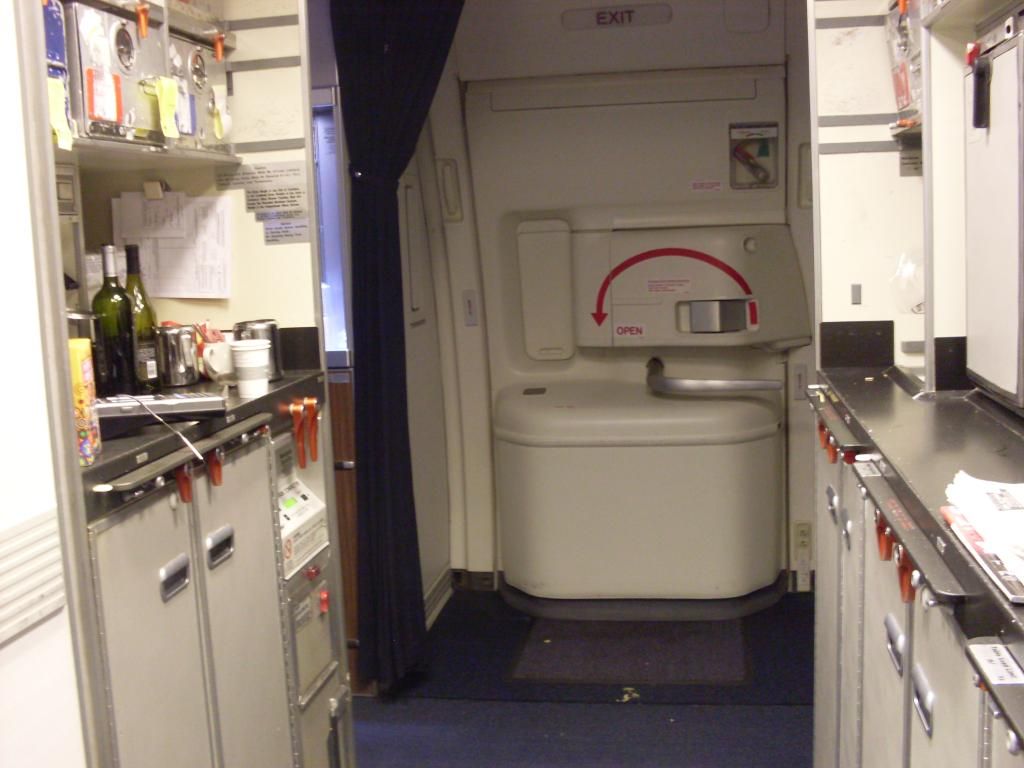 On returning to my seat I past an empty galley and an empty Pouilly-Fume bottle, a quick search of the Club Kitchen did not produce one and I know where to look. Got in my seat and hit the call button.
"Yes sir?"
"May I have a glass of Pouiily-Fume please?"
"Sorry sir, it was so popular it has all gone"
Sighhhhhh.
I had the Chablis for the rest of the trip, it was good, but not as good.
After watching "Super 8" and another movie it was time for afternoon tea and those wonderful warm scones and jam.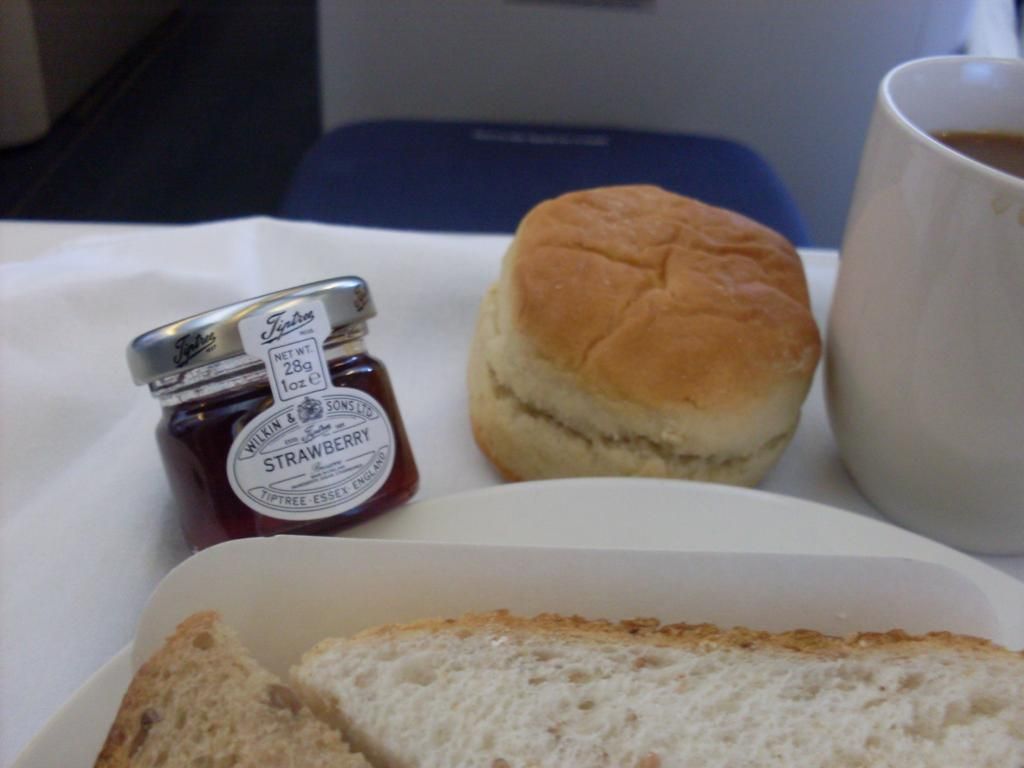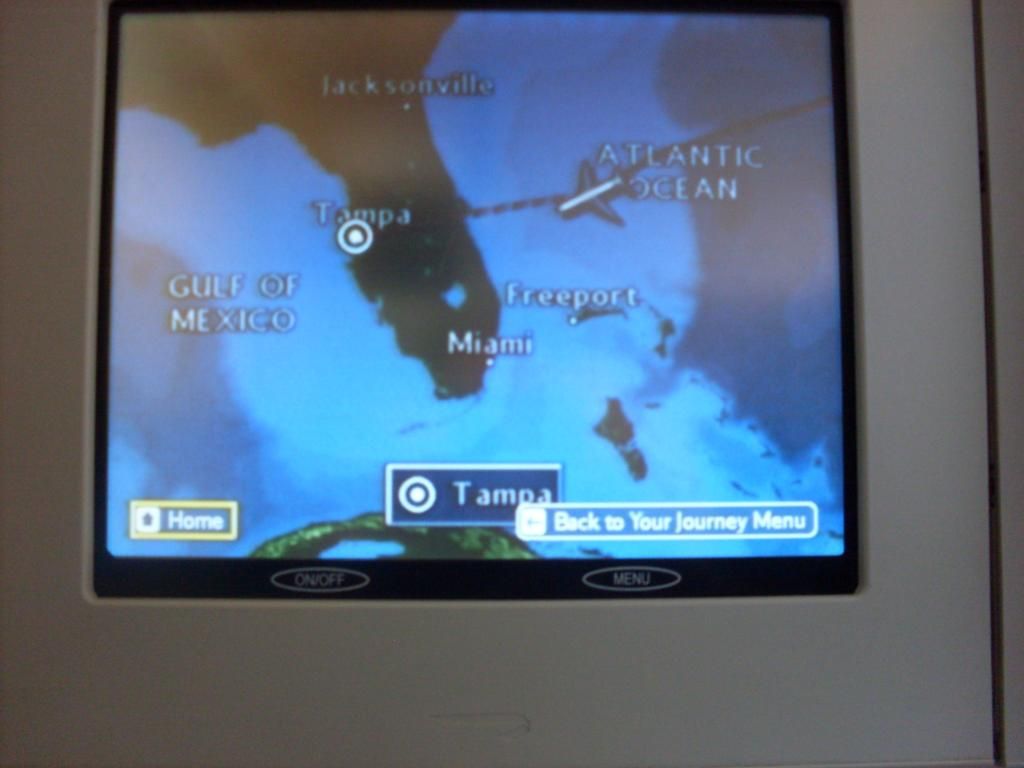 Within 30 minutes or so we where landing into Tampa in a thunderstorm and poor visability
so did not bother with any pictures. A short taxi to the gate and off the plane.
This was my first time at Tampa and wow, how different from MCO. I was second off the plane and a short walk to immigration where 8 desks where waiting with 8 smiling faces waving us over,seemed like they had not processed any people in a while. I was done in under 3 mins and the guy said "Welcome to the USA" and it was genuine. I picked up my Avis rental car and was out of the airport
in the fastest time ever.
Next day the wedding went off fine, a small affair, and the bride and groom later flew off to Aruba for the honeymoon, I do love that island.
I took myself off to Orlando, checked-in to my usual apartment and went down to the pool.
As I was going to be here for another 7 days and moving about I decided to spoil myself and
have a really sporty car.
The Chevvy Camero SS Convertable, (in LOUD RED)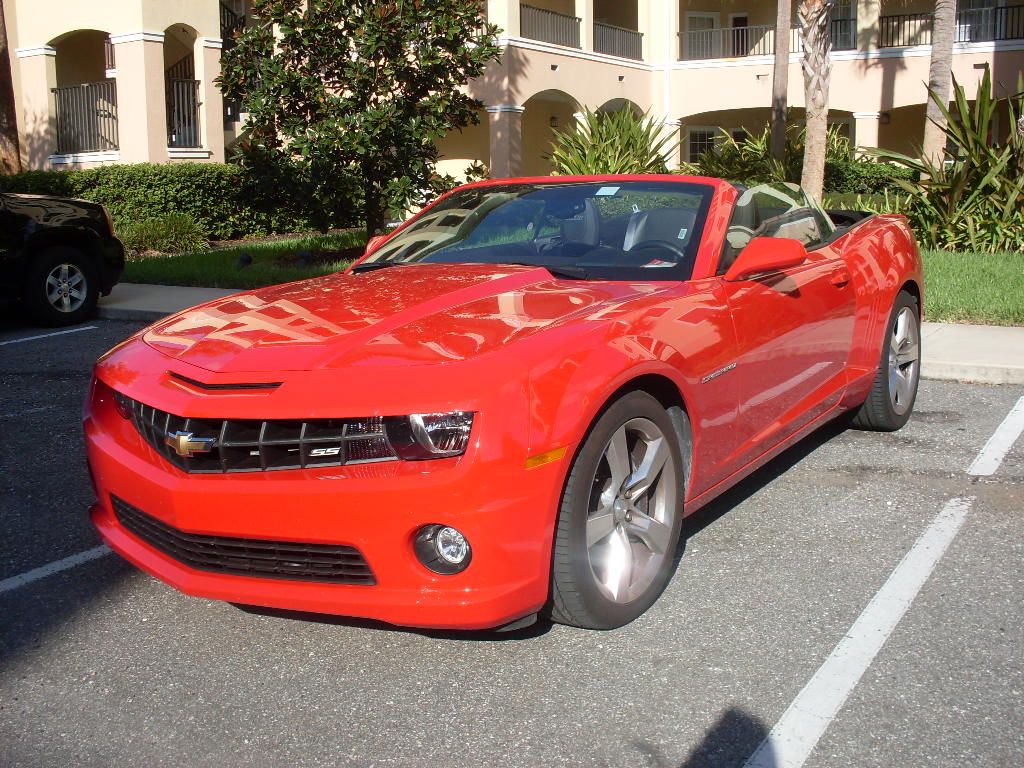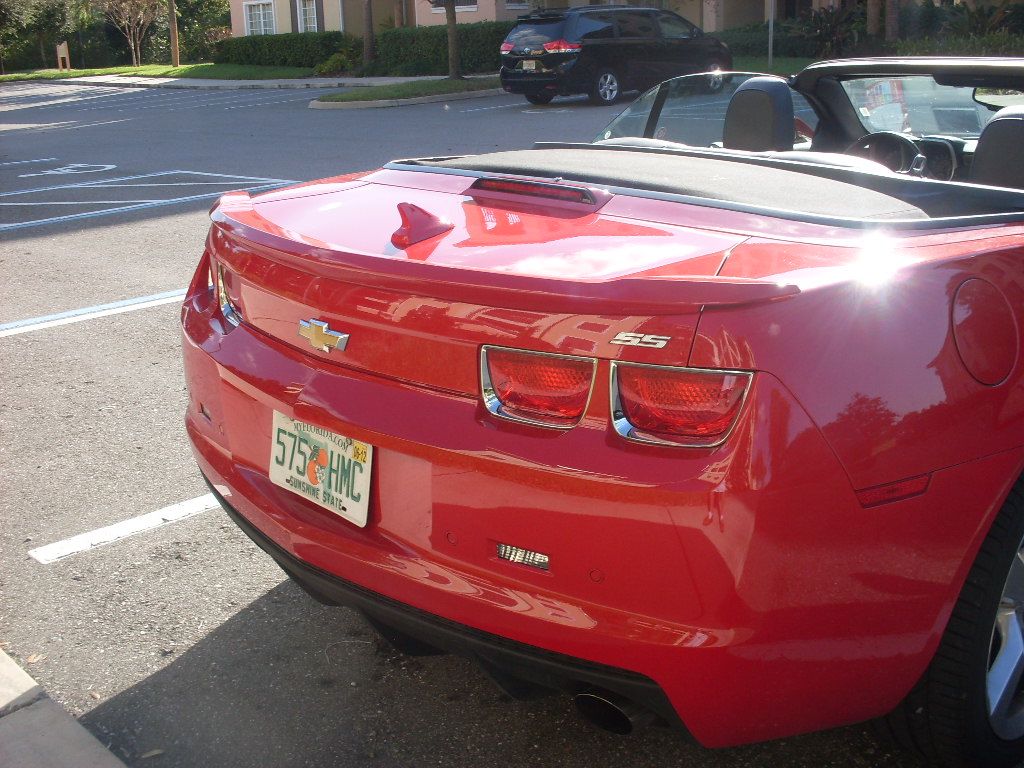 Have to hand it to Chevvy, this was so much FUN, it stuck to the road like glue with the Traction control on. Turn it off and you could wheel spin and drift the corners whenever the state Troopers
were not about. Put it in automatic or 6 speed manual with gear change on the steering wheel paddles and a head display. Lots of fun and only 16 MPG. Think I'm in love.
Well thanks for reading all comments welcome.