Introduction
For the introduction and the trip up to this point, please see part I:
753 Or The Flying Pencil: HEL-RIX-FRA-PMI
(by
FlyingFinn76
Nov 12 2011 in Trip Reports)
This part starts where part I left me - having just arrived on an early morning flight aboard a Condor 757-300 to Palma de Mallorca airport.
Sunday 6.11.2011
Since the peak tourist season is over the airport is surprisingly quiet. Lots of closed shops around: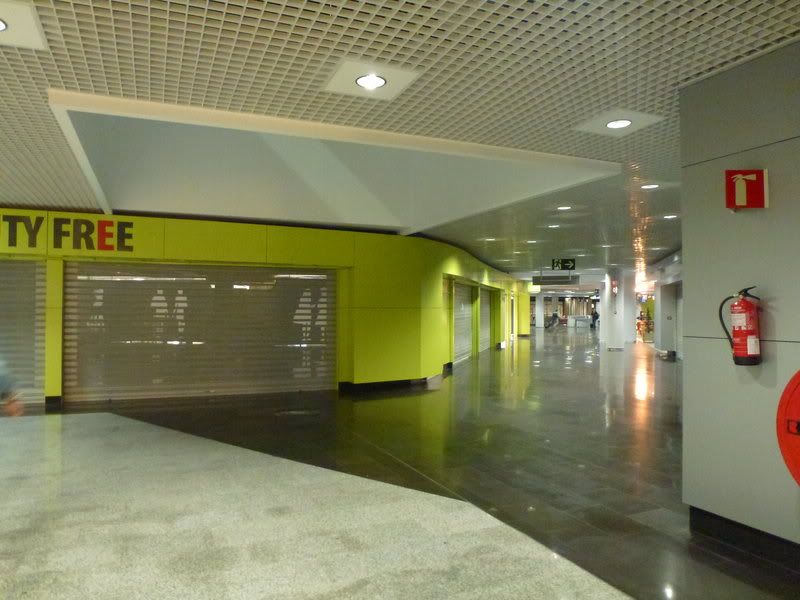 Yes, this is a mini Deutschland: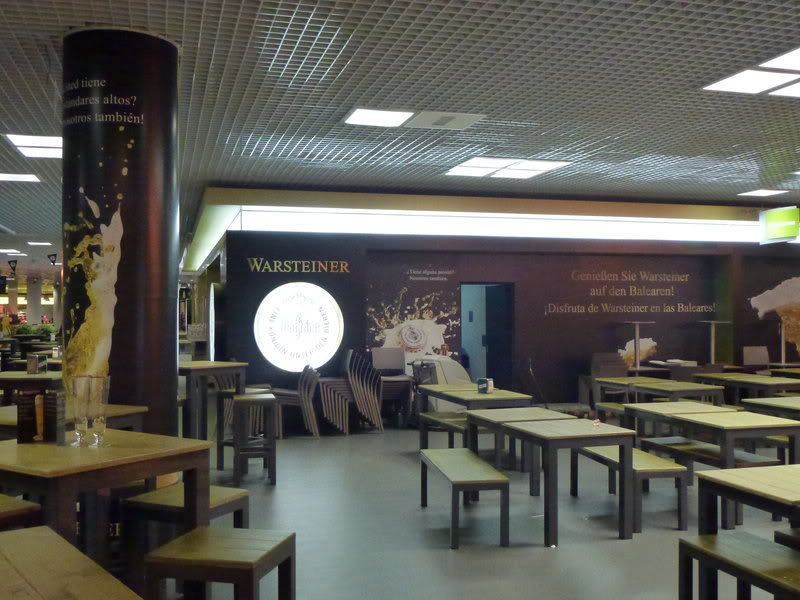 Yes, this is DEFINITELY a mini Deutschland: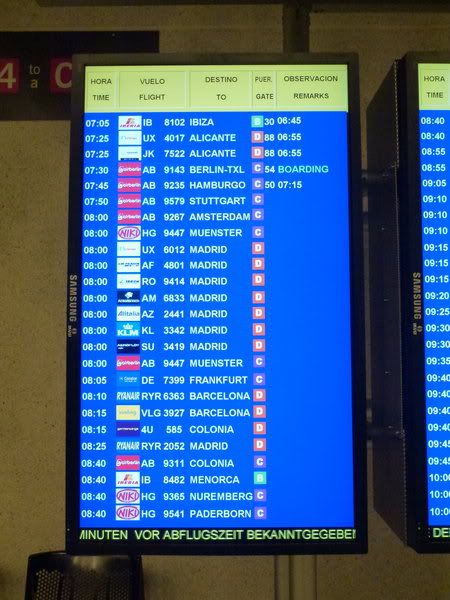 I've only been here once before and that was a quick AB to AB transfer where the gates were basically right next to each other, so I've never really realized how huge this place is.
No comment:
The Vueling flight is departing from another pier, and the walk there is really quite long. Luckily the Sala VIP Miro lounge is right at the intersection of the C (where I arrived) and D (where VY departs from) piers, so after finally getting there I head inside for a bit of a breakfast and wifi.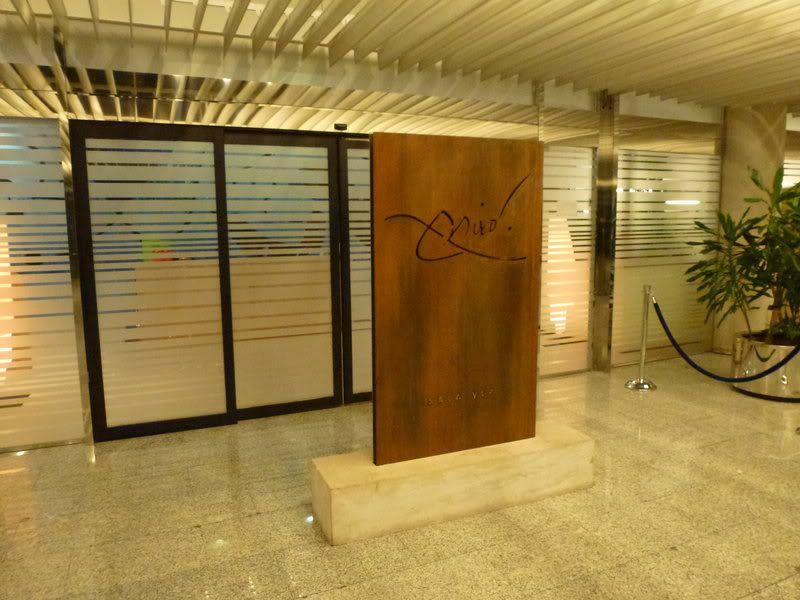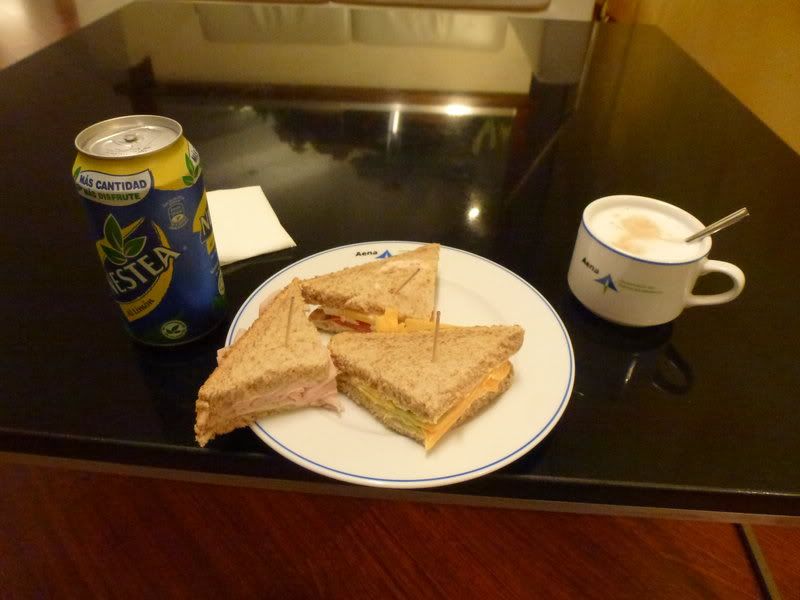 AENA logo: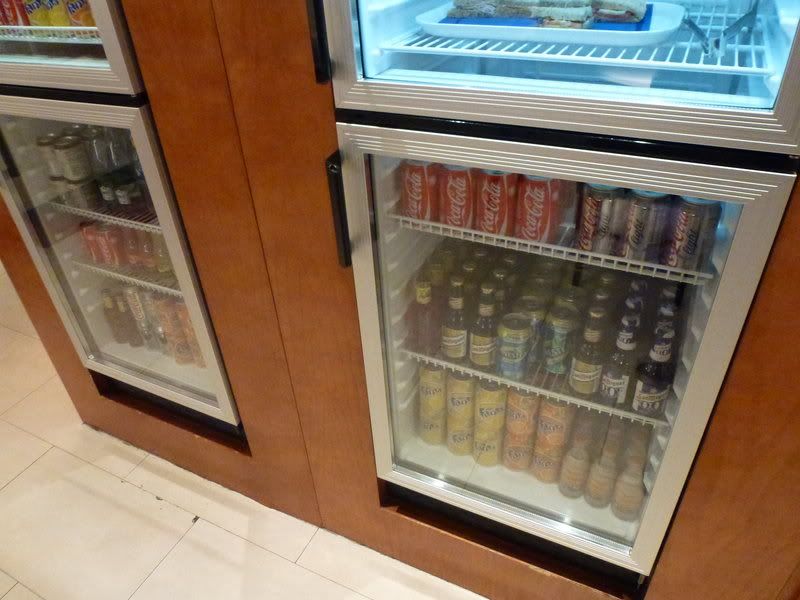 Quite a standard lounge - not bad at all and with some tasty sandwiches (I skip the prepackaged triangle ones - after my bad experience with a moldy one in the MAD lounge back in January I'm quite careful with those...):
Soon it is time to head to the gate which luckily is closer than my inbound one. Quite a bunch of people are already there, looks like a rather packed flight.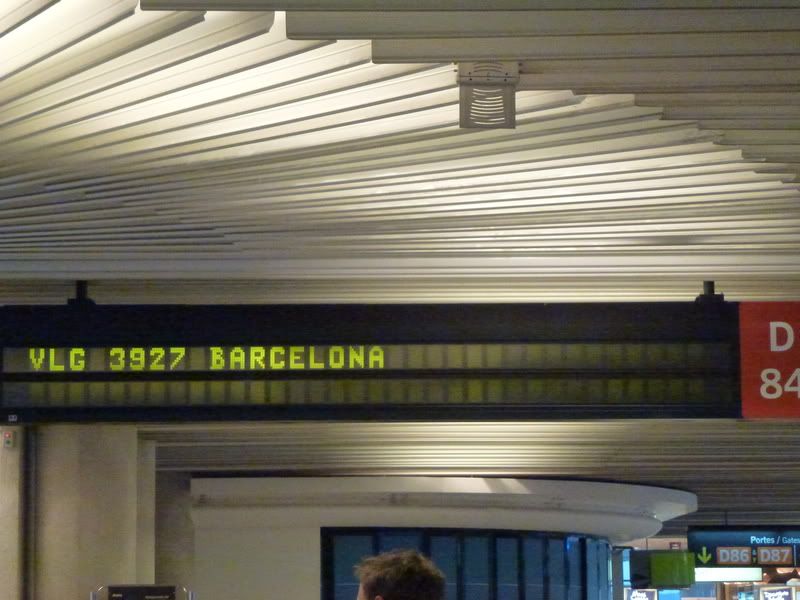 And this is my ride, A320 EC-KKT "Vueling Together", a new reg with a witty name for me:
Another long bird opposite:
Right after I snapped that photo a boarding announcement is made, only in Spanish (like all announcements at the gate). I think they called boarding by row numbers as a good number of pax are turned away, but not me though.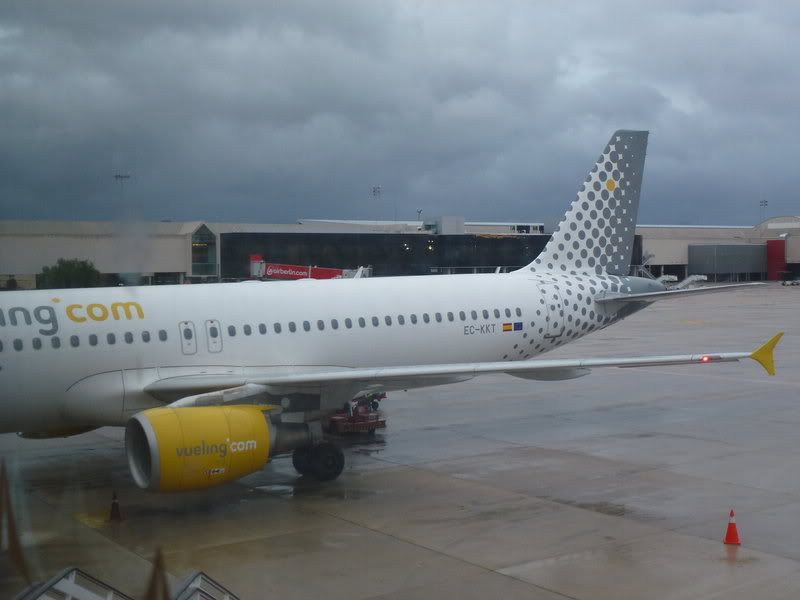 PMI - BCN
VY3927
A320 EC-KKT "Vueling Together"
Seat 27F
8.13 - 8.57
A rather disinterested crew, my "Hola" is answered in a monotonous voice with not much enthusiasm not to mention eye contact. Considering this is the crew's second flight today (after flying in from BCN) I think they are in for a long day...
Oh yes, I remember these colorful headrests - seemingly unchanged from my previous flight with them back in 2007: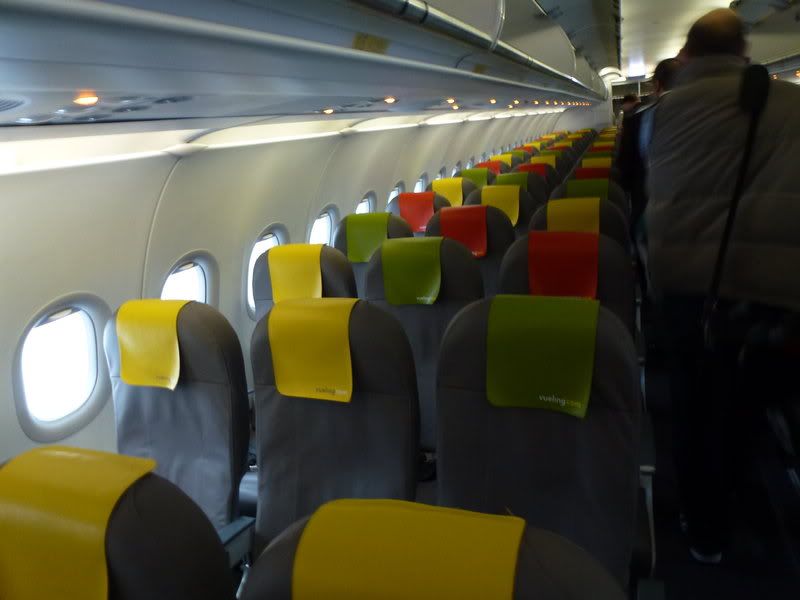 So yes, in the first part I complained about Condor forcing one to pay for a seat assignment when doing OLCI. Well guess what - Vueling has the same policy. Luckily their prices are much more reasonable (and legroom much less so) - this is what you get for 2 EUR: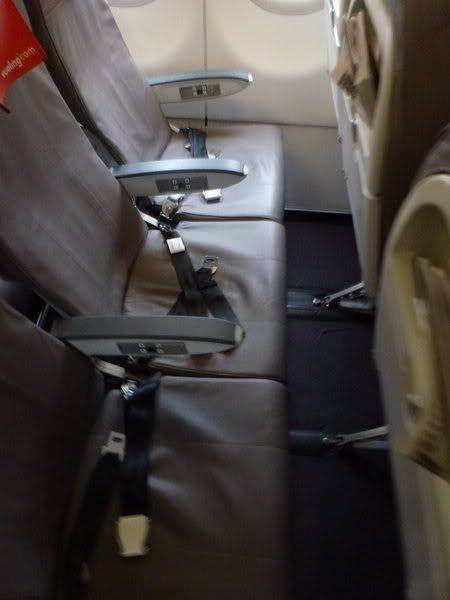 Bulkhead and exit row seats with more legroom come in at 12 EUR - definitely worth it for anyone who's not a midget - here's my legroom: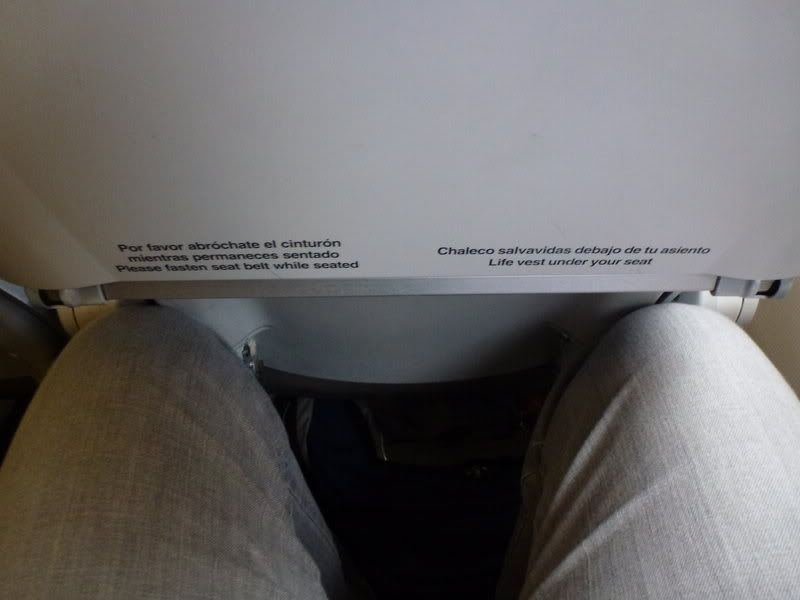 Luckily this is only a half an hour flight so I think I can manage it - but I couldn't possibly imagine flying all the way to Moscow in this seat, no way, Jose!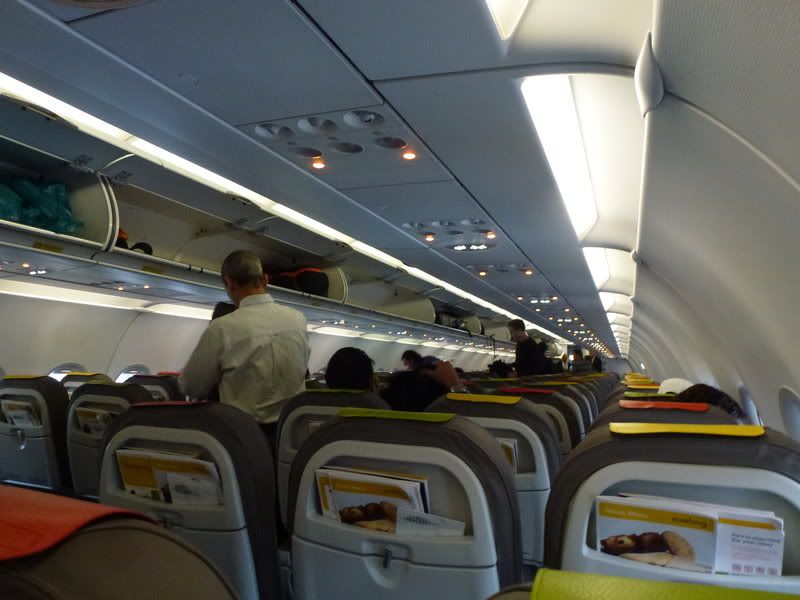 Quite a lot of people keep slowly dripping in. I get a young Spanish dude on the aisle seat quite early on and keep hoping and hoping for an empty middle seat - and in the end this wish is granted! Very nice, the load is good at 85% so, including a bunch of deadheading Vueling cabin crew in full duty uniforms.
The inflight magazine, quite stylish actually: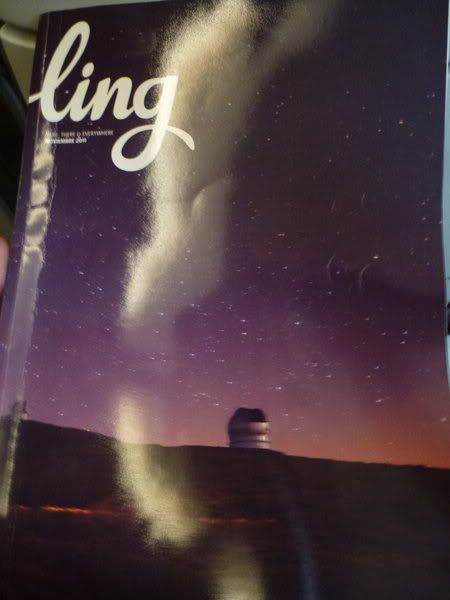 The El Comandante announces a flight time of 30 minutes with some turbulence en route due to the weather and that Barcelona weather should be the same as here, cloudy and wet.
Push back is a couple of minutes early.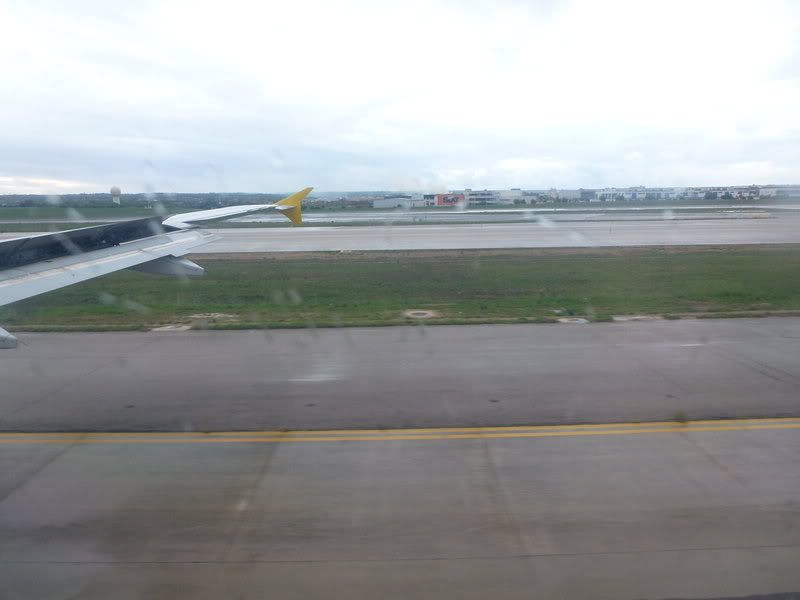 More Germans: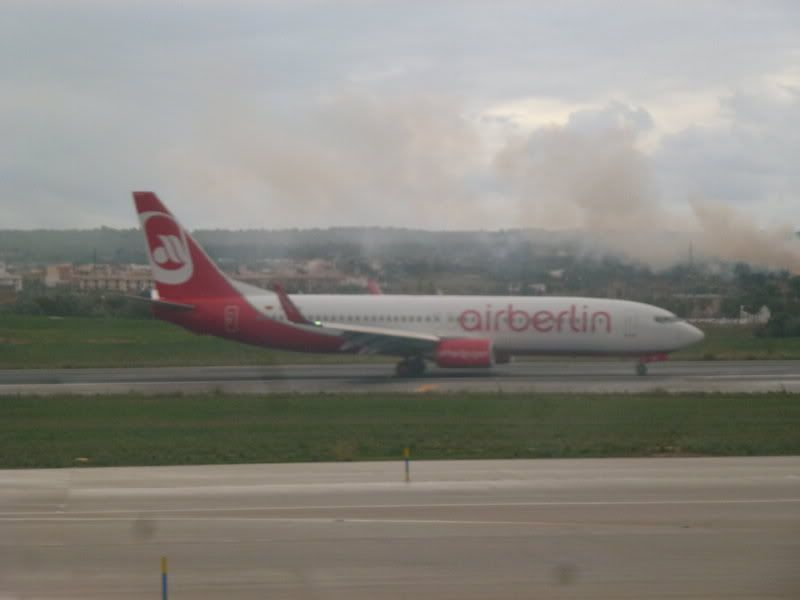 Even more Germans: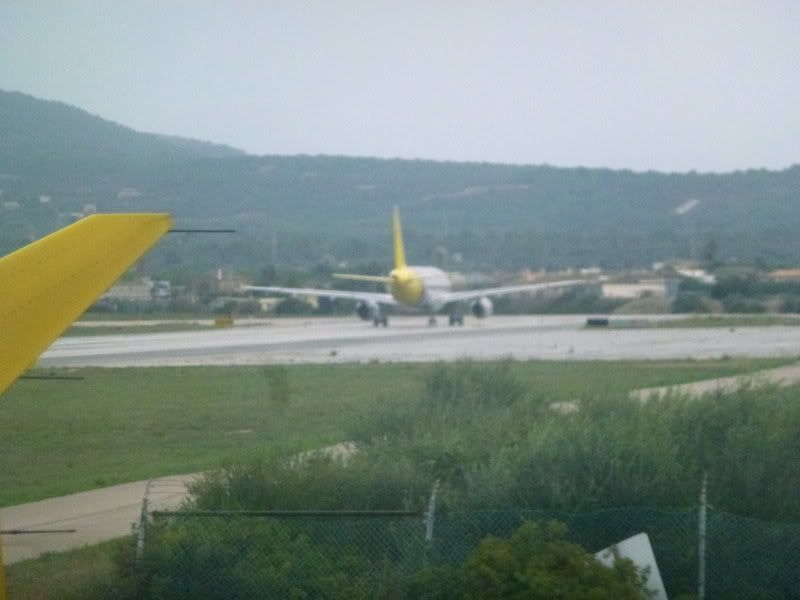 Mallorca has recently decided to try to expand their tourism offering by building some artificial ski slopes - the word is they got the idea from Dubai:
Take off from 24R with some menacing clouds: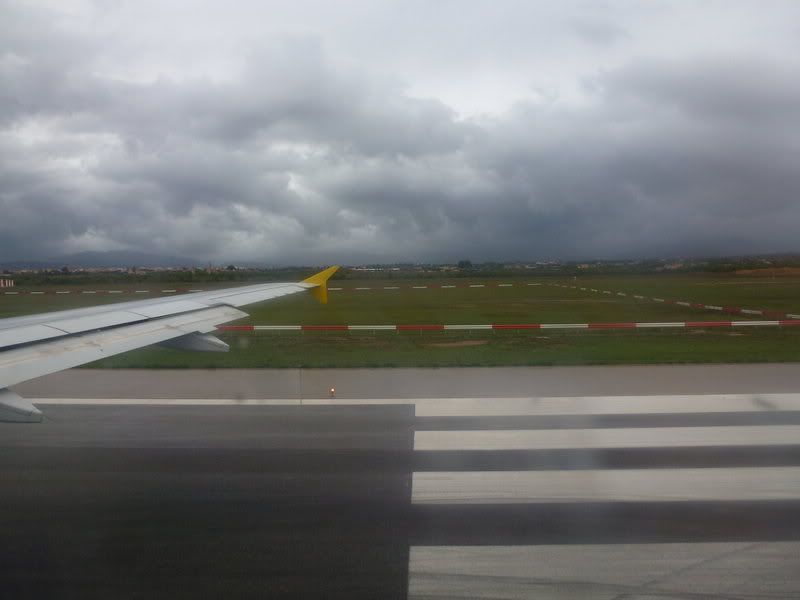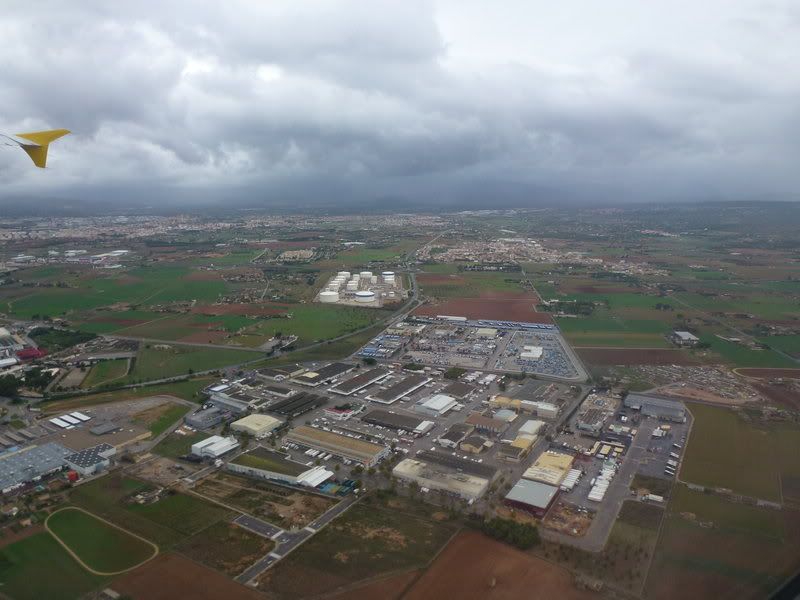 Nice view of Palma:
Cruise ship for Phil: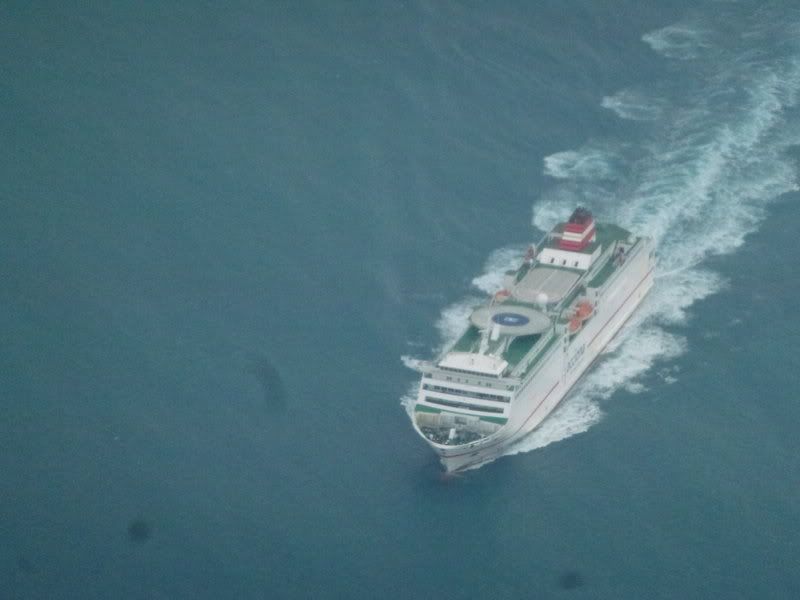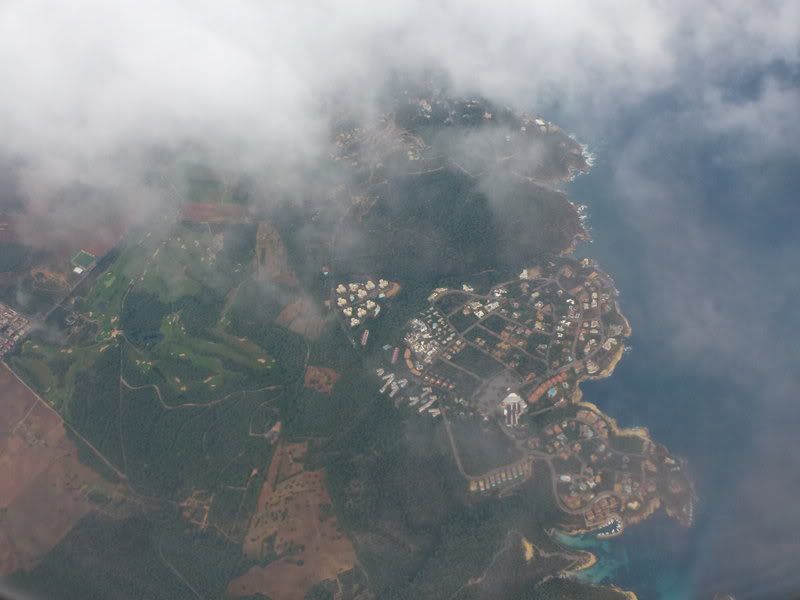 Right after turning towards the north we disappear into the murk and don't emerge until well into our finals towards Barcelona.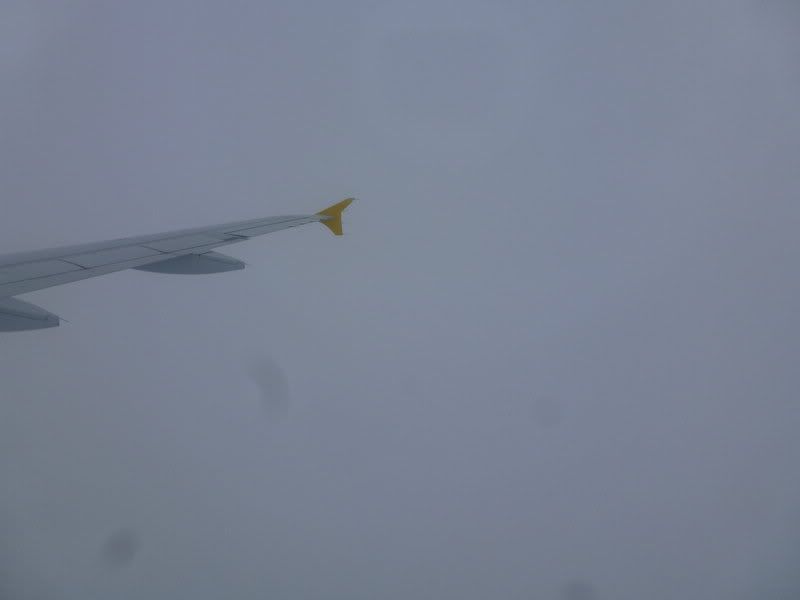 There's no BOB round on this flight due to the short duration. The girl on the other side of the aisle seems to be determined to keep the doctor away, though (her boyfriend looks like the kind of guy who would keep the doctor away permanently if he decided to touch his girlfriend - all muscle and tattoos):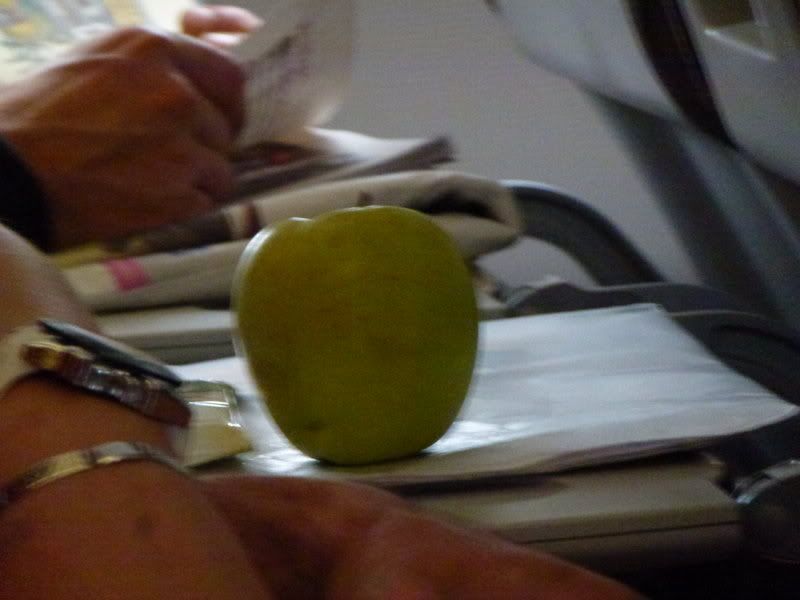 Not much point in sitting on this side this time as the weather prevents the usual nice views of Barcelona city: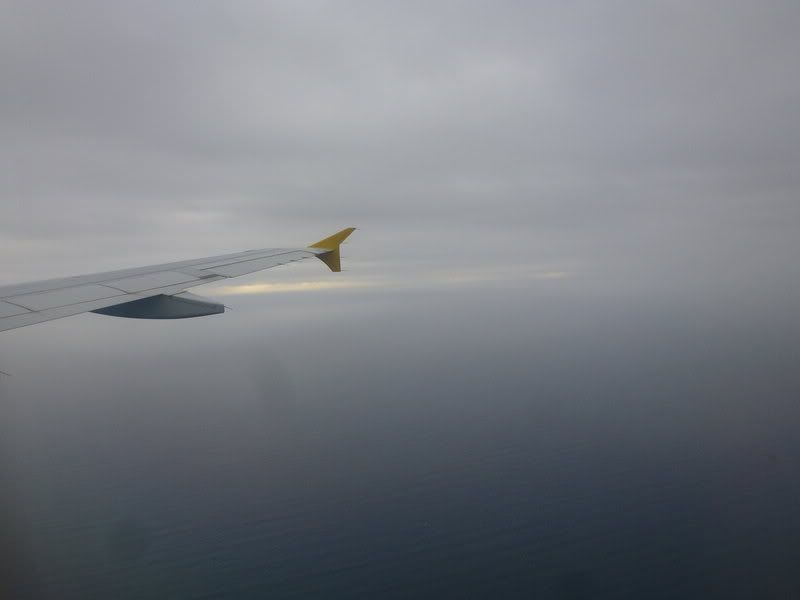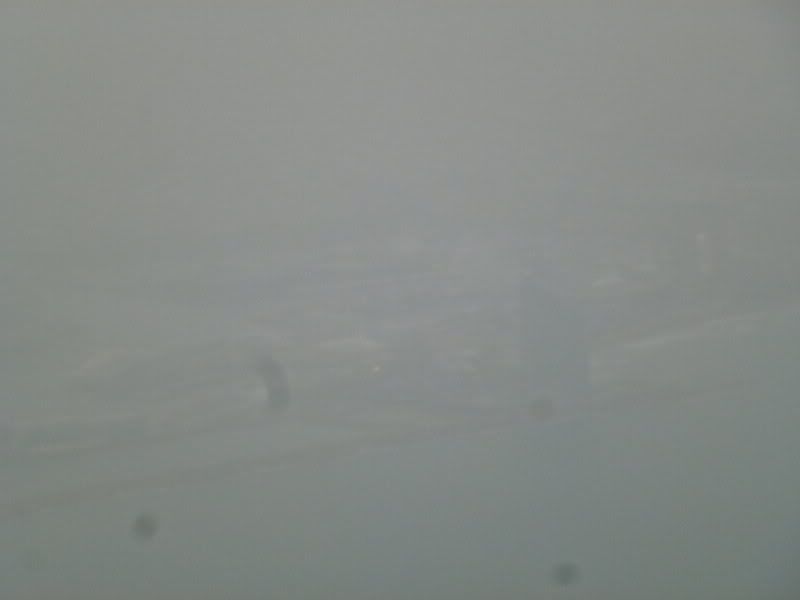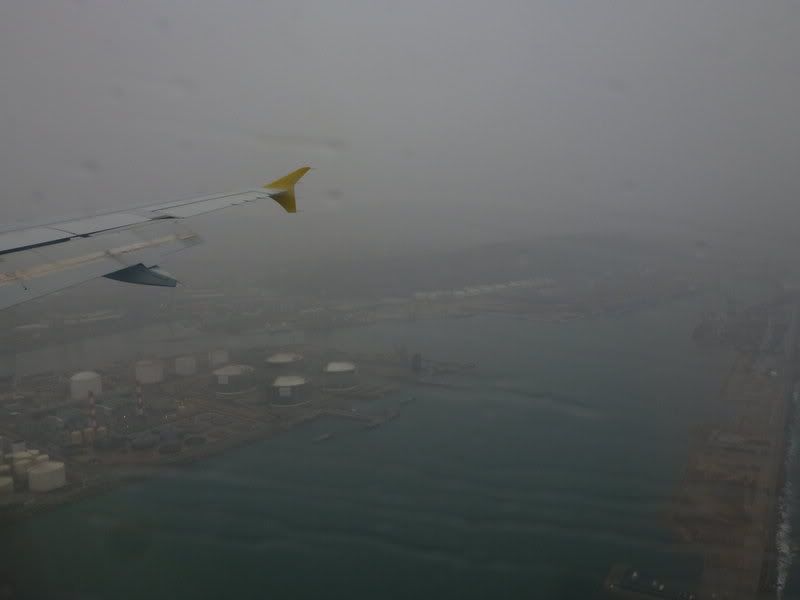 Logistics wasteland: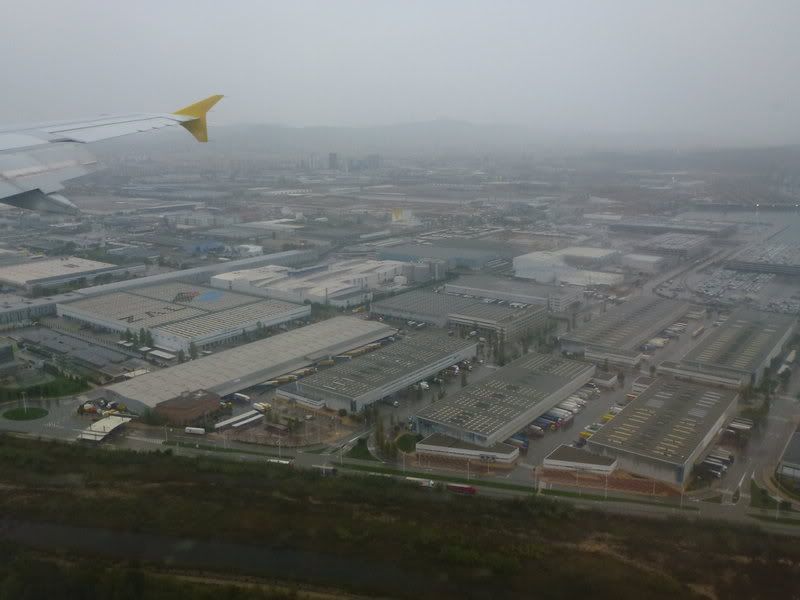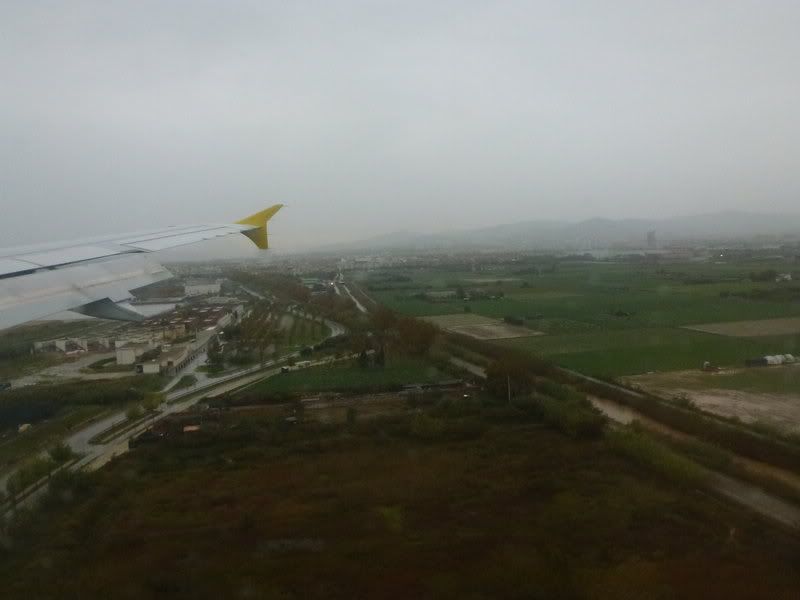 Landing is on runway 25R after a bit over half an hour of flight time.
Low cost action over at T2: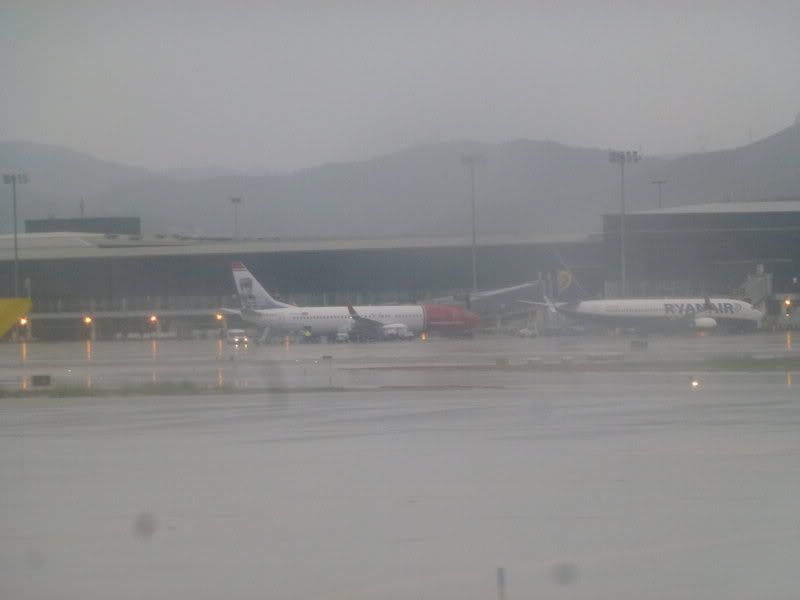 Sorry for the bad picture, but at this point I realized that BCN is really an A320 heaven - Vueling and Spanair galore: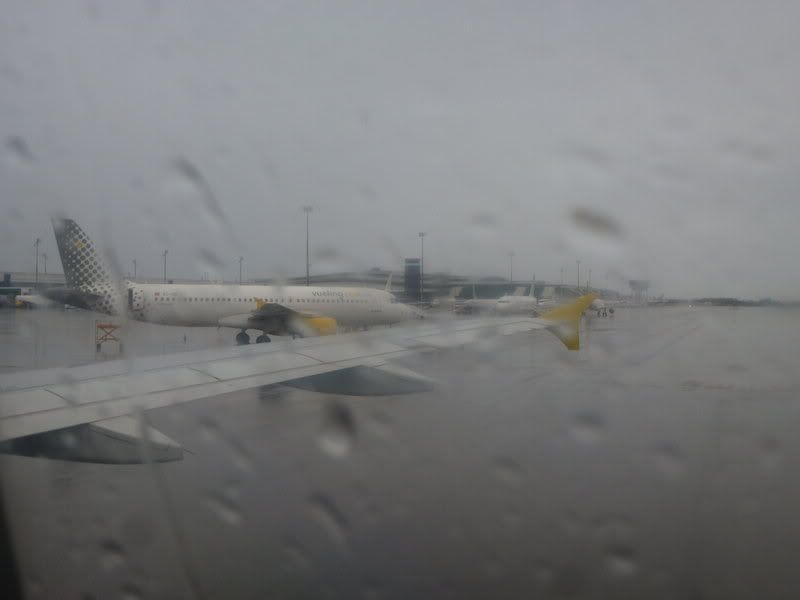 Luckily we get a jetway as it is raining.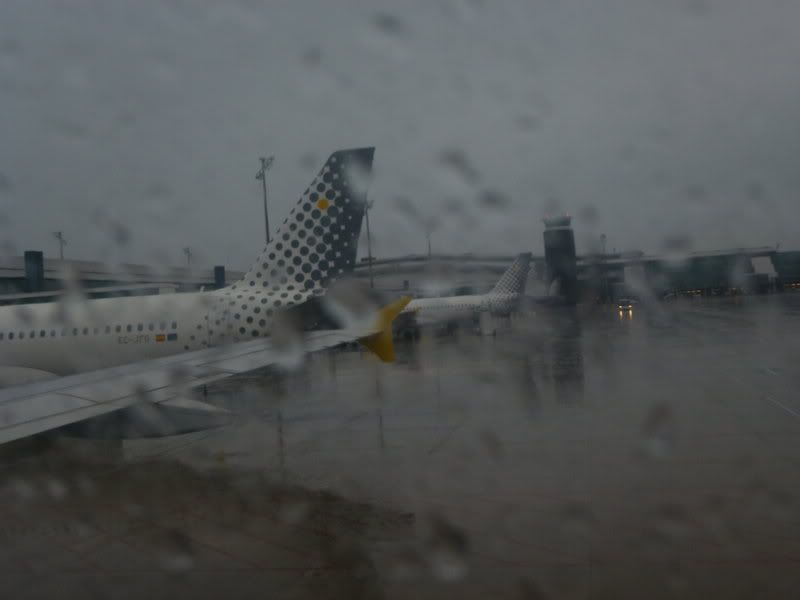 Deboarding takes a small eternity, but finally I walk out of the plane. This bird is going to VCE next, say hello to Lee!
Barcelona Airport
Bye: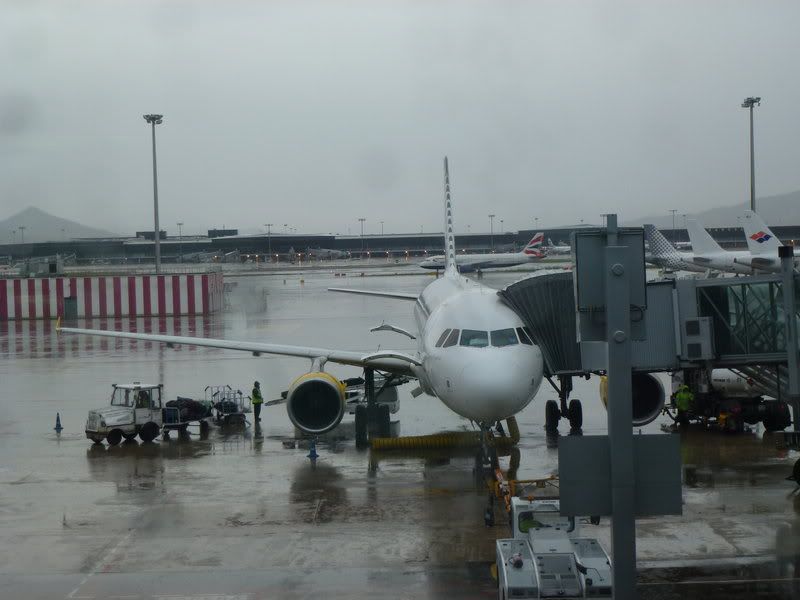 T1 is still impressive and impeccable: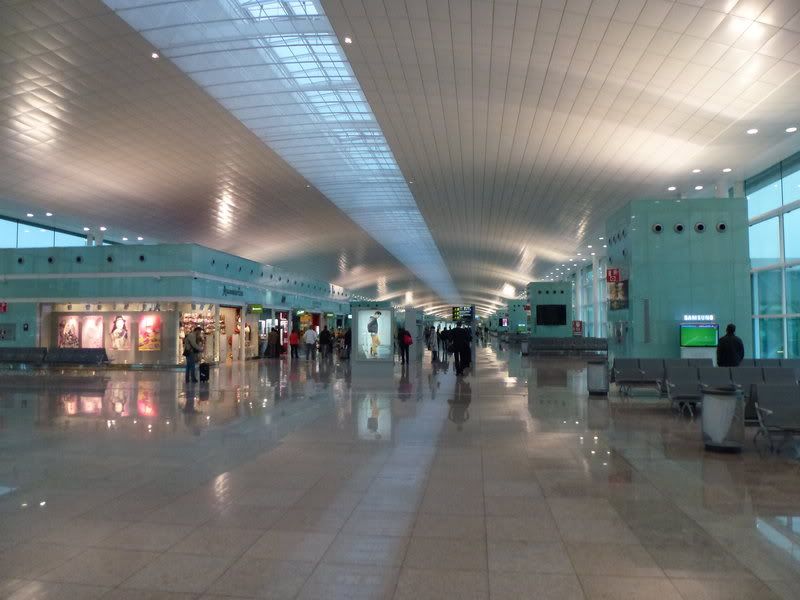 Yeah yeah, keep rubbing it in my face, will ya: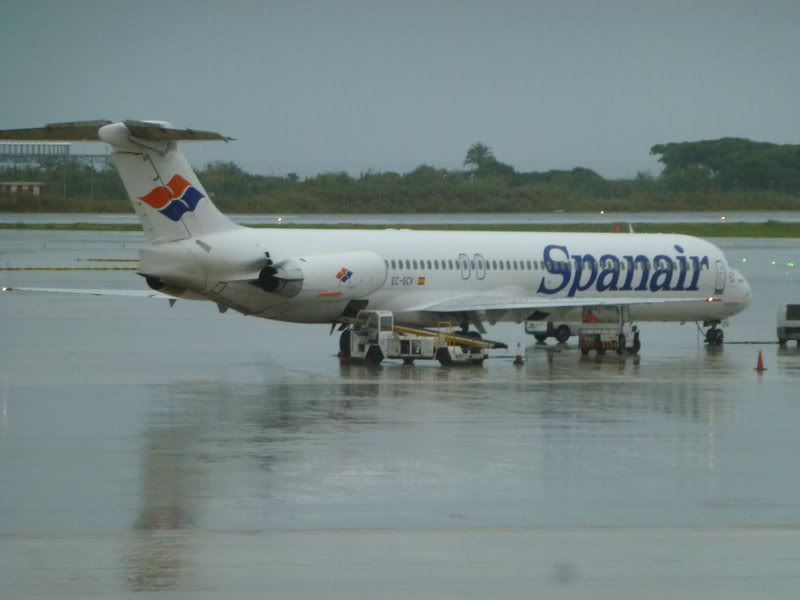 Longhaul: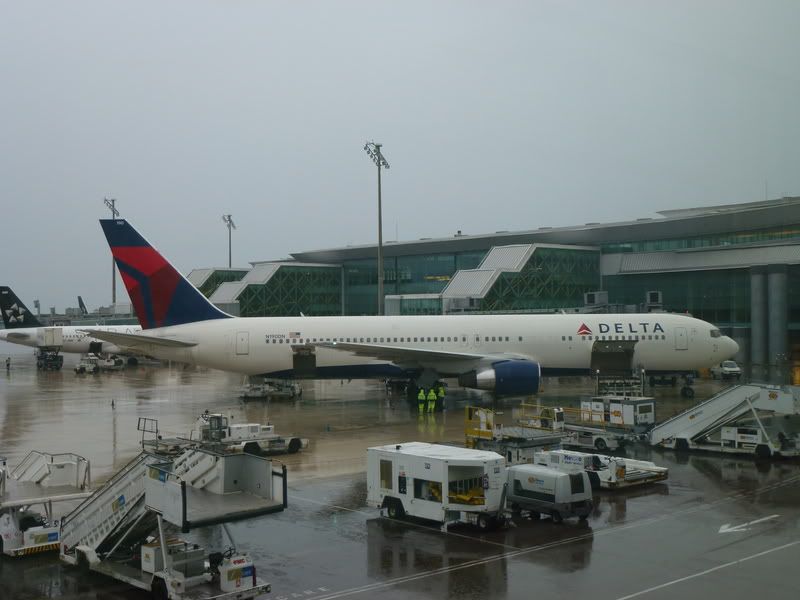 I have a couple of lounges available for me - the Spanair one and the other more generic one accessible with Diners Club just opposite. I was in the JK lounge back in June and wasn't too impressed so I decide to try the other one. The reception guy tries to direct me away to the JK lounge after I point out that I have access here as well and decide to sweeten the deal a bit: "And I heard so many nice things about this lounge so I definitely prefer it!". That does the trick and he welcomes me in.
Quite nice atmosphere and comfy seaters like Markus would say: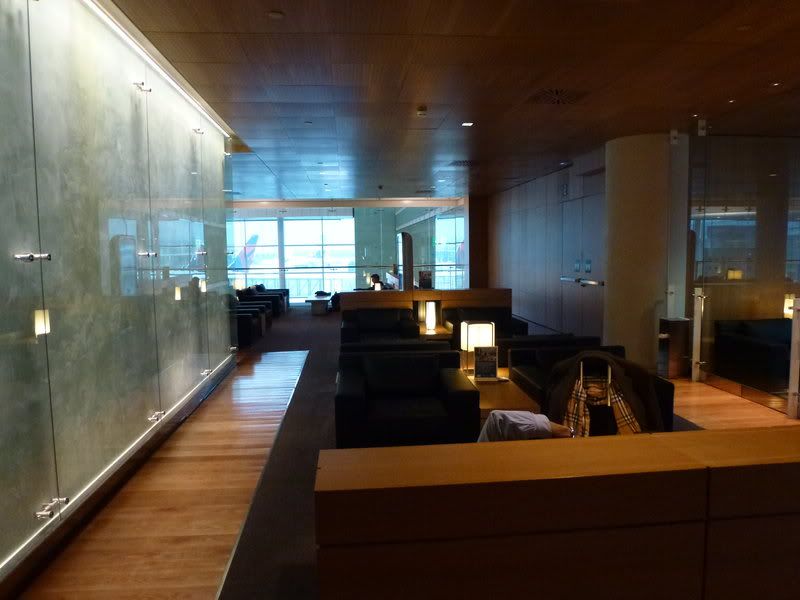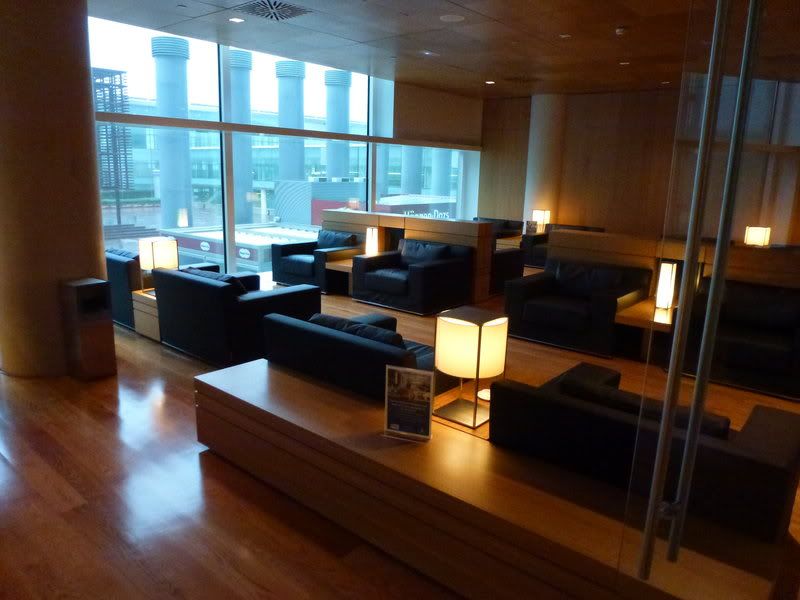 Well, actually there's another reason why I chose this lounge - showers! I make a tour of the lounge, locate the shower rooms, find them locked and backtrack to the reception desk to ask about them. Turns out they are indeed free, but you need your own towel (see, Douglas Adams
was
right: always bring a towel!), not that I have one with me. But luckily for 10 EUR they will gladly borrow me one, together with some shampoo and body wash plus a pair of slippers. Now having just spent the previous night sleeping on benches at FRA airport plus the Condor plane this is a no brainer, so I fork over my 10 EUR and am admitted.
The shower is very nice: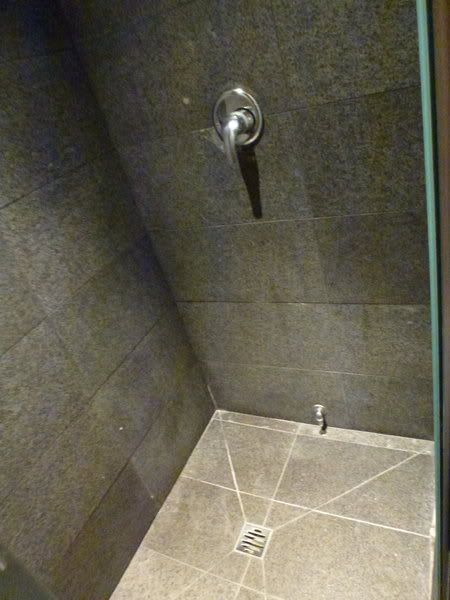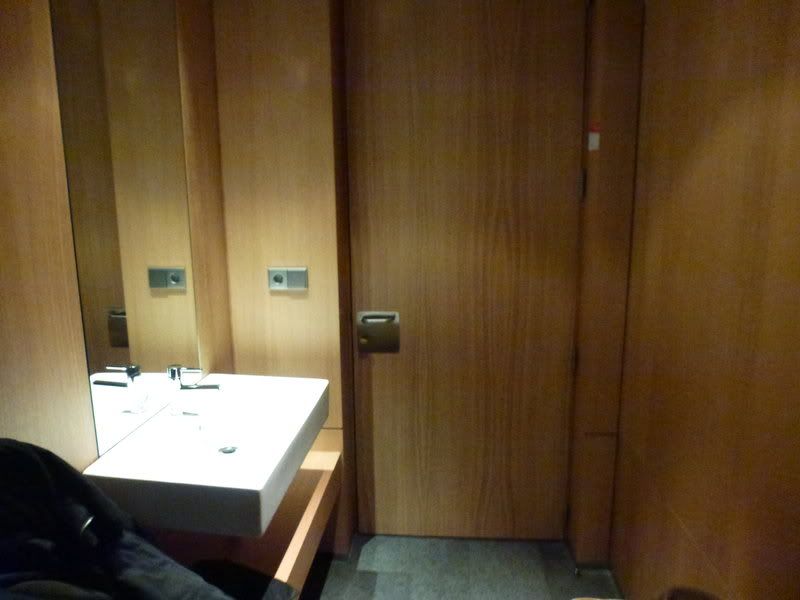 The shower pack: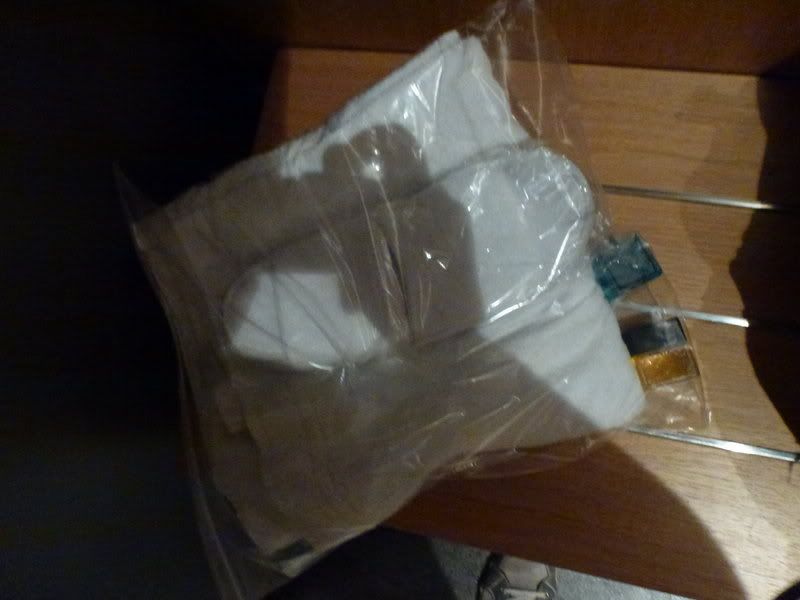 Appropriately branded toiletries: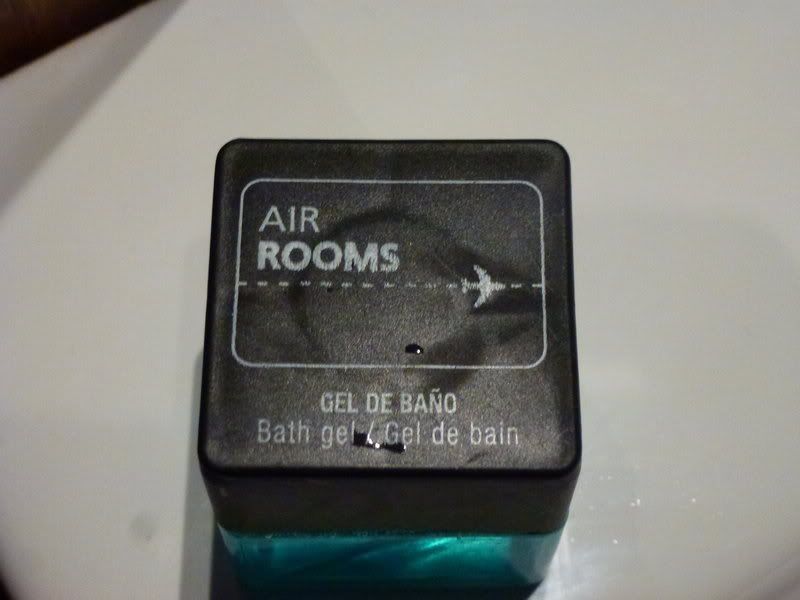 The only problem with the shower is that the ventilation in the cabana is quite insuffiient. So after taking a nice long shower the temperature and humidity inside is around the same as a Swedish sauna (i.e. around the half of a genuine Finnish sauna) which has you sweating and somewhat muggy again after getting dressed... Well, nothing a nice armchair and some cold ones wouldn't take care of it.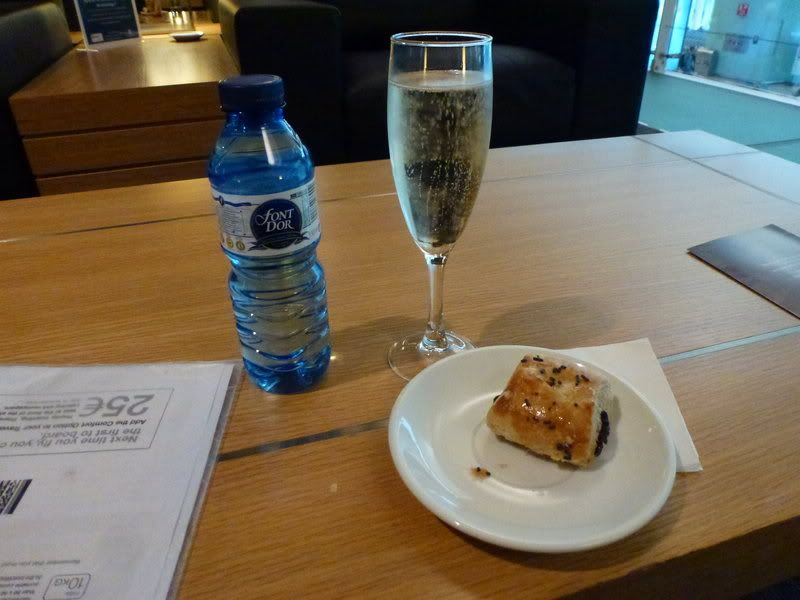 This lounge also offers better apron views than the Spanair one: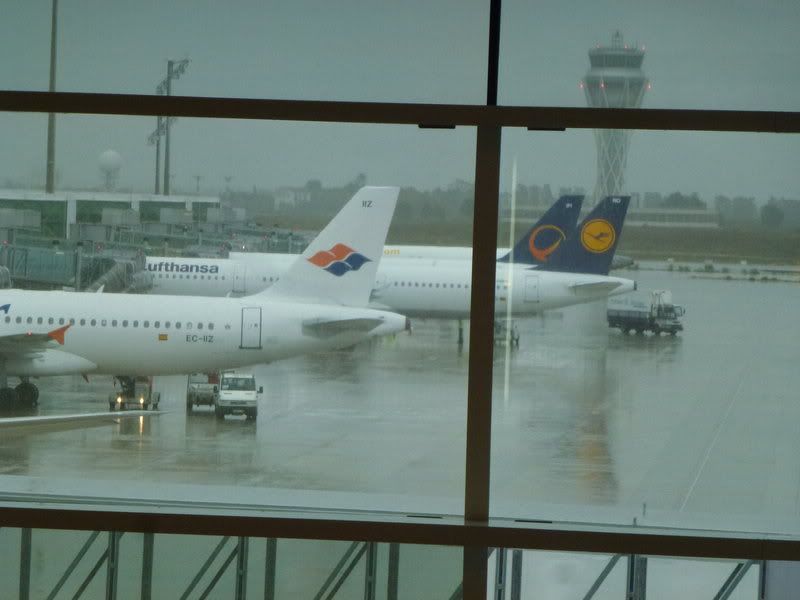 The only problem is a lack of wifi - the JK lounge suffers from the same so that's ok.
Drinks: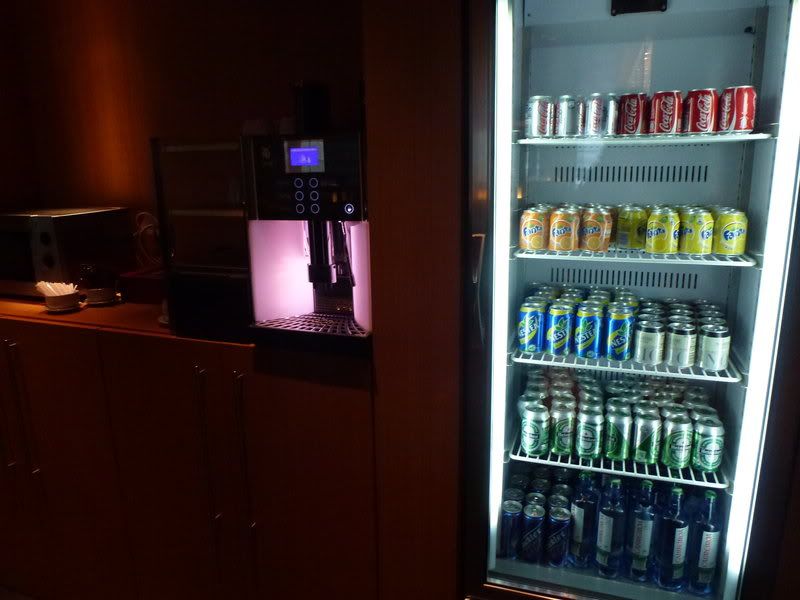 More drinks - quite a few Swedes are here so me and them manage to empty a few Cava bottles: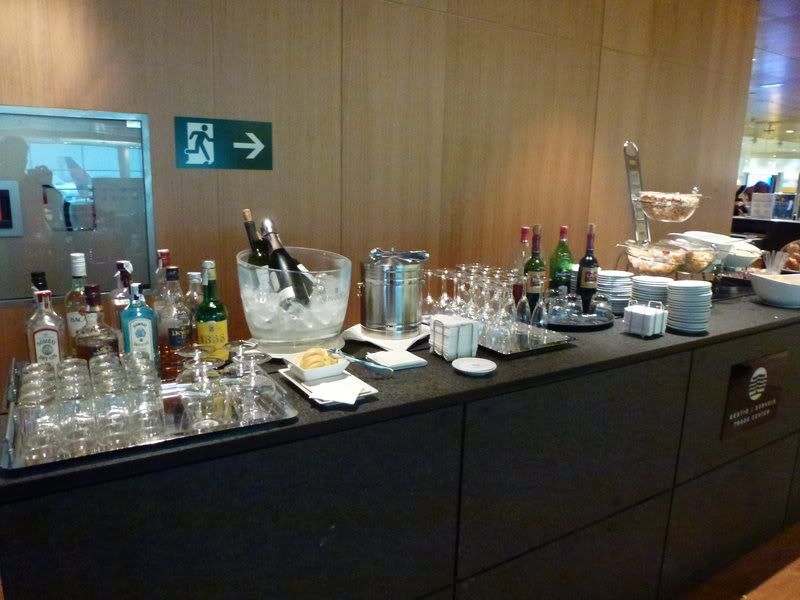 No real food, just snacks, croissants and other sweet pastries: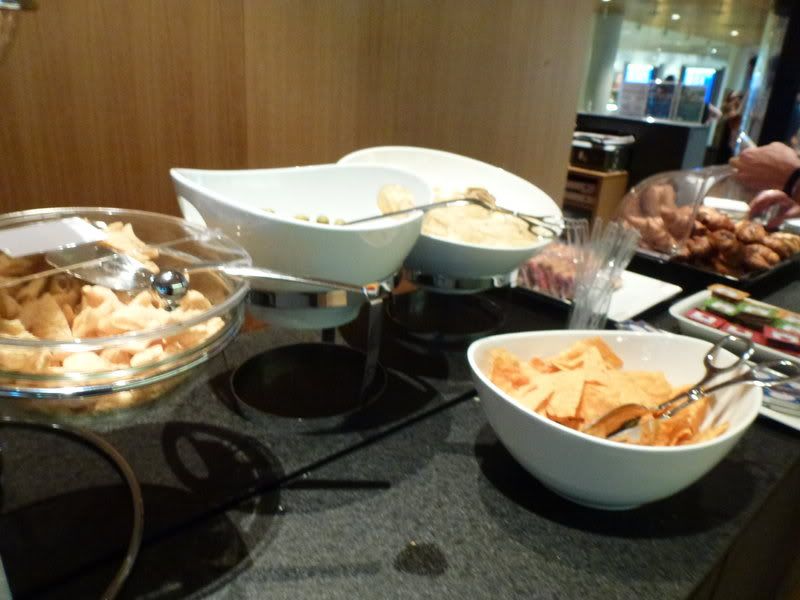 As a side note I noticed a Chinese family who had brought their VERY old and fragile looking grandmother to the lounge, probably on her way to visit the homeland one last time. Very cute and touching, sort of reminded me of Suryo and his kindness - brought a tear to my eye actually.
Oh well, I'm a Finn and we didn't survive on kindness and by getting emotional so I decide to head to the MacDonald's for food - the Spanair BOB sandwiches are already quite legendary (thanks to PlaneHunter for sacrificing himself for us!) in their horribleness so I reckon a good old Big Mac will be a much better lunch alternative: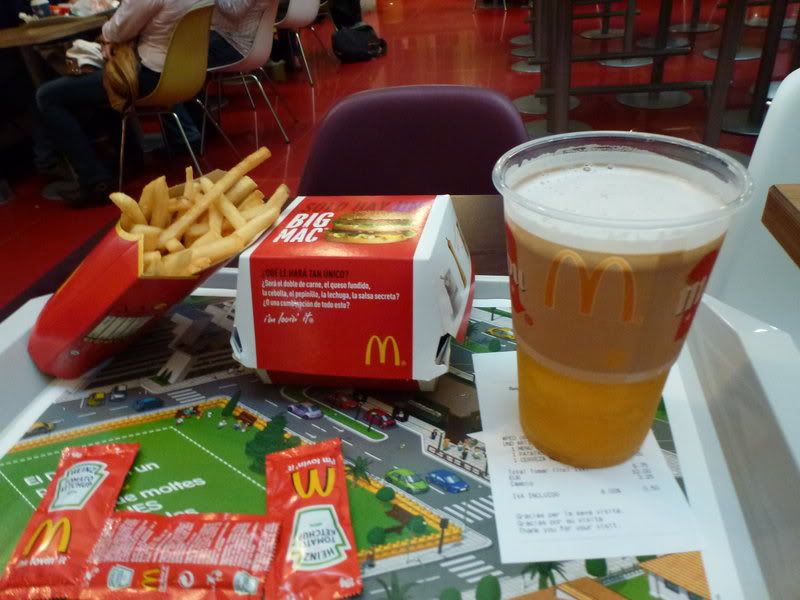 It still makes me feel somewhat naughty having a
cerveza
in a McD, especially considering that it costs the same as any other beverage with your meal!
Plenty of flights, although if they showed the codeshare flights together as one they wouldn't need so many monitors: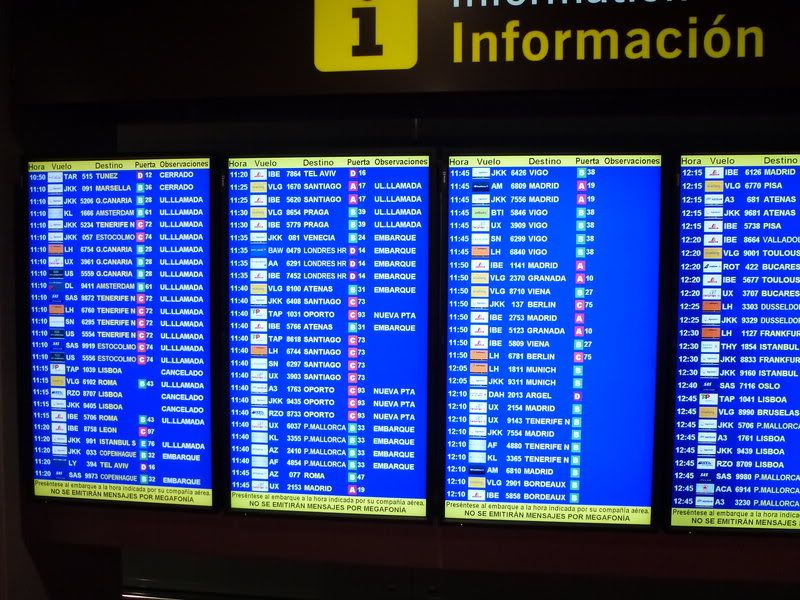 After the burger I do a bit of shopping and confuse the heck out of a Russian clerk at the Travel Value shop by exchanging the usual pleasantries with her in her native language. By then my flight is showing as boarding so I head to the gate.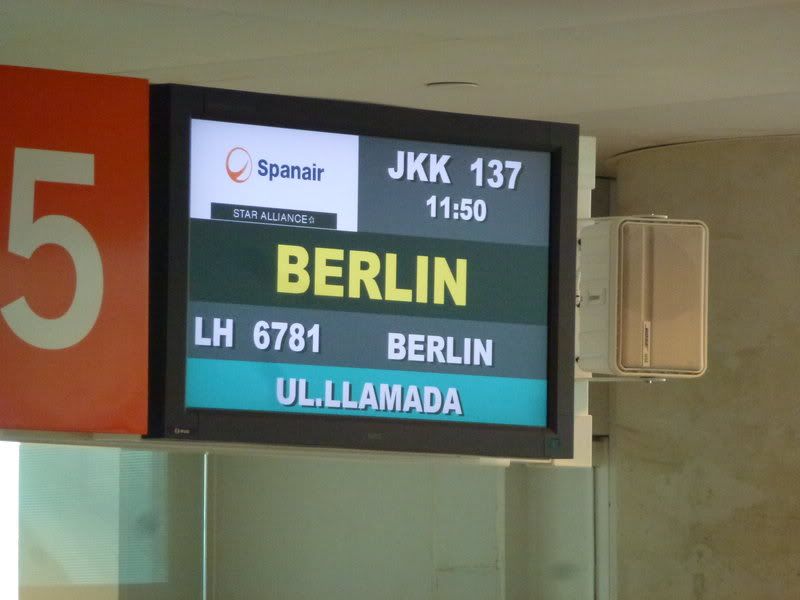 So this is the ride today, EC-KEC, yes, a new one for my log: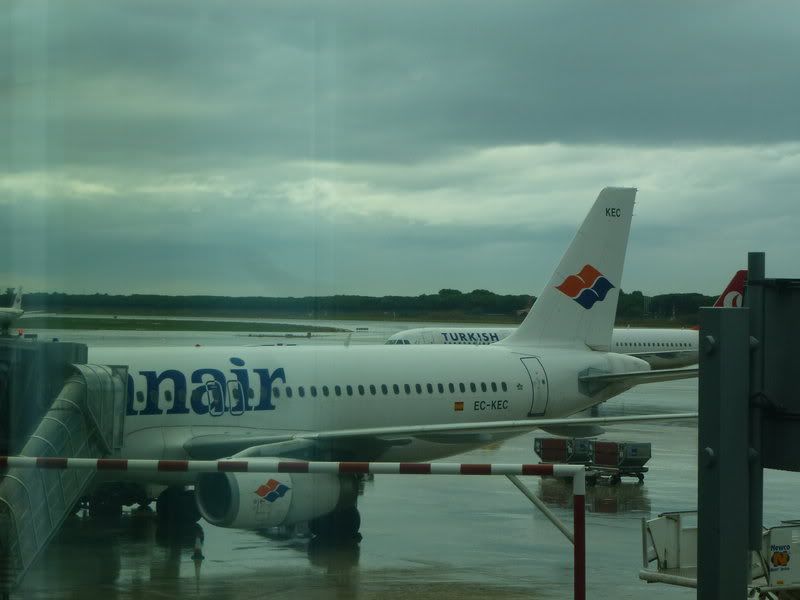 BCN - TXL
JK137
A320 EC-KEC
Seat 28A
12.27 - 14.55
The good first impression:
the purser and one of the FAs smiles and actually greets me.
The bad first impression:
two other FAs are staring somewhere in the ceiling, not bothering to make eye contact, let alone answer my greeting.
The ugly first impression:
there's a guy who looks exactly like he lives in a white trash trailer park sitting on a MIDDLE seat in the three rows of Premium. I think he is the sole passenger in that cabin. Now I'm sort of happy that I didn't push my luck with the upgrade - who knows I might've ended next to him!
The next impression: there are two different kinds of seats here. The first fifteen or so rows are the new blue cloth seats, the rest of them are thick grey leather ones, well worn and remind me a lot of the old Lufthansa seats that they used to have on the 737s.
When I get to the last row where I'm seated impressions get worse - there's a young dude who looks like he is about to die on the aisle seat - he can barely get up to let me into my seat - whoa - am I supposed to fit in there: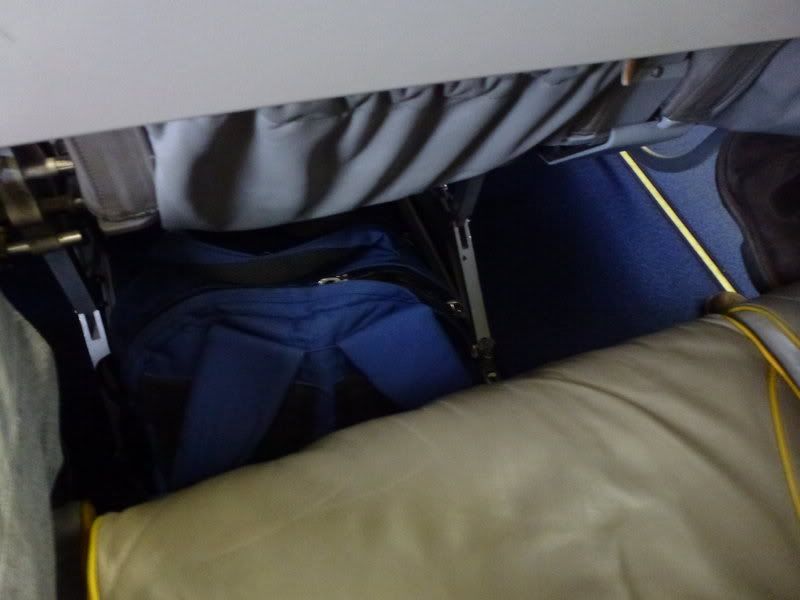 Now this is even worse then Vueling I think: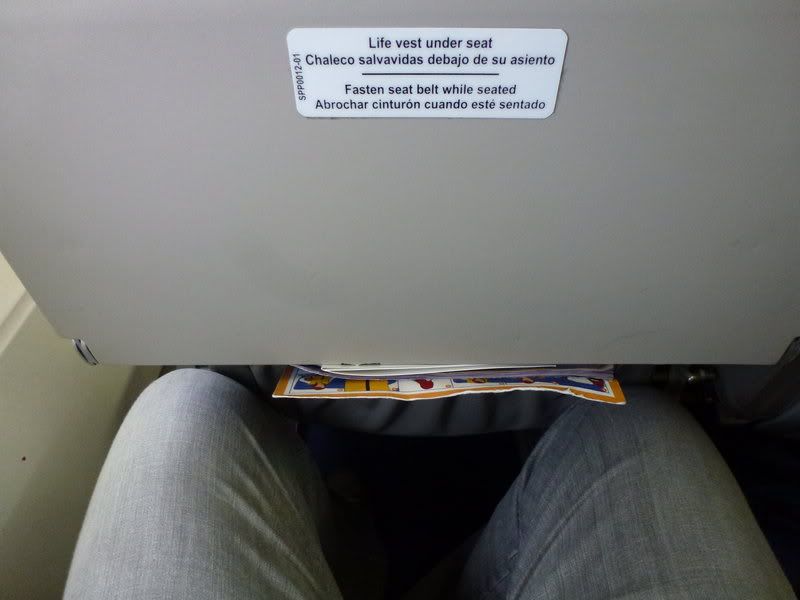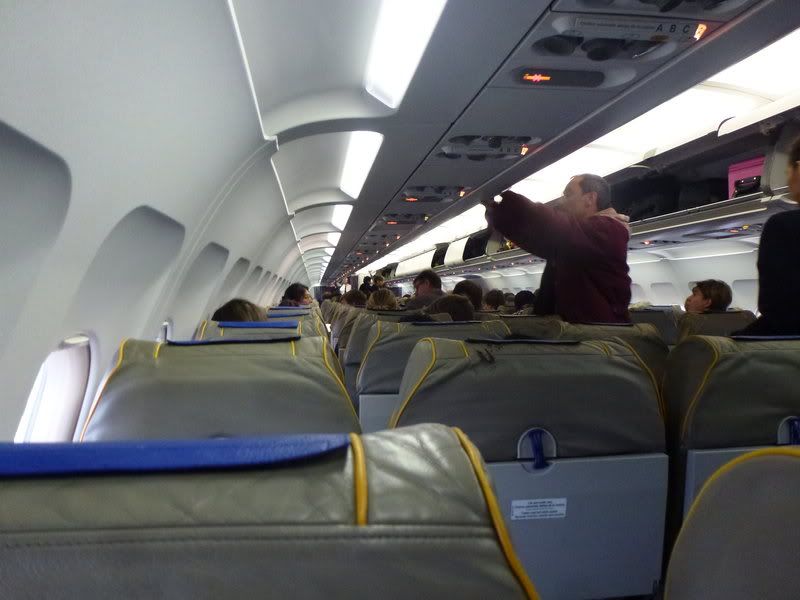 These seats aren't exactly very clean - these skidmarks remind me of Kinky Friedman's excellent books:
Nor is the cabin - I certainly hope that is ketchup and not blood: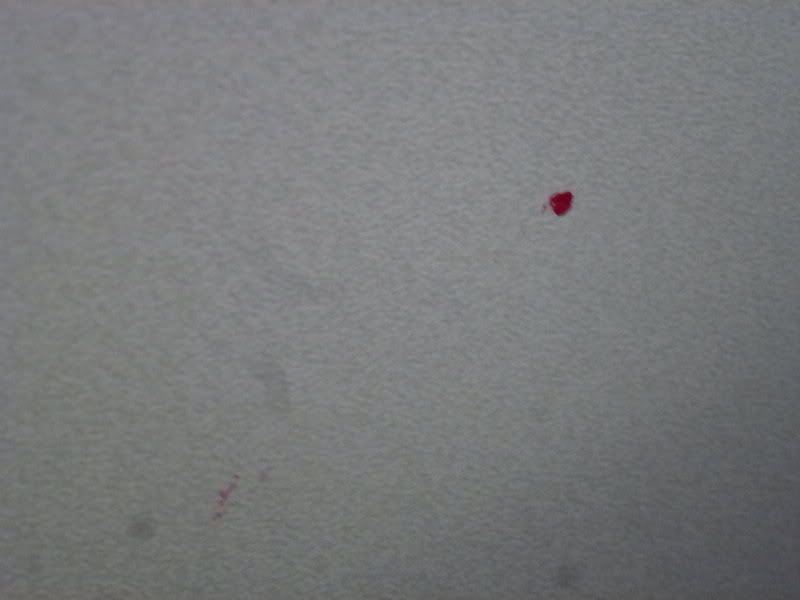 Yuck:
While closing the bins the crew just doesn't care if they get all the stuff inside or not: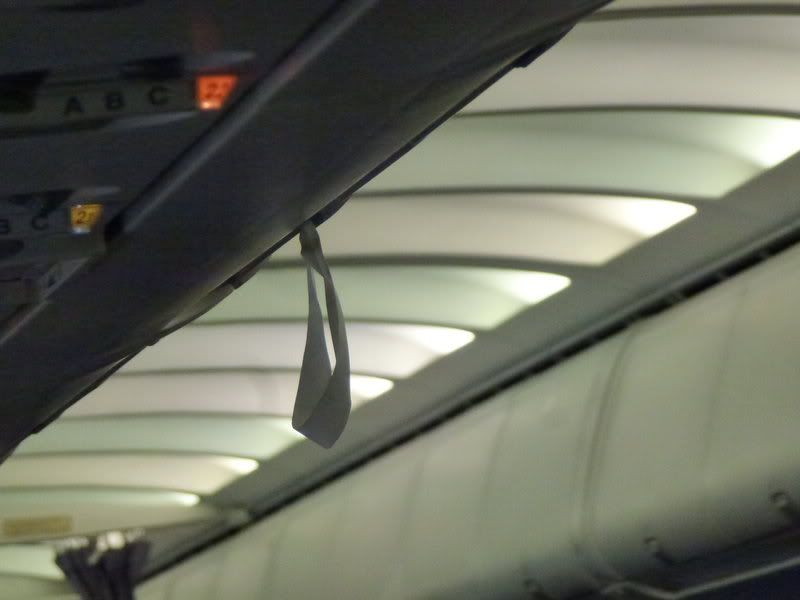 I ask if the aisle guy has been drinking since he looks like he has a Texas-sized hangover, but he assures that no, he is just otherwise sick. The nicer and older of the back galley FAs notices our conversation, talks with the guy in Spanish and comes back with a glass of water and some pills which the guy takes, swallows and basically passes out for the rest of the flight. I wonder if this SOP for Spanair in dealing with sick and potentially annoying passengers - drug them so they won't bug you anymore
.
This small winglet would be more appropriate for Ezy:
Luckily the middle seat ends up staying empty, I have no idea how I could've survived this flight with somebody there - I'd probably just locked myself in the toilet and sat there! The load is quite good otherwise, maybe 75% in economy.
This is the only good Spanish airline (OK, Binter and Naysa aren't bad either):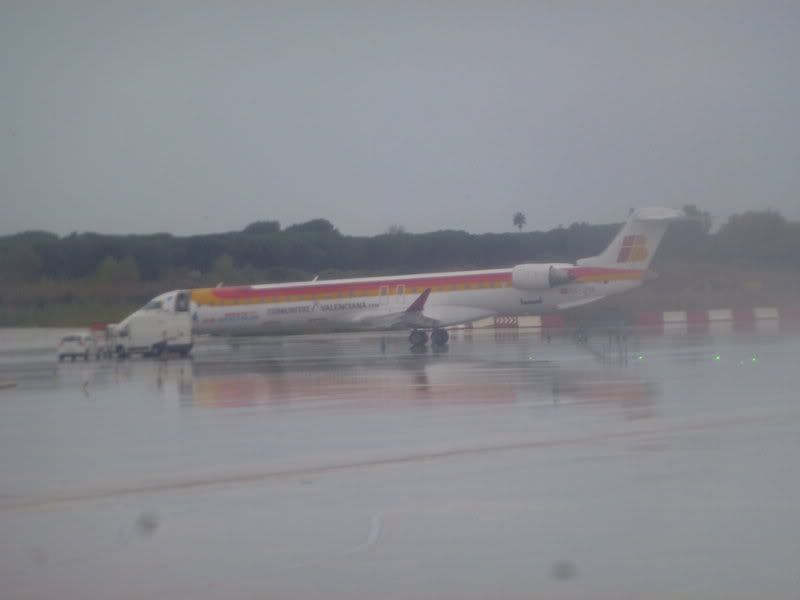 The purser welcomes us onboard "this Airbus 321" (yeah right - he did get it correct im Deutsch and in Spanish as well I assume...) and announces a flight time of 2h20mins.
Some loud yelling can be heard from the luggage hold below us, it actually sounds like the baggage handlers down there are having a fight - a couple of pax are visibly upset about this.
We sit there with nothing happening well beyond our SDT. Finally some 25 minutes late the purser (no word from the cockpit at all during this flight...) makes another announcement "I apologize for this situation, due to thunder at Barcelona airport no planes are currently taking off and we have to wait still for a while." I had been wondering why there were no planes taking off from adjacent 25L, but I guess this explains it. So more time to sit on this uncomfortable seat, swell.
Finally five minutes later I hear the first jet for ages taking off and the airport springs back to life - the seat belt sign gets switched on and a few minutes later we push back, spend almost 15 minutes queuing for 25L and take off.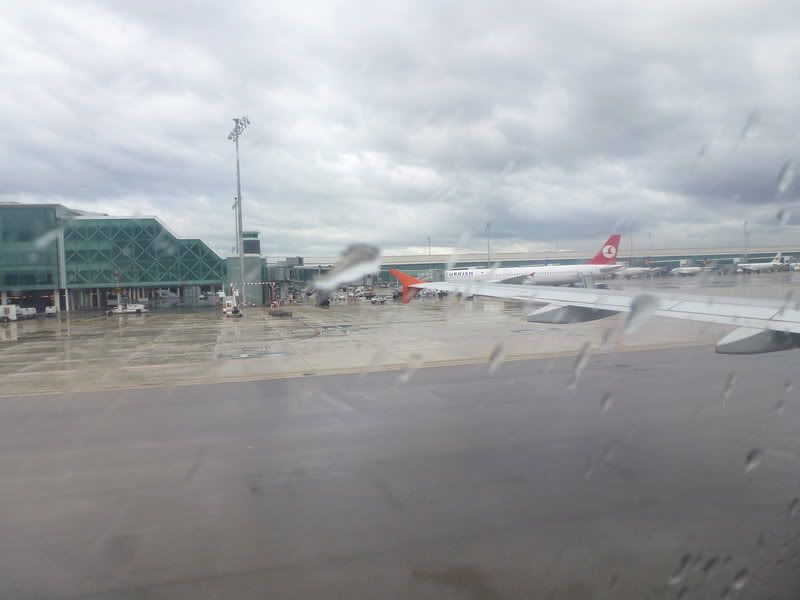 Since when has BMI flown to BCN?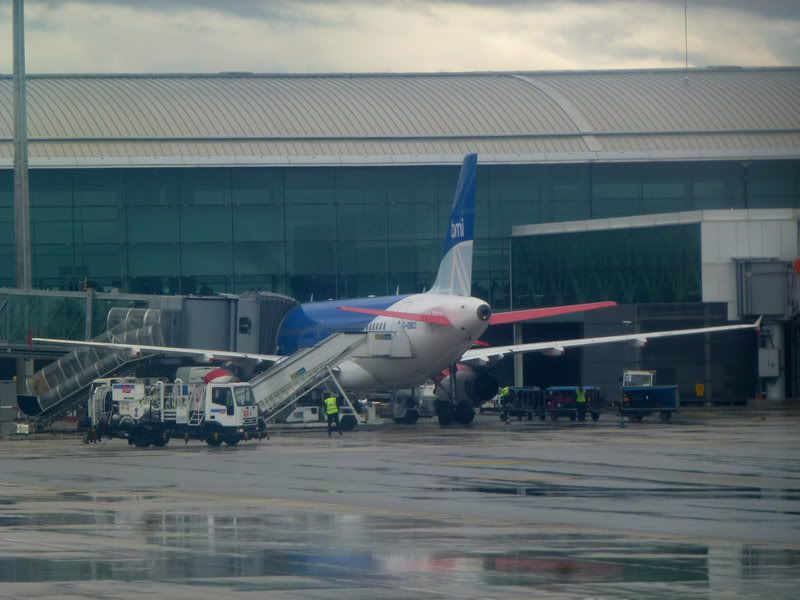 SAS Norway duo:
The cute ATC tower: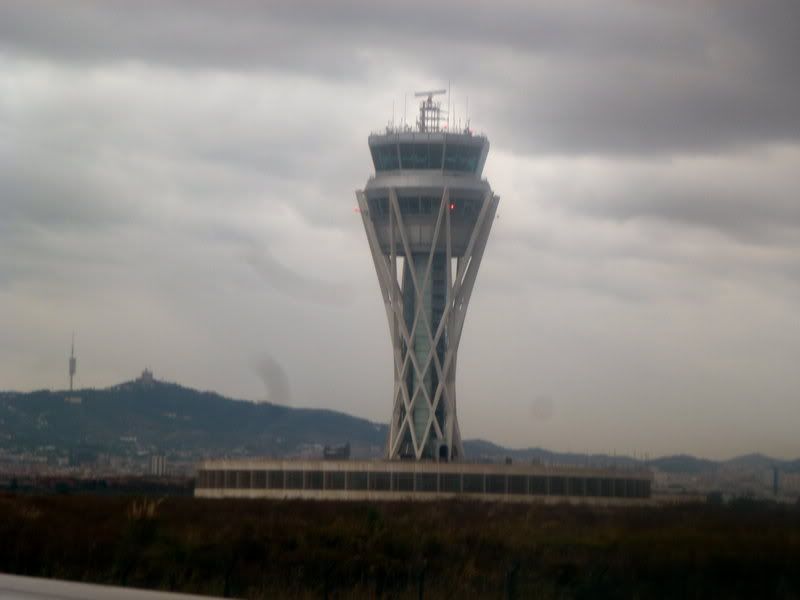 Another Vueling - they are big here: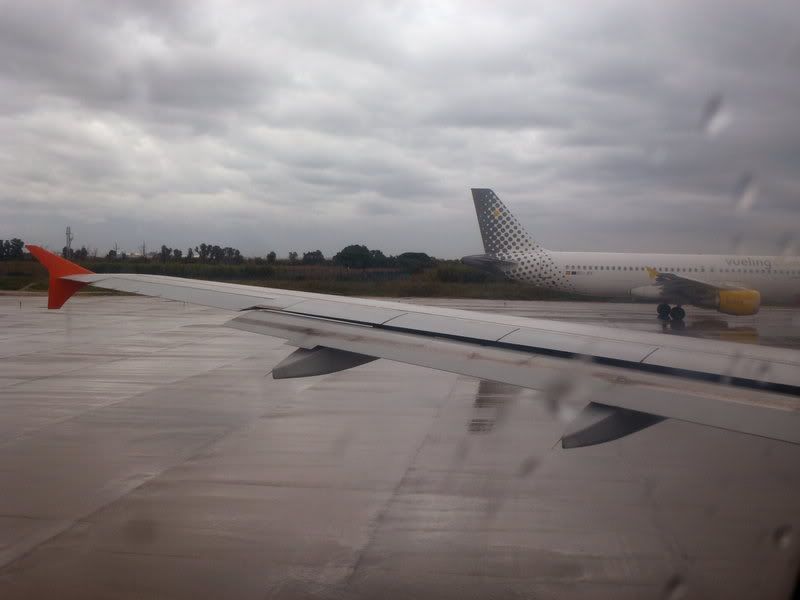 Argh, another crappy Spanish airline: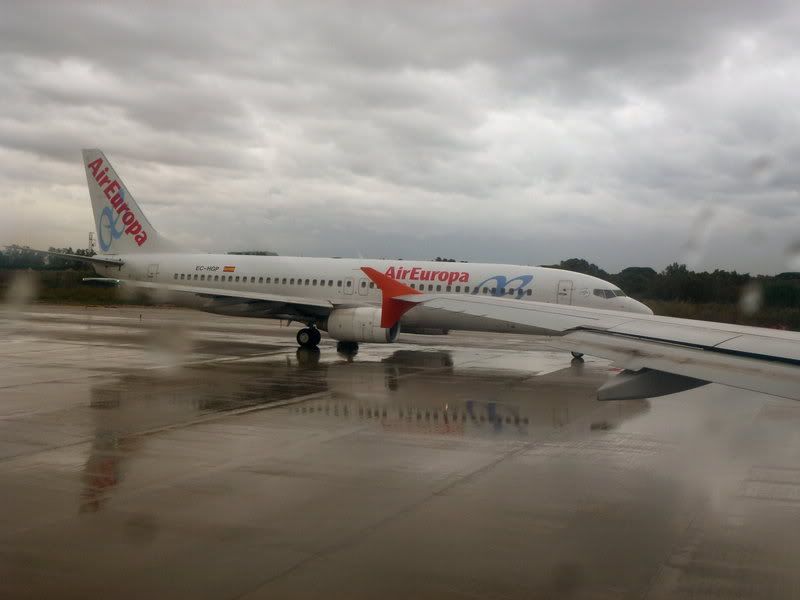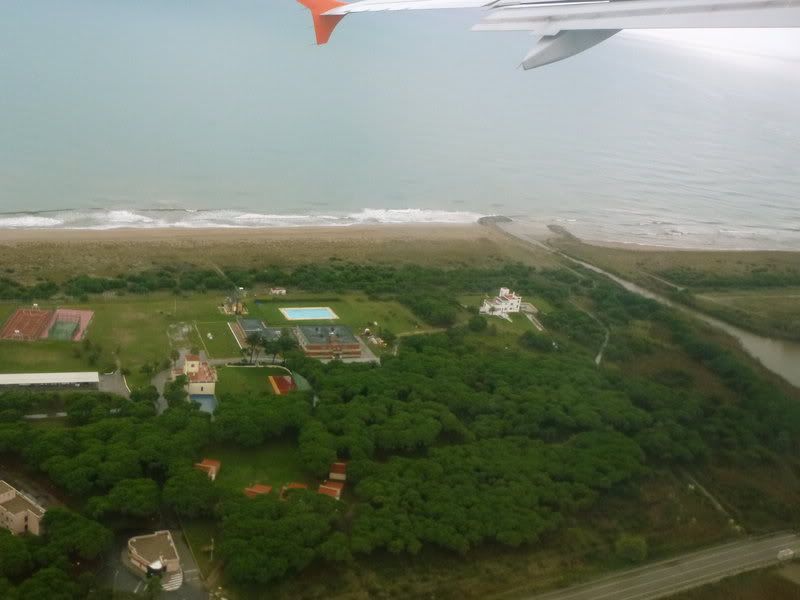 Wouldn't want to go for a swim right now: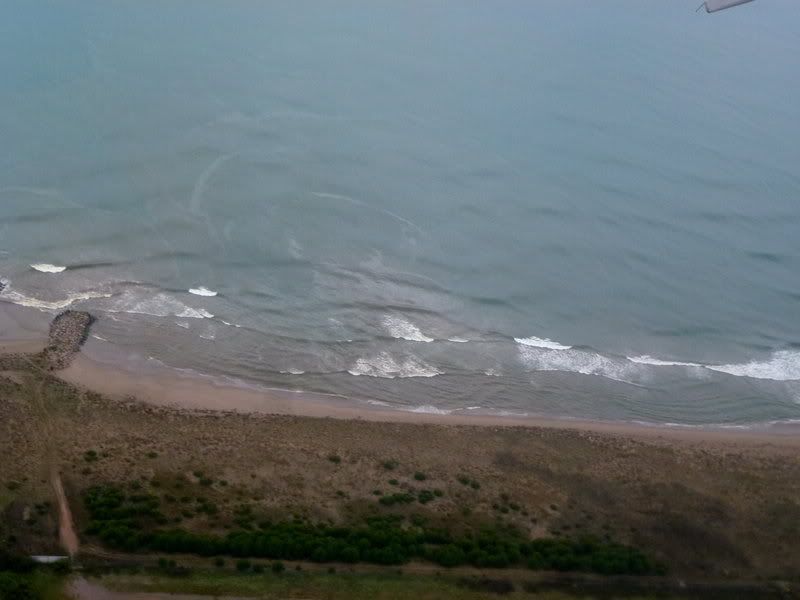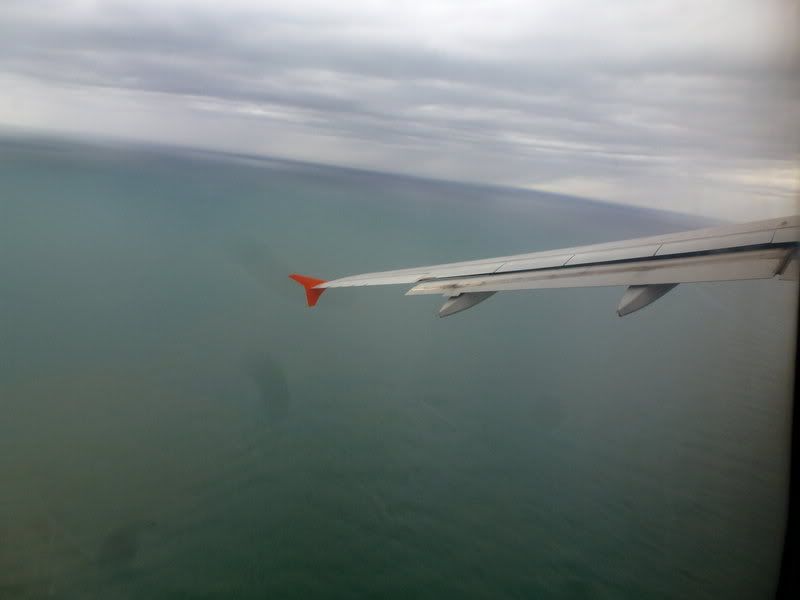 Looks like they are routing us around the thunder front as we turn left and fly over the Med towards Valencia for quite a while before finally turning around towards northeast. Around this point I fall asleep over for a half an hour or so of shuteye - after I come back to my senses the weather has cleared up: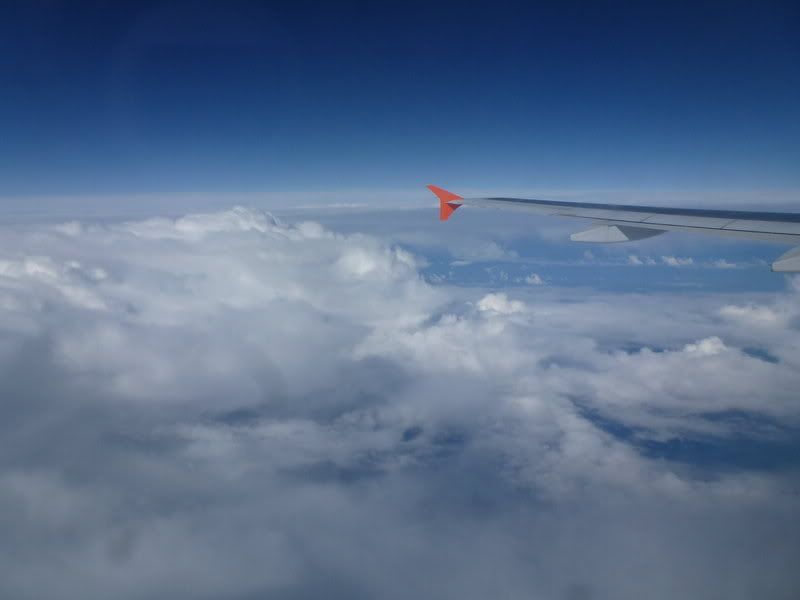 The BOB service cart has just started its round from the first row of economy - it takes almost an hour to reach the last row as many people seem to be getting something and there's quite a lot of turbulence on the south side of the Alps which causes the service to be suspended every now and then.
Not many views of the Alps due to the clouds: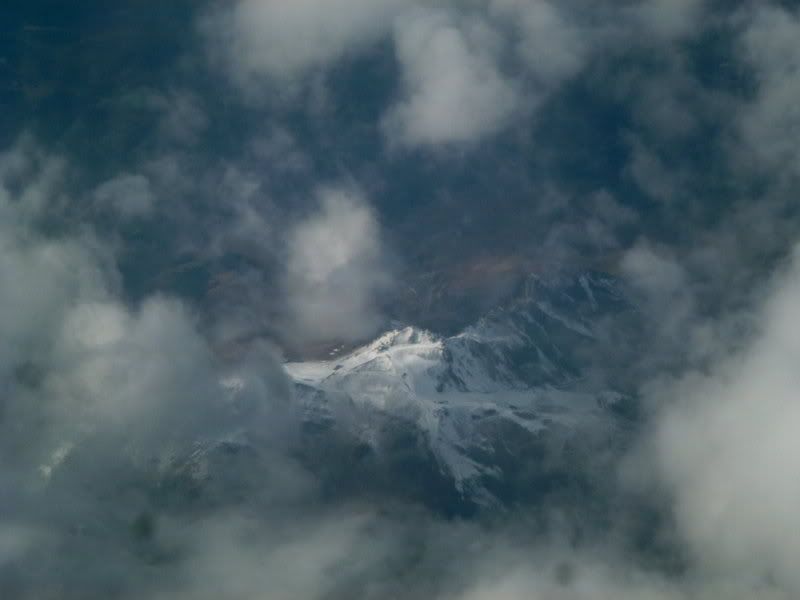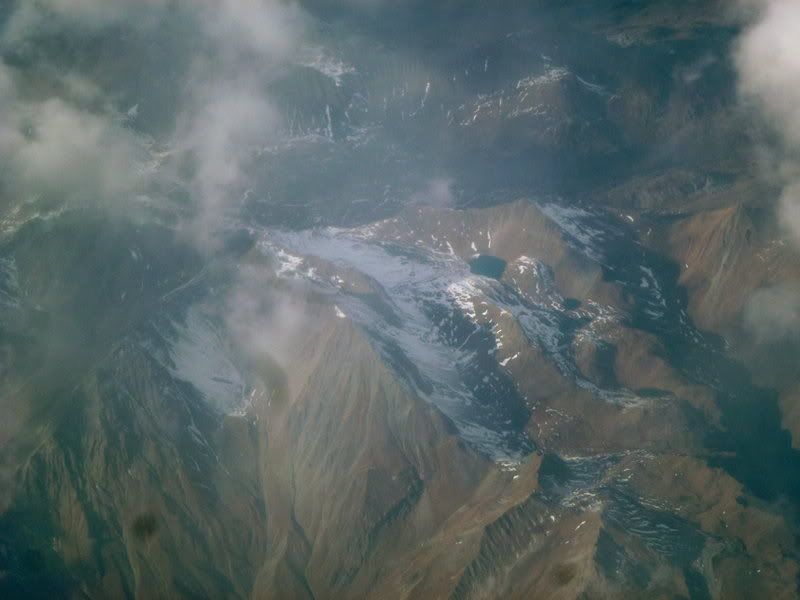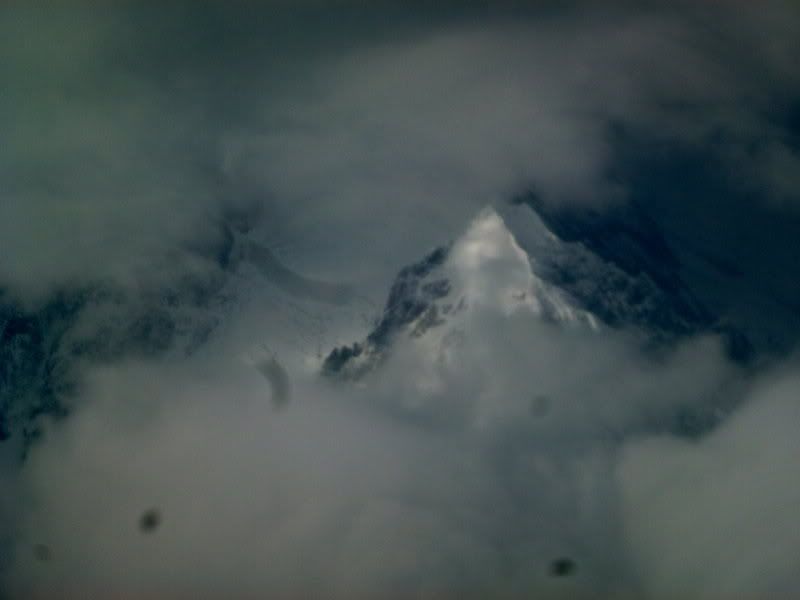 But after passing them the weather clears up for some nice views of Switzerland and Germany:
Thun: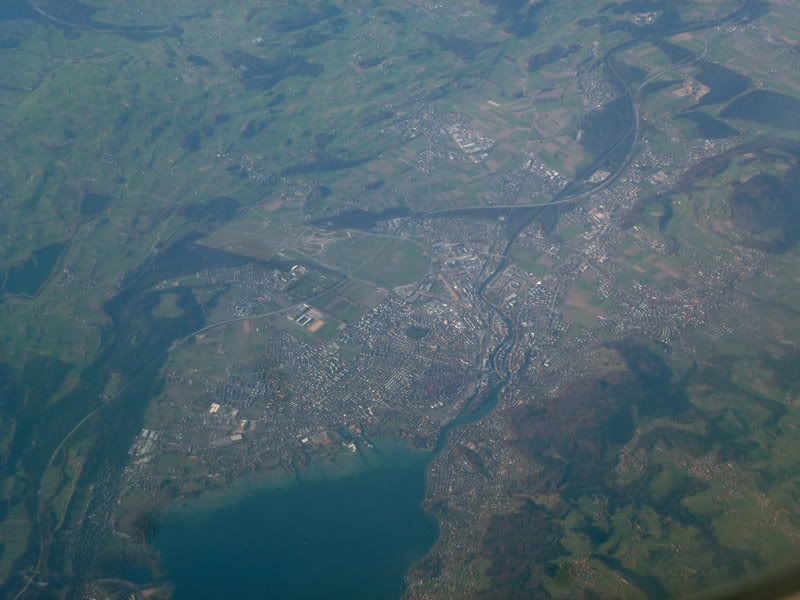 Here's Skywork's home - Bern/Belp airport (BRN):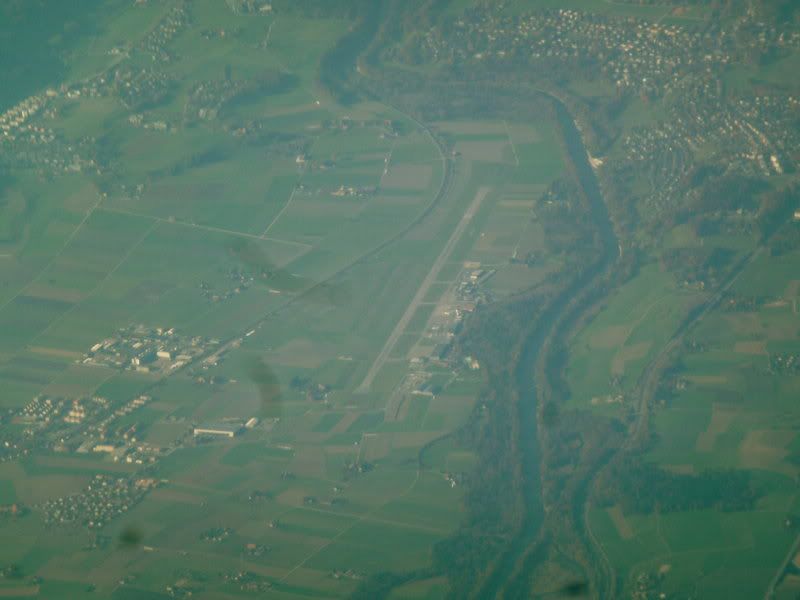 Not sure where this is, probably still in Switzerland:
BOB service:
Somewhere near Stuttgart: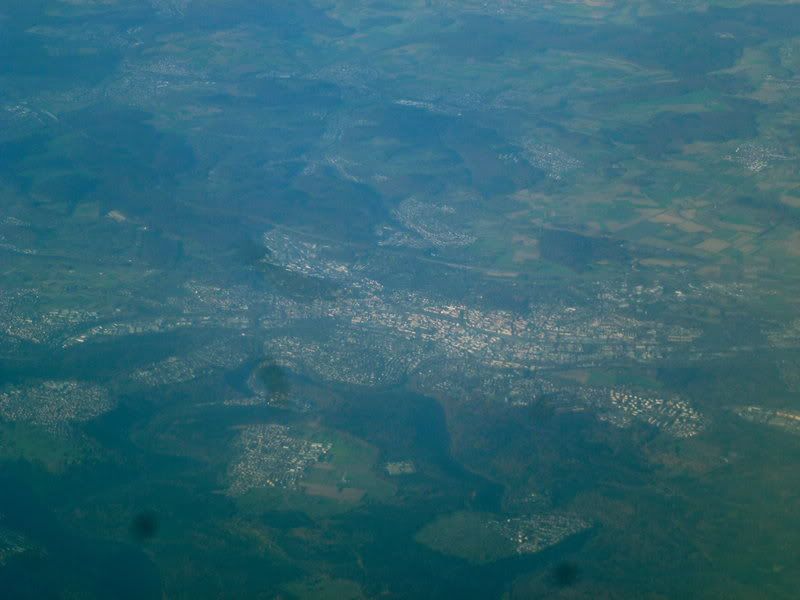 Finally the cart reaches the back row and I decide to perform FFBOBBT(TM) - I definitely need something to help me survive this crap seat: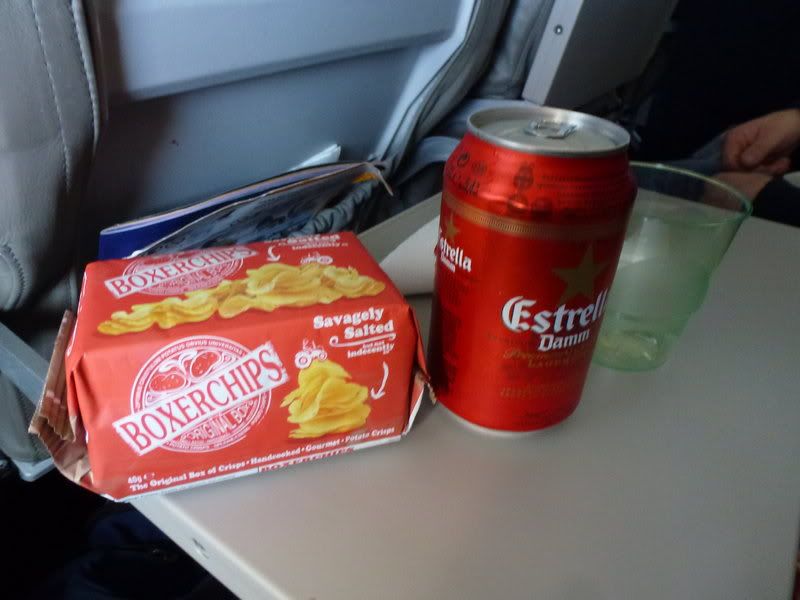 Quality: 5/5 - Good Catalonian brew and served ice cold. Very nice.
Value for money: 4/5 - 3.50 EUR for the 0.33l can and 5.50 EUR as a combo with the Boxer Chips.
Special mention: even the bitchy young FA seems to have thawed a little bit (must be my boyish charm!) as she gives me a smile and even makes some small talk while tending to my order.
Mannheim:
And that is of course Frankfurt again: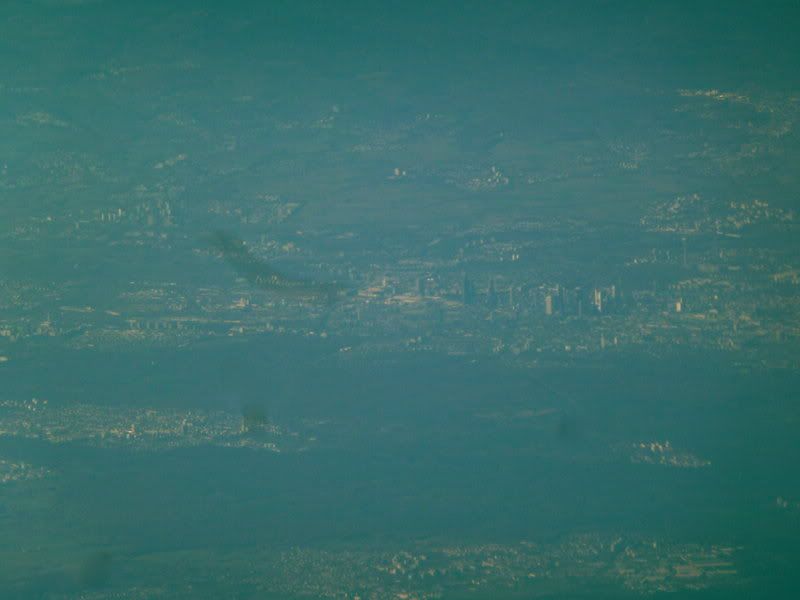 ...which means that FRA is just around the corner: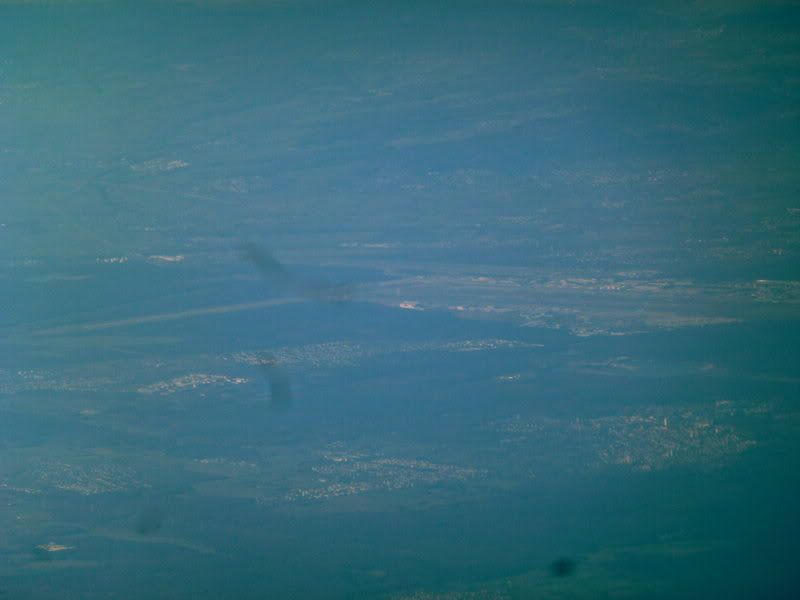 Windmills - well if the German goverment sticks to their stupid decision regarding nuclear power they are going to need a helluva lot more of them: