Introduction
As I mentioned in my previous report (
Moderate Malta: HEL-FRA-MLA-VIE-MUC-HEL
(by
FlyingFinn76
Dec 11 2011 in Trip Reports) ) I still had the Finnish Independence day available for more travel, so why not do it? The first segment of this trip was the return segment of one earlier ticket (the last three segments of this trip:
Painful Spanair: PMI-BCN-TXL-FRA-CPH-HEL
(by
FlyingFinn76
Nov 16 2011 in Trip Reports) ), a simple HEL-CPH mid morning flight on SK, albeit being operated by a QI CRJ (my sixth distinct carrier on that route - have done it with AY, SK, KF, AND Air Djibouti">DY and DX previously).
I had all kinds of interesting ideas from CPH onwards, but as usual I waited a bit too long to make a booking and most of the good deals were already gone. Eventually I decided to settle for the NextJet 1-stop service CPH-LPI-ORB flight to keep things simple, but yet being able to add two new airports to my log. That flight cost around 80 EUR. Finally a train ticket to Arlanda on SJ from Örebro and the Midnight Boeing on SAS closed the gaps on this trip.
The itinerary for the day: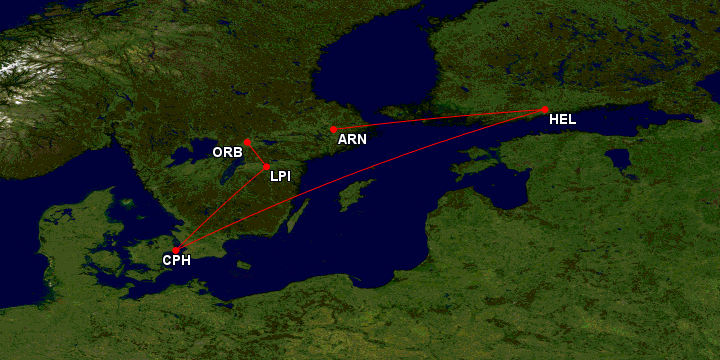 As I had some four hours at Copenhagen it left me with spare time to visit the Christmas Market at Tivoli which this year would be having a Russian theme - very convenient for me - getting the Russian atmosphere without having to actually set a foot in that country!
Somewhat later I mentioned this trip to my friend and fellow a.netter from Sweden, Robert a.ka. Parton87 who was planning on doing one more trip before the end of the year. After a bit of coordination he came back with the delightful news that he had booked himself on the same NextJet flights. He would arrive at CPH the previous day and we would meet up there for the Tivoli visit and the joint flight.
Quite surprisingly given my recent luck with schedule changes and flight cancellations there were none for these flights - the only slight anomaly was that when doing OLCI for the midnight flight I noticed that it had been upgraded from the usual 737-600 to a -700 model - a testimony to high loads as many Finns would be taking advantage of the possibility for a long weekend and doing some traveling.
Tuesday 6.12.2011
With my flight departing only at 9.30 and the previous night's arrival being at a rather humane time for once I don't have to wake up too early and am not tired at all when the alarm clock kicks me up around a quarter past seven. The normal morning routines follow and then I catch the bus to the airport, being at T1 around 8.30. The place is empty - Fast Track security is of course closed but it doesn't really matter as there are hardly any people in the regular queues either.
After security it is straight to the lounge for some breakfast - the same agent as my last time here on Saturday morning is indeed on duty and says "So you said you will be here on Tuesday morning and here you are!" - Well, I'm a man of my words. I'm also wished a happy Independence Day.
The agents are celebrating by eating some delicious looking cream cake, not sure where they got it because it is not offered as part of the breakfast spread. Maybe they will bring it out later...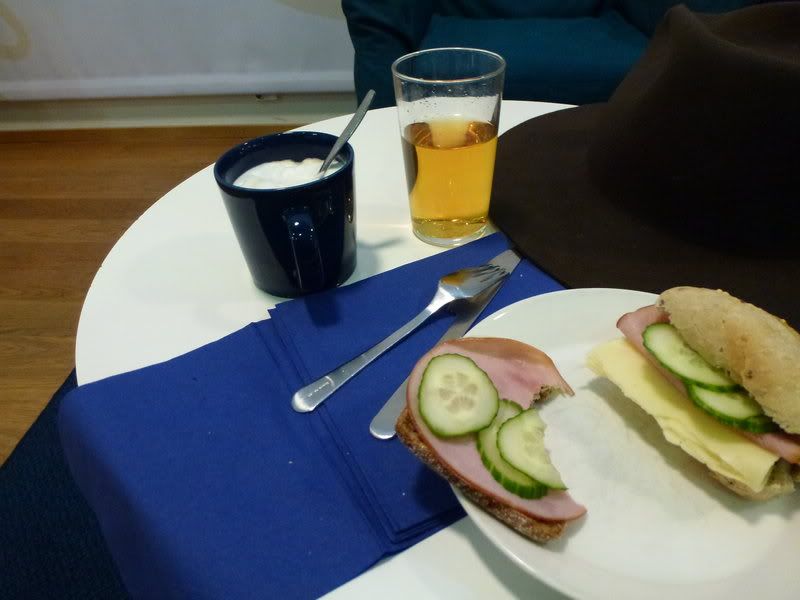 Anyway after some breakfast and coffee (it being a celebration and all I splurge and pour in some of the vanilla syrup they have, so delicious!) I hear the boarding announcement and join the queue at bus gate 13A, directly opposite the lounge (nice!). Now the loads for this flight looked very high when I checked already last week and I am sure there will be a number of op ups. For sure the desk has around ten new boarding passes so I go there, ask the girl if she possibly has a new seat for me, handing in my home printed OLCI boarding pass. Sure, she hands a new one for 4F back and says "There you go, it is in Economy Extra!" - "Thanks, I was sort of expecting that!". An op up, and this time not even a useless one, way to go!
Down to the bus and a short ride later we pull in front of the QI CRJ - as expected a number of passengers are surprised by the small plane.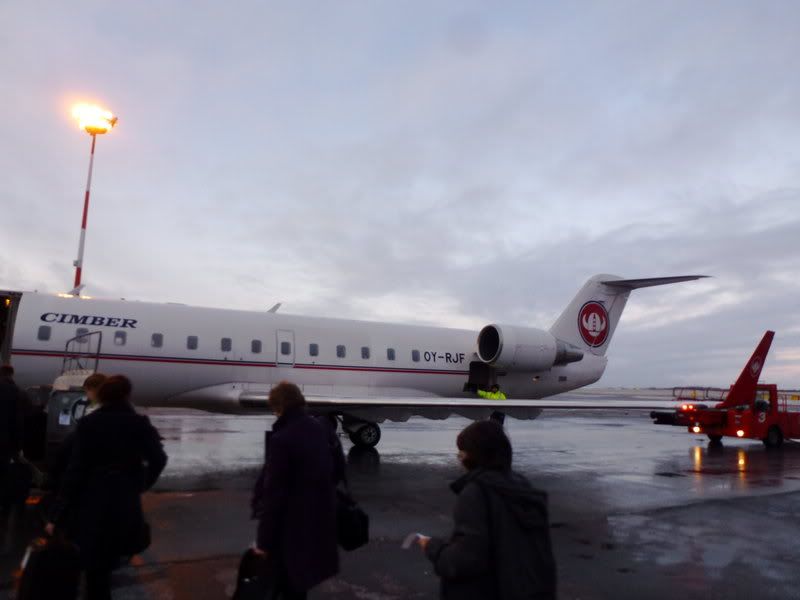 The plane is OY-RJF, another nice surprise for me as it is a new entry for my log AND a rare CRJ-100(LR) instead of the more common -200 model! This is an ex-LH CityLine bird.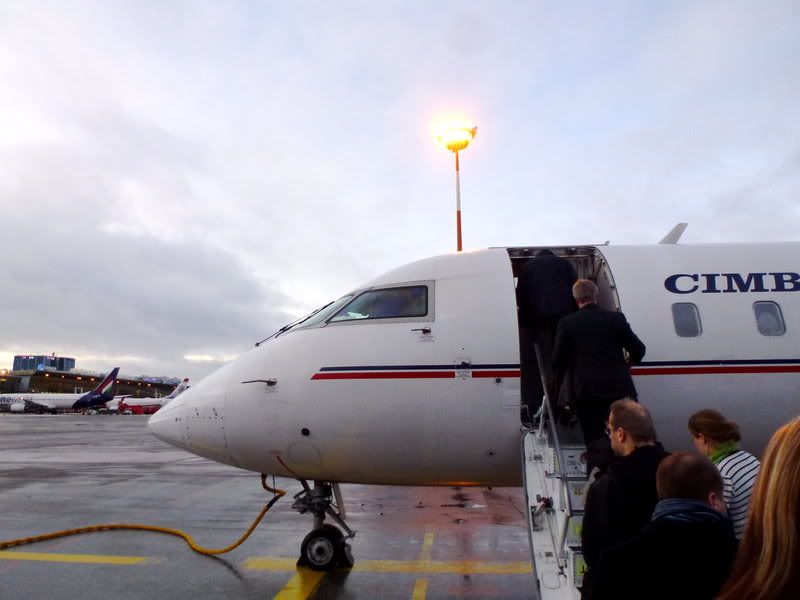 HEL - CPH
SK1715 Operated by Cimber Sterling
CRJ-100 OY-RJF
Seat 4F
9.35 - 10.09
A rather senior Danish FA on this flight. She is business friendly like Markus would say.
These tiny CRJs aren't exactly my favorite (the -700 and -900 series are somewhat better) and considering that today's flight is almost completely full (and thus I get seat mate) it is not exactly comfortable, at least the legroom is okay: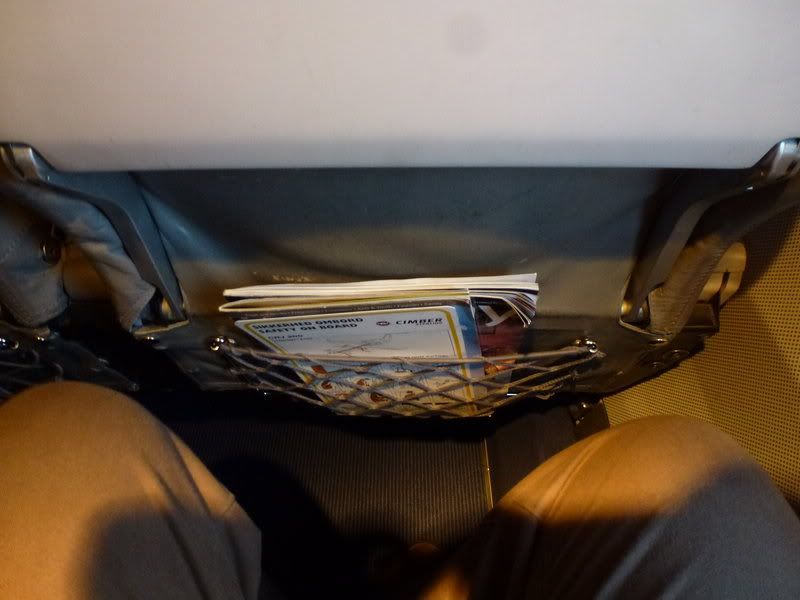 The cabin configuration is interesting - there are two and half (row 1 has only AC) rows of business class, only one row of economy extra and the rest is economy.
At least the cabin divider is at the right row this time, despite being upside down: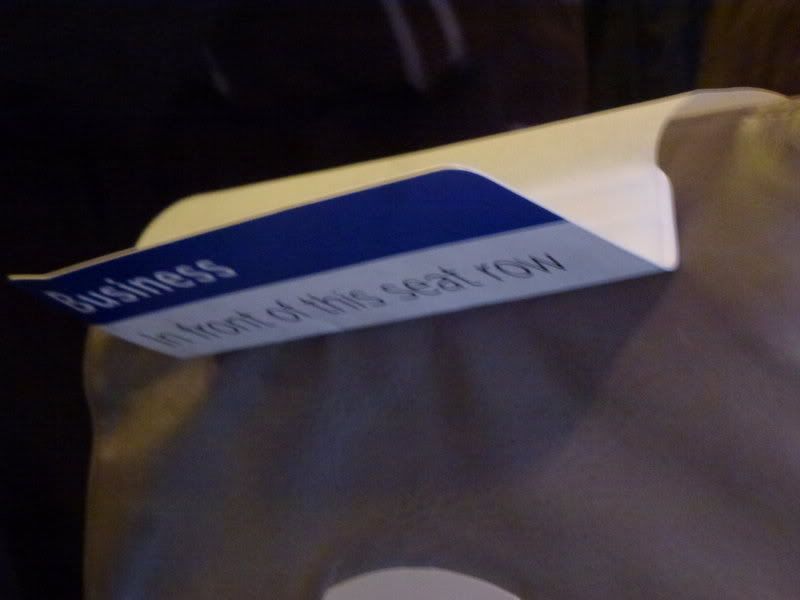 There are two empty seats in business class, but before take off one man from economy is moved there, his seatmate was a viking around two meters tall and this guy isn't exactly that small either (mainly on the horizontal axis, though!) and I think they simply couldn't physically fit together on the two seater
. The FA tells him in clear terms that even though he is sitting in the business class section there won't be any business class service for him as technically his still in economy, fair enough. The guy doesn't seem to have any problem with that - hey he got an empty seat next to him so good for him!
Hey, isn't that a tail of a BT F50, The Baltic Phoenix which apparently just keeps coming back after being retired: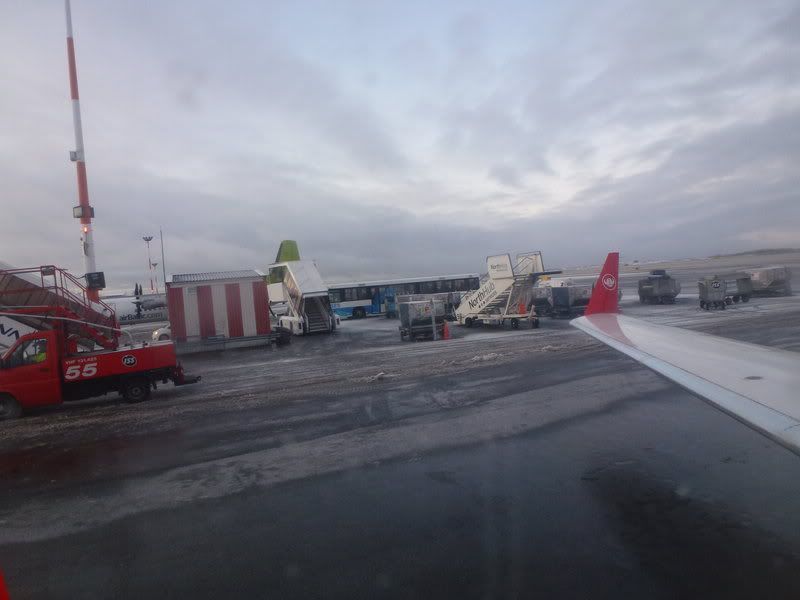 MA sending in the big guns: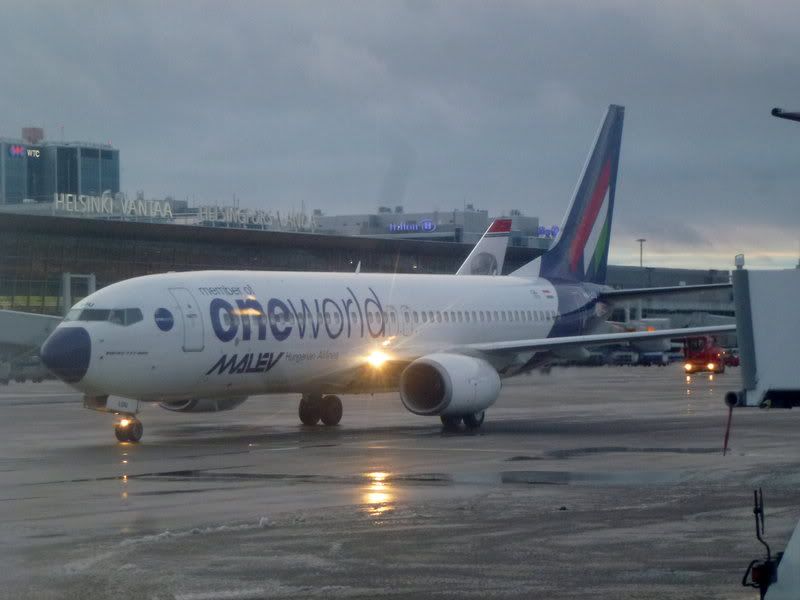 Flight time is announced as 1h30mins with departure five minutes after SDT.
Must have a 717 in a report: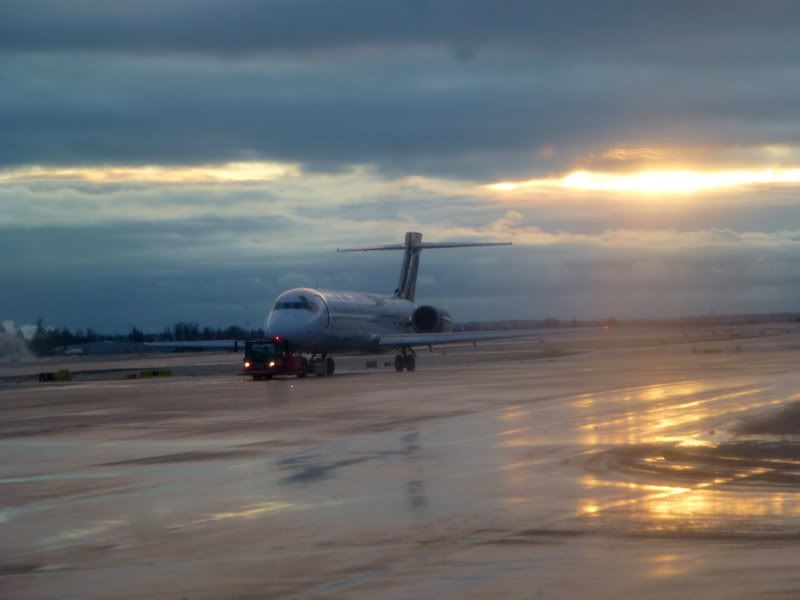 No deicing is necessary this morning, the temperature is just barely above zero. Take off is from 22R - yes, there's definitely snow around here: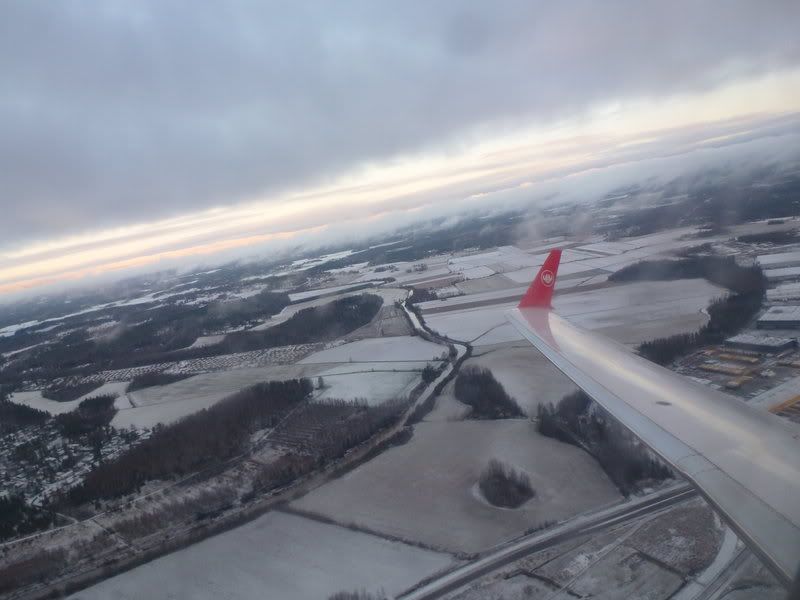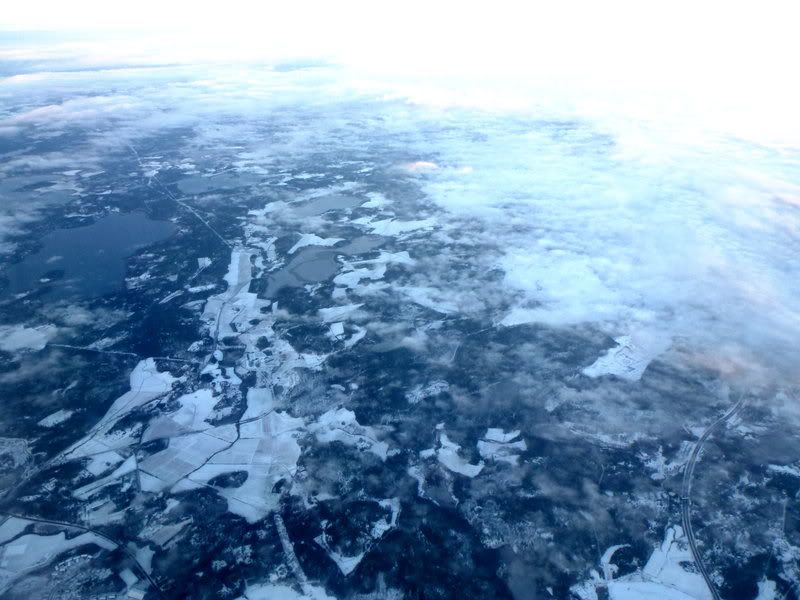 Ahh, the classic SAS cardboard box:
Let's see: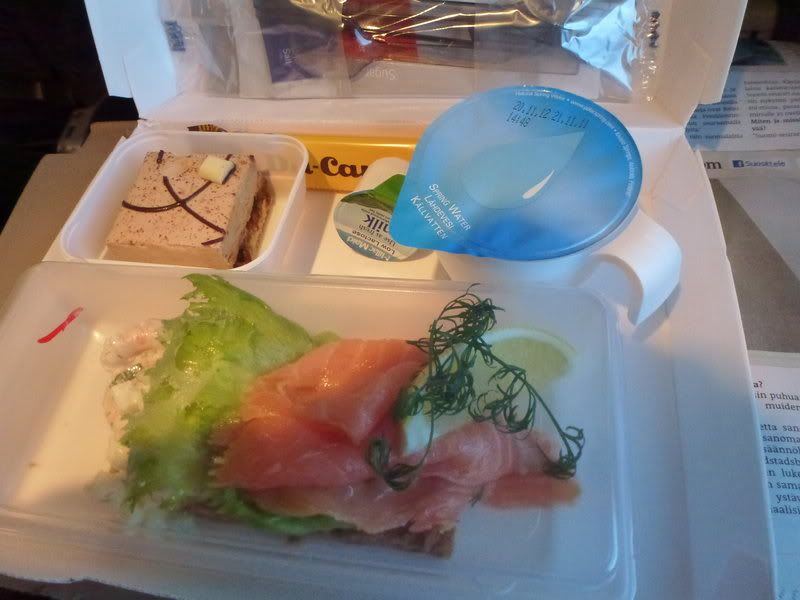 Oh dear, it's again raw fish - this time in the form of classic Danish style Smørrebrød topped with some salad, shrimps, mayo and the offender - gravlax. Quite tasty after scraping off the fish, the shrimps are excellent. The dessert Tiramisu is very tasty as well.
And of course champers - the FA is a bit surprised as I seem to be the only one ordering it - I explain that the Big Day calls for some celebrations: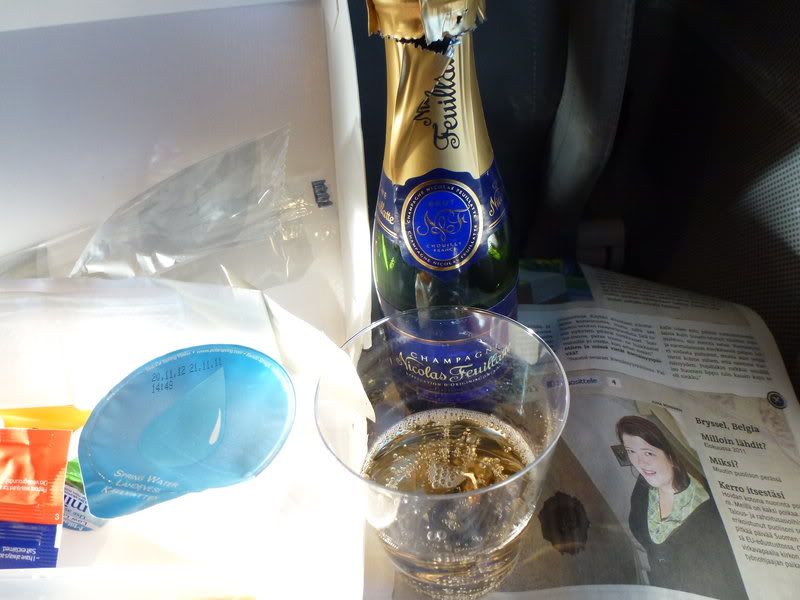 Some snow in central Sweden as well: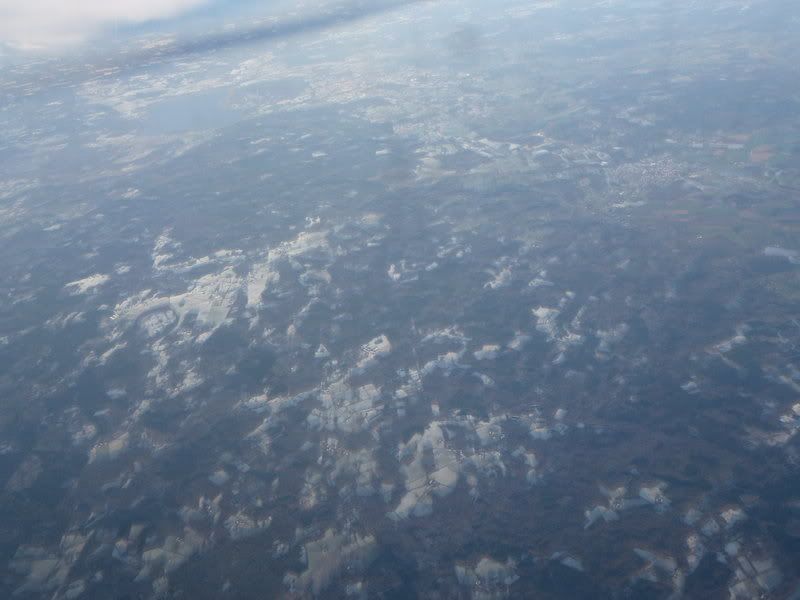 But not over the beautiful fields of Skåne: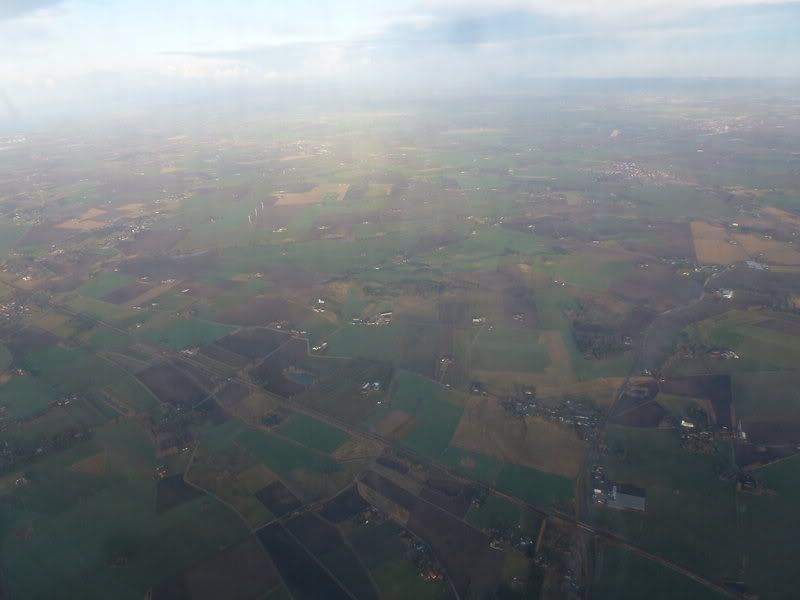 City of Landskrona with Denmark visible in the background: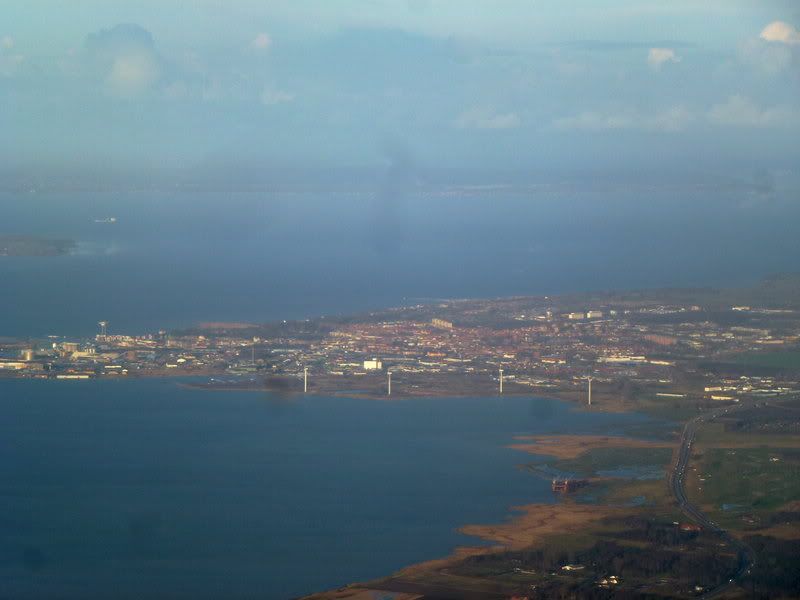 The classic 22L approach to Kastrup: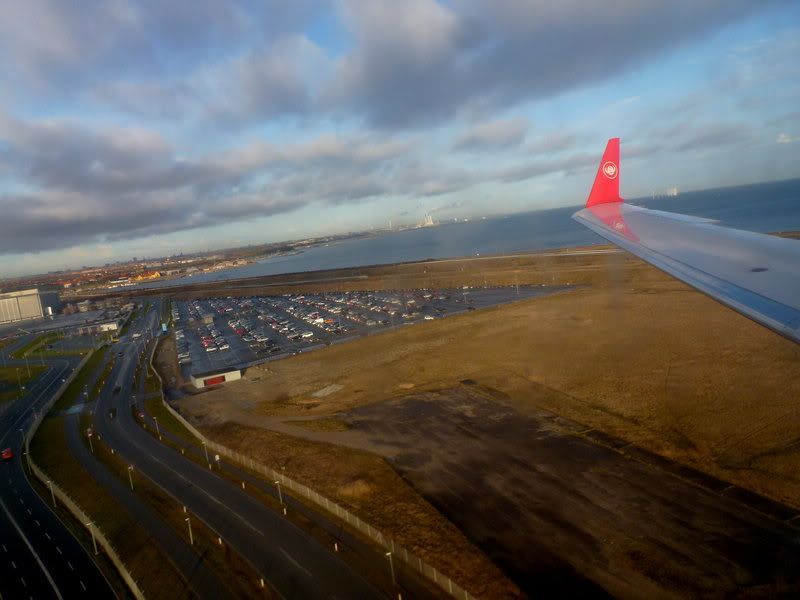 Our tall shadow: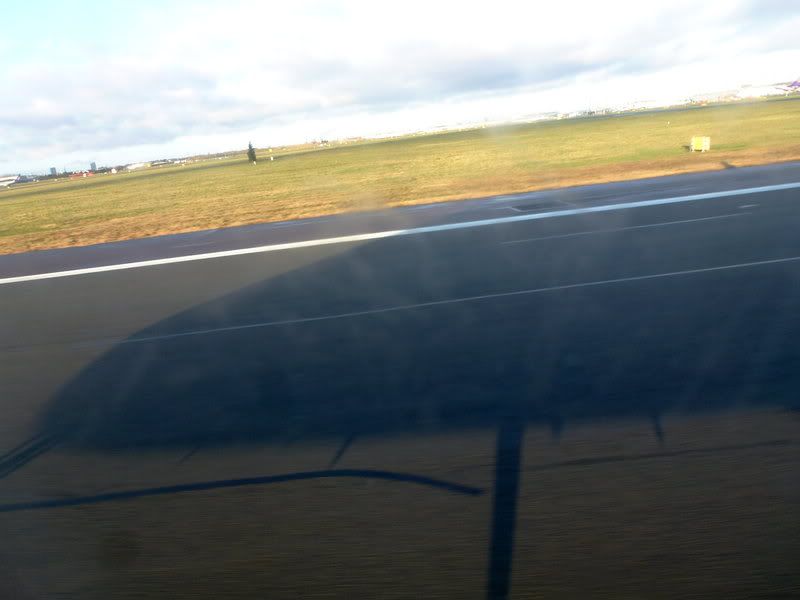 So this is the funky Christmas tree - I've only seen it lit up in the darkness: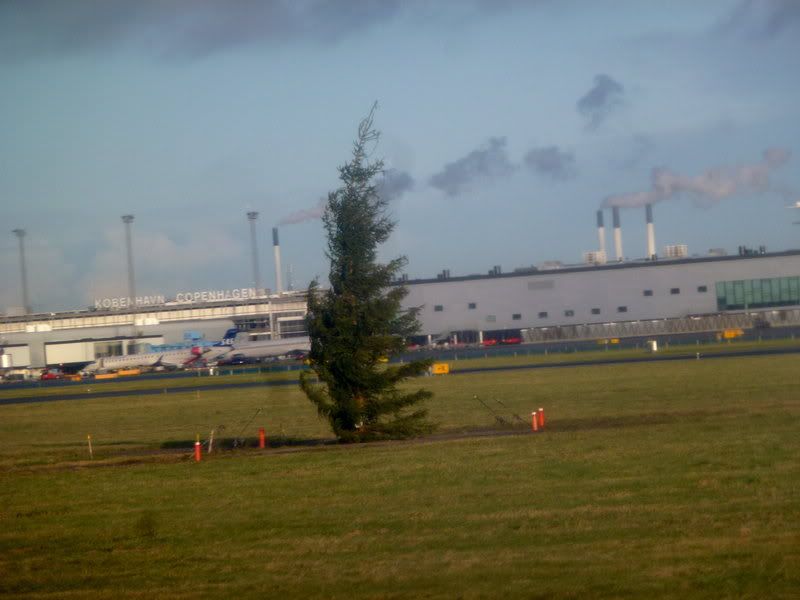 We get a parking position in the regional apron instead of parking in front of the A pier these Cimber jets so often use, so it is a short bus ride for us to the terminal.
Bye: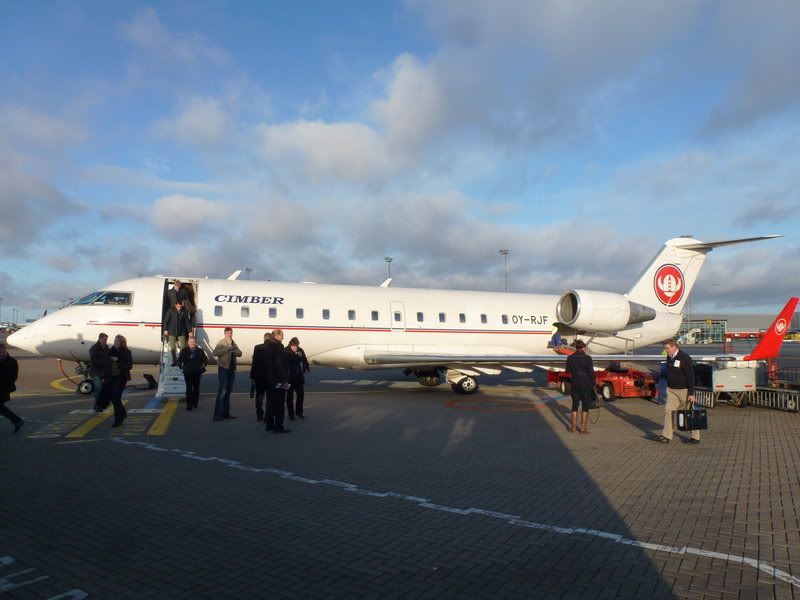 Big sis was parked at this spot the whole day: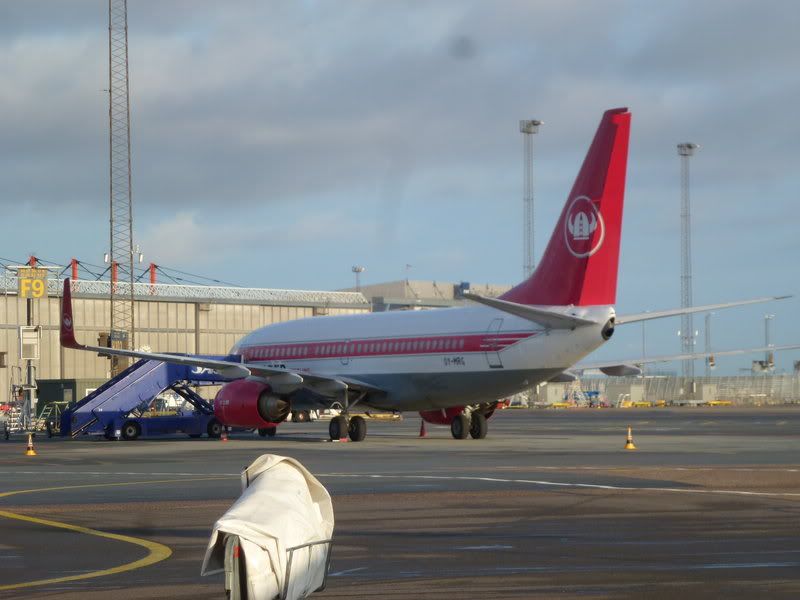 Inside the terminal I head first into the transfer desk to get a boarding pass for the NextJet flight (no OLCI available). I'm a bit surprised when the friendly agents there tell me (the place is deserted so plenty of time for chit chat) that Denmark doesn't really celebrate its Independence Day - after all it is one of the oldest sovereign nations in Europe so they don't really see the point - fair enough.
Then it is time to retrace my steps to arrivals and catch the train to the Central station.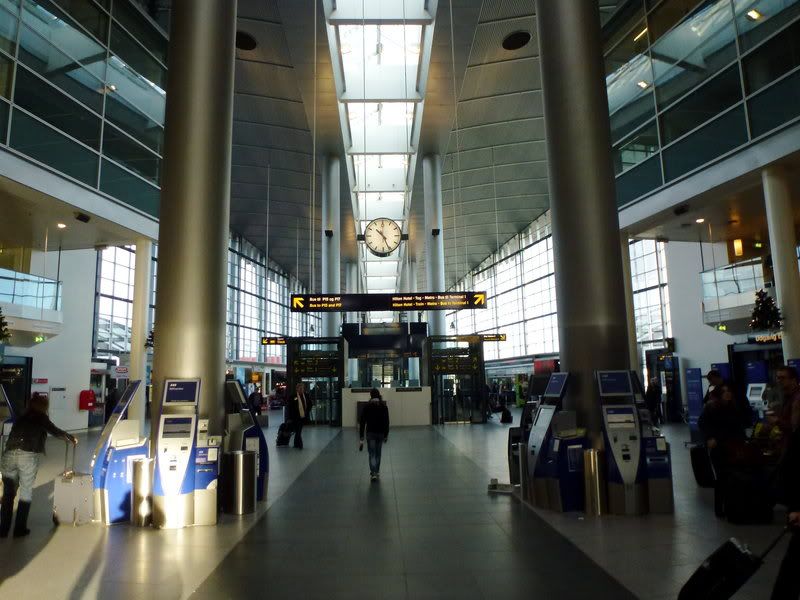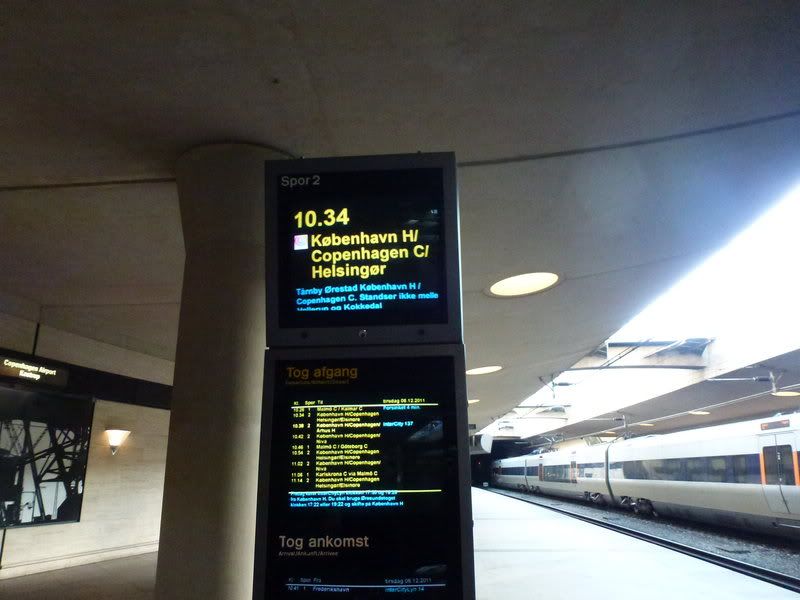 Damn these Danish trains are ugly - they always remind me of either leeches or that human flukeworm thingy from the
X-Files
: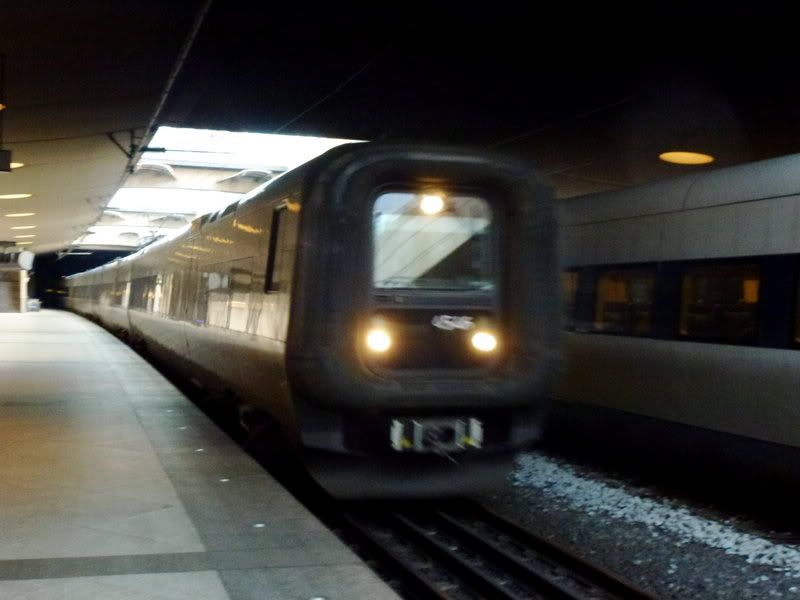 Copenhagen
I meet Robert at the station and then we hit the Tivoli which has just opened at eleven and is thus quite empty: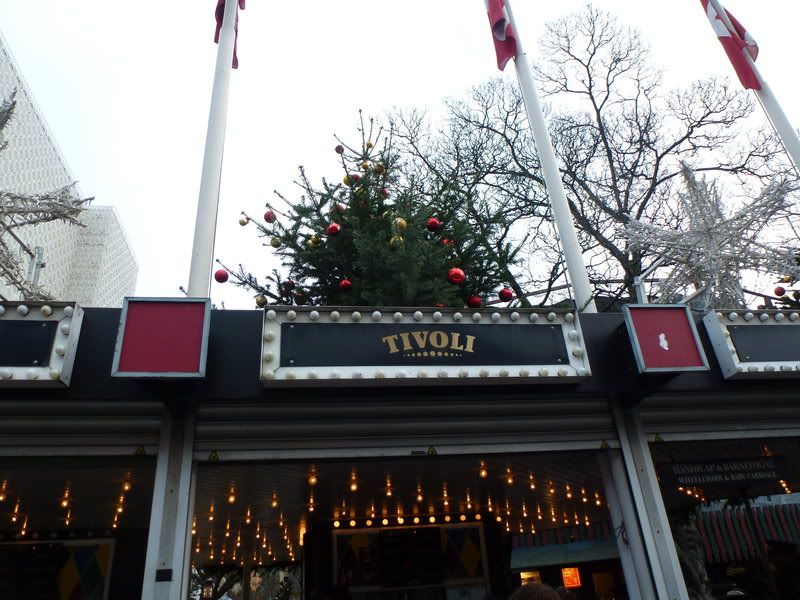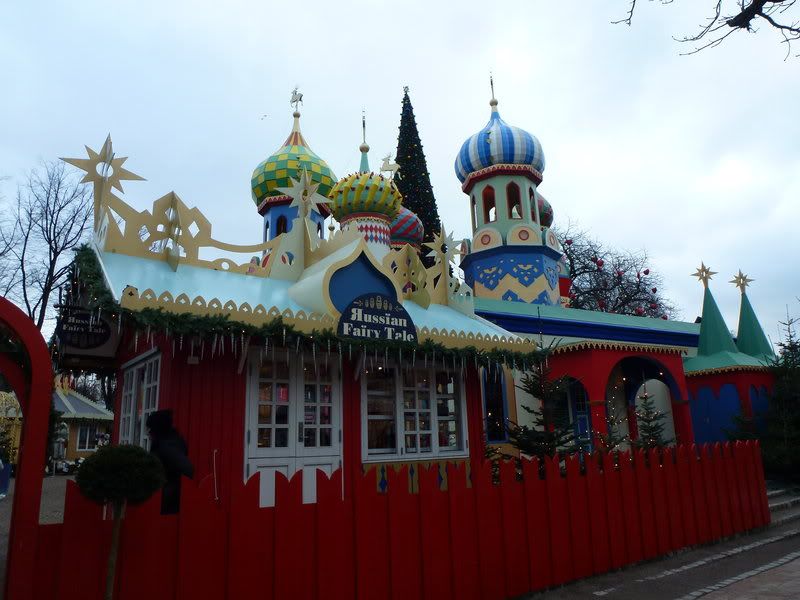 Looks quite faux to me: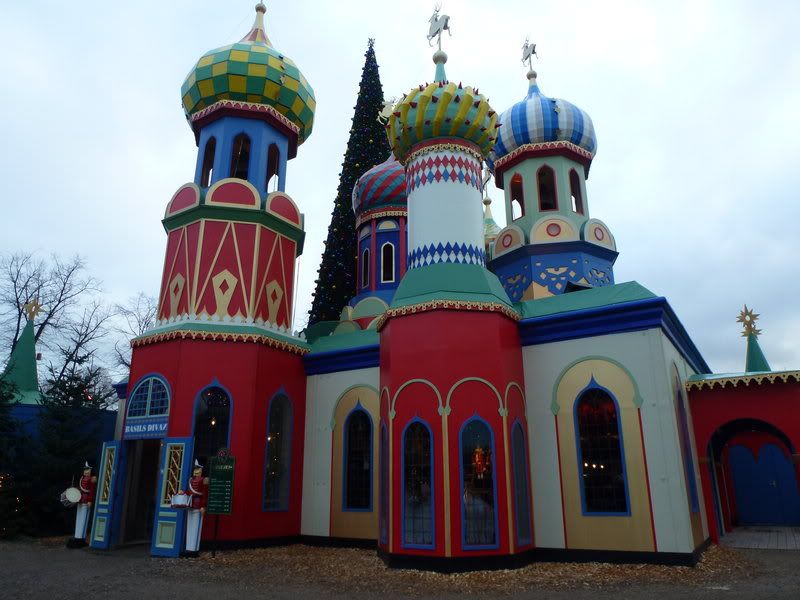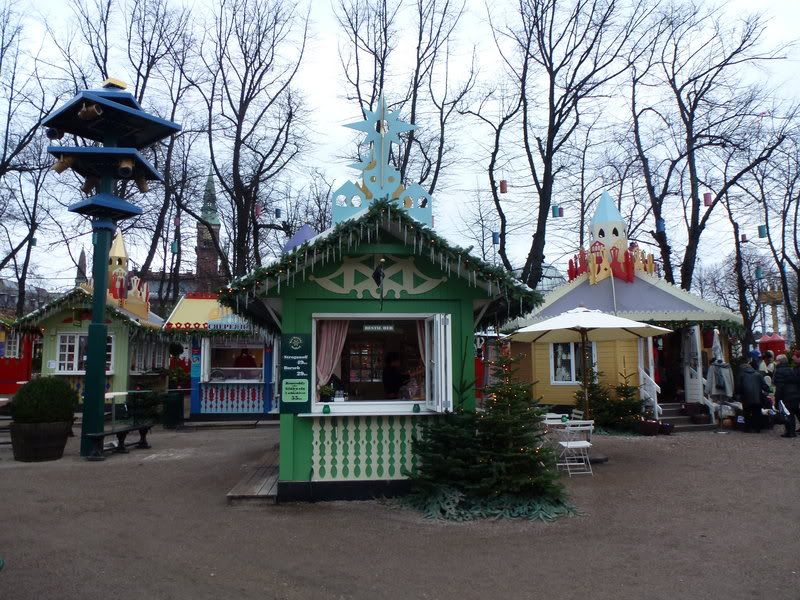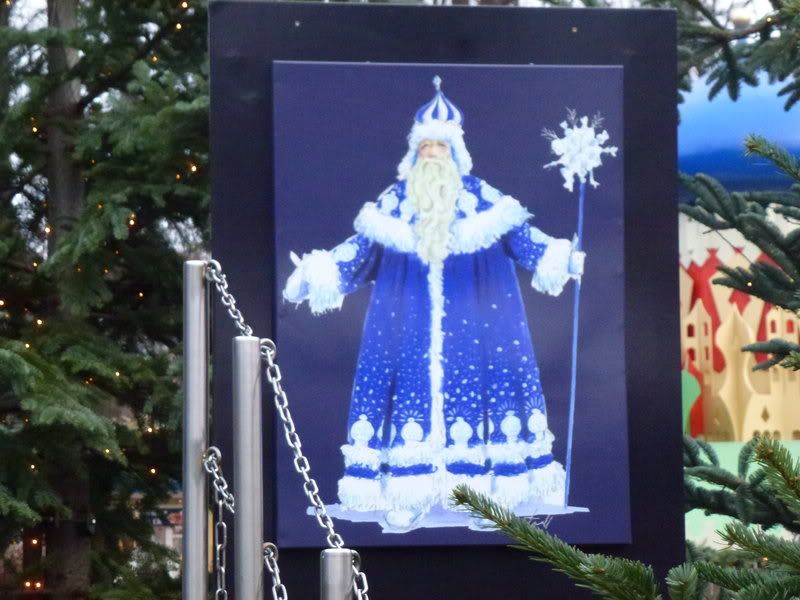 This would look so much better after dark all lit up: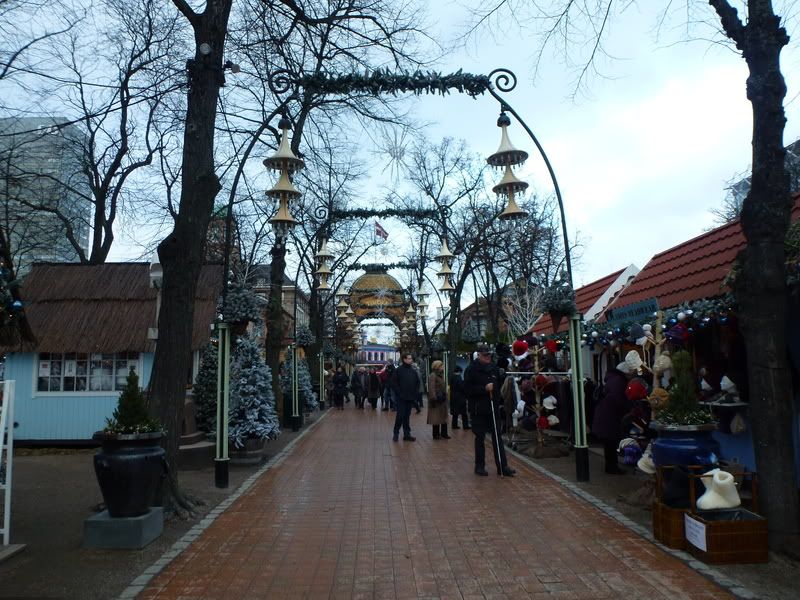 Hello, how come you are not on my plate: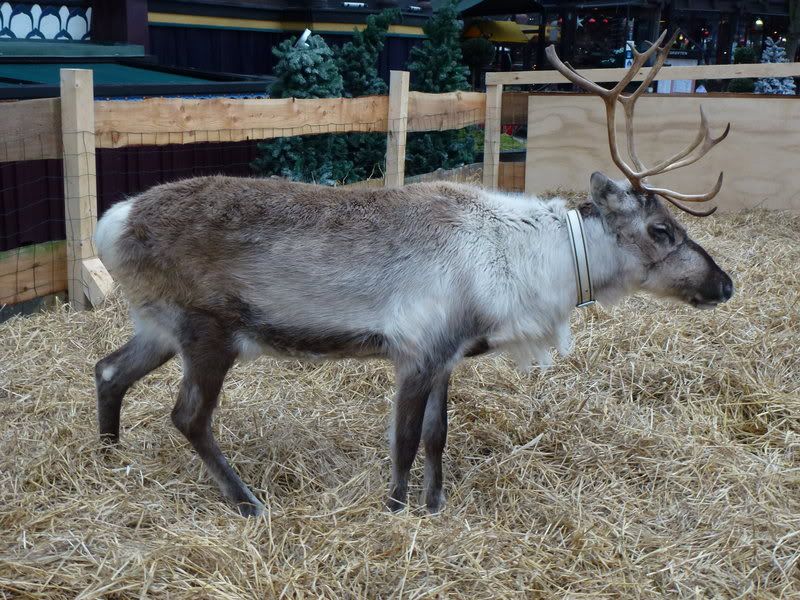 This piggy bank is feeling cold (cut):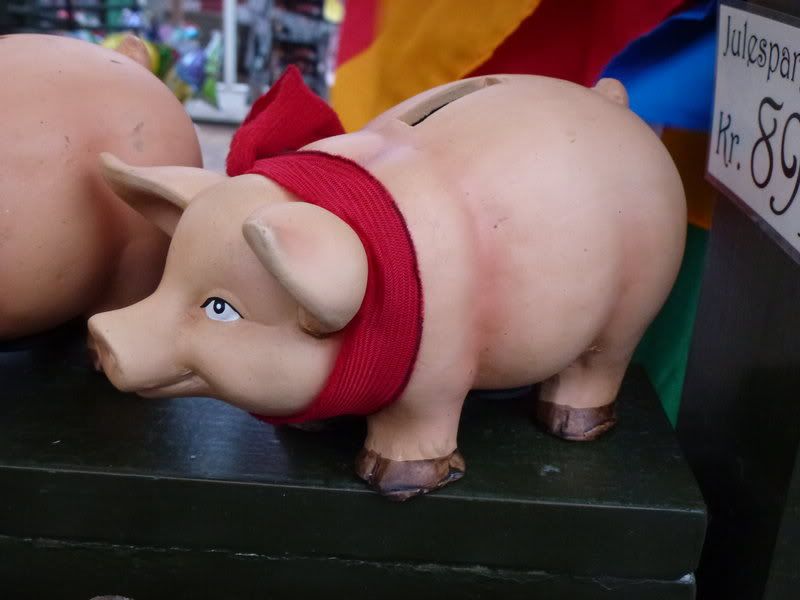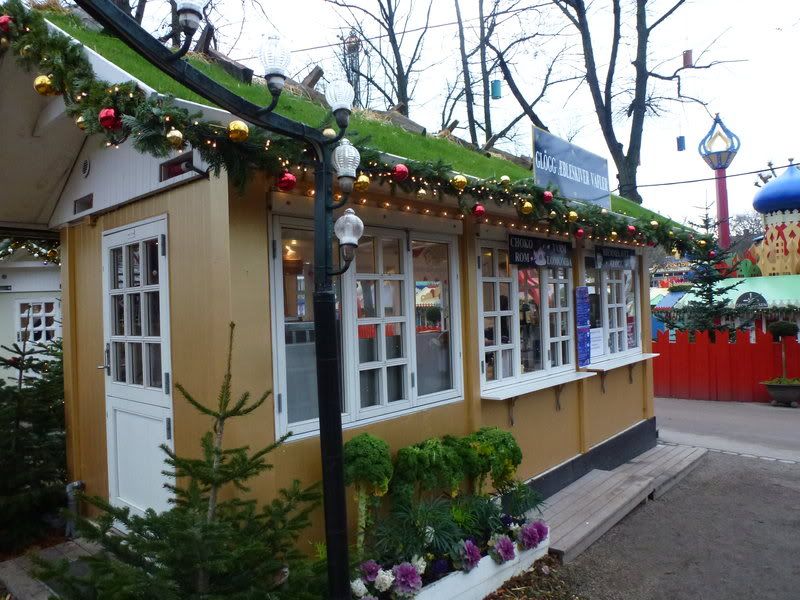 Hmm, is this chest from Amsterdam (hint: check out the coat of arms for Amsterdam):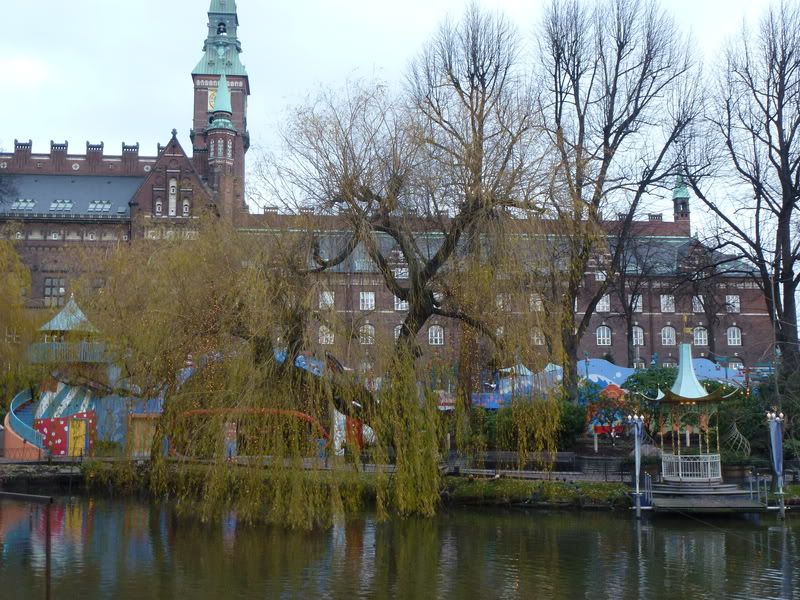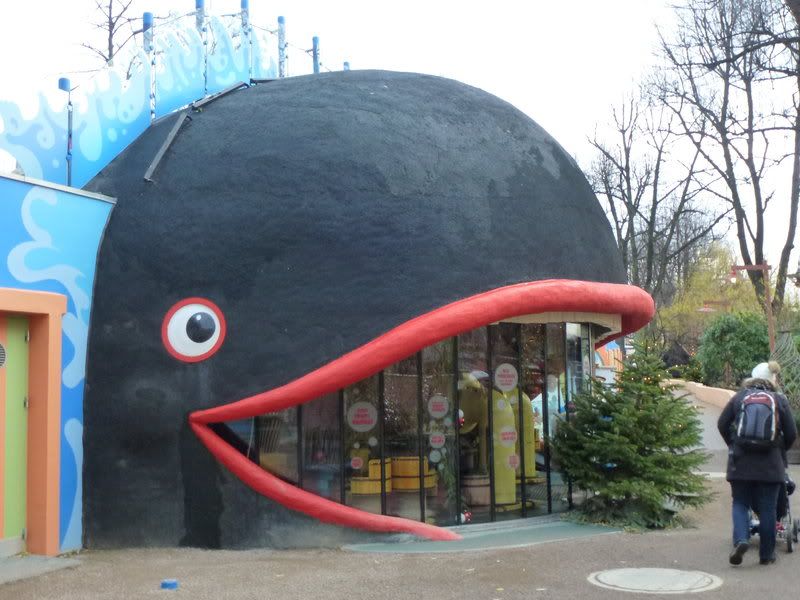 This pond is kinda small for all these boats: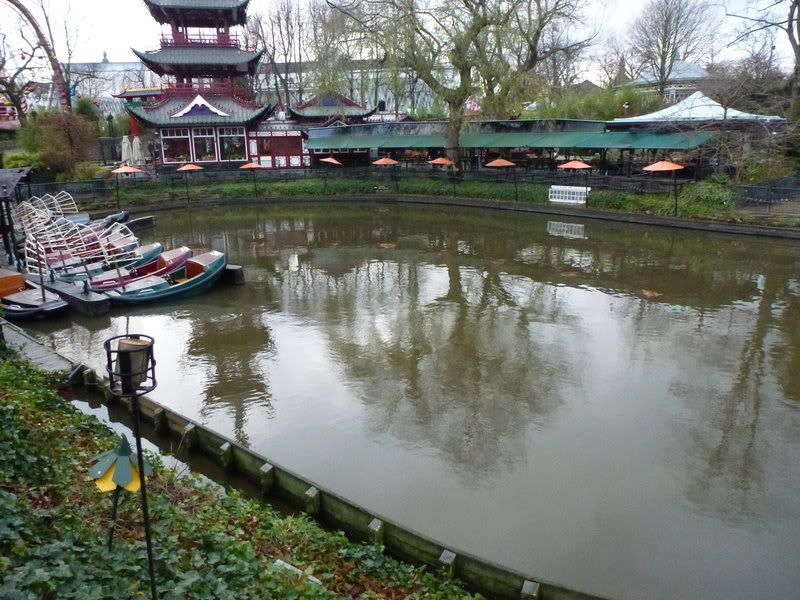 Faux snow:
Hmm: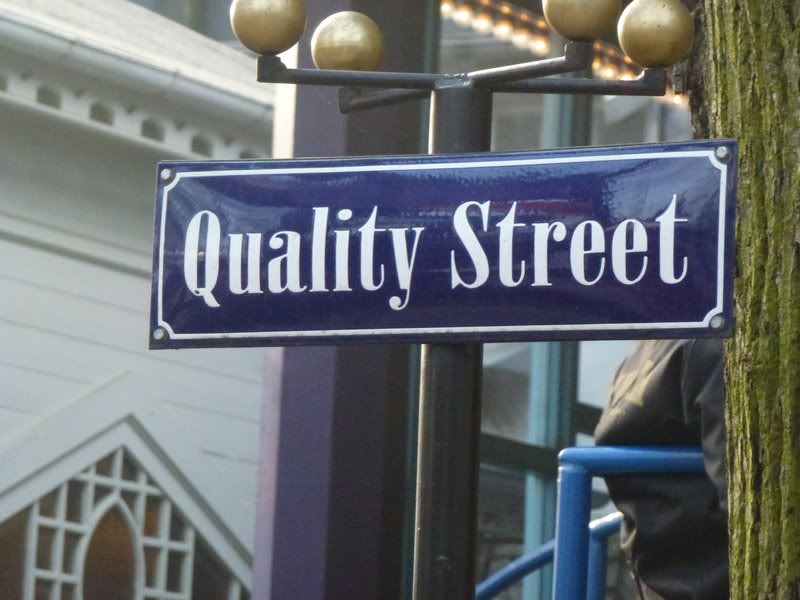 Oh, I see - awfully clever, isn't it: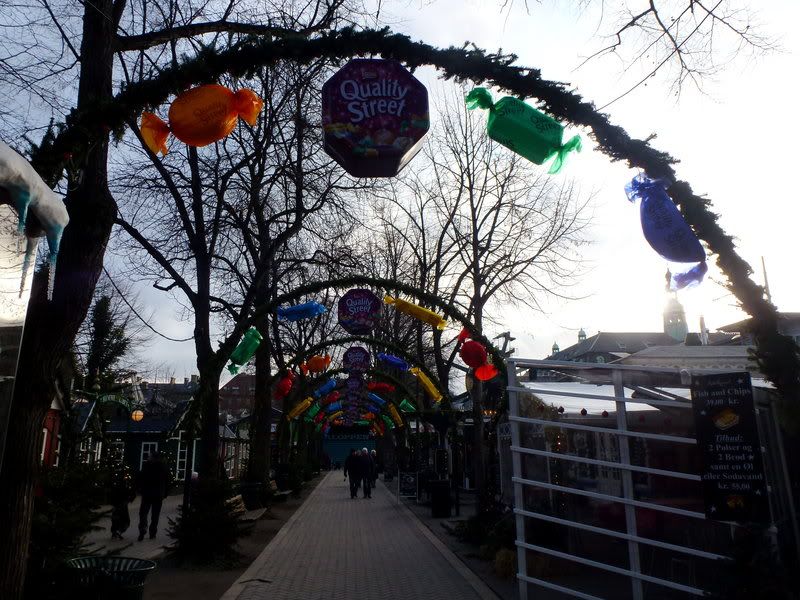 Kalinka: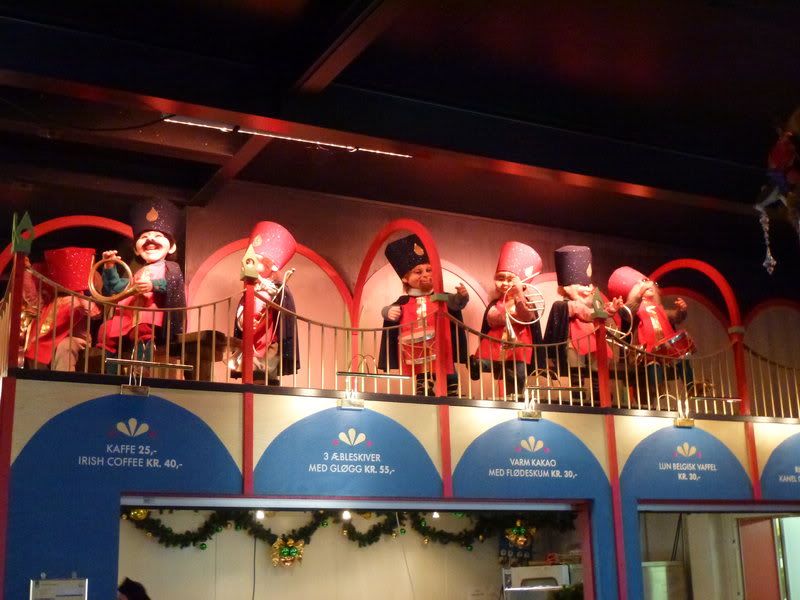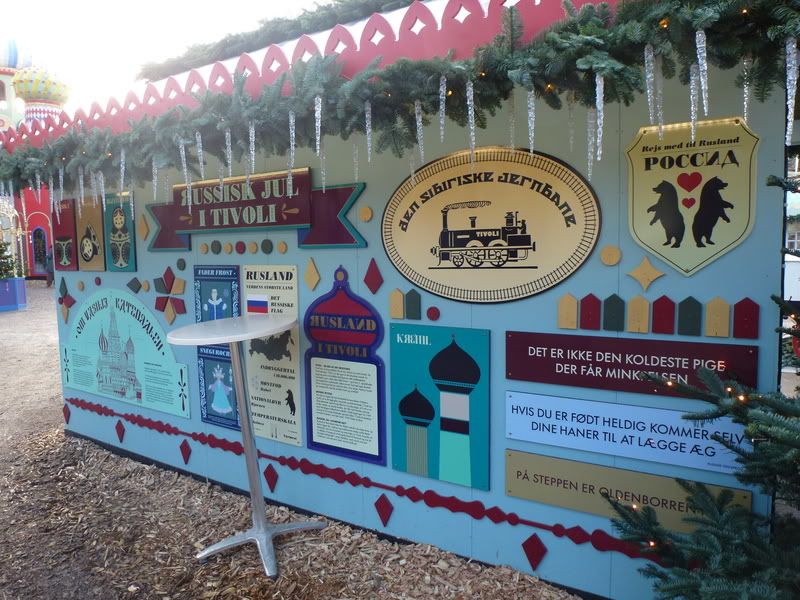 In the end we don't have that much time here - so after an hour or so we head back to the station, grab a quick burger lunch at Sunset Boulevard, Denmark's own burger chain: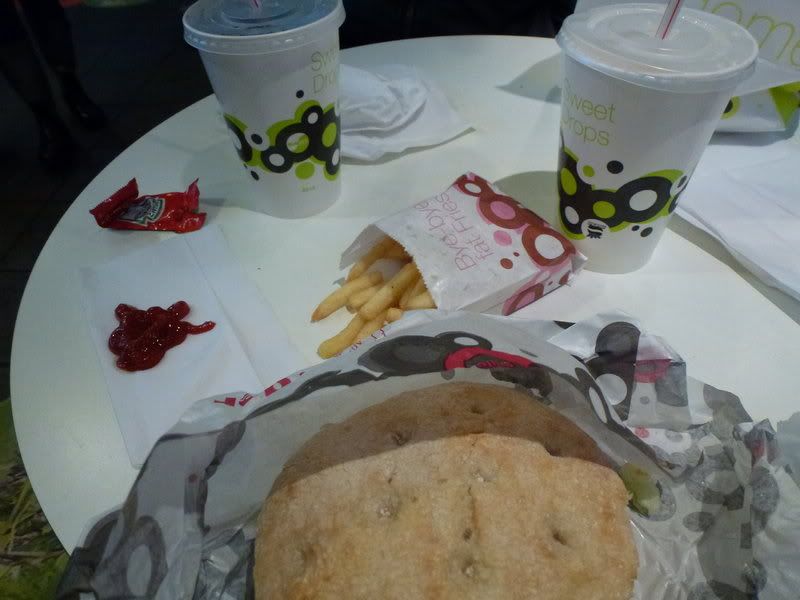 And catch the train back to Kastrup:
Copenhagen Kastrup Airport
Robert checks in using one of the SAS (who do 2N's ground handling here) self service kiosks. After a quick stop outside we head through security and do a little plane watching and some shopping - FI sent in their sole 753: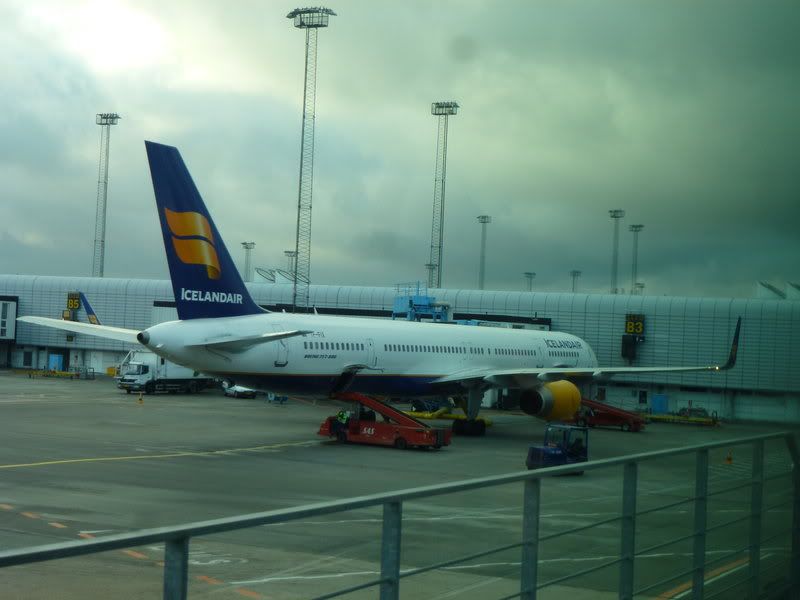 Turkish in *A colors: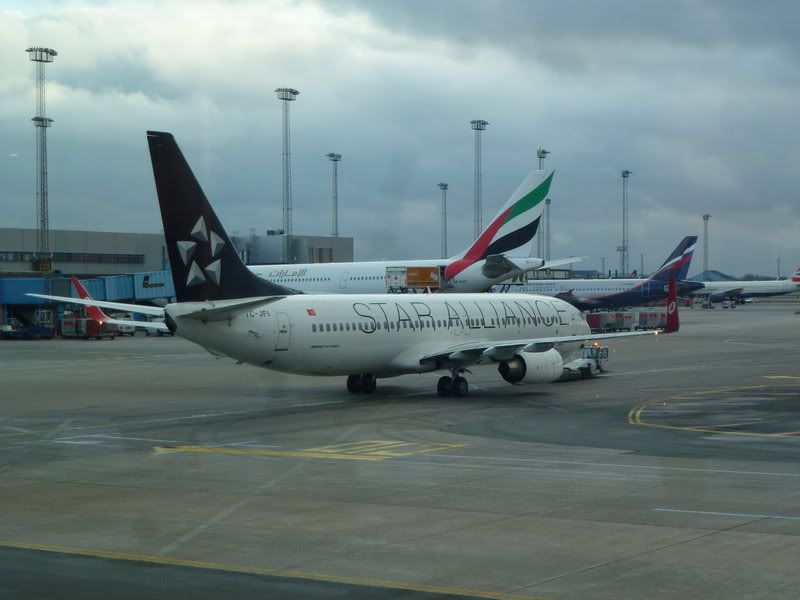 The largest and smallest narrowbody in the SAS DK fleet: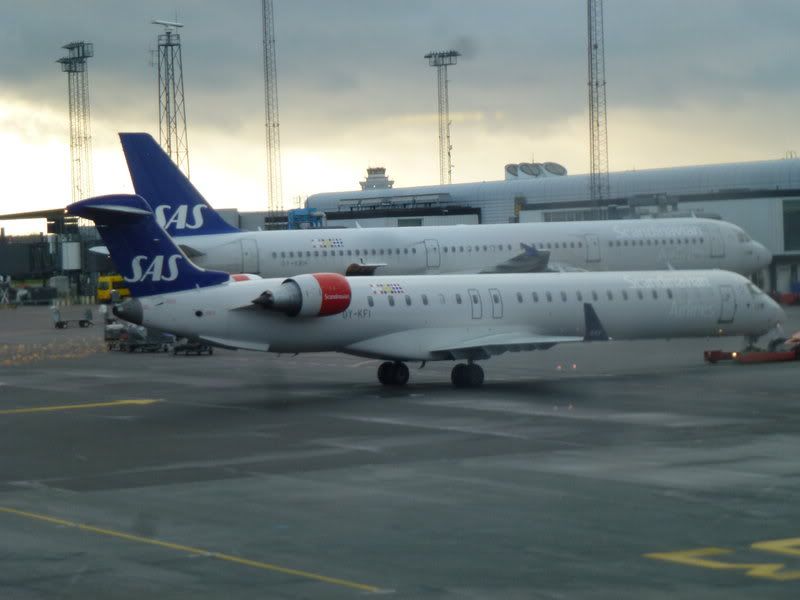 Are you mooning me: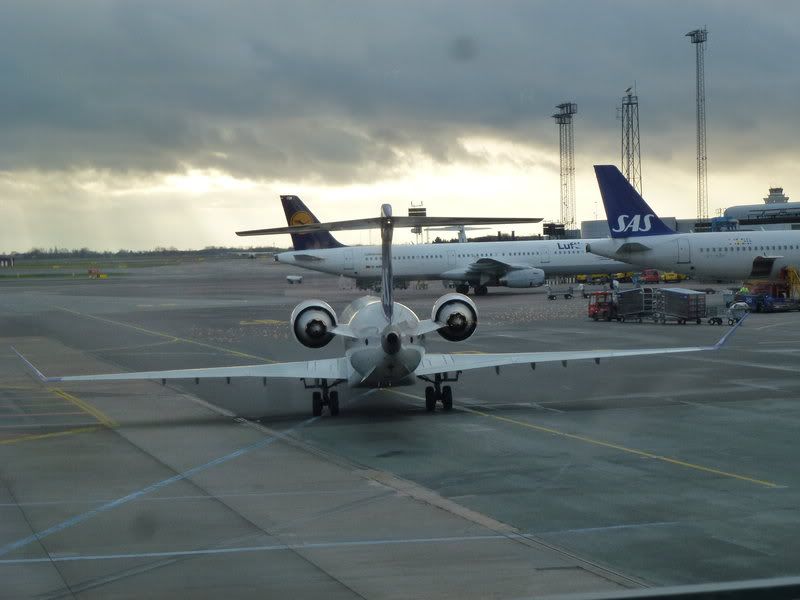 Brings back memories from our joint flight to BEG back in September: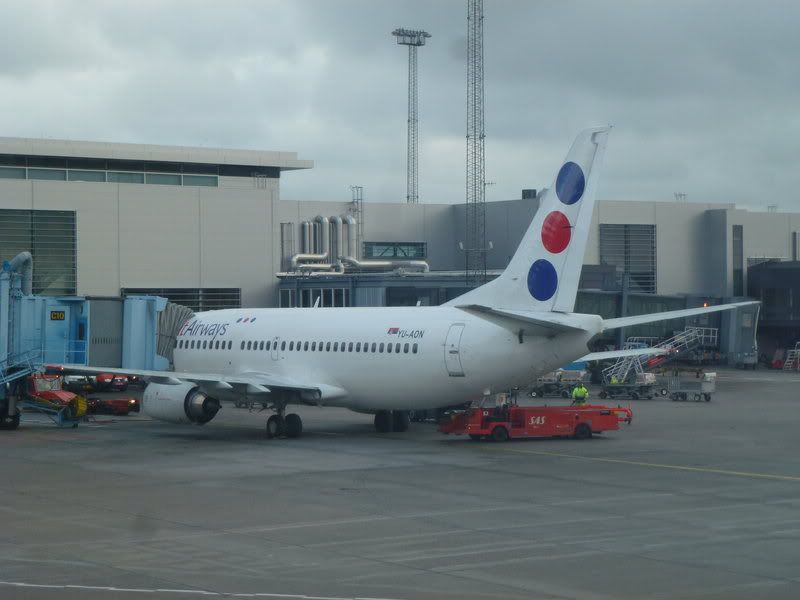 Oh, that's our gate: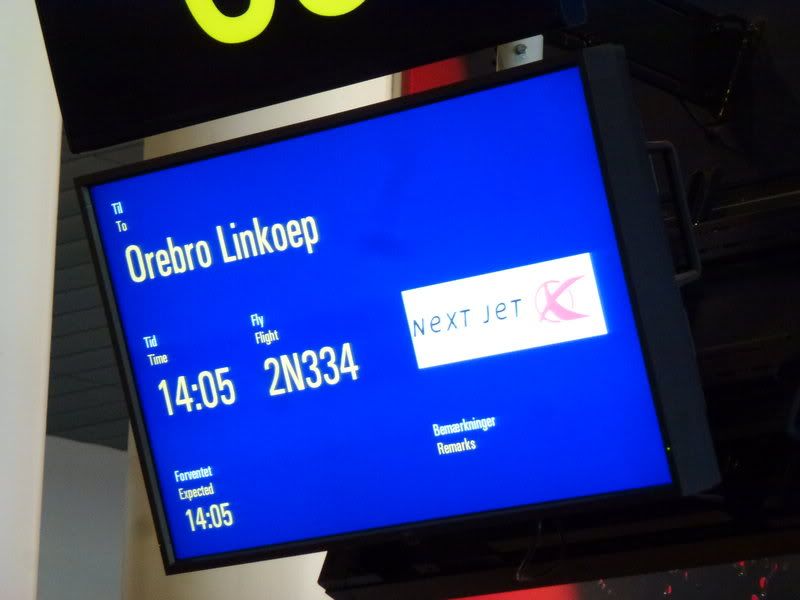 We decide to head to check out the CPH Go low cost sub terminal as Robert hasn't been there before.
Intermission: CPH Go
Welcome to Copenhagen Kastrup Airport - the award winning airport serving the Danish capital and the wider Öresund region which includes South Sweden as well. We are the largest airport by passenger count in Denmark and the whole of Nordics and have the largest catchment area as well.
ARE YOU:
Fed up with regular airport terminals offering all the frills and charging you an arm and leg for it?
Fed up with slow turnarounds where planes spend valuable minutes hooking up to a jetway?
Fed up with slow boardings where people sit down and do not bother to get up in time for boarding?
Fed up with terminals looking and feeling like shopping malls?
Fed up with terminals where you pay money for services you don't need like lounges, showers, play areas or sufficient toilet capacity?
If you answer YES to any of these questions, then you'll just love CPH Go!
Within the last year we have diversified our offering for those of you who are either poor or just cheap (or Scottish) and introduced a dedicated low cost concourse. Join us for this brief tour of this new, soon-to-be-award-winning facility!
The concourse is directly accessible from the main terminal building at Kastrup using this convenient, dedicated walkway: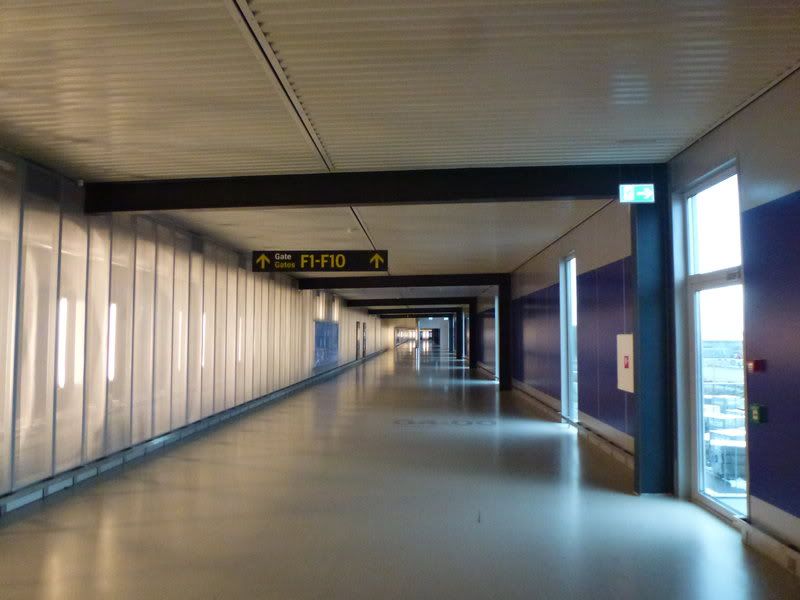 If George Lucas will license it cheaply enough we will soon be providing Imperial March as background music instead of the cheesy elevator music you get at other airports!
We have not wasted any precious, expensive construction materials for this terminal - who says corrugated steel and cheap aluminium sheets aren't good for airport terminals: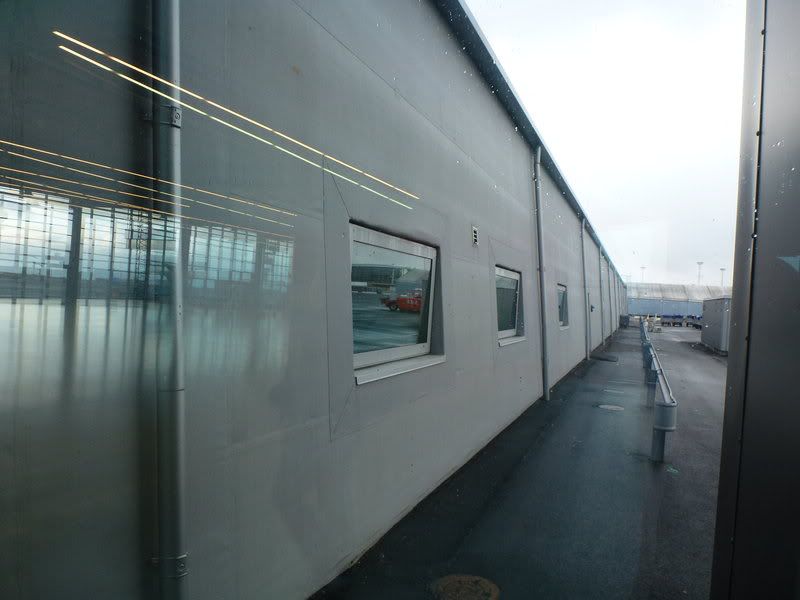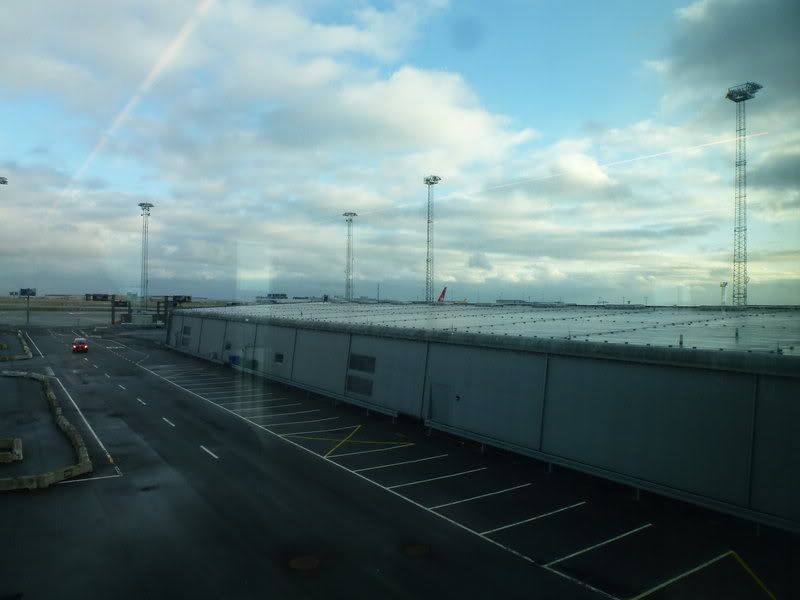 Our terminal is simply beautiful: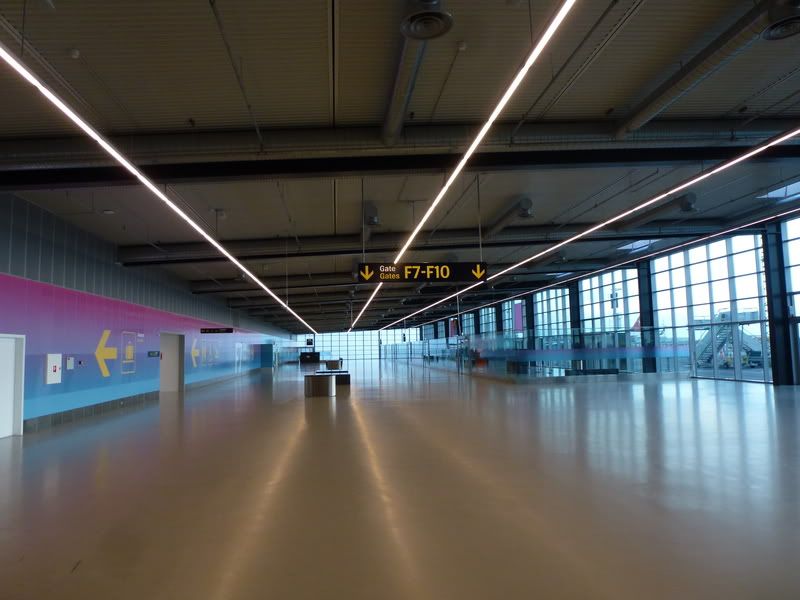 Colorful, open, spacious and
not a frill in sight
-
and that's a guarantee!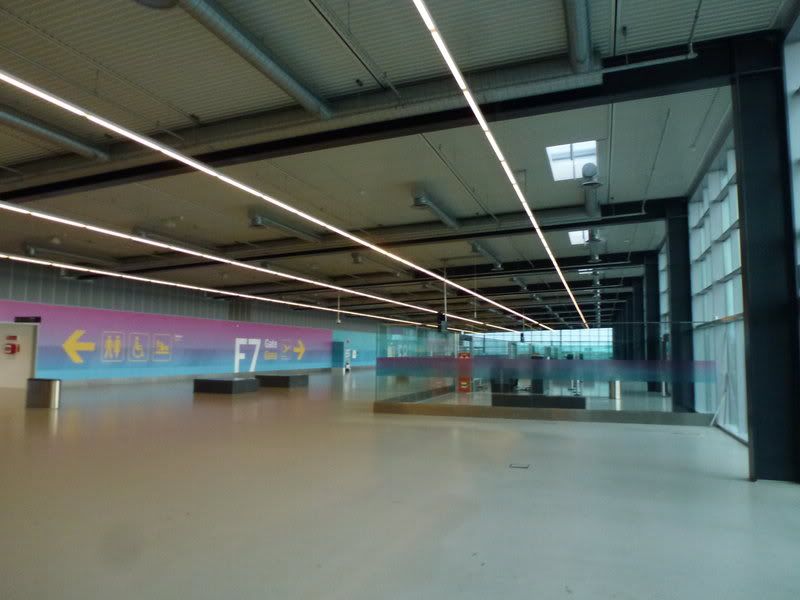 Notice, almost no seats to be seen anywhere - think of the time and money you will save by queuing for boarding as soon as you arrive here: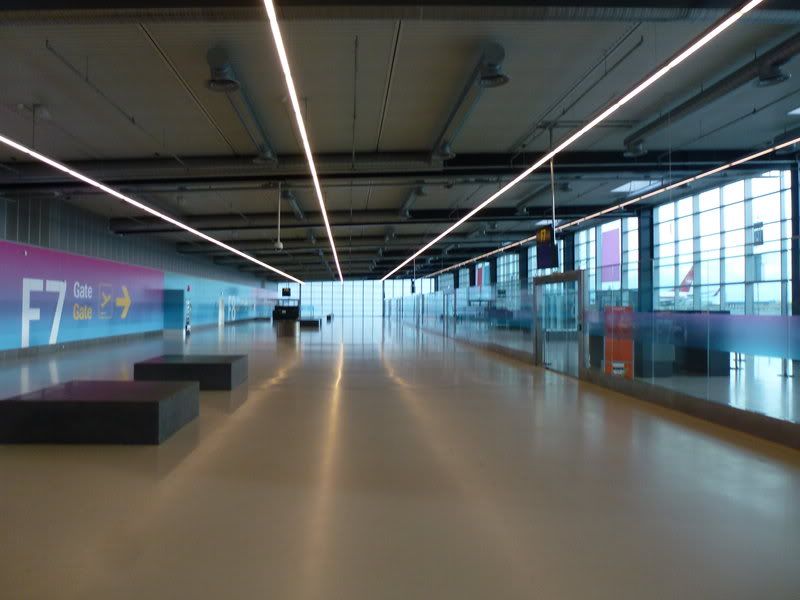 But wait, what do I see here - expensive frills?!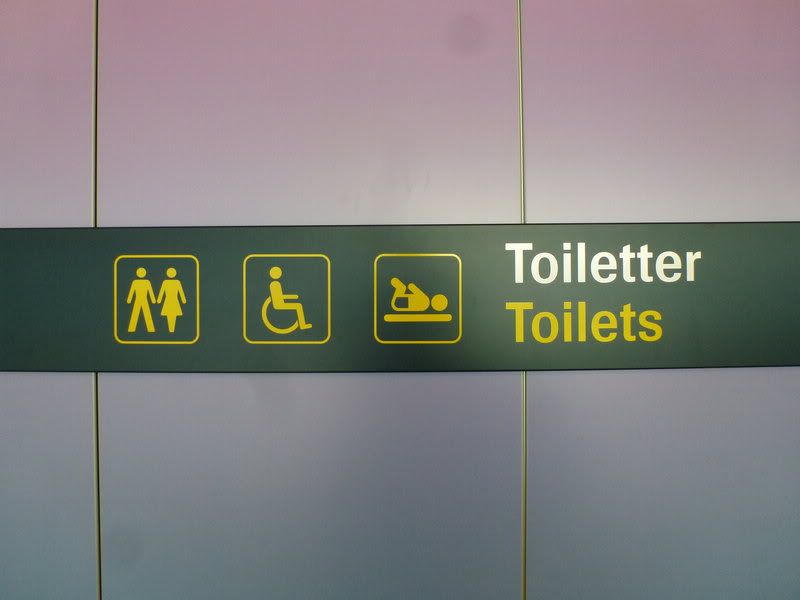 No, not quite - you see our frills are budget friendly and cheap - notice how these toilets are only cleaned once per day:
And you have to pay yourself for your phonecalls: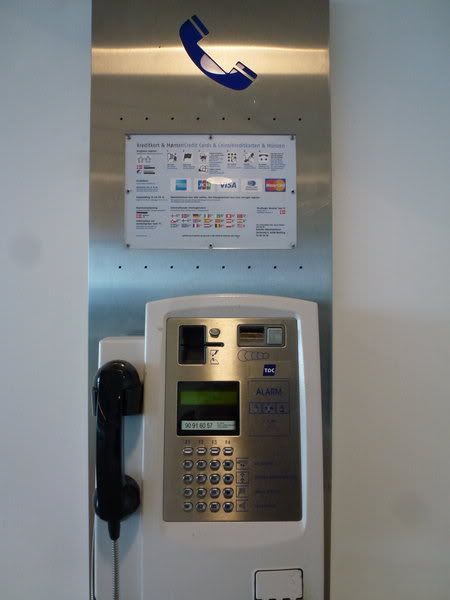 DISCLAIMER: Due to governmental regulations we are forced to offer some frills not in your interests - passport control: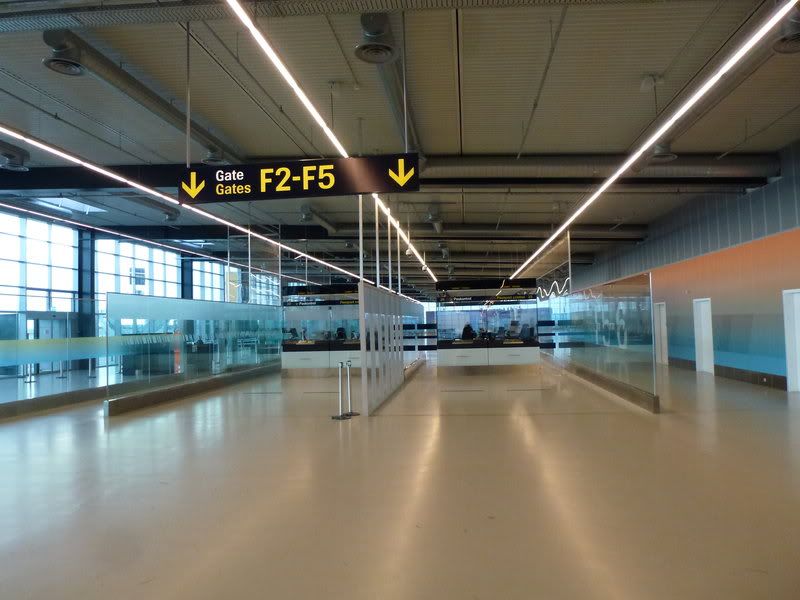 ...and customs desk:
…escalators for persons less able to walk: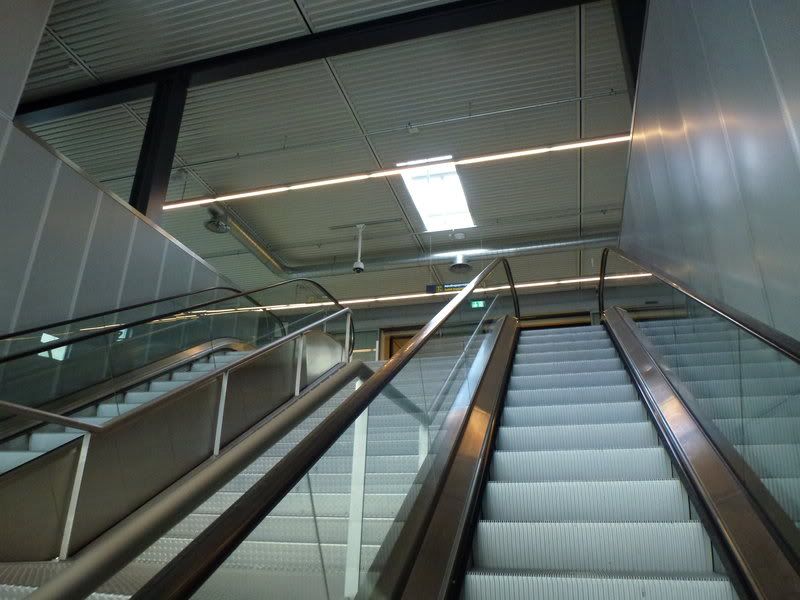 ...recycling facilities (we especially appreciate beverage containers with deposits):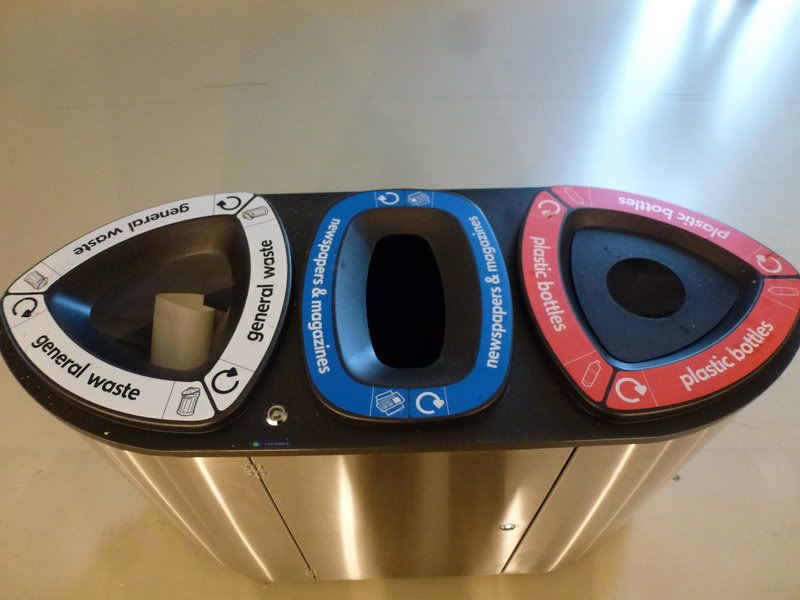 We offer a relaxed schedule so your flights will not be delayed or hampered by other flights: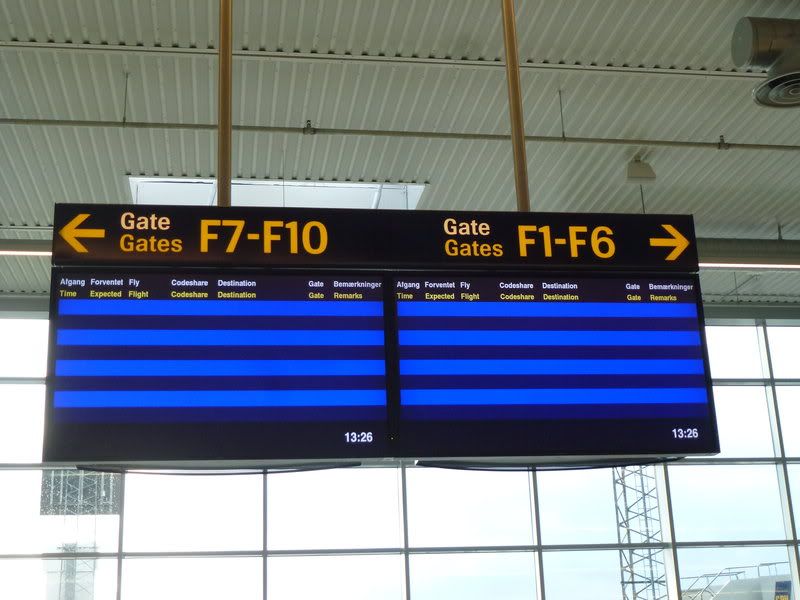 So for all your low cost flight needs there's simply no place like CPH Go -
not a frill in sight - and that's a guarantee!
: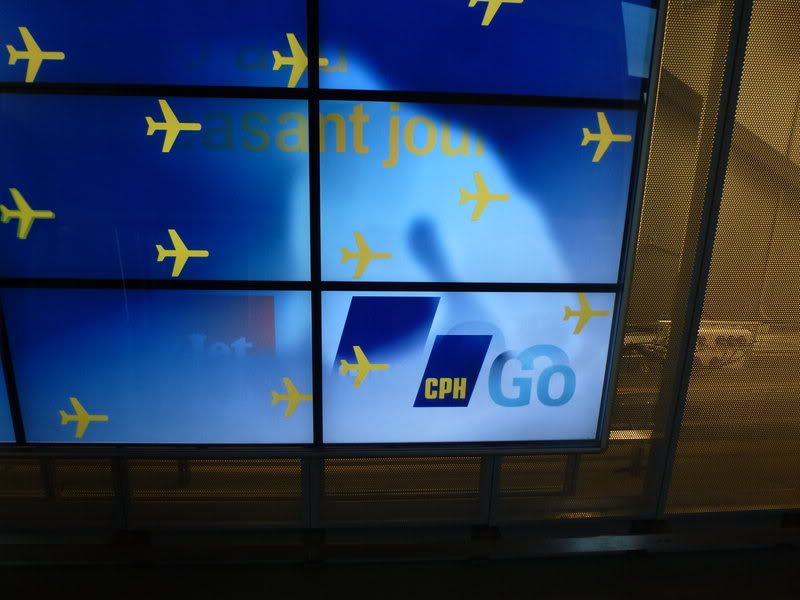 Back to our regular scheduled programming...
By the time we get back to the gate boarding has commenced and almost all the other pax are already down in the holding pen: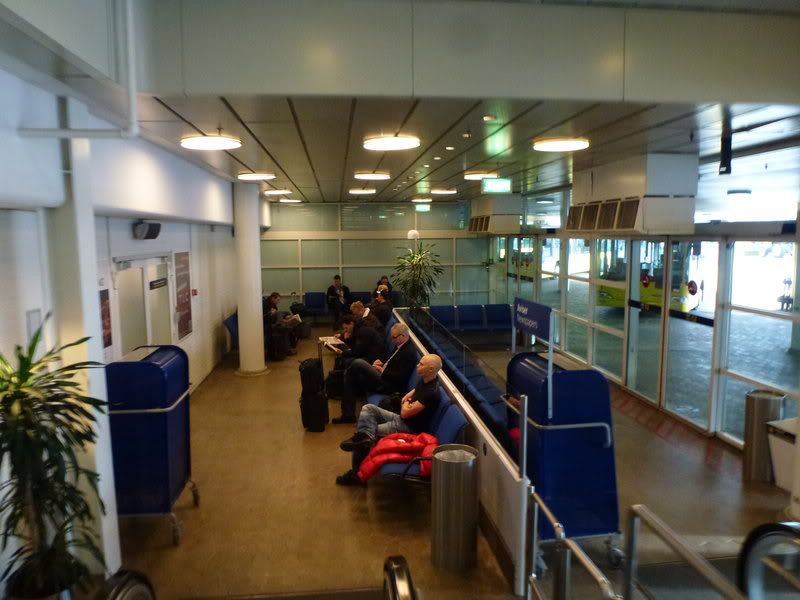 After us there's one or two more pax and then they keep paging for one pax a few time but apparently he never shows up and they unload him from the flight. His first name is "Matti", a Finnish name (but he could of course be Swedish as well...).
I count a total of 16 pax or almost a half full plane.
A short bus ride brings us in front of our plane, SE-LMR, another new entry for my log: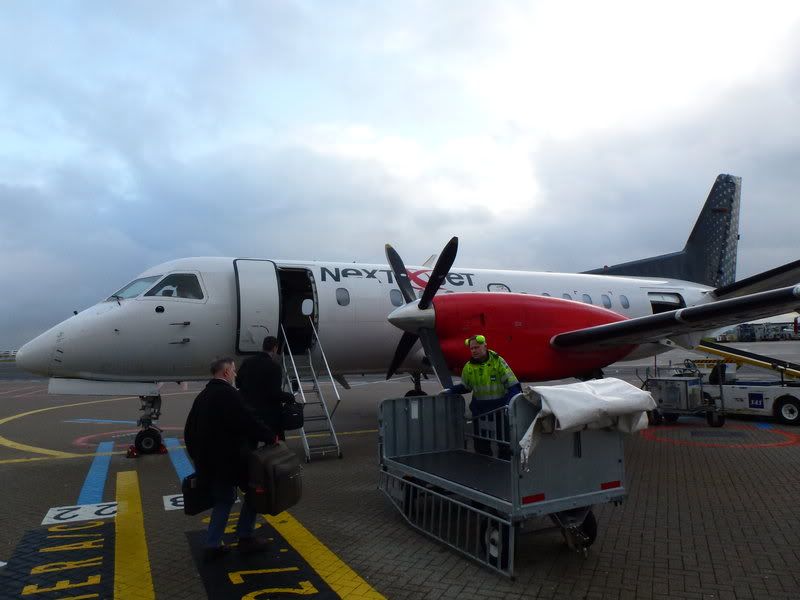 That's a big... propeller hub: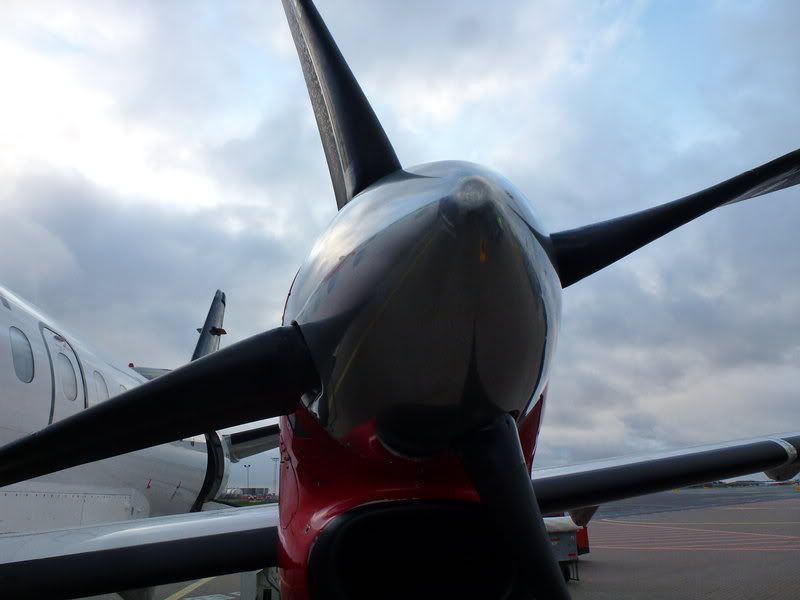 CPH - LPI
2N334
Saab 340 SE-LMR
Seat 10A
14.15 - 15.13
The cabin staff on this flight is a young, extremely friendly (well, he's Swedish after all!) yet very professional and courteous male steward. Despite (or maybe because of) being Swedish he speaks excellent English with a definitive Oxfordish sounding note to it, something which I take an instant liking to.
It's free seating - Robert grabs 8A on the single seat side and I settle for the same seat two rows behind him. Legroom is okay but only after I stuff my back bag under Robert's seat instead of the one in front of me (which stays empty).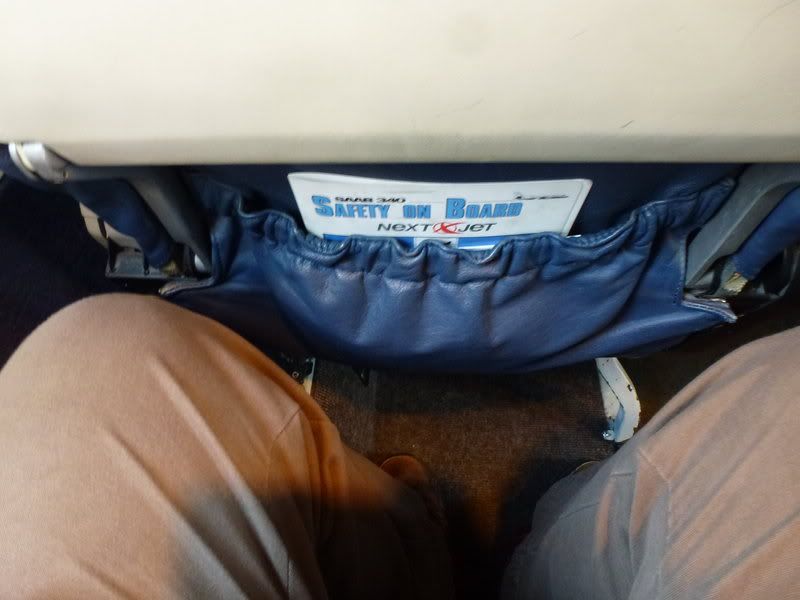 Seats are the same thick leather ones I already had with my Air Åland flight a couple of weeks ago (see here:
Price War To Åland: HEL-MHQ-HEL
(by
FlyingFinn76
Dec 1 2011 in Trip Reports) ), but for some reason the seat numbering is different. On this bird the last row is 11, on that flight it was 14 (with row 13 missing for superstitious reasons).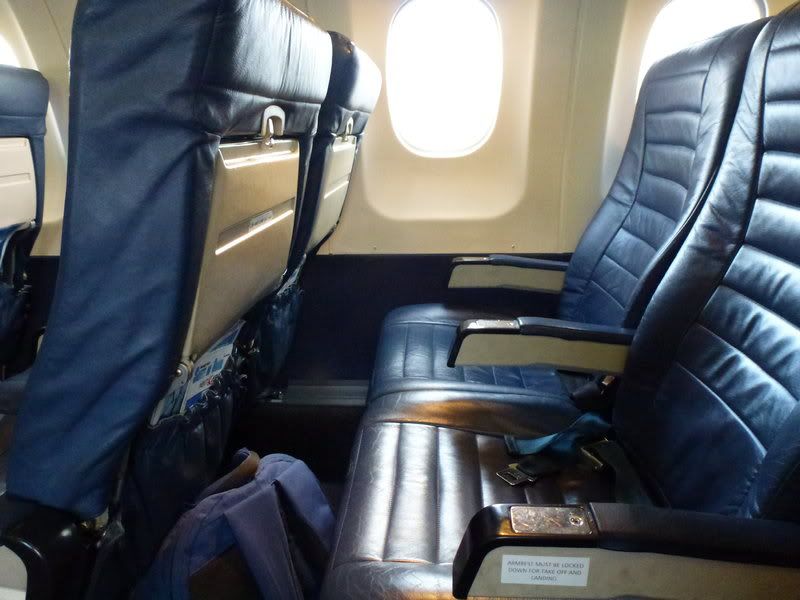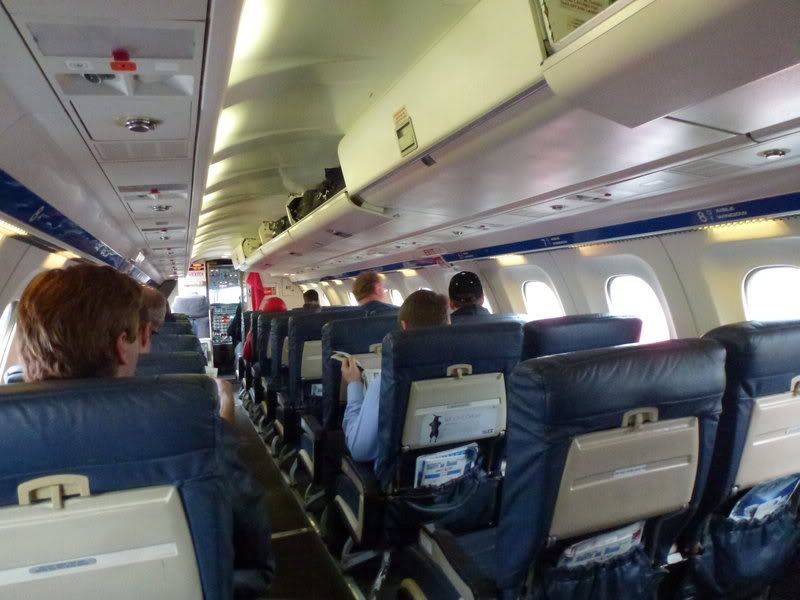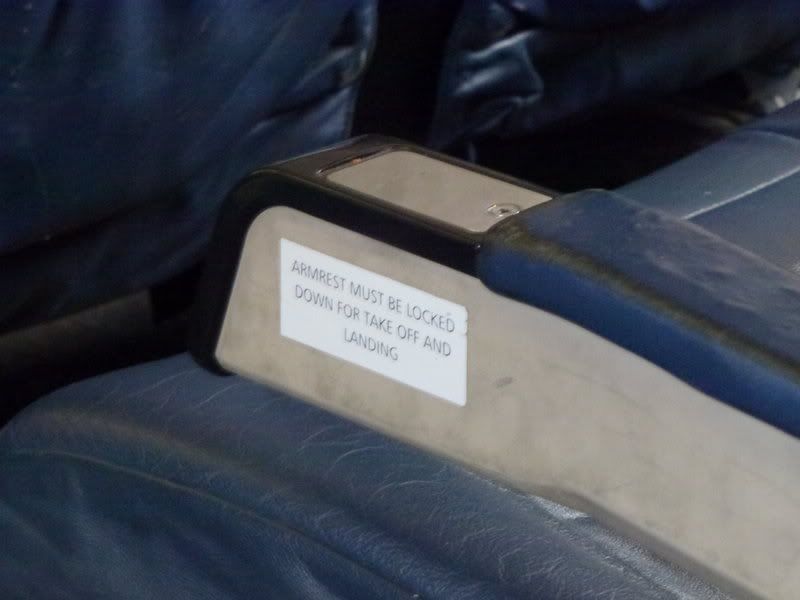 A number of passengers are moved to the back of the cabin for balance purposes, the two Germans who take the A and D seats behind me aren't exactly happy about it. I get a seatmate across the aisle - I think he's a Kiwi or maybe from South Africa, a native English speaker for sure but with a weird accent. He apparently thinks its far too cold already here so he tightens his puffy jacket, dons an eye mask and crashes for the rest of the flight, looking quite funny: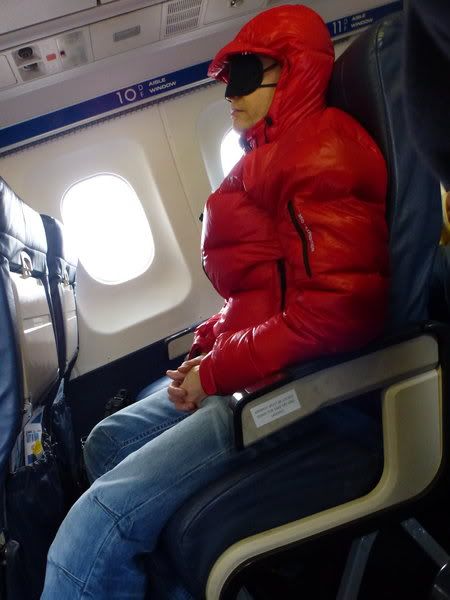 A Wideroe duo next to us, going to TRF and KRS (they recently swapped the CPH-TRD and CPH-KRS services around, now WF does KRS and SK TRD with their CRJ-900s):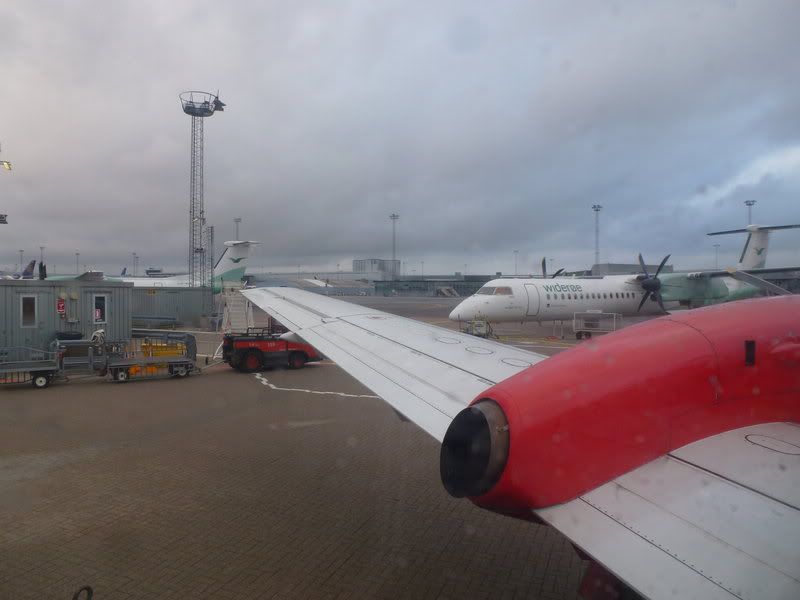 Departure is ten minutes late, probably due to waiting for Matti (and potentially unloading his bags as well). No announcement is made about the flight time whatsoever.
That's OY-RJF (even though you can't see the reg in this picture) my ride from the morning which just arrived from another sortie: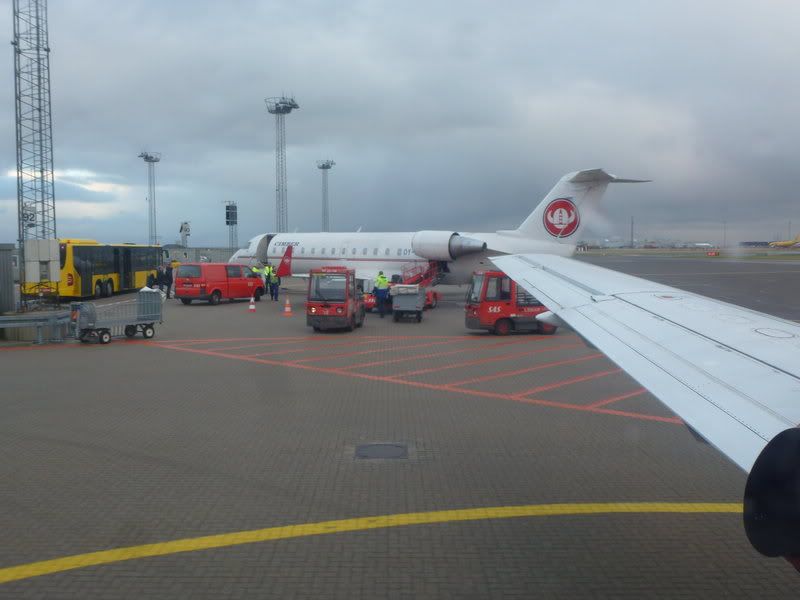 The Sterling Christmas plane: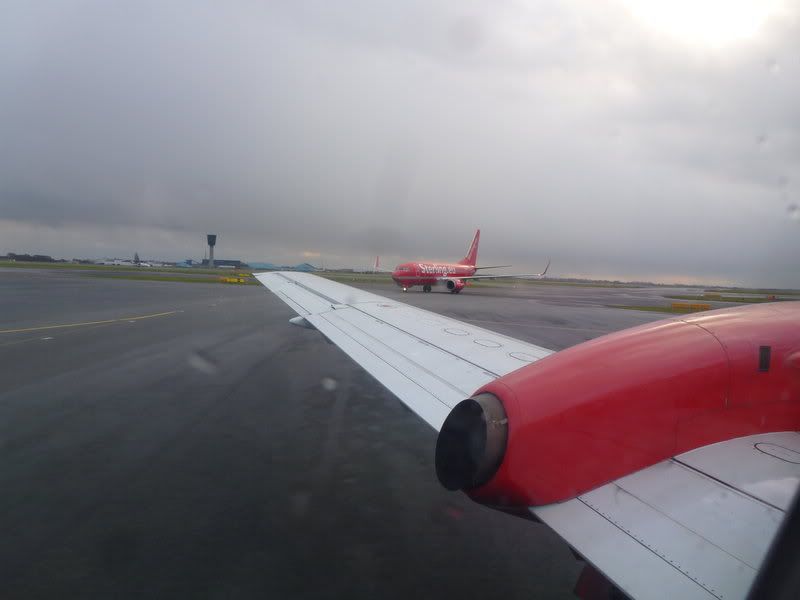 Take off is from 22R, we hardly use any of the available runway before rotating and disappearing into the clouds: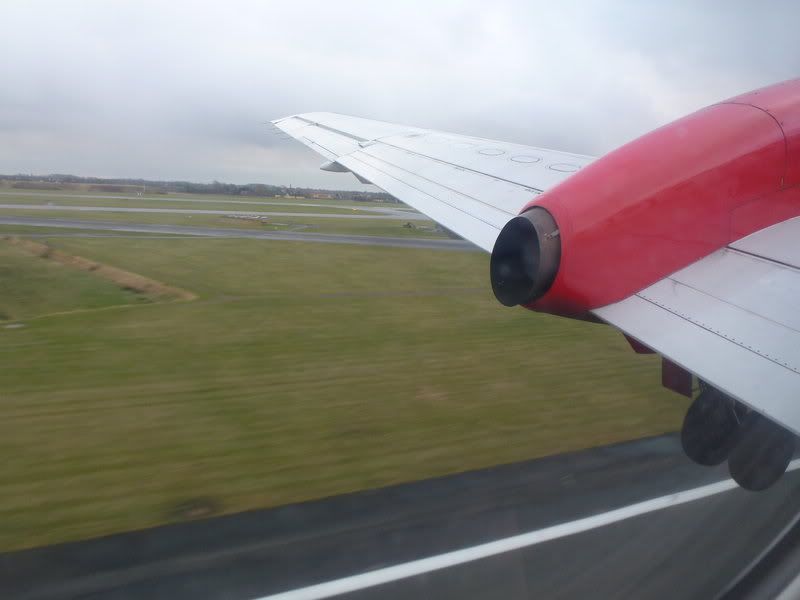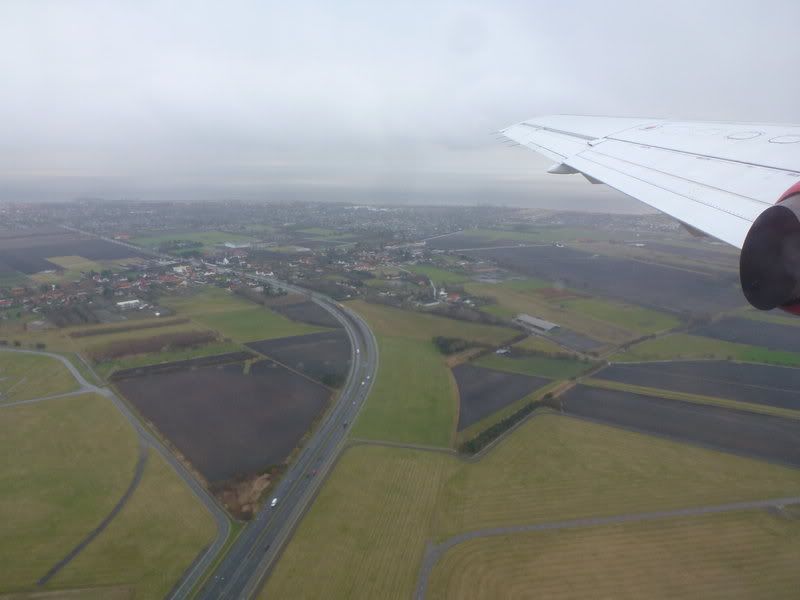 Nice lighting effects on initial climbout: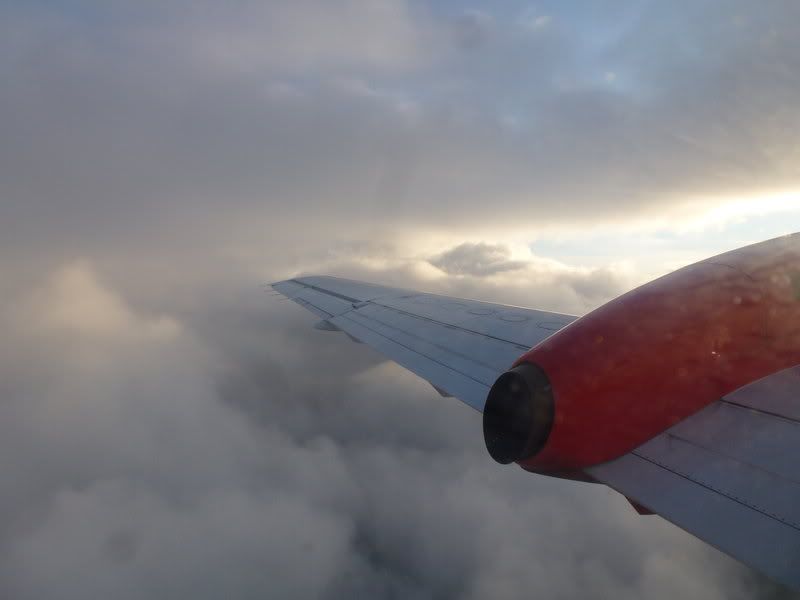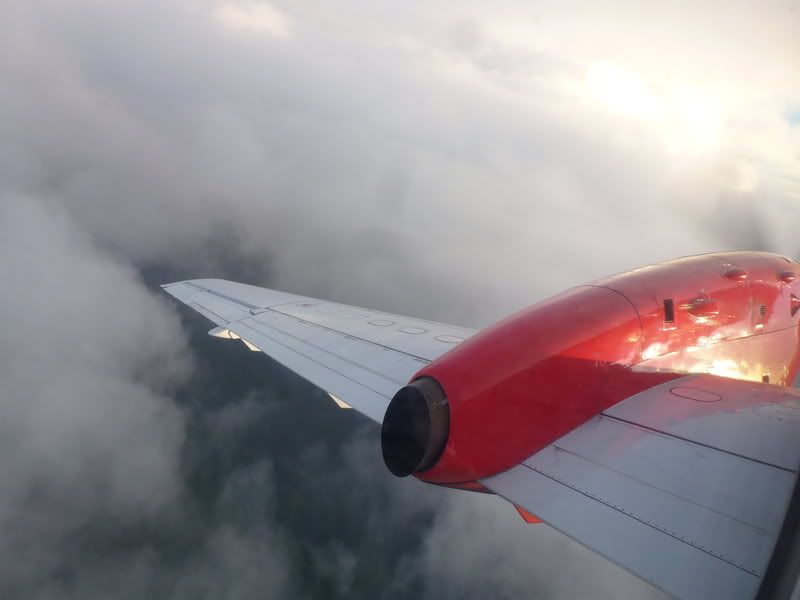 First half of the flight is completely overcast: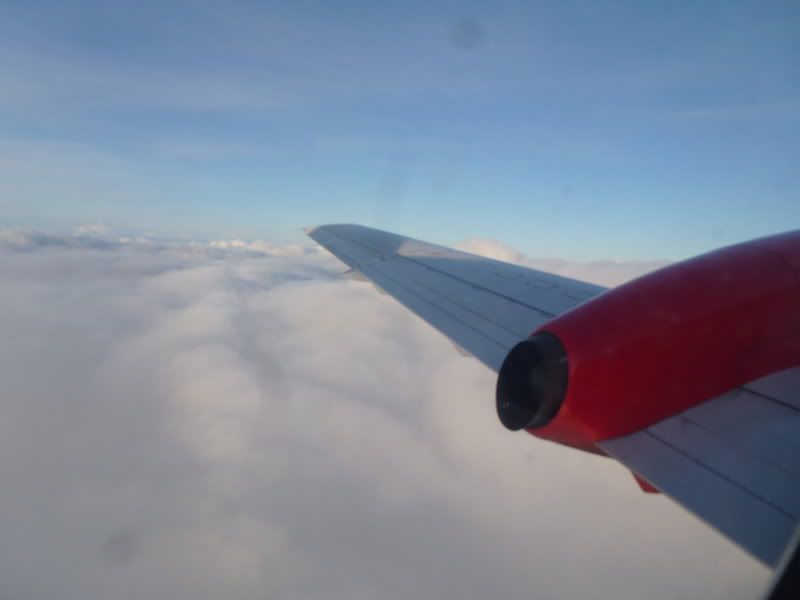 Service is BOB with cheap prices (Robert bought a coffee for only 15 SEK or around 1.60 EUR!), no menu card (yes, this is SOP for NextJet but still weird), not much takers and an impressive array of accepted currencies ("We accept all the Scandinavian currencies, the Euro, US Dollars and British Pounds" goes the speech):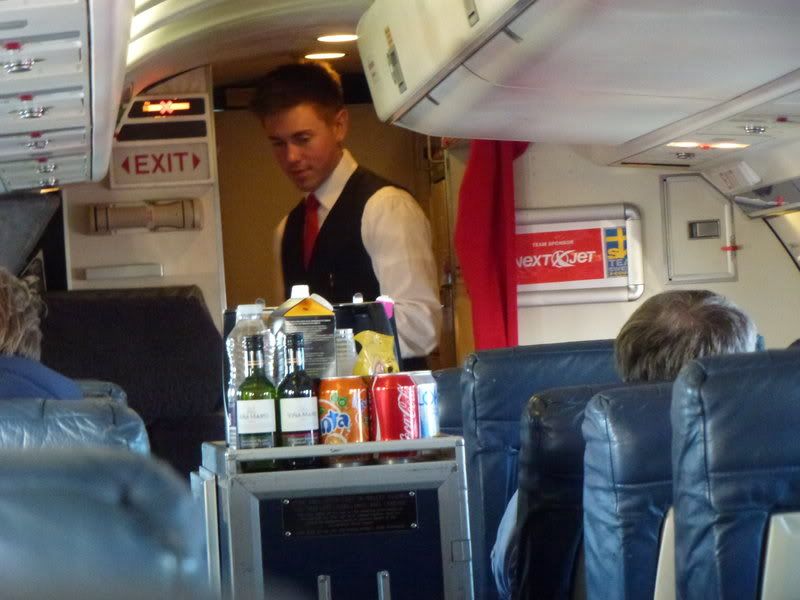 Interesting: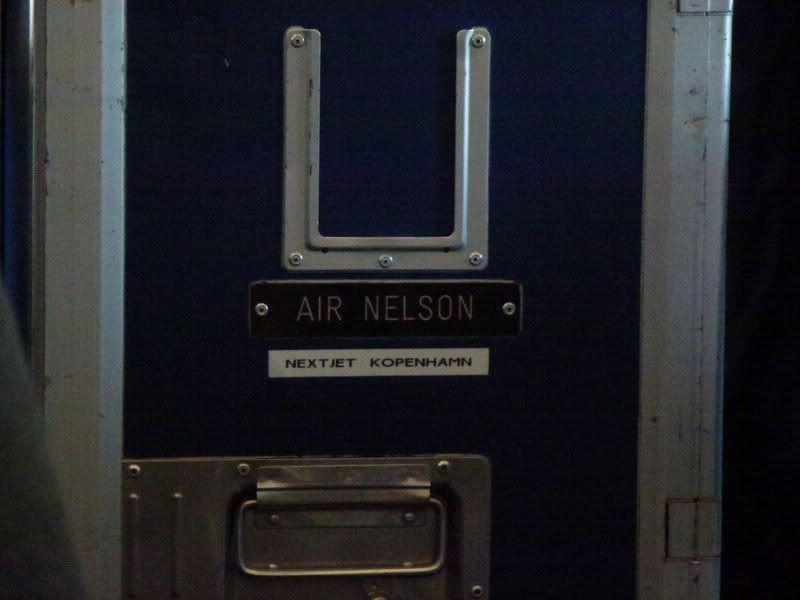 It turns out this plane indeed used to fly with Air Nelson in NZ before. I also didn't know that this plane is actually based at CPH, judging from that sticker.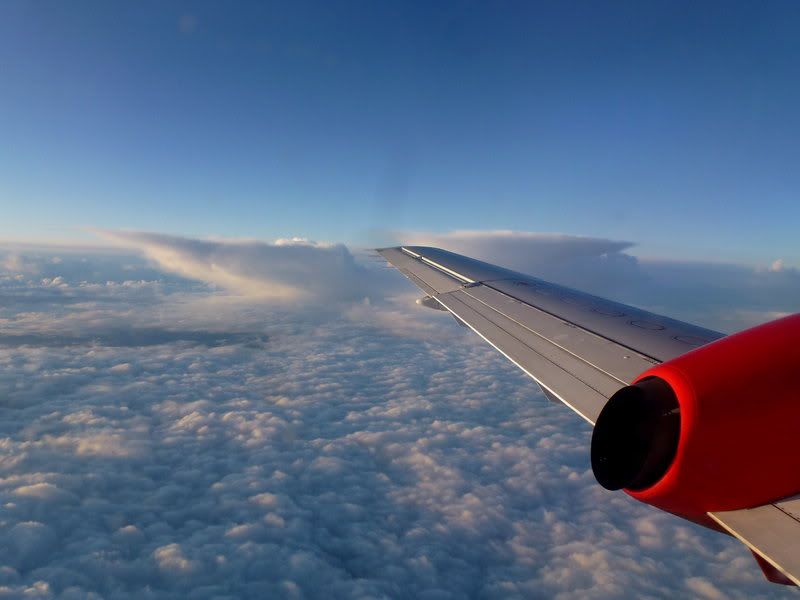 After half an hour or so the clouds disappear and we see the some white stuff on the ground again: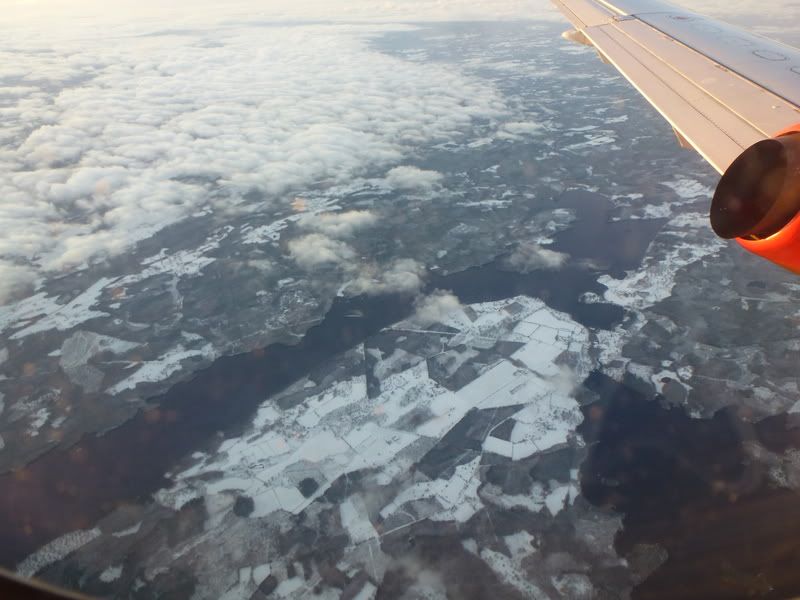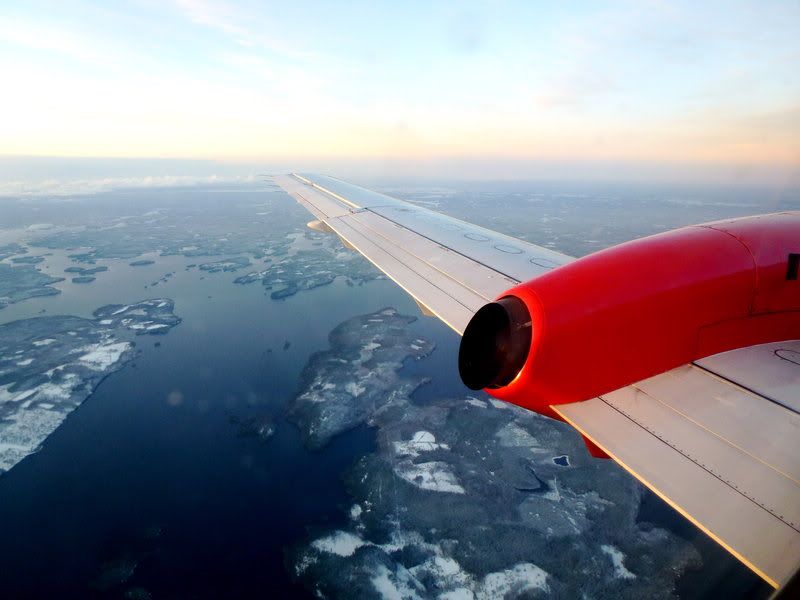 Soon enough the cockpit crew announces ten minutes to landing and we commence our descent towards the very Nordic looking land