View Large
View Medium


Photo © Lasse Kaila
Making the best of a very bad situation.
I did a trip reports search and I think this just may be the first dedicated trip to Khon Kaen.
Many of you are probably aware of the severe flooding here in Thailand. It has been the worst flooding in over 60 years to hit Thailand. I've been in flash floods before but never had to deal with long term flooding before. Initially I wasn't sure if my immediate area would be flooded, nor did anyone else but tried to keep up to date about the flooding situation to the north. It's really difficult to mentally prepare for such an event when never having experienced such. As a rule, it's best to have at least 5-7 days of emergency supplies stocked up in case of a disaster before you can make your escape.
News outlets were giving all sorts of conflicting information. Some outlets were minimizing the severity of the floods while some was exaggerating and being sensationalist with the news – both local and foreign news outlets.
Everyone I know here in Bangkok was not taking risk and was fleeing the city. Many were staying with relatives in other provinces to the north or south and some left the country. I wanted to stick it out as long as I could since I had work to do for clients outside of the country. I had seen the photos of Don Mueang days before my area had been hit. Then the flood waters started to creep in to my area. It was a surreal experience because usually floods happen pretty fast. In this case, the flood waters were slowly creeping out of the storm drains and coming down the main boulevards from the north. A day before, water was just 1 inch below the water drainage below the sidewalks. I felt a sense of panic in the air and fewer and fewer people were showing up to work. Bangkok was becoming a ghost town without any traffic. Hard to imagine for anyone that has visited this city which is notorious for traffic.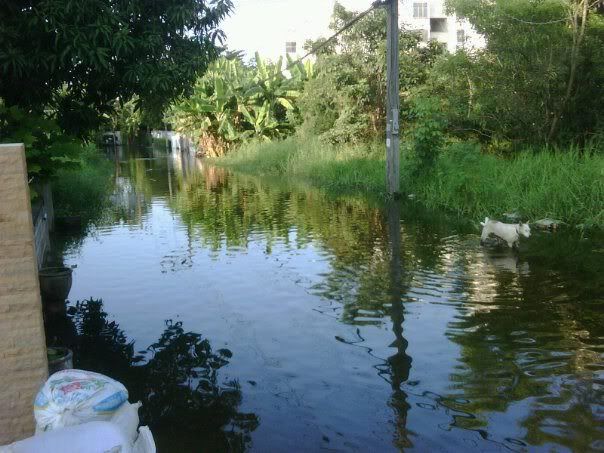 my soi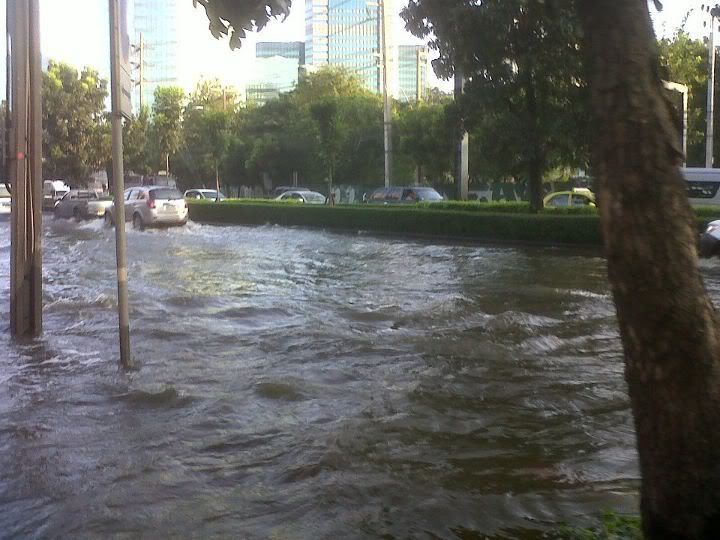 I usually walk this way to work but not this day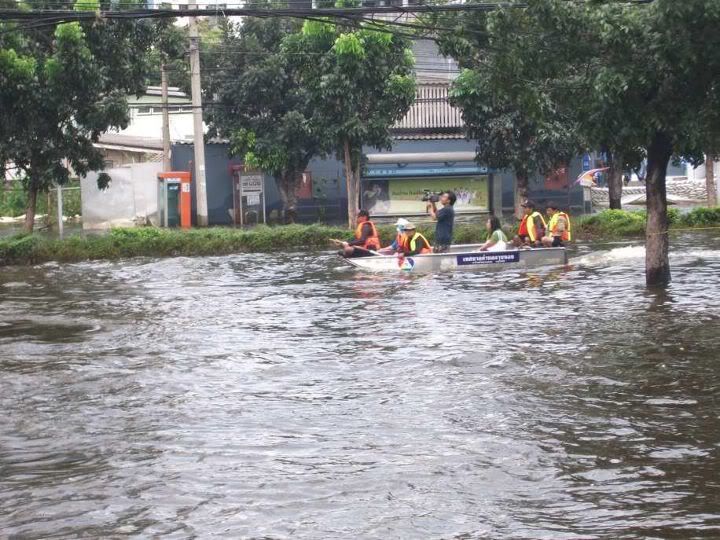 boats to get down the main boulevard in my area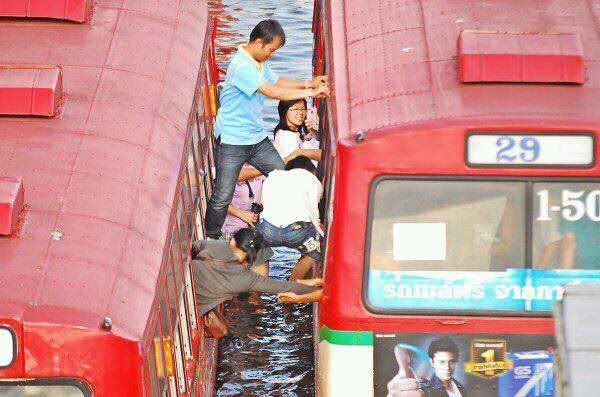 Amazing way of transferring buses. This bus line goes from my area to the BTS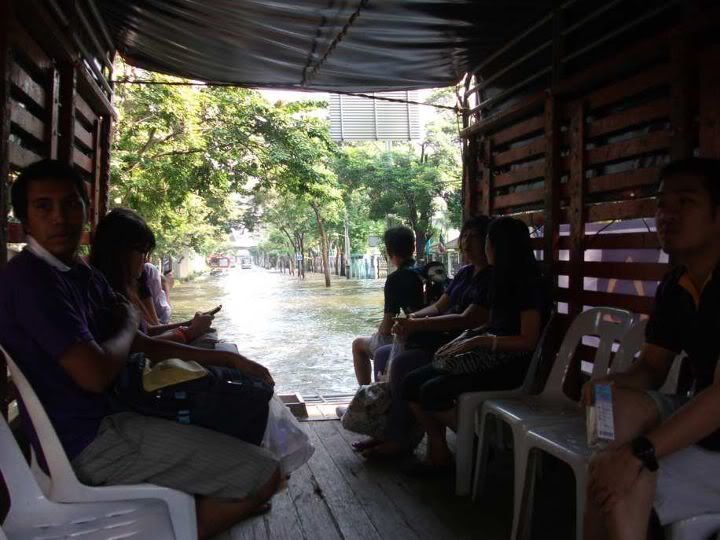 Military jeep escorts down the main boulevard
Even though I live in a high-rise and not at risk of floods, my building's transformer is at ground level and there was a possibility that power had to be shut down. There was no way I was going to walk up 18 floors only to sit in a condo with no lights, air conditioner or internet and no food. Considering I had no idea how long I had to leave, cost was a major issue. I knew my getaway would not be a fun getaway at a nice hotel. Just about everyone I knew fled town so I felt I should do the same. I packed my suitcase and everything I needed. A good friend of mine offered me to stay at her mother's place up in the Isan region in a small village outside of Khon Kaen. So I attempted to buy a ticket on Thai Airways to fly up to Khon Kaen. The chaos from the flooding was affecting everything and I was not able to buy my ticket online due to poor internet connection from my building.
Tickets out of Bangkok were selling fast and only business class was available.
So with no internet and rising flood waters, the only way to buy a ticket was to go clear across town to Suvarnabhumi to buy my ticket. I had to wear wader-boots almost waist high to walk down my street to get a military escort jeep to take me down the flooded boulevard to the nearest BTS station which is about 3 kilometers from my place. From BTS, I took the Airport Rail Link to Suvarnabhumi.
It was night time at this point and barely made it to the Thai Airways counter before they closed.
I ended up frightening a lot of tourist that just arrived from Europe because I was walking through the airport wearing waist-high waders. It was an odd feeling walking down through the terminal and people freaking out about my rubber boots and pointing to them with horror in their face. Many had heard about the floods shortly before arriving and many thought it was flooded around the airport and at tourist areas.
There was a lot of misinformation about the floods. The images of the recently painted, but decommissioned Thai Airways A300s sitting in flood water at Don Mueang didn't help. The area around Suvarnabhumi and all of the tourist resorts up north and beach resorts down south were not flooded at all.
Once I left my condo to buy my ticket, I didn't plan on returning until after the floods. After buying my ticket at Suvarnabhumi, I crashed at a friend's place near the airport. He and his wife were leaving for Denmark a few days later.
The following morning I arrive at the Suvarnabhumi and check in to the Thai Airways Royal Silk Business Class lounge. Everything went smooth. As usual, the service was great. The staff was all smiles and the food was good. What I found interesting is that their sausages do not come with buns. Yet I kindly asked for buns, the friendly lounge attendant brought out fresh buns for me. Every time I walked up to grab a sausage, she would bring out new warm buns for me.
I really appreciate this attention to detail.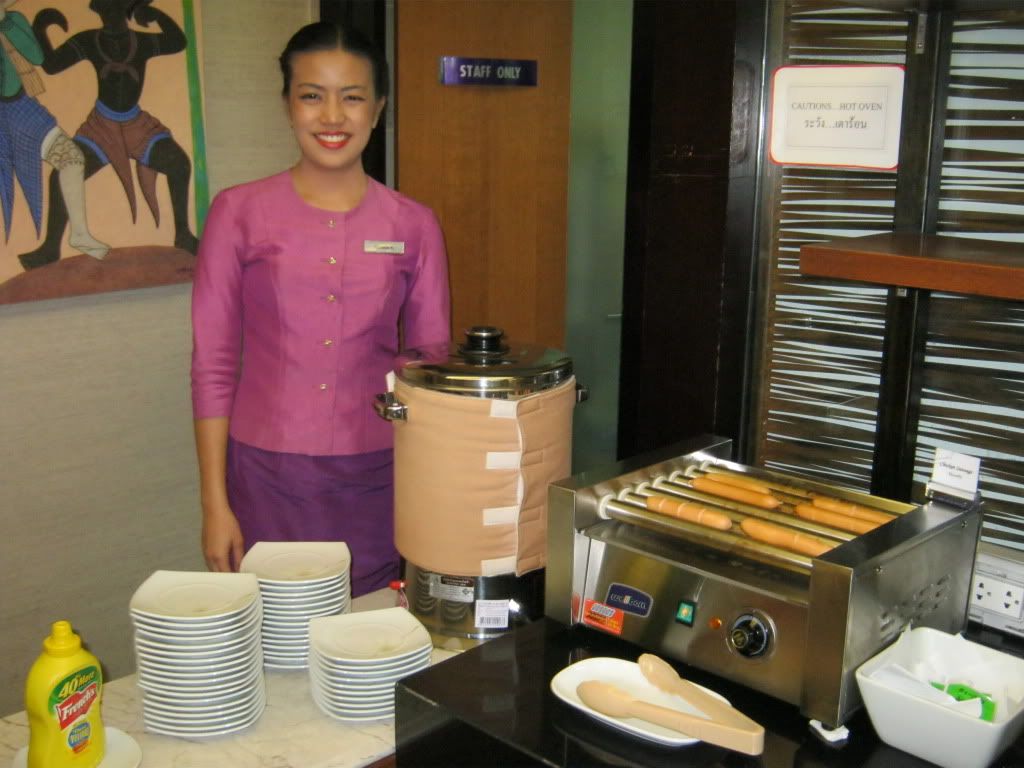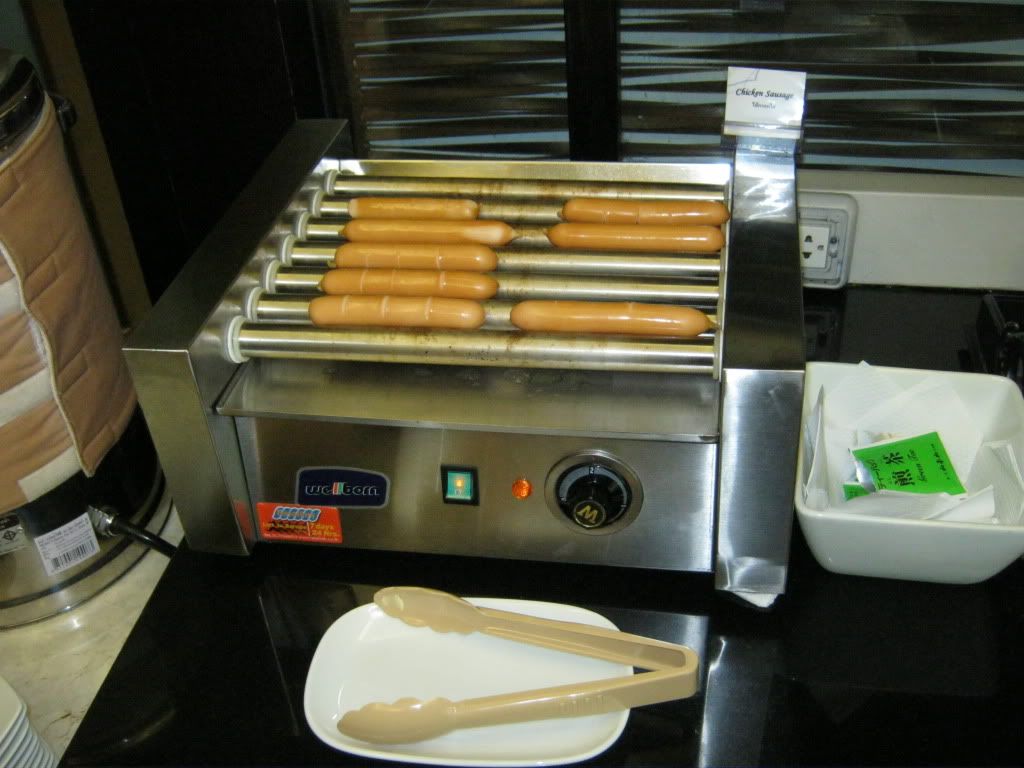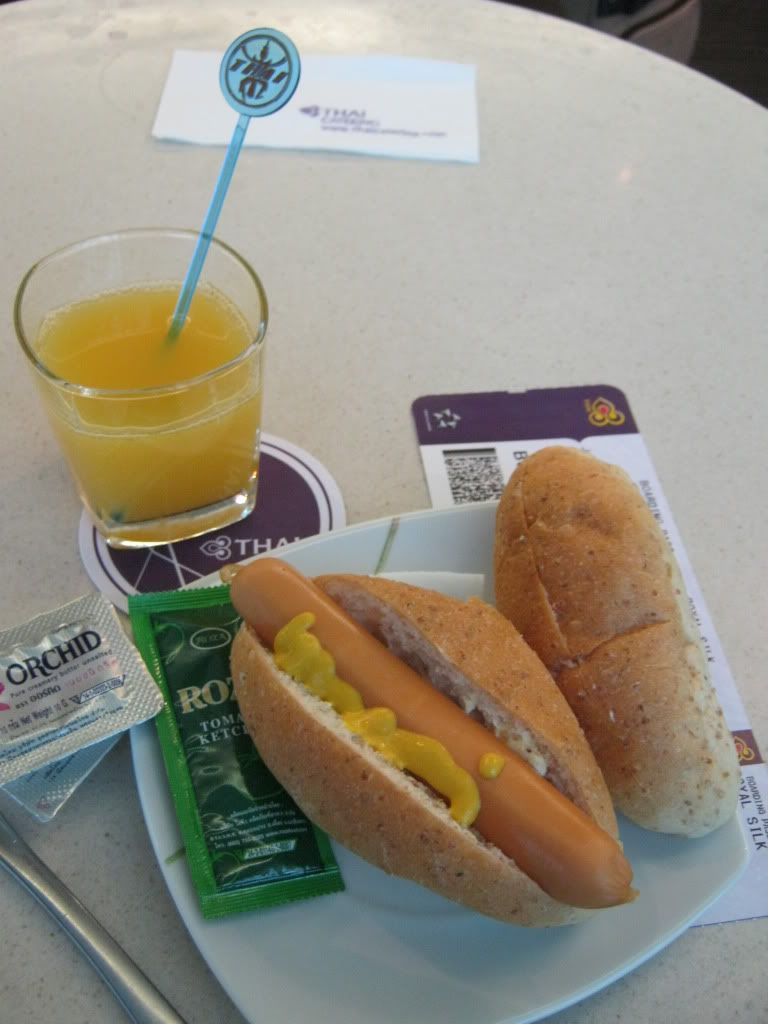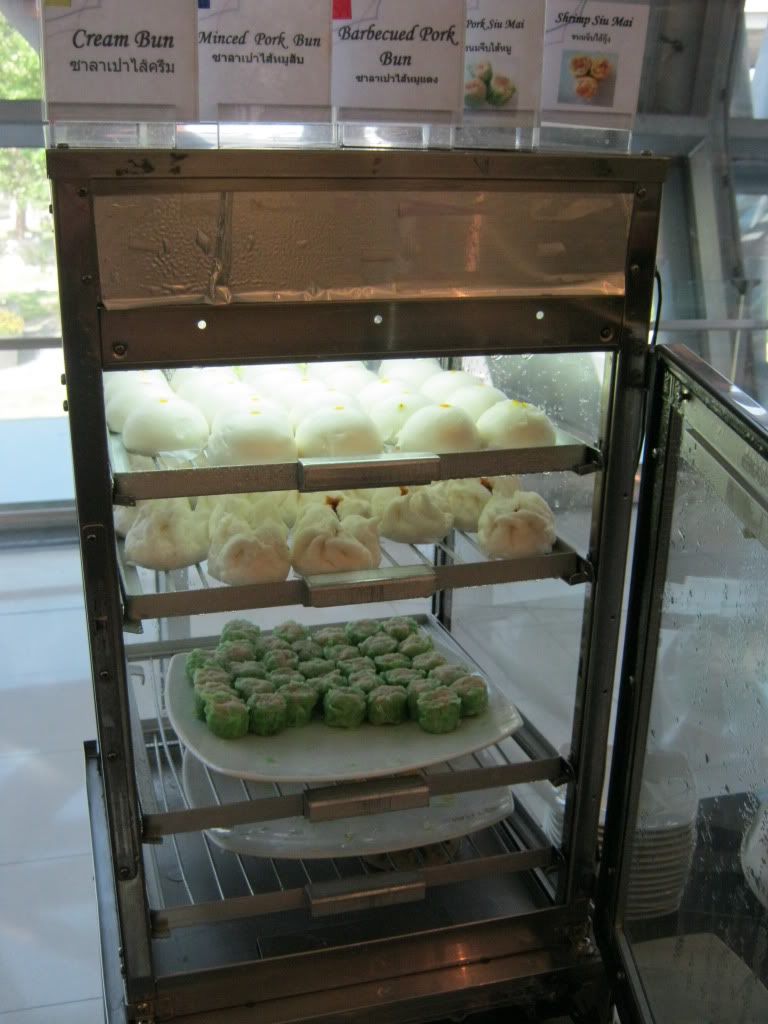 Pork buns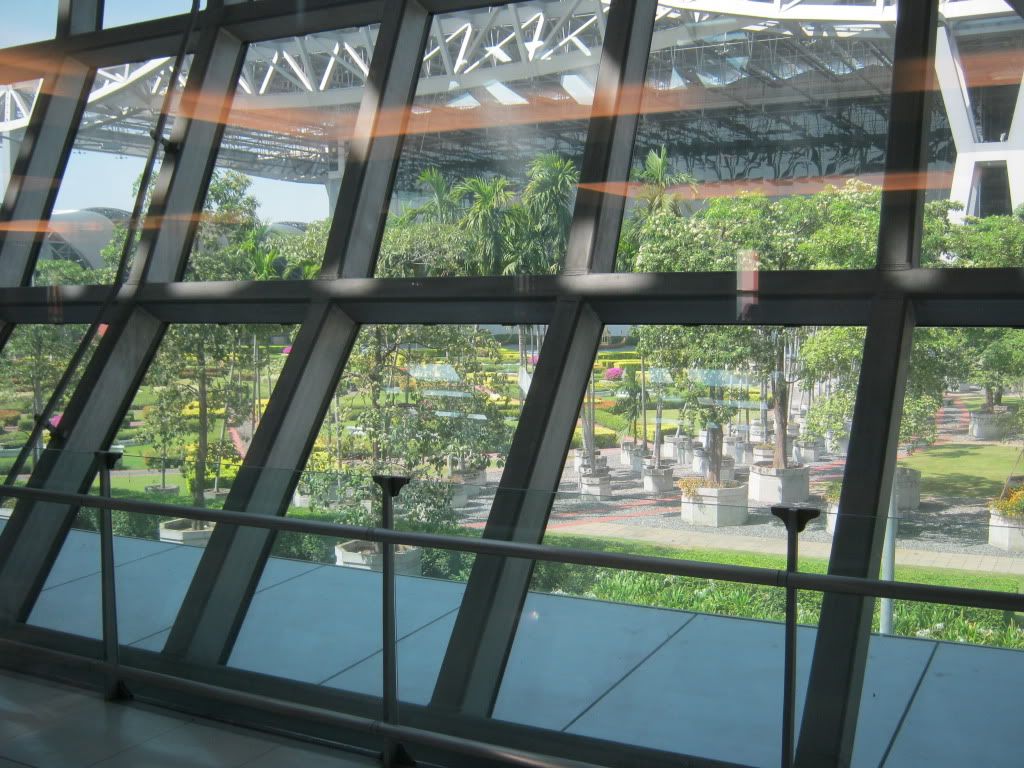 View from inside the domestic Royal Silk Lounge for Thai Airways
We board our flight which was on an A300 HS-TAO, nicknamed Chanthaburi.
Years ago, this aircraft wore the original 5 Star Alliance livery.
The interior was very warm and inviting, just like the wonderful staff at Thai Airways. The entire flight was full. We left on time, no delays or anything.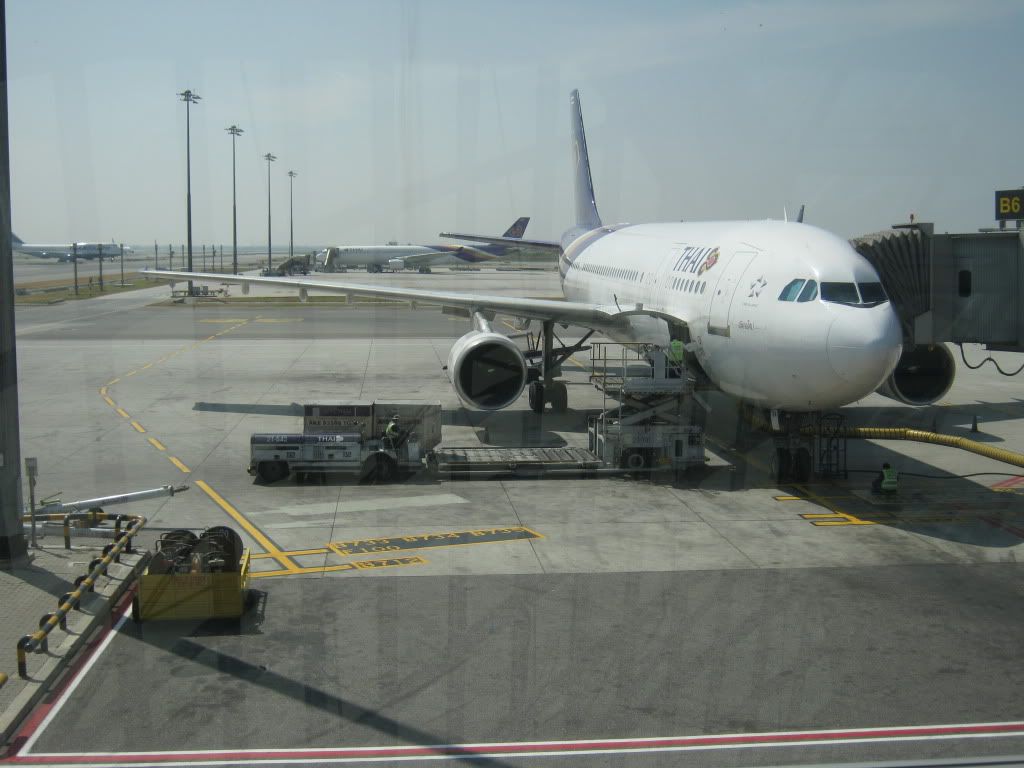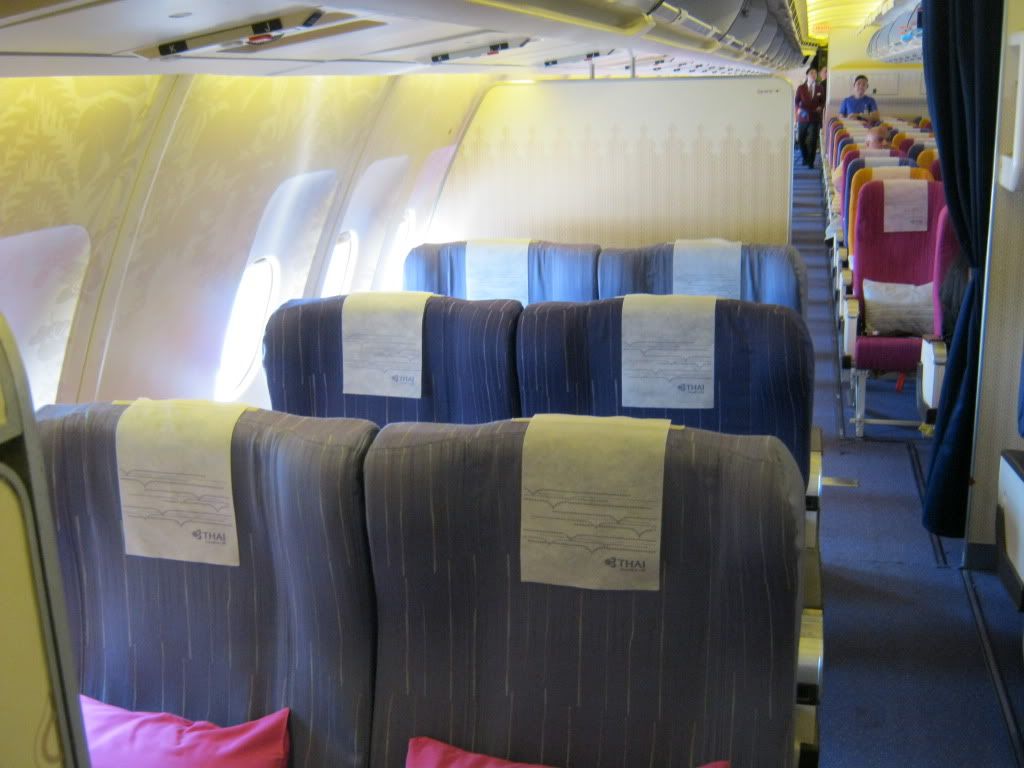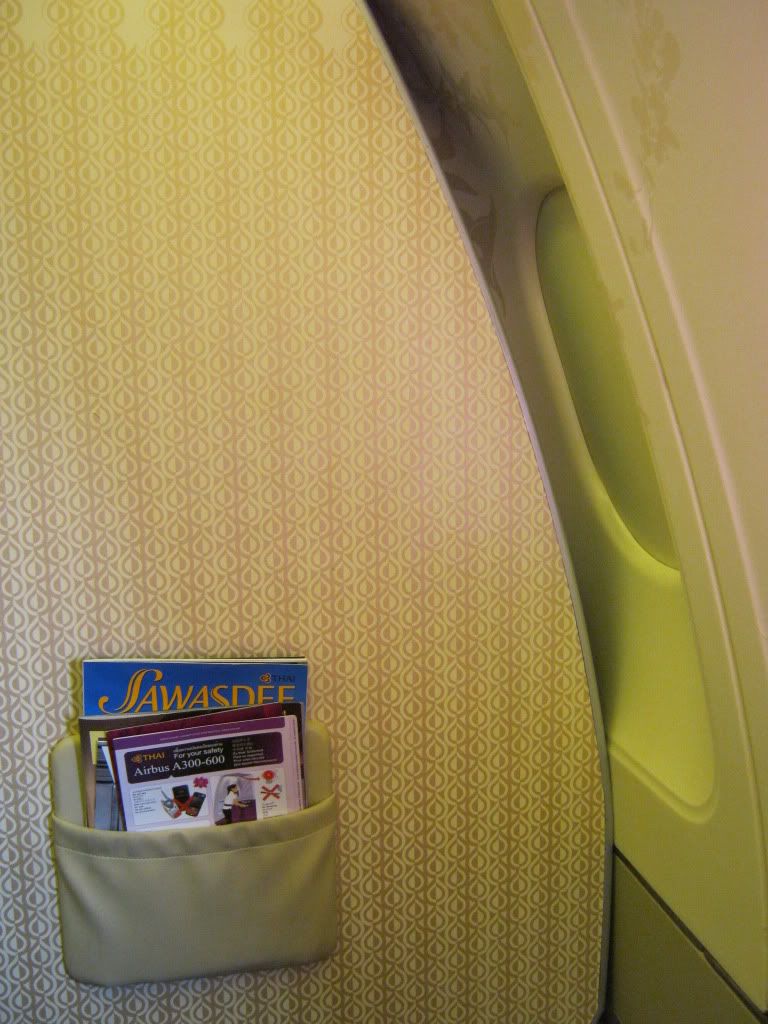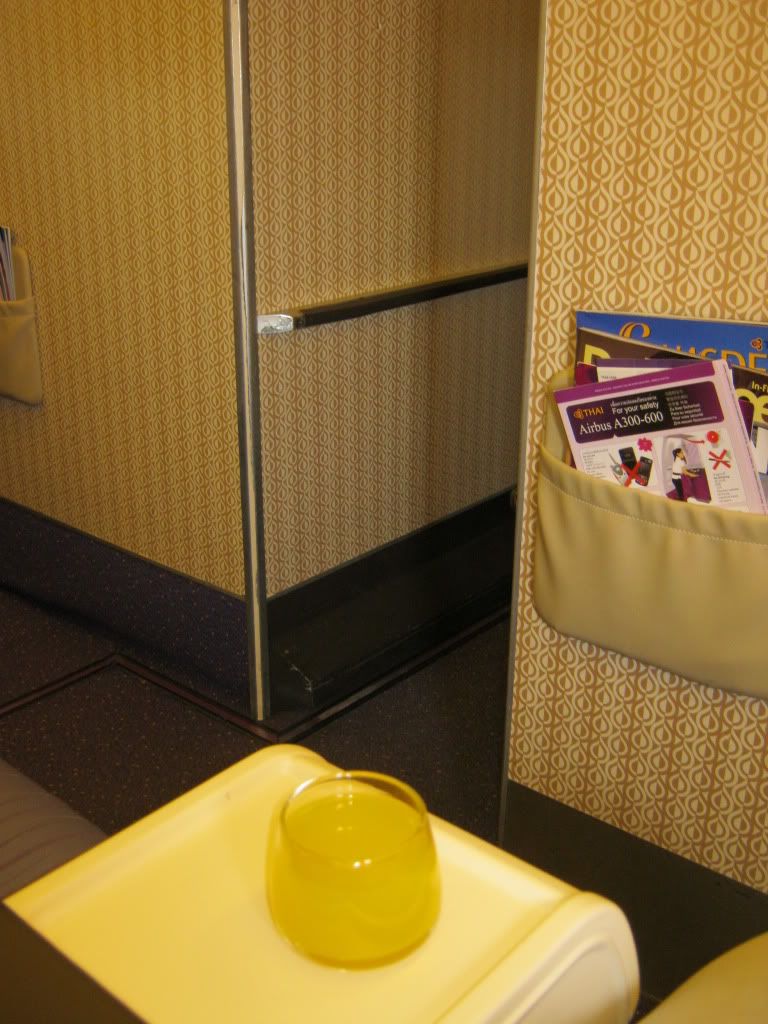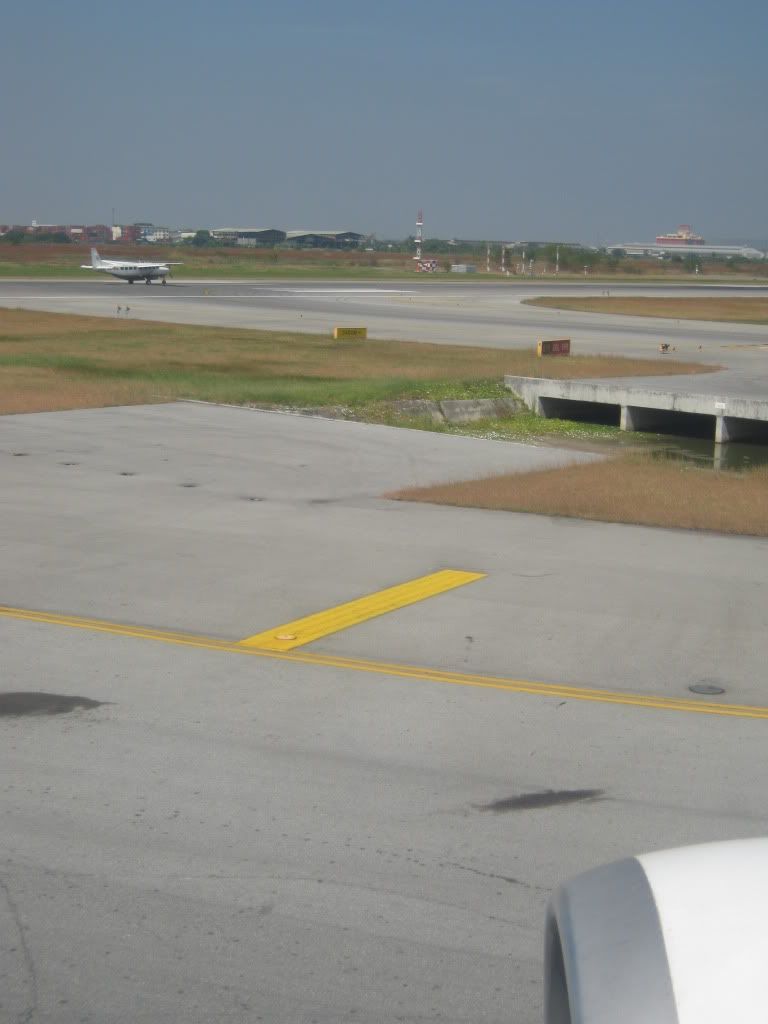 SGA Cessna 208 Caravan ahead of us that normally departs from Don Mueang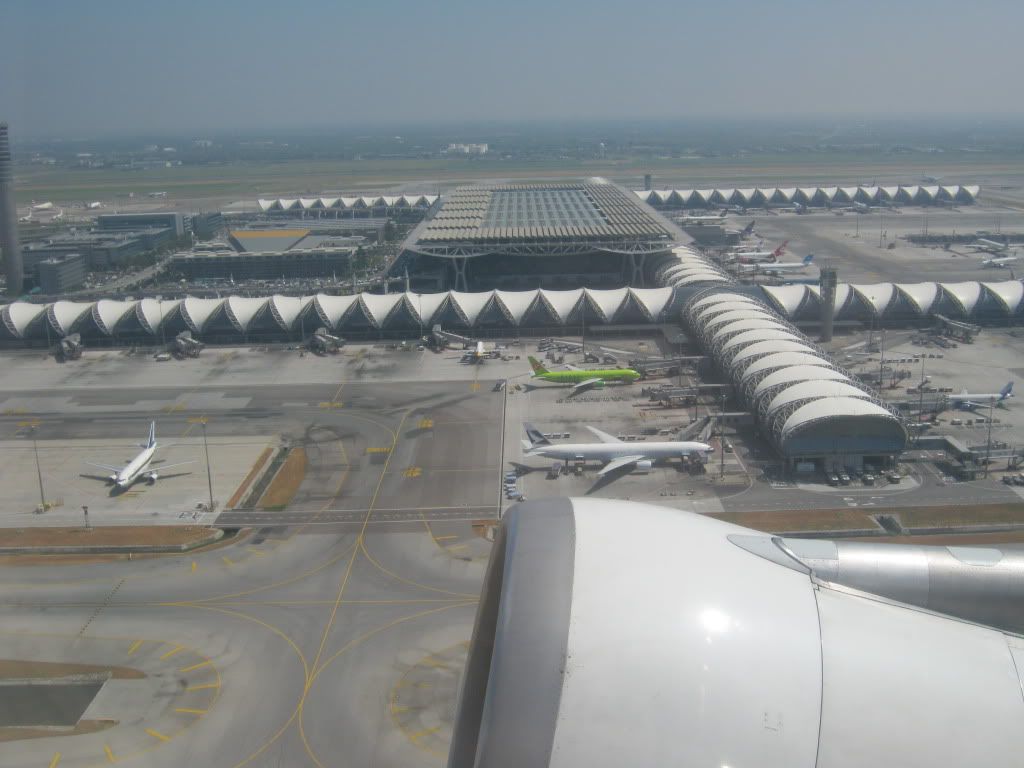 We took off from BKK headed northeast to Khon Kaen. After take off, I was able to get some aerial photos of the flooded areas. Some of these are reservoirs and rice fields but the water level is never this high.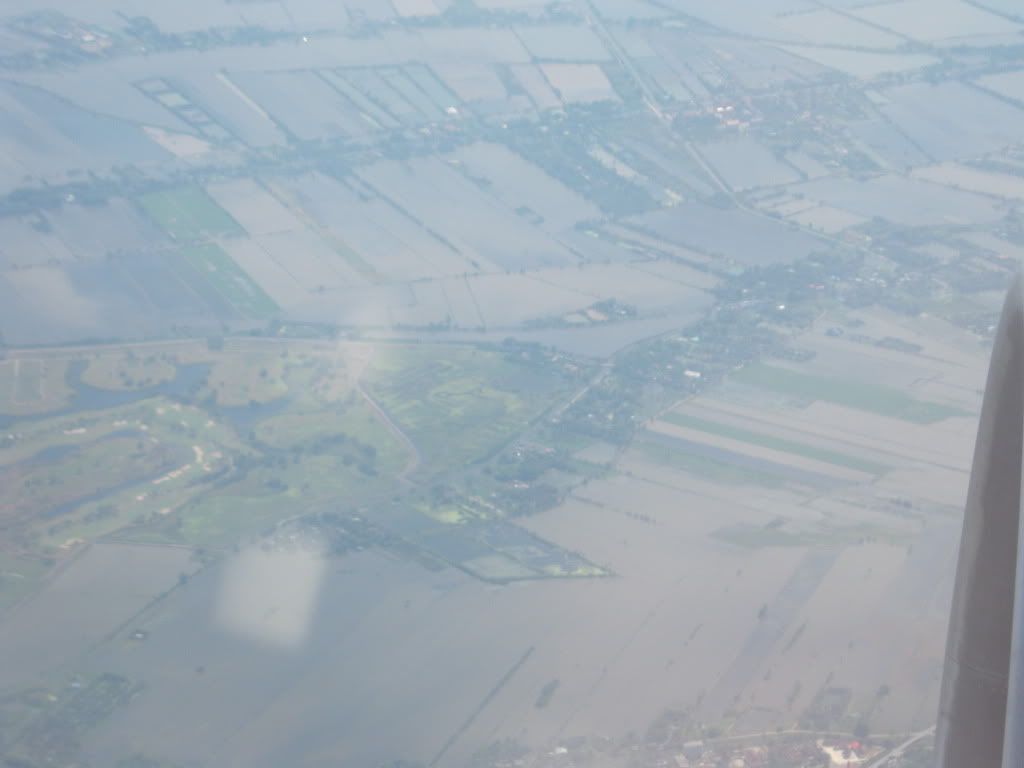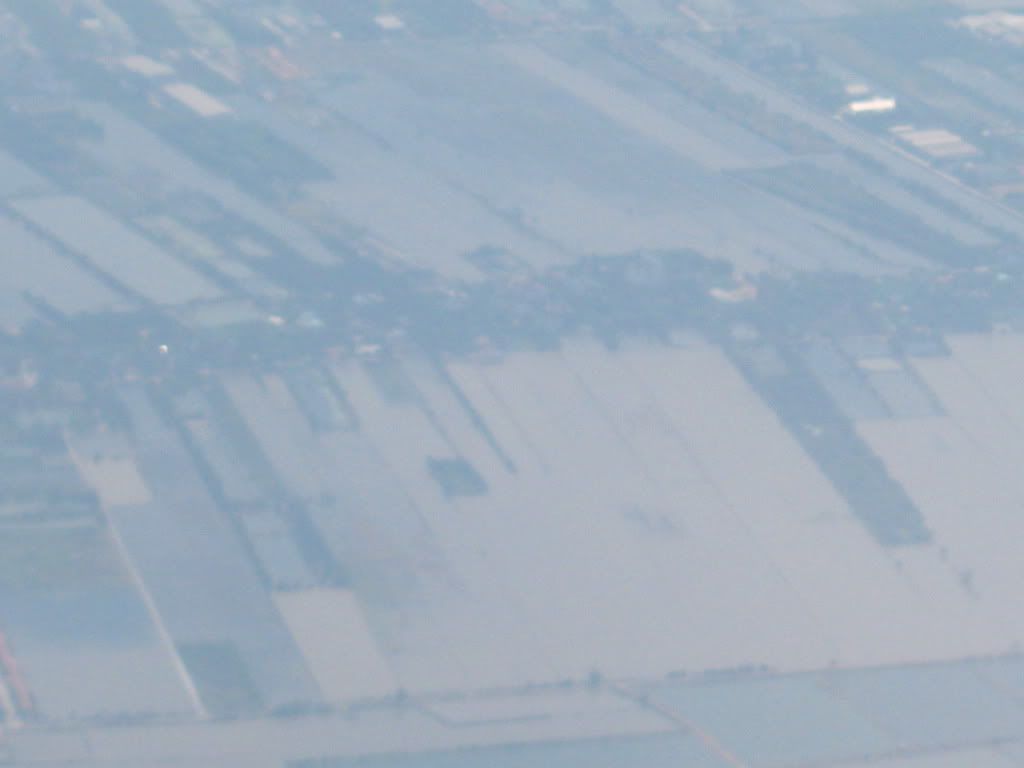 Our meals arrive. Amazing to get full service on a short 45 minute flight.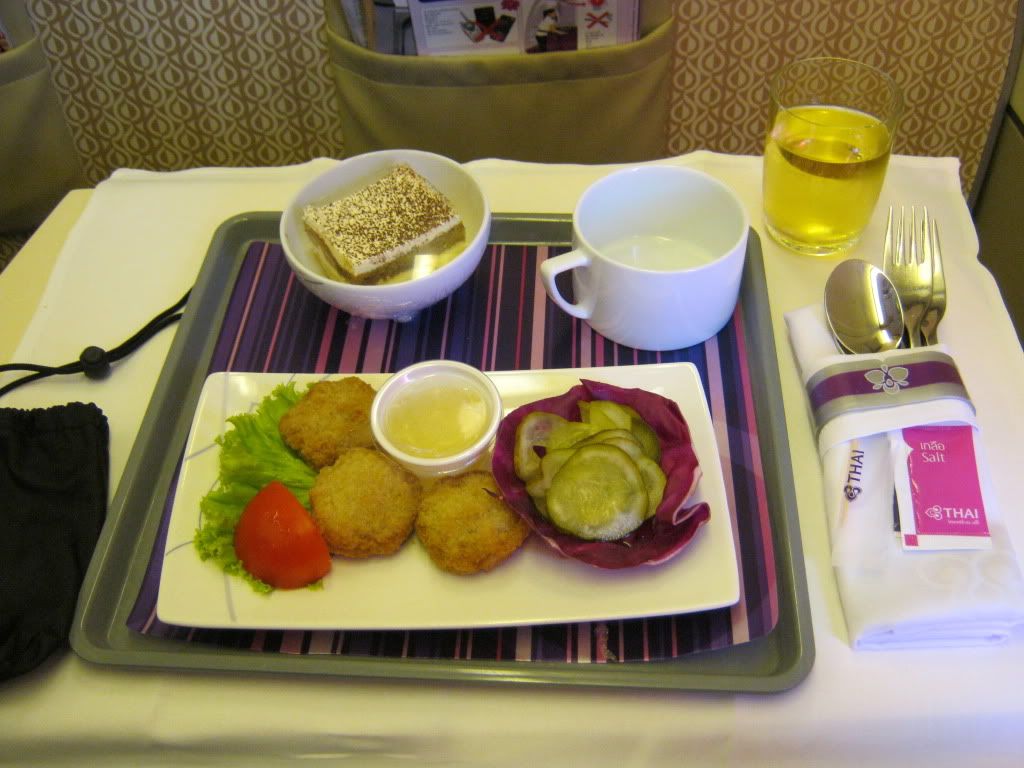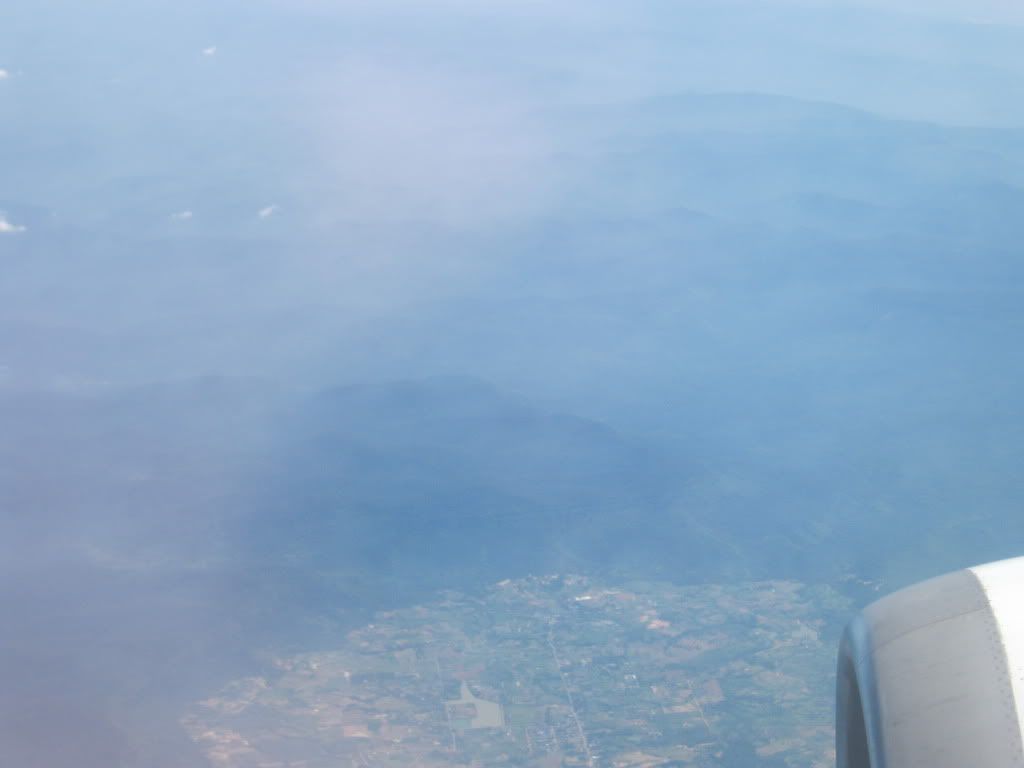 We start our descent in to Khon Kaen.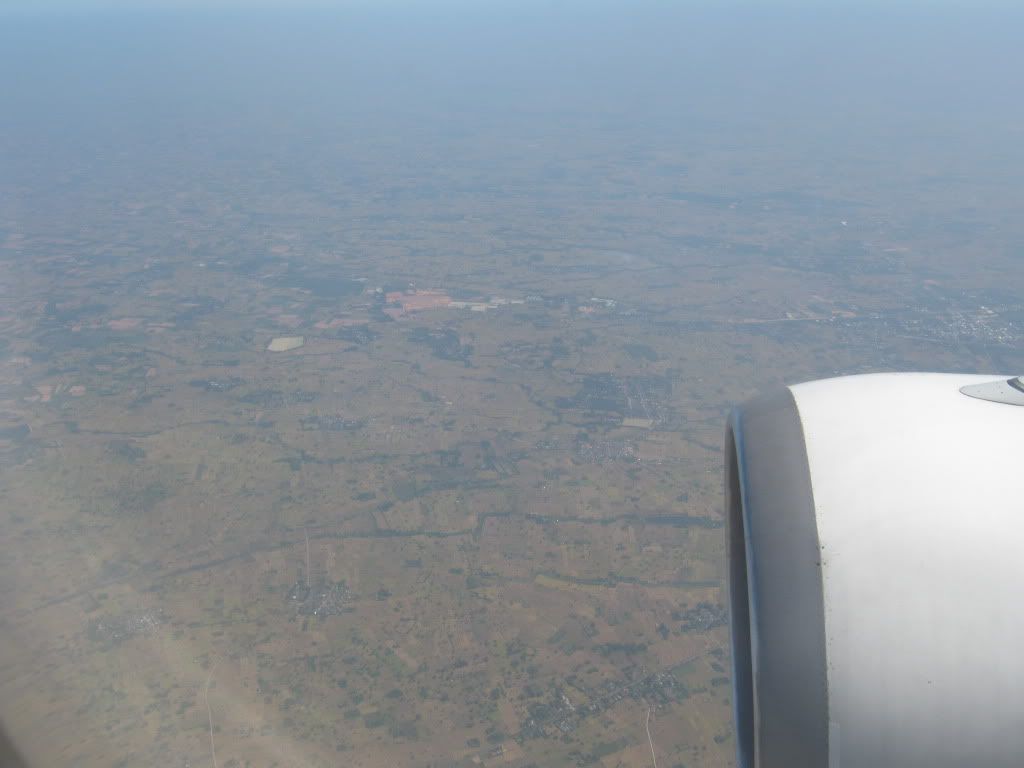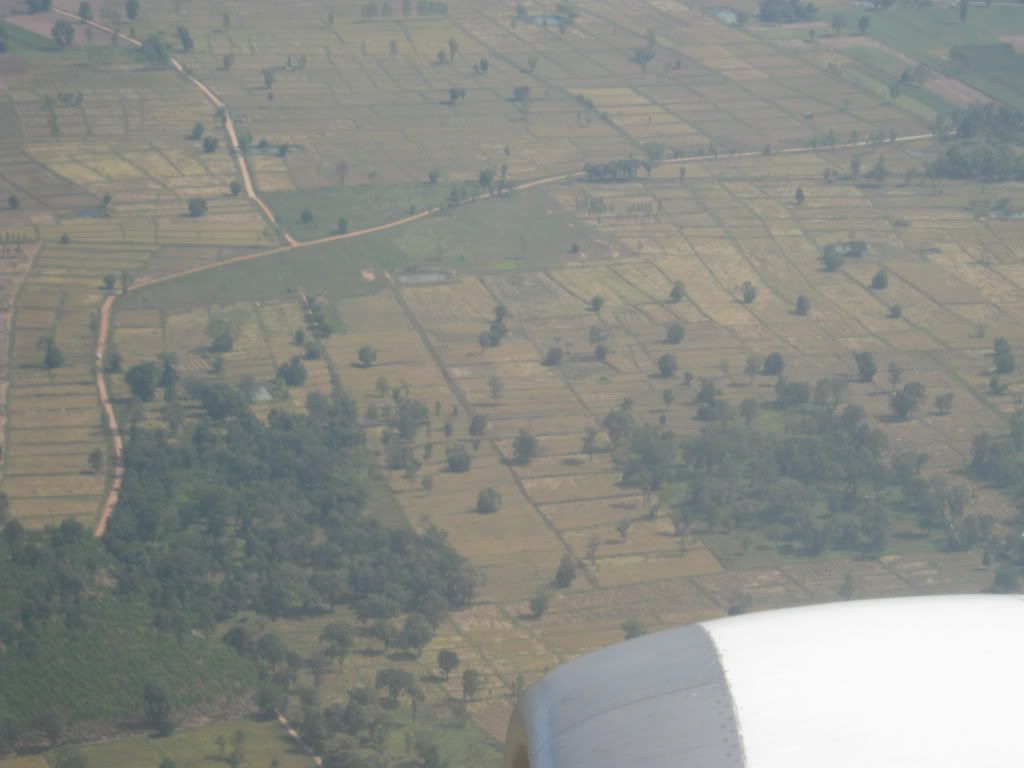 The Isan countryside.
The pilot seemed to keep realigning on final approach. Lots of back & forth on the throttle, crosswinds and yaw. At one point it seemed like we were doing a go around because we started to ascend but then descended again. It must have been a tricky approach.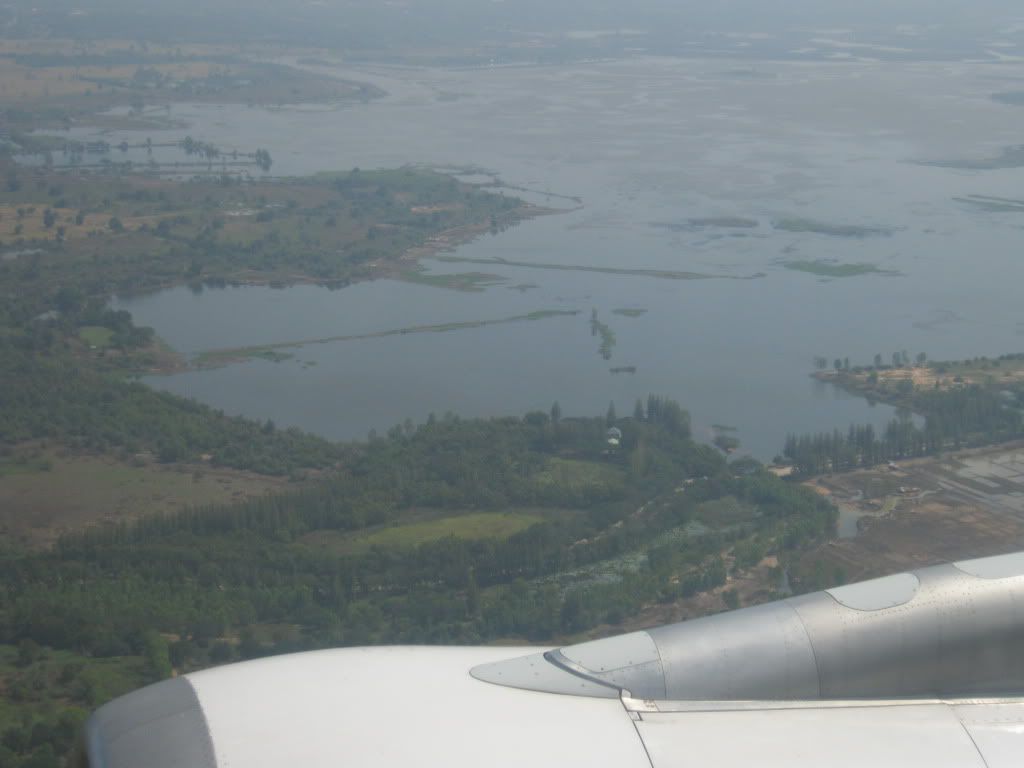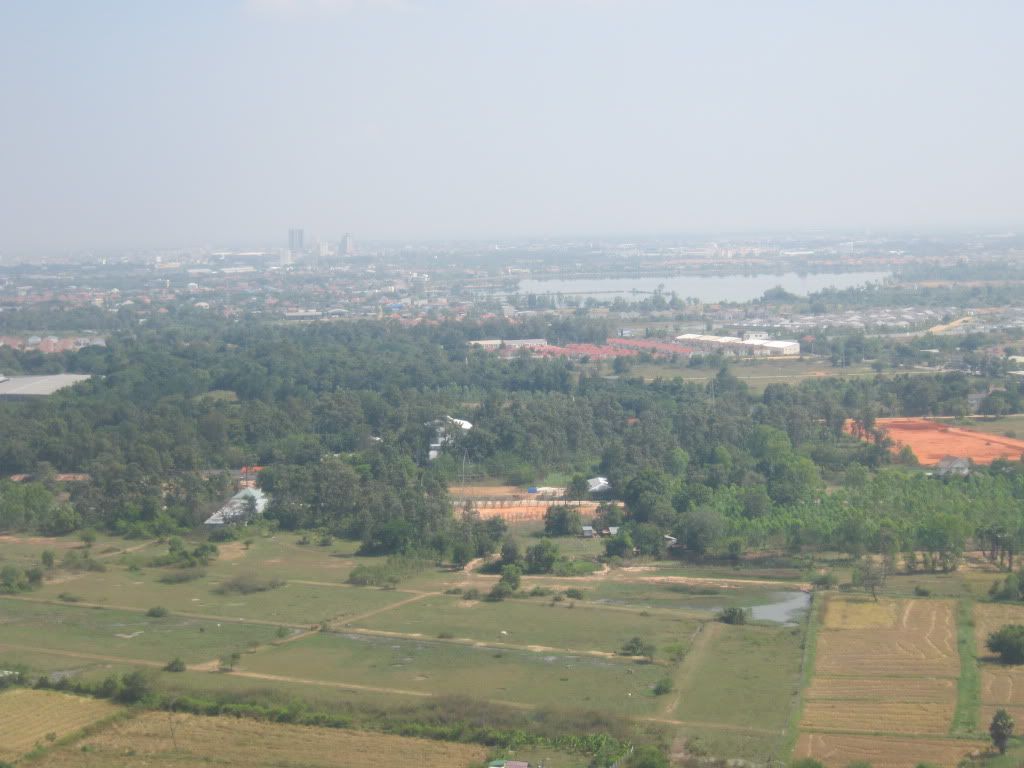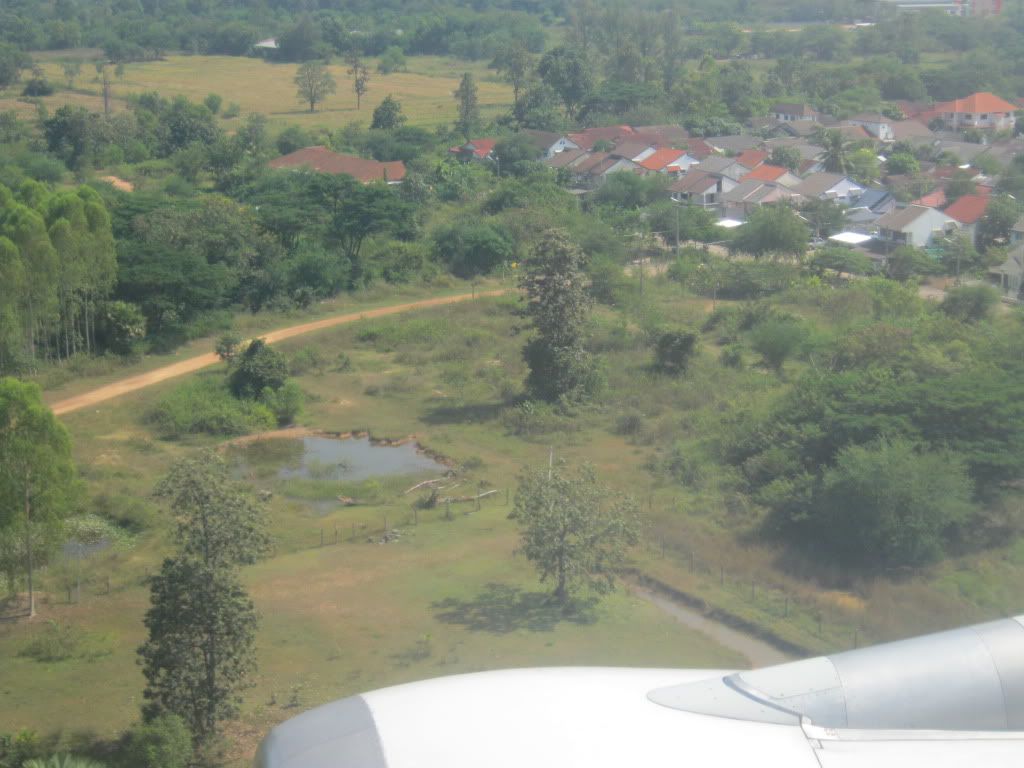 Probably the hardest landing I've ever experienced
Once we crossed over the piano keys, we plunged rapidly and hit the ground HARD! So hard the plane bounced back up and rattled the entire aircraft and we were airborne again for a few seconds and hit the ground again and thrust reversers were deployed.
We pull up to the gate and exit to a small airport terminal.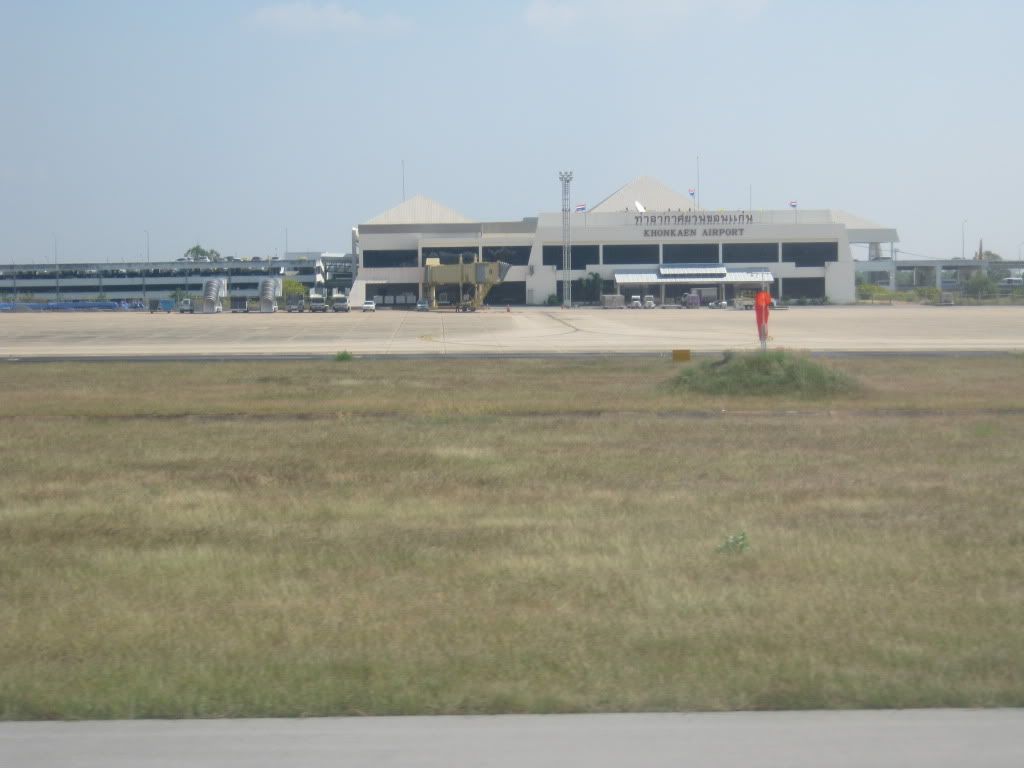 Display at Khon kaen airport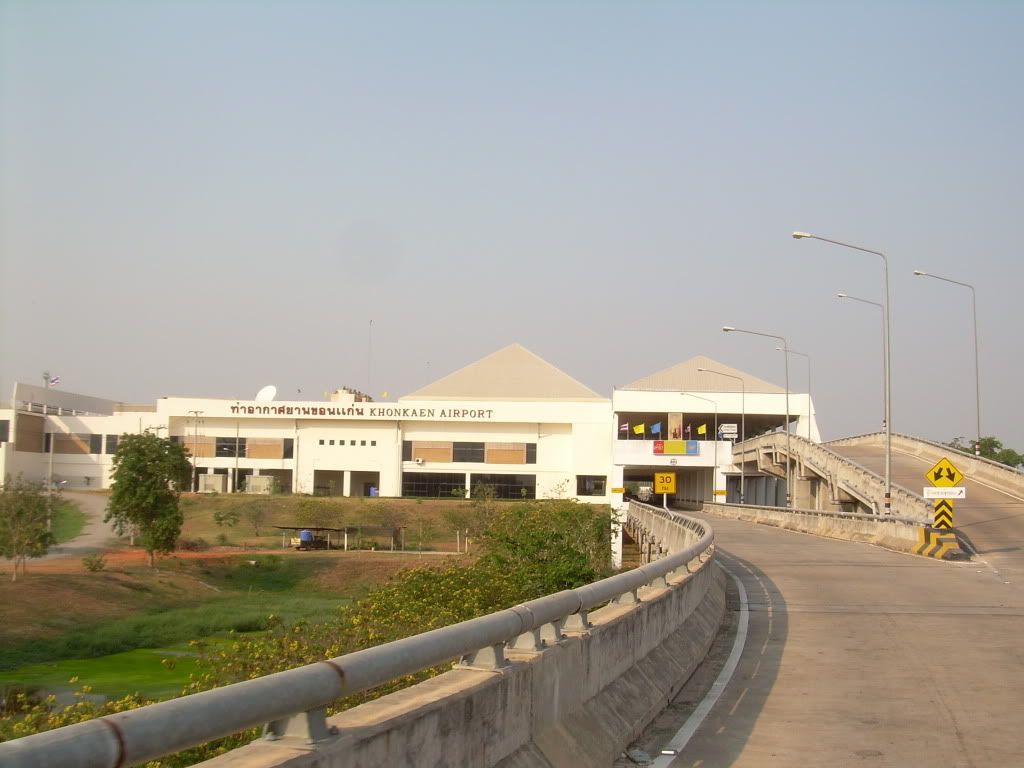 I ended up getting a ride to my friend's village but had to get a shuttle to the bus terminal to get to her village. It was an experience.
The bus to the outskirts of town was rickety but very cheap.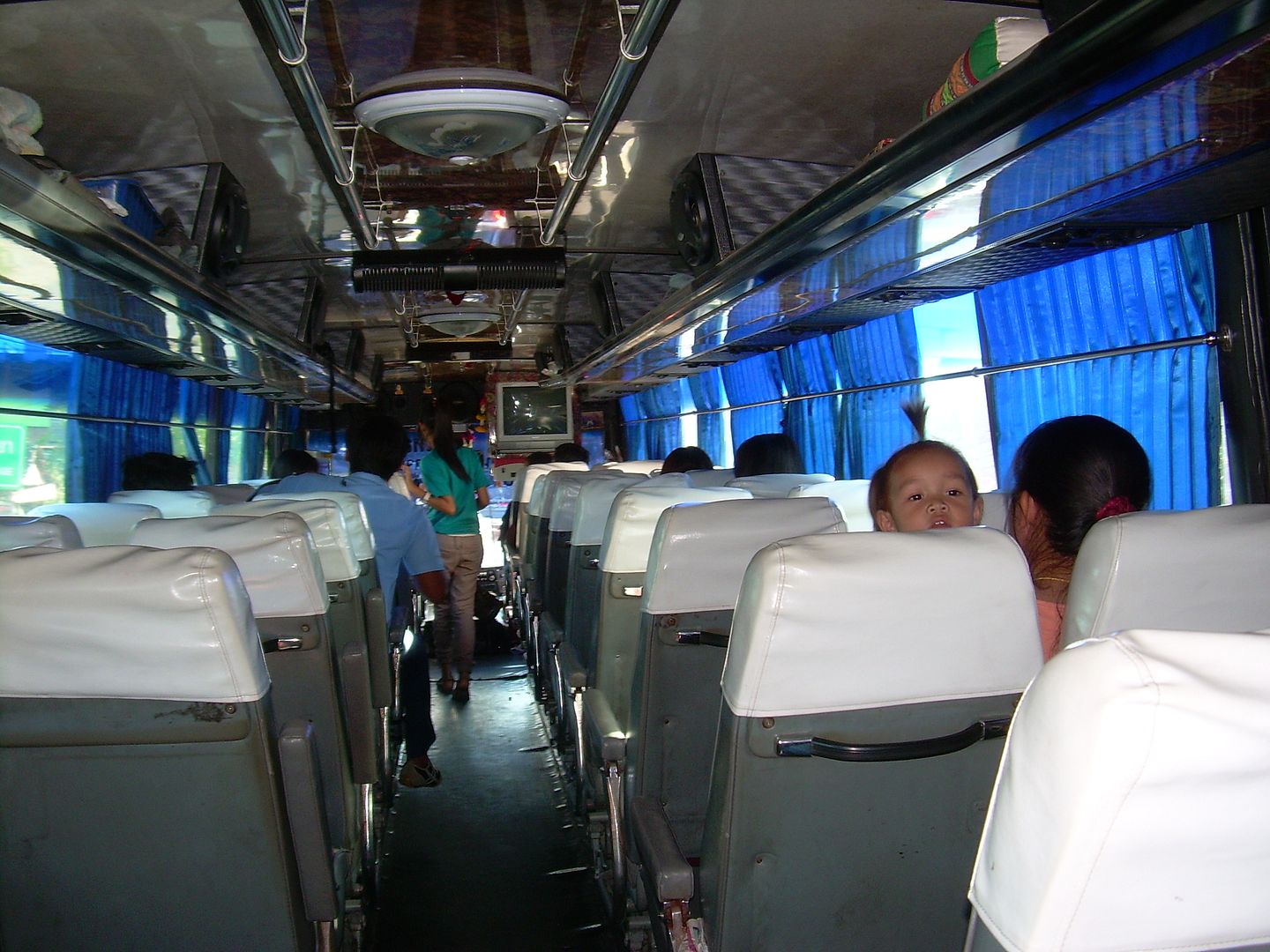 This place was very country.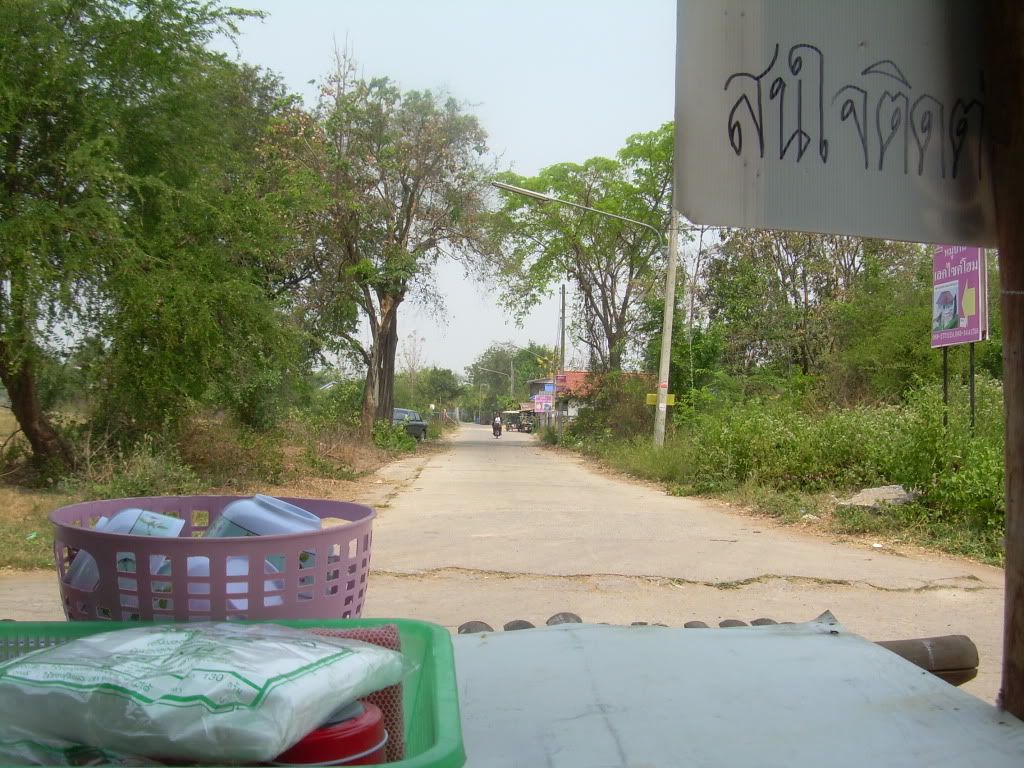 out in the country
Small cinder block homes with no air conditioners and in some case, no flush toilets.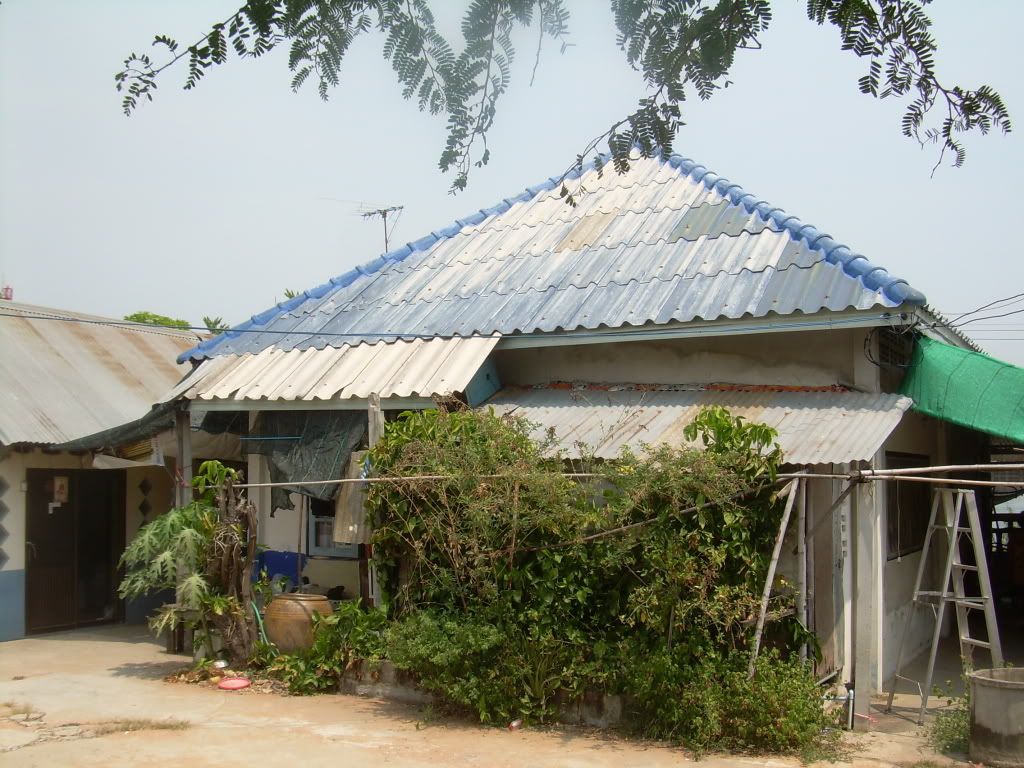 I knew that this would be a looooong stay after seeing this place. I am still very grateful for my friend putting me up at her mother's place.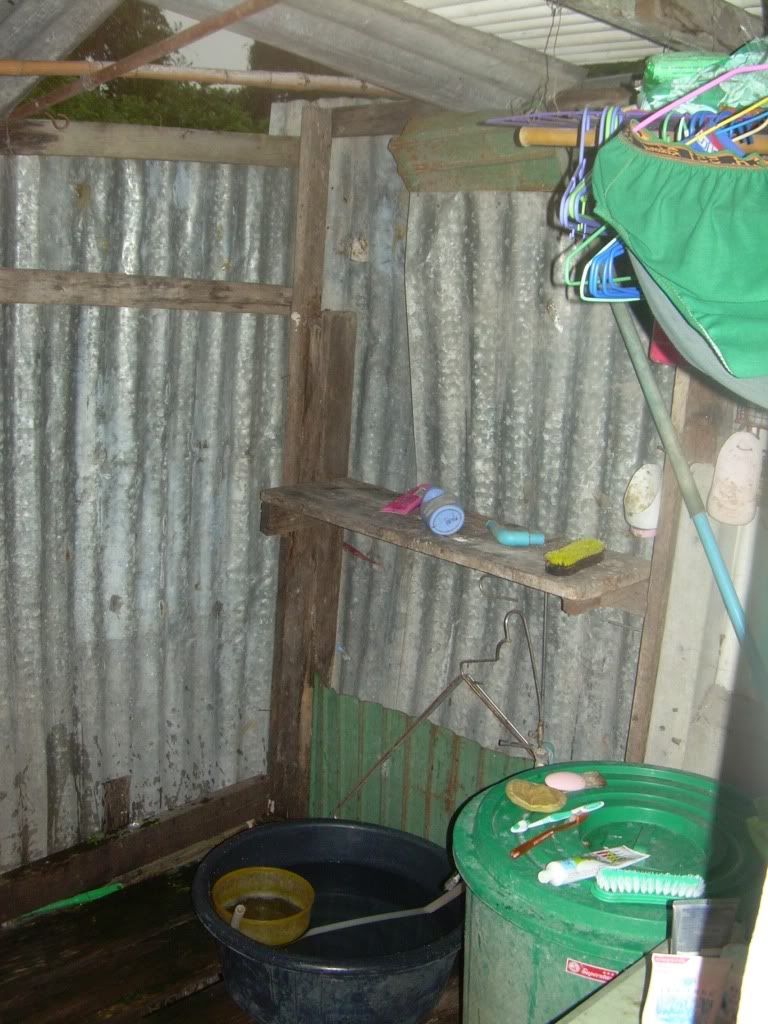 shower
squat toilet
Some cultural experiences just really aren't worth experiencing.
I insisted on buying them a modern flush toilet but she insisted on the squat toilet and boasted about the virtues of squat toilets versus the modern flush toilets. Besides the obvious disadvantages and awkwardness of a squat toilet, my concern is the large container of still water. That can be a huge breeding ground for mosquitoes.
They had an extra motorcycle for me to ride so it was great to have wheels to get around. You need to have a car or motorcycle in this part of Thailand. No subways or frequently scheduled buses or taxis. There were no places that have available Wi-Fi nearby either. Even though I was away from work, there was a lot of work I had to do so having Internet connection was a must. Khon Kaen doesn't have a lot of hip coffee shops with Internet. I kept riding around town and was able to find Wi-Fi at Khon Kaen University. That was a pleasant surprise. I was able to use free Wi-Fi there and get a lot of work done. The campus was very nice and had lots of trees. It reminded me a lot of Universities in northern California such as Humboldt State but without the hippies.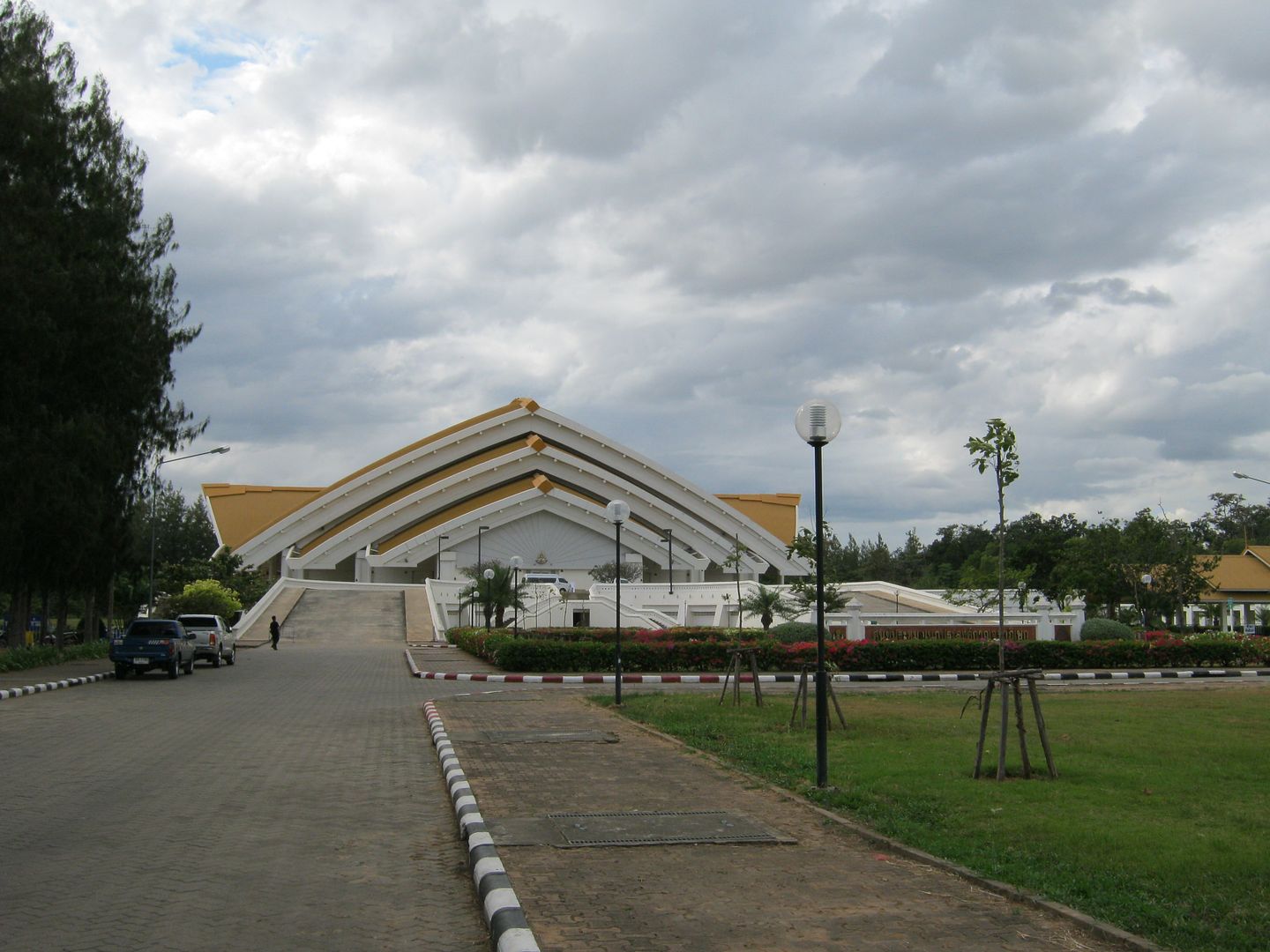 Golden Jubilee Convention Hall at Khon Kaen University
Grabbed some pad kee mao moo for lunch (drunken noodles with pork) and my goodness this was so spicy!
Riding around town, I saw this sign warning people to BEWARE of steam locomotives.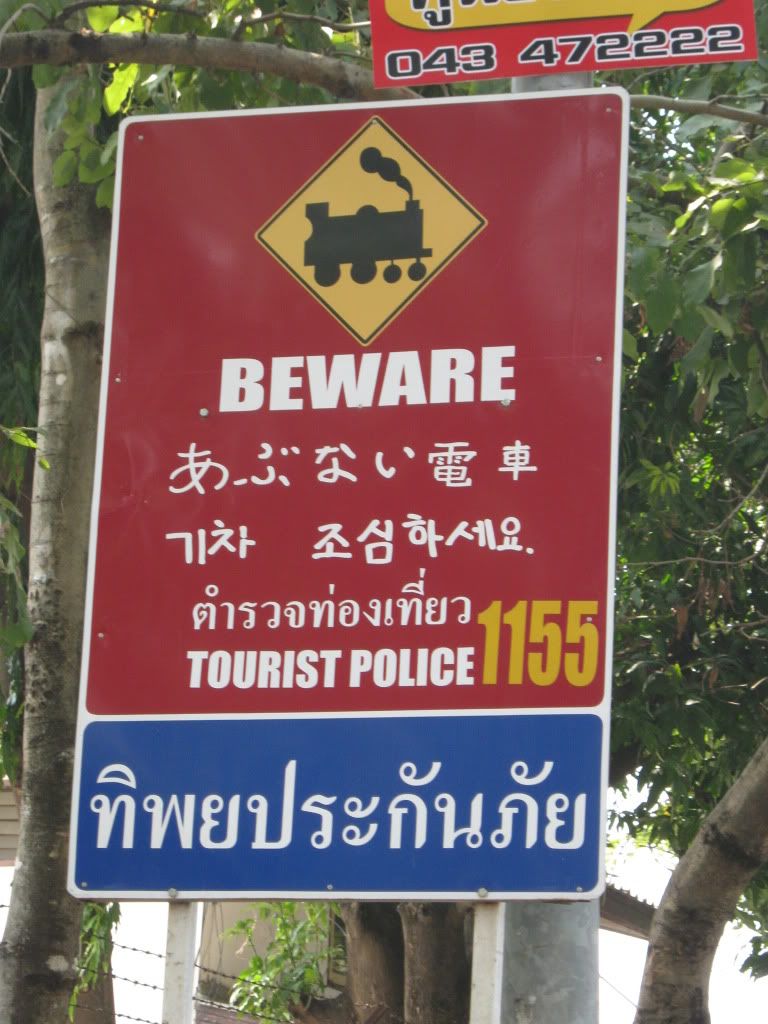 BEWARE of steam locomotives. If you see one, call the tourist police…
I thought this sign was ironic considering few tourist go to Khon Kaen.
One day I went to one of only two shopping malls in Khon Kaen. I huge contrast from Bangkok that has hundreds of shopping malls. There I found some break dancers in the food court. Interesting that those sitting down eating aren't even fazed by the break dancers.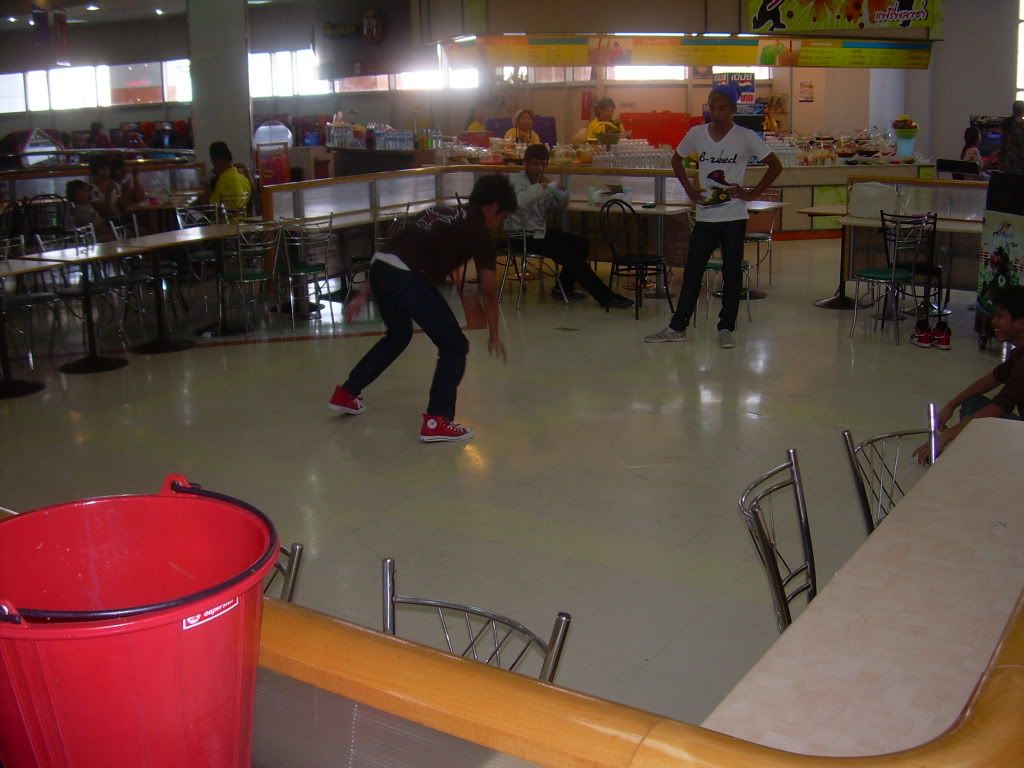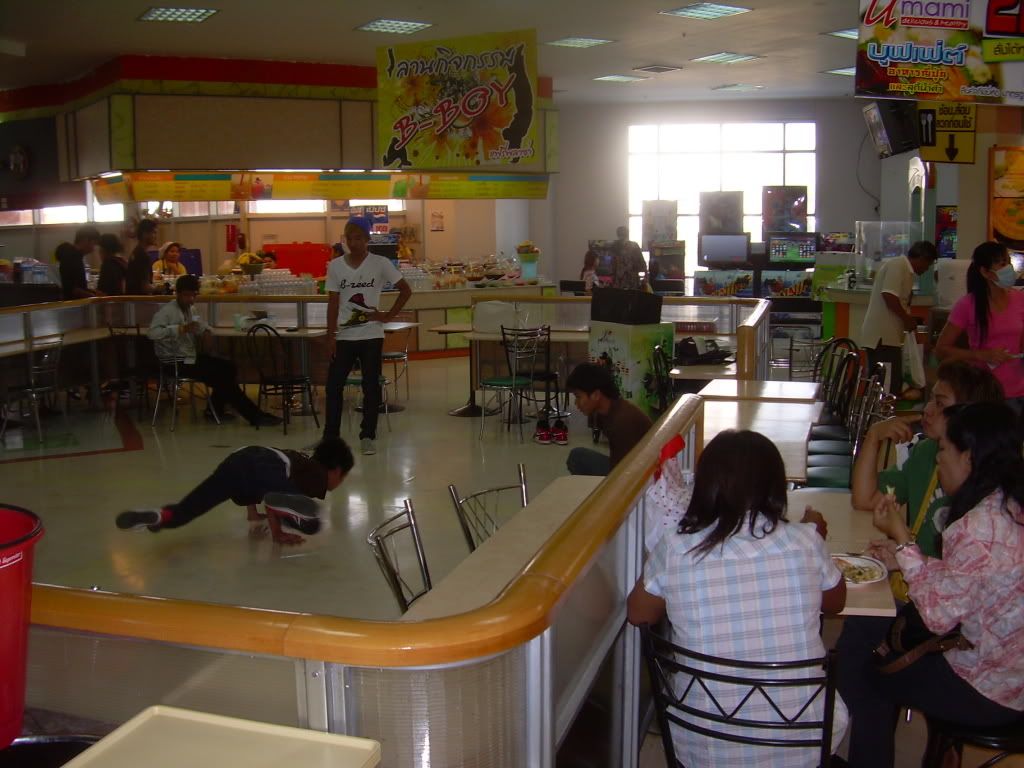 Break dancing in the food court
At this mall I was stopped by a large eyeball.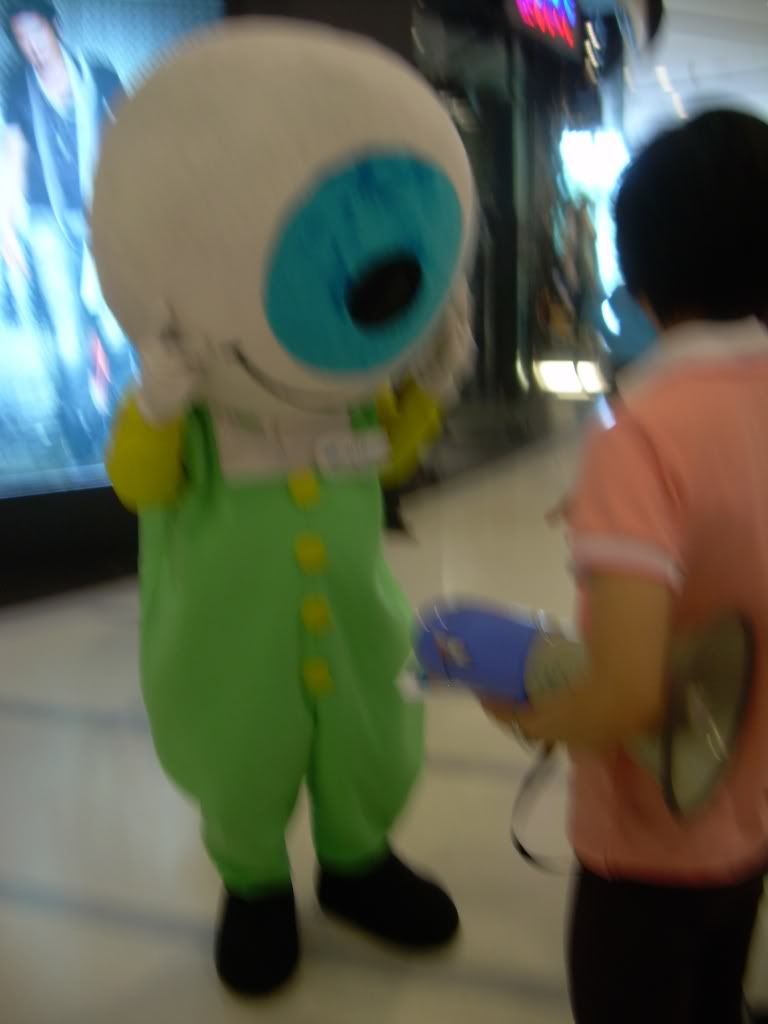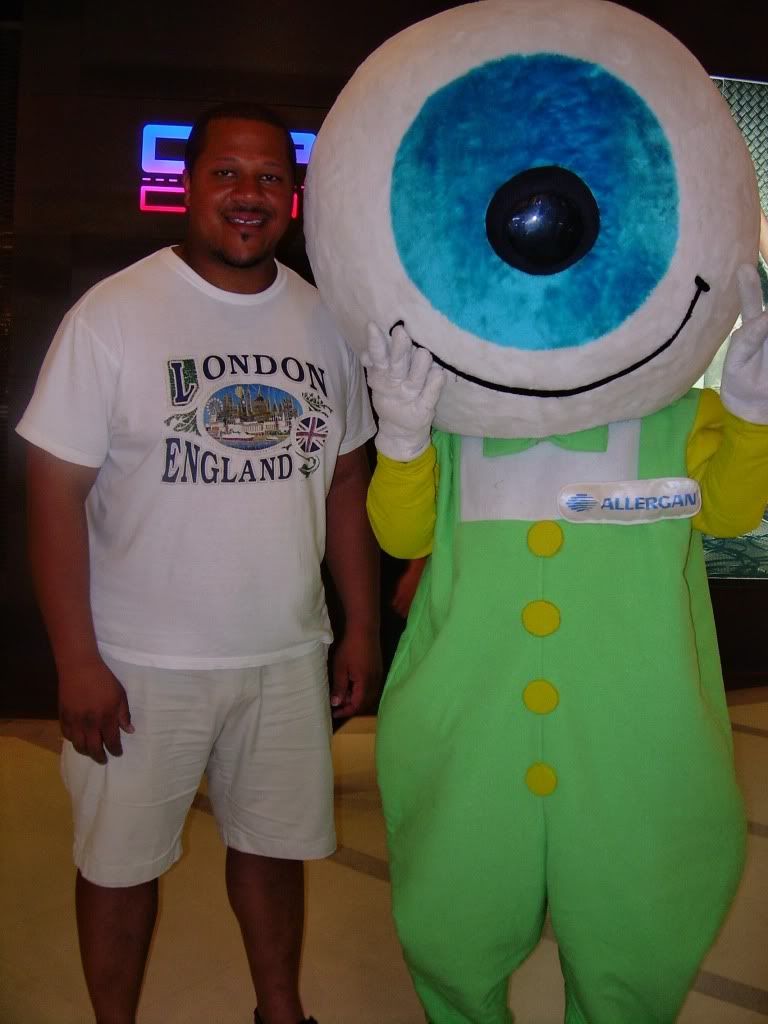 A clever way to market Allergan medication.
Ok it was a guy dressed up as an eyeball. It was an advertisement for Allergan.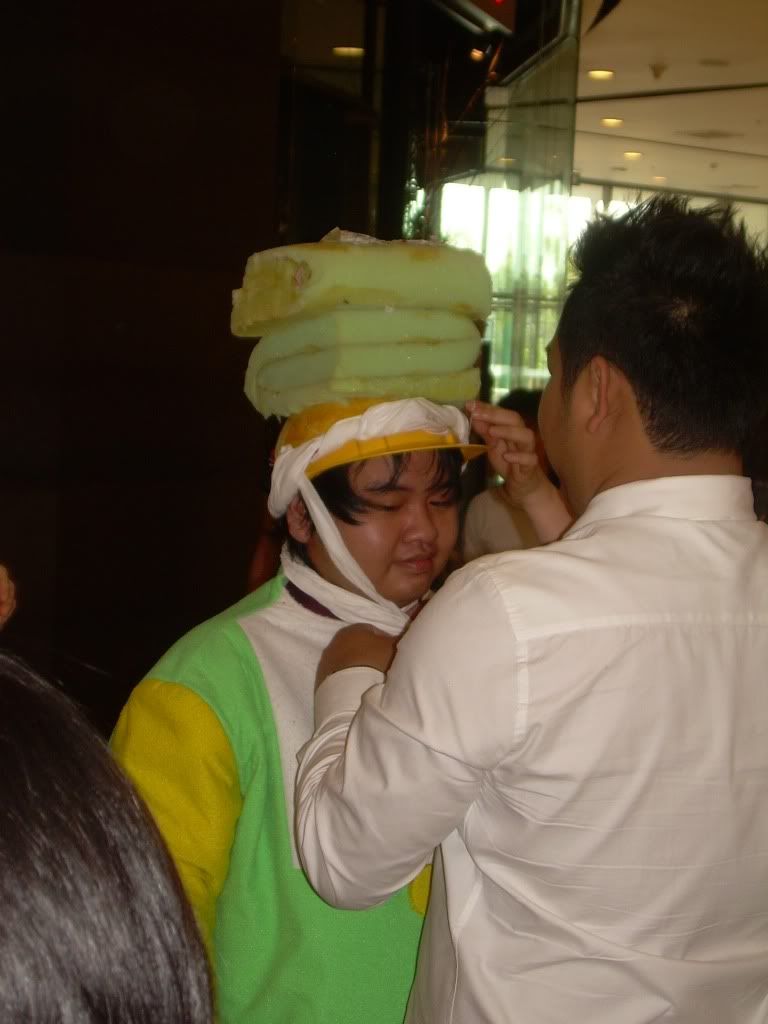 At around 5:00 people come to gather in the park near the lake in Khon Kaen. There they have a large open market. Lots of food, drinks, clothes and other random items for sale. People also go there to exercise and play various sports.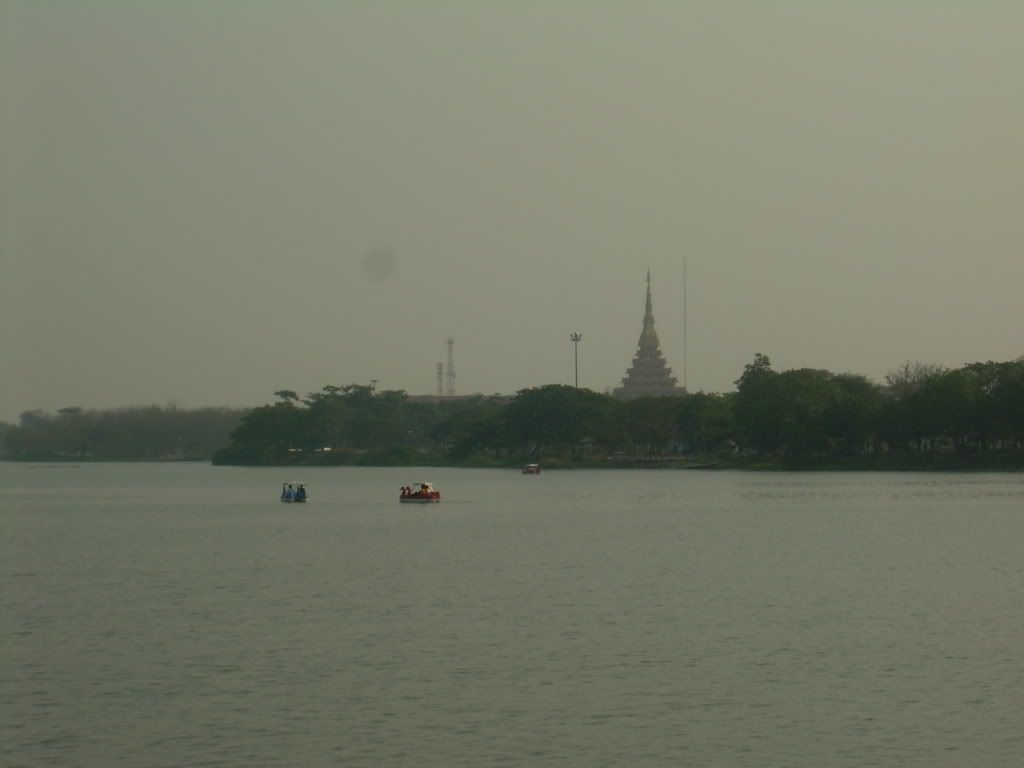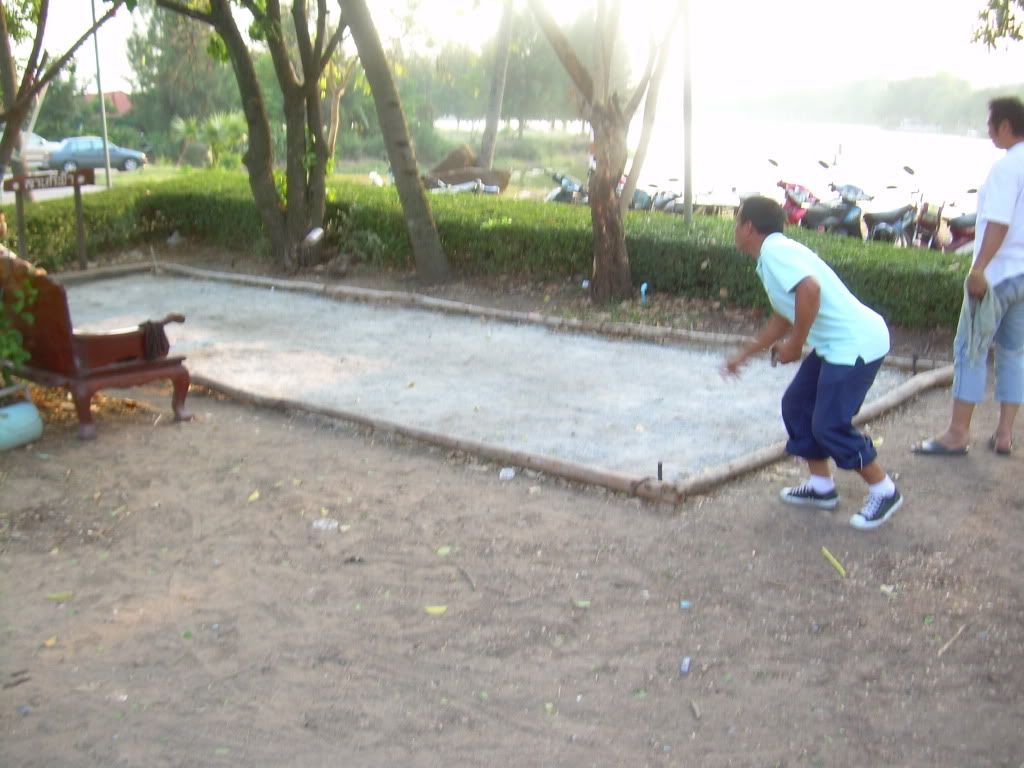 At this park, there is a large amphitheater. There they have a huge outdoor aerobics exercise session. It was really cool and the girls out-number the guys by a 20-1 ratio. Needless to say, I joined in and participated almost every day I was there. Made more friends up there also.
The aerobics instructor/leader was a very flamboyant, over-the-top but very entertaining instructor.
He was Thailand's answer to Richard Simmons.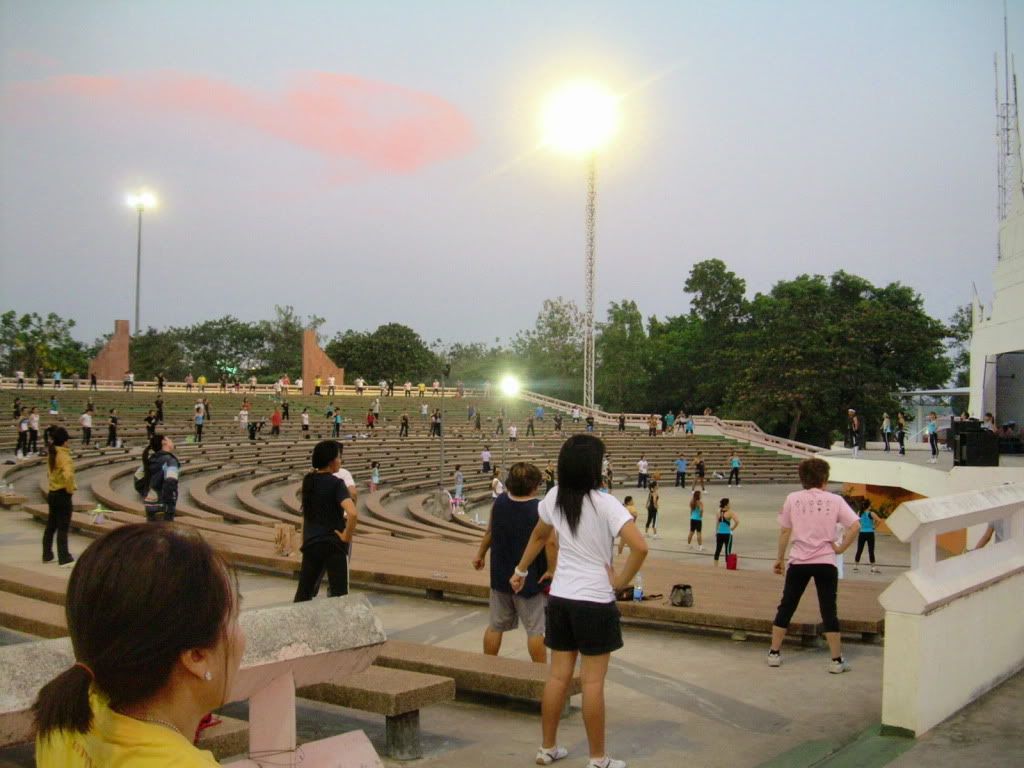 Thailand's answer to Richard Simmons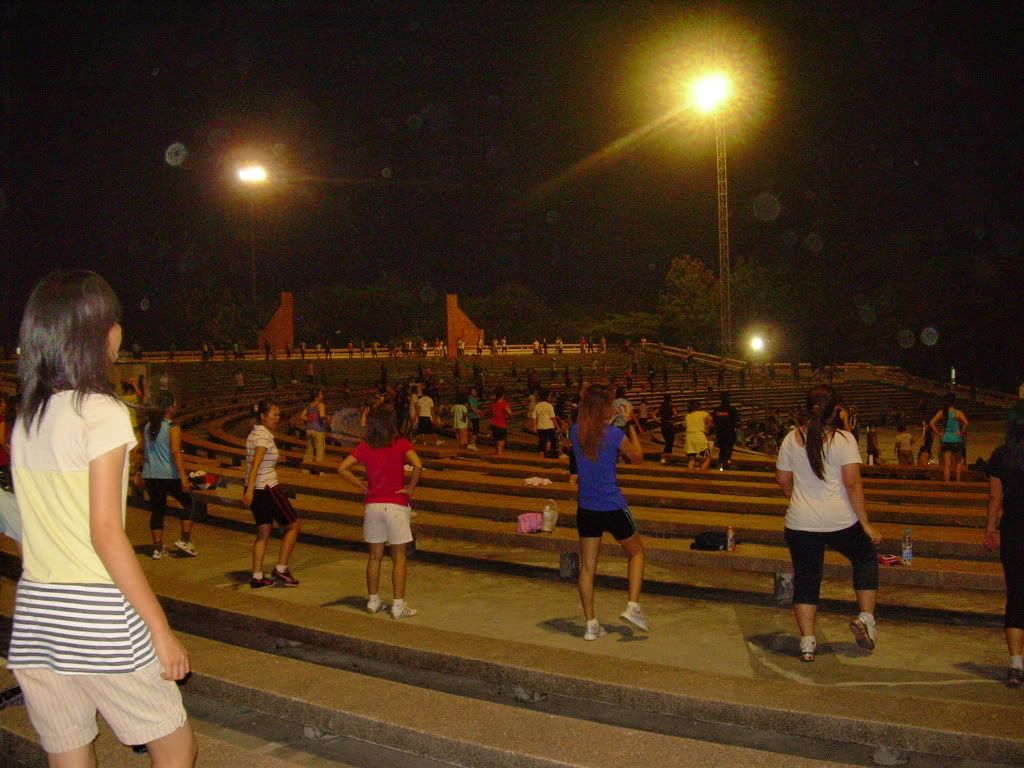 Never mind the elephant. He's just passing through.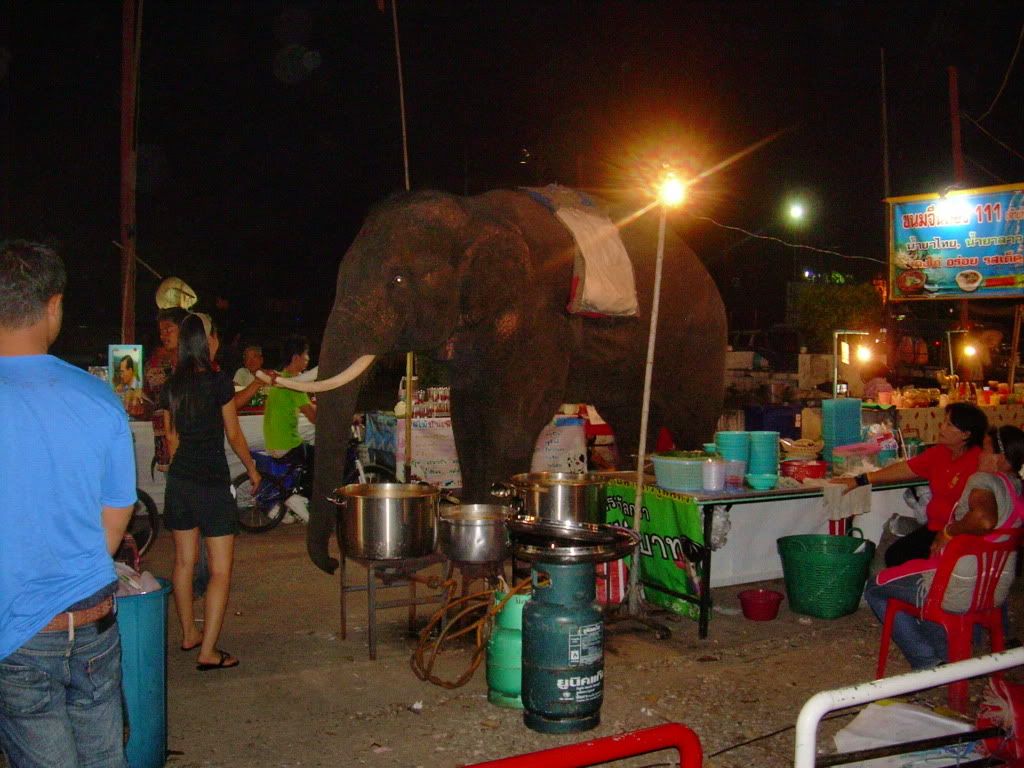 Found another toy that was so incorrect!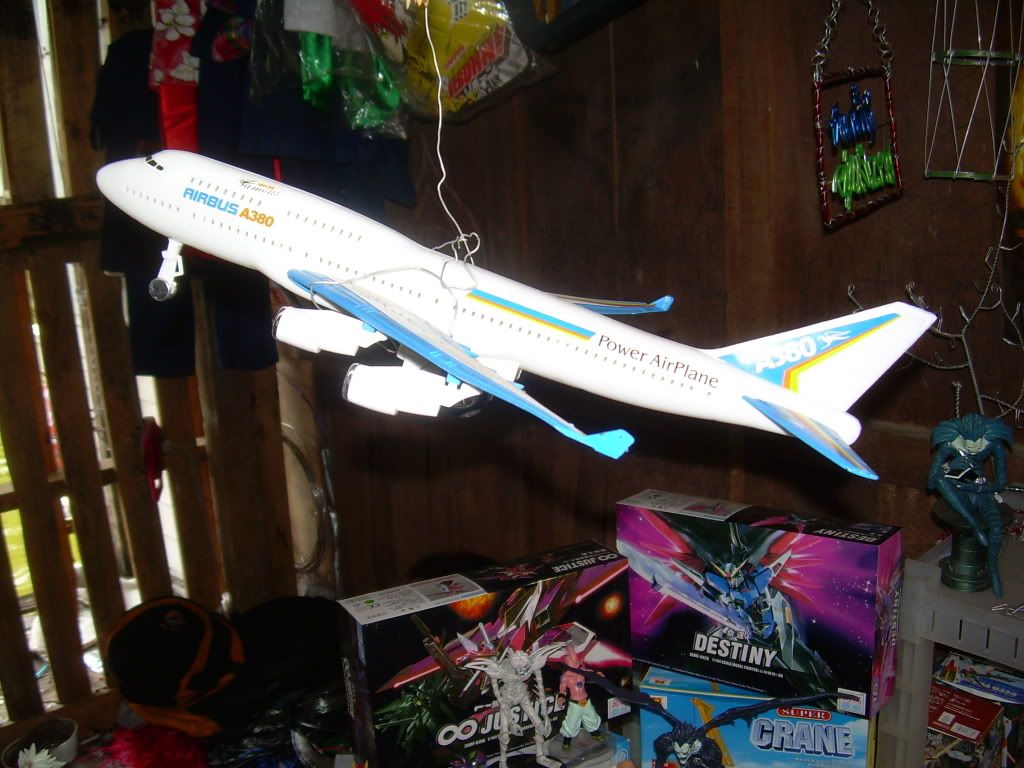 I had a chance to get in some airplane spotting while in Khon Kaen. There are only 3 daily scheduled flights to KKC and all 3 are with Thai Airways on their A300. Spotting is very easy from the top level of the parking structure. Too bad I used a cheap camera for the photos. This would be a great place for spotters with better cameras to go shoot photos. The sooner the better because the A300s will not be with Thai Airways much longer.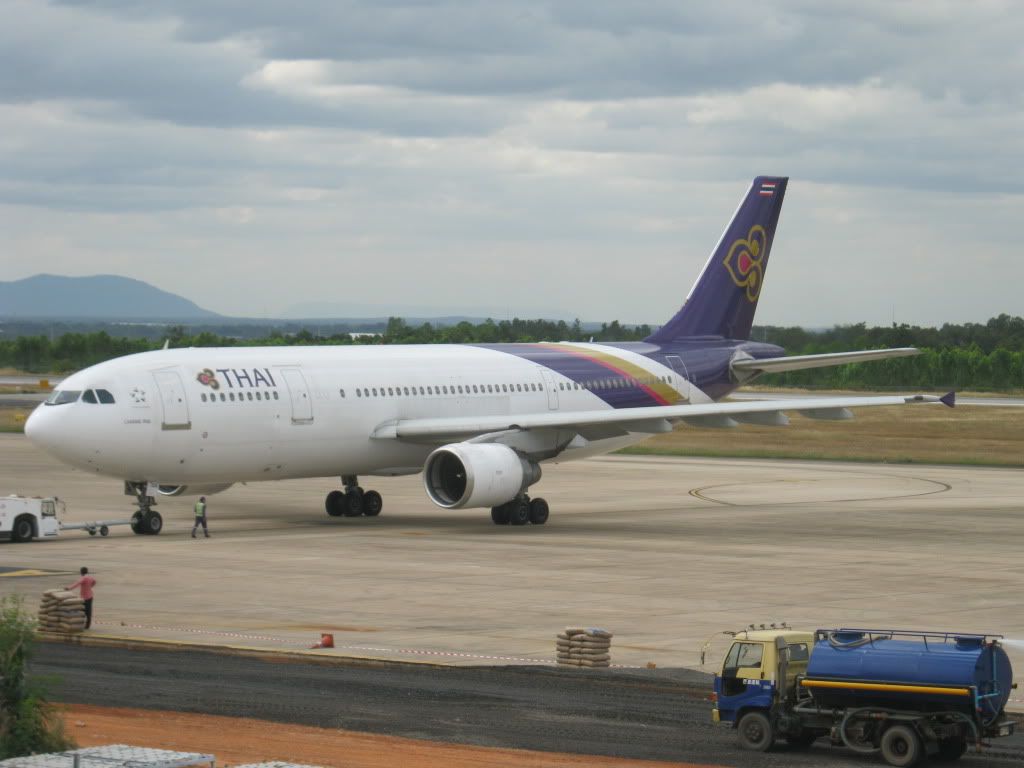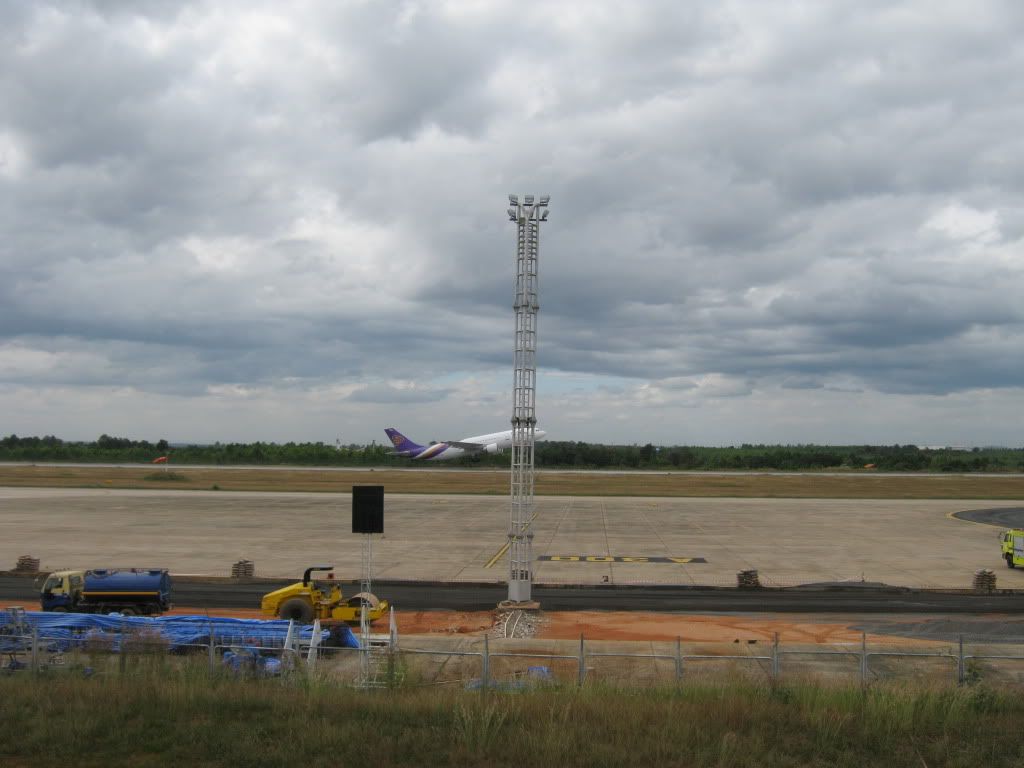 One day I decided to get out of Khon Kaen and see the countryside. This part of Thailand is mostly farmland with lots of open highway. Luckily there aren't a lot of vendors and cross traffic and there are a lot of straight-aways so you can go faster on these roads. Much of the countryside reminded me of southern Indiana. It was nice to ride out in the country and just sort of escape it all. It was fun riding along humming my favorite John Cougar Mellencamp tunes without any worries other than the occasional chicken that would cross the road.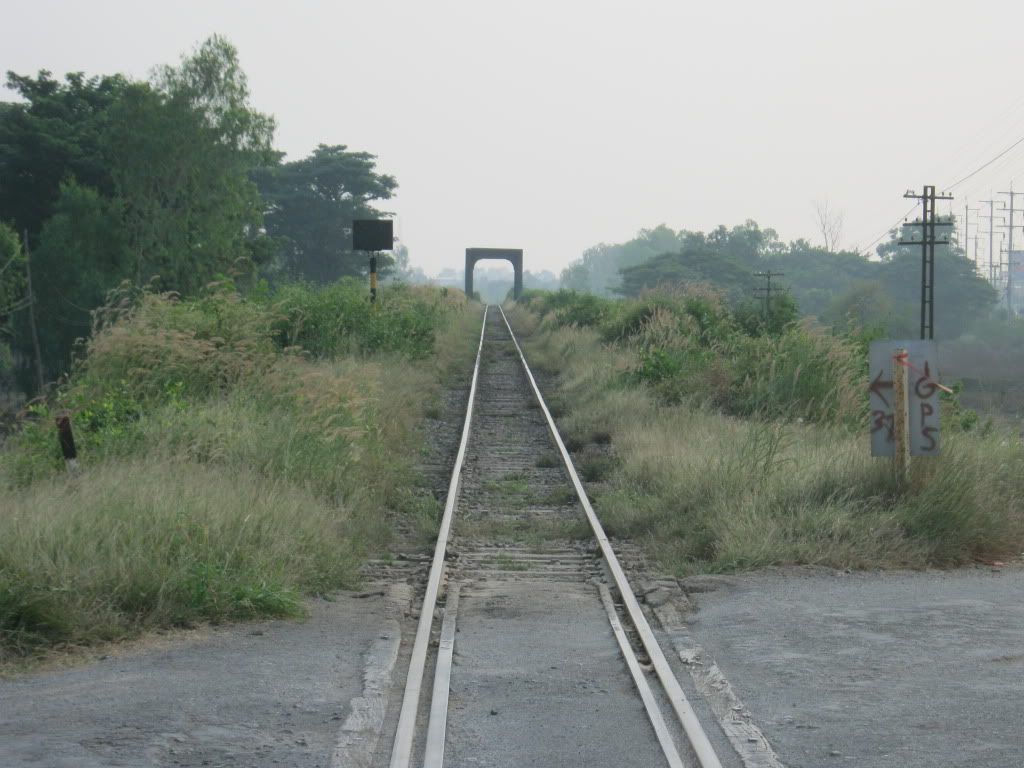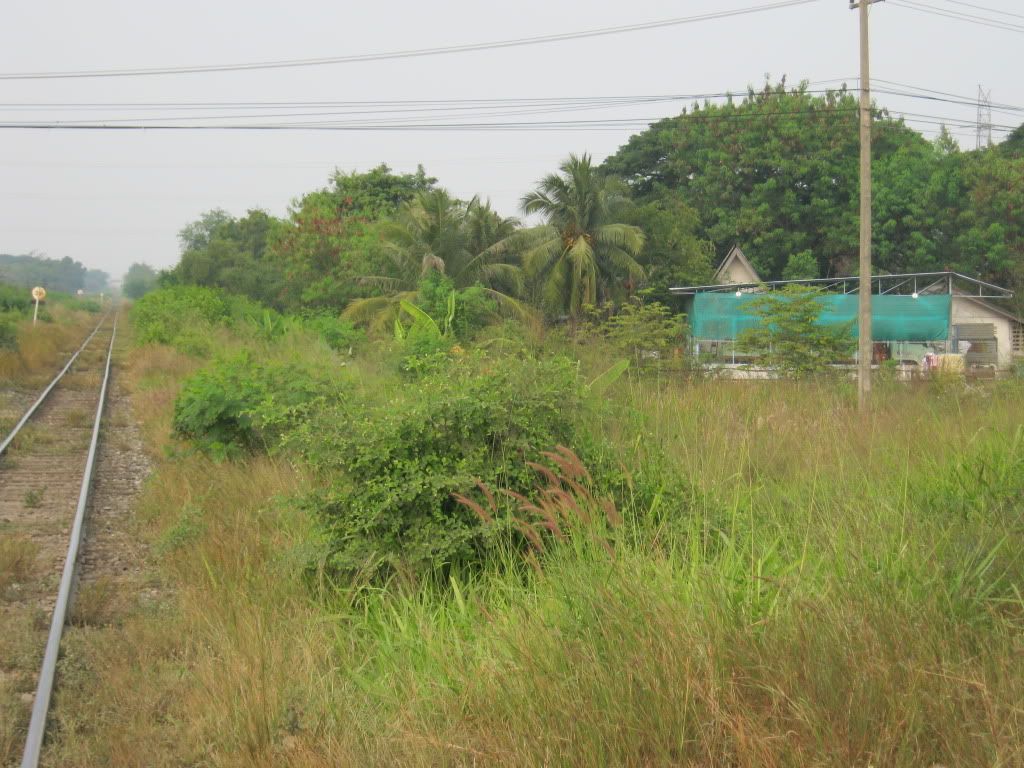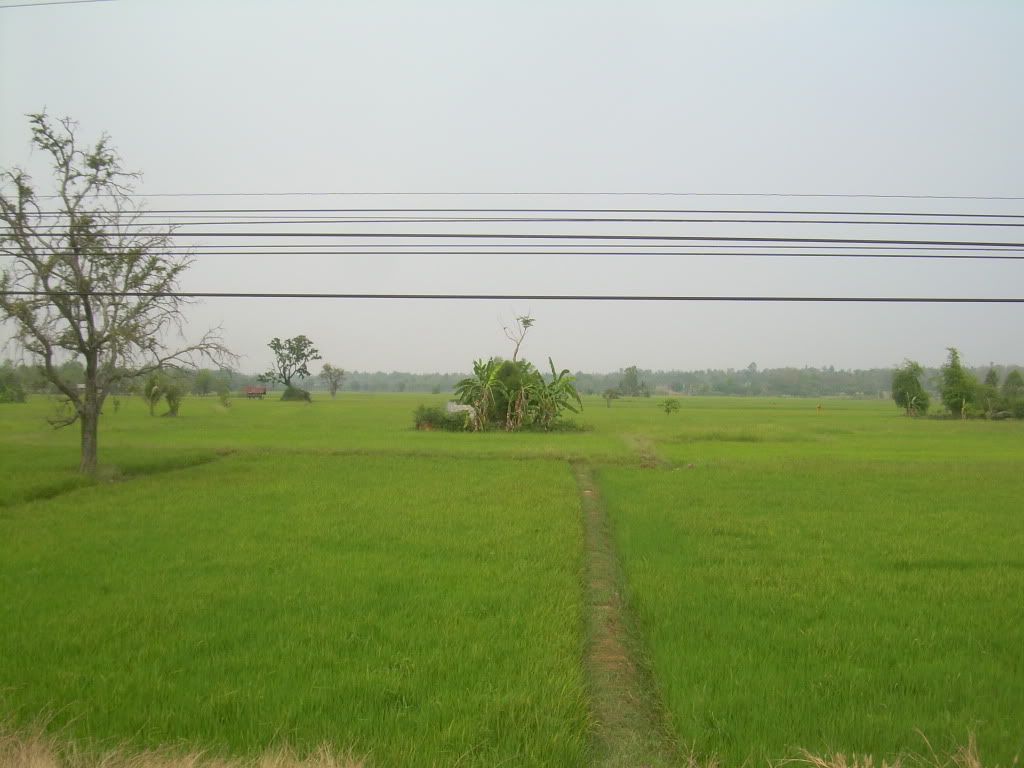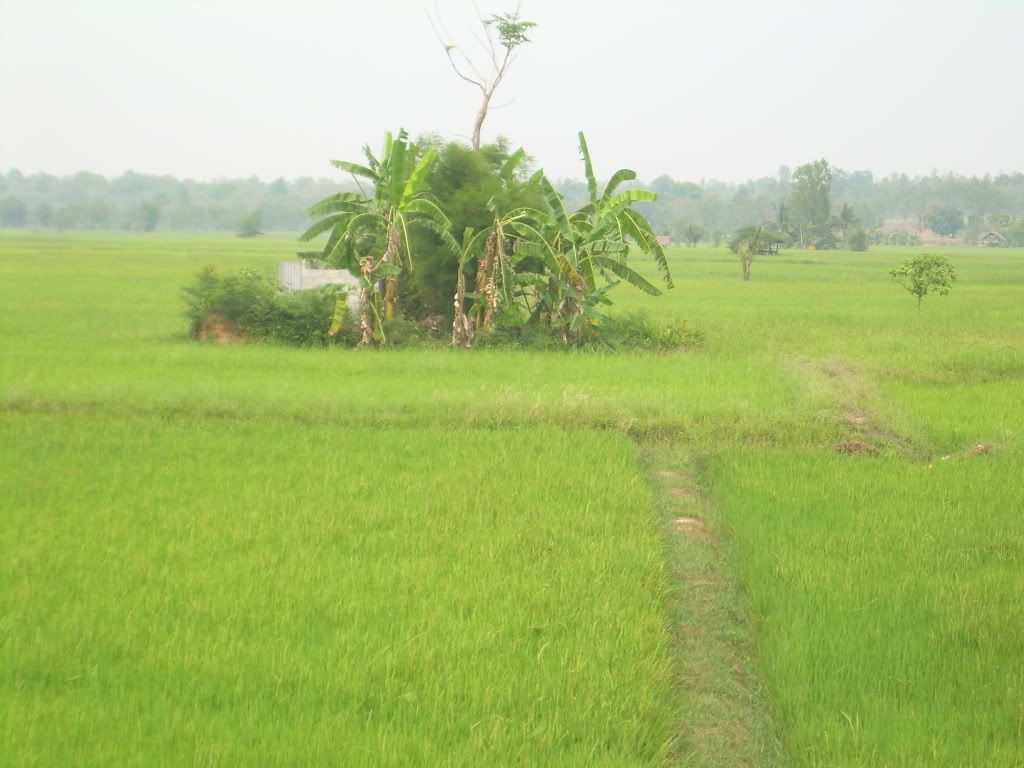 I rode to a lake called Ubonrat Dam. It's in the Nog Bua Lamphu province on the Khorat Plateau. Just before you get to the lake, there is a series of hills you pass through before you see the lake. The place is beautiful and looks like a mini ocean. It's difficult to see the other side of the lake due to the mist.
Many locals come here to cool off, fish and relax.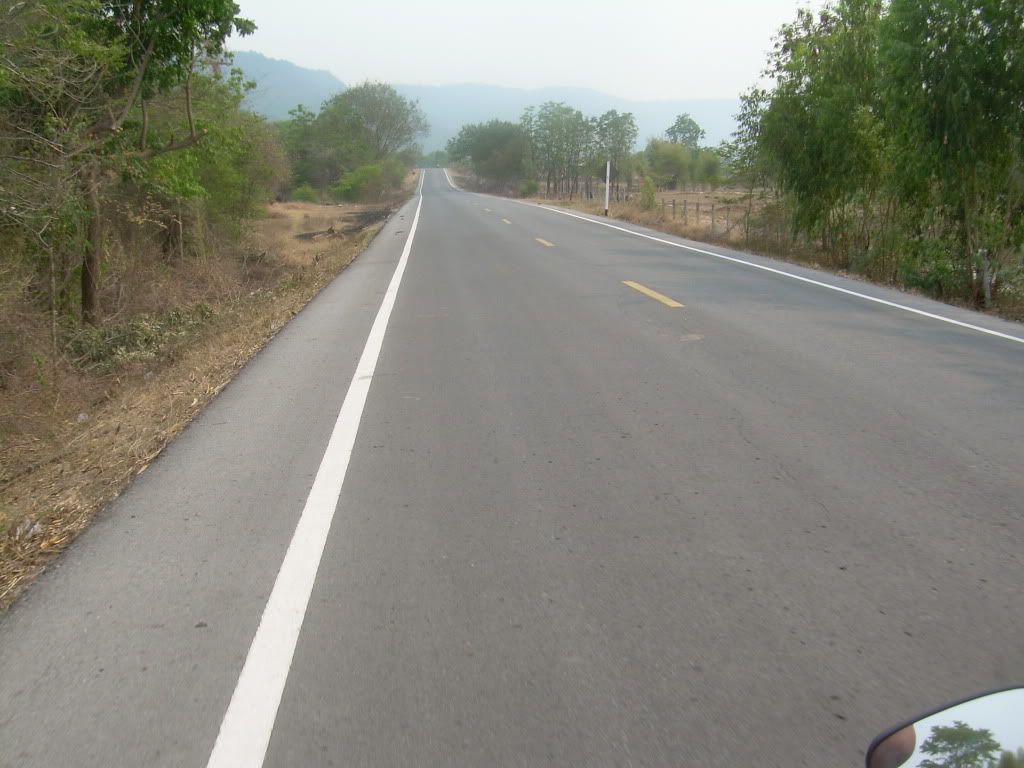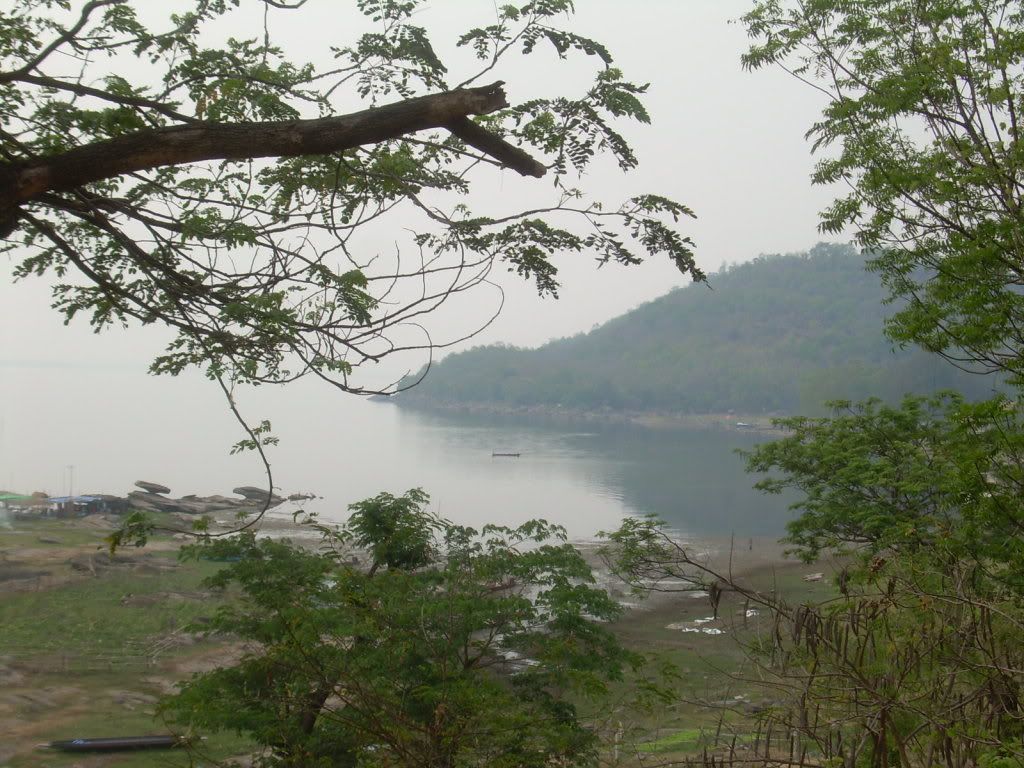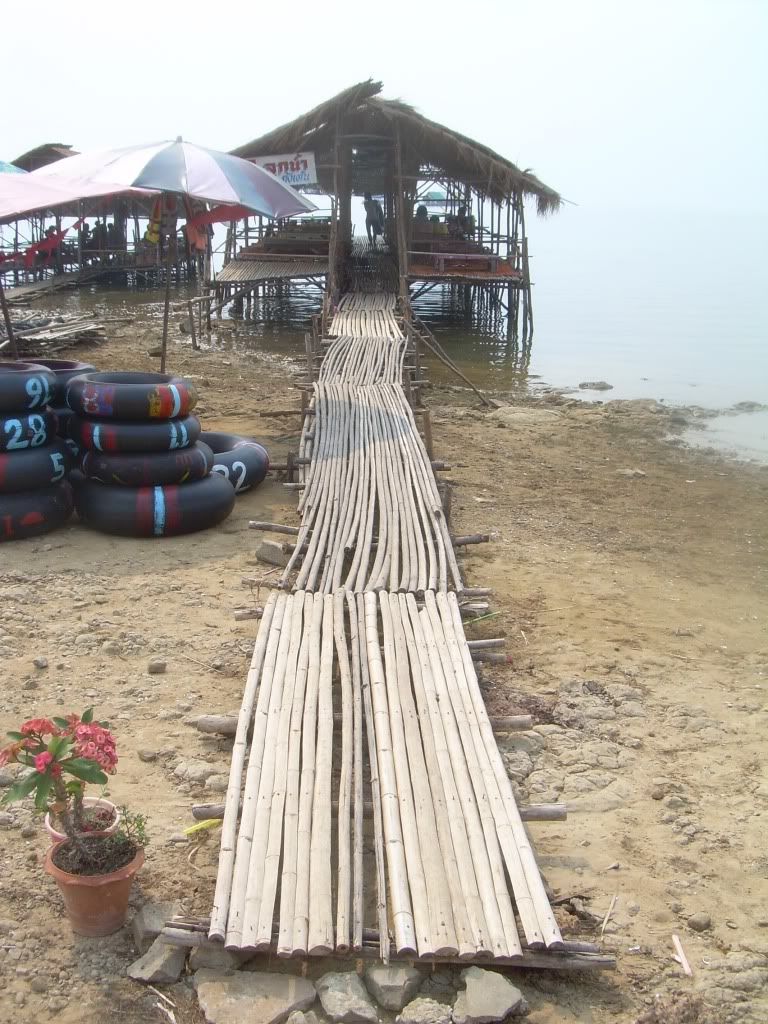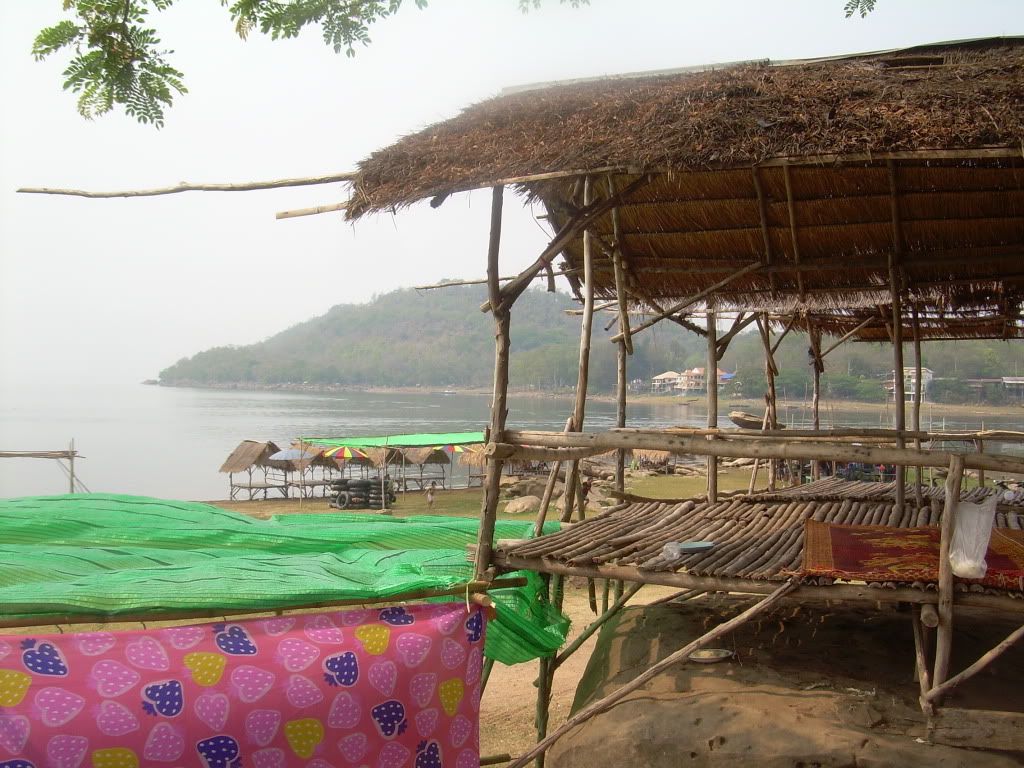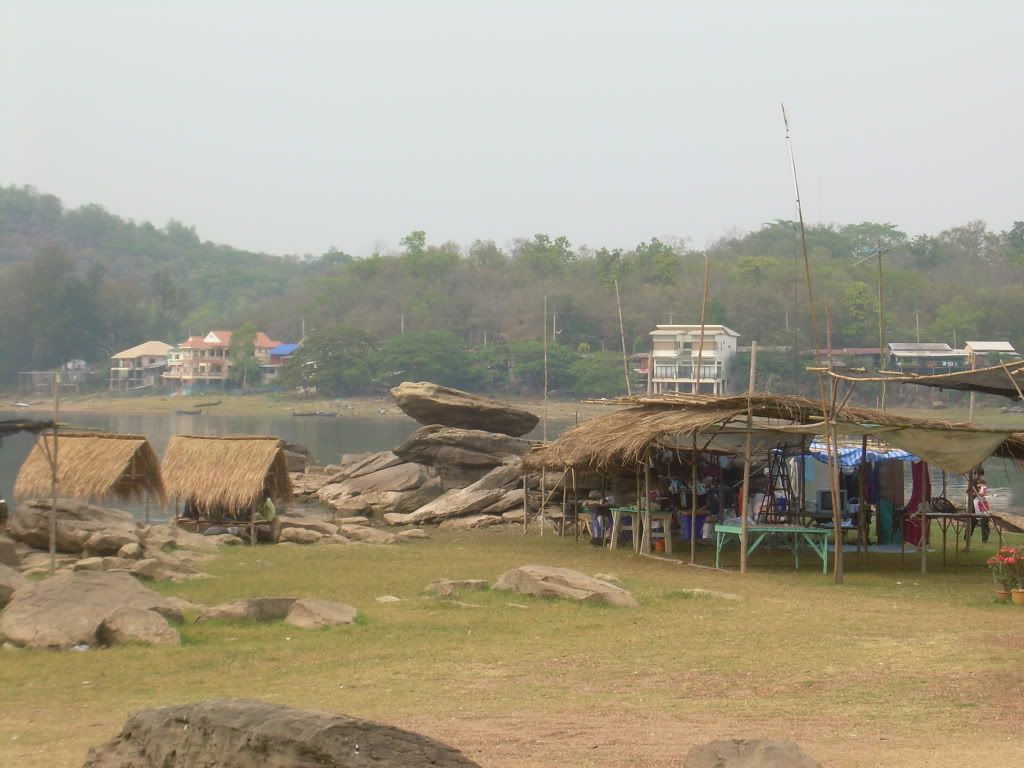 On the way back to Khon Kaen I stopped at a random roadside stop that had food. It smelled really good and there were several large tractor trailer trucks parked along side the road so I knew the food would be good. I had a huge bowl of chicken fried rice with fried egg. It's a very common dish in Thailand but this place tasted extraordinarily delicious! They didn't speak any English. I just saw several big trucker guys eating huge bowls of rice and I pointed to it and said "same same".
Perhaps it tasted extra special because they slaughter the chickens on the spot so it's the freshest you can possibly get.
After eating there, I continued on my way and made it back to the place I was staying.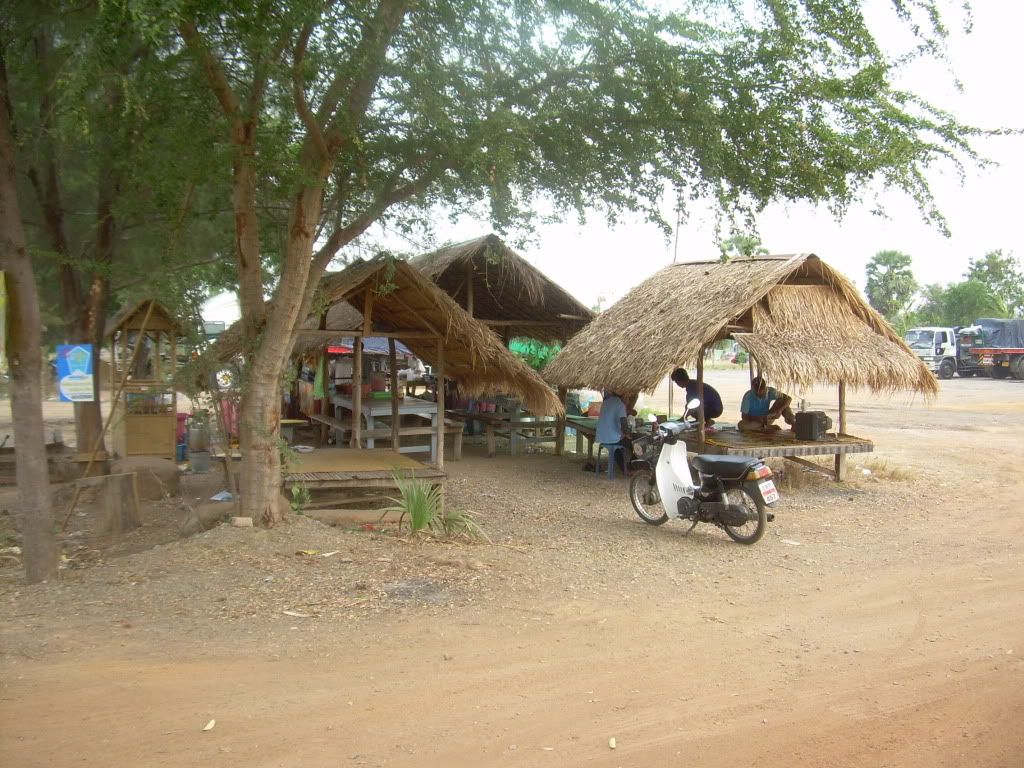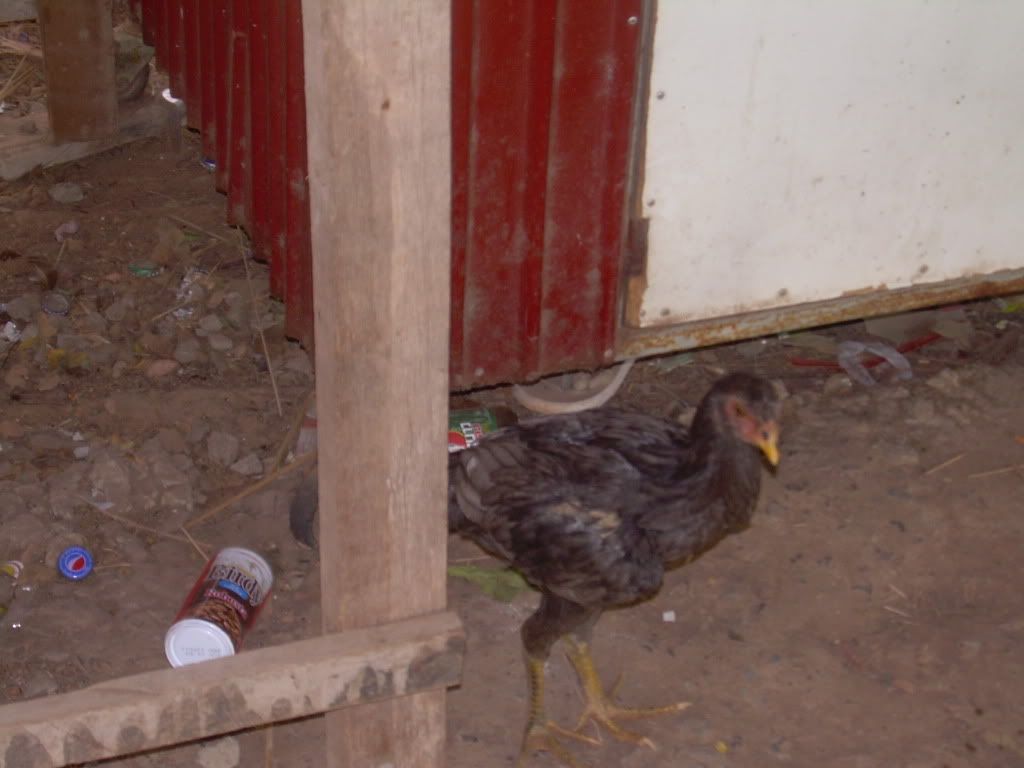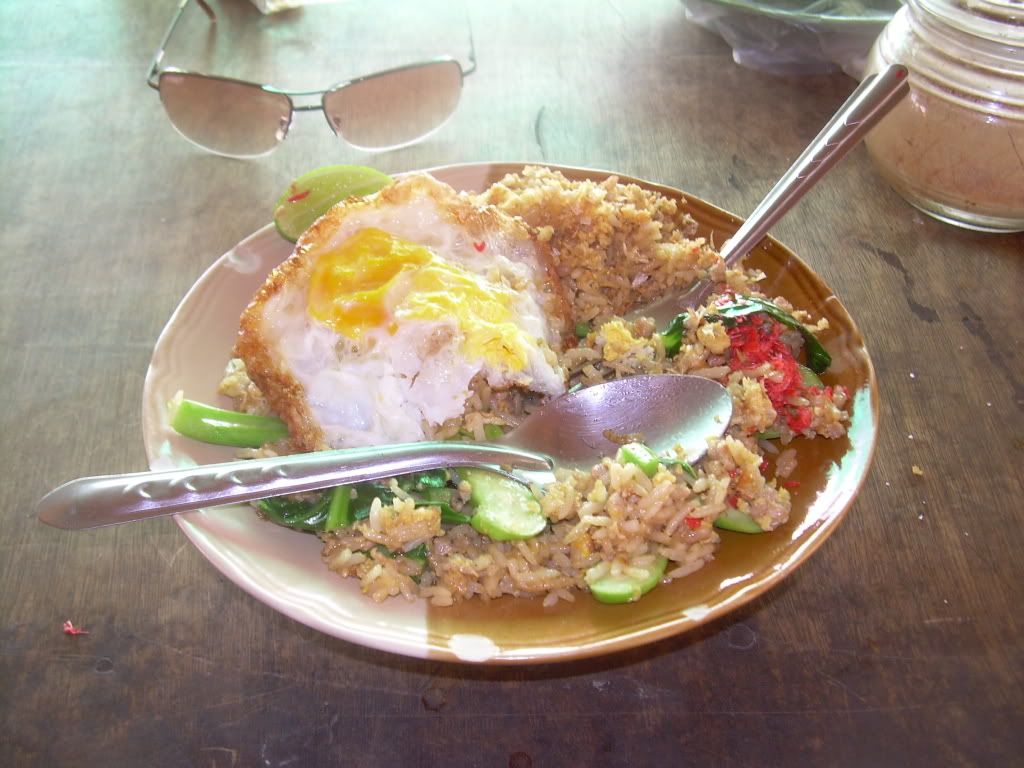 Later that night, some friends I had made at the University invited me out to a concert. It was out in the middle of nowhere. It was about 10 minutes outside of town in the middle of a vacant gravel lot. There was a huge stage with lights and everything. It only cost 60 baht ($2 USD) to get in. The place was packed with hundreds of people and the live bands were great! This was a full production with many bands performing. The show was mixed with theatricals, acting & dancing and all of the music was played live. I was able to pick out a lot of the words but I didn't really care what they were saying because the music was great. Everyone was having a great time drinking & dancing. I don't know what that proper name for this event was so I guess I'll call it Thaiapalooza. These events go on till 6:00 AM in the morning. I must say these people know how to party!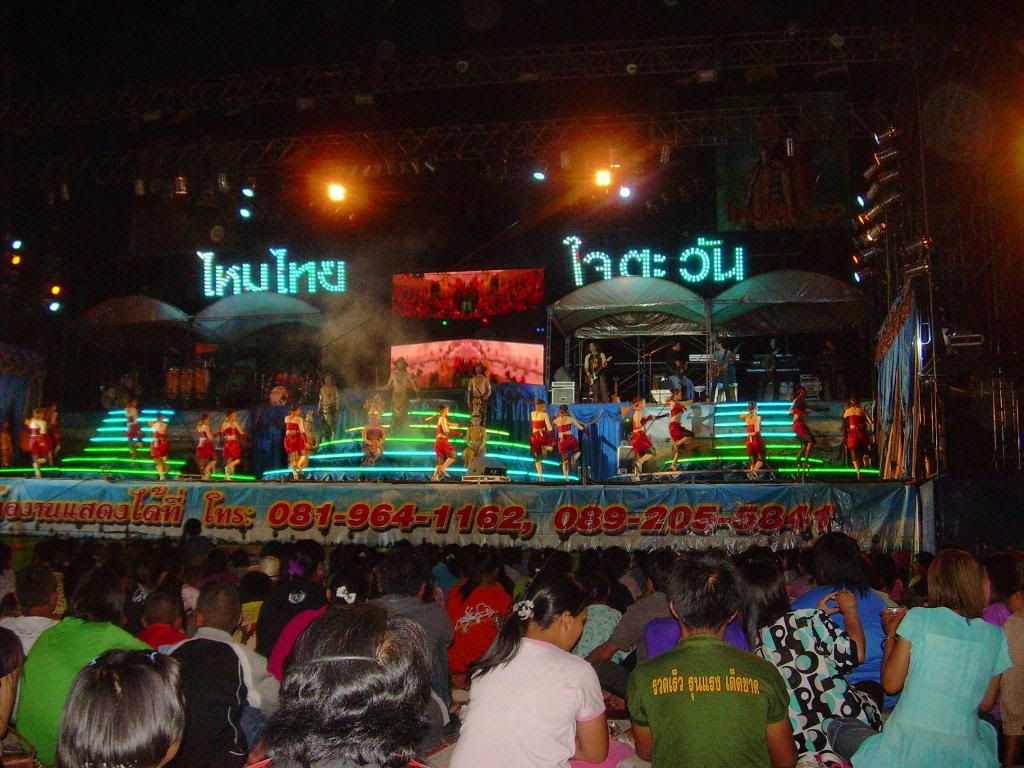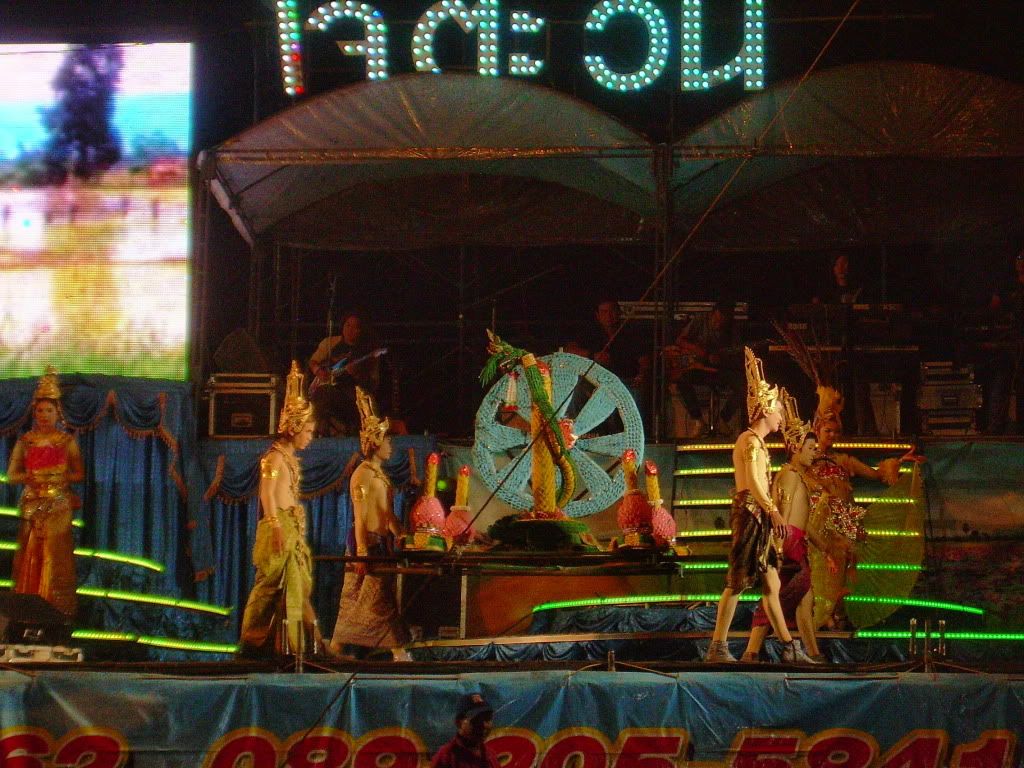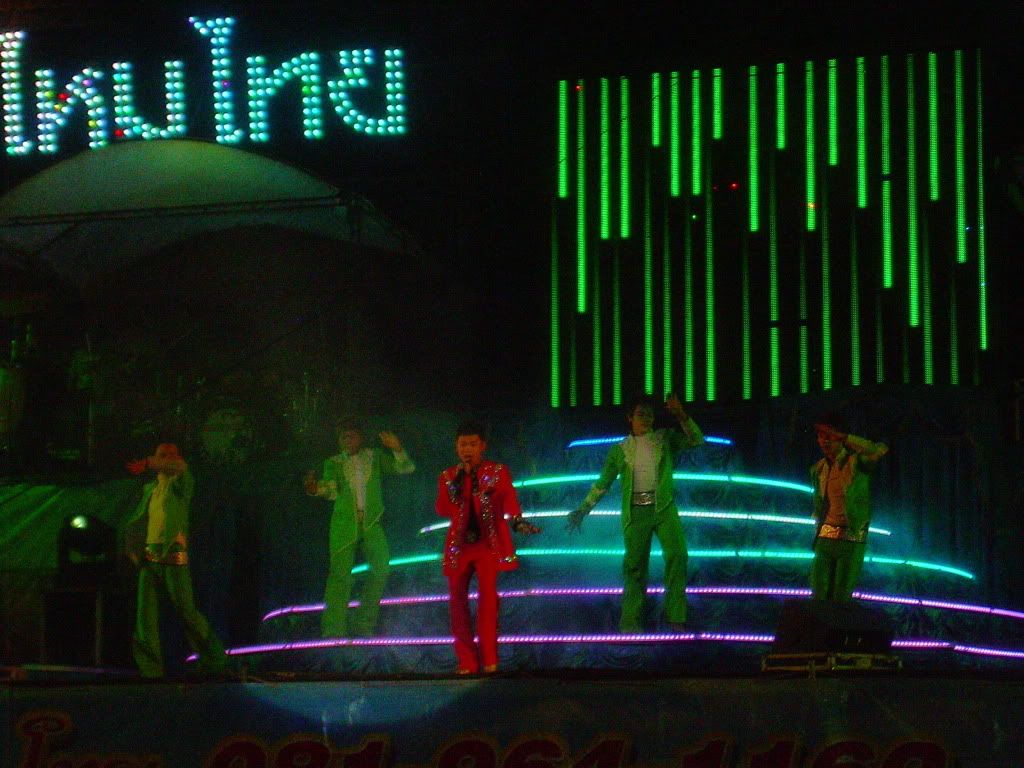 Huge variety show out in the middle of nowhere.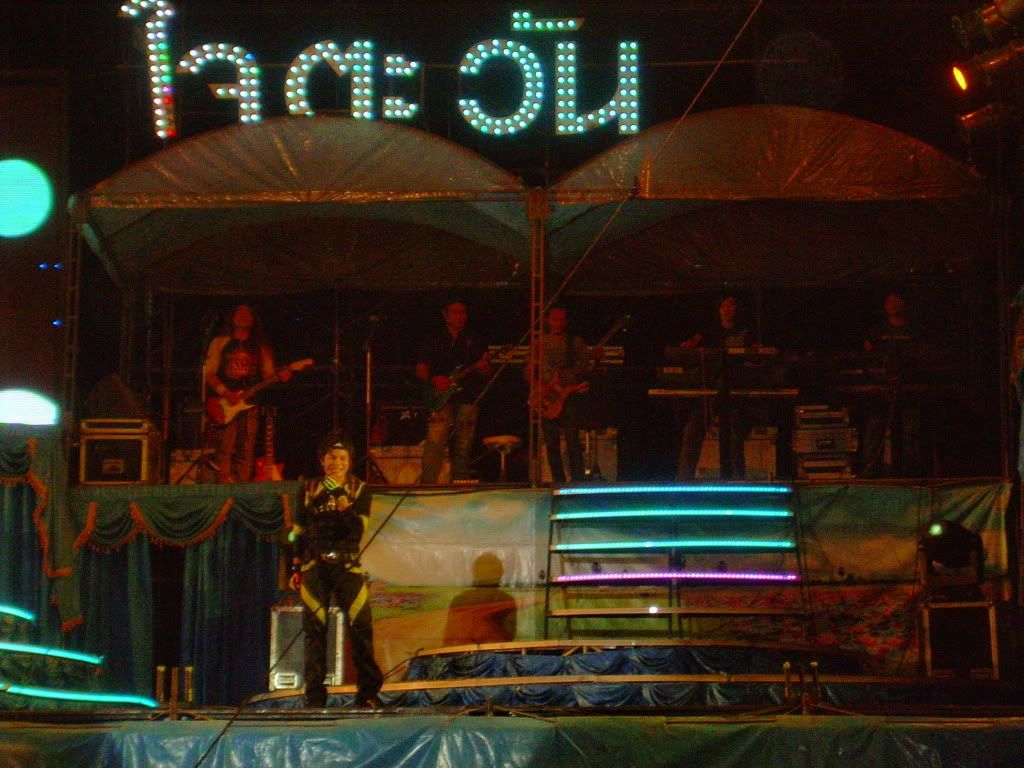 Thailand's answer to Michael Jackson. He did a perfect imitation.
Most of my stay in Khon Kaen consisted of going to the University to do work on my laptop and calling in to check up on things back in Bangkok.
After more than a week of staying at a place with no air conditioner, squat toilet, outside shower in a wooden bucket, it was time to get a decent hotel. I had got the news that the flood water back at home in Bangkok was starting to subside.
I rode around looking for a few decent hotels to stay. I almost stayed at this brand new hotel called the Glacier. This place was very hip. Almost too hip!
It was very clean and the staff was friendly and the rates were decent. I decided against the place because there is a disco on the ground floor and a place with live music and karaoke next door. There is no way I want to hear that when I'm trying to get some sleep. Seems like a fun place for those who aren't concerned about noise levels.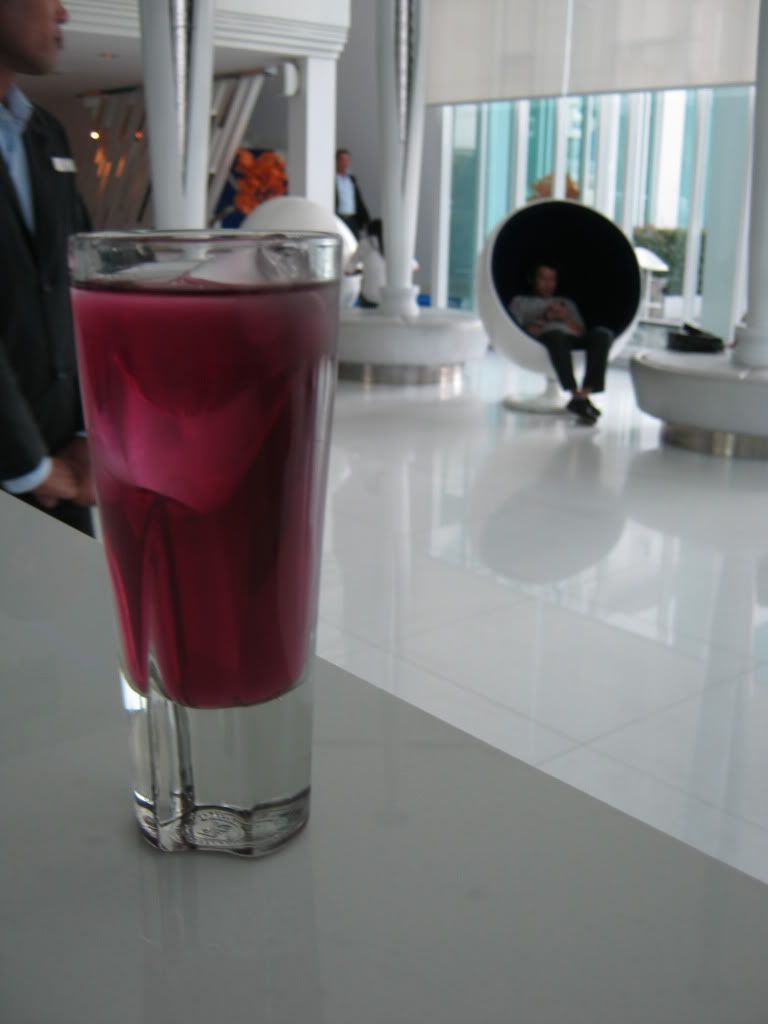 Grape juice and some pretty cool pods to sit in at the lobby of the Glacier
I went ahead and stayed at the Pullman hotel downtown Khon Kaen. It's a very nice hotel. It's one of two high-rise hotels in Khon Kaen. Rooms were very clean and the beds were very soft & comfortable. This hotel also has a brewery in the basement at their German restaurant named the Kronen Brauhaus. Another Airliners.net legend (Lufthansa747) stayed here several years ago when it was a Sofitel.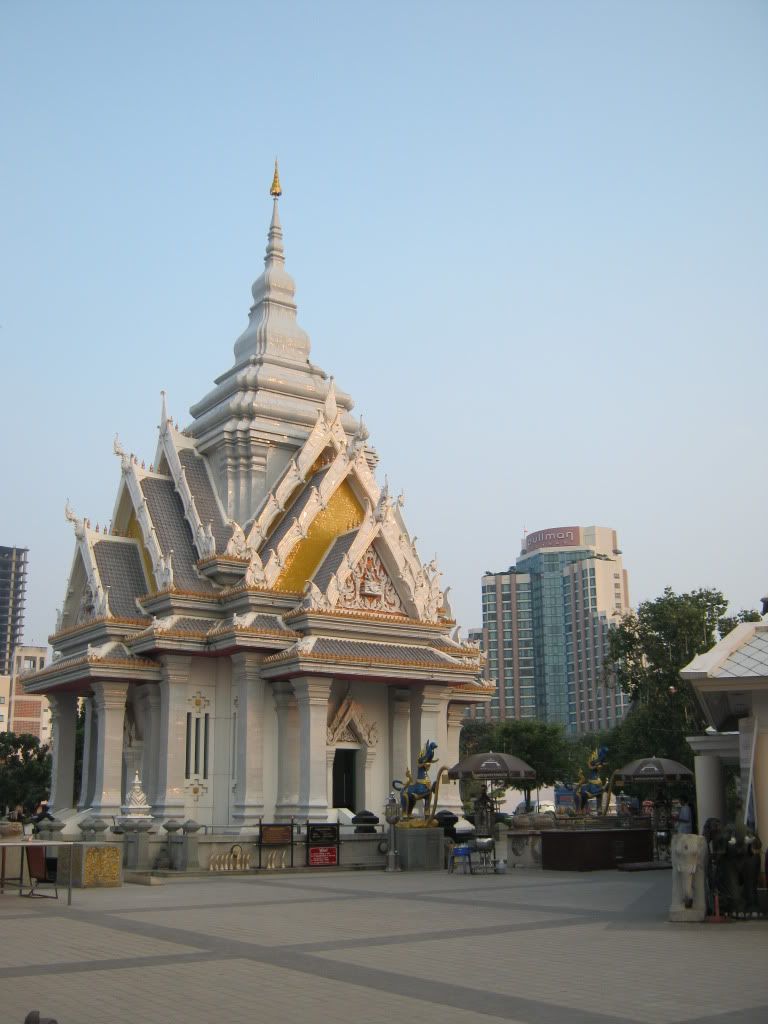 Check in went smooth and they serve you a complimentary beer at check in. This is my kind of hotel!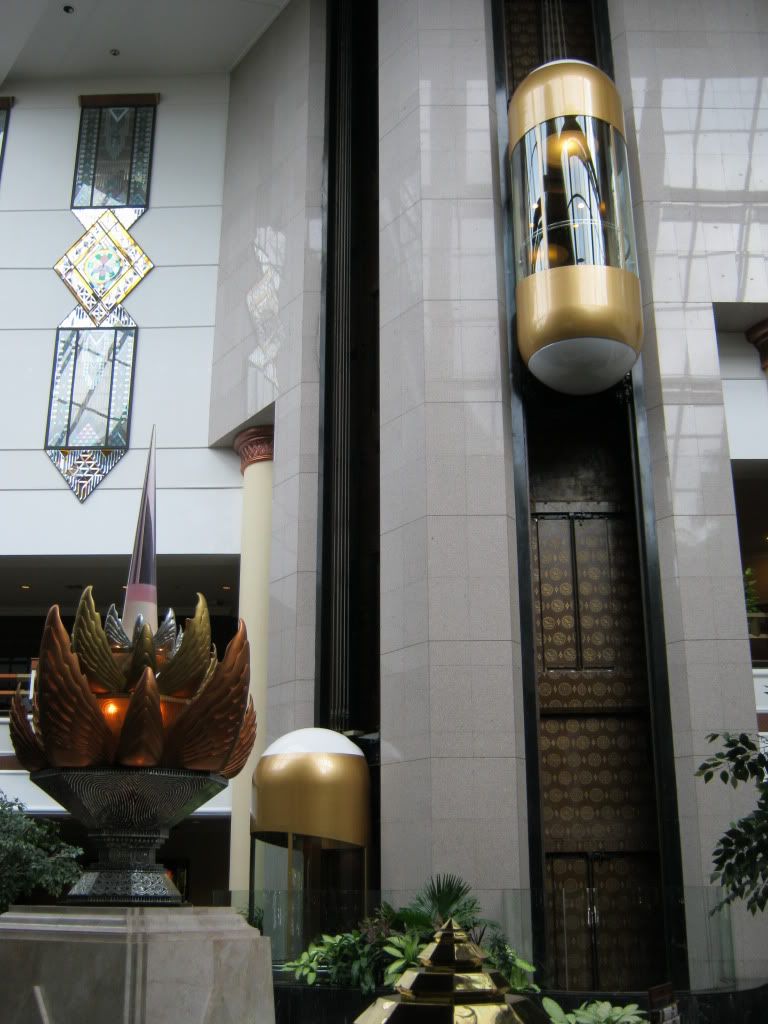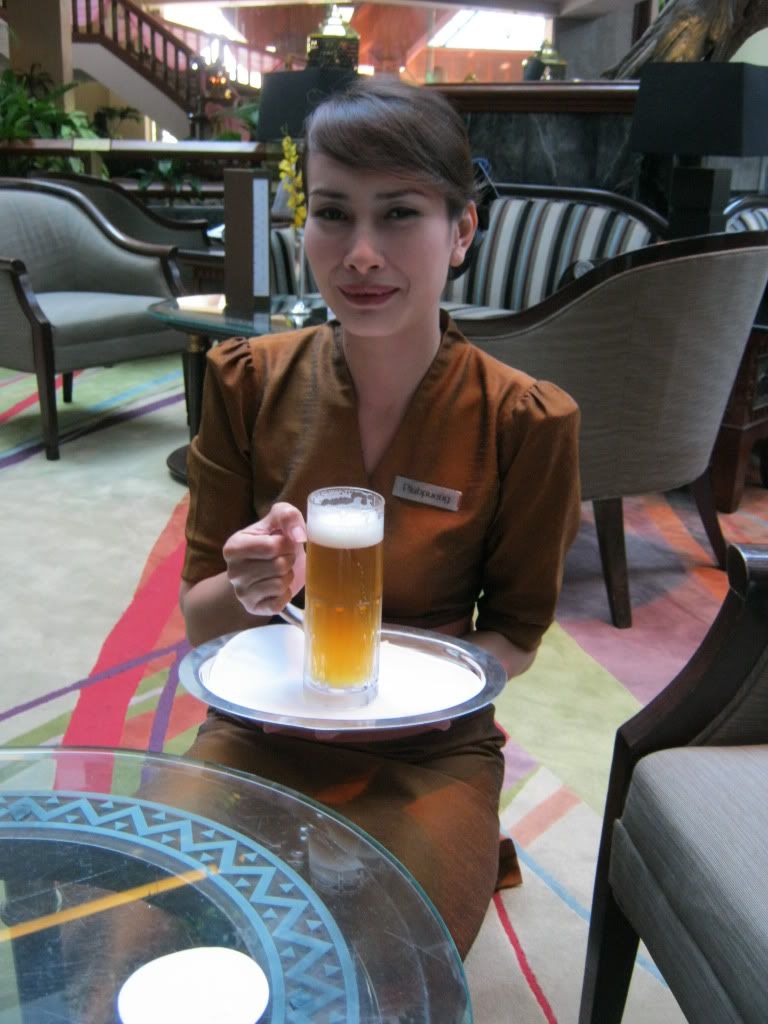 Complimentary beer at check in
The views of Khon Kaen were great from their rooms.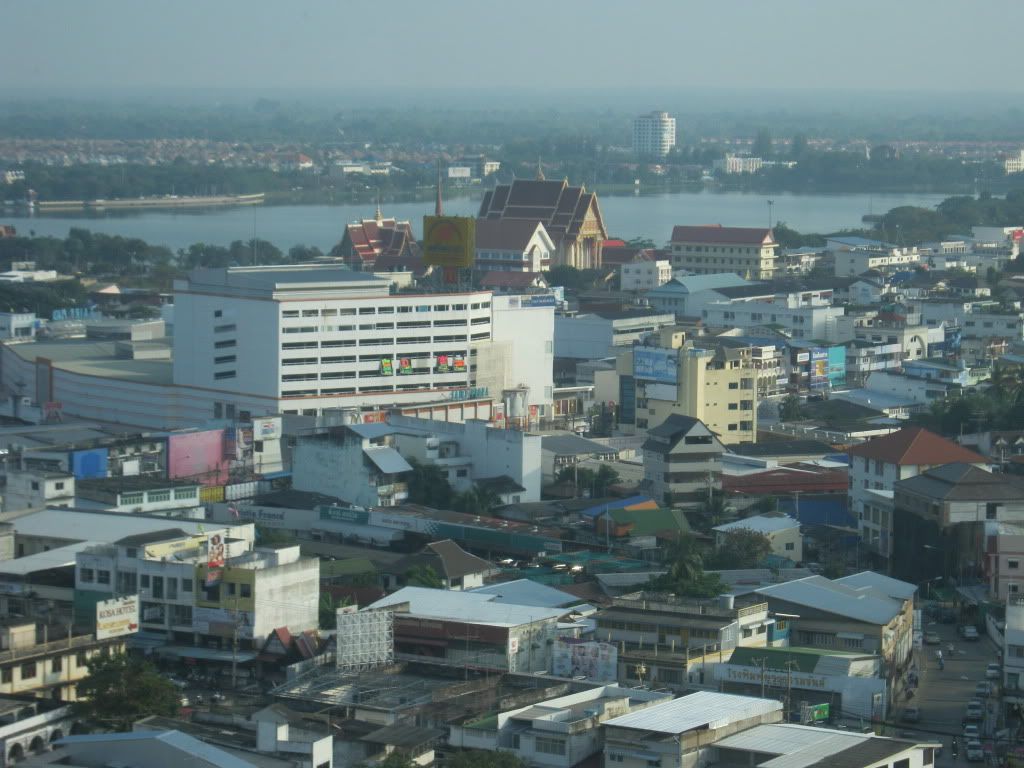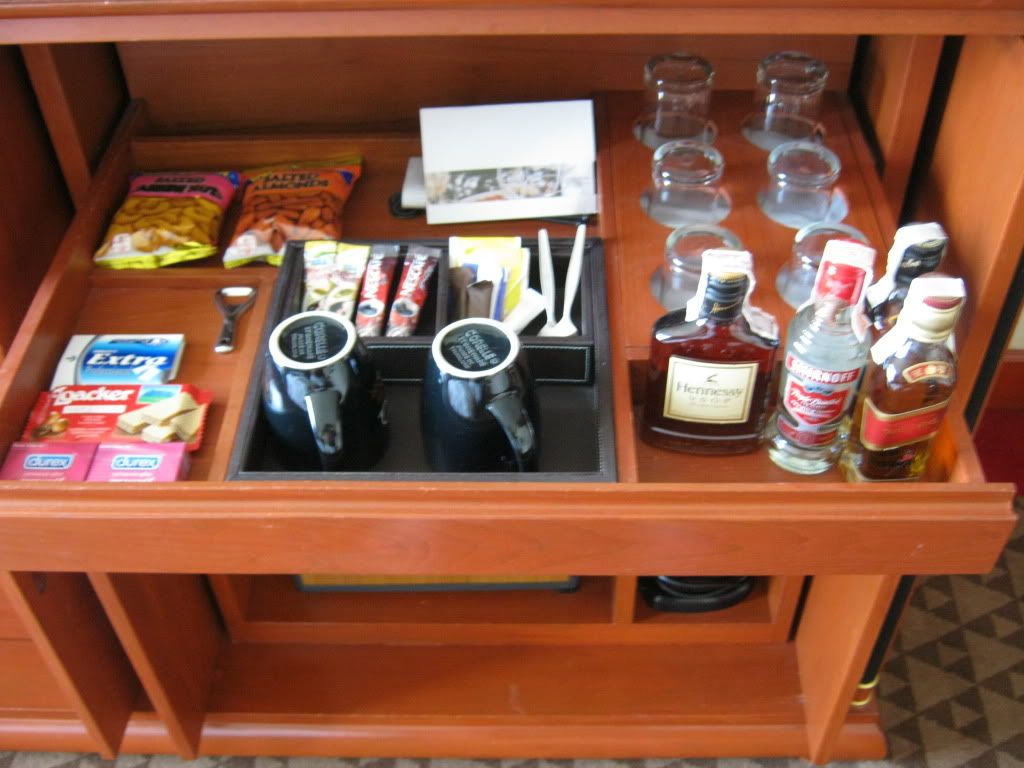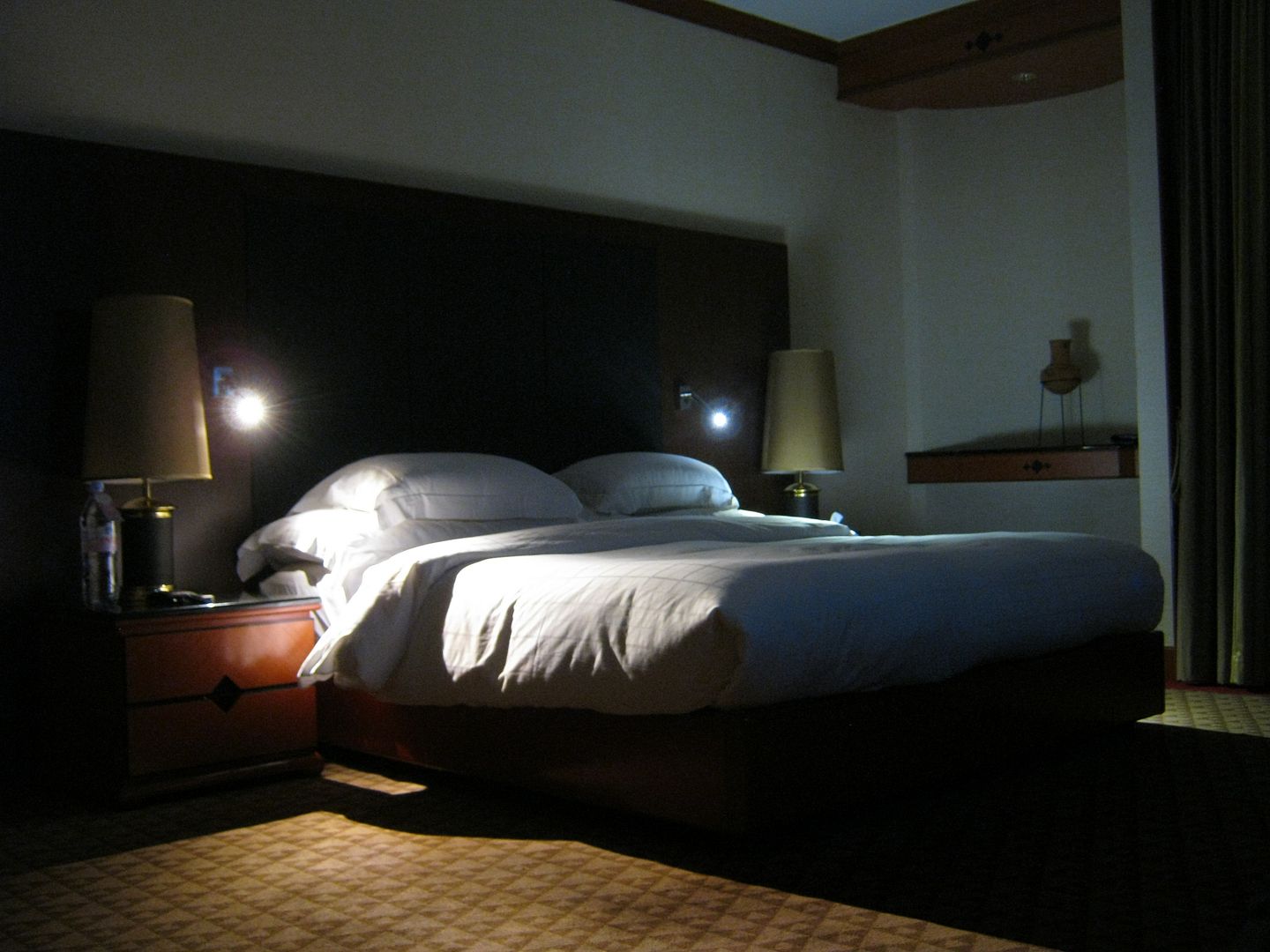 They also have private karaoke rooms in the basement.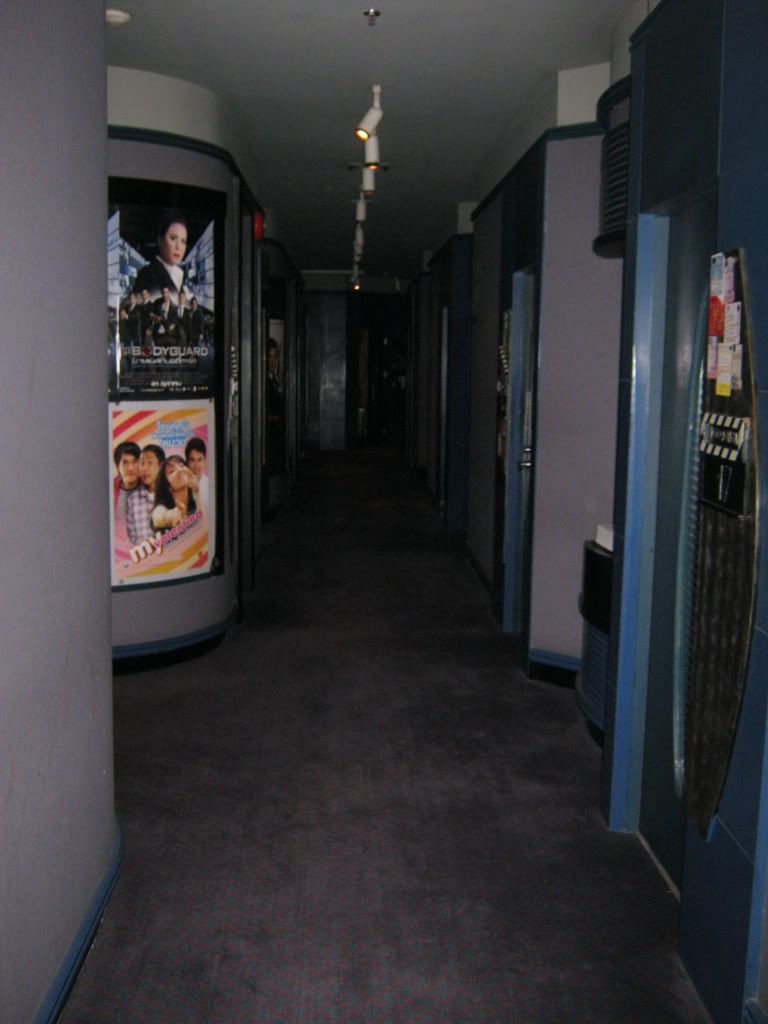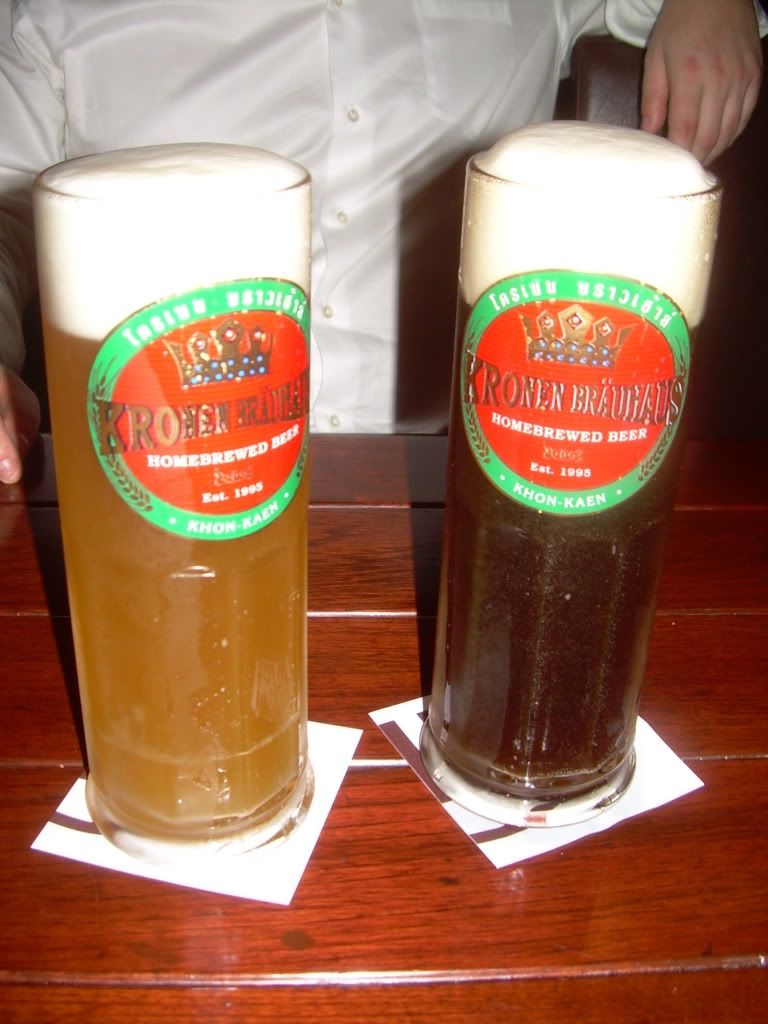 Kronen Brauhaus Dunkel and Bock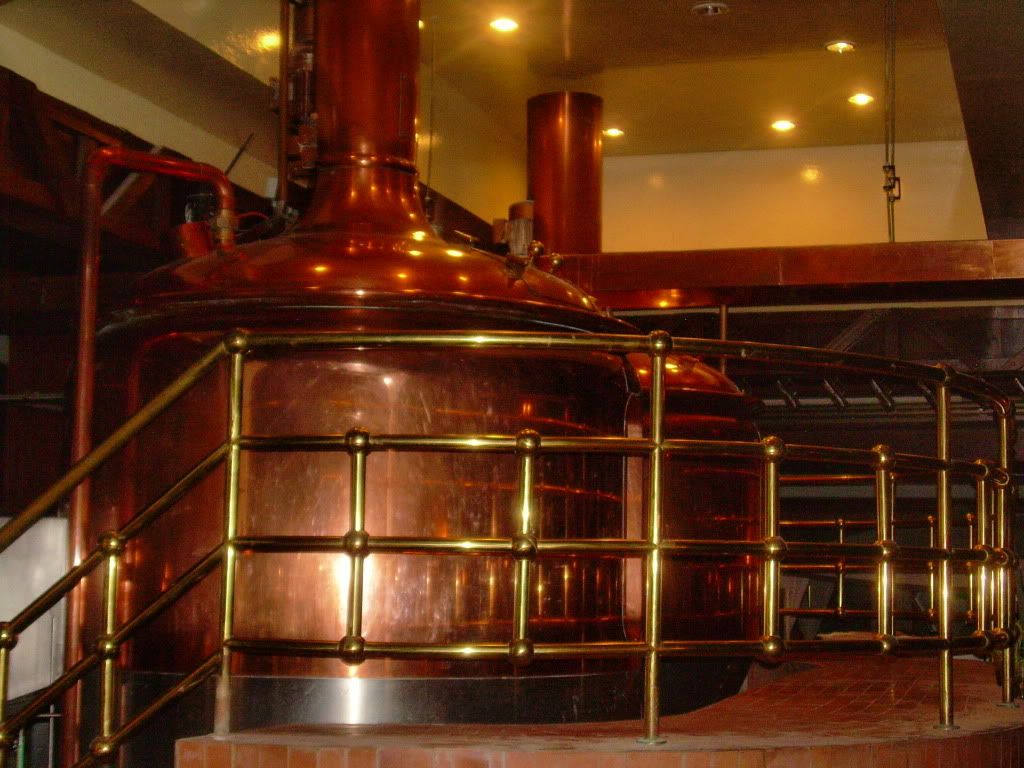 The brewery / German restaurant was good. It's listed as 'thematic cuisine'. They also have a live band that was great! I liked how they took classics by Led Zeppelin, AC/DC, Journey and the Beatles and lounged it up a bit.
I thought I'd never hear a lounge, yet hard-rockin' version of Kashmir by Led Zeppelin.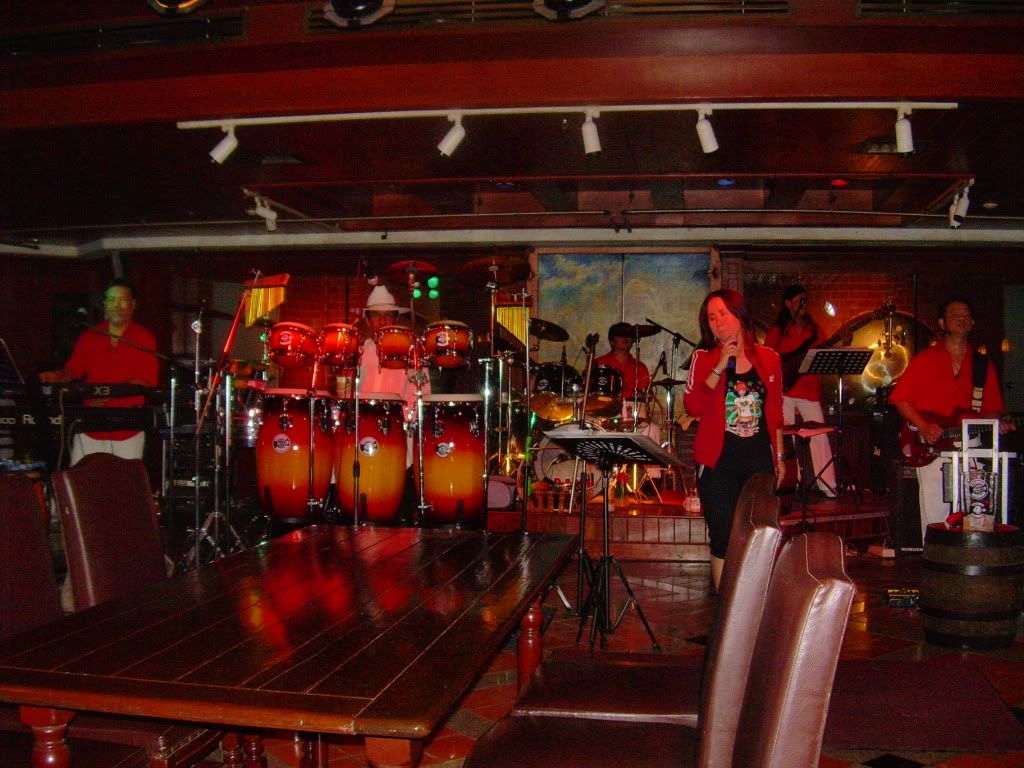 I thought I'd never hear a lounge, yet hard-rockin' version of Kashmir by Led Zeppelin.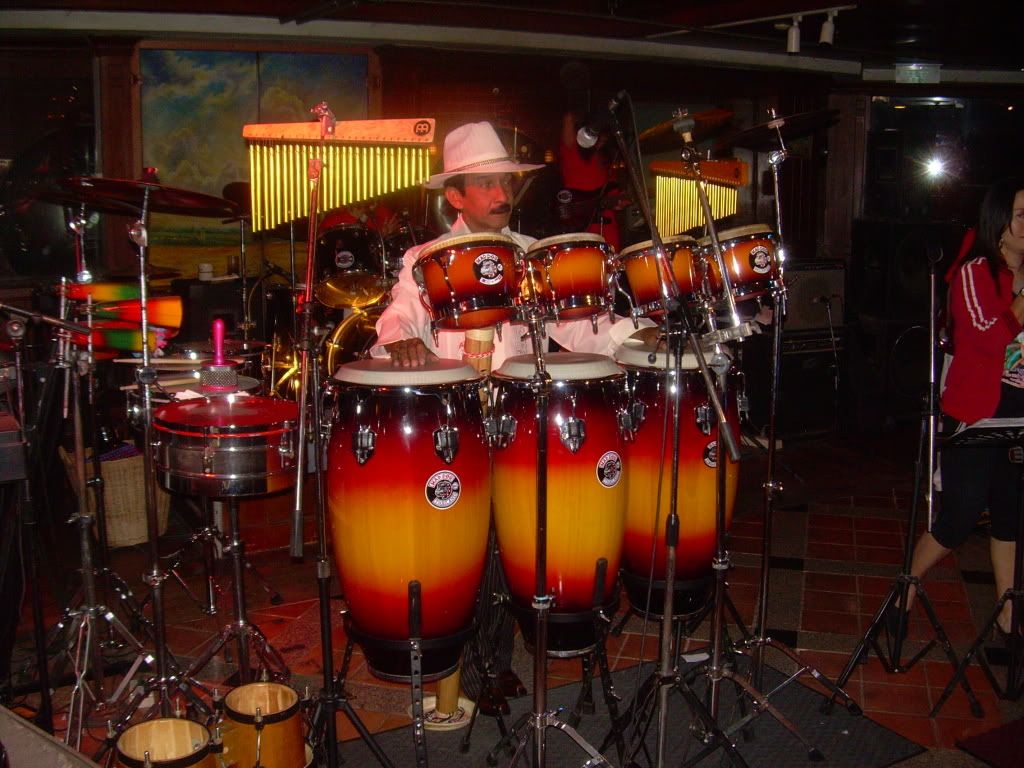 This guy is just all around cool!
Had a chance to hang out with the conga player and brew master during one of their breaks.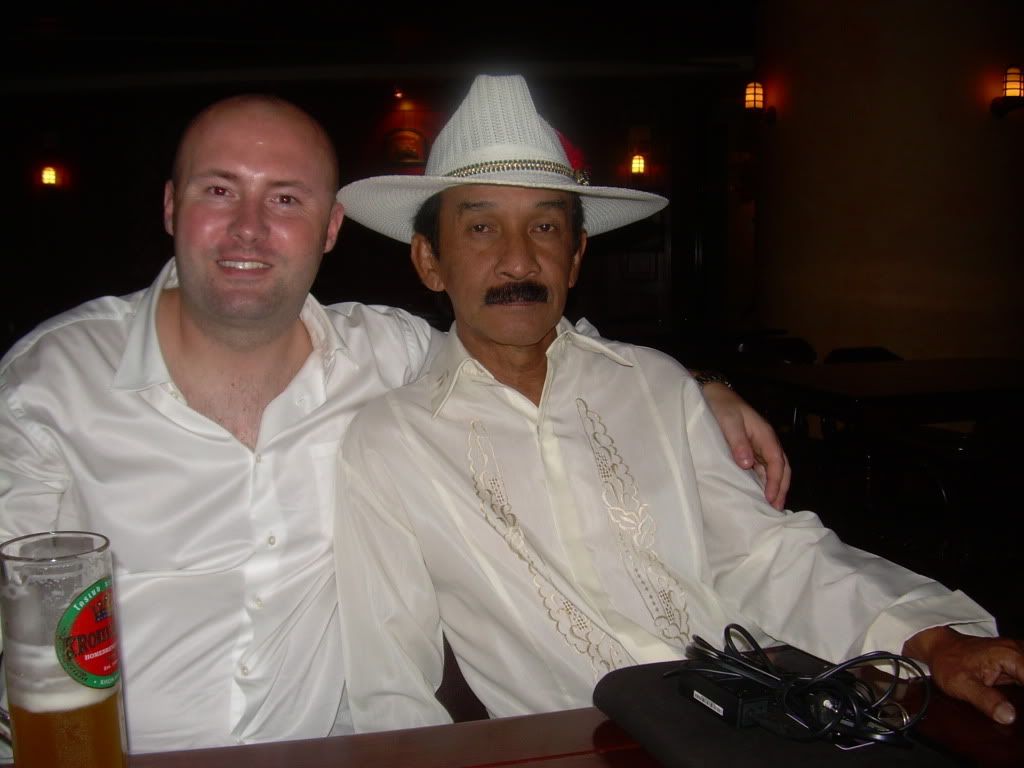 Across the street from the Pullman is a few small restaurants owned by expats. One place I liked to go is Scandinavia restaurant and a bar names Leo. Very low-key and mostly old expats that's retired here in Thailand. These places come in handy if you want a break from all of the delicious Thai food around you.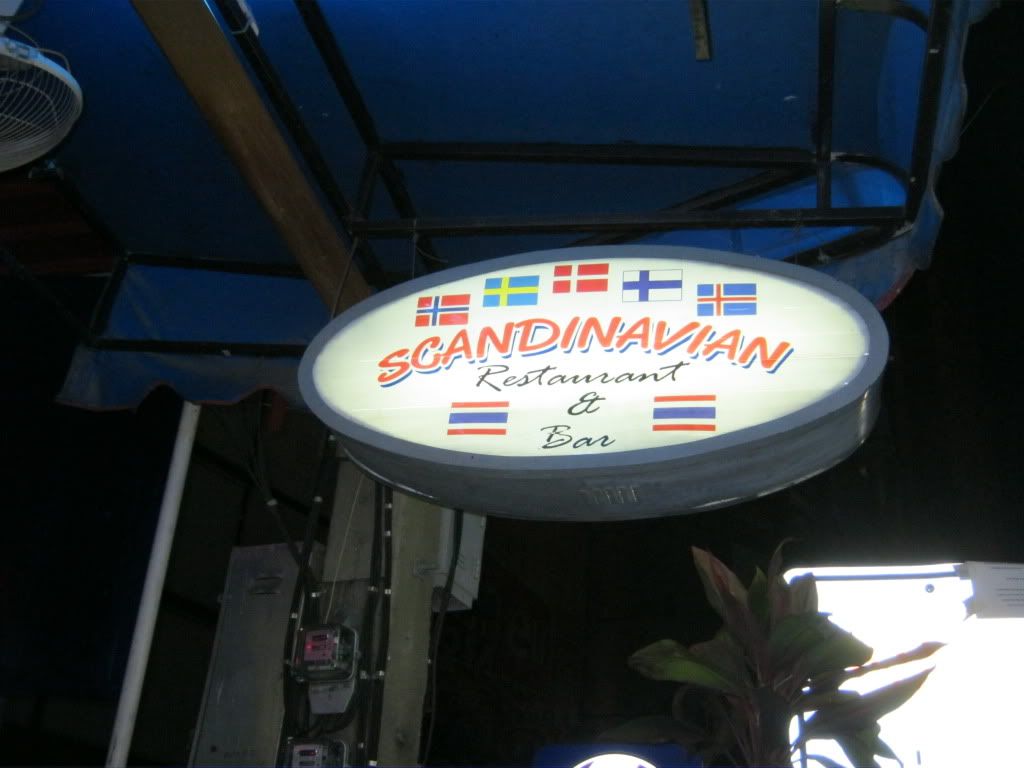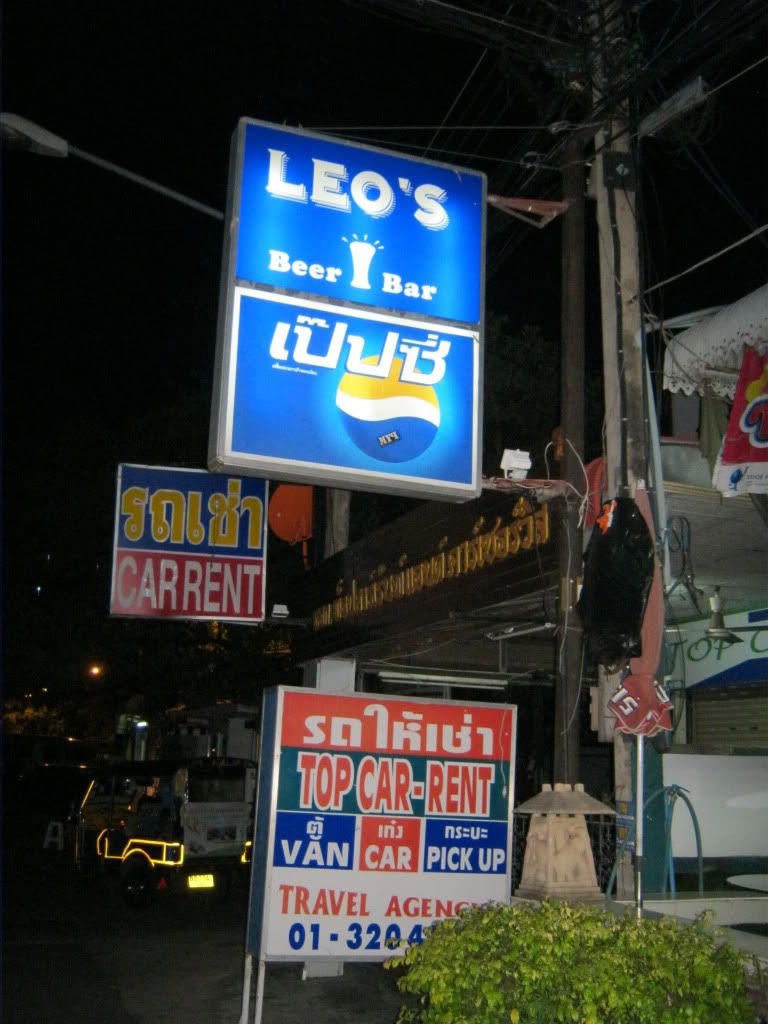 Final night in Khon Kaen.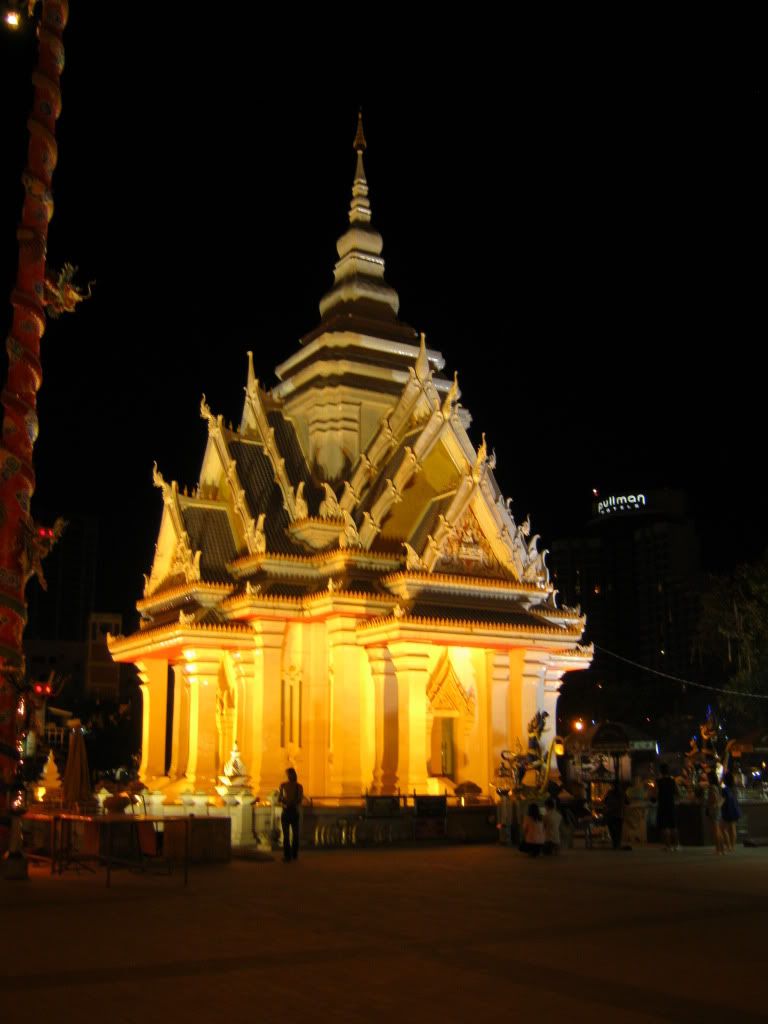 It was time to head back home to Bangkok once I heard my neighborhood had dried out. I returned the motorcycle to my friend and took a taxi to the airport. Check in was very smooth. Just walked straight to the Royal Silk business class line and received my boarding pass. Even the small Khon Kaen airport has a business class lounge.
It wasn't spectacular like at the major international airports but I wasn't expecting it to be either.
They have self-serve coffee, juice, water and snacks.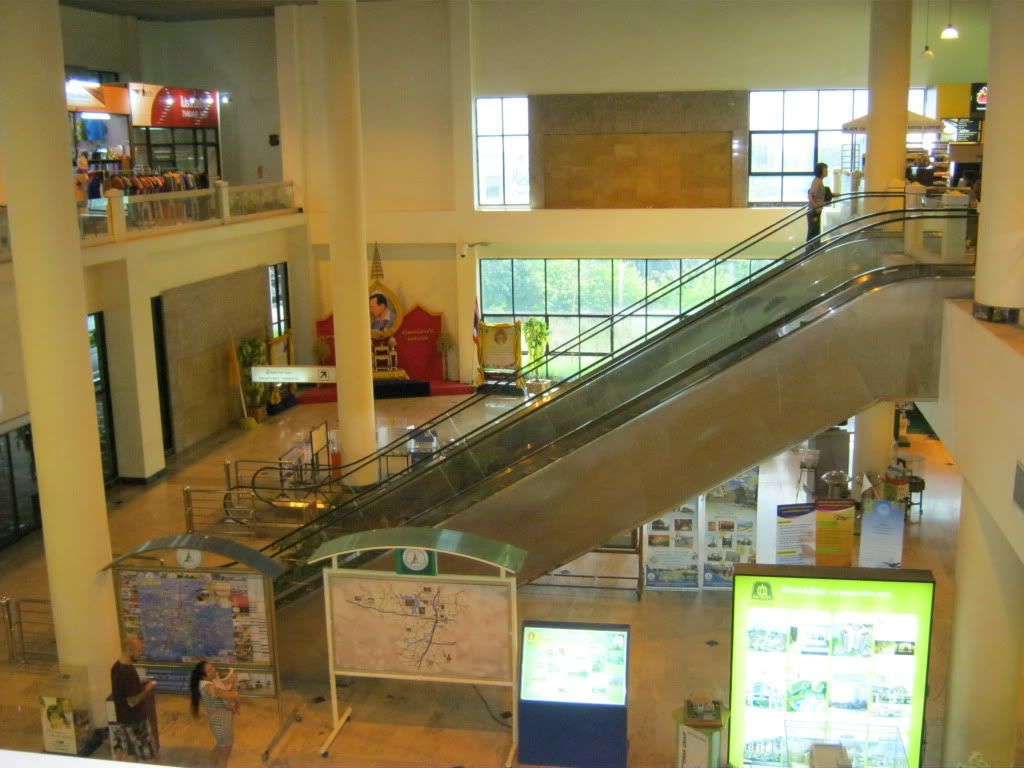 I stayed inside the lounge until it was time to board the plane.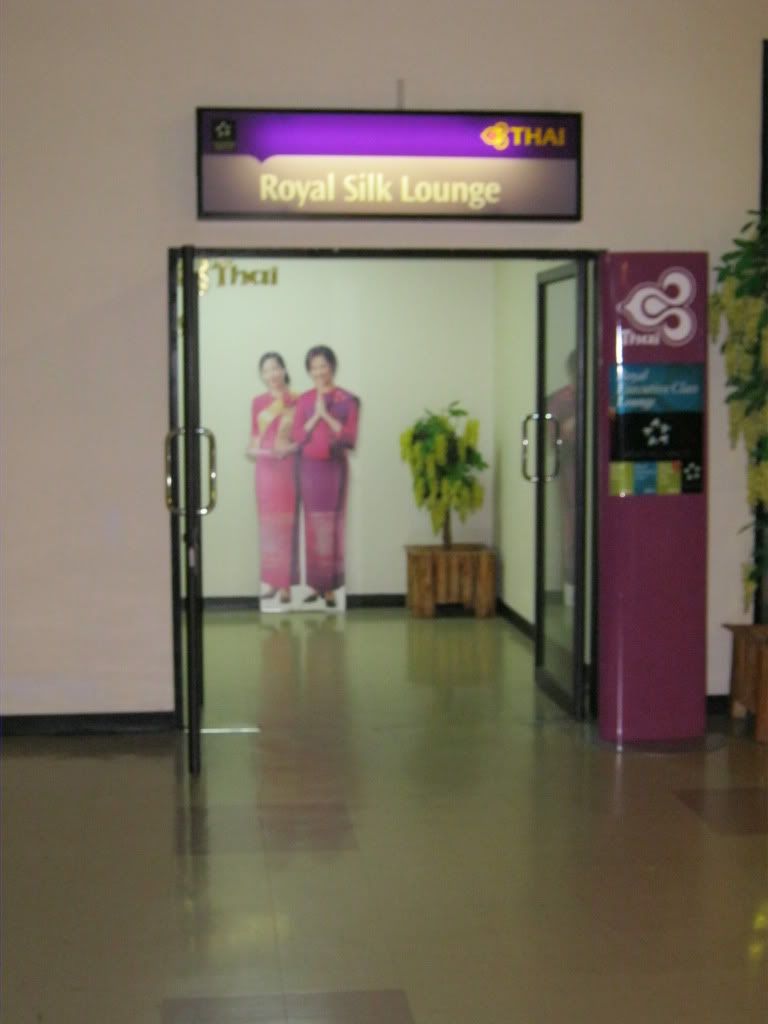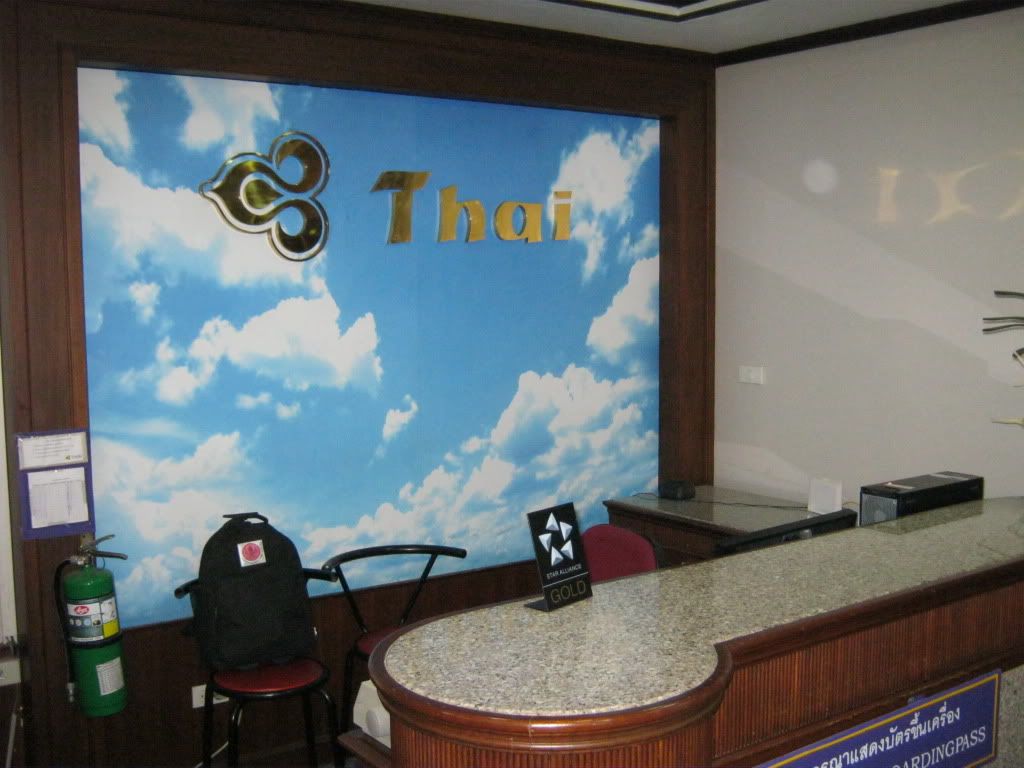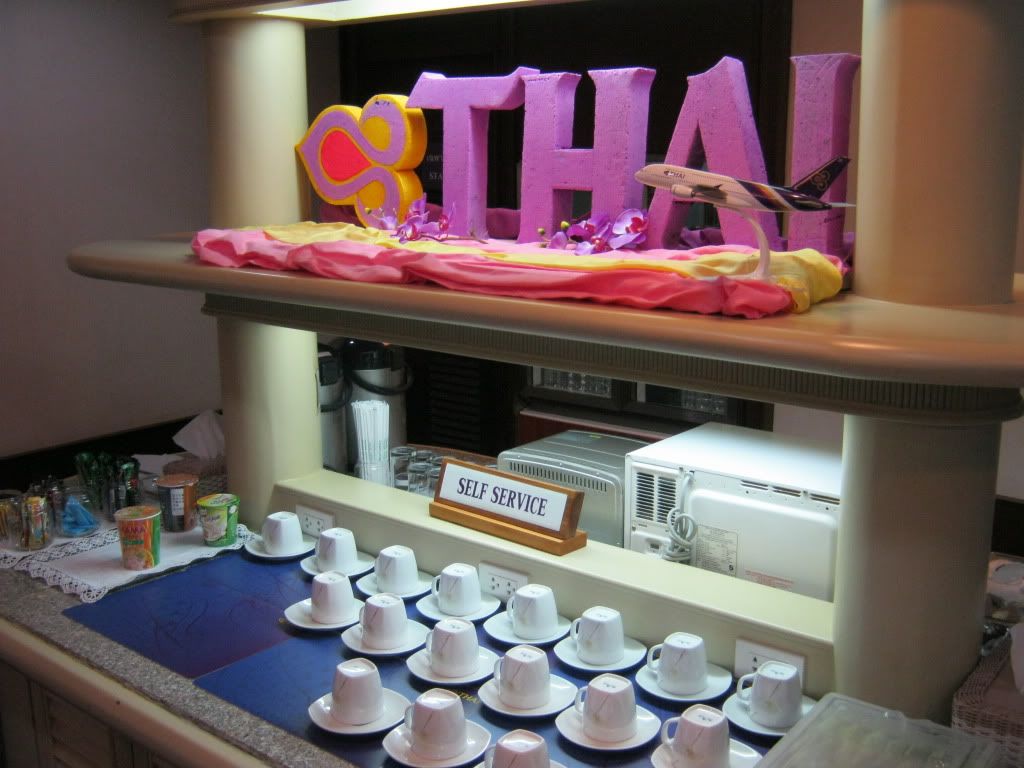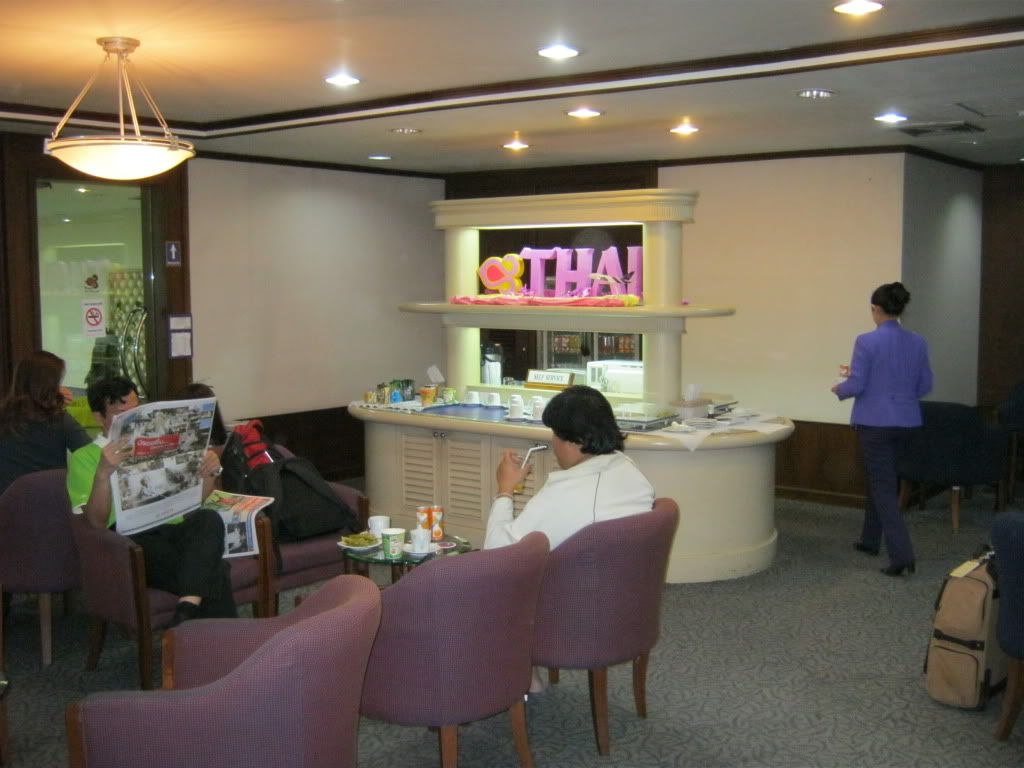 Thai dish called khao dome. It's a banana leaf with cocoanut inside.
There isn't a separate line for business class. Everyone just lines up together. The plane was packed. Registration was HS-TAN, nicknamed Chiang Rai.
Our departure was about 30 minutes late. Could have been due to the extra traffic Suvarnubmhumi is taking in from Don Mueang.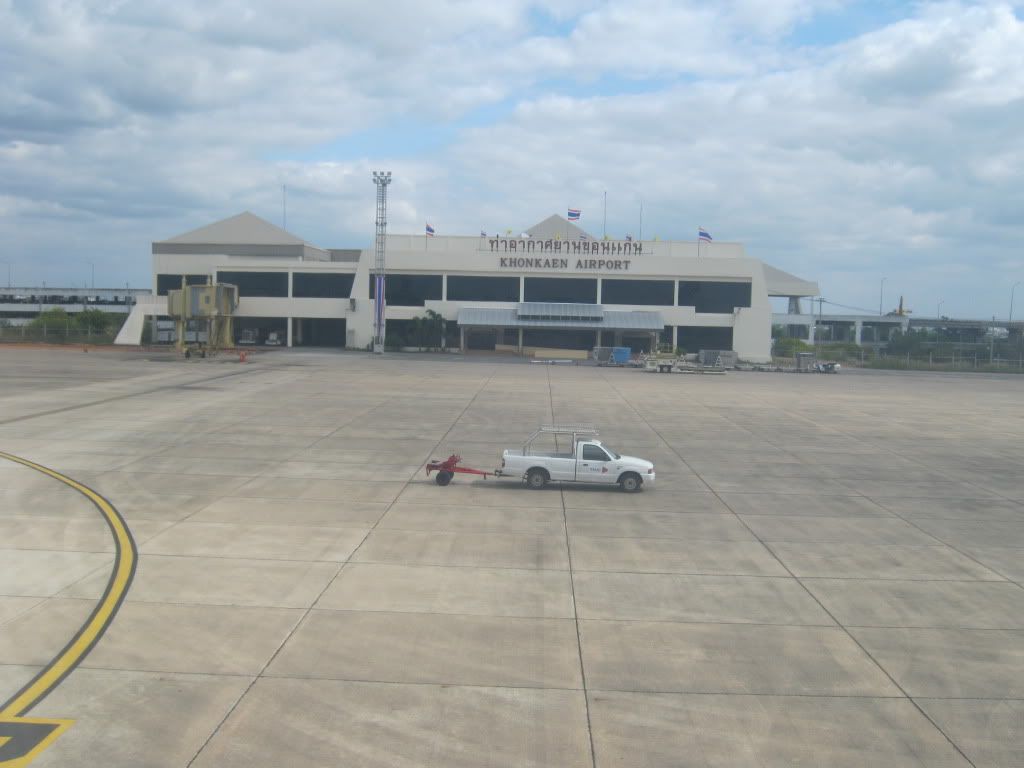 Push back from Khon Kaen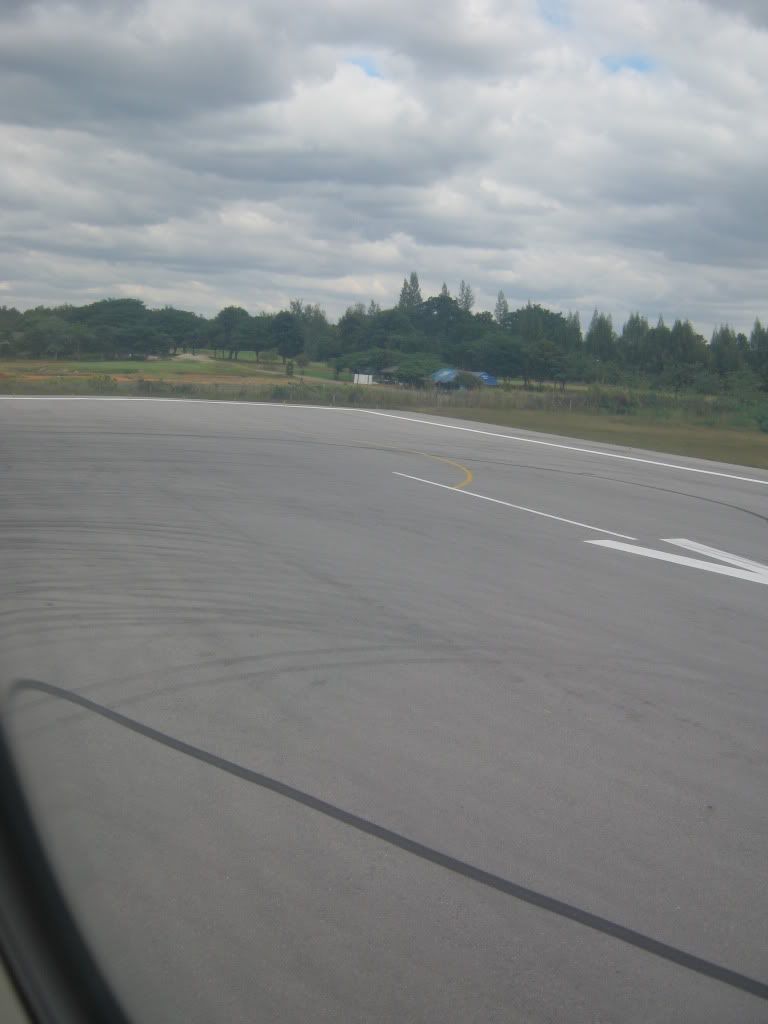 U-turn at end of runway
Liftoff
Khon Kaen has just 1 runway. We taxi out to the very end and make a complete U-turn at the end of the runway. We began our takeoff roll and off we go. It was a bit bumpy at takeoff due to the high winds. Things smoothed out quick as we got above the clouds. In-flight service begins. The food on the return flight was very good and something I'd expect on an international flight. Chicken breast with shrimp som tom along with a muffin and drink. Amazing how their crew can serve full business class meals on a short 45 minute flight.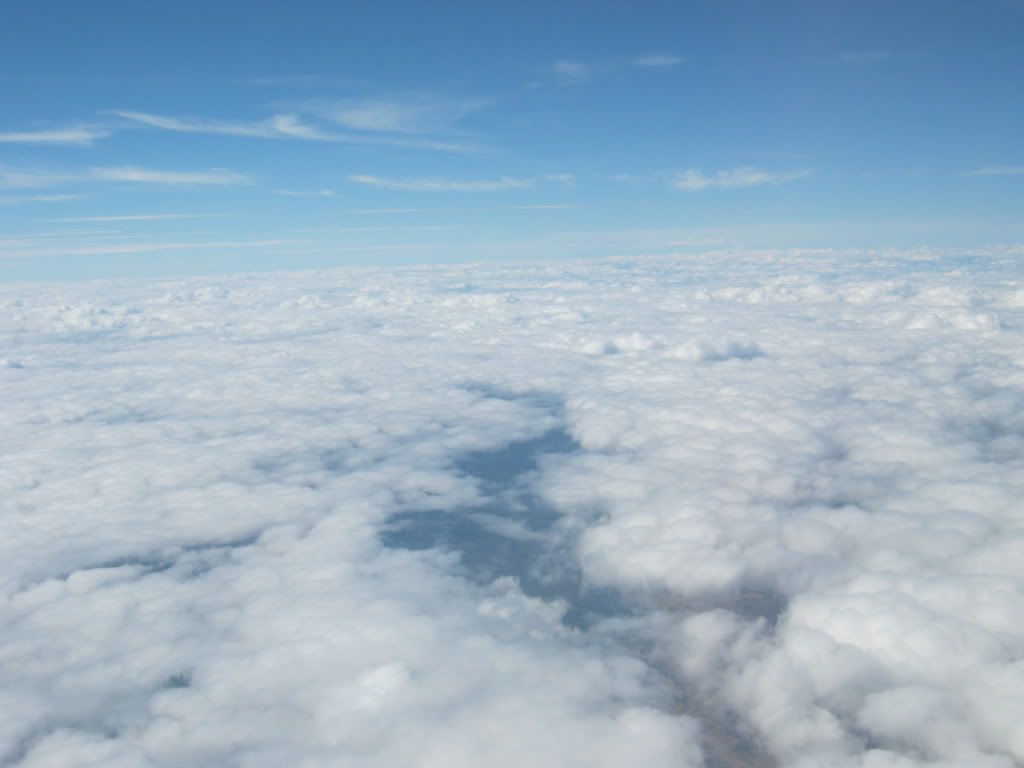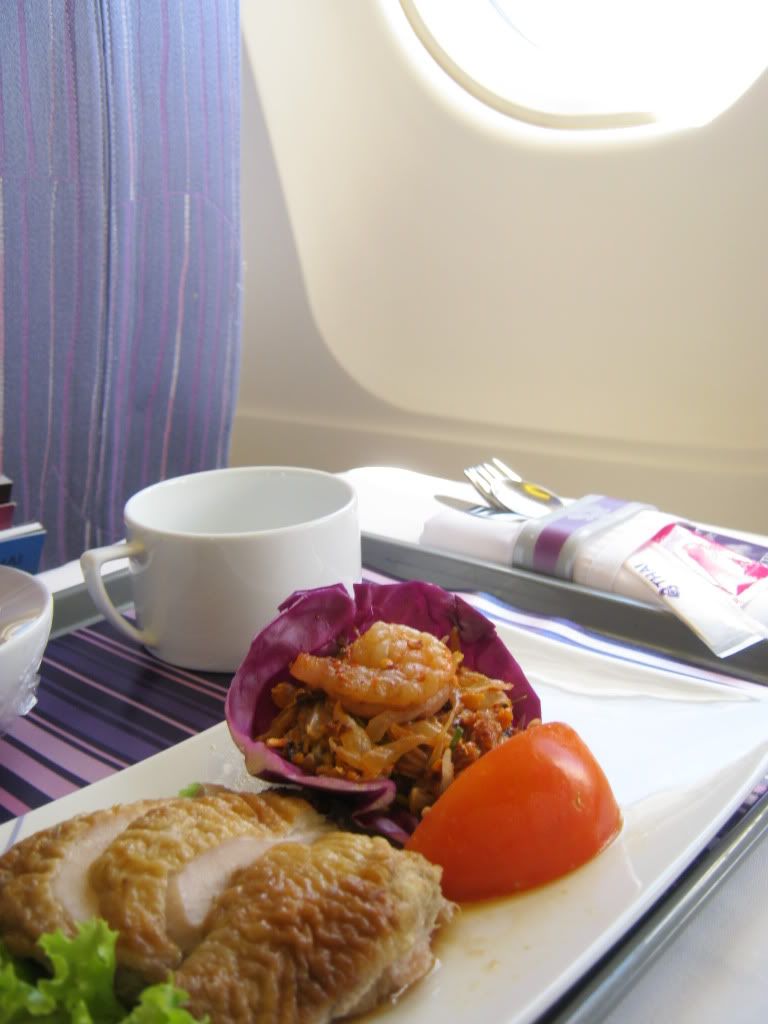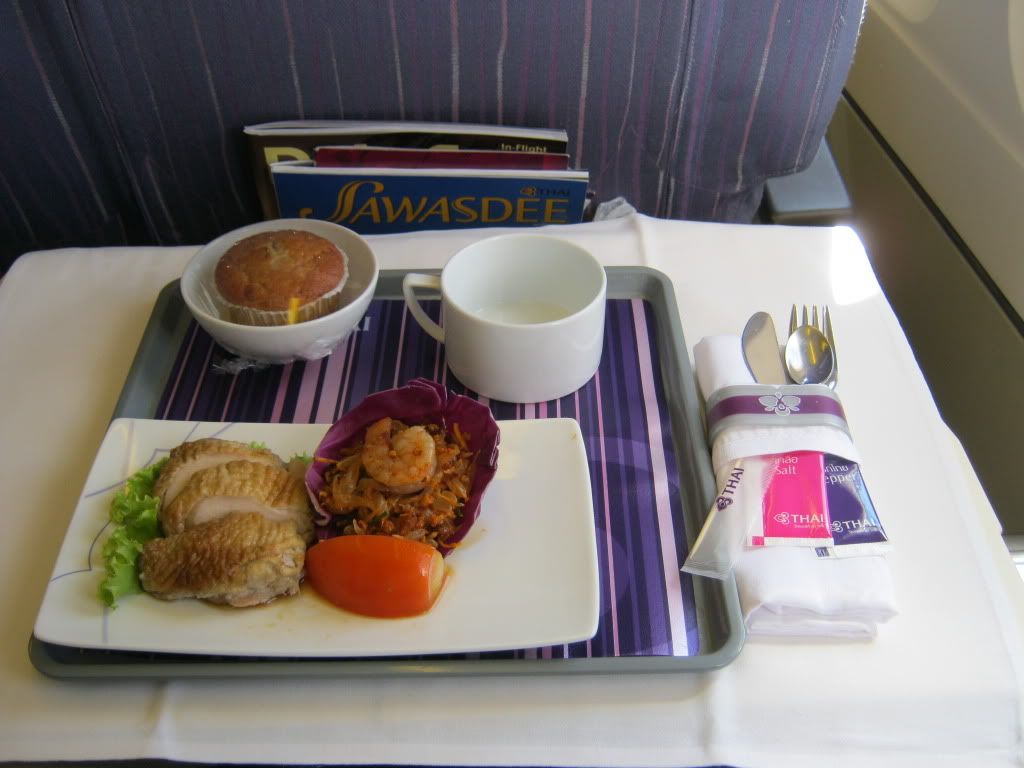 In-flight meal on the return flight was really good and spicy.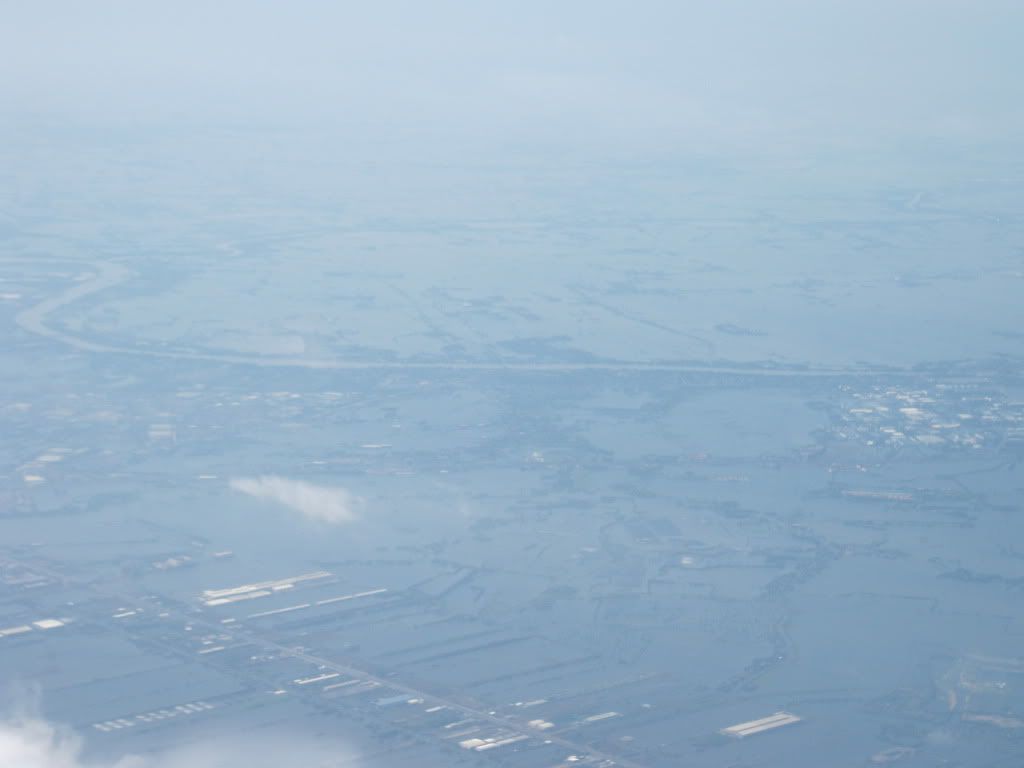 Floods in the central plains of Thailand.
Descending in to BKK, I had a chance to get more photos of the flooded area. Some parts to the north are still underwater.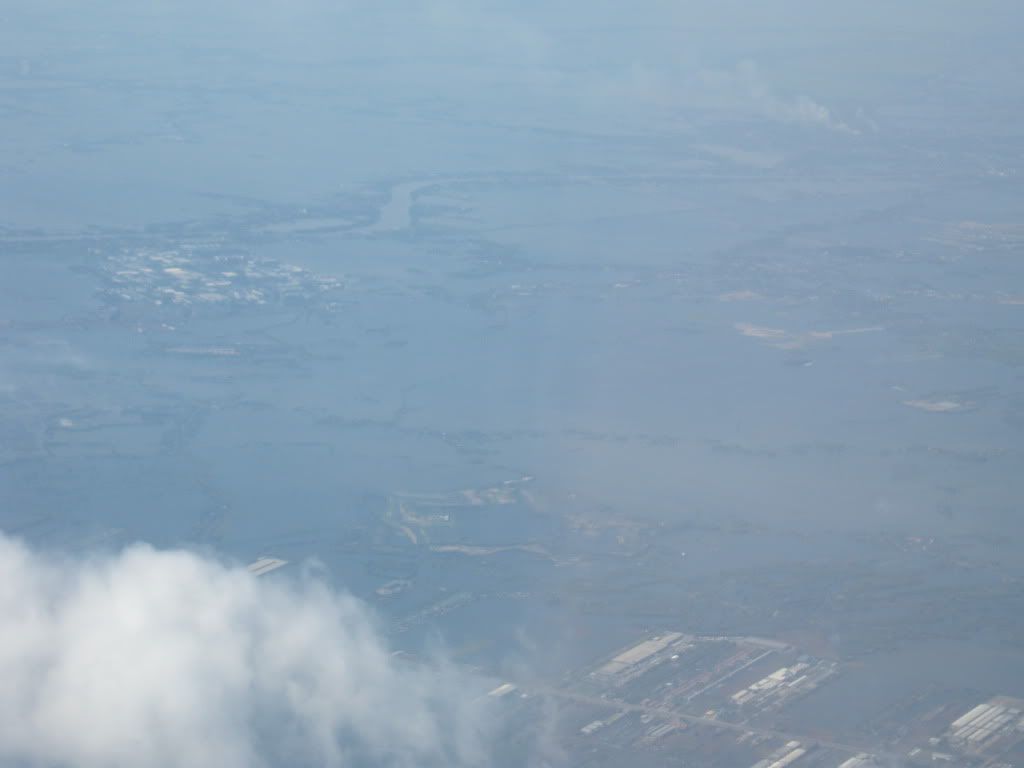 I had never been on this approach before to BKK.
This time, we flew directly over Bangkok and out over the water before turning back and approached from the south. Had an opportunity to get aerial photos of Bangkok.
Flying over Phra Khanong district of Bangkok.
I was able to get a great photo of the Kanchanaphisek Bridge over the Chao Phraya River.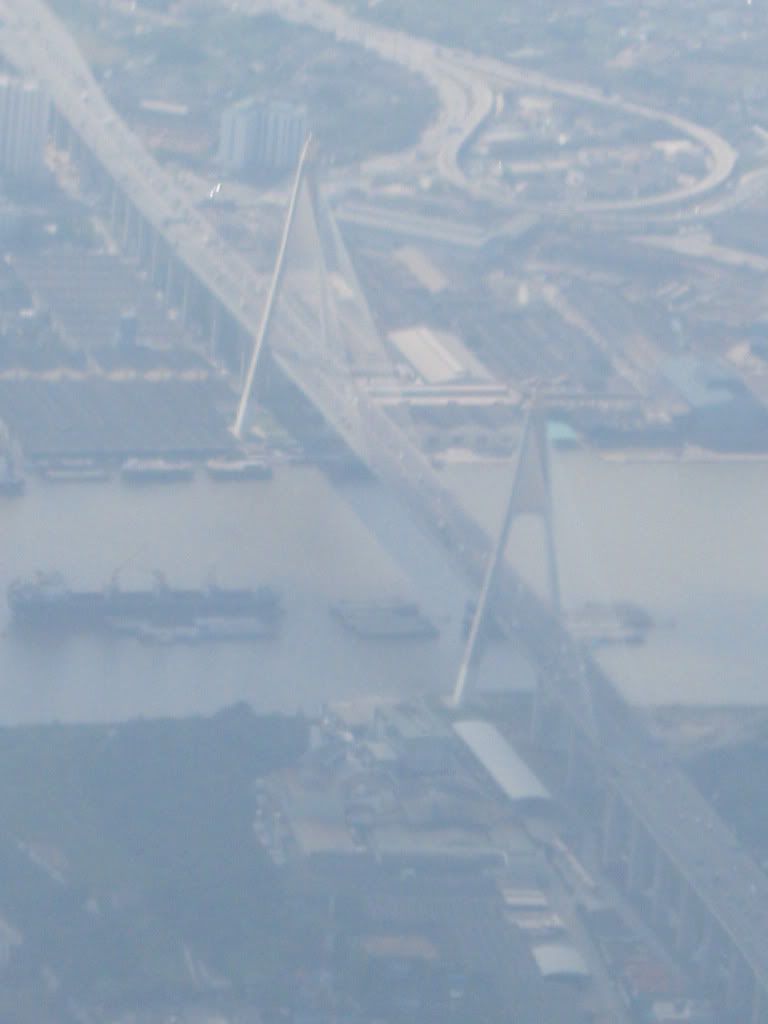 Kanchanaphisek Bridge
As you can see the water levels are high in the wetlands at the mouth of the Chao Phraya River.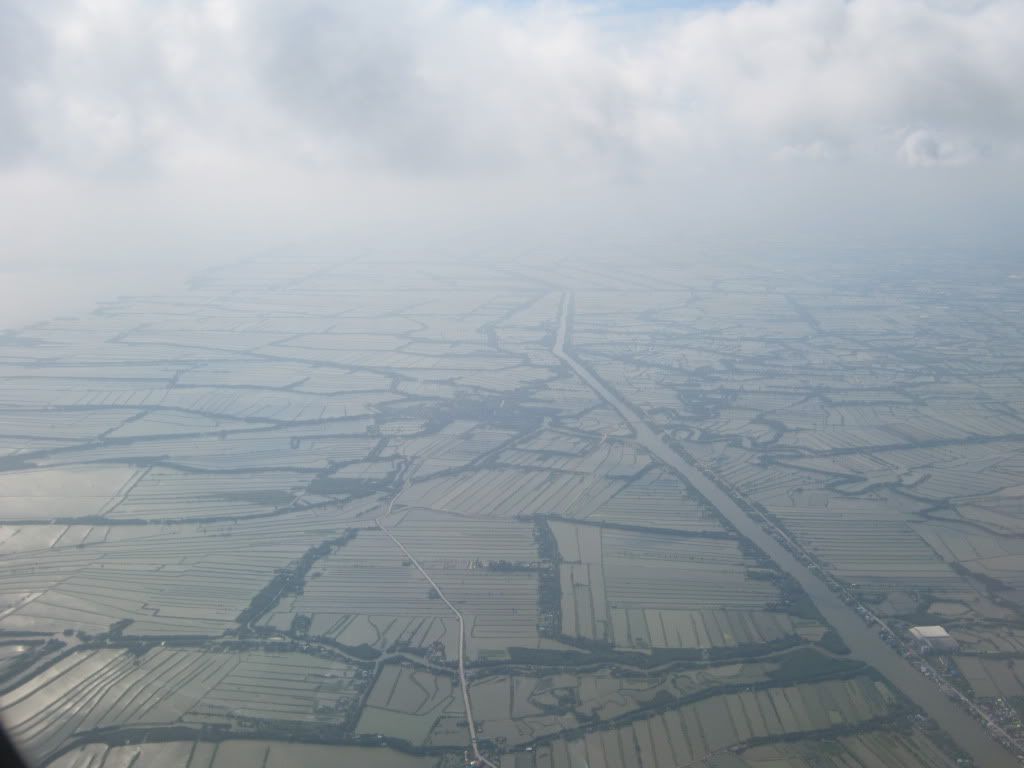 Shortly after this photo, we bank sharply to the left and descend in to BKK
Taxi chauffeur at BKK thought I was Mr. T.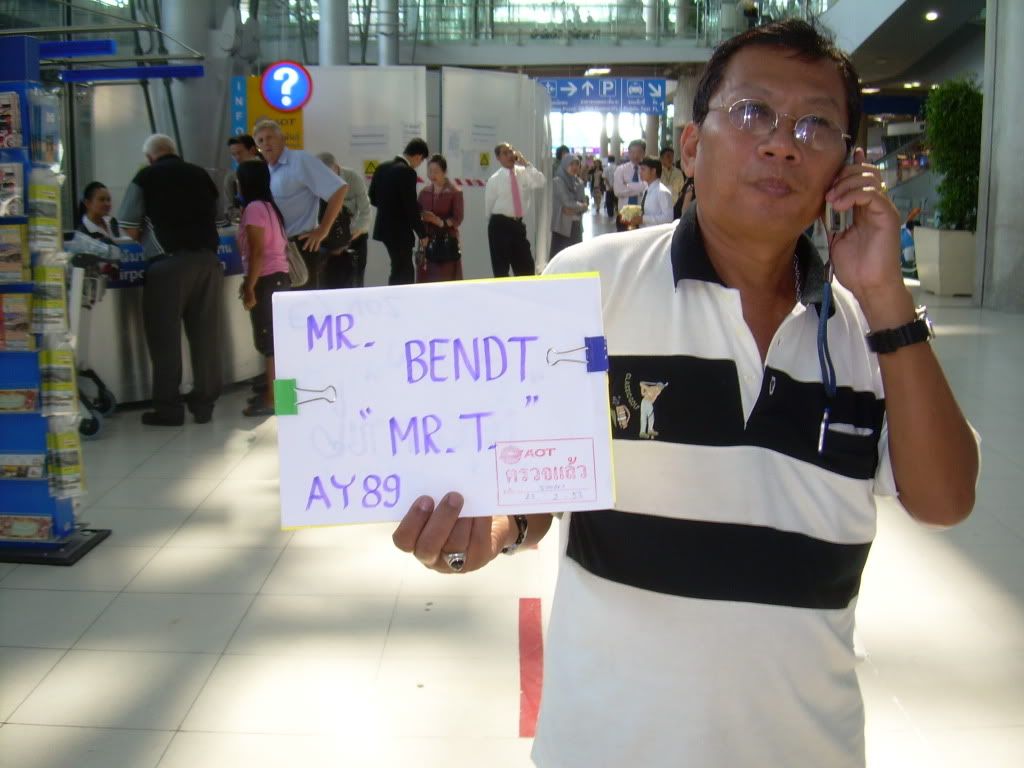 I pity the fool that thought I was Mr. T.
Once I got back to my neighborhood, there was a filthy line about 1 meter high on every building, wall, gate indicating the height of the flood waters.
Despite all of the problems associated with the floods, Thai Airways was able to come through. So many people have been severely affected by the floods including those who work for TG.
[Edited 2011-12-14 00:24:20]