First of all, let me just say this is my first trip report so be nice
. I apologize for the quality of some of the photographs, photography is something I am relatively new to.
After spending three weeks over Christmas and New Years with friends and family in Berlin, Germany it was all to soon time for my return flight to the United States. My itinerary for this trip would be TXL-CPH-IAD-SLC. Flights would be with both SAS and United.
SK1674
TXL-CPH
A319-100
I arrived at the airport relatively late and after quickly checking in and saying goodbye's I headed through security and down to the gate. Almost at once a bus arrived and drove myself and other passengers across the Tarmac to our waiting A319 in retro SAS colors. Great looking bird. Sadly I did not manage a photo while boarding. I was assigned a middle seat for this flight, so photo opportunities would be limited. I did however manage this one.
View from the window near my seat.
The ATR42 to Prague pushed back while they closed our cabin doors. The Captain then announced that we would be delayed slightly while Acciona Airport Services finished loading the last of the baggage.
The A319 has spacious seating and feels very roomy and comfortable. Before long the flight departed and after a rather short taxi, we arrived at the runway, pulled into position and immediately started. Service consisted of one juice drink.
We arrived on-time into Copenhagen. I had a quick walk, passed through border control and then entered the gate space to wait for my next flight. Sadly the gate-space provided very limited photo opportunities.
SK 925
CPH-IAD
A340-300
I managed a quick photo of the very limited view of the A340-300 that would take me to Washington IAD. After reading a bit from my book it was time to start boarding. Once on board I settled into my window seat, however being at the end of the terminal, I had a limited view.
Nice strong wing on this A340.
After push back we eased up the taxi way, passing first this A321 of British Airways bound for LHR.
We then passed this Aeroflot A320.
It was not long before our large A340 eased up to the runway and was cleared for takeoff. We climbed out and started our flight over the Atlantic.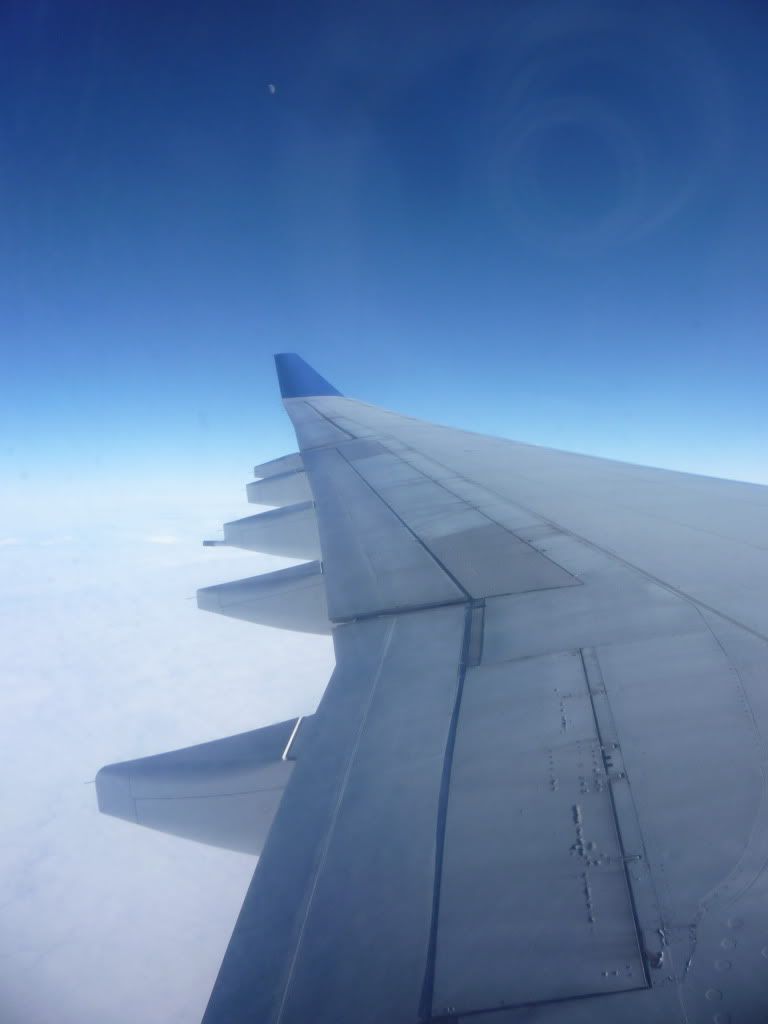 Shortly after passing the U.K. headed westbound over the Atlantic.
Service on this flight consisted of two meal services and numerous drink services. The flight attendants where extremely friendly and professional. I ordered vegetarian meals for this flight and they tasted great. For the first meal service I had a rice and vegetable curry. It was very tasty. The person sitting next to me ate some kind of meatball potato thing that looked much less appetizing, once again proving to myself that ordering a special meal was a good choice. Later in the flight a sandwich was served, here my vegetarian one looked a little small compared to the meat one my neighbor had. Hit or miss with meals I guess
Overall they where very tasty.
Before long we started our descent into Washington with the captain being very courteous and keeping us continually updated on flight time remaining.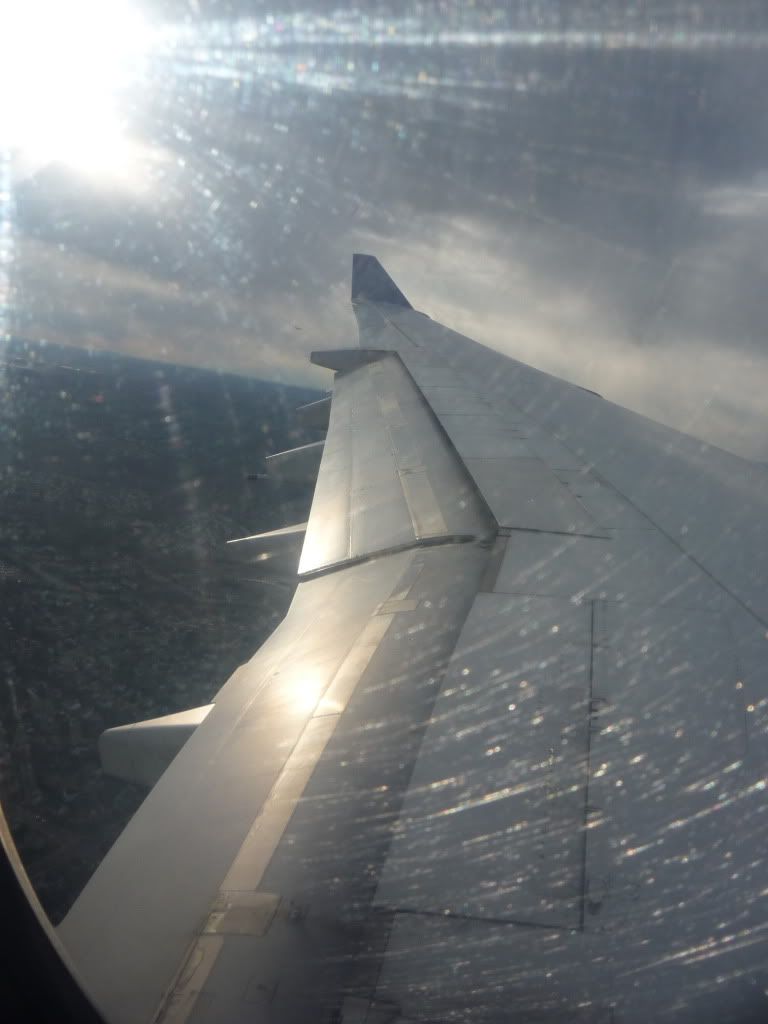 Temperature in Washington was partly cloudy and warm.
I really like the camera views SAS offers on their A340s.
Before long we landed and started our taxi to the gate.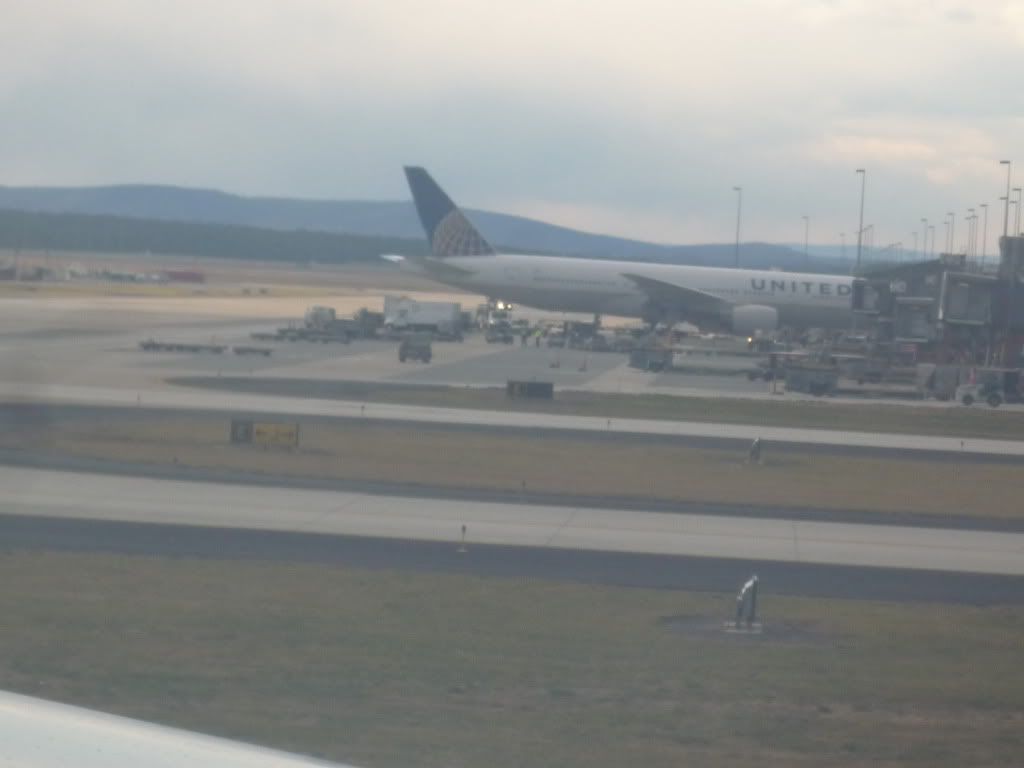 IAD is United territory, although this terminal looks rather empty.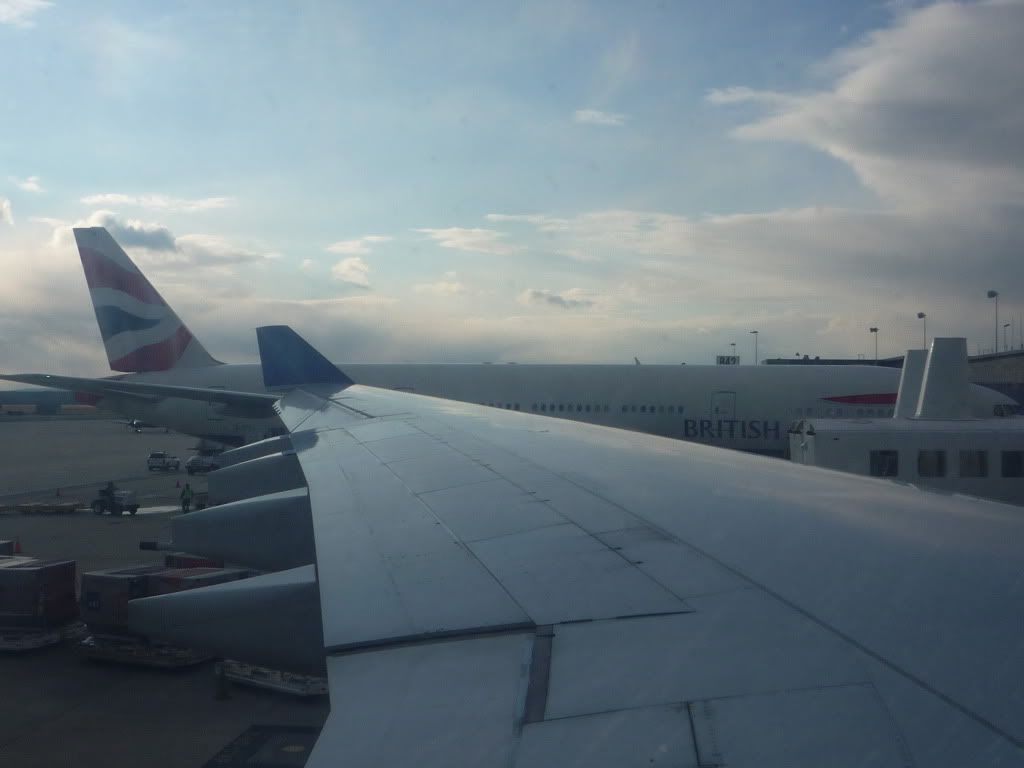 We eased into a gate next to a British Airways 777. I found it rather nice to see the global presence of such airlines, our A340 had departed from a gate neighboring a British Airways aircraft and arrived as a neighbor to another British Airways aircraft both arriving from/departing to the same airport, LHR.
After clearing customs and immigration, I headed to my gate for my next flight.
UA 645
IAD-SLC
A320-200
My next flight was due to be an Airbus A320 meaning I would complete this journey on only airbus aircraft.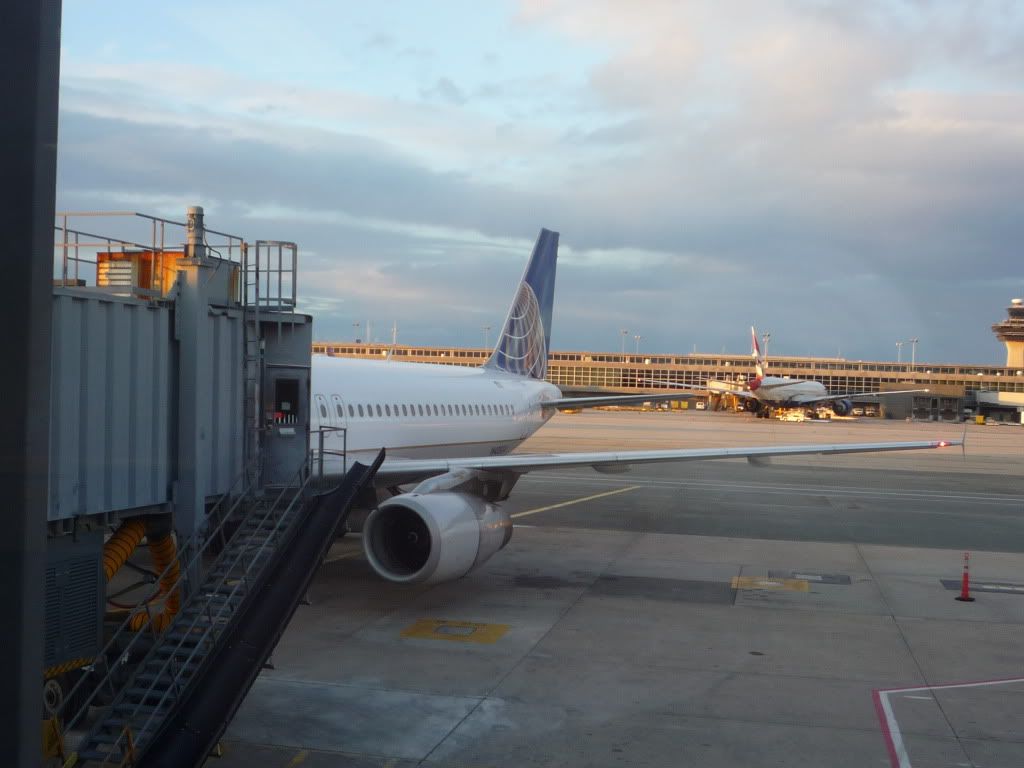 When I arrived at my gate it was currently occupied by another A320 heading for Phoenix.
I bought a sandwich, chips and a drink and settled into a seat to await my next flight.
A 767 sporting the blue colors sat in the gate neighboring mine.
Across the tarmac I could see the A340-300 with which I had arrived awaiting its return flight to CPH.
I must say, I really do like the new United colors. A lot. Shown here on a 757.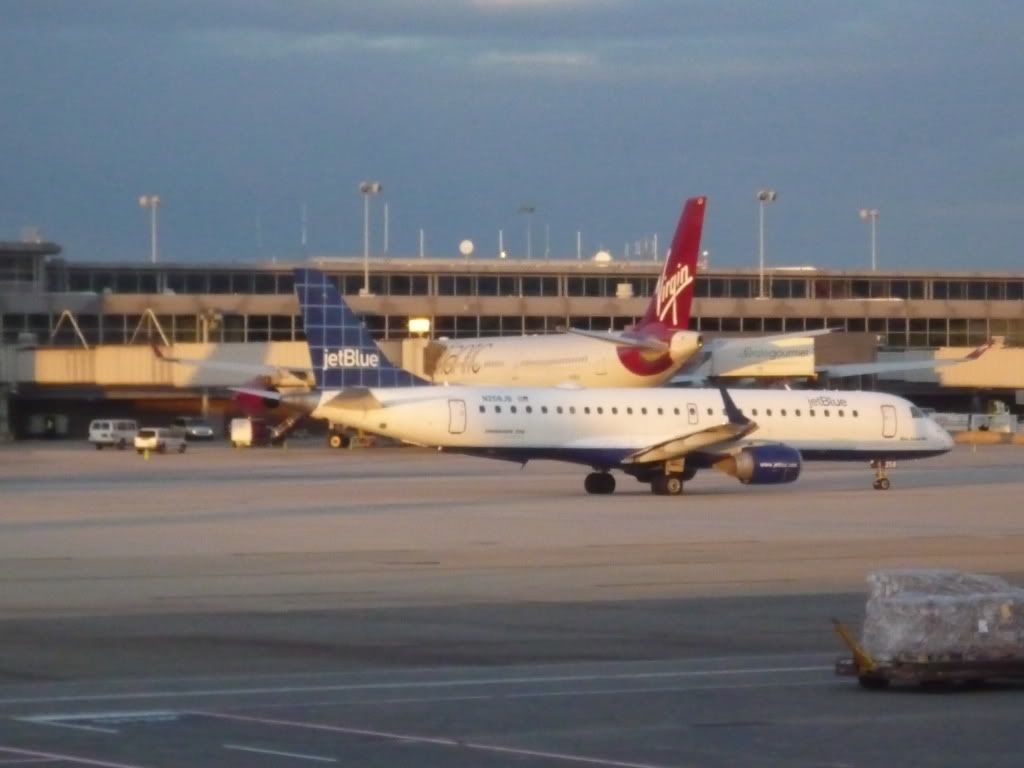 One of the only non-United aircraft I noticed while waiting at my gate.
As my departure time neared, United ground crew arrived and started preparing containers for the neighboring 767.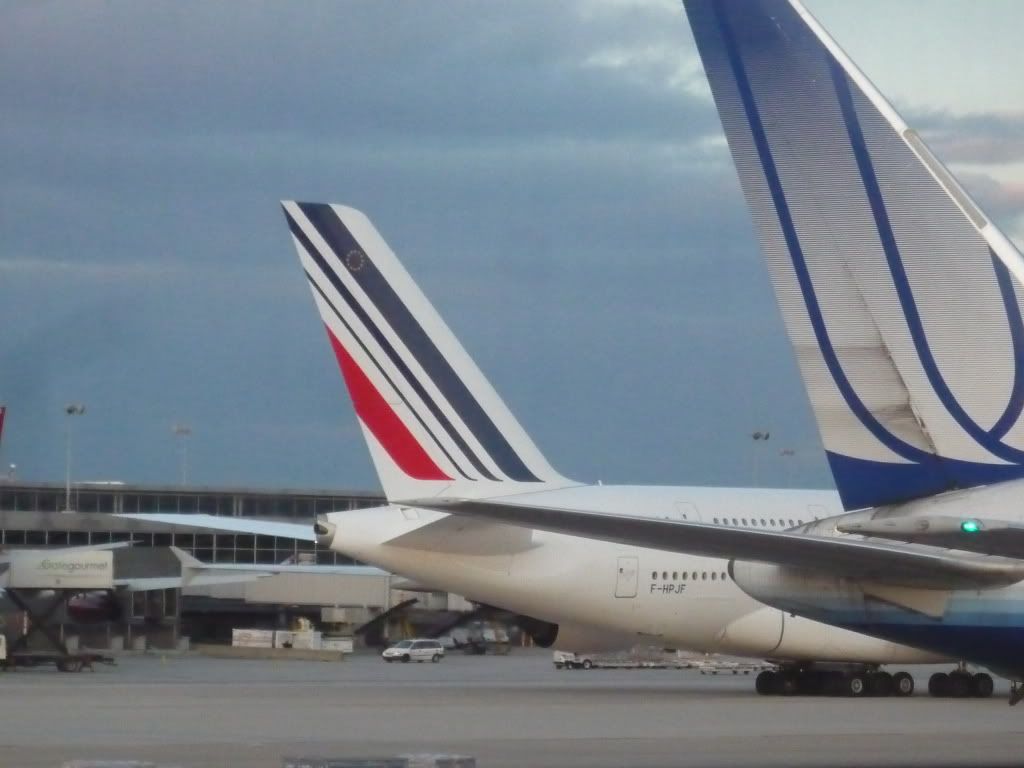 An A380-800 pushed back into the ramp area from further down the opposing concourse. I was able to catch a glimpse of its fin while presumably the push back crew disengaged.
Before long it got dark and I could not manage to take any photos that showed anything more than a blur. I really need to work on my photo skills. The A320-200 operating to SLC had the new clean ex-CO colors. Once on-board I managed a quick shot across the gate area.
Again, my photo skills are lacking. This was about the only photo worth keeping.
The flight went quickly and smoothly. The captain was very nice and after informing us we should call him "Captain Dan" he gave us very detailed information about the flight and then announced he was turning on channel 9. I tuned into channel 9 and then immediately after take-off fell into a deep sleep. I awoke as the A320 turned north of Ogden and started a southbound approach into SLC.
Once on the ground in SLC we had to wait for a SkyWest CRJ to clear the gate before we could disembark. Captain Dan taxied us around on a tour, informing us that even though we had to wait for a gate, we would be eight minutes early.
We passed the AA gates with an MD80 gas guzzler awaiting its morning departure. Sadly this photo is also completely blurry. Before long the SkyWest CRJ had departed and we eased into an early arrival into SLC.
Thanks for reading and sorry about the photo quality.