As trip reports on El Al are very rare, especially those with photos I decided that I would make my best attempt to write one during my trip back home from Israel. As any Jewish young adult knows, there is the opportunity to take a 10-day long guided trip to Israel which is paid for in full by very generous (and wealthy) benefactors, the Israeli government, and local Jewish organizations. These trips are available from over 50 countries. Read more about it here if you are interested
http://www.birthrightisrael.com/.
Being that I am 22, I decided it was time to visit Israel for the first time in my life. My trip would run from December 19th to 29th. My group's flights were on El Al (Out of Toronto AC is also used, but it just so happens my trip was booked for El Al). The flight from Toronto to Tel Aviv was uneventful and I did not take many pictures besides of my aircraft at the gate because I was traveling with a group and did not want to start running off to take photos in a crazy a.nutter fashion. As I have family in Israel, I decided to extend my return flight by a few days to briefly visit them and meet many people whom I have never met. I was allowed to extend my return ticket up to 6 months and only had to pay the fare difference. In my case it was quite high at $300. This was not a problem as the cost of the trip was virtually nil with the exception of 1 meal per day I had to pay for myself. Let's just say I gave Israel's shawarma and falafel shops some income
The 13 days I spent in Israel were incredibly moving and the natural beauty of both the women and the country itself make me want to return again in the near future. At the end of this report I will post a few photos I took at the different places we visited. Without further hesitation, let's fly El Al from Tel Aviv to Toronto. I took quite a few pictures however, I accidently deleted many of them and the ones that were recovered were not the best ones.
ELY029
LLBG-CYYZ (TLV-YYZ)
Scheduled Departure Time:
0050
Actual Departure Time:
0116
Scheduled Arrival:
0620
Actual Arrival:
0642
Gate in TLV:
D4
Gate in YYZ:
C30 (LY always uses this gate)
4X-EAF (originally delivered to Aeromaritime in 1990 as F-GHGE)
Daliyat Al Carmel (a Druze village in the Carmel mountains near Haifa)
Check In:
Having already checked in online the previous night, I had selected 24K, a window seat four rows from the front in the miniature Y section. Being that I love airports, I decided to have my cousin take me to the airport early. He came to pick me up at just after 8:30pm and we made the half hour drive south to Ben Gurion International Airport in Tel Aviv. For those who have never departed Tel Aviv, the main terminal (Terminal 3) has 4 check-in banks. Prior to approaching a counter, you must wait in line to be interviewed and then have your checked bag put through an x-ray machine. El Al uses stickers with codes to somehow track you during the process. I have no idea what the different codes mean and I'm sure I won't find out any time soon. After the interview/x-ray I went to the Express Check In line and checked my bag after paying the much expected overweight baggage fee of $25 USD. I did not care to try and put stuff in my already full carry-on. After checking my bag in, I was able to find my way back to the "pre-security" area to walk around with my family and say goodbye. Prior to going through the hand luggage screening, there are several shops one can browse with family as well as a few places to eat. At around 10pm I said my final goodbyes and went into the sterile passenger-only area. Between 2300 and 0100 only a few flights leave; DL to JFK, UA to EWR, LY to YYZ, JFK, EWR, and LAX, and ET to ADD. I noticed on the large flight info board that UA was delayed till 0600 (we'll talk about that later).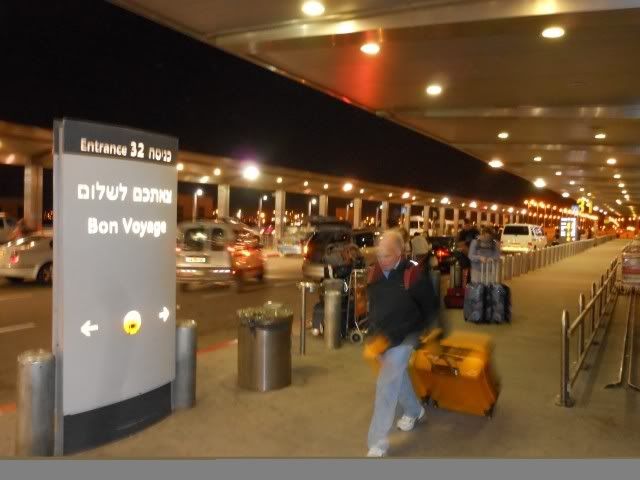 Curbside at Terminal 3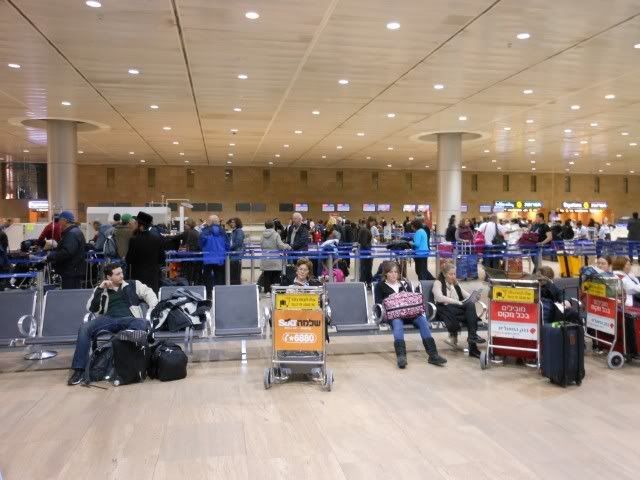 Check in Desks at TLV (DL shown here)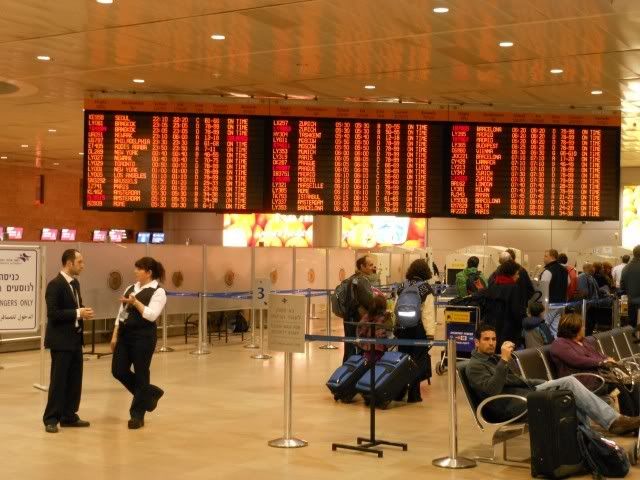 FIDS in the terminal (Notice the few flights leaving after 2300)
Pre-Flight/Terminal
After clearing the pre-board security I walked into what I would easily call a mall within the terminal. You are surrounded with duty free shops, jewellery stores, cafes, food stations, and various other places to spend any remaining Shekalim (Israeli currency). The main duty free shop was huge with the fragrance section easily being the size of one you'd find in a department store. After walking around aimlessly for half an hour I found a participant from my trip that had also extended her stay in Israel. Prior to this, I did not know anyone else was leaving on my flight as most people either left with the group on the 29th or extended for an extra week or two to see family. We chatted and browsed for a bit before we made our way into the central part of the "Fly and Buy" area for a coffee. The prices in the duty free shop for the products I use were not overly spectacular so I opted to only buy a few chocolates for my family. By 11:30pm we were feeling ready to walk down to the gate area. In Terminal 3, there are 3 concourses; B, C, D. El Al mainly uses D and my flight was no exception. Strolling around the concourse the usual late night LY flights to JFK, LAX and YYZ were getting ready to go. Tonight's line up consisted of a 747 for JFK, a 747 for EWR (on C concourse), a 777 for LAX, and the much expected "4X-EAF" 767-200ER for YYZ. ET's 737 to ADD was pushing back as well and I got a nice view of it from the smoking room (there is one at the end of each concourse). From the "Lib-Home-Radar" website I could see that El Al only operates 4X-EAF on the YYZ flights unless a 767-300 happens to appear. Of course in this case, I took –EAF from YYZ on the 19th. Back when El Al operated TLV-YYZ-LAX-YYZ-TLV I had flown both EAE and EAF between YYZ-LAX-YYZ. Why El Al seems to only put the -200 on YYZ I never know but I can tell you that BKK, JNB, and HKG mainly see the -300 if not the 747 or 777. While boarding, I saw an El Al mtce person in the gate area and I asked him about the 767-200s. He said they operated eight of them (I know this is not true!). Being that it was nearly new years in Tel Aviv, several gate areas were counting down and cheering at 1200am. I guess I'd expect that from the JFK and EWR gates :p. At 12:10am boarding for LY029 to Toronto was called, starting with passengers requiring assistance and business class ticket holders. By 12:30am I was onboard and in my seat. This is also about the time my camera battery died so all photos between boarding and some point during the flight where I charged the camera via my computer will be from my camera phone. Tonight the flight was not full with a load of about 160 pax according to an FA. Luckily for me, I had no seat mate tonight so I had room to stretch out. On each seat was a blanket and pillow. The blankets El Al now uses are not nearly as nice as the one I got in 2006 which had the El Al logo woven in. The blankets are washed in TLV and repackaged. They smelled very strongly of laundry detergent.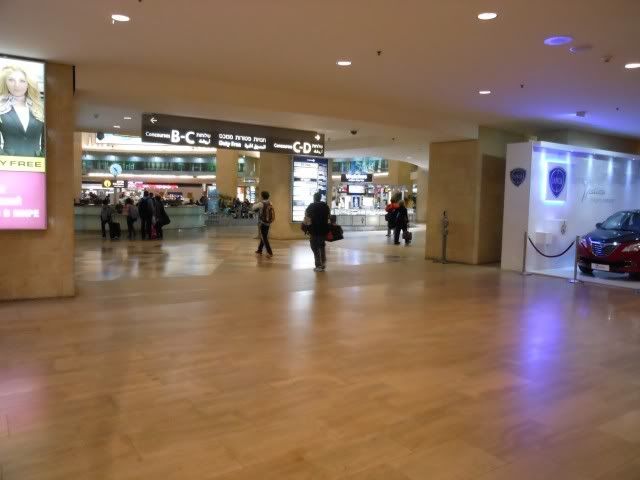 Walking towards the duty free area from security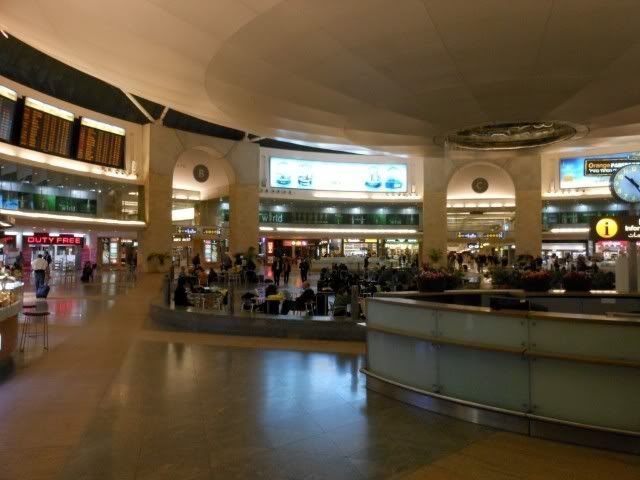 Entrance to the duty free mall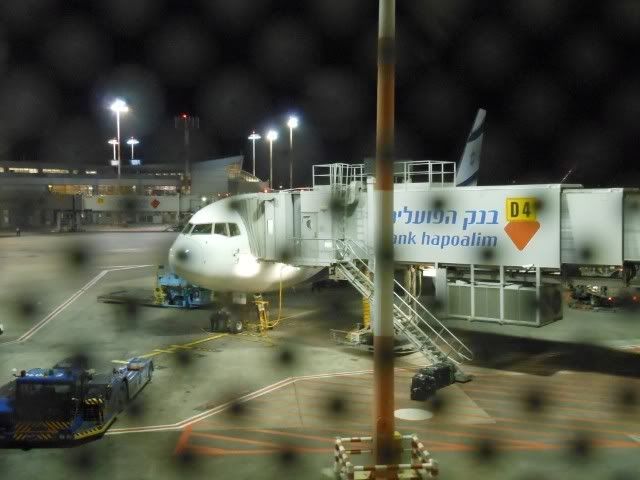 Good evening 4X-EAF, nice to see you again!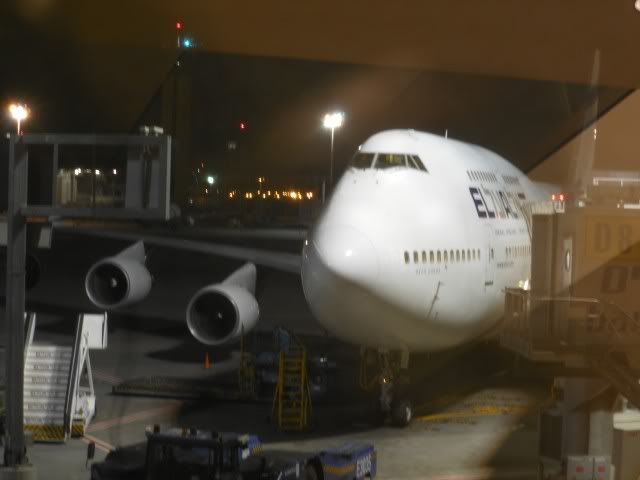 El Al 747 to JFK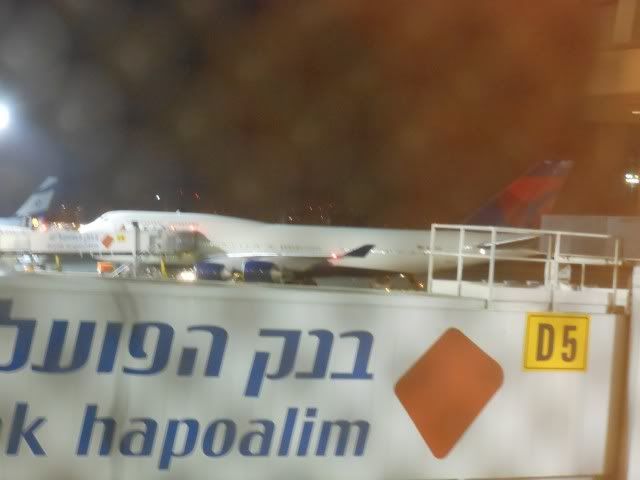 Delta 747 to JFK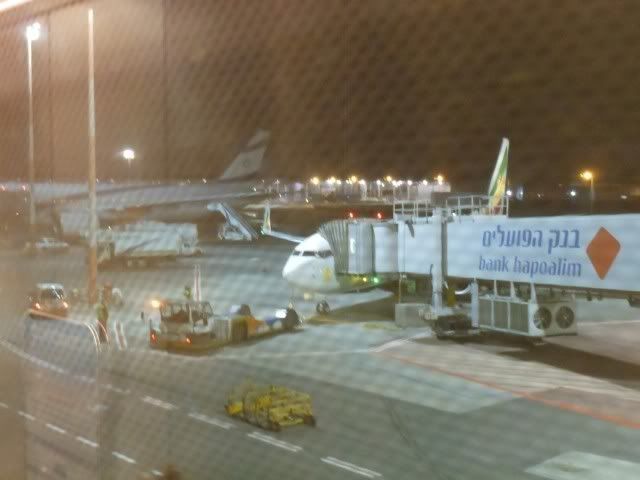 Ethiopian 737 to ADD with El Al 777 to EWR or LAX
Pushback/Taxi/Take-Off:
Flight time today was announced to be 12 hours and 20 minutes with an arrival into YYZ not before 6:30am local time. The westbound flight is quite a bit longer than the eastbound one which was just over 10 hours. At around 1258 we pushed back from gate D4 onto taxiway Romeo. While pushing back, I noticed the delayed UA 777-200ER had a lot of activity around it. What caught my attention was a catering truck at the aft service door with what I am guessing was a bucket lift (cherry picker) near it. This flight was delayed till 6am according to the FID in the terminal so perhaps the catering truck caused minor damage to the plane? After pushback and disconnection we sat for several minutes. All of a sudden the cabin air conditioning system stopped and the cabin went silent. Perhaps the APU was turned off? Luckily I had a window seat so I was able to see the light of flashlights near the engine. I'm going to speculate we had an air start cart come out to the aircraft which was used to start an engine. Finally at 1:07am, we began rolling along taxiway Romeo, across RWY 12/30, left onto Whisky 1, and finally onto Runway 26. I did not see any flaps extend nor did I hear them (the hydraulic noises were very audible when I sat over the wing on the YYZ-TLV flight). At around 0116 the JT9Ds began to spool up and we accelerated down the runway, rotating about half to ¾ of the way down. For some reason I remember the take off in YYZ being shorter despite the full load. By 0117 we were airborne and began our climb out over the Mediterranean. Being night, there was not much to see after we passed the western coast of Israel as we were now over the water heading north-west.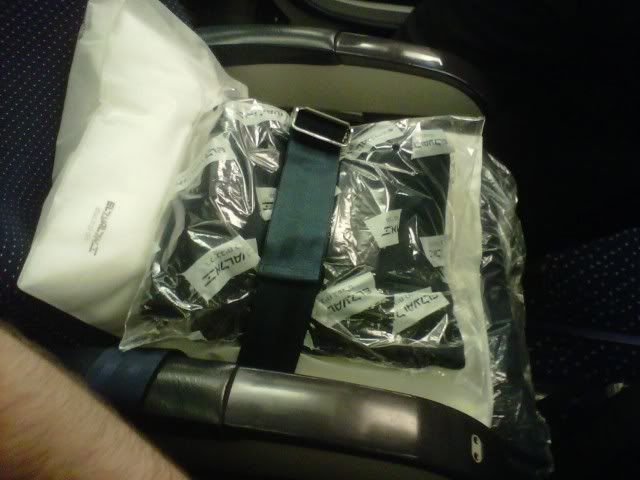 My seatmate for the next 12 hours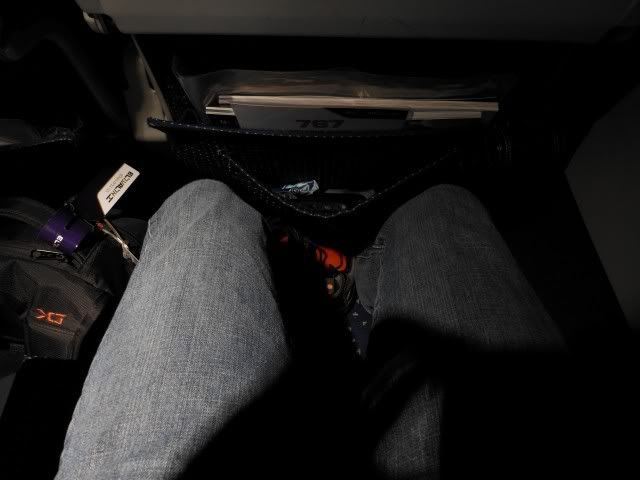 Legroom shot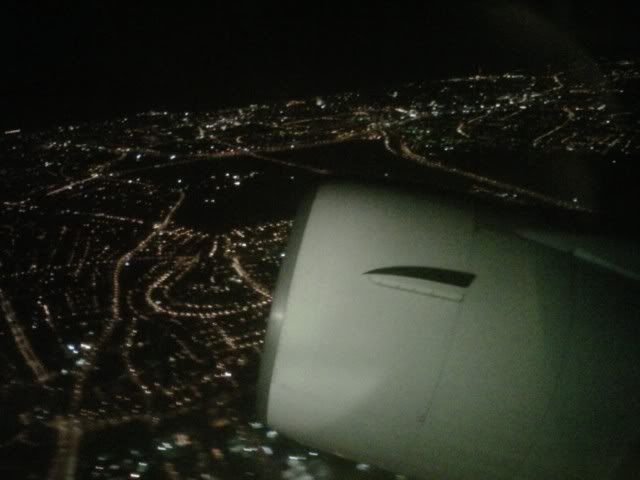 Climbing out over Tel Aviv
In-Flight:
As soon as the seatbelt signs were turned off, the IFE was started and the cabin crew started the first beverage service which consisted of the typical El Al paprika crackers and a choice of drink (water, tomato/apple juices, soda, red wine). El Al serves tasty mint lemonade made by Prigat (an Israeli juice manufacturer) which I was not able to find anywhere else but onboard. I also noticed that that El Al does not serve any alcoholic beverages other than the free red wine in Y. Not even a cocktail or beer to buy. I took some apple juice and red wine (Barkan Classic, a very common Israeli table wine) for my meal. In the end I did not end up drinking the wine as it tasted lousy. About half an hour after take-off the dinner service started. Today's choice would be Pasta Bolognese or Chicken with Rice. So much for variety...the YYZ-TLV flight had the same choices! I took the pasta once again and it wasn't anything special. On the YYZ-TLV flight the meal used penne noodles whereas out of TLV they were small fussili. The salad on tonight's flight consisted of shredded cabbage, carrots, and peppers which were very bland and did not compare to the grilled eggplant ex-YYZ. Also, there was no green salad as I would expect with any proper meal. For dessert only a small, simple chocolate cake was offered. El Al's meals ex-TLV should have been better than those ex-YYZ IMO. After the meal service FAs came around with coffee and tea. Once again, the tea was essentially colored water and the coffee was stronger but still tasted stale. Shortly after, cabin lights were turned off and most passengers including myself went to sleep as it was now past 2am TLV time. Being that I had no seatmate, I was able to freely explore the cabin and frequently drank water/juices in the galley as the cabin air is very dry. An interesting fact many might not know is that the passenger cabin air is re-circulated while the cockpit air is fresh from the outside. Being that I work for an airline, I had the chance to take a 737NG course where we were told this. I imagine the 767 has a similar air conditioning system, if not one that is less advanced than the 737NG models).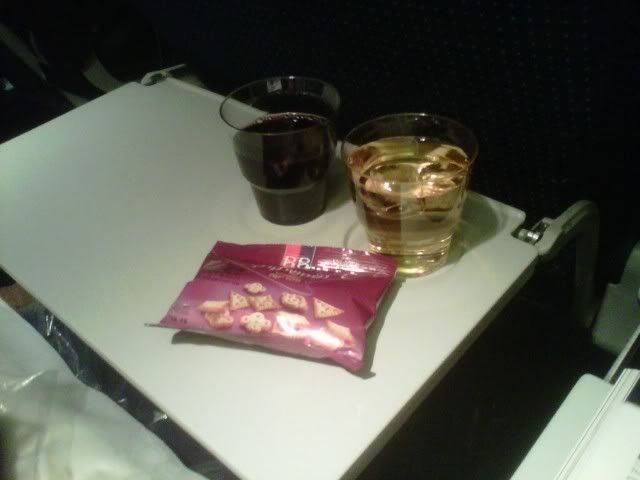 Snack with apple juice and red wine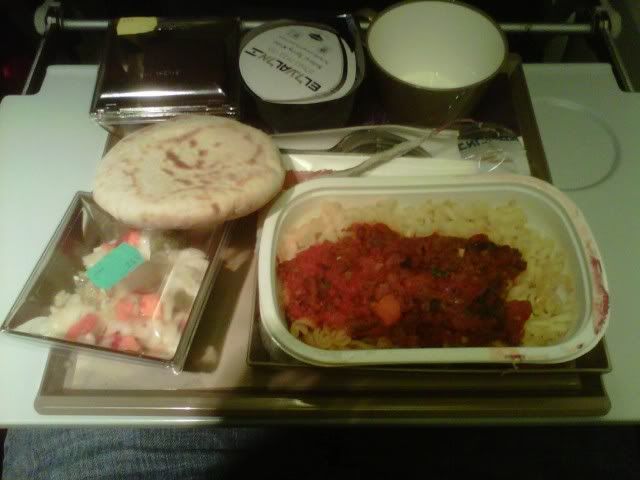 Pasta Bolognese with salad, pita, water, and cake
At around 6am TLV time I woke up and found that the cabin attendants had started another water service. El Al uses "Eden" brand water which is what I mainly drank while touring Israel. It is good as far as bottled water goes and a large bottle (1.5 L) only costs about 5-6 shekels ($2 Canadian). As far as service goes, El Al is quite good but their catering lacks authenticity. Why not serve a Middle Eastern or Mediterranean choice ex-TLV? I'll give them an ounce of credit because they gave me a tiny pita with my meal but why not a small container of humous? Israeli Salad? It's the simple things like this which would make El Al a step above the rest. How would you feel if an airline like Cathay Pacific who is based in a country with such a recognizable culinary identity served only western style meals from their main hub? Most of the passengers on this flight are people going between the homeland and Canada with a small amount of business people. I think everyone would appreciate a more authentic culinary experience especially with the O/D pax demographic.
As I was not feeling tired, I decided to stay up and browse El Al's onboard magazine "Atmosphere". Rather than translating the magazine into English and Hebrew, EL AL has opted to publish an English version and Hebrew version within the one magazine. In the magazine, you have reviews of popular Tel Aviv restaurants, shops, route maps, aircraft stats, and audio/video entertainment information. There are no games or trivia in the magazine which is something I'd also like to see. The duty free selection is found in a separate publication which is also in the seatback pocket. Having read through the magazine and not found any interest in the audio programs, I decided to head to the rear Y galley for more juice and to chat with some FAs. I met a young lady by the name of Lirat who had been working for EL AL as a flight attendant for only three months. She was very interested to learn that the plane we were flying was originally operated by AeroMaritime, Air France, and Balkan. I showed her the original F-GHGE registration plates as well as the "Oven 3/Four 3" placards in the galley. According to her, El Al uses the 767-200s to YYZ, South Africa, Asia, and Europe due to their long range. It is very efficient for routes that do not yield enough pax for a 777 or 747 but require the range of an ER model. Don't get me wrong, the plane was comfortable and well maintained but the lack of power ports in Y and personal IFE screens plus the LOUD cabin make the -200s less enjoyable to fly especially on flights over 8 hours.
After passing some time in the galley I decided to check up on a friend of mine I met on the trip who happened to be on the flight with me tonight. She had managed to somehow contort herself into a sleeping position across two seats and was sleeping nicely. It's moments like this flight that I wish I was a bit shorter so I could have done the same. Soon after, the FAs began the breakfast service. Lirat told me the choices would be an omelette with cheese or a fruit plate. Once again, the same as the YYZ-TLV flight...I originally wanted to take the fruit, however the FA only offered me the omelette which in reality was an empty omelette along with a strawberry yogurt, plain yogurt, a container of what tasted like whipped cream with some sort of crumbled topping, and the "airline sized" 50ml of water. Since I was hungry, I ate the egg (I rarely eat eggs) and the crumble/whipped cream. Once again, the El Al water-tea-coffee cart came around prior to the collection of the meal trays. For the first time during this flight, the duty free cart came around in hopes of selling some products. I didn't see much stuff get sold as many people had boarded with TLV duty free bags, plus many people had gone back to sleep. By now, we were now about two hours out of YYZ. I figured now would be a good time to start writing this trip report and I managed to finish up till the in-flight section before the FAs began distributing customs cards. Being the gentleman I am, I decided to go check out my friend and help her fill hers out.
Decent/Landing:
I returned to my seat after talking to my friend and helping her with her customs card as the seatbelt sign was now turned on. I could already start to feel the aircraft decending and according to my watch's barometric altimeter we were slowly depressurizing as well. By 6:10am I could see we were starting to get lower and I began to see moisture rolling down inside my window. By 6:25am we had broken through the clouds and I could start to see some familiar landmarks along the approach to the 24's. At 6:30 we touched down smoothly on 24R and exited onto C4. This morning our taxi route was as follows: C4, D, E, S and across runway 15L/33R. We entered the south ramp via AJ followed by a quick shift to the right and onto gate C30 (as El Al always uses C30) at Terminal 3. Luckily for us, there weren't many movements this early and we were on the gate by 6:40am. Customs was very quick with only our flight and a Westjet flight from LAS in the processing hall.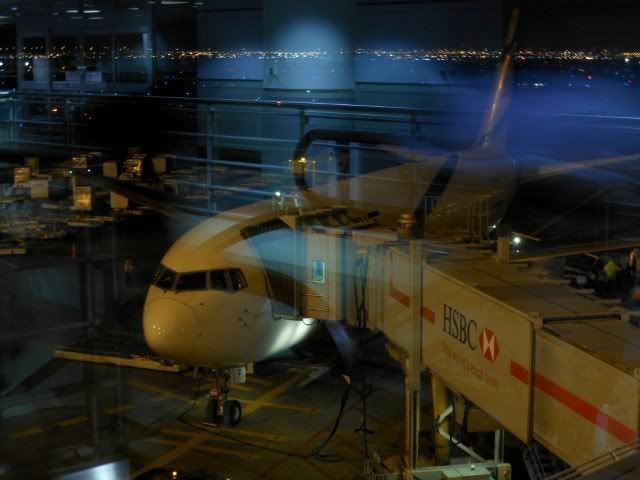 On the gate in YYZ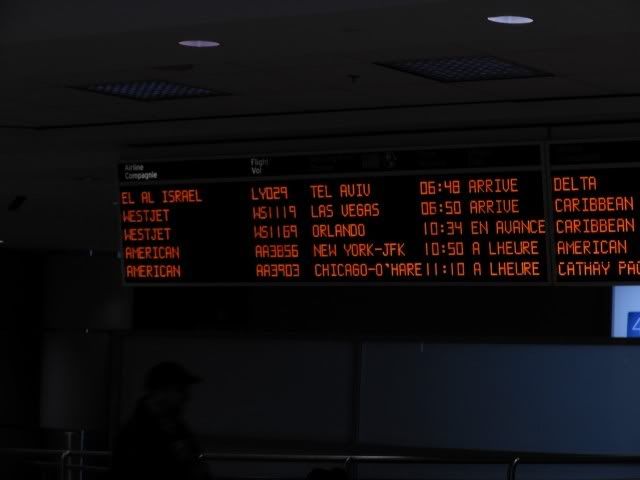 YYZ Arrival FIDS in Terminal 3
Despite the older equipment on this route, El Al did a pretty good job with the flight. I found the flight attendants to be quite hospitable and genuinely caring. My only gripe would be that the food offerings on the return flight were below the quality I received on the YYZ-TLV route. Quite a few people had pre-ordered special meals (strict kosher, fish, etc) and these meals looked quite a bit better than the standard El Al kosher offering. Even though the flight departs in the early morning, I still feel the meals should be just as good as a flight departing during the day. Also, I am surprised they do not offer a bar service onboard other than red wine. Especially on flights this long, it's nice to have a cocktail or a beer at some point during the flight. Entertainment wise, El Al's newer aircraft (747 and 777) have a personal TV at each seat (which is VOD if I remember right). In J, the passengers were given portable video units which I would have liked to see made available for a small fee in Y. Had I not had my iPod and laptop I'd surely have been extremely bored on a flight of this length. Hopefully as the 767-200ERs leave the fleet, YYZ will be upgraded to perhaps a 777. The yields on the flight are not overly high which is why I believe El Al has been reluctant to put a larger AC on the flight. Prior to LAX getting a non-stop, this flight serviced both YYZ and LAX. Even the 767-300 would be an improvement and I was hoping they would substitute one of these on my flight as El Al tends to do every week or two. All in all, I had a great time in Israel and despite the weather at home, I was happy to be back. Thanks for reading and I hope you enjoyed this rare trip report.
A few shots from the YYZ-TLV flight: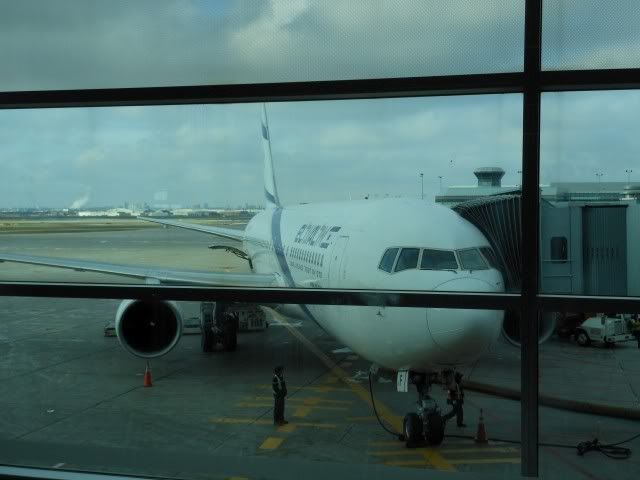 4X-EAF at the gate (I flew her from LAX-YYZ in 2006)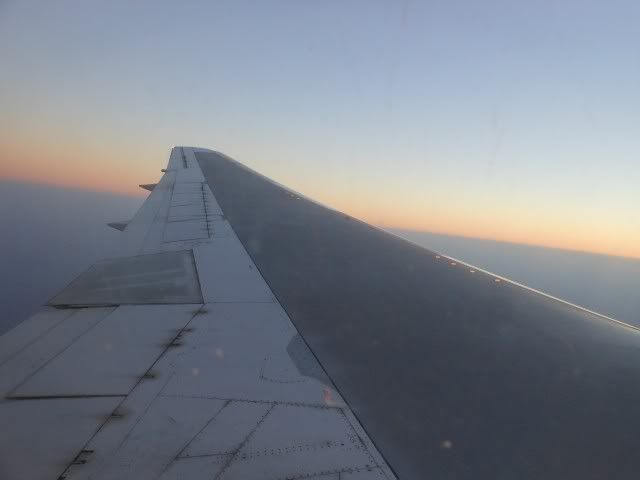 Cruising on-route to TLV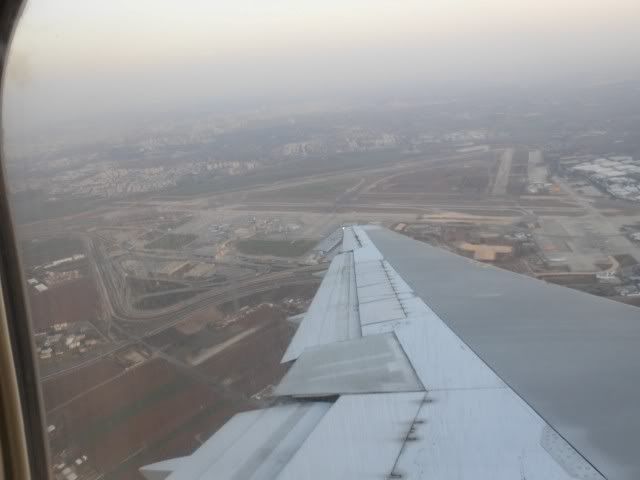 Overflying TLV airport on approach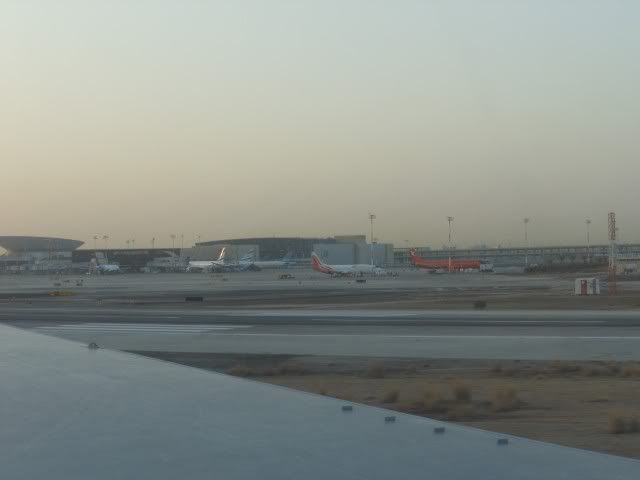 Terminal 1 (used for charters) Anyone know what airlines besides El Al and Arkia are in this shot?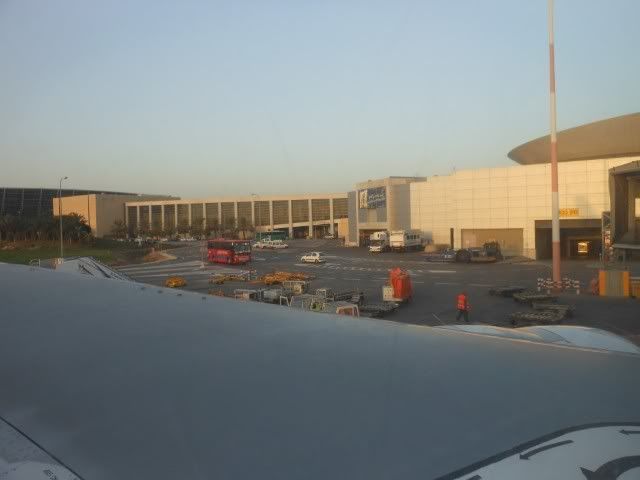 Pulling into our gate
[Edited 2012-01-06 17:59:25]