Hi Guys,
In January I decided to make a quick trip to sun and wanted to try last minute charter flights this time,
in Premium Class if just possible. One week had to be enough this time. My first choice was Krabi (KBV)
in Thailand on Finnair A333, there was a chance to get a flat bed seat like I did last year to LPA:
Full Flat Comfort On Holiday Charter: Finnair A333
(by
HELyes
Apr 20 2011 in Trip Reports)
Unfortunately no flat bed left for me, all booked...
Same with Phuket, an other AY's flat bed charter destination. There were other choices like Colombo and Cancun operated by HiFly (332) for AY, Thompson Airways (767) and Thomas Cook Scandinavia (332) to Phuket, Thailand. Finnair's 757 charters were ruled out, too cramped.
Finally I found Thomas Cook Scandinavia (DK) flights HEL-HKT in Royal Class, with a very nice price.
Some from my family flew DK on the same route last winter and they were not impressed but
the Royal Class promised more comfort. The tour operator's hotels left in that point were too fancy
and expensive so I booked one by myself. An extra bonus was an access to a new
[email protected]
lounge in the non-Schengen terminal at HEL.
First, metro to the city centre and bus to the airport. In metro I'm adviced to behave myself, I will I promise!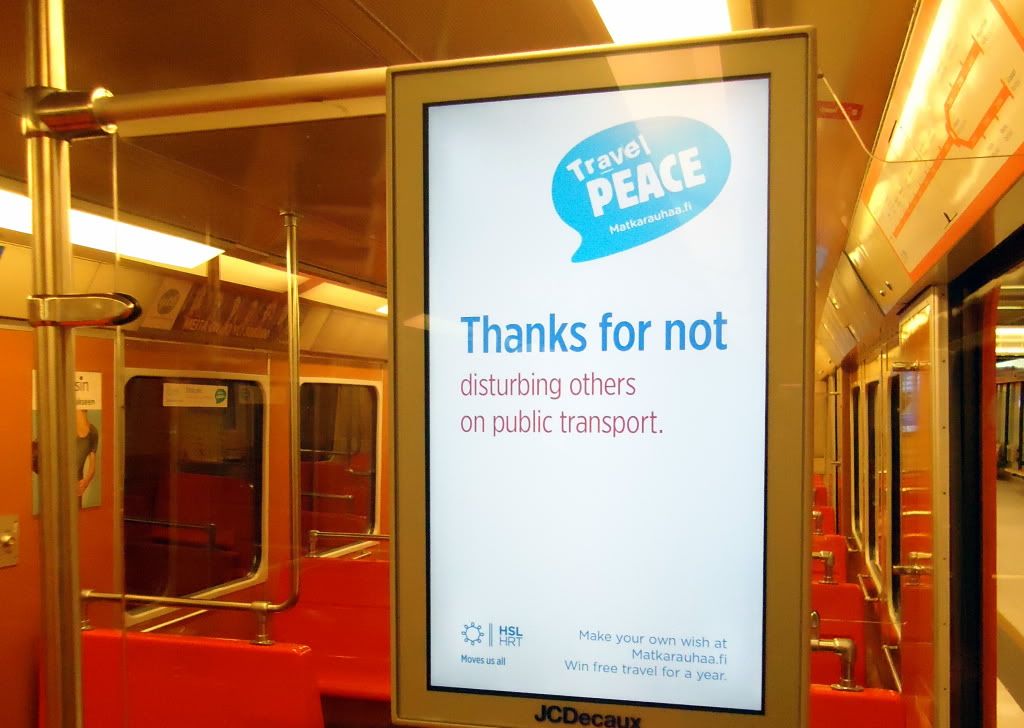 The first thing to do at the airport: to vote for the next president of Finland. Luckily during the advance
voting period there are polling stations practically everywhere, one at HEL. There were eight choices,
now we know the Speaker of the Parliament, a tsunami 2004 survivor (Moderate Conservative) and
a gay UN peace negotiator (Greens) went through to the second round.
Yes, there's a possibility that on 5th Feb Finland gets an openly gay president married to an Ecuadorian guy,
though he's not the favourite of these two according to the polls.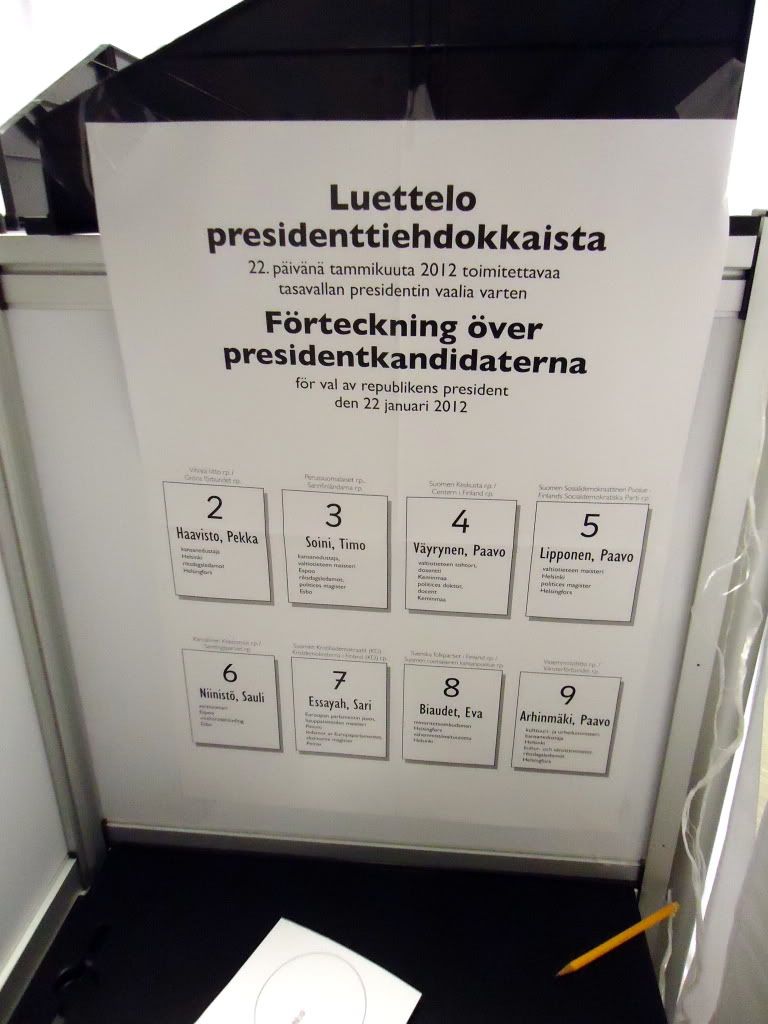 Then check in and through security, no queues anywhere this time. The Schengen terminal
doesn't look busy late in the evening, most of the passengers have moved to the non-Schengen terminal.
Through the passport check to the non-Schengen wing. Finnair's next destination in Asia: Chongqing, China
The Royal Class ticket gave me an access to the new
[email protected]
lounge, "a new kind of lounge at HEL".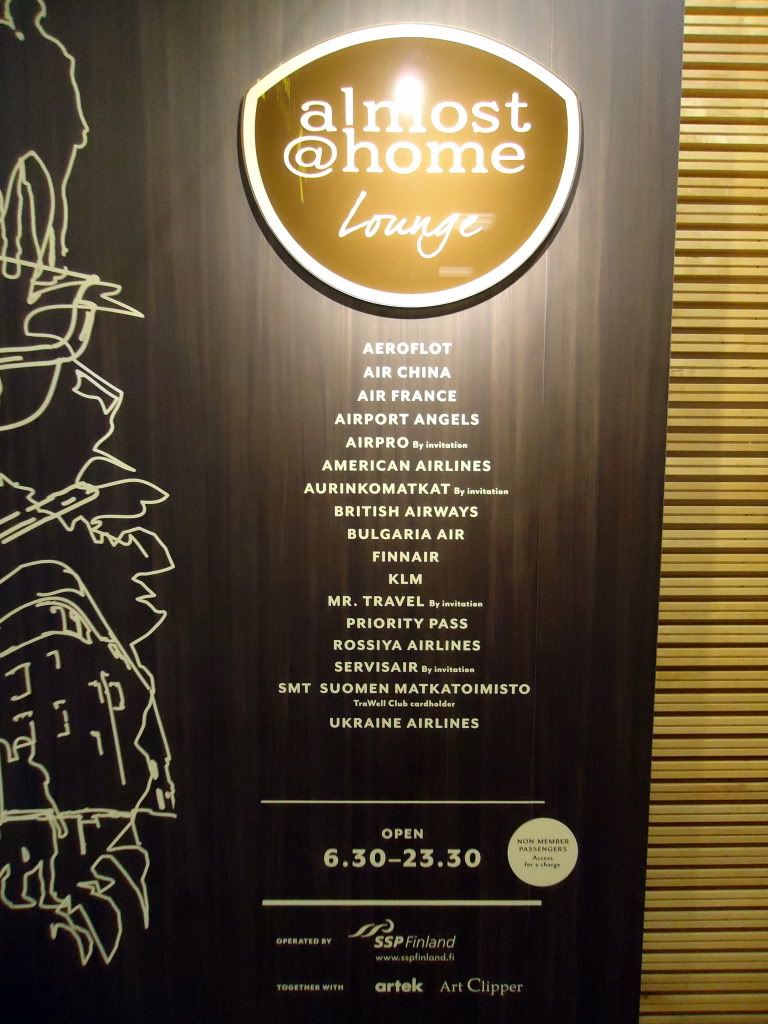 It did look and feel homely, at least when half empty: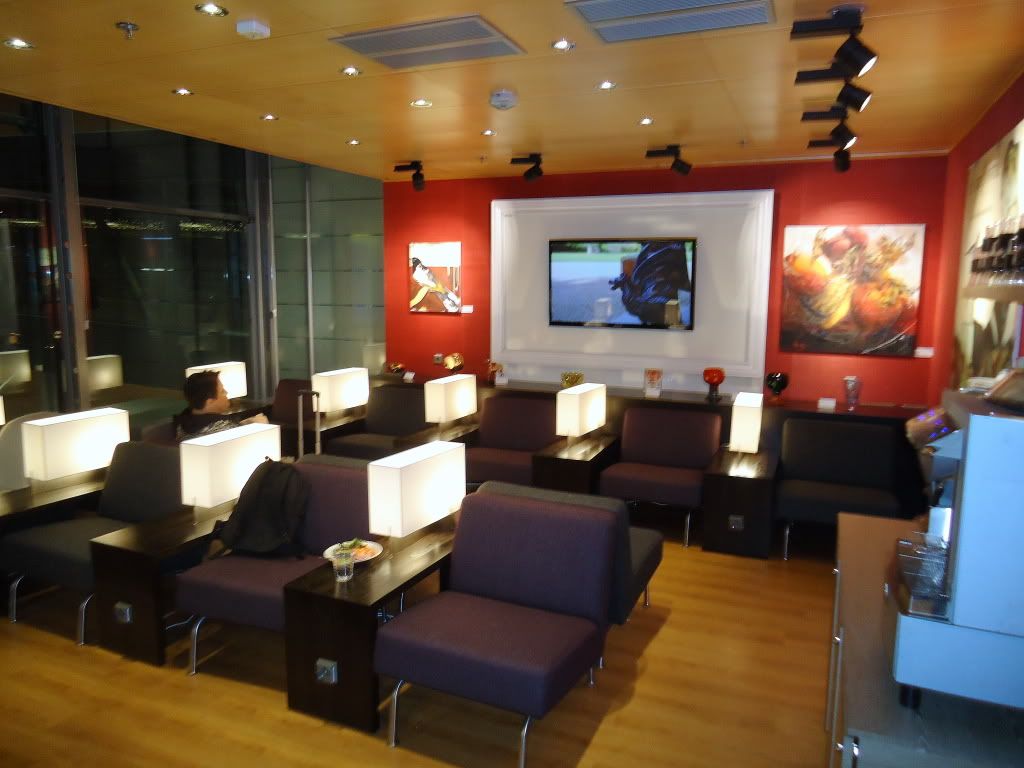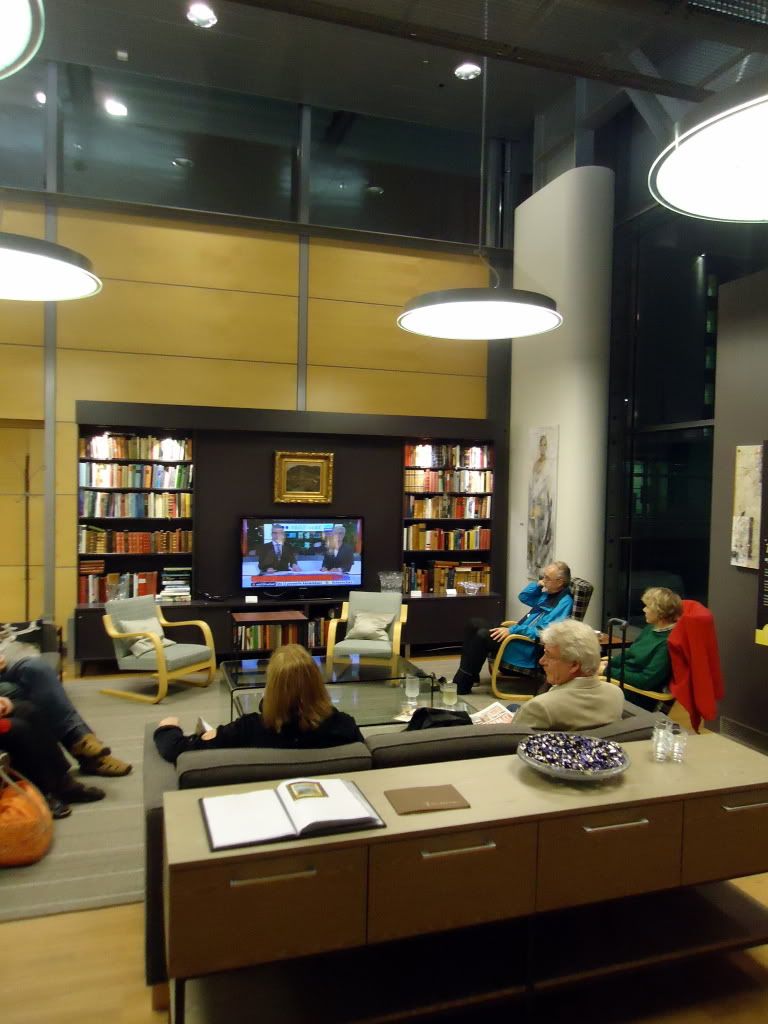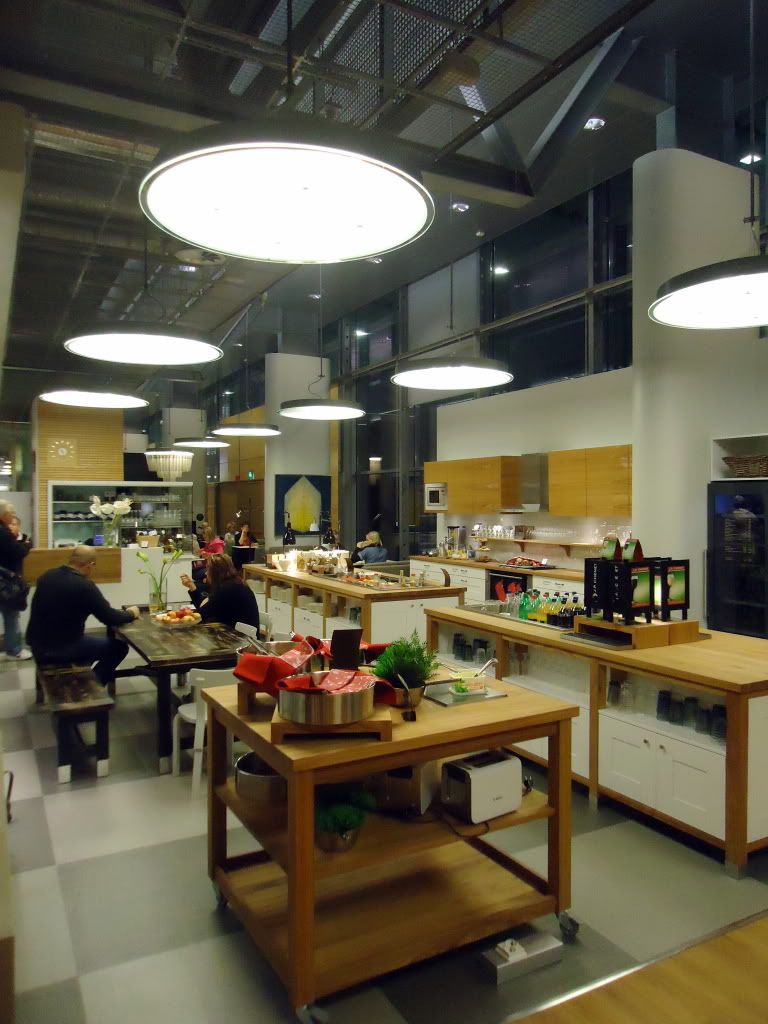 Food offerings: salmon and salad tonight, rather basic. Drinks: box wines and tap beer,
hard liquors for sale.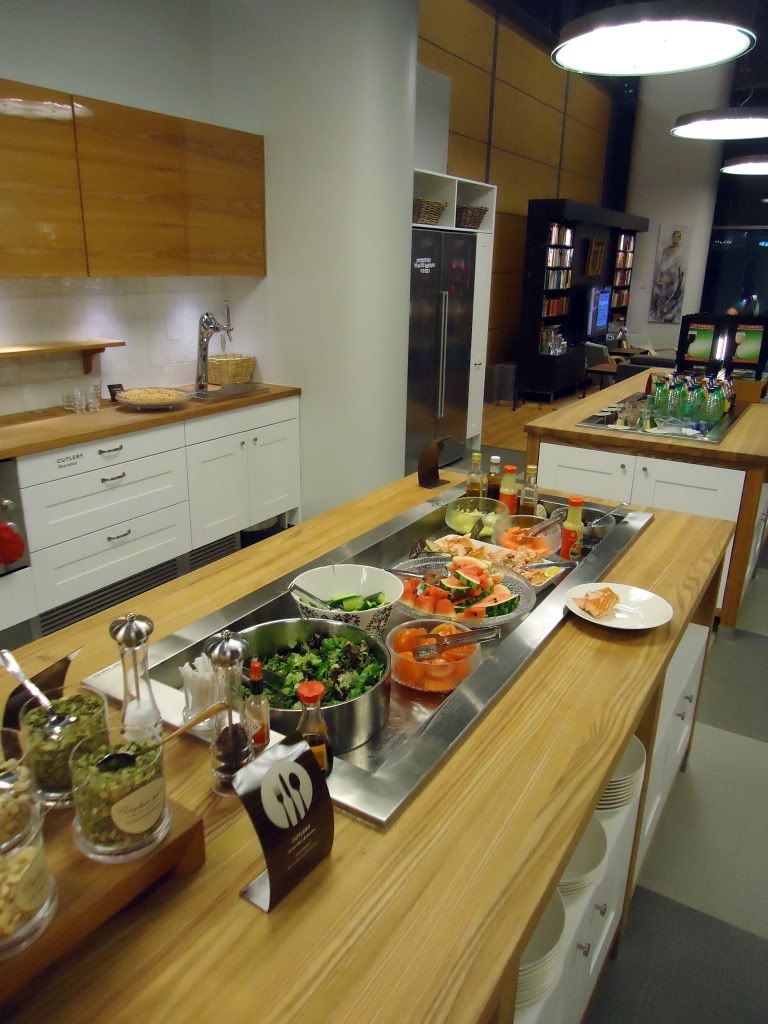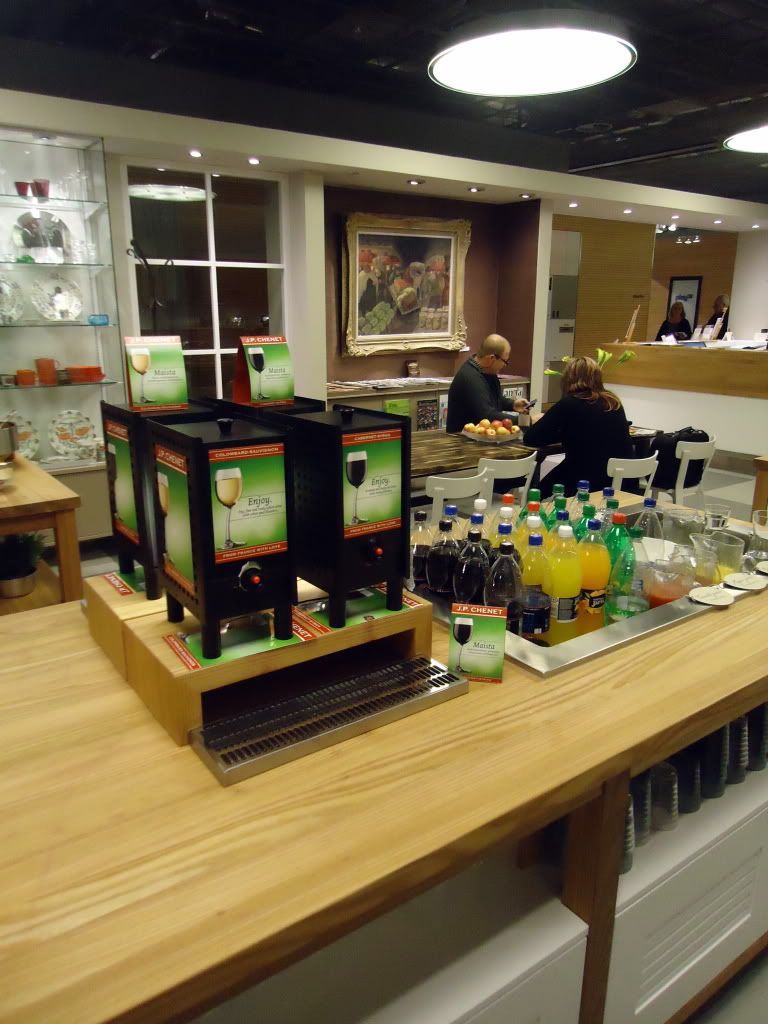 Cinnamon rolls anyone? Probably freshly baked by a lounge dragon...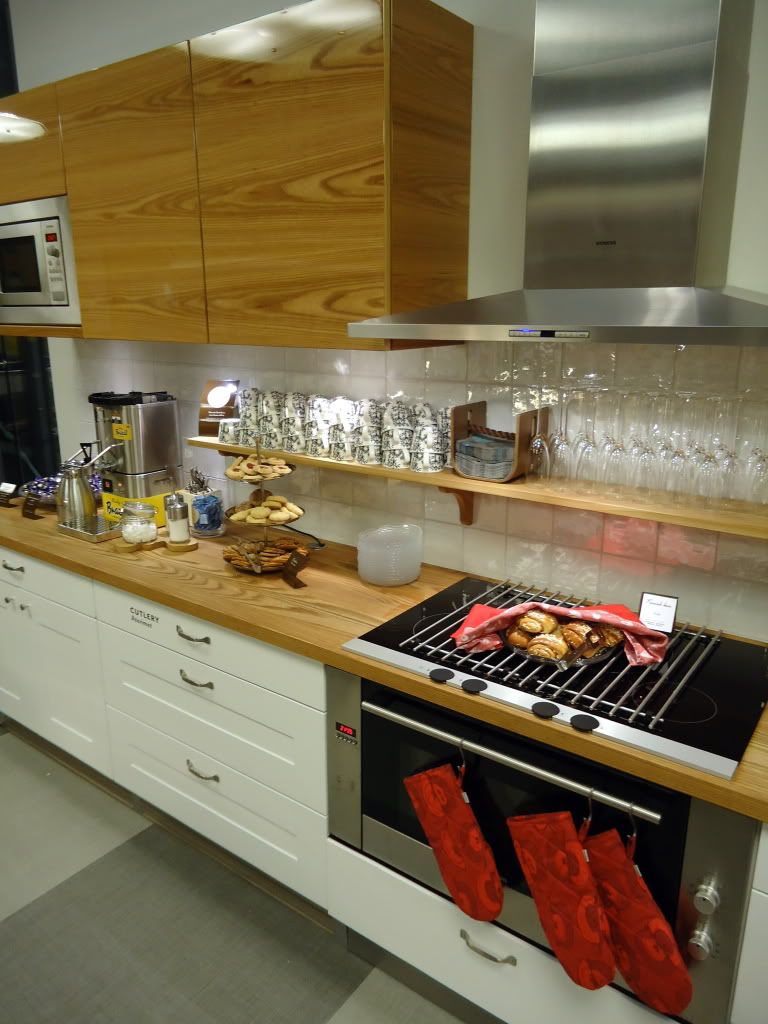 A proper "tea corner", not so typical in coffee loving Finland.
They had a couple of computers (HEL has a free WiFi though), a playcorner for kids (!) with game consol
and toys, a shower, lockers and souveniers for sale like retro style Ultima Thule glasses used in
Finnair's Business Class. Nice lounge, small and cozy.
Back to the terminal among other common people. There were three long haul flights (HKT, HKG, SIN, BKK)
and a flight to SVX still departing from non-Schengen terminal, so finally I saw some crowds,
but still not too busy.
I'm not a big fan of the new wing at HEL, it has a dull industrial look, I wish they had used more wood or some other warmer materials. The good thing is that there is a lot of space. The best parts are the two lounges and the spa.
No time for the spa, was tempted though, they had a half price offer for the AY Plus members.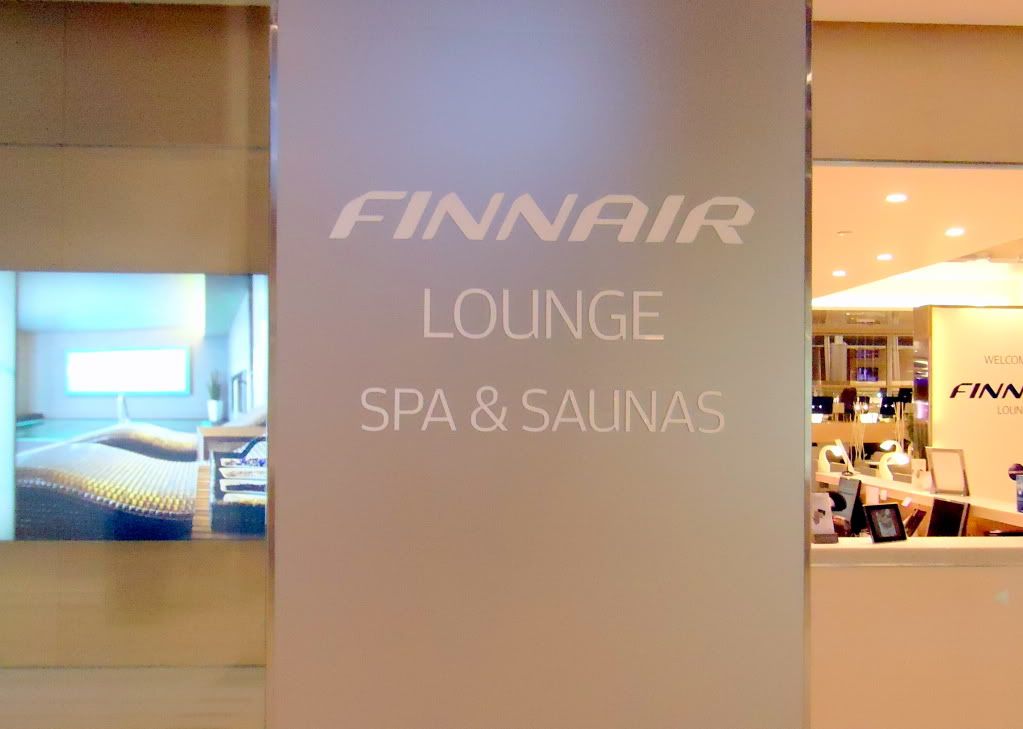 The gate calling! BKK looks worrying...
Pale package holiday makers ready for the sun therapy in Thailand. Next to me there was
a Swedish speaking family with a little screaming boy, the mom looked like she was ready to take a taxi home.
Kids under two years of age were not allowed to Royal Class but this little monster was older.
I didn't see them before Phuket though...
Boarding time, the Royal Class passengers first.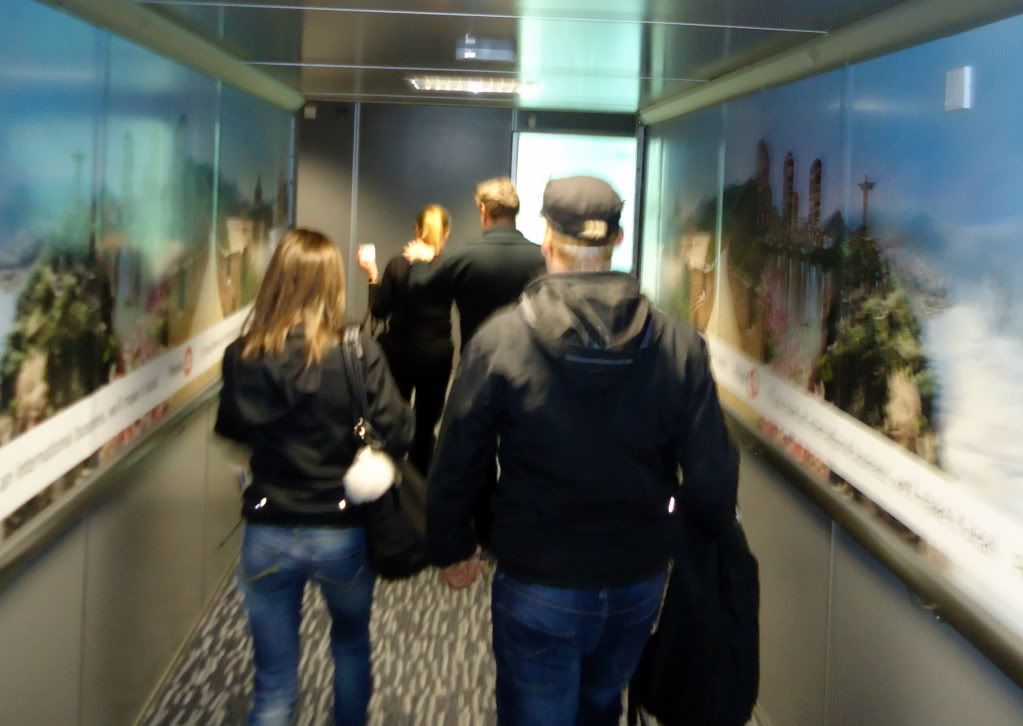 Thomas Cook Scandinavia
DK 7701 HEL-HKT
17th January 2012
22:55 (23:40) - 14:25 (14:55)
A330-200
Seat 3D Royal Class
View Large
View Medium


Photo © Eddie Heisterkamp

There were 49 seats in Royal Class, in seven rows (2-3-2). The Sun Class (Economy) looked rather cramped
with 274 seats (3-3-3).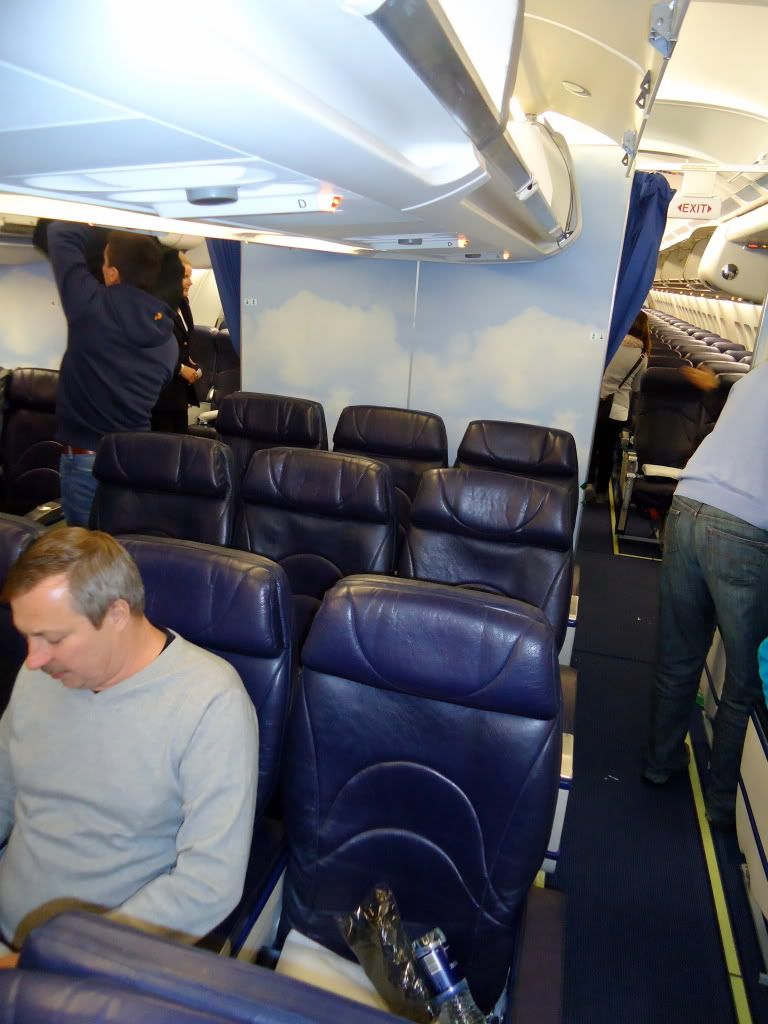 The first impression when I sat down: this seat looks old and feels uncomfortable. But legroom was fine,
was promised 35" and the seat width was ok.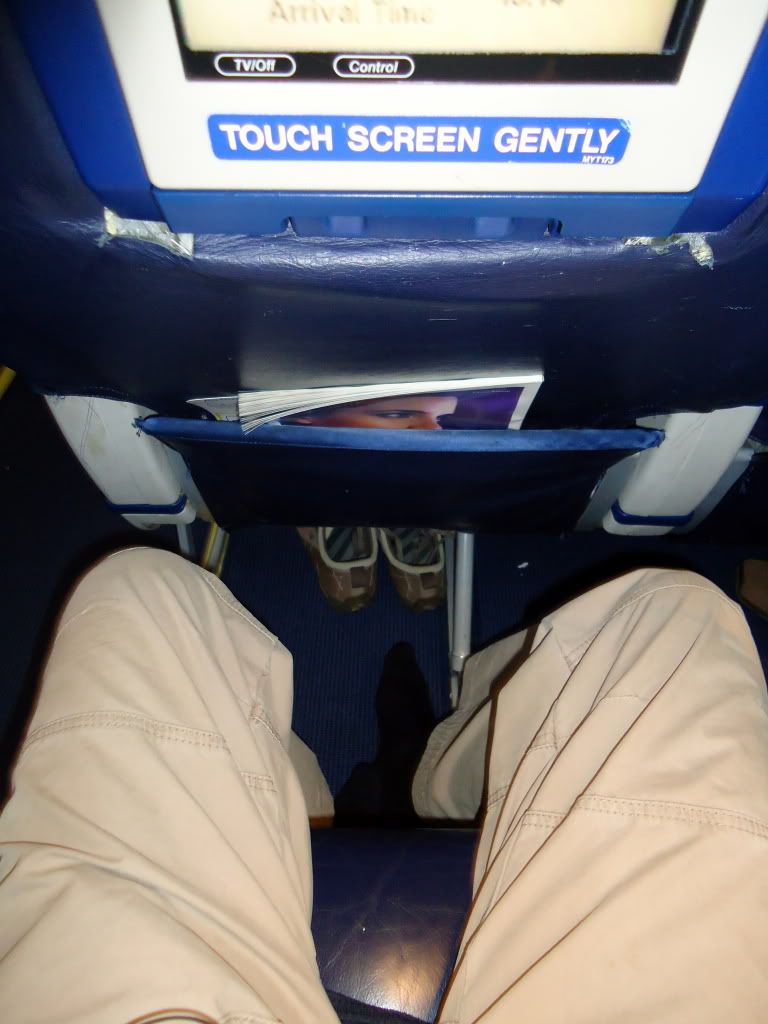 Soon we heard news from the cockpit: The Danish captain told we would have to wait "for a while",
due some technical issues. Later the purser explained that the problem was with the water tank, meaning
no hot drinks and no water in the toilets during the flight. Probably we needed some extra de-icing too: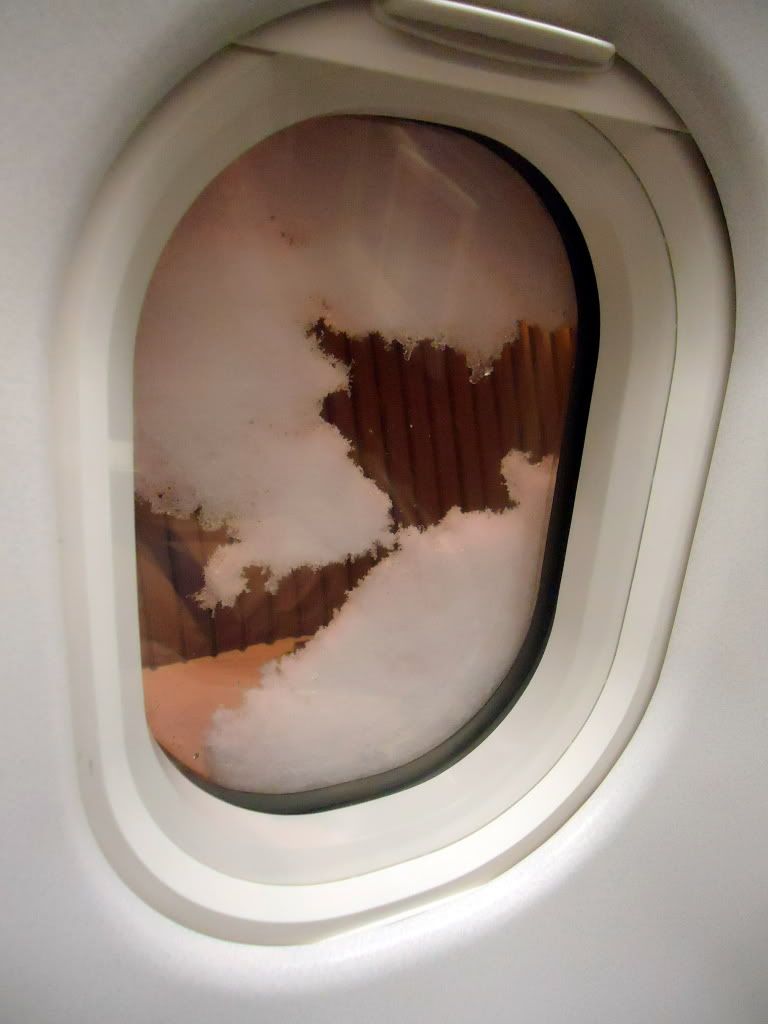 "For a while" ment around 45 minutes, but we were taken care during the delay.
We got welcome drinks (orange juice of sparkling wine) and reading materials, the collection of newspapers
and quality magazines was a nice surprise. There was also an amenity kit waiting on the seat, surprisingly
high quality actually.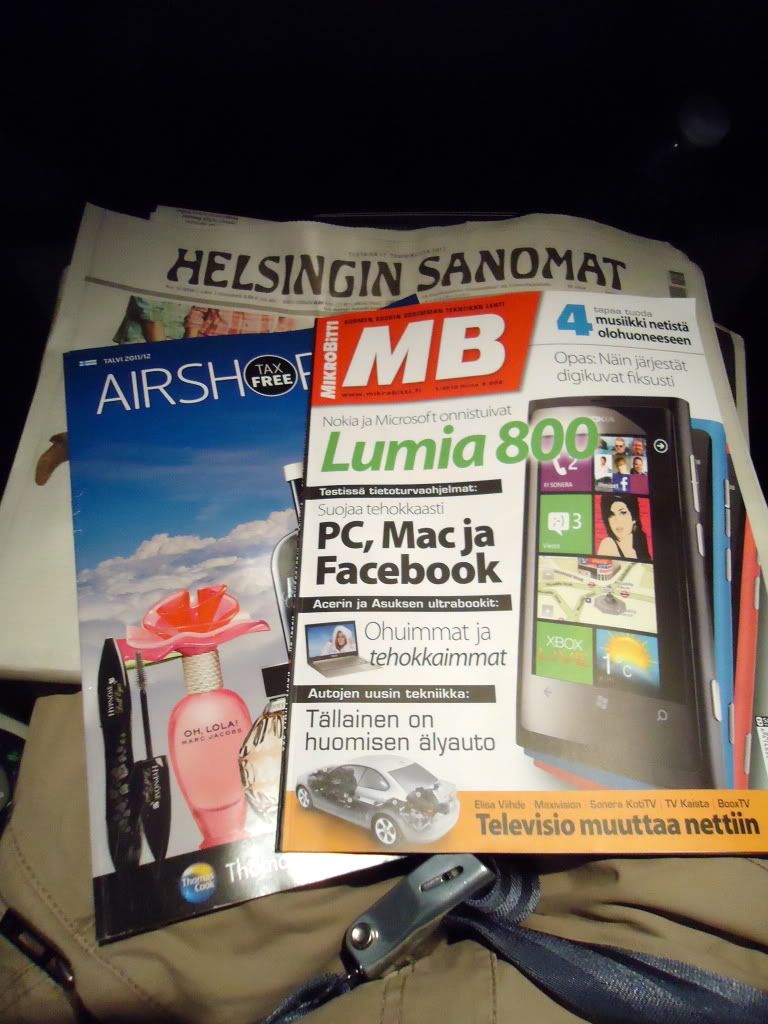 The drink and snack menu, all drinks except champagne run were free in Royal Class. But surprisingly
few passengers ordered more than a beer or wine with the meal: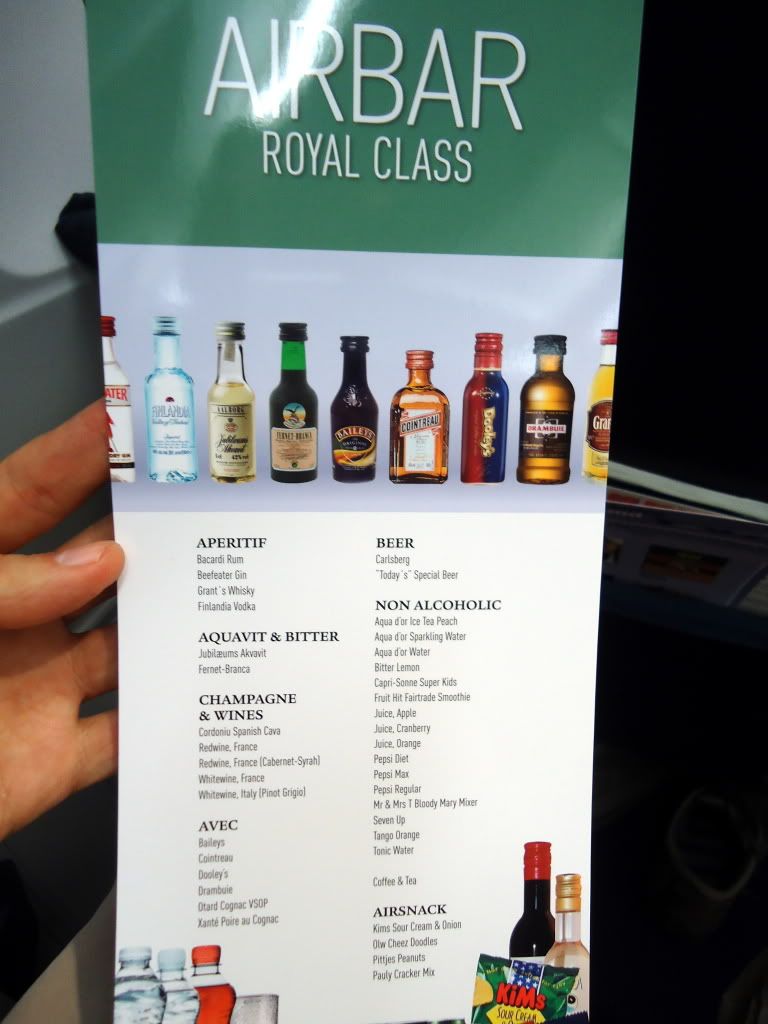 The tiny PTV was rather sad, very limited selection of movies and music.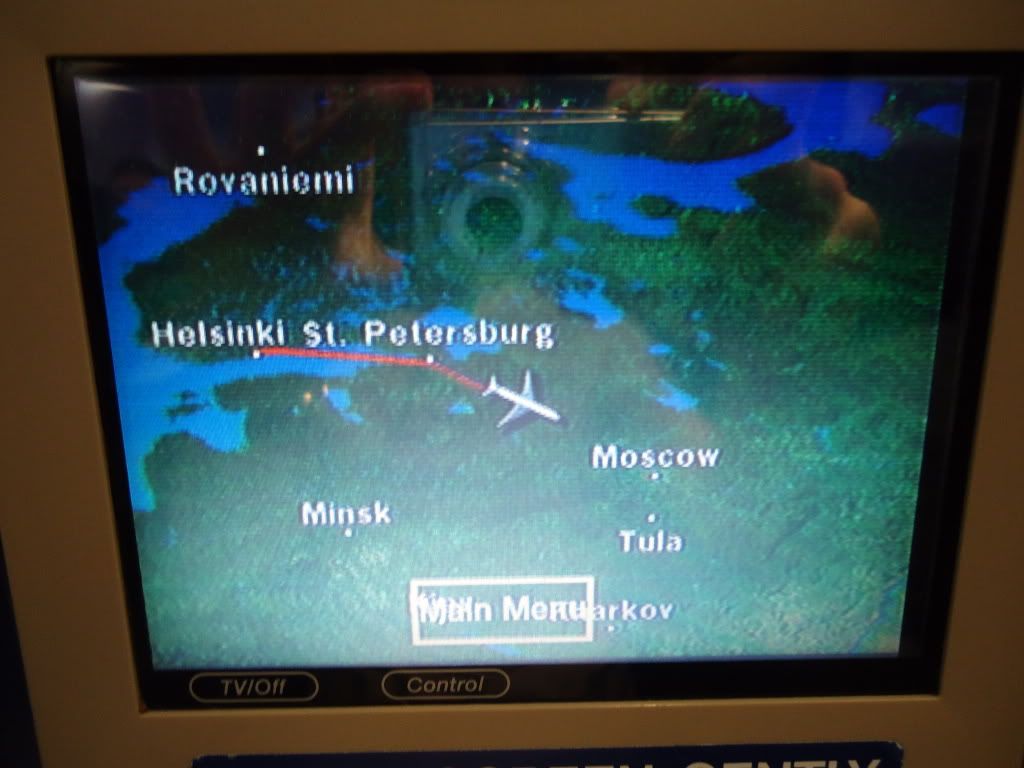 The IFE control: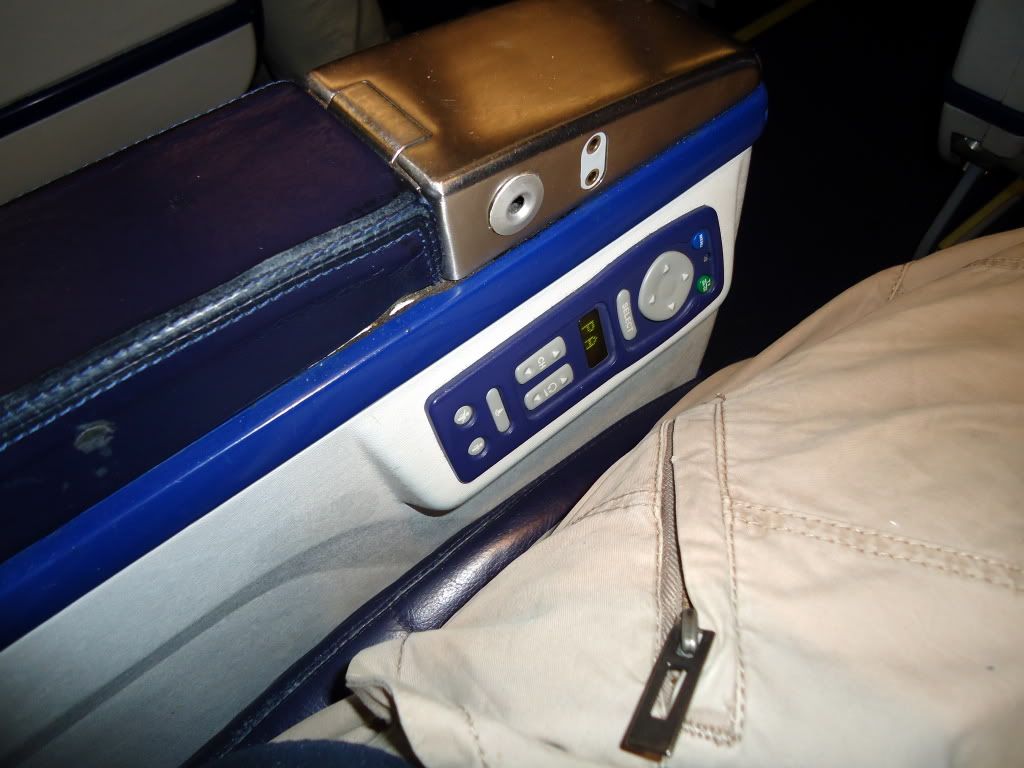 After a while we got the dinner menu, it was in Finnish and English. We were served cold smoked reindeer
with tartarsauce (sorry Rudolph), steak with potatoes or salmon with risotto (steamed rice actually),
cheese and cake.
The tray arrived, I had to wait for my salmon for a while. The meal was rather tasty, no complains,
I especially liked the reindeer, the warm bread was nice. I was served by a profesional but
not awfully friendly male purser, no smiles. Most of the crew were Finnish, one FA spoke English
to the passengers, Danish probably.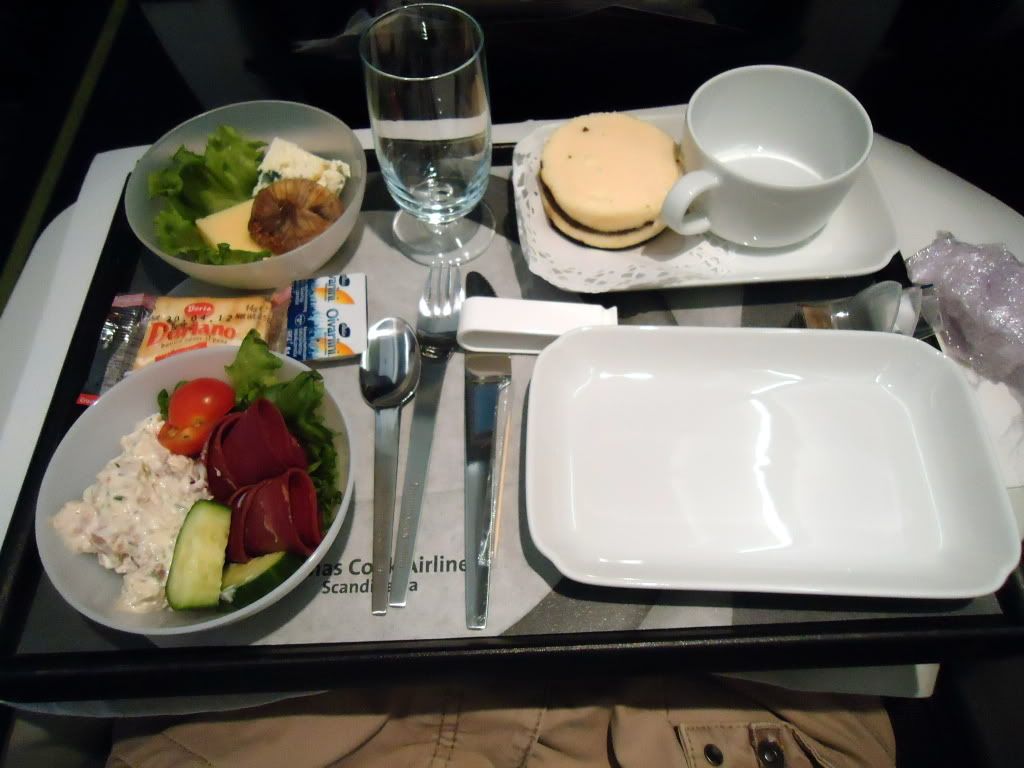 Sydney style salt & pepper:
There was one toilet for the Royal Class passengers, I got really interested when I read
where the rest of the toilets were: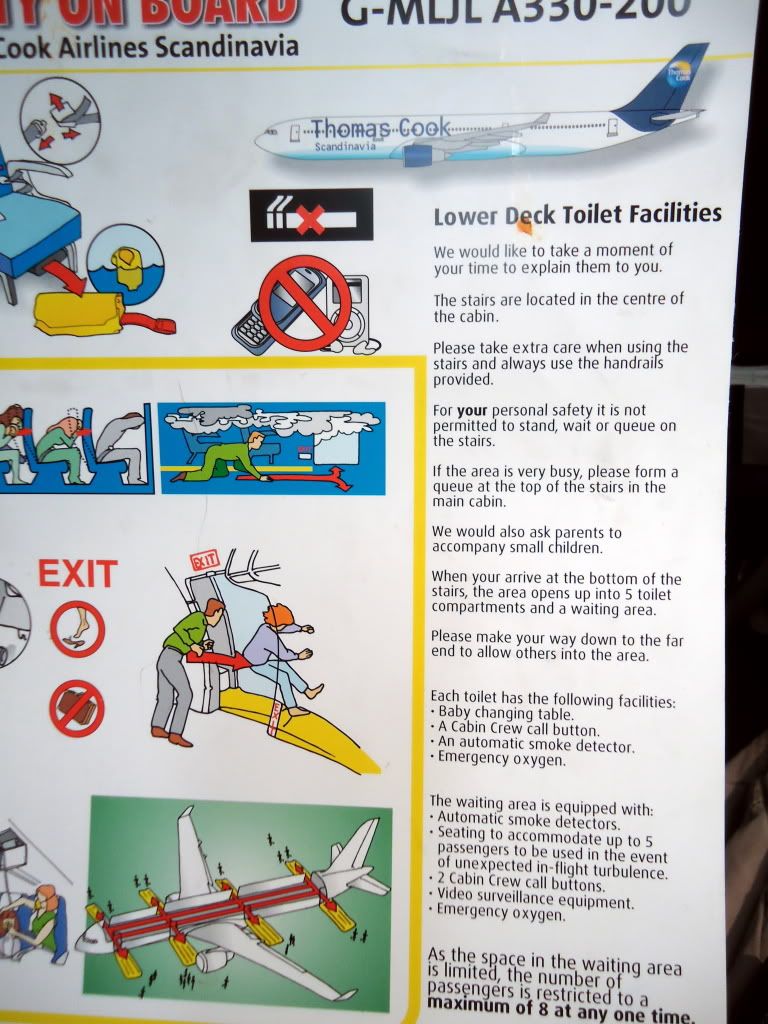 ...so I just had to go back to the Sun Class (Economy) and check the "lower deck toilet facilities".
There were five toilets down there and three seats: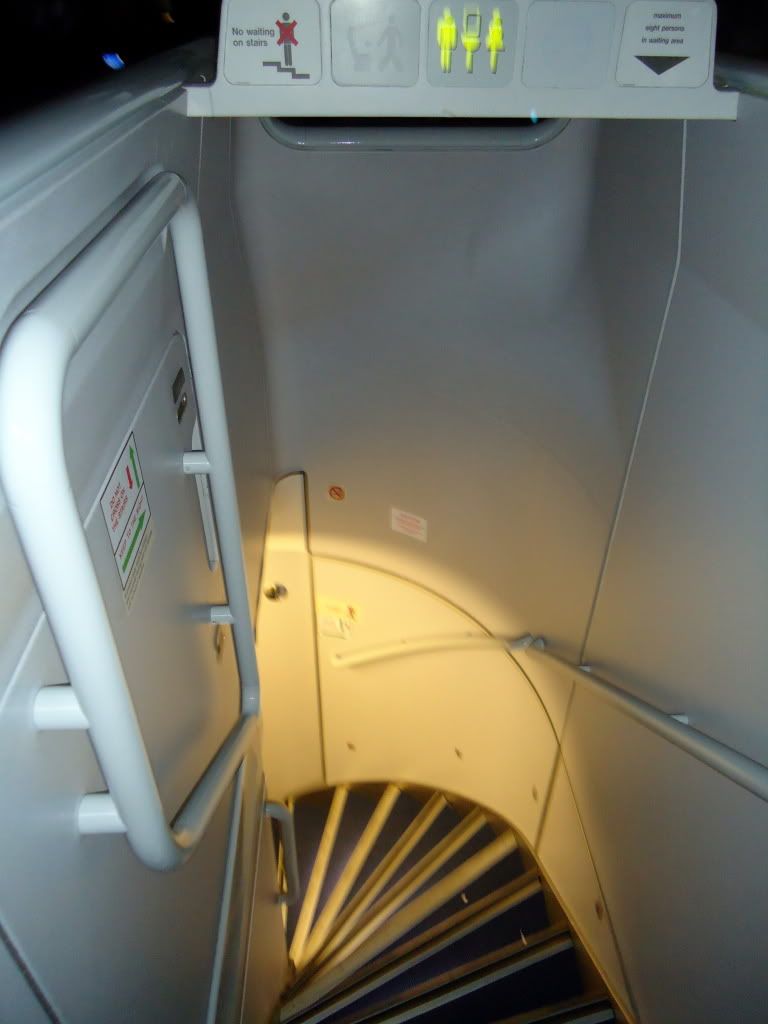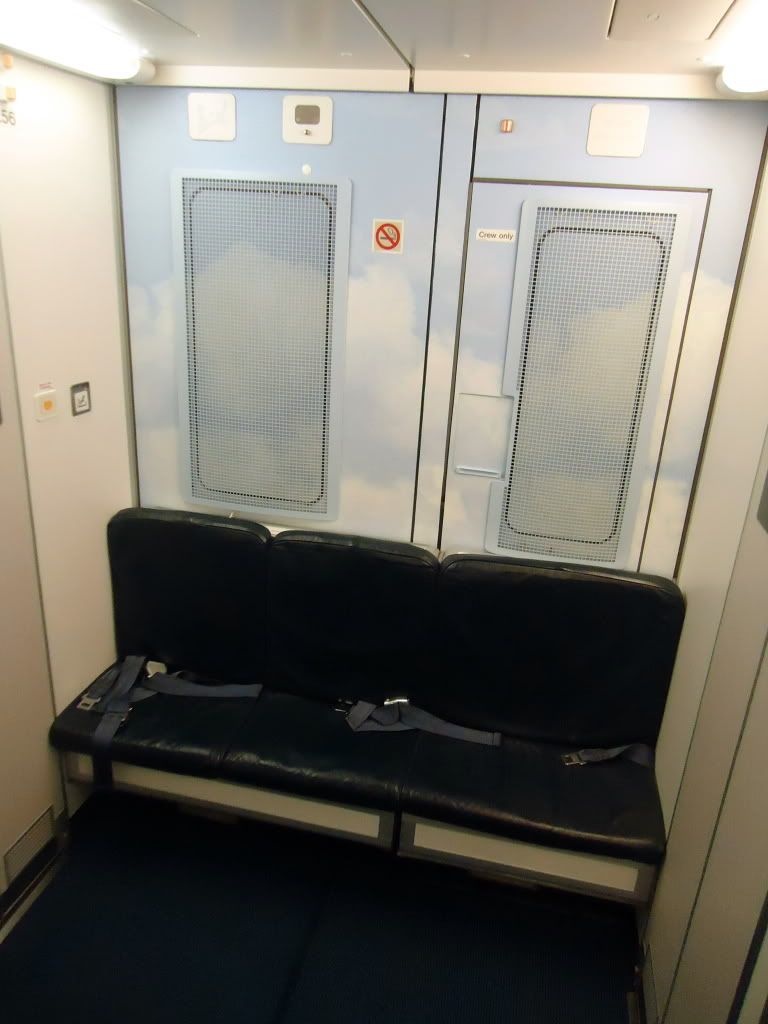 After the meal the cabin became really silent, most passengers tried to sleep. I could't get much out of the IFE,
so I read a bit and tried to find a comfortable position on the seat. But that wasn't easy, my back was aching,
using pillow and blankets help a bit but I couldn't get much sleep. A lady next to me had a similar problem,
she said the seat felt kind of collapsed. To my surprise I was missing those thin Recaro seats on AY and LH...
Thomas Cook Scandinavia, how about installing new seats?
A couple of hours before arriving HKT a breakfast was served. It was nice and fresh, only the coffee was missing and I need my coffeine so bad... Their food service philosophy was explained in four Nordic languages on the box.
[Edited 2012-01-30 18:40:12]