Introduction
This trip got inaugurated by a particularly generous airBaltic sale back in October. Some really cheap fares were available, but availability was quite tight so I ended up booking a few destinations quite far in advance for Q1/2012. For January I picked Gatwick, HEL-RIX-LGW cost a whopping 34 EUR in total.
I then decided that I'll just stay the weekend in London instead of doing more hard core flying around. For the return journey I really wanted to give BMI a try as it's been almost ten years since I last flew with them and the reports here about their makeover after Lufty took over have been quite promising. After a bit of shopping around I ended up booking the BMI operated LH flight to TXL for Sunday afternoon, for the decent price of 57 EUR.
As that flight arrived quite late and mainly thanks to airBaltic's suspension of the Midnight Fokker/Dash/whatever up to HEL the flight options back home weren't that good. Air Berlin has recently been charging somewhat outrageous fares for their flights, at least if compared to what the fares used to be so that ruled out their late night HEL flight as well. Luckily good 'ole SAS came to the rescue, for a reasonable 115 EUR I booked TXL-CPH-HEL, the first segment being operated by a Cimber CRJ and the second one the KF "Midnight Boeing".
Here's the route: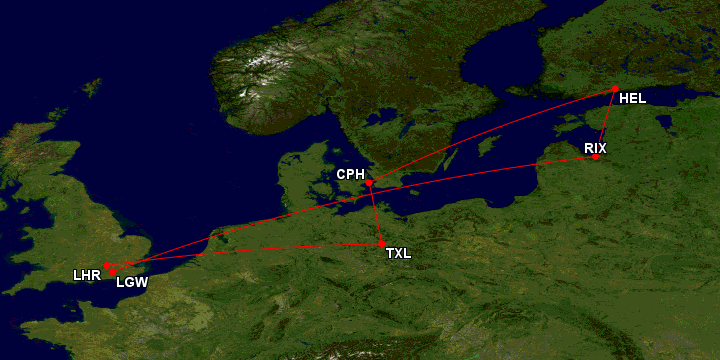 Fellow a.netter makeree then informed me that he had taken advantage of the same sale and booked the same outbound flights as me - this sounded good to me.
Finally I added a 19 quid hotel room from a Travelodge sale, fixed up an a.net meeting for Saturday night and finally decided to try out one of the BT's preorder meals for the longer LGW sector. All set!
Saturday 28.1.2012
The BT OLCI didn't want to play ball with me the previous day and to avoid an unreasonably early wakeup I actually went in to the airport the previous evening to get checked in which worked fine. The agent actually informed me that I was already checked in, but for some reason the OLCI application had failed to provide me with any boarding passes. Oh well, we also had a bit of an argument about whether I can travel to the UK with my ID card or not, and she refused to believe me until she looked it up, from TIMATIC I suppose. I of course was right, as I tend to be...
Anyway fast forward 12 or so hours and I arrive back at HEL T1 onboard my usual bus, shortly before eight. It is rather cold, which makes for some nice dawn colors over the eastern horizon: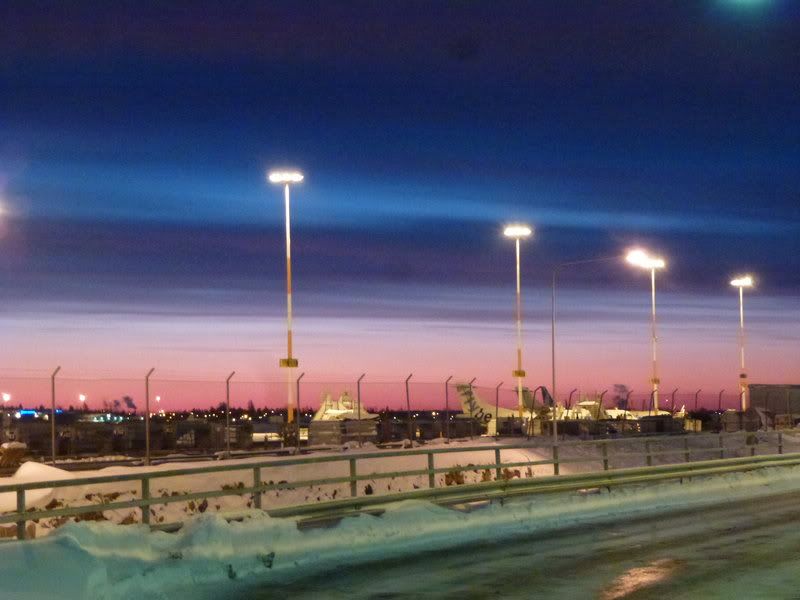 The place is surprisingly quiet, no queues at all in security so I'm through in a jiffy.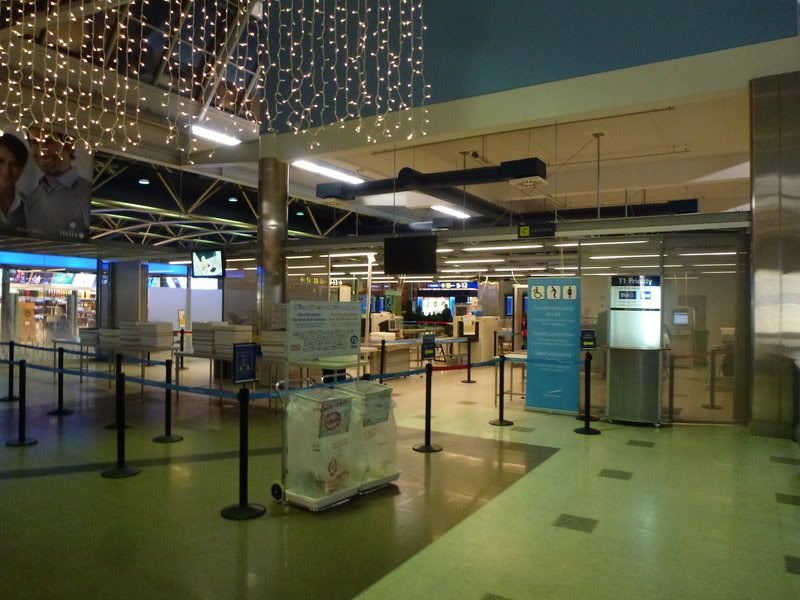 I have just enough time to pick up a bottle of water for a rip off price from a vending machine and mosey over to the bus gate 14A before boarding is called as soon as I get there. Soon I spot makeree appearing from somewhere, we exchange the normal greetings (more like some grunts since I at least haven't had any coffee yet) and head downstairs to wait in the bus for a while until all the latecomers have been accommodated - the joys of bus boardings!
A short ride to the usual BT apron positions reveals a total of four Baltic propellers parked there - our Dash (yes, this flight started as a 737 but finally ended up as a Dash in the BT aircraft lottery) plus the Fokker operating the next flight one and half hours later.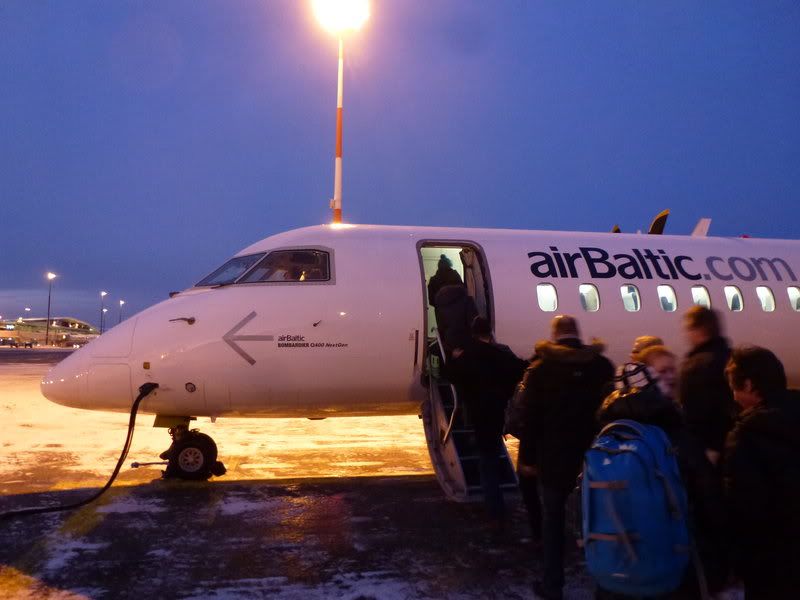 I'm pretty happy to see that today's ride is Alpha Joliet, a new entry for my log. A few of these BT Dashes are still missing, so that's always positive.
I like this shot of the "corner" of HEL's Terminal (that sounds a bit like the next Gordon Ramsay show?):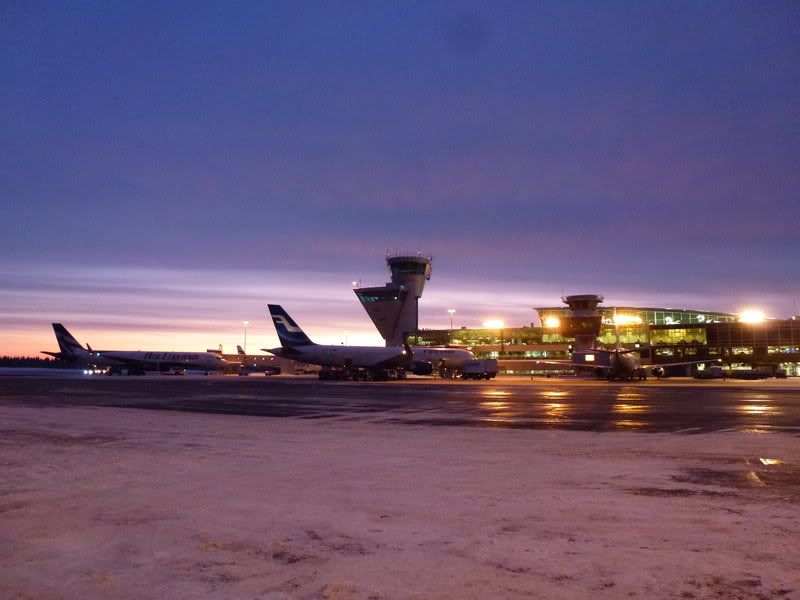 HEL - RIX
BT302
Dash 8 Q400 YL-BAJ
Seat 7A
8.32 - 9.22
It's nice to enter a BT prop plane that doesn't have that nasty cabin smell so indigenous to the Fokkers. I get also rather lucky with the seating - despite a good economy load of maybe 70% I still get the whole row for myself. The two rows of business class are completely empty. Not sure what they mean by "Everyone chocolate" - maybe Hannah should find out: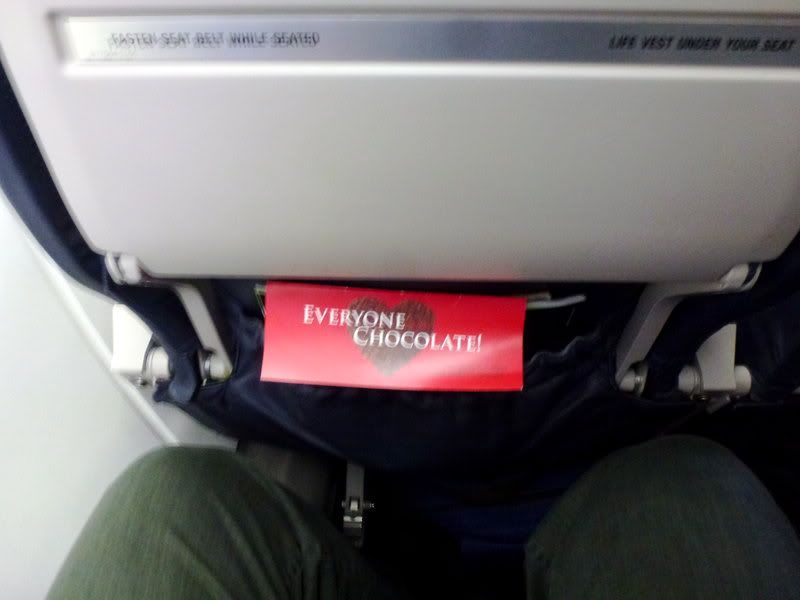 Our British captain seems to be in a rather jolly mood and makes a nice announcement where the beef is that it should take us around 55 minutes to get down to Riga where the weather is "the same as here, minus fifteen degrees". For the record it is NOT minus fifteen at Vantaa, less than minus ten actually...
A frozen OF heading off to some not so frozen destination: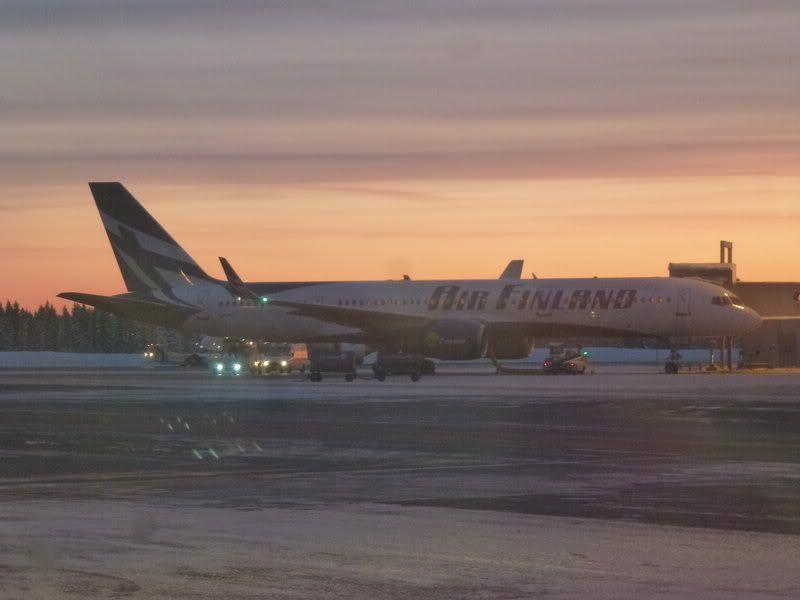 Must have a 717 in a report: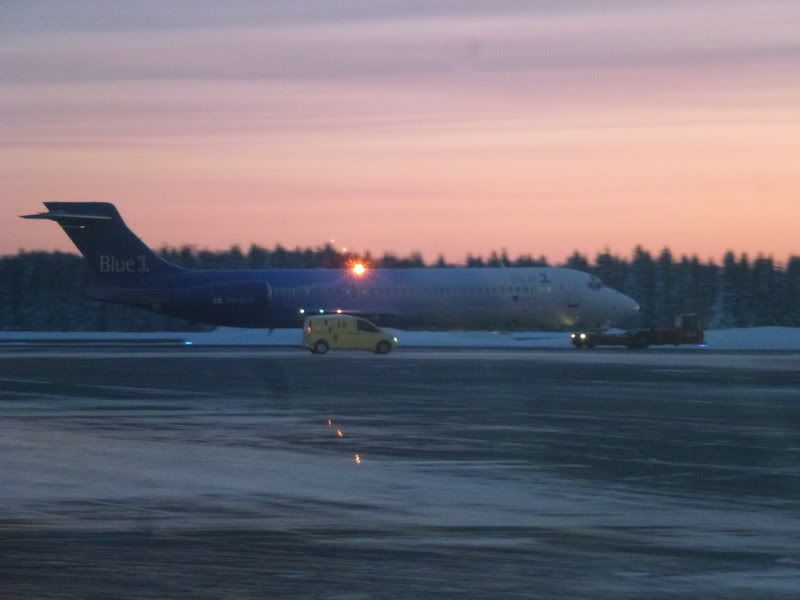 Despite the freezing temperatures no deicing takes place, maybe it has something to do with the dry kind of cold we have here instead of the nastier wet conditions you have when it is closer to zero.
The Fokker next to us. When we were boarding our Dash somebody said "Oh, we're flying one of these tiny Fokkers again" - I wanted to tell her to turn around and witness a real Fokker but decided not to...
Departure is a couple of minutes early, and it looks like ATC cuts us some slack as most of the other traffic is taking of from 22R as usual but we are allowed to make a rolling take off from 22L and just leap airborne there without using much of the runway at all - and we only entered it quite far from the other end to boot - very impressive!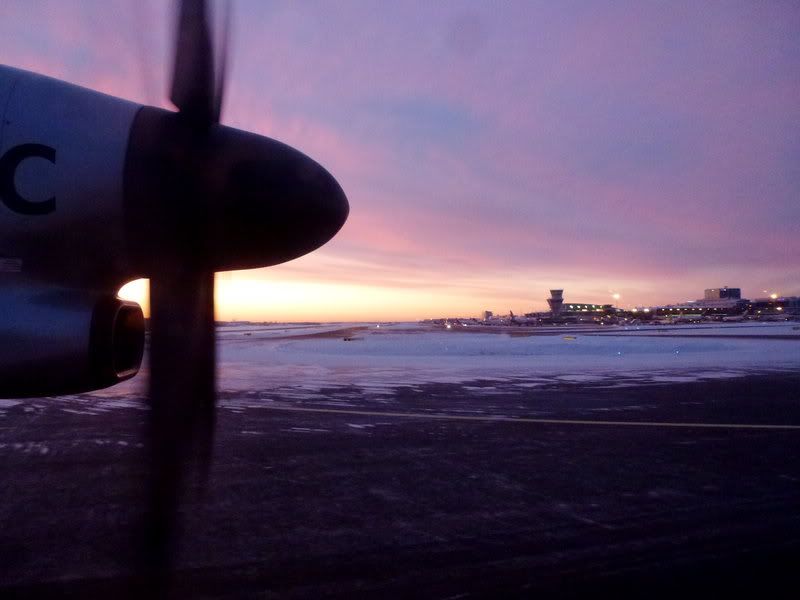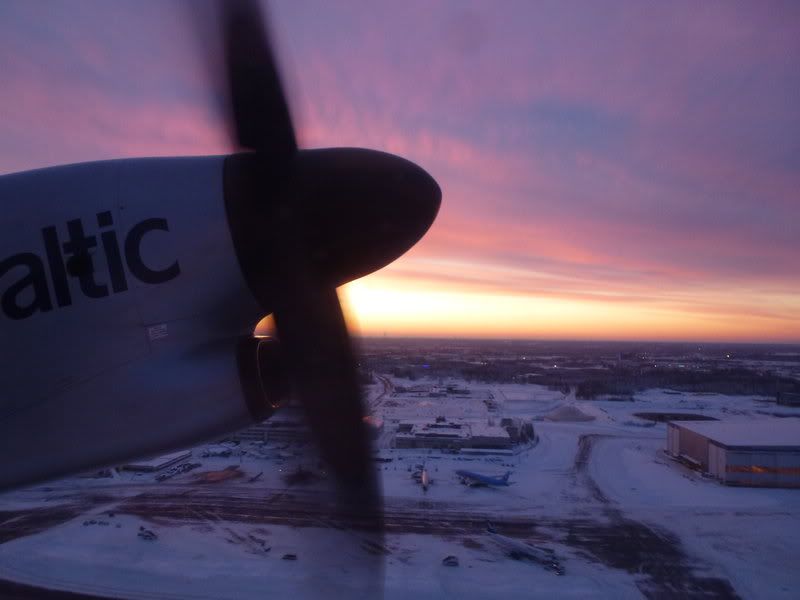 Another Air Finland 757 plus a Primera: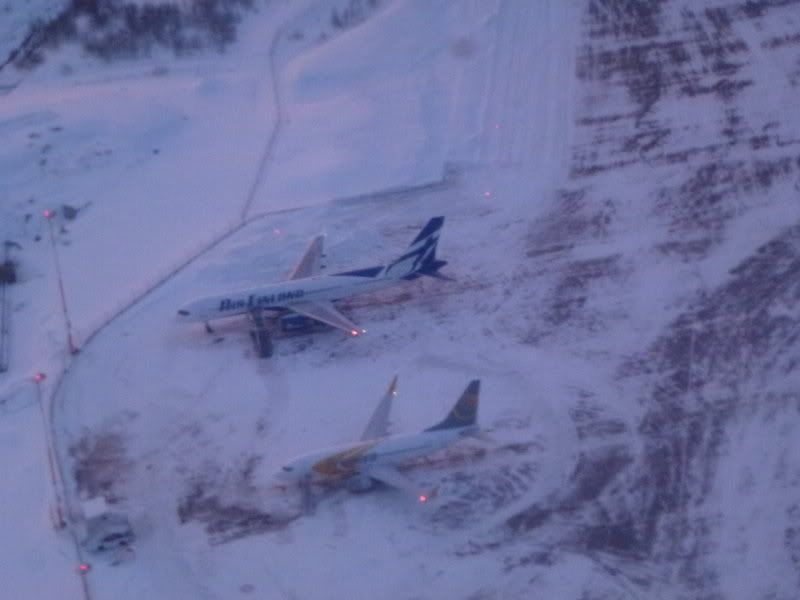 One of the nice things about these cold days is that the skies are always clear with no clouds. It being late January the sun is only just about to come up, so thanks to my carefully chosen seat on the A side I'm treated to some amazing views of the sun coming up over frozen Helsinki - the pictures hardly do it justice - even the teenage girls behind me who are so excited about being on a plane and yapping and bubbling about it all the time are stunned silent for a moment, shooting photos: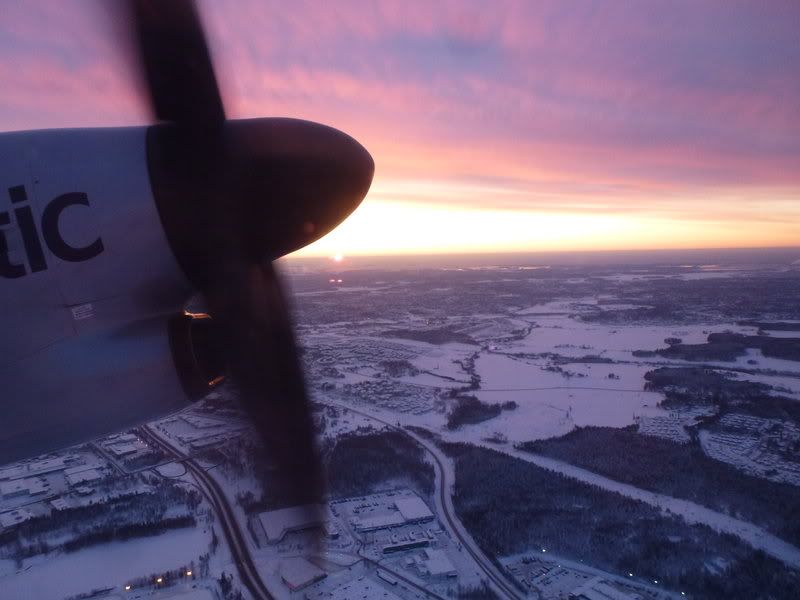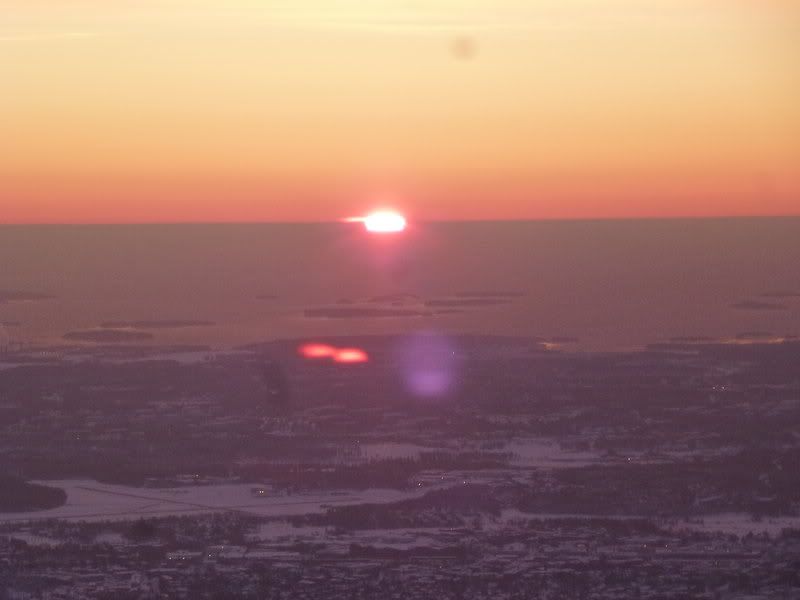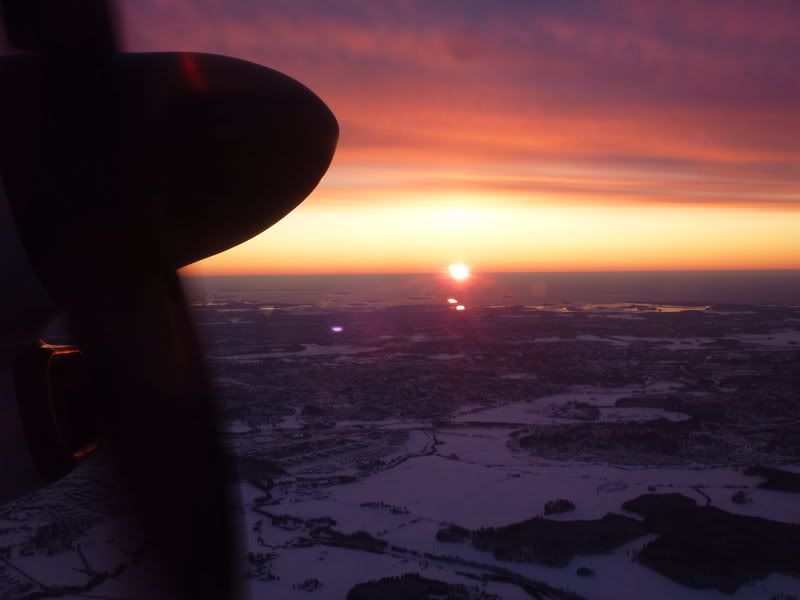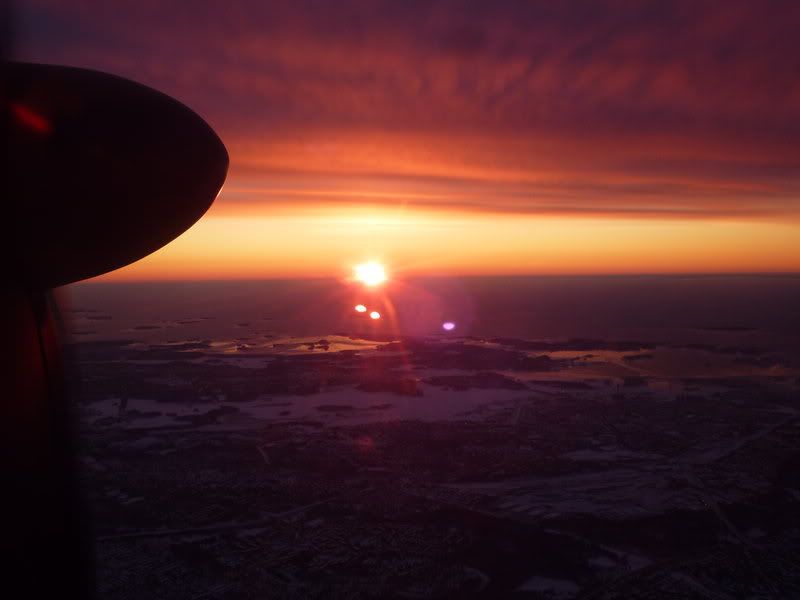 Helsinki city centre: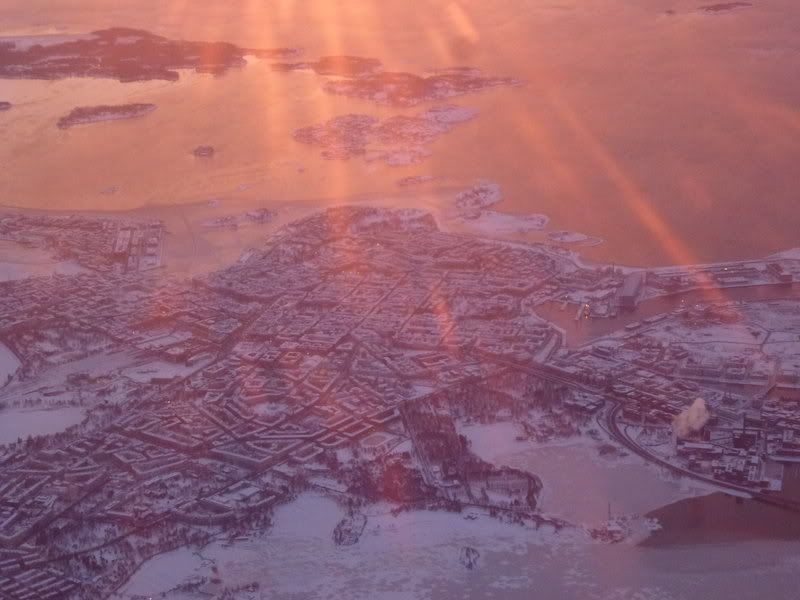 Over the Gulf of Finland, the rising sun reflecting off the icy waters: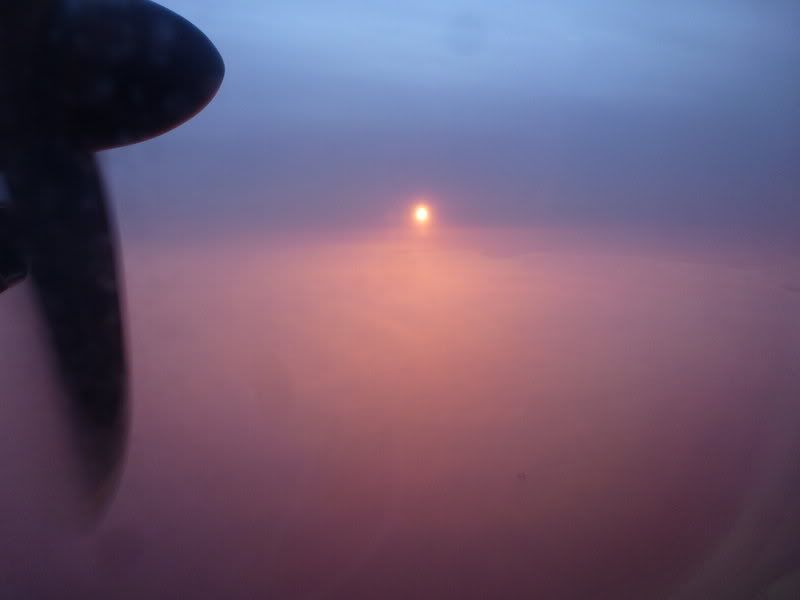 Next surprise comes a couple of minutes later after the seatbelt sign is switched off and we are just approaching Tallinn - the female FA comes to me, asks "Mr. FlyingFinn?" and after I confirm this hands me my preordered meal box. I object that I really wanted to have it on the longer flight and not this short hop but she says there's nothing she can do - it was loaded on this flight and it's for me to keep or toss. Come to think of it when preordering the meal I didn't see any possibility for specifying which flight in my itinerary I'd like to have it for. Well, there's nothing to do so I thank her and accept the box: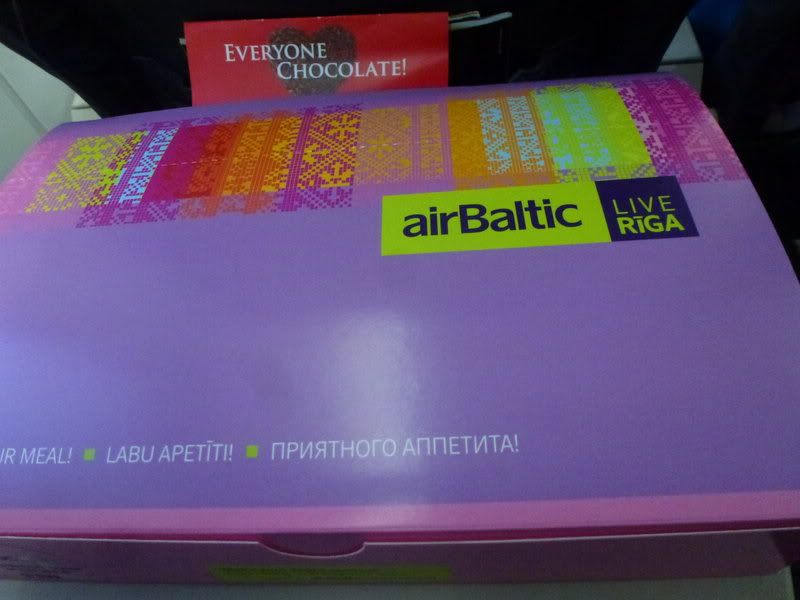 Let's look inside, shall we: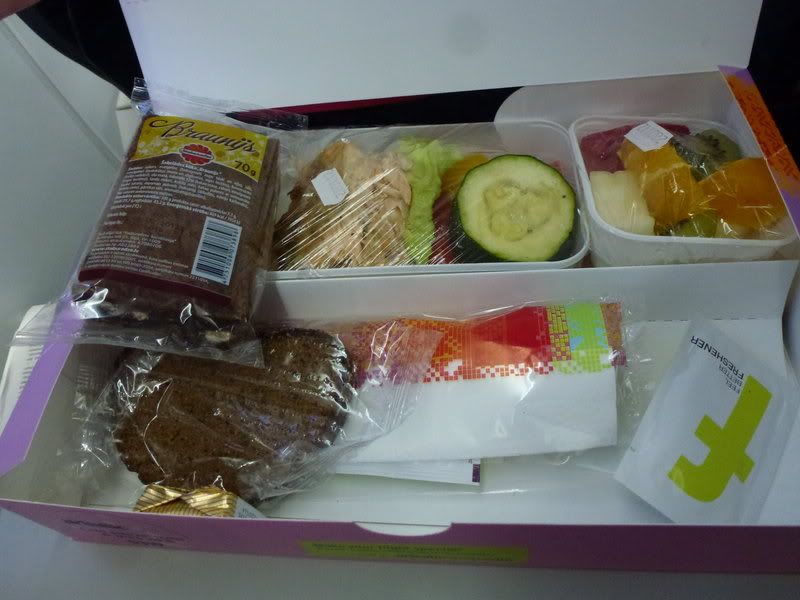 This dish was described as "Salmon in mustard sauce". Well, it is more like "A few days too old salmon without much sauce at all plus saggy vegetables". The vegetables are quite bad, the salmon is okay but a bit old as mentioned and could really use some more sauce. Oh and mustardy it definitely isn't.
Additionally there's a slice of Latvian style dark rye bread, a fruit salad (okay), a quite nice chocolate sponge cake (which I save later and actually ate in the tube in London, much to the amusement of makeree), condiments and a bottle of white wine (it is a bit too early even for me so I stick to my water and put it in my bag for later consumption).
All in all an okayish cold meal but not really worth the 10 EUR price I paid for it. Had everything been more fresh I'd be quite happy, but not this way.
Anyway eating is a good way to pass the time (which is one of the reasons airlines started offering meals and snacks in the first place) and by the time I'm finished we are just about to leave our cruising altitude, the Gulf of Riga glimmering in sunlight below us: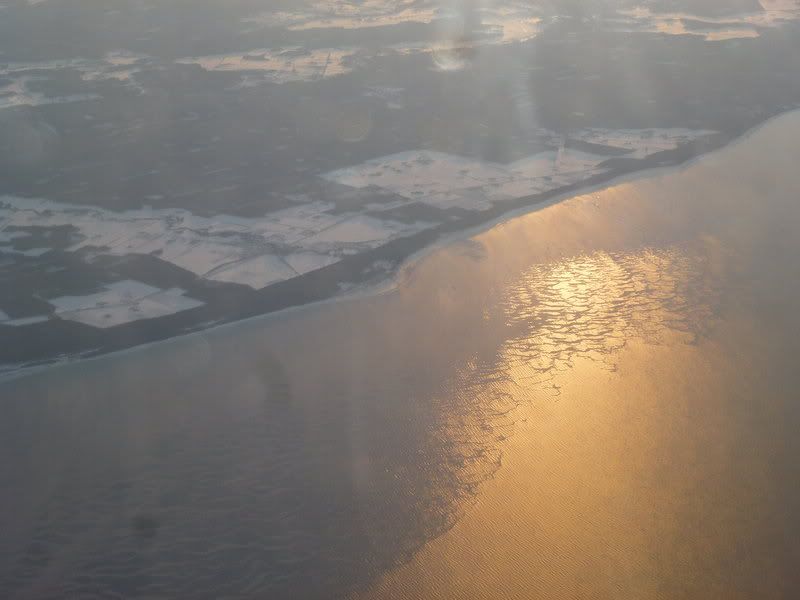 The cap makes another announcement about Riga going through some congestion (it has happened me quite a few times on this particular flight) so we'll slow down a bit but will still land on time.
Gears down: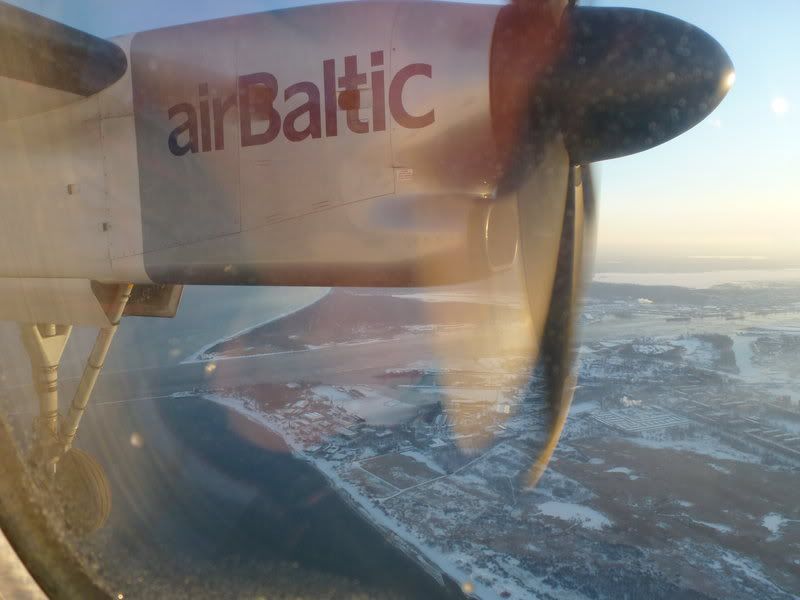 Riga city centre in the distance, looking quite atmospheric: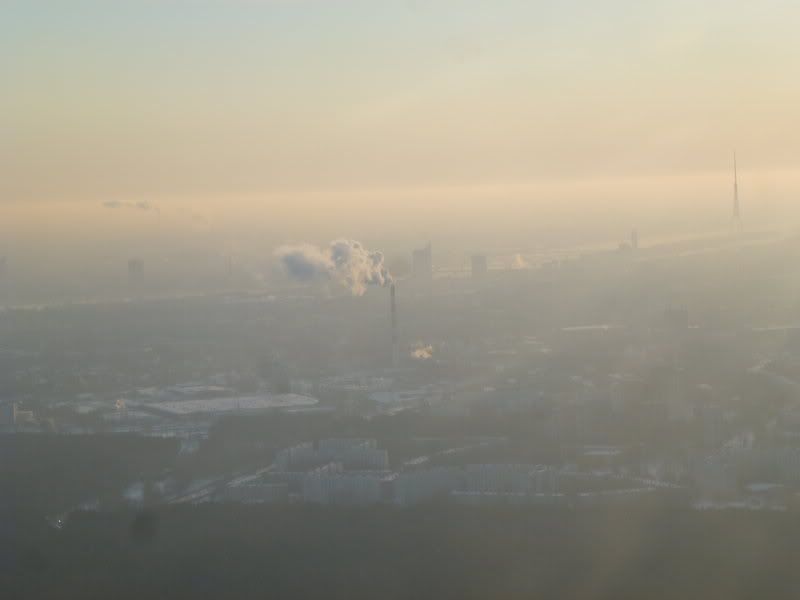 In fact we land over 15 minutes early on runway 18, well done. For some reason the Dashes seem to be always parked on the northern apron, whereas the Fokkers and Boeings end up on the south side of the terminal, so off towards the north we go to join the line: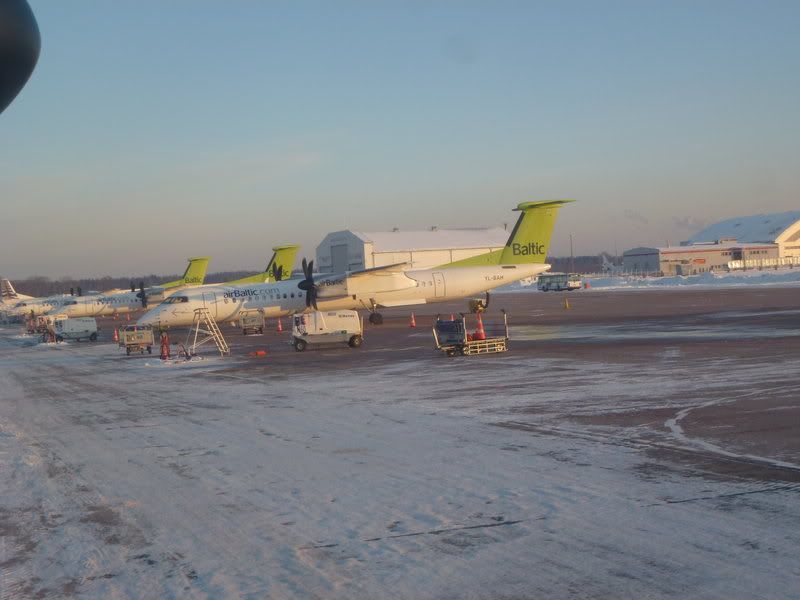 I hope they make this Tu-134 part of the museum collection soon, it's been parked at this spot for a well over a year now: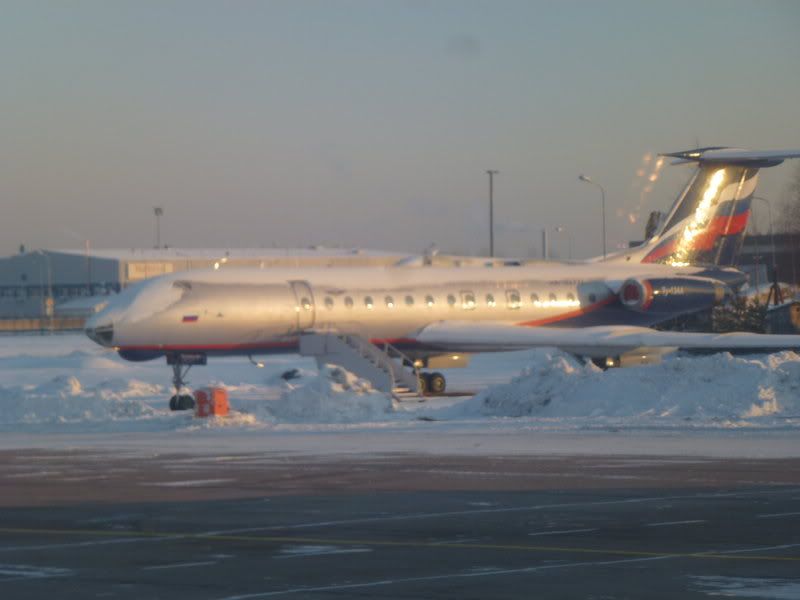 Another arrival: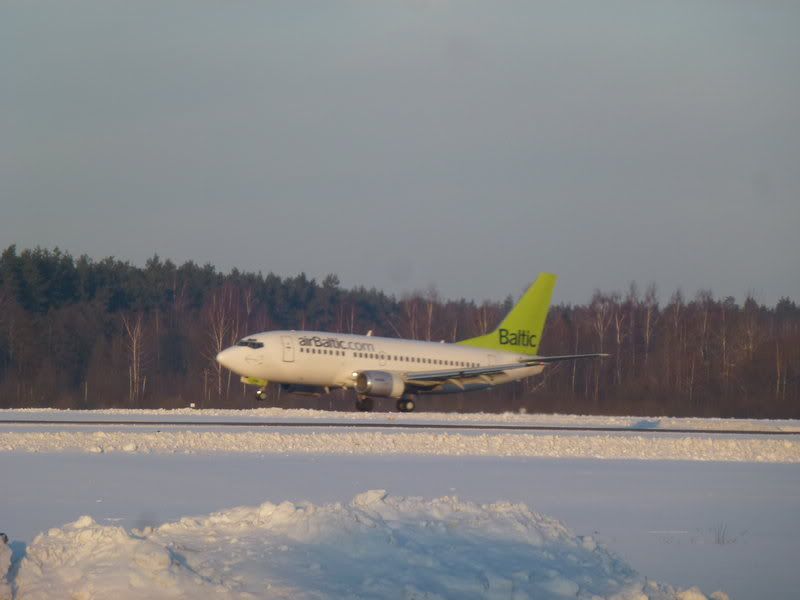 Riga Airport
A bus ride to terminal and off to the lounge. Makeree had upgraded himself to business class via Optiontown so we can both go in, lovely. Despite just eating a meal I can't but help to grab some of their nice breakfast offerings: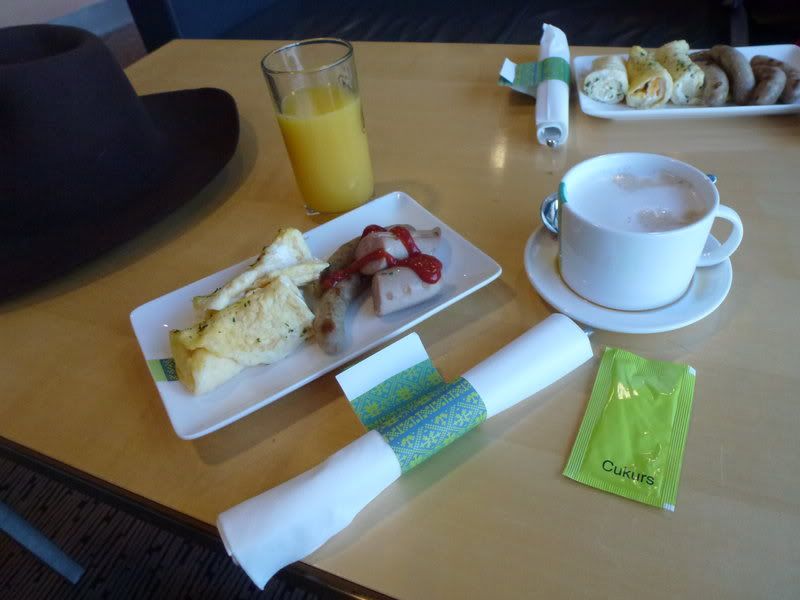 Chatting, surfing, plane watching and reading makes the time fly and in no time at all our flight is showing "Go to gate". Today it is leaving from the mini non Schengen area at the end of the B pier so that's where we head, passing through immigration on the way and then downstairs where there are tons of people as the next gate is boarding an airBaltic charter to Hurghada and Sharm el Sheikh with tons of holidaymakers: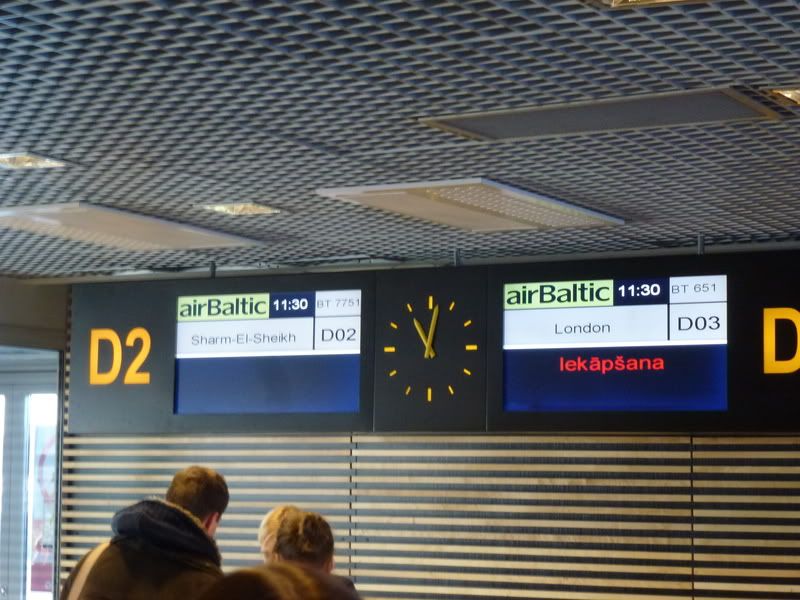 Ryan also going to London, albeit to STN: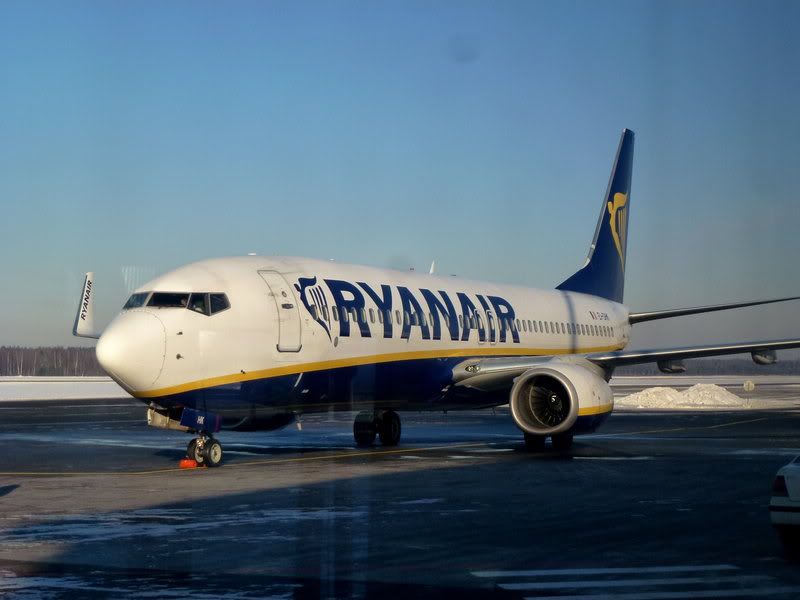 The first bus has already gone so we get to wait in the freezing bus for a while but eventually drive off and stop in front of YL-BBX, the expected 733 (we saw the one remaining 757 landing earlier and had our hopes up for a while but it departed again operating a charter service to TFS) and one which I've only flown once before.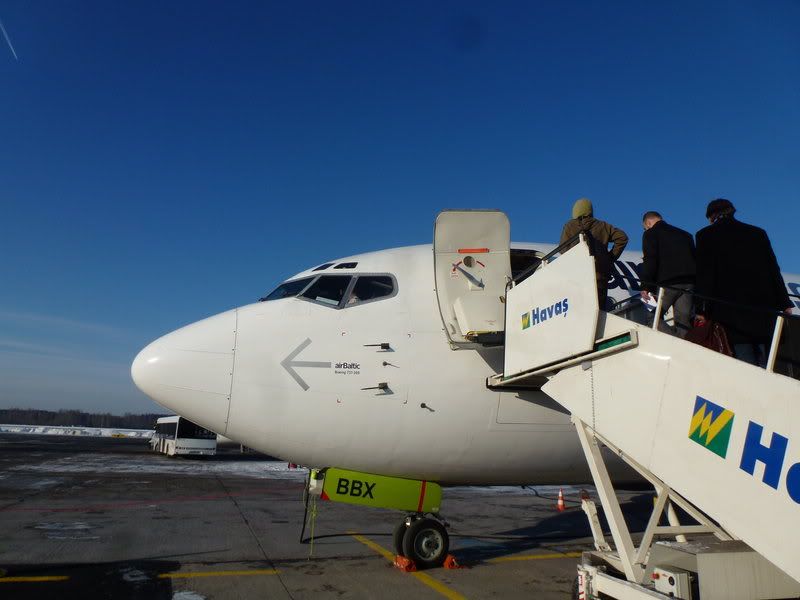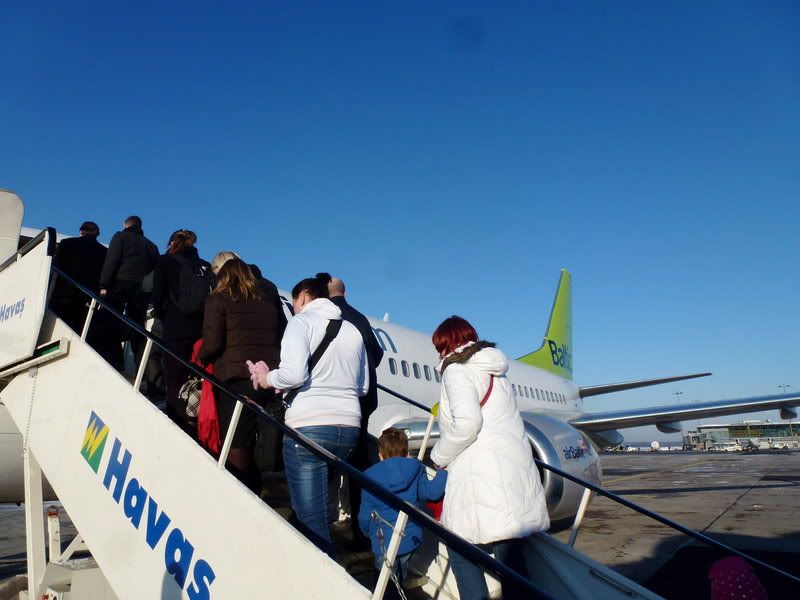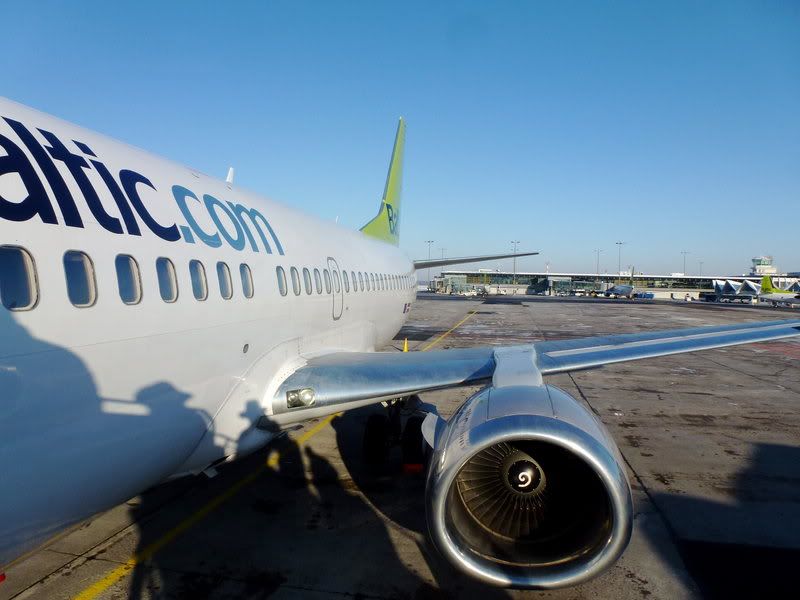 RIX - LGW
BT651
B737-300 YL-BBX
Seat 11A
11.32 - 12.10
Inside I get a bit of a disappointment - I had forgotten all about row 11 being the forward exit row on these -300 models. Well that itself is fine as it means a good legroom: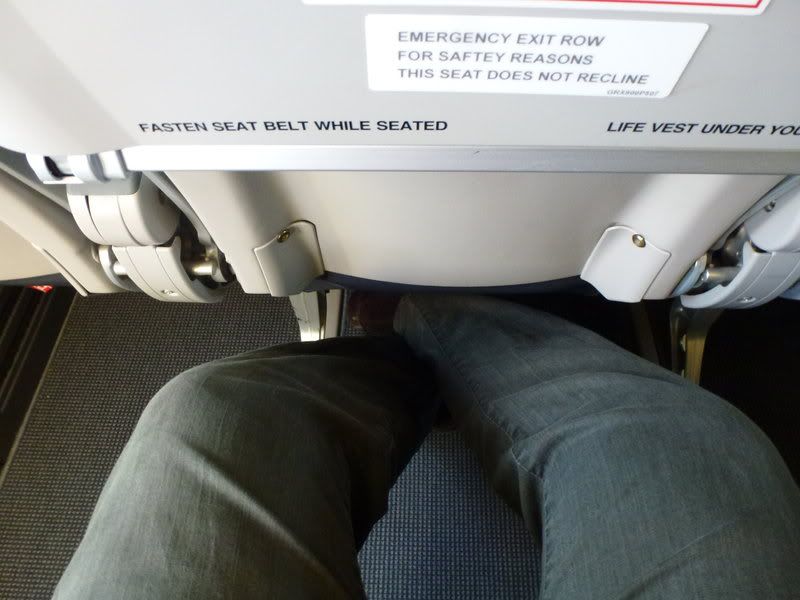 But there are only two seats on both sides on this row, and the window seats are missing. So my A seat turns out to be a middle seat with some distance to the window and a weird feeling of not having anything next to me: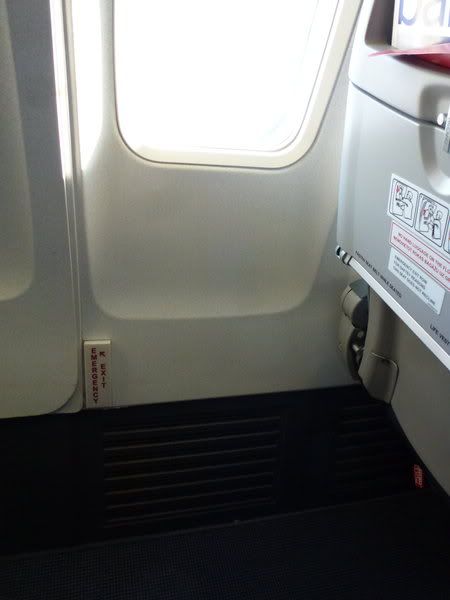 This is of course bad for outside views, so I make a mental note to try to see if I can switch to another seat once boarding has been completed. For a long while I think I scored an empty seat next to me, but the last passenger, a youngish guy with an Eminem haircut boarding sits down there. He must be an airBaltic employee as the whole crew knows him and later gets him some freebies from business class plus he disappears in front of the curtain for quite a while mid-flight, to the cockpit I assume.
AY operated by FC... eh sorry, BE next to us: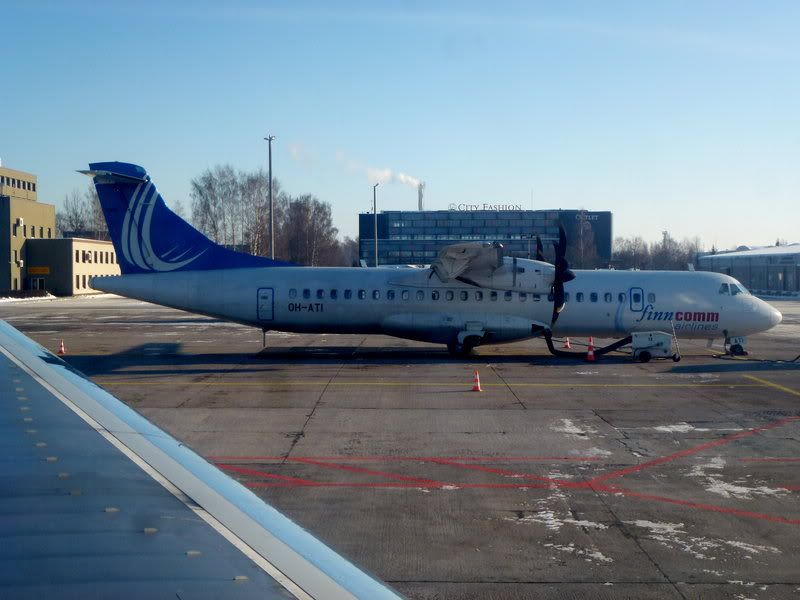 Load is quite good, around three quarters full. Unfortunately all the window seats I can see are occupied so at least for take off I'll be sitting here.
Flight time is announced as two and half hours, with departure pretty much on time.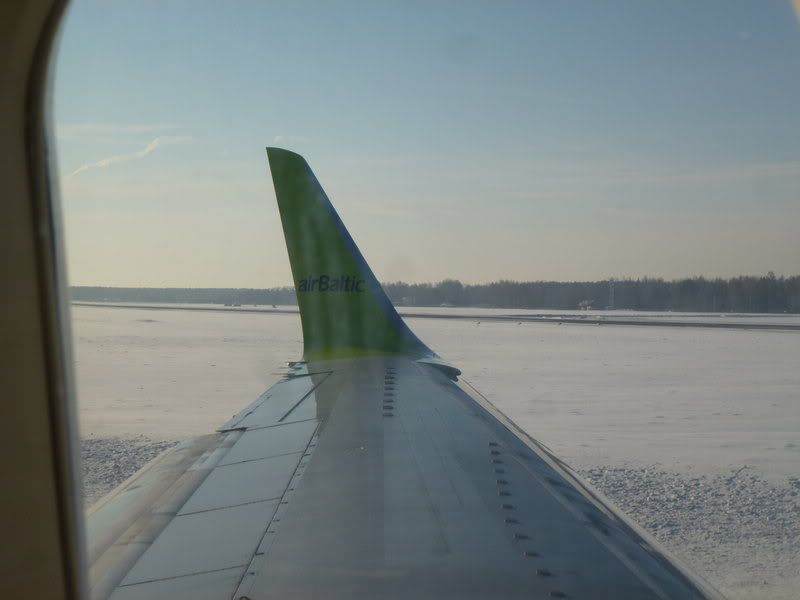 Take off is from 18: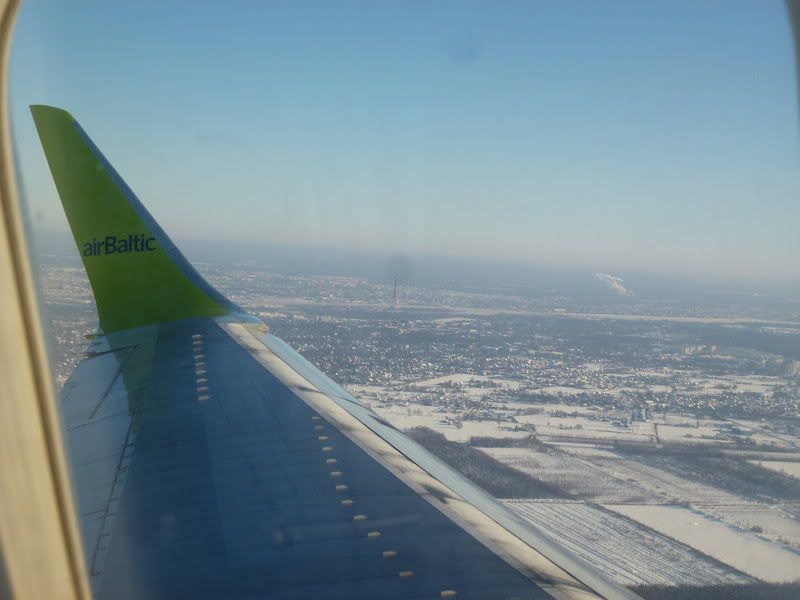 Right after the seat belt sign is switched off I annoy my seat mate and head to the loo, at the same time surveying the cabin for any window seats for me to grab - unfortunately I don't see any, so back to the middleish seat it is. Well, it is overcast outside and it stays so most of the time apart from some openings over the Netherlands so not much is missed actually.
That's a bit embarassing: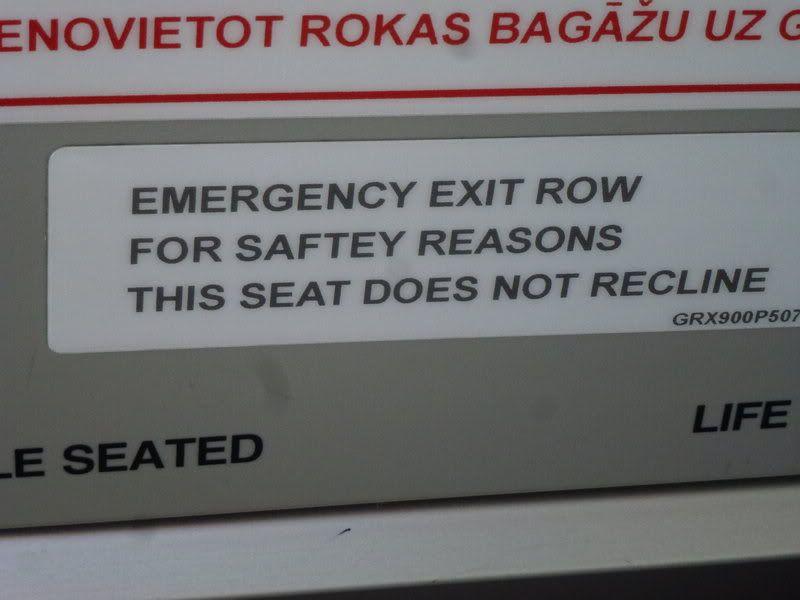 It's well beer o'clock by now so why don't I get one:
Since I also have the wine from the earlier flight I reuse the cup for it after finishing the beer. Luckily it's the same brand the have on the BOB menu on this flight so shouldn't cause any issues with FAs. Ahh, doing gabrielchew's favorite thing - sitting on an exit row and reading trip reports (actually his, a nice coincidence):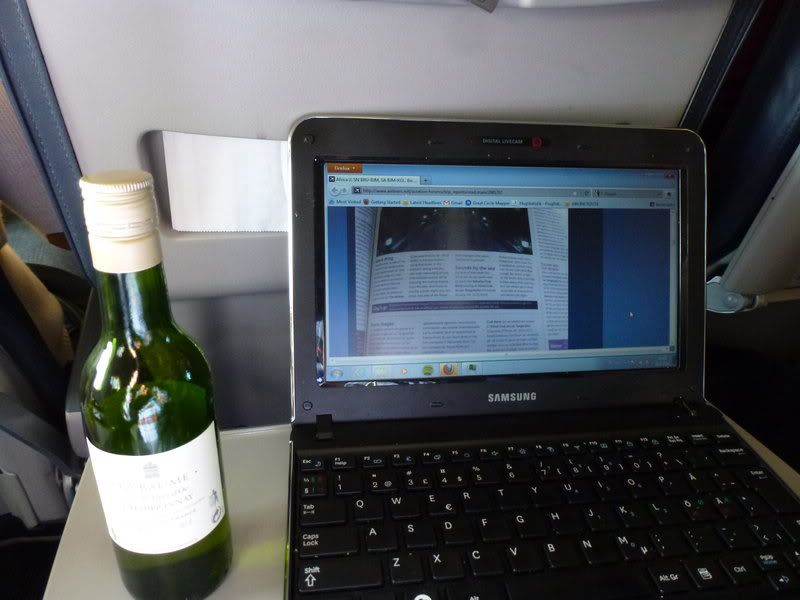 That makes the time fly and after a short while the captain announces that we are cruising over the North Sea just about to leave our cruising altitude for our lengthy approach into Gatwick. Some nice clouds can be seen outside at that point: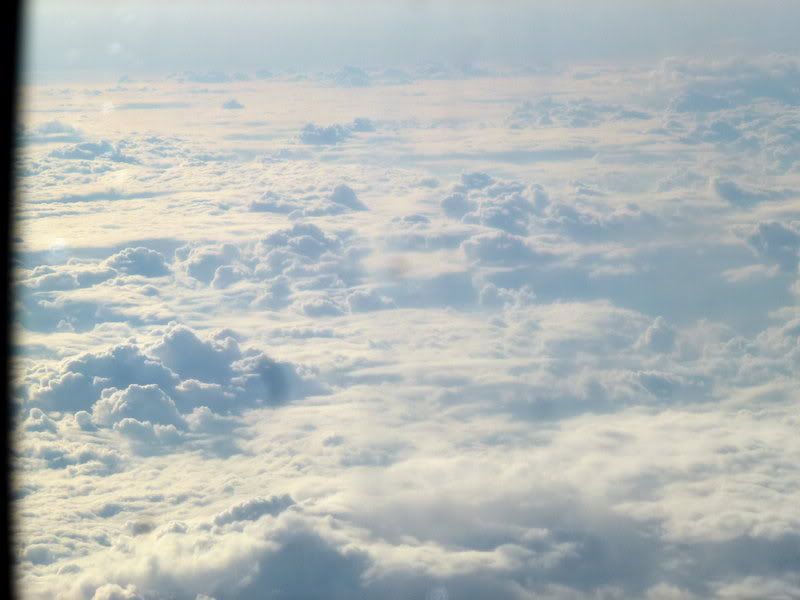 The approach indeed seems to take an eternity, not helped by the fact that the skies are covered in thick clouds and we seem to spent most of our time in the middle of them - only on short finals does the ground show up. Green grass in January - that's so wrong: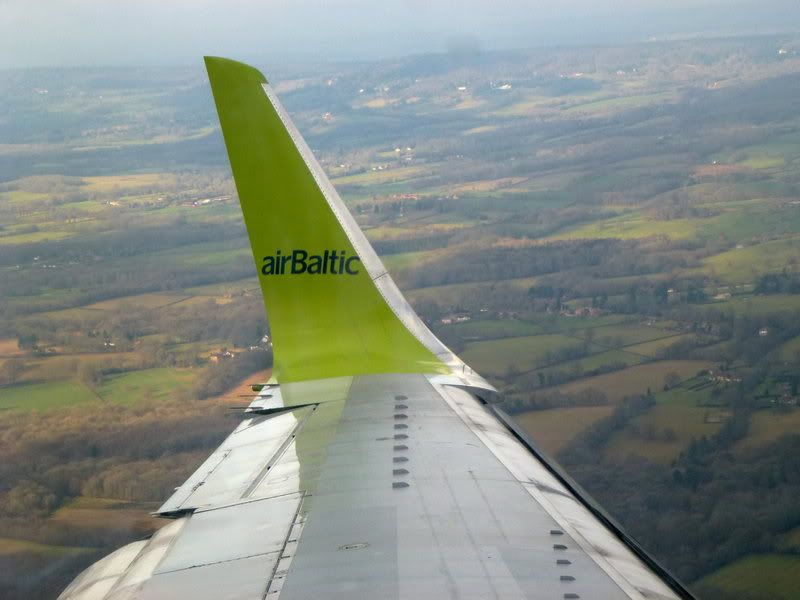 Vietnam waiting for departure: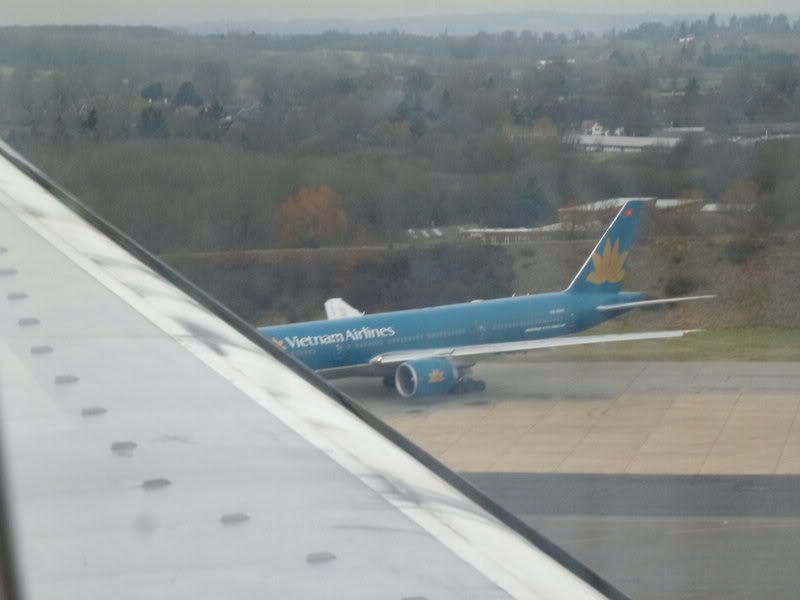 Landing is on runway 08R, not that usual at Gatwick - I think this is the second time I'm landing on that particular runway in quite a few times flying here. Flight time was quite near the promised two and half hours.
Is that Allegiant? Perhaps one of the OF 757s?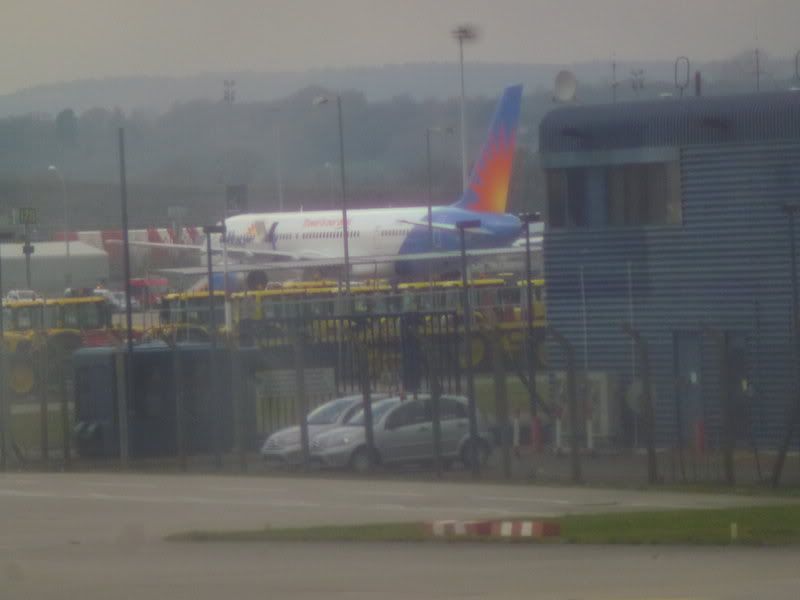 While taxiing to our gate in the South terminal's satellite we pass this easyJet A319, getting ready to depart to SZG in just a few minutes with a.net's own Matt (Duna320) busy preparing the cabin for departure - hi, Matt: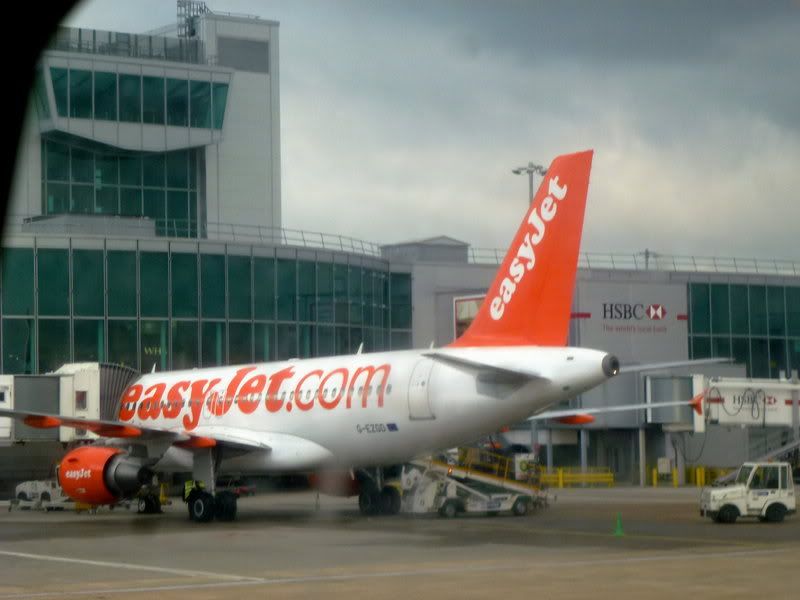 Here's one for Martijn & Eric: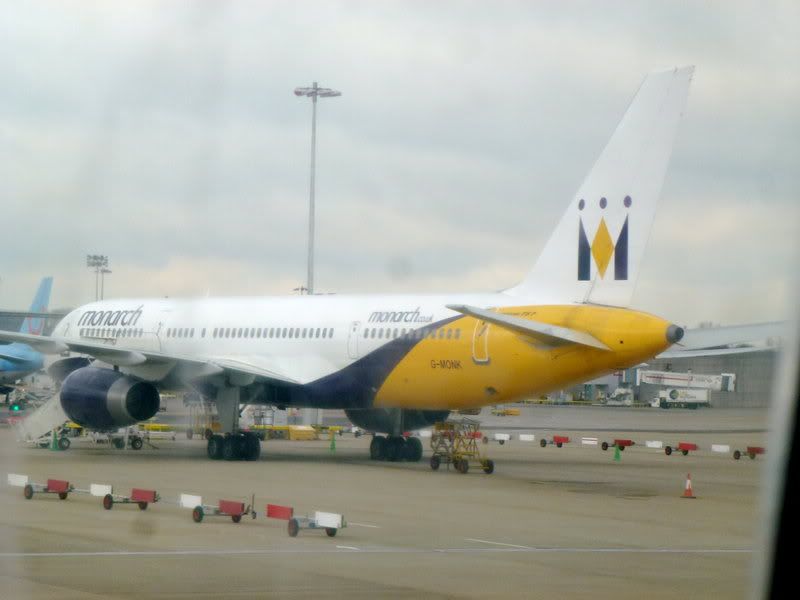 The Irish loudmouths are not the only airline named Ryan at Gatwick: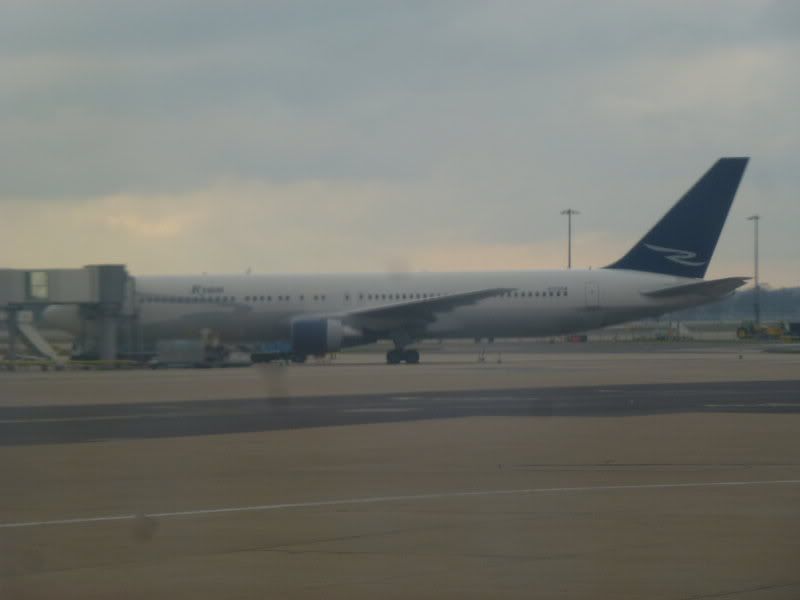 Next to us is a nice long bird, one of the few 757-300s of Thomas Cook:
Being stuck in the middle of the plane with my back bag quite a few rows behind me means I'm one of the last passengers leaving the plane. Makeree, being one of the first passengers leaving the plane courtesy of his business class seat is waiting for me next to the gate. One final shot of the plane: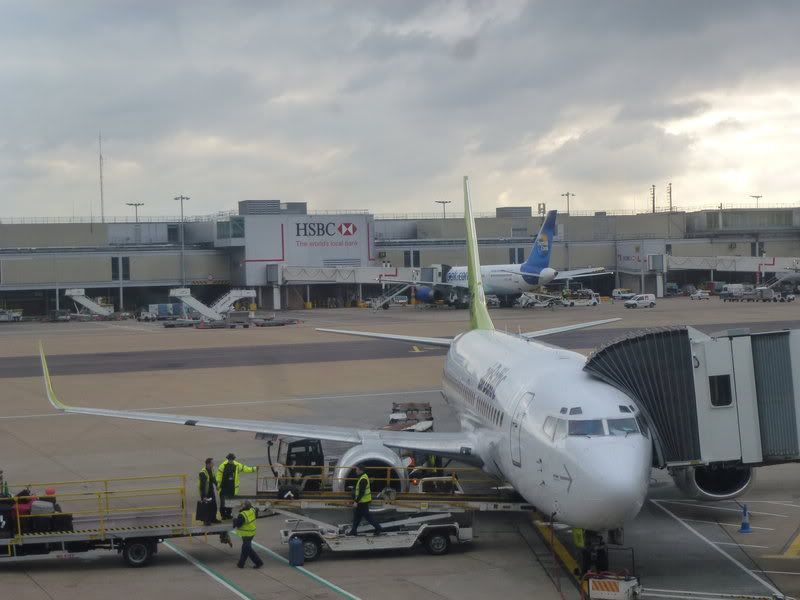 London
It's a bit of a hike to the UK Border which has a moderate but very fast queue.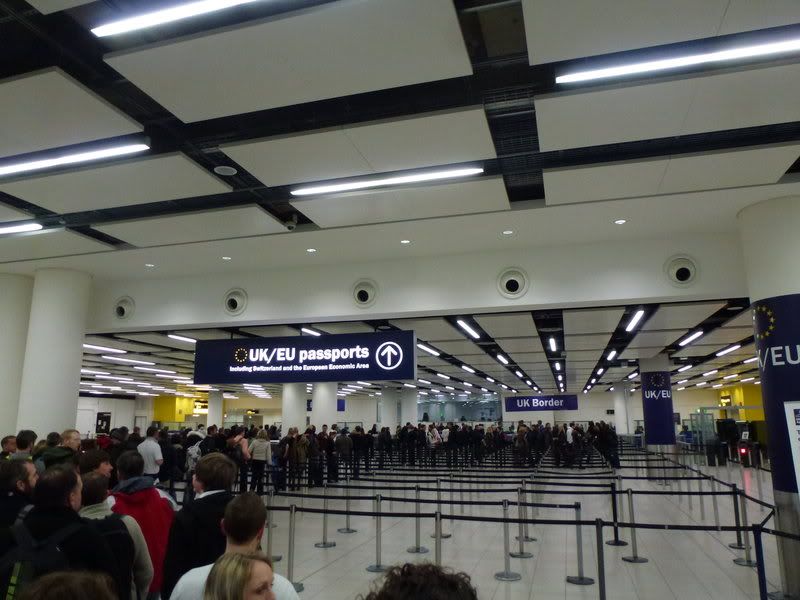 We hurry to the train station since the next train is going in around ten minutes, grab tickets from a self service machine, head down to the platform (past a very rude lady yelling repeatedly "tickets, tickets, please show your tickets") and board the next train to London Bridge station: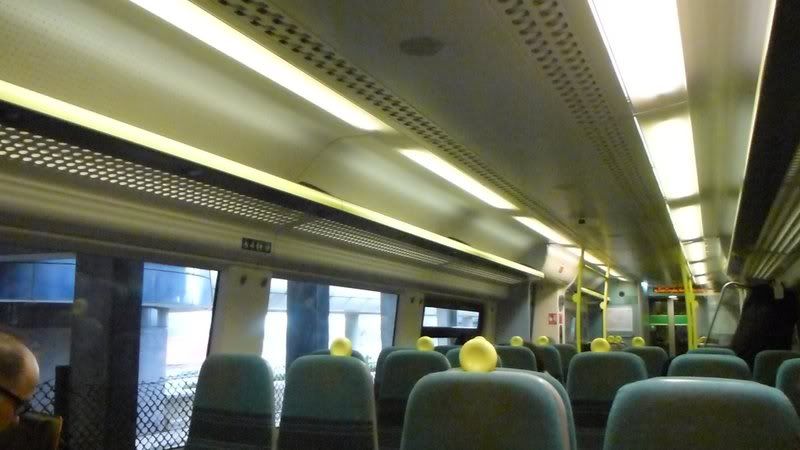 Getting nearer now: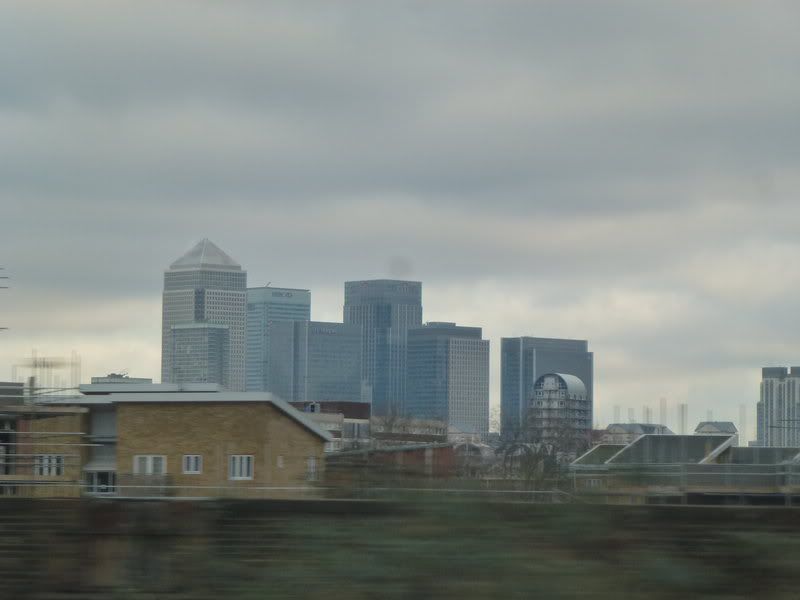 We get Oyster cards for both of us - definitely a wise choice for the convenience and nice discounts on single tickets. Then a few stops on the tube to E&C: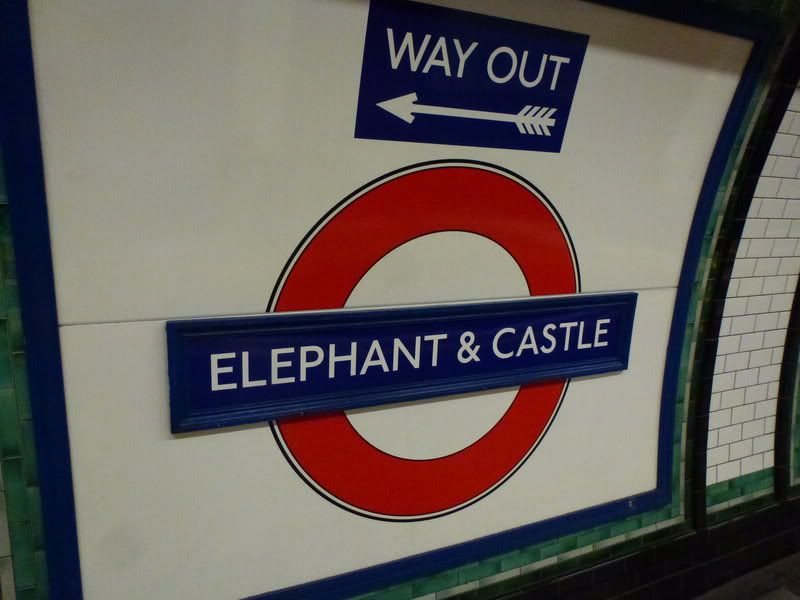 This namesake pub was as faux as could be - run by a bunch of Thai people but at least they had cheap Singha: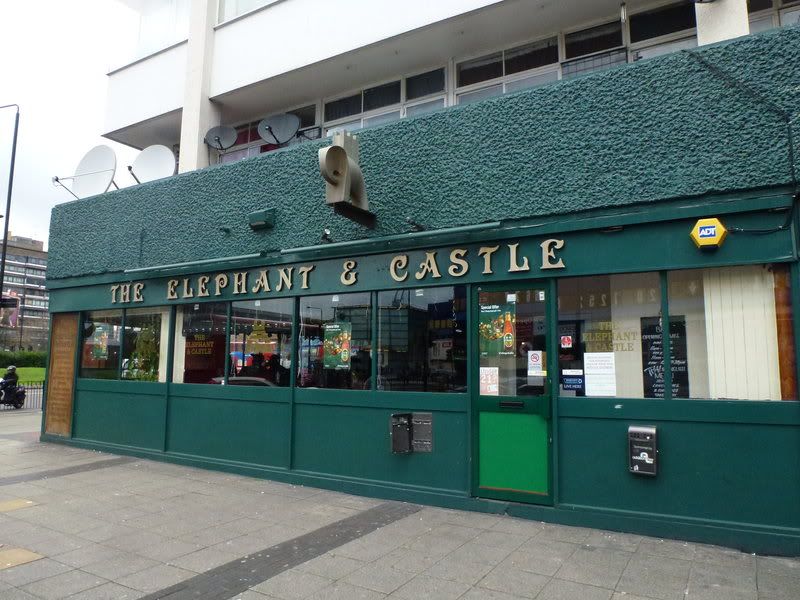 Rest of the afternoon is spent in the Imperial War Museum, something which I decided to devote this London visit to. Since makeree didn't have anything better to do he joined me there.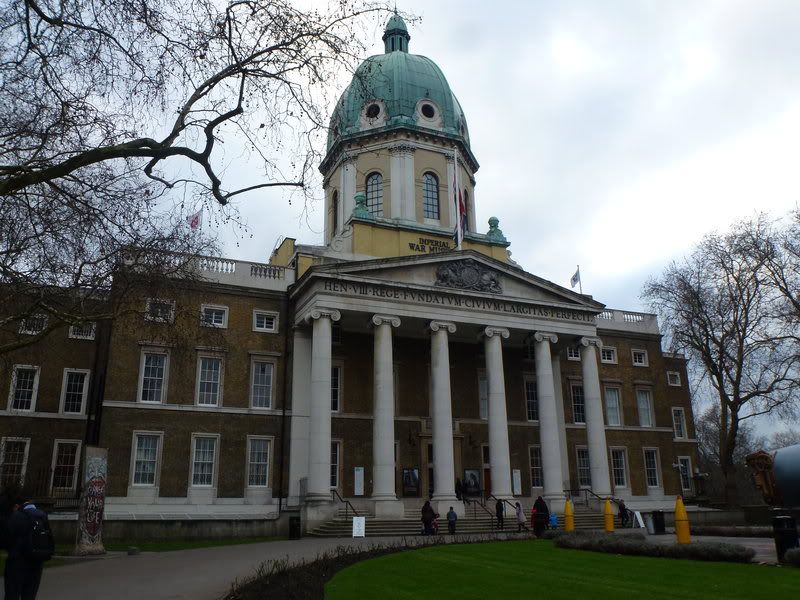 I'll spare you the military porn, here are just two aviation-related pictures: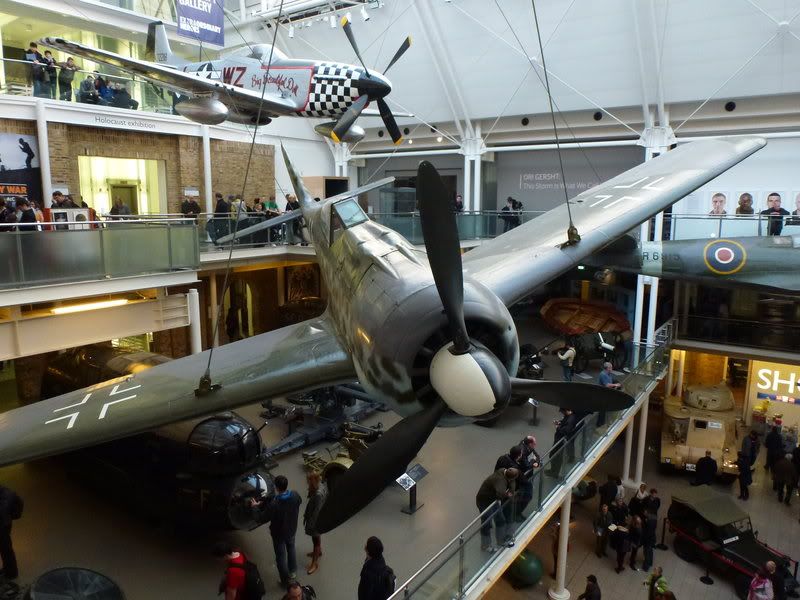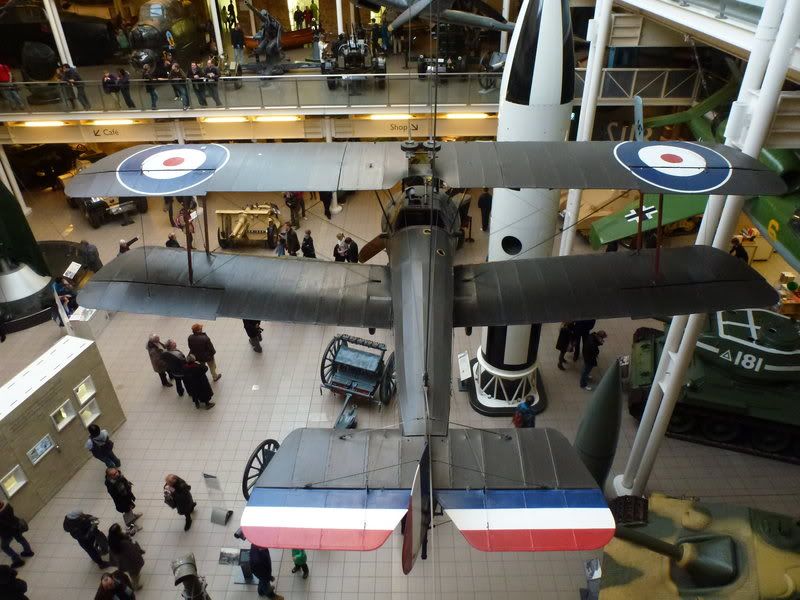 What - I thought Russel Crowe was the commander: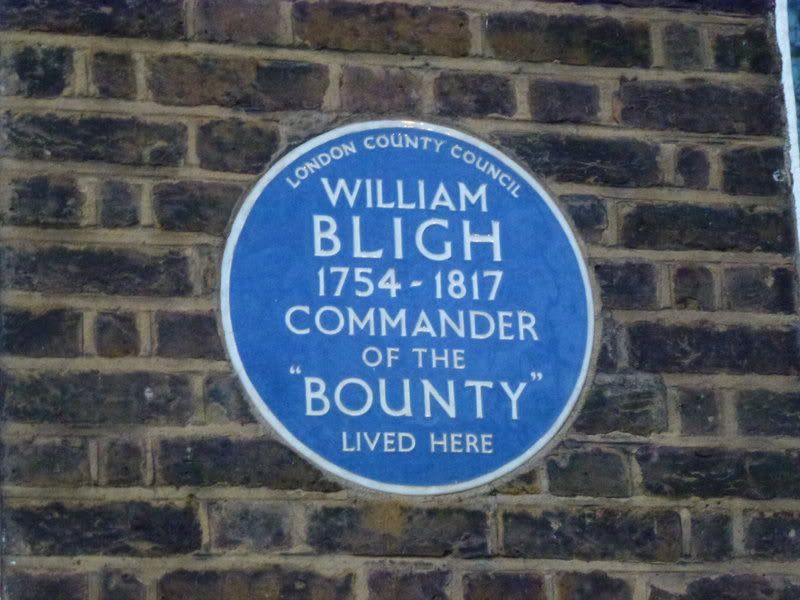 Afterwards yours truly displays some questionable navigation skills so instead of the nearest tube station we end up on the Thames embankment - well not bad for night views of the Houses of Parliament: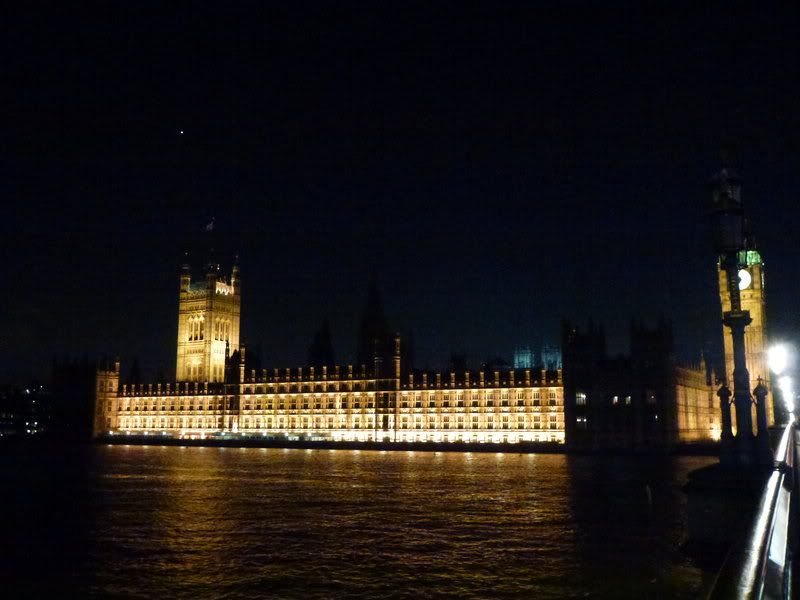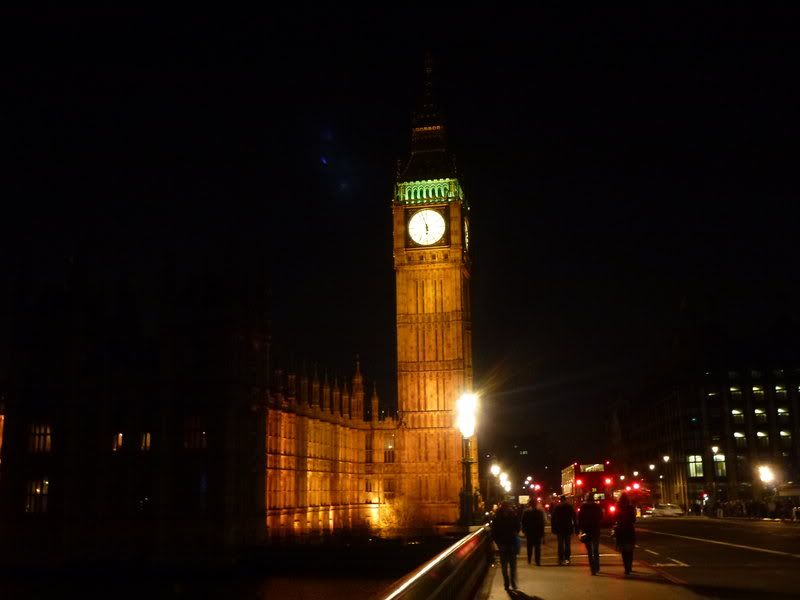 And the Eye all lit up: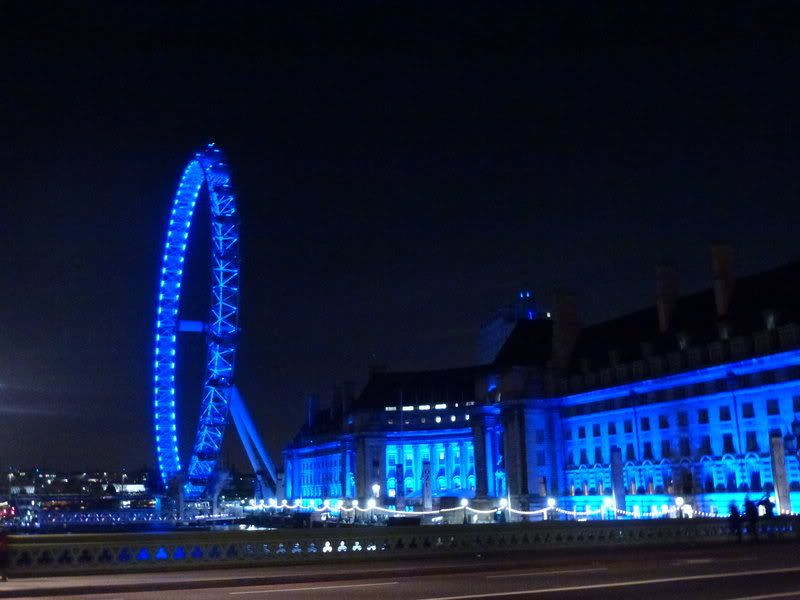 Some long and annoying tube journeys later we end up in a top secret location somewhere in West London where our very own Fabrizio aka JL418 is waiting for us with promises of a fun night out (it was!) and some truly excellent Eritrean food: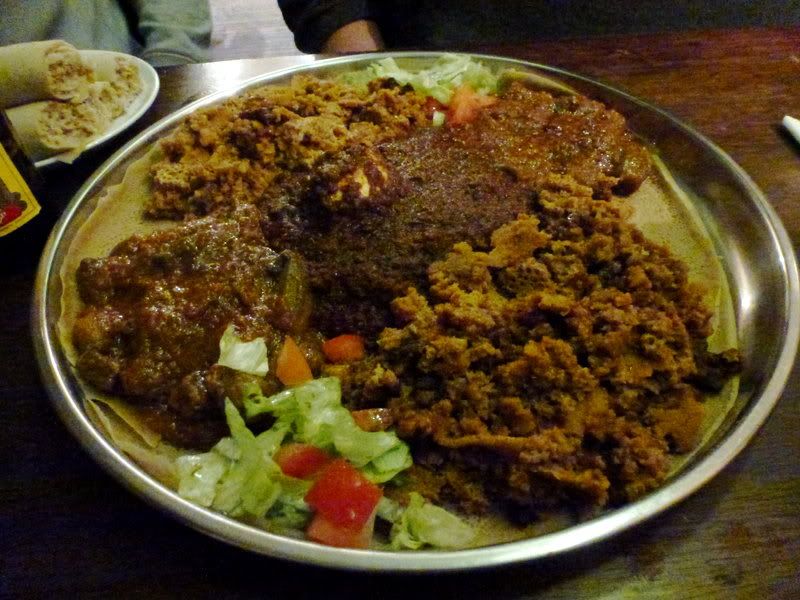 ...and Ethiopian beer:
After stuffing ourselves silly and enjoying a pint or few and chatting the night away it is time to split ways. Makeree leaves first as he is flying out of Stansted tomorrow and has a nice hotel room waiting there. Soon it is time for me to go as well, and am delighted to discover that there's a direct bus to Fulham Broadway, right next to my hotel-to-be instead of the one-change tube journey, so I bid Fabrizio farewell (thanks mate, hope to see you soon again!) and hop on the next bus.
Cruising through the endless streets of Kensington: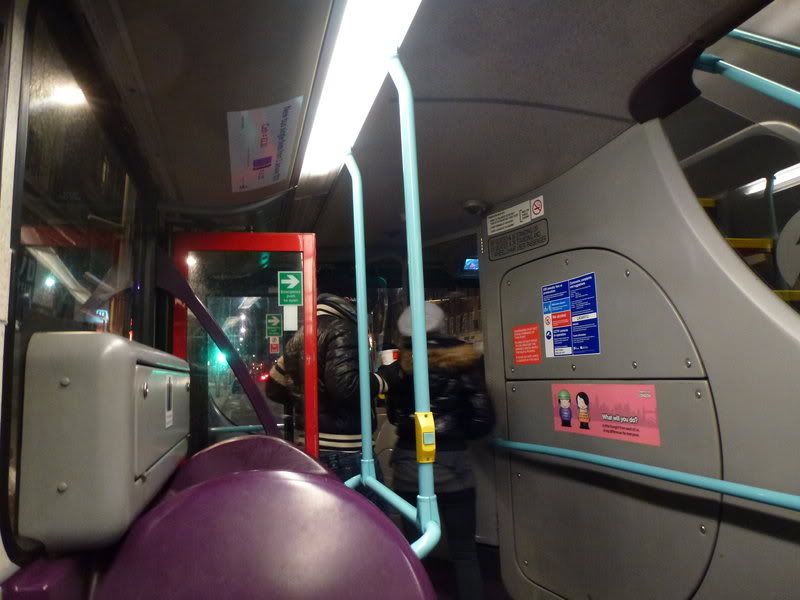 Over at Fulham I'm surprised but quite delighted to see that the bus actually goes right in front of my hotel, and there's a bus stop right opposite - swell.
So this is Travelodge Fulham - your cookie cutter Travelodge room: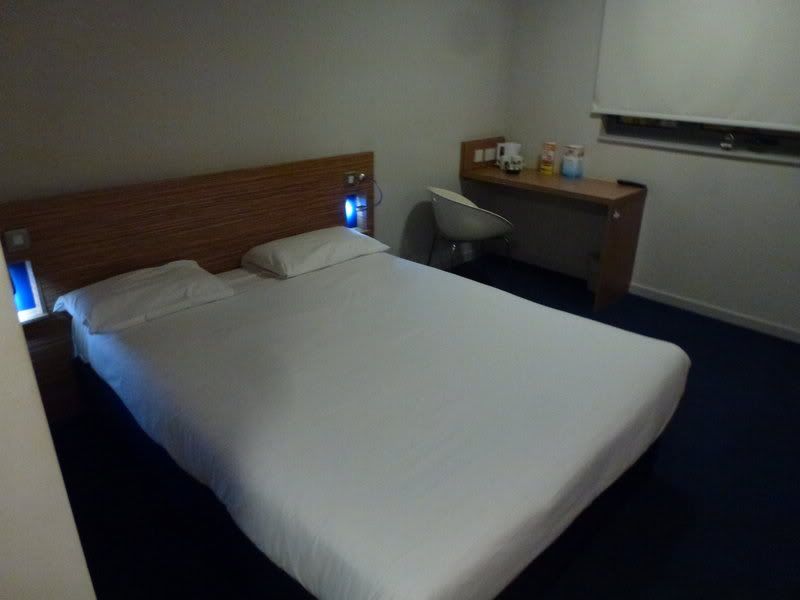 No frills, but everything I need as I just want to crash anyway. The room is very cold, however. I think about calling reception and asking for the oh so British hot water bottle but decide against it as they'd probably charge me a lot extra for it - after all that their business model is copied from Ryanair and the like... Instead I turn up the heating as far as it will go - it helps a bit but still it's far chillier than I'd preferred.
Not bad value for 19 quid (or 21.50 actually with the credit card surcharge and whatnot).
Sunday 29.1.2012
You know you are getting old when you keep waking up far too early even on weekends. Coupled with the two hour time difference I indeed wake up far too early and the last few hours of sleep are quite haphazard and uneasy. The room has warmed up a bit, but is still quite chilly, so getting out from under the covers is not exactly something to look foward to... Finally around nine I get up, brew some instant Nescafe (the only frill Travelodge offers: in-room coffee/tea making facilities!), grab a shower, watch an interesting discussion about the benefits cap on BBC and finally head out around ten.
View from the room window on Sunday morning: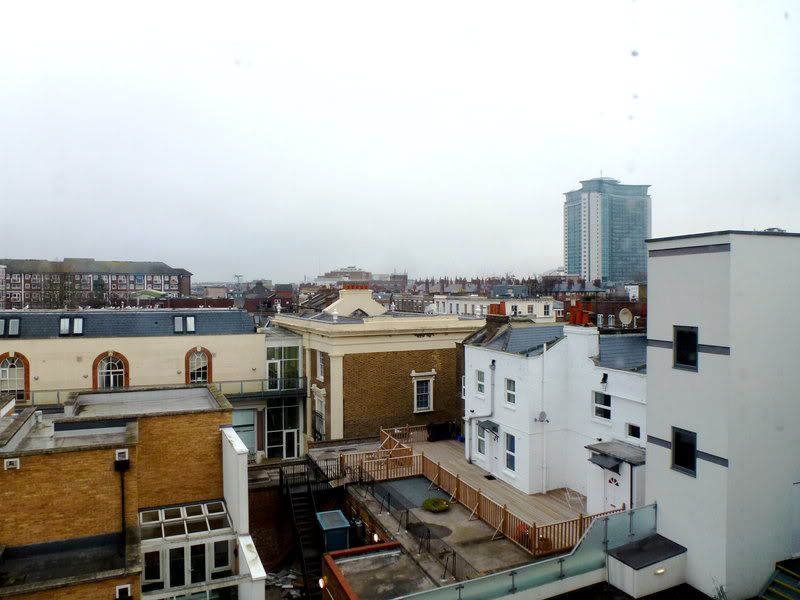 I grab a nice cheap sandwich for breakfast from the cornershop and walk the few blocks to the Fulham Broadway tube station. The area around here looks very nice with some interesting looking restaurants, I think I might stay in this hotel again the next time I'm in Big Town...
I guess you could call this facade
faux
: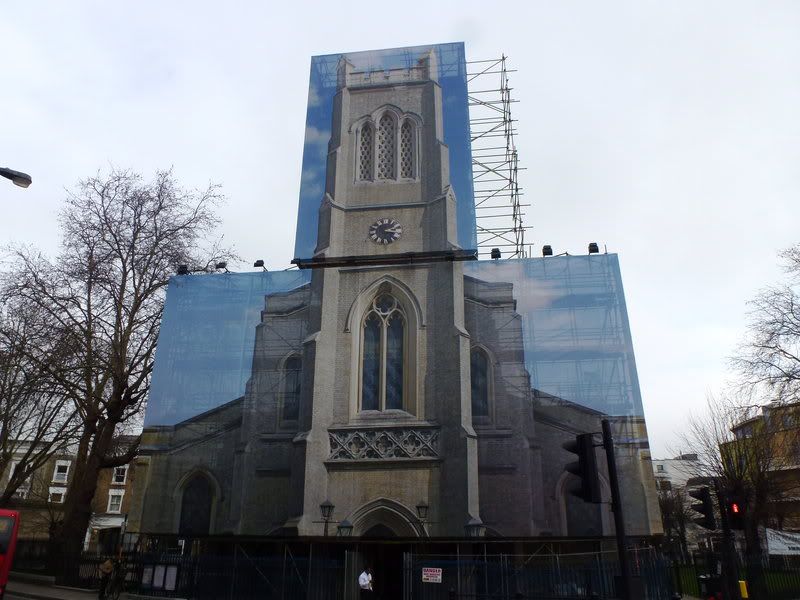 The tube is rather deserted on a Sunday morning, one change of trains at Earl's Court and a long Piccadilly line ride later I alight at Heathrow T1/2/3 stop and make my way to T1.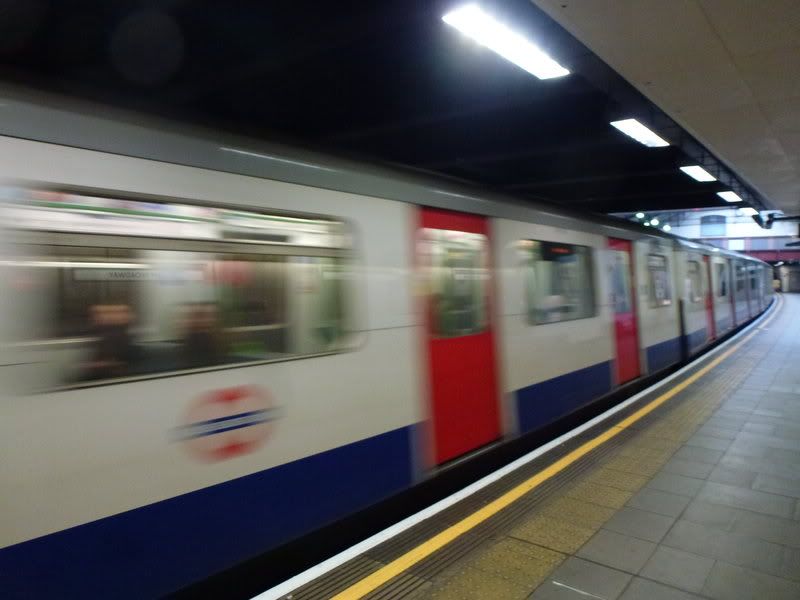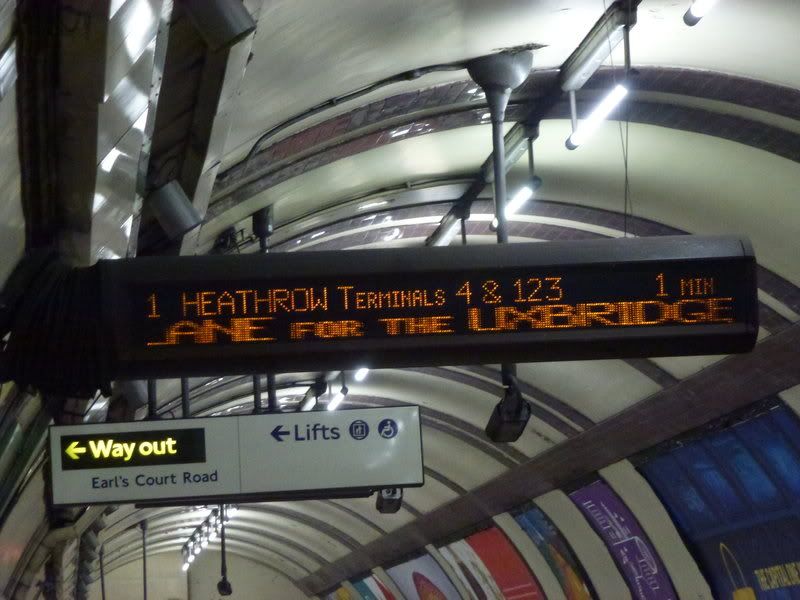 London Heathrow Airport
A very pleasant chap of Indian descent checks me in at the BMI Premium check in area - my inquiry about the load on my flight is answered with "Oh, it's only about half full, sir". Before I have a chance to ask about blocking the middle seat next to me he reads my thoughts and adds "And the seat next to you should stay empty as well.", which is good news to me and I thank him.
BMI Premium check in area - notice the red carpet in front of the First class desk (where I was checked in):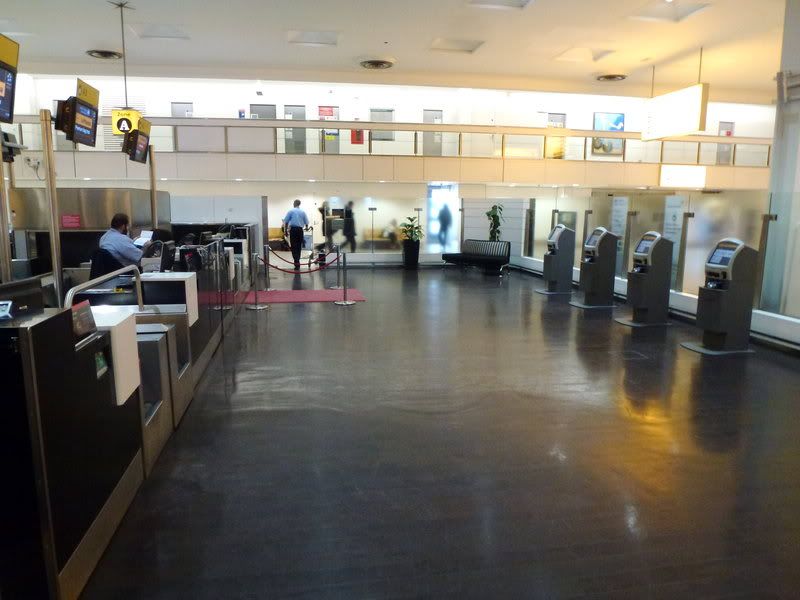 I head to security - too late I realize there was also a Premium queue accessed from another entrance (not sure if Star Gold is enough for that though), but as I have all the time in the world and the queues aren't that bad I rough it. Airside I contemplate about buying some champers for a long time but finally decide against it (which in retrospective was a very good decision!) and grab the Sunday paper from WHSmith's instead.
Then it is time for one of the main reasons for booking this flight in the first place: The BMI Great British Lounge. Finding the place is a bit of a challenge as one has to go down several winding corridors before finally ending up at the lounge entrance.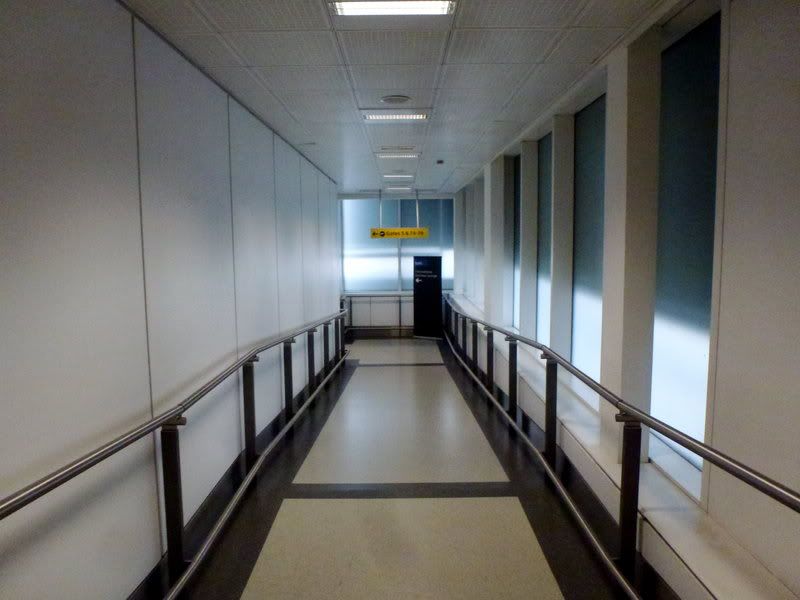 Inside a very nice fellow welcomes me in. All the window seats are taken, but I make a beeline to the nice cabanas at the extreme other end of the lounge as per gabrielchew's recommendation (Philip seems to like these as well):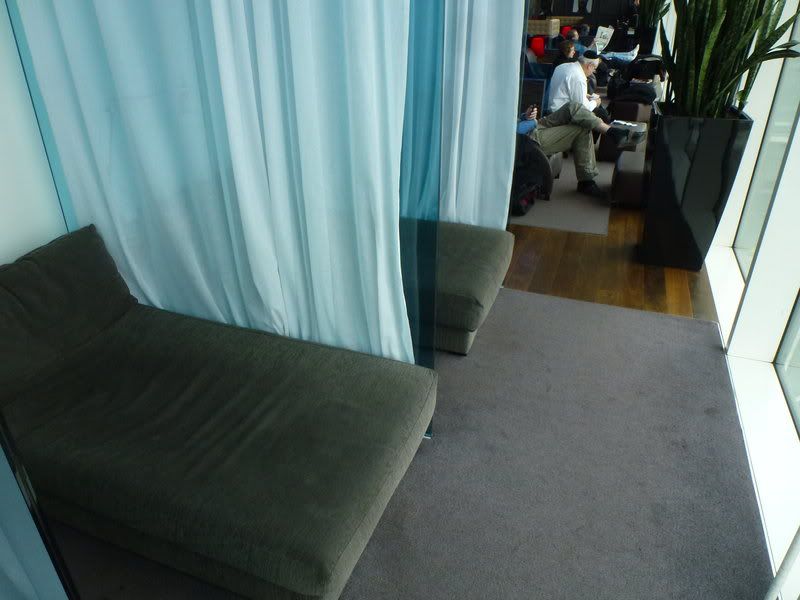 These cabanas offer a very nice view towards the BMI (and *A) gates below plus the horrid UK/Ireland pier of T1 and as runway 09L is in use for landings right now also to the endless stream of arriving planes.
General lounge views: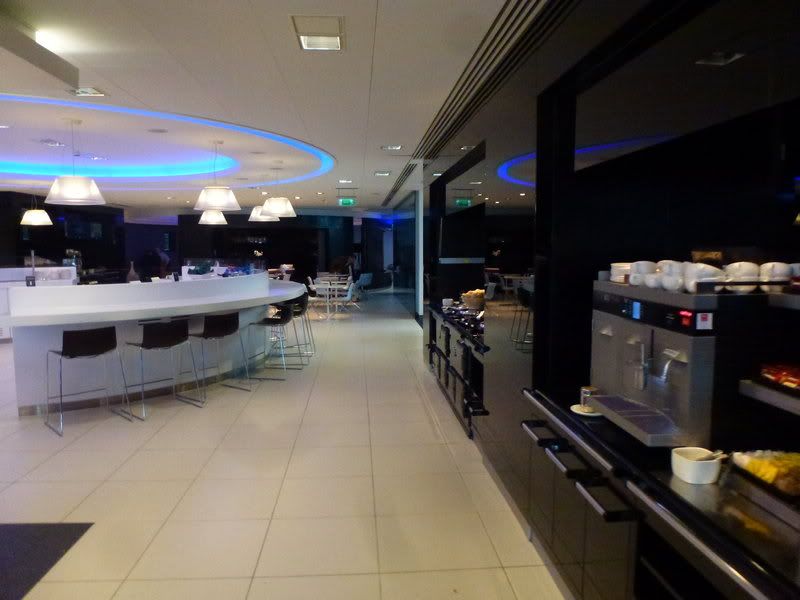 Well, it's the Great British Lounge so gabrielchew's favorite drink is well appreciated: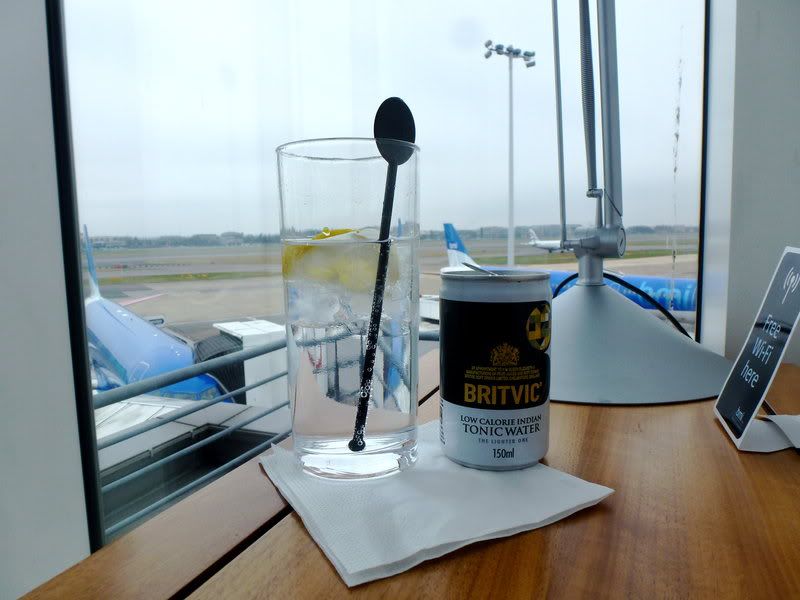 Don't forget the food - some of these sandwiches were delicious: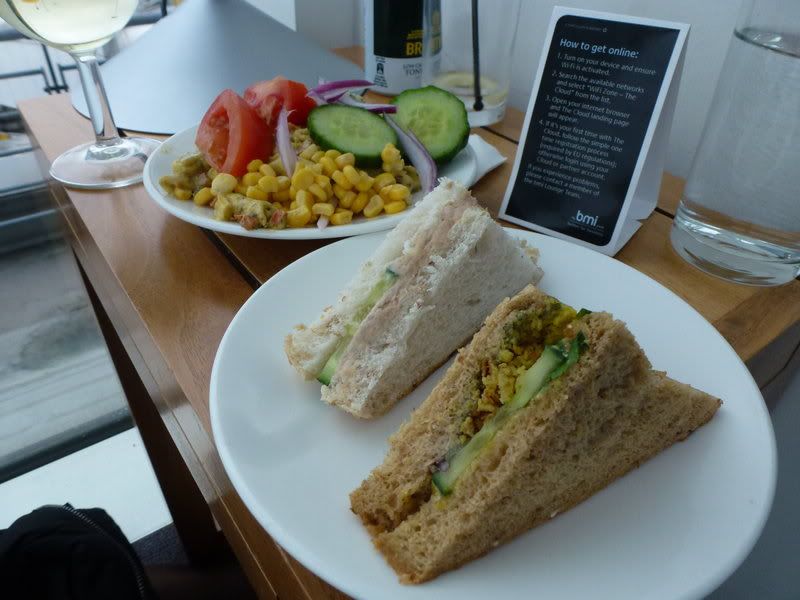 Make your own salad: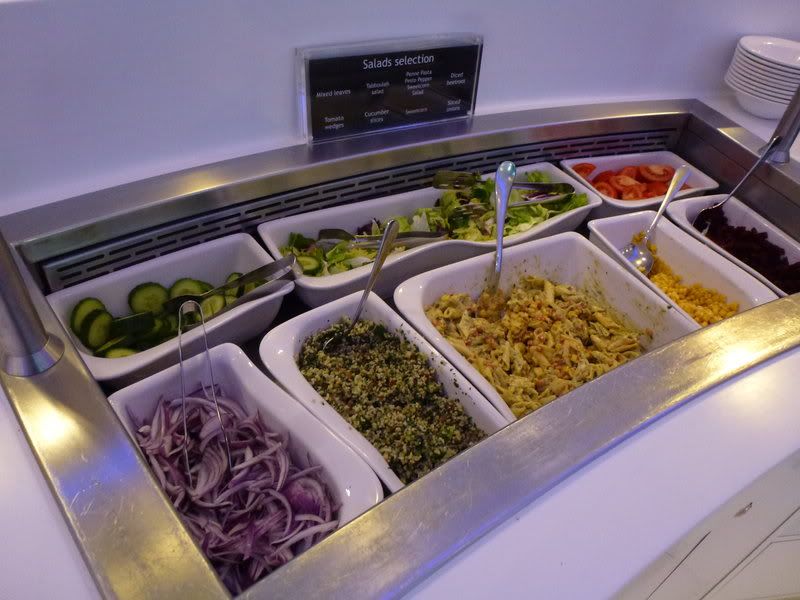 The reading materials are a bit weird - I mean who reads "Making Money" magazine in their right mind:
At least I managed to nick a copy of the A3 inflight mag for my ever growing collection.
The Local: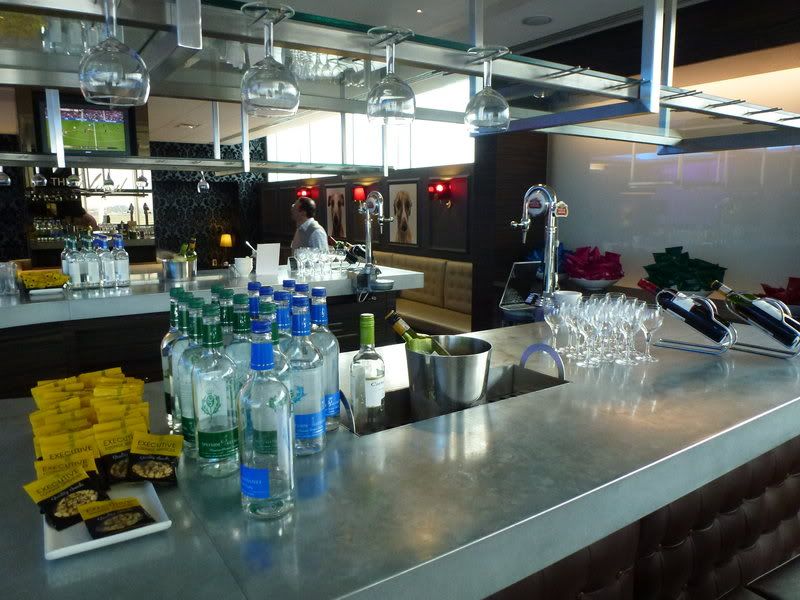 Heathrow Spotting Session
So grab a beverage, lean back on your comfy chair: