Hi dear a.netters and fellow tripreporters!
Let's begin with a small euro-trip, part of the backlog I still have to present from the previous year.
My mailbox received an e-mail from BA some months ago stating the change of their loyalty scheme Executive Club, becoming Avios. Well, it never changes for the better it seems, but the statement mentioning about getting Silver for the current 400 Tierpoints (for European members) was still valid when done before March 2012. Also the upcoming 2 years will be granted Silver status for this amount, where new members would have to obtain 600 Tierpoints instead for the same level.
My mind said that those 400 tierpoints would be a good mission to finish 2011 and start in 2012, since I had already a good base from some MA flights in Business Class (yes, report will pop up later as well).
I looked up some average priced flights, and booked myself on a couple of flights in Club Europe for December and January.
BA Club Europe AMS-LHR-GVA & easy to BRU


.
The flights on a map (thanks to Great Circle Mapper)
My first trip started on the early morning of November 25, 2011. I checked in the day before on my iPhone – BA does have a great app for this – but still proceeded to the check-in counter to receive a normal boarding pass for these flights. BA's check-in is located in Terminal 3 aka 'West' at AMS. I was assisted immediately by a friendly service agent.
Since the UK are not part of Schengen I had to pass through the passport control, which was totally deserted on this Friday morning. Also the departure lounge was not too busy, and I have to say that the new design of the shopping area looks good, fresh colours and modern design.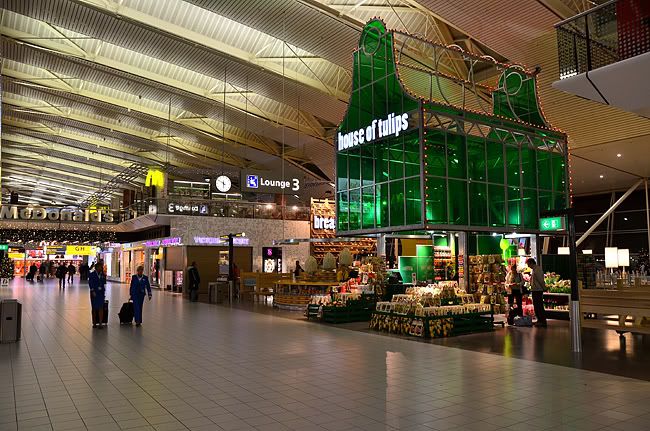 .
Departure Lounge 3 is recently renovated

.
It was surprisingly not so busy
Of course, the BA lounge in AMS had to be checked out, so I went one level higher and walked past a huge line of people who wanted to enter the KLM lounge. Impressive! Will the BA lounge also attract so many people? Well, to my surprise not… the lounge was still closed and only opens at 6.00am. Hmm,… 15 minutes more waiting time for me. I didn't expect this. And apparently a few other passengers thought the same. But at 6.00 o'clock sharp, the doors were unlocked by an older man, BA ground agent, and all of us were let in.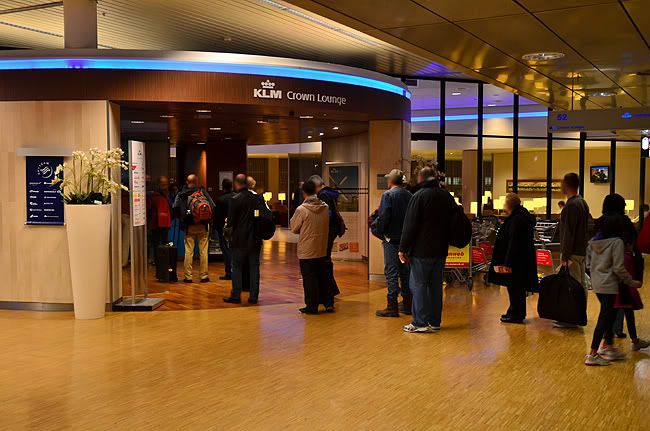 .
Rush Hour to enter KLM's Crown Lounge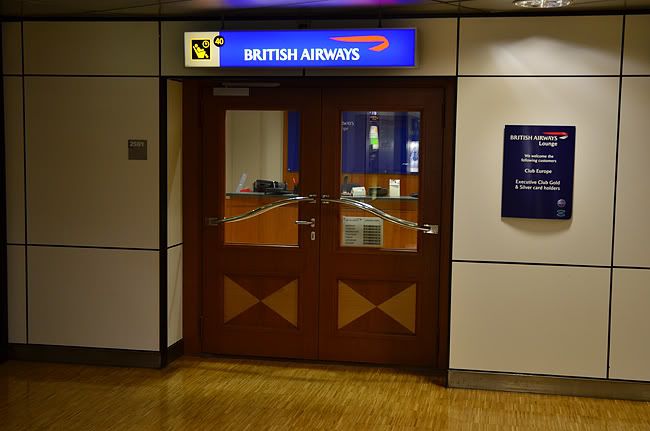 .
The entrance of BA's Galleries Lounge in AMS
The lounge in AMS is offering basically 3 rooms to sit, with 2 bars to get some drinks and a standard snack offering. Some cookies/cake were offered as well yogurt.
The temperature in the lounge was very chilly, definitely not very pleasant to spend a longer time for working or reading. Maybe the lounge warms up during the day, at least I hope it does.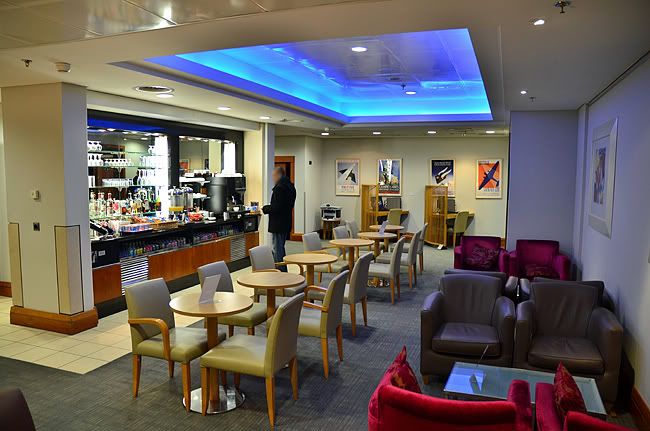 .
BA Galleries Lounge - inside

.
More seating available in a secondary room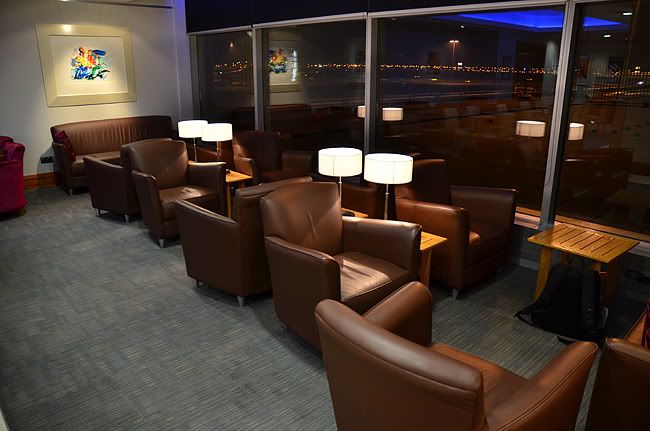 .
The lounge offers some views on the apron as well
With my flight mentioning 'go to gate' on the screens, I decided that it was time to leave the lounge and on my way to the D-gates where BA always uses a few gates for their flights. My LHR bound service was from gate D12, not too far away.
To my pleasant surprise I noticed that I got an equipment change from A319 to A321, quite an upgrade. And it would've been neccesary I guess, since finally the load turns out to be very good in both classes. Impressive.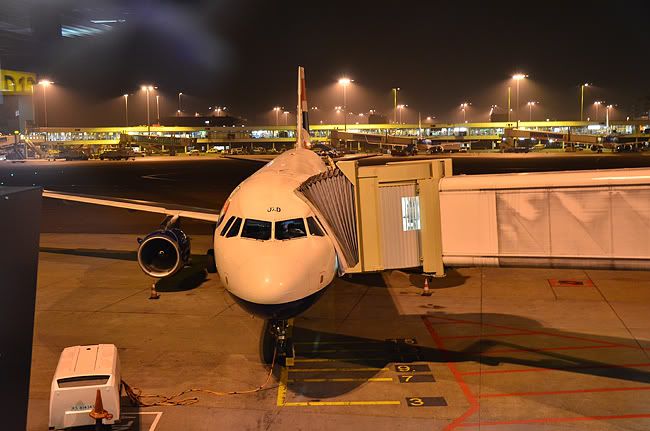 .
Unexpected an A321 at my gate
First a security check at the gate, waiting about 5 minutes. No dedicated lane for business class. Some room for improvement here, I think (meanwhile the BA flights have dedicated security and gates since early 2012). When I was through, all seats in the waiting area were taken. Good for me that real boarding started just a few minutes later and a special call for Business Class passengers was made.
| | |
| --- | --- |
| Flight | BA423 |
| Route | AMS-LHR |
| Aircraft | Airbus A321 |
| Registration | G-EUXD |
| Scheduled Departure Time // Actual Departure Time | 07:30 // 07:30 |
| Scheduled Arrival Time // Actual Arrival Time | 07:50 // 07:37 |
| Class of Service | Club Europe |
| Seat No. | 05F |
I was friendly greeted by the purser at doorside, and when I took my seat, also the flight attendant halfway the cabin greeted me. The crew was in a good mood, typically British? I liked it and felt welcome.
I noticed some passengers (from Economy Class) to have some behavior which I dislike. They enter the cabin and in the Business Class cabin they put their trolley in the overhead bin, and walk further to the back and take their seat.
When boarding was finished I noticed a load of roughly 90% in Economy Class, and 12 passengers in Club Europe, definitely a good result.
The purser came to offer me a wet towel prior pushback. Really nice. As a sidenote, BA did not offer Dutch newspapers, which is really a lack of service since they do offer the British press.
Doors closed and the captain came on the speaker informing that loading of the baggage was nearly finished and we would be able to leave on schedule. Also he mentioned that taxitime would be short, and we would be on our way to London soon.
True words, runway 24 was the active for departures that morning, and indeed, we got our pushback exactly on schedule
.
The overhead screens came active for the safety demo, but the video failed. Not really amusing the crew. They had to walk inside the cabin to obtain the neccesary safety demo kit to do a manual demonstration, but we were already nearing the runway for takeoff. So even the purser became a bit stressed by this unexpected situation. Although once they started it all went in a good manner and professional, as it should be. The cabin was checked for seatbelts afterwards and the crew took their seats. We got takeoff clearance immediately now.

.
Airborne! Runway 18C-36C is visible
The climb out was smooth and we reached our cruising altitude of 20,000 feet rather soon of course. Meanwhile the crew was in action to do breakfast service, for me this meant a vegetarian breakfast since I made this selection. The tray was very sufficient for this flight and I just love the British Royal Doulton china they use for the coffee/tea service.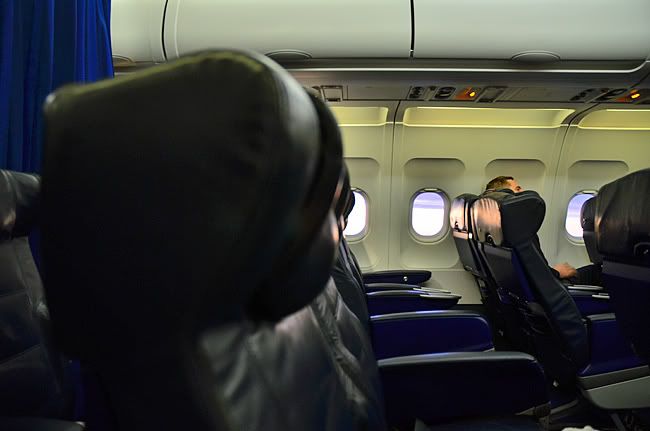 .
Empty seats next to me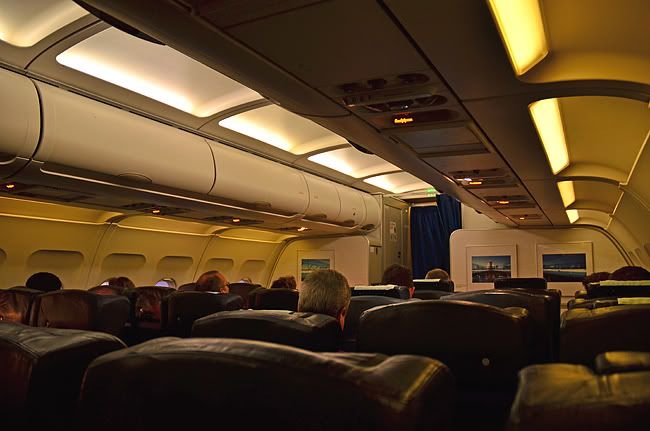 .
Cabin View in Club Europe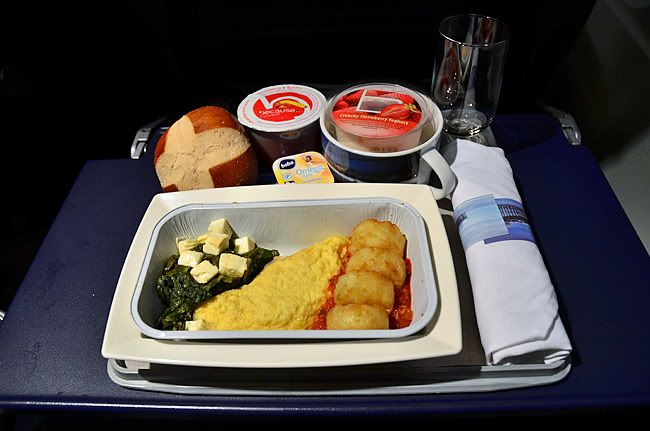 .
Vegetarian Breakfast for me this morning

.
Cruising towards LHR at 20,000 feet
Not much later I noticed land and also our aircraft started descending a bit. Soon we circled over the city of London, which offered some nice views.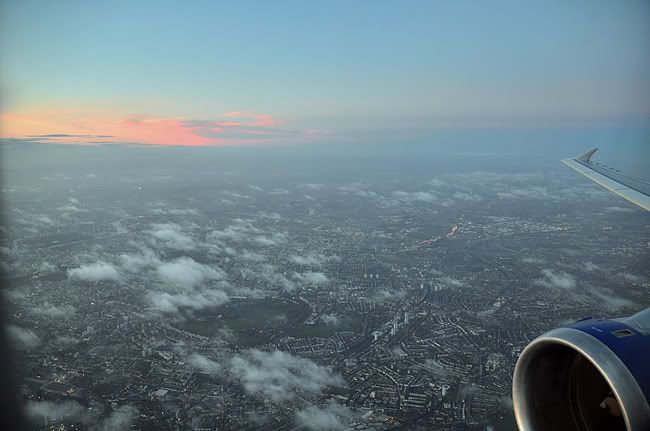 .
Starting descend towards LHR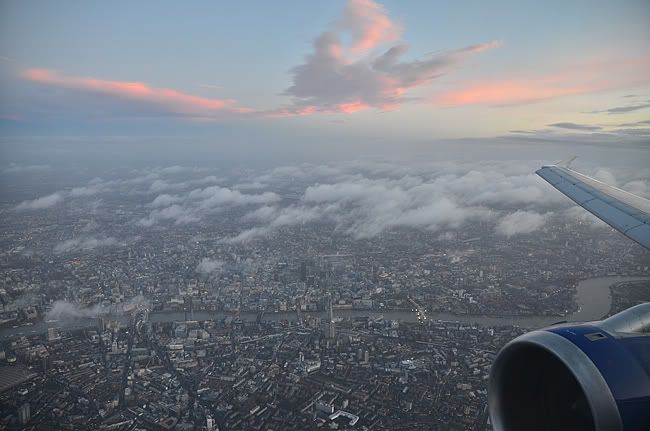 .
The City of London, River Thames and some landmarks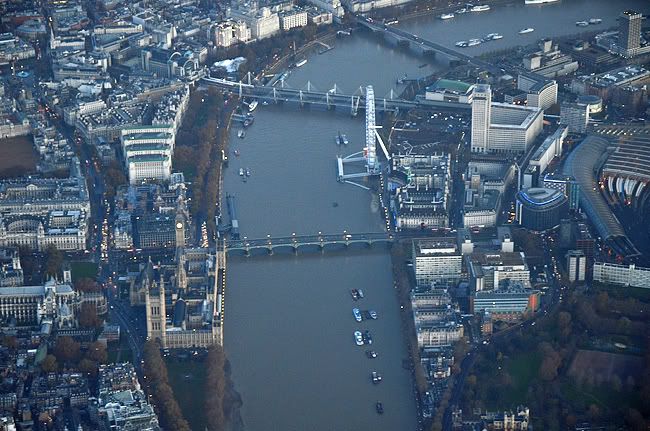 .
The "EDF Energy London Eye" and Westminster Palace with the Big Ben

.
Hyde Park with the Serpentine
Landing was way ahead of schedule, on runway 27R, which meant that we arrvived at BA's terminal 5 immediately as well. Almost 15 minutes early for this flight on arrival, well done BA!

.
Arrived! Terminal 5 is BA's hometown
The crew said goodbye to me when I disembarked, and I was now on my way to make a T5-transfer to catch my next flight.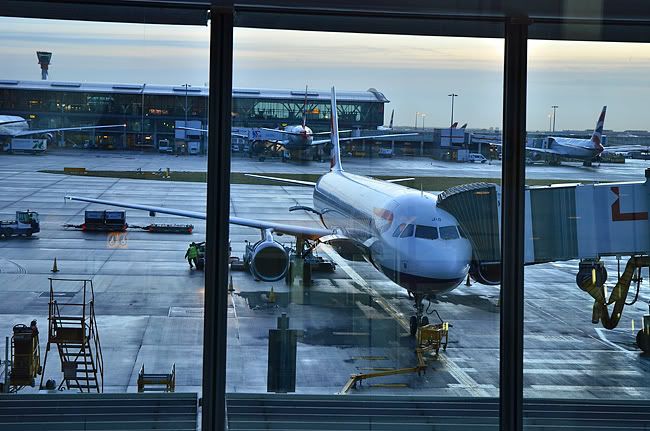 .
My A321 parked at the gate, LHR terminal T5A
I was using the Fast Track towards the security checkpoint, which is located at one higher level. It took about 10 minutes to pass security, 2 lanes open for fast track. No problems here, my bag and myself didn't beep. I am on my way to the BA lounge with a good feeling.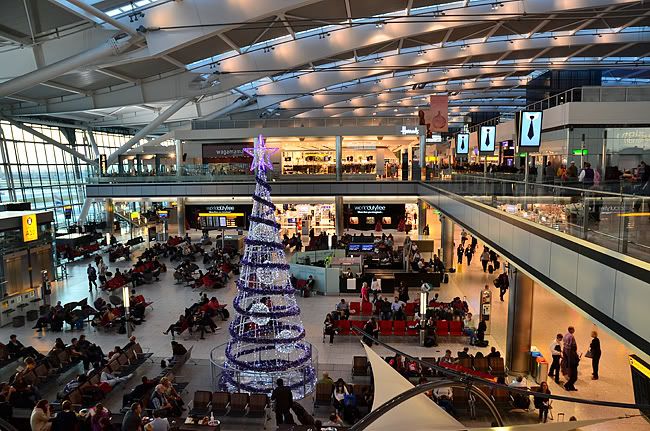 .
Pre-Christmas at LHR
LHR T5 is also a paradise for shopping, outlets of various brands around, JD sports is gone though and where are the CD's at HMV…. The remain only a very small selection. I decide to take the BA South Galleries this time. You need to take some escalators to reach it, but once you arrive you'll have a fantastic lounge to use. It was very busy inside though, so I was hesitating to get my DSLR out to put it on picture. A few pics will do. I was also texting numerous times with my friend Matt (DunaA320), since he was also around at LHR prior his flight to SFO. Such a shame that we couldn't meet (He in T3, me in T5).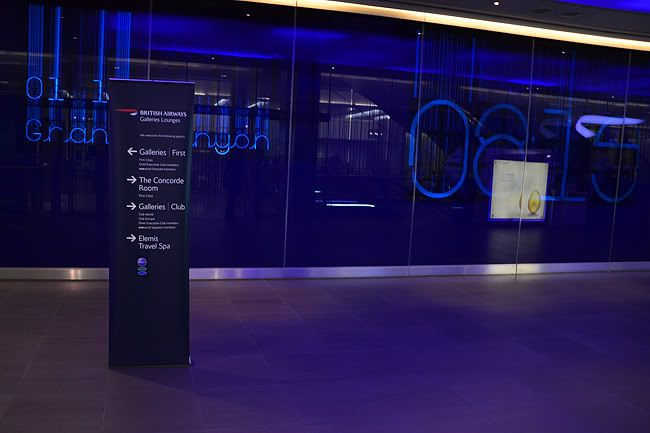 .
Which lounge to take?

.
For me, the one with this lovely A380 model at the entrance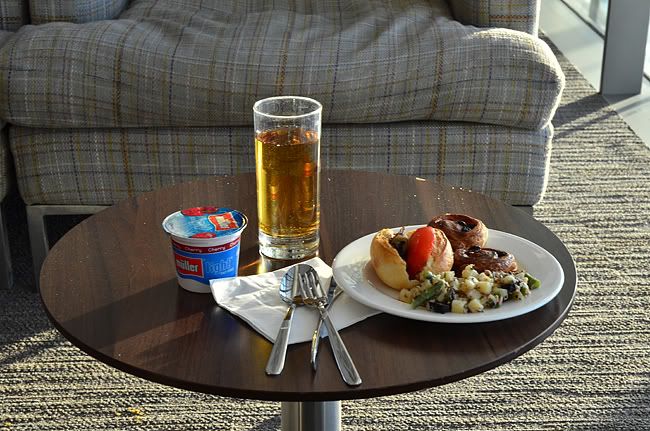 .
My second breakfast, or brunch? Lovely food!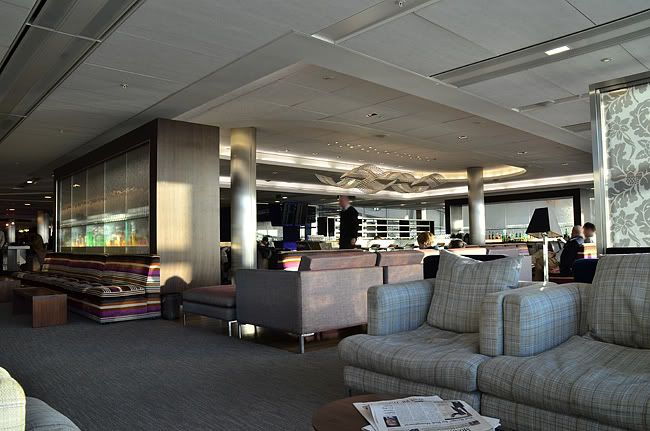 .
Lounge View from my seat
With such a large amount of flights at their homebase, BA loungestaff won't make a boarding call, so it's really neccesary to keep an eye on the screens yourself. Don't drink too much, otherwise you might forget haha.
My flight to Geneva is planned to leave from the main (A) terminal, gate A23. Hopefully a new registration will be on my flight, since I haven't flown BA's A320 aircraft so often. Mostly I fly their smaller A319s. But once I arrive at the gate I am not amused. Another aircraft change, now to something smaller: the A319. And even worse, this is one of the examples I flew on before. Hmm… nothing I can do about it, and it belongs to the life of 'frequent flyers'.

.
Gate A23 is assigned for my next flight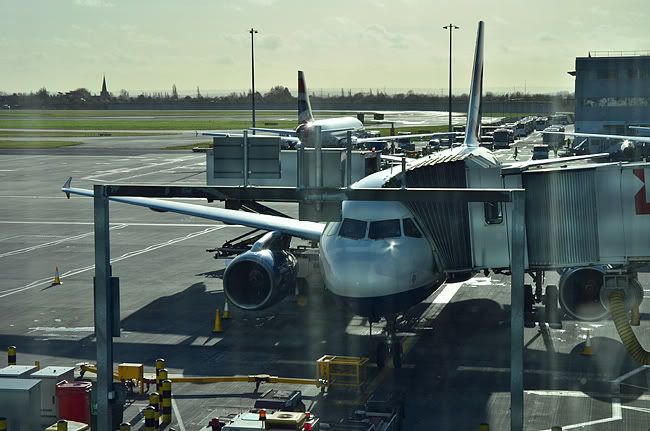 .
Hmm… this is an A319 and not the expected A320
20 minutes before departure the boarding starts, Executive Club Gold/Silver and Business Class are called first and use a seperate line. Well organized here.
| | |
| --- | --- |
| Flight | BA730 |
| Route | LHR-GVA |
| Aircraft | Airbus A319 |
| Registration | G-EUPH |
| Scheduled Departure Time // Actual Departure Time | 11:45 // 11:44 |
| Scheduled Arrival Time // Actual Arrival Time | 14:30 // 14:12 |
| Class of Service | Club Europe |
| Seat No. | 06F |
I was welcomed again in a friendly manner, and took my seat. Maybe I was just interesting to see it again, but also on this flight Economy Class passengers take it easy and store large bags or trolleys in the bins above the first rows before proceeding to their own seats. Hmm… well, I didn't mind since I travelled by handluggage only this day.
Also interesting is that I did not receive the wet towel prior pushback. Is this part of the standard BA service or not? On the other side, the purser came and took my jacket away for storage in the coatroom.
Also the safety demo on the screen was working and another pushback on schedule was performed.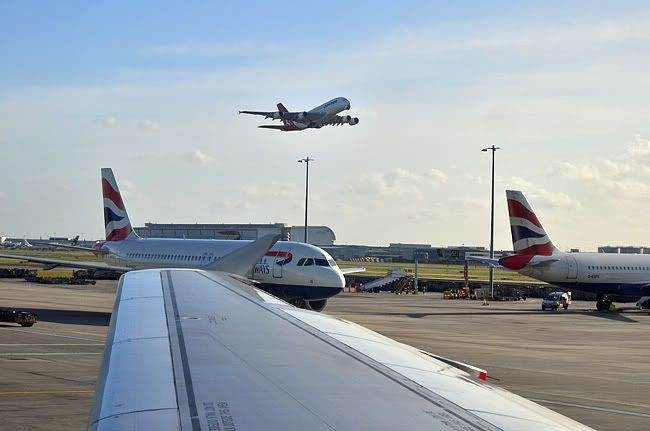 .
This one is for PH… QF was operating this day!
The flightcrew welcomed us as well during taxiing and informed that the flighttime was expected to be 1h15min towards GVA and that he would be back with arrival information later during the flight.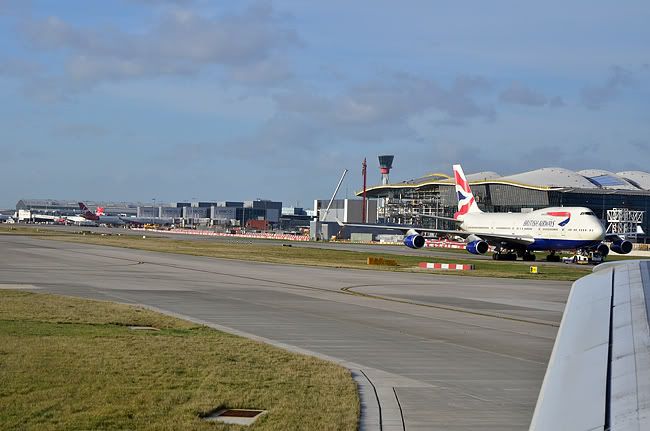 .
Matt, is this your aircraft to SFO?
The usual crowd of planes in front at LHR, but it wasn't that bad. Plus, there is no better show then watching all the traffic isn't it? Departure was from runway 27L and followed were some bumps during climb out.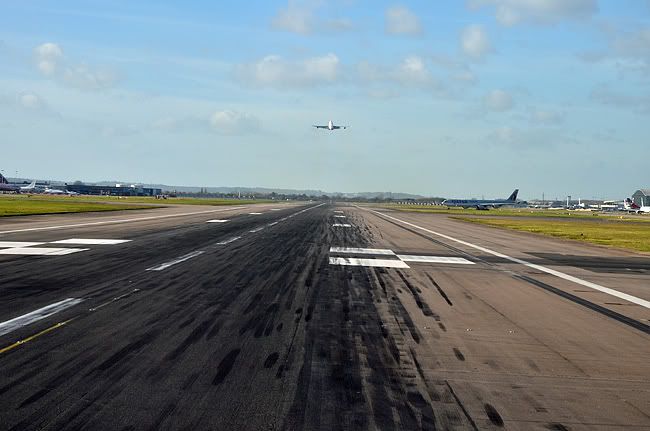 .
Lining up 27L and following a heavy departure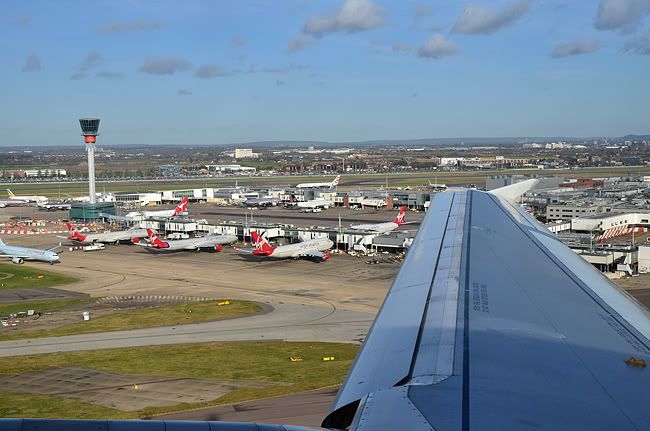 .
Matt, or maybe you're still around here before your VS flight to SFO?

.
BA rules at T5 of course
Initially the rest of our climb was smooth and the crew prepared for the mealservice. I ordered a Seafood Meal (SFML) on this leg, definitely to my liking. What I got was a cold plate of prawn salad with some freshly heated bread. To drink a cranberry juice did well.
Eating was a bit more difficult since we encountered some moderate turbulence at this stage.

.
Seafood Meal (Lunch)
Once I finished the meal I went on with a Baileys on ice, you know, my favourite. It tastes very good at cruising levels. The flightdeck informed the cabin about GVA weather, to be hazy conditions and a temperature of 4°C.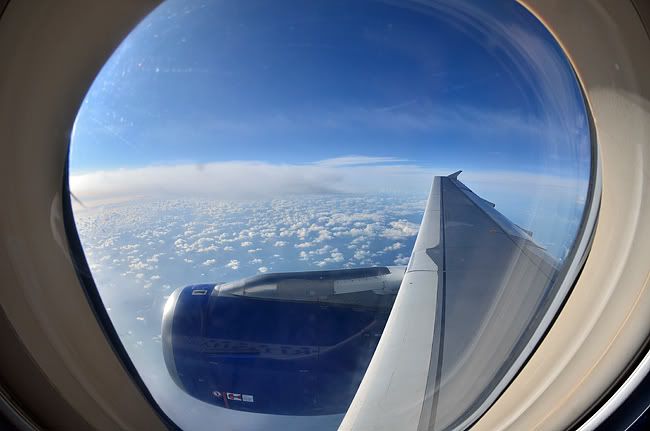 .
Cruising at high altitude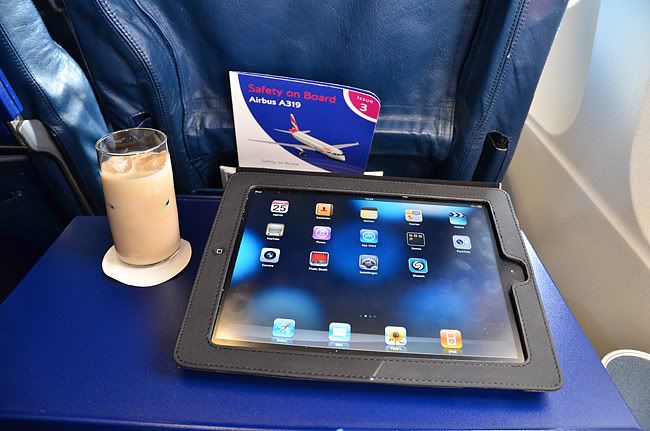 .
My own entertainment and the "my" drink
Descend followed not much later, and I noticed that we were heading towards Lake Geneva, meaning an approach to runway 23 (overflying the lake). Some low clouds around GVA and the lake, but nevertheless offering some beautiful view on approach.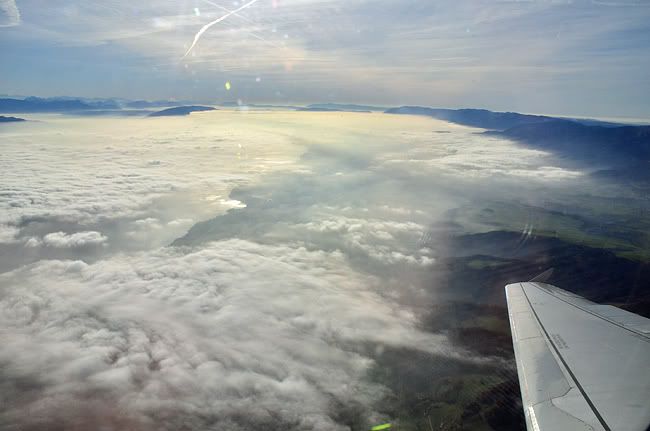 .
Turning in over Lake Geneva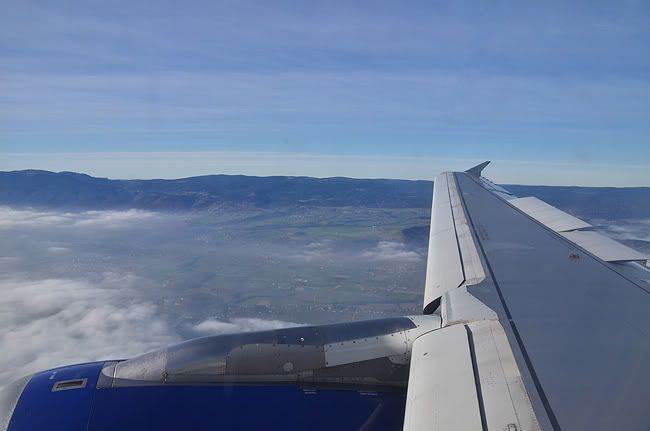 .
Approaching GVA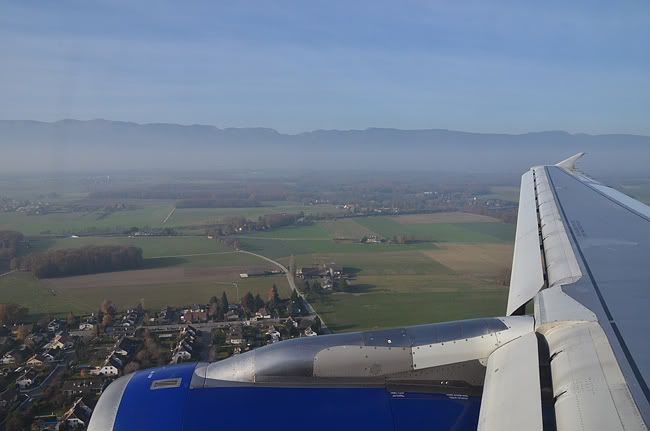 .
Final approach runway 23 at GVA
Landing was performed and actually we taxied for about 2 minutes before we blocked in at one of the satellites, gate B32. My jacket was returned just before the seatbelt sign was turned off.
When I left the aircraft also the captain was at his doorside to thank me for flying BA. Well, my pleasure guys!

.
G-EUPH parked after arrival
In GVA I need to clear immigration since I come from the UK, no big deal and done in a minute. Lucky enough I'm not in Economy Class since only 2 officers are working at that time, so when you're more in the back it would take some more time.
To transfer, just before you enter the arrival 'taxfree' shop, go left and upstairs on the escalator. It will lead into anothe taxfree store on departure level, but there is no need for further security checks this way. Once you walk out of the shop you'll be in the normal departure lounge.

.
GVA spotting is bad from within the terminal. Do you see the BA A319 which flew me in?
No lounge here for me, not much time either. I'm glad the transfer works fine with ontime flight operations on this day. Next is not so spoiled, but back to my normal life; easyJet will take care of me.
Gate A4 is announced for my flight, and once I noticed and walk to the gate I'm shocked to see a huge crowd of people already waiting for boarding. At least in an orderly manner, I guess the majority of the people are Belgium and Swiss here haha. Let's hope for at least a window seat.
Boarding by use of the jetty here, definitely not lowcost style.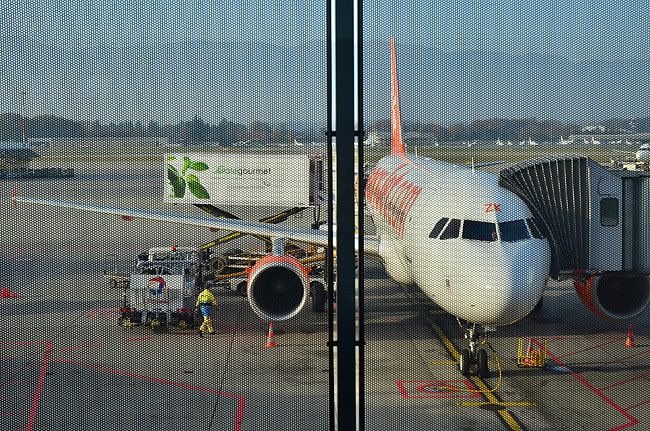 .
As expected, an A319 is waiting at my gate to fly to BRU
| | |
| --- | --- |
| Flight | EZS1533 |
| Route | GVA-BRU |
| Aircraft | Airbus A319 |
| Registration | HB-JZK |
| Scheduled Departure Time // Actual Departure Time | 15:30 // 15:28 |
| Scheduled Arrival Time // Actual Arrival Time | 16:50 // 16:49 |
| Class of Service | Economy Class |
| Seat No. | 25A |
The boarding pass is double checked at the entrance, and a friendly welcome by a younger male cabin attendant. Good first impressions. Since the aircraft filled up already for a big part, I walk towards the last few rows and take row 25 (not row 26, last row, have no window). Seat 25A for me, legroom falls quite short, I've thought that previous flights on the A319's (UK registered) offered a little bit better legroom but I guess that I'm wrong here. Anyway, it will do for this flight and lucky me, it seems the other 2 seats remain vacant! Wow, such a full load of people but nobody wants to sit next to me
I story my bag under the middle seat in front, but too quickly it seems. I am approached by a cabin crew member and asks if the aisle seat is taken or not. I say, no aisle is still free, and the guy replies that one passenger might come there. Well, that's fine of course, no problem.
I was less impressed when 2 passengers came finally to sit in 25B and C, removed from 2 aisle seats more in the front. Sometimes I don't get it…, but anyway nothing I can do about it. I relocate my bag in front of me, even reducing the legroom more. I'll survive hehe.
We do leave a few minutes early, so that is a great performance again
. The safety demo is manually done by the crew, standard procedure on this airline. Cabin checks are done during taxiing for runway 23, still active and since GVA operates a single runway only, in use for both landings and takeoffs.
After Darwin Airline comes in with a Saab 2000 it's our turn. Sadly the windows are dirty on the outside (a bit sandy), hence the pictures wouldn't come out well on this flight.

.
We wait for this arrival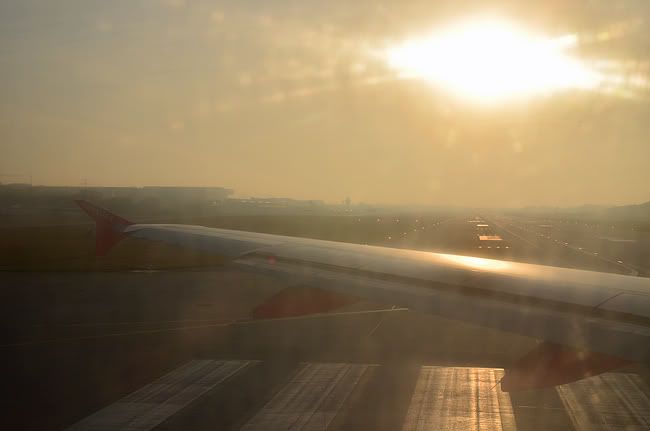 .
Lining up runway 23
After being airborne a view left shows off the beautiful French Alps in a distance including the famous Mt. Blanc peaking at 15,782ft. That's why I prefer GVA with clear weather, just for the great views!

.
Beautiful mountains with a clear view!

.
A wider overview to give a better idea of the surroundings
After 10 minutes inflight we encounter some moderate turbulence again, so service starts a bit later. I decide not to make a purchase this time and doze in for a short time, with music on my ears and the sunlight in my face.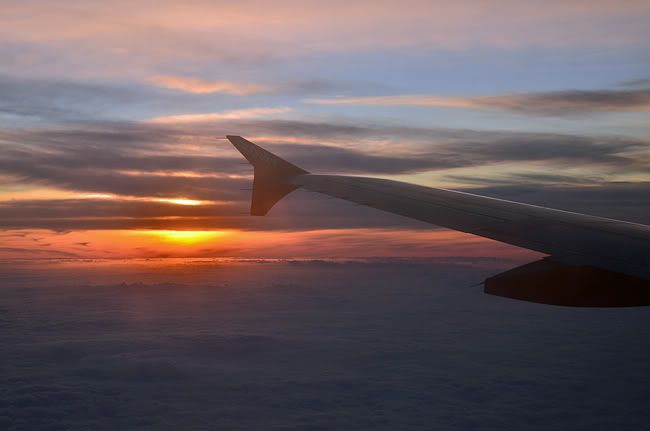 .
After a while the sun is setting again
Prior landing the flightcrew comes in with some arrival information for BRU, mainly the weather forecast showing a low visibility, overcast clouds and windy conditions. Definitely not the best weather.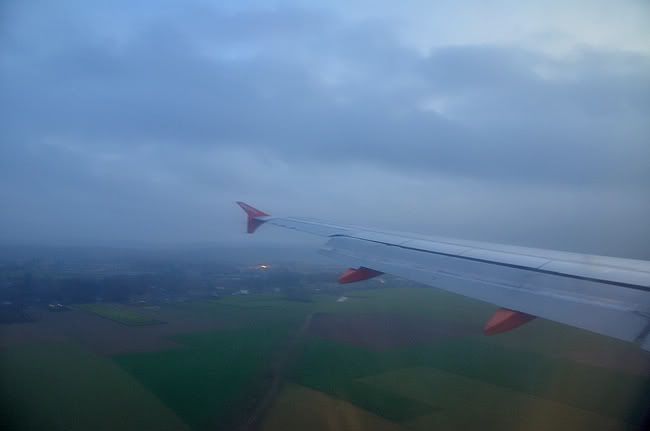 .
Weather conditions at BRU were not the best
Landing is on schedule, making use of runway 25L with some crosswind on finals.
We park at spot 168 (gate A08?) and for me it takes a while to get off due to my seat in the back.
For me another moment to hurry starts, since I wanted to catch the 17:09 train to Brussels-Midi station transferring to the Intercity service to Amsterdam (NL). But I failed due to the unbelievable long distance in the terminal complex and stairs up and down etc etc, first train I managed to jump on was the 17:52 service heading for De Panne, changing at Brussels-Midi for the later train to Amsterdam. I make this connection without further troubles, and arrive at AMS railway station around 21:00hrs, changing to a local train to my hometown where I arrive about 20 minutes later.
The railway station at BRU is looking a bit miserable and 'still' under construction. When you take a train to/from the airport you've to pay for a supplement called Diabolo-toeslag, which covers part of the cost for reconstruction/renovation of the railway station. The Belgium railways say that work will be finished around mid-2012, although I doubt that much improvement will be seen.
All together I can conclude that BA offered a nice service, I love LHR's T5 structure and the layout, BA's lounges are great to spend time in and the flights were definitely pleasant. EasyJet to BRU was a new route for me, and I don't fly to/from BRU a lot usually so a nice extra on this day. All flights were on time, definitely good performance by all airlines here. Beware that walking distances at BRU can be long, especially when you are planning a next flight or train connection.
Thanks for reading and I'll do my best to bring up another report soon.
Regards
Eric