Introduction
I decided to have my winter holiday in February - a bit early for the traditional holiday period but what the heck - I wasn't planning on going to the traditional Finnholiday hotspots (Canaries, Thailand or the Lapland ski resorts) anyway! Since I had a week off I was planning on going somewhere further away - there were plenty of ideas flying around including the US (found a great fare ex-ARN with DL/KL), China and India (thanks to some great LH offers) plus the famous dirt cheap TK business class offer to BKK ex-OSL, but eventually I decided to do something completely different (TM) and booked a trip to Yerevan, Armenia. The Caucasus was a place I'd wanted to visit for quite some time and after finding a great fare of 300 EUR with Aeroflot (via SVO of course) I jumped on the opportunity. The fact that the HEL-SVO-HEL legs would be operated by AY and thus easing the culture shock a bit and that my Flying Blue Gold card would be good for lounge access during the lengthy SVO layovers sealed the deal.
Since I had four nights in Yerevan I was looking at doing a sidetrip somewhere, preferably with the Armenian national carrier Armavia - I've been a fan of their gorgeous yellow livery for quite some time. They have a surprisingly large network, but unfortunately with quite scarce frequencies on most routes which made planning a little difficult. Luckily I found that they operate two daily flights on the short hop to the neighboring Georgia's capital Tbilisi and fares were good - only a bit over 100 EUR for a roundtrip flight, so I decided to split my time in Yerevan half and spend two nights in Tbilisi.
So this would be my itinerary: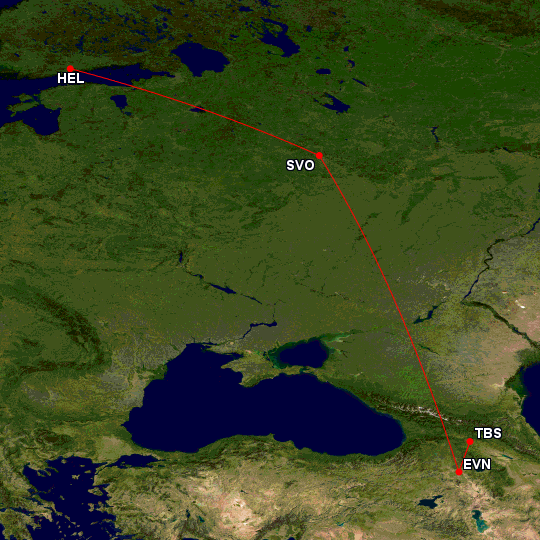 Of course that would've been far too straightforward, so maybe one and half months later during a routine check of my upcoming itineraries I found out that TBS had completely vanished from the U8 route map! It later turned out this wasn't the first time - they have apparently kept operating this route on and off for many years. Well, I was a bit pissed off that they had not told me about it and sent them an email asking what the deal was. Soon enough I got a reply that yes, the route has been cancelled and they were sorry for not telling me about it. My only options were a full refund so that's what I had to settle for. For their credit I have to say it took only a few days before the money showed up on my credit card account.
Still determined to log a flight with Armavia I resumed my search for a suitable destination and then came up with the next plan: I could fly to Dubai on Saturday morning for 145 EUR, a returning the next day with flydubai, the DXB-based low cost carrier for 100 EUR and still have enough time to catch my SU flight to SVO. That sounded good (and I definitely could use some Gulf sunshine and warmth as well!) so out came the credit card.
Now the route looked like this: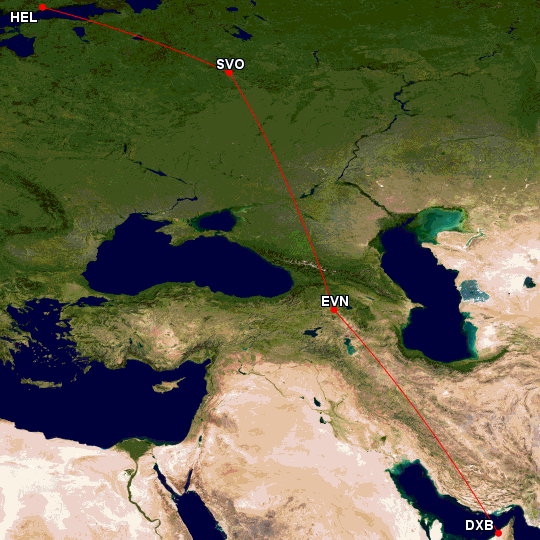 Well well, that was again too smooth, so fast forward another month and I get a call from a weird looking number. Well, it turns out to be Armavia calling me with the bad news that they had changed the DXB route schedules and it wouldn't operate on Saturdays any more. After a bit of discussing I found out that it would operate on Fridays instead, so I asked to be rebooked on the Friday morning flight, 24 hours earlier. That was taken care of very swiftly and the nice girl even called back after doing it, making sure I'd received the new eticket in my email inbox (I had).
So now I had 48 hours in Dubai instead of the original 24 - hey that sounds like an invitation to book some nice intra-Gulf sectors to log some more new carriers for me, yay! I soon singled out Muscat as a potential destination as fares on the DXB-MCT hop seemed to be rather low, probably thanks to competition between Emirates and Oman Air and schedules were good as well. Additionally Swiss flies ZRH-DXB-MCT with full traffic rights on the DXB-MCT sector and cheap ticket prices. So I booked LX DXB-MCT for late Saturday night - this was perfect as it would allow me to spend the whole of Saturday in Dubai before heading to the airport. To come back, the OMG o'clock Emirates MCT-DXB flight at 5.00 on Sunday morning was good as it left me with plenty of time to make my way to DXB T2 for the flydubai flight. Both flights cost around 50 EUR apiece, and would be my first flights with the A330. As a matter of fact I would score both the -300 (Swiss) and -200 (Emirates) subtypes at one go, not too shabby!
So here's the final route map, a bit more extensive than what I originally imagined to be doing: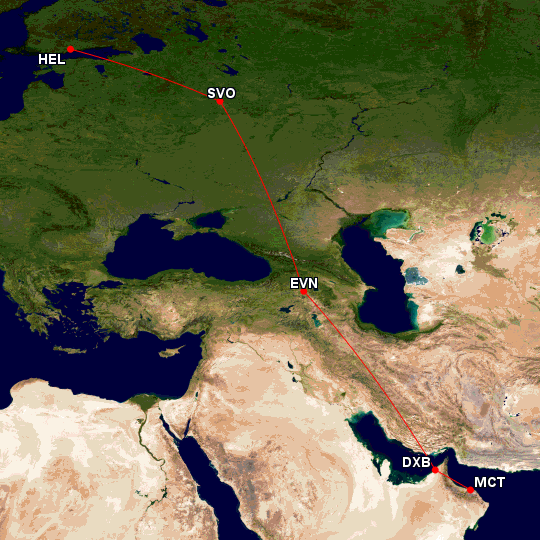 .
Wednesday 15.2.2012
This morning dawns very snowy after a snowstorm last night - I had some issues flying down to HEL the previous night from KUO since my original flight was delayed over two hours, but thankfully the earlier AY flight was delayed as well so they kindly rebooked me on that flight instead and got me home around the time I had originally planned to. After the morning rituals and final packing check it is time to head outside to admire the snowiness: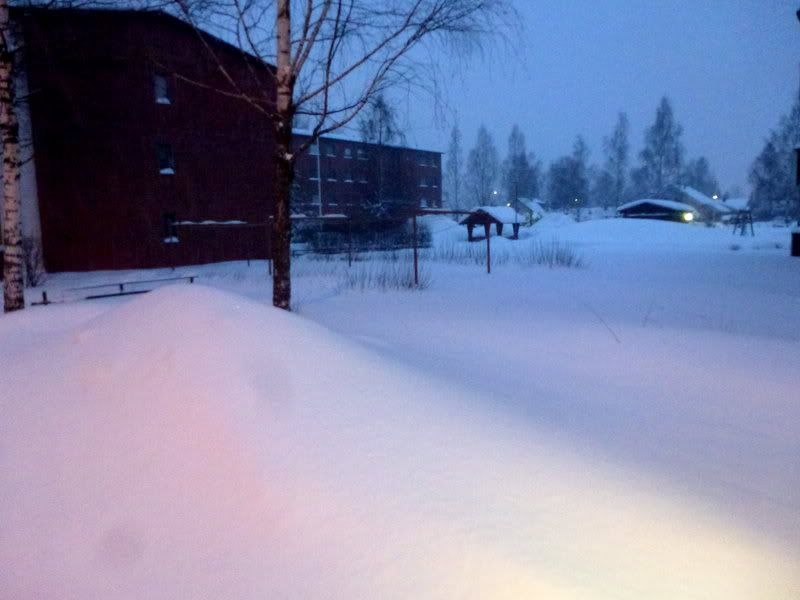 As usual, a bus ride takes me to HEL T2 where I arrive around eight. Looks like there's a Norwegian staff member in the same bus: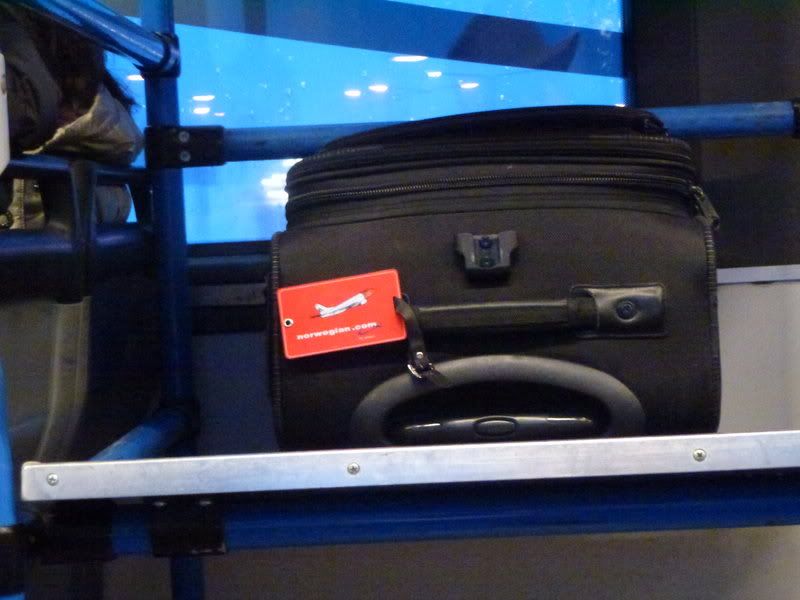 At T2 I notice this bag actually belongs to an FO - looks like that the not very generous DY contracts for the HEL operation do not even contain provisions for a car for the cockpit crew unlike the other Finnish airline pilot contracts.
Having done OLCI and already printed out my boarding pass I head straight to security which is nice and empty. I pick up the obligatory bottle of water and head through to the non-Schengen side - the whole terminal is quite deserted with not too many people around, a welcome change!
Angry birds merchandise - better strike the iron while it's still hot: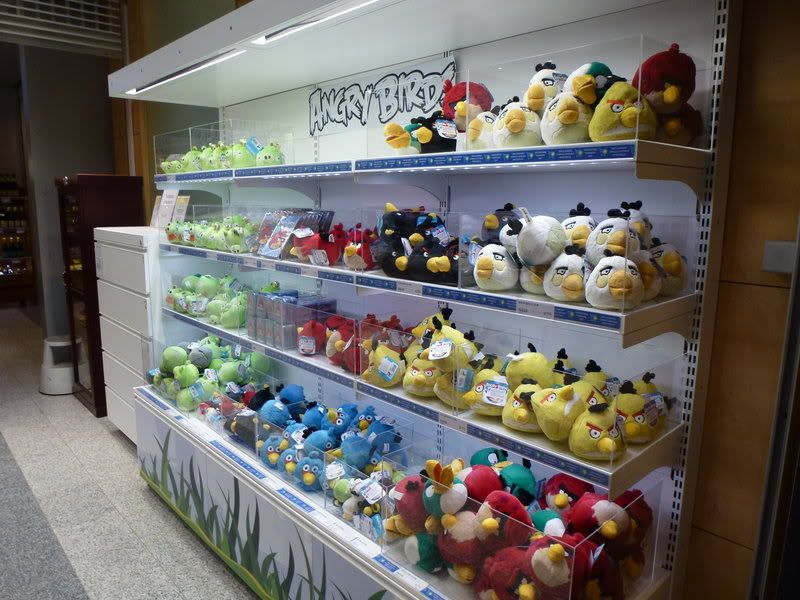 This used to be a lounge (sung to the tune of Madonna's "This used to be my playground"):
Aeroflot nowadays uses the new @Home lounge which was recently opened where the old AY non-Schengen lounge used to be. I'm not sure whether they allow access for non-SU Skyteam Gold members so I head there to ask the front desk. Well, there's a wonderful girl on duty who welcomes me in a very friendly fashion and says "Of course you get access" and makes sure I'm all comfortable. She even tells me to go and grab a seat while she finishes the registration process "as you don't have that much time so you need to use up every minute!". I say that I'm only looking forward to a couple of cups of coffee so not much time is needed and thank her.
The theme of this lounge is to be "your home away from home" (smart readers might have already figured it out from the lounge name) and blimey, it certainly feels very homey to me: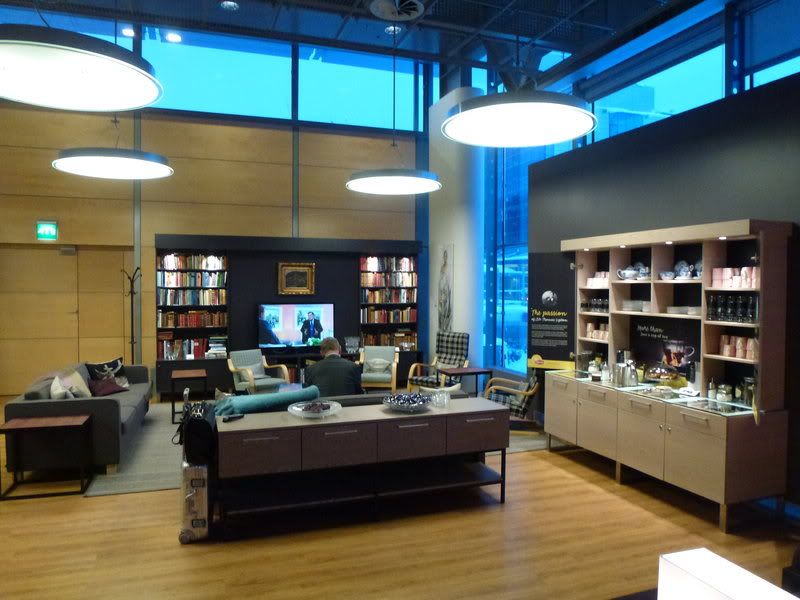 Coffee and accessories - there's also a similar dedicated area for tea: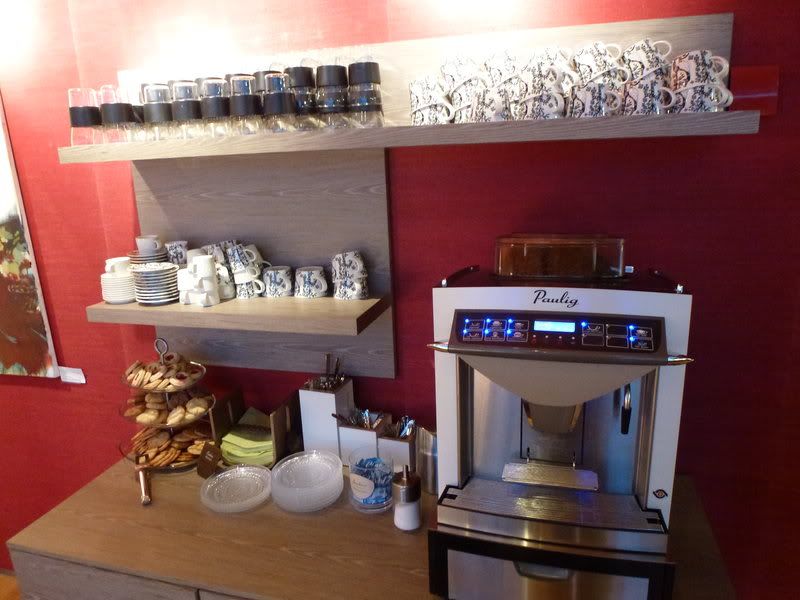 Kitchen area (pure IKEA):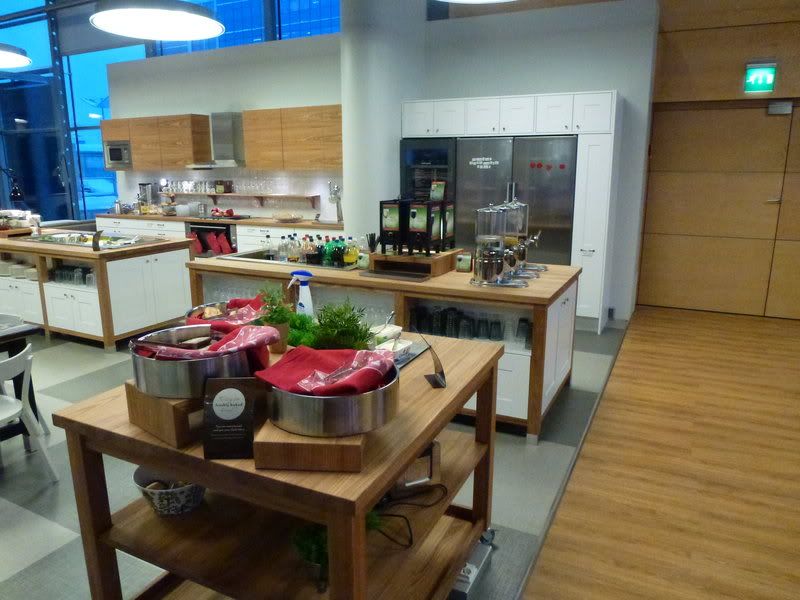 Yummy cinnamon rolls - fresh off the oven (and the freezer):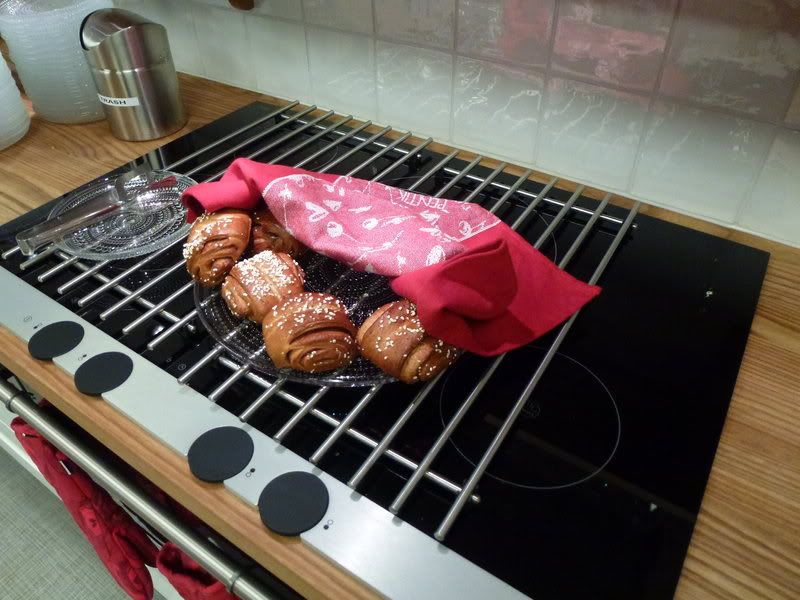 Free booze consists of a beer tap (not sure which brand, although I think it was Lapin Kulta, unfortunately) and red and white wine in BIB form - the good stuff has to be paid for: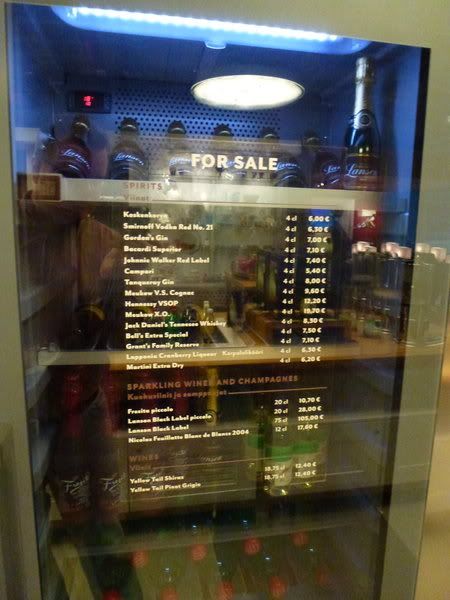 Finnish design showcase:
Good: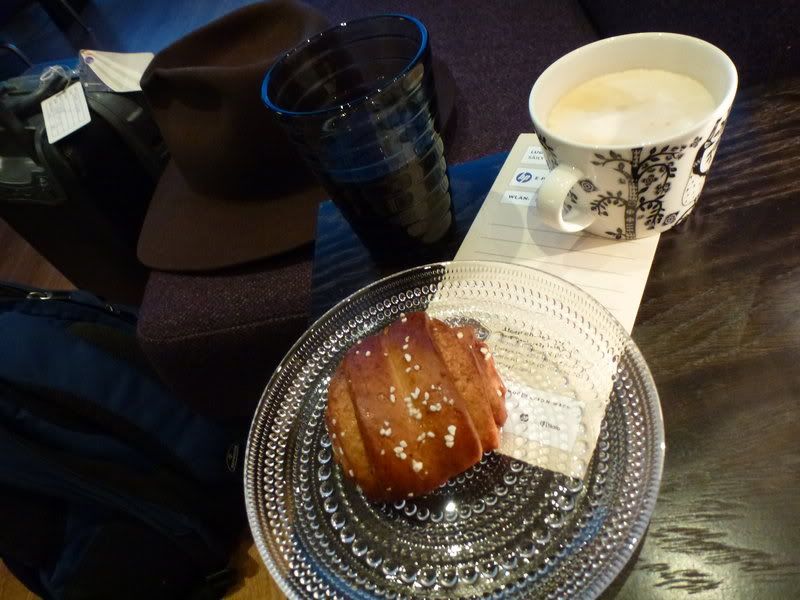 This would be a very nice lounge indeed if they had some apron views - unfortunately the view is towards the airport Hilton and the inner yard used for luggage sorting and other exciting operations: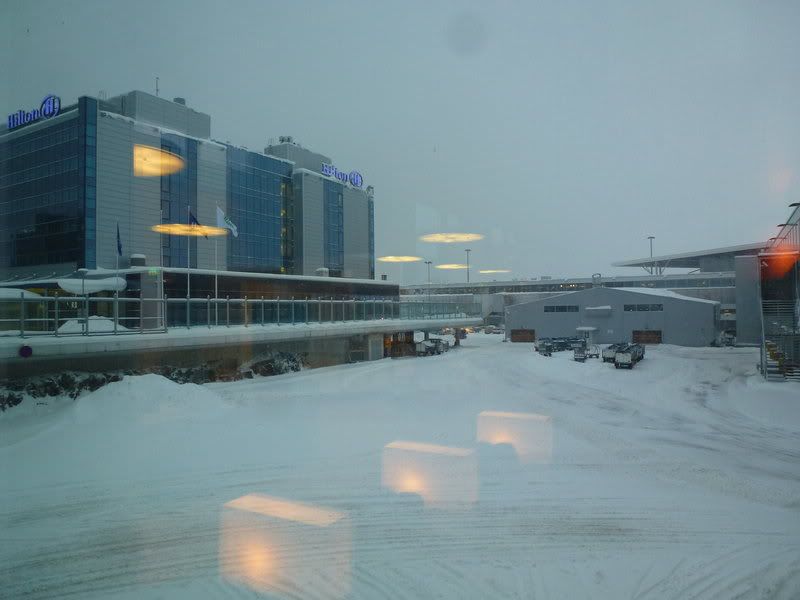 After a couple of cups of coffee it is time to head to the gate, luckily one of the nearby gates. Well well, what do I see there - the middle letter in the registration is definitely an "X" which means that there has been an equipment change from the scheduled A319 which was still showing up on the seatmap the previous day: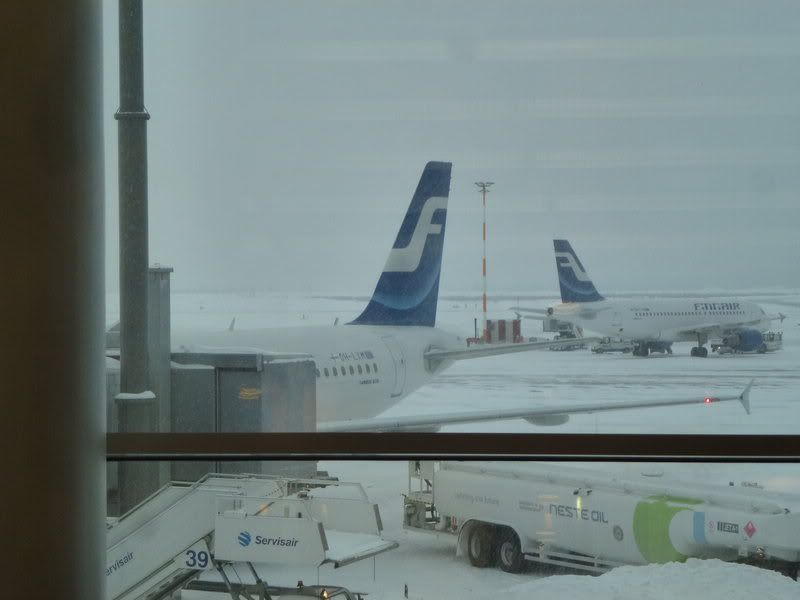 So Xray Mike will be my ride today - there are still a few AY A320s I haven't flown, but unfortunately this is not one of those, this becoming my fourth flight with her.
I ask from the gate agent about the equipment change - her answer is not exactly what I expected: "No change, it's been an A320 all morning!".
Boarding is called a couple of minutes later - while passing through the gate my boarding pass beeps - I had of course selected the best seat on the A319s, A seat on the first row in economy as for some reason on the old seats the A319s have this row in business class configuration, meaning wider A and C seats and a collapsed B seat. So the agent glances at her computer, says "I guess you were right and there has been an equipment change after all." - she hands me a new boarding pass for 11A with "It's the exit row". Ok, fine with me I guess.
She was giving the Russian visas of all passengers before me a hard look - as I don't have one (nor do I need one) I fully expected to have a bit of an argument about it, but to my surprise she takes a quick look at my new passport and wishes me a nice flight. I guess they are used to pax transiting to various exotic destinations at SVO...
HEL - SVO
AY153
A320 OH-LXM
Seat 11A
9.21 - 13.00
So I step onboard what will hopefully become my 100th A320 flight.
The A320s of course have the newer slimline Recaro seats which aren't exactly my favorites. In business class the middle seat is blocked, but I don't think "complimentary" is the word to use here: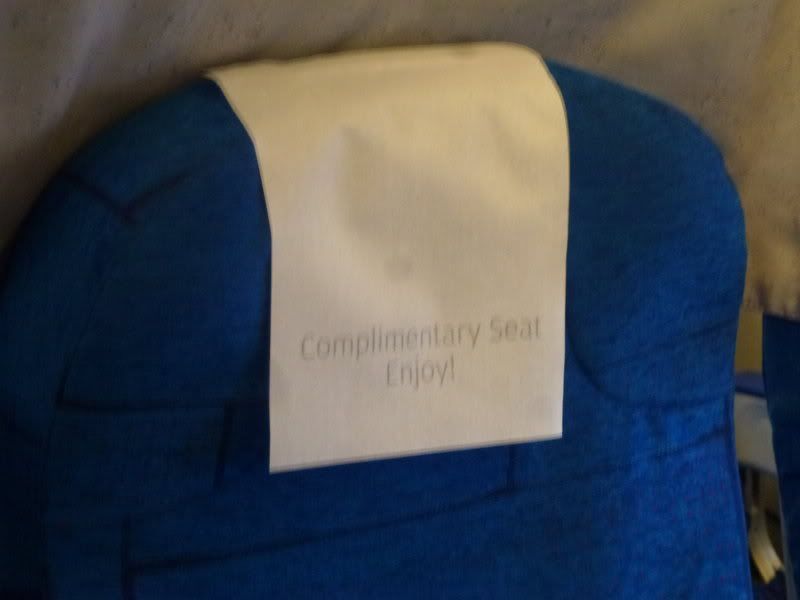 There are eight rows of business class on this flight - I wish I could've kept 4A
.
Exit row legroom is of course fine: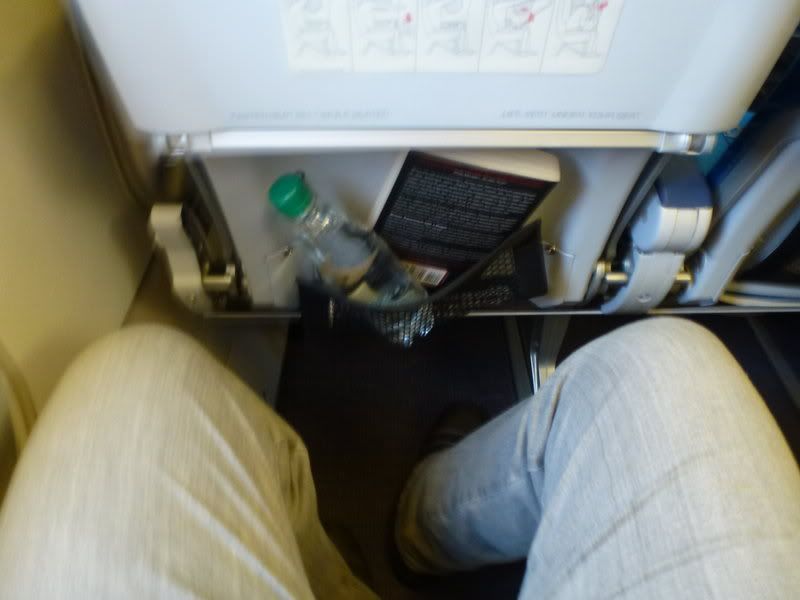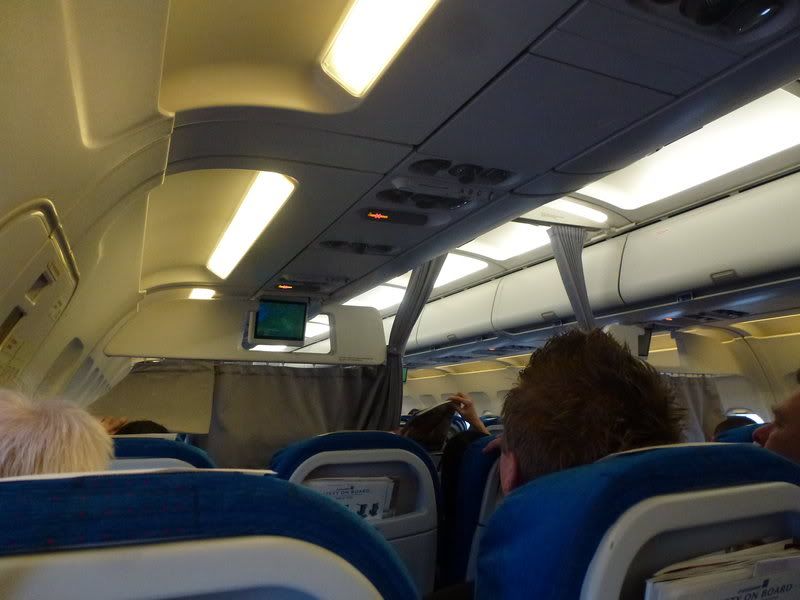 Economy load is pretty good - around 75% I reckon. I have a seat mate on the aisle seat, but luckily the middle seat stays free. Business class seems to be maybe third full.
Airshow also in Russki:
This flight usually has quite a few connecting passengers from the JFK flight which normally arrives around an hour before it. Well, thanks to yesterday's snowstorm it is delayed by a few hours and I was a bit itchy that they would hold this flight for any connecting passengers, but luckily this is not the case today as the captain comes on the horn, explaining that we will be ready to depart in a few minutes after all the luggage has been loaded. Flight time will be around one and half hours with the same snowy and somewhat cold weather in Moscow as here in Helsinki.
Pushback is four minutes early - views outside are bad as the windows are covered in snow and ice.
We tail a Norwegian 738 to the deicing area next to runway 22R where a very efficient act of deicing is performed. I think the guy saw me peeking through my window as he shot a huge splash right in the middle of it: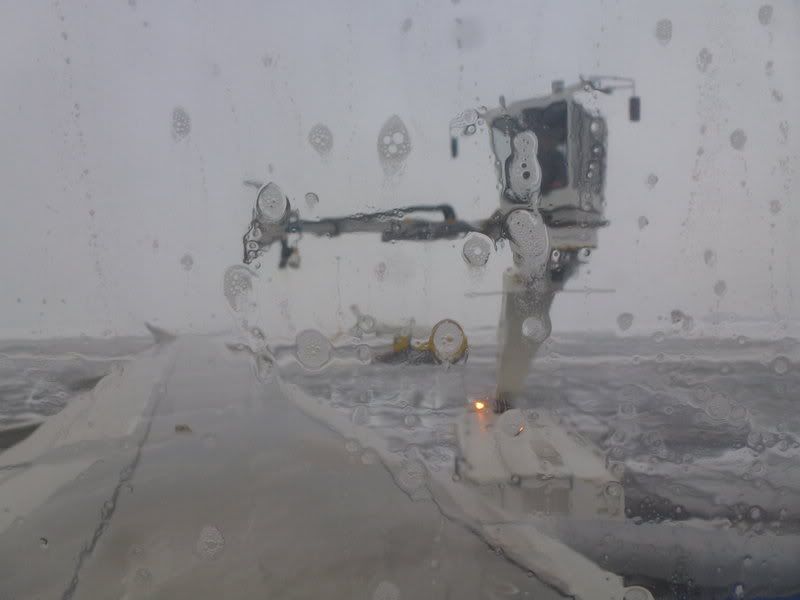 This is the new AY livery, to be inaugurated on 17th of March:
Take off is from 22R, again not many views due to the windows being wet and the weather overcast.
Airshow is soon switched off in favor of some stupid sitcoms - I hate that: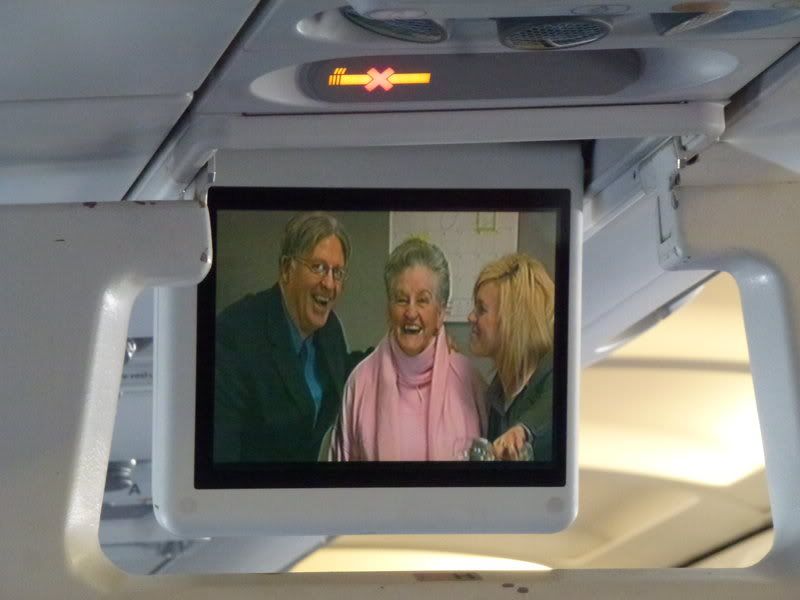 Soon an announcement is made that us lowly folks in economy will be served a "breakfast sandwich" with coffee, tea, juice and water. The sandwich turns out to be ham and cheese - quite large and fresh so perfectly fine in my books: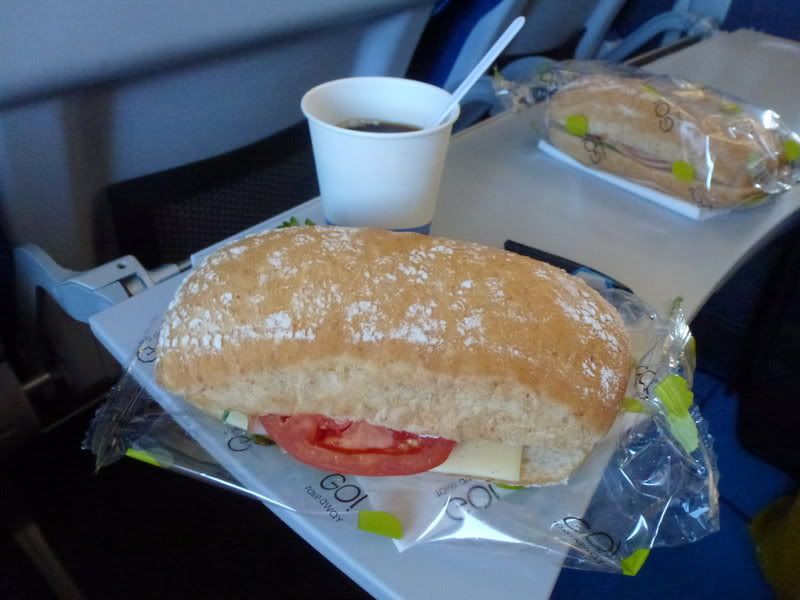 Some tea for a change and water goes down nicely with it.
On the other side of the Gulf of Finland there are some limited to be had: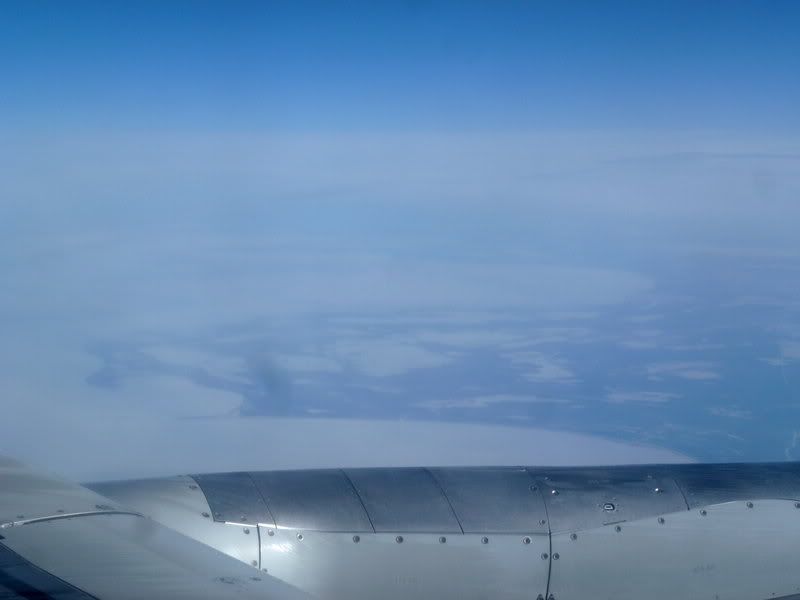 I think this might be the Luga river, very infamous at the moment as it was just discovered that the biggest polluter of the Gulf of Finland is a Russian fertilizer plant at Kingisepp a bit further upstream - something which the Russian authorities of course immediately denied: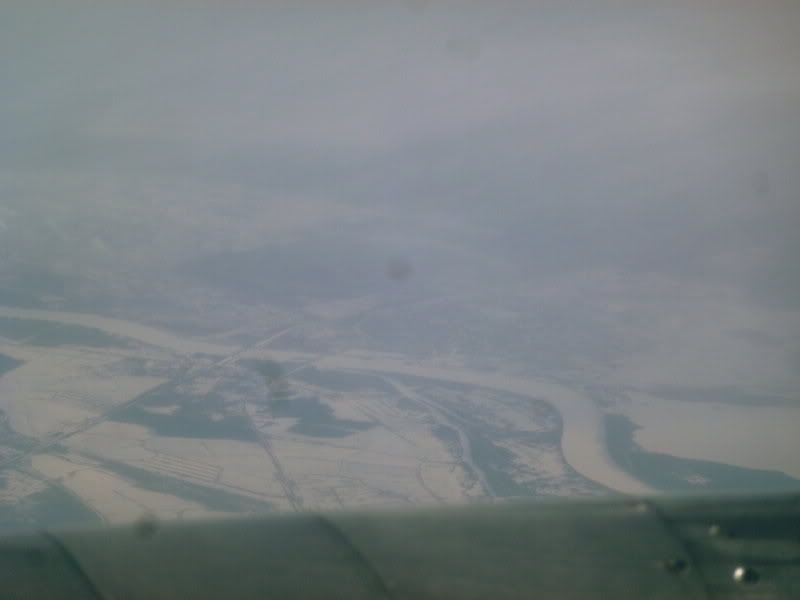 The rest of the flight is overcast so I finish my newspaper and hand it to the guy on the aisle seat who is happy to "take it to our office girls in Moscow for some fresh Finnish news". Oh yes, Finnair recently stopped handing out free newspapers to economy class passengers, opting to charge money for them instead - how cheap can they get, seriously?
The flight doesn't feel very lengthy at all and in no time at all the captain announces our descent for Moscow and an early arrival unless there will be some congestion up ahead. The Moscow Oblast is covered in thick clouds and haze: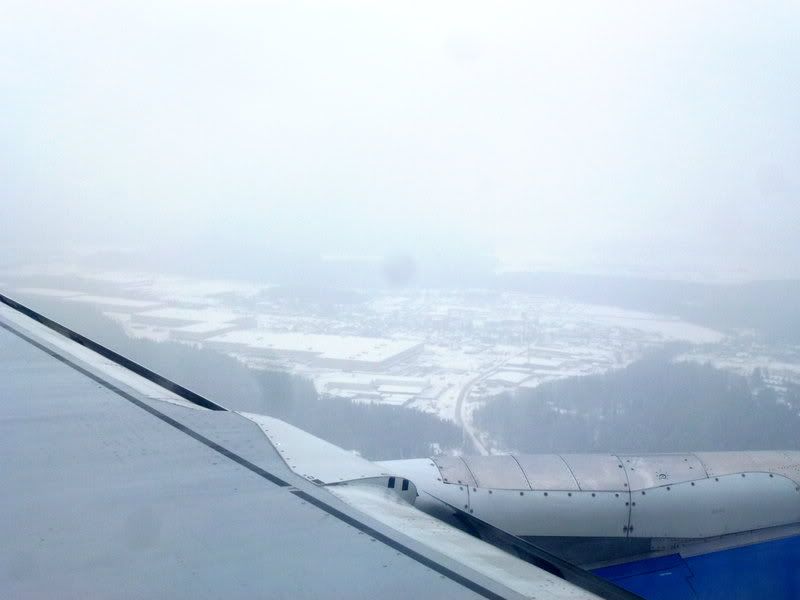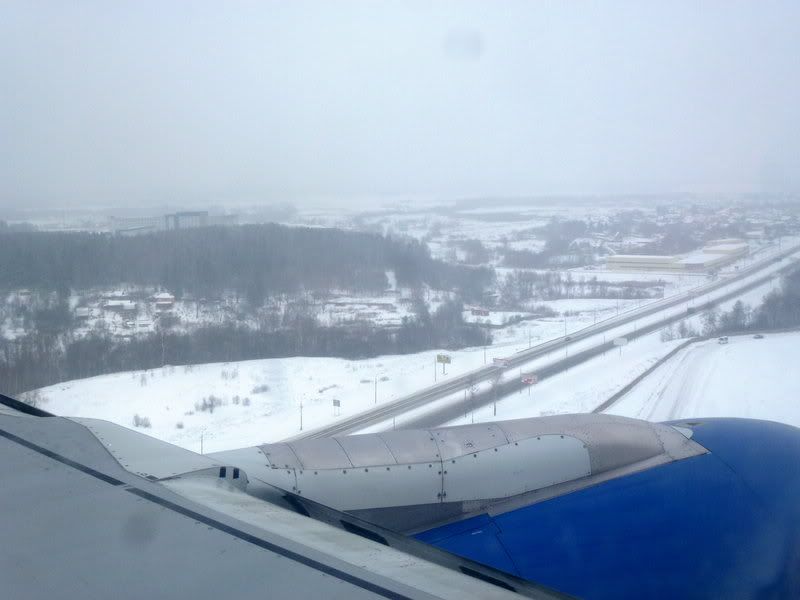 Landing is some fifteen minutes early on runway 07L after a flight time of 1h25mins. At this point I notice that the AY airshow was showing the wrong time, 12.00. This winter Russia didn't switch to daylight saving time so there's actually now a two hour time difference between Helsinki and Moscow, thus it is actually already 13.00.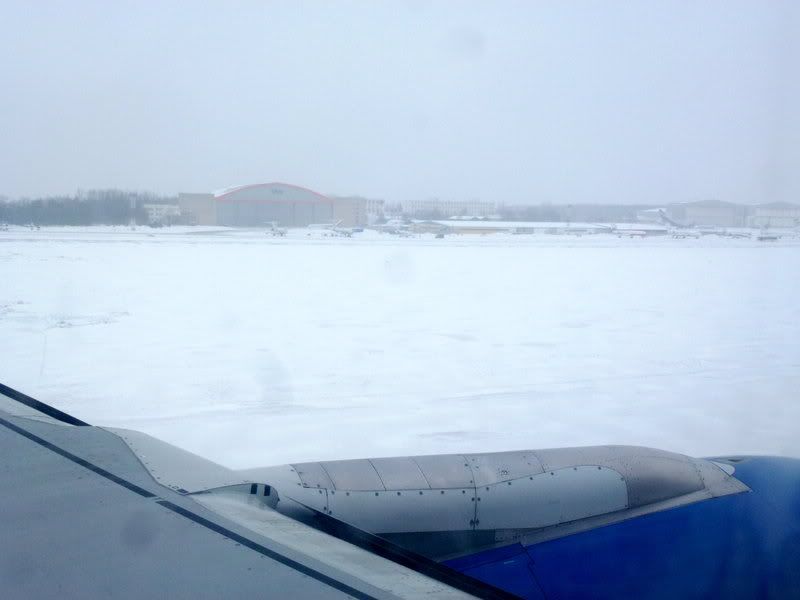 The old "flying saucer" terminal of SVO 1. I think Pulkovo has also a similar one - I flew out of there when I was ten years old and vaguely remember something like this:
Surface radar made by Tesla - Serbian?
A snowy IL-96:
As Mr. Murphy would have it my camera's battery dies at this point and of course as I'm sitting on an exit row the spares are up in my bag. The following two pictures were shot with my phone instead.
Notice the Transaero 747: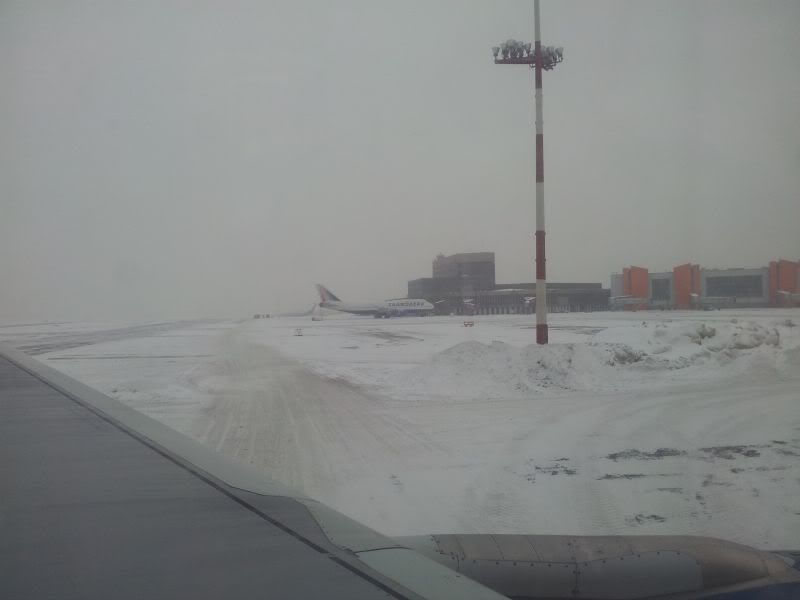 If easyJet ever get their coveted permission to fly into Russia they must fly to SVO - after all the SVO 3 terminal complex is already boasting their colors (which my old boss used to refer to as "retail orange"):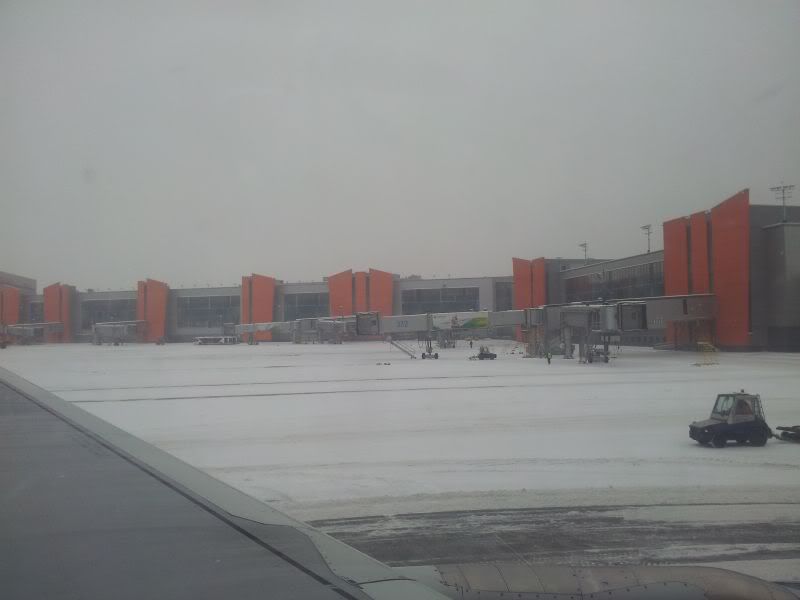 Moscow Sheremetyevo Airport
A bit later we dock to a jetway in the new terminal D, often referred to as SVO 3. Bye: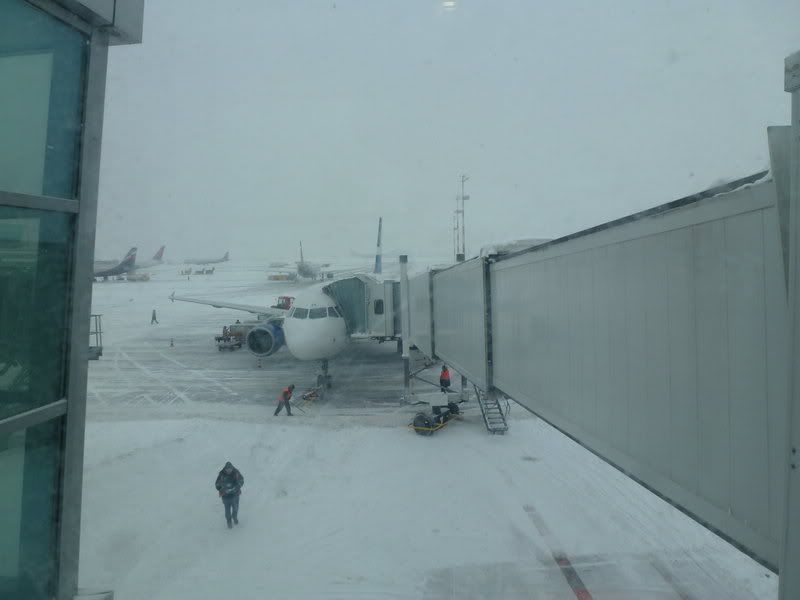 Arrivals and departures are separated so we have to walk a bit towards arrivals and flight connections: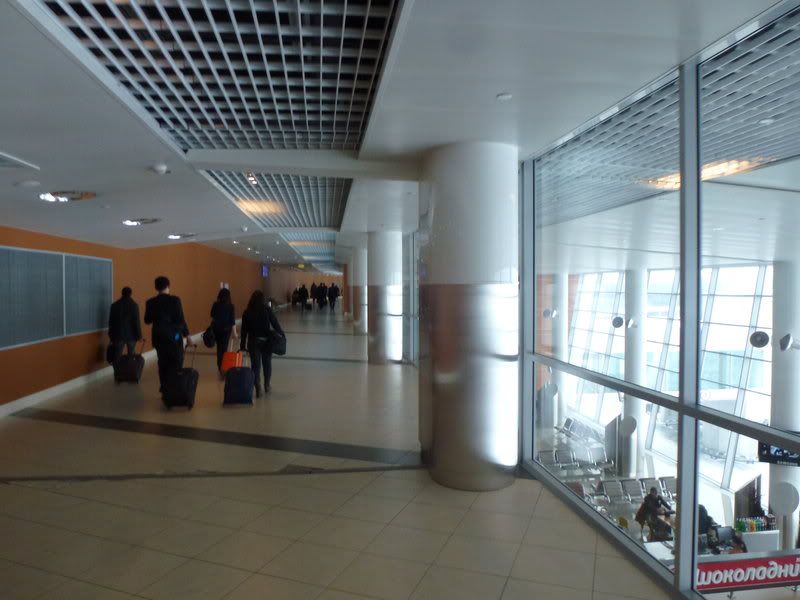 The next part surprises me a lot - I expected the transfer here to be a rather complicated and well... a Russian affair but not at all. The transfer desk has no other pax so a very friendly young chap with good English checks my OLCI boarding pass, stamps it and advises me to pass through passport control (why?) and security.
At the passport control the guy barely glances at my passport, and the following security check is easy going as well - they couldn't care less about my bottle of water or laptop. The women there even speak passable English, quite a surprise.
And just like that I'm through. Wow, I definitely didn't expect it to be this smooth.
Nice dome on the ceiling: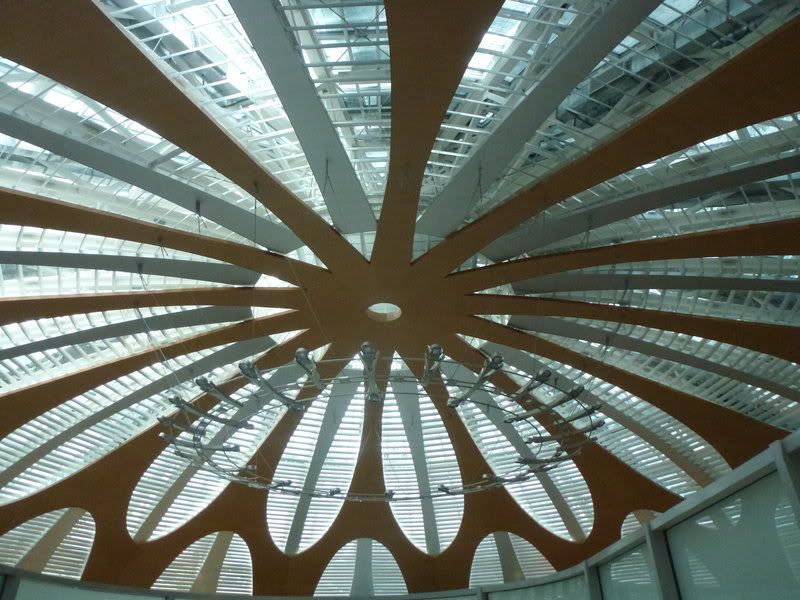 I take the elevator downstairs which dumps me right in the middle of the duty free area. Now the decision - should I go for "Blues" or "Jazz" (they are the two Aeroflot lounges in this area):
Since this trip is just beginning I'm not feeling depressed at all so no Blues for me - let's try Jazz instead. There's a dedicated elevator which brings one directly inside the lounge in front of the front desk - most civilized! The agents inside ask for an invitation from me but after I explain that I'm in transit they check some papers and decide that I'm worthy enough to be admitted.
Hmm, is it still Christmas here: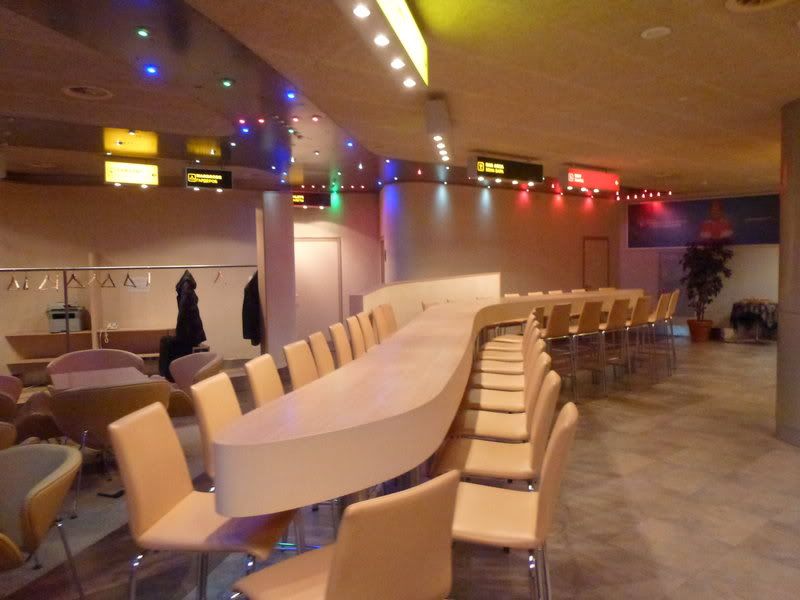 Food offerings are the usual snacks, plus some okay sandwiches and Russian style pies: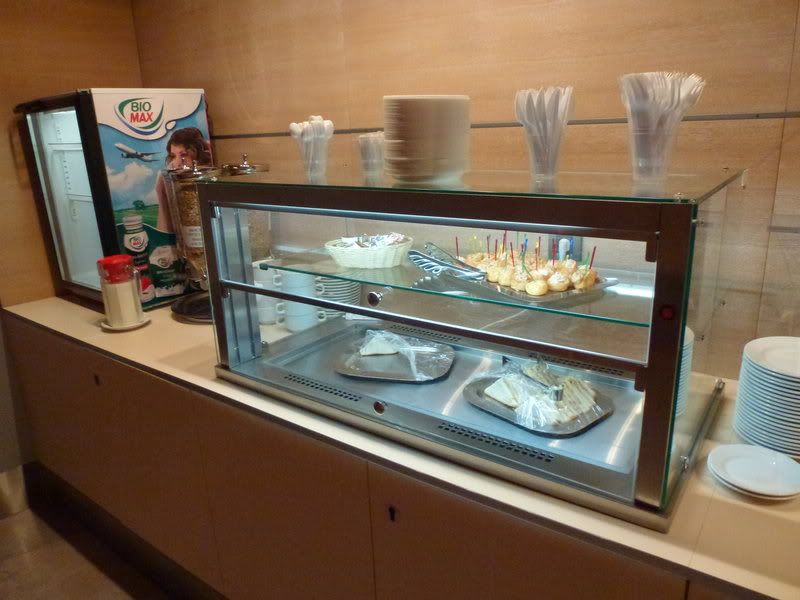 Two different kinds of beer - Russian Baltika 7 and Turkish Efes: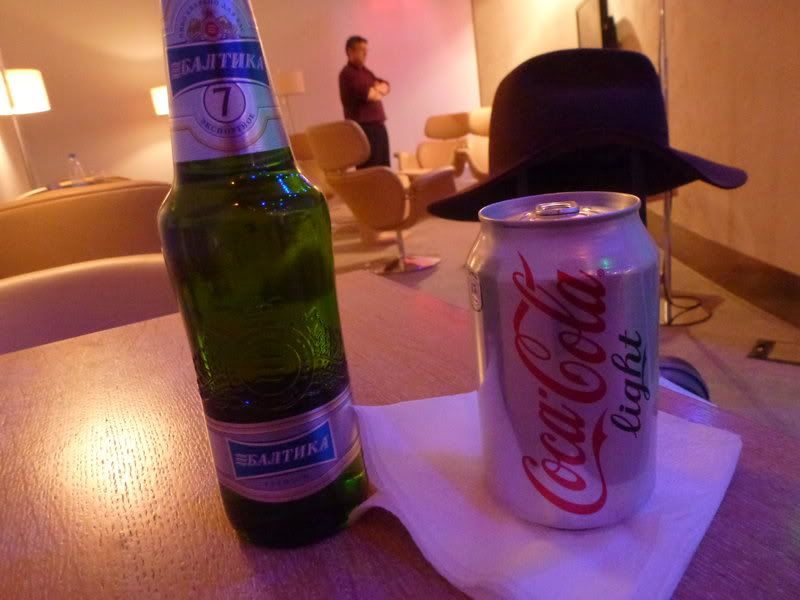 There's free wifi all throughout the terminal, very nice. The lounge looks okay at first sight, but then one starts to notice some annoying small things like electricity wires running amok: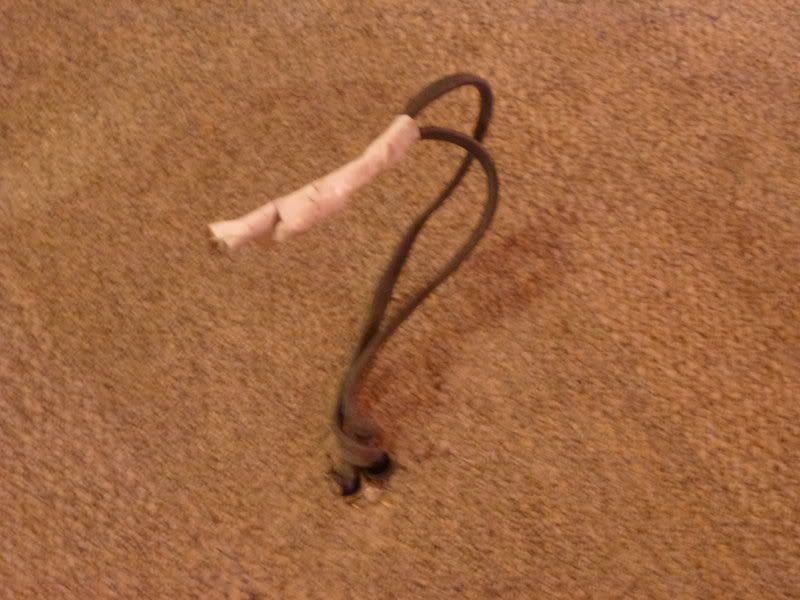 ...and lamps missing light bulbs: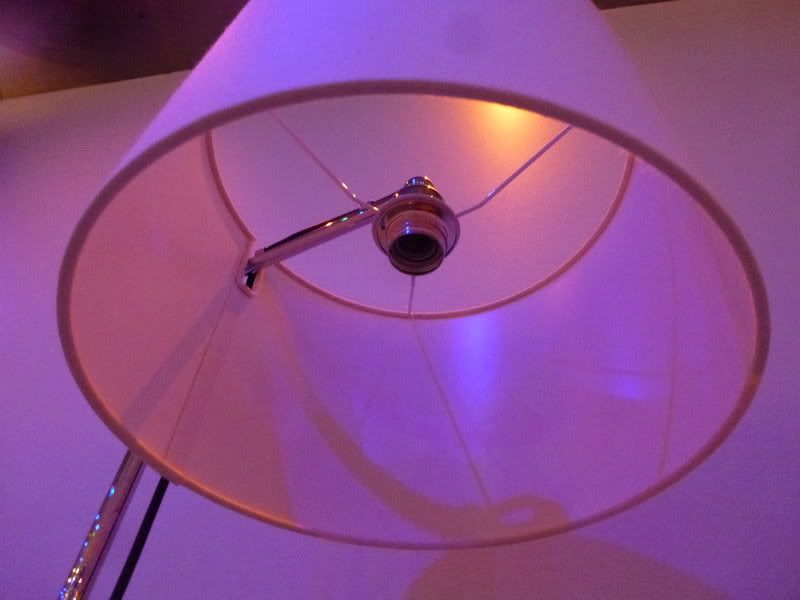 The lounge is also very hot, so one has to drink a lot of... beverages to keep hydrated and cool.
Cyrillic:
Or Latin:
Unfortunately those colorful lights are permanent fixtures - very Russian but not really my cup of чай: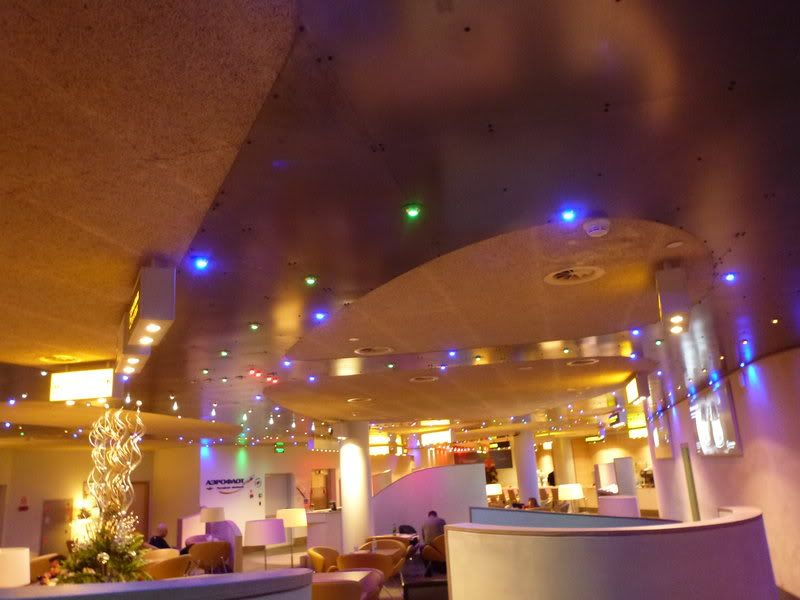 I know some folks who'll be taking that TYO flight in September:
Tasty Ararat Brandy - very appropriate considering where I'm heading to:
My layover is over four hours and after spending three hours in the lounge I'm pretty much dead bored at it (hear that, Jonas!) - no apron views, heck no windows at all is the main culprit here. So I decide to leave and take a look at the public areas of the terminal plus any interesting planes outside. The snowfall has become much worse during my time in the lounge - here's an SU A330 in Skyteam livery:
Nordavia, they had to change their name from "Aeroflot Nord" after the infamous crash a few years ago:
Looks okay - you can see the arrivals/transit walkway up there: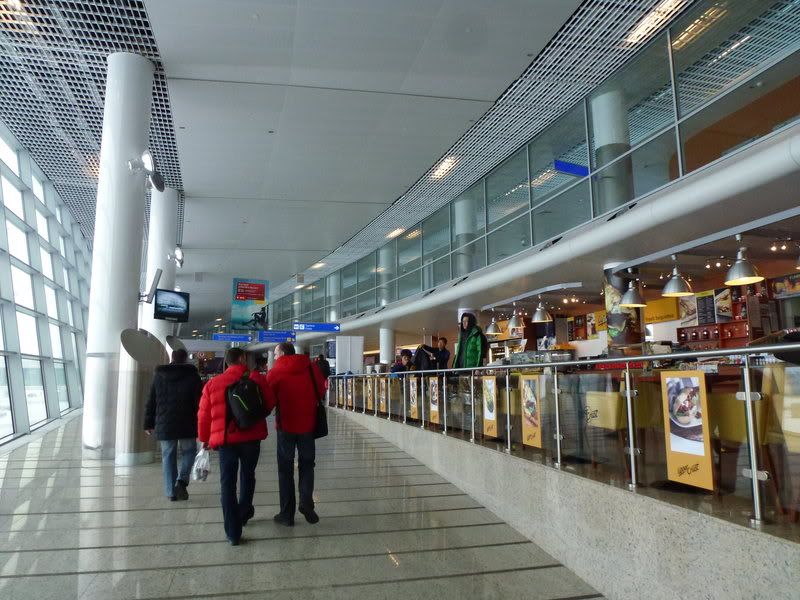 I'm yet to fly a SAS A319, some day:
Oh, they are everywhere: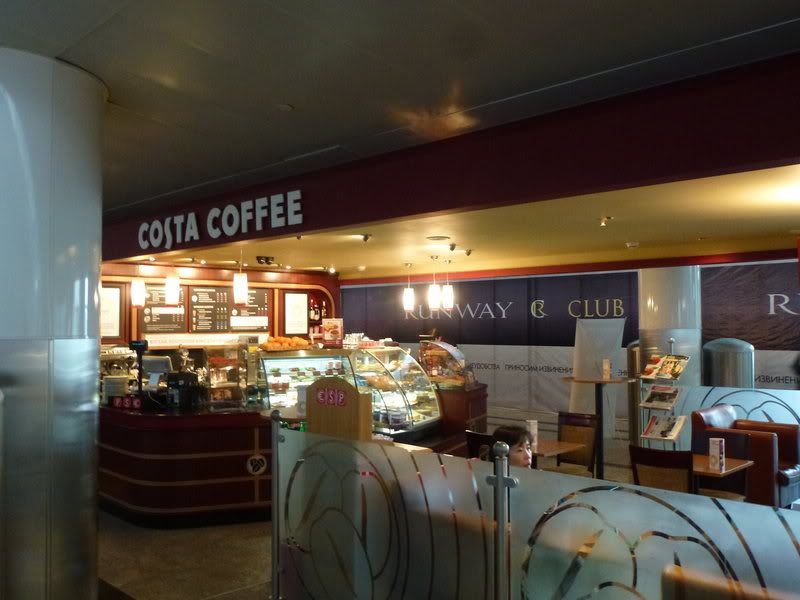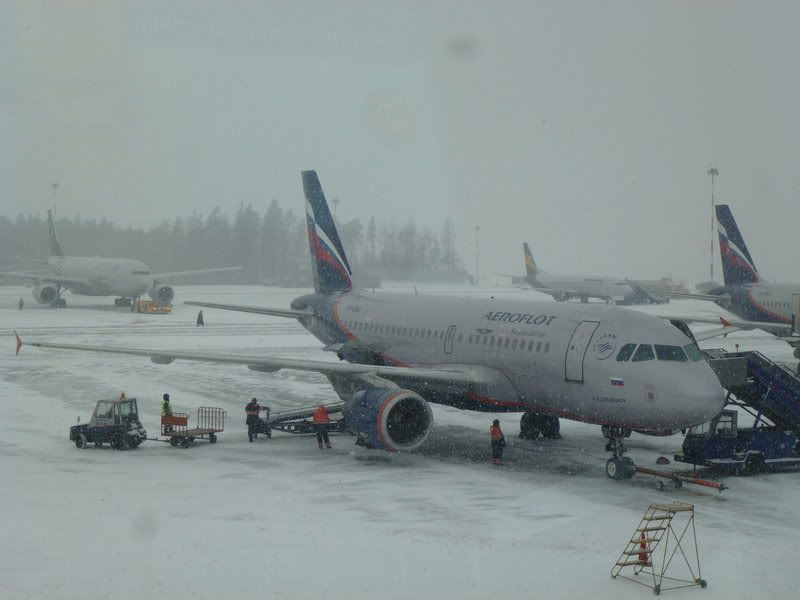 The expected A320 is already parked at my gate, registration check - VP-BRZ is obviously a new one for me as the only Aeroflot planes I've flown with were an IL-86 and TU-154 during the communist times:
Hmm, wonder where "Сеул" is :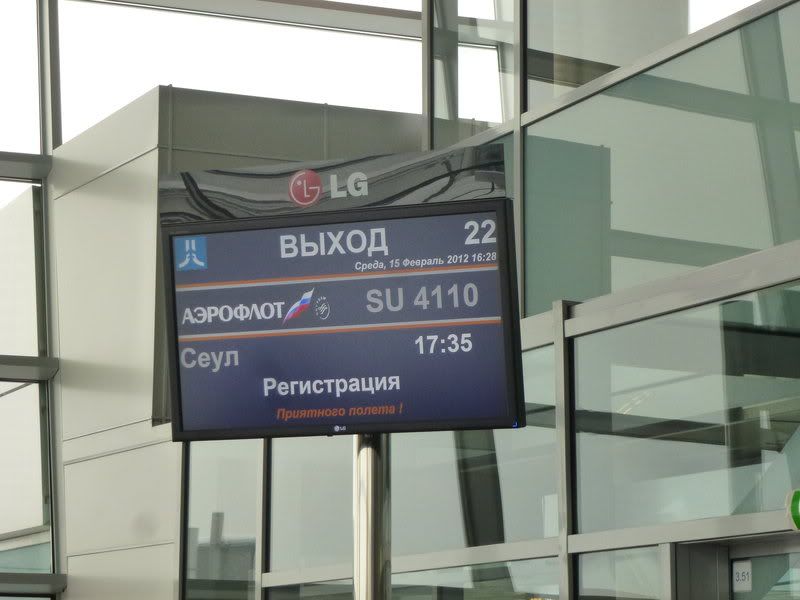 The plane parked at that gate might give you an idea:
Yerevan or Ерева́н?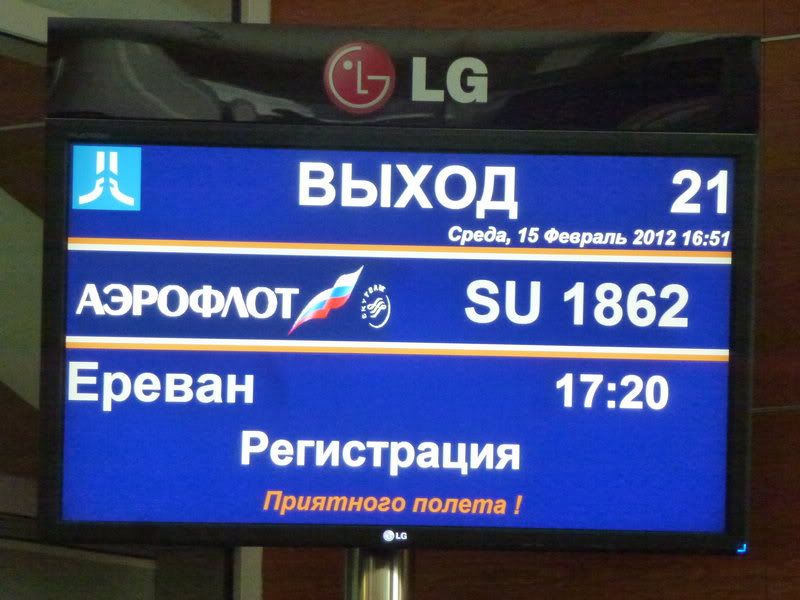 Boarding is called quite soon. In the jetway there are newspapers to pick up - hear that Finnair?
SVO - EVN
SU1862
A320 VP-BRZ
Seat 7F
17.25 - 20.20
A not too friendly older female Matrushka de Cabin or whatever the Russians call them greets me at the entrance to the plane and checks everybody's boarding passes. I make my way past the 5 rows of proper business class, proper meaning "US Domestic First" -style with big, plush chairs in 2-2 configuration.
My seat is on the second row of economy, which of course is in the usual 3-3 Airbus configuration - not sure if I like the blue color on these faux leather seats though:
The orange seat belt offers a nice contrast to the blueness, though.
Legroom is okay: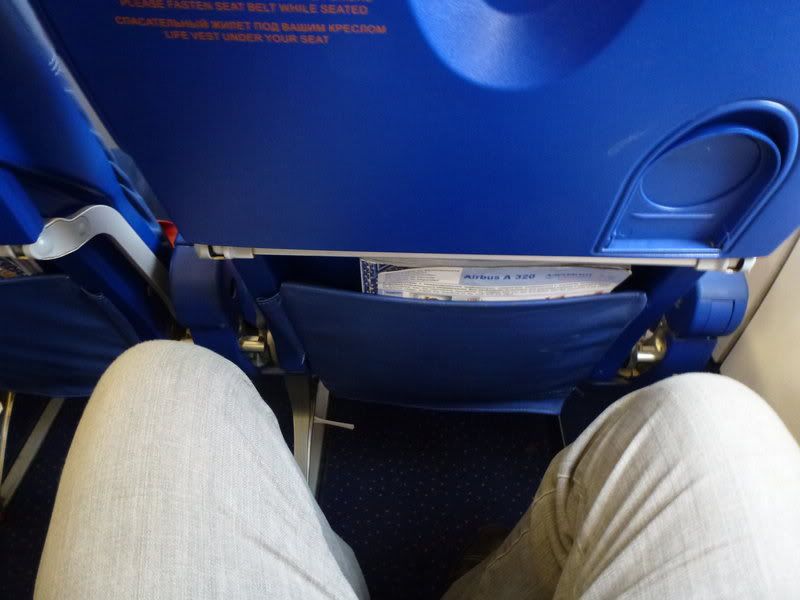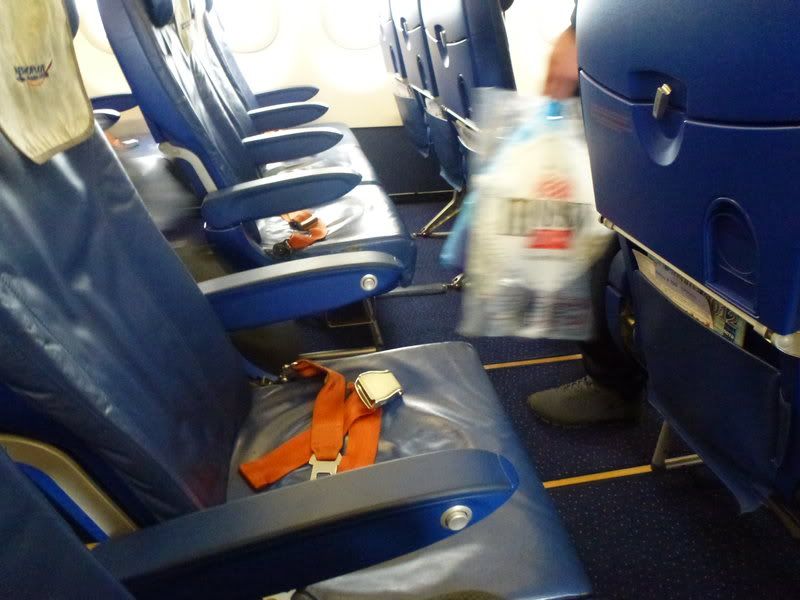 I picked up a copy of Moscow Times - the only non-Russian paper offered: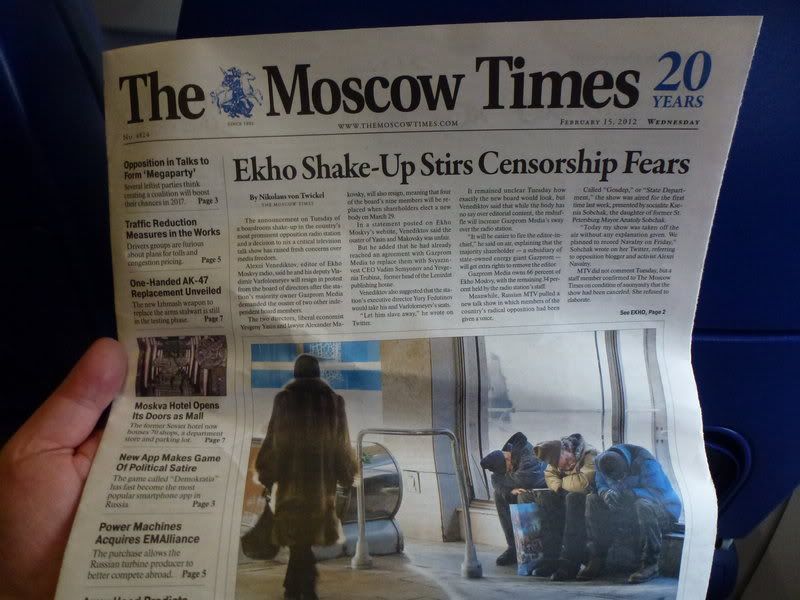 Even though most of the middle seats on this flight remain empty I end up with two elder babushkas next to me - my typical luck I guess! A cute if a bit too loud toddler with his father sits in front of me - unfortunately right after take off the father reclines his seat fully and they both fall asleep - making me rather uncomfortable! Outside I see some diapers being loaded - these must be for Toddler 6F:
The luggage guys seem to have some confusion as they keep rummaging through the luggage container and making exaggerated gestures at each other until one of them finds a bag and pulls it out and his colleague closes the container. Note how many guys it took to do it - two were doing the actual dirty work and the others just "supervising":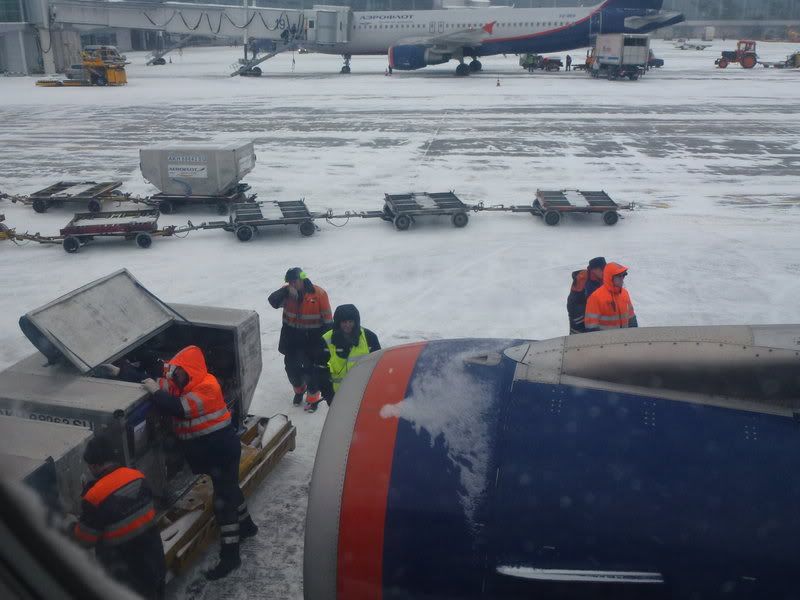 Meanwhile a safety demo is being conducted by a rather disinterested looking crew member: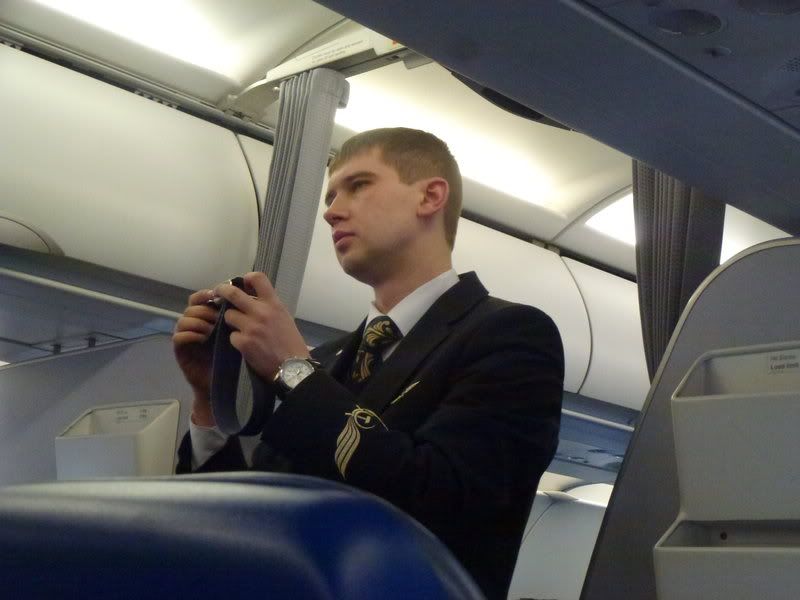 The captain announces a flight time of 2h40mins and we push back some five minutes late.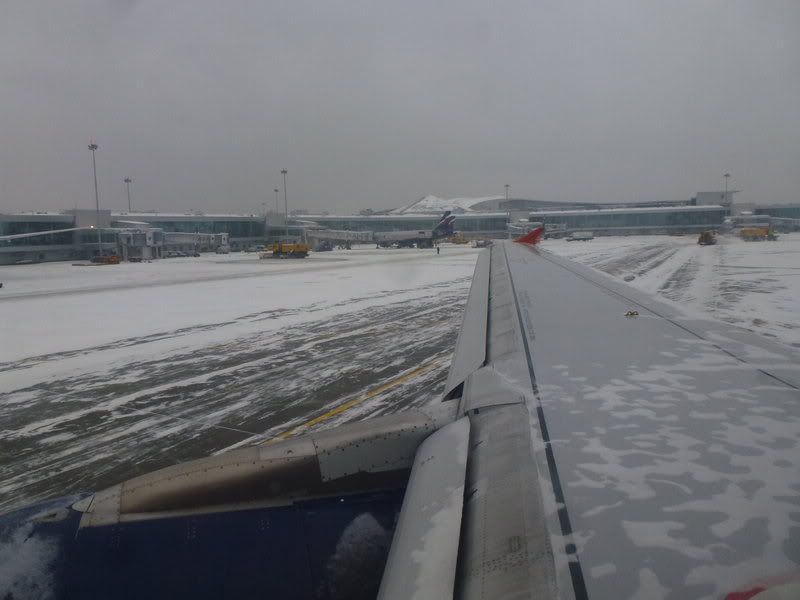 This one was taking off a few planes before us - looks like my private pilot has been moonlighting again (Markus, remember your visit to INN last year?):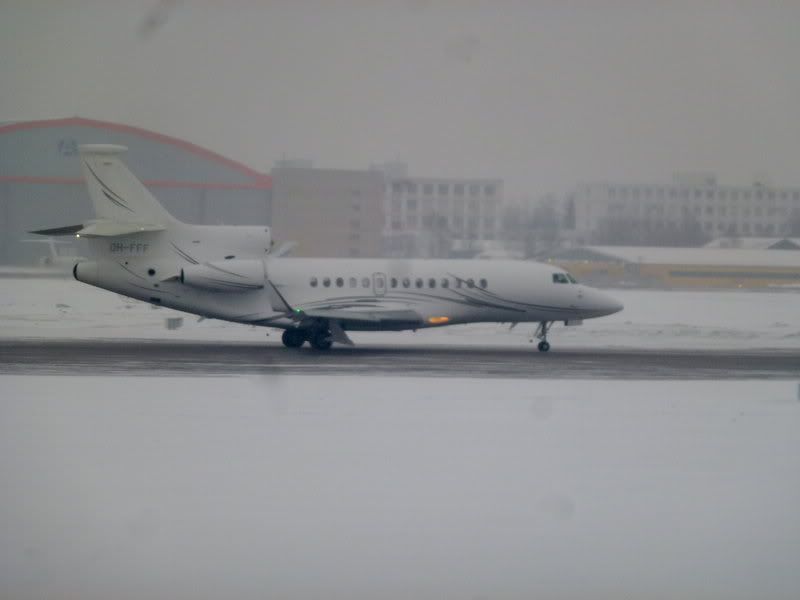 Donavia: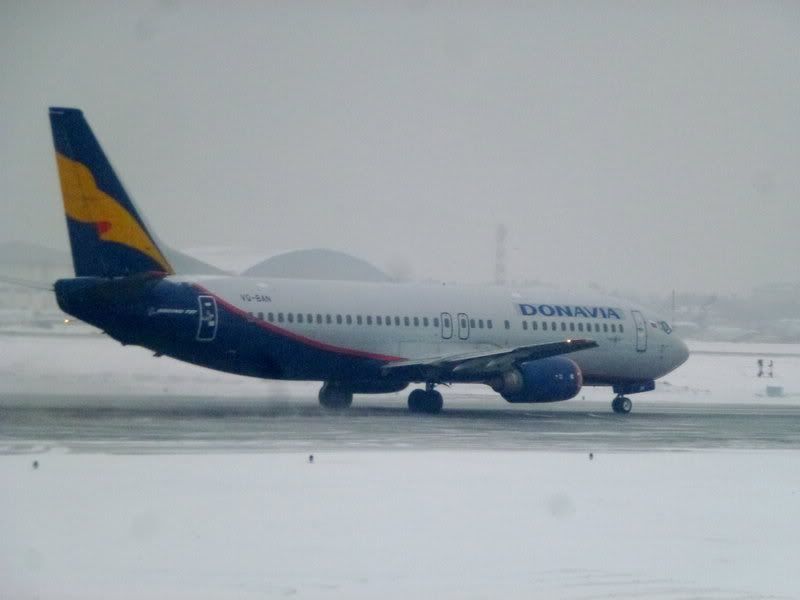 Take off is from 07R. We are being followed by this nice MD-11: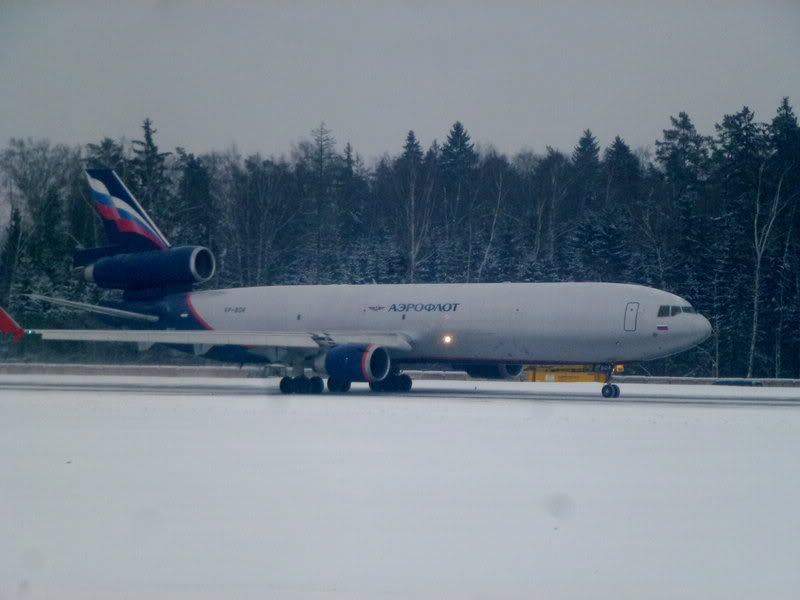 That ugly cube is Terminal F or SVO 2: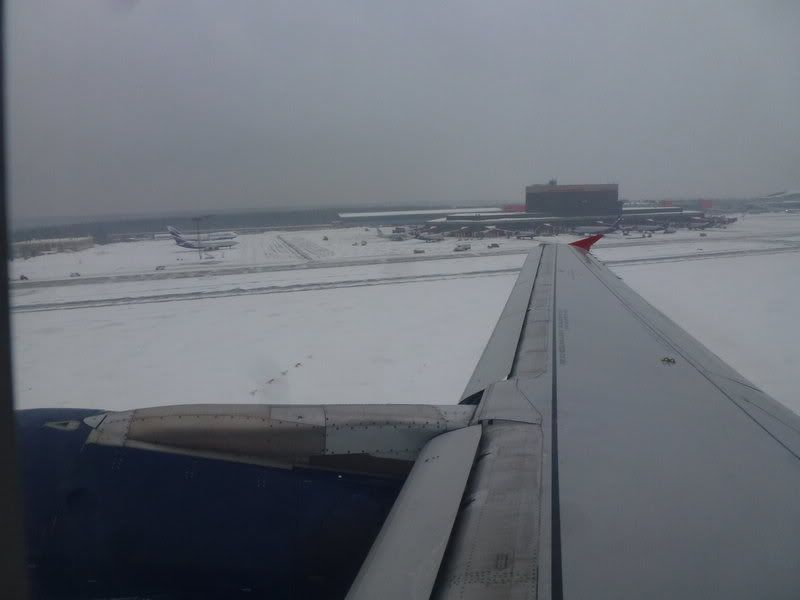 After the seat belt sign is switched off I head for the loo, planning to see if I could snatch another window seat with an empty middle seat next to it, but unfortunately all are occupied:
Quite soon the cabin crew starts a drink run. Aeroflot has gone BOB for booze (now that is VERY unrussianish) - luckily the prices are reasonable, 2 EUR per can so I get couple - the guy even manages to give me my change in Euros, nice. Notice the appropriate reading material:
Top